Camille Ali
Camille is a lover of all things skin, curls, music, justice, and wanderlust; oceans and islands are her thing. Her words inspire and her power is her voice. A California native with Trinidadian roots, she has penned personal essays, interviews, and lifestyle pieces for POPSUGAR, Medium, FEMI magazine, and SelfishBabe. Camille is currently creating a life she loves through words, self-love, fitness, travel, and empowerment. You can follow her on Instagram @cam_just_living or @written_by_cam.
Summer is about to be reckless AF. I foresee people acting as if they have never been outside before. With that said, I'm ducking and dodging because I'm not a messy bish. And I don't like messy situations. I am never one to create some mess or be in some mess either. But these dudes will surely have you in some shit you never wanted to be in if you let them. I wish men would understand the more transparent they are about how they're moving in these streets, they're less inclined to get caught up. And they would be more inclined to get the box without the drama.
Let's be real, they would be less likely to waste a woman's time by stating what it is and what the fuck it's not. But instead, these dudes want to roll the dice and end up hurting multiple women in the process. And I'm the type that doesn't need to feel like I'm being courted or wined and dined if I am just keeping it casual with someone.
A few months ago, I was caught up in some type of entanglement and I didn't even know it. I had met this guy who I thought was dope AF. Those words don't come out of my mouth too often. It takes a lot for me to say someone is dope, let alone for someone to keep my attention. I'm a Sagittarius – I'm attracted to highly unique people because "average" just doesn't do it for me. I feel deeply, and there is so much depth to my waters. And if I allow my softness to be seen, it says a lot about how I hold you. I had a good time with the guy I had met.
I looked forward to seeing him again too. But if I had known what his situation was, I would have moved so differently. I wasn't given the option to choose what I wanted to do because dudes stay fumbling their words when asked the question, "Are you seeing anyone"? or "Are you dating anyone right now?" In the end, I was disappointed, and he went about his business leaving me to question the connection I thought we had with no explanation. But I have come to understand the universe puts people in your life for a reason and removes them with reason too.
After I took the time to process my feelings about what had happened, he fumbled, not me. How things played out was disheartening, but it probably saved me from a situationship I was not meant to be a part of. I have to thank the universe for that and the lessons that came with it.
As this pandemic slowly comes to an end, we're outside and we're ready to play. Here are nine rules to casual dating every woman should know this summer.
1. Be Honest About Your Dating Status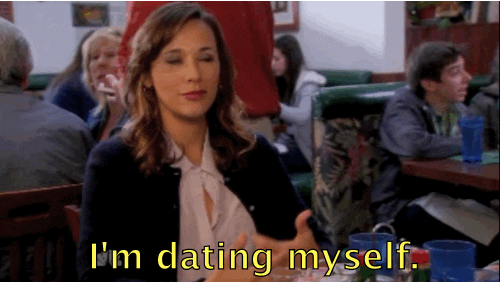 Animated GIF
Giphy
What men (and some women) don't realize is that by not being straight up from the get-go about their dating status, they fuck up the whole damn play. By the time they say what it is, it's too late. Someone already catches feelings, or someone gets hurt. Save yourself the drama and be transparent about your dating status. Let homeboy know you're dating openly or seeing different people. And if he tells you he's dating other people, you need to be OK with it.
If you can't be OK with it, casual dating isn't for you. And if he doesn't state what his dating status is, always assume he's dating other women.
In my dating experience, I have had only two guys respect me enough to be direct about what they wanted with me. And I have always appreciated them for letting me decide if I wanted to be involved with them or not. I am still really good friends with one of the two guys today. That's the homie for life.
2. Ask The Right Questions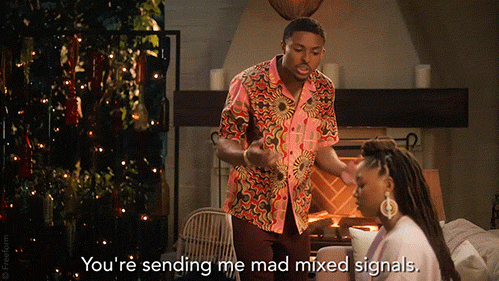 Some men don't like when women ask "too many questions," but one thing about me is I'm going to ask your business. Especially, if you fail to be transparent with me. Because it's my feelings and my vagina on the line. And I hate finding out things later. It's my number one pet peeve. The issue is women aren't asking men the right questions when it comes to casual dating or casual sex at all. I used to be this way, but after recent events, not no more. Don't just ask if homeboy is dating someone. Nah, bruh.
Ask questions like, "Is there anyone that would be hurt, if they saw us together?", "Is there anyone that perceives they are in a relationship with you? Watch his body language. Listen to see if he gives you a vague answer. If he fumbles his words or avoids the question, take that as your answer. If he can't give you a simple yes, no, or explain his situation, there it is. We're grown, there is no need for mixed messages. Until a man makes it clear he wants to be exclusive with you, please unapologetically do you. There are to be no fucks given. And you don't owe anyone an explanation for how you move in these streets.
3. Know What You Want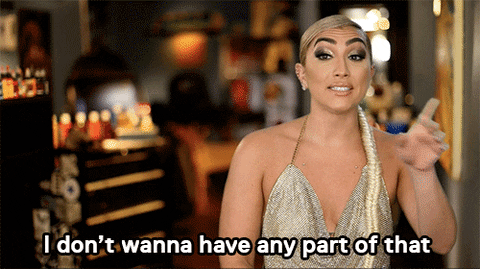 Sis, you can't be out in these streets if you don't know what you want. This is where it can get messy too. You can end up hurting yourself by looking for something in someone who isn't going to give it to you. You have to move consciously by knowing what you want. Are you out here just trying to meet new people? Are you just wanting to have fun? Are you just wanting good sex? Are you dating with intention? Are you looking for a partner? Are you dating to marry?
Figure out what it is you want in the season that you are in and unapologetically go after it. In my situation, he and I were cool. We knew we were energetically connected. After being so closed off for so long, I was open to seeing what kind of connection we had. In the words of Kehlani, "It was good until it wasn't good." But I guess I was meant to experience him in the way that I did. I have no regrets. My heart is full of gold and my love is pure magic.
4. Don't Forget About Boundaries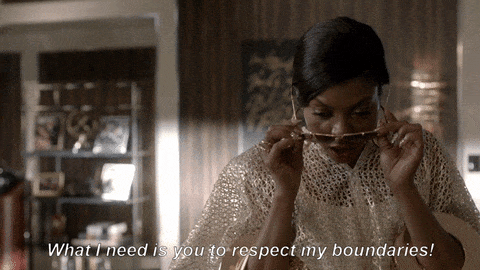 After you figure out what you want, don't forget about setting boundaries. Don't be afraid to do this. There is a fine line between just being cool with homeboy and getting too personal with him. Create boundaries for yourself, so you don't catch feelings or get attached.
You're not his sounding board, confidant, or therapist. And don't think you're special because he chooses to tell you all his personal issues. Sis, you are not fixing anyone this summer. You are out here to experience and live.
Boundaries in casual dating or casual sex can look like limiting how often you speak to each other or how often you see each other. It could also look like engaging in only surface-level conversations and not asking each other too many personal questions too. So, if the question doesn't concern what y'all have established, don't ask. Save yourself the headache and the heartache.
5. Clear Out Your Baggage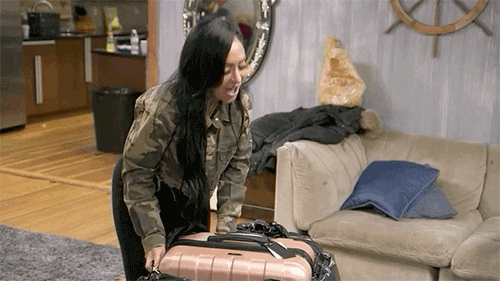 If you're still emotionally attached to an old relationship or haven't healed from a past lover, you don't need to be outside. I'm sorry sis. But I am speaking from my own experience. What you need to do is get all the way uncomfortable with yourself and process your feelings. This is the only way you will be able to heal and be able to move forward with your life. I'm not saying you can't be in these streets, just don't go adding a man to the mix.
Do all the things that make you happy this summer. Explore all the things you are in the season you are in. But don't think moving on to the next guy who catches your attention will heal you. It won't. This is called avoidance. Your unhealed relationship trauma will still be there after he leaves. And will continue to linger and carry over to your next relationship until you choose yourself.
6. Self-Awareness and Emotional Development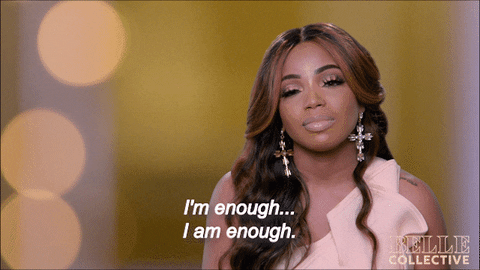 I Am Enough Self Awareness GIF by OWN: Oprah Winfrey Network
Giphy
Consciousness is key. If you're still struggling with self-awareness and achieving emotional stability, then the streets are not for you. One thing you need to understand in casual dating is that how a man behaves is a reflection of him, not you. You cannot take everything he does personally. But you can learn to control your reaction to his behavior. For example, ghosting and inconsistency. When this happens, don't give him a pass, just keep it moving.
Women also need to pay attention to their own patterns and behaviors. We need to be able to emotionally check ourselves by understanding our own reactions in our dating life.
For example, some of us constantly get in our feelings when a date cancels or things don't go as planned. I mean, why waste good energy by being upset? If this happens to you quite often in your dating life, where you have no control over your emotions, shift to focusing on more self-work and less dating.
7. Have An Exit Strategy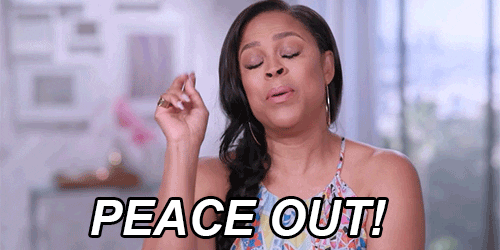 basketball wives goodbye GIF by VH1
Giphy
Stay away from toxic situations at all costs. I know the dick might be amazing, and he might come across as amazing, but no dick is worth toxic energy in your life. You have to remember sex is an energy exchange. Any human interaction is an energy exchange and can create internal chaos in the body and manifest as disorder in your life. Trust me, you don't want that. Don't be afraid to cut him off at the first sign of toxic behavior.
When I say toxic, I mean the first sign of disrespect, narcissism, and abuse of any form. Feel free to block homeboy too if he is acting out of pocket. I almost fell victim to a situation like this too. Homeboy was fine AF, and there were a few red flags. But I thought to myself he would be fun to chill with. Thankfully, my homegirl snatched me up real quick. She saved me from a situation that I didn't need to be in. She knew that's not what I wanted or deserved.
8. Understand That STDs Are Real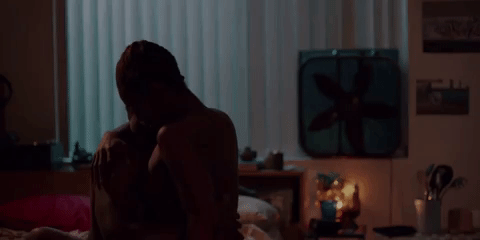 Safe sex is great sex. I don't know which hip-hop artist wrote this lyric, but I'm here for it. Don't trust every man's penis to be a clean one. Most men don't care about their health, let alone their sexual health until they have a reason too. These men are brave out in these streets. And since most men aren't upfront about their dating situation, don't think you're the only one he's having sex with or spending time with either.
Nowadays, no one is truly single anymore. We got all kinds of situations going on. Protect yourself by practicing safe sex.
If this means that you and he both get tested before you engage in any sexual acts, do it. If that means you have to create some kind of agreement or understanding between each other, do that too. We value well-protected vaginas over here. But also, be upfront if you're having sex with multiple partners too. And you have the right to ask him about his sexual partners too because again, it's your vagina. As awkward or uncomfortable as these conversations are, they still need to be had.
I say all these things so you can protect your heart out in these streets. Watch for the red flags and the yellow flags too. Energy doesn't lie, you'll know if something is off. Don't let these men play you. Don't let yourself be caught up in some mess you're not supposed to be in. Don't let these dudes dictate how you move in these streets either. And at any rate, always choose yourself first.

As for me, I'm going to keep glowing and keep moving. Summer is mine. I've taken the time to heal, and it's time for me to live my best life. All I want to do is create endless memories. I want to pour into life the way life has poured into me. I'm going to stay outside and do my thing. But I mean it when I tell these men don't bother me if they're with the shit. Because if he fumbles me, there is no me coming back.
You see the material. It's my energy, aura, and my spirit.
Sis, I'm living this summer. Are you?
Featured image by Dean Mitchell/Getty Images

Keep reading...
Show less
I have been on a weight loss journey since 2016. It definitely has had its ups and downs for sure. I was on a trajectory of slowly gaining weight. All of sudden, I was 20-40 pounds heavier than I used to be. And this is when it became difficult to dress myself. I no longer could wear the stylish clothes I was used to wearing. I was so out of shape and nothing looked good on my heavy-set curvy body. I had to learn how to dress myself all over again. It wasn't fun because my clothing options were limited. I could no longer play dress-up. I mainly stuck to t-shirts, jeans, hoodies, sweats, and athleisure wear. Everything in my closet was black, gray, or blue too.
But five months ago, I decided to participate in a transformation challenge at my local gym. I was tired of my excuses, lack of discipline, and poor choices. Basically, I was over my own bullshit. What I did do was become committed and lost a total of 16 pounds. I started to be able to wear my "skinny clothes" again. Even clothes with the price tag on it from five years ago began to fit. Now, I am almost halfway to my ideal weight for my age, height, and body type. Since the challenge, I have maintained my weight, having gained only a pound or two.
Fortunately for me, I kept my old but smaller-sized wardrobe. I mean, I have a lot of cute dresses, jumpsuits, and skirts I have only worn once! I still have the 30th birthday dress I bought on sale from BCBG. I am not about to give that away. As I work my way back to my goal weight and clothing size, I have purchased a few staple wardrobe pieces to complement what I already have. I try not to buy too many new things because I don't want to have to give them away or not be able to wear them anymore.
Here's how you can make your wardrobe work for you when you're in between sizes, gained weight, or lost weight.
Take Inventory Of Your Closet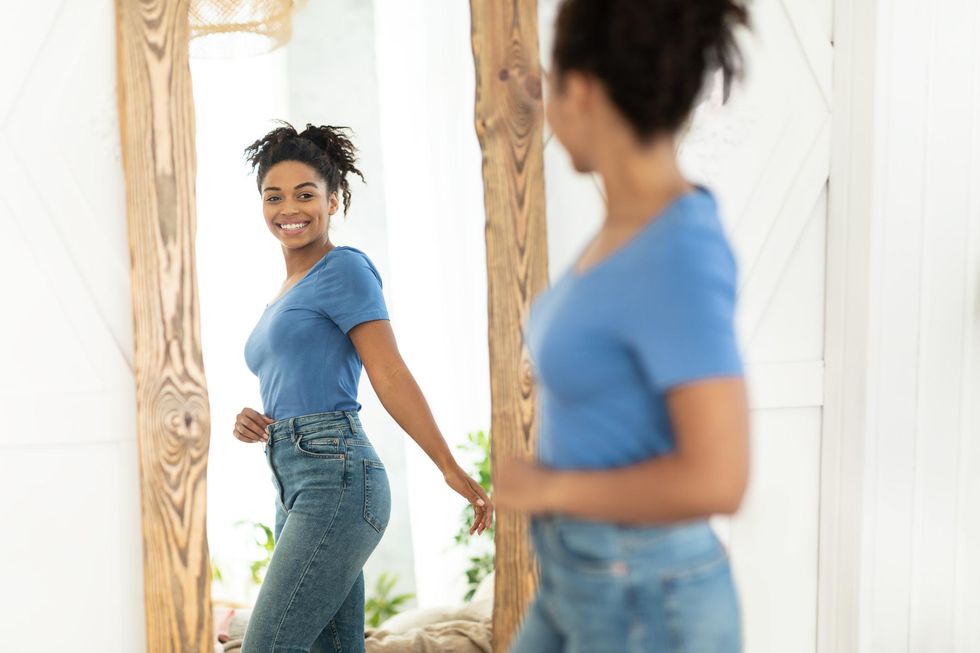 Prostock-Studio/Getty Images
Whether you have gained or lost weight, it's important to know what you have in your closet. Try everything on to see what clothing items fit and what doesn't. You then want to make two piles: clothes that fit and clothes that don't fit. Reorganize your closet with only the clothes that fit. This way you know what your options are. Now, most people donate or trash clothes that don't fit. If you are not ready to part ways with your skinny clothes yet, it's OK. Put the clothes that don't fit in a storage container and keep them in a different area of your room or house. If you end up losing weight, at least you don't have to buy a whole new wardrobe. Investment pieces never go out of style.
Get You Some Transitional Pieces
You might have a few of these in your closet and not know it. Transitional pieces include items like wrap dresses, skirts, and shirts. Think jackets, blazers, sweaters, and shirts made from cotton or knit fabrics. Consider pants or skirts with elastic or adjustable waists. If you have any transitional pieces in your closet, I urge you to keep these! There was this denim maxi skirt I had bought from SheIn. It was too cute to pass up. What I love about the skirt the most, is that even though I bought a size 10, the skirt is completely adjustable because of the multiple buttons at the waist. So, regardless of whether I lost weight or gained weight, the skirt would still fit me.
Visit Your Local Seamstress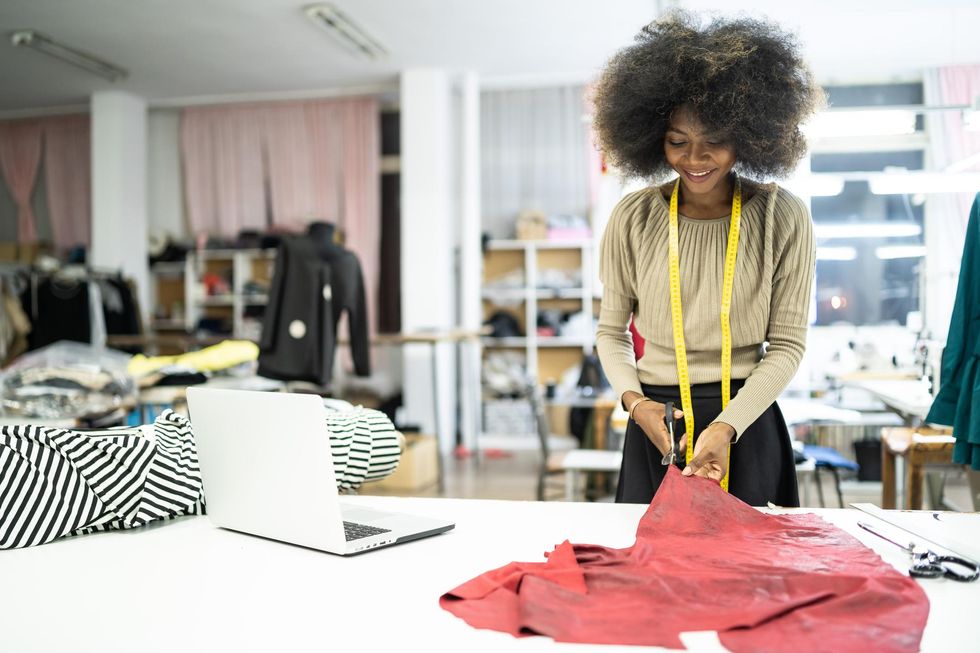 valentinrussanov/Getty Images
The first time I lost an excessive amount of weight, a lot of jeans didn't fit. I had a pair of jeans that I absolutely loved. I didn't want to get rid of them, but I didn't want to wear them as jeans because I no longer liked the style. So, I took them to a seamstress and turned them into shorts. If you have favorite clothing pieces you just can't get rid of, visit your local seamstress or alterations shop. They can transform your wardrobe for you by taking in the material of taking out seams of blouses, jackets, pants, skirts, and dresses to make them fit you. Keep in mind, you don't have to tailor all your clothes, but it's way cheaper than buying new clothes.
Stock Up On Budget-Friendly Essentials
I'm a fitted t-shirt and jeans type of girl. It's my go-to look outside of athleisure wear. So, I always have black, grey, tan, and white t-shirts in my dresser. You can find these at any clothing store for $5-8. I always look for stretchy cotton dresses in different colors and patterns that I can dress up or dress down too. I can easily throw a denim jacket over it with a pair of sneakers or sandals. I can dress it up with a pair of heels too. Jeans or pants are hard to find. I try to find denim and pants that have some stretch in them. You can find inexpensive jeans or pants almost anywhere. Online or in-store.
Numbers can be misleading. Certain brands run small, run large, or in between. I have learned to accept this, you should too. Don't let these brands get you in your feelings. It's not always about the size of clothes, it's how the clothes fit, compliment your body, and how they make you feel.
And this is how I make my wardrobe work for my constantly changing body.
Featured image by Prostock-Studio/Getty Images
Keep reading...
Show less
If you don't want your family member to go to jail or an officer-involved shooting, deal with your family issues without the police. Once the police are involved, you no longer have control.
What we saw was another young Black life taken away too soon. What we saw was a 16-year-old girl who was loved by many gunned down by another White police officer again. And we called it systemic racism, police brutality, and all the things. We said the system failed her again. We blamed the police, and we blamed the system. But when did we stop to examine what was going on with this adolescent in the home? With the rise of the Black Lives Matter movement, we can easily categorize this tragic death as systemic racism, but some beg to differ. I beg to differ.
This incident is multi-layered with complex issues. I see how the foster system failed this teenage girl. And with that being said, I see how family dynamics played a role in this particular incident too.
What I mean by this is, we have a young teenage girl growing up in a broken home with (as far as we know) parents that couldn't care for their children. Then, we have relatives stepping up to care for said children but do not have the capability or means. Next, we have an overburdened foster system placing kids in overburden foster homes with foster parents who cannot provide the proper attention and care.
And I see how a young police officer made a split-second choice when he could have made other choices based on his training to diffuse the situation. Ma'Khia Bryant didn't have to die. But when a police officer is called to a scene where a deadly weapon is involved, he or she is forced to stop any threat with minimal to no attention to situational information. The officer has to try to save lives while immediately stopping a perceived threat.
All of this leads me to question: Did Ma'Khia's community fail her?
All of this makes me wonder what the real issue is. Let's look at some known facts.
Ma'Khia Bryant's Family Dynamics
Ma'Khia Bryant was a daughter, sister, granddaughter, friend, and honor roll student. She was also a foster child. In two years, Ma'Khia was placed in five different homes. Due to confidentiality reasons, we may never know why Ma'Khia and her sister were placed in foster care, but multiple dysfunctional homes did play a role in this incident. According to an article by city-journal.org, she and her sister were removed from the care of their mother in March 2018. Police responded to an incident at the Bryant residence with clear evidence of abuse and unsupervised children.
As any grandmother would, Ma'Khia's grandmother took temporary custody of her grandchildren. But because their mother failed to comply with court-ordered mental health counseling and visitation orders, Bryant's grandmother was then forced to return her grandchildren to foster care. Fast forward to foster care. CNN reported police records show multiple 911 calls in the last three years to all of the foster homes Ma'Khia lived in.
Now, can you see the level of dysfunction and emotional chaos Ma'Khia had to live with? For roughly two years, she may have felt unsafe, unwanted, and unprotected with the lack of stability in the home. As a result, this may have caused Bryant to engage in violent behaviors like pulling out a deadly weapon to survive, given the events that led to her death.
America's Foster Care System Failed Ma'Khia Bryant
In an article by The Grio, American journalist and author, Dr. Stacey Patton, shares her personal experience in the foster care system. Patton calls the American foster care system traumatizing; being placed in foster care can cause stress and additional trauma to a child based on the type of home or agency the child is placed in. She states statistics regarding Black children and foster care.
"

According to federal data, Black children are placed into foster care at twice the rate of white children. They are more likely to be placed into foster care than receive in-home services even when they have the same problems as white children. Black children stay in foster care longer, receive fewer services, are more likely to be given psychotropic medications to control their behaviors, and increasing numbers are being funneled through the foster-care-to-prison pipeline."
"This is not a system that is designed to heal, empower, or prepare children to become healthy, thriving and productive adults. When Black families and communities fail their children, they are placed at risk for an entire ecosystem of negative outcomes."
What people don't know about the foster care system is that it can be very damaging to a child. According to the New Jersey Herald, it was Ma'Khia's parents and the foster care system that created a girl so mad she wanted to kill someone. Bryant wasn't born angry, they teamed up to put the knife in her hand. Did you know that according to the National Coalition for Child Protection Reform (NCCPR) foster care is considered unsafe for children? This same agency has reported the rate of sexual abuse to occur four times higher than the rate in the general population. In group homes, there was more than ten times the rate of physical abuse and more than 28 times the rate of sexual abuse as in the general population.
Now, can you see the type of environment Ma'Khia Bryant may have been living in? Can you see how a system neglected this child? If you ask me, a social worker should have been called to the scene too. Maybe then, the police officers called to the scene would have made an informed decision as opposed to reacting to a perceived threat. Then maybe more than one life would have been saved that day.
But based on laws, Ma'Khia still may have been arrested for a criminal act and placed in the juvenile justice system. There was only one victim that day and it was not her.
Ohio's Foster Care System Failed Too
It has also been said that families and children fall through the cracks when people are not performing their job adequately. To be a civil servant is to protect and serve. The assistant director, Scott Britton, of the Public Children Services Association of Ohio, disclosed Ohio's foster care system struggled to help families with a high turnover rate or loss of caseworkers in recent years. It wasn't until recently Ohio State created an advisory panel to find ways to improve their foster care system which included recommendations of additional support and oversight.
In addition to system racism or police brutality in shooting deaths like Ma'Khia Bryant, we must also examine the home.
Accountability starts and ends in the home.
Featured image by Stephen Zenner/Getty Images
Keep reading...
Show less
I always say my power is my voice and my words inspire. And they do. I believe in the power of my voice to no end. But I didn't always have the courage and strength to use my voice. I wasn't always this outspoken. I wasn't always so quick to offer my two cents either. This part of me was suppressed for most of my life. Even when I didn't know my voice is the very essence of all that I am. Finding my voice was something that took time to do. I had to unlearn conditioned behaviors I learned as a child and as an adolescent. Like, don't ask questions or speak only when spoken to. I'm a Sagittarius y'all – it's only natural for me to be inquisitive by nature. I yearn for knowledge. I am opinionated AF. And I love to talk.
Imagine finding your voice, giving it power, and then feeling like you cannot speak. This was me. Recently, after a severe anxiety attack, I had to make a difficult decision to take down my Medium page. It wasn't something I wanted to do, but in this situation, protecting my peace and space is everything to me. In making this decision, I felt like my voice was taken from me. I felt like my voice was blocked and stripped. I had struggled for so long to be able to speak my truth. And what I didn't know was that sharing my truth could inadvertently cause me harm.
Now, there was a lump stuck in the base of my throat. A few days later, my ears started to hurt and my throat was sore. Mind you, throughout this whole pandemic I have yet to be sick. I ended up with a whole ass sinus infection. Most would have attributed this to the pollen count or allergy season. But nah, not this time.
Now, that I am spiritually aligned, I knew this was physically and energetically connected. Remember, the mind, body, and soul work as one. Your body will give you the answers you seek. I became so anxious I made myself sick. And I knew my throat chakra was blocked. It took me a while to feel like I could speak again, but after my physical symptoms went away, I was able to speak my truth once more. And now, I'm back on.
If you're struggling with communicating or using your voice, here is how to know if your throat chakra is blocked.
A Word About The Throat Chakra
The throat chakra is the fifth chakra of seven chakras in the body. It is the chakra of personal power and is related to our self-esteem and self-confidence. It is responsible for communication, creativity, self-expression, and the ability to speak your inner truth. When your throat chakra is imbalanced or blocked you may have a hard time communicating effectively. So, what causes blockages in the throat chakra? It's hard to say. We are all individuals, and our life experiences vary. But you must look inward for the answer to face your truth and remove the blockages.
Your Body Hurts
When your throat chakra is blocked, the flow of energy through this chakra is disrupted. And when that happens, you may experience any of the following physical symptoms below:
Hoarseness
Chronic sore throat
Mouth ulcers
Thyroid problems
Neck pain
Gum disease
Laryngitis
Your Emotional Well-Being Is Affected
Blocked throat chakras can show up as nonphysical symptoms too. Remember, I said the mind, body, and soul are interconnected. What shows up in the body will manifest mentally and emotionally too. Emotional signs of a blocked throat chakra include the following:
Anxiety
Depression
Shyness
Low self-esteem
Fear of speaking your truth
Inability to express thoughts
Inhibited creativity
Inconsistency in speech and actions
5 Ways to Open Up and Heal Your Throat Chakra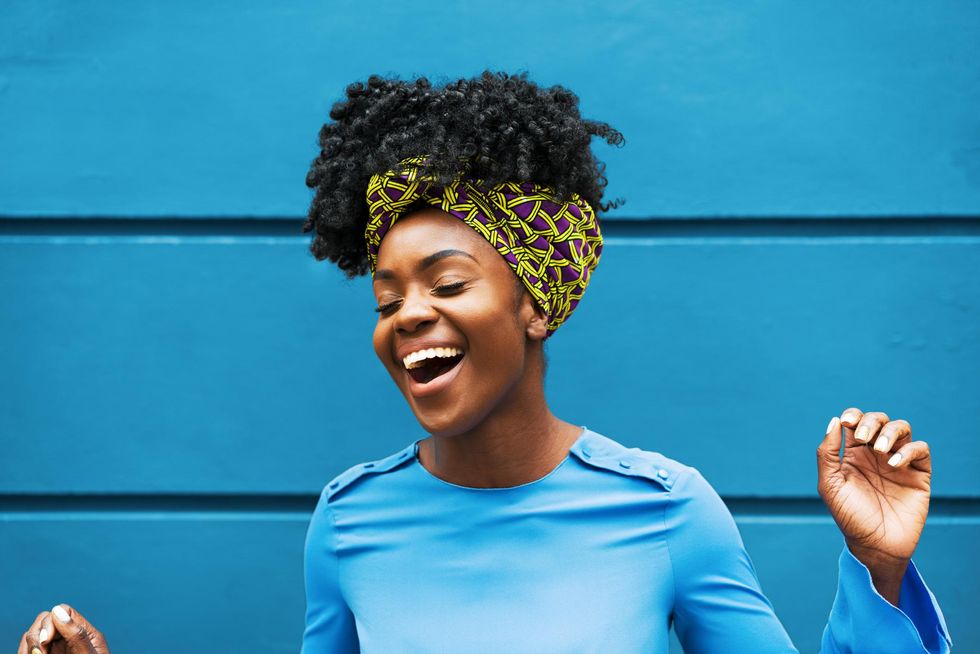 Getty Images
If your throat chakra is blocked, you need to clear it. This means learning to let go and trust your inner voice. You must work through and release negative emotions to restore the energy balance in the throat chakra. Inner work is never easy, it requires you to face yourself. Be prepared to deal with what you find.
1. Learn How To Journal
For me, journaling is how I started writing. But journaling can help you express your feelings when you're not able to vocalize them. It's a transformative practice that can help in different areas of your life. So, take time during your day or week to write down thoughts or feelings. It's not about spelling or grammar. It's about taking the time to acknowledge what you feel and be honest about it.
2. Put Some Blue In Your Life
The color blue helps free the natural energy that resides in your throat chakra. This could look like buying blue flowers, a blue candle, blue curtains, or adding blue bedsheets to your bedroom. Consider wearing blue jewelry or blue clothing too. This can also look like spending time outside under clear blue skies.
3. Get You Some Crystals Sis
Crystals for the throat chakra includes lapis lazuli, amazonite, turquoise, or aquamarine. You can keep these crystals under your pillow, by your nightstand, or use them as home decor. But my favorite way to use crystals is to carry them in my backpack or as jewelry. You can find crystals for the throat chakra at any metaphysical store in your local area.
4. Use Affirmations
Mantras or affirmations are another way to help heal the throat chakra. These can be used as a reminder, part of your journaling practice, or in daily meditation. And the beauty of it is, you can use any affirmation you want. You can say something like, "My voice is heard," "I claim and honor my true voice," "I speak my truth freely and openly," or "I'm not scared to speak my mind."
5. Book A Reiki Session
I really can't say enough about the power of reiki. Reiki is a spiritual healing art that stems from Japan. It is the life energy that flows through all living things. This healing practice can clear bad energy from the body, remove energy blockages, and rebalance the flow of energy. I typically do a reiki session a few times a year to balance my chakras and energy. After a reiki session, I feel so much lighter and renewed.
So, how do you know that your throat chakra is healing? Well, when your throat chakra begins to open, you become more aware of your own self and the people around you. You become calm and relaxed. You also start to feel confident in expressing your thoughts and ideas. How you communicate is clear and consistent.
I would also say listen to your intuition; you'll know when your throat chakra is no longer blocked because energy does not lie. Your voice is a gift. It is one of the greatest gifts next to life itself. It's what makes us original, authentic, and different.
I encourage you to find your voice, and then speak from your heart and your core.
Are you a member of our insiders squad? Join us in the xoTribe Members Community today!
Featured image by Getty Images

Keep reading...
Show less
In America, one woman is fatally shot by an intimate partner every 14 hours. A black woman is fatally shot every 10 hours. This means two black women are killed daily. Forgive me in advance because I know this is gruesome and a very hard pill to swallow. Sometimes, I don't have the stomach for it. I used to work in homicide for a local district attorney's office. I have heard, seen, read, and listened to things that the average woman isn't privy to. Femicide can take many shapes and forms. We often hear about the general rape or murder of Black women in abusive relationships, but femicide can also look like Black fathers harming their daughters, too.
This can happen when a mother decides to leave an abusive situation or is involved with an abusive partner. Take, for example, Alyse and Ava Williams, ages six and nine years old, whose father killed them and then killed himself. Before the incident, he was charged with domestic violence. Police reports stated a domestic dispute occurred between him and his wife before the killing, but this time he murdered their daughters. In another case, Larry Cosby killed his daughter Britney and her girlfriend Crystal because she was a lesbian. This murder is twofold – femicide and homophobia. Austin Stevens raped his 10-month-old daughter which is an example of sex-based violence because she was targeted, and she was a female child.
Femicide can also look like a woman being killed after a man gropes her or a man is rejected by a woman. Shadina Smith, 29, was killed after she told her fiancée she was groped by another man, and they were both shot by the assailant. Aieshia McFadden, 36, was killed in front of her daughter after she rejected the advances of a man who groped her butt. Tiarah Poyau, 22, was shot in the face after telling a man to stop "grinding" on her at a Caribbean parade.
All of these Black women were killed for different reasons, and these examples are all classified as domestic violence. If this is the first time you are hearing the word femicide, you're not alone.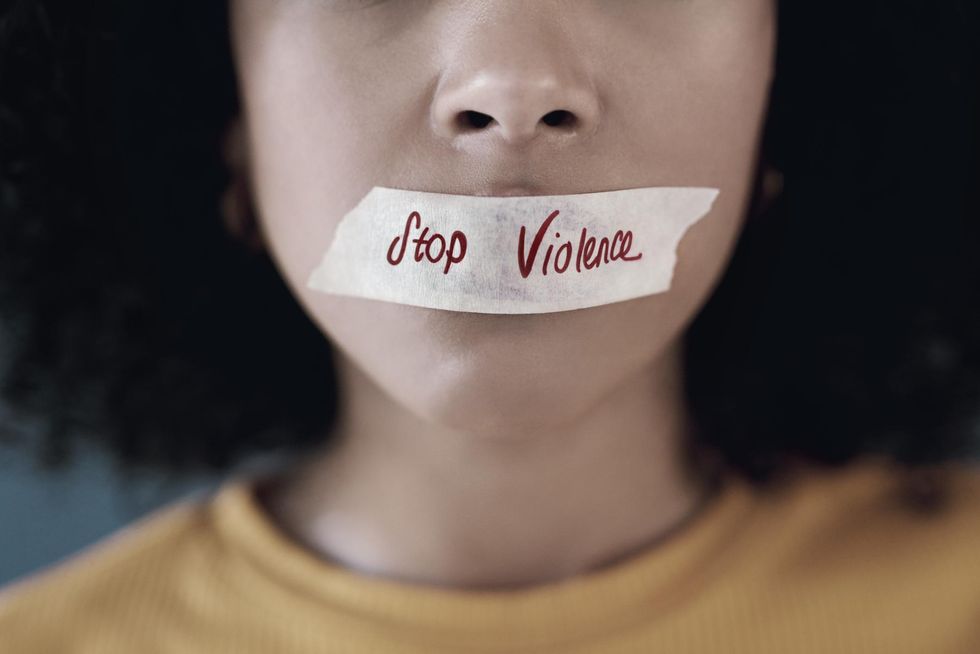 Getty Images
What Exactly Is Femicide?
When I learned what femicide was, my heart sank into my stomach. And I was saddened to learn that my home country of Trinidad tops this list with 6.6 deaths per 100,000 women. We were never valued. It is no surprise that femicide is a worldwide epidemic. Women are murdered across Latin America, South East Asia, the Middle East, Africa, and the Caribbean.
As defined by the World Health Organization (WHO), femicide is the intentional murder of women because they are women, but broader definitions include killings of women or girls.
But let's take a step back to understand that violence against women is a major public health problem and a violation of human rights. According to WHO, violence is the leading cause of injury, disability, and risk factor for other physical, mental, sexual, and reproductive problems. And femicide is happening right here in the United States too. It just looks and sounds a little different than what you might see or read about in other countries.
So, what can we say about femicide in the United States? We can say a whole lot, but almost nothing at all. What I mean by this is that all violence against women is categorized as domestic violence. We don't have a special category for gender-based violence. It's typically ruled as a general homicide. BTW – gender-based violence is the term coined for violence against women and what femicide essentially is. This includes domestic violence and intimate partner violence.
For background and context, the Violence Against Women Act (VAWA) was passed in 1994 to help end domestic violence. VAWA responds to victim needs by holding offenders accountable and allowing for data collection measures to learn more about domestic violence, sexual assault, dating violence, and stalking crimes. And as a result of the government shutdown in 2018, it expired. It was briefly renewed in early 2019 through legislation but expired again. It is currently a stalled bill in the U.S. Senate. However, VAWA is eligible for renewal every five years.
So, what's the holdup then? Domestic violence victims and survivors are just out here unprotected?
The Holdup
The Boyfriend Loophole: if a person is convicted of domestic violence, current federal law does not prohibit abused or current former dating partners from having firearms, even though more than half of all initiate partner homicide is committed by dating partners.
Stalker Loophole: if a person is convicted of felony stalking, current federal law only prohibits them from accessing guns, but people convicted of misdemeanor stalking can still legally obtain guns.
The question now is where do we go from here?
Thanks to women like Dawn Wilcox and Rosalind Page, we now have a place to start to understand the extent of the issue. Page has been a nurse for 31 years, she works with the community within the health advocacy space for those who cannot afford insurance or have little to no access to healthcare resources. She also works for the Veterans Affairs Department, lending her expertise to women veterans who have experienced high levels of abuse from within the community and as a serviceperson.
The two, nurses based out of Texas and Arkansas, respectively, have been collecting data and tracking cases of femicide in the United States for roughly five years to fill in the gap in data on femicide and bring awareness to this unseen crisis. Rosalind primarily focuses on femicide in African-American communities, while Dawn focuses on femicide in the U.S. as a whole through her organization Women Count USA to bring awareness, challenge media narratives and societal myths about femicide and domestic violence in the United States.
Rosalind is the founder of Black Femicide US. A Facebook group with more than 23,000 followers focuses on sharing the untold stories of crimes against Black women.
What We Do Know About Femicide In The United States 
There is no standard definition of femicide in the United States. Crimes against women, whether it meets the criteria or not, are categorized as domestic violence or defined as intimate partner violence. As defined by the Center for Disease Control (CDC), this includes physical violence, sexual violence, stalking, and psychological aggression. Although the World Health Organization recognizes the killing of women has steadily increased since 2014 in the U.S., it is not recognized as a problem like it is in other countries.
The U.S. doesn't recognize femicide as a special crime, so there is no legal definition of femicide in America because there are no laws for it.
For example, sex crimes are gender-neutral, but there are enhanced penalties if the victim is younger. There are enhanced penalties for domestic violence crimes, but they are hardly used because one can almost never prove the intent was based on gender in a court of law.
Femicide And Black Women 
According to the Violence Policy Center, 1,948 women were killed by men in 2017. In the same year, the CDC also reported that Black women experienced the highest rates of homicide than any other racial group in the U.S. The specific issue for Black women is that 4 in 10 Black women experience physical violence in their lifetimes. Twenty percent of Black women have experienced rape during their lifetimes which is higher than other women overall. According to data from the CDC, and the Institute for Women's Policy Research,
Black women face a higher risk of being killed by a man, 2.5 times higher than White women. 9 out of 10 Black women that were murdered knew their killers. The main risk factor is easy access by perpetrators to firearms, both legally and illegally.
From a cultural standpoint, Black women are expected to be strong and able to handle abuse due to the "strong Black women" stereotype.
Data collected and reviewed by Rosalind shows that Southern states appear to have an increase in violence against Black women. This was even before the pandemic and those numbers have seemed to increase. And according to independent data collection, Rosalind concludes on average three Black women or girls are murdered daily. As of today, 230 victims have been recorded.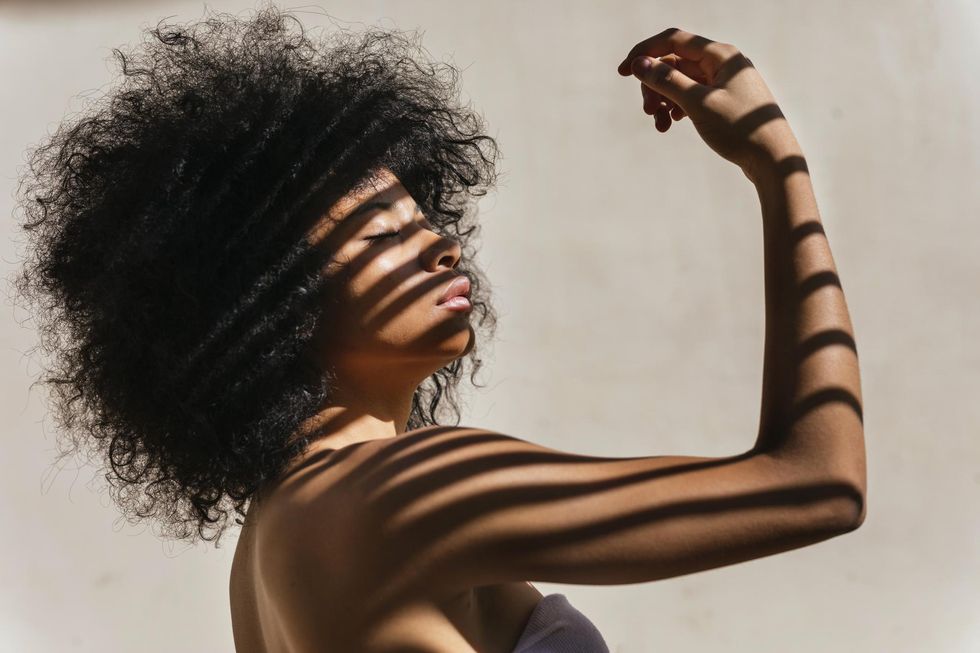 Getty Images
Femicide Awareness, Advocacy, And Solutions
From a micro and macro level, femicide is an epidemic. There is so much that needs to be done regarding gender-based violence against Black women and all women in the U.S. The most important thing we can do is to have these conversations often. We must be open and honest about this silent crisis in our communities. Men and women alike must acknowledge that this is a problem and urge local, state, and federal politicians to legislate for laws that protect victims and hold perpetrators accountable.
Rosalind Page also points out we can start by, "advocating for stricter sentencing guidelines, having a national Domestic Violence registry (much like the sex offender registry), making femicide a hate crime due to it being a targeted group. More groups dedicated to educating young men and women about what domestic violence looks like. How to recognize that someone may be a victim of it, and getting help. More financial assistance to organizations that help women and children get out of domestic violence situations."
These are only a few ways we can bring awareness to femicide against Black women and femicide in the United States. But it's a start.
Though I have heard stories about women being killed from my days at the district attorney's office or in the news, I personally don't know of anyone who was a victim or is a victim of gender-based violence. I can only hope that we use our voice to speak up. And that we are loud enough to be heard in this ongoing cry for help.
Stop hurting us, stop killing us, and start respecting us.
Featured image by Getty Images
Keep reading...
Show less
Clean beauty products have been trending for a minute. Every time I walk into Target or Ulta, I spend hours in all the beauty aisles. Makeup. Skin. Hair. All of it. If the packaging screams "try me", I want to try it. But I never really cared to try any clean beauty brands until recently. I love clean beauty products for skincare, but I have yet to try any for haircare. It's no secret that when it comes to curly hair, finding the right products is a hit or a miss. How many times have you bought a curl product that doesn't agree with your curl type and end up having to return the item? I have been guilty of this so many times. Let me just say, knowing your curl type is the number one curl rule. If you don't know your curl type, take a curl type quiz.

I also love that we have so much variety when it comes to textured hair, but sometimes it can be overwhelming. And for me, I'm always skeptical of trying new shit. I like to stick to what works until the brand decides to switch up the ingredients. I recently came across Function of Beauty's haircare line at Target. For those of you that don't know, Function of Beauty is an international clean beauty brand offered in 45 countries and uses over 60 natural ingredients to create customized formulas for hair, skin, and body goals. Yes y'all, Function of Beauty offers customized skin and body products too. But we will save that review for another day.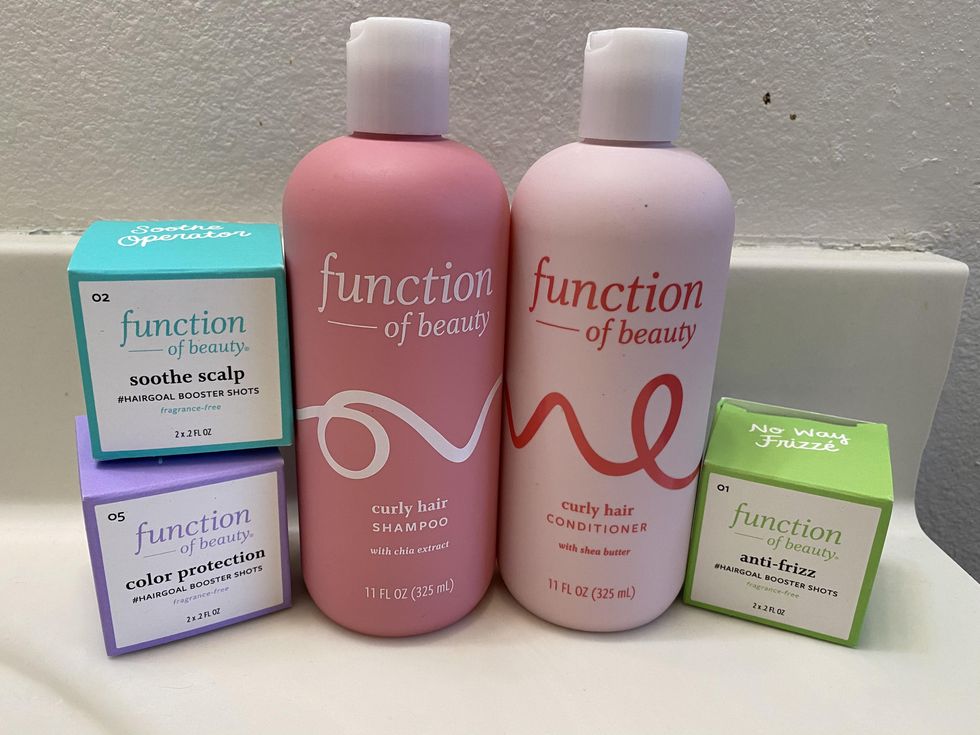 Writer Camille Ali/xoNecole
As I stopped in front of Target's Function of Beauty display, the pink packaging that read "curly" called to me. Not only is the product affordable, but you can also customize each shampoo and conditioner based on your hair goals and needs. Sis was sold. I picked up a bottle of the shampoo and conditioner along with three booster shots. You can choose from 10 different booster shots, but I chose color protection, anti-frizz, and soothe the scalp. The shampoo and conditioner were $10 each. Each booster shot was $2.99. I left Target spending a total of $50 bucks. But I mean, who doesn't leave Target spending more than they had planned to? Guilty.
I Tried Function Of Beauty On 3B Hair, This Is My Review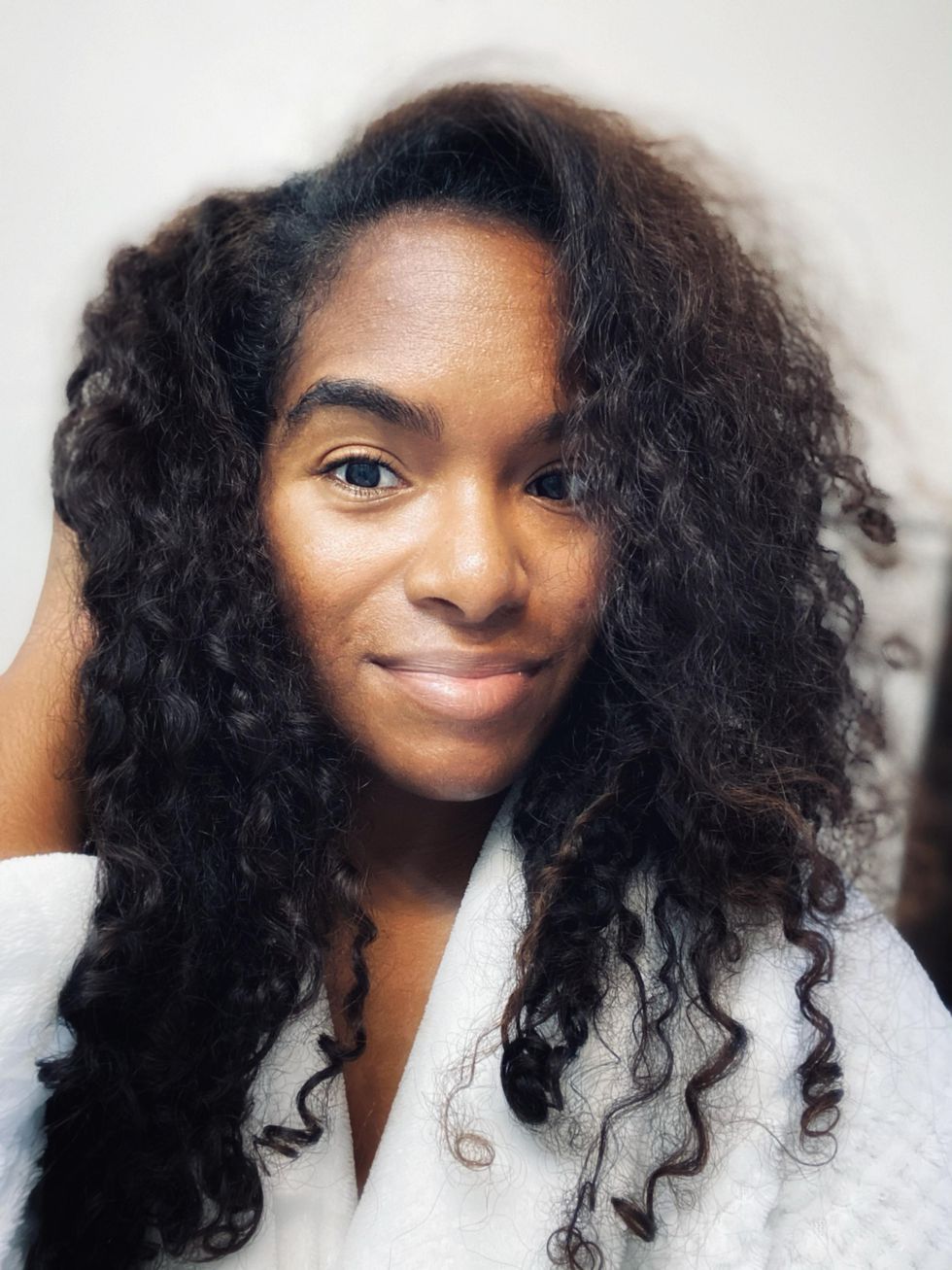 Writer Camille Ali/xoNecole
Here is how my wash day went using my customized Function of Beauty's Curly Shampoo and Conditioner.
The Function of Beauty Curly Hair Shampoo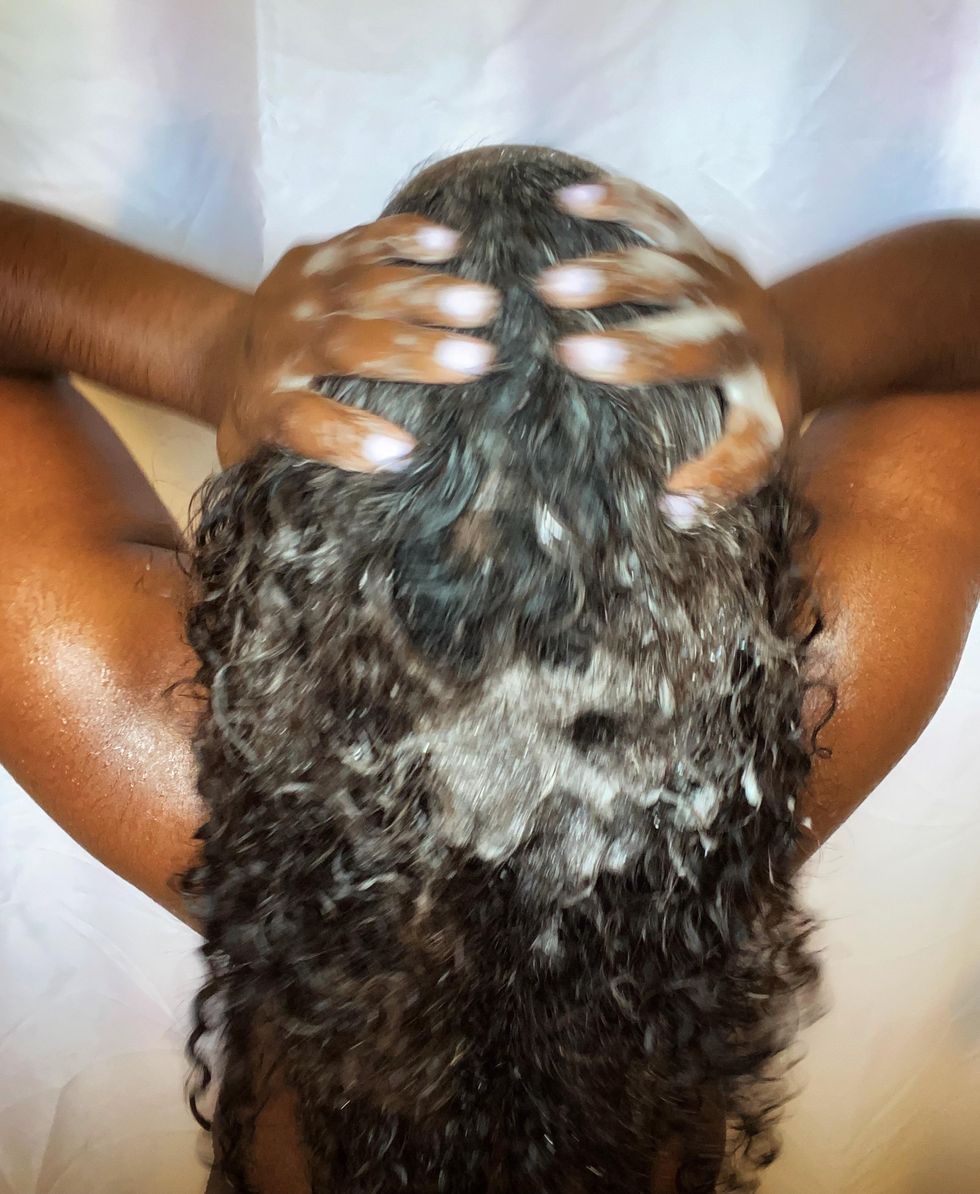 Writer Camille Ali/xoNecole
Most shampoos tend to dry out my hair after one wash, so I was interested to see how my hair would react to this shampoo. I never feel like my scalp or my hair gets clean when using "no-poo" shampoos. I need some soap suds. First of all, the smell is divine. It's a light sweet smell. Actually, it's their signature scent – peach. As I massaged the shampoo into my scalp, my hair felt super soft. The shampoo created a lather that was just right – not too heavy and not too light. I only needed to rinse my hair out once. After rinsing out the product, my scalp and my curls were clean. And nothing makes me feel better than a clean scalp.
The Function of Beauty Curly Hair Conditioner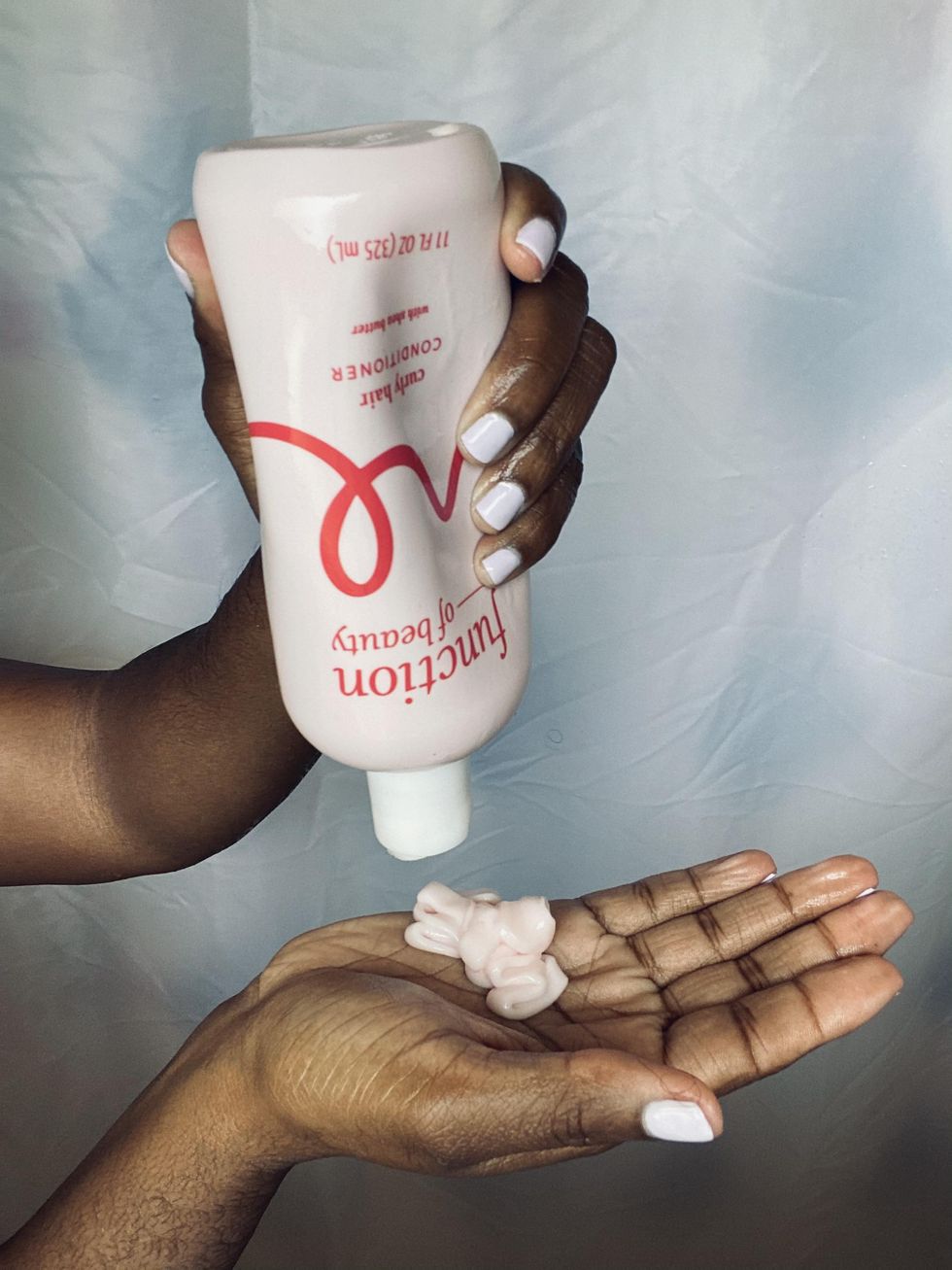 Writer Camille Ali/xoNecole
Next, I applied the conditioner to the ends of my hair. I like my conditioners to be thick, the more slip the better. It helps me detangle my hair. I'm not a fan of products that can't help detangle my hair. It's my biggest challenge and the main feature I look for when trying a new conditioner. As I worked the product through my curls, it gave me just enough "slip" to finger-comb my hair. Usually, I have to work the conditioner in for a few minutes before I begin detangling. But the product agreed with my hair so well that detangling was easy!
I loved how the conditioner coated and softened my curls. After rinsing the conditioner out, my hair still felt soft. Some conditioners leave your hair feeling like rope after rinsing. Dry and brittle.
The Results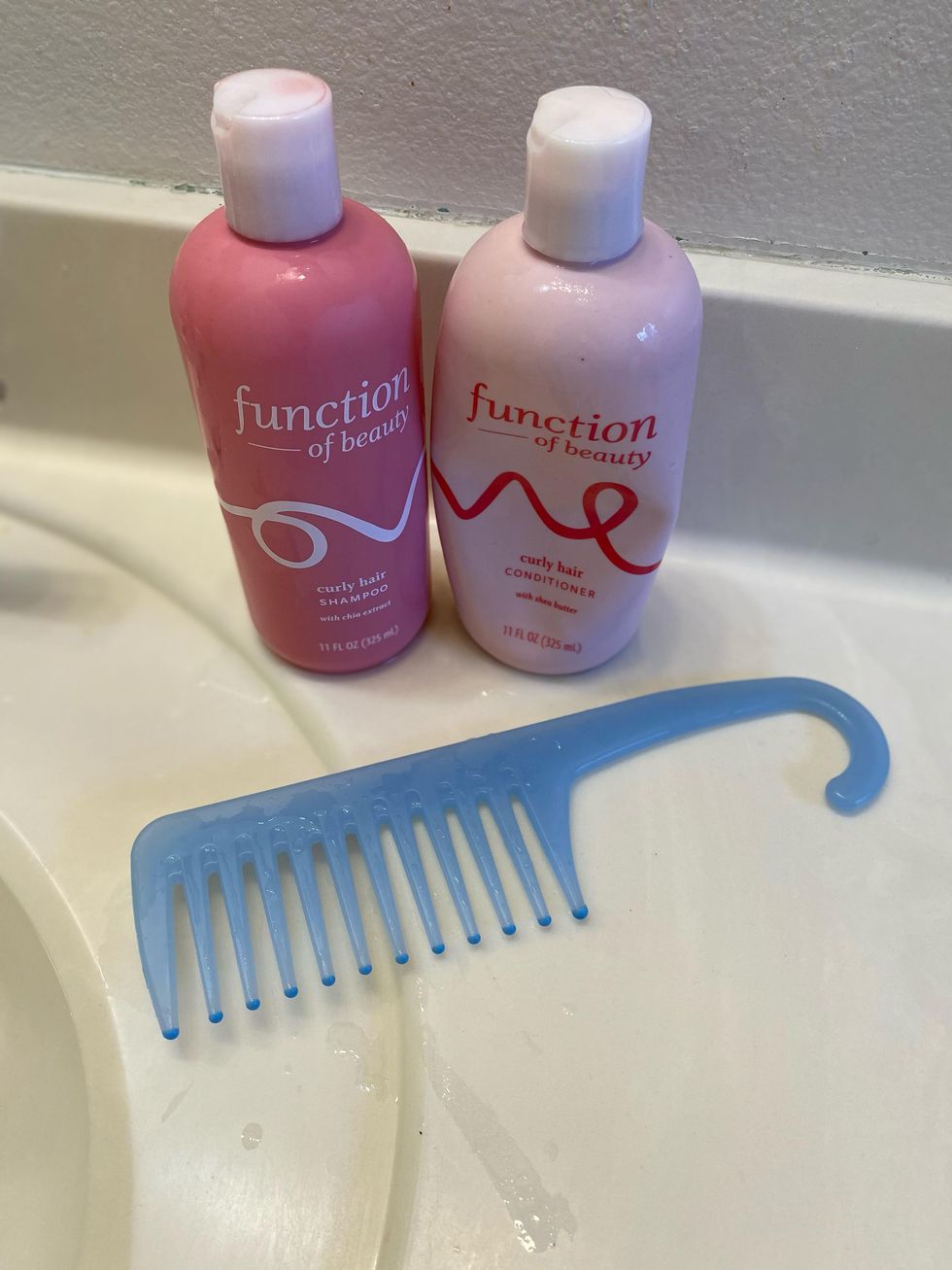 Writer Camille Ali/xoNecole
Most of us curly girls hate wash day, but I love wash day. I am telling you – there is something about a clean scalp and detangled curls that just makes me feel good. Especially, when you find products that agree with your hair. And for me, Function of Beauty did that y'all. My curls were soft, hydrated, shiny, and ready to be styled. Styling products are not offered through the Function of Beauty x Target partnership. BUT they do have a customizable leave-in-conditioner I am dying to try in their regular collection. The regular collection can be purchased online through their website.
It's hard to find curl products that work for your curl type. And when you do find a product that agrees with your hair, it's usually a few brands to choose from. Function of Beauty is one of those brands. Affordable, vegan, good for your hair, and good for the environment. I would continue to use their product line as part of my wash day routine. I have enjoyed my wash day experience so much, that I am ready to order my own customized Function of Beauty curl collection (color, scent, and ingredients) personalized with my name on it! I'll call it Function of Cam.
I'm ready to meet my #hairgoals, are you?
Are you a member of our insiders squad? Join us in the xoTribe Members Community today!
Featured image by Function of Beauty
Keep reading...
Show less