Camille Ali
Camille is a lover of all things skin, curls, music, justice, and wanderlust; oceans and islands are her thing. Her words inspire and her power is her voice. A California native with Trinidadian roots, she has penned personal essays, interviews, and lifestyle pieces for POPSUGAR, Medium, FEMI magazine, and SelfishBabe. Camille is currently creating a life she loves through words, self-love, fitness, travel, and empowerment. You can follow her on Instagram @cam_just_living or @written_by_cam.
If you're struggling with connecting to your wild side in the bedroom, you are not the only one, sis. A lot of women lack confidence in the bedroom for different reasons. And I'm here to say, it's not your fault. For most of us, this goes back to what we were taught about sex by our mothers, in school, and by society. We are taught what not to do and what not to be. No one ever gave women a how-to about enjoying sex, like sex wasn't meant to be something that women enjoy. We still live in a society where sex is only OK with talking about when it comes to procreation. But when it comes to pleasure and leisure - not so much. Sex is a natural human behavior, but to talk about enjoying sex or exploring your sexuality has always been considered taboo.
However, I have to say we are getting better about openly talking about sex. This is because women are tapping into their feminine side now more than ever. We want to explore our bodies and do all the things that give us pleasure. And this includes exploring who we are in the bedroom. But most times we don't know where to start or what to do. Other times, our partners can be more sexually advanced causing us to feel less confident in our own sex skills. Listen, sex is a whole experience. You don't know what you're willing to do or not do until you try it.
Here are six simple sex positions that take things back to basics while helping you tap into your wild side in the bedroom.
1

.

Missionary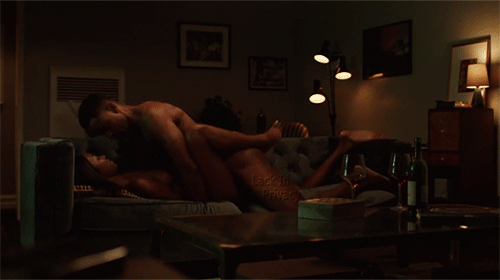 The missionary position is a classic and a favorite for some women. If you love to be dominated by your partner and deepen emotional connection, this position is for you. What's great about this position is that you can let go of your insecurities by allowing your partner complete control of your body. And I have to say it's the eye contact for me. There is nothing sexier than making direct eye contact with your partner during sex. It allows you to connect with your partner. Caught up in this moment, you will build up the courage to want to try other positions with your partner or even take control.
2

.

Get On Your Knees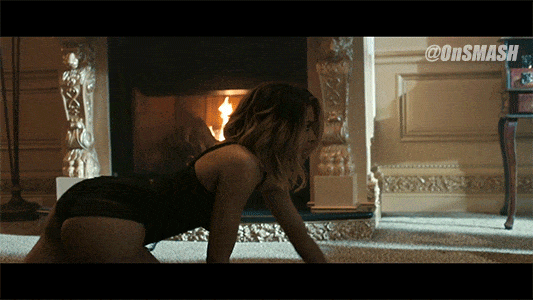 Nothing will make you feel sexier and more confident than giving your partner oral sex. Men love head and women love head too. With this position, you are in full control. You are the creative director of how you get to please your partner. You control the pace, and rhythm of all things you can do with your mouth and tongue. Don't shy away sis, show your partner what that mouth do.
3

.

Cowgirl or Reverse Cowgirl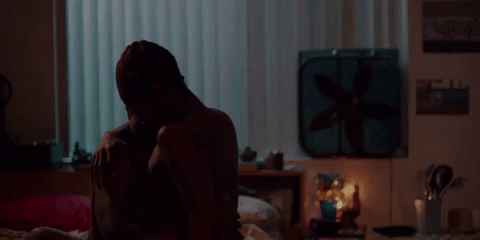 Believe it or not, some women are not one hundred percent comfortable riding dick. It can be uncomfortable at first, but "girl on top" is where it's at. This position will help build your confidence by giving your partner a full-frontal view of your body. Remember, men are visual beings. With this position, you have their full attention. You are in control of the rhythm, depth, and speed.
But if you rather not make eye contact with your partner, flip it, and put that thang in reverse with reverse cowgirl. This way, your insecurities don't flood your mind. And you can do your thing while he admires you from behind. Still not convinced? Get your partner a blindfold - taking away one sense will heighten the others.
4

.

From the Back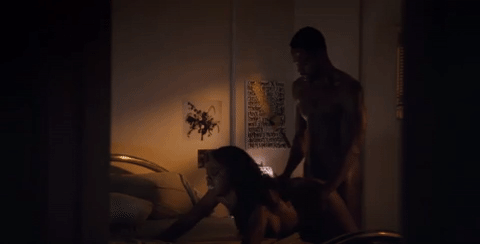 "Face down, ass up, that's the way we like to fuck." Was it 2 Live Crew or Meek Mill that is known for this lyric? Anyways, what's good about the doggy-style position is that it's comfortable for both partners. It allows you to submit to your partner as they control the rhythm and power of each thrust with easy access to the box. If you're feeling self-conscious about your body, it hides the front of your body. You can relax and enjoy your partner stroking you from behind or participate with your hands or sex toys. And according to Bustle, doggy-style is America's favorite sex position for both men and women.
5

.

Spooning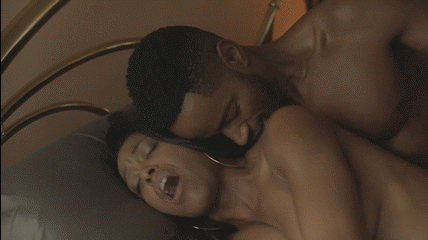 This position helps you feel more comfortable with your partner. How? Because you and your partner are pressed against each other. It's intimate, comforting, and allows for connection. With spooning, both partners can control the motion. This works especially well if you are not sure what speed or pressure is preferred by your partner. It's also a great position for women who don't orgasm easily.
6

.

Face-to-Face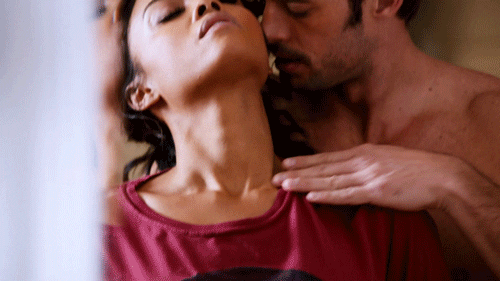 Giphy
Again, staring into your partner's eyes with close physical contact allows you to establish a deep, intimate connection. Here, anything goes. Masturbation or penetration. If you like watching your partner enjoy you, this is the position for you.
We all have insecurities when it comes to sex. But our insecurities shouldn't stop us from tapping into our sexual selves. Women are highly sensual beings. It's in our nature. And it's time we embrace that.
So, go ahead sis. Show off your wild side in the bedroom with one of the sex positions above.
For more love and relationships, features, dating tips and tricks, and marriage advice, check out xoNecole's Sex & Love section here.
Featured image by Getty Images

Keep reading...
Show less
I grew up in a home not knowing what a healthy and loving relationship looked like. And I know countless other women may have experienced the same. The same goes for men too. We gravitate towards partners that resemble what we know or what seemed to be normal when it never was. The saying is true - what is not healed in your childhood later affects your adult relationships. We ignore red flags, settle for yellow flags, and most times miss all the green flags when it comes to dating. Why? Because it's a feeling that is foreign and doesn't register as normal. So, we run towards toxic and ignore the signs of what a healthy relationship may look like. And I was definitely the type to stay longer than I should in a relationship that wasn't for me. But my dating standards have leveled up. I learned the lessons and cut my losses.
The problem is we don't speak enough about what green flags are in a relationship. It's almost as if green flags are a rarity and hard to come by.
Because of social media, we have become hyperaware of nothing but red flags. And we now live in a world where we label almost any and all human behavior as "toxic". But this logic is hella flawed and can't be true. We can't just be out here labeling all men or some women as "toxic" or "ain't shit". C'mon now. But I'm going to stop here because that's a different conversation and a different article for another day.
But when you think of good or bad signs in general, we often think of universal signs, or we revert to what we learned as children. Traffic light colors. We all know red means "stop", "danger", or "warning". Yellow means "proceed with caution" or "slow down". And green flags mean you're "safe" or "good to go". As remedial as it sounds, this same concept applies when it comes to dating and relationships.
Not only do you need to know what type of personality traits you want in a partner, but you have to know what healthy relationship behavior is too. He or she can be charming and successful, but their habits or how they handle daily life can be detrimental. Here are some examples of red flags, green flags, and yellow flags (it's an actual thing) in relationships that you should know, look for when dating, or choosing to get serious with somebody's son or somebody's daughter.
Red Flags In Relationships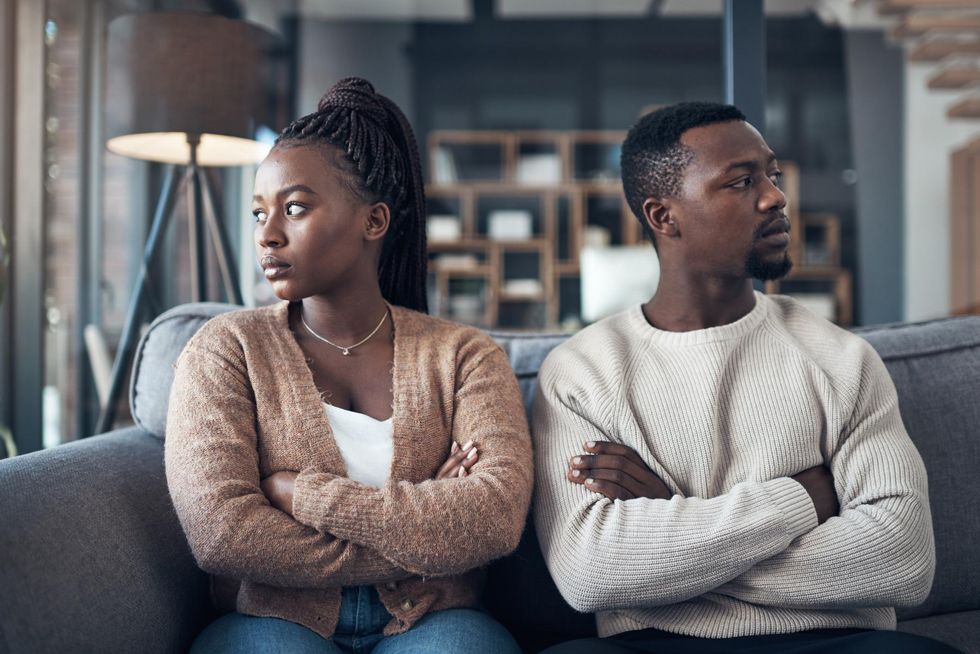 Getty Images
Red flags in relationships are signs that let you know that something isn't quite right. It's often a response, interaction, or behavior that leads to you question your partner and/or the relationship. And if you have to question it the first time, it's going to be a problem the second, third, and fourth time. This is where we fuck up. We don't listen to what our intuition is trying to tell us. According to a UK outlet, The Independent, a red flag in a relationship is defined as "something your partner does that indicates a lack of respect, integrity or interest towards the relationship."
Now, these signs of a red flag can vary, but it also depends on what you are willing to tolerate. Read that again. Some of us stay with partners because we're just not aware of unhealthy habits or behaviors.
Sheleana Aiyana, founder of Rising Woman on Instagram, shares some of the red flags you should look for when dating or consider before entering a relationship:
If any of these red flags exist in the person you are currently dating or in your relationship, you need to run the other way and/or amicably end it. I ignored all these signs in a past relationship, but I didn't know any better. I now know about non-negotiables in relationships. And it has been a game-changer. I know exactly what I won't tolerate and what identifies as a red flag for me.
Green Flags In Relationships
Now, let's talk about all things healthy in relationships. According to Nedra Tawwab, green flags in relationships are:
...up-front indicators that you're in a relationship that's worth continuing and nurturing. A new relationship full of green flags is a relationship in which you will probably be able to let down your guard and be your truest self.
Green flags are the complete opposite of red flags. What this means is that you won't have to question your partner's actions. You won't have to feel guarded or tolerate repeated behaviors that make you feel a certain way. It means they are willing to show up as a partner and be present in the relationship. It also means that the relationship is equally a safe space for both of you.
Nedra Tawwab and Sheleana Aiyana share some of the green flags to look for to cultivate a healthy relationship:
These are the healthy behaviors we want in not just a romantic relationship, but any relationship. Remember, love flows - it makes your heart expand. It makes your soul grow. What love doesn't do is make you feel small or constricted.
Yellow Flags In Relationships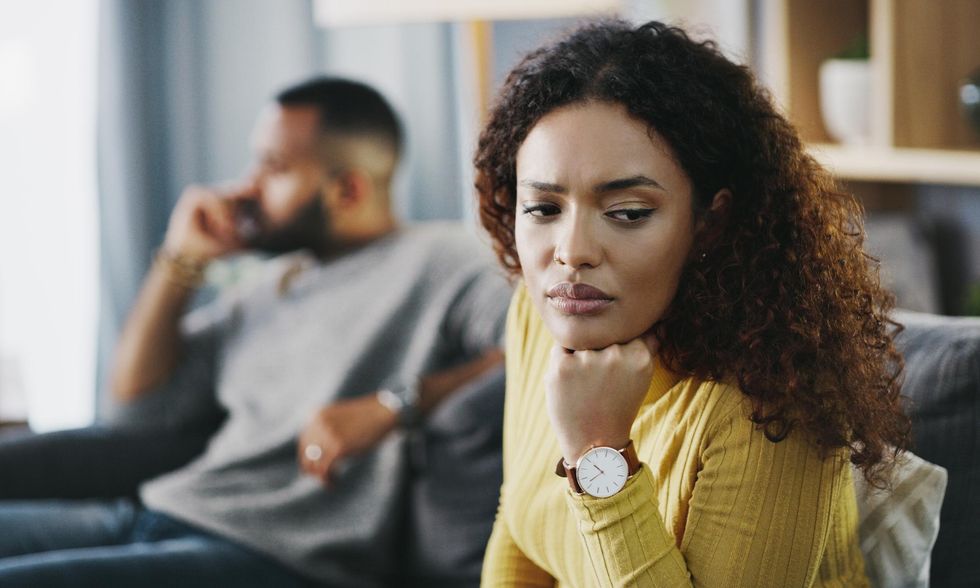 Getty Images
OK, yes. Yellow flags are real. It's the things we don't necessarily pay attention to about a person, but we should. These types of relationship flags are not deal-breakers, but they are signs that scream, "I don't know about this," or "That's weird." Yellow flags are also considered a behavior that can be acknowledged and worked on. But more importantly, you need to figure out if the behavior exhibited by your partner is a trigger for you.
According to an article from Medium and The Love Brain, some yellow flags to be aware of in a potential partner are:
Major debt. Everyone has some type of debt, but how someone handles their finances can be revealing about their money habits or level of responsibility.
Indecisiveness. The ability to make life decisions are important. If one is not capable of making decisions about their own life, you may not want to keep rocking with them.
Opinionless. Communication is key in any relationship. So, if a partner can't communicate their opinions to you, either they are not comfortable enough with you to share their thoughts or they don't have thoughts to share.
Never had a long-term relationship. It's not a major yellow flag, but it could shed light on commitment issues.
An ex is always why a past relationship failed. If someone always blames their ex for their relationship not working out, this means that they refuse to take any accountability for their actions or they are victimizing themselves.
Different life plans. Again, it's not a bad thing, but if you and your partner can't meet in the middle about your life plans, then you may want to consider parting ways.
Details about their personal life are left out. This is dependent on the stage of the relationship you are in, but if a partner can't open up with you in time it's grounds for concern. It could potentially mean he or she is hiding things from you.
Highly insecure. It's never cool to have a partner who lacks confidence and who constantly seeks reassurance. It becomes emotionally exhausting. And if they're not willing to work on becoming a secure person, you might have cut ties too.
Where are their friends? A healthy individual has a network of close friends. If someone doesn't have friends or you haven't met their friends, it could mean they have trouble maintaining close relationships. Also, the type of company your partner keeps can give you insight into who they are.
Some of the yellow and red flags mentioned seem like things you normally would pay attention to upfront. But let me just say, not all yellow flags are as obvious and some of us are still learning how to date. This is where your list of non-negotiables comes to play. Study them like it's the Bible or a college textbook. This way, when you're dating someone, and they say something or respond a certain way, the yellow flag will become more apparent.
I missed every single yellow and red flag in a past relationship. I was so blindly in love that I thought we could just move past these little issues or eventually grow together. I was clearly in denial. But it's OK. Because now I know what green flags are and what traits or behaviors create a healthy relationship.
And my only hope is that we learn to say deuces to red flags, pass on the yellow flags, and embrace the ones who come with all the green flags.
Because in the end, this is who you want - a life partner that is a safe space and more.
For more love and relationships, features, dating tips and tricks, and marriage advice, check out xoNecole's Sex & Love section here.
Featured image by Getty Images

Keep reading...
Show less
The hurt still lingers. It lingers even though I am now in a good space. I'm slaying my goals, manifesting my dreams, and my life is unfolding beautifully. I have no complaints. But this is a pain that has not softened.
Why won't this hurt leave? Why can't I release this feeling?
This pain tends to resurface from time to time. It's an open wound that is still healing. It cuts deeper than any cut a past lover has given me. The thing is, I value the people that come into my life. And I am not in the business of short-term friendships or transactional relationships. But now I see friendships are not forever, regardless of time, effort, connection, and space.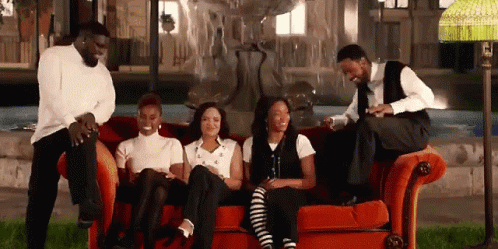 In this past season, I have lost a few close friends. I have also lost friends I was becoming close to. I perceive it as a loss because patterns, actions, body language, and energy tell no lies. I sensed the change in these friendships before it was truly over. It pained me to see their Instagram Stories and posts. It became a trigger for me. Not because I was angry, but because I was hurt. I am still hurt. After everything I did for them, I couldn't help but question, "Why was I being treated differently? You mean to tell me; I was a friend for just one season? I wasn't a good enough friend for a lifetime of seasons?"
Eventually, I began to nonchalantly scroll past their Stories and posts to avoid being triggered.
Why is my title of "friend" now stripped?
Why was I no longer good enough to sit at their table?
Why am I only worthy of being just an acquaintance or an associate now, when I've proven myself as a friend?
I just couldn't understand it at all.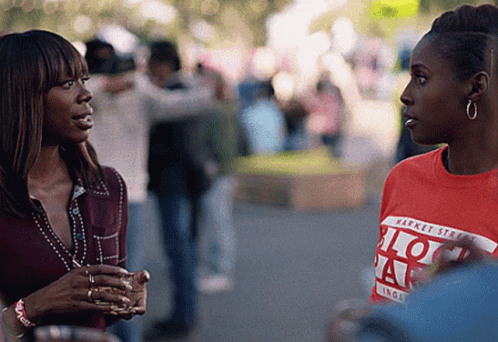 My first thought was, "What did I do wrong?" Followed by, "How do I fix it?" Why did I even think this was my fault, to begin with? I tend to blame myself when situations like these happen. But we all do this when conflict or problems arise. Just know it's a habit I'm trying to break.
For weeks, I lost sleep. I relapsed into an anxious state of mind and possibly mild depression. I confided in my cousins and other friends about the situation at hand. I spent therapy sessions rambling to my therapist about what I have done right in these friendships, what I could have done wrong, and how I should go about confronting these friends. And I did try to address my concerns only to not get a response.
So, finally, I left it alone.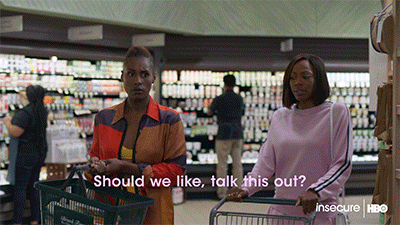 I had nothing more to say. I had no desire to fix anything. I just decided to let it be. I chose to give them grace because I realized I did nothing wrong. I mean, I know what type of friend I am. I am proud of how I show up in my friendships too. I'm a giver.
That's just who I am.
What I did do is use my hurt as fuel to focus on myself. I took all the love, time, patience, energy, effort, and grace I gave to them and poured that ish into myself. Read that again.
And when I did that, I began to shine. I spent my time perfecting my craft, my artistry, and I stayed focused in the gym. I nourished friendships (both old and new) with people who were equally interested in my life, happiness, growth, and success. As my light started to grow bigger and brighter, these same friends started to come back around. As if nothing changed. As if there wasn't an issue that no longer needed to be addressed.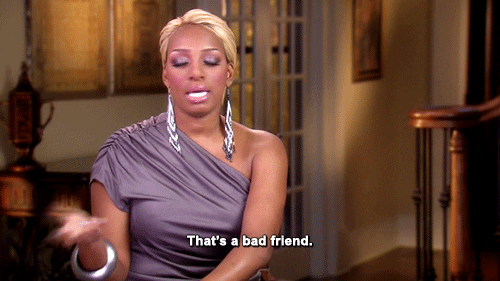 I even questioned whether it was me that was toxic at times. And the answer was no, I wasn't. At the time, my mental health relapsed, and I needed a close friend to talk to. I came to understand they were projecting their issues onto me. I am not one to hold grudges nor hate in my heart. And I learned at an early age pride ruins everything. I am the queen of respect, diplomacy, and tact. So, when I received a message or saw them in public, I kept it cool. But I miss the deeper connection I had with those friends.
To know now, that it may or may not be the same between us still hurts. It hurts to know that they didn't see me the way I saw them. They didn't value me the way I valued them.
In this season, I am not tolerating less than what I deserve in any friendship because I am not a "sometimes" friend. I am not entertaining temporary friendships nor friendships where I am not equally celebrated. I am not accepting a downgrade of "friend to an acquaintance" again. Not ever.
I am limiting access to my time, energy, and space. I am using boundaries across the board. And if someday, these same friendships are to be rekindled, it deserves a conversation with mutual respect, transparency, honesty, and vulnerability. And for me, in this moment, all that shit is earned because now the trust I had is gone.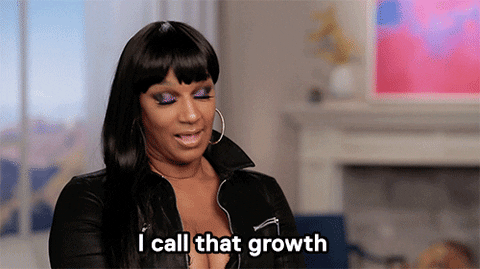 You see, friendship breakups are just as bad as relationship breakups. This is because some of the same principles apply.
You have to come whole-hearted. You have to come ready to talk. Or don't ask or say anything to me at all. I know, I sound mean. I sound jaded, but I promise you I am not. But what I am is serious as AF. You have to realize you are equally exceptional in your own friendships too. Please, don't wait for someone else to show you this. Show it to yourself. You need to know that you are equally worthy of standing next to the person that you call a friend.
You deserve to be equally reposted, invited, nurtured, supported, and all of the above. You are not just worthy of a seat at the table, you are dancing on the motherfucking table too.
And this is how I am handling the loss of friendship this season.
With self-love and self-respect, because I know my worth. And I can only give someone grace for so long.
In the words of Bryson Tiller, we're outta time.
For more love and relationships, features, dating tips and tricks, and marriage advice, check out xoNecole's Sex & Love section here.
Featured image by Getty Images
Keep reading...
Show less
If you ever wondered about using acid-based skincare products as part of your skincare routine, you're probably familiar with Alpha Hydroxy Acid (AHA) and Beta Hydroxy Acid (BHA). Most skincare brands have at least a few products with these key ingredients. But what are they? How do they help our skin stay flawless? And what's the difference between the two?
Well, let's start by defining what AHAs and BHAs are. These types of acids are categorized as hydroxy acids. And hydroxy acids help remove dead skin cells through exfoliation which allows new skin cells to surface. Some hydroxy acids you might have heard of are glycolic acid, lactic acid, and salicylic acid. We usually find these ingredients in skincare products (chemical peels) that are made to treat common skin conditions like acne. When these acids are topically applied, they smooth, tighten, firm, and brighten the skin.
The key benefits of both AHAs and BHAs are that they work as an exfoliant, provide moisture, and repair sun-damaged skin. The main difference between the two is that AHAs are water-soluble and BHAs are lipid or oil soluble.
Whether you choose to use alpha-hydroxy acids or beta-hydroxy acids, here is how your skin can benefit from them and the products you should try.
Alpha Hydroxy Acids Do It All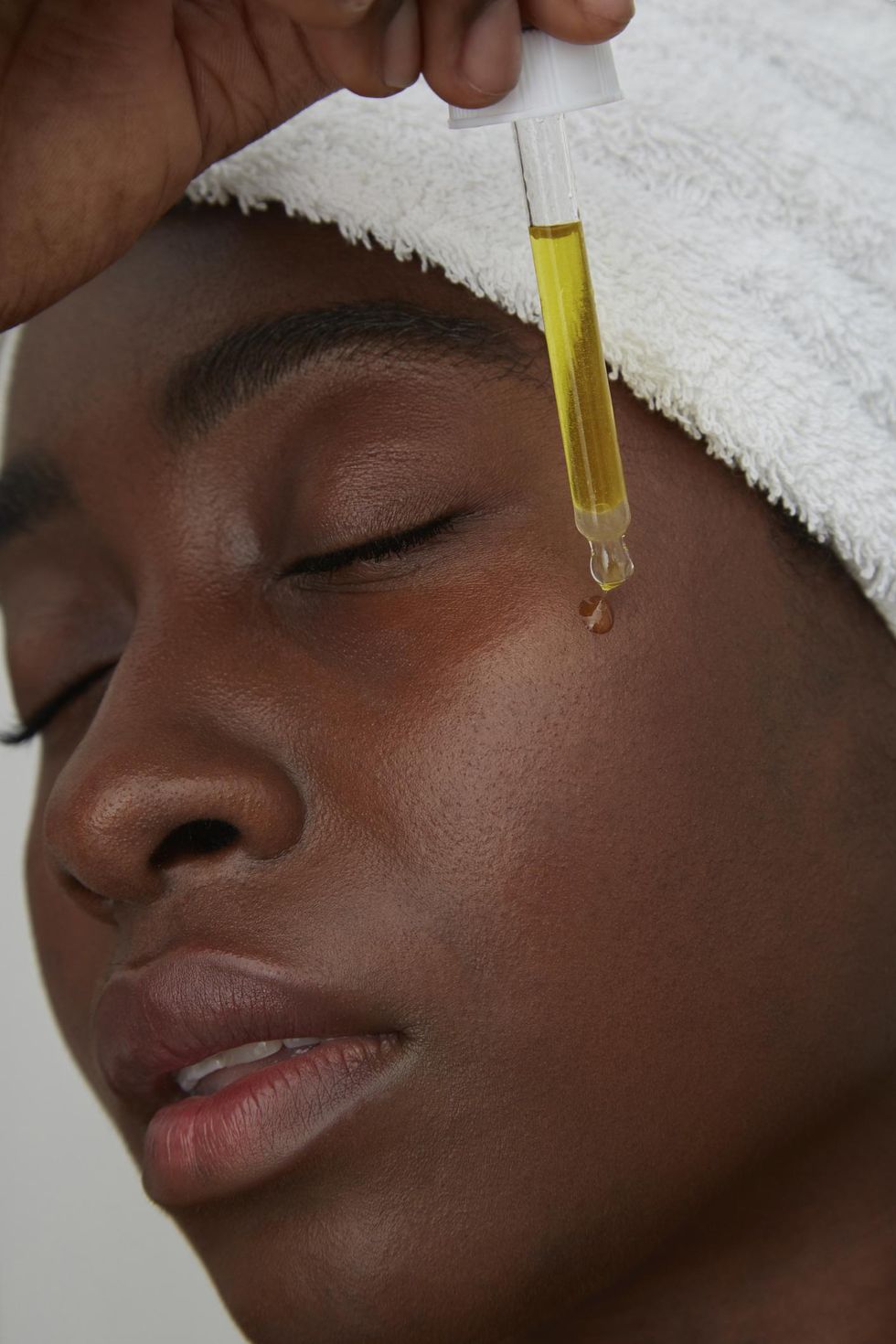 Getty Images
According to Healthline, alpha hydroxy acids are primarily used for hyperpigmentation, enlarged pores, fine lines, melasma, and uneven skin tone. Common alpha hydroxy acids include glycolic acid, lactic acid, malic acid, tartaric acid, citric acid, and mandelic acid. Most AHAs are derived from a plant-based source like fruits, nuts, and sugar cane, but lactic acid is sourced from milk. This means it's much gentler on the skin and safe to use on sensitive skin.
You can add AHAs a few times a week to your morning skincare routine. See how your skin feels or reacts to it. And be sure to use moisturizer and sunscreen to prevent burns or irritation.
Beta Hydroxy Acids Are Your Acne Solution
Compared to alpha hydroxy acids, there is only one beta hydroxy acid, salicylic acid, which it's derived from willow bark. Many over-the-counter facial cleansers contain salicylic acid as well because of its acne-fighting properties. In a Glamour article, dermatologist Robert Anolik, M.D. said, "BHA is lipophilic, so it's drawn to oils. That means it will not only exfoliate the top layer but also target the sebaceous glands down in the pores, clearing the clogs that create whiteheads and blackheads while also helping fade the pink marks that are left over from old outbreaks."
Salicylic acid can also correct dark spots without skin irritation because of its anti-inflammatory properties. BHAs can be used a few times a week too.
How To Use AHAs and BHAs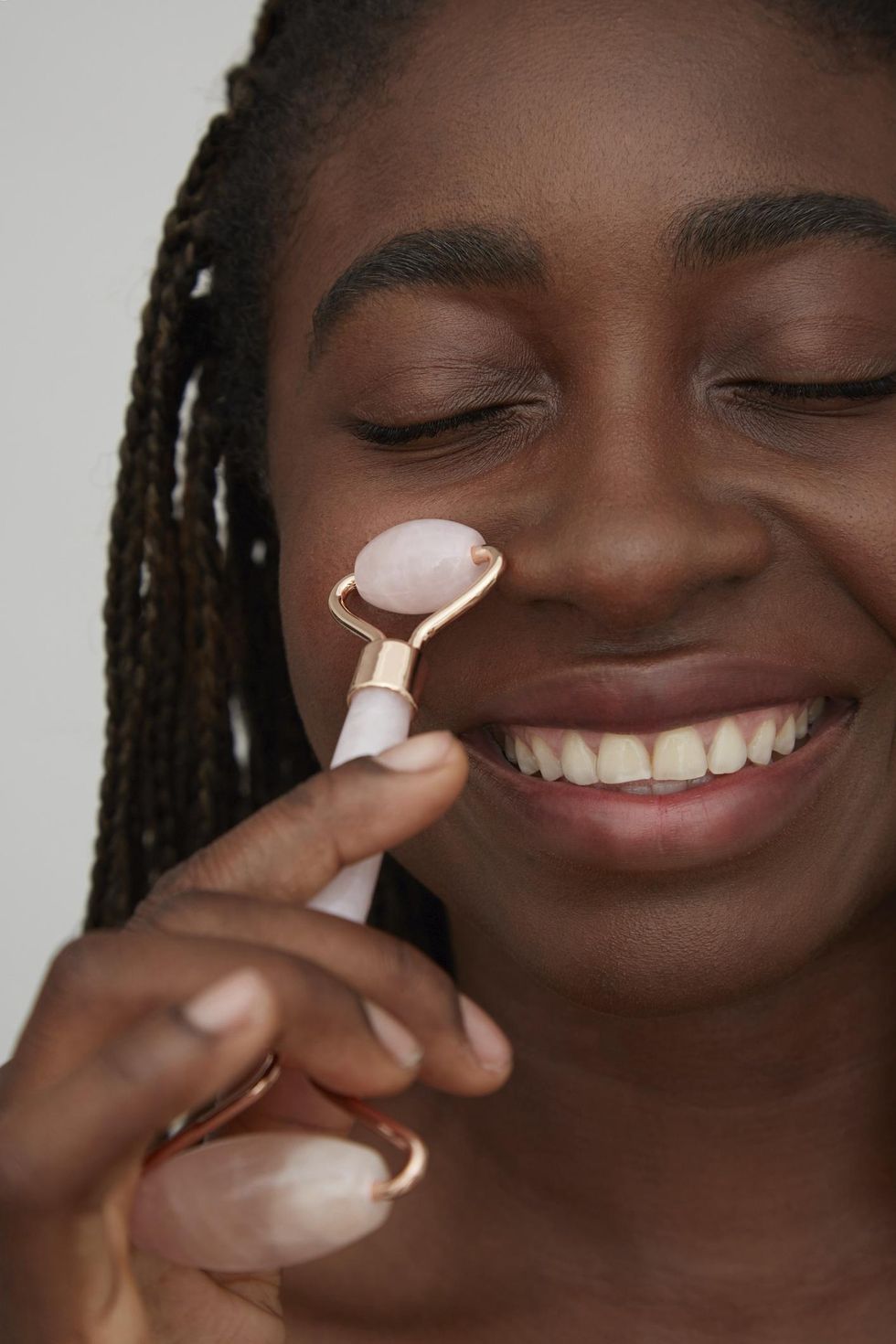 Getty Images
The beauty of AHAs and BHAs is that you can use them together. Try alternating each product by using one type in the morning and the other as part of your nighttime routine. You can use AHAs and BHAs on alternating days too. But never layer these two products together! Remember, these are acids that act as exfoliants—so they can cause dryness and irritation.
Make sure to use low concentrations because higher concentrations can irritate the skin. Anything with a concentration of 10% or less is what you want. If you're not sure, ask your esthetician or dermatologist how to incorporate these acids into your skincare routine.
Featured image via Getty Images
Keep reading...
Show less
It was 2018 when I realized working in a toxic work environment and pursuing a high-stress career in Corporate America wasn't for me. But at the time, resources on how to take a career break were scarce. I researched, googled, and scrolled through Pinterest. I read blogs and listened to podcasts about other women who traveled and eventually made a career switch. But there wasn't a platform dedicated to strategizing an exit plan from the American lifestyle. At least, not for women of color. I was left to make these life-altering decisions on my own with little to no help or substantial resources.
I managed to execute my plan, and here I am still curating this new life of mine. I still dream of living life overseas too. It's going to happen, but I'm just not quite there yet. And in 2021, more and more American Black women have realized hustle culture or Black Excellence is not where it's at. Two years ago, it was highly uncommon for a Black woman or any woman of color to quit her job, sell her house, give up everything she owns, and catch a flight to a destination unknown and start a whole new life. It was just completely unheard of.
It went against everything our parents and the generations before us taught us about building the American dream. Life for an American Black woman embodies hard work.
Oftentimes, this means demanding and stressful careers. It's a constant state of chaos and, the thing is, most Black women don't realize this until they are forced to. And there is no telling how chaos decides to show up, but it usually manifests in unhealthy vices or underlying health problems. The idea of "taking a break" or moving abroad isn't a part of what we consider Black Excellence to be. So, we entertain the idea of a relaxed lifestyle only when we are eligible for retirement.
But in case you haven't noticed, we are no longer waiting until 65 to truly live. We are deciding to be present and live our best lives now.
The pandemic showed us what a life with balance and freedom can look like. It gave more and more Black women the permission to discover new ways to find joy. Even if that joy looks like leaving their homes and everything they know. Whether that is through a career break or a more permanent move, Black women have come to realize a life of constant burnout and mental health problems isn't a life at all. And Stephanie Perry and Roshida Dowe came to this same realization too.
Together, through their company Exodus Summit, they help other black women navigate the ins and outs of taking a career break or living abroad. "The idea for Exodus Summit started in the summer of 2020. Stephanie and I thought this would be a good way for us to collaborate and serve more women than we could serve individually," Roshida explained. "This year, we have invited back women who attended the summit last year to be speakers at this year's Homecoming. These women are coming back to share their roadmaps for how they made the transition abroad happen for themselves."
Meet The Creators Of Exodus Summit
Stephanie is a digital nomad. She has visited 12 countries in 12 months all at $1200 per month. Before making the leap overseas, she was a hospital pharmacy technician. Now, she's a year-round house sitter and pet sitter who helps Black women take a career break to travel on a budget through her website vaycarious.com.
Roshida, aka "Shida D", is a passionate proponent of career breaks, sabbaticals, and grown-up gap years. In her previous life, she was a lawyer in high-pressure tech companies. It wasn't until a decade later that Roshida realized she wasn't in love with the life she built.
Stressed, tired, and burned out, Roshida decided to take the leap and travel the world for a year. It was then that she discovered her purpose. Roshida decided to help other women experience the freedom she had found on her own career break. She now coaches women on how to plan satisfying and sustainable breaks from their careers and leave burnout behind.
xoNecole interviewed Stephanie and Roshida on their personal experiences with taking career breaks and living abroad. Here's what they had to share.

Leaving The American Life
It's never an easy decision to leave the life you're accustomed to for an unconventional life. There are so many what-ifs, risks, and issues that come up. Not to mention self-doubt and limiting beliefs. It's an internal battle of:"Can I really do this?" "Am I making the right decision?" and "What are people going to say?" Especially for Black and brown women. Our function in the United States is to work and take care of other people so that others can live out their dreams. To seek a desired of level freedom is almost considered unattainable and too far-fetched in our culture. But says who?
Stephanie and Roshida share their reasons for leaving this American life.
Stephanie: "I decided that I wanted to spend a year traveling full-time and I thought that one year was going to be enough. And I was going to return from that year and be like, 'I did it. I saw it all. Now, I'm ready to go back to my old life.' It turns out, that once I was out for a little while, it made me put my life and work in perspective. I started to see how other people in other countries don't make work their priority and try to fit other things in. They get to enjoy a full life. They get to live it 360 degrees and not just work most of the time and then hope and pray when they get to that magical retirement age that they are still able to do the things that they have always wanted to do. So, being able to experience life in other cultures for those 12 months changed the idea of what I wanted my life to look like."
Roshida: "I got laid off from my job when the company I worked for went out of business. The thought of getting a new job was overwhelming (I was totally burnt out from the last job). So, I did some quick math and realized I had enough money saved to travel for a year, and I was off exploring the world less than a month later."
Challenges Of Living In A Foreign Country
When you finally decide to build a life in a different country, there is no question there will be a few challenges. And it seems scary at first when you don't know how another country operates or how to establish residency, let alone get a job. But we live in a digital world. We have a variety of resources that allow us to educate ourselves about other countries and their cultures. From social media, YouTube, language and travel apps, blogs, and Google, we can easily travel to another country well-prepared. I mean, I did. While external challenges exist to living in a different country, most of the challenges are internal. It comes down to adopting a new way of thinking and allowing yourself to say "yes."
Stephanie: "Living in another place is simpler than what most people think it is. It's 2021 and there is a lot of information out there. You don't have to go into a place blind. There are communities of people, especially if you're a Black woman. There are communities of Black women all around the world that are sharing information so that you can get to places and know what neighborhoods you want to live in, the good doctors, and the good service providers in the area. So, you're not moving to a place with no clue.
"The real hurdles are in yourself. How do I reject everything I was told that I was supposed to be living for? We are stuck on the idea of Black excellence, which is a trap. It's doing things for outward appearance and forgetting about what you really want. You have to be these things so that other people can look at you and respect you. But what about how you feel about yourself?"
Roshida: "Beyond not being fluent in the language, getting used to the local customs can be a challenge. But when you find the perfect place for yourself (for me, it's Mexico City), those challenges seem like learning opportunities."
Earning An Income And Finding Work In Another Country
Stephanie: "Because I like to go to inexpensive countries, finding work overseas would not benefit me. I would be paid in their currency, and it would be worth less than the U.S. dollar. So, I instead make money in U.S. dollars online and stay, visit, or live in these other places. It turns out that I have a skill set that people were willing to pay me for that I had been doing for free. I'm a house sitter and people used to ask me all the time how to get started with house sitting and I would give them information for free. Now they pay me for it. That's my business. I make a living helping people become house sitters. Most of my clients are Black women from the U.S. and the Caribbean. I found a skill set that supports me so that I don't have to have a traditional job."
Roshida: "During my career break, I started helping other Black women take breaks as well, and that turned into a business. Building my own business, I get to set my own hours, work with who I want, and work from wherever I want."
Misconceptions About Living Abroad
Stephanie: "Misconception number one is that it's dangerous. I spend six months out of the year in Mexico and people always want to know how safe it is or what about the cartels. But if you don't have cartel business, you don't have to think about the cartels. Another piece of American propaganda is that we are better than other places. Especially when it comes to certain things like safety. I am not safer in the United States compared to when I'm in a different country. Mexico is a place where people just mind their business. There is not a group of people in Mexico who are waiting to harass you. If you have an interaction with the police in Mexico, it's not going to be a negative interaction. In the cities we live in, in the United States, we are probably in more danger than in any place that you're going to want to go to in the rest of the world."
"It's also not as expensive as people think. People price places based on what they see when they go on vacation. When you live someplace, it's a lot less expensive than when you are just visiting. It was less expensive for me to travel full-time, than it was for me to live in Wilmington, Delaware."
"Loneliness. When you are a solo traveler, you will meet people if you want to. It's so much easier to meet new friends when you travel solo. I have friends now that I would not have met if I traveled with other people, and we are still friends today."
Life Abroad Vs. The Black American Lifestyle
Stephanie: "When I'm abroad, it's the only time I get treated like an actual American with all of the rights and privileges that come with being an American. I also don't have to fear for my safety as a Black woman abroad. Dating is better for me as a Black woman abroad too. My self-care is better. We think self-care is manicures and pedicures, but not like actual rest. I have free time to do creative things and daily spirituality practices. All of those things are things I have time for because I don't work and live in the United States."
Roshida: "Living outside of the U.S. gives me a sense of freedom that I didn't experience in the U.S."
On Why Black Women Are Adopting A Life Overseas
Stephanie: "I think that we have gotten tired of living the life of other people. We want to feel that freedom, that right now, it's only felt when we leave the country. Also, it's helpful that the internet exists and that Black women are sharing what they have been doing so new people can be introduced to it. I have a YouTube channel, and people are like, I didn't even know that I can do this. I think the communities of people who are out sharing information are very helpful."
"And I think that we've hit a breaking point where either you're going to make a big change, or this environment is going to kill us. We are fighting for our lives. It's a fight for our peace of mind, for our safety, for children's safety, and our joy. There's a new emphasis on Black joy that has not existed in the past. It prioritizes what you want or what life you want to live. All of these have converged to make it so much easier and so much more realistic for us to go."
Roshida: "Life abroad comes with significantly less stress and a sense of joy and ease that is hard for Black women to achieve overseas. It's not a stress-free life, but most other cultures have a more relaxed way of life, and it's nice to get to enjoy that abroad."
Exodus Summit 2021 starts this weekend, from September 24-26. Learn more about the virtual event here.
Featured image by Getty Images
Keep reading...
Show less
When it comes to skincare, I have to say we are spoiled. We have a variety of products on the market that help us achieve that natural, youthful glow we all want. From gels, oils, serums, creams, foams, scrubs, and vitamins, we clearly can't go wrong. If you're obsessed with taking care of your skin or have been prone to skin problems like me, you've probably used retinol, hyaluronic acid, glycolic acid, salicylic acid, and benzoyl peroxide as part of your skincare routine. These are just common key ingredients that have been on the market for decades. Now, there are so many other types of acids and supplements that give your skincare routine the upgrade you didn't know it needed.
Enter niacinamide. According to an article from Healthline, niacinamide is a form of vitamin B-3 that is an essential nutrient and is water-soluble. Vitamin B-3 is found in eggs, cereals, green veggies, beans, fish, and milk. When you are deficient in vitamin B-3, it can lead to skin disorders or other types of health conditions. Did you know our bodies can also produce niacinamide? When our body has too much niacin (vitamin B-3), it's converted to niacinamide. So, how does our skin benefit from niacinamide?
Overall, niacinamide builds proteins in the skin and prevents environmental damage by locking in moisture. It also helps treat skin conditions like acne and rosacea, and it protects against sun damage and oxidative stress (pollution or toxins).
Here are the specific skin issues niacinamide can help treat and the products you should add to your skincare routine:
A Smoother Skin Texture
Some of us were not blessed with smooth skin and invisible pores. I have what you call orange-peel skin, which is when the pores are enlarged and visible. Niacinamide improves skin texture by making pores look smaller and also helps balance oil production. It has also been proven to reverse and prevent signs of aging, reduce redness and irritation, minimize fine lines, and brighten the skin.
Hyperpigmentation Issues
If you are like me, you might struggle with dark spots or post-inflammatory hyperpigmentation (PIH). I've used medical-grade acne medication such as a sulfur wash, retinol, and hydroquinone to lighten my dark spots, but research has shown niacinamide can be almost as effective in comparison to hydroquinone when it comes to fading dark spots.
In a Vogue interview, dermatologist Blair Murphy-Rose recommended using niacinamide with skin brightening ingredients, such as kojic acid (found in mushrooms and a byproduct of fermented rice) and a tranexamic acid (a man-made form of amino acid) to maximize the benefits of niacinamide. However, niacinamide can be paired with retinol, peptides, and hyaluronic acid too.
How to Use Niacinamide in Your Skincare Routine: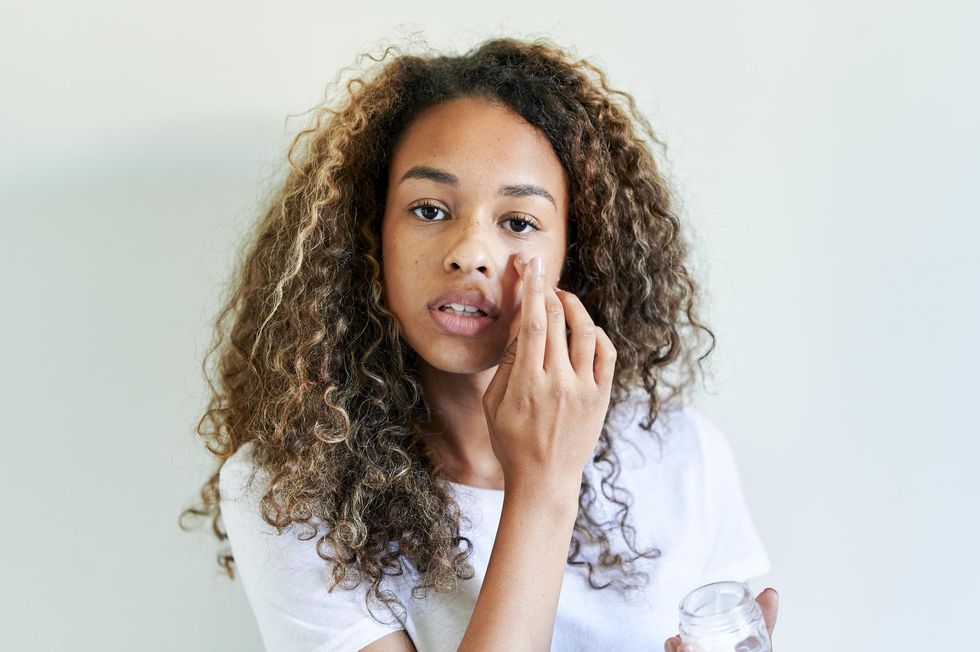 Getty Images
To achieve the flawless skin you've always wanted, niacinamide should be applied topically via a cream, lotion, or serum. It's the type of ingredient that is well-absorbed by the skin.
You can safely use niacinamide twice a day with a moisturizer and sunscreen. Serums have a higher potency and higher concentrations, so you want to be sure to use a low concentration (2% to 5%) because a higher one can irritate the skin.
If you plan to add niacinamide to your skincare routine, it should look something like this:
Cleanse your face.
Tone.
Apply niacinamide.
Apply moisturizer.
Sunscreen.
Recommended Products
Niacinamide has become a popular ingredient used in moisturizers, serums, sunscreens, and face masks. Some trending beauty products approved by skin experts containing niacinamide include:

I personally haven't tried any serum-based products with niacinamide, but I can say I have tried other products from The Ordinary and I've used the EltaMD UV Clear Broad-Spectrum sunscreen. These are two of my favorite skincare brands because they are affordable. The sunscreen is recommended by my own dermatologist and esthetician.
I know trying different skincare products can be a hit or miss, but don't knock the product until after four weeks or more. Your skin takes time to heal, especially if you have hyperpigmentation problems. Any dermatologist will tell you that results become apparent over time with consistency and correct application.
Upgrade your skincare routine with niacinamide, sis.
To get your beauty fix and to stay up to date with the latest trends, check out the xoNecole Beauty section here.
Featured image via Getty Images
Keep reading...
Show less