---
Halle. Kerry. Janet. Kandi. Tyra. So many power women are making major boss moves and having children later in life. And many millennial women are finding themselves creating their own businesses, while focusing on stacking major coins before wedding gowns and Pampers. Between career-climbing, traveling, paying salaries, or managing teams, making time to find a suitable boo to build a family with can be more than challenging for go-getter boss woman.
By the time you've mastered your business glow-up, the so-called prime time to have a child has passed, and in comes the frustration, the statistics about infertility, the shade of "Why you ain't married yet?", and the push to consider very expensive and trying options for becoming a parent.
Beauty industry powerhouse Myleik Teele knows this struggle all too well and is no stranger to pressures of the dating and mating game. The founder of CurlBOX and savvy friend-in-your-head who leads the very successful #MyTaughtYou podcast and international retreat thought she'd be the consummate single girl. "I was single for a really long time because I wanted to dedicate as much time as I possibly could to my business," Teele told XONecole EIC Necole Kane in a 2015 interview. "I think that maybe around a couple of years ago, I started to say, 'OK, I don't want to do all of this, have all of this, and have nobody to share it with. I've been on like 25 honeymoons by myself. This makes no sense.'"
Her work life was where she wanted it to be but she admittedly had been neglecting another area of her life: love. Her priorities were shifting, and as they did, it brought into question what a full life looked like to her. Teele would have no idea just how much motherhood would shape into being her answer.
"Every year, I typically do my annual physical around my birthday so that I just don't forget to do it. On my 35th birthday, I [went] to the doctor to do my annual everything. The doctor that I was seeing at the time was literally like, 'So, what are you going to do about having a child?'" Teele recalled during a recent podcast. "I was like, 'I don't know.' I guess I never seriously thought about it. At the time, I don't really think my love life was shaping up to really give it anymore thought. This doctor was just like, 'Well, I understand that you haven't thought about it, but at your age, it's time for you to at least start thinking about maybe you want to freeze your eggs, because your time is going to be limited.'"
She mentioned the idea to a friend who encouraged her to look into it, and so, like many searching for answers, she took to Google. "I went to an informational class and at the class [they tested AMH levels]," she says. "Every woman is born with a certain number of eggs in her body and every woman's eggs deplete at a different rate. This test is supposed to help you figure out where you stand."
After the test, Teele found out that her levels were well below what was considered the norm for women her age.
"I think [the test administrator] was like, 'Yours are at .04, or something.' It was basically like you are underneath the underneath. At that point, I was devastated for a couple of days. Whether or not I want a child---because I don't think I had decided---to [feel] like that option is taken from you---it was a miserable feeling. I will be honest, it was very miserable."
But, like in business and many of her podcasts where she gives women that kick-in-the-butt advice to keep going, Teele walked it like she talked it.
She'd made a way out of no way with curlBox, fulfilling a void in the market and creating something that had not successfully been done, full-scale before. With the same vigor, she chose to try other avenues and boost her chances to have a baby through hormone treatments.
"I tried, and it was very expensive. I spent $12,000 buying all of these shots and stuff, giving myself five shots a day and the doctor's like, 'Basically your fertility is low…' I went through a really dark period because I was like, just like you said, I just did all of this stuff and only to find out that I may not have the opportunity."

"I'm not going to beat myself up about this. I'm not going to feel defeated as a woman."
"I had a conversation with a friend and I realized that if this is the worst thing that happens to you in your life, you're actually doing well," she said optimistically. "I started to think of all the different options. You can do a donor egg, you can get an anonymous person's egg, have it fertilized, and you can have a whole pregnancy experience. There are even studies that show that once a baby is inside of you, carrying your blood and mannerisms, that is your child. You can also adopt. A lot of successful women I've interviewed have adopted children."
As Teele went over her options, she decided to take a breather to regroup and took a solo trip to Paris. "[During the trip], I read Diane Von Furstenberg's book, The Woman I Wanted to Be. I felt sad but liberated and [realized], you know what? I'm not going to beat myself up about this. I'm not going to feel defeated as a woman."
Shortly thereafter, she met her beau, who, she admits, had to deal with the aftermath of her egg-freezing experience. "I can't imagine what it's like to be newly dating a woman who's constantly talking about her eggs and lack thereof and children and stuff like that. That experience made me be ultra-honest in my relationship about coming to a conclusion on whether or not I was going to have kids. Normally, you're dating someone and it's like, 'Well, it's whatever. We have time,' [but] I think that whole experience let me know, you need to decide. You need to make up your mind."
She let go of the shame and chose to empower herself through open communication and emotional transparency. Then, it happened: In June 2017, she got pregnant naturally.
"Out of nowhere, a pregnancy test presented what I believed to be, the greatest challenge of my life. I launched into, 'How do I master each day of this pregnancy? What's happening inside my body? What's the best prenatal pill?' I'll read every prenatal review of a prenatal pill on Amazon and compare. What doctor is going to be the best in Atlanta? Should I have a water birth?" she says. "After I hung up the phone telling my partner, who happened to be out of town at the time, I raced to Barnes & Noble to buy every book on pregnancy they had. The cashier was ringing me up and she was like, 'Wow, are all of these for you?'"
But despite all the prep, Teele miscarried. "The day that I miscarried, I happened to have therapy. Because I was in so much pain, we did the therapy by phone. I told her what was going on and when she asked me how I felt, knowing that I could be 100-percent honest with her, I said, 'While I am very disappointed, I am also relieved.' I could not get off the crazy train and all of a sudden, the crazy train came to a screeching stop."
Just a month after her miscarriage, Teele discovered a positive revelation coaxed by the intuition of a friend. "I got back from [a] work trip and I got a text from a friend, Courtney, the founder of The Mane Choice. She asked if I was pregnant, and I side-eyed my text. I was like, 'What are you trying to say?' She said that she just felt like I was. I told her that while it wasn't completely impossible, it was highly unlikely. Hell, I just miscarried, and I had shared that information with her also. She then asked me if I had taken a test, I had not. I decided to take one the next day…[I thought to myself] I can just text her back and tell her she was wrong."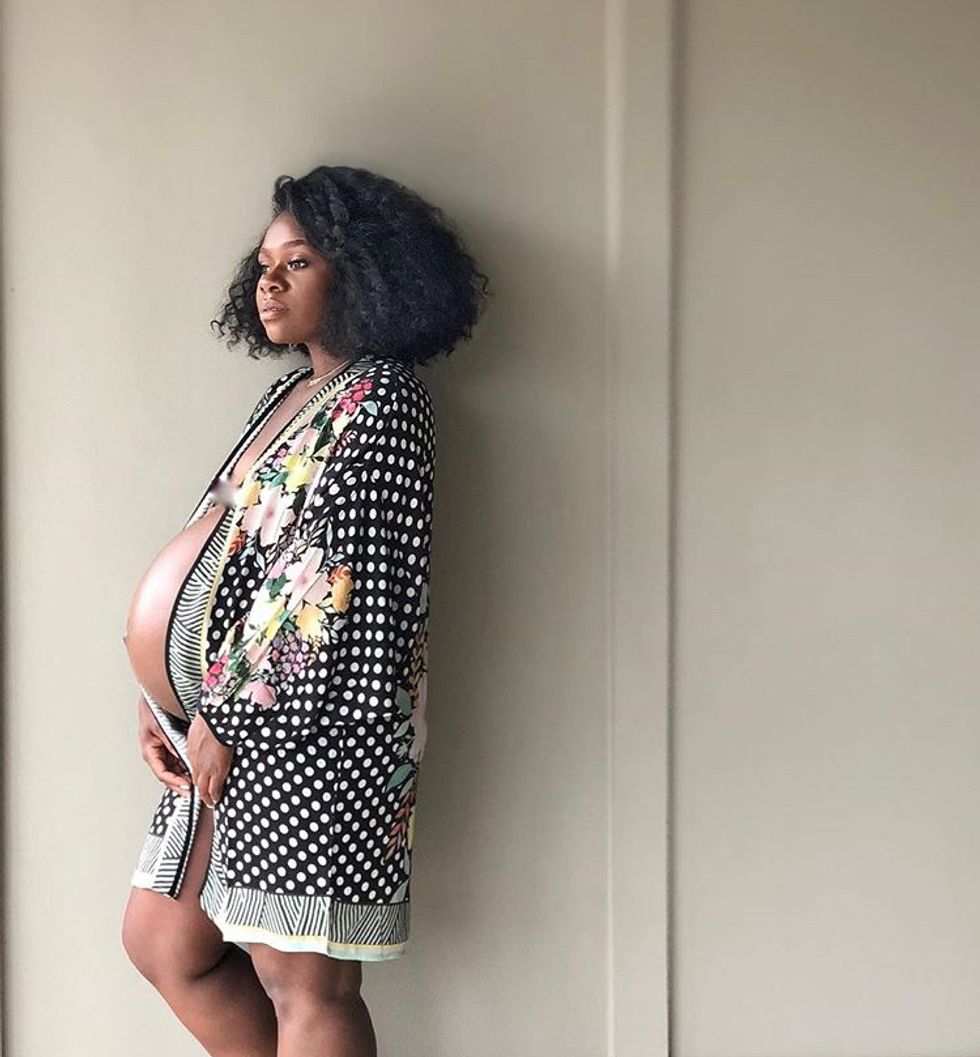 Myleik Teele/Instagram
The test was indeed positive, and this time, she decided to take it easy. No frantic book purchasing and less focus on controlling the process. However, the challenges didn't go away and neither did fear.

"Since I'm over 35 and had a miscarriage one month before conceiving this time around, I was considered high-risk which required tons of doctors appointments during the first trimester and third trimester," Teele wrote for Medium. "It wasn't until I hit the second trimester and the boy passed his 20-week scan with flying colors that I got some relief with the appointments.
"The fear of miscarriage after miscarrying seems to never go away."
"Everything I feared about becoming pregnant while being an ambitious entrepreneur is true. In the beginning, I slowed down and really wasn't able to accomplish as much in as little time and that did a number on my psyche. I didn't beat myself up at all, I just found myself feeling defeated some days."
The rest is history. Teele is now happily embracing her new role, and just one glance at her popular IG feed gives other young power women hope that they too can enjoy the miracle of giving life even if the odds might seem against them.
"A few days ago, I was thinking about how I'd always sort of imagined myself as a 'successful business person,' but never as a mom," she wrote in a recent IG caption under a photo where she lovingly embraces her son.
"The instructions are our instincts."
"With that being said, I had no idea what to expect… I spent the last nine months of my life equally delighted and terrified. … I felt a little fear move through me. Am I equipped to do this? And that's when the big lesson came for me. When God gives us the gifts, He whispers the instructions. The instructions are our instincts."
Despite facing her fair share of setbacks and uncertainty in the journey to mommyhood, Teele never gave up on the future that she saw for herself. She was as unrelenting in her path to becoming a mom as she was in her work and career.
For women over 30 who one day hope to be mothers, motherhood is not one size fits all. So whether you look into trying to conceive after miscarriage(s), freezing your eggs, adoption, surrogacy, or the traditional route by waiting for your Mr. Right - if it His will, it will happen. Sometimes when you least expect it. Teele's story is a testimony for women, proof that we can have every single thing that we want in this life and we don't have to sacrifice one area of our life in lieu of the other. God's plan is greater than man's.
To keep up with Myleik's new journey, follow her on Instagram, Twitter and/or subscribe to her MyTaughtYou Podcast.

Featured image by Myleik Teele/Instagram