Becoming a mother in 2020 took on a whole new meaning to so many women of the world. With global chaos ensuing, incompetency leading the way, and drastic changes taking place in hospitals, giving birth during this time meant...well, we aren't sure. Many women took the challenge head-on, accepting that their new normal, no matter how different from the stories they've always heard, were just that: their new normal.
From baby showers that were masked and mobile, to having a q-tip shoved up your nose multiple times a month, adjusting took its damn time. And a year later, we're all still adjusting.
These babies are now turning one-year-old, one year of surviving it all. We found four women who shared their journey about how exactly the adjustment is going.
Here are the beautiful stories that we heard: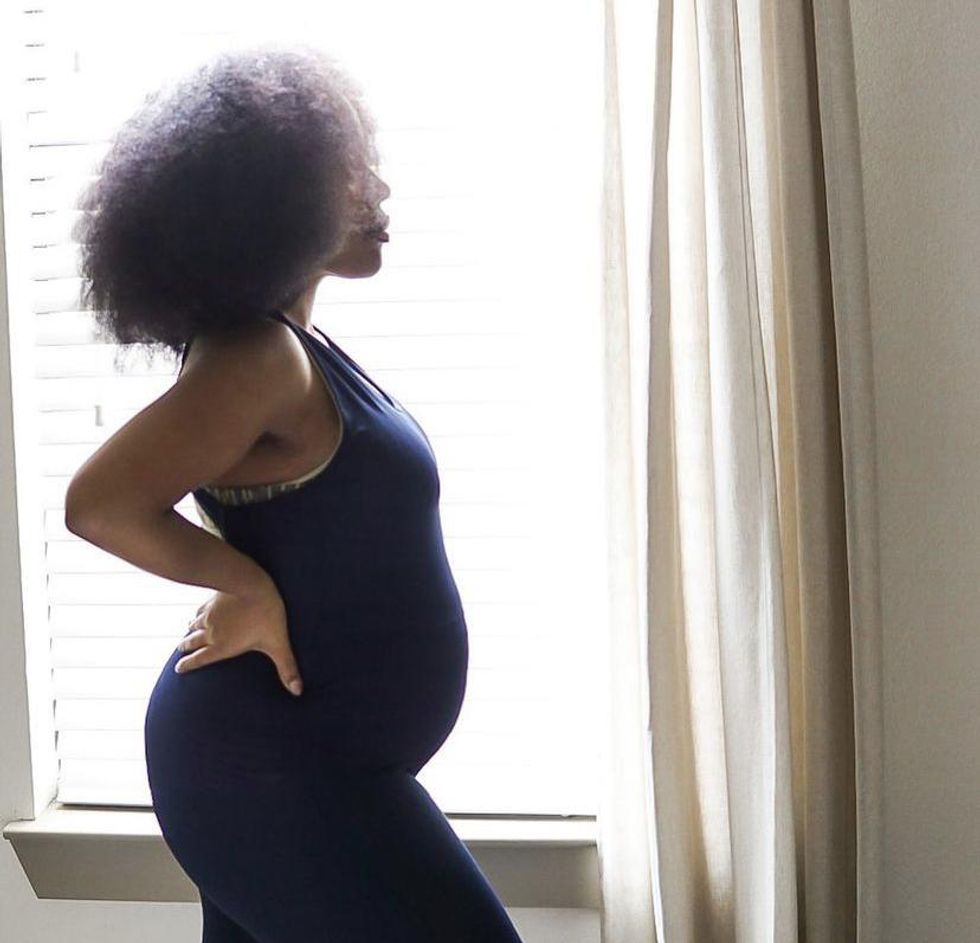 Southernsophis/Instagram
I actually gave birth to my daughter back in August (2020), and this entire time I've just been kind of basking in the whole moment of motherhood and pregnancy. I'm sure you can imagine this was a huge eye-opening shift in my life, and in my family's life, because this was not what we expected whatsoever.
During my first trimester, it would suck to have to go to my doctor check-ups without any support. Like, they couldn't even wait in the waiting room. And because Dallas was considered a 'hotspot' for COVID, our rules were strict. From the constant questioning to temp checks, it was all a mess. Many first-time mommy classes had gone virtual. I wanted to have a water birth, but I couldn't. I even had to wear a mask during labor. The changes were nonstop.
I ended up having a C-section because after being in labor for 24 hours, with no medication, I couldn't take the pain anymore. It was go time.
Afterwards, I allowed my body to heal. I didn't rush it. My main goal was to safely recover. And even through all the pain and worry, my baby made it home with me, happily and healthy.
Being pregnant during a global pandemic and a racial injustice war has brought on many emotional highs and lows. If you had told me a few years back that this is what I'd experience during my first pregnancy, I probably would've laughed in your face.
But one thing I will say, despite the chaos, I've been able to truly pause, self-reflect, acknowledge my fears, doubts, and worries as well as tap into a different level of strength I didn't know existed, so I'm grateful for that opportunity.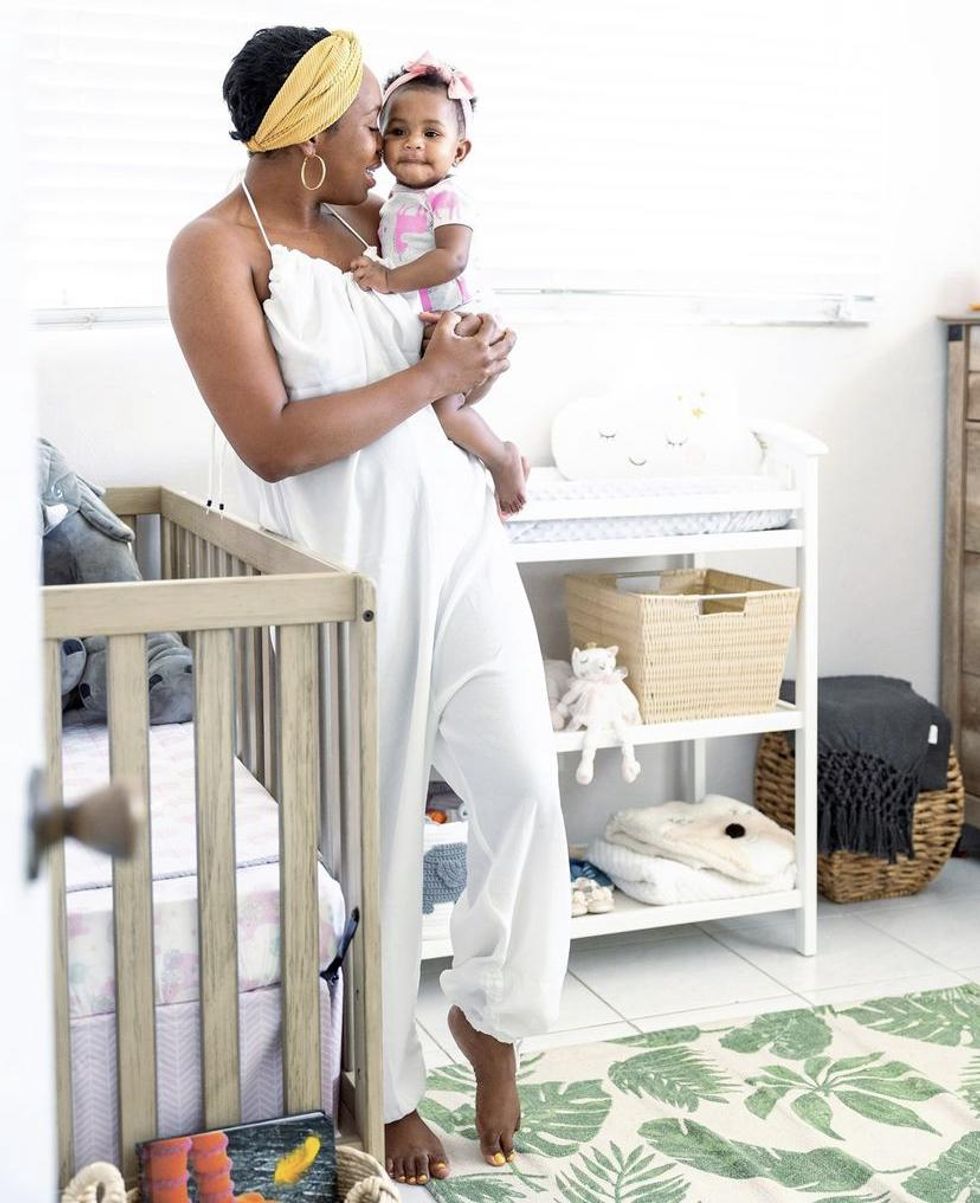 Ianthia/Instagram
I never imagined that I'd give birth during a global pandemic or that my husband wouldn't be by my side as our child entered the world. But thanks to the COVID-19, nothing I had planned for my birth experience happened. From having to cancel our baby shower, not being able to shop for and set up our nursery, to my husband being kicked out of the delivery room at the last minute COVID-19, really stole many of our joys.
My moods would go from super happy, to just heartbreaking as the virus took over the world. Quarantine forced us to social distance from our friends and family and had us on government mandated curfews and lockdowns. But after a lonely, hard experience...there were tears of joy!
I'm so blessed to have the shoulders of so many amazing women to stand on as I navigate motherhood; so much strength, so much resilience, so much love I've witnessed and received and I'm now equipped to give my little one.
I'm learning early on that support from everyone around you is crucial, from friends to family, and even those who end up becoming family. Every time I think about what I'm going to tell her of this time, her birth and the uncertainty that consumed the world, I'll show her the picture I have of her meeting her grandfather for the first time.
I'll tell her, "This is you at two days old meeting your grandfather for the first time...through a closed window. A deadly virus had already killed thousands of people around the world and several right here at home. We were warned to take extreme measures to keep you and everyone else safe.
"Those first few weeks were hard too; physically because you had a sleep schedule all your own, emotionally because we had to do it all without family and mentally because no one knew when it all would end. Still, you were loved unconditionally, through video chats, phone calls and...windows."
And now, with seeing us triumph, and how blessed my family is, I wouldn't have it any other way.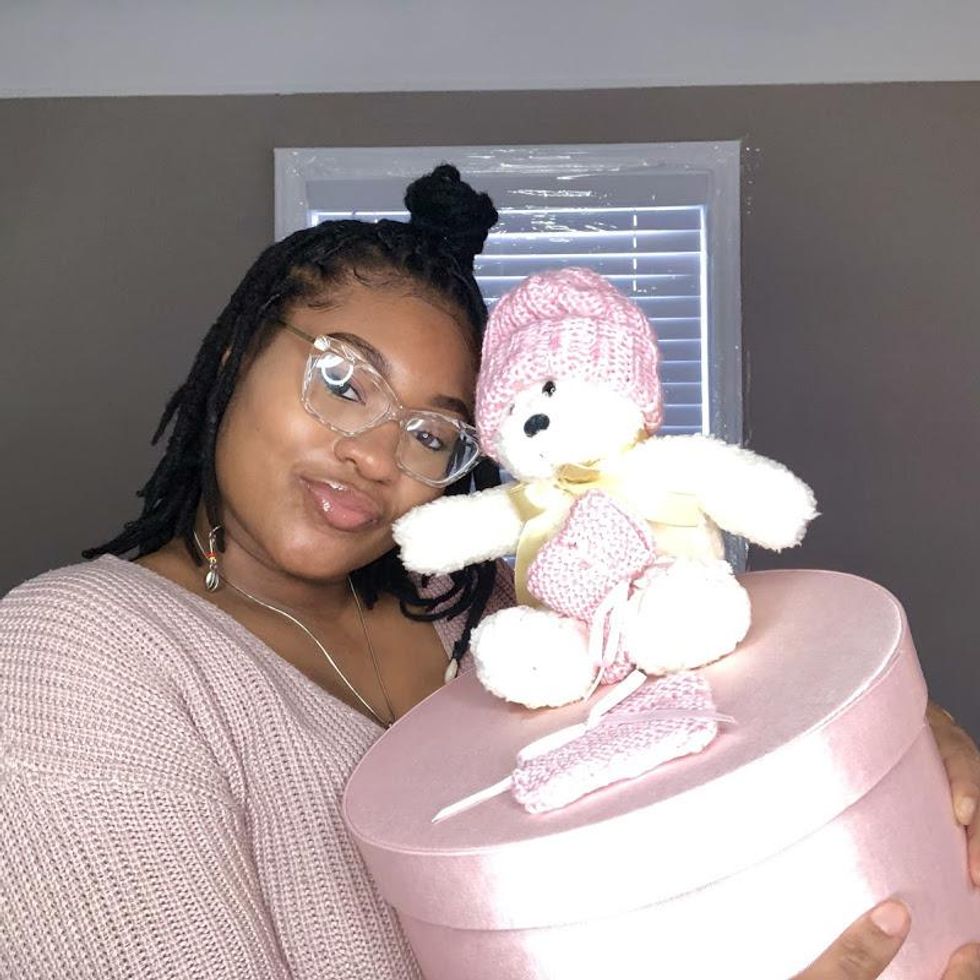 Atavia Skai/Instagram
After a completely healthy pregnancy, my husband and I lost our baby girl, Junie at 41 weeks on May 19, 2020. And the pregnancy and birth took place during the COVID pandemic. As I am navigating this loss, I have found some comfort in others sharing their stories to help me in my journey, which is the purpose of me speaking out. I felt alone and I want to share for anyone who may feel how I once did.
Everything leading up to it, was completely normal. We had never heard the word "perfect" so many times in our lives. At that point, I was having appointments weekly, ultrasounds, stress tests. I woke up one day, my routine was completely normal. I was doing my daily talks with her, my affirmations.
On the way to my appointment, things changed. I hadn't felt her move in a while. My ultrasound tech started the process of checking the baby at my appointment, and she had a blank look on her face. She wasn't blinking. My intuition was off the charts.
And then, my doctor looked at me and said, "I am so sorry to tell you this, but your baby doesn't have a heartbeat."
And I said... "OK."

You know, it's funny how the brain works. My mind was racing, but I couldn't articulate anything. I was having an out-of-body experience. And that's all I could say. "OK."
I was numb to everything happening around me. I was broken.

I went to the next hospital to deliver my baby girl, and had to take a Coronavirus test, which came back positive. I was moved to another side of the hospital, swept away from my family, quarantined by myself. And on top of it all, I had to somehow process how my baby was no longer with me. It took a while for me to process it all. I still am, actually. But ultimately, I learned I am not alone.
Educating myself, and learning the statistics of stillborn births aided me in coping. Additionally, I had to learn that it wasn't my fault. My midwives and nurses would assure me all the time that we did everything right, everything we possibly could have done.
But listen ladies: my story is traumatic. And unfortunately, so many women experience the same as I have. But my pregnancy was also a beautiful experience. I would not rewrite or delete this chapter of my life at all. The grieving has been exceptionally hard.
And without my support and the amount I had, I don't know how I would navigate this, honestly. Family, my husband, friends. I have two amazing therapists that have helped me. In the end, working with them, and telling my story, has given me peace. I hope it does for any mama out there reading this, and that has experienced the same as I have, as well.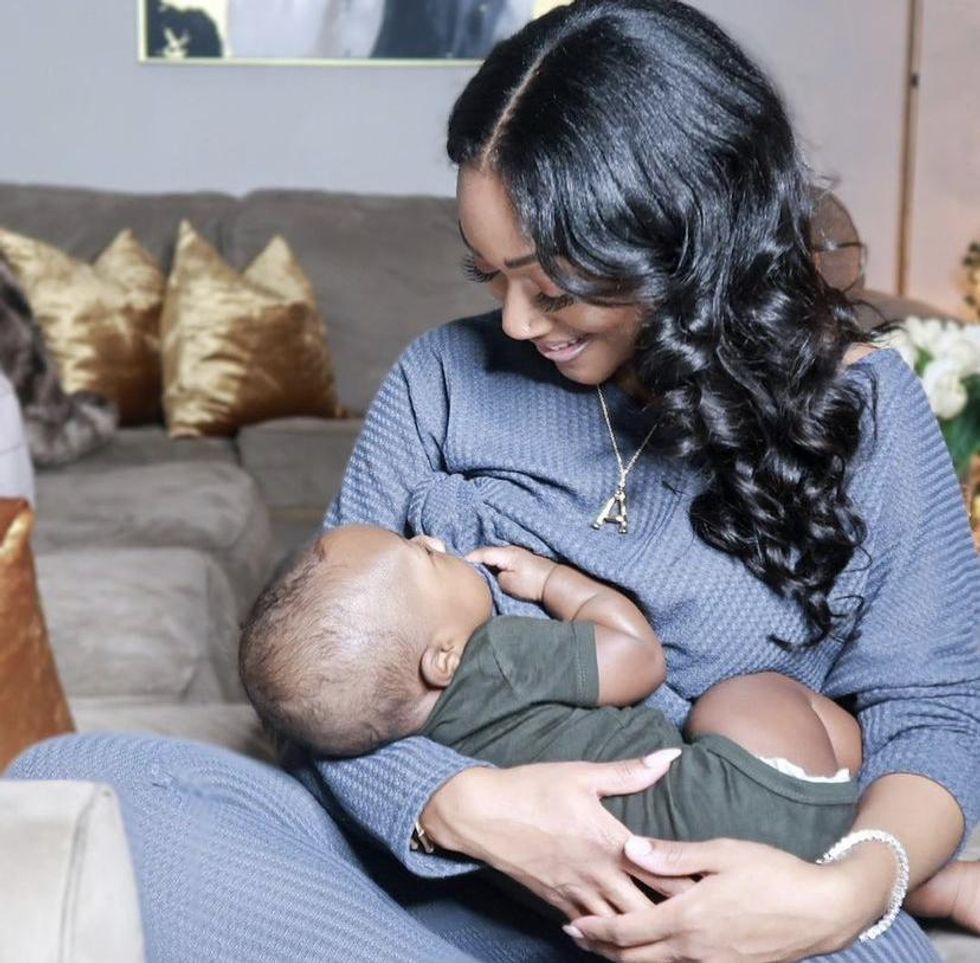 Alanna Foxx/Instagram
Giving birth during COVID-19 is just a little different, so my heart goes out to those of you who were not able to have anyone in the delivery room with you. I was blessed enough to have my husband right there by my side in the delivery room, but my baby boy did come a little earlier than expected. I actually had a scheduled C-section. But my little boy decided that he wanted to come a few days before the scheduled C-section.
Something that was very important to me was that my doctor looked like me, due to the statistics that we hear nowadays definitely can make being a woman of color [who is] expecting pretty nervous.
With me moving to a new area, and with the pandemic, I wanted to make sure I felt 100 percent comfortable with whoever was delivering my baby. I trusted her 100 percent.
Around this time, my husband and I had a very deep conversation about what the world is going through. There are a lot of people that were really sick and thousands that lost their lives. People are out of work, resources in some communities are limited. Children that once looked to college or school as an escape from toxic homes don't have that anymore.
Domestic abuse and child abuse is at an all-time high...and to top it all off, I gave birth and lost one of the most important people in my life. He lost his battle with COVID. The only dad and father that I've ever known. Literally my everything. My support system, my superhero, my advocate, anything that I ever needed, he was there for me.
But now, walking into 2021, I've achieved a newfound wisdom and grace over our family. Perspective is everything right now and even if you don't have much to give, just compassion and prayer is sufficient.
Featured image by Ianthia Ferguson/Instagram
Keep reading...
Show less
Mother's Day might have been yesterday (May 9) but we're still in awe of these celebratory posts courtesy of our favorite celebrity moms and their loved ones. Moms of all kinds—biological or not—are superhuman. These mamas below have inspired us with their resilience, beauty, and determined spirit this year, and sharing these messages is proof of that. Let us take their wisdom beyond a "Happy Mother's Day" post and as Tracee Ellis Ross put it "honor the mother within each of us."
Featured image via Giphy
Keep reading...
Show less
It's always good to see women winning in business. And when it's a family affair, that's even better, especially for Black women who are creating legacies and creating generational wealth by working with loved ones. Mother-daughter entrepreneur duos are killing the game today, making sure their families are set and getting to the money by working smart. From 2014 to 2019, female-led ventures launched by women of color grew by 50 percent, and more recent stats show that 60 percent of family businesses have women in top management positions. Almost a quarter are led by women CEOs or presidents.
This Mother's Day, let's celebrate a few mother-daughter business duos who continue to show us that you can indeed work with family, thrive, and succeed: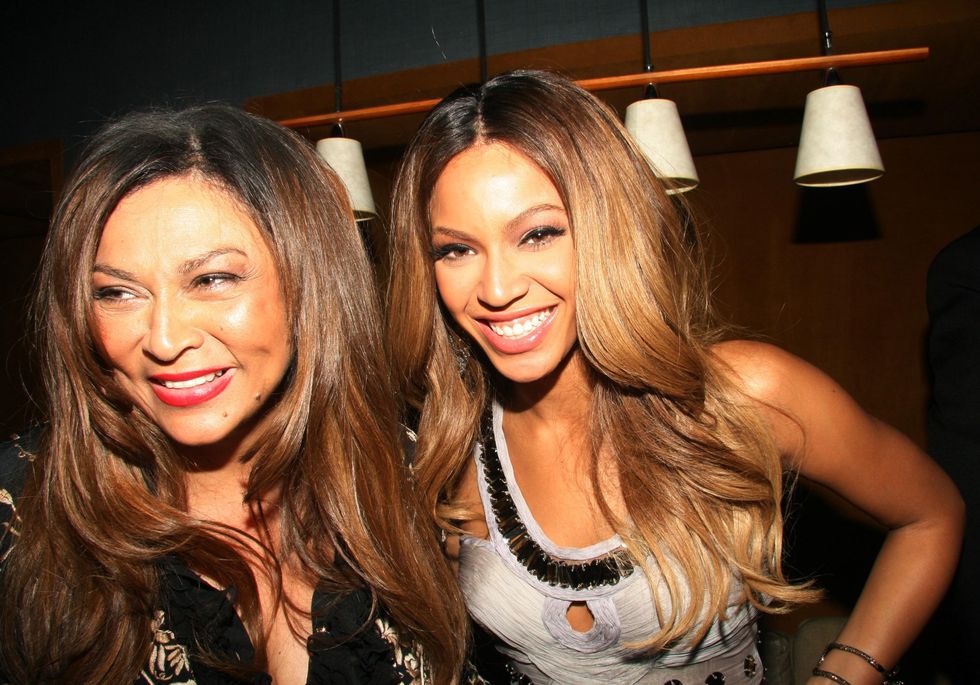 Johnny Nunez/WireImage
Tina Knowles-Lawson and Beyonce Carter
We're always here for Auntie Tina, the mother of Queen Bey and Solange, and we're definitely here for the moves she's made not only as a mom but as a businesswoman and social justice advocate. Bey and Solange grew up with boss beautician mom who ran her own salon in Houston. Along with designing major looks for Beyonce and Solange, she co-founded Beyond Productions, a lucrative designer and licensor of women's apparel and accessories (and the company behind House of Dereon and Miss Tina lines). Tina Lawson also partnered on numerous charity and service initiatives with organizations including the BeyGOOD foundation, the Knowles-Rowland Center for Youth, and The Survivors Foundation. She continues to lend her voice, resources, and influence to issues of police brutality, racism, and justice system reform.
Stacia Pierce, the mother in this duo, is a dynamic speaker and life and business coach who founded her online platform to be a resource to women leaders across the country. Her daughter, Ariana Pierce, is an author, coach, and entrepreneur in her own right. They've teamed up to launch the Women and Wealth Success Club and virtual conferences to empower women.
Edith Cooper and Jordan Taylor are the founders of Medley, a membership-based community made up of curated small groups who get coaching and leadership resources for career growth. They also help facilitate diversity and employee retention through their efforts in building community and providing safe spaces for workers.
Courtney Adeleye, the multi-millionaire founder of super-successful haircare line The Mane Choice, has instilled the same business savvy into her daughter, founder of Lily Frilly. The fun and colorful line of children's accessories, apparel, and backpacks that are available at Target, and the brand has expanded as a resource of empowerment for children and youth via networking and events.
Described as a "love project," BoujFleaMarket is an online marketplace sparked by an idea seven-year-old Anastasia Linkpon had to offer fun items for kids or those who are a "kid at heart." Her mom, Adriane Mack, supported the vision and the site was launched, offering things like vegan bodycare, cute lightning-bolt earrings, and purses shaped like fast-food takeout, to name a few.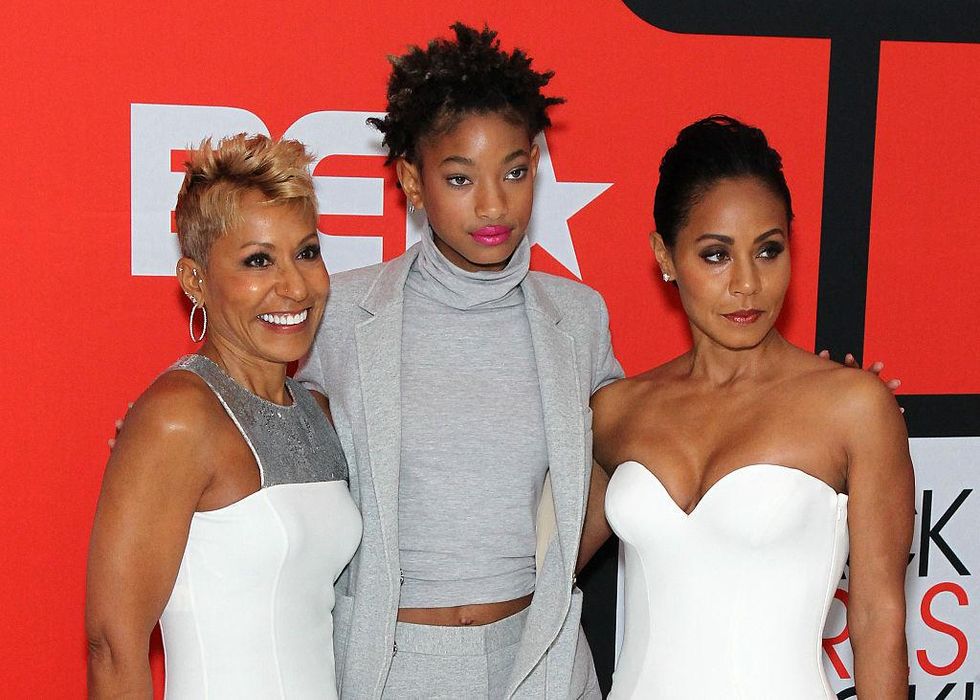 Bennett Raglin/BET/Getty Images for BET
Adrienne Norris, Jada Pinkett Smith and Willow Smith
This trio of Black girl magic who sits around the infamous crimson platform for Facebook's Red Table Talk is simply the breath of fresh air we all need on the Web. They host multi-generational conversations on topics including family traumas, love, mental health, and more, and Jada Pinkett Smith is co-founder of Westbrook Media, the production company behind the show. Adrienne Norris, also known as "Gammy", hosts her own podcast Positively Gam, where she talks aging, sex, and issues in the Black community, and Willow Smith continues to slay in music and fashion, having previously served as the face of Chanel Eyewear.
These women have revolutionized the phrase "Black girls work out, too," and given us all inspiration for fitness, wellness, and business. Ellen Ector and Lana Ector are co-founders of Gymnetics Fitness, a private studio and online platform founded in 2010. They bring a combined 25 years of training and fitness regime experience to the wellness space, diversifying the images and influencers we see that promote healthy lifestyles and habits.
BeatHouse Cosmetics, a boxing-inspired makeup line, was founded by two Augusta, Ga. natives, Danielle Pasha and Samiah Pasha. Mom Danielle appointed her teenage daughter as the face of the brand and the CEO. With names for colors and palettes like "Million Dolla Lady," "Undisputed" and "The Champ" the ladies are surely set to remind makeup lovers and pros to be confident and persevere.
The beauty and fierceness of Teyana Taylor and her momager Nikki Taylor is undeniable, and they both bring the hustle and flair of Harlem, N.Y. to whatever they do. Taylor, a mother, artist, director, actress, and wife to NBA star Iman Shumpert, has gotten huge deals with brands like MAC, and she has topped the charts with her music. She's also snatched more than a few wigs with her amazing explosive live performances.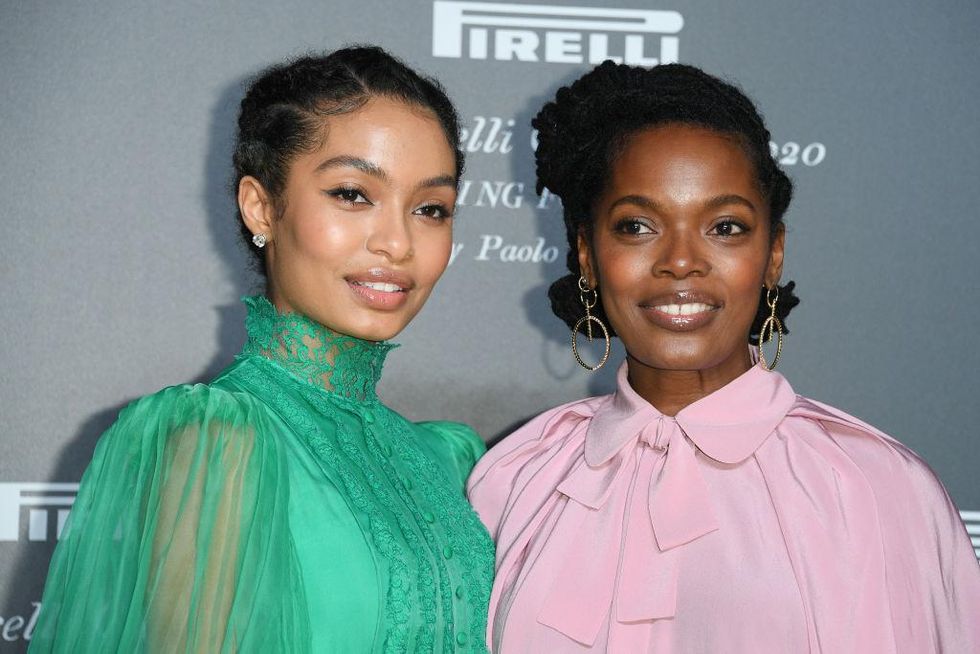 Daniele Venturelli/Daniele Venturelli/Getty Images
Keri Shahidi and Yara Shahidi
We all know and love Yara Shahidi from her roles on Black-ish and Grown-ish and of course for her work in activism. We love it even more that her momager, Keri Shahidi, has had her back throughout her career, even in business ventures. The two just landed a deal with ABC Studios last year to launch a production company, 7th Sun, which is set to release a new single-camera comedy that centers around a budding cannabis entrepreneur.
Featured image by Daniele Venturelli/Daniele Venturelli/Getty Images
Keep reading...
Show less
Tiffany Haddish is on a path. She's hustled for most of her 20's. She built a successful comedic career in her 30's. And now that she's hit her 40's, our girl is gearing up to be a mommy!
That's right, the actress exclusively revealed to E! News that she has taken a big step in her adoption journey. In an Interview with the Daily Pop, she tells host Justin Sylvester:
"I'm taking parenting classes now to adopt."
She continued:
"I'm looking at [ages] five and up, really like seven. I want them to be able to know how to use the restroom on their own and talk. I want them to know that I put in the work and I wanted them."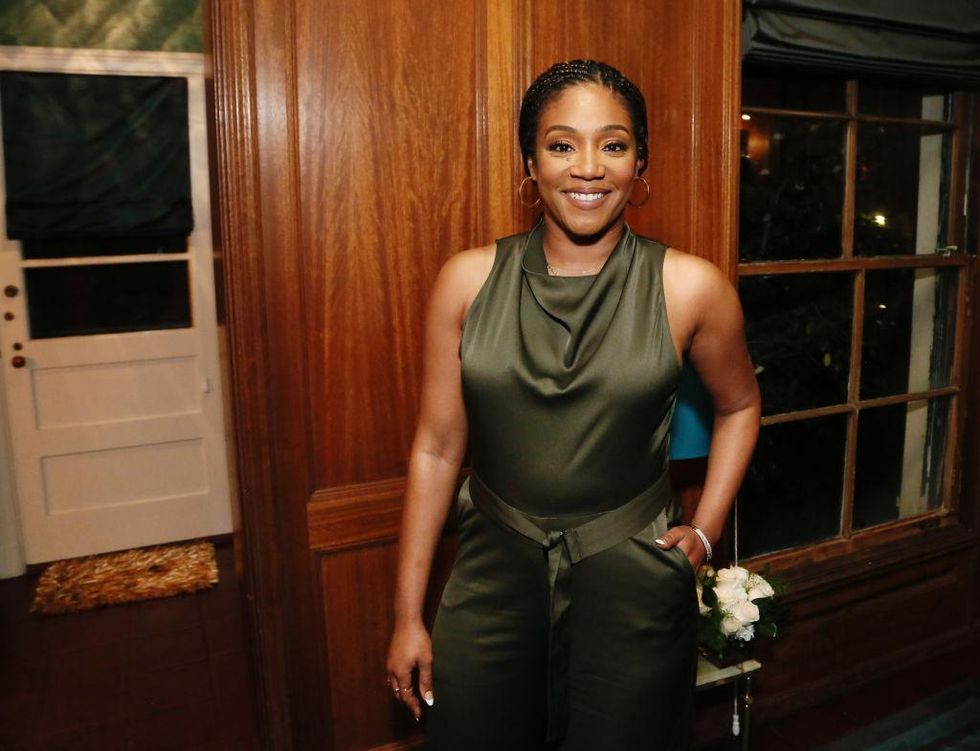 Gabriel Olsen/Getty Images for Absolut Elyx
Haddish, who has been in a relationship with rapper Common, since early 2020, true to fashion, joked that she wasn't interested in having a baby with her bae until she was married, exclaiming, she's "not going to be the baby mama," but a wife. However, naturally having a baby seems unlikely to her at the time.
"Here's something everybody don't know, I'm going to tell you: when I was 21, I was really hard up with money and gave up a bunch of eggs. So who knows? I might got some kids out in these streets. I doubt it though because I never got the bonus."
Oh, Tiff.
This moment comes full circle, as just last year, after a frustrating year of continuous Black trauma, her sentiments were the opposite. During an appearance on Carmelo Anthony's weekly YouTube series, What's in Your Glass, Haddish discussed how racism has played into her fear of having children:
"I'm a little older now and people are always asking when I'm gonna have some babies? There's a part of me that would like to do that, and I always make up these excuses like, 'Oh, I need a million dollars in the bank before I do that, I need this, I need that.' But really, it's like, I would hate to give birth to someone that looks like me knowing that they're gonna be hunted or killed. Like, why would I put someone through that?"
Whew.
But the Grammy-winning, Kids Say the Darndest Things host, has since had a change of heart, thankfully, cementing the fact that if anyone deserves the love she has to offer, it is a child who comes from a seemingly hopeless situation--one she is all too familiar with.
We couldn't be any more excited to witness where her journey takes her from here!
Watch the full interview below:
Are you a member of our insiders squad? Join us in the xoTribe Members Community today!

Featured image by Gabriel Olsen/Getty Images for Absolut Elyx
Keep reading...
Show less
At 21, I found out I was pregnant. I was devastated. As a first-generation college student, I was ready to take on the world and start my career. Instead, I was dealing with one of the biggest decisions of my life: to keep the child or not. I chose to become a mom. Accepting motherhood wasn't the hardest part, it was knowing the child's father was not ready to be a man.
There were moments, more than I'd like to admit, that gave me a glimpse of what life would look like in the future. He was short-tempered, irrational, and a cheater. In my mind, I thought I could change him, and that the birth of our child would bring us closer together. My pregnancy was spent trying to convince myself that we would make it by playing house. There was no amount of cooked meals, feeding his ego, or promises that could undo the inevitable.
Two weeks after giving birth, I was back in my family's home with a newborn. Living together proved to be more of a burden than what it was worth. I was so concerned with the optics of what a family looked like that I forget I was important too. More fragile than ever before, I needed to be surrounded by love and kindness.
There is no way you can fully extend love to your child without giving it to yourself first.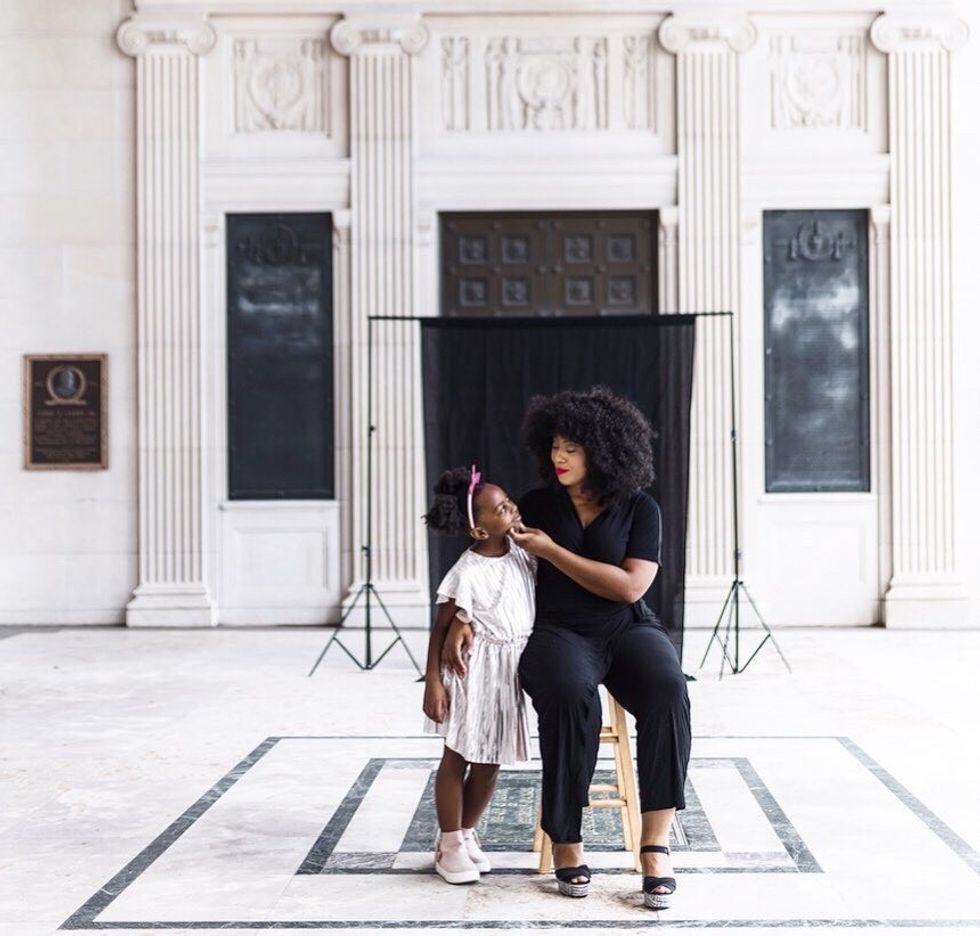 Photography by S. Bola Okoya
Our relationship fell into a pattern of harsh breakups and emotional makeups. We were young and inexperienced with these kinds of issues. Eventually, we parted ways. Therapy helped me break the cycle of trying to make it work. I remember sitting on a big brown couch in what was supposed to be couples therapy, alone. The therapist, a white middle-aged man, asked me, "Why do you stay and allow yourself to get hurt?" I didn't have an answer. I'm sure back then I thought it was because the family was important to me, but now I think it was a learned behavior. The long-suffering (girlfriend) wasn't a new concept to me; it surrounded me like an invisible cloak, both familiar and toxic. By the next session, I had decided to start a new chapter as a single mom. It was the best decision I've ever made.

I firmly believe that once you let go of things that no longer serve you will be rewarded with peace of mind.
My renewed spirit made space for laughter and love. I went from crying myself to sleep from unanswered calls to sleeping peacefully next to my child. There was no longer a need to crack the password to his Facebook account or call family members to confirm his whereabouts. I was free. The kind of freedom that only comes when you choose your happiness over others.
For what it's worth, this was the first time since I started dating at 15 that I had experienced this type of control over my love life. Usually, I stayed too long in relationships that had run its course or waited until the other person did something so egregious that it made it easy for me to leave. I got the hint this time and finally took back my power. This meant learning who I was without the approval of a man, finding out my likes and dislikes, as well as creating healthy boundaries.
If you're a parent and questioning your relationship, I suggest asking yourself the following questions:
If there wasn't a child involved, would your relationship be over?
Does your partner exhibit toxic traits?
Have the attempts to fix the relationship been unsuccessful?
Do you have doubts about their loyalty?
Do you feel unsupported?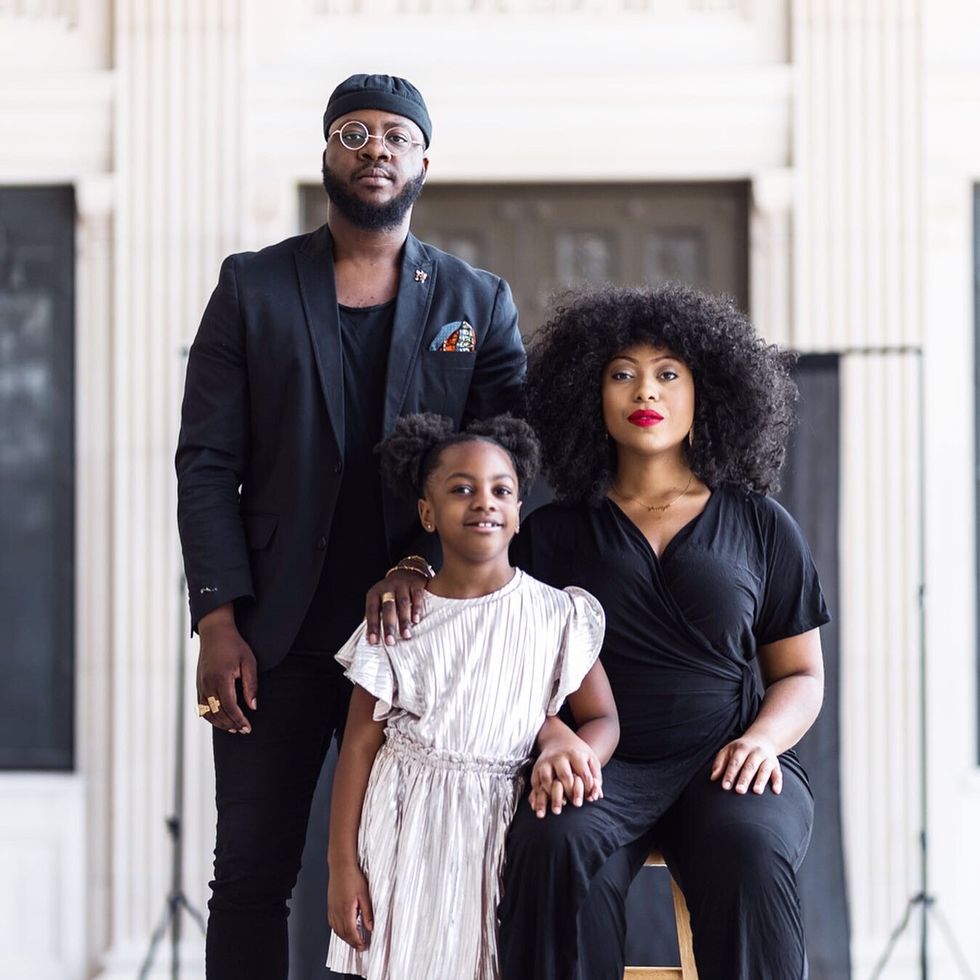 Photography by S. Bola Okoya
If you answered yes to any of the questions, then it may be time to consider your options. If you answered no, great, there's still hope. All relationships are susceptible to rough patches and if it's worth fighting for then do the work.
My child's father became a footnote in a bigger love story, a journey that led me to a healthy relationship with my partner of five years. This man loved my baby and me and proudly assumed the fatherhood role. There was hope for me, and I know there's hope for you too.
Featured image via Ayana Iman/Instagram
Originally published on November 10, 2019
Keep reading...
Show less
Like many of you, I grew up watching The Cosby Show and was always in complete awe of Clarie Huxtable. To me, Claire Huxtable was that beautiful, highly intelligent, super badass mom and wife that I dreamt to one day be. Not only was she a true boss in her professional life (remember, she was a PARTNER at her law firm), but she also held it down in the house for her five kids and husband and looked like she had it all. #boss
While I know that Claire Huxtable was a fictional character and that in real life, there's truly no such thing as always "having it all", there are some women that have managed to simultaneously successfully juggle the titles of "wife", "mother", and "boss" just like Auntie Claire did.
Recently, I was able to catch up with these successful working moms and wives and they shared how they manage to be the best wife and mother they can be, while also fulfilling their career dreams. Keep reading to learn more about their "happy life, happy wife" hacks!
Juggling Unrealistic Expectations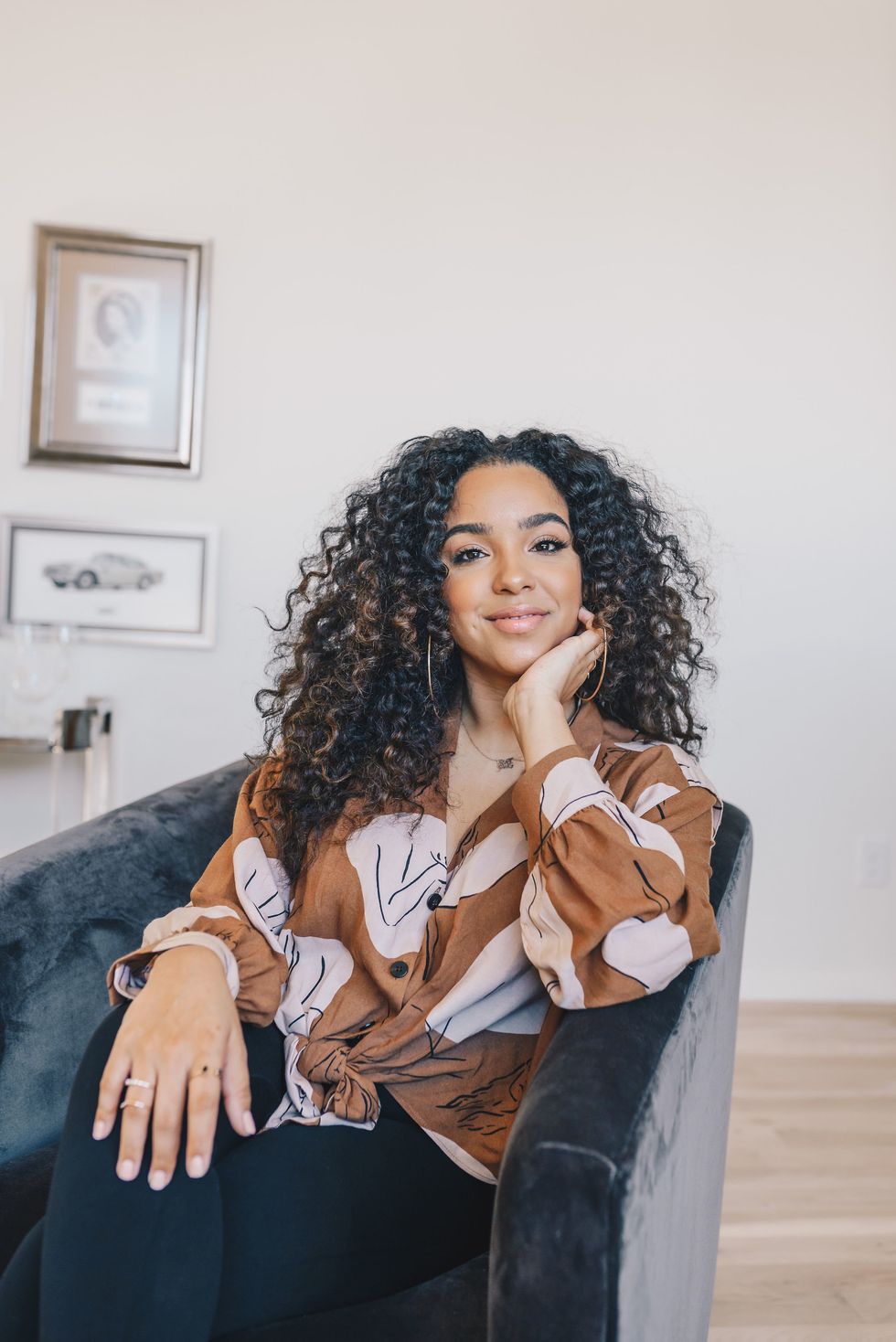 Courtesy of Jade Kendle
Jade Kendle, CEO & Founder of #LifeIsContent
"Being a woman in 2020 comes with so many expectations. I try to remind myself that there's no one to chase. There's no one chasing me. It's about me practicing excellence, not just when it's easy, but when it's hard."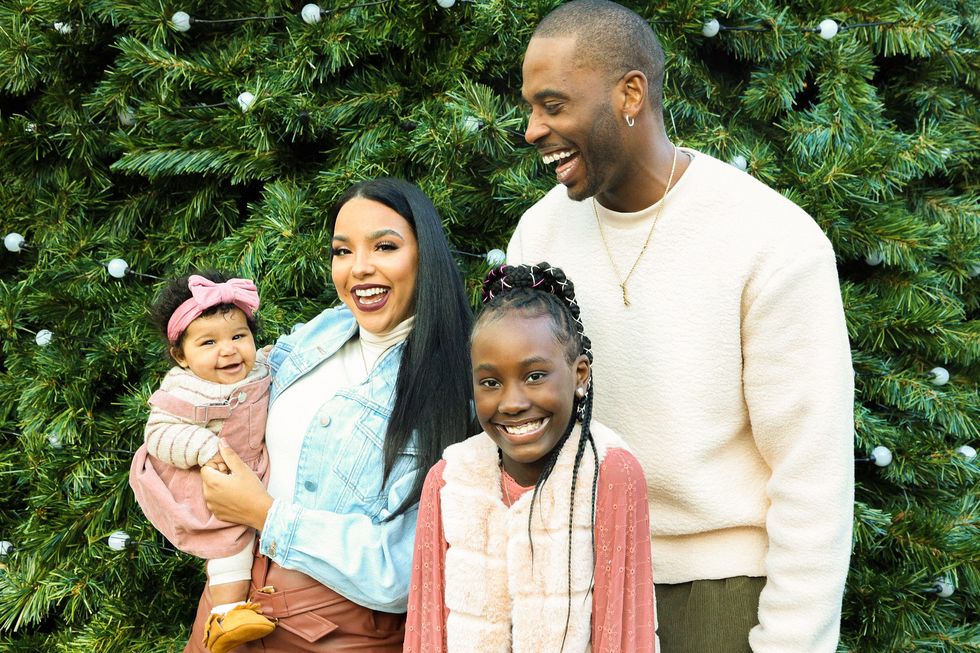 Courtesy of Jade Kendle
"I'm always having to mitigate the expectations I put on myself, and others. I'm always trying to be my best, and sometimes that impacts me (and others) negatively. I put too much pressure on myself to be the best that it becomes stressful when there's no way I can ever be perfect at everything - no matter how hard I try!
"Being a woman in 2020 comes with so many expectations. I try to remind myself that there's no one to chase. There's no one chasing me. It's about me practicing excellence, not just when it's easy, but when it's hard. It looks like coming out of a frustrating moment and reflecting on how things could've had a better outcome and making a commitment to do better. Continuously evaluating and reconnecting to my ultimate why - helps me let go of that 'perfectionist' energy."
The Self-Care Struggle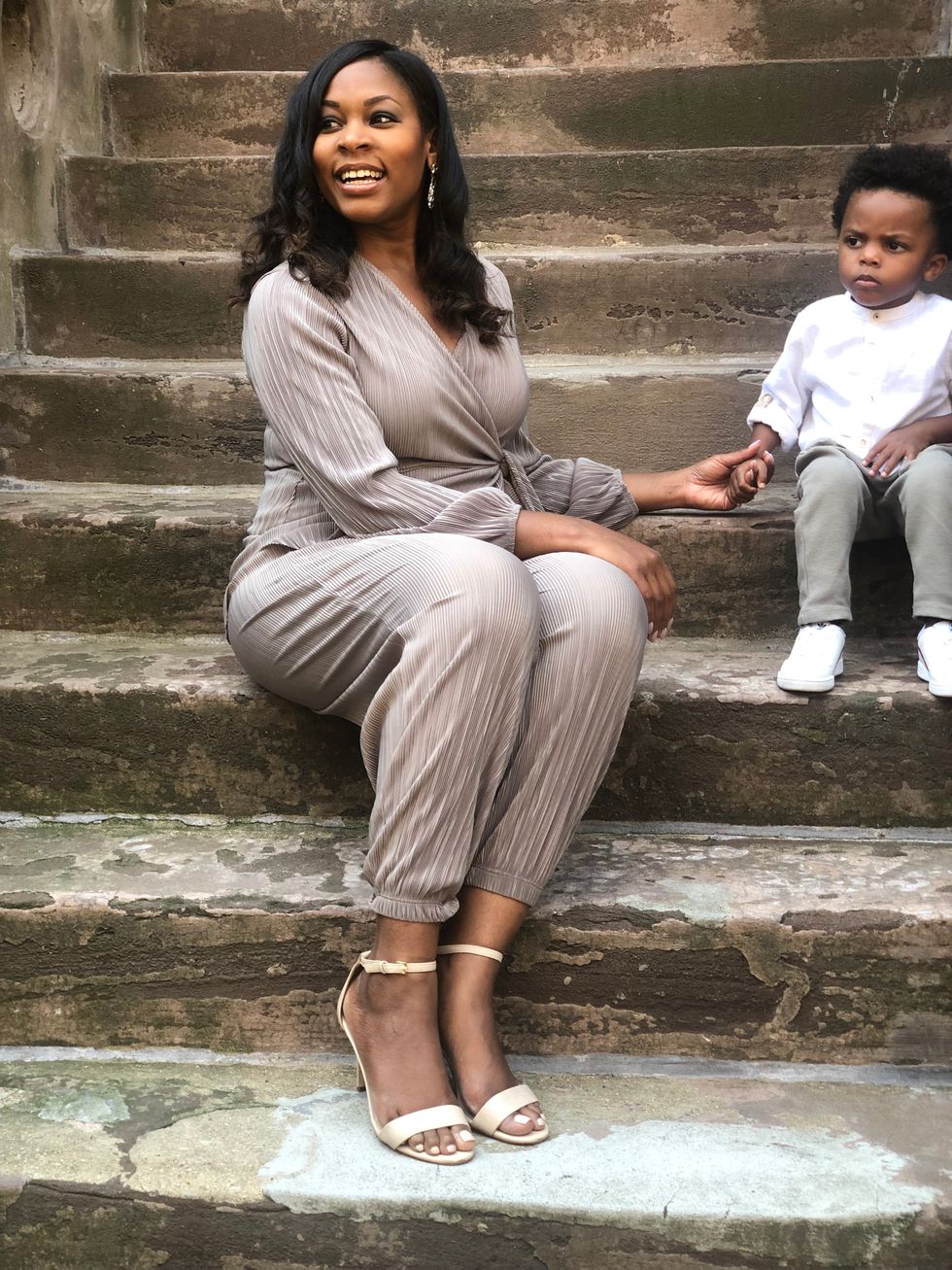 Courtesy of Shakyna Bolden
Shakyna Bolden, Brand Partnerships at xoNecole & Founder of Little Village Collective
"Last year was incredibly tough for me because overnight I went from being a stay-at-home mom to starting a new venture. It was overwhelming and at times too much... That being said, I can't take another year of neglecting my body, mind and spirit while trying to build my family and career. So I started 2020 with the intention to prioritize my well-being."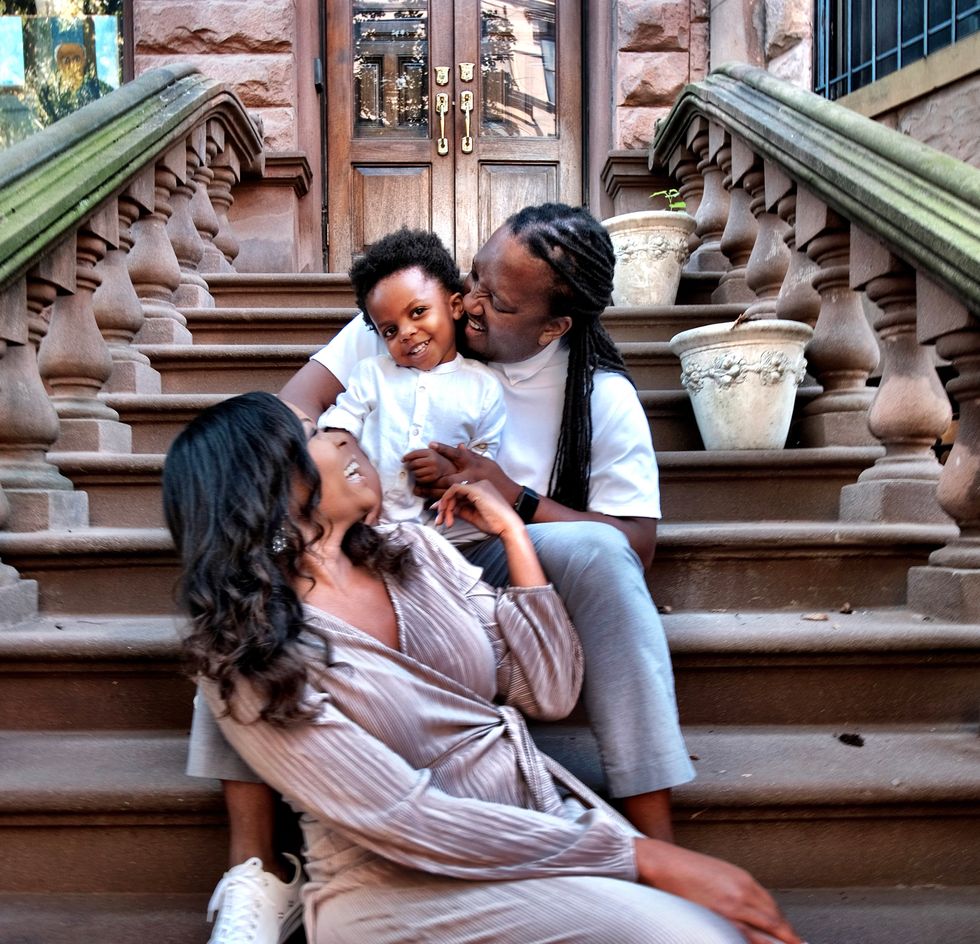 Courtesy of Shakyna Bolden
"Currently, I'm struggling the most with self-care and consistently maintaining a sacred space/daily regimen that builds my mind, body and spirit so that I can perform better in all areas of my life from my work to my mothering and being a great partner. Last year was incredibly tough for me because overnight I went from being a stay-at-home mom (only working part-time) to starting a new venture. It was overwhelming and at times too much.
"To be honest, I gained all my post-baby weight back that I had worked so hard to lose, suffered from extreme exhaustion, fatigue, and burnout, faced role dynamics shift in my partnership and so much more. That being said, I can't take another year of neglecting my body, mind and spirit while trying to build my family and career. So I started 2020 with the intention to prioritize my well-being.
"I would say support is VITAL to juggling work and home. My partner unquestionably shares in household responsibilities on everything from taking care of our son to cooking. When I travel for work, he's on complete daddy duty and we have family and friends that truly support us as well. Lastly, I'm blessed to be able to work from home and have a flexible work schedule that helps me be fluid in my work and home. There's no secret at xoNecole that I'm a mom. A lot of times in the workplace moms have to sneak off or apologize for momming, but that's not the case with me."
Dealing With Guilt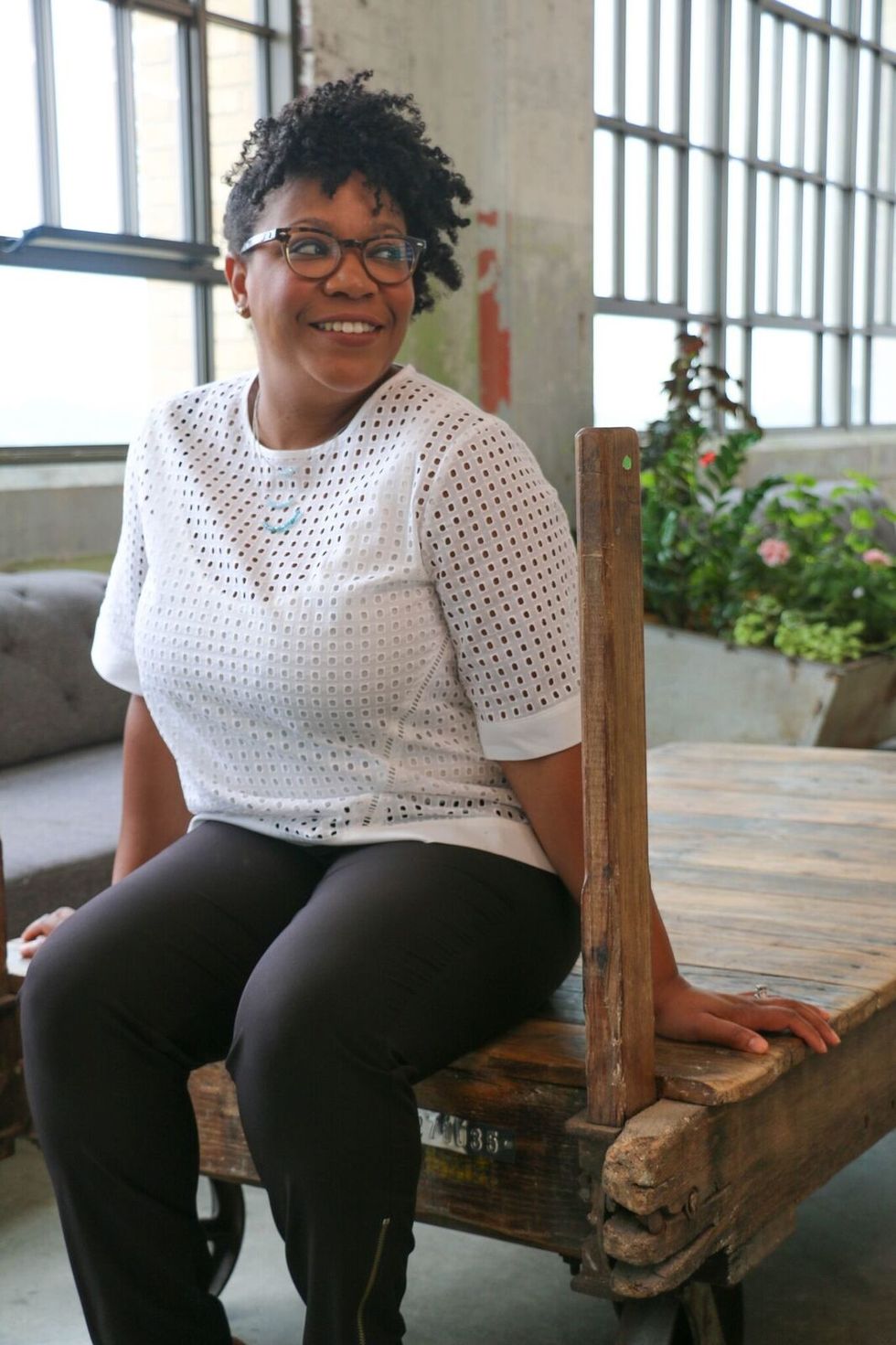 Courtesy of Ashley N. Cash
Ashley N. Cash, Interview and Salary Negotiation Expert
"Sometimes I feel guilty for losing my patience, forgetting an important date, saying no to a birthday party, or getting frustrated with my husband. I overcome guilt by reminding myself that I am a human, I'm doing my best, and giving myself grace in those imperfect moments."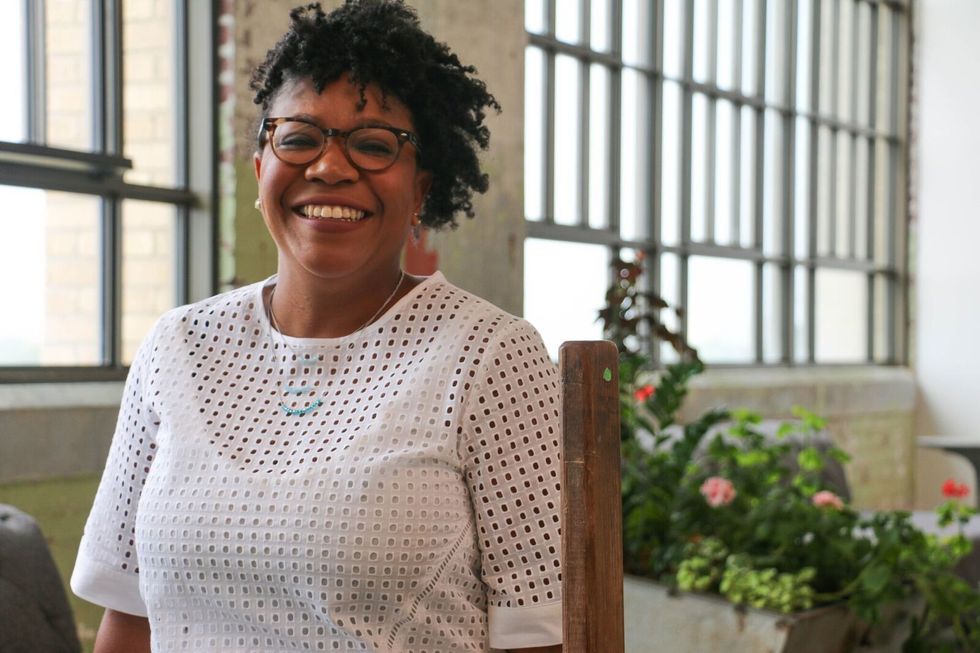 Courtesy of Ashley N. Cash
"Mommy guilt is a thing...there are days when I feel guilty about the moments where work pulls me away from my family. Sometimes I feel guilty for losing my patience, forgetting an important date, saying no to a birthday party, or getting frustrated with my husband. I overcome guilt by reminding myself that I am a human, I'm doing my best, and giving myself grace in those imperfect moments (so many imperfect moments, ha!).
"My other mommy guilt hack is using feeling guilty as a trigger to give myself a quick reminder of all the other things that I've done right and done well, which is really a hell of a lot (shoutout to my therapist for that one). Which is another mommy boss hack: Have an outlet or two to help you clear your head and get out of wife, mom, work mode. My outlets are scheduling alone time doing something I enjoy by myself and seeing my therapist once a month.
"I think I'm able to be a great wife, mom, and entrepreneur all at the same time because I'm good at aligning what I do with what's most important to me at home and in business, asking for what I need and saying no when I need to because I'm not afraid of missing out on anything. I'm positive that there's enough time, money, clients, and opportunities in the world and that I don't have to trade marriage and motherhood to have them. I think that's an abundance mindset with a little bit of grace mixed in."
Trying to Find Balance in an Unbalanced World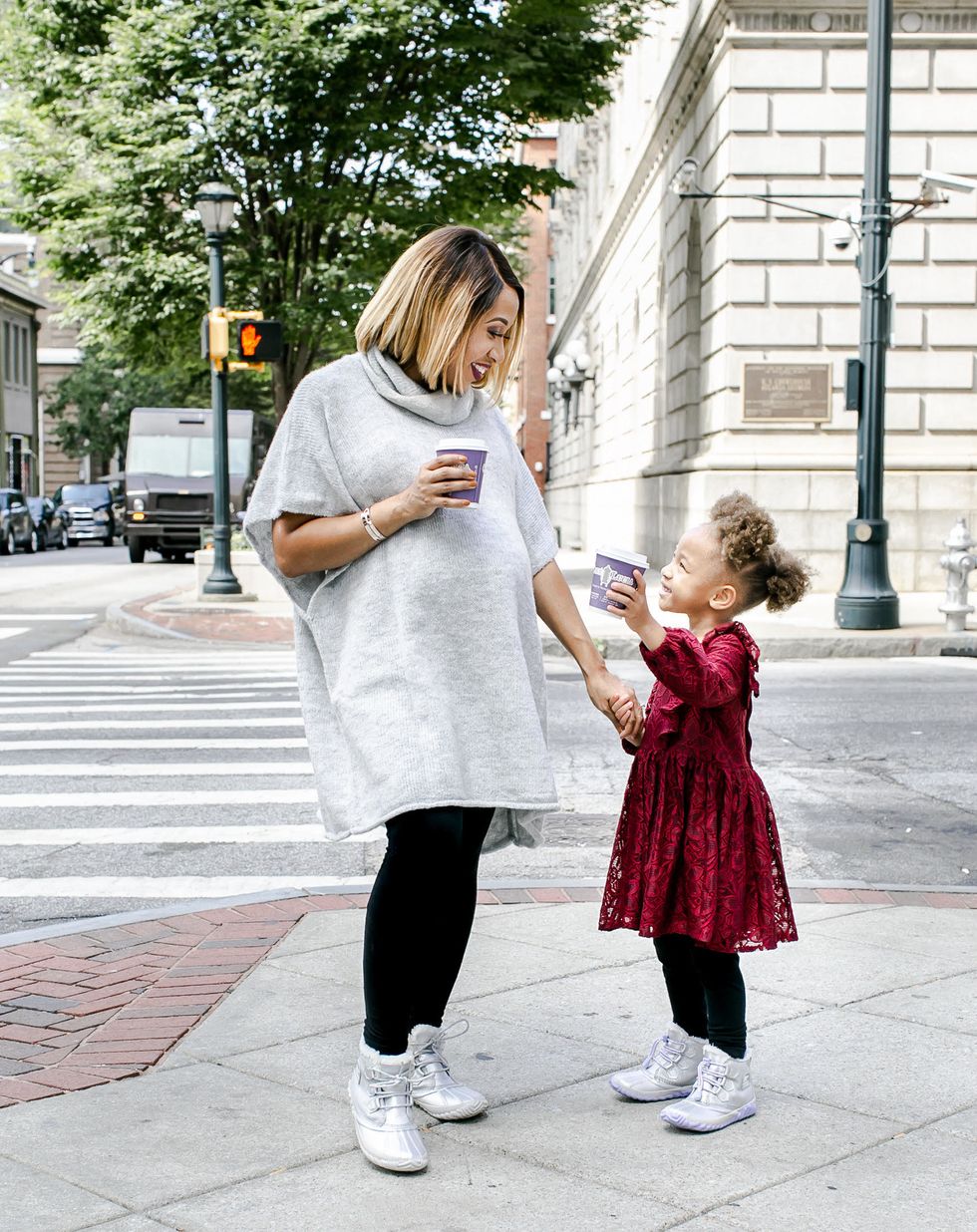 Courtesy of Mattie James
Mattie James, Entrepreneur & Influencer
"What I had to come to terms with is that balance looks different every day. Some days, I kill it as a mom and entrepreneur, but not so much as a wife. Other days, I'm the wife of the year, an amazing mom but my business was put on the backburner. And guess what? That's fine."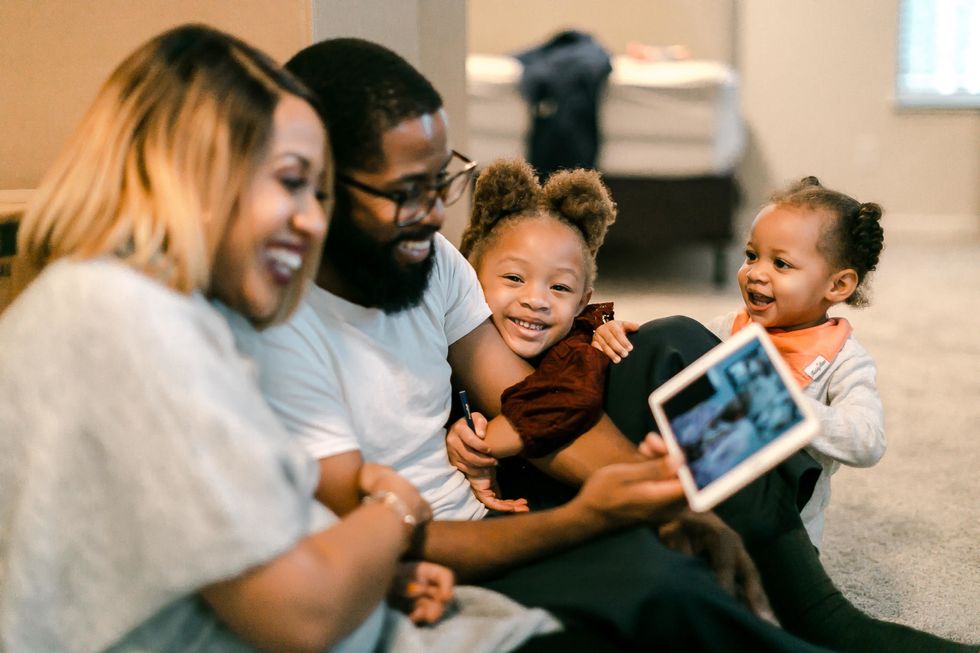 Courtesy of Mattie James
"What I had to come to terms with is that balance looks different every day. Some days, I kill it as a mom and entrepreneur, but not so much as a wife. Other days, I'm the wife of the year, an amazing mom but my business was put on the backburner. And guess what? That's fine, because there's always tomorrow and I'm not obligated to be everything to everybody at all times.
"What I do oblige myself with is self-care. Because when I take care of myself, I can be the fullest version of any of the roles in my life including wife, mother or entrepreneur. I'm not interested in being any of those things running on an empty tank. Self-care is what keeps me full. It helps me achieve balance."
Featured image courtesy of Shakyna Bolden
Originally published May 2, 2020
Keep reading...
Show less