Celebrated ballerina Misty Copeland is now a mom. She revealed the surprising news in an interview with PEOPLE while dishing on her new athletic fashion line Greatness Wins. "I'm on maternity leave right now," she said. "I have a 3-month-old. But I will be back on the stage in 2023, hopefully, in the fall." The 39-year-old's son's name is Jackson and she shares him with her husband Olu Evans who she has been married to since 2016. While she hasn't shared much else information about her son, she did mention that they will be going out of the country soon.
"We just got Jackson's passport a couple days ago," she said. "So we're on our way to Corsica this summer in France."
The American Ballet Theater's Principal ballerina began receiving fame as one of the very few Black ballerinas. In 2015, she made history as American Ballet Theater's first Black principal dancer and she has danced for many others such as the legendary artist Prince. Her career literally takes place center stage, but when it comes to her personal life, Misty tends to be more private. In other words, don't expect to see much of her son.
"My personal life I've really kept pretty private my whole career," she shared.
"Definitely with my son, I wouldn't have him probably be on camera for anything. But when it comes to my career and what I'm doing, I'm really open."
The Firebird author has also gushed about her husband and how he has been a big help during her transition into motherhood. "It's never easy, but I wouldn't be able to do it without having a support system," she explained. "My husband is incredible and he's an amazing dad. He's been there for me throughout my entire career to help me to be able to balance those things."
"But you have to make sacrifices. I'm not at big events every night and out partying and going to dinners. I have to make sacrifices to be able to do all the things that I want to do."
Featured image by Theo Wargo/Getty Images
It's one thing to be totally financially responsible for self, but it's a totally different ball game when you have little ones to care for. And the cost of parenting is far from cheap. Research shows that the average cost of raising a child through age 17 is more than $230,000. And while many parents happily do what they have to do to ensure their children are not only surviving but thriving, the cost reinforces the importance of grasping healthy concepts about wealth and money management and putting them into action.
Oftentimes, our mentality about money dictates how we use it, and the fact that Black people have endured decades of systemic racism, discriminatory employment and banking practices, and other historical societal horrors that affect how we get to the bag, many of us are actively dealing with the good, bad and ugly impact generations later. On one hand, the challenges have built habits of resilience, tenacity, initiative, and innovation, while on the other hand mentalities and habits centered on scarcity, overworking, overspending, and mismanaging of personal finances. Lessons have been learned from one spectrum to the other, one generation to the next.
There are communities of Black parents who are making changes that will not only empower themselves but their children and grandchildren, building off the foundation of their ancestors and strengthening financial fitness and power through action. They're taking deliberate steps to ensure their children's mindsets are balanced and prepared for financial prosperity.
Check out more on three such power women—mothers who have learned vital lessons about money management and financial freedom in their parenthood journeys—from becoming new moms to transitioning into empty nesters. They speak further about how they're changing narratives and raising children unafraid to think big and limitless about wealth:
Shifting Money Management Strategy Along the Way
Vioree Brandon-Nettlesford, the founder of Divine Enterprise L.L.C., was a divorced single mom and college student with her first son, navigating not only taking care of him but taking action to secure their future. Back then, she says, she wanted to focus on building up her savings because she wanted to "establish a firm foundation" for her son. "I didn't want to live what I was taught which was, 'Buy, buy, buy, and don't worry about tomorrow.'"
"I didn't want to live what I was taught which was, 'Buy, buy, buy, and don't worry about tomorrow.'"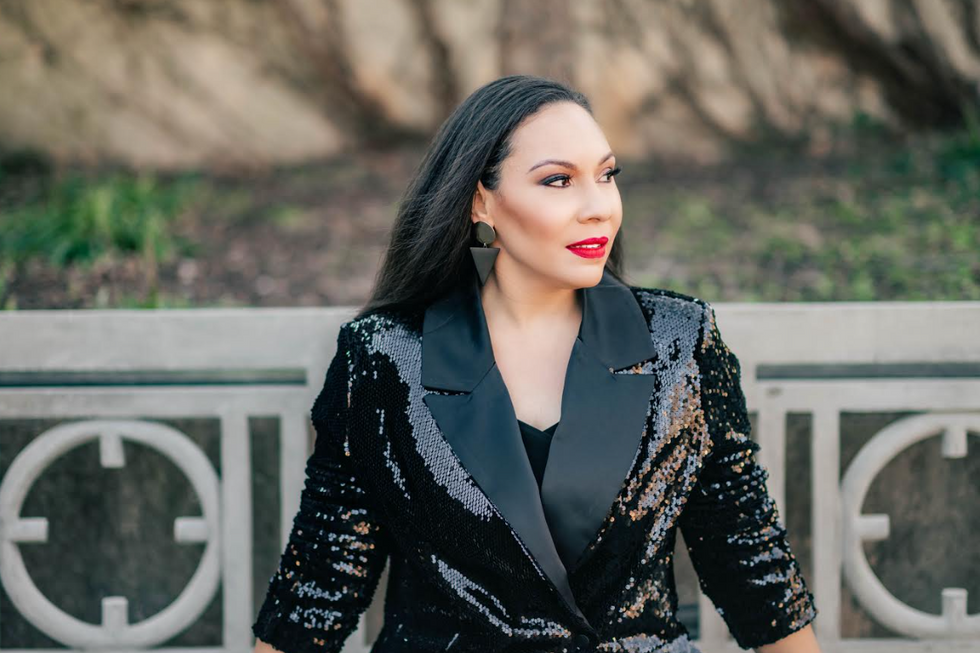 Courtesy of Vioree Brandon-Nettlesford
Years later, she met her second husband and had more children, ushering in a dramatic change in her finances and how she'd handle money. "My story is a bit unique because I got married for the second time and then, my husband passed away. I found myself becoming a single mom again, and I actually became homeless," she recalls. "During our marriage, I had that old-school mindset that the husband works and [the wife] stays home. You don't have to work. Re-establishing myself changed my perspective and my relationship with money because I realized I can't teach my kids certain things I learned because it didn't reap good fruit."
She also began working on establishing herself as an author and transitional life coach, creating streams of income for herself that would mean independence, empowerment, financial freedom, and a legacy for her family in the future.
She shifted back to a focus on saving and squirreling away funds to ensure she can meet the financial demand of taking care of her now-larger family and covering emergencies. She began planning more for the long-term versus the right now. "We're looking at three different stages: My son is 20 years old now, and he's in his third year of college. He goes to a private institution. I did not save well with him like, for instance, with a 529 plan," she says. "I find myself now paying tuition of about $18,000 a year."
With her younger daughter, who will soon be a college student, Brandon-Nettersford changed up and created more of a strategic plan for financing her education. "I have a fund and now tap into scholarships for her because she's a straight-A student and she goes to a military school. There are resources out there for you in whatever stage of [parenting] you're in. It's up to you to educate yourself and seek them out, and that's what I began to do."
She also decided to be more collaborative with her children in setting a plan for their future. "I established a relationship and open communication with my children to help them understand what they want their future to look like. As parents, we have a plan for our children, but they also have a plan for themselves. It's up to us to take accountability and responsibility and not to deflect our plans on them."
Honing In on Generational Wealth
Layo George, the founder of Wolomi, an online community and an app for expecting mothers, began planning for the birth of her son three years before he was born. "I knew I wanted to be able to breastfeed and stay home, and in order to do that, you have to be financially stable. I thought, 'What kind of pregnancy, post-partum, and first year did I want to have?' I began making choices with my husband in terms of finances. We wanted to make sure we were in a good space to carry out that idea. We didn't want stress to impact our pregnancy or that first year of parenting."

Today her son is four, and while, she says, she does teach him about the concept of money, her focus is to give him a sense of what sustainable wealth-building is. "After he was born and we got past that first year, it was, 'Well, what kind of life do I want for [my husband and I]? If you don't think about yourself, in terms of taking care of things in your own financial journey, it's hard to financially be there for a child."
"If you don't think about yourself, in terms of taking care of things in your own financial journey, it's hard to financially be there for a child."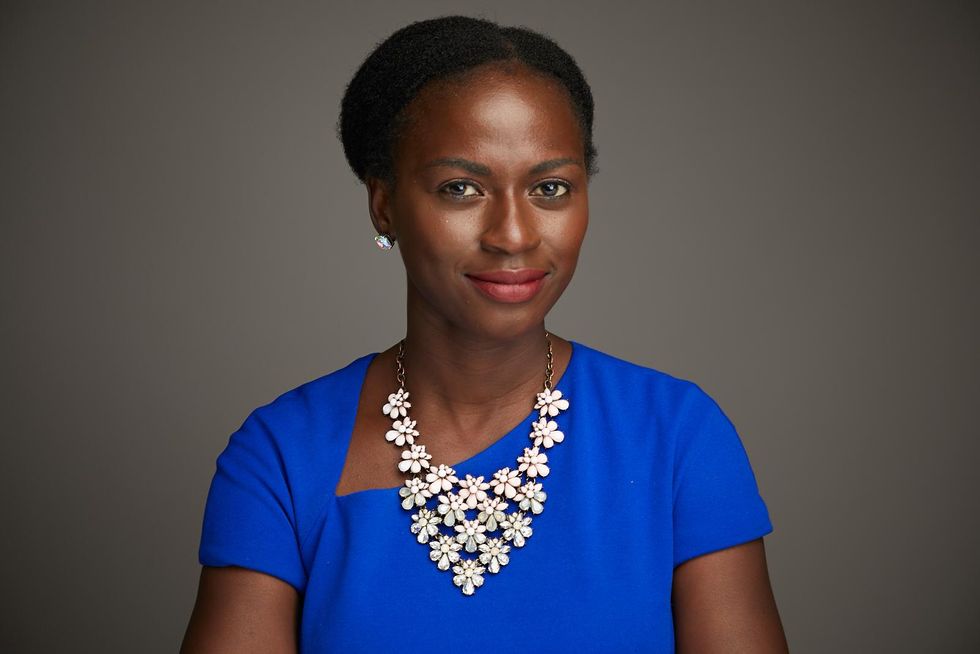 Layo George, Founder, Wolomi
Courtesy of Wolomi
She and her husband began a process to tackle debt and tie up loose ends when it came to their own financial profile. Then, for her son's first birthday, they'd asked friends to put money into a 529 plan instead of giving the usual gifts. "I started learning a bit more about 529, and found that that wasn't what I really wanted, so we opened an index fund account for my son. It's not a lot of money because, as I said, [we were] focusing on [ourselves] as well," she adds.
George is also pursuing her own financial and career goals in helping other women through their pregnancy and post-partum journeys with the online community and tech resource she built. That, in turn, not only enriches her and her family's lives financially but provides an example of entrepreneurship that her son can learn from. "It's also [about] pouring into Wolomi in the hope that not only will we have this brand that will support women but it also is going to be something that can give us generational wealth so that my son can have the freedom we didn't have."
"It's also [about] pouring into Wolomi in the hope that not only will we have this brand that will support women but it also is going to be something that can give us generational wealth so that my son can have the freedom we didn't have."
Her parents are immigrants, and culturally, she says, there's a traditional sense of respectful obligation to take care of them financially in their golden years of retirement. While she understands the expectation and she and her husband are well prepared and happy to take on the responsibility, she says, "I don't want that for my kid. I want him to not have to think about me, but about the bigger picture. It isn't just about one generation. There's a limit to what I can do for him. It's about putting him in a state where he's able to multiply what I have. Then we can really start to build for our people."
Making Financial Literacy Relatable and Empowering
Karen Stevens, the founder of Frugal Feminista, is also a huge proponent of redefining our relationships with money, and with a background in education, she relies on communication and teaching by example to instill certain values in her daughter. She takes her 6-year-old to the bank with her and allows her to see how the banking world works, even down to signing her own checks given to her by her grandmother. She also started a brokerage account for her daughter as soon as she received her social security card and contributes to a 529 account for her education.
She believes that today's parents can inspire their children to elevate their understanding of how money works and become more mindful of the conversations that are had about everyday financial scenarios. "For Black women, in particular, I think because we're in a race-based society, some of us are quick to adultify our kids and bring them into conversations that they have no mental, emotional, financial ability to reconcile, and I think that [is detrimental] to their relationship with money," Stevens adds.
"For Black women, in particular, I think because we're in a race-based society, some of us are quick to adultify our kids and bring them into conversations that they have no mental, emotional, financial ability to reconcile, and I think that [is detrimental] to their relationship with money."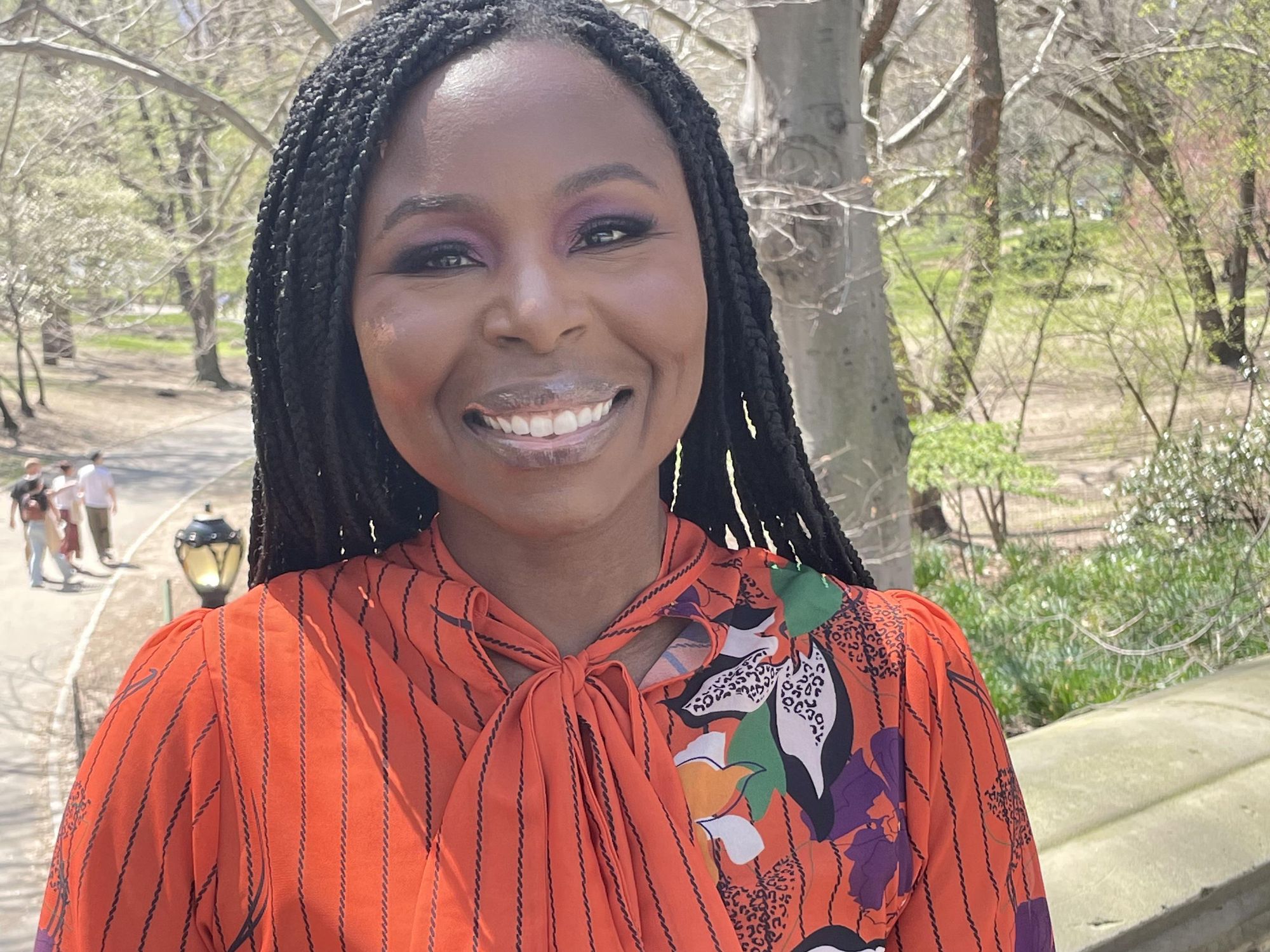 Courtesy of Kara Stevens
Reframing dialogue and interactions in a way that allows children to understand from their own perspective, considering their age and development, is key, she says. "I don't think it's appropriate for a mom to say, 'We ain't got no money,' or 'Your daddy's gone. You're the man of the house.' Let's say maybe you lost your job. Instead of saying, 'We don't have any money,' you can say, 'We're going to really take care of the things we have because we have more than enough. What role can you play in taking the lead in putting your things away?' It lands differently."
She also believes that, as parents, it's important to guide children toward balanced and education-based conclusions about money and to highlight positive aspects of Black buying power, Black excellence in business, and Black wealth.
"As Black people, because we have been marginalized, we want to make sure that we don't color our children's lenses in the same race-based, wealth-based narrative. All Black people aren't poor. All white people aren't rich. It's about making sure that we give them–whether it be through books, online resources, or family members—the sense that Black people got it. We been had it. And if we don't have it, we can get it. We need to give them a positive narrative about all things Black and a more nuanced understanding when it comes to money. Then, you're able to raise a child that will be critically thoughtful about money, take more risks with money, and understand what their values are around money."
Featured image by Ridofranz/Getty Images
Cardi B is a "mommiana" to two kids and has been learning how to balance motherhood and a successful, demanding career. The Bronx beauty was recently featured in Vogue Singapore ahead of her highly-anticipated sophomore album. Her debut album, Invasion of Privacy, was released in 2018 and her widely successful single "Bodak Yellow" which recently went diamond, made her a bona fide star. But shortly after, she became pregnant with her first child, Kulture Kiari Cephus, after marrying Migos rapper Offset. And in 2021, they welcomed their second child, a son named Wave Set Cephus. Cardi opened up about motherhood and how when she was pregnant with Kulture, her team was afraid for her career.
"There weren't a lot of artists out there who had babies at the beginning of their career. I didn't have an album out when I found out I was pregnant," she said. "Everybody was so nervous for my career and future, but I kept telling them, 'It's easy. Trust me, I'm going to have a nanny and she's going to travel up and down with me. It's not even going to be a hassle.'"
But all that changed after she gave birth. "When the baby got here, I couldn't even think about getting a nanny because I was afraid of anybody being around her besides my family. I've never had a nanny for Kulture," she revealed. Instead, she has family members that help out but she doesn't make it a habit to always depend on them to watch her kids and she's never too far away from them.
The Grammy award-winning artist is aware of the privilege that her children have but she still makes it her mission to show them the importance of working and reaching your goals.
"They need to know to never feel comfortable. Don't ever feel like, 'I'm going to get it because I'm Cardi and Offset's kid,'" she said. "They are never going to know what struggle feels like, so they might not have that hunger I had to leave the streets. Even though my kids are well-off, I want them to know that when you work for things and achieve it, it's more respected—especially when people see that you bust your ass for it."
But she does admit that she goes the extra mile for her kids and wants them to have the best of the best. She shared how she has enrolled her 4-year-old daughter in swimming, dance, and private tutoring and jokes that she may be doing "too much." However, she just wants Kulture to learn as much as she can.
"I can't swim, so I want my daughter to be able to swim. I want her to do amazing things when she grows up," she said. "She can jet-ski or go on a boat. I want her to be smarter than me—just be the better version of me."
And while her kids are learning how to do different activities, Cardi is learning from them. The "Up" artist says she has become more compassionate after having kids and she has a newfound respect for all mothers.
"I have so much compassion—and love and appreciation— for all mothers in the world," she said. "There is no excuse, we have to do it. I have compassion for good mothers who get up and hustle and work, or even not work—having kids is work. Raising a kid is work. I have so much hatred for deadbeat mothers and fathers. It's like, yo, bringing a baby into this world isn't just like 'I'll figure it out.' You have to be ready because you as a parent is all they got and all they want."
Let's make things inbox official! Sign up for the xoNecole newsletter for daily love, wellness, career, and exclusive content delivered straight to your inbox.
Featured image by Cindy Ord/MG22/Getty Images for The Met Museum/Vogue
Since the passing of Nipsey Hussle, Lauren London has been more focused on herself, her family, and God. The beloved actress was starring in a new show, Games People Play, on BET, and she and the West Coast rhymer just appeared on the cover of GQGQ in February 2019 before his life was cut short on March 31, 2019. Nipsey was gunned down in front of his The Marathon Clothing store by Eric Holder Jr. and the assailant was recently convicted of first-degree murder and two counts of attempted voluntary manslaughter.
Lauren hasn't spoken out much since the death of her son's father but it appears that she is slowly starting to get back to the grind. In 2021, she starred alongside Michael B. Jordan in the Amazon Prime film Tom Clancy's Without Remorse and she will be starring in the upcoming Netflix comedy with Nia Long, Eddie Murphy, and more.
The mother of two was the first guest on Angie Martinez's new podcast Angie Martinez IRL and she opened up about her healing process since Nipsey's death, her relationship with God, and what love looks like for her in the future.
Lauren Shares Advice on How to Help People Who Experience the Death of a Loved One
"I think just sitting with someone. I felt like the people who came to just be with me and sometimes I think just holding space. It's hard because when your friend or someone you love is going through something, you naturally wanna fix it. And this is not something to fix, it's something to go through with someone so you just roll with them. You sit with them. You hold space with them. You hug them. You feed them. You may be [trying] not to say something to make them feel better because it's really nothing that can make them feel better. Just hold the space for them and just be there."
Lauren on How Food Can Be Healing
"One of the greatest things that I learned that I'm still learning is that food really helps with depression. I'm an emotional eater so my weight fluctuates so I get sad and want to eat a Twix or pizza and stuff like that but it would make me more depressed. I love Twix. But then I would learn that higher vibrational foods–I wasn't so down. I wasn't so deep in my depression so that's one of the things that I'm still trying to apply."
Lauren on Being Proud of Herself
"There was a time that I couldn't even take a shower. There was a time I didn't even laugh and I remember feeling so dark like am I ever going to laugh? Am I really going to–something really makes me chuckle, genuinely? And I have laughed and I take a lot of showers…I was really in a dark place and I am someone who doesn't just feel it. I go in it. I'm just proud that I'm not where I was three years ago."
Lauren on How Her Sons Have Been Dealing with the Passing of Nipsey Hussle
"Theirs shows up in different ways. Kids internalize everything until they get in their teens so I'm trying my best to help them cultivate how to deal with their emotions as best as I can through therapy. And I try to be an example. They see me meditate. They come with me on my spiritual retreats.–Anything that I do that feeds my soul, I share with them because I feel like I don't know where they're gonna go with their life but as long as they have the tools like, 'I remember when my mom was angry or stressed, she did this, let me try that.' They're doing great; much better now."
Lauren on the Legacy She Wants to Leave
"I would love to leave generational wealth for my grandkids and I would like to have a sweet place in everyone's heart that I met."
Lauren on Representing Nipsey's Legacy
"We share a 5-year-old so I have to. But I'm very big on integrity and honor naturally. So, I'm always gonna intend to hold myself up and have integrity in what I do and honor in what I do and try to always think about what would Hussle do if it was me."
Lauren on How She Developed a Relationship with God after Nip's Death
​"I remember hearing people used to say you don't really have a relationship until you question God and I had a lot of questions afterward. Real ones. I prayed really hard when I heard he had got shot, so then I felt like, oh my prayer didn't work? So prayer didn't work and then I was like what's really going on? Why? How? I felt like God dropped the ball on me. That's how I felt. I took it real personal and then I started to feel like, why not you? Why not you, girl? Who are you? Women go through this daily. Why not you? And so then I had to get out of my ego and then my relationship started."
Lauren on Where She Is With Love and Dating
"A lot of times, not all of the time, we are in so much of our ego that we're in possession of another person. We're not experiencing them. We're not totally loving them and letting them be free. We think we're supposed to be together forever and that's not a spiritual relationship. Spiritual relationship is without the ego. It is we are together, I bring you up, inspire you, you inspire me. Now, if there ever comes a point where I'm not inspired anymore and now in my ego, I feel like I need to possess you. Now I feel the need to control you and your mind. I'm in my ego and that's not love. There's love in there but now I'm operating more in my ego and not my pure love. And I can say this because I've operated from these spaces before."
"Nobody is yours unless the agreement is we're gonna experience earth a little bit longer than some. I just don't feel the need to participate in my ego and someone else in theirs anymore. And I've experienced pure love. I'm not without pure love. I might not ever be married but I experienced pure love and that's with Nip. I got to see that on Earth. I don't need to do that again. I like to feel enlightenment with God. Now, like I said I don't know when I'm 50, 60, 70, but 37, I'm good."
Angie Martinez IRL Podcast | We're All Gonna Die: Lauren London
Let's make things inbox official! Sign up for the xoNecole newsletter for daily love, wellness, career, and exclusive content delivered straight to your inbox.
Featured image by Frazer Harrison/Getty Images for The Recording Academy
For someone like Tika Sumpter who is busy being a working actress, mother, wife, and businesswoman, finding personal time can be tough. But the Nobody's Fool star makes herself a priority. In an interview with Yahoo Life, Tika shared how she manages time for herself even if that means taking a "bath in the middle of the day." It doesn't hurt that she has a very supportive husband who helps relieve some of that stress. In May, Tika married her The Haves and Haves Not co-star Nick James and they share a 5-year-old daughter named Ella-Loren.
"I totally took the pressure off of me, motherhood-wise. Like, I said, 'Okay, I'm not going to live up to every standard that has been put in our past, like being there all the time, in every moment,'" she revealed.
She added, "I have an amazing husband, who is very involved with our child and so I allow him to be a dad."
When she's back in mother mode, she likes to instill powerful words of affirmation about self-love and positivity in her daughter.
"Since she was a little girl I started being like, 'I am intelligent,' and she goes, 'I am intelligent, I am beautiful,' all those things," she said. "I just want to put all the positive goodness in her head, that she is all these things, so that when the world tells her she's not, the self-talk automatically goes back to 'I know I am these things that my mother and father instilled in me.'"
The newlywed has also been on a personal journey to wellness and co-created Sugaberry, a media company focusing on Black women's mental health. One of the ways that Tika checks in with her mental health is by meditating which is also something she says her daughter has picked up on. "She saw me meditate and now she created an 'office' where she takes me in to meditate. She walks me through talking meditations… I'm like, nobody's gonna believe me," she said.
The 42-year-old actress co-founded Sugaberry with Thai Randolph who is the President and COO of Kevin Hart's Laugh Out Loud company and Hartbeat Productions. She shared why it was essential to create a mental wellness platform for Black women.
"I think for so long, especially Black women always hold up everybody else, and we forget about ourselves. And so I think when women in sisterhood tell each other it's okay to let go for a while, there's something about giving somebody permission," explained.
Let's make things inbox official! Sign up for the xoNecole newsletter for daily love, wellness, career, and exclusive content delivered straight to your inbox.
Featured image by Marcus Ingram/Getty Images
You know that Caresha TikTok voiceover that goes, "My man, my man, my man," and so on? Yeah?! Well, I hate to break it to you but that is how some (one too many) parents, particularly mothers, sound in regard to their sons. I've always found it to be weird, but I find it even more noticeable since becoming pregnant with a baby boy, likely because people keep projecting that bullshit onto me. Sidenote: I truly believe being pregnant has a way of bringing attention to the weird shit that people say so that you know who you don't want around your child (at any given stage) or who not to take parenting advice from.
Anyways so many mothers have said things to me along the lines of, "You're so lucky to be having a little boy. The love he's going to have for you will be like no other." And the implication in my mind is that they're saying my son will fulfill the love I one day seek in a romantic relationship – not realizing that this is emotional incest.
Similarly, are the parents who crown their sons "man of the house" or refer to them as "my King" – my immediate thought is almost always, "What in the world is going on?" As harmless as they might intend comments like that to be, they're actually very confusing and dangerous in reference to the attachment to your children you create. In fact, I feel so… triggered by the use of these phrases that I've sorta come to the consensus that even terms like "little man" will be banned in my home.
This isn't f*cking Bridgerton, and there's nothing cute about it! And it's not a flex nor is it "woke" to call your son your "King."
Parents are here to love children unconditionally, but that love is not meant to be applied in the opposite way. Children aren't required to love you through your bullshit. The emotional incest language and behavior send the message that they should otherwise be supporting and loving of you – no matter what.

Wait, let me backpedal just a bit here and explain emotional incest. Emotional incest, sometimes referred to as covert incest, is when an adult or parent leans on a child for the emotional support of an adult partner. Quick enough, right? And how many parents did you think of immediately after reading that simple definition?
It seems to be more common than we might imagine (but that's just my opinion). Still, I want to warn parents against doing this. Use age-appropriate language to describe your children, especially Black children (who are already adultified from the age of six for girls and 10 for boys.) In fact, emotional incest and adultification go hand in hand, as adultification is the idea that children are more cognitively aware and capable than their peers based on their intersectional identities.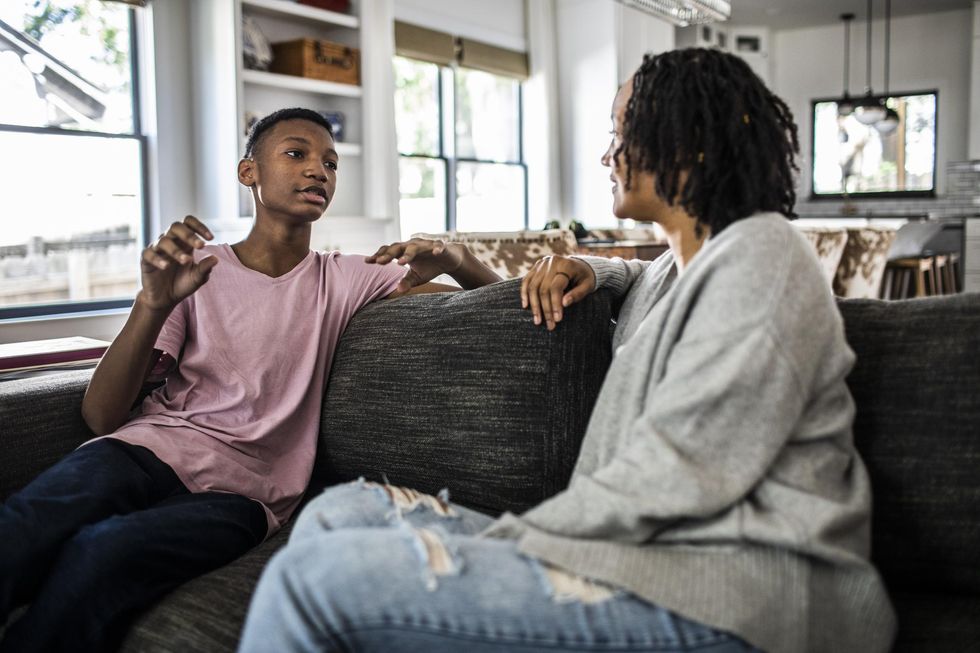 Getty Images
Though my take may seem extreme in some ways (such as refusing to bestow nicknames like "little man" upon my baby son), I, personally, never want there to be confusion about my expectations for my child. And those expectations are simply for him to be a child for as long as developmentally appropriate. Language speaks volumes.
Words are self-fulfilling prophecies, so if you talk to a child or treat them as adults long enough, they become that, and not in the healthy, developmentally appropriate way – in the traumatic and stressful way.
The beautiful thing about parenting is that it's your personal journey, but keep in mind it is also the scary part in that you are responsible for shaping and molding a tiny life (that has the potential to be grand).
I will say, stop projecting that shit onto me and mine. Please and thank you!
Let's make things inbox official! Sign up for the xoNecole newsletter for daily love, wellness, career, and exclusive content delivered straight to your inbox.
Featured image by Getty Images