Keke Palmer being pregnant has been one of the cutest things we have seen this year. If you're like me and the other internet aunties then you grew up watching the actress onscreen and now at 29, we get to witness her become a mother. So far she has revealed that her pregnancy has seemed to cure her cystic acne by clearing up her skin, and she even appeared to accidentally share the sex of her baby during her appearance on The Tonight Show Starring Jimmy Fallon.
Keke is welcoming her first child with boyfriend Darius Jackson and on her Amazon music podcast Baby, this is Keke Palmer, the beautiful couple opened up about how they met, about the moment they found out that she was pregnant, and even hints at the name.
Read more below:
Keke Palmer on how her and Darius Jackson met:
"Well actually, when I did Nope, that's when we met. We met when I was filming Nope. And you know how I am when I'm filming a movie or I'm doing a project or something like that. I'm very serious and I remember when I was doing, Nope, dating him was a breeze. Good. Not like how it's been in the past sometimes where I have to do my job and it's like I gotta cut a motherfucker loose because they stressed, they taken away from what I'm doing. And you know, when somebody's taken away from what I'm doing, they're done… You know, it could be a best friend relationship, hell, family. I'm just like, I gotta focus on what I'm doing.
"One thing that I really noticed from when I was filming Nope, was he made my experience better. I felt supported even, even when we were getting to know each other. So, you know, I definitely knew around, you know, when I had surgery last year or you know, when I did SNL and this came up, I had that extra support I had somebody that added as opposed to, you know, making me feel like something's taken away. And that definitely was taken into account as, obviously why we are in this, in this scenario and having this baby together because, you know, if you can support me in my career and we can support each other in life in this kind of way, then why not support each other bringing into a new life? So I, I thank you for that."
Keke on how she found out she was pregnant:
"My baby was definitely planned. Like it, it wasn't like we sat on the chalkboard and wrote some stuff out, but… we were definitely like moving in the, in the vibe of definitely no surprise. But it's so funny because how I found out was actually Darius, because randomly I was just, you know, feeling to myself, maybe I could be pregnant. Like the, the period thing didn't even happen yet. I just thought to myself, huh, maybe I could be pregnant. Maybe this is the time. You know what I mean?
"I'm feeling good, you know, I always, you know, told myself definitely by 28 I would love to, to be pregnant, or you know, at least focusing on something like this. I was like, open to it like you're saying, and you know, [he's a] good partner, feeling really good. And so I was like, you know what? I feel like maybe that, maybe that I am [pregnant]. So I took the test and it came back negative, you know what I mean? I didn't have the lines on there, so I just threw it in the trash, you know what I mean? I just threw it in the trash.
"And so I go out with, um, with Nora and we're at like this semi-casual business dinner, but we're like having some little sake and like enjoying ourselves, and all of a sudden I get a text from Darius and he says, 'When did you take this?' And it's a picture of the pregnancy test and it's positive…I didn't wait long enough! And I'm like, 'I took that earlier today, like literally just some hours before I left out.' And he said, 'Well, you better get to be drinking water in your sight. Cause I'm buying 10 of these things right now. You take them all when you get home.' Soon as I come home, I, and I'm also not kidding, as soon as I come home, Me and him, I do 10 of 'em back to back, back to back, to back, to back to back. [And they're] all positive…"
Darius shares his side of the story about finding out Keke was pregnant:
"...First off, let, let, let's, let's set the record straight. You know, I was not digging in the trash can like, so the cleaning lady, she, she just emptied out the trash. So, when I went to the bathroom, I only just see one item inside the trash and I was, uh, the, [I saw] the pregnancy test and it was just, and it was facing down. I was like, okay, well she took a pregnancy test today. Okay. I guess she decided to take it on her own.
"No big deal, let me just lift it up. And then I just see the line and it was not even faint. It was actually a very thin line, solid straight. And I was like, the, this, this, this is actually a positive pregnancy test right now. So that's, that's, you know, but it stood out that it was just like the only thing inside a trash can, so I was not digging on through!
"But um, yeah, so at that point in time it did feel like, you know, when you watch them, uh, them like rom-com movies or them, them pregnancy movies where they go in that montage and they go to that grocery store and they're buying all the pregnancy tests. That's what it felt like.
"I went to Target and I was just like, ok, Clear Blue just started pouring all that in and then, uh, we had them lined up. I had like, Two, three bottles of water ready for Keke when she came back, [she began] drinking a bunch of water. And then, uh, yeah, during the, like the next two hours, it just kept [saying] positive, positive, positive, positive."
Keke on how they determined the baby's name (and it won't be True Jackson):
"Me and Darius, we have a couple of little, like, aesthetic ideas, but most importantly, we just want him to look like a regular kid, like we are so anti-anything of aesthetic baby. Also including the name. We're not saying the name, but the name for us - it gives American. It gives Black American storyline. We want it to just be like, you know, we're not going for anything too unique. It's not about to be Stone and Sand. It's just like a nice natural [name]. I love that. I love that. No aesthetic baby.
"…Our baby is about to be dirty, wearing dirty t-shirts. Like we just want the baby to look like a baby for real, velcro shoes, you know what I mean? Like I love it. Light 'em up toes. Quarter, quarter jumpers. Yeah. Yeah, exactly. But, you know, but you know what's so funny is when we first started dating, it's so hilarious. Darius' brother [Insecure actor Sarunas J. Jackson] was like, 'Yo, you know, you guys been dating for a minute. That'd be crazy if y'all get married and you turn her into a True Jackson [after her Nickelodeon TV show and character.]'
"So we said, when we do, we said, when we do our wedding cards, that's when the True Jackson moment will shine. We'll do the wordplay for those invitations. Yeah, but we are like, we can't name the baby True Jackson. That's too much of a joke. Yeah, that's too much of a novelty. It's too much of a novelty."
Feature image by Amy Sussman/WireImage
As Told To is a recurring segment on xoNecole where women are given a platform to tell their stories in the first-person narrative, as told to a writer.
This is Amoya Shante's story, as told to Sheriden Chanel.
When I decided to uproot my life, move to Mexico, and leave everything I knew behind, I was at one of the lowest points in my life. My business was failing, my dating life was a joke, my finances were scary, and I felt like I hit rock bottom. I craved something different. A fresh start. A new beginning. The desire to move abroad and start over grew within me like a fire and after a while, I couldn't ignore it. Nor did I want to.
The first time I moved to Mexico was after I went through a divorce. I shed the things that did not serve me by selling all of my possessions and embarked on my Eat, Pray, Love journey with my kids in tow. Traveling was a catalyst of healing and for two and half years, I ate, I prayed, and I loved. Eventually, my journey led me back home to the United States but the seed of moving abroad to Mexico had already been planted and it would continue to bloom as I was met with feelings I felt before.
I was back at square one. I was lost, unmotivated, uninspired, burnt out, and broke, and Mexico called to me, reminding me of the healing I experienced there. I started over before, I could start over again.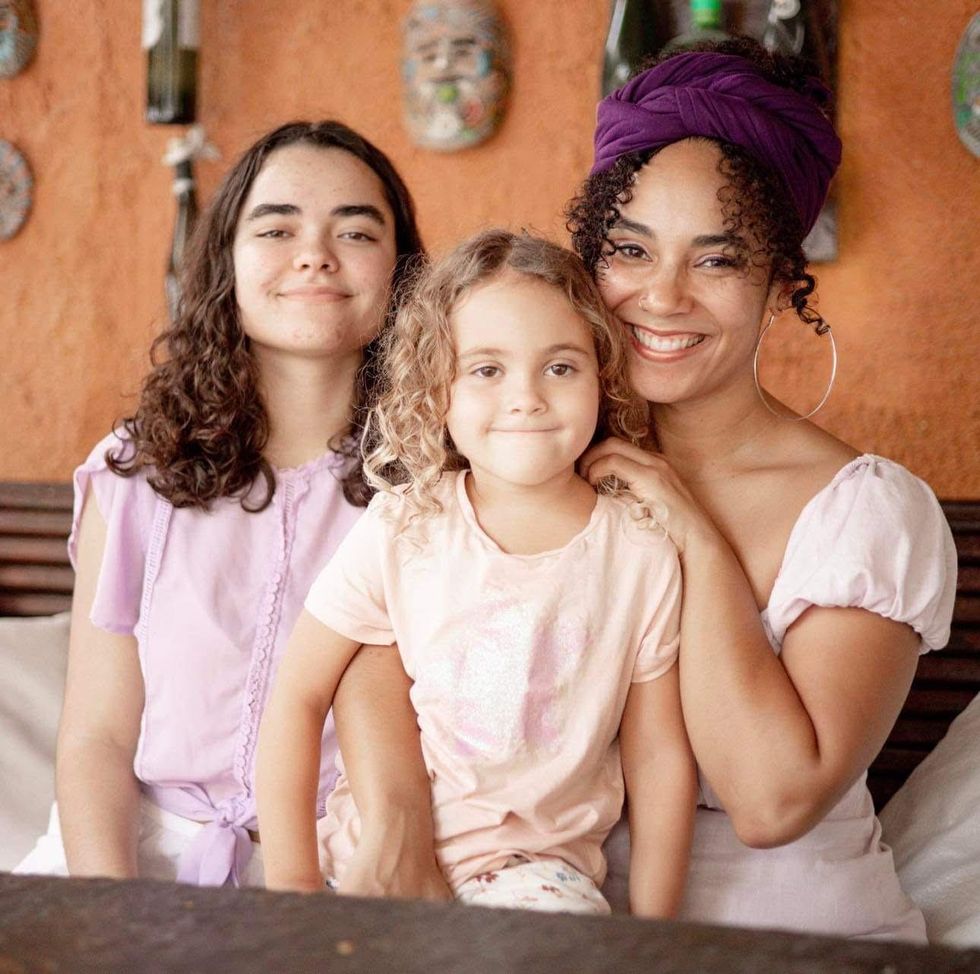 Courtesy of Amoya Shante
But as a single mom of three, I had hesitation. I feared Mexico originally due to the U.S. news and I was so sure that my kids would be kidnapped and harmed in some way if I went. It was through talking to other expats living in Mexico and understanding reality beyond the sensationalism of news stories that my nerves calmed a bit. Again, I sold all of my possessions and decided to take a leap of faith.
As a believer in the magic of manifestation, I believe I can do all things. I had my military retirement and an online business at the time, so I definitely still had to live paycheck to paycheck when I first moved to Mexico. But I jumped like I've done so many times before with faith that the universe would catch me like it always did before I fell. I set my intention, leap, and I don't get too caught up in the 'how.' I trust and I follow that inspired action. Moving to Mexico in July 2021 was no different.
I remember arriving in Mexico at night and taking a taxi from the airport to our Airbnb which was an hour away. Everyone was so kind. I didn't feel scared at all. Actually, I felt like I had been lied to my whole life. The energy in Mexico was different.
I felt calm, safe, and at peace.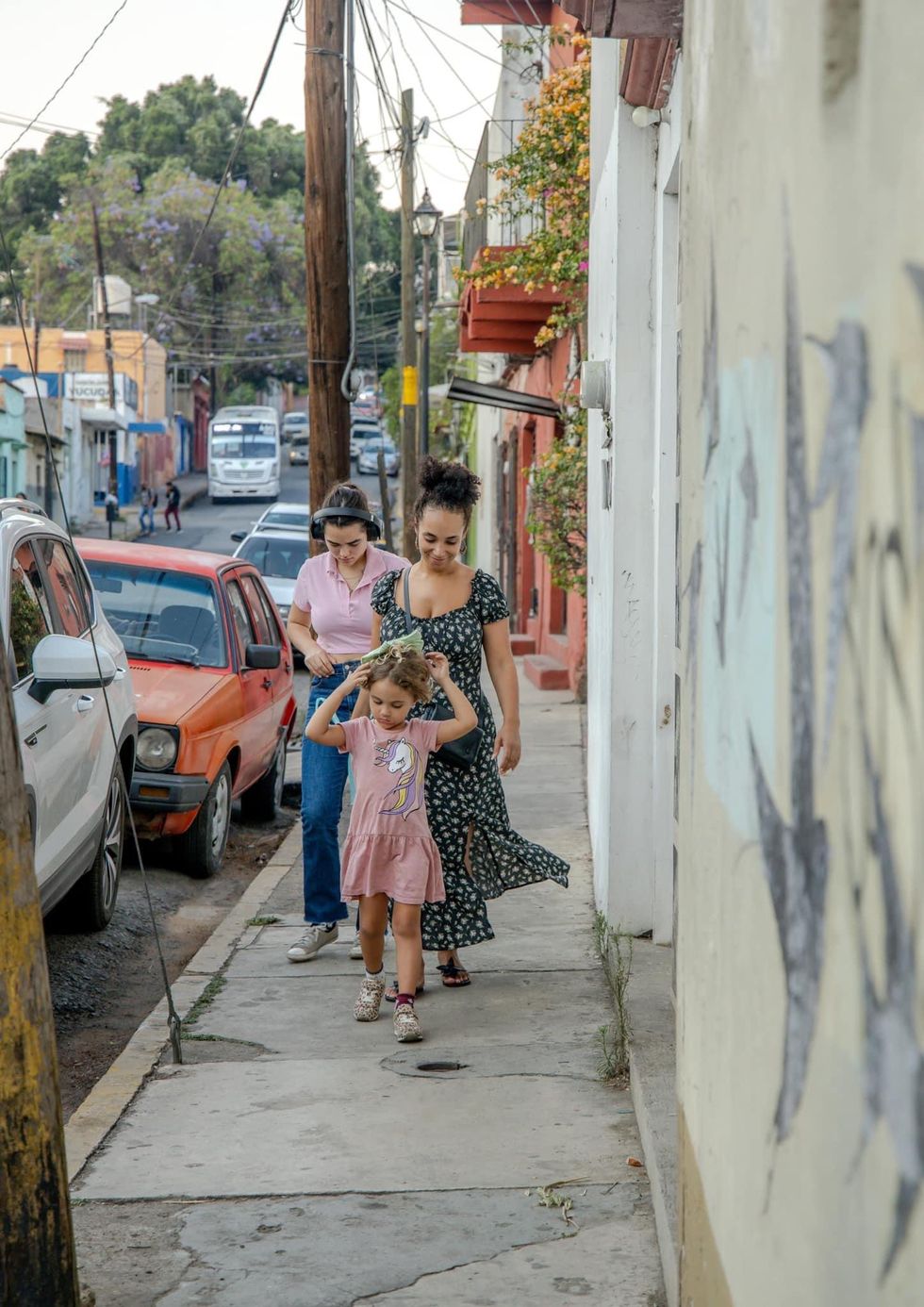 Courtesy of Amoya Shante
Those feelings would only reaffirm my decision each day that passed while living in Mexico. I was there for all of one month before meeting the love of my life. I was searching for a photographer in one of the expat groups I was in and from a list of about 60 photographers, I somehow zeroed in on his name, Julio. I don't know why. I was drawn to him. Even then. I went to his Instagram, checked out his work, and sent him a message.

I didn't look at or check prices with any other photographer. I just felt compelled to hire him.
Upon meeting Julio for the first time, I immediately recognized him as a soul I had already known. I initially tried to ignore the feelings he gave me but he pursued me in a way I never experienced before. From the very beginning, he felt so familiar to me. It was like we were two souls that had spent many lifetimes together. My normal energy in dating was one of anxiousness and desperation but with him, there was none of that. Nothing between us was ever forced, it just flowed.
With him, I felt calm. I felt at peace.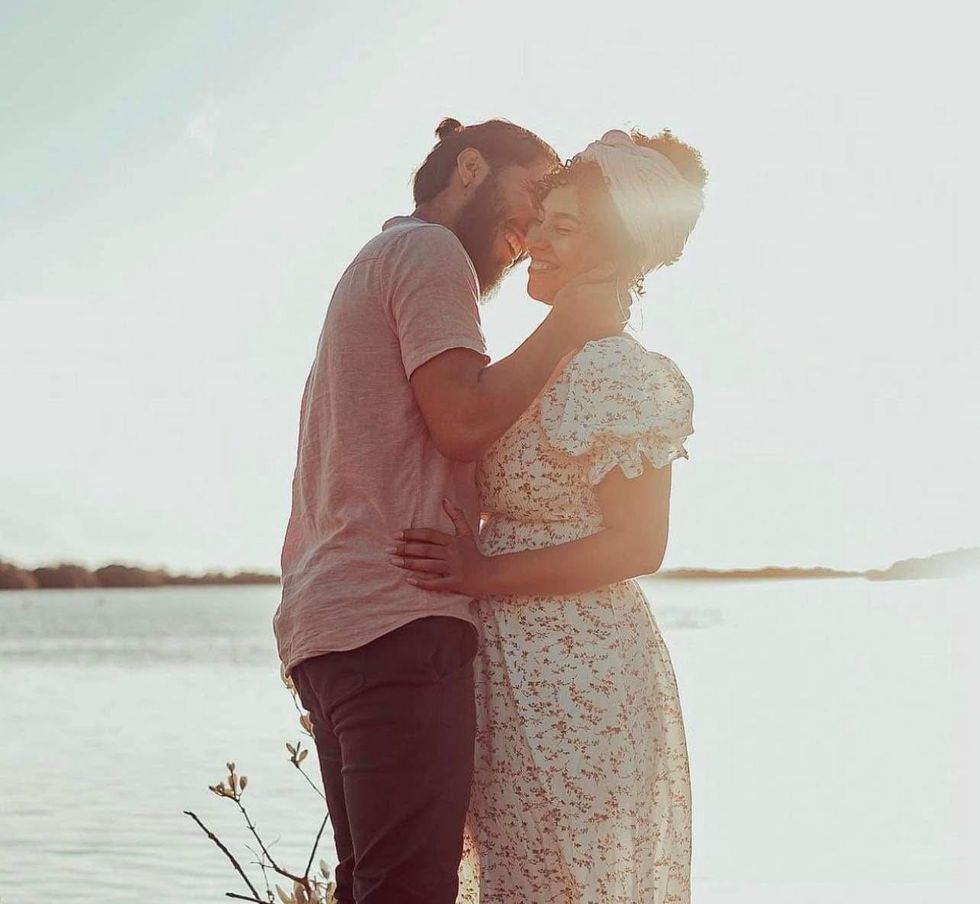 Courtesy of Amoya Shante
We had our differences. Julio is Mexican. I'm American. I'm 10 years older, he's younger. Even still, he is easily the most emotionally mature man I've ever been with. In the beginning, he spoke very little English and I spoke very little Spanish. Cultural differences and language differences hit us right away. I believed the dating process meant dating multiple people until I was in an exclusive relationship, but in his culture, that is not a thing. They take dating seriously and only date one person at a time and then need to speak to their family before asking you to be their partner. After you are official, you then meet the family.
Julio pursued me from the very beginning and still does so today. I never had to wonder what he was doing or who he was with. I never had to wonder if he was going to write because the man didn't let an hour go by without sending a message or a text. And despite the language barrier, he would also call, which wasn't something I was used to. I knew he was the one early on because I was able to be my true self with him. I didn't have to act in any way or overthink things. I could just be.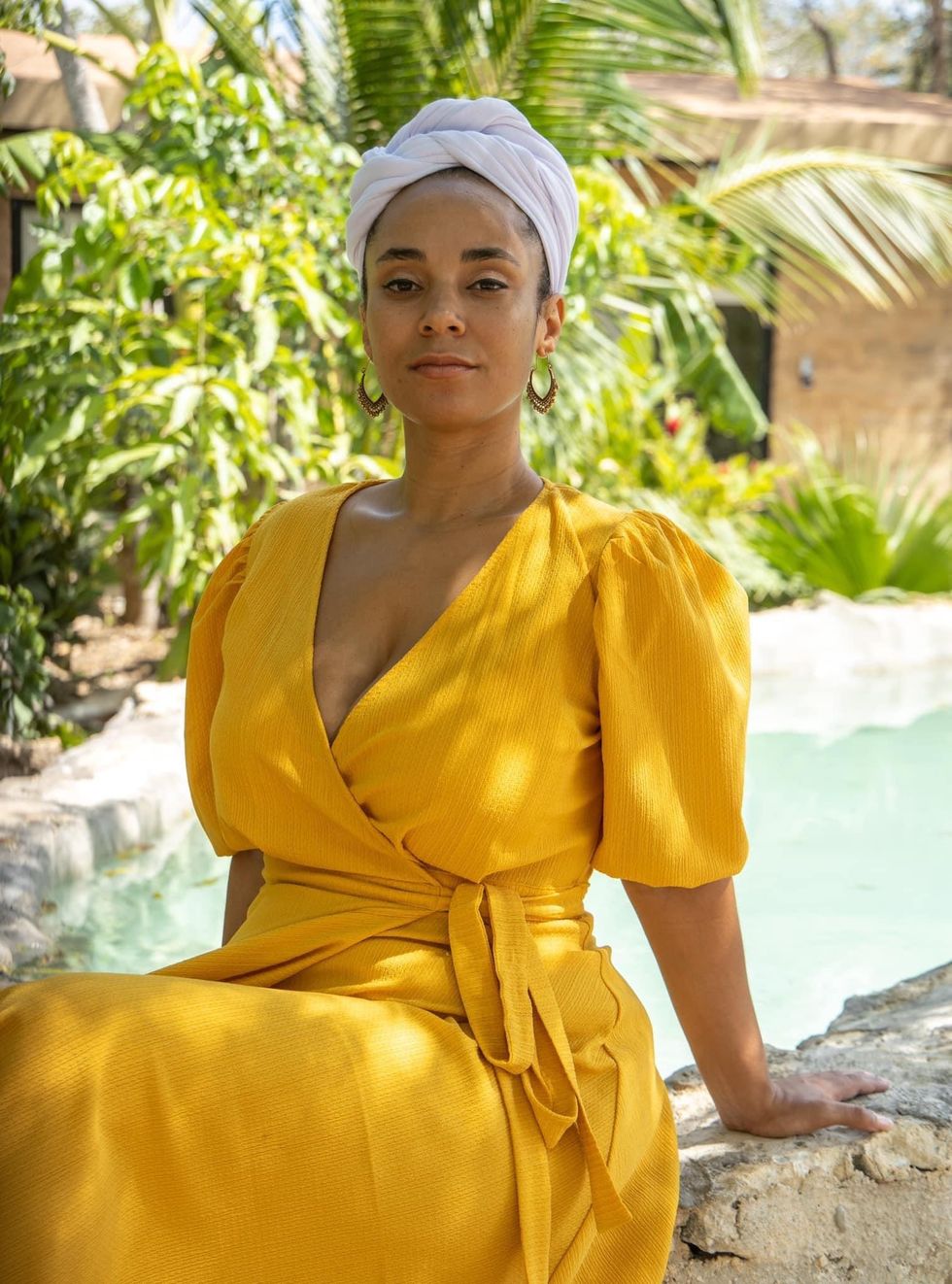 Courtesy of Amoya Shante
For a while, I felt unworthy of love because I was a single mom. In order to be ready for the love I manifested in my relationship with Julio, I had to let go of that and develop a belief that not only was I worthy of love but I was worthy of the most amazing relationship ever. I had to develop a belief that it was safe to love again after being in an emotionally abusive marriage. Not only did I have to learn to love again in a healthy, nontoxic way but I had to learn how to love myself wholly and completely so I would show up in a relationship healthy in mind, body, and spirit.
He respected my way of dating although he did not like it and he chose to remain true to his own values of only talking to and dating one person at a time. Julio was committed to getting to know me so he wasn't letting a language barrier get in the way. I remember traveling back to the States for two weeks after meeting Julio and him FaceTiming every night where we would talk for hours. He was getting an immersive experience with the English language. In so many ways, he taught me that if they want to, they will.
Despite our differences, we are most connected over our values. We value freedom, travel, family, and spirituality.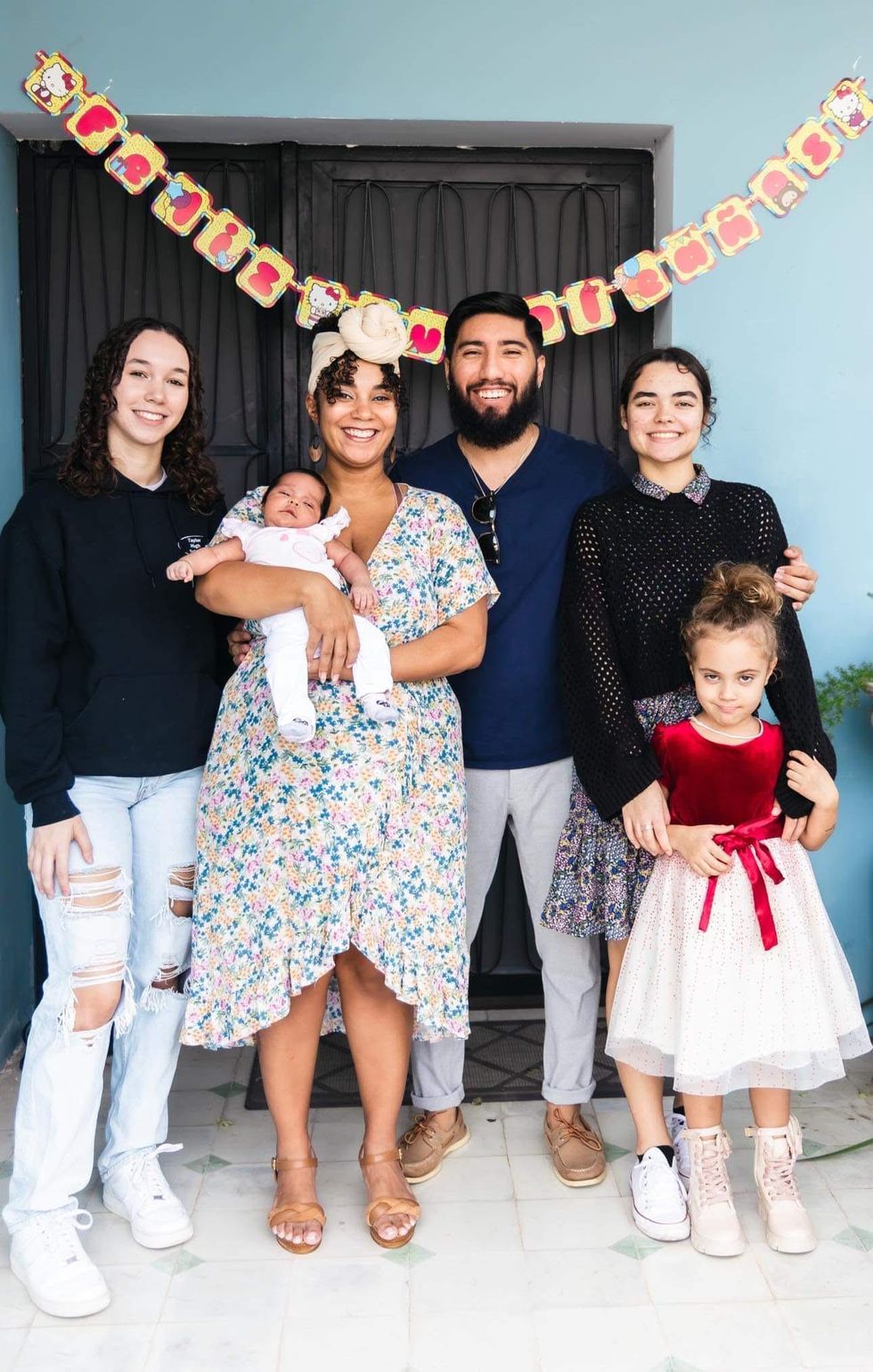 Courtesy of Amoya Shante
Not a day goes by where I don't feel seen. He listens to me. Not kind of listens but truly listens with his whole body and energy. He chooses our girls and me every single day and even though my three older daughters are not his, he has never made them feel any different than his own daughter. He takes care of us in every way by leading in a healthy masculine energetic way that allows my feminine energy to come out to play. I feel safe with him.
That is not something I experienced in my entire life. Feeling safe. He supports me and my vision and purpose. He is my biggest cheerleader. Julio is my balance. He keeps me grounded and calm. He is the best human I have ever met and I am so grateful to have found him again in this lifetime.
When I was at my lowest, I sought to manifest freedom, abundance, soul-aligned friendships, a business that lights me up, a chef, a nanny, a housekeeper, a villa with a pool, and of course, my soulmate. I am happy to say that within 16 months of moving to Mexico, I have manifested all of it.
Julio and I are engaged, run a six-figure business, and also welcomed our first child together, another baby girl to our family! And this is the first time I was able to enjoy newborn life because I am being fully supported and cared for.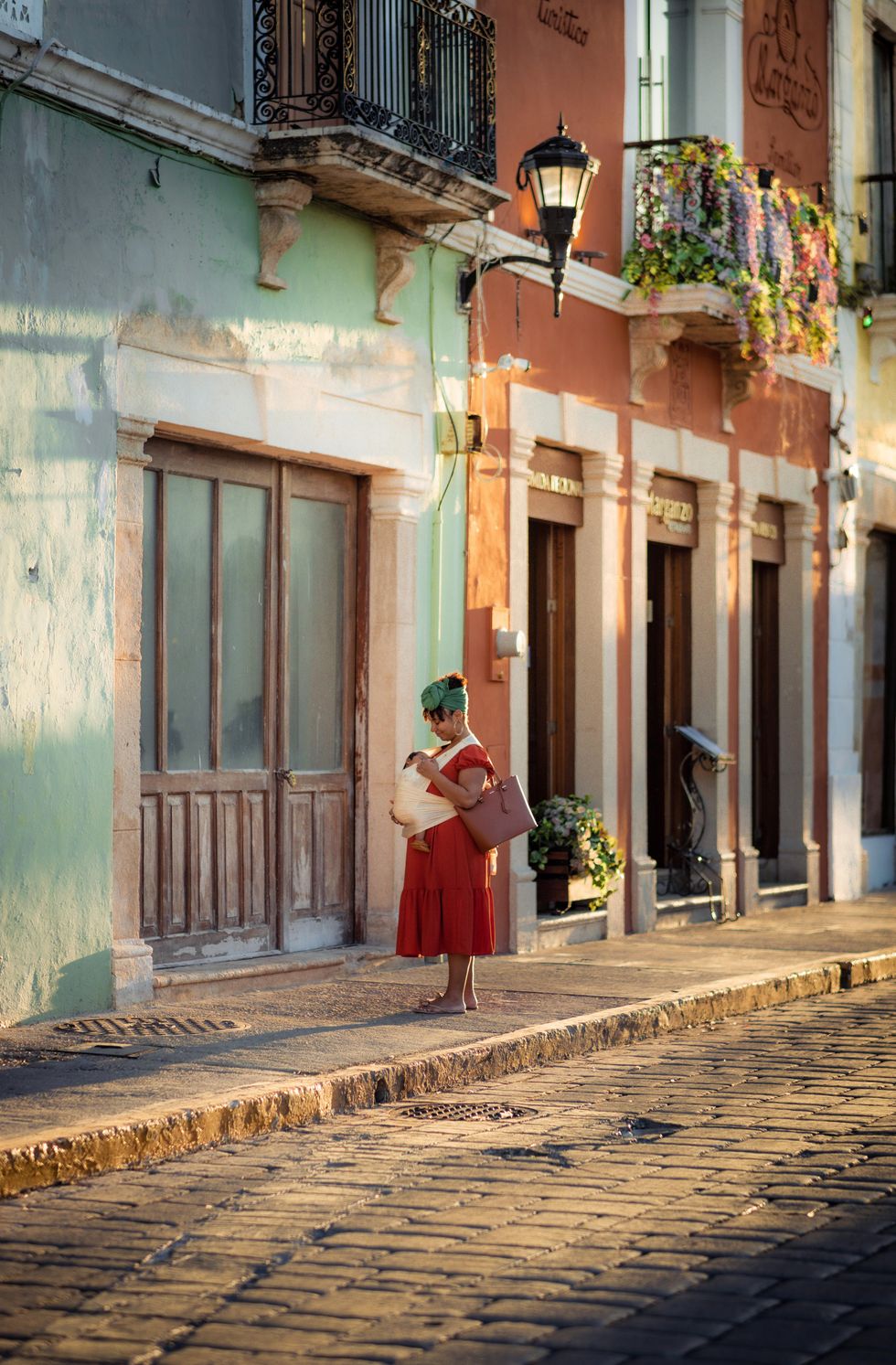 Courtesy of Amoya Shante
However, all of the rewards that are bearing fruit in this season of my life weren't without risk and they definitely weren't without inner work.
I invested heavily in my personal growth and self-development. A few months prior to moving to Mexico, I became certified in neuro-linguistics programming, timeline therapy, hypnotherapy, and life coaching.
I did deep inner work. I stopped treating my business as a hobby, started charging what I was worth, set up strong boundaries, and created a product that I knew worked so it would be easy to sell. I surrounded myself with people who inspired and motivated me and held me accountable to boldly live the life I saw myself.
There is always more healing and lessons to be learned but overall I am healthy, whole, and complete and now get to help others feel the same.
Featured image courtesy of Amoya Shante
I am a 51-year-old single mom who lives at home with my parents –and I'm the happiest I've ever been.
But it wasn't always this way.
I spent most of my adult life working as a broadcast journalist. After graduating from Baylor, I moved a lot and often far from home– anchoring in Waco, Las Vegas, and St. Louis, then eventually in Atlanta.
I had a dream career: I worked at CNN's Headline News for seven years.
I was an Emmy award-winning journalist, and my work often focused on women and children. I interviewed a number of women who had overcome major challenges, including Mary J. Blige, Janet Jackson, Misty Copeland and one of Afghanistan's most prominent politicians Fauzia Koofi. In 2016, I relocated my life to Doha, Qatar to be a presenter on Al Jazeera English.
From the outside looking in, my life probably looked amazing. Doha was incredible. I did what looked like, and often felt like, glamorous work and international travel–frequent trips to Dubai, Seychelles, Bali, Addis Ababa and Venice. If you judge success in life by distance traveled and miles accrued, I suppose you could say I was winning.
The reality, as always, was more complex. For all my travels and adventures, I was often alone. Sometimes this was by choice, but other times I found myself longing for a partner with whom I could share those experiences.
But the farther you go, the harder it can be to find a companion who can keep up. To talk about my failed relationships would take too long, and they were never the true focus of my life or my story. Still, that solitude occasionally crept into loneliness, and I could feel time starting to slip away.
When I was in my 20s and early 30s, I didn't think much about starting a family. I was focused on my career, and I assumed my domestic bliss would just work itself out. In my younger years, I already had a dream job working in Atlanta, a mecca for successful Black professionals. Surely I would meet a great guy, have a picture-perfect destination wedding, and start a family. That didn't happen.
While I was waiting to get married to start a family, I could sense my biological clock ticking.
I remember hoping that feeling would go away and also being envious of my friends who knew they didn't want children. But that wasn't me; the desire to be a mom never faded. I realized I kept putting off motherhood by waiting on some imaginary person.
In my 30s, a friend of mine worked for one of the most prominent fertility clinics in the country; she suggested I consider freezing my eggs. I didn't know much about the process other than it was expensive!
I had a well-paying job but spending up to $50,000 for something I didn't know I needed or wasn't guaranteed to work, was a major financial commitment. So I put it off for a few more years while still looking for love.
At 43, scared my fertility window would close while I was waiting on a partner, I realized I needed to stop giving other people power over how and when I created my family. It was time to freeze my eggs.
Most studies suggest that women who freeze their eggs before age 35 have a better chance of a successful pregnancy. Because I had put it off for so long, the doctor was only able to retrieve five eggs, but at least I had those for when the right man came along. Over the next three years, the right man did not come along. I also considered having a baby with a male friend but then nixed that idea, because … boundaries. Time was ticking.
At 46, I finally grew tired of waiting and decided it was time to use the eggs. That meant going through a sperm bank. My friends helped me pick the right donor.
It was a surreal experience, but I was very realistic that the chances of in-vitro fertilization (IVF) working were slim, so when it didn't work, I was disappointed, but not devastated. I considered trying again but decided it wasn't worth the cost or the risk. It was time to pivot on my path to motherhood.
The next step was adoption, so I started researching options. At the time I was living in Doha, which presented a few hurdles. First, I had to hire and foot the bill for a social worker.
If I was living in the United States, I could have more easily found a social worker to conduct the home study—a comprehensive screening of prospective adoptive parents that has to occur prior to approval for adoption. I found one who was based in Germany, but I had to fly him to Doha to complete the inspection.
Another challenge was finding a U.S. agency that would work with me despite the fact that I lived abroad. Miraculously, I was able to get on the waiting list with an agency in Texas—and was approved to become an adoptive parent in late 2018.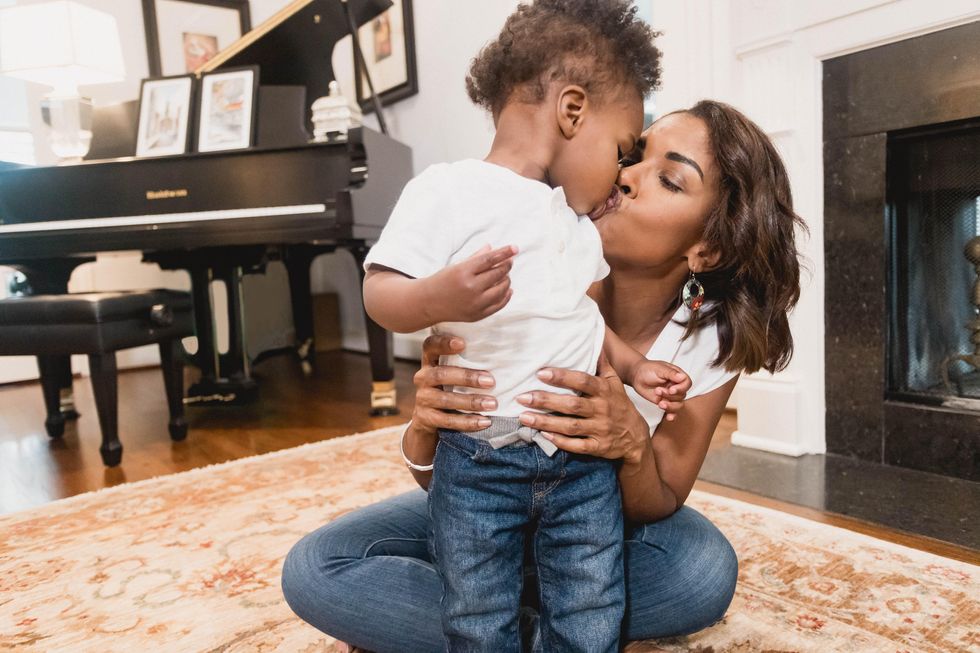 Richelle Carey and Avery
Courtesy of Richelle Carey
After a couple picked a different family over me, probably because I lived too far away, I started previewing the disappointment in my head and thinking about how striking out at adoption would crush me much more than my struggles with IVF did. Maybe because it felt more final, or because I was relying on the judgments of others.
Still, I remained hopeful. I kept telling myself that the right baby would find me no matter where I was, but I could improve my odds if I was more focused on my journey. So, I left my dream job.
Leaving a career is always tough, especially when you don't know how things will work out, where you'll be, or when you'll work again. But I knew it was time. I had little left to prove to myself professionally. So I quit my job as a news anchor more than two years ago and moved home to Houston.
I fully acknowledge that my choices come from a place of privilege. I was successful enough in my career to save money, quit without having another job lined up, and move to my parents' fully furnished studio apartment above the garage.
I was still a bit uneasy about it, and at times even scared. I was staring down the barrel at 50, and if you told me that at that age, I would be single and living in my parents' guest house, I would've thought that I had screwed up my life. I certainly never aspired to it.
I think we intellectually know life can happen for us in a variety of ways but find it hard to accept the non-traditional path might be the one we end up taking. Even if we do and receive everything we want, it feels wrong until it feels right.
Matching with my son was a years-long process. Then finally in March 2021 in the depths of pandemic isolation and global despair, I received a call from the adoption agency, saying a birth mother who had a six-week-old baby was interested in meeting me. The very next day, I drove three hours to Dallas to meet them.
As soon as I saw that beautiful baby boy, I knew at once he was the baby I'd been waiting and trying for all this time. The next morning, I told the agency I wanted to adopt him. Four days later, Avery was home with me.
My life now has transformed from globetrotting to potty-training and I wouldn't trade it for the world. Everything you hear about parenting being exhausting is true. What is also true is seeing your child happy makes all that exhaustion worth it. The absolute best sound in the world is a child laughing, which my little comedian Avery does often.
In my work, I often focused my coverage on women and children. In many ways, my motherhood journey is a continuation of that work.
I hope people learn from my story that your path to motherhood doesn't need to look a certain way or happen in a specific order. I hope my journey encourages women to embrace a variety of paths to motherhood.
You may have your heart set on having a child that is biologically yours, but if that doesn't happen for you, be open to other options such as egg donors or adoption. Some companies offer insurance options for egg freezing and IVF or can also help with adoption costs. You can even consider becoming a foster parent, which can lead to adoption later on.
Being a single mom over 50 wasn't how I thought I would end up. I dreamed of something way more straightforward and dare I say it, conventional. I think I knew the road ahead wasn't going to be comfortable, but it has been more rewarding than I could've ever imagined.
And, that road is still just beginning.
Let's make things inbox official! Sign up for the xoNecole newsletter for daily love, wellness, career, and exclusive content delivered straight to your inbox.
Feature image courtesy of Richelle Carey.
Before giving birth to my child two-and-a-half years ago, I was one of those women who thought I'd have the basics of child-rearing down. After all, I was in the fourth grade when my brother was born and spent much of my adolescence helping my parents take care of him. My experience with children increased even more when I became an aunt eight times over. I regarded motherhood as something I didn't have total knowledge of but suspected I wouldn't be too far off the mark when the time came for me to have a child of my own. Little did I know that there was no amount of practice that could prepare me for what was ahead.
I can still recall the statements I heard throughout my pregnancy. Soak up all the snuggles while they're tiny. The days are long but the years are fast. Or one I heard a lot but could never quite master: Nap when the baby naps. While those comments might have been applicable for a particular season, I had no idea they wouldn't sustain me while I was in the trenches of postpartum life, nor would the other well-meaning suggestions comfort me when I doubted that I was making the right choices.
Instead, I wish I heard more of the following:
"Your experience is valid."
Motherhood is like a fingerprint. From a distance, it looks like the next person's, but when you inspect it under a microscope you'll find that it's not identical after all. As a new mother, I would compare my journey to the mothers around me and wonder why I struggled so much when it seemed as though they had it all figured out. I looked at mothers who already had multiple children and assumed they were on cruise control while I still struggled with motherhood after a year in. I would shy away from expressing how exhausted or overwhelmed I was because I was afraid it would sound trivial– as if only having one child somehow made my experience less legitimate.
I finally realized that it didn't matter if I had one kid, or ten, my parenting experience was just as valid.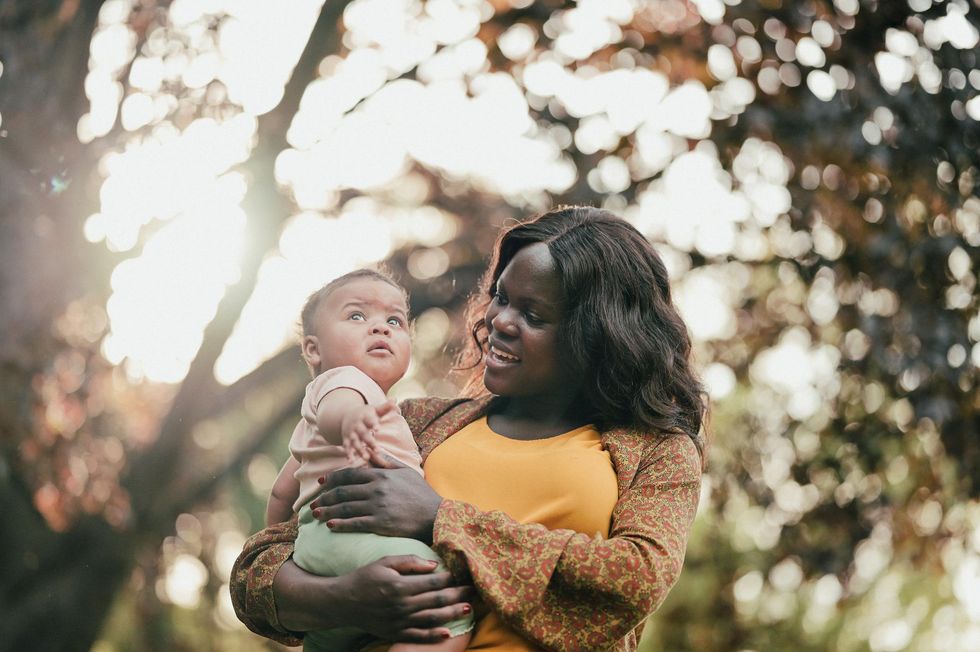 Alina Rudya/Bell Collective/Getty Images
"Motherhood is a mirror."
You might not realize how much of your personality or actions influence your child(ren) until they begin to copy you. Maybe they replicate the exasperated facial expressions you make, the tone you take when you're frustrated, or repeat the curse word you tried hard not to use around them. Parenting can expose your weak spots, but it also reflects the best parts of you as well. I didn't consider myself to be a patient person until I had my child. Through caring for him, I started to notice the ways I slow down to give him time to process the world around him.
Even better, I get to catch glimpses of my personality reflected back at me when my son imitates something thoughtful that I do.
"You might not love parenting 100 percent of the time."
Parenting, even in its most beautiful and fulfilling moments, is still tough work. It is grueling, time-consuming, and soul-crushing at times. There will be seasons where you feel consumed by how tough it is and wonder how you'll make it through. You might miss the freedom you once had or who you were prior to committing your life to care for your little one. There's a steep learning curve as a parent, and it's okay to acknowledge the challenges you face.
You're not ungrateful or failing as a parent if you happen to have a rough time adjusting to your role as a mother. And you certainly aren't a bad mother if you admit to yourself or those around you that you don't enjoy parenting every minute of the day.
"Friendships may change."
As someone who takes pride in her friendships, I had to approach them with intention after I became a mother. I no longer had copious amounts of time and energy to regularly keep up with my friends, and wondered how my relationships with my girlfriends would be impacted. Thankfully, I found a lot of support from the women in my life who were also mothers. Some relationships that were once surface-level turned into a true sisterhood through our shared experiences as mothers. I was blessed to find just as much support from my girlfriends who didn't have children, too. They helped me navigate into my new role. Through these friendships, I've found a lifeline and a safe space to show up as myself.
It took a lot of effort to find a balance with my social life, but unfortunately, not every relationship remained intact. Some friendships withered under the weight of my new responsibilities and not everyone could adjust to my shift in priorities. It's never easy when a friendship fades, but I give myself grace and remind myself that not all change is bad.
"It's OK to parent in a different way."
A few months ago, my son flew into a toddler-sized rage while we were out eating. My husband took him outside to calm down before returning to our table. A woman at the table next to us gave her unwanted opinion on the matter and shared what she would've done instead. It's not uncommon to get unsolicited advice from strangers or loved ones, but I've learned that I have every right to parent in the way I see fit. If that means giving my child time and space to cool down instead of yelling at or spanking him, so be it! My parenting style is influenced by my own upbringing, but I'm not afraid to use techniques I wasn't exposed to but know my son will benefit from.
Parenting isn't static, and you can change your approach as you see fit – even if it doesn't make sense to those around you.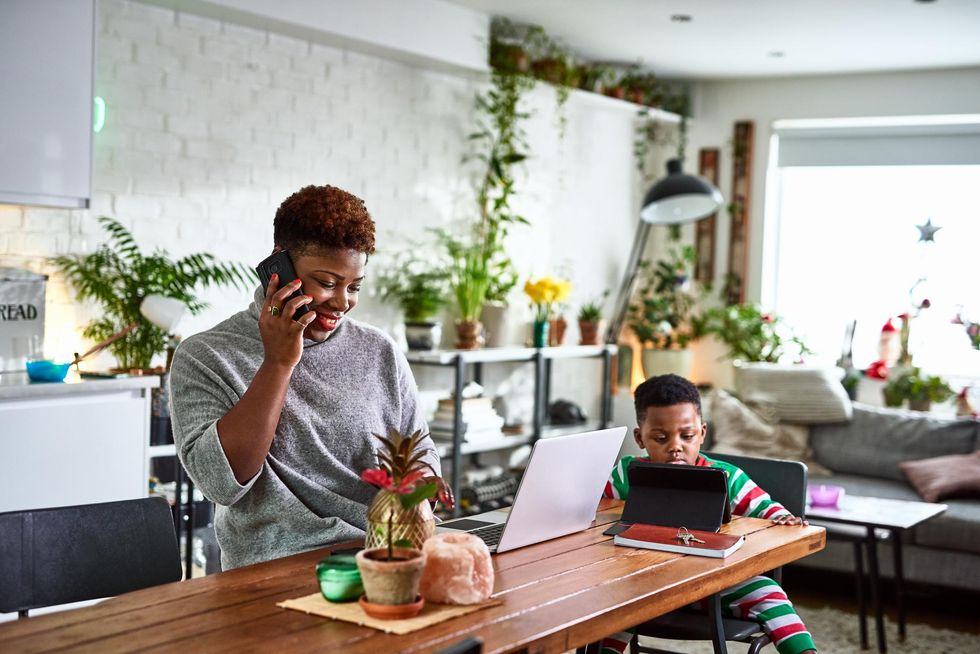 10'000 Hours/Getty Images
"Do what works best for your family."
Parents are exposed to an influx of information on how to provide the very best for their children. As a result, many tend to feel pulled in different directions or feel guilty if they aren't doing what society suggests they should. If no one has told you, let me be the first: You have permission to make decisions that work best for you and your family.
If you want to co-sleep with your child and can do it safely? Go ahead. You have a hard stance against corporal punishment or choose to gentle parent? Awesome! You don't think you want to expand your family because of your finances, lack of support, or mental health, or you just don't want to? Do you, sis! You have every right to provide the best environment for your child(ren) in ways that align with your beliefs, desires, and what you have the capacity for.
There's no amount of advice or suggestion that can ever fully prepare you for what you're going to encounter in your motherhood journey. Every experience with child-rearing is unique in that way. But my hope for you is that you'll approach motherhood with an open heart. A heart that rolls with the punches motherhood will inevitably throw at you, a heart that leans into the many lessons you'll face, and a heart that embraces the sweetness that is sure to follow.
Featured image by RgStudio/Getty Images
Since her Peloton debut in May of 2020, Chelsea Jackson Roberts, Ph.D., has become one of the most sought-after yoga instructors on the app. Using a mixture of hip-hop, R&B, classical, gospel, house, and funk-themed classes, the Dayton, OH native guides Peloton users across the globe, in the weekly practice of feeling connected with the body and the breath as they "root down and rise up." With many leaving her classes feeling more grounded and anchored than they were when they started, it's easy to see how the former Lululemon Global Ambassador and two-time Yoga Journal cover star has made such an impact. While her background as a third-grade school teacher and founder of Yoga, Literature, and Art Camp lends to her influence, her journey to becoming a world-renowned celebrity yoga instructor was not met without tragedy.
Following the sudden death of her best friend to gun violence, Chelsea says that it was yoga that helped her to confront the trauma of losing someone so close, so abruptly. Yoga empowered her to open up and embrace how her body showed up. Over time, the practice went from stretching on a mat to becoming a lifestyle, and one that she even integrated into her third-grade classrooms to help her students cope with their traumas as well.
In this interview with xoNecole, Dr. Chelsea Jackson Roberts discusses how yoga can be used to heal from traumatic experiences, ways to remain grounded, and how yoga has set the tone for other areas of her life.
xoNecole: What made you decide to start practicing yoga?
Dr. Chelsea Jackson Roberts: I first met yoga as a senior at Spelman College. But I never actually went into a yoga class because I was quite intimidated. It wasn't until I graduated, and started moving through my early adulthood that I began to practice.
I was a third-grade public school teacher in Atlanta and it was during that time, I tried my first yoga class. My understanding was completely physical. I thought it was only a workout and that I would burn some calories and sweat in my hot yoga class. It was later in life that I found out yoga was so much more.
I also started to go deeper into meditation, which supported me through the trauma of losing one of my closest friends and Spelman sisters to gun violence. So it was definitely a journey that evolved that started as a workout and later became an integrated lifestyle for me.
xoN: How did yoga help you to move past that trauma?
CJR: I don't know if I moved past it, or confronted it. When we go through trauma, our bodies naturally go through a 'fight, flight, or freeze' [response]. And more than anything, I think I was numb. I hadn't reached out to a therapist and this was the first time I had experienced trauma that abrupt and of that magnitude. When I was in those yoga classes, I remembered something happening that allowed me to really connect with how I felt in the moment. It allowed me to embrace my body and how it was showing up.
There were mirrors in the class that allowed me to look at myself, in my eyes, and I started wondering what would have happened if I went back to that first experience of practicing yoga and feeling really whole. And then I used that to confront and embrace the experience that my body, my heart, and my mind were going through. And honestly, the more that I practiced yoga, it opened me up and supported me to begin to talk about what I was experiencing.
I then sought professional help from a therapist. It helped me lean into my faith and my community. So I think that yoga more than anything was this tool that opened me up to so many other ways of supporting me through the trauma.
"When I was in those yoga classes, I remembered something happening that allowed me to really connect with how I felt in the moment. It allowed me to embrace my body and how it was showing up... And honestly, the more that I practiced yoga, it opened me up and supported me to begin to talk about what I was experiencing."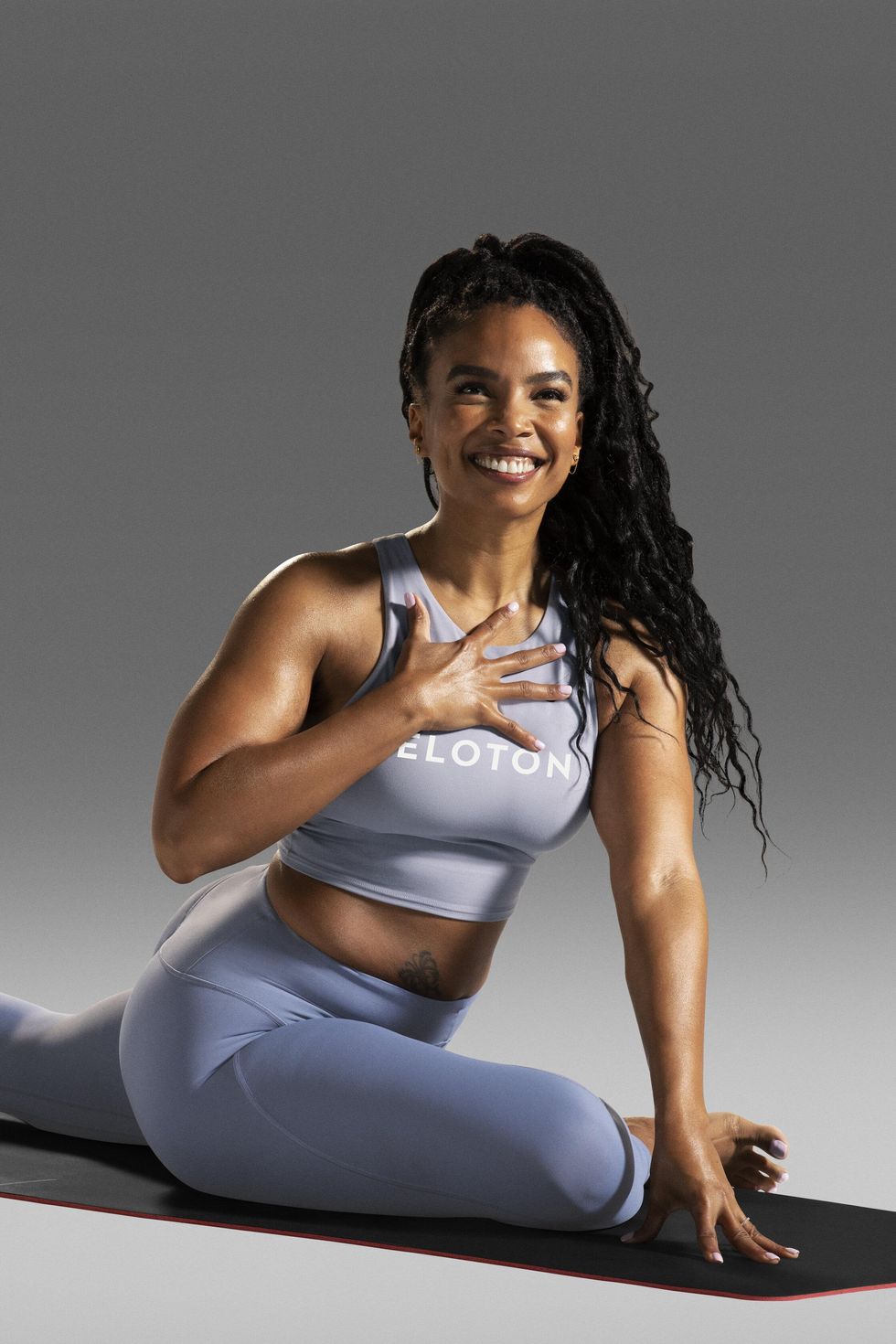 Courtesy of Peloton
xoN: In addition to yoga being a tool to open you up, what were some other benefits?
CJR: If you know yoga, it's centered on the breath and a moment for us to pause to allow ourselves to take that deep inhale. To this day, I tell my students that even if they even have one minute of connected breath, you are practicing yoga. Yoga simply means to unite, to join, and to yoke. When you use the practice of yoga, you are essentially allowing yourself to feel fully connected to the body and the breath, so that when you move into the action in this world, you're coming from a more grounded and anchored place. And so those are some of the tools that I pulled from the practice for me to even navigate and articulate what I was experiencing through that trauma.
Even in my classroom, as a school teacher, it opened up how I showed up for my students who were also experiencing traumas. I was in a Title 1 school where the majority of the students lived below the poverty line, and there were moments they were struggling. So I began integrating some of what I learned in those yoga classes. That's when I started creating this trajectory of exploring yoga as a tool for communicating and learning, and even unlearning things in this life.
xoN: Given the traumatic events that have happened within the past few years and the overall trauma that Black women endure, what other ways can yoga be used to remain grounded?
CJR: I love this quote, and if you ever hear me speak about some of my teachers, I always say that James Baldwin is a teacher who–though I may not have met in the physical–has certainly influenced the lens that I use in this world. I always paraphrase this thought that he had which goes, "Once we understand our own suffering, we can then understand the suffering of others, and from that place, we can move deeper into love." In my own lived experiences, unless I was able to confront that pain, that trauma of losing my best friend in my early adulthood, my life will be a lot different in how I interact with understanding the trauma that I would later experience and the trauma of other people.
For me, I think that yoga can be a tool to get us to be honest about who we are and the reality of why we are. And not blaming ourselves, even for some of the social inequities that we experienced in these bodies. Yoga helps me to seek out the truth. It helps me to look into my ancestry and read literature that contextualizes what it is that I'm experiencing right now.
There's a sacred text called, Patanjali Yoga Sutras. The first sutra talks about nonviolence and that's the first approach that I always encourage–especially for first-time yoga practitioners–to move through so that you're not hard on yourself and your yoga practice. Also, truth and integrity. If we integrated these ways of seeing the world and how we interact with each other, I think that we would have a lot less injustice and the traumatic events that we've seen in this world.
"Yoga simply means to unite, to join, and to yoke. When you use the practice of yoga, you are essentially allowing yourself to feel fully connected to the body and the breath, so that when you move into the action in this world, you're coming from a more grounded and anchored place."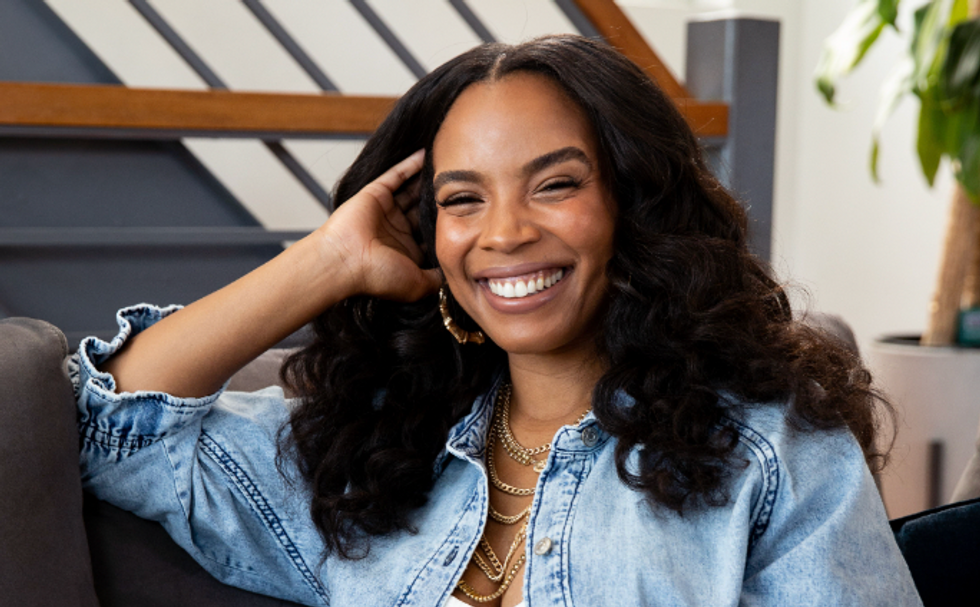 Sara Haile Photography
Courtesy of Dr. Chelsea Jackson Roberts
xoN: You mentioned the social inequities that we experience in our bodies. And I know that oftentimes, bodily trauma can cause us to feel disconnected from ourselves. Have you ever felt disconnected from your body and how did yoga help you to repair that connection?
CJR: I have been very public and transparent about the loss that we experienced at the end of last year when I was pregnant for the first time. I felt really disconnected. It was a time when I really had to dig deeply into my yoga practice and not blame myself for what happened. But what I could do was embrace the fullness of my experience. And that's why I talk about it.
Yoga reminds us that this is a practice that we have to take one day at a time. And yeah, it has certainly helped me embrace the light and the dark, the suffering and the joy, that I often talk about in my classes. So I see yoga as this tool that–especially when we're going through hard things in our own bodies–gives us space to really breathe and take inventory of what it is that we have truly gone through. And over time, we'll realize that we are quite amazing in the resilience that we have, and the hope.
Also, I want to say that how I teach yoga, I remind people to embrace the unique way that our bodies show up. To translate that off of the mat, I started to consider the unique ways that I could be a parent, had it not happened the way that I thought it would. So that means all of the different ways that you can parent in this world.
To me, in yoga, when I embrace it may be that I need to use a block or prop or a pillow to get into this posture. It may look different than the person next to me in my yoga class. And that's exactly how life is. It may not look identical to someone else's path, but we can celebrate those individual unique ways in order to see our collective union as we move through our life. I like to take those lessons off the mat and into my lived experiences too.
xoN: How has yoga helped to set the tone for other areas of your life?
CJR: When I announced that my husband, Shane, and I were expecting our first child, I was like all of my yoga classes and all of my practices have been for this moment right now. I know that my yoga practice will deeply impact how I show up as a mother. This is a role I've never played in my life, and I'm grateful that I have these tools that I can pull from. When I'm being pulled in different directions, or feeling overwhelmed–because I hear parenthood can be that way–I know that I have these tools to come back to be my anchor and support how my husband and I communicate. And essentially I know it's going to impact how we are as parents, living in this household together, and still working together.
Yoga has definitely influenced how I show up in the world and the voice that I use. If anybody is familiar with the work that I've done, they know that I'm also deeply committed to social justice and cultivating communities. We do that through our nonprofit, Red Clay Yoga.
As Yogis, we are peaceful. But we are also grounded in truth. We acknowledge that equity and equality are essential for harmony. So yoga has impacted and influenced how I show up with my voice in the world, for how I speak out against or in support of different social issues in this world as well.
"I know that my yoga practice will deeply impact how I show up as a mother. This is a role I've never played in my life, and I'm grateful that I have these tools that I can pull from. When I'm being pulled in different directions, or feeling overwhelmed–because I hear parenthood can be that way–I know that I have these tools to come back to be my anchor and support how my husband and I communicate."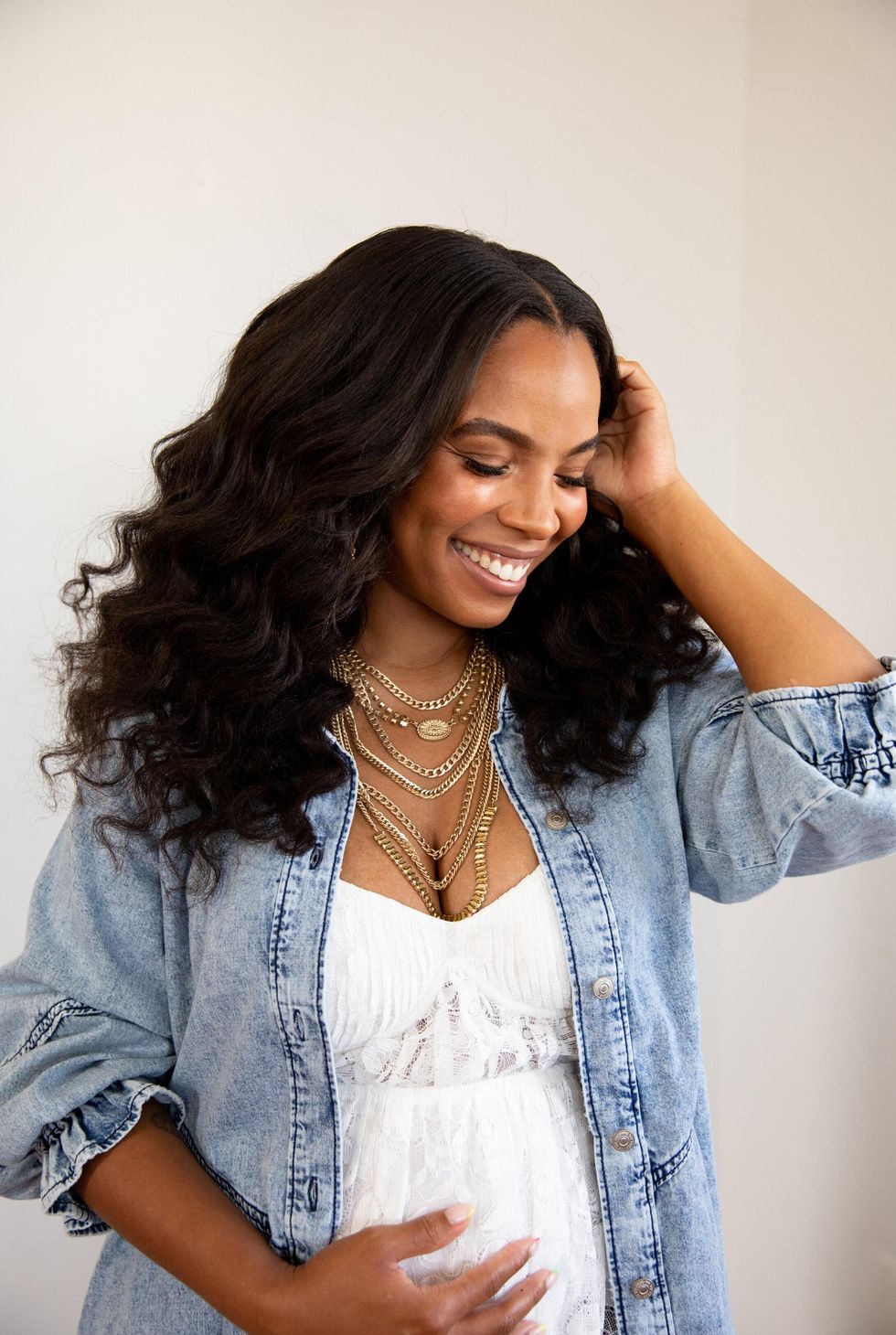 Sara Haile Photography
Courtesy of Dr. Chelsea Jackson Roberts
xoN: I know that you are the first Black Lululemon global ambassador. And from there, you've gone on to become a Peloton yoga instructor. How was that transition?
CJR: And ironically, I'm the first Black Peloton yoga instructor. That's something that isn't necessarily voiced aloud. But in spaces where we are really visible, I think that it's important for us to know that we exist everywhere. And by "we," I'm talking about Black folks, Black women, people of color, or however you see yourself not being elevated in spaces because of your background. It's been a tremendous honor to be that trailblazer in many ways and never forget the teachers who came before me.
So the pivot to being a Peloton instructor has certainly inspired others who may have never considered themselves Yogis. They may have seen themselves as athletes, but to see yourself as a Yogi can be quite intimidating because of the flexibility that's articulated in pictures or magazines.
But I'm hoping that people come into my class because they felt the intention that I said and that we can all be welcome to this practice. That's why I rely on unexpected musical genres in yoga spaces. And being at Peloton has afforded me the ability to cast a wider net and get yoga out there even more.
For more information on Dr. Chelsea Jackson Roberts, visit Chelsea Loves Yoga.
Featured image by Sara Haile Photography
Before Nick Cannon announced that he now has a ninth addition to his family after welcoming a child with photographer LaNisha Cole, Abby De La Rosa opened up about her relationship dynamic with the comedian. The international DJ stopped by the Lovers and Friends podcast with Shan Boodram and spoke about their non-traditional family. Abby shares one-year-old twins Zion and Zillion with the actor and is currently pregnant with their third child together.
Nick also has a baby on the way with Brittany Bell, who he shares two kids with. In total, the Wild'n' Out creator has nine children with six different women. Of the nine, one of his children, a son with model Alyssa Scott, unfortunately, passed away from a brain tumor at just five months old.
Nick, especially his kids' mothers, have faced public scrutiny for their lifestyle choices, which Abby spoke to in the interview.
"Naturally, yes I could understand everyone's distaste and disagreeance in the way that I have chosen to live my life," she said. "And I find it funny too when everyone's always coming in and being like he's playing you. Technically speaking we all know about each other.
"It's just how much are you choosing to know and I find empowerment in my truth and in my reality and the way I have formulated my life to be."
Prior to meeting Nick, Abby said that she was in a five-year monogamous relationship but was miserable. However, when she met Nick, he had a freeing spirit which made her feel free within herself. She was aware of his polyamorous lifestyle and also wasn't looking for a commitment but decided to continue exploring their connection. These days Abby considers Nick to be her primary partner and is monogamous during her pregnancy with her third and his 10th child.
When she found out she was pregnant the first time, Nick currently had four other children but she saw her pregnancy as a blessing since she was told that she couldn't have kids after having sepsis. Her first pregnancy resulted in a miscarriage but Nick wanted to try again and they found out they were having twins.
While she was aware of what she was getting herself into, she wasn't ready for the backlash it would cause. Abby said she "shut down" and "didn't know how to maneuver through it." She admitted that Nick's "positive" attitude in response to the criticism didn't help her get through it and so she relied on her family, especially her sister for support.
Abby comes from a two-parent household and said that her parents are still married and at the end of the day her family just wants her to be happy. As far as what people think about her nontraditional way of living, she had this to say.
"I know people are like, how do you find trust in an open relationship?" she asked. "It's real easy, it's real easy. You just have to understand to get out of the same old mundane thinking of monogamy and that I have to own a person and be with a person 24/7 and this and find beauty within yourself and the connection that you build with somebody. And I trust the connection that I have with Nick."
While she's happy with her lifestyle right now, she believes she will end up in a monogamous relationship in the future.
"I think I see monogamy down the line and this won't get me there," she said. "But I love where I'm at at this very moment but it's not my forever."
She concluded the interview by addressing those attacking her parenting.
"Me being open in my relationship does not change or take away from the type of mother that I am to my kids and the wholeness that I am to them and the strength that I share with them," she said.
She added, "And I would just want people to stay the f–k away from my motherhood."
Featured image by Amanda Edwards/Getty Images