While I can relate to pretty much all of the personal content that I write on this site on some sort of level, as someone who decided at 45 that I'm 90 percent sure that I don't want to be a mother (even via adoption), this is one that is really close to my heart. The reason why I say that is because, although I am a doula, a godmother to two (technically three but that's a long story) beautiful girls, and kids and I have a truly remarkable connection (even random ones I see when I'm out), at this stage in my life, I am at peace with not being someone's mom.
It's not like I thought it would turn out this way. I've shared on this site before that when folks ask me if I am a mother, my response is usually something along the lines of, "I'm a mom of four aborted children" because that is indeed the case (check out "Why I Named The Children I Aborted"). I mean, isn't it interesting that when we want to have a child, the moment we see a positive sign on a pregnancy test, we say, "I'm having a baby!" and yet, if the pregnancy isn't desired, suddenly it's a debate if there is significant and profound life growing within? The conflicted resolves of humanity, boy. Besides, I knew what I was doing, every time I got on that table. And while I've spent years healing from the childhood abuse, relational trauma and low sense of self-worth — things that all played a role in why 1993-1999 was such a battlefield for me in this area — on this side of healing, there is a part of me that believes that while I would've been a good mom, if there was a part of me that made the choices that I did because I didn't entirely desire to be one. Not way deep down.
No, I'm not justifying that I should've used condoms more nor am I coming at you like abortions should be a form of birth control. Lord, that's all another discussion for another time and I certainly own my part in my recklessness. What I'm saying is, while I thought in my 20s-30s that becoming a mother was inevitable, throughout my decisions and due to the peace I feel now, I can't help but wonder if I was more caught up in thinking that I was supposed to want to be a mother rather than I actually longed for it to be a part of my reality. Because you know what, y'all? What we really want to make happen in this life, we really do tend to go out of our way to make it so.
Yeah, I know that's pretty deep for an intro yet I thought it was important for me to share because, if you're someone who is currently on the fence about whether or not to have children yourself, it's absolutely essential for you to ponder your own life choices in this area — if you are preparing for motherhood or doing what moves you further away from it. And while you're doing that, how about you ask yourself the following seven questions as well?
1. Do You Even Like Children?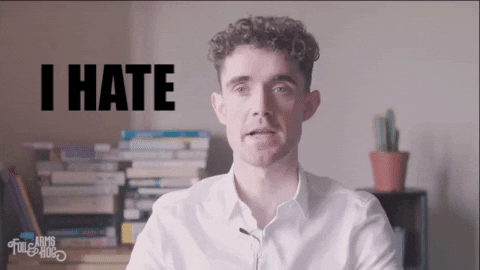 While some folks will look at this question in sheer horror, I know better. That's because I know some really good people who honestly can't stand kids. Not like they want to do them bodily harm (those are psychos) or anything. It's just that, if they could go their entire lives without seeing a child, they wouldn't lose any sleep over it. In fact, what's kind of funny about this is I know a guy who is a dad and while he's actually a pretty good father, he says all of the time that he can't stand children and if he could do life all over again, he definitely would've been wiser on the birth control tip.
Again, this is nothing to feel bad about or ashamed of because there is no rule that says every decent human being has to have a love affair with little people. What I will say, though, is you are definitely selling your potential future children short if you are going to try and love them without really liking them because kids require A LOT and liking them can definitely make the rough days easier. So, if you're someone who doesn't really seek out time to hang with little folks, you're not big on being a "love auntie" or you are more polite to children than embracing of them, it could be because you're cool with them existing yet not super geeked about them being in your personal world. That's fine. Yet again, why become a mom if that is indeed the case?
2. Are You Too "Selfish" to Be a Mom?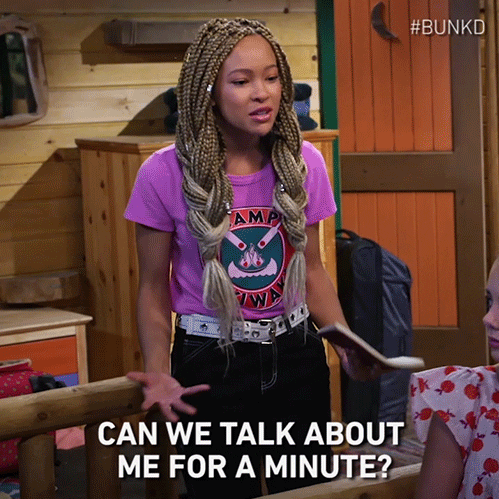 The reason why I wrote articles for the site like, "What If It's Your Parents Who Happen To Be The Narcissists?" and "Here's How To Know If You've Got 'Mama Issues'" is because a lot of us are recovering from folks who, let's be honest, were way too self-consumed to become a parent. Some of our needs went unmet because of it. Promises were broken because of it. Hell, some of us barely even know our parents — then or now — because everything in the world but us was made to be a top priority for them. Case in point, I know a guy who says that he knows he's a commitment-phobe to this day, in part, because his mother put her career ahead of him. He was the baby — a surprise. And because she didn't plan on having more than two children, let alone four, she left him in another state with her parents so that she could go pursue her education. Then, once she got it, she spent more time mentoring students via her career than bonding with him, her son. Now, as a direct result, he's afraid of getting serious with a woman and making children with her because he's not sure if he'll make the same kind of decisions that his mom did — not because he wants to; because it's all that he knows. Damn shame.
I can't tell you how many times I've looked across at an engaged couple and rolled my eyes right in front of them and it's all because one or both are way too selfish for a selfless dynamic like marriage. Parenting requires even more selflessness. So, if it needs to be all about you. If you're not willing to make sacrifices. If, in your mind, you are never wrong. If you're not good at being flexible. If you don't know how to humble yourself and apologize for your mistakes and bad decisions. If you've got to "win" all of the time. If you suck at sharing. If your needs always have to come first — if this is you, it's OK to own that.
If you don't want to change, that is totally your right. Yet why you would subject a child to you being that way is beyond me, sis. Selfishness is about being self-consumed. Folks like that need to stay with on their own— not raise some kids.
3. Can You Afford Them?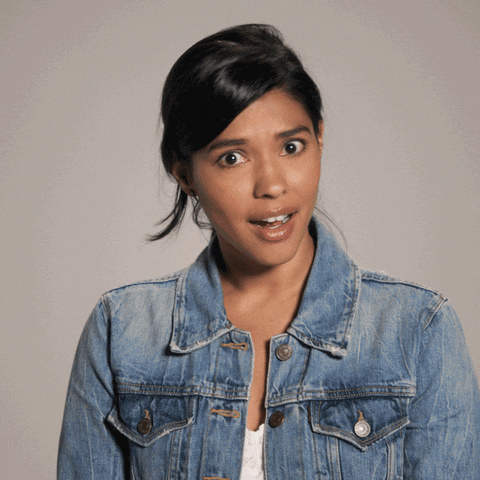 OK, so here's the thing about this particular point. Did you know that from 0-17, the average cost that it currently takes to raise a child is somewhere around $233,610? That's roughly $14,000 each year. Yeah, kids ain't cheap. Not only that but they shouldn't be raised to feel like they are a burden or that we're somehow doing them a favor by meeting their needs. Back when I was a teen mom director for the local chapter of a national non-profit, I witnessed more verbal abuse from parents than I ever would've liked and a lot of it was because the parents were so financially stressed out that they took it out on their children. Kids didn't ask to come here. Adding to that, they are going to have needs on a daily basis. A lot of those needs are going to cost money. For instance, if you decided to have a baby and put them in daycare, the currently average monthly bill that you would get is close to 700 bucks. Whew.
There are so many of us who are still healing from the PTSD of our own parents just "getting by" when it came to financially providing for us. Choosing to put your kids through that simply because "you made it out OK" is a really low bar. No one said that you need to be rich to be a mom, yet you should be realistic about if you can actually afford to be one or not (even if you can't now, be real about if you're going to put a plan in place to get ready before trying to conceive). Then follow that thought up with if you're willing to make constant sacrifices to make sure that they're gonna be good under your watch and care.
4. Are You Emotionally Mature and Self-Aware Enough for Children?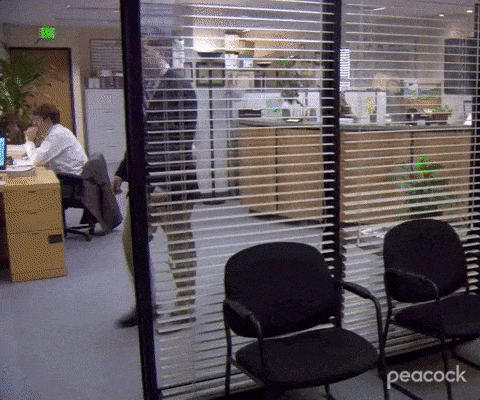 This point right here, boy. Another piece that I once wrote for the platform is "How To Recover If You Had To 'Raise Your Parents' As A Child". I'm not gonna get too deep into how much I can relate to this today. Let me just say that I get triggered when folks say, "I wanna have kids young so that I can grow with them." Honey, you need to be raising them and that requires a certain level of emotional maturity and self-awareness. Unfortunately, a lot of parents — shoot, adults, in general — lack both.
Emotionally mature people are calm. Emotionally mature people hold themselves accountable. Emotionally mature people don't constantly burden others with their "stuff" (especially not kids). Emotionally mature people aren't know-it-alls. Emotionally mature people can say "I was wrong" and "I'm sorry". Emotionally mature people don't hold grudges, pout or manipulate to get their way. Emotionally mature people don't sweat the small stuff.
As far as self-awareness goes, check out "These Are The Things Self-Aware People Do Daily" when you get a chance. For now, what I'll say is a self-aware individual knows their strengths and weakness and are intentional about improving upon both of them.
If you read any of this and honestly felt a little triggered, while that doesn't mean that you should never become a parent, I definitely recommend booking an appointment with a reputable therapist, counselor or life coach to get to the root of why you aren't as "grown up" as you probably should be at this point in your life. Because if there's one thing that a child should not be expected to do is make up for the areas where you are emotionally inadequate. You are supposed to be mentoring them; not the other way around.
5. Have You Healed from Your Own Childhood?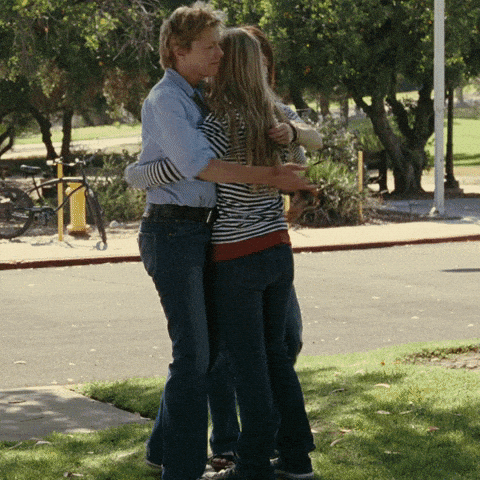 Speaking of sitting on somebody's couch and laying your burdens down, a few weeks ago, I wrote "Childhood-Related Questions That Can Reveal A LOT About 'Him'" for the platform. Listen y'all, the more I work with people, the more I realize, just how much one of my favorite quotes rings so very true — adulthood is surviving childhood. I mean, when I think about my ish and others', about 60-80 percent of it can be tied to something that we witnessed or experienced as a child.
I can give you an example that isn't connected to direct trauma too. I've got a friend who only likes to eat Lunchables when he gets home from work. He's almost 50. When I asked him what the deal was, he said that growing up, that's what his mother left for him until she came home to make dinner. Sometimes, she got home so late that he'd fall asleep and since she didn't want to wake him, that meant Lunchables was all that he had. Now he eats them out of habit. Another example is me and thrift/antique store shopping. It was nothing for my mother to stop by one of those or a yard sale when I was growing up. Now I find myself doing the same thing.
I didn't want to get a lot into traumatic events because I've already gotten pretty deep (I think). Yet I do want to say that we are very innocent, and while resilient also quite fragile, as children. In fact, there are many studies to support that whatever age we were abused/traumatized, we oftentimes continue to emotionally process at that age until we get some help to get "unstuck".
Have mercy. Some of us got beat because our parents got beat and we've already got it in our heads that our kids will experience it because we did. That's not nearly a good enough reason. If you know that you've got some unresolved childhood stuff going on, don't wait until after you have a child to realize you need to work through it. Now is the time to get that stuff handled, as much as possible. If you choose not to, it really is an act of love to not subject a child to the pain that you still haven't healed from.
6. Have You Thought About the Purpose of Parenting?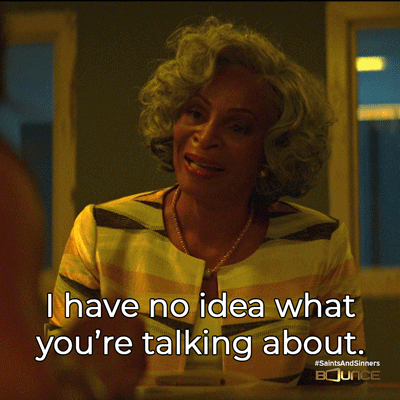 There's a Scripture in the Bible that says, "Train up a child in the way he should go, and when he is old he will not depart from it." (Proverbs 22:6 — NKJV)
Here's something that I think a lot of parents miss here — it says in the way your child should go, not in the way you want them to live their life. You know, a quote that I really like says something along when two people are just alike, one of them is unnecessary. Lawd, the amount of parents who need to hear that.
It's not a child's job to become your mini-me (that is sheer ego talking). It's not a child's job to do all of the things in their life that you didn't get to do. It's not a child's job to get on the path career-wise or relationally that you think is best (whew, there are a lot of narcissistic parents in this world. Straight up). No, a good parent is someone who knows that their children are gifts from the Most High and so they need to being in constant prayer and meditation about how to prepare their little ones for being who God called them to be, not what their fallible minds want them to become.
The reason why a lot of people wreck marriage and parenting is because they go into both with absolutely no clue what the purposes are. If when it comes to the topic of having a child, all you hear running through your head is "me, me, me", you definitely need to rethink it. Because any sane parent will tell you that helping another human being become their own best self has very little to do with them and what they want personally.
7. Have You Processed How Permanent Parenting Actually Is?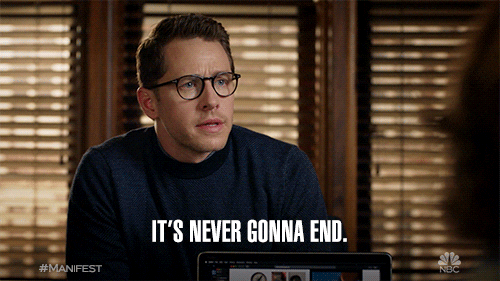 Just about every time I see that Tide commercial where the grandparents talk about their daughter and all of her kids moving back in with them, I damn near hyperventilate. While I am definitely someone who subscribes to "Parents are supposed to raise adults, not children" (which means a parent's job is to make their kids transition into adulthood so that they can be self-sufficient in every way), even adult children are still their parents' kids. Not only that but sometimes life happens and things don't always go as planned. Take some friends of mine who couldn't wait for their daughter to turn 18. Let's just say that at almost 21, she is still right in their crib. Partly due to her constantly changing her mind about her life plan. Partly due to the pandemic. Partly due to her sucking at saving money.
Moral to the story? If you aren't sure if you want kids but a part of you is like, "I mean, they'll be gone at 18, so…" — don't set yourself up. Parenting, on some level, is until you or your children take their last breath. If even the thought of that freaks you out, don't rush to get pregnant. Because once they're here, they're here. On some level. To stay.
Yeah, I know this was a lot. The good news is there is abstinence, birth control and, to a large degree (especially if you're under 40 and reading this) time. My main objective in writing this is to remind us all that having children isn't a flippant decision and oftentimes, real stuff like this isn't discussed as much as it should be. If after reading what I just shared, you're like, "You know what? I think I'm good", that's something to applaud because responsible parenting isn't just about being a good parent when you have kids, it's also about knowing that you don't want to do what being a good parent requires and so you decide to put your focus elsewhere. Personally, I salute both sides of the coin. I wish more folks had been so thoughtful. And if you took all of this to heart, I'm glad that you are exceptional in this way. I mean it. Salute.
Join our xoTribe, an exclusive community dedicated to YOU and your stories and all things xoNecole. Be a part of a growing community of women from all over the world who come together to uplift, inspire, and inform each other on all things related to the glow up.
Featured image by Getty Images
Keep reading...
Show less
Alright, y'all, I'm going to go ahead and say it: White people and Black people bathe...differently. And the conversation has been touched on for the past few years, first about, of all things, washcloths.
It all started when a viral clip of CBS's The Neighborhood began circulating the World Wide Web. In the clip, a Black character, played by Tichina Arnold, offers her White neighbor a washcloth during a stay.
The rest is, well, you decide:
Do you use a washcloth or nah?? 😂 #TheNeighborhood @bethbehrs @tichinaarnold https://t.co/6zfkIg57Qp

— Global TV (@Global TV)1539185100.0
This clip sent the internet in a frenzy as 'we' learned that the Caucasians don't use washcloths at all, and on the flip side, Caucasians learned that we always use one. I mean seriously, growing up, most of us would have had a tongue lashing from here to Timbuktu if we didn't use a washcloth.

So if it weren't obvious enough, each community has ultimately learned that we have many more differences than we thought we did—all the way down to bathing.

Now, the conversation has re-emerged with another element: bathing at all. Actors and husband and wife, Ashton Kutcher and Mila Kunis popped it off when they basically sent the internet up on the discussion. While on a guest appearance on the Armchair Expert podcast, they casually mentioned that they don't believe in bathing their kids every day. The subject came up when co-hosts Dax Shepard and Monica Padman started discussing how frequently they shower. Kunis explained:
"I didn't have hot water growing up as a child, so I didn't shower much anyway. …But when I had children, I also didn't wash them every day. I wasn't that parent that bathed my newborns — ever."
When Shepard insisted that Padman "should not be getting rid of the natural oil on your skin with a bar of soap every day" and instead only wash with water, Kunis and Kutcher agreed.
"Now, here's the thing: If you can see the dirt on them, clean them. Otherwise, there's no point."
The conversation soon encouraged other celebrities to weigh in.

Jake Gyllenhaal confessed to Vanity Fair:
"More and more, I find bathing to be less necessary, at times. I do also think that there's a whole world of not bathing that is also really helpful for skin maintenance, and we naturally clean ourselves."
During a recent interview with E! News' Daily Pop, Coco Austin shared that she also doesn't shower everyday, rather when she's "feeling icky" instead.
"Well, I don't shower every day. I do what's needed. My hair—I wash my hair every four days. Yeah, but when I'm feeling icky, I'll get in the shower. Whether that's every day, that may be, but that could be every three days. I kinda keep myself clean, though. Like, if I feel like my pits smell or something, I just take some washcloths and some soap to it. I might not have to clean my whole body."
On the other end, Dwayne "The Rock" Johnson confirmed that he is an avid shower taker, in fact confessing to three showers a day:
"Nope, I'm the opposite of a 'not washing themselves' celeb. Shower (cold) when I roll outta bed to get my day rollin'. Shower (warm) after my workout before work. Shower (hot) after I get home from work. Face wash, body wash, exfoliate and I sing (off key) in the shower."
But ultimately, the wildest thing about this entire conversation, is that Ashton and Mila are right, we aren't "supposed" to shower every day. 
In fact, not doing so has been scientifically proven as correct and confirmed from dermatologists who say you should bathe only two or three times a week. Dermatologist Dr. Michelle Henry (a Black woman) co-signs saying:
"The American Academy of Dermatology recommends that it's OK to bathe children under 6 years of age between two to three times a week."
Lawd, we're in a pandemonium, y'all!
Either way, the internet has had a LOT to say about it:
From those who are gonna grab their Lysol on sight: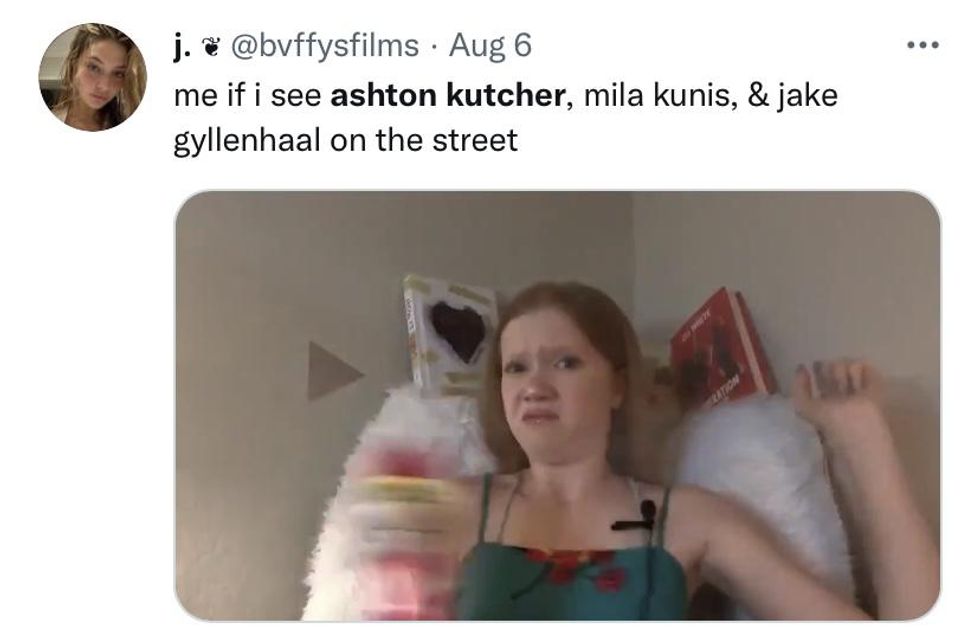 Twitter ​
To those questioning what is really going on here: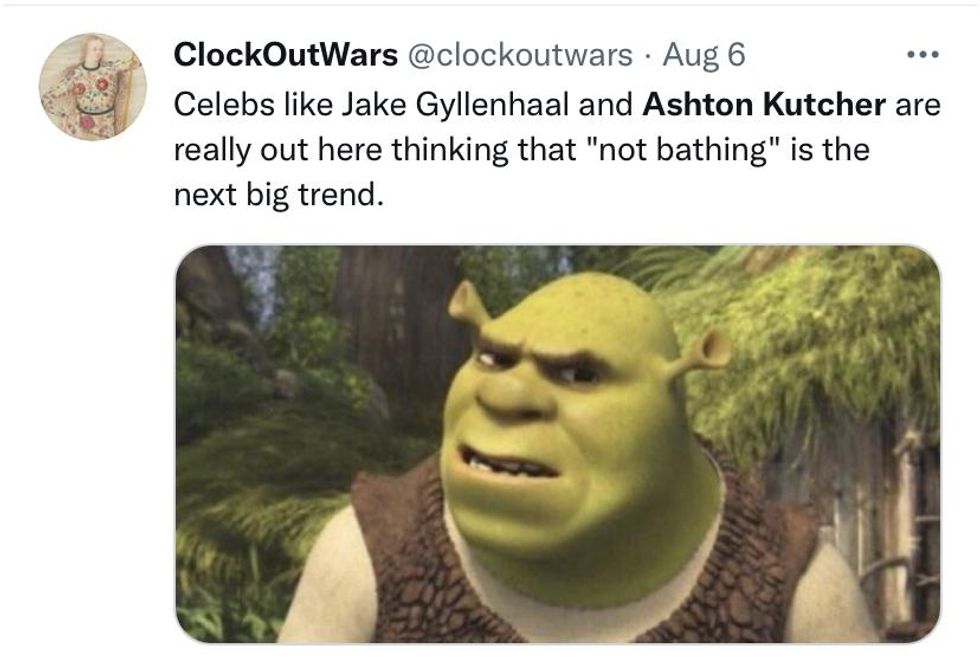 Twitter
Some were cracking a few (real) jokes: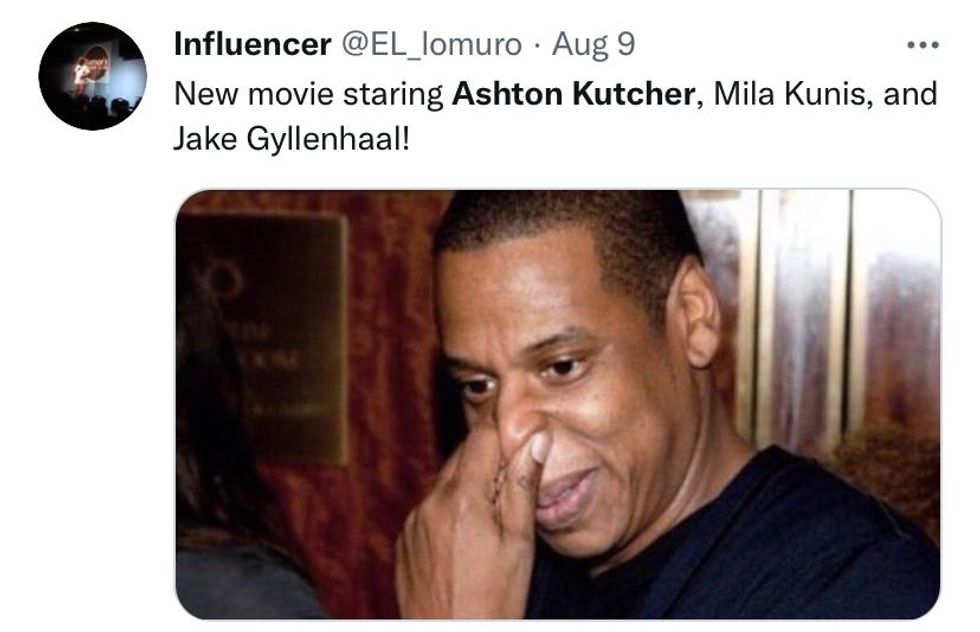 Twitter​
And others just can't fckin believe any of it: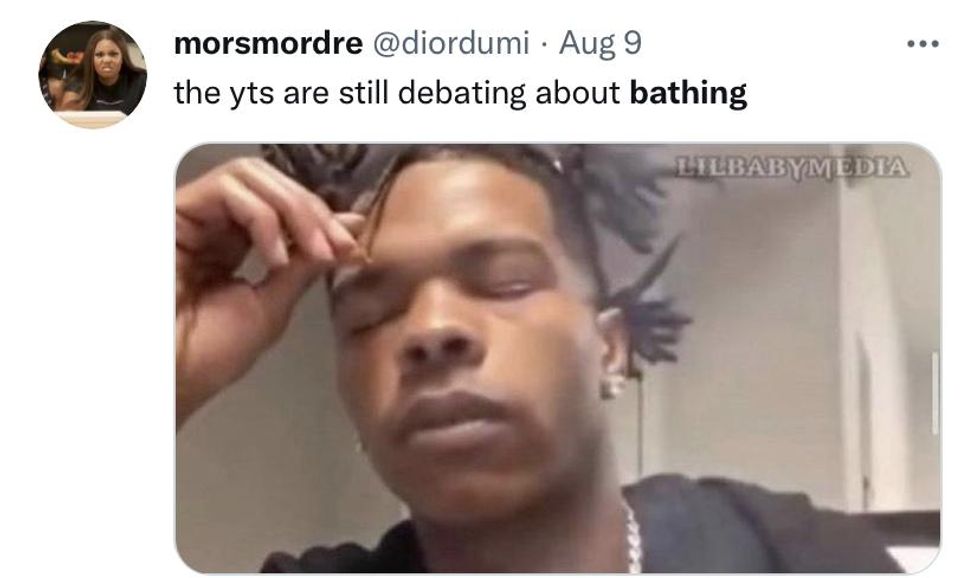 Twitter​
Like, at all: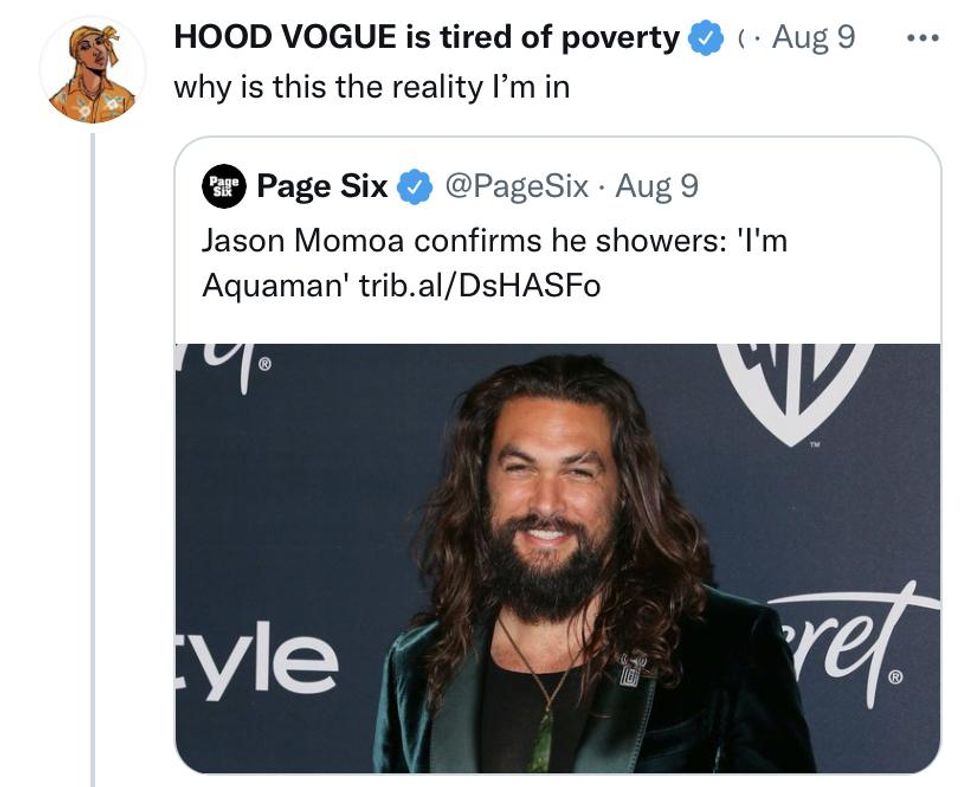 Twitter​
In the end, Mila and Ashton uploaded a video, jokingly addressing the uproar by mocking the debate and (hopefully) showing that they in fact do bathe their kids regularly.

But I'ont know, ladies, what are your thoughts? Let's chat.
Are you a member of our insiders squad? Join us in the xoTribe Members Community today!

Featured image by Getty Images
Keep reading...
Show less
The queen of everything Ms. Naomi Campbell, known for being a pioneer of every single element of what it means to be a super model, is now a mommy! She surprised fans with the news, accompanied by a photo of baby girl's tiny feet back in May, captioning the photo:
"A beautiful little blessing has chosen me to be her mother. So honoured to have this gentle soul in my life there are no words to describe the lifelong bond that I now share with you my angel. There is no greater love."
Additionally, she added "Mother" to her Instagram bio.

Details so far have been kept firmly under wraps, but that doesn't mean she didn't break the internet. She posted all the above three days before her 51st birthday, making her a mom for the first time much later in life, after spending decades living her life as a single woman, and unfortunately being subjected to having to answer to the reason why she doesn't have kids. But since 2018, she has hinted at her time coming, with possible babies on the way.
She admitted to the Mirror:
"I think about having children all the time. But now with the way science is I think I can do it when I want."
Of course, Campbell is referring to IVF or in vitro fertilization, a process where an egg is combined with sperm in vitro. Doctors monitor and stimulate a person's ovulatory process, removing an ovum or ova from their ovaries and letting sperm fertilize them in a lab. In Campbell's case, she likely had a surrogate inseminated, but this doesn't rule out potential adoption either.
"I'll see what the universe brings me. For now, what the universe has delivered is very much in the spirit of a 'chosen family.'"
And by 'chosen family' she means young celebs who she mentors, such as Ryan Destiny, who she endearingly refers to as her daughter, fashion model Adut Akech, who affectionately refers to Campbell as her "mama" in the fashion world, or the children from the Rising Sun, a Kenyan orphanage.
But now, Naomi is a true mama.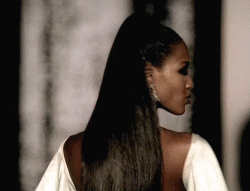 Giphy
Campbell joins the ranks of another supermodel, Tyra Banks, who welcomed a son via surrogate, with then-partner Erik Asla in 2016 after a similar years-long struggle to become a parent. Tyra had been dating the Norwegian photographer since 2013, and shared a photo captioned:
"The best present we worked and prayed so hard for is finally here. He's got my fingers and big eyes and his daddy Erik's mouth and chin. As we thank the angel of a woman that carried our miracle baby boy for us, we pray for everyone who struggles to reach this joyous milestone. York Banks Asla, welcome to the world."
For now, Naomi is extremely tight-lipped on the details and only showing off glimpses. But she did thank everyone for their well wishes, saying on Instagram:
"Never have I felt so much love like I have over these past few weeks , I am so thankful for the love that you've poured onto my daughter.and I Thank you all for the Warm messages of support and birthday wishes."
In other words, your next chapter in life starts when you want it to. No matter how old you are. Congratulations to this new mom!
Are you a member of our insiders squad? Join us in the xoTribe Members Community today!

Featured image by Kevin Mazur/Getty Images for Amazon Studios
Keep reading...
Show less
One thing that we can rely on to keep us on our toes, is celebrities popping up pregnant at some of the most unexpected times. And 2021 is no different as babies have been making their debuts left and right. Last year, celebs such as Christina Milian, Kelly Rowland, Nicki Minaj, and Eniko Hart all welcomed their bundles of joy and now, it's time to double back with a new year.
We can't wait to see who else announces they are expecting as the year goes on, but for now, here are all the pregnant celebrities that you'll be hearing about in 2021. Congrats, all!
Cardi B + Offset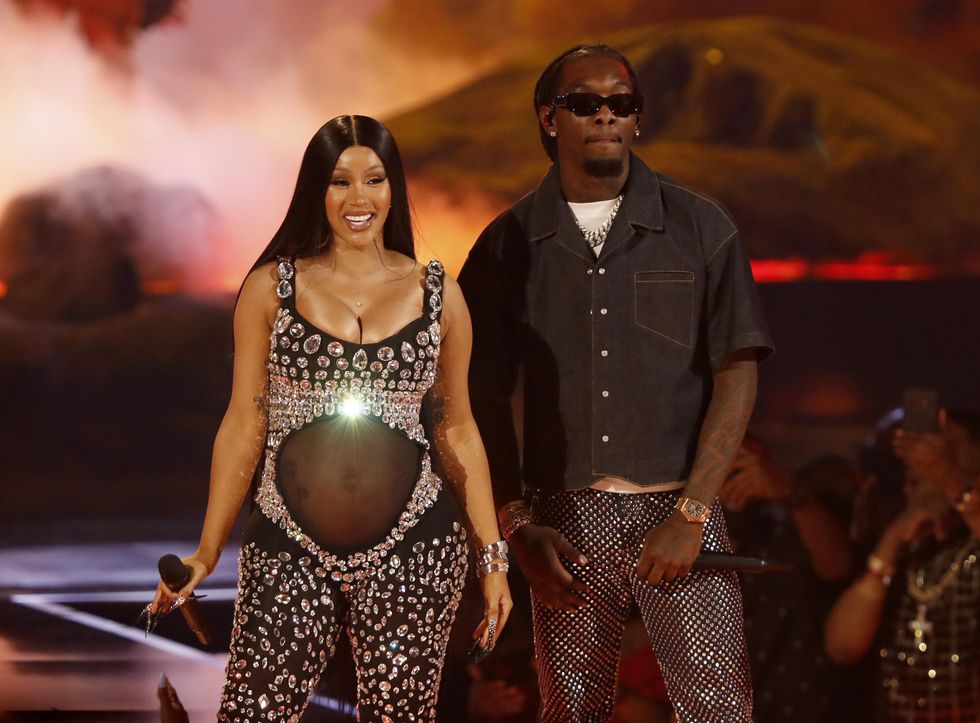 Cardi B and Offset of Migos perform onstage at the BET Awards 2021.
Johnny Nunez/Getty Images for BET
After revealing that she and husband Offset are expecting baby number 2 at last week's BET Awards, Cardi B took to social media to confirm that our eyes weren't playing tricks on us. Accompanied by an intimate maternity photo, the "WAP" rapper shares:
"We listened to each other, communicated, prayed and then God blessed us and our family with another little blessing. Our home feels so blissful and very busy, but we are ready and so happy!! Thank you soo much everyone for the congrats and well wishes"
The couple are already parents to daughter Kulture Kiari Cephus, who turns 3 in July. Offset is also dad to daughter Kalea (6), and sons Kody (6) and Jordan (11), from previous relationships.
Ludacris + Eudoxie
Ludacris and Gabonese model Eudoxie Mbouguiengue, married back in 2014. Since, they have welcomed a daughter Cadence (5), and back in May, announced that their rainbow baby is on the way. The couple made the announcement on their Instagram accounts on the Lova Lova's birthday. She captioned a photo of her flaunting her baby bump in front of bouquets of flowers:
"Blessed year indeed."
Luda followed up with,
"How is it YOUR birthday [and you're] giving me the greatest gift?"
The couple is also parents to Ludacris' daughters Karma and Cai. They're also raising his youngest sister, Christella.
Erica Mena + Safaree
They may be going through some things, but back in May, the Samuels announced that they were expecting their second child together. Since, there has been a bit of ups and downs, but Safaree shared the happy arrival news on a now-deleted Instagram post captioned:
"MR Straittt Jr is here!!"
Mena has recently revealed that their son's birth was an early arrival amid their divorce. The couple are also parents to their 17-month-old daughter, Safire.
Aja Naomi King
Our girl Aja Naomi King is a new mommy! The How to Get Away with Murder alum announced via Instagram that she recently welcomed her first child, and showed off her postpartum body. King even penned a letter to her unborn child, opening about her pregnancy struggles and previous miscarriages.
"I suffered two miscarriages and even now trying to capture what it felt like in words is simply absurd to me because I will never have language enough for it."
She continued:
"At first I wasn't sure about sharing my experience because I felt like so many other people had way worse experiences than I did, but I realized that I can't treat pain like an Olympic sport, as if it's a competition and only those who have the worst stories win the right to talk about it."
King has not revealed her baby's name or birthdate, but we couldn't be any happier for her!
Usher + Jenn Goicoechea
Usher and his girlfriend, Jenn Goicoechea, are expecting their second child together. She debuted her baby bump on the red carpet of the 2021 iHeartRadio Music Awards, which Usher hosted.
Goicoechea, who is an Epic Records A&R exec, wrote on Instagram:
"'Another One' in my @djkhaled voice #Iheartawards"
The couple have not announce the sex of their baby-to-be or when Goicoechea is due but they've been pretty busy as Usher and Goicoechea already share daughter Sovereign Bo, whom they welcomed in September 2020.
Sydel Curry + Damion Lee
OK, so if you didn't know, Golden State Warriors player Damion Lee is married to Stephen Curry's sister, Sydel. And the Curry family is growing by one as later this year, Sydel and Damion are expecting their first child.
Sydel Curry-Lee had a rather difficult journey to getting pregnant, which she recently documented on social media.
"A small glimpse into my #ivfjourney. While there is so much to this part of the journey, I wanted to share what it looked like for me. I dealt with this in private (off social media) for a lot of reasons & thankful that I did because, whew the hormones. it was hands down one of the most difficult things I've ever had to do, but it wasn't impossible."
This would explain why, in a now extremely viral video, brother Steph, and sis-in-law Ayesha, went absolutely apeshit when they learned the news. Loooove!
Ne-Yo + Crystal Smith
Ne-Yo and wife Crystal Smith's Miss Independent has made her early debut, y'all! Sharing an image of the smiling singer and their newborn daughter, the entrepreneur announced Isabella Rose Smith's early arrival on Instagram.
"God said don't make plans honey!" She came 4 weeks early but right on time for mommy!"
The couple announced that they were expecting in February, after surviving a divorce announcement and very public separation.
"LADIES N' GENTS. Introducing the newest member of the Smith Clan ISABELLA ROSE SMITH! Welcome to the world lil' mama. And know that I got you thru when, where and whatever. Now and forever. You got 3 big brothers and a big sister that all love you and got your back too. Not to mention a whole tribe of friends and family. @itscrystalsmith we did that Lovely, yes we did. Thank you for this gift of a little princess. I LOVE YOU. #ATHO4L #ProudPapaMoments"
A happy ending that gives us all the feels!
Meghan Markle + Prince Harry
After a very tumultuous few years, Meghan Markle has somehow managed to keep her mental health in tact to give birth to her second child. Their daughter Lilibet "Lili" Diana, joined brother Archie, last month and the family in LA. Meghan and Prince Harry released a message about their new joy, saying,
"On June 4th, we were blessed with the arrival of our daughter, Lili. She is more than we could have ever imagined, and we remain grateful for the love and prayers we've felt from across the globe. Thank you for your continued kindness and support during this very special time for our family."
Continue to protect your family and peace, guys!
Are you a member of our insiders squad? Join us in the xoTribe Members Community today!

Featured image via
Keep reading...
Show less
Here's something that will make you wonder where the time went: Ciara and Russell Wilson welcomed their third child Baby Win to the world almost a year ago. Ciara, who's also mother to Sienna (4) and Future (7) couldn't be more excited to watch him grow and she's opening up about life after baby number three and the transition of going from two kids, to three.
In fact, the adjustment has been similar to what any mom of three will tell you. From becoming more lax with each child that comes along, to figuring out how to divide your time. In an interview with POPSUGAR, she divulged in what the Wilsons are up to since welcoming the newest family member.
Continue reading for our favorite highlights!
On the transition from two to three kids:
"From day one, of course, I always wanted to love my babies as best as I can; that never changes. But I will say, I do think when you have baby number one, you're so particular about everything. You're like, 'Oh, you dropped that, I got to rinse it like crazy," and now it's like, 'Alright, we got the five second rule.'"
The "Level Up" singer even opened up on how the Wilsons juggle bedtime, which they have adopted the same mindset for a smooth nightcap. Every night before bed, she and Russell have "book time" and read to the kids, and while they usually pick out threeish books a night. But with three kids, they decided they needed a better game plan. She jokes:
"Future's seven, Sienna's four, so their books are a little different. Win, obviously, his books are different. So I'm like, Win is just going to just be reading some big kid books, because we're going to have to tag team. Everybody's going to be reading the same book and if you don't understand it, you're just going to get better."
On raising a family during a chaotic year:
"I think kids are way more resilient and have way more fight than we even know. They really adapted well. When President Joe Biden and Kamala Harris came into office, I remember Sienna saying, 'The COVID's over!' Just the cute little jokes and things that they made of it. They have been able to bring a lot of light in the midst of the storm and that's been a blessing."
But one thing that took their mind off of the fact that outside was shut down, was her kid's love for TikTok.
"Sometimes it's like herding cats when you're trying to get kids to do a TikTok and focus. But they managed to pull together some seriously impressive videos and entertain themselves. My 'Got Me Good' song was also one of the first TikTok songs that was really starting to build up and go viral on TikTok, and Sienna the other day said, 'My back is aching and my bra too tight' in the car. That was cute."
On sharing her music with her kids:
Ciara may not be a fan of listening to her own music, but she loves seeing her kids jam out to her songs.
"I knew 'Level Up' was a hit from my kids' reactions, I knew that was their favorite. They asked for it over and over... It's cute when they know it's me. They're like, 'That's Mommy.'"
On her plans for Russell for Father's Day:
Our girl didn't go into detail about her plans for her hubby this year, but she did mention that she had to get creative this year.
"I just always want him to feel as loved as he makes me feel. And for him to really feel proud of himself on that day, but not just that day, every day really. Because he's an incredible father day in and day out."
On how she's made time for self:
Ciara says that taking care of her skin and body, as well as finding ways to be creative have all been forms of self-care this year. She even revealed that she's recently taken up...pickle ball.
"It's been a unique way for me to sweat, but also just have a good time and really love myself. I think when the world slows down, it's good to slow down too, sometimes. Step back and reevaluate. I've been able to do a little bit of that too, and prepare my game plan for all the things that I want to accomplish next."
We love to hear that she's also prioritizing herself, get it Ci!
Are you a member of our insiders squad? Join us in the xoTribe Members Community today!

Featured image via Stefanie Keenan/Getty Images for TOM FORD: AUTUMN/WINTER 2020 RUNWAY SHOW
Keep reading...
Show less
Kelly Rowland is back at it again, proving time and time again why she is our collective fave. As we all know, our girl and husband, Tim Witherspoon, welcomed their second child, Noah Jon at the top of the year. Since, she has taken a step back from her career to be mommy to both him, and oldest son, Titan.
But one of our favorite things about Kelly, is--if we can choose just one--her realist approach to being a mom, in a world where so much can be...pre-packaged. Recently, she took to her social media to prove just how real giving birth can be, post-pregnancy ab realness and all.
It all started while working with her trainer, Rebecca. The two were educating us on diastasis recti, which is the partial or complete separation of the abs, or "six-pack" muscles, that meet at the midline of your stomach. The ladies taught us how to test for the condition, and Kelly showed up prepared to show how real post-pregnancy can be for the body, openly rocking her deeper-tinted core for the world to see, unapologetically.
"I don't know about any of the moms out there but when my core is weak, my back starts to hurt. And my neck. And sometimes my lower back. So we're going to show you how to test for it."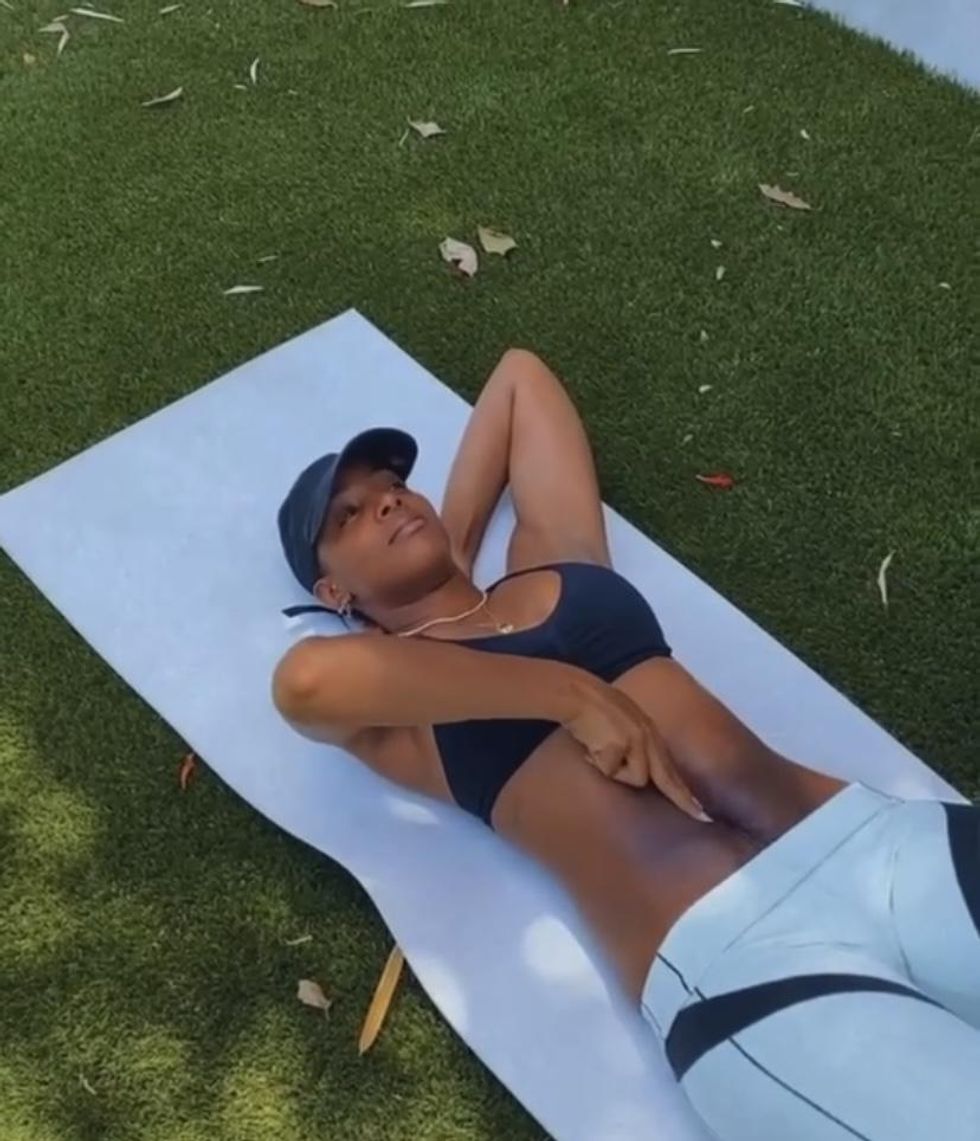 Kelly Rowland/Instagram Story
The mom of two then demonstrates how to test for diastosis recti, with Rebecca and new terms-to-know in tow. In her midsection, Kelly has what is considered a stimulation of the pigment cells in the skin/melanocytes by the female hormones oestorgen and progesterone to produce more pigment when exposed to the sun.
Women with a light brown skin type who are living in regions with intense sun exposure are particularly susceptible to developing this condition. The discoloration usually disappears spontaneously over a period of several months after giving birth.
But listen, mama absolutely did not care, giving a huge cosign to moms whose bodies change postpartum.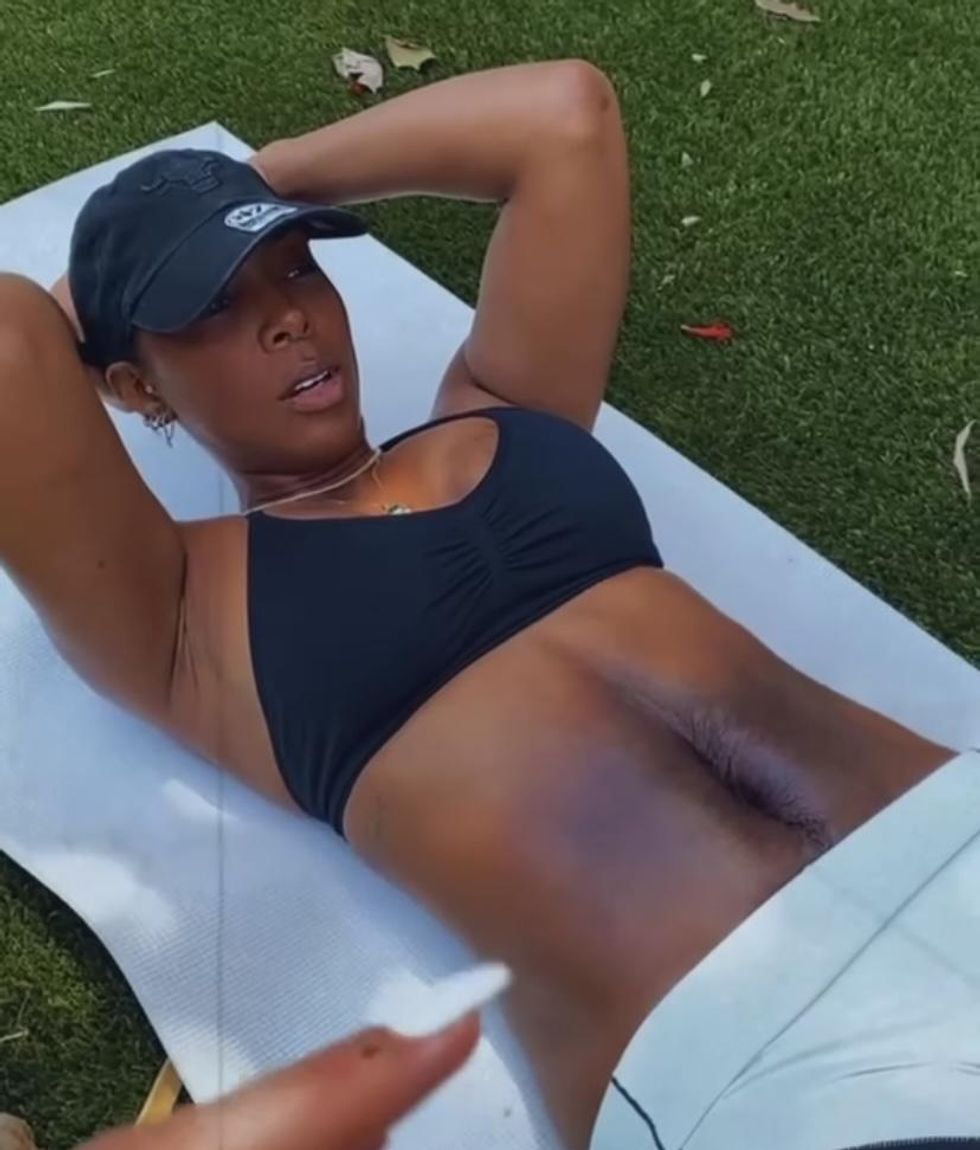 Kelly Rowland/Instagram Story
Rowland, who is 40, may have a snapback that only most of us can dream about, but she didn't put any pressure on herself to do so. Thanks to genetics and a fit pregnancy, she was able to bounce back in no time. But for this pregnancy, she is taking the time to show off what real women go through, in real time.
She told Billboard:
"I'm still navigating myself through motherhood. So the less pressure I put on myself and allow myself grace -- because I'm not going to get it right every single time – I think it's only fair to just breathe and use your instincts to navigate your way through. But I've learned not to put so much pressure on myself and to let my creativity flow."
And from here, her social media has went from life pre-baby, to advice, new favorite products, and more. She even shows off, and uses her platform, to guide new mothers in a way where they feel as if they're not alone, which plenty of new moms can appreciate.
Whew, there goes Kelly Rowland being a superhuman again, ladies and gentlemen.
Are you a member of our insiders squad? Join us in the xoTribe Members Community today!

Featured image by Cindy Ord/Getty Images
Keep reading...
Show less