When I think about actresses who have been cultural figures throughout my lifetime, Gabrielle Union-Wade is truly one of the first names that come to mind. I can recall being on the playground in grade school urging my friends to learn the cheer routines from Bring it On just as easily as I can remember a few years ago watching Being Mary Jane, crying from the relatability of Mary Jane's life struggles (a story for another day). It's inspiring to watch a powerful black woman whose art has been a consistent source of entertainment and influence. Although I must say, I think many of us have grown to cherish her personal journey and stories just as much.
Through avenues like social media and her first book, We're Going to Need More Wine, Gabrielle has shared her highs and lows, life-changing moments, and more. Now in her latest novel, You Got Anything Stronger?, she continues to let audiences into other intimate details of her life, including her journey to motherhood.
In 2018, Gabrielle Union welcomed her first child via surrogate. After publicly sharing her issues with fertility, many of us felt a sigh of relief and genuine happiness from the announcement. However, in her latest memoir, she shares the complete truth behind what we saw online. Yes, she was elated, but there's a lot more to the story. From questioning the validity of her motherhood to healing after her now husband's 'break baby' years before, she details her surrogacy journey.
Time Magazine shared an excerpt from the new release, and all I'm gonna say is, I understand the realness of the title. Because I would need a shot.
Unfortunately, a lot of us have dealt with the fall-out of infidelity. The feeling of deceit and hurt is indescribable. But for most of us, we're able to heal privately. Sure, we may talk to friends and family, but no one knows except the people we choose to tell. Obviously, as a prominent star, it was different for Gabrielle Union. Imagine having millions of people aware of your situation while you are still processing the intensity of the pain. She writes:
"The experience of Dwyane having a baby so easily—while I was unable to—left my soul not just broken into pieces, but shattered into fine dust scattering in the wind."
According to studies, Black women are almost twice as likely to experience infertility than white women. Gabrielle Union is no different, she suffered what she describes as, "more miscarriages than she could confidently count" and an adenomyosis diagnosis, frequent pain, and heavy bleeding that is associated with poor pregnancy outcomes. She knew something had to shift, but when her doctor recommended surrogacy, Union was determined to find another outcome. This resulted in multiple IVF cycles and losses. She was even willing to try Lupron, a drug that had only a 30% success rate and dire side effects.
"Why was I so willing to risk myself for a chance? If there was another way for me to bring my baby into the world, and have my health, why was it so hard for me to make peace with that?"
This decision led to initial insecurity meeting the surrogate, feeling the grief of prior miscarriages, and ultimately a complex sea of emotions and gratitude for Kaavia's birth.
"If I am telling the fullness of our stories, of our three lives together, I must tell the truths I live with. And I have learned that you can be honest and loving at the same time."
As a woman who desires motherhood one day, I think stories like this are needed. Motherhood doesn't look one way, and Gabrielle Union's authentic way of sharing the emotions that come with this, is part of why I and so many others gravitate toward her.
Anyway, I'm excited to add her book to the fall reading list, but I can tell it's going to be intense. If you're interested in checking it out, it's available for purchase here.
Read more of her Time Magazine essay here.
Featured image by Allen Berezovsky/Getty Images
Keep reading...
Show less
Keke Palmer is easily one of our favorite tell-it-like-it-is celebrities. From her up close and personal revelation of her battle with adult acne to doing it for the culture at the MET Gala to admitting she's "sorry to this man," Keke is known to give it to you straight, no chaser. And it's that commitment to being unapologetic in telling her truth that draws others to her like the light that she is.
But just because Keke has gotten to a place where she is celebratory of her truths (the good and the bad), doesn't mean the booked and busy hustler didn't at one time struggle. By the age of 15, Keke had experienced runaway success after her breakthrough role in the film Akeelah and the Bee, subsequent film and television roles, and a debut album, So Uncool.
And by 2008, Keke was one of the highest paid child stars on TV, earning a cool $20,000 per episode of her hit Nickelodeon show, True Jackson, VP. However, her accomplishments didn't stop her from experiencing trauma, in fact, it exacerbated it. In a conversation with Chromebook for their The Adulthood series, the Virgo Tendencies songstress revealed:
"When I was about 17, things started to get really, really crazy success-wise and it really just switched the dynamics of my family. They didn't really understand the trauma I was going through when it came to being famous. I was thinking about getting emancipated. And I had a conversation with my attorney and he said, 'You know, you don't have to do this. Many people have experienced what you're going through. You just have to set boundaries.'"
Boundaries became a game-changer for the young star who seemed to learn early on what it takes many of us years to understand. Setting boundaries is an act of self-love that serves as a reminder to yourself and those around you that your wants and needs also matter. A lack of boundaries was costing the actress her peace of mind.
"Boundaries are the stepping stone of self-respect and thus teaching other people how to respect and love us. When we don't know our own boundaries, it kind of becomes difficult to blame other people for what they may say or do. When I was a kid, girl, I would just stop talking to people forever. A lot of those people didn't even know what they did. I was actually cutting off a lot of good people do love me and would want to know how to best be there for me."
The 28-year-old also credited self-care practices as a cornerstone to allowing her to arrive in spaces as her best self and being more in tune with who she is on her best day instead of her worst. Through mindfulness, meditation, and stillness, negative self-talk is just one of the things her self-care game has helped her overcome.
"I can say from my experience as a Black American woman, there's a lot of stuff that you have to choose to block out. And that's not you being passive, that's you paying attention to the goal. It's important to add practices in your life to help refuel you. Mindfulness, meditation -- it allows the space for you to be objective to your own thoughts..."
"When I'm active in my practices, I'm able to catch myself much more quickly when I start to do bad self-talk. And when we're sometimes dealing with so many things in the world, we don't even realize all we need is a bit of stillness to help balance us back out."
Watch Keke Palmer talk about boundaries and the importance of self-care below: 
Featured image by Taylor Hill/WireImage
Keep reading...
Show less
A big congratulations is certainly in store for the Jameses! Earlier this week, on September 14, LeBron and Savannah James celebrated their 8th year wedding anniversary. Symbolically speaking, the 8th year in marriage is usually represented by bronze. A mixed metal, bronze is durable and stronger than copper and iron (two symbols of earlier wedding anniversaries), which is why it is traditionally gifted to couples who make it to this milestone.
The superstar athlete has been a force of nature on the basketball court and has the accolades to prove it, but something he also takes pride in is his relationship off the court with his long-time love and high school sweetheart, Savannah. So bronze is no doubt worth its weight in gold for this couple.
Savannah took to her own Instagram to share more candid photos of the couple with a heartwarming caption of her own punctuated with the hashtag #LookWhatWeDid:
"Happy Anniversary to my forever scary movie partner, my forever feet warmer, the Capricorn to my Virgo, my bestie, my babe!!! 8 years down, forever to go! Love you deep!!"
LeBron and Savannah have a relationship that spans over two decades now. And though they are living and loving in the lifestyles of the rich and famous now, the couple had humble beginnings, including a first date that was at Outback Steakhouse in 2002.
Back then, LeBron was making a name for himself in football and basketball in Akron, Ohio while Savannah Brinson was a a cheerleader at a rival school. As the classic high school love story goes, the athlete and the cheerleader fell in love. Though Savannah acknowledged it wasn't love at first sight in an interview with Harper's Bazaar, she knew the potential for something more was being planted there, even at 16:
"I knew he loved me when I left my leftovers from dinner in his car. I'd totally forgotten about them, and he brought them to me. I think he just wanted another excuse to come and see me."

In 2003, LeBron would become a top pick for the NBA draft and would be selected to play for his home team, the Cleveland Cavaliers. It would be the beginning of a frutiful career in the NBA for the legendary King James. He'd go on to win Olympic gold medals, four NBA championships, four NBA Finals Most Valuable Player awards, four NBA Most Valuable Player awards -- and that's just the tip of the iceberg as far as accolades go.
2004 marked LeBron's rookie season in the NBA and would also be the year that LeBron and Savannah became parents. The couple welcomed their first child, a son named LeBron James, Jr. in October of that year. In regards to the surprise pregnancy, Savannah told Harper's Bazaar that she questioned how their lives would be impacted:
"I was very scared. I was bawling. But he (James) said, 'It's not going to slow me down, and it's not going to slow you down. We're going to keep doing what we have to do.'"
The couple would welcome their second son, Bryce Maximus James, on June 14, 2007. Three years later, in 2011, LeBron popped the question and proposed to his long-time love and the mother of his two sons, Savannah on New Year's Eve in France. He'd later tell Oprah Winfrey that deciding to propose was like "a finals game":
"I had been thinking about it, you know, for a while but it just came to me one day and I was like 'this is a part of growth for me.' This is I was like this is the lady and the woman I have been with through all the good and all the bad. She's been there for a long time and I wanted her to continue to be there with me, so I felt like at that moment it was time."
While it took nearly a decade for him to feel ready to propose, their engagement would only last two years. On September 14, 2013, LeBron and Savannah tied the knot amid a three-day star-studded wedding event. Guests included Dwyane Wade, Gabrielle Union, Chris Bosh, and La La Anthony. And the Jameses did it up big for their big day by getting Beyonce and Jay-Z to perform their collab hit "Crazy in Love" for their reception.
On October 22, 2014, Savannah gave birth to the couple's third child together. This time, a daughter named Zhuri Nova James. LeBron spoke candidly in 2018 about how becoming a girl dad made him a better man:
"I had two boys first, my oldest son, LeBron Jr., and my younger son, Bryce Maximus, and people always told me, if you ever have a girl she'll change you. Three years ago, this bright spot right here happened to our family. And not only did she change me, she's made me a better person. A more dedicated person, a stronger person. I guess a more sensitive person that realized that I have so much more of a responsibility to women in general. So, thank you, Zhuri."

Years later, for the couple's fifth wedding anniversary, LeBron kept the love train going by enlisting the help of singer Daniel Caesar to serenade Savannah with "Best Part" in the couple's living room. "Love you forever," LeBron captioned his Instagram story highlighting the surprise.
In an Instagram post commemorating their anniversary, LeBron clarified that though it was five years of marriage, it has been 18 years of being in a relationship for the lovebirds. "In all actuality going on 18 years. Happy Anniversary Queen," his caption read.
That same year, in a cover story with The Hollywood Reporter, LeBron shared his thoughts on the vital role his wife plays in his life. He credits a lot of his success to her and appreciates the fact that she was there when he had nothing else:
"But in all actuality, Savannah was with me shooting in the gym when I [had] absolutely nothing... [Savannah] was down when I was at my high school, no cameras, no lights. And she was there with me. You wouldn't be talking to me right now if it weren't for her."

LeBron is no stranger to shouting his love and devotion to Savannah from the rooftops for all the world to hear and see. Back in 2019, he penned a heartfelt message on Instagram to show his queen some much-needed appreciation just because:
"The only reason why I can do what I do at the highest level both on and off the floor is my because my best friend got my back regardless the outcome! I'm just the car, she's the engine! Appreciate you Wonder Woman aka Queen."
19 years and three children later, we're happy to see this Black love alive and thriving!
Congratulations LeBron and Savannah!
Featured image by Albert L. Ortega/Getty Images
Keep reading...
Show less
If you haven't heard by now, Yahya Abdul Mateen II is the 'it guy' in Hollywood. He currently stars in Nia DaCosta's adaptation of the cult thriller Candyman, and he hasn't slowed down since. His appeal? His unwavering charm, his statuesque gladiator silhouette, and unfamiliar name that commands the room. But he's much more than that.
He's actually an 'Emmy-winning' those things.
Additionally, he's an 'Emmy-winning' those things that has the ladies lining up at the door to shoot their inevitable shot (because when you're beautiful, you already know it's coming your way). The actor joined Buzzfeed for their 'Thirst Tweets' segment, a segment where celebrities read tweets hilariously lusty tweets about said celebrity, that are found on the internet. And listennnnn, the ladies did not disappoint.
The video opens with him introducing himself and saying:
"I'm a little bit afraid of what these are going to say because my timeline be off the hook. Let me see what y'all got."
The tweets started out simple and complimentary: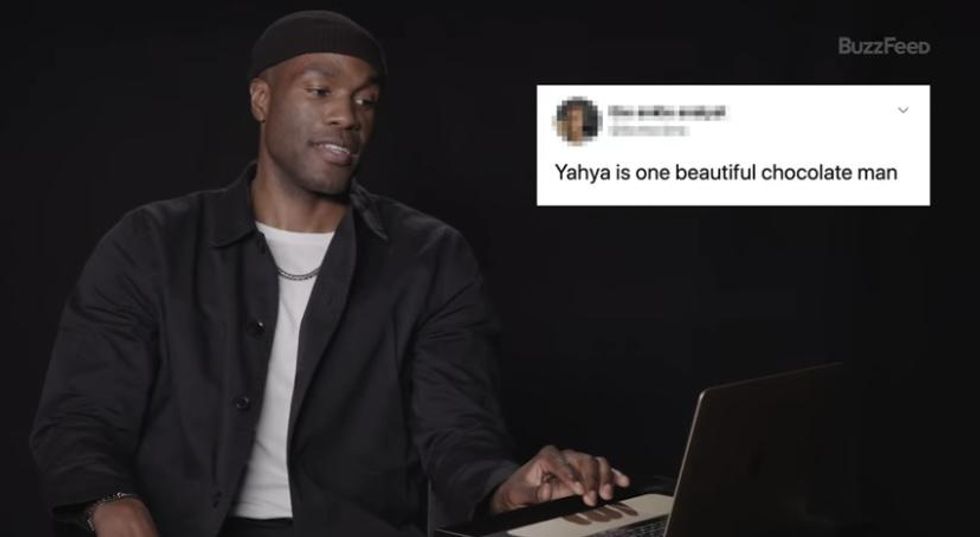 YouTube
"That's tame, that's very tame. I'll take it."

He then goes on to say that he loves his beard and he loves to cook! Ladies, he cooks! He loves to wear his grill too, which he proudly claims that ladies that love that will 'mess around and get snatched up.'
But then the ladies started asking what we all wanted to know: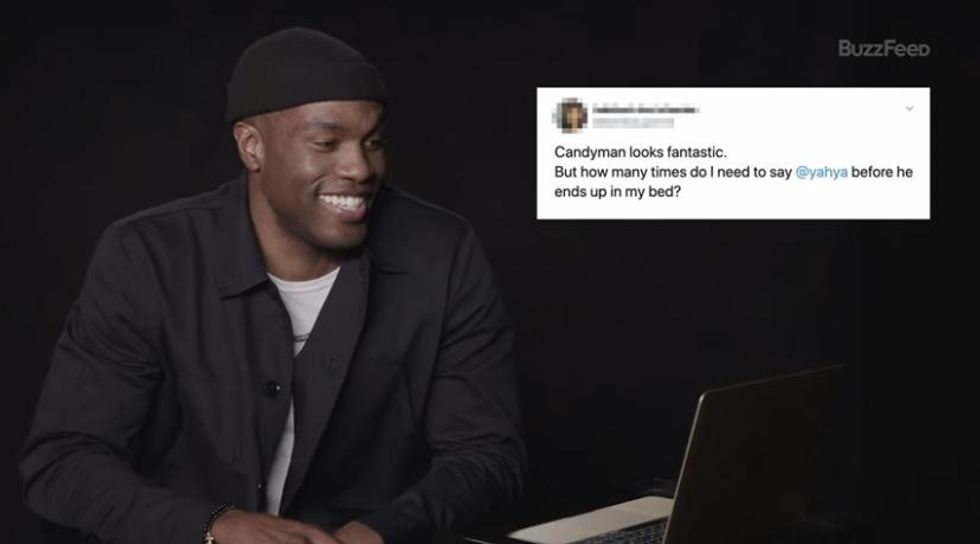 YouTube
Well, we're on count 52, but I have all night to keep going. #kanyeshrug
"You should tweet me compliments more often. If you tweet me, I'll read them in the morning. I'll make a calendar of all your tweets, or just for every month, it'll be a different tweet, and I'll just read it. Keep my confidence high. I like that."
And slowly started getting to the point: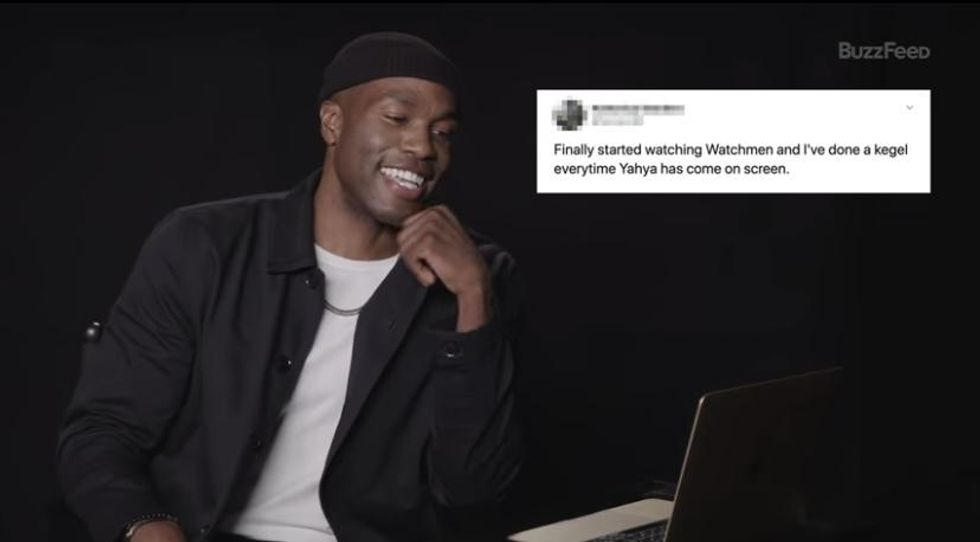 YouTube
After getting a good laugh, at the thought of women doing kegels on sight, he says:
'That's funny.'
I'm confused...you didn't know this was normal, sir? *stares in collective Black woman confusion*
The whole entire, and CLEAR, point: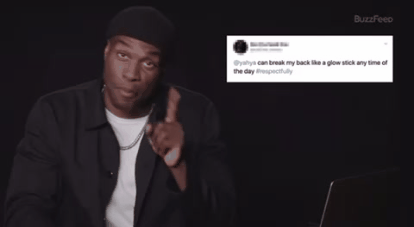 Giphy/YouTube
"Alright, you better holler at me. I appreciate the respectfully, because respectfully is important. But getting your back broke like a glow stick is important too."
He ends the video reading a few more tweets and even shared a quickly story about the life affirmations his grandmother would speak into him.
Watch the full hilarious clip below:
Are you a member of our insiders squad? Join us in the xoTribe Members Community today!

Featured image by Brian Ach/Getty Images for TAG Heuer
Keep reading...
Show less
The concept of going to therapy has now been made mainstream as all things mental health matters have been brought to the forefront. While prioritizing our mental health is something this panorama and 2020 overall has emphasized is of the utmost importance, enforcing boundaries and amplifying self-preservation is still something seen as a radical act of self-love among Black women. And it's because so many of us are still unlearning hard lessons of toxic strength and resilience that brainwashed us into believing we have to have our capes on at all times.
We are so used to being all things to all people, we often forget ourselves, so the Naomi Osakas and Simone Bileses of the world doing their part to emit a battle cry of "no" in lieu of placing themselves first has been yet another thing to add to the list of things "we love to see" for the culture. In her recent cover story with British Vogue, Zendaya added her voice to the growing mental health conversation by revealing why she is such an advocate for therapy.
Despite the undoubtable M's in her bank account and her award-winning projects on deck, the Hollywood starlet had trouble navigating uncertain times as shakily as a lot of us did outchea last year. She described what she went through emotionally as a "kind of taste of sadness where you wake up and you just feel bad all day, like what the f**k is going on? What is this dark cloud that's hovering over me and I don't know how to get rid of it, you know?"
After encountering one of her most difficult years to-date, Zendaya decided to look to therapy to help pull her out of her dark moments. She explained to British Vogue:
"Yeah, of course I go to therapy. I mean, if anybody is able to possess the financial means to go to therapy, I would recommend they do that. I think it's a beautiful thing. You know, there's nothing wrong with working on yourself and dealing with those things with someone who can help you, someone who can talk to you, who's not your mom or whatever. Who has no bias."
Zendaya is not alone in expressing the gratitude for the peace of mind she's experienced since investing in therapy. In fact, here are 9 more celebs on why they are advocates for going to therapy.
Issa Rae
In a 2019 interview for Fuse's The Read with Kid Fury and Crissle, Issa Rae admitted that she hadn't really considered going to therapy a priority until hearing the stories of the two co-hosts and how they've done the work. She also noted that watching her mother and grandmother as Black women carry around burdens with no one to help them with it served as another reminder to invest in therapy as an act of self-care.
"...I think the first time I finally made the time to go was just last year. I did three little sessions and I fucked with it. But it is important to not necessarily go because you think something's wrong, but you should if you're in an industry like this, prioritize it because nobody else will. And that's what I've learned just throughout my journey here."
Taraji P. Henson
Taraji P. Henson has been doing the work and paying it forward through her work with her foundation, Boris Lawrence Henson Foundation. Per The Jasmine Brand in 2019, Taraji P. Henson revealed:
"I suffer from depression. My anxiety is kicking up even more every day, and I've never really dealt with anxiety like that. It's something new… It [fame] was fun at first, but the older I get, the more private I want to be. I think there's a misconception with people in the limelight that we have it all together, and because we have money now and are living out our dreams, everything is fine. That's not the case. When they yell 'Cut' and 'That's a wrap,' I go home to very serious problems. I'm still a real human."
In regards to investing in therapy, she went on to say:
"You can talk to your friends, but you need a professional who can give you exercises. So that when you're on the ledge, you have things to say to yourself that will get you off that ledge and past your weakest moments."
Janelle Monae
Janelle Monae is another entertainer who has made it no secret that she looks at going to therapy as a vital part of her self-care regimen.
"When I first started getting a check, I went to therapy. Therapy is important. And being a Black woman that was not something that was pushed in my community, it was always 'pray about it, God will take care of it'. I believe in a higher power but I also believe that that higher power gives you people on Earth to help walk you through some of your darkest times and help you cope and deal."
Gabrielle Union
"You need to find a way to talk about the darkest parts of your life. I've been in therapy for the last 25 years. Whatever path you need to take to heal, it's the best one."
Big Sean
A couple of years ago, rapper Big Sean got real about the "why" behind him taking a year-long hiatus to take care of his mental health. Shortly thereafter, he became more candid about his experience with anxiety and depression and how therapy ultimately helped him gain clarity.
"I just felt lost. You know what I'm saying? I didn't know how I got there. I've been meditating since I was 17 years old. You know, that helps with anxiety, depression all those things. All those things that I felt. But it wasn't doing it all the way for this, so I knew that this required some special attention.
"So what I did was, I started therapy. I got a good therapist. You know what I'm saying? I was blessed enough to talk to some super-spiritual people. And they made me realize one thing that I was missing in my life, and that was clarity."
Keke Palmer
Keke Palmer is another young celebrity that has been candid about her bouts with anxiety and depression throughout the years. She opened up to Cosmopolitan about being in therapy for years as a means to cope with her mental health issues:
"Being able to say how I feel, that was something that was so hard for me for so long. If you grow up in the industry, it forces you to be agreeable at all times. When it came to saying 'I'm tired and I want to figure out how to balance my life better,' 'I feel lonely, 'I'm afraid of my stardom' — those things I could not say."

Kelly Rowland
In a 2018 chat with Oprah Daily about mental health, Kelly Rowland opened up about what inspired her to go to therapy:
"I realized I didn't want to try to figure things out by myself. I can try as much as I can, but doing it all myself, I'd end up driving myself insane circling the same situation and same problem over and over again."

She continued:
"Sometimes people feel like faith and praying...and don't get me wrong, I have faith and I pray and I do believe I'll get through things with that also. But I like to talk to somebody who has the insight of psychology, too. There are other connectors. It's important that we understand that as well."
Halle Berry
"I've done therapy on an as-needed basis since I was probably 10 years old. My father was an alcoholic and a very abusive one, and my mother knew the value of providing me with the outlet of an unbiased person to talk to. So I've done that all my life when times get stressful. It really helps me deal with stuff."
Kerry Washington
"Therapy helped me realize that maybe it's OK for me to communicate my feelings. Instead of literally stuffing them down with food, maybe it's okay for me to express myself.
"I say that publicly because I think it's really important to take the stigma away from mental health. My brain and my heart are really important to me. I don't know why I wouldn't seek help to have those things be as healthy as my teeth. I go to the dentist. So why wouldn't I go to a shrink?"
Featured image by Elisabetta A. Villa/Getty Images
Keep reading...
Show less
Venus Williams is one of the highest-regarded athletes of our time. She has multiple trophies and Grand Slams, she competes at a high level that many of us will never understand, and she's related to one of the most important sports figures that changed the shape of the history of sports as we know it: Mr. Richard Williams.
Oh, and Serena too.
And, when she's not expanding her widely successful tennis career, you can catch Venus building businesses, advocating for wage equality, and raising awareness about mental health and self-care. Because Venus is so busy, and if you were to look to her sister, who has married and has a precious four-year-old daughter, this struck the need for people to feel like they can chime in on when she plans to settle down and have kids, which sis was notttt feeling at all.
In fact, when asked how she deals with social pressures to have children and settle down with someone long-term, she said:
"I like my life and I don't want to change it for any reason."
Bloooop. She added:
"I have a lot of friends who don't believe me when I say that I like my life and I don't want to change it for any reason. I'm not desperate and they don't believe me. They say things like, 'You're going to miss your window.' I'm like, 'Please, relax. You might feel this way, but I don't. I promise you I don't.'"
Lord, how many times do we have to talk about this? Mind your own uterus! And if you don't have one, guess what? Guess what?! What society says is for women, may not be what that woman wants and that is OK. Venus has taken on many roles, and if she doesn't want to be a mother, that is her choice.
Instead, she chooses to focus on supporting a balanced mental health for female athletes, which has been under the spotlight in recent months, after fellow-queens Naomi Osaka and Simone Biles opened up about their experiences. Venus revealed her own struggles at points during her career, where tough took on a whole new meaning. She detailed her struggles in an opinion piece for the New York Times, she said:
"I used to think that winning depended on my physical health. Then my mother told me, that was only the half of it.
She continued:
"It doesn't matter who you are... you can't divorce mental health from anything you do. It impacts your physical well-being, your decision-making, your ability to cope with difficult moments. Admitting you're vulnerable is no joke. It isn't easy to ask for help or confide in people about having emotional struggles."
This echoed the sentiments of both Osaka and Biles, who famously prioritized their own well-being over any performative expectation in front of them, which is key to taking care of yourself whole-heartedly, no matter what.
In the meantime, my good sis Venus said she'll be over here on vacation, reading, relaxing, and taking care of her damn self. And I ain't mad at it.
Watch the clip of her discussing what's next (her way) below:
Are you a member of our insiders squad? Join us in the xoTribe Members Community today!

Featured image by Bertrand Rindoff Petroff/Getty Images
Keep reading...
Show less