In a move that makes us so happy, the ever-so-stunning Ryan Destiny has been making her rounds lately, showing off her subtle but enamoring vibe in recent appearances with Vogue, HelloBeautiful, and even Doja Cat's new "Need to Know" music video. The former Star actress and singer also took a moment to join Harper Baazar for their 'Go to Bed With Me' segment, a video series where various celebs show off their nighttime skincare routines.
This appearance was our absolute fave because to see her demonstrating how to maintain her beautifully radiant skin is something we all want to know, right?! Right. So, sis...we gotchu just in time for summer!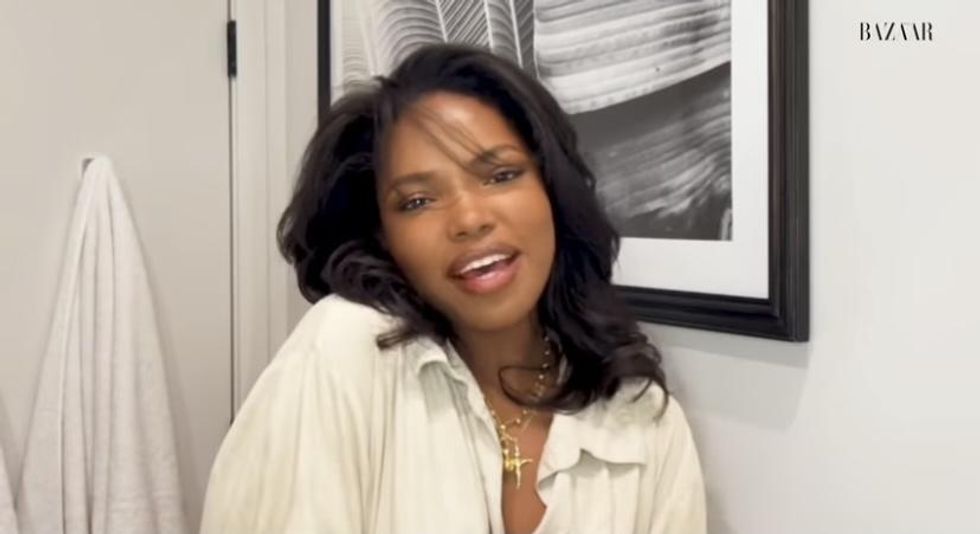 ​Harper's Bazaar/YouTube
Rocking a blow-out for the gawds, after a cute intro, Ryan opens with this one simple, but loud, tip:
"Wash your hands. Wash your hands before you start anything."
She then proceeds to use the La Mer Cleansing oil and thoroughly massages the product all over her face and neck. Get in there good ladies, this step is important!
"Rub it all over my face, get down on my neck. And once I feel that it's all broken down, I am going to rinse."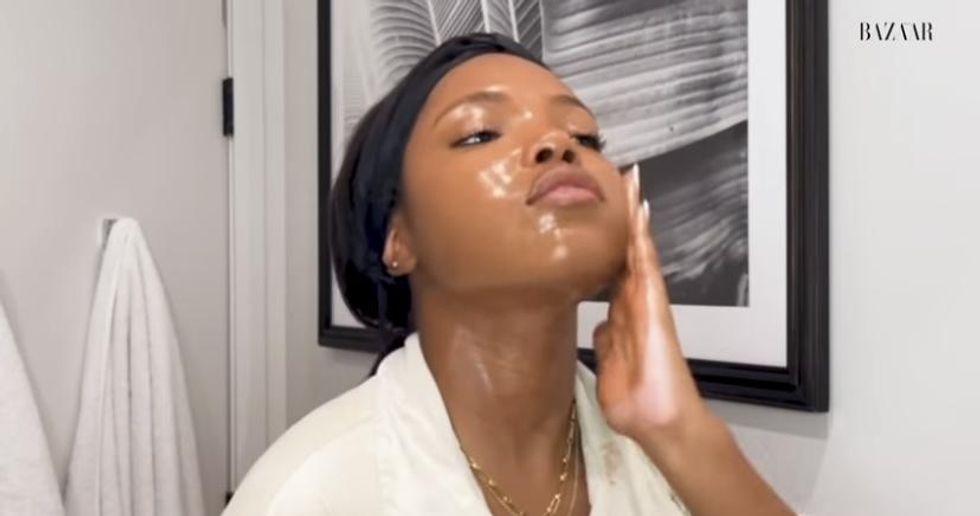 Harper's Bazaar/YouTube
Next up, Ryan focuses on a problem area that many of us have: hyperpigmentation. To combat this, she uses the Black Opal Blemish Control Bar, a brand she has used since she was 16 years old. She is also the face of the brand, which is Black woman-owned.
"What's really really great for the hyperpigmentation that I sort of have a lot of right now, is the . It's like extra, extra important to me to take of all of the makeup before you go to bed. It just makes such a difference. It's the worst when you go to sleep with your makeup still on, and you just know it just sets you back like a whole week."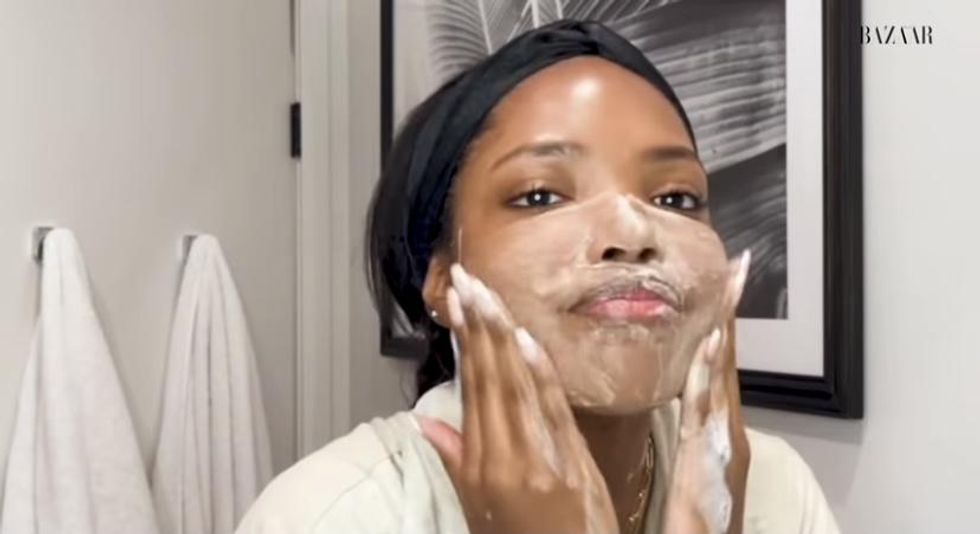 Harper's Bazaar/YouTube
Destiny then moves on to hydrating her lips with the Black Opal Lip Oil.
"I kinda sorta sorta kinda kinda have chapped lips. But not anymore becuase I did a lot of trial and error, and I found something that works for me. It works with my makeup as well. It nourishes and hydrates my lips, it's not there to just look pretty, you know."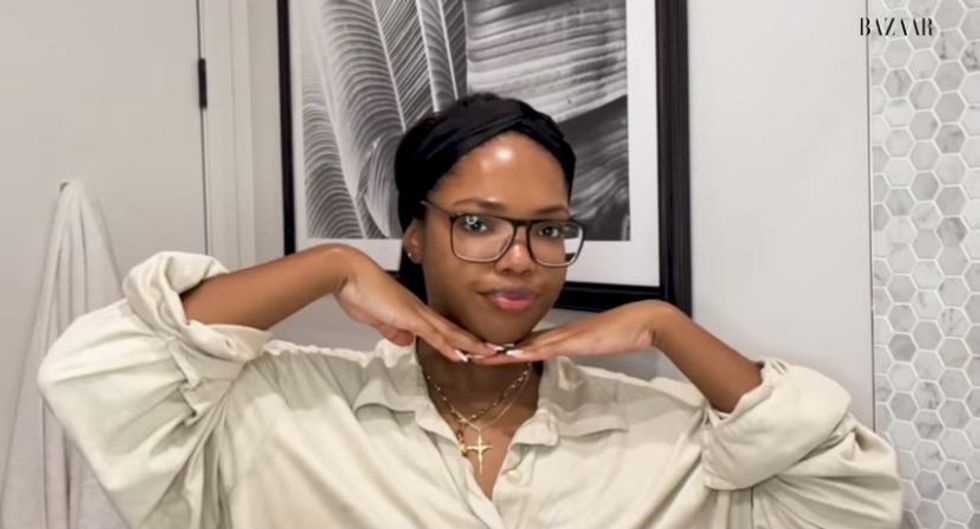 Harper's Bazaar/YouTube
As a final step, she moves on to her serums for pigmented skin and dark spots. Here she uses the CosMedix Clarity Serum and Black Opal Brightening and Plumping Serum.
"This is also really great for prepping your makeup. I use this serum right before I start doing my makeup. It like, glides right on and helps my makeup look better and apply on my skin better."
We stan a simple but effective routine, sis!
Watch the full video below:
Are you a member of our insiders squad? Join us in the xoTribe Members Community today!

Featured image by Bennett Raglin/Getty Images for BET
Marriage is a subject in our society that has followed women everywhere since the beginning of time. We can't even be out here living our best lives because someone, somewhere, is going to ask about it. And for single, accomplished women everywhere, the subject of marriage usually never goes away.
I think back to a tweet from Necole Kane that had me snapping with the stank face all night:
Are you a member of our insiders squad? Join us in the xoTribe Members Community today!

Featured image by WireImage via Getty Images
To hear in 2021, a time where existence has been going on for millions of years, that someone is the first Black anything, is almost mind-blowing, but it definitely is still something that happens. And frequently, actually. Thankfully, this label has re-emerged with one of our dear faves, a woman way beyond her time who is everything we love to see in a modern woman, Ms. Teyana TF Taylor.
Are you a member of our insiders squad? Join us in the xoTribe Members Community today!

Featured image via Rich Fury/Getty Images for Def Jam Recordings
Naomi Osaka is the superhero that we didn't know we needed in our lives. Or maybe we did? I mean, I knew she was a superhero from the moment she boldly and unapologetically took the stage in the name of police brutality in 2020. She was over the questioning as to why she decided to represent for Black pain, and decided to bring the message to the covers of Vogue Magazine. Emmett Till's name and legacy is in Vogue. VOGUE. A place where at the time of his murder, he would have never been welcome.
Alexa, throw on "What A Time To Be Alive."
Because witnessing Naomi is just that. But this time, thanks to her routine fearlessness, Naomi is being a leader in a different way: by removing herself from one of the biggest tournaments in the game of tennis all for the sake of her mental health.
It all started when she announced via social media that she would not partake in this year's French Open press, mainly because the constant questioning and scrutiny created an added layer of stress to the athlete. The four-time major champion and No. 2-ranked player was eventually fined $15,000 when she didn't speak to reporters after her first-round victory, causing the champ to pull out of the tournament entirely the next day.
Her entire statement is below:
The courage of removing herself for herself, encouraged other athletes to take a step back and question what it means to be forced to face constant questioning and berating on a grand scale. And a plethora of athletes and celebs alike, who understand her perspective firsthand, gathered around and supported her 1000 percent.
From fellow tennis champions Venus Williams, Coco Gauff, and Sloan Stephens:

Naomi Osaka/Instagram

Naomi Osaka/Instagram

Naomi Osaka/Instagram
All the way to other pro-athletes who could relate:

Naomi Osaka/Instagram

Naomi Osaka/Instagram

Naomi Osaka/Instagram

Naomi Osaka/Instagram
(Sidebar: it's worth noting that Kyrie Irving has been fined $60,000 this season alone for skipping media obligations.)
As for now, the French Open's President responded to Naomi's withdrawal by saying he wishes Osaka "the quickest possible recovery." Um, OK. I'm sure there will be more to come from them on the subject, but anyway.
Thankfully, what we can all appreciate about Naomi's courage is that maybe if we took a step back and took the time to think differently about the processes in place, then maybe we have the opportunity to witness pro-athletes compete at an all-time higher level, especially with personal battles in tact.
As for us, we're going to always support and protect this queen at all costs. Here's to hoping that we all do the same. Take care of yourself, Naomi!
Are you a member of our insiders squad? Join us in the xoTribe Members Community today!

Featured image by Graham Denholm/Getty Images
Keep reading...
Show less
Kelly Rowland is back at it again, proving time and time again why she is our collective fave. As we all know, our girl and husband, Tim Witherspoon, welcomed their second child, Noah Jon at the top of the year. Since, she has taken a step back from her career to be mommy to both him, and oldest son, Titan.
But one of our favorite things about Kelly, is--if we can choose just one--her realist approach to being a mom, in a world where so much can be...pre-packaged. Recently, she took to her social media to prove just how real giving birth can be, post-pregnancy ab realness and all.
It all started while working with her trainer, Rebecca. The two were educating us on diastasis recti, which is the partial or complete separation of the abs, or "six-pack" muscles, that meet at the midline of your stomach. The ladies taught us how to test for the condition, and Kelly showed up prepared to show how real post-pregnancy can be for the body, openly rocking her deeper-tinted core for the world to see, unapologetically.
"I don't know about any of the moms out there but when my core is weak, my back starts to hurt. And my neck. And sometimes my lower back. So we're going to show you how to test for it."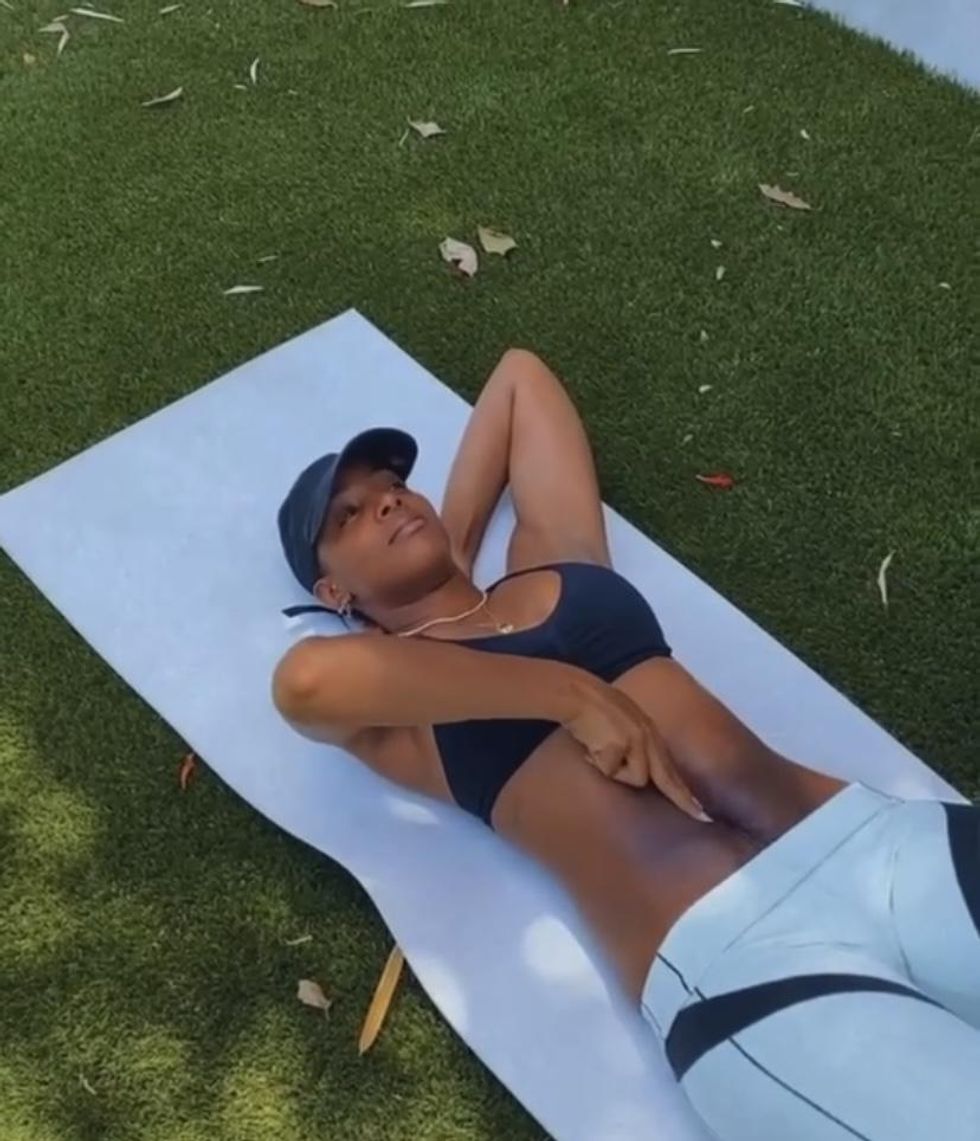 Kelly Rowland/Instagram Story
The mom of two then demonstrates how to test for diastosis recti, with Rebecca and new terms-to-know in tow. In her midsection, Kelly has what is considered a stimulation of the pigment cells in the skin/melanocytes by the female hormones oestorgen and progesterone to produce more pigment when exposed to the sun.
Women with a light brown skin type who are living in regions with intense sun exposure are particularly susceptible to developing this condition. The discoloration usually disappears spontaneously over a period of several months after giving birth.
But listen, mama absolutely did not care, giving a huge cosign to moms whose bodies change postpartum.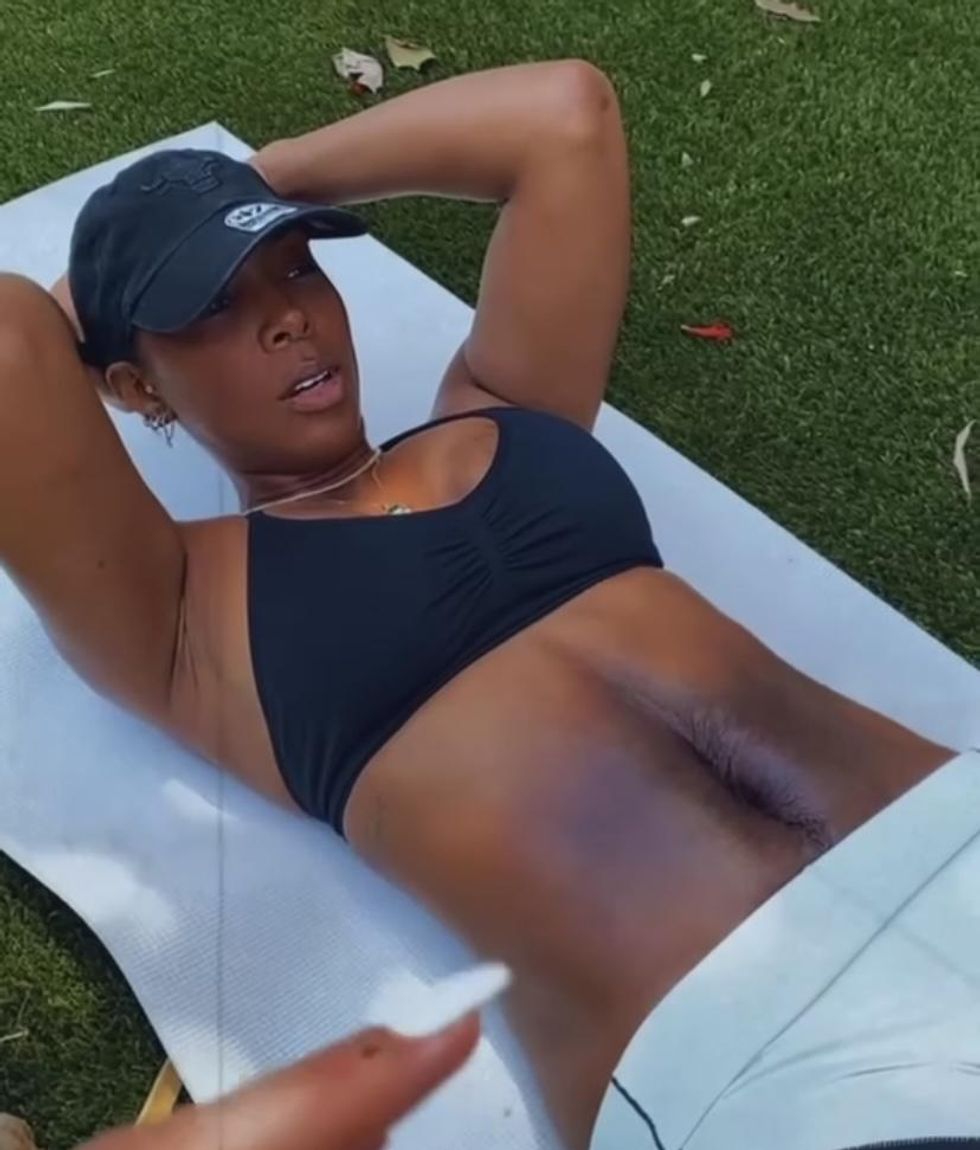 Kelly Rowland/Instagram Story
Rowland, who is 40, may have a snapback that only most of us can dream about, but she didn't put any pressure on herself to do so. Thanks to genetics and a fit pregnancy, she was able to bounce back in no time. But for this pregnancy, she is taking the time to show off what real women go through, in real time.
She told Billboard:
"I'm still navigating myself through motherhood. So the less pressure I put on myself and allow myself grace -- because I'm not going to get it right every single time – I think it's only fair to just breathe and use your instincts to navigate your way through. But I've learned not to put so much pressure on myself and to let my creativity flow."
And from here, her social media has went from life pre-baby, to advice, new favorite products, and more. She even shows off, and uses her platform, to guide new mothers in a way where they feel as if they're not alone, which plenty of new moms can appreciate.
Whew, there goes Kelly Rowland being a superhuman again, ladies and gentlemen.
Are you a member of our insiders squad? Join us in the xoTribe Members Community today!

Featured image by Cindy Ord/Getty Images
Keep reading...
Show less
Yvonne Orji is such a damn breath of fresh air. And thankfully so, she has been in full promo mode, making her television rounds to discuss both her new book, Bamboozled By Jesus, and the new and highly-anticipated final season of the extremely popular show, Insecure. The Nigerian-American actress and comedian most recently has been spotted on The Ellen Show and Jimmy Kimmel Live!, where she opens up on a plethora of subjects, from manifesting a future daytime talk show, all the way to comparing Ashton Kutcher to Jesus himself.
And listen, our girl is our girl, (which she always will be), so to hear her fresh, and comedic, quickness back on our radars--as if she ever left them--is what we undoubtedly love to see. And despite starring in a show based on the insecurities we all feel when stepping into our true selves, Yvonne feels pretty damn comfortable with who *she* is, with one of those things being a 37-year old virgin.
She's discussed her virginity multiple times on the past, once telling People:
"Before any of [the fame] happened, I sat down with myself and with God and thought, when I make it, how do you want me to represent you while I'm here? It was like, OK, I know why I'm here. It's to make you proud. People ask about it because they're curious, or they may not understand. How will they ever get understand if I don't talk about it? I can inform your curiosity, as opposed to everyone being in the dark and just sort of creating their own narrative about it."
And while at Jimmy Kimmel Live!, she touched on the subject again, when asked about it, immediately looking to the camera and saying, "Where is he? Hurry up, wherever you are. Hurry, OK? Please." Jimmy then asks a legit question, if she feels waiting gets more or less easier as time passes, which she says:
"I mean, I don't know because this is the last year. Wherever you are, hurry. December 2nd is my deadline. We've been in COVID for a long time, those are dog years, fam, OK?!"
Of course, this is all in jest, as Orji takes her Christianity and virginity very seriously. She discussed her path to the decision on The Breakfast Club, where she said:
"Personally, I had plans to have sex when I turned 18. I was dating [redacted] and I had it figured out. But, I got to college at 17 in D.C and then I got saved. It comes out, I don't hide it. The same way people know they've had a one-night stand, you can say that so I can this."
And although she has she has somehow become the "face of virginity" in Hollywood for the culture, she joins the ranks of others such as Sherri Shepherd, Jordin Sparks, and Lolo Jones who waited, (or are waiting), for marriage before having sex, or even now-married women, such as Tamera Mowry-Housley, Mariah Carey, Meagan Good, and Ciara, who all remained celibate with their spouses until they all said, "I do."
"It's like society has allowed us to normalize a lot of sex but hasn't allowed us to normalize the option to also not have sex...It's not like a crusade. I'm not like, 'Guys! Let's all not have sex together.' I can say, 'Hey, I'm Nigerian and I love God and I'm funny, or 'I like to snort when I laugh really loud, I still shop at the 99 cent store.' Like there's so many things about me and not just the one that I'm not doing."
We couldn't agree more, queen.
Watch Yvonne's full appearance at Jimmy Kimmel Live! below:
And as a bonus, here's her wildly popular TED Talk on why 'the wait' is sexy:
Are you a member of our insiders squad? Join us in the xoTribe Members Community today!

Featured image by Matt Winkelmeyer/2021 MTV Movie and TV Awards/Getty Images for MTV/ViacomCBS
Keep reading...
Show less