In a world much fairer than the one we currently occupy, Angela Bassett shelves would be adorned with multiple Oscars. While watching the latest installment of the Black Panther franchise, I was reminded of the sheer brilliance and excellence of the actress who has blessed audiences with her boundless talents for over three decades now. I wasn't the only one captivated by Bassett's performance, with some people even going as far as to suggest that Bassett might garner award recognition for the role.
To borrow from her husband, actor Courtney B. Vance, when talking about his wife in the Nov/ Dec Essenceissue: "I don't know anybody else like her. She's once in a generation; once in a lifetime. I always tell her that the world is waiting for her Oscar so that we can lift her up 30 years past when we should have."
xoNecole takes a look back at some of Bassett's stand-out roles.
1993: 'What's Love Got To Do With It' 
In her career-defining role, Bassett stars as rock 'n' roll icon Tina Turner in a biopic about the legendary singer's career and tumultuous relationship with her ex-husband Ike Turner. The role would earn Bassett her first and currently only Oscar nomination. In a 2018 interview with Watch What Happens LiveWith Andy Cohen, Bassett agreed with the host when he said that he felt like Bassett was robbed of the Academy Award that would end up being awarded to Holly Hunter.
This wasn't the first nor last time Bassett would prove that she could portray a real-life person. She has also played Michael and Janet Jackson's mom Katherine Jackson in The Jacksons: An American Dream as well as historical figures such as Betty Shabazz, Rosa Parks, and Coretta Scott King.
1995: 'Waiting to Exhale'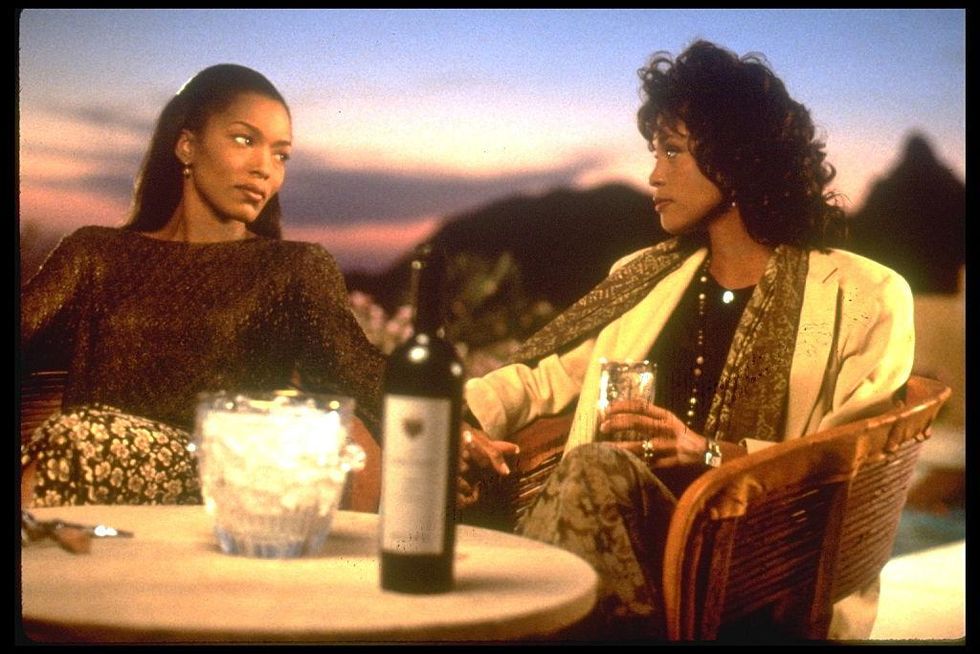 Frank Trapper/Corbis via Getty Images
This classic film based on the Terry McMillan novel of the same name boasted a star-studded ensemble cast that includes Loretta Devine to thee Whitney Houston. But it was Bassett who stole the show when her character Bernadette lit her unfaithful ex-husband's car on fire after going on an emotional tirade. The scene would go down as one of the most iconic in film history while also invigorating every woman scorned who watched it.
1998: 'How Stella Got Her Groove Back' 
In another Terry McMillan film adaptation (which is based on a true story), Bassett plays the titular Stella as she sojourns to Jamaica after her divorce and meets a young, fine local played by Taye Diggs. Bassett's role would once again inspire Black women across the country to find their own groove again.
2006: 'Akeelah and the Bee'
In what would be the breakout role for a then-unknown Keke Palmer, Bassett plays the mother to Palmer's character who is a spelling bee prodigy. Marking her third on-screen appearance with actor Laurence Fishbourne, Bassett plays the concerned mother role the only way she knows how.
2022: 'Black Panther: Wakanda Forever'
Returning as Ramonda, the queen of Wakanda, Bassett is every bit as regal as she was in the first film. With her role expanded in the wake of Chadwick Boseman's death, Bassett delivers a stunning performance that many think will finally secure her second chance at Oscar gold.
Let's make things inbox official! Sign up for the xoNecole newsletter for daily love, wellness, career, and exclusive content delivered straight to your inbox.
Feature image by Emma McIntyre/WireImage
Tia Mowry has a refreshing take on divorce. The Sister, Sister star stopped by TODAY with Hoda & Jenna and opened up about divorcing Cory Hardrict and why instead of looking at ending her marriage as a failure, she is looking at it as a "graduation."
"I knew when I really started to focus on my happiness," she said when asked when she believed her marriage was over. "I feel like women, we tend to focus on everybody else's happiness, making sure that everybody else is okay — meaning our children, our friends, our family."
"But at the end of the day, it's about self-love. When you start to really work on yourself, love yourself, know your value and know your worth, then all of a sudden, there's this awakening. And it's not easy. It's a hard journey, but at the end of the day, I feel like it is so, so worth it."
The 44-year-old's social media followers have had a front-row seat to her self-love journey. Over the last couple of years, Tia has shared inspirational posts about self-love, self-care, and happiness. Sprinkled in were also adorable moments with her family. She shares two children with the All-American: Homecoming actor, Cree, 11, and Cairo, 4.
While surveying her life, she started therapy and also uncovered that she was dealing with a bit of sadness. "I feel like when I started to, again, like I said, focus on myself, but there was this sadness. And I knew that life is short," she said. "I had actually lost my grandmother. We had lost Alaina Housley (Tia's twin sister Tamera Mowry Housely's niece who was killed in the 2018 California mass shooting.) And both of them at the same time."
She continued, "There was just an 'aha' moment in me where I said, 'You know what? We need to tap in, see what's really going on with your happiness. Life is short. Let's go. Let's start working on you and really focusing on what really, really matters here, which is at the end of the day, your peace, your joy and your happiness.'"
Tia announced her divorce from Cory in an Instagram post on Oct. 4 after filing the day before. The divorce documents cited irreconcilable differences as the reason for their marriage's demise. The Game actress, however, is looking at the end of her marriage through a different lens.
"My marriage was a success. I look at it as like a curriculum when you're in college or high school. You're learning, you're growing, you're evolving, you're creating. I was able to create with Cory some beautiful, amazing children," she explained. "At the end of that curriculum, there's a graduation, there's a celebration. So that's basically how I'm looking at it now."
"And I feel like ... when (people) look at marriage, success equals longevity. But, no, at the end of the day, it's are they happy? Are they thriving? Are they growing? I feel like that is what is most important. It's not about staying in something because however long you are in that situation that equals success. It's about really, again, are you happy? Because life is really short."
Tia and Cory were married for 14 years.
Feature image by Albert L. Ortega/Getty Images
Let's make things inbox official! Sign up for the xoNecole newsletter for daily love, wellness, career, and exclusive content delivered straight to your inbox.
Hair Tales, the new OWN six-part docuseries hailing from the minds of noted documentarian and executive producer Michaela Angela Davis, media mogul Oprah Winfrey, and everyone's best friend in their head Tracee Ellis Ross who produces and hosts the series, tells the beautifully complicated relationship Black women have with our hair through a historical, political, and sisterly context.
Each episode uses the story of a famous Black woman we've all come to love and adore as a conduit to discuss the larger cultural context in which our relationship with our hair exists. xoNecole has compiled a list of our favorite moments from the series packed with standout moments.
"Our strength, our beauty, our power is in our crowns … but we are not those things also" — Tracee Ellis Ross
In the episode centered around Representative Ayana Pressley, she speaks about the painful decision to cut off all her hair after suffering from alopecia totalis, which caused her hair to come out in clumps. However, Rep. Pressley's journey of losing her hair liberated her, so much so that after wearing a wig on the house floor once, she decided from then on to show her head in all its glory.
"What I admired about women who changed up their hair a lot is that they were free" – Dr. Tiffany Gill 
Our favorite Awkward Black Girl Issa Rae talks to Tracee about the decision to cut off all her hair over a decade ago. Her journey with her hair would intertwine with her personal and professional journey as she launched her hit web series with the premiere episode showing her character shaving off her hair. "I was born — I was reborn — in a new way," she said. Looking at her hair throughout the years, you can track the evolution of Rae as a person by the varying hairstyles, as she has admitted in an interview that she started experimenting with her hair more as she learned more about it.
"If we can legislate hurt and harm, then we can legislate healing and justice" — Ayanna Pressley
The Crown Act, a bill co-sponsored by Pressley, seeks to end hair discrimination against Black people in schools and in the workplace. The bill, which is currently sitting in the Senate, if passed would be a bold step forward in combating toxic ideals about who or what is or isn't considered to be professional. That not only could natural hair be beautiful, but it could also exist in the workplace and classrooms.
"I live in God's dream for me" — Oprah Winfrey 
The executive producer of Hair Tales Oprah Winfrey speaks about her own relationship with her hair, which dates back to her childhood. She was taught that straight long hair was what was considered to be the pinnacle of beauty. The award-winning host even recalled a moment early in her career when her boss insisted she straightened her hair, even going as far as to recommend plastic surgery in order to assimilate to white beauty standards.
Feature image by LaylaBird/ Getty Images
Let's make things inbox official! Sign up for the xoNecole newsletter for daily love, wellness, career, and exclusive content delivered straight to your inbox.
Let's make one thing clear, we support Black women– period. Megan Thee Stallion has become the latest example of the mistreatment Black women often face when speaking up for themselves. Since July 2020, when reports first surfaced that Megan, born Megan Pete, was allegedly shot by singer/ rapper Tory Lanez, she has had to deal with the dual trauma of the initial shooting and the subsequent harassment by Lanez, his fans, powerful people in the music industry, and the overall effort to discredit her.
Gun violence is an issue that continues to disproportionately impact Black women. According to a 2022 study, "Black women are three times more likely to be fatally shot by an intimate partner compared to white women." (Megan has denied having an intimate relationship with Lanez.) During a particularly fraught time in hip hop, when we've lost so many artists to gun violence, including the recent murder of rapper Takeoff, it's difficult to witness the continued minimizing and victim blaming of Megan by her peers in the business.
xoNecole has compiled a timeline of the events that unfolded following Megan's shooting, including members of the industry who have seemingly undermined her story.
Let's make things inbox official! Sign up for the xoNecole newsletter for daily love, wellness, career, and exclusive content delivered straight to your inbox.
Feature image by Rodin Eckenroth/ Getty Images
Simone Ledward Boseman had her first sit-down interview since the passing of the love of her life and celebrated actor Chadwick Boseman. Chadwick, most known for starring in Black Panther, lost his battle with colon cancer in Aug. 2020 at the age of 43 and while his death was a shock to many, Simone and others close to the actor were privy to his diagnosis and were there for him during his final days. In a Good Morning Americainterview with The View co-host Whoopi Goldberg, Simone reflected on her life with the Oscar-nominated actor and coping with his death.
"I met this person, who was a wonderful man, and he ended up being a global superstar," she said. "And really, after Black Panther came out, it did kind of happen overnight."
She added, "I can't believe that I was so lucky. I can't believe that I got to love this person, and I also got them to love me too."
Simone and Chadwick met after he completed filming the 2014 James Brown biopic Get Up. He was attending a James Brown tribute concert at the Hollywood Bowl, which is where she worked and the actor expressed interest in her.
"We were on the side of the stage at a certain point, and I guess he didn't know if I was really catching his hints. And he just kinda randomly just bent down and untied one of my shoelaces … as a little joke," she said laughing. "And I said, 'Oh, okay, so this is flirting, this is him flirting with me.' And then he got back down and said, 'Oh, I'm sorry.' He got back down, and he retied my shoelace."
The singer admitted she fell for the Ma Rainey's Black Bottom star "pretty quick." "He was so intentional," she said. "He did not go into anything with his eyes closed. And I knew that I could follow him off the edge of a cliff because he's got a plan, you know?"
"I think when I really realized that, it was like, 'Okay. This is it. We're not going anywhere. I'm in it. He's in it.'" She added, "He was just the smartest, most caring, most genuine, most just real, authentic, truth in everything -- like nobody that I had ever met."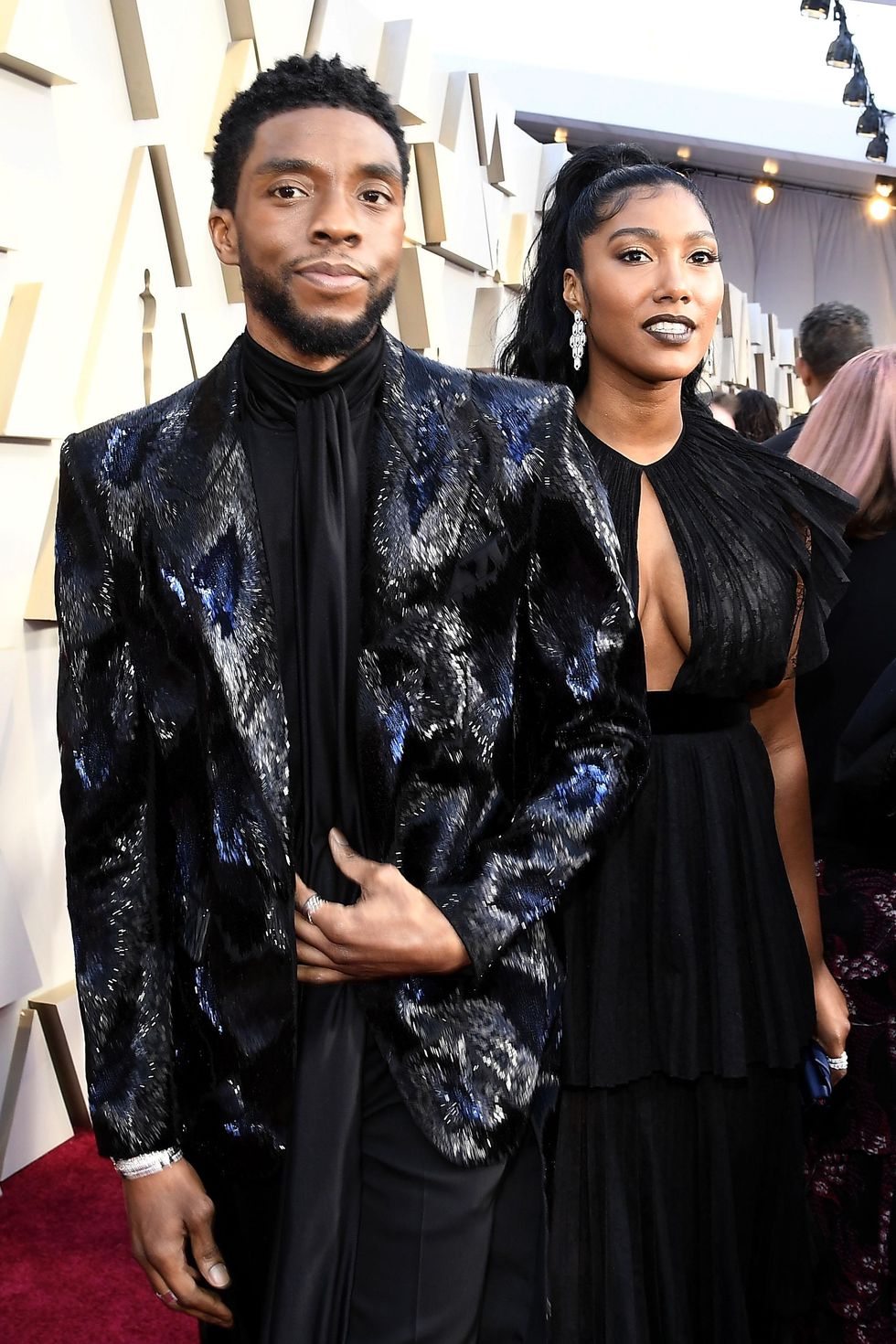 Kevork Djansezian/Getty Images
The two got married in 2018, two years after he was diagnosed with stage III colon cancer. When he died, his cancer progressed to stage IV, which was when the COVID-19 pandemic lockdown began. The Golden Globe winner decided to keep his battle with cancer private.

"That meant that everybody was in their house, and there was no pressure for anybody to go outside, or go to a meeting, or be seen," she said. "… As much as that [was] just such an awful time in the world, it seemed like, 'Is this a crazy coincidence that we get to actually be inside?' We get to be here with family… together."
She added. "Everybody in the world is also experiencing this togetherness in the midst of this awful, scary, unpredictable time, so it really reduced, I think, that risk of -- you have to be out, you have to go do this … It reduced that for us."
Simone has spoken on the impact Chadwick has had on her as well as others and she hopes to continue sharing his legacy with the world. Before he passed, the 42 actor expressed that he wanted to create a foundation for students in the arts. While the foundation is still in its early stages, Chadwick was still able to help young people thanks to his alma mater Howard University. The HBCU renamed its fine arts program the Chadwick A. Boseman College of Fine Arts and they even established a scholarship in his honor.
"I can't believe that I was so lucky," she said. "I can't believe that I got to love this person and I also got them to love me too. Sure, he was an actor and that was -- there was a lot of fun stuff that we got to do. But he was an artist."
"He was an artist, and he was a leader and he was a king. And that I got to be by his side for that -- that he chose me to be by his side for that is just -- it's the greatest blessing," she continued. "Even with the pain of his loss, now I still get to have this beautiful spirit relationship with him. And that, while it's difficult to accept, is also beautiful because he's an ancestor now. He is and he is never leaving me."
Chadwick Boseman's Widow Breaks Her Silence in Exclusive 1st Interview l GMA
Let's make things inbox official! Sign up for the xoNecole newsletter for daily love, wellness, career, and exclusive content delivered straight to your inbox.
Featured image by Jesse Grant/Getty Images for Disney
Yahya Abdul Mateen II is getting Marvel money. Deadline reported that the actor, who is currently on Broadway with Topdog/ Underdog, will star in the Disney + series Wonder Man. The Marvel comic premiered in 1964 and it tells the story of Simon Williams who takes over his father Sanford Williams's company. The character gains superpowers while working under Baron Zemo, whose villainous nature put him in opposition with The Avengers. However, Simon eventually joins the beloved superheroes to fight evil.
This isn't the first time that the Emmy winner has portrayed a comic book character. Yahya won an Emmy for his role as Cal Abar aka Dr. Manhattan in HBO's The Watchmen and David Kane aka Black Manta in Aquaman. Both are DC Comics.
Yahya has joined a growing list of Black actors that have entered the Marvel Cinematic Universe. Check the list out below:
Idris Elba
Idris Elba plays Heimdall in the Thor films.
Chadwick Boseman
The late great Chadwick Boseman played King T'Challa aka Black Panther in Black Panther.
Lupita Nyong'o
Lupita Nyong'o plays Nakia in Black Panther and Black Panther: Wakanda Forever.
Zoe Saldaña
Zoe Saldaña is Gamora in the Guardians of the Galaxy films.
Anthony Mackie
Anthony Mackie is now the new Captain America and will star in Captian America4.
Jonathan Majors
Jonathan Majors plays supervillain Kang the Conqueror in Ant-Man and the Wasp: Quantumania.
Letitia Wright
Letitia Wright plays Shuri in Black Panther and Black Panther: Wakanda Forever.
Teyonah Parris
Teyonah Parris plays Monica Rambeau in the Disney+ series WandaVision.
Samuel L. Jackson
Samuel L. Jackson plays Nick Fury in The Avengers movies.
Brian Tyree Henry
Brian Tyree Henry played Marvel's first openly gay character with Phastos in The Eternals.
Featured image by Alexander Tamargo/Getty Images for Universal Pictures