You know, there is something so refreshing about seeing this new, independent Tia Mowry. She is out here living her best, unapologetic, post-divorce, free, and fulfilled life. And honestly, we are here for it.
In fact, although her divorce was news to us, it absolutely was not the case for her, as the Sister, Sister alum recently shared with Today that she actually knew the exact moment she wanted to end her 14-year marriage with ex-husband Cory Hardrict.
"I knew when I really started to focus on my happiness. I feel like women, we tend to focus on everybody else's happiness, making sure that everybody else is okay — meaning our children, our friends, our family — but at the end of the day, it's about self-love."
Now, you can find her serving as resident content queen across our timelines, from hilarious Reels on Instagram to dinner recipes on YouTube. She's also taking more chances at owning her happiness and allowing us a genuine glimpse into who she is as a woman -- not the mom, the wife, or the actress -- even opening up on subjects that she never discussed publicly in the past.
Recently, she visited TheTERRELL Show on YouTube so the duo could indulge in a few libations and chat about life like old friends do (which, if you don't watch him regularly, definitely add his channel to your subscription list). They played games and discussed intriguing topics such as her divorce, how she's navigating the single life, The Game, and whether or not she's dating.
Highlights are below:
On acting not being her first passion:
As Terrell was giving Tia her flowers, coining her a triple threat, Tia revealed that she is actually a dancer at heart.
"I love to dance," she started. "And a lot of people don't know this, I actually was a dancer. The first jobs I got were being a dancer, so I danced with MC Hammer." She went on to reveal that she can in fact, "touch that" and that she didn't really have aspirations to be an actress at first.
"I would model, I would dance, there would be some singing. Honestly, my brother Taj was the bonafide actor."
On starring in 'Sister, Sister':
Mowry tells the story of how Sister, Sister came about after visiting the Full House set with Taj frequently at 14 years old. "Sister, Sister was actually created for us, so we didn't have to audition at all. My sister and I just kinda went into this room, and it was at Paramount Studios, and we just talked [about it]."
On Marques Houston being her actual real first kiss:
"You know I grew up on that show and you know I'm a teenager...my first real kiss was in the parking lot at Paramount Studio with Marques Houston. I wasn't allowed to date until I was 18, so this is probably the first time [my parents] are hearing this. Marques and I, we were really good friends, and we are still really good friends. So, hi, mom. Hi, dad. Sorry, Marques."
Terrell goes on to ask her how she and her twin sister, Tamera, didn't succumb to the horror stories of being child stars, to which she assuredly quipped, "because we had a mother that whooped our ass."
​On the chokehold 'Seventeen Again' had on the culture:
"I feel like it still resonates. A lot of people really, really loved that movie, and it's a classic, especially around that time you didn't see a lot of representation playing in movies like that."

On why she accepted the role of Melanie in 'The Game':
"I graduated from college in 2003. I knew I wanted--because I graduated with a psych degree in growth and child development--I knew I didn't want to go in that direction, so I said you know what, I have my degree, but I still want to act, and I was like you know what, this character is so me. [Melanie] was a girlfriend that was there for her boyfriend at the time, supporting his career...that's kind of where I felt I was in my life."
On why she (really) left 'The Game':
By this time, the shots had settled in, and Tia opened up about some of the politics that go on behind-the-scenes that make actors choose their own happiness over beloved characters.
"'The Game' was canceled from the CW, so there was a timelapse. Pooch (Derwin) ended up booking a show, and he was a regular on the show, which made him reoccurring on 'The Game.' So they said, 'well, you could come back but only as recurring.' And I valued myself, you know, and I said I feel like I'm more than a recurring. I am a regular. And I said 'no.'"

We stan a Black woman who knows her worth. #deuces
The interview closes out with Tia revealing that she's deaf in one ear, her struggles with breaking out as a solo actress without Tamera, and our girl even confirms that she may have been outside to see what the dating pool is all about.
Watch the full interview below:
TIA MOWRY Gets Drunk, Sings Brandy, Spills Marques Houston Tea, and Talks Dating After Divorce
Let's make things inbox official! Sign up for the xoNecole newsletter for daily love, wellness, career, and exclusive content delivered straight to your inbox.
Featured image by Arnold Turner/Getty Images for ESSENCE
Amala Ratna Zandile Dlamini, known professionally as Doja Cat, marches to the beat of her own electric guitar. As a rising juggernaut of the glitterati, she isn't someone you can box into any category, which spans from her red carpet or concert looks, all the way to how she communicates with her fans. No subject is considered to be an overshare, not even the honest news of cosmetic surgery.
The Grammy winner confirmed back in November 2022 that she had plans to undergo plastic surgery after the controversy over her sans-surgical body sent social media into a frenzy. "I'm literally about to get surgery this winter lmao," she tweeted. "I just want my titties pulled up cuz some of my tops don't fit the way I want them to." Since, she has taken to social media to inform her fans she'd officially undergone a breast reduction and liposuction, and she has reported back that she's doing just fine post-op.
She followed it up with how she's healing, saying:
The best part, in the most Doja-esque move of them all, after much speculation, she shut down the rumor mill and revealed that she actually got a breast reduction in lieu of the obviously-assumed enhancement, ultimately backing up what she told VLADTV in 2018, saying,"
There's these boobs out here that are two basketballs, and they don't make sense. They defy gravity; they defy science. It's unexplainable. It's f**king, yeah. I don't get it. I don't get fake boobs."
Although this isn't the "Kiss Me More" singer's first stint with public rest for medical reasons. While she's home healing now, last summer she was in the same predicament for surgery to have her tonsils removed. Doja shared photos from the hospital after having two surgeries on her tonsils, which ended up being the removal of an abscess from her left tonsil.
"My whole throat is f---ed so i might have some bad news for y'all coming soon. I was taking f---in' antibiotics but forgot that i was taking them and then I drank wine and was vaping all day long and then I started getting a nasty-ass growth on my tonsil so they had to do surgery on it today," she revealed.
Where all this leaves us as far as her new music goes is unclear for now as she is tight-lipped, but while we patiently await an update on Doja's fourth studio album, she made it pretty apparent that she's doing some much-desired upgrades in the interim, with a possible break from her career on the horizon.
"I want to finish this tour up, kill it, and see my fans happy. And then, I want to start writing again. I'm going to finish this next album, and then I'm going to get the f*** out for a second. I want to disappear for a little bit and just do things like wear slides and go to the farmers market."
Doja's new project is slated to hit us in the mouth sometime this year, as she has discreetly shared small details through profile edits on social media into what we can expect next. The Planet Her creator told Variety last month that this album will have more "masculine" elements, "I know that I've done a lot of pink and soft things, a lot of pop and glittery sounds, but for this next era, I'm going in a more masculine direction."
A direction we're excited to see as soon as frickin possible. Wishing you a speedy recovery, sis!
Let's make things inbox official! Sign up for the xoNecole newsletter for daily love, wellness, career, and exclusive content delivered straight to your inbox.
Featured image by Jeff Kravitz/FilmMagic

Gather 'round all! The one and only Megan THEE Stallion is back, ladies, she's back! After dealing with a hectic few months, our girl decided to channel the negative energy into a statement new look, just in time for last week's Vanity Fair's Oscars Party in Beverly Hills.
The annual event is considered a rite of passage in Hollywood, serving as a key celebration for the who's who of the industry – actors, directors, casts, crews, managers, agents, artists, and so on, all of which trade one red carpet for another and pull off a wardrobe change before showing out on the dance floor.
This year's guest list consisted of Donald Glover, Till's Danielle Deadwyler, Tracee Ellis Ross, Gabrielle Union, Queen Latifah, and so much more.
Draped in a custom Houston couturier Bach Mai gown, Thee Stallion worked the room and cameras, reminding us all that resurfacing happy, healthy, and healed is our favorite outfit for Black women. Additionally, it was confidence that was the period on the sentence for me because not only was she basking in the galaxy of BGM, but she also came with Big Hair Energy.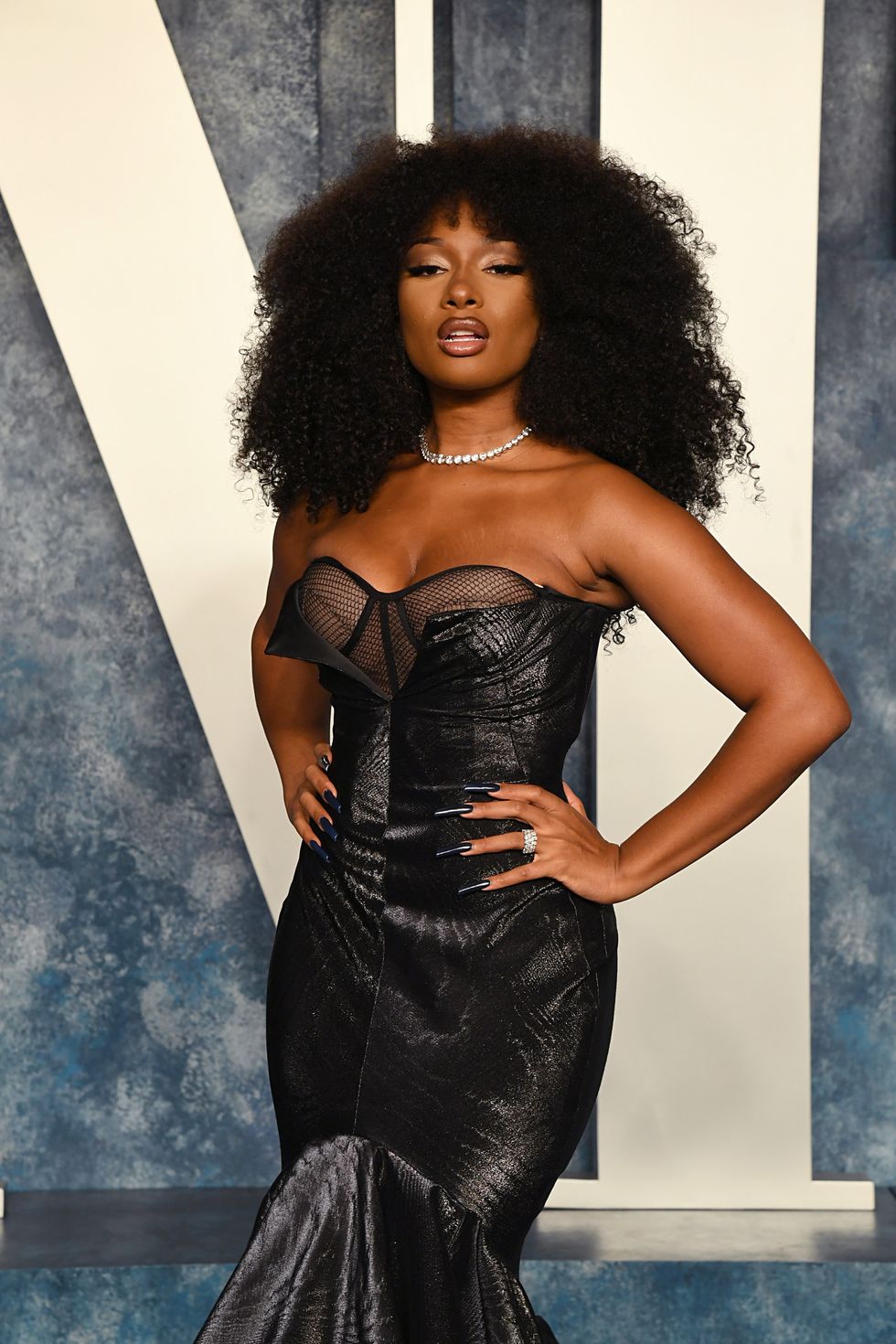 Jon Kopaloff/Getty Images for Vanity Fair
It was all in her walk, in her poses, the photos that she posted to IG, and even in the brief red carpet interview where she was asked if she is working on new music, to which she dropped the most Meg response possible.
And listen, Big Hair Energy is never about hair, after all. As Zendaya once said, "It's never 'just' hair." Black women have an unspoken but known code that comes with wearing our natural hair in predominantly white spaces. Taking this another step by wearing our natural hair as an afro, can be even more of a "Black-girl-glance" moment.
Zendaya
As previously mentioned, Zendaya, who is known for taking risks with her hair, never shies away from her Big Hair Energy. She looked like pure royalty when she stepped straight out of an Afrosheen commercial and headed to the 2017 Instyle Awards with the most perfect hair.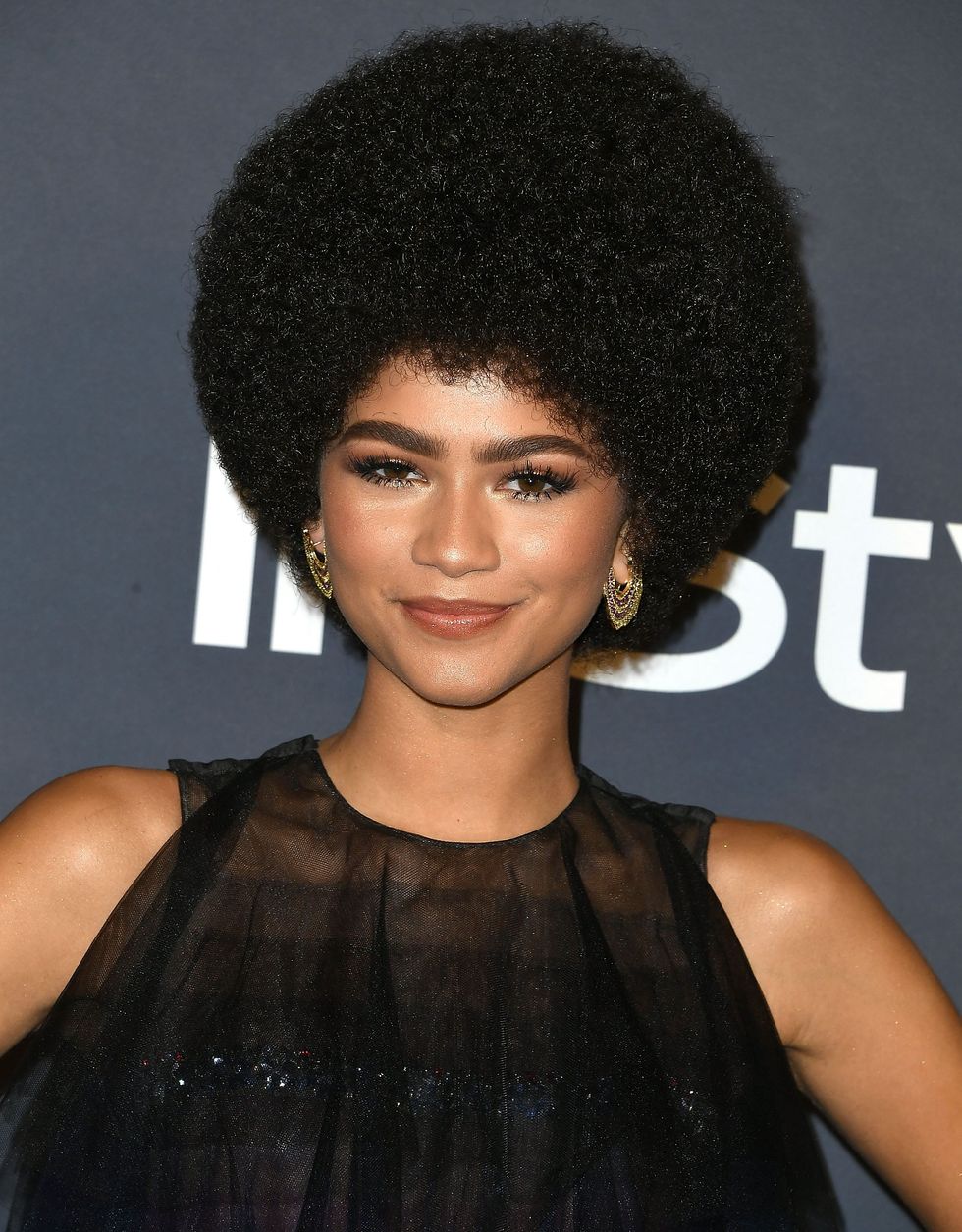 Steve Granitz/WireImage
In a post shared to her Instagram, she credited her 'stunning aunties (who were members of the Black Panther Party) for inspiring her to wear the iconic look, saying, "Last night's inspo...my stunning aunties and a hint of Angela Davis." Zendaya has spoken in the past about the importance of representation in pop culture, and she also wore a blown-out style to the 2017 Met Gala.
Viola Davis
In 2012, Viola Davis pulled up to the 84th Academy Awards with her 4B and 4C curl pattern on display, and she has done so frequently on numerous red carpets. Whether in Cannes or Brooklyn, auntie has zero regrets for unapologetically being who she is.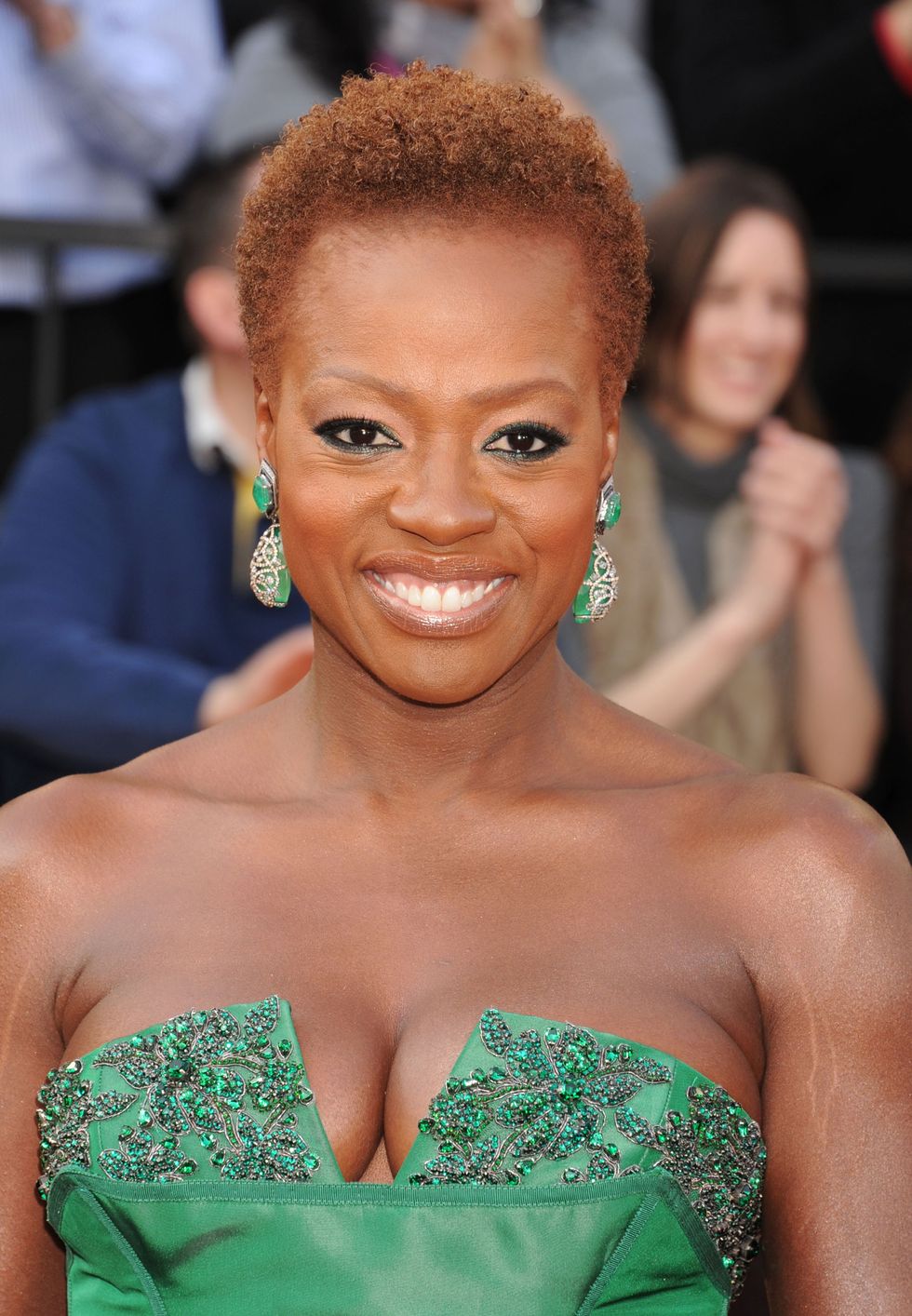 Jeffrey Mayer/WireImage
Lupita Nyong'o
Lupita Nyong'o spared no glances at the 2019 Met Gala, with her 'fro updo with the culture on full display as she wore multiple gold-hued Afro picks. Of the style, her hairstylist, Vernon François, captioned on IG, "Our goal is to continue to demonstrate the power of our hair texture that it is the most moldable and luxurious hair texture there is." Nyong'o frequently pushes the boundaries of beauty through style and hair, making her a favorite to see before any award show.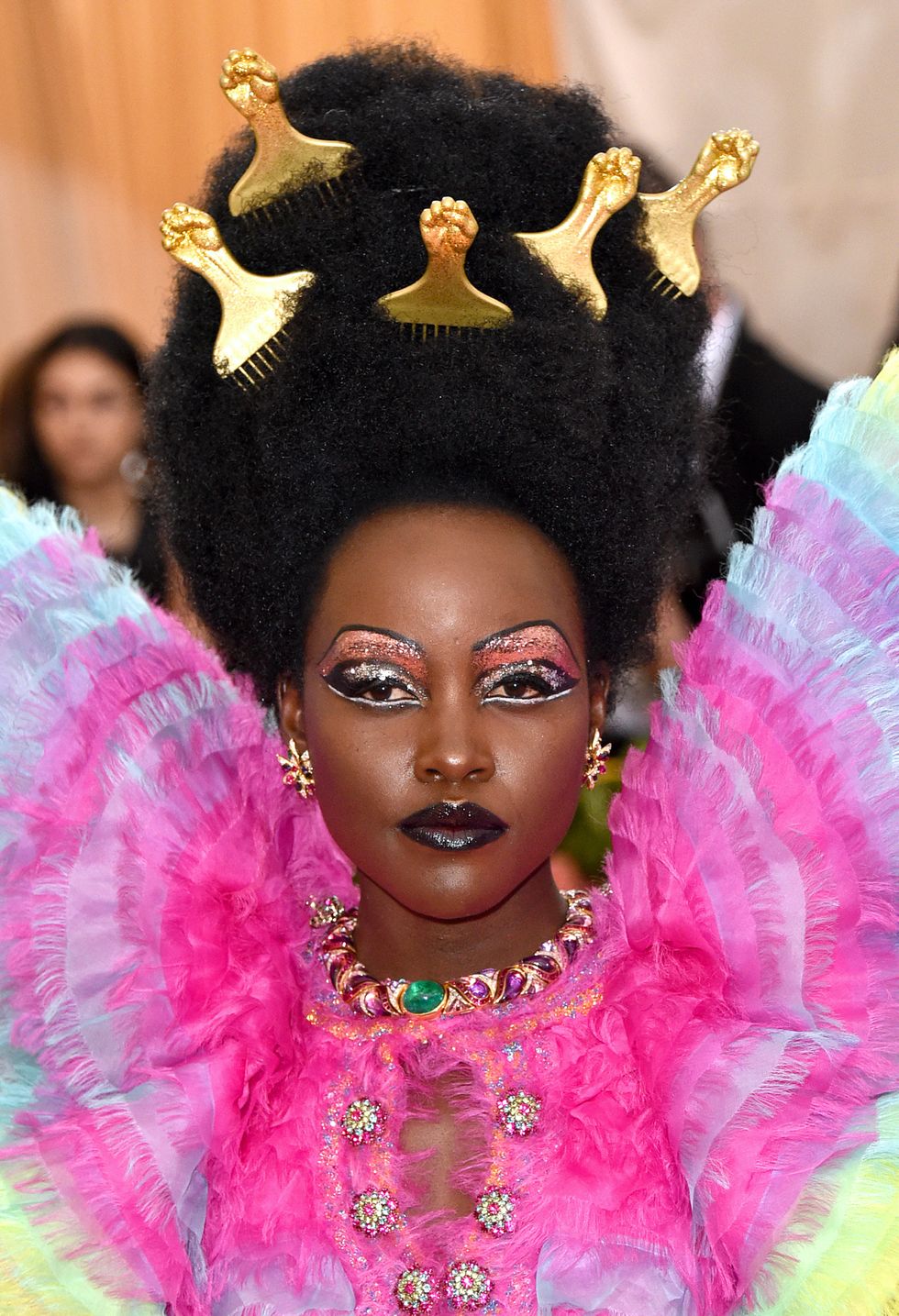 John Shearer/Getty Images for THR
Solange
Solange, who may single-handedly be the face of Big Hair Energy, is frequently in her big hair season, enough for her to popularize the phrase, "Don't touch my hair" and put it on wax. The 2013 Met Gala was no different, where she showed up to do the tireless work of redefining the standards of unconventional beauty. From her ever-changing hairstyles of long braids to natural curls to bold pixies, Knowles proves she is never afraid to play up her tresses.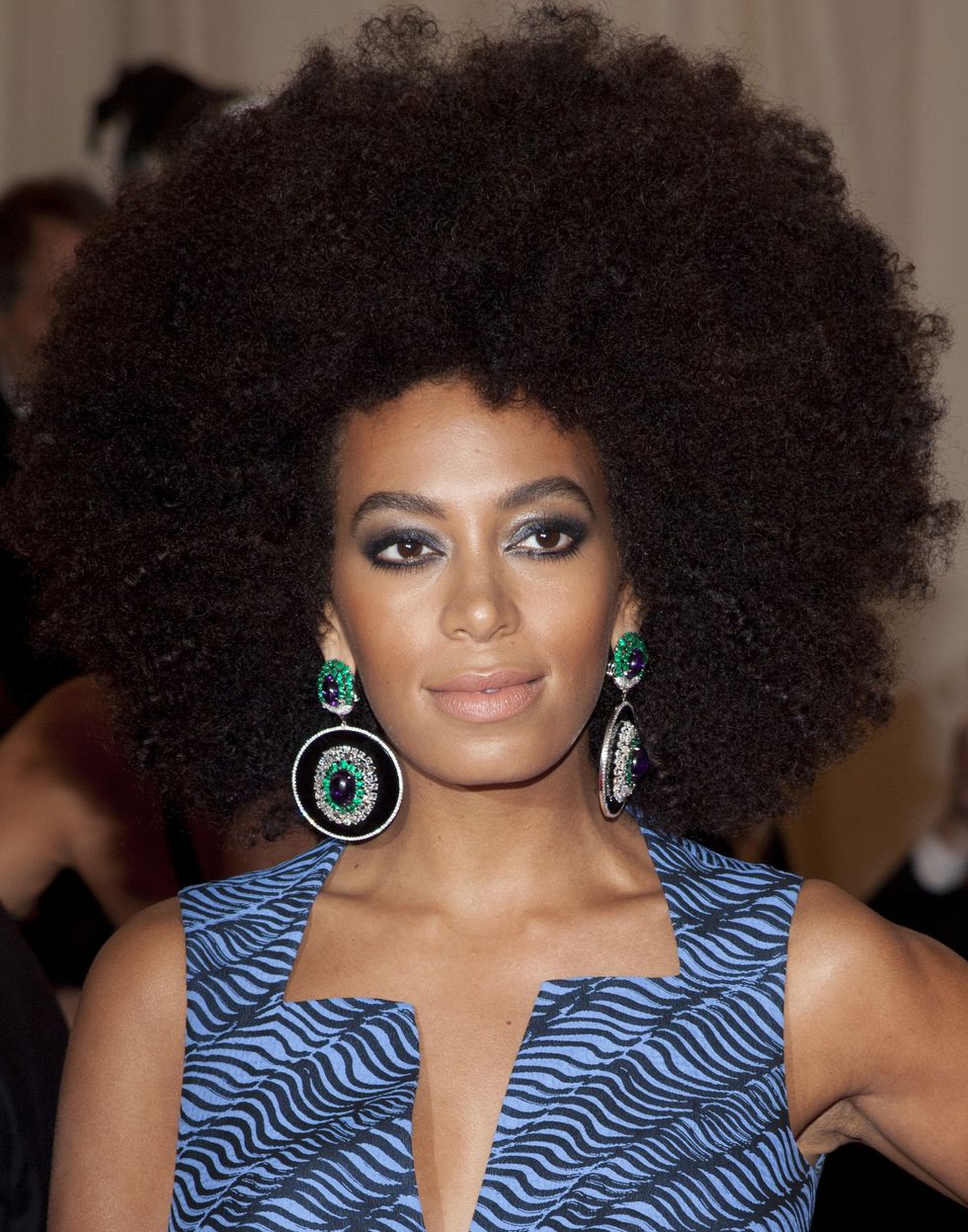 Lars Niki/Corbis via Getty Images
Other celebs such as Jill Scott, Erykah Badu, and others have proudly rocked their large tresses on the red carpet, with hopefully more up-and-coming artists falling in line.
Which celeb would you say have Big Hair Energy?
Let's make things inbox official! Sign up for the xoNecole newsletter for daily love, wellness, career, and exclusive content delivered straight to your inbox.
Featured image by Karwai Tang/WireImage
Some engagements last a lifetime, while others can last less than a month. Both aren't any of our business, but it is an interesting topic: what is a good timeline for engagement?
Well, this depends on who you ask.
Recently, Tamar Braxton was a guest host on the syndicated radio show, The Breakfast Club alongside DJ Envy and Charlamagne tha God. When discussing daily topics, the hosts got on the subject of proposing, and the pending timeline of when the marriage should take place afterward. Envy and Charlamagne each agreed that the answer isn't definitive, but Tamar made it clear very quickly that when it comes to time, sis does not have it.
When asked if her opinion formed because a person she dated in the past took too long to get to the altar, Tamar quipped:
"No, you don't have that long with me. Listen, this table is a reserved table, people want to sit at this table, okay, you can't hold up this table that long."
The words must have gone from her lips to the universe's ears because soon after, the news broke that the Grammy nominee was engaged to her "best friend, life partner, and fiancé," Jeremy "JR" Robinson, who she recently brought in her 46th birthday with (and a bit more drama).
"Happy birthday to an amazing woman. It's just the beginning of your birthday, but we're gonna have fun in New York and Miami, and Atlanta. Here's to 46. Let the fun begin," Robinson says in the post.
Tamar got engaged to her Queens Court finalist in the Peacock dating show's final episode.
"I knew I was different than my siblings," Braxton told Robinson in the episode. "I prayed for somebody to understand me and not look at me and my flaws and just accept me for who I am. And then I met you. And then I saw every single thing that I ever prayed for as a child."
Robinson proposed to Braxton on the season's finale, saying, "I don't wanna be your friend. I wanna be your husband. I'm here forever because I don't see my life without you. And I love you, Tamar. Tamar, will you marry me?" to which she accepted. An update at the end of the episode confirmed that the two have been planning their wedding, which stands true to what she preached as a guest host.
And she even threw a few hints of her new love into the mix when asked if she wanted to have more kids at The Breakfast Club too.
"I did. I just believe in having kids in a different kind of way, like I'm into blended families now. I feel like I can offer a child a different kind of love, you know, so I don't necessarily have to birth another child for that child to feel like my own."
JR has kids with four different women. One of those women recently had a few shady thangs to say about the couple, to which both he and Tamar shut down with class.
In the end, Tamar just wants the ladies to stop allowing men to prolong the relationship with stalling tactics steeped in engagements:
"You've got to love yourself [enough] to move on. If you're not ready to get married, just date. The clock starts now. If you're engaged, we are in the planning of our life. So, if you're not into planning our life, then don't ask her."
You better say that.
Let's make things inbox official! Sign up for the xoNecole newsletter for daily love, wellness, career, and exclusive content delivered straight to your inbox.
Featured image by Paras Griffin/Getty Images
Joey Bada$$ sat down with xoNecole for an exclusive xoMan Live interview about his views on love, relationships, and life, and during that chat, he answered the questions we all wanted to know. The Power Book III: Raising Kanan star has been making headlines with singer/ actress Serayah after rumors of them dating began swirling. He posted a photo of them together on Instagram on what looked like a date, and a day later, the singer shared a photo of them together on her page.
Serayah also stars in the rapper's new music video "Show Me," in which they play a couple. While talking about how he and the Empire actress met, he revealed whether they were lovers.
"Serayah and I- I'm trying to think when did we cross paths?" he asked himself out loud. "We have some mutual friends. I think we found ourselves at a few, like at the same events. And you know, we just became really cool, you know?"
Featured image courtesy of Joey Bada$$
It was thirteen years ago, almost to the day, that Rozanda 'Chilli' Thomas blessed us with reality TV greatness at a time when reality TV was in its prime. It may not have been on your bingo card in 2010 for 1/3 of mega group TLC to be showing the world What Chilli Wants, but it certainly was a time.
Chilli, who has been linked to super-producer, Dallas Austin (also who she shares her only son with) and held down a high-profile romance with the one and only Ursher Baby, was almost 40 years old at the time, and still navigating love like the rest of us. The show lasted for two seasons and gave us plenty to openly discuss amongst girlfriends, such as the importance of knowing, having, and standing firm on our "lists" – or the list of requirements we're looking for in a partner (y'all remember that?).
Anyway, fast forward to today, where our girl's dating life had flown under the radar until last August when rumors began to swirl that the "No Scrubs" singer was getting her sip on in Waikiki with Boy Meets World star, Matthew Lawrence. And although this probably wasn't on our bingo card either, the two eventually made it all Insta-official when sis claimed him while promoting his new podcast with his also-famous brothers Joey and Andrew, titled, The Brotherly Love Podcast.
The best part? He adores her, y'all. Like truly speaks highly of her, which you know we're always here for a Black woman being loved at 100%.
Lawrence spoke about their relationship, how they connected, and more withEntertainment Tonight, saying "I hope," when pressed on whether a family with Chilli is on the table.
"That's the game plan. That's what we're trying to do. My life is in complete bloom right now. I get to spend time with an amazing woman like Chilli," he noted, before describing the singer as "really, really special."
Chilli is already a mother to 25-year-old son, Tron, and Lawrence, has no kids, but is coming off of a divorce from Dancing With The Stars alum, Cheryl Burke.
Lawrence also revealed how they connected and that it was a snowstorm that prevented their relationship from becoming a missed connection.
"I had to be back for work, so I was getting (the airline) to change my flights all around," he explained, adding that the only flight that was available for him at the time was one with a connecting stop in Atlanta, where Chilli lives. The opportunity allowed the two to talk and before parting, the two agreed to stay in touch. "It almost did not happen. I mean, literally an hour before the flight took off, they're like, 'Okay, we got you on this flight. You gotta go.'"
The two did in fact stay in touch. So much so, that the energy is permeating through Lawrence's brother, Joey, who told PEOPLE, "She's great, a sweet person, super genuine, so warm and kind. And yeah, they're just having a great time and it's just good to see him happy and he makes her happy. So that's all you can ever ask for. Life is [full of] unexpected twists and turns — you don't know what's up next, but you just hope that everybody ends up happy. And he's happy right now and she's happy, and that makes us happy."
It must be so rewarding to find a new love willing to openly meet you in whatever season your life is in.
As for Chilli, she believes in God's timing, writing on Instagram: "God has perfect timing. Never early and never late," her New Year's Eve post read. "It takes a little patience and a lot of faith."
You better say that.
Congrats, lovebirds!
Let's make things inbox official! Sign up for the xoNecole newsletter for daily love, wellness, career, and exclusive content delivered straight to your inbox.
Featured image by Randy Shropshire/Getty Images for Lifetime