London Alexaundria
London Alexaundria is the contributing editor for xoNecole. She is an alum of Clark Atlanta University, where she majored in Mass Media Arts and has worked in journalism for over ten years. You can follow her on Instagram and TikTok @theselfcarewriter
Russell and Nina Westbrook are one of those low-key, unproblematic couples we don't talk about enough. They met in college and got married in 2015. They also have a beautiful family with three kids. While Russell is an NBA star, Nina is a licensed family and marriage therapist and a mental health advocate.
She recently launched the podcast The Relationship Chronicles with Nina Westbrook, and in the latest episode, she had none other than her husband on as a guest. The college sweethearts dived into important topics from marriage to children and how they navigate it all.
One of the topics they touched on was dealing with resentment in your relationship. The former MVP highlighted the sacrifices his wife has had to make in order for him to pursue a career in the NBA, and that's why it's also important for him to support his wife whenever he can.
Feature image by Jon Kopaloff/Getty Images for Religion of Sports
There's people who perform songs, and then there's performers, and let me tell you something: Victoria Monét is a PERFORMER. I first fell in love with her as an artist after hearing her hit song "Moment," and then when her album JAGUAR was released in 2020, I was hooked. JAGUAR was one of those albums that I kept on repeat as I and the rest of the world were going through the motions of being in a pandemic. I remember watching her perform her single "Jaguar" from the album on her YouTube channel, and the way she performed so effortlessly with such confidence, I knew I had to see her live.
Luckily, I got the opportunity. Along with dropping JAGUAR II, which features the viral single "On My Mama," Victoria also announced The Jaguar Tour, and as soon as the tickets dropped, it quickly sold out. I attended her Atlanta show at the Buckhead Theatre, and besides being met with a sea of concertgoers from wall to wall, my ears were immediately hit with a beautiful voice from none other than Alex Vaughn, who opened for the mother of one. Once Alex finished her set, it was time for the main event.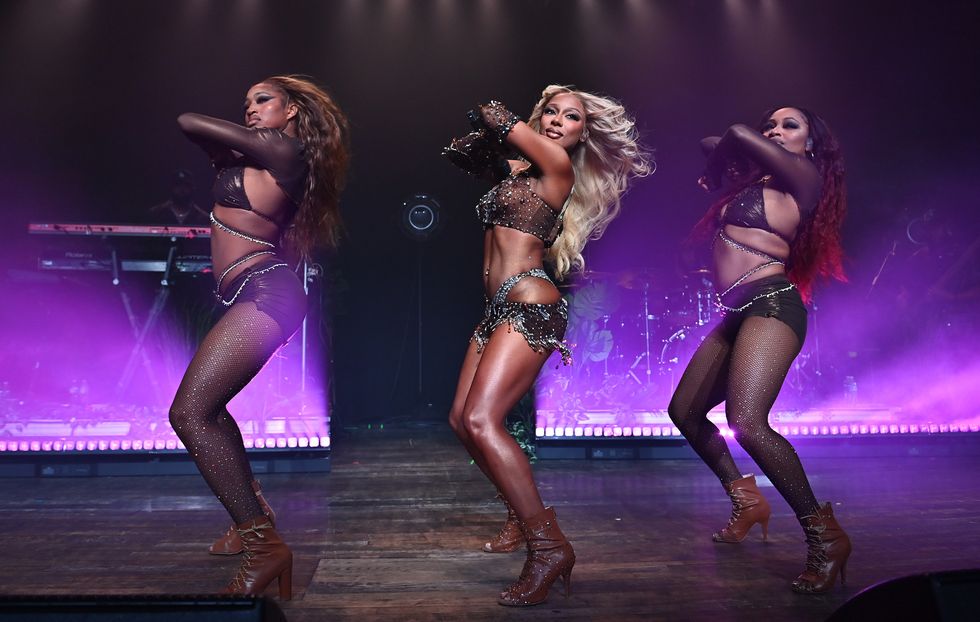 Victoria Monét
Photo by Paras Griffin/Getty Images
As soon as Victoria stepped on stage, it was hers. She commanded the room with her sultry voice and hypnotic dance moves, performing songs from albums JAGUAR I and II and previous projects such as Life After Love, Pt. 1. Fans were singing her songs word for word to the point where, at times, you no longer heard her singing. However, it was clear that she was in a room filled with love and support, and she also showed it back on stage. The singer rarely took breaks in between songs and dazzled fans with her smooth moves that is reminiscent of the legendary Janet Jackson.
One of my favorite moments was when she performed "Cadillac (A Pimp's Anthem)." She dressed in a trench coat and fedora, complete with her pimp cane, and another big moment was when she performed "Stop (Askin' Me 4Shyt)". Overall, it was nice to vibe out to live performances of some of my personal faves like "Ass Like That," "How Does It Make You Feel," "Alright," and "Big Boss." In a recent cover story for Galore, Victoria revealed what she hopes concert attendees walk away with.
"On tour, I really wanna give people the best version of Victoria on stage, better than I've ever been before. I'm hoping people have the time of their life at the show," she said. After working behind the scenes as a songwriter for so long, the California native now has all eyes on her, and it's clear she was ready for this moment.
Feature image by Paras Griffin/Getty Images
Watching Angela "Blac Chyna" White's transformation in real-time has truly been a sight to see. It wasn't that long ago that she announced that she was reversing her cosmetic surgeries in an effort to go back to who she was before the world came to know her as Blac Chyna. In previous interviews, she stated that she was dissolving her facial and lip fillers, removing her breast implants, and getting a butt reduction, as well as removing the dimple piercings that enhanced her fame and controversial tattoos.
In a recent Tamron Hall interview, the mother of two said that she has "fully recovered" from the procedures. She is also celebrating one year of sobriety and opened up about being worried about how her new journey would be received by others.
"I've been in the entertainment industry for so long, right, and of course, like, you know, coming out, I'm like young, I'm gonna do wild things as we all have," she said.
"...I feel like by me being vocal and showing everybody you can change your life and things can get better, like through myself, that right there is an accomplishment, and that's a part of freedom, too."
But as she started on her journey, many people have shown her grace, which is something she's grateful for. "And then the fact that people have been showing me grace, it's like amazing," she said. "And I feel like when I did it, I just did it. It was more so like spiritual thing and I feel like people see that, and I've always been like my authentic self, so what you see is kinda what you get with me, and that's just kinda what it is."
Chyna, who recently received an honorary doctorate from Sacramento Theology Seminary and Bible College, has also repaired her relationship with her mom, Tokyo Toni. The social media celebrity surprised her daughter on the Tamron Hall Show. Prior to the sentimental surprise, Chyna dished on the reconciliation and having a better understanding of her mom.
"I must say, some of the things I have to take accountability for because, like my actions. As a mother, you don't want to see your daughter doing certain things 'cause it's like it doesn't matter what my past was or what we're going through, I didn't raise you that way," she admitted. "So, it's like, okay, maybe I was a little bit wrong. Maybe I was acting out a little bit. But I feel like as we grow older, I kinda see more, and I understand more."
Chyna will be starring in season two of Fox's reality competition show Special Forces: World's Toughest Test.
Feature image by Kevin Winter/Getty Images
Glass skin is a popular Korean beauty term and trend that has taken over many of our For You Pages on TikTok. However, if you're unfamiliar with the term, glass skin essentially means skin that is so flawless that it looks like a piece of glass. Many Black women have also taken on the trend and shared their skincare recommendations on how they achieve glass skin. Because a lot of Black women deal with similar skincare struggles, such as hyperpigmentation, xoNecole spoke to dermatologists on how they can, too, obtain immaculate skin that gives the appearance of glass.
K'ept Health is a virtual dermatology clinic that provides affordable virtual visits with board-certified dermatologists and skincare consultations with licensed estheticians, helping women reach their skincare goals. Sheena D. Franklin founded K'ept Health with women of color in mind by ensuring that women receive care from dermatologists who are experienced in treating skin of color and holistic care.
@beingcrystalnicolee

Affordable glass skin routine to reduce hyperpigmentation for under $100 | yall asked for a more affordable skin routine & here it is! @Good Molecules cleanser $12 and brightening toner $14 @The Ordinary hyaluronic acid $9, ascorbic acid (form of Vit C) $12, and retinol emulsion $11 @Black Girl Sunscreen moisturizer + spf $16 #affordableskincare #affordableskincareroutine #hyperpigmentation #fyp #hyperpigmentationtips #skincare101 #skincaretips #skincareroutine #skincareproducts
"The number one concern we routinely hear is acne coupled with postinflammatory hyperpigmentation, followed closely by hair loss," Franklin said.
Franklin, along with her medical advisors, Dr. Chesahna Kindred, MD, MBA FAAD, and Dr. Keira Barr, MD, works to address challenges many women of color face "while centering the experience of Black women." Below, the K'ept Health team gives us a step-by-step process of achieving glass skin.
Feature image by Delmaine Donson/ Getty Images
Savannah James may have become a household name by being married to NBA star LeBron James. However, the mother of three has garnered her own fanbase thanks to her classical beauty and style. If you're one of her 2.3 million followers on Instagram, then you've had a front-row seat to her effortless style and mom life. Now, Savannah is giving us a peek into her bathroom, aka her "beauty space."
Talking to Allure, the entrepreneur shed light on her beauty and skincare routine. While she enjoys glam, she knows that beauty comes from within and makes sure to instill that in her 8-year-old daughter Zhuri. "Whether you are done up to the gods or at home with a pimple patch and bonnet on, you're beautiful and it's enough," she said. "You don't have to do any more than that if you don't choose to."
Below are four essentials that make up Savannah's beauty space.
Feature image by Alberto E. Rodriguez/Getty Images
It's official! Nelly finally confirms that he and Ashanti have rekindled their romance. The "Country Grammar" rapper sat down with Love and Hip Hop Atlanta stars Rasheeda and Kirk Frost on Boss Moves with Rasheeda and revealed the news (although this comes at no surprise to many of us who've heard the rumors.) "Yeah, we cool again. I think it surprised both of us, though," he said, smiling. "It wasn't anything that was like, I don't think planned. I think we both was pretty much doing what we do, but sometimes, being separate, you understand one another more.
He continued, "You can be like, well, yo, let me see exactly what they see, you know, 'cause we all can be defensive sometimes in our own relationships. We know we wrong, but we gonna stand on it, but we all are victim to that." When Rasheeda asked him if it felt good to get back with the "Baby" singer, he replied, "Yeah."
"I mean because it's no pressure. Before, I feel like both of us are doing what we doing career-wise, and when you got so many people in the middle of it, it could be tough," he said.
After the news came out, Ashanti later hit the 2023 VMA's red carpet wearing a clutch with a picture of the couple plastered on it, and it was giving "my man, my man, my man." However, she told ETthat the photo on her clutch was taken at the 2003 VMA's 20 years ago. We love a full-circle moment.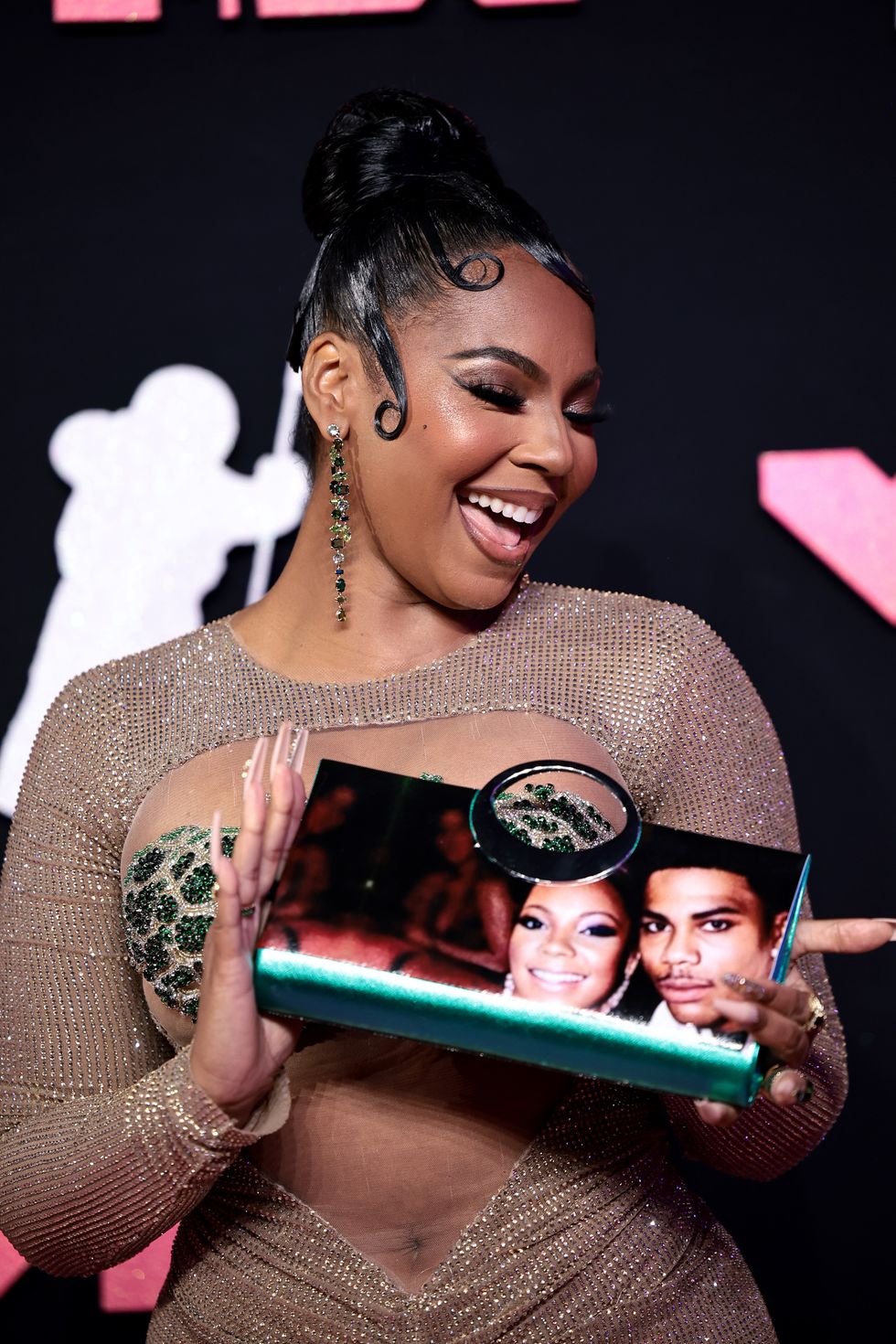 Photo by Dimitrios Kambouris/Getty Images
Rumors of the couple rekindling their relationship started in December 2021 when they performed their song "Body On Me" together during Power 98.3 and 96.1's Under the Mistletoe concert. From there, they were spotted together many more times, further fueling the rumors. The couple has a long history together filled with beautiful moments that make them one of the most beloved celebrity couples in music. Here's a look back on their love:
2003: Nelly and Ashanti Meet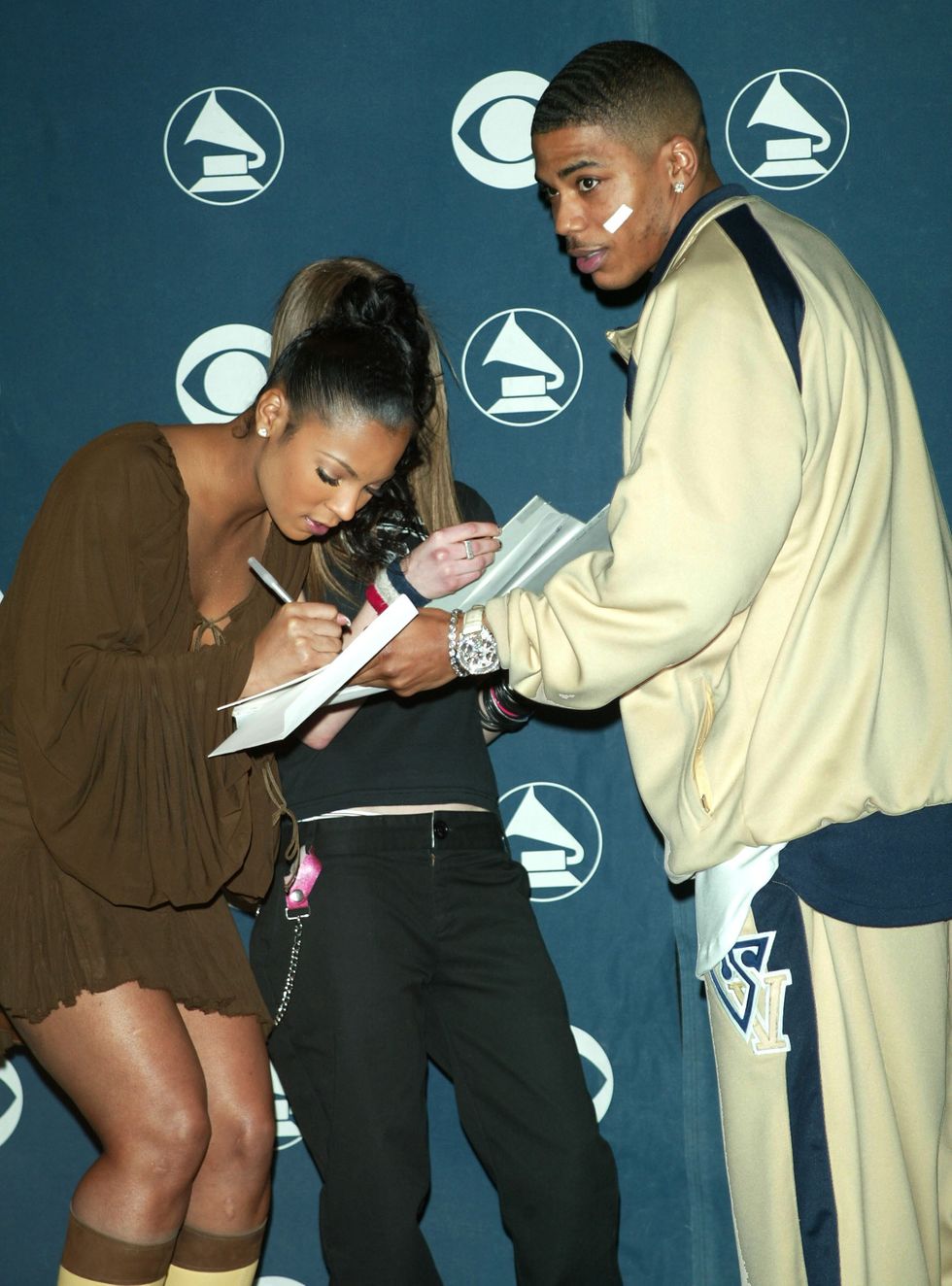 Photo by Evan Agostini/Getty Images
Nelly and Ashanti meet for the first time at the Grammy Awards press conference in 2003. In a 2011 episode of VH1's Behind the Music, the "Foolish" singer reflected on that moment. "The first time I met Nelly, he asked me for my autograph, but I think he was being sarcastic, and I remember writing it down on the program," she recalled. "That picture has been in so many publications as something else, but it all started out as a joke. For the record, it took him a long time to get my number."
Nelly and Ashanti Begin Dating
However, it wasn't long after meeting that the two reportedly began dating.

2008: Ashanti Teases Future Engagement to Nelly
The couple kept their relationship relatively private. However, Ashanti did give some insight into their future plans. In an interview with People, the Grammy award-winning artist teased a possible engagement. "Oh no. Noooo! No engagement." she said while responding to rumors of an upcoming wedding, "But definitely in the future. Ha! Ha!"
Nelly and Ashanti Collaborate on Music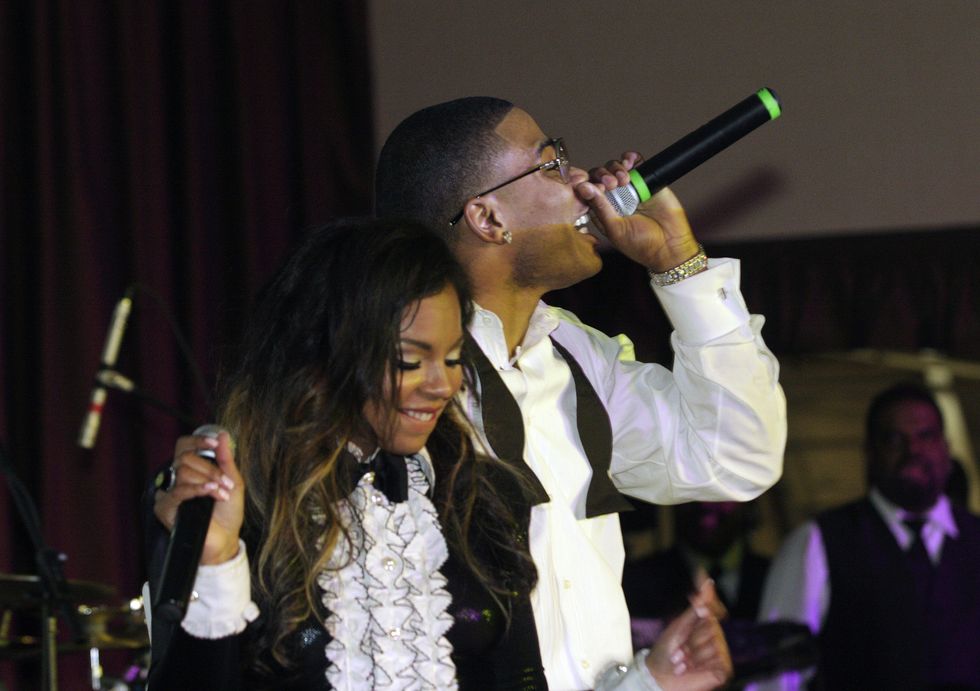 Photo by Thomas Gannam/WireImage
Nelly and Ashanti collaborated on the song "Body On Me," and the "Dilemma" rapper also starred in the singer's video for "Good Good."

2010: Nelly Explains Why He Isn't Ready for Marriage
In an interview with Rap-Up TV, Nelly revealed why he has yet to propose to Ashanti. "I don't know, right now we're just friends," he said. "I'm married to my work. I'm married to getting things into a certain situation. She's married to getting things into a certain situation right now."
He concluded, "We enjoy each other's company. We love it."
2013: Nelly and Ashanti Break Up
In 2013, the couple reportedly split after a decade together.
2014: Ashanti Calls Nelly Her First Real Love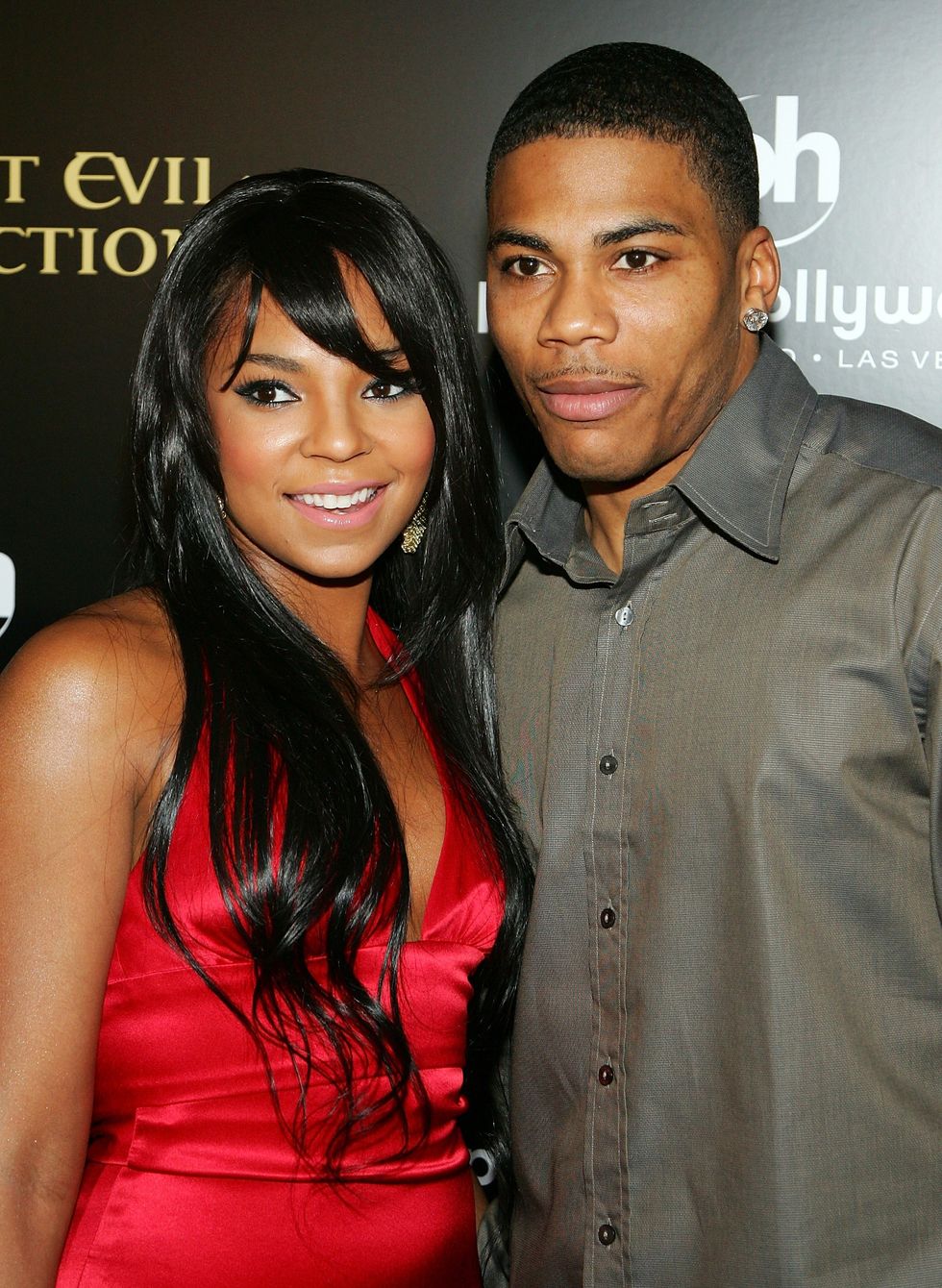 Photo by Ethan Miller/Getty Images
Talking to Sway in the Morning, Ashanti revealed that Nelly was her "first true love."
Nelly Begins Dating Shantel Jackson
That same year, Nelly began dating Shantel Jackson.

2015: Ashanti Said Nelly 'Betrayed' Her 
Ashanti opened up about her breakup with the diamond-selling artist on The Meredith Vieira Show. "I think sometimes when people have their own insecurities, it allows them to act out of character," she said. "I've been betrayed."
She continued, "And I feel like, again, you just have to grow. You have to grow up and accept responsibility for the things that you do. I'm not a big fan of people being cowards. I think it's really important to know yourself and understand what you want and get it. I'm in a different place right now."
2021: Nelly and Shantel Split Up
Shantel confirmed that she and Nelly broke up while replying to a fan on Instagram. "No we're not ….. Just friends," she said after being asked if they were still together.
Nelly and Ashanti's Verzuz Hug Goes Viral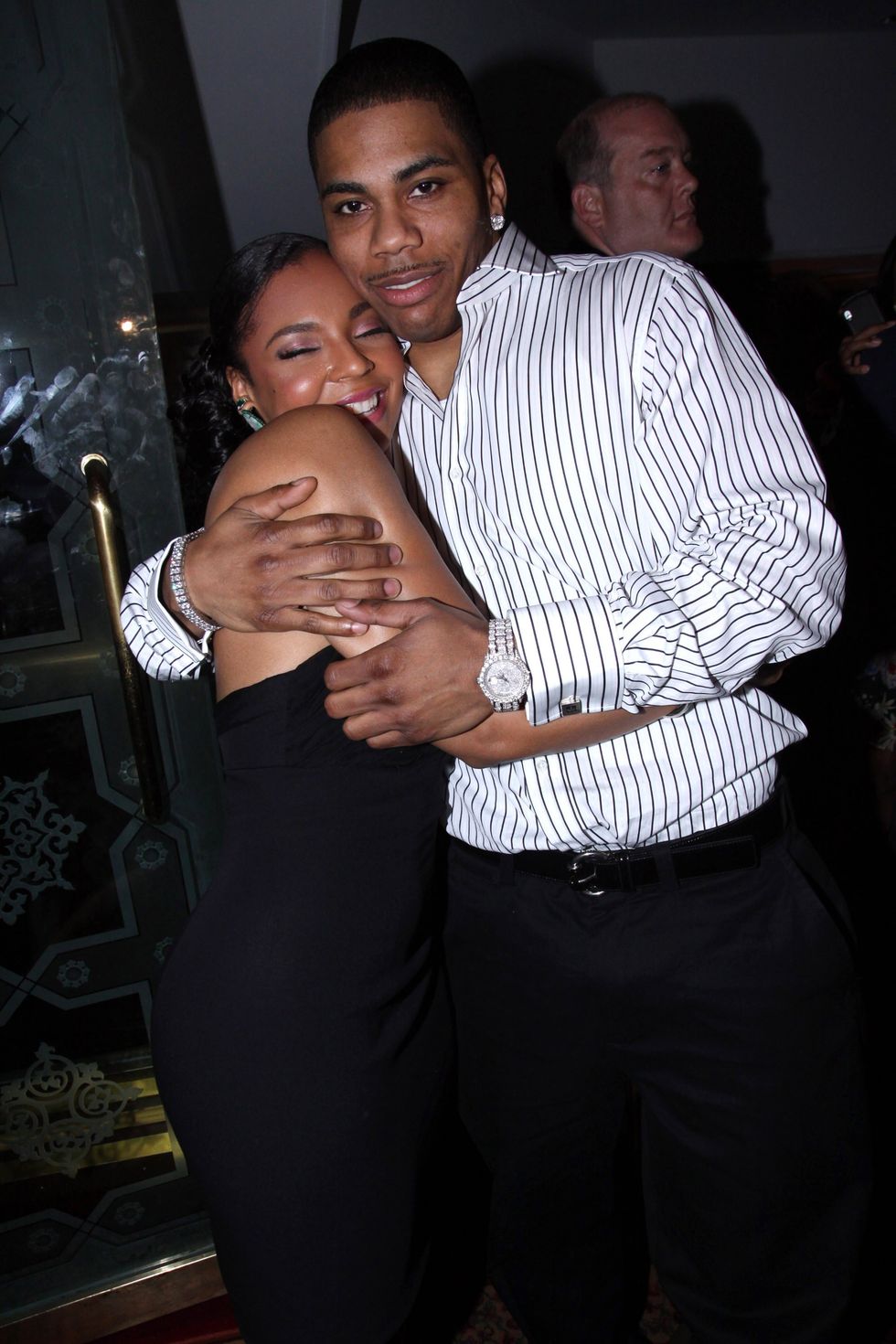 Photo by Johnny Nunez/WireImage
In September 2021, the then-former couple made headlines when Nelly walked across the stage to hug Ashanti during Fat Joe and Ja Rule's Verzuz, which had fans hopeful for a reconciliation. Later, in an interview with Angie Martinez, the artist who is featured in the Guinness World Records book,revealed how she felt seeing him.

"It was very unexpected. I hadn't seen him in like six years or more. Spoken or seen," she said. "It was a little awkward." However, she said she wore "the perfect ex outfit."
Ashanti Denies Dating Flo Rida and Explains Why She Likes to Keep Her Love Life Private
During her December 2021 The Breakfast Club appearance, Ashanti cleared up rumors that she was dating rapper Flo Rida after photos of them vacationing together made their rounds on social media. "That's my brother. Me and Flo are super cool," she said.

She continued, "We've been going to each other's birthday parties for ten years, so I don't know why it's such a surprise now." The "Only U" artist also opened up about why she likes to keep her love life private. "I have never in my life posted a dude that I'm dealing with, ever. I mean, maybe Nelly on the fly or something like that. Like 100 years ago, but nothing like, 'oh, we're together, never." I like to keep things private.
"I like to be super low especially until things are like solid, solid," she explained. "There are at least two people super heavy in the industry, we dated and we never posted."
Nelly and Ashanti Perform Together
The two performed their hit song "Body On Me" together during Power 98.3 and 96.1's Under the Mistletoe concert in Arizona, thus sparking dating rumors.

February 2023: Nelly Addresses Ashanti Dating Rumors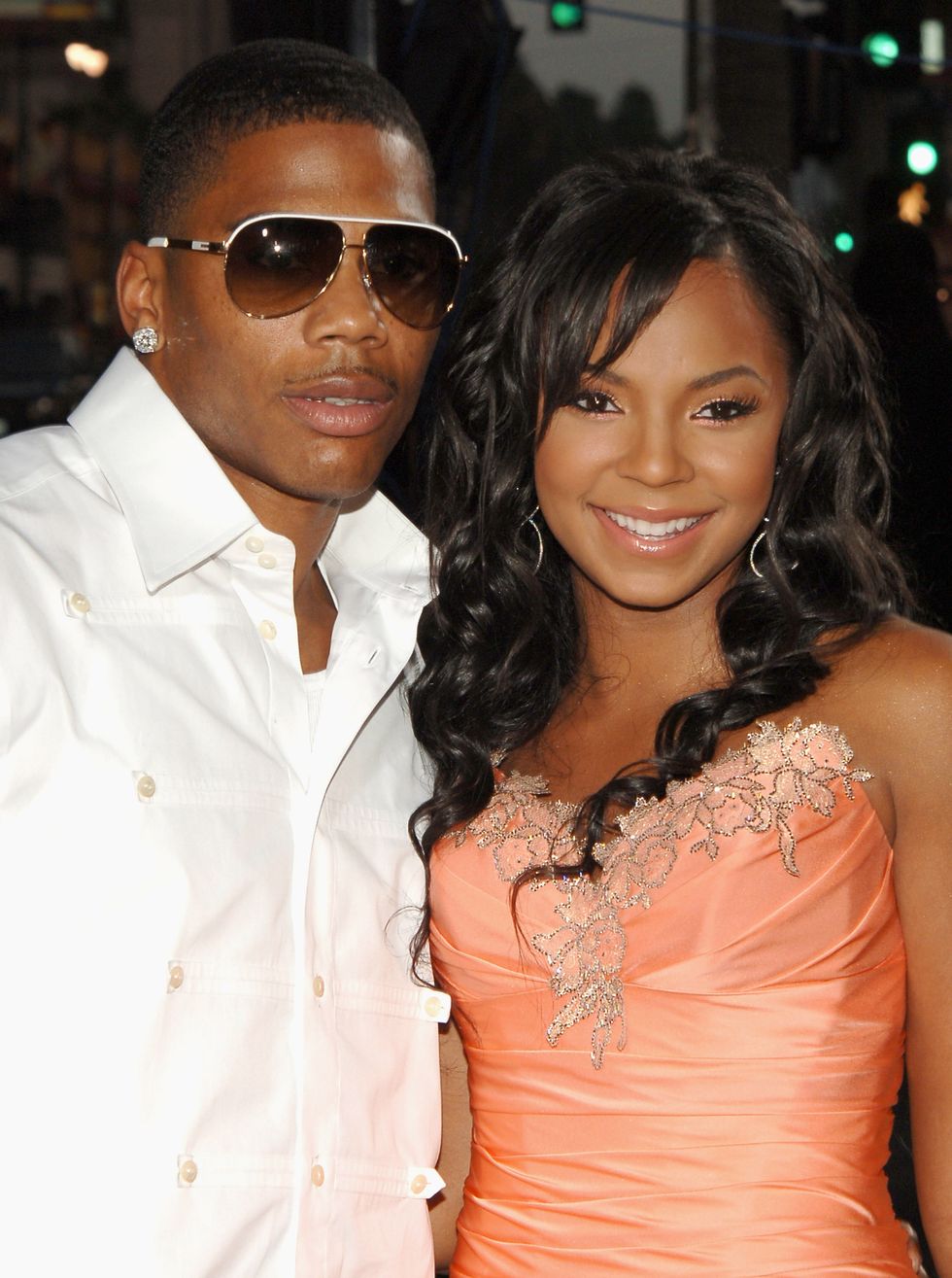 Photo by John Sciulli/WireImage
Nelly opened up about his friendship with Ashanti in a February interview with Entertainment Tonight. "Time does wonders for a lot of different things, and time is one those things that allows you time to reflect on what's what, and you get a chance to see things in a different light and see your faults," he said. "So I think we both did that, and it's cool that we just friends."
​April 2023: Nelly and Ashanti Reunite Again
In April, the "Body On Me" collaborators further fueled rumors of them dating again after they were spotted holding hands at the Gervonta Davis vs. Ryan Garcia fight. And in May 2023, they shared another steamy performance at the Palms Casino Resort during the singer's show with Ja Rule.

June 2023: Nelly and Ashanti Wear Matching Outfits
The following month, Nelly and Ashanti attended Pierre "P" Thomas' birthday party wearing matching outfits.
August 2023: Nelly and Ashanti Share a Video Singing Together
The couple posted a video of them singing to Usher's 1998 hit "Nice & Slow."
September 2023: Nelly and Ashanti Confirm They're Back Together
Let's hope they make the second time around count.
Featured image by Paras Griffin/Getty Images