London Alexaundria
London Alexaundria is a creative writer who has worked for a variety of blogs and magazines. After experiencing an epiphany in 2017, she created thelondonlately.com, an online journal that focuses on beauty and wellness, and began dedicating her gift of writing to help improve the lives of others. You can follow London Alexaundria on Instagram and Twitter @london_lately.
Tia Mowry has a refreshing take on divorce. The Sister, Sister star stopped by TODAY with Hoda & Jenna and opened up about divorcing Cory Hardrict and why instead of looking at ending her marriage as a failure, she is looking at it as a "graduation."
"I knew when I really started to focus on my happiness," she said when asked when she believed her marriage was over. "I feel like women, we tend to focus on everybody else's happiness, making sure that everybody else is okay — meaning our children, our friends, our family."
"But at the end of the day, it's about self-love. When you start to really work on yourself, love yourself, know your value and know your worth, then all of a sudden, there's this awakening. And it's not easy. It's a hard journey, but at the end of the day, I feel like it is so, so worth it."
The 44-year-old's social media followers have had a front-row seat to her self-love journey. Over the last couple of years, Tia has shared inspirational posts about self-love, self-care, and happiness. Sprinkled in were also adorable moments with her family. She shares two children with the All-American: Homecoming actor, Cree, 11, and Cairo, 4.
While surveying her life, she started therapy and also uncovered that she was dealing with a bit of sadness. "I feel like when I started to, again, like I said, focus on myself, but there was this sadness. And I knew that life is short," she said. "I had actually lost my grandmother. We had lost Alaina Housley (Tia's twin sister Tamera Mowry Housely's niece who was killed in the 2018 California mass shooting.) And both of them at the same time."
She continued, "There was just an 'aha' moment in me where I said, 'You know what? We need to tap in, see what's really going on with your happiness. Life is short. Let's go. Let's start working on you and really focusing on what really, really matters here, which is at the end of the day, your peace, your joy and your happiness.'"
Tia announced her divorce from Cory in an Instagram post on Oct. 4 after filing the day before. The divorce documents cited irreconcilable differences as the reason for their marriage's demise. The Game actress, however, is looking at the end of her marriage through a different lens.
"My marriage was a success. I look at it as like a curriculum when you're in college or high school. You're learning, you're growing, you're evolving, you're creating. I was able to create with Cory some beautiful, amazing children," she explained. "At the end of that curriculum, there's a graduation, there's a celebration. So that's basically how I'm looking at it now."
"And I feel like ... when (people) look at marriage, success equals longevity. But, no, at the end of the day, it's are they happy? Are they thriving? Are they growing? I feel like that is what is most important. It's not about staying in something because however long you are in that situation that equals success. It's about really, again, are you happy? Because life is really short."
Tia and Cory were married for 14 years.
Feature image by Albert L. Ortega/Getty Images
Let's make things inbox official! Sign up for the xoNecole newsletter for daily love, wellness, career, and exclusive content delivered straight to your inbox.
I was first introduced to my love of plants through my mom. There were always plants in our home and we had a luscious garden in the front and back yards. I would watch her water them, cut off dead leaves, repot them, you name it. As a child, I never really gave too much thought as to why she always spent so much time nurturing them, I would just get annoyed whenever she would make me work in the garden with her. Baking in the hot sun while pulling out weeds from the flowerbeds wasn't my idea of fun and still isn't. However, I have developed a love for plants myself.
When I moved into my first place, I was excited to have my own plants to take care of and surround myself with. Because my mom had a lot of plants of her own, I begged her to give me a few to put in my space. She obliged and my apartment finally had its very own greenery. However, my lack of experience taking care of plants resulted in all but one dying.

But I wasn't ready to give up, so I begged my mom to give me another shot and now I have an aloe vera plant that I am proud to say is still thriving. With all that being said, I am still learning new things about plants, such as how often you should water them, how to properly pot them (and repot them), and knowing which ones need sunlight to grow and which ones don't. I live in an apartment that doesn't have a lot of natural light coming in so I have been on a mission to find plants that can grow in little to no light. Here are my results:
*Some links are affiliate links. If you make a purchase, xoNecole may earn a small commission.
The Best Indoor Plants That Can Survive With Low To No Sunlight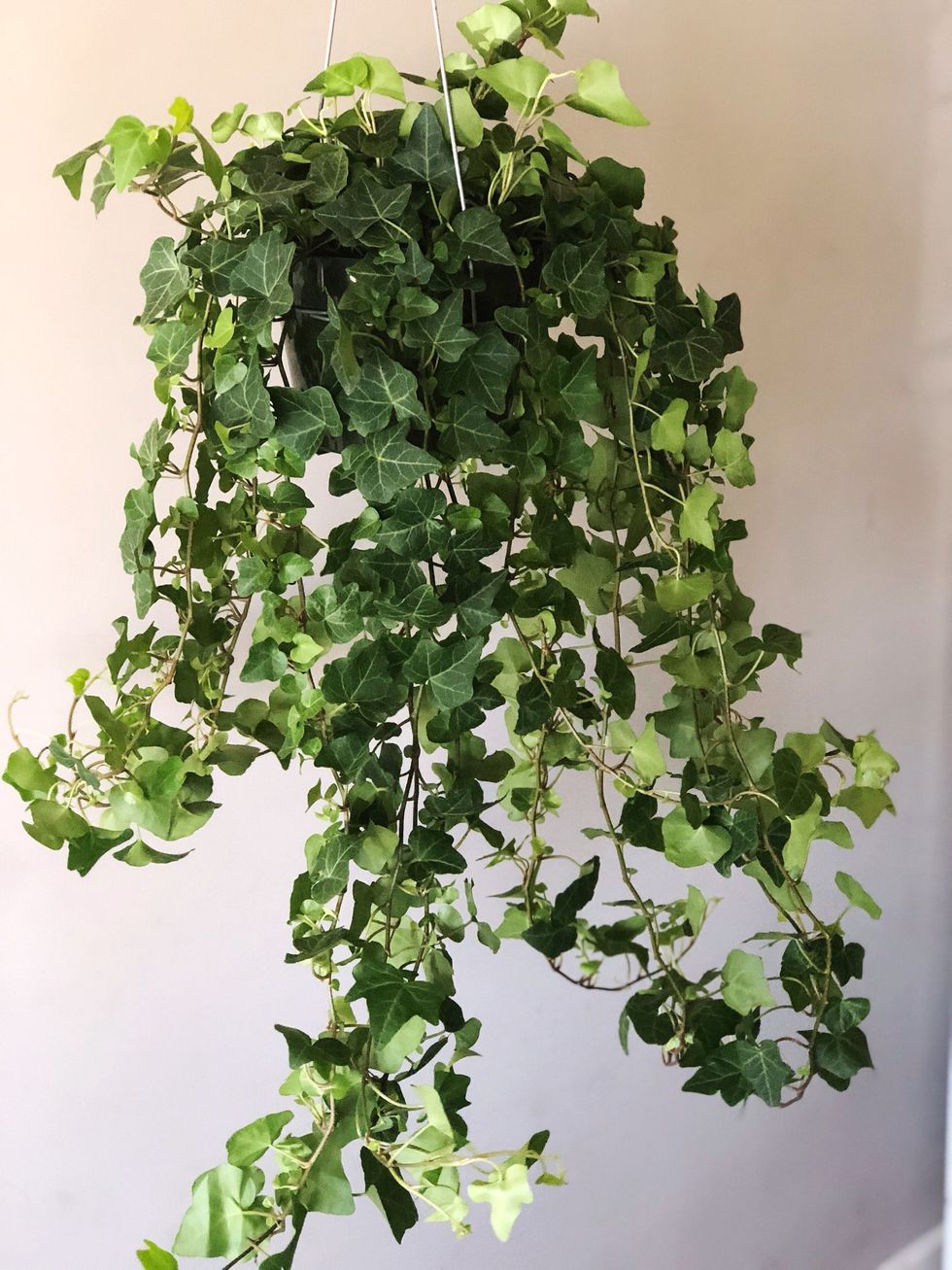 Etsy / Theplantchica
Ivy is probably one of the most popular plants that you will find indoors. Not only did I have one in my home growing up, but I would almost always see it in other people's homes as well. Ivy maintenance is pretty easy as it grows better when the soil is more on the dry side.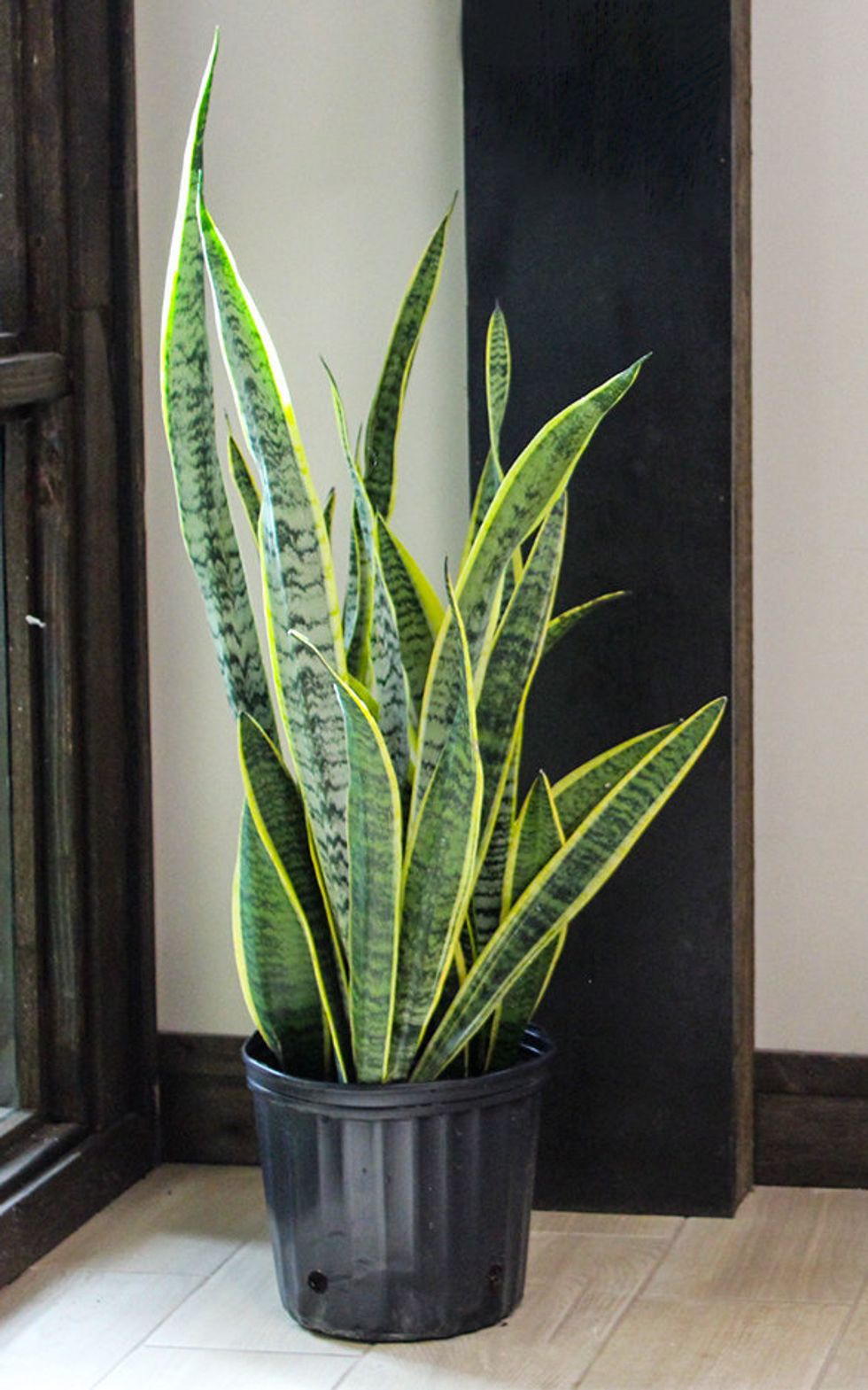 Etsy / PlantCraftingCo.
The snake plant is also easy to maintain. You can go weeks at a time without needing to water it and it can improve the air quality in your home.
Maidenhair Fern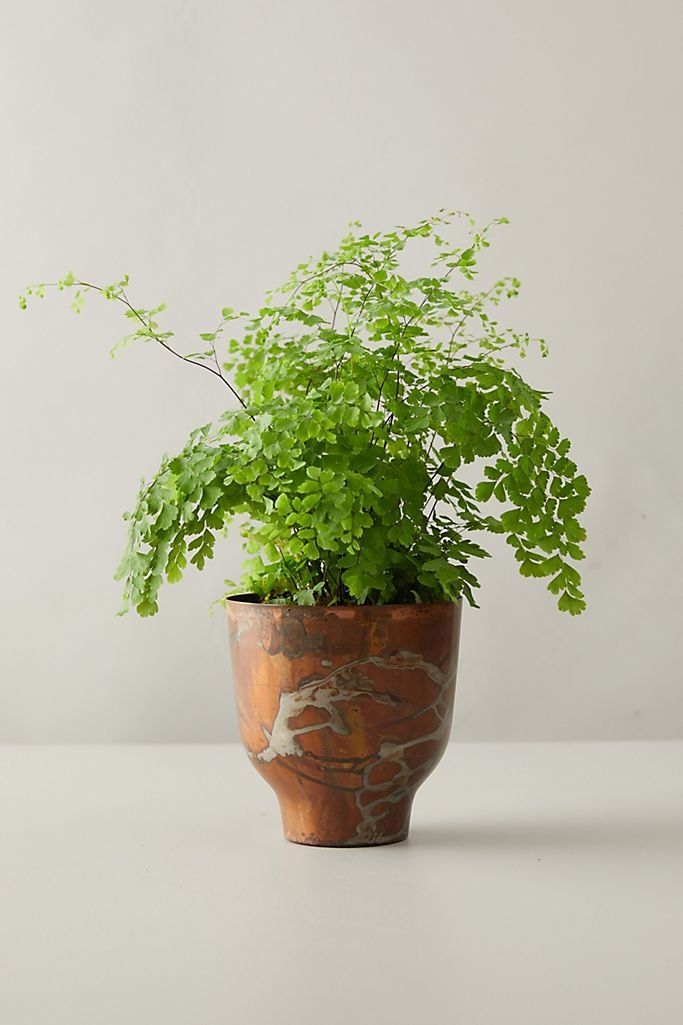 Anthropologie
The Maidenhair Fern is one of the plants that you would have to mist with a spray bottle daily, as it can be easy to drown it with water. It also grows better in slightly acidic soil.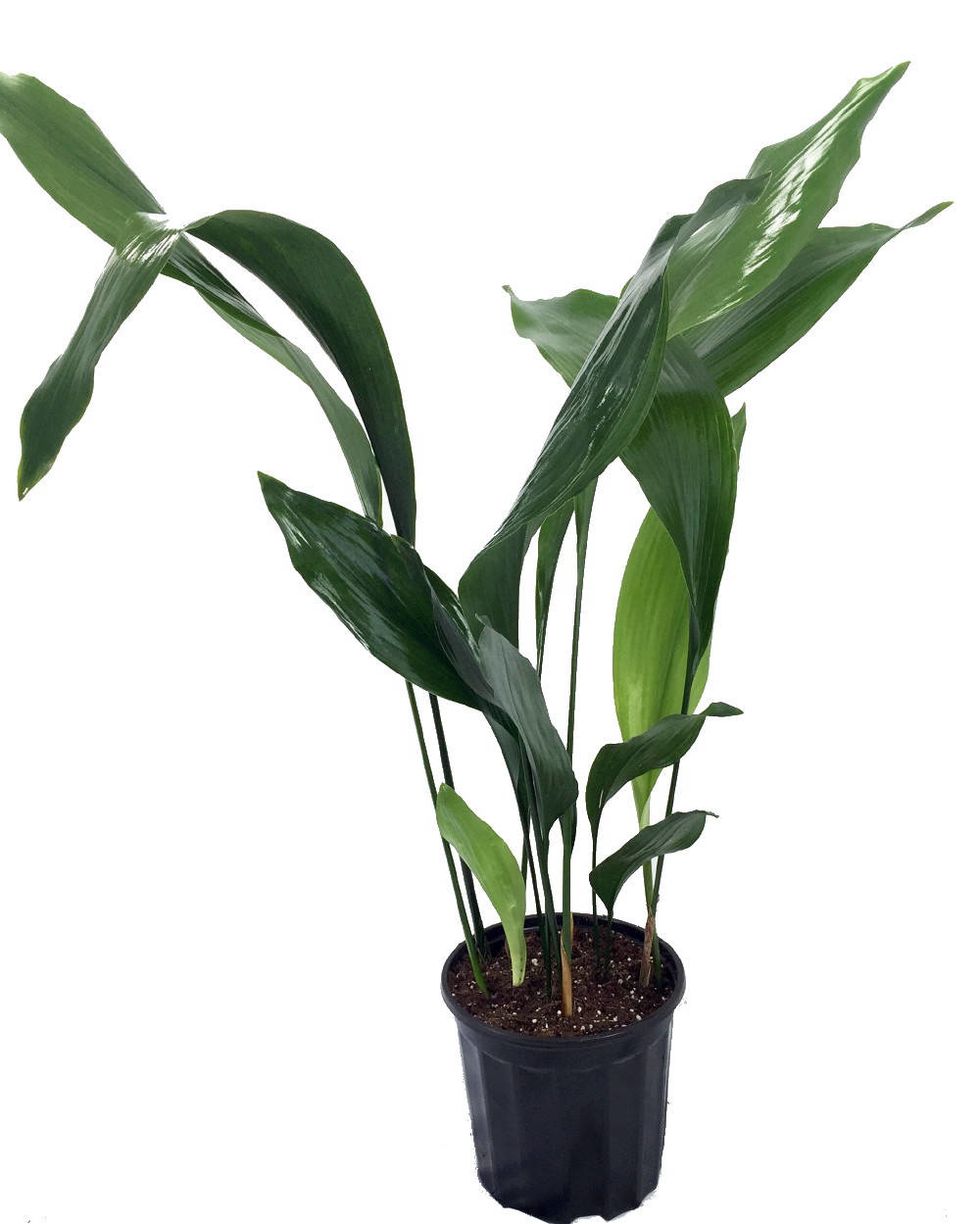 Etsy / 9EzTropical
Though a slow grower, this plant is robust, hence the name 'cast iron' and its leaves are full and healthy. Also known by the name Aspidistra elatior, cast iron plants are an evergreen foilage house plant can survive dry air and forgotten water days, making it a great choice for low-maintenance plant-lovers.
Lucky Bamboo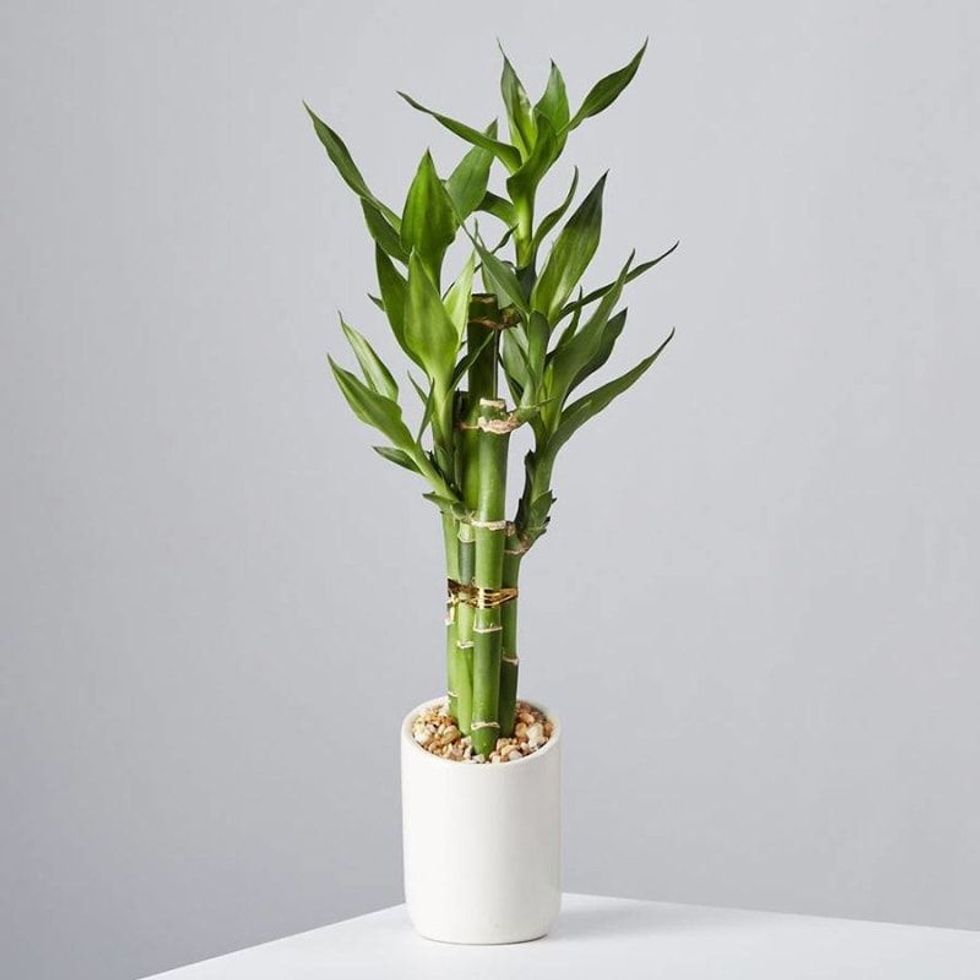 Plants.com
The Lucky Bamboo plant needs a little light to grow, so placing it near a window would be ideal. You can grow it in soil or water, but if you decide to grow it in water, make sure to change the water every two to four weeks.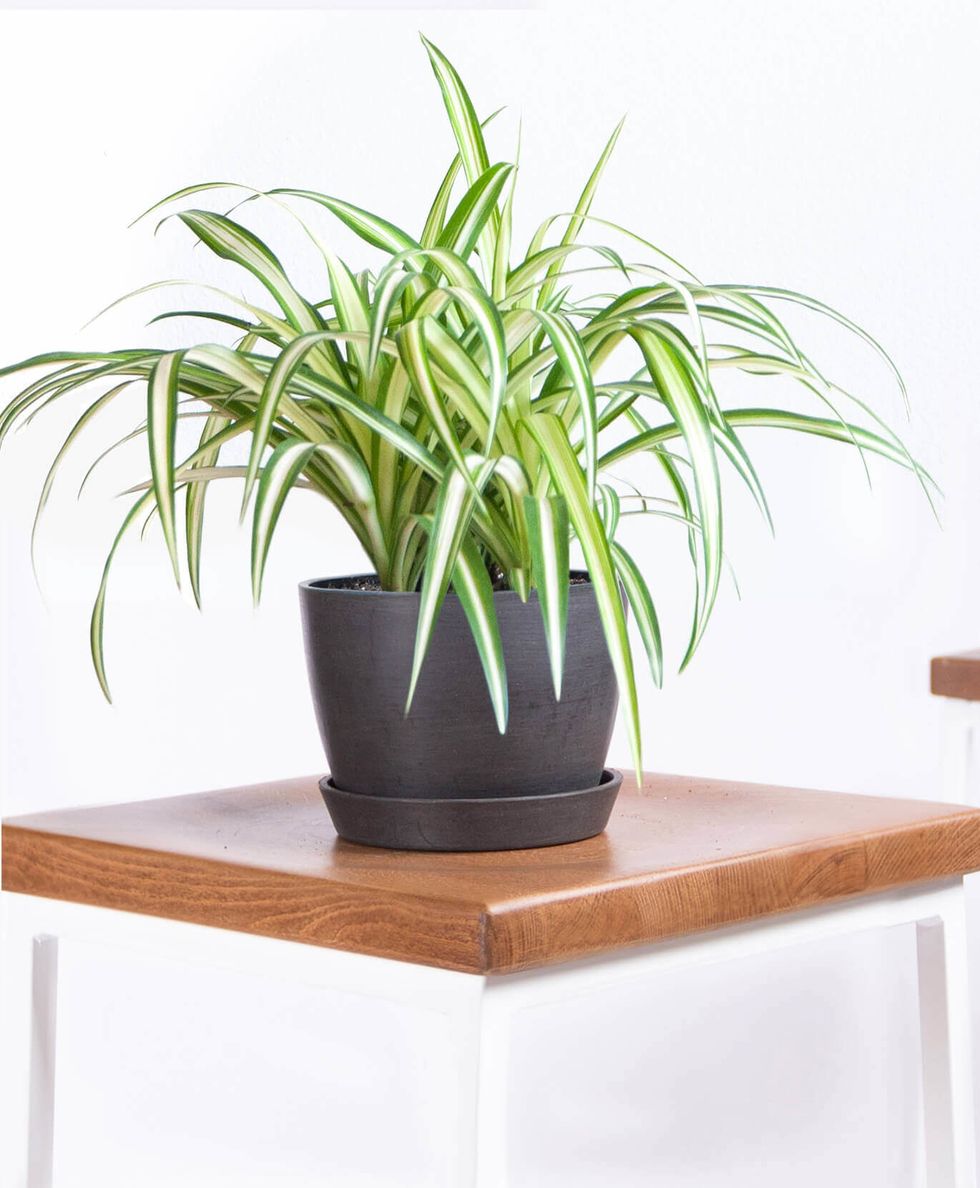 The Spider Plant is great for beginners as it can pretty much withstand anything. However, be sure not to water the soil to the point where it gets soggy or it can lead to root rot.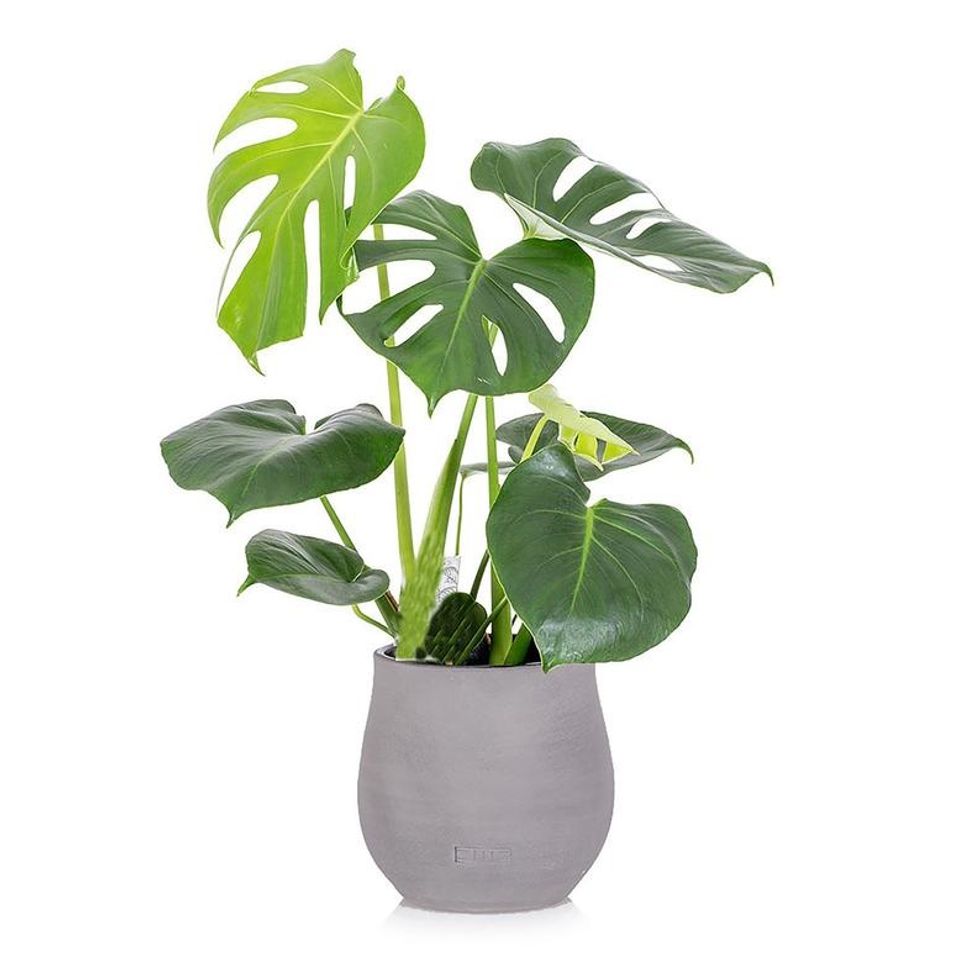 Etsy / RareHousePlants
Also known as the Swiss cheese plant, the Monstera is known for its unique splits in its leaves and stiff roots. It grows best in warmer temperatures and needs to be repotted every year.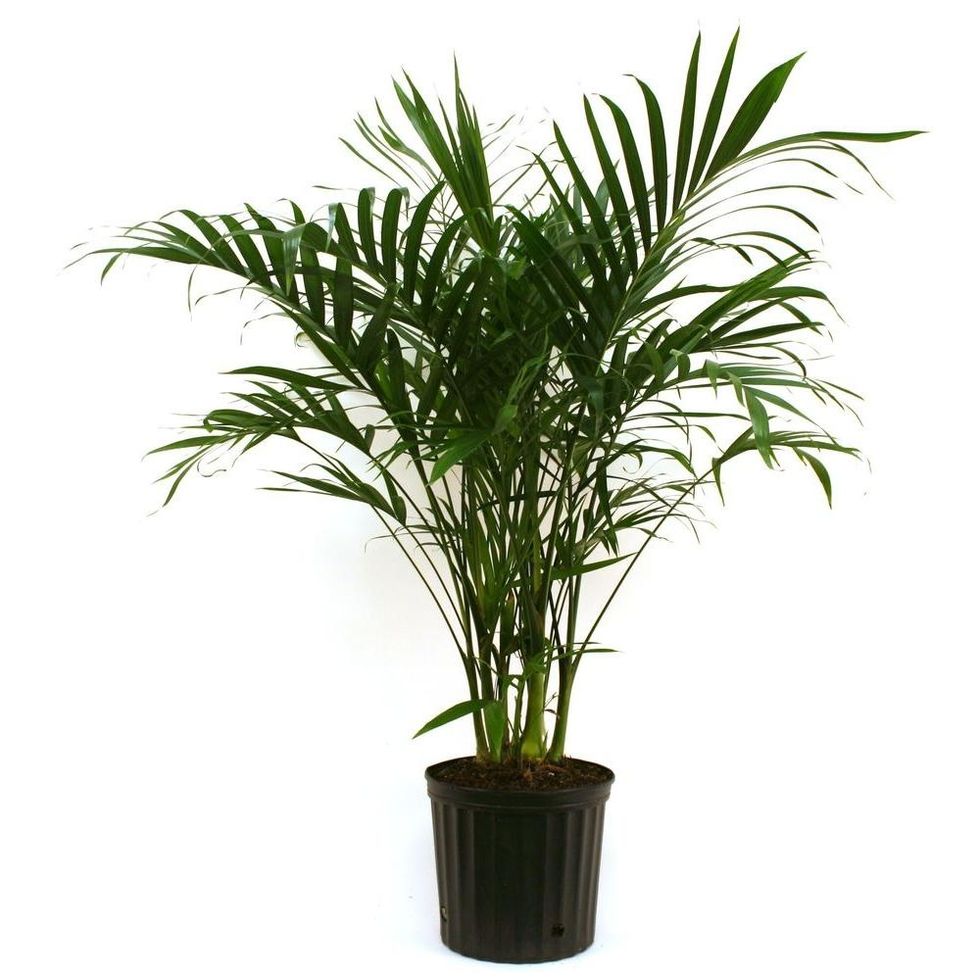 Home Depot
The Chamaedorea is a palm plant that, with indirect sunlight, can grow up to 4 feet tall. It is also known as being an excellent air purifier.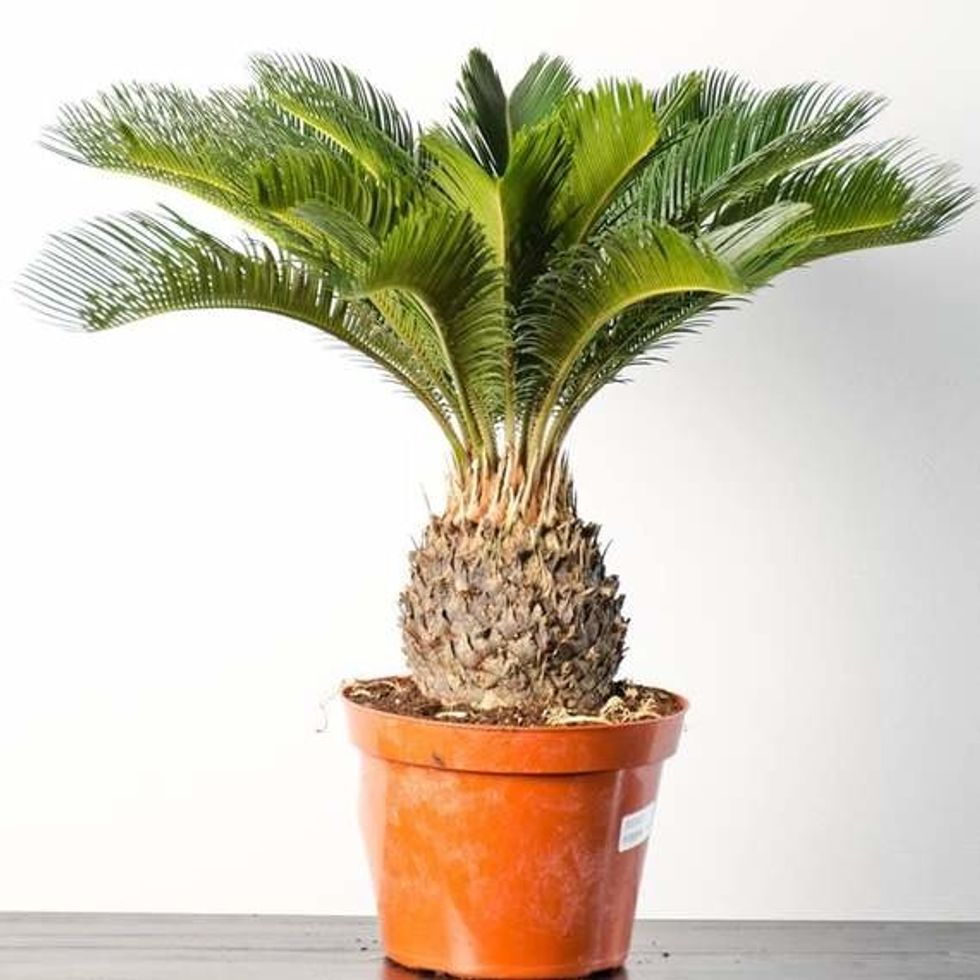 Garden Goods Direct
Although the name suggests its a palm plant, it's actually a cycad plant and it can be grown indoors and outdoors. The Sago Palm thrives with little moisture, so water it sparingly.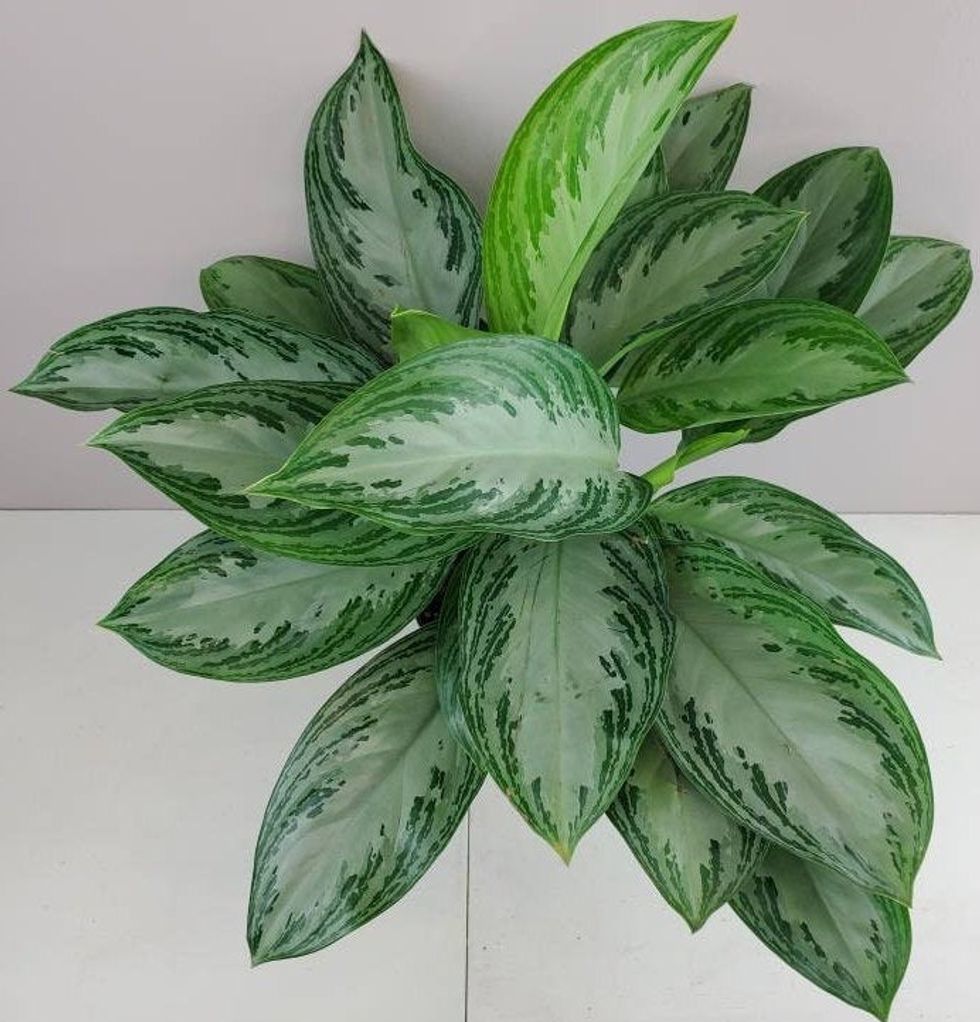 Etsy / findusintheforest
The Chinese Evergreen plant can handle a variety of growing conditions as it is tough and easy to manage. However, make sure to check for pest periodically as it can harbor spider mites, scales, mealy bugs, and aphids.
Want more stories like this? Sign up for our newsletter here to receive our latest articles and news straight to your inbox.
Originally published on January 26, 2019.

Featured image by Getty Images
Golden milk is a beverage that relies heavily on turmeric as the main substance and it's combined with milk (coconut milk, almond milk, etc.), honey, black pepper, ginger, and cinnamon (optional). Also known as turmeric milk or liquid gold, golden milk is an ancient recipe that has been used for centuries by people in Southeast Asia and is also used in Ayurvedic medicine.
media.giphy.com
Turmeric gives golden milk its golden color, but it is much more than that. Its active ingredient curcumin is a strong antioxidant with amazing, potent anti-inflammatory properties that are exceptional for your health. Turmeric blended with the aforementioned ingredients not only makes for a tasty drink but an essential one as well. Here are just a few of the numerous benefits to drinking golden milk according to Heathline.com:
1

.

Drinking Golden Milk May Protect Against Heart Disease.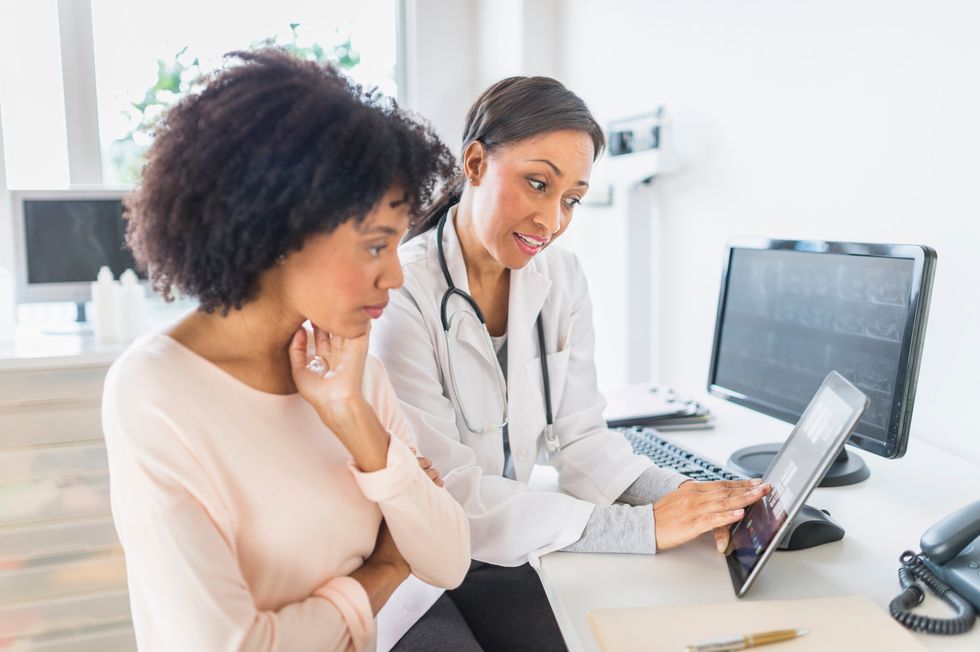 Getty Images
Studies have shown that turmeric, ginger, and cinnamon have all been linked to reducing the risk of heart disease. One study, in particular, showed that people who received curcumin before undergoing heart surgery were less than 65% likely to experience a heart attack during their stay in the hospital compared to ones who received a placebo. While these are some great benefits, more research is still needed.
2

.

Golden Milk Is Packed With Antioxidants.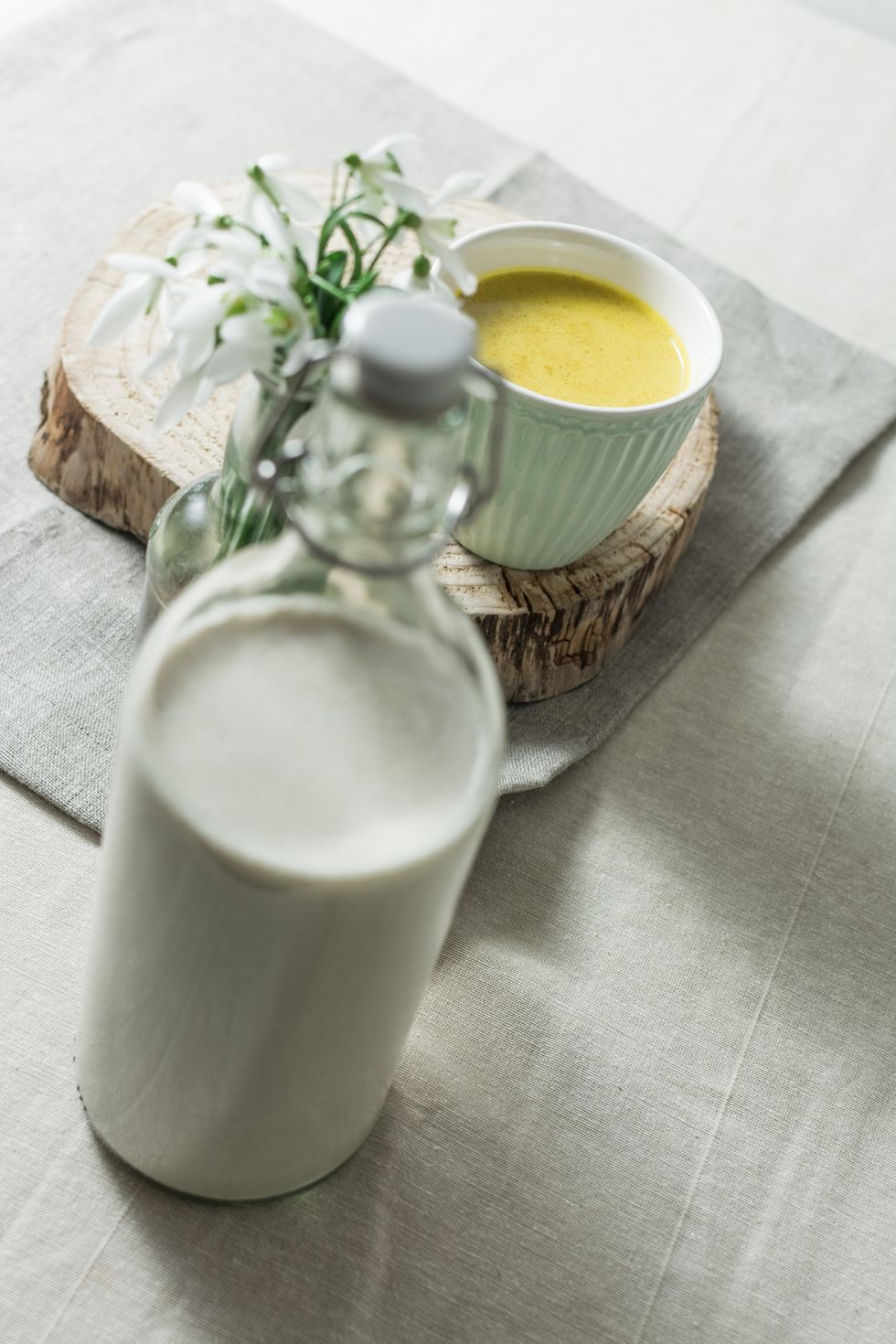 Getty Images
As mentioned above, curcumin is a strong antioxidant, but this is also true for the other elements that make up golden milk, such as ginger and cinnamon. Antioxidants protect against cell damage and lower your risk of infection and disease. Having a diet rich in antioxidants is crucial to your diet and living a healthy lifestyle.
3

.

Drinking Golden Milk May Reduce Your Risk of Cancer.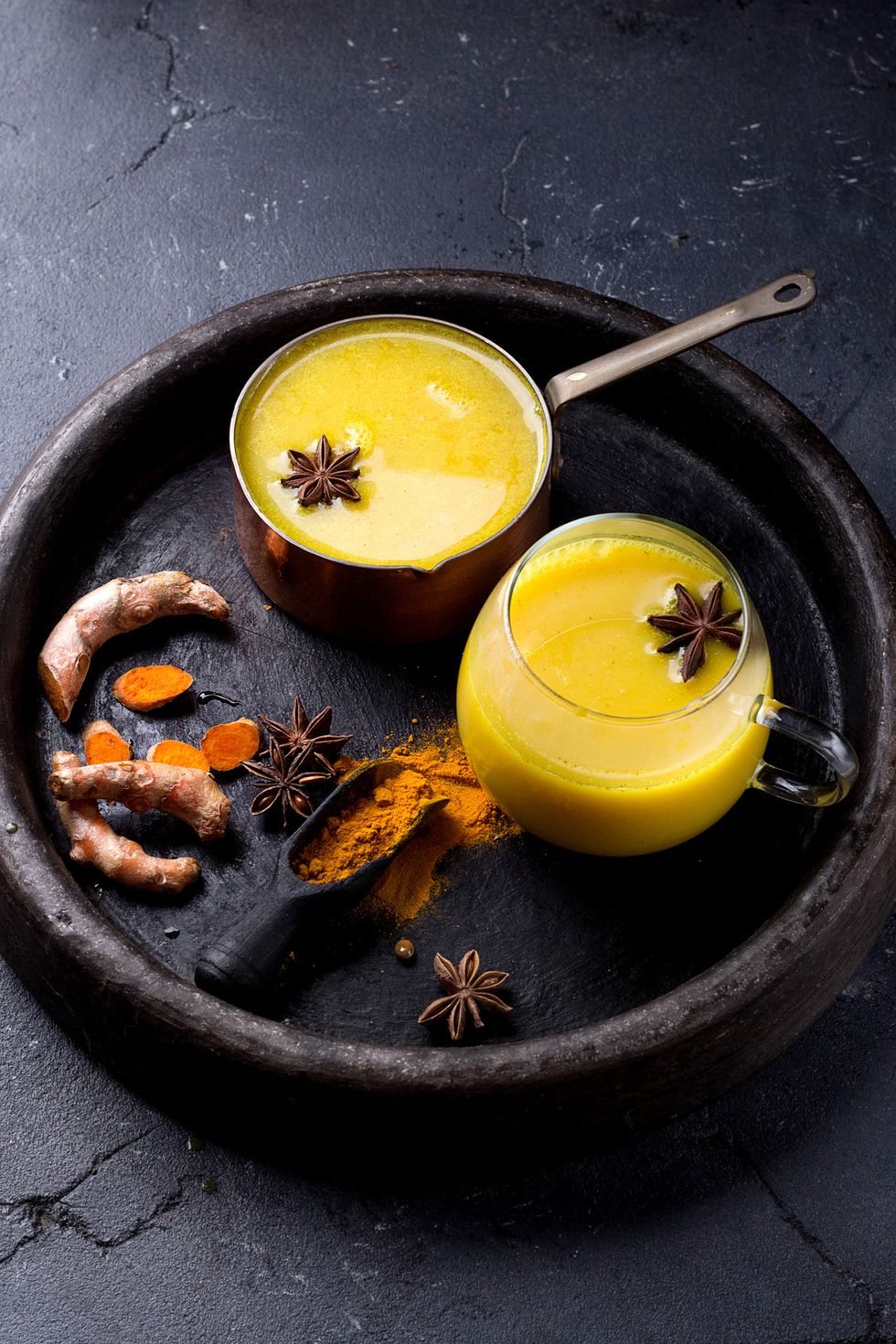 Getty Images
As a form of alternative medicine, ginger, cinnamon, and turmeric have all been used to help with the reduction of cancerous cells in the body. Curcumin may kill the cancer cells and slow down the growth of tumors, cinnamon may reduce the growth of cancer cells, and ginger have anti-cancer properties. These are a few popular methods used in alternative medicine, however, research on these studies are limited.
4

.

Drinking Golden Milk May Reduce Inflammation and Joint Pain.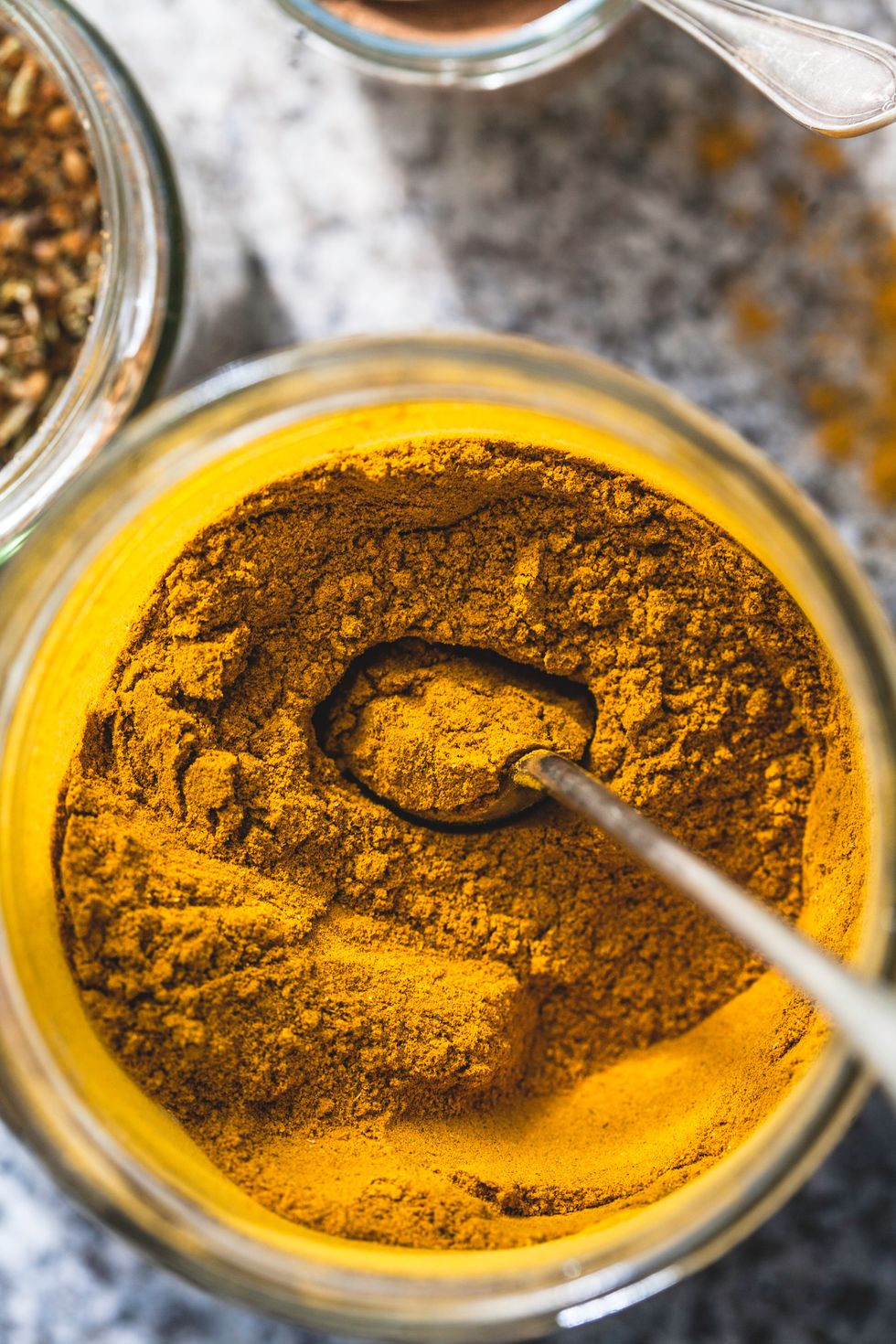 Getty Images
Turmeric's active ingredient is curcumin and it has anti-inflammatory effects, which help reduce inflammation and pain in your joints. Ginger and cinnamon are also known to have anti-inflammatory effects and, when mixed with turmeric, make it a power-packed beverage.
5

.

Golden Milk Can Potentially Reduce Depression.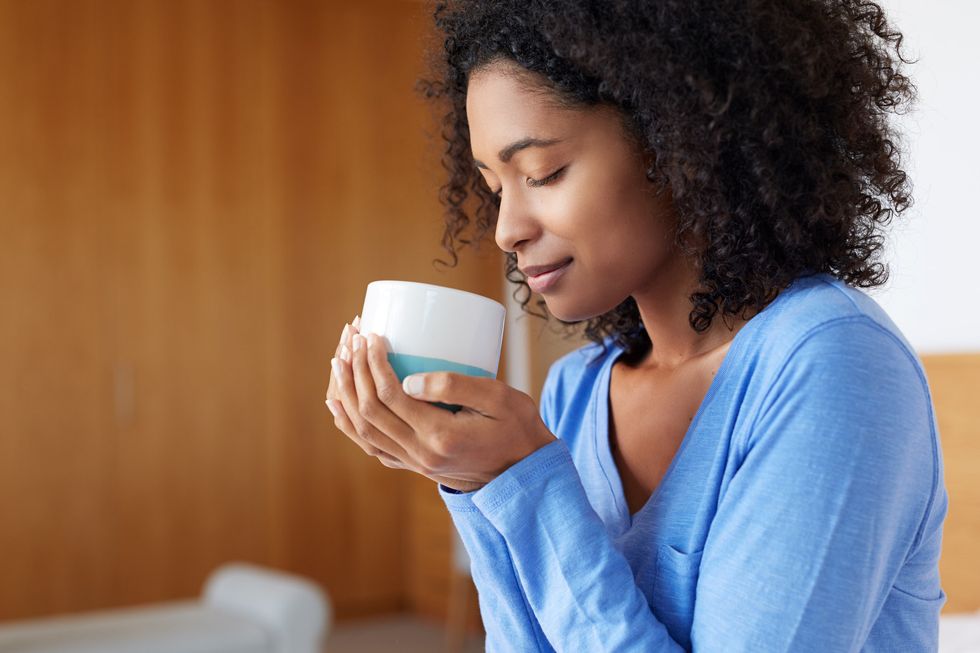 Getty Images
Although more research is needed, studies show that taking curcumin gives you similar effects as taking antidepressants. People who are depressed may have lower levels of brain-derived neurotrophic factor (BDNF), while curcumin actually boosts levels of BDNF, which puts you in an overall good mood.
Because of these amazing health benefits, many people have used this ancient recipe, some adding a little twist to it. Here are three variations of the golden milk recipe:
Featured image by Getty Images.

Originally published January 11, 2019
What if you could combine all the things you love about hip-hop with a way to take better care of yourself? If that sounds like your cup of tea, then meet Shanae Jones the Hip-Hop Herbalist.
She is the founder of Ivy's Tea Company, a hip-hop influenced holistic health brand with a collection of handcrafted herbal teas and herb-infused sweeteners. Her products have taken a life of its own with catchy names like #TrapTea and equally clever descriptions that instantly reel customers in, but it's the delicious taste and sweet aroma that keeps them coming back for more.
This former executive assistant turned entrepreneur/herbalist shares her journey from working with a Quaker lobbying organization to creating safe spaces for black women and men in the holistic industry.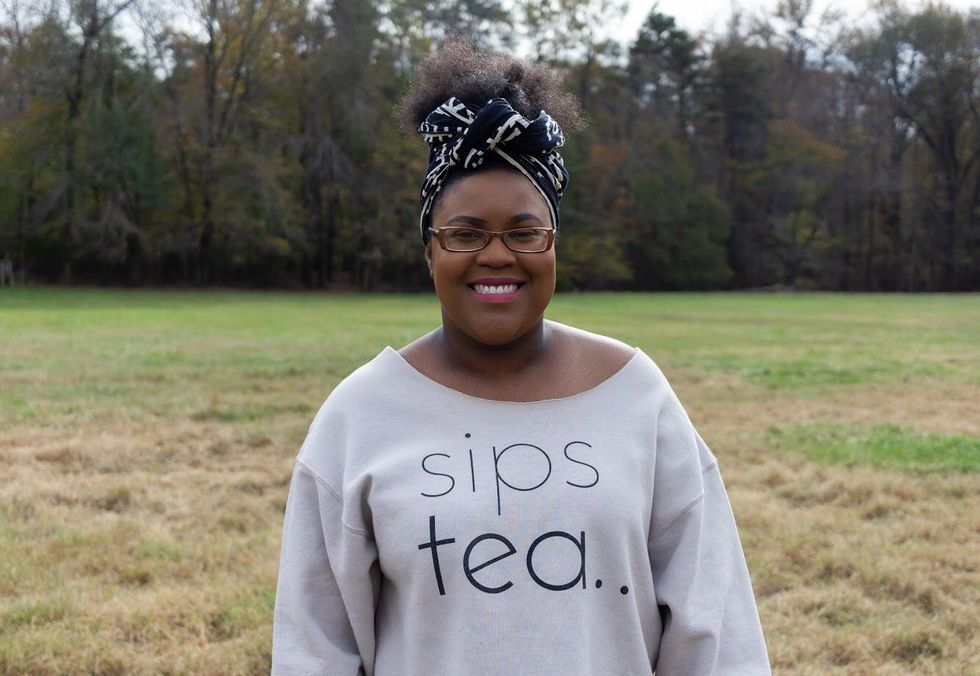 Courtesy of Shanae Jones
How did you come up with the title hip-hop herbalist?
It kind of came from other people. I'm happy too because I always wanted a nickname but I didn't get one (laughs). Now, I have one that I guess goes with my career, my passion. It just kinda came from the way I moved tea and I mixed it with herbs. [My] trap tea sort of took off on Twitter and this is just what it became, so that's how a lot of people [now] refer to me.
What was the concept behind hip-hop influenced herbal tea?
Well, I find that hip-hop is a great teaching tool and I see no reason why herbalism and herbal tea or any tea shouldn't be a part of that teaching. For me, it was quite simple; it was just very easy for me to see that connection between hip-hop and herbal tea. The common nature of hip-hop and also the common nature of herbalism and herbal tea. It's not considered highbrow medicine, and for a lot of people, hip-hop isn't considered this really incredible musical genre.
While I would disagree, there are parallels in that that also herbalism kinda deals with when it comes to conventional medicine. It was really easy for me to see the connection. I knew hip-hop, so [I] was like, I'm going to do something that I'm confident in and comfortable with and I can work with something I don't know much about.
I can make those parallels that people don't see. And I can bring it to people and make it plain for them to understand.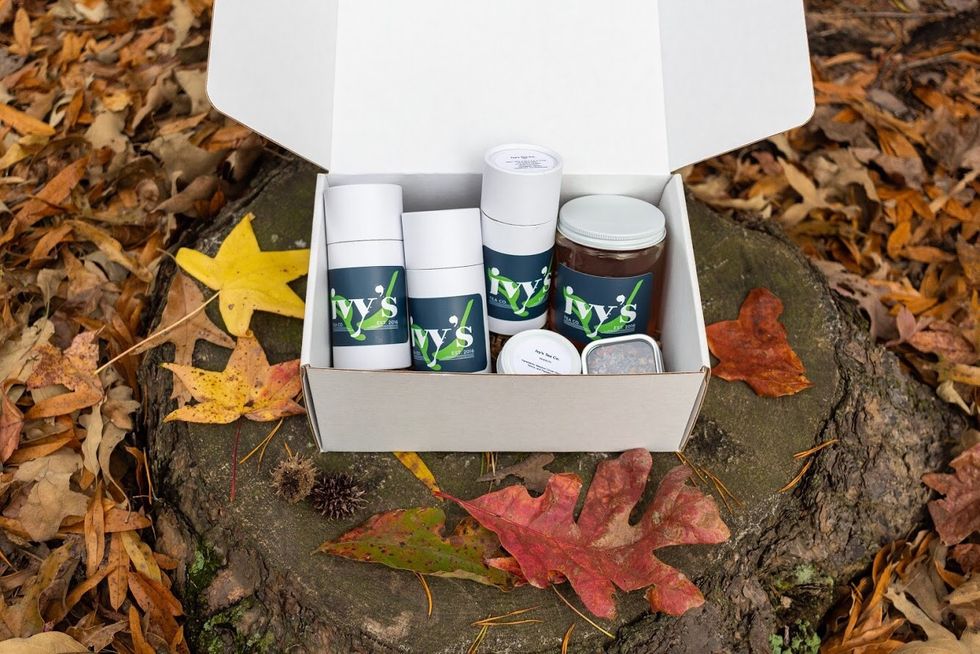 Courtesy of Shanae Jones
Why the name 'Ivy's Tea Co.'?
Naming a business is actually hard because you're like, 'I can't come up with anything!' But one day, it just rolled off the tongue.
I thought that I could name it after my grandmother. Her name was Ivy and she left Jamaica for a better life in London at a very early age. I think she was 16 or 17 years old. Ivy was kickass and very brave and I thought I should take that same energy and same spirit with me as I'm going on to do something very risky.
Being an entrepreneur is probably as risky as it gets and so I decided to name my company after her and it made sense and it sounded good. On the flipside, Ivy kinda smoked and she drank a lot. It probably wasn't the best idea to name a holistic health brand after her but her bravery was important to me and so I decided I would go with that.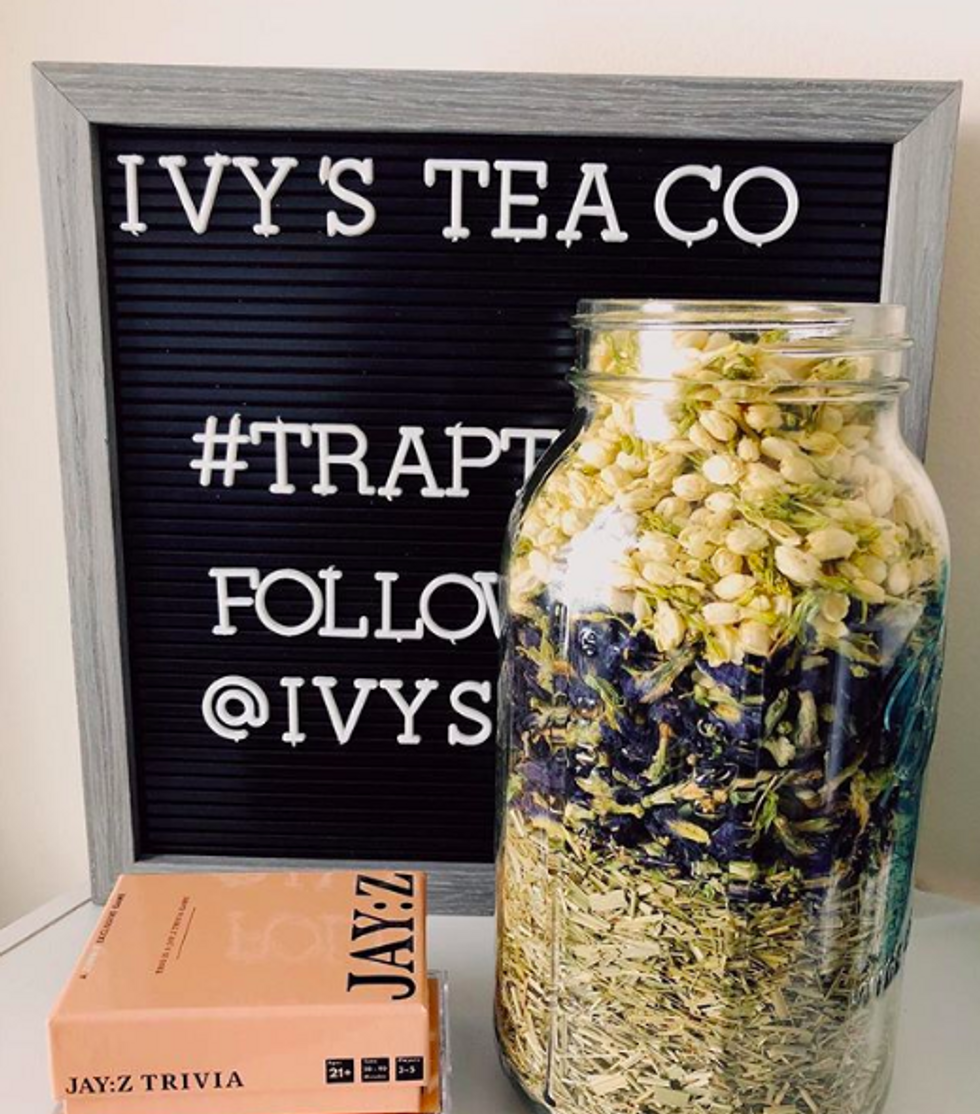 Courtesy of Instagram/ @ivysteaco
Do you believe your British-Jamaican heritage influenced you as an entrepreneur?
Sometimes I would like to say 'no,' but sometimes when I look back I could see, [for example] my family owned a Jamaican restaurant. When I was in middle school and high school, I would work there. I would leave school and take the bus to work with my mom and grandmother in the evenings. I saw my family working together and I saw the freedom of entrepreneurship but I think that's why when I think about it, it gave me a real glimpse of how hard it is.
My grandmother now, she doesn't clean chicken at all, you can't get her to touch a chicken because she cleaned so many while she was working at the restaurant. It showed me the grit and it showed me the staffing problems, delivery issues--how do you promote? How do you market? And this was at a time where there wasn't really [any] social media so it gave me a real insight on what it is to be an entrepreneur.
I learned not to quit and I learned that it's not as glamorous as people online would make it look, so I at least got to see that upfront.
I do drink a lot of tea and I always have ever since I was younger. That's how I bonded with my mother and grandmother, just over cups of tea. It's how I grew into womanhood, it's how I learned a lot about my family, that's how I learned about gossip and I learned about news and socio-political issues. I got to learn about my mother and grandmother over those cups of tea so I guess it was the one thing that introduced me to tea, but the tea I make now is so different than what we had and it's so different from what people tend to think of when they think of British tea.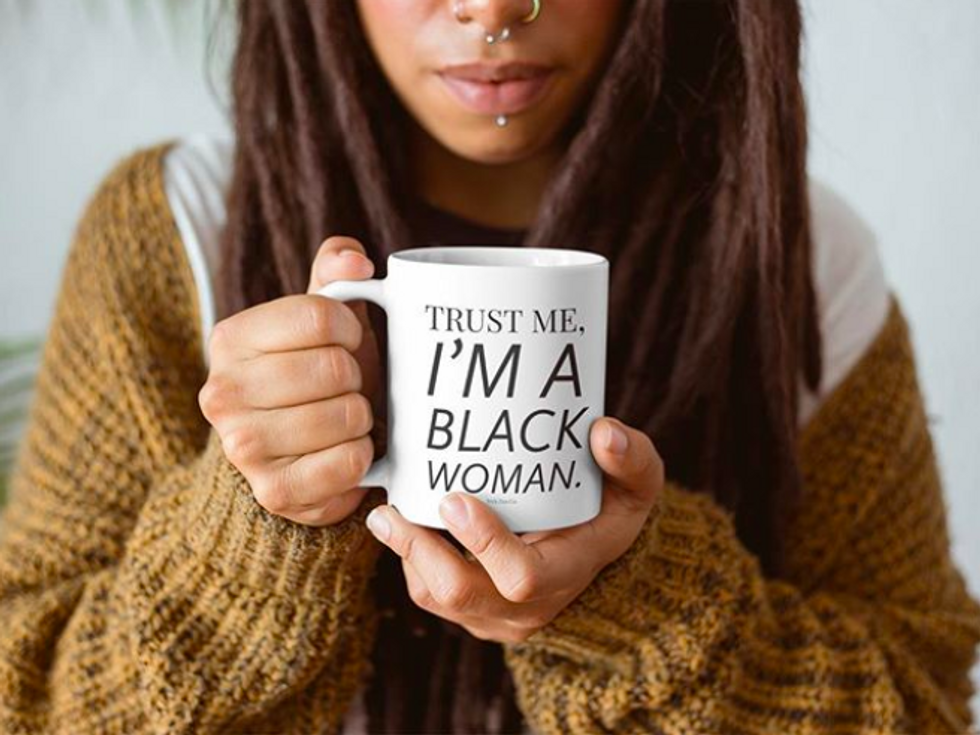 Courtesy of Instagram / @ivysteaco
Besides clever names like "PushaTea" and "What the Flu," what makes Ivy Tea Co. unique?
I'd say it's the mission behind the brand and that is to bring more black people into the holistic health industry and to change the scope of what holistic living is and what tea culture is.
The company is really all about shifting perspectives and subverting assumptions and in some ways, it is to offend people.
To get people to no longer take what they're used to and kinda flip it on its head and to say everything you think you know is wrong and I think that's really important as businesses grow and brands grow. There are lots of big trends we see about having a big face in front of the company and it's all about personality and how people buy into people and not brands per se but I feel that brands and businesses, in general, have the ability to shift American culture and the ability to create the America we want to see and mine is that I want to see a lot more inclusivity of black and brown people.
What are some obstacles you've encountered being a black woman in this space?
Well first off, a lot of people who drink tea don't think that hip-hop is necessary for it. They think that I should make it and make the brand, they would say, "more inclusive," but what they really mean is that they want to see less black people in the ad. They want the language to be a little "less black" but it's me.
When I make product descriptions online or I'm making a caption, it's my voice. I'm speaking the way that I speak on a regular basis not with any regard, it's not that I'm doing this intentionally, I'm just being my authentic self.
I also feel like the holistic health industry is full of wellness porn. Everybody's doing it, everybody's moaning, everybody is having a good time but they all got paid. It's not authentic, and I feel like I have to use my voice to kinda change that and of course, it's scary sometimes to be the first person over the hill, but I'm willing to do that.
I don't feel like I have much to lose, so I can take that chance but it is certainly a challenge. A lot of people don't want to see the brand the way that it is but I have proof of concept. I have customers who come back again and again. I have first time customers who come and are very appreciative of the fact that they can see themselves and hear themselves in the branding and that's enough for me to keep going because I know if I got them, then I can get one more and I can keep going and that's the point of the whole thing. I welcome the challenges. If it were too easy I think I probably would have quit by now.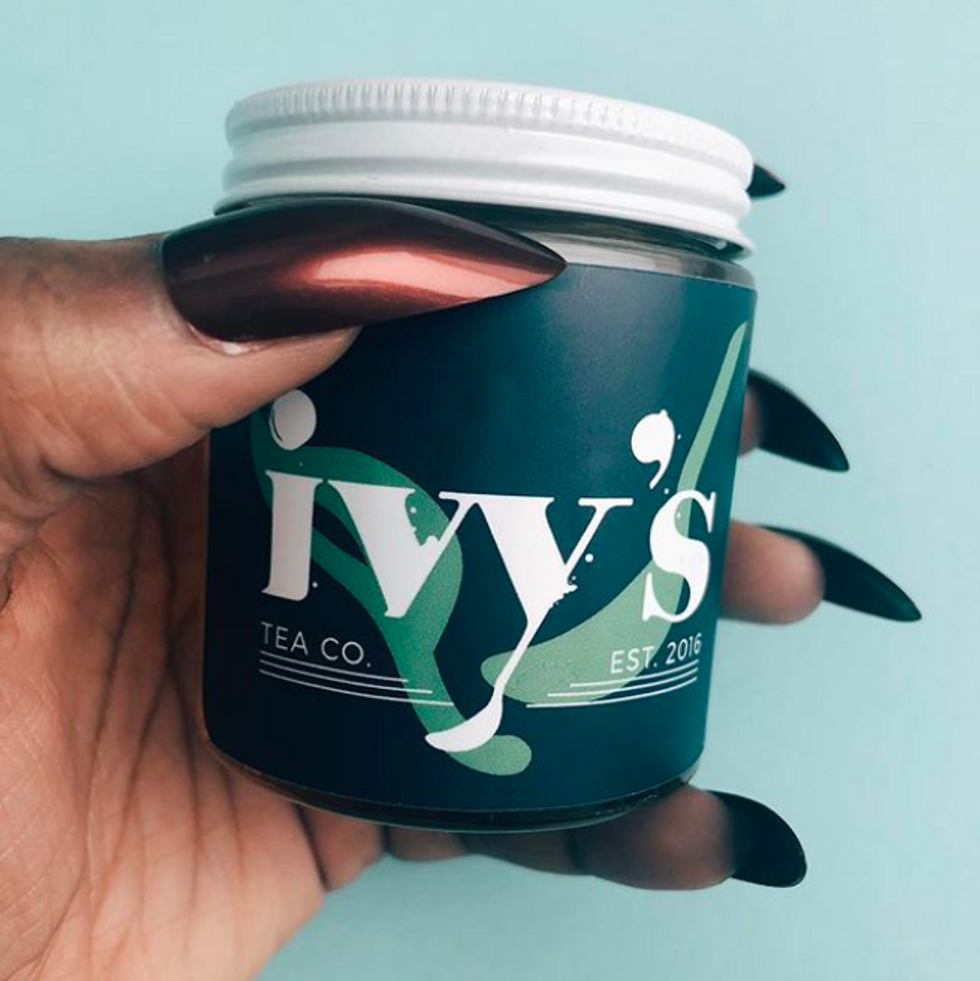 Courtesy of Instagram / @ivysteaco
We've seen a rise in holistic awareness especially in the black community, but there are still some misconceptions about holistic medicine. How does your herbal teas address that?
I try to step away from that. I don't feel that Ivy Tea Company is here to address any misconceptions. It's gonna be there no matter what but we are here to bring acceptance and inclusivity into the industry and to create a space with people who have questions about holistic health but don't look like or live like the typical wellness guru. I want those people to come to me and feel comfortable asking questions and I want them to feel invited to approach the industry.

We don't have a medical industry in this country right now [for] holistic medicine or even alternative medicine practices like homeopathy, for example. Outside of the states, they do all the time but there are big pharmaceutical companies and lots of money to be made, so anything that encourages you to do something outside of taking a pill is oftentimes discouraged.
That's what herbalists like myself have to overcome and so that's why I feel like I'm here to stand in the gap. That's why it's important that I do this work but that I get more involved and give back to the community in a way. I don't want to address the misconceptions but I'll at least add information to it to make it a little more understandable as something you can take in conjunction to what you already know as far as conventional medicine is concerned.
What are the benefits of living a more holistic life?
I can speak for myself and say that it is a more focused, much more disciplined life. I also have much more self-confidence. I'm just a lot healthier because when you have teas and things, it's typically dry herbs but also when I cook my own food now, I use fresh herbs. I'm like the parsley person now, you know black chefs love to put parsley on everything.
I'm using fresh mint, I'm using fresh basil, I'm more into green juices and I'm also more interested in it. I used to have dry scalp, I used to suffer from a lot of migraines, and I no longer have those problems so for me the benefits have been tremendous.
You can find her products on www.ivystea.com. Follow Shanae on Instagram @ivysteaco.
Related Articles:
The Power Of The Pivot: How CurlMix Plans To Reach $10 Million In Sales This Year - Read More
How Gia Peppers Is Becoming This Generation's Game-Changer One Talent At A Time - Read More
How Meditation Led Shelah Marie To Finding A Greater Love - Read More
Celebrity hairstylist Cliff Vmir is a bonafide badass working with some of the top talents in entertainment, including Cardi B, who months ago crafted Cardi's icy blue hair color that lit social media ablaze. Recently, the millionaire hairstylist gave his 700K+ followers an up close and personal look into his life by starring in his own BET web series Wig Out. At only 21 years old, Cliff holds the reins as a premier stylist and has gained a loyal following on social media as well as from his classes where aspiring hairstylists learn valuable techniques and expert advice for mastering the latest looks.
Luckily for us, we were able to snag Cliff for a moment to talk about what he knows best: Wigs! From advice on purchasing our wigs to caring for and maintaining them, Cliff has us covered, and we are definitely taking notes.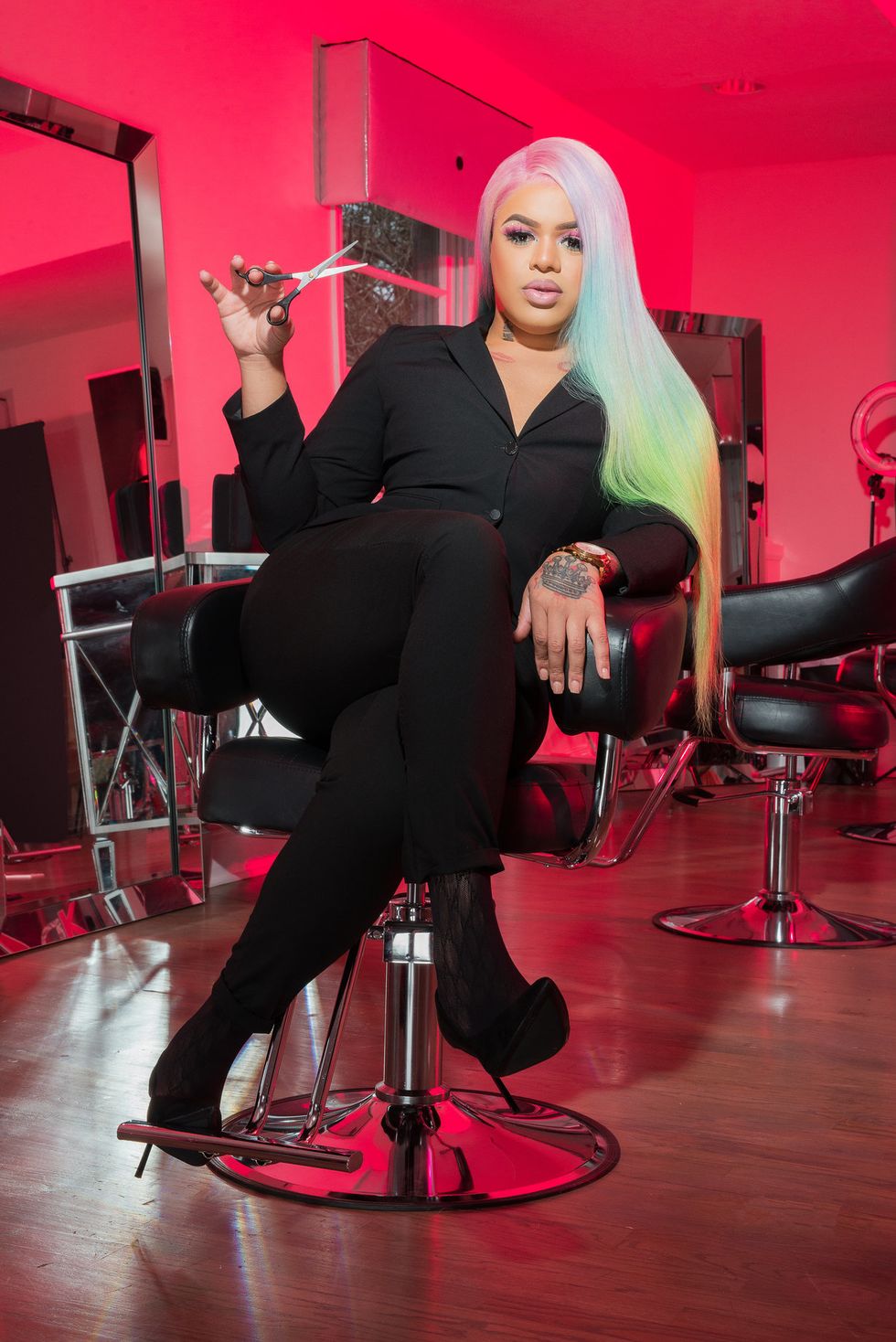 Courtesy of Cliff Vmir
It's All About the Lace.
"When purchasing a wig, you should make sure that the lace is pretty thin and the color of the lace matches your skin and [that] it's a swift lace," Cliff told us. "You also want to make sure that you are getting a nice quality wig. You don't want to get a wig that's kinda cheap because you get what you pay for."
Quality Matters.
Quality over quantity is a life mantra that goes double with wigs. "There [are] so many different types of hair you can use for a wig and that (quality) is something you want to pay attention to when purchasing a wig. You don't want to get a wig that you spend a lot of money on or feel is a lot of money but it's not great quality. You just want to keep your eyes open and do your research, especially from the company you're purchasing your wig from."
Cliff also added that sometimes spending more money on hair upfront can save you money in the long run. "[With] synthetic hair, you can't curl it, you can't straighten it, you could probably color it but it just doesn't give you that flexibility or that movement that human hair does," he explained. "Synthetic hair swells up after a week or two in the end… That same money you're using to buy [and replace] those synthetic wigs, you're gonna be using the same amount of money that you could've been spending on an expensive wig that would last you about six months."
Prep Your Wig Properly.
"When you're doing a wig, you just have to make sure that you bleach the knots, you're plucking it, you're tinting the knots and lace to make sure it matches your skin color. As long as you pluck it well and apply a nude stocking cap underneath to make sure that you have the scalp-like look, then you'll be fine."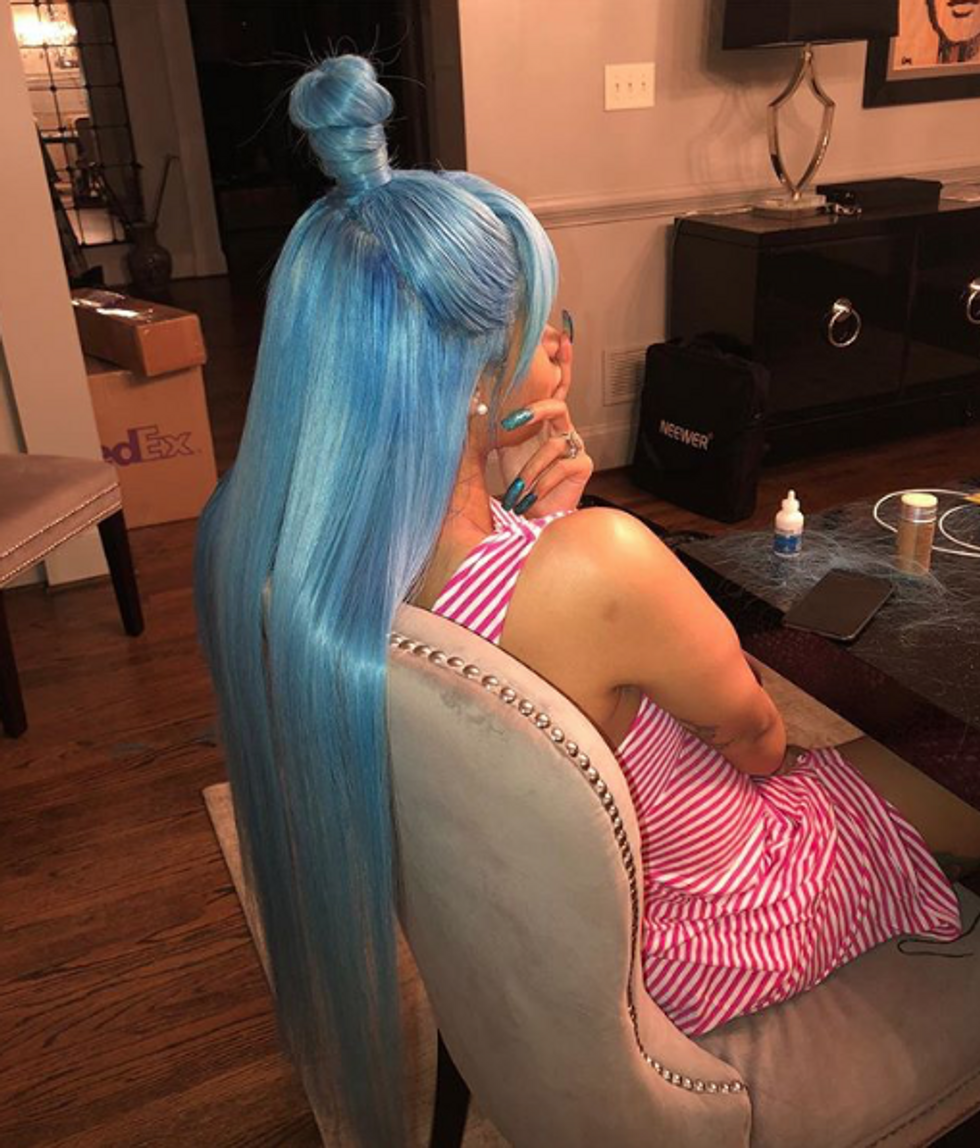 Cardi B styled by Cliff Vmir
Courtesy of Cliff Vmir
Keep It Clean and Dry.
"Make sure that you're very gentle when it comes to shampooing the wig. Make sure you use a mild shampoo and conditioner as well as putting the wig [under] the dryer. That's a lot better and makes the hair feel a lot softer, opposed to blow drying it or air drying it. Air drying it is fine too but you want to make sure that the lace is fully dry, so put it [under] a hooded hair dryer."
If you're looking to wear your wig long-term and prefer to sew it to your head, Cliff has a tip for that too: "Shampoo, condition, and rebraid [your hair], that way you're not putting any heat unto it, really giving it time to grow."
The Way You Store Your Wigs Is Important.
In order to preserve your wigs you must store them properly. "You can get a dome head, the styrofoam heads, or you can even put your wigs in a silk bag. If you are sleeping in the wig, just make sure that it's a silk bonnet or silk scarf. Make sure that the wig has some kinda silk around it, but if it's not around silk, then it needs to be propped up somewhere because cotton does dry your hair out."
Wear The Hair That Works Best For You.
"I wear my Mink Brazilian hair. That's the only hair I really wear out of my company [Hym Hair]. It's very expensive but it lasts a super long time. You can wear it for a year straight and it'll still look like you just got it. That's the only hair I wear. I've tried Indian hair, nothing really wrong with it, it's just the Mink Brazilian hair is less maintenance. If I press it out, I can sleep all on it, and then run a brush through it and it'll still be straight [for] two full weeks."
Tune into Wig Out every Sunday on BET Digital, YouTube, and BET Facebook and the BET App at 6pm. Follow Cliff Vmir on all social media @cliffvmir, and look out for his new EP in March.
Featured image courtesy of Cliff Vmir.
I can't be the only one who remembers R&B singer Sammie, stealing our hearts with the sounds of puppy love at the tender age of 13. Before our very eyes, he's gone from "I Like It" to a grown and sexy "I Love It" two decades later. And we are more than here for it.
The crooner has always been easy on the ears, but has elicited quite a few heart eye emojis (and maybe a few "drip" ones too) over the years from us. Just one look at his Instagram page and you'll see his glaring evolution through his titillating photos, candid captions, and you know we can't forget the Zaddy beard. But even deeper than surface-level attraction, the 31-year-old has proven time and time again how talented he truly is. His new single "Times 10" shows the singer taking a more explicit approach with lyrics like "I'm a real life freak, we can fuck on my sheets."
Sammie - Times 10 (Trailer) ft. Lil Babywww.youtube.com
There's no wonder our eyes get low, our cheeks blush, and our knees buckle whenever a song of his hits our "mood" playlist. xoNecole decided to chat with the artist about monogamy, how past relationships have shaped him into the man he is today, and the sounds we can expect to hear from his forthcoming project, Everlasting.

Sammie On the Type of Music We Can Expect to Hear from Him...
Sammie: I'm diverse. I give you love, I give you pain, I give you passion. I talk about the art of monogamy and trying to master that. I talk about infidelity, so it's kinda a love story. The album is called Everlasting. The reason why I entitled [it] that was because every relationship, good or bad, happy, sad, one night stands has had an everlasting effect on [the] man that I've become so it's not just sex at all; it's about everything that I've gone through in my 14 years of dating.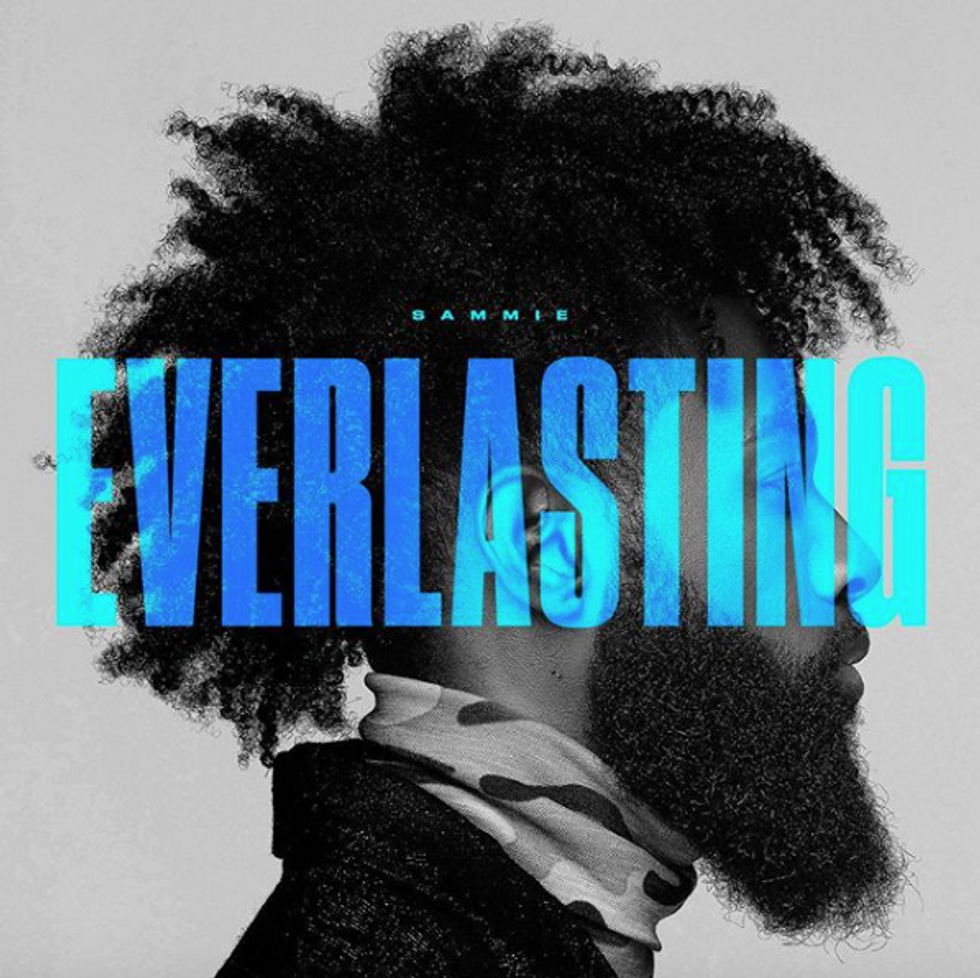 Courtesy of Sammie
"Every relationship, good or bad, happy, sad, one night stands has had an everlasting effect on [the] man that I've become so it's not just sex at all. It's about everything that I've gone through in my 14 years of dating."
Sammie On What He's Learned from His mom About Relationships...
Sammie: My mom is my queen and I started dating at the age of 17, but of course I was still living under her roof so I had to get permission so I wasn't sneaking on the phone talking to my girl. She just told me to be mindful in how you treat women, karma is real, you reap what you sow and all your decisions good or bad will have an everlasting effect. That conversation and idiom at 31 has now resonated.
Sammie On How His Relationships Have Shaped the Man He is Today...
Sammie: I'm a Pisces, I've always been more emotional than the average man. I've been singing to women since I was 12, they were little girls and then teenagers and now we've all grown together. I was always becoming this guy. Every relationship I've gone through, I've learned more and more about myself and I don't like the demons about myself, the dark side. I think the way to fix it is to admit that you have a problem, address it, look yourself in the mirror, and slowly chisel away at what it is you don't fancy about yourself and I've done that. And so I've finally become the man that I've always thought I could be.
Sammie On Heartbreak...
Sammie: I've had my heart broken. Unfortunately, I've also shattered a couple of hearts, nothing I'm proud of. No matter how many women I have in my life, that's not something that's – that's not a trophy to me. I wish I didn't do a lot of those things. However, you can't take back the past, you can only hopefully learn the lesson and apply what it is you learn and progress accordingly.
Sammie On Preferring Monogamy Over Casual Dating
Sammie: I'm a relationship guy. Like my shortest relationship was three years, I was with a girl for four, another girl for four and a half [years], and then three, so that's about 11 years of life and I'm only 31. Eleven years of my life I've been in long relationships so now I'm looking forward to the one where it's forever. I don't want to do three or four years and realize she's not my wife and we're not equally yoked and vice versa, I'm not her husband. So [I'm] not a serial dater. If I'm not involved with somebody, I'm chillin' and focusing on things again that I don't like about myself and preparing myself for my forever.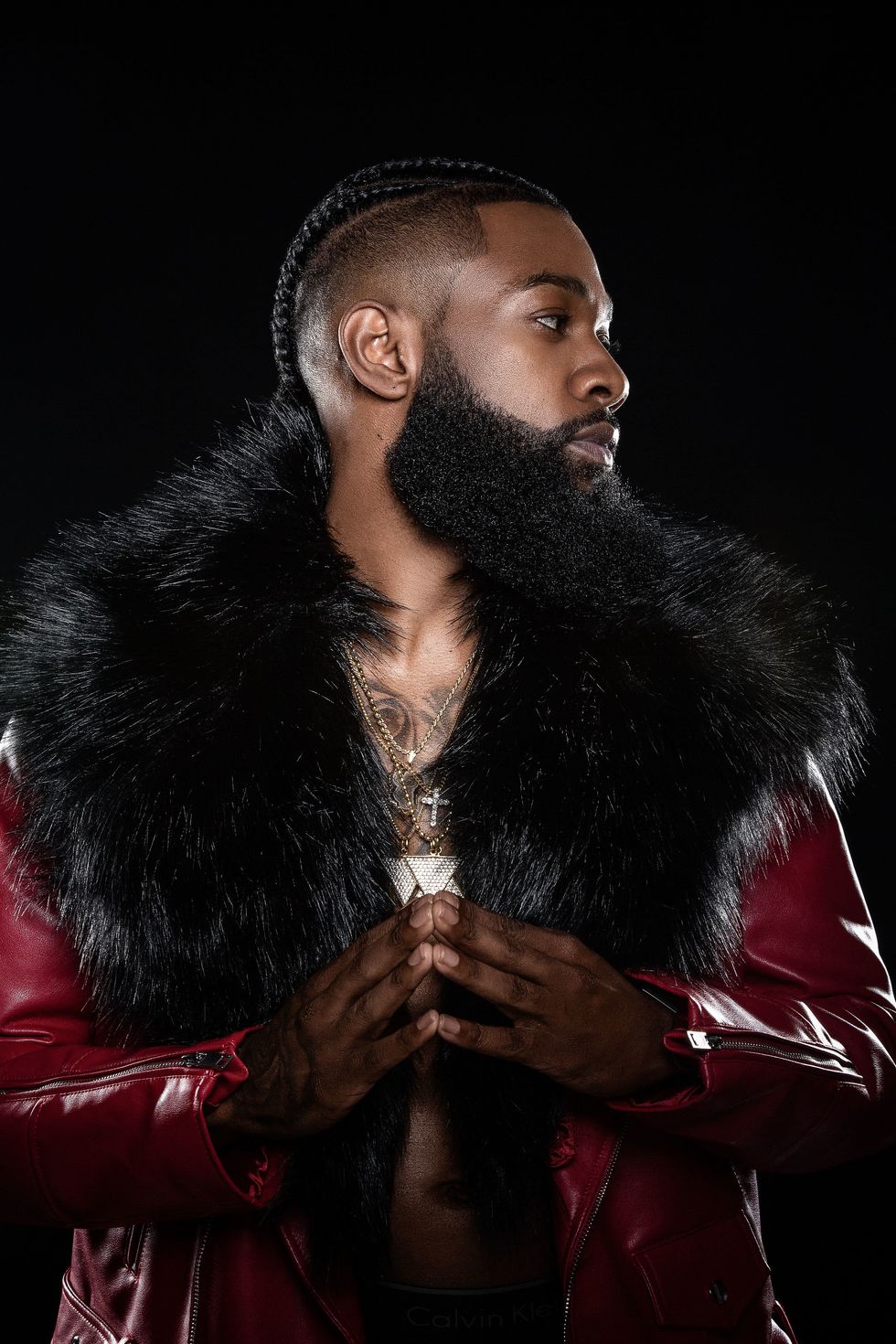 Courtesy of Sammie
"If I'm not involved with somebody, I'm chillin' and focusing on things again that I don't like about myself and preparing myself for my forever."
Sammie On His Ideal Valentine's Day Date...
Sammie: You have to pay attention to what your woman's been talking about maybe all year long. Definitely a nice dinner, something nice, candlelit. If she indulges in wine, Malbec is a good choice, I'm a red wine connoisseur, great conversation. I like interactive things like a movie is intimate but even bowling, something where we can kinda be free and it has to end in the right way. I think a nice sensual – [with] some music playing – bubble bath.
I think when you bathe someone that's one of the most intimate things outside of sex, and you learn new things about their body during that process and then you can end it with some amazing passionate safe sex. That's my ideal Valentine's Day.
Be sure to follow Sammie on Instagram. And check out his teaser for "Times 10" here.
Be sure to follow Sammie on Instagram. And check out his teaser for "Times 10" here.
Featured image courtesy of Sammie