Say that you were to unofficially poll all of the couples who are either married or living together about the current state of their sex life. When it comes to the ones who might say that things are currently less-than-stellar, if you asked them why that was the case, I would be close-to-floored if a roaring majority of them didn't say that it had something to do with how tired they are.
Y'all, the reason why I've written articles for this platform like "The Self-Care Bedtime Routine Every Single Woman Needs", "Yes. Married Couples Should Definitely Have A Nighttime Routine." and "These Sleep Hacks Will Make Getting A Good Night's Rest So Much Easier" is because there is no way around the fact that reportedly 50-70 million people in America aren't getting adequate rest which is highly problematic on a myriad of levels. Sleep deprivation can cause mood swings; effect concentration and performance; trigger anxiety and depression; weaken your immunity; throw your hormones off balance; reduce your metabolism; increase your chances of being diagnosed with diabetes or having a stroke or heart attack; age your skin; cause you to gain weight and, as it specifically relates to this particular article, tank your libido. What's really a trip is this is just 10 of the many reasons why getting less than 6-8 hours a sleep on a regular basis is so not good for you.
Today, though, in the hopes of motivating more long-term couples to "get it in" more often, let's look at the very intimate relationship that sex and sleep have with one another. I'll do so by hitting six reasons — three points a piece for each— why they really do work hand in hand with one another.
1. SEX Stimulates Sleep-Inducing Hormones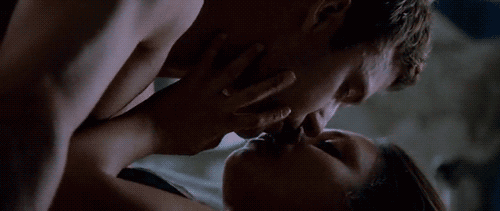 I know a lot of women who get irritated if/when their partner falls asleep right after sex. If you're one of them, don't be mad at the guy — that's the way he was created. The reality is that once men ejaculate, they release a combination of chemicals and hormones — norepinephrine, serotonin, oxytocin, vasopressin, nitric oxide and prolactin. Not only do all of them help him to feel calmer but prolactin levels actually increase during sleep, period.
Besides, don't act like you don't have moments when you want to catch some immediate zzz's as well which makes total sense because sex can raise your estrogen levels which makes REM sleep so much better as well. Not only that but sex also decreases the stress hormone cortisol in the body too. If you put all of this together…if you've been having a hard time getting to sleep lately, when's the last time you had some sex? It can definitely beat any sleeping pill on the market. Hmph. If you disagree, I've got some serious questions for you.
2. SLEEP Balances Your Hormones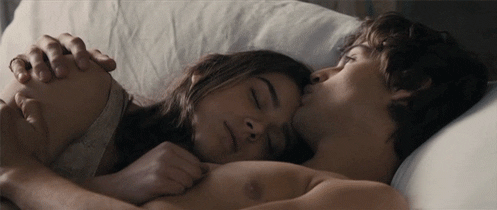 Have you ever wondered why, when you're PMS'ing or on your period, if you're pregnant or if you're going through menopause, you either can't seem to fall asleep to save your life or you can't seem to get enough sleep even if you've slept for hours on end? Usually, the underlying cause is that your hormones have either spiked up or severely dropped which has put your system into a bit of a tailspin. And here's the thing — when your hormones are off, your libido oftentimes is too. Interestingly enough, many times the remedy for both issues is to get more sleep. One of the main reasons why is sleep helps to regulate your cortisol levels so that your hormones can level out. And when your hormones are good, your energy and interest in sex tend to improve, significantly so.
3. SEX Can Physically Make You Look Forward to Going to Sleep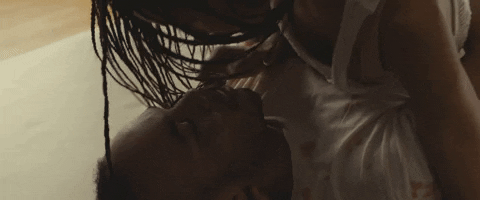 If you're someone who puts off going to sleep because, when your body is still, that's when you experience discomfort that you don't seem to notice otherwise, that's another reason why sex before bedtime can be really good for you. For one thing, did you know that sex is a natural pain reliever? No joke. Whenever you engage in the act, it releases endorphins that can make body aches (especially back-related ones) so much easier to bear. Also, if you're someone who constantly has your sleep disrupted because you've got to pee during all of hours of the night, sex is an act that helps to strengthen your pelvic floor so that incontinence is less of an issue. Something else to keep in mind is there are studies that link a lack of sleep to high blood pressure and guess what? Having sex can help to decrease your blood pressure; that's because oxytocin reduces stress and the less internal stress you've got going on, the greater chance your blood pressure will remain at a healthy level.
4. SLEEP Rejuvenates So That Your Libido Stays Intact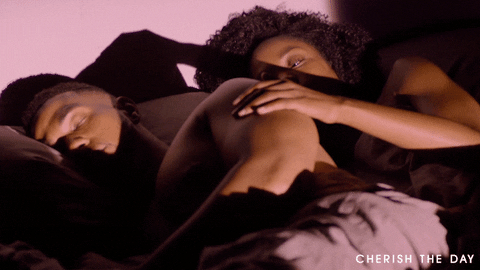 Ah, the layers right here, boy. Let's go with men first. If you're all about having more sex and sleep but the problem is your partner struggles a bit with erectile dysfunction, a fascinating thing that sleep also does is help his system to produce more testosterone so that he's in the mood to have more sex and is physically more capable of getting and maintaining an erection.
As far as we're concerned, because sleep not only helps to balance out our hormones, it can also give us a lot more energy and make having orgasms easier to experience, sleep is also a healthy and proven way to boost/maintain our libido. In fact, I read that one study that said just one additional hour of sleep can increase a woman's chance of wanting to have sex the next day by as much as 14 percent. Hmph. As if you needed another reason to take a nap, right?
5. SEX Bonds You to Your Partner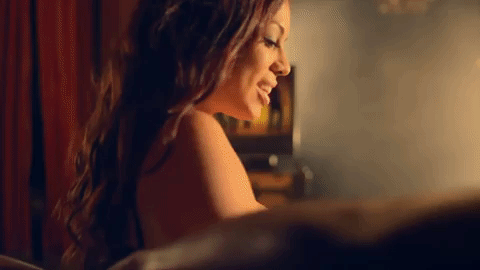 A couple of years ago, I wrote an article for the platform entitled, "We Should Really Rethink The Term 'Casual Sex'". The gist of it was, even if you believe that you can have sex with someone and not mentally or emotionally bond to them, there's no way around the fact that you do end up physically connecting on some level. That's because oxytocin — the hormone that has the nicknaming "the love hormone" — levels increase during the act of sex. And when you feel closer to someone after copulation, that can make you feel safer and stress-free. So much that you may be all about curling up under them and falling asleep — if not for the entire night, at least for a couple of hard-snore-filled hours. Ain't nothin' like sleep after sex. Absolutely nothing, chile.
6. SLEEP Bonds You to Your Partner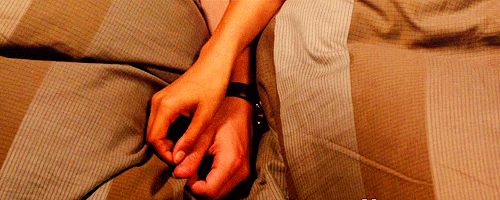 Is there anything better than spooning after a great sex session? It's hard for me to think of too many things that top it. And here's the thing — once you receive the oxytocin high that chemically bonds you to your partner, you can then get another "dose" of it by cuddling up to them as you fall asleep too (check out "Fall's Coming: 8 Wonderful Health Benefits Of Cuddling"). Not only does the oxytocin help you to get to sleep, it can also assist you in falling asleep more soundly so that you can wake up the next day in a better mood and, quite possibly, desirous of even more sex. Perhaps even some morning sex (check out "Here's How To Make Morning Sex...Sexier"). Yeah, funny how all of this works, full circle. #wink
Join our xoTribe, an exclusive community dedicated to YOU and your stories and all things xoNecole. Be a part of a growing community of women from all over the world who come together to uplift, inspire, and inform each other on all things related to the glow up.
Featured image by Getty Images
Keep reading...
Show less
Period pain. Lawd. Could there be something that is more annoying, especially since it happens every 28-30 days? Like, c'mon. If you've ever wondered about the science behind it all, basically, we need our uterus to contract, so that it can shed the lining that accumulated, just in case we conceived in between cycles. And so, what basically happens is, the prostaglandins levels in our system increase which trigger inflammation and also period pain, so that the blood is able to flow from our bodies.
When the cramping and total discomfort begin to set in, while your first inclination may be to pop as many ibuprofens as you can (because they are anti-inflammatories in medicine form), did you know that there are certain drinks that can help to ease what you are going through too? So, the next time you head out to stock up on pads, tampons, over the-counter-meds and whatever else can get you through, get at least two of these 10 drinks as well. I've tried several before and can vouch for the fact that they make periods easier to deal with. Thank the Lord.
1. Orange Juice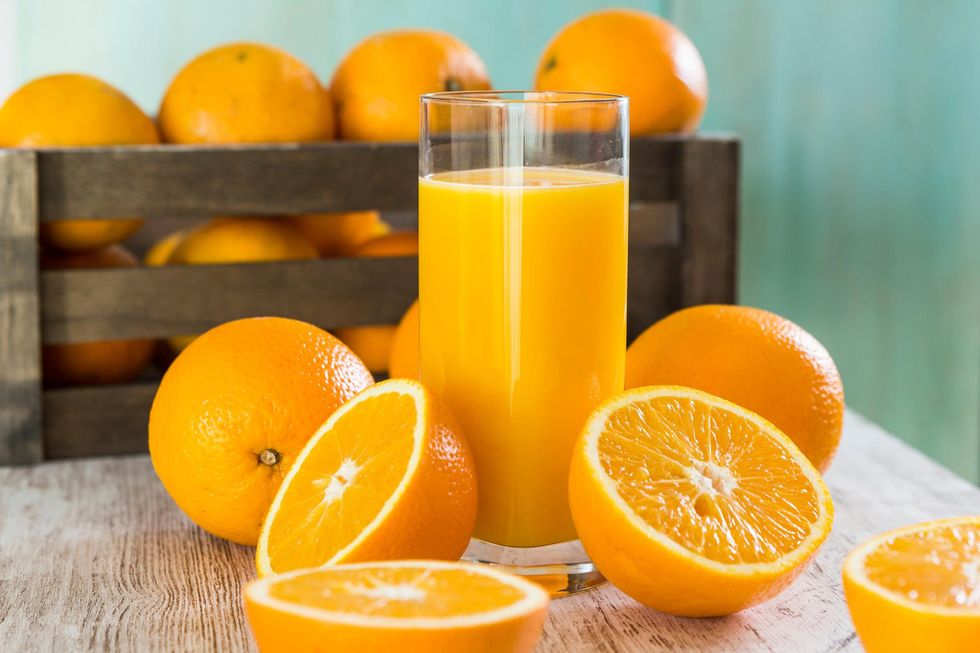 When it comes to this topic, orange juice is a good place to start. That's because it's loaded with Vitamin C while also being a good source of protein, folate and potassium. As far as general health benefits go, orange juice is good for you because it is high in antioxidants, improves your digestive health, assists with preventing kidney-related diseases, keeps your eyesight in great shape (thanks to the beta-carotene that is in it) and, the flavonoids (hesperidin and anthocyanins) that are in orange juice, they even help to regenerate damaged cells. The magnesium that's also in orange juice can make period cramping less intense. Plus, its potassium can help to decrease the amount of bleeding that you do as well as help with making period pain less intense.
2. Oat Milk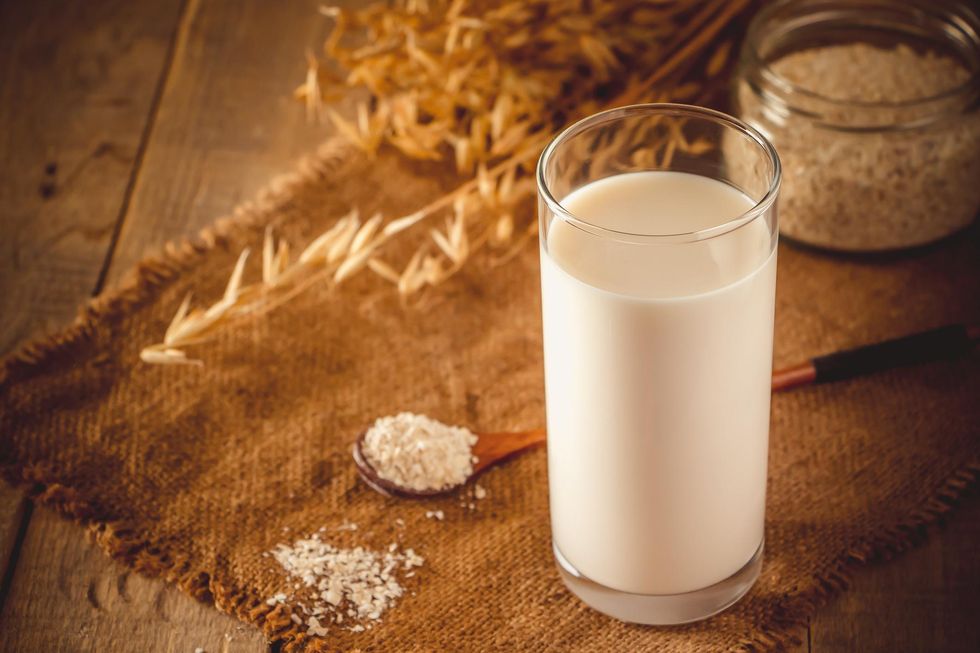 Although I'm a fan of almond milk (when it comes to how it tastes), once I discovered how bad it is for the environment (you can read more about what goes into making almond milk here), I switched over to oat milk. I have absolutely no regrets either. Oat milk is a good source of protein, dietary fiber, Vitamin B12, calcium and phosphorus. If you happen to be vegan and happen to have a nut allergy, because it's only made of oats and water, it's totally fine for you to drink. Plus, it's great for your bone health, can help to lower your cholesterol levels, will increase your energy levels, support the health of your blood cells and, thanks to all of the fiber in it, oat milk can keep you regular too.
And what does oat milk do for period pain? Well, two other nutrients that are found in oat milk are magnesium and zinc. This combo can reduce the uterine contractions that lead to cramping while helping to settle your nerves so that you can rest easier at night.
3. Cinnamon Tea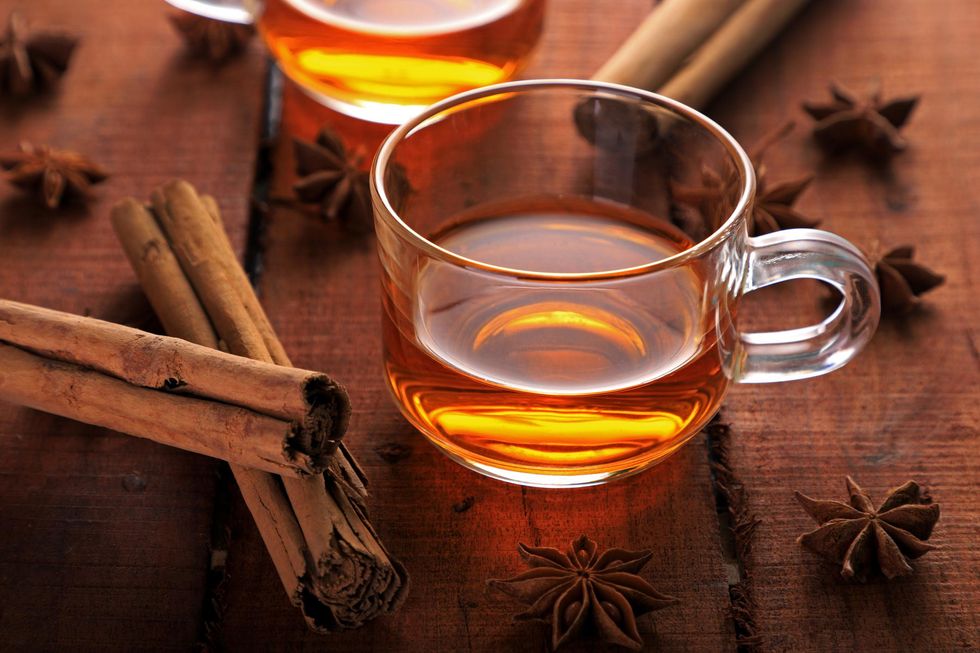 If you like tea that is a bit on the spicy 'n sweet side, look no further than cinnamon tea. As far as health benefits go, it's packed with antioxidants, helps to lower your blood sugar levels, assists with eliminating bacteria and fungal overgrowth and can even improve your skin by fighting signs of aging and reducing breakouts. The reason why it's so dope to drink when you're on your period is because cinnamon tea contains properties that reduce bodily inflammation which can help to decrease menstrual-related discomfort and bleeding. Awesome.
4. Banana and Kiwi Smoothies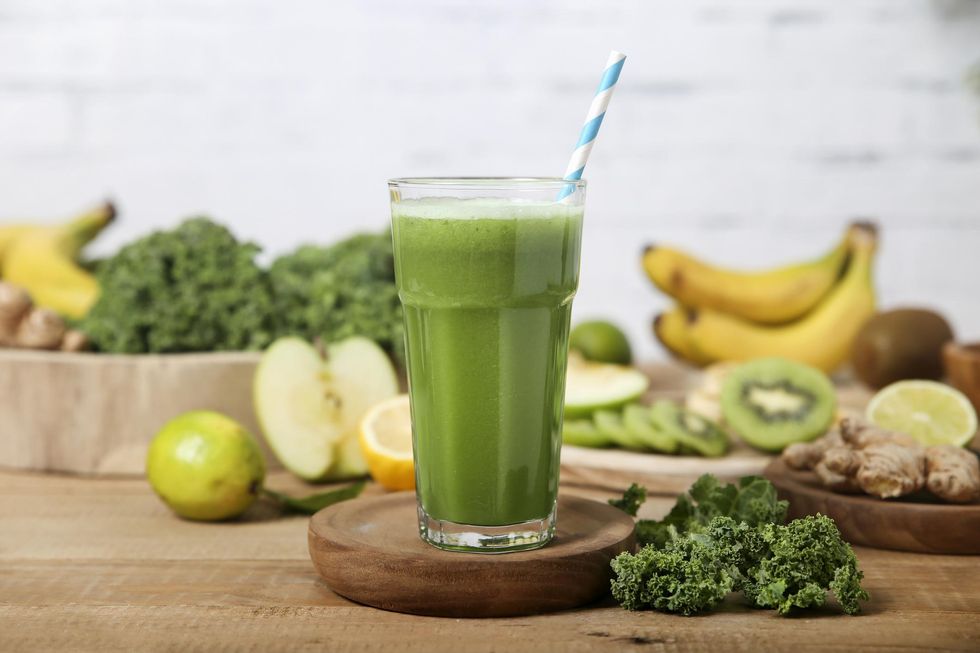 While my periods aren't rough on the pain tip, the second day of my flow is so ridiculous that sometimes I'm too tired to do a lot of cooking. That's where smoothies come in because they are quick and easy to make yet, depending what you put in them, they are still loaded with nutrients. Take a banana and kiwi smoothie, for example. Bananas are good for you because they are full of fiber, protein, antioxidants, and some vitamins B6 and C, potassium and manganese. All of this helps to improve your digestive health, regulate your blood sugar, prevent muscle cramping and increase kidney health. Plus, the dopamine in bananas is helpful when it comes to keeping you in a positive mood. The Vitamin B6, along with the potassium in them can make cramping less severe.
As far as kiwi goes, talk about a little fruit that packs a powerful punch! Kiwi has fiber, copper, potassium, antioxidants, vitamins C, E, K and so much more in it. Also, kiwi has a reputation for easing asthma-related symptoms, regulating blood pressure, improving digestion, boosting immunity and helping to prevent chronic diseases from setting in. It's awesome when it comes to your period because the properties in kiwi can also help to prevent blood clotting. If your period pain is directly related to clotting, I'm sure you can see why this is certainly good news to know.
5. Kombucha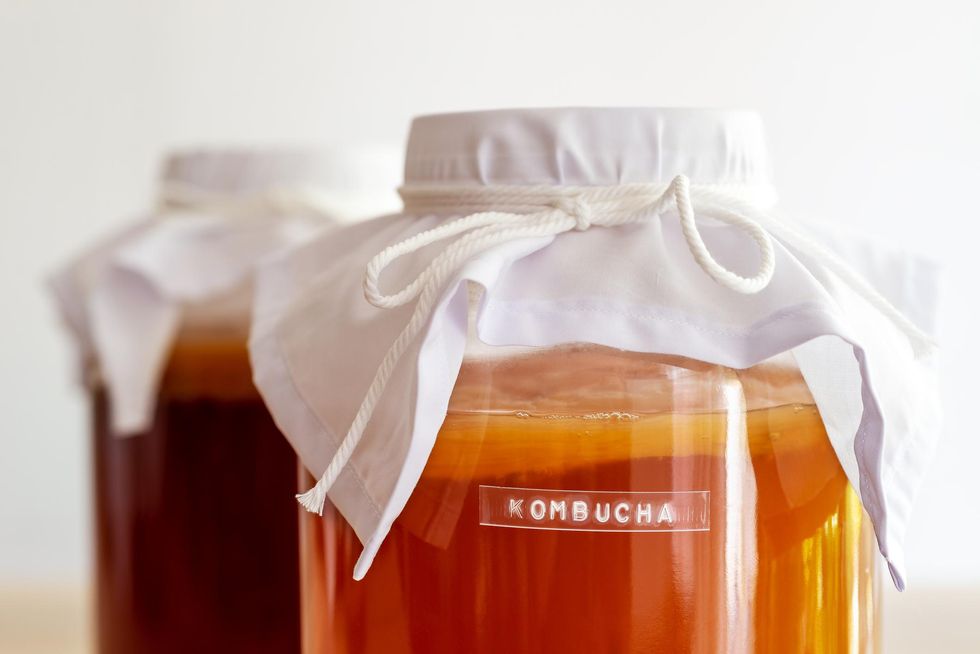 Kombucha is a fermented form of green or black tea which definitely makes it an acquired taste. Still, it's one of the healthiest drinks around because it's loaded with antioxidants, is powerful when it comes to getting rid of bad bacteria in your system, it's great at helping to manage type 2 diabetes, it can reduce your heart disease risk and, it can even help to slow down the growth of cancer cells. There are two main reasons why it's so beneficial when you're on your period. First, something else that kombucha contains a high amount of is B vitamins. This is good to know because they can help to stabilize your moods. Also, there are tons of probiotics in this kind of drink which makes it something that can bring balance to your hormones so that period-related discomfort is less, well, uncomfortable.
6. Dark Chocolate Milk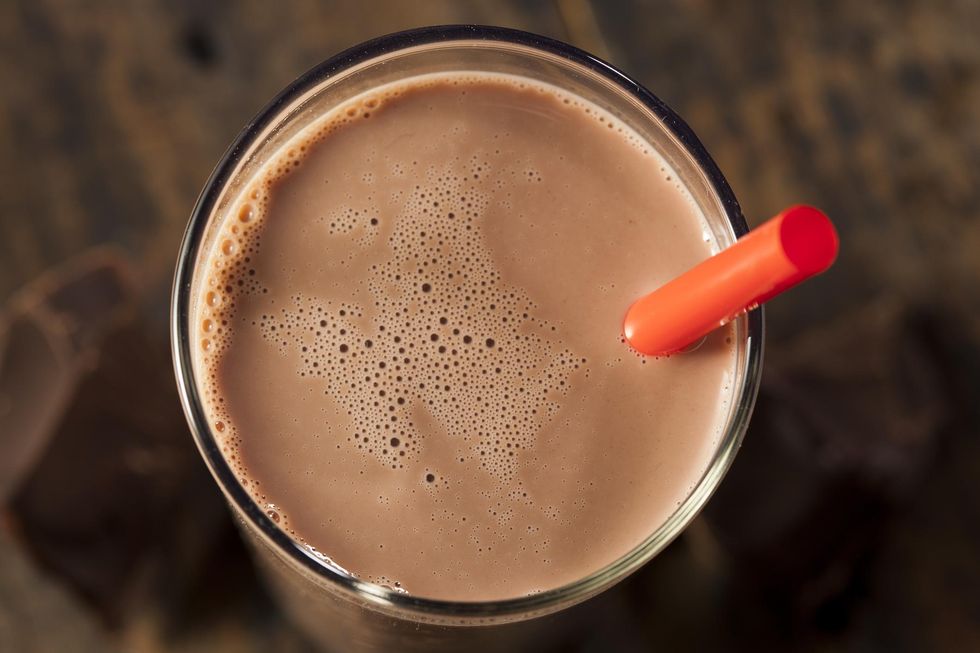 It's kinda crazy that something as good as dark chocolate comes with as many nutrients that it does. It's got a ton of fiber and also has an unbelievable amount of iron, magnesium, copper, antioxidants and manganese. It's also a good source of zinc, potassium and selenium. Because properties in dark chocolate can help to relax your arteries, it has a way of increasing easier blood circulation/flow, lowering your blood pressure, improving your brain function, protecting your skin from damaging sun rays and decreasing your stroke risk.
Period-wise, the potassium and zinc can soothe uterine contractions and the iron can replace some of it that's lost during your cycle. And, since calcium assists with reducing bloating and fatigue, whether you opt for milk or a milk alternative, dark chocolate milk is a delicious way to bring much period-related relief.
7. Watermelon Smoothies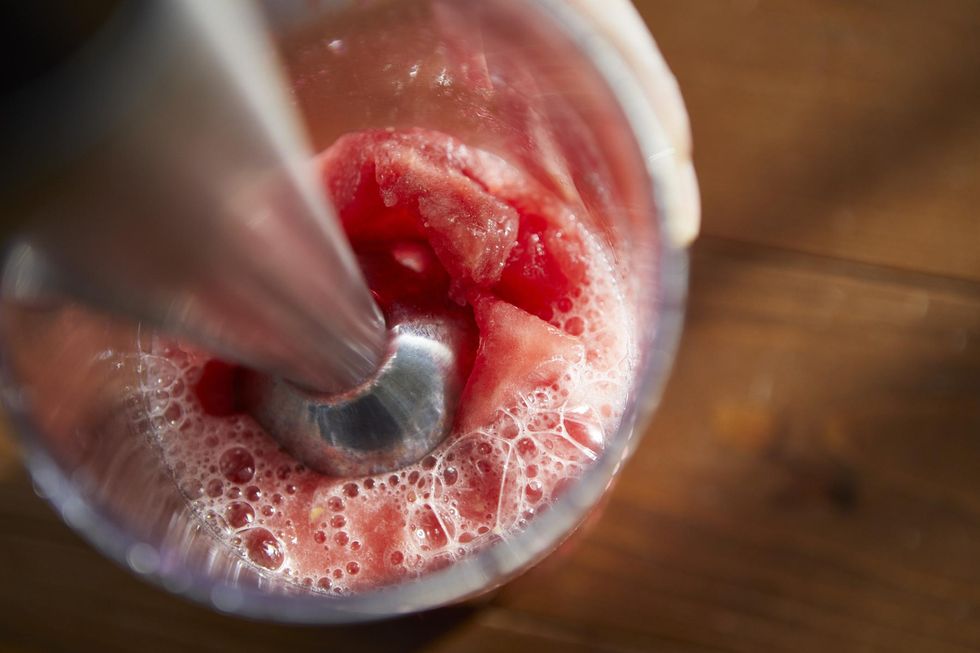 Whenever I think of the health benefits of consuming watermelon, the first thing I think about is how it has a reputation for being "the all-natural Viagra", thanks to the amino acid called citrulline in it that helps to relax blood vessels. Anyway, some of its other pluses include the fact that it's got a good amount of vitamins A, C and also Vitamin E (which is great because it has anti-inflammatory properties in it). Watermelon also contains compounds that help to fight cancer, improve heart health, reduce stress, decrease muscle soreness and improve the quality of your skin. If smoothies are totally your thing, a watermelon smoothie while you're on your period absolutely won't hurt a bit since it is able to hydrate you and help to increase easy blood flow, so that your cramping won't be quite as painful.
8. Ginger Tea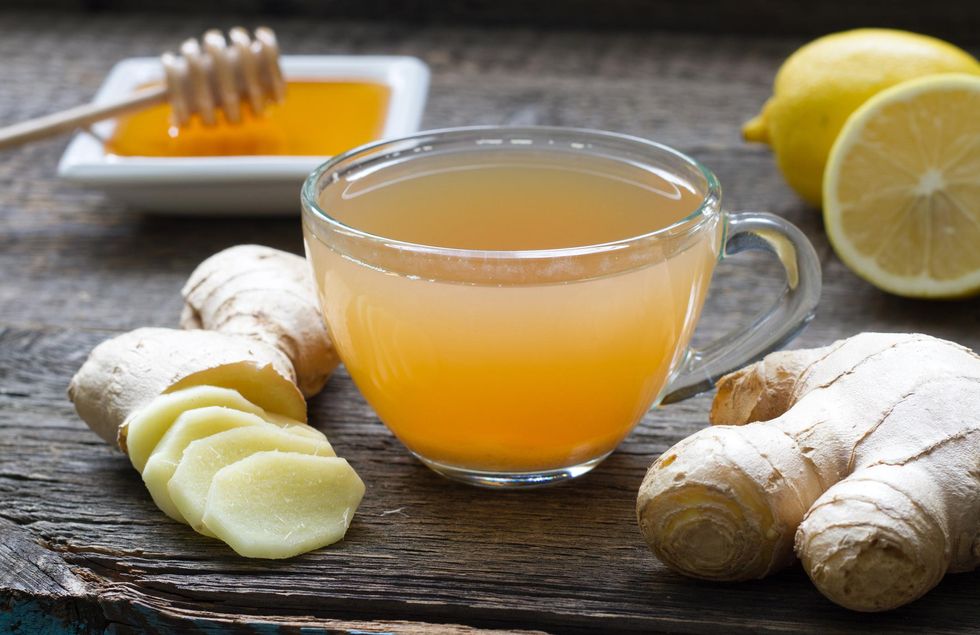 Ginger tea is another spicy kind of tea that is really good around "that time of the month". That's because it also has anti-inflammatory properties in it, along with pain-relieving ones that can make cramps more tolerable and bloating less noticeable. Some other benefits of this particular kind of tea include the fact that it can help to reduce your blood pressure, ease the pain that's associated with headaches and migraines, aid in weight loss, soothe feelings related to nausea and, because it also has a lot of antioxidants in it, it can help to boost your immunity too.
9. Mocktails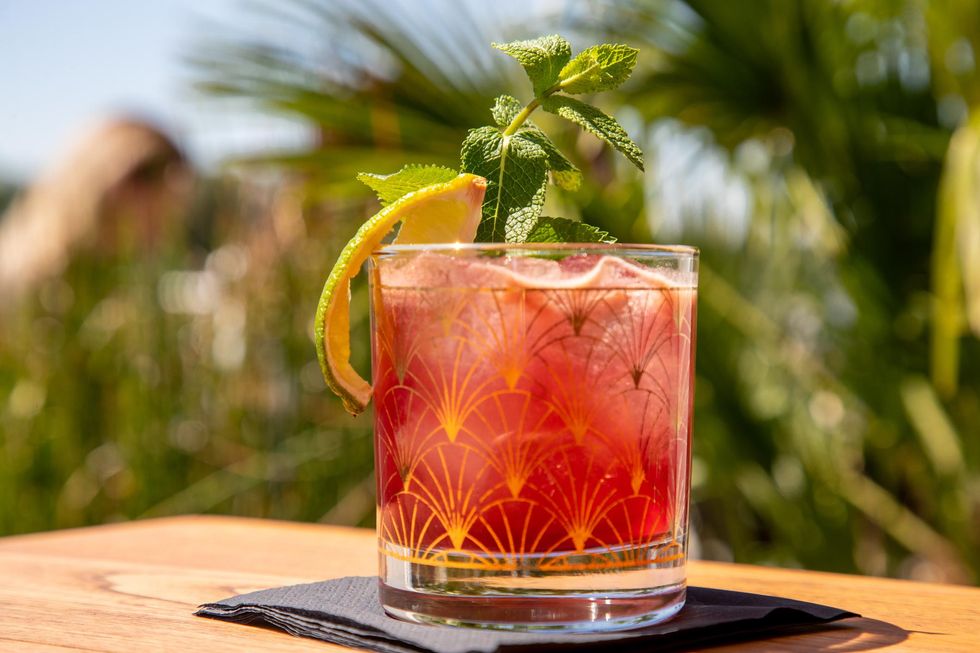 One thing that your period tends to do is dehydrate you. And so, if you're someone who, as soon as your cramps set in, the first thing you think is "Damn, I need a drink", try and go for a mocktail (an alcohol-free drink) instead of an actual cocktail. The reason why is because alcohol can sho 'nuf dehydrate you and, when that happens, it can lead to headaches, bloating, nausea, diarrhea, fatigue, increased cramping and all sorts of other drama. While we're here, also avoid sugary drinks during this time of the month because they can have your moods being all over the place. That said, even when it comes to your mocktails, try and go with ones that don't have loads of sugar in them. Your period will certainly thank you.
10. Water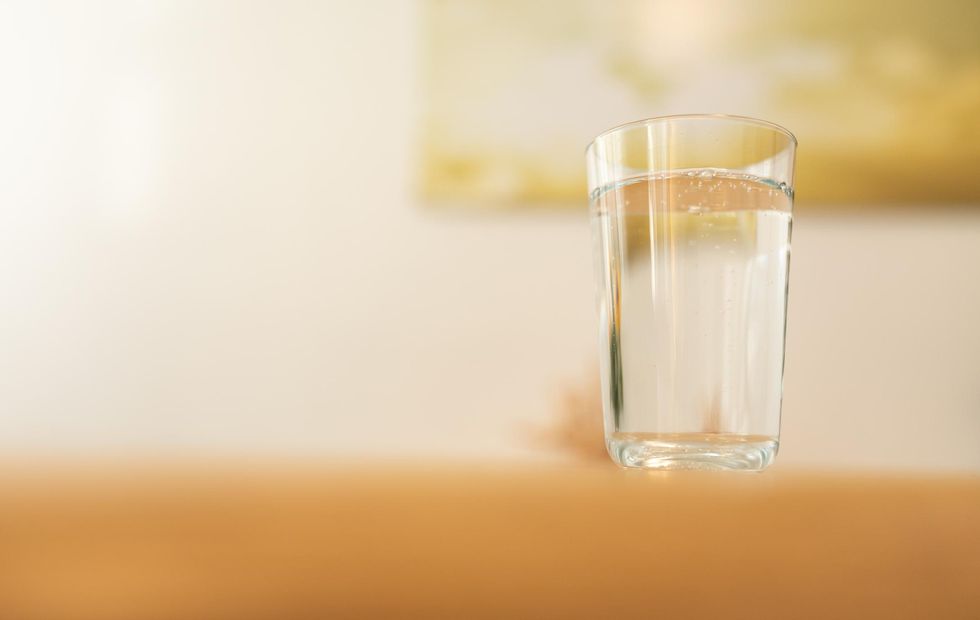 We're made up of over 60 percent water so, of course, our system needs it. This is especially the case during our period since we tend to lose body fluids which can make period pain that much worse. If you add to this the fact that water also flushes out toxins, helps to keep you regular, boosts energy levels, protects organs and tissues, cushions joints, keeps your body temperature stabilized, aids in digestion, supports weight loss, clears skin and treats headaches — if you drink nothing else on this list, make sure to get no less than 6-8 glasses of water. It will definitely do a body good…especially when you're on your period.
To learn more about all things vaginal health and wellness, check out the xoNecole Women's Health section here.
Featured image by Getty Images
Keep reading...
Show less
One of my favorite things about the changing seasons are the new vibes and new energies that change welcomes with it. September represents a transition from the white sand beaches, bottomless brunches, and undeniable romantic vibes long nights, festivals, and impromptu road trips often thought of when we think about the summer. In its place comes romanticism in a different approach. Pumpkin spice anything, the excuse to cuddle up, and the leaves of the trees turning warm shades sparks joy in a different way as fall begins. Perhaps what I am most excited about though are the 2021 wellness trends that come with it.
From hiking to self-pleasure, here is what the fall season has in store for you in the form of wellness trends.
1. Cold Water Therapy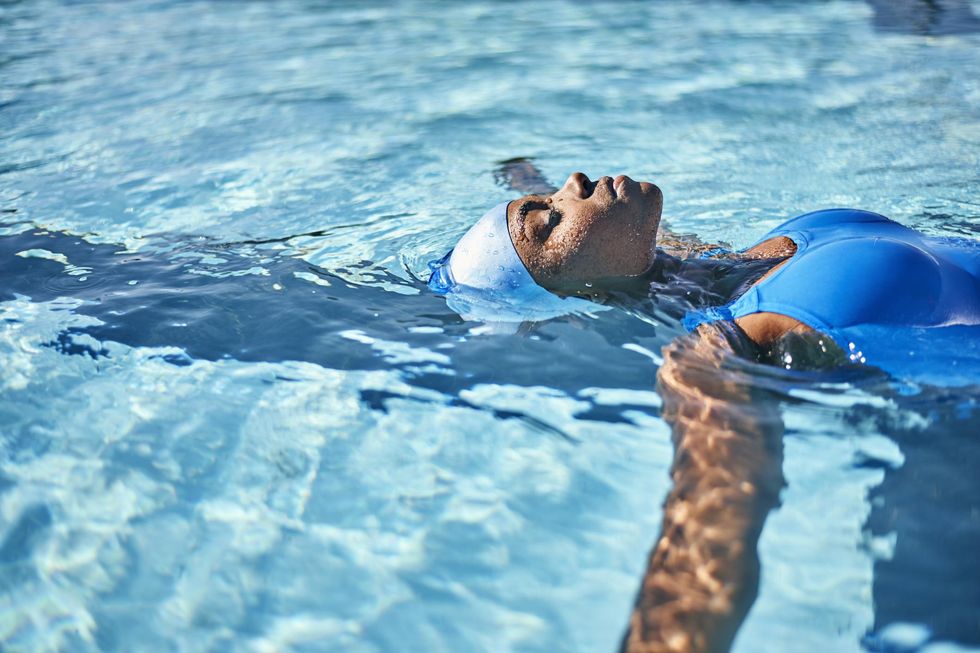 Getty Images
Cold water therapy can look like indulging in cold showers every morning or as immersive as ice water baths, swims or cold chambers. While cold water therapy might have gained popularity from Wim Hof and his infamous breathing methods, it turns out, opting for cold water over hot water comes with its share of benefits. From boosting your immune system and energy levels to improving your quality of sleep and overall mood, the benefits of cold water therapy aren't only limited to recovery (i.e. muscle soreness).
And if you were wondering what temperature qualifies as cold water therapy, according to Dr. Michael Barnish, anything below 15 degrees Celsius. Talk about icy.
2. Hiking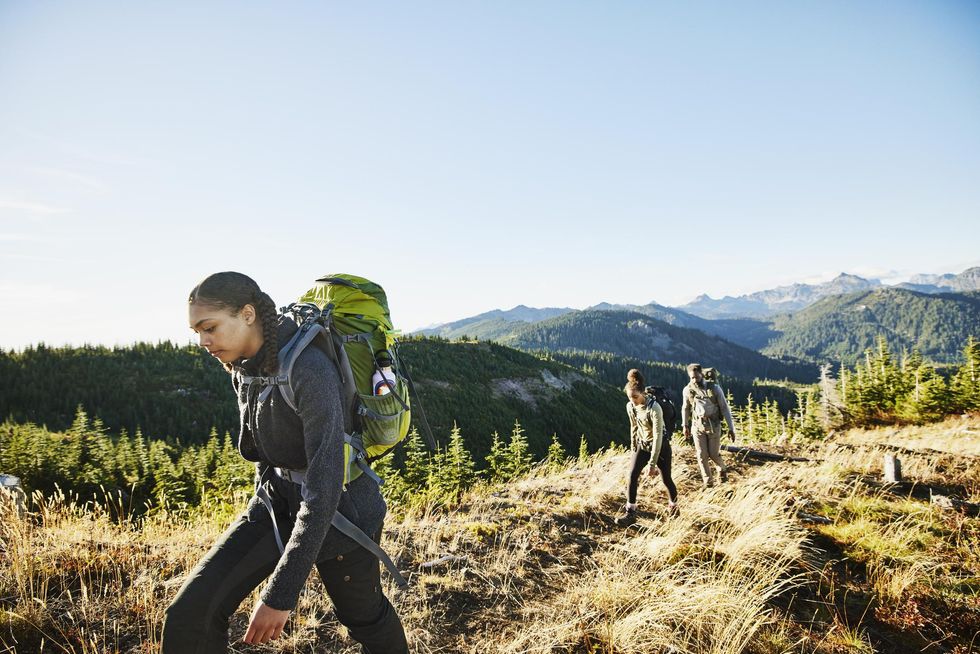 Getty Images
I first fell in love with hiking while in the mountains of Mexico and have indulged in the activity whenever I can ever since. Although it is a great thing to do for the mind, body, and spirit year-round, there is something special about fall hikes. Perhaps, it is the changing foilage. Perhaps, it is the not-too-hot, not-too-cold weather combo. Whatever it is, Outdoor Industry Association, has seen a spike in the amount of hiking people have been engaging in in 2021, and it doesn't look like it's a trend that will stop. What's better is that it it is a way to tap into escapism while being safe (because we are still in a panorama out here).
If you haven't been hiking yet this year, the fall season might be the perfect time to begin. Travel + Leisure has a great list of the best hikes in the U.S. that you can check out here.
3. Ritual Baths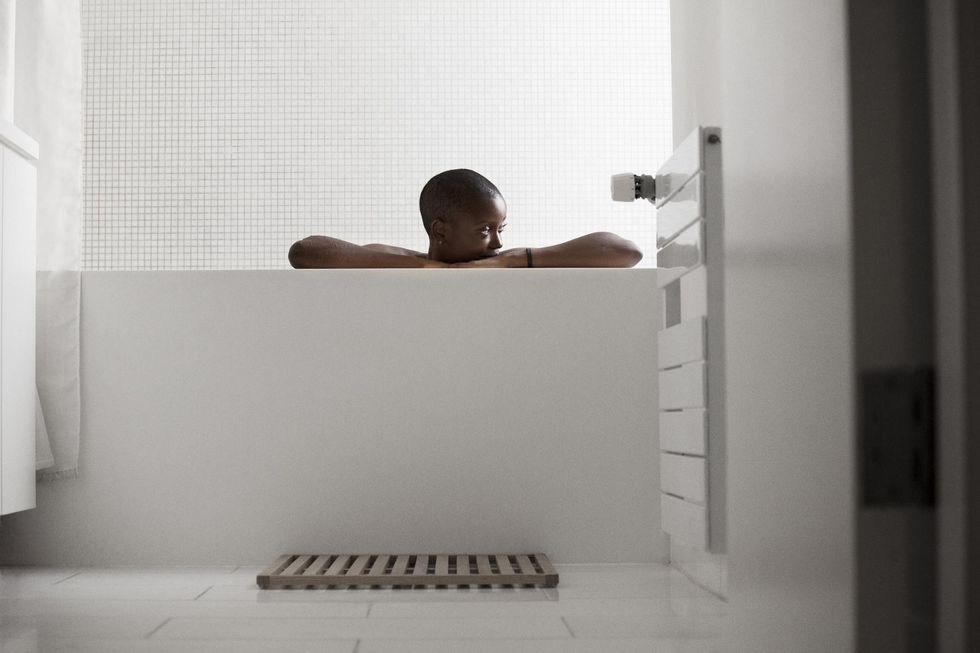 Getty Images
I first became introduced to the magical world of ritual baths in the metaphysical space where tarot readers and other spiritual practices noted the benefits of sacred ritual baths as a way to detox, ground, and cleanse. Bathing in general is about the cleansing of one's body, but ritual baths take things a step further by adding a spiritual component to how you bathe. Florida water, Epsom salt, sage, crystals, rose petals and coconut milk can be common staples in ritual bathing. Bathing can be more than a cleansing practice, it can be transformative and healing.
Mama Medicine, author of Ritual Baths, recommends starting with foundational elements like cinnamon sticks and unscented candles with your ritual baths. Depending on what you are trying to attract or channel, there are a plethora of recipes you can choose from, including ones for clarity, strength, grounding, and self-love. For more information on starting your restorative ritual bathing practice, start here.
4. Self-Pleasure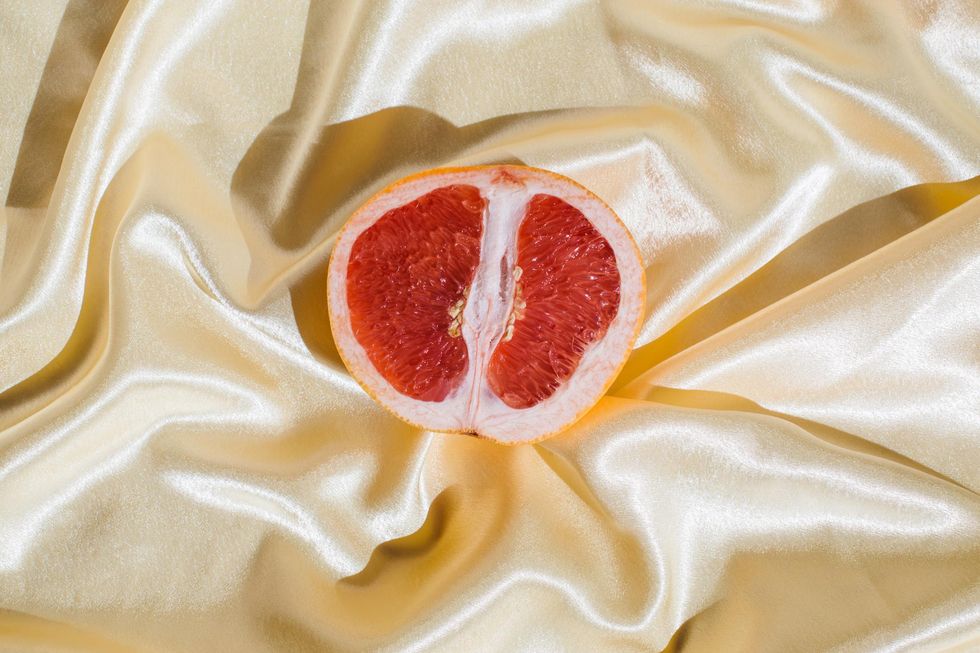 Getty Images
Nothing speaks to me quite as strongly as the word "pleasure", add some self to that, and I'm all about it. Self-pleasure through masturbation has been a staple of my life for years now, but 2021 finally marked the year where sexual wellness is much more mainstream and therefore being looked at as a means of self-care, aka self-pleasure is something to be prioritized in order to truly live well.
Besides the euphoria that usually follows a self-pleasure experience, orgasms are good for the mind, body, and soul. From regulating your cycle to being nature's painkillers, pleasure can maintain your health and your peace of mind. Doing so through acts of self-pleasure increases your self-esteem as well as your knowledge of your body and your ability to communicate your pleasure needs to others. Invest in your sexual wellness by adding sex toys to your toy box, getting some lubricant, watching ethical porn, and/or experimenting with doing more of what feels good to you.
Pleasure is your birthright. Indulge accordingly.
5. Face Yoga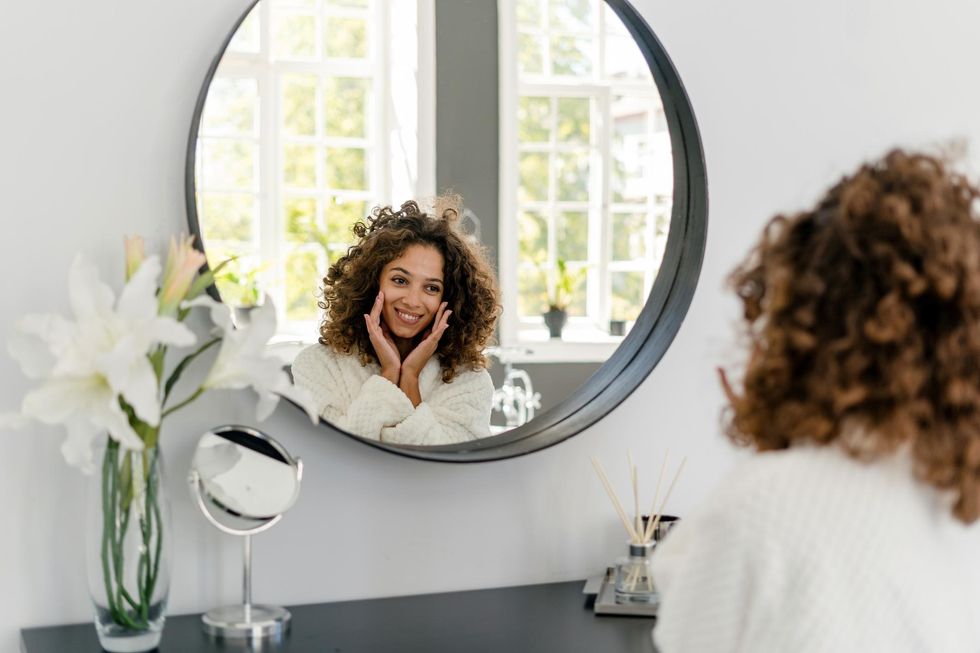 Getty Images
On the surface, face yoga can seem like yet another pathway into aging backwards. However, in reality, it's more like another way to assist you in aging gracefully. In order to combat the effects of tension, worry, and stress on your face muscles, enter face yoga. Through a series of facial exercises that include massages targeting the lymphatic system, the skin, and the muscles, face yoga is a natural approach to revitalizing the look and appearance of your skin.
The end result is a more youthful look without the Botox (allegedly). Want to give face yoga a try? The Face Yoga Expert has a 10-minute evening routine you can join in on here.
6. Adaptogenic Drinks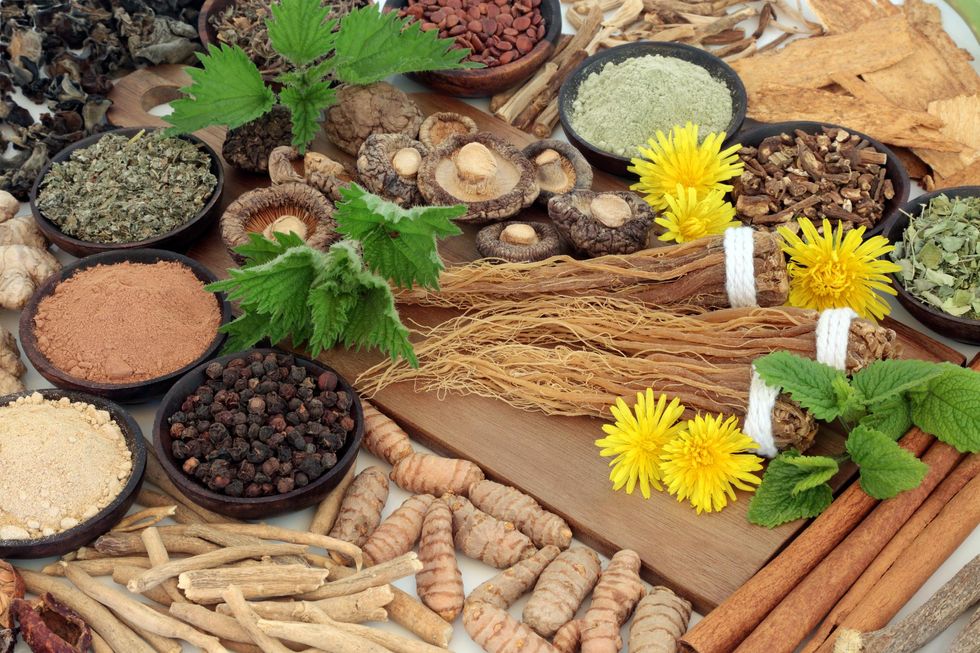 Getty Images
Want to stress less? The secret might be in implementing adaptogenic drinks into your everyday life. With stress and anxiety at an all-time high, there's no wonder people are looking everywhere for holistic approaches to stress relief, from CBD and now to adaptogenic drinks. Known for their ability to help our bodies adapt to stress and regulate our hormones, adaptogens have long since been heralded in the wellness industry for their benefits. Now that they are being consumed in readily available beverage forms, that hype has become next-level.
While adaptogens like maca, ginseng, ashwagandha, and holy basil are where it's at, adaptogenic drinks from brands like Recess, Trip, and Vybes are definitely paving the way for the adaptogenic wellness drink trend.
For more inspiration, self-care, and wellness tips, check out xoNecole's Wellness section here.
Originally published on Sheriden Chanel
Featured image by Getty Images
Keep reading...
Show less
Reading is by far one of the easiest ways to press pause and escape. Some books are page-turners, keeping you on the edge of your seat with each and every thrill. Other books are filled to the brim with intrigue. Other books are filled with so much heat between their pages, it's a wonder how erotica can almost feel as tantalizing as the real thing. Above all, we can read books for knowledge. It was author Stephen King who said, "Books are a uniquely portable magic." We learn, we love, we fantasize, we feel, and we heal from these portals of hundreds of pages offering food for thought. How could books not be magic?
These days, more and more of us are finding solace through reading and community by way of online book clubs. In the midst of a pandemic shaking our lives as we know it, many Black women found a sense of peace and normalcy in the virtual world of book clubs, a reality that's still going strong. Here are at xoNecole, we are always looking for ways to help like-minded women find community with other Black women in safe spaces. In honor of that, we've compiled a list of book clubs founded by Black women catering to Black women.
So if you're a lit lover, prepare to bookmark this article!
Noname Book Club
It's not just a "Diddy Bop" for rapper Noname, sis is the founder of a popular book club aptly titled, Noname Book Club. What began as a quick photo update on social media of a book she was reading has become an online community that amasses 140K Instagram followers and counting. With the tagline "reading material for the homies," the focus of the club is on mostly literature penned by writers and authors of color. Noname shared with The New York Times, "We read books, but under the umbrella that I am continuously trying to expand different initiatives through book club."
Required Reading: The Autobiography of Malcolm X As told to Alex Haley and Homegoing by Yaa Gyasi
Well-Read Black Girl Book Club
Created in 2015 as a safe space, the Well-Read Black Girl Book Club is yet another book club in the digital space amplifying the narratives of Black women and non-binary authors. Once just a book club, the movement has since evolved to a literary festival in addition to being a place to inspire healthy discourse amongst Black women. Of the thriving community, founder Glory Edim has shared, "I'm honored to be of service and shine a light on the work of so many amazing authors. I'm grateful for our beautiful, bright community. Together, as a collective mind with a shared purpose, we can reimagine the literary canon."
Required Reading: Seven Days in June by Tia Williams and The Love Songs of W.E.B. Du Bois by Honoree Fanonne Jeffers
For Colored Girls Book Club
The Indianapolis-based book club For Colored Girls Book Club found their community online. The founder Gizelle Fletcher had a desire to read and discuss books written by women of color as well as non-binary writers. Through her work with the club, Gizelle has been able to fulfill her purpose of amplifying Black and brown voices and does so on a monthly basis every fourth Tuesday.
Required Reading: Assata: An Autobiography by Assata Shakur and The Secret Lives of Church Ladies by Deesha Philyaw
Smart Brown Girl
YouTuber Joulzey created the Smart Brown Girl Book Club as an extension from her Smart Brown Girl brand. Her motto? Making reading accessible to all since knowledge is power. The SBG Book Club offers live discussions and syllabi based on the track you're interested in (General Track vs Exploration Track). With a mission to help Black girls in forgotten spaces gain access to a world bigger than us all, the sky's the limit with the knowledge Joulzey seeks to facilitate in her community of readers.
Required Reading: The Other Black Girl by Zakiya Dalila Harris and THICK by Tressie McMillan Cottom
Mocha Girls Read
Mocha Girls Read is an LA-based book club that meets monthly to discuss selected reads amongst a community of like-minded readers. Unlike a lot of the other book clubs mentioned in this article, Mocha Girls Read has a more expansive selection for their reading list. They read fiction, non-fiction, chick lit, self-help books, historical romance, best-sellers, and more and don't limit their selections to gender or race.
Required Reading: Dear Girls: Intimate Tales, Untold Secrets & Advice for Living Your Best Life by Ali Wong and The Midnight Library by Matt Haig
For more inspiration, self-care, and healing tips, check out xoNecole's Wellness section here.
Featured image by Getty Images
Keep reading...
Show less
A couple of years ago, I had significant breakthrough in so many areas of my life. At first, it felt overwhelming to process so much guilt, shame, blame, resentment, and anger. There was so much digging I had to do to understand my journey — let alone accept areas in my life that I felt deprived of and to see the lessons in it regardless. It was a rude awakening to see all the things I was carrying for years emotionally and mentally, and I never thought it was necessary to pause and find tools to work through a lot of my issues. However, this transformative experience made me hungry for healing.
From books, to podcasts and TED Talks targeting healing, being more intentional in therapy regarding the areas I knew needed more love, meditation, interactive workbooks on healing, journaling, and having more in-depth conversations with friends and my partner at the time about the patterns I wanted to change. My fresh awareness planted a seed that made me inclined to do the work. I said, "God, I know you didn't call me to see myself so clearly for no reason, reveal what I need to see to push me to do the work needed to live a more intentional and less emotionally heavy life." And thankfully, he answered my prayer request, he knew I'd work through the adversary no matter how difficult things got, and he provided me with just the right tools and people to guide me to new emotionally mature heights at the right time.
Every individual has a unique journey on this planet, but one thing we all go through is trauma, and the advantage we have in this generation is having access and an overload of information to healing! So whether you need to work on your boundaries, trauma bonds, codependent relationships, enmeshed relationships, emotional intelligence, inner child healing, self-awareness, and the list goes on, I got you!
Check out the list below regarding the most instrumental books and podcasts that have helped me work through healing in many areas of my life.
On Purpose Podcast by Jay Shetty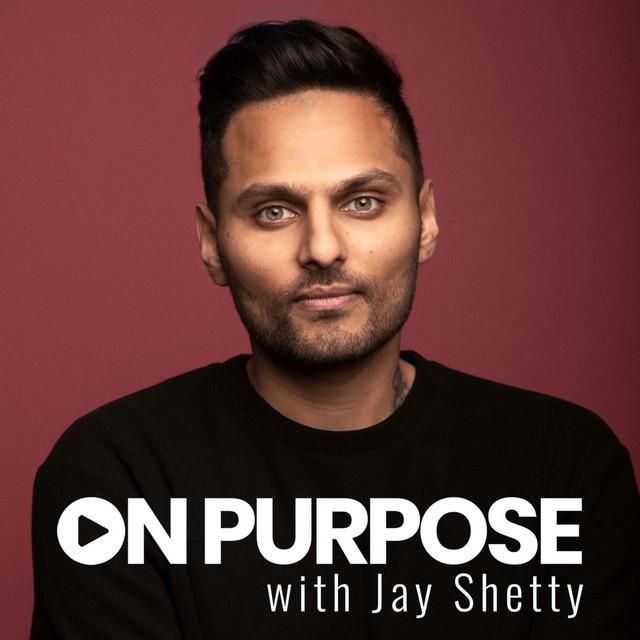 On Purpose Podcast
The first time I witnessed Jay Shetty's wisdom was on Red Table Talk, an episode in season two called "The Roadblocks Between You and Love", and I was exceedingly impressed. Shetty has such a unique experience, born and raised in London, U.K., from a high expectation South Asian family, and yet he became a monk at age 22 and retired that lifestyle around 25. The level of discipline and willingness to unlearn consistently being a monk is a scholar's mindset, but it's even more courageous that he transformed his experience to a universal lens of healing in every aspect of life.
His podcast On Purpose, started in 2019 and is the number one podcast globally in the wellness market. Shetty covers topics consisting of pragmatic steps on unlearning unhealthy habits, skills to raise your self-awareness, tips for combating imposter syndrome, coping with anxiety and depression, and my favorite is his stellar relationship advice. We can all benefit from his wisdom, stemming from his monk analogies to modern-day tools to cultivate a healthier and balanced you! Also, check out his profound book called Think Like a Monk, which provides interactive questions to dive deeper into self-work in every chapter. His podcast is available on all major streaming services!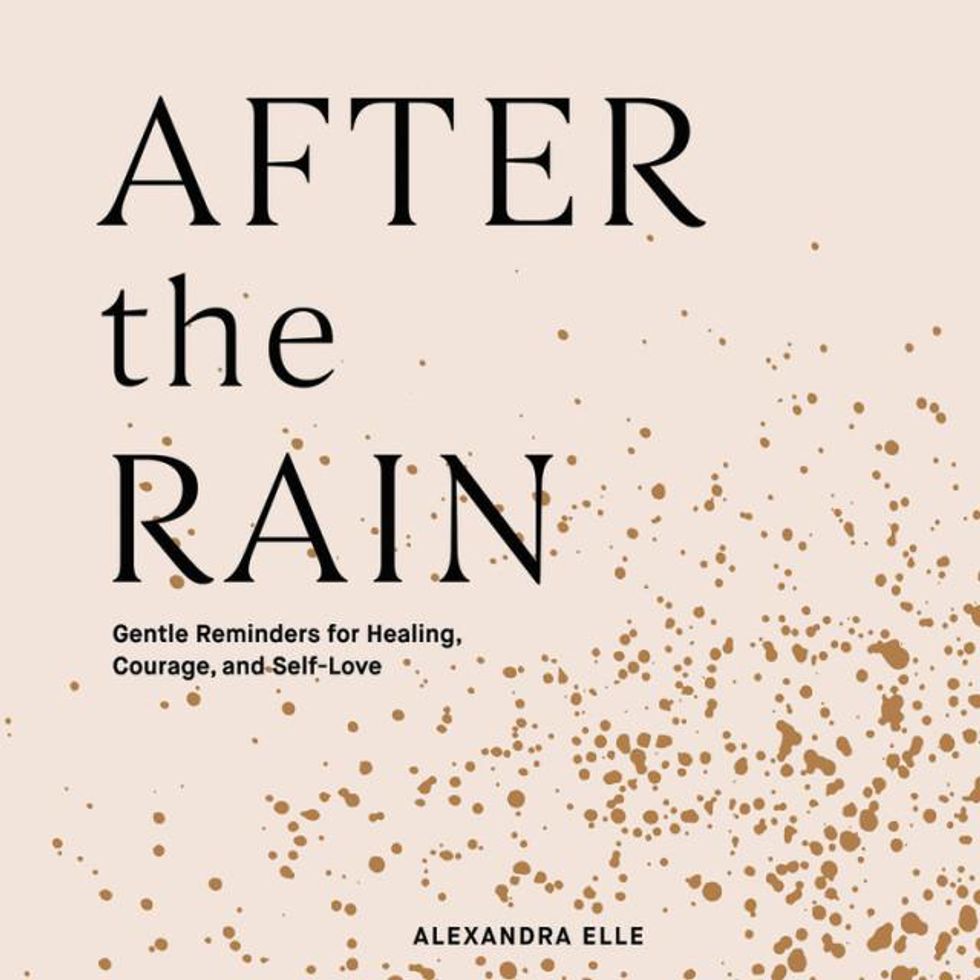 Amazon
Alexandra Elle, aka Alex Elle, is an author of four self-help books, host of The Hey Girl podcast, and speaker. All I have to say is, After the Rain was life-changing. It was one of the most gentle, compassionate, introspective, and accountable self-help books I've read thus far. One of my biggest takeaways from this read was the gentleness I needed to implement working through my inner child healing. Before I was able to tackle the areas I felt deprived of throughout my childhood, I had to get to the bottom of working through playing back uncomfortable memories filled with tears and despair to understand how I can nurture areas that still need tending to.
I held on to Alex's tender affirmations. I wrote my heart out throughout every journal prompt question at the end of each chapter that highlighted areas she focused on working through regarding identity, validation, love, soothing in suffering, change, and becoming. Alex opened me up to acceptance, and compassionate accountability that I think will come in handy to all of us going through this roller coaster journey called life.
The Homecoming Podcast with Dr.Thema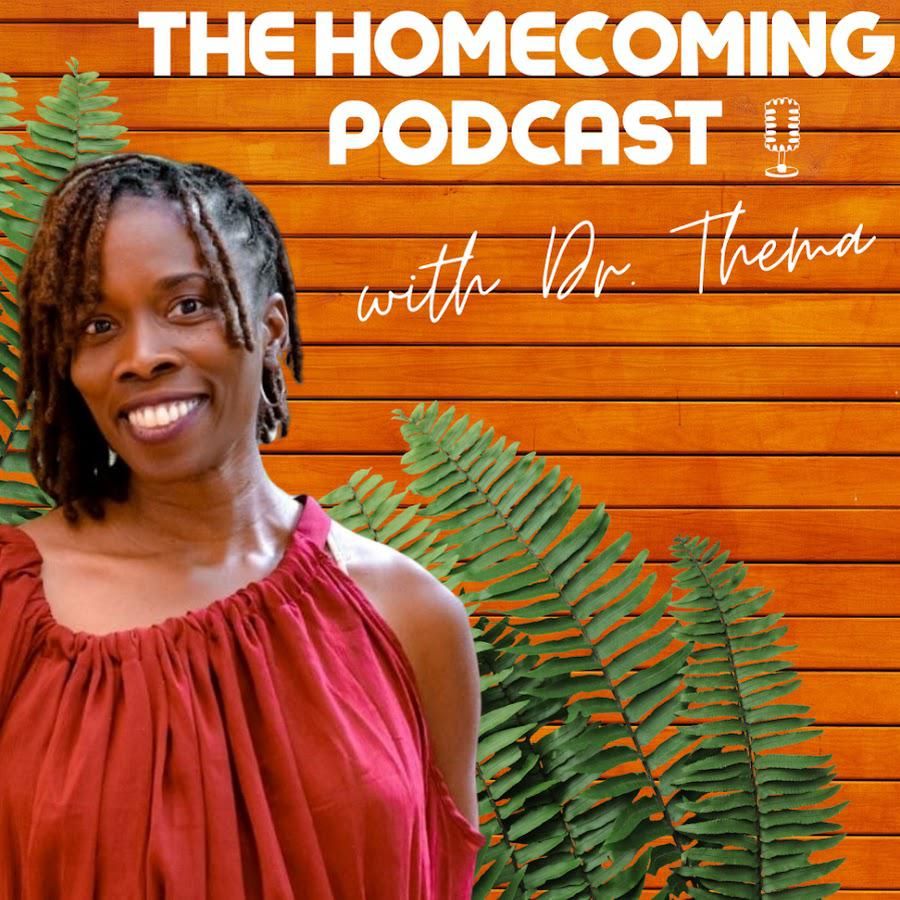 The Homecoming Podcast
The Homecoming Podcast is a mental health podcast hosted by a licensed psychologist and ordained minister Dr. Thema Bryant. I enjoy Dr. Thema's approach with consistent episodes highlighting combating unhealthy patterns like becoming more emotionally available, unhealthy attention-seeking, increasing accountability, being open to feedback, commitment issues, etc. In many ways, she equips me to heighten my therapeutic self-soothing lens; she makes me feel like I have autonomy over my life while quoting scripture from time to time which I'm very appreciative of.
If you're open to changing unhealthy patterns and you're a Christian, this is an excellent start for you to understand how God-equipped professionals like Dr. Thema can give you the tools to be open to psychological transformation. Her podcast is available on all major streaming platforms!
'Clarity & Connection' by Yung Pueblo
I came across Yung Pueblo's self-awareness work through his Instagram page, and then I stumbled into hearing him being interviewed on an episode of Devi Brown's podcast called "getting closer to home." And your girl was hooked to his work ever since! Pueblo is the author of two self-help books, Clarity & Connection and Inward; he's also a meditator and speaker. Clarity & Connection took my mind to new heights regarding emotional intelligence, and as a very emotionally open person, I was pleased to see yet another man of color tapping into this level of vulnerability.

His words shifted my mind to turn more inward to understand my patterns and remind me that no one can fill my cup up like myself, and loving people without attachments is healthy for both parties. People flourish the most without being consistently judged or expected to be perfect when we're all flawed in our own ways. Pueblo didn't hesitate to dive into the depths of the subconscious mind, amplifying self-awareness to its fullest depths, exploring attachment styles, soothing our souls with being open to letting go what isn't for us and letting in what's for us. Pueblo's approach is an unusual way of analyzing emotions; he has a logical perspective on the depths of the most troubling yet fulfilling emotions we all experience.
Side Grace by Aliyah Grace Dean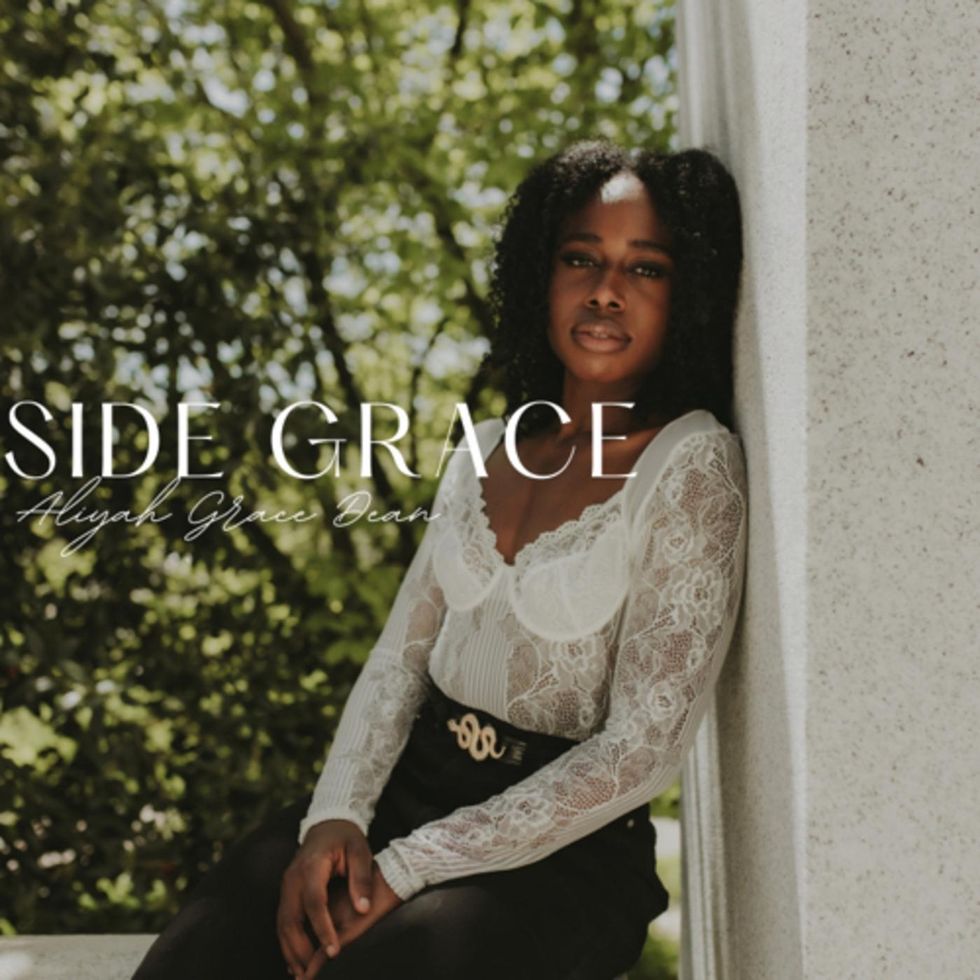 Side Grace Podcast
The Side Grace podcast is hosted by Aliyah Grace Dean, podcaster, master's student of clientele mental health, powerlifter, and overall a beautiful soul speaking to the gen-Z market that's interested in working through healing. Dean walks listeners through childhood trauma, working through the loss of a family member and how it's changed her life, exploring different types of anxiety, tips on finding a therapist that fits you, and providing guidance for re-parenting yourself.
I love hearing her perspective because it speaks to my intersectional walk of being a first-generation Afro-Caribbean. She does in-depth research regarding our experiences, which is usually not amplified singularly. Each of her episodes is delivered with love yet assertiveness. She equips her listeners with tools to dive deeper into journaling intentionally, meditation, and validating their need to slow down to tend to their wounds because they aren't going to tend to themselves.
'The Language of Emotions' by Karla McLaren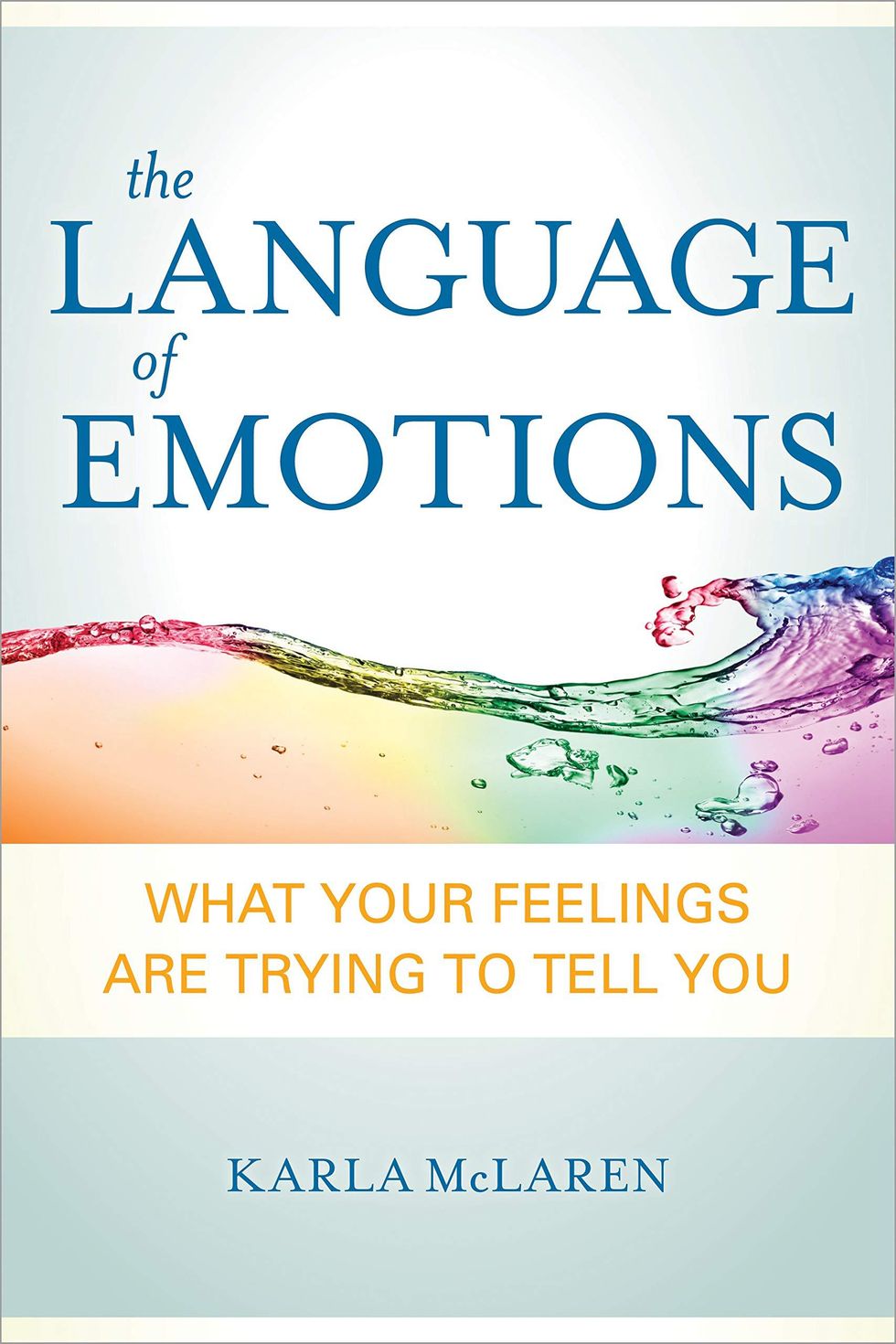 Amazon
The Language of Emotions is basically the encyclopedia to building emotional intelligence and emotional awareness. Karla McLaren is an empath researcher and takes readers through her life journey of researching the depths of understanding emotions. She goes in-depth about the significance of embracing your emotions, let alone understanding the underlying things they are trying to tell you. I'm really enjoying reading this book because I was often told as a child that I was "too sensitive, or too emotional," and this book normalizes being an emotionally open person.
More than anything, it's teaching me how to regulate my emotions and not let them consume me. If you're someone curious about the depths of your feelings or working through increasing your emotional availability, this book is for you.
Dropping Gems with Devi Brown Podcast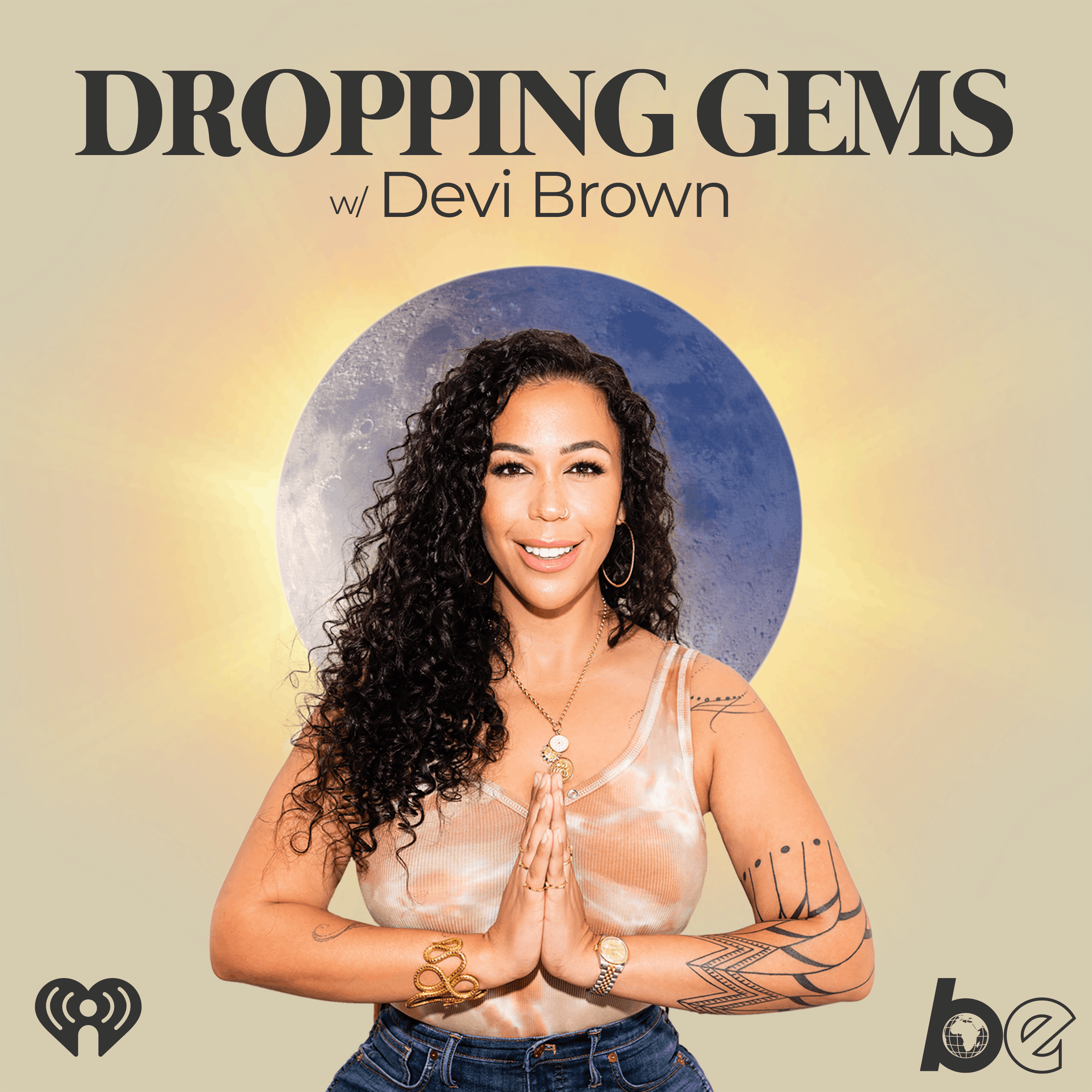 Dropping Gems with Devi Brown
Dropping Gems is hosted by Devi Brown, former radio personality, Chief Impact Officer at Chopra Global, meditator, and educator. Brown does a remarkable job taking us through walking through soul bonds featuring Yvonne Orji, learning the importance of being present, and planting intentional seeds with Charlamagne the God. I love listening to her podcast because she has a mind full of no limits regarding expanding, building her emotional and mental awareness. She speaks to the experience of Black women processing grief and the importance of getting more acquitted with understanding your emotions versus suppressing them. Dropping Gems is available on all major platforms.
'Set Boundaries, Find Peace' by Nedra Glover Tawwab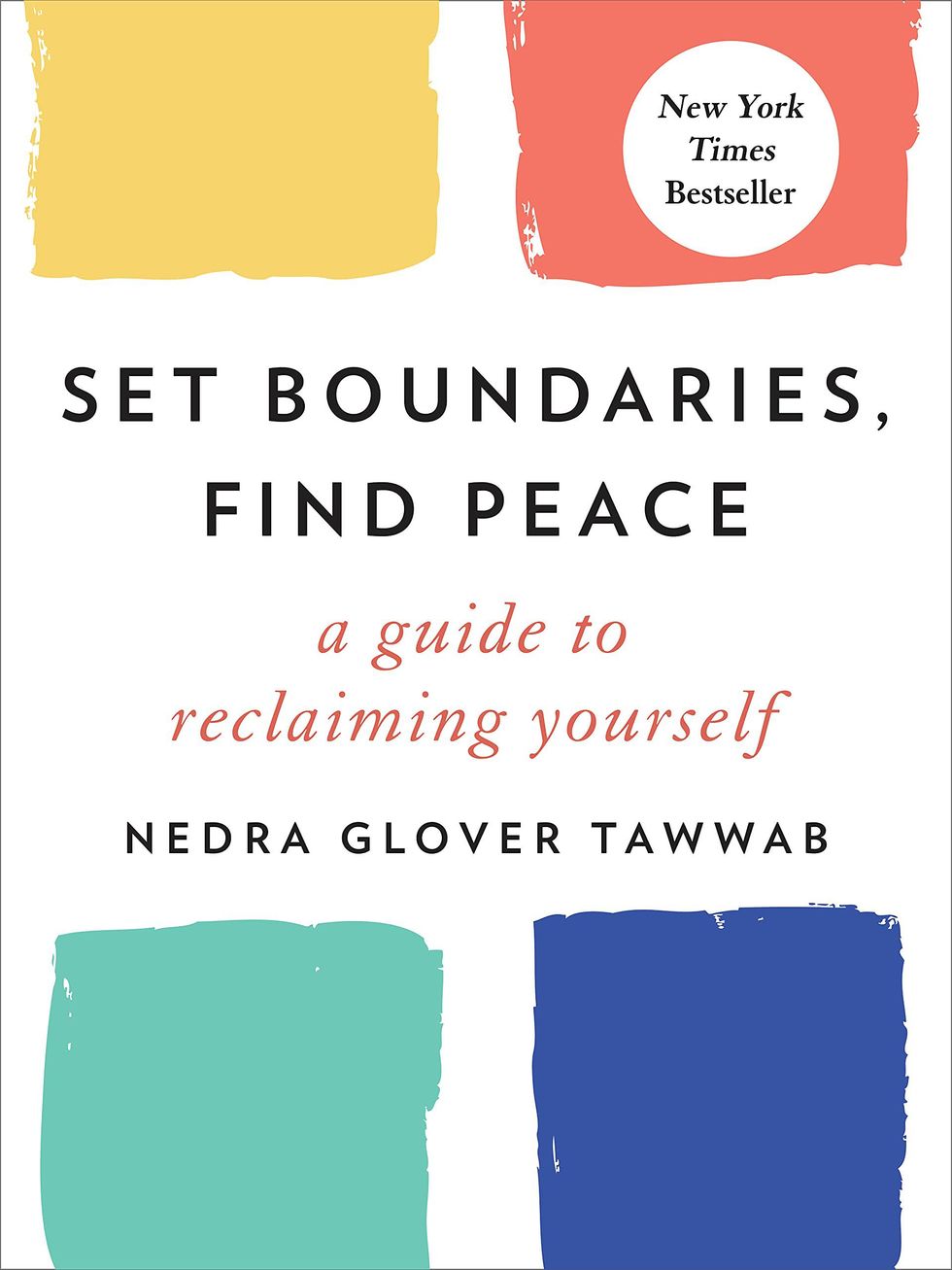 Amazon
Set Boundaries, Find Peace by Nedra Glover Tawwab was a significant game-changer for me because I've been working through emotional turmoil in many areas of my life, and I just got to the point where I'm tired of the cycles, so what better area to focus on than boundaries. Tawwab is a licensed Black therapist with over 14 years of experience, and every ounce of that expertise is shown in her book. She walks her readers through understanding the focal areas of boundaries, first for self-preservation and second to build healthier relationships in our lives.
Nedra's narrative is fixated on curating boundaries in every area of our lives, from relationships with yourself, family, friends, romantic relationships, work, and technology. She also goes through the adverse effects of codependent relationships, enmeshed relationships, and trauma bonds. After each chapter, she provides interactive questions to explore how to clarify boundaries in each area of your life. Understanding the importance of boundaries is essential to our healing journey; you can't combat unhealthy relational skills unless you're aware of them first. Get this book to learn that giving someone tools is all you can and should do, and allow others to do the actual work. Change only sustains itself when you do it for yourself, not for others. To all my fixers, this one's for you!
I hope some of the tools above equipped you with what you need to start or continue your healing journey. Be patient with yourself, and extend the grace you naturally give to others, to yourself. The only real change we can make in this life is being conscious, intentional, and empathetic individuals that are aware of our individual pain and not making it someone else's job to fix. Emotional intelligence doesn't have an ending; it's an ongoing commitment. The best scholars are always students.
Healing is not a destination; it's a journey you have to be willing to continuously work through — you never arrive, so don't get complacent.
Featured image by Getty Images
Keep reading...
Show less
There is no way for me to hide the absolute joy unspeakable that I have about the fact that fall is just a few days away (September 22)! While there are a billion-and-one things that I adore about this time of the year, one of my favorites is preparing warm dishes, on purpose, to contrast the cooler weather that's headed our way.
At this point, it's kinda becoming a tradition for me to share some of the food trends that are big during each year. So why break with tradition, right? If you enjoy cooking (or you're so-so about it but you want to cook more this fall), here are 10 popular things that totally hit the spot when it comes to autumn-focused foods and drinks (by the way, all of the hyperlinks on foods are connected to recipes. Enjoy!).
1. All Things Apple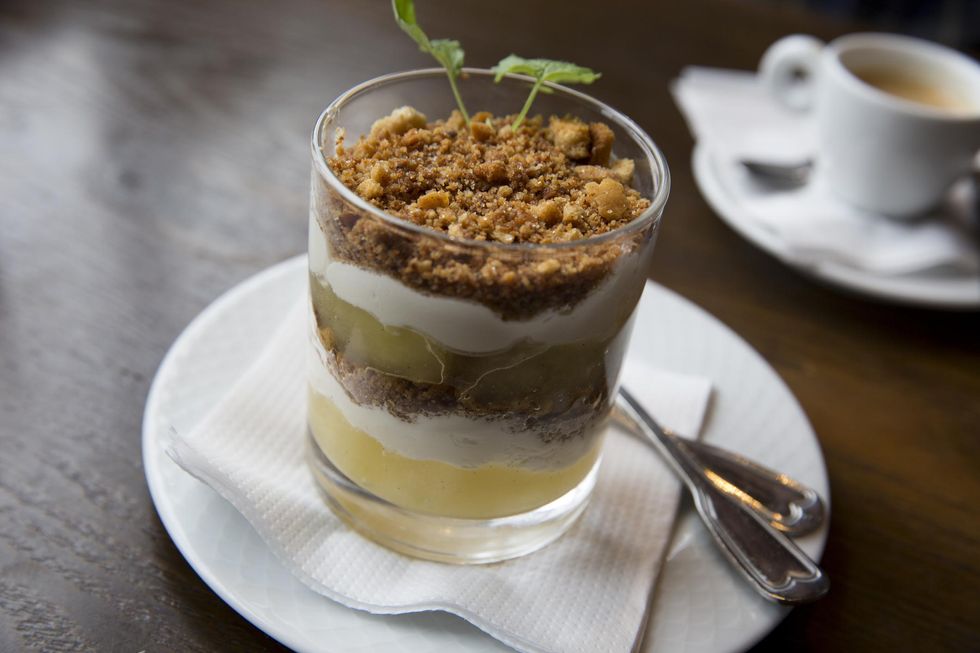 It's kinda crazy that we see apples all year-round considering they are in season from late July thru early November yet we'll have to get into the kind of preservatives that are oftentimes put in foods so that we can eat them 12 months out of the year at another time. For now, what I'll say is since the fall is harvest season and apples are being picked in abundance during this time of the year, this is when you should enjoy making as many apple-inspired meals as possible. Apple pie. Apple crisp. Apple butter. Applesauce. Apple waffles. You name it.
2. All Things Pumpkin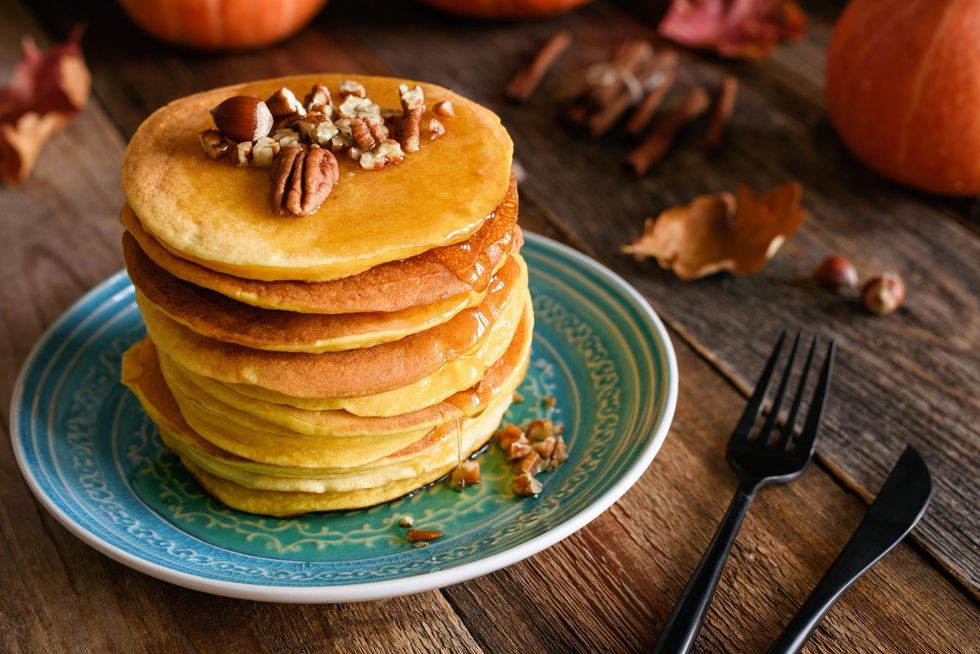 You already know. The signature fruit for fall is definitely the pumpkin. Makes sense too since it's in season from mid-September through November. While the first dish that probably comes to your mind is pumpkin pie, don't sleep on other ones like pumpkin bread, pumpkin donuts, pumpkin soup, pumpkin pancakes and even pumpkin milkshakes!
3. Espresso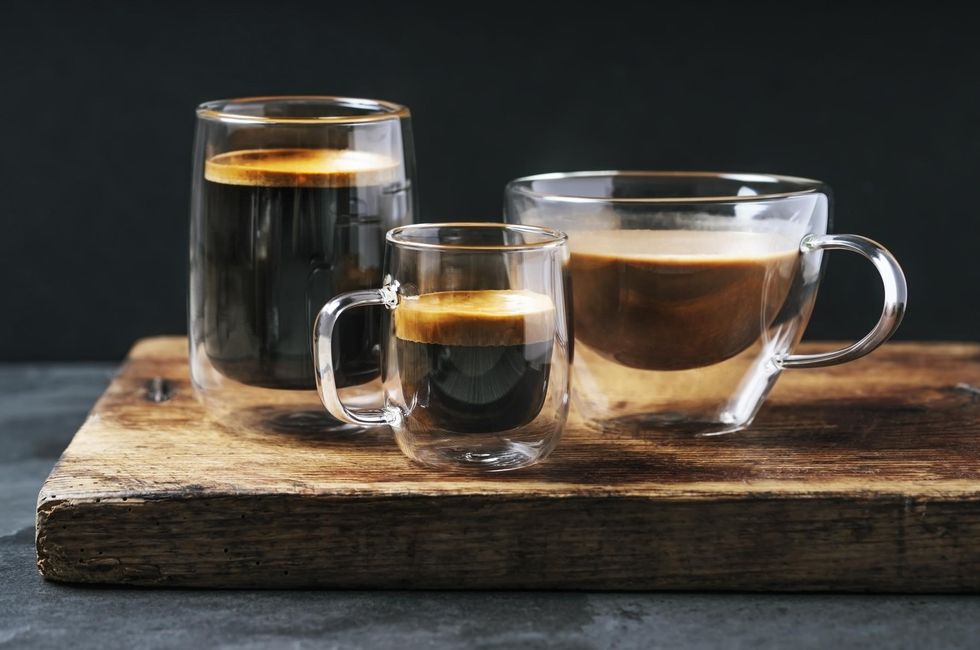 If you've ever wondered what the differences are between a cup of espresso vs. a cup of coffee, the short long of it is they both are brewed differently which results in espresso being a thicker and more concentrated form of whatever coffee bean you're consuming. It's also like taking "a shot" of the bean because while coffee servings are oftentimes eight ounces, espresso is usually just one.
That said, as far as heaping hot brews go, this year, it's espresso that's getting a lot of attention. If you're curious about what some of the current best beans are, Roasty Coffee did an article on the topic. You can check it out here.
4.  Pickling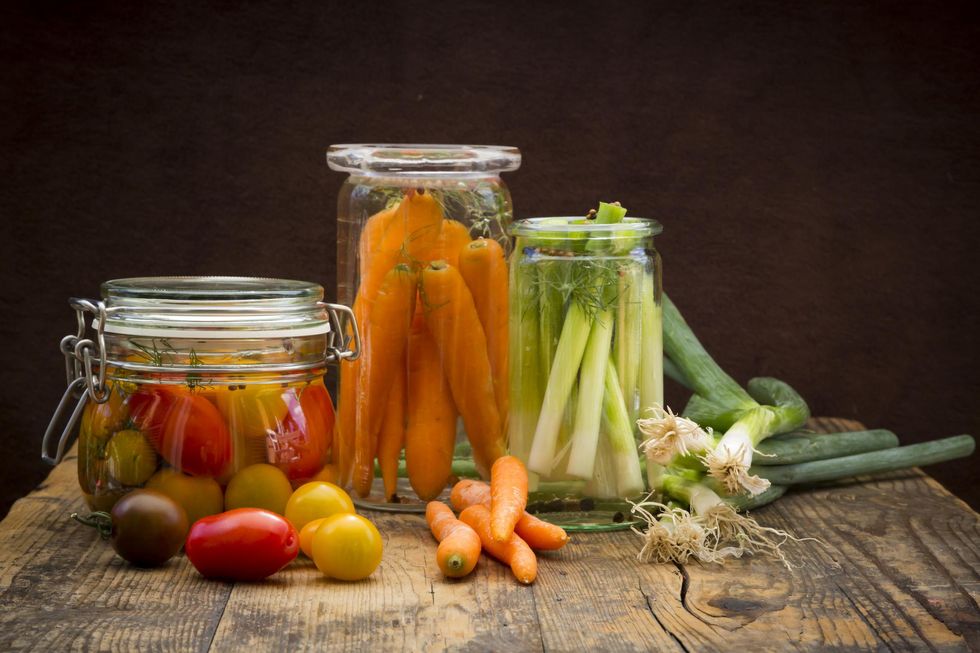 Again, since fall is harvest season, I shouldn't be shocked in the least, just how much I've been reading about pickled veggies. Basically, when you choose to pickle a food, you are allowing it to ferment in a brine or vinegar solution (think cucumbers turning into pickles). The health benefits of pickling are pretty cool because it can help you to better digest your food, curb sugar spikes, increase your antibiotic intake, treat muscle cramps and balance your electrolytes. Plus, pickling is so much better for you than canned goods. If you'd like to attempt to do some pickling this fall, it's a lot easier to do than you might think. Click here to watch a video that will walk you through it.
5. Hot Chicken "Junk Food"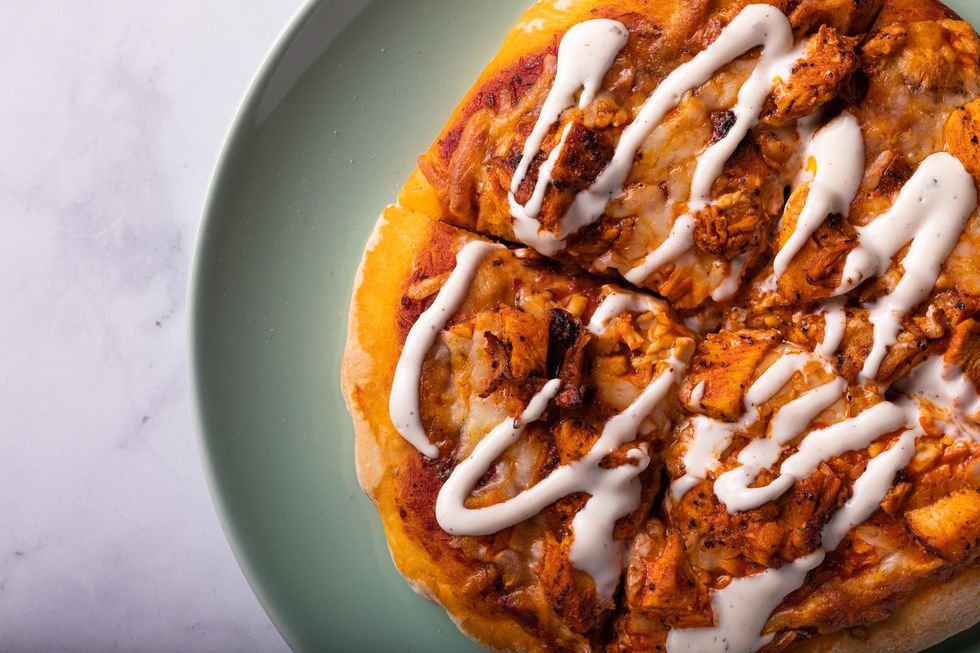 I live in Nashville, so of course, I smiled when I saw that hot chicken was a big fall food trend right now (I mean, Nashville Hot Chicken, right?). Hot chicken burgers. Buffalo chicken pizza. Hot chicken wings. Hot chicken chili. Homemade buffalo chicken sauce. If hot chicken is totally your thing, then this is totally your season to dig all the way in!
6. Sweet Potatoes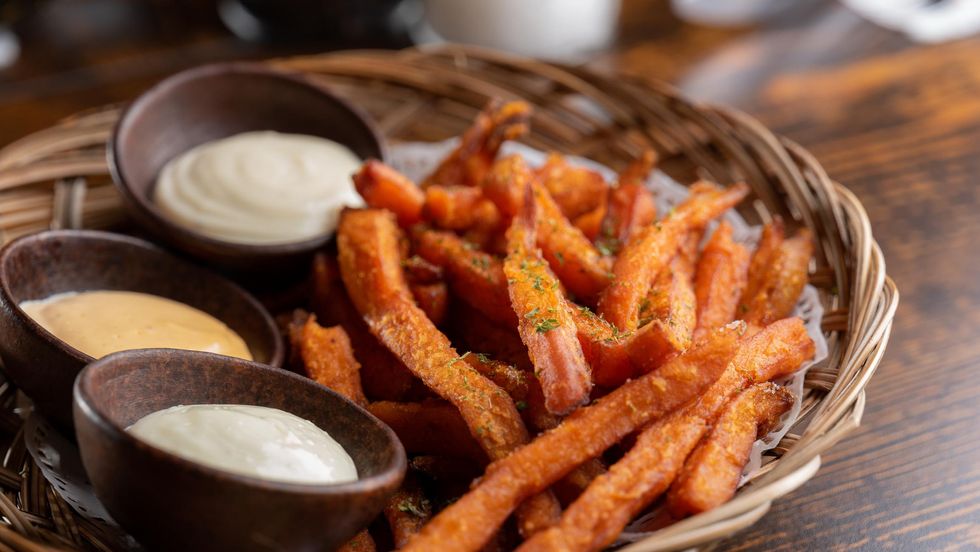 I like sweet potatoes a lot. One, because they taste great and two, because they're considered to be a perfect food (that basically means that they have a ton of nutrients in them). This is another food that goes really well with being a fall food trend because it's harvested between September and early October. Sweet potato fries. Mashed sweet potatoes. Sweet potato cornbread. Sweet potato guacamole. And definitely sweet potato pie. You can't go wrong with putting some of these in your grocery cart. That's for sure.
7. Mocktails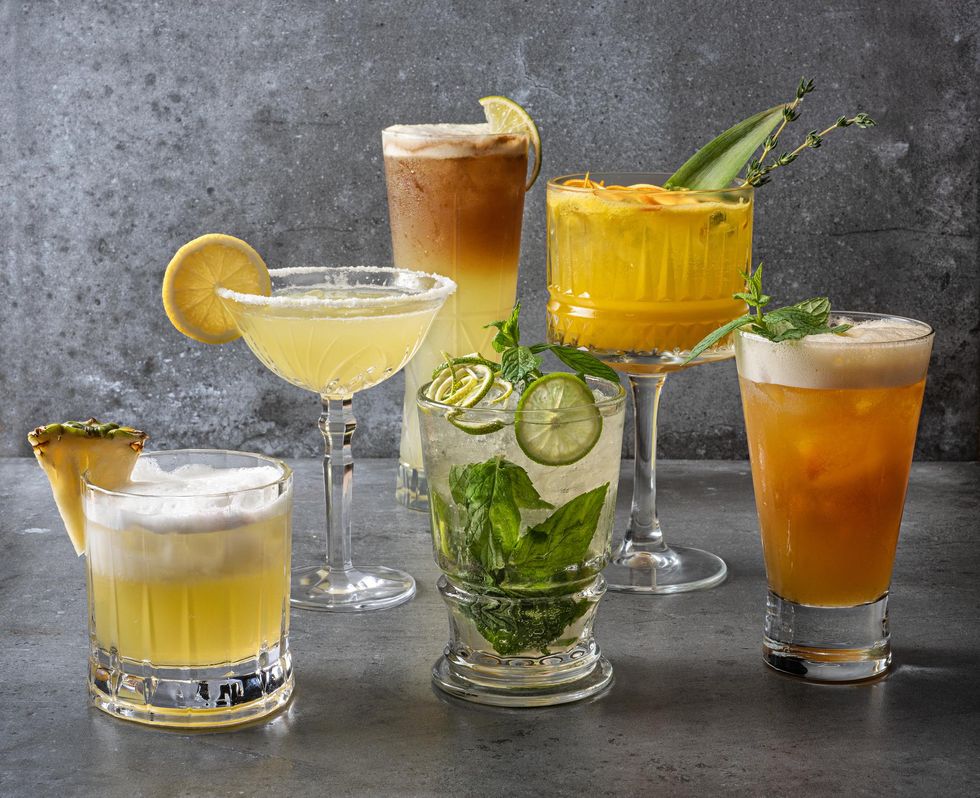 Whether you realize it or not, whether it was intentional or not, I'm pretty sure that you've had a mocktail before. It's simply a cocktail that doesn't have any alcohol in it and this is another thing that is big this fall season. I mentioned in the intro that I would hyperlink recipes to all of the specific kinds of foods that I mention. Well, for this, I decided to share mocktails that have a fall theme to them. Caramel Apple Pie Mocktail. Sparkling Citrus Pomegranate Mocktail. Non-Alcoholic Sangria. Maple Pear Sparkler. Mocktail Kahlua Coffee Frappuccino. These are just some of the ones that particularly caught my eye.
8. Vegetarian Soups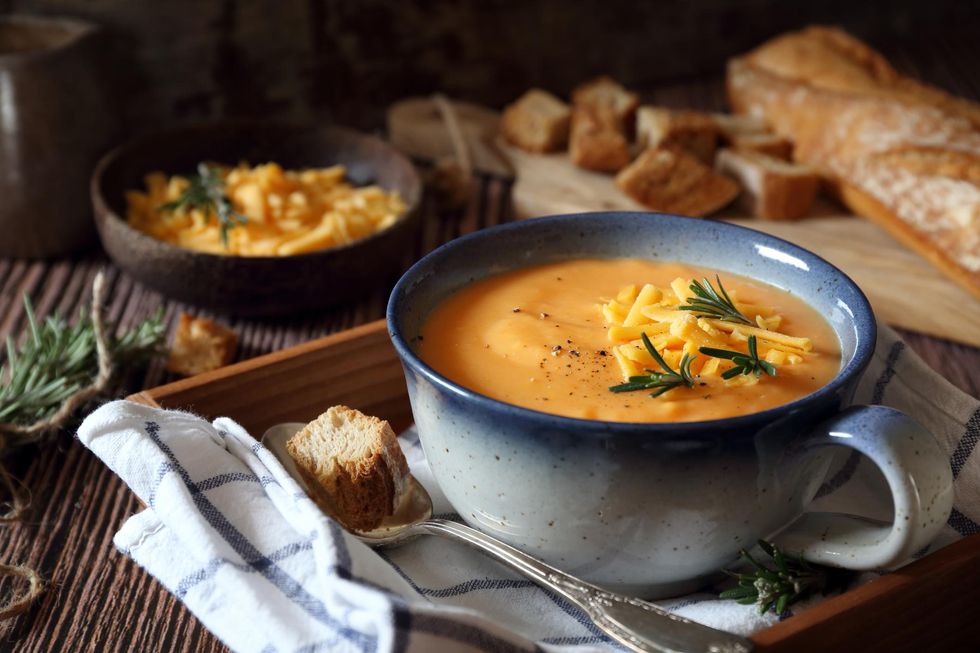 Ah. Vegetarian soups. This makes me think about the interesting relationship that I have with tomato soup. For one thing, I absolutely have to crave it. Secondly, I don't really like it unless I can have a homemade grilled cheese sandwich along with it. And boy, if that doesn't say "welcome to fall", I'm not sure what does.
Quinoa Vegetarian Soup with Kale. Vegetarian Tortilla Soup. The Absolute Best Lentil Soup. Chipotle Butternut Squash Chili. Classic Minestrone Soup. Lawd, is there anything better than curling up on your couch when it's cold outside and sipping on a cup of hot homemade soup? I doubt it. I seriously do.
9. Comfort Foods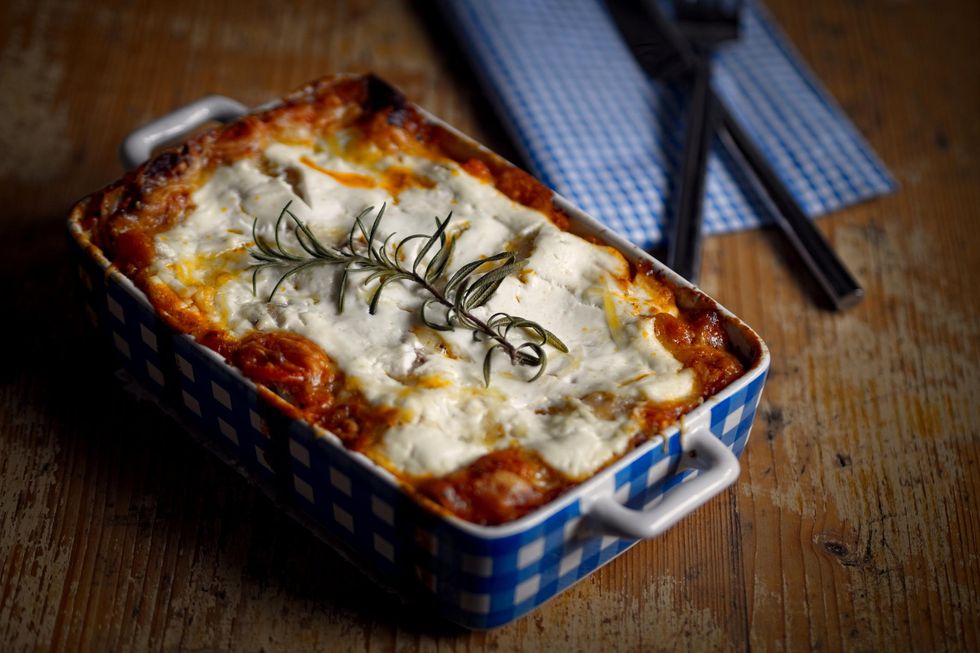 Comfort foods are just that — foods that bring us comfort, joy and relaxation. The challenge with consuming them all of the time is many of them are high in sugar and/or carbs. Still, being that comfort foods are another huge fall food trend, try to not totally deprive yourself of things like macaroni and cheese, chicken and waffles, deep dish pizza, lasagna (meat here and veggie here) and whatever it is that your favorite auntie likes to make around the holiday season. The way I see it, comfort foods shouldn't be avoided, just consumed in moderation. Enjoy, sis.
10. Tea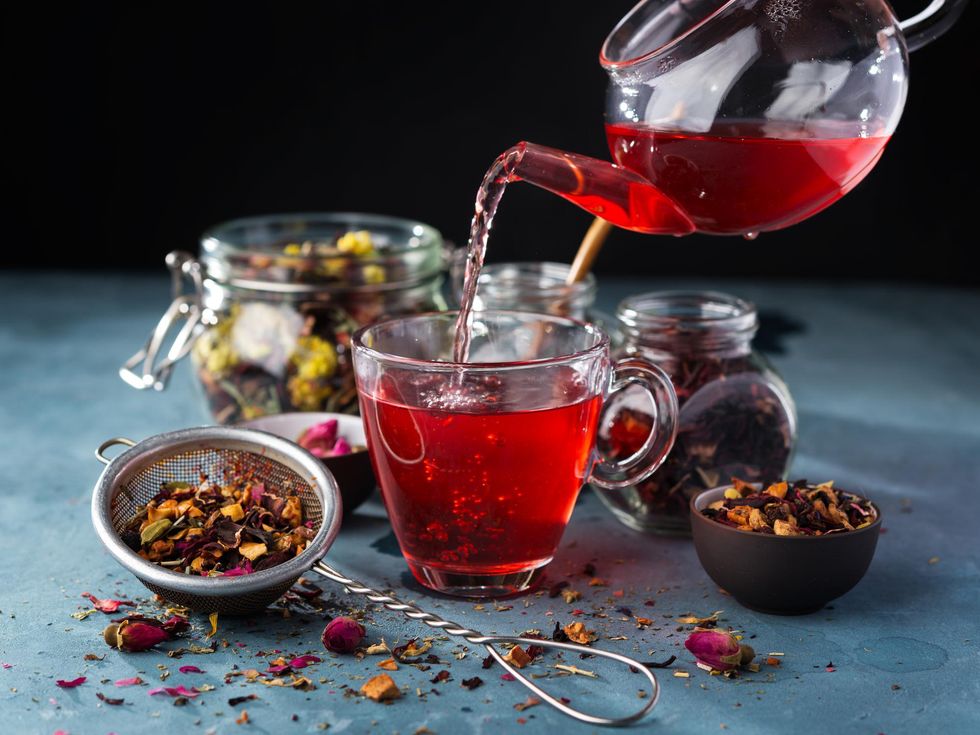 Raise your hand if you're shocked that tea is a big fall food trend. If anything, I'm thinking that we're all giving a collective "duh". Still, since herbal tea helps to hydrate, boost immunity, improve digestion, prevent chronic diseases and even stimulate brain function, definitely take out a few moments to check out my shout-out to teas via "10 Hot Drinks To Keep You Warm This Fall & Winter" and "10 'Uncommon' Teas You Should Add To Your Stash (& Why)". So, set aside a weekend to finish that book you've been trying to get around to all year-long and don't forget to have a warm cup of tea while you do it. It's one of the best ways to ring in the fall season. No doubt about it.
Join our xoTribe, an exclusive community dedicated to YOU and your stories and all things xoNecole. Be a part of a growing community of women from all over the world who come together to uplift, inspire, and inform each other on all things related to the glow up.
Featured image by Getty Images
Keep reading...
Show less