The subject of cancer is one that always hits a super-sensitive sore spot for me. I've lost several women in my family, who were very dear to me, to breast cancer, and while I can always remember them in my heart, reminiscing on their last days and reliving the disappointment about how I'll never get the chance to share pivotal experiences with them in my adulthood still hurts.
And I'm not alone: Between 1999 and 2020, 909,488 Black people died from complications of breast cancer, the CDC reports, devastating their families psychologically and financially. Non-Hispanic Black women have the highest death rates for this type of cancer as well, and it's not just something that hits middle-aged or elderly women, either. The Breast Cancer Research Association notes that young Black women (under 50) have double the mortality rate of young white women for breast cancer.
Featured image by South_agency/Getty Images
None of us are strangers to remote work at this point, especially after the nightmare that was the Great Pandemic of 2020. Working from anywhere—with my favs being at home, from a beachfront restaurant in Jamaica, or in a chicly decorated boutique hotel room—is a norm for me. That being said, wearing whatever I want during work hours has been a norm for me as well, even if it's wearing absolutely nothing at all.
So, when I found out that the first Friday in February is U.S. Working Naked Day, I thought, "Well, hell, I've been celebrating a holiday I never even knew existed in my own way all along!"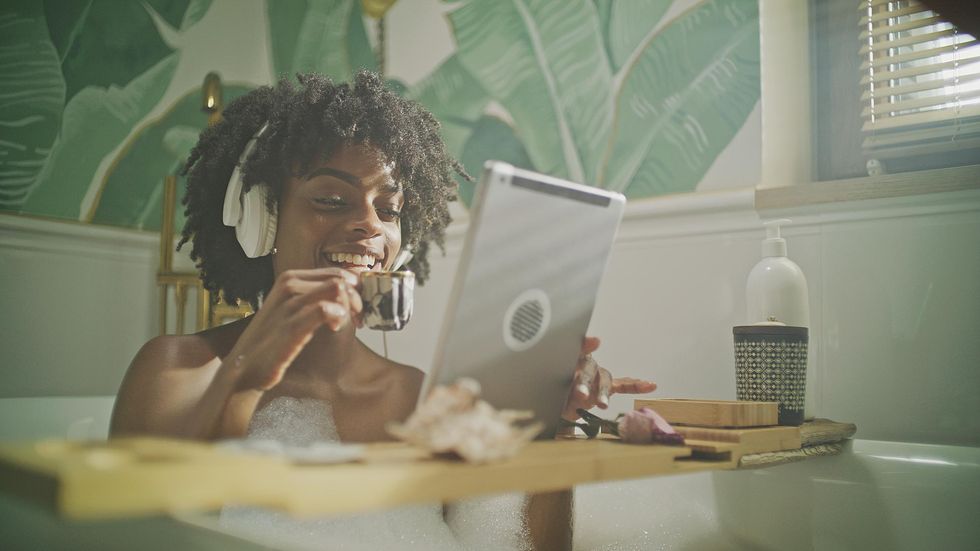 janiecbros/Getty Images
To be fair, the day is less about being in your birthday suit and more about empowering you to celebrate the benefits and feelings of "freedom and flexibility" you get when you work from home. Since I'm now aware that there's an official day for this, I finally get the chance to officially let the cat out the bag (pun intended) and admit that the girlies (i.e. my DDs) stay out when I'm working from home, almost every day of the week.
I've been a huge fan of the boldness and freeness of embracing nudity while home since the day I decided, 20 years ago, to sleep in the nude. I'd always read up on the benefits, for example, of not wearing panties in order to let your vagina "breathe," and how skipping the bra at bedtime could help alleviate body discomfort. After having a hard time with waking up in uncomfortable sweats during all seasons, I noticed that when I'd sleep naked, I'd wake up in a better mood, with no sweat or anxiety.
So you can imagine, with me working from home, especially for Work Naked Day, I'd simply just continue my day, in the nude, anyway.
I typically start my day with a cup of coffee, naked, while seated in my bedroom's velvet reading chair. I literally sit in silence, trying to get my thoughts together and just take time to just be. (I usually take a shower before bed, so they're not usually part of my morning routine, by the way, especially when working from home.)
After about 30 minutes of silence and prayer and maybe 30 minutes of some social media scrolling, I'll drink some water and begin prepping for my office hours.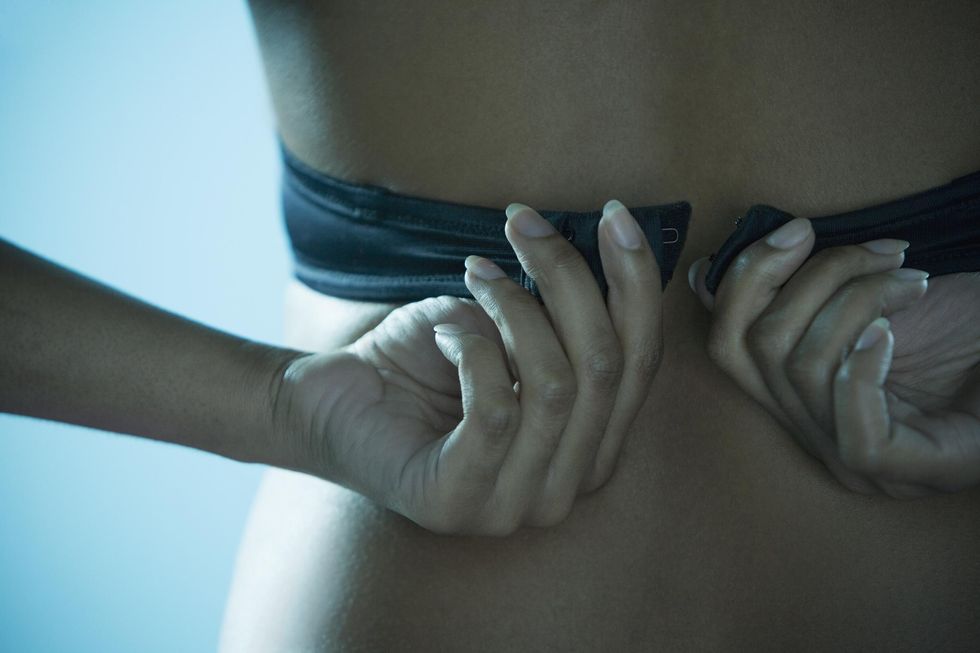 Terry Vine/Getty Images
Half of my work days are spent writing and editing, so it's not like there's a manager knocking on my door or back-to-back in-person meetings to be concerned with. On those days, I'm typically on my laptop, and if I'm not traveling, I'm seated at my home office desk (with a folded towel under my butt because, duh, who wants to sit their naked booty on a cold leather office chair?).
I keep the heat in my home on summer-in-Jamaica-hot during the winter, and again, since I travel a lot and prefer the digital nomad life to being at home, it's refreshing to sit, naked, imagining that I am indeed at an oceanfront eatery in nothing but a bikini top and a sarong. (Jamaica, in particular, has nude options for me to enjoy in public (on private grounds), but I digress).
After sending out emails to freelancers I manage for one publisher, finalizing assignments for another, and trying to keep to my office hour boundaries for both, I have to force myself to take a break and either order in or cook.
I often choose the latter and end up looking like a tall female version of Ving Rhames in that infamous Baby Boy kitchen scene. Lunch with a side of T&A, anyone?
I've been obsessed with veggie subs lately, so that would mean frying up broccoli, zucchini, and olives, adding some provolone cheese, Italian seasonings, oil, vinegar, and mayo, and toasting an Italian sub roll.
Then, I go back to work on my laptop until my obnoxious iPhone alarm goes off to remind me of the time-blocking boundaries I promised to keep to ward off freelancer burnout. (It's even worse than the burnout I'd experienced as a 9-to-5er due to the fact that, since my schedule is so flexible, I've often felt obligated to keep working and working until I'm annoyed, achy, and frazzled.)
I might even take a 15-minute break to have a naked stretch session, but nothing too strenuous because I don't exactly enjoy the pain that comes with jumping up and down as my huge geriatric-millennial boobs slap my chin and chest.
If I have a package delivery, I usually wait at my peephole to ensure nobody's still lingering about, crack the door, swiftly sneak it open slightly, push out a foot, and shuffle the boxes close enough to my foyer before quickly sliding them in and shutting the door. I find it thrilling and would do this for a food delivery if not for the fear of bae having a fit at the mere thought of some strange man getting an accidental flash of nip with his tip.
There was that time, during the first year in my current place, that the maintenance man used his key to enter for a repair I'd forgotten I requested. Yes, it was a work day. And yes, I was partially naked.
I was on a call, topless, and thought somebody was breaking in. The New Yorker in me prompted the dropping of the phone, the gathering of both breasts in my arms, and the one quick move, by sheer adrenaline and instinct, that took that guy all the way out. I charged him like a linebacker, all the way out my front doorway, and boldly slammed the door, only to hear him yelling, minutes later, "Maintenance! It's maintenance! I'm so sorry! I'm so sorry!" I told my man about it, in fact, and he damn near cussed me out, angry about the fact that I had hardly any clothes on, naming every emergency in the world that could happen in a condo, and commanding me to get a security bar for my front door (which I did).
So what about those days when I indeed have virtual meetings? Well, my cam would simply be turned off. I know that some folk find it odd to have a Google Meet or Zoom meeting with no video, but I don't see a problem with it. I actually loathe video calls, and my clients and network respect my preference.
Working naked, for me, is liberating and helps me in my mental health journey (especially after experiencing a real-deal nervous breakdown from being laid off at the last serious long-term publishing job I had). It reminds me that I am truly the master of my destiny, that I can create the life I want, and that I'm not a slave to any organization's rules but my own.

My experience with completing my work day in the nude is just what Work Naked Day is all about: truly tapping into all that makes you a talented, bad-ass, independent professional whose prowess and skills are only enhanced by the expensive power suits, the cool sneakers-tee-and-blazer combos, the Fashion Nova coordinated sets, the multicolored scrubs, the well-starched uniform—or whatever you wear to do your best at your job every day.
I hope that you, too, will find a way to celebrate freedom and flexibility today, whether you choose to spend the day butt-ass naked or not.
Featured image by Peter Griffith/Getty Images
'Drinking my water and minding my business' has always been my mood, but with all the talk around hydration lately, I've started wondering what exactly is the right way to drink my water. On one hand, there is the school of thought that subscribes to drinking a gallon of water a day. There's a school of thought that subscribes to somewhere around the ballpark of 2-3 liters of water per day. There are also water enthusiasts who wouldn't dare touch a bottle of purified water over alkaline water. And then there's the side of the internet who are head to head about drinking plain water and its benefits and adding enhancements to "superpower" it.
As with other aspects of health, figuring out how to hack your way to better drinking water has been making waves on the internet. I, for one, enjoy my daily fix of chlorophyll water which is said to be an internal deodorizer, clear your skin, and reduce inflammation in the body among other things. Plain water is said to be out, while 'enhanced' water is said to be in. Allegedly this is the case if you've been hitting your daily water intake consistently but still don't feel hydrated and/or if you find yourself peeing almost immediately after drinking said water. If that sounds like you, according to TikTok, you could be drinking your water wrong.
And you might need to unsubscribe from plain drinking water. According to creators like @calibabyoficial, leveling up your water with baking soda, Himalayan pink salt, and lemon or lime are essential for proper hydration. But how true is this?
I reached out to dietitian Rosie Mensah, MPH to learn more about the plain drinking water versus enhanced water phenomena and to demystify why some of us are following the 'hydrate, hydrate, hydrate' mantra to a T but still might be feeling thirsty.
You're drinking all of this water, why do you still feel thirsty?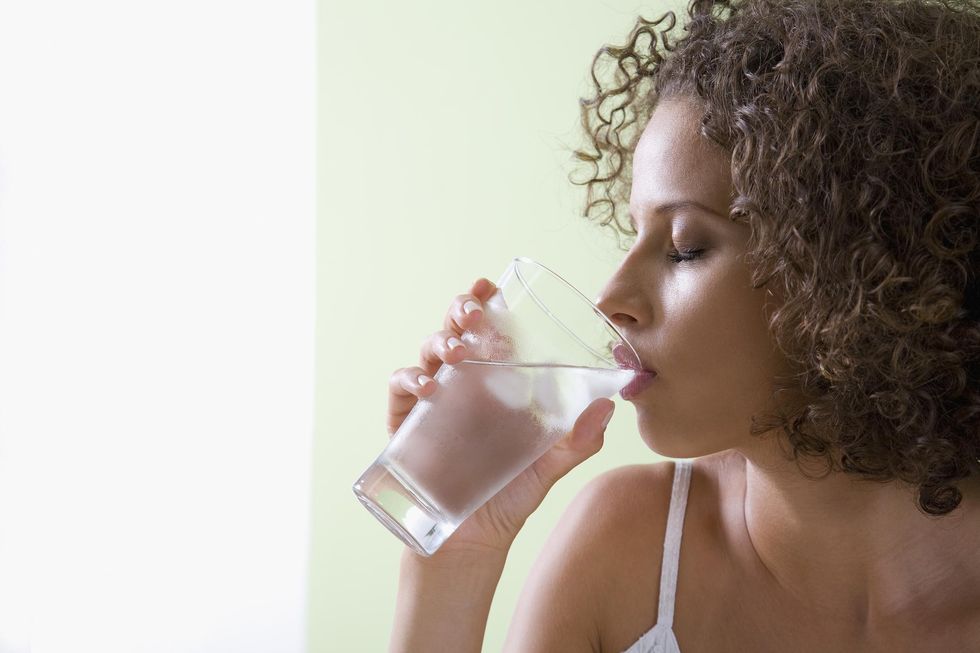 Michael Poehlman/Getty Images
First things first, if you are waiting to drink water until you are feeling thirsty, chances are, you are already dehydrated. Mensah describes thirst as a sign of mild dehydration. So you should be consuming water frequently enough throughout the day that you do not get to this point and so that the body is properly hydrated. However, if you feel that you have been drinking enough water and your thirst levels persist, Mensah suggests that this could be pointing to an underlying health concern.
She continues, "If you are feeling excessively thirsty, there could be something else going on, especially if you are staying hydrated regularly. That's something that I would encourage folks to see a health professional about because it could mean there are other bodily issues happening and could mean other conditions."
Is going to the bathroom after you drink water normal?
Whenever I think of drinking enough water, I also think about how many bathroom breaks are going to ensue shortly after. In the recent season of The Real Housewives of Potomac, one of the ladies shared that her kidney stones came from not drinking enough water each day because she feared needing to use the restroom too much while she had things to do. And I get it, who wants to drink water just to have to get up and release it shortly after? I believe that's why all the conversation around 'proper' hydration has started.
There had to be a connection between not drinking enough of the right water and using the bathroom too quickly to allow your body to retain the benefits of drinking water, right? Turns out, not exactly. It's all about the size of your bladder and the fact that it's only possible to retain a certain amount of fluids before it gets full. And once it's full, it's time to use the bathroom. The bladder holds approximately 16 ounces of fluid. If you are consuming more water than that, within an hour or two you are absolutely going to need to use the bathroom frequently.
"If you are drinking more, you are gonna have to go to the bathroom more. That's just the reality," Mensah adds. "But that's like a good thing. It's moving through your body and you want that. Your organs and your cells are being nourished."
So yes, going to the bathroom is normal. Your bladder is full and it's doing what it's supposed to do. If you want to decrease how often you go without being dehydrated, consider pivoting from chugging your water first thing in the morning to sipping throughout the day and limiting your intake to no more than 8 ounces each hour.
Does adding baking soda to water increase pH?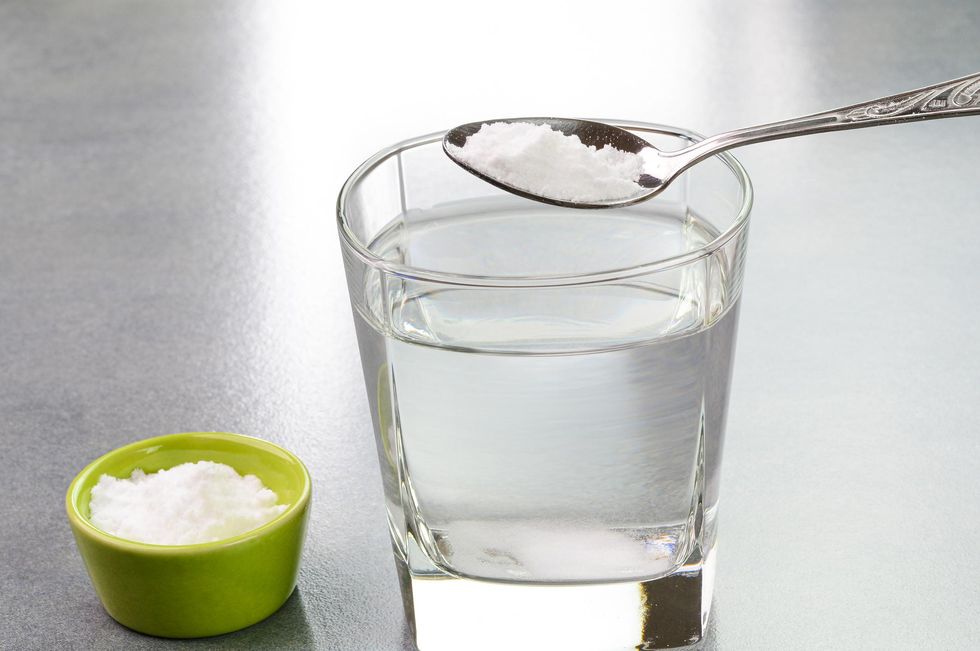 jayk7/Getty Images
The loaded question. The answer might depend on the expert, but according to Mensah, there are few studies showing the health benefit of adding baking soda to plain drinking water to alkalinize it. Based on my own research, the tactic came up most often when referring to pool water maintenance, which makes sense. I have, however, also seen other experts touting the pH and hormone regulation benefits of adding a little baking soda to your water. Mensah says that the human body already does a pretty good job at maintaining a healthy pH balance, which again makes sense.
"Whatever you are consuming, putting into your body, your body has mechanisms to put it at a functioning pH," she explains. "You could have plain water, plain tap water that is filtered to maintain the same benefits as drinking other forms of water. I think, again, a lot of it could just be a marketing tactic. But in terms of health benefits, you can get the same benefits from regular plain water."
It could depend on the expert, but if you are wanting to add baking soda to your water for the benefits, consider talking to a professional about your individual dietary needs.
What about adding Himalayan pink salt to your water?
Adding Himalayan pink salt to your water is how you make water referred to as sole water. It is said that by adding Himalayan pink salt to your drinking water, you are adding trace minerals to it that makes it easier for the body to retain these minerals. It is also believed to help with electrolyte balance, digestion, energy, and sleep. But, there is also not a lot of conclusive research to support these claims.
If you want to add Himalayan pink salt to your water because of its trace minerals in hopes of further nourishing the body, be my guest. But similarly to the baking soda mentioned above, it's not something you have to do to your water. Drinking plain water is more than enough.
What does adding lemon or lime to water do?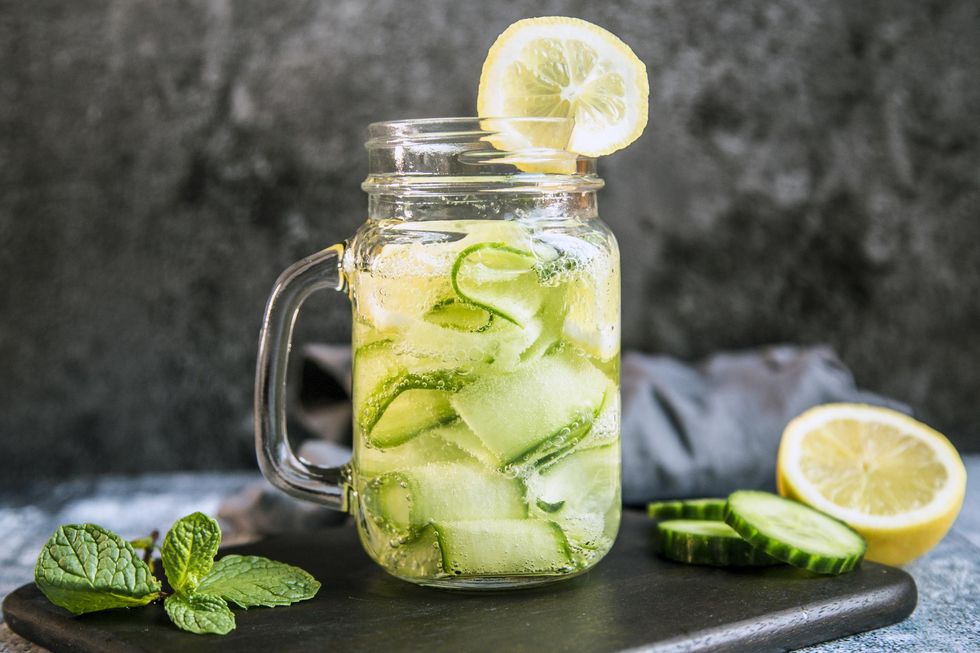 Westend61/Getty Images
We've all heard about adding fruit to water to get the benefits of said fruit from the water we're drinking, but adding those slices might just be an aesthetic choice more than a health choice. Although there are many articles around the internet supporting adding lime, or better yet lemon, to your water (especially detox water content) and the benefits of it, there are few studies that support such claims as it relates to adding lemon and lime to the water you drink specifically. However, people have reported having glowing skin as a result of drinking lemon water regularly and better digestion (although those things could be from the water more than the citrus element of the drink).
"I think a lot of it people [feel] like it makes the flavor [of water] better because I know there are some people that say they just don't like to drink water," Mensah notes. "But adding those things can make it just a better drinking experience for you. But in terms of like health, there's really not much that it does."
Does adding salt, lime juice, or lemon juice to water make it electrolyte water?
But what about electrolyte water? Surely, there are benefits to support adding electrolytes to water like lime juice, lemon juice, or salt to your water. And according to Heathline, there very well may be. However, these findings also support the fact that tap water and bottled water also contain electrolytes, just a lot less concentrated than an electrolyte-enhanced sports drink like Gatorade or Powerade. If it brings you joy to add extra sodium, trace minerals, and lemon or lime juice to your water to reap even more benefits of the minerals responsible for facilitating some important bodily functions, do you. But as Mensah has shared, you don't have to.
Electrolyte water or electrolyte-enhanced drinks like sports drinks and Pedialyte are usually recommended in cases of severe hydration, illnesses that cause fluid loss, intense workouts that last beyond an hour, long periods of heat exposure, or if you lose a lot of sweat and/or other fluids during exercise. In all of these cases, speak to your doctor about the best way to replace the electrolytes you might lose in these circumstances. Outside of that, regular water should have you and your day-to-day hydration needs covered.
How much water do you need to drink to be hydrated?
According to our expert Mensah, hydration is all relative and differs from person to person based on individual needs, body shapes, and sizes. "The recommendation of around 8 glasses [a day] is really just to ensure people are staying hydrated," she clarifies. "But that doesn't necessarily factor in other fluids that you have [during the day]. If you are a tea drinker, you may opt for more tea than clean water. And that's still fine because it's still a nourishing beverage. But it really depends on the individual."

Someone who is more physically active might have a daily water intake that signifies they require more water. Someone who drinks more coffee might also require more because of the amount of fluid they excrete as a result. Mensah explains that while you can track your water throughout the day to make sure you are getting enough, it's not always a necessary step as long as you are making sure you are consuming water frequently.
Is drinking plain water enough to hydrate you?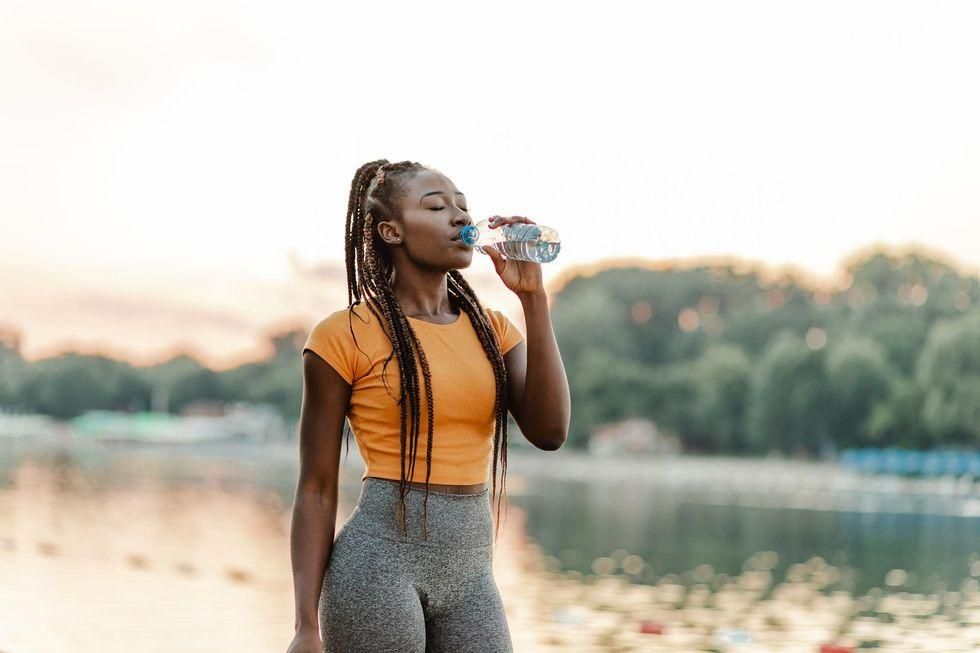 blackCAT/Getty Images
This article came about because of all the different information swirling in the social media sphere and the question it left me thinking about. The short answer to this one is yes, drinking plain water is enough to hydrate you. But if you want to make things more enticing to your palette or more nourishing to the body by trying out tips from TikTok experts here and there, then do it. Just know if you don't want to succumb to the pressure of suggestions, that's okay too. As long as you're getting those ounces in daily, and aren't excessively thirsty, your hydration levels are fine.
As with everything mentioned in this article, Mensah advises speaking with a health professional about your own individual needs, what your body might be lacking, and nutritious choices that could help improve those matters.
Featured image by blackCAT/Getty Images
There is one milestone in a woman's life that may not get talked about a lot, but it remains firm in our memory — it's the first time that we notice that we've got a gray pubic hair. When I tell you that there's nothing like it — Lawd, have mercy! I mean, even more than seeing the first gray hair on our head, there is something that is far more "What TF is going on?" about a gray pubic hair that…I'll just say that if it hasn't happened to you, just wait until it does.
I think it's because, if anything is a true sign that time is marching on and we are getting older, it's that. It's also proof that, just like every other part of our body, vulvas (the outer part of our vagina) and vaginas do indeed age.
Is there anything that can be done to stop it? I'm gonna shoot it straight — absolutely not. That's the "bad" news. The good news is there are all-natural tips that you can do to help slow down the signs of aging down below as well as things that can make that perfectly natural season of life so much easier to, not only deal with but actually embrace as well.
That said, let's look at some top signs of vaginal aging along with some things that you can do about it, shall we?
Featured image by Christopher Pedraza/Getty Images
Taking care of our mental health is a lifetime journey, and in order to care for our well-being, we must incorporate a holistic approach that considers our whole person, our needs, and our life stage. As we enter this new year, certain wellness trends are here to stay in 2023, so let's dive into some major wellness tips and tricks that you can incorporate into your healing journey this year.
Featured image by Rockaa/Getty Images
I was today years old when I learned the 'why' behind getting a pap smear. I always used to look at it as one of my annuals that I booked an appointment for, propped up my legs, braced for the discomfort of the speculum, and just did. I knew it was for my health but for some reason, it never clicked for me that a pap smear had everything to do with being preventative and was mostly about your cervix. Even as a 31-year-old who had a LEEP procedure done to remove precancerous cells nearly a decade ago, the dots never totally connected for me that 'pap smear' is to the cervix and cervical cancer as 'mammogram' is to breasts and breast cancer. Don't come for me, but I was simply doing what I was 'supposed' to do without thinking of the bigger picture as it relates to my health and preventative measures like annual pap smears.
Coming to terms with that realization is actually what led me to write this piece. I realized that there was probably someone like me who was simply rolling with the punches of booking yearly doctor exams, or even someone who might not even go because they may believe going to a gynecologist is only for people who have "an issue" down there. I'm here to demystify some of the myths around pap smears. In honor of it being Cervical Cancer Awareness Month, I am here to also do my part in empowering women to advocate for their health needs, especially when it comes to a form of cancer with a 92% survival rate when diagnosed in its earliest stages. And do you know the easiest way to detect cervical cancer before it becomes cancerous? If you said 'pap smear,' you are right on the money.
I spoke with Dr. Janelle Howell, DPT, WCS, also known as the Vagina Rehab Doctor to help spill the deets on what you need to know about pap smears and cervical health.

What is a pap smear? 
Perhaps it's elementary, my dear Watson, but I wanted to cover all of my bases when breaking down pap smears for this piece. A pap smear, or a pap test, is short for the Papanicolaou test. It is a diagnostic procedure that tests for cervical cancer in women. A doctor takes a small instrument to brush sample cells on the cervix and then sends those samples to a lab for the results. Once the samples have been tested, a patient can either get a normal test result (which literally means everything is all good under the hood) or an abnormal result (which could signify abnormal changes found on the cervix).
Depending on your doctor, they might suggest doing a colposcopy or a biopsy to ensure that the abnormal test result is not due to the presence of precancerous cells. If it is due to precancerous cells, the next step might be scheduling a procedure like a LEEP to remove those cells from the cervix. Your gynecologist will know best in regards to formulating a treatment plan that works best for you.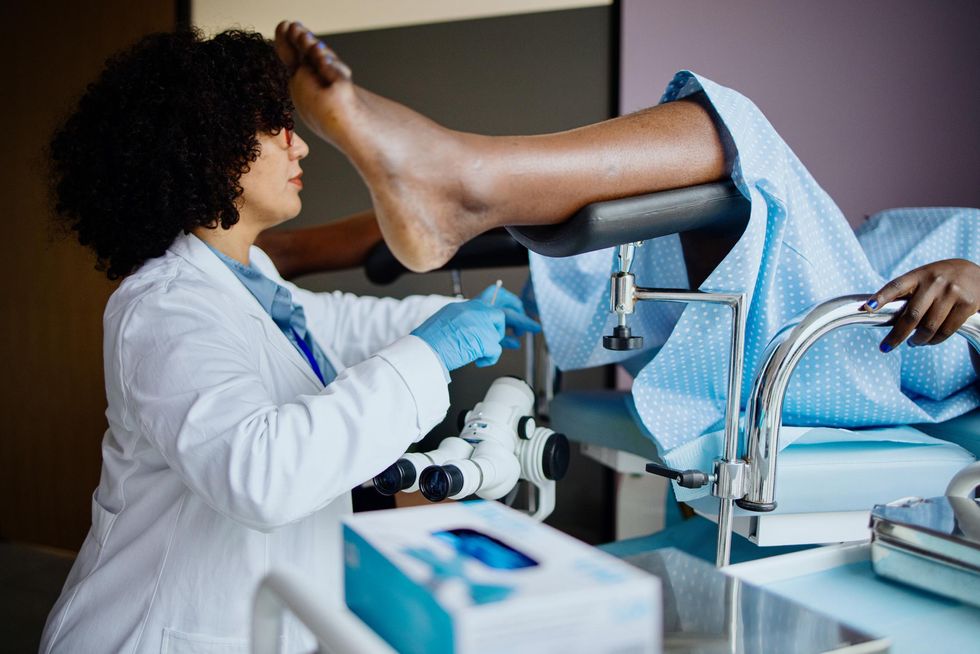 Anchiy/Getty Images
How often should you be getting a pap smear?
The answer to this question may differ depending on your medical history, but Dr. Howell shares that "generally speaking, about every three years is a good frequency to get one." She also adds that every five years, it is recommended to get an HPV test for the human papillomavirus, which is what leads to cervical cancer.
While Dr. Howell suggests people visit their gynos yearly, pap smear or no pap smear, she says that ultimately your specific gynecologist will be able to tell you how often you should visit and what the plan should be if you do have an abnormal pap test result.
When should we visit the gynecologist and what should we expect? 
Although there are some people who prioritize regular checkups, there are others who do not have the privilege of accessible healthcare. There are also folks who might not resort to visits with healthcare professionals unless there is a problem or an issue. Such is the case sometimes with gynecologists. As previously mentioned, Dr. Howell advises women to visit their gynecologist yearly even if they don't have a pap smear or a symptomatic health issue or concern. During those routine wellness checks with your gynos, you are able to get things done like a pelvic exam where they exam the vulva as well as the internal reproductive organs, which includes the cervix. Dr. Howell adds that during these exams, gynecologists usually "do an internal exam, apply manual pressure along the abdomen to see if you have tenderness along the uterine border, and order any other needed tests or measures, like a pelvic ultrasound."
She also shares that even if they don't go through the uncomfortable steps of giving you a pap smear, they will look at the cervix and the vaginal canal. "Think about it like getting an oil change. You gotta pop in there every now and then, especially if you are sexually active. You want to make sure you are staying on top of your pelvic health, your reproductive health, and all of that because we are getting our periods monthly, we are in our reproductive ages, and we still have our uterus that needs to be checked on."
"If we are having a lot of clotting, if we are having a lot of pain with our periods, or having missing periods or irregular periods -- those are things that we want to be updating our gynecologist on, so they can make sure nothing more serious is going on causing those symptoms," Dr. Howell concludes.
At what age should you start getting pap smears?
The most common age to start getting pap smears is 21, but typically when a patient is sexually active, they are advised to start getting pap smears then. Of note, just because you aren't sexually active doesn't mean you shouldn't be getting regular pap smears, especially if you are over the age of 21.
This brings us to our next question and answer...
Should you get a pap smear even if you're not sexually active? 
Sometimes, we look at doctor's visits from a lens of reactivity versus proactivity. Such is the case with gyno appointments. Sexual activity and/or vaginal health issues are not a prerequisite for gynecologist visits. But Dr. Howell encourages everyone to see the importance of getting pap smears, and even HPV tests, even if you aren't sexually active. "HPV can be transferred, not just from internal sources [like the penis and vagina] but you can get HPV just from skin-to-skin contact."
She states this to emphasize the point that sex is not the only way to get HPV, which is ultimately what leads to cervical cancer. "You can literally just have someone's skin who has HPV contact your skin, then you are at risk of getting it. There are HPV cells that live on the vulva, that live on the penis, that live on the groin. There's also oral HPV," she continues, "You don't have to have sex to get it. So be aware of that."
HPV can even be transferred from mother to child through the vaginal tract, so children can get it from their mothers if their mothers have it. The bottom line is, just because you aren't sexually active doesn't mean you shouldn't be getting pap smears and regularly testing for HPV.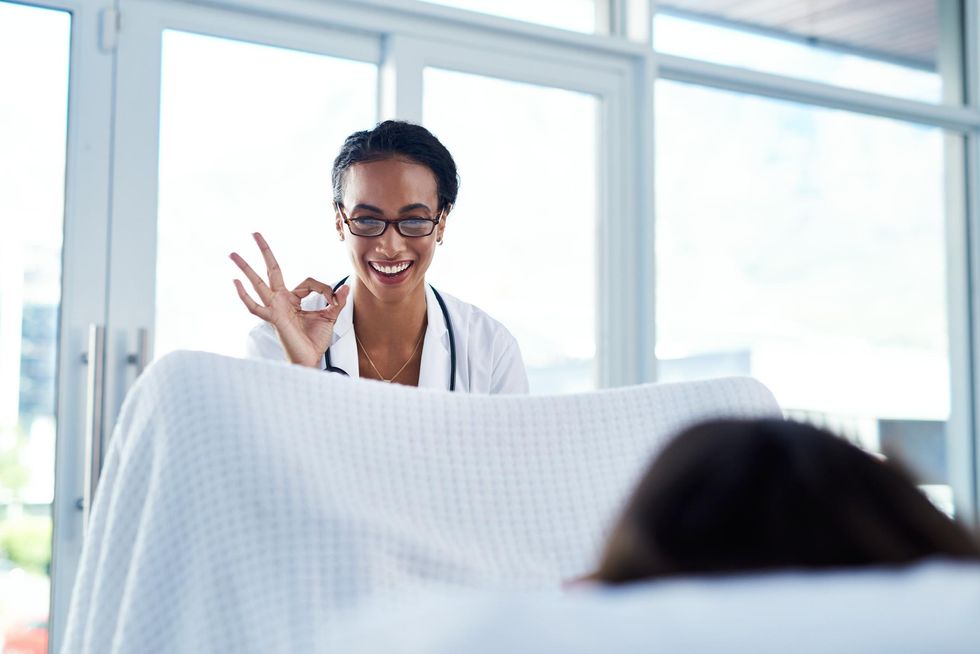 PeopleImages/Getty Images
How can you advocate for your cervical health in relationships and gyno visits? 
If you are sexually active, the number one thing you can do to better support your cervical health is to use protection. Dr. Howell notes that using condoms during sex is "one of the most basic, affordable, and safe ways" to guard the cervix. By practicing safe sex "we are limiting the amount of exposure to bodily fluids and bacteria on someone's genital skin that can impact our cervix. Exposure to someone's bodily fluid or [the] skin of someone who has HPV is a common way to become infected. We generally get it from another person."
In instances where women want to feel empowered to go beyond the routine pap smear, Dr. Howell wants you to advocate for your cervical health by doing your research and talking to your doctor openly in order to feel confident and comfortable with your cervical health status.
What are some holistic ways to support your cervical health?
Supporting your cervical health can go beyond regular doctor visits, getting pap smears, and using protection during sex. It also looks like having strong sexual health boundaries overall, as well as making better lifestyle choices. "If our diet is filled with more inflammatory foods than anti-inflammatory foods, then that is not going to necessarily help the cervix. So like processed foods, those things are more inflammatory than fresh foods."
For that reason, Dr. Howell suggests doing things like adding "color to your diet." She goes on to say, "You want to make sure that you are getting more color in your diet from plants, which help us to fight inflammation and fight disease. That's the whole purpose of food, to nourish our bodies." Speaking of diet, another key to nourishing your cervical health is by decreasing your sugar intake. "When I am saying sugar, I am talking about artificial sugar like the sugar that we are putting in our coffee, or the sugar that is in juice; it's concentrated into one small cup. Artificial sugar and high amounts of it, have been associated with just more inflammation in the body, which includes the cervix."
In addition to watching the amount of sugar you consume, she suggests observing your vitamin A and vitamin D levels as they are "protective for the cervix." "We are eating every day anyway, so you might as well eat foods that help your body to thrive." And for a beta-carotene-rich food that is accessible as it is nutritious, Dr. Howell looks to carrots and says one carrot a day is enough to assist with vitamin A levels which are necessary for cervical health.
As a Pelvic Floor Physical Therapist, Dr. Howell knows the importance of considering the pelvic floor as a way to support the cervix. "Your pelvic floor includes all the muscles that support your cervix and supports your uterus to prevent prolapse. So, checking in on your pelvic floor for pelvic floor symptoms, like urinary leakage, a bulge in the vagina, a 'heaviness' in your vagina, or constipation -- these are things you want to consider in terms of your pelvic floor. Seeing a pelvic floor physical therapist is crucial to helping you overcome those symptoms and take care of your pelvic floor muscles, which are by far the most important muscle group for supporting the position of your cervix and uterus."
For more of Dr. Howell, follow her on Instagram @vaginarehabdoctor.
Featured image by Natalia Gdovskaia/Getty Images