It comes as no surprise that the cannabis industry and the legalization of marijuana are yet another barrier that Black business owners face. A new report released by Grand View Research, Inc stated that the global legal marijuana market size is expected to reach $73.6 billion by 2027. However, many states have very specific guidelines that stand as barriers for many people of color looking to get into the cannabis business, and Black and brown people are still serving harsher sentences for the possession and distribution of drugs than their white counterparts.
In tandem with that, Black people across the country lack the capital and access to venture into the marijuana business due to the various restrictions on who can own cannabis businesses. While the fight continues to dismantle another area in which systemic racism oppresses our community, these business owners are propelling forward to be the diversity that the whitewashed wellness industry so desperately needs. Here are five Black-owned CBD brands to support with varying products.
The Jersey-based CBD dispensary founded by Almaz Adeigbolo offers everything from pre-rolls and honey, to bath bombs that reduce anxiety. They also sell strains of CBD flower to help with depression and insomnia. Additionally, Adeigbolo is also a chef, and she curates cannabis-infused culinary experiences with her boutique food company, brwnbox kitchen.
BROWN GIRL jane is owned by sisters Malaika and Nia Jones and beauty and wellness expert Tai Beauchamp. The Spellman grads started the company after Malaika fell in love with the healing properties of plants and CBD, and felt frustrated with the lack of representation of people of color. Their products range from facial serums to body butter and yoni oils.
Founded by Dorian Morris, Undefined Beauty combines cannabis and skincare. The clean beauty advocate's line features firming serums, cruelty-free lip balms, and bath salts.
Not sure where to begin your CBD journey? This company provides a monthly subscription service of products such as calming wearable patches, chocolates that fight anxiety, nourishing facial masks, feel-good teas, healthful treats, and soothing balms all delivered to your door.
Yes, you read that right, hot sauce. Chef Paul Booker intends to blend up his passion for food and cannabis for all to enjoy. The former athlete shared that after enduring injuries and extreme physical stress on his body after his college football days, Satan's Breath was born.
If you're curious about exploring CBD, support these Black-owned brands as you venture into this area of wellness!
Let's make things inbox official! Sign up for the xoNecole newsletter for daily love, wellness, career, and exclusive content delivered straight to your inbox.
Featured image by Catherine Falls Commercial/Getty Images
Originally published on September 23, 2020
While mantras and the dedication to more self-care and health practices are a beautiful way to press reset year-round, a lot of us forget how important it is to nurture our most sacred space. And by that I mean, our homes. While the outside world comes with stresses and responsibilities and chaos, your home very much embodies the eye of the storm. There you find peace, tranquility, and solace. And because it does, you shouldn't be afraid to elevate the way you think about it and how you make it work for you. Dare to do something different as you set your intentions for the rest of the year. Turn your home into a place that takes care of you.
Give these 10 feng shui tidbits a try and ignite a positive and nourishing energy shift in your life for 2022.
1

.

Keep Your Entryway Clutter-Free, Well-Lit, and Laced With an Inviting Aroma
Everyone who enters your home will take on the attitude and energy that greets them when the front door opens. Your entryway should inspire guests to bring only the happiest, healthiest parts of themselves into your home. We all have baggage, but bright paint and a fragrant scent will encourage your grumpiest neighbor to leave their negativity at the curb. Clutter-free means no trash, no stacks of mail, no piles of shoes, no shovels, and no raggedy coat racks in the doorway.
Make sure your home's entrance is saying, "Girl! Come on in here, so we can relax and have fun" as opposed to, "Ugh! What took you so long? I'm drowning in here!"
2

.

Designate a Place for Guest To Leave Their Shoes
For centuries, ancient Chinese feng shui pioneers have followed this rule: do not wear shoes in the house. Shoes carry gum, mucus, feces, and much more from the street into your home. Allowing people to walk around your home in their shoes is the equivalent of walking through Times Square barefoot. Secondly, letting shoes be worn in your home energetically represents people carrying their problems into your residence. As you can imagine, other people's issues to settle into your space can seriously interfere with your home's peace and positivity.
Do yourself a favor and always have the guests leave their shoes and their troubles at the door.
Tip: Keep a small basket of ankle socks on hand to offer those girlfriends whose toes haven't seen a pedicure in a while.
3

.

Protect Your Kitchen
The kitchen nourishes the family both literally and energetically. Anything that sustains you is worth protecting. It is best if you cannot see into the kitchen from the front door. Do something to cover your kitchen doorway. Energetically, visible access to the kitchen from the front door gives way to problems with nourishment-related health problems.
Tip: Use all four fires on your stovetop when cooking. Most people (especially singles) tend to use the same jet repeatedly. In feng shui, putting all stovetop jets into action energetically balances your body's health.
4

.

Shut the Bathroom Door (and Put the Toilet Seat Down)
Bathrooms are physically and energetically set up to "get rid of" what we no longer need or want. We all use the bathroom to wash away dirt and release other bodily things we are too ladylike to mention here. But did you know that bathrooms will energetically wash away your finances as well? Keeping your toilet seat up and the bathroom door open is the energetic equivalent of saying, "Here, take my money, I don't need it." So next time bae heads to the bathroom, tell them to put the lid down because your bank account depends on it.
5

.

Be Sure the Living Room Doesn't Feel Like a Museum
Living rooms should be set up for conversation. It is the room where "living" (being with loved ones, communicating, enjoying good company) is supposed to take place. Seating should be set up fairly close together, clutter-free, cozy and inviting. Furniture set far apart or lined up along the walls does not encourage "living" or togetherness. It's okay for the living room to look like the cover of ArchitecturalDigest, as long as it doesn't feel like the Smithsonian.
6

.

The Bedroom: Sleep, Sex and Solitude 
There are lots of fun, feng shui facts about the bedroom, so take note. Bedrooms are the lungs of the home where deep breathing (relaxation) should take place. Bedrooms are best when placed at the back of the home, where the energy is more yin. Every bed should have a headboard because, when we rest at night, energy from the universe enters our bodies through the tops of our heads. Too much cosmic intake can be overstimulating and disrupt your sleep. And lastly, do not store items underneath the bed. Doing so symbolizes underhanded, sneaky, or backstabbing behavior from others.
7

.

It's Electric! (And Unhealthy.)
Electrical currents are harmful to our human bodies. In modern times, it is hard to avoid. Nevertheless, there are things we can do to decrease our electrical exposure. What your grandmama said about not sitting so close to the TV is correct but the most vital place to reduce your contact with electrical currents is in your bedrooms. Free your bedroom of all electrical items like TVs, radios, and electrical alarm clocks.
If full-on monastery mode is not your cup of tea, then at least unplug the electronics before you sleep. Just plug everything into a power strip and turn the strip off at night. For those who sleep with their cellphones, try and break that habit by sleeping with all electronics a minimum of four feet away from the foot of the bed. And, yes…that includes your cellphone as it charges overnight.
8

.

Table Talk
When shopping for a table, keep this in mind. The most uncomfortable tables are those with a glass tabletop. Fear of breaking or cracking the table is a visitor's worst nightmare. People can't help but feel tension when they have to place something on a glass table. The stress is distracting and takes away from good conversation and fun activities. So, when you're redecorating, swap the glass out for wood, leather, or some other less fragile tabletop.
9

.

Big Windows and High Ceilings
When choosing a new home or apartment, be sure the top of the window frame is higher than the tallest resident or frequent overnight guest. Short window frames give college baller bae -- that uneasy, trapped feeling. We don't want that energy creeping into our relationship.
10

.

 Place a Protector Near the Entryway
Every queen needs protection. Feng shui suggests using a talisman at or near your home's entrance as a tool of security and an attractor of good vibes. Different cultures have different talisman items. The Chinese culture likes the Bagua or fu dogs, while a home of African descent may choose an Ankh or the Eye of Ra. The choice is yours.
Let's make things inbox official! Sign up for the xoNecole newsletter for daily love, wellness, career, and exclusive content delivered straight to your inbox.
Featured image by JGI/Tom Grill/Getty Images
Originally published on October 24, 2019
By now we know it takes vulnerability to establish long-lasting and healthy relationships of all kinds. For someone like me, who is aware of this but a hot mess when it comes to execution, this is easier said than done. So, I spoke to a professional on tangible tips to explore my vulnerable side. India Douglas, LMSW works at a school in Brooklyn, New York teaching underserved kids the fundamentals when it comes to understanding feelings.
She also became a teletherapist at Brooklyn Center for Psychotherapy for all ages and genders during the pandemic at a time when vulnerability issues became a hot topic of discussion. Her background with the building blocks of emotions, I felt was perfect to break down the root of my vulnerability issues and how to move forward.
While she has never treated me, for the purposes of this story, I did share with her a few intimate details about my struggles with opening up wholeheartedly to those I care about. "Your diagnosis would probably be somewhere within the anxiety wheelhouse. It sounds as if you have issues opening up because you fear the response of what would happen if you did and the what-ifs," she explained. "If you get treated at Brooklyn Center for Psychotherapy, you might get an unspecified anxiety disorder diagnosis (found in the DSM-5). Later, they might put a specifier in there, based on whatever past experiences you share with your therapist."
Below find her tips for myself and others like me to navigate the ins and outs of being vulnerable.

How you should work on being more vulnerable:
"Before you get vulnerable with someone else, that vulnerability needs to start with yourself. You have to start by asking yourself the questions that you've been dodging in the back of your head. Begin journaling and really thinking about any traumas that you've had. Also, if something that you struggle with is anxiety—which is just the fear of the unknown—write down a list of what you're afraid of, and then the possible outcomes. Ask yourself, 'What if that did happen? Is it the worst thing? Is it the end of the world? What are you fearing from being that vulnerable? What reaction am I afraid of getting?' Write it down, look at it, stare at it and then figure out, 'OK, if this happened how would I respond to it?' It takes away that fear of the unknown.
"Vulnerability lies a lot with understanding your triggers. A lot of people are triggered by things that are attached to trauma or situations that happened in their childhood. When another person doesn't know these triggers, their reaction can come off negative. But when they do, then you open up a conversation and better communication between each other. So, if you're not open to understanding what your triggers are, how can you possibly be open to being vulnerable with somebody else? That's why people need to take time before they get into romantic relationships to get to know themselves—which can sometimes take years. That doesn't mean you can't date in the meantime, but it does mean that the more you know about yourself, the more you can share with your partner."
How to be more vulnerable in your relationships:
"When it comes to a romantic partner, I suggest taking each other out on dates. One takes the other out on a date and on that date, that's the date planners' day to be vulnerable and talk there about things. Don't approach the date like 'I got a bone to pick with you.' It shouldn't feel like a meeting or something you're dreading. It should be more like, 'This is my date day so I get to pick the spot and choose the topic of discussion this time.' And then next week is your date day to go where you want to go and discuss what you want to discuss. You can do this with family members too if you're trying to build or repair that relationship. Maybe not indefinitely, but for a period of time that gets you both to a better place.
"The number one thing I recommend is couples counseling. The best relationships are where you're in therapy, your partner is in therapy, and you are jointly in therapy. That is the best way to move forward. [Also,] there are card games like We're Not Really Strangers. That's a fun way to kind of get to know someone that you're interested in a bit deeper, and literally laying your cards on the table."
How to be open and expressive if you're afraid of being vulnerable:
"For someone who is not good at being vulnerable, it might feel like, 'I want to be vulnerable with you but I'm scared of being vulnerable with you, and by me having even this conversation with you, is me being vulnerable.' Lean into your strengths instead of focusing on your weaknesses.
"If your strength is drawing, draw a picture that expresses how you feel; if your strength is music, play a song that expresses how you feel; if writing is your strength, write a letter or a card—everybody has certain strengths. You want to play off those strengths, they will empower you."
Being vulnerable with someone who is not receptive:
"If you do step out of your comfort zone and are vulnerable with someone, and they're not receptive, then that is a sign that this person is not ready to be vulnerable back with you. It takes two. Instead, focus on why you're seeking validation from this person who's incapable of giving you what you're giving of yourself. If you feel like this is a person that you want to work on things with, speak to them about it. Have them own up to it. And if they're unable to do that, then move on to somebody else who's willing and ready to be just as vulnerable as you, because it doesn't work if one person is putting in all the work."
How to receive someone's vulnerability when being outwardly emotional doesn't come naturally:
"By saying to them that you hear them and you are appreciative of them being vulnerable with you. Then add that you need some time to digest what was just said to you so that you can give them the proper reaction to that vulnerability. Sometimes when people have a hard time being vulnerable and then other people being vulnerable back, they go into a shell. That's something that needs to be shared with the other person so that they don't feel like, 'Wow, I just laid it all on the line and this person just blinked at me.'"
Patterns, behaviors, and language that should be established to create a space for vulnerability:
"Setting boundaries is a good place to start because once you establish your boundaries, you can figure out who you can trust. Once that trust is established, then the vulnerability just spills out. I feel statements which go something like, 'I feel like this and because of that, I would like this from you moving forward.' Ifeel statements are good because you're starting from the feelings and it's not an attack on that person. It's just you talking about how you feel."
Let's make things inbox official! Sign up for the xoNecole newsletter for daily love, wellness, career, and exclusive content delivered straight to your inbox.
Featured image by SDI Productions/Getty Images

Originally published on March 31, 2021
Health and wellness have always been trending topics on social media. Our social media feeds are oversaturated with resources for balancing our hormones, improving our reproductive health, and prioritizing our mental health. Even the concept of spirituality has become a wellness trend. We focus on questions like, "What does it mean to be spiritually healthy?" But for the purpose of this article, let's focus on gut health.
Gut health has been a highlighted conversation in the wellness industry. More and more people are recognizing how our gut health plays a role and affects our bodily systems. I myself, also have become more aware of how to heal my gut with food and probiotics. And thanks to TikTok's newest wellness trend,internal showers, we now have the latest at-home remedy to make "going number two" a whole lot easier.
What Is an Internal Shower?
The concept of an internal shower is a holistic approach that many TikTok users have been swearing by to help alleviate constipation. And how do you make one? An internal shower is a concoction of two tablespoons of chia seeds, the juice of half of a lemon, and a cup of water which is consumed and said to help relieve constipation and Irritable Bowel Syndrome (IBS). But the key is the mixture has to sit for ten minutes to turn into a gel-like substance prior to consumption for it to work. So, what happens next? You let your body do its thing and be prepared.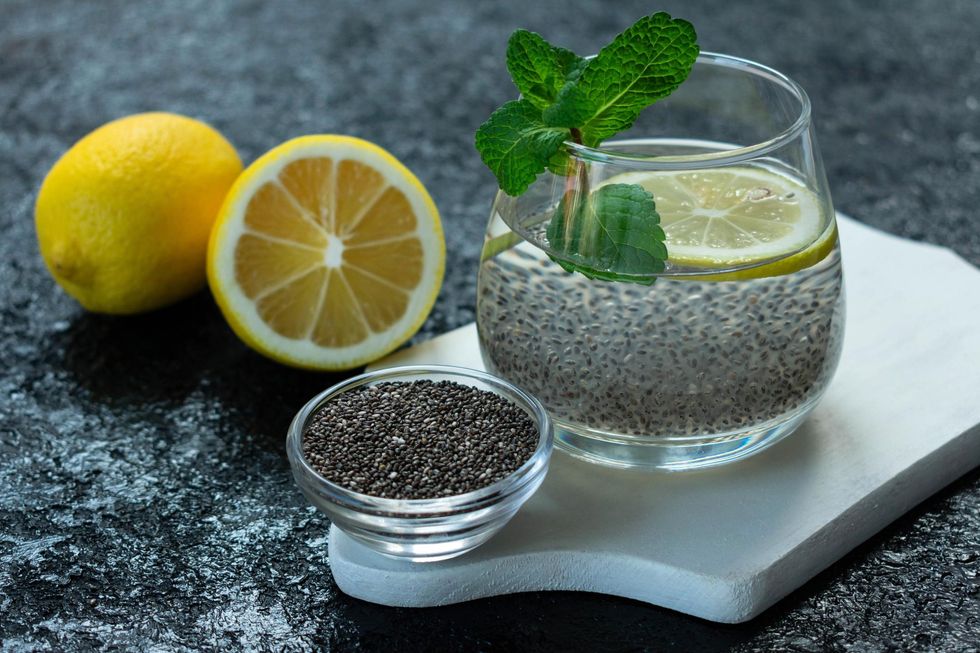 Olivka888/Getty Images
Where Did It Come From and How Does It Work?
​It has been said that board-certified chiropractor and celebrity nutritionist Dr. Daryl Gioffre is named the creator of the internal shower drink. He promotes it as a "constipation reliever shot" that has helped him with his owndigestive and gut health issues. OneTikTok user, (@_mimzilla) has said the origin of the drink isn't a trend, it's an ancient Aztec and Mayan tradition known as "agua de chia" (chia water). According toCosmopolitan, the link between chia seeds and constipation is that fiber is needed to bulk out the stool, and water helps soften it. Now you know why they say drinking a lot of water helps you go to the bathroom. As long as there is enough water and fiber in your system, it is easier to pass bowels with less pain and constipation.
Is Drinking the Internal Shower Drink Good for You?
The short answer is yes and the long answer is no.Chia seeds are considered a superfood packed with protein and antioxidants. Chia seeds also contain about half the daily fiber our body needs (25 grams per day). So, two tablespoons of chia seeds is an adequate amount of fiber to meet your daily intake. But while we are told our bodies need fiber, too much fiber can cause abdominal pain, bloating, cramping, and gas. If we consume more than the daily amount of fiber required, it can lead to diarrhea or constipation.
The internal shower drink is generally safe but not recommended to be a part of one's daily routine. I was once told by a gastroenterologist that we should be having bowel movements at least three times a week and anything over that is excessive. You have to listen to your body, what is normal for someone else, may not be normal for your body. It is highly recommended by most doctors, nutritionists, registered dietitians, and wellness practitioners to eat a regular balanced diet that includes fruits, vegetables, and high-fiber foods like oatmeal, whole grain bread, or avocado.
With over 150 million views on TikTok, the internal shower has become a popular wellness trend to try. I am not sure if I would try the internal shower drink. The issue with health and wellness trends is that they are quick fixes and oftentimes can be addictive. It is not always sustainable and can cause more damage than good. And sometimes the damage done to the body can take several months or years to reverse or repair. To be honest, I am going through this right now, and healing the body is a very slow yet frustrating process. But nonetheless, natural home remedies do work and can be incorporated into your daily routine depending on what they are.
Now that you know what TikTok users have been raving about, would you try an internal shower?
Featured image by Kateryna Onyshchuk/Getty Images
Sen·su·al·i·ty: the enjoyment, expression, or pursuit of physical, especially sexual, pleasure.
Can y'all smell the roses from the sensual season we're living in? The fact that the "soft life" is a whole movement is a new awakening to a generation that has access to healing and sensuality like no other! I'm in awe and appreciation that individuals across the globe are allowing themselves to step into what has often been perceived as feminine energy and making it their own self-soothing daily practice.
As I was researching this subject matter, I noticed the word "sensuality" is often misunderstood as being something amplified sexually via romantic bonds and not as much individually, which does more of a disservice to us than helps us. The more attuned you are to yourself in solitude, the better you are to have that sensual pleasure amplified with another person in any capacity.
Sensuality is something we should challenge ourselves to do every day, being mindful of the sounds around us, examining our thought processes and feelings, and discovering sensuality in a physical manner alone in different ways.
Here are expert tips on how to be more sensual in your every day life:
1. Practice mindfulness by really tuning into your five major senses.
According to licensed mental health counselor and co-director of Modern Sex Therapy Institutes, Richard M. Siegel, Ph.D., "'sensual' simply means 'of the senses'-- sight, smell, sound, taste, and touch." And because we live in such a fast-paced world, constantly multitasking, barely focusing on one thing at a time, it's very easy to lose a sense of all the things we're seeing, smelling, touching, tasting, and hearing because we're always on the go. Exploring our sensuality daily means constantly challenging yourself to be curious about anything and everything you come across.
Mental health/drug and alcohol therapist Joella Smith states, "I always suggest my clients take at least five minutes when you wake up to use your senses (listening to the birds outside, stretching/rubbing body aches, watching the sunrise, etc.). The goal, just like mindfulness, is to find pleasure in being in the moment by using all your senses. Being kind to oneself, loving our bodies, and practicing self-love daily will make us all more sensual people."
Being in tune with our sensual selves has everything to do with challenging ourselves to be present and fully engaged with everything we do consistently. As they say, "Self-love is the best love." Meditation teacher Kirat Randhawa echoed a similar sentiment, "An element of developing sensuality with self is to practice receiving yourself just as you are - in all of your emotional states - with loving awareness. This receptivity is integral to restoring a sense of wholeness and releasing the fear of what we might encounter if we turn inward. Pleasure is a beautiful way to soften into our hearts and bodies while feeling resourced and supported to navigate anything that may arise."
2. Engage in sensuality through meditation.
There is nothing like a little one-on-one time with yourself, where you can go to a safe place and release it all through stillness. "Meditation is a practice of becoming deeply familiar with yourself and your moment-to-moment experience with tenderness," states Randhawa. "What is more sensual than befriending the self with such openness? When we practice this awareness in meditation in relation to how we receive the breath and the different sensations and thoughts and practice softening into those experiences irrespective of our expectations, we cultivate an opening of the mind. This is key to identifying the different aspects of ourselves and rest there with more ease. It allows for a balanced indulgence."
"Meditation is a practice of becoming deeply familiar with yourself and your moment-to-moment experience with tenderness. What is more sensual than befriending the self with such openness?"
Also, for anyone that has a rough time with mediation because they feel like they can't pause their mind, I highly suggest using the Calm or Liberate app that provides guided meditation to help zero in on tuning out your thoughts and following the background noise (examples is like the sound of waves or rain drops) all while actively listening to the instructor's voice. If you find stillness difficult, even with guided meditation, trying out movement meditation could be more helpful.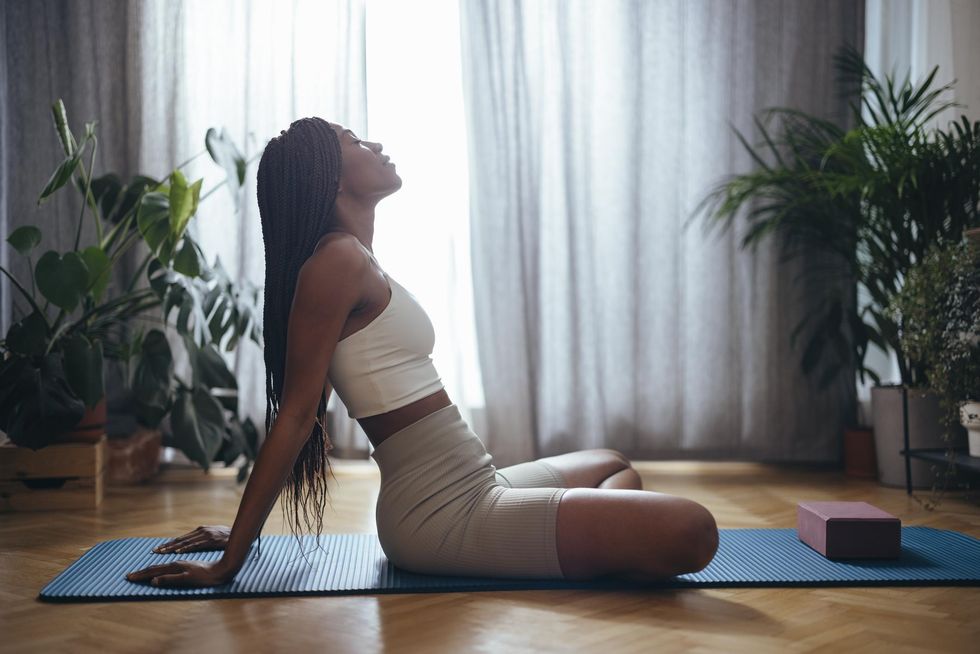 miniseries/Getty Images
3. Be more sensual through breathing techniques.
Breathwork is a skill set we should all learn because it's an amazing self-soothing tactic that helps regulate our physical and emotional well-being. There are several different types of breathwork techniques; Randhawa recommended "the five-count box breathing technique to simply restore clarity in the mind and presence with the body -- you inhale for five, pause for five, exhale for five, and pause for five...and continue this for a few minutes. It allows one to experience a more spacious feel of the moment and awaken to the beauty that is here right now."
4. Deepen your journey to your feelings and senses through writing.
It's our words that paint every scenario we envision or go through, and it's our words that help us dive into understanding our feelings more. Exploring your feelings on paper or even in your notes section on your phone can aid in profoundly exploring sensuality. Writing and creative expression coach Nkem Chukwumerije states, "In order to get to a place where we are writing from a place of freedom, and true connection to our inner worlds and outer surroundings, we must have a connection with our sensual selves. This means, for instance, when writing a scene depicting the breeze in the air, as readers, we want to know what kind of breeze that is and how it feels to feel that breeze. So, as a writer, we must relax our minds, wander outside into the breezy early afternoon, and sit in the center of a near-empty park, allowing the breeze to stroke our skin. We must feel each molecule of air as it dances with our face, arms, body and begins to articulate just how this feeling touches us."
Reading has been my favorite hobby since I was a little girl, and I've always noticed the best stories are depicted through minuscule detail to make you feel like you were there. Coming home to your sensuality is paying attention to the details surrounding you in slow motion. "After we feel, we can conjure up words to articulate that feeling and translate it onto the page where readers will not only read about the breeze but feel the same breeze we felt because we took the opportunity to be present with our embodied senses and write from that magical place."
She adds, "I often use the phrase 'experiment, explore, and allow' when it comes to writing because when we desire to express ourselves, I believe it must start from a place of pure possibility, freedom, and flow, and what better way to access what is and what can be than through our senses?"
5. Indulge in your sensual self through dancing. 
There are so many ways to come home to self, and dancing is a cure in its lane. When I'm in a funk, I turn on some of my favorite tracks and dance in my mirror and speak to my insecurities and make jokes about them, as Issa did in Insecure. It sounds lame, but it's so soothing to have fun in emotional turmoil; we're the most adaptive mammals on this planet, but change isn't always easy to walk through, so it's best to find a way that works for you to come home to yourself.
"Coupling somatic practices – such as yoga, qi gong, dance, EFT/tapping – with remembering the narratives about our bodies or intentional emotional feeling can be extremely powerful in healing both emotional blockages, and ailments/dis-ease in the body," states Chukwumerije. "When we practice becoming present in our bodies and aligning our emotional experience to our embodied experience, we can access more and more of our sensuality. Life is then never the same."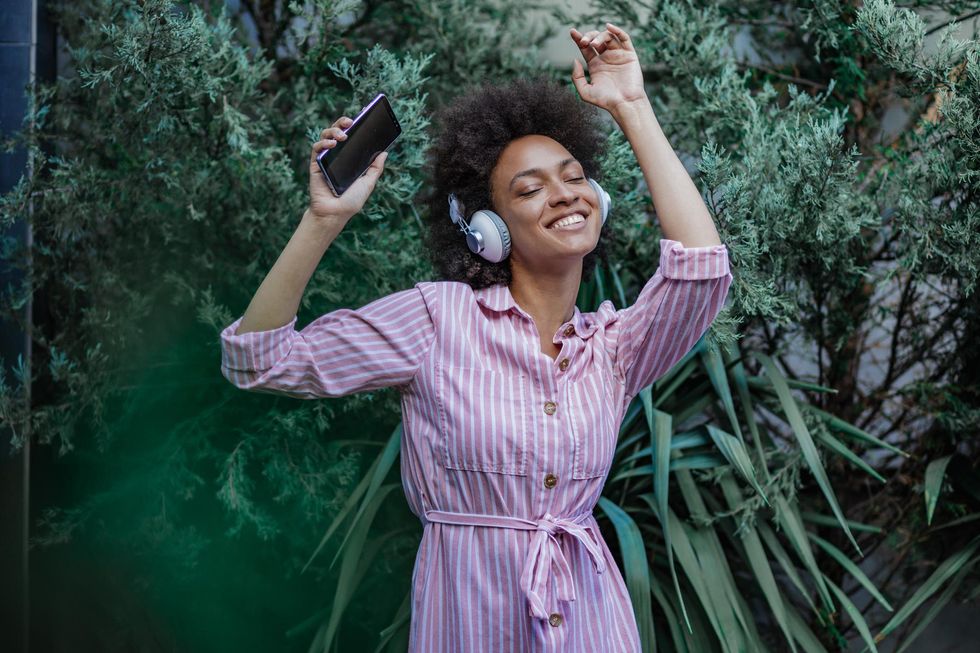 blackCAT/Getty Images
6. Explore your sensuality further through sexual self-pleasure.
I know before reading this article, most people associated the word "sensual" with "sexuality," but I hope that after indulging in all this new information, you have a better understanding of exploring your sensuality in a multifaceted way. Smith echoes a similar sentiment, "I believe too much of the discussion about sensuality revolves around sex rather than the pleasure we actually feel from what we experience from sex. Sex, however, almost always involves some level of sensuality. But one can experience and become sensual in numerous other activities that may give us that same level of pleasure. For instance, 'having an orgasm in our mouth' (when something tastes good) may do the same for our endorphins and overall sensuality as having an actual orgasm (sex)."
And though I didn't want to put sexual sensuality at the top of this article, I did want to highlight that sexual exploration with self is one of the highest forms of fulfillment you can experience sensually. Randhawa states, "I believe that sensuality originates from within, stemming from our relationship with ourselves. And when we can be present, open, and nurturing towards the self, we can extend that to others. Sensuality is a state of pure openness and receptivity, and offering this to ourselves can help us share it with others, and experiencing it with others can help us strengthen this connection even more with ourselves in turn."
"Sensuality originates from within, stemming from our relationship with ourselves. And when we can be present, open, and nurturing towards the self, we can extend that to others."
And I could share my own testimony reflecting on her words; for years, I used to be very irritated with sexually pleasing myself because of emotional turmoil I didn't know how to work through at the time and shame around current fantasies I'd have. But I've challenged myself to talk it through in therapy and with close friends, and I never felt so liberated and excited to explore myself sexually, with toys and all. And it's made sexual intimacy with another person heightened because I finally have so much autonomy of myself sexually.
Women are such fascinating and unique beings when it comes to sexual exploration, and I highly encourage watching the docuseries,The Principles of Pleasure, which is all about exploring female sexuality, and watching Sex, Love, and Goop which gave amazing tips on exploring sensuality through partnership.
7. Let go of your negative thoughts and discover your truth as a sensual being.
It took such a long time for me to accept that I'm a highly sensitive individual and that nothing is wrong with that. I was often gaslit as a child, which is one of the major reasons I often overthink my thoughts and feelings because I feel like they aren't valid. It wasn't until getting myself into therapy that I was actively ready and willing to deal with this super-soft part of myself. And taking that approach has been a game-changer because I'm better equipped to work through my emotional turmoil and support others with their issues instead of repeating the same cycle because I didn't know myself at such depths.
Smith mentions, "It's all about how we feel in our bodies, so feeling at the maximum level helps. This is often tough, though, as some of us battle intrusive thoughts and avoidance patterns that prevent us from truly 'feeling.' Letting go of the negative thoughts, appreciating every day, getting out of our head, and emotionally being in tune with what's going on will help others explore personal sensuality."
All in all, exploring sensuality on a daily basis should be something we actively try to fit into our schedules in some form or another because no one can soothe us like we can soothe ourselves. No one can feel all that we are going through like we can, so take a deeper dive with self-exploration; your mind, body, and spirit deserve it.
Let's make things inbox official! Sign up for the xoNecole newsletter for daily love, wellness, career, and exclusive content delivered straight to your inbox.
Featured image by Delmaine Donson/Getty Images
Ease. Peace. Restoration. Preservation. Most of us have probably seen the #softlife hashtag trending or the caption "soft life era" making its way to our feeds on various social media platforms. But what does having a soft life really mean? Despite the way that struggle and hardship are sometimes placed on a pedestal, the soft life trend is about journeying along the path of least resistance, embodying softness, and sensuality, and therefore walking into the fullness of your most authentic self. It is unapologetic feminine energy, and by that I mean, a prioritization of being in a world that places value on doing, achieving, and accomplishing. Your quality of life is no longer about how hard you work, how much you do, and constant sacrificing and compromising.
Instead, the quality of your life is about vibrating higher and knowing who you are beyond those things that society feeds to you as a qualifier of your worth. You rest in your self. You are at peace with your self. You are at one with the nature of ease and the freedom of being. And therefore, you are at one with your self. And no a soft life era doesn't mean you have to quit your job in order to enjoy the fruits of solitude. Instead, it is about no longer working yourself to the bone or operating from a place of burnout and low self-worth. It's the antithesis of burnout because you enforce boundaries and limit the energy drainers that have access to you in place of the energy givers.
How can one do this? Alexandra Karlyn, a neuroscientist who is passionate about sharing her soft life journey to others through TikTok and Instagram, explains to xoNecole, "The key to soft living is to acknowledge that you are already worthy. You have nothing to prove to anyone and you don't need to fill a void, because you're already whole, you are already 'that girl.' Your value is not caught up in how productive you are or how well you fit into a capitalist model."
In order to start your own soft life journey, content creator Jaz Turner offers this advice to women, "Practice boundaries, first, with yourself. Do you dread going to the gym? Try a workout class. If that doesn't feel right, try an at-home online program. Stay authentic, always. Choose the path of least resistance. Listen to yourself, and to your body. Date yourself, and get to know yourself again. Hype yourself up. Let people take care of you. Rest. Relax. Pour into yourself. Do things for yourself that bring the biggest smile to your face. Forgive yourself. Be soft and be gentle with yourself."
For more inspiration to start your soft life era, Alexandra, Jaz, and Anne-Marie O. share their transition from hustle culture to a soft life, what a soft life means to them, and their soft life routines. Here's what they had to say.
Featured image courtesy of Anne-Marie O.