I didn't want to say that I was having bad luck. That's not something I'd ever want to speak into existence over my life. But I will say something wasn't right. I had a few coins stacked in my purse from a one-time project as well as from an ongoing one. Then I received emails from not one but two publications within days apart asking me if I'd like to contribute a few articles every week. Opportunities and money were flowing in. If you follow the law of attraction, you'd say I was vibrating on a high frequency.
What exactly is this vibration, though? Well, according to Chopra.com, "a vibration is a state of being, the atmosphere or the energetic quality of a person, place, thought or thing." Our vibration can affect everything that happens arounds us or to us. It may sound all "woo-woo" and new-agey but we often talk about manifestation or karma or a particular person giving off bad vibes and we do everything in our power to avoid them. Likewise, it could be a person having a good vibe and we want to constantly be in their presence. It's all energy and our intuition picks up on it.
Whether you're vibrating at a high or low frequency depends on the physical and emotional feelings that you're experiencing. Low frequencies are often associated with jealousy, resentment, anxiety, desperation, unfulfillment, confusion, extreme fatigue and unforgiveness. High frequencies are associated with joy, happiness, love, self-awareness, self-discipline, self-love, inspiration and constant gratitude.
We're never 100% on either end of the spectrum and we can shift from one end to the other. Sometimes that can be rather quick. I switched environments shortly after I secured the bag and those gigs. But apparently my bag had a hole in it because my money evaporated and I hadn't even bought anything! The business owner with the ongoing project didn't need my services anymore. There was no issue; she just didn't have any upcoming events that required marketing collateral. Any subsequent projects I got came with drama. And the two publications? Well, I can't say it was my best writing. I'll just say I wrote something. Eventually, I stopped writing altogether. The inspiration simply wasn't there. That high frequency quickly short-circuited.
I have a horrible habit of adapting to my surroundings and a lot of times it's subconsciously. It's my automatic mechanism for survival, fitting in or blending in. Not only did I shift my mood and personality, but I also assumed the frequencies of those around me. My peace was replaced with worry and chaos. My joy became despair. My optimism turned to helplessness. I felt stuck with no signs of progress. And when I looked in the mirror, I no longer knew who was staring back at me.
I didn't rebound until I changed my environment again. Once that happened, money and opportunities quickly found their way back to me.
Ironically, one of the ways Chopra.com says you can raise your frequency is to surround yourself with uplifting people who speak positivity, not "I'm broke" or "I can't" or always seem to find something wrong. You also want to be in the company of those who believe in you and make you feel better about yourself. If you're around individuals who constantly create unnecessary drama, doubt your abilities, demean you or speak death over your goals and dreams, it definitely takes a toll on your mental state and it becomes inevitable that you'll begin to vibrate at a lower frequency.
Granted, moving on is a huge, costly step and trying to walk away from relationships may prove to be difficult, especially if they were long-term. But it's important to note that those people will naturally fall off anyway as you seek to raise your vibrations. Nevertheless, here are five quick ways to increase your frequency today.
Express gratitude. 
Chopra.com says this is the easiest way to amp up your vibration. It's probably an activity we already do every day. If not, it's as simple as being thankful for life, that first sip of a chai latte or a stunning sunrise. You can either recite your gratitude aloud daily or record it in a gratitude journal.
Declutter inside and out.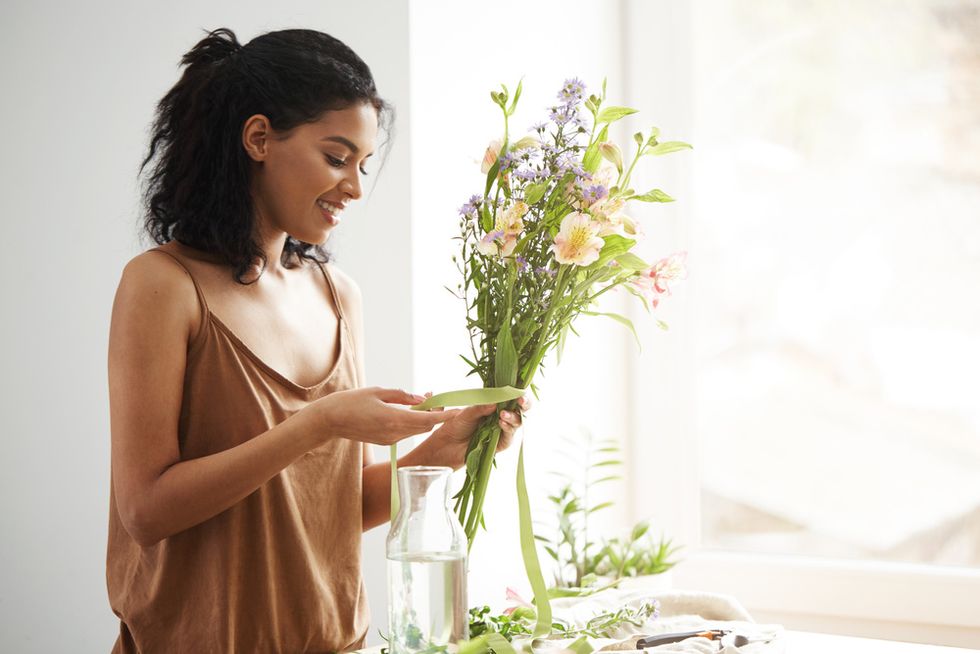 Shutterstock
Clutter is a telltale sign that you're operating on a low frequency. What's interesting about clutter is that a messy space of neglected mail, dusty knick-knacks, ish you don't use anymore, unwashed dishes and piles of dirty laundry strewn about is often indicative of something that's going on within. An article in Psychology Today refers to it as the "clutter effect", which further subjects our well-being to stress and life dissatisfaction. Cleaning up a bit can make us feel better therefore raising our vibrations.
Eat high-vibrational foods.
Food is "prana", or life force energy, unless we're eating a lot of "dead energy" in the form of meat, fried foods or processed foods. Prana-rich foods are high in nutrients and include raw and unprocessed items like locally-grown, organic fruits and vegetables. Consuming these foods brings our energy back into alignment.
Listen to high-vibrational music.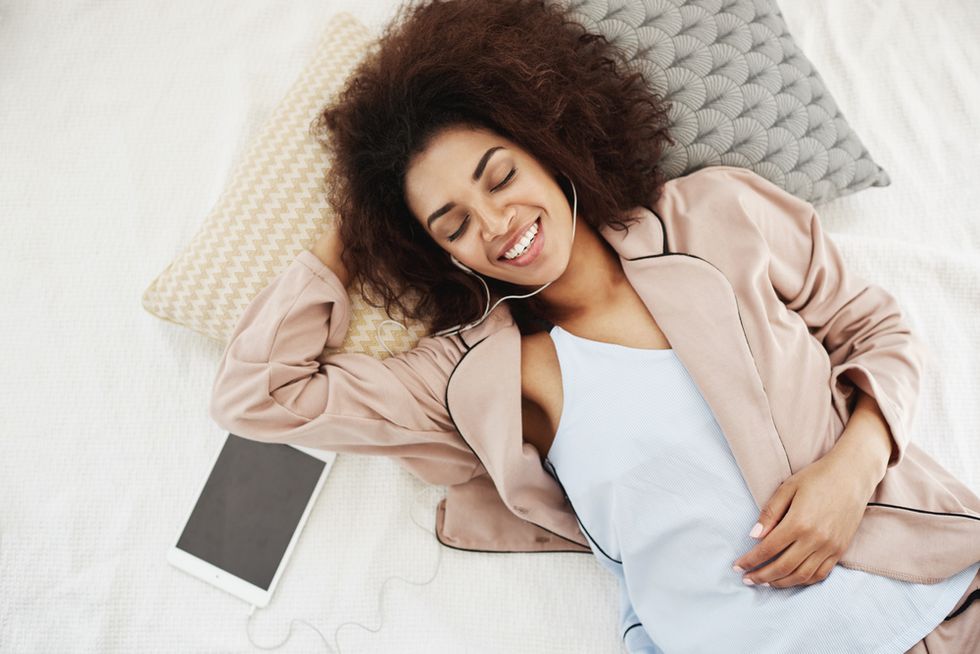 Shutterstock
Did you know that there are certain frequencies associated with music? And each hertz is supposed to heal a particular chakra and balance energy? You can do a quick search for Solfeggio frequencies wherever you stream your music or on YouTube. But I rotate between Lalah Delia's Energy Cleanse and Miracle Tones' Chakra Healing Frequencies Solfeggio playlists on Spotify.
Forgive.
Forgiveness is the answer to everything, huh? I added it to this list although it's not an act that everyone can immediately perform. But it's important to note that unforgiveness can hold us hostage on the wrong end of the frequency spectrum. In fact, blame is low energy according to the emotional guidance scale. The emotional guidance scale is a system that ranks 22 emotions according to an upward spiral (positive emotion) or downward spiral (negative). Blame ranks 15 on the downward side. If we can find it in ourselves to fully forgive, we can release ourselves of this lower energy.
While I'm a work-in-progress when it comes to forgiveness, I try to be aware of any negative thoughts and feelings that I may be harboring and actively do the work to clear them. But what I'm not going to do again is match energies because the last thing I want is to join forces with another outside influence only to block my own blessings and breakthroughs in the end.
Join our xoTribe, an exclusive community dedicated to YOU and your stories and all things xoNecole. Be a part of a growing community of women from all over the world who come together to uplift, inspire, and inform each other on all things related to the glow up.

Featured image by Shutterstock
Originally published on August 23, 2020
Keep reading...
Show less
Now that the weather is finally starting to feel more like it should (being that it is officially fall 'n all), I thought it would be a stellar idea to share with you, not just some drinks that can help to take some of the chill out of your bones, but also ones that are great when it comes to relieving stress. Because, let's face it, even though autumn and winter can be some of the most exciting times of the year, when you factor in all of the activities on your plate, the family that you will be seeing, the money that you'll be spending and whatever else that you've got on your upcoming to-do list — whew, they can also trigger feelings of anxiety, restlessness and even low-key frustration, if you're not careful.
So, this week, do your mind, body and spirit a favor and treat yourself to one (or more) of the 10 drinks on this list that can help to soothe and de-stress you. Because, in just a minute, you'll see why they are such bomb ideas on every health-related level. (Where's your favorite mug at anyway, chile?)
1. Apple Cider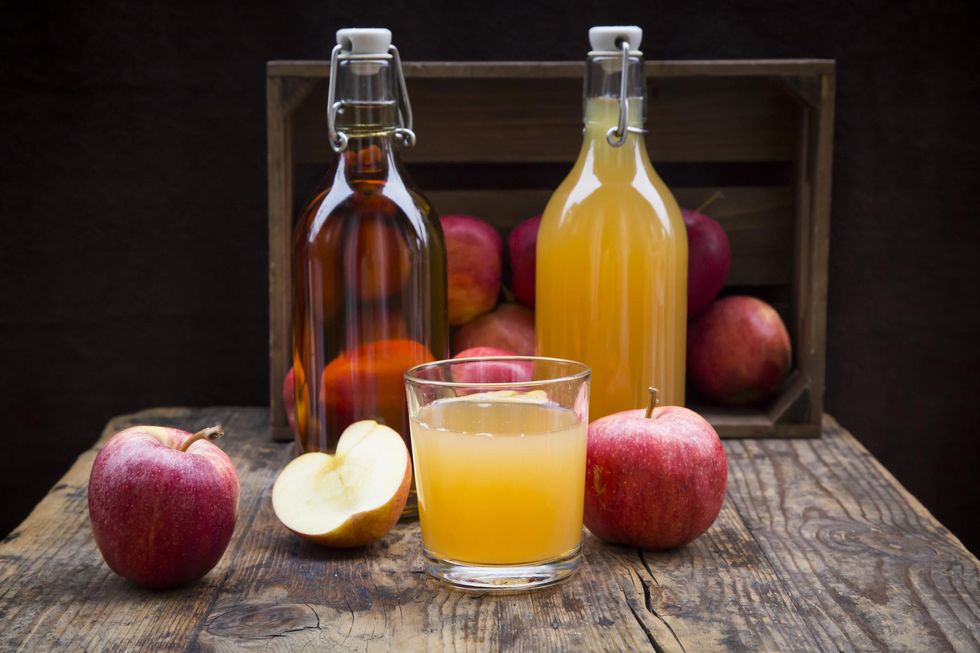 If there's a part of you that's always wondered what the difference is between apple cider and apple juice, cider is simply an apple drink that is totally unfiltered and unsweetened. This means that, at the end of the day, you are getting the benefits of apples in their purest form. Some of those benefits include the fact that they are a good source of fiber and Vitamin C, they can help to lower your diabetes risk and prevent cancer and they even contain compounds that fight cancer. As far as relieving stress goes, apples are good for you because the phosphorous and iron in them can help to reduce oxidative stress which, at the end of the day, is basically an imbalance of oxygen in your system. So yeah, if you want to calm your system down so that you can rest and relax easier, a warm cup of apple cider can easily do the trick.
Make Some: Homemade Apple Cider
2. Oat Straw Tea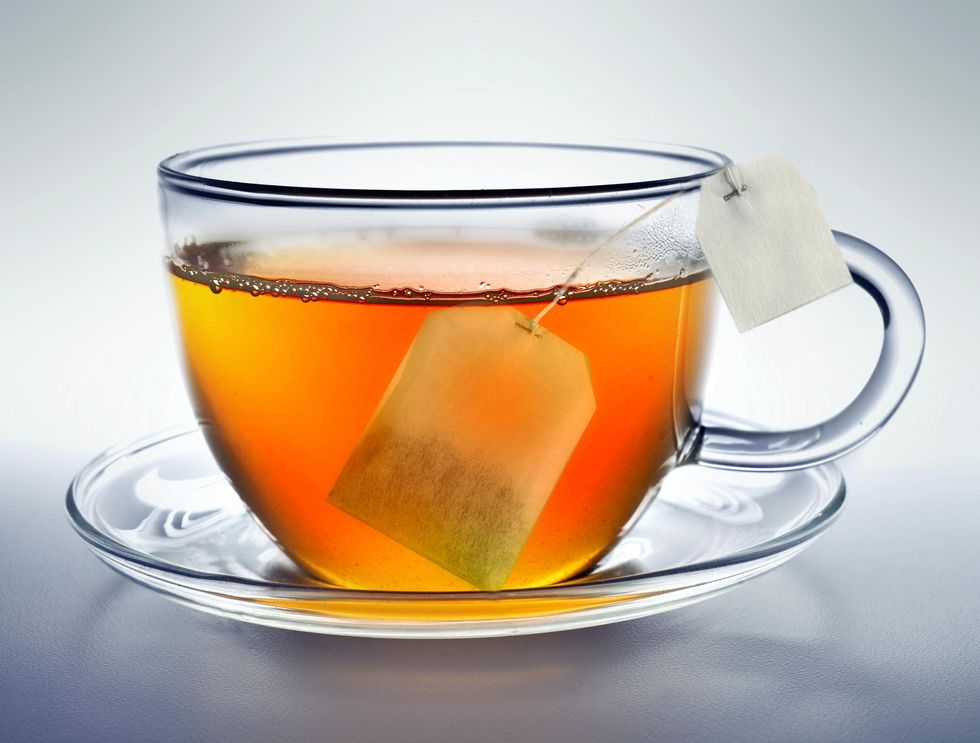 Whenever I do articles like this, I try and find things that aren't commonly mentioned. Personally, I think oat straw tea qualifies.
It's a tea that also goes by the name avena sativa and has a great reputation for being a mild relaxant as well as a sleep aid. Some other cool things about this particular tea is it has a reputation for helping women when it comes to strengthening our bones, stabilizing our blood sugar levels, soothing our nervous system, reducing depression-related symptoms and, some say that it can even help to boost our libido. A part of the reason why it can pull all of this off is because it's rich in B-vitamins.
Anyway, if you've never given oat straw tea a shot, you just received some pretty solid science-backed reasons to.
Make Some: Oat Straw Tea
3. Winter Lemonade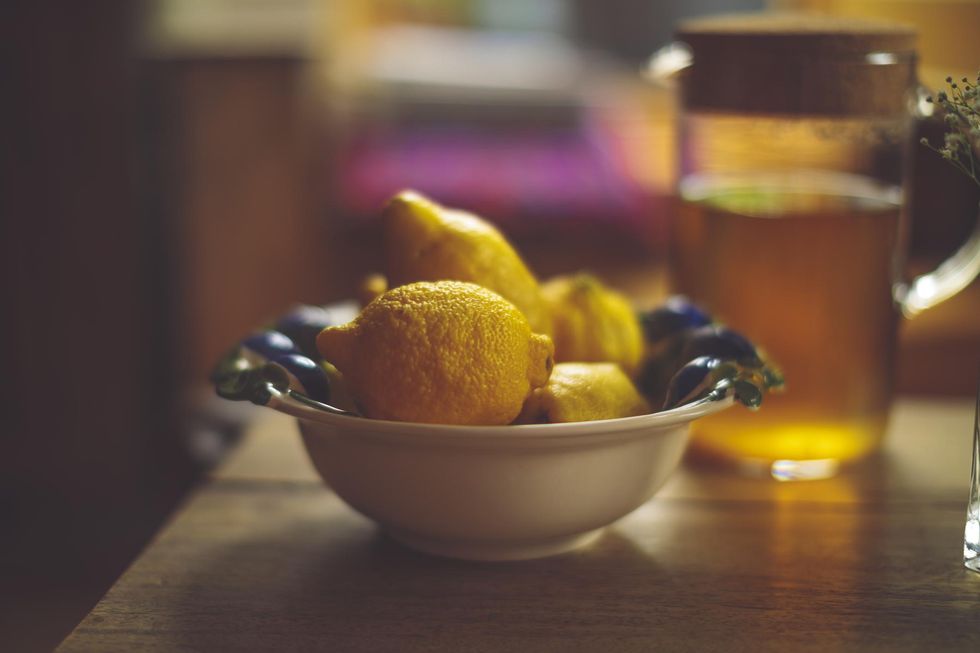 If you're a fan of lemonade yet you've never had the pure pleasure of drinking the twist on it known as winter lemonade, sis, what are you waiting on? While there are all kinds of variations to the recipe, it generally has ginger, cloves and cinnamon (and sometimes vanilla) in it. Lemons are great because they are a natural detoxifier which is always beneficial when it comes to keeping stress levels down. Ginger is bomb because it contains powerful medicinal properties, can reduce menstrual pain (if that's when you're feeling the most stressed) and helps to fight off infections (being sick is always stress-filled).
Cloves are cool because they're loaded with antioxidants and are able to help kill bad bacteria as it strengthens your liver (which pulls toxins out of your skin). Cinnamon is a lick because it also has strong medicinal properties, can help to reduce inflammation and is full of antioxidants. As far as vanilla goes, it contains anti-inflammatories that boost brain health; plus, it has antioxidants in it too. Drinking this kind of lemonade warm or cold is not only delicious but so satisfying to your senses as well.
Make Some: Winter Lemonade with Ginger and Cloves
4. Warm Oat Milk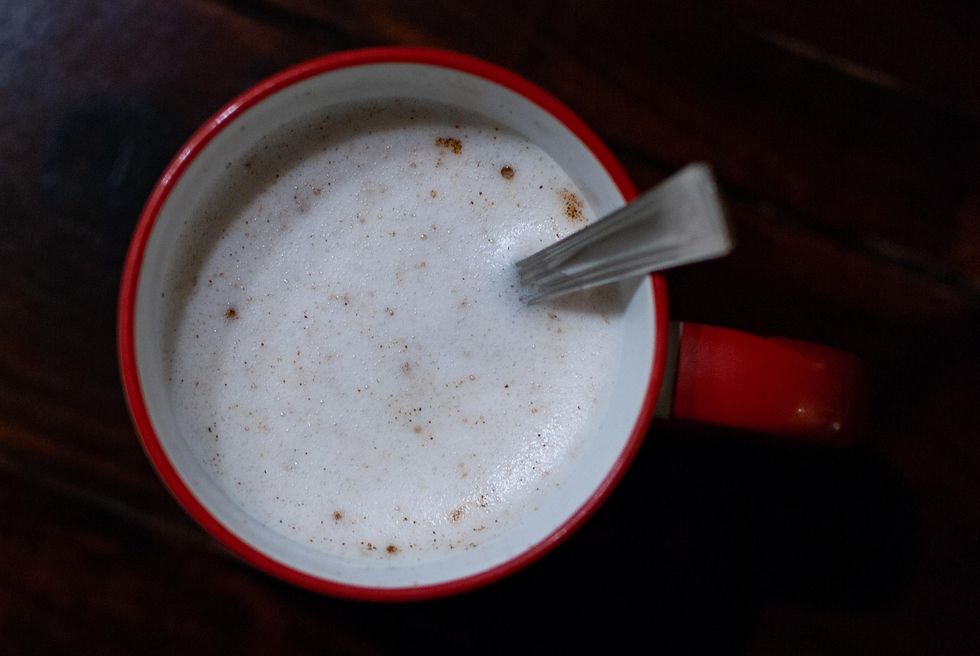 Once I realized that almond milk isn't the best thing for the environment, I switched over to oat milk and haven't looked back since. Aside from the fact that it's dairy-free, oat milk is good for you because it is high in fiber and B-vitamins. Plus, it's cholesterol-free, can help to regulate your blood sugar levels and, thanks to the magnesium and zinc that's in it, oat milk can relax your nerves and muscles too. And because drinking anything warm or hot can be truly relaxing, if you're looking for something to help you sleep at night, a cup of warm oat milk in your favorite mug just may be what you've been looking for all this time.
(Heads up: the recipe that I've enclosed contains espresso which you would want to leave out at night…for obvious reasons.)
Make Some: Spiced Oat Milk Latte
5. Cinnamon Hot Chocolate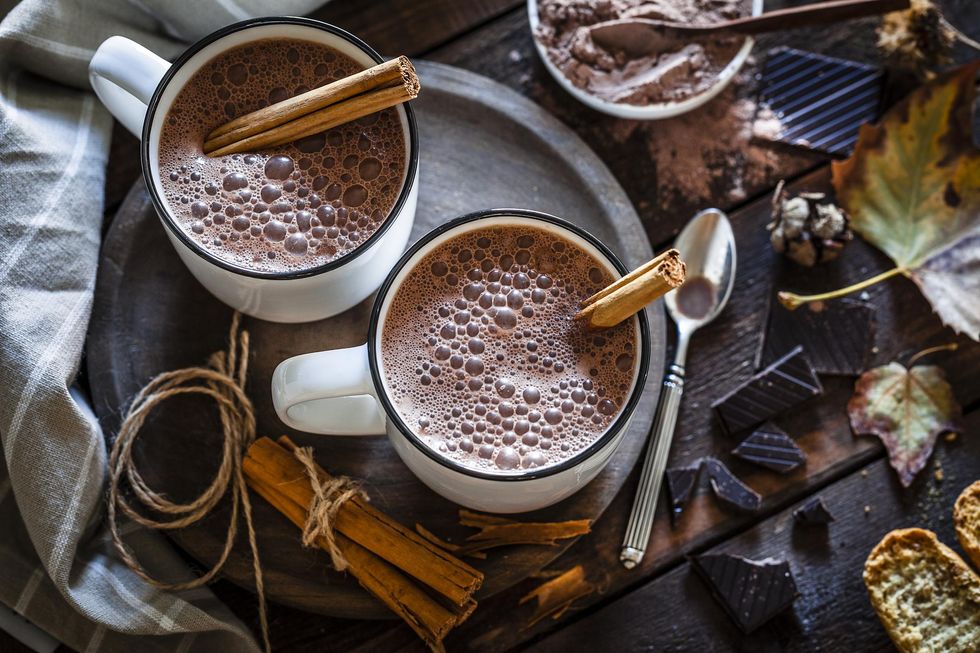 Anyone who doesn't like hot chocolate gets an immediate side-eye from me. I mean, what in the world, y'all? Not only does it taste like a slice of heaven, if it's dark chocolate, there are some pretty impressive health benefits that come right along with it too. Dark chocolate's got fiber, magnesium, iron, copper and manganese. Dark chocolate is a good source of antioxidants. Dark chocolate can also help to lower your blood pressure, improve your brain function and increase blood flow throughout your blood.
And just what does it do for you stress-wise? Aside from the magnesium that's in it, dark chocolate has a way of altering your brain frequency to where your body's natural stress hormone cortisol's levels are able to drop which can cause you to feel calmer. And since something else that cinnamon can do is help to soothe anxiety and depression-related symptoms, how could you not want to make yourself a cup of hot cocoa and then sprinkle some cinnamon spice on top of it?
Make Some: Homemade Cinnamon Hot Chocolate
6. Ashwagandha Tea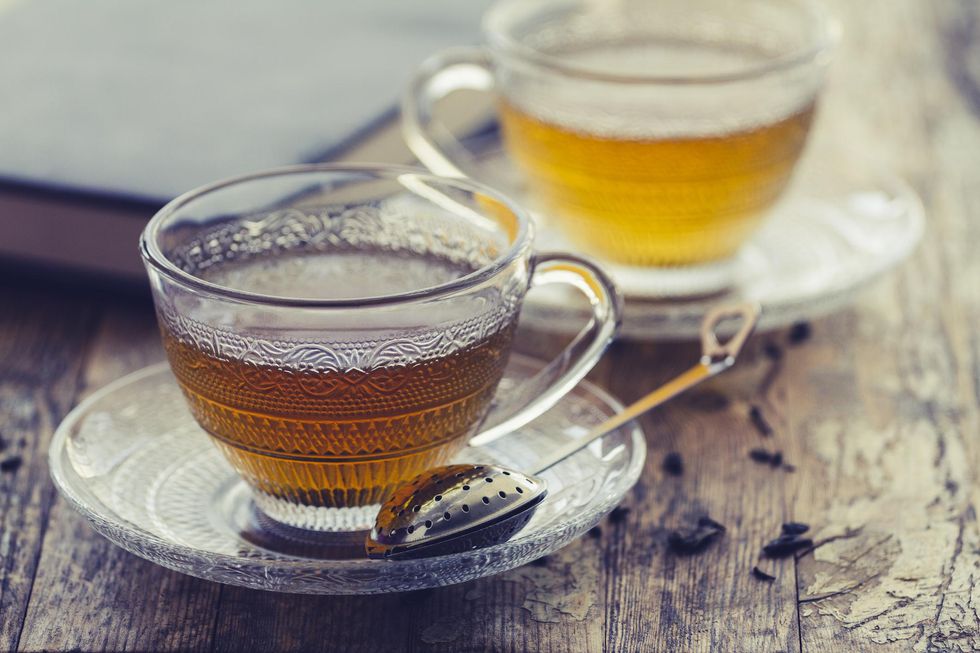 An herb that's pretty popular in Ayurvedic medicine is ashwagandha. Health-wise, it's good for you because it contains properties that regulate blood sugar, helps to reduce the growth of cancer cells, reduces bodily inflammation and even can boost fertility in men (although pregnant and breastfeeding women should consult their doctor before consuming it). Ashwagandha makes this de-stressor list, though, because it's another tea that has a great reputation for keeping stress at bay. That's because there is plenty of data to support that it plays a significant role in reducing cortisol in your system.
Make Some: Ashwagandha Sleep Tonic
7. Warm Vanilla Milk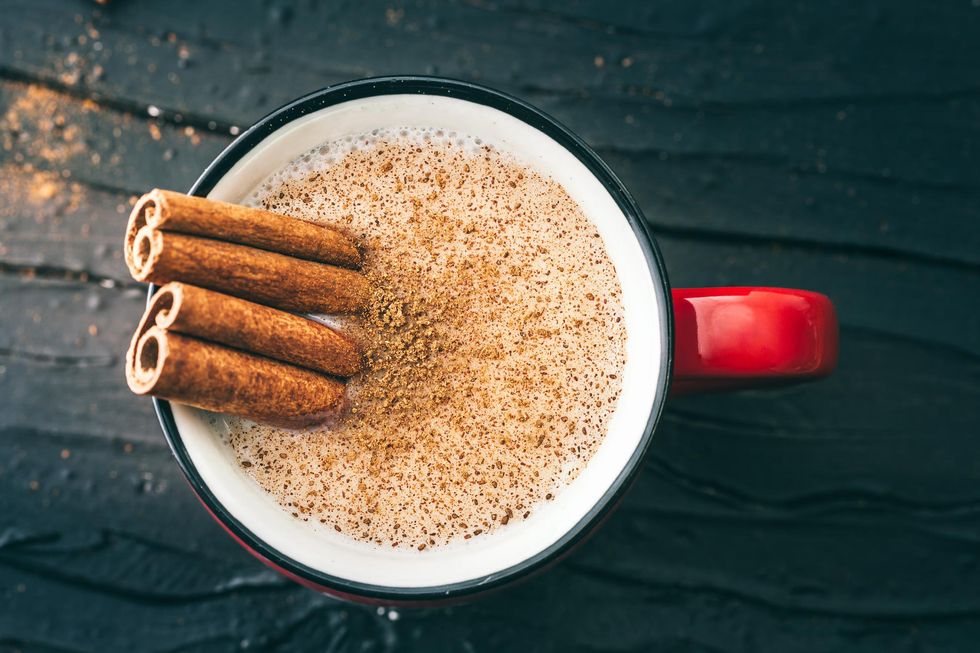 While I've already touched on what a cup of warm milk can do, because vanilla milk is so delicious, I had to circle back and emphasize a couple of other reasons why vanilla can benefit you when it comes to de-stressing your system. For starters, just the aroma of vanilla has a way of creating a calming effect (which is why, as an essential oil, it's considered to be a de-stressor). Also, because it also has antibacterial properties, drinking some warm vanilla milk can be good for you if you're trying to prevent a cold or if you need help falling asleep if you already happen to have one (check out "Got A Killer Cold? These 10 Hacks Will Help You To Sleep Better.").
Make Some: Hot Vanilla
8. Lavender Hot Chocolate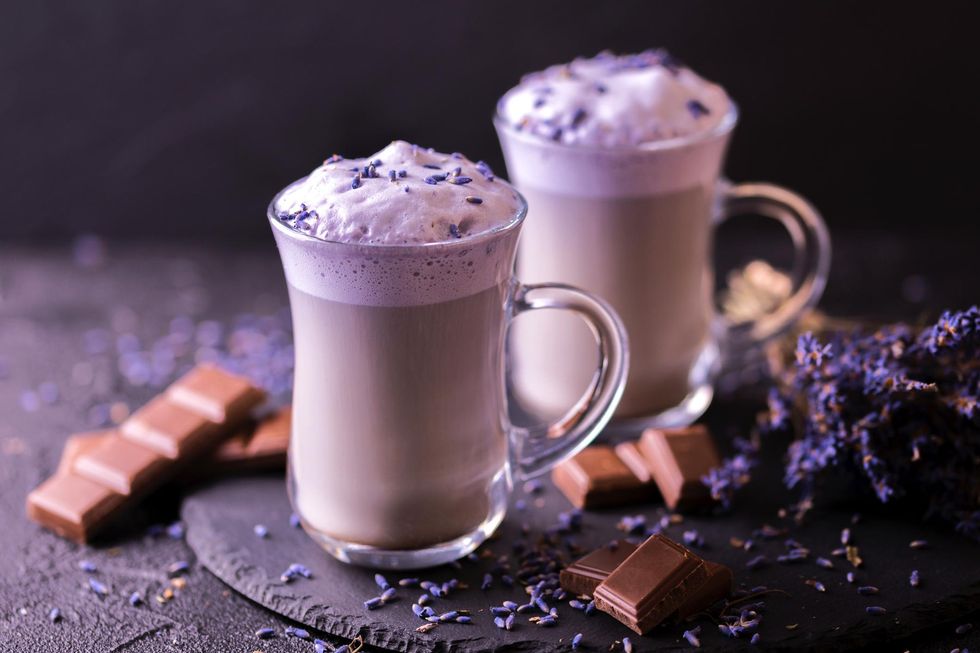 If cinnamon is so not your thing or you want to step out of the box a bit when it comes to the variations of hot chocolate that you're typically used to, have you ever had lavender hot chocolate before? When I tell you that it is something that tastes truly divine!
Not only that but lavender contains properties that help to heal chronic pain, lower your blood pressure and heart rate, lessen hot flashes that are directly related to menopause and improve your quality of sleep.
The key here is to not make your hot chocolate with lavender essential oil. Look for drops that are food grade or add some dried lavender to your recipe.
9. Mulled Wine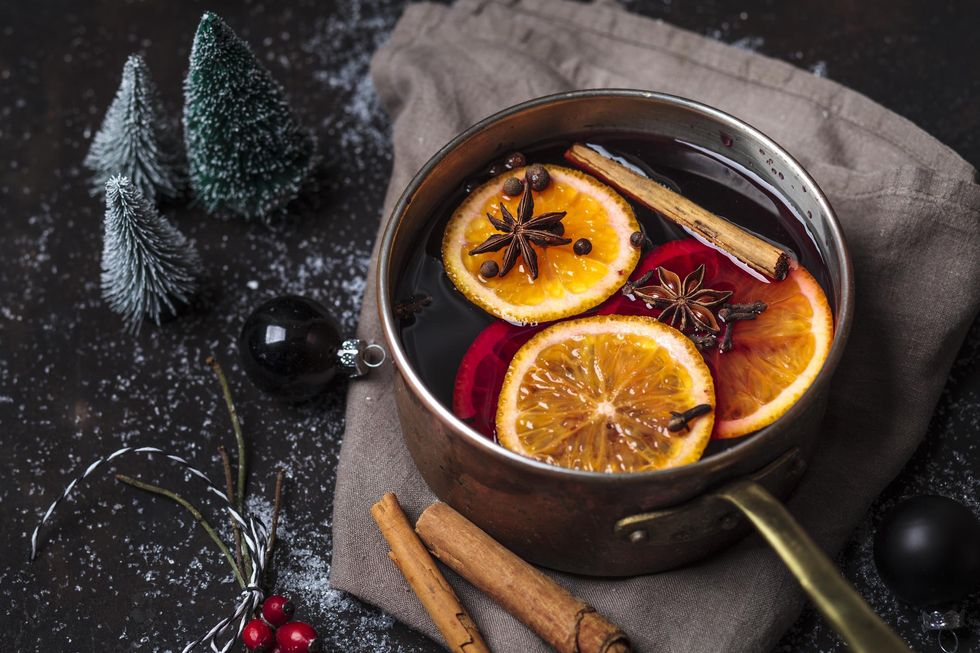 A pretty popular drink during the fall and winter months is mulled wine which is basically red wine with some fruits and spices in it. The recipe that I've included calls for red wine, apple cider, orange, honey, cinnamon, cardamom and some brandy if you really want to get buck wit it. Red wine is good for stress because the compound resveratrol that's in it helps to literally protect your DNA from being affected by stress. Oranges help to bring stress relief thanks to the Vitamin C in them that help to lower your cortisol levels.
Honey's good because it reduces stress levels and produces a natural calming effect. Cardamom is a dope spice because it aids in lowering cortisol and your blood pressure. And brandy's cool because it contains soothing properties that can actually help you to sleep more soundly at night. Definitely another reason to pick up another bottle of red wine and do some steeping, if you ask me.
Make Some: Mulled Wine
10. Chai Latte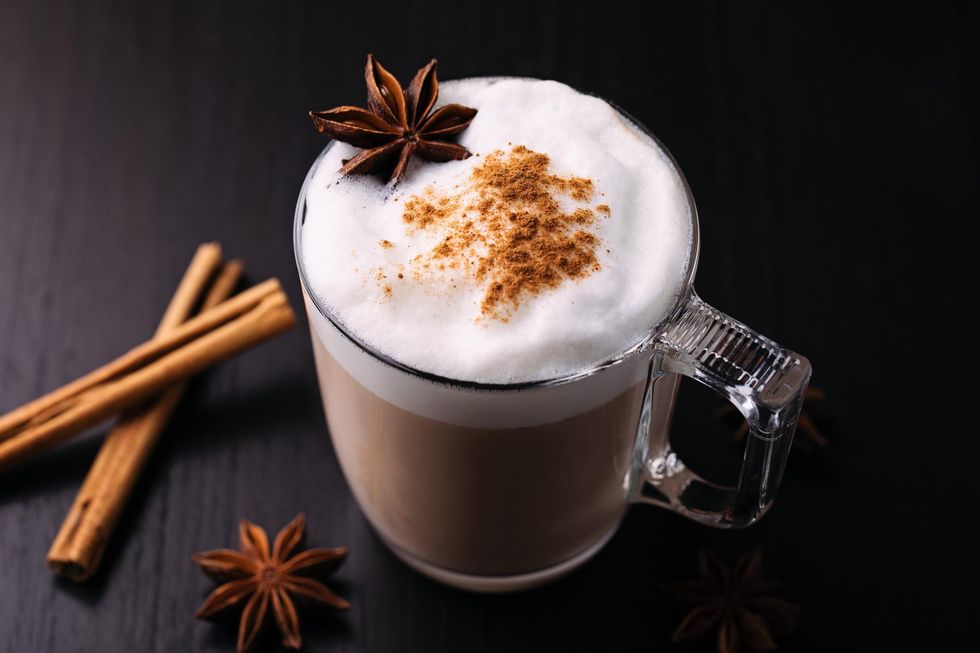 If you want to go all out and make your own chai lattes from scratch, you'll need some black tea, cinnamon, ginger, cardamom, nutmeg, allspice, honey and milk (or a milk alternative). Black tea is ideal because it lowers stress levels. Nutmeg is beneficial because it acts as a natural antidepressant. Allspice assists with lowering your blood pressure. So, if there is a warm drink that is the de-stressor of all de-stressors, it's a fair conclusion that chai latte would probably be it. Enjoy!
Make Some: The Ultimate Chai Latte
Join our xoTribe, an exclusive community dedicated to YOU and your stories and all things xoNecole. Be a part of a growing community of women from all over the world who come together to uplift, inspire, and inform each other on all things related to the glow up.
Featured image by Getty Images
Keep reading...
Show less
If you're someone who, no matter how much rest you get the night before, you just can't seem to stay as alert or focused in the afternoon as you are during the morning time hours, try not to be too hard on yourself. The reality is, while there is a myriad of factors that play into why this is oftentimes the case, one of them is rooted in the fact that our natural circadian cycle (which basically boils down to our physical, mental, and behavioral changes that transpire within a 24-hour period) actually causes us to have a decrease in alertness once the afternoon hours hit.
While that might be a bit of a relief to know, if a part of you is like, "OK, but my boss isn't gonna give me a pass on that when it comes to finishing up this project that I couldn't care less about once lunchtime hits," there's help on the way. I'm going to share with you 12 things that you can do that can almost instantly give you the extra fuel that you need to keep you from falling out at your desk, so that the end of your day can be just (about) as productive as the beginning. Let's do this.
1. Sing (Not a Sad Song, Though)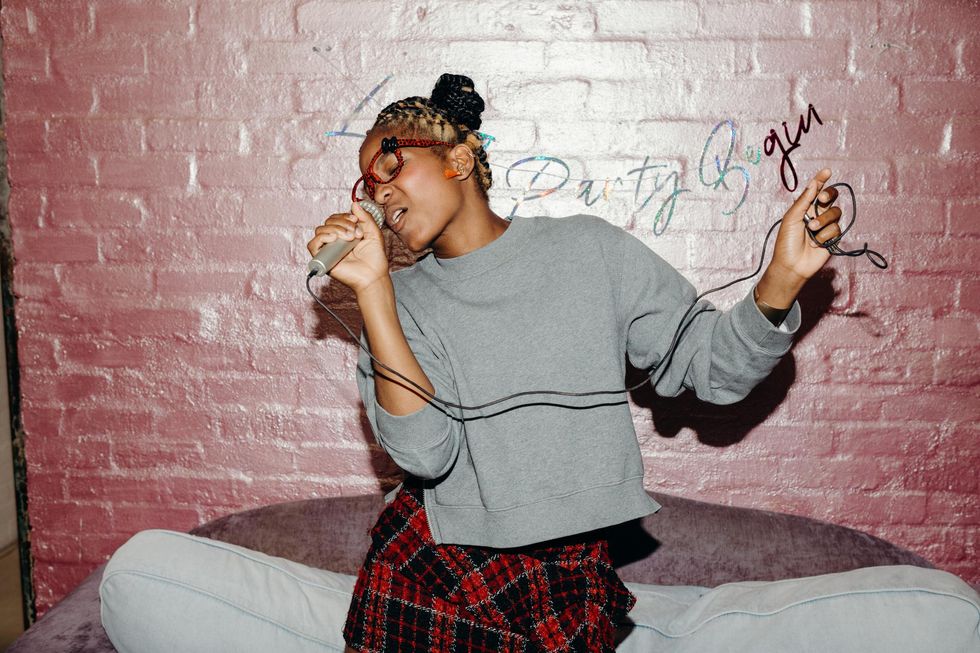 Did you know that singing has a way of releasing endorphins into your system? This is a good thing because they are hormones that trigger your brain and nervous system to feel less pain and experience more pleasure. If you're like, "I feel you but I ain't singing s—t in public," I hear you. An alternative is to listen to some music instead. Just make sure that it's the kind that makes you happy rather than the kind that causes you to take a walk down memory lane over some wack-ass ex. Feel me? Exactly.
2. Chew Some Peppermint Gum
If it's around 3 p.m., you've got a couple of hours to go and you have absolutely no idea how you're gonna make it through, pop a piece of gum into your mouth. When you do, it has a way of stimulating your autonomic nervous system which can make you more alert. Also, chewing gum has a way of increasing blood flow to your brain. And while pretty much any brand/flavor can make this happen, your best bet is to go with the minty variety. That's because something like peppermint can also invigorate your senses and make it easier to concentrate. Dope.
3. Put Some Sweet Orange Essential Oil on Your Wrists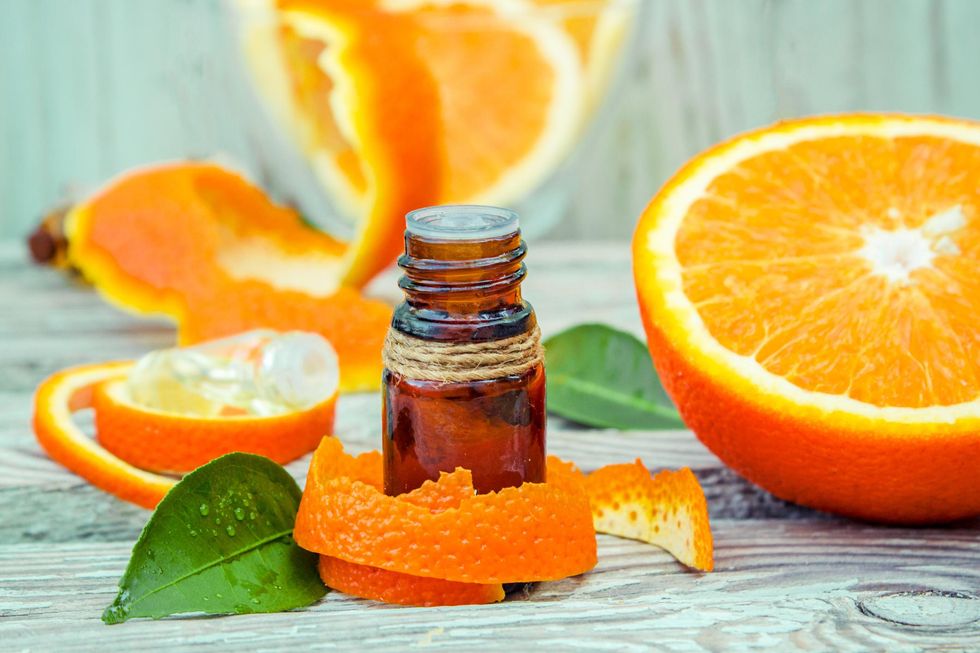 Something that I'm personally a huge fan of is essential oils. They smell great, they last a long time and they've got a myriad of health benefits.
On the sweet orange oil tip, something that it has the ability to do is not only reduce anxiety and stress levels but give you a boost of energy if you're feeling particularly fatigued as well. As a bonus, something else that's cool about this scent is it can help to offer up some mental clarity. Just dab a bit on your wrists. The reasons why are because 1) that part of your body is a pulse point and 2) your radial artery runs along your wrists which make it easier for essential oils to be absorbed into your bloodstream.
In other words, if you want a quick "hit" of the oil's benefits, your wrists can make that happen for you.
4. Turn Down the Heat
I know that some of y'all like to keep space heaters around your desk but if you're yawning more than a lil' bit, you need to turn those off and open up a window. Reason being, heat has a way of cultivating vasodilation. That's what happens when your blood dilates which causes blood to rise to the surface of your skin and create more heat which can result in you feeling more fatigued. So, while heat may make you feel more comfortable, if the objective is to stay awake, get a little uncomfortable and cool your body down instead.
5. Drink Some Water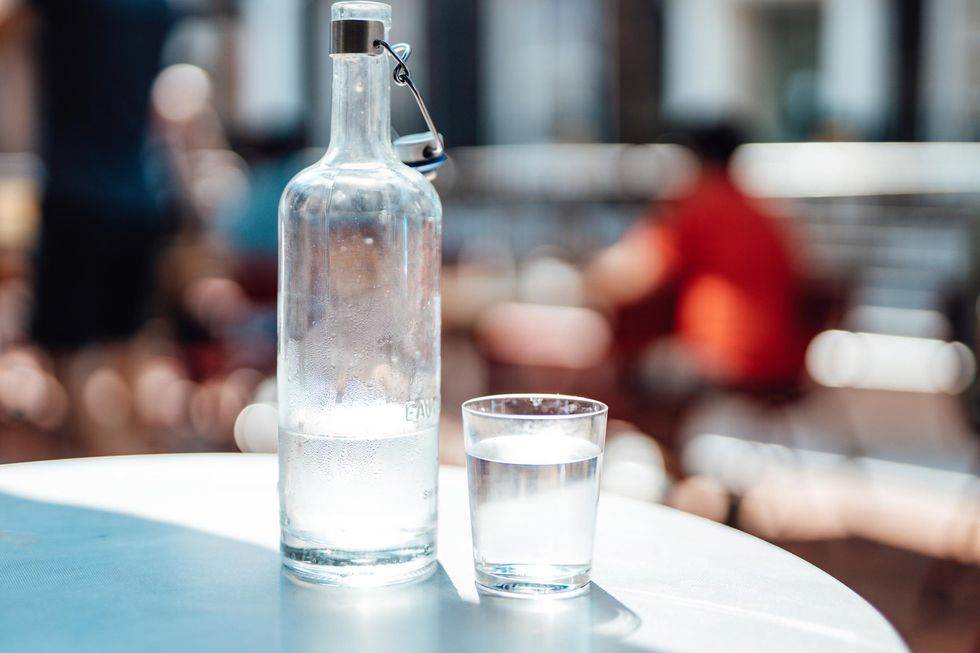 Did you know that if you're feeling drained or fatigued, that could be a low-key indication that your system is dehydrated? That's why it's always a good idea to keep a cup, glass or bottle of water around you at all times during the workday; especially after lunch when you need a bit of a pick-me-up. Oh, and if you add a couple of lemon slices to it, just the smell of the lemons alone can reduce your stress levels and help to put you into a better mood (lemons also help to detoxify your system which can give you more energy too).
6. Nix the Caffeine 
If you're someone who feels like coffee is your saving grace while you're at work, I just want to make sure that you know that it's a bit of a complicated solution when it comes to looking for something that will keep you going. The reason why is because it usually takes about an hour from the time you consume it for the caffeine to really take hold of your system. Then it takes around 10 hours for it to clear your bloodstream which could make it harder to sleep at night which can cultivate a pretty vicious cycle of being awake and sleepy when you actually don't want to be, if you ask me.
7. Eat Some Protein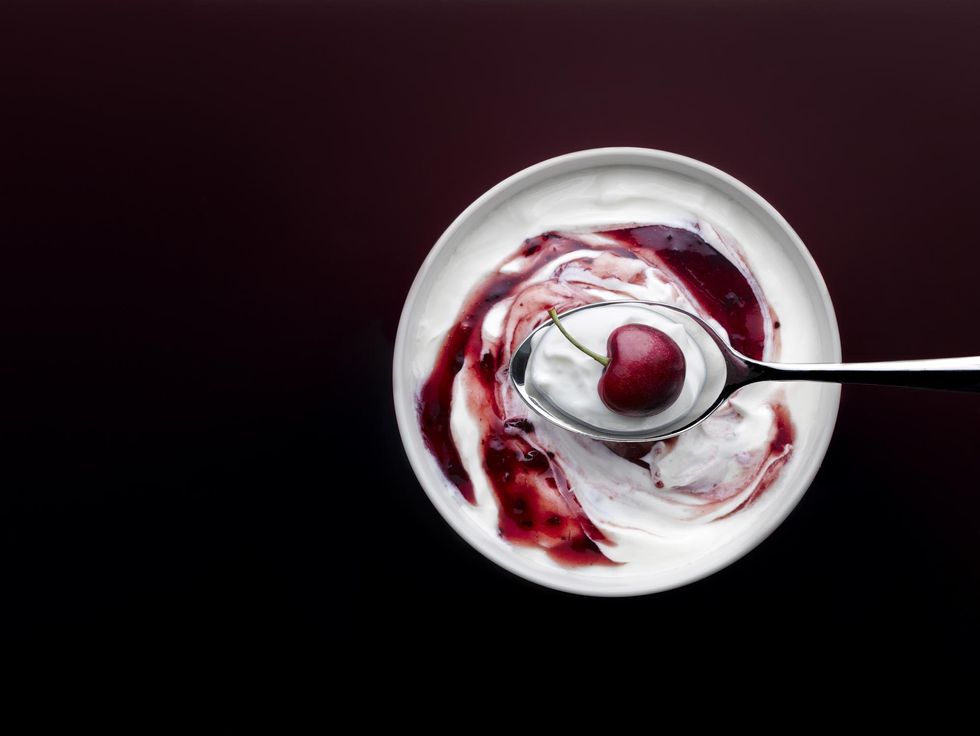 You might've heard somewhere that carbs are a great energy boost. While there is some truth to that, because they can also cause you to gain weight (because you end up "eating more energy" than you actually burn, if you're not careful), it can actually be better to snack on protein sources instead. Aside from the fact that protein helps your body to build and repair tissue, it actually provides more of a long-term effect as far as energy charging is concerned. That's why, another recommendation is to snack on foods that are high in protein including nuts, sweet potato fries, yogurt, tuna or anything containing meat.
8. Take a Walk Outside on Your Break
If you're someone who doesn't take advantage of your lunchtime and regular breaks, you definitely should. When you do, consider going outside, at least one of those times. There is plenty of data to support that even spending 10-15 minutes in the sun (regardless of what time of the year it is) can give your system a Vitamin D boost that can help to strengthen your immunity and also help you to feel more energized in the process.
9. Laugh at Black Twitter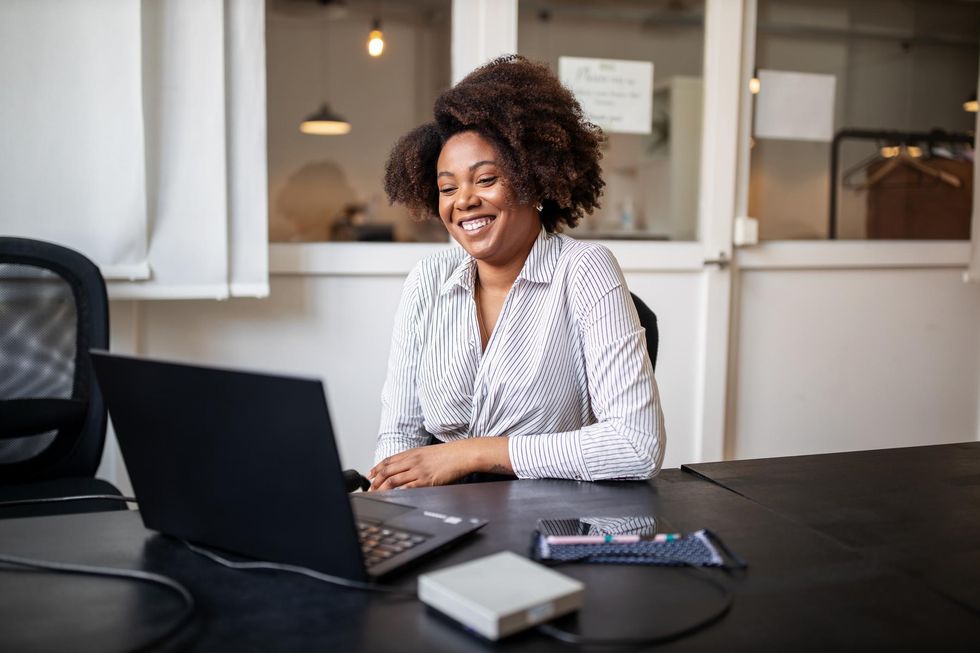 OK, when it comes to this particular point, it really doesn't matter what you laugh at because the reality is that laughter has a way of reducing stress, stimulating your organs, soothing tension and improving your mood. The reason why I shouted out Black Twitter specifically is because, I can't think of a single time when I haven't hopped on that app and cracked up in a way that nothing else has been able to consistently do. So, if you're able to open up your browser to it, I promise you that it's totally worth your while. Not sometimes…every time.
10. Set a Short-Term Goal
If what causes you to feel so drained is because sometimes your work seems, well, monotonous, something else that can put a little bit of pep into your step is to take out 10 minutes or so to set a short-term goal. The clincher here is to focus on something that will benefit you personally — you know, something that you can get excited about because you know that you will directly reap the rewards. First set the goal and then, each day, when you're feeling a little on the low energy side, devote some time to making your goal a reality. Sometimes, it really is something as simple as this that can revive you all over again.
11. Suck on a Cinnamon Stick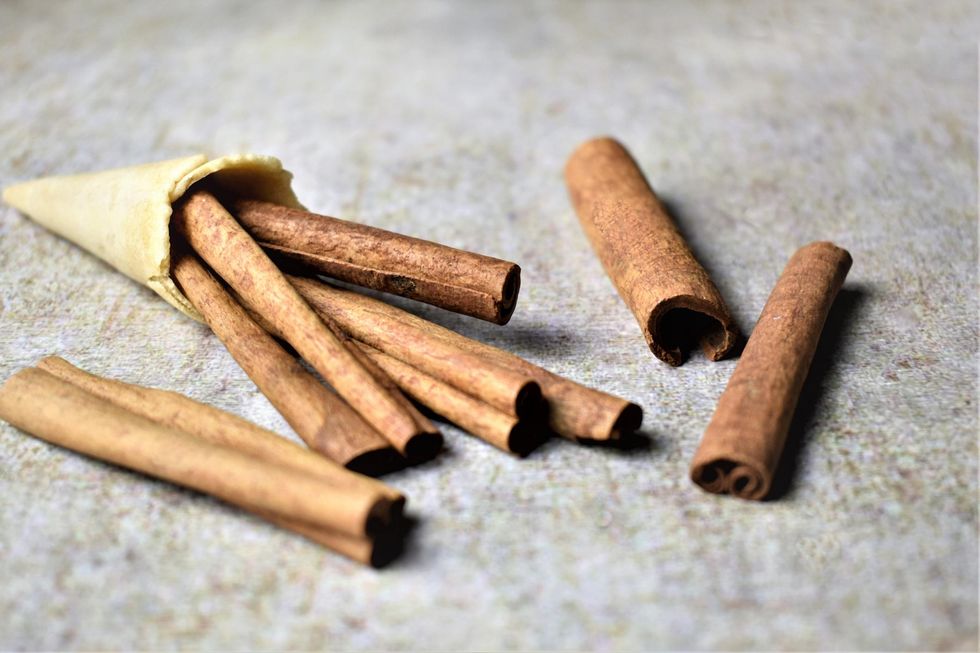 Aside from the fact that cinnamon is loaded with nutrients and antioxidants that can help to keep viruses at bay, something that's really cool about it on the energy tip is it has the ability to improve how your brain functions and processes information while giving it a bit of a power charge at the same time.
Plus, it makes your breath smell great, so if you can't recall the last time you've had a few cinnamon sticks in your possession, now would be a good of a time as any (they typically sell them at health food stores or even at Target).
12. Give Yourself Something to Look Forward to After Work
A word that I happen to like a lot is reward. It means "something given or received in return or recompense for service, merit, hardship, etc." and if ANYTHING warrants a reward, each and every day, it's having a productive day at work. That's why, I don't care if it's a pint of ice cream, a pedicure or a new scent of bubble bath, make it a point and practice to give yourself something to look forward to at the end of each day, at least 2-3 times a week. For one thing, you deserve it. Also, it can also help to get you over the afternoon hump because you know that, once all of your work is done, something is awaiting you that will make you smile — and take it from me, sometimes, that is all the motivation that you need. Real talk.
For more inspiration, self-care, and wellness tips, check out xoNecole's Wellness section here.
Featured image by Getty Images
Keep reading...
Show less
As the holiday craze saunters in and the countdown to the end of the year begins, life's level of chaotic can feel like it's in overdrive. This can result in mental health becoming less of a priority and burnout taking on new meaning, which can leave many of us feeling stressed AF and insanely depleted. Not only is seasonal affective disorder a real thing, but the past two years have been trying. To say it lightly, life has been life'n. This also means that we have to extend ourselves more grace because we are all having our own human experience.
We wanted to round up some ways you can balance your mood for those days when you need a little extra help. Ahead, find some tips and tricks approved by experts.
Try journaling.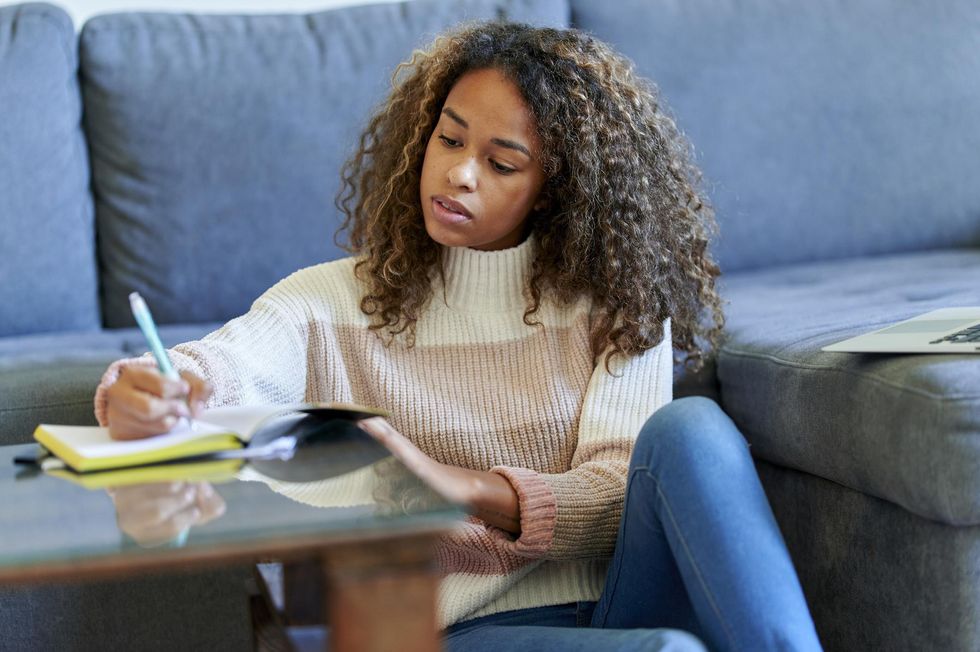 Getty Images
Journaling is a surefire way to add some sunshine to your life. According to Mental Health Therapist, Breigh Jones-Coplin, journaling is honestly a game-changer for our mental health. "It is a way of release— externalization. Our brains take in so much information each day and the process of journaling can provide an "emptying" effect where we clear up cognitive and mental space. This can help us feel less foggy, less anxious, and ultimately more relaxed. Journaling also provides perspective."
According to Breigh, when we put our worries, fears, feelings, and thoughts on paper, they become a journal entry— something less real and something separate from us. "This allows us space to take a step back and see things for what they are and find clarity, which is definitely a mood booster within itself. My personal favorite benefit of journaling is that it slows us down and gives us space to reflect. Reflection is where learning and healing take place. Any time we can gift ourselves the gift of release, clarity, and reflection, it's a win."
Switch up your diet.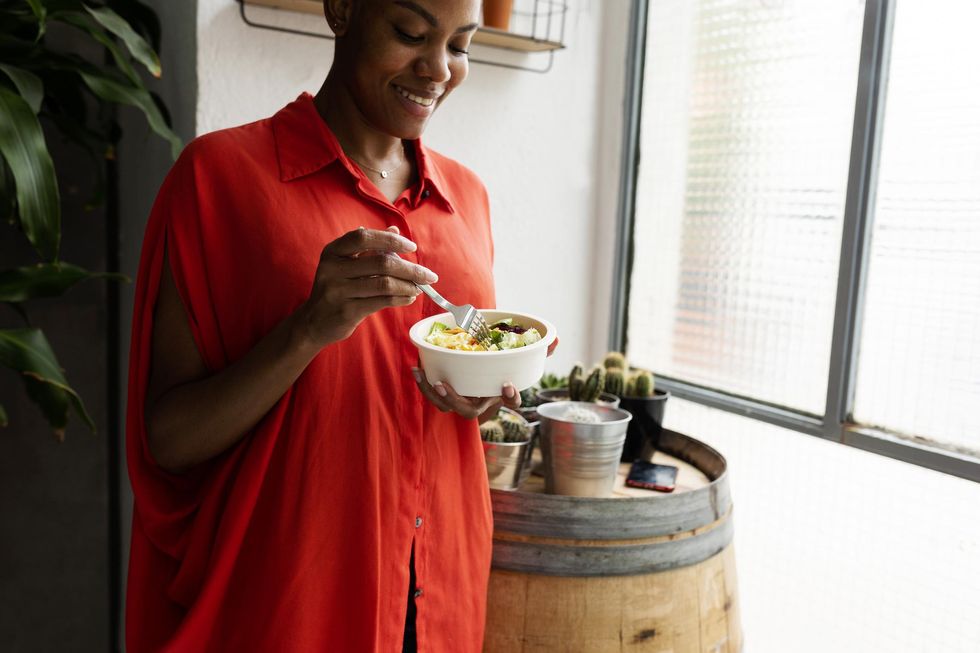 Getty Images
Turning to food when you're feeling stressed AF is normal for many folks. We just have to be mindful of how we manage that relationship with food and consume foods that level up our mood. Some of those foods include:
Salmon
Dark chocolate
Spinach & leafy greens
Berries
Yogurt & other probiotics
Bananas
Oats & nuts
Did you know that 90% of your body's serotonin is produced in your gut? That proves that a healthy gut equals a good mood.
Meditate.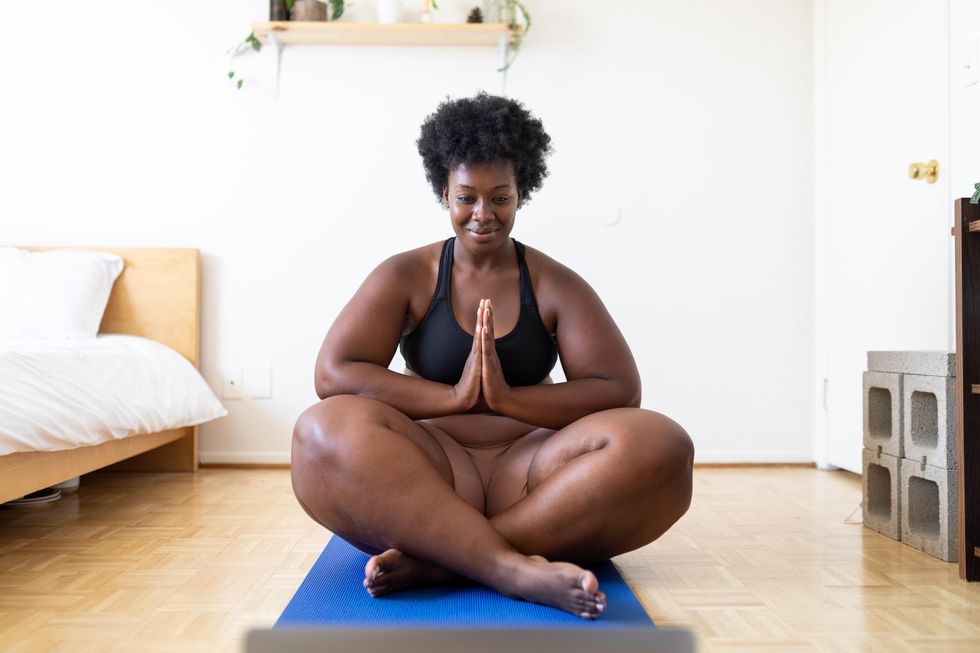 Getty Images
Ten minutes of meditation was found to decrease future-oriented worrying and boost focus ability in the present. While it can be hard to mute your thoughts, it is the fastest way to reduce stress. For thousands of years, meditation has been used to free your mind and yes, the rest will follow. Benefits range from gaining a new perspective on stressful situations to increasing self-awareness to reducing negative emotions.
We have found that guided meditation helps with focus and relaxation. Apps like Shine and Headspace serve as a support system and self-care ritual full of daily meditations.
Take a digital detox.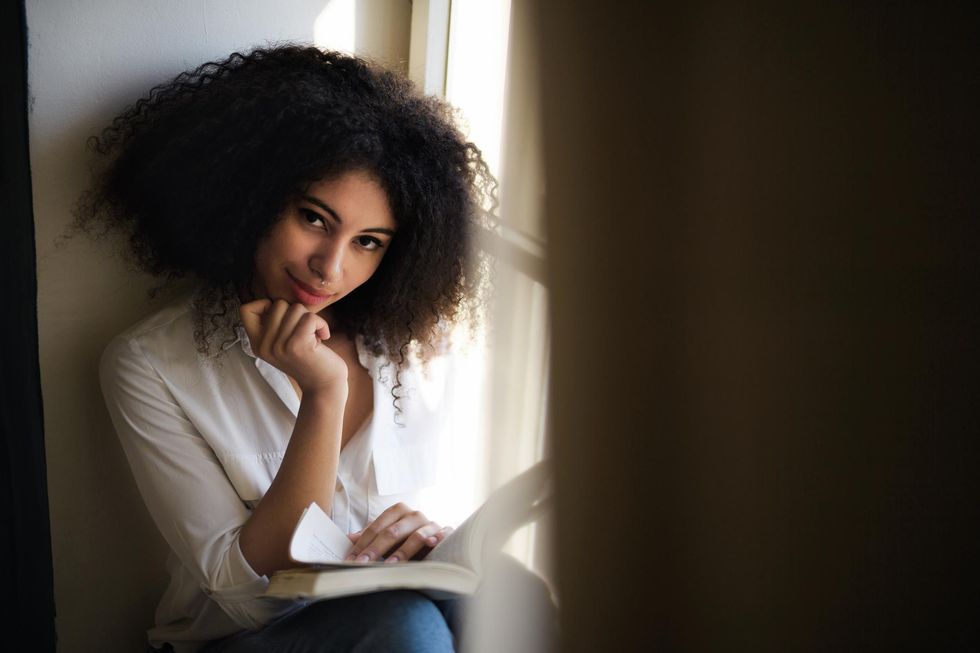 Getty Images
We all need a digital detox every now and then. Constant connectivity is proven to affect work-life balance. Kendra Cherry, MS, via Verywell Mind writes, "That feeling of always being connected can make it difficult to create boundaries between your home life and work life. Even when you are at home or on vacation, it can be hard to resist the temptation to check your email, respond to a text from a colleague, or check in on your social media accounts."
Social media alone can make you compare your journey to others and that is the ultimate thief of joy. You can start your digital detox by muting notifications, spending more time in nature, or not going online when you wake up.
Move your body.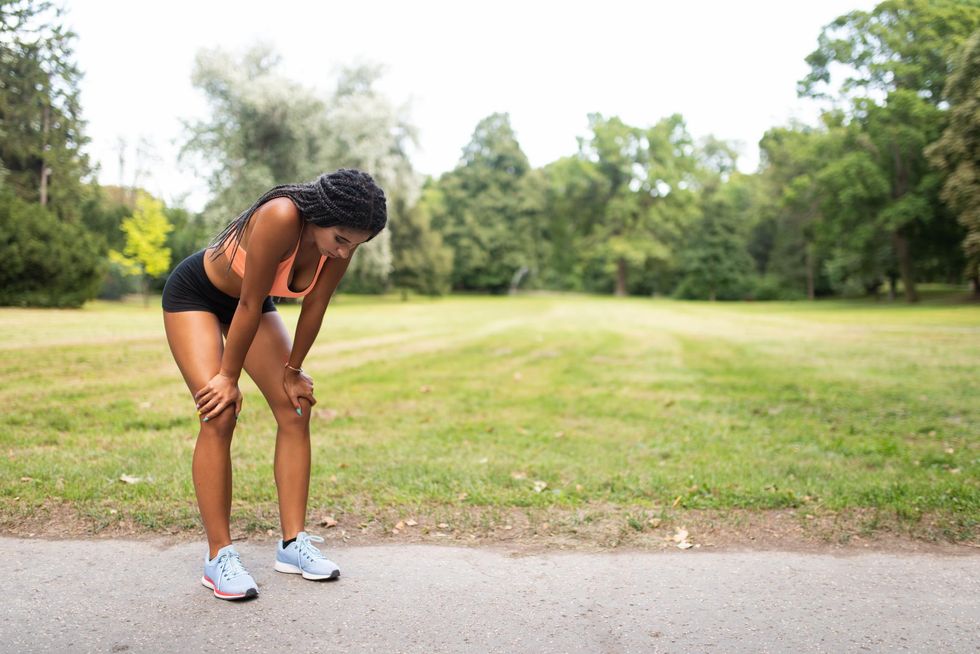 Getty Images
Between better heart health and increased endorphin levels, moving your body is essential. Dr. Gotlin of Mt. Sinai Hospital told Everyday Health, "Endorphins are our body's natural hormones that get released when we are doing something that requires a burst of energy — they are the things that make us perform, make us move."
According to Journal of Science and Medicine in Sport, aerobic exercise is top tier when it comes to helping ease symptoms of depression.
For more inspiration, self-care, and healing tips, check out xoNecole's Wellness section here.
Featured image by Getty Images

Keep reading...
Show less
I don't know about y'all, but it seems like these days, every time I go to the gas station or the grocery store, I find myself saying "WTF?" (sometimes audibly, sometimes not) when I notice the prices. It really is amazing that with the work and housing crises that we're currently going through, somehow we're also trying to figure out how to make $20 to get our gas talk above a quarter full and a hundred bucks to get us past two plastic grocery bags.
While it's pretty hard to come up with gas hacks, in the spirit of doing what I can to get y'all ready for the holiday season, I did want to share several grocery shopping hacks; 12 that can hopefully get you more bang for your buck, so that your Thanksgiving and Christmas can be as stressless (on your budget) as possible.
1. Download an App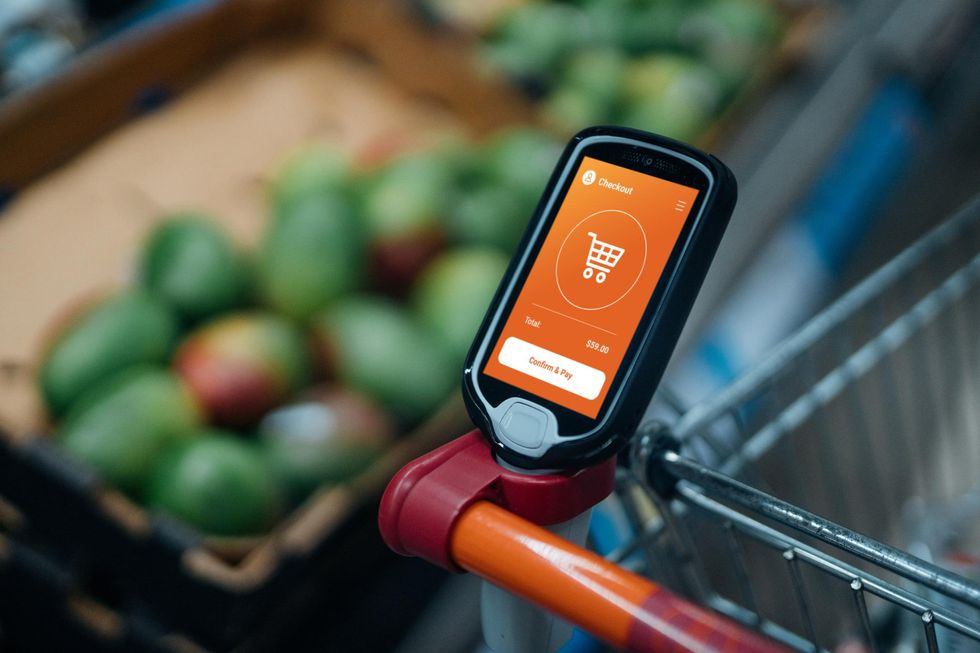 These days, there's an app for just about everything. The cool thing about grocery-related ones is many of them can help you to keep some extra coins in your pocket. Ones that you should definitely check out include Checkout 51 (which gives you a list of offers, then gives you cashback whenever you purchase something that's on the list), ibotta (which gives you money when you take a pic of your receipt and submit it; you need to reach $20 and you typically get it back within a day) and Coupons (which offers a good variety of paperless coupons that you can easily scan at checkout).
2. Use a Calculator
Now tell the truth — how often do you actually use the calculator app that is there for your convenience on your smartphone? I once read that a couple should be spending around $130-150 a week on groceries; however, with inflation and all of this shipping drama that's currently going on, it's a pretty safe assumption that you should set aside $25-50 more, just to be on the safe side. Since groceries are a bit higher, going into the store on a set budget and then making sure that you honor said-budget by keeping track of your costs with a calculator can help you to get what you need without stressing out in the process (so can using the handheld or smaller baskets and/or purchasing generic brands).
3. Get Produce at a Local Farmers Market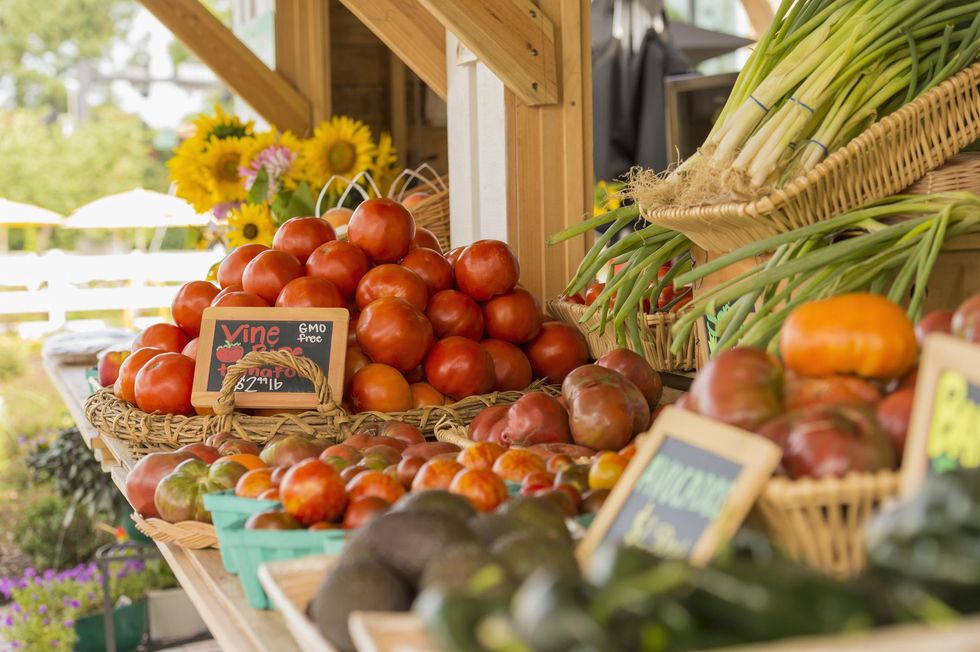 Fresher fruits and veggies. A wider variety. Cheaper prices. Support of local farmers. Better for the environment. These are just a few solid reasons why you should consider not getting your produce at the grocery store and stopping by your local farmers market instead. I can't tell you how many times I've compared costs in my mind and honestly been pretty pissed by how much a grocery chain will charge for not nearly as much or delicious as a farmers market does (Whole Foods is absolutely not exempt in this case either).
4. At the Store, Get Things in Season
Speaking of produce, if you click right here, you will be taken to a site that will provide you with information about when different fruits and vegetables are available, based on the season of year that you are in. And just why should you care?
For one thing, produce is best for you when it's in season. And when it comes to saving money, purchasing it when it's in season means that you should be able to get stuff at a lower cost because your grocery store will be carrying an abundance of it all. Make sense?
5. Don't Turn Your Nose Up at Aldi's, Trader Joe's and Walmart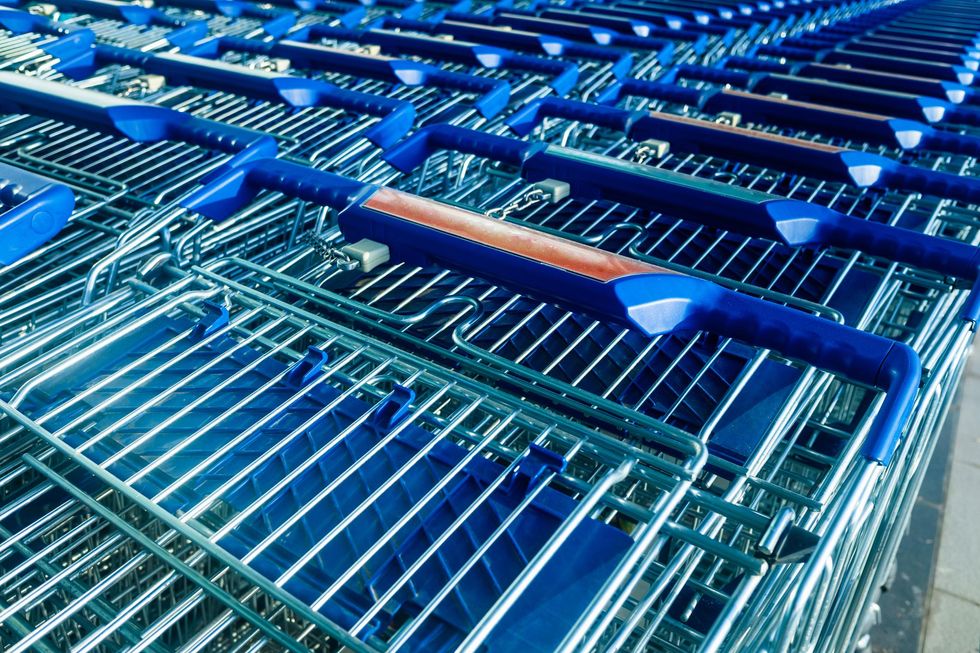 Earlier this year, I checked out an article entitled, "America Just Named Its Cheapest Grocery Store. Do You Shop There?" Can you guess which one it is? I mean, it's in the title and yes, Aldi's, it is. While they don't tend to have as much of a variety, a lot of your "staple stuff", you can get for much cheaper. Same goes for Trader Joe's, Walmart, Walmart Neighborhood Market (I don't really like their produce, but their meat costs are bar none) and Costco's. Oh, and while Target wasn't on the list, I do know quite a few people who get groceries from there. If you scan the circle on your Target app, it'll take you to deals throughout that store. You're welcome.
6. Learn the Bottom Shelf/Outer Aisle Trick
Grocery stores are a business too, right? This means that they've got their own marketing strategies. One of them is putting some of their most expensive stuff at eye level because that's what will catch your attention first. That said, a workaround for this is to be intentional about looking for what's on their bottom shelves and outer aisles. If you do a bit of comparing, it might shock you how much you can stand to save by applying this lil' trick to your shopping routine.
7. A Few Meat-Buying Tips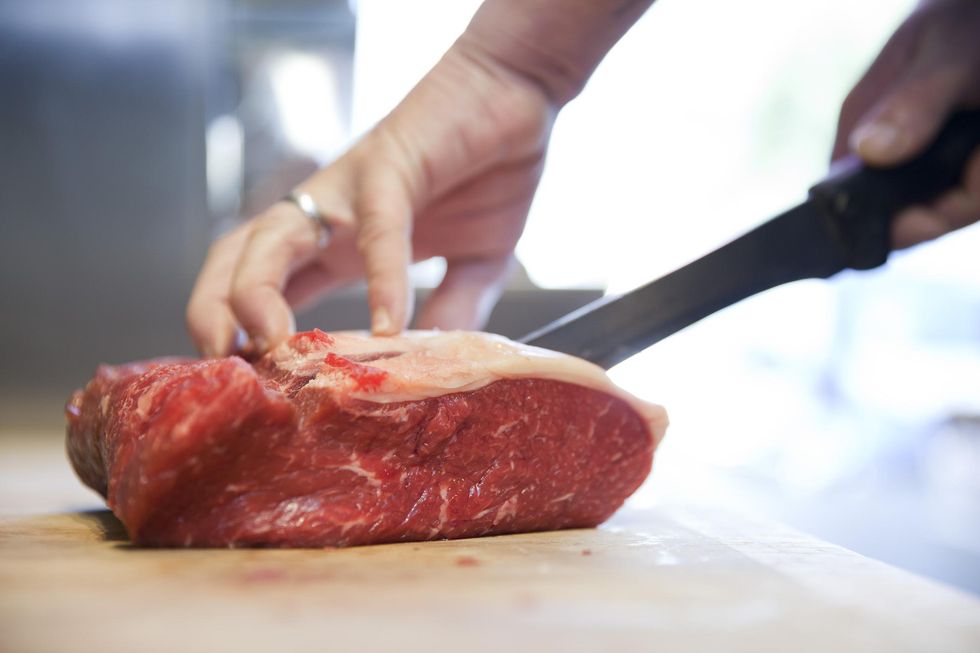 Hats off to all vegetarians and vegans (did you peep the recent report tied to veganism and depression? Thoughts?). Personally, I am a meat eater and not ashamed of it. If you're a part of my tribe, I've got a few tips for you.
One, although tougher meats are more expensive than tender cuts, oftentimes butchers will run your tougher orders through a tenderizer if you ask them to (sometimes you can get better cuts if you tip them on the low too). Two, get meat based on the portions that you actually need. What I mean by that is, if you know that you're not going to eat an entire roast, ask the butcher to cut the roast in half so that you don't waste any and, since they weigh by the pound, you can save a couple of dollars. Three, don't overlook the area where meat is marked way down. Just make sure to cook it ASAP or that you immediately freeze it properly. Four, the holidays are the perfect time to stock up on meat for your freezer.
For instance, Thanksgiving is going to have a lot of turkeys and because those bad boys can't sit around forever, stores are going to cut the rate (especially the day before and after the holiday) so that they can get rid of them.
8. Stock Up on Frozen Stuff (and Freezing Stuff)
According to many health experts, frozen fruits and veggies are just about as healthy as fresh produce is. The reason why they can actually be better for you in the long run is fresh produce tends to expire pretty quickly (which means you have to hurry up and eat it or toss it when it goes bad) while frozen stuff lasts much longer and is cheaper too. Just make sure that you read the labels carefully to make sure that the brand that you go with is low on preservatives, additives, sugar and salt. Oh, and when it comes to buying frozen meat, to avoid freezer burn, it's important to vacuum seal everything. While the better ones are going to run you between $100-200, they are worth every dime considering how long they're able to keep so much of your food nice and fresh. A list of some of the top ones is provided for you here.
9. Remember That You Can "Break Up" Bulk Deals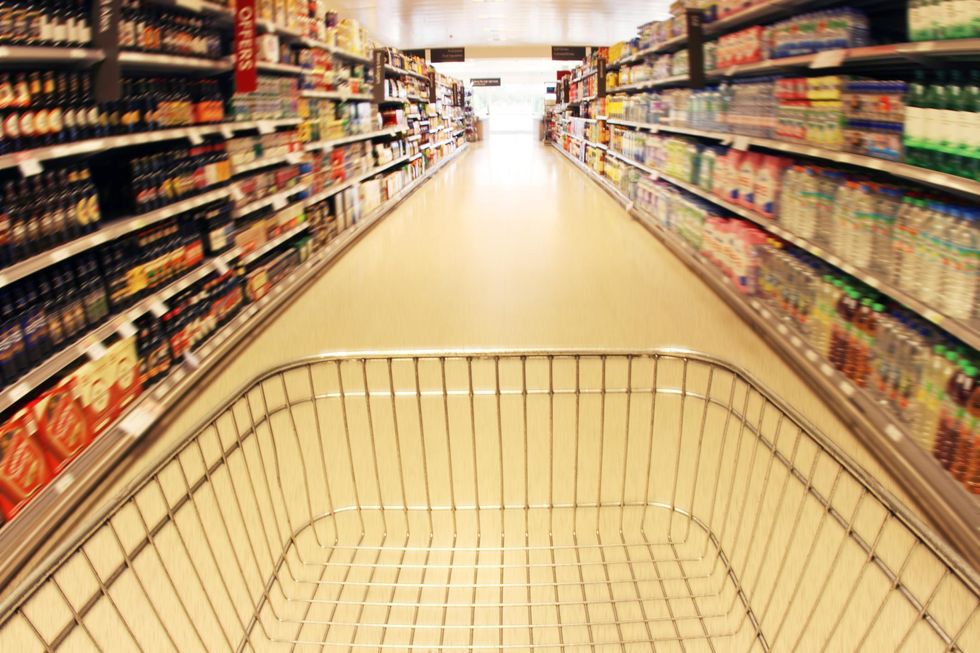 Getty Images
Something that it took me a second to catch is when you see those "Get 10 for such-and-such price" bulk deals, you don't have to purchase all 10 items. If you get just two, you will still end up with a discounted rate.
And how can you be sure that you don't overdo it on the bulk stuff, in general? Easy — take a picture of the inside of your refrigerator and pantry before you head out. That way, you can easily recall what you need and what you've already got a ton of.
10. Cop a Rotisserie Chicken
I honestly can't think of the last time that I went into a grocery store — pretty much any grocery store — and I didn't see a mini-kiosk that had a whole bunch of rotisserie chickens on it. Good thing too because that kind is healthier than fried chicken, is affordable as all get out (usually a whole one is less than ten bucks) and it's so easy to prepare a meal with, with plenty of room for leftovers if there aren't a ton of people in your house. I have spared myself a "shame drive" to a drive-thru several times by picking up a rotisserie on the way home. If you've never considered it before, I promise you won't regret it.
11. Take Advantage of Bulk Bins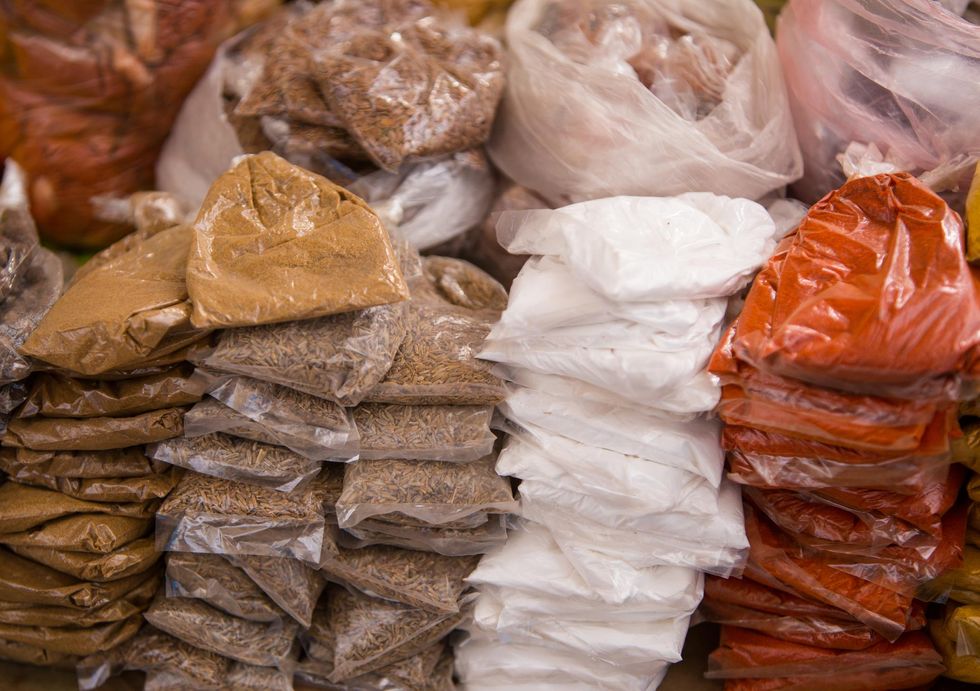 If you're a single gal like myself, it can be challenging to grocery shop in smaller servings. When it comes to this, one hack to apply is to get things like beans, spices and grains out of bulk bins. That way, you can measure out exactly what you want; especially if you're experimenting with a new recipe and you're not exactly sure if you want to "marry yourself" to some of the ingredients just yet.
12. Avoid Shopping After Work 
While some of y'all might be tempted to "yeah right" me on this one, when you're too hungry or too tired to go grocery shopping, you don't tend to make the best decisions because you're not as alert as you should be. So, while it's OK to cop a couple of items real quick when you're on the way home after a long day at work, try and do your major shopping on the weekends, on your lunch break or at least after taking an hour nap. That way, you won't be rushed, anxious or so ravenous that you end up making unwise shopping decisions. Make sense? Cool.
Join our xoTribe, an exclusive community dedicated to YOU and your stories and all things xoNecole. Be a part of a growing community of women from all over the world who come together to uplift, inspire, and inform each other on all things related to the glow up.
Featured image by Getty Images
Keep reading...
Show less
Whenever I have clients who are engaged, something that I make sure to say to them, almost every session, is it's important to understand that oftentimes, what causes the end of a marital union isn't anything "big". Nah, it's more about the little irritants that, after a few years of them happening over and over again, it starts to drive one or both partners so completely up the wall that they would rather be alone than have to continue to endure what is basically the equivalent of listening to fingernails on the chalkboard.
And what does this have to do with the title of today's post? Well, a "chalkboard issue" can actually be if you are a morning person while your partner is a night owl. It can affect sleeping patterns. It can affect pillow talk (i.e., quality time) moments. It can affect your sex life. So yeah, if you're contemplating sharing your bedroom, every day with someone, for years to come, definitely discuss who gets up at 5 a.m. and is thrilled about it vs. who can stay up until 2 a.m. with no problem at all.
Speaking of morning people, if you've ever wondered just what causes someone to be all bright-eyed and bushy tailed before the sun even thinks about rising or if you're someone who would like to become more of a morning person, I thought you would find some of this intel interesting. Because, apparently, morning people don't "just happen". It goes so much deeper than that.
Chronotypes. Revisited.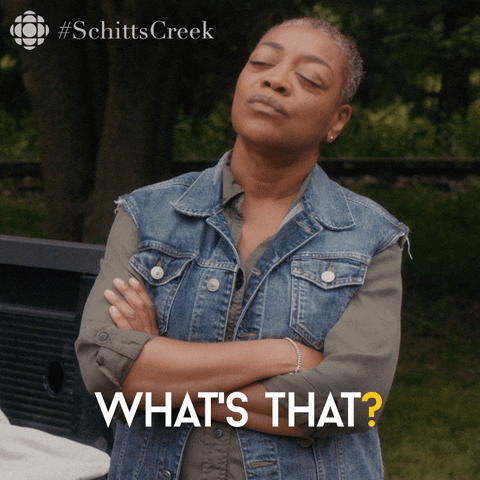 OK, so before we get into what the personality traits of a morning person appear to be, let's first touch on what chronotypes are.
If you're unfamiliar, what they basically boil down to is being the kind of things that cause our body to naturally want to fall asleep at certain times of the day. Chronotypes also help you to gain a better understanding of what causes you to be more alert at certain times of the day too.
As far as chronotypes go, they basically break down into four different categories that have the names of animals:
BEARS: They like to go to bed around 11 p.m., wake up at 7 a.m. and are most productive between 10 a.m.-2 p.m.
WOLVES: They like to go to bed around midnight, wake up at 7:30 a.m. and are most productive between 5 p.m.-12 a.m.
LIONS: They like to go to bed around 10 p.m., wake up at 6 a.m. and are most productive between 8 a.m.-12 p.m.
DOLPHINS: They like to go to bed around 11:30 p.m., wake up at 6:30 a.m. and are most productive between 3 p.m.-9 p.m.
In order to learn more about chronotypes and what they entail, the blog Casper has a great read on it here (also, if you want to take a quiz to find out what type you are, click here). The reason why it can be a good idea to get to know that your personal chronotype is, is because it can give you greater insight into why your days naturally go the way that they do. It can also help you to better understand what kind of "tweaking" you would need to implement if you happen to want to be more productive during your early morning hours (even if it's just temporarily).
OK, so now that you get why you may naturally or naturally not be a morning type of person, let's explore what the personality of a morning person is like.
What's the Personality of a Morning Person Like?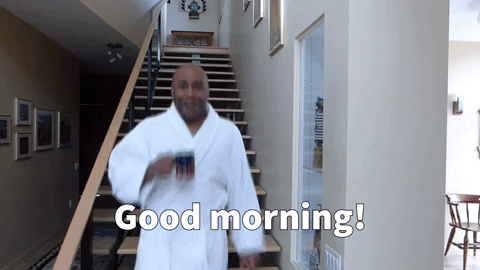 Aight, so with that ah-ha moment (for some) being out of the way, what are the traits of a morning kind of individual? I mean, really — what is it about a person who can jump out of bed singing, having a burst of energy and being so optimistic before the day even officially begins that roosters are even giving them a perpetual side-eye?
Well, according to some research that I recently checked out, personality types definitely play a role on if someone is a morning person or not and it would appear that some traits of a morning person include that they are more conscientious and self-disciplined while also being less direct, open-minded and thrill-seeking.
When I thought about this from the angle of some of the married clients that I work with, I can definitely cosign on this. One couple, in particular, that I've worked with before, the husband is an engineer and the wife is in the entertainment industry. He is definitely an early morning person while she is a night owl and when I think about how they approach life, he is so Type A (conscientious and self-disciplined) that it can almost be suffocating. Meanwhile, for example, he's not even a good flyer (he's pretty close to being afraid to fly) while his wife travels for a living and doesn't give it much of a second thought (open-minded, thrill-seeking). If it wasn't for him being so over-the-top with his disciplined lifestyle (especially financially), I'm pretty sure she'd be close to flat broke; meanwhile, if it wasn't for her "hey, let's try it" outlook on life, he would be boring — and limited — as hell.
Bottom line, there is nothing wrong with being a morning person — or not being one. There are benefits and advantages to both. Now what I will say about morning people is it's a lot easier to get a lot more done when you're up in the wee hours of the day and knocking out a lot of what needs to be done. Not only that but a lot of the morning folks who I personally know tend to be less stressed because they oftentimes get so much done before noon. That's why, even if you're not a morning person, I am in full support of you at least considering getting up earlier, a couple of days a week, in order to make the most of your time. And just how do you do that?
6 Tips for Becoming More of a Morning Person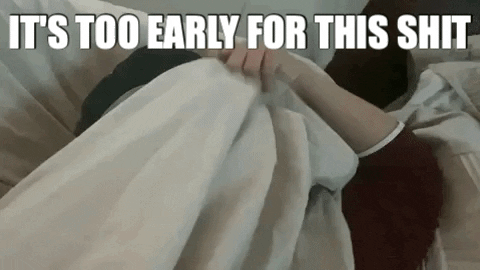 Again, there's nothing wrong with not being a morning person. Still, if there is a part of you that knows you would be better off being more conscientious and self-disciplined so that you can get more out of your own morning time, here are some ways to make that happen.
1. Get on a sleep schedule. How crazy is it that a lot of us think kids should be on a sleep schedule, but we shouldn't? Chile. Because the CDC even says that grown folks should get no less than seven hours of sleep every night, so that you can be more alert and refreshed come sunrise, and because that is so much easier to do when you have your own nighttime routine, you definitely should put yourself on a sleep schedule. An article that can help you do that is "These Sleep Hacks Will Make Getting A Good Night's Rest So Much Easier".
2. Sleep earlier. Awaken earlier. Out of all of the hacks to help you become more of a morning person, this one might be my favorite because it's so easy to implement. Basically, if you want to wake up 30 minutes earlier, it's probably best to go to bed 30 minutes earlier as well. That way, the extra zzz's that you're missing on the back end, you can get on the front.
3. Nix the naps. I'm actually kinda laughing about recommending this because if there is someone who will take a nap in a heartbeat, it's Shellie Reneè Warren. However, I'm also someone who enjoys sleeping like it's Six Flags or something. That said, if you know that more than a cat nap (around 25 minutes or so) will make it hard for you to sleep at night and/or will have you groggy in the morning, it's probably best to go without naps altogether.
4. Watch what you eat and drink. Have mercy, Lawd. Why am I finally at that age where drinking something an hour before bed will get me up twice in the middle of the night, making it harder to go to sleep?
Yeah, it really is common sense that if you don't want to wake up at night, you should drink no later than a couple of hours before turning in. Also, try and keep sugar (including carbs) and caffeine at bay. Instead, opt for foods that are high in magnesium (it helps your neurotransmitter GABA at a healthy level so that you can sleep more soundly) instead. Some of those include almonds, pumpkin seeds, yogurt, dark chocolate and mineral water.
5. Have sex. I'm not sure what can make you sleep better and harder than having some (good) sex before turning in. From a scientific standpoint, orgasms have the ability to reduce your stress levels while also producing the hormones oxytocin and prolactin in your system. Both of these work together in order to mellow you out, put you in a good mood and also make you feel safe and secure with your partner —and all of these are the foundation of a great night's rest. That's why sex before going to sleep can improve your quality of sleep. And morning sex can inspire you to set your alarm clock 30 minutes earlier so that you can get out of bed with a big smile on your face. Hell, who said it had to be either or? Why not both?
6. Give yourself something to look forward to every morning. Let me tell it, what I just said in the point above this should count as something to look forward to; however, if sex isn't on the docket (for whatever the reason), still try and give yourself a reason to want to wake up earlier — a favorite breakfast food, time to read a chapter of a book or listen to your favorite podcast, a few minutes to catch up with a friend…anything that can make raising your head off of your pillow not the top thing on your list to do the following morning.
I know we kinda covered a lot of ground here — what are chronotypes of sleepers, what are the traits of morning people and how to become more of a morning person yourself. Yet I hope that the greatest takeaway is 1) morning people are oftentimes born more than made; 2) their ability to be morning people resonates in more than their sleeping patterns (because I don't know about you but most of the morning people that I know are extremely self-disciplined) and 3) you can create ways to enjoy the morning more than you might think. It's all about choosing to not view the early hours as your "enemy" but as a way to make the most of your time — from sunrise to sunset. Literally.
For more inspiration, self-care, and healing tips, check out xoNecole's Wellness section here.
Featured image by Getty Images
Keep reading...
Show less