A year before my dad died (which was seven years ago), he and I had a series of conversations about my relatives on his side—and his marriage to my mother. Some things I already knew. Some things I was waiting to connect some dots on. Some things flat-out surprised me—and totally disgusted me. I would give some details; however, while I am certainly an open book, I still want to be careful with how much I share about all three points because 1) a lot of people in my family aren't even close to being as candid (or shoot even honest); 2) I'm not writing this in order to "put people on blast"; and 3) interestingly enough, choosing to separate myself from certain family members is what's helped me to be less pissed and more gracious. Gracious about what? How I'm going to address why I don't involve myself with certain family members anymore. On both sides of my DNA.
I know that family estrangement is still a really radical concept to some people. Still, I totally mean it when I say that you oftentimes don't realize just how much you are only further traumatizing yourself and hindering your growth as an individual by still intimately involving yourself with your relatives…only for the simple fact that they are your relatives. After all, you know what they say—all skinfolk ain't kinfolk and chile, when it comes to healing and thriving as an individual, I sometimes believe that no truer words have been spoken.
On the open tip, what I will say is I'm a survivor of almost every type of abuse you can imagine, including neglect. Neglect from many members of my family too. At the same time, I think it's important to state that it wasn't the kind of abuse that happened every day. In fact, the running statement I make in interviews is what my family did well, it was "A level." Problem is, there really wasn't anything between an "A" and an "F". Either what they did was really great or it sucked and was the lowest of the low. BIG TIME. And because I really believe that I am a generational curse breaker, in order to truly break so many of the patterns and cycles, I had to get away from the classic definition of insanity—doing the same thing while expecting a different result. And yes, that included leaving certain relatives behind. Definitely for now. Possibly forever.
That's what we're going to tackle today. Whether you are currently estranged from a relative—or like a close friend of mine, an entire side of your family—or you're contemplating if that's something you should do for your overall ultimate health and well-being, I'm going to share with you, from very personal experience, why that is absolutely nothing to feel shame, guilt or embarrassment about. Now take a deep breath. You ready?
Featured image by MoMo Productions/Getty Images
Naomi Osaka is the superhero that we didn't know we needed in our lives. Or maybe we did? I mean, I knew she was a superhero from the moment she boldly and unapologetically took the stage in the name of police brutality in 2020. She was over the questioning as to why she decided to represent for Black pain, and decided to bring the message to the covers of Vogue Magazine. Emmett Till's name and legacy is in Vogue. VOGUE. A place where at the time of his murder, he would have never been welcome.
Alexa, throw on "What A Time To Be Alive."
Because witnessing Naomi is just that. But this time, thanks to her routine fearlessness, Naomi is being a leader in a different way: by removing herself from one of the biggest tournaments in the game of tennis all for the sake of her mental health.
It all started when she announced via social media that she would not partake in this year's French Open press, mainly because the constant questioning and scrutiny created an added layer of stress to the athlete. The four-time major champion and No. 2-ranked player was eventually fined $15,000 when she didn't speak to reporters after her first-round victory, causing the champ to pull out of the tournament entirely the next day.
Her entire statement is below:
The courage of removing herself for herself, encouraged other athletes to take a step back and question what it means to be forced to face constant questioning and berating on a grand scale. And a plethora of athletes and celebs alike, who understand her perspective firsthand, gathered around and supported her 1000 percent.
From fellow tennis champions Venus Williams, Coco Gauff, and Sloan Stephens:

Naomi Osaka/Instagram

Naomi Osaka/Instagram

Naomi Osaka/Instagram
All the way to other pro-athletes who could relate:

Naomi Osaka/Instagram

Naomi Osaka/Instagram

Naomi Osaka/Instagram

Naomi Osaka/Instagram
(Sidebar: it's worth noting that Kyrie Irving has been fined $60,000 this season alone for skipping media obligations.)
As for now, the French Open's President responded to Naomi's withdrawal by saying he wishes Osaka "the quickest possible recovery." Um, OK. I'm sure there will be more to come from them on the subject, but anyway.
Thankfully, what we can all appreciate about Naomi's courage is that maybe if we took a step back and took the time to think differently about the processes in place, then maybe we have the opportunity to witness pro-athletes compete at an all-time higher level, especially with personal battles in tact.
As for us, we're going to always support and protect this queen at all costs. Here's to hoping that we all do the same. Take care of yourself, Naomi!
Are you a member of our insiders squad? Join us in the xoTribe Members Community today!

Featured image by Graham Denholm/Getty Images
Keep reading...
Show less
Ah, I miss the good old days when I would just pop in a Flintstones vitamin and call it a day. Those times are now long behind me, and my body has gone through many changes since my Flinstone days. I'm learning how important it is to take extra steps to keep my health in check. Drinking water, working out, and feeding my body only good things have helped me keep going. Something else offering an assist to my overall health are supplements.
Wellness supplements can make our bodies feel incredible, but finding a supplement that is right for our needs can be quite challenging. For generations, people of color have had a harder time finding proper medical care, health advice, and trusted supplements that speak to our bodies. I think it's fair to say it is the area where we feel the least heard on top of everything else.
Luckily for us, Black-owned wellness businesses are on the rise and are going the extra mile to make sure we're taken care of. Here is your list of black-owned wellness supplements.
MOVITA Organics is a popular Black-owned vegan supplement created by Tonya Lewis Lee. Her mission is to support women of color and their powerful choices to amplify their life. MOVITA Organics is a multi-purpose vitamin brand made with organic fruits, vegetables, herbs, and minerals. The vitamin is also gluten-free, allergen-free for shellfish and nuts and free of GMOs.
The vitamin-based brand offers a few different vitamins for any woman's needs. A few of the options are prenatal vitamins, which support the immune system and baby's development; beauty supplements support the healthy growth of hair, skin, and nails; and the multivitamin supports breast and reproductive health, heart health, immunity, and stress relief. The best part? The vitamins can be taken on an empty stomach. Perfect for taking your vitamin at the start of your day with no repercussions.
For some women, that time of the month is associated with negative feelings. Their cycles and cramps are painful, diagnoses like PCOS and fibroids fill the body with trauma, and something that should symbolize new life is affiliated with the inability to conceive. Coming in clutch and making #periodgoals a thing is My Happy Flo.
My Happy Flo is an up-and-coming supplement brand focused on empowering women to have a happy period, period. Co-founded by life-long friends certified nutrionist and herbalist Fallon Mercedes Brock and xoNecole.com founder Necole Kane, My Happy Flo is an all-natural plant-based supplement that helps to holistically balance your reproductive health system. The end result is a happier, drama-free period and elevating your menstrual wellness.
Sacred Vibes Apothecary was founded by Black herbalist Karen Rose. Her shop is based in Brooklyn, NY, and is a learning community center and a herbalist boutique. Karen makes an abundance of different cleansers for the body but is praised for her all-natural tonics. Her best seller being the Anti-Inflammatory Tonic.
The herbal tonic is made with devil's claw, turmeric, ginger and dandelion roots, garlic, and cayenne pepper. The product promotes weight loss, stops yeast and fungus growth, prevents infection, and balances blood sugar. Seriously, is there anything this tonic can't do? Not to mention it also prevents and removes inflammation. Simply include this in your water twice a day for maximum results. If you're looking for a rebirth, then this product is for you.
As women, that time of the month can be very hard on us. Our bodies are going through a beautiful process that can sometimes throw us and our pH out of whack. Now, there is a supplement to help get back in alignment with our pH. Bea Dixon founded the Honey Pot. Her now plant-derived feminine brand manifested through her struggles with bacterial vaginosis. She developed a series of feminine products as well as a vaginal supplement to help us all.
Her supplement Boric Acid & Herb Suppositories is a vaginal insert. The suppositories are made to help with pH balance but can support ongoing symptoms of bacterial vaginosis. The supplement is all-natural made with boric acid and tea tree oil for balance, plus coconut butter for an added boost of hydration and moisture. The supplement comes with an insert, similar to a tampon. It is advised to take the supplement for seven days twice a day.
Stress in our life can have hard effects on the body. Lack of sleep, weight loss, mood swings, the rise of blood pressure, and heart disease can all stem from stress on the body. Having a supplement to keep your stress levels low can save you a lifetime of health challenges. Good thing we have Nadine Joseph, the founder of Peak and Valley--an herbal company backed by science.
Peak and Valley promotes medicinal mushrooms and herbal supplements for holistic wellness. Nadine, a scientist, became passionate about providing products to help us deal with everyday stressful situations. Her powdered supplement, Balance My Stress Blend--is a chocolate blend of herbs and mushrooms to support calm and wellbeing without the need for prescriptions. The powerful ingredients are clinically proven to balance cortisol levels, support and enhance immunity, increase energy, and decrease stress. You may apply one tablespoon of the supplement to any tea, coffee, or milk.
VeganSmart
People of color, we have to do better about our eating habits. Now don't get me wrong, I love a saucy rack of ribs, but if I had it every day, I'd be dead. People of color are at a higher risk of having diabetes and other diet-related illnesses. In fact, Kareem Cook and Claude Tellis, owners of VeganSmart, saw this within their own families. The two college friends developed a protein powder and recipes to support nutritional health.
The VeganSmart All-In-One Nutritional Shake is a plant-based vegan blend of prebiotics, omega-3, digestive enzymes, and vitamins and minerals. Each ingredient contributes to the body's overall health, supporting cell function, brain and heart health, and the digestive system to absorb nutrients. You may also find a series of healthy recipes on their website to stay in alignment with your fitness goals.
Dr. Sebi's Cell Food
Giving our bodies a good cleanse can help us see the world just that much clearer, and Dr. Sebi's is helping us do just that. His cell food is proven to bring immense healing from the inside out. Most of his products are from botanical extracts and herbs, which help cleanse the body of toxins and every cell to promote profound self-healing and physical rejuvenation.
A few of his products include powders, tonics, and vitamins, but my favorite is Banju. This product is my personal favorite because it promotes brain health and reduces anxiety. The tonic is rich in antioxidants reducing neurological inflammation, elderberry, which protects and nourishes the brain, blue vervain delivers emotional and nervous restoration, and more. These ingredients make for the perfect anxiety-reducing potion.
Are you a member of our insiders squad? Join us in the xoTribe Members Community today!
Featured image by Getty Images
Keep reading...
Show less
Honey, I don't know about you, but I love a good plant aesthetic. Yes, I'm that girl. Living in New York City, aka the concrete jungle, plants have been a great way of bringing nature into my home. My plants get me back to center; they listen to my problems and are always there to brighten up my day. Now, I must admit although my plants have been good to me, I haven't always been the best to them.
I believe the key to growth is being honest about your strengths and weaknesses, so here it is. My name is Celeste, and I am not a responsible plant mom. I have forgotten to water my plants, put them in the sun, and feed them plant food at times. Please don't cancel me. Finding the perfect plant for me felt more like dating. I swiped right on plenty of beautiful plants, read their profile, and brought them home after a few dates at my local plant store.
Everything was good in the beginning until a few of them showed their asses. Bringing flies into the house, smelling funky, and dying on the relationship altogether. I almost lost all hope until I met the aloe vera plant. Ever since I've been with aloe vera, life has been bliss. He only needs to be water about every 2-3 weeks and always cares for me. I'm in love! Here are 10 ways my aloe vera plant amplifies my self-care routine and my life.
Using Aloe Vera on the Skin
It's no secret the aloe vera plant can work miracles on your skin! I suffer from having acne-prone skin, and let me tell you, it is a struggle sometimes. When I have breakouts, I almost always have acne scarring. I have tried multiple acne products, but most of them are harsh on the skin. My skin is usually very irritated and dehydrated after using acne solution products. After numerous attempts, I decided to go the all-natural route, and that's when my aloe vera plant came in clutch.
Aloe vera is a natural treatment for multiple skin issues, including acne. The plant is anti-inflammatory and is excellent for safely clearing away any mild to moderate acne. Aloe vera has been a skin healer in many cultures. The aloe vera plant is perfect for combating both inflammatory acne and scarring. The remedy is simple, place the aloe vera gel on the problematic area before going to bed. Over time, the skin will become clearer and brighter.
Using Aloe Vera for Hair Growth
I was very against putting the aloe vera plant on my hair at first. In my opinion, the plant has a musky smell, and placing that on my hair frightened me. However, I couldn't help but run into everyone and their mama that swore on using aloe vera for hair growth. My mom always told me beauty is pain--if that pain meant me putting up with smelly aloe vera for a few inches, then I figured sacrificing my nose would be worth it. As a disclaimer: no research shows an aloe vera plant can contribute to hair growth.
I simply experimented from word of mouth, and I must say the rumors are true. Aloe vera naturally has intense hydration capabilities, and I believe this is what contributed to the rapid hair growth. The plant is also rich in vitamins, minerals, and fatty acids. I would highly suggest anyone suffering from dry scalp give the aloe vera plant a try! Simply use it as a pre-poo, leaving the gel (find a quick how-to here) in for about 30 minutes, and rinse when finished.
Using Aloe Vera for Oral Health
I am all about improving my oral health. My worst fear is catching the dragon, aka having bad breath. So any remedy to keep my teeth and breath in check, I am taking! At first, trying out aloe vera as a primary dental source was a bit of a nerve-racking experience. I didn't feel comfortable only using aloe vera to brush my teeth, rinse, and head out the door. Instead, I used my aloe vera plant as a pre-rinse and continued with my oral hygiene routine.
Aloe vera is highly effective in controlling bacteria that can eventually lead to oral issues. The most well-known prevention is cavities. Aloe vera has a natural way of removing toxic microorganisms. This factor can contribute to avoiding gum disease. In fact, according to Medical News Today, rinsing with 100 percent pure aloe vera gel can be more effective than using chlorhexidine, which is an ingredient found in mouth wash. I would suggest rinsing for about 30 seconds to one-minute a day.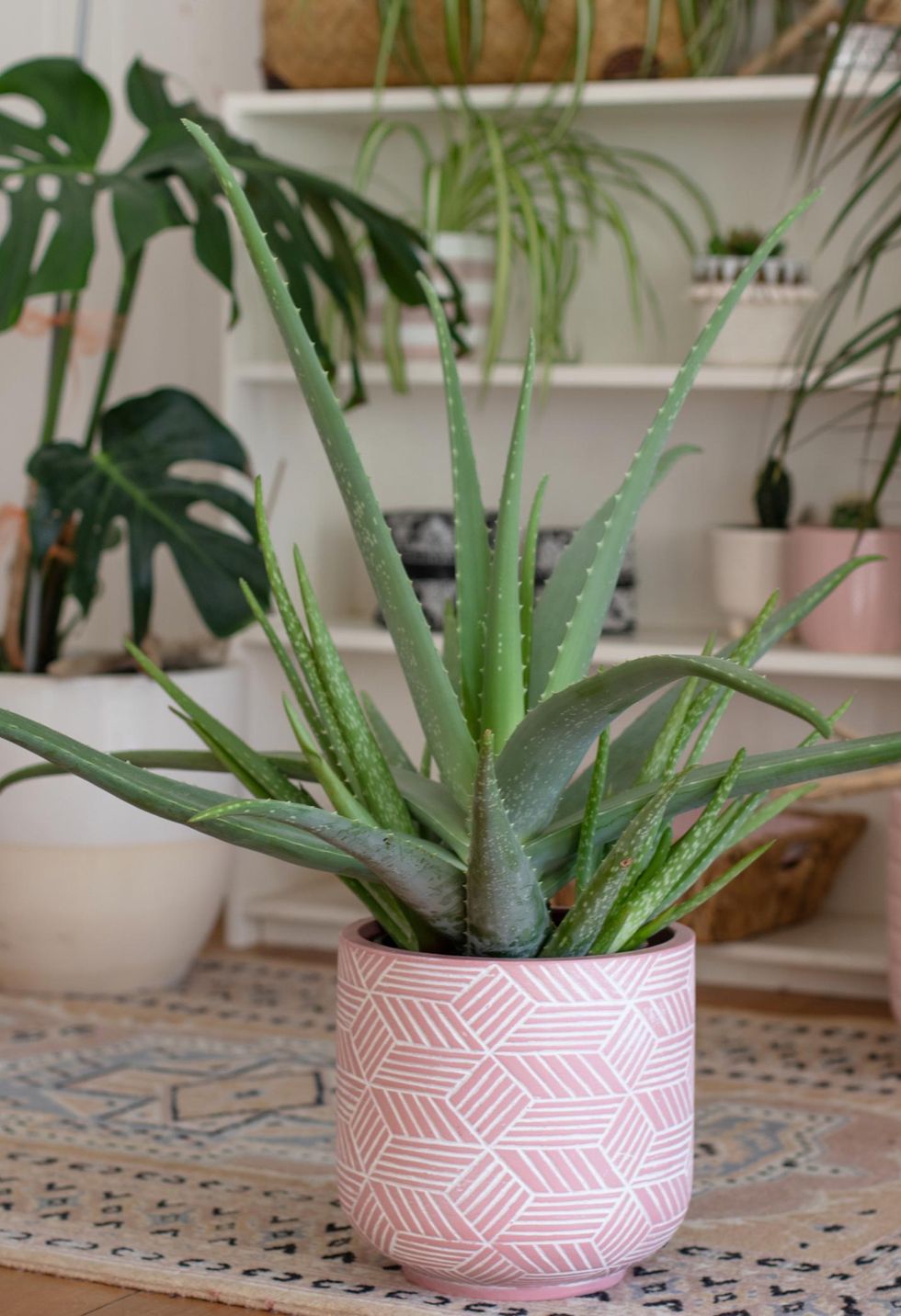 Getty Images
Aloe Vera Juice for Gut Health
It's funny how quickly your gut can switch up on you...or not. I miss the good ol' days when I could eat whatever I wanted with no consequences. Unfortunately, dairy had different plans for me. It took me a while to adjust to new eating habits. I ate cleaner, drank more water, but ultimately my gut needed an overall cleanse. I began drinking aloe juice, and it took some time, but the results finally kicked in.
Aloe vera is an effective and gentle way to keep your gut health in check. The plant contains enzymes, which helps in breaking down sugars and fats. Aloe can also help ease irritation in the intestines and the stomach. The best way to consume aloe vera is by blending the gel and straining the foam. Feel free to add a hint of lemon or mint for a more refreshing flavor.
Using Aloe Vera for Burns and Sores
Fun fact: your girl is clumsy! I am constantly bumping and bruising myself around my home. I swear one day I will get it together, but I will be healing myself with aloe vera until then. As I mentioned in my acne journey, aloe is the perfect skin healer. Not only for pimples, but cuts, sores, and burns. Growing up, I was taught to put butter on my burns (I know, I know). Truthfully, the butter wasn't very effective. Today, I use aloe vera whenever I hurt myself, and I find it much more calming.
Aloe vera is an excellent cooling resource for burns. The soothing properties of the aloe vera gel make it a calming aid for most skin abrasions. Its anti-inflammatory properties can help reduce swelling and reduce pain. It's essential, however, to know never to use aloe vera on open wounds. Only use it for burns and minor skin irritations. Using aloe vera to heal the skin is easy. Just apply the aloe gel directly to the injury. Please remember to wash the plant before using it.
Using Aloe Vera for Shaving
Now, I know what you're thinking? Aloe vera dries so fast on the skin, how could it be used for shaving? I know, I thought the same thing until I ran out of shaving cream. Aloe vera has a lot of lip to it and holds up well in the shower, but the real key is to mix it with other natural ingredients. You can mix it with almond or coconut oil, castile soap, Vitamin E oil, eucalyptus oil, and warm water. If you want a more detailed how-to for making your own DIY aloe vera shaving gel, find that here.
Place your homemade shaving gel in a small bottle with a pointed tip, and boom! Be prepared for the softest legs of your life.
Are you a member of our insiders squad? Join us in the xoTribe Members Community today!
Featured image by Getty Images

Keep reading...
Show less
Sleep can be such a fickle thing. Even though most of us know that 6-8 hours of sleep is what we need in order to function properly throughout the day—if it's not our schedules, it's stress. If it's not stress, it's hormonal shifts. If it's not hormonal shifts, it's feeling uncomfortable. If it's not feeling uncomfortable, it's being restless. Lawd. In many ways, getting a good night's rest, consistently so, is a bit like walking a tightrope…although it doesn't have to be.
If something that you would like, more than ever right about now, is to get more peaceful zzz's in, you might be in luck. If there is one thing that I'm gonna do, pretty much on a regular basis, it's get some good sleep in. The 15 hacks below have all played a role in making that happen.
1. Get the Right Pillows
I've got a friend who once said something so funny to me when it comes to his approach to disciplining children. He said, "Why spank them when you can just take their pillows away? Ever slept without one before? It's hell." Me? I'm the kind of person who probably has too many pillows on my bed, so I can only imagine what putting my head directly on a mattress, all night long, would feel like. I do know a bad pillow is filled with tossing and turning episodes. So yeah, I'm gonna lead this article with the recommendation to get the right kind of pillows to sleep on.
First, ponder if you are a back, side or stomach sleeper (stomach sleeping isn't good for you, by the way. It does reduce snoring; however, it also puts more strain on your neck and back). You can check out a list of some of the best pillows for your favorite positions here.
Also, make sure you know when it's time to replace the pillows that you've already got. What are some telling signs? If you've had them for more than a couple of years; if you experience neck pain in the morning; if when you fold them over, they don't return to their original shape, and/or you wake up feeling like you're having an allergy attack (this usually means you're taking in dust mites), it's time to move on and get some that are brand spanking new.
2. Get a Cooling Mattress Pad While You're at It Too
I don't know about y'all, but I HATE sleeping when I'm hot. That's why I'm all about sleeping naked and I'm thrilled about having a cooling mattress pad. See, even if you fall asleep feeling pretty comfortable, it's not uncommon to wake up in the middle of the night feeling either really hot or even sweating some. This happens because our body tends to change temperatures throughout the nighttime hours. Something that can help to prevent this from becoming a problem is putting a cooling mattress pad on your bed. Another benefit with this kind of pad is it can extend the lifespan of your mattress (you should cop a new mattress every 6-8 years, by the way). If you don't already own one and you'd like to look into making this particular investment, you can check out the pros and cons of some pretty popular brands here.
3. Put Yourself on a Sleep Schedule
Isn't it crazy that most of us have our kids on a sleep schedule so that they can get a good night's rest and yet, when it comes to us, we don't follow suit? A sleep schedule is important, not just because it can ensure that you receive the 6-8 hours, every night, that your body needs, it also helps to "train your mind" to fall asleep (and wake up) at a particular time.
This isn't just my opinion either; science strongly backs this up. So, if you're someone who goes to bed at midnight sometimes, 10 p.m. sometimes or when you're super exhausted, at 8, and you're wondering why you are always tired or dragging, try setting a firm time for a couple of weeks and see if that helps you out. I'd be shocked if it doesn't. By the way, you can test out some cool sleep tracking apps here.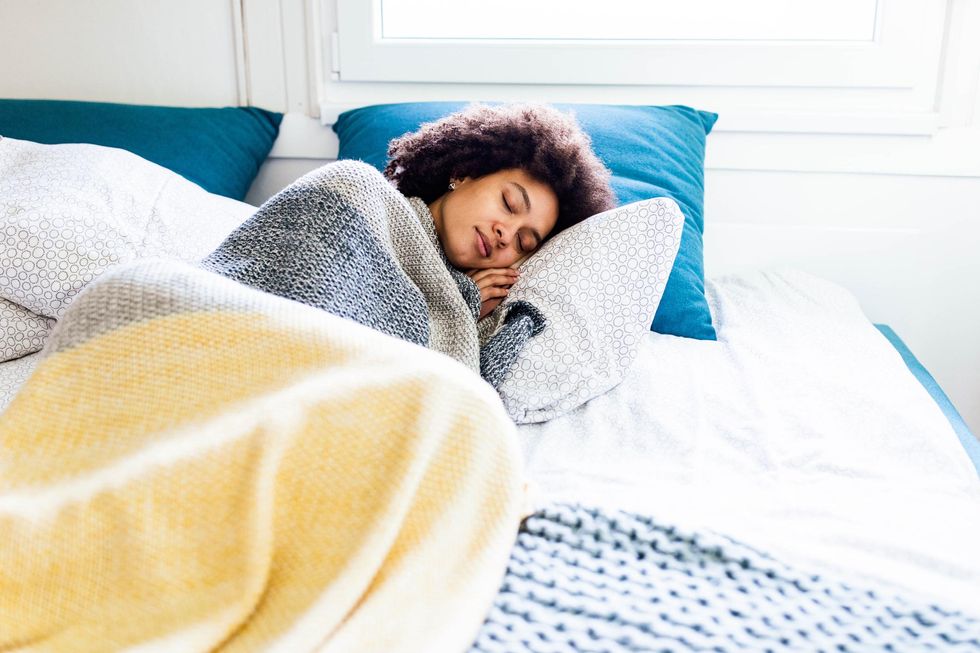 Getty Images
4. Eat Light at Night
Something that I have a bad habit of is eating too heavy or much at night. Because I spend a lot of time writing, sometimes the day gets away from me and I actually have dinner at 8 or 9 when it should be more like 6 or 7 and definitely a meal that's on a lighter side than steak and a salad. The reason why going lighter is better is because, when you go to bed on a full stomach, your body has to work that much harder to digest your food which can disrupt your sleep patterns.
Matter of fact, some scientific research says that going with a big breakfast and lunch and having something super light for dinner is really your best bet (especially if you want to burn fat in the process). You're grown. You're gonna do what you wanna do. Still, if dinner is your biggest meal of the day, maybe go with it being breakfast or lunch instead and see if that changes anything. For the better.
5. Nix All Coffee and Alcohol at Night Too
I'm thinking that it makes pretty clear sense why you should leave java (and all forms of caffeine) alone in the evening. Since caffeine is a stimulant, it's the last thing that you need when you're trying to catch some zzz's. Matter of fact, it's actually recommended that your last cup should be somewhere around 2 p.m. As far as alcohol goes, while a nice glass of wine may feel soothing initially, there's a clear reason why it's pretty problematic. Alcohol has a way of interrupting REM sleep (REM stands for Rapid Eye Movement and it's one of the five stages of sleep that your body goes through) which can lead to all sorts of sleep disruptions. This is why folks who drink at night oftentimes think that they are battling insomnia when really, the alcohol is what's doing them in.
6. Sip on Some Decaf Green Tea (Two Hours Before)
So, what should you consume in place of coffee or alcohol? Green tea is a cool option. The catechins (antioxidants) in it contain strong medicinal/healing properties. The amino acid theanine that's also in it will reduce stress and promote a good night's rest. Just make sure that you go with the kind that is decaf (for obvious reasons) and that you have your final cup about two hours before turning in. Otherwise, all of that drinking could have you getting up in the middle of the night—and if you're anything like me, that could make it hard to fall back asleep (which totally sucks).
7. Rub the Soles of Your Feet with CBD or Lavender Oil
Let me tell you what has totally changed my life for the better when it comes to sleep quality—rubbing CBD oil or lavender essential oil onto the soles of my feet. CBD oil is bomb because there's scientific evidence to support that it decreases anxiety, reduces stress levels and is even good for pain management. Lavender oil? Because it contains anti-inflammatory and analgesic properties, it's great when it comes to soothing sore or aching feet. Plus, it's got a calming scent and sensation that is pretty incomparable.
What I typically do is mix one of these oils with a carrier oil like sweet almond or grapeseed and rub my feet down for about 10 minutes before turning in. The reason why I prefer my feet is because oils absorb faster on that part of the body. Plus, since feet have 72,000 nerve endings, it's able to reach a ton of different cells, all throughout my system. Yours too. How dope is that?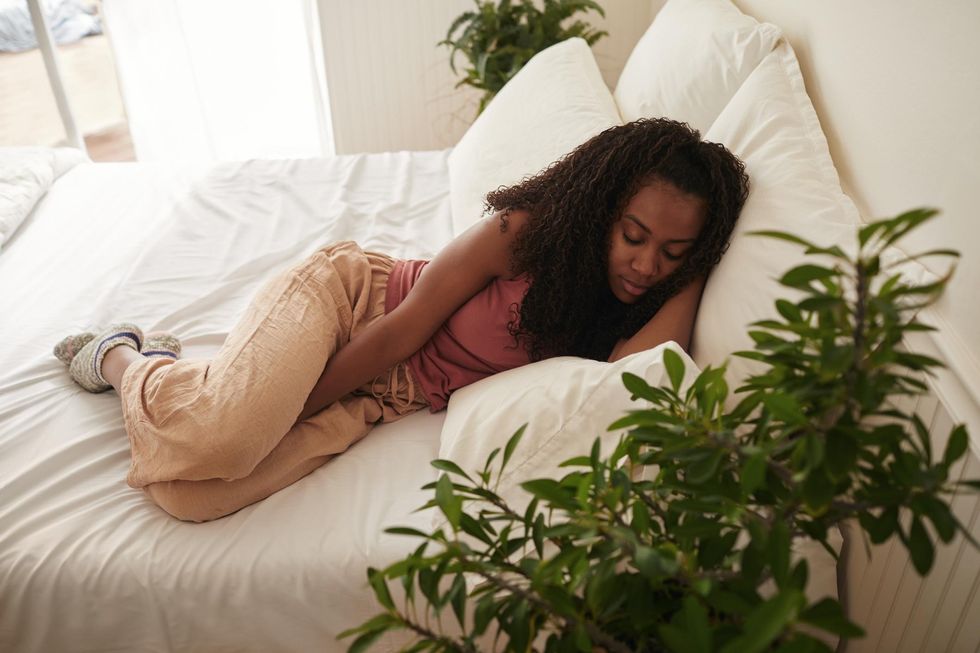 Getty Images
8. Have a Banana
If you're someone who's just gotta have a snack before turning in, how about a banana? Not only is it the kind of fruit that contains a good amount of tryptophan (more on that in a sec), it's also a good source of potassium and magnesium. Potassium aids in sleep because it helps your nerves and muscles to get on the same page so that you're better able to relax. Magnesium is awesome because it helps to regulate your body's stress-response system. Not only that but studies show that people who have some sort of a magnesium deficiency typically experience higher amounts of stress and anxiety. So, the more you've got, the calmer you'll be.
9. Or Snack on Some Other Forms of Tryptophan
If you've ever wondered exactly what tryptophan is and why it tends to make you so sleepy, the brief breakdown is it's the kind of amino acid that goes from the digestive system to your brain and then turns into a chemical known as serotonin which aids in making you sleepy so that you can rest. That's why, another hack that you might want to try, is snacking on some foods that are high in tryptophan (or eating a light dinner with foods that contain it). Some of those include milk, cheese, nuts, oats, chicken, turkey, canned tuna, seeds, soy and eggs.
10. Turn Down Your Thermostat
Once you're ready to shut your house down for the rest of the night, make it a point to turn down your thermostat. As far as what the temperature should be, I've read everything from 62 to 68 degrees, so somewhere around there. Since it's cooler at night outdoors, this should actually cut your energy costs down. And, it's another way to keep your body from overheating before sunrise.
11. Do Some Yoga
Since yoga is a meditative form of exercise, it should come as no surprise that it's a pretty great sleep hack. In fact, quite a few yoga practitioners vouch for the fact that it can help you to sleep and definitely can decrease your stress levels. The deep breathing can relax you. The mindfulness can increase your melatonin (a natural hormone that helps you to rest) levels. And exercise is always great at providing more intense rest. So, if yoga is something that you've been considering but still haven't tried, this is just one more reason to follow through on your plans.
12. Write Your To-Do Lists an Hour Before Turning In
Isn't it interesting that when it comes to learning how to live in the moment, a lot of us don't take this pearl of wisdom into account when it comes to resting? Going to bed worrying about what is going to happen the next day is going to do us a bit of good when it comes to getting a good night's rest.
Besides, when you're well rested, you are far more equipped to handle what is to come anyway. That's why it's always a good idea to write down your to-do list—in order of importance—no less than a couple of hours before going to sleep. It's an exercise that says, "I'm done for today. I'll tackle tomorrow…tomorrow."
It really can shout your overthinking down, so that you can relax so much easier.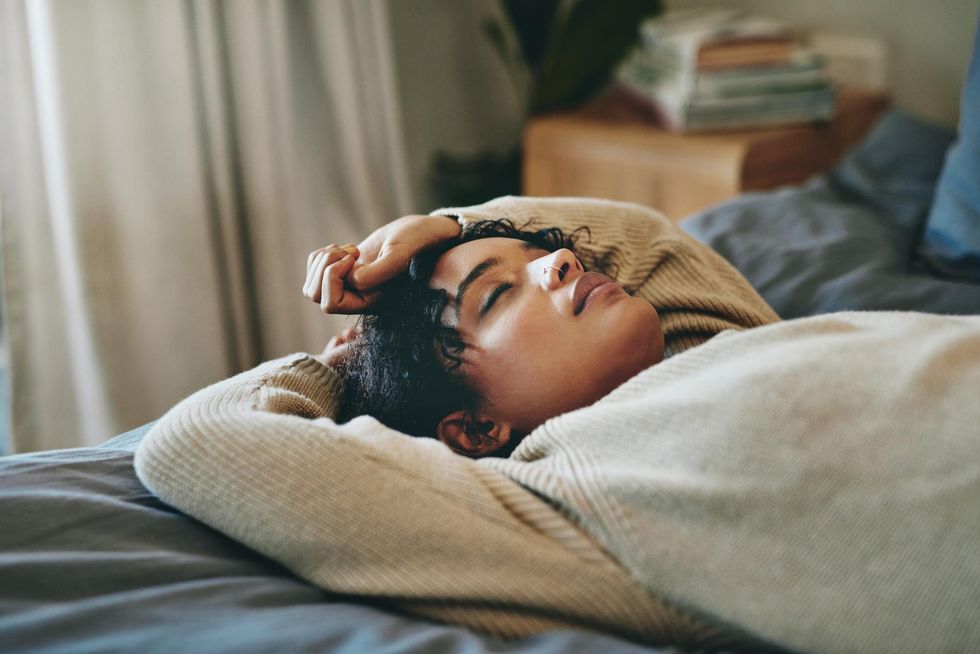 Getty Images
13. Also, Write Down Five Things from the Day That You're Thankful For
Another writing exercise that can be really beneficial is to take out 10 minutes or so to jot down five things, from each day, that you're thankful for. Believe it or not, expressing feelings of gratitude is an effective way to release toxins in your system, lower your cortisol (stress) levels and relax your muscles and nervous system. Plus, it helps you to keep things in perspective; especially on what felt like a really bad day.
14. Put in Some Ear Plugs
I'm someone who either prefers total silence or the ASMR sounds of rain. If you can relate, you might want to get yourself some ear plugs. Oftentimes, even though we're asleep, our brain is still catching all of the sounds around us which can actually prevent us from sleeping as soundly as we like or even need. And so, ear plugs are what can get us as close to silence as possible. That said, the main red flags are 1) if you're a single parent (especially with a young child), this probably isn't the wisest hack and/or 2) you've got to clean your ear plugs on a regular basis. Otherwise, the wax build-up could cause a hell of an ear infection. Anyway, some of the best earplugs for sleeping can be found here.
15. Unplug an Hour Before
One more. A couple of years ago, I wrote the article, "8 Solid Reasons To Put. Your Phone. Down." for the site. When you get a chance, check it out, because there are many reasons why surfing the 'net on your phone or laptop right before turning in will totally wreck your sleep patterns. For starters, the blue light on your screens inhibits the production of melatonin which makes it harder for your body to relax. Whatever is on your electronic devices, they will be right there, waiting on you, come morning.
Make it a practice to sign off at least an hour before bedtime. Write your gratitude list. Catch up on a chapter of a book. Deep breathe and chill. Your brain has been looking at screens all day long. In order to get some rest, turn those suckers…off.
Join our xoTribe, an exclusive community dedicated to YOU and your stories and all things xoNecole. Be a part of a growing community of women from all over the world who come together to uplift, inspire, and inform each other on all things related to the glow up.
Featured image by Getty Images
Keep reading...
Show less
There's nothing like finding a tribe that empowers you to be your best self, especially during challenging times like these. And when you can also find ways to partner up, build legacies, and build wealth together, that's even better. Friendpreneurs Tai Beauchamp, Nia Jones, and Malaika Jones have enjoyed the fruits of all of that with their plant-based wellness brand Brown Girl Jane. The collection of products include broad-spectrum CBD, an ingredient that has been found to improve issues like anxiety, pain, stress, acne, skin dryness and much more, and can be found at Nordstrom, within Birchbox, and online via their website.
Sisters Malaika, who is CEO, and Nia, who is the Chief Impact Officer (CIO), found kinship in fellow Spelman grad Tai, who serves as the Chief Brand Officer (CBO). They decided to combine their talents, networks and experiences to offer a product line that promotes wholeness, balance, and beauty from the inside-out.
"The brand started very organically," Malaika said in an exclusive interview with xoNecole. "We come from three very different backgrounds in terms of professional career but we were confronting the same wellness challenges even though we're approaching them from different directions. In terms of creating the brand, we recognized a need to craft a beautiful wellness collection centered on women of color. We were amazed at the efficacy of the plant and all that it could do and the different ways it could be used. In terms of getting started, we created the brand we always wanted to exist."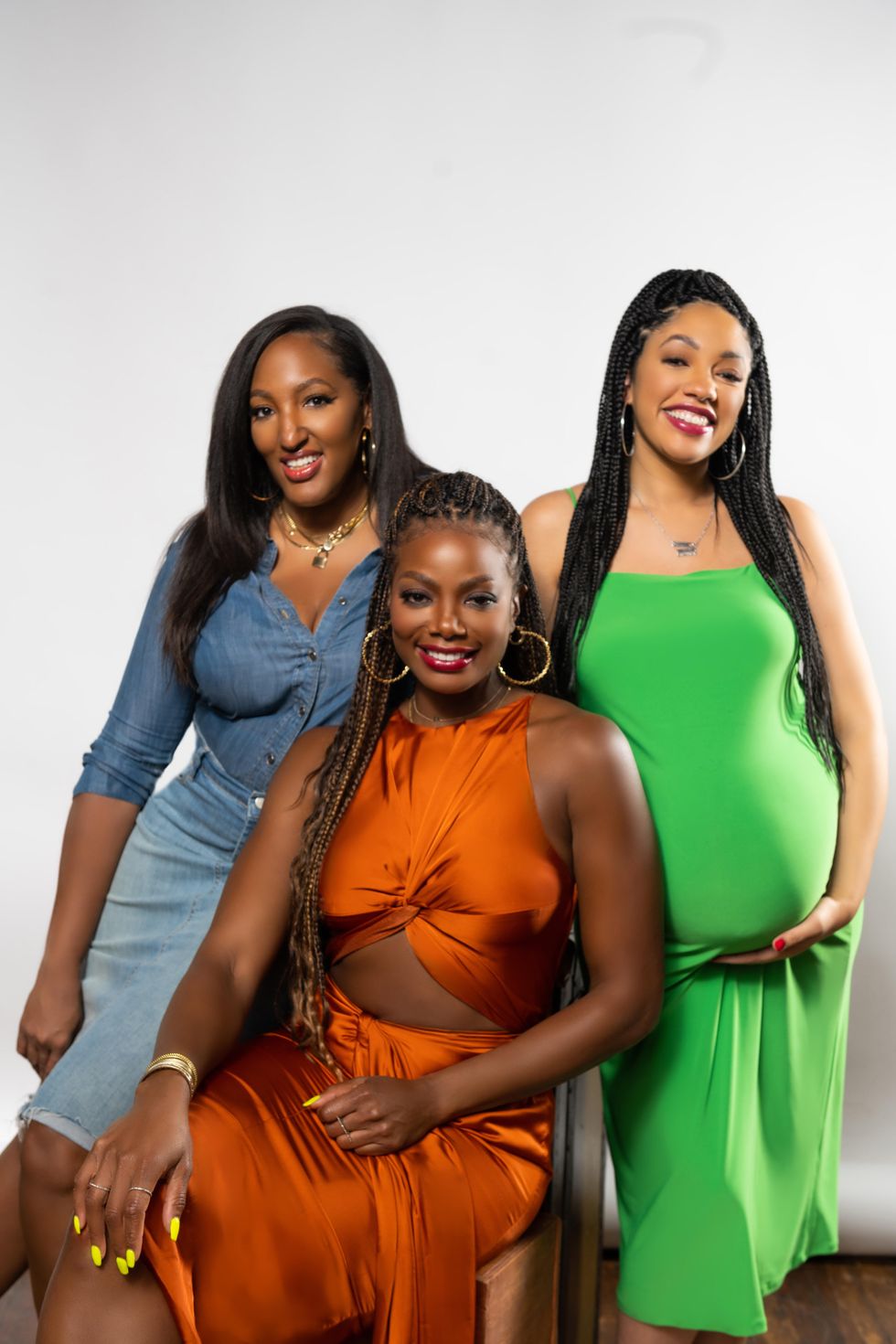 Brown Girl Jane co-founders, Malaika Jones, Tai Beauchamp, and Nia Jones
Image courtesy of Brown Girl Jane
The founders of Brown Girl Jane have also been able to build a community that centers on inclusive luxury and transparency about what Black women are putting in and on their bodies. Working directly with the people involved in the process of making their products, the founders ensure that they interact with everyone from the farmers to the chemists to the manufacturers. "We are self-funded, and we really just broke apart all of the components of the brand," Malaika added.

"My background is in finance and on Wall Street, and so building a business and knowing the functions and operations of business is something I've done before. Tai obviously has her expertise in brand-building, marketing, and publishing. And Nia has done enormous work in mission. We've brought together those components to craft the brand that we wished existed."
The mark of any great (and lucrative) venture is filling a void in the market and providing a solution to a problem that would impact a large number of people. Each founder had their own personal connection to wanting to solve everyday problems in their own lives. "I think the other thing in terms of how it started was recognizing the needs of women like us and feeling more well," Tai added.
"Specifically, [it was] Malaika's experience with giving birth to her youngest daughter and having a spinal cord injury and not wanting to take the pharma route of medicating. CBD plant-based solutions provided a great deal of benefit to her physically. For me, travelling and being on the road constantly and feeling anxious about getting sleep and all those things, obviously also impacted [me]."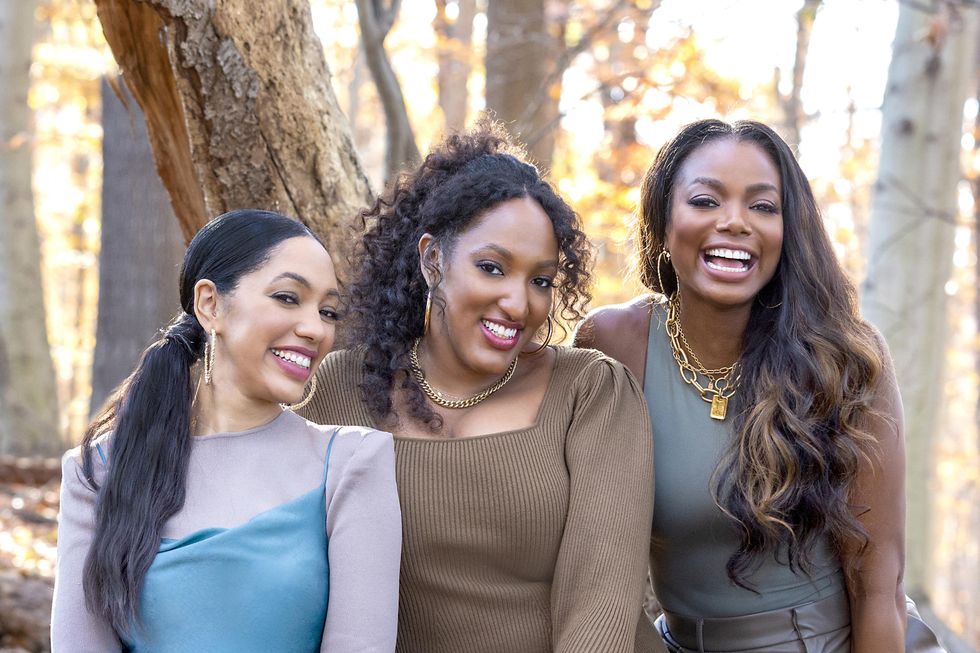 Image courtesy of Brown Girl Jane
With health and isolation issues related to the pandemic, the transitions of politics, and the issues of police brutality and racism at the forefront, many of the challenges they faced were those that other Black women around the world could relate to. "This is really about solutions not only for women as a whole, but that can support how we feel, how we look, and how we're able to show up, from anxiety from sleep deprivation, from pain and what have you," she continued.
"That's what we're doing with this collection as a whole. It's really centering what have been areas of challenge and opportunity for us to not necessarily being able to thrive to our fullest potential and providing both community, a tribe, as well as a collection that takes all of that into consideration, saying, 'Here's your toolkit sister. Here's what you need in order to live your most elevated life.'"
The women agree that it's important to not only offer products with a super-popular, trending ingredient like CBD, but provide a holistic, authentic platform for women to address the many facets of what wellness means for them. "That was intentional. And these products actually work in terms of the level of efficacy, the level of quality, and the level of intentionality in how we craft our collection even as we consider expanding beyond CBD. There is an intentionality, and we want to ensure that this [product] is highly advantageous."
There's a special sense of being the change you want to see even beyond offering a product to consumers, and this is surely evident through the founders, who are indeed real-life sister-girlfriends who aren't afraid to be the embodiment of their beliefs. Cultivating community and finding power in partnering up with fellow women is a key part of the company that tangibly manifests itself through the founders' connections with one another.
"Being founded by three Black women—two of whom are biological sisters and all of whom are Spelman sisters—there is a profound recognition of who we are individually but also who we are in the power of our collective," Tai said. "And in recognizing the power of our collective, because that is ultimately what has sustained us when we didn't have our collection, when we didn't have Brown Girl Jane as a product and brand, we had our sisters, as a community, who held us, who supported us, and who were essential to our toolkit."
"We wanted to make sure that the women we look to support have that same resource because that's foundational. In partnership with the collection, centering ourselves, and changing some of the systemic belief systems that have held us back in some ways in prioritizing health and wellness, we can all be well. We can feel more whole. There can be healing. There can be support. We can be a resource. That was intentional."
The trio's relationship sets a tone for providing a different narrative that challenges other age-old negative stereotypes about female friendships and further illustrates the power of partnering up with other Black women to build something great. "We can approach everything with a different set of eyes," said Malaika.
"I would encourage that when people are working with friends, you actually want people who think differently and have different sets of expertise, but who share the same north star, which for us is just wanting women of color to be able to live their best lives. We want to be helpful along their journey toward wholeness. That's very consistent across the founder team and that's really just the expertise which is varied, and that's amazing to be able to lean upon one another for."

Follow Brown Girl Jane on Instagram @itsbrowngirljane and find their products on Nordstrom.com or their website.
Featured image courtesy of Brown Girl Jane
Keep reading...
Show less