Tayler Barakat
Tayler Barakat is a Mystic who has studied Astrology for over a decade. She does intuitive astrology and tarot readings for people all over the world, and her work focuses on healing and empowering individuals. Follow her on Instagram @taylerbarakat_ and check out her website www.listentothevirgo.com.
Healing rituals are key to thriving in this human experience. If you are not regulating your emotions, taking the time to process, and giving your spirit time to renew and heal, then you are often carrying emotional heaviness from one experience to the next. Healing rituals are a way to give your mind, body, and soul the attention it needs and craves, and to put yourself in a better position to live your best life. When you take the time to heal within, positive transformations occur without.
When it comes to healing rituals for your zodiac sign, you want to especially take a look at the element that is more dominant in your birth chart. An earth sign or earth-dominant sign is going to thrive in healing experiences that involve Mother Earth and rituals that get them grounded such as yoga, hiking, placing their bare feet on the Earth, or "earthing." Being out in nature and doing grounding rituals are what best serve them. A fire sign, on the other hand, works well with fire energy such as candles and creativity, and with rituals that get their body moving and energy flowing.
Knowing what works best for you and your emotional and physical experience in life will help you on your healing journey, and below are some healing rituals for your zodiac sign to try sometime. Take what resonates, and listen to the guidance of your soul.
Healing Rituals for Aries
A good healing ritual for Aries involves activity and something to get your energy moving. Going for a hike with a nice view at the end of it is the perfect healing ritual for you. You'll get your exercise and spend time taking your mind away from anything heavy by being in the moment. Since you are a goal-oriented sign and flow well with things that make you feel more accomplished, taking a scenic hike is the perfect experience for you to unwind and connect with the body.
Healing Rituals for Taurus
A guided meditation in mother nature would serve a Taurus well. As an earth sign, the best healing rituals for you involve being in nature. Just breathing that air and having your feet touch the earth is a healing experience in and of itself, but doing something like meditation or yoga in this atmosphere is even more transcendent. Allowing your body to ground itself with Mother Earth, feeling your connection to all that is, and breathing fresh air is a good setup to heal. As a Taurus, you should get outside for your healing rituals.
Healing Rituals for Gemini
A Gemini's healing journey involves releasing any clutter in the mind. As a Gemini, you need space to mentally decompress and get what you are feeling or thinking out. You don't hold things in, but if you are hurting that bad, you will carry a lot of that within out of fear of being too deep or vulnerable with others. A good healing ritual for Gemini is to talk to a friend, family member, therapist, or confidant who will give you the floor and allow you to release without judgment or interruption. Healing for you is about letting go.
Healing Rituals for Cancer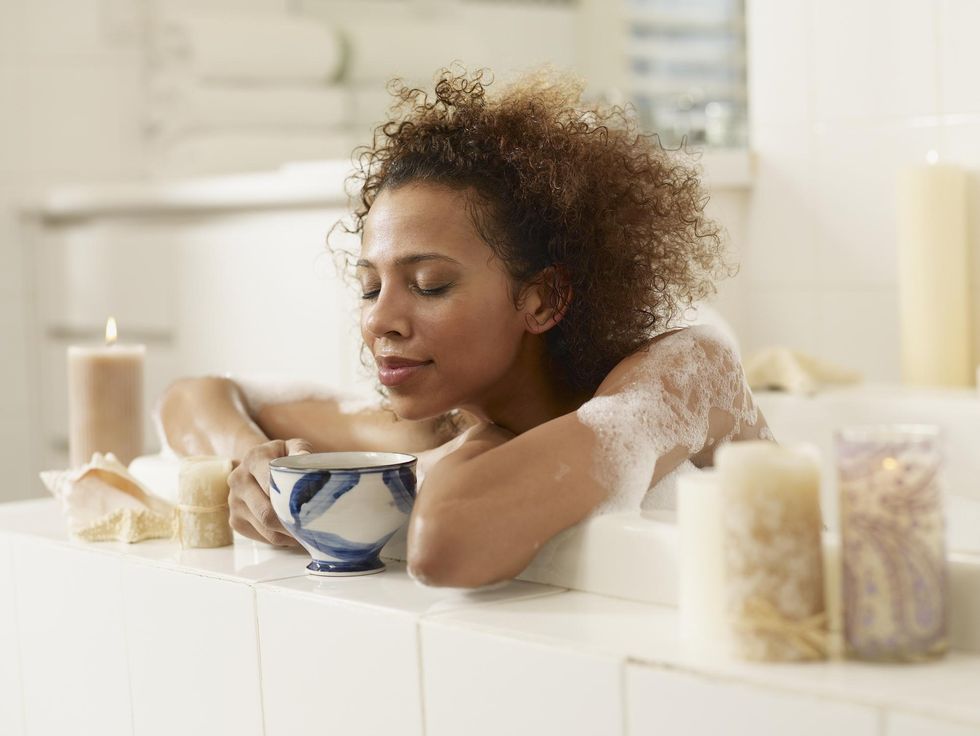 LWA Dann Tardif/ Getty Images
A relaxing, candlelit bath is a healing ritual that serves Cancer well. Healing for you is about taking the time to regulate your emotions, coming back to your center, and feeling a sense of calmness in your life. Being a water sign, rituals that involve water energy are fulfilling for your soul. Add in some of your favorite crystals, flowers, essential oils, a book, or some relaxing music, and you are set for a healing and therapeutic experience. Your healing ritual should involve something that allows your emotions to flow, and a space where you feel safe, like your home.
Healing Rituals for Leo
Healing for Leo is all about getting back to feeling like themselves again. Oftentimes when you feel the need to heal or get back to your center, it's coming from a place of feeling outside of yourself or not connected to who you are. A healing experience and ritual for Leo would be to stand in front of a mirror and repeat "I love you" or other motivating daily rituals every day. Being face to face with yourself and looking at the reflection before you helps you tap into the depths of your soul, and is a space to give yourself the utmost love.
Healing Rituals for Virgo
A good healing ritual for a Virgo would be to go to a flower market or connect with the healing energy of the flowers. Flowers exude an energy of beauty, healing, softness, allowing, forgiveness and love. The saying "Don't forget to stop and smell the roses," is perfect for a Virgo as you can get so lost in the details and the day-to-day that you forget to be in the moment and sit in gratitude with what is. You can connect with the healing energy of flowers by creating a bouquet, taking a bath with flowers, lighting a candle surrounded by your favorite flowers, putting flower essence essential oils on, being around flowers, and quite literally smelling the roses.
Healing Rituals for Libra
Drinking tea is a special healing ritual for Libra. Tea is calming, tea is peaceful, and tea is also great to have over a conversation, which is also another healing ritual for Libra. Some cultures and practices even use the leaves of tea as a way to do readings and foretell the future. Not to mention the health benefits of drinking tea for the body, a simple cup of tea is the perfect ritual for Libra to enjoy something nice for themselves and allow your thoughts to catch up with your body. A Libra can tend to be focused on things that are happening outside of themselves, and enjoying a nice cup of tea can be the perfect healing ritual for Libra to take a moment and find your balance again.
Healing Rituals for Scorpio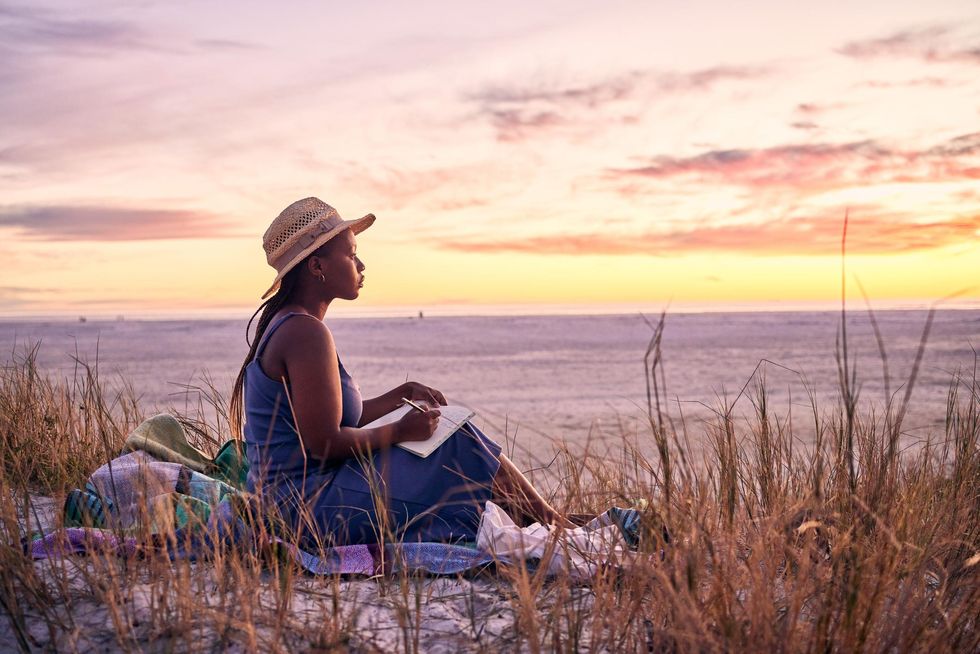 PeopleImages/ Getty Images
Healing for a Scorpio is a deep and transformative experience. Your life is all about evolving on your journey, and you tend to come out of tough experiences in an even better position than before. You take your healing and personal evolution seriously, but you also tend to be a sign that bottles up all of your emotions before it's too late. A good healing ritual for a Scorpio involves acts of letting go. On a Full Moon, a Scorpio should write down all of the things you are looking to let go of. Write down emotions, past experiences, negative people, and old objects of affection that are now a sour memory. Then get a white candle and burn the piece of paper (safely) while focusing on lovingly letting go of those things.
Healing Rituals for Sagittarius
Reading a book, creating art, or journaling your thoughts are all good healing rituals for Sagittarius. Creating something out of nothing gets you in an enlightened and joyful mood, and brings the right circumstances for inner clarity. Even healing for Sagittarius needs to be a fun experience or you will get bored and try something else. Putting a whole bunch of colors before them, a pen and paper, or an enticing book, allows Sagittarius to remember the bigger picture and allow enough space from your challenges to believe in something better.
Healing Rituals for Capricorn
Shadow work is a beneficial healing ritual for Capricorn. Now, shadow work is serious business and requires you to get very real with yourself, but this sense of straight-to-the-point, let's get to the bottom-of-it attitude involved in shadow work is perfect for an earthy Capricorn. Shadow work can be done through meditation or with someone licensed in the work, and by working with your unconscious mind to uncover repressed emotions, past trauma, or aspects of yourself that you keep hidden. This is a very healing and cathartic experience, but as with all spiritual awakenings, there is an aspect to it that can feel uncomfortable as well. There are different approaches to shadow work, and it's about finding out what works for you here.
Healing Rituals for Aquarius
A good healing ritual for an Aquarius would be to pull an oracle card for spiritual guidance or to get an oracle card reading. Oracle cards are different from tarot cards as you tend to be a lighter experience, and you are also more about giving divine guidance rather than foretelling the future. Not only do you get to recognize how strong your intuition is in the process, but it also helps you remember that life is so much bigger than a lot of things that get us tied up.
Healing Rituals for Pisces
A good healing ritual for a Pisces is to do an energy cleanse. You tend to carry a lot of the emotions and experiences of others in your auric field, as you are a highly compassionate and intuitive soul and pick up on a lot. You should take energy clearing and healing very seriously in your life, and always make sure you are clearing your energy. Burning incense, rosemary, cedar, and juniper is a way to cleanse the body. You can also visualize a white healing light surrounding your body.
Let's make things inbox official! Sign up for the xoNecole newsletter for daily love, wellness, career, and exclusive content delivered straight to your inbox.
Featured image by LWA Dann Tardif/ Getty Images
In Astrology, everybody has a sister sign, the zodiac sign located in the exact opposite position of your sign on the Zodiac Wheel. This energy represents someone who is the complete opposite of you, yet someone you are often drawn to. Sister signs can be explained as the 'yin and yang.'
When you put two sister signs together, you will find that traits that one sign has are not often found in the other, making these two signs a good match because they both have what each other needs. A Virgo, for example, is a more logical being and isn't up for too much fantasy or escapism in life. Their opposite sign Pisces, however, is all about dreaming the dream. When you put these two signs together, Virgo helps Pisces ground their energy and turn their dreams into reality, and Pisces helps Virgo let go more and enjoy the moment.
Opposites attract and this sign is going to be one of your biggest teachers in life. The relationship between opposite signs can be either soulmate energy or very challenging if both parties aren't willing to look at their reflection, and learn from each other.
The Sister Signs of the Zodiac
When you meet your sister sign or come into contact with them, it's often a very karmic experience and a fated type of energy. You will find some similarities with your sister sign. For example, you and your sister sign will both have the same modalities.

Aries and Libra are opposite each other on the Zodiac Wheel but they also both happen to be cardinal signs. Cancer and Capricorn are sister signs that are cardinal signs as well. The relationship and experience between your opposite sign on the Zodiac Wheel are unlike anything else, and when these two come together, there is a sense of wholeness and union.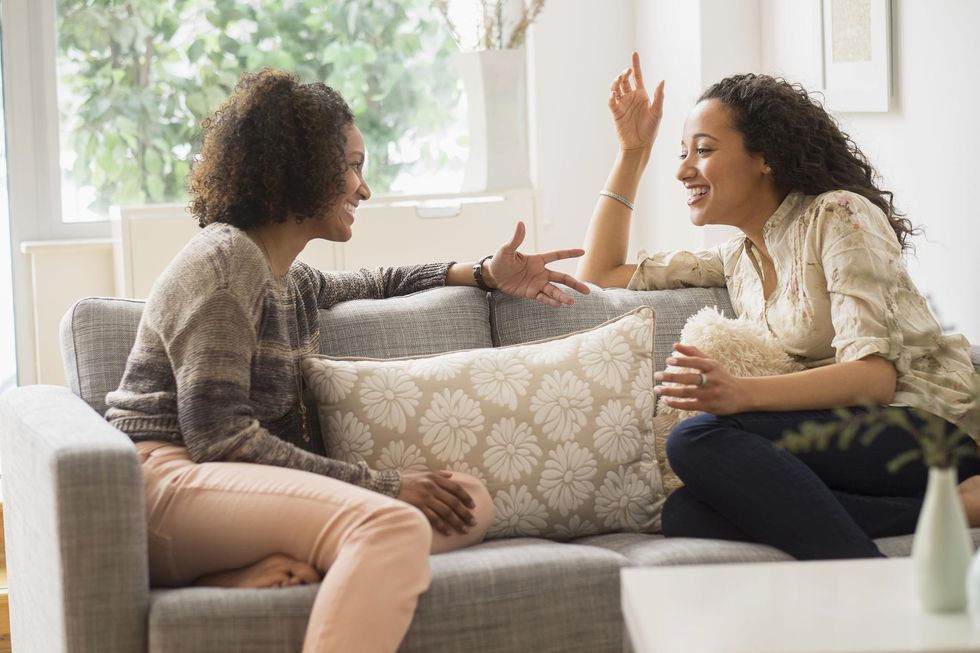 Getty Images
The Sister Signs: Aries and Libra
With all fire and air sign duos, natural compatibility and synergy are at play. Aries brings passion, and Libra brings love. Being both cardinal signs, these two are natural indicators, however, they do so in different ways. Aries takes action from a space of inspiration and instinct, Libra from a place of logic and fairness. Aries and Libra may just be the sister signs that are the least alike.
Aries, ruled by Mars, and Libra, ruled by Venus, signify the different balance between masculine and feminine energy. Aries rules the 1st house of self, and Libra the 7th house of partnership, which is all about balancing the individual with the individual's need for connection. When these two are on the same page, however, this is a powerful dynamic, and an unstoppable force these two can make together.
The Sister Signs: Taurus and Scorpio
Taurus and Scorpio partnerships are a common pairing you see in love. These two are a lot alike when it comes to relationship values and goals in life, and they are dedicated soulmates. Loyalty is very important to these fixed signs, and these relationships often last the long haul. Taurus helps Scorpio ground all of their energy and use it in constructive ways. Scorpio provides Taurus with some extra spice of life and shows Taurus the emotional security they are looking for.
Even in platonic relationships, this pairing tends to thrive as they have a similar outlook and experience of life. They may be on the opposite sides of the Zodiac Wheel, but these two know how to meet in the middle.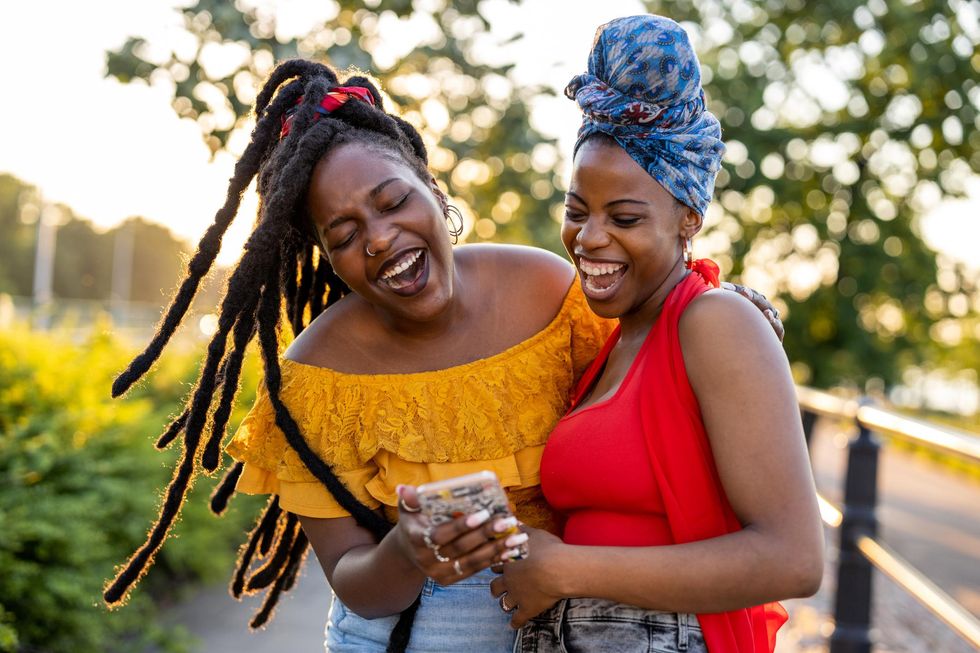 Getty Images
The Sister Signs: Gemini and Sagittarius 
Gemini and Sagittarius are a mutable sister sign duo. This pairing is all about having fun and expressing themselves. Gemini and Sagittarius in many other pairings often feel misunderstood, but these two match energy. Being both explorers of life, Gemini's inner curiosity, and Sagittarius' need to know more, makes for not only good conversation but exciting experiences together as well.
These two know how to keep up with each other and although if you ask them they would say they are completely different from each other, they tend to behave in similar manners. Through Sagittarius' optimism and wisdom, Gemini expands their own mind. Through Gemini's joy of life and creation, Sagittarius finds a new sense of purpose.

The Sister Signs: Cancer and Capricorn
Cancer and Capricorn can be explained as the Mom and Dad of Astrology. These opposite signs both value tradition, history, and legacy, and together they form a solid foundation in life. These signs learn a lot from each other and come together in a way that is both supportive and encouraging. Being cardinal signs, this duo is goal-oriented and they take charge of their life and the quality of it. In romantic relationships, they tend to have a nice life together that goes the distance.
These two know the importance of working together as partners, and there is a good balance between the give and take. The Cancer/Capricorn axis signifies the 4th house (Cancer) of home and the 10th house (Capricorn) of social status. They both provide each other with a new world to grow in.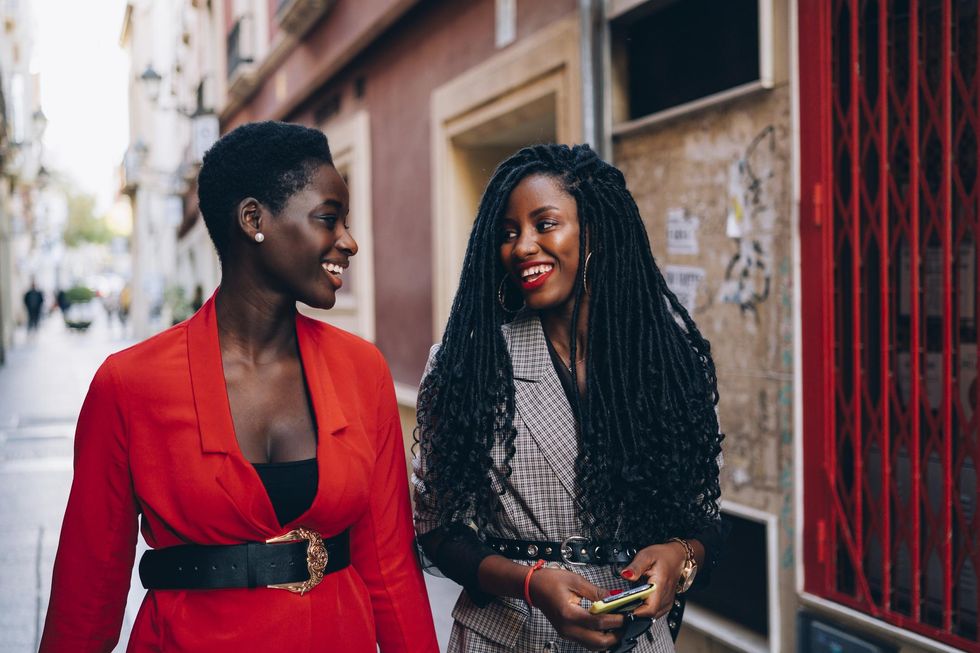 Getty Images
The Sister Signs: Leo and Aquarius
This sister sign pair takes center stage in life. Aquarius and Leo's compatibility is either a hit or miss, as they are either immediately fond of each other or repulsed. Aquarius would never admit how similar they are to Leo, however, and that even their lone wolf sign loves to be in the spotlight from time to time. This pairing values authenticity and being their unique selves, and it's what attracts so many to them.
If they are both in their confident and best selves, then they will encourage this energy from each other, however, if not watch out for, egos can often clash here. These two are set in their ways and aren't fond of compromise, which is needed sometimes in a relationship. All in all, these two are visionaries, and this is a really fun and dynamic pairing.

The Sister Signs: Virgo and Pisces
Virgo and Pisces are a sweet sister sign duo. These two are natural givers, and they do so in different ways. Virgo's love language is acts of service, while Pisces is more of a quality time type of love. Virgo views the world in a logical sense, and Pisces loves to get lost in the fantasy. Putting that energy together is the perfect recipe for manifestation and they create magic in their lives when together.
They both provide what each other needs and that is what makes this partnership long-lasting. The differences, however, can be too heavy in this pairing for some, as Pisces' love for getting lost can be too much for Virgo's need to know. Being that they are both mutable signs and have an innate sense of flexibility, however, there is usually a good flow here and they balance each other out.

Featured image by SolStock/Getty Images
Astrology can give you insight into who you connect with on different levels, and where your heart is meant to be. The basics of astrology compatibility are that air signs go well with fire signs, and earth signs go well with water signs. The elements in the zodiac are nature's way of guiding people toward what feels good for them and what doesn't, and when looking at what would make two signs incompatible, this is a big one. You also can examine compatibility by looking at the different modalities such as fixed signs, mutable signs, and cardinal signs.

Through looking at your birth chart, you can examine not only when some important times of love will happen for you, but also with whom you will experience the most positive energy in love. Overall, when it comes to the compatibility of zodiac signs, it runs deep. There are so many determining factors of how two signs will get along, and it's much more in-depth than Sun sign compatibility, as you also want to look at your Moon, Venus, Mars, house placements, and aspects.
However, if your Sun signs do match and go well together, you at the basis will have strong compatibility with each other. When it comes to the least compatible zodiac signs, elements and modalities come into play and the history of experiences does as well.
Read below to see the least compatible zodiac signs in astrology:
PISCES + ARIES
Pisces and Aries together can be a downer. Aries is the very first sign on the zodiac wheel, and Pisces is the very last. They are rarely in the same place at the same time to make the relationship work and there is an underlying energy of distance between each other. With Pisces being a mutable sign, they can really be in a relationship with anyone, however, with Aries, there is a little more hesitation and agitation here.
This relationship can lead to Aries taking too much and Pisces giving too much, and not much balance or harmony in the relationship. With these two signs being passionate and emotionally charged, this relationship is often filled with drama.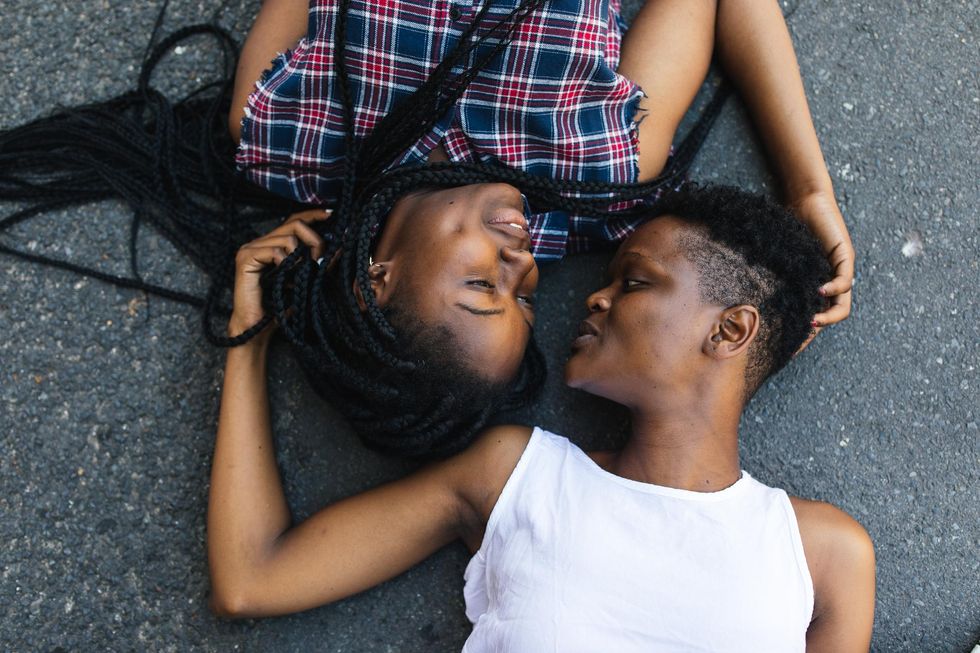 A relationship between two passionate and emotionally charged signs can be drama-filled.
Hello World/Getty Images
SAGITTARIUS + TAURUS
Sagittarius and Taurus incompatibility is more obvious than most matches on this list. Sagittarius wants to be on a plane, and Taurus wants to be at home. Taurus wants tangible results, and Sagittarius finds happiness in exploring the mind and different ideals. This pairing isn't the most compatible because they both want very different things in life, not to mention they are always at a different pace.
What can work between these two is that they both enjoy leisure time and enjoying life, so this can be a good couple to have fun together and not take things too seriously. As far as love goes, however, this match is not recommended unless other factors in the birth chart are compatible.
SCORPIO + GEMINI
Scorpio and Gemini together create chaos. Although they have a lot of fun together, this pairing is better off seen in a working environment, rather than a romantic one. The thing about Scorpio and Gemini is that they don't get each other. It's hard to understand where the other person is coming from, which often leads to miscommunication and hurt feelings between them.
Scorpio and Gemini individually are already some of the most talked about zodiac signs to be in a relationship with, and they don't always have a good rep. Putting these two together can be fun, but overall the energy is very chaotic and challenging as a couple.

AQUARIUS + CANCER
Aquarius and Cancer rarely get involved romantically together, as this pairing does better in a friendship than a relationship. Cancer can seem like too much for aloof Aquarius and Aquarius can be too in their head for Cancer's heart-centered, emotional energy. Cancer tends to be intrigued by Aquarius, however, the relationship is usually one-sided. Cancer will often feel like they are giving their all but that it is never enough for Aquarius who may acknowledge Cancer's efforts, but at the end of the day it's not what Aquarius needs to feel fulfilled romantically.
One thing about an Aquarius and Cancer duo, however, is their loyalty. This is why this relationship can work as a lasting friendship, romantically, however, water and air signs are the least compatible.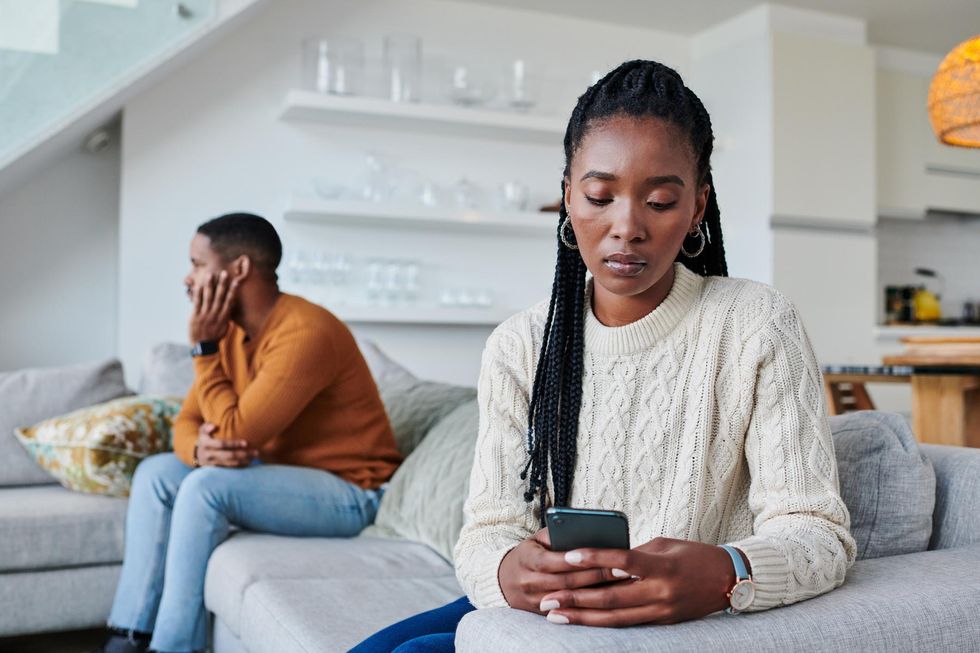 Romantically, water and air signs are the least compatible.
Jeff Bergen/Getty Images

CAPRICORN + LEO
Capricorn and Leo have too many power struggles and ego conflicts in order to make the relationship peaceful and positive. Disagreements often arise within this partnership, and they have to work especially hard for the relationship to progress and grow. The thing about this couple is that Leo wants to be adored and cherished, and Capricorn isn't about the theatrics.
Capricorn likes to take things slow and gradually evolve as a couple, whereas if Leo isn't getting everything they need right away, they will feel let down and unloved. In order for this partnership to work, there needs to be compromise and honesty about what is expected within the relationship.
LIBRA + VIRGO
Now, this pairing is on the list of least compatible because they are constantly questioning where each other stands and are rarely on the same page. This isn't a complete disaster for a relationship, but it's definitely not the top recommended either. The thing about Libra is that they don't really get Virgo and Virgo's meticulous thought process. Virgo feels the same way about Libra and thinks they spend too much time on things that aren't as important to Virgo.
Communication can be good here as they are both more mentally active signs, however, Libra tends to be someone that Virgo never seems to fully grasp. They are both nurturing individuals but in a relationship will tend to feel like they aren't getting what they need.

Featured image by Delmaine Donson/Getty Images
November is a time of maintaining your strength and opening your heart. This is the month to stand in your empowerment, trust the guiding force of your heart and the intuition it brings, and get inspired by where you are headed right now. The month begins in the midst of Eclipse Season, with the final eclipse of the year occurring in Taurus on November 8th. This Total Full Moon Lunar Eclipse also happens to be the Blood Moon of the year, signifying an empowering, transformational, and somewhat intense time for the collective. Changes and transformations are inevitable this month, but what you do with what is occurring will be the biggest game changer of it all.
Scorpio Season always brings a little more intensity and revelation, however, without this time the world would know no depth. Scorpio takes us to places we need to be and uncovers the mysteries we have been pondering. On November 16th, the energy begins to move into Sagittarius as Venus enters this fire sign. With Venus in Sagittarius until December 9th, love goes on an adventure and is a little harder to grasp for the time being. Venus in Sagittarius loves its freedom and shows us the importance of having fun, living with an open mind and heart, and trusting your intuition first and foremost.
The Sun moves into Sagittarius on November 22nd, and with Sagittarius Season here, this is the time to have a little more fun with life after a heavy emotional time in Scorpio Season and to explore your world. Sagittarius Season is when travel is heavy, the vibes are inspiring, and when perspective is everything. There is a New Moon in Sagittarius the very next day after Sag Season begins, and the more you can focus on the positive opportunities and paths that are opening for you right now, the more that can come. This New Moon is a time of gathering your strength, remaining optimistic, and walking into new doors.
As November comes to a close, Jupiter in Pisces moves out of retrograde and goes direct on the same day of the New Moon, on November 23rd. Jupiter is the planet of blessings and good fortune, and in direct motion, it's able to bring that. You can expect some positive experiences at the end of the month, and karma coming around to bless the world again. Jupiter in Pisces is all about creativity, compassion, and your belief systems, and by the end of the month, there is more freedom to explore, engage, and live free. November overall is a month to release doubts and trust the process.
Featured image by Kyra Jay for xoNecole
A Scorpio's love life is fueled with passion, intensity, and intimacy. A Scorpio in love brings out an emotional and vulnerable side to Scorpio that not that many people see right away. They love the chase, and they are willing to pursue what it is their heart desires. They will go to the ends of the earth for those they love, and they are very protective, supportive, and loving. Not to mention, Scorpios are sexy. They naturally exude this type of magnetism and mystery in their life, and they intrigue many who come in their peripheral.
Scorpios are known to be the sexual and passionate sign of the zodiac, and there is a reason for this. Scorpios are ruled by the 8th house of intimacy, sex, commitment, and emotional depth. Scorpio also rules the reproductive system and sexual organs of the body. Needless to say, the sex life of a Scorpio is one for the books. Their stamina is unmatched, and people's experience with them in love is often unforgettable in many different ways.
The downside of Scorpio in a relationship is that they tend to get attached to people in a way that can be detrimental to them and those involved. Scorpio's emotions run high, and if not regulated properly, they can be very emotionally impulsive, leading them to make decisions they later regret. Scorpios can be led by passion and power rather than positive intention, and moves through a lot of transformations in their love life, evolving and learning more about themselves through each experience.
When Scorpio is paired with someone who they are naturally compatible with, however, fewer challenges get in the way of the positive and harmonious traits they possess. If a Scorpio feels trust and safety in their relationship, you will get the best of them. Overall when it comes to a Scorpio in love, they are like sour patch kids. First, they're sour, then they're sweet.
Featured image by Cavan Images/Getty Images
The ideal career for your zodiac sign is where the Sun thrives the most in your birth chart. Your sun sign not only involves who you are, but it also gives you insight into what your purpose in life is, and where you feel the most confident or like you are fulfilling your purpose. Along with the midheaven, your sun sign is where you tend to gravitate towards in life and where you express yourself in the best light. You can find your ideal career by looking at what your sign is, and your birth chart at large.
Career ventures will vary, of course, but you will find some strong similarities between the career paths of each zodiac sign. For example, Geminis are often found in careers where they can put their mind and their voice to use. They are the zodiac sign that is constantly thinking of the next idea or venture, which is why you will find a lot of Geminis in career roles that involve public speaking (or singing) and careers where they are able to express themselves, their ideas, and their creative vision freely. A Scorpio, however, loves to look at the numbers and the details, and their ideal career is one where they can get to the bottom of something and use their keen eye to either help others develop, such as psychology, or bring order and understanding to finances like banking or crypto.
When looking at the ideal career path for yourself, you especially want to look at your sun sign and midheaven sign, and what they are doing in your chart. By examining your given strengths, weaknesses, gifts, skills, and everything you are already bringing to the table, you can get a better vision of where you will excel in your career and where you can easily highlight your strengths. You are meant to live a successful life and you can look at astrology to determine how to make that happen for yourself.
Read below to see what the ideal career is for your sign.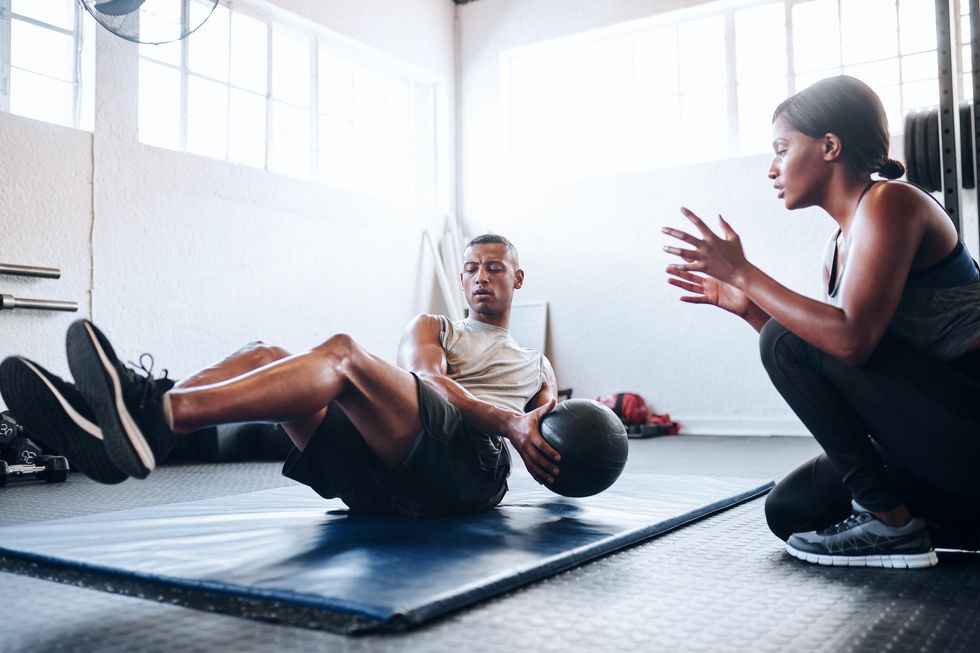 kupicoo/Getty Images
ARIES
Aries love to initiate and be the frontrunner in anything in life, which makes them great entrepreneurs. Starting their own business, initiating new projects, or creating their own position within their career path are all likely with Aries. Many Aries start their own businesses or build developments, as they feel a lot of what they need in their career life isn't there yet so they tend to be the first ones in their field, family, or environment to do something in their chosen career path.
Aries are the trailblazers of the zodiac and this energy is apparent in their careers. With Aries also being a sign that is very in-tune with the body and physical strength, they would also thrive in careers such as physical therapy, a personal trainer, police officer, or firefighter.
TAURUS
Taurus is a business-savvy sign and an ideal career for a Taurus involves something that is not too fast-paced, but something where they can continue to grow, work hard and expand their income. A Taurus thrives on stability and they tend to choose careers that they know they are financially secure in and where they can continuously increase their assets.
A Taurus is often found in career fields such as the beauty and fashion industry, finance, antique selling, florals, hospitality, or architecture. Being ruled by Venus, Taurus has an eye for the finer things in life and they love a little luxury. They would also make great event planners, artists, restaurateurs, or chefs.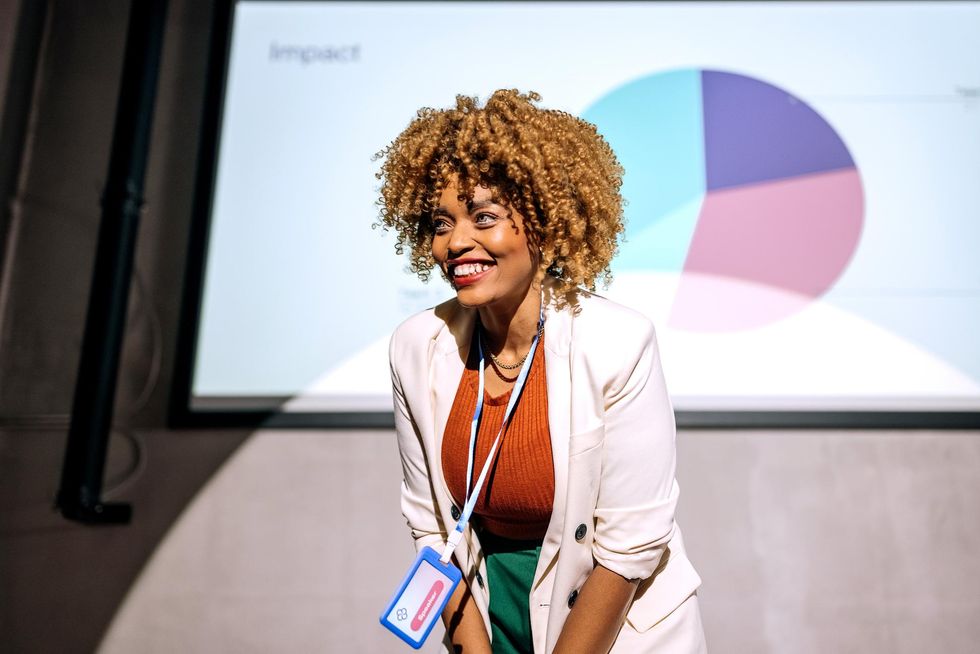 Pekic/Getty Images
GEMINI
Geminis are creative and need this type of creative freedom in their working environment. Geminis do well in PR, graphic design, journalism, fashion design, fashion modeling, as an author, public speaker, musician, and curator. Gemini needs to bring their vision to life and they tend to have a lot of different ideas flowing around their head at all times. They want to be able to connect with people through the mind, and they will break apart information and assimilate it together in a way that fits and inspires them.
Geminis are always giving wildcard energy and they tend to change their careers often or find that one path they take in their career leads them to many other ventures and outlets as well.
CANCER
Cancers are a lot more multifaceted than people give them credit for. Everyone knows Cancer as the nurturer, the one with mother energy, etc., and this is all true, but not only do Cancers make great caregivers, they also tend to be very business-savvy as well. An ideal career for a Cancer would be working in the hospitality field or managing a business or people at large.
Cancers do well in real estate because not only do they deeply value the home space and what you can do with it, but they also provide this sense of safety and security to others. You can also find a lot of Cancers as interior designers, writers, psychics, or in the vintage/resale industry.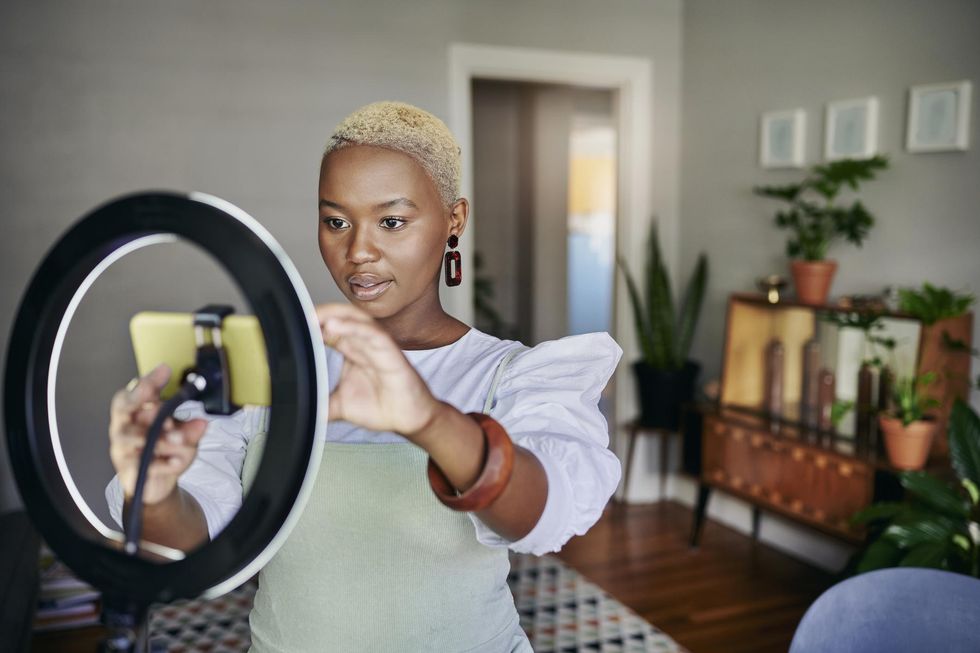 mapodile/Getty Images
LEO
Although Leo loves to be in the spotlight, this doesn't necessarily mean every Leo is an actor/actress. Although the entertainment industry is a good professional field for Leo altogether, Leo thrives in any leadership role, and having a career where they are able to lead or be in the spotlight in some type of way is the right path for them. Think of Barack Obama, the Leo himself who led the country with a bright smile on his face.
With Leo also ruling the 5th house of sports, hobbies, entertainment, and children, career ventures that involve this type of energy are also fulfilling for Leo and they also tend to do well when it comes to working with children and the childcare fields.
VIRGO
Virgos tend to have more service-oriented careers, and they are very hardworking individuals. A Virgo's life tends to revolve around the work they do because they put a lot of emphasis and love into this area of their life. Virgos love to help others and that is one of their main focuses in this lifetime. Virgos succeed in the health fields and make good physicians, nurses, veterinarians, managers, social workers, and consultants.
Virgos also have a knack for words being that their planetary ruler is Mercury, the planet of the mind and of business, making Virgos great writers, authors, and individuals who know what needs to be done to succeed in their careers. Virgos can also use their gift of organization to be professional organizers or planners, and overall their ideal career involves helping other people.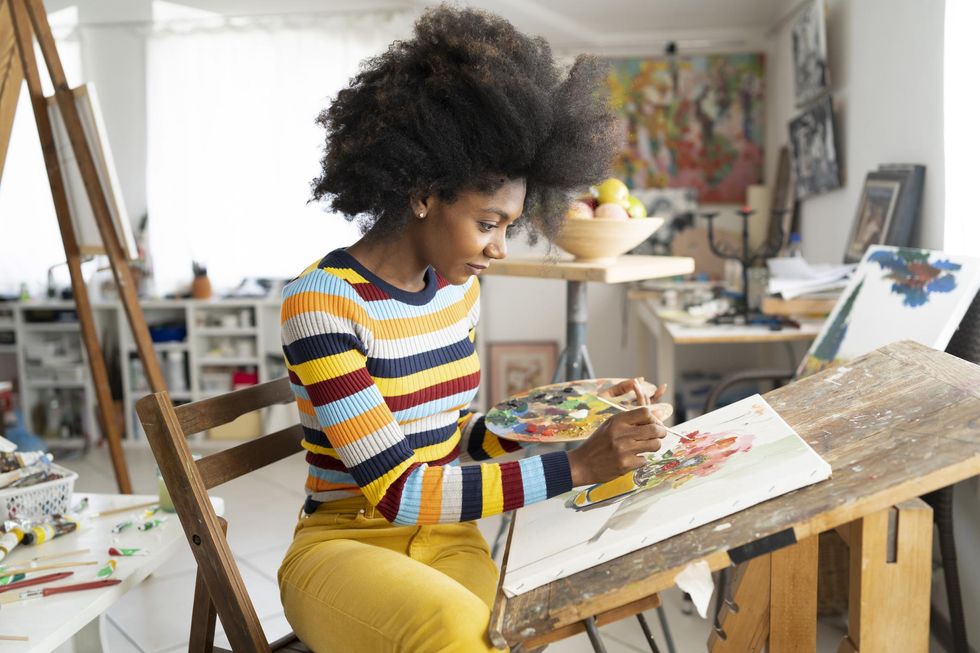 Vladimir Vladimirov/Getty Images
LIBRA
There are two sides to a Libra. One that is focused on justice, and one that is focused on love and beauty. They find their balance in the middle, however, when it comes to the ideal career for a Libra, this will be different for every Libra at hand. You could find a Libra in a more serious role like a lawyer or a judge fighting for justice or; something like a designer, artist, curator, esthetician, stylist, and interior designer.
A Libra would also thrive in positions where love and relationships are the basis, like the wedding industry, marriage counselors, sex therapists, and professional matchmakers. Libra happens to be the wealthiest sign of the zodiac, so you can find them in many different career ventures, meeting their success.
SCORPIO
Scorpio has a knack for the details and numbers. A career involving something to do with finance like the stock market, banking, crypto, and accounting, are all ideal careers for Scorpio. With Scorpio being the ruler of the 8th house of shared finances, they are smart when it comes to business, and also when it comes to other people's money; and they don't have any problem asking for what they want or the type of salary/position they feel they are worthy of.
Scorpios also have the capability to transform and help others to as well, which is why Scorpios make great psychologists/psychiatrists, detectives, and personal investigators as well.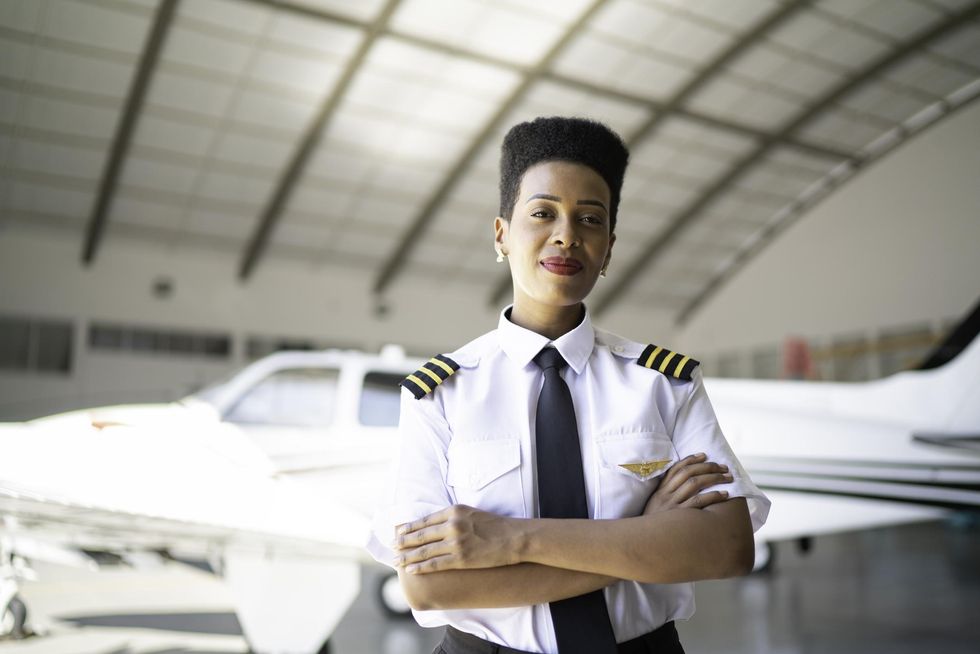 FG Trade/Getty Images
SAGITTARIUS
Sagittarius needs a lot of freedom within their career and with all fire signs, they like to lead the way and have these types of leadership roles within their professional life. A Saggitarius would make a good educator due to their fondness for education, the higher mind, connecting with people of different backgrounds, and interest to learn more.
Sagittarius also make great entrepreneurs because they aren't afraid to push the boundaries and put something out there that they believe in. Other possible career paths for Sagittarius are flight attendant, pilot, travel agent, travel nurse, travel blogger, or writer.
CAPRICORN
Capricorn is the ruler of the 10th house of career, and if anyone can thrive in this area of their life, it is a Capricorn. Capricorns are hard-working and they have no problem putting in the work to reach their goals. An ideal career for a Capricorn is anywhere where there is room to grow.
They thrive in careers such as a business executive, CEO, management, law, working for the government, a teacher, and any role that gives them a nice title is something they tend to strive for. They want what they do in their career to be the best of the best, and they want to feel like they are accomplished and successful, and like they are reaching all of their goals in life.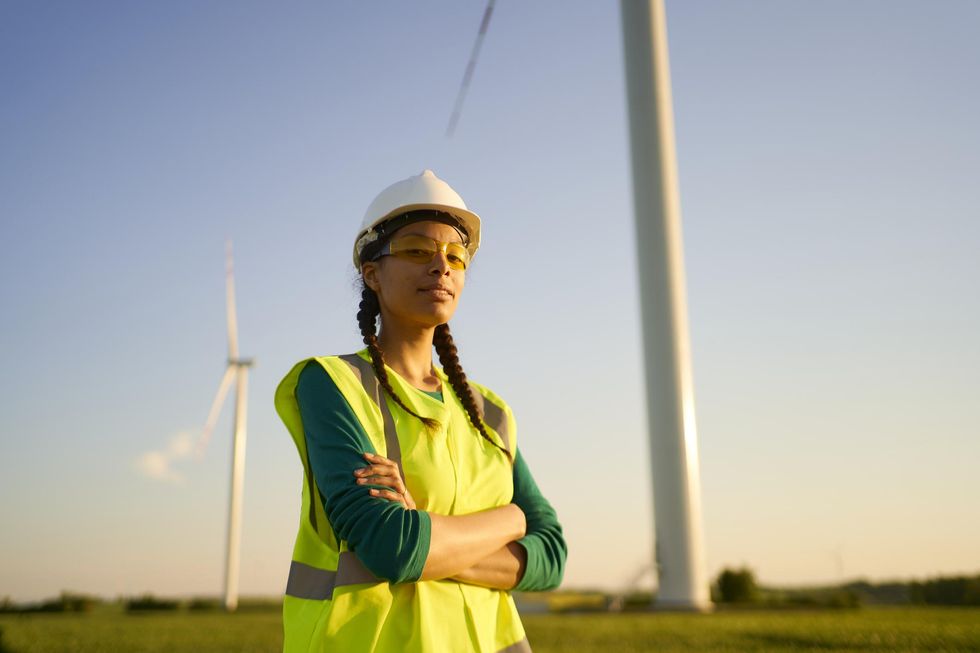 Andriy Onufriyenko/Getty Images
AQUARIUS
Aquarius gives mad scientists energy and everything they do needs to be revolutionary. With Aquarius being the rebels of the zodiac, their career fields tend to match their eccentric behavior. An Aquarius would thrive in roles such as an engineer, scientist, astrologer, social worker, influencer, environmentalist, and web developer.
An ideal career for Aquarius can also involve a role having to do with politics as they tend to have a lot of thoughts and ideas about the collective and what it needs to progress and thrive. An Aquarius can make a career out of activism, humanitarian ventures, and anything to do with helping society, a community, or large numbers of people.
PISCES
Pisces excel in the fields of art and you will often find Pisces having this gift of artistry and creativity. Pisces make great artists, writers, directors, poets, and musicians. Some of the greatest musicians of all time are Pisces or tend to have Pisces Moons. To be completely honest, most Pisces would prefer not to work at all or put that much energy into their career life which is why they need to be doing something that they genuinely enjoy.
Turning a passion into a way to increase their income is beneficial for Pisces so that they don't feel like they are actually at work every day. Also being able to create something beautiful from their imagination or their creative ideas, also makes them feel very fulfilled in life.
Featured image by MoMo Productions/Getty Images