To this day, folks will debate that one of my favorite songs by the R&B group SWV, "Rain" is about sex even though Coko has made it clear that it's not. Now another one of their classics, "Downtown"? That's about the matter entirely. In fact, some hail it as being one of the most sex-positive songs of its time when it comes to — we're all grown here, right? — cunnilingus. Its praise makes a lot of sense being that it is the act that helps women climax the most.
You know, I did some reading up on oral sex in this country, in general. It looks like around 80 percent of both men and women experience pleasure from it, around 22 percent have an orgasm most of the time (that's it?!) and most sexually active folks who choose to partake in fellatio and/or cunnilingus do it around five times a week. Yeah, oral sex is bomb and most of us know it.
So, what if you happen to be like a married girlfriend of mine who could literally take it or leave it? It's not that you haven't tried to understand the hype; it's just that, no matter how much you've tried to get into it, you just…don't.
If you're shaking your head up and down at your monitor or phone screen because this is exactly how you feel, oftentimes getting to the root of an issue can help to resolve it. So, let's explore some reasons why either you'd prefer not to have oral sex or you're not enjoying as much as so much of the free world seems to be.
Featured image by Vladimir Vladimirov/Getty Images
Being on top used to be my least favorite sex position. Call me a pillow princess, but I preferred my partner to be in control, and being on top puts me in the driver's seat. Additionally, riding is exhausting and intimidating. Once I realized cowgirl was the ultimate way to take control of my pleasure, my perspective changed. It turns out you don't have to have Megan's knees to ride, in fact, there are several knee-friendly riding techniques that are both comfortable and pleasurable, and also provide mind-blowing orgasms.
Known for its versatility and popularity, the cowgirl position allows the person on top to control penetration depth, intensity, and thrust angle. For most women penetration alone rarely leads to orgasms, but in this position, you have full control of the penetration. In cowgirl, there are many options for stimulating clits by manipulating positions. Your partner might know your body and how to satisfy you, but you are the only one who knows exactly when to push deeper, faster, or "a bit to the left!" Being on top also allows you to replace shyness with sexiness.
On top, you're in your partner's line of sight, which can make anyone feel shy. Nevertheless, if you follow a few hints and tips, you can ride him like a rodeo without getting tired or hurting your knees and finally throw your shyness out the window.
Rock instead of bounce.
It's common for the person on top to bounce violently up and down for what feels like an eternity in porn. Porn, however, is entertainment, not life. While bouncing is great, rocking back and forth can allow you to explore more angles and sensations, and it's better for your knees. When you're rocking instead of bouncing, it's easier to involve your clit. In the beginning, it can help you get used to sex on top by grinding rather than bouncing. Straddle your partner and lower yourself onto their penis before slowly rocking them back and forth as they lie flat on their back.
Use pillows for support. 
You can add pillows to kneeling if it becomes too hard on your knees. By propping a pillow underneath both knees, you can bounce more easily, and you will cover less ground. Using sex pillows or wedges, the receiving partner can draw the penetrating partner deeper inside by placing one under their booty.
Put it in reverse. 
The reverse cowgirl (where you are in the same position, but with your back to your partner) is another option. You will be able to bend over and let your knees loosen a bit, as you can control the movement with your hands - placed on your partner's thighs. When you do reverse rider on your knees, you can easily shift your body forward and back to find the right position. In addition, it allows your partner to see your booty, which is always nice to see. Similar to the traditional cowgirl position, reverse cowgirl gives you total control over how you move.
Leaning backward will give you more space to stimulate your own clitoris. It can be done with your hands or with an external sex toy like a vibrator. If you're into booty play, this will give your partner all the access they could imagine to give it some love.
Let him do the work.
Being on top does not mean you need to ride them all the time. There are positions that require them to do some of the work too. For example, lay on your partner while they move their hips, or squat above them while they work. The point is, being on top doesn't mean it's all about you doing the work. Ask your partner to move you around if you're new to cowgirl or need a little guidance. Try out different movements, speeds, and penetration levels that feel good to you both so that you don't have to be the one coordinating everything.
Use a chair.
Using a chair for cowgirl is pretty straightforward. You're doing classic cowgirl just on a chair. Ask your partner to sit in a chair the same way as they normally would. There's no need to seek out a chair that's uncomfortable and relatively wide-based for this, but climb on top of your partner as soon as they're seated, straddling them. Your shins can rest along the outside of your partner's legs if your chair is wide enough. If it's a tighter squeeze, you may have to rest your feet and shins along your partner's thighs.
Once you're there, your partner can lean back or pull you in close—and you can do the same. You can grind forward and backward, slide up and down, as you normally would. Just make sure the chair is sturdy enough so it won't fall over as soon as things get started.
Featured image by David Jakle/Getty Images
Boobs are pretty awesome if you ask me. Whether big or small, perky or slightly saggy, real or surgically enhanced, they are a lot of fun to play with and quite arousing. Depending on the person, breast play can be either foreplay or the main event. Breast play is an act of touching, rubbing, or sucking on nipples during sex. It involves fondling a woman's breasts or even a man's nipples.
There are a lot of women who really, really enjoy breast play so much that they can reach orgasm through nipple stimulation alone, while others need breast play in conjunction with genital stimulation. According to a study in the Journal of Sexual Medicine, sensation from the nipples travels to the same part of the brain as sensations from the vagina, clitoris and cervix. How cool would it be to learn how to please your partner by simply playing with their breasts? Well, lucky for you, I have some techniques here to get you started.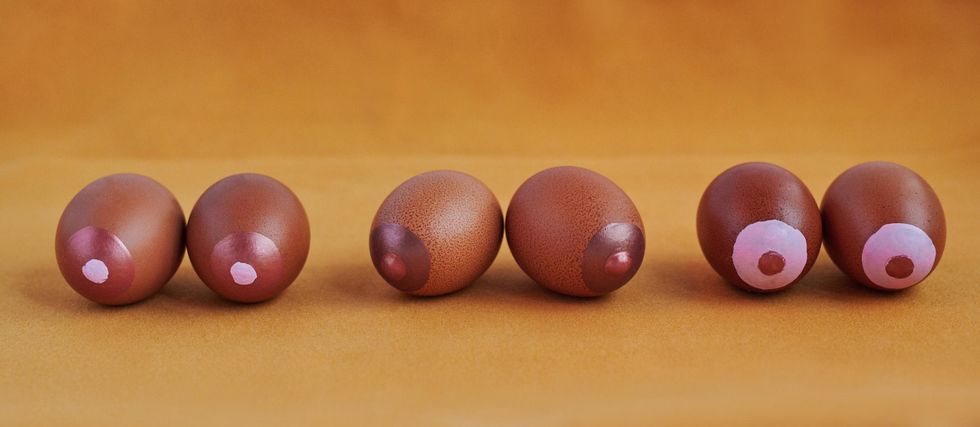 Getty Images
​Focus on the areola.
Areolas surround the nipple and are more sensitive than the nipple itself. You should focus on the upper quadrant of her breast, between 10 and 2 o'clock. It's the most sensitive part of the bull's eye. Stroke the nipple and circle the areola gently with a finger, or circle the nipple with your thumb and forefinger.
​Use your mouth...
If the nipples are erect, use your tongue to draw circles around them. You can alternate between licking and sucking the nipple. Use your lips, tongue, and teeth, as well as your hands to lick, suck, and nibble on them. Use your tongue to flick the nipple a few times before slowly and gently taking it into your mouth. You can also get some temperature play going by licking a breast and lightly blowing on the moistened spot. Start gently, and gradually increase the pressure until you find what works for your partner if he or she enjoys a lot of pressure.

​But, don't bite.
Never bite someone's nipple without consent. Nipples are sensitive AF and everyone doesn't think pain is pleasure. You do not want to interrupt a good time by doing that. Before nibbling or pulling on her nipple, ask, "Do you want more?" or "Harder?"
​Build the intensity.
Nipples are similar to clitorises: some people can barely stand direct contact, while others require strong pressure. Just like the clitoris, it's best to begin gently, then work your way up to more pressure. If they want more intensity, gently pinch the nipples between your thumb and forefinger.
You can gradually increase the pressure, and ask them to let you know when it goes too far. You can also gently twist the nipples, but be careful with this move since it's pretty intense. You can also cup the breast in your hand and gently pull on the nipple with your thumb and forefinger.

Don't forget the toys.
For new sensations on the breasts, you can use vibrators or feather ticklers. Silk ties or scarves can feel great too. If your partner prefers intense nipple play, you can buy nipple clamps or suckers. In addition, you can blindfold your partner and use different toys or materials to touch It. You can also apply lube or massage oil to help your hands really slide around on their breasts.
​Combine breast foreplay with clitoral stimulation.
In order to achieve the best nipplegasm, combine nipple stimulation with stimulation of the clitoris. Start stimulation through your mouth while simultaneously using your hands or a sex toy like a vibrator to tease the clitoris.

Featured image by Adene Sanchez/Getty Images
In my opinion, New Year's is the best time to start over. I love the first of the year because it inspires me to dream big again and to recommit to goals I didn't achieve the previous year, like getting back into the gym, eating healthier, and reading more books. New year resolutions help us become better versions of ourselves. But how about our sex lives? We rarely think of including our sexual lives in our new year resolutions.
A study by EdenFantasies found that one-third of Americans in relationships are unhappy with their sex life, which tells me more people should make sex a part of their resolutions. Sex resolutions are just like regular resolutions. You make them after reflecting on the past and deciding how you want things to be different in the future. A good sex resolution is one that makes sex more comfortable, pleasurable, and exciting. This could mean taking a whole new approach to the bedroom or just swapping out some old toys for new ones.
This year along with my usual New Year, New Me resolutions, I'm including resolutions that deal specifically with improving my sex life and I want you to add some too. Here are some sex resolutions we all can incorporate this year to have a better more fulfilled sex life this year and for years to come.
Featured image by blackCAT/Getty Images
There was a moment before adult performer Demi Sutra reentered the industry for what would be her second of three separate times in under a decade when she realized that her profession was in desperate need of change. "I didn't love everything that I saw," Sutra tells xoNecole. "[But] I still wanted to be there." This realization came to her after she reached out to several Black performers through Twitter to ask about their experience dealing with the racism that plagues adult entertainment. "It was just incredibly obvious that it needed help."
Sutra first entered adult entertainment when she was 23 which she describes as being "not a good time" for her. "I found it to be problematic and really hurtful," she says about her experience of being pigeonholed to sites specifically meant for Black female performers.
In 2018, she would move to Los Angeles from Florida to relaunch her career only to leave again in 2019. The second time she would leave she cited being overworked and blatant racism. "I didn't like my agency. [There was] a lack of protection for me when it came to racism," she says.
The inaction by her then agency (the famed Spiegler Girls) led to Sutra becoming vocal on her own social media. "When you do those callouts you risk being blacklisted," Sutra says. "But I was really just tired of it and I started saying shit about companies online." Despite the slow change, she said she saw from her being vocal online, Sutra was still frustrated with the industry's racism.
"I had so many directors for multiple companies say to my face: 'Oh man, you're really talented. I really wish I could book you for more scenes but we met our Black girl quota.'" Sutra was taken aback when told this. "So your boss is racist and you're okay with that?"
That experience would echo that of another Black female performer xoNecole spoke with. Wanting to remain anonymous, she says that "for Black girls, they don't want to have us on there too much, even if we're doing well because they don't want to be seen as a 'Black girl site.' It makes it so our trajectory in the industry is slower."
Misogynoir in adult entertainment is a systemic issue that has manifested itself in many different ways for Black women performers.
Newcomer Elsie's short-lived mainstream career came to an end towards the close of 2022 after the constant struggle to have Black scene partners. "They told me Black on Black doesn't sell." She says the difficulty in selling these kinds of scenes is due to the kind of viewers that mainstream adult entertainment caters to. "The audience they have created is not Black," Elsie says. "It's catered to white people. A lot of the tropes, like the stepsister stuff, that's not catered to us."
Blacked, a popular adult entertainment production company that produces content with Black men and white women has come under scrutiny in particular for some of the racist stereotypes they perpetuate. "Blacked symbolizes something so dirty," Sutra says as she recounts her discovery of the website. She says that performers who have worked with Blacked have reached out to her telling her that the company makes the white female scene partners look as if they're uncomfortable and in pain. "In this evangelical fucking white America that we live in, [white women] were put on a pedestal and Black men were killed."
Despite Sutra's vocal objections to the website on her Twitter account, she says that she gets the most pushback from Black male performers and Black male fans. "[Blacked] did have a convo with all of their Black male talent and two of the Black female talent they were shooting at the time … and asked the Black men – they didn't even ask the women – if the title bothered them," Sutra says. "All of them said no."
Sutra says following her criticism of Blacked, that she was harassed and received death threats on social media. "It was really insane that I was trying to stand up for something that I know to be right and it's not a positive thing."
Sutra's hope for a better industry isn't lost despite all the backlash she's faced. After the country-wide racial reckoning in 2020, Sutra said she saw the most dramatic change in the industry since she's been there. She points to programs like BiPoc started by Sinnamon Love that addresses the racial inequality within the industry that would later receive funding from Adult Video Network or AVN. "That program which does enable Black pornstars to be able to get therapy, get testing — because some people can't afford it, especially being that there's so few places for Black talent in pornography."
Moreover, Sutra is looking toward her own future in the industry. In 2021, she signed with Brazzers, marking her third official time with the industry. She is most excited however for the future generation of Black female stars. "I've fully stepped into the phase of uplifting younger Black women in the industry and that is what I'll continue to do."
Feature image by @demisutra/ Instagram
The word "pegging" makes a lot of people nervous, but it isn't nearly as scary as it sounds. We often see it in movies as a joke or a negative experience, but that couldn't be further from the truth. In fact, pegging is usually an intensely pleasurable and intimate sexual experience. More than that, it's a way to reverse traditional penetration roles, spice up your sex life, and, if you have a prostate, take your orgasms to the next level.
Featured image by kupicoo/Getty Images