There are undoubtedly two things in life that we're always chasing – our next bag and our next orgasm. But, as you might've heard a handful of times by now, orgasms during partnered sex for vulva-having folks can prove to be difficult for various reasons, all of which can be chalked up to time management. For a clitoral orgasm, our partners must spend more time warming up the clitoris before we can reach an orgasm. And even still, in solo sex, it can prove occasionally difficult for us to get ourselves exactly where we want to be.
Nevertheless, there's a cheat code for orgasms! This tried and true trick (plus hoisting my hips up with a pillow) tends to get me to the destination before I can even finish the countdown. So, what trick might I be talking about? Admittedly, it is less of a 'trick' and more of a 'pressure point.' In fact, it's been suggested by experts that applying pressure below or on the bladder will ignite your orgasm.
Apply Pressure to Your Lower Belly for Better Orgasms
​Even if you've never heard this pressure point, you may have likely experienced it if you're someone who explores physical touch, especially while engaging in solo sex. But how? Why? And, do our partners know about this pressure point for better orgasms? This external pressure point is so incredible and effective because of the size of the g-spot/clitoris. Perhaps you've heard the comparison of a clitoris to an iceberg? This is because only a small percentage of the clitoris is accounted for externally when, in actuality, there's more than meets the eye!
The g-spot and the clitoris are truly one large structure with different operating systems based on their location. The g-spot cannot be seen externally, as it wraps around the urethra, making the bladder an extremely sensitive and erotic place to touch for both penis-having and clitoris-having people. Think of a partner that's gone down on you while holding your lower tummy and then think about the great sense of pleasure that you may have felt. If you really give it some thought I assure you that you're having an NSFW, bone-chilling sex flashback as we speak.
And if you've yet to experience this superb sensation, I invite you to try it out… immediately! I would also encourage you to try exploring this sensation alone. As much as I myself enjoy it, it may not be a sensation that others enjoy (just like I've come across people who don't allow themselves to squirt or generally ejaculate because they don't like the mess that it leaves behind).
But I'd also like to add, that if and when you decide to try this posturing with a partner (or hell, even without), it's an excellent pressure point to hit for those of you that are into edging.
Whatever, whenever, and however you choose to give this external pressure point a go, don't ever say I didn't do anything for you.
Let's make things inbox official! Sign up for the xoNecole newsletter for daily love, wellness, career, and exclusive content delivered straight to your inbox.
Featured image by David Jakle/Getty Images
I'm one of those people who has a song in mind for almost any keyword said in a sentence. It's a gift and curse, to my friends and my readers. Today's song was "Sex Room" by Ludacris and however annoying it might be, I'm excited to get into it with you all. Netflix's recently dropped a new series – How To Build a Sex Room – which is for sure the adult HGTV series I never knew I needed. But it's so much better than any HGTV series and honestly better than anything I could've anticipated.
The show explores making practical sex rooms for those who will be using them. And a sex room doesn't always mean cold, dungeon vibes. No! Instead, part of what makes the show great is that they meet people where they are and really take into account the purpose or intended use for the sex rooms, in addition to personality. You get a good variety of luxuries mixed with the feelings of home.
And while I'm not going to spoil the show, I do want to get into what and why someone might need a sex room. Maybe you want one for yourself or maybe you're someone who passed the preview of this show and wondered, "What's the point?" If so, keep reading.
Reasons to Consider Having a Sex Room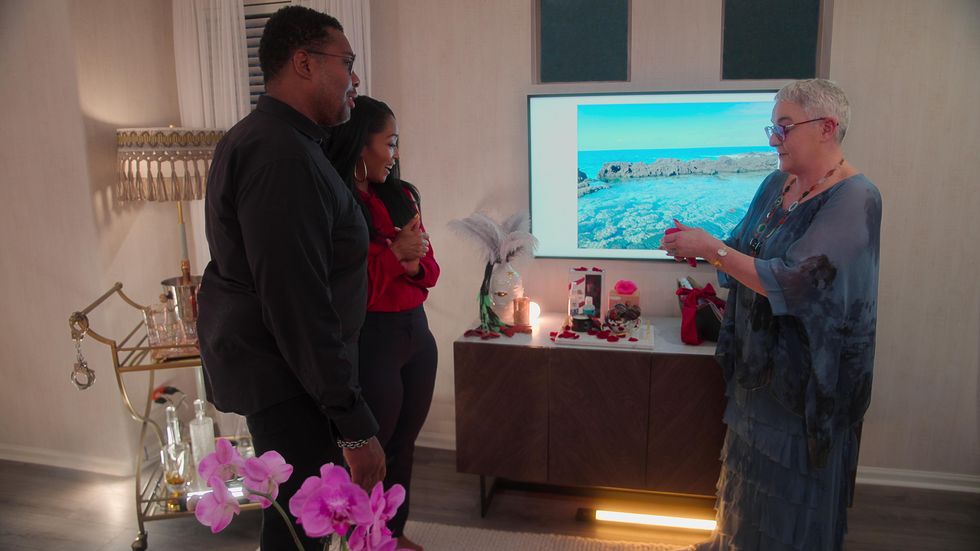 (L to R) Ryan, Raj, Melanie Rose in episode 102 of How To Build a Sex Room.
Courtesy of Netflix
1. Parental Control and Boundaries
Parents who co-sleep with their children may find it difficult to maintain an air of sexiness in the very room they once created their children in. Though we might say at a certain age parents should set boundaries, realistically keeping your child in their own room is not a boundary that's always possible. That said, parents might opt for a sex room in order to rejuvenate themselves back into the seductive period of courting prior to having children. Sometimes the boundary setting is simply a matter of changing the setting and opting for privacy in other, less seemingly dismissive ways. This can be accomplished with a sex room.
2. Separation of Home and Sex
While not every sex room is dungeon-style, some are. And regardless of the aesthetic, there may be people who wish to keep their preferred kinks as private as possible. I can't count on one hand how many times I've forgotten to put away my vibrator and someone walks into my home only to see it on the coffee table. And that's a normalized part of sex…masturbation. However, imagine having someone walk into your home and you forgot to put away your flogger or box of butt plugs, and so on? The sex room helps to provide an extra layer of privacy. Not because you wish to be secretive or feel shameful, but because keeping certain parts of your life separate from others is good form as far as boundaries go. Plus, it can be really sexy to have this part of your home where only you and your lovers exist.
3. Sex, Staycation Style
The monotony of being home and having sex in the same way, in the same place can sometimes be…annoying. But also coming across safe spaces to play with your partner can be equally…annoying. Having one at home allows you to escape the day-to-day without incurring the fees associated with sex clubs. Furthermore, there's this unspoken rule of exclusivity where you really have to know the right people in order to find kink scenes in certain cities. Having your own sex room eliminates the need for that as you create your own.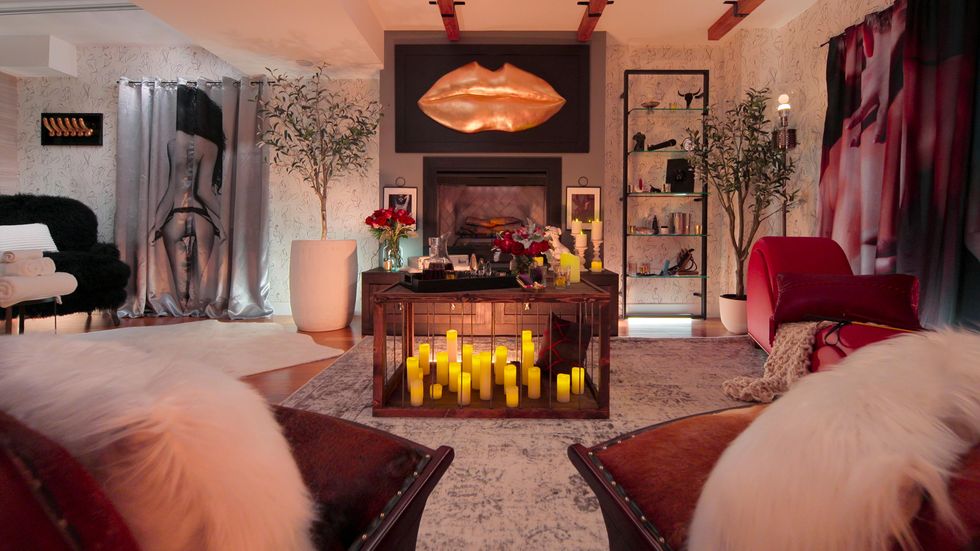 Courtesy of Netflix
4. Swinging Made Easy
​If one of your kinks is swinging, a sex room might just be mandatory. Not every city has swingers clubs and in my experience when they do have swingers clubs they aren't always diverse (age and race-wise). But having a sex room in your home allows you to host other couples consensually, thus minimizing the requirement of having to find a couple to swing with in exclusive spaces.
5. Safe Spaces and Such
For those who are into kink and wish to try out new gadgets and contraptions, I encourage you to do so safely. But hold please, because in this case, the safety I'm speaking of is more towards reading the requirements for hanging your equipment from walls and ceilings. Because this can be necessary for swings and such, some couples may opt for a sex room in an area in their house where the ceilings are more conducive to that type of sex gear – like the basement.
The bottom line is there are many reasons that people may want sex rooms. However, I think in any case it comes down to having a safe space to be able to reconnect or even connect with ourselves in ways that weren't made possible (for whatever reason) beforehand.
If this appeals to you, you may be wondering how to create a sex room for yourself, especially after watching the Netflix series How to Build a Sex Room. Here are some ways.
Self-Survey: Remember A.S.L via Aim? You should and if you don't you're far too young to be reading this article. But similar to that, you want to get a quick and dirty rundown of what you're looking for out of your sex room. So, in this case, A.S.L stands for "agenda, sex, and location."

Agenda – What do you wish to get out of this sex room? What is your why?
Sex – What type of sex or touch do you intend to have in this space? How do you intend to utilize this space? Is it a swinging space, or one that is just for you and bae? Do you want to explore new kinks or are you pretty airtight on the things you want to try?
Location – Where in your home do you envision this work of art being crafted? Are we keeping it in the bedroom or do we want it somewhere covert?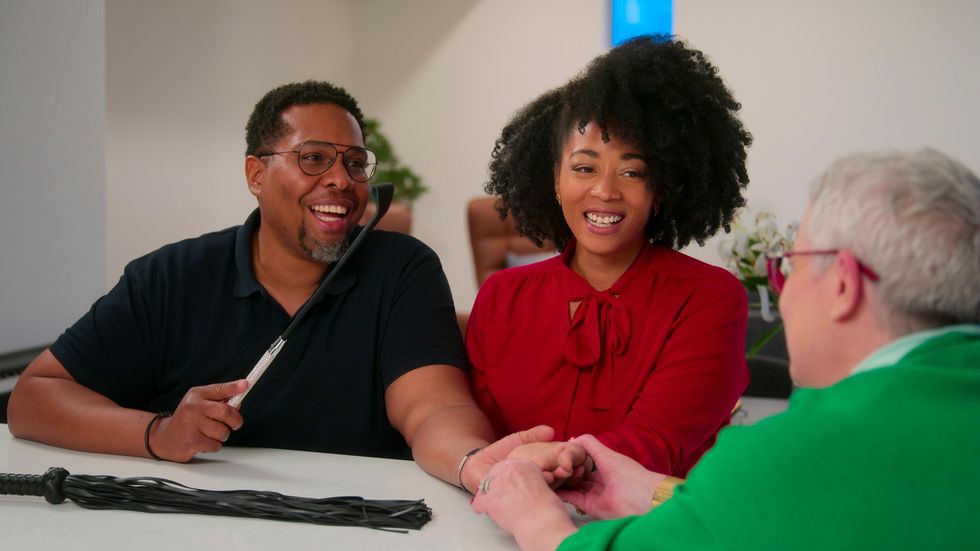 (L to R) Ryan, Raj, Melanie Rose in episode 101 of How To Build a Sex Room.
Courtesy of Netflix
DIY or For Hire: This one is rather simple. Hmm, on second thought, if you're someone who doesn't understand limitations, like me, you might have a difficult time realistically gauging how to go about building your sex room. Nevertheless, you must decide if this is something you want to pull a "do it yourself" with or if it requires you to hire a contractor. Perhaps a combination of the two – it simply depends on the answers to the first two questions.
Secret Shopper: Purchase the toys you'll need to fill this space. However don't get caught up like a kid at Christmas, as we want this space to be fulfilling but efficient – not cluttered. You might consider creating a list of must-haves to get you started and then creating a secondary. Wishlist.
Featured image courtesy of Netflix
I'll be turning 30 soon and the one thing that always gets me gleeful is how much change my generation has seen in such a small time frame. Day-to-day life, technology, and the growth in how we view sexuality have all shifted vastly in such a short time. Outside of walking to the corner store for a full bag of chips at only 25 cents, I remember my school giving away those translucent Apple computers aka Macintoshes before Apple was Apple. I remember dialing up on the internet. And though I was too young to partake in conversations with the adults on subjects such as sexuality, I can also tell there's been a shift in the way it is discussed.
Sexuality as a whole, and in this case, sexuality particularly referring to attraction is ever-expanding to make room for new identities. But with the shift, there are far more terms to keep up with and understand in order to best understand yourself. Today, we're going to hit on what it is to be asexual – a sexual orientation that grows more and more in popularity cause "the more ya know," right?
Featured image by Maskot/Getty Images
Sex sells! That's on Little Bo Peep, Mary and her little lamb, and whoever else. We see it all over the television and even outside of it. These days, novelty experiences are on the rise and are no longer reserved for bachelor and bachelorette parties! Folks can enjoy erotic outings and ideas any time, any place. And social media is making it easier than ever to sell these products and experiences in new and intriguing ways. Seriously, do phallic- and p*ssy-shaped desserts not make for Instagram-worthy content?
Is it not aesthetically eye-catching to add those things to our Instagram Stories and feeds? It's very similar to the popularization of selfie museums, in my opinion. They were popular by themselves but because of the new influencer agenda on social media – everyone can be someone – it makes specific experiences appear to be richer. Leave it to someone like myself, a sexuality enthusiast, if you will – the person whose friends send all the raunchy, wild content to because in their mind there's no limit – to find a good sex novelty experience.
My documentation of my trip to New York's Museum of Sex was followed by my TikTok algorithm recommending a bakery in NYC that sells vulva pastries. It made me wonder how many other fun places like these existed in the world. Though there are many, I compiled a list of 9 novelty sex experiences that would make the teenaged version of you that used to frequent Spencer's blush.
New York, New York
Black-owned and specializing in tasty goodies that are as sweet as they are sexy, Kinky's Dessert Bar comes in at the top of the list! This adorable little pink shop is vibrant and fun-looking with a name to match it – who wouldn't want to stop by? Alas, those under 18 aren't allowed inside, and for good reason. However, if you are old enough to ride this ride, don't leave feeling teased – try one of their explicit waffles, cupcakes, or cookies.
Dallas, Texas
Booze and Nudes used to be a whole movement that began in Atlanta, however, it seems the OG promoters stopped doing this event. It garnered so much traction in ATL that they took this act on the road (trust me, I know). I've been pressed to find another one ever since but only recently found this new one based in Dallas. By far one of the most fun girls' night out experiences I had – dick swinging and all – it was like a less intense strip club (which is welcomed) combined with a sip and paint. The dates here are limited, so try it out while tickets last.
New York, New York
​This museum covers a wide variety of sexuality-related topics rather than finding any one niche. And, the Museum of Sex also doubles as a novelty store as well making for a one-stop-shop. My favorite part about this museum is they switch out their funtivity every now and then, at one point there was a booby bounce house. I'm keeping my fingers crossed that they will run it back!
Toronto, Canada
If you're a U.S. resident looking for an excuse outside of Carabana to visit Toronto, here it goes! Similar to Kinky's Dessert Bar, Members Only brings all the boys and girls to the yard with their phallic-shaped waffles. However, they have also expanded into making other NSFW treats, most notably ones featuring female genitalia, because balance.
San Francisco, California
I would love to make a trip to visit the Antique Vibrator Museum, as masturbation via sex toys is one of my favorite topics. This museum is run by Good Vibrations and in all fairness, it's just one small room so it's probably best to plan this trip around other things to do if you are ever in San Fran. However, it's still worth visiting to be able to see up close and personal the transition of vibrators along with the sexist history that they harbor.
Philadelphia, Pennsylvania
​Though the Naked Bike Ride occurs in multiple cities and countries, I first discovered this event living in Philadelphia. As much as I love riding bikes and being naked, I'll be the first to admit this isn't my forte as a combined act. Bike seats are already so comfortable so just imagine. Nevertheless, I've heard it's nothing less than an experience. Plus, the purpose is to advocate for body positivity and eco-efficient options, and who doesn't like nudity for a good cause?
Chicago, Illinois
Leather Archives and Museum is committed to highlighting the leather, kink, fetish, and BDSM history through their exhibits. Not only is this a fun stop to make if you're ever in the Chicago area, but it also brings better understanding to a community that is often misunderstood.
Amsterdam, Netherlands
In addition to its architecture and canals, Amsterdam is most known for its liberal attitude towards sex and drugs. Their wild nightlife scene points to them being a city that is forever young, wild, and free. But specific to sex, they are known for legalized sex work which occurs in the Red Light District. Red Light Secrets in particular talks about the history of sex work which I think is great considering how stigmatized it is, despite the whole sex sells bit. But, the most fun part about this experience is that it's located in an old brothel!
Seattle, Washington
This is a multimedia art festival showcasing the erotic via visual arts, performance, film, and literary art. Though the time to attend for 2022 has come and gone, the festival has already released dates for 2023. If all goes well with the world, you can expect to attend on April 21-23. This event has a minimum age of 21, so be sure to leave the kiddos behind for this sweet getaway.
Let's make things inbox official! Sign up for the xoNecole newsletter for daily love, wellness, career, and exclusive content delivered straight to your inbox.
Featured image by Getty Images
Things are heating up fast as we shift seasons. And, unless you're already accustomed to the heat you may not be able to handle too much physical touch during the summer months when things are already so hot and sticky – never mind your love language. Though we may choose to dial back the PDA during the summer months, no one wants to feel like they have to dial back on sex. Whether you live in New York City where central air conditioning is hard to come by, simply don't have AC, or you live in a state where things are so hot outside that nothing even matters on the inside, thisis for you!
When I participate in sweaty, sticky sex I want to know that it's solely hot and nasty because we made it that way. Otherwise, it just feels…gross. Whatever you do, don't mistake this for me yucking your yum if this is your thing – there are a lot more kinks and they're far more strange. I'm just speaking to those to who this article speaks. With that said, there's no need to abstain just because it's summer. Ugh, ugh. These are the times that sexscapades are made for.
So, here are 6 ways to keep sex – sexy and cool – in the midst of the summer heat.
1. Pack It Up
To keep things cool while you turn up the heat, you can get creative and use ice packs. Or if you don't have any and know a dick appointment is coming through, you can throw a water bottle in the freezer. You can even just use some ice! Add the cooling pack to your foreplay for sexy measure and not only will you cool down, but the hot and cold sensations will make for a more than pleasurable experience. Turn this tip up a notch by putting your sex toys in the freezer.
2. Hands Off
Instead of penetrating one another with your God-given parts, try either masturbation or some light petting and self-pleasure. If you've never tried mutual masturbation, there's no time like the present to begin. Alternatively, you can allow your partner to help you reach a place of pleasure by allowing them to use one of your toys on you.
3. Back to Basics
Grab a dry, clean rag and run it through ice-cold water. What's even better is if you can swing a little water bucket bedside filled with ice! You can even put some of the ice in a cloth and allow it to melt on your partner's body. The cloth will add an additional sensation to the mix, further intensifying things.
4. Make It Wet
Perhaps you're on a little sneaky link getaway or baecation, perhaps it's a staycation. Wherever you are, know that water is your friend and make great use of it. To keep temperatures cool, try having sex in a body of water, be it the ocean, pool, or even as small as your shower/bath.
Do beware that shower sex isn't for the faint of heart – it requires a little bit of sacrifice or creativity so as not to leave one person out hanging. You'll also want to use an alternative to water-based lubricants as water on water will render your lube useless. If you are with a trusted partner with who you don't use latex condoms, oil-based lubricants are definitely a-go. If not, you'll want to use a silicone-based lubricant.
5. Miss the Missionary
Certain positions require far too much skin-to-skin contact – missionary is one of them. When it's hot af, consider keeping it doggy-style or even reverse cowgirl in order to best beat the heat. This will minimize the heat-radiating touches and maximize the pleasure, as positions like doggy-style always seem to do.
6. Car Sex
If you can afford the splurge with gas prices the way they are, this is an easy fix. Take to the car and crank up the AC, recline the passenger side chair or hop in the backseat – whatever pleases you. Extra cool points if you work out where the car play occurs during or after sunset for a bit of added privacy and a nice breeze.
Let's make things inbox official! Sign up for the xoNecole newsletter for daily love, wellness, career, and exclusive content delivered straight to your inbox.
Featured image by Getty Images
It's been nearly half a year since the series finale of Insecureaired, and I'm still not over it. So much so, I've unapologetically binge-watched the series a couple of times since "Everything Gonna Be, Okay?!" had us shedding real tears as it was hard to say goodbye, okay?! The Issa Rae-created show offered a complex look into the normal lives of Black millennial women navigating adulthood. It was relatable, authentic, and easy for a lot of us to see ourselves at some point throughout the duration of the five-season run. Since its premiere in 2016, we've laughed, we've cried, and we've also taken a look in the mirror and challenged our own mirror selves to grow and leave comfort zones behind at times.
In addition to the subject matter, Insecure also struck a chord with its thoughtfully curated soundtrack and stunning visuals. And I can't be the only one who was a fan of the steamy sex scenes that often played out (of which my favorite were the ones that sort of popped up out of nowhere). Keep reading for an extensive list of all of the sex scenes in Insecure (excluding the finale season because they were few and far between and nobody has time for that).
Spoilers are most definitely ahead.
Season 1, Episode 5: Issa's first time with Daniel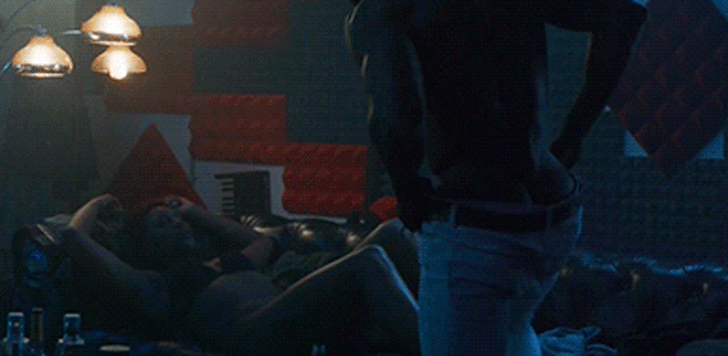 Despite his chocolate skin and brilliant smile, I was never Team Daniel (Y'lan Noel). However, I could see the writing on the wall as the tension unfolded between episode 1 and episode 5 of Insecure's first season leading to Issa (Issa Rae) cheating on her long-time love Lawrence (Jay Ellis) for the seemingly ambitious, charismatic Daniel who seemed like the one who got away. As soon as Daniel and Issa ended up running down a video of her on the internet and somehow ended up alone in the studio by the end of the episode, I knew what time it was. Plus sir told her things she thought she always wanted to hear from him, about being ready, so I knew the panties would drop shortly thereafter. And that they did.
Points for Issa trying to resist, but that kiss was only the beginning of a few things between Daniel King and Issa Dee. What unfolded was an indulgent gratuitous love scene that started on the couch, ended up on the floor, and also acted as the first sex scene we got on the show. For that reason, it rightfully earns this spot on our list.
Honorable Mention: The brief flashbacks we got of the scene in the episode that came after. Whew.
Season 1, Episode 6: Molly and Jared get reacquainted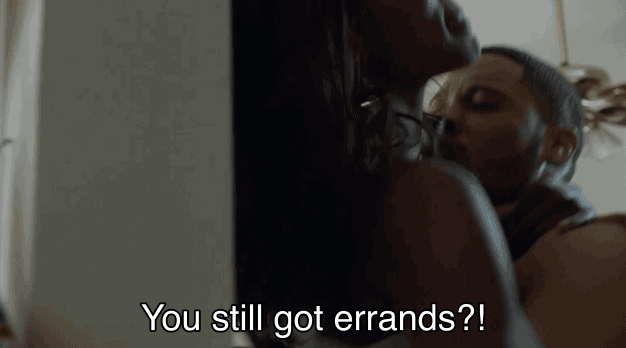 I still think the way Molly (Yvonne Orji) did Jared (Langston Kerman) was messed up. I understand that she felt like she was settling but there were quite a few noteworthy qualities about him that could have made her a great partner for her. Including the fact that he was creative with how he went about getting it in. He seemed content with allowing her to play the dominant role in their waking life, but in their sex life, he always found ways to make it known he was in control. And based on how she was cooking for Jared in the very next scene, I truly believe that was something Molly liked about their dynamic.
His affinity for dirty talk was very prominent in the two brief sex scenes between Molly and Jared in this episode, both of which coincidentally took place in kitchens. From "You still got errands, you still got errands?" to "You tried Blue Apron?" Jared was hitting all the right spots. Until he wasn't.
Season 1, Episode 8: Lawrence's 'Revenge'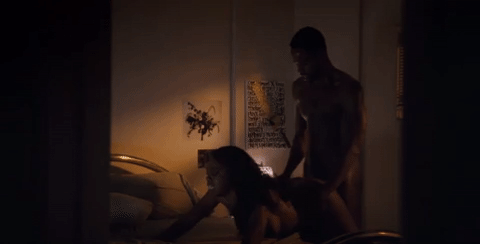 Okay, 'revenge' is a strong word but this is perhaps what ignited the fire of hate and created the divide on Twitter that would become us and them (better known as the Lawrence Hive versus everyone else). What I loved about Tasha (Dominique Perry) and Lawrence's first sex scene together was the build-up as Lawrence went through a dance between whether he should stay and make things work with Issa or leave the relationship completely. His feeling of betrayal hit different because for weeks we viewed a very not-so-subtle-wit-it Tasha stay in the pocket and also boldly shoot her shot while he played the role of a dutiful boyfriend without a flicker of disloyalty. Meanwhile, we saw his partner do the opposite with a similar source of temptation. So even though as the main character, we hoped Issa and Lawrence would see a reprisal by the finale, we understood that the relationship was over, over. And I for one, appreciated the way he went about it. Tasha was head down, ass up, and we were here for it.
And after all that talk about Lawrence's depressive episode and him allegedly not putting it down right (thanks Thug Yoda for that tidbit), we were able to confirm that he had the material and knew exactly what to do with it.
Season 2, Episode 1: Issa and Lawrence's ex-sex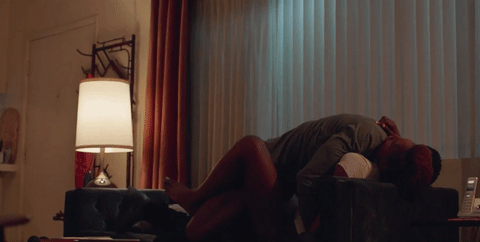 The sophomore season of Insecure started off with a bang, literally. In a moment of high emotions and confusion, Lawerence and Issa engaged in 30 seconds of passion remembering what was between them sexually. The blue couch that saw no action in the first season suddenly got a taste of what could be again as Lawrence and Issa gave into their indulgences and made a messy breakup somewhat messier. I found the ex-sex slip-up to be very realistic, especially in situations where closure hasn't happened yet and there's still a desire to be together. Though not one of the steamier love scenes featured in the series, it still holds a lot of weight because it was so damn relatable.
Honorable Mention: Earlier in the episode, a brief spooning sex exchange played between Lawrence and Tasha. So good he had her saying "daddy with a 'z.'"
Season 2, Episode 3: Issa has sex with Neighbor Bae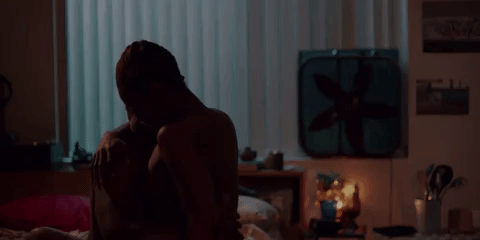 Speaking of relatability, the very next sex scene between Issa and Neighbor Bae (Leon Thomas III) was also on point for that reason. Neighbor Bae, also known on the show as Eddie, made a couple of appearances before becoming a sometimes-y hookup for Issa and he was just what the doctor ordered in terms of helping her enter her "hoe phase" and get Lawrence's recent dick-me-down out of sight and out of mind. During a somewhat lengthy scene, Issa and Eddie were able to work through the sometimes awkward reality of sex (especially first-time sex with someone new) by finding a position that worked for them and communicating along the way.
Sometimes the first new fuck after a breakup is the hardest. And what we saw was no-strings-attached sex between two consenting adults and it was great to see Issa get back in the game. As she exits his apartment, she receives a message from a dating app and reads it with a smile, showing the audience that she is single and officially ready to mingle. Dating roster and all.
Season 2, Episode 4: Lawrence has a threesome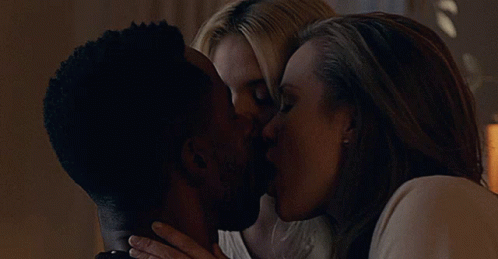 Yeah, no comment on the actual threesome, but I will say I really appreciate the moments throughout the series where I could see the contrast between the "masculinity" Lawrence was trying to portray to the world versus the man he wanted to be (also of note, he is also navigating his own version of getting over his breakup). With his homeboy Chad (Neil Brown Jr.), there were instances in the series where Lawrence would just do something to get his approval but not necessarily because it was something he would feel good about in the end. Case in point, this threesome. But it also took me back to a scene earlier in the season where they are looking for a place together and Chad expresses being excited that Lawrence is shedding his "good guy" ways. So that was an interesting continuation of that theme.
Season 2, Episode 5: Molly has sex with Dro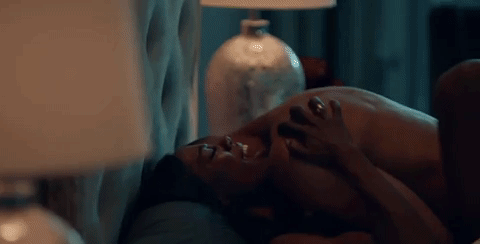 In terms of what she wanted, Molly always had a hard time practicing what she preached in matters of the heart. That was no different in how she moved in her situationship with Dro (Sarunas J. Jackson). I knew from the minute they first interacted on-screen that she'd end up letting him in sexually and emotionally, especially because she was not feeling ole dude that was good on paper (Sterling K. Brown). When the illusion she had of her parents' picture-perfect marriage shattered, it was only a matter of time before she'd stray from her checklist and find herself underneath a man with whom she had no future as an act of self-sabotage.
As soon as he walked her to the door, we knew what time it was. He tried to walk away but Molly grabbed him by the hand and gave him a look that asked him to stay. And underneath Dro is exactly where she found herself at the end of the episode, leading to a series of trysts between the two that would continue throughout the remainder of the season.
Season 2, Episode 6: Issa, Daniel, and the infamous facial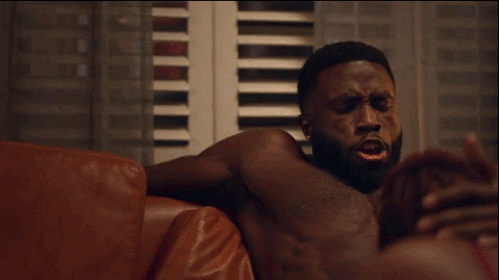 I know the moment of the climax is the most talked-about aspect of this particular scene, but Daniel emitting that breathy moan when he first starts getting head? Yes. And him sinking into the couch before closing his eyes? Absolutely. And the attention to detail of holding her head closer to take more of "him" in when he is about to climax? Abso-fucking-lutely. To be frank, Issa's dramatization following said unsolicited facial kind of killed what Daniel's orgasm was doing for me, but still, I loved that we were able to get a sex scene where oral was more of the focus.
Honorable Mention: The intimate connection Molly and Dro have between them gets the visual treatment with a quick transition into them spooning.
Season 3, Episode 1: Boundaries are a thing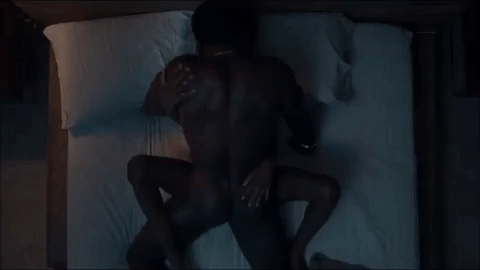 Nothing super intense or indulgent played out in this episode as far as sex scenes go, instead, it seemed to be planting seeds and establishing dynamics based on where people were in their lives. Boundaries also seemed to be an important theme, as both Molly and Issa navigated situations with men who had feelings for them (and they too had feelings for) but men they also didn't necessarily want to get themselves too caught up on because of the mess history alluded to be on the other side.
Honorable Mention(s): There is an opening scene where Daniel is attempting to make Issa jealous or at least painfully aware of what she's missing out on by having loud sex with someone else. The slow pan across Daniel's body was cinematography for the books. Also, loved that brief intermission of oral between Dro and Molly where she was sitting on the counter and he was nestled in between her legs, the emphasis was placed on her pleasure. I personally loved this scene because it felt like a parallel for where they were in their situationship. Molly was in a place where she was intent upon laying out her boundaries and as the episode played out (as well as the demise of their dealings), the two were fighting for control. And by the end, they both retreated and a white flag was raised.
Season 3, Episode 3: The Issa and Daniel sex scene that never came to be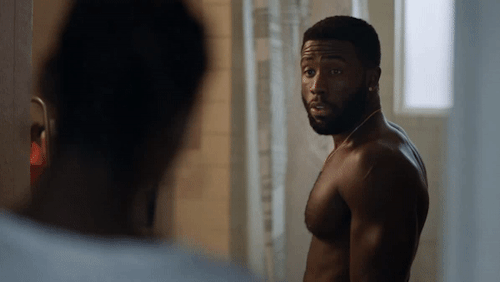 After a disappointing setback involving another producer, Daniel lashed out at Issa and called her out on some shit even though Issa's line of questioning was perfectly on point. It resulted in a shutting down between both parties. Later that night though while laying together silently in bed, Daniel attempted to initiate sex with Issa. At first, she seemed to give in to his kisses and even seemed open to him eating her out, but instead of going backward with him again like we thought she would, Issa pumped the brakes and didn't give in to the temptation because she knew the reality was, she couldn't entertain Daniel in that way. The body is weak but the heart and mind were stronger.
Personally, I was relieved af. He's fine but Daniel was one of the most emotionally immature men Issa had dealt with and I felt like their paths stopped and stalled so often for a reason.
Honorable Mention: The "good morning oral sex" fantasy Issa had with Daniel involved extra spicy Hot Cheetos and some diligent head game.
Season 3, Episode 5: Issa and Nathan on the Ferris wheel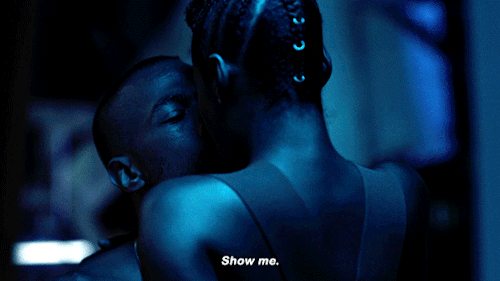 I felt the chemistry between Issa and Nathan (Kendrick Sampson) as soon as he dropped her taco earlier on in the season so when they reunited again during Coachella, I was like immediately yes. I never knew I would need a sex scene such as this, but everything from the cool-toned lighting to the Ferris wheel setting made this a contender for one of the best sex scenes on Insecure (for me). The lead-up conversation where Nathan made Issa feel seen and supported (another reason why I like him around for her character) added to how their first time played out. Issa pulled him in for a kiss, got onto his lap, and the rest was history.
I loved Nathan's attention to her nipple (a detail we don't often see, especially from the main actors) and when he told her to show him how much she wanted him, I understood why sis had no choice but to put her panties to the side and pull him into an impromptu ride.
Season 4, Episode 1: Issa and her TSA cut buddy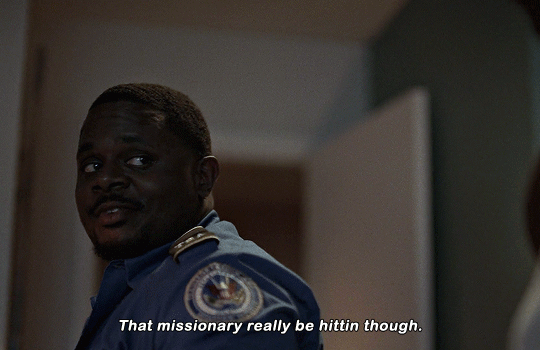 After Nathan dropped the ball by turning into Ghost Bae, we are introduced to one of Issa's next hookups at the beginning of the series' fourth season. TSA Bae (Reggie Conquest) was putting in work and I lived for the thick fellas getting some love on the show and showing some nudity on top of that. Here for it! I also loved the nod to the sometimes underrated nature of how people look at missionary. As Issa classically said following their tryst, "Church is always in the answer."
Honorable Mention: We got a glimpse into Lawrence and Condola's (Christina Elmore) bedroom in this episode too, and I'll just add it to the very short list of ways I felt did Lawrence and Condola wrong. The energy was just not…there.
Season 4, Episode 2: Issa and TSA Bae lose the condom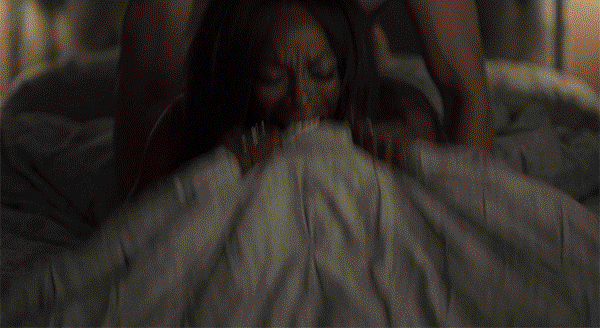 TSA Bae gets another quickie in as Issa's go-to cut buddy at the start of this season. I personally loved seeing such diversity in love interests in this show, from size to race, which is why some of the fourth season's love scenes stand out to me. This orgasm-inducing scene between Issa and TSA Bae in particular even added some butt play to the mix. Initially, Issa is shown positioned over the side of the bed while TSA Bae is thrusting out Issa's "stress." After she orgasms, they switch to a modified missionary position so he can get his. Sir respectfully requests that Issa press his "button" during to intensify his climax. Here. For. It.
Honorable Mention: Take the cake Andrew (Alexander Hodge), take the cake. IYKYK.
Season 4, Episode 7: Andrew and Molly's vacation sex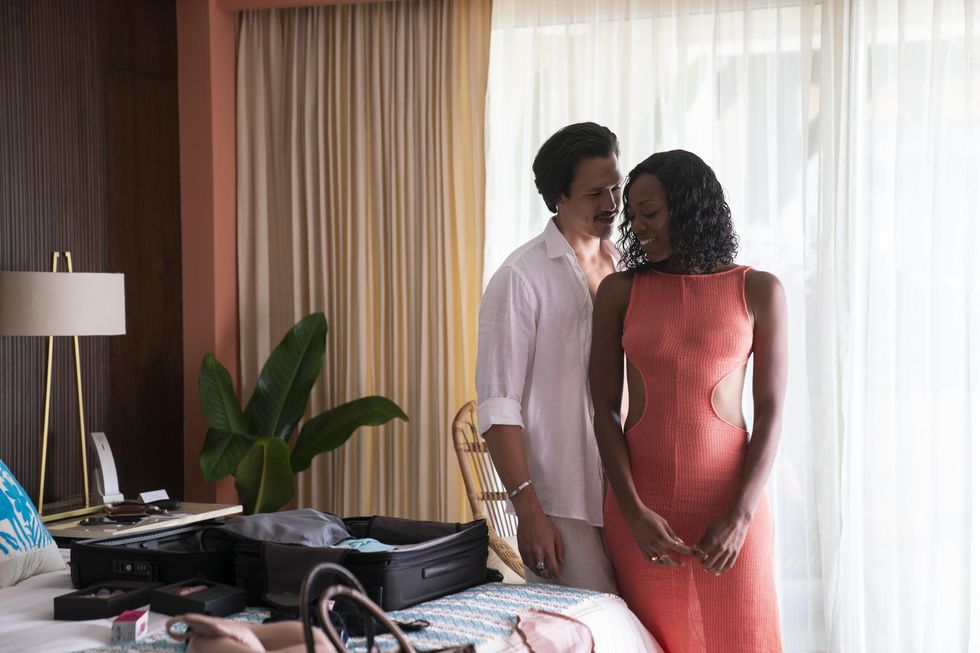 Merie W. Wallace/HBO
On their first couple's baecation, Andrew and Molly prioritize experimenting. Our first taste of that was when Andrew snuck his hand beneath her blanket while in the air. An easy life hack for joining the Mile High Club without joining the Mile High Club. The conversation about what they like and want to explore continues when they enter their hotel room and bring out the toys they decided to try on the trip. Molly says she knows she likes the fingering sesh from on the plane and wants to try the balcony. They take it outside where Andrew thrusts into her while holding her neck and the beauty of Puerto Vallarta surrounds them.
Honorable Mention: Molly taps into her dominant side later when she slides that thang up to Andrew's face while he's blindfolded. She does this before instructing Andrew to eat her ass. He humbly obliges.
Season 4, Episode 8: Issa and Lawrence reunite for real, for real this time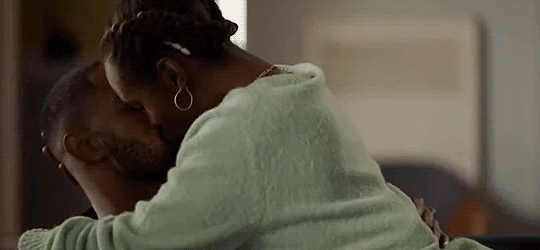 I felt this reunion in my soul. Even though it was a reunion I didn't know I was going to get, the combination of the real conversations they had and the body-to-body connection they were able to reignite by the end of the episode was everything. Lawrence and Issa were introduced as a couple at the beginning of the series and lost their way due to Issa cheating on him with Daniel. It was great to see that down the road, both of them were able to make peace with their contributions to the demise of the relationship and take accountability for their actions. It was also beautiful to note that Condola was a catalyst in Lawrence seeing something through that he might have always had a question mark about since it was shown to viewers that he was ready to marry Issa back in the first season. From the second they kissed, it seemed that they were finally coming home to each other where they had become better people and were in a better place. Coming together after falling apart.
Honorable Mention(s): Technically, the Lawrence and Issa sex montage happens at the start of the next episode but due to it being the only sex scene in episode 9, I'll just place it here. The fact that all of the sex between the couple happened on or against his couch was a nice nod to previous episodes where a couch has seemed central to their shared intimacy.
Let's make things inbox official! Sign up for the xoNecole newsletter for daily love, wellness, career, and exclusive content delivered straight to your inbox.
Featured image by Glen Wilson/HBO