Dating today can feel like a boxing match. You start the fight filled with energy and excitement but once you get in the ring and endure that heavy hit, your energy is drastically depleted. That is how dating is often experienced in many women's lives. I believe one of the reasons why dating has become so difficult is because many people do not date with boundaries. As a result, many individuals stay in dating relationships that should have long expired.
One of the biggest questions I get about dating is, when is it appropriate to walk away from a dating situation? Below are 3 things to take into consideration when deciding whether or not you should walk away from a dating relationship.
1. When the person blatantly tells you that they are not ready for a relationship BUT you are.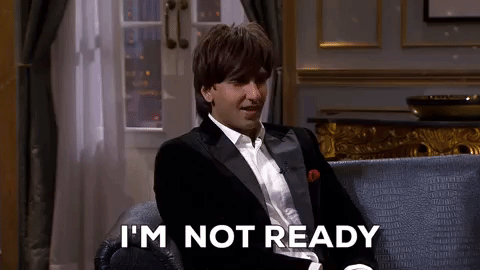 Giphy
Time and time again, this has been many people's issue because it is a very tough pill to swallow since rejection sucks! However, if you are clear about what you need and your dating partner does not align with that, it is no longer considered dating but wasted time. Therefore, it is critical that you develop confidence to ask tough questions such as, "Are you ready for a relationship?" or "What are you looking for?"
If alignment is not present, then your absence must be.
2. If your dating partner does not have clear boundaries established and practiced with their ex.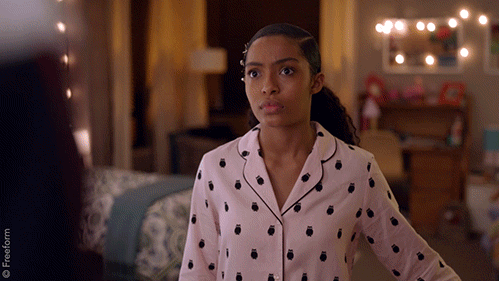 Yara Shahidi Reaction GIF by grown-ish
Giphy
No one wants to be "boo boo the fool" but if you are not careful, you can quickly find yourself in those shoes. Having boundaries with an ex lover is wise but it is sometimes not followed by many people for various reasons such as:
Being content with the flow of being in communication with them
There are still strong feelings present
If the person you are dating is not following clear boundaries from a past lover, you can quickly find yourself in a very sticky and uncomfortable situation.
Boundaries are meant to cultivate clarity and when that is lacking, you position yourself in trying to "prove your worth" in hopes that the person sees it too.
The problem with that notion is that you will never supersede the person who has an in-depth history with them. Now I am not saying that people cannot be friends with their ex, because you can. But in that friendship, it is essential that boundaries such as no physical intimacy, reminiscing about the romantic love that was once shared, and more, is being implemented.
If you are experiencing that problem now, I strongly suggest talking to your dating partner about your uneasiness regarding the interaction with their ex and pay very close attention to how they respond. If that individual is defensive about your concerns or gaslights you, then it may be a good idea to step away. If they cannot empathize where you are coming from, then it does not matter how good of a woman you are; you will never be good enough for them.
Listen, a man will never jeopardize something that he finds great value in.
3. If you feel like you are pulling teeth.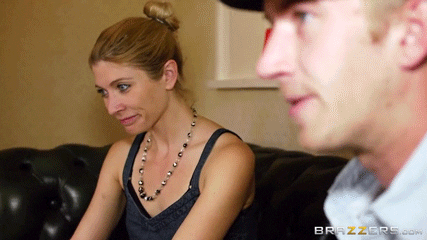 awkward dating GIF
Giphy
Pulling teeth can look like an assortment of things. But in essence, it is often depicted when the interest tends to be one-sided. If you find yourself initiating all of the conversations and dates, that is a problem. Effort is not simply a one-sided thing; it should be shared. Pursuit is beautiful when the other person signals the green light; continuously. Dating is not for lazy or bored people because it takes work. Getting to know anyone takes a lot of work and unfortunately there are people who think that the work begins when a title is established.
God loves you way too much to bring you a man who expects you to do all of the work! Save your time and energy for a person who will respect and value it.
​*Bonus Tip: If you have a non-negotiable that you have vocalized to be of extreme value to you yet it is not being honored and respected.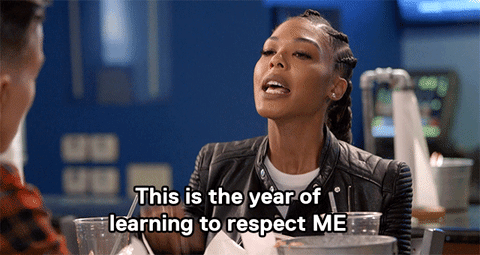 Respect GIF
Giphy
Your non-negotiable is for you and if you have certain things you hold very closely to your heart and you have vocalized it yet the person is not honoring it such as sex, moving, finances and more; then pack your emotional bags sis. This may sound very extreme but keep in mind that your non-negotiables are tied to your values and your values make up who you are. I am not saying that you have to agree with everything, because you do not, but there must be respect.
A lack of respect in dating will in fact follow in a dating relationship and marriage. Everyone is not for you and that is OK!
As you can see, dating is not super easy but it is not meant to be difficult or complicated. Therefore, it is critical that you go into dating with 3C's in mind: Contentment, Clarity, and Confidence.
Be content in being single while dating because if not, desperation will lead the way. Be clear about your values and what you are actually looking for because you can quickly spot the people who do and do not align with it. Be confident!
You are a beautiful woman and any person who does not see that does not make you beautiful as far from the truth.
For more love and relationships, features, dating tips and tricks, and marriage advice, check out xoNecole's Sex & Love section here.
Featured image by Getty Images
Keep reading...
Show less
Not too long ago, while doing a podcast interview, the host asked me why it seems that so many women have a pattern of picking the wrong kinds of men. As she went on and on about how it seemed to be that there were less good guys out in the world which was resulting in women feeling like they had to settle for less, almost instantly, I could feel one of my trigger buttons being pushed.
And just what trigger is that? A lack of personal accountability. As someone who, believe you me, has made some not-so-stellar choices in my past when it comes to matters of the heart — and mind and libido — if there is one thing that self-introspection, time, healing, humility and wisdom have taught me, it's what the brilliant Confucius quote says up top. It's something that seems to be what a lot of people simply don't want to face about themselves. It's the fact that indeed, beyond a shadow of a doubt, everywhere you go, there you are. And when it comes to relationships, this means that if there is one thing that all the men you've dealt with have in common, it's the fact that they were once involved with you. So, if you're always in something "less than", pardon the pun, but in order to make better choices, you've got to be willing to take some ownership and responsibility and admit that you are the common denominator. And gee, sis…why is that?
This kind of topic can go all kinds of different directions. Boy, could it. However, I think the best way to simplify it all is to do for you, something that I wish that I had done for myself years ago — and that's offer up a straight shot of how you know a man is right for you vs. being wrong for you. Because, again, the moment you decide to stop blaming everyone and everything else and opt instead to look deeply within, that is when some patterns can be broken, some real change can happen and you can get to the kind of love that is meant — meaning good — for you. You ready to take the first step?
The Right Man Brings Out the BEST in You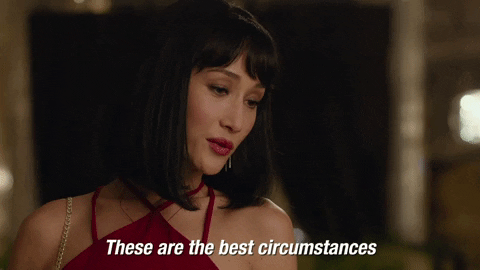 Best: (adj.) of the highest quality, excellence, or standing; most advantageous, suitable, or desirable; (adv.) most excellently or suitably; with most advantage or success
Lawd. Can you imagine, how much heartache, pain and drama we all could bypass if the mission, straight out of the gate when it comes to being in a relationship, is deciding to ONLY commit our time, effort, energy and parts into someone who brought out the absolute BEST in us? Someone who was good for our mind, body and spirit, without compromising any of the three, as we used the actual definitions of "best" as our standard?
Someone who was most suitable for and not just desirable to us (check out "Question: Is The Man In Your Life Good 'TO' You? Good 'FOR' You? Or...Both?"). Someone who encouraged and supported us to get to or remain in a true state of Black excellence, no matter what. Someone who helped us to become even more successful as an individual. Someone who reminded us, by the way they lived their own life, what it means to be (here come some synonyms for the word best) a champion for ourselves, to excel as a human being, to raise the bar of what we expect and deserve, to outdo the goals that we've already accomplished and to have documented evidence that our life has only been further enhanced by the folks who choose to allow into our intimate space.
Sounds over-the-top? If it does, that's a part of the problem. It kind of reminds me of something I recently heard someone say. It was something along the lines of, we need to stop convincing others that we deserve to be loved. When I hear that, the thing that immediately came to mind was, when we love our own selves well (check out "What Loving Yourself Actually Looks Like"), that ceases to be so much of an issue. I speak from very up close and personal experience when I say that too, because when I wasn't living out my BEST life, when I wasn't prioritizing all of these definitions of the word "best" in my own world, I was sho 'nuf in some real stupid stuff with guys. If I wanted to, I could hem and haw about how it was all their fault yet, isn't it interesting that, when I treated my own self with honor and respect, my taste in and tolerance for bullshishery diminished? Not only that but there was no need to get on that "men are trash" raggedy ass bandwagon because the quality of men that I chose spend my time with shifted too.
Best complements best. Best doesn't want any less than that too. Best can't help it.
It's not about being cocky or even unrealistic either. What I mean by that is, once you are truly ready for the kind of person who will bring about the best in you, you get that "best" doesn't mean perfect (I mean, are you perfect?). It just means that — dates have a different agenda, sex isn't just about getting off and you are able to spot dead-end-potential (check out "Are You Wasting Your Time With 'Expiration Dating'?") very quickly. You become unapologetic about the fact that if he can't improve that quality of your life, in some really substantial and significant ways in comparison to what you've already accomplished on your own, why spend — or is it waste? — months and years of time that you can never get back doing what R&B singer Mya once said in what may be my favorite song of hers. Why would you give "The Best of Me" to others who aren't giving the best of themselves to you?
And a man who is going to give his BEST? He's not interested in lowering his bar, wasting his time or compromising his standards either. Best tends to beget best. And you know what? I know couples who bring out the best in each other. People who it is abundantly clear that, before coming together, their life was already really good and then, when they met their complement (check out "If He's Right For You, He Will COMPLEMENT Your Life"), things just went to a whole 'nother level. Professionally, they prospered more. Personally, they improved. Sexually, things were more fulfilling. Financially, life stabilized (if you're dating someone who puts you in debt or you're putting them in debt, that is not what "best" looks like). Because they were in such good shape prior to getting together, they only chose one another because they saw clear indicators that linking up with advance them.
That is what being with someone who brings out the best in you looks and lives like. And what about the worst? Whew, chile.
The Wrong Man Brings Out the WORST in You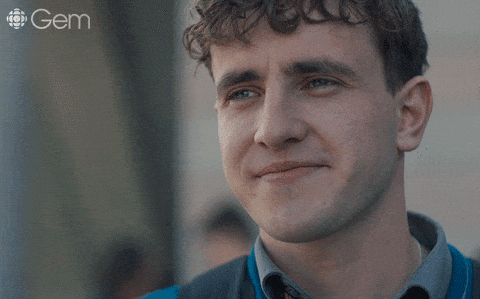 Worst: (adj.) bad or ill in the highest, greatest, or most extreme degree; most faulty, unsatisfactory, or objectionable; most unfavorable or injurious; (adv.) in the most evil, wicked, severe, or disadvantageous manner; with the most severity, intensity, etc.; in the greatest degree
There is a quote that I happened upon, not too long ago that, as soon as I read it, it quickly became one of my all-time favorites. I don't know who the author is but it simply says, "Relationships fail because people take their own insecurities and try and twist them into their partner's flaws." Preach. Remember how I said earlier that people who lack accountability come to the convenient (is it, though?) resolution that when relationships don't work out or they find themselves in a toxic hamster wheel of guy-after-guy-after-guy (check out "Are You Dating The Same Guy Over And Over Again? Maybe."), it's everyone else's fault but their own? Goodness.
How is that when no one forced you to choose the men you've chosen, over and over and over again? And why is it that you're all about selecting those who are ultimately and holistically unsatisfactory, injurious (even neglect is a form of injury; check out "Neglect: The Form Of Relational Abuse That Isn't Discussed Enough"), are capable of doing things that can be seen as evil and/or who can cause you to feel some really severe and intense things about men, relationships and/or yourself? Because again, no one is making you do all of this? You are making decisions that lead to this particular kind of outcome.
I know it might be hard to take all of this in because it would be so much easier to act like there is some conspiracy that the universe has against you that causes you to get into relationships with guys who seem to bring out the absolute worst — inferior, substandard, mean, sad and low-quality — in you. Yet I promise you my next two checks from this platform that when you really get sick and tired (sometimes literally) of being connected to anything or anyone that brings out the worst qualities in you, you will remove yourself from them — person, place, thing or idea. On the romantic relationship tip, I don't care how long you've been together, how good the sex is or how afraid you are of being alone, when you get that no one can "make you worse", especially if you're not around for them to attempt to do so…life immediately elevates. You really do start to thrive on a whole 'nother level.
I've been involved with men who've brought out the worst in me before. It's kind of a long story yet, in hindsight, my (main) issue was the so-called love that I was tolerating from them was a reflection of the kind I got from many of my relatives (check out "Why You Should Be Unapologetic About Setting Boundaries With Toxic Family Members"); their BS was familiar to me. Oh, but when I got away from the DNA that was also bringing out the worst in me, while it took me a hot minute, I can't believe how much abuse ("abnormal use of") I used to take vs. how little I will tolerate now. I don't like how much "the worst" feels and so, I don't engage it — therefore, whenever I see signs of it, I remove myself…quick, fast and in a hurry. Not because I fear it. It's because I now loathe it. Life is too short to be with someone who, as one of my girls said in her recent visual, can "rearrange my box" and yet has me spiritually unstable as literal hell. Or has me in tears from laughter on Tuesday and then from devastation on the follow Sunday. Or has me out here dishonoring my own time to the point where I'm just…relationally stagnant because I've lost sight of what the best of me should look and live like.
Did you see all of the "I's" that were in that last sentence? I PLAY A ROLE IN WHO BRINGS OUT THE BEST OR WORST IN ME. SO DO YOU — and yes, I am yelling it. That's why I say that what the right and wrong man have in common is me. Or you. Because they need us to be present in order for either outcome to play out. The good and super empowering thing about all of this is, the moment that we see what we don't desire, whether it feels like it at the time, we absolutely have the power and ability to switch up and create another narrative.
You will never get this day, this week, this month, this year — this moment in time back. Why would you allow someone the privilege of you and your time if they aren't gonna bring out the absolute best in you? Only you can answer that question, sis. Think it through. Be honest with yourself. Change up if need be. It's all up to YOU. Not "him". YOU.
Featured image by Giphy
Keep reading...
Show less
There is something that is just so special about "firsts". Well, firsts that are done correctly, anyway. There's the anticipation. The excitement. The newness. It really does give you a lot to look forward to — and nothing exemplifies this more than a first date. And by "date, I mean date (check out "Have You Ever Wondered What Qualifies As A REAL Date?"). While there are different dynamics that can cause two people to decide to formally hang out with each other, what I'm gonna touch on today is the type of first date where you meet a guy and after a couple of conversations, you agree to go out with him in order to get to know him a little better.
If that is the category that you currently fall into, in order to know if he's worthy of a second date with you, here are 10 things that you should definitely, without hesitation or apology, check off of your "he looks like he could be a real keeper" list.
1. Timeliness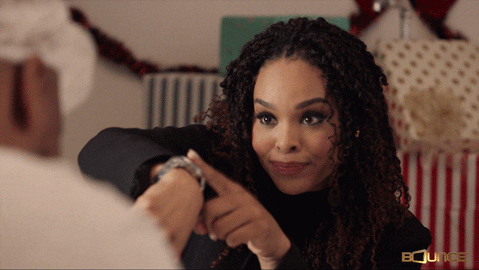 An author by the name of Karen Joy Fowler once said, "Arriving late is a way of saying that your own time is more valuable than the time of the person who waited for you." I agree with this, wholeheartedly so. Whether late folks realize it or not, there is an arrogance that comes with them not showing up at the time they agreed to do so; it's basically them saying, "You should wait for me, simply because I said so." (Chile.)
I don't know about you, but I've had my fair share of ego maniacs on the dating tip. It's very difficult to build anything real and substantial with someone who acts like they are the prize while you are just barely worthy of them. That's why it's a huge red flag to me if, on the first date no less, a man shows up late. I don't care if he's meeting you somewhere or coming to pick you up, if he's trying to make a strong first impression, he will plan accordingly — even if it means showing up 15-20 minutes early…because he appreciates your time — and you — just that much.
2. Chivalry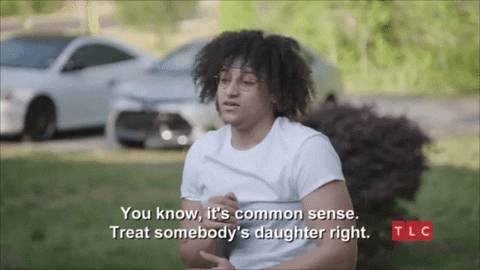 Before getting into this particular point, let me just say that chivalry is not a synonym for transactional nor is it a substitute word for entertaining "foodie calls". Where I'm going with this is there is some real bullshishery happening in society right now where a lot of women think that a man spending a ton of money on her is an act of chivalry. Uh-uh. Chivalry is a characteristic of a gentleman and while this can be somewhat based on how a person personally defines the word, I like what actor Michael B. Jordan said in a Vogue feature a few years back. Around the five-minute mark, he gets asked about his number one dating rule. His answer was, "Always pick up the tab, at first, anyway. And she never touches a doorknob." Agreed.
Typically, chivalry is associated with things like a man opening doors, picking up the phone to converse more than text (again, at first, at least), walking closer to the street side (as a way of protecting you) and walking you to your door at the end of a date. All of this said, I'm amazed by women who are cool with a guy honking the horn in her driveway (especially during the initial stages of dating) or who wants to go Dutch on a first date (if he asked you out, why does he want you to pay? There is not established mutuality on outings yet). Not because either of these things are "wrong" per se, so much as they lack chivalry. You know what they say — how things start often sets the tone for how they will continue. If you don't see chivalry in a man, out the gate, it'll be hard to just up and require for him to be gentleman-like down the road.
3. Politeness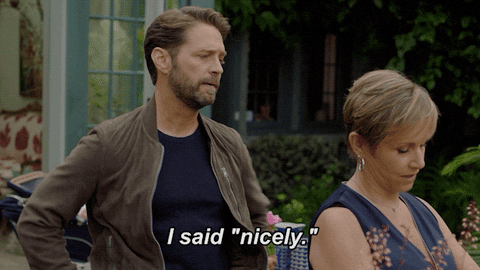 You can tell a lot about someone, based on how they treat the people around them. I'm not talking about the folks they know; I mean the ones they don't. While you're out on your first date, watch how he treats the service staff and even mere strangers. If you're in a restaurant, does he make eye contact with the server and also say "please" and "thank you"? If some women are behind the two of you as you're walking into a place, does he pause and hold the door open for them as well?
When it comes to you specifically, a guy who is polite is someone who won't get into your personal space without being invited. He also won't spend all of the time the two of you have together talking about himself. He will address you by the name that you requested (none of that pet name stuff on the first date unless the two of you have known each other for a while and you've stated that you're fine with it). He will let you complete your thoughts and not interrupt you. He won't be big on gossip as a way to spark up a conversation or to keep you engaged. Oh, and while you're saying, "preach" to your monitor, just remember that being polite has no gender bias. We should be that way while on dates too.
4. Manners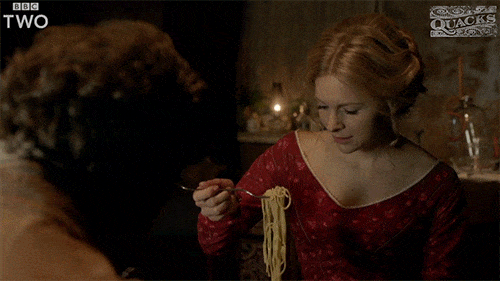 There is a strictly platonic male friend that I have who I really do adore on a friendship level. Thing is, I try and keep us on the phone as much as possible because I borderline hate going out to eat with him. Not because he isn't a nice guy. Oftentimes he snatches the check before I can get to it too. It's because his table manners suck. Example? I don't know about y'all, but a pet peeve of mine is when someone wipes their mouth with a napkin and then just leaves it open on the table. Ugh. Who wants to see leftover food and spit on a paper product while trying to finish a meal? He's also pretty good for eating with his mouth open. It's all just too much of an unpleasant distraction — and that's being nice about it.
Another word for manners would be etiquette. This includes things like him putting his napkin on his lap, knowing what silverware to use, paying attention to his own body language (like looking at you as much as possible while the two of you are conversing), not expecting you to cover the tab (remember, we're talking about a first date here) and definitely keeping his phone out of view. Manners say a lot about a person. And that phone point brings me to my next point.
5. Full Attention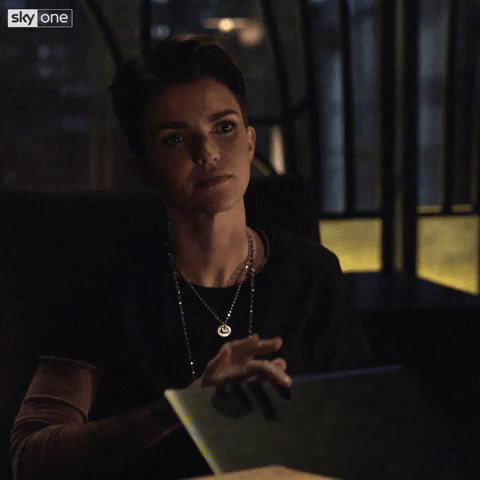 On the manners tip, something else that comes along with that is not being rude. An example of being rude on a date is being distracted. That said, it really makes absolutely no sense why two people would agree to go on a date, for the purpose of getting to know each other better (because that's pretty much the definition of a first date), only to be in their phones the entire time. While I loathe an entitled mindset (one day, I'll get around to writing an article on that topic alone), what I do support is a woman knowing that her time and presence are valuable and if she decided to share it with someone, they should respect her enough to offer up their undivided attention.
You know, I work with a lot of married couples whose main gripe is that their partner doesn't give them enough of their attention; that they are constantly distracted by any and everything else. When it comes to first dates, it really can't be said enough that first impressions are everything. If while being out with a guy, he seems to only be somewhat into you, I'm not sure what is gonna change up the road. Just something to keep in mind.
6. Good Conversation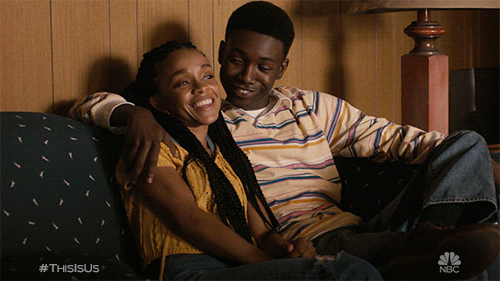 Some people are shy. Some folks need time to warm up. Some folks have more boundaries than others. I totally get all of this. Still, if a guy asked you out on a date, a first date, he needs to know how to properly converse because how else are the two of you going to get to know each other better? He should be able to at least coherently comment on various topics, ask follow-up questions for clarity's sake and explain himself as well as he listens to you. This is imperative because, the reality is, even if the two of you "click" and this eventually turns into something that is long-lasting, there are going to be times (many times) when physical attraction and sexual compatibility aren't going to be enough. You both need to feel like you are engaging someone who communicates well. Dates 1-3 can reveal quite a bit where this is concerned.
7. Lack of Sexual Innuendos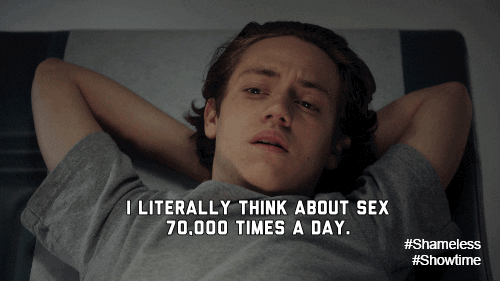 If the content that I wrote on this site isn't indication enough, my friends can certainly vouch for the fact that if anyone is down to talk about sex, on a regular and consistent basis, I would be that individual. Still, if I was on a first date with a guy and all he wanted to do was make sex-related references, not only would I find that off-putting as hell, the counselor in me would assume that he was "taking my temperature" to see how quickly he could get me into bed. Personally, I'm not a one-night stand or first date-sex kind of woman. Never have been. Yet even if you are, I would recommend that you be leery of a guy who mostly wants to talk about sex on a first date. Whether you realize it or not, at the very least, he's objectifying you and you deserve better and more. Plus, guys like that are corny and shallow AF. What could possibly be sexy or even appealing about that?
8. Affirmations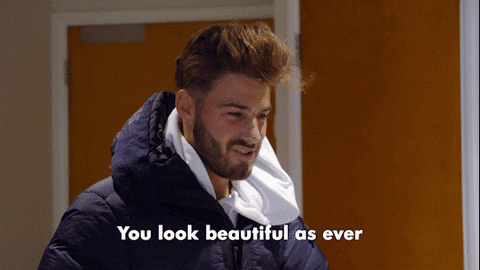 I've shared before that one of my exes once said to me, "Your problem is you receive compliments like they are revelations rather than confirmations." I will never not find that to be profound. It's also a great way to drive home this particular point — for a couple of reasons.
One, when I say that someone should be affirming of you, what I mean is watch out for guys who like to use a lot of satire, backhanded compliments or cryptic language. While it's not the case across the board, sometimes what that reveals is they are a bit narcissistic (if there is such a thing as only being "kinda" one) or very arrogant. On the flip side, don't be impressed with a lot of flattery either; sometimes that is simply a form of mental and/or emotional manipulation; they will use it as a way to get you to lower your guard — meaning boundaries — so that they can get more than what you may have initially planned to offer them (on a first date).
No, what I mean when I say that a guy should be affirming on a first date is he should be very comfortable with stating what he appreciates about you, the good qualities that he notices and why he asked you out in the first place. It should come as second nature to him. A man who can easily and comfortably affirm tends to be someone who is confident, gracious and even optimistic. Those are always great qualities when it comes to being in a relationship with someone.
9. Self-Control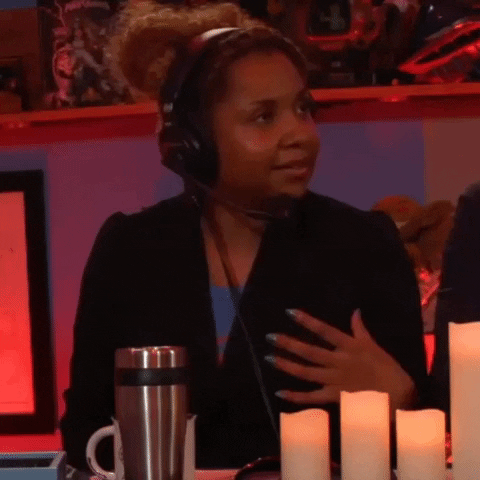 OK. I know it might seem like when I say self-control, I'm referring to a man being able to keep his hands off of your gorgeous self until you are ready; however, hopefully, that is a given. No, what I mean is, a sign of maturity and great self-awareness is an individual who is able to do things like think before he speaks; not go overboard on the alcohol; not overreact when things don't go as planned; isn't overly-emotional in his responses, even to things that he vehemently disagrees with; show patience to those around him and yes, is willing to push the desire for immediate gratification back in order to just be in the moment and appreciate it.
You know, a glaring sign that someone has a lot of maturing to do is if they lack self-control. Think of a toddler. They will show out, no matter where they are, because they aren't mature at all; they are just growing out of their infant stage. Yeah, a lot of adults are babies on the inside, so if while you're out with a guy, he doesn't seem to have much self-awareness — or, where needed, self-restraint — proceed with caution. Grown women should be involved with grown men. Vice versa too.
10. Proper Follow-Up Communication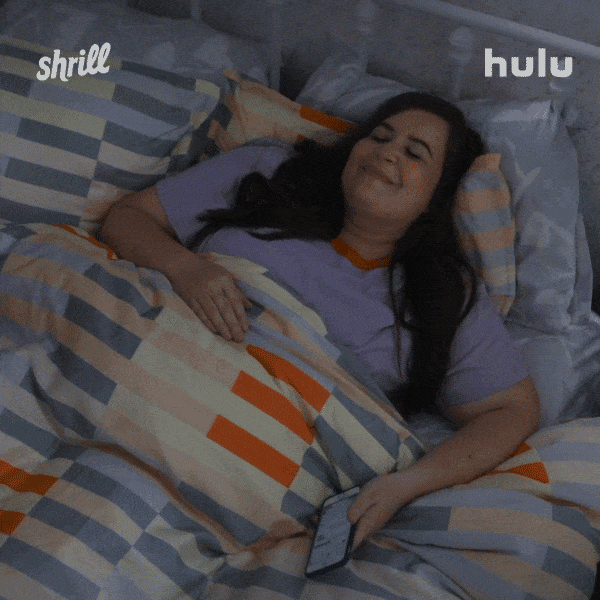 Imagine. You agree to go out on a date with a guy. He's fine and some mo' fine. He is also a perfect gentleman. Everything about the date is straight out of a movie. The conversation is amazing and you can't remember the last time someone gave you literal butterflies. At the end of the date, he walks you to your door, takes your face into his hands and kisses you on your cheek or forehead (the forehead kiss!), then waits until you shut the door behind you. An hour later, he sends a text to let you know that he arrived home safely and you undress and go to bed, dreaming about what the future might hold — only to not hear from him the next day, the day after that or even the week after that.
Probably until the end of time, there are going to be debates about what the proper follow-up communication etiquette should be for a first date. My call on it is this — if someone really likes you and wants to see you again, he's going to let you know as soon as possible.
I'm not saying that he's now going to start acting like your boo or that you should expect him to. What I'm trying to convey is every guy in my life, whether he is single or married, speaks a lot about the intentionality of men. What they desire, they do not hesitate, they make it known. If a first date went amazingly well, "he" is gonna make damn sure that another is booked, much sooner than later. If your guy hasn't made that message clear, it's usually best to just chalk it up to a nice time and keep your options wide open. He would hit you up to prevent that from happening otherwise.
First dates can be a really good time. Purpose in your mind to relax, have fun and go with the flow — so long as that flow consists of these 10 points. Because you deserve for things to begin well. There is no room for debate on that.
Join our xoTribe, an exclusive community dedicated to YOU and your stories and all things xoNecole. Be a part of a growing community of women from all over the world who come together to uplift, inspire, and inform each other on all things related to the glow up.
Featured image by Getty Images
Keep reading...
Show less
Most experts would agree that it's best to maintain a safe distance from an ex following a breakup. But with social media being the clickbait that it is, keeping many of us tethered to our devices at any given minute, it's that much harder to resist the temptation to engage in risky business after a breakup (i.e. lurking onto our ex's social profiles). Aside from the infringement of privacy into our ex's day-to-day activities, staying digitally connected can stunt our own process of healing.
As a Relationship Ex-pert, I've helped countless men and women steer clear of romantic ruin after a relationship. Here's my list of social media mishaps to avoid post-breakup.
1. AVOID Doing The Most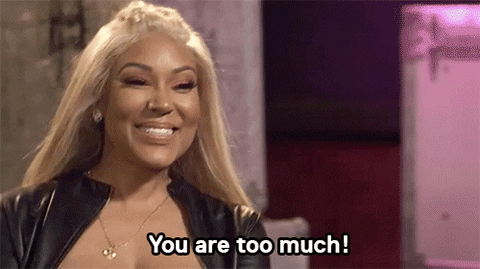 doing the most love and hip hop GIF by VH1
Giphy
It may take some time to get back to your normal self after a split, and in an attempt to prove that you're OK, you might head to social media to show that you're all smiles. This behavior has the potential to backfire and it can actually do more harm than good. Avoid looking overzealous, eager, or like you're trying too hard to seem happy. Now, if you've always been a social butterfly, then it's OK to proceed as usual, but if you're typically a private person, then it wouldn't make sense to all of a sudden start broadcasting your life, now would it? Keep it cute---and normal. If you start going live or posting every other hour, then you're oversharing and it might come off as desperate.
Breakup tip: Remember that the same way your own posts might make you and your life appear better than you may feel, the same could be true for your ex. Much of what you see in their online photos may simply be their own social media front. Keeping this in mind can help offset feeling upset that they seem so happy without you.
2. AVOID The Revenge Post
Imagine you're having one of those really good days post-breakup: You know, when your hair is flourishing and your skin is glowing and you feel so good that you decide to check your ex's Insta. It's been two whole weeks since the two of you have talked and you're completely healed, right? Upon scrolling through their feed, you find out your ex posted someone new just days after your breakup, which causes you to have a knee-jerk reaction of wanting to post something that you'll probably regret. Remember, while your goal may be for one particular person to see it, once you post, it's out there for the entire world to have an opinion on. Keep in mind that when you post publicly, you open yourself up to opinions from other people in the comment section unless, of course, you turn off the comments.
Breakup tip: Never post to social media out of anger or to get revenge on someone. Instead, live vicariously through one of your favorite outspoken IG profiles like this one.
3. AVOID The Thirst (Trap). It's Real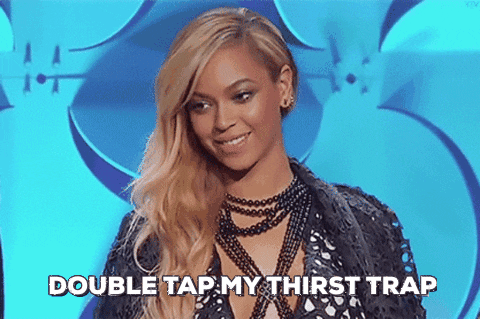 thirst trap GIF by Jasmyn Lawson, Editor
Giphy
First of all, let me state the obvious: Instagram is one big-ass thirst trap, in and of itself. All I'm saying is, try to avoid falling into the "hot girl" cliche of posting semi-nudes and OnlyFans content for attention unless of course, you've always been into that sort of thing. Otherwise, don't get out of your character, no matter how attention-starved you feel. Besides, is it really worth having the usual creep squad in your DMs afterward?
Breakup tip: Determine why you're choosing to put yourself out there in this way before posting. Understanding the reasons might help you decide if you want to follow through with it.
4. AVOID Giving TMI (Too Much Info)
It's one thing to post a daily status of what you're up to, but it's quite another to give the world a play-by-play of your life, literally letting people know your every move. In case you're not familiar with social media data policies, these platforms obtain certain information like your location and active status so others can see when and where you're logged on or when you were last active, so if you happen to be creeping on demon time, then they may be able to see that.
Breakup tip: Update your privacy settings so your location and active status don't show.
5. AVOID Subliminal (Breakup) Messages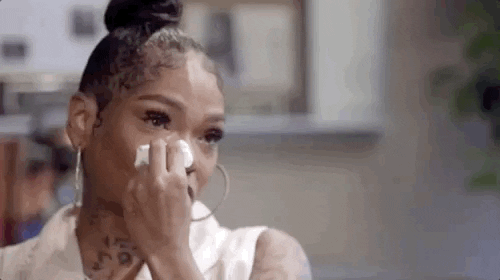 Sad Love & Hip Hop GIF by VH1
Giphy
This goes for posting them and checking to see if your ex is posting them. I have to be honest, sub posts are the worst because they're so obviously intended for an ex. Unless you're someone who regularly posts about relationships, it's painfully obvious to the general public when you're posting because you're in your feelings.
Breakup tip: If it's something you just really need to get out of your system, but you fear that you may regret it later, might I suggest posting it to your least favorite social platform. For example, I have no idea how to work my Twitter feed so I reserve this medium for venting and an occasional rant with four-letter expletives.
6. AVOID Viewing Old Pics
Most people will remove all traces of an ex from their accounts immediately after a split. For some people, this will be changing a profile picture or their name. If your relationship took the step of being FBO (Facebook Official), then it's bad enough that you have people in your business speculating on your relationship status. And God forbid FB sends you a memory from one of your date nights with your ex-bae. Things like this won't help you in your efforts to let go of the past, so if there is a digital footprint from your time as a duo, it's time to retrace your steps.
Breakup tip: Get ahead of those FB memories popping up on your timeline by changing your settings so you're not caught off-guard. See Facebook's section on how to turn off notifications for Memories here.
7. AVOID All Social Media For A While.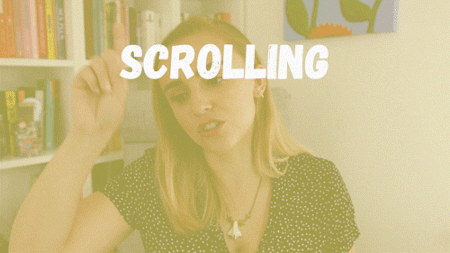 Scrolling Social Media GIF by HannahWitton
Giphy
Why? Because it's a constant reminder of your ex and it can make it feel impossible to get over them. You'll read way more into anything they post, trying to get clues or put together pieces of a puzzle that might not exist. There are too many triggers which means scrolling through a feed can stir up old feelings. And unless you have some hella restraint (i.e. emotional discipline), you won't be able to refrain from venting about you know who. Immediately after a breakup, it can feel like there's no escape. And research has shown that engaging in such behavior can contribute to greater distress over the breakup, negative feelings, sexual desire, longing for the ex-partner, and lower personal growth.
Breakup tip: If you have the guts to go cold turkey with a social detox, then go for the gusto, otherwise, start small. Commit to uninstalling the app for 24 hours, reminding yourself that it's only temporary. Who knows? If all goes well, then you may decide that you can do without it even longer.
8. AVOID Mutual Friends, Too
While unfortunate, it's likely that at some point you'll fall down the rabbit hole of lurking, stalking, and creeping on your ex's page or anyone close to them, which ultimately turns out to be a self-torture chamber. If you don't go through your ex's page, then you may find the new love interest (which is even worse) and start sizing them up and screenshotting for your girlfriends. This is why I suggest not only muting your ex but any of your friends you two had in common so you're not as tempted to spy.
Breakup tip: Block, delete, repeat. Even if you unfriend your former flame, you may still receive notifications from friends in common that give you insights into your ex's post-relationship routine, so it's best to take a break from their family members and mutual friends, too. If you're not ready to commit to blocking them entirely, then Facebook offers the Snooze feature which allows you to take a break for 30 days, 60 days, or until you turn off the option.
How we choose to handle the transition of a relationship goes a long way toward shaping our potential for success in future relationships. Instead of comparing your singlehood journey to your ex's, focus on becoming the best you can be for yourself and your future partner.
A final breakup tip: Be genuine. There's absolutely nothing wrong with getting some good news and wanting to share your excitement on the 'Gram but always be clear of your own intentions. If you are truly happy, it's important to be present and embrace the moment. And yes, it's a natural reaction to want to share your moments of happiness with others, but it's even more important to be content within yourself, preferably off of social media and in real life.
Featured image by Getty Images
Keep reading...
Show less
Not too long ago, a friend of mine and I were talking about a video we both saw that featured a baby being gently tossed into a swimming pool (they ended up floating immediately). Basically, it was the child's first swimming lesson and while my friend thought that the tactic was extreme, as a doula, I had a very different perspective. "Babies develop in water," I said. "That is their first home."
My point? There really is no way around the fact that our childhoods set a lot of the foundational work for how we see the world and how we function as adults. That's why I think it's so important that once you and a guy have gotten about three to four dates under your belts that both you and he should be open to discussing "less shallow end" topics — including each other's childhood. Because whether he had a fabulous one, a traumatizing one or something in between (which typically is the case for most), it can help you to see how and why he operates in the way that he does, if there are red flags that shouldn't be ignored and if there may be issues that should be addressed (perhaps via therapy, etc.) before getting in too deep.
1. What Was Your Relationship Like with Your Mom?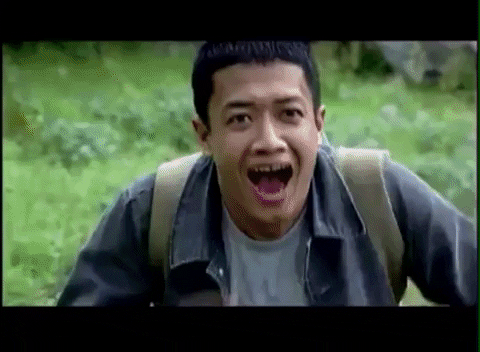 OK. Here's a great reason why it's pretty dangerous to always speak in generalizations. There's a guy that I know who treats women, pretty much like crap. He's a gaslighter. He has severe commitment issues. He very rarely takes any kind of responsibility for his actions. And he takes far more than he gives. He's so bad, in fact, that he's got a reputation for all of these things in the city where he lives. Thing is, because I am a marriage life coach and a journalist, it's pretty much an occupational hazard for me to not want to dig around and get to the root of someone as much as possible.
And when it comes to him in particular, I'm aware of the fact that he has a very surface-level relationship with his dad and that he claims to adore his mother. Thing is, though, how are you so in love with your mom when you are destructive AF when it comes to other women? That, my dear, does not compute. That's why I'm not totally sold on if you want to know how a man will treat you, pay attention to how he treats his mama.
Honestly, because I know some of the backstory on his upbringing with his mom, I think he romanticizes his mom being healthier than she actually is. If you add to that him being too afraid to confront her about where she also dropped the ball, it seems like he takes his hurt, frustration and disappointment out on women, in general. It may look like he reveres his mom yet meanwhile, any other woman gets treated like total crap — because he won't confront who he's really upset with/disappointed by.
So yeah, rather than just assuming that a man will be good to you just because he's good to his mom, ask him to describe his experiences with her while growing up. It could reveal some pretty insightful things as it relates to how he processes women, even today.
2. What Was Your Relationship Like with Your Dad?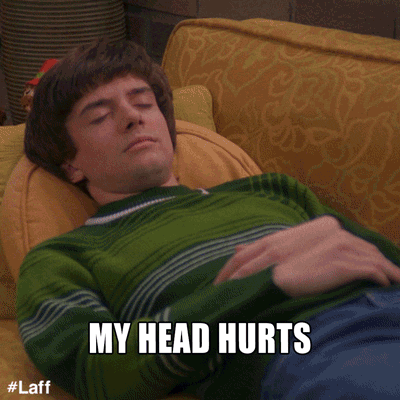 I am so sick of the narrative that most of us didn't grow up with active fathers; even those of us who were raised in single-parent households (read and/or share "The truth about Black fatherhood" and "They're Dragging Out the 'Absent Black Fathers' Myth Again. Can We Give it a Rest? | Opinion" when you get a chance). So, while it might seem like where I'm going with this is you should assume that the man you are seeing either didn't have a father or had a poor experience with his dad, it's not. While it is indeed quite insightful if this happens to be the case (because I totally agree that the best way for a boy to learn how to be a man is from a man and preferably his dad; a lot of women are out here raising the kind of men they loathe. We'll discuss that at another time), I actually believe that if you really want to know how a man will treat a woman, look into what his father's model taught him. Was his father loving? Was his father respectful? Was his father someone who was a provider and a protector?
A good friend of mine is an awesome father in the sense of being proactively involved and consistent. One area where I encourage him to be better, though, is when it comes to how he interacts with his kids' mom. I won't lie, she is a trip (and not in a good way). Still, when he says slick stuff that he thinks his kids won't catch, I think they do and all that does is model to his daughter that it's cool to love a man who is sarcastic and flippant towards you and to his son that being with a woman with a lot of drama is normal. Parents set the tone. And if fathers want to lead like they say, they've got to keep this in mind when it comes to what they say and do. In all areas. Hearing about the guy you're seeing's views and experiences with his own father can reveal a lot about how he defines manhood — and fatherhood.
3. What Number Are You in the Sibling Line-Up?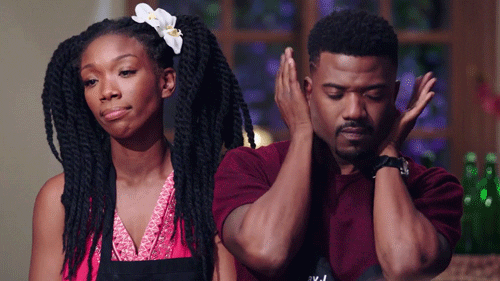 While some researchers don't believe that there is a lot of merit to the order of siblinghood, hell, I do. So do a lot of us who grew up with brothers and sisters. Plus, there's some significant data to back all of this up. For instance, there are books and articles that say only children tend to be more introverted, a bit self-absorbed and strong leaders.
Firstborn children oftentimes suppress a lot of emotion, are good at solving problems, can be controlling and quite dependable. Middle kids lean towards being people pleasers, extroverts and will often "do the absolute most" in order to get attention. The youngest children are oftentimes spoiled, can be manipulative and yet are quite often the life of the party too.
While this isn't something that should be taken as gospel (I liken birth order traits to astrological signs — there are a lot of similarities yet not everything is 100 percent), it can be insightful to hear where the guy you're seeing lines up. I'm a firstborn daughter which, lawd, is an article all on its own. Anyway, asking this question can also help you to see what his relationship is like with his siblings — which can lead to ah-ha moments when it comes to how he processes friendships, in general (since a lot of people first learned about friendship via their brothers and sisters).
4. What's Your Favorite Childhood Memory? Your Worst?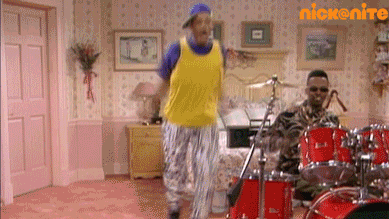 Oh, how I wish that parents took the weight of children's childhoods more seriously. The reason why I say that is because I don't care how the person is, unless they've experienced a level of trauma that has caused them to totally "blackout" when it comes to their childhood (and that is indeed possible), all of us have recollections that have remained with us to this day — things that have shaped and molded us. Things that have caused us to make a lot of the decisions that we do now…whether we realize it or not.
For instance, I've got a male friend who loves women's butts. No newsflash, right? Yeah, peep this, though— he grew up in a household that had a lot of house parties at night. Nothing crazy or illegal. Just a bunch of Black folks having fun. However, they would sometimes be so loud that he would wake up and peek to see what was going on. People were bumpin' 'n grindin' all over the place and he said that all he remembered was a lot of loud music and butt rubbing. And now — look at where he stands.
There are lots of people who work in the mental health field who wholeheartedly believe that children's best and worst memories can definitely set the tone for a lot of choices that they make, moving forward. For instance, I know a woman who hates kissing her husband on the mouth because she had a bad memory of an older cousin forcing her to do it when she was a kid. I know someone else who can sing her face off yet refuses to do it as an adult because she once got booed at a child at a talent show.
The reason why discussing memories can be so beneficial is because, a lot of times, folks don't even think about connecting the dots between instances that have transpired and how they function in real time. Bringing this topic up can be revelatory for you, therapeutic for him.
5. What Do You Remember About Your First Friendship? Your First Crush?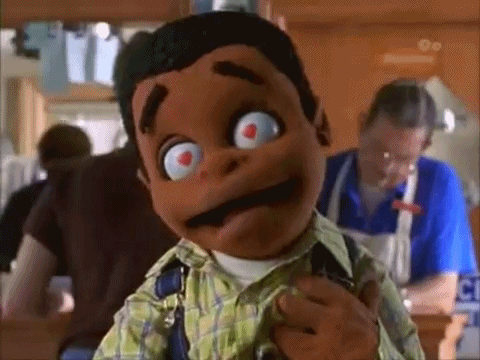 I have shared before that my first friendship was one of the worst things that ever happened to me. She was pure evil and I'm not the only person who felt that way. Matter of fact, she was so toxic and manipulative that it wasn't until I was well into my 30s that I really wondered, "What the hell was going on in her house?" due to a lot of the choices that she made and how she treated a lot of people. Anyway, because she was my first introduction to "friendship", I spent many years thinking that if a girl was even a little bit nicer than her, it was a blessing. I ended up being taken advantage of for many years by "versions of her" because of it. As far as my first crush went, he used to tell me that I was ugly. We didn't get that resolved until, hell, probably 10-12 years ago. The "residue" that he left behind is, whenever a man would affirm me, I would oftentimes not require much else because I was so grateful to be told that I was pretty, smart, funny or whatever.
On the first crush — which for some would be a first love — tip, I know a guy who thinks that every woman "cheats" because his first girlfriend did; with his cousin. That was 20-plus years ago and he's still hesitant to put his heart totally into a relationship. As far as his longest-running friendship, they are the ultimate frick and frack. Those jokers never hold each other accountable. And it shows.
Outside of our immediate family, our friendships and our romantic relationships tend to influence us the most, whether it's for the better or for the worst. Listening to him break down his first friendship and first crush could be quite enlightening. No doubt about it.
6. If You Could Change Anything About Your Childhood, What Would It Be?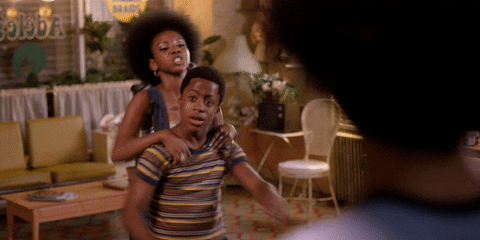 This is also a really great question because whatever comes out of his mouth can 1) let you know what still remains somewhat heavy on his heart and 2) what he prioritizes when it comes to his healing and quite possibly how he'll be as a father someday. Take one of my friends who hates how much his mom worked and how bad of a co-parent his father was (until much later in his life). He often says that what he wished had happened the most is that his mom came home earlier (because being home alone a lot caused him to get sexually involved earlier than he should have and not really feel as close to his mother as he would like) and that both of his parents had taken more initiative into him bonding with his father. Because of both of these things, my friend is one of the most actively involved parents that I know.
Another guy that I know says that he wishes his parents hadn't waited so long to have him. His father is literally 50-plus years older than he is and he says that has kept them from being as close as he desires. As a result, he is pretty focused on having children at an earlier age.
We've all got stuff that we wish could've been different about your childhood. Listening to a man share what he wishes was different can help you to see how introspective he is and how he is able to connect the dots when it comes to some of his plans for the future.
7. If You Would Do Three Things Differently with Your Own Kids, What Would They Be?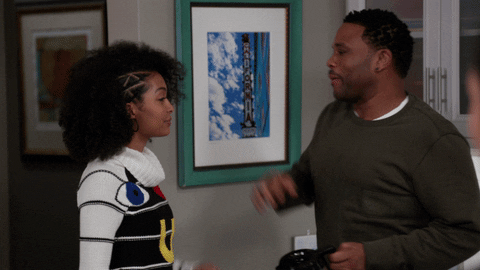 Recently, while talking to another man in my life who happens to be engaged, he told me that he feels like a part of the reason why he's such an overachiever (and he really is) is because his father wasn't very ambitious — to this day, he still isn't. "When I have kids, I hope I can teach them balance," he said. "You know, learn how to be responsible and also how to have a lot of fun. Not be lazy, but still have a childhood."
Listen, although you can learn a lot about a man when it comes to all of these questions, hearing what he says when you inquire about what he would do differently once he becomes a dad himself can be revelatory as all get out. It can also offer up some perspective about whether or not the two of you have the potential to be on the same page when it comes to childrearing.
I know this was a loaded piece yet after all of the years of me working with couples, I promise you that the lead quote rings true — a lot of us are who and how we are as the direct result of things that happened to us when we were children. Knowing about someone's childhood is definitely a way to go up a notch in intimacy while also being a way to gain clarity on if you both share similar views and values. Because although our childhood is not all of who we are, it is a foundational part. And if you want to build, you should know what someone's foundation consists of. Right?
Join our xoTribe, an exclusive community dedicated to YOU and your stories and all things xoNecole. Be a part of a growing community of women from all over the world who come together to uplift, inspire, and inform each other on all things related to the glow up.
Featured image by Getty Images
Keep reading...
Show less
Everyone grieves in their own way so recovery times will look different to different people. While one person may be ready to re-enter the dating scene after a few short weeks, it could take several months for someone else. In fact, a study published in the Journal of Positive Psychology suggests that it only takes three months to see the positive aspects of a breakup, but I've successfully helped my clients in as little as 30 days move past their pain.
The important thing is to remember to do what feels best for you. Unfortunately, I've also seen cases when people unnecessarily suffer for too long. So, how long does it take to get over a breakup? And what can you do to start feeling better today? Hopefully, you'll find these 5 tips to be helpful in shortening your recovery time so you can start feeling like yourself again.
1. Perform a cleansing ceremony.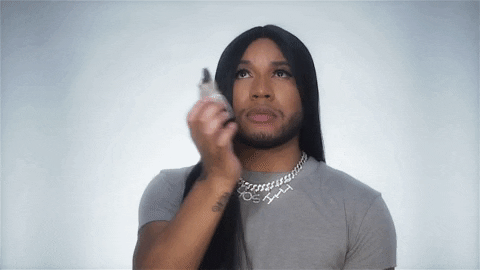 Giphy
The burning of sage or other herbs, (also known as smudging), is an ancient ritual of purification derived from the Native American culture. This practice is sacred in most Native communities, thus it should be employed with proper knowledge, respect, and intention. I would recommend using sage from an ethically obtained source such as an herbalist or native gatherer and research the history of this tradition before lighting up.
2. Rearrange your space.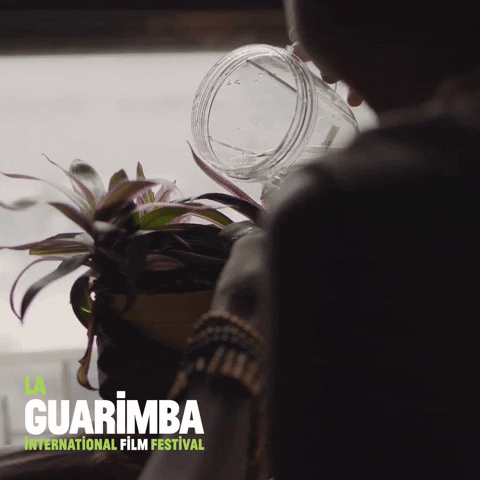 Giphy
The tradition of feng shui focuses on arranging the pieces of your living space in a way that creates balance and harmony. Feng shui is a Chinese term that literally means "wind and water," both naturally occurring phenomena. Thus, feng shui is thought to be a free-flowing art form that is akin to ideas of abundance, balance, and tranquility. It offers a unique way of viewing the Earth's elements to provide a more inviting environment.
Similar to the Law of Perpetual Transmutation of Energy, nature replenishes empty spaces. Practitioners of feng shui believe we have the power to create positive shifts in our lives using personal belongings in our homes. The entryway to your home is a great starting point. Spruce it up by removing excess clutter, updating your welcome mat, or adding more light to create more vibrant energy in this space.
3. Social detox.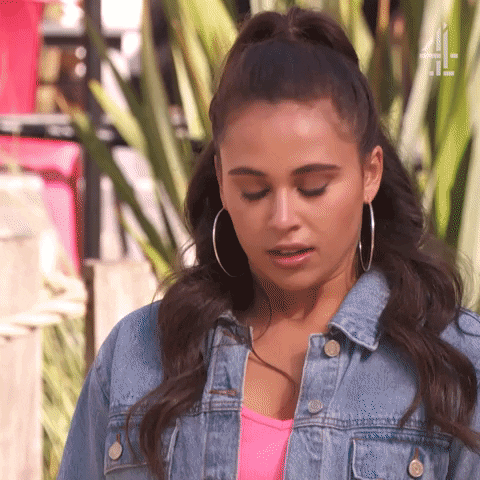 Social Media Goodbye GIF by Hollyoaks
Giphy
When you go through a breakup, the first few days can be overwhelming so the first thing you need to do is maintain a safe distance from your ex. One way to do this is by creating social distance, and I'm not just talking six feet, here. I mean more along the lines of a social detox. Delete old pictures and text messages from your phone and put them on block. And don't forget to unfriend them on social media so they're not popping up in your timeline. You can always re-follow them later.
4. Reflect on the lessons.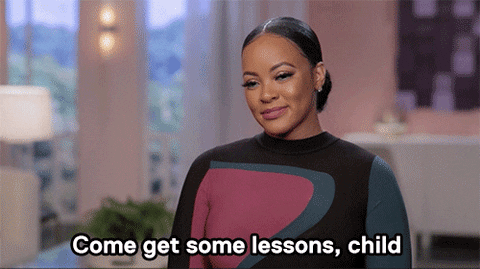 Giphy
This is something I always suggest to my clients — a moment to reflect on the relationship and not just the good parts. Most people fail to realize the opportunity that a breakup brings to redirect their energy and focus towards personal development. No one likes the pain that comes from heartache, but it can be a catalyst for creating the life and love that you desire.
5. Give your bedroom a makeover.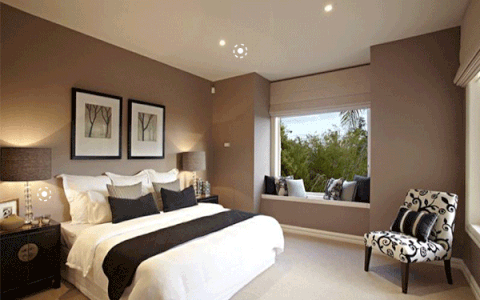 Giphy
If you shared a bed with your ex, then you may find it hard to resist sleeping on their side of the bed, hoping to get one last whiff of them. And right now, the last thing you need is a reminder of that one time the two of you...well, you know. So what's a quick fix for this? New bedding. Believe it or not, a simple task such as updating your linens can do wonders for your mood. Switch things up by upgrading your thread count, adding new decorative pillows, a comfy duvet cover, or might I suggest bamboo sheets.
Reclaim your space with a mini-makeover in your bedroom. These small changes can be a catalyst for embracing your newfound freedom.
Featured image by Getty Images

Keep reading...
Show less