Yes, it may be true that I haven't been on a date since dinosaurs walked the earth, nor have I visited Atlanta in months, but one thing I do have at my disposal is a very 'well-pinned' Pinterest board and an Instagram app bookmarked with my most wanted date night spots in Atlanta. The southern town that has become the mecca of all things culinary and refined- Atlanta has truly centralized the best of all cuisine options to include a balance in ambiance, style, decor, and of course, food selections.
Here is a list of a few places that I have saved in my Instagram profiles for whenever I finally meet the perfect match on Hinge.
St. Cecilia (3455 Peachtree Rd., Atlanta, GA)
This European-posh restaurant is fit for clean girl aesthetics and a sophisticated palate. St. Cecilia offers a picturesque menu that captivates delightful and filling sea-to-table fare. For the model couple that loves taking Instagram photos sans the filter, this is a fresh ingredient complimentary ode to what happens when you combine good flavors and design. From their oyster dishes to their fresh pasta and pastries. The aesthetically beautiful restaurant nestled in Buckhead's Pinnacle Building is a local trip to Europe that will leave you satisfied without the travel fees.
The James Room (661 Auburn Ave. NE, Suite 280, Atlanta, GA)
The James Room reminds me of opening a fresh bottle of Apple Crown Royal on a dark and stormy night. It's just that sexy and mature! This sophisticated cocktail lounge is very Noir Atlanta with a speakeasy vibe by night and a cafe by day. A place for the couple that doesn't mind starting the line dance in the club- The James Room as described by their website is "a vibe." They create this vibe through the love of music and food colliding to create the perfect accompaniment. With a nostalgic R&B vibe, patrons can create their own grown and sexy conversation amongst a variety of food options including- charcuterie boards, salads, and crab cakes, just to name a few.
The Wisteria (471 North Highland Ave. NE, Atlanta, GA)
A true southern classic that reads like a storybook- The Wisteria is a coastal Georgian's date night palace. If you're a couple looking to be swept away into the moss trees of the low country like royalty, the Wisteria's adaptation of rich, fried southern cuisines does not disappoint. This date night spot is a satisfying classic that aims to please. Featuring signature bar drinks and an elevated take on southern classics like fried chicken, Brussels sprouts, and oysters that will bring joy and comfort to you and your date. This is a spot for the couple who need a reason to get dressed up before they Netflix and chill.
The Capital Grille (225 East Paces Ferry Road NE, Atlanta, GA)
Combine work and play life at Capital Grille. This regional American steakhouse is a classic spot for those who want good food in a signature location with a wide variety of wine and steak options. This place is great for traditional couples who love good eateries that have a consistent and nostalgic taste. The food here is an experience that many want to indulge in far beyond Valentine's Day.
Read Shop by the Merchant (4300 Paces Ferry Road SE #125, Atlanta, GA)
Sometimes the best Valentine's date is one that involves peace, much like what Read Shop by the Merchant provides. This darling bookstore is the perfect place to turn off your brain and relax in satisfying bliss while reading or enjoying a hot beverage. This might even be a cute place to write how much you love your honey for V-day while you both enjoy your favorite novels.
Feature image by MesquitaFMS/ Getty Images
Lori Harvey has achieved many things in her life such as starting her own successful sold-out skincare line, SKN by LH, and modeling and partnering with many high-fashion brands such as Burberry and Tiffany & Co. However, her love life has always made its way into the forefront. It's no secret that the model has had many male admirers and has been attached to the likes of Future and Michael B. Jordan, and now it appears that she is dating Snowfall actor Damson Idris.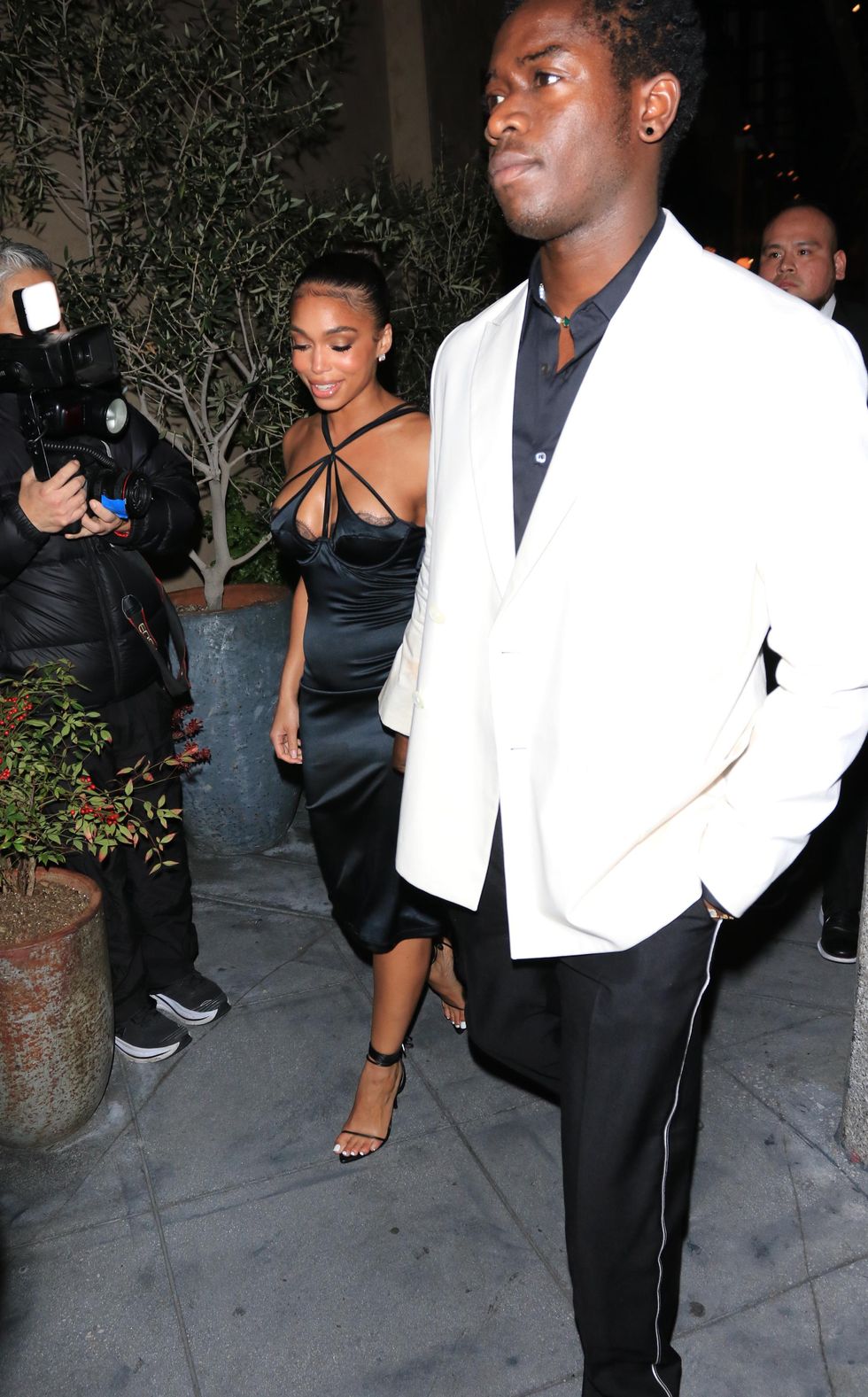 Wilbert Roberts/GC Images
But for whatever reason, her dating life has consistently been a topic of conversation and sometimes ruffles a lot of feathers. Black Twitter lit the internet up when the socialite made her relationship with the British actor Instagram official a few weeks ago. Some people even made off-color jokes about how she changes men like she does her underwear, or Damson is the next man she's checking off her list.
Seeing how angry her love life makes people, especially Black men, is exhausting. Anytime her latest relationship hits the blogs, so does a slew of hateful comments calling her hurtful names and making assumptions about who she is. Now, not to sound like Chris Crocker (Cara Cunningham) or anything, but leave Lori alone.
Fortunately, there is one good thing about her overexposed dating life. It has revealed the poisonous double standards between men and women in the industry.
How can Future, Diddy, and others have a troupe of women and, at times, seemingly degrade those same women's characters, but Lori can't actively date as the 26-year-old that she is? Diddy appears to currently be dating several women (with one he recently had a baby with) including City Girls rapper Yung Miami. No one rarely says anything about how he moves but constantly attacks the women he's dating online.
Let's not even get started on Nayvadius aka Future. How many women have Future dated and publicly humiliated including Lori after dissing her in a song? Not to mention, at that time he was linked to rapper Dess Dior.
While Lori is often judged for her decisions in dating, others applaud her. Many Twitter users utilize her name as the "action" of leaving a man alone or the title of their next chapter in life. They applaud her for knowing her worth and not choosing to turn her wheels for the sake of a relationship.
Lori has clarified that she will not settle and nothing is wrong with that. She recently sat down with E! Newsand shared the details about her cover with Essence, her thoughts on love, including her father, Steve Harvey's advice. When shooting the cover, Lori explained how it was an honor to grace Essence's "Black Love Issue" as a single woman. Months prior, she called it quits with Michael and it was before her current relationship with Damson.
"I feel like it's always been [about] me attached to something or someone: This time, it's about me. It's my time," she said.
Lori also spoke about her growth – as a woman and individual – and how she won't allow her past relationships to overshadow this period in her life. However, my favorite part was the advice she said her father gave her. "Just remember that you're the prize always," she playfully stated. So, what does his golden rule look like for the 26-year-old?
"It just means not compromising like, my values, my happiness, my peace. Not settling for less than what I know I deserve and not being afraid to walk away from a situation if it's, like, no longer serving me," she said
During her E! News interview, the entrepreneur admitted to finding the rumors about her "entertaining" and dispelled some of them, including dating a father and a son (alluding to dating Diddy and his son Justin Combs.) However, as she continues to grow, she is also allowing herself grace and letting the negative things people say roll off her shoulders. I can always stan a graceful queen who knows what she wants and moves silently.
Featured image by Jon Kopaloff/Getty Images for Tiffany & Co
I saw a tweet the other day that said, "The dating pool has piss in it." This message came from a woman talking about an unfavorable courting experience she recently had online. Now, I've seen this phrase numerous times online and I've also heard multiple people say it when discussing their frustrations with dating in this day and age. The amount of times I've heard this line of thinking has me thinking that there may be some truth to this phrase. According to Olivia, an author/blogger on the website, The Right Kind of Black Girl, folks are tired. And I can see why.
In a recent post, she shared her thoughts on whether or not there's really pee in the dating pool, stating:
"Men are tired of being used as EBT cards. Women are tired of being asked what they bring to a table with no legs. I'm personally tired of the inability to hold a conversation and plan a date."
If you ask me, she has a point! When it comes to dating, people are tired of being treated as objects rather than human beings. We have so many expectations around what men and women "should" be doing when they are dating because so many of us are afraid of someone seeing our insecurities, but when we set up all of these rules and expectations for dating, we rob people of the authenticity they need to express to cultivate relationships with people who are in alignment with their values.
Whether you want to admit it or not, we all have some red flags about us because we are human. The dating pool may have 'piss' in it but it's all about your perception and what you're calling in. Your perception of your dating experiences will come from the lens you are viewing them through.
Are you viewing your dating life through a lens of abundance and wholeness or through a lens of lack and insecurity? What are you learning from these experiences? How are you showing up differently in the types of people you are choosing? I believe now more than ever, people are becoming more aware and unapologetic about what they want out of their dating experiences and setting the standard to achieve those things.
As we continue to navigate through the "pissy pool" of dating (your words, not mine), the following are some dating trends to expect to see in 2023.
Featured image by andreswd/Getty Images
This is a dating guide for trans girls becoming women quicker than it feels like their hearts can survive the journey through the hands of men. As a young trans woman, the world has already taken so much from you. It has tied your wings even before you learned the feeling of flight into the world and your lover's arms. You would think that men would be gentle with women who have had so much taken from them. You would think that they'd recognize your vulnerability to the elements of the world and put themselves in front of you, as protectors, instead of leaving you to weather its storms alone. You would think that others would not feel the need to create competition with girls who are most often not considered "real" women and who are killed in the act of un-naming them.
Even with these hard truths forging you in their fires along the way, there is hope. Your journey is one that ultimately fashions a passionate, resourceful, and fiercely self-loving woman. There is however the issue of survival against destructive forces. The intimate space that young trans women navigate in the exploration of romantic love with men is often a high-stakes game of minesweeper.
These are some of the trials and characters you may meet along the way:
Lipstick Alley Headline
​Things may often seem very unfair. Cis people love to pass Black trans women's photos around the internet as a "warning" to men. They love to pass around a trans woman's photo and perform a ritual to tear apart her beauty, nitpick her face and try to destroy her reputation and image. I pray for spiritual protection for all trans women. Pray with me. Our beauty is not defined by the cis tribunal. You do not have to feel shame for your desire and others' desire for you. Do your best not to allow others' behavior towards you to define you.
The Vibester
An unending party of vibes and vaguery that never ends. There are many men who will not create safety for you or openly express their feelings for you, yet will try to push a sexual agenda on your body and place you in a dangerous space of ambiguity. They will try to turn a "vibe" into sex, without any communication or admissions of romantic affection. This can be extremely dangerous for a trans woman. It may work for cis people, as a moment of fleeting pleasure, but often you may find it just feels scary and unsure. Allow them to do the work for you. All girls deserve an admission of desire and an allowance of care. Allow him to establish a context of safety as a beautiful bridge into the erotic.
The Casual Criminal
It's no big deal. Nothing is a big deal, even when you need it to be. There's not much room for intimacy, only vibes. These are men who see you as one of the world's many buffet offerings for his perusal, as opposed to honoring your unique needs and vulnerabilities as a trans woman. You're considered the same as everyone else in his circus, the only problem is you're not. You're not for men who don't have the time to consider you, the offering of your vulnerability, or your safety. He may be using the idea of "sameness" to avoid intimacy and accountability and considers all of his work done for being "cool" about you being transgender.
Sometimes cool can be too cool. So cool, it becomes lukewarm, stale, and tepid. You don't want boring. Hold out for a little passion. Be a big deal. You are one and you deserve it.
Houdini
Completely disappears after the slightest moments of intimacy. Reappears when the chemistry fizzles out to keep the cycle going. Cycles of intimate rejection and painful revolving doors rarely end in the love you seek. You are the magician and your magic is in the craft of your heart, not disappearing it.
The Therapy Bill
​Not sure why but you feel terrible after every interaction. He doesn't create or encourage a context of safety or transparency. The longer they know you, the more increasingly psychologically complex they become in their emotional terrorism of you. You keep waiting for things to let out into peace and clarity, but instead of an ocean, it's a drain circle. If you have to ask your friends for too much advice to feel "okay" or if at every turn you are more disturbed and confused than the last, it's likely a negative cycle, not a deepening intimacy. Hold out for a man who is a friend to your mind.
The Chaser
You deserve more than men who target vulnerable women and use them as a kink. You are not a kink. You are a woman. You are easy to love and therefore you do not have to worship a man for finding you beautiful. Men who move through vulnerable communities of women for their own emotional and sexual pleasures are simply a different type of misogynist. And no one deserves an award for loving you. You are alarmingly beautiful and unconditionally inspiring of love.
The Activist
​There are men who talk a good game about liberation and fill their bookshelves with the self-righteousness of their own literacy. Do not be surprised if they never apply any of it to relate to you. There are men who will learn just enough emotional depth and get in touch with their feelings just enough to use them against you. There will be sensitive poets and writers who ultimately only understand their own pain and the desire for their own freedom, while yours largely remains a theory or a cudgel to use against others. There will be many who define their own liberation as the right to quiet you.
When you explain your sufferings and ask for a reprieve from your pain, they will talk about how it's really them that's suffering. These men rarely actively address their own sufferings, merely use them as reasons why they should be able to abuse freely. Your job and your labor of love as a trans woman are to live the freedom he can only ever read about in books. Walk out of the pages and away from his hands.
The Enigma
Is this a date? Are we friends? Are we attracted to each other? What is happening? No one involved has any idea and so you float until there is finally heartbreak to free you. There are men who have no idea what they are doing and in the space of ignorance, they keep you at arm's length, while using you for whatever desires randomly emerge during a drunken night. There are men who are far too afraid to face their desire for you, yet they can't let you go, so they keep exactly the information you need to make the best decisions for your own life. There are men who are criminally casual. In the face of stagnation and emotional poverty, pray and walk steadily from these lands until you find love.
Dangerous Liaisons
There are unfortunately men willing to kill in order to preserve their sense of self and enact power over vulnerable women. Develop a practice of safety that serves your unique circumstances, honors your truths, and practice not sacrificing your own safety and body in the pursuit of romance or pleasure.
The Clockers
​There is often someone trying to "clock" and "check" your womanhood. There is an impossible standard of beauty imposed upon trans women. Nothing short of perfection is ever enough for the naysayers and even a few of the well-meaning. No one has to be as beautiful as you to be loved.
Therefore, it may seem like everyone else but you can be loved. You will wonder what is the formula to be considered "human." A change of hair, more hips, boobs, a bigger ass, lighter skin. When it comes to the dominant cisgender values on beauty, rarely is anything ever enough. You are always one shifting goalpost away from "enough." You are always one hair out of place from being unmasked as "unreal." The beauty that the dominant messaging tries to impose on trans women is a beauty of surveillance. You will often find eyes searching for a reason to unmask what they see as "the trick" of your womanhood. Especially if you are Black.
You may look around while you are hungry and notice a lot of instant noodle romance: Images of love that promise to feed you, but lack what you really need to feel nourished. Everyone seems to have come with the right ingredients in their cup to be instantly loved, ingredients that never seem to include the things that make up women like you. Love may seem instant for others, while yours seems like a longer reach from God. There are many men who may fight their feelings for you because you are far from a woman who is convenient to the status quo. Others may seem to have an easier time in love than you. It may reach them quicker, with fewer obstructions and more open desire. Yours is not a quick plate love, it is a slowly opening one. God's love for you is flavored to the bone.
The Chicken
​Your success in romance, will not come from contorting yourself to a man's fantasy and avoiding his disapproval by trying to manage his emotions with a tireless performance of femininity. You are not responsible for a man's emotions and feelings about his attraction to you. Men will often lay this burden at your feet and create a dynamic of constantly courting their approval. They enforce this dynamic through intimate partner violence, from the emotional and psychological to the physical. Men who date trans women often develop a habit of making their fear your problem.
Don't let a man's fear of you define you. There will be many men who are too afraid to openly face their desire for you. They will often see you as a shameful desire, like a porn category they can shut their laptop on when they've had enough. When they are ready again and the blood rushes to their head, they reappear. They are not reappearing for a better relationship with you, they are appearing for another hit. Repeated behavior without deepened intimacy does not get better, it's a compulsion, not a relationship.
Men who act on compulsion for you, instead of connecting to you are adversaries to the self-realization of your own humanity. This is always the goal of a trans woman. Our goal is not to prove to others that we are worthy of love. Our goal is not to save the world, it is to remove the projections of inhumanity that society has placed over us and to constantly ritualize our own humanity back into our focus. Our goal is to recognize that we are beautiful, not because we align with images of what is "allowed," but because we walk the path of life's wild and unpredictable beauty itself. We are nature unfolding in the personal truth of rare shapes and intoxicating bloom.
The Glitch in the Matrix
Be wary of men who loop. When men perform repetitive cycles of shallow engagement, they are tuning into you as an object of erotic fetish, not a human being. They are extracting pleasure as a means of avoidance and ego, rather than engaging in acts of care and protective love. You will likely find a certain type of guy who enjoys the attention of young trans women but withholds deepened relationships with her.
When asked to clarify attraction, commitment, or intention, this man will withdraw and make the trans woman feel punished. He will reappear when enough distance has been created to restart the cycle and enough time has passed to "forget" your needs. You may think the reappearance means that he is prepared to meet those needs. It does not. He repeats the cycle of rejection and reappearance if you ask again. Over time, the trans woman learns that asking for her needs to be met will be met with withdrawal and abandonment.
When the black cat of a man's ego appears twice, choose yourself.
The Backseat Driver
​There are many who will demand perfection from you that they do not even demand from themselves. There will be people who will say that we deserve to die for not navigating relationships with men according to their idea of "perfection." Always choose your own safety as you learn not to open where you cannot reveal the truth of your body and your own experiences. Having access to you is a secret menu that many just cannot afford and they do not have the special passwords.
"Perfection" will likely be a huge theme in your life. Lack of perfection for a trans woman can sometimes mean harm or even death. It is not your job to be perfect, it is your job to be "love." It is your job to live, according to your own needs, not the projections of others. You may face many disappointments in love and with them will come learning. A lot of women struggle with self-blame when relationships end or become destructive. I think a better way to approach a painful relationship is not "what did I do wrong?" but "nothing in that relationship was conducive to me succeeding." You likely were not set up for success. Dispense with guilt and shame. When you are set up for success, you don't have to be perfect.
There is room for you and your learning. This includes your romantic life. If you are not supported away from the self-blame of overthinking and being invited into care, you mistake performance of goodness for connection. If you have to fix things all on your own, by lashing yourself with a constant demand for your own perfection, the connection demands too much of your own blood and suffering to be safe for you. If the connection dissolves when you discontinue this practice, it was not of love.
The One
There will be many men who are just not for you. Even if they want you, they ultimately just cannot make the leap across what society tells them they can and cannot have. Only the one can make the jump. Hold out for a "Neo."
The Concern Trolls, the Bad Faith Actors and Finally, You
​There are many people who wish for you to remain in pain and for sadness to reside permanently in your heart. As an act of political and intimate necrotism, like when Colombus set dogs upon queer Indigenous people as his first act of setting upon their land. You do not have to live that way. You do not have to live in competition. You do not have to live in fear. You do not have to waste time fearing for your life, merely let go of the loves that do not become you. You do not have to live in lack, you simply have to practice sumptuously in your prayers. You do not have to argue talking points about your humanity, you simply have to orgasm in the privacy of your templed hands.
If the men do not show, as often they do not, make worship of your love for life in the approach of their death. My advice to you is to live and always forgive yourself for the hard acts against you. Dear young, Black trans woman, we used to follow the stars and night for freedom. Now we follow the Sun.
Featured image by janiecbros/Getty Images
No one is ever 110% ready for a relationship. Let that marinate because I know it may sound strange, but really think about it. No one is ever really 110% ready for anything. You kind of just make a choice to move forward and take any feelings of fear or anxiety with you instead of allowing them to cripple you. Although no one is ever 110% ready for anything, I think it's important to still have an idea of what to expect from ourselves to make sure we are walking into new relationships with healthy intentions.
In order to assist with this, I curated a list of questions to ask yourself to assess your "readiness" to date. If you find yourself getting stumped over any of these questions, don't beat yourself up! No one is perfect and we all have things we can improve on. What is most important is that you have an open heart and an open mind as you read through these questions to explore what comes up for you with compassion and curiosity and whether you believe these questions are essential to you and your journey as you move toward dating and cultivating healthy relationships.
Featured image by Marko Geber/Getty Images
Last month, Michelle Obama sent the internet into a frenzy by opening up about her marriage to Barack Obama. During her conversation with NPR's "Life Kit" podcast, she shared her thoughts on the glamorization of dating and its impact on the reality of marriage, how partnerships are rarely 50/50, and when it comes to the ebbs and flows of commitment "young people quit too soon." She later clarified her thoughts in an Instagram post:
"As an adult, I've lived in a number of places, but as far as I'm concerned, I've only ever had one real home. My home is my family. My home is Barack. But here's the thing—our marriage has never been perfectly 50-50. One of us is always needing more or giving more. We have to be willing to listen to each other, honestly and without defensiveness. Only then can we evolve together. Over the years, a lot of young people have asked me about marriage. And my response usually goes something like this: You have to prepare yourself for long stretches of discord and discomfort. You have to learn how to make real compromises in the way you've lived as an individual. Glamorizing a relationship while you're dating will lead you straight to difficulty once you're married. You can't paper over problems when you're living with someone day in and day out."
Her caption continued, "So you've got to ask yourself: What are you trying to get out of this relationship? Have you truly thought it through? Do you want a wedding or do you want a lifelong partnership? Those are two very different things. Together, you are answering the question: Who are we and who do we want to be?"
I completely respect everything she mentioned above because that is her experience of what it takes to sustain a long-term, successful marriage and that is what has worked for her. While I believe that what she mentioned is true, I think it's important that we also get into the nuances between trying to make a relationship work with someone who is equally committed to the relationship as you are versus trying to make a relationship work with someone who has reached an expiration date in your life.
Not every relationship is meant to last long-term and that doesn't have to be a "bad" thing. Some people come into our reality to show us who we are so we can learn and grow and some people come into our lives to spend a lifetime with us. As you are dating, it's important to discern the difference.
To help you do that, I have compiled a list of eight signs that it might be time to break up with someone. Check it out and share your thoughts below in the comments.
Featured image by Vladimir Vladimirov/Getty Images