We've all been there. You meet this amazing person. Establish a solid foundation as friends. Decide to take things to the next level by becoming exclusive. Only to, sadly realize that it is no longer working, causing you to go your separate ways. And while we would all love to hold onto those feelings for a little longer, it's best to just cut the cord and move on. But what do you do with those leftover feelings? How do you move on, knowing that a central piece of your world is now gone? Or what do you do when you crave their presence?
Navigating post-relationship dynamics can be difficult. Especially if you and your person ended things on good terms. In an ideal world, you would love it if you and your now-ex could remain friends, if for nothing more than to ensure that the two of you will continue to be in each other's lives.
But the fact of the matter is that while admirable, attempting to maintain a friendship with an ex isn't always a good idea. It's OK to be friendly, but trying to stay friends with someone you once dated, mated, and/or related with can be a recipe for disaster. Causing you to not only regret staying friends but meeting them all together.
So here are five reasons why you probably shouldn't be friends with your ex.
1

.

Boundaries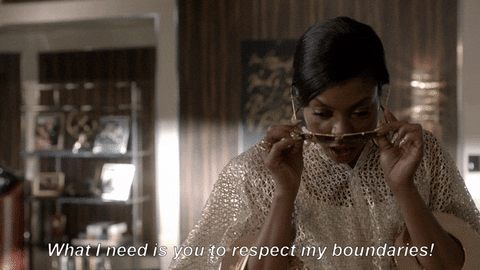 Boundaries are number one on this list because some exes don't know them, don't respect them, and don't understand them. When ending things with an ex, someone will always have lingering feelings. They will always be waiting for you to let your guard down. They will always look for that window of opportunity to get that old thing back. Which does nothing but blur the lines. Further reminding you of why you ended things in the first place.
And sis, it's not always them who needs those boundaries enforced. Sometimes you are the one who is using "friendship" as a way to rekindle that spark. So check yourself and that person, and let that relationship go once it has run its course.
2

.

You're in a new relationship.
Ask yourself these questions, and be honest. Would you appreciate it your current lover was still kiki'ing with their ex? Would it be OK if they got off the phone with you to talk to someone from their lover's past? Or if you found out that they met up for coffee, tea, brunch, or an after-work happy hour? Sometimes, while remaining friends with an ex may seem innocent, it can be a sign of disrespect to the new person in your life. And it has nothing to do with jealousy or insecurities.
While cultivating something new with someone else, holding onto those feelings or bonds with your former lover can cause cracks in your foundation, making your new person question themselves and their presence in your life. Eventually, this could lead to distrust and them feeling like they have this impossible standard to reach, which isn't fair to them. So focus on what's in front of you, and leave the past right where it's at.
3

.

The relationship was toxic.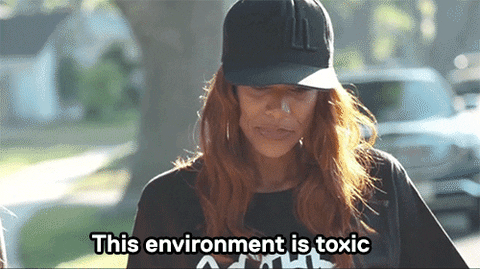 basketball wives GIF by VH1
Giphy
It doesn't matter how many people think it is, but toxicity isn't cute. There is nothing cute, intriguing, or exciting about being in a toxic relationship, let alone maintaining a friendship with the person who may have been the source of said toxicity. And no matter how much either of you has changed, when combined, it can cause your toxic powers to activate, bringing that same toxicity that was once the cause of your breakup right back to your doorstep. Creating more problems than before. And that's not what we want for ourselves. Continue to grow, thrive, and evolve, and let that toxic bullshit go.
4

.

You're lonely.
While it's never a good idea to entertain anyone out of loneliness, it damn sure isn't best to maintain a friendship with your ex because you're lonely. Yes, you may not have anyone to hang out with or watch those special TV shows with. You may now find yourself going on solo dates. Or searching for someone to share those memes and inside jokes with. But it is much better to do those things alone than to call up your ex out of loneliness, which can only lead to a backpedaling disaster. Resulting in an off-and-on rollercoaster that's hard to get off.
It's OK to be lonely or to crave intimacy from someone you once had romantic dealings with, but pick up a hobby instead of picking up the phone. And if you do happen to pick up the phone, let it be to call one of your real friends, and not someone you used to sleep with.
5

.

Some things are better left in the past.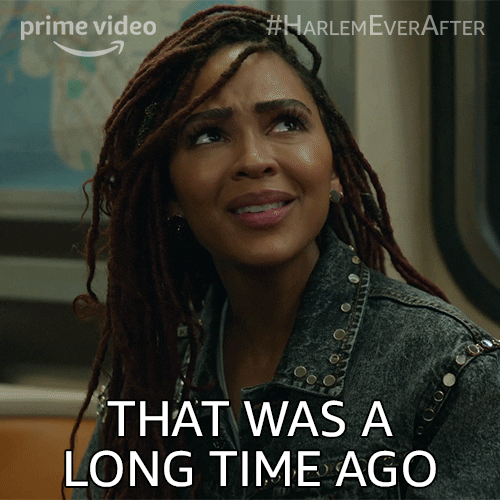 Meagan Good Long Time GIF by Harlem
Giphy
At the end of the day, it is important to remember that the two of you broke up for a reason. Whether you both realized that you weren't good for one another, grew apart, or came to the conclusion that the relationship was just not what you had in mind, you both agreed to sever ties. But for as long as you continue to pursue a friendship with that person, you're never going to move past them and level up to your next.
At the end of the day, breakups are hard. But what's even harder is trying to hold onto something that you know you need to let go of. So, sis, do yourself and your ex a favor and bypass trying to be friends once the relationship has ended.
Just let go.
Featured image by Getty Images
Keep reading...
Show less
Back when I used to mentor teens via a high school program that I was a part of, something that used to trigger me to sigh, incessantly so, was the fact that they had absolutely no idea what a date was. To them, having some guy hang out at their house when their mama wasn't home and then having sex with him before she came back qualified. Low bar. LOW. DAMN. BAR.
You know what, though? I've been talking to a lot of women who are 10-30 years past graduating from high school and, fascinatingly enough, it appears that a lot of them haven't been on any official dates either. The realization is actually what inspired me to write "Have You Ever Wondered What Qualifies As A REAL Date?" (if you're not sure if you've ever been on a date before, PLEASE check it out). And then, as if the universe was totally cosigning on my le sighs, I peeped that some of the biggest dating trends for this year consists of spending less time in someone's bed (at least initially) and more time getting to know each other in other ways — and I was beyond thrilled to hear it!
Are you ready to hear about some dating trends that your grandmama can actually smile about? Here we go.
What in the World Is Dry Dating?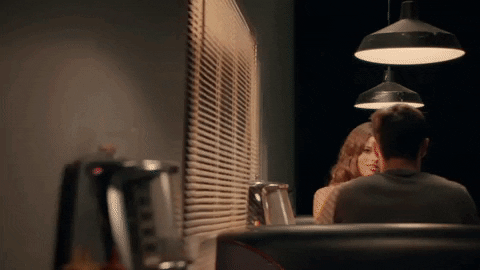 OK, so if someone was a heavy drinker and they declared that they were going to go "dry" for a season, what would that cause you to think? If your answer is that they aren't going to have any alcohol for a while, you would be exactly right. And along these same lines, that's what dry dating is all about — it's about removing all forms of physical affection and sexual intimacy in exchange for making more mental and emotional connections with someone (again, initially). As a matter of fact, most dating experts who speak on the topic of dry dating say that it also includes avoiding a semi-standard goodnight kiss.
So, what are you supposed to do instead? See, if you have to ask that question, then I know you're someone who hasn't been properly dated in a while. Visit a museum or art gallery. Do some sightseeing. Take a class together. Try out each other's favorite restaurants. Go on a wine or brewery tour. Discuss each other's top love languages and plan dates around each (check out "15 Date Ideas Based On Your Love Language"). Go ice or roller skating. Take each other to a personal must-see spot in the city. Go out for breakfast or brunch instead of the traditional dinner. Try a Sip and See.
I promise you, once you take anything physical totally off of the table, you'll be amazed by how much you both can tap into your creative pools to come up with some cool ways to spend some quality time together. That is if you both succeed in passing the hard-ball round which brings me to my next point.
What the Heck Is Hard-Balling?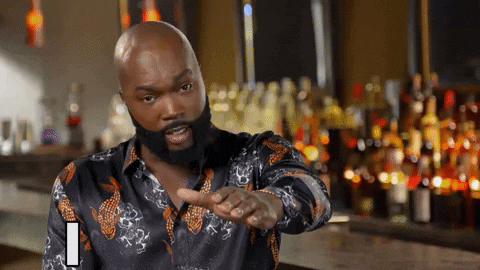 I'm gonna be honest. When I first read about this particular trend, initially, I was a little bit on the iffy side about sharing/recommending it because I've had a few single clients who tend to take this to the ultimate extreme. Before getting into all of that, though, I guess I should share what hard-balling is all about. Back in the day, some of the women I know called it "dating to marry" or "dating with a purpose." While, on a lot of levels, that is definitely considered to be hard-balling all right, it's basically what you do when you make sure to state your intentions and expectations on the front end — before a date even transpires.
As far as pros and cons go, a "pro" to this is, to a certain degree, you can get to know where someone's head is and what their intentions are before gracing them with your physical presence — and well, since none of us can ever get wasted time back, that's a good thing. The flip side to this is, if you go on-10 with your approach and conversations come off as interrogations, it could turn your "date potential" off, whether they were initially on the same page as you or not.
That's why, if you decide to go the hard-balling route, it's still a really wise idea to take the casual conversation approach. Maybe play a round of 20 questions (avoid making all of them super serious too) or do a Zoom call where you both greet each other with a glass of wine. If you state what you are interested in, in that type of setting, the mood is more relaxed; plus, you can read each other's body language.
Listen, a lot of folks don't wanna hear me on this but far too often, questioning can be so aggressive that it causes people to think that they have to put a wall up to protect themselves. That's not what hard-balling should be about. The main objective is to get some of the usual first date questions out of the way so that your date can put you at ease because you know that both of you are pretty much looking for the same things.
How Both of These Can Make Dating in the New Year So Much Better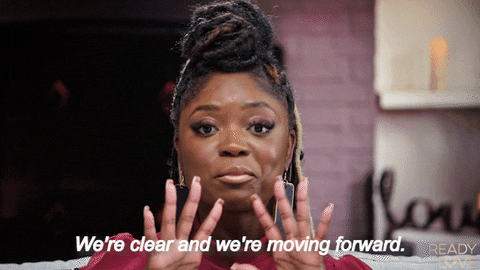 And just why do I think, in my humble opinion, that more people should be down with dry dating and hard-balling in 2022? A lot of it has to do with something that I've shared on this platform before. A lot of y'all know that I'm not the biggest fan of the word "casual," especially when it comes to sex and matters of the heart because I know what the word means — "without definite or serious intention; careless or offhand; passing," "seeming or tending to be indifferent to what is happening; apathetic; unconcerned" and "without emotional intimacy or commitment." I mean, if at the end of the day, this is totally what you are looking for, you're grown and do you.
However, if you're someone who is on the verge of never wanting to date again because either you're fed up with piss-poor experiences or because you're not even sure you've been on what would qualify as a real date, refusing anything casual, hard-balling out of the gate and setting the standard of dry dating, at least for 3-5 dates certainly can't hurt anything. More times than not, it can only help matters.
Matter of fact, this brings me to another dating trend that's going to be all-the-way live this year — fast-forwarding. And just what is that? It's when, after going on a few dates with someone, you "fast-forward" into what you want your relational future to look like, and then you have a serious and realistic conversation with yourself about whether or not he fits the bill. NO, fast-forwarding is not about asking a man if he sees you as his wife after four dates (goodness!). Fast-forwarding is simply…say that you want kids in the next five years and the guy you're dating is smart, funny, and totally your vibe but he has children already and isn't really interested in having any more.
Why keep investing on a profound level when he doesn't want the same things for his future self that you do? Exactly. Now believe you me, as far as dating trends go, there is gonna be some bullshishery out in these streets (like "icing out" where people use COVID as an excuse to ghost folks and "wokefishing" where folks act like they care about the plight of Blackness when they actually…don't). Yet if 2022 is the year when you've declared, "I'm done wasting my time, dammit! I'm gonna date with wisdom and intention," then there are some responsible trends that have your back.
Don't be afraid to dry date, hard-ball, or fast-forward. It's the best way to weed out the nonsense so that you can get closer to what you want — and need. Happy New Year, y'all!
Featured image by Getty Images
Keep reading...
Show less
I'm willing to bet that it comes as absolutely no surprise to most of you that the most popular day to get engaged is Christmas and the most popular time of the year to do it is between November and December. And just why am I bringing all of that lovey-dovey stuff up when this title clearly indicates that we're going to be discussing the total opposite of a man getting down on one knee? Well, interestingly enough, guess when the most popular time of the year is when it comes to people (70 percent of which are women, by the way) filing for divorce? That, my dear, would be January.
The stress of the holiday season, compounded with so much focus on making resolutions for a new year, oftentimes is what sends husbands and wives over the edge. To them, ending their marriage at the top of the year means a fresh start. It means no longer having to tolerate what they've had to for weeks, months, or even years on end.
Now here's the thing. While I personally think that marriage is several steps up on the commitment tip from dating (I also think a lot of us could be spared unnecessary heartache if we processed it this way. Check out "Why You're Always The One Who Prepares A Man For His Wife"), at the same time, most people don't get to the point of proposals, marriage, and possibly divorce without it, right? That's why, in the effort that all of us can get to who and what is best for us (and also so we won't end up wasting precious time), I thought it would be a good idea to run down a few reasons why ending the year with a breakup, may actually be what's ultimately…best.
Featured image by Giphy
Keep reading...
Show less
Yeah buddy. Let's do this. Not too long ago, while in an interview, someone asked me if, due to my age and because I've never been married before, would I be open to dating or marrying a younger man. While I personally think that what qualifies as being any real significant age difference is a guy who is more than five years younger than I (or you) and since I've never done that before, I had to give the question some real thought. The main reason is because I know a lot of people, both in my family and out, who have done this and boy — has it been quite the roller coaster ride.
So, let's explore. When it comes to dating a man who is more than five years your junior, like most things in life, there are highs and potential lows; especially if you want to go the distance. And since I'm all about an ounce of prevention being worth far more than a pound of cure, there's no time like the present to get real — about both.
PRO #1 of Dating a Younger Man: So Much Is Fresh, New and Exciting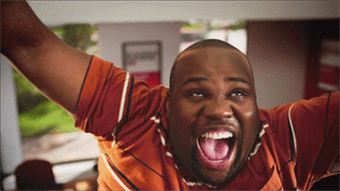 If there is a man who happens to be tiptoeing in and reading this, please know that I mean absolutely no disrespect when it comes to the comparison that I'm about to make. That said, what's one of the most fun things about watching a newborn baby grow up? Everything is new to them which makes it enjoyable for us to witness. Along these same lines, when you've had a few years up on someone, there's a really good chance that there are some "been there, done that" experiences that you've had that they haven't yet.
Still, to go through those things all over again while seeing it through their eyes, that can be fresh, new, and exciting. At the same time, because younger people oftentimes like to take more risks, they may be able to convince you to try things that you would've never considered — or thought yourself out of — had they not been in your life to make the recommendation. And that can make living the current season of your life super exhilarating.
PRO #2 of Dating a Younger Man: There's a Great Chance Your Libidos Will Be in Sync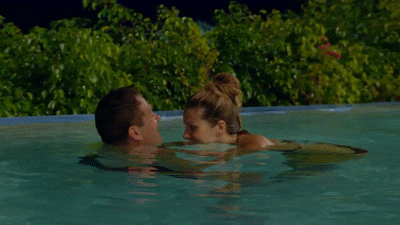 I'm pretty sure you've heard somewhere that a part of the reason why a lot of older women and younger men "vibe" so well is because their sexual peaks gel together, extraordinarily so. While it has been reported that a lot of men peak in their 20s as we peak in our 40s, there is also data to support that many men get their "second run" in their 50s, so to say that you should be with a younger guy because the sex is automatically going to be better isn't necessarily the case. Honestly, as a marriage life coach and doula, what I've observed about the sexual compatibility of older women and younger men is multifaceted.
For one thing, once a woman has hit menopause (check out "Sex And Menopause. What You Should Know."), if there's one thing that she doesn't have to worry about, it's getting pregnant which can cause her to relax in sex a whole lot more (you'd be AMAZED by how many men have told me that the sex got so much better once their partner knew they couldn't get pregnant again under any conditions). Secondly, a lot of times younger folks are still trying to figure out what works for them and what doesn't, so they may be more open to trying "unconventional things"; when you pair that up with the experience of an older partner, it can really cause the sex to go totally off of the charts.
Third, a lot of younger guys have higher testosterone levels, so while older men may be able to "love you down" well the first round or two, after that, they might be ready to call it a night while younger ones can oftentimes be like energizer bunnies. So yeah, if you feel like you've got your second wind and you're in your late 40s-50s, this can definitely be a solid reason to consider hooking up with someone who is younger than you are.
PRO #3 of Dating a Younger Man: Younger Men Tend to Me More "Flexible"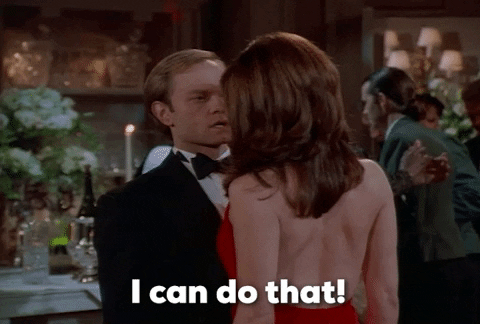 On the heels of what I just said, while it might seem like I'm talking about sex, I'm actually talking about how much younger men tend to be less set in their ways than older men and ourselves. Even if you're 50 and you're dating someone who's 30, while he is still a grown-ass man, you've got 20 more years of experience and came-to-the-conclusion resolves than he does which means he's still probably more willing to compromise than a man who is the same age as you may be. Plus, since no relationship really works or lasts without flexibility, dating a younger man could help you to go the distance with someone else while also teaching you to be a little less "set in your ways" (or dare I say it…stubborn).
PRO #4 of Dating a Younger Man: Less Years (Usually) Means Less "Baggage"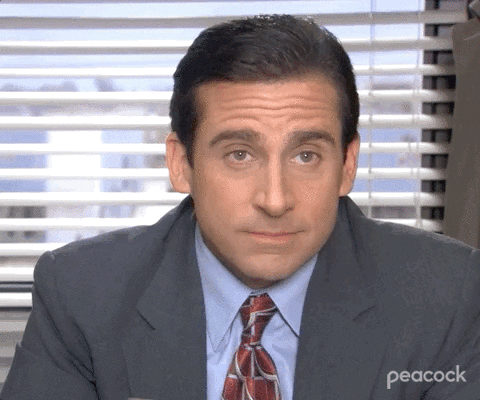 I'm not sure why the word "baggage" triggers so many people because, if you're human, you have some. And yes, the more years that you've been on this planet, the more baggage you've probably got. That's why I don't get people who have a hard time (sometimes to the point of being patronizing and condescending as all get out) with getting involved with people who haven't slept with a lot of folks or dated a ton of people. Although we live in a culture that seems to jeer at innocence and inexperience, I personally find a lot of it to be quite refreshing. If you're someone who can help a younger man to learn more about love, to see the world through another set of experienced eyes, or to consider other possibilities — what's wrong with that?
If you end up casually dating a younger man, it evolves into something serious and he's never been in something as significant before — what's wrong with that? If until you, he's never gotten so many stamps on his passport or knew that intimacy could be the way that he's had it with you — what's wrong with that? While a benefit to having a lot of life experience could be wisdom (wisdom isn't automatic; it's a choice), a benefit to not having much at all is that you're a clean(er) slate that is willing to be less (potentially) jaded and cynical. For the life of me, I don't know how this isn't a huge plus. I really and truly don't.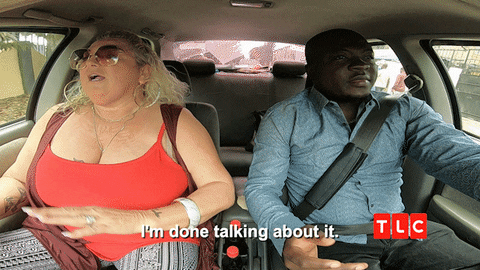 CON #1 of Dating a Younger Man: You're in Different Seasons/Stages of Your Life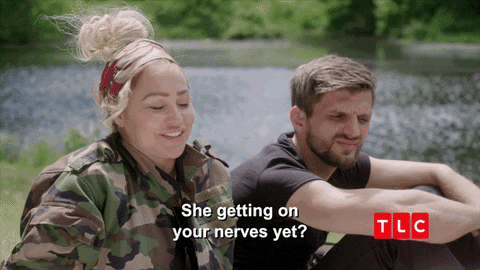 Recently, while channel surfing, I stopped at a particular reality show and then got super triggered because it hit a little too close to home. A woman, who is currently dating a younger man, was trying to convince him to help her to raise her young daughter while also trying to convince him to not want to have any kids of his own because she has already tied her tubes and doesn't want any more kids. While folks have the right to…want what they want, I'm not sure there are too many better examples of what entitled actually looks like and I was triggered because I know someone who is just like this — wanted a man to help her with her two children yet couldn't give him any and still tried to make it look like a test of his love should be to marry her anyway. Selfish, selfish, selfish.
When you're out here casually dating a younger man, stuff like this isn't that big of a deal. Oh, but when you're considering a long-term commitment, discussing that an age gap can point to being at very different seasons and stages of life are extremely relevant. And when it comes to love, something that isn't discussed, nearly enough, is sometimes you've got to love someone else enough to let them go, so that they can be with someone who can meet the needs that they have — the needs that you don't want to meet, no matter how much you want to be with them.
Yes, being an older woman means you need to be grown about ish. Please make sure that you are.
CON #2 of Dating a Younger Man: It Can Be a Challenge to Not Emasculate Him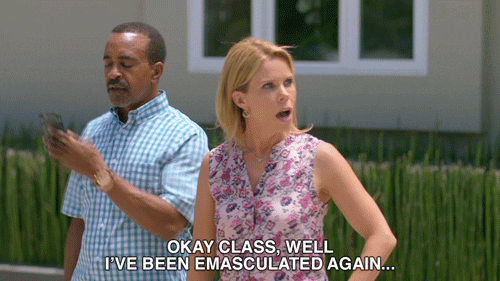 I have a theory and I believe I've shared it before on this platform — the reason why so many people claim to love their kids more than their spouse is that they can control their children. Their spouse? Not so much. As far as being controlling goes, there are exceptions to this rule which is why I once wrote "Are You His Partner Or His Second Mama?" on here. Unfortunately, some people think that a part of their job in a romantic relationship is to boss people around and act like a second parent when trying to change a person should never be the objective (check out "The Right Relationship IMPROVES Not CHANGES You").
If you're with a younger man, you have to be careful to still see him as a man and to honor him as such because just like you would feel some type of way if he treated you like an "old lady", he has every right to be offended if you treat him like he's a little boy.
Oh, and if the first thing that comes to your mind is "If he doesn't want to be treated like one, he shouldn't act like one," that's the first clue that you probably need to date someone older. People who are comfortable with being condescending are problematic on so many levels and if his actions have you feeling justified in degrading him, you don't need to be seeing him anyway (if you feel otherwise, reflect again over the whole control thing).
CON #3 of Dating a Younger Man: You May Be Dismissive of His Long-Term Plans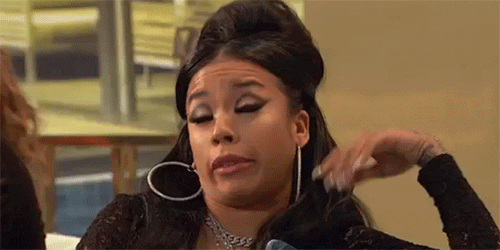 In another article that I wrote for here, I mentioned how one of my favorite movies is Prime (Meryl Streep, Uma Thurman, Bryan Greenberg). In it, Uma was dating someone, I believe they were 10 years apart. Something that I really liked about the film is that she clearly came along to encourage him to pursue his life's passion for painting; he might not have without her presence in that season of his life. At the same time, she was entering the age where it gets harder for women to conceive while he was just starting to connect the dots on what he wanted his career path to look like. And while he was willing to "give her a baby," he wasn't doing it because he was at a point in his life where he wanted to be a father; he simply cared for her and didn't want to lose her. Wisdom teaches that, while sweet and endearing, that reason simply isn't good enough.
My point? Suppose Uma's character had been so selfish that she didn't care. And then he wouldn't be able to paint full-time because he would need to figure out how to be a parent and provide for another person? That could've hindered him from fulfilling his path and purpose. Oftentimes, when dating someone younger, we can be tempted to overlook stuff like this. That's why, my two cents would be, that in the beginning stages of a relationship with someone younger if you see that it really could be heading somewhere, ask him what his five and 10-year plans look like. Then be really serious about if in being with you there is room for compromise or he would have to surrender more than he should in the long run. Because if it's Door B, I'll just say that I have listened to far too many men who have harbored resentment because their partner required them to put their dreams on the backburner, indefinitely, in order to be with them. Rarely does that work in anyone's favor. Trust me.
CON #4 of Dating a Younger Man: Maturity and Stability Aren't Always or Necessarily Their Strong Suit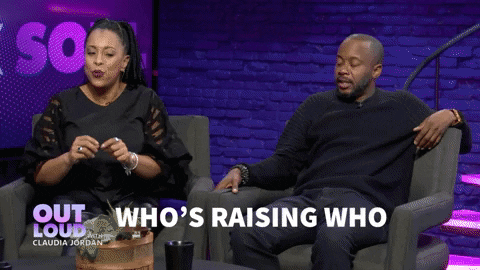 Some of y'all and this disdain for video games, boy (LOL). If more folks knew the benefits that come with playing them (not obsessively but playing them nonetheless), you might be more encouraging of your partner's excitement over them. Video games reduce stress, help to boost memory, can assist with problem-solving and so much more. That's why, one of my running jokes with some of my wife clients is, "You better let your husband play that game. He could be figuring out how to pay the rent while he's doing it." Where am I going with all of this? When I speak of a potential con of dating a younger man is dealing with his instability and/or immaturity, I'm not referring to stereotypical things. I'm talking about the fact that purely a lack of time could result in him not being mentally and emotionally where you are.
Case in point. I know a wife who married someone almost eight years younger than her. For years, she was constantly complaining about how he wasn't a good budgeter; how he needed to "grow up" in that area. Finally, one day I asked her what she was like with money at his age. As she went on about overdraft fees and paying bills late, she finally paused because she caught where I was coming from. How is it that she should be given time to "get herself together" while he shouldn't?
While a younger person dating someone older can oftentimes influence them to "grow up faster" in some ways, it really needs to be up to them, whether or not they want to do that instead of the older person constantly nagging, berating, or denouncing the person they are with for being what is obvious — younger than they are. Can we all bring some "ah-ha moments" and life hacks to others? Sure. But should we be mad that someone acts younger when they are younger? I mean, pardon the pun but that doesn't sound super mature…now does it?
This is the kind of topic that could go on for days. For now, I just wanted to drop a few things to think about should you be seriously contemplating a more-than-casual experience with a younger man. Because, as with everything in this world, it's got some good points and some things to consider long and hard. Please make sure that you do. For his sake (and time) as well as your own. Feel me? Somehow, I know that you do.
For more love and relationships, features, dating tips and tricks, and marriage advice check out xoNecole's Sex & Love section here.
Featured image by Getty Images
Keep reading...
Show less
Do you ever experience moments where, after the day is done, you reflect on certain conversations that came up and you're like, "How did I find myself so passionately involved in that?" Since I work in the field of relationships, while all of this is kind of an occupational hazard for me, I must admit that a recent two-plus hour discussion about the Dwayne-Whitley-Byron (you know, from A Different World) triangle was IN-TER-EST-ING. The bottom line is a guy was talking about how much Whitley would've been better off with Byron; that even Dwayne said so. Meanwhile, I was like, while their lifestyles may have complemented one another better (at least at the time of the engagement and wedding), no one should ever have to convince themselves to be with someone else and, while Whitley was dating Byron, she did that, more times than not — including the night before and day of her (attempted) nuptials to him.
If you've never seen any of what I'm talking about before, a YouTube clip of Dwayne interrupting the ceremony is here. Yet honestly, even if you are totally unaware of what I'm talking about or you're not a fan of the show (what in the world?!), all of what I'm saying is really just a backdrop of the topic that we're gonna tackle today. Because between those three and a lot of my clients, I can assure you that far too many people make it a point and practice to convince their own selves to romantically remain with someone. And if you bear with me, I'm about to share how and why that's so not a good thing. Not. At. All.
SIGN #1: You're "Aight" Yet Not Satisfied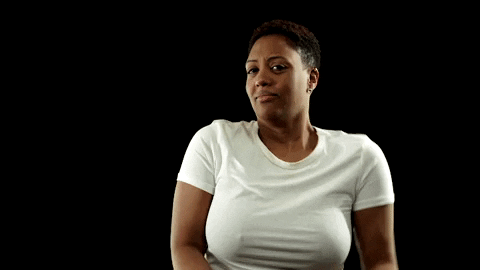 Listen, I will be the first to say that one of the biggest problems that a lot of people have is they worship the god of "being happy" instead of focusing on saying and doing what will make and keep them mentally, emotionally, and spiritually healthy. I'm so resolved about this, in fact, that I recently wrote an article about it for this platform entitled, "I've Got 6 Solid Reasons To Put Being 'Healthy' Over Being 'Happy.'" Along these same lines, I also believe that many people end up sabotaging what could be really solid relationships because they spend way too much time having a "fairy tale mentality" instead of approaching things from a realistic point of view. And when it comes to this particular point, what I mean by that is it is extremely unrealistic to believe that you are going to get everything that you want from another person (or that you'll be able to provide that for them). At the same time, I'm all about folks making sure that they feel satisfied with where they are and who they are with.
Feeling satisfied isn't about every whim being met. Feeling satisfied is about feeling content and content is about being good with the way things are, having peace of mind, and being willing to fully accept the circumstances that you are in — not one of these things…all of them. Something that I tell many of my clients is if you're constantly trying to change someone, if you can't relax and be present in your relationship, and/or if you are always complaining about your situation, yet you then turn around and say your relationship is on solid ground, you are in a serious state of self-denial.
Far too many of us are out here treading in water instead of swimming, even when it comes to relationships. It really can't be said enough that satisfaction should be a state of mind that all of us should be in when it comes to who we are with. Are you?
SIGN #2: You Love…You're Not IN LOVE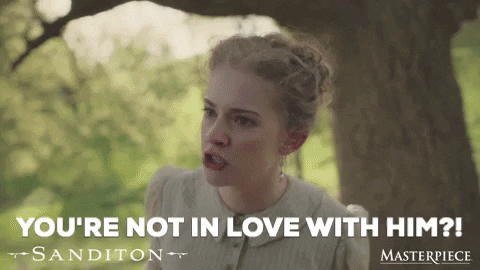 A couple of years ago, I wrote an article for the platform entitled, "Like, Love & In Love: How To Really Know The Difference." One of the points I hit on is the fact that, by definition, you can't really be "in love with" someone alone. That's because the word "in" literally means "in or into some place, position, state, relation, etc." while "with" means "accompanied by; accompanying". So yeah, for two people to be in an "in love" situation, both parties have to be on the same page.
That doesn't mean you can't love someone on your own, though. And sometimes, that love can cause us to think that we're in love; especially if the person we're with feels stronger about us than we do. Case in point. A wife that I know has been struggling in her marriage, shoot, since day one. When I asked her why she isn't more aggressive about requiring that her husband get help (there's no abuse; he's just someone in need of some therapy to get some real emotional intelligence going), she said, "I don't know. I do know that I'm in love with him, though." I challenged that by asking, "If the two of you didn't have kids together, would you stay?" and when she said, "Probably not," I said, "Most of the people I know who are in love are, come hell or high water. So, are you in love? Are you really?" She was silent after that.
I should've said in the intro of this that this article is mostly for singles (meaning if your current tax records reflect that as being your relational status) because the advice that I have for married folks on a subject like this is very different because I see that kind of relationship very differently (check out "What Should You Do If You Feel Like You Married The Wrong Person?"). What I will say, for now, is "love" is not the same as "in love" and if you have to tell yourself otherwise, you are someone who should read this article all the way through.
You know, a wife once told me that the night before her wedding, to her second husband (who is now an ex-husband), she knew she wasn't in love with him. When she told him that, he said, "I've got enough love for the both of us." Only people who are hooked on romance novels and Hallmark movies think that's romantic. The rest of us know that is a red flag like a mug. No one can make up for the love someone else doesn't have. So, if you've been trying to "fake the funk" in this lane…one way or another, a crash is up ahead. Don't say I didn't warn you. You're either loving or in love. Which is it?
SIGN #3: You Defend the Relationship More than Praise It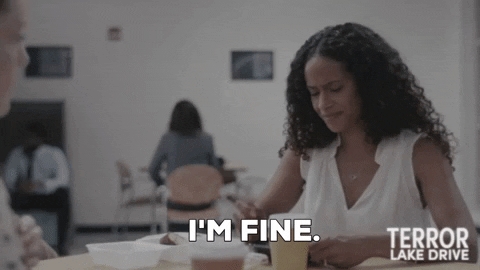 Some of y'all are in a ridiculous pattern and you know it. On one hand, you want your friends to totally have your back as you constantly complain about your partner and the issues within your relationship. Then, when you're over it (or you've at least convinced yourself to be that way), you want them to act like they didn't hear all of what you just said. And while you're now trying to convince them, for the umpteenth time, that things really are better than what you said that they were, just a few days ago, your homies are like, "Yeah. OK, girl."
A part of what comes with being a good friend is supporting your tribe. No doubt. A part of what comes with being a mature human being is truly getting that relationships have ups and downs, no doubt about it. Still, if your peeps are really paying attention, they are going to take note of how much you are complaining and then defending your relationship as opposed to singing the praises of your guy and how things are going. And listen, if the split tends to consistently be 60/40 in the favor of complaining and defending, you already know that I'm gonna say that that ain't good. In fact, the defending that you're doing is alerting you to the fact that you're not as fulfilled as should be. Please don't ignore that.
SIGN #4: You're Turning into a "Time Fighter"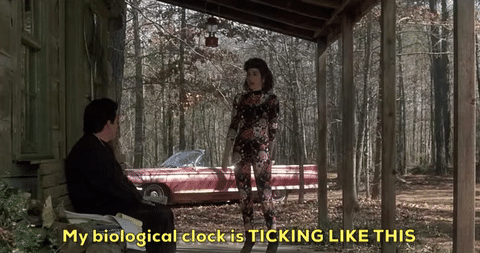 A movie that I've watched, Lawd, who knows how many times is Prime (Meryl Streep, Uma Thurman, Bryan Greenberg). Anyway, when the main guy character's best friend finds out that he's dating a significantly older woman, he calls her a "time fighter." Now, before some of y'all get triggered to high hell, his reference has some validity to it. Sometimes, when an older woman is dating a younger man, the challenge can be that they are in two very different seasons of life. Because of that, she can end up trying to push him, manipulate him, or CONVINCE HIM to move into marriage or children before he is ready. Why? Because she doesn't have the same kind of time that he does to play around.
Another example of "time-fighting" is you have a one-, two- or five-year plan that causes you to treat your partner like an "add water and stir" type of thing. What I mean by that is, it's not so much that you think "he's" the best match for you…you simply don't want to start over and so you decide to make — and by "make", I mean force — it to work, so that you can avoid the fear of having to start all over again.
If there's one thing that you should definitely avoid, it's trying to rush time. Whether it's a marriage timeline, your biological clock (check out "Tick Tock: How To Get Over The Fear Of Your Biological Clock"), an upcoming opportunity that could require you to move out of state, or anything else that's got you feeling like you're in a race against the clock, time flying by is not a good enough reason to stay with someone or pressure them because there are many married people who will vouch for the fact that rushing to the altar can sometimes result in time standing completely still, miserably so, after saying "I do" (check out "7 Men & 7 Women Tell Me Why They Think Their Marriage Ended").
SIGN #5: You Continually Overlook That "Gut Feeling"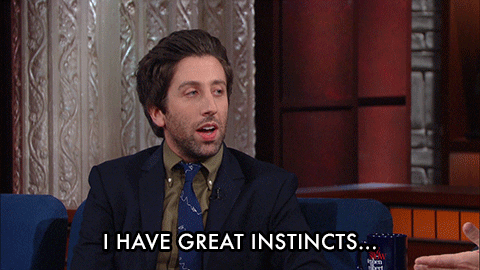 Gut instincts. Yes, there is something to be said for their accuracy. There is also something to be said for people who mistake "their gut" for actual projecting based on past experiences or unresolved issues (check out "When You Should Trust Your Gut & When You Shouldn't" and "So, Experts Have Something To Say About Your Intuition's Accuracy"). With that being said, I once had a boyfriend who I definitely convinced myself to be with. I wasn't attracted to him. He didn't have any money. We were good as friends yet didn't really gel so well beyond that. Yet I stayed for years because I ignored my gut saying, "He's a good guy just not my good guy" and tried to make it work because of the first part of that sentence. Then, as the whispers in my mind kept getting ignored, one day someone in my family said, "There are two things I know about [insert name here]. One, he's a really nice guy. The other is he's not for you."
I don't know what it is that causes us to want to tell our conscience or gut that it doesn't know what it's talking about because if everything was copacetic, neither would have much to say. You know, I once heard a mental health expert define our gut instinct as "having an immediate understanding of something". If you know that you've been arguing with your understanding of what you need vs. what you're settling for or what is doable vs. what is best, WHY ARE YOU DOING THAT? Your gut is trying to get you to realize what would be a better option. Respect it enough to silence your "pushback" and actually listen.
SIGN #6: Deep Down, You Know You're Making Too Many Concessions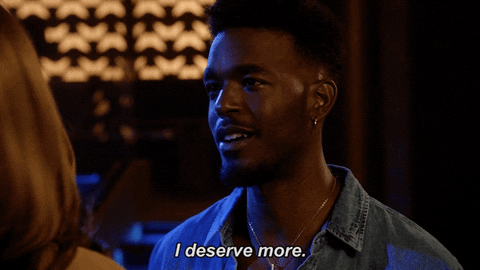 Something else that I'm a firm believer of is if a person is selfish, stubborn, unforgiving, controlling, or inflexible, they are far better off not being in a serious dynamic because, if there's one thing that a relationship requires, it's a semi-constant compromise — and sometimes, that compromise requires making some concessions. At the end of the day, all a concession means is you're willing to yield and all yielding is about is giving in…being flexible. While on the surface, this is all well and good, what you have to stay on top of is a quote by the late philanthropist Howard Hughes — "Once you consent to some concession, you can never cancel it and put things back the way they are."
As it applies to this particular topic, if you keep yielding either 1) without your partner doing the same on some level or 2) beyond your better judgment, you could find yourself bending to the point of literally breaking down. Because, after all, making concessions should be about doing what is needed in order to benefit the relationship overall — not damn near killing yourself, just so your partner can be happy.
I don't know any better way to close this out than with this point. If you are making so many concessions that you are losing yourself, you aren't even really at peace in your relationship or you can't remember your own wants anymore, that's another pretty telltale sign that you are convincing yourself to remain with him — and when you are losing yourself or your needs in order to keep a man, how is that possibly worth it? Like…ever? Helpful hint: IT AIN'T.
Yeah. All of that energy that you're putting yourself into convincing yourself to stay with ole' boy? How about redirecting it towards convincing yourself that you shouldn't have to do all of that. Relationships require an effort but it shouldn't be to constantly talk yourself to stay with someone. So, why are you doing it? Straight up, sis.
For more love and relationships, features, dating tips and tricks, and marriage advice check out xoNecole's Sex & Love section here.
Featured image by Getty Images
Keep reading...
Show less
I grew up in a home not knowing what a healthy and loving relationship looked like. And I know countless other women may have experienced the same. The same goes for men too. We gravitate towards partners that resemble what we know or what seemed to be normal when it never was. The saying is true - what is not healed in your childhood later affects your adult relationships. We ignore red flags, settle for yellow flags, and most times miss all the green flags when it comes to dating. Why? Because it's a feeling that is foreign and doesn't register as normal. So, we run towards toxic and ignore the signs of what a healthy relationship may look like. And I was definitely the type to stay longer than I should in a relationship that wasn't for me. But my dating standards have leveled up. I learned the lessons and cut my losses.
The problem is we don't speak enough about what green flags are in a relationship. It's almost as if green flags are a rarity and hard to come by.
Because of social media, we have become hyperaware of nothing but red flags. And we now live in a world where we label almost any and all human behavior as "toxic". But this logic is hella flawed and can't be true. We can't just be out here labeling all men or some women as "toxic" or "ain't shit". C'mon now. But I'm going to stop here because that's a different conversation and a different article for another day.
But when you think of good or bad signs in general, we often think of universal signs, or we revert to what we learned as children. Traffic light colors. We all know red means "stop", "danger", or "warning". Yellow means "proceed with caution" or "slow down". And green flags mean you're "safe" or "good to go". As remedial as it sounds, this same concept applies when it comes to dating and relationships.
Not only do you need to know what type of personality traits you want in a partner, but you have to know what healthy relationship behavior is too. He or she can be charming and successful, but their habits or how they handle daily life can be detrimental. Here are some examples of red flags, green flags, and yellow flags (it's an actual thing) in relationships that you should know, look for when dating, or choosing to get serious with somebody's son or somebody's daughter.
Red Flags In Relationships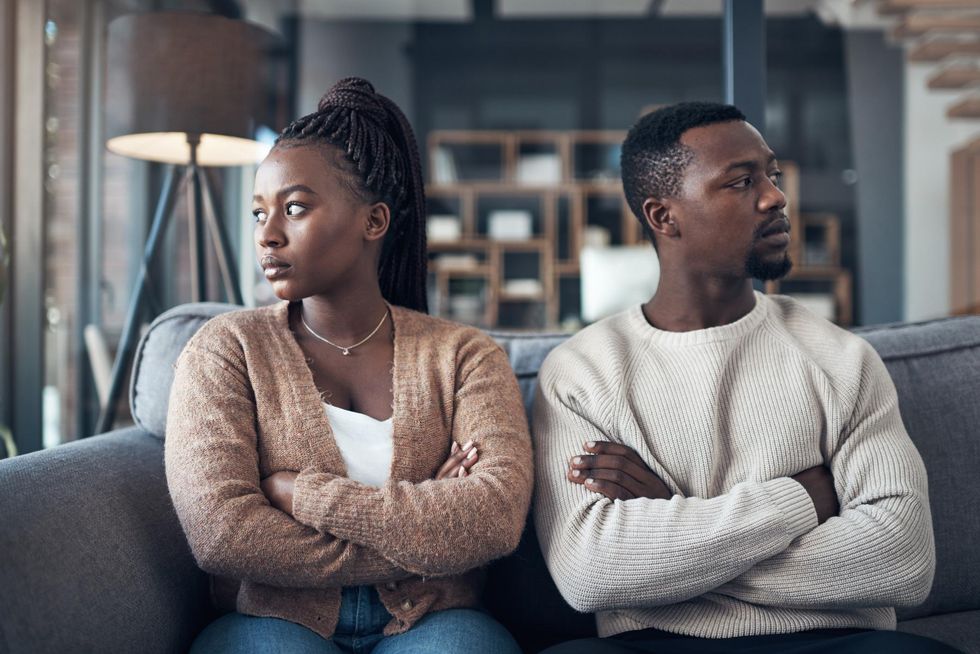 Getty Images
Red flags in relationships are signs that let you know that something isn't quite right. It's often a response, interaction, or behavior that leads to you question your partner and/or the relationship. And if you have to question it the first time, it's going to be a problem the second, third, and fourth time. This is where we fuck up. We don't listen to what our intuition is trying to tell us. According to a UK outlet, The Independent, a red flag in a relationship is defined as "something your partner does that indicates a lack of respect, integrity or interest towards the relationship."
Now, these signs of a red flag can vary, but it also depends on what you are willing to tolerate. Read that again. Some of us stay with partners because we're just not aware of unhealthy habits or behaviors.
Sheleana Aiyana, founder of Rising Woman on Instagram, shares some of the red flags you should look for when dating or consider before entering a relationship:
If any of these red flags exist in the person you are currently dating or in your relationship, you need to run the other way and/or amicably end it. I ignored all these signs in a past relationship, but I didn't know any better. I now know about non-negotiables in relationships. And it has been a game-changer. I know exactly what I won't tolerate and what identifies as a red flag for me.
Green Flags In Relationships
Now, let's talk about all things healthy in relationships. According to Nedra Tawwab, green flags in relationships are:
...up-front indicators that you're in a relationship that's worth continuing and nurturing. A new relationship full of green flags is a relationship in which you will probably be able to let down your guard and be your truest self.
Green flags are the complete opposite of red flags. What this means is that you won't have to question your partner's actions. You won't have to feel guarded or tolerate repeated behaviors that make you feel a certain way. It means they are willing to show up as a partner and be present in the relationship. It also means that the relationship is equally a safe space for both of you.
Nedra Tawwab and Sheleana Aiyana share some of the green flags to look for to cultivate a healthy relationship:
These are the healthy behaviors we want in not just a romantic relationship, but any relationship. Remember, love flows - it makes your heart expand. It makes your soul grow. What love doesn't do is make you feel small or constricted.
Yellow Flags In Relationships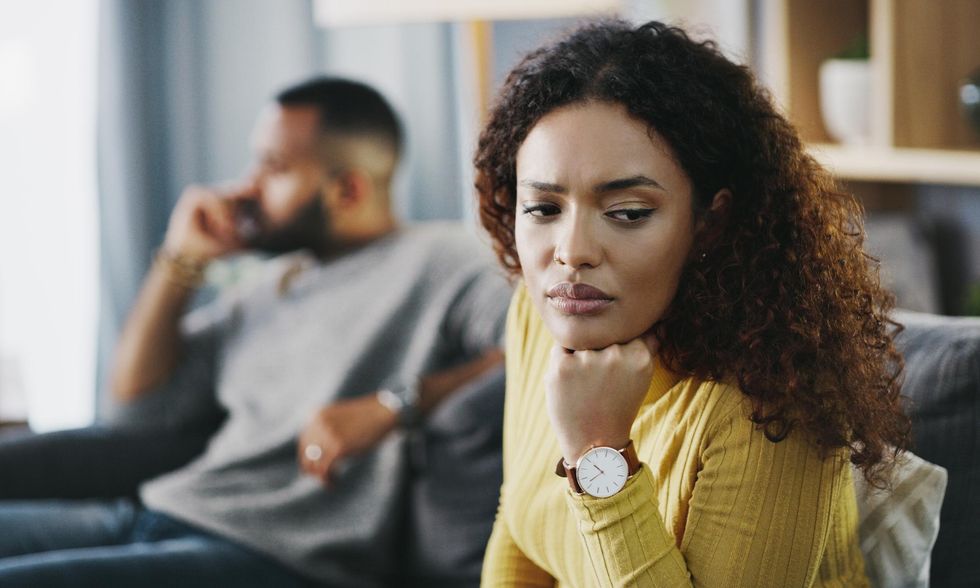 Getty Images
OK, yes. Yellow flags are real. It's the things we don't necessarily pay attention to about a person, but we should. These types of relationship flags are not deal-breakers, but they are signs that scream, "I don't know about this," or "That's weird." Yellow flags are also considered a behavior that can be acknowledged and worked on. But more importantly, you need to figure out if the behavior exhibited by your partner is a trigger for you.
According to an article from Medium and The Love Brain, some yellow flags to be aware of in a potential partner are:
Major debt. Everyone has some type of debt, but how someone handles their finances can be revealing about their money habits or level of responsibility.
Indecisiveness. The ability to make life decisions are important. If one is not capable of making decisions about their own life, you may not want to keep rocking with them.
Opinionless. Communication is key in any relationship. So, if a partner can't communicate their opinions to you, either they are not comfortable enough with you to share their thoughts or they don't have thoughts to share.
Never had a long-term relationship. It's not a major yellow flag, but it could shed light on commitment issues.
An ex is always why a past relationship failed. If someone always blames their ex for their relationship not working out, this means that they refuse to take any accountability for their actions or they are victimizing themselves.
Different life plans. Again, it's not a bad thing, but if you and your partner can't meet in the middle about your life plans, then you may want to consider parting ways.
Details about their personal life are left out. This is dependent on the stage of the relationship you are in, but if a partner can't open up with you in time it's grounds for concern. It could potentially mean he or she is hiding things from you.
Highly insecure. It's never cool to have a partner who lacks confidence and who constantly seeks reassurance. It becomes emotionally exhausting. And if they're not willing to work on becoming a secure person, you might have cut ties too.
Where are their friends? A healthy individual has a network of close friends. If someone doesn't have friends or you haven't met their friends, it could mean they have trouble maintaining close relationships. Also, the type of company your partner keeps can give you insight into who they are.
Some of the yellow and red flags mentioned seem like things you normally would pay attention to upfront. But let me just say, not all yellow flags are as obvious and some of us are still learning how to date. This is where your list of non-negotiables comes to play. Study them like it's the Bible or a college textbook. This way, when you're dating someone, and they say something or respond a certain way, the yellow flag will become more apparent.
I missed every single yellow and red flag in a past relationship. I was so blindly in love that I thought we could just move past these little issues or eventually grow together. I was clearly in denial. But it's OK. Because now I know what green flags are and what traits or behaviors create a healthy relationship.
And my only hope is that we learn to say deuces to red flags, pass on the yellow flags, and embrace the ones who come with all the green flags.
Because in the end, this is who you want - a life partner that is a safe space and more.
For more love and relationships, features, dating tips and tricks, and marriage advice, check out xoNecole's Sex & Love section here.
Featured image by Getty Images

Keep reading...
Show less