I, like so many other people, have often struggled with the idea of dating people who aren't my type. It's not that I'm not open to dating someone I'm not attracted to, it's really just a matter of how? How do you reject everything you know and give something new a chance? Especially when it seems that we're not authentically attracted to "something new" because it is oftentimes so different from who we'd usually pursue. Admittedly, attraction can be superficial upon meeting anyone considering all you see are looks. However, shouldn't you be able to enjoy your person physically in addition to all of the other stuff?
Though regular Kiarra would likely say yes – the expert in me can see how dependence on superficial details provides superficial results. Sometimes a pattern that shows up in your dating history could be traced back to sticking to a "type" and venturing outside of who you typically gravitate towards could lead to growth you wouldn't have otherwise gotten. You limit yourself in the name of love which is why going against your usual type is something experts have increasingly recommended over the years.
But, dating outside of your "type" or comfort zone is one of those things that everyone suggests without acknowledging that it requires a conscious effort, and thus they rarely give you the low on how. The question then becomes: how do you date someone you're not attracted to?
Clearly, this is not my forte, so I connected with Damona Hoffman, dating coach with OkCupid and The Dates & Mates Podcast. Hoffman provided some insights on where to start when it comes to dating outside of the box we've created for ourselves.
What Does Having a Type Mean?
So first things first, why do people have a type? As Hoffman explains having a type has everything to do with the Familiarity Principle. "In social psychology, there is a philosophy called the 'familiarity principle,' which shows that humans develop a preference for something to which we are regularly exposed. Studies have shown that we are attracted to what is familiar to us. When we operate based on physical attraction alone, we are usually falling victim to our social conditioning." Hoffman adds that what we find attractive is programmed based on what is familiar to us.
The key to opening yourself up to dating someone who is not your type is to unpack the programming you have about attraction. In order to start saying no to the familiar and open yourself up to the unfamiliar, Hoffman provides the following solution: "The 5 Whys" technique.
"The method is surprisingly simple. When you have a problem or question to solve, you start by asking, 'Why?' Each answer is followed up with another query: why? Once you answer 'why' five times, you get to the root cause of a belief. If we can get down to how a belief about attraction was formed, we can recognize when we are falling into old programming and take steps to unravel it."
Hoffman continues, "The 'why' is to help us develop clarity in our choices. Many times we end up with preferences by default when we don't take the time to unpack why we believe what we believe or want what we want. Sometimes the final 'why' leads us to clarity that there is a preference there that serves our larger relationship goals. Sometimes we find that we are operating based on our conditioning and we can open up new possibilities for ourselves if we open up to saying 'yes' to different options."
Dating Someone Who Isn't Your Type
There truly is no growth in any given situation without going into yourself – everything, every journey begins with self. If we can become more aware of the choices around attraction that we make on a conscious level, then we have the ability to say no to them and yes to things that may serve us far more down the line. "Based on the familiarity principle, simply choosing to date and spend time with people who are different from your typical type could lead to developing a preference for a new aesthetic or valuing other qualities," says Hoffman.
With that in mind, I would argue that if you say 'yes' to enough opportunities that are outside of your checklist, then your type will start to shift and hopefully shift to a more open-minded space. This allows you to date someone you might not ordinarily be attracted to, which will perhaps serve as a catalyst for the relationships you seek.
If you're considering dating outside of your type, Hoffman says that research shows you're not alone. "Overall, daters are becoming more flexible about attraction though. On OkCupid, 96% of Gen Z and millennial daters are open to dating someone that isn't their usual type. Daters are prioritizing beliefs and values over physical attraction."
Let's make things inbox official! Sign up for the xoNecole newsletter for daily love, wellness, career, and exclusive content delivered straight to your inbox.
Featured image by Getty Images
As you may know by now, the summer produces some of the best and most nostalgic soundtracks of our lives. The mood is set by fun and light sounds of the past and present, giving you the playlist that you need for the summer you want. Summer, no matter how hot, is a magical season where anything can happen, especially in the romance department. Long nights and short days act as a backdrop to new beginnings, summer flings, and the possibility for more (depending on what you're looking for). But it doesn't mean the romance has to be dull, regardless of the timeline you're hoping to create. Like I said before, summer is what you make it so the options are limitless.
Should this be more of a romantic rendezvous with your boo thang (because romance occurs within friendships too), sex may or may not be off the table during the sticky days of the lasting summer heat. If so, there's nothing like a cute, cinema-esque date with your person to add a little razzle-dazzle to this already magical time of year. Upping your chances of making this a whole evening of loving. Yes, if you're lucky…you might just get lucky (er, luckier) with a little bit of intentional planning.
With that said, for a fun summer date night idea, check out one of these 10 ideas to upgrade you and your date nights throughout the season.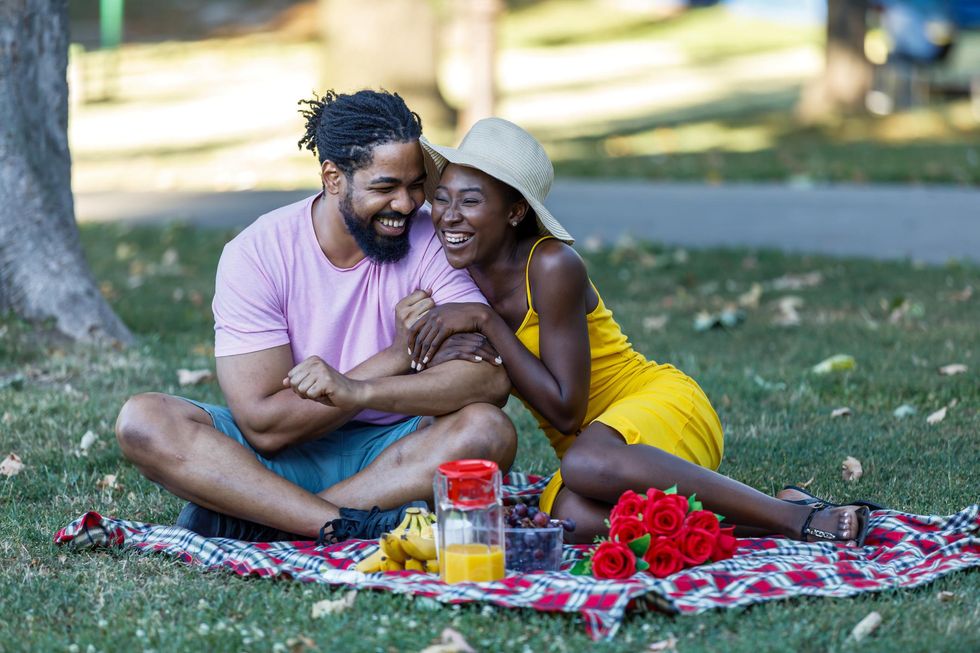 Getty Images
1. Luxe Picnic
Luxury picnics have trended up over the past couple of years and thankfully so. For all my bougie girls, it's a real Hilary Banks spin on an old-school concept. You can plan this concept out yourself, however, they have become mainstream. Meaning you can also hire someone to put this fabulous date night (or girls' day) together for you – allowing you to simply show up and enjoy the ambiance.
2. Drive-In Movie/Movie in the Park
A date at the drive-in is a summer classic! And honestly, I'm not sure if they're romantic or the perfect place to hook up – something in me says those old-school movies set in the 40s that showed a couple at a drive-in movie date were hinting at a little more than romance. Still, the bomb thing about this date idea is that it has to occur in the evening which means less sun but packs all the heat (winks) and hopefully a cool breeze.
Another romantic way to capitalize on this vibe is to do a movie date in the park. Many cities offer opportunities for Screen on the Green or cinema in the park during the summertime (Los Angeles has an outdoor cinema year-round called Cinespia that shows classic movies). Though it's not quite as intimate as a drive-in, the experience is a summer date idea worth mentioning.
3. Strawberry Picking
For this summer date idea, you can go strawberry picking or really any type of fruit picking that is local to you. Once you all finish picking the fruit, have a chilled bottle of wine with you to have with your fresh picks. If alcohol is not allowed in the facility, take this opportunity to do a rooftop car picnic or find a nearby lake, field, etc. to set up shop in. (Picture that scene from Jason's Lyric).
4. Hot Air Balloon Ride
If you're not afraid of heights, a hot air balloon ride is a mile-high club that seems well worth the experience. Depending on where you live, you may want to go out somewhere scenic to get a really picturesque view down of the city or the rural area below. Allow yourself to be captivated by the flush of golden light from the sunset on the horizon as you experience an adrenaline rush that takes an average date night to new heights. I think this is the perfect intimate outing where there's less demand for dialogue.
5. Grape Stomping
Because grape stomping, or grape treading, isn't necessary to make wine these days, consider this a novelty experience. You can sip on some wine while you and your partner stump all on grapes, which weirdly enough seems sticky but refreshing. Once you finish, you and your partner can wipe one another's feet down and add in a little massage. Look to Airbnb Experiences for grape stomping opportunities that might be near you or someplace you hope to visit with your partner soon. Food & Wine Trails also has a list of the top five regions to visit for grape stomping that you can find here.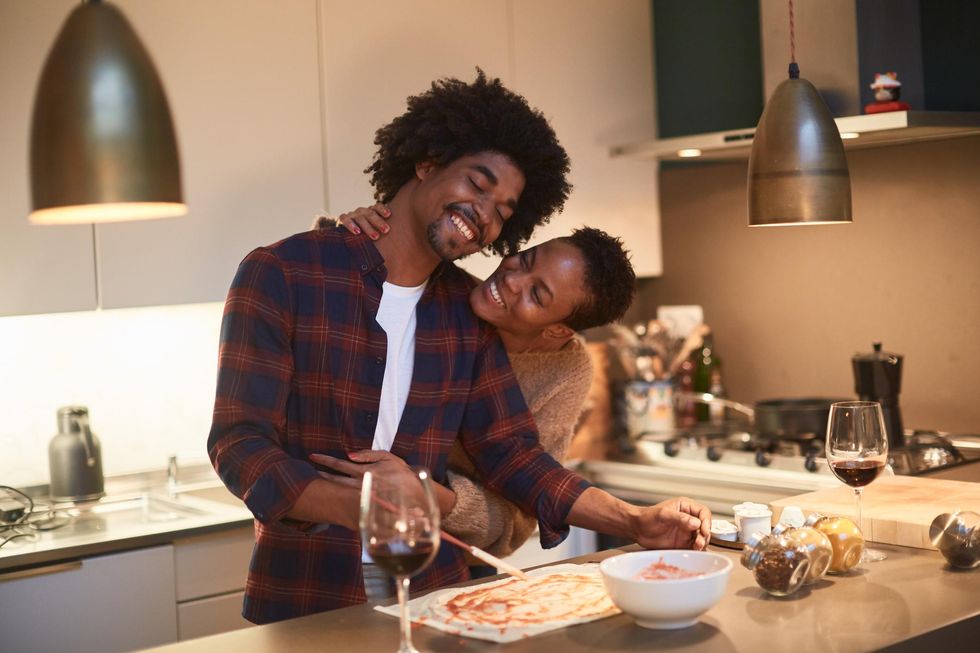 Getty Images
6. Couples Cooking Classes
Beat the heat while making something yummy to eat. Cooking is such an intimate act and when you take the extra step of preparing something you've never cooked before in a class setting, you open up the floor to add some novelty to your date night as well. This also allows you to try something new for the first time together which is a great way to add to your connection. Couples cooking classes are pretty common so you might even be able to find a Groupon or Airbnb Experience for this. However, if you know a chef who you enjoy and can reach out to perfectly that would be even better!
7. Water Balloon Fight
For the goofy couple, who adores embracing their inner child, grab the Super Soakers and water balloons! Not only is this a fun and out-of-the-box way of bonding with your person or people, but it's also the perfect way to keep cool on a hot summer day. A couple that plays together stays together.
8. Fair/Carnival/Amusement Park
Another activity inspired by throwback TV! Now that the world has opened back up, the go-to fair, carnival, or amusement park date during the summer is having a resurgence. I don't think it gets more intimate than riding rides and allowing another to hear you scream horrifically at every drop and turn. But furthermore, it allows you all to talk to one another as you keep your feet on the ground and win one another huge teddy bears.
9. Tandem Bike Ride
It doesn't get more Nicholas Sparks than this! Argue with someone else! Also known as courting bikes, the tandem bicycle is a great way to put a fun and romantic spin on bike riding. You can experience the trails and scenic views with your person slowly and closely, adding a layer of intimacy to bike riding you might not have initially thought of. Find your tandem bike, bring along some wine or champagne, and make a day of it while riding through your city. It's the perfect cycling date.
10. Bonfire
Kisses under the firelight? I can get behind it. Bonfires are also a great activity to do with others if you don't want to ditch the crew. This is probably perfect for a cooler summer night or even on a beach by the water. Be sure to bring along the smores kit so you can truly make this the top-tier experience you intend it to be.
Let's make things inbox official! Sign up for the xoNecole newsletter for daily love, wellness, career, and exclusive content delivered straight to your inbox.
Featured image by Getty Images
The only thing constant in life is change and if these past couple of years have shown us nothing else, it's that life be life-ing. Amid the pandemic, we saw (and continue to see) a lot of change in the way we lead our lives. It shifted the way we work, the way we approached our health and lifestyles, and the way we dated. This year is shaping up to display change in a different way, as many of us enter a season of a new normal and adapt to dating trends that better mirror who and how we are today. The weather is heating up and so is the potential for romance, as once again, we are shedding our homebody ways and radiating big "we outside" energy.
Dating trends in 2022 are less about the virtual dates and video call introductions of 2020 and more about mindful and exploratory dating. If you find yourself wanting to test the dating waters this summer, here are the trends Bumble predicts are on the rise for 2022. And as the old saying goes, stay ready so you don't have to get ready.
Being single is a vibe.
Since the pandemic, mindfulness has been a buzzword that is constantly at the forefront in many facets of our lives. All it means is a focused awareness of the present moment. And if you ask me, it's a welcomed addition to how single people choose to date. 'Choose' is the operative word here. Social isolation has reportedly brought about a rebirth of enjoying one's solitude. This in turn makes 53% of Bumble respondents cite that they were okay with being single, while 54% of single daters want to be mindful about when and how they date.
Mindful dating allows for daters to be one with themselves while also being present with potential dates. Instead of fighting their relationship status, this person is grounded and centered in their journey to love and the growth that comes with it. Mindful dating can look like communication that is open and honest, self-honesty, understanding your emotions, and ensuring your actions are in alignment with that.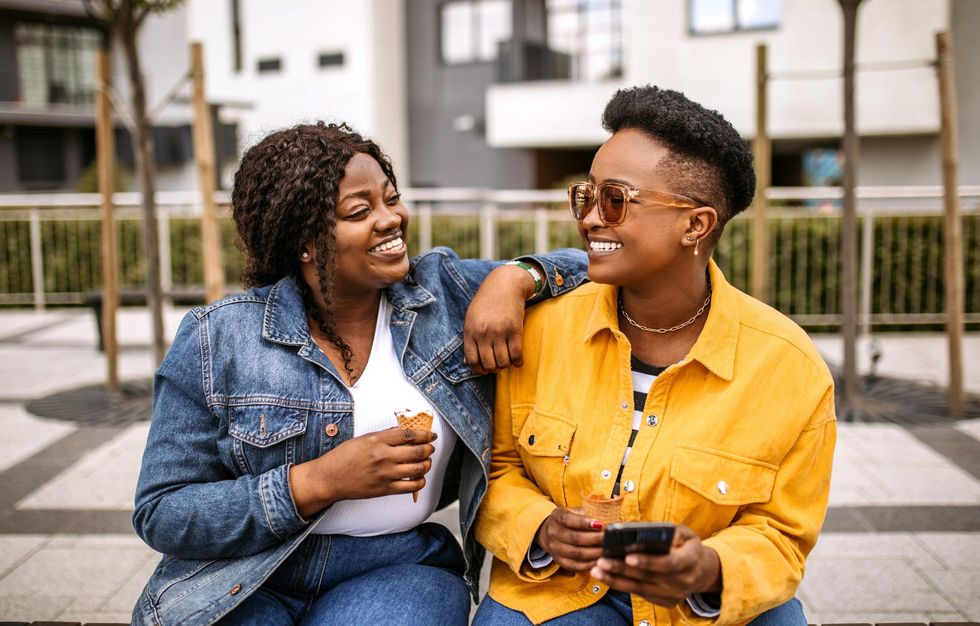 Getty Images
Open-mindness is reaching new heights.
"Exploratory" is the dating approach that 43% of Bumble respondents listed as their focus in 2022. Furthermore, open-mindedness is becoming more of a focus in the way we date. As time passes, people grow and so do their tastes. Daters are reportedly less likely to stick to a specific "type," and are expanding their horizons to accommodate people and experiences that pull them outside of their comfort zones and speak more to the person they are now. More openness is also being placed on the types of relationships we are in as well, as single daters are more exploratory of different relationship dynamics and styles.
When it comes to attracting love and people, single folks are practicing flexibility, and adaptability, and are reserving judgment to widen the pool and experiment with aspects in a partner and a partnership that they otherwise might not have considered.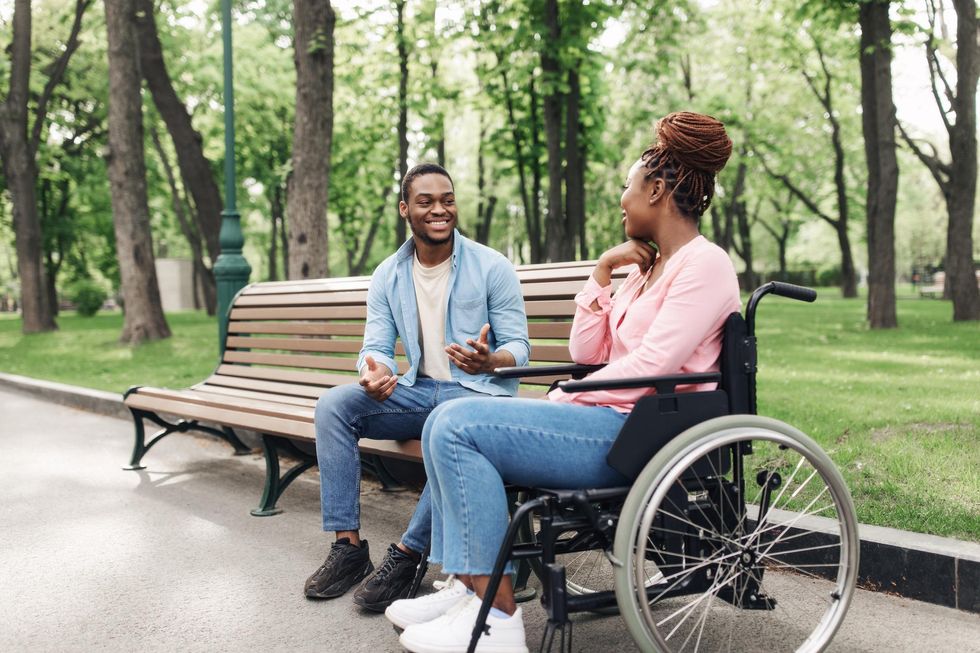 Getty Images
Dry dating is a thing. 
The customary "let's meet for drinks" is increasingly becoming a thing of the past. The stress, uncertainty, heightened awareness around mortality, and grief surrounding the height of the pandemic led to many people gravitating toward drinking more alcohol. Dry dating and sober-curious dating have started to see an uptick in popularity as 25% of people in the U.S. say that they are drinking less than they were pre-pandemic.
And what is sober-curious dating? It's just as its name alludes: a curiosity of dabbling in sobriety by decreasing your alcohol consumption. The intent isn't necessarily to quit drinking completely, but it is about making more choices in dating that aren't alcohol-centric. Some ways you can engage in dry dating or sober curious dating include going to the movies, the bowling alley, visiting a museum, meeting up for coffee, or even a non-alcoholic drink (mocktails are all the rage these days).
Let's make things inbox official! Sign up for the xoNecole newsletter for daily love, wellness, career, and exclusive content delivered straight to your inbox.
Featured image by Getty Images
What happens when the children of two comedy kings begin dating? You get Black love and, of course, jokes. Martin Lawrence's daughter Jasmin Lawrence, 26, and Eddie Murphy's son Eric Murphy, 32, are officially a couple. While it's unknown how long they have been dating, Eric revealed their relationship in June 2021 declaring that he was "Head over heels in LOVE" with Jasmin.
In July of that same year, the budding actress wrote a touching birthday tribute to Eric. "Happy birthday, my love! I'm so incredibly blessed to know you, to love you, and to have you by my side," she wrote. "Cheers to many more blessings, laughs, and beautiful memories! I love you so much!! 🖤✨"
From there, the couple have shared more photos of each other and in January, Jasmin gave insight into their relationship and how they met. In an interview with InTouch Weekly, the Relatively Famous: Ranch Rules reality star shared that while her dad and Eric's dad have starred in two movies together, they aren't responsible for introducing them. "My uncle actually introduced us. It wasn't even our dads and they've done two movies together. They're friends," Jasmin said.
She also said that she and Eric started off as friends before dating. "We became really good friends," she added. "We bonded on a lot of things. Obviously, we have similar backgrounds so we understood each other on a certain level and over time it just became more."
The Bad Boys for Life actress also dished on what makes their bond so special.
"He's my best friend. And it sounds cliche like you should be best friends but it's so true. We just love each other's company," she explained. "We laugh together. A lot of laughing as I'm sure you can imagine and having similar backgrounds definitely helps because there's certain things that I don't have to explain. He just gets it and he knows."
She also assured that their parents are supportive of their relationship. In a recent interview on Jimmy Kimmel Live, Martin spoke on whether he and Eddie have talked about their kids dating. "We haven't talked about it," Martin confessed. "We kinda stay out of their business and let them do their own thing and respect their thing."
But if Jasmin and Eric end up getting married, Martin joked, "I'ma try to get Eddie to pay for it."
Let's make things inbox official! Sign up for the xoNecole newsletter for daily love, wellness, career, and exclusive content delivered straight to your inbox.
Featured image via Jasmin Lawrence/Instagram
Yung Miami doesn't care what anyone says because she's living her best life. The City Girls' rapper, born Caresha Brownlee, hopped on Instagram following the premiere of her REVOLT TV podcast Caresha Please to thank fans for tuning in and also address the criticism surrounding her relationship with Sean "Diddy" Combs. Prior to the REVOLT founder's appearance on her show, Diddy, 52, and Miami, 28, have been fueling dating rumors after they were spotted out together on more than one occasion.
The "Top Notch" artist has even teased a few intimate moments between the two of them on social media. During the June 9th episode, they both confirmed the rumors that they were dating. The Monday after, the mother of two responded to some of the negativity. "Y'all always gonna come and say 'don't do this and don't do that,'" Miami said. "Don't tell me what the f— to do because I'm living my best motherf—ing life. I don't need no relationship advice from nobody, 'cause y'all bi—es ain't married neither. Y'all bi—es ain't been together with y'all men. Like, please. I don't need no relationship advice from nobody."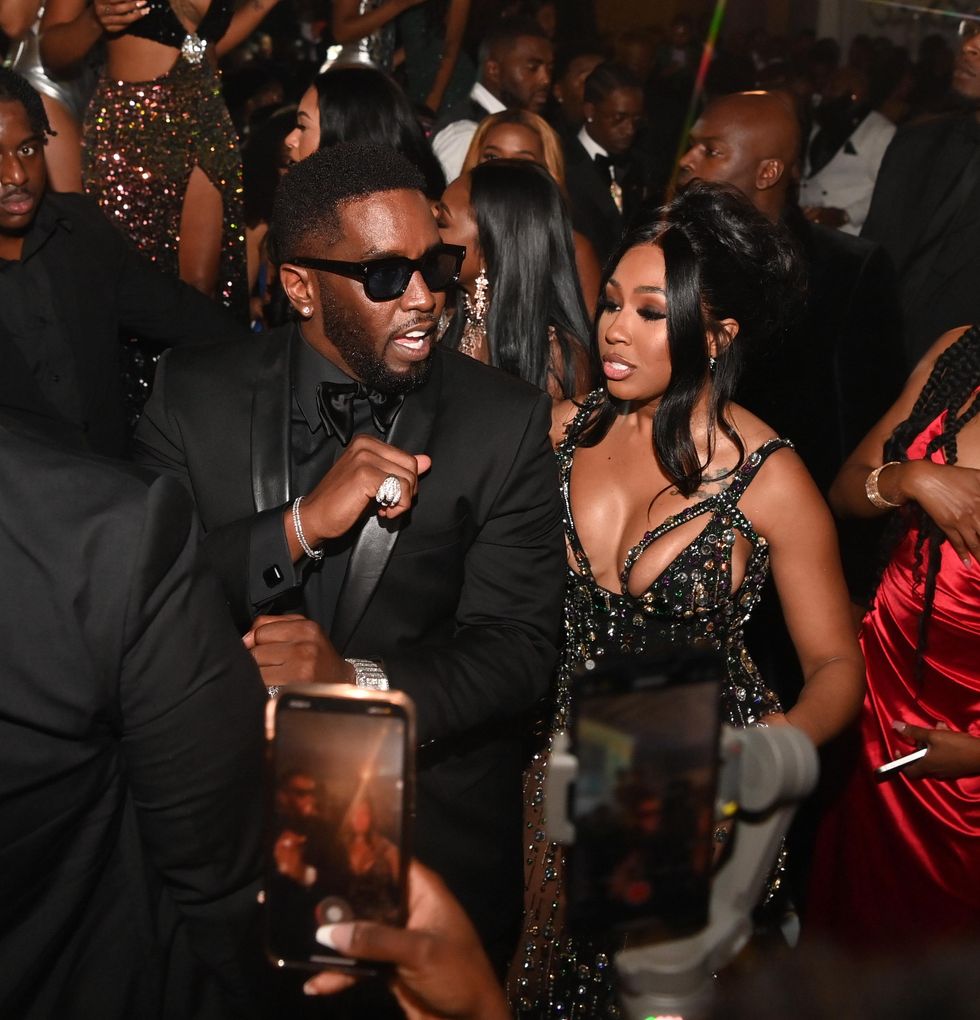 Prince Williams/Wireimage
She also lets it be known that she isn't being played and that she's in control of her dating life. "I don't need relationship advice from nobody on the Internet. I'm good. I'm having a good time. I know how to keep a man," she continued. "If I wanted to have a man, I know how to keep one. I don't need no relationship advice from y'all. Y'all bi—es ain't married. Y'all bi—es is baby mamas. Shut the f— up. Ain't no n—a walking me, ain't no n—a treating me no type of way. Bi—, I get princess treatment."
In the words of the City Girls "Period."
In the podcast episode, Miami asked Diddy the infamous question when dating, "what we is?"
He responded, "We date. We're dating. … We go have dates. We're friends. We go to exotic locations. We have great times. We go to strip clubs, church. Imma take you to church."
Both clarified that they were single but enjoy spending time with one another.
The premiere episode reportedly broke viewership records for the network with nearly two million viewers and one billion impressions.
Yung Miami & Diddy Talk Their Relationship Status, Dating, Love Records & More | Caresha Please
Let's make things inbox official! Sign up for the xoNecole newsletter for daily love, wellness, career, and exclusive content delivered straight to your inbox.
Featured image by Prince Williams/Wireimage
From singing to acting to reality TV, LeToya Luckett now has her own YouTube show. The "Torn" singer premiered her new show titled Leave It to LeToya this week on the Kin network which also houses Tia Mowry's Quick Fix, Adrienne Bailon's All Things Adrienne, and many others. Leave It to LeToya is a lifestyle channel that will touch on the singer's life, family, fashion, and much more.
The series already started off with a bang with her first episode featuring her ex-boyfriend Houston rapper Slim Thug. The former couple began dating in 2000 after meeting at a club in H-Town. They were on and off for 10 years and revealed that they were even engaged at one point. During their sit-down, the artists reflected on their relationship and whether or not they can give love another try.
Here are some highlights:
On How LeToya Luckett and Slim Thug Met:
They met at a club in Houston and LeToya shared that the "Like a Boss" rapper actually sent a friend over to speak to her. She reluctantly went over to meet Slim and they exchanged numbers. However, when the rapper called the Greenleaf actress the phone somehow hung up and they didn't speak until they met at a different club much later. "You can tell she was trying to get my attention. She walked by like five times," Slim said about seeing LeToya a second time, to which the singer denied. "He caught me in the corner when the lights came on," LeToya explained. She was also able to clear up what happened when she hung up on him and from there that was the beginning of their relationship.
On What LeToya Liked About Slim:
The "Regret" singer said that what drew her to the "I Ain't Hear of That" artist was his "confidence." "He's not shy when it comes to his artistry and his creativity. He's a star when he walks in," she said. She then began describing his appearance saying that his height at 6'6'' as well as his being handsome makes him stand out. "It's a light on him when he walks in any room. It's attractive."
On What Slim Liked About LeToya:
Slim admitted that he was initially drawn to LeToya's "drip." "She always dress like she going somewhere fancy," he said. He also shared that he was taken aback by her sense of humor saying that he didn't know she was that funny and that they felt like "BFFs." "We really enjoyed kickin' it," he said.
On Why They Broke Up:
LeToya cited the reason behind their breakup as being too young to settle down. "We tried to have something serious at a very young age," she explained. "I met him at 20. To my surprise, he was ready to lock in, get married, have a home, kids, in our early 20s. Although his heart was probably ready for something like that, his environment–they didn't align." While she didn't say whether there was cheating in the relationship, she did say Slim would often entertain the attention he got from women causing her to become frustrated and "leave a lot." "I felt like issues we could have probably worked through, talked through if I didn't feel that he was hearing me, or was ready to make the changes that needed to be made, I was out."
Slim, on the other hand, believes that their small disagreements and breakups to make-ups ultimately took a toll on the entire relationship. However, he did take the blame for their relationship's demise. "I do take the responsibility of being the person that messed up and I'm not blaming her at all. It was my mistakes that led us not being together," he said.
On If They Will Ever Get Back Together:
The former Destiny's Child member shared that Slim often told her they were "soul mates." She acknowledged that they already have a foundation, friendship, and history for a possible reconciliation. "I think it would be a conversation of what do you need? What do I need? This is what I need and what do you need?" She said.
"I know and I've learned that you can't make somebody happy. You have to be happy with yourself and be whole and then that person has to come in and complement that and see you and I think in my relationships moving forward, I have to be seen. The good thing about Slim is he has seen me in almost every way happy, sad, angry, confused, every state because we were a decade in so I think it would just be communication, patience for sure. This is what I want. This is what I expect. This is where I'm at."
Having a Conversation with My Ex
Let's make things inbox official! Sign up for the xoNecole newsletter for daily love, wellness, career, and exclusive content delivered straight to your inbox.
Featured image by Paras Griffin/Getty Images for Black Music Honors