When thinking of basics, I tend to think of a plain white, neutral or black staple that can be worn with just about anything in my wardrobe. From white tees to denim jeans, these are the type of classics most of us already own which means it's time to think outside the box when refreshing our mix of summer basics. After a tumultuous 15 months, I'm seeing a new trend emerge in the world of everyday fashion that I can only attribute to the excitement of getting dressed with somewhere to go. One of my favorites this season, the asymmetrical knit has been on my radar for the past few months and I'm loving how this simple yet chic detail can quickly elevate a look especially when paired with other cool basics.
This season is an era of sexy "basics" reminiscent of the early 2000's fashion evolution, full of risky decisions yet quirky perspectives on styles, brands today are redefining what it means to wear basics. Gone are the days of blending in, these are the knit basics that will effortlessly stand out.
Now Trending: White on White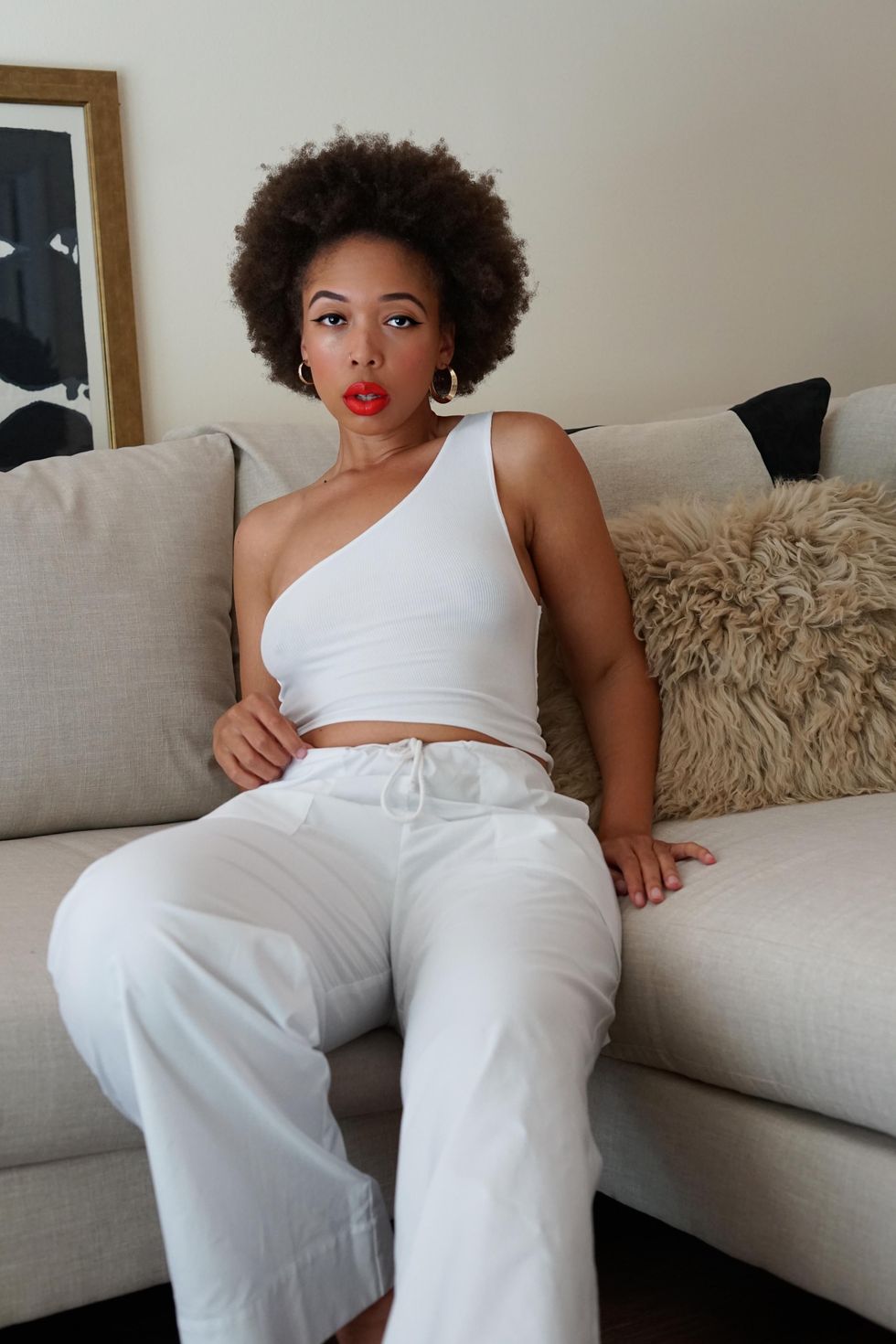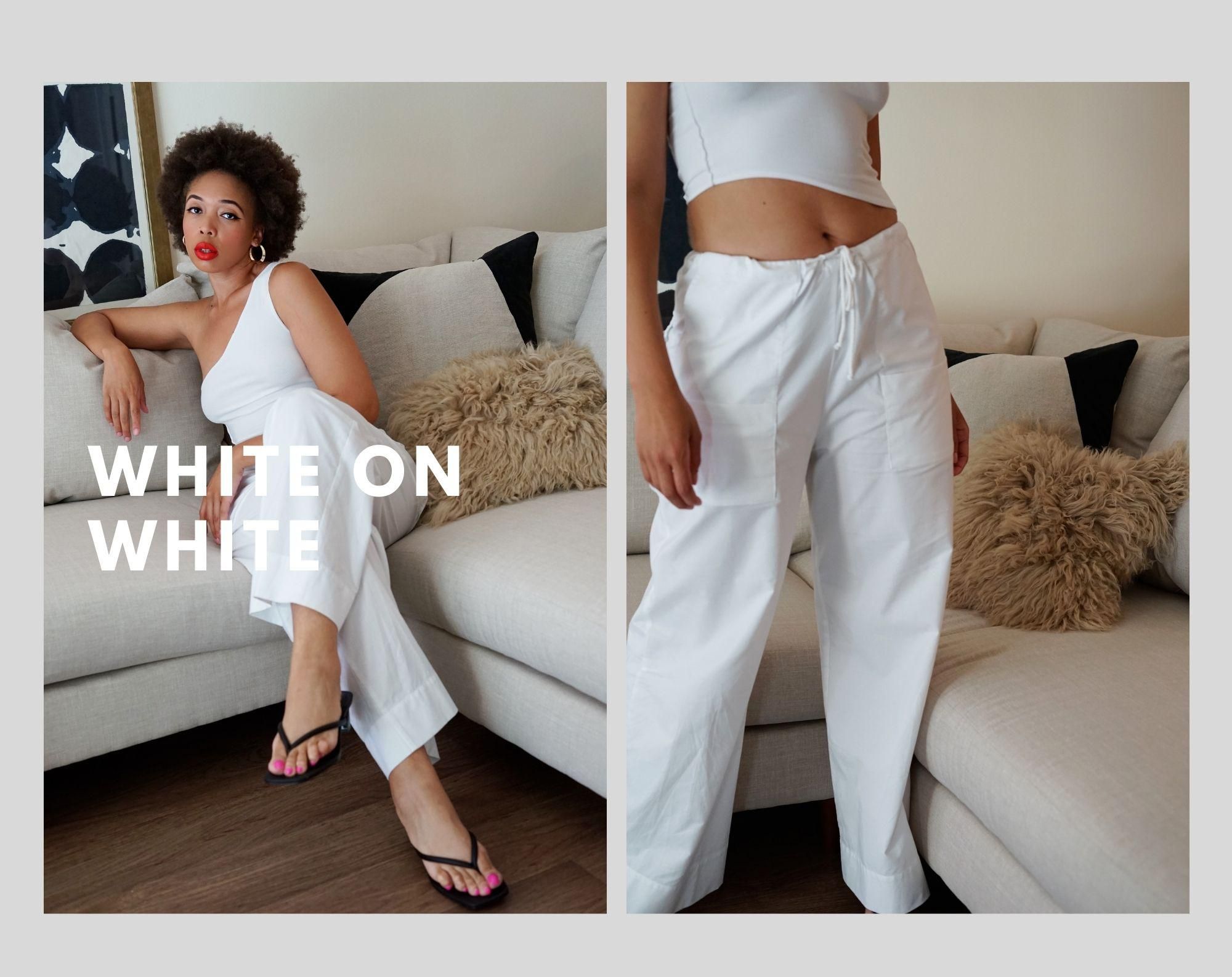 One of my favorite looks this season, this white on white combination is an effortlessly sleek look with a one shoulder knit tank paired with super lightweight utility pants. Both top and bottom from Black-owned lifestyle brand, Local European, are a reimagining of classic staples. I love the combination of an asymmetrical design and knit tank top.
The lightweight wide leg bottoms are a trend on the rise as we transition from oversized knit sweatpants for a cooler summer option. Paired with another summer must-have, a black thong sandal is the last and final touch.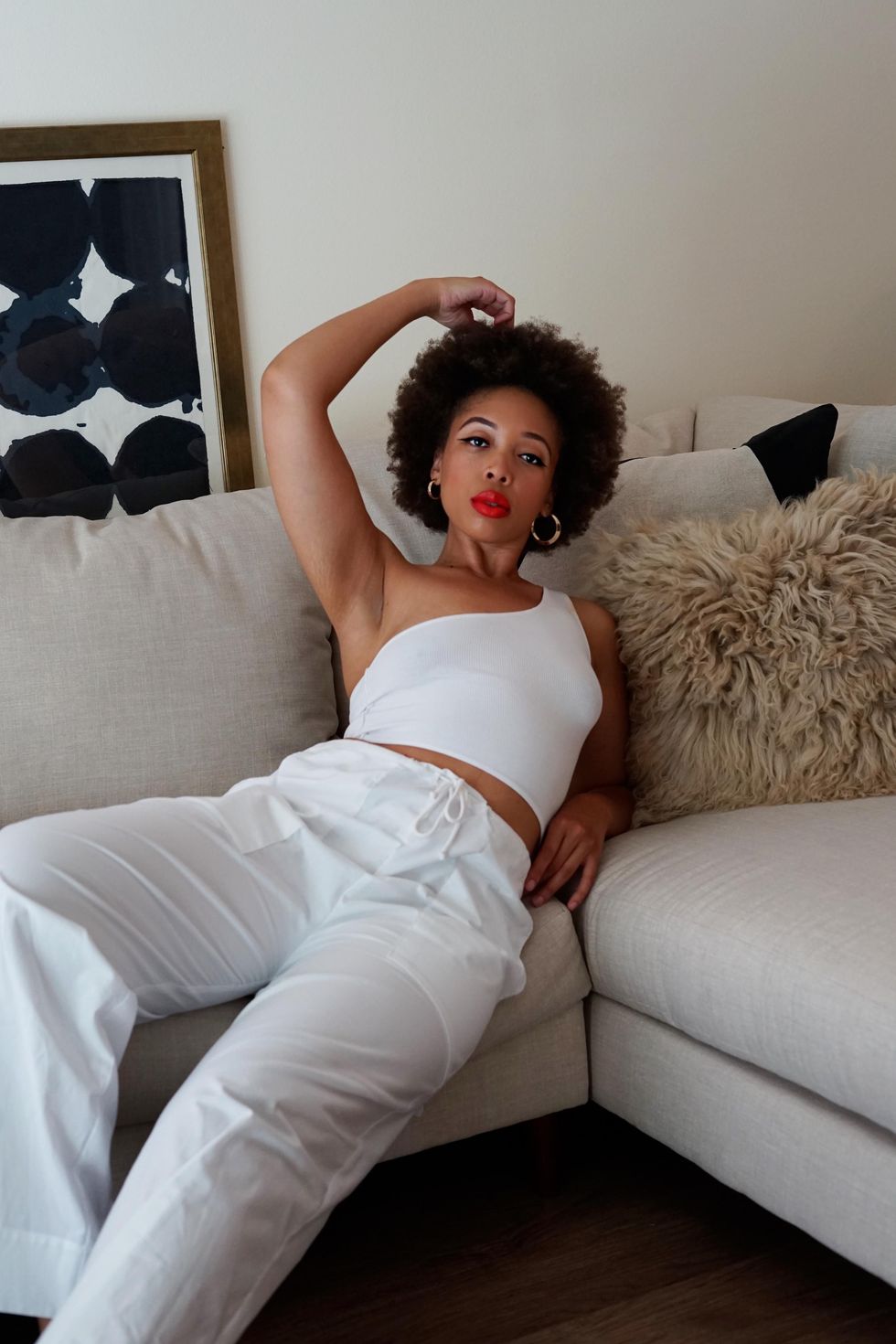 Shahirah Ahmed/xoNecole
Now Trending: Wide Leg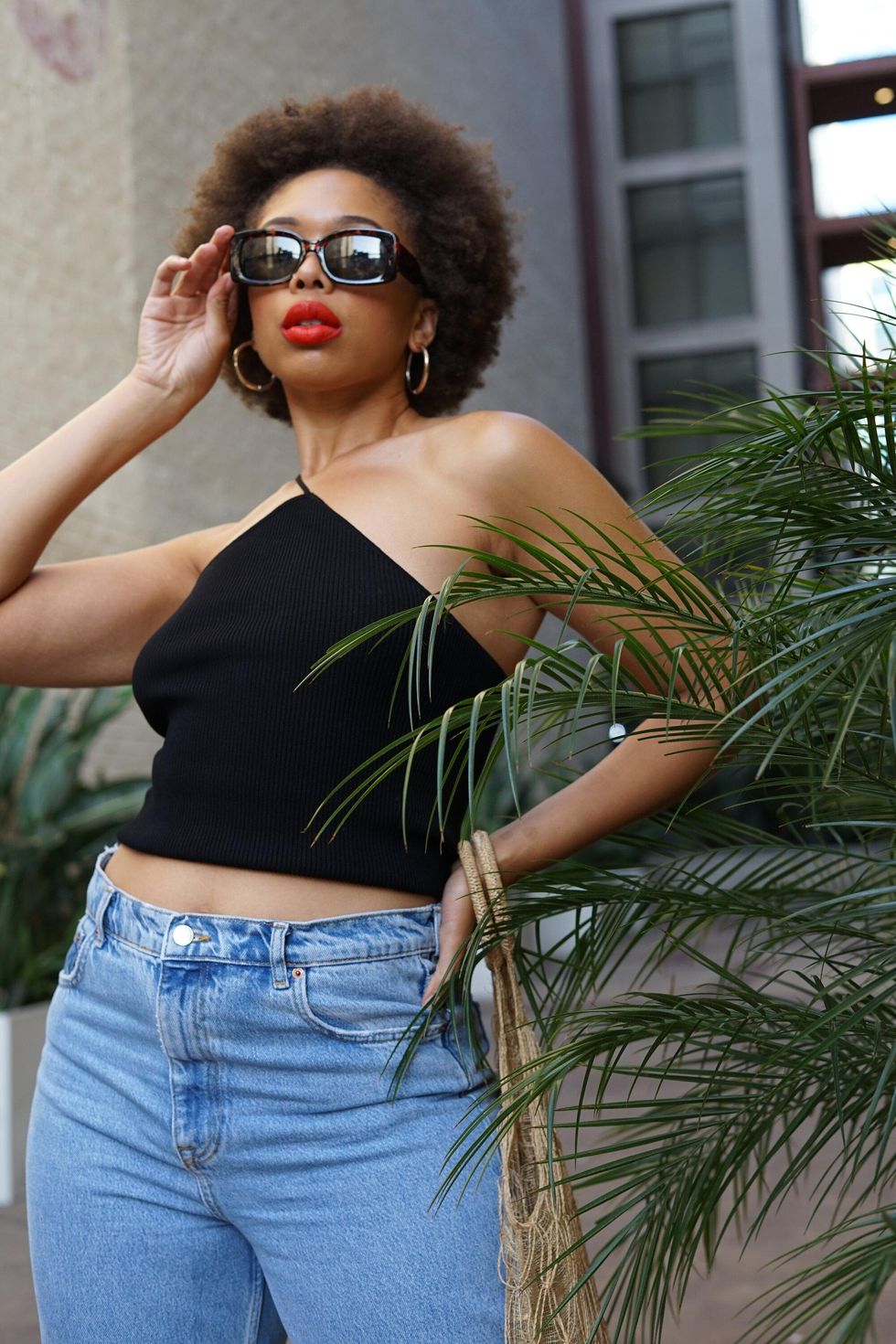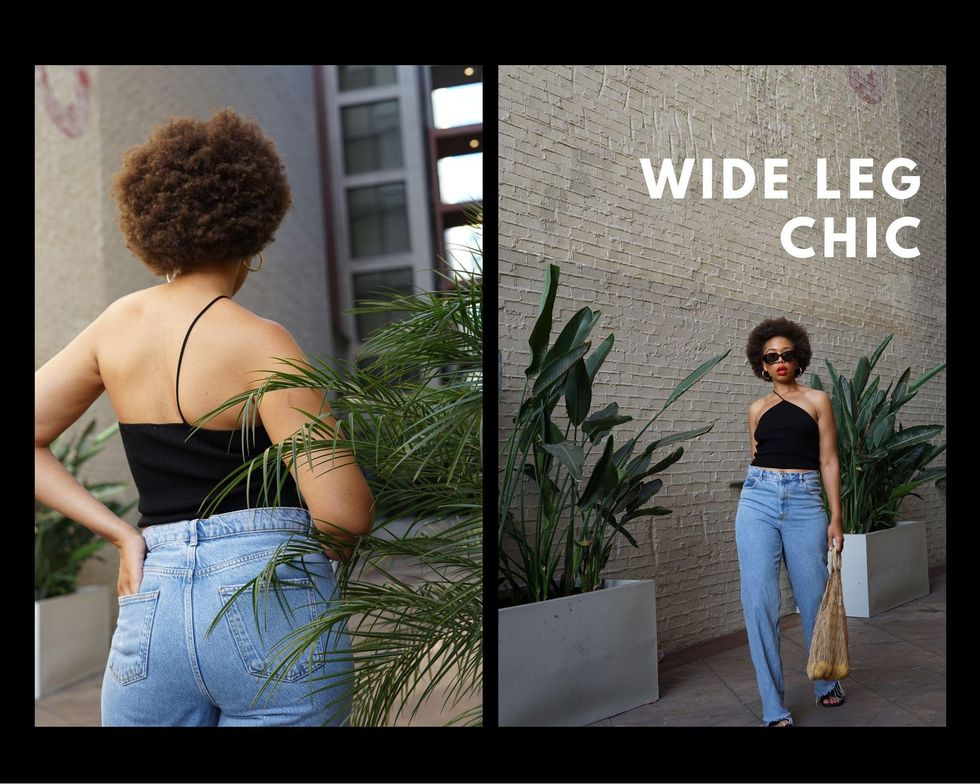 Shahirah Ahmed/xoNecole
Another chic and easy way to pair an asymmetrical top this summer is with a wide leg denim jean. The perfect casual look when out and about town or heading to a local farmers market, I decided to wear a fun one-toe flat slide for an even more stylish approach. With a pop of color and my go-to square sunnies, this is one of the most comfortable chic looks.
Now Trending: Maximalism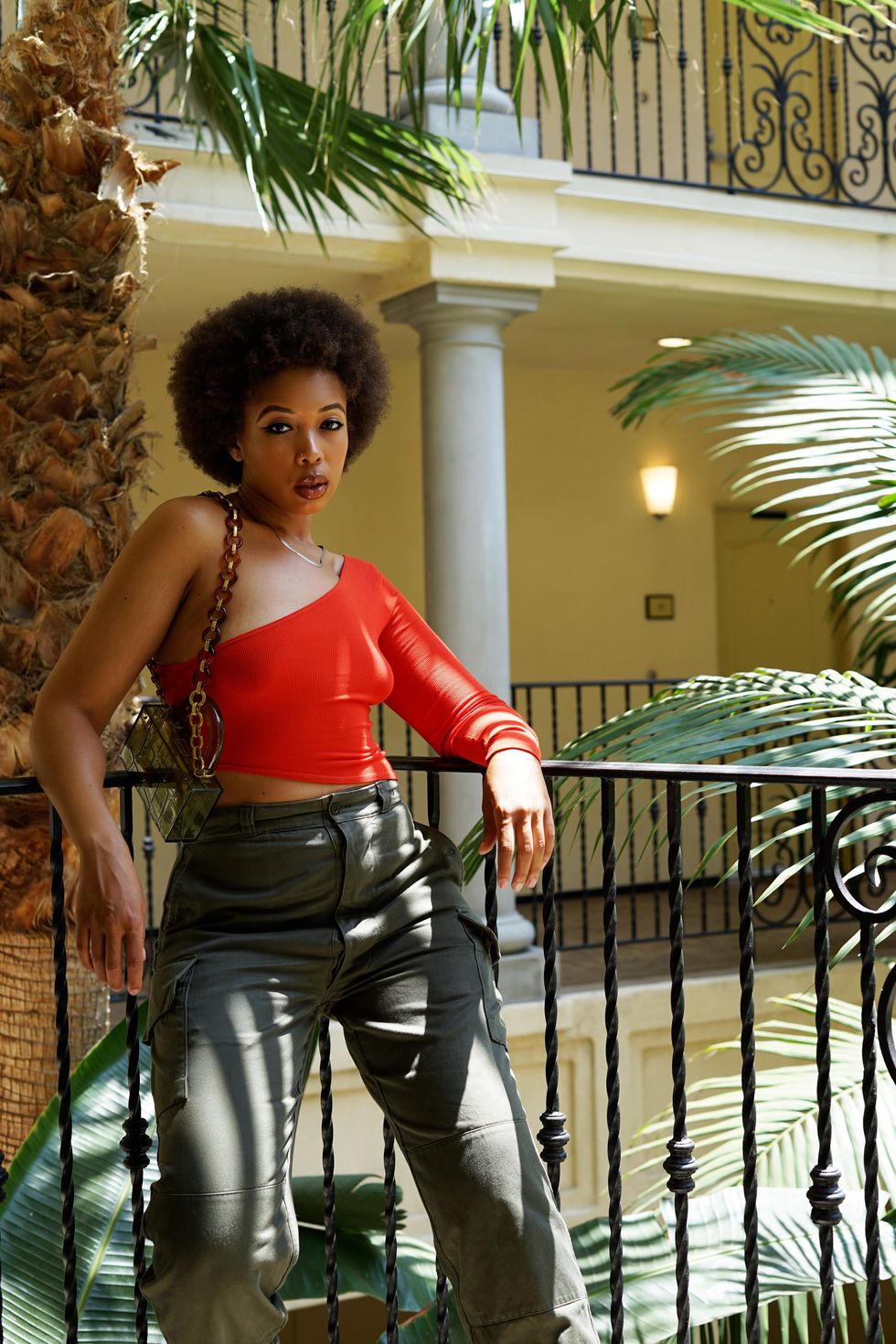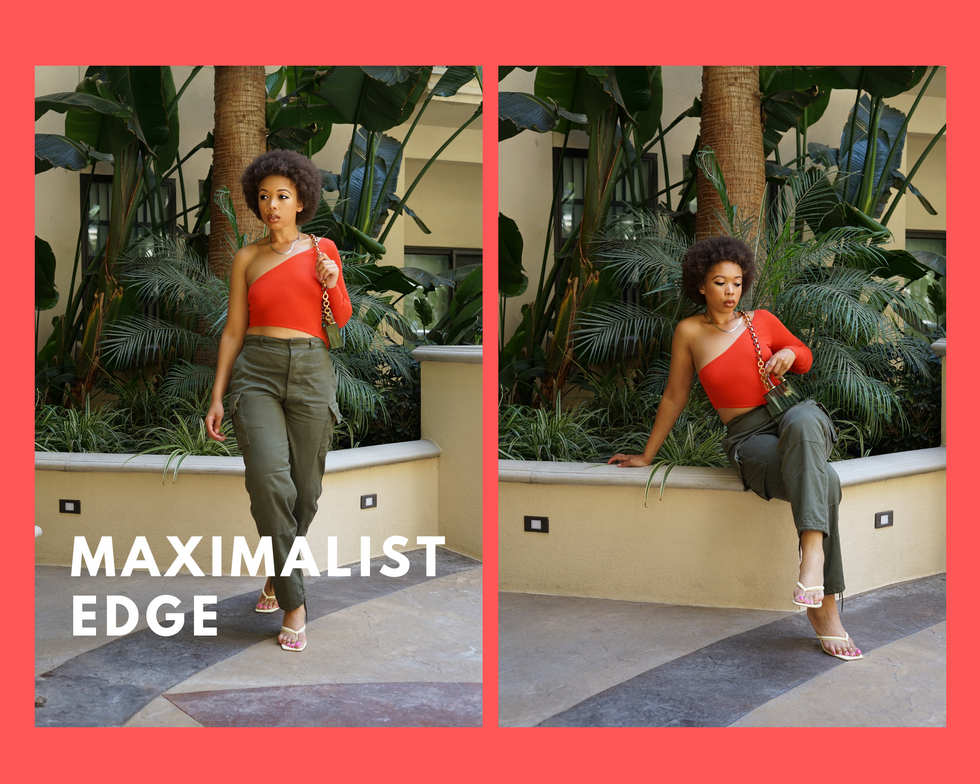 All basics may not be created equal but there are options for everyone, including maximalists. For those that need color in their everyday lives, this vibrantly orange one shoulder knit is a fierce choice for an edgier take on a casual look. Pairing this new age asymmetrical knit top with a classic cargo is a balanced approach to this season's one shoulder trend. Having fun, I added a yellow thong sandal to complete this color-blocked look.
Read all about fashion and style here.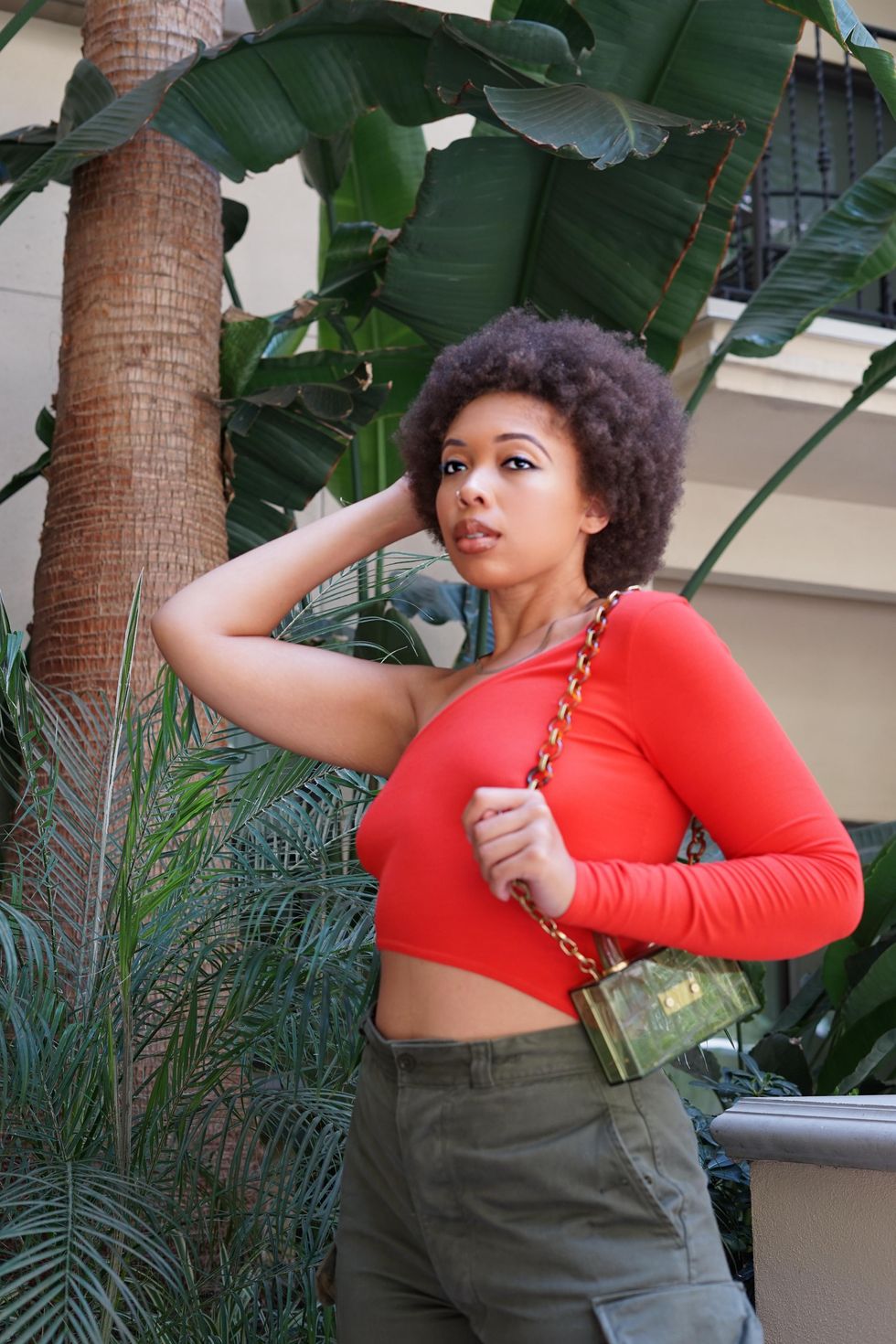 Shahirah Ahmed/xoNecole
Images by Shahirah Ahmed/xoNecole
I remember when, I remember when, I remember when I lost my mind as I was approaching 30. Entering into a new decade of life after my 20s terrified me because like most women, I was obsessing over all the things I hadn't accomplished instead of celebrating all the things I had. A month before I walked into 30, I did just that – I wrote down 30 things I had accomplished and it gave me all the conviction I needed to make the next decade the best decade. And the truth is, I love it here.
My 30s are proving to be the best years and I believe it's because I let go of what society defined as successful and started living the life I wanted and deserved. In your 30s, you find that it's all about stability and consistency. Those principals apply to every aspect of your life, including your style. When it comes to reliability, it's important to have fundamental items that lay the foundation for your trousseau.
We tapped Tenicka Boyd to talk more about why staples are important and which pieces are must-haves. "Staples are really what ground the outfit. These are the items that live beyond the trends, the cool aesthetics, and fast fashion. Staples are items that will last for years if you invest and take care of them," she explained. "Not just staple items but a staple silhouette are important."
"Staples are really what ground the outfit. These are the items that live beyond the trends, the cool aesthetics, and fast fashion."
The fashion storyteller resides in New York, NY, and wears all the hats, including National Organizing Director and Political Director at the ACLU. Her style and infectious personality displayed in her world-famous Instagram Reels made her the perfect woman to spill the tea on how to make the fashionable transition from your 20s to 30s.

Keep reading for this thirty-something's style gems.
The style staples every woman needs:
"I think every woman needs a good blazer, a great dress that instantly raises her mood, a good comfortable pair of heels, a great pair of trousers, and a beautiful bathing suit that allows her to feel confident."
The one style tip every twenty-something should keep in mind:
"Shop fast fashion in moderation. When I was in my twenties, that was really at the height of Forever 21, so we thought we would be 21 forever. And our style reflected that. I should have focused more on quality rather than quantity. So although I don't think I was in a financial situation to do that well, I wish I would have incorporated that way more."
Her style mantra to live by:
"God created black people, and Black people created style" — George C. Wolfe.

To help you add some of these staples to cart, we have rounded up some principal pieces from Black-owned brands!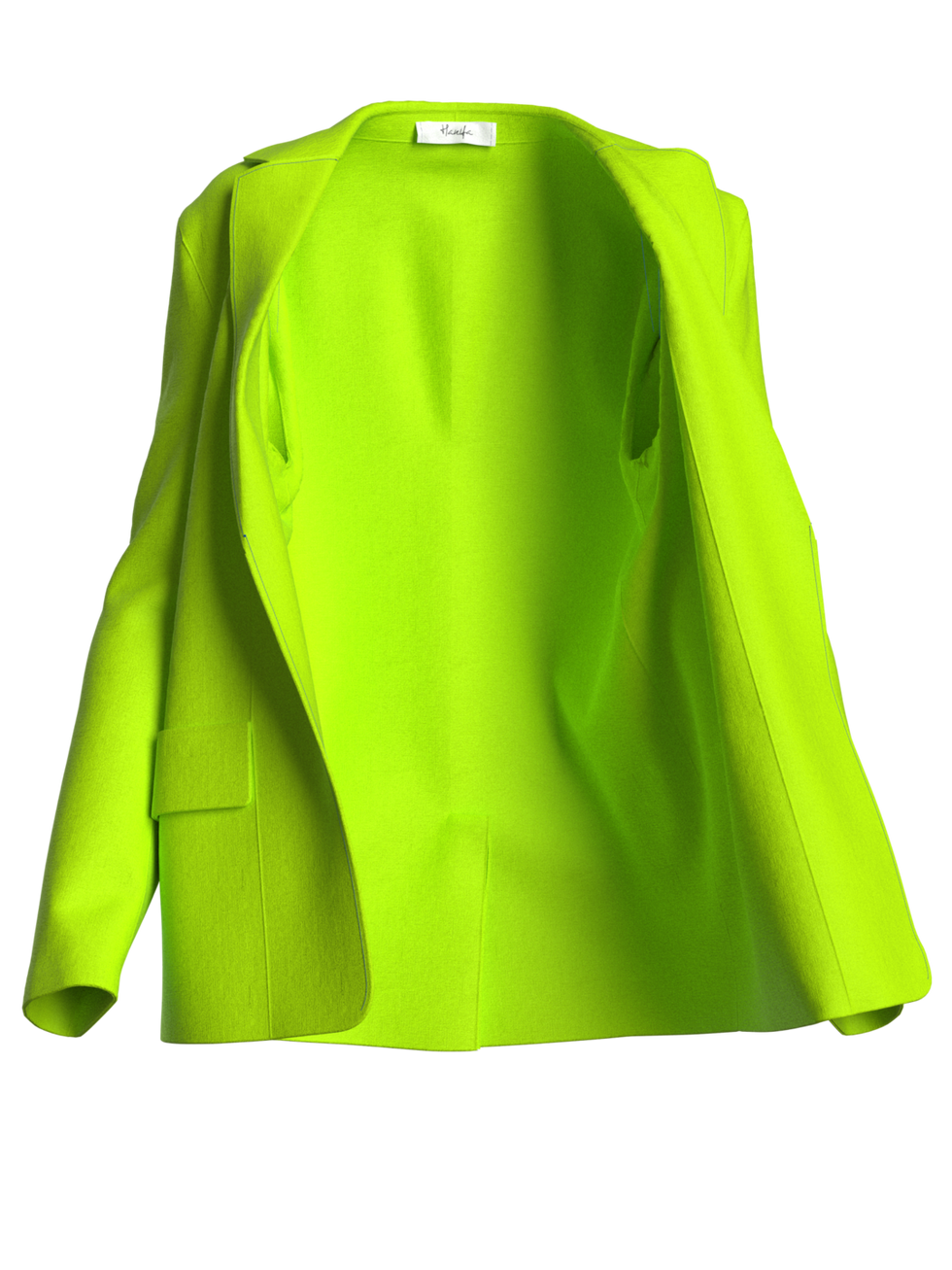 Hanifa
Blazers are quintessential for your wardrobe. It's definitely the versatility for us because you can style this bad boy with a midi dress or with a graphic tee and biker shorts or with matching flared pants. Either way, you'll be serving up a clean aesthetic that can be elevated on your terms.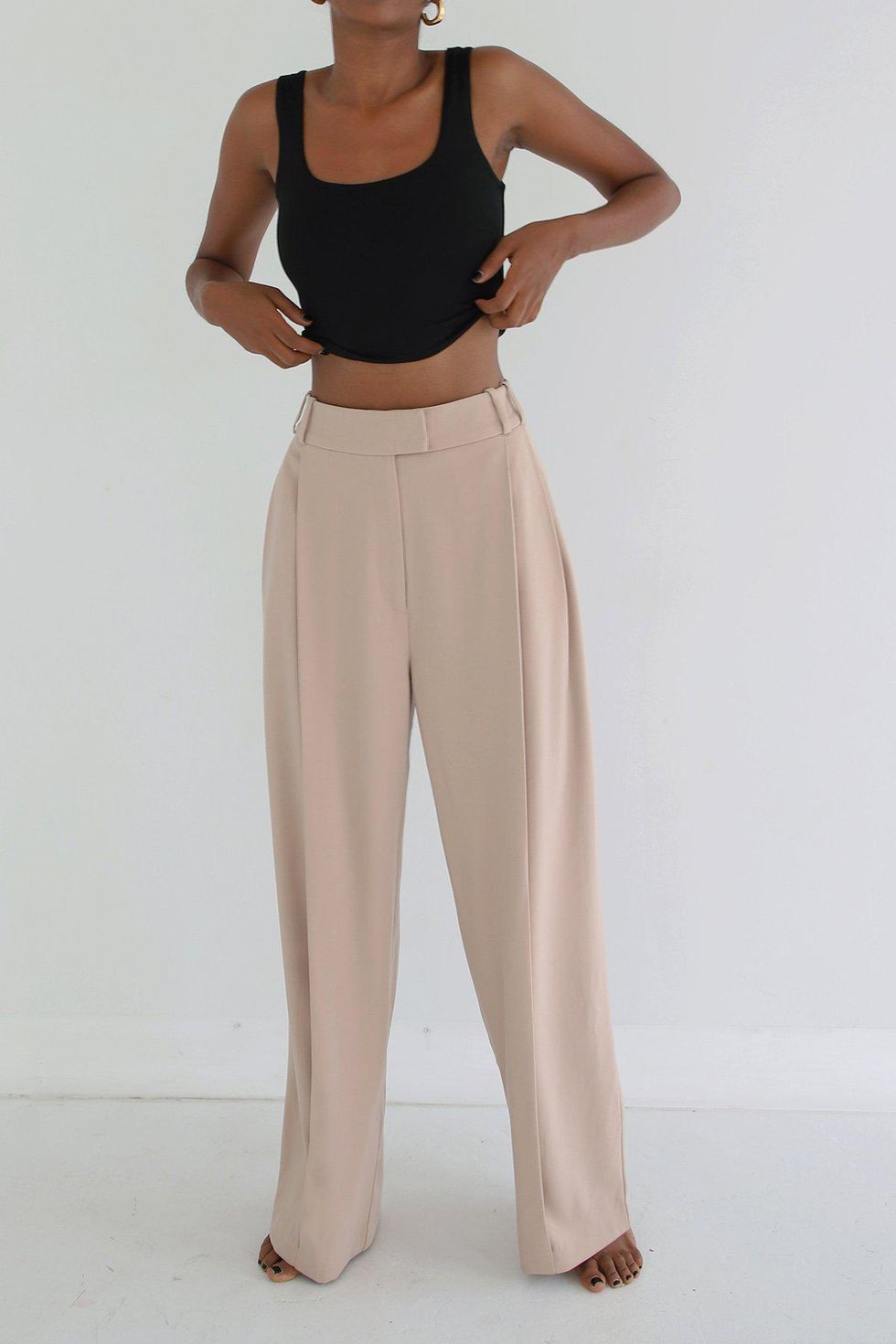 RE ONA
These trousers are an instant enhancement. The masculine, femininity in the construction is what sets these bottoms apart from others. We see you rocking these to an interview and to brunch because you can do both. The most important key in finding your perfect pair is to dress for your body shape.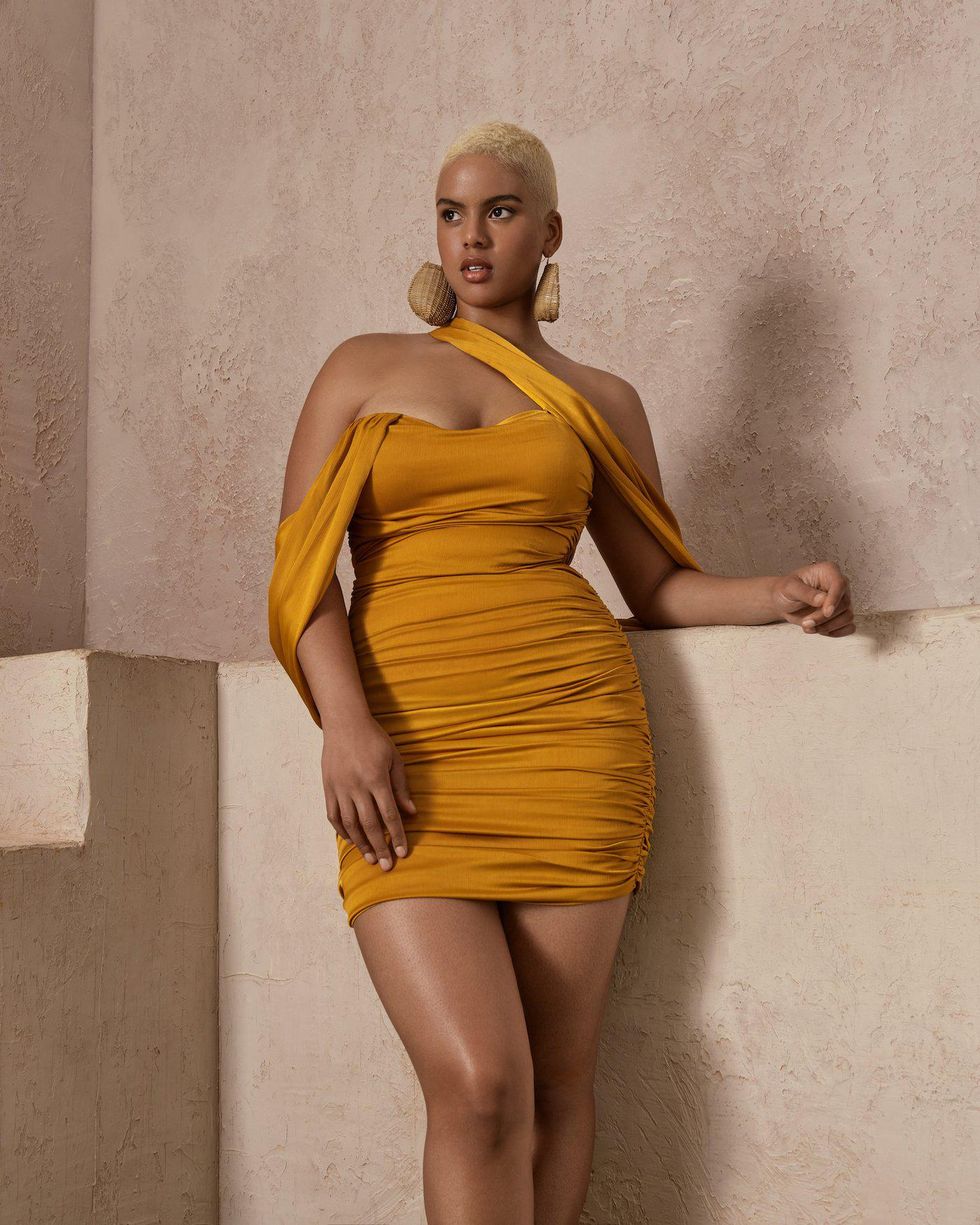 Andrea Iyamah
Every now and then you gotta go in the back of the closet and pull out that freakum dress. Don't even put it in the back anymore, sis. Keep it on ready because you need to be your own hypeman in a dress that makes you feel like Beyonce.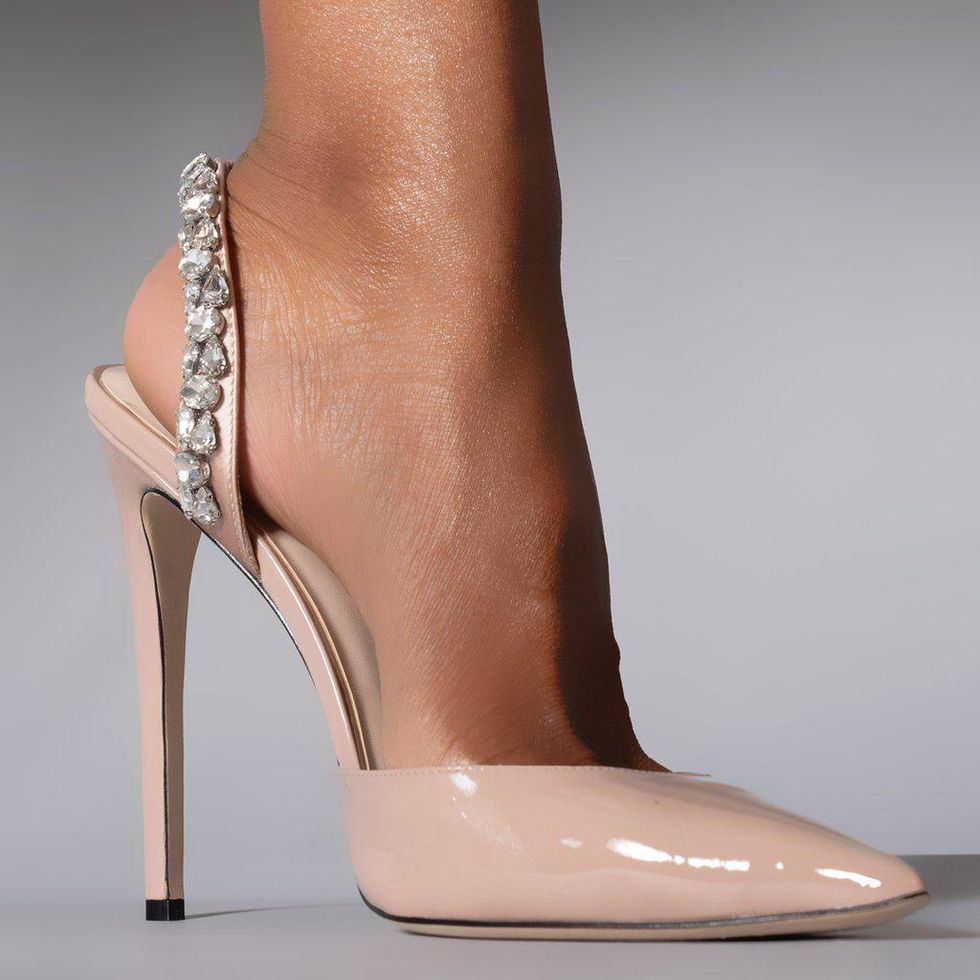 Aminah Abdul Jillil
High quality equals longevity. With this in mind, your heels will require more coins. Not every pair in your closet needs to be high-end but we want to encourage you to make some high and low purchases when your budget allows.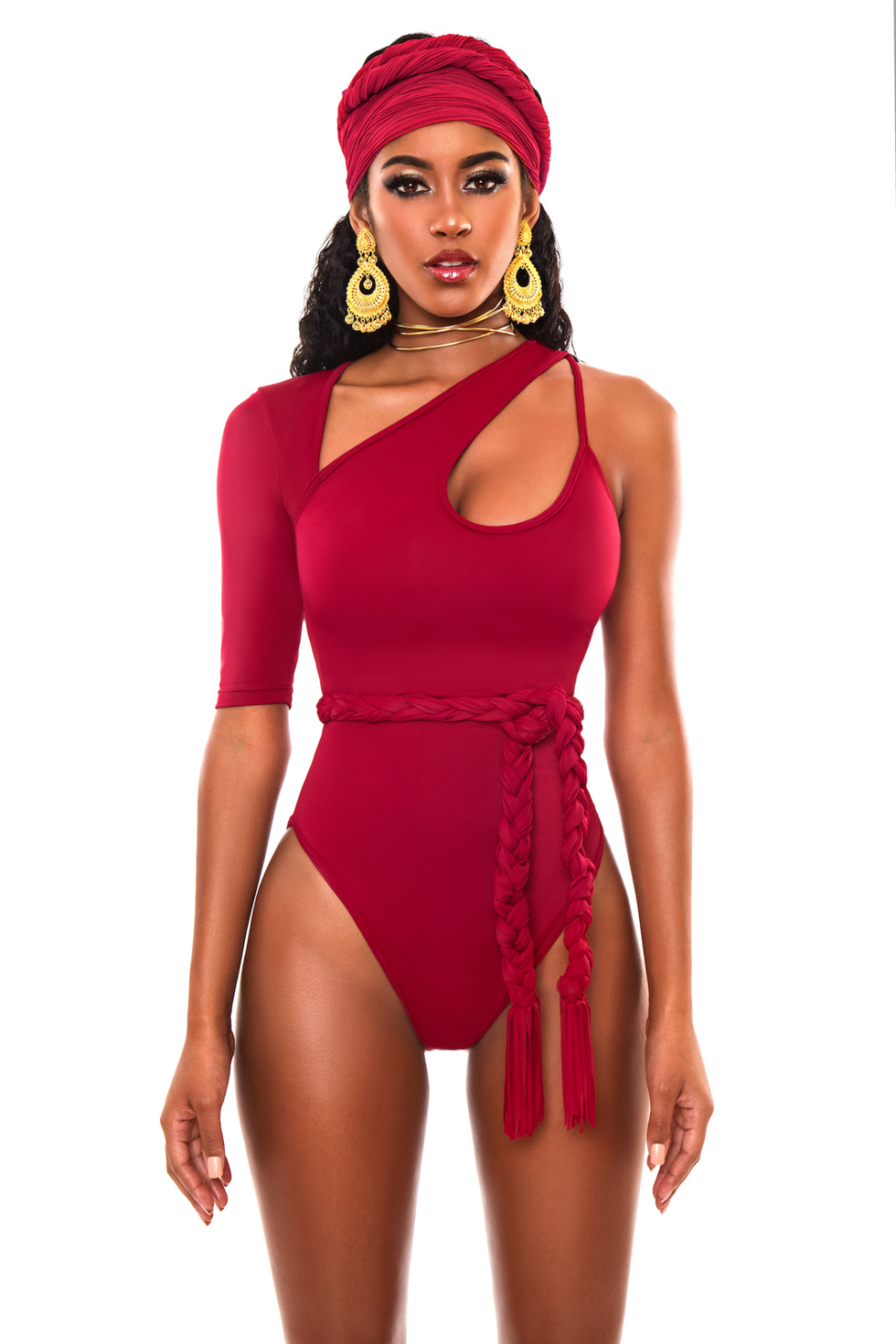 Bfyne
We love that Tenicka recommended investing in a swimsuit because we are manifesting luxurious vacations all year. Not to mention, you can also rock this badass bathing suit with some denim and give everything it's supposed to and more.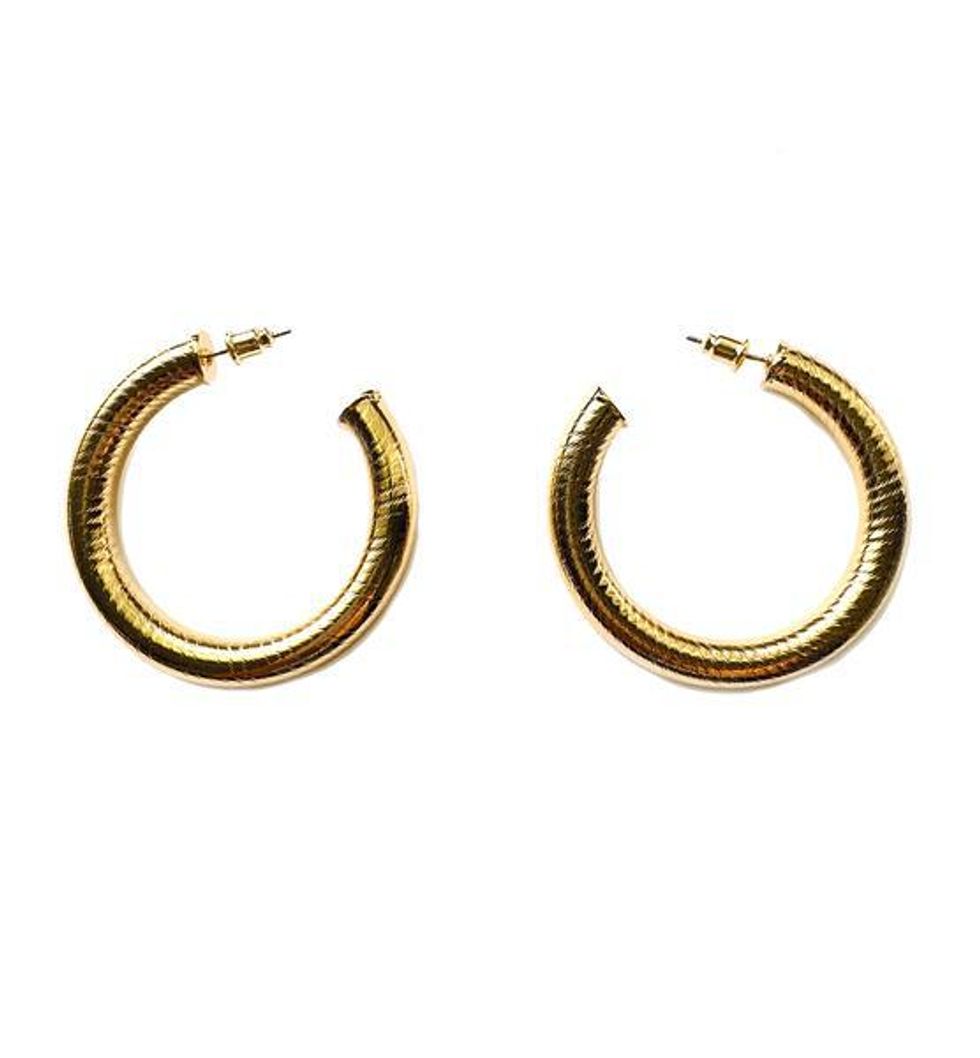 1929 Galore
There's nothing a Black woman can't do when she puts on a pair of gold earrings. Accessories are the glue that hold an outfit together and gold hoops exude the confidence you need to ask for a raise or shoot you shot with that special someone.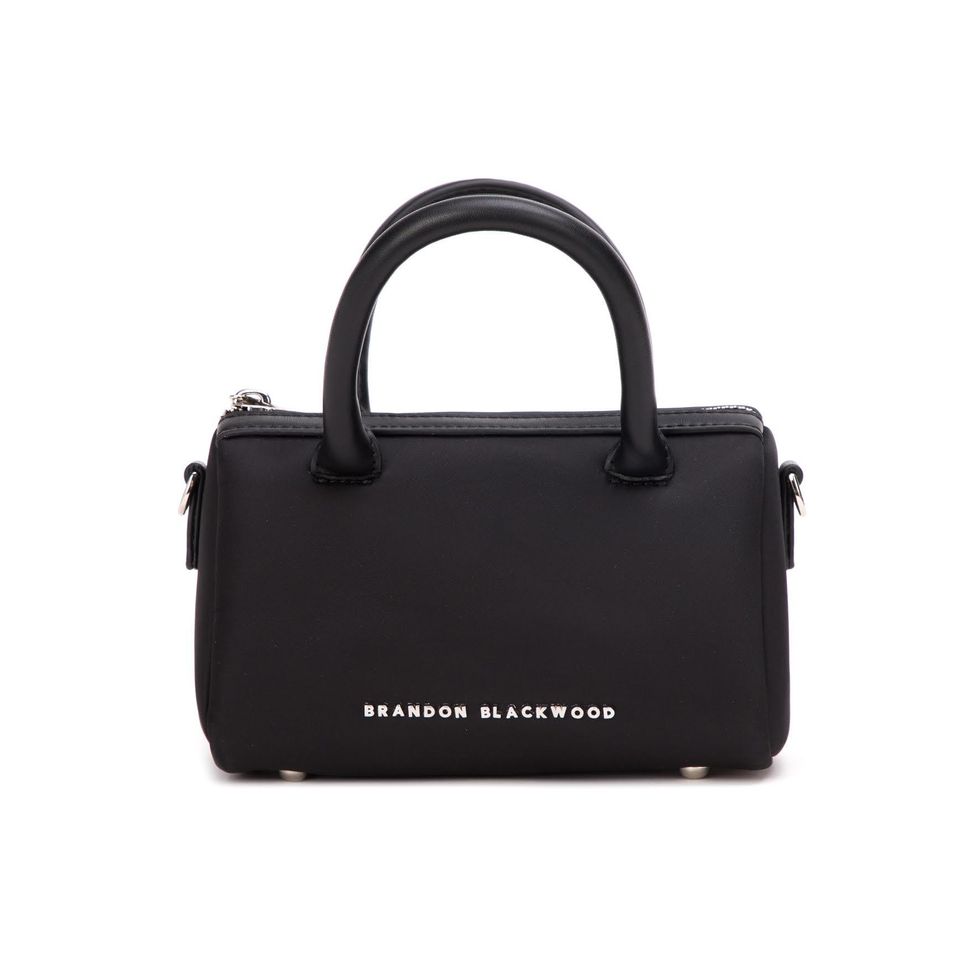 Brandon Blackwood
Handbags speak louder than words. One way to make sure you're speaking volumes, is to rock a leather tote. Every style decision you make is a statement and once you make it to the 30, you want to ensure your handbags say, "I have arrived." This bag by Brandon Blackwood will elevate you to that status.
Join our xoTribe, an exclusive community dedicated to YOU and your stories and all things xoNecole. Be a part of a growing community of women from all over the world who come together to uplift, inspire, and inform each other on all things related to the glow up.
Featured image courtesy of Tenicka Boyd
Keep reading...
Show less
Whether you're vaxxed and waxed or minding the business that pays you, it's high time we all serve up looks on all occasions. We know you may be in a style rut considering the past year we all experienced. One unfailing way to mind the gap is to elevate your style game. How do you do that, you ask? With color combos.
Color blocking is risky business but it's so worth it. The art of pairing colors may not be in your wheelhouse but we have no doubt it will boost your personal style instantly. Dynamic duos are not hard to pull off – the trick is to commit. Need some convincing? Ahead, find a few magical black women showing us color combinations that take your fashion choices to new heights.
Keia in Green & Blue
Keia didn't have to come for us like this. We are glad she did though because she is giving all the inspo! Centering your color combo around your sneakers is a surefire way to get the job done. Try finding some colorful kicks and then choose your top and bottom based on the dominant colors. Don't doubt yourself, you got this!
Kimberly in Pink & Yellow
The vibrance of pink and yellow will brighten up any room. Kimberly kept it simple but chic by using both colors to make a bold statement. The classic tunic can be found in almost any store and you can find similar trousers in a thrift store. If you're looking to go the extra mile, try getting your trousers tailored to create a sophisticated look.
Maya in Green & White
This one is for the minimalist. Neutral colors are your best friend but we want to challenge you to play around with your signature palette. Take Maya for example, she used the bright white top to embolden the dark green coordinate set. White can be paired with literally anything so you'll always look put together when rocking it with a not-so-safe color.
Temmiy in Blue & Orange
Blue and orange are extremely complementary colors and Temmiy is the proof. At this point, it's go bold or go home. This digital creator is wearing a custom-made two-piece that deserves to be adored. Between the symmetry and synchronicity of the hues, I would wear this getup to every function.
Morrinah in Yellow & Black
Back in the day, Wiz Khalifa had us singing "Black and Yellow" religiously and now Morrinah has us ready to buy all the black and yellow off of the racks. By simply using a contrasting color for accessories, the D.C. blogger mastered pairing opposing colors and making them look like they were pre-destined.
Madeleine in Purple & Green
Is it us or does this combination surprise you? How is it so fly? We believe it's because it looks very similar to nature and flowers. The aesthetic is refreshing and polished – just the way Madeleine likes it. She loves a good suit and this one is giving what it's supposed to had gave with the pop of green. Suits are a feasible way to transition into color blocking because the suit is doing the heavy lifting.
Sharron in Blue, Pink & Yellow
Three colors are better than two! Sharron is one of the queens of color combos. She manages to make it look so effortless. It's clear that she truly believes in showing off her bold, colorful, edgy style. The fashionista loves to encourage women to step out of their comfort zone to discover their very best, most powerful selves. Looking for a way to take risks? Grab some colorful bottoms and then select three popping colors from the print for your top, shoes, and accessories. And just like that, you have a vacation-ready outfit.
Zamar in Black & Lime
If overstood the assignment was a person, it would be Zamar. The luxury pieces are giving us all the feels as our house believes Black women deserve all the luxury. Adding texture to your shade fusion is a stylish option when trying this trend. Zamar's crocodile skin boots and jacket elevate the simplicity of the bodysuit and printed shorts. There's something about the lively lime and the seductive black that makes it fuego.
Sade in Pink & Green
You don't have to be an AKA to don pink and green. It's also a brilliant doublet that looks stunning during the warmer seasons. It's fun, flirty, and all types of trendy. Even fashion houses like Moschino appreciate the power of pink and green. Sade gave us various shades of green and pink and we can't get enough. She layered the shades of this look beautifully.
Are you a member of our insiders' squad? Join us in the xoTribe Members Community today!
Featured image via courtesy of
Keep reading...
Show less
If it feels like you've been living under a rock these past 15 months, you're not alone. While the world has been in an uproar, staying up-to-date with the latest fashion trends may not be high on the list of priorities. The sudden shift within the fashion industry early into the pandemic left many designer brands on life support. With all of the major setbacks due to a sluggish economy and overall uncertainty, many designers decided to push through fashion fatigue, continuing to encourage major style moments, bringing a pulse back to this season's runway.
These collections, created during the worldwide stay-at-home orders, gives us a sense of each designer's creative imaginations running wild with chic possibilities, setting the bar high with iconic trends for spring/summer 2021. Many of the season's independent and designer brand collections from names such as Hanifa, Versace, Christopher John Roberts, etc. are giving exciting silhouettes along with mixed patterns, one-of-a-kind prints, vibrant colors, features of nature and drama as fashion is finally seeing a playful resurgence.
Picking up where we left off last spring, here are the top runway trends you'll want to implement into your wardrobe this summer season.
Asymmetrical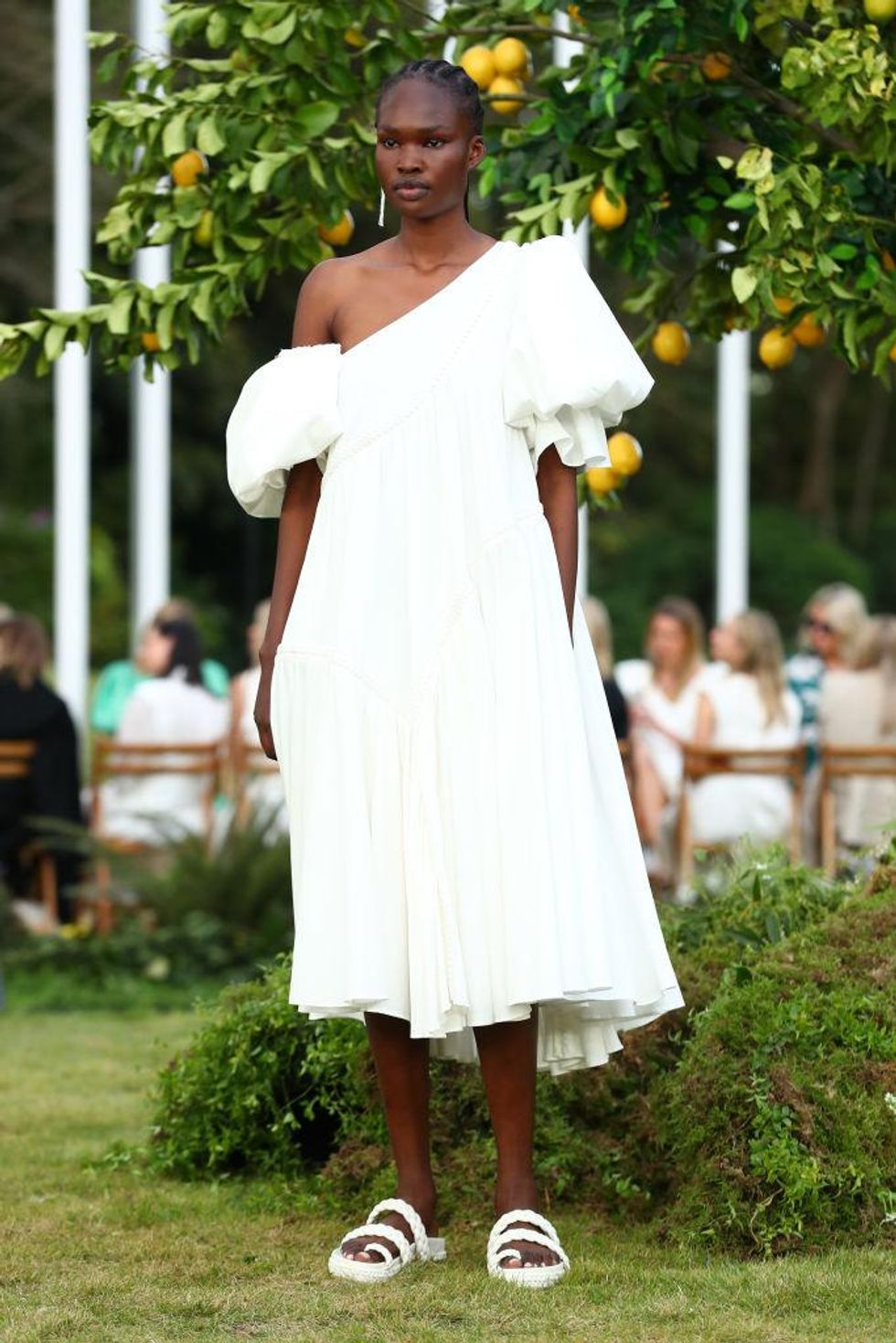 Mark Metcalfe/Getty Images
A favorite throwback 90's trend, the ultra sleek asymmetrical design detail is tailor made for the chic minimalist. Complementing the body's natural shape, this particular cut immediately elevates everyday staples to a timeless silhouette with a dose of edginess. From one shoulder necklines to unbalanced hems, this trend is one to buy into this summer.
Backless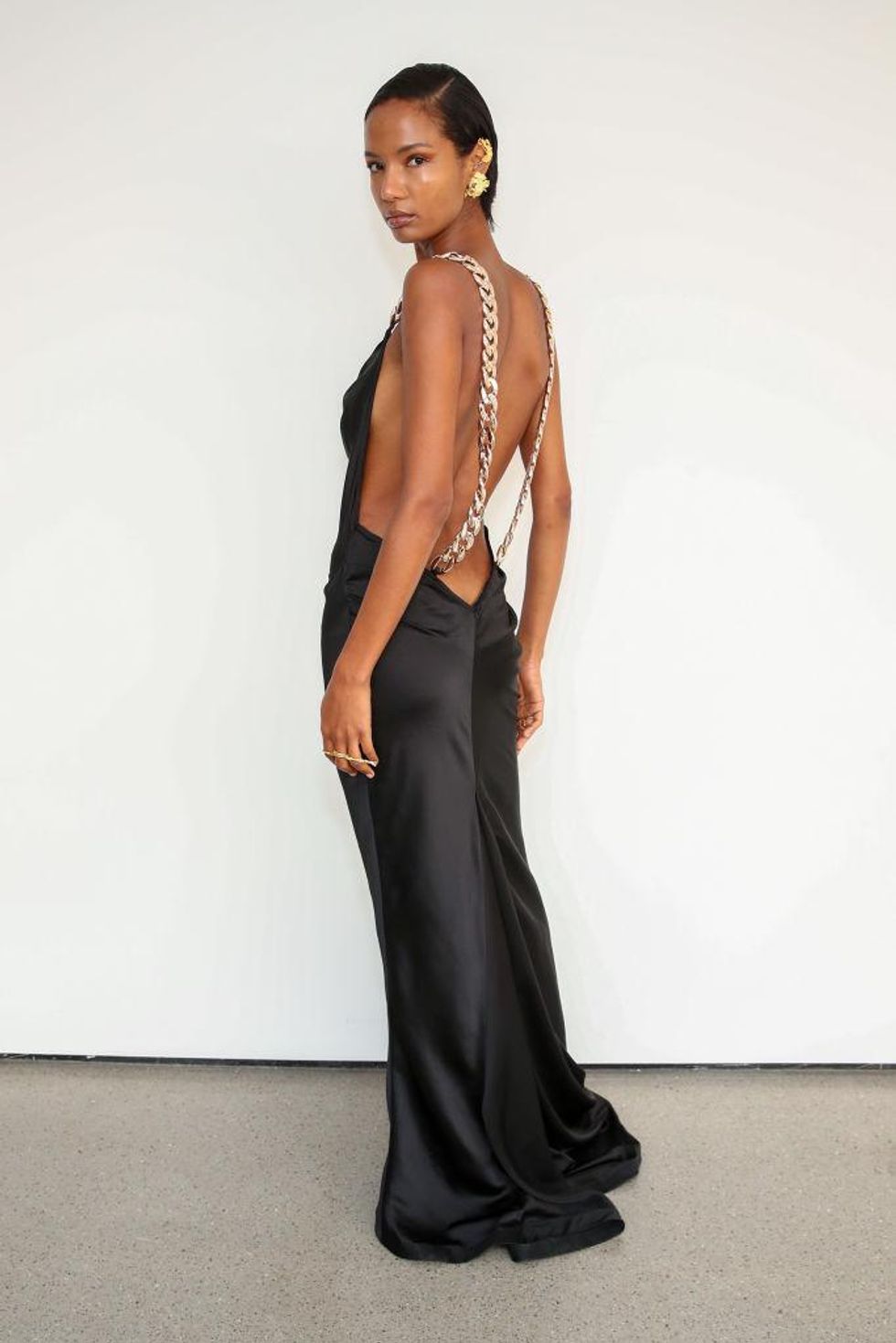 Cindy Ord/Getty Images for Bronx & Banco
A bare back is one of the latest trends turning heads this season. While we've been hibernating indoors with oversized knits for the past year, skin is finally having its breakthrough moment in 2021! With its chic approach to long sleeve knits, this trend gives a whole new meaning to the phrase "business in the front, party in the back."
The Blue Hue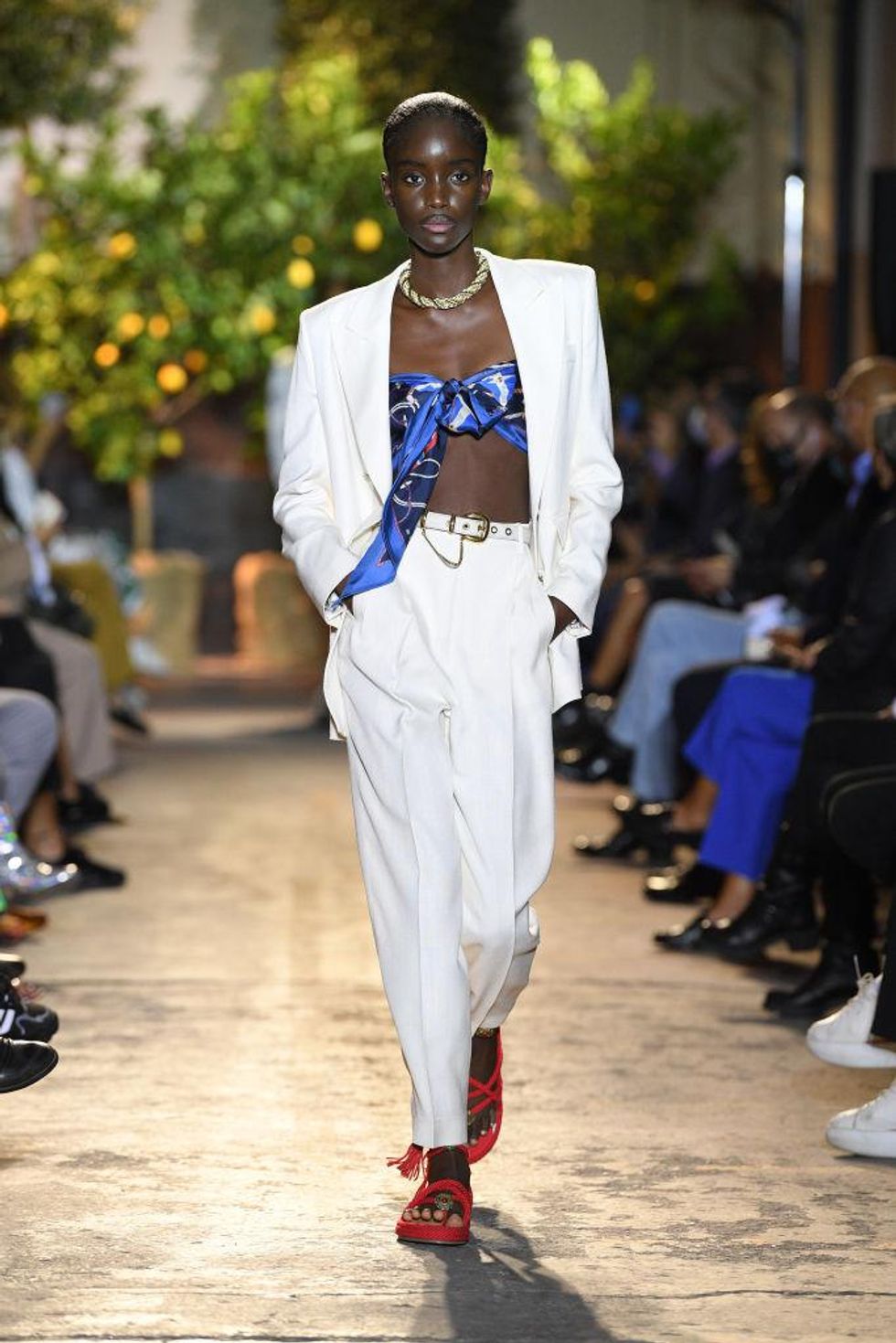 Daniele Venturelli/Daniele Venturelli/WireImage
Color is a priority this summer. One of the most stand-out colors this season, blue is making an appearance on almost every runway this season. Mixed and matched with designer details paired with complimentary colors, there are so many ways to experience its many shades.
Peek-a-Boo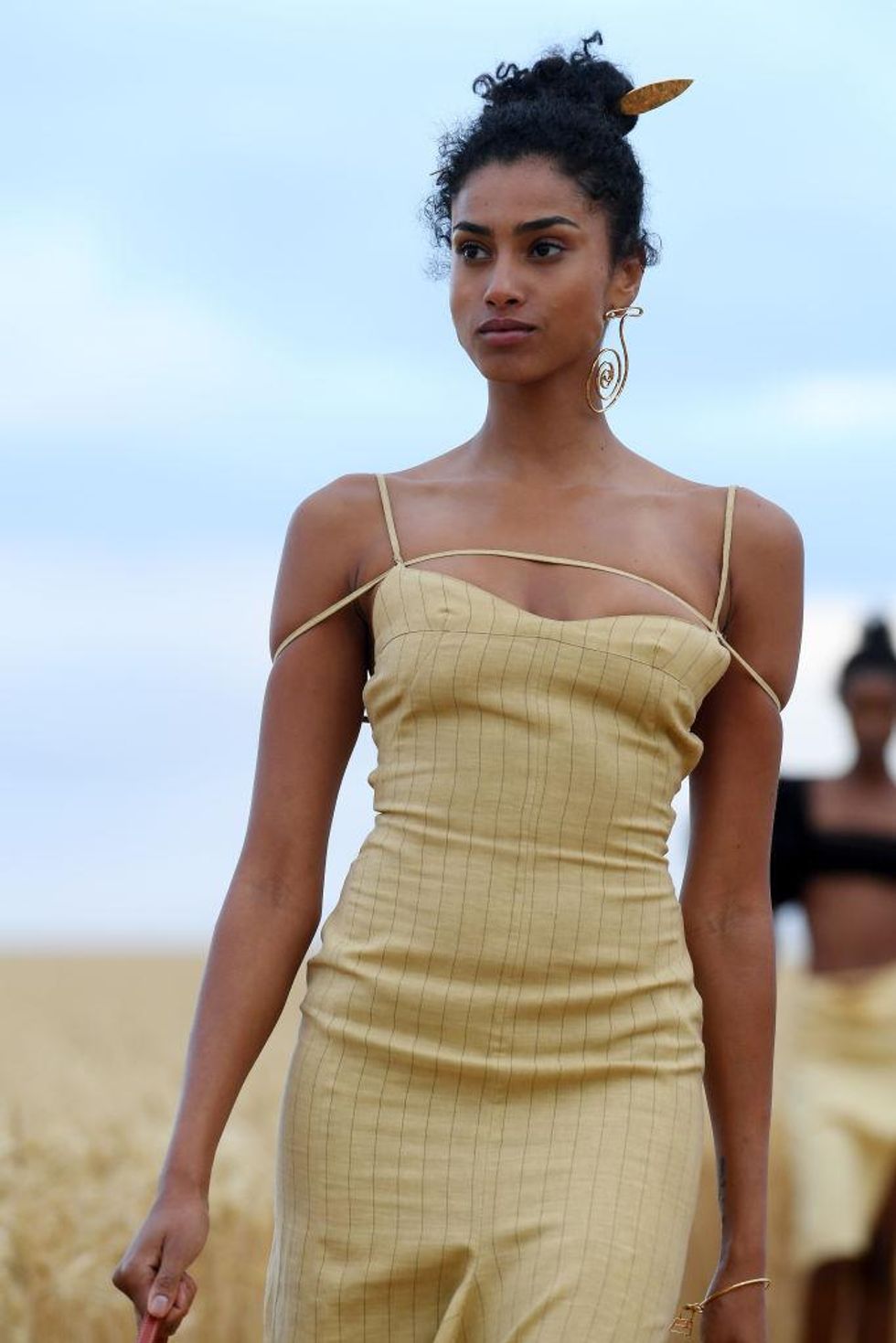 Pascal Le Segretain/Getty Images
As we become more adventurous with our style, post-COVID lockdowns, exposed skin is making yet another attempt at mainstream fashion. While leaving plenty to the imagination, a little bit of skin goes a long way. Sheer styles are a chic addition to any look.
Sheer Enough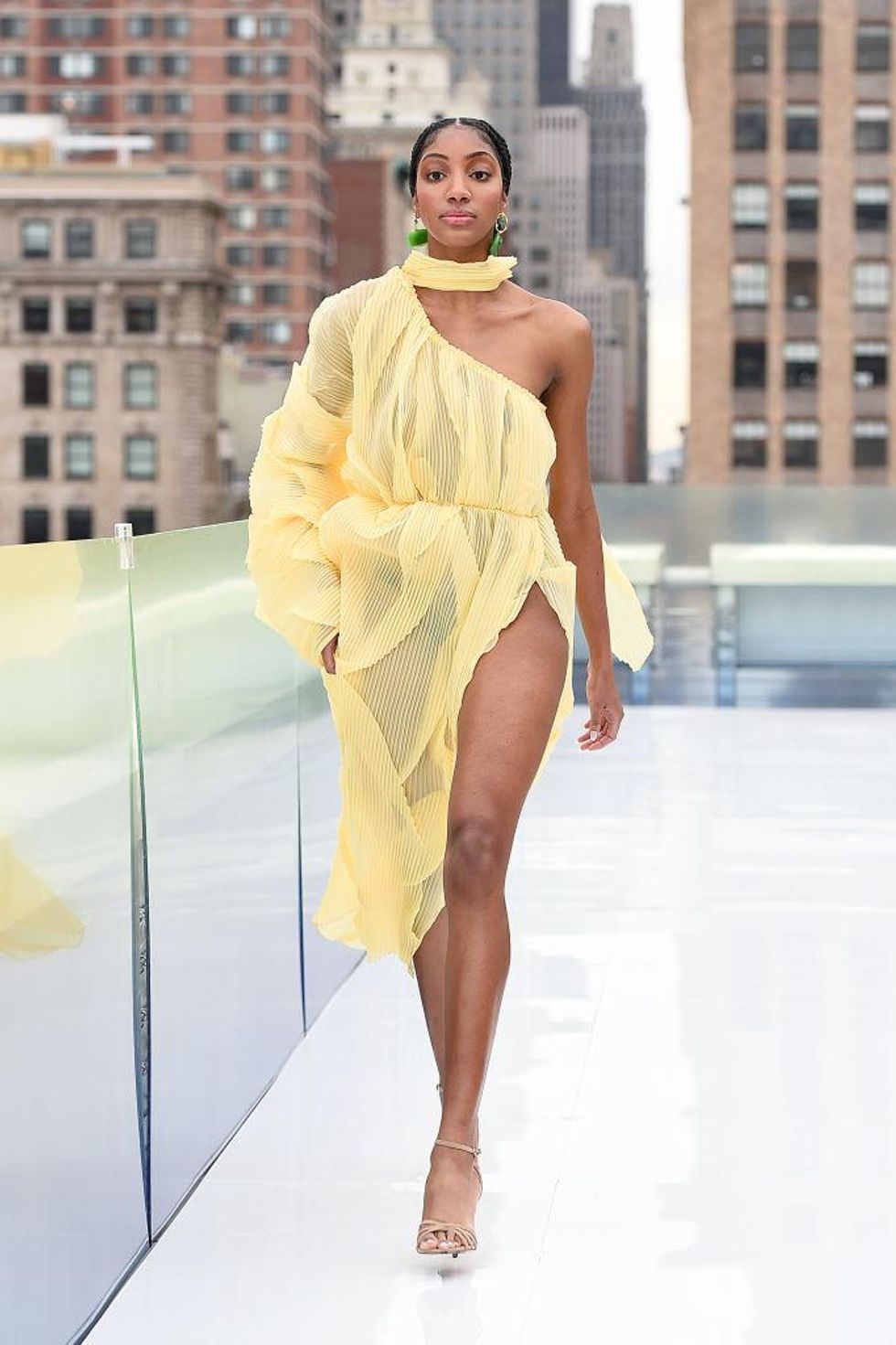 Ilya S. Savenok/Getty Images for Flying Solo
For a sexy night out, slinky sheer fabrics are super chic when in the mood to feel absolutely fabulous. From bodycon to oversized fits, this trend was made for the bold. My favorite sheer look this season is the gray trouser by Acne Studios. The long tailored pants are the perfect silhouette for a sleek ensemble effortlessly transitioned from day to night.
Under the Sea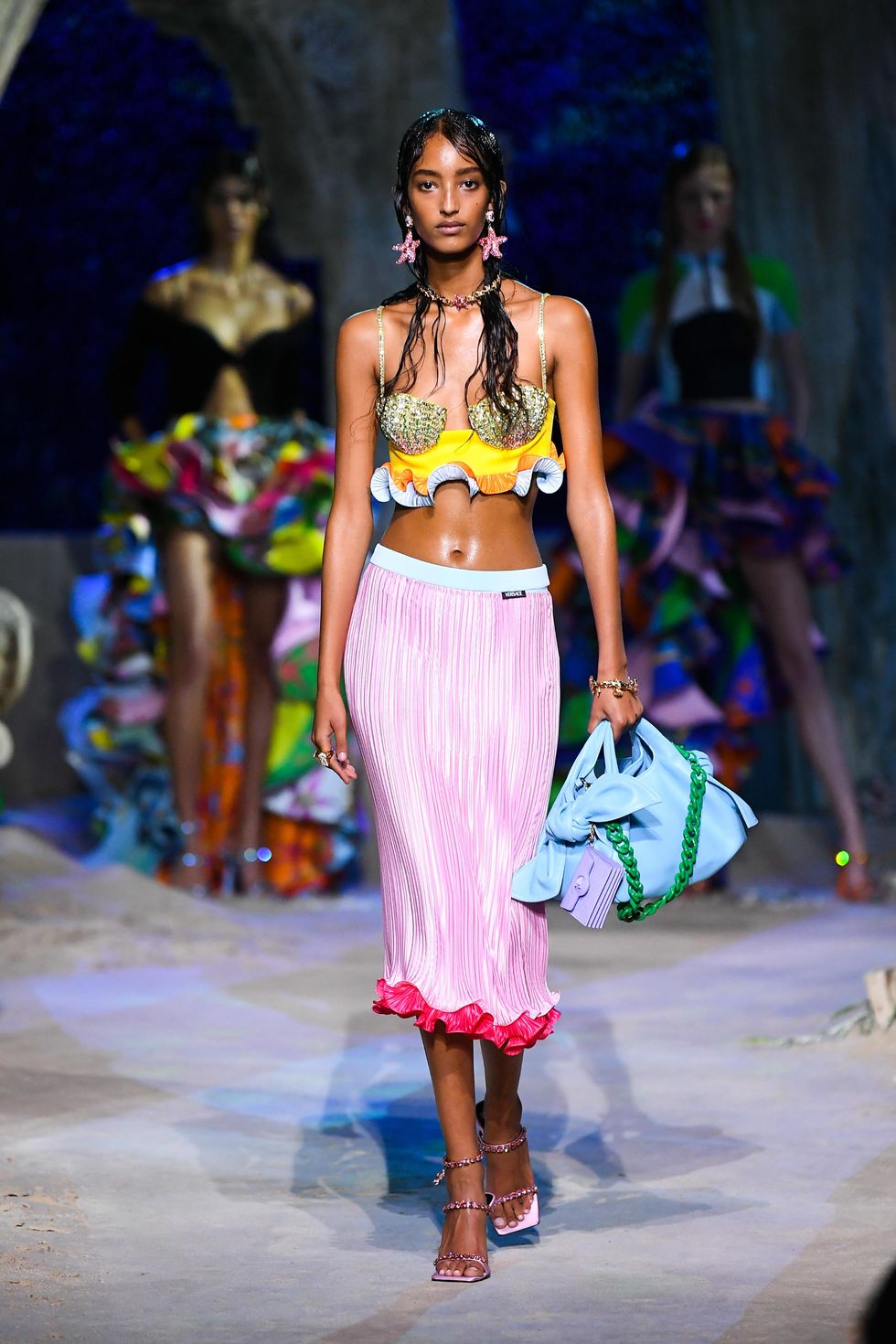 Handout/Versace Press Office via Getty Images
The most exciting ready to wear summer trend, 'escapism' was a major theme on this year's runways. My favorite demonstration of nature in design, Versace had the best whimsical flair bringing to life the ultimate under the sea fantasy with literal starfish prints and mermaid styles. While many of us have been looking forward to our perfect beach getaway, it's no wonder designers are making our island fantasies come true. With beachy nets and shell accessories, I'm most excited to see this trend in action.
Applying Texture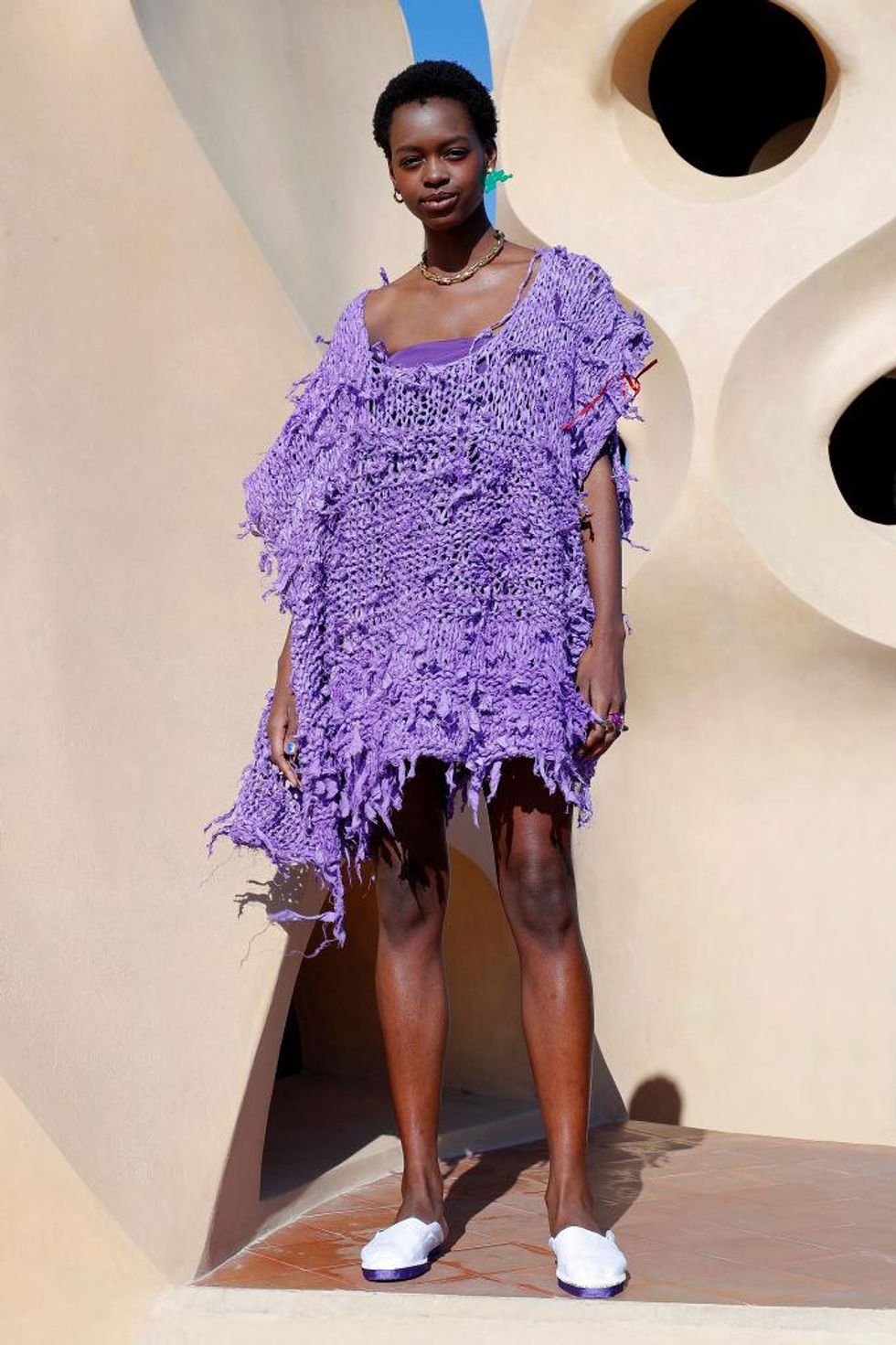 Estrop/Getty Images
There is a new era in fashion and we're beginning to have fun with our wardrobes again. This season is all about texture. In addition to the summer trends, this season almost every designer has implemented drama and texture with a 3D element tempting one to look as well as touch.
Heavy on the Prints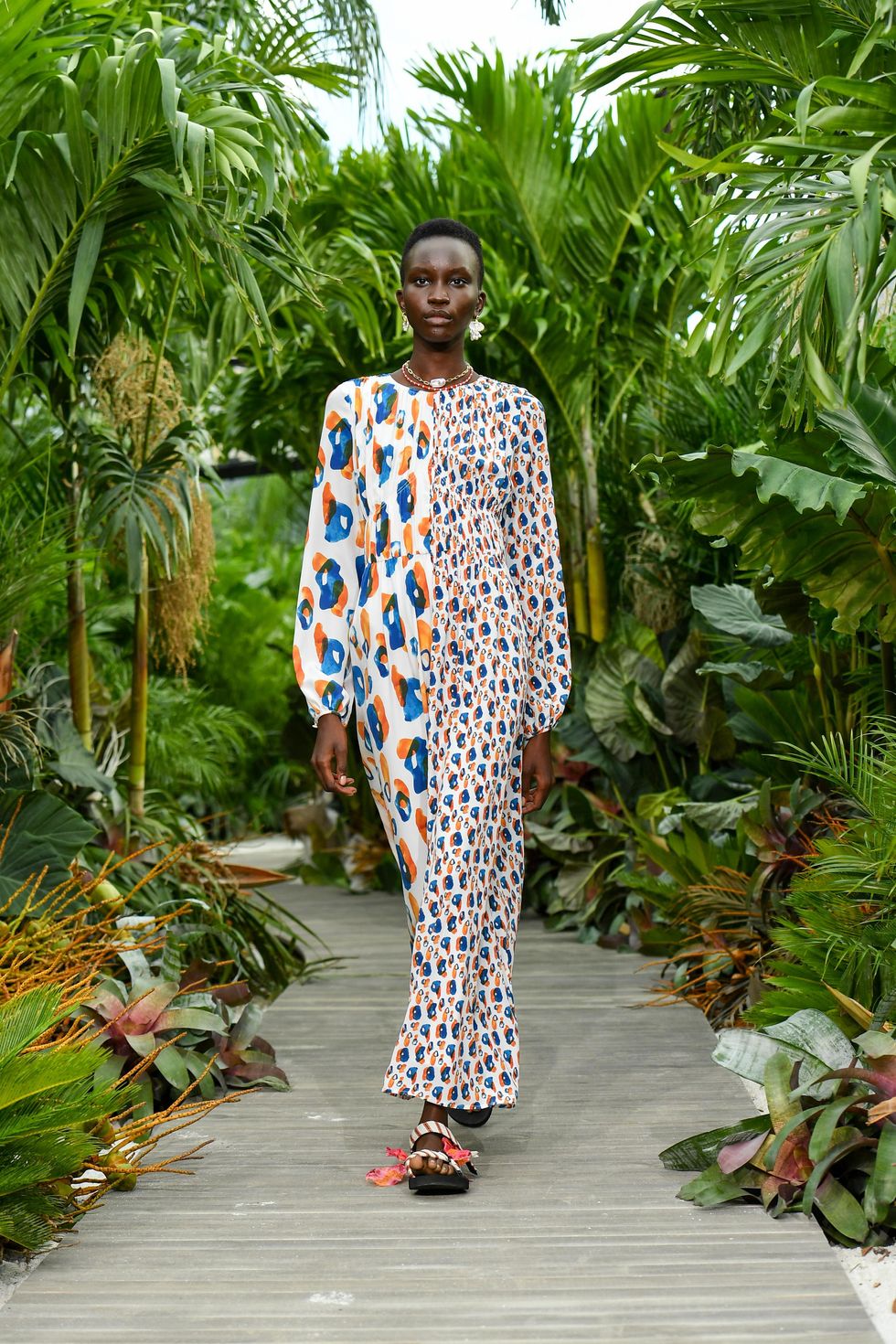 Mike Coppola/Getty Images For NYFW: The Shows
This year's uniform are the iconic neon floral prints of designers such as Christopher John Roberts and the lucid geometric designs of Mugler. For a major mood boost, bold retro patterns and mixed prints are a feel-good goal this summer. As this pandemic comes to an end, it's exciting to get back to fashion.
Featured image by Edward Berthelot/Getty Images

Keep reading...
Show less
If you've been watching the style sphere over the past few months, handbags are having a standout moment. No longer regulated to the backburner of fashion, accessories - and more specifically handbags - are taking center stage. There isn't a luxury or premium fashion house that didn't showcase a line of colorful, unique, or nostalgic handbags this spring.
We're seeing this time-tested accessory go through a sort of transformation, akin to the spring awakening, right before our eyes. Whether you're looking to start your coveted handbag collection or looking to mix up your personal style, here are 10 handbag trends to hold you down all year.
1. Cushion Bags
The message is loud and clear: cushion is here to stay. A trend that started with Bottega Veneta's Lido sandal and picked up momentum in the coziness of the pandemic, cushion accessories are exploding this year. The handbag is a nod to the early 2000s and exudes a sophisticated comfort akin to a 2.55 Chanel quilted bag. Given its luxe texture, you can effortlessly dress this up with a more structured aesthetic or opt for a slouchy version with athleisure.
2. Belt Bag
While you might have kissed your fanny pack goodbye, don't get too comfortable with leaving your waist purse-free. In the place of the coveted nostalgic fanny-pack comes the belt bag; an ultra mini attached to your waist in a utility belt fashion. Styled over a maxi dress to give a bit of shape or hooked through your favorite high-waisted denim, the belt bag is this year's answer to being hands-free in a post-pandemic world.
3. Crescent Shape
If you need any more confirmation that the nostalgic 00s are saturating our runways, look no further than the comeback of the iconic crescent-shaped handbag. Aptly nicknamed the moon bag and debuting on runways a few years ago, the IT bag of yesteryear is officially having a moment. This chic staple nestled delicately under your shoulder comes in a wide range of silhouettes, colors, and prints that effortlessly complement any style. Whether you gravitate towards the modern slouchy pouches at Bottega Veneta, the whimsical canvas-printed bags at Staud, or the seminal black Prada top-handle, there's a moon-shaped bag with your name on it.
4. Soft Leather
The category for 2021 is stylish comfort, and nothing embodies that more than the soft and delicate leather goods we saw on the runways. Doubling down on soft indoor textures, pillowy-to-the-touch handbags are already on every street block and coffee shop.
5. Logo Totes
Apologies at the top if you were expecting large handbags to fade discreetly into the archives of street style. Oversized but functional tote bags are populating Instagram feeds and spring/summer runways alike. While the Dior Tote has been coveted for a few years, the success with brands like Telfar has skyrocketed the logomania of it all. Easily styled on the white sandy beaches or in the masked city streets, the logo tote is a staple that every person should have in their wardrobe.
6. Unique Design
From Christian Dior in the 50s to Gianni Versace in the 90s, there are few moments in fashion where we see the debut of a new trend. Luckily for us, as consumers become more fashion-conscious, there's a surge in silhouettes that aren't traditional. An interesting combination of a bucket bag, the ultra-miniature, and a crossbody, this new variation of handbag is youthful and luscious.
7. Miniature
Ever since Lizzo donned a miniature Jacquemus bag with the caption, "...big enough for my fucks to give", the ultra-mini bag has exploded on the style scene.
8. Crossbody Bags
A style trend that's been around for years but still extremely relevant, the crossbody is the quintessential in-between bag. Adorned with chain straps, metallic embellishments, and delicate jeweled emblems, the crossbody is one of the most replicated handbags this year.
9. Filing Folders
A more youthful trend on the scene, two-dimensional arm candy is bound to be all the rage during the warmer months. An emblem of counterculture to maximalism, this silhouette screams feminine and professional without sacrificing elements of style. There's something about the sleek nature of the handbag that exudes a 90s IT-girl vibe immediately. The color palettes are ranging from neutrals to prints to the bold neons that are everywhere this season. The razor-sharp bag is the perfect accessory for the minimalist girl on the go.
10. Raffia Totes
Another fun and fresh trend that has its roots in traditional beachwear, the raffia tote, or commonly referred to as the 'wicker basket trend', has transitioned into more everyday wear for spring and summer. Whether it's a top-handle, a long-line chain, or crescent-shaped, the netted style is a funky and casual way to step up your everyday style.
Read all about fashion and style here.
Are you a member of our insiders squad? Join us in the xoTribe Members Community today!
Featured image courtesy of @amber.richele/Instagram
Keep reading...
Show less
As the world slowly begins to reopen from the devastation caused by the novel coronavirus and the subsequent pandemic, many of us are beginning to revisit the clothing we've set aside. As our everyday lives shrunk to the confinements of our own home, our staple wardrobe was slowly replaced by a leisure lifestyle dominated by our favorite oversized t-shirts and cozy knits. With denim jeans being the most abandoned, they're now creeping back onto our wardrobe radar.
Here are four examples of how you can jump into those neglected jeans once again, confidently conquering the outside world (or the inside world) like never before.
Look 1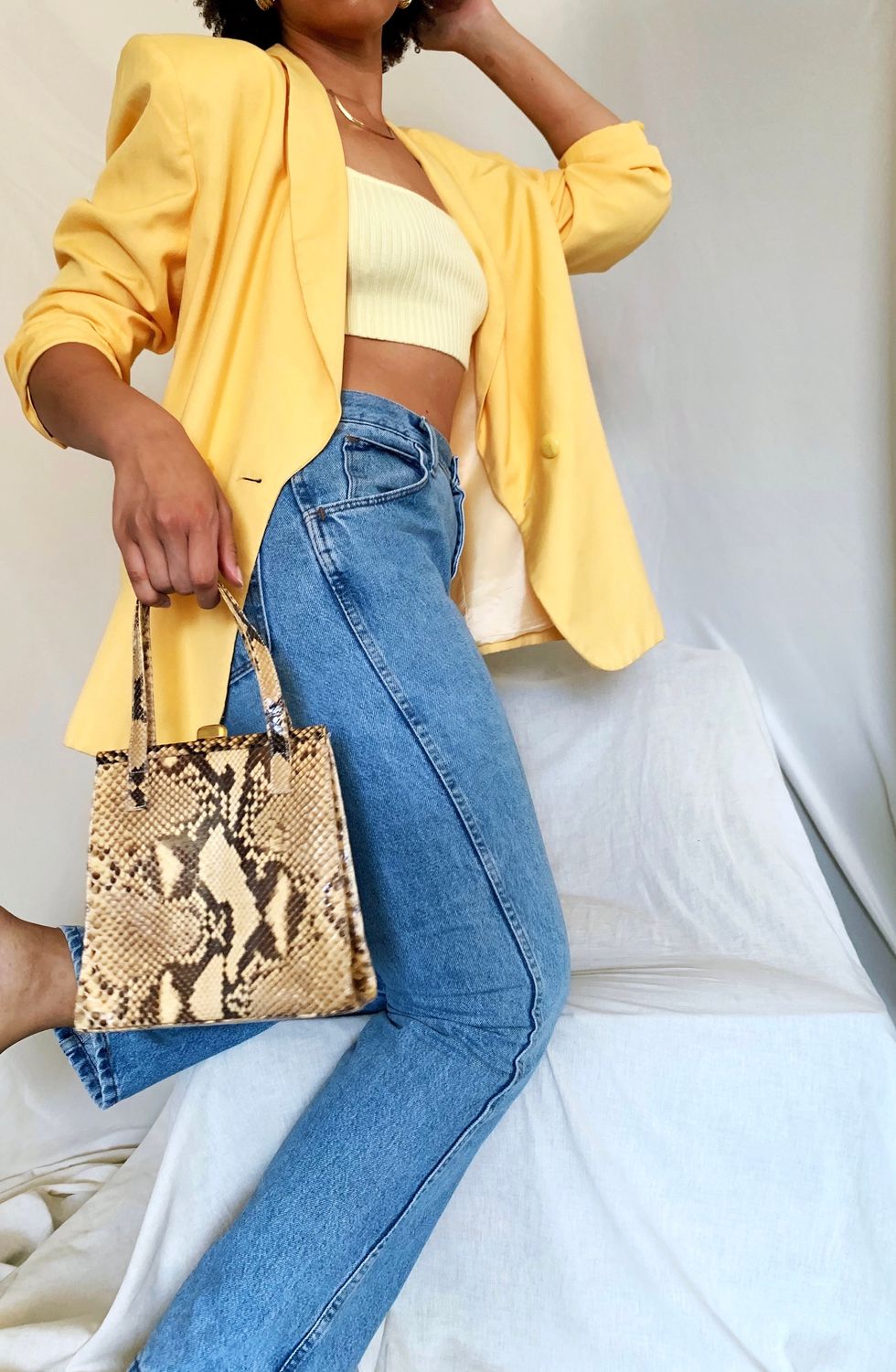 Shahirah Ahmed/xoNecole
As we begin to dine at our favorite restaurants, straight leg denim jeans are versatile for any outfit in mind. With knits being a current staple of our quarantine style, we can comfortably transition this lovable trend by throwing on a matching lightweight blazer which is perfect for a patio lunch date.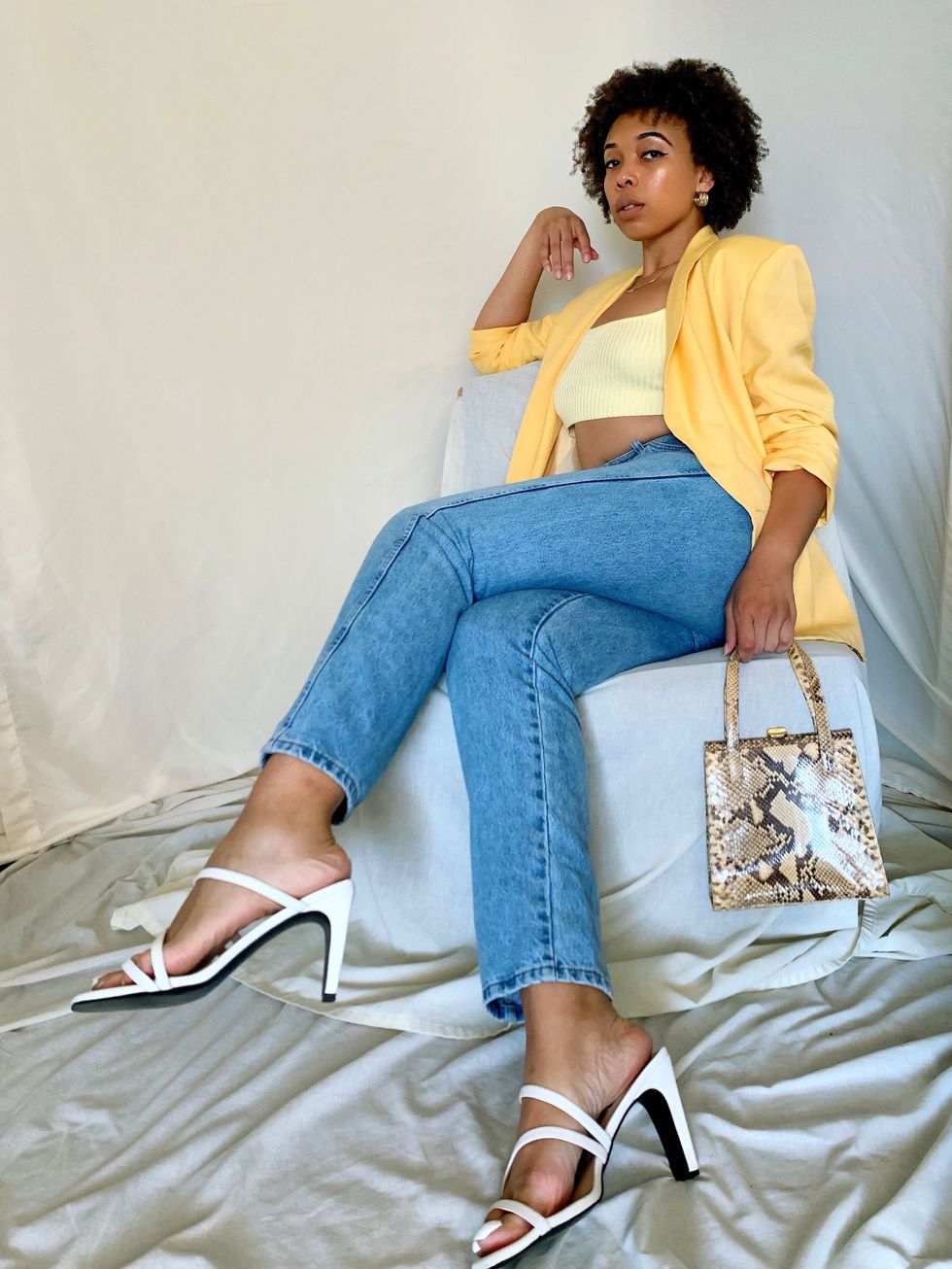 Shahirah Ahmed/xoNecole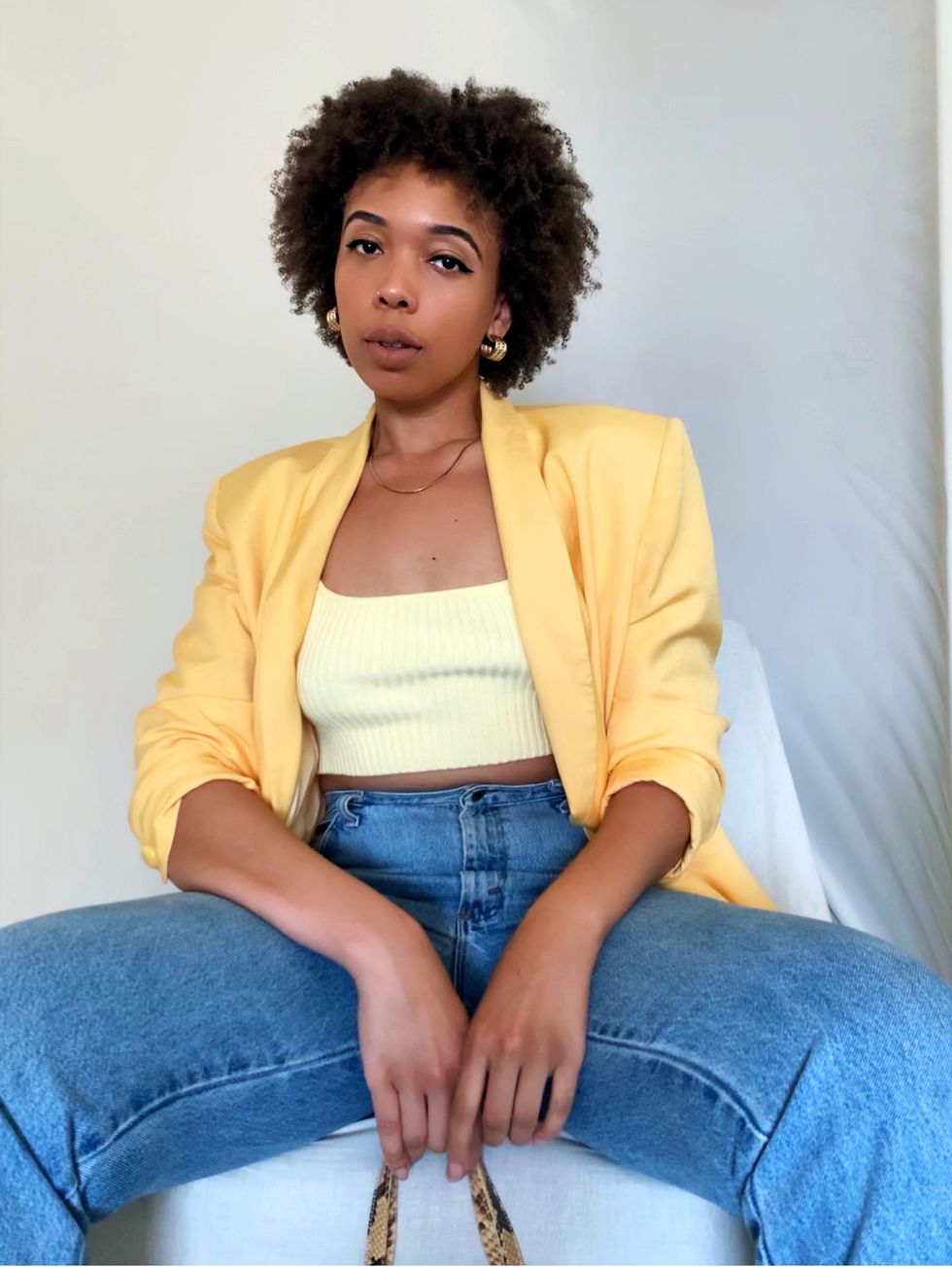 Shahirah Ahmed/xoNecole
Look 2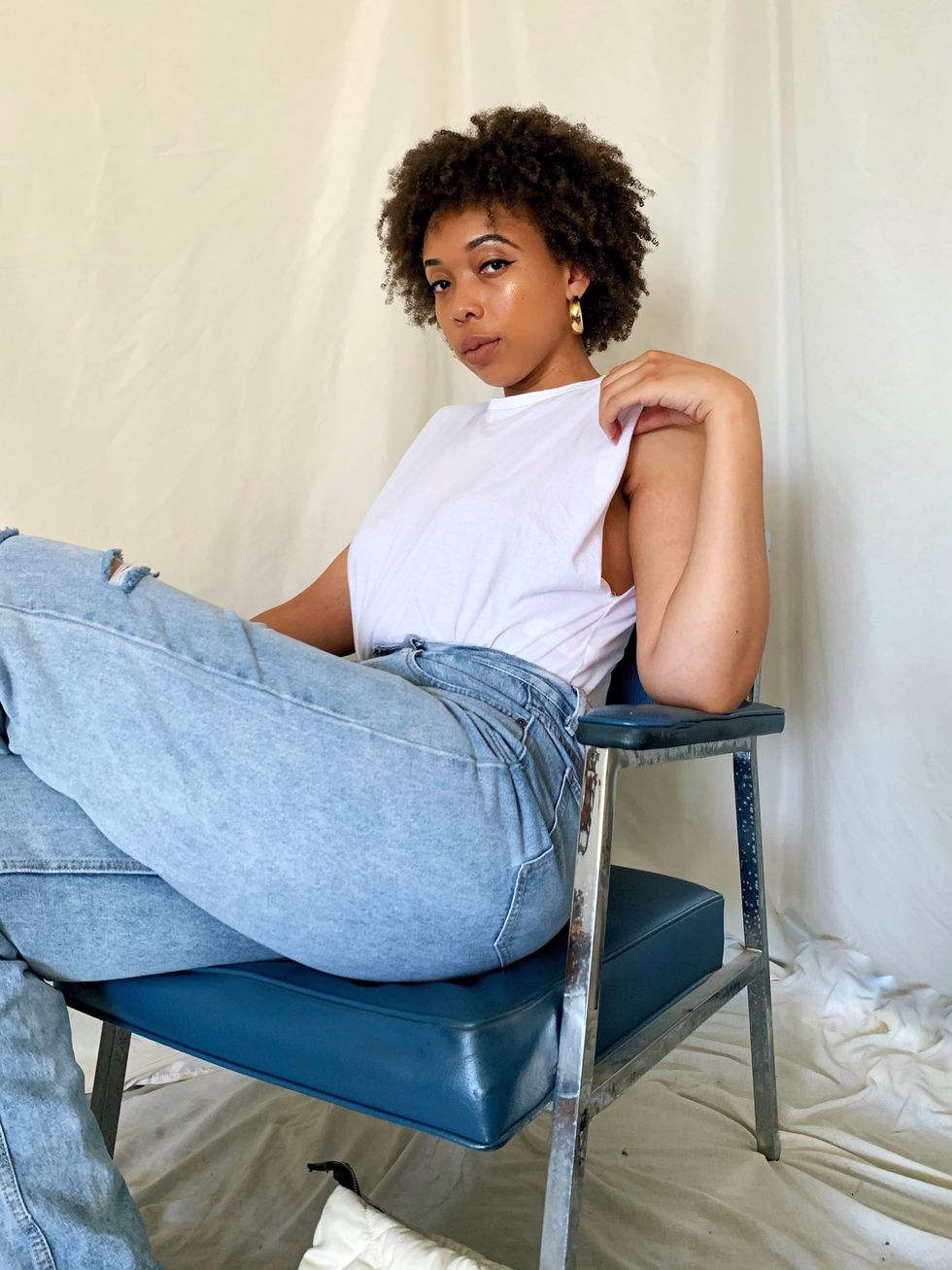 Shahirah Ahmed/xoNecole
While most of our social lives have dwindled significantly, we are anxiously awaiting the moment to reunite with our loved ones. Ideal for a night on the town, destroyed denim is the chicest of them all. Get dressed pairing a white tee along with a stylish mule and pillow clutch as we once again enjoy a casual chic night out on the town.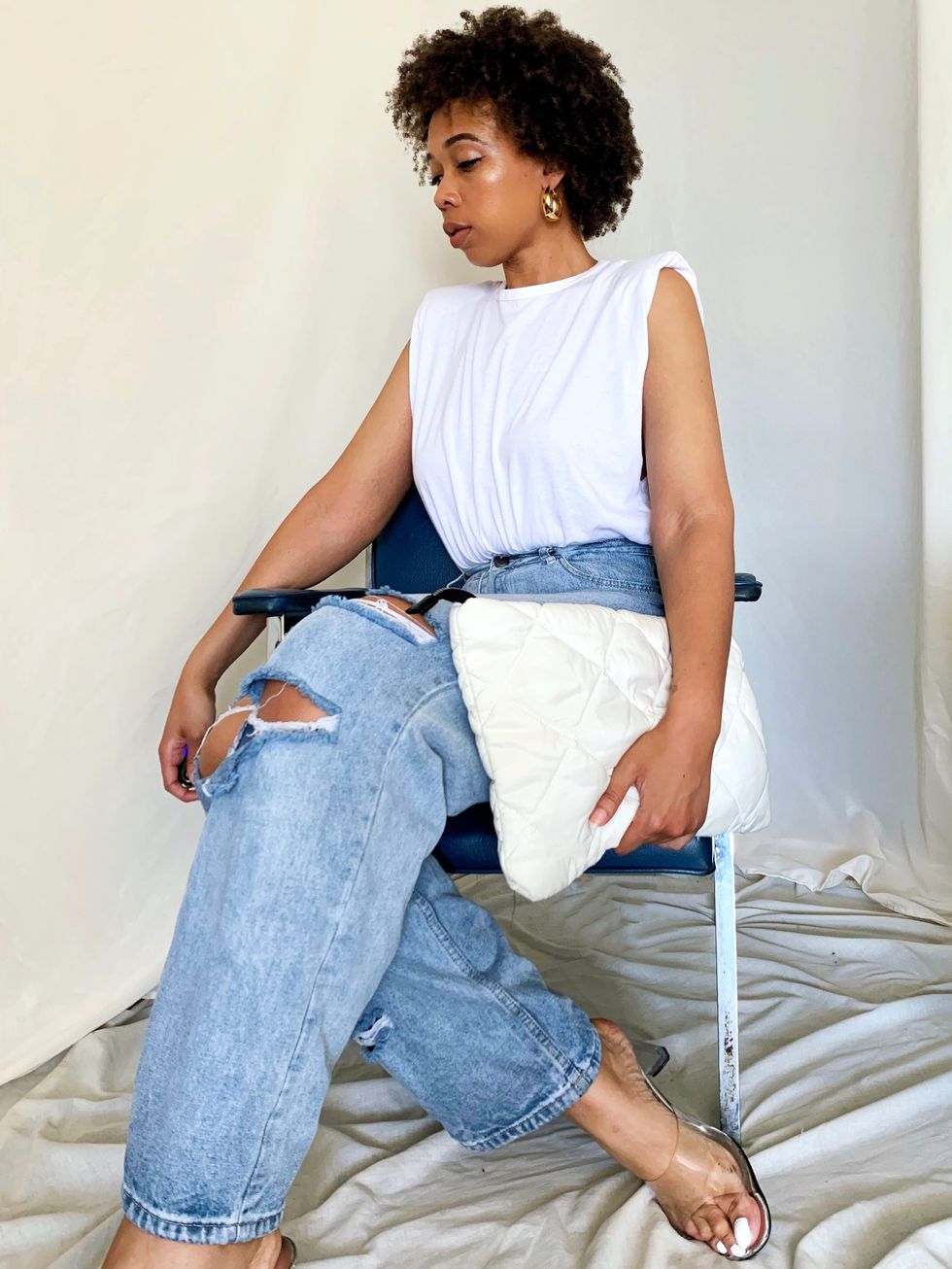 Shahirah Ahmed/xoNecole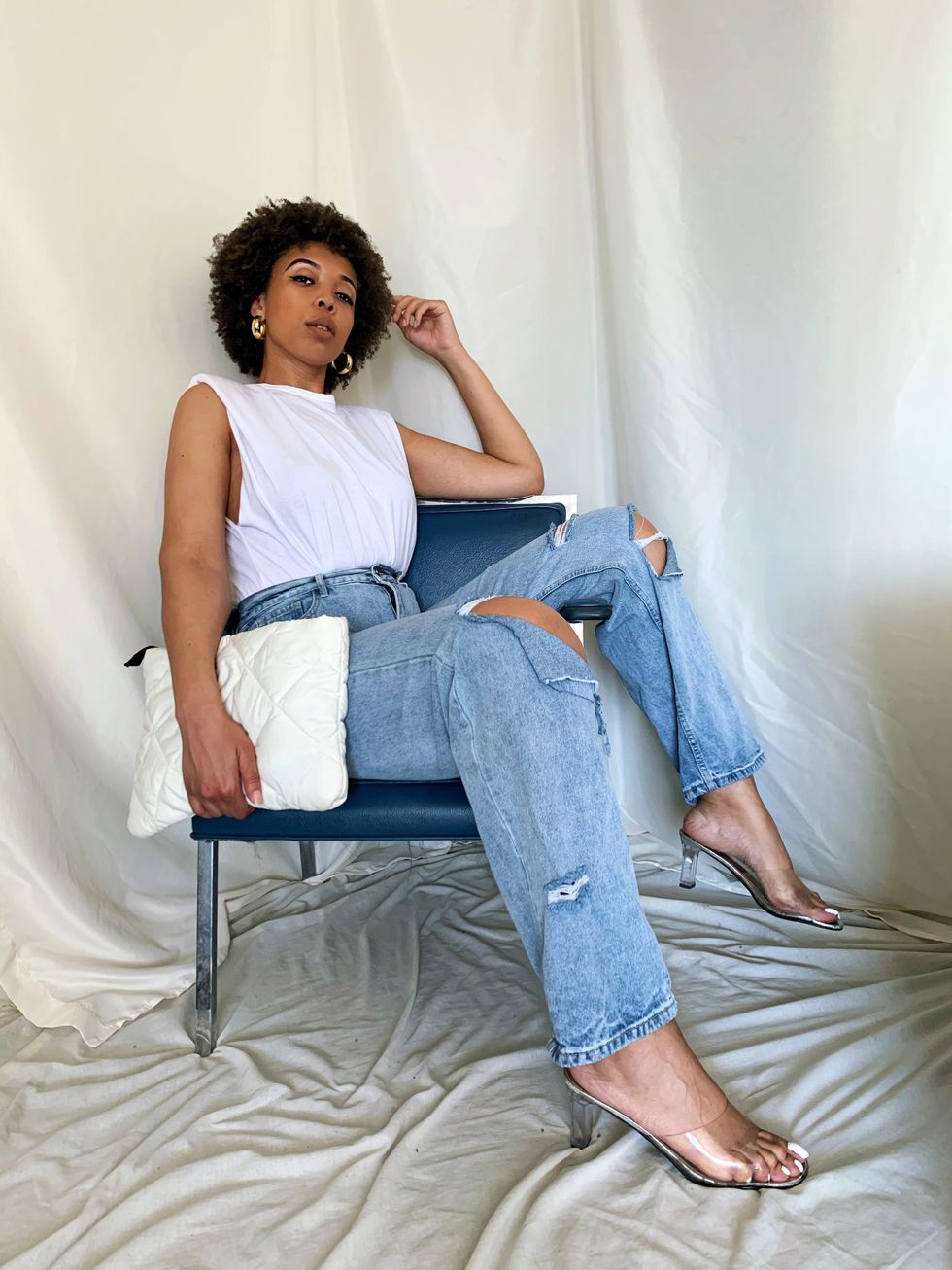 Shahirah Ahmed/xoNecole
Look 3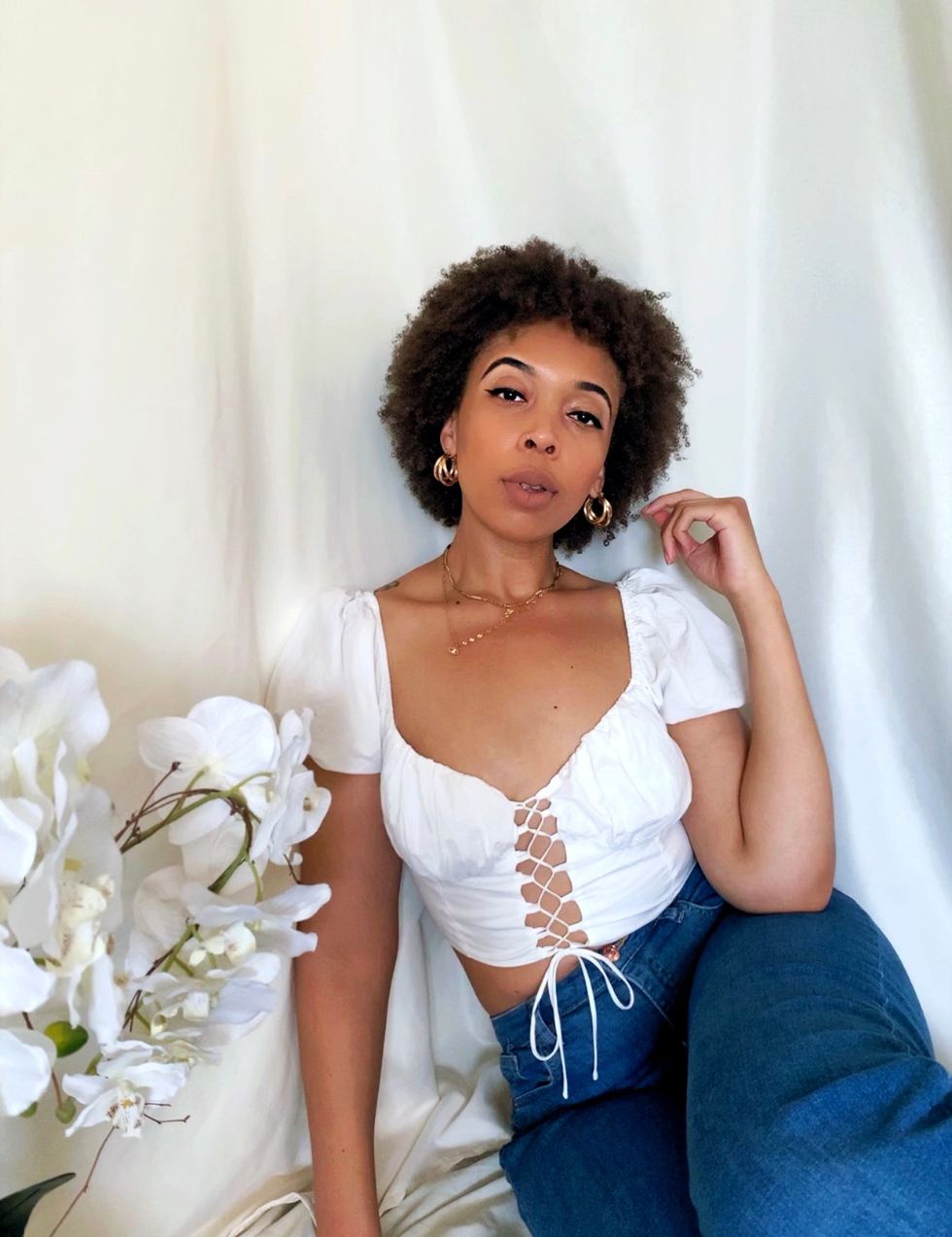 Shahirah Ahmed/xoNecole
If being indoors has taught us one thing, it's increased our admiration for the outside world by sparking a desire to spend more time in nature. Wear a wide-leg cropped denim pant paired with a short puffed sleeve crop top to enjoy a cute outdoor picnic. Add a pop of spring with a brightly colored wrap-around sandal, another exciting element to this casual look. A small step into post-quarantine, this outfit will enhance a delicious stress-free picture-perfect reintroduction into normal life.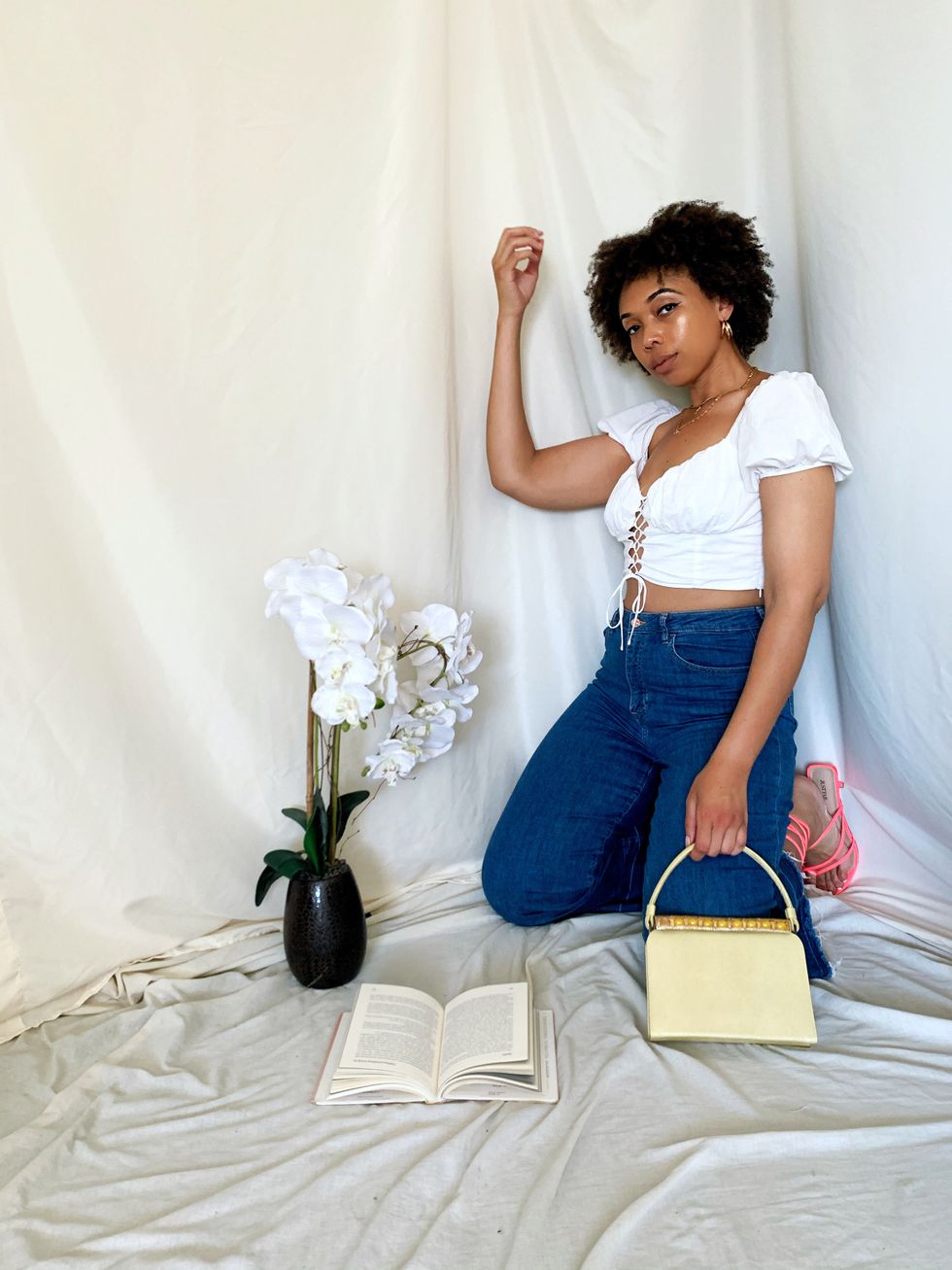 Shahirah Ahmed/xoNecole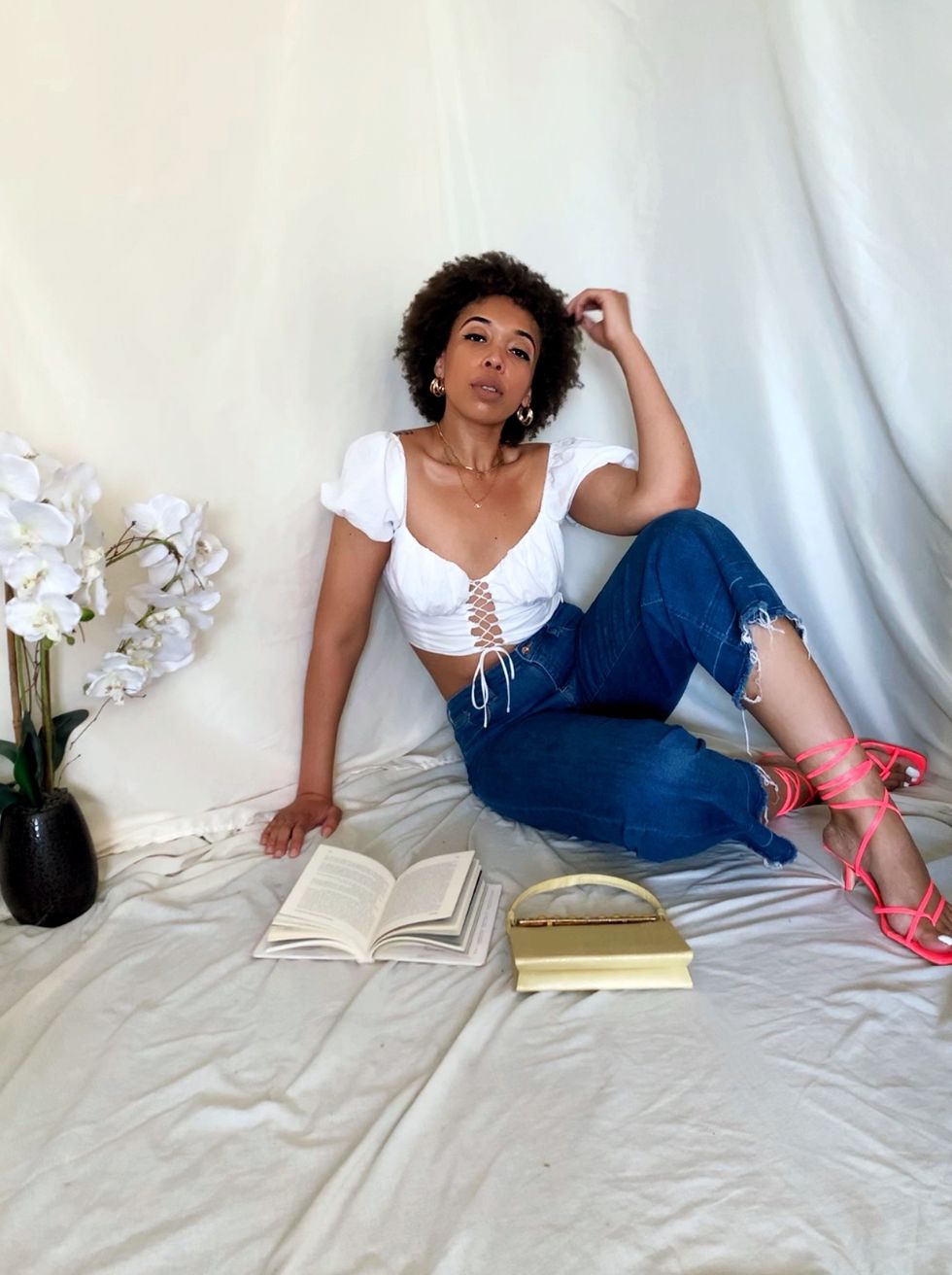 Shahirah Ahmed/xoNecole
Look 4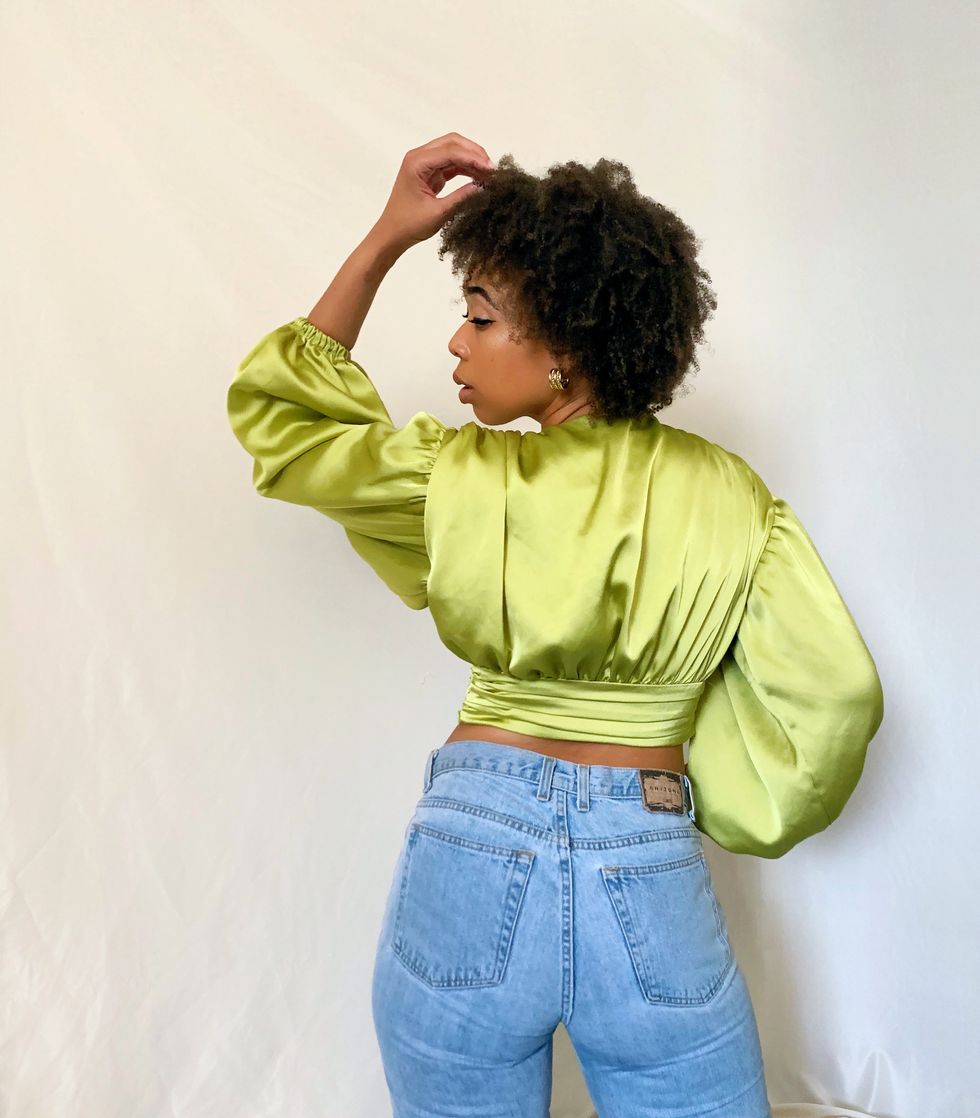 Shahirah Ahmed/xoNecole
Satin is the perfect lightweight material to enjoy a silky green puff sleeve paired with a mom jean. The perfect high waist denim for crop tops, this pair of jeans allows maximum coverage with a conservative pop of skin. By pairing this ensemble with a flat sandal, this look is the ideal cute and casual outfit for a romantic stroll to your local farmers market.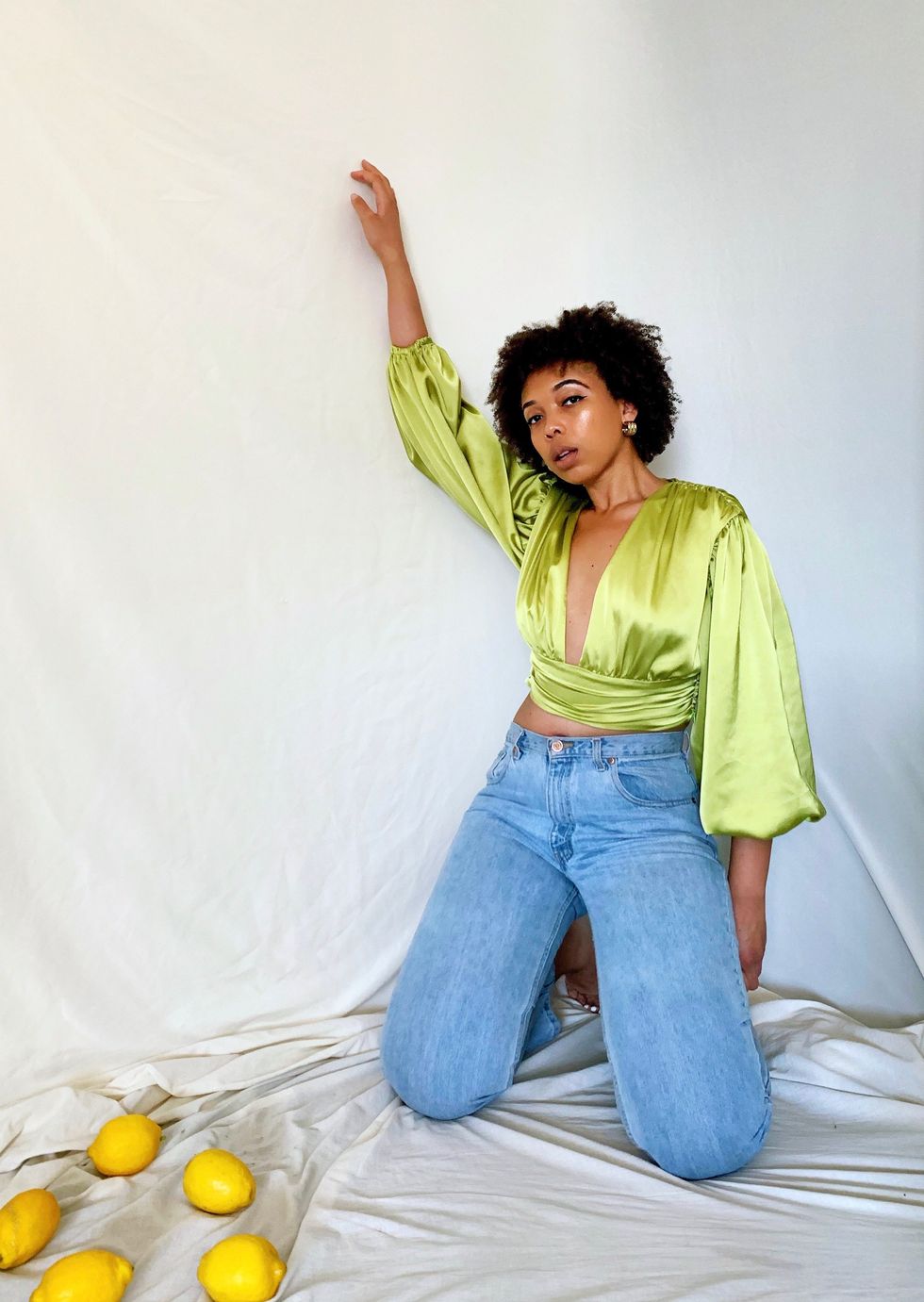 Shahirah Ahmed/xoNecole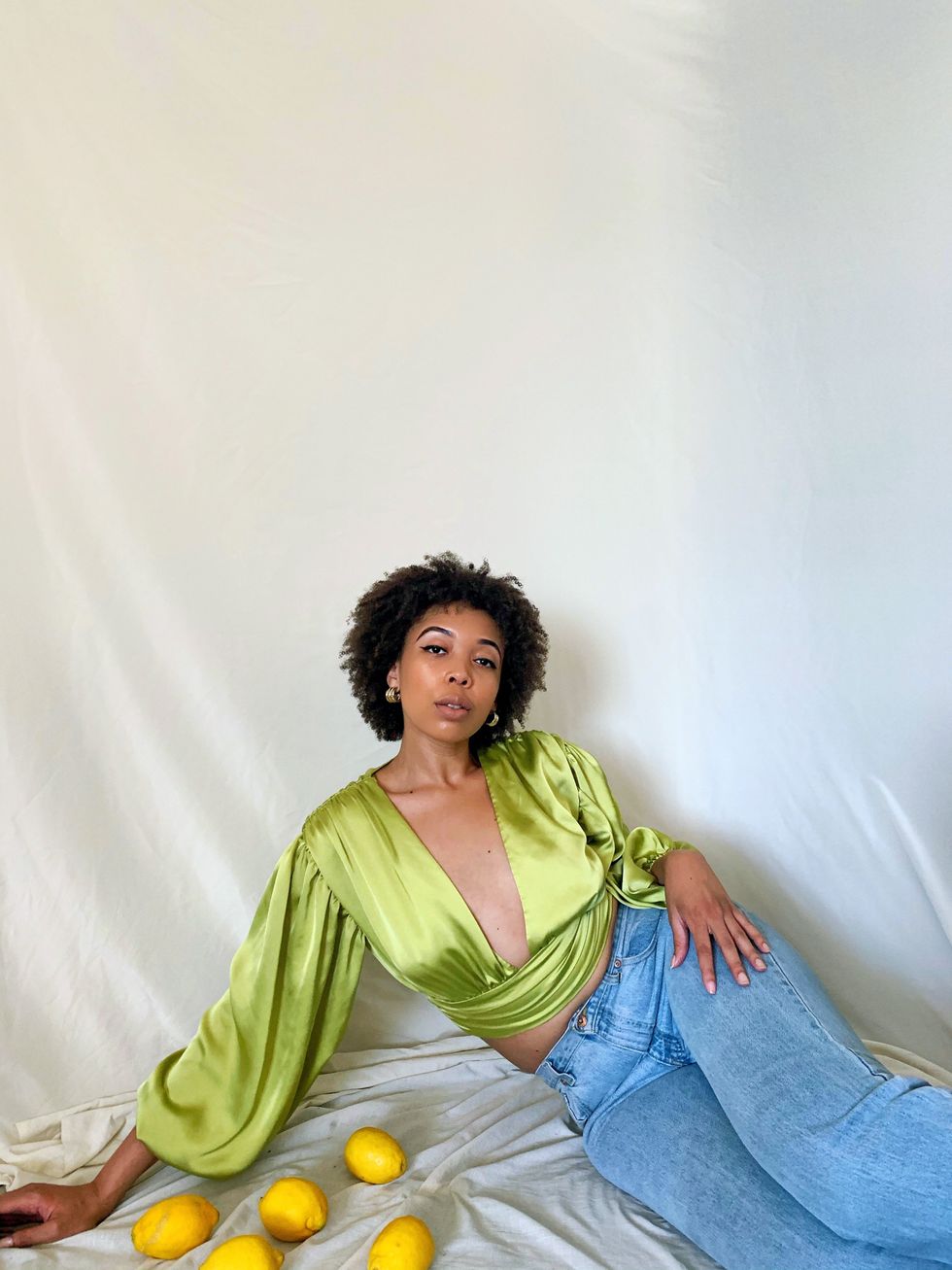 Shahirah Ahmed/xoNecole
Shop Similar Closet Finds:
*Some links are affiliate links. If you make a purchase, xoNecole may earn a small commission.
BDG High-Waisted Mom Jean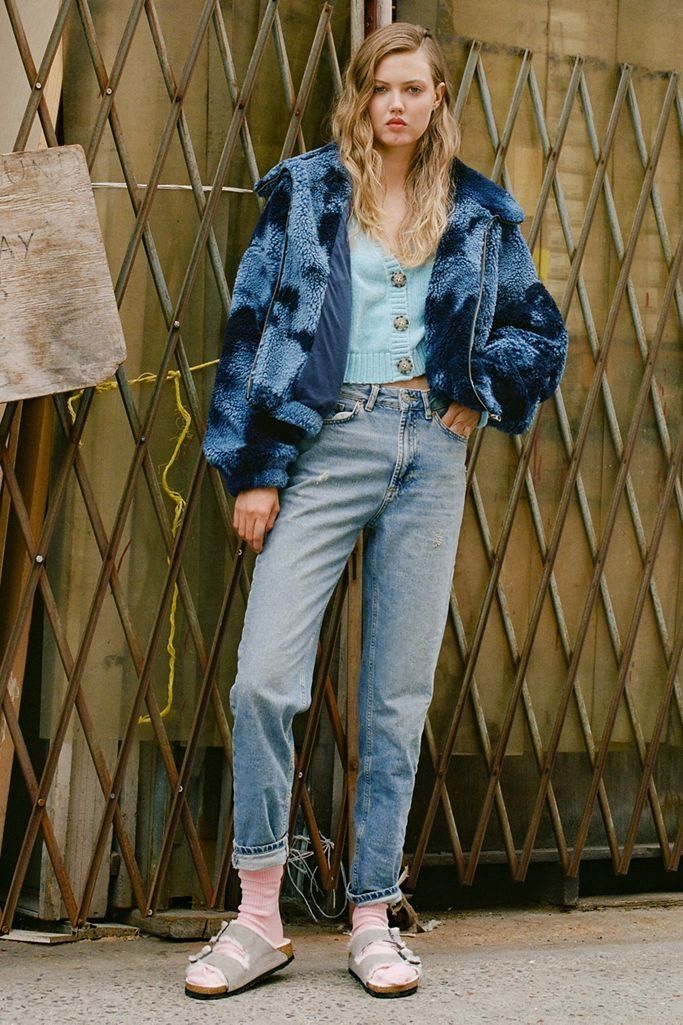 Urban Outfitters
BDG High-Waisted Baggy Jean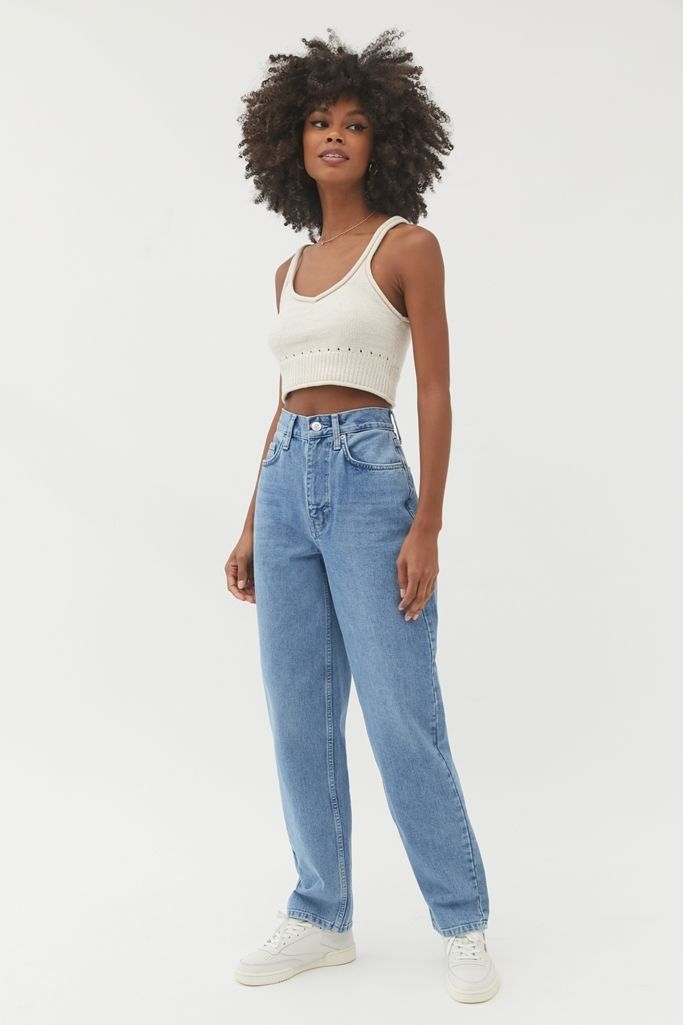 Urban Outfitters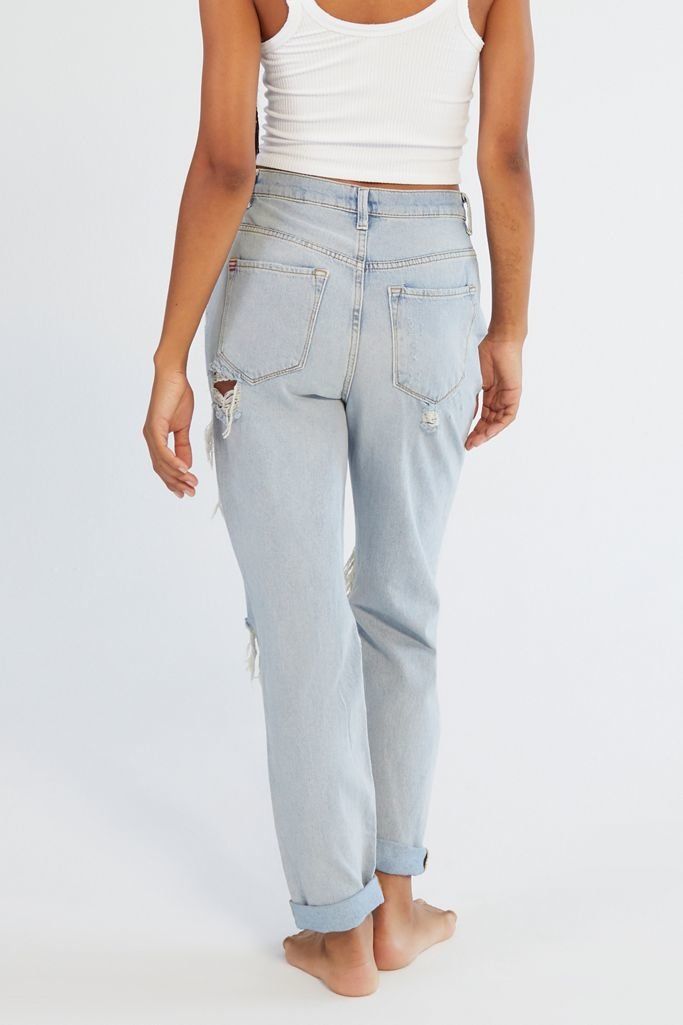 Urban Outfitters
Levi's Wedgie Icon Jean - Shut Up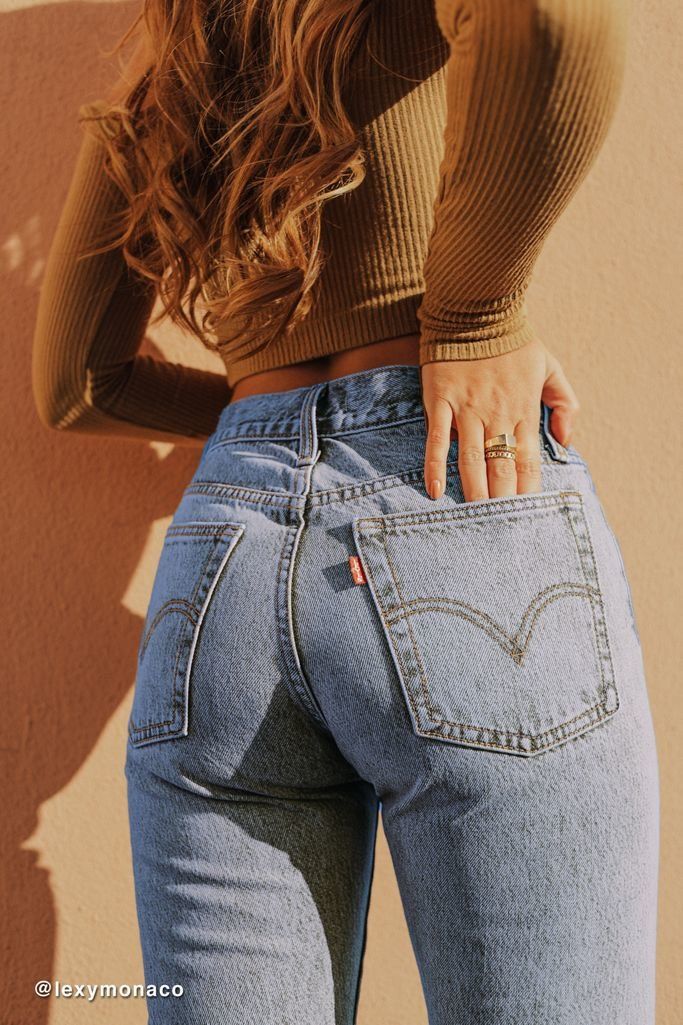 Urban Outfitters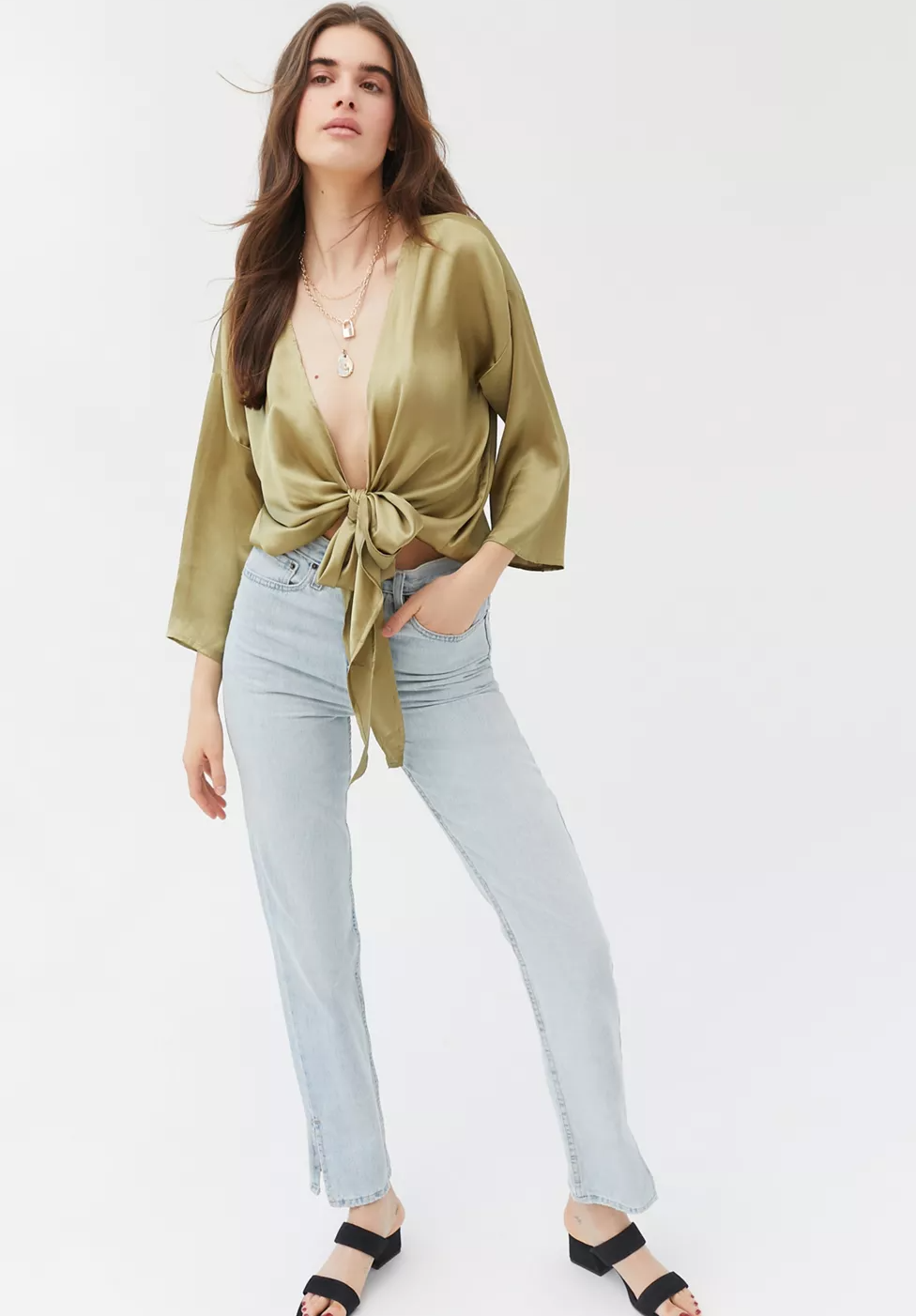 Urban Outfitters
Lime Satin Plunge Tie Waist Blouse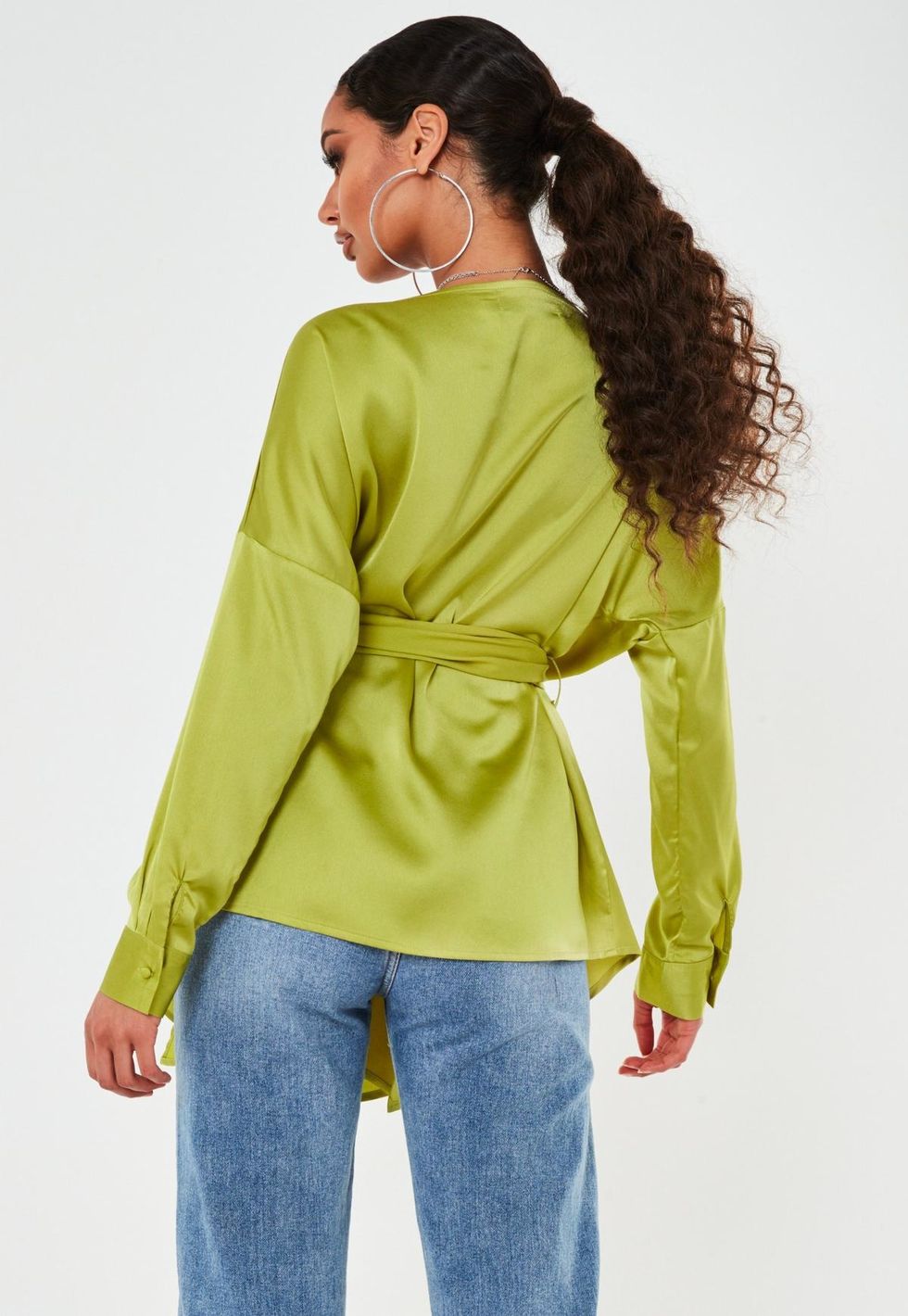 Missguided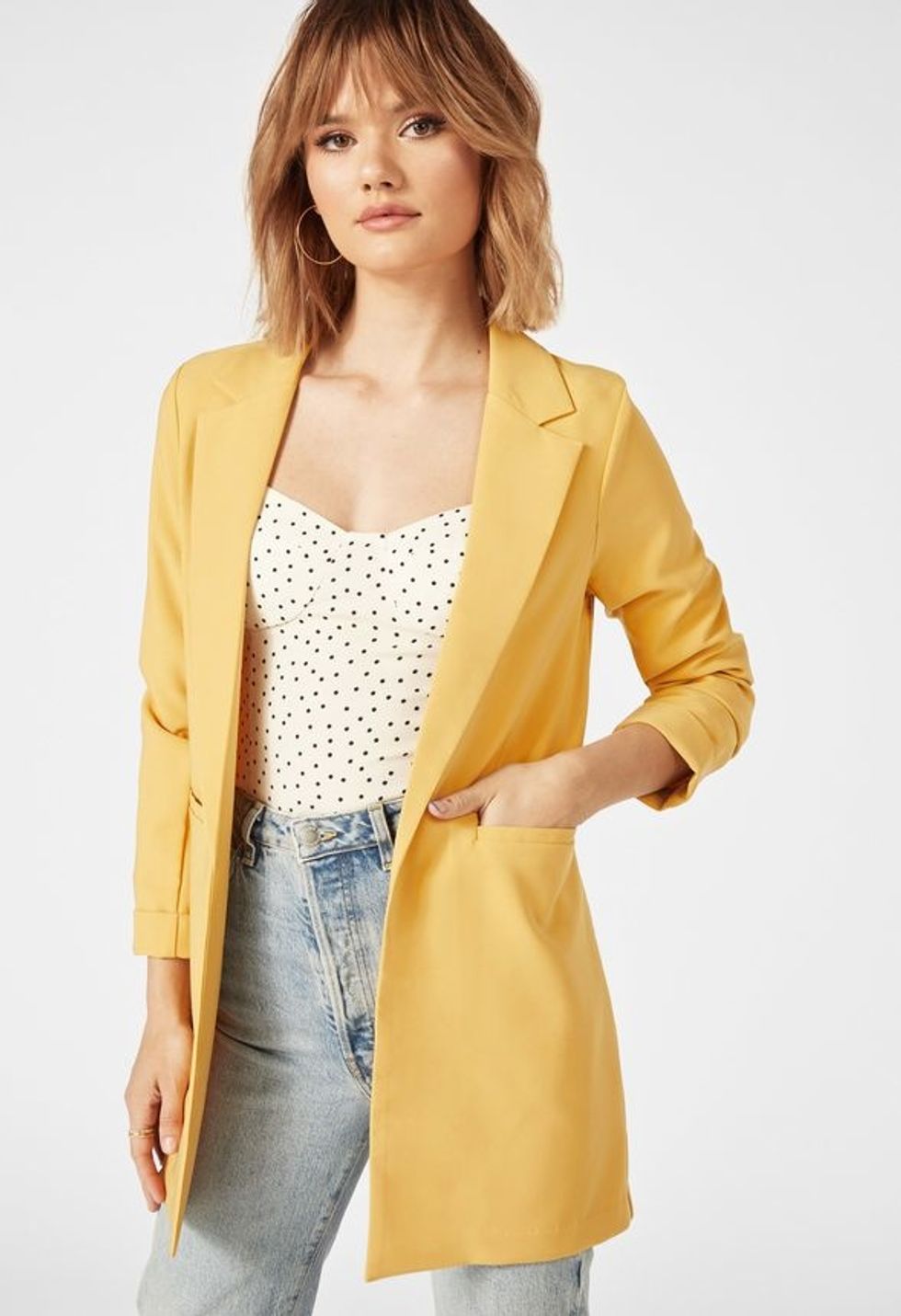 JustFab
Out From Under Drew Either Way Twist Bra Top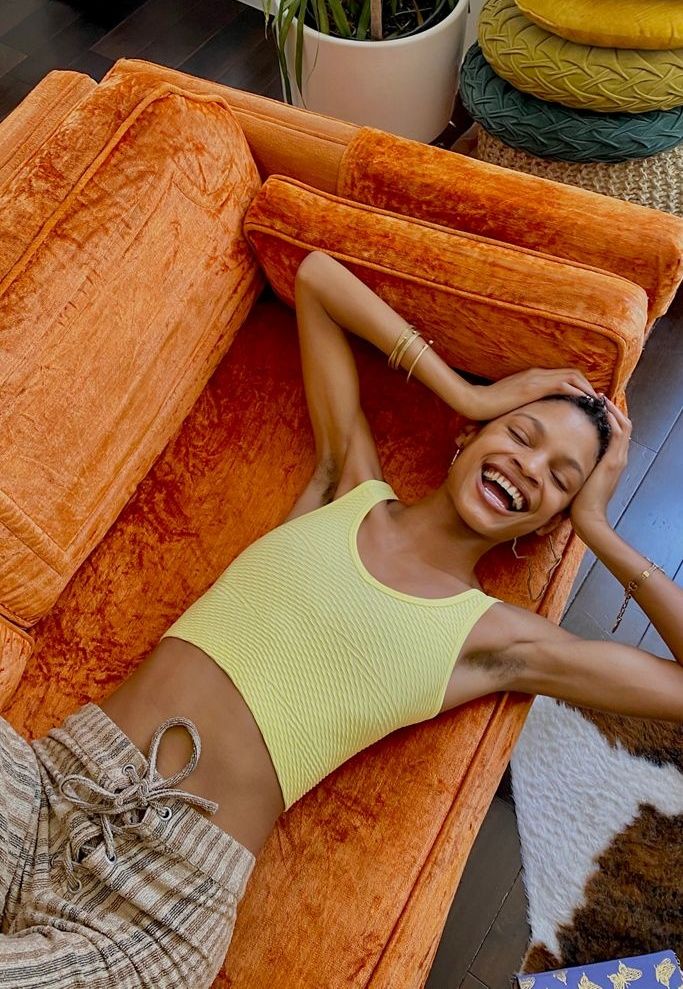 Urban Outfitters
Out From Under Feel Free Seamless Bra Top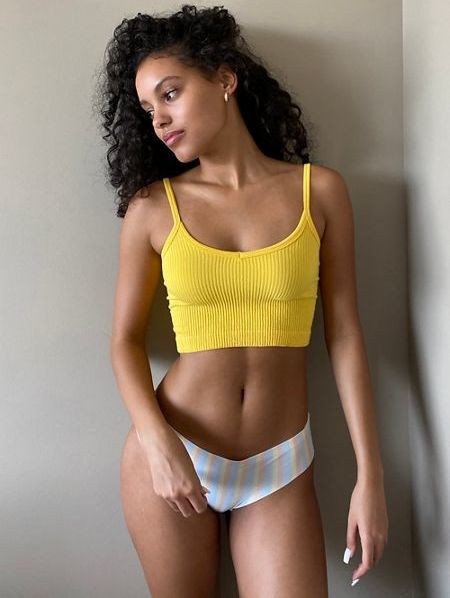 Urban Outfitters
SHEIN Padded Shoulder Tank Top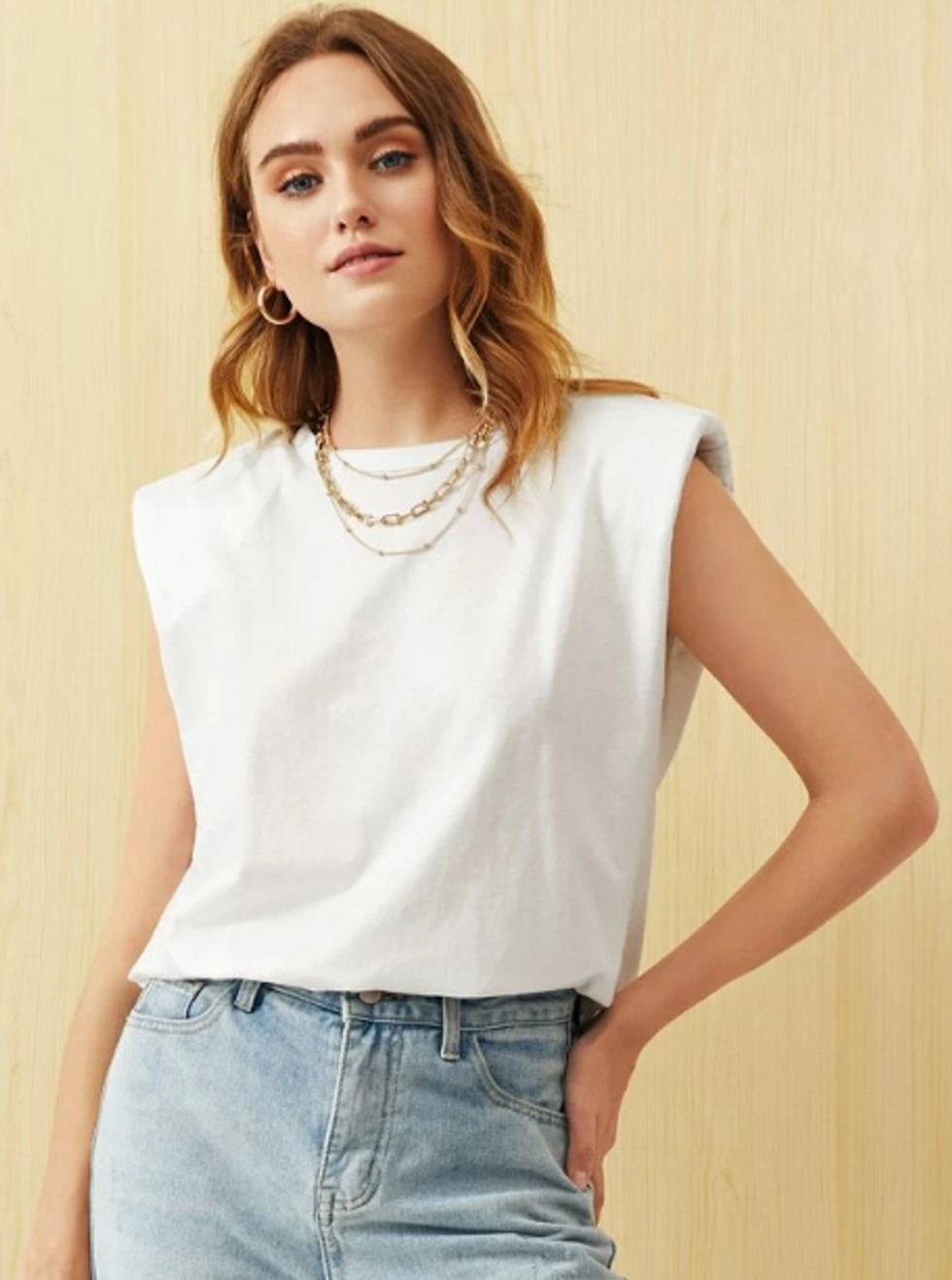 SHEIN
Want more stories like this? Sign up for our newsletter here to receive our latest articles and news straight to your inbox.
Featured image by Shahirah Ahmed for xoNecole
Originally published on May 21, 2020
Keep reading...
Show less