The holiday season is here and we can't help but be thankful for all the things. On the heels of the CFDA Awards and Hanifa's groundbreaking runway show, the excitement about getting dressed is at an all-time high. Now's the time to lean into those fall basics while also pulling out all the stops by rocking your statement pieces.
Choosing what to wear doesn't have to be difficult. Just wear what makes you feel beautiful. And when you need some inspiration, know that xoNecole has you covered. Knitwear, leather, animal print, colors, and more gave us the style boost we didn't know we needed.
Keep scrolling for this week's best style IGs that won't miss and just might give you something to duplicate this weekend!
Featured image courtesy of @taneeyah.lajuan/Instagram

Keep reading...
Show less
Ciara one-two-stepped her way into our lives over two decades ago and she's been giving ever since. I remember wanting to be just like her as I entered high school. She was beautiful, talented and an all-around five-star chick. From her style to the way she just seems so effortless, she was all that I wanted to be. To this day, she is still goals. Ciara once said about style, "I believe a person's style is an expression of who you are - way more than dancing."
In December of 2020, she created The House of LR&C, a fashion house that intersects fashion and philanthropy and that's when my love for the ATLien grew stronger. Ciara stated in a press release:
"Fashion has always been my avenue for creative self-expression, and throughout my journey, I've always been looking for a brand that's a one-stop-shop, from investment pieces to budget-friendly items."
The fact that she is using her platform to create a line that can be a woman's best friend in fashion speaks to why she deserves multiple bouquets of flowers. So we are going to do just that. Ahead, find an assortment of Ciara's most memorable looks which makes up one hell of a style evolution.
2005: 10th Annual Soul Train Lady of Soul Awards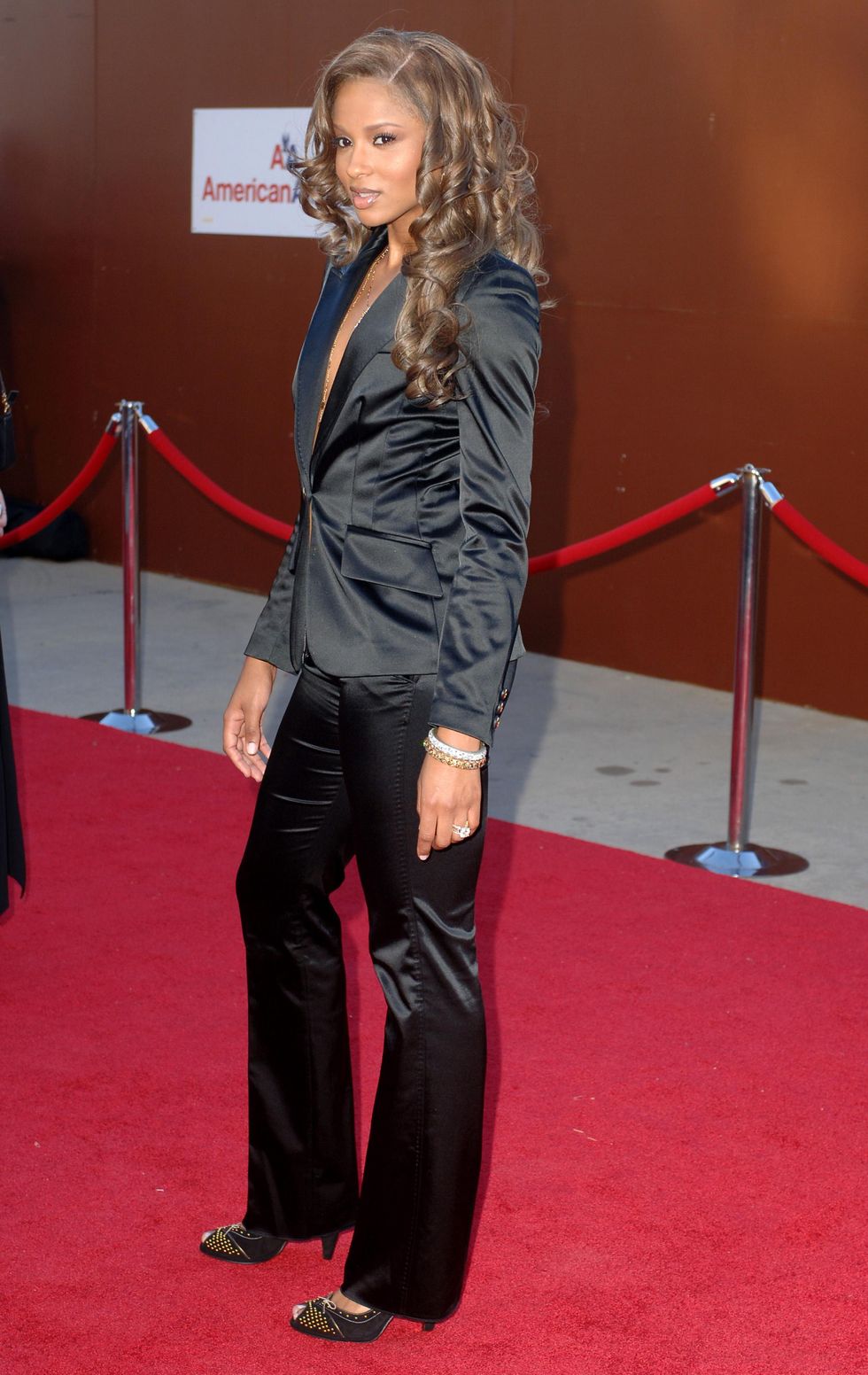 At the Soul Train Lady of Soul Awards, Ciara opted for a black satin suit with black open-toed heels. At this point in the game, the singer was still figuring out how to make her mark on the carpet but it was still very fitting for the year 2005.
2006: 48th Annual Grammy Awards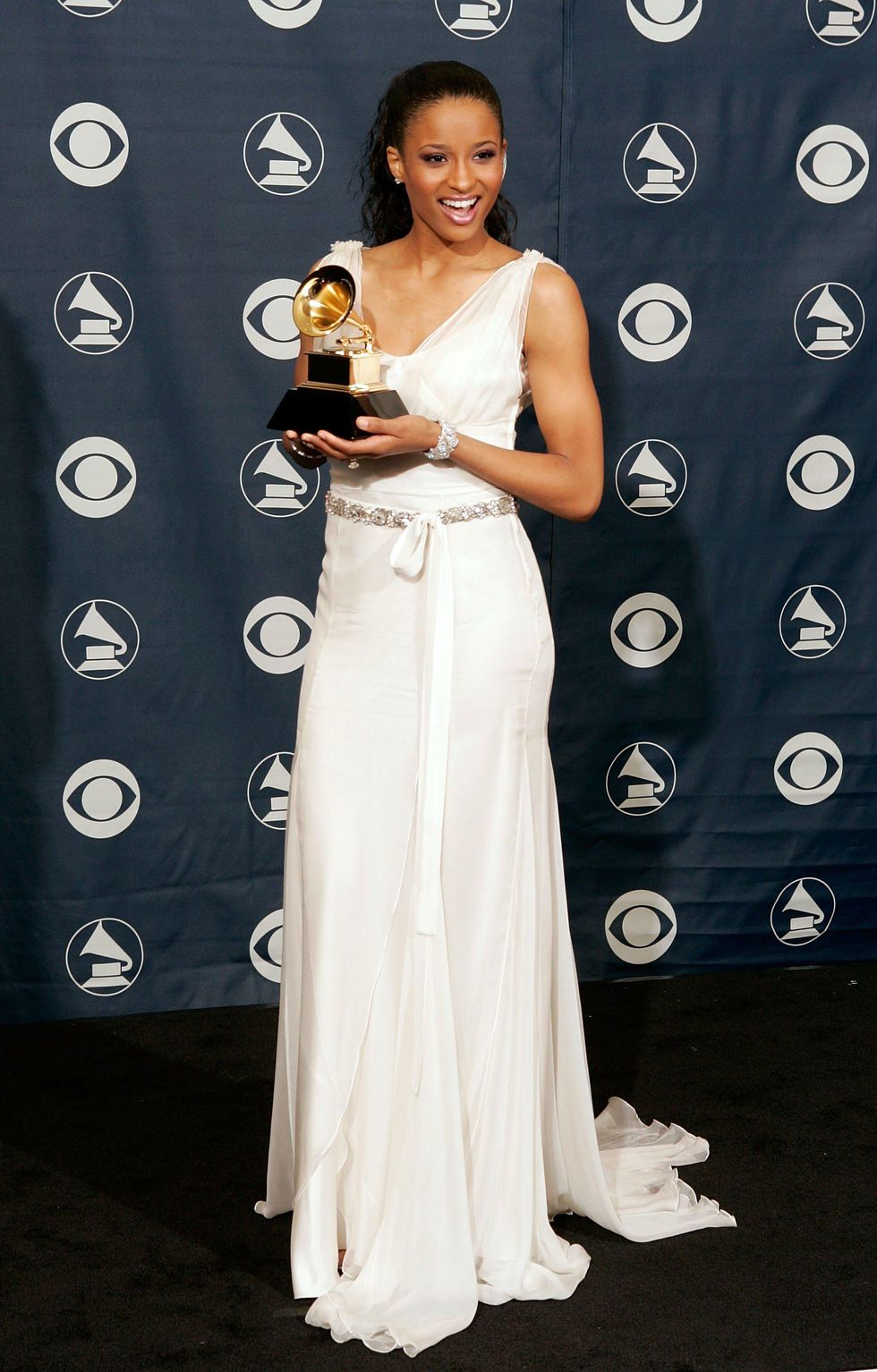 Kevin Winter/Getty Images
Fast forward to 2009, you see Princess Ciara draped in a beautiful and delicate white gown. This was also a monumental night as she won her first Grammy for Best Short-Form Music Video for "Lose Control," featuring Missy Elliott & Fat Man Scoop.
2011: 53rd Annual Grammy Awards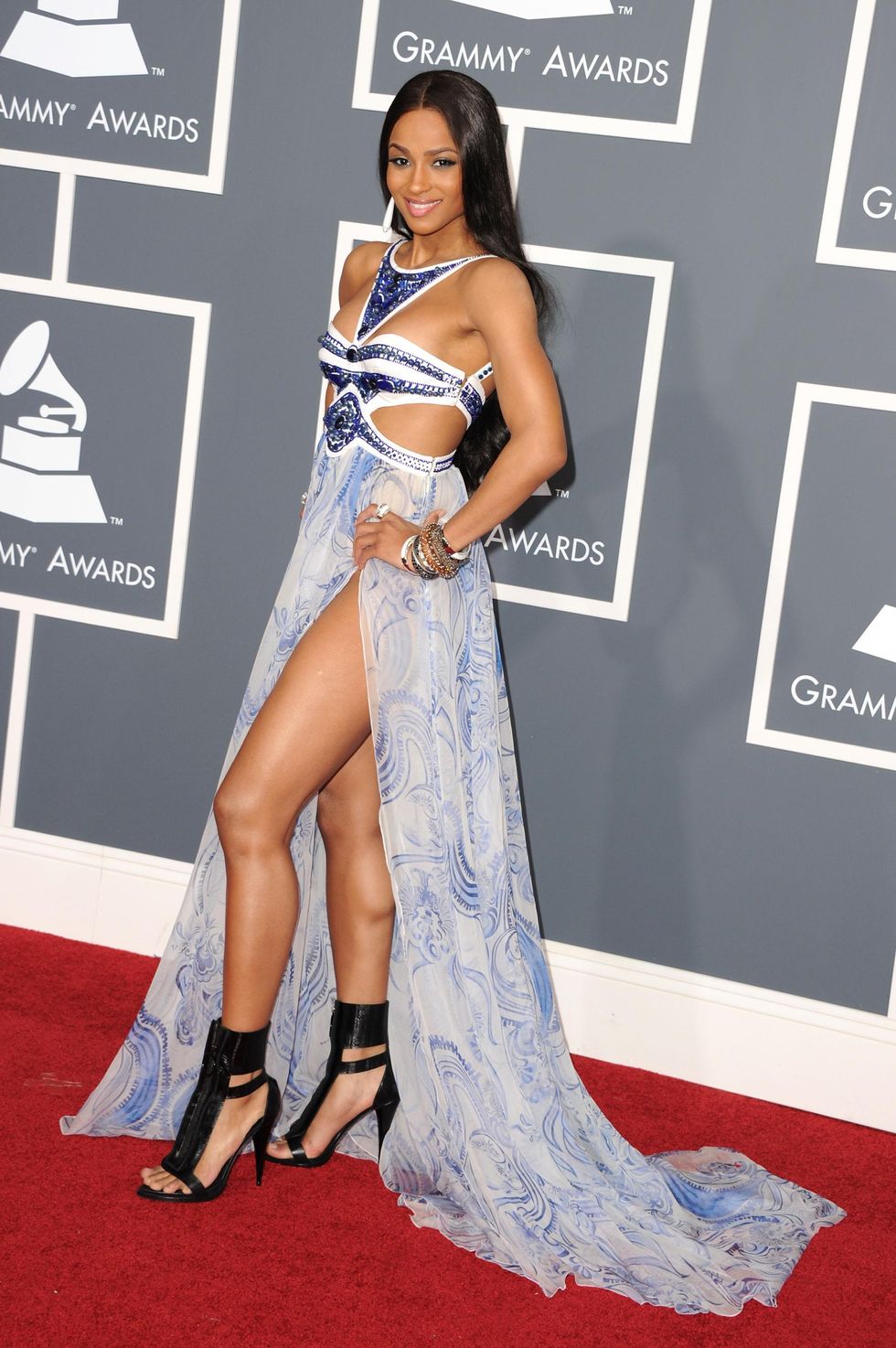 Jason Merritt/Getty Images
By 2011, our favorite dancer realized her love for high slits. Ciara wore an Emilio Pucci Spring 2011 dress featuring cutouts and an extra-long train to grace the red carpet.
2012: MTV Movie Awards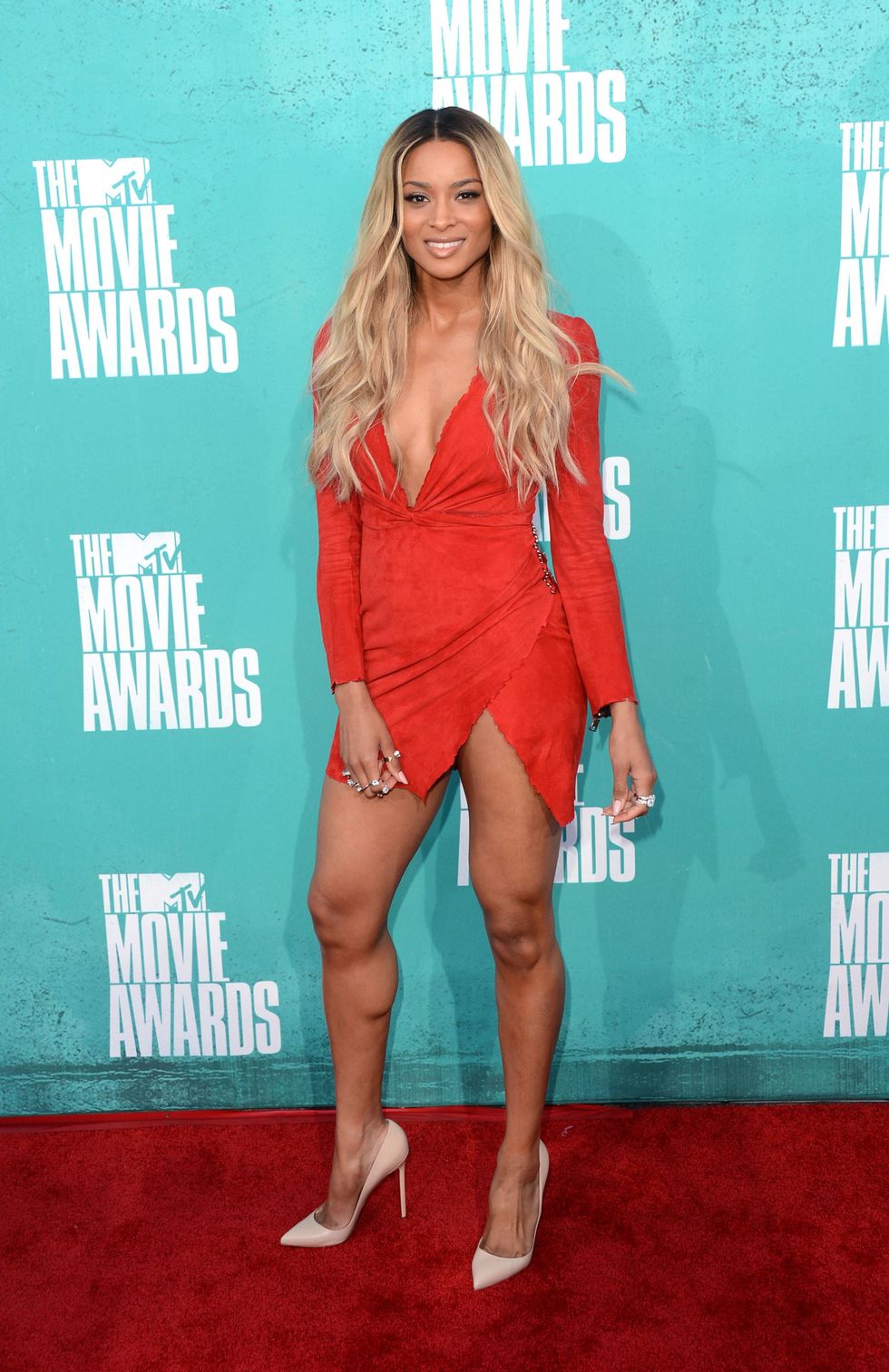 Jason Merritt/Getty Images
Is it us or do we see Ciara stepping into her grown and sexy bag on this red carpet? She brought the heat to the carpet in a red, hot Balmain dress paired with the nude Christian Louboutin 'Pigalle' pointed-toe pumps. It's a timeless look that could be worn in any era.
2014: 56th Annual Grammy Awards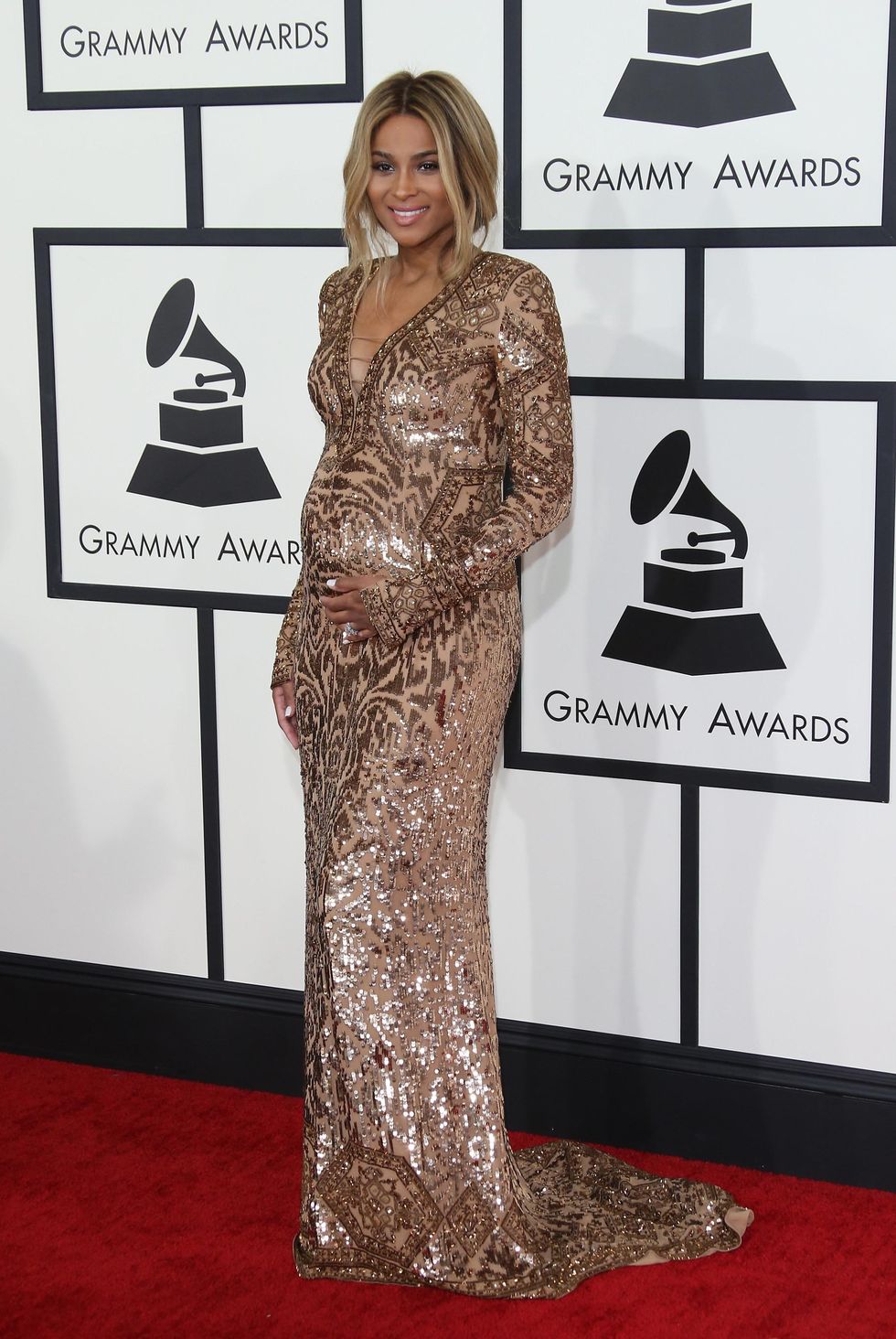 Dan MacMedan/WireImage
The year is 2014 and the singer is expecting her first child with rapper, Future. We remember being so excited to see her on the carpet with her adorable bump. The pregnant star stole the show in a custom Emilio Pucci gown and her simplistic beauty made for a perfect ensemble.
2015: American Music Awards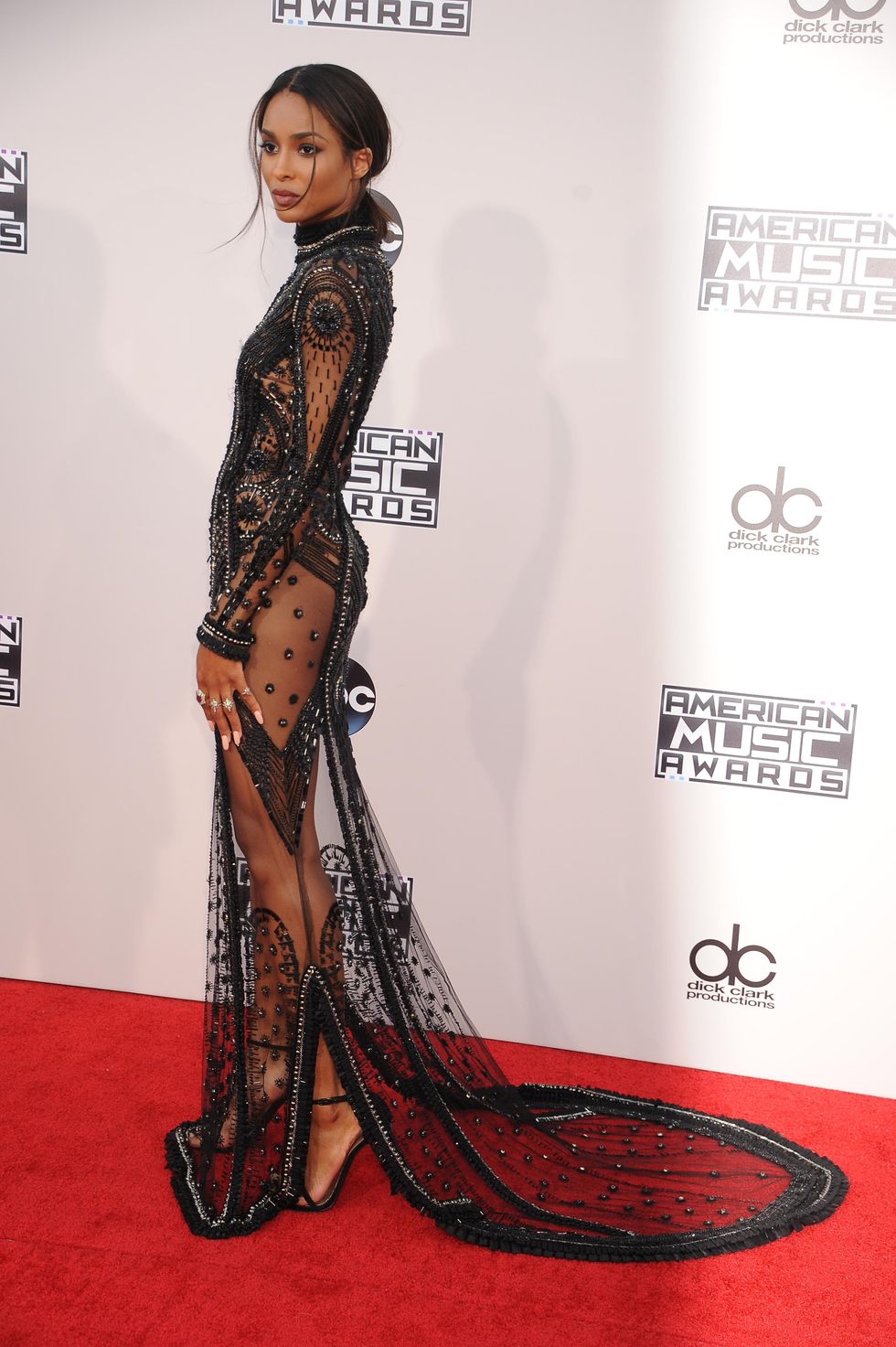 Frank Trapper/Corbis via Getty Images
Reem Acra never looked as good as it did on the R&B beauty during the 2015 AMAs. She was a presenter this night and if we recall, we had just fallen in love with her new relationship with Russell Wilson. They made their pro-BAEte at the White House State Dinner earlier that year and we have been stanning ever since.
2016: Billboard Music Awards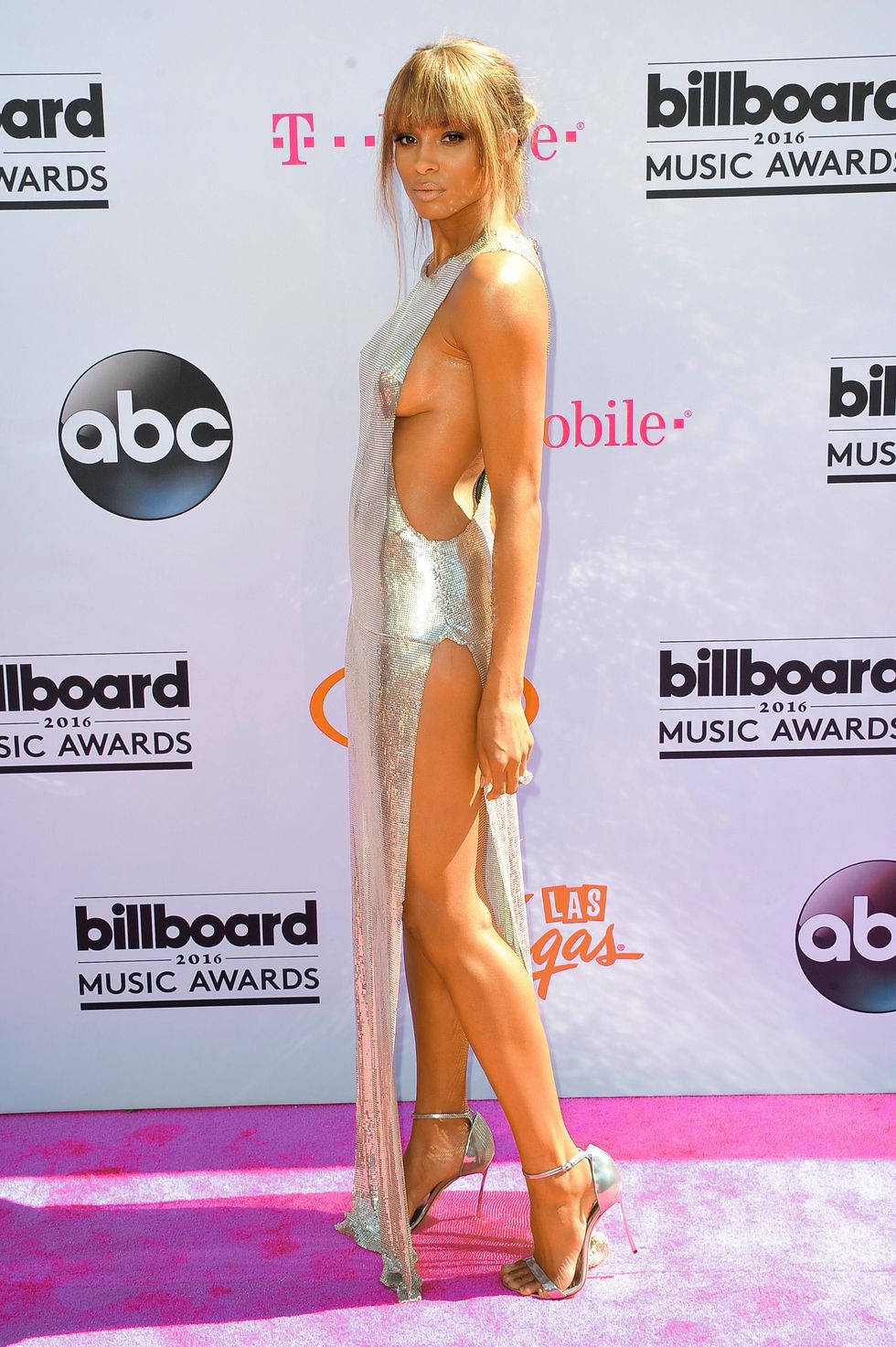 Allen Berezovsky/Getty Images
As the co-host of the 2016 Billboard Awards, Ciara had to bring it. She did so in a metallic chain dress designed by Phillip Plein. The sheath-style dress accentuated every curve and gave a new meaning of the side-boob. These Casadei Blade Sandals were also all the rage back then as strappy sandals had a chokehold on red carpets.
2017: Vanity Fair Oscar After Party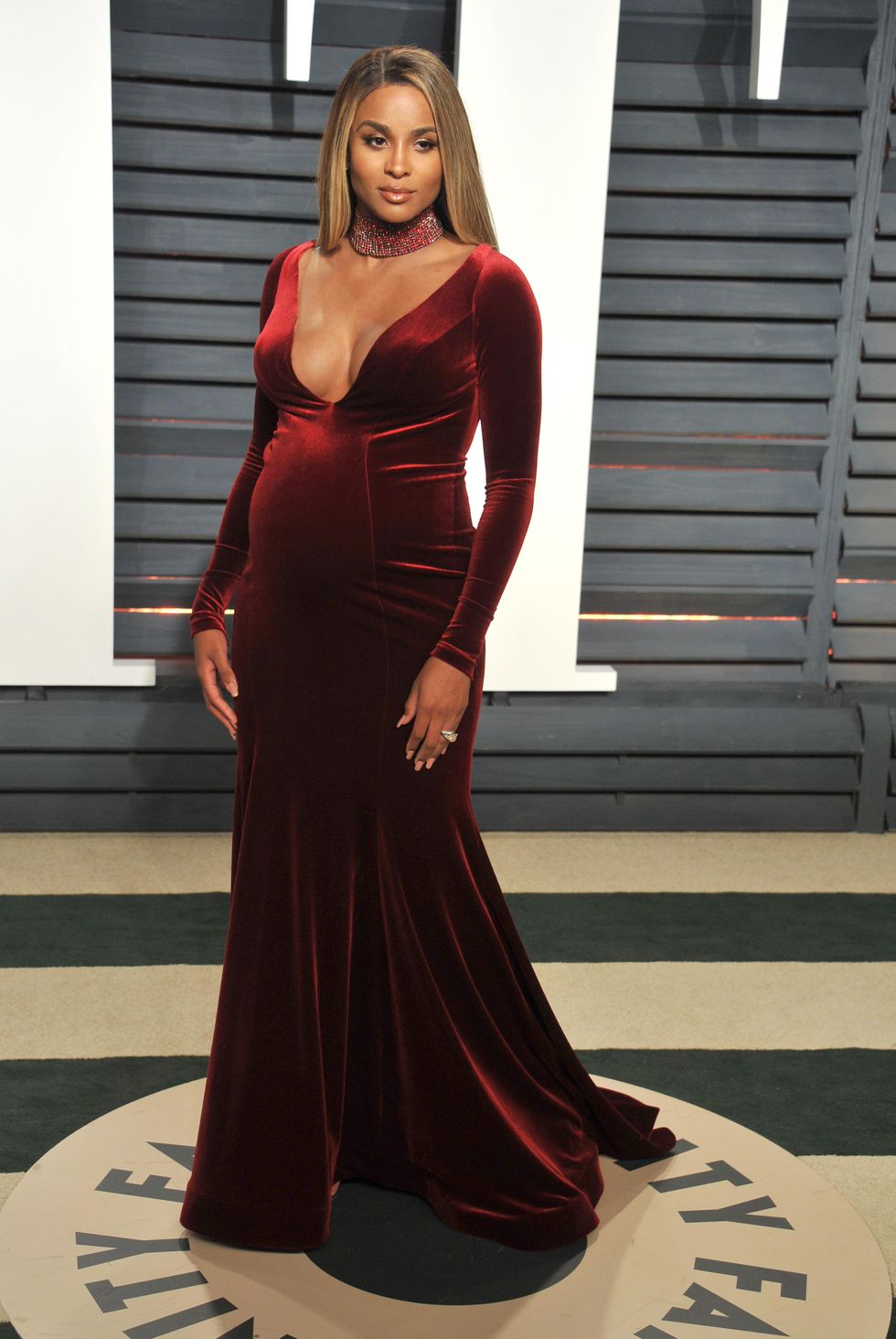 Gregg DeGuire/Getty Images
The Vanity Fair Oscar after-party is one of the biggest nights in Hollywood. All of the biggest and brightest stars gather after the Academy Awards to have a party comparable to a night spent with your favorite people eating In-N-Out burgers and drinking Veuve Clicquot while indulging in deep conversations.
Picture Ciara strutting down the not-so-red carpet in this plush velvet, oxblood Jovani Signature gown that perfectly shows off her burgeoning baby bump. She did that. She and her hubby were welcoming their first child together and this was a perfect way to make memories of a beautiful union.
2018: Nickelodeon Kids' Choice Sports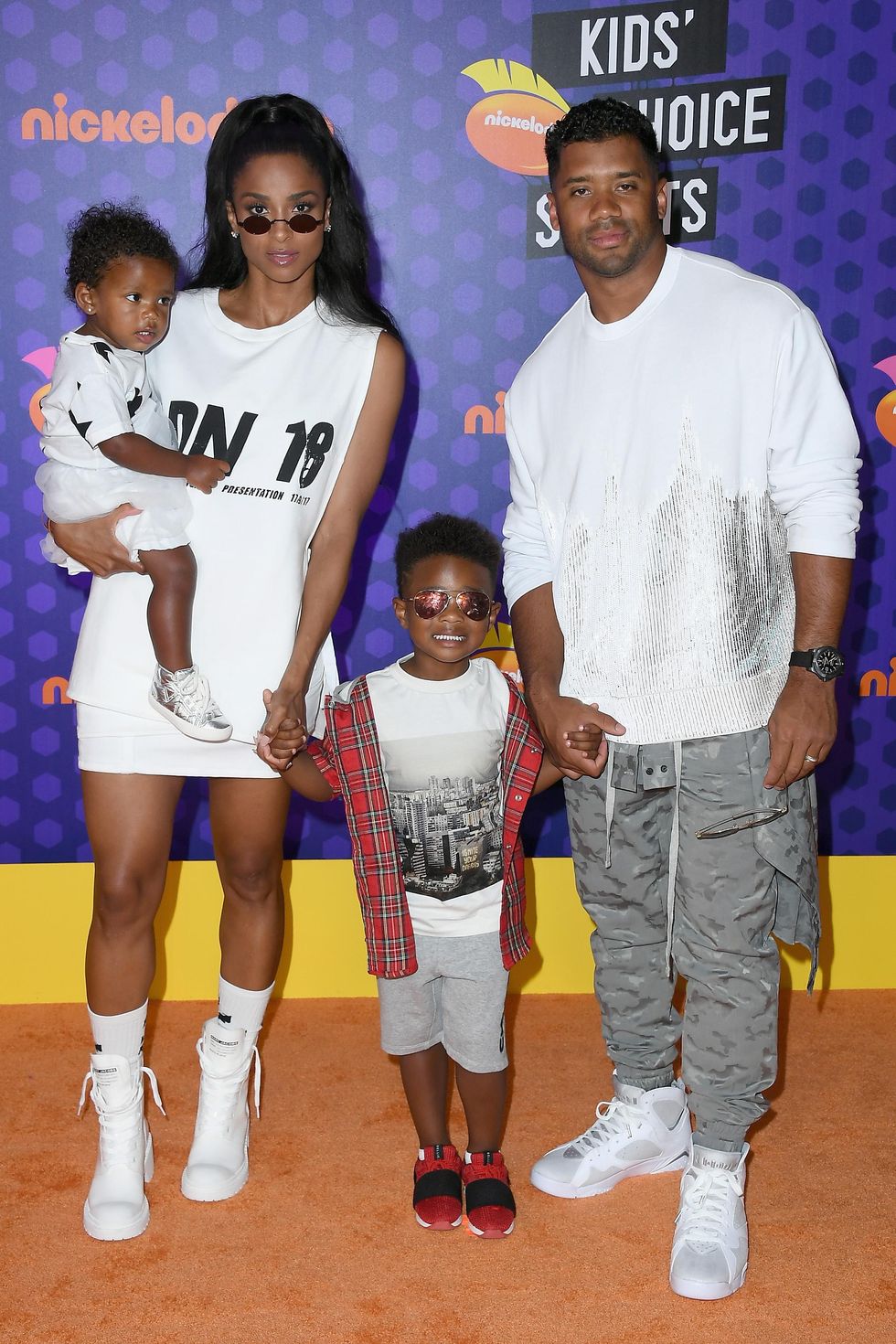 Steve Granitz/WireImage via Getty Images
Ciara is not like regular moms; she's a cool mom. And this is shown to be facts on the 2018 Nickelodeon Kids' Choice Sports carpet where the star rocks a Maison Margiela getup with her baby boy and baby girl in tow. We know Ciara to have a boyish-chic vibe since her introduction to the music scene so this is very on-brand.
2019: MET Gala Celebrating Camp: Notes On Fashion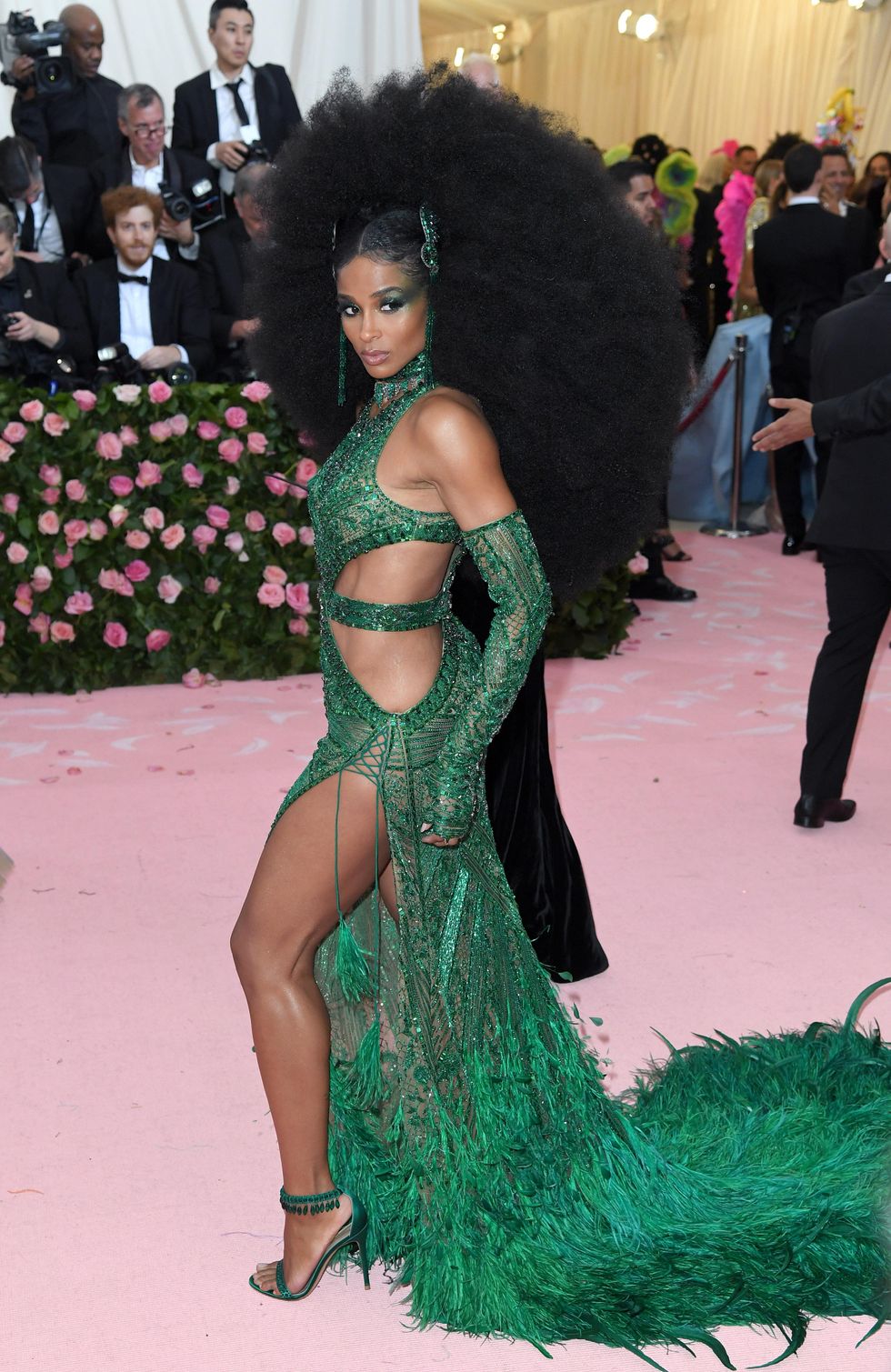 Karwai Tang/Getty Images
This look from 2019's MET Gala will go down in history. The Dundas gown is stunning but this hair defined the moment. Interestingly enough, Peter Dundas was once the creative director of Emilio Pucci, an obvious fave of Ciara's. So when she chose this Dundas frock for the Camp: Notes on Fashion theme, it was serendipitous. Her larger-than-life hair was the winner of the night. Diana Ross had to be proud.
2020: Vanity Fair Oscar Party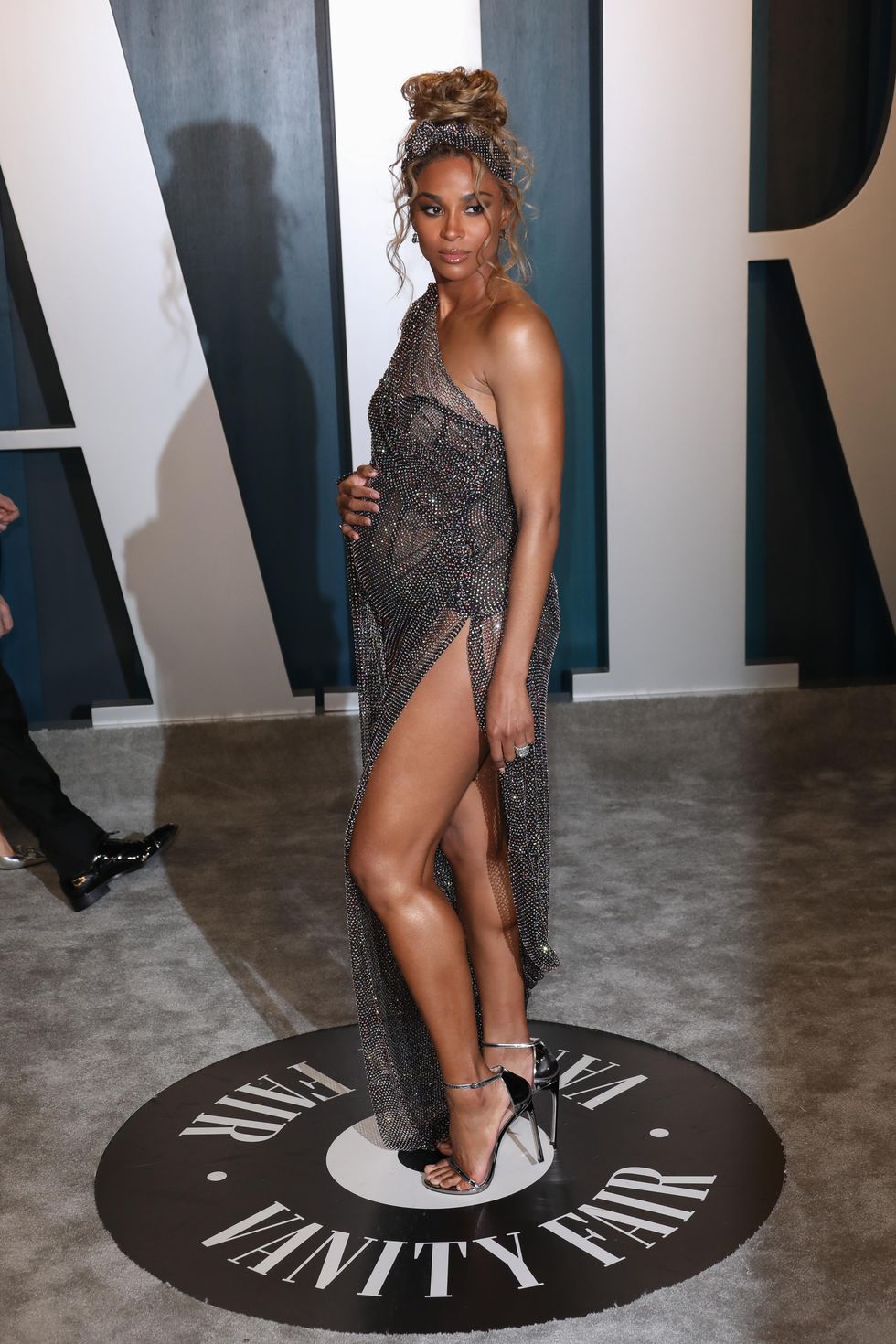 Toni Anne Barson/WireImage
It might be safe to say that the mommy mogul loves showing off her baby bump at the premier Vanity Fair event. Wearing Ralph & Russo, the "Level Up" singer made this sheer sequined number look like the ensemble of angels. It screams ethereal goddess and the styling of her hair brought it all together.
2021: 27th Annual ELLE Women In Hollywood Celebration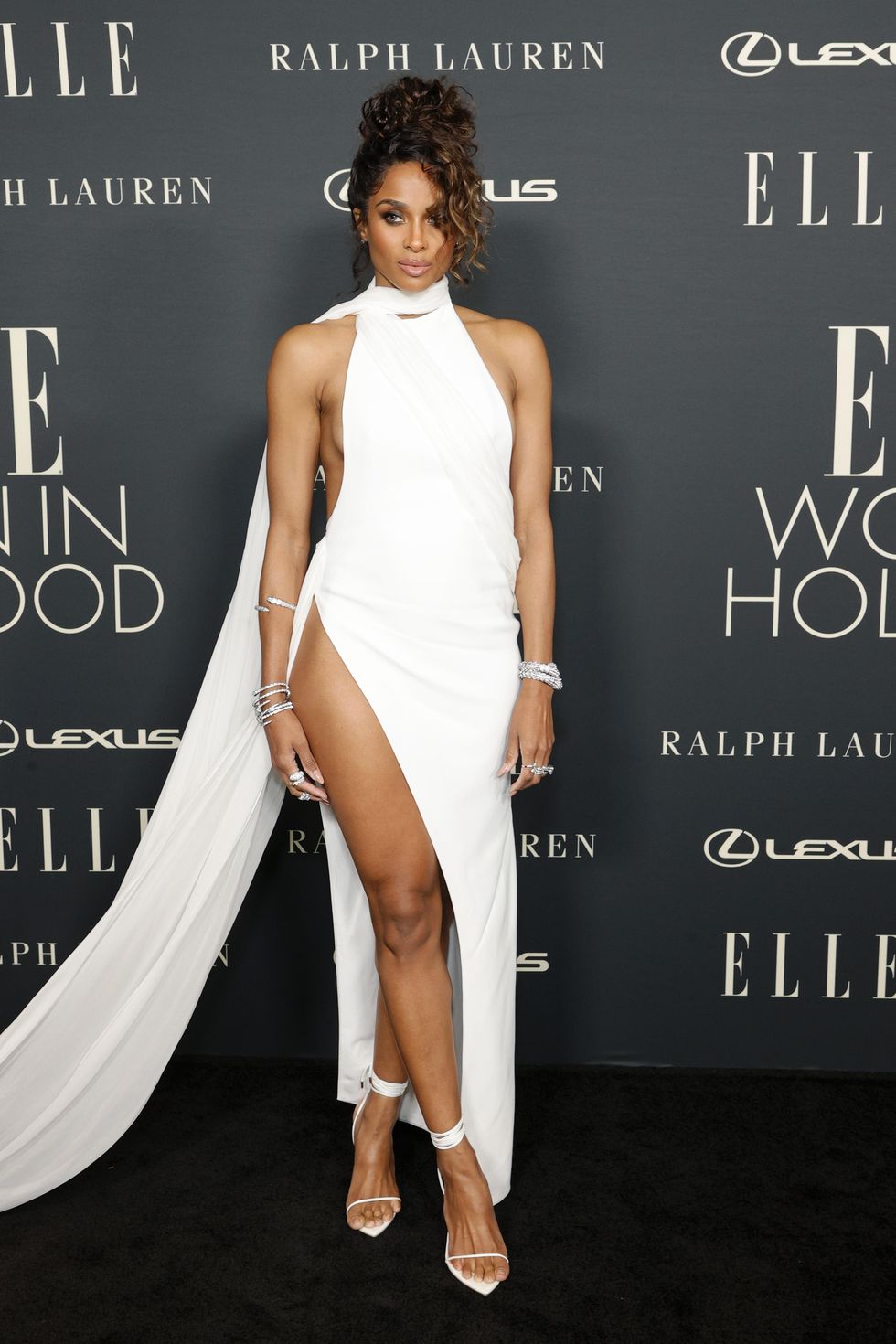 Amy Sussman/Getty Images
Looking heavenly in white, Cici donned a Mônot Spring 2022 gown to ELLE's annual event celebrating the achievements of women in entertainment. This year, like many events, was a comeback from 2020 which means the stars shined super bright in their high-fashion garments. Ciara stunned us all in this Ready To Wear piece by Lebanese designer, Eli Mizrahi, dramatized by a thigh-high slit and "gone with the wind fabulous" cape.
To get your fashion fix and to stay up to date with the latest trends, check out the xoNecole Style section here.
Featured image by Toni Anne Barson/WireImage
Keep reading...
Show less
Micro trends make the world go around. Just kidding, but they are really fun and add a certain je ne sais quoi to one's wardrobe. As the seasons change, there's a short-lived fashion cycle of certain clothing and accessory trends that have a sudden boom in popularity which last at least 1-2 years. Thanks to the invention of fast fashion, in most cases, these seasonal items are loved by the masses just to be thrown to the back of our closets within the next few months.
When it comes to shopping, I do prefer items I can wear for years but I also love to mix and match fast fashion apparel for a bit of versatility and fun. From chunky loafers to puffer coats, these are the risk-taking winter items I'm currently obsessed with. And from style influencers and OOTD fashion experts, here's how to wear these trending items before they're a thing of the past.
1

.

Cut-Out Knits
One of my favorite styles of 2021, the cut-out trend continues to stay strong through the winter season. Transitioning into knits, I love the elevated appeal when it comes to cold weather outfits. Pair with leather pants and calf boots for a cozy, edgy, and sexy look.
2

.

Lace-Up Booties
The lace-up bootie is making its way back onto our radar especially when it comes to achieving an ultra chic sporty look. With the revival of Y2K fashion, I'm loving the modern designs that 2021 has to offer this throwback style. Pair with neutral basics for an elevated athleisure courtside look.
3

.

Chunky Loafers
Taking a trip to 90's greatest fashion hits, loafers are seeing a major resurgence this season. Take it up a notch with a chunky platform sole paired with your favorite stockings or white socks for a "cool girl" approach. To keep it subtle, wear a chunky loafer with straight leg denim and a button-down top.
4

.

Sherpa Accessories
Every season sherpa makes its rounds with the cold weather looks we love. However, this year, it's the accessories made entirely of the soft fluffy fabric for me. From handbags to totes, there's a faux fur overload this season and I'm searching for all the non-traditional ways of wearing it. For warmer climates, sherpa accessories are a subtle pop of winter.
5

.

Puffer Vest
This year, the micro trend to invest in during this fall to winter transitional outfit season are puffer vests. From long-lined to cropped lengths, the flyest vests come in a variety of styles and materials with a range of pricing that fits anyone's budget. Best worn layered over a long sleeve knit top while dressed up or down, versatility is my favorite aspect of this winter necessity.
6

.

Leather Bomber Jackets
Bomber jackets come in a variety of styles but this year I'm loving the leather and wool combination. Also known as varsity jackets, these are a great addition to a super cool and chic casual look. Pair with denim or sweats for an effortless on the go look.
7

.

Extreme Scarves
For the person whose fashion sense knows no bounds, statement scarves are the quintessential winter accessory. Specifically, puffer scarves are my personal favorite. I love the drama of a super chic addition to a cold weather outfit. Wear layered over a puffer coat and chunky leather boots for an effortlessly sleek ensemble.
8

.

Distressed Nylons
One of the worst feelings is ripping a pair of tights when you need them the most. Luckily, distressed nylon is having a major moment. In case you missed Gucci's $200 pair of ripped tights released this time last year, this is the perfect opportunity for an inexpensive DIY project.
To get your fashion fix and to stay up to date with the latest trends, check out the xoNecole Style section here.
Featured image by Edward Berthelot/Getty Images
Keep reading...
Show less
My favorite time of the year is the start of the official boot season which begins during the transitional period between summer and fall. What's most exciting about the sudden drop in temperatures is stepping back into those sleek pair of boots for the first time in months. Whether zipping up oldies but goodies or investing in a new fall 2021 boot trend, this year is all about the calf boot. Specifically, this is the best option when easing your summer clothes into the appropriate fall looks.
During this time, I'm gravitating toward more mini and maxi skirts, dresses, and even leather shorts as I prance into a range of summer to fall-like temperatures that vary from day to day in LA. What I love most about the calf boot is the range of looks you can complete with limitless options of colors and prints for every preference.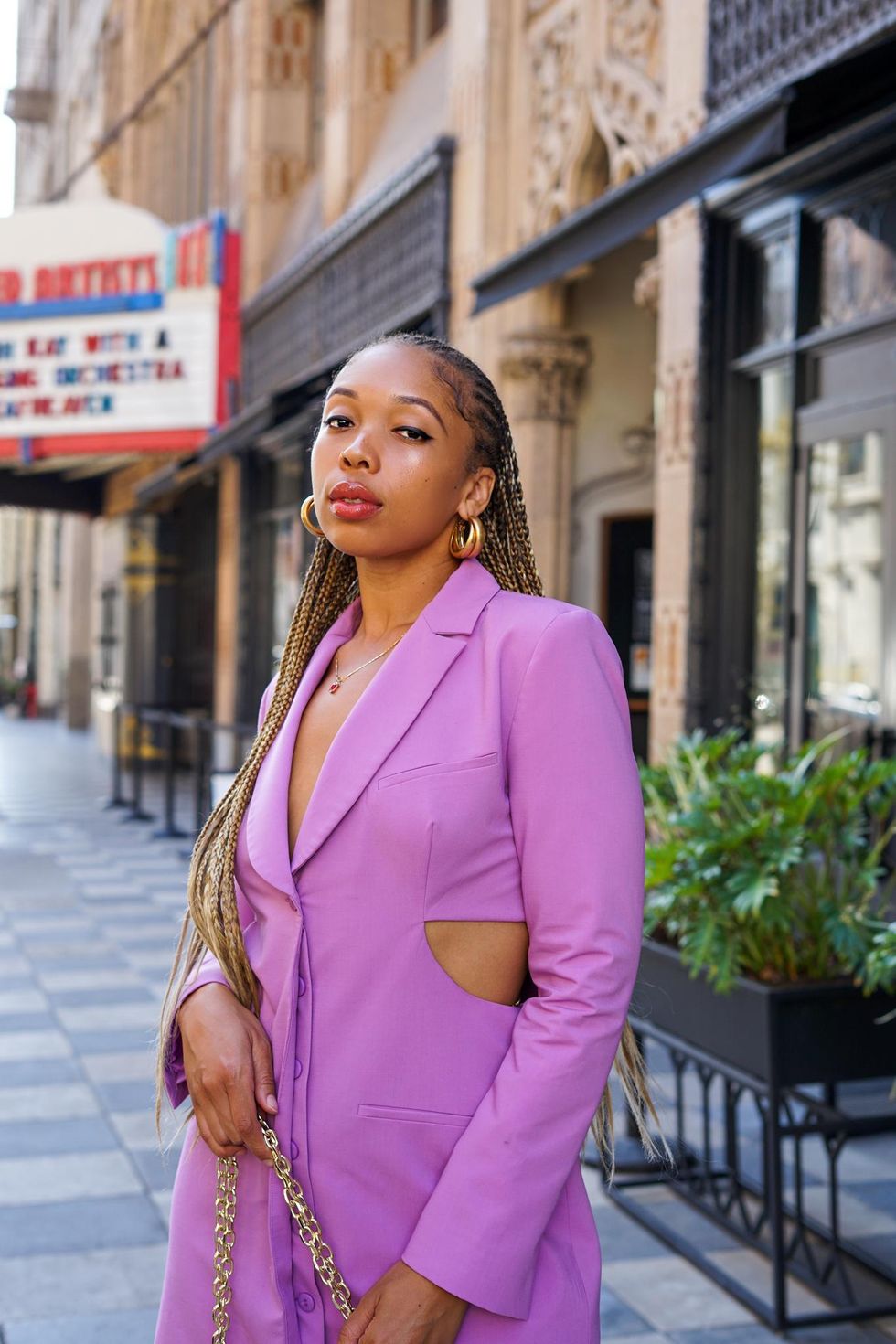 Shahirah Ahmed/xoNecole
Living in Los Angeles, there are more sunny days than most regions, but we do our best when it comes to getting in our fall and winter outfits. Within these particular months of year, it's anyone's guess what the weather will be like on any given day, so it's always best to plan accordingly.
It doesn't matter if I'm on a daytime brunch with my girls or dressing up for a dinner date night, pairing a tall boot with a super chic look gives nothing less than a fashion forward look.
Keep scrolling for my go-to fall boots that will be in steady rotation for the rest of 2021 and beyond.
The Best Boots To Wear On Date Night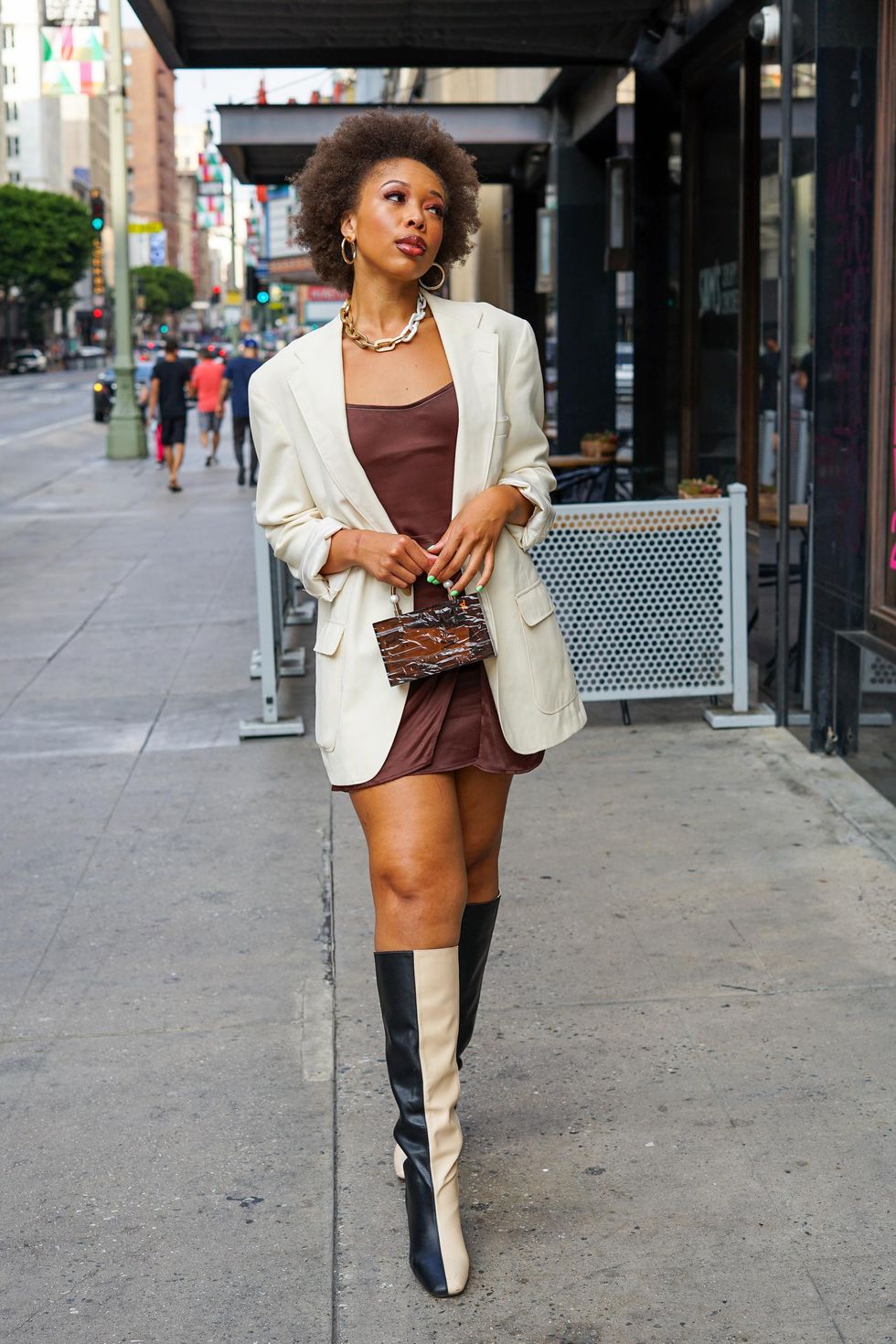 Shahirah Ahmed/xoNecole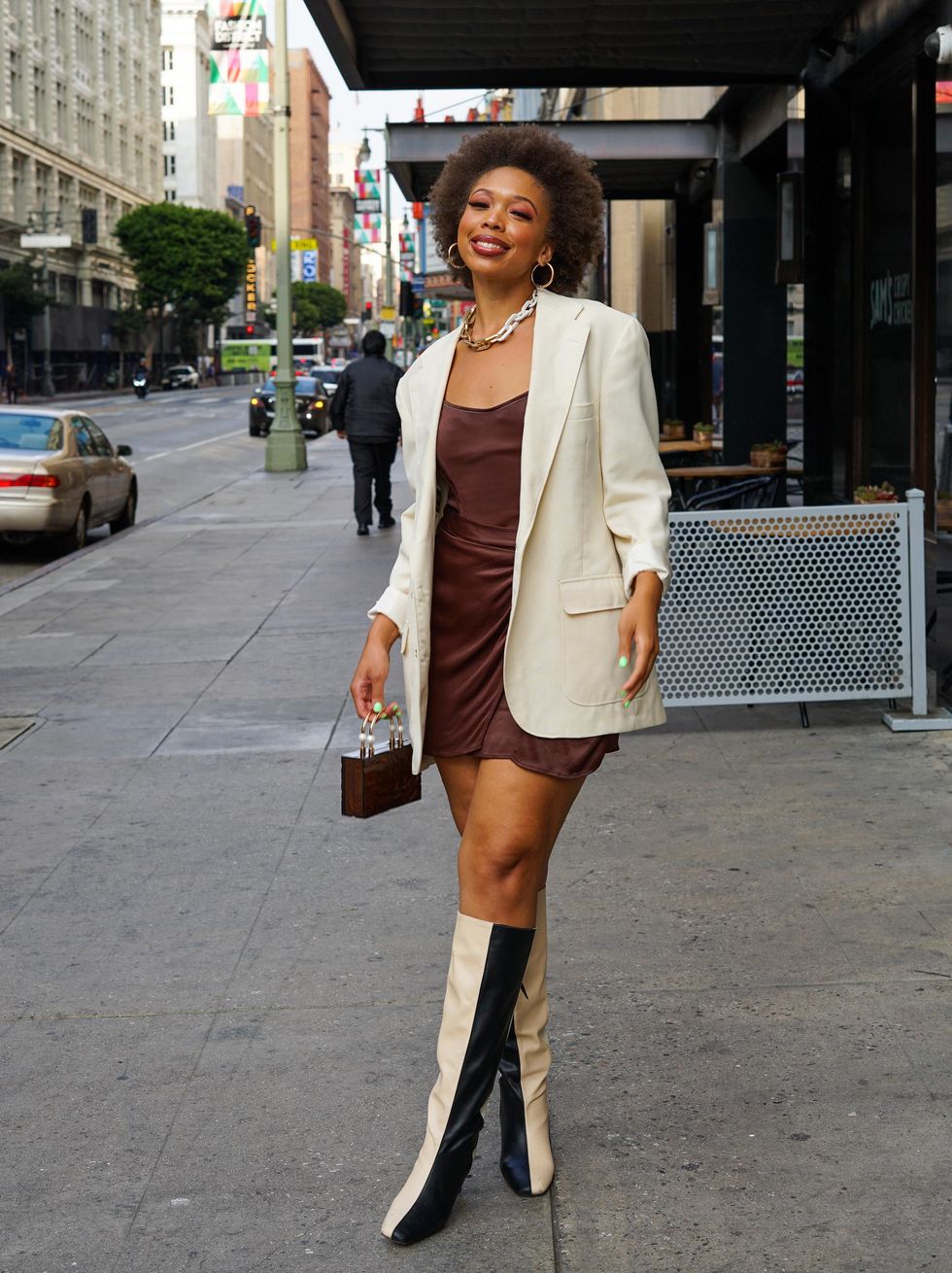 Shahirah Ahmed/xoNecole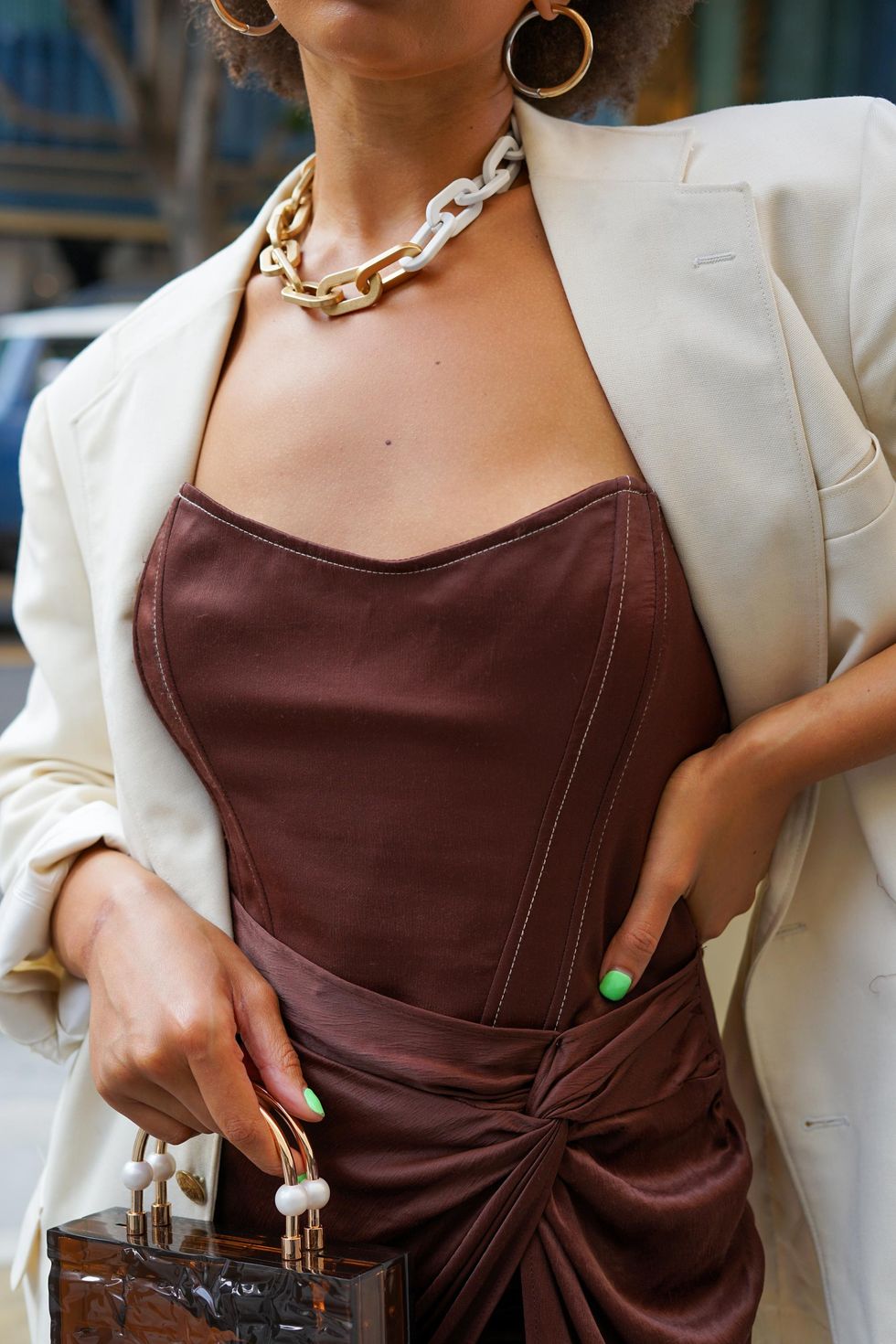 Shahirah Ahmed/xoNecole
Replace a strappy heel with a super sleek calf boot and see how many compliments you'll get in one night. That was my experience when pairing this multi-panel boot from N.Y.A.S, a brand catering to women with larger than average shoe sizes, and a strapless satin corset dress paired with an oversized cream blazer. Dining outside, I wanted to remain comfortable and warm, so I decided a boot was the perfect option when planning the night's look.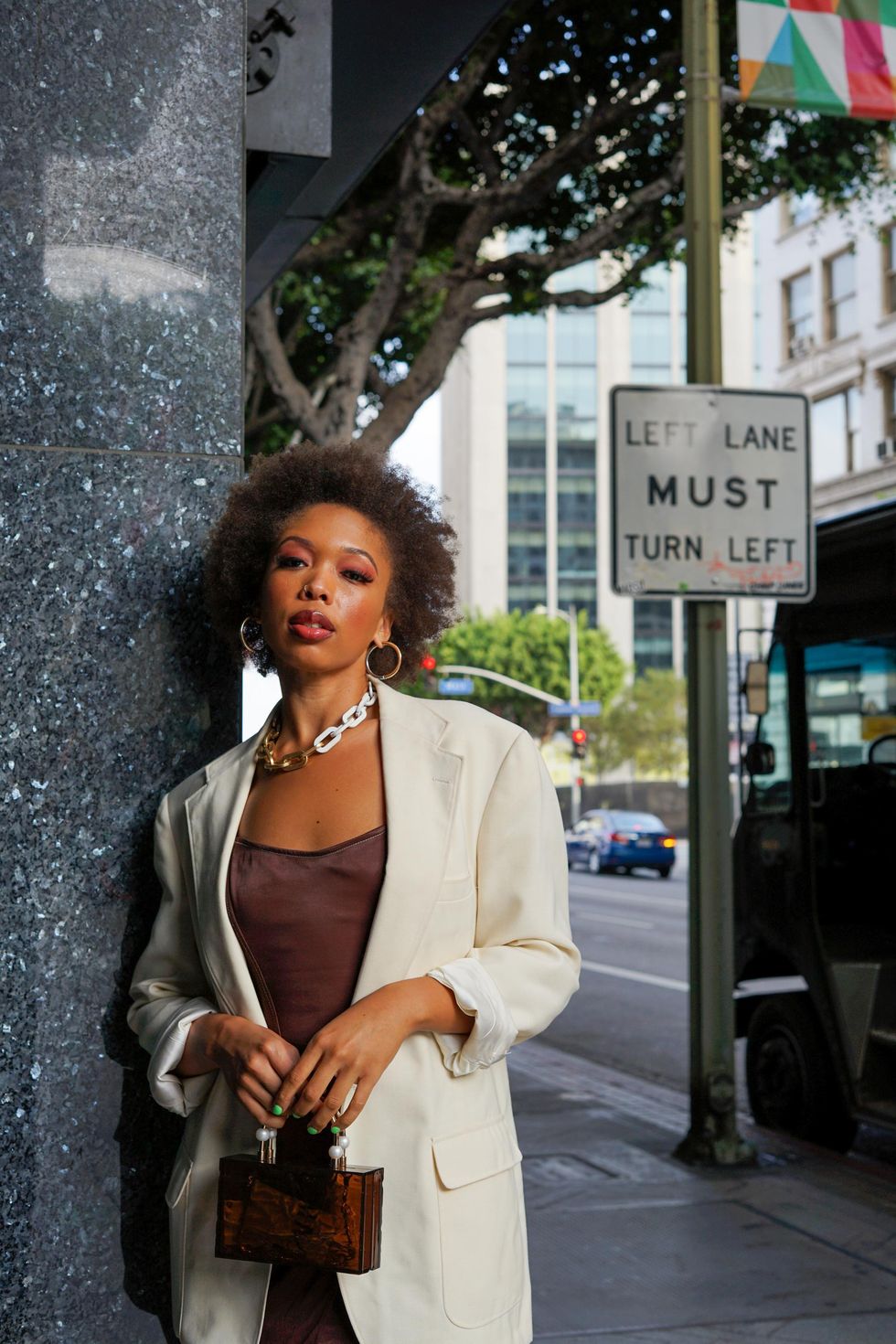 Shahirah Ahmed/xoNecole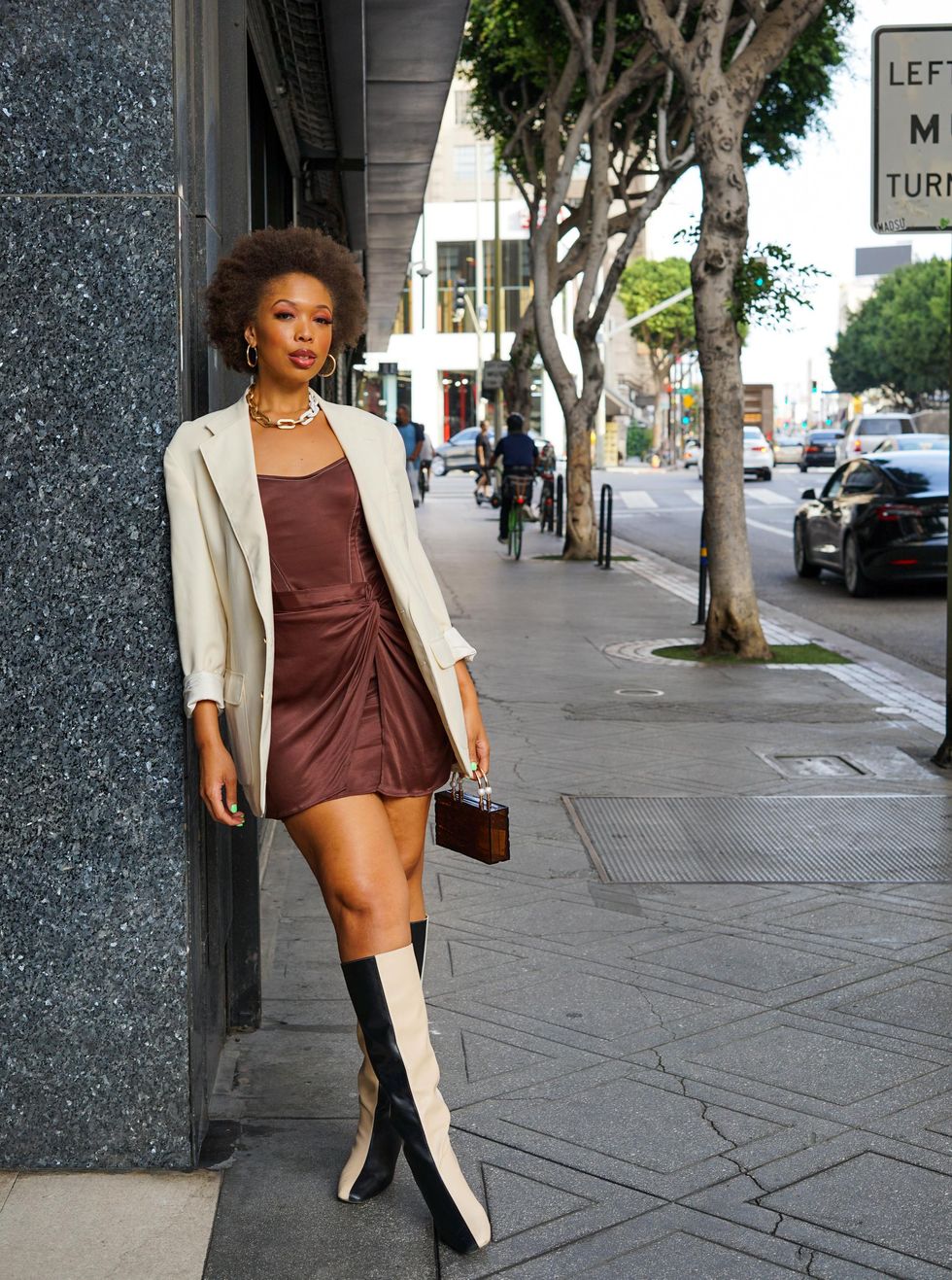 Shahirah Ahmed/xoNecole
What To Wear When Brunching With The Girls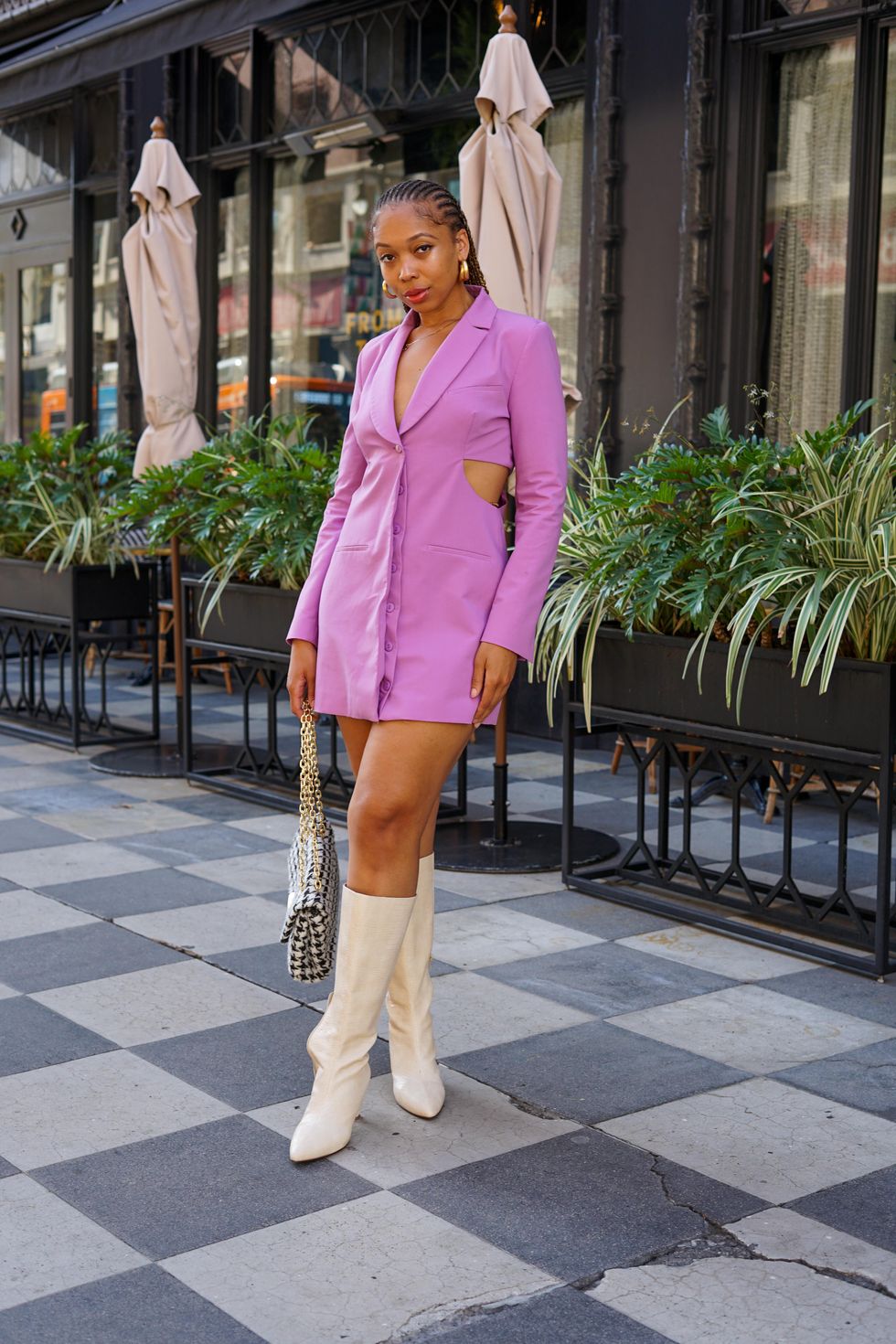 Shahirah Ahmed/xoNecole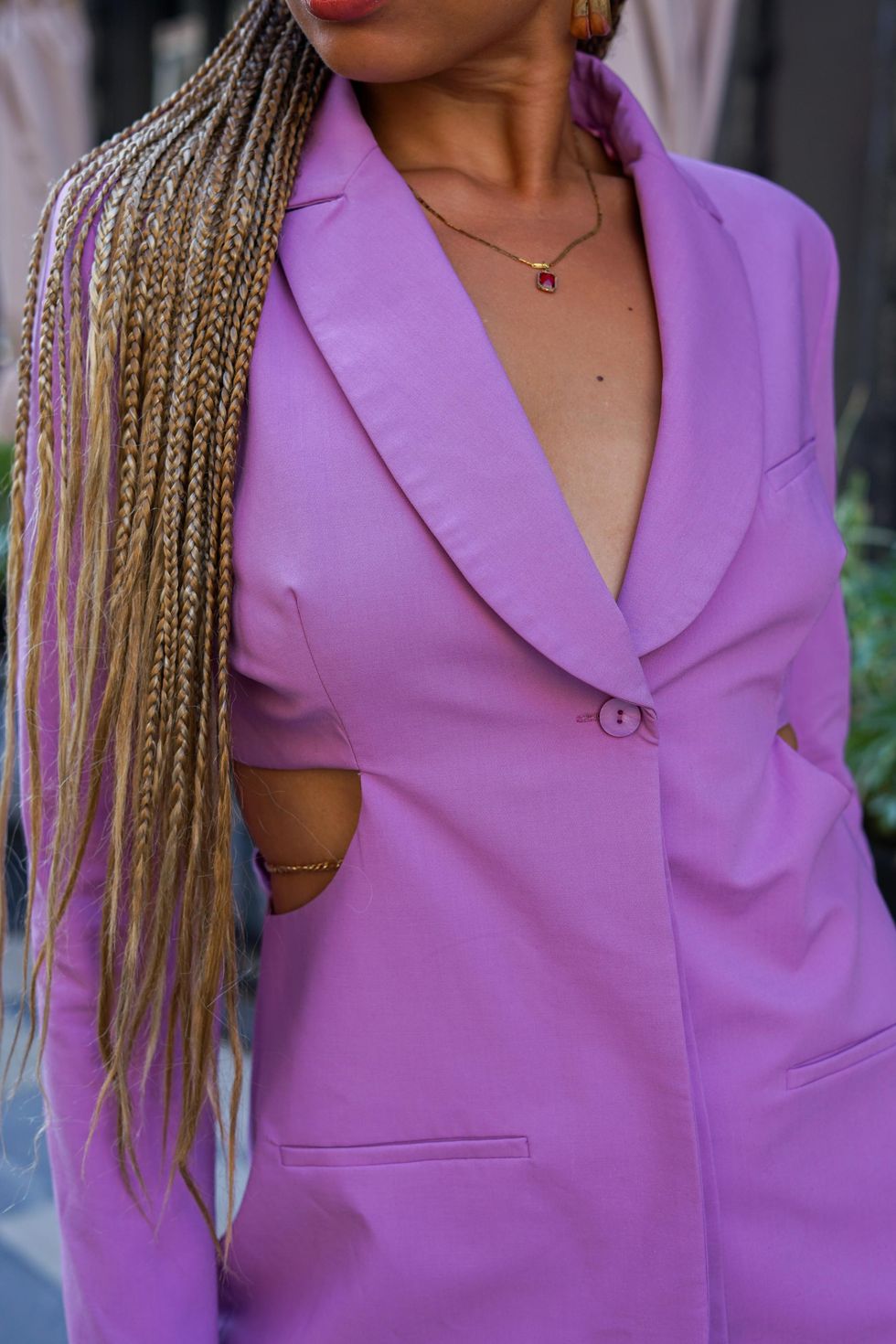 Shahirah Ahmed/xoNecole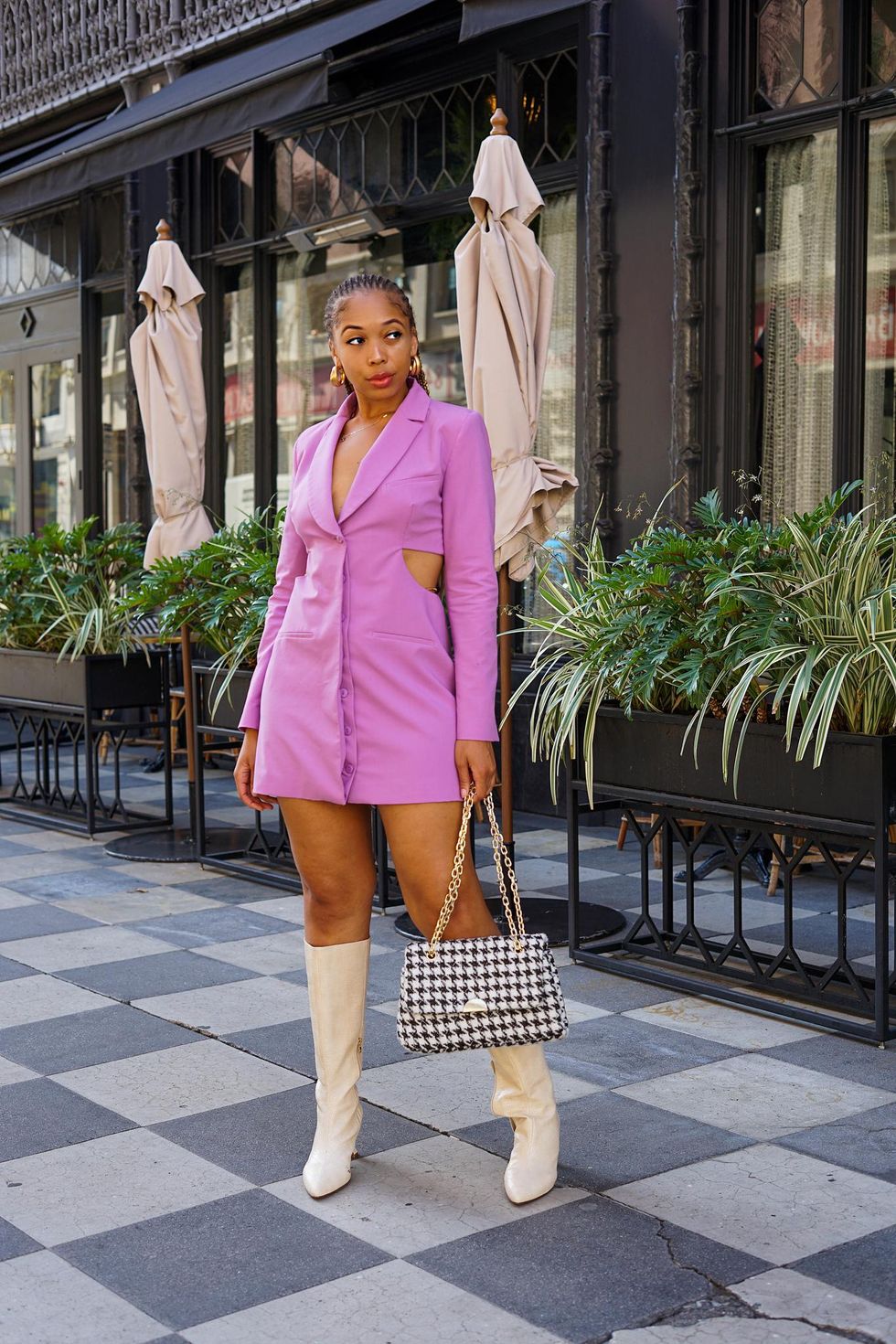 Shahirah Ahmed/xoNecole
One thing about people in LA, we take brunch very seriously. Opting for a purple cut-out blazer dress, I decided to go for my favorite white boots from the brand Smash Shoes. Wearing a size 12 in shoes, it's always difficult to find boots in my size. When shopping with this brand in particular, I'm always confident in a hassle-free experience to find a proper fit and stylish options. Adding texture to this bright weekend look, I paired a printed chain-strapped bag to complete a fun fashion moment.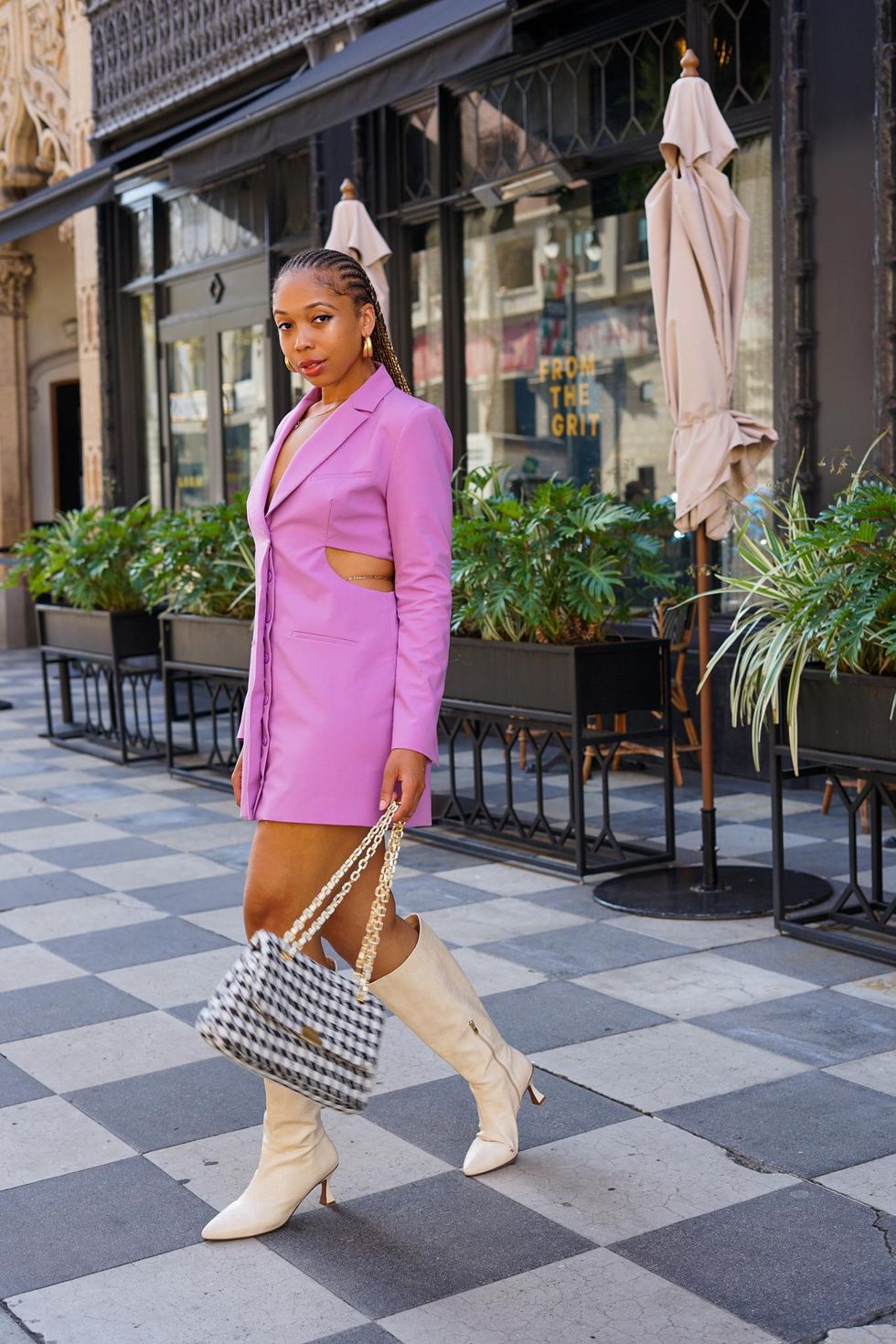 Shahirah Ahmed/xoNecole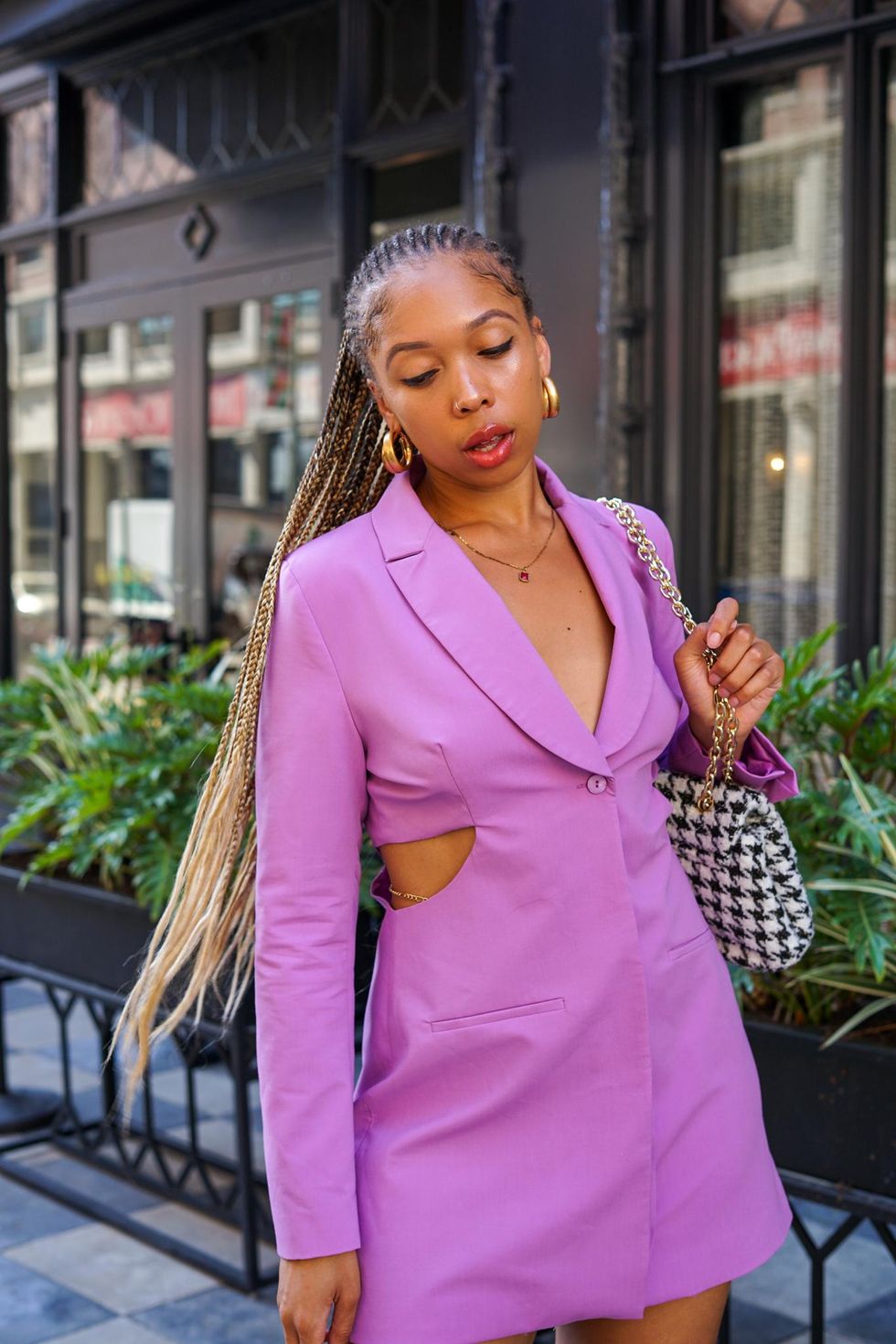 Shahirah Ahmed/xoNecole
How To Style Fall Boots For The Everyday Slay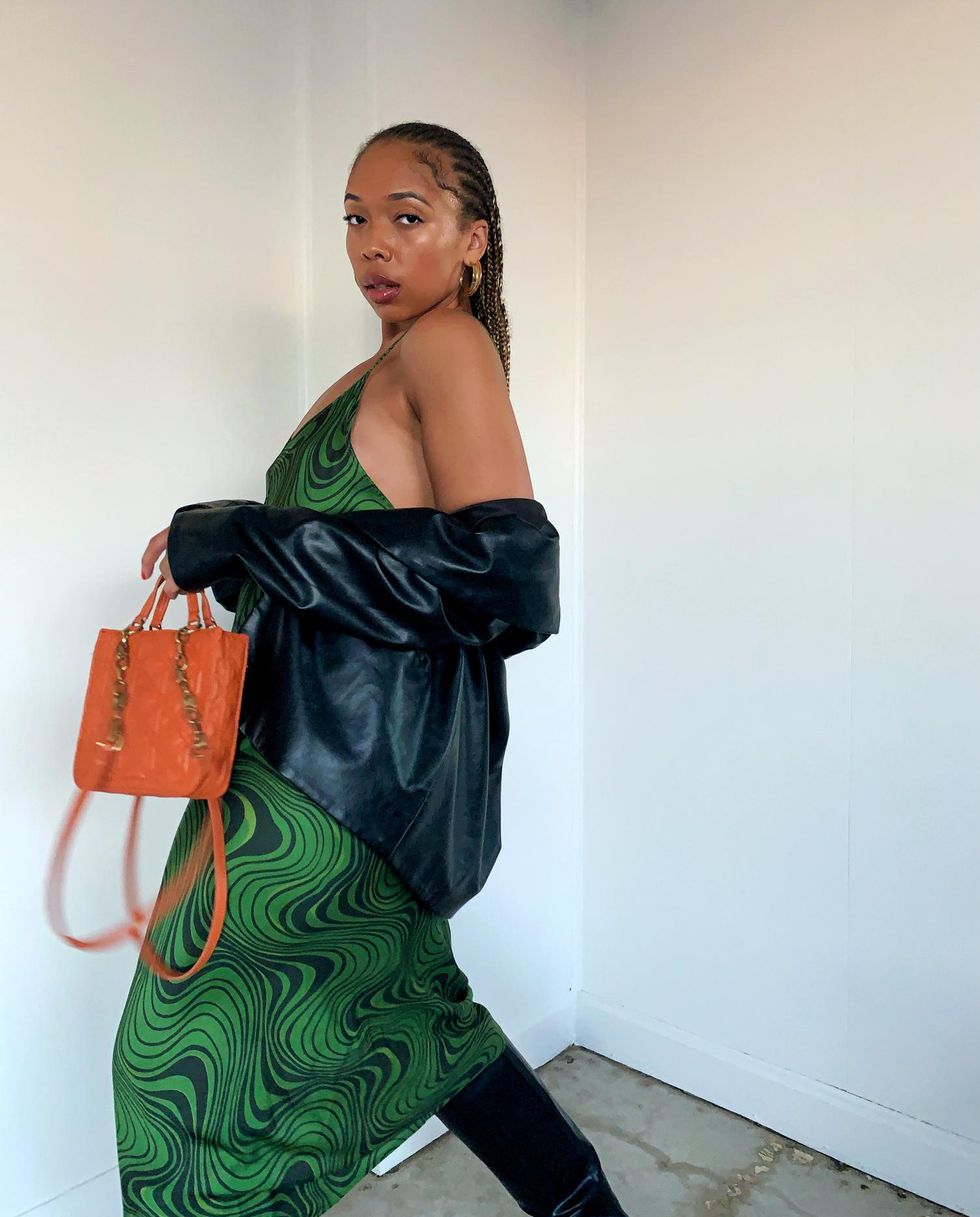 Shahirah Ahmed/xoNecole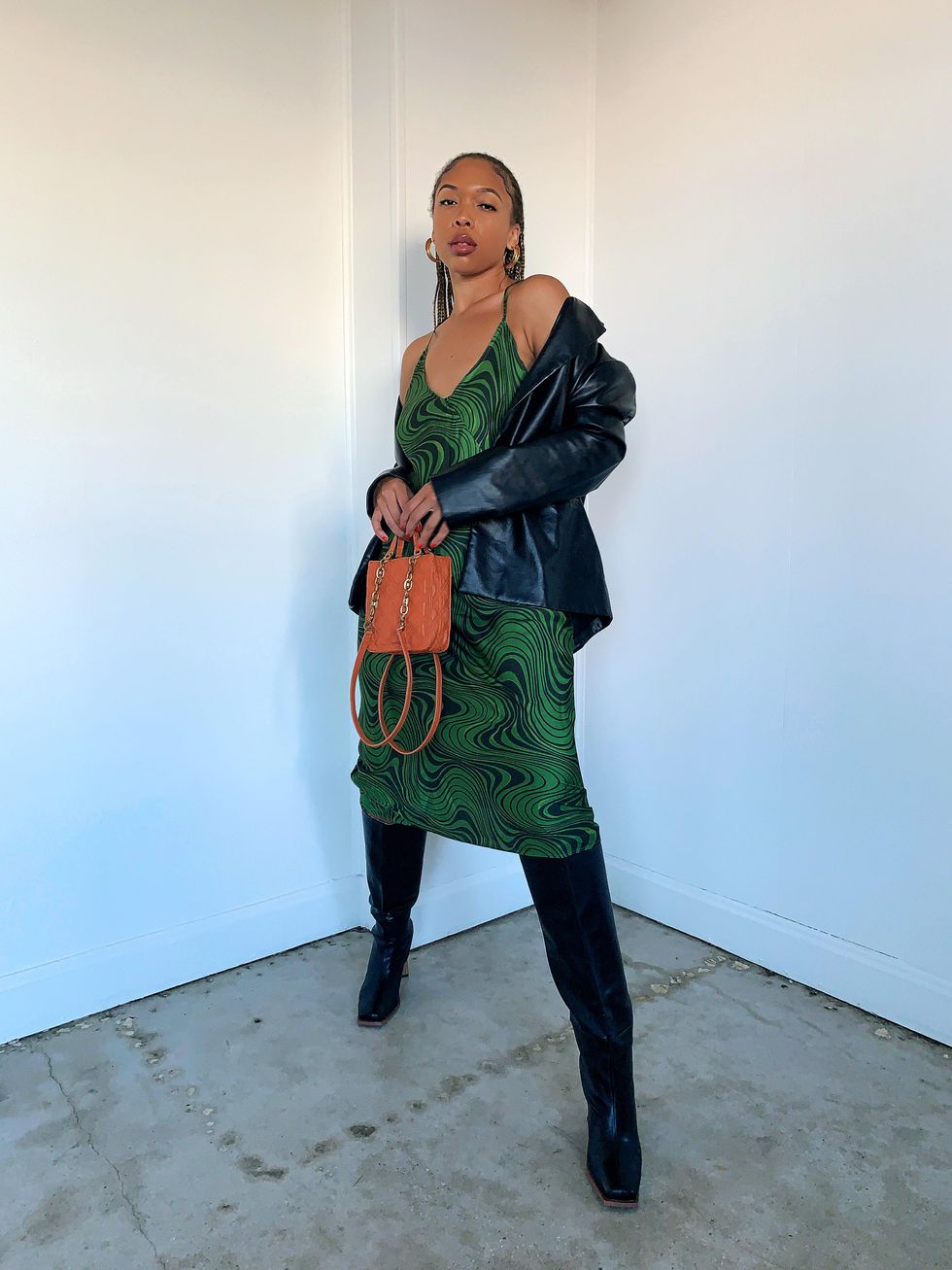 Shahirah Ahmed/xoNecole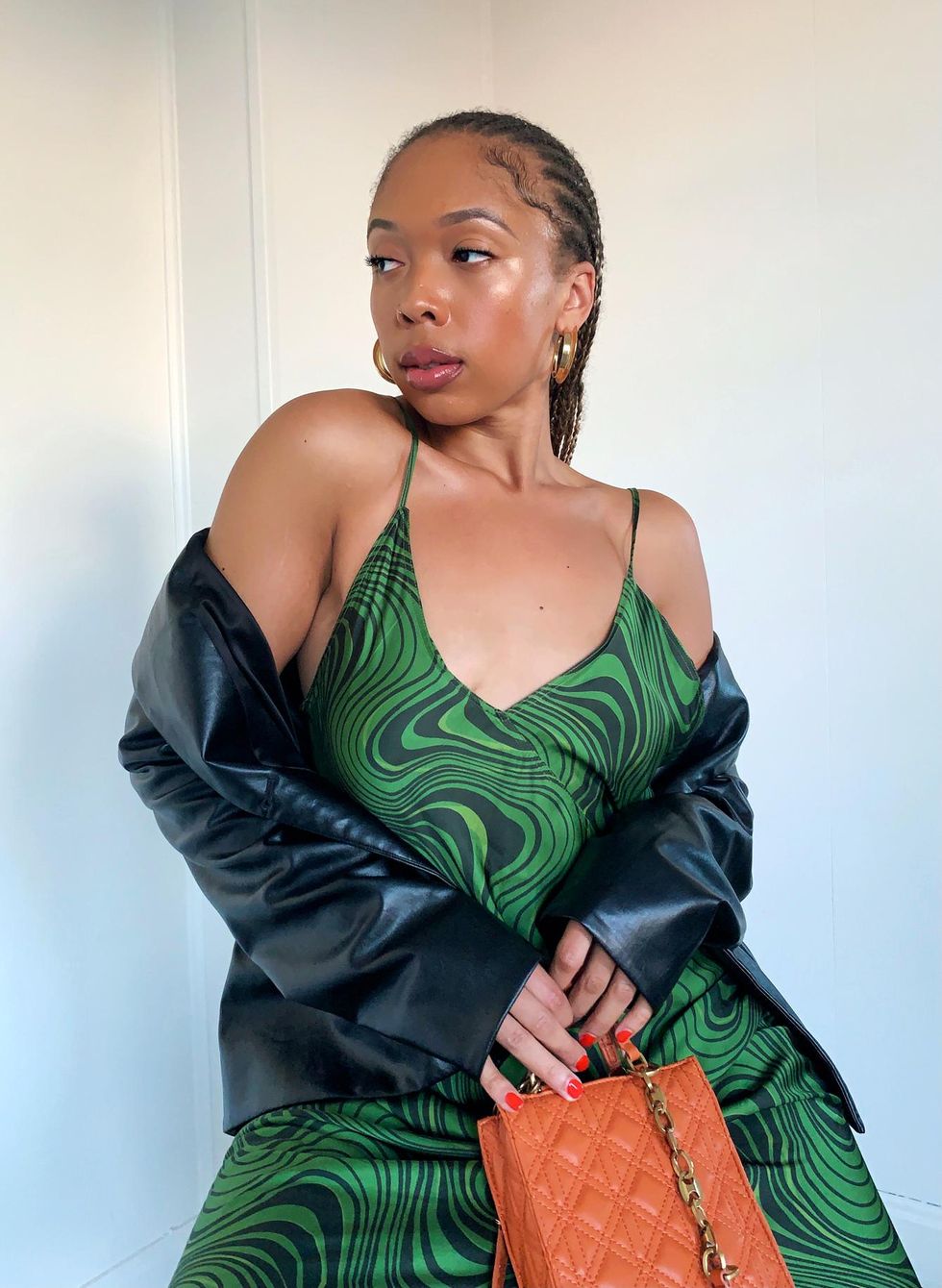 Shahirah Ahmed/xoNecole
Loving the latest release from N.Y.A.S, I couldn't wait to wear my new black faux leather boots with this abstract print satin maxi for a fun color combination complete with a pop of an orange mini bag. Obsessed with dresses as of late, I wanted to pair this look with my square-toe boots for a chic, modern, yet western vibe. Day or night, this is the fall look I've been waiting for.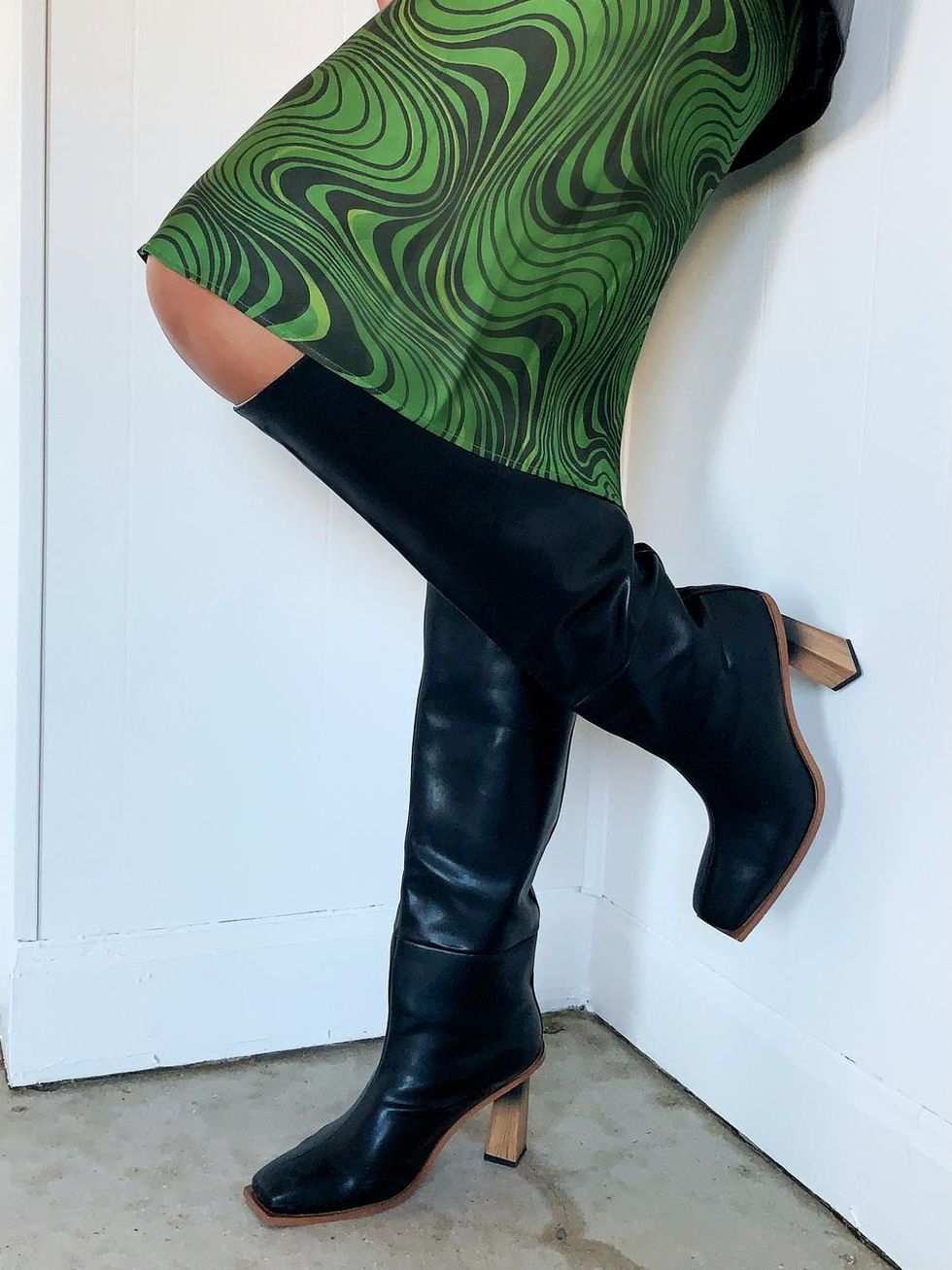 Shahirah Ahmed/xoNecole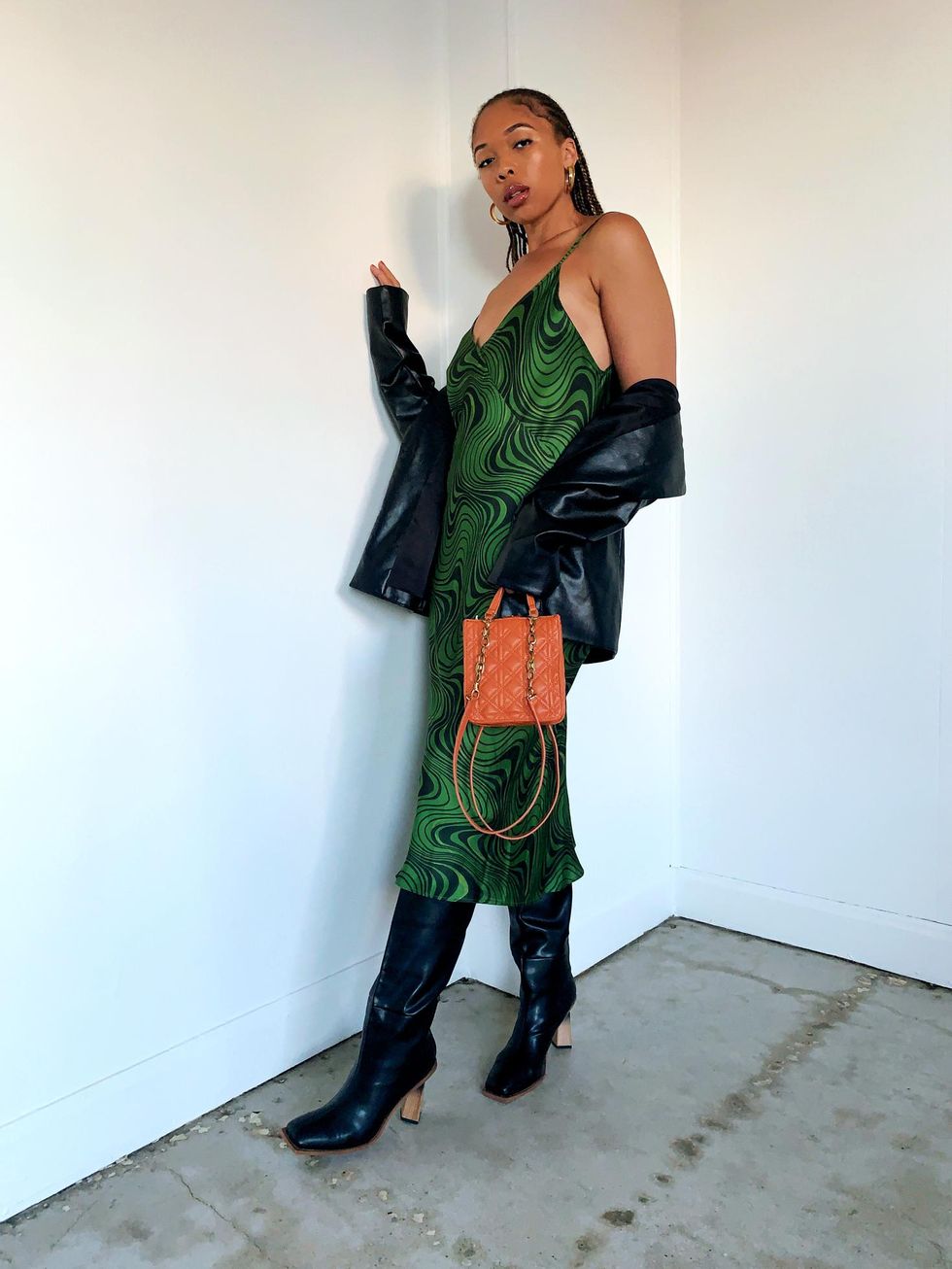 Shahirah Ahmed/xoNecole
To get your fashion fix and to stay up to date with the latest trends, check out the xoNecole Style section here.
Featured image by Shahirah Ahmed/xoNecole
Keep reading...
Show less
Sisters, how y'all feel? Brothers, y'all alright? Well, it's Friday and I'm here to tell you, "YOU MADE IT!" We can all feel fall moving into winter and may have mixed feelings about the holidays approaching. This makes us want to double up the layers and wear whatever makes us feel warm and cozy.
Despite our jam-packed closets, it seems like we still struggle finding what to wear for the day. The pandemic hasn't helped but it has forced us to be more creative. Dressing for fall, especially, calls for us to be innovative and you best believe we are up for the challenge.
Now that daylight savings time has officially made its appearance, it's going to be hard not to complain about how dark it gets. Luckily, we have a more feasible task for you: execute all the lewks. And if you need some inspo, we got you covered. Ahead, find some fire getups that prove that even if you're not ready for the day, it can not always be night!
Featured image courtesy of @ditaeish/Instagram

Keep reading...
Show less
Dear Black Women,
Thank you for being the source that empowers us all. Thanks for serving up inspiration on the daily. And thank you for proving that we do it best. There's no denying that Black women make the world go round and that couldn't be more true when it comes to style and fashion. Since the beginning of time, we have found a way to show off the magic of our culture through our threads, hairstyles and almost anything we don.
These days Instagram is prime real estate to find Black Girl Magic inspiration. For a quick style lesson, keep scrolling for some hidden gems sure to provide looks you can replicate again and again.
Featured image via Tina Lawson/Instagram

Keep reading...
Show less