For the past 20 years, Target has introduced us to new and emerging designers from around the world, all at an incredible value. In the latest installment of their upcoming designer collection, this fall, Target features rising Haitian-American designer Victor Glemaud as one of four designer collections dropping today. Launching his eponymous leisurewear collection in 2006, the NYC-based designer expresses iconic and fun fashion through statement knitwear, designed for women of all races, sizes and personalities.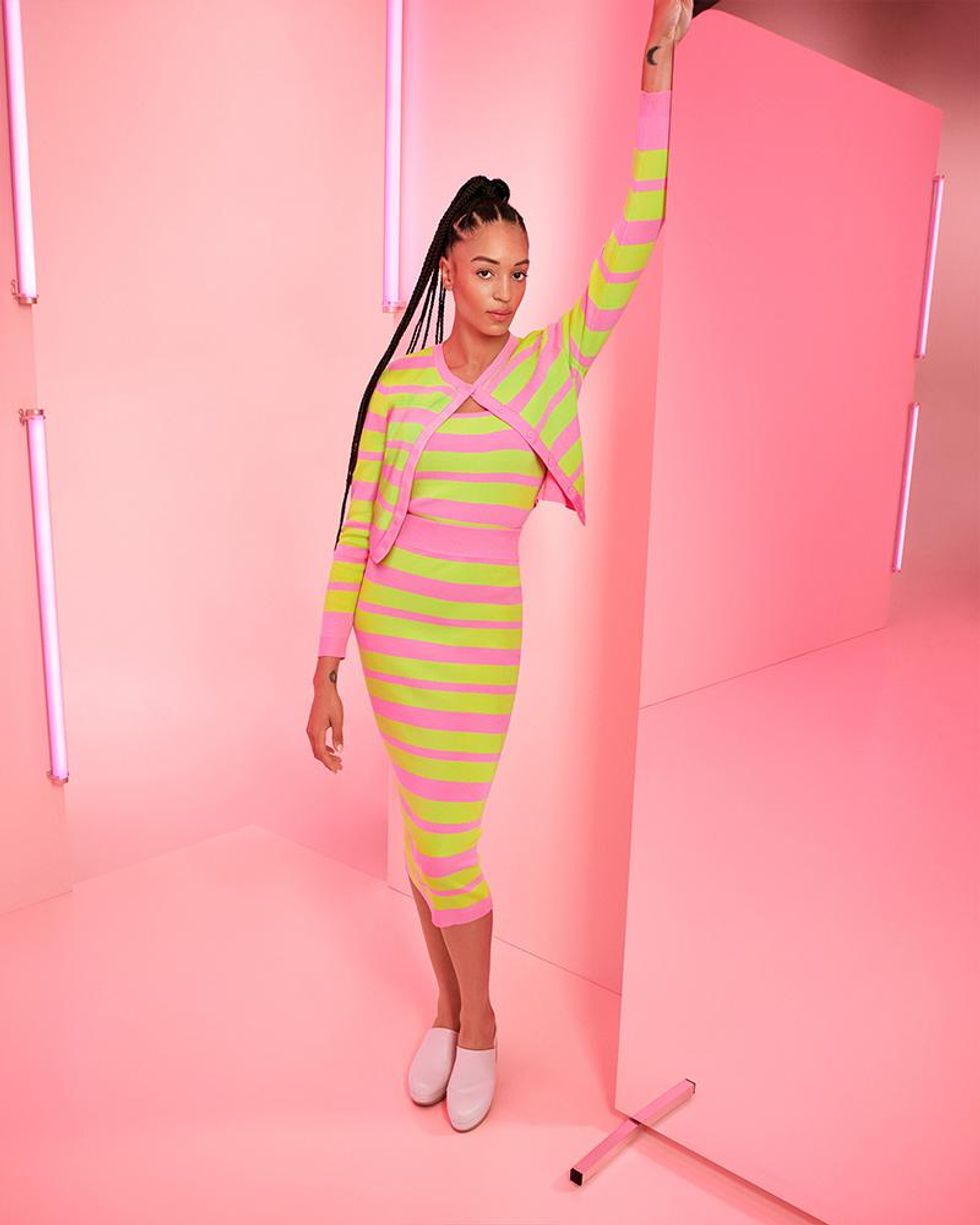 Target
In an interview with InStyle, Victor explained:
"Working with Target on this collection has been a highlight of my career. I always aim to make designs that are celebratory, fun and encourage all people, no matter their race, size or gender, to embrace who they are. I hope that every guest who shops at Target is able to find a piece in my collection that makes them feel the most like themselves."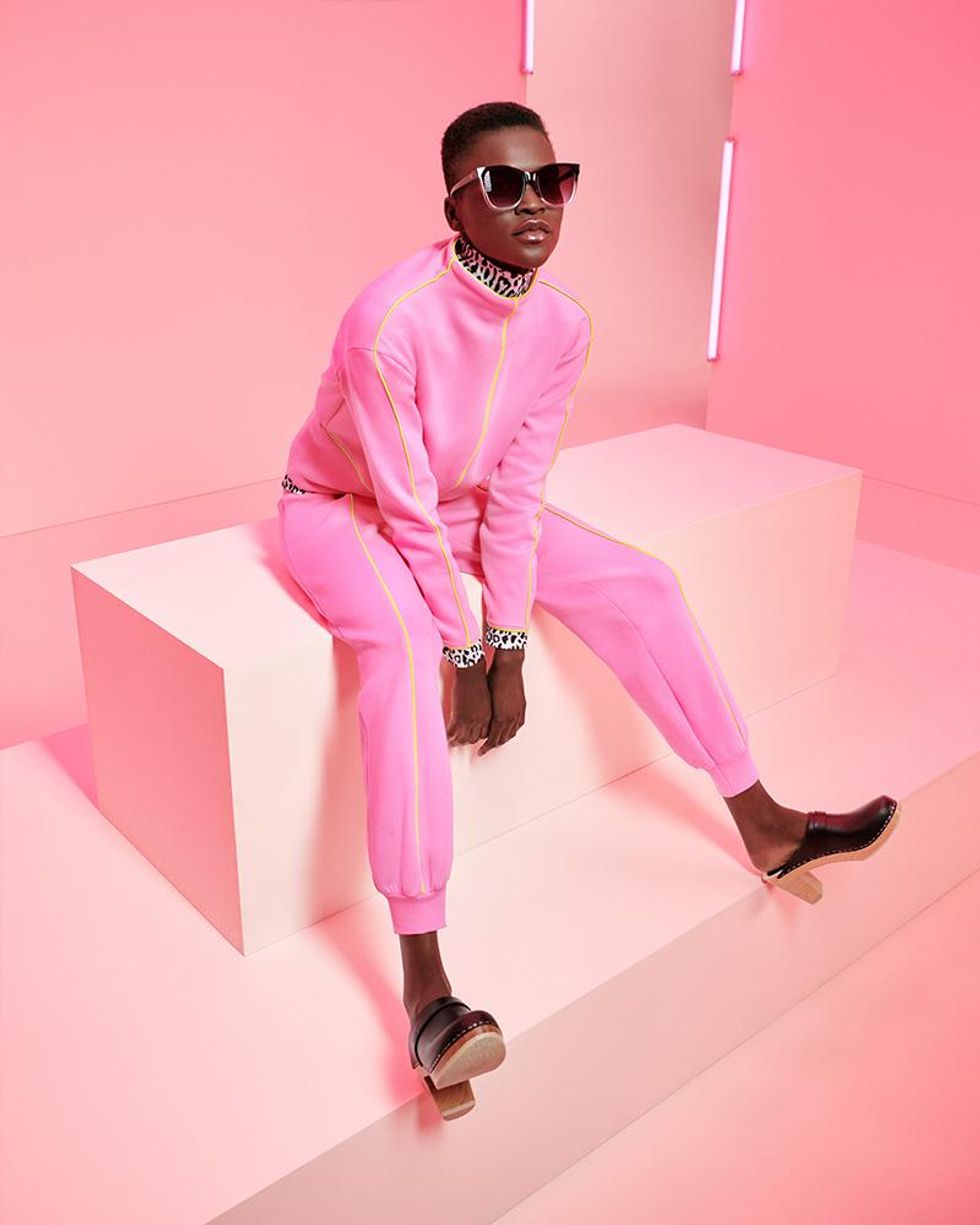 Target
Marrying comfort and style for the bold, his iconic brand features multicolored stripes and color blocking with thoughtful details on everyday pieces that went directly into the Target collaboration. The 43-piece collection includes the designer's signature looks, like brightly-colored eyewear and cold weather accessories. He told Target:
"When people wear my clothes, I want them to feel joy."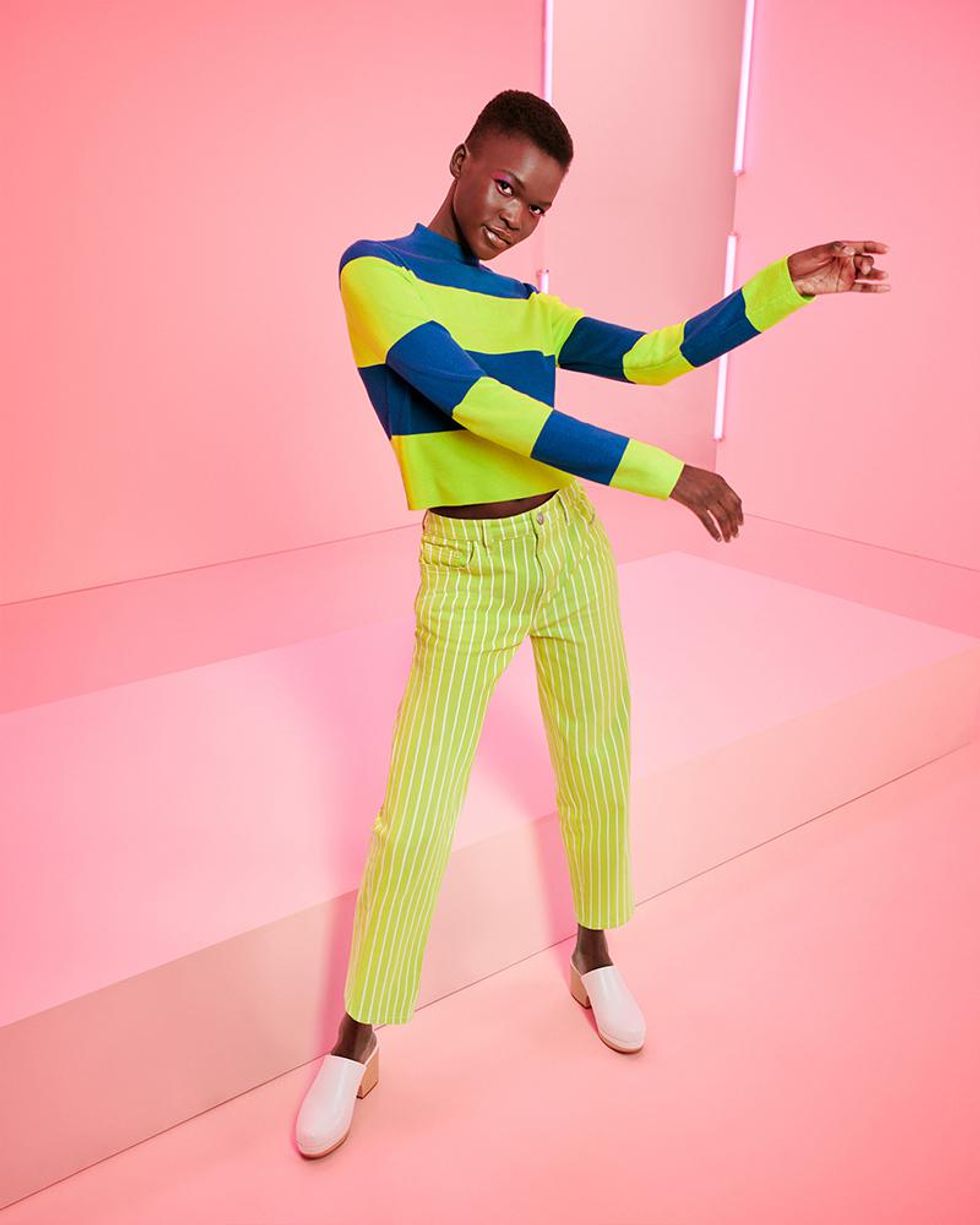 Target
These fall essentials are heavily influenced by retro colors and patterns that are now trending this season. Buyers will have the opportunity to collect styles that would typically range from $300-$500 at a fraction of the price, making high-end designs accessible to the masses.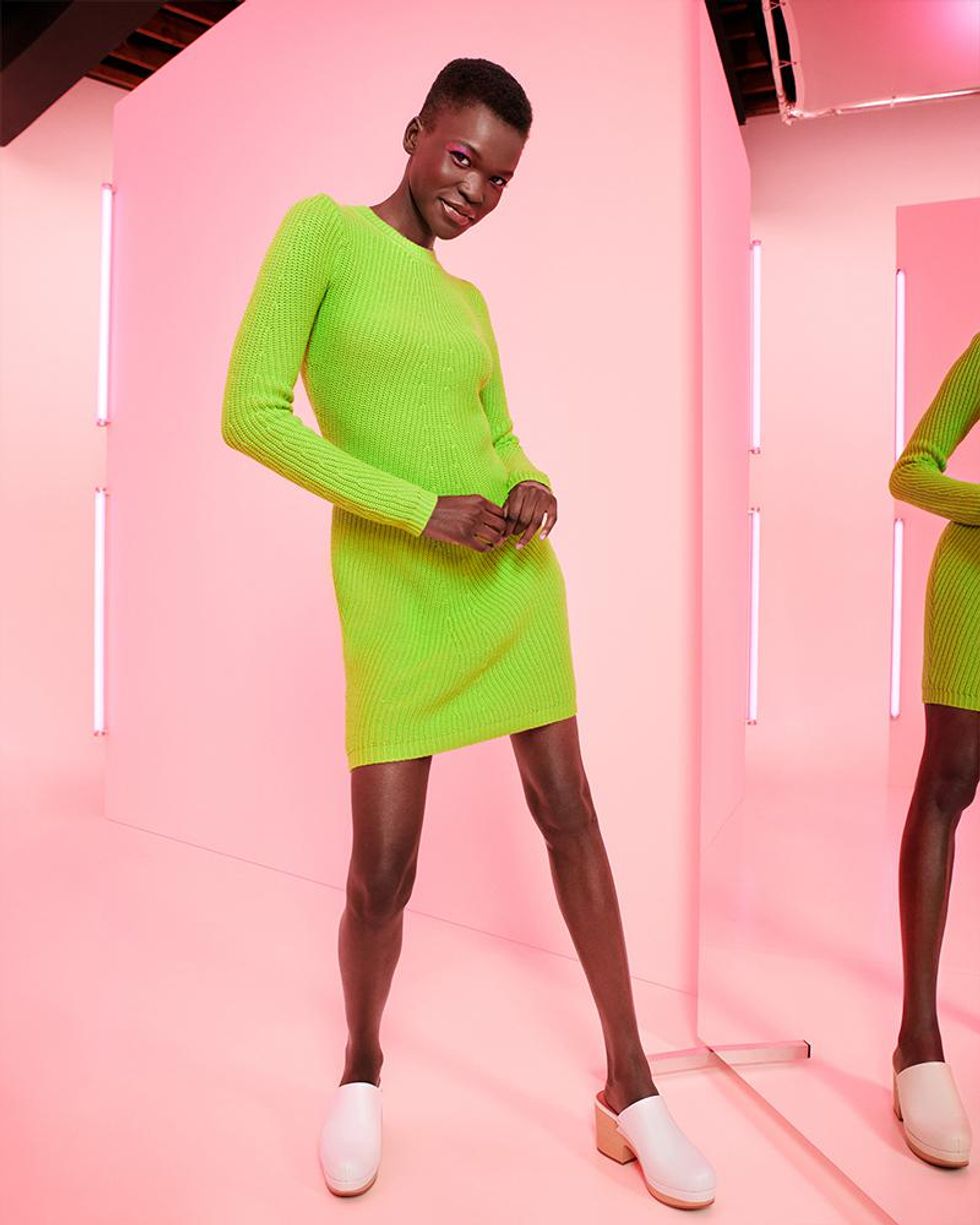 Target
"This fall, we're building upon that legacy and bringing together four dynamic and highly regarded designers to introduce a collection of inclusive, on-trend and timeless fashion staples to re-energize guests' wardrobes for the season," Jill Sando, executive vice president and chief merchandising officer at Target, said in the press release.
Target recognizes the fashion forward consumer that wants designer for a steal. The Fall Designer Collection ranges in price from $15 to $80 and arrives on Target.com and in select stores on Sept. 25.
Set your alarms for these limited-time-only design partners you will not want to miss including: Rachel Comey, Victor Glemaud, Sandy Liang and Nili Lotan.
Featured image by
Keep reading...
Show less
This article is in partnership with Xfinity.
Those who have experienced an HBCU homecoming understand the assignment. College students, alumni, and family of a Historically Black College and University gather and partake in the excitement of celebrating the heritage and culture of the school. It's a time of joy, honoring traditions, and for some, reflecting on the good ol' days. Homecoming weekends are spent eating well, laughing plenty, and enjoying the sights; and there's plenty to see and do! (Spoiler alert: Sleep is not on the syllabus.)
Homecoming weekend is a whole situation! Long months of preparation, practice and planning go into this one-week event, and it is epic. There are endless parties to attend - including a parade to celebrate campus orgs. There are pregame tailgates, post-game dances, band battles, awards ceremonies, brunches, lunches... issa vibe. So, before you struggle to zip up that suitcase, here are a few essentials you just might need.
1. Your own travel cup.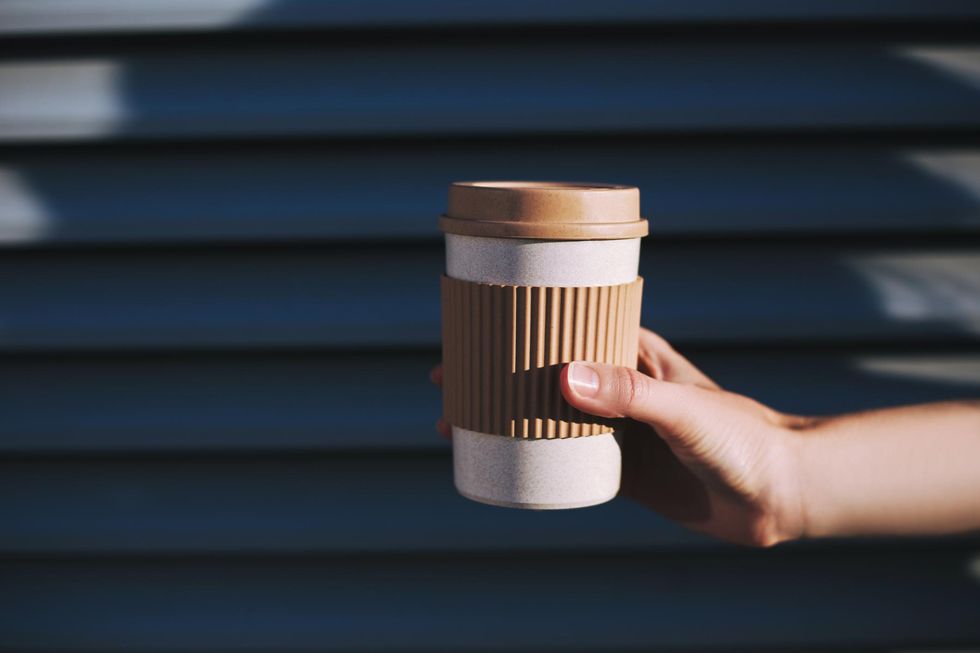 Getty Images
It's not the first thing you'd put into your bag but hear me out-- Homecoming is a fall event and weather is no longer predictable; if you're walking around, plan to get parched after spending all day outdoors. Filling your cup at a hydration station or someone's tailgating plot, will really make your day! You can even have a custom cup made with your name, sorority, or class! Stay hydrated!
2. Portable cell phone charger.
You'll be out all day, and with plans constantly changing, you'll want to remain connected. Choose a powerful charger with a long-lasting effect that can fit in your pocket or purse. And don't forget to charge the portable charger! No one wants to be stranded on campus missing texts, party locations and TikTok opps.
3. Tissue, wipes, and hand sanitizer.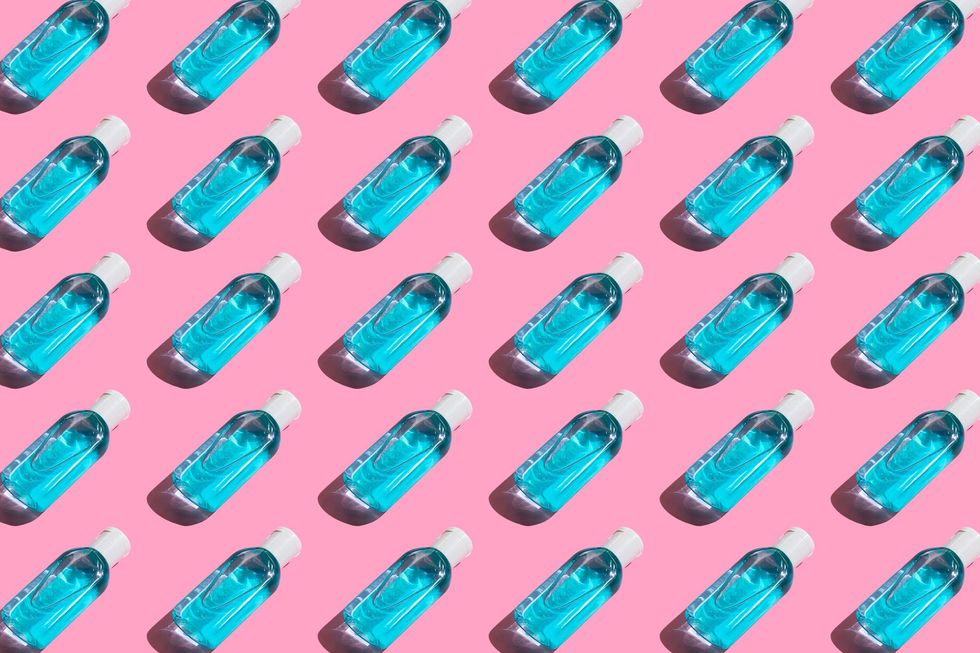 Getty Images
This was a must-have even pre-pandemic. You will want to wipe down, up, left, and right anything you come into contact with. Porta Potties and public restrooms tend to run out of the essentials, so be proactive and protect yourself from the germs. Everyone loves the person who brings enough to share, so look out for your comrades and pack a little extra.
4. Sustenance! Know someone who's reserved a spot with a trailer or at least has food. 
And if you don't know anyone, make friends! People at homecoming are looking to enjoy themselves and might be willing to let a stranger who shares their love for the college join in on their fun. If you're the one who gets hangry, consider packing some of your favorite snacks just in case.
5. Tennis shoes or flats.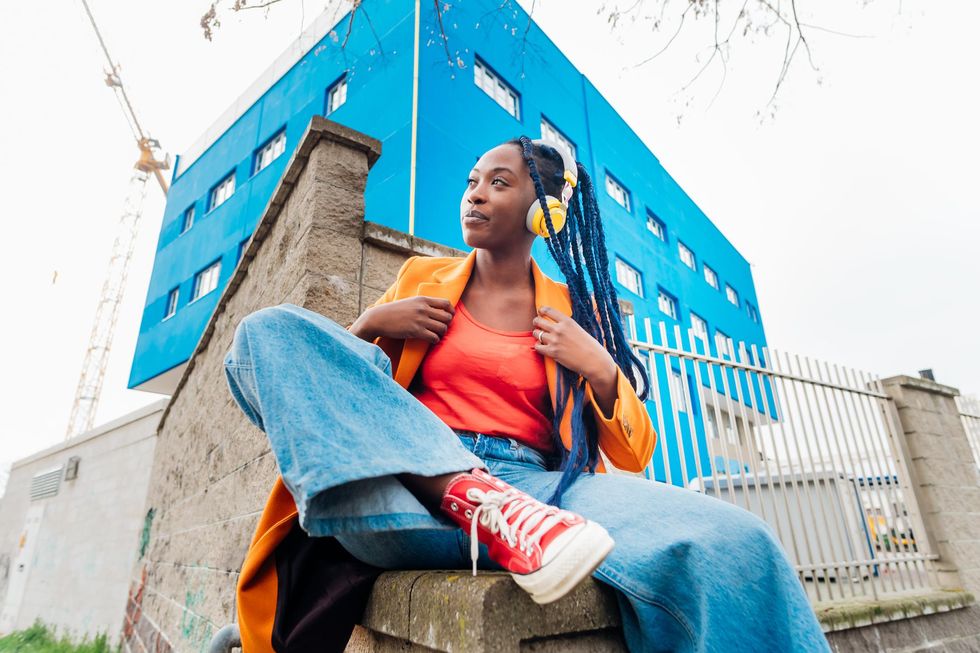 Getty Images
Bring them, or better yet just wear them. Be cute but comfortable! Yes, it's a fashion show no matter where you walk during homecoming weekend, but you also need the stamina to last all day! Save the fancy, potentially uncomfortable shoes for a time you have guaranteed seating. The game and tailgating require a lot of walking, and your fun will be interrupted if you're uncomfortable. This is a great chance to throw on your HBCU swag and most comfy kicks for a relaxing day!
6. Your crew; everything's better with a crew. 
There are those who enjoy being solo at events but let's be honest, homecoming isn't that event. Whether it's friends you met on campus, or family interested in the HBCU experience, you will want a wingman (or two) to share in the excitement. Wear your matching Greek letters, school colors or fun accessories to make your tribe stand out and be seen.
Featured image by Getty Images
Keep reading...
Show less
This article is in partnership with Xfinity.
Those who have experienced an HBCU homecoming understand the assignment. Students, alumni, and family of a Historically Black College and University gather to partake in the excitement of celebrating the heritage and culture of the school. It's a time of joy, honoring traditions, and for some, reflecting on the good ol' days. Homecoming weekends are spent eating well, laughing plenty, and enjoying the sights; and there is plenty to see! (Spoiler alert: Sleep is not on the syllabus.)
There's no such thing as doing too much for homecoming. People order outfits months in advance and have items custom made and tailored; it's a time to show up and show out. From famous alumni to journalists or photographers, you never know who you might bump into at the tailgate. Students have actually launched full modeling careers during homecoming weekend.
It's Called Fashion, Honey.
HBCU college students are known for dressing well just to go to class, so of course homecoming weekend is a high-profile event! The yard becomes a personal runway and everyone on campus has a front-row seat to the hottest show in town— they're looking to be impressed. Attendees have a major task; prepping outfits for the yard, tailgating, the game, and parties.
Here are our three favorite style categories:
1. The Effortless O.G.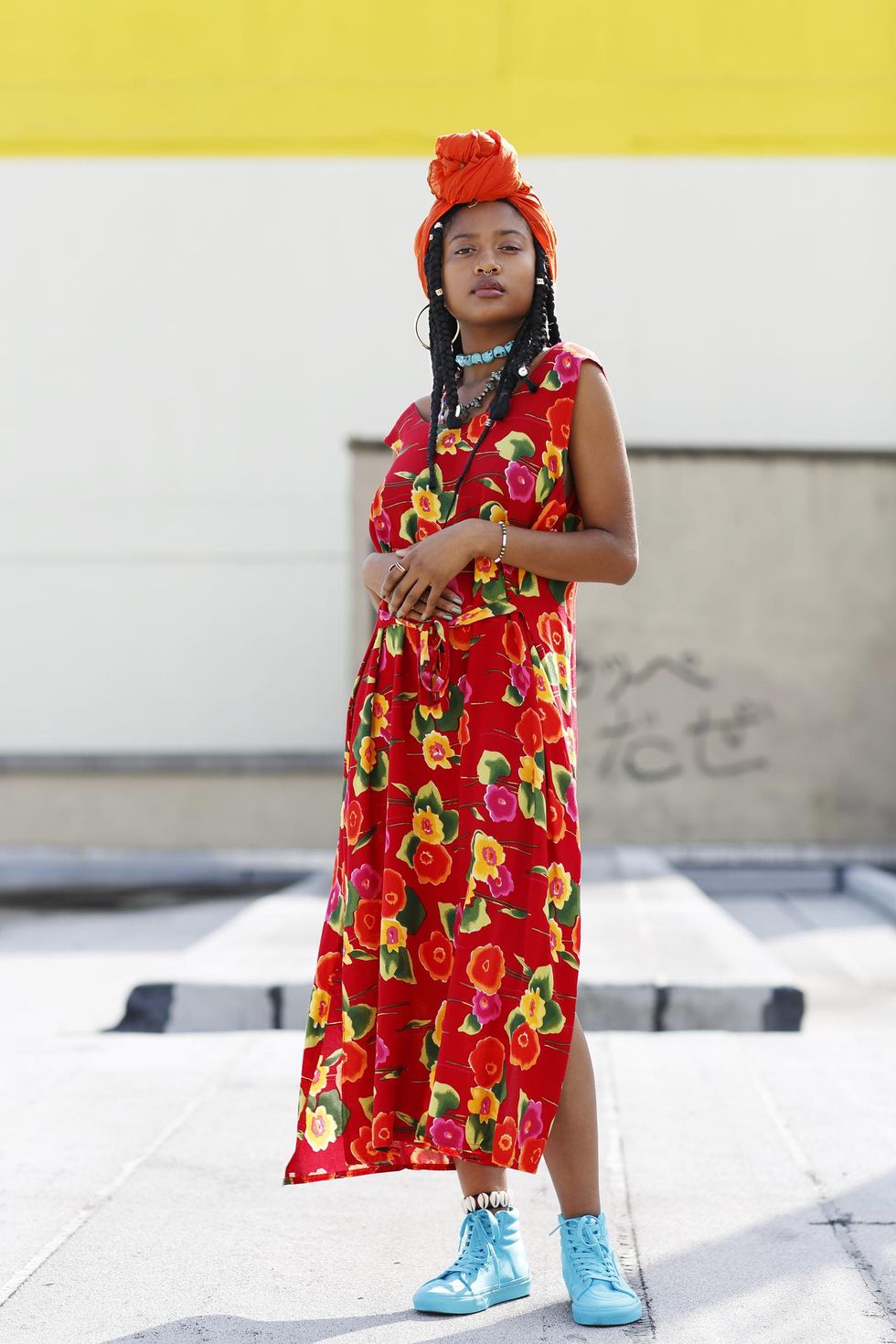 Getty Images
For those traveling to their college towns, overpacking is inevitable (we don't blame you). Yes, bring extra outfits and let your mood guide your choice. We suggest seeking out boutique items online or handmade pieces from your hometown so there's no doubt that you'll stand out. Avoid showing up in the same outfit—fresh off a mannequin—from everyone's go-to stores.
2. Comfort Queen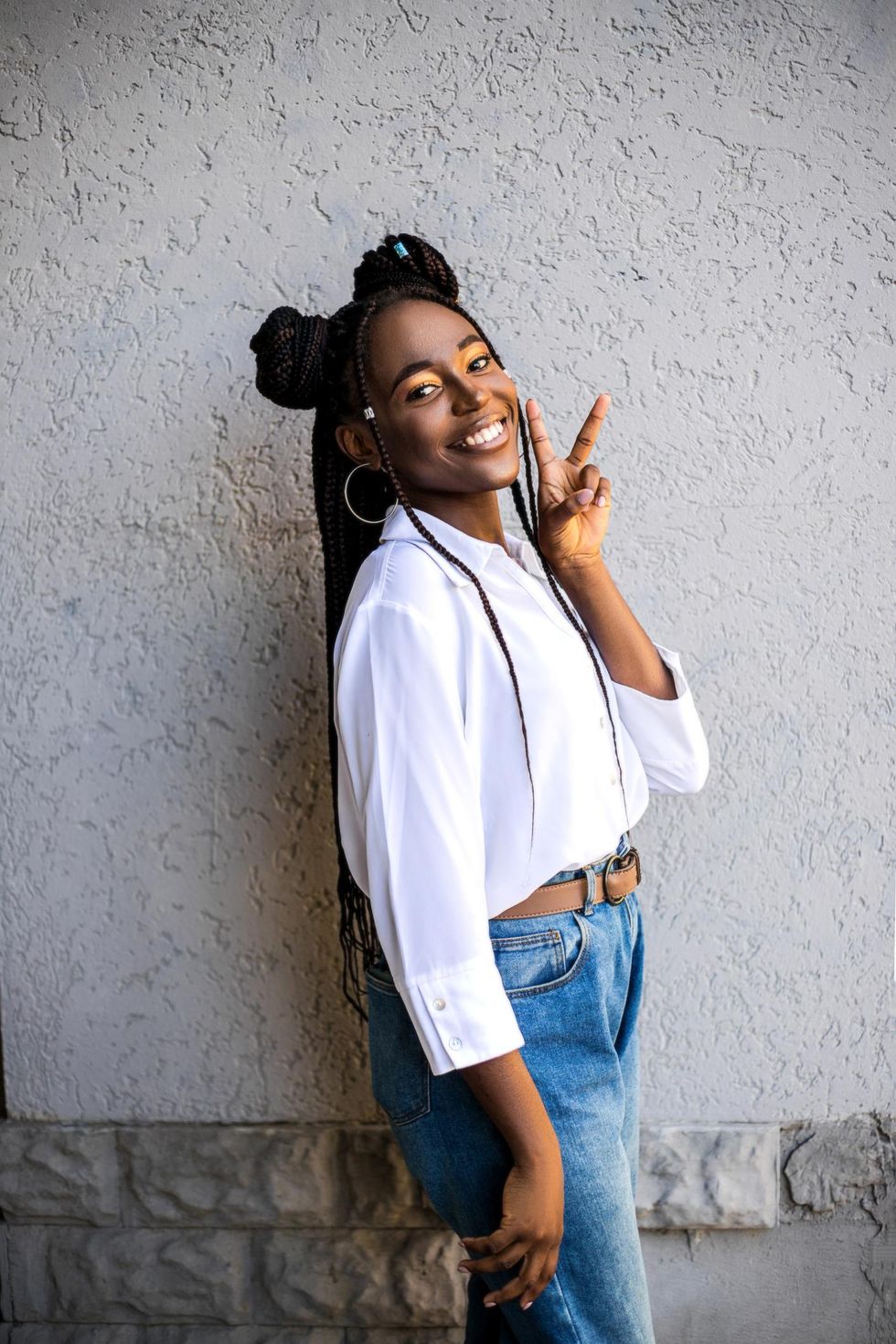 Getty Images
So, a three-piece suit with a bow tie, high socks and hard dress shoes doesn't exactly scream cozy. It's OK to switch up your homecoming attire to something more comfortable, because even in the GOAT outfit, limping around in painful heels and tugging at a rising skirt all night is simply not appealing. We suggest a dress rehearsal! Take a lap around the house in whatever you plan to dance, eat, or drink in for hours on end. Are those leggings see-through? Can you dance how you want to? Remember, comfort can always be made cute!
3. Classy & Confident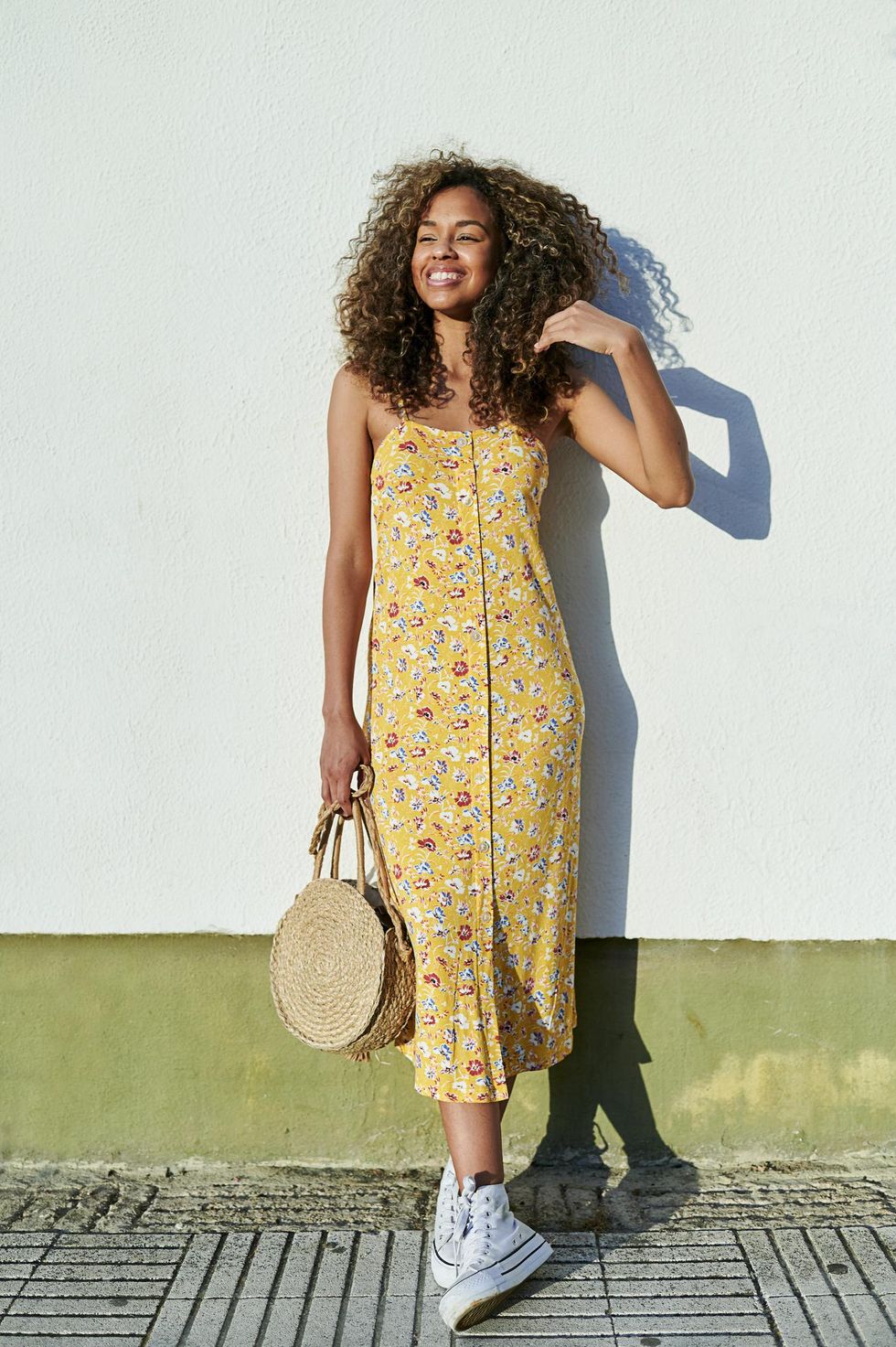 Getty Images
Have you picked up a few quarantine pounds? You could join the club, but we're pretty full. So, consider your evolving body when preparing for the big weekend. Aim for garments that meet you where you are, complimenting new curves and all your fabulousness. This weekend is about you doing you, so do it well, and take those selfies! But most importantly—have fun, confidence really is the key!
Featured image by Getty Images
Keep reading...
Show less
As the winds cool and the leaves change colors, it is without fail that I get this invigorating feeling. Potentially a feeling left over from childhood where every September presents a new opportunity to reinvent yourself, or possibly the contagious buzz of fashion weeks across the globe with streets lined with inspiration for how to style fall's hottest trends. Regardless, there's no doubt that my love of fashion rears its head at this time and always pulls me back into the fold. The fun, albeit overwhelming, thing about this season is the sheer volume of trends presented on the runways. In many ways, we're taking a trip down memory lane, but in other ways, we're seeing the rules of fashion being reinvented in front of our eyes.
Since fall has basically arrived, here's a deep dive into three of the top trends you can expect to see this season.
The Romantic Roaring Redux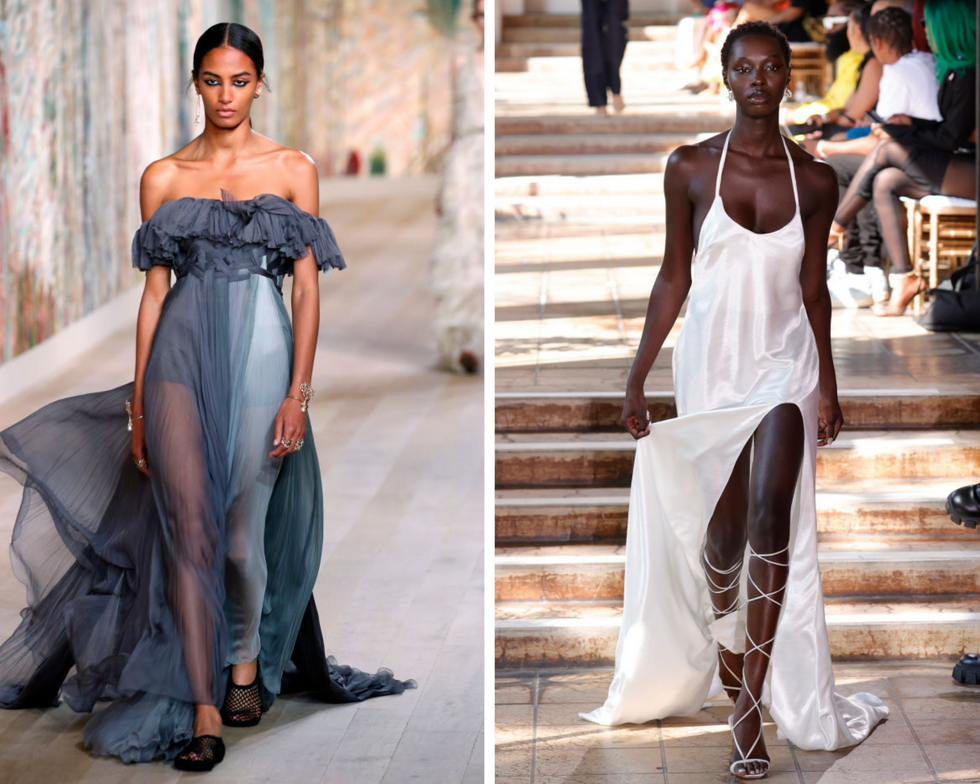 Thierry Chesnot/Getty Images
Frazer Harrison/Getty Images
Romanticism was prevalent in every runway show, and given the past chaos and upending of the past two years, it's truly no surprise that we're seeing a resurgence of romanticism in fashion. From loose tailoring and soft silhouettes to dropped waistlines and flared skirts, every designer showcased a romantic trend that'll be key for the season. There's also a beautiful amalgamation happening on the runways, between the romanticism of the 19th century and the delicate layers and lace textures of the '20s.
Designers are rejecting the clean, geometric shapes of yesteryear, and replacing them with light layers, voluptuous shapes, and extremely colorful patterns. From the design houses to the VMAs red carpet to magazine editorials, this compound trend is sweeping the scene.
Style Tip: If this trend is too feminine for you, add a youthful touch like throwing on a pair of crisp white sneakers or throwing a cropped moto jacket over top.
Straight Off The Slopes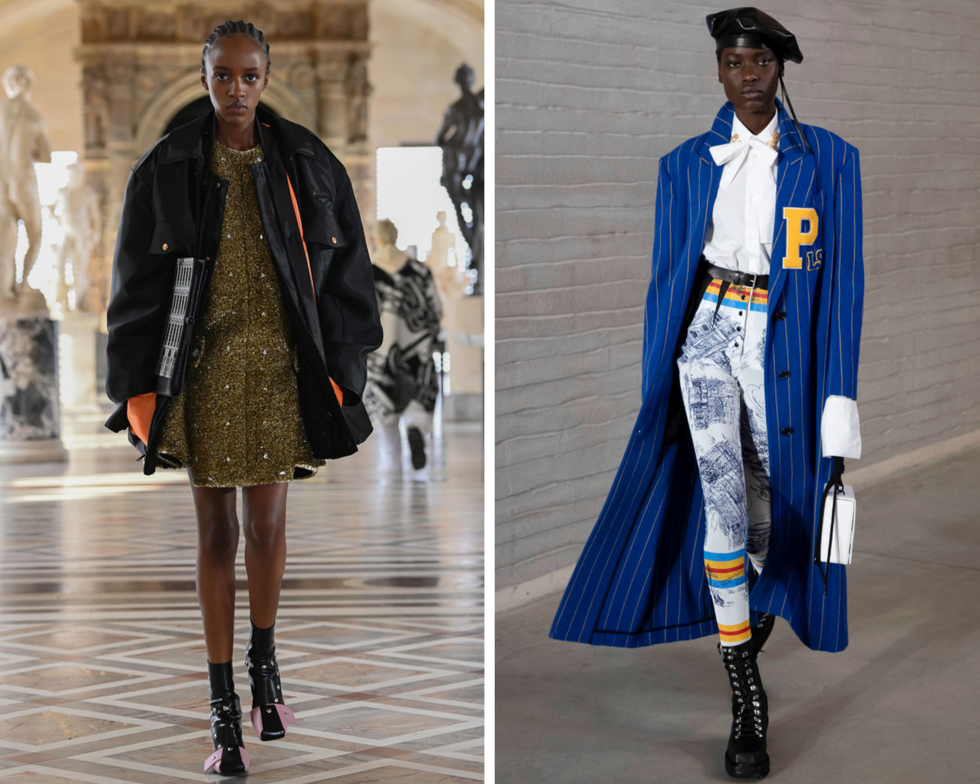 Pascal Le Segretain/Getty Images
IDI.SHOW/IDI.SHOW via Getty Images
Elevated knitwear, preppy sportswear, and specifically the ski-centric items, are gaining traction and will only escalate into the colder months. The first glimpse of this trend was prevalent in IVY PARK's #IcyPark collection, which showcased long-lined puffers, fur-lined hats, and oversized logo scarves. On the runway, big houses like Chanel presented calf-high furry snow boots and chunky wool sweaters, while innovators like LaQuan Smith opted for more understated but elevated cashmere cardigans and fuzzy mini dresses. Hanifa, known for her colorful palettes and exquisite silhouettes, dropped an entire collection centered around knit pant sets and maxi dresses that effortlessly fuse style and comfort.
Style Tip: Layering is key when styling this look properly, so opt for a sweater vest or high-neck bodysuit to add dimension to your look.
Early Aughts Girl's Night Out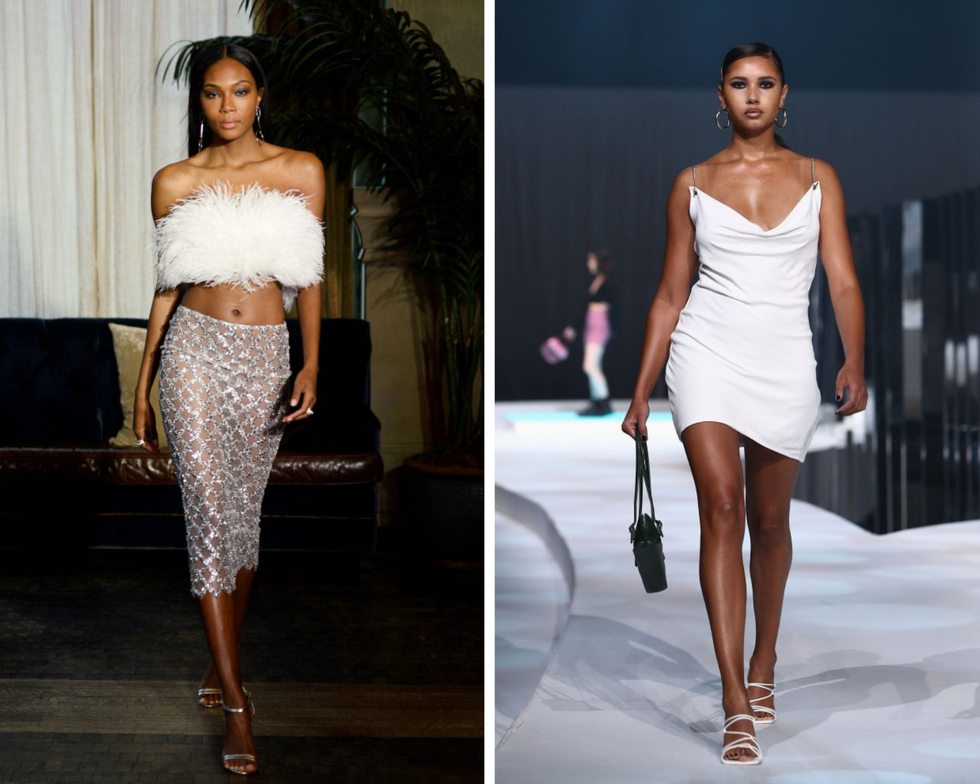 Fernanda Calfat/Getty Images for Bronx and Banco
Sebastian Reuter/Getty Images for ABOUT YOU
If you're ready for the nostalgic wave of the early 2000s to be over soon, I wouldn't hold your breath. At every corner, there are re-imagined looks from our favorite icons like Aaliyah, TLC, and Destiny's Child where the overall idea is easy - keep it short and body-con.
While this trend is not new, there is a doubling down that we saw on the AW21 runways. Many designers turned to their archives to capitalize on the collective wave, like Prada and their re-introduction to the 2005 Nylon baguette bag. Some like The Attico shortened their hemlines and tightened their silhouettes. And then others pushed the boundaries, like Off-White and Mugler, who presented statement-making partywear in the form of revealing catsuits, velvet minis, and flatteringly long trousers.
Style Tip: This look is about maximalism, so don't be afraid to add eye-catching jewelry or a colorful bag to top this look off.
To get your fashion fix and to stay up to date with the latest trends, check out the xoNecole Style section here.
Featured image by Getty Images
Keep reading...
Show less
It's been 573 days since my last New York Fashion Week. That's one year, six months, and 24 days. The last time I was in Manhattan, February 2020, was just as Big Rona was placing a chokehold on the world. I would have never guessed that while I was living my best life in the NYC streets, a pandemic would soon change my life completely. Because of the state of the world, there were no shows in September and by February 2021, the fashion houses were trying to figure out how to put on runway shows which led many brands to the digital space.
When the New York Fashion Week calendar was released for September, there was no doubt that I needed to be there. I was a bit anxious thinking about how we normally do fashion week -- packed and chaotic -- given the pandemic. But my nervousness subsided when I learned of the vaccination requirement for all NYFW events.
I knew that this season would look different with smaller events but my soul still beamed at the opportunity to get dressed up again, learn about emerging designers and leave a stamp on fashion's biggest month. I'm sure you're ready to hear all about it so keep reading for an exclusive behind-the-scenes gander of this southern belle taking over New York Fashion Week!
Day 1 of NYFW
The weather gods decided that fashion week needed some rain so I opted for a comfy, chic look. This leather dress and sneakers paired with my Telfar bag was ideal for a day running around the city in the rain.
I kicked off my New York Fashion Week with Essence Magazine's Fashion House, "an elite experience discovering and recognizing cutting-edge Black creatives in fashion and their contributions." From the talk with Sevyn Streeter on her style inspirations to the runway show featuring Eclectist, I couldn't ask for a better start to my favorite week of the year.
Next, I headed to NYFW on Fifth, a new location for the shows this year. Fifth Avenue is known for its plethora of stylish stores so it was only right to showcase the future of fashion in the epicenter. I attended the ROOKIE USA show which gave more than it was supposed to in the best ways. In its 12th year, the collection gathered tiny humans (aka kids) as models which made for the most adorable show ever. The celebrity and professional kid models lit up the runway with the latest dance moves and their bright personalities. Seeing celebs like Yung Miami, Dr. Wendy Osefo, and Victor Cruz cheer on their babies made my heart so full.

The last stop of the day: AVNU Back on the Block. If you don't know about AVNU, let me introduce you. Nareasha Willis created this luxury streetwear brand for everyday people. Her most popular creations are the "Ghetto Until Proven Fashionable" pieces because... well, the statement is all facts. I have been a fan of the brand for years so I was in love when I finally met my long-lost cousin. The event was the ultimate family reunion with jamming music, the Electric Slide and 'ayyyyyeeee's all around.
Day 2 of NYFW
I woke up with such excitement because I knew the lewk I planned would eat up the gworls. My talented friend, Candra, made me a custom top speaking all facts, "Ghetto Girls Did It First," and I wore it with a matching mesh top and pants and the oh-so-fabulous Char workroom shorts. My extra-large bamboo earrings and bamboo Brandon Blackwood bag brought it all together. I love making a statement with my outfits and this lewk definitely did that.
Day two started with Tiffany Brown Designs. In her NYFW debut, she created the "Lavender" collection comprised of 50 shades of purple. The pieces were versatile in style from tailored suits to athleisure getups. When speaking about the collection and why she chose NYFW as her coming out, Tiffany said, "Because it's the fashion capital of our country and this is the time to shine and celebrate the human spirit," said Brown.

Photo Courtesy of The Riviere Agency
"Lavender symbolizes and represents spiritual healing, tranquility, easing of tension, and purification. Today, with this collection, we are celebrating the human spirit."
Then, I headed to Spring Studios for one of the most anticipated events this season: The Black in Fashion Council Showroom. I was beyond thrilled the attend the showroom as BIFC's mission "to represent and secure the advancement of Black individuals in the fashion and beauty industry" fills my heart all the way up. I bumped into Blake Van Putten, creator of the cult-favorite bag, "Protect Black Women." We talked about his new designs and the future of CISE and let's just say that he has some heat in store for the people. I also met other Black designers like Samantha Black of Sammy B Designs and Nalebe Footwear designer, Amina E Means.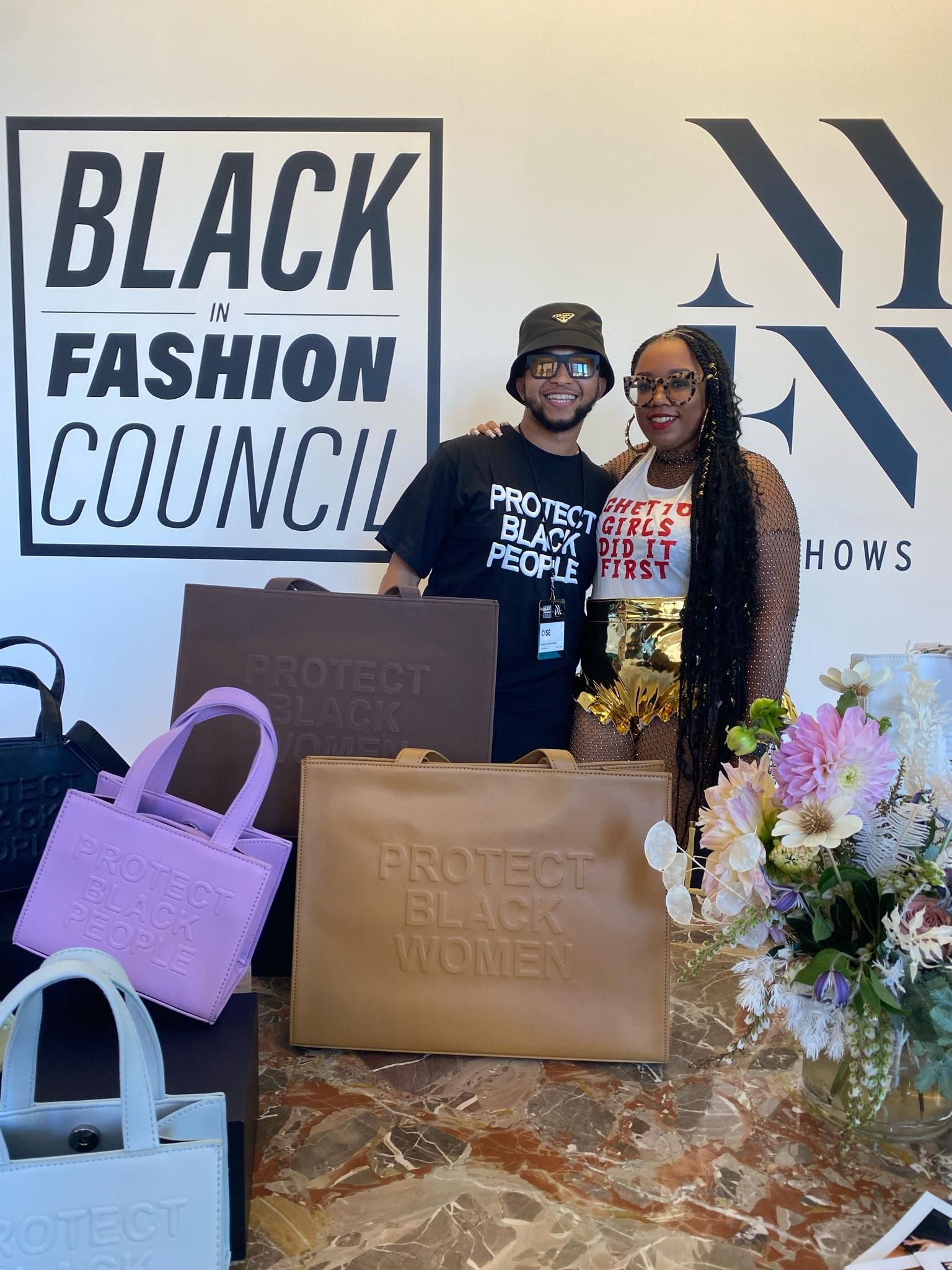 Joce Blake
Continuing in Spring Studios, I checked out the Rebecca Minkoff "I Love New York" collection. In celebration of the brand's 20th Anniversary, Rebecca unveiled her first-ever collection of NFTs. This new take on fashion week presentations featured model portraits shot by Cass Bird. The immersive NFT experience by Yahoo was definitely one to remember.
Day two's finale show, The Athletic Side of Us (TASOU), left no crumbs. It was definitely one of my favorites this season. For me, the diversity and inclusion of all sizes and bodies was everything. The pieces were designed for everyday life and meet at the intersection of transitional fashion and ancient civilization from southern Nigeria.
Day 3 of NYFW
I wasn't attending the MET Gala but that doesn't mean I couldn't bring MET Gala energy. Day 3's lewk gave blazer and crystal skirt realness. Memphis wardrobe stylist, Jenil Askew, made me this custom skirt and yeaaaaa... she did that!
By Day Three, I was definitely feeling the exhaustion of NYFW but I knew I had to push through. Our first show was the Global Fashion Collective, a platform specializing in supporting creative designers by establishing their presence around the world. I always enjoy the assortment of world designers because it exposes me to new designers and how they embed their culture into every single thread. This season's lineup included Ay Lelum (Vancouver, women's), C'EST D (NY, women's), CEDIM The School of Design (Mexico, women's), Irene de la Vega (Mexico, women's), [unusual] (UAE, men's), SAINTJESUS (Chile, women's), Carlton Jones (NY, women's/men's), SARAL ZENS (China, women's), and Blue Tamburin (Korea, women's/men's).
When I arrived at the Bomb Fashion Show, our girl Olivia Dope was spinning -- it was a whole vibe. The first of its kind, the goal was to increase diversity during New York Fashion Week. Not only was BFS sponsored by Shea Moisture, it also featured two designer ensemble runway shows with beloved brands like Oyemwen, London Couture, and Mah Jing Wong.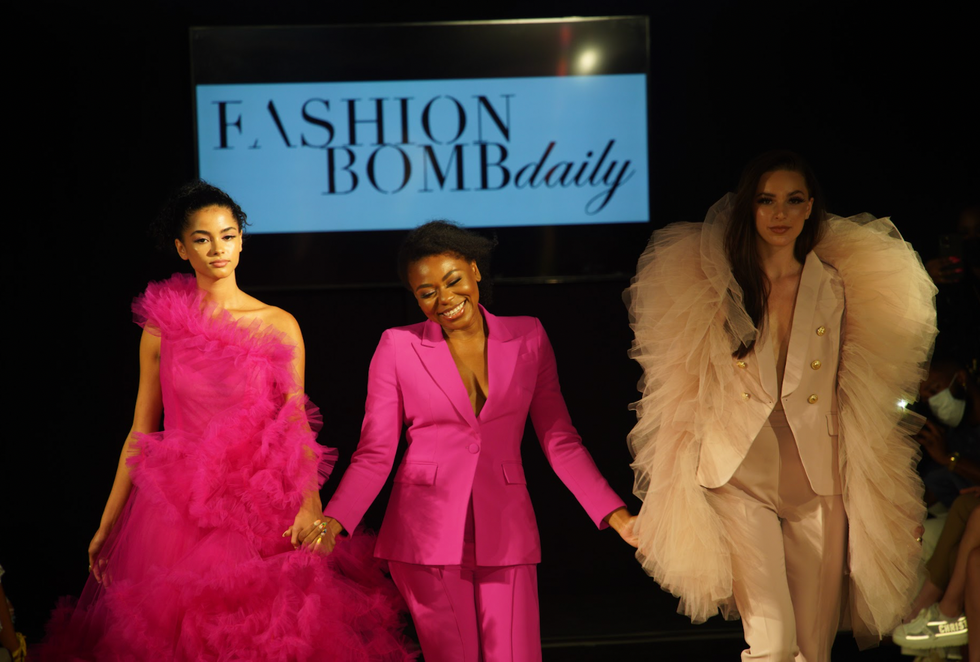 Photo Courtesy of Fashion Bomb Daily
Next on the schedule was Deity New York. While Renee Bishop created her black-owned luxury women's wear brand Deity New York, she was determined to leave her mark on her official entrance to NYFW with her signature utilitarian staples designed to make women feel and show up as their best selves.
We love Renee's vision of normalizing black entrepreneurs running luxury brands, so watching the models strut down the runway in her BOLD collection at THE Spring Studios is nothing short of manifestation at work. When thinking about my wardrobe for Spring '22, I'm going to need every look from this collection.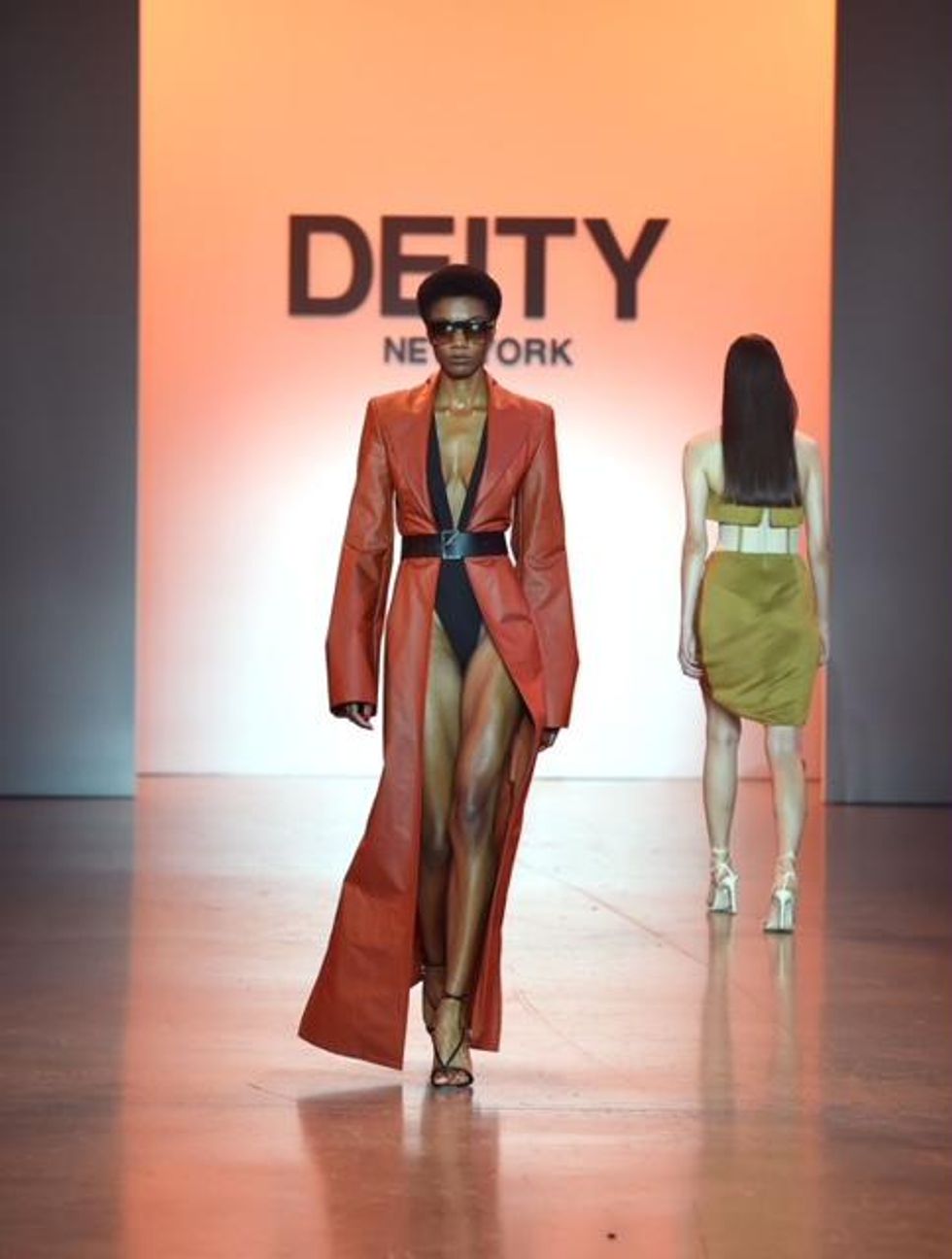 Photo Courtesy of Dynamically Branded PR
One of the events I look forward to the most each season is The Glow Up Meetup. Being surrounded by some of the best and brightest melanated content creators is a badge of honor I don't take lightly. These women move culture and pour into one another authentically. For Glow Up creators, Shay and Tania, it's always been about bringing black women together in a positive space. Saturday night was just that.
Sitting on the Public Hotels rooftop with the most breathtaking views, I kiki'd with some ladies about moving to NYC, how we all are changing the narrative around Black women in luxury and what it really means to be a content creator all while sipping on Moet and nibbling on tuna tartare. If that ain't art imitating life, I don't know what is.
Day 4 of NYFW
For my final outfit, I wanted to serve up "Trench Coat At Your Front Door." Assignment: overstood.
It's now Sunday and the official last day of NYFW. Kevan Hall did what needed to be done and took us to church with his Parisian inspired collection. The architectural structuring, detailed paneling, hand-painted prints, and textured fabrics made for timeless pieces that looked like they were in slow-motion in real-time.
Look no further than Kevan's "Brushstrokes" palette for your spring color mood board. The final walk took me out as the models walked intently to the sounds of a gospel choir singing an upbeat worship song. Even on the front row, I had no choice but to tap my feet and clap like my granny taught me. What a moment!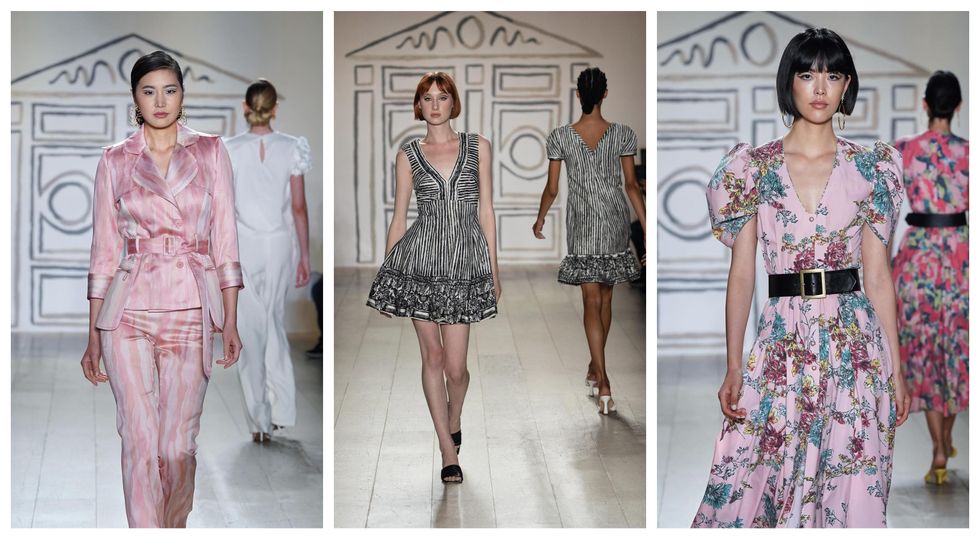 Photo Courtesy of Kevan Hall Designs
In between shows, I was able to link up with some blogger friends that I hadn't seen in years. These women really taught me so much about the industry and inspired me to keep going when my dreams felt unattainable.
To Sam and Marsha, thank you for being the light I didn't even know I needed. My NYFW journey is nothing without you two.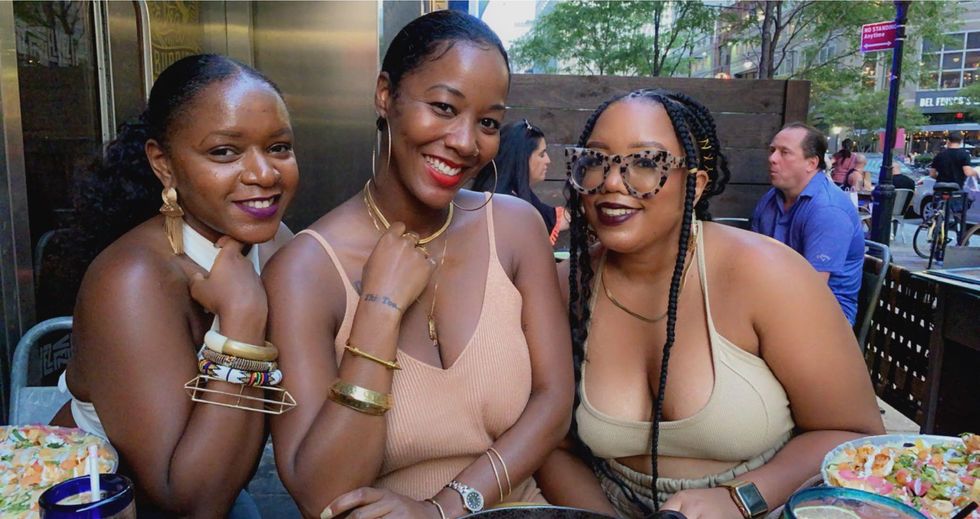 Courtesy of Joce Blake
To complete my Spring/Summer '22 NYFW, I attended the NOLCHA Shows, a place for independent designers to shine. "Ones to Watch," was the theme this season as they showcased independent fashion brands that epitomize elegance, freedom, and individuality. Each designer came with heat; this was arguably the best Nolcha showcase in years.

While the vibe of NYFW was different due to COVID, it still owes me nothing. I am forever grateful that I get to make my dreams a reality in the Big Apple.
I prayed for this; I love that for me!
To get your fashion fix and to stay up to date with the latest trends, check out the xoNecole Style section here.
Featured image courtesy of Joce Blake
Keep reading...
Show less
Did you know that the average size of women in the United States is between 16 and 18? According to a study published in 2016 in the International Journal of Fashion Design, the number shifted from the data that once stated the average was size 12 about ten years ago. Not that we need data to prove anything because our bodies are the proof, it is nice to know that having curves is normal. Social media and society will have you thinking that you need a flat stomach and fat ass to be beautiful. Now more than ever, I am personally loving the body I have and that means loving my size 12. Ironically, the more I love and give thanks to my body, the more she expresses gratitude in exchange. And that shows up in my everyday life because I feel more free and more comfortable in the skin I'm in.
When it comes to shopping for pieces to compliment my curves, it can be frustrating. You know what has been my go-to since COVID changed all of our lives? Matching sets. They have a way of transforming to fit the mood and the vibe. Their comfort alone got me through the last year and a half. Even when I couldn't find a "f" to give, wearing them made me seem like I put in some effort. Without further ado, say hello to some matching sets that are guaranteed to change the game for curvy cuties!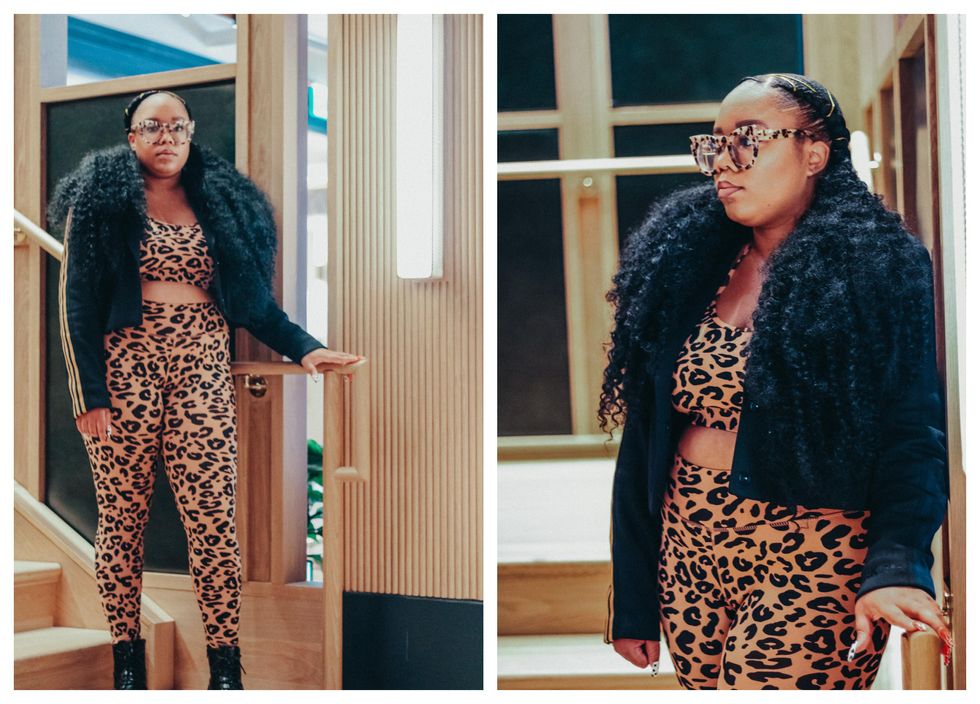 Photography by Curated by Charlie
If you haven't ordered a matching set from Amazon in the last year, I admire your willpower. As for me and my house, I am obsessed; especially with this particular set. It's the versatility for me. I have worn this duo in so many ways. From wearing it to the gym to ATVing in the rainforest to strutting into my favorite members only club, I have maximized the ways in which this comfy set can be worn. Take this look for example. I decided to pair it with my IVY PARK cropped blazer for prime elevation. This is your cue to do the same with your favorite set because she can be worn places other than your Target runs.
Aleumdr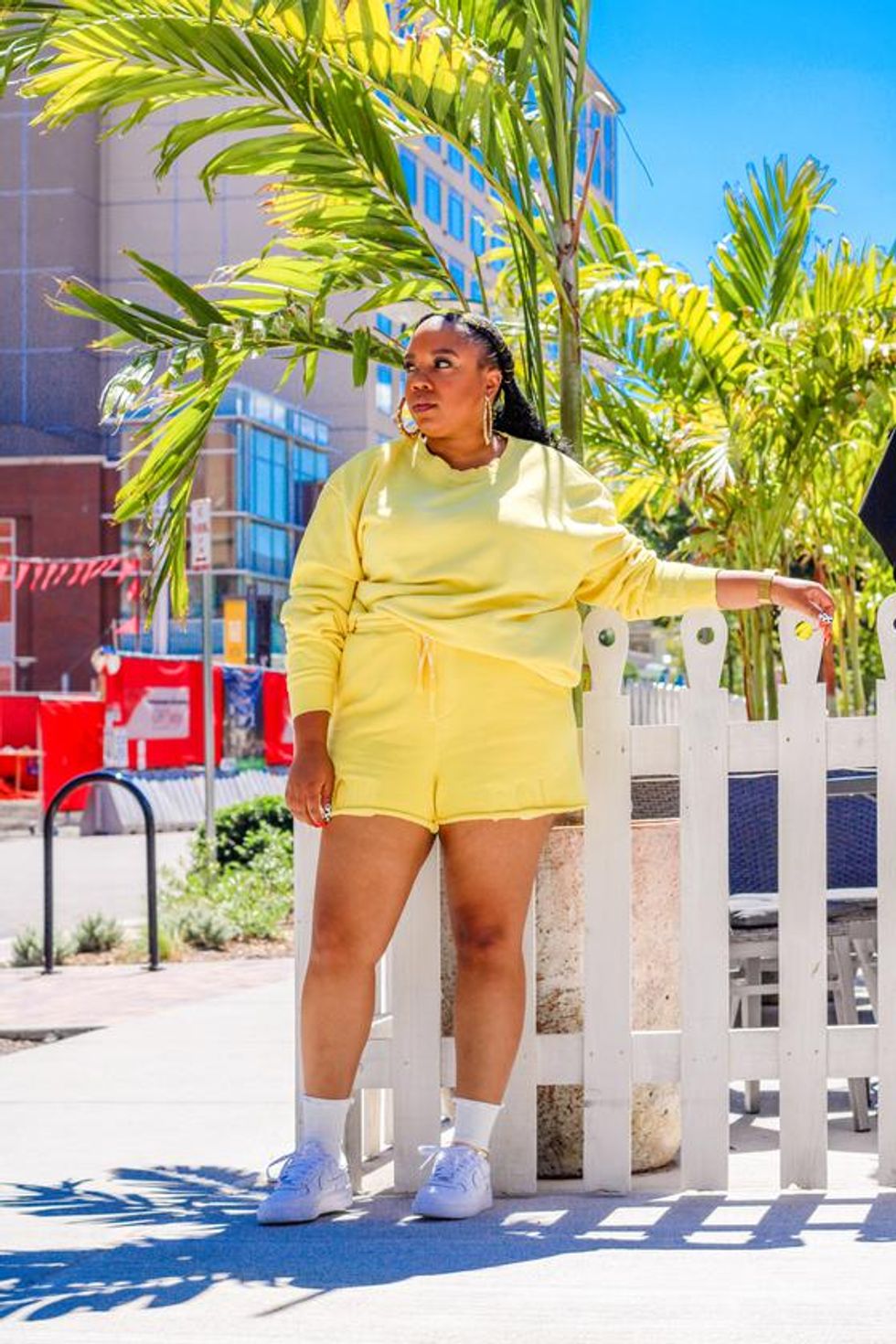 Photography by Curated by Charlie
This is the newest addition to my arsenal and it is now a staple. The color and design are to die for and don't get me started on the material. The material is comparable to a cloud which creates ultimate comfort. One of my favorite Black-female designers, Crystal Lee created the Essential Set for Outside for the people. This set is not only stylish but it's also unisex. It brings a whole new meaning to wearing your partner's clothes because now you can do it fashionably. On this day, I opted for classic Air Force 1s and bamboo earrings to really tap into my roots. You could also style this up with some strappy heels for happy hour with the gang. Lucky for us, this getup comes in an array of colors to brighten up your wardrobe.
C.R. LEE TOMBOI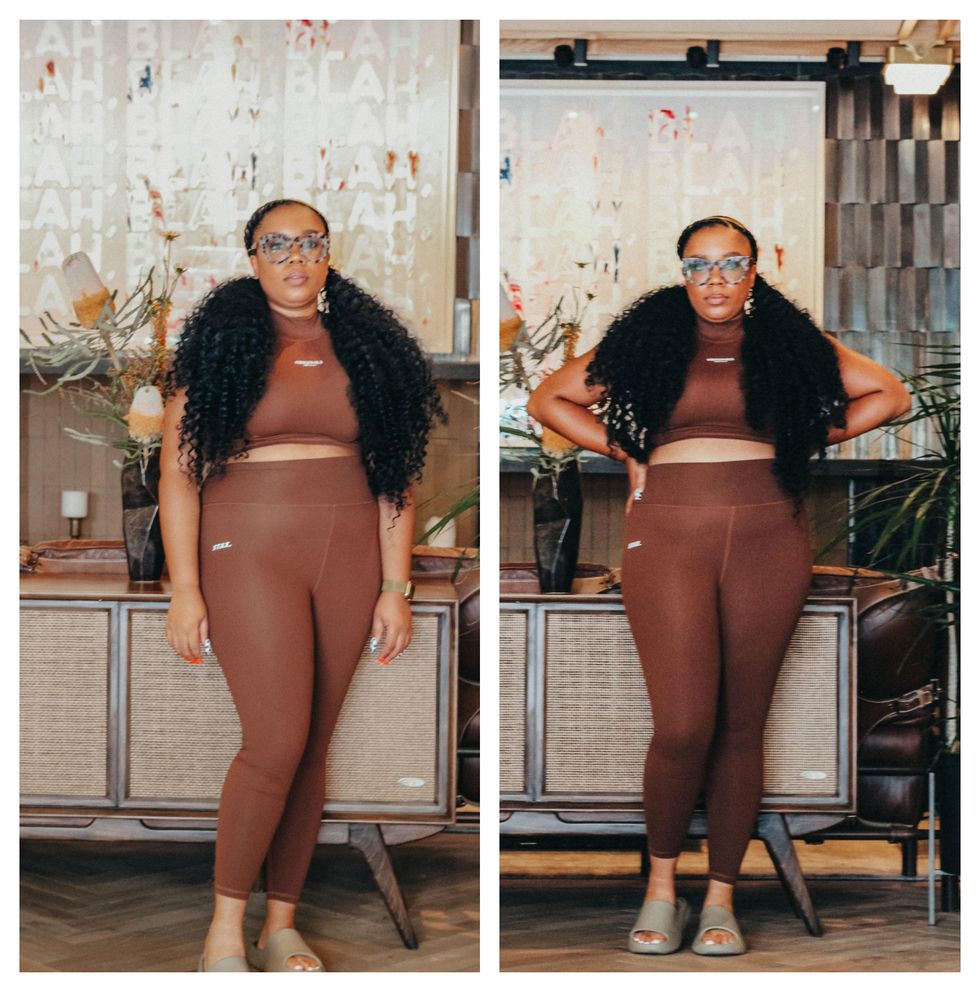 "Fashion focused, figure-flattering premium sports-luxe activewear for both performance and lifestyle," is the motto for my new favorite brand, STAX. In the brand story, they go on to say, "Prioritising high quality whilst demonstrating luxury at affordable prices, STAX. blends a perfect mix of both fitness and fashion, dressing every person at every size, STAX. believes inclusivity should be a general standard." And I can attest that these words are true. The way the BB tights and crop top flatter my curvy figure is nothing short of perfection. Celebrities like Lizzo and Jennifer Lopez are huge fans of the brand as it proves to be the "little black dress of activewear."
STAX.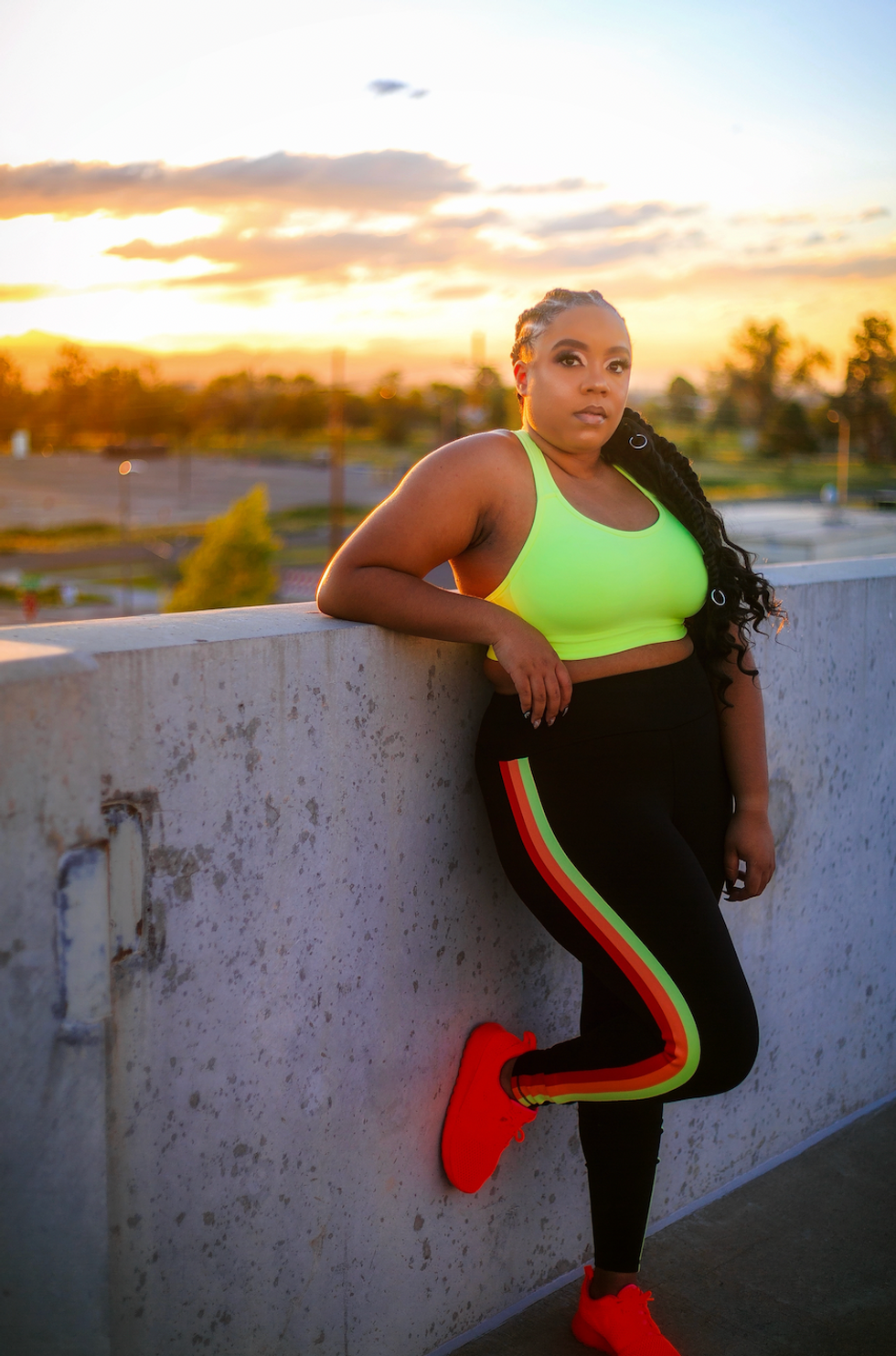 Photography by Curated by Charlie
Sometimes you gotta mix it up and create your own set. That's exactly what I did with these two standalone pieces from good ol' Walmart. One thing about Black women, we are gonna create things off the dome. I was doing some random shopping at Walmart and something drew me to these neon striped leggings. Then, it was almost as if an ultralight beam illuminated this sports bra. And just like that, I created my own set. Neon will always be a part of my wardrobe no matter the season. It was a no-brainer for me to couple my DIY set with equally bold-colored sneakers.
Avia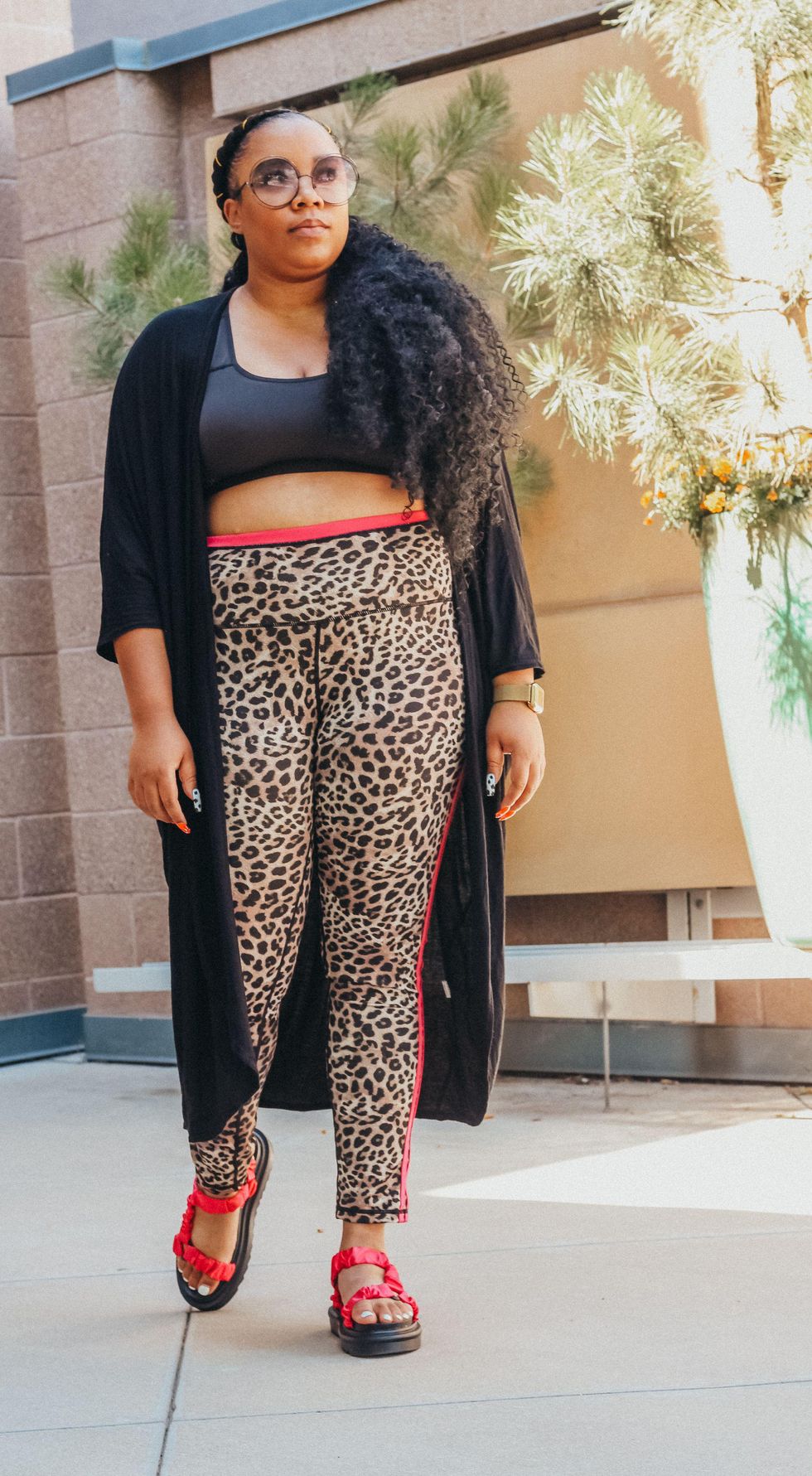 Photography by Curated by Charlie
I recently found Ruby Ribbon and instantly wondered where they had been my whole life. Since its inception, Ruby Ribbon has dedicated its movement to empower all women. Every time I slip on these leggings and demiette I feel just that: empowered. I had no idea what a demiette was until I was introduced to Ruby Ribbon. Recently, the social commerce-driven women's intimates, shapewear and athleisure company announced: "they have been issued their first patent for their top-selling Sport Demiette™."
Lead designer, Cami Raymond, created the demiette constructed with molded cups in the bust and a supportive sling aka she changed the game. The support is real without the uncomfortabilty of a wire. Whether you're rocking this to yoga or a hike, you'll be both fly and cozy.
Ruby Ribbon
To get your fashion fix and to stay up to date with the latest trends, check out the xoNecole Style section here.
Featured image courtesy of Joce Blake
Keep reading...
Show less