London is one of my favorite cities in the world and when it comes to their influence on the fashion world, they're even higher on my list. The epicenter of European style and grace, London is full of trend-forward locals that take effortless fashion to another level. With a population of over 10 million people, you can't narrow down just one aesthetic. Like any other big city, there are a plethora of shapes, personalities, and daily activities that contribute to one's personal style.
When visiting this past November, I spotted a number of streetwear trends that seemed to be a favorite amongst Londoners. As we get deeper into the winter months, colder temperatures require a major style adjustment. To get a better understanding of what's trending now, I enlisted the help of styling duo May and Melinda. Identical twin sisters, these fashion lifestyle content creators are based out of London, focusing on pear-shaped styling.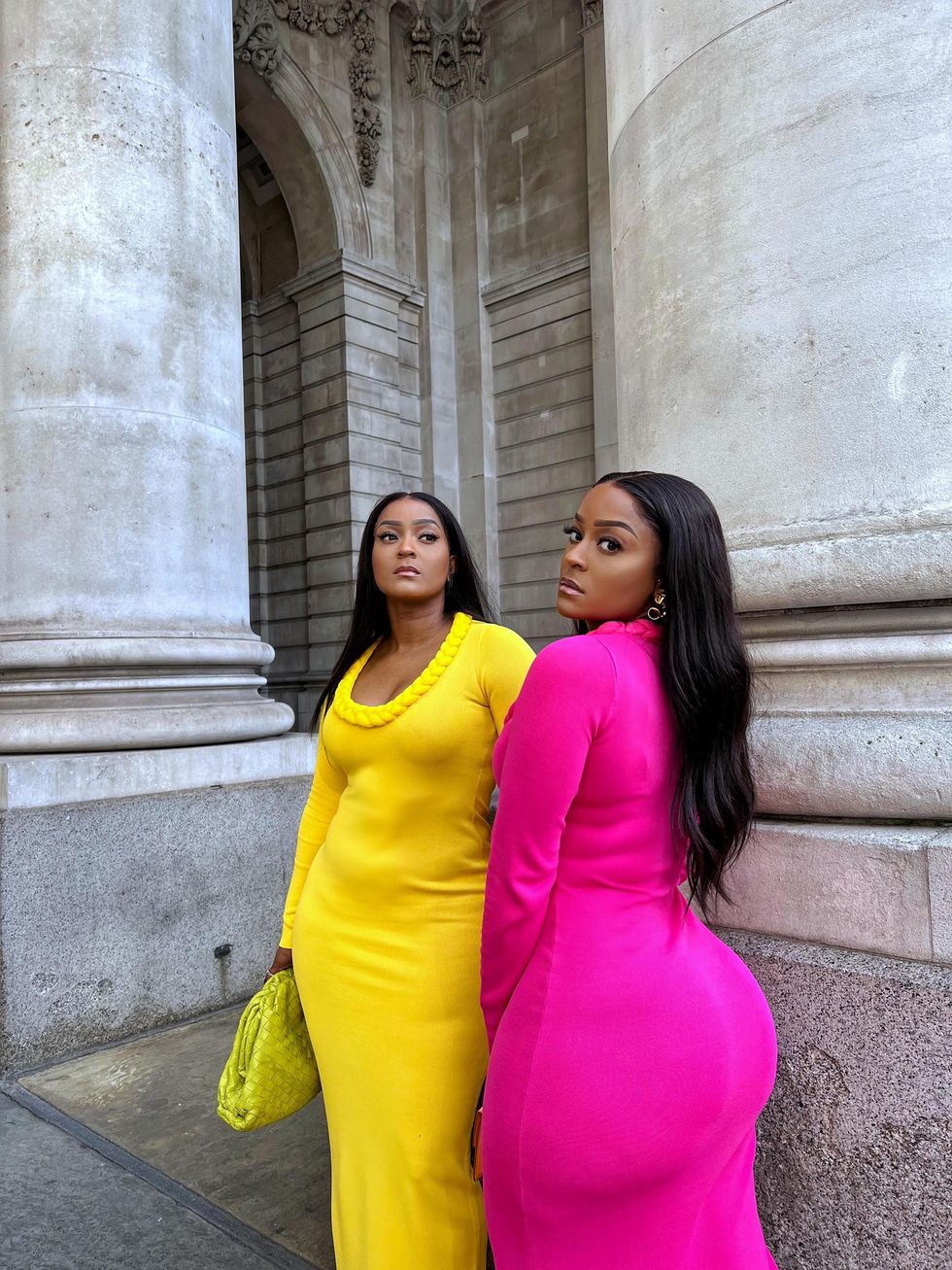 Courtesy of May and Mel
East African-born, naturally pear-shaped, and lovers of fashion, they always found it difficult shopping ready-to-wear items that fit their shape. Beginning their careers a little over a year ago, they started May Mel out of frustration and wanting to help others who were also left out and ignored while bringing the latest trends to our social media feeds.
Like many parts of the world, the colder weather in London has May and Mel gravitating towards layering, which the fashion lovers say is a major key for staying warm without sacrificing style. The duo notes that plus knitwear and "good duvet coat" as winter wardrobe essentials. They tell xoNecole, "You have to start with a good base layer like a Merino turtleneck and thermal leggings. You can layer [them] with almost anything."
In addition to Uniqlo thermal leggings, May and Mel also recommend "the ease and coolness" of a pair of oversized pants. "We recommend buying mid- or high-waisted pants for our curvy girls. This is for a better fit, plus the illusion of a slender hip and an elongated body frame."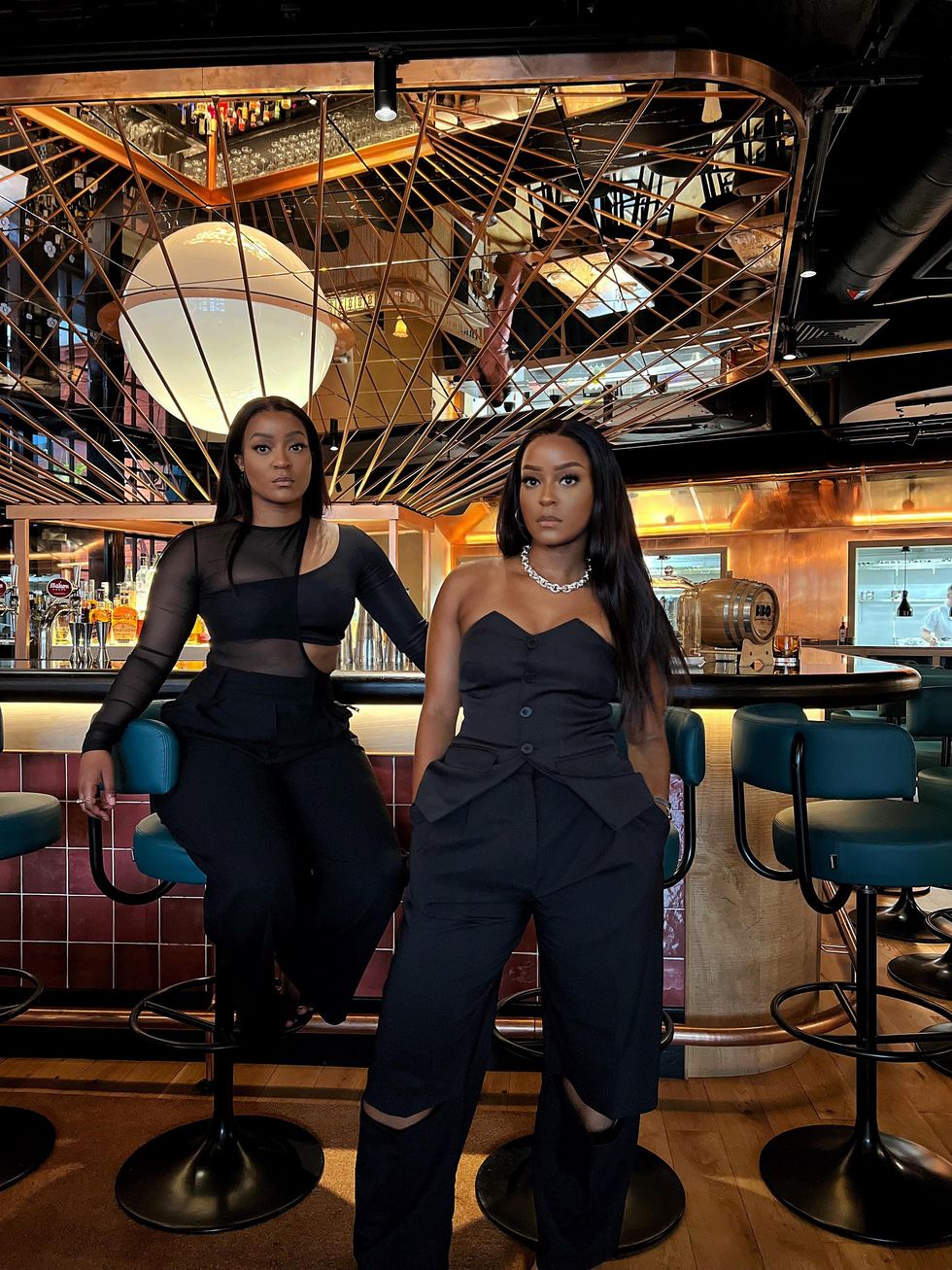 Courtesy of May and Mel
One way that May and Mel like to keep things sexy and cozy during the winter months is by introducing form-fitted items to accompany more oversized outwear. "If you follow our accounts you know we love a knitted midi bodycon; it is sexy, cozy, and classy. Playing with shapes, especially oversized outerwear, and fitted innerwear is an absolute favorite in the colder months. For instance, an oversized blazer paired with a tank or crop top and bottoms gives sexy and shows off your shape, whilst keeping you warm."
When it comes to UK winter fashion, there's a mix of classic staples and throwback items seen on the streets every day. Keep scrolling to read what's trending in London this season according to these ready-to-wear experts.
1. Shearling-Lined Jackets
Perfect for below-zero temperatures, I saw this cozy suede coat all over London. From street style to my Instagram feeds, this is one of the stylish winter items that look just as good as it feels warm.
2. Denim Corsets
The fashion girls love to layer and what better way to stay chic than with a denim corset as the final addition to a day or nighttime look? May and Mel suggest, "Corset tops with denim or cargos (or denim cargos). Still very Y2K, these are fun and look uber-feminine, paired with heels. Styling trick for our pears: try a corset with vertical stripes to help elongate your frame and lift the bust to give you a fuller-busted appearance."
While fashionistas may have ditched this look opting to stay warm during the day, it's still a sexy staple for date night or out for drinks with the girls.
3. Tracksuits
Tracksuits are the cozy co-ord sets that are worn best with sneakers and a puffer coat. The key to surviving the below-freezing temperatures while boarding the London Underground or walking along Oxford street, this is the go-to daytime look to stay warm and cozy while out and about.
4. Longline Wool Coats
​One of my favorite winter staples is a longline coat, transforming a subtle casual look into a major statement. May and Mel explain, "Londoners are great at taking simple and classic items and elevating them with trendy pieces like chunky knee-high boots or cargo pants." They continue, "For pears, we'd recommend a belted wool coat which is uber chic and flattering, creating a balanced proportion between the shoulders and the hips, emphasizing your cinched-in waist."
5. Headphones
The epitome of early 2000's style, headphones are officially one of my favorite accessory trends of 2022-2023. Reinvigorated by Gen Z, headphones are no longer for just listening to music but have been adopted as part of the latest London cool girl aesthetic. Specifically, Apple's AirPod Max has seemingly replaced ear muffs as the cozy girls' fashionable attempt to stay warm and antisocial.
6. Cargo Pants
The utilitarian trend can be spotted absolutely everywhere, reinforcing the oversized cozy look that is taking over the streets of London. Dressing the pants style up or down, the versatility is endless. "We're obsessed just like every other fashion lover and most of London. Easily one of the biggest trends of the year, you can't help but see them everywhere you go," states May and Mel. "These are just too comfortable and cool not to own. We bought a pair from Local European that we love and wish we could live in them as they fit so well with their cinch-able waistband."
7. Chunky Knit Sweater
Oversized knits are a necessity when bracing for winter London weather. With negative temperatures, the only way to stylishly embrace the cold is by layering cute and functional items. "This is an absolute staple in all Londoners' wardrobes. We've seen a lot of bold and jumper-style knitwear this winter, alongside classics like turtlenecks," says May and Mel. "This sweater style is the perfect addition to statement pants layered with a heavy-duty coat, running sneakers, and a crossbody bag. "We love a chunky knit, great for adding volume on the upper body; especially bright and textured knits like patterned fleeces," they add.
8. Knit Dresses
Knit maxi dresses are the perfect balance of sexy, chic, and cozy. "We've seen lots of knit dresses; as they're so easy, versatile, and chic. A winter staple, these dresses are perfect for any event, day to night, and suit everyone." May and Mel continue, "For our fellow pears, we recommend styles that are belted at the waist or patterned on the top half. This is to draw attention to your smallest part and show off your curves."
Let's make things inbox official! Sign up for the xoNecole newsletter for daily love, wellness, career, and exclusive content delivered straight to your inbox.
Featured image courtesy of May and Mel
With the holidays being the busiest time of year for the travel industry, there's even more incentive to strategize your vacation wear as you jet-set from one destination to the next. As a fashion stylist and reformed over-packer, when it comes to travel, both planning and packing can be two of the most stressful aspects of every trip. Whether preparing for a week-long excursion across the country or galavanting abroad, it's best to lighten your load by bringing vacation-worthy looks that are not only essential but versatile enough for multiple combinations to wear throughout your trip.
Winter travel brings challenges of its own when visiting colder parts of the world. Unlike summer vacation, cold weather means bulky coats, oversized knits, and chunky boots that take up a lot more space in your suitcase. For my recent trip to London, to alleviate the stress of packing and overweight baggage fees, I prepared in advance with a try-on haul of what I planned to wear each day of my trip. From shoes to accessories and bags, I captured a photo to reference each look while on vacation. Staying comfy, cozy, and chic was my main priority and I wanted to achieve that goal with the least amount of clothes possible.
Making a mental note of necessary items ranging from sneakers, boots, and coats to matching sets, I narrowed my options to one of each style that would complement the few statement pieces I purchased for my trip. In the end, I opted for five neutral-toned staples I could rotate from day to night throughout the week.
Keep scrolling to see the five minimal items that maximized my winter London looks.
Featured image by Shahirah Ahmed/xoNecole
New Year's Eve is a night filled with jeweled tones, sequins, and good energy. Your zodiac sign in Astrology has a unique fashion blueprint, and the style that you resonate with most often has something to do with your sun, rising, or Venus sign. When it comes to New Year's Eve, it's a night when you are ready to celebrate. It's a time when you are letting go of one cycle, and about to prepare for another. Some signs may prefer to stay in on a night like this and reflect on all this year has taught them and do their new year's rituals. (I'm looking at you homebodies: Cancer, Virgo, and Taurus.) Other signs prepare for this day months in advance, and that includes what they will be wearing.
Fire signs may or may not do New Year's Eve the best. From the festivities to the fashion, to the excitement for it all; you definitely want to go shopping with a fire sign or plan a night out with one. We also can't forget that New Year's Eve happens during Capricorn Season, and this is their time to shine as well and put on their best suit. This year when it comes to fashion, we have seen old trends come back such as long gloves and tall boots, and on a day like NYE, the classic and timeless little black dress is a moment as well. You will find many Sagittarius' in bright colors, Aries in black, and Libra in gold.
Your zodiac sign is an expression of yourself and who you are, and New Year's Eve is a night when you are shining in your unique style but with a little flare.
Featured image by Dimitrios Kambouris/Getty Images for The Gotham Film & Media Institute
In many cultures, going to grandma's house for the holidays has always been the thing to do. But as we get older, things change. We move to new cities, start our own families, and our grandparents may no longer be around, so our homes may now be the holiday destination for extended family. However, playing host can be a hassle, especially during the holidays when your home becomes your family and friends' home for a short period. And if this is your first year hosting the holidays at your place, you can be in for a rude awakening if you don't make the necessary preparations beforehand.
We spoke to NYC-based experience curator and owner of POP! by Yaz, Yasmin "Yaz" Quiles to help guide first-timers. According to Yasmin, an experience curator is "someone who not only focuses on an actual event but the entire experience and that can mean anything from the first point of contact, things from an invitation, a website, all the way to the end and after effects."
If you are hosting the holidays in your home, it is important to touch on all of these points so that way your guests can have an experience to remember. Here are the steps to successfully host family and friends for the holidays.
1

.

Plan and Organize:
Before people start showing up to your house, you must plan out what you need and for how many people. It's also a great time to be creative. "The first part is the dream part because it's the fun part. What do I envision my event to look like? What do I want my people to feel when they come to my space? Ask all of the questions for the first point of contact," says Yasmin. "What kind of invitation [am I using?] Who am I inviting? What kind of music are we listening to? The food. So, you start thinking about what the vision is, and then after the dreaming, you organize your thoughts."
That includes putting together a budget. "See what you have access to, what you need help with, and what you may need to outsource," she advises. Meaning, this is the time to decide if you and your family will be cooking or if everyone will chip in to get dinner catered.
2

.

Repurpose Your Items: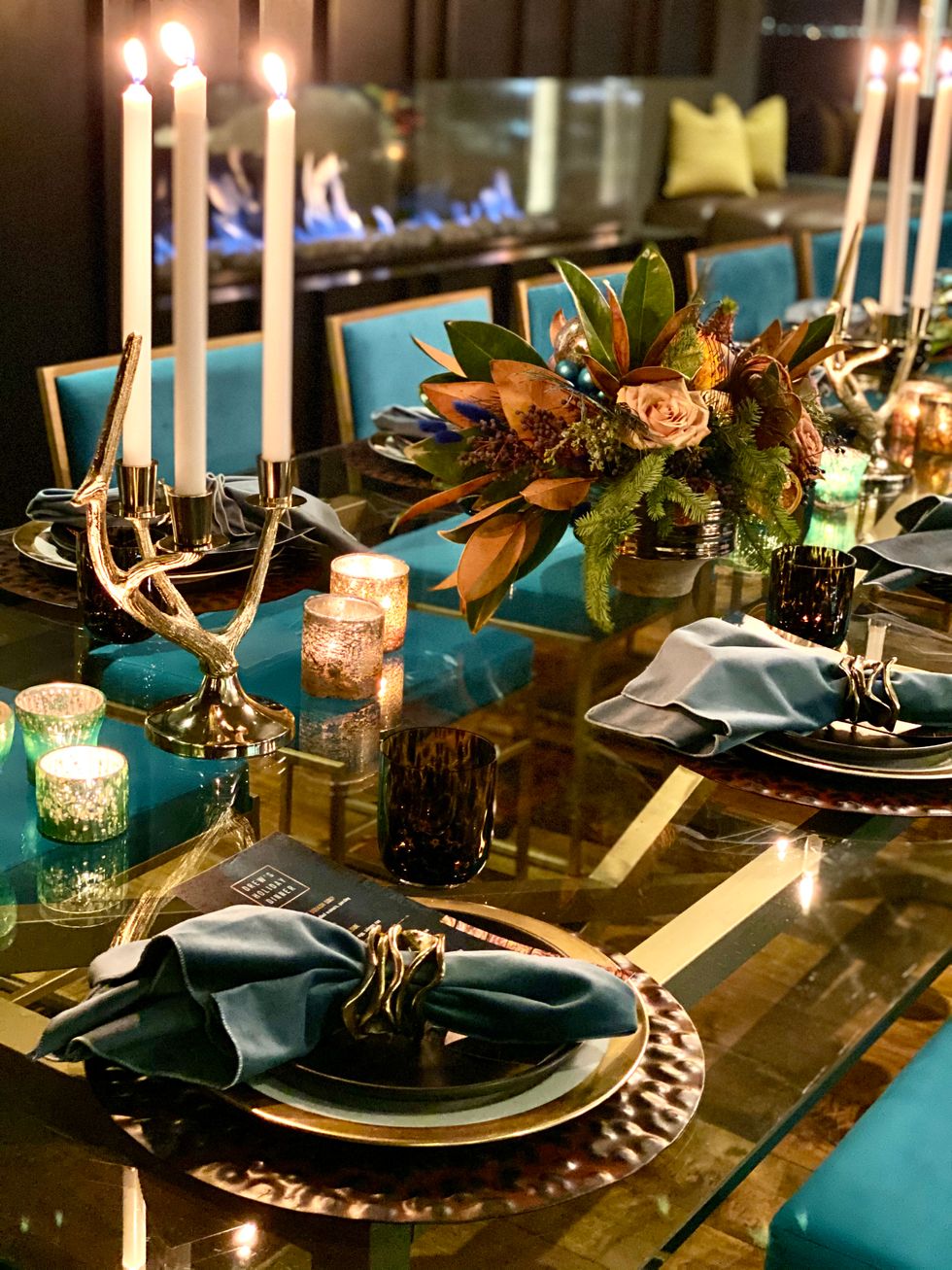 Photo courtesy of Yasmin Quiles
As you continue to plan and organize, it's important to take stock of what you already have at home. This can also help you stay within budget. If you have a limited budget then start thinking about how to utilize what you already have in a innovative way.
"I also like to start with inventory. What [are] items in your house that you can use? That way you can determine what it is that you have to get," she suggests. "I feel like a lot of people always put together a list and it's always 'buy, buy, buy, buy,' versus 'oh, wait a minute, I actually do have some things that I can utilize and I can just use it in a different way.'"
For example, "Utilizing a console as a small bar area or creating fake fireplaces. I think there are ways to use items in your space so that you don't have to continue to fill it up with new things."
3

.

Make Your Guests Feel Like They Are at Home:
Ever heard the saying, "mi casa es su casa?" You want your space to make guests feel like a home away from home and having a cozy place to sleep plays a major part in that. Be realistic about how many people you can fit comfortably in your home. "Figure out how much space you have in your house and how many people you can truly accommodate," she says. "What that means is even if you have a two-bedroom apartment, what are some creative ways you can create some space for them? Is it an air mattress or is it getting a hotel that is close to you; Airbnb's?"
You also want to provide your guests with the necessary accouterments and the gift of convenience. If you have certain rituals in your home, you want to make sure your guests can also participate in them. "What I love to do with my guests, I always love to make them feel like they're at home even when they are not, so I like to replicate the things I love in a hotel room. In our house we take off our shoes so we always have disposable slippers here that people can slide on or brand new socks in a basket," she explains. "That way they can feel immediately comfortable the moment they pass the threshold in your house."
"And in the bathroom or if there's a powder room, I like to put together a little welcome basket and it can be something as simple as here's your towel, here's your washcloth, all the little toiletries you may need," she adds. "I give them their own little stash, that way they don't feel like they're burdening me by asking, 'oh, do you have q-tips' or whatever it is. It's all already set up there for them and it makes them feel so welcome and thought of."
4

.

Food and Entertainment: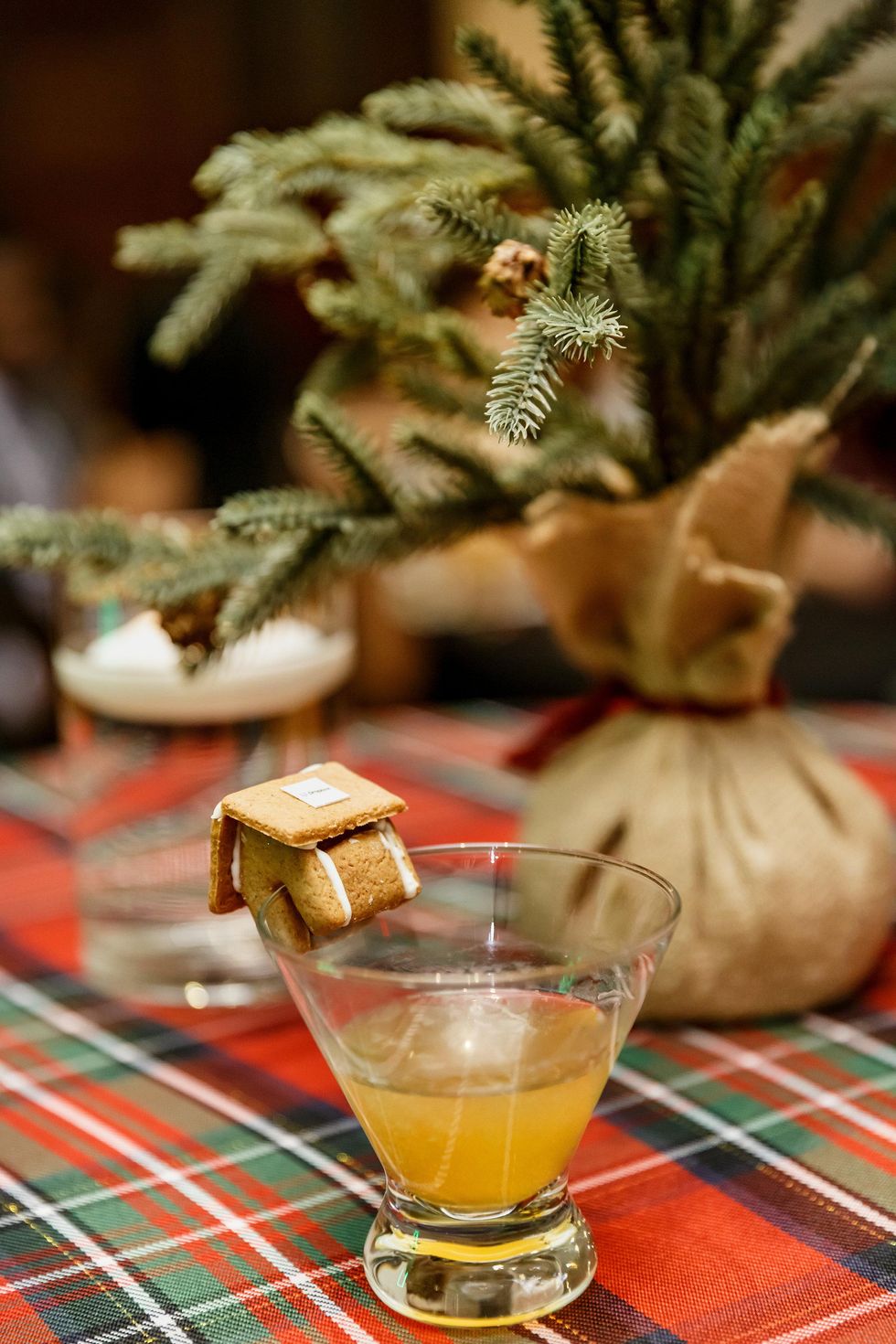 Photo courtesy of Yasmin Quiles
Along with welcome baskets, the Afro-Latina entrepreneur also enjoys putting lists together with a few of her recommendations. Think, welcome lists you receive at hotels and Airbnb. "I'll put together a short list of my favorite restaurants, my favorite channels or shows to watch that way they can be entertained while I'm doing other things," she says.
The holidays involve a lot of cooking and so going out to eat may not be an option. But neither is eating mac and cheese, collard greens, and ham all day, every day. So, it's best to provide options for your guests. "When people go to other people's homes, they really want the house experience so eating out is great, it's fine, but I think it really makes people happy when immediately there at home at your house," explains Yasmin.
"What I like to do is immediately have an assortment of snacks available and that means everything from the folks that are on a diet to folks who want to indulge and have a little bit of everything. That way we have a good selection. And [I like to have] things that can be left out for a couple of days as well so I'm thinking pre-packaged items that way [they can] 'grab and go.'"
5

.

Activities:
When having guests stay over for a few days, you should want to do more than just stay in and look at each other the whole time. Similarly to the way Yasmin advises providing a list of recommendations for eating out and indoor entertainment for guests, she suggests providing guests with a list of favorite stores or favorite markets with recommendations of what to buy.
This can also be a great time to show your guests where you live by going on walks or a scenic drive. "A lot of times these holiday celebrations happen when we are in the midst of planning and doing things and doing all the last-minute errands. Another thing I like to do is photo albums, people love photo albums."
Yasmin recommends having a physical photo album that you and your guests can look through or a digital frame such as Aura Frames that holds photos online that you can continue to add to.
6

.

Music:
What's left is providing the ambiance. One of the many ways that people do this is by having a playlist. Creating a playlist is fun but can also be time-consuming. Not only do you have to add your auntie's favorite Christmas song to the playlist but you may also want to take a trip down memory lane with your siblings and jam to a throwback from your childhood. Yasmin reveals a solution, which she refers to as an "elevated" experience.
"You can hire a DJ. They can do a set on Twitch," Yasmin says. "There's a chatroom function so you can put it on your TV, so all the guests who are there can listen to the music live but if there are guests who can't make it for whatever reason, they can tune in and participate via the chat."
The experience curator also suggests having a quiet space for those who are more introverted or need a break from the loud music and crowd.
7

.

The Breakdown:
Whether you and your family decide to cook together or hire a caterer, cleaning up after a big event is always a buzz kill. Yasmin recommends outsourcing help as a way to enjoy yourself and not worry about the aftermath. "Clean up can be a big hassle. It is okay to get a cleaning team. It is okay to hire a bartender. It is okay to hire anybody who can make your job easier," she assures.
"The point of these events really is to connect and I feel we get so caught up in the doing that we forget that and the party ends and we're like 'dang, I didn't get to have a conversation with my best girlfriend who I haven't seen in six months.' Give yourself permission to outsource so that you can have a good time."
For more information about Yasmin, you can visit her website at yazquiles.com and follow her on Instagram @popbyyaz.
Let's make things inbox official! Sign up for the xoNecole newsletter for daily love, wellness, career, and exclusive content delivered straight to your inbox.

Feature image courtesy of Yasmin Quiles
From Downtown to Santa Monica, Los Angeles is known for its laid-back nature, oftentimes overlooked as one of the most fashion-forward cities in the world. Because of the effortless approach to everyday streetwear, the city is often underestimated when it comes to the early adaptation of trends wearing outerwear, knits, and accessories that have proven to be breakout hits of the season. It's always a good idea to look at what some of LA's most fashionable people are wearing, as they often set the tone for sporting pieces before they become mainstream must-haves. LA's fresh take on ready-to-wear is in a genre of its own, defining the iconic west coast aesthetic.
Since 2021, fashionistas have been stepping out in a variety of wardrobe staples that are both fresh and modern but with a vintage feel. With clear sunny skies and 365 days of close-to-perfect weather, practicality and comfort encourage creative yet casual combinations when it comes to winter fashion.
Some of the leading trends include statement pieces that stray from typical fall classics but remain grounded in practicality. Oversized moto jackets and lengthy maxi skirts are all familiar fall fashions but the updated silhouettes feel excitingly new and current. Winter accessories like oversized fur hats make a statement yet, a cozy alternative to the subtle baseball caps that trended this summer.
There are so many options to wear this season, and as always I'm inspired by the most fashionable women in my city. For inspiration on how to broaden your wardrobe this season, check out the most underrated items taking over LA.
Featured image byCourtesy of @_chaantall/Instagram
'Tis the season for fashion-forward basics and I can't get enough. Closet staples are one of the biggest trends of 2022 and I'm challenging myself to turn a simple wardrobe into a fall uniform made up of everyday essentials that combine comfort, warmth, and style. When it comes to your wardrobe this season, it's what you buy and how you wear it that makes these timeless pieces effortlessly chicer than the rest.
Lately, I've been into a much more minimal aesthetic, however, I love incorporating cool designer items that add even more character to my look. With just a handful of foundational items that are extremely versatile, I believe investing in quality, comfort, and fit can easily elevate simple wardrobe staples for years to come.
Keep scrolling to see how I wear my everyday items that are far from "basic" and key to looking and feeling stylish this fall.
Look 1: White Tee + Wide Leg Trouser + Trench Coat + Chunky Boot + Mini Shopper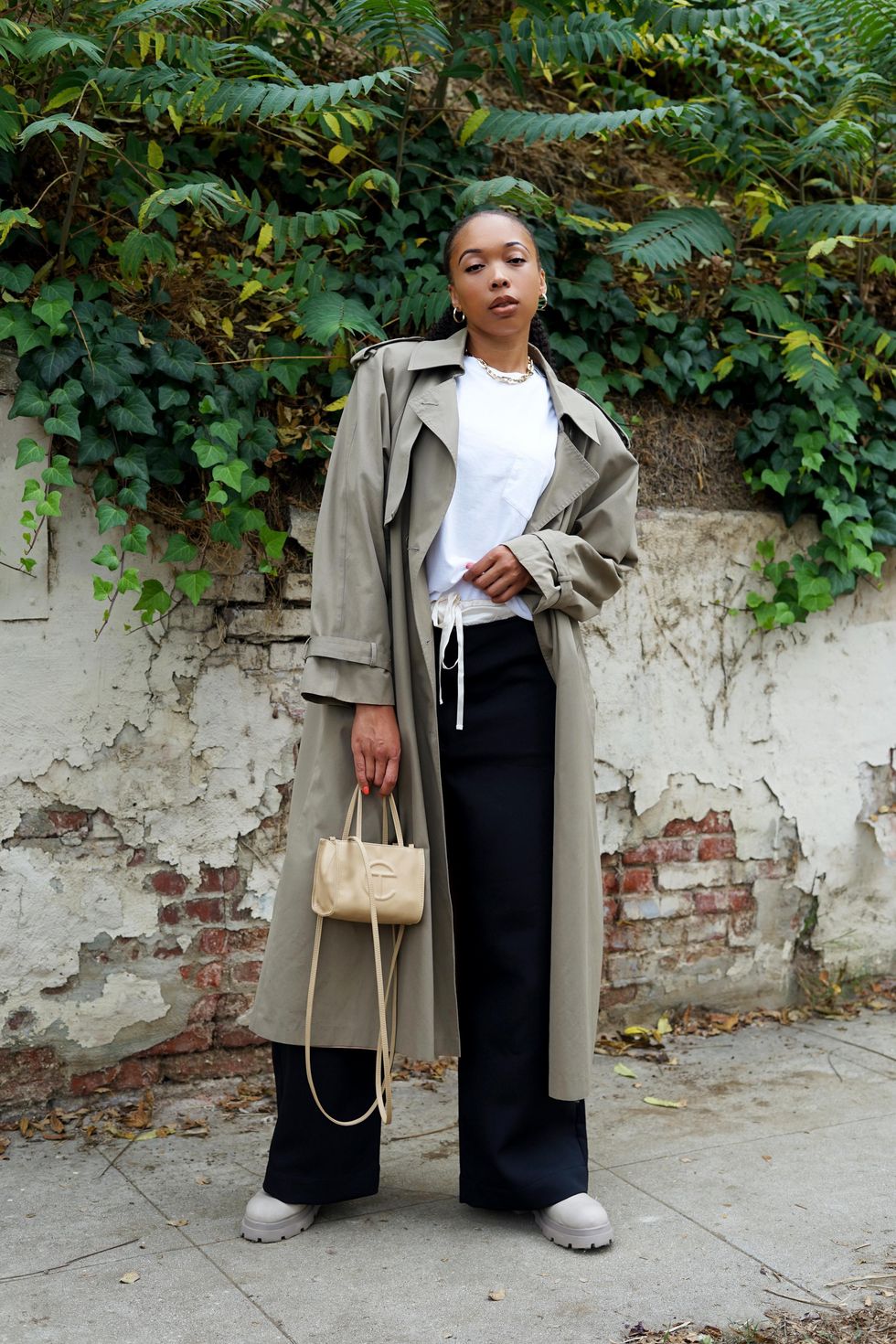 Shahirah Ahmed/xoNecole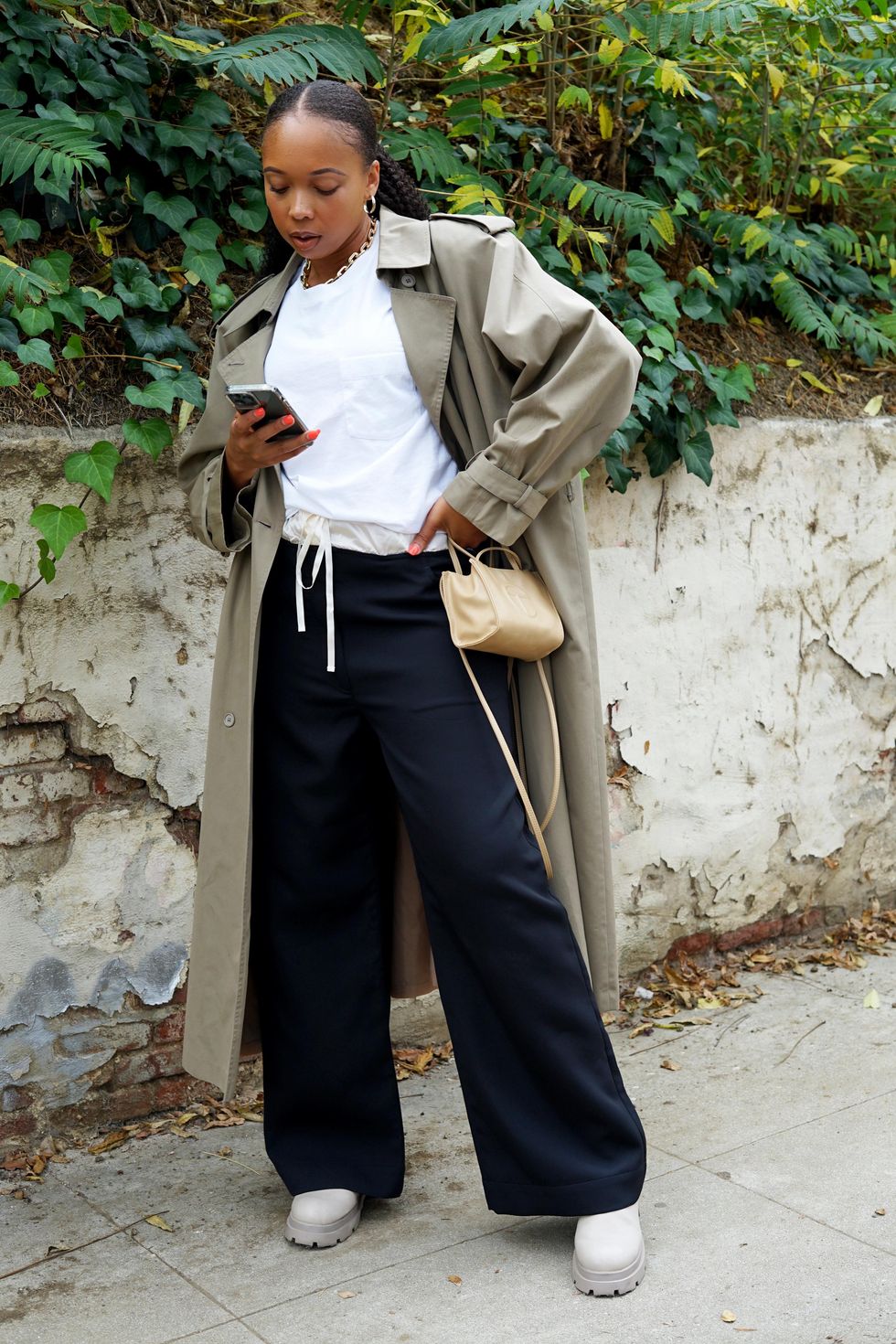 Shahirah Ahmed/xoNecole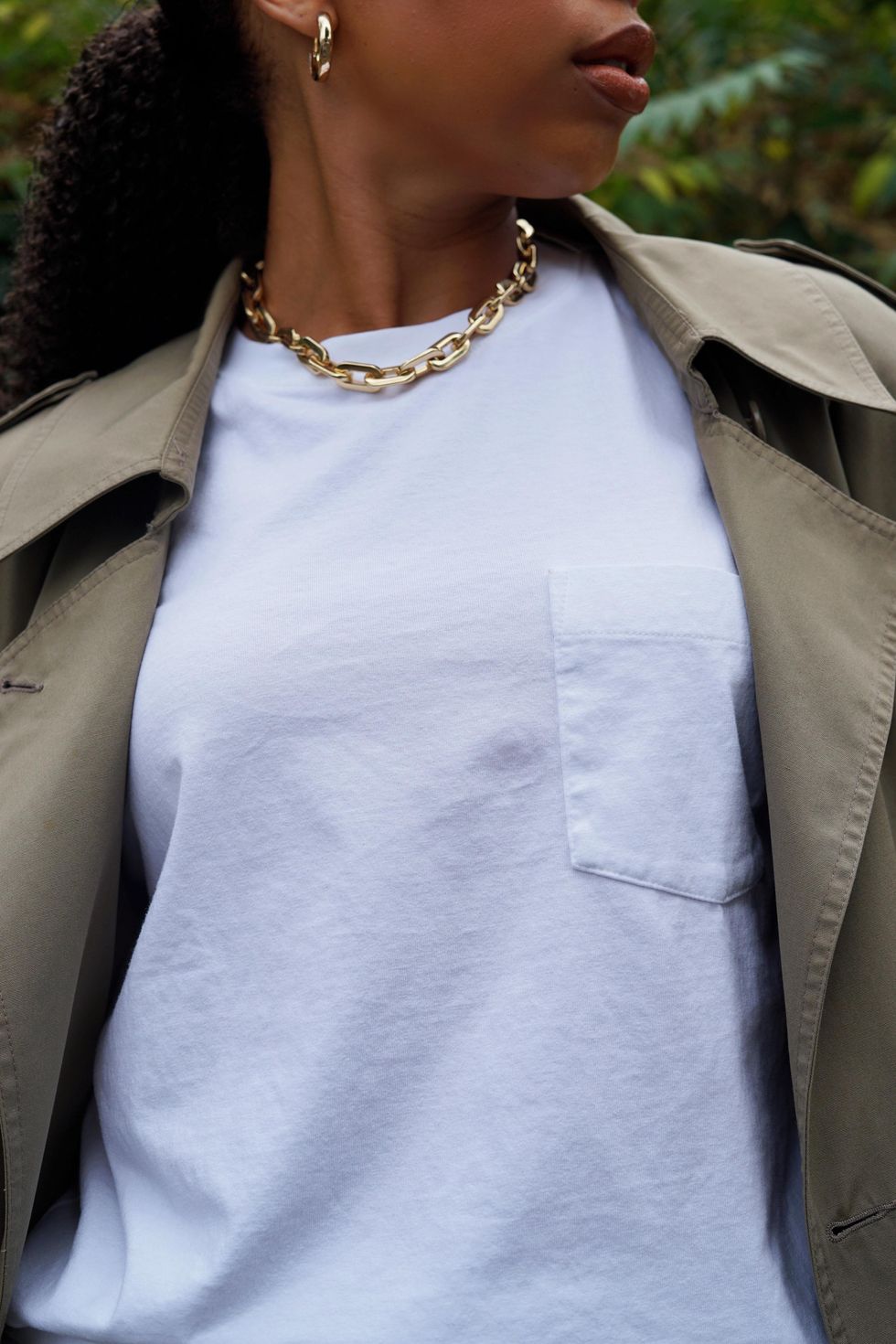 Shahirah Ahmed/xoNecole
Oversized t-shirts have had me in a chokehold as of late, completely taking over as the main staple of my fall uniform. This season, I've been inclined to show less skin and achieve more comfort, challenging myself to create functional and stylish looks to go about my busy day. In addition to oversized tees, I love wide-leg trousers for just about any occasion.
For this look, I paired a men's white t-shirt with these black satin-trimmed wide-leg Acne pants to add a cool approach to this relaxed look. Mixing high-priced items with high-quality basics can elevate a casual outfit instantly. For a wide range of options including this boxy fit, Uniqlo has a fantastic selection of affordable essentials.
Topping off this neutral look with a beige trench coat, chunky boots, and a mini Telfar shopper, I felt like the epitome of comfy chic.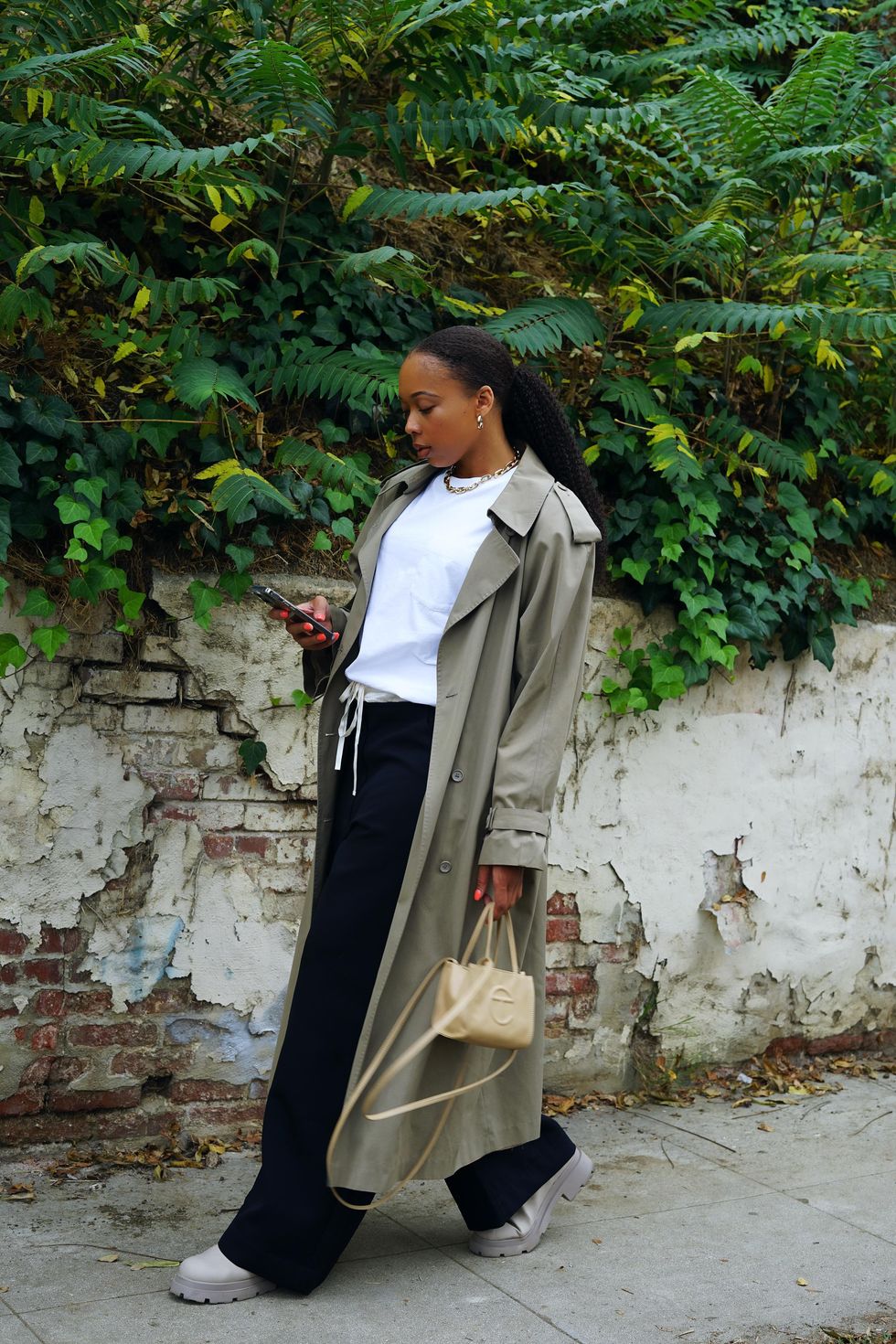 Shahirah Ahmed/xoNecole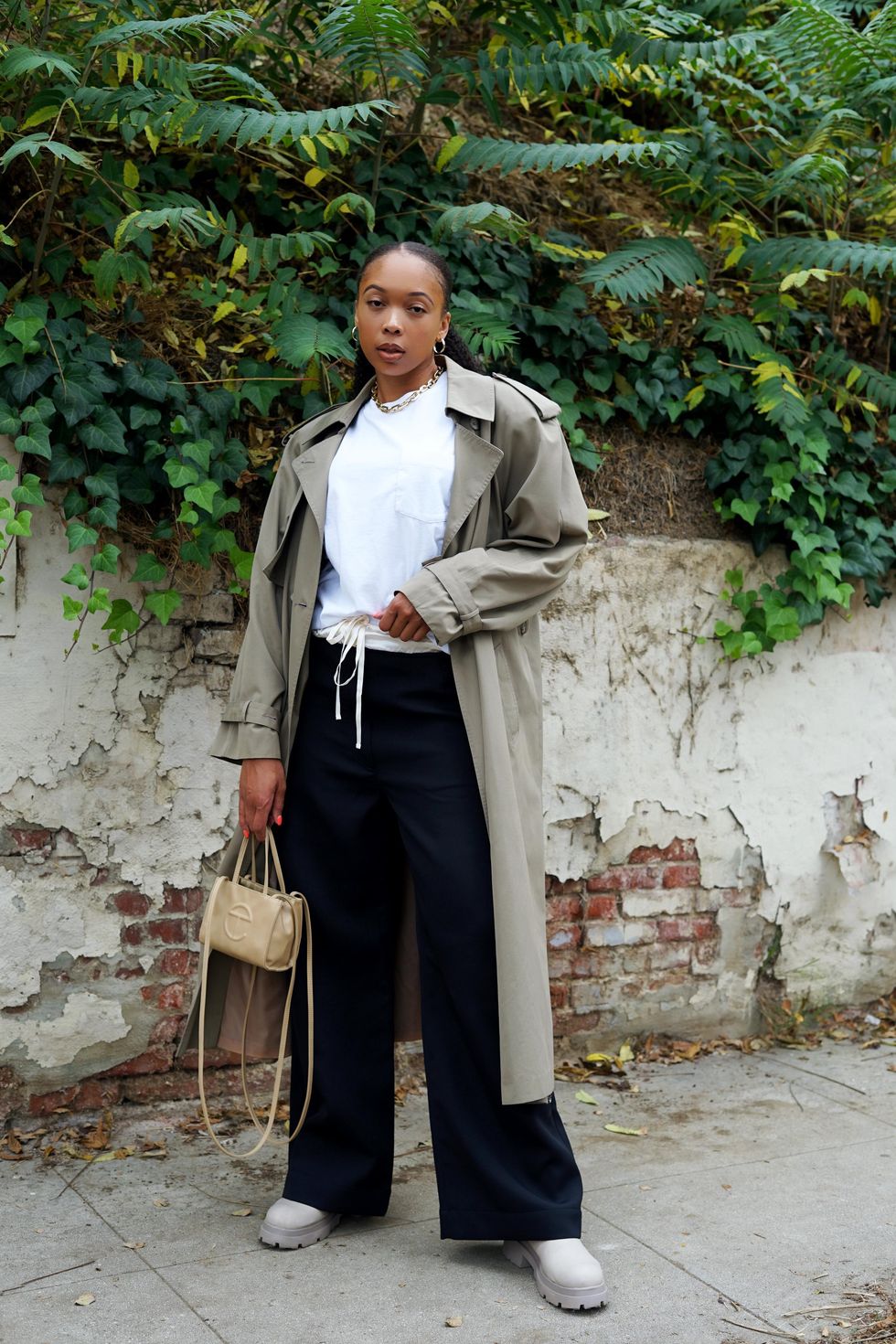 Shahirah Ahmed/xoNecole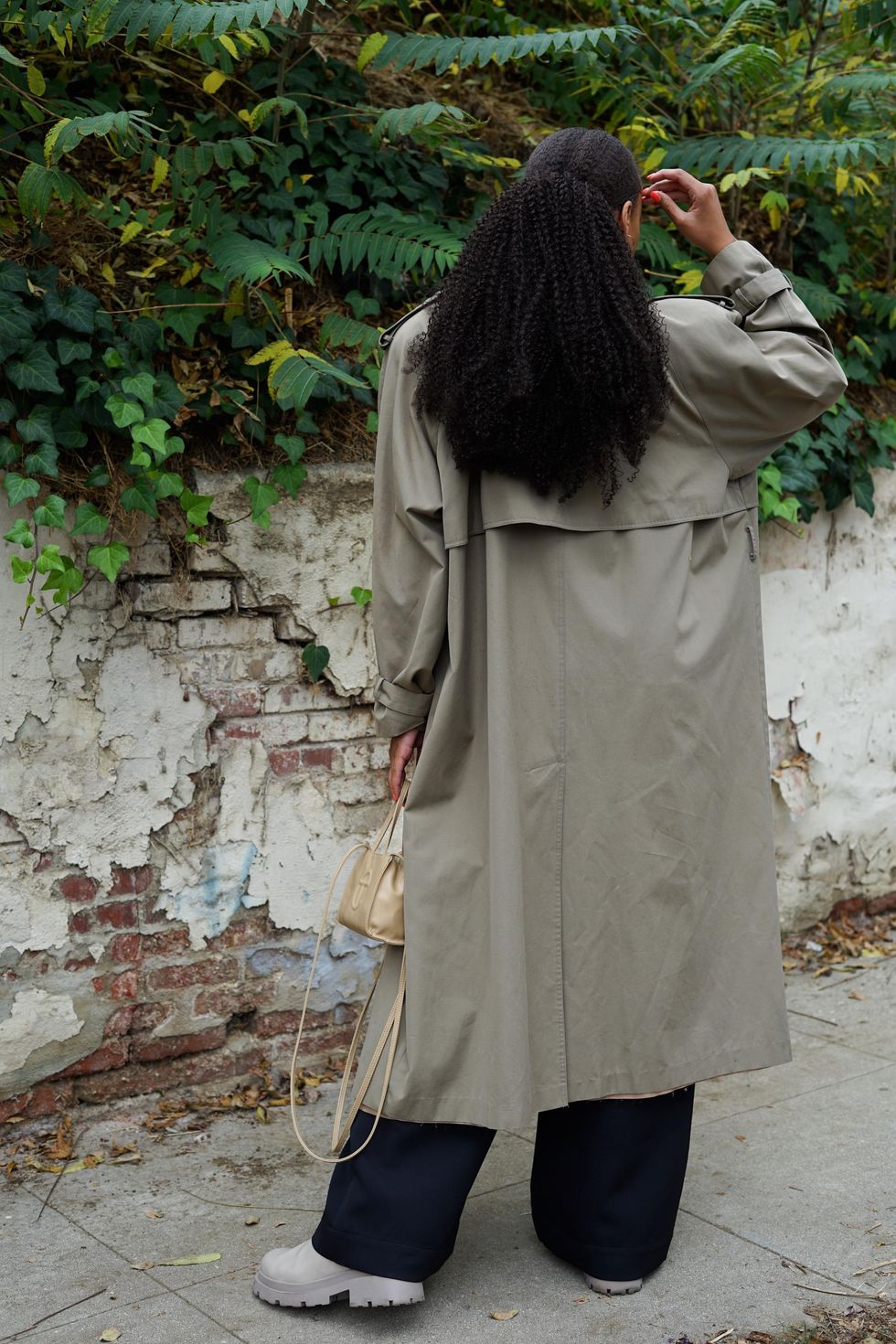 Shahirah Ahmed/xoNecole
Look 2: Ribbed Tank + Denim Jacket + Tennis Skirt + Ankle Boots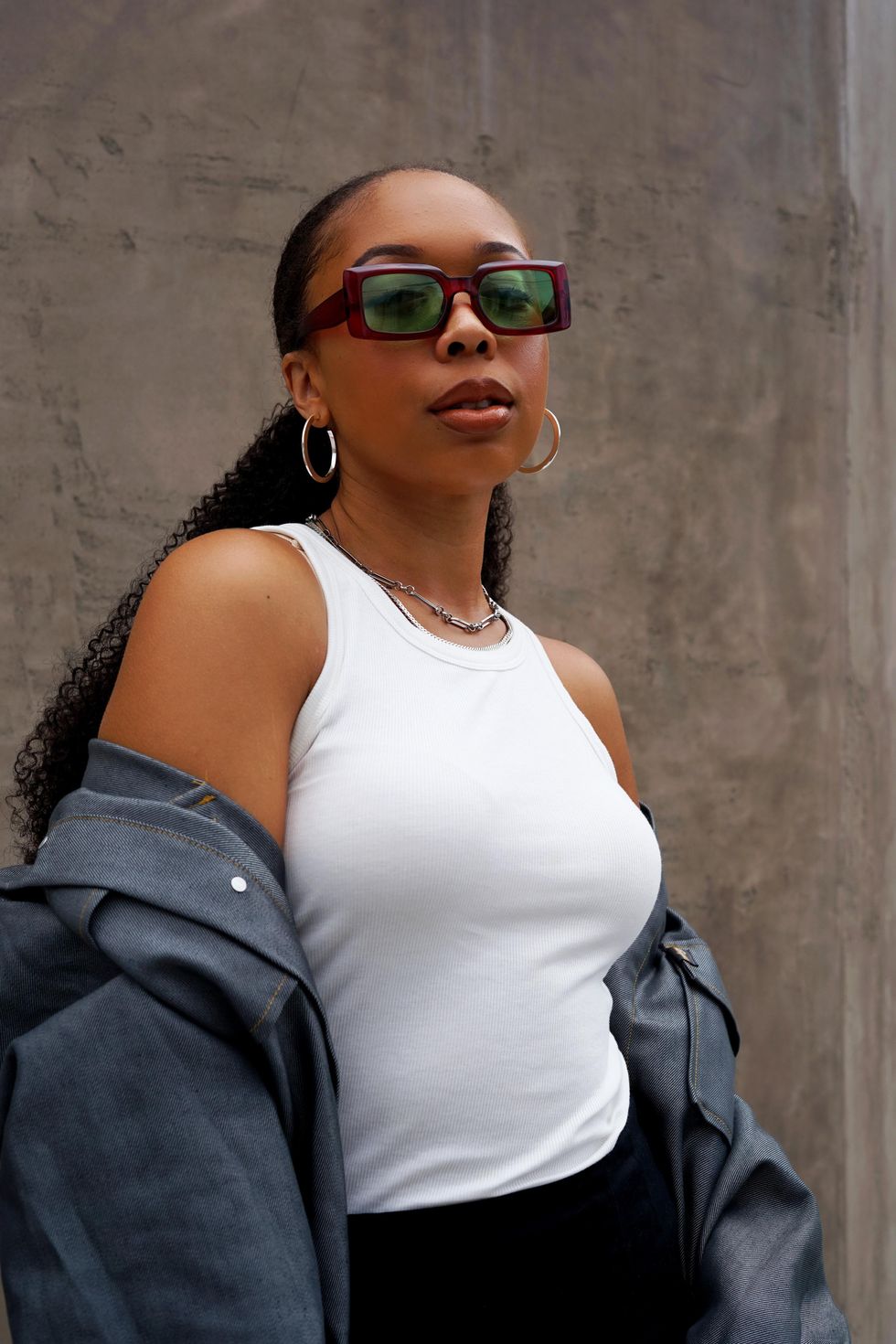 Shahirah Ahmed/xoNecole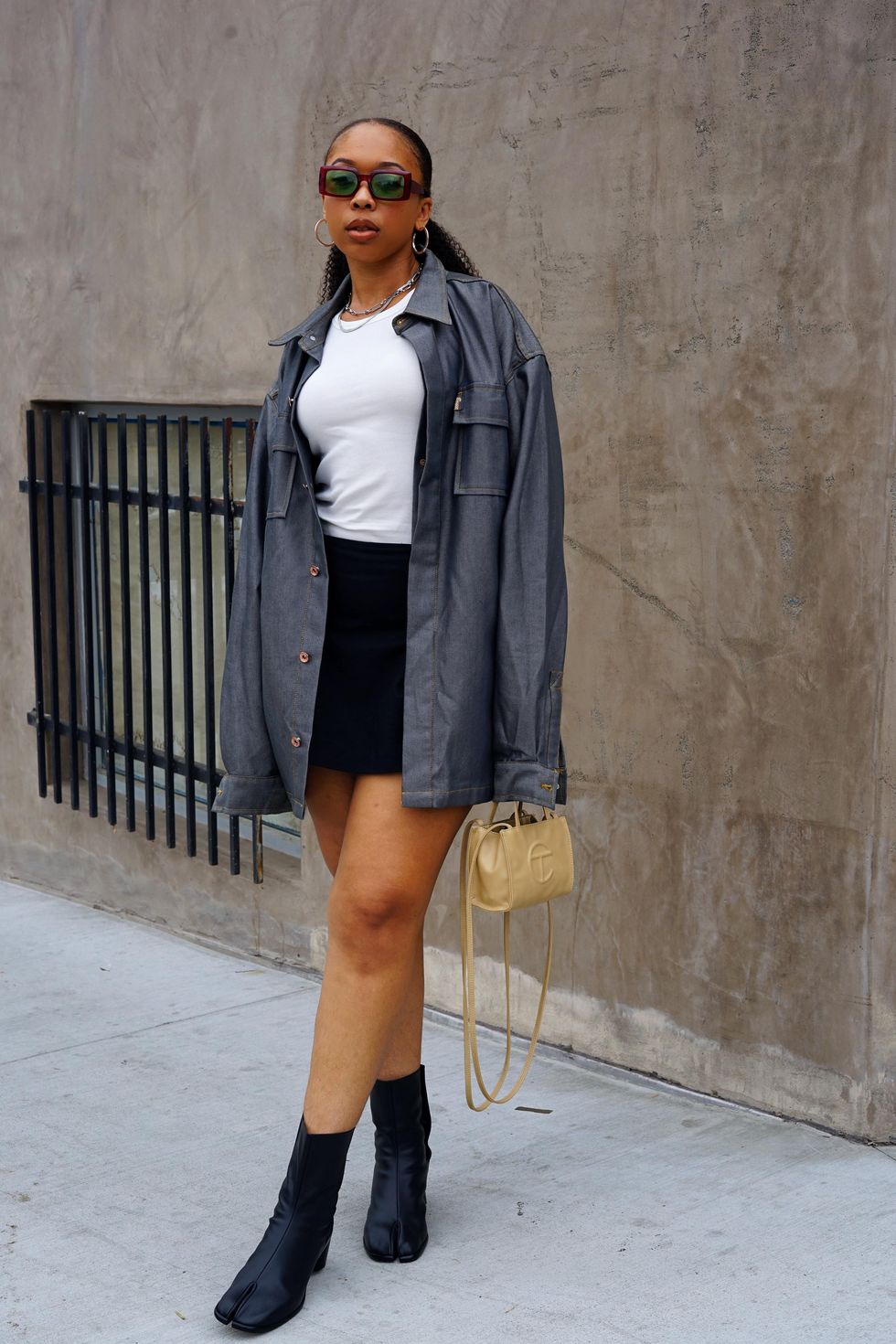 Shahirah Ahmed/xoNecole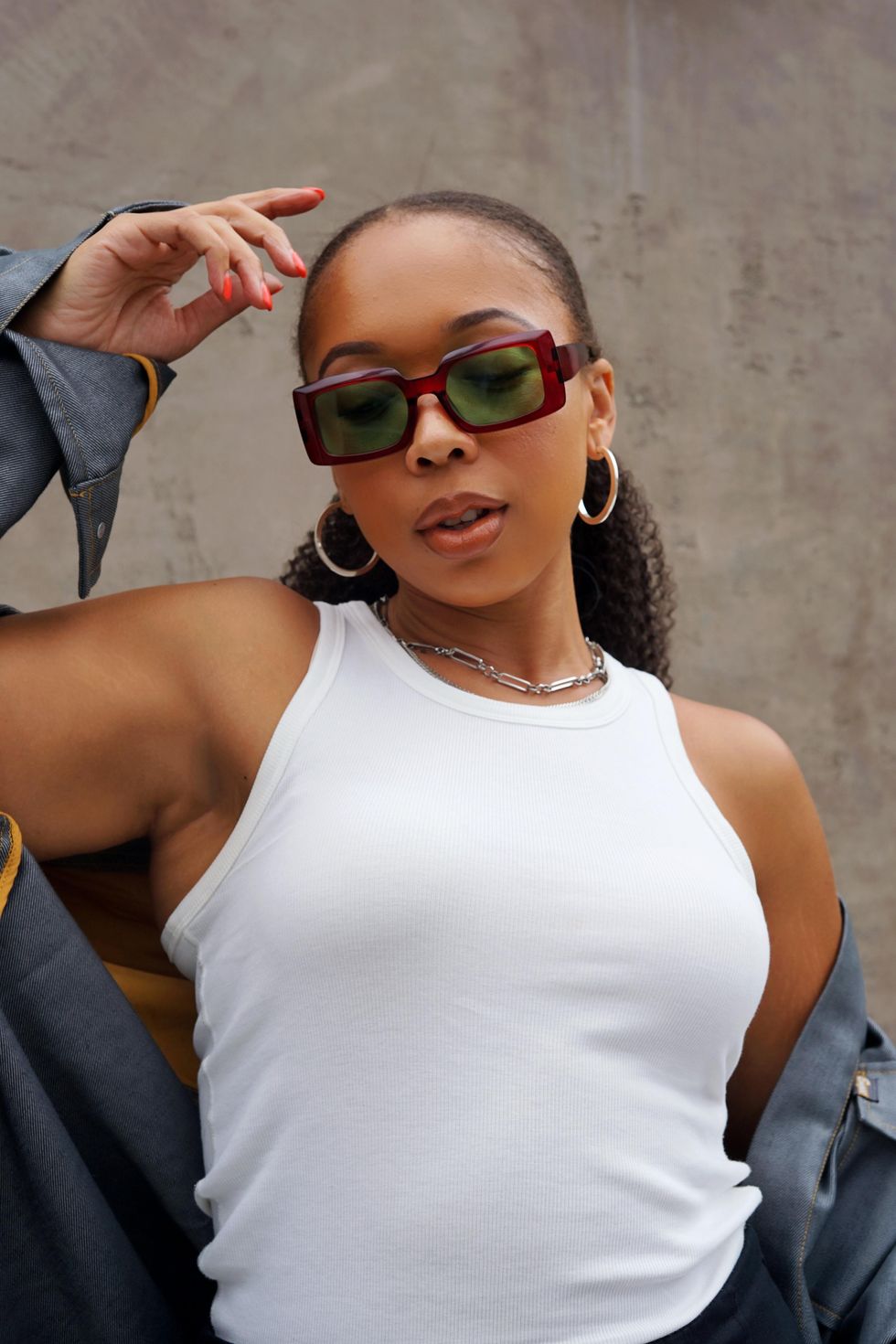 Shahirah Ahmed/xoNecole
A ribbed tank top is another great foundational item to include in your capsule rotation. Perfect to pair underneath lightweight jackets and knits, you can layer with just about anything this fall. I love this tank from COS as it's the perfect fit and length, providing the perfect quality, comfort, and silhouette.
For this weekend look, I paired a black pleated mini skirt along with an oversized unwashed denim jacket to incorporate a couple of the season's trends. Completing this look are the infamous ankle boots by Maison Margiela that are the perfect fashion-forward designer staple.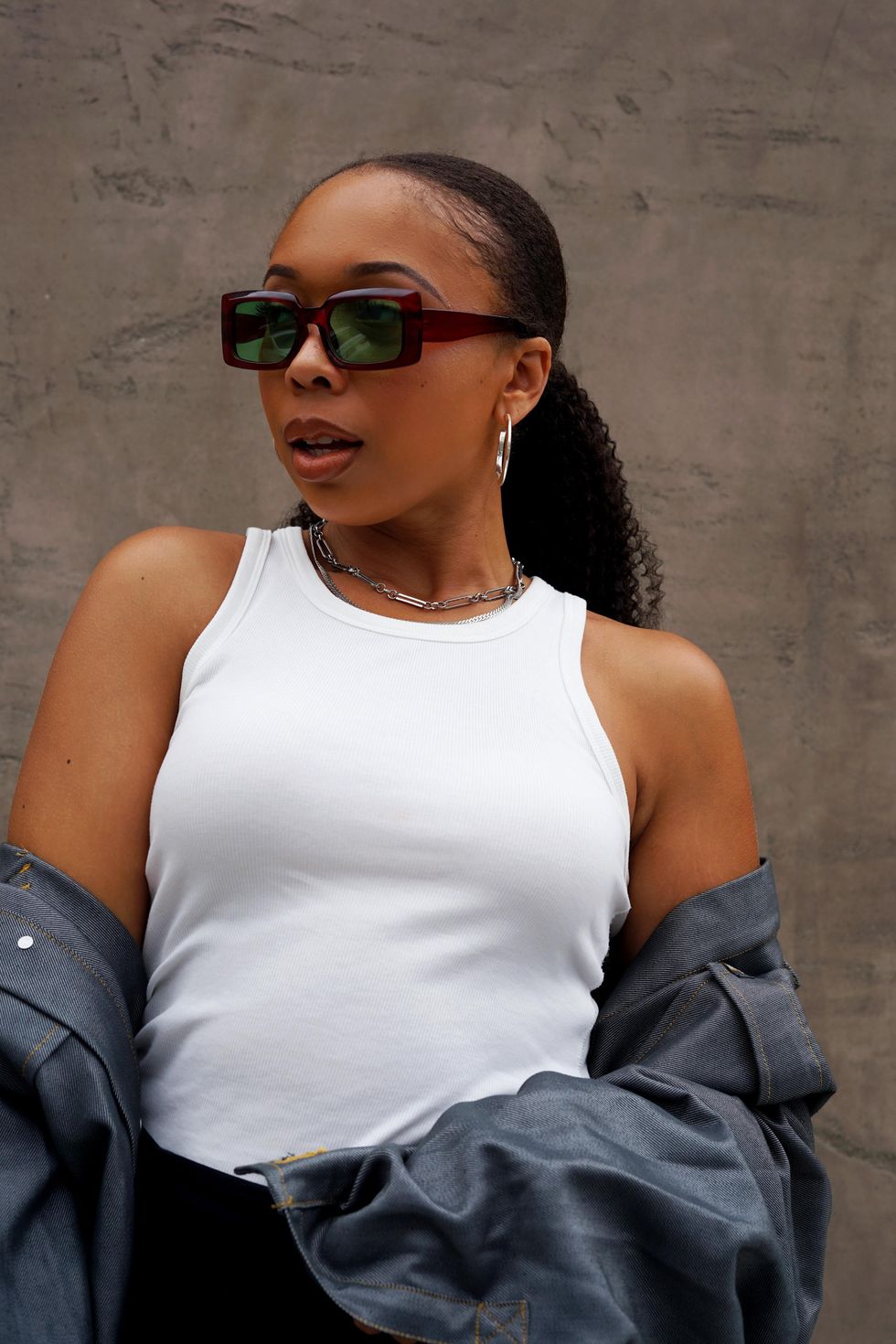 Shahirah Ahmed/xoNecole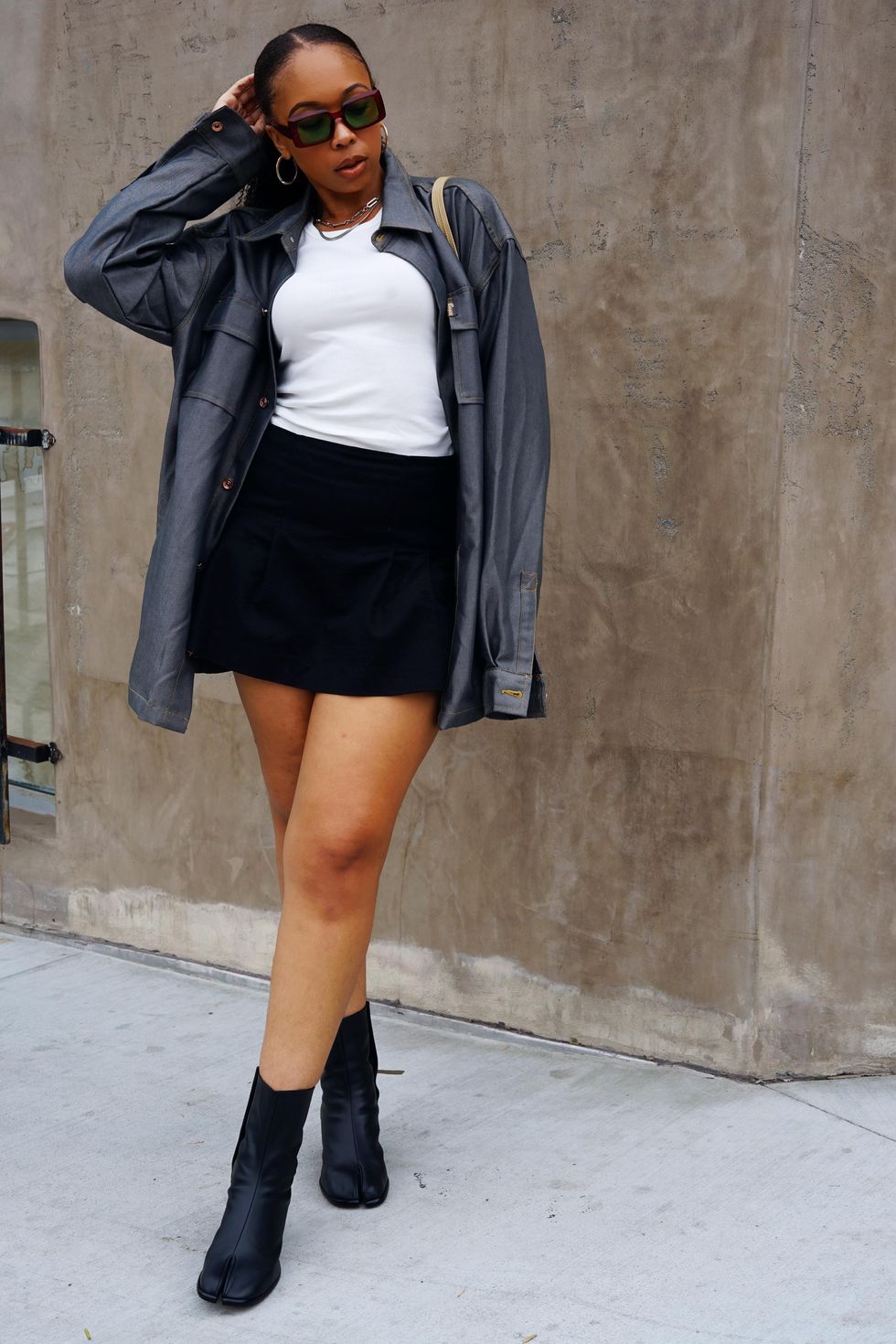 Shahirah Ahmed/xoNecole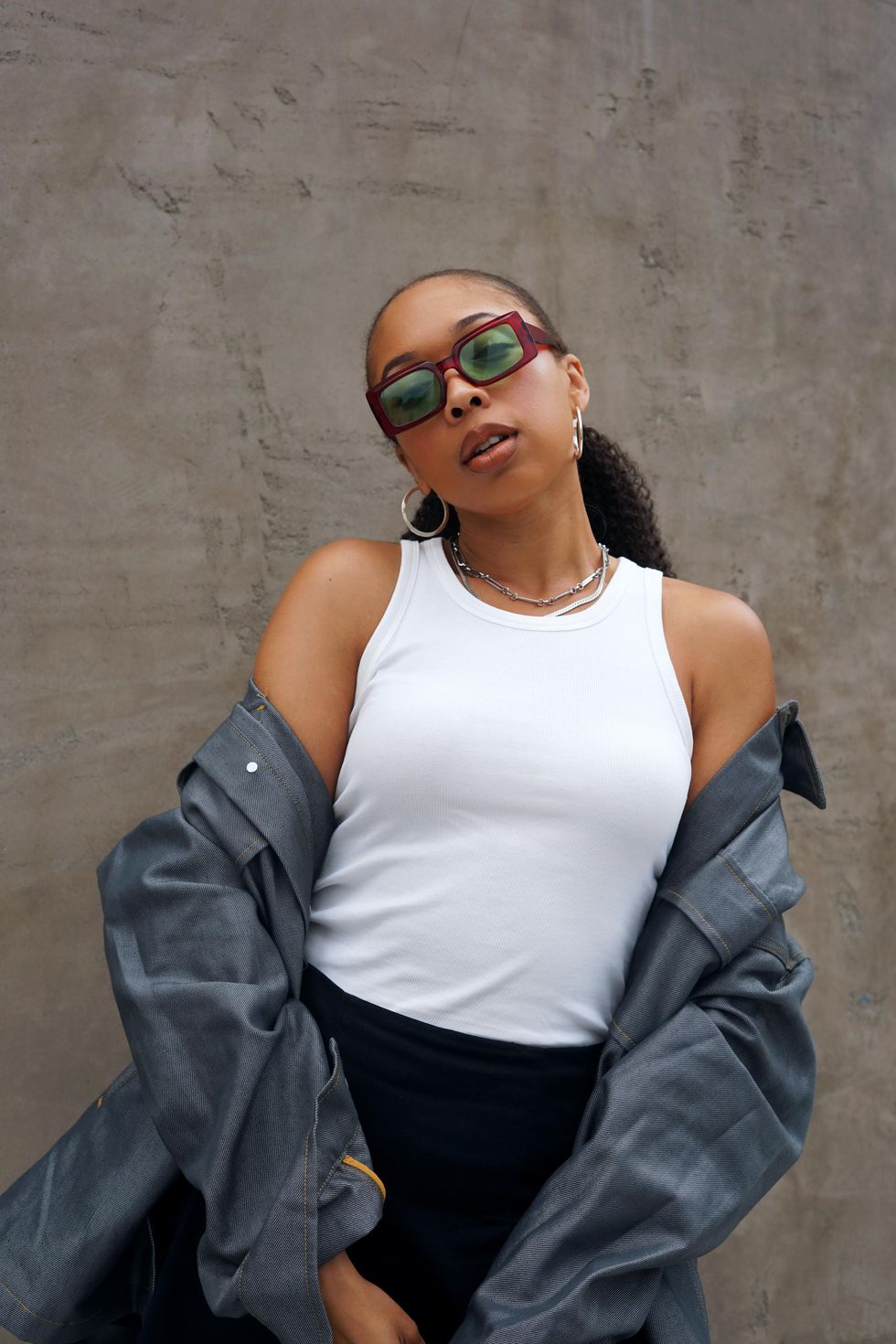 Shahirah Ahmed/xoNecole
Look 3: Cropped Button Down + Fitted Top + Leather Jacket + Pleated Midi Skirt + Knee High Boots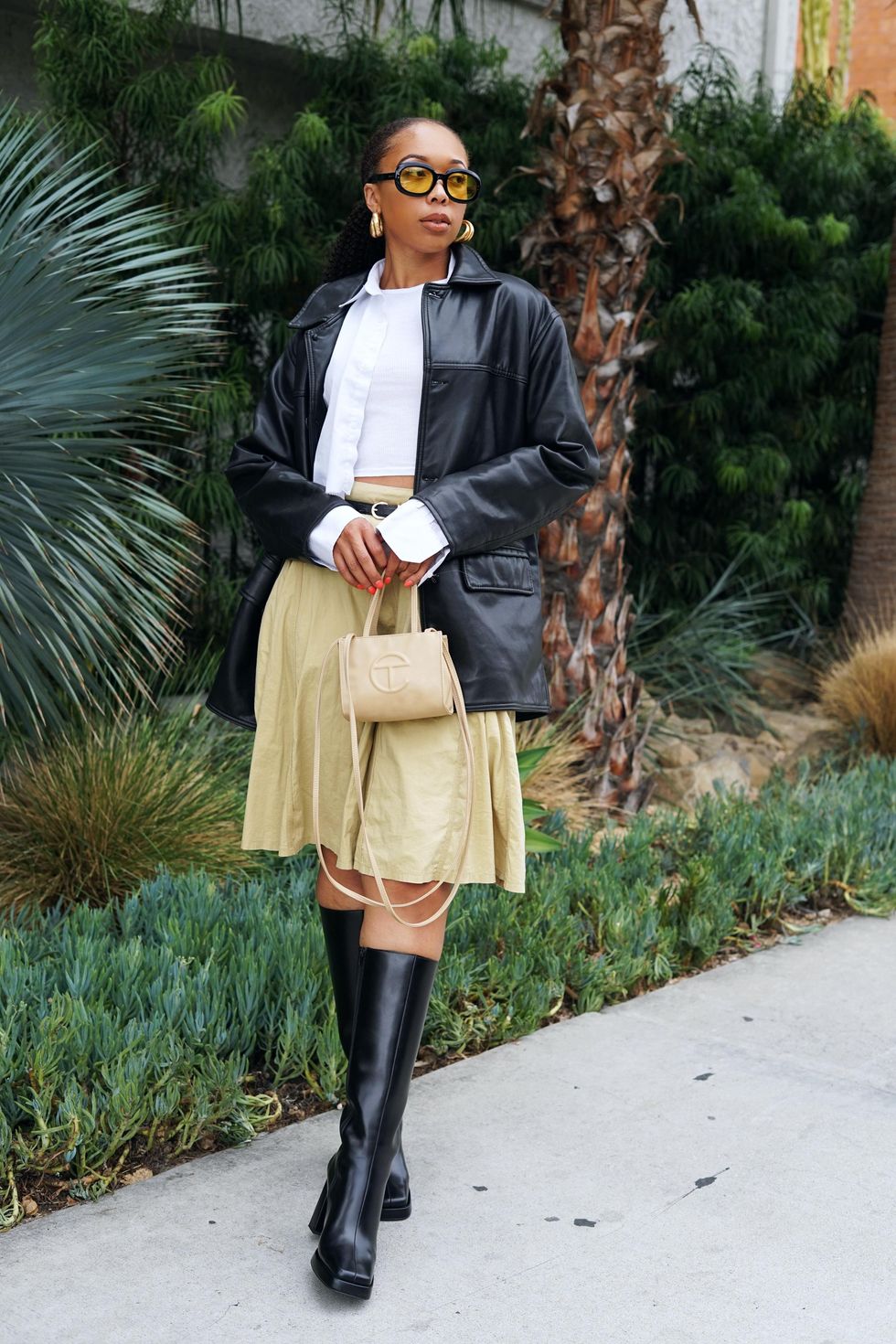 Shahirah Ahmed/xoNecole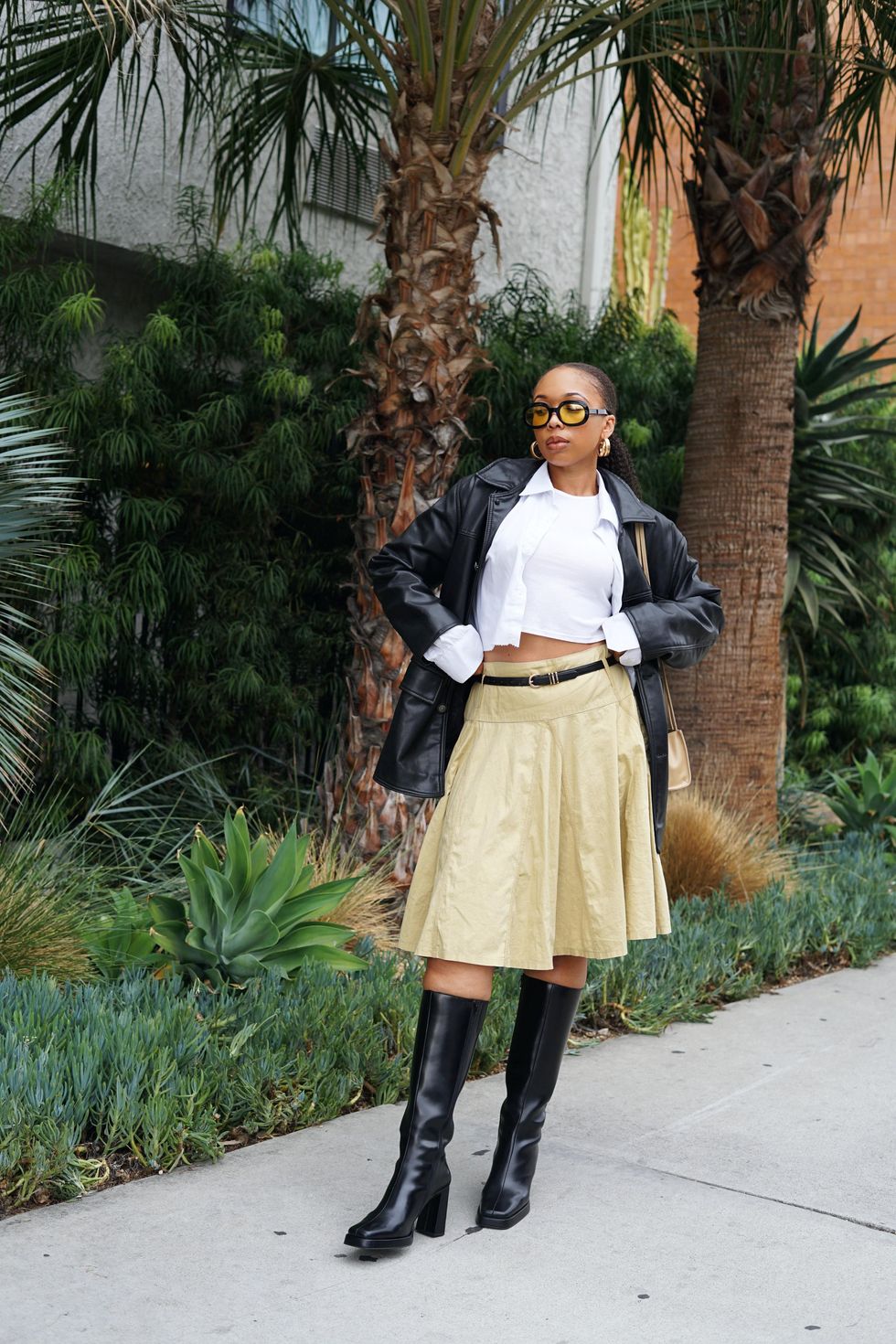 Shahirah Ahmed/xoNecole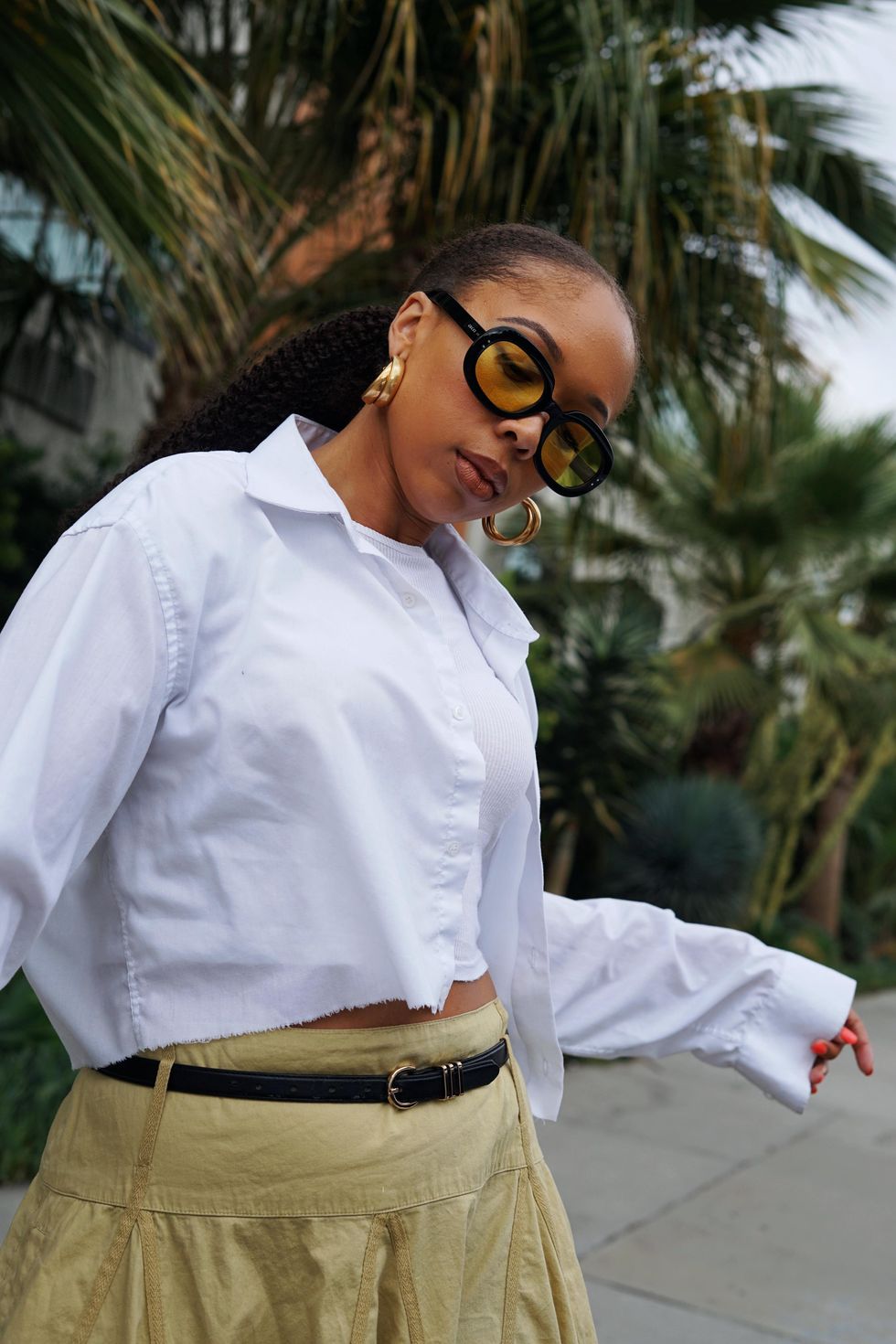 Shahirah Ahmed/xoNecole
Another one of my favorite staples to keep on steady rotation for fall is an oversized cropped button-down. Perfect for those of us that like to mix current trends with classic styles, layering this basic is a great way to effortlessly elevate a cute and casual look. I'm currently obsessed with the late 90s/early 2000s pleated midi skirt era, so I couldn't wait to style with a few of my favorite basics.
For an overall minimal approach, I went with neutral tones along with a black leather jacket, Agolde fitted top, square-toe knee-high boots, and black Gucci frames to complete this daytime look.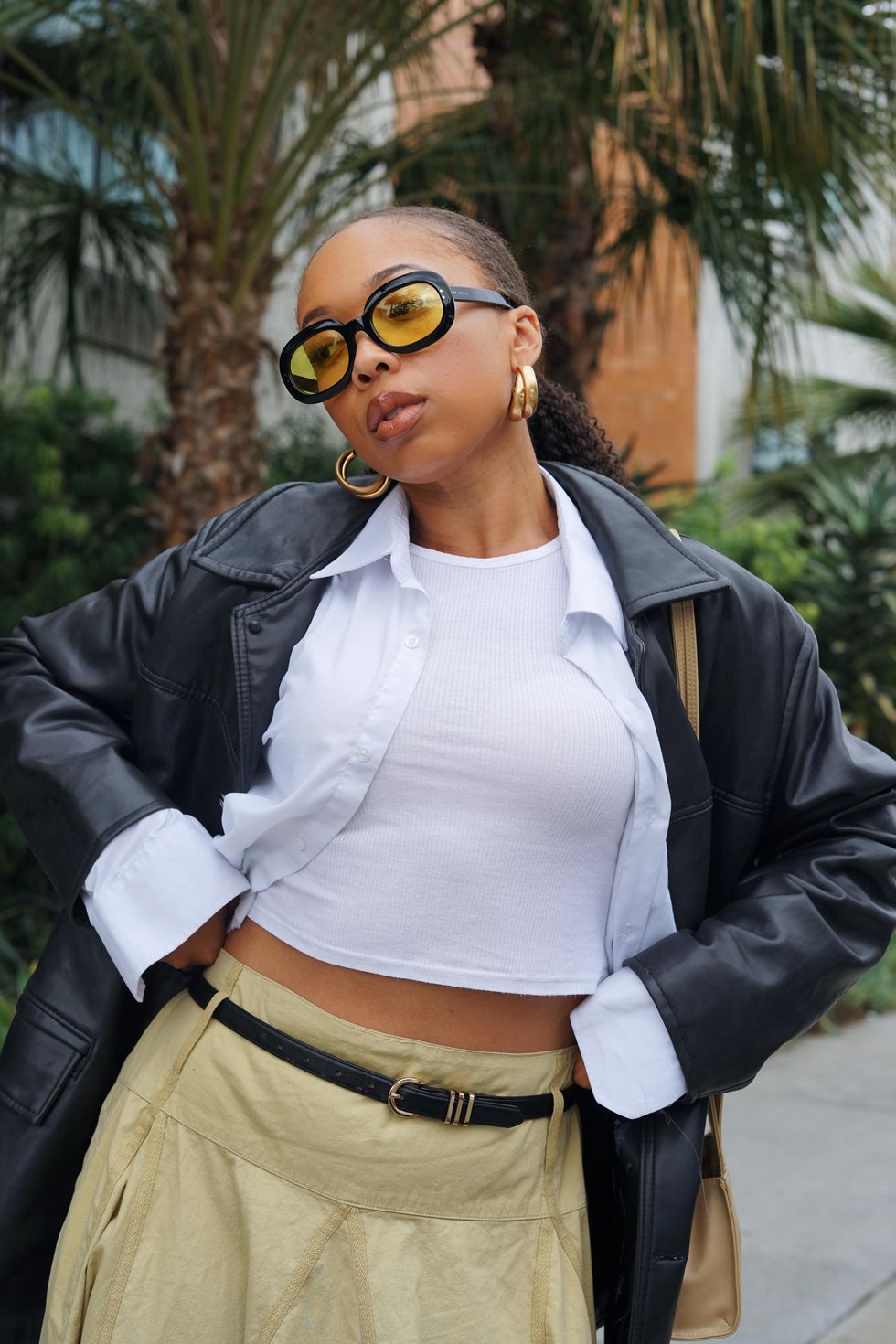 Shahirah Ahmed/xoNecole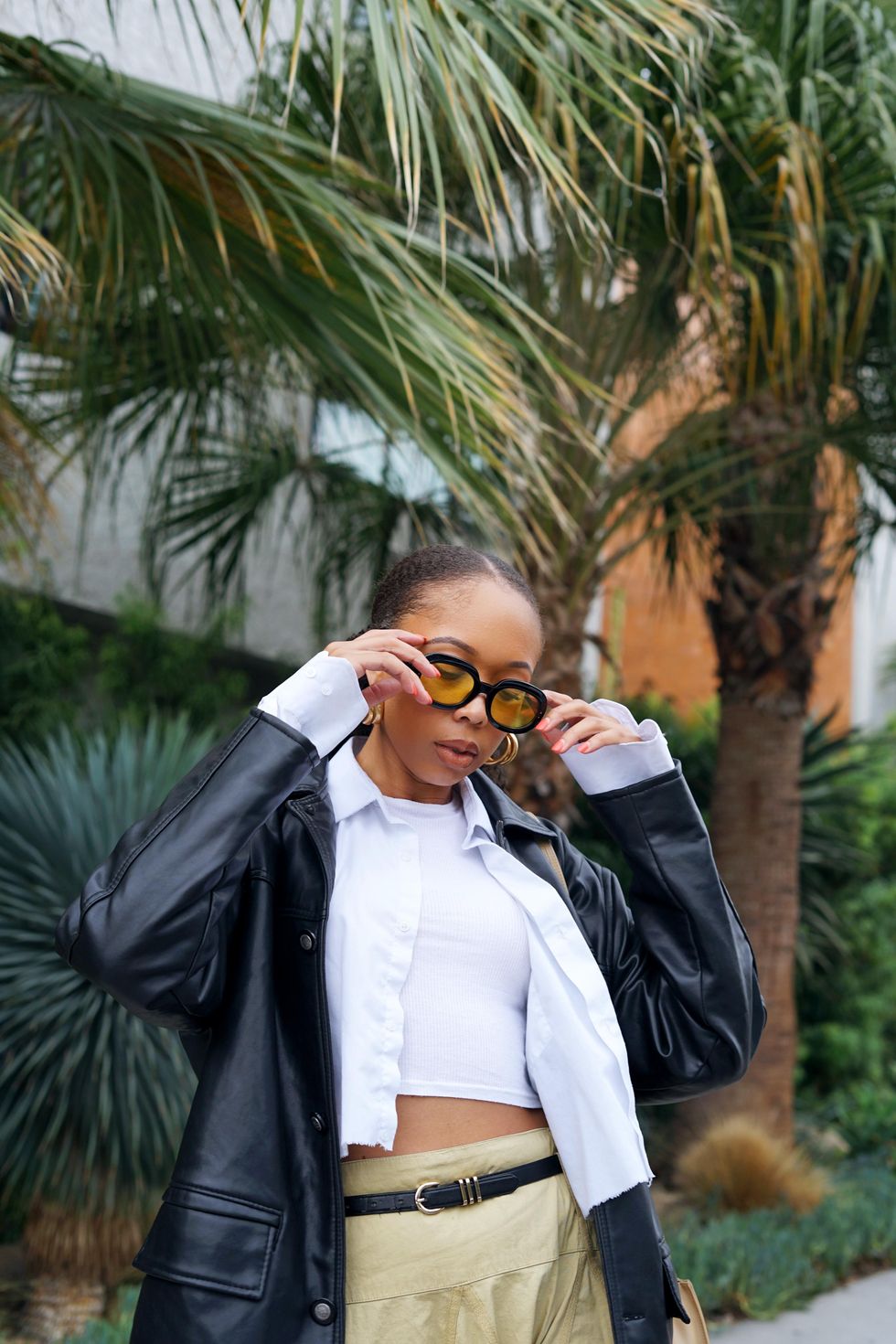 Shahirah Ahmed/xoNecole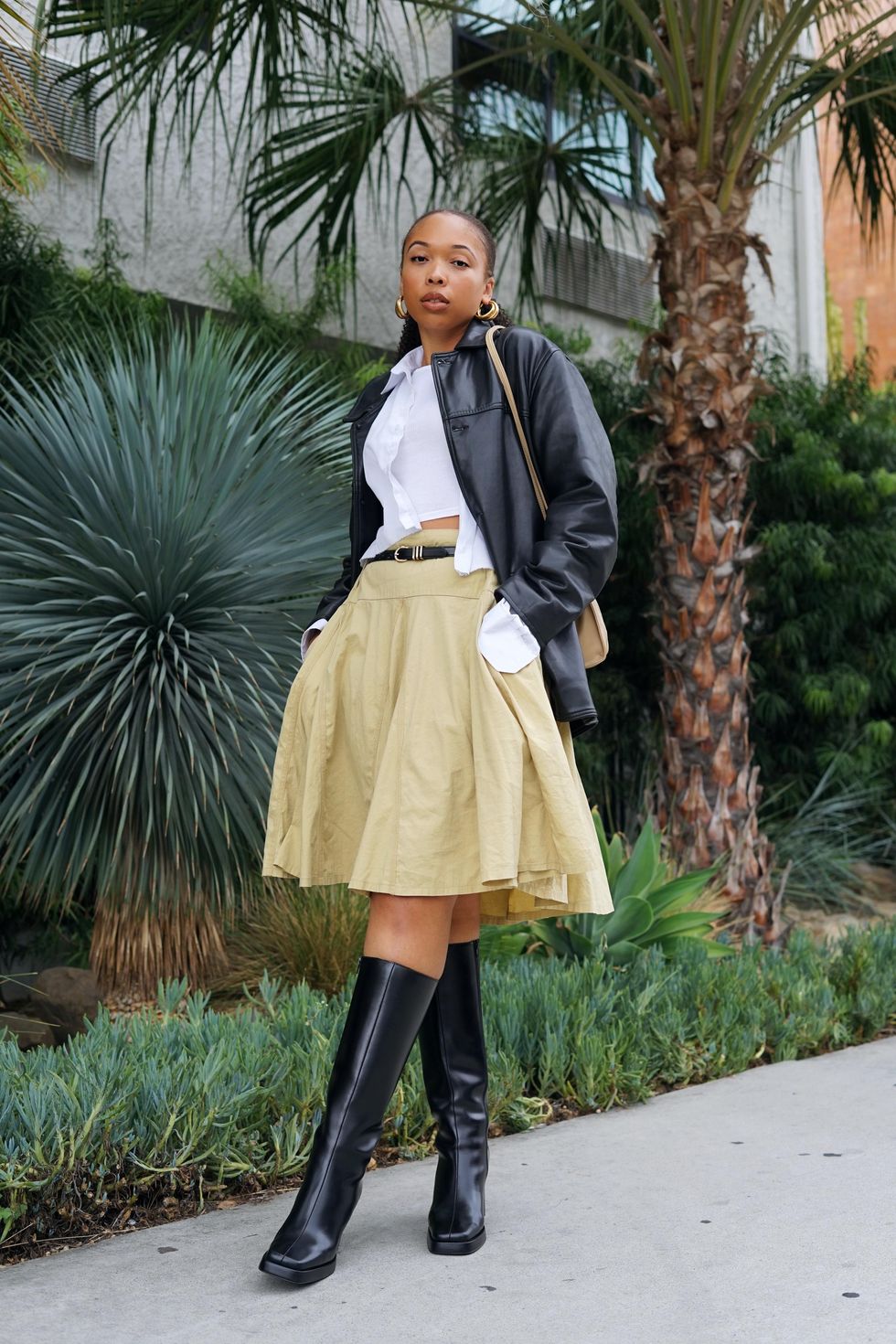 Shahirah Ahmed/xoNecole
Featured image by Shahirah Ahmed/xoNecole