Since the dawn of time, animal prints have been a reigning force all over the world. Once worn as a means of survival, these looks were eventually adapted by the masses thanks to the fashion industry both on and off the runway. From clothing to accessories, prints such as leopard spots, zebra and tiger stripes have been dominant choices when going for a fierce addition to any look. Today, clothing trends continue to evolve as those once-beloved materials are quickly being replaced by a new generation of artistic self-expression.
Becoming the latest patterns of choice, abstract art in the form of geometric shapes, swirls, and optical effects has become the new reign of impressive prints trending in 2022. After two years of solid neutrals, designers are having fun once again and I can't get enough of these fresh whimsical feels. Broadening my range of wardrobe this year, I decided to get in on the fun and brighten up my looks with colorful statement pieces boldly going where I've never gone before. Check out the patterns and prints I'm currently obsessed with below.
Geometrically Opposed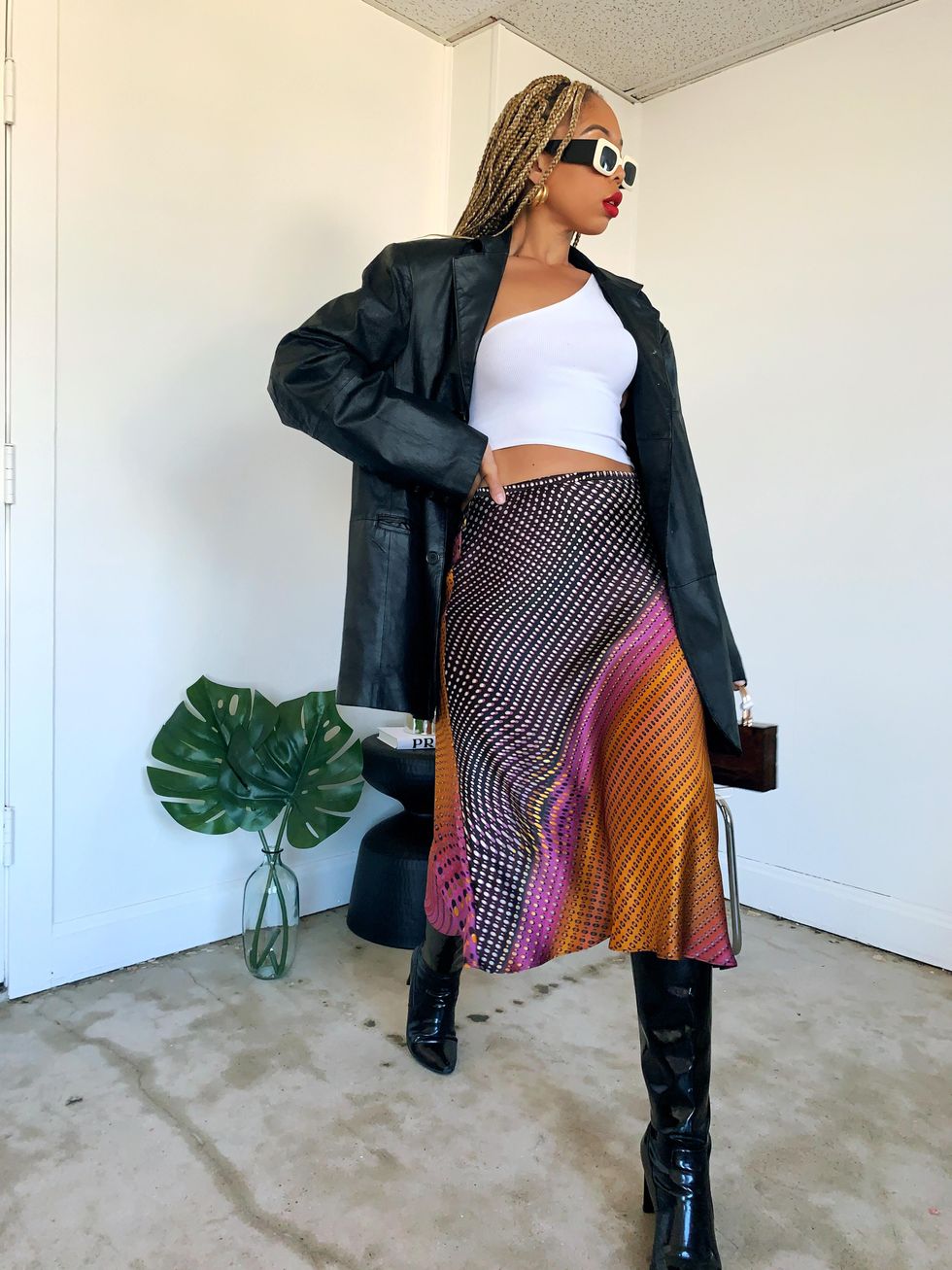 Shahirah Ahmed/xoNecole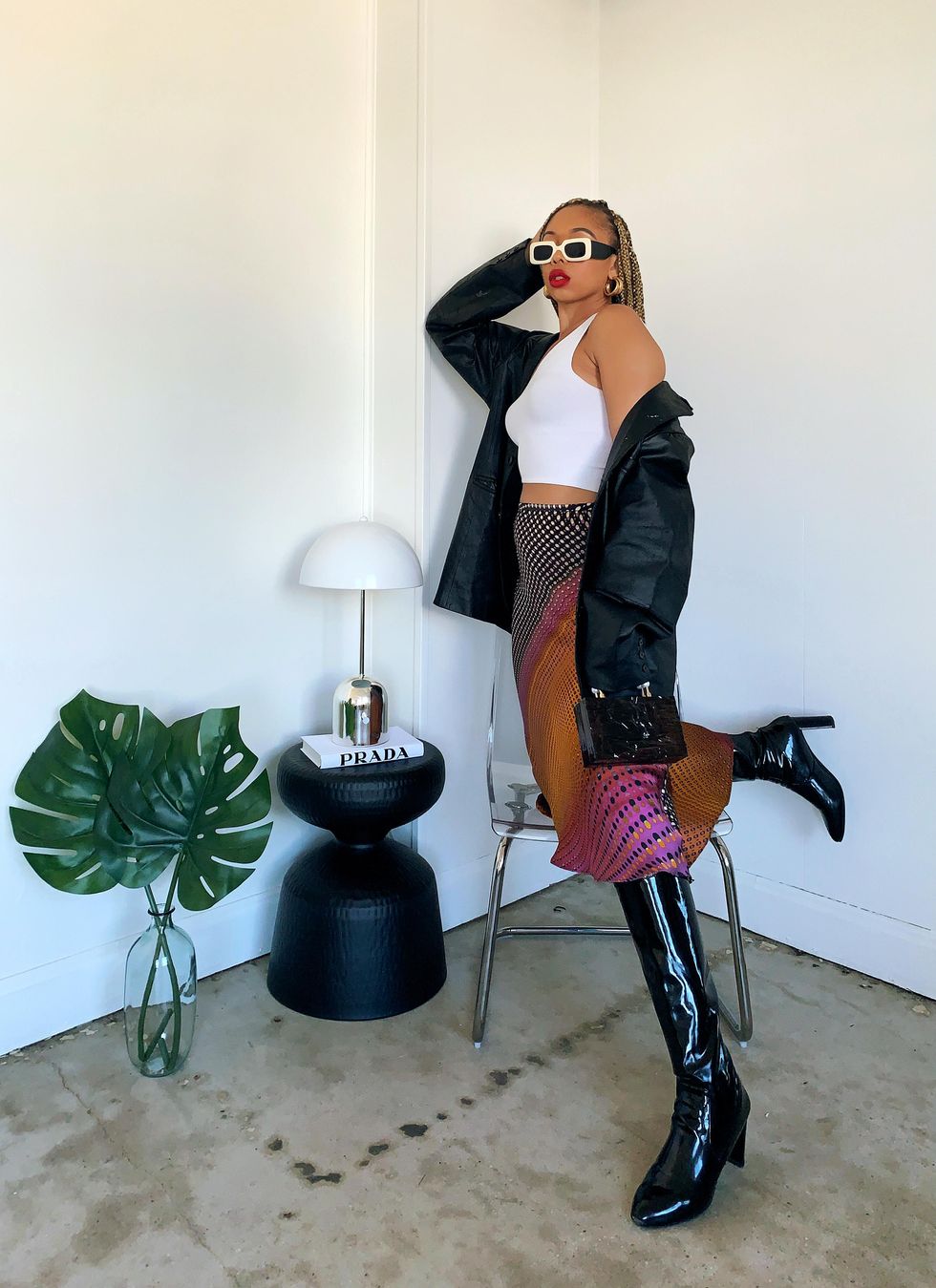 Shahirah Ahmed/xoNecole
As one who doesn't wear many skirts in my day-to-day looks, I absolutely couldn't pass on this multi-colored geometric print midi. With its 3D pattern giving its best impression of an optical illusion while gracefully forming every curve, I was immediately impressed with the contrasting hues when initially laying eyes on this piece.
Going for a casual approach, I decided to wear an asymmetrical one-shoulder ribbed knit along with an oversized blazer and patent leather boots. Perfect for a winter weekend look, this skirt is extremely versatile with the ability to transition from season to season.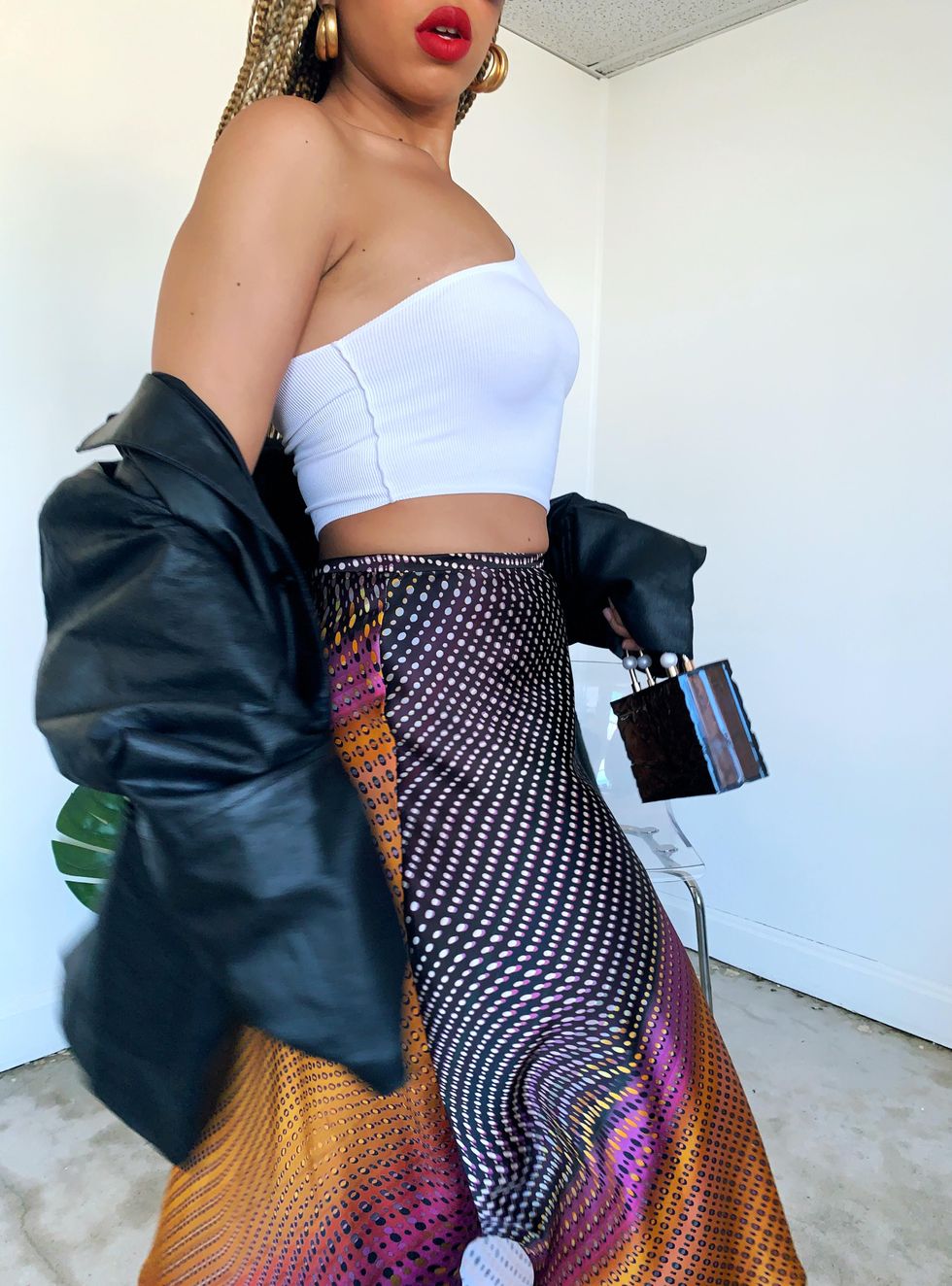 Shahirah Ahmed/xoNecole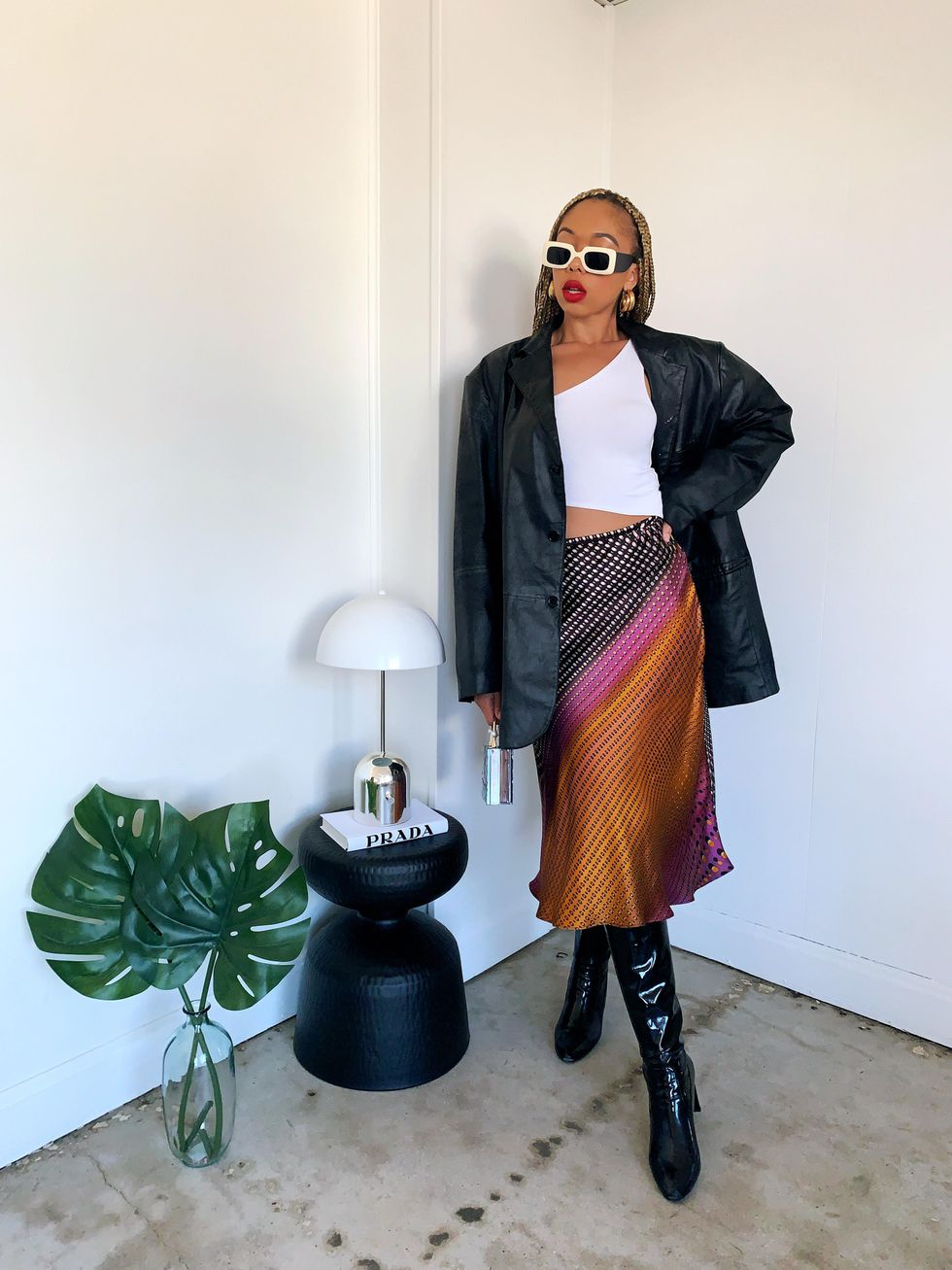 Shahirah Ahmed/xoNecole
In the Abstract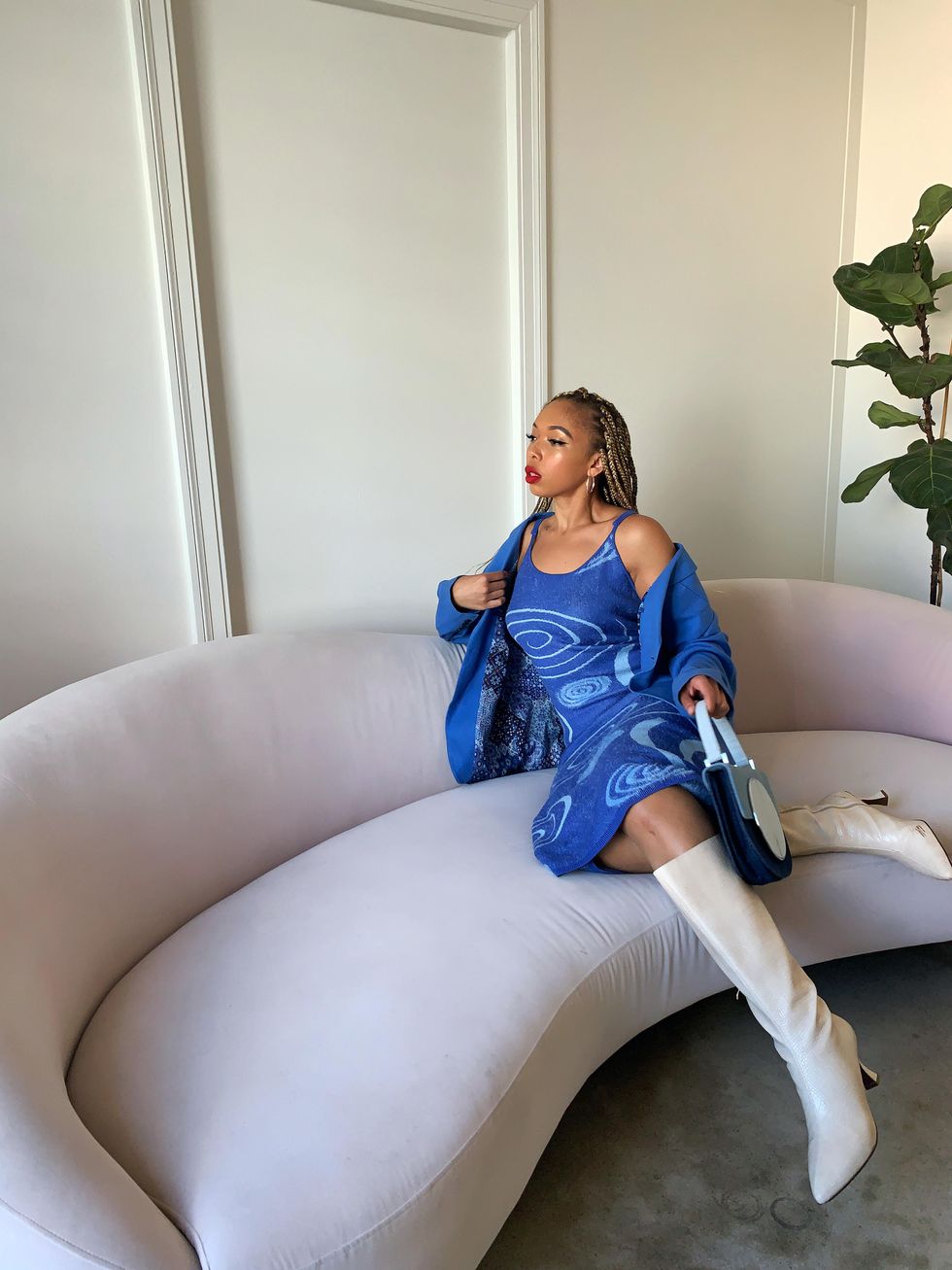 Shahirah Ahmed/xoNecole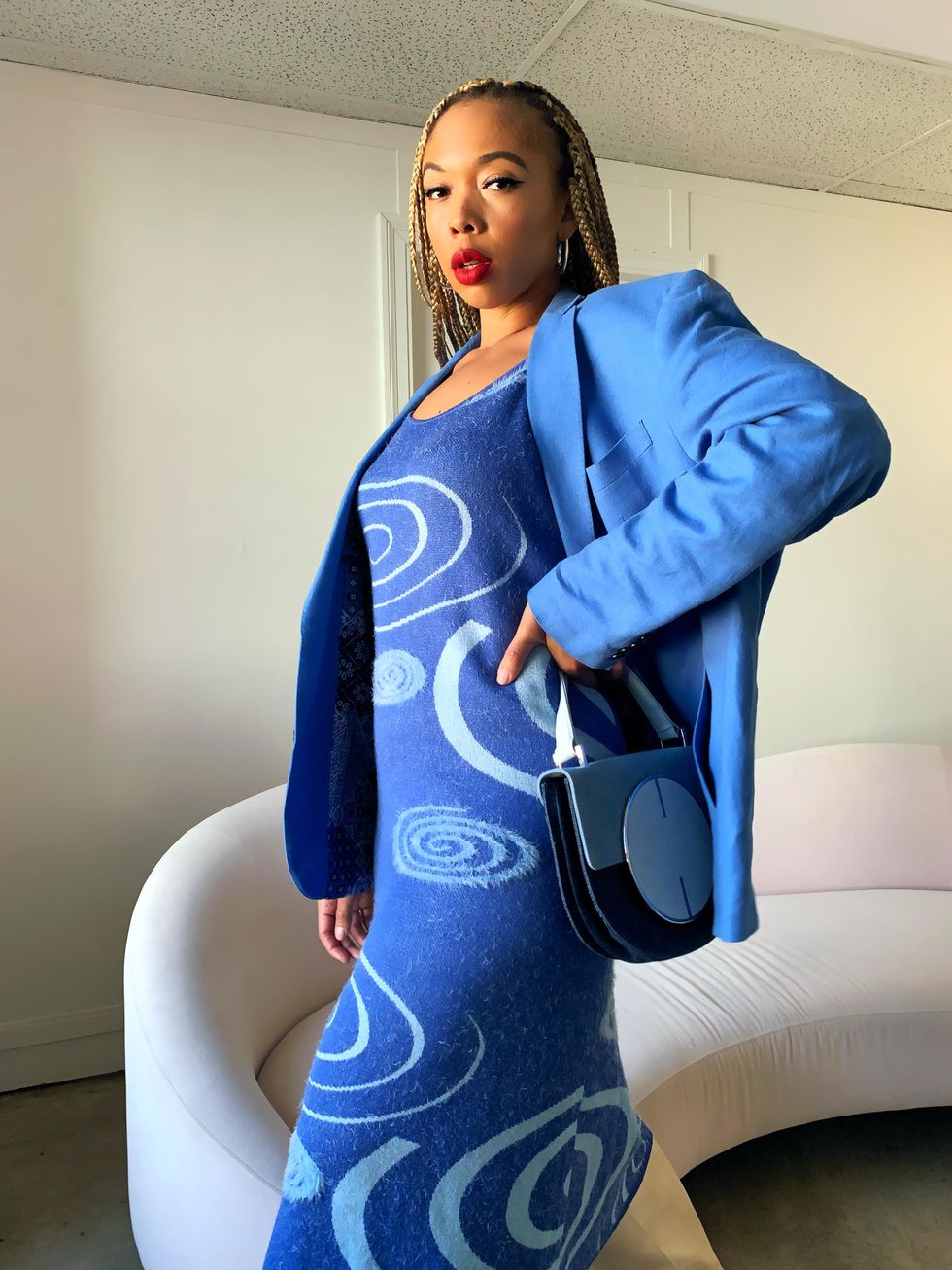 Shahirah Ahmed/xoNecole
These days when it comes to prints, I love plenty of drama. This knitted swirl patterned slip dress is the perfect day-to-night look when paired with a white boot and matching blue blazer. Not to be too conservative, the cut-out back gives this design an unexpected pop to this cozy maxi.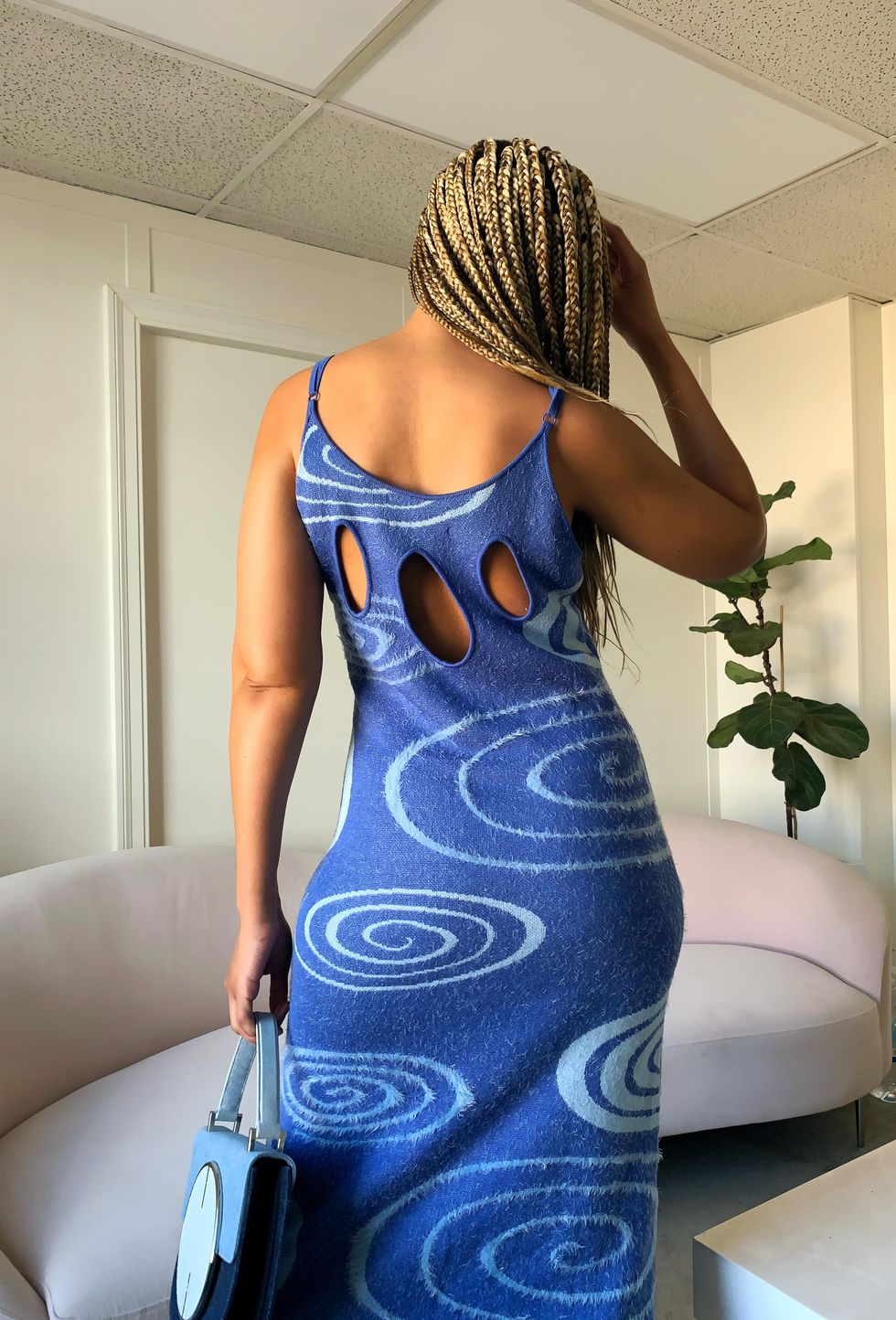 Shahirah Ahmed/xoNecole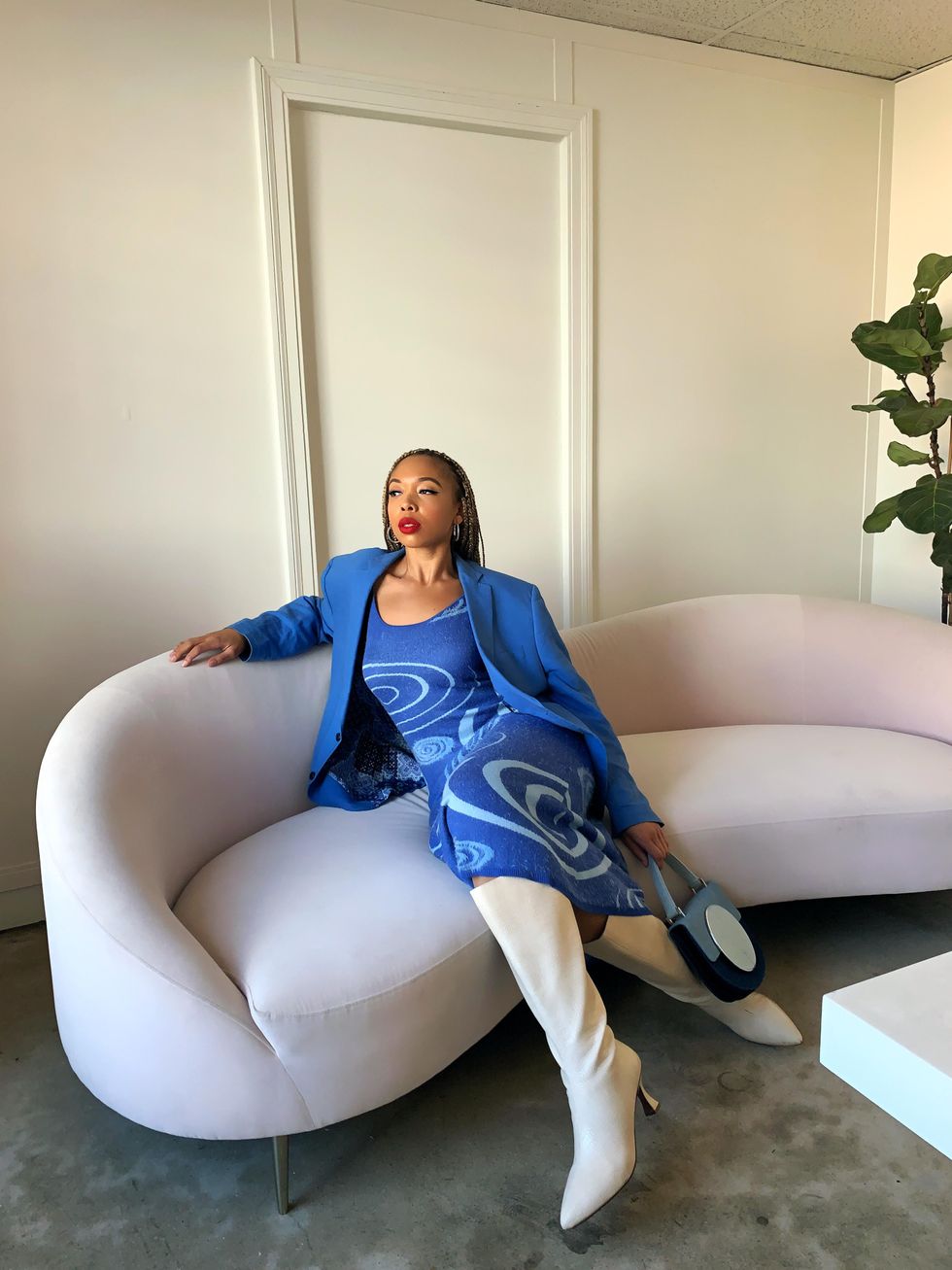 Shahirah Ahmed/xoNecole
Zebra-ish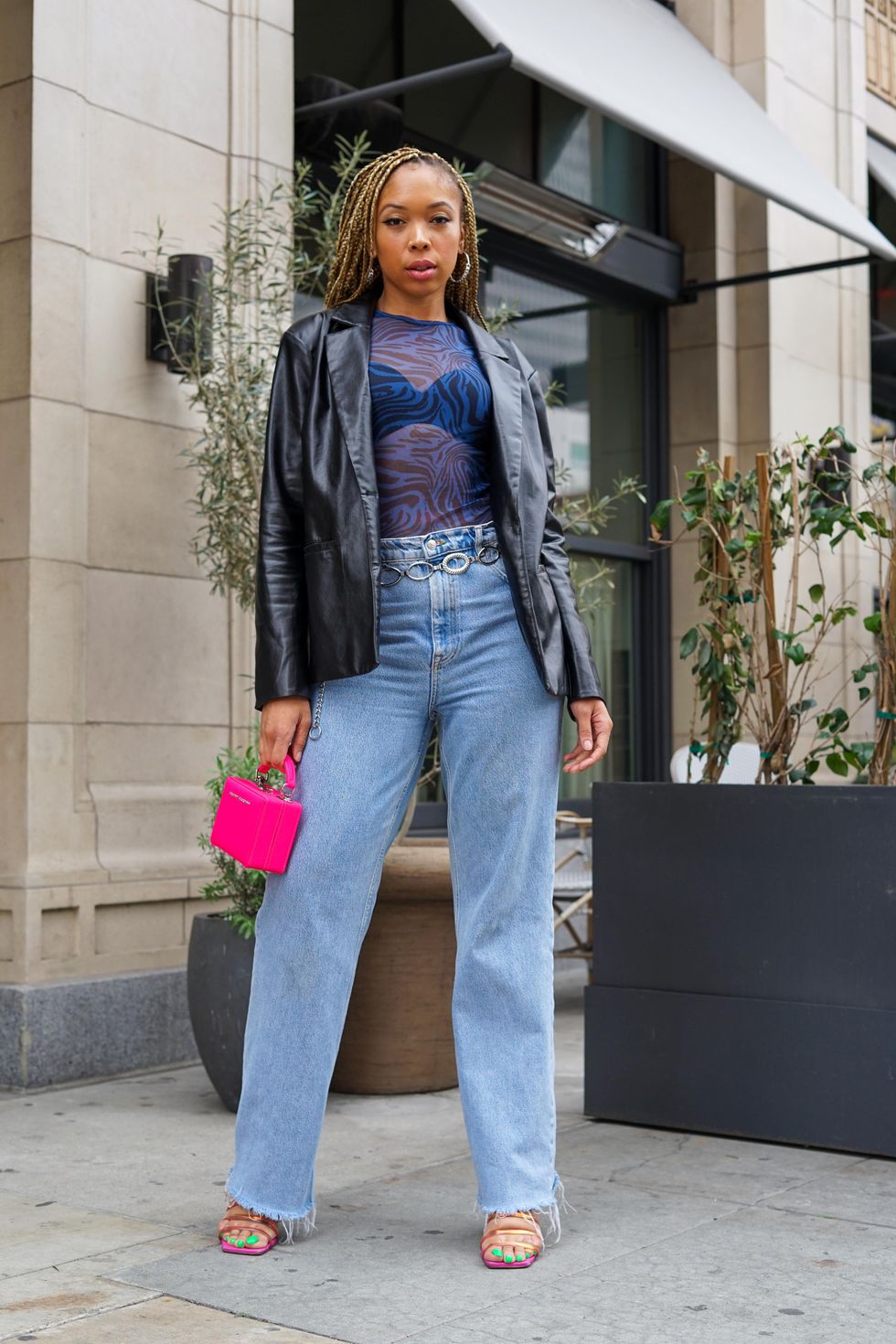 Shahirah Ahmed/xoNecole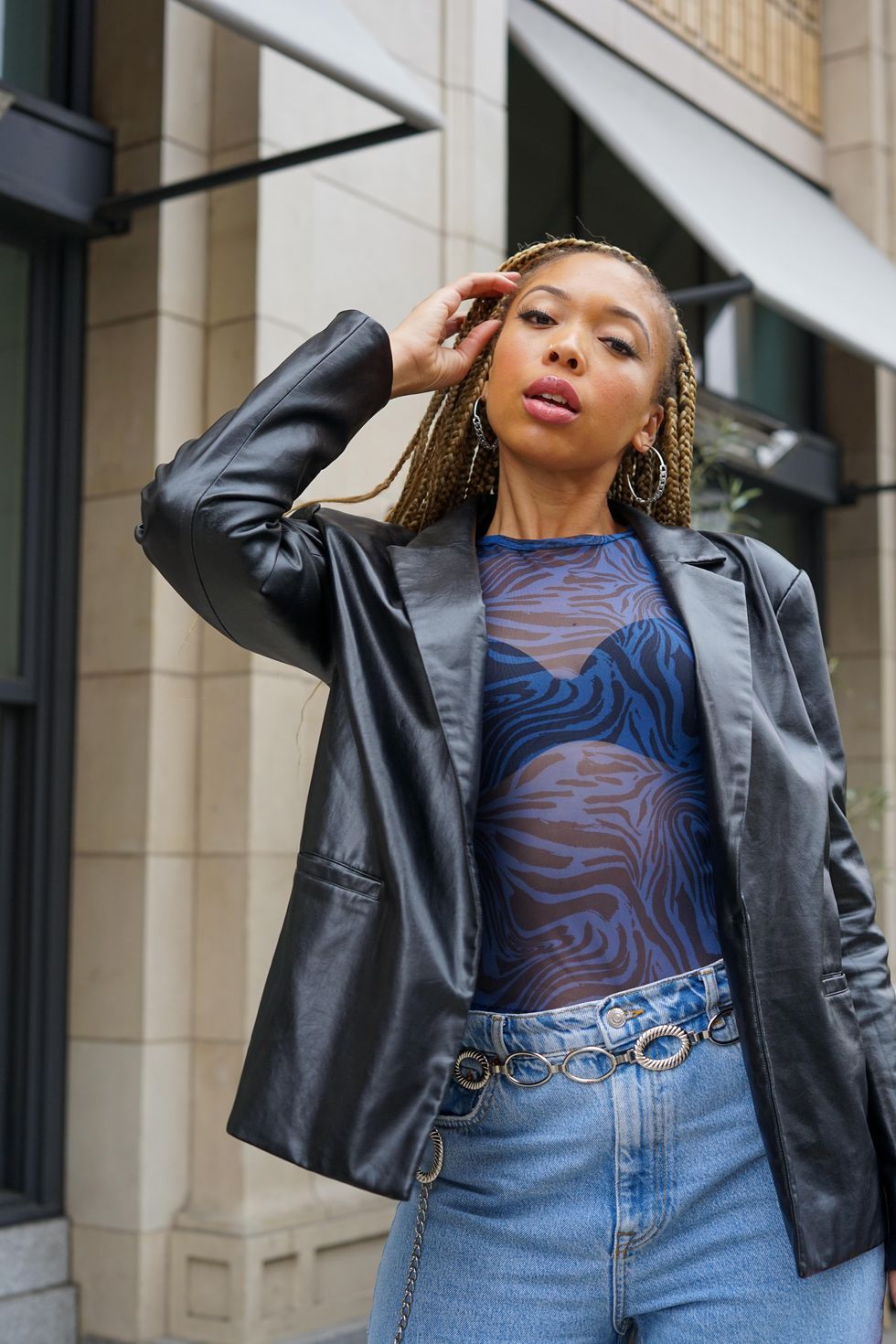 Shahirah Ahmed/xoNecole
Not to be fully replaced, zebra print hasn't fully gone away just yet. With an updated approach, this classic look has gotten a bit of a 2022 makeover. Wearing this black and blue zebra swirl top along with wide-leg denim jeans, I couldn't help but give this look a pop of pink courtesy of Brandon Blackwood and strappy heeled sandals to complete this look.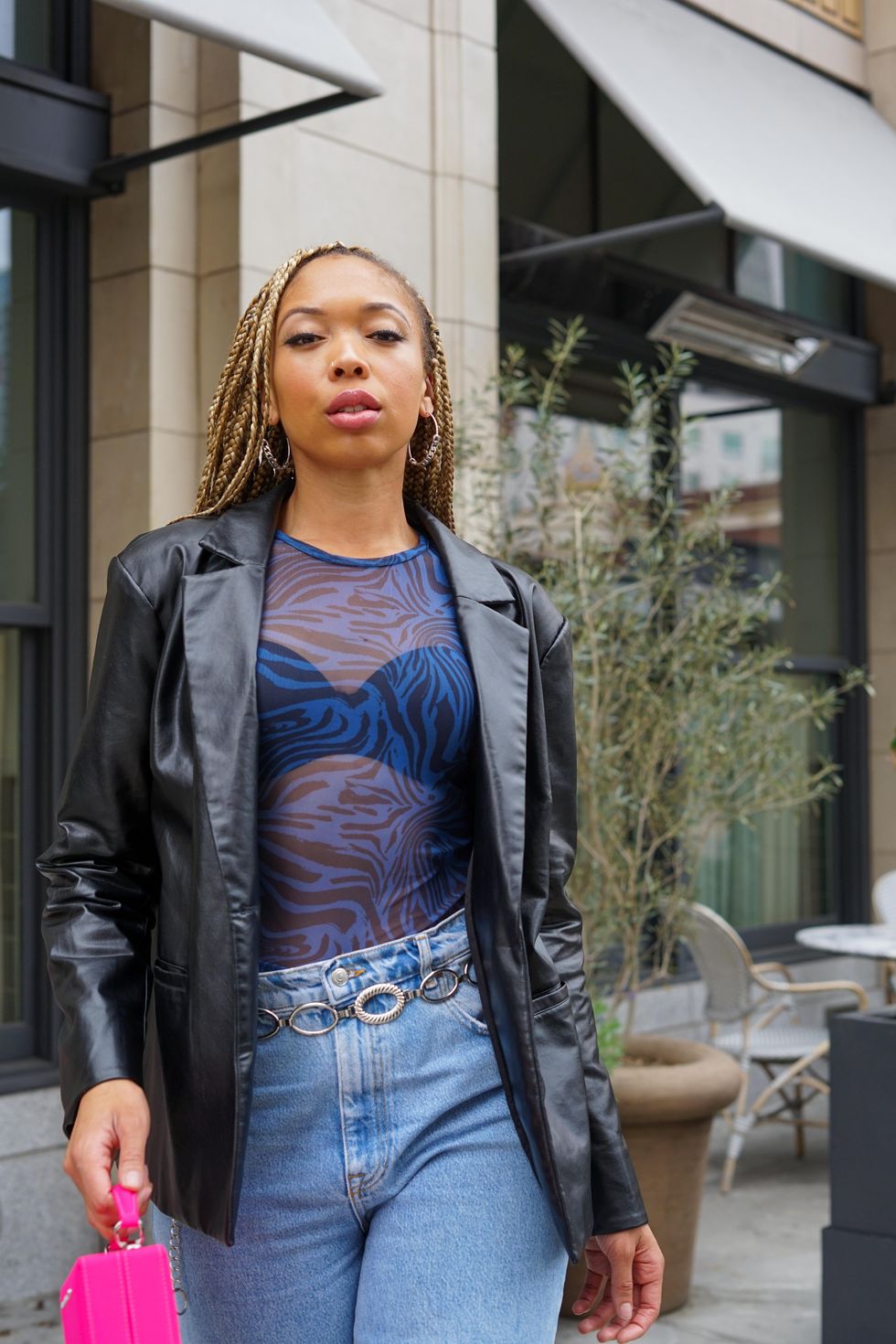 Shahirah Ahmed/xoNecole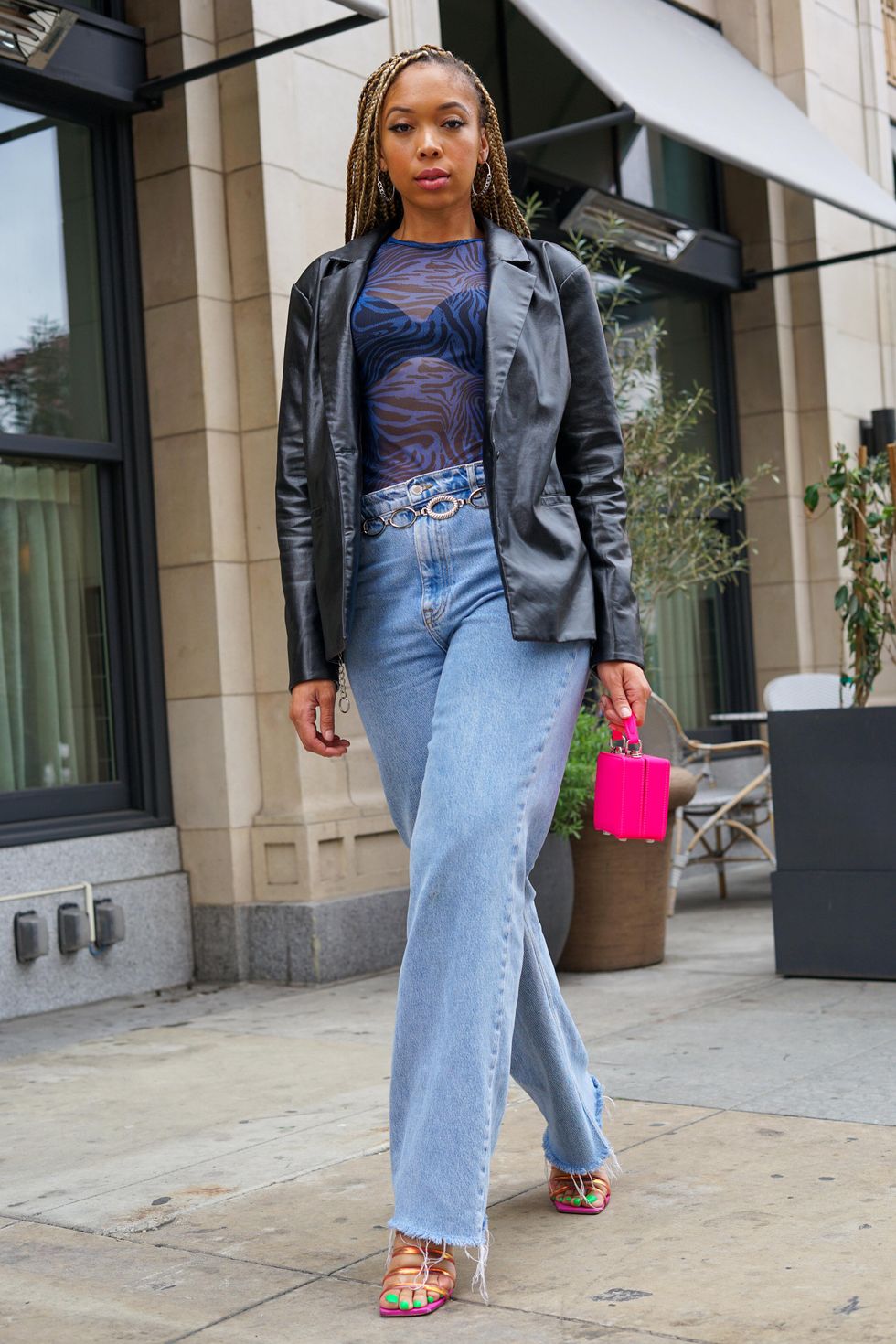 Shahirah Ahmed/xoNecole
Featured image by Shahirah Ahmed/xoNecole
About six months ago, I started my fitness journey and decided it was time to put in the necessary work to achieve my goals. As I began to take a more active approach to my lifestyle, I knew that the right workout clothes would motivate me to stay consistent when starting my days with an early-morning gym session. Along with my newfound love of fitness came my obsession with finding stylish and comfortable athleisure outfits I could feel confident wearing while breaking a sweat or running around town. As someone who loves both fashion and fitness, gone are the days of oversized collegiate sweatshirts and spandex pants.
Athleisure has come such a long way within the apparel industry as brands continue to blur the line between active and casual wear. While I love a trend-forward approach to workout sets, comfort is a non-negotiable. When managing to find sleek clothing items that fit my body, I never want to take them off. Even on my days off from the gym, I often gravitate toward pieces that will keep me right and tight when worn on the go. Keep scrolling to find stylish yet effective additions to wearing more of your favorite athletic looks.
Post-Workout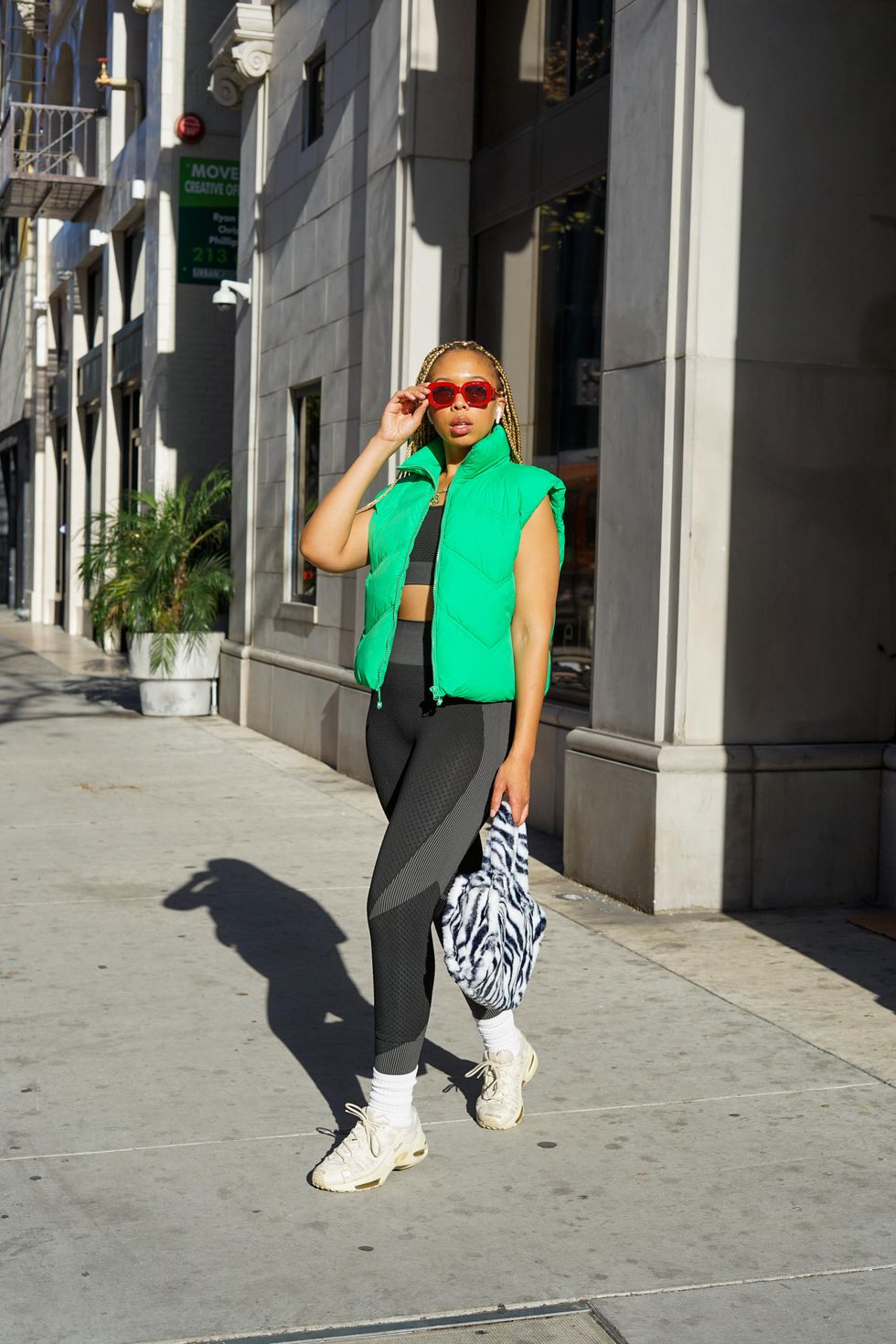 Shahirah Ahmed/xoNecole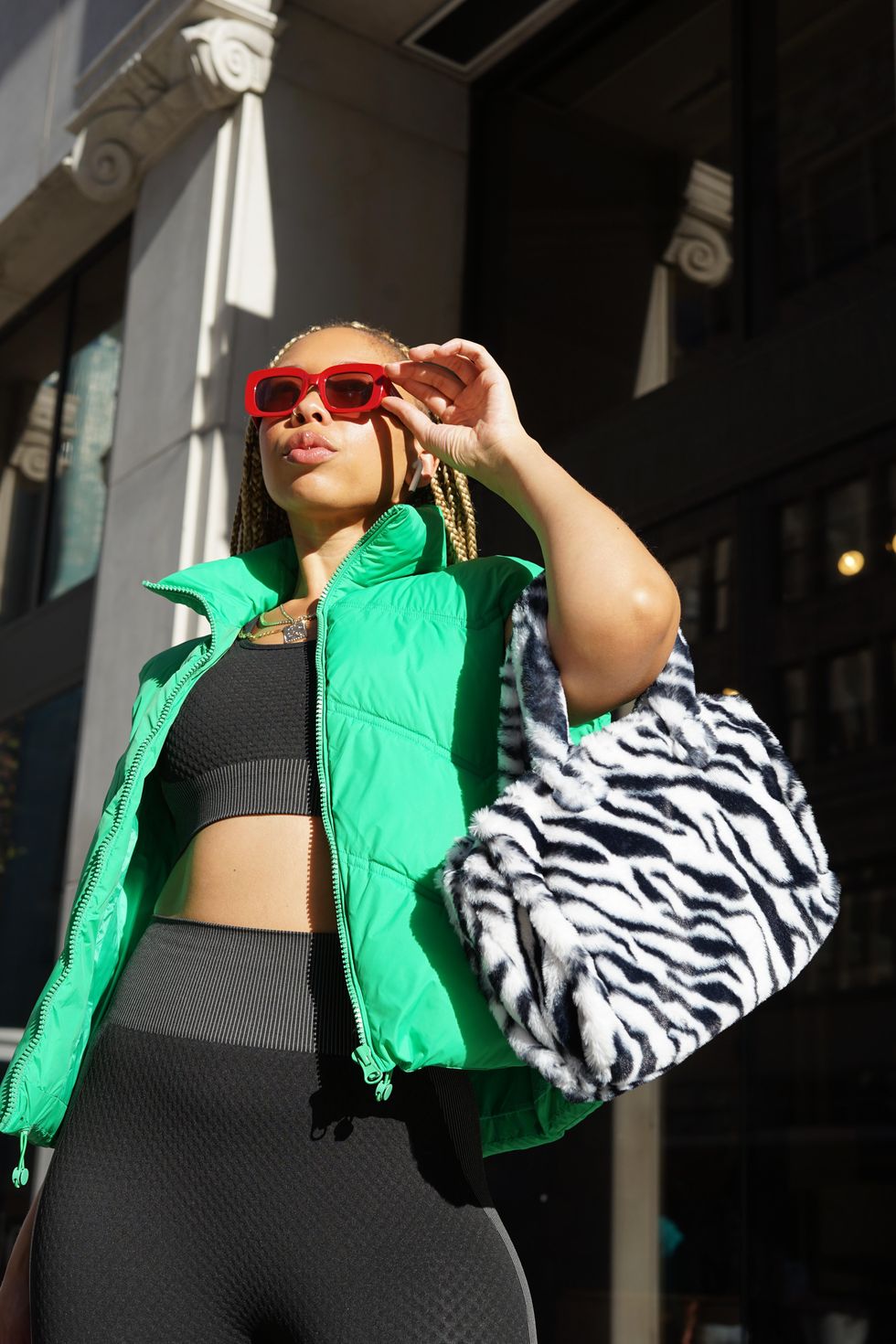 Shahirah Ahmed/xoNecole
Green is my favorite color, so I absolutely needed this cropped puffer vest. Effervescent, eye-catching, and eclectic, this is the perfect addition to a post-workout look on a sunny winter day. Gravitating toward more color and prints this season, I wanted to brighten up this all-black classic workout set as I stopped to run a few errands after a quick low-impact workout. Having fun with this look, I paired dark red sunnies and a faux fur, zebra-print bag simply for the extra wow factor.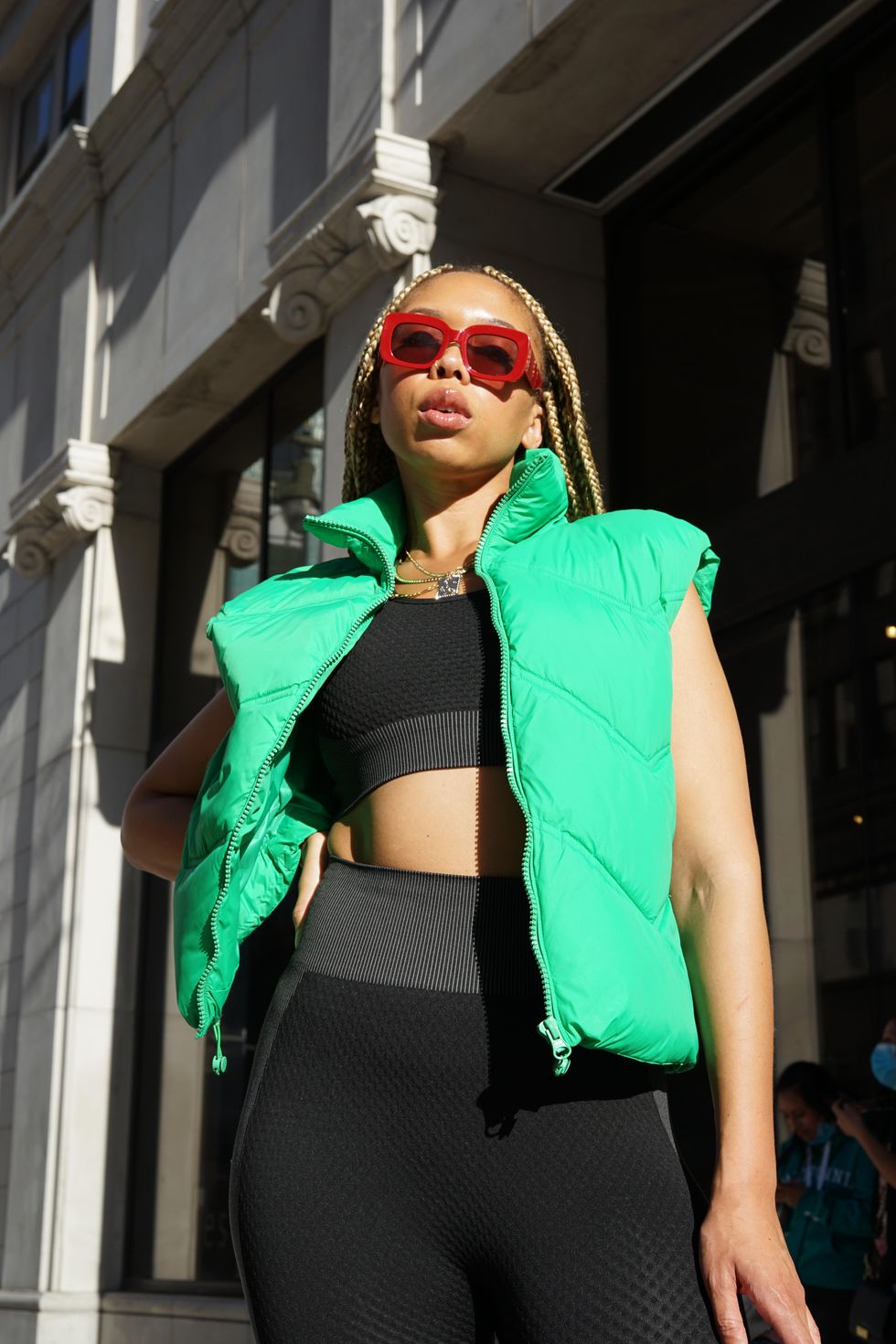 Shahirah Ahmed/xoNecole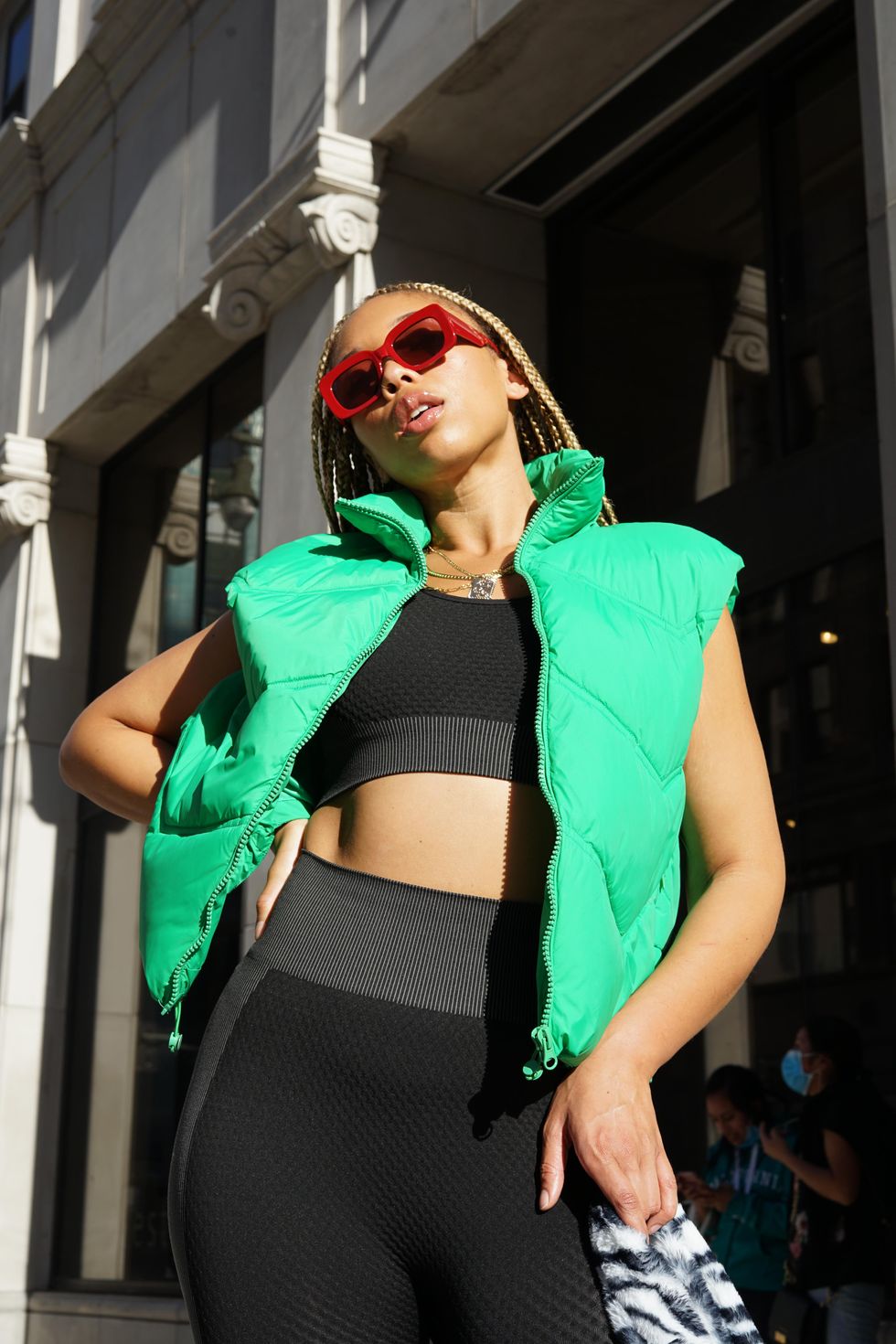 Shahirah Ahmed/xoNecole
On the Go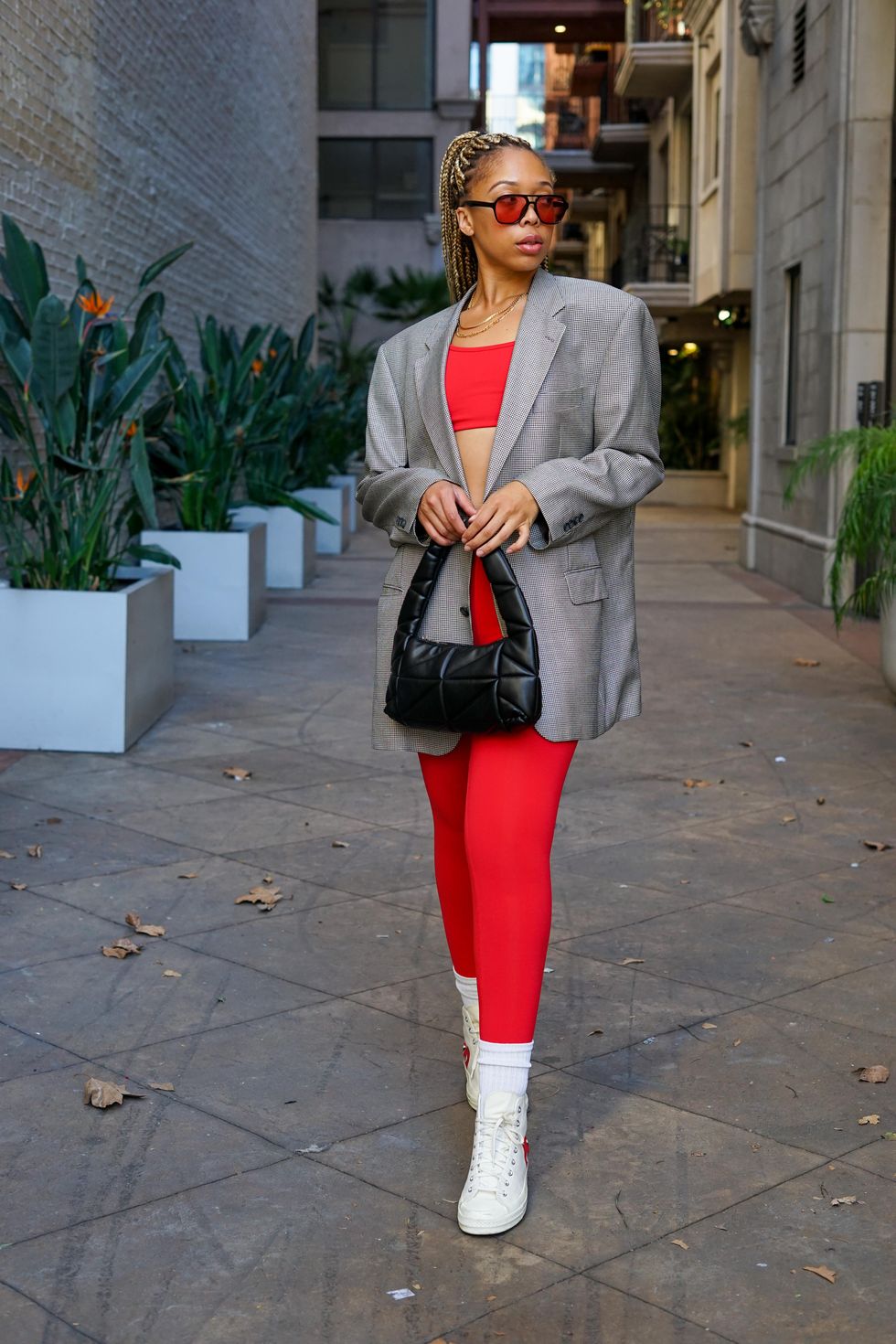 Shahirah Ahmed/xoNecole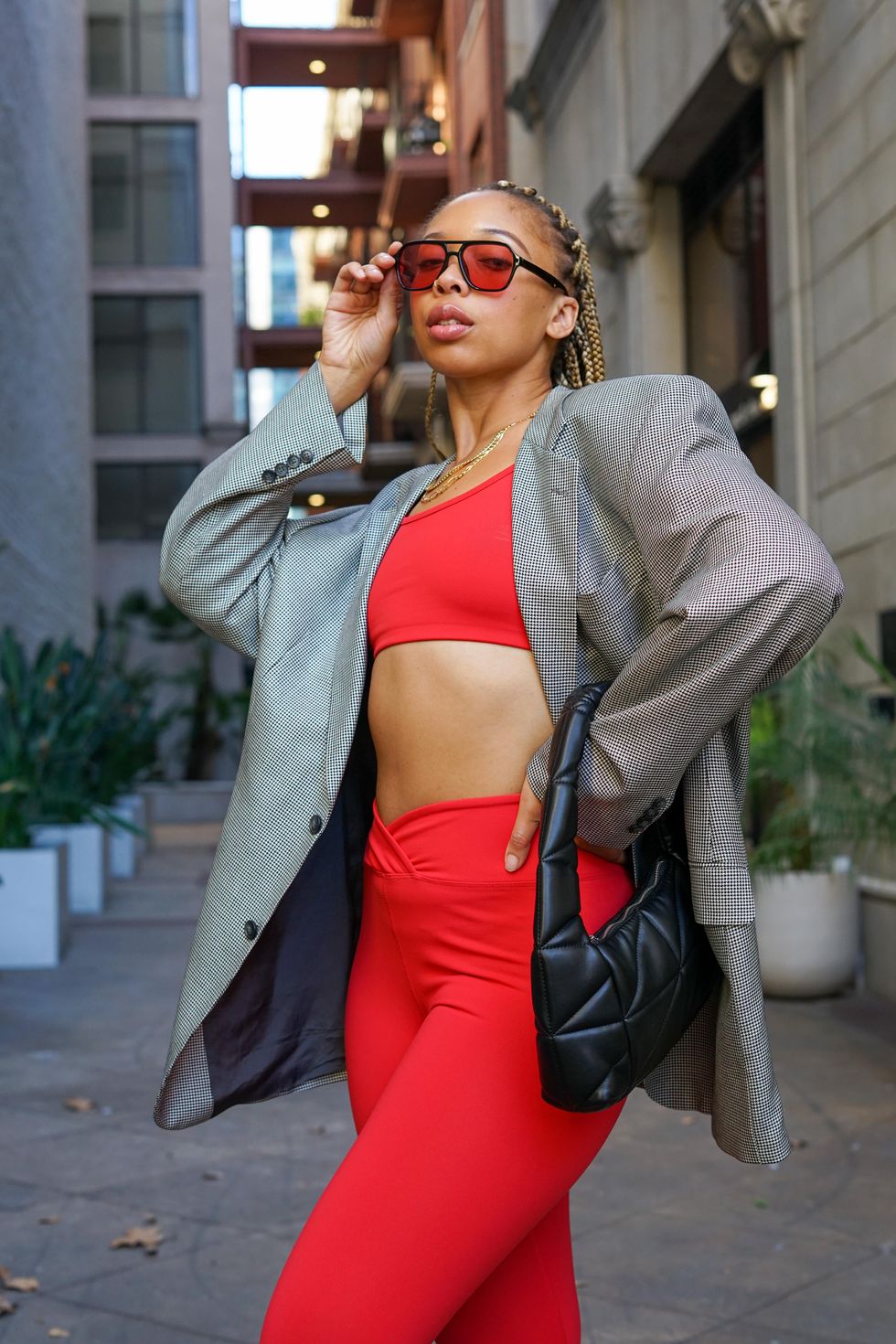 Shahirah Ahmed/xoNecole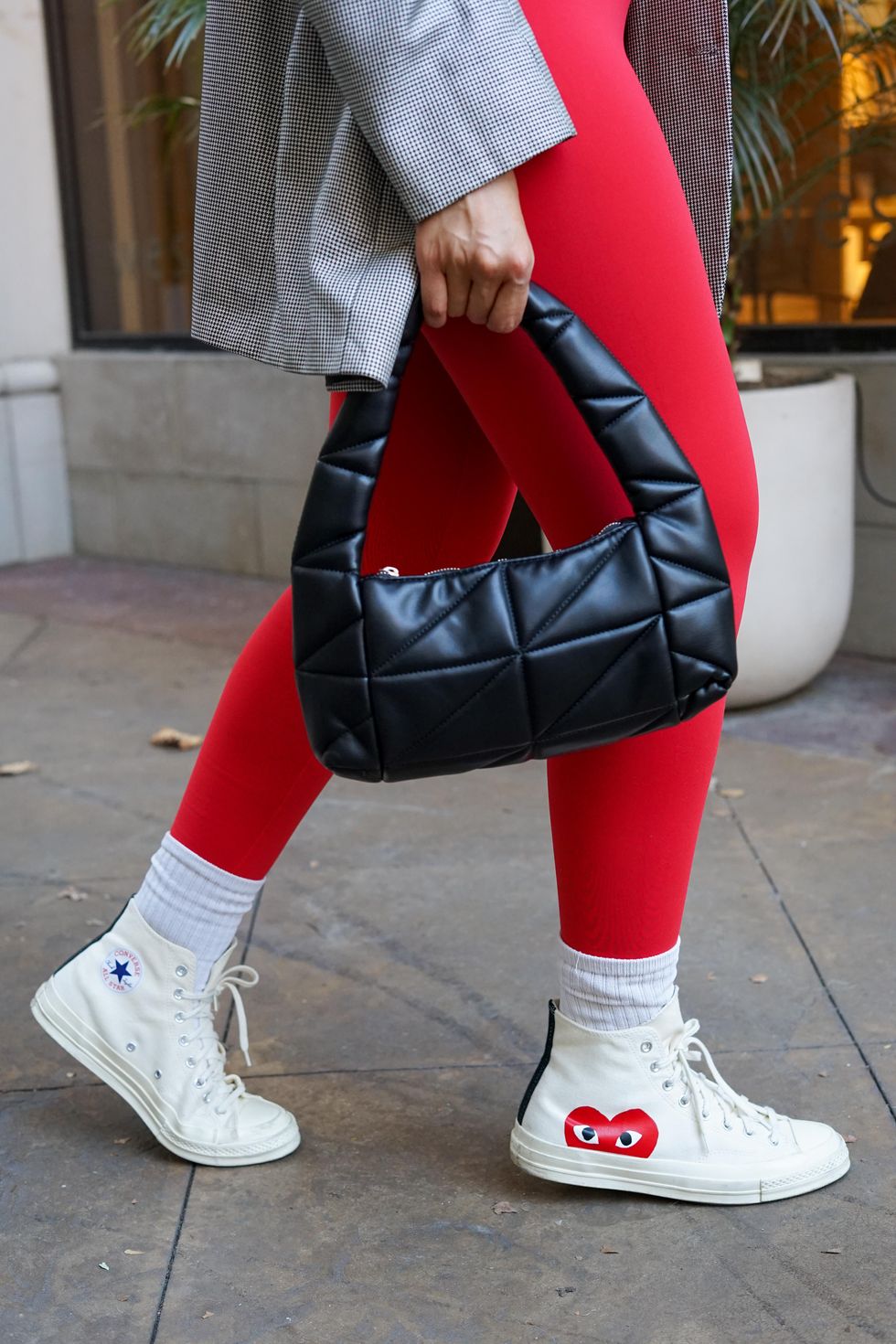 Shahirah Ahmed/xoNecole
Getting a head start on upcoming spring 2022 trends, I paired this fiery set, complete with a bra top and matching v-cut active tights, with a vintage oversized plaid blazer for less exposure. The key to making on-the-go active sets pop is bold accessories such as these red-tinted sunglasses with black frames. If you prefer to hit the gym at the end of your day, this look is perfect for store or mall runs during the day and a workout at night.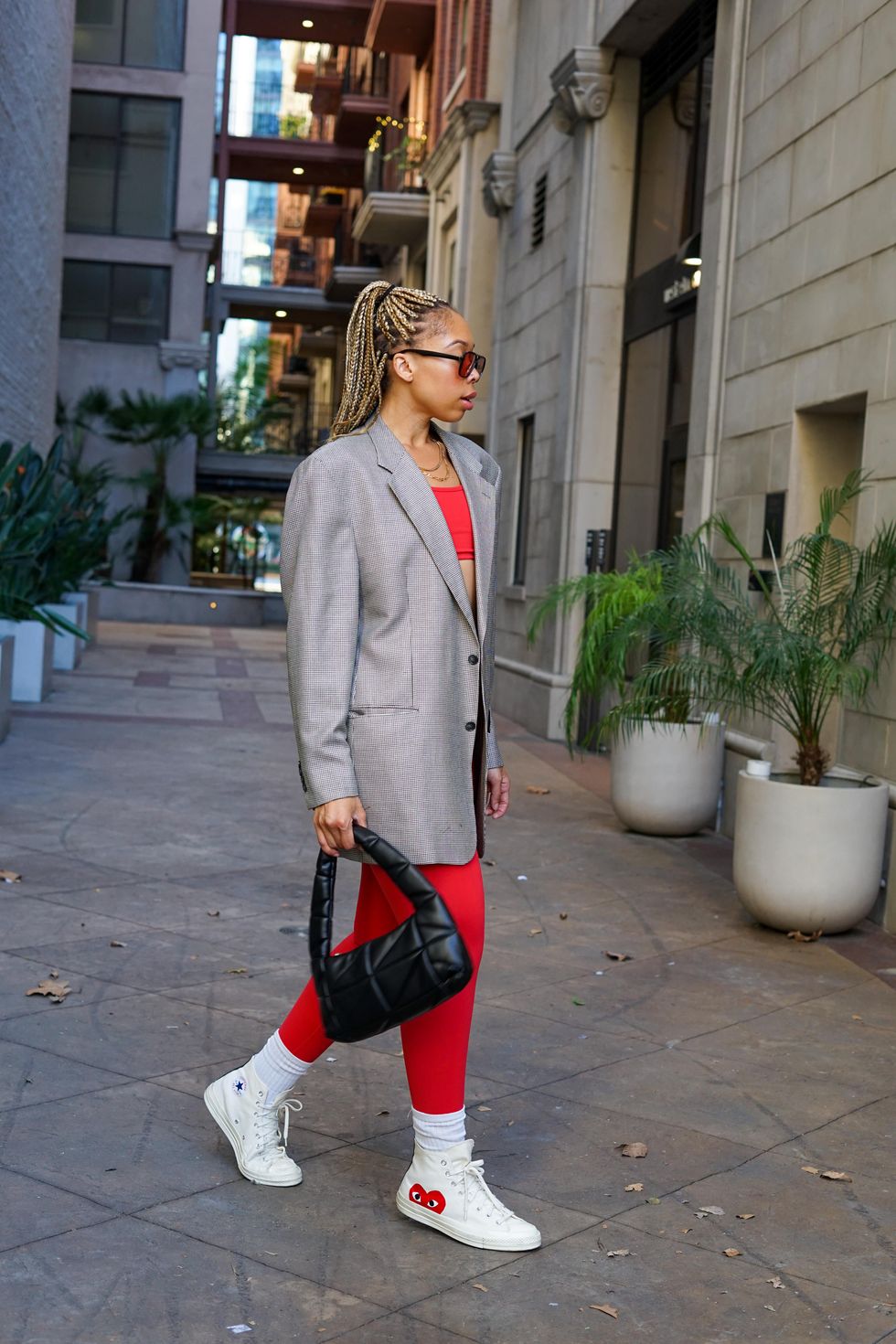 Shahirah Ahmed/xoNecole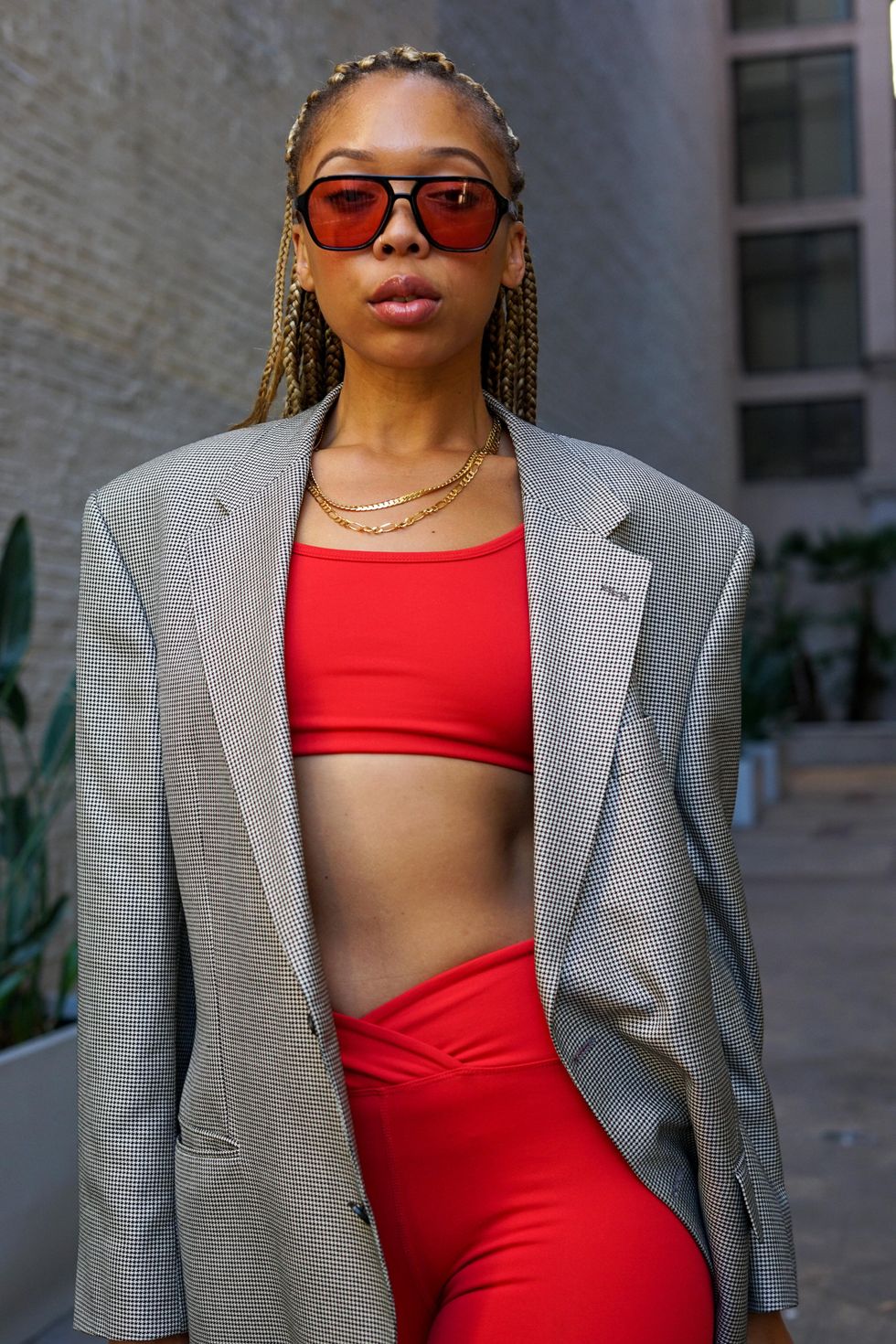 Shahirah Ahmed/xoNecole
Keeping it Cozy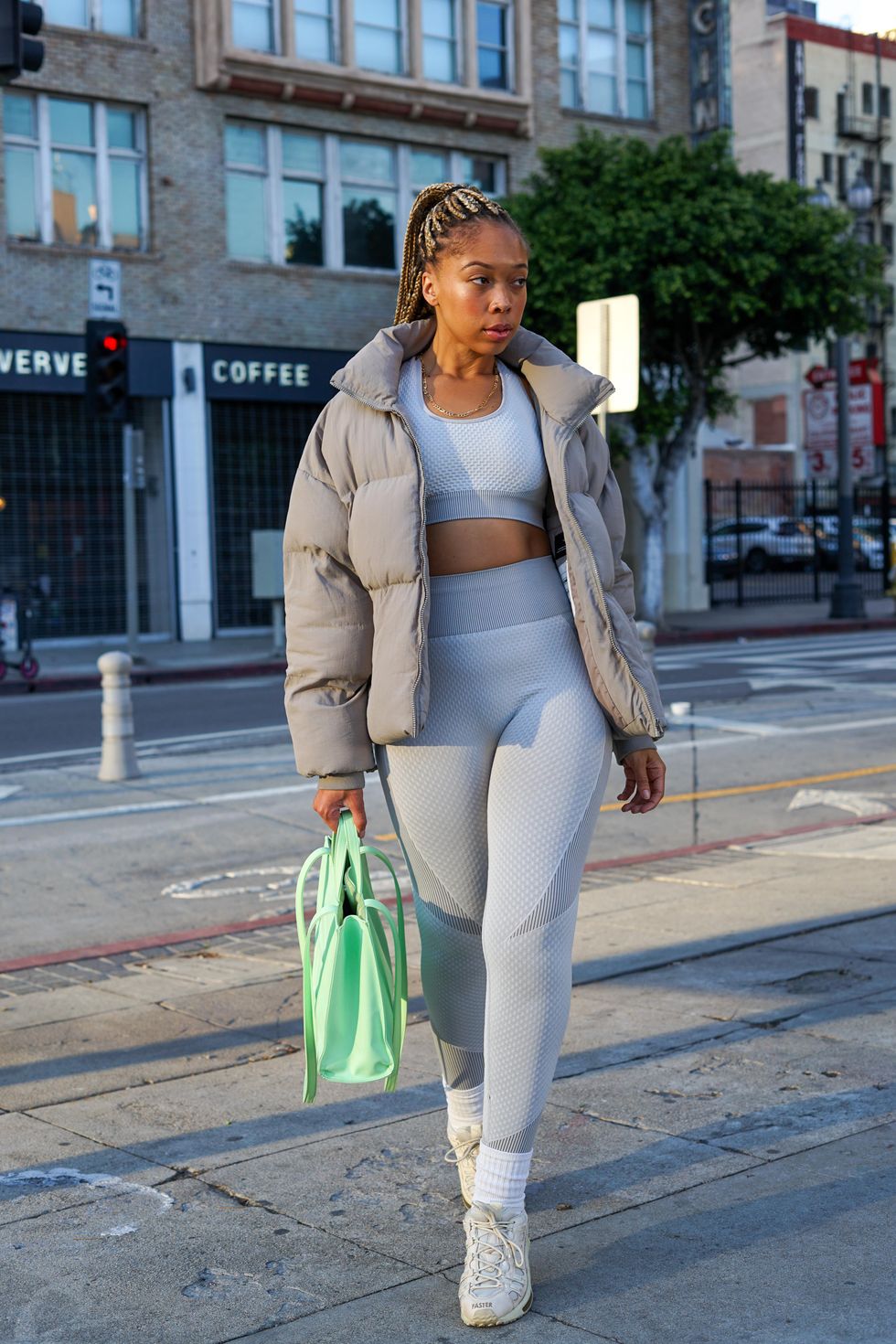 Shahirah Ahmed/xoNecole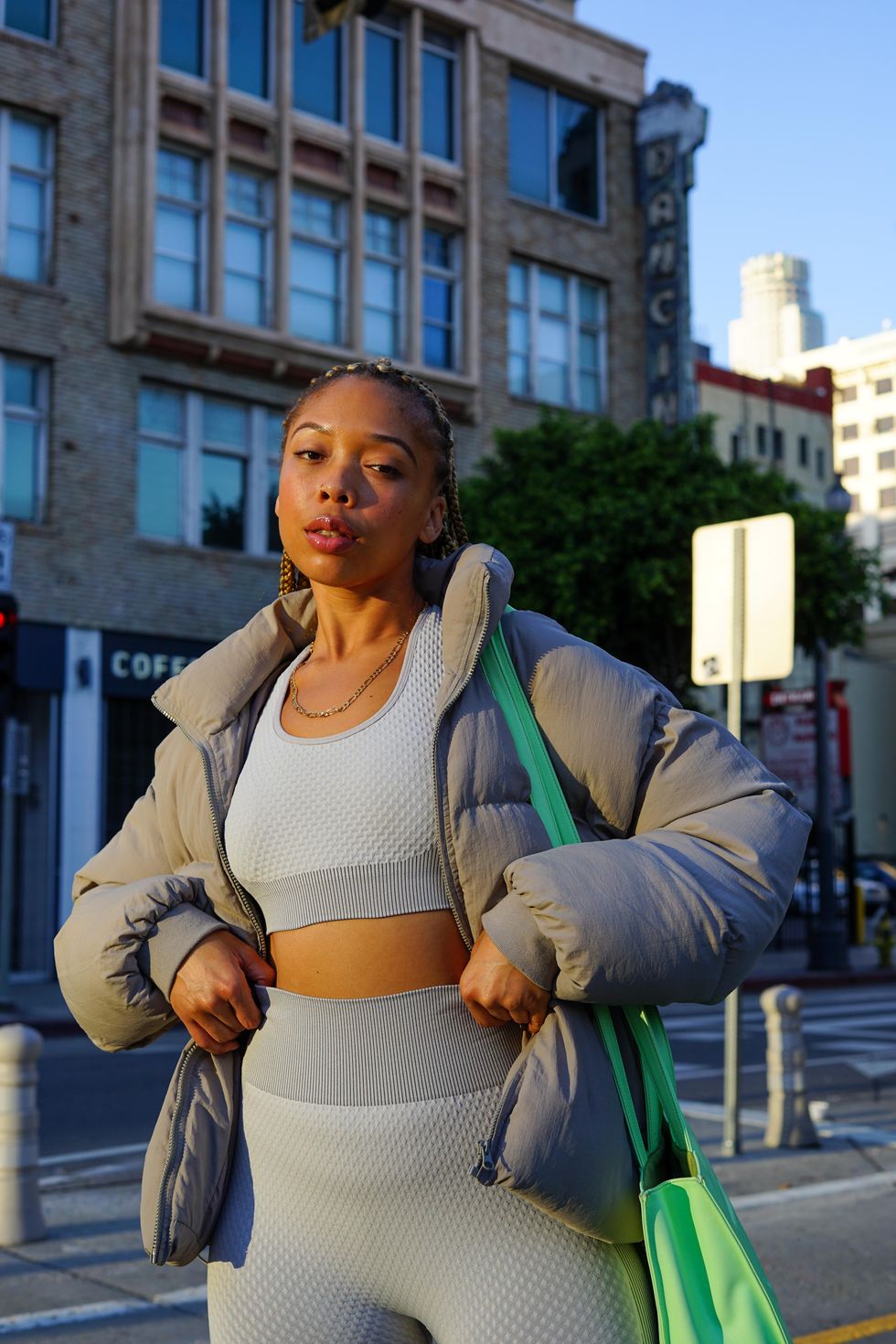 Shahirah Ahmed/xoNecole
A top-of-the-morning gym session comes with colder temperatures, no matter the season. For a cozier look, I'm loving this cool gray pairing with a matching puffer coat. The oversized fluorescent tote was the perfect pop of color to brighten my morning. To complete this look, I added chunky socks for extra insulation.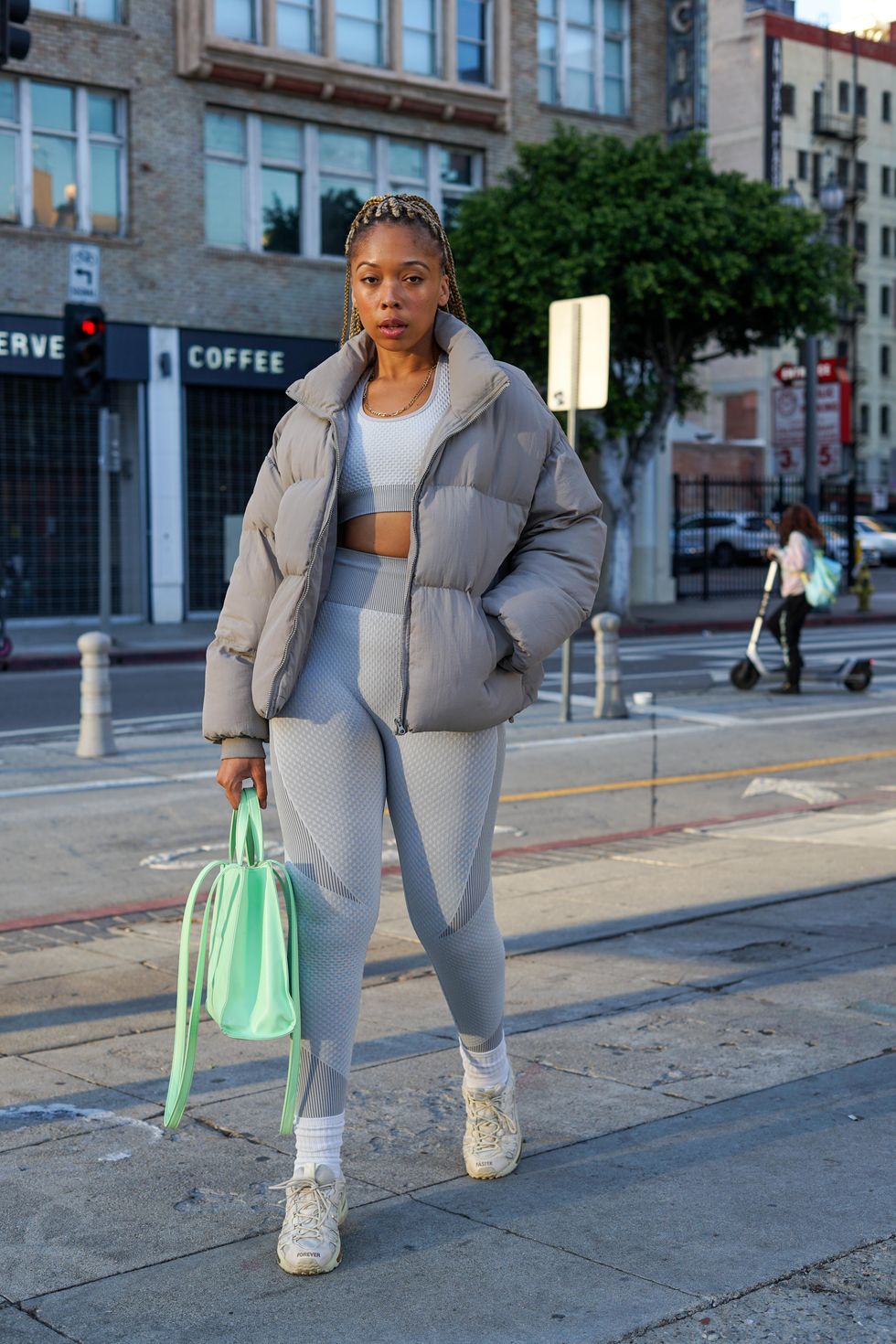 Shahirah Ahmed/xoNecole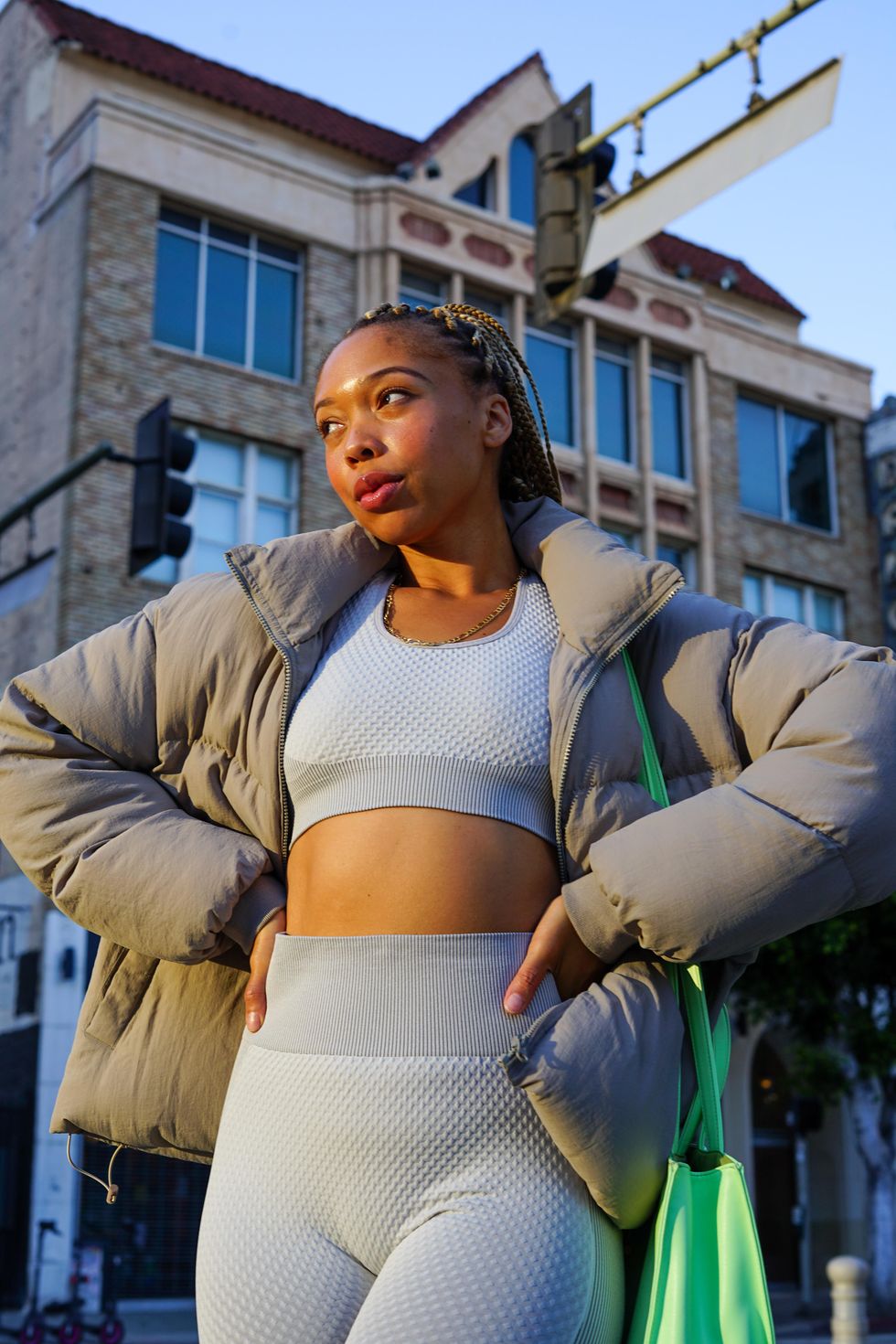 Shahirah Ahmed/xoNecole
Featured image by Shahirah Ahmed/xoNecole
With spring right around the corner, there's no better time than now to get ahead of what's soon to be trending for next season. You're probably thinking you've just gotten a hold of your winter wardrobe but fashion waits for no one. Luckily, for the early adopters, you may already own or have been eyeing much of what's to come as most styles are just an extension of what we saw in the last year such as color, cuts, and prints. However, the slight difference between the looks of 2021 and the Spring/Summer '22 runways is that the latter is even bolder and brighter with less being left to the imagination.
Preparing myself for the enticing looks to come, I'm getting a head start by predicting which trend-forward pieces will dominate IRL and our social media feeds. Whether you're into a subtle slay or an electric ensemble, here are 9 fashion trends I'm sure will see viral success in the upcoming months to come. From ultra mini skirts to conservative maxi skirts, these are the key items sure to blow up the fashion world sooner rather than later.
1

.

Bra Tops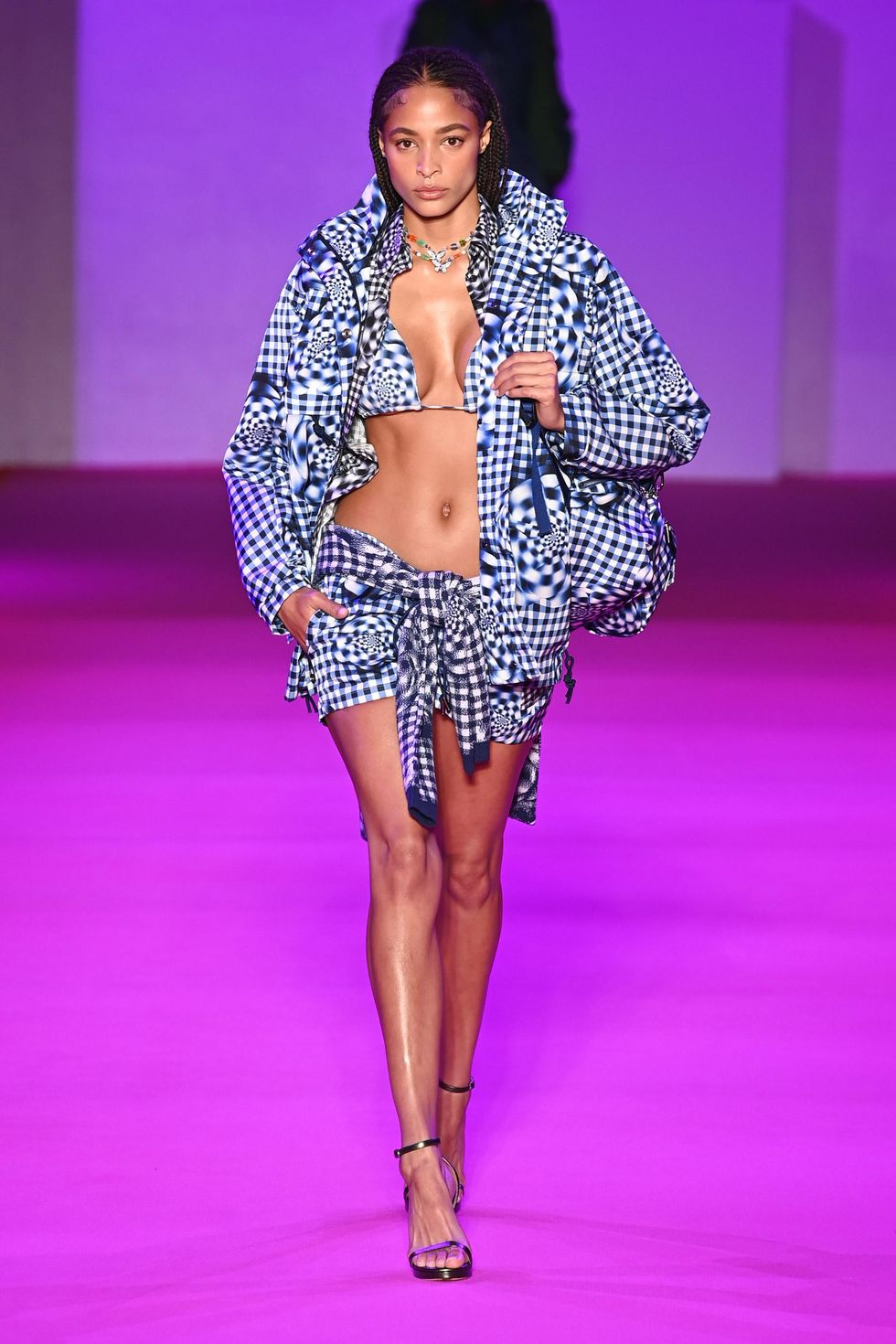 Slaven Vlasic/Getty Images
With spring comes more sunshine and ultimately baring more skin. I love bra tops as they are the perfect foundation for a warm-weather layered look. Whether satin or knit, there's an appropriate material to style for any occasion.
2

.

Sheer Enough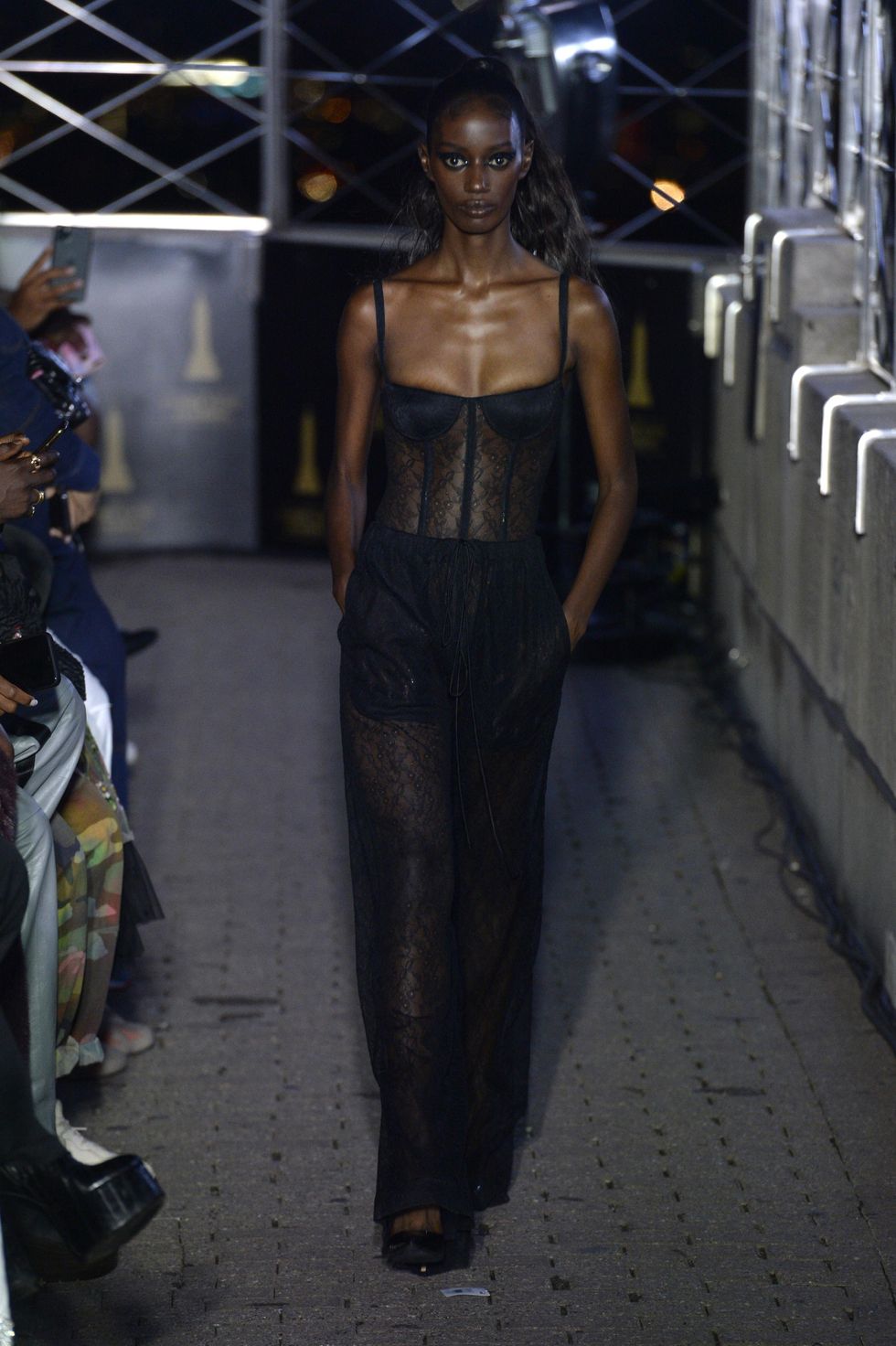 Fernanda Calfat/Getty Images
Again, skin is in this spring but if you're not ready to bare it all, go for a more conservative take by going sheer instead. From mesh tops to barely-there dresses and swim coverups, there's no denying this sexy trend. With intricate design details, there are plenty of ways one can implement this bare necessity.
3

.

Slouchy Pants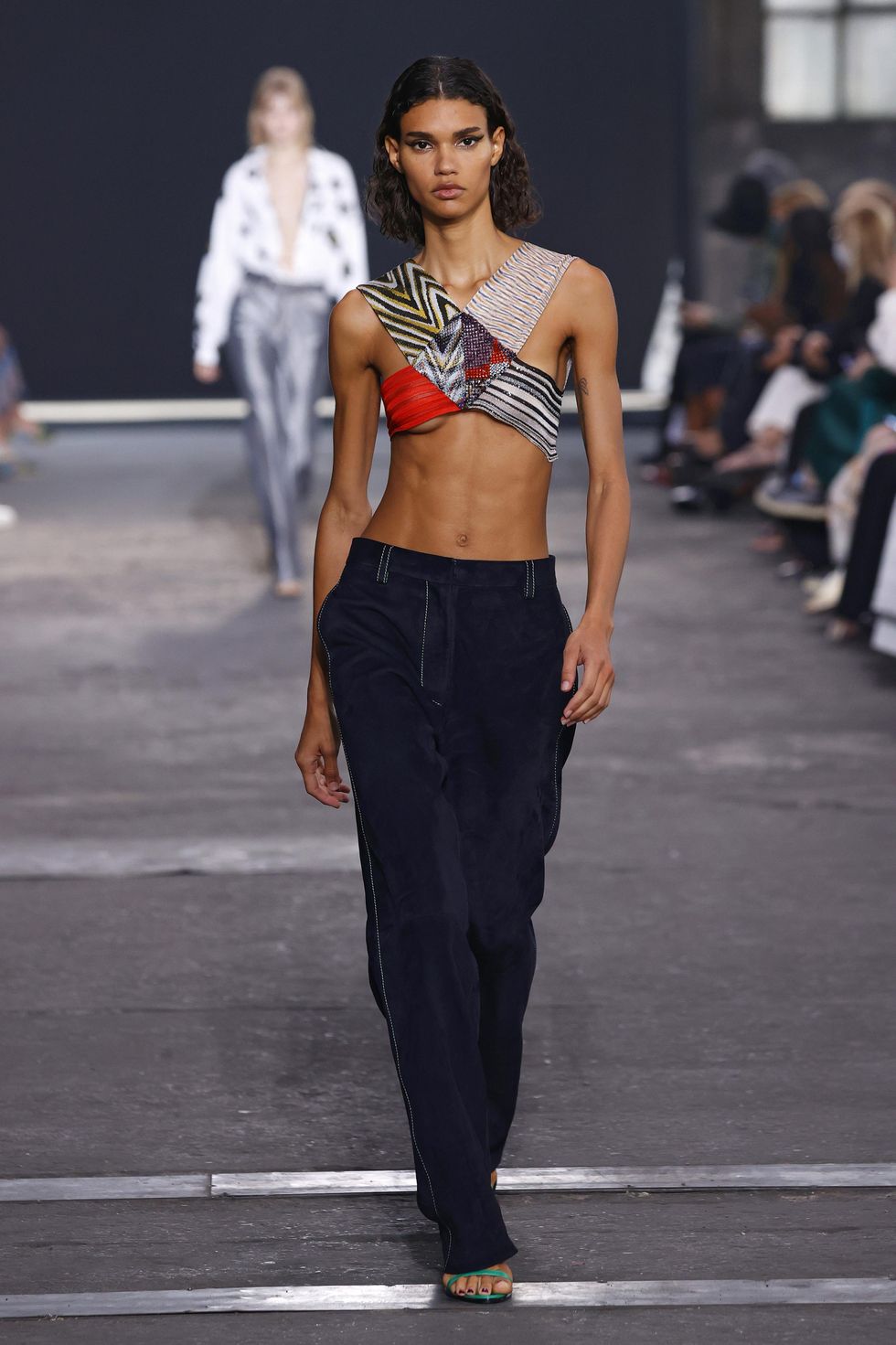 Estrop/Getty Images
Yes, low-rise trousers are back and this time the slouchier the better. For a comfy chic look, oversized trousers are definitely next-level. Graduating from at-home knits and sweatpants, these bottoms are perfect for the lazy yet fashion-forward gal at heart.
4

.

Maxi Skirts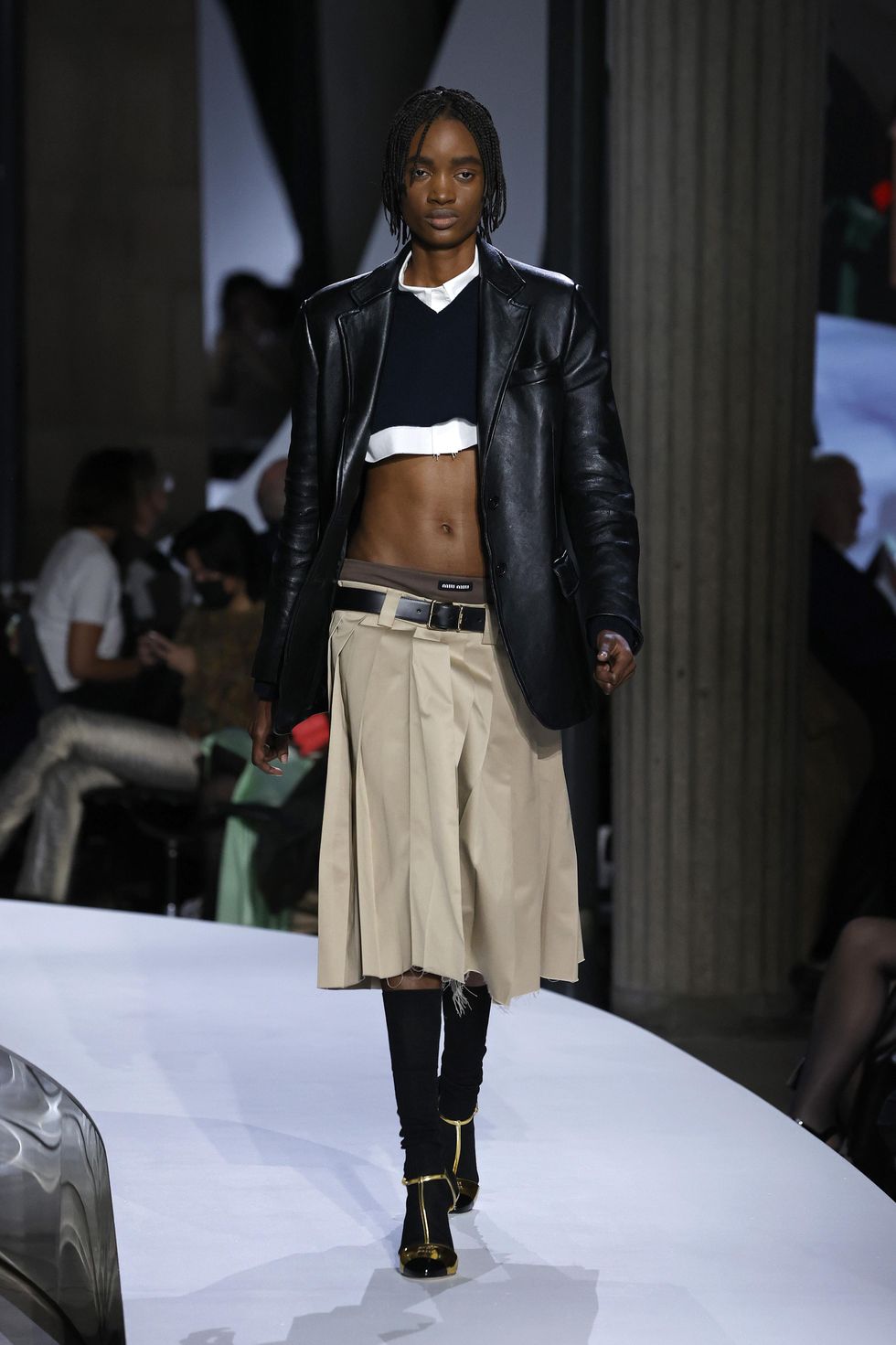 Estrop/Getty Images
When it comes to this year's trends you may be having major Y2K fashion flashbacks. Don't worry, as influential as the early 2000s will be on spring collections they come with a modern upgrade. Maxi skirts are a cult classic that will continue to stand the test of time which in my opinion are definitely worth the purchase. This season, try an oldie but goodie denim maxi skirt to relive your best teenage dreams.
5

.

Chunky Footwear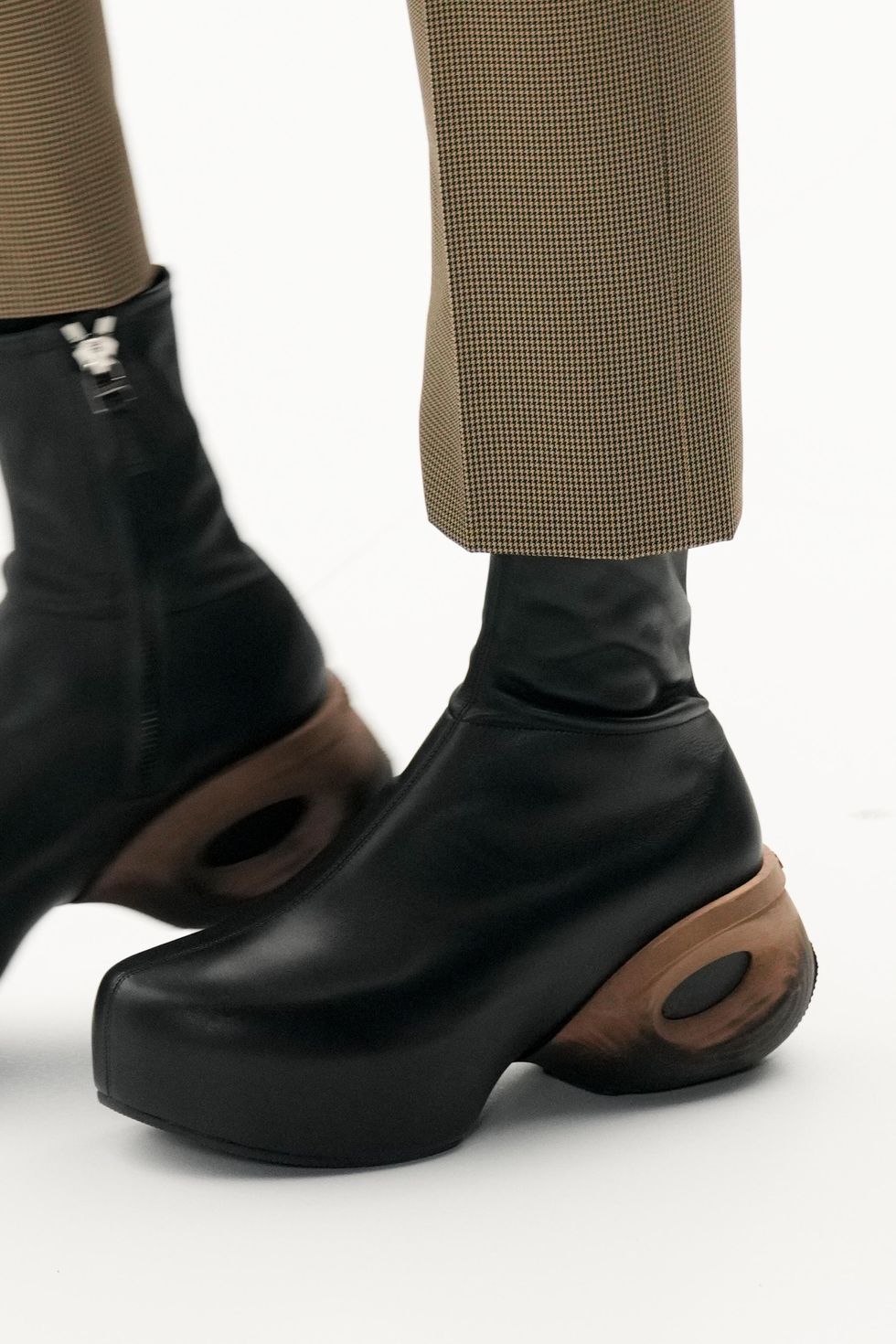 Peter White/Getty Images
The chunky shoe trend began to re-emerge on the 2021 footwear scene and will definitely continue into the new year. From boots to sneakers, loafers, and pumps, this statement trend will see new heights in the months to come. This elevated shoe style amplifies classic styles into fashion-forward must-haves.
6

.

Playful Prints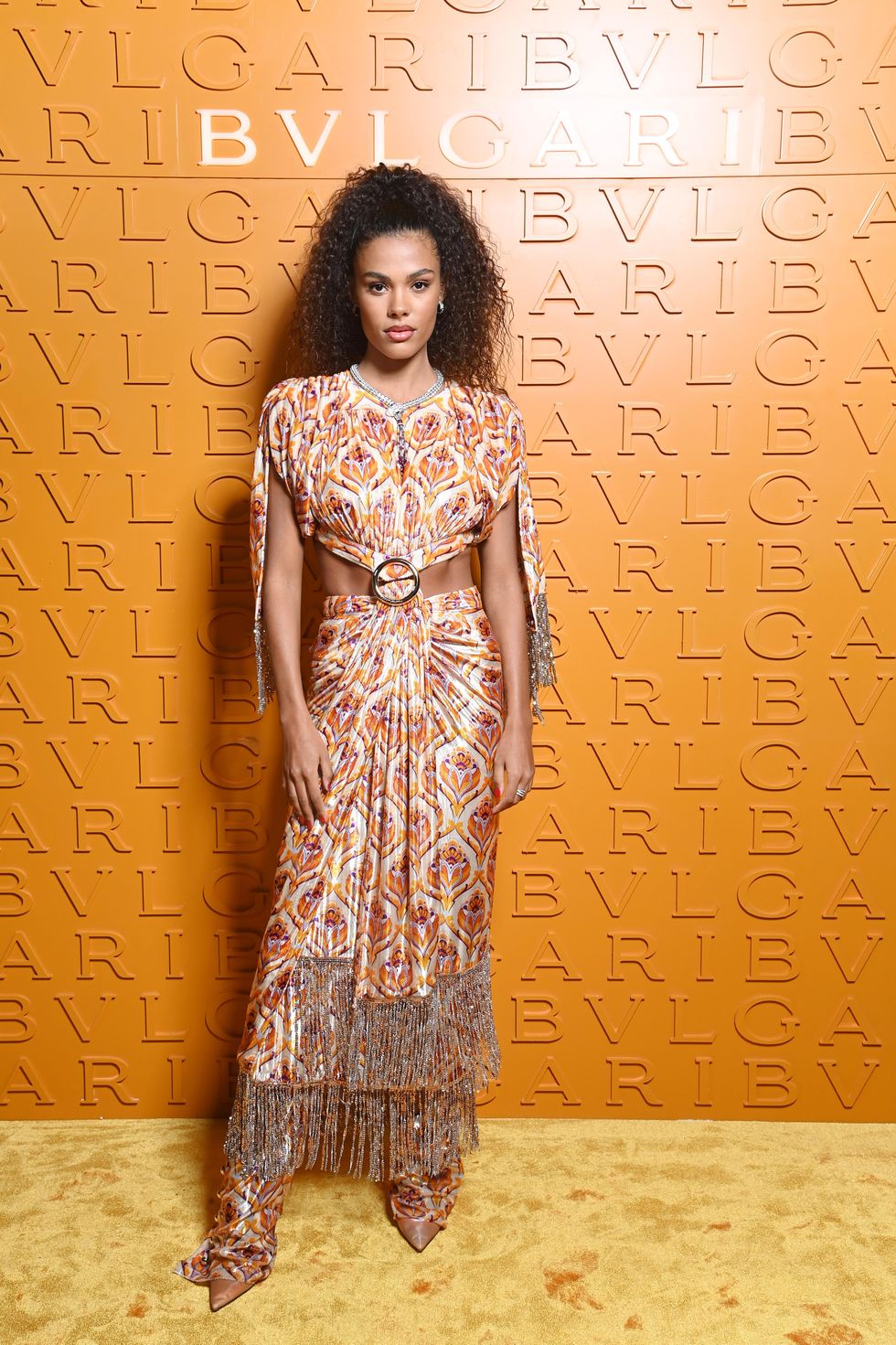 Daniele Venturelli/Daniele Venturelli/Getty Images for Bulgari
​Animal print is so 2020 and I predict abstract designs made of geometric shapes, artistic drawings, and colorful combinations will be the new go-to. Abstract illustrations were seen all over the runway from Brandon Maxwell to Versace and every designer in between. In 2022, fashion is the art and we the consumer are its muse.
7

.

Unwashed Denim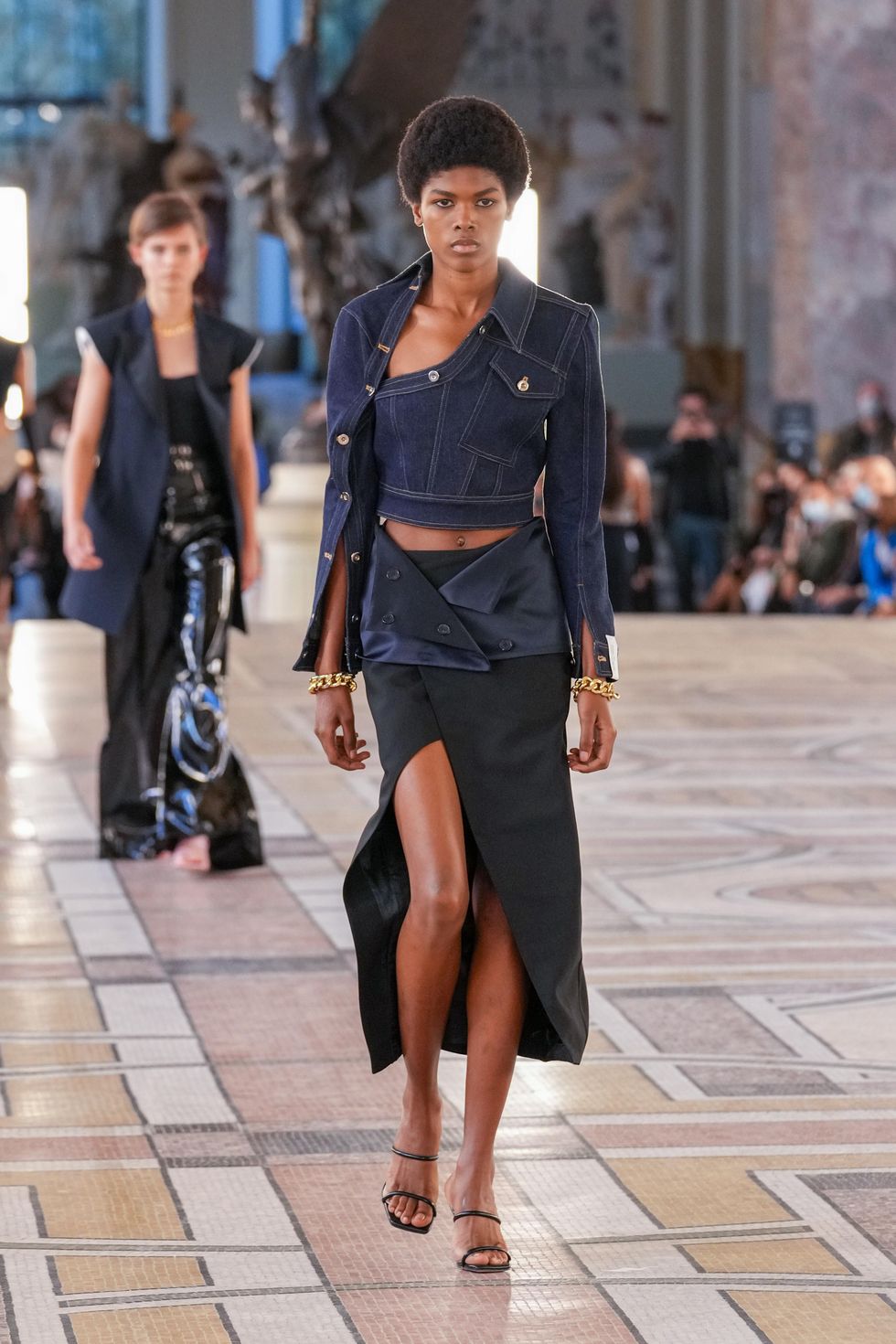 Peter White/Getty Images
​The ultimate 90's dark denim trend is back and taking over for the year 2022. As we know, fashion comes in waves so it's no surprise to see many of this year's trends appearing to be the ghost of fashion's past. Super sleek, this denim trend gives the everyday staple a high-end appeal.
8

.

Vibrant Color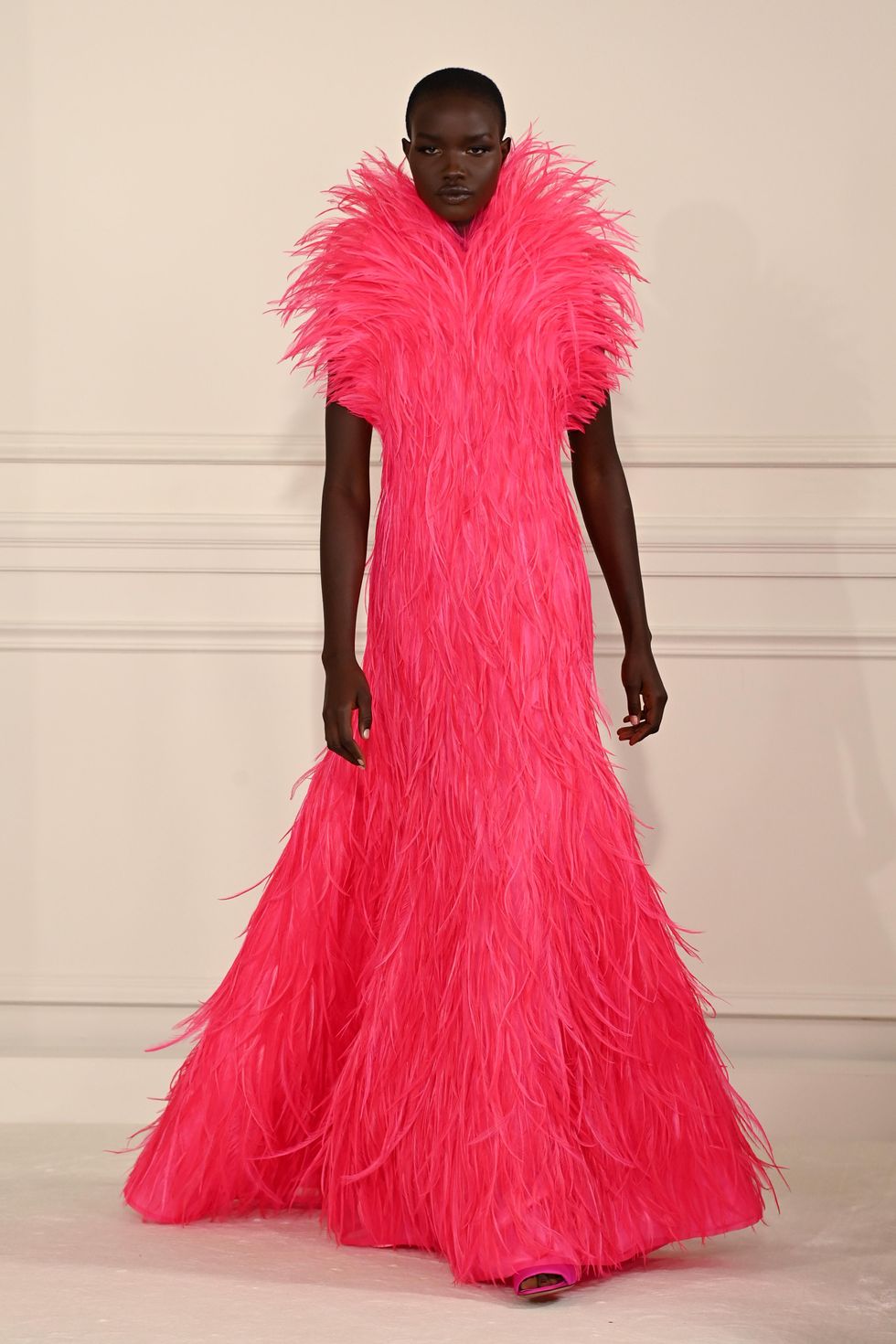 Pascal Le Segretain/Getty Images
Spring is always the season for more color but this time it's all about deeper, bolder, and more vibrant shades. This spring we can include just about every color of the rainbow into our wardrobe. With magnetic shades and sleek yet wearable tones, the biggest colors trends of the year are just as exciting as what's to come in the year ahead. Full of optimism along with a sense of hope, the pigments that will dominate our everyday lives this coming season are what we all need as we continue into a new year of wonderful possibilities.
9

.

Fringe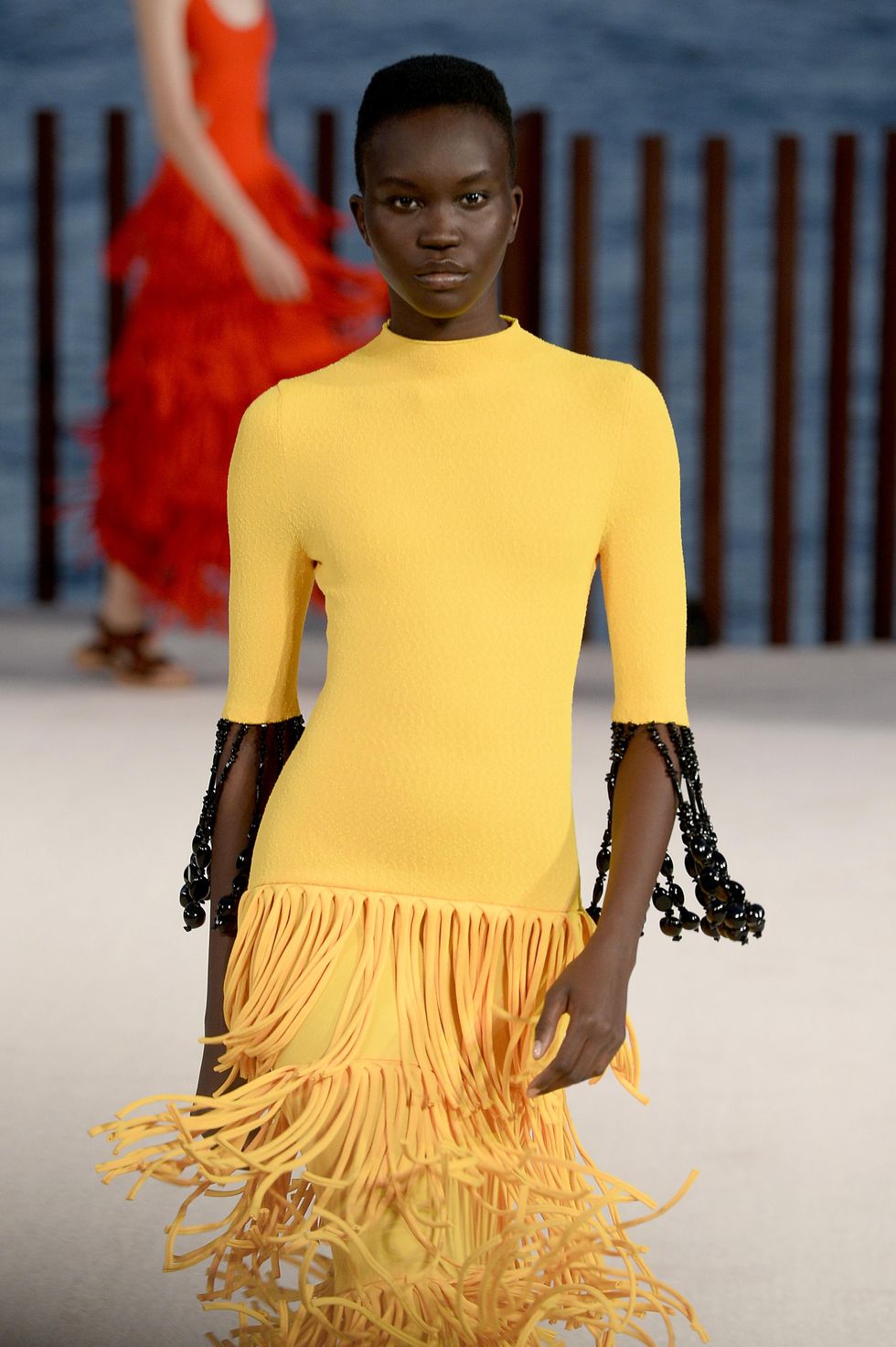 Fernanda Calfat/Getty Images
Every other decade fringe finds itself back in the hearts of fashion lovers everywhere. Making a fierce resurgence, the drama is unlike any other. Intricately designed with breathtaking detail, I am excitedly anticipating the fabulousness of fringe. With effortless movement and bold sensuality, this is an elevated yet sexy design detail perfect to re-emerge into the world.
Featured image by Christian Vierig/Getty Images
Since revealing her baby bump in the most stylish way a few weeks ago, Rihanna has continued to give us fashion moments that have taken the internet by storm and this past weekend was no different. Ri Ri attended two different red carpet events, the first being the celebration of her Fenty Beauty and Fenty Skin line and the second being the Savage X Fenty store opening in Los Angeles.
The 33-year-old singer had her baby bump semi-exposed during the Fenty Beauty and Fenty Skin party while wearing a sexy green shredded halter top and silver and purple shredded pants that exposed her backside.
However, when she popped out at the Savage X Fenty event, she was fully covered wearing an all-red custom Alaia dress. Her beau A$AP Rocky was by her side at both outings looking fly as well. At her Fenty Beauty and Fenty Skin party, Rihanna spoke with Entertainment Tonight about her maternity fashions.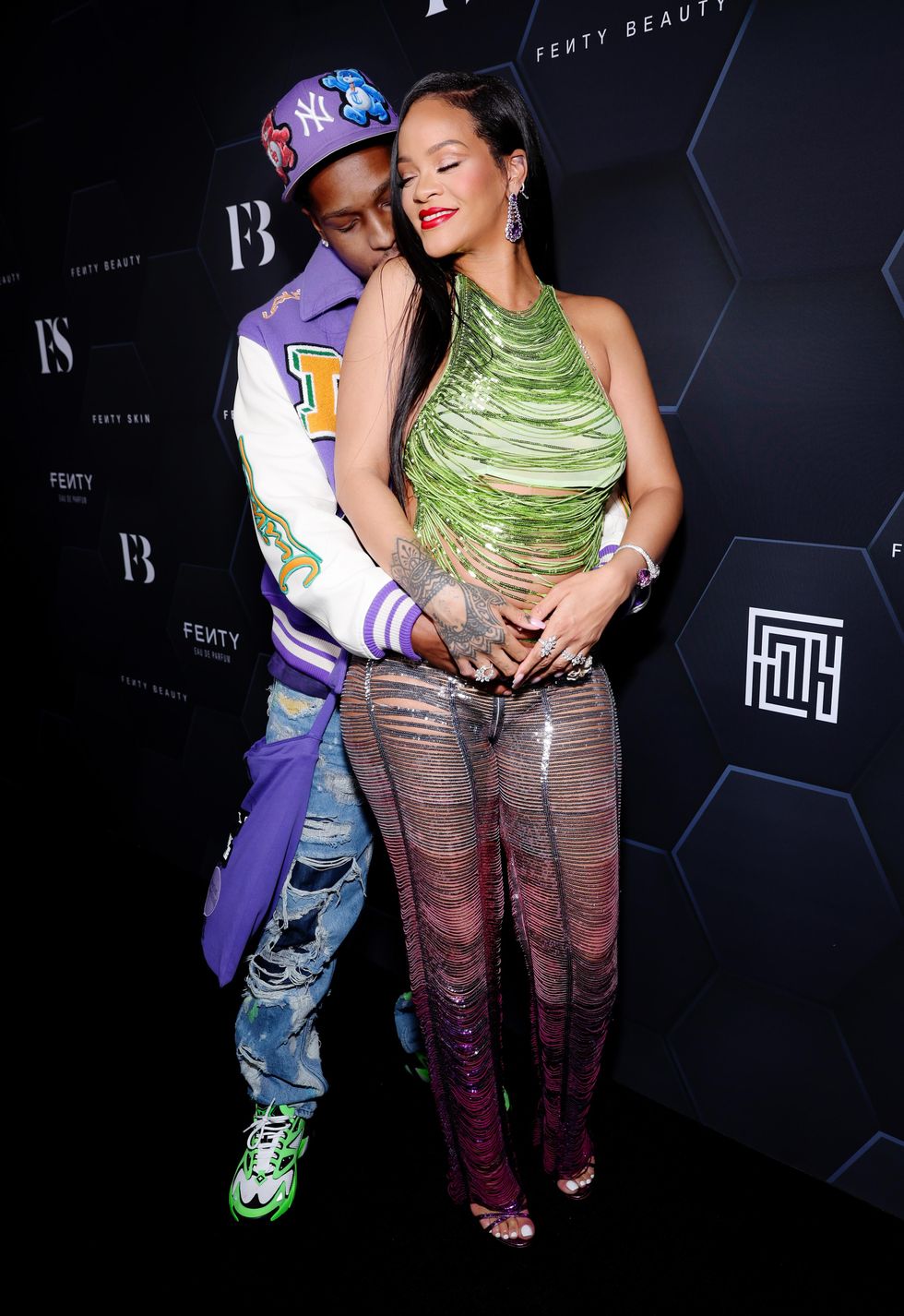 Rich Fury/Getty Images for Fenty Beauty & Fenty Skin
"I'm trying to enjoy it [pregnancy] as much as I could and fashion is one of my favorite things so redefining what it means to even be pregnant and maternal," she said. "It can get uncomfortable at times, so you can dress the part and pretend."
Speaking to Access, she called fitting clothes with her pregnant belly a "challenge," but something she enjoys. She also touched on the inspiration behind her pregnancy reveal photos.
"I just wanted to wear something like I wasn't pregnant. What I would wear and enjoy wearing. It was fun to be able to wear it in this way, kinda, all flasharoo," she said. "It was good. It was cold as hell that day, but we got it done."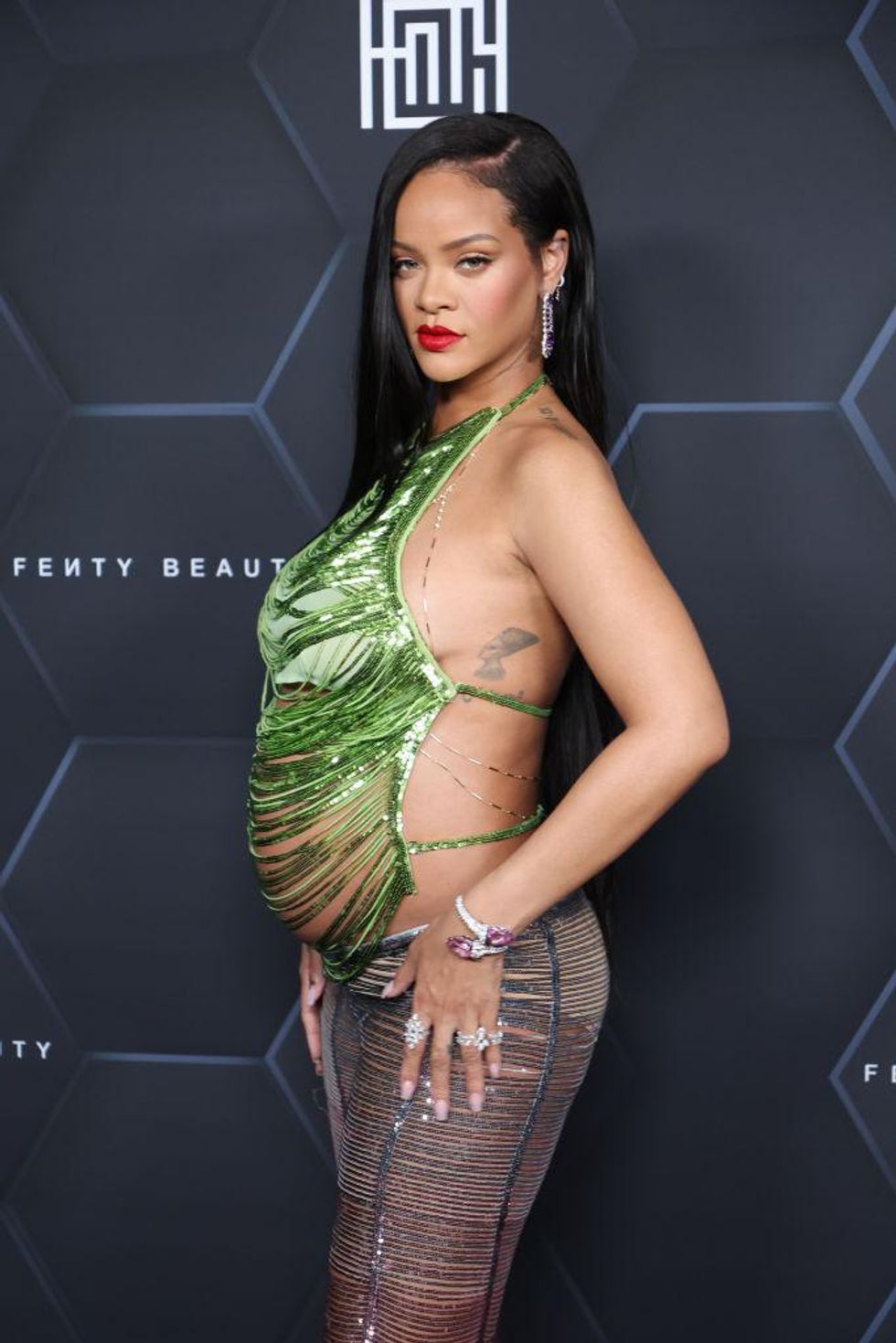 Mike Coppola/Getty Images
On Jan. 31, Rihanna and A$AP Rocky broke the internet when photos surfaced of the couple walking around New York with the singer's baby bump exposed. Rihanna wore a vintage Chanel by Karl Lagerfeld pink long puffer coat that buttoned right to her belly and extra-long ripped blue jeans and heels. She accessorized the look with layered necklaces and a chain belt.
As of yet, the singer hasn't revealed how far along she is in the pregnancy or the sex of the child. However, she did open up about the moment she found out she was pregnant.
"When I first found out, it's not real, you know? I was like, 'This is not for real, right?'" she toldE! News. "And then, it was and it's almost like you don't want to get too excited too soon because it's great news, but you...want to see that it's going to see its way through. And I'm so glad that we're this far along and now I can celebrate with everyone."
Featured image by Mike Coppola/Getty Images
As most countries around the world begin to reopen their borders, it's finally time to break free of the global restraints brought on by the COVID-19 pandemic. Whether a tropical vacation or a European excursion, planning a trip can feel a bit overwhelming especially when it comes to planning your day-to-day outfits. As I gear up to take the biggest solo trip of my life thus far, I'm getting a head start on stylish looks I can wear from beginning to end. Of course, one of the most important aspects of a trip is traveling to your destination, so I'm getting a head start on the major inspiration that will keep me both chic and comfy during my dreaded 10-hour flight.
Practical choices such as sneakers, crossbody bags, and minimal (to no) accessories are key to a seamless in-flight experience. Along with the right essentials, showing the least amount of skin possible also elevates my comfort level. Catching both flights and hopefully feelings this year, these are the eight airport-approved ensembles that will keep you looking fresh off the runway. Whether going for an elevated approach or casual cool, keep scrolling to find the fashion-forward looks that can go the distance.
Featured image via @wearmichelletravels/Instagram
After another strenuous and stressful year, the determination to start 2022 with a positive outlook is non-negotiable. A fresh mindset, accompanied by new stationery and a meticulously detailed vision board, can make the start of the new year feel like your own personal playground. It's a brand new year with new goals, new vibes, and new…whatever you want, really. Many of us thrive on the idea of a fresh start and the opportunities afforded with it; a way to put actions behind the self-work we did all year.
For many of us though, this can be achieved by implementing simple habits and routines that effortlessly enhance your day-to-day. An uncomplicated way can be by cultivating an everyday look that breeds confidence while maintaining a level of comfort. Especially if you're still working from home, looking your best is a surefire way to feel good and perform at your best. A bright sweater on a rainy day or an oversized blazer on a meeting-heavy day can effortlessly uplight and enhance your mood.
Aligning the unique energy of each day with your wardrobe can make you feel prepared, self-assured, and focused. Keep scrolling to see a week of my life through outfits that make me feel ready to tackle the new year.
Featured image by Courtney Simpson/xoNecole