The four-time NAACP-nominated docuseries was created by husband-and-wife filmmakers Codie and Tommy Oliver, and offers a nice respite from shows like Marriage Bootcamp or the Love and Marriage series, featuring conversations on relationship topics and a refreshing glimpse into the love lives of some of our favorite Black couples who are business leaders, hosts, entertainers, and influencers.
xoNecole caught up with the Olivers, as well as the Norrises about the show and their own journeys in love:
On what to expect for the final season:
Codie Oliver: The overarching theme is what I titled 'The Finale,' which is 'relationship goals.' And I called it that ironically because 'relationship goals' is one of those terms that suggests perfection. We throw that on people who we like. The reality is that, to me, in my experience of doing all these interviews and putting this together, [the] real relationship goal is authenticity and alignment in your partnership.
The title is meant to be ironic. They talk about it explicitly—several of the couples—and what that title means to them, how they feel about having that placed on them, and hopefully our series has shown, again, that the real goal is to be in alignment with your partner and nothing else really matters.
"The reality is that, to me, in my experience of doing all these interviews and putting this together, [the] real relationship goal is authenticity and alignment in your partnership."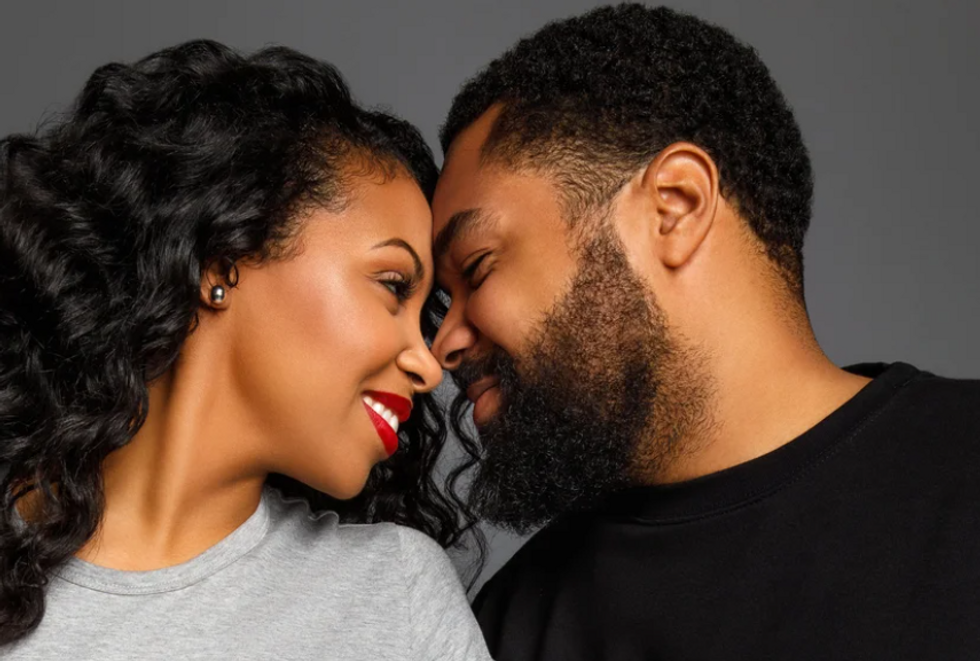 By Elton Anderson
The Olivers on authentic connection in their relationship:
Codie: To me, that alignment, that checking in with self and with [a] partner about, like, what do we really want and what do each decision mean for us, whether that is the amount of travel that we are doing or not doing, [or] the amount of time spent working versus with our kids. So, it's that checking with self and checking in with my partner about what's making us happy in various phases of life. [It's] recognizing that with every season comes something new, whether it's 'newlywed' or 'new parent' or 'parent of three,' and that constant conversation around, 'Are we working to achieve the same goals, small or large?' 'Are we happy with how this relationship is progressing and how can we change that or make adjustments to it to make it more fulfilling for both of us?' I think that's important for all relationships.

Tommy: During [the pandemic] I really enjoyed being around [Codie] all the time, being around my kids all the time. I also knew it wouldn't be the case forever, so I made sure to appreciate it for what it was at that point. And so, hopefully, it would be something different. Marriages, relationships, and partnerships—these things have seasons, and you're in a different one. In a long marriage, you're going to go through a lot of different seasons and a lot of different experiences and for me, it's about figuring out how to adapt to where we are because I plan for us to be together for more than the next 20 years. I'm going to do my part to make sure that you want to be with me for more than the next 20 years.
"Marriages, relationships, and partnerships—these things have seasons, and you're in a different one. In a long marriage, you're going to go through a lot of different seasons and a lot of different experiences and for me, it's about figuring out how to adapt to where we are because I plan for us to be together for more than the next 20 years."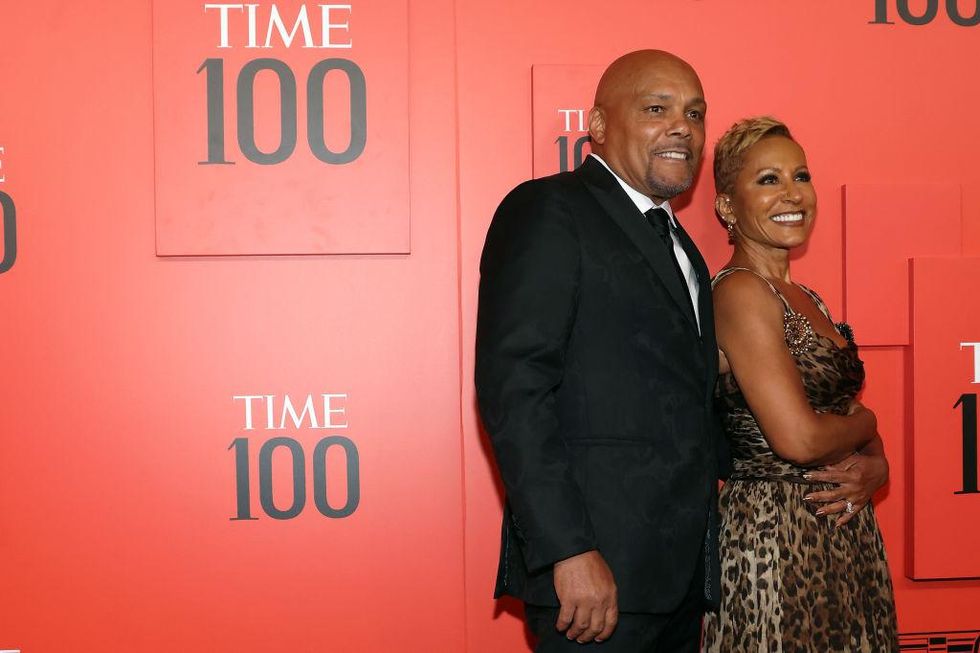 Taylor Hill / Contributor/Getty

The Norrises on why they chose to join the cast:
Rodney Norris: We were fans of the show from the very beginning. Never thought we'd be on it, but when the opportunity presented itself, we felt like we had a story to tell as well. Our relationship has been very positive and that's what Black Love represents. So, from that perspective, we felt like our story could be an addition to it.
Adrienne Banfield-Norris: I agree. We love Black Love and actually tried to manifest being on the show because we were shouting out Black Love on IG and on my podcast Positively Gam, and it came to be. We're excited to be part of it.
On reconnecting and the thread that keeps them together:
Adrienne: The most important thing is friendship. Besides the love, do you like him? Do you have fun together? Do you enjoy being in each other's company? To me, that is the most important thing because, I think, a lot of times friendship is what is going to seal the relationship—just really seal the bond.

Rodney: I agree. And at some point, you have to communicate. You can only have sex but for so much during the course of the day, and then after that, there's 23 hours left. What are you going to do? You have to talk about something. Do you get along? I think the friendship is very important.
On navigating differences in a relationship:
Adrienne: One of the most important things about Rodney is that he does not believe in [raising] his voice. Communication is of the utmost importance. When I get angry, I immediately go to the ra-ra. I'm going to cuss you out, I'm going to do all of that. Yell. Scream. And I had to be willing to do the work on me, because that was not something he was going to tolerate in the relationship.
So you have to be able to communicate and be able to talk things out rationally and hear one another. That was one of the things. He said, 'If you're screaming and hollering, I can't even hear you.' So you have to be able to communicate in a way that both of you are able to hear one another's perspective and hope that you will be able to come to a compromise.
The final season of Black Love is currently airing on OWN.
OFFICIAL TRAILER: The 6th & Final Season of Black Love | Black Love | OWN
Featured image by Unique Nicole/WireImage/Getty
It's the BET Awards weekend, and L.A. is the place to be, according to power-house entertainment marketer and entrepreneur Miss Diddy. "It's always been a time when people come from all major markets and they want to be in the city and everything like that," the LA Native tells xoNecole.
That's why every year, Miss Diddy kicks off BET Awards weekend by hosting her annual LA event, A Toast to Black Hollywood. Founded in 2014 initially as A Toast to Young Hollywood, the event was born from Miss Diddy's desire to celebrate people who typically don't get the recognition they deserve for their impact on the culture. "Years ago …it really started for me to really give an ode to the people that were moving the culture forward," she says. "So the executives, the people behind the scenes, the people who had a big effect on my career as well."
In the event's first year, the honorees included Meagan Good, Baron Davis, Eric Bellinger, and Steve Rifkind. This year's honorees include Valeisha Jones, Nina Parker, Cynthia Bailey, and Shayla Cowan, among other movers and shakers in the industry.
After a two-year hiatus due to the pandemic, Miss Diddy is relaunching the event under its new name, A Toast to Black Hollywood – a shift that came in response to everything that happened post-2020, including the protests against police brutality. "As soon as everything kinda changed in the world during the time of the pandemic, and everything that happened as a culture and as a community, I wanted to make sure to change the name to A Toast to Black Hollywood," Miss Diddy tells xoNecole. "We're being really intentional about our messaging moving forward and what's important to us as a community."
Alongside the new name for the event, Miss Diddy also prides herself in the charity work she does for the community. "I've partnered with the mayor of Compton, Asia Brown, to do many community initiatives," she says. "Whether it's Thanksgiving, making sure we're feeding families, handing out turkeys, serving the elderly. Whether it's Christmastime and I've partnered with Champion for them to give us so much clothes for the community. Mattel is one of my partners that come and give our kids in Compton so many toys."
Since the beginning of her career as an entertainment marketer, Miss Diddy has had a front row seat to culture defining moments. "When Kanye started Good Music, I started over in the promotion department with [West's Co-manager] John Monopoly and just built my career from there." It wouldn't be long before Miss Diddy would begin facilitating her own legendary moments.
When reflecting on what moment from over the years at The Toast to Black Hollywood event stands out to her, Miss Diddy points to 2018 when the event honored Lauren London who was attended by her partner, the late rapper Nipsey Hussle. "Nipsey was there and just having a great time with us. He was so proud of Lauren and so proud of me."
Miss Diddy credits her drive and tenacity to her Los Angeles rearing. "It's a place I was born in, grew up in, raised in, and became successful in – extremely successful," she says. "This is where people come to make their dreams come true. They come here to be in the city that we built with our hands. Everything about Los Angeles has shaped who I am." With the forthcoming Toast to Black Hollywood event and all the work she continues to do in her career, Miss Diddy is certain to always put on for her city.
Let's make things inbox official! Sign up for the xoNecole newsletter for daily love, wellness, career, and exclusive content delivered straight to your inbox.
Before she was Amira Unplugged, rapper, singer, and a Becoming a Popstar contestant on MTV, she was Amira Daughtery, a twenty-five year-old Georgian, with aspirations of becoming a lawyer. "I thought my career path was going to lead me to law because that's the way I thought I would help people," Amira tells xoNecole. "[But] I always came back to music."
A music lover since childhood, Amira grew up in an artistic household where passion for music was emphasized. "My dad has always been my huge inspiration for music because he's a musician himself and is so passionate about the history of music." Amira's also dealt with deafness in one ear since she was a toddler, a condition which she says only makes her more "intentional" about the music she makes, to ensure that what she hears inside her head can translate the way she wants it to for audiences.
"The loss of hearing means a person can't experience music in the conventional way," she says. "I've always responded to bigger, bolder anthemic songs because I can feel them [the vibrations] in my body, and I want to be sure my music does this for deaf/HOH people and everyone."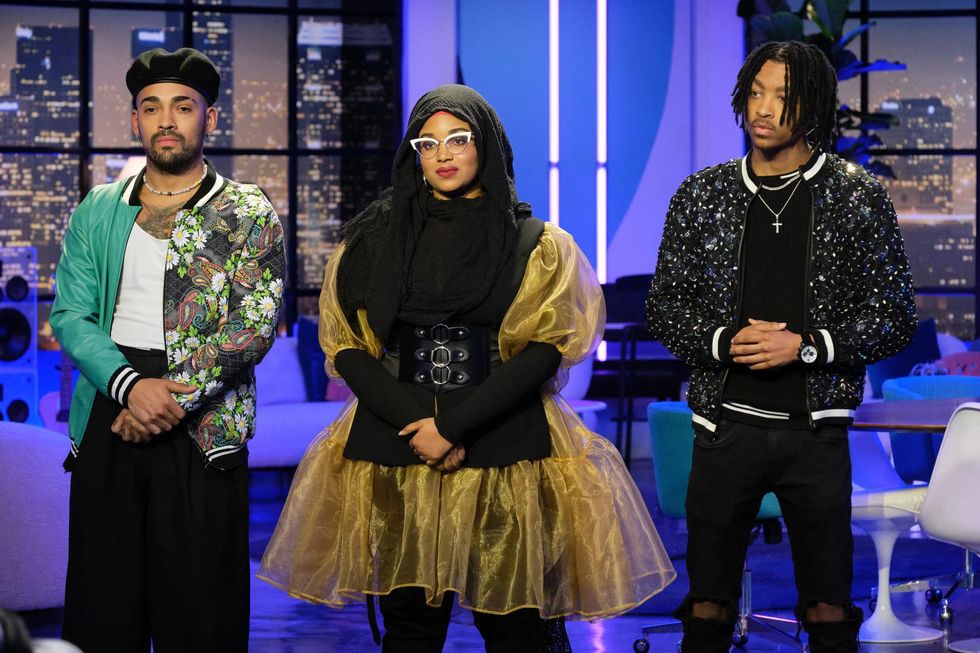 Amira Unplugged and other contestants on Becoming a Popstar
Amira Unplugged / MTV
In order to lift people's spirits at the beginning of the pandemic, Amira began posting videos on TikTok of herself singing and using sign language so her music could reach her deaf fans as well. She was surprised by how quickly she was able to amass a large audience. It was through her videos that she caught the attention of a talent scout for MTV's new music competition show for rising TikTok singers, Becoming a Popstar. After a three-month process, Amira was one of those picked to be a contestant on the show.
Becoming a Popstar, as Amira describes, is different from other music competition shows we've all come to know over the years. "Well, first of all, it's all original music. There's not a single cover," she says. "We have to write these songs in like a day or two and then meet with our producers, meet with our directors. Every week, we are producing a full project for people to vote on and decide if they'd listen to it on the radio."
To make sure her deaf/HOH audiences can feel her songs, she makes sure to "add more bass, guitar, and violin in unique patterns." She also incorporates "higher pitch sounds with like chimes, bells, and piccolo," because, she says, they're easier to feel. "But it's less about the kind of instrument and more about how I arrange the pattern of the song. Everything I do is to create an atmosphere, a sensation, to make my music a multi-sensory experience."
She says that working alongside the judges–pop stars Joe Jonas and Becky G, and choreographer Sean Bankhead – has helped expand her artistry. "Joe was really more about the vocal quality and the timber and Becky was really about the passion of [the song] and being convinced this was something you believed in," she says. "And what was really great about [our choreographer] Sean is that obviously he's a choreographer to the stars – Lil Nas X, Normani – but he didn't only focus on choreo, he focused on stage presence, he focused on the overall message of the song. And I think all those critiques week to week helped us hone in on what we wanted to be saying with our next song."
As her star rises, it's been both her Muslim faith and her friends, whom she calls "The Glasses Gang" ("because none of us can see!"), that continue to ground her. "The Muslim and the Muslima community have really gone hard [supporting me] and all these people have come together and I truly appreciate them," Amira says. "I have just been flooded with DMs and emails and texts from [young muslim kids] people who have just been so inspired," she says. "People who have said they have never seen anything like this, that I embody a lot of the style that they wanted to see and that the message hit them, which is really the most important thing to me."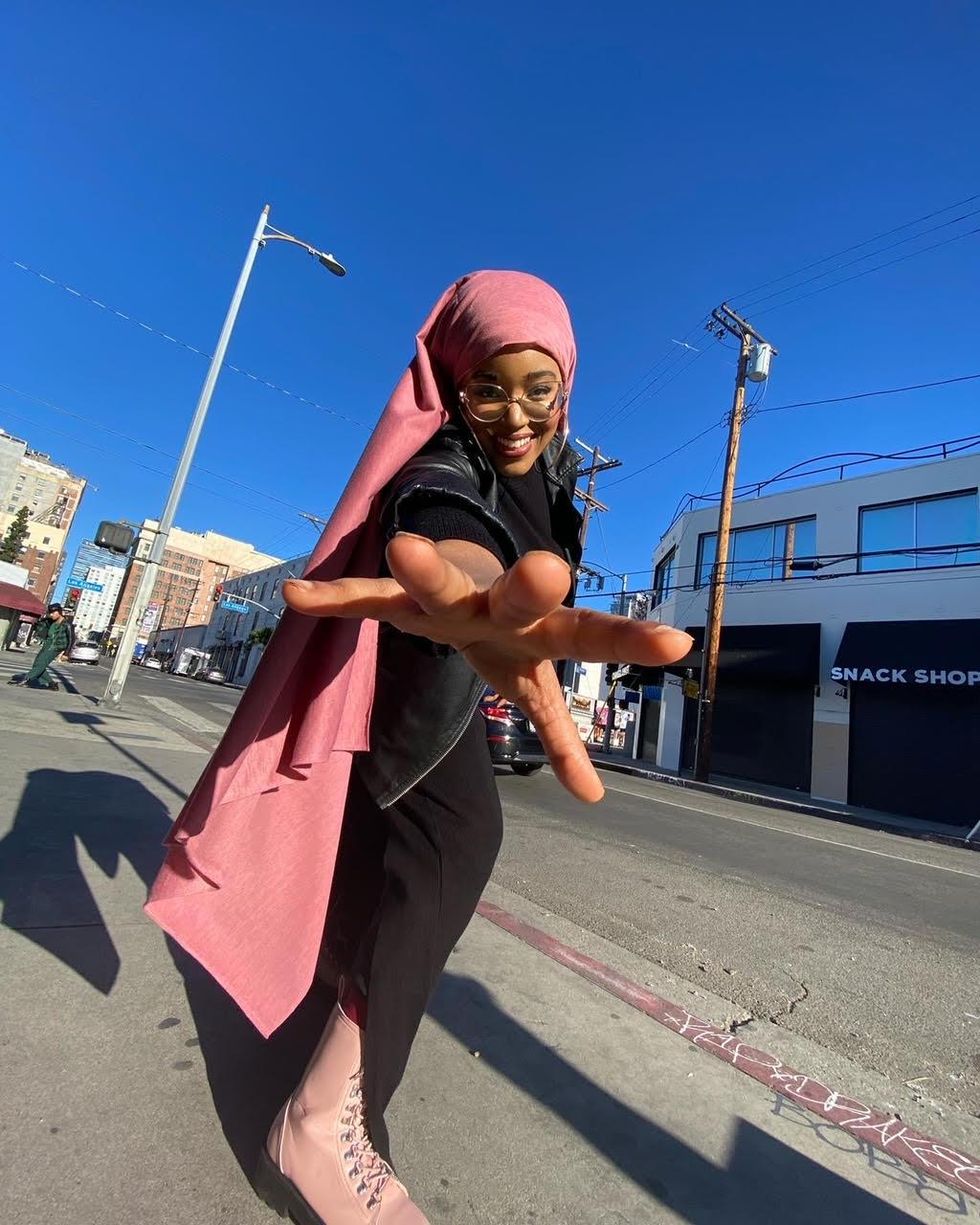 Amira Unplugged
Amira Unplugged / MTV
Throughout the show's production, she was able to continue to uphold her faith practices with the help of the crew, such as making sure her food was halal, having time to pray, dressing modestly, and working with female choreographers. "If people can accept this, can learn, and can grow, and bring more people into the fold of this industry, then I'm making a real difference," she says.
Though she didn't win the competition, this is only the beginning for Amira. Whether it's on Becoming a Popstar or her videos online, Amira has made it clear she has no plans on going anywhere but up. "I'm so excited that I've gotten this opportunity because this is really, truly what I think I'm meant to do."
While Jay Ellis' claim to fame is starring in Insecure as Lawrence, the 40-year-old actor racked up many acting credits prior to and after the iconic series. He starred in The Game and currently, he's promoting his new film Top Gun: Maverick where he plays the character Payback. The role could be considered a full-circle moment for the actor since he was a military brat.
Jay's father was in the Air Force and they moved around a lot. In an interview with SSENSE, he revealed that he attended 12 schools in 13 years. Due to his successful career, he has been able to give back to his parents who had him when they were teenagers. Jay was a keynote speaker at CultureCon in Atlanta earlier this month and he spoke with xoNecole about the sweet gift he bought his parents for their wedding anniversary.
"I remember the first time I bought my parents cars this year for their 40th wedding anniversary and that to me felt like a full-circle moment," he said. "I don't know if I ever really thought about it before then but that to me was just this moment of like, 'Oh I can do this for my family. I'm excited to do this and proud to do this for them.' And that was huge."
The former model is also a huge proponent of self-care. While there is a community on social media that believes "sleep is for the weak," Jay has no qualms about prioritizing eight hours of sleep a night.
"I get eight hours of sleep no matter what. Always. If I gotta go to bed at 8 o'clock at night that's what I gotta do I don't care," he said. But he also enjoys his quiet time and explains how that has helped him over time. "Whether that's meditation, whether it's prayer, whether it's a walk. I go on a walk pretty much every single morning for like 45 minutes," he said.
"I wake up early before I gotta go to work before I gotta get ready for work to go on a walk just to have some quiet time and to me that's been super helpful. I think it's helped with my energy and endurance but I think even also decision making and all the things coming at you so fast. I feel like it's really helpful to be able to have a moment to step away from all of that and get back to get grounded."
It may be surprising to know that the NAACP Image award-winning actor manages to get eight hours of sleep and finds quiet time now that he's a father. Jay welcomed a baby girl in 2020 and in an interview with Essence that same year, he noted the exhaustion with balancing work and becoming a new father.
"Then I was directing and then becoming a father. I was back and forth to New Orleans every week, and I was just so exhausted that God was like, You need to sit down, and this is the week to do it."
Let's make things inbox official! Sign up for the xoNecole newsletter for daily love, wellness, career, and exclusive content delivered straight to your inbox.
Featured image by Derek White/Getty Images for Paramount Pictures
You may not know her by Elisabeth Ovesen – writer and host of the love, sex and relationships advice podcast Asking for a Friend. But you definitely know her other alter ego, Karrine Steffans, the New York Times best-selling author who lit up the literary and entertainment world when she released what she called a "tell some" memoir, Confessions of a Video Vixen.
Her 2005 barn-burning book gave an inside look at the seemingly glamorous world of being a video vixen in the '90s and early 2000s, and exposed the industry's culture of abuse, intimidation, and misogyny years before the Me Too Movement hit the mainstream. Her follow-up books, The Vixen Diaries (2007) and The Vixen Manual: How To Find, Seduce And Keep The Man You Want (2009) all topped the New York Times best-seller list. After a long social media break, she's back. xoNecole caught up with Ovesen about the impact of her groundbreaking book, what life is like for her now, and why she was never "before her time"– everyone else was just late to the revolution.
xoNecole: Tell me about your new podcast Asking for a Friend with Elisabeth Ovesen and how that came about.
Elisabeth Ovesen: I have a friend who is over [at Blavity] and he just asked me if I wanted to do something with him. And that's just kinda how it happened. It wasn't like some big master plan. Somebody over there was like, "Hey, we need content. We want to do this podcast. Can you do it?" And I was like, "Sure." And that's that. That was around the holidays and so we started working on it.
xoNecole: Your life and work seem incredibly different from when you first broke out on the scene. Can you talk a bit about the change in your career and how your life is now?
EO: Not that different. I mean my life is very different, of course, but my work isn't really that different. My life is different, of course, because I'm 43. My career started when I was in my 20s, so we're looking at almost 20 years since the beginning of my career. So, naturally life has changed a lot since then.
I don't think my career has changed a whole lot – not as far as my writing is concerned, and my stream of consciousness with my writing, and my concerns and the subject matter hasn't changed much. I've always written about interpersonal relationships, sexual shame, male ego fragility, respectability politics – things like that. I always put myself in the center of that to make those points, which I think were greatly missed when I first started writing. I think that society has changed quite a bit. People are more aware. People tell me a lot that I have always been "before my time." I was writing about things before other people were talking about that; I was concerned about things before my generation seemed to be concerned about things. I wasn't "before my time." I think it just seems that way to people who are late to the revolution, you know what I mean?
I retired from publishing in 2015, which was always the plan to do 10 years and retire. I was retired from my pen name and just from the business in general in 2015, I could focus on my business, my education and other things, my family. I came back to writing in 2020 over at Medium. The same friend that got me into the podcast, actually as the vice president of content over at Medium and was like, "Hey, we need some content." I guess I'm his go-to content creator.
xoNecole: Can you expound on why you went back to your birth name versus your stage name?
EO: No, it was nothing to expound upon. I mean, writers have pen names. That's like asking Diddy, why did he go by Sean? I didn't go back. I've always used that. Nobody was paying attention. I've never not been myself. Karrine Steffans wrote a certain kind of book for a certain kind of audience. She was invented for the urban audience, particularly. She was never meant to live more than 10 years. I have other pen names as well. I write under several names. So, the other ones are just nobody's business right now. Different pen names write different things. And Elisabeth isn't my real name either. So you'll never know who I really am and you'll never know what my real name is, because part of being a writer is, for me at least, keeping some sort of anonymity. Anything I do in entertainment is going to amass quite a bit because who I am as a person in my private life isn't the same a lot of times as who I am publicly.
xoNecole: I want to go back to when you published Confessions of a Video Vixen. We are now in this time where people are reevaluating how the media mistreated women in the spotlight in the 2000s, namely women like Britney Spears. So I'd be interested to hear how you feel about that period of your life and how you were treated by the media?
EO: What I said earlier. I think that much of society has evolved quite a bit. When you look back at that time, it was actually shocking how old-fashioned the thinking still was. How women were still treated and how they're still treated now. I mean, it hasn't changed completely. I think that especially for the audience, I think it was shocking for them to see a woman – a woman of color – not be sexually ashamed.
I hate being like other people. I don't want to do what anyone else is doing. I can't conform. I will not conform. I think in 2005 when Confessions was published, that attitude, especially about sex, was very upsetting. Number one, it was upsetting to the men, especially within urban and hip-hop culture, which is built on misogyny and thrives off of it to this day. And the women who protect these men, I think, you know, addressing a demographic that is rooted in trauma that is rooted in sexual shame, trauma, slavery of all kinds, including slavery of the mind – I think it triggered a lot of people to see a Black woman be free in this way.
I think it said a lot about the people who were upset by it. And then there were some in "crossover media," a lot of white folks were upset too, not gonna lie. But to see it from Black women – Tyra Banks was really upset [when she interviewed me about Confessions in 2005]. Oprah wasn't mad [when she interviewed me]. As long as Oprah wasn't mad, I was good. I didn't care what anybody else had to say. Oprah was amazing. So, watching Black women defend men, and Black women who had a platform, defend the sexual blackmailing of men: "If you don't do this with me, you won't get this job"; "If you don't do this in my trailer, you're going to have to leave the set"– these are things that I dealt with.
I just happened to be the kind of woman who, because I was a single mother raising my child all by myself and never got any help at all – which I still don't. Like, I'm 24 in college – not a cheap college either – one of the best colleges in the country, and I'm still taking care of him all by myself as a 21-year-old, 20-year-old, young, single mother with no family and no support – I wasn't about to say no to something that could help me feed my son for a month or two or three.
xoNecole: We are in this post-Me Too climate where women in Hollywood have come forward to talk about the powerful men who have abused them. In the music industry in particular, it seems nearly impossible for any substantive change or movement to take place within music. It's only now after three decades of allegations that R. Kelly has finally been convicted and other men like Russell Simmons continue to roam free despite the multiple allegations against him. Why do you think it's hard for the music industry to face its reckoning?
EO: That's not the music industry, that's urban music. That's just Black folks who make music and nobody cares about that. That's the thing; nobody cares...Nobody cares. It's not the music industry. It's just an "urban" thing. And when I say "urban," I say that in quotations. Literally, it's a Black thing, where nobody gives a shit what Black people do to Black people. And Russell didn't go on unchecked, he just had enough money to keep it quiet. But you know, anytime you're dealing with Black women being disrespected, especially by Black men, nobody gives a shit.
And Black people don't police themselves so it doesn't matter. Why should anybody care? And Black women don't care. They'll buy an R. Kelly album right now. They'll stream that shit right now. They don't care. So, nobody cares. Nobody cares. And if you're not going to police yourself, then nobody's ever going to care.
xoNecole: Do you have any regrets about anything you wrote or perhaps something you may have omitted?
EO: Absolutely not. No. There's nothing that I wish I would've gone back and said to myself, no. I don't think at 20-something years old, I'm supposed to understand every little thing. I don't think the 20-something-year-old woman is supposed to understand the world and know exactly what she's doing. I think that one of my biggest regrets, which isn't my regret, but a regret, is that I didn't have better parents. Because a 20-something only knows what she knows based on what she's seen and what she's been taught and what she's told. I had shitty parents and a horrible family. Just terrible. These people had no business having children. None of them. And a lot of our families are like that. And we may pass down those familial curses.
*This interview has been edited and condensed

Let's make things inbox official! Sign up for the xoNecole newsletter for daily love, wellness, career, and exclusive content delivered straight to your inbox.
Feature image courtesy of Elisabeth Ovesen
We all can remember where and how we were at the height of the pandemic. Quarantined, maybe with cabin fever, and if we were lucky, cozied up indoors spending rare and uninterrupted time with our loved ones. Such was the case for singer and actress Kelly Rowland, who was pregnant with her second son Noah throughout most of 2020. It was a precious time for the singer, who tells xoNecole how refreshing it was to spend so much quality time with her adorable family. However, when it was time to go back to work, she found it much harder to return to the grind.
Rowland, like many moms, has struggled with "mom guilt," but is seeking joy in finding the balance. That's what inspired her new children's book Always with You, Always with Me, which she co-wrote with author and educator Jessica McKay. The book tells the story of a mother and son who find themselves missing each other throughout the day when they're apart. The mom creates a simple and sweet rhyme for the two of them to recite whenever they think of each other: "Always with you / always with me / mommy and child / together we'll be."
Rowland told xoNecole at her exclusive book launch in New York City that she considers every mom to be a working mom. "Whether you're at home with your children all day or not, you are working," she says. "You're focused on their schedules, feedings, and their playdates. Being a mom is a job, but you love it. Moms are making things happen in their children's everyday lives." The former Destiny's Child member admits that her favorite at-home vibe is when the house is full of kids. And when she's called to travel away for a gig or appearance, she makes it a point to show her eight-year-old son Titan why her sacrifices matter.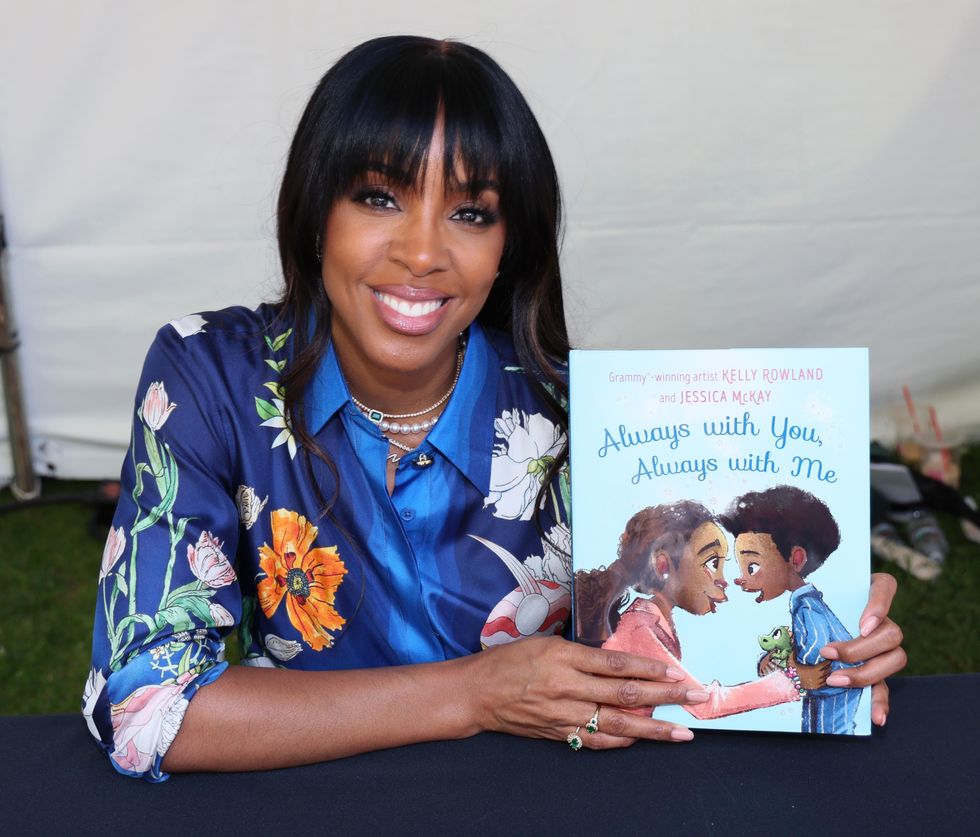 David Livingston/Getty Images
One day, before she was scheduled to head out of town, Titan said he wished she could stay home instead. She gave him the assignment of going around the house to count his blessings, prompting him to open the fridge and notice all the food, turn on their running water, and appreciate the vast wardrobe in his closet. "I told him that mommy and daddy work hard for those simple things for you," she explains. "I know there are times when I won't be here and it sucks. And when he's missing me, I feel the same way. That's why the mom in the book is crying [when she has to leave home for work.] That's literally me every time I leave the house."
Rowland took pride in the making of Always with You, Always with Me, not only because of the topic but because of the memories with her late mother Doris that are reflected in the book's message. "Now having had my mom and losing her, [I always feel her presence] during Christmas and Valentine's Day. Sometimes, she just comes around and I can feel her spirit. So her traces of magic are always there for me. It's what seals the bond." Rowland also said that spending time in the Houston hair salon owned by Tina Knowles-Lawson, aka "Mama T" introduced her to so many boss moms that inspired her. "There were artists, lawyers, doctors...just busy women who were really just figuring it out while having a family. This book is dedicated not just to my kids, but to them too. I see them, I feel them, and I get it."
When we asked Rowland what she'd tell moms who are experiencing a bout of mom guilt or just going through a stretch where the balancing act just isn't working out, her advice was simple: "Give yourself grace," she says. "Just know that every day won't be an easy day, but we got to sometimes fake it until we make it. Just say, 'I'm here, I'm earning for my child and their betterment.' That in itself is a lot."
Always with You, Always with Me is now available wherever books are sold.