To say that this Gen-Z power player is taking the entertainment industry by storm is not only a clever pun, but the truth to say the least. The 19-year-old launched a bathing suit collection with PacSun. She has been featured in project after project consistently from her role as Gia in Euphoria to her latest appearance in HBO Max's record-breaking series The Last of Us, and she's a full-time sophomore at the University of Southern California. Damn, what can't Storm Reid do?
The Georgia peach recently took her talents to another big screen feature alongside The Best Man: Final Chapters star Nia Long and Never Have I Ever breakout star Megan Suri for mystery-drama-thriller hybrid Missing. Starring as June, Reid's character uses her wits and Generation Z intuition to track down her missing mother after an international trip to Colombia gone wrong.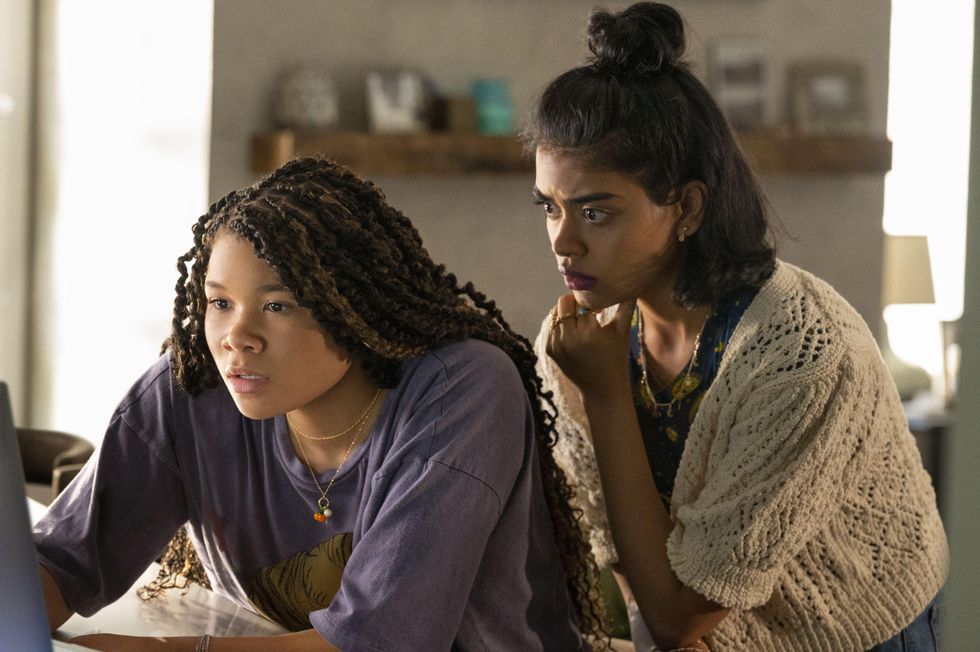 Storm Reid and Megan Suri in 'Missing.'Photo Credit: Temma Hankin
When her mom (Long) goes off the grid, June uncovers some dark secrets about her mother, her mother's boyfriend, and life as she knows it begins to unravel as she scours the internet with every site, app, and bugged camera possible to find her mother.
During a conversation with xoNecole, Reid got candid about working with the icon that is Nia Long for the Screen Gems-produced film, morning mantras and routines that keep her headspace sane while taking on multiple roles, and how she sets boundaries while she goes through adulting in the public eye.
xoNecole: How did June differ from any other character that you've ever played and how did it challenge you as an actress?
Storm Reid: I think June is really relatable, actually. She's just, at the end of the day, a young girl trying to figure out who she wants to be and how she wants to take up space in the world. Obviously, her given circumstances are way different from any of the characters that I've played. I love that June jumped right into action. And even though her and her mom butt heads and disagree, she will do anything that she can to find her mom. I think that's really important and something that I can relate to.
xoN: How would you say that this film highlighted the brilliance and innovation of Generation Z?
SR: I think that's what makes the movie work. That's what makes the movie so cool, relatable, and fresh because we do live in a social media era. To see this exciting movie with all of the technologies and social media platforms that we already use is really fun. To have an 18-year-old girl at the center of that story is a lot of fun, too, so I hope people enjoy it.
xoN: What was your experience like working with the icon that is Nia Long?
SR: Yes, like you said, she's an icon. I have grown up watching her so to be able to work with somebody that you've grown up looking at and admiring is really cool. She just is so lovely and she was so supportive of me on set and poured into me and really made me feel comfortable. I'm glad to have worked with her.
xoN: Another thing that I thought that was very interesting about the movie was that it was essentially shot in one setting. How challenging was it to shoot a movie that was all in one place, as opposed to projects you've done where you've been in scenes that were all over?
​SR: It was a little uncomfortable because, like you said, I'm used to being in different places and having scene partners and not being confined to a screen in a little box. I think those challenges made me stronger as an actress and made me realize that I need to stop relying on the resources given to me. That being location, stage directions, scene partners, and even cameras. [Without that] you have to dig deep and bet on yourself and find the intersection of trying to be as grounded as possible but also portraying the emotional stakes. Thankfully, I think I was able to pull it off.
"I'm used to being in different places and having scene partners and not being confined to a screen in a little box. I think those challenges made me stronger as an actress and made me realize that I need to stop relying on the resources given to me."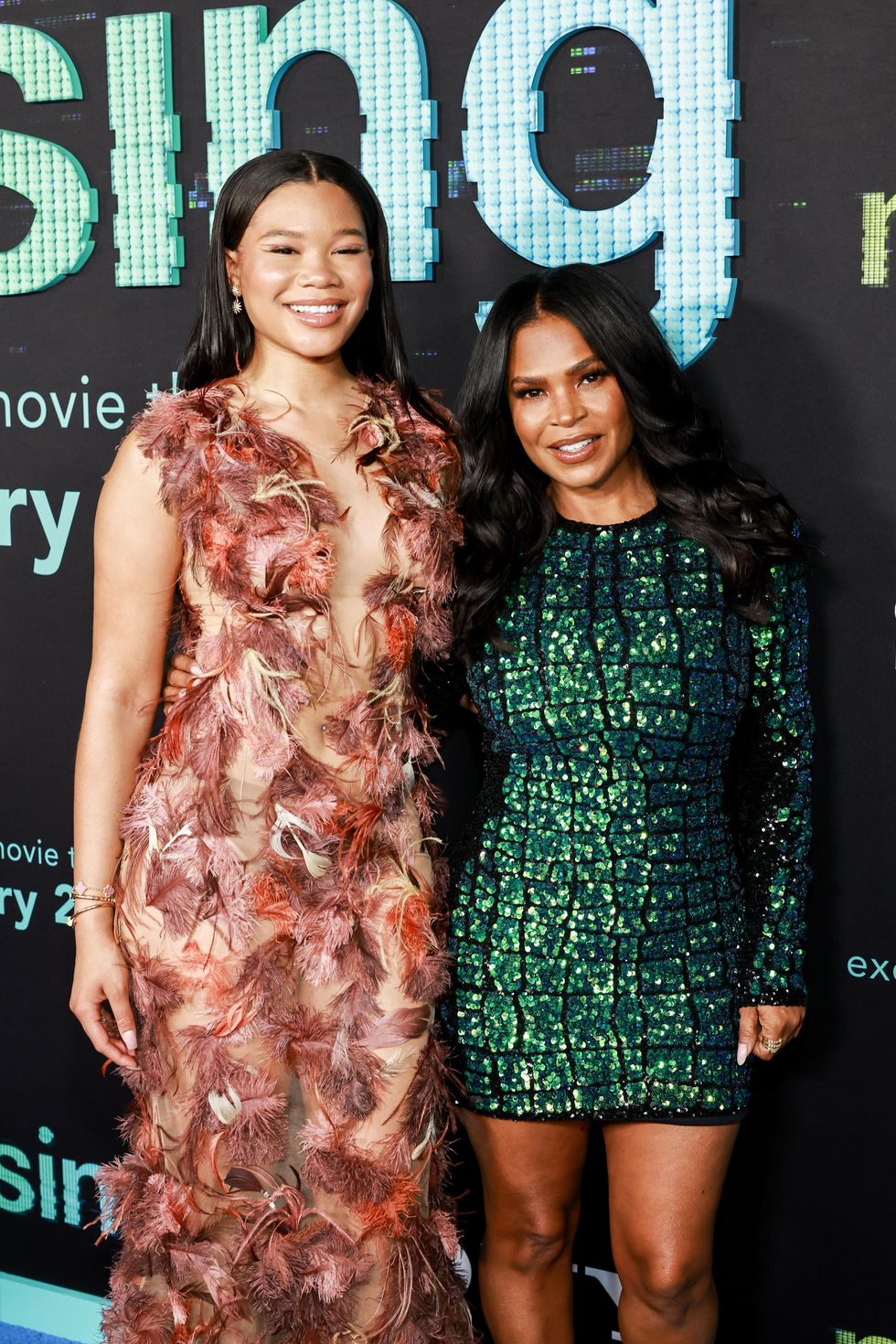 Storm Reid and Nia Long attend the Stage 6 and Screen Gems world premiere of 'Missing.'
Matt Winkelmeyer/Getty Images
xoN: You've been in a lot of projects, but this movie is more of a suspense-thriller. How did you mentally prepare yourself and keep yourself in a good headspace while filming?
​SR: It wasn't that hard. I think once I got the hang of the technical aspects, everything else came together and I just tried to step into my character's shoes and become them and not forget, like I said, their given circumstances, but also not neglect how I would feel in that situation. I'm glad that that was able to all come together and I was able to pull it off as seamlessly as possible.
xoN: 'Missing' really hones in on a relationship between mother and daughter. When it comes to you and your mother, how much does your relationship with her pour into you and put you into a positive headspace when it comes to the craziness of the entertainment industry?
SR: To be able to have my mom by my side is such a blessing. Even though I am growing up, I still love to have her around because she protects me, she's super supportive and she's mom. Anytime I'm feeling any type of way, I can go to her and we're going to figure it out. To be able to be on this journey with her is a really incredible experience and we've made beautiful memories and we'll continue to do so. I'm glad to have her around.
xoN: What're some of the most important things your mom has ever taught you?
SR: She's taught me a lot, but being a good person has always been at the core of everything that she's taught us. Everybody has their bad days, but if you are trying to be a good person, have a good heart, and show up the best way you can in every situation, I think that's going to get people really, really far.
xoN: How do you continue balancing life as a full-time student and a full-time actress? Do you ever feel like you're not pouring yourself 100% into one or the other, or do you feel like you've established a balance?
SR: It is challenging and can be overwhelming, but I just try to give myself grace because I am doing a lot. I feel like I'm getting things done, giving 100% to both things, and I just have to remind myself that I'm trying the best that I can. I'm taking it one day at a time and I'm so blessed, and fortunate that I even have the opportunity to balance both a full-time career and going to school.
"I just have to remind myself that I'm trying the best that I can. I'm taking it one day at a time, and I'm so blessed and fortunate that I even have the opportunity to balance both a full-time career and going to school."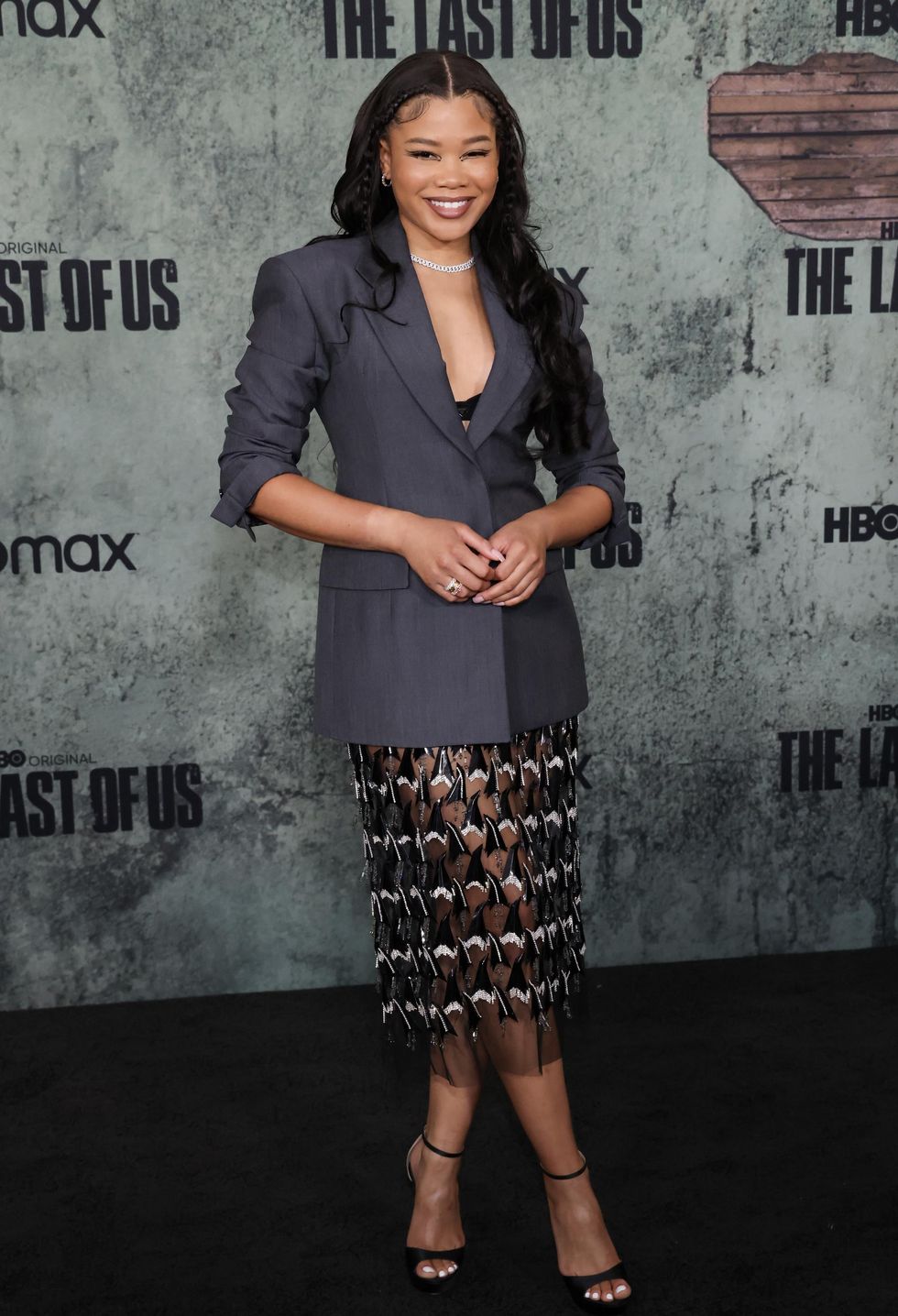 Storm Reid attends the Los Angeles premiere of HBO's 'The Last of Us.'
Rodin Eckenroth/WireImage
xoN: When you're off set, what are some ways that you like to stay mentally sane and what are some of Storm's self-care tools?
SR: I like being by myself. I love isolating myself to just take a moment to myself, whether that's in my room [or] listening to music in my car. Being with my friends and family obviously makes me so happy. I listen to a lot of music. I think self-care, for me, is intersected directly with listening to music. No matter what type of music, I need some noise. I need something to uplift my spirit [and] get me moving.
xoN: What does a morning routine look like for you and what are some of the mantras that you say to yourself to get yourself in a positive headspace?
SR: I try to start every day before I touch my phone and when I wake up, just say a prayer. Just to thank God that I'm alive and I'm able to breathe, move, get out of bed, and do whatever I need to do. It usually involves some turn-up music in the mornings, [which] is what I love to do and it's a great way to get my day started.
xoN: Speaking again about the many roles you've had, let's talk about intentionality. How do you know when you're aligned with a role or a project? What do you look for when you're selecting what you want to do?
SR: I try to be as intentional as possible and purposeful as possible with my projects, but I think it has to align with my morals and my values and my art can't compromise who I am as a person, one. Two, I think as creative people we have the opportunity to say things and it doesn't need to be a preachy way, but if we're not saying anything, we're doing ourselves a disservice and doing audiences a disservice as well. I want art, or at least the art that I'm a part of, to be reflective of the real world, real situations, real stories, and that's what I really look for and will continue to look for.
"I want art, or at least the art that I'm a part of, to be reflective of the real world, real situations, real stories, and that's what I really look for and will continue to look for."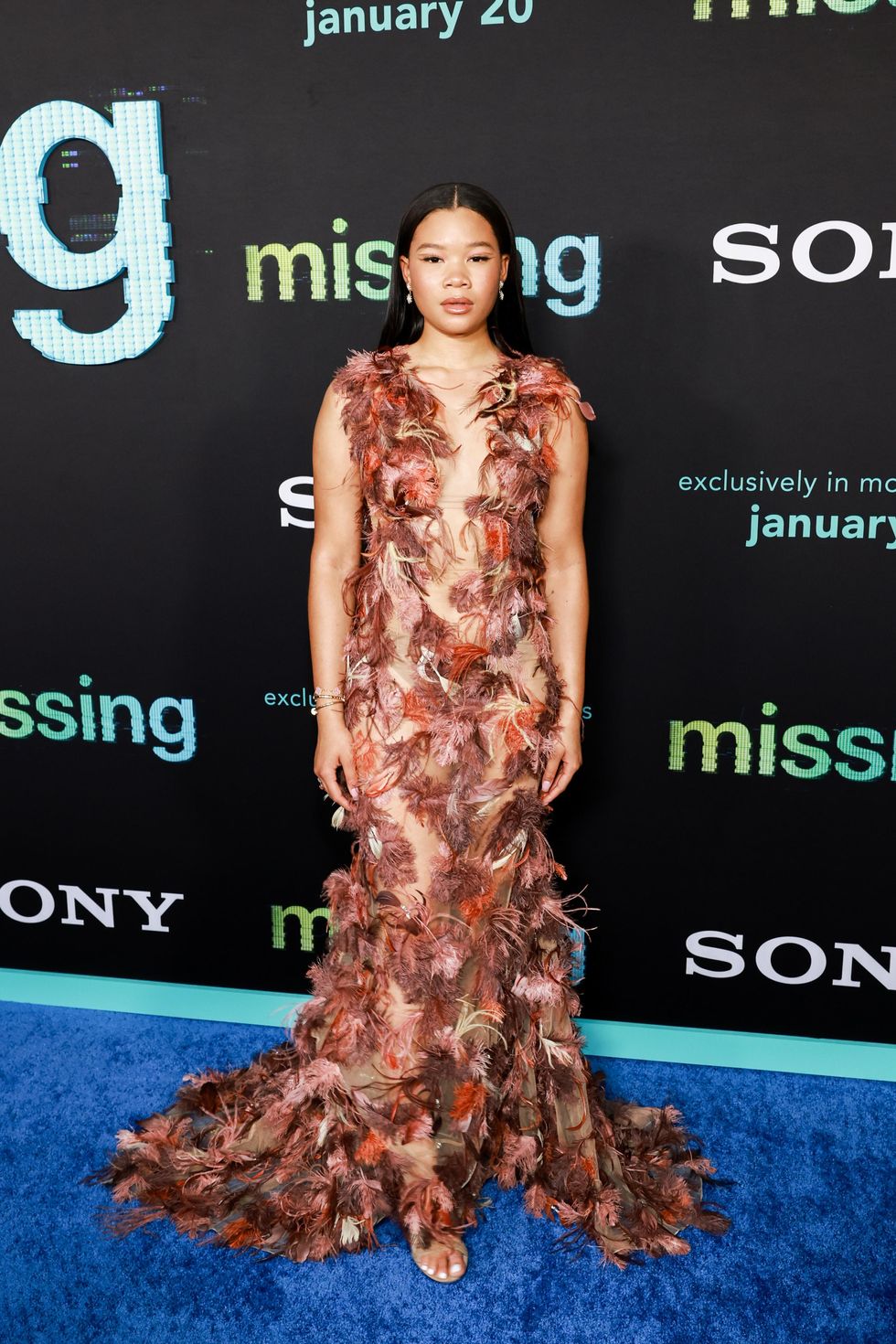 Matt Winkelmeyer/Getty Images
xoN: Is there any role that you haven't played yet that you have your eye on and want to explore?
SR: I'd love to do an action film one day. I think that would be really fun and maybe even try my hand at comedy. I think people are so used to seeing me serious and distraught and stressed out, like everybody else says. I think being able to be a part of a comedy one day would be really fun.
xoN: Have you ever said "no" to a role, and what made you want to set that boundary and pass on the role?
SR: Absolutely. I say no to things all the time because it just doesn't match up with the things that I want to do at the time. The creative team can be fantastic, but it doesn't match with the next role that I'm trying to play, or the script just didn't really move me in any way. I need to be impacted. If I'm not impacted, I don't feel like the audience is going to be impacted and then I just feel like it's going to be not good [or] not believable; it won't feel good. It's a case-by-case scenario.
xoN: What boundaries have you worked hard to set in place while growing up in the public eye as a young Black girl in entertainment? Whether it comes to roles, the privacy of your own life, or letting people in on social media, what boundaries have you said, "This is my limit" to?
SR: I think the privacy thing is a big one for me because I do share a lot, but I don't share everything. I am a firm believer of keeping some things private and keeping some things close to your chest and close to your heart. I think as long as people understand, yes, I'm here to share my life and share my family, my friends, my experiences, my travels, and obviously, the things that I work on, but I'm not going to share everything and I'm not perfect.
I'm perfectly imperfect. I'm not always going to say the right thing. I'm not always going to do the right thing, but it's important that people give me grace because other people get grace. So why can't people in entertainment or people in the limelight get that same grace?
Check out Storm in Missing, out in theaters now.
Featured image by Matt Winkelmeyer/Getty Images
This post is in partnership with BET+
If there's anything we've learned about Eva Marcille both onscreen and offscreen, it's that she's not one to underestimate. The multi-hyphenate star has worn many hats throughout her career, but her leading role on BET+'s spicy series All The Queen's Men has us steadily coming back for more. The show takes us into the gritty world of Atlanta's strip club scene, where the sexy chiseled male dancers at Club Eden get the whole spot to make it rain while dealing with their own personal storms behind the scenes. At the center of it all, Marilyn "Madam" DeVille (played by Marcille) runs the club and keeps its staff in check. Madam demands respect and takes zero mess. Yet somehow, she's able to keep calm and unbothered despite the intense pressure she's under. Marcille's superb acting, combined with the refreshing perspective of a woman running all the plays, makes ATQM one of the most binge-worthy shows of the year.
With the upcoming release of this season's newest episodes just around the corner (January 12th) xoNecole got to chop it up with Marcille about what inspires the big bawse energy she brings to the screen. We also got this Scorpio queen to dish on how she juggles acting with being a mom of three, and what she hopes to demystify about strip club culture through this role.
xoNecole: You are phenomenal as Madam DeVille, who is a tough, no-nonsense type of character. What personal experiences do you draw from that help you portray her so well?
EM: All of the strong women in my family, from my grandmother to my mother and all the amazing Black women from activists, lawyers, and community leaders, are where I can draw from to help me portray Madam. We are boss!
Madam DeVille is under so much pressure right now, balancing her father's care with being under the watchful eye of the feds AND running her club. Yet she keeps such grace under pressure. What do you think helps her stay calm and collected even as everything is coming to a head?
That is part of Madam's grace; she thrives under pressure. She stays calm, knowing that win, lose or draw, she will always be comfortable with the outcome.
In your opinion, what are some common misconceptions about exotic dancers that you think this show helps debunk/shed light on?
Some common misconceptions about exotic dancers that the show helps shed light on I think is that they are actual people and human beings; they are more than just an object. They have lives, fears, passions, families, and dreams.
You've worn many hats in the entertainment business from modeling to reality tv to acting. Has this role challenged or stretched you in new ways?
This role has allowed me to unapologetically perform, from the range of my voice, to the boldness in clothes, to the non-mincing of words. Marilyn is honest. It's an honor to be able to stretch with this project and cast.
How do you balance filming with being a mom to your three adorable kids?
It's a juggling act balancing filming and being a mom. All I can say is with the help of my wonderful husband I am able to manage as he helps keep things seamless and easy. Most importantly, Sundays are family days. So, no matter how tired I am, I always make a good home-cooked meal on Sundays and spend the day with my family.
Finally, can you tell us what we can expect from Madam's journey as season 2 continues?
As season 2 continues, you will see Madam out for vengeance. There can only be one QUEEN in town, and Madam will fight to remain on her throne at all costs.
Effortless grace, undeniable natural beauty, and a voice hand delivered by God and his angels themselves are just a few of the notable ingredients that make up Jordin Sparks. The former sixth-season American Idol winner - who made history as the youngest winner of the entire franchise at just 17 years young - has gone on to release hit after hit, marking her territory as a key voice in the 2010s R&B scene with "Tattoo," "One Step At A Time," "No Air," and "Battlefield." Now, the Sparkle star has added a few new titles to her resume, including wife, mother, and Cantu Beauty ambassador.
The Grammy-nominated singer-songwriter has been personally tapped by the hair care brand to join forces in an effort to shine a light on the brand's community initiatives to give back to women around the world. This includes her partnership with the global nonprofit organization Women Empowering Nations, which kicked off in 2022 with a surprise virtual visit to the final 11 young women who were awarded a spot in the Cantu GLOW Global Fellowship, a four-month hands-on experience in the beauty industry.
In an exclusive interview with xoNecole, Jordin opens up about her natural hair care journey, how self-love and self-care work hand-in-hand, and how becoming a mother and a wife has challenged her self-care maintenance.
xoNecole: How did the partnership with Cantu first begin?
Jordin Sparks: Well, I actually ran into [Global Marketing Director] Dametria [Mustin] down in New Orleans for ESSENCE Fest. We were at this Black excellence brunch and our paths crossed, and we just kind of connected. I really love what the company stands for and how they are empowering women, and at the same time making and helping women feel beautiful with their hair no matter how they rock it. Anytime I can be a part of something that helps uplift women and empower them, I want to do it, so it just seemed like the perfect partnership.
xoN: When did you begin to fall in love with your natural hair?
JS: Honestly, I think it took a little while to fully embrace my hair. I always loved my curls, but when I was growing up, I always wanted something that I didn't have naturally, which was straight hair just because it was different; it was so pretty. My mom's hair was straight as well, but I loved my curls - always. I never wanted to get rid of them. I think it wasn't until probably my mid-twenties that I really started to understand my hair and what it needs, what it doesn't need, how it works best, how to take care of it with a crazy schedule, and different things like that. I would say my mid-twenties was when I really started to embrace and love my natural hair.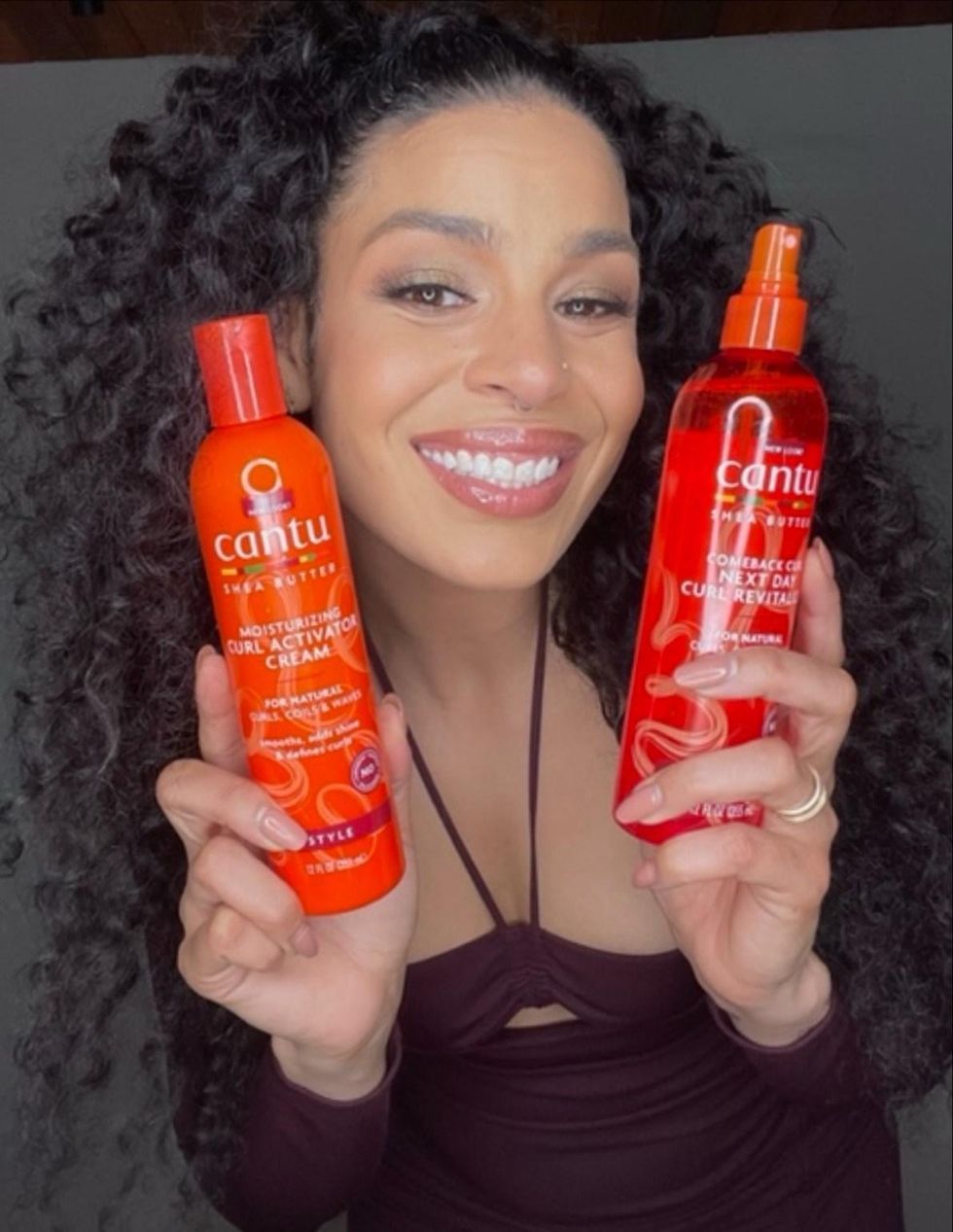 Jordin Sparks.
Image courtesy of Cantu.
xoN: When does your hair feel the most beautiful?
JS: Honestly, I love it when my curls are doing what they're supposed to and being wild and free. I love them when they're like that, but now that I've discovered protective hairstyles, I also love my hair in braids. I feel really beautiful when I have those, and I especially love the fact that I can do so many different things with them as well.
xoN: How has your hair routine changed since you've become a wife and a mother?
JS: Well, I definitely don't take as long to do my hair like I used to. That's also why I love the protective styles. With braids, I tried faux locs, I tried the Marley twists. I love them all, but the best part about them is that you just wake up and go. You don't have to do anything and you still look fly no matter where you go. It's definitely changed as I have less time and I need less fuss, to be honest.
xoN: Why is it important to include natural hair into conversations about self-love?
JS: Honestly, I think this is a really good question because if we can't love our hair, which is our crown, it naturally comes out. We can change it when it's out with different treatments and stuff, but we can't change the type of hair that we have. I mean, I'm sure technology has come so far that maybe we can now, but as of now, I don't know if we can do that. If we're talking about self-love and loving ourselves in all that we are, that would definitely include the crown of hair that we wear.
I know when I was younger, my hair just did what it wanted to do. I didn't quite know how to do my hair yet, and sometimes it would make me feel a little self-conscious because I was already tall and stood out where I was. When my hair kind of just did its own thing, it stood out even more. I'm grateful. I know we're all individuals and I'm meant to stand out from the crowd, but when I was younger, I just wished my curls would've just done what I told them to do.
Embracing my hair has definitely helped me embrace the rest of me as well. My natural beauty and what I have. I love my cheeks, I love my eyes, I love my face, my skin, my smile especially, and I love my hair. When you look in the mirror, those are the things that you see. You see your eyes, you see your face, and you see your hair. I think that it's definitely important to include that in the conversation with self-love because it's one of the first things that you notice, and the first thing that you see, and it's going to be with you. I mean, hopefully, it'll be with us for as long as we are around, but it depends.
"Embracing my hair has definitely helped me embrace the rest of me as well. My natural beauty and what I have. I love my cheeks, I love my eyes, I love my face, my skin, my smile especially, and I love my hair."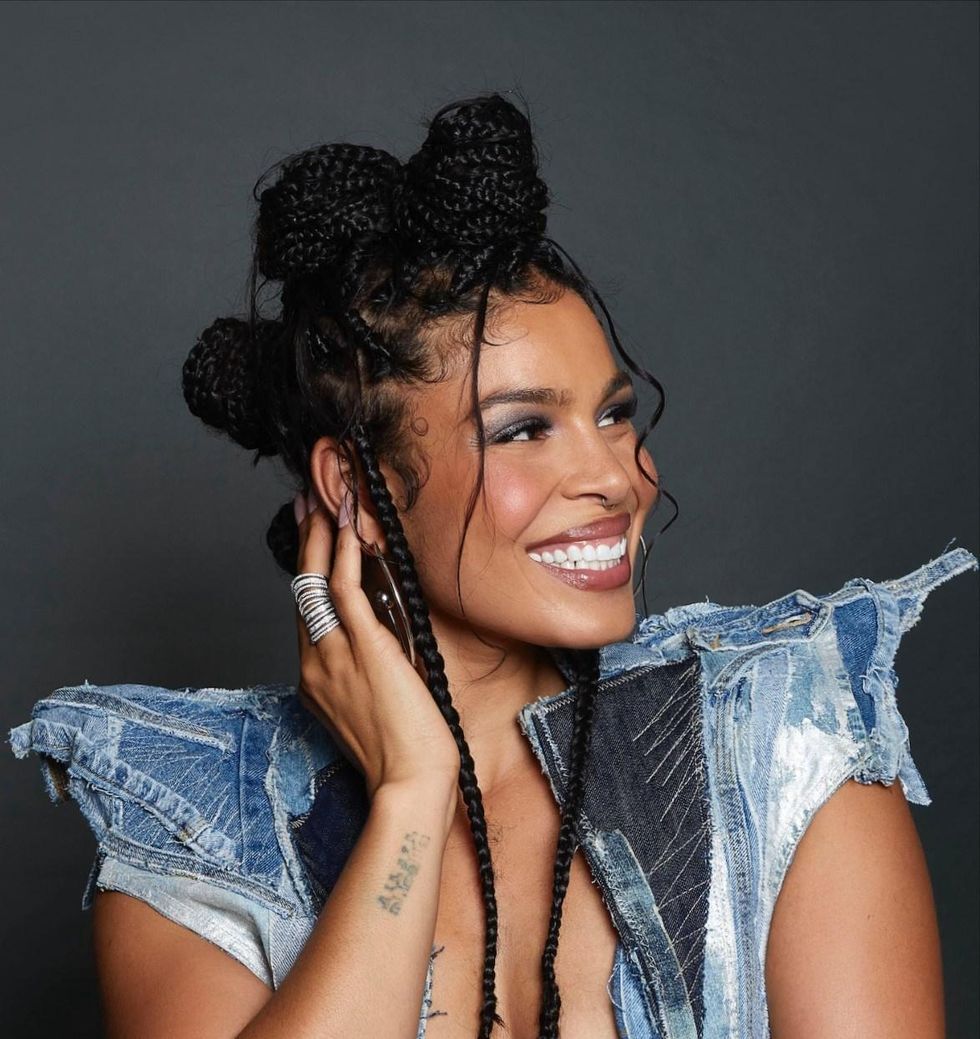 Jordin Sparks.Image courtesy of Cantu.
xoN: Who are some of the women that you turn to for natural hair advice?
JS: Honestly, this is a good question as well because I have learned a lot over social media, and with all the different women that I come across and I run into. Everybody that I have met, all these different women, these amazing artists, and songwriters, and actresses that I've come across, and in other fields as well. Everybody's got a different way of how they do their hair and it's always so interesting to me. If the conversation comes up, I definitely love to ask, but I learn a lot of different ways to do your hair and different hacks from social media, to be honest.
xoN: What are some key lessons that you've learned about natural hair and self-love that you wish you would've learned sooner?
JS: I wish I could have told my younger self that doing my hair is a process and that it's something that you have to learn. When you're young, you want everything to happen right then and there. I don't remember spending a ton of time crying over my hair, but I do remember moments where I felt frustrated and just wished it would've been easier. But nothing that's ever worth doing is very easy, so I'm grateful that I've learned to exercise patience in that way with my hair. Being able to love and embrace my hair has really helped me with who I am and all the things that make me me.
In the self-love department, I feel like I've had a good grasp on who I am for a long time, but I feel like I would have wanted to tell myself that true beauty and true inner peace do come from the inside when you shake off all those external things that don't really define who you are. Clothes don't define who you are - they're an extension of who you are, but they don't define you. An accessory in your hair, a shoe, makeup, all of those things don't define us. It's who we are inside and how we treat other people. Especially being in the industry, sometimes that message can get blurred and cannot come across so easily.
I think I would've just told my younger self to not worry, don't sweat the small stuff, you'll be coming into your own, and you'll be coming into your power as a woman the more you grow and the more that you learn, and that it's going to be amazing. I'm still the same person to my core, but I know that 18-year-old Jordin couldn't mess with Jordin now.
xoN: In the entertainment industry specifically, how have conversations around natural hair evolved, and where can we see improvement?
JS: I have seen a ton of conversation about natural hair. There's tons of think pieces, there's clips, there's videos, there's hacks, there's all these different things on social media and all over. I think it's great that we're having that conversation so the youth can hear these conversations, see them, and realize that they're not alone and that we've all had to figure out our hair journeys together. On the other hand, I do feel like what we need more of is people who know how to do these types of hairstyles. It's very few and far between where you find somebody who can do what is asked for a character as an actress.
Then have somebody come in and try and do natural styles in the way that we know that they should look. I don't think that there is enough. Basically, we need more hands on deck. All hands on deck. We need more people who can do natural hair. I've got to give a shout-out to my girl Alicia, who did my hair while I did my Christmas movie (A Christmas Treasure) in Vancouver. She took such good care of my curls. They were beautiful. We had a plan where I wouldn't put so much heat on my hair so that my hair could still grow and look great. I really love her, so I want to give her a shout-out because she really is helping us girls feel like we know what we're doing with our hair when we come to set.
xoN: How do you include your hair into your self-care routine?
JS: To be honest with you, right now, for my self-care routine, I just need something that I don't have to think about. My hair is in a protective, braided style right now and I love it. I know if I need to glam it up a little bit I can. If I want to be casual, I can do that as well, but for my self-care and my mental right now, I need something that I don't need to think about and I can just get up and go. That's where I'm at right now.
For more of Jordin Sparks, follow her on Instagram @JordinSparks.
Featured image courtesy of Cantu.

La La Anthony continues to blow audiences away with her acting roles. Since taking a step back from hosting and focusing on acting, we have seen her star in films like Think Like a Man and Think Like a Man Too, Chi-Raq, and TV series like The Chi, and Wu-Tang: An American Saga. But her role as the beloved character LaKeisha Grant in Power solidified her as a mainstay in Hollywood for her unforgettable performance up until the end.
The mother of one is hoping to strike gold once more with her new role as Markisha Taylor in the Starz series BMF. In a xoNecole exclusive interview, La La dishes on the new season of BMF, her stance on love, and what's next.
The series is back with season two and while Markisha had a brief introduction in the first season, fans will get a chance to know more about the bossed-up beauty who has stolen the main character Terry Flenory's heart.
"They still love each other 'til this day," La La says about the real-life characters. "So, it's a deep love story and I think that Markisha coming into it had [a] very genuine interest. She really cared and ultimately loved Terry. It wasn't like she was coming in for something else at that time. What was she gonna gain from this other than 'oh, he makes me feel good,' 'he's younger,' 'he's paying me attention?' But I think for her, she really saw potential and passion in him and she wanted to help that grow. So, I think that it just makes for such a layered, complicated relationship that will take us throughout the whole season and we'll see which way that goes."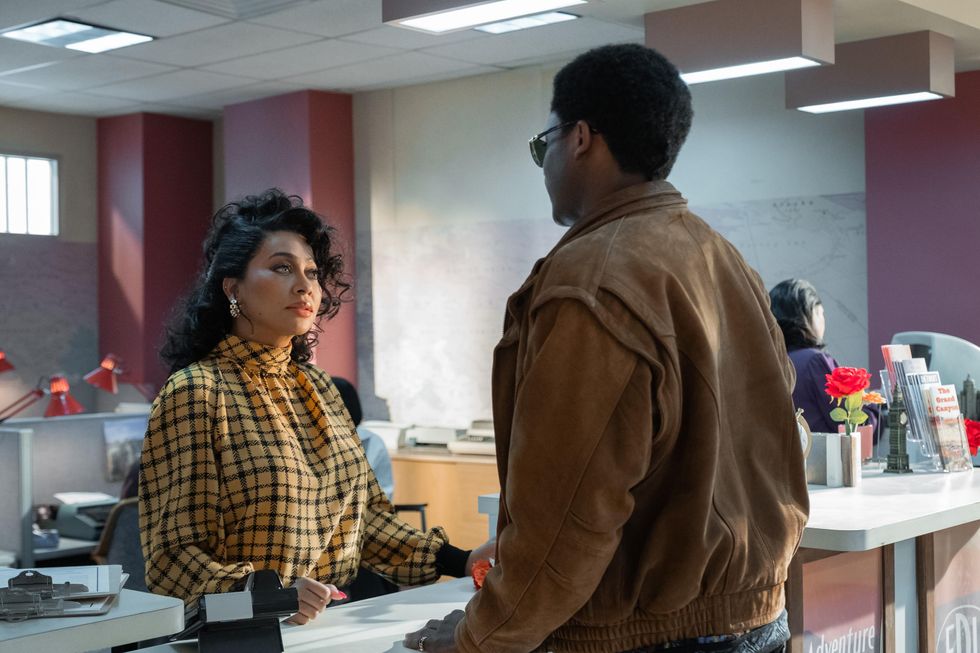 La La Anthony's character Markisha Taylor and Da'Vinchi's character Terry Flenory. Photo courtesy of 'BMF.'
BMF is loosely based on a true story about brothers Demetrius "Big Meech" Flenory and Terry "Southwest T" Flenory becoming one of the most influential crime families in the U.S. and Markisha's love story with Terry, played by Da'Vinchi, will take centerfold alongside the ongoing focus on family.
"That's why I said it's not another crime show or drug show, or violent show. It's so much love and loyalty and care and family at the center of BMF," she says. "That's what they're about, so you get to see all of that. So, it's something that everyone can relate to. [It's a show] where there's a character that we all can say, I see a little bit of myself in this character or I know somebody who's like this. I think you get all of that from BMF."
Watch the full La La video below.
La La Anthony Talks BMF Season 2, Why Love Is Complicated & More
Let's make things inbox official! Sign up for the xoNecole newsletter for daily love, wellness, career, and exclusive content delivered straight to your inbox.
Feature image courtesy of BMF/Starz
Da'Vinchi has appeared in many television series such as All American and Grown-ish but it was his role in BMF as Terry Flenory that helped propel his career forward. Since starring in BMF, he made his Broadway debut with Thoughts of a Colored Man and is currently shooting an undisclosed movie in Vancouver. The 26-year-old actor is beginning to see the fruits of his labor and so it's hard to imagine that he almost went in a different direction. Da'Vinchi spoke with xoNecole's Dana Blair for our xoMan series about acting, being a sapiosexual, and protecting his peace.
The Brooklyn native was involved in sports when he was young but shared that he was also headed down a destructive path. It wasn't until he moved in with his father at the age of 13 that he began to focus on his love for the arts. "They say when a man finds his life's work, that's where his purpose is, and honestly, me finding my life work is what saved my life," he said.
xoMan: Actor Da'Vinchi On Self-Care, Fame, Love, and His Type
"It gave me purpose so I have to take my career as seriously as I take oxygen–the oxygen I breathe. It's like my entire living circumstances have changed. I went from one dimension to another based off me really taking my work so seriously. I could never not take that seriously. To me, it's one of those things… It's like my heart. I have to take that serious."
He added, "At the end of the day, that's what got me through a lot. And now it's become bigger than me that it's affecting people around me. My mother's retired now. She's chilling. There's certain things people around me don't even have to do anymore. So it's like I gotta take this serious."
Da'Vinchi credited changing his environment, reading, and staying centered as the foundation to having a thriving career. The Alchemist and Outwitting the Devil: The Secret to Freedom and Success are two of his favorite books that have impacted his life. "I practice meditation and prayer, that stuff religiously, you know what I'm saying? Because I understand like this business is… it's an interesting business," he said about the acting industry.
"It's an interesting world. There's a lot of people that have different perspectives on a lot of things and it's just like I just try to stay centered in what got me here so I just keep doing those things. And I know that's going to keep propelling me."
As a tall (he's 6'3''), dark and handsome man, the Haitian-American actor has also garnered a bevy of female fans. But according to him, he doesn't look at himself as a sex symbol. "No. I mean, I'm appreciative of it," he said. "It was with Grown-ish. I was like damn, people are really seeing me like this? I was like, man this is interesting. I just see myself as a person, that people kinda like but I'm not. Chris Brown is a sex symbol. All those R&B singers. But me, I'm a person."
While his relationship status is unknown, he did share what he looks for in a woman.
"I definitely do [have a type.] I think if you're a person and you don't have a type, then it's like you're just drifting through life aimlessly," he explained. "I'm big on the brains and smarts. And not just book-smarts. And of course, I'm not just going to sit here and act like she's just gotta be this nerd and I don't look at looks at all. No, of course, I look at looks as well."
He continued, "To me, what's bigger than just the 'eye test' is the brains. The way I really start to get connected with a woman, it's her mindset. It's her mindset. When I'm like, 'Yo, I can really build with this shorty, you know what? This one right here. This is a keeper.' And you don't find that a lot of times because a lot of times women will think men are just heavily–like we're beings that are really just programmed to only want the body."
"A lot of us are like that and that is our instinct from nature but I think some of us are more evolved than that now. And we're not that primal anymore. So if you want a good man, I think you should work your brain because that right there is where longevity comes from. Anything that's physical, that deteriorates. I go straight to the heart, soul, and mind. And that right there, I'm a sucker for."
Featured image by Marcus Ingram/Getty Images
Ever since the preview of The Woman King made its rounds on the internet earlier this year, leaving us in awe, we have been impatiently waiting for the film to make it to theaters. Well, the time has come, and we are honored we had the chance to preview the remarkable depiction of one of the most powerful states in Africa, Dahomey.
Not only is it inspired by true events, but the story is surrounded by Black women. From being directed by Gina Prince-Bythewood to Oscar®-winner Viola Davis serving as a producer and star of the film, the proclamation, "We fight or we die," has never been more true as we fight for all of our stories to be told. The motion picture follows the Agojie, the all-female unit of warriors who protected the African Kingdom of Dahomey in the 1800s.
Using unyielding fierceness, General Nanisca, brought to life by Viola Davis, is at the core of the tale as she trains up the next generation of warriors to protect the kingdom from enemies seen and unseen. Overflowing with empowering themes of sisterhood, affirmations, and action, we rate the film three snaps and a fist in the air.
The Woman King Cast Shares Their Daily Affirmationswww.youtube.com
Lucky for us, we got to sit down with the cast to dive deeper into this beautiful vision of Black storytelling. In an exclusive interview with Thuso Mbedu, Lashana Lynch, Sheila Atim, and John Boyega, we talk about why we must protect Black women, how they speak affirmations and their definition of sisterhood.
John Boyega Talks Black Women, The Woman King & Empowermentwww.youtube.com
The Woman King is in theaters now.
Featured image by Santiago Felipe/Getty Images for SiriusXM