If I could name one common reason for why a lot of us struggle with going completely natural, it's because we don't want to deal with the almost inevitable hair shrinkage — because the shrinkage struggle that's out in these streets is oh so very real (there's a shrinkage challenge compilation video here and a few other women who talk about their own shrinkage journeys here, here and here).
So, what exactly is the root cause of this thorn in our hair's side? It's interesting because when our hair gets wet, it absorbs moisture that can "trigger" our strands to go into their natural curl pattern. On many levels, this is a good thing, because when our hair reverts to its natural state, that's a sign that it is healthy. On the flip side, because moisture is also something that helps to weigh our hair down and keep our cuticles somewhat stretched out, when the moisture leaves, it can be hard to elongate our strands so that our curl patterns can appear looser and our hair can ultimately appear longer too.
At the end of the day, what all of this basically means is, combating shrinkage is all about coming up with ways to stretch out our stands without damaging them in the process. While doing this requires some major TLC, there are things that you can do that are pretty great at giving you the results that you're looking for. Here are 10 of 'em.
1. Deep Condition Your Locks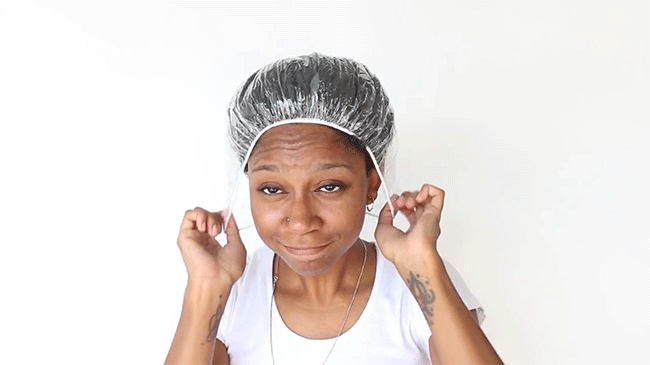 One of the main things that a lot of Black people don't realize about shrinkage is, aside from your natural curl pattern, since it can be more difficult for our natural oils to make it all the way down our hair shaft, dry hair also plays a direct role into why we can experience so much shrinkage. The remedy? One of them is deep conditioning your hair on every wash day. Why is this an important step? Well, conditioning your hair provides some extra "weight" to your strands that I was talking about, so that it's able to stay stretched out for a longer period of time. Think of it like a sponge — when a sponge is full of water, it is easier to stretch out than when it is dry. So, if deep conditioning has never really been your thing, now you've got a really solid reason to incorporate it into your hair regimen.
2. Braid It Up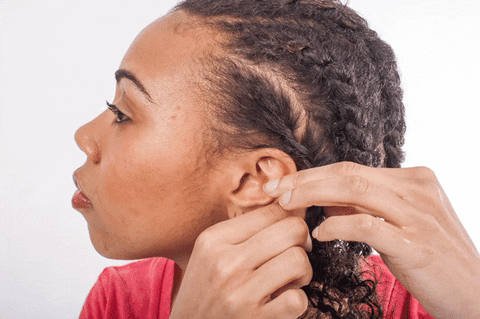 Something that I figured out works better for me is to blow out my hair on wash days and then keep it cornrowed on the days when I choose to not wear it out. Both methods are what stretch out my hair (so that there are less tangles and knots). Plus, the braiding is what prevents me from putting excessive heat on my tresses.
That's why I simply could not do an article like this and not mention that braiding is a top tier way to keep shrinkage from getting on your very last nerve. Even if you'd prefer not to apply any heat, you can plait your hair while it's wet, let it air dry and then take your braids down. You'll still see a good amount of stretching by going that route too. While we're here, two other heatless methods that significantly reduce shrinkage include banding (video here) and threading (video here). Check 'em out when you get a chance.
3. Roller Set Your Locks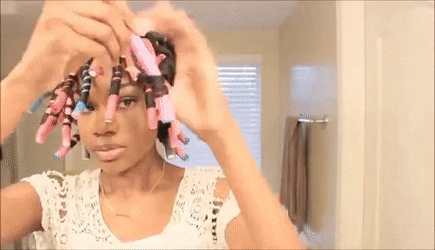 Another way to reduce shrinkage that can also give your hair a lot of movement is roller setting it. This method makes it easier to stretch your hair while it's wet (preferably damp). Then, you can let it air dry or sit underneath a hooded dryer. Once your tresses are completely dry, your hair will remain stretched out for longer. As a bonus, if you use a leave-in conditioner before rolling it up, you can end up with a lot of bounce to your hair as well.
Basically what you'll need to pull this off is a leave-in, a light oil (like sweet almond or grapeseed) and some rollers that won't damage your hair (and yet can give you some pretty bangin' results) like Perm Rods, Flexi Rods and Curlformers. A video that I liked that offered up some cool tips and concluded with some dope results is right here.
4. Break Your Hair Caste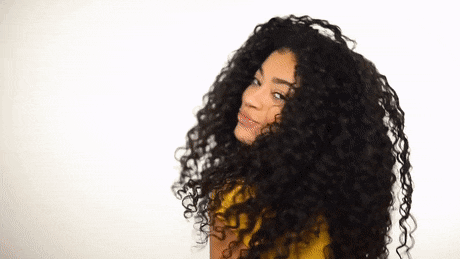 If you're someone who likes to rock and wash 'n go, I'm thinking that you already know that one way to give your hair a lot of curl definition is to apply some non-alcohol gel to it while it's wet (Aloe vera gel is cool too). And what if, once your hair is dry, your curls are a little "tighter" than you would like them to be? No worries. All you need to do is break your hair's caste. What that basically means is you need to loosen up the gel, so that your curls can become looser and appear to have less shrinkage.
Caste-breaking isn't hard to do. You just need to put a little bit of oil in your hands (jojoba, liquified coconut oil or avocado oil is great for this) and then gently apply it to your hair, softly tugging at the curls until they feel less hard from the gel. Again, it's a wonderful way to elongate your look and also bring movement to your hair, thanks to less gel and more oil being in it.
5. Play Around with Some Bentonite Clay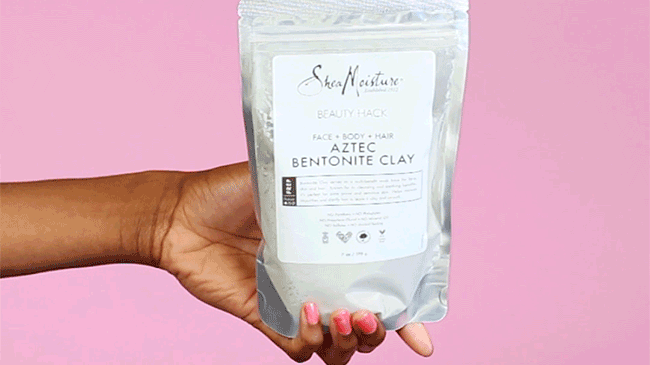 Speaking of wash 'n gos, personally, I'm a fan of bentonite clay for all kinds of reasons (for instance, it's a great skin detoxifier if you sprinkle some of it into your bath and soak). When it comes to your hair specifically, if you want more defined curls and softer hair, apply some of it to your hair right after washing it. Put it on saturated hair, leave it on for about 10 minutes and rinse it thoroughly (preferably in the shower because bentonite clay can get messy). Then deep condition your hair (don't forget this step because clay has a tendency to make hair hard). No matter what your hair type is, you should end up being pleasantly surprised (check out some how-to videos here, here and here).
6. Try Some Silicone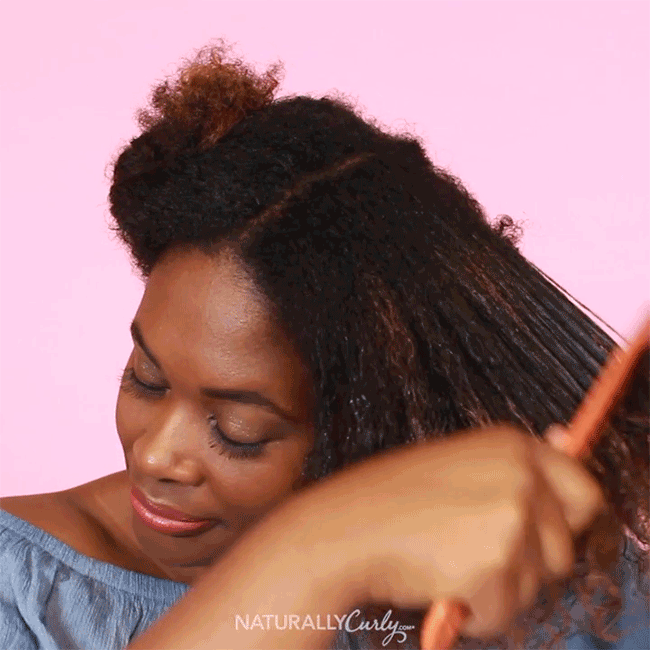 Something that a lot of people don't know is sometimes, when it comes to styling natural hair, the ingredients in our favorite products can cause the shrinkage. Stuff like glycerin, glycol, hydrolyzed wheat protein or even honey can make your curls tighter because they are humectants that can draw moisture from the hair and cause your hair to draw back towards your scalp.
An ingredient that won't do this is silicone. It's cool because it's a non-toxic chemical that actually works as a sealant to protect your hair from outer moisture (the kind of moisture that can cause your hair to get tighter than you may want it to be). And since it literally weighs your hair down, silicone can help to keep shrinkage from occurring while reducing frizz and keeping your locks shiny. As far as silicone-based products that you should look into, Naturally Curly has a list that you can check out right here.
7. Or a Little Bit of Beeswax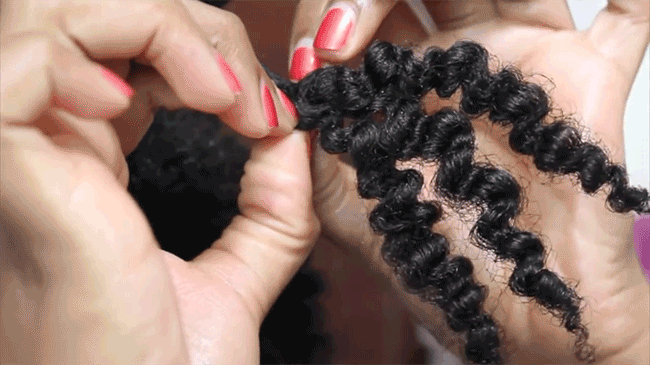 Maybe you do or maybe you don't know that one ingredient that a lot of people use when they decide to lock their hair is beeswax. Although it literally has a waxy texture to it, beeswax is actually good for natural hair on a few levels. It moisturizes. It seals in the moisture. And it's an awesome way to straighten hair without applying any damage. The main thing to keep in mind with this particular anti-shrinkage tip is less is more. That said, you might want to apply it, along with a little bit of oil when you're braiding/banding/threading your hair or to lay down your edges after styling your hair. Otherwise, your hair could turn out to be stickier than you planned.
8. Pull at Your Roots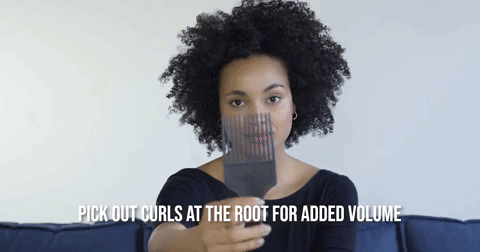 One of the greatest hacks for combating shrinkage is using a pick to lightly lift up your roots after you've finished doing any of the techniques that I've just mentioned. This approach can keep you from frizzing out your curl pattern while still giving your hair an inch or two of height and volume.
9. Blow It Out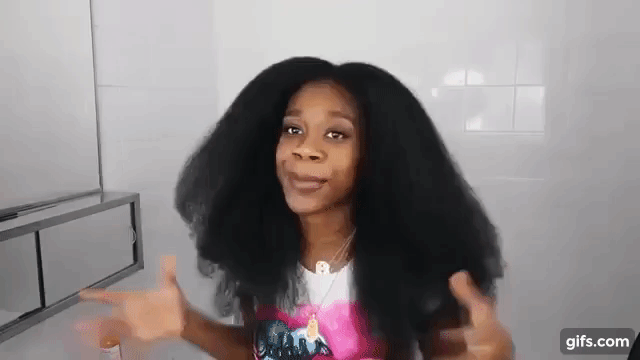 Out of all of the tips that I've shared for how to deal with natural hair shrinkage, I'm thinking that this one is probably the most obvious one because you can always pull out a blow dryer and blow your hair straight (well, as straight as possible without using a flat iron). Again, the reason why I like this approach is because it provides a lot of stretch, so that I don't have to constantly pull and tug on my hair in order to style it. It also cuts down on fairy knots significantly.
The keys to this point is to select a dryer that does as little heat damage as possible, that you let your hair dry at least 50-60 percent before applying any heat to it, that you do not go above a medium setting (otherwise, you could end up frying your tresses) and that you definitely put on a thermal heat protectant (cream is usually best, coverage-wise) before you begin the process. Then, once you're done, don't forget to stretch out your hair with cornrows or plaits so that you don't have to use heat again until your next wash day. By the way, Byrdie did an article on some top dryers for natural hair. You can check it out by going here.
10. Pull It into a Pineapple (at Night)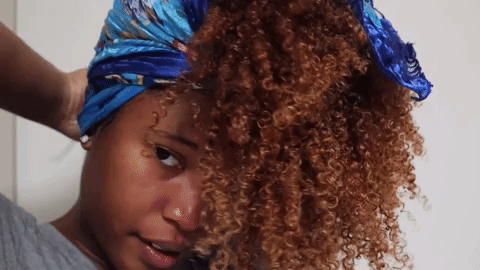 Some stylists will say that another way to stretch your hair is to pull it up into a ponytail (if it's long enough). That's true yet you need to be careful that you don't pull your "tail" so tight that it creates tension that leads to breakage or that you get so consumed with your edges and nape (by constantly applying gel and or always brushing it) that you weaken certain parts of your hair. However, when it comes to your bedtime routine, if your hair is long enough, I definitely recommend putting it up in a loose pineapple (you can learn how to do it here and here). It's another way to reduce shrinkage while you rest and to prevent a lot of detangling, so that it's easier and quicker to style your hair the following morning. It's an anti-shrinkage method that is easy, low-maintenance and (so long as your scarf stays on, chile) can keep your hair looking just the way you want it. Enjoy!
Join our xoTribe, an exclusive community dedicated to YOU and your stories and all things xoNecole. Be a part of a growing community of women from all over the world who come together to uplift, inspire, and inform each other on all things related to the glow up.
Featured image by Getty Images
Keep reading...
Show less
Every time I get some braids, you basically can't tell me nothin'. Then when you take the cute factor up a couple of notches due to how convenient braids are, sometimes I have to literally talk myself into taking a break from 'em (like now). Anyway, while I'm not sure if I'm going to get my signature box braids in for the summer that is only a few weeks away (can you believe it?!), I definitely know that if I do happen to book an appointment, I'm going to do all of the things that trial and error have taught me is an absolute must.
A wise person once said that she who learns, teaches. Keeping that in mind, if you're seriously considering getting some braids soon, please take a moment to run through this 10-point checklist. That way, you can be confident that your hair will turn out just the way you want it to—and that your natural hair will be good and protected in the process as well.
1. Find Someone on Referral (or Meet with Your Potential Braider First)
I can't think of one time when I didn't go to get my braids done based on either a referral from a friend or by doing a thorough amount of research beforehand. When I got them as a teen, I only went to one person. When I got them a couple of years ago (and wore them for a few "rounds"), I not only read the online reviews of that particular salon, I also met up with my braider before booking an appointment. Listen, you're going to be spending too much money, sitting in that chair for far too long to be out here wingin' it. You need to go to someone you trust, so that you can get the best results. The extra time it takes to look into who is qualified is definitely well worth it.
2. Discuss the Types of Hair That Are Available
A huge mistake that a lot of women make when it comes to getting their hair braided is believing that all hair is the same. IT. IS. NOT. I remember once getting my hair braided by a dope braider yet the quality of hair was on the cheaper and itchy side (which is oftentimes the case when synthetic hair is packaged poorly and/or it's coated with a base that can trigger an allergic reaction). That's why it's also a good idea to ask your braider what kind of hair they have available and what would be the best kind for the style you want to have. Sometimes they may have the right hair on tap. Sometimes they may not.
For instance, the last set of box braids I got, I wanted a really natural ombre look, so I ordered some ombre-colored braiding hair online myself. It was one of the best decisions I ever made because the hair was good quality, felt really light on my head and the color ended up looking fabulous once the braids were in. I also got to knock some of the price off of my braiding appointment since, most times, the hair is factored into the prices. That made it a win, all the way around.
So yeah, don't just hop in a braider's chair without knowing what kind of hair they'll be working with. It matters just as much as the price, style and how long they presume everything will take.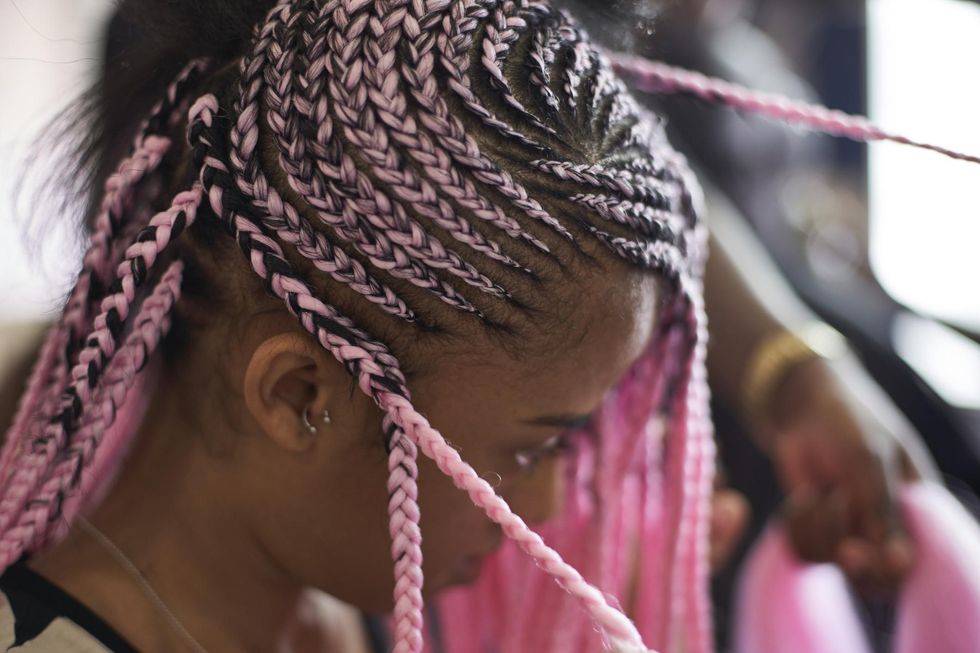 Westend61/Getty Images
3. Be Open to Getting More than Just One Style
Not all braided styles are created equal. That said, if you've got a good braider, while it is their job to make sure that you're happy as a customer, they should also offer up a few options that could be more complementary and/or take less time and/or could last longer than what you initially have in mind. Shoot, there have been several times when I thought I wanted something like Janet Jackson's hair in Poetic Justice, only to walk out with smaller braids in a lob (long bob) and I had absolutely no regrets.
I've also had moments when I thought I was married to jet black (my favorite color) braids and yet wound up with some random white and brown braids throughout my look and adored every minute of my reflection. Sometimes, the style we're after isn't the best when it comes to our face structure. Or, it's going to end up being heavier and hotter than we thought. Or, we just aren't aware of how many different braided styles actually exist. That's why going into a braids appointment with a couple of looks and also an open mind can never ever hurt. I can certainly testify to that.
4. Understand the Required Maintenance Beforehand
There are a couple of people in my world whose braids end up looking crazy about three weeks in while mine don't really need a retouch until week seven or so. The difference? They seem to think that braids require no type of maintenance at all and chile, that couldn't be further from the truth. Braid sprays can help your hair to retain moisture. Hot oil treatments can soothe and nourish your scalp. I don't know why folks think that they don't need a silk or satin scarf or bonnet to wrap their hair up at night (it reduces frays and frizz). High ponytails and top knots can put too much tension on the middle of your head and lead to breakage.
Wash days are still required (kinda; more on that in a sec). You definitely need to care for your nape and edges (more on that in a sec too). And, if you know that you're going to experience a good amount of regrowth, getting your edges tightened (which basically means getting the front and sides of your hair re-braided) is something that you need to schedule in too. While all of what I said may not hold a light to what you currently do, my point is you shouldn't overlook that braided hair still requires a regimen. Just something else to keep in mind.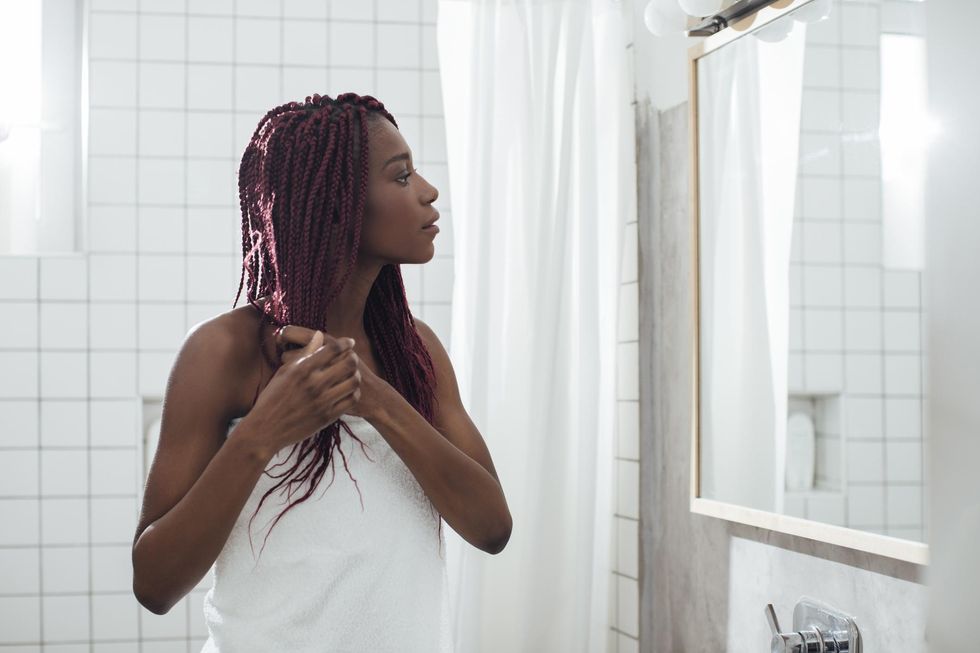 FreshSplash/Getty Images
5. Exfoliate Your Scalp
OK, now the prepping for the braiding itself. Remember how I said that sometimes the kind of hair that you use can lead to itching? It can cause a lot of irritation too. That's because our scalp is used to natural strands not synthetic fibers. Oftentimes, our scalp is already not in the best shape on braid day, so maybe 2-3 days before your braid appointment, consider prepping your scalp by exfoliating it. That can help to detox it and also remove any flakes.
Some people do detox their scalp by giving their scalp a massage with a bit of a warm carrier oil (such as jojoba, avocado or, my personal favorite, grapeseed which is great at treating dandruff) with a few drops of lavender (it cleanses the scalp) or peppermint (it invigorates the scalp) essential oil.
Others opt for making their own scalp scrub out of ingredients like brown sugar, sea salt or even lemon juice. If you'd prefer to go the second route, there are some easy recipes that you can try here.
Speaking of scalp irritation, another tip to keep in mind is to keep your scalp nourished once your braids are in. Sweet almond oil is great when it comes to providing moisture. Chamomile is wonderful if you want an oil that will soothe your scalp. Just get a bottle that has a nozzle for its top (that makes it easier to apply the oil in between your braids) and commit to oiling your scalp, eh, every couple of days or so. A soothed scalp means your braids can remain in longer without you being bothered by them.
6. Deep Condition Your Hair
Braids are definitely considered to be a protective style. The main reason why is because, two of the main benefits of getting them is 1) you literally don't have to do anything to your hair for 4-8 weeks and 2) your natural hair can get a break from constant styling and manipulation. However, there's no point in getting braids if, when you take them out, your own hair is a hot ass mess because it's dry and brittle due to lack of proper pre-hair care. That said, your natural hair needs as much moisture as possible before it's covered up in synthetic strands. That's why it's so important to deep condition your tresses, 1-3 days before braid day.
It will hydrate your hair. It will make it soft and manageable. It can also make it easier to either find fairy knots or prevent them. I've shared before that I like to deep condition my hair by mixing some regular old conditioner (pretty much any braid will do) and then adding some Chebe powder and sometimes some Jamaican black castor oil. After shampooing my hair, I'll apply the mixture and leave it all on for at least a couple of hours. My hair feels so amazing, every time I do it (which is every wash day). If you'd prefer to take another approach, check out "8 Hair Masks & Deep Conditioners That Revitalize Dry, Damaged Hair" and "5 Deep Conditioners Your Curls Deserve". You should be able to find a conditioner that you like there.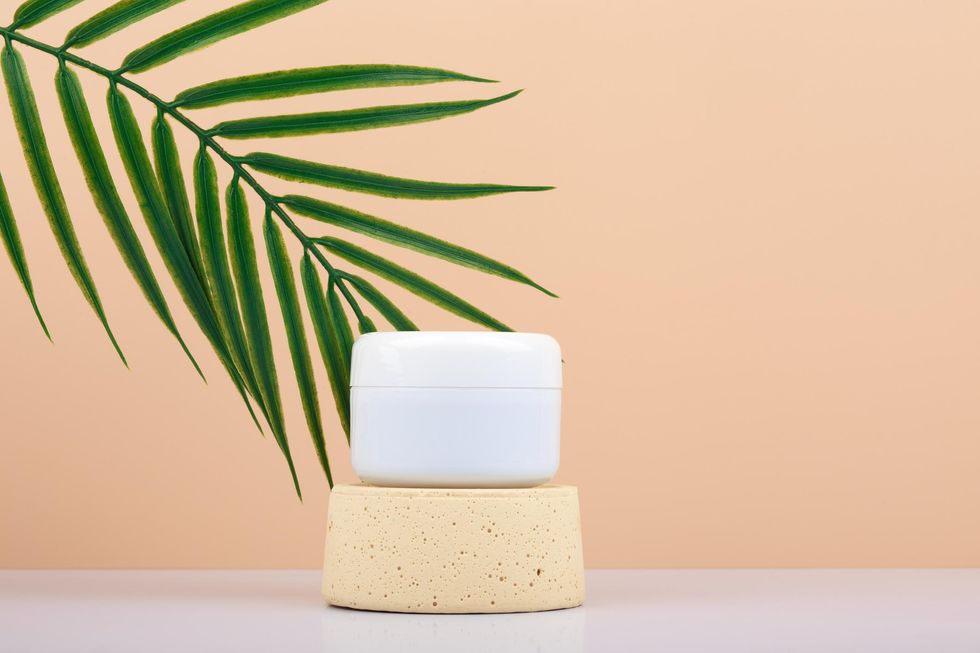 Irina Ivanova/Getty Images
7. Prepare to "Baby" Those Edges
I know someone who was so used to wearing braids that she no longer has any edges left. Y'all, if constantly pulling, tugging and even brushing and combing your hair can weaken your edges, just think about the weight of what braids can do over time. This is why your braider shouldn't braid your hair so tightly that you basically look like you got a free facelift. As far as the kinds of styles that can take some of the pressure off, feed-in braids or halo braids are ones that can do it. Whatever look you decide to go with, definitely keep the updos to a bare minimum.
Oh, and the baby hairs that so many of us still try and make happen? Please don't make that a daily occurrence and, when you do go with an edge control, make sure it has no alcohol in it (alcohol can dry out your hair and lead to breakage). One more thing, "feed your edges' follicles" by applying some olive, coconut or that Jamaican black castor oil that I already mentioned. Since your edges will still be (somewhat) showing, they need to be "babied" a little more than the rest of your hair does; especially while your braids are in.
8. Understand What Your Wash Day Requires
Wash day is interesting when you've got braids. The reason why I say that is because some people prefer to shampoo their hair, pretty much like normal while their braids are in while others would actually like to cleanse their scalp only (so that their braids can remain as intact as possible). Me?
Usually, I just keep my scalp clean by either parting my scalp and cleansing it with something like Sea Breeze astringent or Cantu's Apple Cider Vinegar Root Rinse (I really like it because it has a nozzle that makes it easy to apply to the scalp). If your braids are only going to stay in for about a month or so (and you don't typically experience a lot of flaking when it comes to your scalp), focusing on your scalp only can reduce the chances of your braids frizzing up.
Oh, and if you're thinking that dry shampoo can do the trick, please avoid that at all costs. It will definitely have your braids looking dusty and could irritate your scalp as well. If you do decide to all out wash your braids, it's probably easiest to do it in the shower. Be sure to go with a mild shampoo (preferably one that is sulfate-free because you still need to protect your natural hair and sulfates can dry it out). Put your shampoo into an applicator bottle (that's one that has a nozzle attached) and apply the shampoo directly to your scalp.
While you are washing, use your fingertips on your scalp and DO NOT rub your braids together. Let the shampoo naturally flow down to your braids, let it sit for a couple of minutes and then rinse your hair thoroughly. As far as conditioning goes, spraying some leave-in conditioner onto your scalp and braids is probably all that you will need to do. I won't lie to you—wash day with braids (especially if you've got a lot of 'em or your braids are long) can take several hours.
Many people just let them air dry; however, you can sit under a hooded dryer (or put on a hood attachment to a handheld dryer). Just make sure that your braids dry thoroughly because they can get mold in them (yuck, I know). Anyway, if you're more of a visual learner like I am, the YouTube channel Shanique Buntyn has a video that can walk you through the steps of how to wash your braids so that they come out looking as frizz-free as possible. You can check it out here.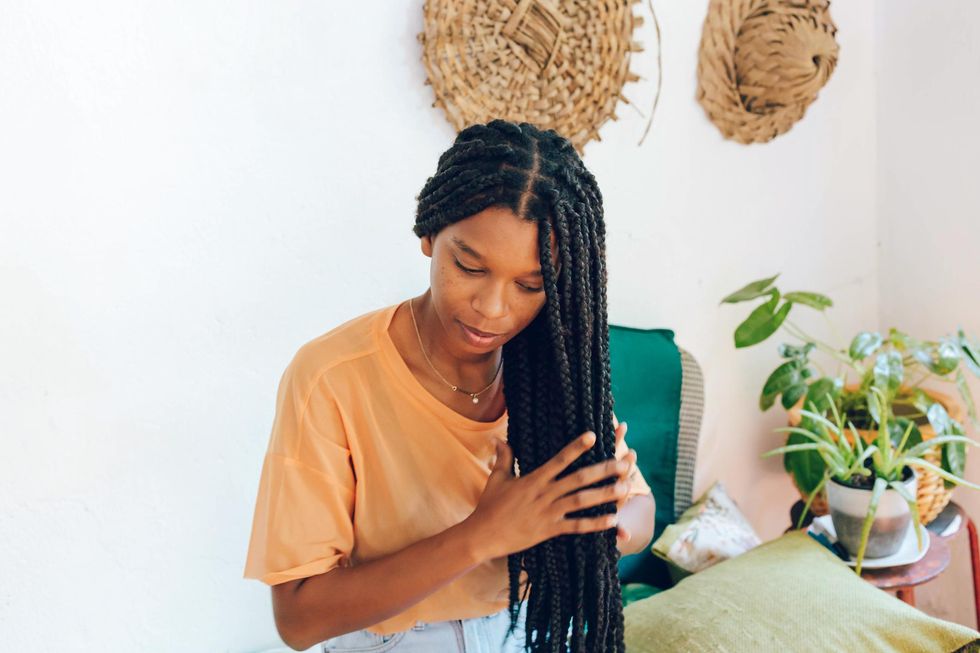 Yadira G. Morel/Getty Images
9. Keep Them in No Longer than Eight Weeks Tops
Listen, I've seen plenty of videos out in cyberspace where sistahs have tried to "rig up" keeping their braids in by knotting up (literally twisting the hair or tying the roots into a knot) the new growth. Yeah, don't do that. All you're ultimately doing is asking for your hair to either lock up or for it to be pure hell for you to get everything untied when you're ready to take your braids down. While most stylists will say that six weeks really needs to be the limit for how long braids stay in, please don't push it past eight.
Otherwise, your natural hair could start to break, your scalp will probably get irritated (dabbing some peppermint oil onto your scalp with a Q-tip is a great hack for this), your hair follicles could weaken (due to the weight of the new growth combined with the weight of your braids)—it's just not a good look all the way around. Oh, and don't book your next braid appointment to be a mere couple of days after you took your braids out either. Even though braids are indeed a protective style, there is such a thing as too much of a good thing; your natural hair needs to breathe.
Two weeks off to wash, deep condition and let your hair rest are ideal.
10. Get Your Mind Right When It Comes to Taking Those Babies Out
I don't think there has been one time when, about halfway through a braiding appointment (for the size and length of the braids that I typically get, two women on my head ends up being 5-6 hours of braid time), I won't think, "Damn. I'm gonna have to take these out at some point." When your hair is relatively short, it's not that big of a deal because you can kinda cut the braids wherever you want and unravel them. Get a little length in, though, and it can definitely turn into an all-day process. SMDH.
The main things to keep in mind is 1) you need to be patient when cutting the braids so that you don't cut your own hair; 2) you need to find something fun to do to distract you (like binge-watch a television show), and 3) you definitely need to wash and super deep condition your hair once all of the braids are out. However much time you need to set aside to accomplish those three goals, that is what you need to purpose in your mind to do.
Putting braids in requires some hours. Taking them out does too. Both are worth it yet lawd, they both can get on your very last nerve. So, when it comes to getting braids (and getting rid of them), please make sure your head is—pun not intended—in the game. Happy braiding, y'all.
Join our xoTribe, an exclusive community dedicated to YOU and your stories and all things xoNecole. Be a part of a growing community of women from all over the world who come together to uplift, inspire, and inform each other on all things related to the glow up.
Featured image by Yadira G. Morel/Getty Images
Keep reading...
Show less
UGH. Does anything in the world trigger us to cussing more than having a side of our head where our hair doesn't grow nearly as long, fast or thick as the other? I mean really, when it comes to the many things that can keep us from gaining some real inches, this is the one thing that doesn't get brought up nearly enough. So, I figured that I'd do it.
I ain't gonna lie. Nothing in this piece is an overnight remedy. However, what I do think, is as you learn more about your hair and why it does some of the things that it does, it can help you to come up with a customized haircare routine that can get you some of the results that you've been looking for. So, are you ready to read 10 points that can even some of your lopsidedness out?
1. Accept That the Sides of Your Hair Are "Sisters" Not "Twins"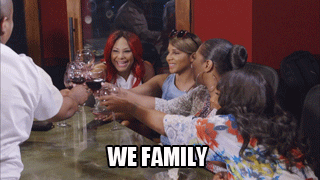 Before getting into some tips that can help you to bring some balance back to your hair and its growth, on both sides, let's address a really relevant point. The left side of our body is similar yet not identical to the right side. That's why our eyebrows, breasts, feet and other parts of our body can oftentimes appear a little different from each other. That being the case, why wouldn't the sides of our head also reflect the fact that they aren't exactly the same either?
While things like genetics, medications and our diet certainly play a role in how our hair grows, if you're expecting the left side to be just like the right, chances are that you're going to be pissed, most of the time, because that's not really a reality. When it comes to accepting your hair, it really is wise to live by the motto, "The sides of my head are 'sisters', not 'identical twins'." This means that each side will probably appear somewhat different, feel slightly different and may need a bit of a different routine from the other in order to get the results that you ultimately want. With that reality check out of the way, let's go further.
2. Is It Thinner or Shorter? That Is the Question.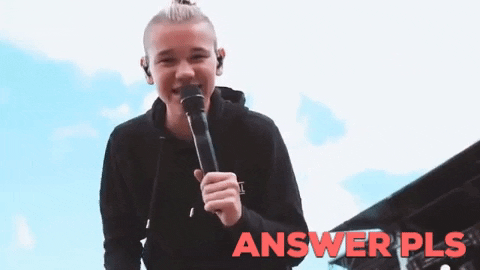 When it comes to having one side of your hair that flourishes while the other doesn't (at least not as much), it's also a good idea to keep in mind some other different things that could be at the root, other than what I've already mentioned.
For instance, one side of your hair may have more hair follicles on it or follicles that are more fragile than the other which could result in thinner hair. Or, one side may have a tighter curl pattern which could cause it to appear shorter than the other. Both of these things could mean that if you apply heat, if you over-brush or comb, if one side doesn't get enough moisture or even if your diet is all out of wack, it could cause the "thinner" or "shorter" side to appear even more that way or even become more fragile over time.
If you think that one side of your hair is thinner, you might want to consider the following—not relaxing or color-treating your hair (so that your follicles can get stronger); eating foods that have more iron including dark leafy greens, red meat, quinoa, watermelon and raisins and protein like eggs, poultry, oats, Greek yogurt and turkey breasts (also check out "Vegetarian Or Vegan? Check Out These High Protein Foods."); washing that side with a sulfate-free volumizing shampoo, and also keeping your stress levels down.
If one side of your hair is shorter and it is due to having a tighter texture, perhaps stretch it out by braiding or twisting your hair while it's wet and letting it air dry before styling. While this won't change the reality that your patterns are different, it can "balance out" the appearance some, if you try.
3. "Baby" the "Weaker" Side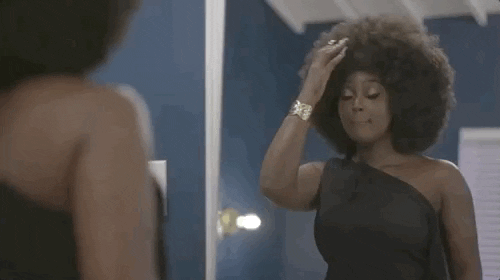 The left side of my hair? I could do almost nothing to it and it's still gonna thrive. The right side? Lawd, she's super high-maintenance. I've come to accept that, though. And since she wants to be "babied" more, that's exactly what I do. While I do deep condition my entire head, I typically add some Jamaican castor oil to my right side to give it some extra moisture. When I give myself a scalp massage (more on that in a bit), I spend a couple of extra minutes on the right side.
When I'm blow drying my hair, I use a cooler setting and less time on the right side. Since it does appear that my hair follicles are more fragile on the right, I'm intentional about following some of the tips that I made in the article "Top To Bottom: 10 Tips To Strengthen Your Hair Follicles & Protect Your Ends". In short, since the right side is a bit thinner and grows slower, I give it extra attention. I've noticed some results since I've been doing that too.
4. Sleep on the Opposite Side. At Least Sometimes.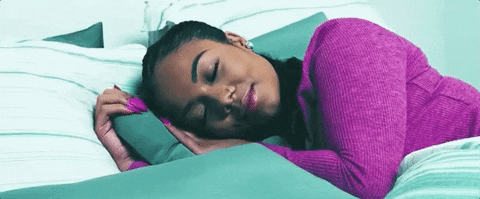 I've come to realize it's not happenstance that the side of my hair that has the hardest time flourishing is also the side that I tend to sleep on the most (the right). After doing some research into why, there is somewhat of a science to it all. When you spend 6-8 hours a night laying on one side of your head, it can actually cause the blood vessels on that side to become compressed.
As a direct result, your hair follicles are not able to receive all of the nutrients that they need in order for your hair to thrive. The solution? Try switching up sides, at least a couple of nights a week, if you can. You might be surprised at how this one lil' remedy can be a total game-changer for you in the long run.
5. Give Yourself More Scalp Massages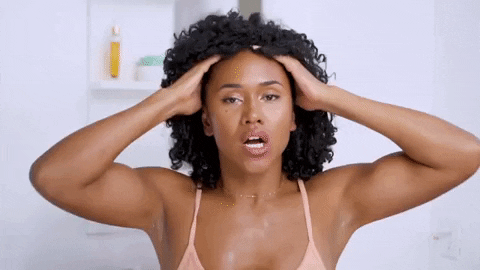 I think I've shared before that I once read that the reason why women of other ethnicities seem to grow their hair out faster and longer is simply because they've got a way looser curl pattern (if they've got one at all). The other reason is due to the fact that they tend to wash their hair more often. As a result, they're massaging their scalp more than a lot of us tend to do and there are some clear benefits that come with doing that.
If you massage your scalp, for four minutes, each day, it's able to increase the thickness of your hair, relieve dandruff, remove some of the build-up that could be clogging up your hair follicles in between wash days and, it can decrease stress; since stress levels can also affect hair growth, that's another cool bonus.
As far as shampooing on a daily basis goes, if we wash our hair every day, that can actually result in dryness, brittleness and breakage; that's why it's best to shampoo and condition no more than once a week. However, while you're winding down for the day, warm up a little bit of peppermint (the menthol will increase blood circulation) and lavender (it's antifungal and also reduces stress) essential oil that's in a carrier oil like avocado (it contains oleic acid and monounsaturated fats that can help to deeply moisturize your hair) or sweet almond oil (it's loaded with magnesium, calcium and zinc), dip your fingertips into it and rub your scalp for five minutes or so. It feels amazing and it will do your entire head a world of good; especially the weaker side.
6. Clarify Your Hair and Scalp on a Monthly Basis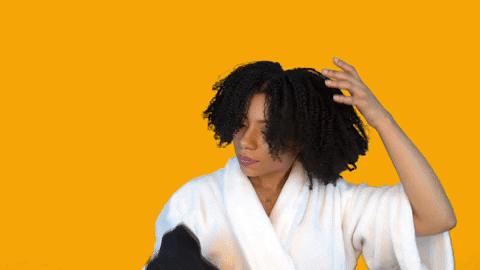 Since your follicles are where the growth of your hair begins, something else that you might want to do is clarify your hair every month. This is simply a process that gets rid of product build-up, so that your follicles aren't clogged and are able to grow more easily; possibly thicker too. Personally, I think the best way to do this is to give your hair and scalp an apple cider rinse.
Not only can it help to get rid of any build-up that you might have, it can also moisturize your hair, add more luster and shine to it and restore the pH balance of your scalp too. Just mix 2-3 tablespoons of apple cider vinegar into one cup of water. Then, after washing and shampooing your hair, pour the rinse onto it and let it sit for 5-7 minutes. It's another thing that can help the weaker side of your hair to get stronger.
7. Focus on the Weak Side's Ends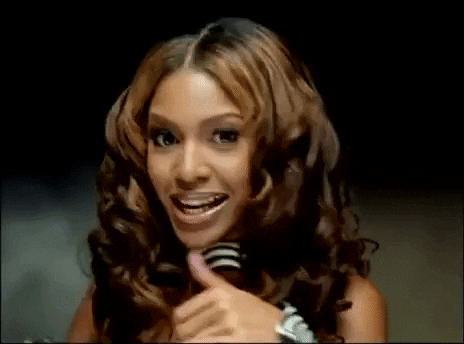 It really can't be said enough that, a myth that a lot of Black women have believed, for far too long, is that their hair doesn't grow as fast as other ethnicities. Again, that is absolutely NOT the truth. Yes, because most of us have a much tighter curl pattern and the humidity also results in quite a bit of shrinkage, it can appear that way. Still, all of us, on average, grow between ¼" and ½" of hair every month. The challenge is retaining the length so that we're able to see results. And so, when it comes to dealing with the weaker side of your hair, it's crucial that you do all that you can to preserve for ends for as long as possible.
Handle your ends with care. Seal them on wash days. Detangle with your fingers as much as possible. Be careful with your styling tools. Always use a thermal heat protectant when applying heat. KEEP YOUR HANDS OFF OF THEM AS MUCH AS POSSIBLE (and yes, I'm yelling it!). This includes when you're sitting on the couch and are tempted to play in your hair or when you're riding in your car and may lean your head into your hands (those compressed blood vessels, remember?).
I've already shared that the right side of my head is way more fragile. That said, there is a small portion of my hair, right around the nape, that gives me so much drama. Know what else? I get so frustrated with it sometimes that I know I'm a part of the problem because I'm always trying to put something on it to get it to grow faster. The friction that I'm causing is working against, not for it. It's growing just like the rest of my hair is.
Thing is, I'm not "bothering" the left side of my head nearly as much as the right and—surprise, surprise, the left side is longer and thicker. Yep. Leaving your hair alone and also making sure that your ends are well cared for are two other ways to effectively address the "lopsidedness" that you're currently dealing with.
8. Go Easy with the Shears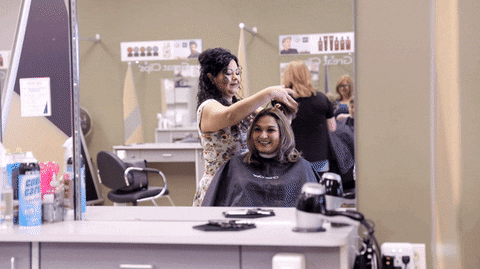 Perhaps the most frustrating thing about having one side of your hair that grows faster/thicker/longer than the other is coming to the realization that taking some shears to even both sides up isn't always the solution. What I mean by that is, there are many times when I've done that and all that's happened is I never really see results on either side because the left is gonna keep flourishing and the right is just gonna keep on showing out.
While yes, it's a good idea to trim—or at least dust—your ends every couple of months or so, constantly cutting the stronger side isn't always gonna give you the results that you want. Real talk, sometimes the best thing to do is to give your entire head one good evening out and then really focus on nourishing the weaker side. And what if things still look uneven? Well, that brings us to the next recommendation.
9. Find Styles That Will Get Your Mind Off of It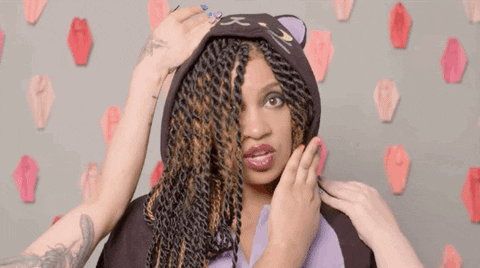 There's a YouTube channel called Sista with Real Hair who posted a video a few years back about how she can't get her hair to grow out evenly to save her life. So, the conclusion that she came to was just to leave her hair alone. Yeah, I know some of you might think, "If that's what you're gonna tell me, what did I read all of this for?" I hear you.
Here's the thing to consider. You know how they say that a watched pot never boils? If, when you comb out your hair, you're noticing that one side is 1-2" shorter than the other, why not either style your hair or put it into a protective style that gets your mind off of the unevenness so that your weaker side has time to catch up?
As far as styling goes, parting your hair so that most is on the weaker side can give the appearance that it is thicker and fuller. Putting your hair up in a ponytail may help some; just don't rely on that look on a daily basis because the strain of your strands being constantly pulled up can also result in breakage and further weakening over time. Braids, twists and Bantu knots are always a good look because it gives your total hair some time to relax.
Then, once you take your protective style down, you should see some length on both sides. That way, if you do decide to even things out, at least there will be a couple of more inches of progress, because you choose to leave your hair—all of your hair—totally alone.
10. Understand Hair Growth Takes Time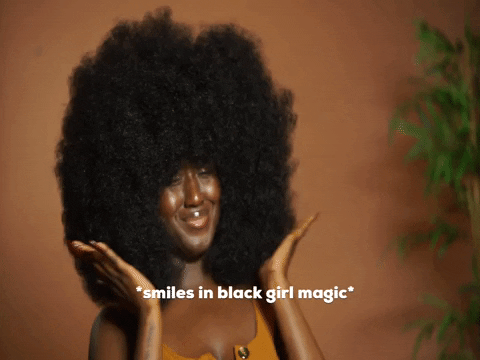 I won't lie. Nothing embodies the saying, "patience is a virtue" quite like trying to grow your hair out does. Still, as you're trying to figure out what works and what doesn't, a silver lining to it all is you can happen upon all kinds of things that can help to improve your hair over time. For me, it's been Chebe powder (I use the loose powder in my deep conditioner and have recently been applying an oil that has Chebe and Fenugreek in it; you can cop some of it for yourself by going here) and also learning how to make my own herbal infused oil (I got the herbs from this sistah here and learned how to infuse them myself by watching this video).
And although things didn't change overnight, I have noticed that the quality of my hair has significantly started to improve and that the weaker side of my hair is getting stronger. Dealing with uneven hair growth really can be the absolute worst sometimes. Yet if you make peace with your reality, you create a haircare regimen, you remain consistent and you keep your hands out of your hair, you can see some results that can bring a smile to your face. In time, you can even see some retention too. I'm in this thing with you. Keep the faith, sis.
Join our xoTribe, an exclusive community dedicated to YOU and your stories and all things xoNecole. Be a part of a growing community of women from all over the world who come together to uplift, inspire, and inform each other on all things related to the glow up.
Featured image by Shutterstock
Keep reading...
Show less
If you're looking for the hairstyle of the summer, look no further than coveted butterfly locs that are saturating our timelines. The ultimate boho classic look and sister to distressed locs, butterfly locs are the hair manifestation of carefree summer we're all looking forward to. While faux locs have been trending for some time, there's something about butterfly locs that effortlessly attracts everyone.
What Are Butterfly Locs?
Butterfly locs are beautifully undone locs that naturally frame the face while creating this euphoric vibe. A modern combination of passion twists and goddess locs, this style is relatively low-maintenance and puts less tension on your natural hair than faux locs. The difference with butterfly locs are the curly loops created, giving them their signature look.
But do not let the beauty of this look deter you if you're a first-timer. This in-demand look is dominating our feeds because it's both easy to install and maintain. While there are a few different methods to achieve butterfly locs, beginners can successfully recreate this look with a bit of time and patience. Butterfly locs are achieved using the crochet method, where wavy hair is looped into a braid using a crochet needle and then loosely wrapped to give it an unraveled look.
Easy BUTTERFLY BOB LOCS TUTORIAL (No Crochet) www.youtube.com
How Long Do Butterfly Locs Last?

If maintained properly, butterfly locs can last you 2 to 3 months - essentially the entire summer season. The amount and type of hair you'll need are dependent on your natural hair length and your dired loc length. If you're wanting more bounce, opt for the shorter length with water wave hair. For the longer style, you'll need to factor in filler hair as well to achieve the messy, bohemian look.

The look is ethereal and celebrates natural hair without damaging your natural hair. If you're on the hunt for your next lightweight protective style, add these looks to your saved tab for your next go-to summer style.
Featured image via The Chic Natural/YouTube

Keep reading...
Show less
One of my favorite things about being a Black woman is that we get to experiment with our hair in ways that most could never. From sew-ins, to silk presses, to geometric braid patterns, and more, there are literally zero bounds to the possibilities.
And thankfully, social media is filled with hella examples of almost all of them.
But one got my attention in the most amazing way, I couldn't help but to share. And although my algorithm is filled with pages of hair on hair on hair, I had never seen a style quite like this one before. It was a Black woman with a mullet. And it was with all her natural hair.
Hear me out.
Cut and styled by Los Angeles-based hairstylist, K Brunson, this style warped everything we ever thought we knew about the natural hair game, with a silk pressed mullet of inches on inches on inches. In a post shared to social media, in simple caption, KB writes:
"Hey Y'all! I Had Fun With This ... #mullet #mullethaircut"
And listen, he has done it all, from international perm campaigns, to Caucasian highlights, so it's only fitting that he has this style under his belt too. Which, don't get me wrong, I understand that mullets are nothing new. It's been around for decades. But to see one, on a woman of color, with her natural silk-pressed tresses down her back, is worth conversation, especially because we value creativity in the Black hair community.
And thankfully, many commenters were just as amazed as I was.
From those who understood on an industry level:

Kthestylistb/Instagram
To those who loved the nostalgia:

Kthestylistb/Instagram
And from the speechless:

Kthestylistb/Instagram
All the way to the skeptics:

Kthestylistb/Instagram
--
Overall, the post has gotten so much love, raking in thousands of likes and shared to other hair lover pages who equally were excited to discuss. But I have to ask, could you rock this style? Or would you leave it to the pros?
Let me know your thoughts!

Are you a member of our insiders squad? Join us in the xoTribe Members Community today!

Featured image by KthestylistB/Instagram
Keep reading...
Show less
OK, I don't know about y'all, but as someone who personally likes to rock an Afro, more than just a lil' bit, I've had a hard time finding articles that are specifically dedicated to styling that powerful natural hairstyle. It's like there are plenty of pieces of how to handle Afro-textured hair yet not ones on how to just let your Afro glow in all of its Blackness and glory.
A wise person once said that if you don't see a solution to a problem, maybe you should be the one to create it. Indeed. INDEED. That's what I'm about to be on today. For the record, in order for your hair to qualify as a bona fide Afro, you need a good 3-5 inches of natural hair on your head to start (shorter than that is a TWA which stands for a "Teeny Weeny Afro"). But if you've got that and you're ready to wear your hair out more often than you currently do, I've got some tips on how to care for and style your Afro, so that you will be the focal point of everyone you come into contact with (because we all know that Afros tend to have that effect on folks!).
1. Definitely Do Some Pre-Pooing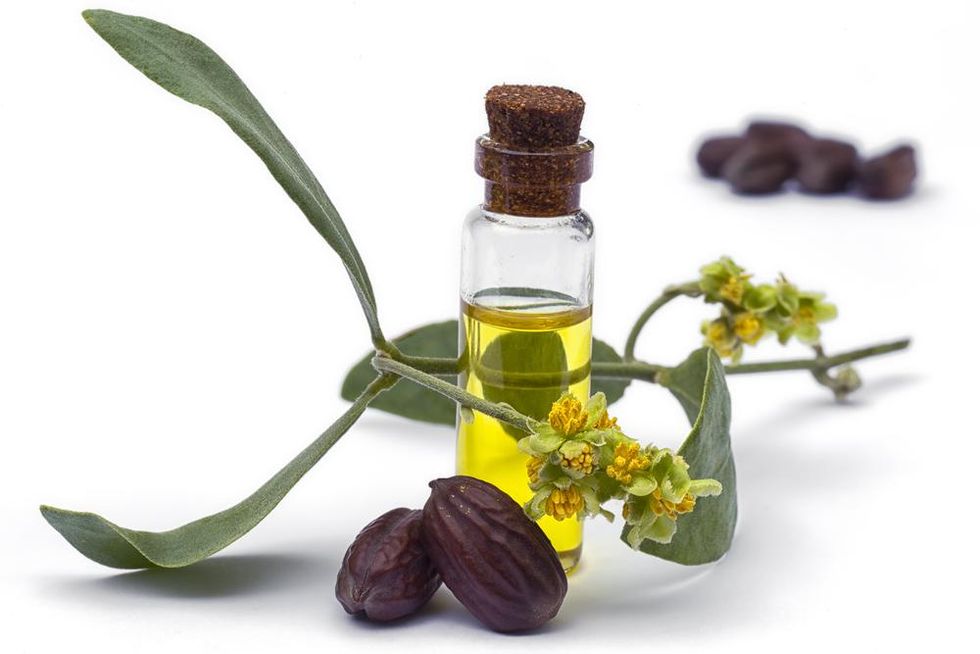 There are a few reasons why I'm such a fan of the pre-pooing process. For one thing, it helps to bring some additional moisture to my hair so that the shampooing process doesn't result in my tresses becoming drier than I want/need them to be. Another thing I like about pre-pooing is it helps to add some "slip" to my locks so that there's less detangling that I need to do, both before and after washing and conditioning my hair. One more thing that's cool about pre-pooing is it can actually make my conditioner even more effective which is really important since I want my hair to be as shiny, soft and manageable as possible.
If you've never pre-pooed before, all you're basically doing is applying an oil, butter or both to your hair before you actually wash it. Simply separate your hair into 4-8 sections (depending on how long and thick your hair is). Then apply a generous amount of an oil like olive oil (which is loaded with antioxidants), jojoba (it deeply moisturizes and soothes dandruff) or sweet almond oil (it helps to seal your hair's cuticles) or a butter like shea butter (it contains vitamins A and E) or mango butter (it helps to reduce breakage) and allow it to sit on your hair for 30-45 minutes. Then shampoo and condition your hair as usual, making sure to thoroughly rinse your hair with lukewarm water before beginning the shampooing process. I can assure you that you'll notice a difference if you do this.
2. Shampoo Your Hair with Some Black Soap
An Afro just ain't right if it's not super soft. That's why it's so important to avoid using any shampoos that have sulfates in them. The reason why is because sulfates have a tendency to really dry your hair out. So, unless you're looking to remove a lot of "gunk" from your hair, steer clear of that kind of shampoo and go with something that is sulfate-free. As far as brands go, one that I've recently come to like is a Black-owned hair and skin care brand called Alaffia. They've got an all-in-one African black soap line that's pretty dope. One, because you can use it all over your hair and body. Two, because it comes with different additions to it like tea tree and mint, honey and lavender (to start).
Anyway, black soap is great for your hair because it's high in vitamins A and E, antioxidants, potassium and magnesium. As a result, it's the kind of soap that is able to feed your hair's follicles, help to define your hair's natural curl pattern, soften your hair and also deeply cleanse your scalp without drying your hair out in the process.
A lot of us are always looking for some high-end shampoo brand to treat our hair when something as simple as black soap can be all that our hair really and truly needs.
3. Deep Condition It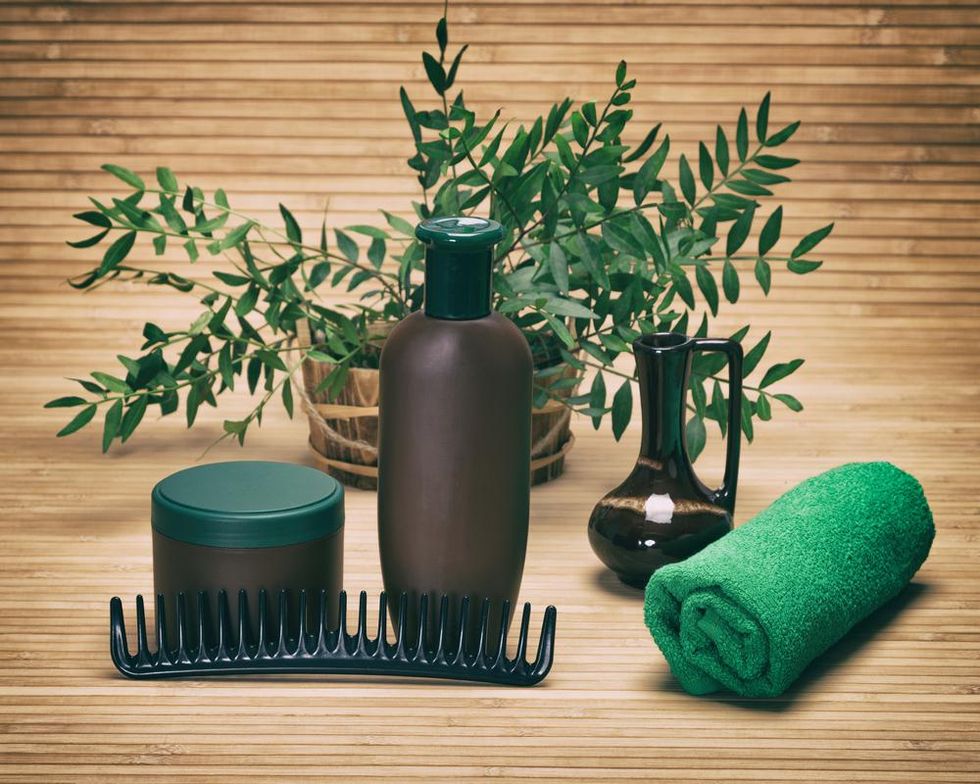 Back when I was only semi-serious about growing my hair out, I would slap some conditioner on my hair, let it sit for five minutes tops, rinse it out and go on about my styling way. Yeah, that was definitely working against me because, since most of us have a much tighter curl pattern than women of other ethnicities, it's difficult for the natural sebum from our scalp to get all the way down our hair shaft. Deep conditioning helps to compensate for this fact. Not only that but it helps to restore our hair's natural pH balance, can make our hair way more manageable, it strengthens our hair and it makes our hair more elastic too (which makes it so much easier to style).
As far as the deep conditioning process goes, it's a good idea to apply the product of your choice to your hair right after shampooing it. Make sure to leave it on for no less than 30 minutes (honestly, a couple of hours is pretty ideal). Then rinse with cool water to seal your cuticles back. And what deep conditioners should you use? I personally go with about any brand and then add some Chebe powder to it (you can read more about what makes Chebe so awesome by checking out "Uncommon (But Totally Natural) Things That Are Great For Hair Growth"). Sometimes I leave the conditioner on for two hours; sometimes I wrap my hair up and leave it on overnight. As far as specific conditioners that can do wonders for your locks, our site has the articles "8 Hair Masks & Deep Conditioners That Revitalize Dry, Damaged Hair" and "5 Deep Conditioners Your Curls Deserve" that can help to point you into the right direction.
4. Also, Use a Leave-in Conditioner 
It might seem a little redundant to follow-up deep conditioning with a recommendation to also apply a leave-in conditioner but chile, ever since I've added this extra step, my hair has not been the same—in the best way possible! Because moisture is something that our hair can always benefit from, a leave-in conditioner can help to give your hair that extra bit of "umph" that it needs to avoid becoming dry and brittle in between wash days. Something else that I really like about it is, it makes styling my hair so much easier to do, plus it reduces frizz and also helps to define my natural curls.
Although there are plenty of leave-in brands on the market, my personal go-to leave in is Aunt Jackie's Quench – Moisture Intensive Leave-In Conditioner because the slip is amazing and the moisture lasts for literally days on end. When it comes to leave-ins, another route that you can take is making your own. It's really not as hard as you might think. If you'd like to give it a shot, Kinky Curly Yaki has an article that features 14 DIY recipes. You can check it out here.
5. Try to Not Permanently Dye Your Hair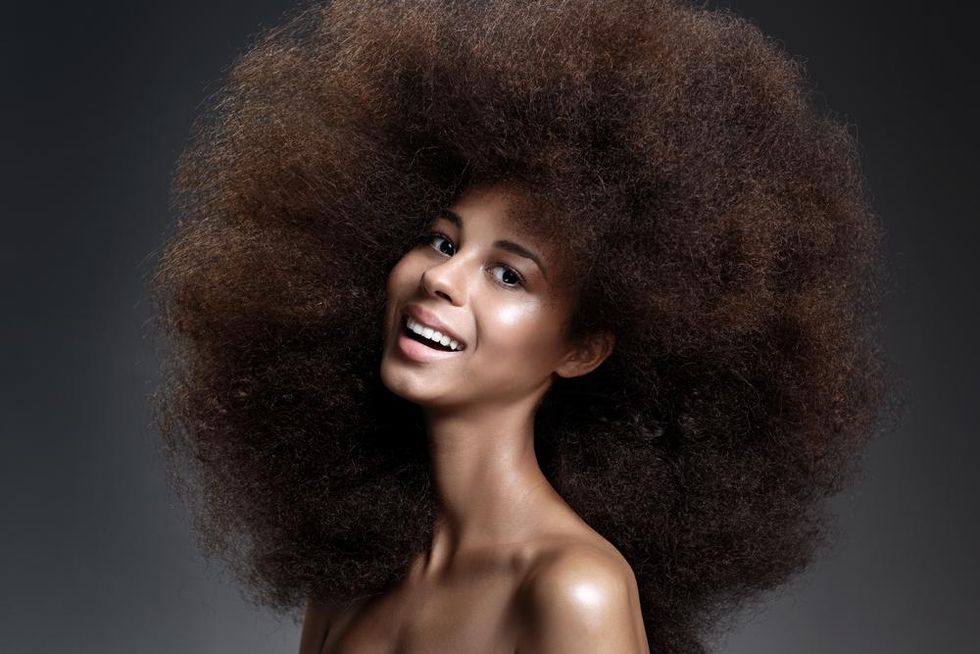 As someone who used to permanently dye my hair, almost about as often as I changed my clothes, I get how much fun it can be to switch up your hair color on a dime. You can still do that—just opt for going with a semi-permanent dye, some hair color wax or a natural hair highlight option (like a coffee rinse or cranberry juice rinse). The reason why permanent dye is bad for your hair is 1) it contains ammonia that definitely dries your hair out and 2) stripping the melanin from your hair and then adding the ammonia to it causes your hair cuticles to swell which can damage your hair over time.
The woman who currently holds the title in the Guinness Book of World Records for having the largest Afro is a woman by the name of Aevin Dugas. Her hair currently sits at a whopping 9.45 inches tall, 9.84 inches wide and 5.15 feet in circumference. I'm pretty sure she would cosign that color is cool—permanent dye is absolutely not.
I'm very much aware of the fact that some of us get frustrated with our lack of length retention and immediately chalk it up to our hair isn't growing. Listen, as long as you're alive (and you don't have some sort of hair condition like alopecia), your hair is always growing. Problem is, you might not be seeing inches because the damage is happening at the same rate as the growth, though. Color can be a culprit when it comes to that. That's why you should chill out from using it.
6. Braid Up and Air Dry
When it comes to this particular tip, I'll just put it right on out there and say that I am definitely a fan of blowing my hair dry on my wash days. Although a lot of people in the natural hair community say that heat is an absolute no-no, I personally don't agree. Stretching my hair out this way has actually helped me to gain more inches because there is less pulling, tugging and fairy knots. Now what I will say is, based on what your hair type is, sometimes blow drying can make your hair look straighter than you would like for it to be when you want to wear an Afro. This could be a good reason to leave your blow dryer alone.
If you want your Afro to have some of the texture and bounce that typically comes with having one, it's actually best to dry your hair with a T-shirt (to safely sop up excess moisture), coat your hair with a butter like shea butter (you might want to seal your ends too with the help of some Jamaican Black castor oil) and then section it all out and braid it. You can cornrow it or braid your hair down into plaits. Let it completely hair dry (this can take a day or two depending on length and volume) and then take your braids out and use your fingers or an Afro pick to style your locks (more on that in a sec). Doing it this way can help your hair to have "spring" to it which is ideal when wearing an Afro.
7. Follow the Right Afro Pick Rules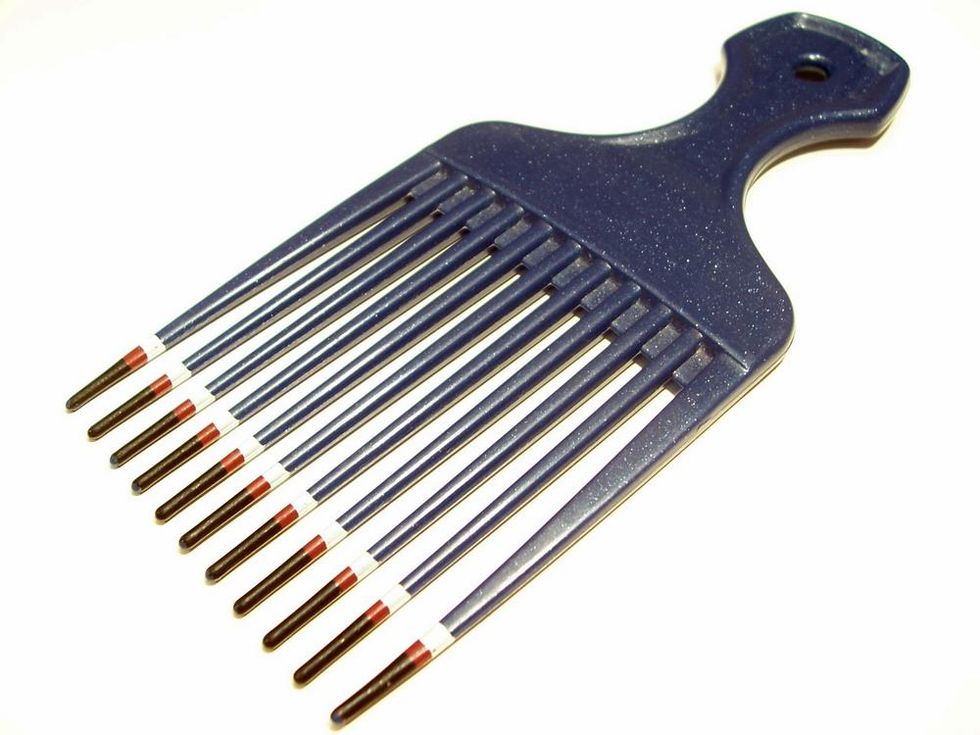 When it comes to actually styling your Afro, something that isn't brought up nearly enough is you can wear it picked out so that it's stretched and tall in all of its natural glory or you can use your fingers to give it more of a texturized look.
The benefits of the latter option is you significantly lower the risk of damaging your hair because so long as you move slowly and gently—and you add a bit of oil on your fingers to give your hair some slip—you don't have to worry about the pulling and snagging that styling tools can sometimes do. As far as Afro picks go, they're pretty awesome when it comes to making your Afro as big as possible, so long as you use them correctly.
And just what does that mean? Definitely use picks on dry hair (if you need help to manage through your hair when it's wet or damp, go with a very wide-toothed comb). While holding your hair, in sections I might add, start from the ends and work your way up to the roots if you want maximum volume. If you'd prefer to keep your textured look but you still want some height, use your comb to gently lift the roots of your hair up
only
. For some additional tips on how to pick your Afro correctly, I really dug a how-to video by a woman by the name of Alexus Crown (who has a really dope Afro in it!). You can check it out
here
.
8. Trim Semi-Regularly
By far, one of my all-time favorite Afros is featured in a story that I did last year that I had no idea so many of y'all would be interested in. Any of you remember "Looking For Hair Growth? It Might Be Time To Bring 'Blue Magic' Back"? Whew-whee! Anyway, when you take a look at EfikZara's hair, you kind of get the impression that she's not following the standard "trim every 4-6 weeks" rule. Honestly, when you're trying to grow out an Afro, it's not really a necessary thing to do. So long as you follow all of the other tips mentioned in this piece, you should be able to go every 8-12 weeks; especially if you're gonna rock a textured 'fro, more times than not. The main thing you need to aim for is an Afro that isn't top-heavy, is pretty symmetrical and isn't frizz city (which can be a sign of split ends or excessive damage) all over your head.
As far as the trimming process goes, some folks prefer to plait their hair and dust their ends while others prefer to pick their Afro all the way out and run some clippers over the ends of it. By the way, you can also always go to a professional stylist too. Bottom line, there's no need to go scissor happy; especially if you wanna see real progress. Just make sure that your Afro looks tight 'n right.
9. Use Satin or Silk Hair Ties Only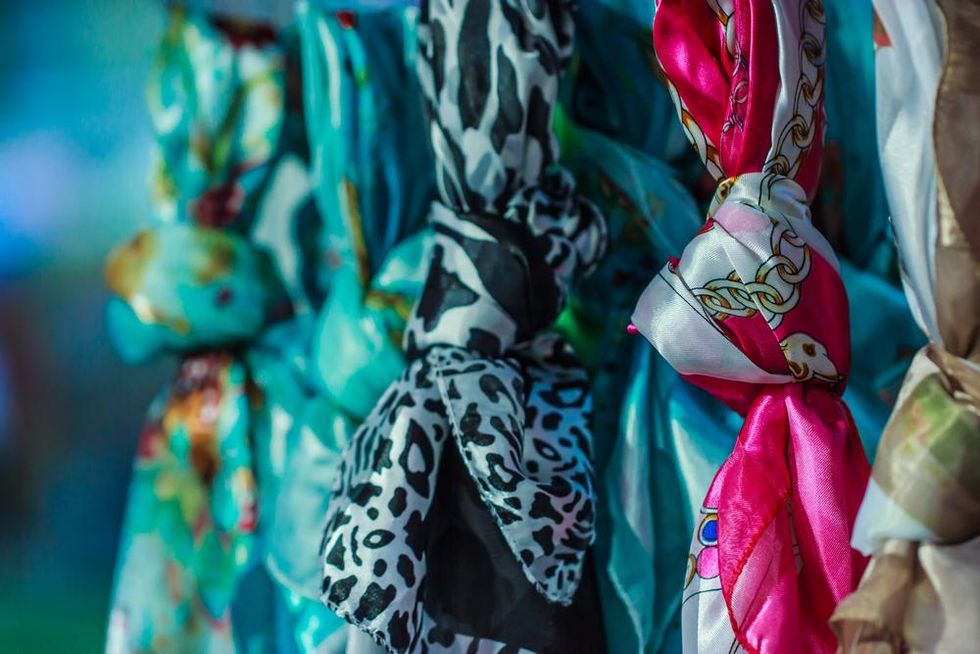 If you're going to wear your hair in a protective style during the week and your Afro on the weekends, this point doesn't really apply all that much. But if you're someone who wants to wear your natural tresses out most of the time, in order to protect your hair from the weather, invest in some satin or silk hair ties. They are perfect for pulling your hair into a big 'ole Afro puff or even just keeping in your purse if you want to pull your hair back off of your face, every once in a while. The reason why the ties need to be made out of satin or silk material is because they are less prone to creating friction on your tresses or drying your hair out.
10. Braid It Up at Night
In order for your soul to glow in all of its glory, it's important that your hair remains as stretched as possible. That said, you don't want to rely on applying heat on the daily because that could lead to breakage. You also shouldn't just tie it up at night because your body temperature tends to shift as you sleep and the sweating could lead to shrinkage. The solution? Braid your hair into plaits (or cornrows if it's still kind of short) before turning in. It will keep your tresses stretched, protect your ends and give your hair a little more texture if the finger-styling route is how you prefer to go.
11. Oil the Parted Spaces Before Tying It All Up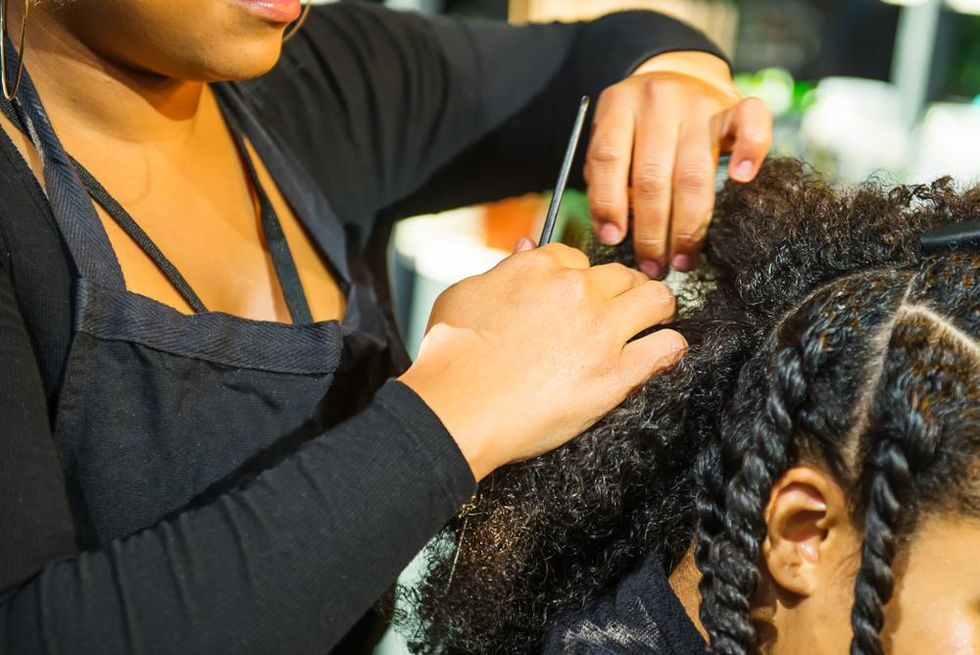 Your hair grows from the roots. At the same time, if you want to maintain length, you've got to focus on your ends. While braiding your hair up at night can help to protect your ends from the friction that comes with tossing and turning all night long, oiling your scalp can help to feed your hair follicles. When it comes to the kind of essential oils that can increase blood circulation and stimulate your hair follicles, some of those include cedarwood, clary sage and peppermint. My two cents would be to mix these up with a carrier oil of some type.
Tropic Isle Living features oils that I like because the bottle has a nozzle that makes the oil easy to apply. You can choose from all kinds including black seed, sweet almond, sunflower, olive, argan, Cerasee and black walnut. If you heat up the oil for a couple of seconds in your microwave beforehand, it can be a super soothing and relaxing treat for your scalp.
12. Make Your Own Bonnet
Here's a true confession. I don't always like to tie my hair up at night. I just don't. What has convinced me to do it more often is that fact that just braiding my hair alone doesn't necessarily or automatically protect it from breakage because moving around at night can still cause friction, dryness and breakage to any of the strands that come loose. So yeah, while a satin pillowcase is cool, if you know that you're someone whose head isn't going to stay on it all night long, you really do need a satin scarf or bonnet to keep your tresses protected. There are dozens of bonnets on the market. Or, if you want, you can always make yourself one. I checked out some pretty easy DIY YouTube videos. Take a stab at it by going here, here, here, here or here.
Welp. There you have it. A few things that can help you to put forth your very best Afro. If you've got one, please don't hesitate to show off in the comments. There is nothing like a Black woman in all of her crowning glory. For me, an Afro hairstyle tops the list.
Join our xoTribe, an exclusive community dedicated to YOU and your stories and all things xoNecole. Be a part of a growing community of women from all over the world who come together to uplift, inspire, and inform each other on all things related to the glow up.
Featured image by Shutterstock
Keep reading...
Show less