Although all of our hair journeys are different, I always find it interesting when folks say that the winter season is the most brutal when it comes to their hair. For me, it's probably right about now because, between the heat, the shrinkage and, when I do swim, the chemicals in the water — it's a challenge, making sure that my hair doesn't dry out, as I strive to handle it with care on the days when it wants to act like a matted mess.
Can you totally relate to where I'm coming from? If so, I wanted to take a moment to share with you some of the summertime haircare tips that have held me down over the past several years. 12 hacks that are easy, affordable and can definitely help you to keep your inches straight through Labor Day and beyond.
1. Get a Cute Swim Cap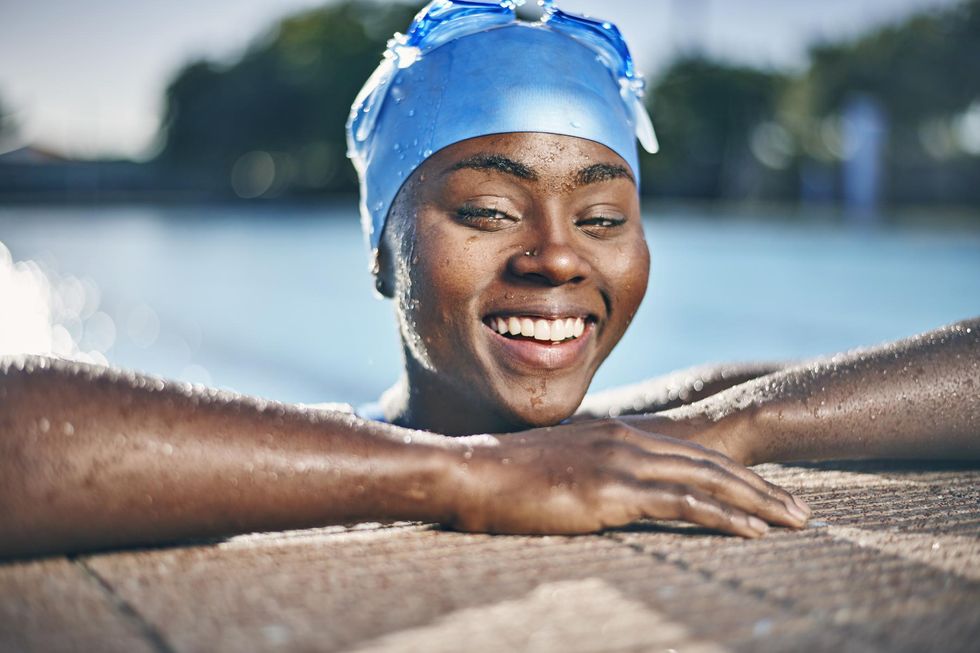 Y'all see that straight up bullshishery that the Tokyo Olympics have been pulling on us? I don't just mean the runners; I mean them banning swim caps for Afro-textured hair. Yeah, I knew that when they put a ban on protesting beforehand that we were in for a ride. Anyway, if a part of what makes you hesitant to swim more often is you want to protect your hair from the salt and/or chlorine that's in the water, I definitely recommend getting yourself a swim cap. If the other thing you're worried about is how crazy you might look in one, these days, there really are cute designs available (so much better than what a lot of us grew up with). Etsy is one place that has some. Just go to the site and put "swim caps for Black women" in the search field.
2. Or Wet Your Hair Before You Swim
On the other hand, if you don't mind getting your hair wet but you still don't want the water to damage your hair (because saltwater and the chemicals in swimming pools can both be pretty drying), a cool hack is to wet your hair beforehand.
Since our hair is a lot like a sponge, if it's already absorbed water, that makes it harder for ocean or swimming pool water to penetrate it. The more you know. The more you freakin' know.
3. Give Yourself a Hot Oil Treatment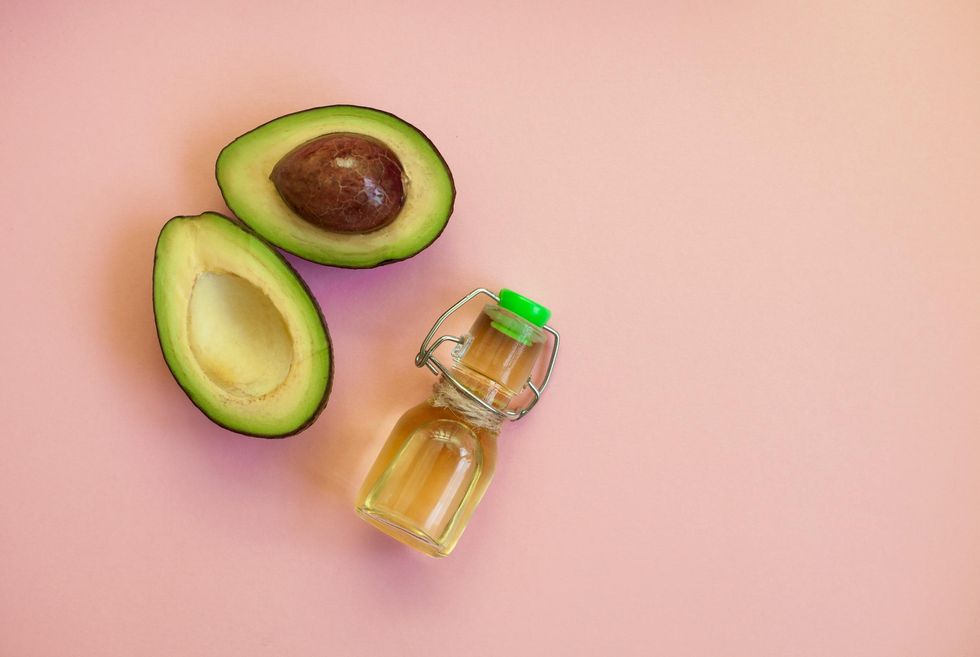 While it might seem odd to hear me talk about applying anything hot to your hair when it's already hot as hell outdoors, you really can't go wrong with treating your tresses to a hot oil treatment during this time of the year; especially if you battle with dandruff, dry scalp or a lot of frizz (which can happen when your hair lacks moisture or it's time for your ends to be trimmed). The combination of the heat from the oil along with the nutrients from the oil of your choice (coconut, grapeseed, argan, sweet almond, avocado, rosehip and apricot kernel oil are all great options) will help to stimulate blood flow to your scalp which will help to strengthen your hair's follicles over time.
Your best bet would be to put one-fourth of the oil into a microwave-safe bowl. Zap it in the microwave for 15 seconds. Put your hair into 4-8 sections and apply the oil to your scalp and hair. Massage your scalp for about 10 minutes. Then allow the oil to continue to penetrate for 30 minutes. If you then shampoo and rinse thoroughly, you will notice a real difference; especially after following this next tip.
4. Put Some Jamaican Black Castor Oil into Your Shampoo or Conditioner
With the summer heat being as brutal as it is, you definitely need to make sure that your hair keeps moisture in it on the regular. One way to do that is to add some Jamaican Black Castor Oil to either your shampoo or your conditioner. Since the properties in the oil help to strengthen the cuticles of your hair, strengthen your hair's follicles and reduce breakage, as well as add quite a bit of moisture to your locks, putting a tablespoon of it into your shampoo can replace any moisture that your hair might lose during the shampooing process and adding it to your conditioner can make your hair that much softer after rinsing the shampoo out. Tropical Isle Living has some XX dark oil (which basically just means that it's extra detoxifying) that I've been using for a while now. I can definitely see a difference when it comes to how my scalp and hair feel.
5. Use Honey and Sour Cream to Reduce Shrinkage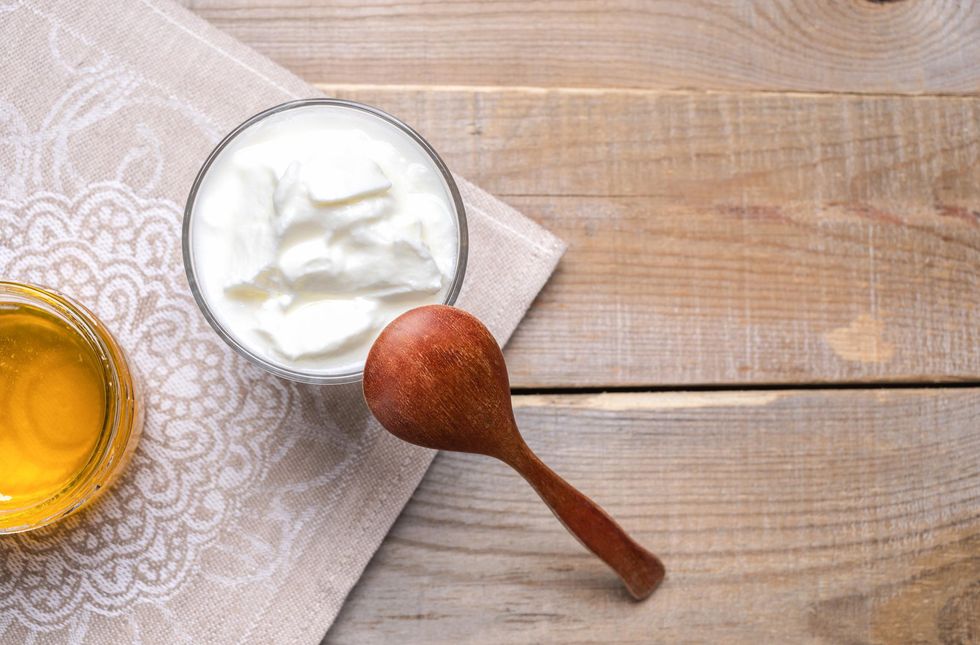 If experiencing a lot of shrinkage is the main thing that has you concerned, something that can help to reduce that is lactic acid. Guess what it's found in — honey and sour cream! Straight up, if you make a hair mask that has both of these ingredients in it, not only can it give your hair a moisture boost (because honey is a natural humectant and sour cream is made up of 20 percent fat), it can also help to elongate your hair's natural curl texture too.
Just mix a half cup of sour cream with two teaspoons of honey and a teaspoon of sweet almond or grapeseed oil. Apply the mask to clean damp hair. Let it sit for 25-45 minutes and rinse out thoroughly, first with warm water and then with cool water (to seal your hair's cuticles). If you decide to go with a wash 'n go, you should notice that your hair has a bit more length to it, just from the mask alone.
6. DIY a Moisturizing Spritz
If, outta nowhere, your hair feels dry or your scalp needs a little bit of relief, nothing is more refreshing than pulling a handy spritz bottle out of your purse. What's even better is one that you made yourself! A moisturizing hair spritz that consists of rosewater (it'll restore the pH balance to your hair); Aloe vera juice (it smooths your cuticles and reduces frizz); raw honey and/or vegetable glycerin (they're both humectants which means they pull moisture from the air); chamomile oil (it soothes your scalp), and 5-7 drops of lavender oil (it contains strong antimicrobial properties to fight bacteria and moisturizing properties to soften your hair) will pamper your hair from dusk until dawn — and vice versa.
7. Ease Up on the Edge Control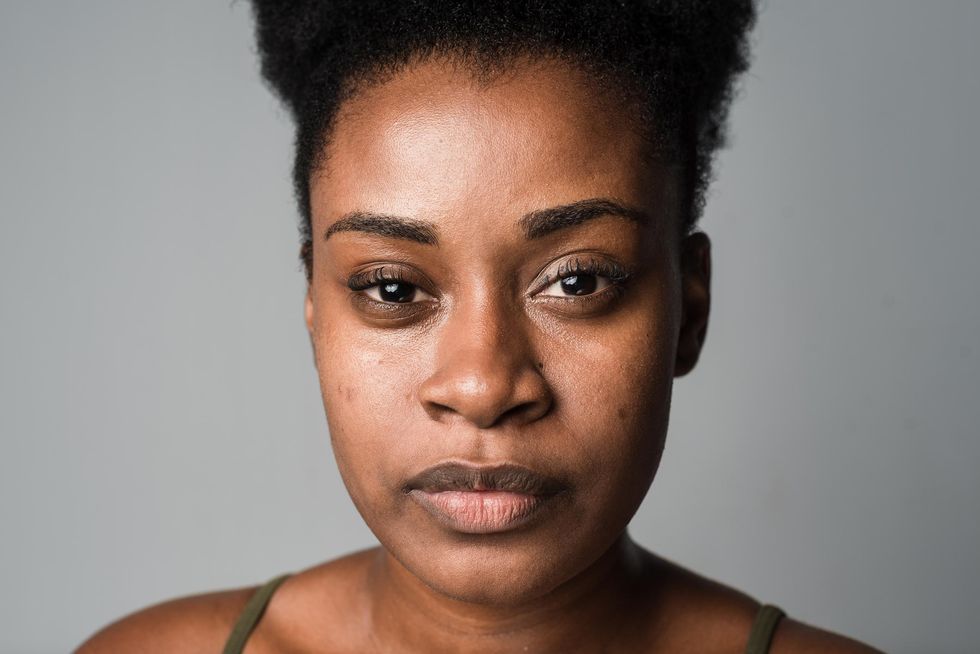 I know y'all like those super sleek edges yet I'm gonna be honest with you — even if you go with a brand that doesn't contain any alcohol (or you make some of your own), sometimes the oil from the control combined with the extra sweating that you typically do can cause the perfect storm when it comes to breakouts. Plus, wanting to lay your edges all of the time can put a lot of pressure on your already fragile temples which can result in breakage. So, as much as it might pain you, try and ease up on edge control for the summer. Wrap your hair up in a scarf or rock a straw hat instead. You'll still be cute and trust me, your edges will be oh so very grateful.
8. Chill Out on Permanent Dyes Too
I'm gonna be honest with y'all. The only permanent (boxed) dye that has not read my hair for filth by causing all kinds of breakage issues is Revlon's Colorsilk Luminista. I think it's mostly because it is ammonia-free. And shoot, even with it, I still have to be mad intentional about keeping my hair moisturized because it makes it a little drier than I would like. Bottom line, if you still want to maintain the strength and integrity of your tresses so that you'll have some extra inches to brag about come the fall and winter seasons, it really is best to leave permanent dyes alone. One, because a lot of them do contain ammonia which is super drying and damaging and two, the heat is going to try and zap whatever moisture you do have. Please try not to help it do that. This is a great time of the year to play with some hair color wax. The hues are vibrant. And because the wax is super temporary, you don't have to worry about experiencing any breakage. You can literally sport a different color each day without any of the dry brittle drama. Excellent.
9. Make Some SPF Spray for Your Hair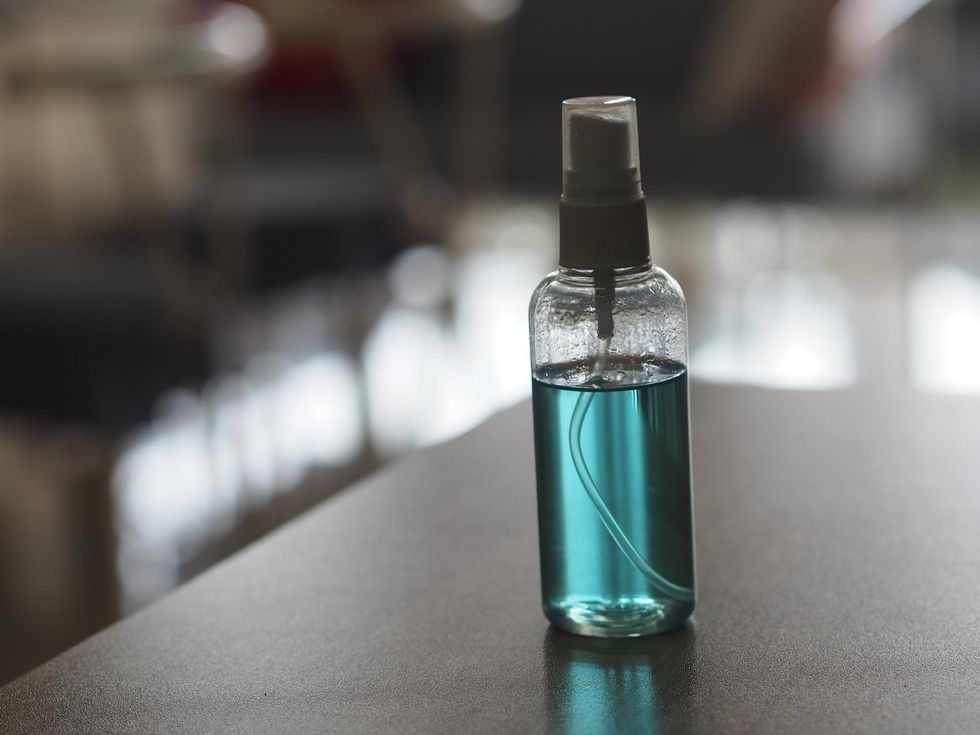 Something that a lot of us — and by "us", I mean Black folks — don't think about is protecting our hair from the damage that UV rays can oftentimes cause. While there are sprays that you can find at your local drugstore, another route that you can take is to make some of your own. It's really not that hard (or expensive) to do. And if you add an ingredient like zinc oxide to your spray, you can be sure that you're in good shape because that is a natural product that reflects the rays for the sun so that your hair isn't penetrated with constant heat.
All you need to do is fill up a spray bottle with some distilled water. Then add a tablespoon of the zinc oxide along with a teaspoon of your favorite carrier oil (sweet almond, grapeseed, jojoba, argan and avocado are all really good) and 5-7 drops of your favorite essential oil. Shake the bottle and then lightly spray your hair before heading out. It's a great way to protect your hair and enjoy a favorite scent at the same time.
10. Baby Those Ends
Your ends are the oldest parts of your hair. This means that they need the most TLC if you truly want to retain length. You need to deep condition your hair every wash day. You need to seal your ends on that day too. Heat needs to be used minimally and you definitely need to apply a thermal heat protectant (cream will give you the most penetrating coverage) before blow drying and using a flat iron. As much as you can "tuck your ends in" so that they don't get exposed to outdoor elements, the better. Sleeping with a humidifier at night can give them some extra moisture while you sleep. Naturally stretching your hair out at night by braided or twisting your hair and then applying a mixture of coconut milk (it's loaded with vitamins B, C and E as well as fatty acids) and jojoba oil (it's filled with antioxidants) to your ends can reduce the chances of them splitting.
Y'all, it really can't be said enough that a lot of us don't get the inches that we want — not because our hair isn't growing but because we aren't retaining length because we're not taking good care of our ends. This summer, please make sure that you do.
11. Leave the Shears Alone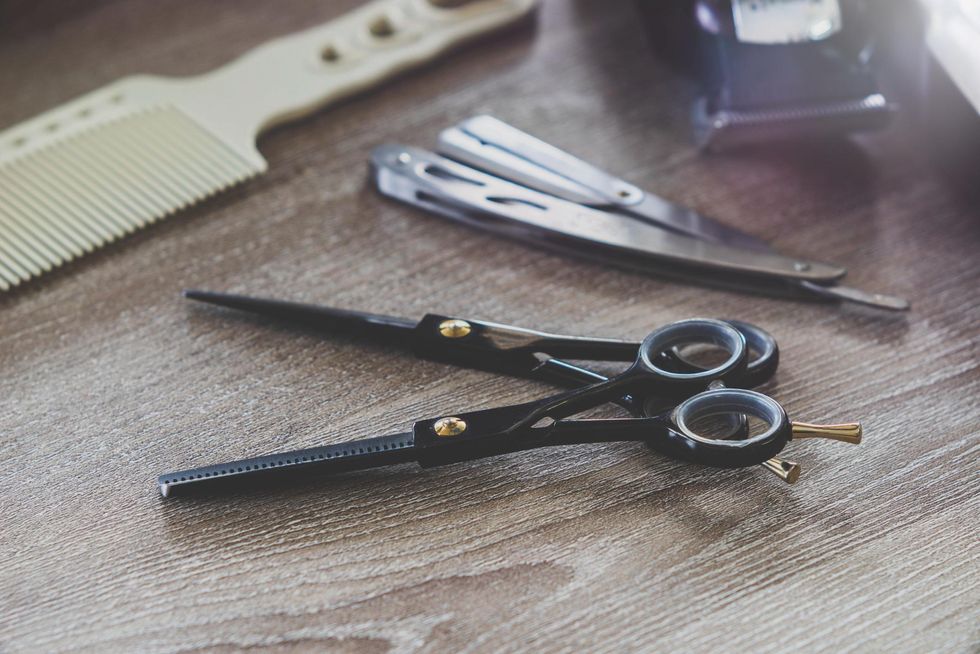 While it's always a good idea to trim fairy knots and split ends away, try and leave your hair alone as much as possible during this time of the year. Between protective styles like braids and twists, turbans, scarves and straw hats, there's no need to have your hair all out all of the time. Tuck in those ends that I just talked about and try and let your hair grow through September. If you do, you might be pleasantly surprised by what you have to show for it by the time you need to pull your sweaters out.
12. Have Fun with It
Knotless braids. Twist outs. Top knots. Butterfly locs. Passion twists. These are just some of the natural looks that are big-time trends this summer season. And the moral to the story with this final point is — try one. Then try another. Then make something up! So long as you are doing the routine maintenance that your hair requires, there is nothing wrong with getting super creative and having an absolute ball with your hair. After all, our textures make that oh so easy to do!
Join our xoTribe, an exclusive community dedicated to YOU and your stories and all things xoNecole. Be a part of a growing community of women from all over the world who come together to uplift, inspire, and inform each other on all things related to the glow up.
Featured image by Getty Images
Keep reading...
Show less
Our "Ask An Expert" series continues as we speak to LA-based natural hair enthusiast and protective hair stylist Kamara Brown Lewis of Raww Intuition Salon.
Starting a natural hair journey can seem intimidating and even scary. I understand why many textured hair women are apprehensive about letting our curls loose as we'd much rather have an easier fix. The thought seems overwhelming, especially when thinking of getting lost in the sea of hair products with one brand claiming to do the same as the other. As a "naturalista", I've learned to ask experts on my quest to find what's best for my hair type.
When I'm not wearing protective styles, I routinely "let my hair breathe" in an afro that's way more manageable than I would have ever expected. Even though I've been on my natural hair journey for three years, I'm still learning what formulas are best for my curl pattern and what I need for a healthier head of hair. While patience isn't my virtue, I'm learning to trust the process and let my hair take its time meanwhile discovering how to help it along its way.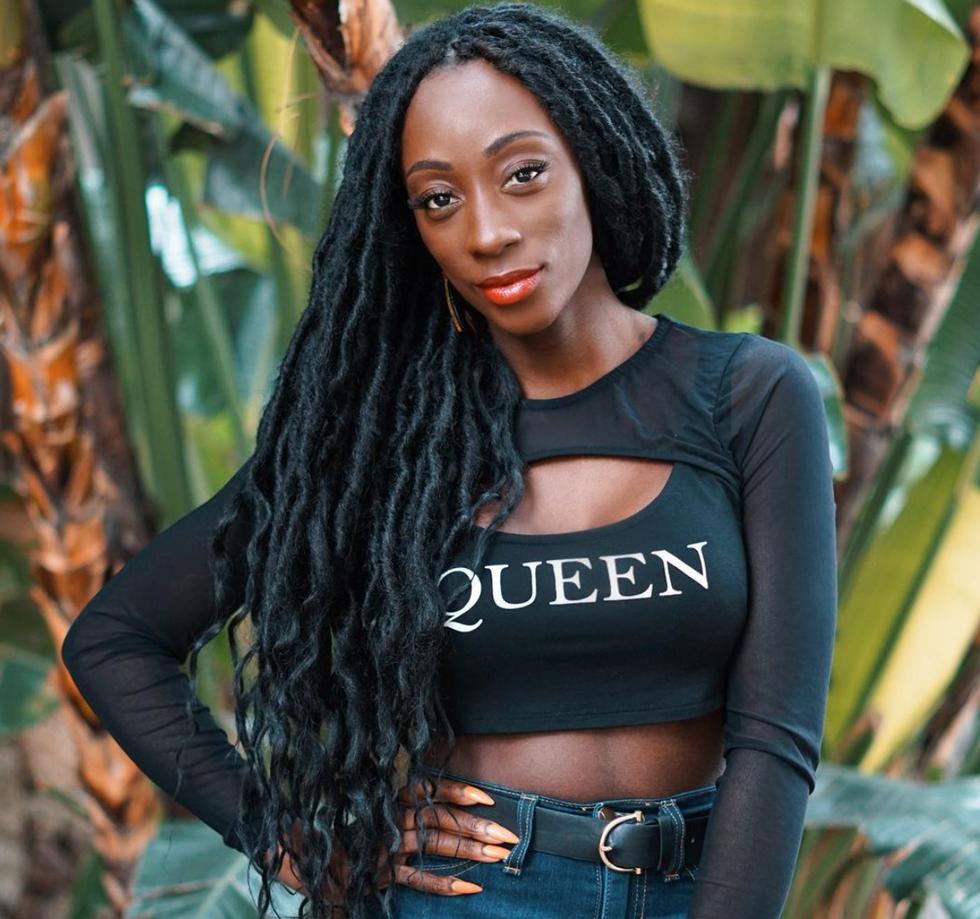 Kamara Lewis, LA-based Protective Hair Stylist & Owner of Raww Intuition Salon
When wearing protective hairstyles, it's important to be conscious of taking care of our hair underneath. Maintaining a healthy scalp is vital for overall hair growth, keeping it moisturized and replenished often. With only a few principles to keep in mind, I want to encourage everyone that being natural is easier than it looks.
To give you the motivation you'll need on this journey, I connected with Kamara Lewis of Raww Intuition for her tips on properly caring for our hair and most importantly, where to begin.
Keep scrolling to get the natural hair advice you've been needing.
Try to Avoid Product Mixing
For those that struggle with dry itching scalp, Kamara suggests using Canviiy's ScalpBliss Itch-Calming Organic-Based Serum (which can also be great for protective styles in-between) and their ScalpBliss Soothing Scalp Purifying Foam Treatment. Both products are helpful with soothing the scalp while also getting rid of buildup. For deep conditioning, she recommends the NaturAll Club product line. She also notes brands like Design Essentials, OGX, Mizani, and KeraCare for must-have hair staples like moisturizing shampoos and conditioners, and curl refreshers.
Most of all though, it is important to stick with brands that are true to this and not new to this. When it comes to companies that have specialized in natural haircare since you were a young girl, it's those legacy brands that have a track record when it comes to getting the job done within the beauty industry. Also, Kamara suggests staying away from what she calls "product cocktails." Pick a brand and stick with the entire collection as "brands use formulas that activate a particular and achieve a particular look when used with other products from its product line."
You're missing out on the full effect when mixing products from several different brands.
Protection
"Sleep with a silk or satin pillowcase or bonnet. Protect your hair at night so you can have fresh and revitalized curls in the morning," Kamara shares another tip. "For those with longer hair, try the pineapple method at night, wrapping your curls up as they sit on top of your head to prolong your natural coils."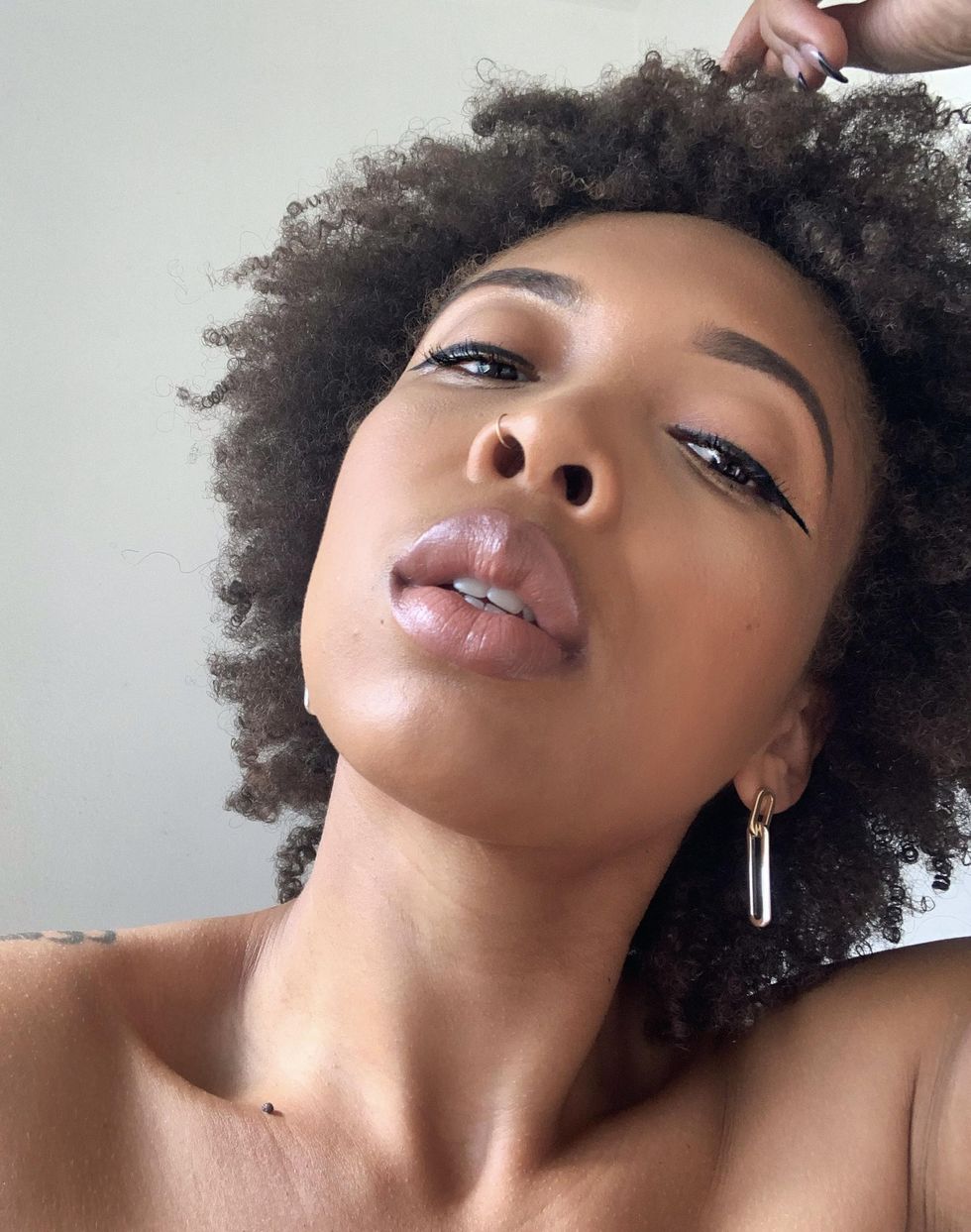 Shahirah Ahmed/xoNecole
Patience 
"Be patient with the growth process. It's not about how long your hair grows but how healthy it is. Stop combing your hair dry and pulling it in tight buns or even protective styles thinking your hair will be long and healthy. It takes time and it's important to make sure you're drinking lots of water and eating healthy before you dive into buying all these hair products."
Keep it Simple
Most importantly, keep it simple. Like most humans, we tend to over-complicate things. Managing your hair does not have to be a day long chore. "Keep your hair regimen simple and straight to the point so it's easier for you to be consistent and have an accurate understanding of what your hair needs," Kamara adds.
Featured image via Kamara Lewis

Keep reading...
Show less
Let's go back in time. The year is 3500 BC and weaving three strands of hair together is all the rage amongst the Himba people of Namibia. The array of styles and patterns was a way to rep yo' set aka your tribe and aligns with African women using their hair as a form of expression. Not only is it a form of art but it's also a rite of passage in our culture. Some of the most memorable moments of my childhood were of me plopping down in between my mama's legs to get my hair braided.
Whether it was plaits, cornrows or French braids, there was something wildy spiritual about that moment. Looking back, I think sitting there while my mom designed my crown was a way of connecting with my ancestors. To this day, getting braided hairstyles serves many purposes for me, from self-care to amplifying my Blackness.
Over the years, braids became an inventive way to wear our hair in lieu of straightening it or using relaxer. And somewhere along the way, a brilliant being decided to create braid extensions, opening the door to a universe of innovation. One integral part of the process: braiding hair. Black women know this to be Kanekalon hair which provides a kinky texture similar to our natural tresses. There are thousands of brands out there but we gathered some of the best to give you a quick rundown.
Are you a member of our insiders squad? Join us in the xoTribe Members Community today!
Featured image via Getty Images
Keep reading...
Show less
Being a naturalista requires major strength and resilience. From long wash days to finding products that work for your coils, you have to put in work. There are different types of curl patterns and thanks to celebrity hairstylist, Andre Walker, and naturalistas all over the world, we have a better understanding of the strands that make up our crowns.
"ABC, it's easy as 123" is not the case for 4C hair. 4C hair resembles 4B textures with tight zig-zag coils which explains why they experience 75 percent more shrinkage, unlike other types. Other characteristics include proneness to breakage, softness, and potential dryness. Needless to say, you have to be extremely intentional when choosing products for your 4C hair which requires next-level patience.
We know that laid edges are important to Black women as they are part of our heritage. We also know that it may be difficult to find edge controls for 4C hair. Without further ado curlfriends, get ready for some edge controls that will rock your world!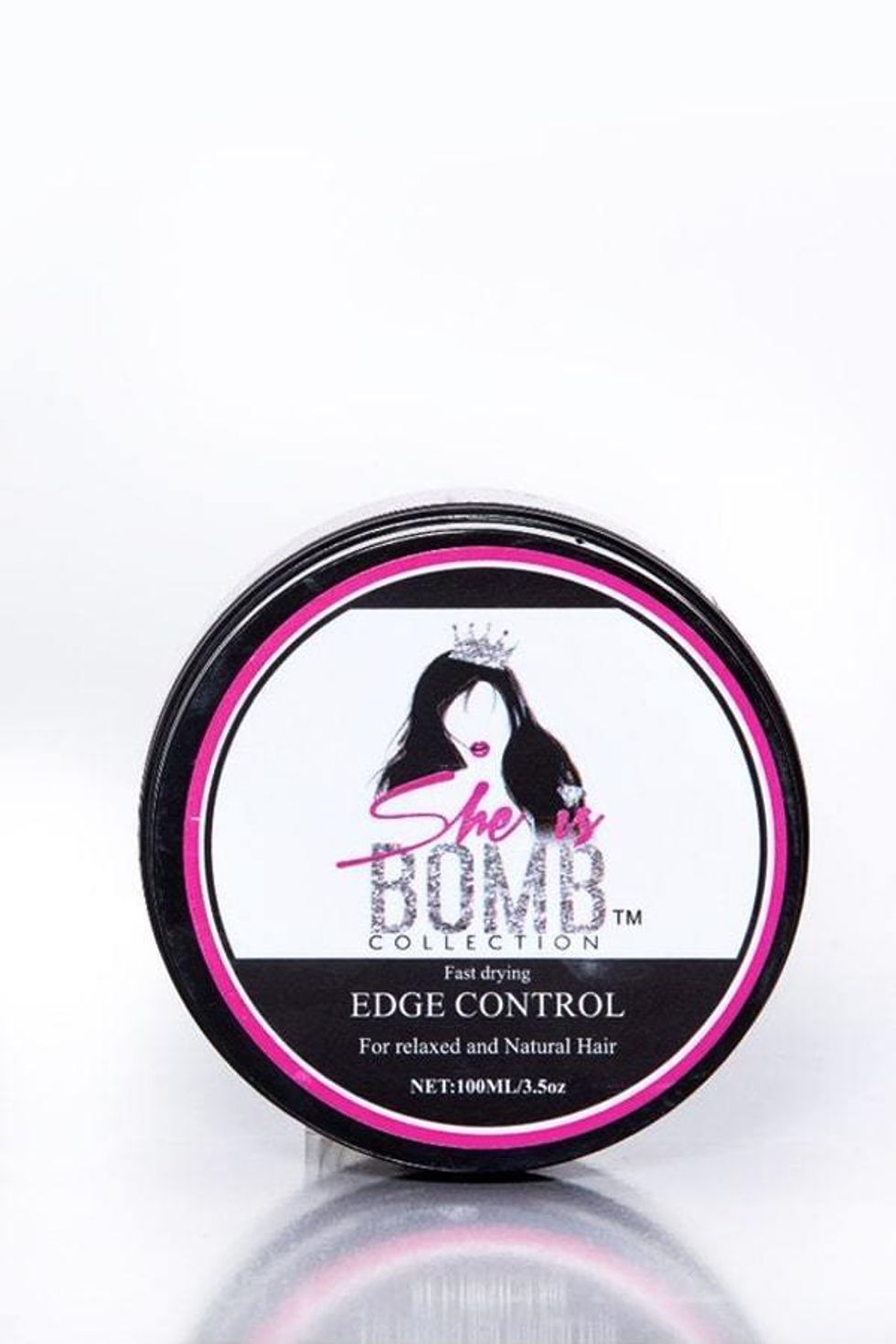 The moment my stylist slapped this edge control on my curly edges, I knew that the hold was real. It is fast-drying, non-greasy, and will not falter even in the highest of temperatures. For optimal results, pair this product with their Fuse Foam for ultimate snatchedness. This is a newer brand so you may not find many reviews but I can personally attest to the magic that is She is Bomb.
She is Bomb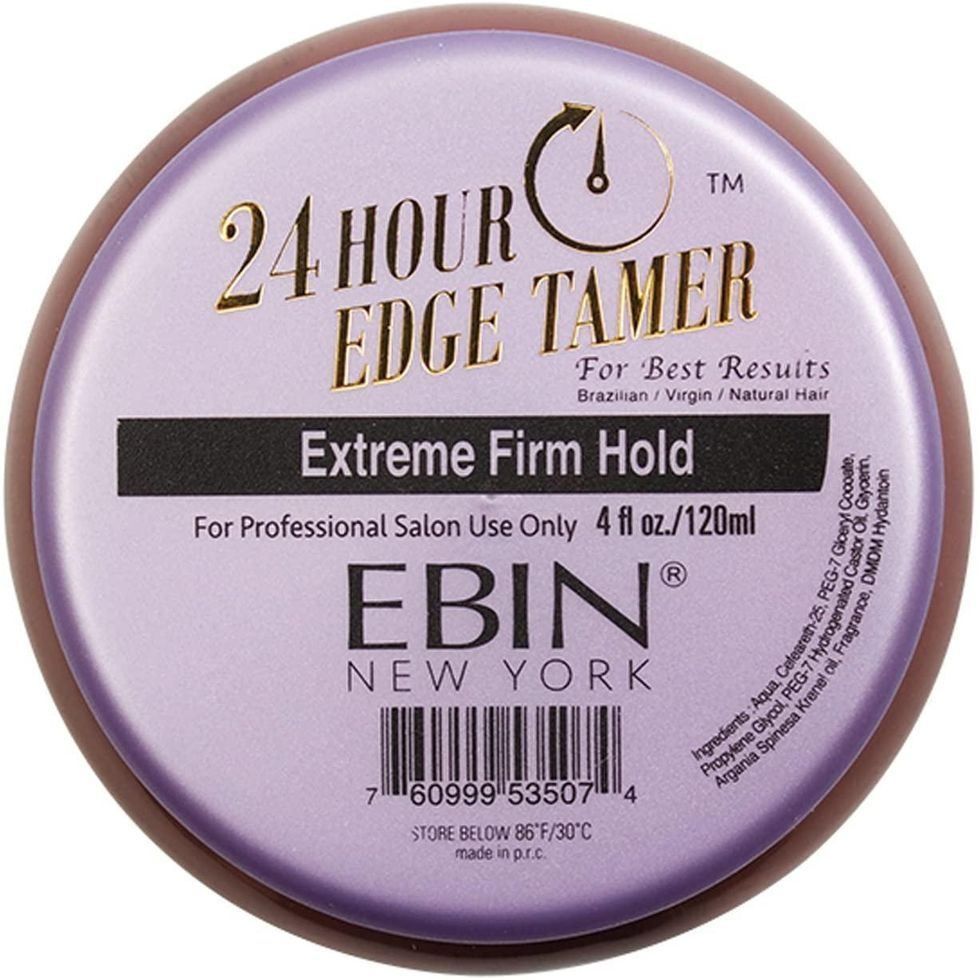 Dubbed as the industry game-changer, Ebin's 24 Hour Edge Tamer will keep you laid and slayed from day to night. Whether you're going for a sleek ponytail or a braided style, you can rely on this product to provide a stronghold mightier than Serena Williams' biceps.
Ebin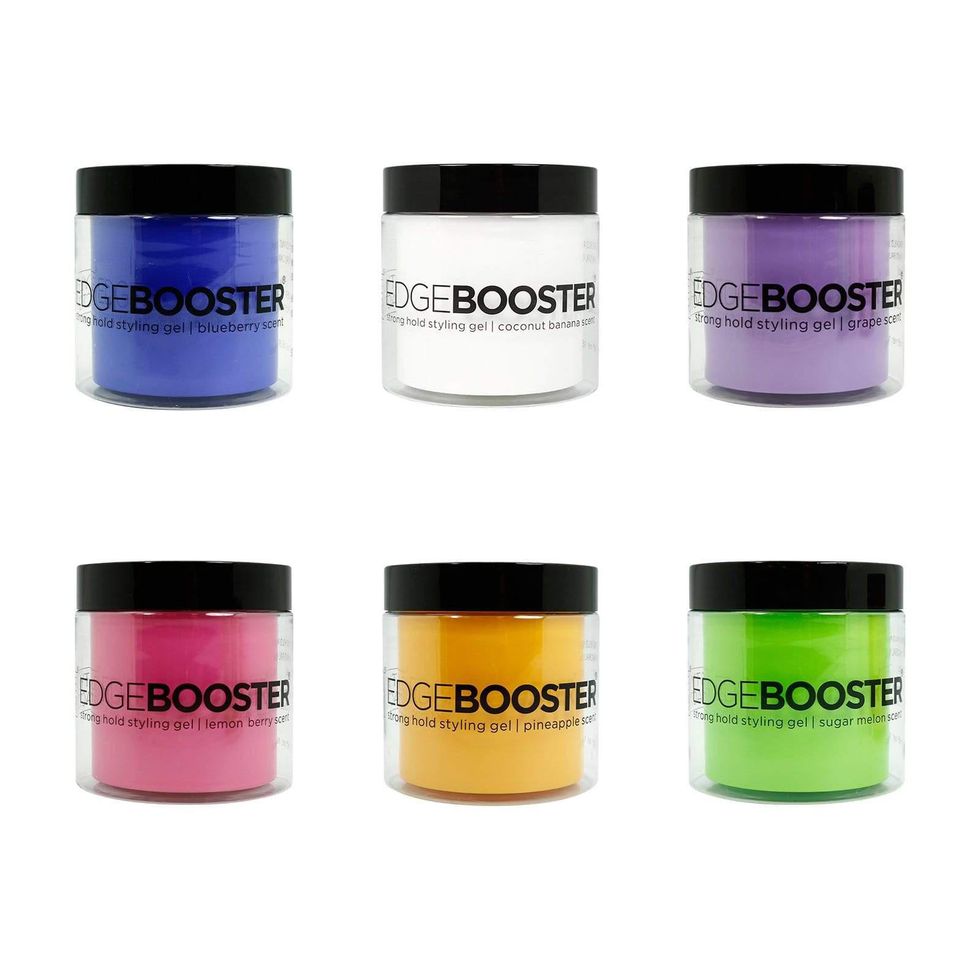 "Style Factor passionately serves as your hair styling and haircare expert. We work to empower and inspire all women and men to pursue their own distinct and colorful styles." One of their most acclaimed offerings is their Edge Booster Strong Hold Water-based Pomade – both water-soluble and free of grease, it will give you versatility and zero flakes. Because it's made with natural argan oil, your edges will also be blessed with nourishment and hydration. Not to mention they offer a slew of scents that all smell like heaven.
Style Factor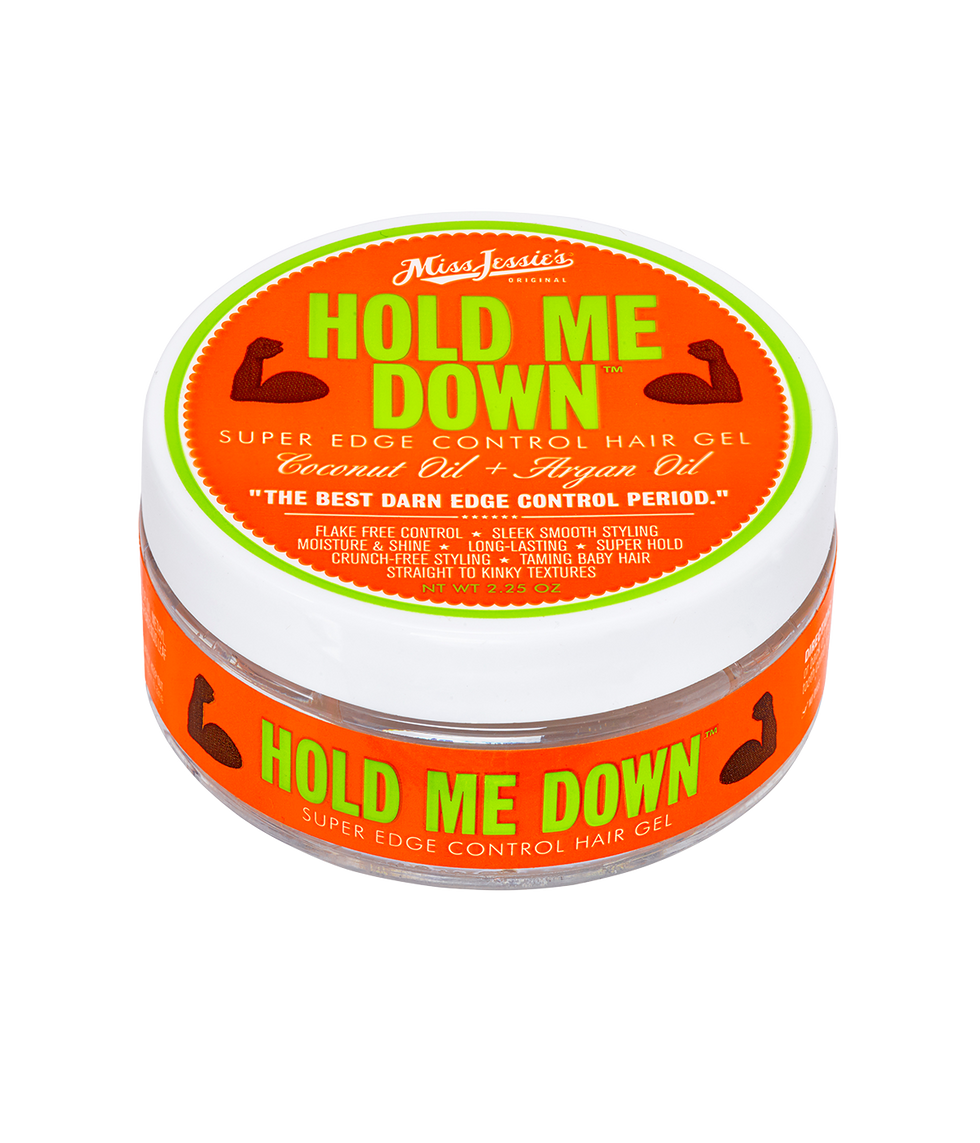 We love to be held down. Be it our significant others or our edges, we need safety as prominent as Beyonce's security detail. The curlfriends say that this magic product stays true to holding you down all day long AND it doesn't leave behind residue even for the thickest of curls. Since 2004, Miss Jessie's creators and sisters Miko and Titi Branch, have been a trusted resource for the girls and their curls.
Miss Jessie's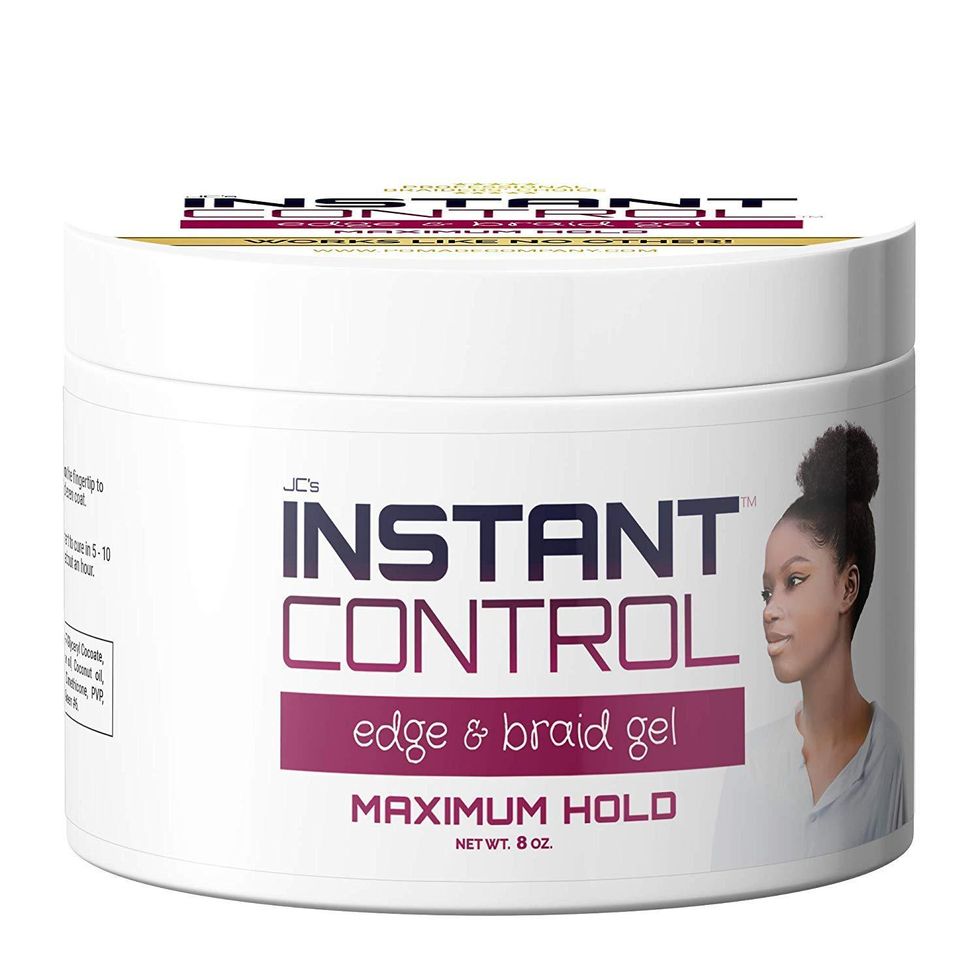 For edges, braiding and twisting, Pomade Company's Instant Control is for everybody. One reviewer said, "I'm not even exaggerating, this stuff lays down every single hair it touches. I'm a hairstylist and all my clients have naturally curly hair. Their hair is usually the hardest to keep down, especially here in Arizona where everyone is hot and sweating. Not anymore now."
Instant Control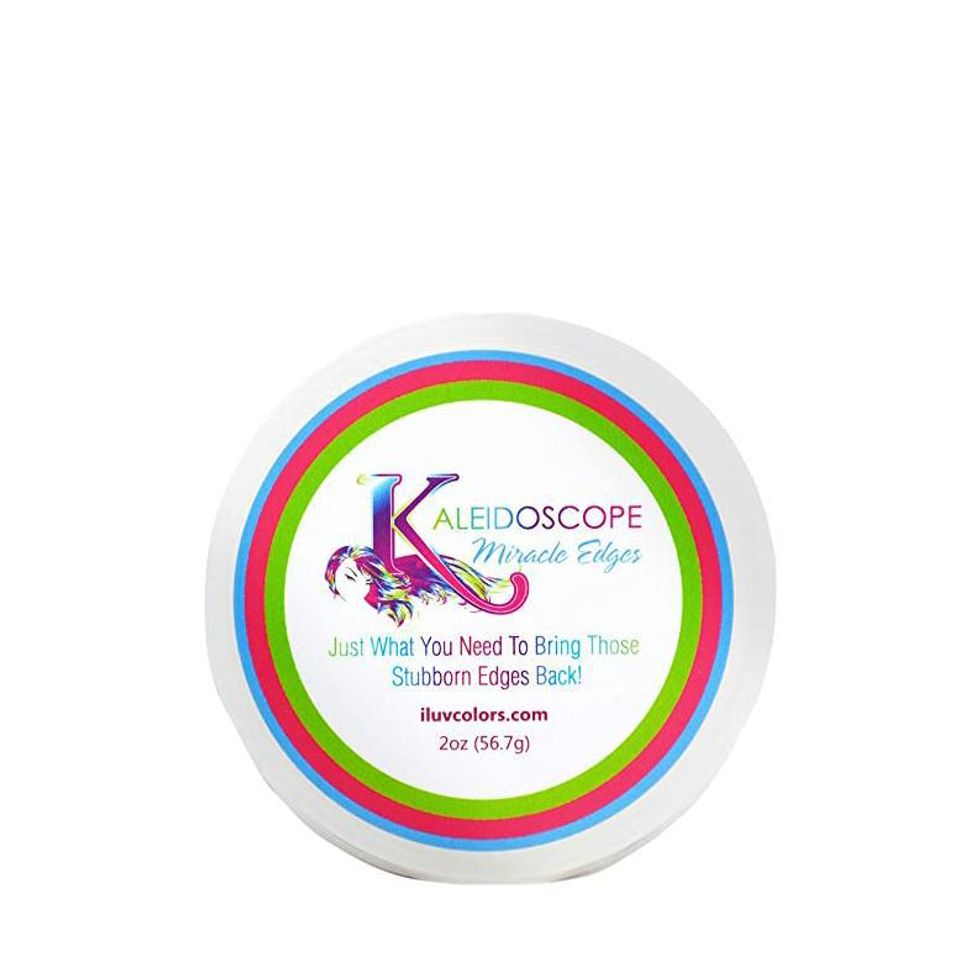 Are you struggling with difficult edges? Have you searched near and far for an edge control that will really work a miracle? Kaleidoscope's Miracle Edges is what's been missing in your life. It is infused with miracle drops sure to strengthen and lay your edges. Because we need both. You can use it as an edge smoother or pomade; it is recommended for all hair types. "On relaxed hair when you apply it, it can last 5-7 days. For natural hair, when you apply to edges, you should also apply to 1/4 inch back to get the ultimate hold and lasts 3-5 days."
Kaleidoscope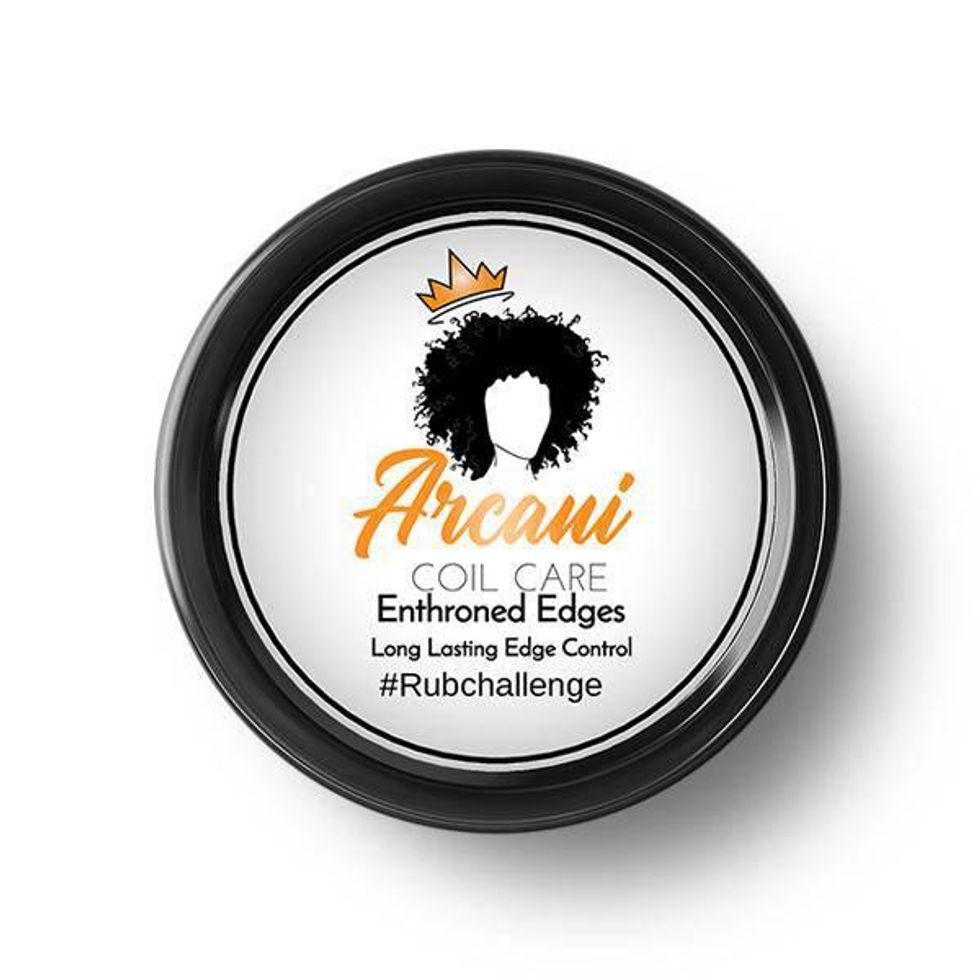 You may have seen the #RubChallenge pop up on your social media feeds. If you haven't, just know that it is mind-blowing. Basically, this edge control shall not be moved. Enthroned Edges not only sounds like what God wants for me but it also lives up to its name by treating your crown with all the compassion it deserves. Customers rave that this product actually lasts for 24 hours and is humidity-friendly. For a lack of better words, hurry up and get you some, sis!
Arcani
Featured image by Getty Images

Keep reading...
Show less
If you would have caught our girl Eva Marcille three years ago, you would have found her rocking anything from floor-length box braids (which she still does from time to time) or a platinum blonde pixie cut for the gawds. But these days, she has committed her hair journey to gorgeous, bohemian, shoulder-length locs.
Back in November of 2020, Marcille revealed that she was three months into her locs journey and loving every moment.
"Three months in on my loc journey. I am absolutely in love. My daughter Marley has been loc'd for almost 5 years and I'm just trying to get like her. I love the freedom my locs give me. Hair is just hair but it is alive. It moves and sways as it feels on that day. Just let it be! Helps to polish up who I am, a Sunflower in human form."
Marcille first debuted her new 'do back in September 2020, calling her style change a rebirth. LA hairstylists Ebony Riley and Erinn Courtney were the goddesses behind the transformation.
And with her one year loc-iversary approaching, Eva is spilling all the tea on how we can achieve her look.
The model joined Harper's BAZAAR in an episode of #HowIDo, to walk us through her favorite hair products and full locs haircare routine. So, y'all ready to get this hair together? Great! Here's what you'll need:
"Let's just start with the beginning of it all: I have locs. These are not temporary locs, these are not braids, this is not synthetic hair, this is my hair, loc'd. But loc maintenance, people don't really understand you have to maintain locs, just like you have to maintain your hair--your regular hair, free-flowing hair. So I shower, I wash my hair about once a week, and I use an array of products."
Marcille then goes on to note that she went from a pixie cut on the RHOA reunion, to where she is now due to her routine as she walks us through her energy-filled routine. She uses the Essential Means Herbal Shampoo to massage her scalp and promote hair growth.
Up next, is her Nappstar Shampoo and Conditioning Kit.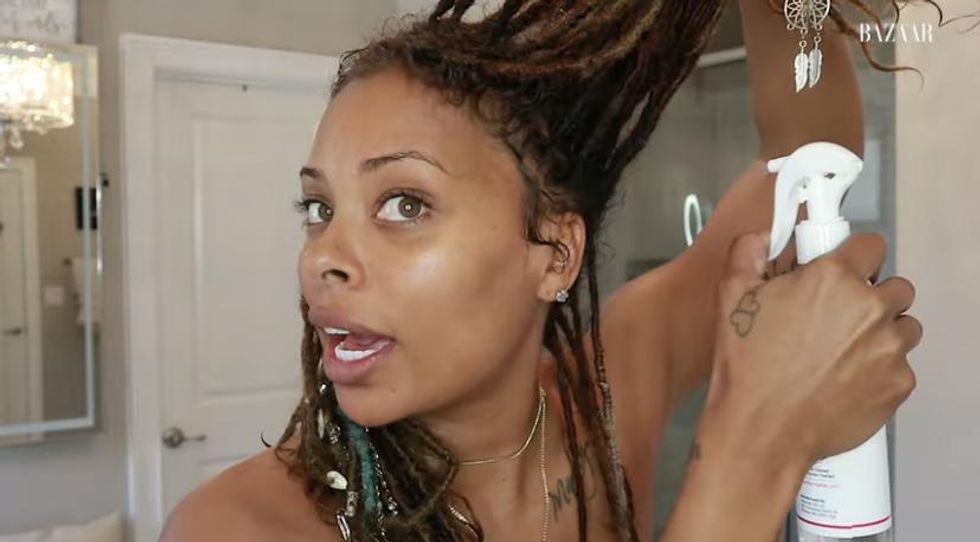 Harper's BAZAAR/YouTube
She shampoos again using the Tea Tree Shampoo.
"After you strip your hair of all dirt and all oil, you have to put some moisture back in so that's my favorite step--the next one--which is the deep moisturizing shampoo. I put that at the bottom of my hair, but I also then put that into the roots of my hair because I want to make sure that my hair just doesn't get dry.
She then goes on to condition her hair, which she does while showering.
And now, it's time for the leave-in products.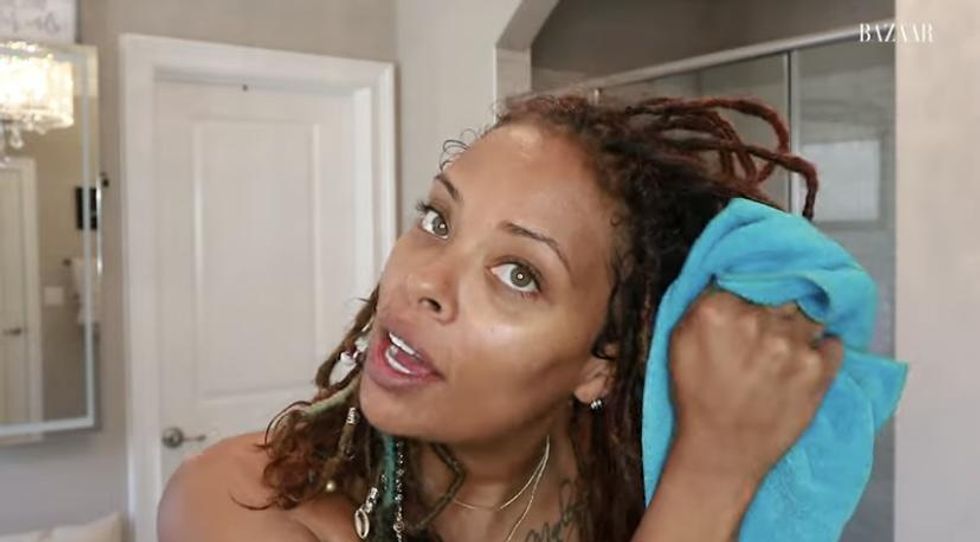 Harper's BAZAAR/YouTube
"Now after your final rinse is done, you're feeling good. You get out the shower, you do like I did with my microfiber towel, dry your hair off, now you'r clean, but you're not done. No, no, no, no, there is so much more to do. Now I have to go to the moisturizing and make-it-smell-good process."
Marcille introduces us to her leave-in process, which she strongly advises that we make sure each product says "leave-in" to prevent build up.
Watch the full video below to see more on how she closes out her routine, lessons in baby hair, and how her neighbor influenced her hair personalities:
Are you a member of our insiders squad? Join us in the xoTribe Members Community today!

Featured image by Rich Fury/Getty Images
Keep reading...
Show less
One thing about Black women, we change our hair like we change our clothes. While I might have a new hairstyle every time you see me, what I love most about our textured coils is their ability to transform into a multitude of creations. Flexing our God-given versatility, it's only natural for those not familiar with the culture of Black Hair to be in awe of how often we create Black girl magic in the salon chair. Now that we're enjoying the summer outdoors, there are so many 2021 approved hairstyle trends I've been dying to try.
Protective styles are essential to preserving our delicate curls as well as a fun way to express our creative freedom. Not all seasons are created equally, which means during extreme hot or cold weather, it's best to find the most manageable hairstyles in each circumstance. Guarding our hair from the sun to prevent heat damage, there are plenty of hair do's to choose from. From 2000 era throwbacks to classic looks that withstand any decade, here are the hairstyles you'll want to try this summer.
1. New Age Ponytail
A super chic look this summer, this creative take on a waist long ponytail by hairstylist Rosa Coleman is one of my favorite looks for summer. This updo is snatched to perfection, perfect for warm weather. Hassle-free and easy to manage, a slicked ponytail can be achieved using minimal to no heat with extensions matching your natural texture to achieve this look.
2. Butterfly Locs
Aisjah, @lipstickcoco
Butterfly locs are a type of faux loc styled using the crochet method where strands of hair are looped into a braid using a crochet needle, loosely wrapped to give it a distressed/unraveled look. This Bohemian style has grown in popularity over the years and is perfect for an effortless summer look. Chopped short for a bolder a-line look, these lowkey locs are high on the list of must-try styles.
3. Passion Twist 
Trene, @yagirltrene
One of my personal favorites, passion twists are a sweet alternative to the popular 90's style box braids. Two strand twists are another low-maintenance boho-inspired protective 'do that looks great all summer long. Perfect for black women of all shades and hair types, this is an easy eye-catching look you should want to try.
5. The Alicia Keys
Dani Leigh, @iamdanileigh
Whether straight back or a customizable design, it's never a bad idea to wear cornrows in the summer. Resurfacing is the early 2000 era aesthetic and it's making its way back into our everyday looks from head to toe. The famous zig zags and reverse braiding method made popular by singer/songwriter Alicia Keys, are having a moment yet again and I'm absolutely here for it. The mood is exciting and I can feel the creativity in the air. Have fun with your look this summer with a bold new look.
5. Textured Coils
As a huge advocate for natural and healthy hair, I'm inspired to rock my God-given curls this season. Our strands deserve to live young wild and free, which ultimately gives our hair and scalp a break from stressful tension. A wash 'n go is one of my favorite styles to wear all-year long. It's always the perfect time to be natural.
6. Textured Bob
Brittni, @thebrittni
One of the chicest hairstyles is the bob. This sharp cut with an edgy a-line is trimmed to perfection. Stopping just above the shoulders, this is a sharp alternative to long locks and helps to stay cool this summer. I love a textured look, especially to avoid extra heat in my hair. Summer gives drama, texture and boldness so our hair should match accordingly.
7. Half Up/Half Down 
Nailah French, @nailahfrench
I love half up and half down hair moments. This updo is a classic style that looks universally good on everyone while adding a spark of youth. A sleek natural look makes this hair choice a winner, keeping it out of your face and easy to manage. For extra texture and length, add curly extensions to blend with your natural hair.
8. Bantu Knots
Julie, @wavyyjuju
Cute and quirky Bantu Knots are always fun to wear. Easy to style, this can be a DIY look for anyone to try. Complete with swirls of baby hair and you'll be sure to catch compliments all day wearing these textured mini buns. This artistic hairstyle will always be an expression of black hair and Afrocentric culture at its finest.
Featured image by Getty Images
Keep reading...
Show less