Doja Cat has followed in the footsteps of the likes of Saweetie and Tiffany Haddish and shaved her head. She debuted the look on Instagram Live and also decided to shave her eyebrows. During her Instagram Live, the "Vegas" rapper explained why she finally let go of her hair. "I feel like I was never supposed to have hair anyway," she said. "I, like, don't like having hair. I never liked having hair. I cannot tell you one time, since the beginning of my life, that I've ever been like, 'This is cool. I just do not like to have hair.'"
She also recalled the struggle of wearing wigs while trying to exercise. "I remember feeling so f–king just exhausted with working out. Whenever I went to go train, I had a trainer at one point and I'd be wearing wigs and they would be getting tacky," she said.
"They would re-tack because of the moisture and then they would start sliding and peeling while I'm doing this incredibly strenuous thing."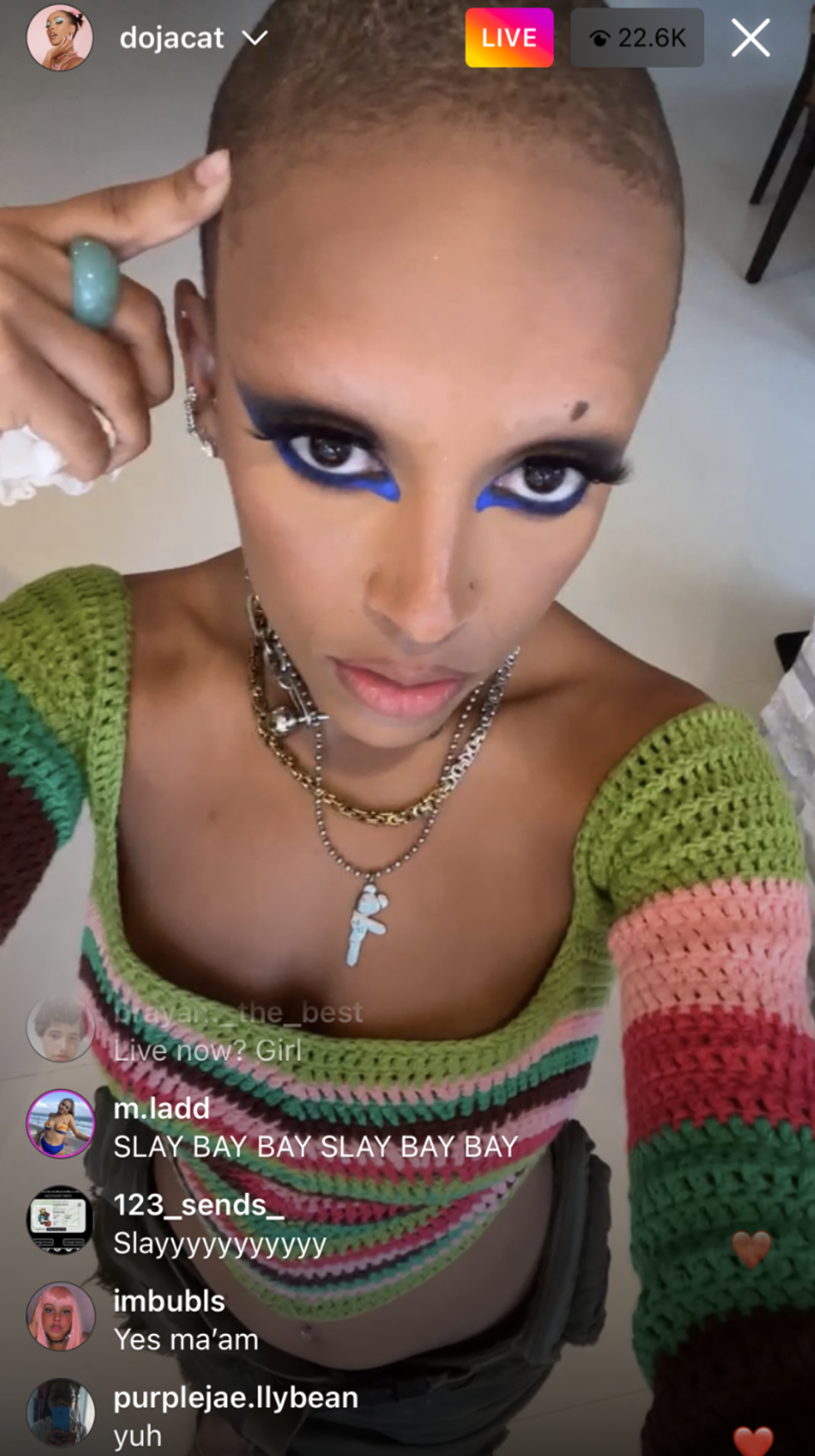 @dojacat/Instagram
"I would be working out, but I couldn't focus because I was more concerned about how I looked or how my hair was doing, and how to keep it adhered to my scalp," added.
She revealed that she would try a variety of ways to keep her wig from sliding off such as wearing a beanie which only made things more uncomfortable due to how many layers she was wearing on top of her head.
"I just can't believe that it took me this long to be like, 'Shave your f–king head," she said.
Doja is no stranger to sharing her hair issues. The Grammy award-winning artist is half Black South African and half white and has naturally kinky curly hair. In 2020, she opened up on Instagram Live about taking care of her natural hair while also dealing with wigs.
Doja Cat's natural hair: 
First gas up of 2020 pic.twitter.com/wRaFRAyytV

— smell it (@DojaCat) January 5, 2020
"I have a lot of trouble taking care of my hair, so when my hair is either straightened I have a wig on, I'm pretty much okay, but when I'm trying to comb out, wash, do this twists…everything. It's frustrating for me. It's very hard for me," she admitted in the 2020 Instagram Live video. "A lot of my friends would agree, who have hair like mine, agree they have [a] problem taking care of it."
She ended her explanation by stating, "In no f–king way does it mean that I hate my hair. My hair is amazing. I have beautiful hair. I get lots of compliments. In another thing and an inner thing. I know that I am beautiful. I love myself."
Featured image by Jerritt Clark/Getty Images for ELLE Magazine
At the end of last year, Saweetie decided to do the big chop and debuted her new crown on Instagram in time for the new year. When asked about her decision to shave her head in previous interviews, the "Icy Chain" rapper shared that she wanted to "start fresh." But now she's giving folks a deeper look into her relationship with her hair. In the May 2022 Glamour UK issue, the 28-year-old reflected on her hair journey from struggling with it as a child to cutting it all off as an adult.
"I hated my hair," she confessed. "It's naturally really kinky and curly. It's beautiful, but I was a tomboy and was like, 'I don't got no time for this.'" Saweetie comes from a multicultural background with her mom being Filipina and Chinese and her dad Black American. Like many little Black girls and girls of mixed heritage, she struggled to love her hair texture and fell into the trap of trying to achieve society's beauty standards such as flowy, straight hair instead.
"I loved me a long, straight, silky West Coast press. That was my favorite," said the Bay Area native. "I remember when I would compliment another girl with straight hair, she wouldn't compliment me back. At a young age, I just felt like my hair was very high maintenance and not easy to do. I always wished I had straight hair."
The battle with her hair ultimately led her to cut her hair when she was young. "I actually got in trouble with my mom because I convinced my grandma to cut my hair off in the kitchen," she said. She added that overall she was tired of her hair taking forever to wash and style.
The Grammy-nominated artist didn't start appreciating her hair until she began playing sports. That's when she began noticing how curly and wild her hair was and she fell in love with it.
Right now she's enjoying the bald life although she still likes to wear her wigs. "Honestly, with my bald head, I feel so free," she said. "I love just massaging my head at the end of the day. I feel like I can finally touch all of me up here. It's like a different type of pleasure.
But the "Tap In" artist did admit that she couldn't wait to get her curls back. "In hindsight, I'm vibing it now. I can't wait to get my curls back nice and luscious," she said.
Let's make things inbox official! Sign up for the xoNecole newsletter for daily love, wellness, career, and exclusive content delivered straight to your inbox.
Featured image by Jeff Kravitz/FilmMagic
I'm learning the importance of trusting my instinct, especially when it comes to aspects of life I take pride in maintaining. In 2018, I committed to achieving healthy hair which began with freeing myself of unwanted and excessive damage caused by years of straightening. I remember the day of my big chop—a weight lifted from my shoulders. I felt a mix of both excitement and relief as my dead ends fell to the floor. As part of my promise to take care of and nourish my hair, I vowed to never make the same mistake twice, refraining from heat entirely.
While faithfully dedicated to my kinky texture, I became curiously anxious to do a length check four years later. I'd be lucky to enjoy straight hair for 3 to 4 days. What could go wrong? I knew I would either hate my straight hair or love it, but never did I think it would be the last time seeing my curls fully intact. As predicted, after less than a week of straight hair my curls began to revert, slowly returning to their natural state—or what was left of it. My once carefully defined curls were no longer existent. Devastated, I took to social media to express my shock and frustration for going against my "no heat" rule. Immediately after posting a clip of my damaged hair, I received messages suggesting I use the Olaplex hair repair treatment to improve the look of my hair.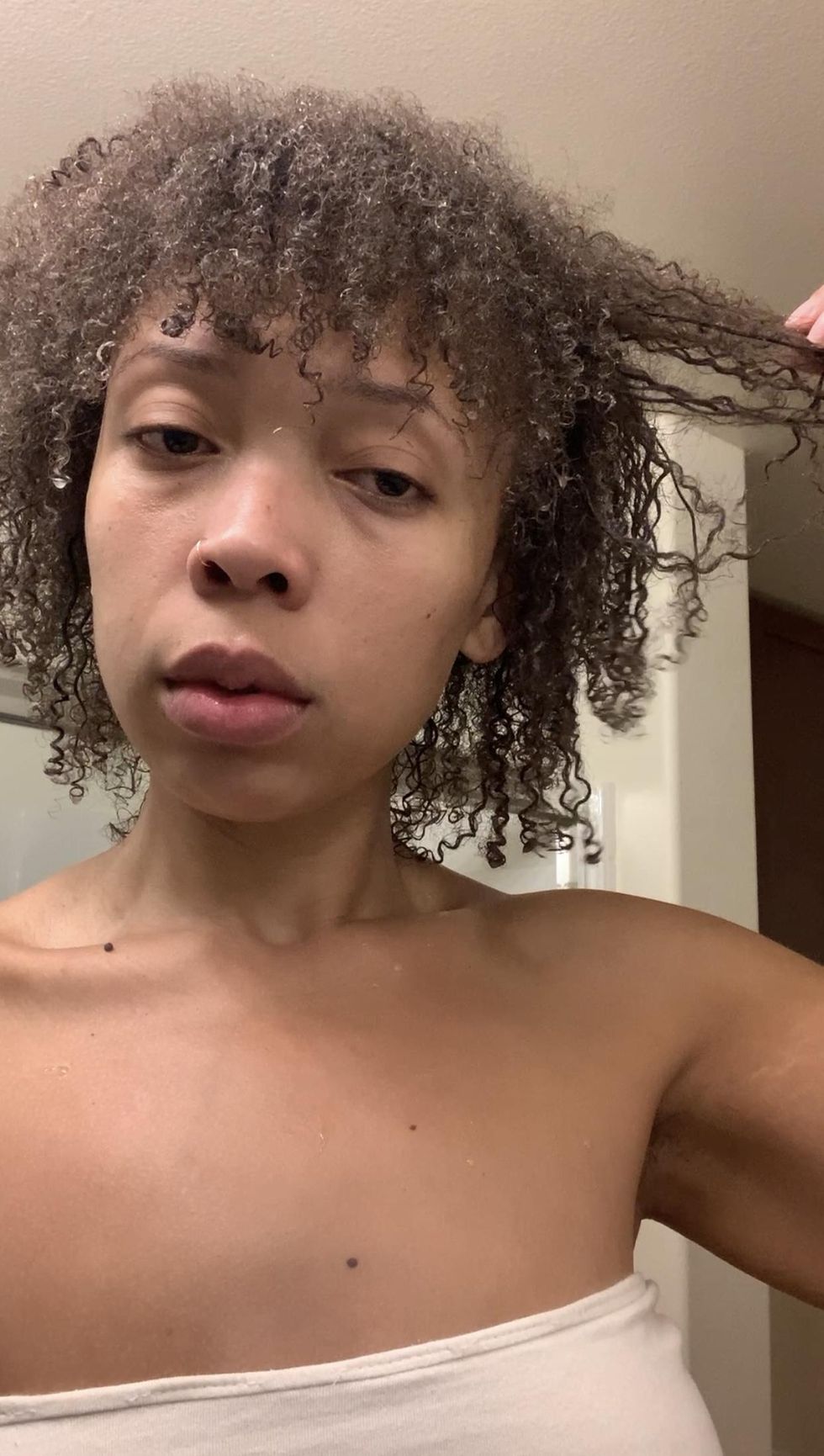 Courtesy of Shahirah Ahmed
Devastated, I took to social media to express my shock and frustration for going against my "no heat" rule. Immediately after posting a clip of my damaged hair, I received messages suggesting to use the brand Olaplex's hair repair treatment to improve the look of my hair.
Within those 24 hours, I received several messages from women with a range of textures claiming this brand is an absolute game-changer when repairing hair to its proper state. Surprised by the number of recommendations raving about the positive results of the products, I was desperate to try anything with reviews from people I know in real life.
Does Olaplex Help Repair Damaged Hair?
My curls before using Olaplex.
Courtesy of Shahirah Ahmed
Olaplex is a patented system to treat extreme damage using technology that restores compromised hair by repairing it from the inside out. Within our hair, bonds provide structure, strength, and stability. When broken, these bonds become weak and the result can be flat, dull, and unflattering.
There are several causes of damage, including destructive hair habits, hot tools, chemicals, dye, and styling. Olaplex uses a patented single ingredient, bis-aminopropyl diglycol dimaleate, which helps build bonds, and in alignment, you have healthy and beautiful hair. From curly hair to stick straight, the brand states it's suitable and beneficial for all hair types, so I decided to try it for myself.
Olaplex First Impressions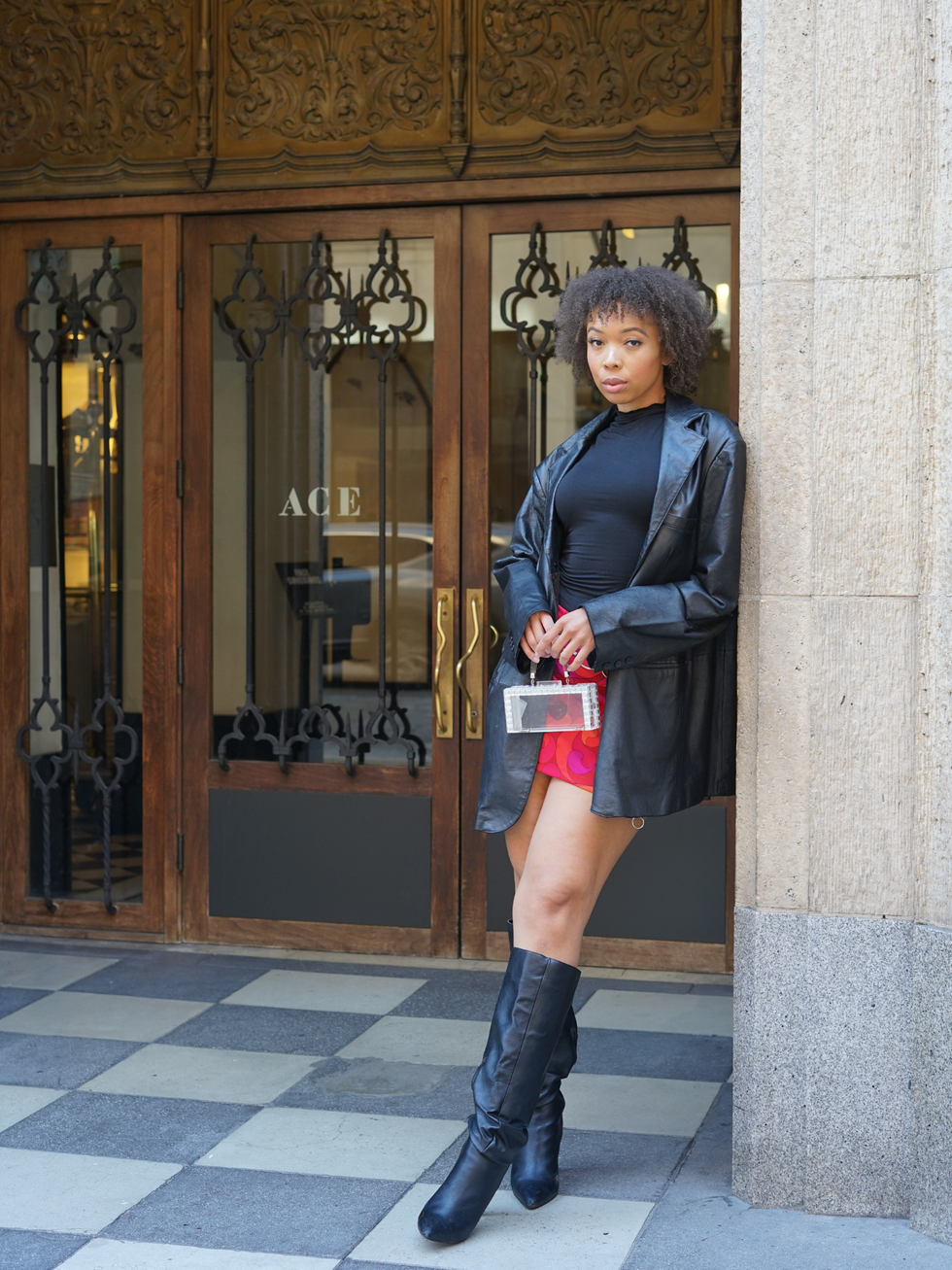 My curls after one week of using Olaplex.
Courtesy of Shahirah Ahmed
In all honesty, I was a bit skeptical of the blanket claim to help all hair types (even kinky curls like mine). Not all hair care is created equal. Starting off, I purchased the No. 0 Intensive Bond Building Treatment ($28/5.2 fl oz) and No.3 Hair Perfector ($28/3.3 fl oz). Because they were a pricey investment, I was hopeful each bottle was worth every penny.
The No. 0 Intensive Bond Building Treatment is a two-part at-home treatment for damaged hair created to absorb nourishment when used along with No. 3 Hair Perfector, 1 to 3 times per week. Considering the size of both bottles and the amount of repair I was in need of, I decided to apply the products twice per week.
Is Olaplex Worth It?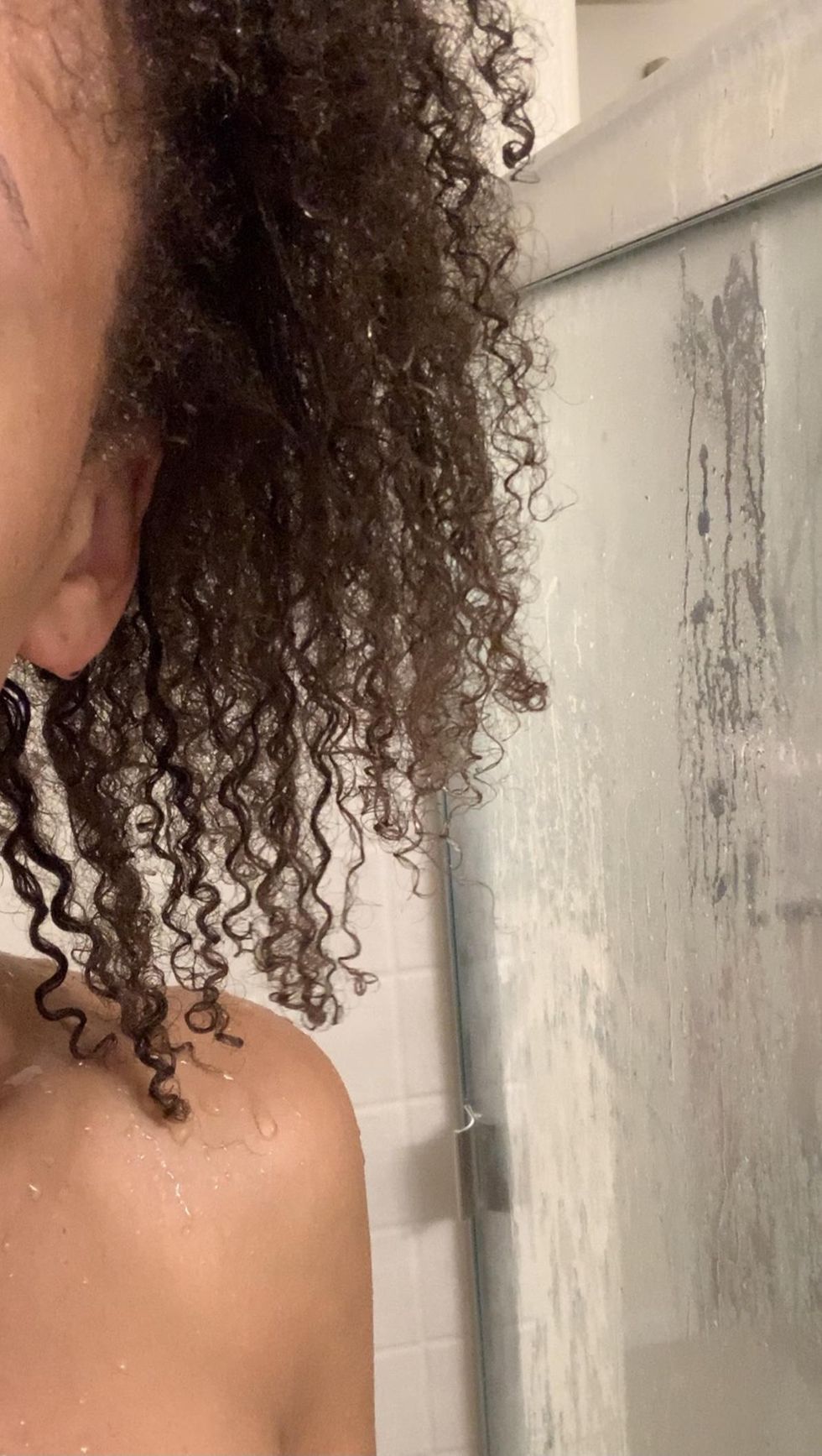 My curls after week four of using Olaplex.
Courtesy of Shahirah Ahmed
I didn't see much progress after the first week, but nothing great happens overnight. Not to be discouraged, I continued with the duo seeing a slight yet recognizable return of my natural curl pattern appearing in week two after the fourth application. By week three, I began to see texture reappear where curly strands had previously been completely lifeless and flat.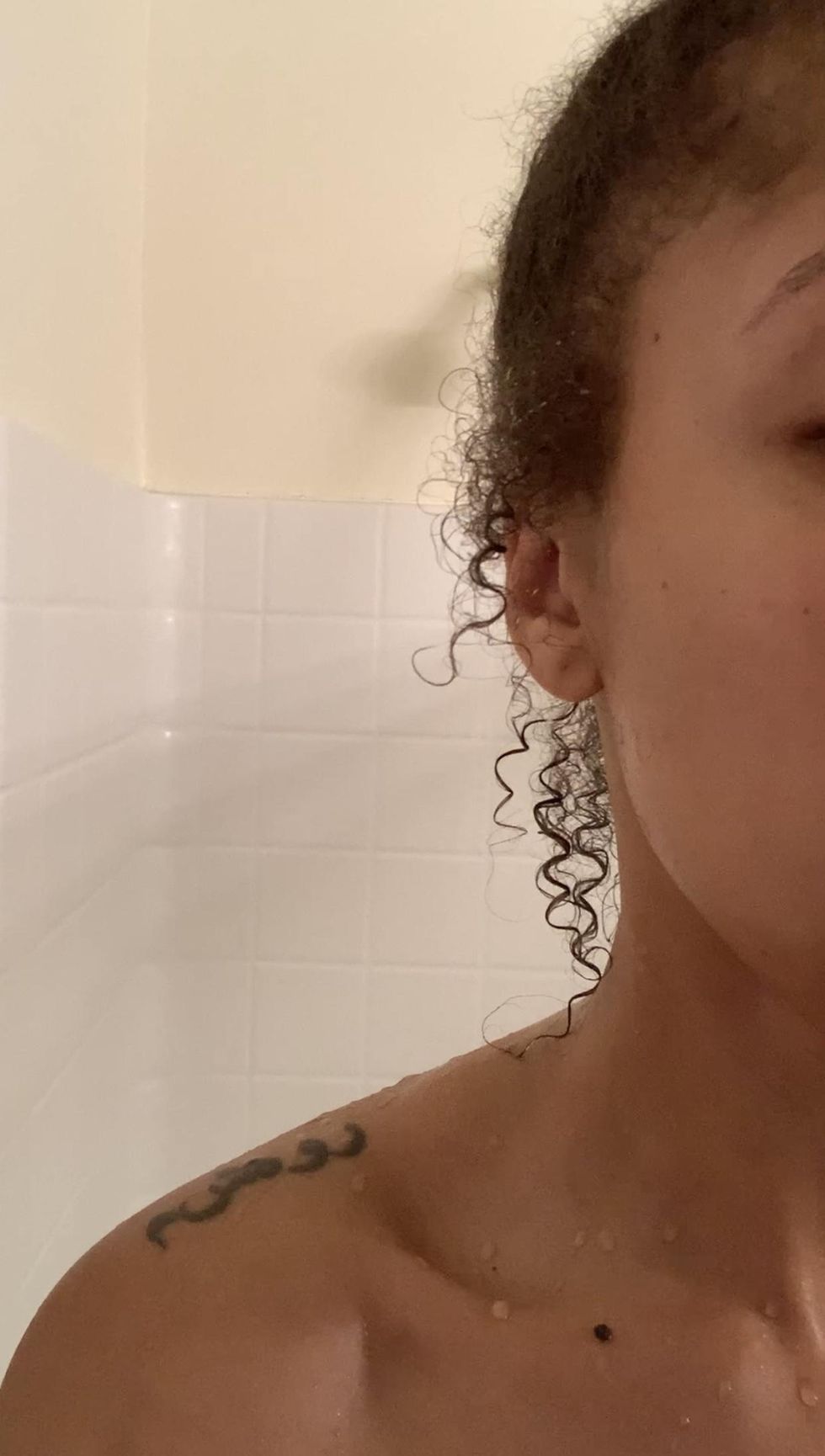 My curls after four weeks of using Olaplex.
Courtesy of Shahirah Ahmed
After week four, I noticed not only had most of my curls come back to life, but my hair also appeared more hydrated, more full. My curls were more defined than ever before. While there are still damaged areas in need of improvement, I'm convinced that continued and consistent use of Olaplex products will allow my curls to be at their peak.
A game-changer revolutionizing the hair industry, these are products that should remain in our hair-care collections at all times.
Featured image courtesy of Shahirah Ahmed
Jada Pinkett Smith is reflecting on past hair struggles that she has faced in her career. In celebration of the Crown Act being passed by the House of Representatives, the actress took to Instagram to share some insight on her hair journey as a part of her "Story Time with Jada" series.
For those of you who don't know, the Crown Act is a bill that disallows hair texture- and hairstyle-based discrimination commonly seen in the Black community.
With the caption, "Crown Act. Be proud of your crown," Jada started the video off by saying,
"I had some definite hair regrets for sure specifically on covers. Where it was just, 'what the hell?'" She then went on to explain what it was like being in Hollywood in the '90s where straight hair was "in."
"Being a Black woman and dealing with hair in Hollywood, especially in the era that I came up in, having your hair look as European as possible was always the thing and that was really challenging," she said. "Because I liked my hair out wild and curly but nobody wanted that."
Due to pushback, the Girls Trip star found herself falling victim to society's standards and wearing hairstyles she wasn't comfortable with.
"So I always had to do my hair in ways that didn't feel natural to me because of trying to play the game. So if I'm doing a cover, everybody's like 'no we love your hair straight and flowy' and it's like, alright, cool but that's not really what my hair likes to do."
She continued, "So I had to learn to get the courage to just go 'nah, I'm not doing that." Which is why I feel the freedom today. I don't give two craps what people feel about this bald head of mine 'cause guess what, I love it."
​Jada recently shaved her head bald due to alopecia, however, we have seen the beloved actress rock a variety of hairstyles over the years. Let's take a look back at some of her biggest hair moments.
Pixie Cut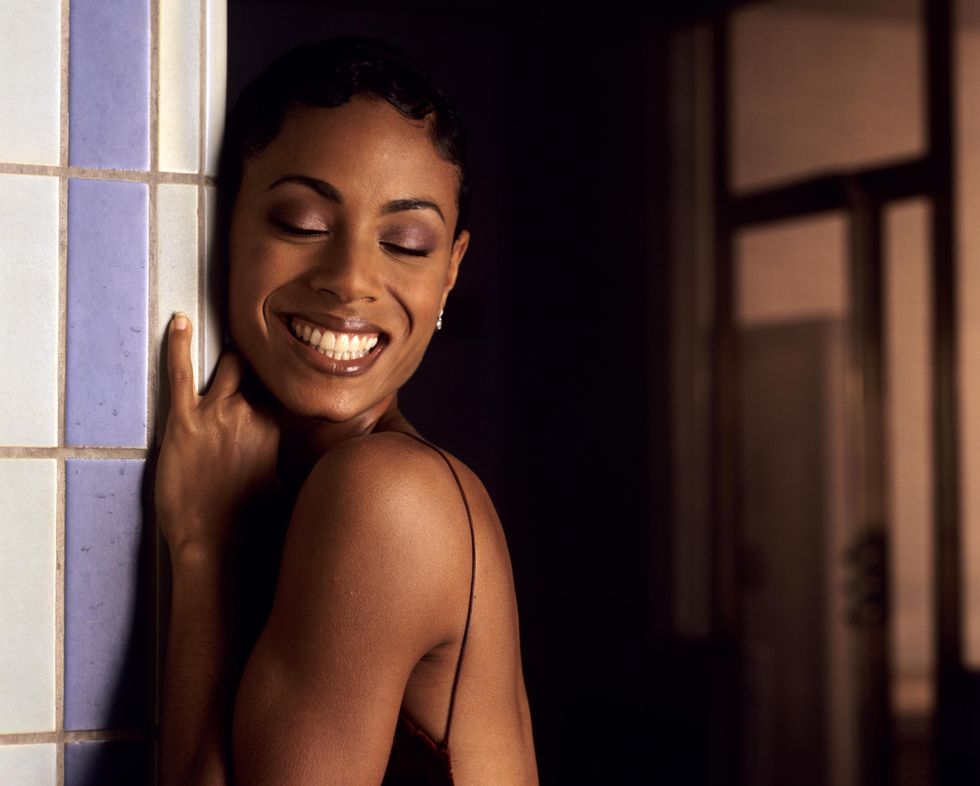 Jada Pinkett Smith in 1997.
Joe McNally/Getty Images
The pixie cut became the hairstyle that the mom of three was known for. Whether her hair was dyed platinum blonde or black or it was finger waves or curly, the cropped cut was her signature since the '90s.
The Nutty Professor Bob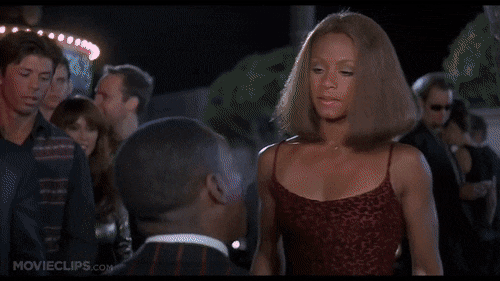 Last year, Jada spoke about the bad experience she had with a hairstylist on the set of The Nutty Professor. During Red Table Talk, she explained that the reason why her wig looked so bad was that the hairstylist wouldn't straighten the roots.
"She thought that the roots should be not smooth, but the hair should be straight," she said. "She was like, 'Well, usually for Black women, you don't have straightened roots.' And I said, 'Oh no, we do. We either straighten it with a hot comb or we perm it.' But she didn't believe me. So, she made it with roots that weren't straight, but the hair was."
Set It Off Braids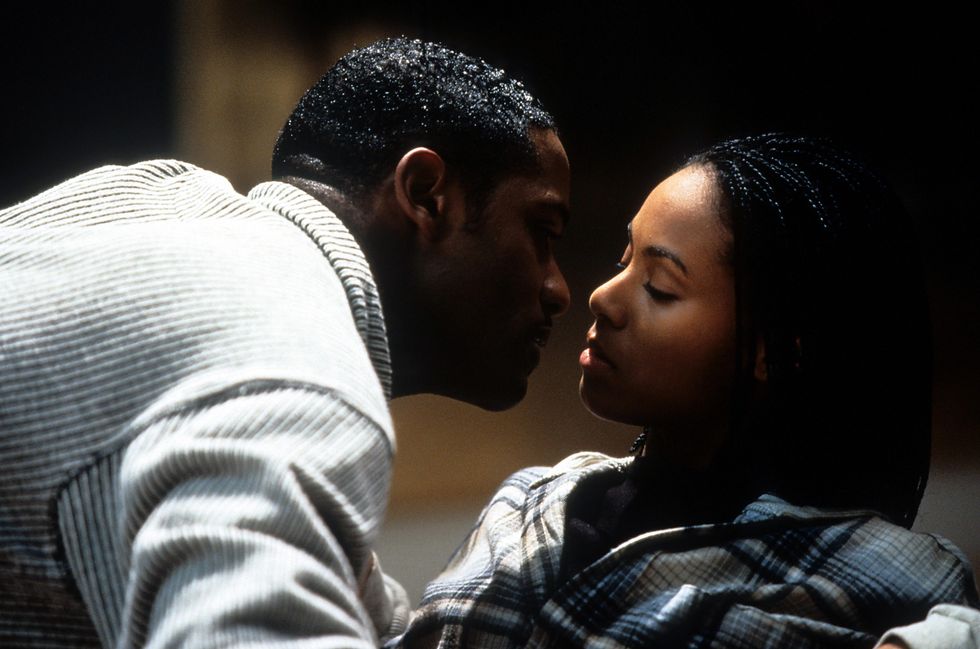 Jada Pinkett Smith and Blair Underwood in the 1996 film 'Set It Off.'
New Line Cinema/Getty Images
Jada's box braid bob in Set It Off is one of her most iconic looks and a classic '90s hairstyle. On an episode of Red Table Talk, the actress who played Stony reflected on the moment her character cut her hair off in the film.
"Cutting my hair in Set It Off, So that particular scene I had already had so much loss and I had already, like, lost so many friends, and so I really reflected on those that I loved that I had lost, you know, and how everybody doesn't make it and how you can be sitting with great fortune and have so much loss have so much pain," she said.
Inches for Days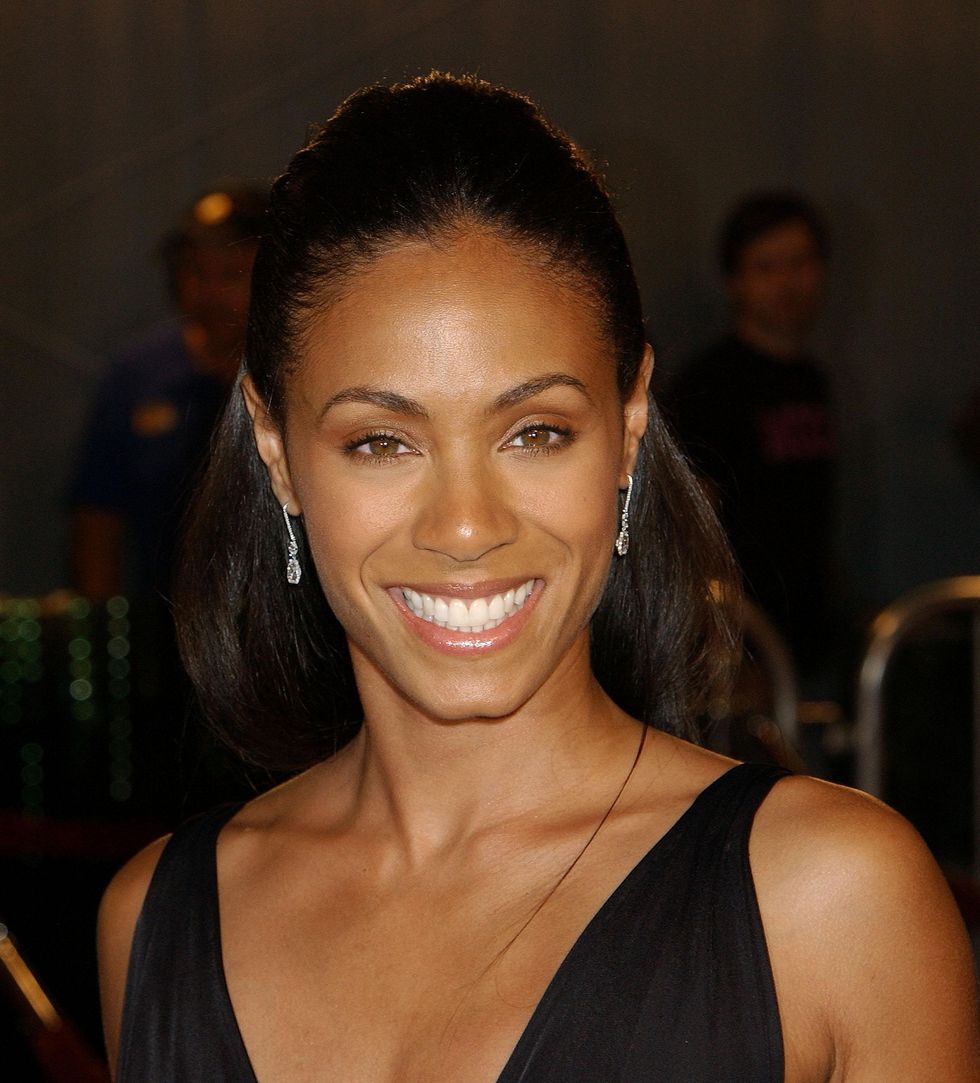 Jada Pinkett Smith in 2003.
Gregg DeGuire/WireImage via Getty Images
In the early to mid-2000s, Jada was all about length and rocked hairstyles that allowed her natural hair to flourish. From tight curls to loose waves, to low buns and wearing it straight, Jada showed that her long locks had range throughout much of the decade.
Bald and Beautiful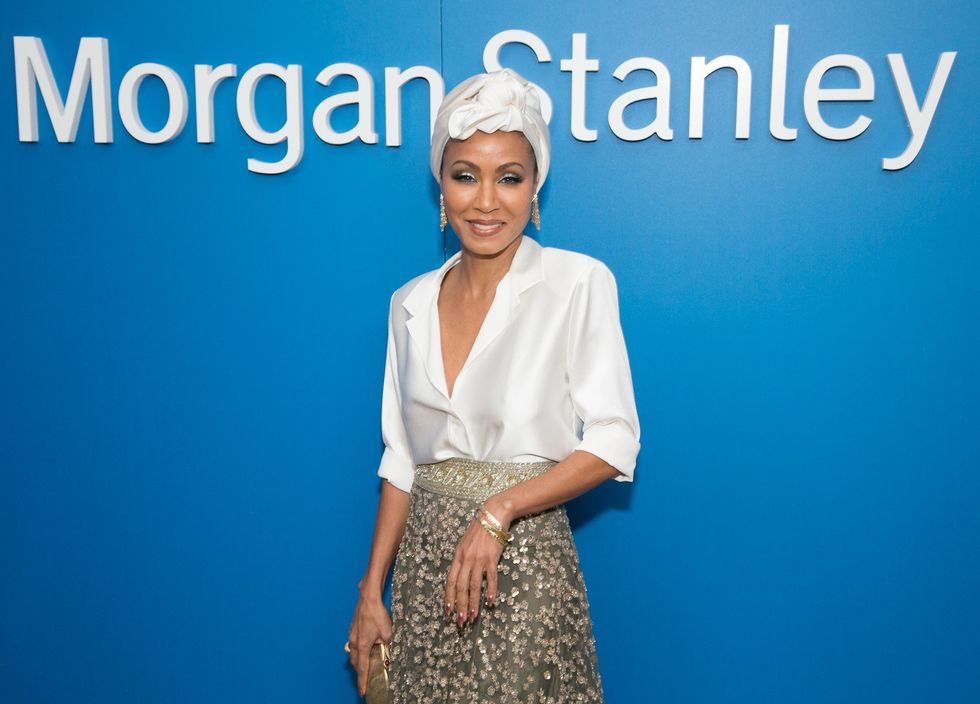 Jada Pinkett Smith in 2018.
Gabriel Olsen/WireImage via Getty Images
In 2018, the actress made the tearful admission on her Facebook Watch show that she was suffering from hair loss. After trying to disguise the hair loss by wearing turbans, she finally decided to chop all of her hair off last year. She debuted the new look in an Instagram post with her daughter Willow.
"Willow made me do it because it was time to let go BUT … my 50's are bout to be Divinely lit with this shed," she wrote.
Featured image by Amy Sussman/WireImage via Getty Images
Another year is here. A year to "get it right" if there are some things that, admittedly, you know you got all wrong in 2021 when it comes to your tresses. As for myself, I've got to admit that last year just might be the one that helped me to see the most personal progress. A part of the reason is because I applied some of the very tips that I'm about to recommend to you. So, if you're ready for your hair to be longer and healthier than it's been in a really long time, these 11 tips are some of the things that can help you to reach your goal.
1. Get More Vitamin D into Your System
Last spring, I wrote "A Lot Of Black Women Are Vitamin D Deficient. Here's The Fix." for the platform. There are a myriad of reasons why Vitamin D is important to your overall health and well-being; however, when it comes to your hair specifically, it's good for you because it stimulates the production of new hair follicles, helps to strengthen old ones and, because a Vitamin D deficiency is connected to hair loss — well, it's clear that it is imperative to either take a supplement that contains this nutrient and/or eat foods that are high in Vitamin D. Some of those include salmon, cod liver oil, fortified cereals, fortified orange juice and eggs.
2. Eat More Foods That Are High in Zinc
Speaking of foods that you should be consuming, nuts like cashews and peanuts, whole grains, potatoes, kale and pumpkin seeds are all really good for you because they are high in zinc. Your hair needs zinc in order to thrive because it helps to keep your hair follicles moisturized. Not only that but zinc is great when it comes to hair tissue growth and repair. So, if you're looking for a way to reduce breakage from the inside out, consuming zinc-enriched foods is an effective way to do it.
3. Invest in a Conditioning Cap
There's no way that your hair is going to stay healthy and grow longer if you're not deep conditioning it, pretty much on every wash day. If you want to go "2.0" on it, you should cop yourself a conditioning cap. It helps your hair to generate heat, so that whatever conditioner you are using, it will be able to deeply penetrate your hair's cuticles. Natural Hair Insights is a site that has a list of some conditioning caps that are great for natural hair. You can check it out here.
4. Buy Yourself a Hair Steamer
Speaking of tools that will help to moisturize your hair, if you don't own a hair steamer, there's no time like the present to make a move. It's something else that helps your conditioner to penetrate your hair. It also helps to produce elasticity. If you happen to have low porosity hair (which means it's hard for your hair to maintain moisture), a hair steamer can keep moisture in your hair for a longer period of time. It can also reduce scalp dryness, itchiness and irritation. As far as the best hair steamers that are currently on the market for us, NaturalHair-Products can totally hook you up. Read their list here.
5. Use More Plastic Sectioning Clips
Trust me, if you've got super long, really thick and very curly hair, you are definitely going to need to get yourself some plastic sectioning clips. They will keep you from pulling out a lot of your hair (especially when it's wet) while doing a lot of brushing and combing. They also work really well on wash days or when you want to detox your scalp (read more about why that's something you should consider doing by checking out "Treat Your Scalp To A Little Bit Of Detoxing This Weekend"). By the way, plastic ones are better than metal ones because metal ones tend to snag your hair which can lead to tangles and breakage.
6. Treat Yourself to Some Almond Milk Rinses 
Your hair is made up of mostly protein; so, of course, it needs protein treatments from time to time. All-out protein treatments are recommended every 4-8 weeks but if you want to do some upkeep in between those, DIY an almond milk hair rinse. By combining one-third cup of almond milk (for the protein boost), two tablespoons of honey (honey is a humectant which means it pulls moisture from the air) and one tablespoon of grapeseed oil (it's loaded with Vitamin E and oxidants) and pouring the rinse on your hair and letting it sit for 20-30 minutes prior to shampooing and conditioning your hair, your locks will not only feel softer but stronger as well.
(By the way, signs that you need a protein treatment include your hair being spongy, being limp and not being able to hold a style. Also, if you've got high porosity hair — which means you've got "gaps" in your cuticles that make it easy for your hair to get too much moisture — you definitely could benefit from consistent protein treatments as well.)
7. Massage Your Scalp with Cedarwood Oil
Cedarwood essential oil is good for your scalp and hair for a few reasons. It increases blood circulation to your scalp, so that your hair follicles are able to receive the nutrients that they need. It contains properties that help to keep dandruff and product build-up from irritating your scalp. Cedarwood oil also reduces scalp inflammation, decreases stress levels and helps to keep your scalp and hair moisturized. And since a scalp massagealso stimulates hair follicles and decreases stress levels, I'm pretty sure you can see why adding a few drops of cedarwood to your favorite carrier oil, warming it in the microwave for 10 seconds and then gently massaging your scalp with your fingertips can feel super amazing while being really beneficial for your hair, from root to tip, too.
8. Use More Texturizing Serum
When it's used in moderation, I'm a pretty big fan of hair serum; especially on natural hair. It gives your hair the kind of "slick" that makes it easier to style. It helps to bring sheen to your locks while adding lots of curl definition. It also reduces frizz which is always a huge plus. And if you decide to go with a texturizing cream, it can accentuate your natural texture without making your hair stiff (like some hair serums tend to do when there's been a bit of build-up). Texturizing serum is also dope because it gives structure to blow-outs and can give you the perfect finger waves if that's what you're after. While there are plenty of serums on the market, a brand that's currently getting a lot of attention in these streets (as far as a texturizing serum goes) is Davines. You can order it here.
9. Ease Up on Your Edges
I once read an article that said that the reason why a lot of us are obsessed with creating "baby hair" is because we're still falling for the myth of what "good hair" looks like. Whether you believe that or not, what is a fact is hair around your edges and nape are pretty fragile (check out "7 Tips For Getting The Edges And Nape Of Your Neck To Grow Faster"), alcohol-based products will dry them out and could lead to breakage and the less manipulating you do to them, the better. Listen, I know more women than I should who were super caught up in having "laid" edges and/or being careless with lace fronts who are now bald around their edges as a direct result. It's not worth it when it can be avoided; for a lot of us, taking the "less is more" approach with our edges is the key.
10. Be Super Gentle with Your Ends and Style More with Your Fingers
Your hair is always growing, so to think that you're not gaining inches because it's not doing just that is a lie. So long as you don't have some sort of scalp or hair disorder, the main thing to focus on is making sure that your ends aren't breaking off at the speed that your hair is growing out of your scalp. Here's the thing — unless you are styling your hair in a way that calls for clean and precise parts (or you're detangling on wash day), more times than not, you can survive styling your hair without combs and brushes. This is a good thing to know because when you opt for using your fingers instead, you can feel for knots and tangles; plus, it's easier to control the amount of pressure that you apply.
As a result, you'll have less tearing, less breakage and that means you'll have longer and stronger strands. I won't lie to you, styling with your fingers requires quite a bit more time and patience — but hey, if that means that there will be less hair in your comb and more on your head, isn't it worth it? Exactly.
11. REST
Sleep deprivation is directly tied to excessive hair shedding and even hair loss because a lack of sleep reduces the amount of melatonin that your body produces which can hinder hair growth. A lack of rest can also result in your hair being pushed into a "resting phase" where it no longer grows. So, if you know that you've been getting less than five hours a night, at least for your hair's sake, try and push it up to seven. Something tells me that if you do it on a consistent basis, your hair just may surprise you when it comes to how it picks up a bit of speed on the growing tip. Keep us posted.
Featured image by Getty Images
It was around this time last year when I wrote the article, "Let's Gain An Inch A Month Of Hair Growth 'Til December, Shall We?". What I forgot to do was circle back around and ask everyone how they did. So…how'd it go? Did you gain at least 3-4 inches that you may have been shooting for? If not, there is certainly no time like the present to try and make a few hair miracles happen.
One really easy way to do that is to add a few of the drinks that I'm about to share with you on your grocery list. Because, as you're about to see in just a sec, not only can they help your hair to truly flourish, they're really good for your health in a myriad of other ways too. You ready to sip on 10 great suggestions?
1. Coconut Water
Something that's cool about coconut water is, even though it is made up of 94 percent water, it still has a fair amount of potassium in it, along with some traces of magnesium and calcium too. Not only that but it contains antioxidants which are really good for your immune system. Some other benefits that come with this particular drink are it can help to lower blood sugar levels in diabetic individuals, can help to reduce the development of kidney stones (by increasing urination which removes potassium, chloride, and citrate buildup), supports your heart health, gives you more energy and, it can even replenish electrolytes after exercise.
What makes coconut water outstanding as far as your hair is concerned is the fact that consuming it can help to renew cellular hair growth from the inside out. Also, the amino acids in the water can make your hair stronger and, if you rinse your hair with it, coconut water has the ability to increase blood circulation to your scalp, so that your strands are able to become stronger as a direct result.
2. Aloe Vera Juice
Now I'll be honest with you — there is nothing so thrilling about the taste of Aloe vera juice that it will make you want to down it on a daily basis. However, if you mix it in with another drink or add it to a smoothie, you'll barely be able to taste it and you'll still be able to get all of the benefits that come with consuming it. That said, Aloe vera juice is good for you because it helps to detox your body, hydrate your system and, vitamins B, C, E, and folic acid can help to keep your skin radiant and glowing. Something else worth taking note of when it comes to Aloe vera juice is the properties in it are good at preventing plaque from forming which makes it awesome when it comes to maintaining good oral health.
And what does it do for your tresses? Drinking it can help to moisturize your hair from the inside out. It also can help you to retain hair length and, if you apply a bit of Aloe vera juice to your scalp, it can relieve itching, almost instantaneously (in most cases). Oh, and a lot of people enjoy using Aloe vera juice or gel as a pre-poo on wash days as well.
3. Guava Juice
If there's one juice on this list that is pretty unsung, it would have to be guava juice. The reason why I say that is because its benefits are kinda close to being endless! Aside from being a good source of vitamins A, C, and E, along with folate, magnesium, dietary fiber and so much more, guava juice has a great reputation when it comes to strengthening your immunity, improving your vision, providing your system with anti-aging properties, boosting brain power and giving your skin a natural radiant glow.
And why is guava juice awesome when it comes to your hair? Thanks to its antioxidant, anti-inflammatory, and anti-microbial properties, it helps to keep your scalp healthy. Plus, the Vitamin C in it helps to trigger collagen production, so that your hair has more elasticity to it, which reduces its chance of breakage (which helps you to maintain length retention).
4. Peppermint Tea
Growing up, there was quite a bit of tea in my house which is probably why I'm always down for a piping hot cup of herbal tea with some honey in it, to this day. When it comes to tea, probably one of the most popular kinds is peppermint tea, and with good reason. Peppermint tea contains properties that are able to reduce headache and migraine tension, unclog sinuses, give you an energy boost, relieve menstrual cramps and fight off bacterial infections. Yeah, peppermint tea is all of the things.
What makes it so good for your hair is the fact that the menthol in the tea helps to soothe your blood vessels while also stimulating blood circulation so that your hair follicles are able to receive the nutrients that they need. As a direct result, your hair strands are able to become stronger and thicker. How cool is that?
5. Carrot Juice
I don't think I've ever had carrot juice on its own. I have had a carrot and apple blend that was pretty bomb, though, so if you've never had it before, don't be afraid to "mix it up" with another favorite juice flavor. Anyway, carrot juice is beneficial thanks to the protein, fiber, vitamins A, C, K, and potassium in it. You've probably heard that carrots are good for maintaining your vision and that is absolutely the truth. Carrots are also good for you because they help to boost immunity, control your blood sugar levels and, keep heart disease at bay.
Another great thing about carrot juice is it contains a really high amount of beta-carotene. That's awesome because, when it's digested, it turns into Vitamin A and that's a vitamin that helps to protect your skin from damaging UV rays. Another thing is that the Vitamin C in carrot juice helps to slow down your skin's aging process too. As far as your hair goes, the nutrients in carrots can help to prevent hair loss. Also, if you consume carrot juice on a regular basis, it can improve the quality of your hair while giving it a natural sheen in the process.
6. Apple Juice
If you've got a little bit of constipation going on, something that can definitely help you out is an apple; that's probably because it reportedly has about four grams of fiber per serving in it. Other nutrients that are found in this very popular fruit include a fair amount of Vitamin C along with some traces of potassium, manganese, copper, and vitamins B12 and K. All of these work together in order to protect your heart, lower your diabetes risk, maintain your gut health, fight asthma and even help to prevent cancer cells from forming.
One of the best things about apples is they have a way of maintaining the pH balance of your scalp. This is a good thing because when your scalp is healthy, that means less scalp itching and irritation and less dandruff too. Some people are actually big fans of rinsing their hair in 100 percent pure apple juice on wash days because the antioxidants in it are able to strengthen your hair (and scalp) from the outside in. Just make sure that it's 100 pure and organic juice; not the sugary cocktail kind.
7. Ginger Tea
A particular kind of tea that I enjoy is ginger tea. I think it's because I like a nice spicy flavor and ginger certainly provides that. Ginger tea is dope, in part, thanks to its super potent anti-inflammatory and antioxidant properties. It's great for treating nausea (including the kind that is related to morning sickness and motion sickness), lowering blood sugar levels, decreasing the risk of heart disease, reducing menstrual discomfort and, it helps to relieve chronic indigestion too.
Hair-wise, ginger tea is that one because it helps to increase blood circulation to your scalp and restore moisture loss which is good to know if you are someone who has low porosity hair. Ginger tea is also great for your hair due to its antimicrobial and antiseptic properties that can help to fight off dandruff and other forms of scalp irritation.
8. Tomato Juice
If Bloody Marys are your thing, then you'll be glad to know about this. Protein, fiber, vitamins A, B, and C along with potassium and antioxidants are just some of the reasons why drinking this kind of fruit (yes, fruit) juice is so good for you. Aside from the fact that tomato juice helps to reduce the risk of heart disease and skin cancer, it's also helpful because it aids in digestion, lowers cholesterol levels, helps to regulate bowel movements, detoxifies your system, and is a great source of energy.
Since tomato juice has iron in it, it helps to strengthen your hair and reduce shedding. And, if you apply it as a rinse to your hair after shampooing it, it can relieve itchiness and dryness, so that your scalp is able to thrive.
9. Berry Smoothie
There is nothing like a bowl of fresh berries, boy. Health-wise, they're good for you because they are full of antioxidants, fiber, manganese, and vitamins B, C, and K. Some other perks include the fact that berries help to lower cholesterol levels, fight pre-cancer cells, reduce inflammation, improve blood sugar levels and, they can also keep free radicals from damaging your skin.
And why would an all-natural berry smoothie be oh so very good for your hair? Vitamin B provides oxygen to your hair follicles so that your strands are strong and premature grey is delayed. Vitamin C increases blood circulation to your follicles (so that they are able to get more of the nutrients that they need). The antioxidants keep free radicals from weakening your hair. What a delicious way to keep your hair on point.
10. Water
Somewhere between 60-65 percent of our system is made up of water, so it truly can't be said enough that we need to drink it on a daily basis. The reasons why are never-ending. Water helps to bring oxygen (and therefore nutrients) to your body's cells, detoxes your system, makes it easier to digest your food, supports your joints, regulates your body temperature, stabilizes your body pressure, and hydrates you from the inside out.
That last point is why drinking water is so good for your hair. When your hair has moisture in it, that reduces its chance of becoming dry and brittle, getting split ends, and being hard to manage. That's why it's so important to get no less than 6-8 glasses in, no matter what. Your hair will thank you. The rest of you will too!
Featured image by Getty Images