I just checked the beauty forecast and it looks like red is in. And what better way to usher in the holiday season than with one of the brightest, most eye-catching colors. While the color red has different meanings in many cultures, when it comes to hair, it can only be defined in one word: sexy. From fiery red to burgundy, the intensity of this hair color captures the attention of everyone, just like the celebs who sport it.
Who can forget Rihanna's Loud era where she rocked red hair from a short bob to long straight tresses? Now, there's a whole crop of gworls who are daring to walk on the wild side with this magnetic hair color.
Take a look at the celebs who are donning red hair this season.
Saweetie
While our girl Saweetie is getting fans ready for "Icy" season, she decided to say goodbye to the blonde for now and introduced a new spicy hairstyle. The "Best Friend" rapper first donned hair red tresses in October and ever since then she has been showing out from hosting the 2021 EMA's to her appearance on SNL where she performed her new song "Icy Chain."
Nicki Minaj
We can always count on Nicki Minaj to give us a lewk especially when it comes to her hair and she rarely disappoints. The "Queen" MC showcased her red hair a week ago that included a side part and flip.
Teyana Taylor
As Teyana Taylor is making her rounds across the U.S. with her farewell tour, she made sure to give fans an unforgettable show and lewk. The "Rose in Harlem" singer has been sporting a red wet and wavy bob that is parted down the middle.
Chloe Bailey
Taking a page from her Instagram caption, Chloe Bailey is "red hot." After having fun with blonde locs, the 23-year-old singer switched it up on us and started rocking red locs instead. The "Have Mercy" artist premiered her new look during her 2021 AMA appearance.
Featured image by Matt Winkelmeyer/Getty Images for MRC
Keep reading...
Show less
When it comes to growing and strengthening natural hair, a dynamic duo of products and a healthy routine are necessary. It's unrealistic to think you can do one without the other and expect strong, healthy, and vivacious curls and coils. If you're wondering why your hair is damaged or in a stagnant phase, you may need to take a look at your routine and make sure your hair is getting the care it truly needs.
There is no quick fix to rapid growth but if you schedule your trims, keep your hair hydrated, and use products with ingredients that stimulate growth — it'll get you on the right track. This is why I want to introduce you to VIP Luxury Hair Care.
VIP Luxury Hair Care was created by Ashanti Lation to help with the growth, health, and overall maintenance of all hair whether you're relaxed or natural. The brand offers three different lines to cater to your needs — the GREAUX Collection, SILK SHOT Collection, and the DAY PARTY Collection. I had the opportunity to try their most popular collection, the GREAUX Collection, which offers six growth stimulating products.
Here is what I thought of each product and how my wash day went using the collection.
Featured image by Krissy Lewis/xoNecole
Keep reading...
Show less
I have a love-hate relationship with the classic '90s ponytail. I love how versatile it is. It works for every hair type/texture and it fits every occasion from day to night. On the not-so-loving note: It's an addictive style and doing it too much can mean constant tension, eventually wreaking havoc on your roots and edges. If done right though, you can get the sleekness without the damage.
My forever high-ponytail inspo is our Queen Normani. She kills it every time. From the debut of her "Motivation" video to "Wild Side," it has become her aesthetic, and she's bodied every version of the '90s look since. So who better to get tips on creating a high ponytail from than one of her stylists, Ashanti Lation. The master stylist and CEO of VIP Luxury Hair Care sat down with xoNecole to tell us how she got started, her best tips for creating the perfect ponytail, and how to protect your hair while doing it.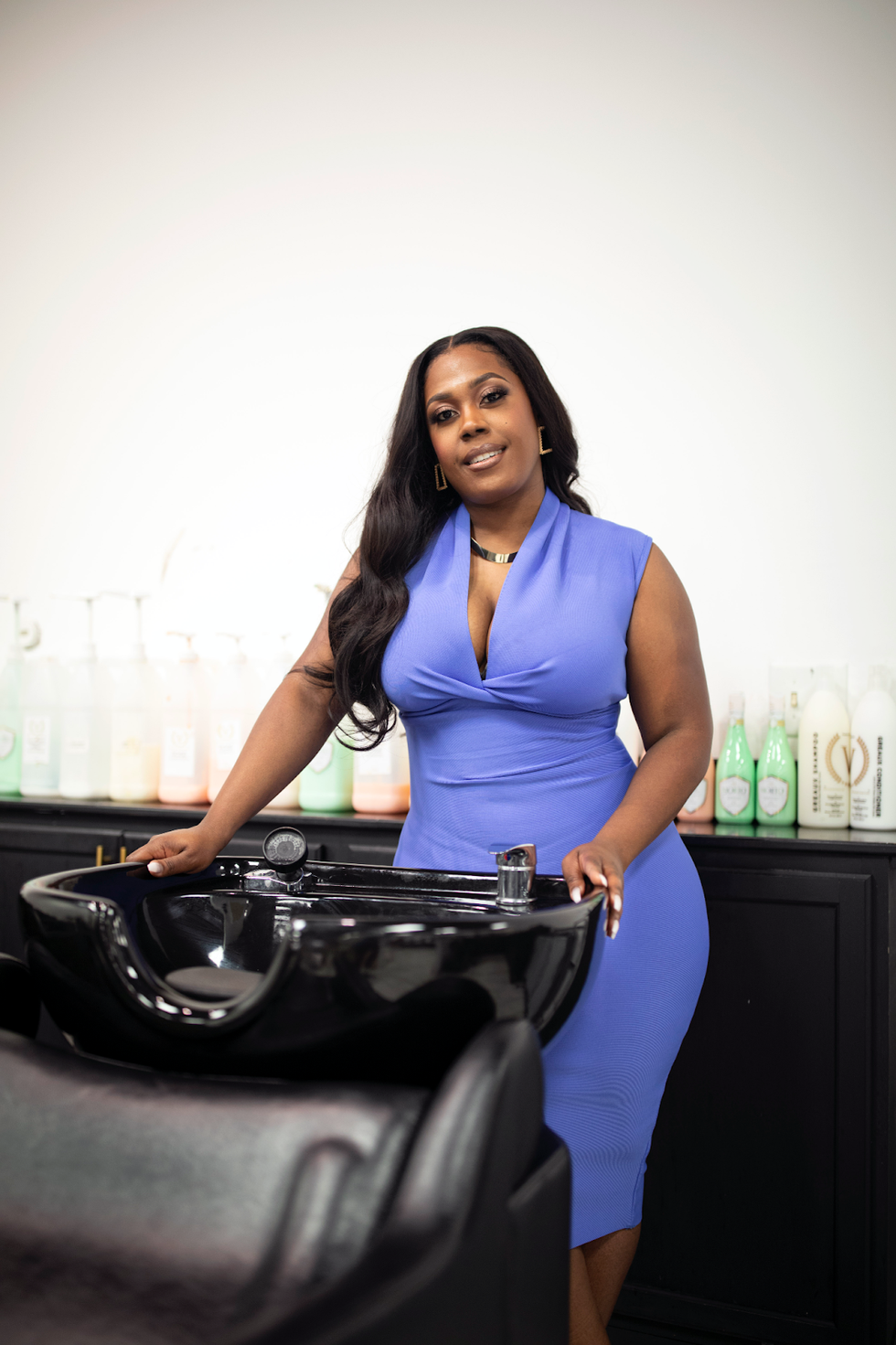 Darius Varnado

xoNecole: What inspired you to become a hairstylist? Where did you start?
Ashanti Lation: I started doing hair in high school because I wanted my hair done all the time. Then, I would try [styles] and it came out good to me, [so] a few other people would ask me to do their hair. About a week later, I started charging my neighbors and other high schools in my city. From that point on, I got popular.
I also have eczema and allergies so because of that the skincare aspect of doing hair was always important to me. I always focused on the hair [and scalp] because I was particular about what my clients used and didn't want it to affect my skin. If you know anyone with eczema, then you know if it breaks out on your hands or neck, it takes a long time to recover. In initially being cautious, my clients would have great results for their hair, and I followed that path with them. I started studying the skin [and] scalp and creating products.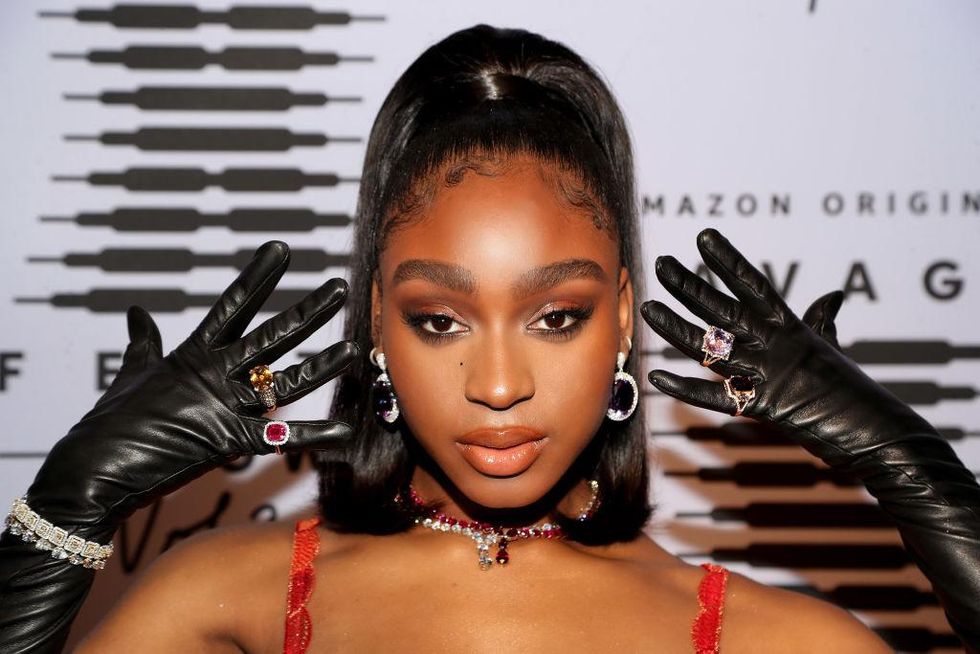 Jerritt Clark via Getty Images
When did you start working with Normani?
I'm the healthy hair guru, and a couple of celebrities and people in other industries have reached out to me asking for hair advice. She [had been] using our products [Greaux Drops] because a frontal had damaged her hair a little bit and the product was helping her hair grow back. She [contacted me] when she was in New Orleans and said, "Let's connect," and so we did and I did my thing. From that moment on, I've been her go-to haircare specialist.
When it comes to styling ponytails and keeping haircare in mind, what recommendations do you have to avoid damage?
It can be trying on the edges and at the top of your head from tension. Some people start to have bald spots at the top because the ponytails are very heavy, so I always tell people:
Avoid too much tension. Some people will make a section then swoop another section on top [to make it sleek and get it in a ponytail] it's too much. Try to get the hair as sleek as possible before you pull it up in a ponytail. So if you have to get a silk press first to smooth it out, then do that first. Prep the hair before you start the ponytail!
Use less product. Use holding spray first because sometimes using excessive gels, puddings, and wax, can become a lot, especially for the finer hair types. It will pull it out then thin it out.
Use the right band. Putting too many bands [on your hair] can damage the crown and cause balding. I like to use thick black rubber bands. Some people like scrunchies but I never try to unwrap them when taking them out. Just cut it out and throw it away! Don't try to keep using it because you'll get it tangled like that.
The base of the ponytail is important. Don't just use one rubber band. Use at least two and the wraps to create a structure like you're building something. It needs to be strong enough to support the hair. If you're doing one band, all that tension falls on your hair trying to hold the ponytail up. You can also do the ponytail on your thickest area so it will be less damaging to your hair.
Be gentle. Haircare is a slow dance, not a fast song.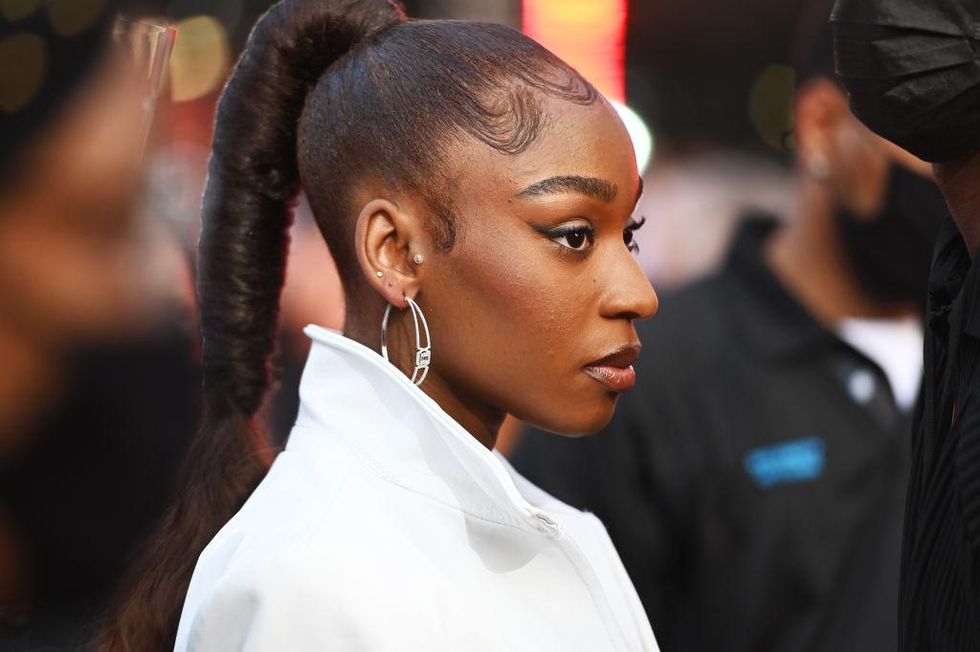 Noam Galai via Getty Images
What products are needed to achieve a Normani-inspired ponytail?
A pomade like Jam and an edge control like Elite Edge. You can use wax if you want but don't use gel. You'll need the hair of your choice. You can finish with a light holding spray. You'll also need thick rubber bands and wrapping strips.
Can you walk us through your step-by-step process of creating a ponytail and prepping for it?
For a heat-free process, you'll need more product to sleek it because you're laying it down. For Normani's hair, we don't use any heat at all. We twist it and let it dry overnight. It will be sleek and you'd think we pressed it.

1. Make sure you smooth your ponytail out as much as you can before you put product on it.
2. Use a pomade like Jam and add the Elite edge control on top of that and smooth it out with your hands.
3. Tie it up with the black hair wraps and let it settle until it's fully dry.
4. When you take it down it holds but it's still soft.
5. Use two bands and then start your top knot.
If you use heat and flat-iron it first, you can pretty much slick it up with a little serum and a holding spray to keep it in place.

What hair would you recommend? We know that some hair can be heavier than others.
There's human hair or braid hair. Try to weigh it out and see what feels better to you. It depends on your texture. Less is always more if you can get hair that's fuller. And avoid using too many bags of hair.

For more hair tips and product recommendations, follow Ashanti Lation on Instagram.
Featured image by Jerritt Clark via Getty Images
Keep reading...
Show less
Black women and their relationship with hair is a true expression of our beauty. We take it seriously because our roots are tied to our roots. No matter the woman, her hair is a huge part of her identity. Over time, we have found a way to recreate ourselves through the styling of our crowns. This means that we love having a bevy of styles to choose from especially as the seasons change. This reality got us to thinking about the hair trends that are trending this winter.
We checked in with our favorite stylist, Tywia Holmes who said, "The blunt Bob will always be classic go-to. Curtain bangs, with tousled waves, give that 'I woke up like this' look. Split dyes (half and half color) are also on the rise."
These are just a few styles you can add to the rotation this winter. Ahead, find a few we have added to the hairstyle queue!
Butterfly Braids
There's been so many takes on the "butterfly" hair trend that some may say that it's overdone. Not us; we love to see it. The girls love a refined yet messy look. This protective style offers longevity and style all in one. Shoutout to Bethany for giving us tips on how to execute!
Curtain Bangs
Curtain bangs are for everyone and they are specially made for Halle Berry. She's giving an effortless look and it suits her so well. Consider this winter the curtain bang renaissance as we rock them curly, straight, and wavy. For reference, the curtain bang got its name for the way they perfectly shape and drape your face like a window.
I C Y Braids
Now, being a blonde may be fun but you gotta be careful getting to this platinum level. Last spring, in the thick of the pandemic, master cosmetologist, Destiny Kelly told us some tips on how to maintain color at home. So if you're going to commit to this bold style, make sure you're willing to do the work. Christian has me thinking about stepping to the other side because she looks so damn good.
Elevated Bubble Pony
It's more than a TikTok trend. It's a staple. For years, this trend has been a mainstay with its fun and flirty flair. When creating the elevated bubble ponytail style, unique extensions and volumizing sprays are essential.
Split Dyes
Are you a daredevil? Trying the split dye trend may just be for you. When one-half of your hair is one color and the other is a totally different one, that's called split-dye. It's perfect for that moment when you can't choose one color so you have to choose two. Stars like Kehlani and Nicki Minaj have mastered the coiffure with ease.
Heart Shapes
We are sure that you have seen all the heart-shaped braids as you scroll through your feed. Ironically, we are in love with this particular shape. It takes us back to the 90s when things were simpler and we wore velour suits every day. The creativity of it all is also mind-blowing.
Braided Bob
Bob box braids are so poetic. Even as separate styles, they are surefire classics. Together, they are pure magic. This style is ideal for the girls who want a short, protective style. Again, the 90s gave us so much to be thankful for and the braided bob is at the top of the list.
Long Bob
Any hairstyle that Molly dons is one that we adore. It's no surprise that it's the season's hottest trend because it works with all hair types. Did you know it was first created by Polish-born hairdresser Antoine de Paris in 1909? It doesn't really matter though because Black women made it better.
Crisscross Rubberband Designs
​The crisscross rubber band design paired with the Bantu knots is how you make a statement in the coming months. You may have rocked braids all summer but this new take on the style gives us all the feels. Who knew rubber bands could be so fly?
Hair Accessories
Tiffany Battle is known for her eclectic hairstyles and the thing that sets them apart is the accessories. It's in our blood to add jewels and gems to our crowns so it's only right that we make our ancestors proud. The next time you switch up your style, try adding a few accessories to elevate the look.
To get your beauty fix and to stay up to date with the latest trends, check out the xoNecole Beauty section here.
Featured image by Getty Images

Keep reading...
Show less
As much as I like cold weather (and I do, unapologetically so), I have learned that it's not the best for my hair. For one thing, did you know that warm temps are far better at holding in moisture than cold ones are? Another problem is freezing weather and wind can cause the cuticles of our hair to lift which can result in hair strand damage and/or hair not being able to hold conditioning products in for very long. Also, when it's cold, that can lead to more frizzing and dryness; especially because we tend to be indoors more often with our HVAC units set to warmer temps.
All of these reasons are why it's so important to be proactive when it comes to caring for your hair during the fall and winter seasons. So, if you're looking for a few ways to do just that right about now, I've got 10 tips that will safely carry your tresses right on past Valentine's Day — and then some.
1. Do Some Pre-Pooing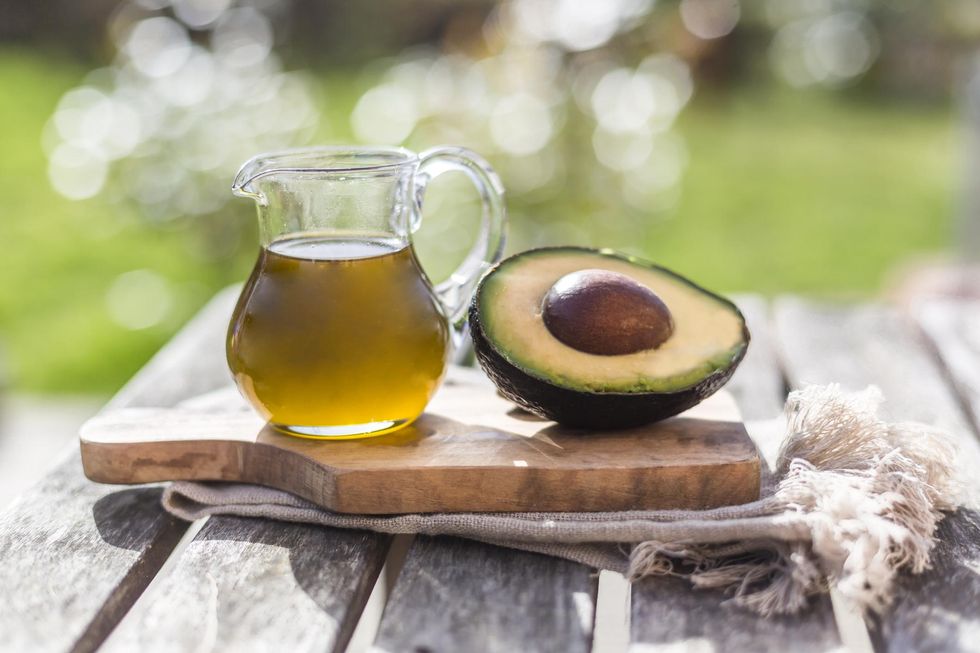 Even if you use a sulfate-free shampoo (and I hope that you do because, other than clarifying your hair, sulfates can be extremely drying), when you're a Black woman, it's still a good idea to pre-poo your hair on every wash day. Since it can be difficult for the natural sebum from your hair follicles and scalp to run down the entire shaft of your strands (due to your super curly texture), that's why your hair tends to be drier than other ethnicities. Then, when you bring shampoo into that mix, that can dry your locks out even more. One way to head that off is by pre-pooing — applying an oil to your hair, before shampooing. This works well because it softens your hair, makes your conditioner more effective and it significantly reduces the detangling process, so that there's far less breakage (which is a great thing because wet hair is pretty fragile).
As far as the best oils to use, I like avocado a lot because it's got a great reputation for containing properties that detangle, deeply moisturize and even heal dandruff. Still, pretty much any oil of your choice (argan, coconut, grapeseed, olive, almond, etc.) will work. Just split your hair up into four sections, generously apply the oil, let it sit for 20-30 minutes and wash and rinse as usual. You will immediately notice a difference.
2. Give Your Hair Herb-Infused Hot Oil Treatments
Something that I've been doing this year that I enjoy so much is making my own herb-infused oils. If you check out the article, "12 Natural Ways To Get Your Skin To Glow All The Way Up This Summer" that I wrote for this platform, #5 breaks it down for you. For now, I'll just say that this kind of oil is bomb because you can customize the herbs and oil(s) that you want in order to pamper your skin or, in this case, your hair.
Anyway, remember how I said that cold air can cause cuticles to take quite a beating? One way to avoid this is treating your hair to a hot oil treatment because it helps to seal your cuticles. Not only that but the heat of the oil will stimulate blood flow to your hair follicles which will strengthen your hair over time. Plus, hot oil treatments are great at reducing split ends and alleviating dry scalp. Applying a hot oil treatment every other wash day is cool. For tips on how to do it properly, check out YouTuber's Mia Nicole's video here, Leilani Iman's video here and tatenda's video here.
3. Apply a Leave-In Conditioner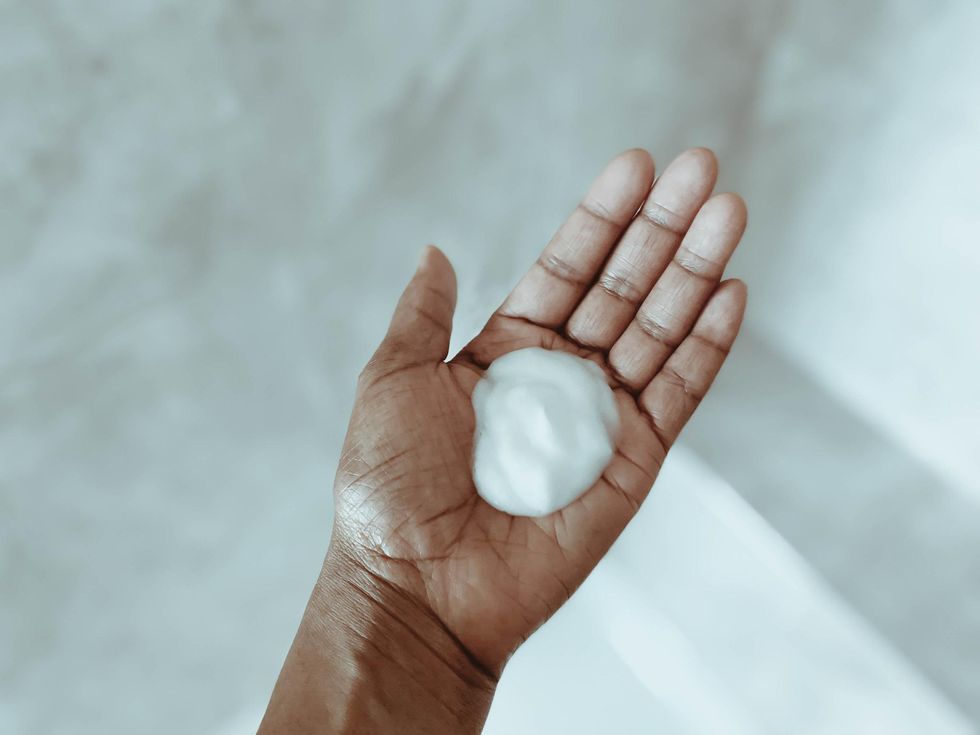 Even though I am big on deep conditioning (especially over the past couple of years), something that I wish I had been doing for even longer than that is applying a leave-in conditioner. Because my hair soaks up moisture with the quickness (no matter what the season may be), applying a leave-in (usually on freshly washed hair and right before I blow it out) has helped my hair to retain moisture for days on end. As far as if you should apply it every day, honestly, I think it depends on if you go with a cream or a spray (a spray is usually much lighter). Also, it's important to keep in mind that "too much of a good thing" can result in a lot of build-up and residue on your hair. Personally, on wash day and maybe once a week is more than enough in my opinion. The bottom line here is to use some, especially during the cooler seasons of the year. For tips on choosing the right leave-in for your hair and its needs, check out Naturally Curly's "Top 20 Leave-in Conditioners".
4. Use a Cream-Based Thermal Heat Protectant
Listen, I would audibly scream it in your ear if I could — ANY TIME YOU APPLY HEAT TO YOUR HAIR, YOU NEED TO USE A THERMAL HEAT PROTECTANT FIRST! It adds and seals in moisture. It reduces frizz. It provides a layer of protection from the heat. Just make sure during this time of the year that, unless you have very fine hair, you go with a cream rather than spray base. While I can't recall her name, shout-out to the sales associate at one of my local Sally's Beauty Supply stores who told me that cream gives better and longer-lasting coverage than a spray. She's exactly right. I can totally notice a difference between the two since switching over to creams.
5. (Temporarily) Ditch Serums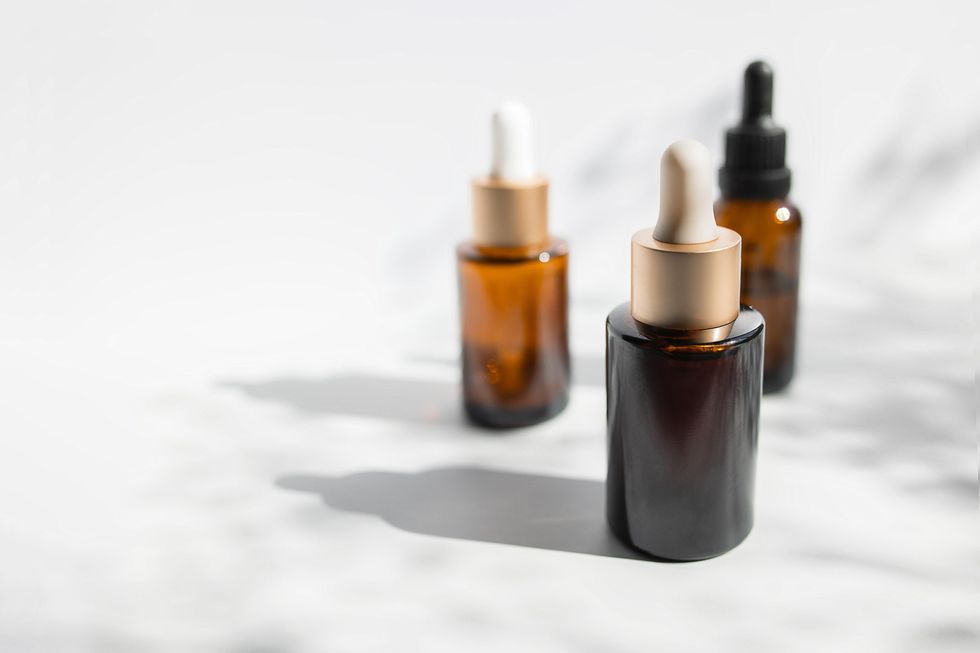 As with most things in life, hair serums come with pros and cons. On one hand, they help to control frizz, reduce detangling and create an unbelievable amount of shine. On the flip side, they can create a significant amount of build-up, can weigh your styles down and, because of the chemicals in them, cold weather can actually cause serums to make your hair feel really stiff. The solution? Well, just like it's best to go with a cream-based thermal heat protectant when it's cold outside, it's a good idea to style your hair altogether with something that is more of a cream-base, so that your hair feels softer and is easier to manage. That said, if you absolutely must go with a serum, use one that is oil-based instead of silicone-based. You will be able to avoid the "stiffness" easier that way.
6. Shower in Warm (Not Hot) Water
I'll agree with anyone who feels like nothing feels better than a long hot shower after coming in from the freezing cold. Here's the problem, though — because your hair is pretty porous, if hot water hits it, that can result in it dehydrating your scalp and stripping your strands of the natural oils that they need in order to thrive. So, if "hot you must", avoid shampooing in the shower. And wherever you wash your hair, go with warm for the washing and cool for the final rinse. Cool water is something else that is great when it comes to sealing your cuticles right on up.
7. Protect Your Ends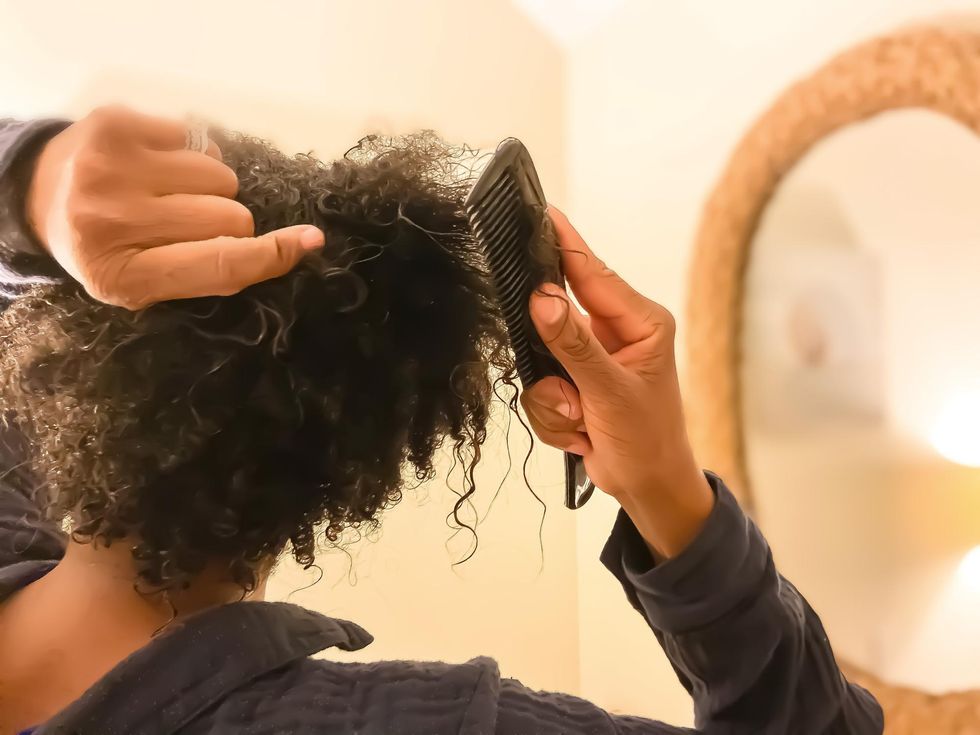 A lot of the Black women I know will actually put their hair into a protective style during the summertime either because they are traveling a lot or they simply don't want to be bothered with thinking about it. But you know what? Fall and winter are ideal for braids, twists, wigs and weaves because they are so good at protecting your hair — especially your ends — from inclement weather. Speaking of your ends, because you won't be able to retain any inches (check out "Let's Gain An Inch A Month Of Hair Growth 'Til December, Shall We?", "This Is The Way To Properly Care For Your Hair While Rockin' A Wig" and "If Your Hair Keeps Breaking Off, You're Probably Doing This.") unless they are able to remain healthy and intact, definitely make sure that you seal them on every wash day. All this means is you plan to apply some extra oil to them (after conditioning your hair), so they won't get dry and brittle as quickly. For tips on how to properly seal your ends, check out Simply Julia Lauren's YT video (here) and ulovemeg's video (here).
8. Make Vitamin E Your Hair's Best Friend
Something that will definitely support your hair's health on all fronts is Vitamin E. The potent antioxidants in it will help to moisturize your scalp and soothe it if it's irritated or itching. It's the kind of oil that is extremely hydrating. If you're looking for an oil that will help to restore hair loss, there are studies to support its ability to do that. Vitamin E can also give your hair a lot of shine.
For all of these reasons and more, it's a good idea to make sure your diet contains foods that are high in Vitamin E (like almonds, broccoli, spinach, sunflower seeds, butternut squash, avocado and kiwi), that you use hair products that contain Vitamin E and that you massage your scalp with some 100 percent pure Vitamin E oil, once a week, too.
9. Drink Herbal Teas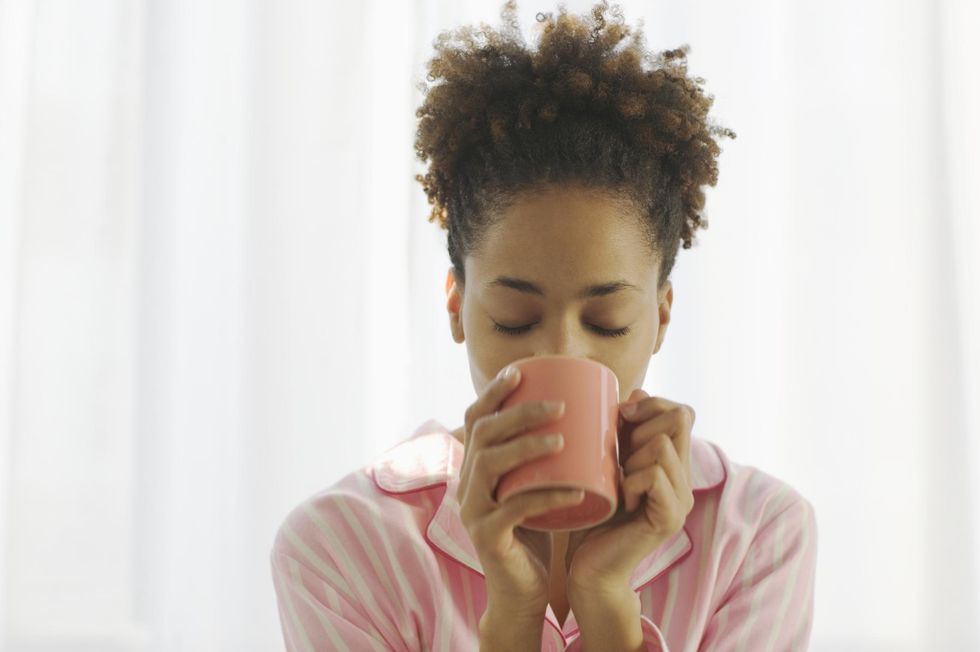 A couple of years ago, I penned "These Foods Will Give Your Skin & Hair The Moisture They Crave" for xoNecole because, it's important to remember that, when it comes to keeping moisture in your hair, it needs to happen from the inside out, just as much as it does from the outside in. One of the things I mentioned on this list is herbal teas because 1) teas are a great way to hydrate your hair and scalp and 2) teas are very popular around this time of year. As far as the kind of herbal teas that are especially good for hair health, some of those include rosemary (it increases blood circulation to your scalp); lavender (it reduces dandruff and soothes an itchy scalp); ginger (it reduces hair fall); peppermint (it encourages hair growth) and red clover tea (it adds additional moisture).
10. Use a Humidifier at Night
I've been saying, on repeat, that since it appears that COVID isn't going anywhere, any time soon, it's really important to invest in a humidifier. You can read all about why by checking out "10 Really Good Reasons To Get Yourself A Humidifier This Fall". As it relates to your hair, specifically, sleeping with a humidifier at night is an effective way to restore the moisture that your HVAC unit may be zapping from your hair. Since I've been using one, it's kind of wild how my scalp has been itching less and my hair has been feeling less dry. It's one of the best hair (and skin) investments that I've made in a long time as I prepare for all that fall and winter has in store. If you don't have one, treat yourself. You — and your hair — won't regret it at all.
Join our xoTribe, an exclusive community dedicated to YOU and your stories and all things xoNecole. Be a part of a growing community of women from all over the world who come together to uplift, inspire, and inform each other on all things related to the glow up.
Featured image by Getty Images
Keep reading...
Show less
It was December of 2009 that I made an impromptu decision to cut my permed hair off. My reason for making that drastic change was due to ending a dating relationship at the time and the painful experience I went through from relaxing my hair in my dorm a couple of months prior. Cutting my hair immediately left me feeling bold yet boy-ish whenever I found myself dressing down or not wearing lavish earrings. After several months experimenting with wearing twist-outs, dyeing it myself (I was extra bold with that) and even getting my first blowout (that later resulted in heat damage), I thought I'd been hiding my beautiful kinks due to laziness.
However, the truth is that I was intimidated by and ashamed of my hair.
Well 10 years after back-to-back crochet braids, sew-ins, wigs, and braids, I decided to just let my hair out to breathe for once! As a result, I learned five important things: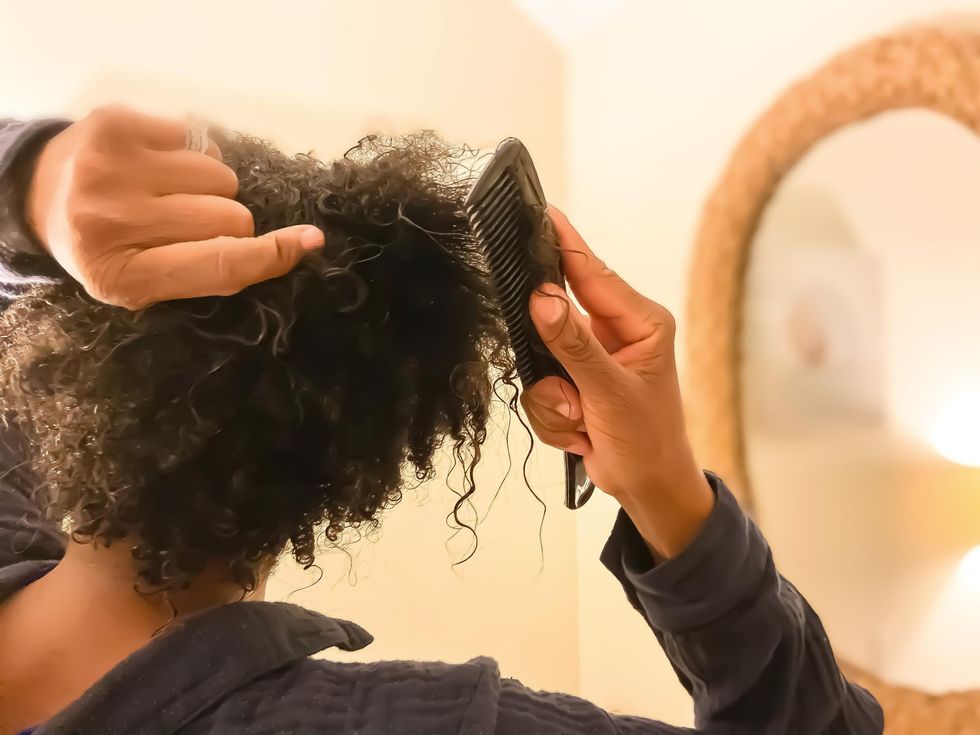 Getty Images
1. When you are not taught how to properly care for your natural hair, you see it as a barrier.
It was not until I was put in a position to care for my hair that I had no choice but to do it. It was a rocky start because I felt defeated and really believed I had no options until I gave experimenting on my hair another chance. The more I continued to play around in my hair, without a defeated mindset, the more I grew to love it and no longer felt intimidated by caring for it.
2. Finally wearing my natural hair ​actually ​boosted my confidence.
I felt more beautiful and confident when my natural hair was out. There is nothing wrong with wearing a weave or braids! (I repeat, there is nothing wrong! In fact, I will probably wear a protective hairstyle soon.) But it was not until I let my hair out in a 'fro that I looked in the mirror and embraced my strong jawline and beautifully shaped eyes.
I realized that my previous hairstyles were my hiding place and it was not until I let my hair out that I felt free. You need confidence to rock any hairstyles, however, it takes a special kind of confidence to rock your hair in its natural state. That confidence is truly felt in every room you walk into.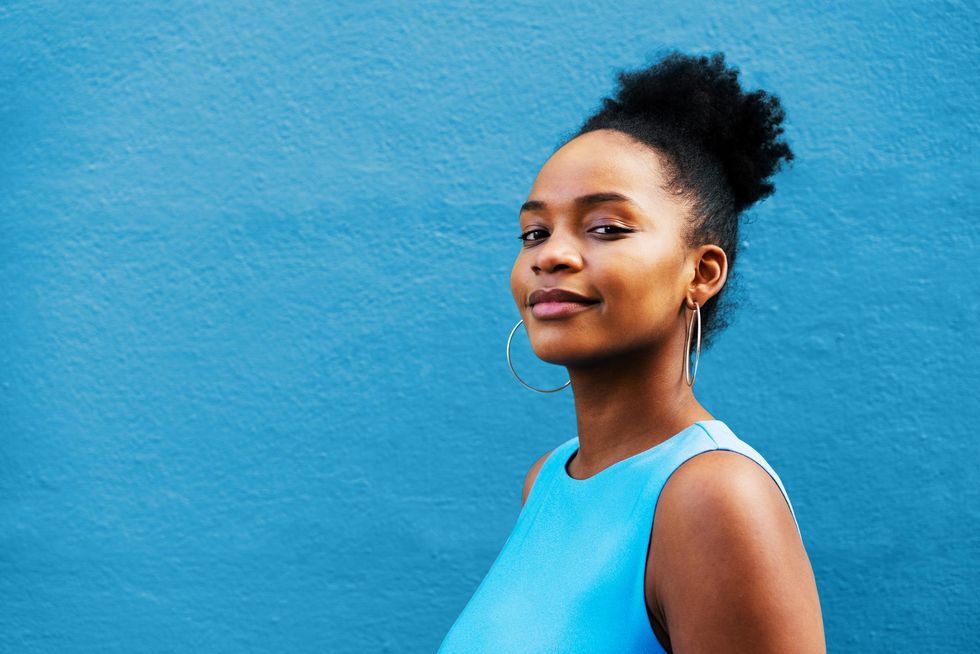 Getty Images
3. Hair is literally versatile from its roots.
Whether you decide to leave it out, cut it, relax it, dye it, wear a wig or braids, our hair is not one-size-fits-all and that is why Black hair is beautiful. Being able to do a multitude of things with my hair at any time is truly unique and empowering.
4. Media played a major role in how I viewed the beauty of my hair.
Since I rarely saw women with 4C hair in the media, I felt helpless with how I could care for my hair and as a result wore my hair in back-to-back protective hairstyles. It was not until I came across Ijeoma Kola online that I felt seen because sis' hair looks just like mine and she always has amazing style tips!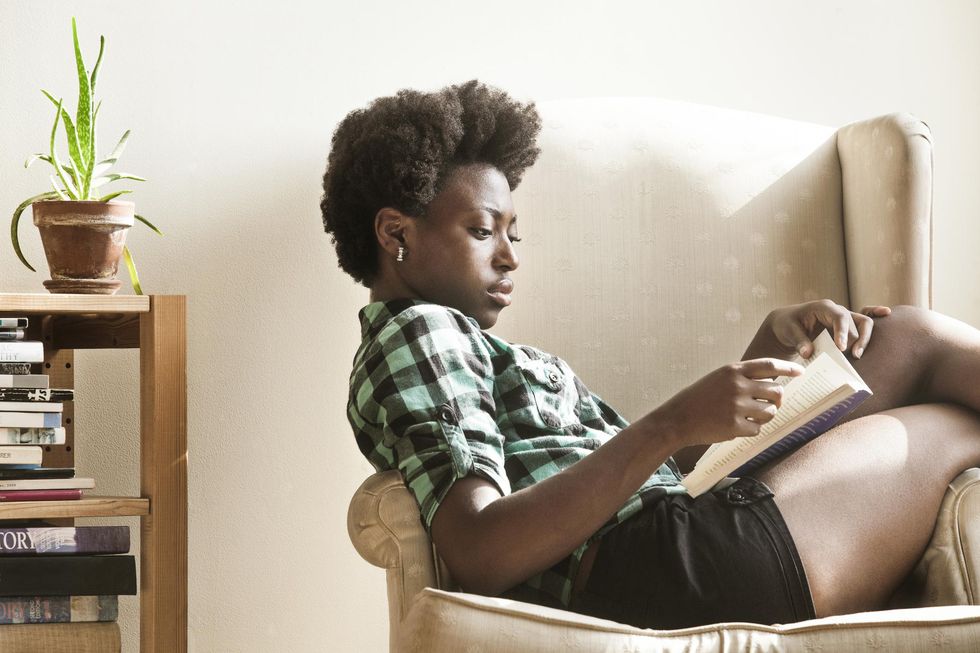 Getty Images
5. Starting over and cutting my hair was a really dope feeling.
When I did my big chop, I wanted a change, and what better way to do so by cutting off dead weight: the hair that carried so many negative memories with the guy. There was a sense of freedom and relief when a pair of scissors caressed the strands of hair on my scalp.

As you can see, Black hair is not only beautiful, and it is a never-ending learning experience of self. My relationship with my hair has had its ups and downs, but in the end, it led me to a healthier outlook.
To get your beauty fix and to stay up to date with the latest trends, check out the xoNecole Beauty section here.
Featured image via Getty Images
Keep reading...
Show less