Traditionally, women with textured hair are taught to exalt their mane with deep reverence: a crown of curly tresses to be intentionally maintained and handled with care. Still, there comes a point in every woman's journey where our body begins to go through changes that can affect the very attributes that we attributed to our confidence and self-image. Such was the case with actress, singer, and mother of three, Christina Milian, with postpartum hair loss.
Postpartum hair loss is more common than one might believe. In fact, up to 50 percent of women in the U.S. are impacted by it, Christina included.
Around 3-6 months after giving birth to her second child, Christina started to notice thinning around her temples and losing small amounts of hair while in the shower. The shocking discovery left her self-assurance in a rocky state, "It's so overwhelming, on top of having a newborn at home, which is stressful, and all of the hormones that come with postpartum, dealing with the emotional impact of thinning hair. It really takes a toll on your confidence." She continues, "It's completely out of your control. You're literally in your head like, is this even real? Are people noticing this? How embarrassing is this?"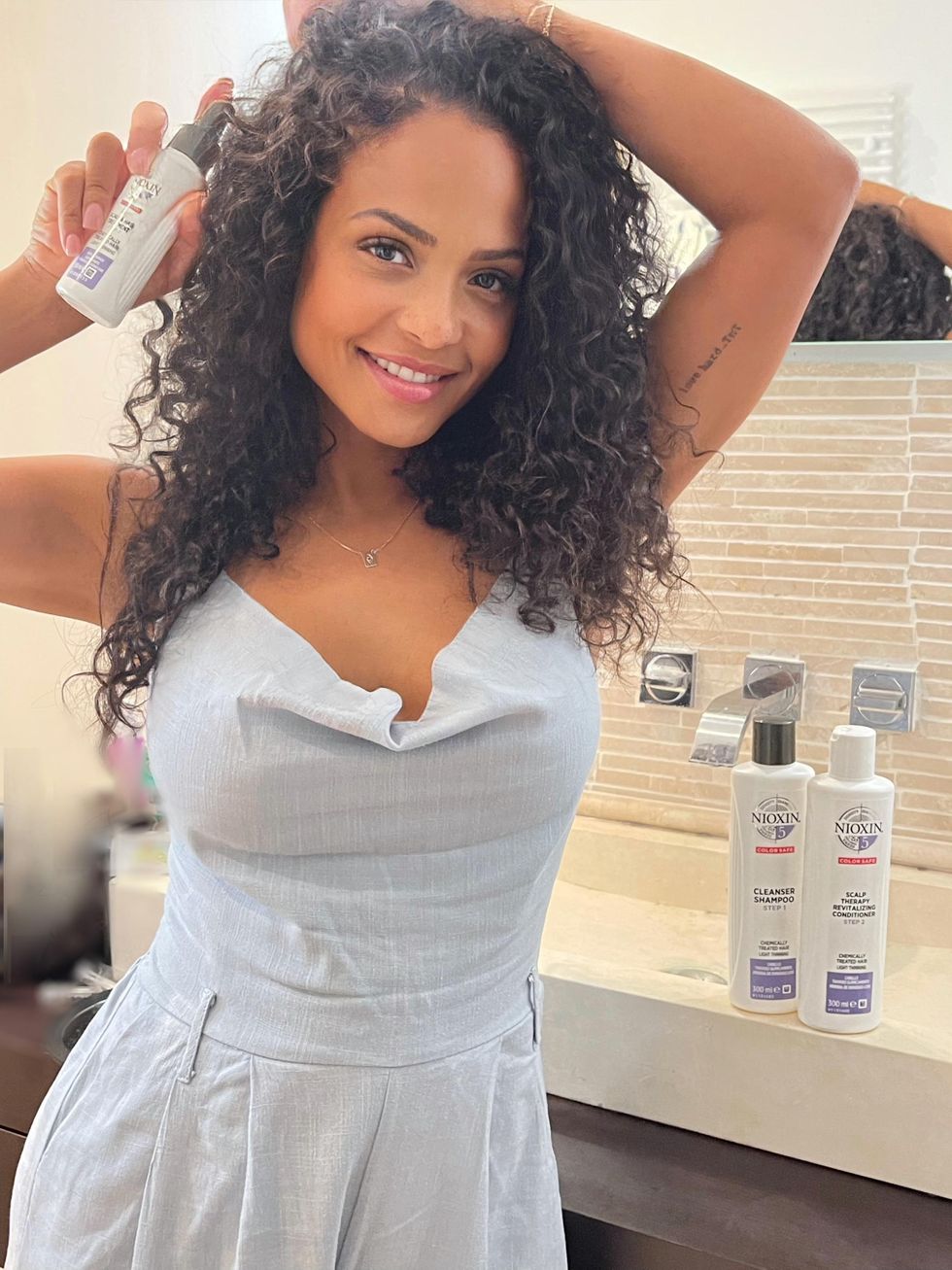 Courtesy of Christina Milian
Although she hasn't experienced the shedding after welcoming her new son, Kenna, with her husband Matt Pokora, Christina has decided to take a more proactive approach by incorporating a few products into her beauty arsenal.
Christina has teamed up with Nioxin 5, an expert-hair loss brand, as a step towards prevention. Her current routine includes the Nioxin System Kit 5, which comes equipped with a Cleanser Shampoo, Scalp Therapy Conditioner, and Scalp & Hair Treatment with niacinamide and peppermint oil as key ingredients.
If you experience postpartum hair loss, it's important to know that you are not alone. While on a recent panel, dermatologist Dr. Mona Gohara shared that the shedding process is as natural as the birth that led to it. "Postpartum hair loss is our bodies response to the physiological and emotional stress of giving birth. Our hair typically goes through a growth and shedding cycle, but after you have a baby, the hair shedding phase out-paces the growing phase, so we experience excessive hair shedding."
Thankfully, Christina's vulnerability in sharing her experience is a step towards normalizing a commonly taboo conversation. "I want to share my story because I know there are many other women going through this that may not realize how common this is and that there are ways to treat it effectively," she reflects.
Christina Milian sat down with xoNecole to discuss the unexpected blessing of motherhood, regaining her confidence postpartum, the balancing act of entrepreneurship, and more!

xoNecole: You recently mentioned that in your 20s, you didn't really see yourself becoming a mother. And now you have a beautiful family of your own. What advice would you give to young women who aspire to have a career and family, but don't think they can "have it all?" 
Christina Milian: Yes. I can't believe I had three kids. If you ever told me that 10 years ago, or even five years ago, I would have laughed at you. But I think my best advice to them is don't doubt yourself. Sometimes we don't necessarily get [everything] all at once, but there's a reason and it's giving you the space to be able to handle what's happening in your life at this very moment. I think if you continue to have that passion, don't let it go. Sometimes we just feel like we're not able to achieve [our goals] just yet, or wonder, is it ever going to happen? But life is much longer and things happen in our lives at the right time. And I think when it comes down to opportunity; they present themselves when it's the right time for you.
Look at me: having more babies, multi-tasking, and doing the many jobs that I'm doing. When I was in my twenties, I had lost my record deal. I thought my career was over. I thought, 'Oh, I'm too old to come back. I'm not going to be able to do this.' But I put my faith in God and I was open to what was meant to happen. And it all rolled out and its own time.
Your time will come, so don't get discouraged.

"When I was in my twenties, I had lost my record deal. I thought my career was over. I thought my career was over. I thought, 'Oh, I'm too old to come back. I'm not going to be able to do this.' But I put my faith in God and I was open to what was meant to happen. And it all rolled out and its own time.Your time will come, so don't get discouraged."
You have a really popular food truck, Beignet Box, along with balancing your acting career. What are some core values that help you stay grounded as you balance entrepreneurship and motherhood? 

I think it's important to stay grounded, be humble, and understand people. It's one thing to know yourself, but you know yourself better when you can be optimistic and understanding of other people's stories, their backgrounds, and why they are the way they are. It makes you a better human and a better business person, especially as an entrepreneur because you're understanding your audience. Being that way opens you up for opportunity and for learning.

A common theme of your movies is love. From 'Love Don't Cost a Thing', 'Falling Inn Love', and recently, 'Resort to Love'. We don't always get to see Afro-Latina women as romantic leads, so when it comes to representation, why is it important to you to go after these roles and be that positive image?
First, I love love. I'm so happy that with Resort to Love, Netflix took a really good mainstream approach to push the movie. The reason why I do love movies and comedy is to make people feel good and laugh. I think people seek love and to feel that kind of joy. I love the fact that we get to see our people really strive and do films like this. I mean, look at Resort to Love, we were in the top 10, number one movie on Netflix. And that was globally.
It makes me happy because it opens the doors for other people. It's bringing to light that love comes in all forms and stories. And I know that there's somebody out there who's dreaming like I did when I was watching Rosario Dawson and Jennifer Lopez. I feel like there's some girl who's watching and saying the same thing.
So I hope to open doors for them, for them to feel that one day.

For more of Christina Milian, follow her on Instagram. And Netflix and chill with her new movie, Resort to Love, now streaming.
Featured image courtesy of Christina Milian
Keep reading...
Show less
Cultural mecca and home to a diverse community of urban beauty, art and history, Oakland, California is the epicenter of afrocentrism. Located just minutes from San Francisco, separated by a small body of water and the Bay Bridge, Oakland has its own distinct history, sounds, tastes, and social movements known around the world. Affectionately known as "The Town", this city has always been a resource for those seeking natural and holistic approaches to their everyday lives. Notorious for its appreciation of black culture and traditions, it's no wonder there has been an explosion of black entrepreneurs from tech, fashion and beauty taking advantage of the feel-good nature this city has to offer.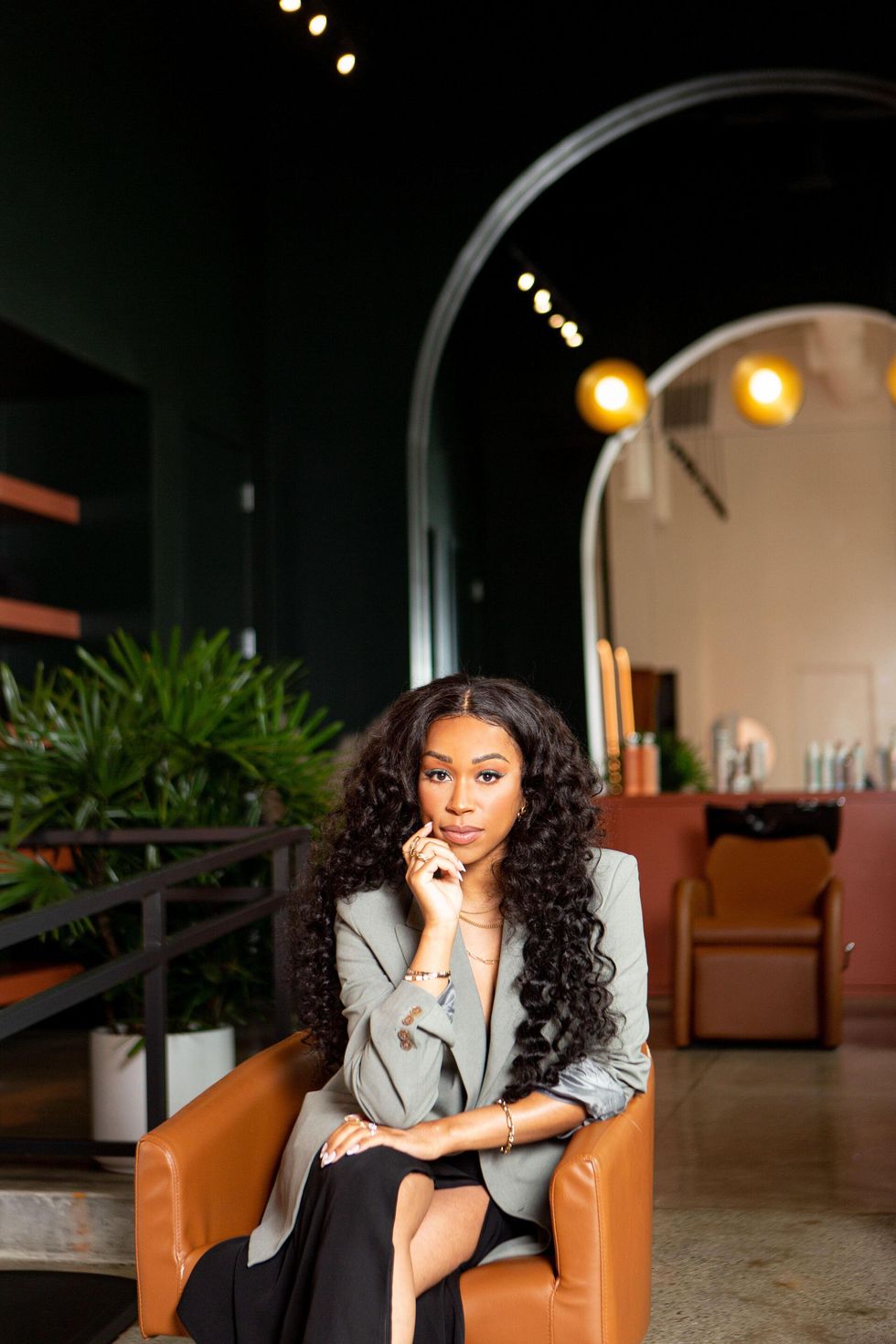 GoodBody founder Brittany Barns
Courtesy of GoodBody
Black woman-owned and operated, GoodBody, is Oakland's newest beauty destination. Opening in October 2020 amidst a global pandemic, this one of a kind beauty bar celebrates diversity by providing an oasis for women with afro-textured hair. A trendy yet modern experience offering a range of services including wash and go's, crochet twists and blowouts to beauty treatments such as facial threading and waxing, GoodBody is not your typical black hair salon.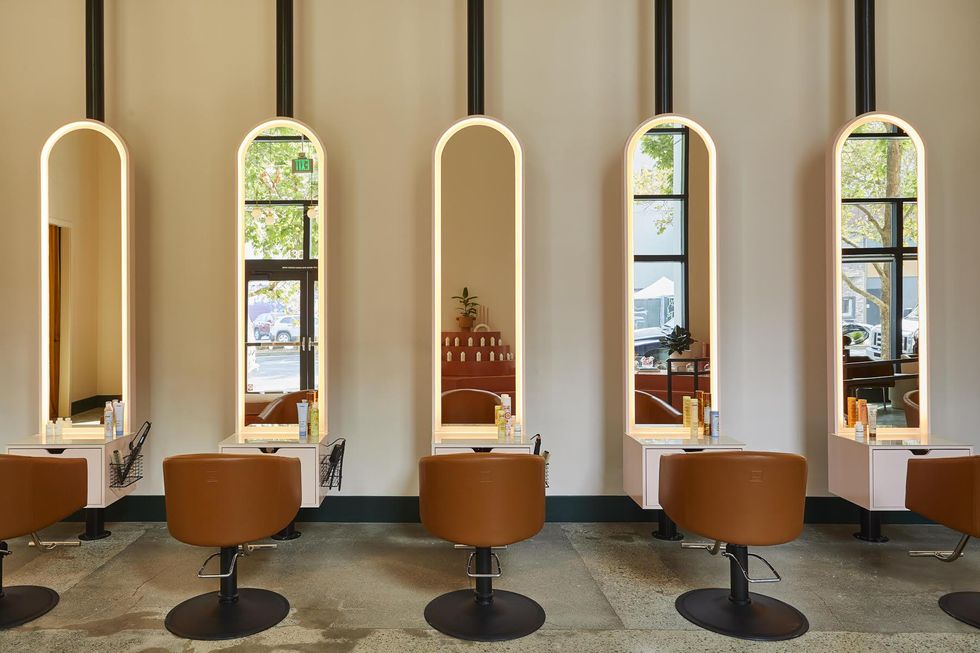 Courtesy of GoodBody
"Every black woman understands how difficult it can be to find efficient and professional haircare, which should be the standard," says founder Brittany Barns. "You go somewhere to get your hair done and you expect to be in and out in a decent amount of time and expect the service to be professional. Even if that's walking in and being greeted, something that simple."
Taking the pain out of the ordinary salon visit, GoodBody is setting the tone by elevating black haircare not only with excellent service but understanding the importance of a luxury experience. Brittany states, "From the time you walk in, before we get to your hair, we understand that you've chosen to spend your money here and that is something that should not be taken for granted."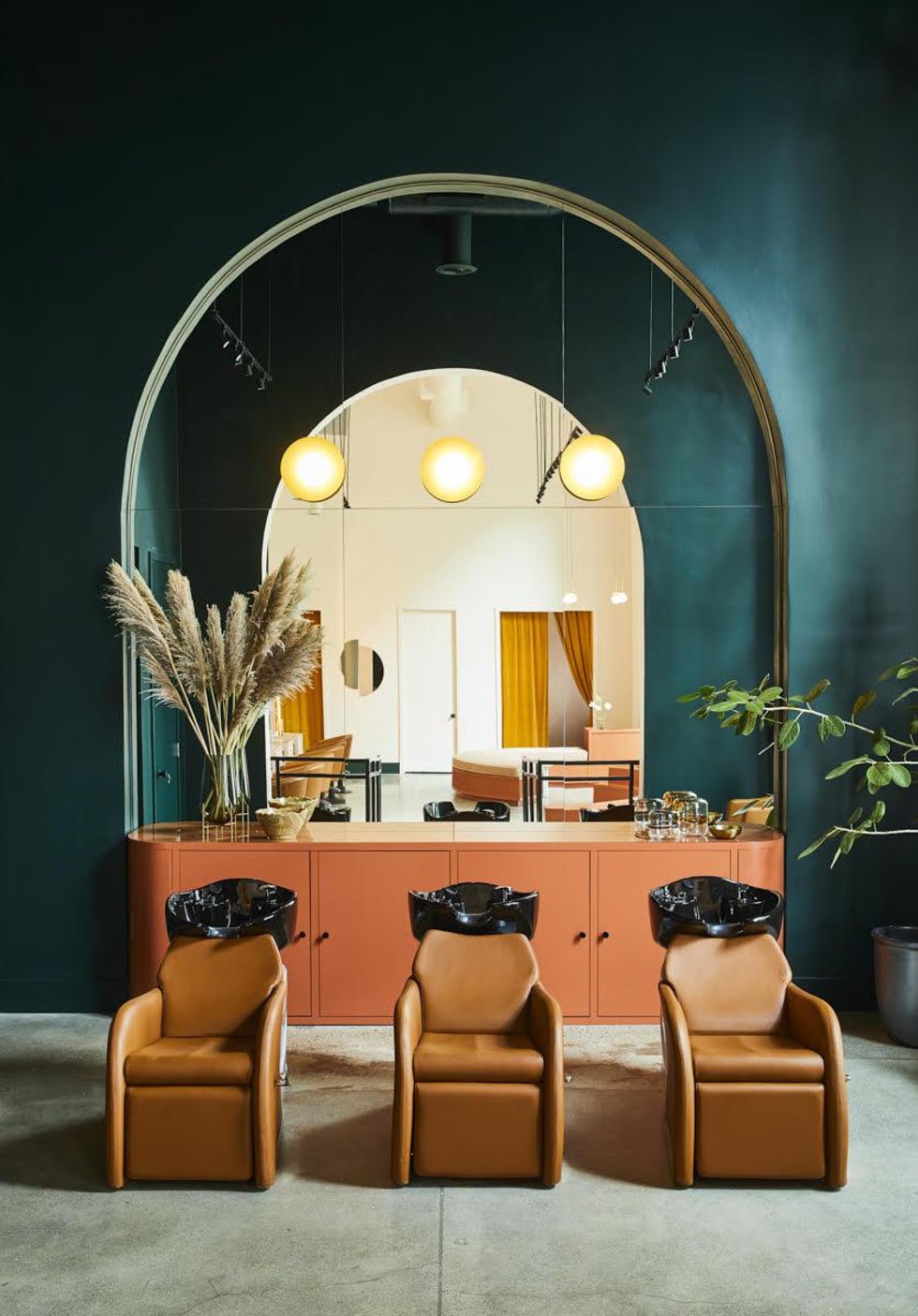 Courtesy of GoodBody
Not only is GoodBody salon dedicated to an amazing customer experience, walking through its doors felt as though I teleported to an oasis of my dreams. With a sleek modern design complete with high arches and a complimentary color palette, creating a welcoming environment through interior design was a top priority. "The thing that a lot of people don't think about for black women is that we actually enjoy being in beautiful spaces. There are very few created for us."
Getting frustrated with salon experiences, Brittany realized what was missing in our world for haircare.
"I began to question what type of space I would envision wanting to spend 8-10 hours. I wanted to create a place for haircare that met a standard that black women deserve."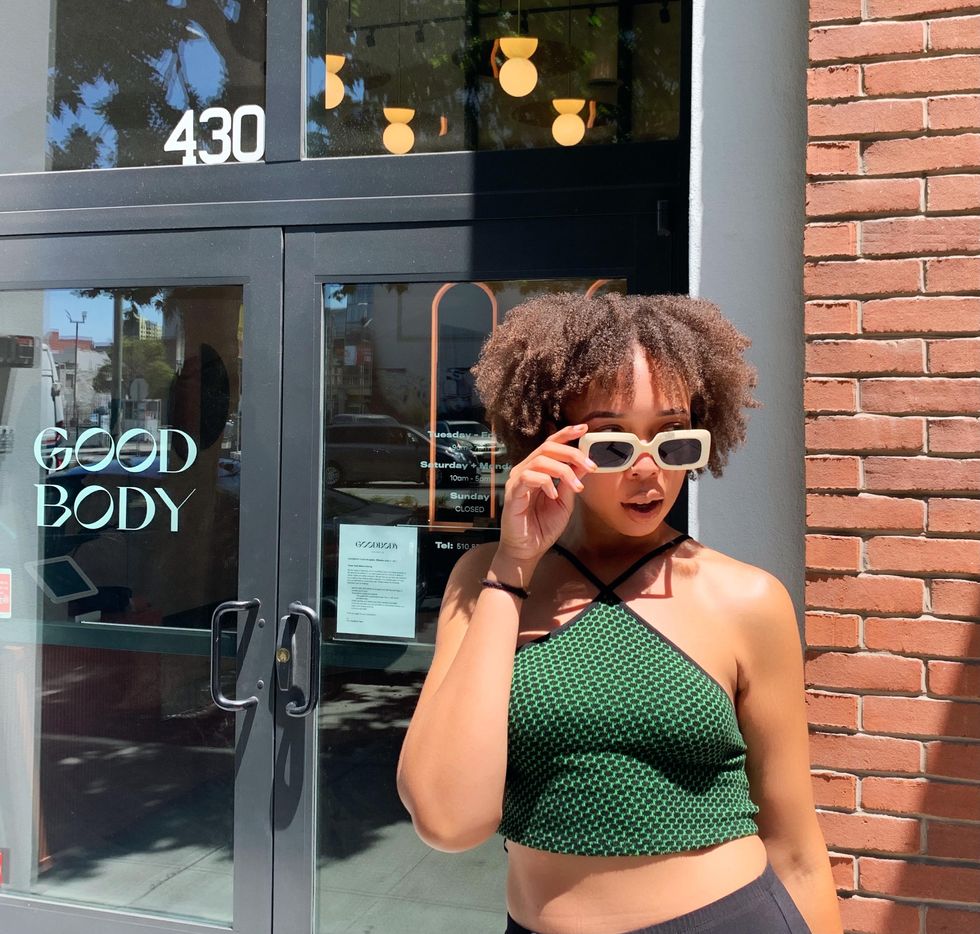 Writer Shahirah Ahmed
Courtesy of Shahirah Ahmed
Having the opportunity to visit this one of a kind beauty experience for the "Unwind and Define" service, consisting of a wash, define and go, I was impressed not only by the enchanting decor but the attention to individual haircare. With a mini consultation consisting of a short survey of questions to understand personal needs, the GoodBody team's dedication of specializing in health and wellness begins as soon as you sit in the styling chair.
"Most of the time it's assumed you're not going to be wearing your natural hair when you go to a black salon, you must want to get it pressed, weave or a wig and trust me, I wear all those things but whatever you decide to do, there has to be some type of consultation. If you're experiencing dryness or breakage, how can we help you with that?"
Brittany continues, "A consultation is more than the service being performed today, it's letting the stylist know what you're loving about your hair, getting to know what a client doesn't love, product recommendations, a detailed regimen on how to get your hair where you want it to be. That's extremely important to our business plan."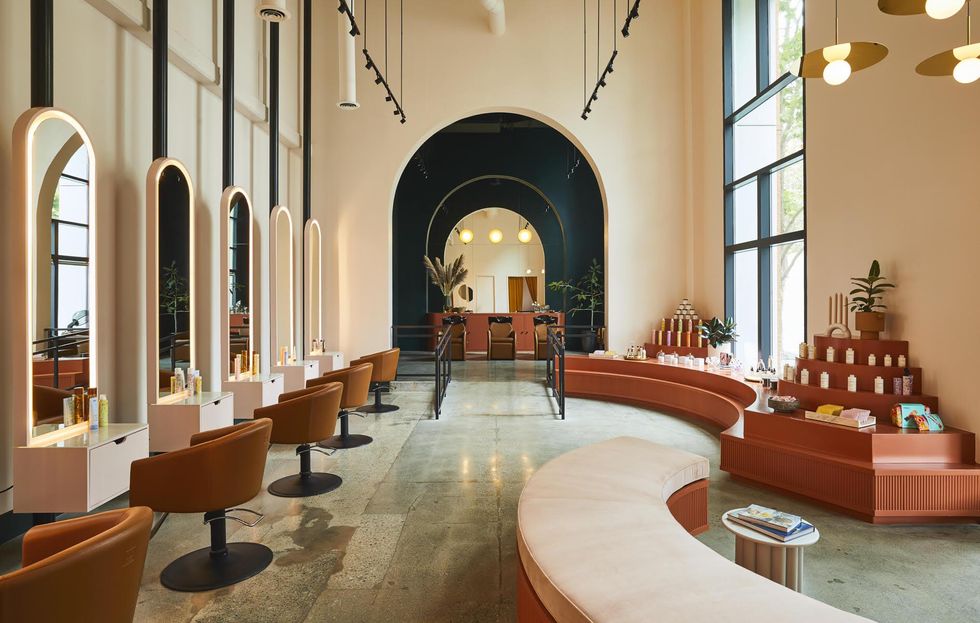 Courtesy of GoodBody
The essence of GoodBody is more than a name, it's a lifestyle. "I have hopes and dreams of what GoodBody can be and really expanding the self-care space for black women. I wanted a name that had a lot of room for growth."
"It's not just about hair, the goal is to focus on self-care and creating beautiful spaces of wellness for black women. We're known for voluptuous high volume hair with a lot of body and we are embracing that luminous and voluminous full look."
Redefining "good hair" is this contemporary salon's main focus is a holistic approach to every aspect of our lives, for a good body of overall health from head to toe creating an experience unlike any other.
GOODBODY BEAUTY SALON
430 W. GRAND AVE
OAKLAND, CA
Featured image courtesy of GoodBody
Keep reading...
Show less
I recently sold all my stuff to travel full-time, and when I told people I was moving abroad, the No. 1 question I got was: "What are you going to do with your hair?" After scouring YouTube and blog posts, I wasn't too confident that I would be able to find someone to do my natural hair in Mexico. Everything seemed so complicated, like a hit-or-miss situation. Well, I finally found someone to braid my hair in Cabo within a week of being here! (So if you need a stylist in that area, feel free to book an appointment with Jane. She did an amazing job.)
I still hear Black women say one of their fears of traveling is figuring out what to do with their hair. I'm here to encourage you. Here are my tips for taking care of your natural hair while traveling:
1. Talk to locals.
Google was OK in helping me find a few hair salons, but it doesn't compare to talking to the people who actually live in the location where you'll be traveling. One afternoon, I was walking around the downtown area and struck up a conversation with one of the store workers. That conversation led me to ask if she knew anyone who braided hair, and boom! I was shocked by how easy it was. I simply showed her a picture of the hairstyle I wanted and she immediately knew someone who could do it.
When I'm back home looking for a stylist recommendation, I'd usually ask people, so the same principle applies when traveling.
I suggest talking to locals about everything while you travel. Not only does it help you get out of your comfort zone, but you'll come across places, neighborhoods, restaurants, and events that Trip Advisor can't keep up with.
2. Stick to your go-to hairstyles.
When traveling, I love wearing braids. I've tried wigs and weaves, but because I like to be extremely active and not just lay on a beach (which is totally fine, by the way), those hairstyles usually start to look unkempt after a few days.

I know that if I hit the road with braids, they'll last one to two months which gives me enough of a window to find someone who can redo them when it's that time.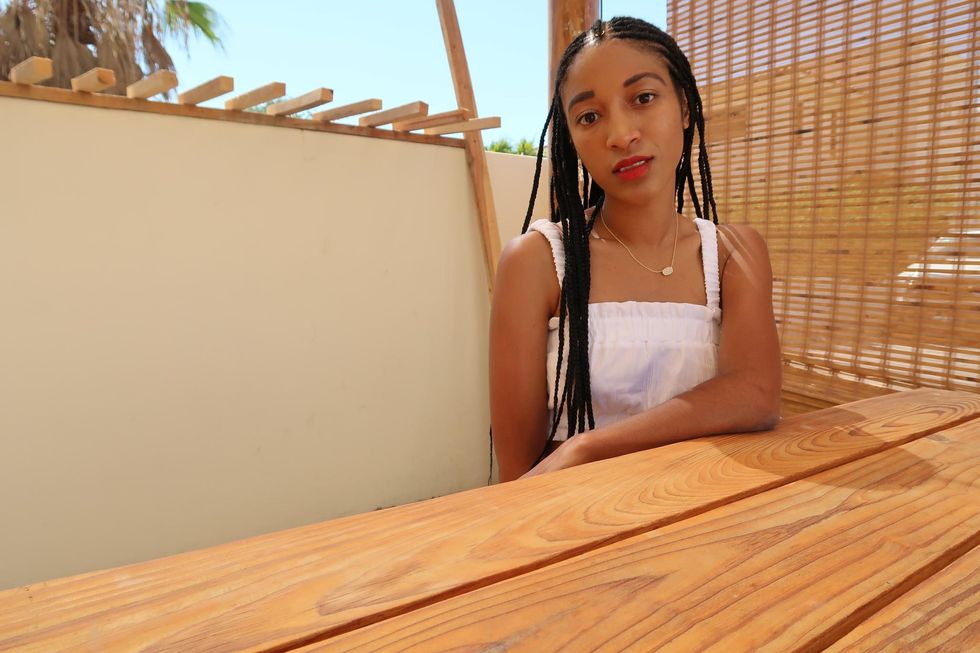 Dominique Jackson/xoNecole
3. Practice at home.
It's always good to know how to style your own hair. It doesn't matter if your hair is relaxed or natural, have a few go-to styles that you can do on your own without the addition of added hair. I have one to two hairstyles in my back pocket that I can do without stress. Hello, flexi-rod set!

Learn how to take care of and maintain your own hair, and experiment with the products that work best for you.
4. Look for essential ingredients.
It's a good idea to pack the right amount of hair products for the length of your trip. When traveling, your favorite hair products might not be available abroad, or, if available, they might not be easily accessible. If you need to shop for hair essentials abroad, look for key ingredients that your particular hair needs. I always try to get products with water as the first ingredient or those that include light oils.

Beauty supply stores such as Sally Beauty Supply have international locations that might have a few familiar natural haircare products. You can also search online for your favorite brand and budget for the cost of international shipping.
5. Use social media.
Social media is also a good tool to use when looking for someone to style your natural hair while abroad. Just make sure you're searching in the correct language. For example, the word "braids" in Spanish translates to "trenzas," so using the hashtag #trenzas brought up more specific results for stylists actually near me.

Also, for any country you are visiting, there's probably a Facebook group for women living abroad who rock their natural curls and styles. Search for keywords such as "Black women," "Black people" and "natural hair" with the name of the country you're traveling to, and a list of results for specific Facebook groups should appear.
And if all else fails, throw on a hat, travel the world, and live your best life, girl!
Featured image by Dominique Jackson/xoNecole
Keep reading...
Show less
If there is one summer when folks who don't believe in climate change (what in the world?!) should definitely get this side-eye, this one would have to be the one. Y'all, I live in the South, so I'm used to the summertime being mad humid. Still, when it comes to the heat that the sun is giving this year? I'll put it to you this way — currently, I am like the seniors who try and run errands at 7 a.m. or after 7 p.m. to avoid it. Straight up.
That's why I totally get that some people are all about big chopping this season. Shoot, for most of my adult life, my hair has been some variation of short (no exaggeration), so I totally get it. Still, as someone who has big chopped and also sometimes regretted it due to it being more emotionally-driven than a well-thought out plan, if you're someone who is strongly considering doing it, in order to make sure that you won't find yourself crying in your bathroom mirror from now through Labor Day, I wanted to offer up a few things to think about before you pull out your clippers or make an appointment with your stylist.
1. Have You Ever Big Chopped Before?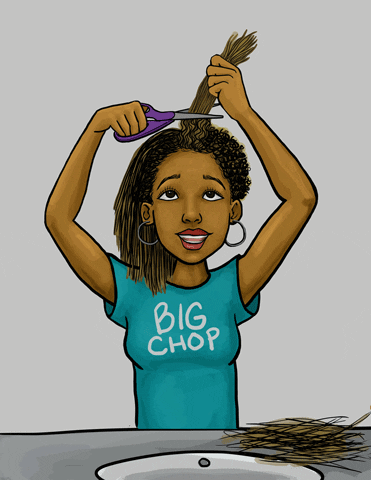 Here's been my personal experience with big chopping — unless your hair is really long and you've never gone super short before, it's not really the length that's the issue. No, the challenges actually come with 1) finding a cut that suits the shape of your head; 2) deciding if you want to relax your hair, texturize it (which is a form of mildly relaxing it) or go all-natural, and/or 3) figuring out which products to use. And because a lot of people tend to big chop impulsively, that means they didn't devote enough time to doing any real preparing which can ultimately freak them out once their hair is off of their head and in a sink somewhere.
That's why, if you happen to be a "big chop virgin", it's so important that you think about all of the points that I just made all the way through. While different lengths and styles do complement some more than others, I'll be honest when I say that it's rare when I've seen a big chop go awry; that is, when the cut is dope, the styling is on-point and the person carrying it is confident. Preparing ahead of time makes all of this possible.
2. Is It a Weather-Triggered Response?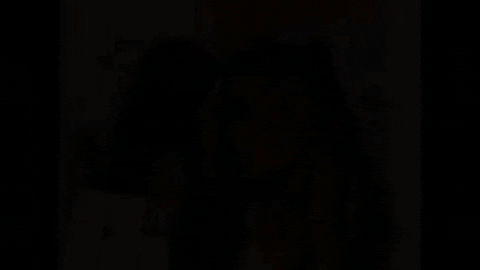 Like I said in the intro, it's hot. LAWD, IT'S HOT. Yet just like Loretta Devine's character said in the series The Client List about the weather, the same thing applies to seasons — "give it some time and it'll change". While right now, it might seem like the heat is never gonna end, the reality is that, this year, autumn officially begins on September 22. It's a reminder that seasons only last for (roughly) three months and where I'm going with this is, if you're thinking about cutting all of your hair ONLY because the heat is too much to bear, that sounds like an emotionally-charged decision. Oftentimes, moving in that space is not a good look (no pun intended); especially when it comes to making choices that you've got to live with for a while. While our hair is always growing (1/4-1/2" a month), it does require patience to gain real inches. So, if you're only considering big chopping as a way to get some much-needed heat relief, I would strongly consider pumping the brakes.
3. Is This a Hair Transition-Related Decision?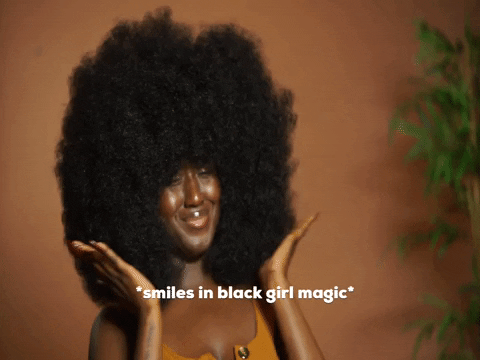 Some people opt for big chopping during the summer season because it's not uncommon for folks to go at least a few inches shorter when it's hot outside; this means that it could be a great time to transition from chemically-treated hair to an all-natural look. I'll be honest, if this is your reason for cutting your hair off, I think it's a wise move because the whole "keep your straight hair while growing out your natural texture" can be a bit taxing because that can oftentimes lead to a significant amount of breakage, if you're not careful. Plus, it can emotionally take you through it a bit if it's been FOREVER since you've even dealt with your natural hair. Learning its texture, adjusting to shrinkage, etc. might make you say "F it" and go back to relaxing. In fact, big chopping is usually for the sake of going immediately from chemically-treated to natural. Still, if you're not ready to lose all of your inches in one sitting, there is always another route that you can take. This brings me to my next point.
4. What About a Protective Style?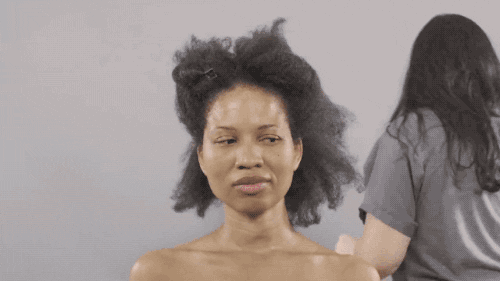 Something that can help to keep impulsive people from cutting their hair before they are truly ready and transitioning folks from becoming stressed the hell out as they are growing out their natural hair is protective styles. Some summers, I will do nothing but put my hair into box braids; it leads to low-maintenance and absolutely no regrets. Some pretty popular looks this year include stitched cornrows, flat-twist updos, medium-sized box braids, Bantu knots, braided faux hawks and mini twists. If you take good care of them, most of these looks can last you 3-4 weeks (at least) which will either get you through the summer heat or buy you more time for you to figure out if you really want to go short — or not.
5. Have You Discussed This with a Professional Stylist (Yet)?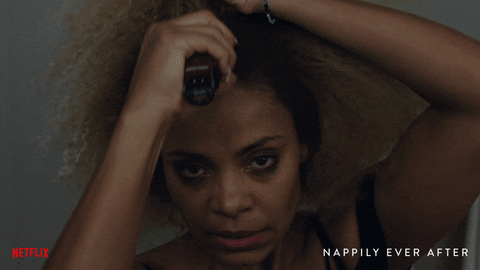 The first time that I big chopped, my late fiancé literally pulled out a set of clippers and gave me an immediate low Caesar. It was the early-mid 90s and pretty "buck" at the time; although I must say that, in hindsight, I probably would've gotten a professional stylist to do it because well, they're a professional.
Listen, I know it seems so revolutionary to pull out some shears, stare yourself in the mirror and go absolutely ham on your head yet if you don't know what the hell you are doing, it can result in a mini-nervous breakdown because your hair will end up looking like it. Sometimes — no, many times — the anxiety surrounding a big chop has little to do with the length and everything to do with the cut.
That's why I strongly recommend that if you've got a professional stylist, you should run your thoughts by them. Not only can they help you to come up with a look that is the most flattering, they can also put together a hair regimen that you can realistically keep up with. That last part actually brings me to my final point.
6. Do You Get That a Short 'Do Also Requires Maintenance?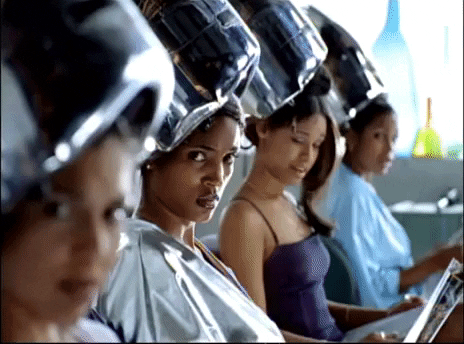 Back when my hair was really short, two things that I adored was being able to cut it myself (learned to perfect it over the years) and being able to get-up-and-go without a lot of prep time and sometimes even drama. Still, when it's super short, cuts have to happen on the regular and when it's kinda short, you've gotta figure out what products truly work for your hair and that ain't always no crystal stair. Even when I had a relaxed mohawk (which was super cute), relaxing it sucked during the summer because I would sweat and then my sides would stick out like a porcupine.
Moral to the story? If you've been telling yourself that big chopping will free you from having to do your hair, on some levels, that couldn't be further from the truth. It's just a different kind of work. So again, think things through and choose wisely. Oh, and if you do chop it all and end up regretting it, remember that hair always grows back and a protective style can hold you down. Now, after reading all of this — big chop or no?
Join our xoTribe, an exclusive community dedicated to YOU and your stories and all things xoNecole. Be a part of a growing community of women from all over the world who come together to uplift, inspire, and inform each other on all things related to the glow up.
Featured image by Getty Images
Keep reading...
Show less
Although all of our hair journeys are different, I always find it interesting when folks say that the winter season is the most brutal when it comes to their hair. For me, it's probably right about now because, between the heat, the shrinkage and, when I do swim, the chemicals in the water — it's a challenge, making sure that my hair doesn't dry out, as I strive to handle it with care on the days when it wants to act like a matted mess.
Can you totally relate to where I'm coming from? If so, I wanted to take a moment to share with you some of the summertime haircare tips that have held me down over the past several years. 12 hacks that are easy, affordable and can definitely help you to keep your inches straight through Labor Day and beyond.
1. Get a Cute Swim Cap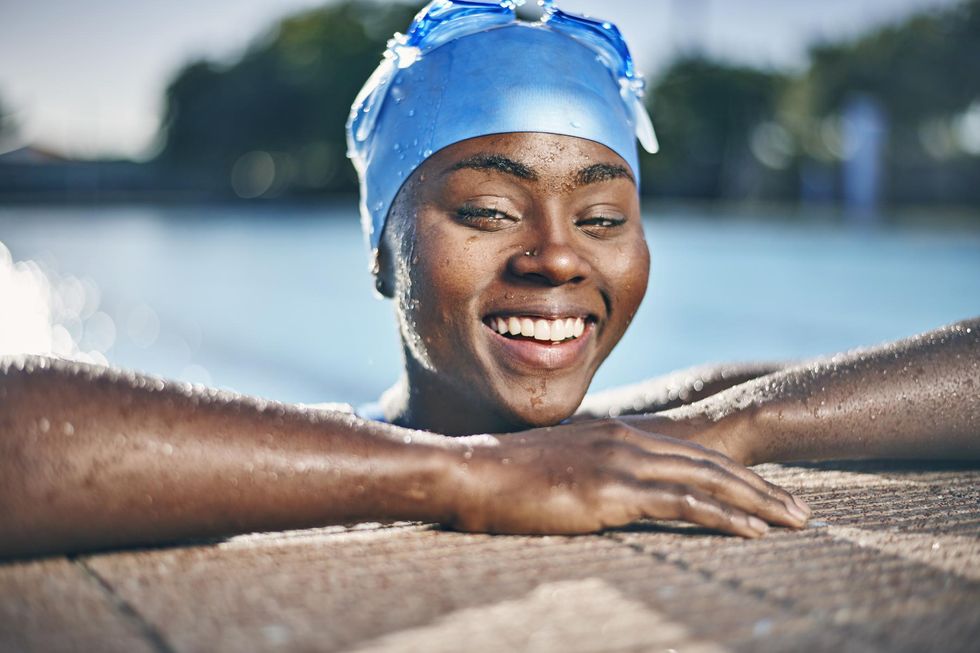 Y'all see that straight up bullshishery that the Tokyo Olympics have been pulling on us? I don't just mean the runners; I mean them banning swim caps for Afro-textured hair. Yeah, I knew that when they put a ban on protesting beforehand that we were in for a ride. Anyway, if a part of what makes you hesitant to swim more often is you want to protect your hair from the salt and/or chlorine that's in the water, I definitely recommend getting yourself a swim cap. If the other thing you're worried about is how crazy you might look in one, these days, there really are cute designs available (so much better than what a lot of us grew up with). Etsy is one place that has some. Just go to the site and put "swim caps for Black women" in the search field.
2. Or Wet Your Hair Before You Swim
On the other hand, if you don't mind getting your hair wet but you still don't want the water to damage your hair (because saltwater and the chemicals in swimming pools can both be pretty drying), a cool hack is to wet your hair beforehand.
Since our hair is a lot like a sponge, if it's already absorbed water, that makes it harder for ocean or swimming pool water to penetrate it. The more you know. The more you freakin' know.
3. Give Yourself a Hot Oil Treatment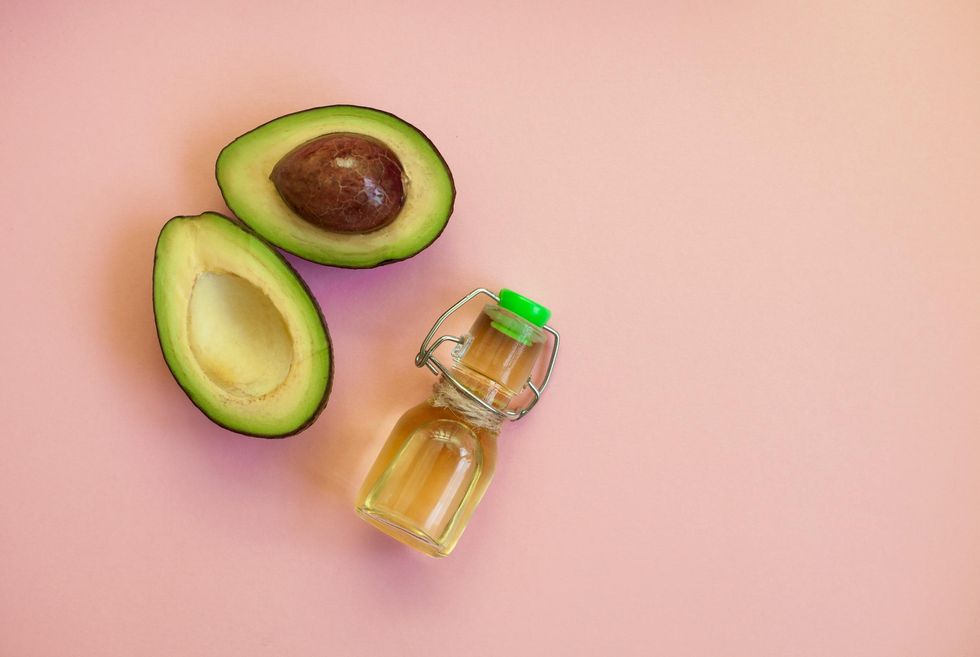 While it might seem odd to hear me talk about applying anything hot to your hair when it's already hot as hell outdoors, you really can't go wrong with treating your tresses to a hot oil treatment during this time of the year; especially if you battle with dandruff, dry scalp or a lot of frizz (which can happen when your hair lacks moisture or it's time for your ends to be trimmed). The combination of the heat from the oil along with the nutrients from the oil of your choice (coconut, grapeseed, argan, sweet almond, avocado, rosehip and apricot kernel oil are all great options) will help to stimulate blood flow to your scalp which will help to strengthen your hair's follicles over time.
Your best bet would be to put one-fourth of the oil into a microwave-safe bowl. Zap it in the microwave for 15 seconds. Put your hair into 4-8 sections and apply the oil to your scalp and hair. Massage your scalp for about 10 minutes. Then allow the oil to continue to penetrate for 30 minutes. If you then shampoo and rinse thoroughly, you will notice a real difference; especially after following this next tip.
4. Put Some Jamaican Black Castor Oil into Your Shampoo or Conditioner
With the summer heat being as brutal as it is, you definitely need to make sure that your hair keeps moisture in it on the regular. One way to do that is to add some Jamaican Black Castor Oil to either your shampoo or your conditioner. Since the properties in the oil help to strengthen the cuticles of your hair, strengthen your hair's follicles and reduce breakage, as well as add quite a bit of moisture to your locks, putting a tablespoon of it into your shampoo can replace any moisture that your hair might lose during the shampooing process and adding it to your conditioner can make your hair that much softer after rinsing the shampoo out. Tropical Isle Living has some XX dark oil (which basically just means that it's extra detoxifying) that I've been using for a while now. I can definitely see a difference when it comes to how my scalp and hair feel.
5. Use Honey and Sour Cream to Reduce Shrinkage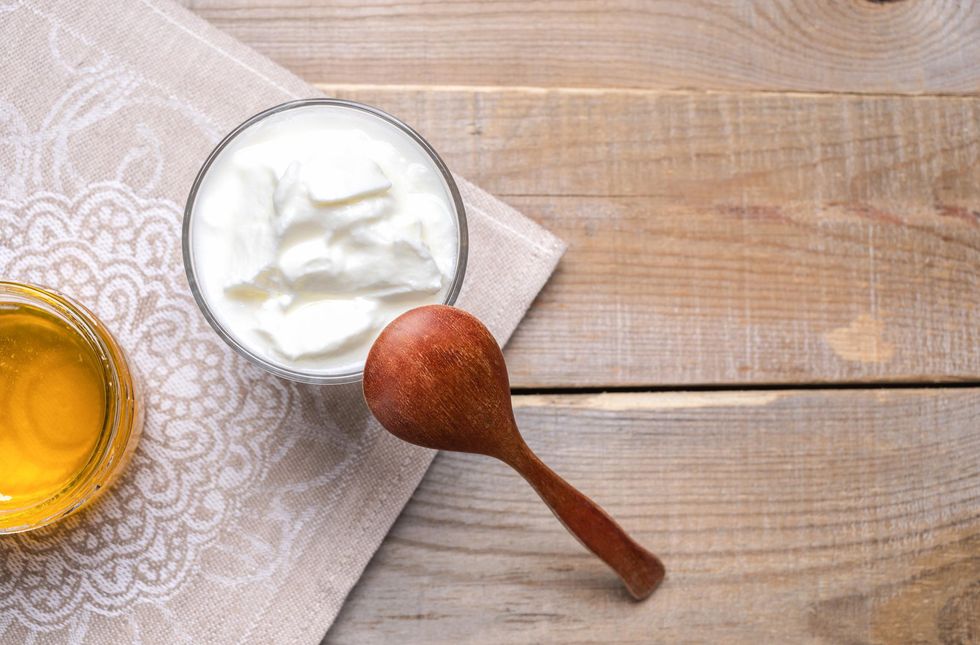 If experiencing a lot of shrinkage is the main thing that has you concerned, something that can help to reduce that is lactic acid. Guess what it's found in — honey and sour cream! Straight up, if you make a hair mask that has both of these ingredients in it, not only can it give your hair a moisture boost (because honey is a natural humectant and sour cream is made up of 20 percent fat), it can also help to elongate your hair's natural curl texture too.
Just mix a half cup of sour cream with two teaspoons of honey and a teaspoon of sweet almond or grapeseed oil. Apply the mask to clean damp hair. Let it sit for 25-45 minutes and rinse out thoroughly, first with warm water and then with cool water (to seal your hair's cuticles). If you decide to go with a wash 'n go, you should notice that your hair has a bit more length to it, just from the mask alone.
6. DIY a Moisturizing Spritz
If, outta nowhere, your hair feels dry or your scalp needs a little bit of relief, nothing is more refreshing than pulling a handy spritz bottle out of your purse. What's even better is one that you made yourself! A moisturizing hair spritz that consists of rosewater (it'll restore the pH balance to your hair); Aloe vera juice (it smooths your cuticles and reduces frizz); raw honey and/or vegetable glycerin (they're both humectants which means they pull moisture from the air); chamomile oil (it soothes your scalp), and 5-7 drops of lavender oil (it contains strong antimicrobial properties to fight bacteria and moisturizing properties to soften your hair) will pamper your hair from dusk until dawn — and vice versa.
7. Ease Up on the Edge Control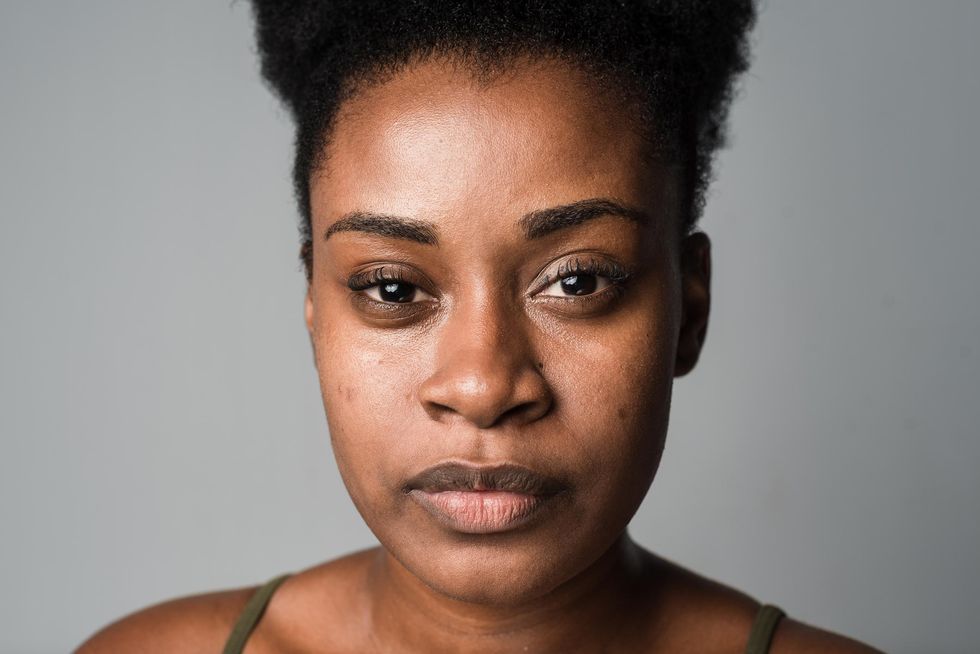 I know y'all like those super sleek edges yet I'm gonna be honest with you — even if you go with a brand that doesn't contain any alcohol (or you make some of your own), sometimes the oil from the control combined with the extra sweating that you typically do can cause the perfect storm when it comes to breakouts. Plus, wanting to lay your edges all of the time can put a lot of pressure on your already fragile temples which can result in breakage. So, as much as it might pain you, try and ease up on edge control for the summer. Wrap your hair up in a scarf or rock a straw hat instead. You'll still be cute and trust me, your edges will be oh so very grateful.
8. Chill Out on Permanent Dyes Too
I'm gonna be honest with y'all. The only permanent (boxed) dye that has not read my hair for filth by causing all kinds of breakage issues is Revlon's Colorsilk Luminista. I think it's mostly because it is ammonia-free. And shoot, even with it, I still have to be mad intentional about keeping my hair moisturized because it makes it a little drier than I would like. Bottom line, if you still want to maintain the strength and integrity of your tresses so that you'll have some extra inches to brag about come the fall and winter seasons, it really is best to leave permanent dyes alone. One, because a lot of them do contain ammonia which is super drying and damaging and two, the heat is going to try and zap whatever moisture you do have. Please try not to help it do that. This is a great time of the year to play with some hair color wax. The hues are vibrant. And because the wax is super temporary, you don't have to worry about experiencing any breakage. You can literally sport a different color each day without any of the dry brittle drama. Excellent.
9. Make Some SPF Spray for Your Hair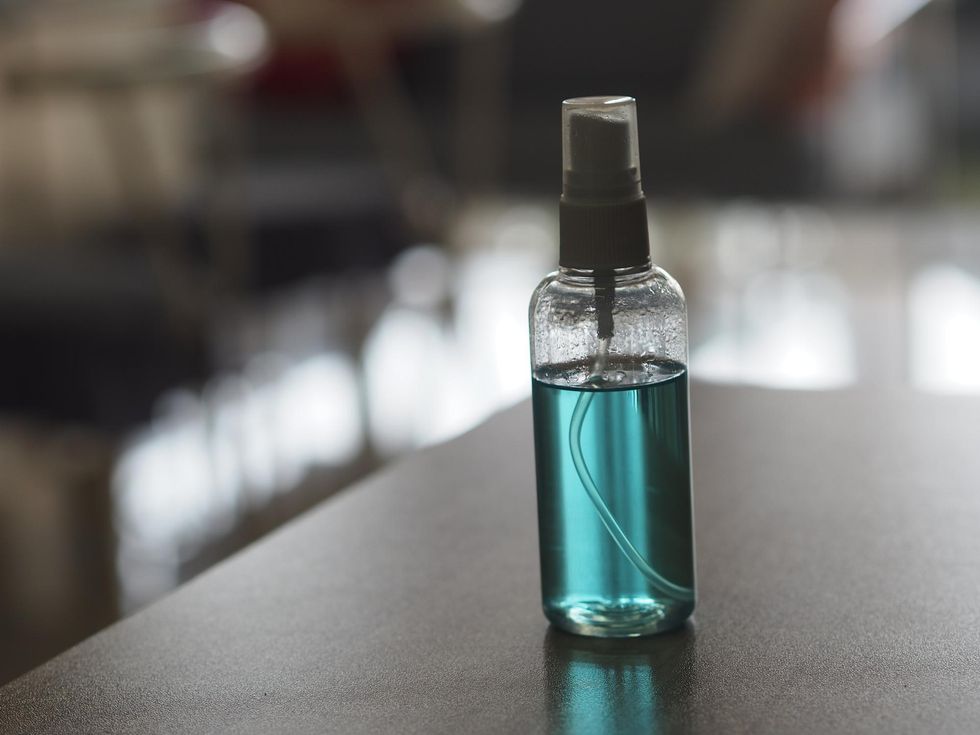 Something that a lot of us — and by "us", I mean Black folks — don't think about is protecting our hair from the damage that UV rays can oftentimes cause. While there are sprays that you can find at your local drugstore, another route that you can take is to make some of your own. It's really not that hard (or expensive) to do. And if you add an ingredient like zinc oxide to your spray, you can be sure that you're in good shape because that is a natural product that reflects the rays for the sun so that your hair isn't penetrated with constant heat.
All you need to do is fill up a spray bottle with some distilled water. Then add a tablespoon of the zinc oxide along with a teaspoon of your favorite carrier oil (sweet almond, grapeseed, jojoba, argan and avocado are all really good) and 5-7 drops of your favorite essential oil. Shake the bottle and then lightly spray your hair before heading out. It's a great way to protect your hair and enjoy a favorite scent at the same time.
10. Baby Those Ends
Your ends are the oldest parts of your hair. This means that they need the most TLC if you truly want to retain length. You need to deep condition your hair every wash day. You need to seal your ends on that day too. Heat needs to be used minimally and you definitely need to apply a thermal heat protectant (cream will give you the most penetrating coverage) before blow drying and using a flat iron. As much as you can "tuck your ends in" so that they don't get exposed to outdoor elements, the better. Sleeping with a humidifier at night can give them some extra moisture while you sleep. Naturally stretching your hair out at night by braided or twisting your hair and then applying a mixture of coconut milk (it's loaded with vitamins B, C and E as well as fatty acids) and jojoba oil (it's filled with antioxidants) to your ends can reduce the chances of them splitting.
Y'all, it really can't be said enough that a lot of us don't get the inches that we want — not because our hair isn't growing but because we aren't retaining length because we're not taking good care of our ends. This summer, please make sure that you do.
11. Leave the Shears Alone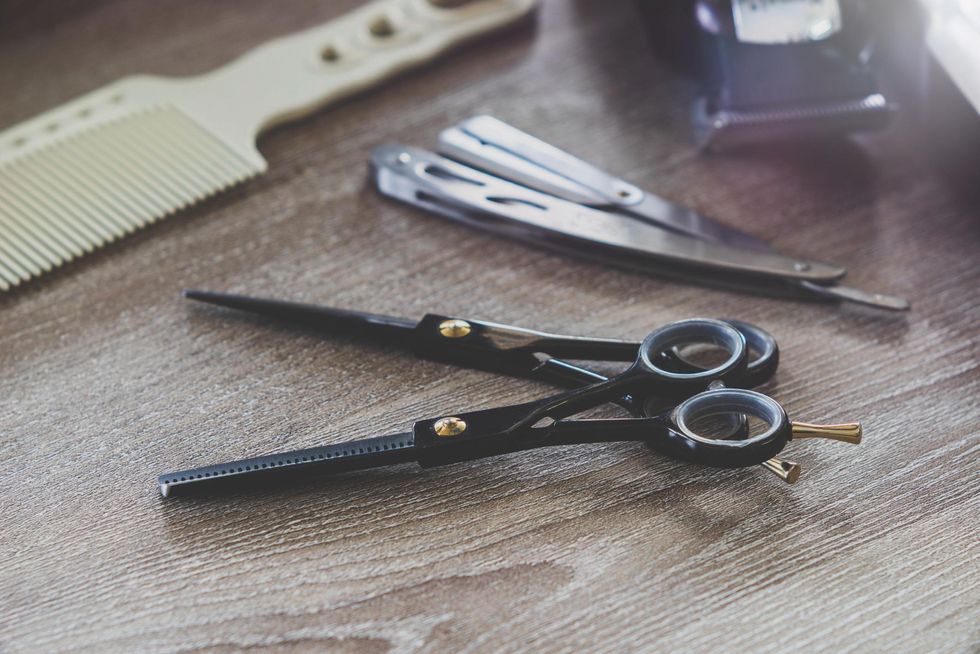 While it's always a good idea to trim fairy knots and split ends away, try and leave your hair alone as much as possible during this time of the year. Between protective styles like braids and twists, turbans, scarves and straw hats, there's no need to have your hair all out all of the time. Tuck in those ends that I just talked about and try and let your hair grow through September. If you do, you might be pleasantly surprised by what you have to show for it by the time you need to pull your sweaters out.
12. Have Fun with It
Knotless braids. Twist outs. Top knots. Butterfly locs. Passion twists. These are just some of the natural looks that are big-time trends this summer season. And the moral to the story with this final point is — try one. Then try another. Then make something up! So long as you are doing the routine maintenance that your hair requires, there is nothing wrong with getting super creative and having an absolute ball with your hair. After all, our textures make that oh so easy to do!
Join our xoTribe, an exclusive community dedicated to YOU and your stories and all things xoNecole. Be a part of a growing community of women from all over the world who come together to uplift, inspire, and inform each other on all things related to the glow up.
Featured image by Getty Images
Keep reading...
Show less
Our "Ask An Expert" series continues as we speak to LA-based natural hair enthusiast and protective hair stylist Kamara Brown Lewis of Raww Intuition Salon.
Starting a natural hair journey can seem intimidating and even scary. I understand why many textured hair women are apprehensive about letting our curls loose as we'd much rather have an easier fix. The thought seems overwhelming, especially when thinking of getting lost in the sea of hair products with one brand claiming to do the same as the other. As a "naturalista", I've learned to ask experts on my quest to find what's best for my hair type.
When I'm not wearing protective styles, I routinely "let my hair breathe" in an afro that's way more manageable than I would have ever expected. Even though I've been on my natural hair journey for three years, I'm still learning what formulas are best for my curl pattern and what I need for a healthier head of hair. While patience isn't my virtue, I'm learning to trust the process and let my hair take its time meanwhile discovering how to help it along its way.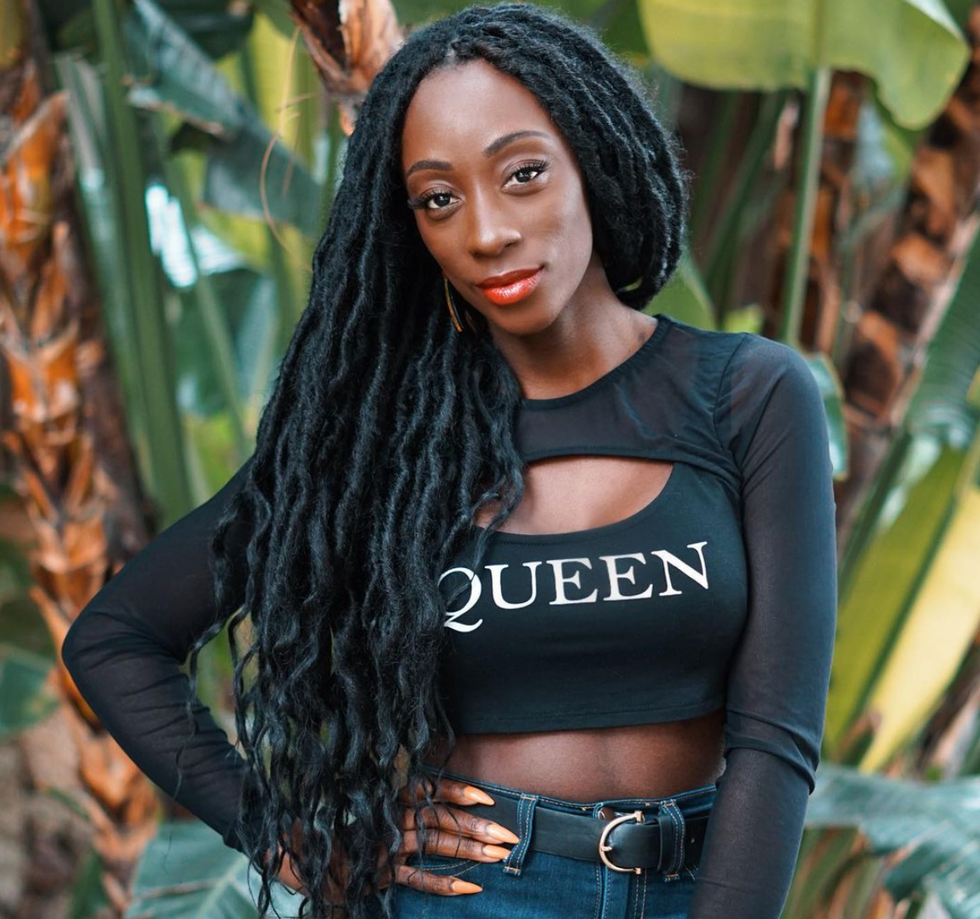 Kamara Lewis, LA-based Protective Hair Stylist & Owner of Raww Intuition Salon
When wearing protective hairstyles, it's important to be conscious of taking care of our hair underneath. Maintaining a healthy scalp is vital for overall hair growth, keeping it moisturized and replenished often. With only a few principles to keep in mind, I want to encourage everyone that being natural is easier than it looks.
To give you the motivation you'll need on this journey, I connected with Kamara Lewis of Raww Intuition for her tips on properly caring for our hair and most importantly, where to begin.
Keep scrolling to get the natural hair advice you've been needing.
Try to Avoid Product Mixing
For those that struggle with dry itching scalp, Kamara suggests using Canviiy's ScalpBliss Itch-Calming Organic-Based Serum (which can also be great for protective styles in-between) and their ScalpBliss Soothing Scalp Purifying Foam Treatment. Both products are helpful with soothing the scalp while also getting rid of buildup. For deep conditioning, she recommends the NaturAll Club product line. She also notes brands like Design Essentials, OGX, Mizani, and KeraCare for must-have hair staples like moisturizing shampoos and conditioners, and curl refreshers.
Most of all though, it is important to stick with brands that are true to this and not new to this. When it comes to companies that have specialized in natural haircare since you were a young girl, it's those legacy brands that have a track record when it comes to getting the job done within the beauty industry. Also, Kamara suggests staying away from what she calls "product cocktails." Pick a brand and stick with the entire collection as "brands use formulas that activate a particular and achieve a particular look when used with other products from its product line."
You're missing out on the full effect when mixing products from several different brands.
Protection
"Sleep with a silk or satin pillowcase or bonnet. Protect your hair at night so you can have fresh and revitalized curls in the morning," Kamara shares another tip. "For those with longer hair, try the pineapple method at night, wrapping your curls up as they sit on top of your head to prolong your natural coils."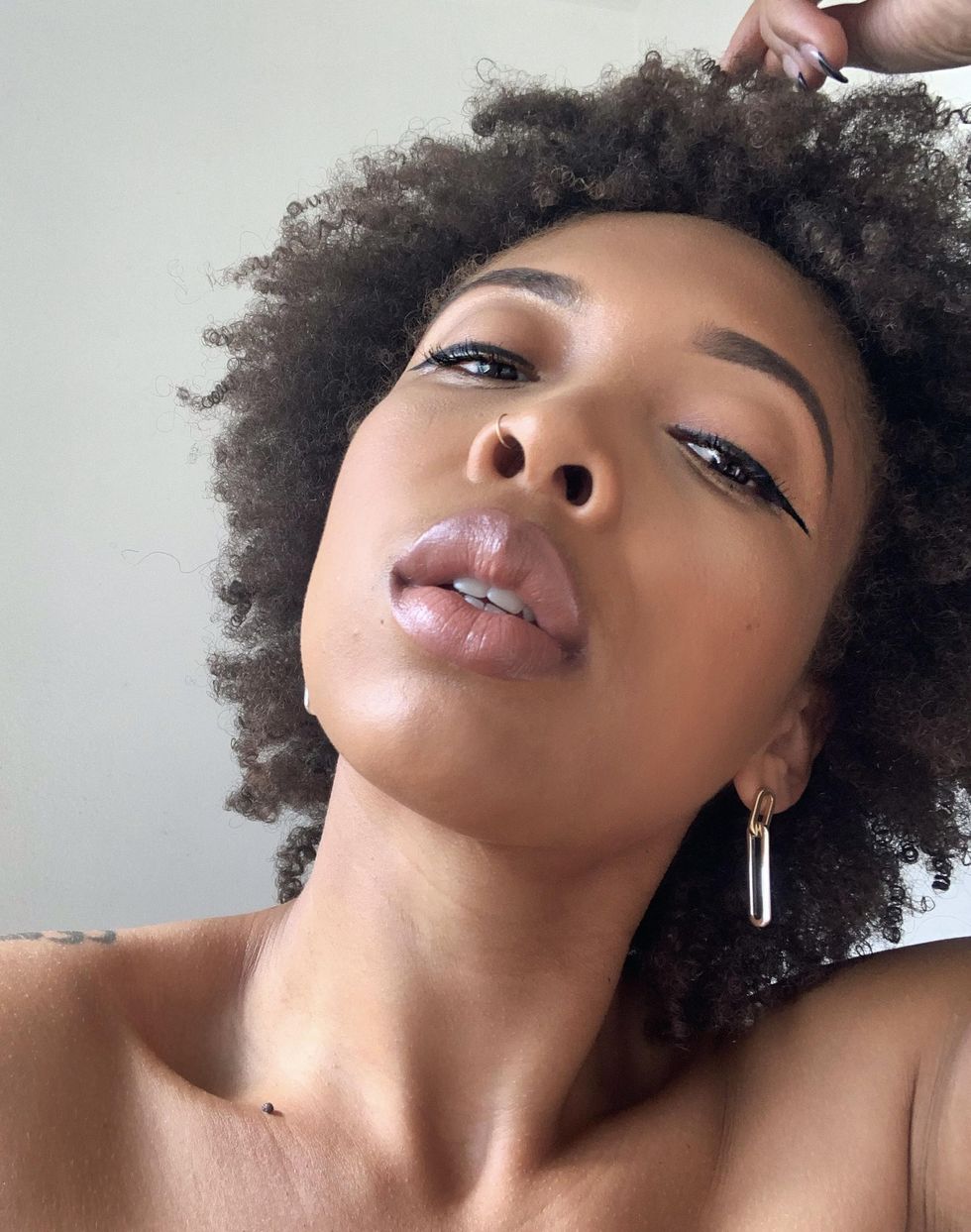 Shahirah Ahmed/xoNecole
Patience 
"Be patient with the growth process. It's not about how long your hair grows but how healthy it is. Stop combing your hair dry and pulling it in tight buns or even protective styles thinking your hair will be long and healthy. It takes time and it's important to make sure you're drinking lots of water and eating healthy before you dive into buying all these hair products."
Keep it Simple
Most importantly, keep it simple. Like most humans, we tend to over-complicate things. Managing your hair does not have to be a day long chore. "Keep your hair regimen simple and straight to the point so it's easier for you to be consistent and have an accurate understanding of what your hair needs," Kamara adds.
Featured image via Kamara Lewis

Keep reading...
Show less