As Told To is a recurring segment on xoNecole where real women are given a platform to tell their stories in first-person narrative as told to a writer.
This is Elease and Ra's story, as told to Charmin Michelle.
They say love comes unexpectedly...well that saying doesn't suffice when summarizing the love story of my fiancee Ra and I. 'Unexpectedly' doesn't even begin to describe the journey of our union. Here's a story of how I found everything I needed, in the most unexpected person.

Meeting An Unknown Lover
Ra and I met during a weekend trip to Atlanta. She came with our mutual friend, who is also my line sister, and a group of others as I was visiting Atlanta with my best friend and a few of her friends. One drunken night led to me arriving at their Airbnb, briefly meeting Ra, and eventually ending the night at the ever-famous Waffle House with friends. We each returned home with no further thoughts, other than a great time and plenty of laughs. We never thought romantically of each other at this time, so I resumed working and casually dating.
Ra went back to Nashville working and still entangled in a previous relationship.
At the time, she had been involved in same-sex relationships for the greater part of her adult life and I, on the other hand, had zero experiences. I grew up a preacher's kid and full Southern Baptist. No other explanation needed there, however, I had my own thoughts and feelings in regards to same-sex unions. I had tons of friends near and dear who identify as LGBTQ and I supported them in all ways.
A year passed and our friends planned an adventure-filled weekend in Nashville, including hiking to a waterfall and renting a boat for a day party. Unbeknownst to me, this was also Ra's birthday weekend. The most contact we had during the weekend was Ra, at my request, taking a picture of me near the Titan Stadium Bridge. It was at that point numbers were exchanged, with zero romantic notions. I was just a girl wanting a picture on the newest iPhone to post on her feed.
While in Nashville, Ra played a song that I loved but I could not pinpoint the title. Days later, I thought to text her to find out the title of this mystery song. "God is a Woman" by Ariana Grande turned out to be the title. From that text sparked a routine of daily conversations about music. After a few weeks, music conversations shifted to life in general.
Bonding over music unlocked in me the ability to see Ra for simply who she is; a soul. Her gender did not matter to me.
Even though this was foreign to me, the smile I got when her messages came in and the anticipation that grew to meet in person, it all overshadowed any doubt and fear on embarking on this journey of discovery with her. Eventually, I admitted to Ra that I enjoyed where this is going but I couldn't understand it. All of my previous relationships have all been heterosexual and had lasted years--what was happening? Ultimately, I quit caring, and we decided to begin dating exclusively.
Life In An Unfamiliar Territory
Our relationship was beautiful, we were inseparable. But unfortunately, we were also long-distance. I began to slow down how fast I was falling for her for my own protection.
A straight girl, out of the blue, dating a woman and being genuinely all in? This in itself was worth apprehension. She asked for time to sort things out and we did just that.
When the holidays arrived, we had our annual friend gathering for Christmas. After exchanging gifts and playing games, Ra got down on one knee, to the surprise of everyone, and asked me to be her girlfriend. She presented me with a promise ring and it was official. We continued long-distance, burning the highway up back and forth, until I decided to move to Nashville and move in with Ra.
And we've been together ever since.
Lessons And Blessings 
Listen ladies, I have no coming out story to share. I've never been romantically attracted to women or have had an secret rendezvous, and growing up, I had witnessed a lot in the marriage of my parents and the breakdown of their relationship. But I didn't care. I was happy and welcomed people to share in my joy. I was fully transparent with no qualms. Some people may think, oh that's something you had to have considered or repressed, but it honestly was not.
I even remember having internal battles with myself in regards to my relationship with God. There was a minute where it felt like everything that could go wrong with my life, job and finances were going wrong. I questioned if this was due to my relationship with Ra.
Was I being punished?
But ultimately, it takes more than love. Love is a solid foundation but it cannot sustain a relationship alone.
Ra does not belong to me, she's simply chosen to share her life with me and I have chosen to share my life with her. We maintain our happiness by respecting what makes us unique with freedom to be open, honest and by genuinely enjoying each other's company.
We are not perfect nor do we try to portray ourselves to be but what we are is real. The acceptance of the public didn't matter.
Who cares what they think, you know? Who cares?
Two years and a dog later, here we are: engaged and in love. Has the journey been perfect? Absolutely not. But has it been worth it? 100 percent. Find someone who accepts that and is still willing to go on the journey with you. You won't always get it right but love, respect, and friendship will get you through it all. I cannot wait to see our journey continue to unfold. Give that girl a try sis, she may be everything you want and need.
xo,
The future Mrs. Dozier
Elease and Ra have a YouTube channel where you can keep up with their adventures. You may also follow them on Instagram at @icametoslay and @radigha.
Featured image courtesy of Elease and Ra
Keep reading...
Show less
As Told To is a recurring segment on xoNecole where real women are given a platform to tell their stories in first-person narrative as told to a writer. If you have a story you'd like to share but aren't sure about how to put it into words, contact us at submissions@xonecole.com with the subject "As Told To" for your story to be featured.
This is Chelsea Woody's story, as told to Charmin Michelle.
I'm a black woman with a full afro, and I surf.
I wanted to learn to surf since I was a teenager after seeing Kate Bosworth in the movie Blue Crush. I was enamored with everything about the movie: the surfer lifestyle, living in beach environments, how freeing the act of surfing made her feel.
As a teen, we're more enamored by the idea of just becoming a surfer or spending carefree summers along the beach. In reality, the lack of representation takes its toll, and you realize how differences can sometimes make it difficult to relate to anyone on the journey or break into surfing.

The more I reflect, the more I realized that Kate inspired me because she was the only example that I had of female surfers—despite looking nothing like me.
I didn't grow up in a coastal town, so I wasn't raised around surfing. I didn't actually learn to surf until much later in my life. It was always in the back of my mind, but whenever I found myself on vacation in places such as Hawaii, I could never convince myself to try out of fear of what those consequences might mean for my melanated features and my hair.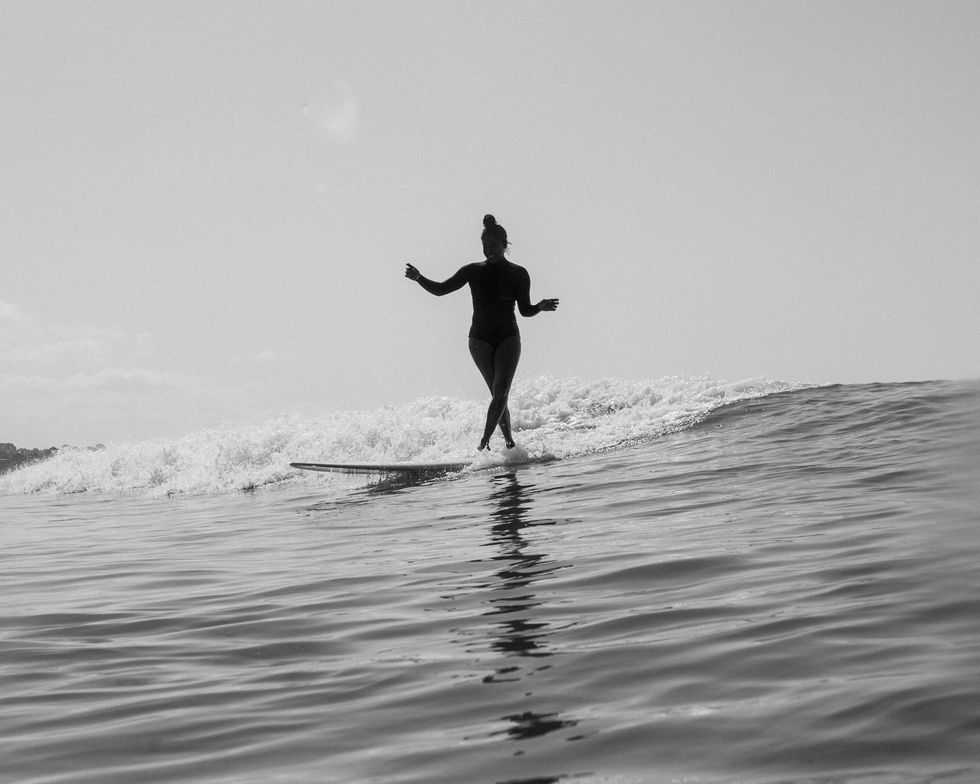 Courtesy of Chelsea Kungkagam
As crazy as it may sound (to others), we know that hair is a major excuse as to why many black women choose not to participate in any water sport. The need to maintain unrealistic hairstyle upkeep, combined with the fear of the open ocean, and a necessary strength in swimming, means when I look around, I don't see many people—male or female—that look like me. These are also major reasons as to why we represent less than 1% of any water sport.
And unfortunately, for many black and brown women, there is still a major antiquated view of skin tone and colorism that can keep us from spending time in the outdoors and sun.
Access to outdoor spaces and having family members or friends to pass down traditions also contributes to the lack of diversity.
It's unfortunate, but the facts. So, how do we weaken the stigma? How can we spark the interest in black families to encourage them to add surfing to the list of what we can do?
We can give our community positive examples and resources to help them feel more comfortable in the ocean. Through representation hopefully we can encourage more black families to get out in the surf lineup and know that we belong in these spaces. Then we can see the generational growth in outdoor spaces. When we see more folks that look like us, it begins to normalize what should already be normal.
A few years into my marriage, my husband and I decided to take a break from corporate life, quit our jobs, and travel abroad for a year and a half. I figured this was as good as time as any to finally learn to surf. We posted up in Indonesia for a few months and both committed ourselves to learning. We would hit the water everyday for a month; it became a part of our daily routine.
Initially, when I first started surfing, I was a bit insecure about not fitting the typical surfer stereotype. In Indonesia, although the majority of the population shared my skin tone, there weren't many Indonesian women who surfed, and there certainly weren't any black women. Additionally, swimsuit options didn't fit my athletic body type the same, and my protective braided hairstyles made me stand out.
Refusing to be discouraged, I didn't allow my outward appearance to be indicative of my interests. But oftentimes, when people have the similar interests, there's a tendency to want to fit a certain mold to make sure people know that you belong to that group. I quickly realized that my surf style wasn't at risk of emulating anyone, my flavor was a little different. And I really learned to embrace that.
I didn't need to try to fit into a space that didn't have people like me in mind at all, allowing me to be unapologetically myself. That was one of my most liberating realizations in my surfing. But I still had more work to do.
You know how, as a black or brown person in a "particular" room, you see another sister or brother, and suddenly you're immediately connected? That's similar to how my surf sisters bonded over our relationship with the ocean. Certain experiences we have surfing just don't need explanation, they understand and can relate. It has been such a blessing finding these women. The ladies and I would regularly discuss the lack of diversity, what the sport considers marketable, and how that impacts surfing for future generations who are both free surfers and competitive. We collectively knew there had to be more black and brown girls who are interested in surfing; those who surf and are unapologetically who they are. And in the slight chance that there weren't any, we knew the importance of showing examples of what we didn't have when we got started
Soon, our community, Textured Waves, was born. We're just four African American female surfers who wanted to create a space for women of all shades who surf. We support each other through sisterly camaraderie and creative outlets related to surfing, and we aim to change the narrative of who is a surfer through imagery and representation. We're even working on a few short film projects that showcase the beauty of African-American female surfers. If you can believe it, nothing like this exists.
It's all full-circle moment, and why I fight so hard to promote diversity in the sport.
Here in the States, we are a lot further behind other countries in terms of representation in the surf world. That has a lot to do with the history of this country: slavery, Jim Crow, segregation at beaches and in swimming pools, I could go on and on. But I hope black women reclaim their place in the sea, and eventually we get to see a 'Serena Williams' of surfing, representing us on a competitive world stage. I hope in the future we begin to see more diversity in aquatics and beach life as a whole.
As often as I can, I try to surf. I am happiest and feel most beautiful when I'm gliding up and down on a wave in my flow. Carving my own lines on the wave feels like dancing on water to me. No matter what it looks like to anyone else, I know what it feels like to me and that is the most beautiful feeling.
That feeling, will forever be unexplainable.
This year, we are no longer accepting representation to only be limited to what we're shown. We have to expound our interests to go beyond and visualize our wildest dreams. Women who go against the grain inspire me.
So in essence, I'm inspired by my sea sisters who work to challenge the visual we see on the daily.
To keep up with Chelsea's journey, you may follow her on Instagram @chel.bythe.sea. Also, to learn how you can join the movement, you can visit Textured Waves' website for more information.
Featured image courtesy of Chelsea Woody
Originally published February 4, 2020
Keep reading...
Show less
As Told To is a recurring segment on xoNecole where real women are given a platform to tell their stories in first-person narrative as told to a writer.
This is Bruce McIntyre's story, as told to Charmin Michelle.
April 17th of this year, after a frustrating attempt to call our doctor, Amber tweeted: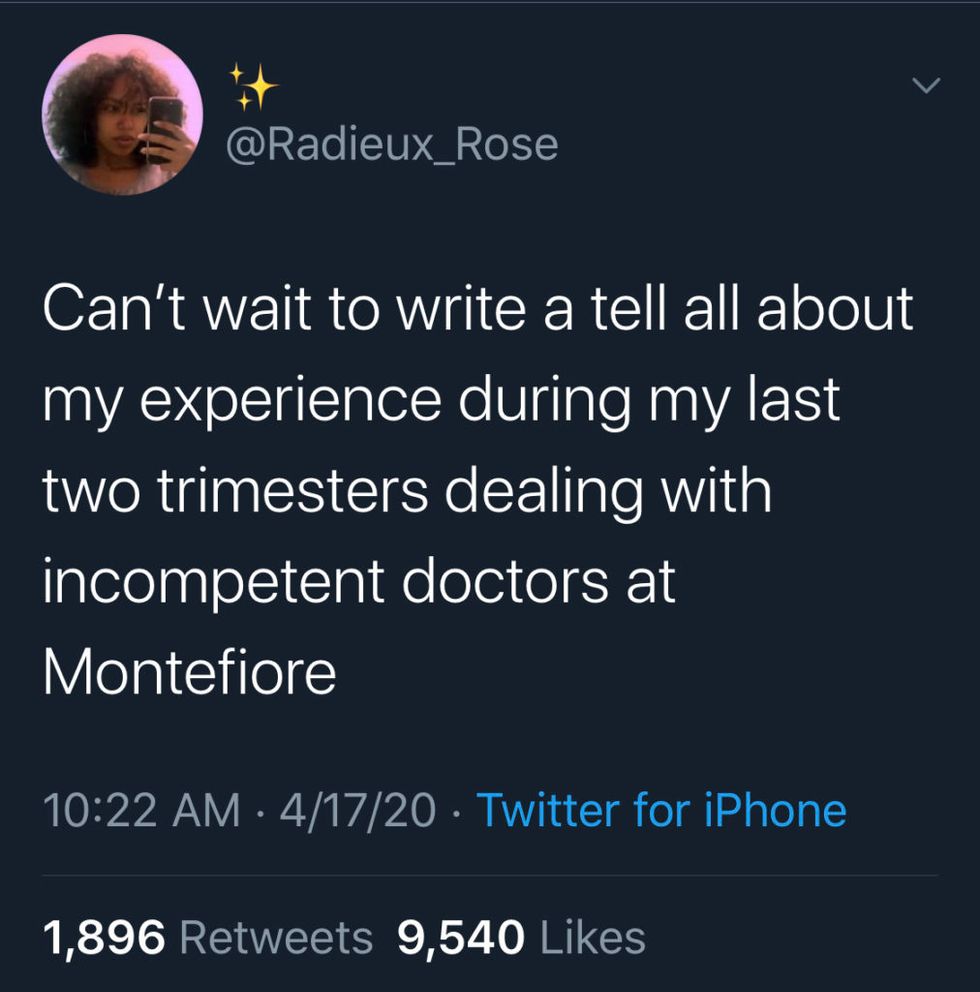 Twitter
Four days later, she was dead.

Amber was admitted into Montefiore Medical Center in the Bronx, NY on April 21st to give birth to our beautiful son, Elias.
But she never got to meet him, she never got to leave. We looked forward to being a family, to living our lives with our baby boy. And we were robbed of that opportunity. Amber fell victim to the 37.1 mortality statistic black women face in America, in an underlying racial bias of dismissive, unattended disparity that's discussed somewhat, but not enough. There's no doubt in my mind, if Amber was white, she would still be alive today.
Am I OK? No. Will I be? I'm not sure.
I miss her, and I struggle. I get angry, I get sad. I loved that woman. And I lost her at the hands of others; at the hands of negligence. The good news is that the mortality rates for black women are going down, but what does that mean for those who've already experienced the pain?
I was born May 12, 1991 in Auburn, NY. Growing up was not easy for me at all, especially being the first-born. All of the pressure was on me after my father left. I became the man of the house at the age of seven and had to help take care of my younger siblings. We were poor and my mom had to work all day, so I was home taking care of my siblings. We had no car, so we had to walk everywhere or try to get rides from friends. The winters were harsh. There were times my mom was at work and I would have to carry one brother while holding another's hand traveling through six inches of snow to get to my grandmother's house just because she cooked. We were made fun of because of our clothes and haircuts.
I always wanted more for my family. Seeing my mother slave away to a job that didn't appreciate her did something to my soul.
I got locked up and sent to a juvenile center for a few months at 15. The judge knew I had a hard life (jumped by gang members at 10, kicked out of the house, sleeping at friend's houses, hustling for food, etc.) but he also knew I wasn't a bad kid. He told me if he saw me in his court again, he was going to give me 15 years.
And that's all I needed, I never looked back. Instead, I found other avenues to live the right way.
--
I met Amber through mutual friends in like 2006.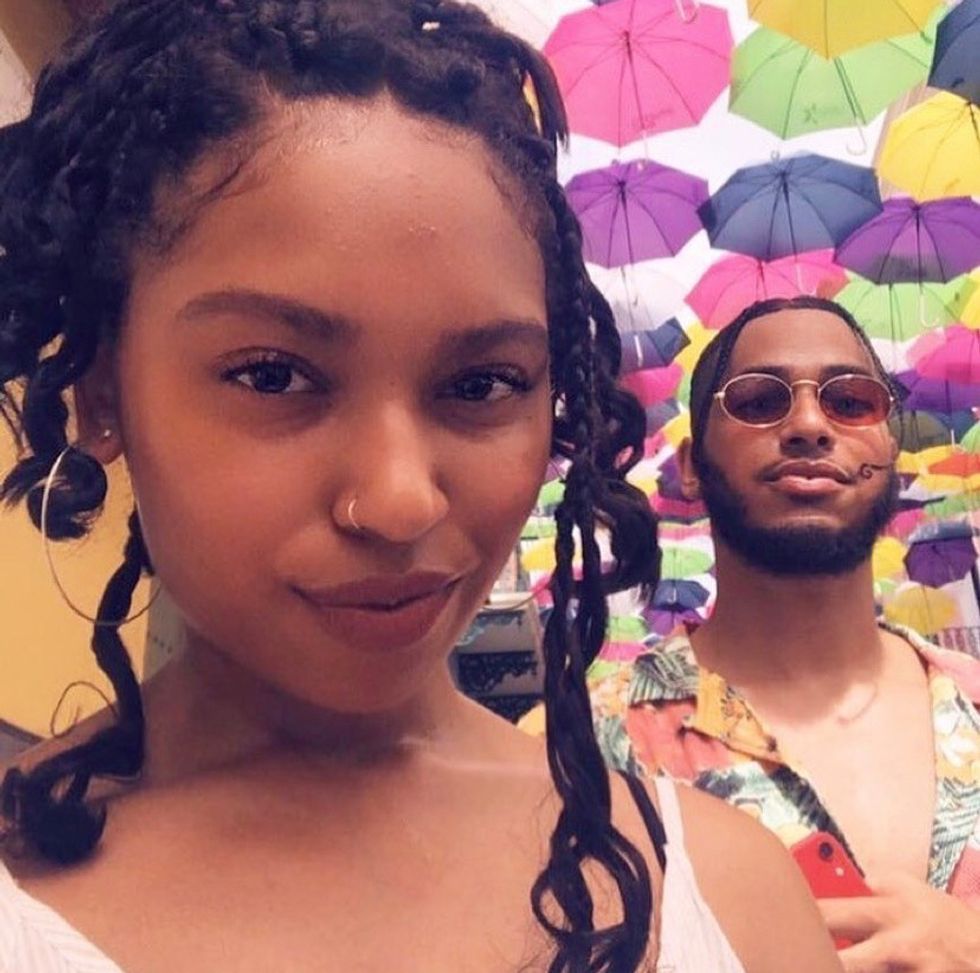 Courtesy of Bruce
When we would see each other, it was more of a "hi" and "bye" thing. I was moving between the Bronx and North Carolina every two-ish years, so we started catching up through Facebook, and would check in with each other occasionally. I tried to be more than friends with her and shoot my shot, but she turned me down. She was focused on herself, her goals, and career at the time. We kept in touch and got to know each other better over time. In 2018, I was heading up to New York from North Carolina for my birthday weekend when Amber invited me to her graduation. I didn't make it because I was still on the road, but the next day we met up and I took her out to celebrate.

We were glued together ever since.

One summer night, we were in Brooklyn on one of our regular date nights, and we stopped into a bookstore. She was looking at a hip-hop baby book and telling me how she couldn't leave without this book. She said, "You know, it's about time for us to have a baby," and she gave me this look. By October 2019, she was pregnant, and due at the end of May.
And everything was great at the beginning. I loved seeing her pregnant. There were no complications.
Elias was on schedule. She was so beautiful.
Once we made it to March, her second trimester, things began to change. It was time to begin having more frequent check-ups, but because of the pandemic, everything was virtual. Virtual visits, virtual appointments. Zoom, telehealth, you name it. She wasn't seen in-person the whole month. She would call and say, "Hey, I need my blood work back, I haven't heard anything..."
It became a daily routine. And no one reached back out to us. We couldn't get an in-person appointment, hospitals were a mess. It just seemed as if we were giving birth during the end of the world.
When we finally received her blood work, we learned that her platelet levels were extremely low. She had developed HELLP syndrome and was rushed to the hospital for an emergency C-section.

Before she went in, I couldn't hug her, couldn't kiss her. And then...she died. With no one around.
Sigh.
It all happened so fast, so suddenly. Just like that, she was gone.

But we had so many plans.

We were going to get married through the court system, and save for our wedding.
I was even supposed to propose the day of our baby shower, but COVID shut down our event space and the owner ran off with our money. Nothing was going how we hoped. And I never got the chance to propose.
If I'm being honest—a hundred percent honest—I haven't really been able to cope with it. Some days I don't think it's possible. Knowing your twin flame, the one that you were destined to spend the rest of your life with, and that you were supposed to do life with, is suddenly gone, is hard. And knowing how preventable her death was, will always haunt me.
I knew I had to somehow pick myself up and tell our story. I knew there were millions of other black women that needed both of us speak up.
--
Soon after, I started the SaveARose Foundation in her honor, which has turned out to be one of the most therapeutic aspects of this journey. I've learned the importance of carrying a load. Nothing stops you. I'm constantly doing interviews or having to leave town to advocate. I've been in meetings with Senators, legislators, congressmen/women, city council members, etc. I've told my story to everyone from Essence, to The New York Times, to Good Morning America, to Rickey Smiley.
My goal became bringing change and reshaping the way we view healthcare by any means. Primarily, healthcare for black women.
And I get so much love and support from everyone. Family, friends, the birthing community. My communities and the members of SaveARose, and sometimes even strangers from all over the world. The craziest thing about advocate work, is no one doing it ever expected for them to be the one on the frontline. One day, this heavy baton is suddenly shoved in your face, and you have to pick it up.
As far as our son, Elias...I love that kid. He is Amber's absolute twin, it's so fascinating. He has many characteristics from us both, but he lights up just like Amber did, especially when he smiles. He is just so happy, he's always smiling and laughing. He's been finding his voice so he's been trying to talk and communicate with me. He will make his own little word up and start laughing, and I assume he's trying to tell me some fire jokes so I laugh with him. He doesn't like to be babied, though, and he has this mean side-eye that Amber had.
Me, I have good and bad days. I try to take time to myself by escaping the city to breathe fresh air or I spend my time with Elias. I don't practice self-care as much as I'd like, I've always put others before myself. To see someone else happy because I was able to help them, brings me joy. Steering people away from anxiety and depression feels like I'm saving a life.
And as for Amber...
I honor her every day.
I honor her through co-parenting.
I honor her by waking up every morning and fighting for her.
I honor her by advocating for other families so that this doesn't happen to more mothers, fathers, and children.
I honor Amber through SaveARose.
I honor Amber by taking care of her community.
I honor Amber by working towards bringing a birthing center to the Bronx.
I honor Amber by making her eternal through Art.
I honor Amber by making sure she marks her place on this planet and throughout history.
Forever.
Bruce has dedicated his life to advocating for the significance of black women's voices in healthcare. He is working to bring a freestanding midwifery-led birthing center that provides wellness and education to the Bronx. Follow both him [bizmacthe3rd] and SaveARose Foundation [savearose.foundation] on Instagram for all of the latest news and updates.

Please send any donations, encouragement, or items for Elias to:
SaveARose Foundation
2549 Jerome Avenue
P.O. Box 32
Bronx, NY 10468
Feature image courtesy of Bruce McIntyre
Keep reading...
Show less
As Told To is a recurring segment on xoNecole where real women are given a platform to tell their stories in first-person narrative as told to a writer.
This is Chef Crystal's story, as told to Charmin Michelle.
So funny story: I once made a "meat substitution" when I first became Prince's private chef.
I had been cooking dinner for him and his band for several weeks, but one afternoon he requested me for a private dinner. I remember I made this delicious vegetarian meal for him and his guest, but it didn't go over well at all. I was asked to not only throw it in the trash, but to throw it in the trash outside! I was mortified.
It all worked out in the end because he ended up hiring me full-time after that. But this was one of the days where I learned that my triumphant game was unmatched.
I'm Chef Crystal, a single working mother of two who has proven that healthy eating can be achieved at all ages, no matter the circumstance. From the artist Prince, will.i.am, Jessica Simpson, Lucas Films, and more, I have used this same philosophy in my approach to educating others on sustainable eating.
I knew all my life that I wanted to be a chef. I cooked for all the neighborhood kids and was constantly trying new foods. My mom wanted us to have an opportunity to see the world the way she never did as a child, so we ate out at fancy restaurants all the time. She allowed us to travel with our friends and their families, so being exposed to different cultures growing up just elevated how I saw food. I remember her always telling me, "You can do anything you put your mind to," and that's exactly what I did. So, as you can imagine my house was a very positive environment.

I was always active in school, I played sports, and was a cheerleader. I had a large supportive family. My grandfather has 11 brothers and sisters, so I grew up going to fish frys, barbecues, and potlucks. He was the family chef until he passed the torch to me, and food was the common denominator at every function. I would say we had a typical black family with sprinkles of the United Nations as many of us married outside of our race. It created a foundation of acceptance and love because we all thrived as one family.
But like most of us, growing up in a black family that loves mac and cheese, collard greens, and fried chicken, I knew early on that I wanted to be a chef that focused on healthy cuisine that was palatable. I have had so many conversations with my grandfather (who was a cook in the army) on how to recreate foods that we loved as a kid with ingredients that aren't going to give us high blood pressure.
So, I decided to do something about it.
But before I could get there, life took a few unexpected turns. During the start of my career, I found myself in the middle of a divorce. Yet, instead of allowing food to be an enemy or crutch as we often do during tough times, it became an ally. I literally took a negative situation and turned it into a platform that expanded my career into an outlet for self-love. This platform is Chef's Guide To Divorce, where "eating your feelings" never tasted so good.
After all, I couldn't let divorce stop or distract me. And as I always say, nobody ever died of divorce...or at least that's what I keep telling myself. I'm a true believer in when life gets messy, you should get in the kitchen and get messier. We all have a natural ability to pivot built inside of us, it's up to us to tap into it. When life gives you lemons, go ahead and make that lemon drop martini, ladies. hellosomebody
--
Through it all, I love that I've learned so much about myself in the process; about balancing my career with my kids. That's all I want for both myself, and other women. And I am a true advocate of trusting that everything will all work out.
As career moms, we put so much pressure on ourselves to get it right. I know for me that I give 100% every day, but that 100% looks different every day.
I have a commitment to sit and have dinner with my kids four times a week, and everyone in my life is aware of that. So, during that time, I am just not available. This way my kids feel seen, and they have my undivided attention. I turn off my phone from 7-9pm so that I am only focused on my kids. I also include them in my plans so that they can hold me to my words and I don't break promises. I recognized many years ago that when I was at work I get to be at work, and when I'm home I get to be at home. Most importantly, I made it a priority to educate and cook meals alongside my children with the fresh produce we've grown in our own backyard.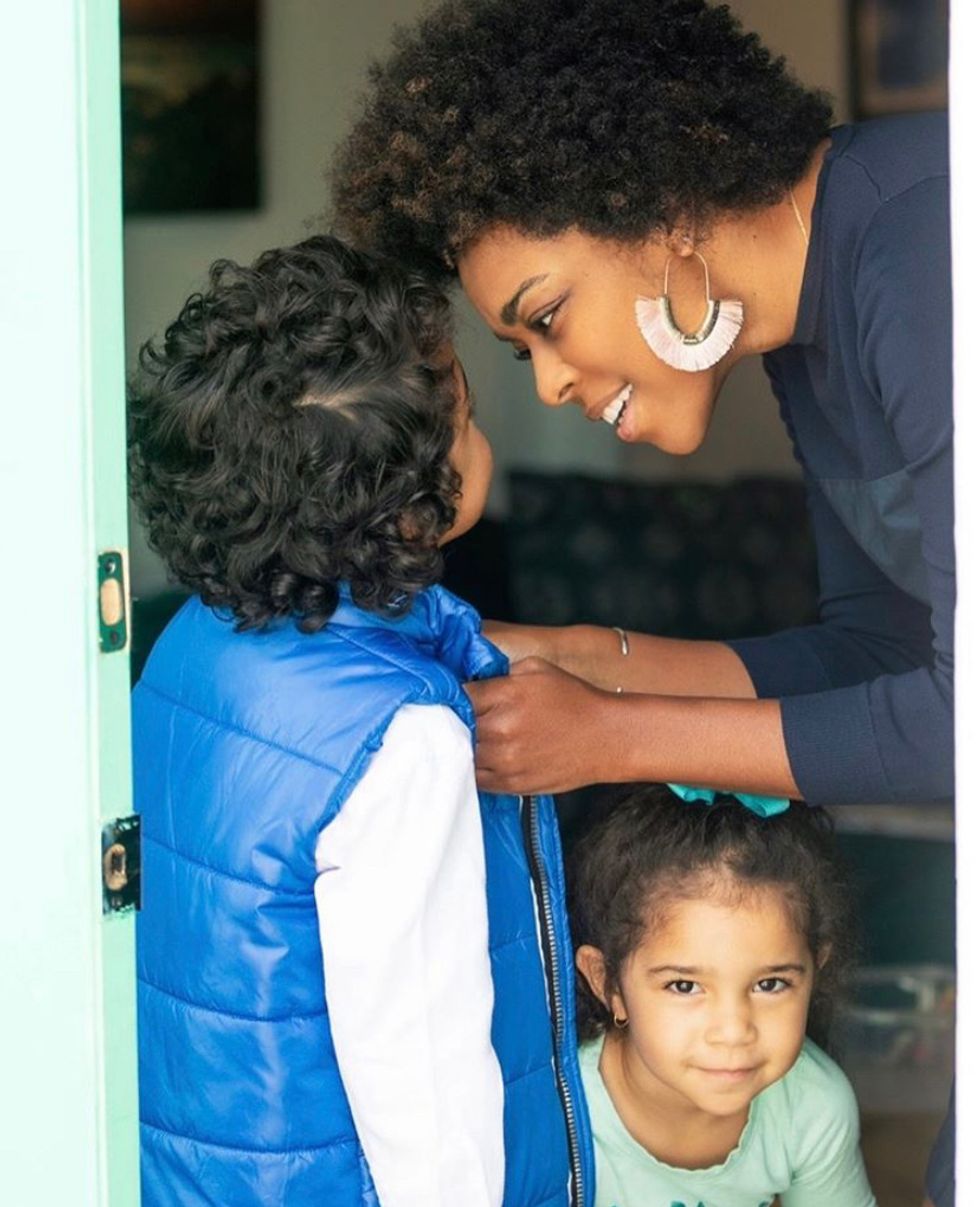 Courtesy of Chef Crystal
That's how I have triumphed, how I have found my peace of mind.

My self-care practice is to always say yes to happiness; to our happiness. And I know that creating happiness for myself, creates happiness for others. Learning yourself through adversity is key—a major key. Now I know, without a doubt, that I am a powerful, confident, joyful woman. Making the best of life, liberty, and the pursuit of happiness, regardless of any obstacles.
And I can make a killer vegan stuffed bell pepper, too.
Crystal also heads numerous projects that promote healthy eating such as, @ChefCrystalzGuide (lifestyle Chef brand) and #CineSoul Dine (community film, music, and dinner series in partnership with Airbnb). To learn more about Crystal's Chef Guide to Divorce, visit her website. You can also follow her on Instagram @ChefCrystalzWorld.
Feature image courtesy of Chef Crystal Blanchette
Keep reading...
Show less
As Told To is a recurring segment on xoNecole where real women are given a platform to tell their stories in first-person narrative as told to a writer.
This is Kimberly Holden's story, as told to Charmin Michelle.
My daughter, who is six, I adopted in 2015. My son, who is four, I officially adopted in 2018.
Both of them are white. Yes, white.
Our story is no different from any other interracial adoptive families, but I'm happy to tell you how it happened. And please don't flood me with, "But that doesn't matter" or "You shouldn't explain anything to anyone." I understand that, ladies, thank you for the support. But I have gotten enough online ridicule to at least address it. Also, at the end of the day, people are going to have questions, which I don't mind (as long as they aren't rude). And I don't have to respond, but I want to...
Adopting Lizzie
For as long as I can remember, I have always loved children, which is why I became a foster mom in the first place. And over the years, I have fostered many children, black, white, whatever. It never mattered to me. I loved them all. With that, I've learned that there is no such thing as "preference" when it comes to a child; no wants. Fostering is only about wanting to help kids that need you—or at least it should be. So, despite what the world thinks, there is no catalog to flip through that allows us to choose who we share our love with, there is no option to build the child of my dreams, if there is a such thing.
When I first joined the foster system, of course on the intake paperwork, it is possible to specify certain demographics of a child, which at the time, I had only two asks: girls, ages 0-5. But what so many fail to understand, is ultimately, DCF and CPS doesn't care what you ask for.
Randomly one day, my phone rang; a lady was on the other end.
"Hi Kimberly, um, so, I'm looking at your paperwork, and um, I know you want only girls, but I have these little boys and...I need you."
And guess what? I didn't hesitate. Bring them to me.
I did not say, "No, I only want girls" or "I can't help, I only love and want black girls." I told her to bring me those babies because they needed me.
At the time, I lived in a town that was predominantly white and Puerto Rican so, I would never get calls about available kids in my town, most of them came from neighboring larger city, which had a greater need. So, these young boys came to me from one of those cities. This all changed shortly afterward when, my boys were adopted out and I received a call informing me that DCF would now be operating by regions. They sent me a map and told me I would be contacted when children were available from these newly specified areas, which, because I never received calls from before, I was skeptical about.
Lo and behold, one day my phone rang again.
I was at work, so I couldn't answer, but I recognized the number as a DCF number. I immediately ran to the bathroom to listen to the voicemail.
"Hi Kim, we have a young girl that we're looking to place in a home, please call me back, we want to place her today." I called back, didn't ask for a single detail, and told them I'll be home this evening waiting on her. Two hours later, the social worker was at my home. He drove past my house and because of it, I told him to park where he was and I would come outside to greet the both of them. It was a bit of a distance away, so when he walked up, it was only then that I began to notice that she was not black. Once again, never cared.
All I could think was, she is so cute and chubby!
I was so blown away by her that it never resonated that she was white. And to be honest with you, it was the social worker's reaction to me that caused me to calculate race in the equation at all. He was actually the one surprised by my race. As for me, I didn't have a care in the world. What was I going to do, tell him "no" because she was different than me?
Never.
I took my daughter in the house and we have been each other's heart ever since.
Welcoming Eddie To The Family
One day, I got a call from my social worker stating that I needed to sign additional paperwork for Lizzie's adoption, so we agreed to meet at my house that evening. Lizzie had just finished dinner, she was running around playing when she arrived. As soon as she sees Lizzie, she says, "You're getting so big! And guess what, you're a big sister!"
....excuse me, what?
Backtracking slightly, prior to adopting Lizzie, her biological mom wanted to meet me to ensure that she was going to a home that was good for her—which I obliged. I felt that if I was going to do this, I wanted the process to feel right, I wanted it to be a good situation. So, we met. In hindsight, her pregnancy makes sense: baggy clothes and large sweatshirts. She didn't want that child to be taken too. But you see, in DCF, when there's an open case going on, they're going to get involved anyway.
"Oh wow," I say.
"I know, she hides her pregnancy very well." Then, she looks at me and says, "We're gonna need you..."
Need me?!
All I could think about was the fact that he was a newborn and not having maternity leave at my job. I tell her and she says, "It's OK. I have a home for him to go to. But I have to ask you because you are a family home now, you have his sister. But if we ever need you, we'll give you a call." Which we both agreed to.
Three months later, I get a call saying, "Remember when we said Lizzie had a little brother? Well, Eddie is being removed from that home, and we need him in yours, can you take him?"
Immediately, I say, "Of course." And never questioned a soul.

A week later, we welcomed Eddie home.
Adjusting To YouTube + Criticism
OK, here's what you don't know about adoption through fostering when it comes to "race". The biological mother of my kids, is a Puerto Rican, Greek, and Cherokee woman. Because of this, despite the fact that they look lily white, my kids were considered minorities. Society has groomed us to believe that a minority (a word I despise) is us. But DCF smacks that label on anyone who has an ounce of ethnicity. My children arrived to me based on a simple word that determines my background. And my love for all kids, is why I kept them.
Never in a million years would I think that after all of this time, I would receive the amount of hate from strangers because of it. I started my YouTube channel to document our journey, and some of the comments I get are disheartening. I'm unaffected, but admittedly, I wonder how and why people think the way that they do—and the worst often comes from black people.

I have been called a coon, bed wench, Uncle Tom, and a "self-hating nigger." I've been accused of wanting to be white, which trust me, adopting two white kids is literally the last thing someone should do to "want to be white," simply because I am reminded that I'm black every single time I am in public with my children.
But more specifically, I want to directly address one of the most repetitive comments that I hear: "But Kimberly, there are way more black kids in foster care that need homes"
Ladies, I live in Connecticut, which is an overwhelmingly white state. Most of the kids in foster care in my state, guess what—are white! First is white, then Hispanic, and then black. You cannot adopt from a state you do not live in, so I opened my home to whomever needed me. That's A. And B, if there are more black kids in foster care that need homes, don't you think that's a problem in the community? You're mad at me about this?
The narrative must shift, there's so much we can do for society besides gripe about supporting any child. My kids are happy, they're flourishing, and most importantly they are loved. And they love me and my brown skin
--
I took the path that was laid out for me and I was unbiased to sharing my love to anyone, that's the only thing I'm accused of. And to anyone who thinks that how I adopted is wrong, I challenge you to open your home, and show me how to do it right.
Kimberly is currently raising awareness for adoption through foster care and she has a YouTube Channel documenting her family's journey. You can watch her full adoption video here and you can follow her on Instagram @_holden_it_down.
Feature image courtesy of Kimberly Holden
Keep reading...
Show less
As Told To is a recurring segment on xoNecole where real women are given a platform to tell their stories in first-person narrative as told to a writer.
This is Cherisse Jamison's story, as told to Charmin Michelle.
I found out I was adopted when I was 12 years old—which sucked.
But my parents never treated me any differently from my siblings. I lived in a two-parent home, something not very common were I'm from. My dad has six kids, none of which graduated from high school. Because of this, people expected me to fail, or get pregnant early, and drop out of school. It was crazy.

When I turned 21, my curiosity got the best of me and I made the decision to look into obtaining my adoption records. I always had the urge to find out who I was, and was met with road blocks when searching before. One day out of the blue, while at home for the summer, I randomly received my adoption records in the mail. Oh my goodness, I remember being so excited.
I'm finally going to be able to meet my biological family!

I literally could not open it fast enough. Once I finished ripping open the envelope, I was instantly devastated to see the agency literally marked out all names, all addresses. Basically, all the important information that could lead me to finding my biological family.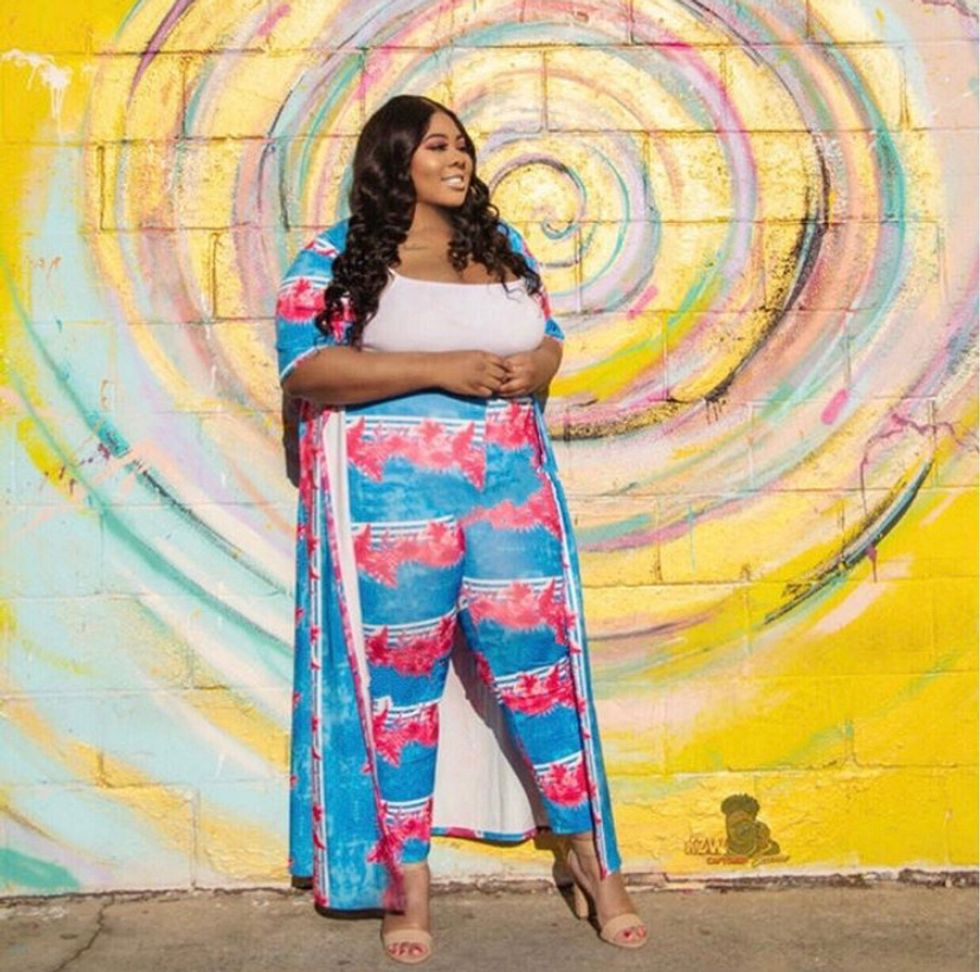 Heartbroken.

I immediately began scrambling to find my original birth certificate, which listed my biological name before it was changed. I also found small details that had descriptions of my parents and grandparents, my two siblings which I learned both lived in my same state. And...a church.
First, I decided to call the hospital. The hospital no longer had any record, being that it was many years ago, so I decided to switch my attention to the church. I came across a YouTube channel, which belonged to a young musician who was also a member of this church. I eventually found him on Facebook, sent him a message, and he responded almost immediately. Initially, he thought it was a joke or a scam, but I ended up convincing him to give me a call.
His name was J—we were only four years apart. He told me that we, biologically, had the same last name and that 90% of that church would be my family if this were true. We all hopped on a call with his grandmother, where he explained the situation as she listened to the same details I gave J. Hesitant, she told him to reach out to his mom, which he did.
Moments later, it was confirmed. He called me back crying, and saying that his mom admitted to him being my brother.
The crazy part of all of this is the fact that this all happened in the same day. Me receiving a letter from the agency, and by 10:00 that night, finding my birth mother.
I met them in person and as time passed, we kept in contact until I graduated college. I decided to move closer to them for what was supposed to be only a summer, permanently. Admittedly, during this time, I was warned from my other siblings about my mom. But me, desperately wanting to foster a relationship with that side of my identity, didn't listen.
This is my biological mother. Nothing is going to stop me from being near her.
I decided to move in with her. And it wasn't long after that, that everything changed.
She became very narcissistic. A scammer. Neglectful to my younger brother. I witnessed multiple men come in and out in a week. And as a grown ass woman, it was a lot for me to take in. I never witnessed a "mother" move in the matter she did. Every attempt I made to get closer to her, she denied. There were times where I would get off work around 10pm every night and she would let me walk from the store to her house. Never bothered to come get me or even made sure I made it home. One day, I overheard a phone conversation she was having and during the call she was discussing me:
"I never came looking for her, she was looking for me."
"I wish she would go back to the people she came from."
I don't think there's a word for how hurt I was. I moved away from everything that I ever knew to build a relationship with her, and I was rejected in every way.
Soon, I ended up meeting a guy named [redacted] at work (for the sake of the story, let's call him Abusive Andy). Like a fragile child, that in hindsight I truly was, I instantly fell for his charm basically due to me being insecure, depressed, and now, homesick. I spent about two weeks with him, going back and forth. I would literally only go to my mom's house to get clothes and leave. He would pick me up and take me to work and treated me what seemed, at the time, like royalty. One day, while I was at Abusive Andy's house, I received a message from my biological mom saying I had three days to packs my things and return her key. She never gave me an explanation, nor did she bother to care where I would go. I spent a week living in a hotel while I figured out what I would do. Returning home was no longer an option, and my parents had no idea what was even going on.
Andy suggested I move in with him. And after only a month of knowing him, I moved in.
At first, everything was great and I felt protected. But like my mother, a couple weeks later, everything changed. He became very controlling, loud, and angry. It seemed like everything I did, or didn't do, made him upset. He once slapped me for not folding clothes the way he liked, which, of course, he apologized for and I brushed it off as him having a bad day. But still, we would fight every single day. He made me cut off all my friends and I became very isolated from everyone. I became even more depressed, very quiet, I gained a lot of weight as well.
And the thing about it is, Abusive Andy knew I had no family or anyone that I could call on for help. He preyed on it.
I kept protecting him because I loved him and I knew I had nowhere else to go. But the final straw came when I witnessed him fight his mother in front of me. Who would put their hands on their own mother?
He then turned and started beating me, and his mom did nothing and said nothing.
It was time to go. After a final fight, I picked myself up, filed a retraining order, and got the hell away from it all.
--
Thankfully, even through the pain, the hustle in me was never affected. I began to throw myself into work. In college, I would write songs for local artists, blog, and more. One day, I received a message on Instagram from Party Hardly, over at Hip Hop Weekly. He said he heard a lot about me and wanted to know if I was interested in interviewing for the platform, which of course, I was. My reputation and personal brand took off and eventually, I began receiving media invites for award shows, movie premieres, and all things red carpet. I revamped my brand to 'Keeping Up With Kells', opening myself to more diverse markets. Soon after, I covered the VMAs, The Grammys, Black Girls Rock, BET Hip Hop Awards, Soul Train, and more.
And now, I represent and work with multiple celebrities, independent artists, and entrepreneurs as a publicist. Everything I learned over the years was self-taught. I had no role models, I had no internships, or mentors. I did, however, have a lot of heartache, a lot of pain.
And so many of us are walking around with the same. So many of us create paths, while simultaneously carrying around our brokenness. But God is keeping us, ladies. He's not allowing us to be broken, He didn't allow me to be broken. I succeeded anyway.
So often, I sit back a reflect on my journey. How I'm where I am in life, why I'm where I am in life. Even now, this very story I'm telling, is a highlight for me, because I'm always in the game of pleasing my clients and making sure their stories are told, never mine.
Even currently, I'm writing a self-discovery book to unpack my thoughts (which I don't have a title yet, but I can say it's going to give complete transparency of my life from childhood to womanhood) and also, I'll drop a few tips that helped me become successful--you know, the do's and the don'ts of the industry; the secrets we won't say out loud. In the meantime, I will continue my journey, in my happiness.
My skin is clear, I'm not frustrated, and I feel genuinely loved by my partner. Just being completely comfortable and confident in me.
Cherisse is currently working on a few projects, with creating a resource for aspiring publicists being one. Follow her in Instagram @keepingupwithkellsonline for more information.
Feature image courtesy of KZW Capturing Essence
Keep reading...
Show less