As Told To is a recurring segment on xoNecole where real women are given a platform to tell their stories in first-person narrative as told to a writer.
This is the story of Chantel Robertson, CEO and founder of Upful Blends, a plant-based wellness brand, as told to xoNecole.
Surviving Early Traumas
I experienced six different diseases from the ages of 12 to 24, and I went through severe depression. In fact, when I was 12, I was on antidepressants. [Then it was] tumors, fibroids, auto-immune disease, heart disease, mental illness, hormonal imbalance—all these different things. One day, as I was in the hospital, on bedrest and on different medications, I felt that this couldn't be the only way [to heal]. Although it wasn't communicated with me through my parents or through my family, I knew that consuming medications or consistently getting surgeries just wasn't it.
What I feel contributed to the numerous health issues is based on my lineage and the traumas that my family has experienced. My mother and grandmother experienced such deep trauma, and I believe that [had an affect] from when I was born.
I also feel that I wasn't meant to consume a bunch of processed foods, but when you're younger, you're eating the hotdogs, hamburgers, baked mac and cheese, the fried chicken—all the things. I remember, as a child, I would still be full of life, happy and joyful. I would even put on performances for the kids on the block, but once I moved to another state with my family at 12, I just became very angry. From there, I was put on medications, and then things continued to come up as far as the illnesses.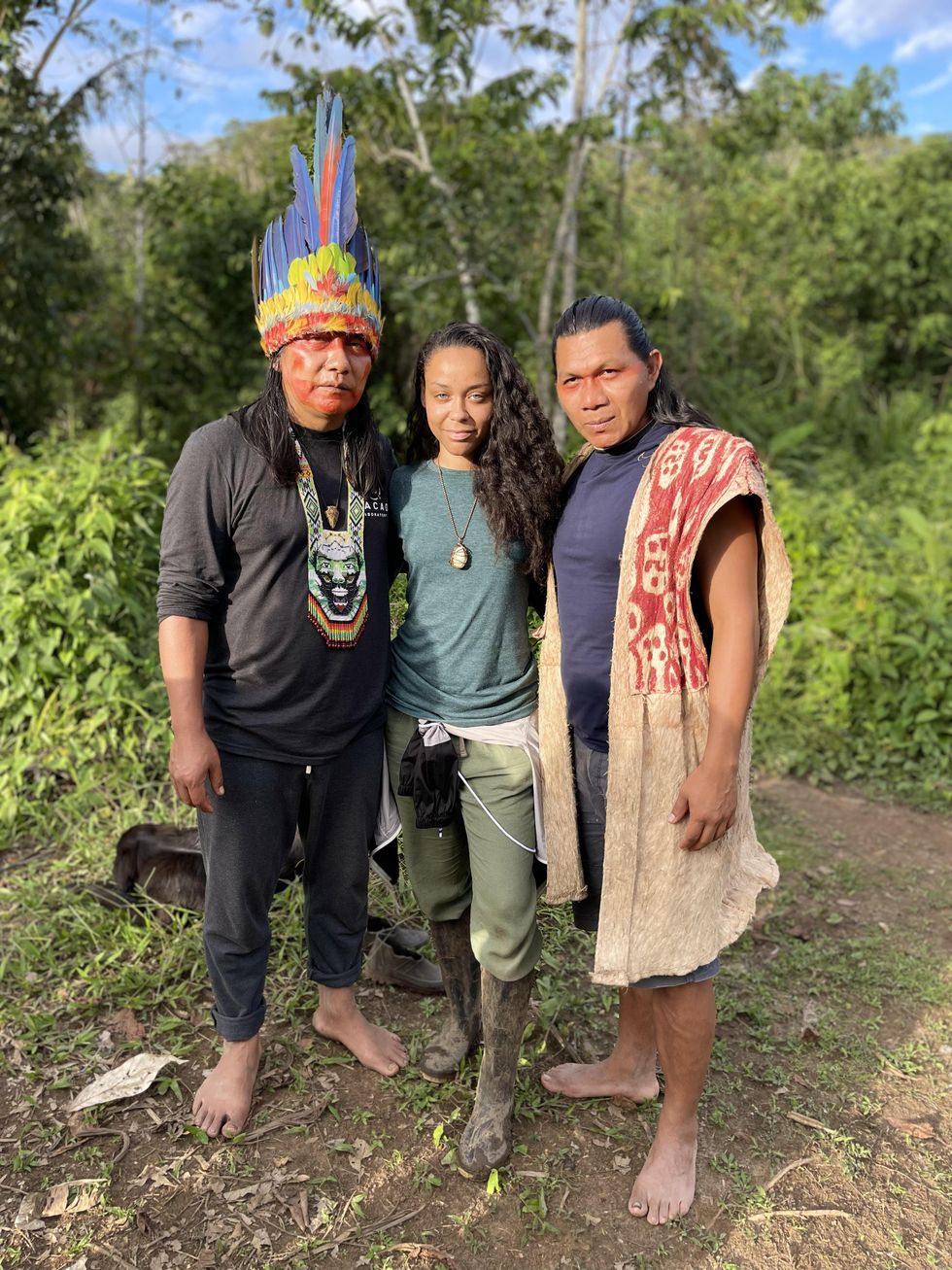 Image courtesy of Upful Blends
Trekking Through The Amazon 
I took a life-changing trip out to Honduras, first, into the rainforest, and I fasted on just plant medicine, different herbs, and alkaline water. I was able to propel my healing experience. From then, I began to connect with different people in my close circle and some who I'd bump into on the street, and they had connections to shamans and chiefs in the Brazilian Amazon, specifically with the Yawanawa tribe. I felt this deep desire and call to go to the Amazon and learn from the elders there about plant medicine and healing.
I'm a master manifester, so it just made sense that I got later connected with those people. When cultivating and building a relationship with them, they invited me out to the Amazon and that's when everything truly began. I've been to the Amazon three times so far, and I'd paused for a bit due to the pandemic. It's still somewhere I consistently visit, connect with, and continue to learn from.
The Amazon is its own sanctuary and it's beautiful. We don't truly know the density within society until we step away from that mentality of the 'go, go, go.' When out there, I always feel like it's a different planet.
The vibration, the energy from the earth—I felt things immediately begin to recalibrate. I was able to be in deep states of peace and clarity. I felt my connection to spirit was more clear and potent. There wasn't so much noise.
The people of tribes out there hold such a pure heart and clear wisdom of how they choose to live their life. They've cultivated wisdom on plant medicine—not from a book or going to a school for herbalism, but just off of centuries and lineages of men and women who have experienced these herbs firsthand. They know the plants' power of how they serve the body physically but also how they serve energetically, spiritually, and mentally.
Each time I visit, I stay for about two weeks, and throughout that process, I'd not only learn about plant medicine but hike, explore nature, and [learn more about the culture.]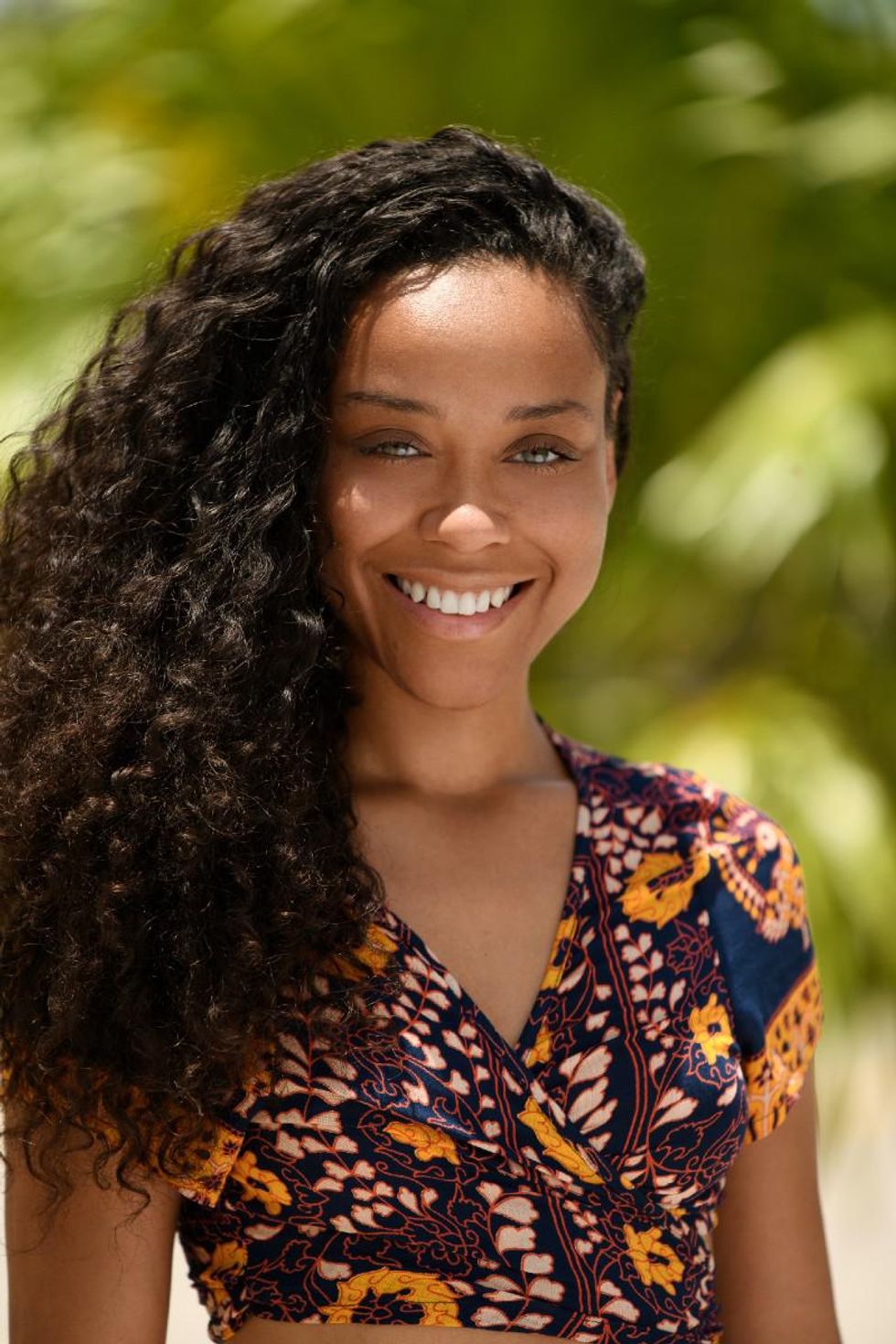 Image by Xavier Bryan
Building A Brand
I began connecting with and building a community online based on what I learned on my trips. I just knew this healing process wasn't just for me. People began reaching out to me asking, 'Where can I get this herb?' or 'How can I learn how to fast?' As more people began reaching out, I said, let me just do this [brand.] I would create tonics at my house and driving around Florida dropping off orders. I'd just experienced healing, still in the moment recording the process, did not have a job [due to the absences related to chronic illnesses].
I had $20 to start, and it was either use that for food or to buy some herbs, where I could create different tonics and sell them. I was able to grow that $20 to $2 million. It was all from the transparency and intimacy with my community, and I love speaking and connecting with people. That is what breathes life into my brand.
What was huge in the jump from $20 to millions was recording my process. I recorded almost every moment of my life, from blending the herbs to creating the tonics to recording everything I was doing to activate healing within me. I was still adamant about fasting and consuming my herbs consistently. Outside of that, it was about bringing people onto my team who aligned with the vision and the culture that I wanted to instill within my team. And with those who were aligned energetically and spiritually with the brand, it supported us to work together as a team for the goal.
Within a year and a half from starting, I had a team of about two to three people, and with them, we created a huge impact based on our vision.
I wasn't fixated on the money. I was just aligning with what the mission was and I was very clear about who I was serving and supporting. I'd tune into that each day and as long as I was operating from that space of play, faith, love and intention, it was easy.
Featured image courtesy of Upful Blends
Keep reading...
Show less
As Told To is a recurring segment on xoNecole where real women are given a platform to tell their stories in first-person narrative as told to a writer.
This is Maya's story, as told to Charmin Michelle.
Neptune illusion. My Venus was opposing my Neptune in my chart--that's how it started. If you're into astrology, then you know what this means. If not, it's another way of saying, "I didn't listen." I was seeing my relationship with rose-colored glasses. Sometimes we see people with the good energy we have and we try to project that onto them, energy that they don't have by the way. But it's all a lie.
--
2016. What a terrible year. I was in such a bad head space in life. My energy was always drained, and I was having confidence issues. I never felt good in my own skin or in my abilities.
And why? I was in a toxic relationship.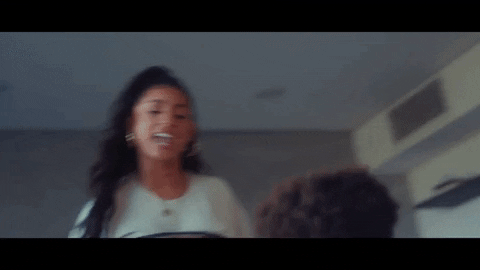 Giphy
It all started when my boyfriend and I planned to attend an event catered to rappers, singers, creatives, artists, influencers, and more, in LA. And because we had all the same friends, we decided to go as a group. I actually planned to meet everyone there because I had some things to take care of first, so I came about 30 minutes after our group did. When I arrived, I texted him to let him know I was there but he didn't respond. In fact, no one in our group was responding.
In their defense, the cell phone reception was terrible, I couldn't get through, and no one was answering. This particular event was massive; there was no way I was going to just run into them, so I decided to go in and see if I knew anyone else. Roughly an hour later, I got in contact with one of the people in the group, and linked up with them. Finally, right? Hm.
I see my boyfriend and we hug and greet each other the way we usually do and we all decide to walk around. The event was a vibe, I loved everything about it. We were taking pictures, meeting people, chatting with other artists and celebs--just really getting involved in the mix of things.
But unbeknownst to me, during the time I was lost, he met this girl. Let's call her 'Ashley.'
Ashley was an artist; a singer. Actually kind of popular, you may know her. She does her thing out here, not gonna lie, very beautiful woman as well. Anyway, my boyfriend met this girl, and what he told me was it wasn't on a flirty tip or anything, just a networking vibe, which I respected. The event was over and we went back to our relationship bliss, literally living our best lives together because we had what I thought was a great relationship.
Chiiiile.
He started doing subtle things--things like getting real funky about his phone. But I would always write it off as me being paranoid because he just did all this great stuff for me, or because 'we had a great Valentine's Day' or whatever the case may be. But it wasn't right, y'all, something just wasn't right. And it slowly started to eat away at me. I tried to ignore it, y'all, I tried.
Additionally, during that time, I was exploring and becoming more in tune with my spirituality, and I had just got my first deck of tarot cards. Now, I'm flipping cards all day long, but at that time, I remember I was nervous pulling the cards--almost scared (I grew up in a Christian household, and there's a lot of things they tell you about magic and divination, as such I had to release those belief systems and fear around those things). But anyway, I remember I started asking the cards and asking my intuition to speak through me and basically tell me what's going on.
Is he cheating on me? Card: Yes.
Is he cheating on me? Card: Yes.
Is he cheating on me? Card: Girl, yes.
Y'all, I asked multiple, multiple, multiple times. And the answer always came up as 'yes.' But wait, this can't be right. Am I doing something wrong? Am I pulling my own thoughts into the reading? I would have dreams about him cheating, are these dreams infiltrating my thoughts? Am I denying my intuition?
It was time to go see my psychic.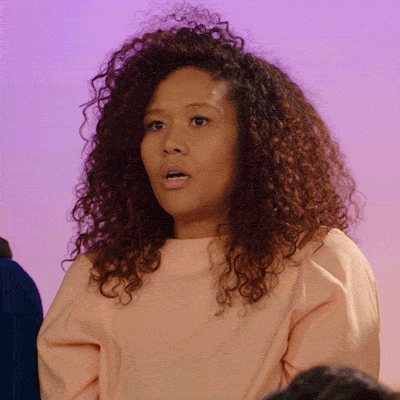 Giphy
I went to one of my favorite psychics that I always go to, and I basically straight up asked him. I didn't sugar coat it at all, I needed the truth and I knew he would give it to me (which sidebar: if your psychic doesn't give it to you raw and uncut, then you need to find a new one).
He told me that my boyfriend wasn't physically cheating on me yet, that he wasn't having sex with anyone, but that eventually he would and he gave me a time frame.
He told me he was going to meet this girl soon and when he does, it's not good, it's not pretty. I was devastated. I was disappointed. This was my soulmate. What am I supposed to do? What would you do?
It never occurred to me that the process had already started. 
One morning, I had to get up early and when my alarm went off, I went for his phone to set the timer for a few more minutes. When I tell you he woke up out of his sleep and snatched his phone back so fast, like...I couldn't believe it. I knew exactly what it was. He went back to sleep and I grabbed his phone and began to go through it, and there it all was. Him and Ashley flirting, going back and forth, discussing being in a relationship, and more. They were planning to link up the next day to do their thing and all.
As for me, it was my first heartbreak.
My mind was going crazy. I woke him up, told him to leave, and that was it. I was done.
I tell my story for this reason, ladies: red flags are real. I had all the signs, I had all the confirmations, I had the answer I was looking for all along. My spirit was frickin yelling at me and I was stuck in this Neptune delusion. Society teaches us that we can't trust psychics or that it's magic crap that we cannot apply to our lives, and that's simply not true. Trust your psychics. Your divine feminine energy is your gift.
I think back to this relationship, and realized I was so insecure at this time, which basically determined why and how I behaved or accepted other's behaviors towards me. It took me a long time to bounce back and to really find myself. So, always listen to your divine intuition, always listen to what your heart is telling you. Your angels will speak, your Gods will speak, and most importantly, your higher self will speak to you and guide you as they should.
And a good psychic, too.
Jaelyn is a spiritual guru who specializes in helping women awaken their inner goddess. Her mission is to bring the world content that uplifts, enlightens and makes people laugh too. Follow her on Instagram @itsbabyj.
Featured image via Jaelyn/@itsbabyj

Keep reading...
Show less
As Told To is a recurring segment on xoNecole where real women are given a platform to tell their stories in first-person narrative as told to a writer.
This is Maya's story, written by Charmin Michelle.
I know this may come to a surprise so many, but here we are. Yes, I got a BBL. If you aren't aware, a BBL is a Brazilian Butt Lift, a cosmetic surgery process where the doctor uses a combination of liposuction and fat-grafting, transfers the fat into the butt, resulting in added volume, defined curves, and a lift. It is technically lipo and a fat transfer. But yeah girl, this has been on my to-do list for a while. And now that I am able to afford it, I went for it.
This was a really personal decision for me to get one, and I also went back and forth on whether I would share. In the end, I am in a position to share what I know, so I decided to do so. It could help other women who are considering the surgery make a more informed decision. So, here we go:
Why, sis? Why did you get a BBL?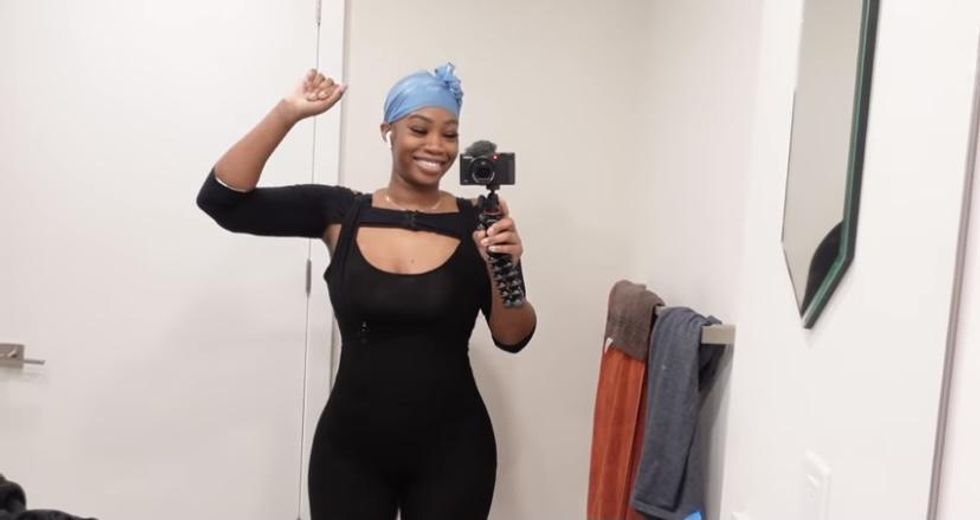 Maya Galore/YouTube
For my surgery, I got 360 lipo, meaning the doctor took fat from my entire abdomen, my love handles, my entire back, my arms, and my sides. I got a fat transfer which means my doctor just took that fat, and put it somewhere else. The fat was then injected into my hips and my butt, creating the hourglass shape I was going for.
I am actually not one of those people who got a BBL to get a fat butt, to be twerking, as someone looking for clout, or whatever. To be honest, I didn't even do this for my career. I got a BBL specifically to have a more feminine look about my body. I wanted an hourglass shape, being that that's not something I was born with. And like most women, I've always have body issues, or things I didn't like, so the things this surgery did for me, I could not have gotten in anybody's gym. Plain and simple. I have been super, super, super fit before—working out, eating clean, all of that—and I had no curves whatsoever. Like...none.
So my decisions had nothing to do with anyone else—my friends, my family, my man. I wanted to look more feminine in my clothing and I just wanted to be happy with myself when no one was in the room but me and Jesus.
And I have been considering this for years. I know it's easy to say that I got one because it's trendy or popular, or whatever the case may be, but I have been researching this for a long time. This is nothing new, ladies. There is nothing new about it. And I had been researching BBLs hard.
Let's talk numbers: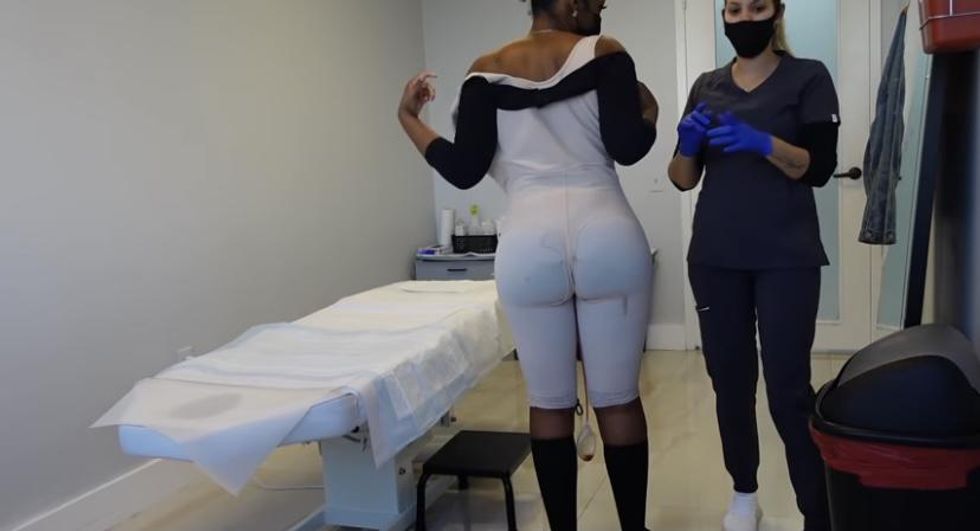 Maya Galore/YouTube
If you are familiar with BBLs, or if you've been doing your research, then you are familiar with Dr. Fisher in Miami, who conducted my surgery. His prices are on the expensive side, my entire BBL surgery—minus the arms—cost $8,000. I added my arms for another thousand, totaling $9,000. This price includes the surgery, my post-op care, the first five massages at his facility afterwards, and more.
A little BBL preparation insight: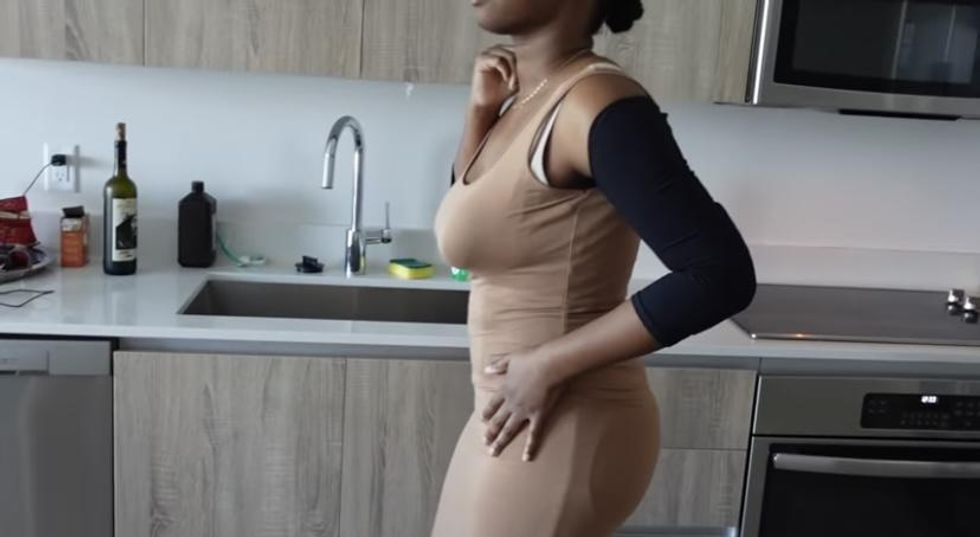 Maya Galore/YouTube
OK, so 30 days leading up to my surgery, I had to stop taking all my vitamins, I couldn't drink alcohol, no drugs, and no medications. I tried to eat clean because doctors advise you to be close to your goal weight before having the surgery to avoid trying to lose weight after (and potentially alter results). You have to get blood work done, and have approved labs prior as well. Sidebar: I was on keto but had to get off because they messed up my labs. Once I began eating food from all food groups, my levels were good to go for surgery.
Obviously, because of the times, I had to take a COVID test as well. You will also need excess fat for the procedure, which is another reason I chose not to lose weight before surgery. You will need a BMI of 32 or less.
Dr. Fisher took 4,000 ccs, the maximum amount of fat you can transfer, and put almost took exactly 2,000 cc's in each butt cheeks and hips.
How is the healing process for a BBL?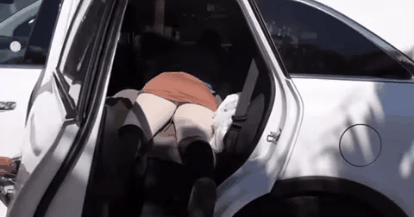 Maya Galore/YouTube
The healing process is...something. You learn the tips and tricks of many things that you've never even thought of before. Things like wearing foam boards under your shapewear to tighten skin, or drains, or placing a marble in your belly button to prevent the skin from hanging too low. I had on waist trainers (and more) all the time. The scars are everywhere your lipo entry points are for both removing fat, as well as taking it out. I couldn't take a bath, couldn't get in the pool for six weeks. And using the bathroom is a new normal (and super uncomfortable).
Everything is uncomfortable. Everything.
The bulk of healing or recovery comes from your lipo areas, not even your butt or hips. You can't sit down until three weeks after surgery, but when that period is over, it's important to ease into it to begin the softening process because you'll notice that it's not soft like a normal booty for a while. The sooner you start to sit, the faster it gets soft. Please keep in mind that doctors cannot change your genetics and they can only work with what you have. This is why BBLs look different on everyone.
I wore four foam boards in my faja (shapewear), and a triangle on my back to create the dip. It's important to note that you're not fully healed, or won't see full results, until six months later despite feeling normal immediately, or not feeling sick.
Also, there is no maintenance for BBLs, which is a perk.
Any regrets?
Having the BBL surgery is something that is extremely personal for me. I did something to improve myself and this is a part of my self-love journey and it's all about loving on yourself, regardless of what that looks like for you.
Financially, I was more than OK, I made this choice when it was a good time for me.
Spiritually, I was a mess. I prayed to God that this was the right thing to do. Every little sign where I questioned if getting a BBL was a part of my story, I paid attention to. He and I talked a LOT. But he gave me the confirmation I needed to move forward, which is why I did.
And honestly, not everyone understands this. Many people questioned my integrity, or somehow thought I was above having cosmetic surgery, and it's so hard for me to rationalize why people were shocked. But, listen, I am a woman with her own personal body issues at the end of the day. I feel like, of all the things to discuss about my experience in having a BBL, that that isn't one that I should have to explain. This is a reflection of something I've been going through my whole life with my body, and it was a choice I made, that I'm super happy about.
This was self-love for me. I loved myself enough to get myself out of that negative space that I felt about myself and my body.
And for that, I couldn't be any happier with my decision.
Maya is a social media influencer and has a beauty channel on YouTube where she sometimes blogs about her daily life. Follow her on Instagram @maya_galore.
Featured image via Maya Galore/Instagram

Keep reading...
Show less
As Told To is a recurring segment on xoNecole where real women are given a platform to tell their stories in first-person narrative as told to a writer.
This is Bianca Golden's story, as told to Charmin Michelle.
Representation is so important. And it actually created the trajectory of my life. I grew up in a very traditional West Indian household. My mom is from Turks and Caicos and I spent a good amount of my early childhood actually in Turks and Caicos. Education was the most important thing, and hard work followed directly behind that to support your education. My mother never cared about beauty or any worldly stuff. All we knew was 'be a doctor' and 'make your family proud.'
Although I was a very shy child, as I got older I began to question society more, which completely went against the West Indian values I was raised in. But I was curious, and I wanted to know, "Why?" I pushed boundaries, and stressed my mom and family out a lot by simply asking, why.
Why is this taught this way?
Why did that happen?
Why?
Why?
I was always tall, and did things my way, which got me in trouble at home, and I didn't fit in anywhere. Home, school. It was a weird dynamic: "You're West Indian but you're in America, but you're not American, you're West Indian."
I just didn't fit in.
One day I saw Tyra (Banks) do an interview when she was younger where she expressed the same feelings, and I just gravitated towards her. She gave me something to aspire for instantly. So, I decided then and there that I was going to be a model.
And then, America's Next Top Model came along.
Much of it was a blur, in a good and bad way, of course. Keep in mind, this was a time before the Kardashians and before Instagram or most social media was even a thing. We worked hard, with no recognition for that hard work, and because of that, it's difficult for me to call ANTM a memory at all, simply because I didn't live in the moment. I just wanted to be a model, I wanted to be considered good enough. I was just happy to make it on the show to be honest. All I knew was I had a goal, and that goal was to win, simple as that. And honestly, with being so young (18), I don't even think I knew at that moment what that meant.
Even today, I'm asked about about ANTM: do I keep in contact with cast members or Tyra, or if I feel Tyra owes any of the girls apologies for how they were treated or any stereotypes that may have been perpetuated by the judges. Yes, I keep in contact with many of the ladies (Angelea, Isis, Laura, and Lisa, who will all be at my upcoming wedding) and, no, I don't feel Tyra owes anyone an apology. Were some moments insensitive? Possibly. But at the time, we were not where we are as a society today. We have evolved.
Why are we holding her accountable for something that was acceptable at the time? It's just now in our evolution in society that we're able to say, 'Hmmm, maybe you could have taken a different route about that.' I think it's unfair to hold people to a standard that was not even around.
The only time we should hold someone accountable, is if they don't evolve with society or with time. If another season of Top Model comes out, and the same happens, then we can have the conversation. Right? Right.
Ultimately, I've learned that everyone is experiencing life the best way they know how. Everyone is doing the best with what they have—including Tyra. I was deemed a bitch. I was called evil. Just, a lot of disgusting names. And to be honest, I was really hard on myself as well, like, I am being myself, why is everyone mad at me?
Towards the end of my career, I started feeling like modeling wasn't for me, my jobs started slowing down, I started missing my family. I went maybe a year without booking any modeling jobs. It was time to live out a new calling. I left my agency and moved back home, which was really hard for me. I felt like a failure.
I didn't know what I was going to do. I was 25 years old and I was retired. So, I did what all Black people do when you need answers: I talked to Jesus.
I started a ministry at my church for young girls and it really opened my eyes to a new life, a new purpose; it gave me purpose. And I loved it. I went back to school and entered education. Best decision I ever made.
My students know my background, they know I was on reality television. They just don't care. At the beginning of every school year, I introduce myself to my students and I think it's extremely important for me to do so; to stand in front of them and say, "I am a woman who is flawed, who comes from where you may come from, who makes a lot of mistakes." I tell them I was on the show and I was a hot mess and from here they typically Google me and return with questions or tell me I'm famous or something, but ultimately they're still kids. They still miss assignments, or roll their eyes when they're having a bad day or whatever the case may be. None of my previous career affects our relationship.
I love my students, I want them to question everything and not buy into everything society feeds them. Check on your teacher friends, though. We are drowning. We don't know where the state of education is going after what we've just experienced (pandemic remote learning), and it's taking its toll.
Ultimately, ladies, do I have any regrets? My immediate answer is 'no', I try to live as authentically as possible. But in reality, we all have them. Sometimes I wonder what could have happened had I taken modeling more seriously; I never worked out, I didn't care what I ate. I didn't really study my craft. I was just kind of tall and skinny and it worked in my favor.

Sometimes, I wonder, what if? What if I put that extra time in?
Fortunately, I can quickly cut that thought off and remind myself that everything happens for a reason and I wasn't supposed to be a supermodel, but it does cross my mind. In the end, I know I was only supposed to have those experiences so I could come back and pour into young kids who I teach. I want to leverage those moments and be remembered as someone who never gave up, instead. Someone who challenged the system and urged others to do the same.
The founder of Spiked Spin--her name is Bri--she has this saying: "Insult the standard." That's what I want my legacy to be. I want to be known as someone who did that. I want to be known as someone who encouraged others to do that.
Walk in purpose. Even if it isn't pretty for everyone else.
xo,
Bianca
Bianca is currently in nuptial mode as she is marrying her partner of 13 years. She is an avid advocate for the culture and fulfilling her life's purpose, one student at a time. Follow her on Instagram @biancagolden to keep up with where her journey takes her next.
Feature image courtesy of Bianca Golden/Instagram

Keep reading...
Show less
As Told To is a recurring segment on xoNecole where real women are given a platform to tell their stories in first-person narrative as told to a writer.
This is Stephanie's story, as told to Charmin Michelle.
So, before I open up this conversation, let me say that I don't think I am an unattractive girl. I know I am attractive in some ways, and I understand as a Black woman, that we are all beautiful. I am not discussing this for pity. And I am not discussing this to be dismissed. I simply want to have a conversation about what it means to have pretty privilege. This conversation has been swirling around the social media-sphere for much of 2021, and I have always had opposing experiences from those who usually actually have the conversation—or those who are pretty.
Celebrities such as Saweetie have opened up about her experiences with whether she does or doesn't benefit from this type of leverage, and there's a multitude of videos on TikTok floating around on the subject of pretty privilege as well.
But this is my story, and what my mental health has personally struggled with for some time. And, well, I want to be honest about it. I just want to be honest. That's all. Please don't dilute my story with yours. This is my truth about the difficulties of not having pretty privilege in an image-based society.
OK. Here we go. *sigh*
Growing up, I always knew that 'pretty privilege' existed. I always knew people, specifically women, could use their looks as a form of currency as they move through a patriarchal society and that they could use it to get better mates, or they can use it to get better jobs that "regular-looking" women couldn't get. I was aware that this type of privilege is out there.
And I also knew that I didn't have it.
For anyone who doesn't know the concept of pretty privilege, it's when you basically get treated better in life due to how attractive you are. It never really bothered me until I got a little older and began to take stock of different things I didn't have in my life, which honestly, is natural as we all often compare ourselves to other people.
I started to just think about all the things in my life that probably would have been a little bit easier if I had some pretty privilege. But pretty privilege is not something that you, yourself, can decide that you have. It's something that society just gives you based on what the systems of society already are.
I began noticing subtle changes in behavior toward me and then toward my girlfriends. For example, for my most recent birthday, a few friends and I decided to go out and celebrate, which was a huge deal for me. It was monumental. I was never that girl who went out or that participated in the stereotypical rituals of partying, dressing up, or anything that most young, millennial women take part in. And sadly, this was because at a very young age, I realized I was the girl at the bar paying for my own drinks or never being approached by any men. I created a defense mechanism to where I would only go to places where I knew no one there would be anyone I was attracted to. I was roughly 22 years old.
But anyway, for whatever reason, this particular birthday, I decided, "You know what, sis, you've been watching YouTube tutorials, you are poppin' AF, go out and have a good time." I felt so pretty that night and I remember walking into the restaurant like I was a star. I felt like I was on top of the world and if anyone was going to notice me, it was going to be tonight!
But I walked in, and not a single person made eye contact with me. No one even budged, actually. 
And what's wild, is my friend walks in to meet me, and the entire place shifts towards her beautiful light skin and effortless aura that I just do not possess. I went home, after such an amazing night out with friends, hurt. I felt I did all the things that women are supposed to do, and most importantly, I was confident. I was happy. But it just wasn't good enough.
I realized I will always be invisible, even if I try.
Another time, I was at the airport and crossed paths with a guy a few times as we were on the same flight. We stood near each other much of the boarding process, and didn't speak, no eye contact or engagement at all. We were offered to sit near each other but he chose to sit elsewhere (which in hindsight, it didn't dawn on me why he chose the other seat until we sat down) so when we began to board, I went to my seat, and he went to his. He was near another woman, who was Indian or Latina. And within two minutes, she knew his name, where he worked, they connected on social media, and she was invited to a party in the Hollywood Hills.
Go figure.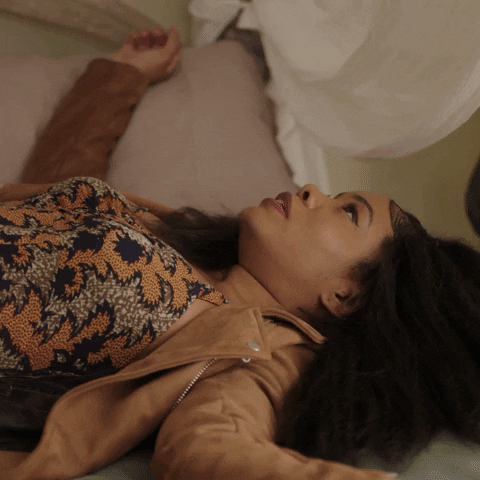 Tired Give Up GIF by HBO
Giphy
And it sucks because for me, the guys that usually approach me are those who have minimal ambition or aren't equally yolked career-wise (not that I make a million dollars), therefore my dating experiences are limited. Like, I always make sure I'm even employed before I begin to date. Let's just say this is never the case for me, as successful men often look for a certain "type" of woman.
This is why women like Lori Harvey, or Ciara, or Cassie aren't role models for me, and never were. Women often ask Ciara what was her prayer for her husband and this conversation isn't even in the scope of my life as I can sit up here all day in a convent and pray and it won't work like that for me.
Ciara is not a regular, degular, smegular girl. She is beautiful, talented, and has a career all her own. No matter how much people try to dress it up, Russell Wilson was attracted to her because of that first. This is how pretty privilege works.
And it's the same with work. I have to work for people to think of me positively. Be more, have better, or seem stronger. It's exhausting.
But ladies, I say all of this to say, as superficial as this all may sound, it's real. The thing that hurts the most about not having pretty privilege is that I feel like I get left out of the amazing, beautiful things about being a woman.
Something did dawn on me, however: even without pretty privilege, I won't look like this forever. I thought to myself, 'You're missing out on the parade of life.' I may not be a pageant queen on a float, but I'm still here. And it's my job to adorn myself, the way I see fit.
Even though traffic may never stop when I go outside or I may have to pay for my own drinks at a bar, I can still make an effort to make myself be a reflection of how I feel about myself. And even if no one ever turns their head when you walk in the room, or if they never buy you a drink, when a picture is taken, and you go back and look at it years later and think, 'Wow, I can tell she loved herself,' that is all that matters.
Society may not feel that you have pretty privilege, but if you feel you have it, then you're going to reflect that back into the world.
And at the end of the day, that's all that matters too.
Stephanie often has open and honest conversations about societal norms on her YouTube channel. Follow her on Instagram @ohstepco for her latest updates on her life's journey.
Feature image courtesy of Instagram/ohstephco
Keep reading...
Show less
As Told To is a recurring segment on xoNecole where real women are given a platform to tell their stories in first-person narrative as told to a writer.
This is Elease and Ra's story, as told to Charmin Michelle.
They say love comes unexpectedly...well that saying doesn't suffice when summarizing the love story of my fiancee Ra and I. 'Unexpectedly' doesn't even begin to describe the journey of our union. Here's a story of how I found everything I needed, in the most unexpected person.

Meeting An Unknown Lover
Ra and I met during a weekend trip to Atlanta. She came with our mutual friend, who is also my line sister, and a group of others as I was visiting Atlanta with my best friend and a few of her friends. One drunken night led to me arriving at their Airbnb, briefly meeting Ra, and eventually ending the night at the ever-famous Waffle House with friends. We each returned home with no further thoughts, other than a great time and plenty of laughs. We never thought romantically of each other at this time, so I resumed working and casually dating.
Ra went back to Nashville working and still entangled in a previous relationship.
At the time, she had been involved in same-sex relationships for the greater part of her adult life and I, on the other hand, had zero experiences. I grew up a preacher's kid and full Southern Baptist. No other explanation needed there, however, I had my own thoughts and feelings in regards to same-sex unions. I had tons of friends near and dear who identify as LGBTQ and I supported them in all ways.
A year passed and our friends planned an adventure-filled weekend in Nashville, including hiking to a waterfall and renting a boat for a day party. Unbeknownst to me, this was also Ra's birthday weekend. The most contact we had during the weekend was Ra, at my request, taking a picture of me near the Titan Stadium Bridge. It was at that point numbers were exchanged, with zero romantic notions. I was just a girl wanting a picture on the newest iPhone to post on her feed.
While in Nashville, Ra played a song that I loved but I could not pinpoint the title. Days later, I thought to text her to find out the title of this mystery song. "God is a Woman" by Ariana Grande turned out to be the title. From that text sparked a routine of daily conversations about music. After a few weeks, music conversations shifted to life in general.
Bonding over music unlocked in me the ability to see Ra for simply who she is; a soul. Her gender did not matter to me.
Even though this was foreign to me, the smile I got when her messages came in and the anticipation that grew to meet in person, it all overshadowed any doubt and fear on embarking on this journey of discovery with her. Eventually, I admitted to Ra that I enjoyed where this is going but I couldn't understand it. All of my previous relationships have all been heterosexual and had lasted years--what was happening? Ultimately, I quit caring, and we decided to begin dating exclusively.
Life In An Unfamiliar Territory
Our relationship was beautiful, we were inseparable. But unfortunately, we were also long-distance. I began to slow down how fast I was falling for her for my own protection.
A straight girl, out of the blue, dating a woman and being genuinely all in? This in itself was worth apprehension. She asked for time to sort things out and we did just that.
When the holidays arrived, we had our annual friend gathering for Christmas. After exchanging gifts and playing games, Ra got down on one knee, to the surprise of everyone, and asked me to be her girlfriend. She presented me with a promise ring and it was official. We continued long-distance, burning the highway up back and forth, until I decided to move to Nashville and move in with Ra.
And we've been together ever since.
Lessons And Blessings 
Listen ladies, I have no coming out story to share. I've never been romantically attracted to women or have had an secret rendezvous, and growing up, I had witnessed a lot in the marriage of my parents and the breakdown of their relationship. But I didn't care. I was happy and welcomed people to share in my joy. I was fully transparent with no qualms. Some people may think, oh that's something you had to have considered or repressed, but it honestly was not.
I even remember having internal battles with myself in regards to my relationship with God. There was a minute where it felt like everything that could go wrong with my life, job and finances were going wrong. I questioned if this was due to my relationship with Ra.
Was I being punished?
But ultimately, it takes more than love. Love is a solid foundation but it cannot sustain a relationship alone.
Ra does not belong to me, she's simply chosen to share her life with me and I have chosen to share my life with her. We maintain our happiness by respecting what makes us unique with freedom to be open, honest and by genuinely enjoying each other's company.
We are not perfect nor do we try to portray ourselves to be but what we are is real. The acceptance of the public didn't matter.
Who cares what they think, you know? Who cares?
Two years and a dog later, here we are: engaged and in love. Has the journey been perfect? Absolutely not. But has it been worth it? 100 percent. Find someone who accepts that and is still willing to go on the journey with you. You won't always get it right but love, respect, and friendship will get you through it all. I cannot wait to see our journey continue to unfold. Give that girl a try sis, she may be everything you want and need.
xo,
The future Mrs. Dozier
Elease and Ra have a YouTube channel where you can keep up with their adventures. You may also follow them on Instagram at @icametoslay and @radigha.
Featured image courtesy of Elease and Ra
Keep reading...
Show less