Whether you're getting dolled up to celebrate V-Day with your S.O. or staying in for a much-needed self-care day, spritzing on a sexy scent will have you living in your best soft girl era. If you're anything like me, you might choose your perfume based on your mood, the occasion, the time of day, or even your outfit. It's been said that a person's scent is just as important as their appearance.
With thousands of perfumes on the market, navigating different fragrances can be overwhelming. Your aroma can reveal a lot about you and selecting your ideal scent is highly personal. Different perfumes can give off different vibes – from bright and upbeat to complex and sensual. While finding the perfect perfume can take time, here are five tips on how to find your signature scent.
1. Get To Know Your Notes
Within each perfume or cologne, you find different "notes." These notes consist of three individual layers called the top, middle, and base notes. Each note serves a significant purpose and when mixed together, can create an enchanting, unforgettable scent. When you first spray perfume, the first note you will smell is the top note. The top notes typically last for about fifteen minutes before making way for the other two notes to dominate.
The middle notes start to appear once the top notes fade. Dubbed the "heart" of the perfume, the middle notes' goal is to cling to some of the aroma while ushering in new scents. These lovely notes make up between forty to eighty percent of most fragrances and will most likely be the notes that you will smell the most while you're wearing your perfume.
The final fragrance notes, which will settle into your skin for hours, will only appear after the top notes have worn away. After about thirty minutes, the base notes, which are usually a bit heavier and deeper, will then introduce themselves and add more richness to the perfume.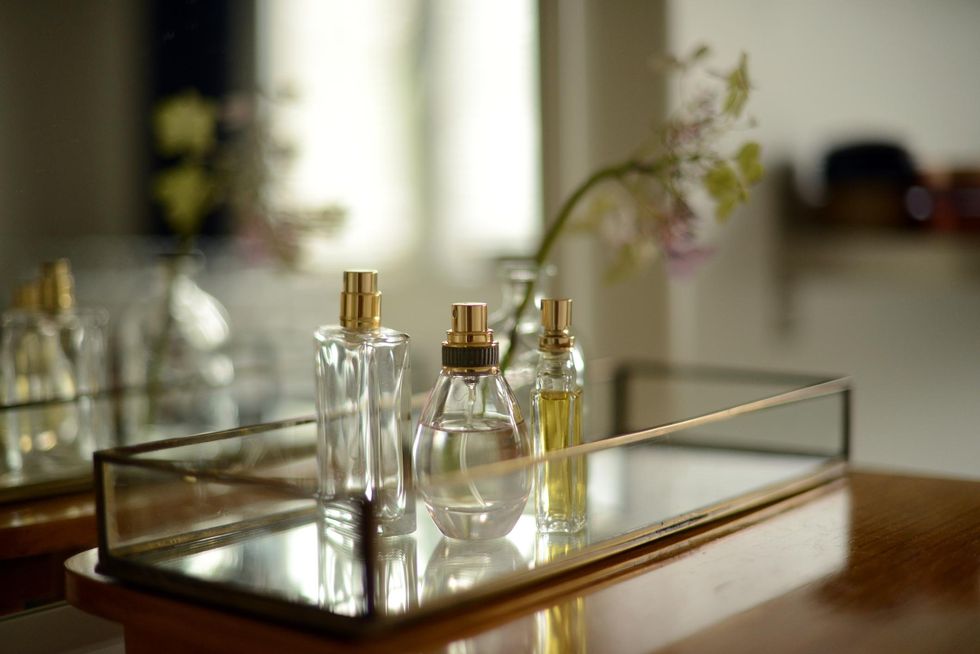 Kristina Strasunske/Getty Images
2. Narrow Down a Fragrance Family
Now that you know about fragrance notes, you can figure out which signature scent will speak to you the most. The perfume universe is mainly divided into four "families." Each scent family has distinctive characteristics, and you will often be attracted to one scent over another when it comes to choosing a perfume that suits you.
Floral – If you're wanting to smell like a bouquet of beautiful hand-picked flowers, then the floral scent family may be the perfect find for your signature scent. From delicate notes of daisy to gentle layers of ylang-ylang and lavender, floral formulations are full of class, romance, and luxury.
Fresh – With uplifting and exhilarating notes such as lemon zest and mandarin, the fresh fragrance family is commonly made of citrus, water, and green notes. Hence the name "fresh," these fragrances are usually associated with more clean vibes.
Oriental – Regularly referred to as "amber" fragrances, oriental perfumes are often associated with exotic and spicy scents. Softened with intertwining scents of jasmine, cinnamon, and orchid, this signature scent is often described as warm, decadent, and seductive.
Woody – Another warm family, woody fragrances are usually inspired by nature, blended with a slight masculine edge (similar to some aftershaves). Creamy, yet mysterious and sensual, these signature compositions are typically described as warm and dry – perfect for a night out on the town.
3. Determine How Long You Want It To Last
Fragrances come in four different levels of concentration. As the concentration gets higher, the price usually gets higher as well. With the highest concentration of perfume oils (between twenty to forty percent), parfum has the longest staying power – usually lasting on the skin for six to eight hours. Eau de Parfum has the second strongest concentration of perfume oils, normally between fifteen to twenty percent, and typically lasts about six hours after spraying. Eau de Toilette has less perfume oil, around five to fifteen percent, and lasts about three to four hours. Eau de Cologne has the lowest concentration of around two to five percent and lasts about two hours after application.
4. Sample the Scents
The most crucial part of finding your new signature fragrance is, of course, testing it out. While some fragrances may seem like love at first spritz, allowing the fragrance to sit on your skin is very important. Try spraying it on a pulse point or a spot where your skin is a little bit warmer, such as your inner wrist or elbow. Take a few moments and let the fragrance oxidate and play with your body's natural chemistry, revealing its true self over time. Try not to disrupt the scent by rubbing your wrists together.
As an additional tip: Don't try out a bunch of different perfumes or colognes at one time. Spread it out over a few different trips to the perfume counter. Also, make sure to take a sniff of the coffee beans, or even a part of your body that has no smell, to cleanse your olfactory palate in between scents.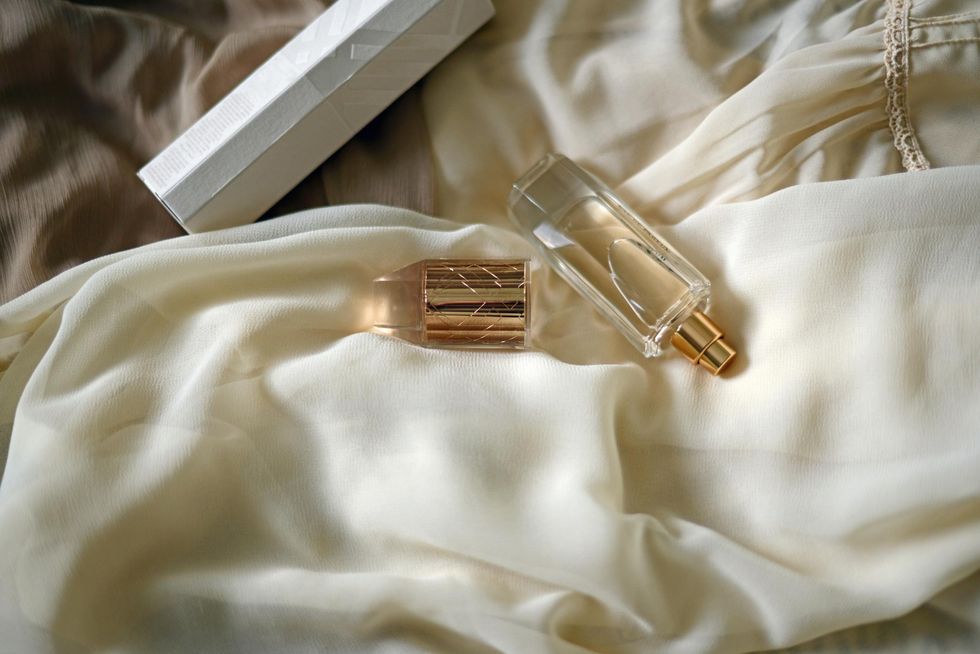 Kristina Strasunske/Getty Images
5. Choose a Scent That Reflects Your Personality
One thing is for sure: Your signature scent should reflect your personality and leave you feeling incredibly confident. Take your time, and learn about yourself, your style, and your taste before committing to a perfume. Do you love flowers and all things sweet? Or do you enjoy that "fresh out of the shower" scent? Then think about the purpose of your future fragrance – is it for every day, for evenings out, for special occasions, or for work? Additionally, once you nail down the notes that you are attracted to, it may be helpful to research perfumes you think may interest you – make sure to read the reviews and be aware of the different price points. If possible, relay this information to a retail fragrance expert and they can provide you with recommendations based on your profile.
Featured image by Eva-Katalin/Getty Images
The art of building a skincare routine has become very complicated because there are so many options these days. However, even with companies beating down your door or, in this case, email and social media feeds working overtime to sell you a new must-have product, there is one tried-and-true addition everyone should be using—retinol. As someone who has used retinol, also known as vitamin A, for at least ten years, I can vouch for its benefits (think: smoother skin, less hyperpigmentation, and fewer hormonal breakouts). But, if you're new to building a routine, you should know a few things before you add this to your cart.
First, let's discuss the difference between retinol vs. retinoid.
For expert info, I tapped Dr. Erum Ilyas, a board-certified dermatologist with Schweiger Dermatology Group, for guidance on all things vitamin A. The difference between the two boils down to science. "Retinoids work by targeting specific cell receptors regulating gene expression," Ilyas shares. "They increase the rate of cell turnover and collagen production and decrease the rate at which collagen is broken down."
So if you're looking to address fine lines and wrinkles, retinoids can help. In addition to those benefits, retinoids help the skin retain water. Alternatively, retinol, Ilyas says, is inactive when applied to the skin but is converted by the skin into retinoic acid, which is considered an active retinoid. "It is the active retinoid that can actually benefit the skin, not the retinol directly."
So what does all this mean for hyperpigmentation and dark spots?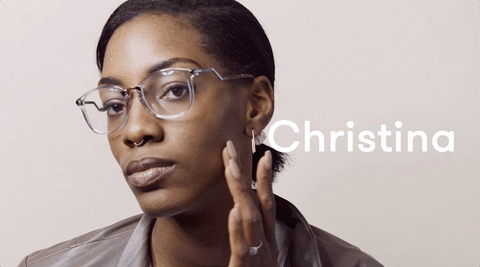 Giphy
As someone who struggles with hyperpigmentation, adding vitamin A to my skin routine has been a game changer. I can wear less makeup, and my skin looks healthier. And there's a reason for this, Ilyas tells xoNecole. "Retinol is proven to inhibit the tyrosinase enzyme, an enzyme responsible for producing pigment in the skin and promote cell turnover to help reduce excess pigment in the skin." But sometimes cell turnover means the retinol uglies, aka flaky, dry skin. So it's essential to start slowly.
Ilyas recommends chatting with your dermatologist to get advice on your skin needs if you experience irritation. "In general, it helps to reduce use to every other night instead of every night," she explains. "Work your way up to every night as tolerated. Some retinoids can be used by applying a moisturizer first with the retinoid on top, [but] check with your dermatologist as for some retinoids, this will not affect the potency of the product while for others it may."
What should newbies start with to ease skin into using a vitamin A product or retinol?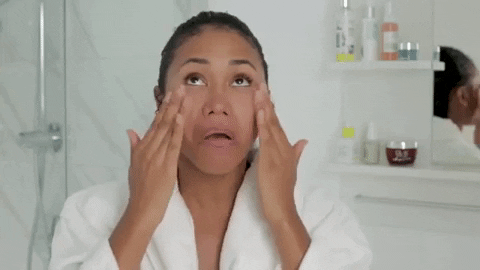 Giphy
"If you have sensitive skin or eczema-prone skin, be cautious with the use of retinol," Ilyas advises. "It may just aggravate your dryness and make it hard for you to appreciate its benefits." Alternatively, if you don't have skin sensitivities and your skin can tolerate it, she suggests nightly use or every other night application until your skin gets adjusted. "All too often, people will use retinol daily, experience irritation, stop using it for a week or so, and then forget to use it again. It is far more beneficial to develop a routine with your retinol and balance the benefits with the potential for dryness."
If I find my skin is flaky, with the application of my vitamin A, I layer a hyaluronic acid serum. That helps a lot. I also cleanse my skin in the mornings with an oil cleanser and muslin cloth to gently slough away any flakes. If you can't deal with the dryness, there is an alternative—bakuchiol. The plant-based ingredient is clinically proven to have similar positive effects on the skin sans the irritation.
Additionally, a critical skincare do to remember if adding vitamin A to your routine is that SPF is a must because the ingredient can make skin more sensitive to UV exposure. Also, sunlight can undo all the work you're putting in with a disciplined routine and great products.
Now here are a few of my favorite vitamin A-rich products:
ROSE Ingleton MD Retexturizing Retinol Booster Serum
Dr. Loretta Concentrated Firming Serum
Shani Darden Skin Care Retinol Reform
Paula's Choice 0.3% Retinol + 2% Bakuchiol Treatment Serum
Featured image by miniseries/Getty Images
As the human body's largest organ, the skin is one of our most precious features. Caring for such a delicate attribute should be nothing less than a thoughtful process full of deeply rich, nourishing ingredients that enhance our melanin, not take away from it. Being conscious of what we put on our bodies is only one step to healthy skin. With the range of products on the market, it's beneficial to know about Black-owned skincare companies that create products specifically for people of color, addressing issues that were previously overlooked by traditional brands in the past.
Making up about half of the beauty industry, the range of skincare brands on the market can be overwhelming. With such an oversaturated market, it's hard to believe that not too many years ago, Black individuals were left out of the equation when searching for products such as white-cast free sunscreen or simple ingredients like shea butter that deeply moisturize deeper skin tones. Within the last 10 years, there's been an explosion of Black-owned beauty brands founded by entrepreneurs that birthed companies out of frustration, lack, and the necessity for what was missing in their everyday lives. Choosing the proper products can be an expensive and time-consuming process but supporting smaller brands that prioritize naturally clean ingredients as well as uplifting their community is a great start in the right direction.
In honor of Black History Month, keep scrolling for a comprehensive guide to Black-owned skin brands, their stories, and how they aim to benefit people of color.
Featured image by LaylaBird/Getty Images
Glossier's simplistic, clean girl-friendly approach to beauty has long been adored for delivering maximum skincare-for-your-body, with minimal effort. For the brand's latest innovation, Glossier has extended its product line by taking a spin on traditional deodorant for optimal day-to-day use.
Glossier Deodorant was formulated with sensitive pits in mind. With no aluminum, baking soda, acids, or water included, the deodorant's hero ingredients were designed to condition your underarms and absorb excess moisture—keeping sweaty underarms at bay.
Featured image courtesy of Glossier
When I went natural, I spent hours on YouTube trying to find the perfect regimen and best products to care for my hair. I wanted my 'fro to be soft, long, and luscious. I washed my hair with a peppermint oil-infused shampoo and massaged my scalp nightly with an oil to stimulate hair growth. It worked. My hair grew long, and I loved it until I opted for a shorter style.

When I realized I could wash, condition, and style my hair in less than 30 minutes, I got lazier with my routine. Over time, I stopped massaging my scalp, removed oil from my routine, and shampooed my hair less. I stopped focusing on the health of my hair because I wasn't concerned about the length. If something went wrong, I told myself I would just cut my hair shorter and start over.
That was the wrong approach.
While my hair looked good, there were times I scratched my scalp until it was tender. I shampooed my hair more often to fix the issue, but it was only a temporary solution that probably made the itching worse. A healthy head of hair starts at the roots, and I was neglecting mine.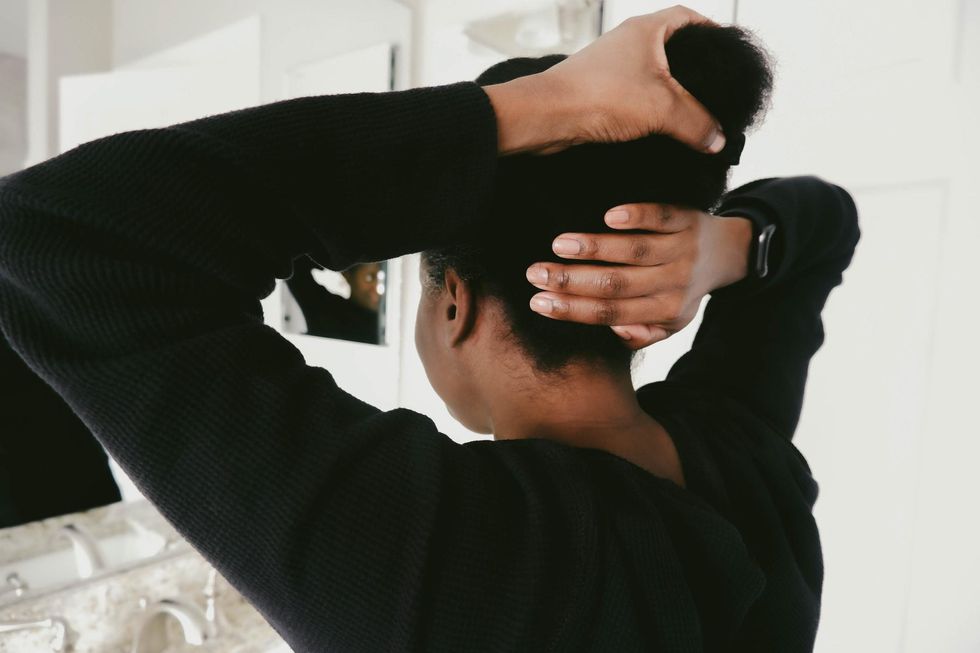 Grace Cary/Getty Images
Our scalp contains around 100,000 hair follicles that produce sebum or oil to keep it moisturized. This sebum also helps shield the skin from infection and allows hairs to grow. When the organisms that dwell on the scalp are out of balance, it can lead to breakage, thinning, and hair loss.
An itchy scalp is one of the most common signs of an unhealthy scalp. If you find yourself constantly scratching your head, it could mean that your scalp is dry or irritated. An itchy scalp may also be a sign of dandruff, a condition that causes the dead skin on your scalp to flake off. Dandruff isn't a sign that your hair is dirty. Taking care of the skin on your scalp and your hair can require different products. While dandruff can be uncomfortable to experience, it is a common skin issue.
Stubborn dandruff that is difficult to get rid of can be a sign of several scalp-related issues, such as atopic dermatitis and psoriasis. If you are experiencing dandruff with one or more of the following symptoms, it may be time for you to see a dermatologist and receive medical treatment:
Redness or inflammation: If you notice that your scalp is red or swollen, it could be a sign of irritation or infection. Bacteria or fungi often cause scalp infections, which can be painful and uncomfortable. Skin infections can not be treated and healed on their own. Most require medical treatment.
Greasy scales: If you notice greasy scales on your scalp, it could be a sign of Seborrheic Dermatitis, a chronic form of eczema that can last for years. It can also cause the skin to become flaky and white or yellow. It can also result in oily skin all over the body. While this condition is more common in men and adults ages 30 - 60, BIPOC people are likely to have a severe form of the disease called Petaloid Seborrheic Dermatitis.
Oily scalp: If you find that your hair is greasy or oily, it could be a sign that your sebaceous glands are overactive. An oily scalp can also lead to hair loss, as the oil can clog the pores on your scalp and prevent new hair from growing.
Hair loss: This is another sign that your scalp may be unhealthy. Several factors, including genetics, hormonal imbalances, medications, and infections, can cause hair loss.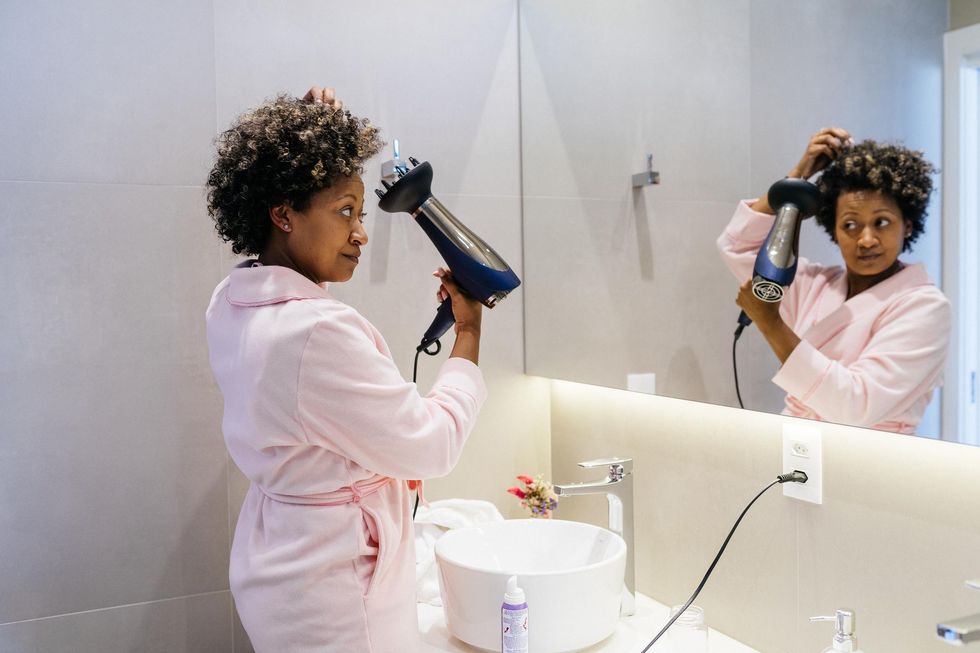 Igor Alexander/Getty Images
How to Get Rid of Dandruff
Once you speak with your doctor and they've ruled out any underlying medical conditions, there are a few steps you can take to manage your dandruff and restore your scalp health. Remember that everyone's combination of hair type and scalp could require a different approach, so don't hesitate to speak with your doctor about what might work for you before resorting to store-bought products that could damage or make the problem worse.

1. Avoid harsh chemicals.
This includes chemicals that you may use on your hair, such as shampoo and conditioner, and those that you may be exposed to in your environment, such as cleaning products or pollutants. When choosing haircare products, look for ones designed for dry and sensitive scalps, and avoid those containing sulfates, fragrances, or other harsh ingredients.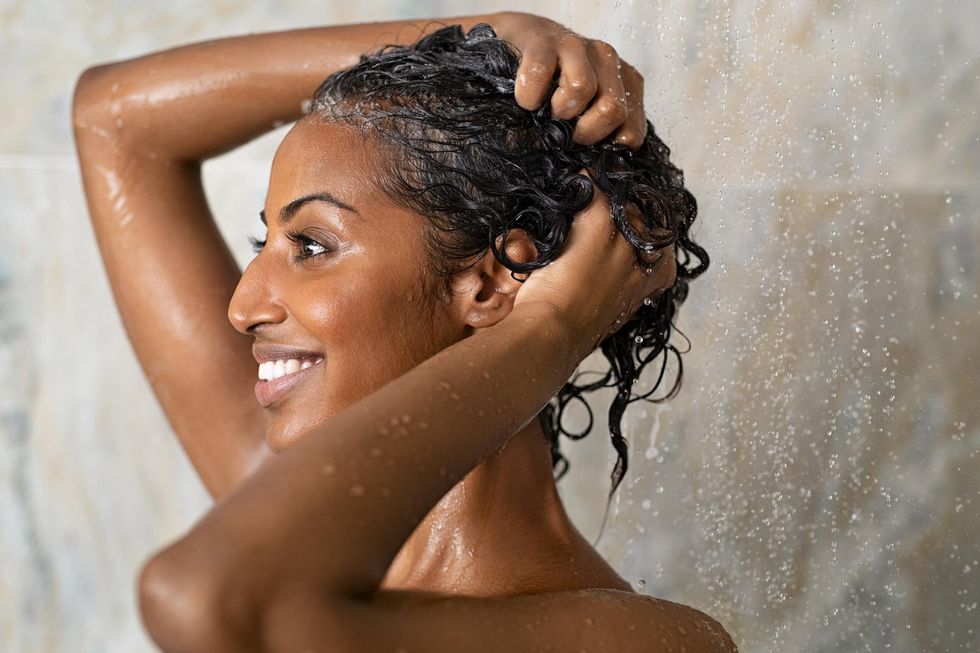 Rido Franz/Getty Images
​2. Keep your scalp clean.
For women with natural hair, moisture and conditioner are staples in our regimens, but shampoo is important too. Shampooing regularly with a gentle shampoo and avoiding hairstyles that can trap dirt and oil on the scalp helps maintain hair health. Shampoos with pyrithione zinc, selenium sulfide, and salicylic acid contain antifungal properties and help exfoliate the scalp. Just be sure to rinse your hair thoroughly after shampooing to remove all traces of soap and residue.
​3. Moisturize your scalp.
The scalp is skin that needs moisturizing too. Products such as leave-in conditioners, oils, and serums keep our scalps hydrated, especially during the old weather months. While there are many options to choose from on the market, several shampoos and conditioners have also been designed to moisturize the scalp.

​4. Avoid hot showers.
Long hot showers may feel good on the skin, but they can damage your scalp. The heat from the water can strip away natural oils, leaving your scalp feeling dry and irritated. If you wash your hair in the shower, use lukewarm water when showering or rinse your hair with cold water.

​5. Protect your scalp from the sun.
Just like the rest of your skin, your scalp can be damaged by exposure to the sun's ultraviolet rays. To protect your scalp, wear a hat or scarf when spending time outdoors, and consider using sunscreen specificallydesigned for the scalp.

A healthy scalp is the foundation of any good haircare routine. Following the tips we've shared can keep your scalp clean and promote healthy hair growth. If you're experiencing dandruff, the most important thing is to figure out what's causing it in the first place – once you know that, you can take steps to fix the issue. If you've been chaining your routine and don't see the results you're hoping for, don't hesitate to see a dermatologist. Your hair will thank you for it.
Featured image by F.J. Jimenez/Getty Images
Growing chin hair can be a stressful experience for women. Beauty standards tell us we should maintain smooth, hairless, silky blemish-free skin, especially on our faces. Hair popping up in 'unusual' places may make us feel self-conscious or insecure about our appearance. But growing a hair or two on your face is common. As we age, we can expect it to happen more frequently, and here's why.
Two types of hair follicles can be found under the skin, vellus hair and terminal hair. Vellus hair is fine in texture and feels like fuzz. Terminal hair is long, thick, and deeply rooted. Most women have vellus follicles on their faces and chin.
When women grow chin hair, it's usually due to hormonal imbalance. Women experience hormonal imbalances throughout life, especially as they near menopause. While men and women produce testosterone, women typically have smaller amounts. When a woman's testosterone levels are outside what would be considered the normal range, it can cause an increase in facial and body hair growth because testosterone changes vellus follicles into terminal follicles. This male-like patterned hair growth in women is called Hirtuism.
Hirtuism impacts 5-10% of women around the world. It can be caused by various health issues that lead to hormone imbalances. If you experience a sudden change in hair growth or you've noticed that the hair has become dark and coarse, speak with your doctor. Excess facial hair that's dark in color can sometimes be a sign of an underlying medical condition such as Polycystic Ovary Syndrome (PCOS), menopause, adrenal gland disorders, and thyroid disorders. Certain medications that contain androgen or testosterone, such as birth control pills and hormone replacement therapy, can also cause changes in facial hair.
Once you speak to your doctor and rule out potential health conditions requiring treatment of the underlying medical condition, you can create a regimen to get rid of the chin hair. Here are a few methods you can try:
1

.

Use a depilatory cream.
Depilatory creams are hair removal products containing chemicals that dissolve the hair. They are typically very effective at removing hair but can also be harsh on the skin. If you use a depilatory cream, test it on a small area of skin first to ensure you don't have an allergic reaction or experience a skin burn.
2

.

Use a razor.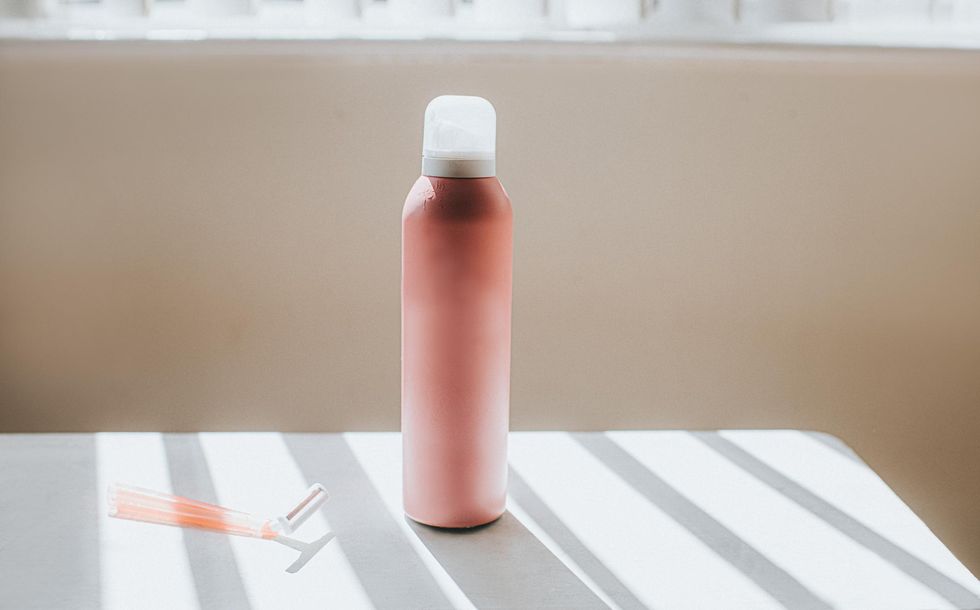 Catherine Falls Commercial/Getty Images
​Shaving is a quick and easy way to remove chin hair, but the process can also irritate the skin. If you decide to shave, use a sharp razor and use after-shave products, to reduce your chances of razor burn. Shaving also doesn't remove hair from the root, so the hair will grow back faster tempting you to shave more often.
3

.

Use tweezers.
​Tweezing is another quick and easy way to remove chin hair, but it can be pretty painful. If you decide to tweeze your chin hair, sterilize the tweezers first by boiling them in water for five minutes, and use a numbing cream in the area before you start to reduce pain.
4

.

Use wax.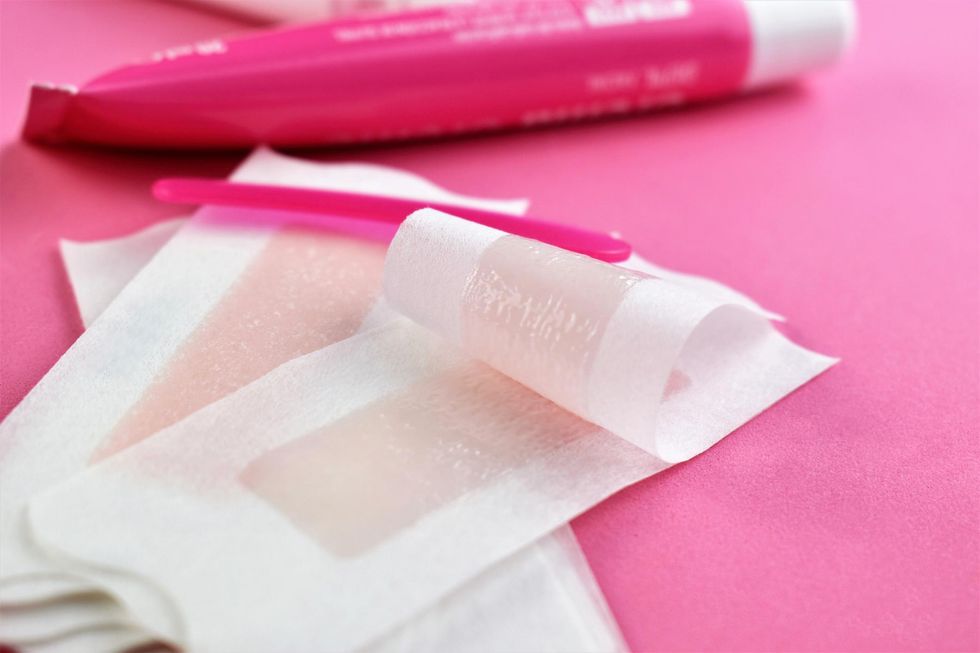 Blanchi Costela/Getty Images
Waxing your chin hair is a great way to temporarily get rid of unwanted facial hair. With waxing, there's no need for painful tweezing or expensive laser treatments. It's an effective method with visible results that will last up to 6 weeks. You can also do it yourself in the comfort of your home with an at-home wax kit.
5

.

Use threading.
Threading originated in Central Asia and India. It involves using a piece of thread to remove hair from the root. Since the hair is pulled from the root, the results last longer than shaving. Since the hair is removed in small sections, the process can be painful, but if you have sensitive skin, threading is a great option because no chemicals or heat is used in the process.
6

.

Use laser hair removal.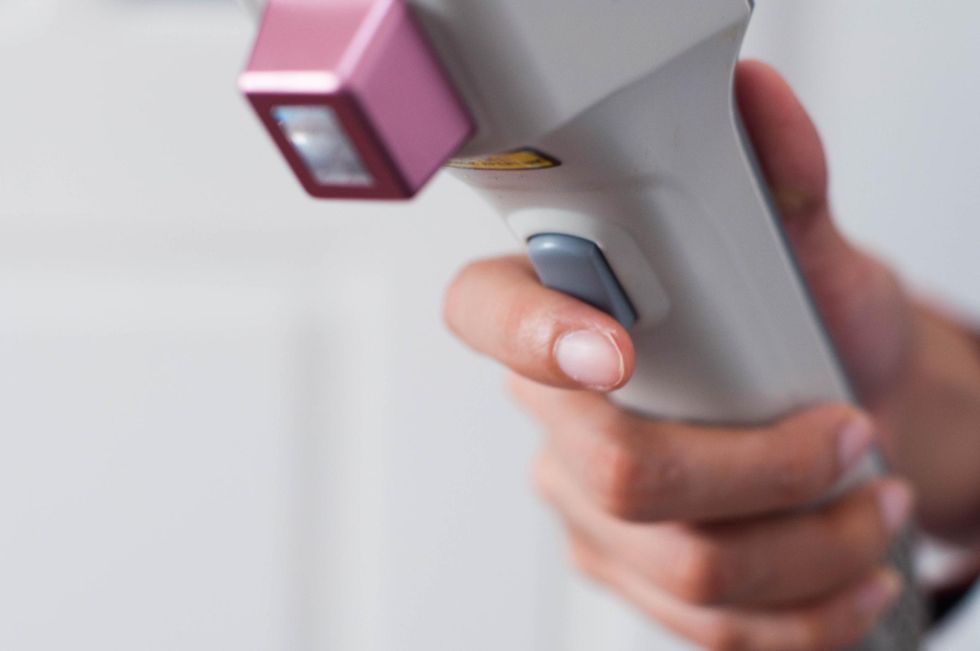 Karl Tapales/Getty Images
​Laser hair removal uses pulses of laser light to destroy the hair follicle. It is considered to be permanent, but some people may experience growth after the recommended number of sessions. Additionally, laser hair removal may not be suitable for all skin types. People with darker skin may be at risk of changes in skin pigmentation.
7

.

Use electrolysis.
Electrolysis is a hair removal method using an electrical current or heat to destroy the hair follicle. While it can be expensive and time-consuming—requiring multiple sessions for a year for the best results—"electrolysis is the only FDA-approved method for permanent hair removal."
There are three different methods of electrolysis: thermolysis—the fastest and simpler option, galvanic—the least common method and the most painful, and a mix of both methods which is typically used for people that have thick or curly hair. It's also effective and safe for dark skin.
Let's make things inbox official! Sign up for the xoNecole newsletter for daily love, wellness, career, and exclusive content delivered straight to your inbox.
Featured image by brizmaker/Getty Images