Within the last year, TikTok has slowly gained most of my attention when it comes to my preferred social media platform. While I'm still getting accustomed to the app and all that it offers, I'm learning that it's a go-to resource for beauty hacks and product recommendations. Gone are the days of the long format YouTube product review, TikTok is the quickest way to judge whether a viral product or beauty tool is actually "For You" in 60 seconds or less. The new generation of social media influencers gives us access to real reviews at our fingertips from the girl next door excitedly sharing her recent discovery of relatable skin and beauty products you never knew you needed.
After asking my TikTok-obsessed friends and spending countless hours watching product reviews, I decided to include a list of summer beauty products everyone will love regardless of their skin's texture and tone. Gone are the days of face palettes and full glam, the natural makeup trend is taking over and I'm absolutely here for it. No more cakey layers and complicated applications, these barely-there makeup products are receiving glowing reviews.
Let's face it, everyone's an influencer in their own right so stay camera-ready with these lightweight easy-to-apply products, no filter required.
Featured image by PeopleImages/Getty Images
Normani has shown everyone her "wild side" and now she's giving us an inside look into her beauty routine. The multi-talented artist revealed her beauty secrets and how she achieves her 90's-inspired makeup look with Vogue.
Check it out below: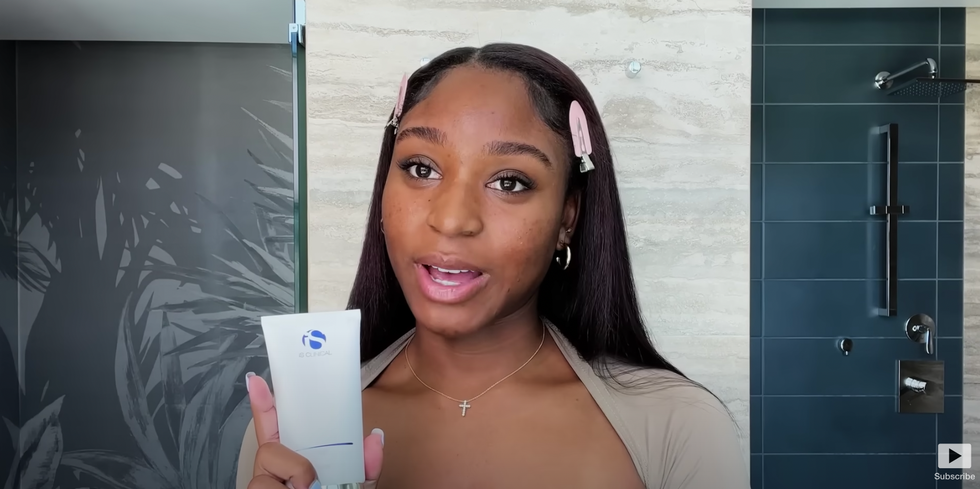 Vogue/YouTube
Cleanser:
Before starting her makeup routine, Normani washed her face with iS Clinical Cream cleanser. "I have struggled with acne for like the last 10 years and it really has been a journey," she revealed. Next, she put on 111Skin Sub-Zero De-Puffing Energy Mask Box and used a face roller to rub the mask in. "I'm definitely the girl on the plane with the acne stickers. I've definitely worn pimple cream in the airport," she said, continuing to talk about her skin journey. "I don't care. I'm comfort over everything."
She followed up the mask with iS Clinical Pro-Heal Serum Advance+ which she said helps with hyperpigmentation and iS Clinical Hydra-Cool Serum for the "glow you want." Lastly, she applied sunscreen and eye drops before moving on to makeup.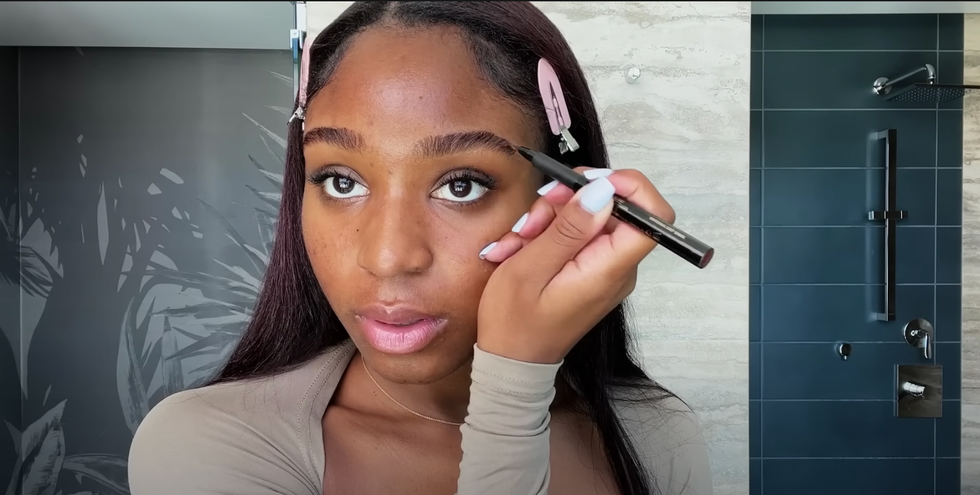 Vogue/YouTube
Makeup:
First things first, the "Fair" singer brushed her eyebrows and then used Anatasia Beverly Hills' brow pencil to achieve natural strokes. The last step to her brows involved her using Anastasia Beverly Hills Brow Freeze Styling Wax. As stated earlier, the 26-year-old deals with hyperpigmentation and so she uses MAC Studio Fix Conceal & Correct palette to help even her skin.
While applying her concealer she shared how her mom influenced her approach to beauty. "I also grew up watching my mom do her hair and makeup and I wanted to be just like her," she said. "So, I think that's where that fascination and love for makeup and hair come from."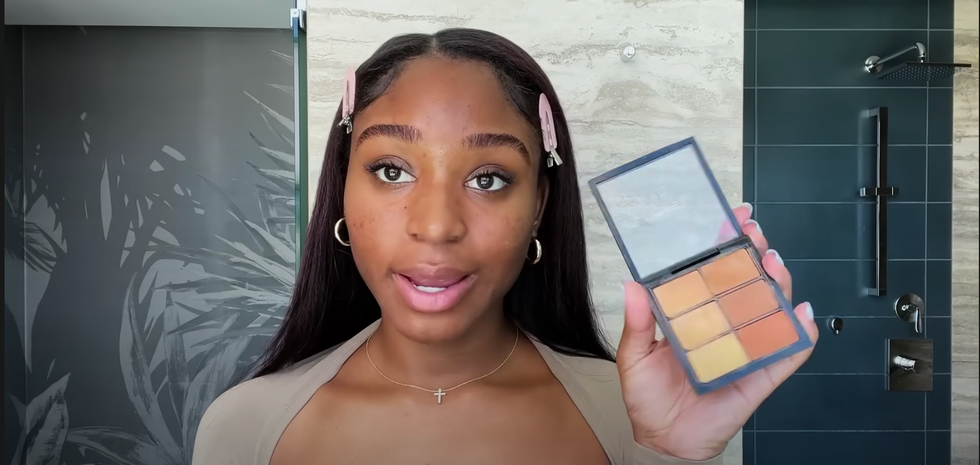 Vogue/YouTube
Normani also shared how her parents helped her feel confident in herself. "I was also one of three Black kids in elementary school so that was really hard for me," she recalled. "I remember just going home and be like mom, 'can you press my hair? I wish my skin was lighter. I wish I had colored eyes.' But my parents really encouraged me that my superpower was my Black girl melanin and my Black girl magic." And so she makes sure to pass the same message down to younger Black girls.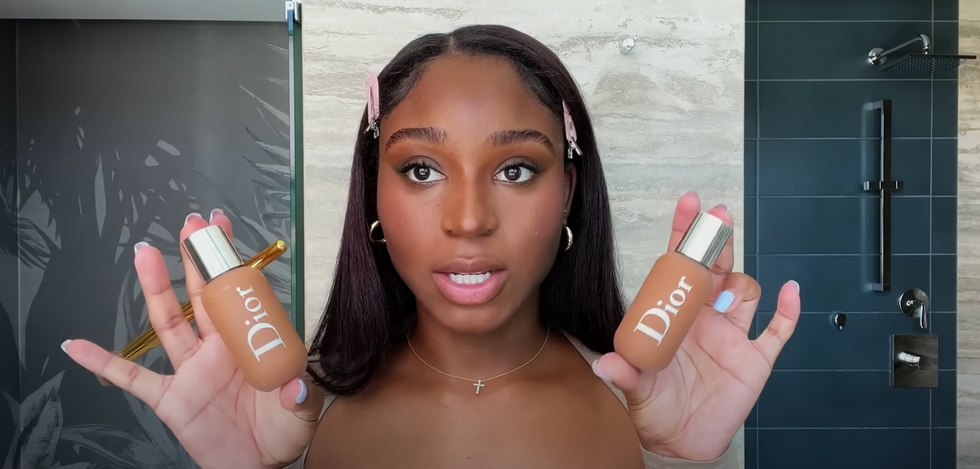 Vogue/YouTube
Next, Fenty Beauty Pro Filt'r Instant Retouch setting powder is applied followed by Dior Backstage Face & Body Foundation. For eyes, she used Fenty Beauty Match Stix Contour Skinstick for her eyeshadow base. When describing her technique, she said "So, what I'm doing is I'm starting from the outer and working my way in so I can create more space and just create a more snatched look."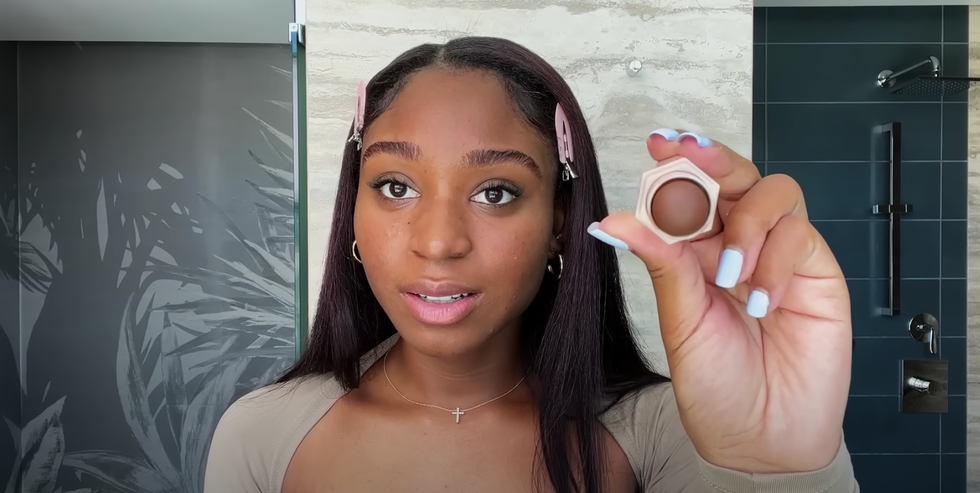 Vogue/YouTube
When it comes to liner, she likes using the brown shade from KVD Beauty Tattoo Liner Waterproof Liquid Eyeliner for a more natural look, and then she goes back in with the Fenty Beauty Sun Stalk'r Face + Eye Bronzer & Highlighter palette for the eyeshadow.
"I feel like I always try to give '90s actress vibes when it comes to my makeup," she said. "I love Nia Long, even Toni Braxton. Just regal and brown and let it be about skin and light contour."
She added, "I love a good '90s lip though. I be on my Mary J. Blige."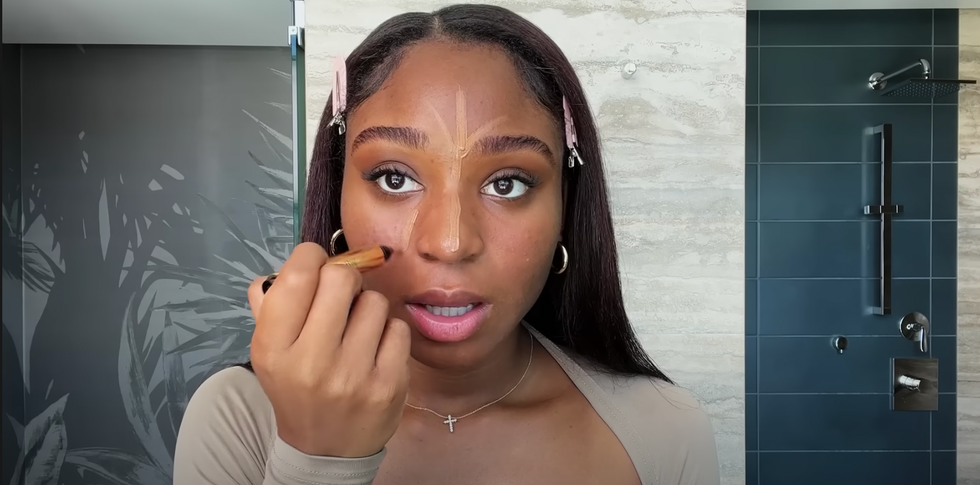 Vogue/YouTube
She used Yves Saint Laurent Touche Éclat All-Over brightening pen in a lighter shade to "add more dimension" to her face. She then added a cream blush and debunked the myth that Black girls can't wear blush.
"There's such a misconception too, especially with dark skin women," she said. She added more foundation, this time using MAC Studio Fix Powder Plus Foundation.
To make her eyes pop, she used Yves Saint Laurent Lash Clash Extreme Volume Mascara on her bottom lashes.
To top off the perfect '90s look, she overlined her lips with Rokael beauty lip liner and matte lipstick. And for a twist, she used Dior Addict lip glow oil on her eyelids and Sol de Janeiro GlowMotions Glowing body oil to achieve a '90s bronze look.
Normani's '90s-Inspired Makeup Routine | Beauty Secrets | Vogue
Let's make things inbox official! Sign up for the xoNecole newsletter for daily love, wellness, career, and exclusive content delivered straight to your inbox.
Featured image by Frazer Harrison/Getty Images
Since the passing of Kelis' husband, Mike Mora, the "Milkshake" singer has been finding ways to cope. On July 20, Kelis shared a photo dump of herself wearing locs. While the majority of the photos showed her wearing swimsuits while basking in the sun, it was the caption that revealed the sentimental feelings behind her latest look.
"Some last loc looks for the moment …. I could not deal with my hair these past 6 months while I dealt with my heart something as simple as a style I didn't have to touch gave me so much," she wrote. "But I'm good and It's been real . Until we meet again …… soon ;)
Mike died in March after a battle with stage 4 stomach cancer. He was 37. The photographer shared two children with Kelis, a one-year-old daughter, and a six-year-old son. The chef has yet to speak on her husband's death but she seems to be keeping herself busy. The "Bossy" singer continues to share food videos on her social media as well as perform. In May, she performed at the Lovers and Friends Festival in Las Vegas, NV.
In June, Kelis attended Refinery 29 Unbothered Presents: The Glow Up festival where she spoke about the importance of creating safe spaces by having Black women on your team.
"Like for me, that for me is a safe space," she said. "I need to be able to know that when I call you about my business, about my child, about whatever it is, that I'm talking to someone who speaks my language for real."
She added, "Because they know if I win, we all win. It can't be the other way around. It wasn't designed to be that way. So for me, that's the safe space. I want people who look like me, who talk like me, that's what I want. That's what makes me feel good."
In another Instagram post, Kelis seemingly gave insight into another way she has been coping with Mike's death. "Self care can look like a lot of different things . For me the ocean is always on the list. Salt water is medicinal," she wrote.
We wish Kelis the best!
Let's make things inbox official! Sign up for the xoNecole newsletter for daily love, wellness, career, and exclusive content delivered straight to your inbox.
Episode 5 "Express Yourself"
This post is in partnership with Ulta Beauty.
Jazzmyne Jay has some pretty epic stories to tell. But even more epic is her approach to beauty. The content creator and model is a firm belever in walking in your truth, which is probably why she's amassed almost a million followers across Instagram and TikTok. Our good sis loves to break the rules when it comes to style and beauty, so our founder Necole Kane sat down with this social media star for a glam tutorial that we'll never forget.
Jazzmyne, who hails from the midwest, recalls growing up as the only biracial kid in her area. Though she didn't have much access to peers who looked like her, what she did have were two loving parents who instilled in her the magic in being different and encouraged her to stand out from the crowd. It was this celebration of uniqueness in Jazzmyne's household that birthed a natural instinct to let her star shine. Besides, she says, trying to fit it in is just too much work. "I am not a good actor," she jokes.
During this fun and out of the box makeup tutorial, Jazz goes for a glamorous beat with a few beloved products from brands like NARS, Fenty Beauty, and Urban Decay. She swaps out classic black eyeliner for a glittery eye look, solidfying that a pop of color is always her signature ingredient to a finished look.
Watch as Necole and Jazzmyne talk makeup, self-expression, and forging your own path in this inspiring episode of Beautiful Soul.
Scroll through the gallery below to shop Jazzmyne's products from Ulta Beauty.
Jazzmyne's Skincare Faves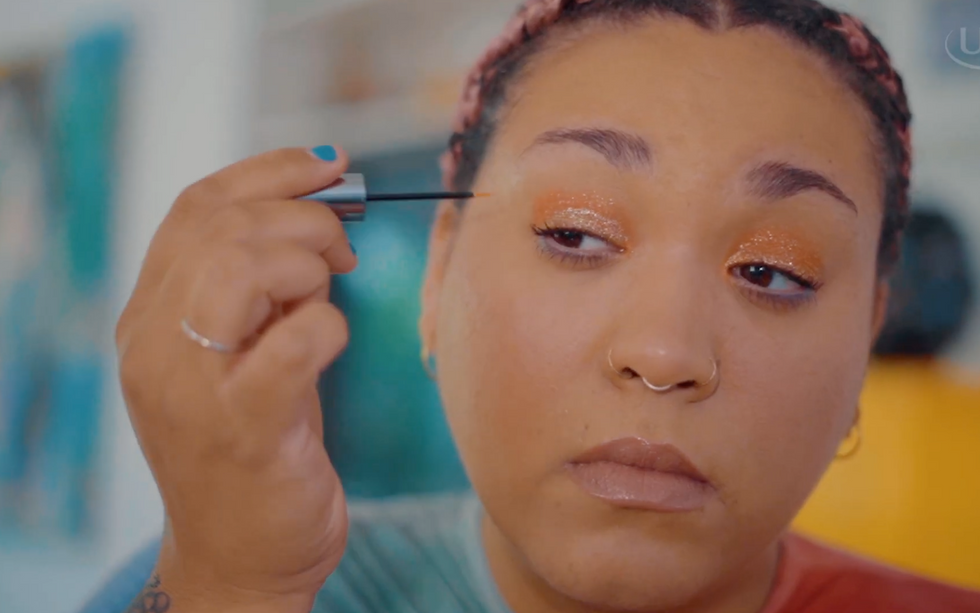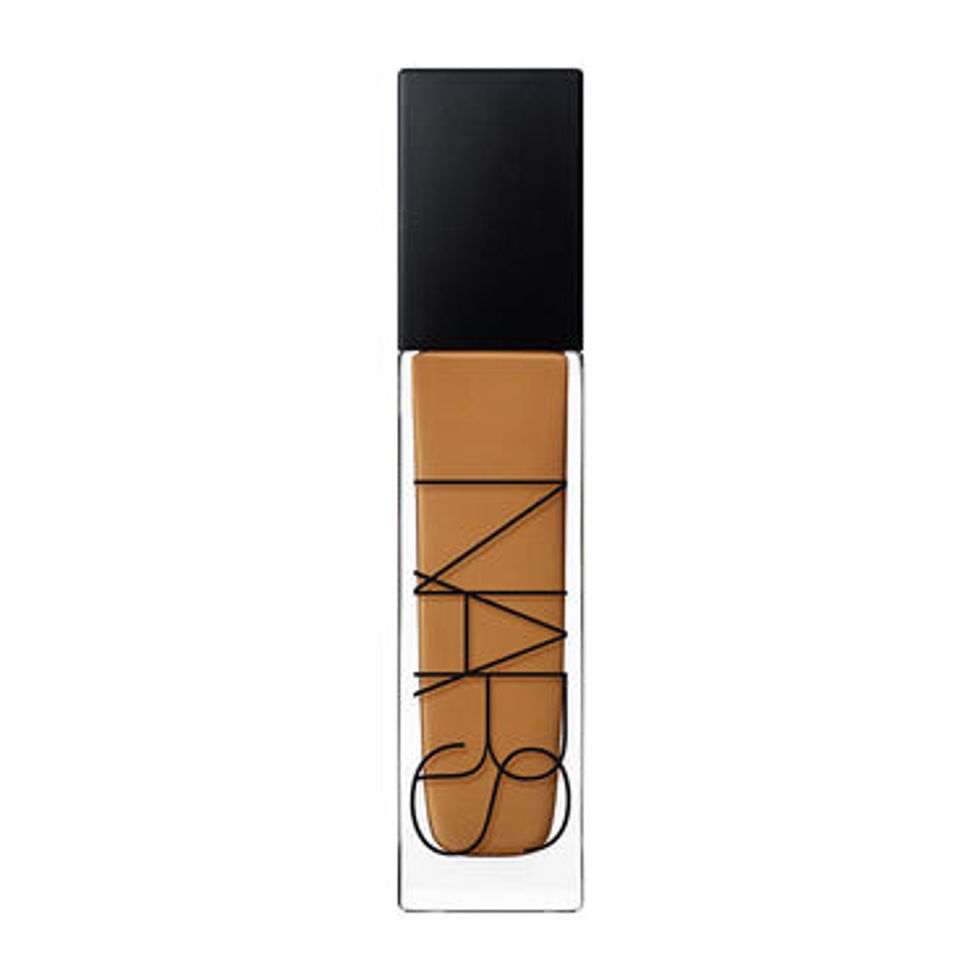 NARS Natural Radiant Longwear Foundation is a buildable, full-coverage foundation with up to 16 hours of lightweight, natural, fade-resistant wear.
NARS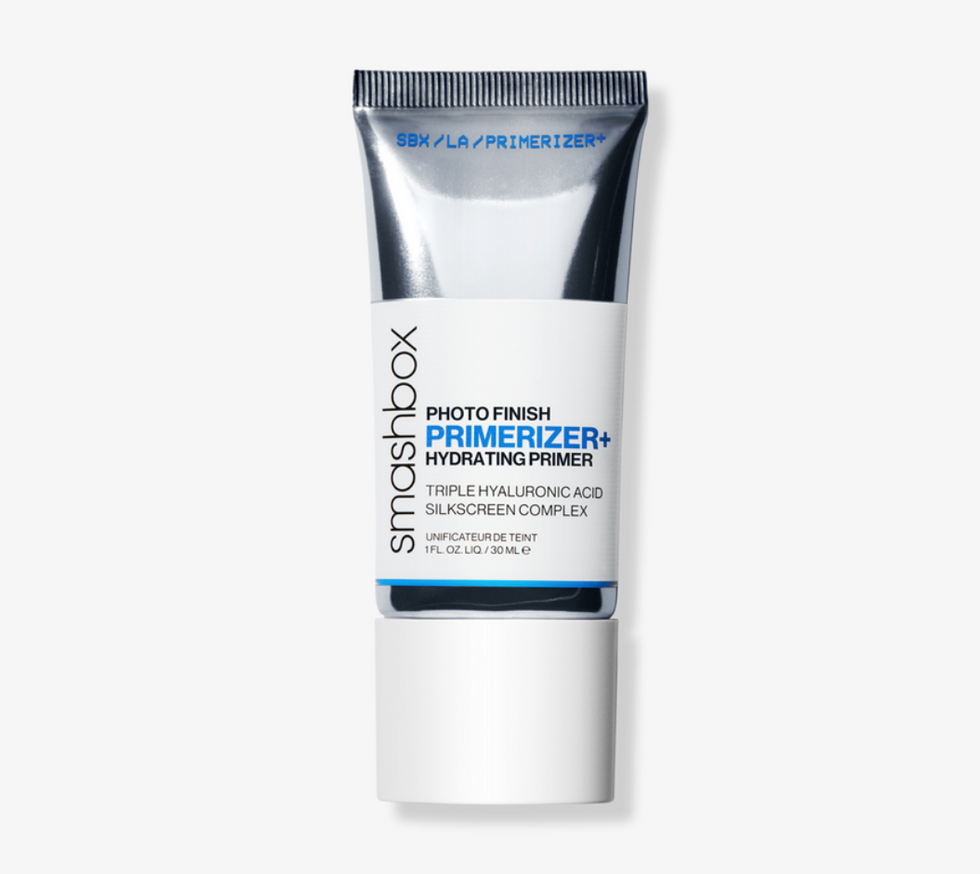 Photo Finish Primerizer + Hydrating Primer
Smashbox Photo Finish Primerizer+ Hydrating Primer delivers a fresh, dewy look while defending skin and perfecting makeup; infused with a Silkscreen Complex, Triple Hyaluronic Acid, + Niacinamide.
Smashbox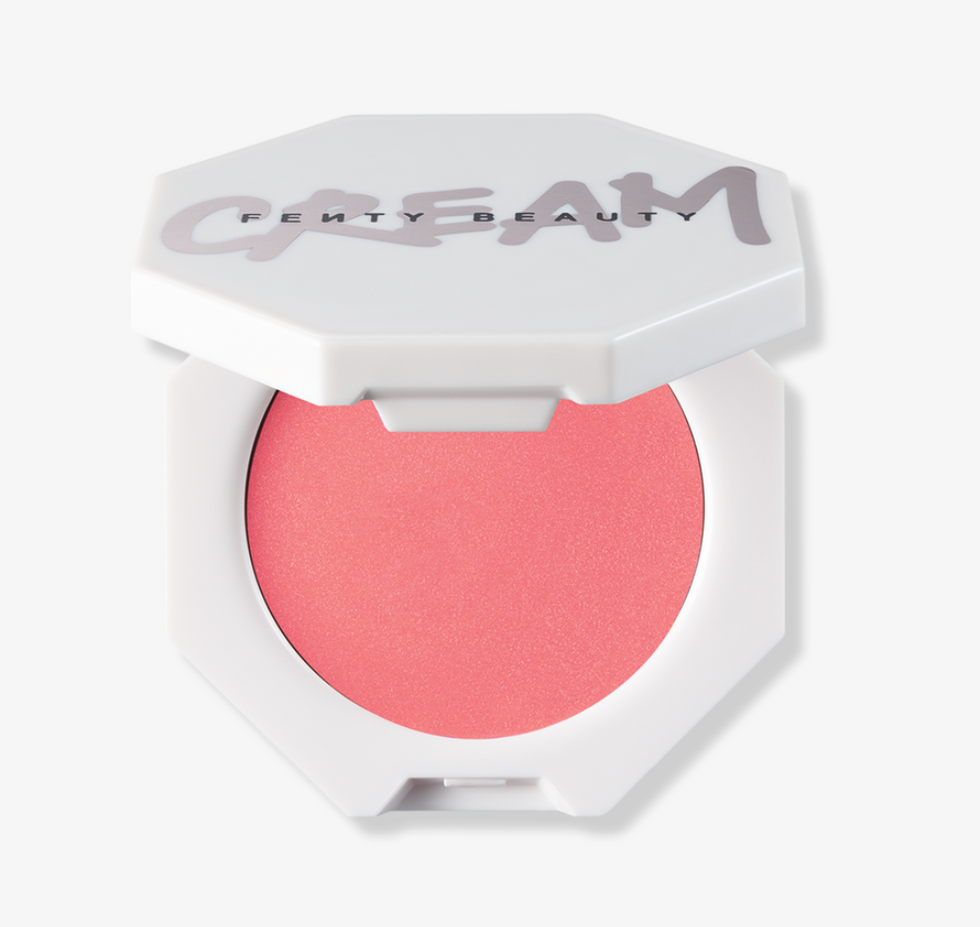 Cheeks Out Freestyle Cream Blush
Fenty Beauty
Olori means Queen in Yoruba, a language spoken by the Yoruba Tribe in West Africa. Indulge and be intrigued in the Juvia's Place Queen series which holds 6 highly pigmented shades that will take your look to the next level.
Juvia's Place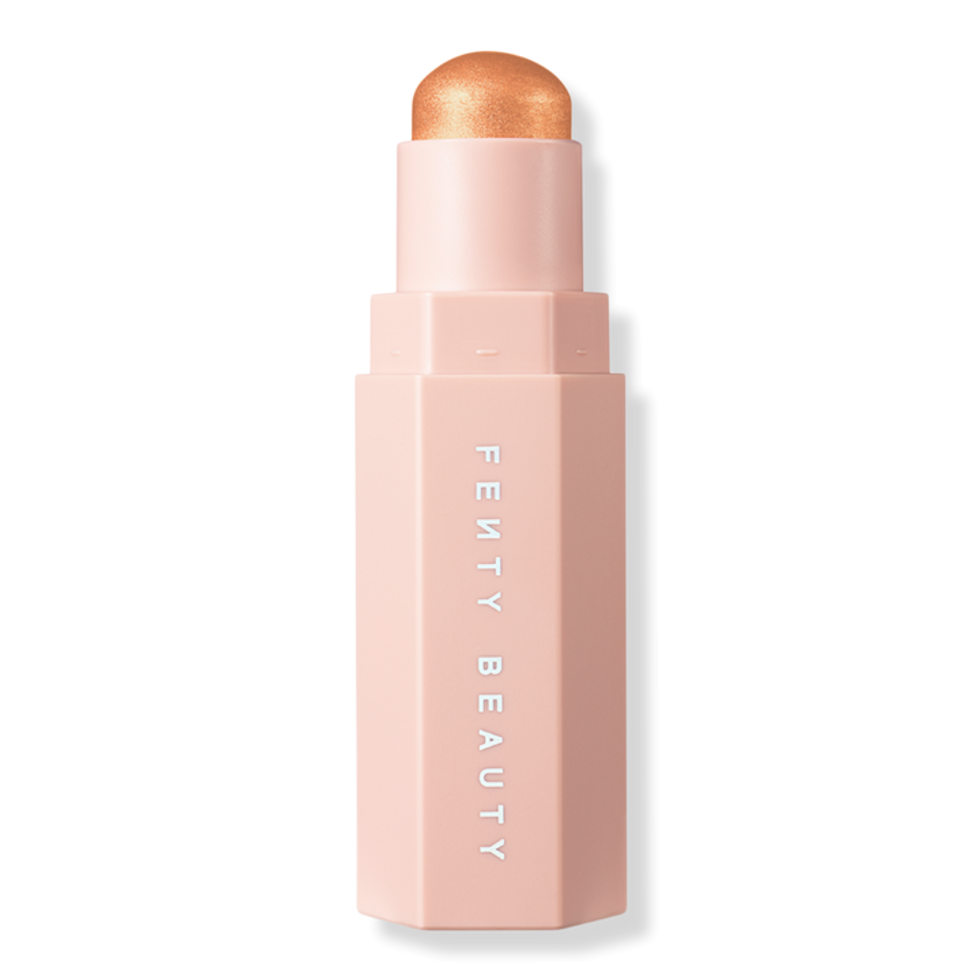 The FENTY BEAUTY by Rihanna Match Stix Shimmer Skinstick is a longwear makeup stick with a light-as-air shimmer formula to highlight, blush, and enhance.
Fenty Beauty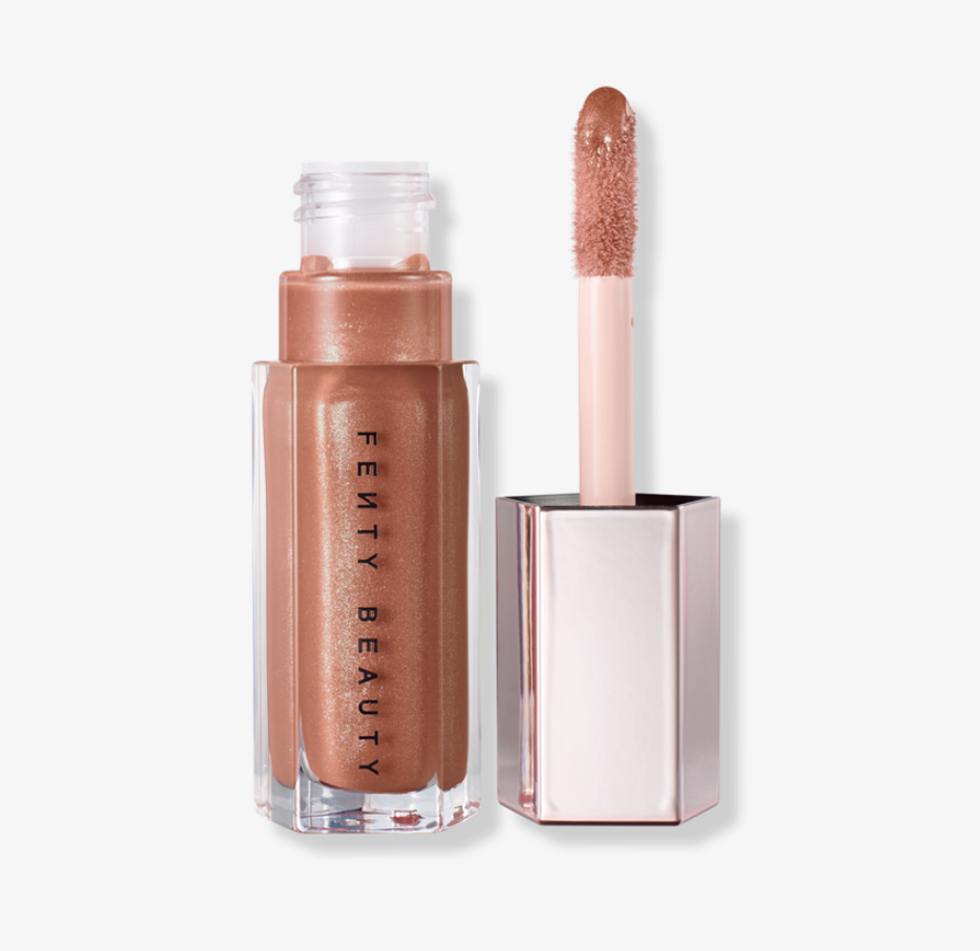 FENTY BEAUTY by Rihanna's Gloss Bomb Universal Lip Luminizer is the ultimate gotta-have-it lip gloss with explosive shine that feels as good as it looks-the essential finishing touch to any look.
Fenty Beauty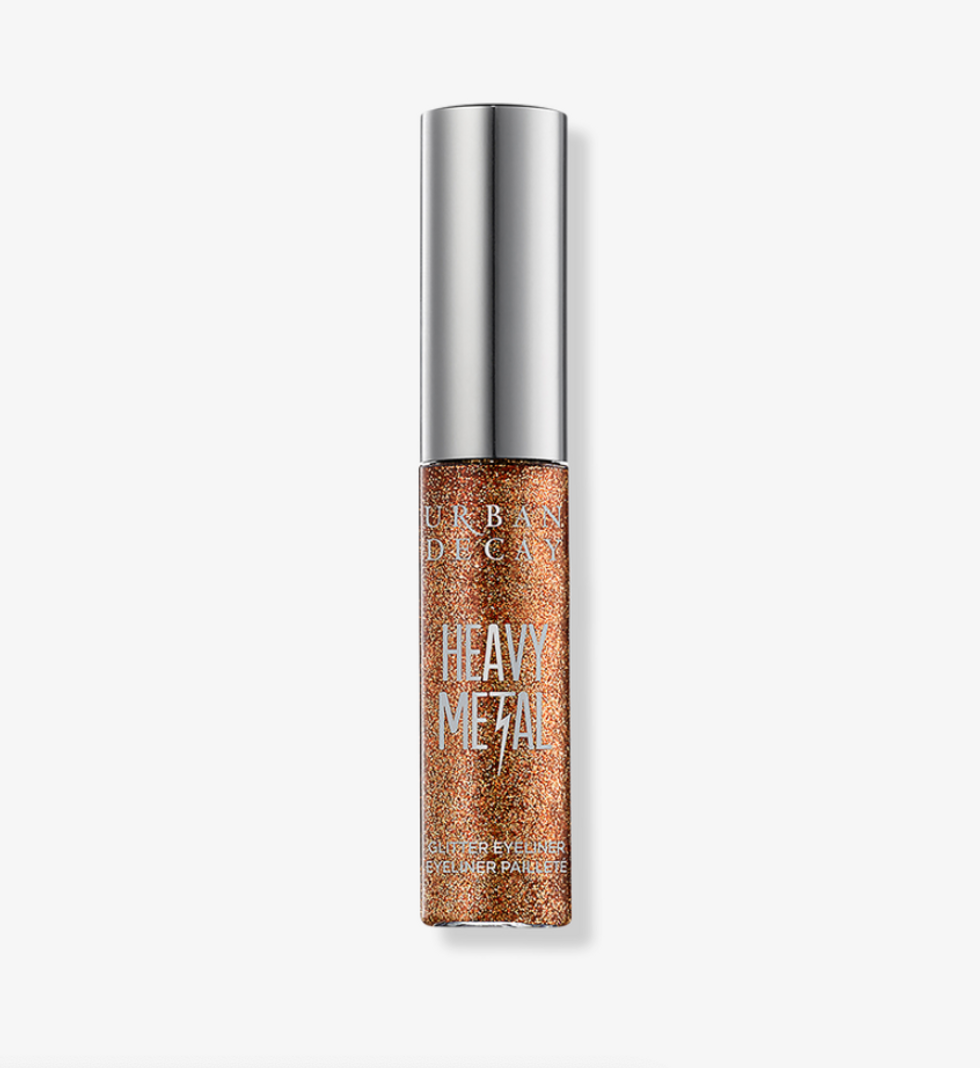 All the glitz of glam rock (without the spandex or bad hair). Urban Decay's Heavy Metal Glitter Eye Liner is a water-based, buildable liner that contains super-fine glitter in a clear base that dries down quickly and REALLY stays put.
Urban Decay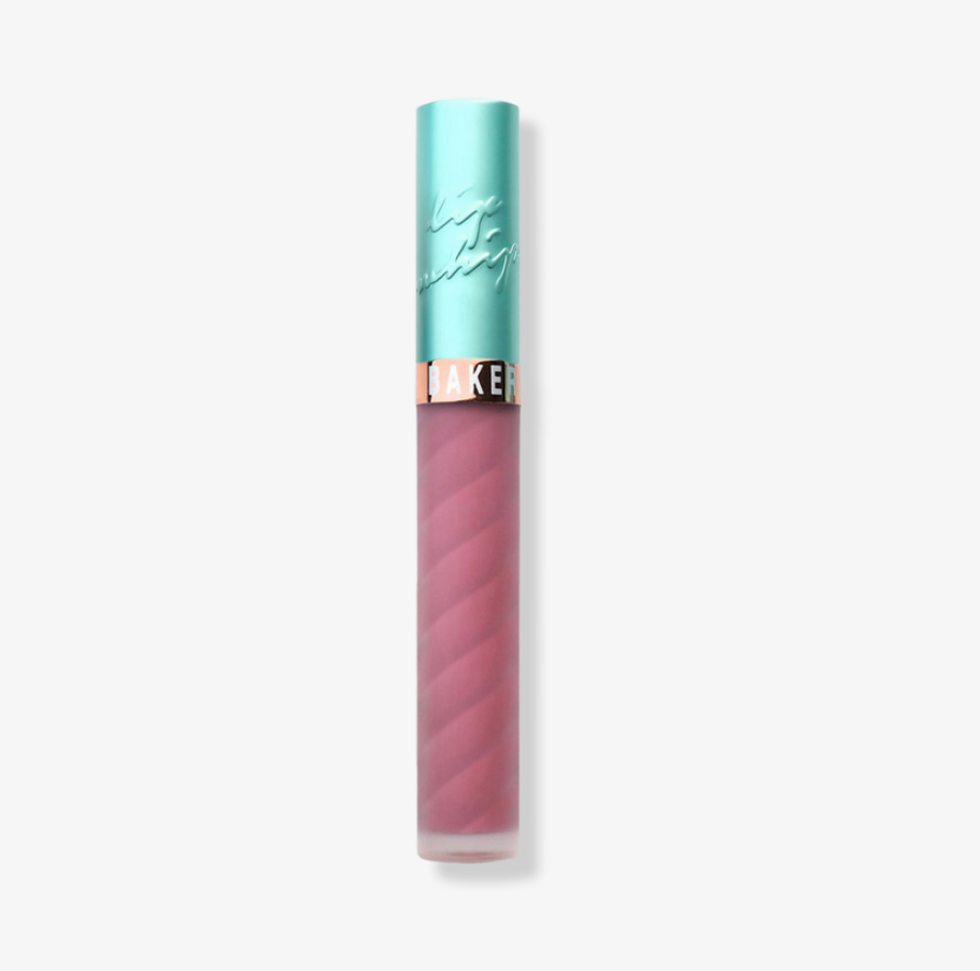 Summer is officially here and I can't wait to show off my hot girl outfits. With the world at our fingertips, 2022 is proving to be the biggest fashion awakening of our generation. Unlike the last two years of understated looks and neutral combinations, this season's trends are brighter and bolder than ever. Reminiscent of the early 2000s, this year has become a revival of an era when fashion knew no bounds and pushed beyond our creative limitations.
Beyond style, the most fashion-worthy moments are the juxtapositions of an outfit. You may see the fashion girlies rocking a corset, cargo pants, and sneakers one day and a babydoll dress with platform wedges the next. From low-rise waistlines to never-ending hems, this is the season to put self-expression at the forefront by dressing how you feel even if it means doing the bare minimum. Regardless of the day's mood, implementing just one of these summer trends gives major main character energy.
Scroll to see my top picks below.
Featured image courtesy of Shahirah Ahmed/Instagram
Episode 4 "So Fresh So Clean"
This post is in partnership with Ulta Beauty.
So fresh and so clean!
That's exactly how clean beauty influencer Jasmine Rose likes her skincare. The Brooklyn native is the latest influencer to star in our "Beautiful Soul" video series where she shows us how she prepares her skin for a natural daytime glow.
Jasmine, who has been vegan for years, is committed to her glow up inside and out. Over the years, she's become conscious of the products she uses and the ingredients in them - a decision encouraged by her longtime boyfriend. Not only does Jasmine believe in nourishing her skin with natural and safe ingredients, but she believes that her lifestyle choices play a major role in her megawatt glow. Whether you struggle with dry skin, hyperpigmentation, or the occasional pesky dark under-eye circle. Jasmine's go-lineup of clean skincare heroes are perfect to have in your summertime arsenal. Watch as Necole and Jasmine come clean in this skincare tutorial above.
Scroll through the gallery below to shop Jasmine's daytime skincare products from Ulta.
Jasmine's Skincare Faves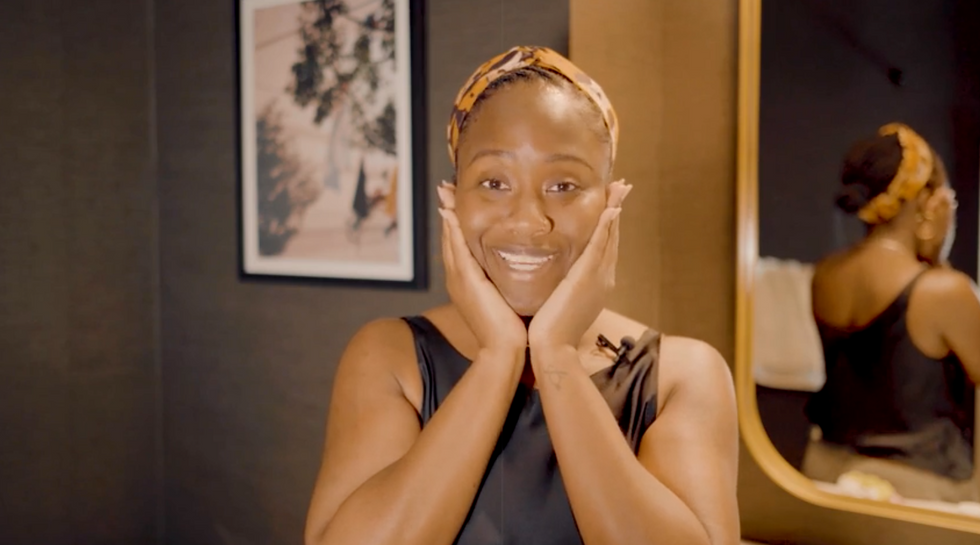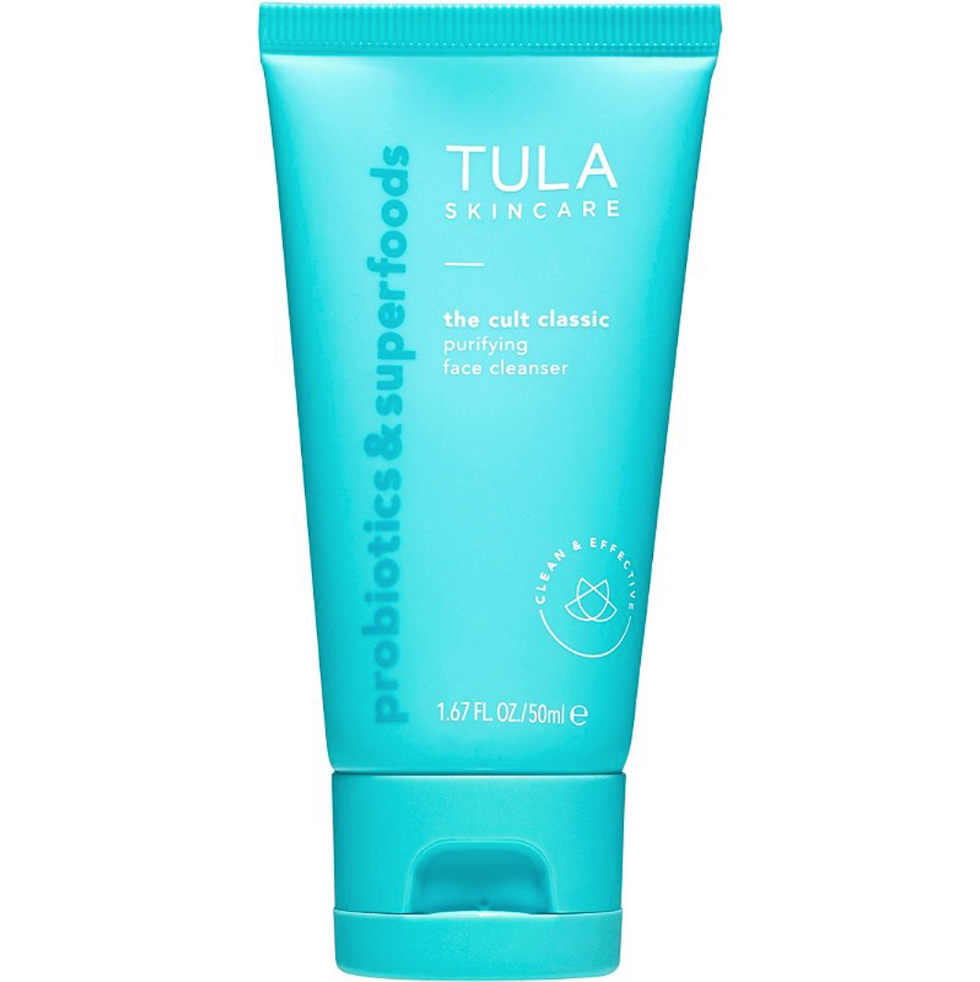 The Cult Classic Purifying Face Cleanser
A TULA essential, this purifying Gel-Based Cleanser removes dirt, impurities & makeup without stripping or over-drying.
Tula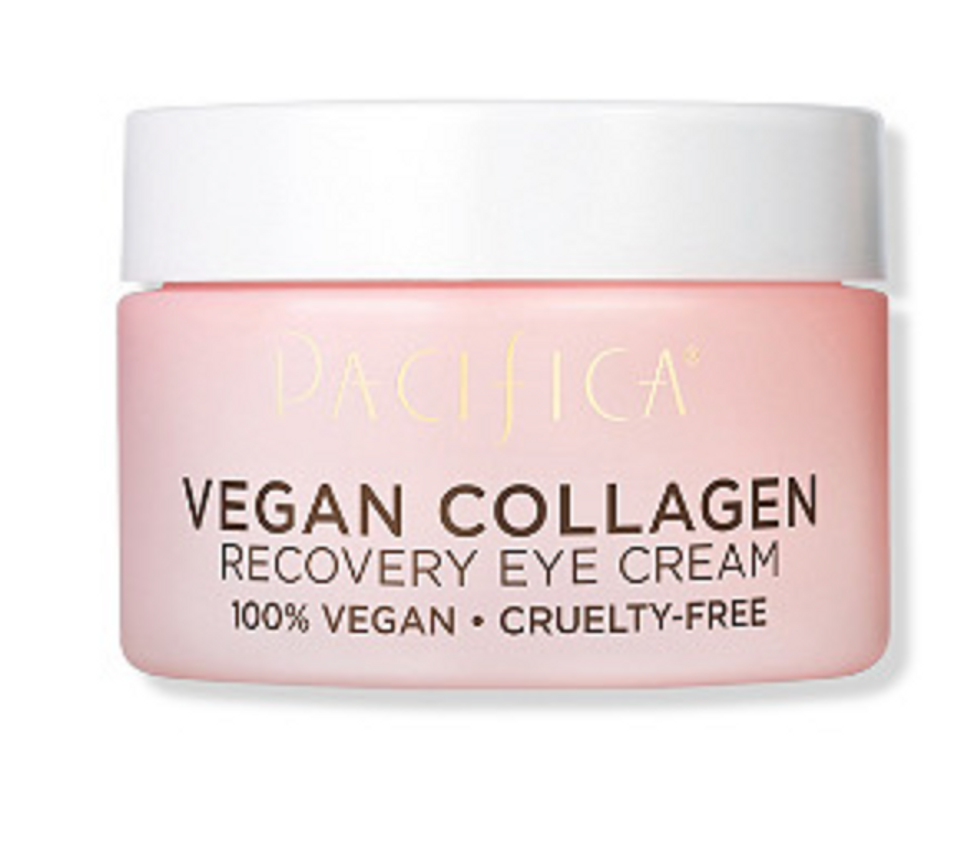 Vegan Collagen Recovery Eye Cream
Pacifica Vegan Collagen Recovery Eye Cream is your time machine for youthful-looking skin. Nourishing without feeling heavy, it melts easily into skin.
Pacifica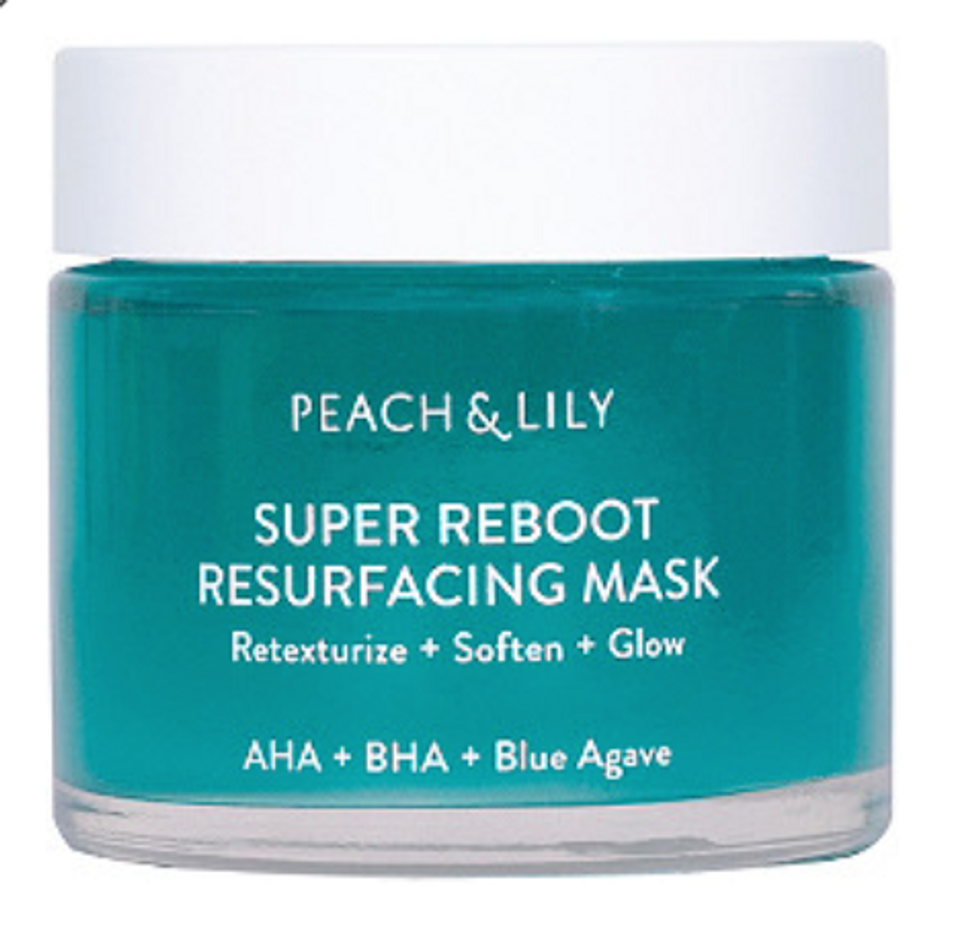 Peach & Lily Super Reboot Resurfacing Mask
Peach & Lily Super Reboot Resurfacing Mask uses 10% AHA, 0.5% BHA with soothing Aloe and Blue Agave to instantly exfoliate, resurface and retexturize skin.
Peach & Lily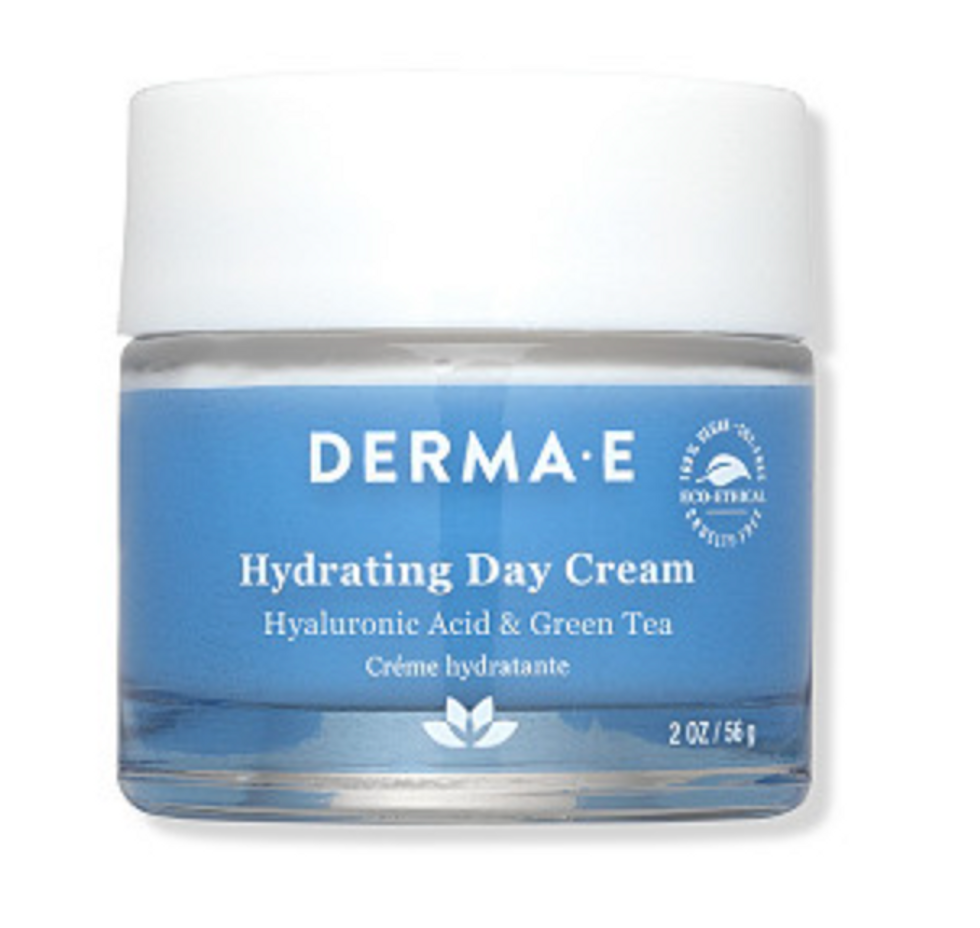 Derma E Hydrating Day Cream
Derma E's Ultra Hydrating Antioxidant Day Cream with Hyaluronic Acid thoroughly moisturizes and plumps to reduce the look of fine lines and wrinkles.
Derma E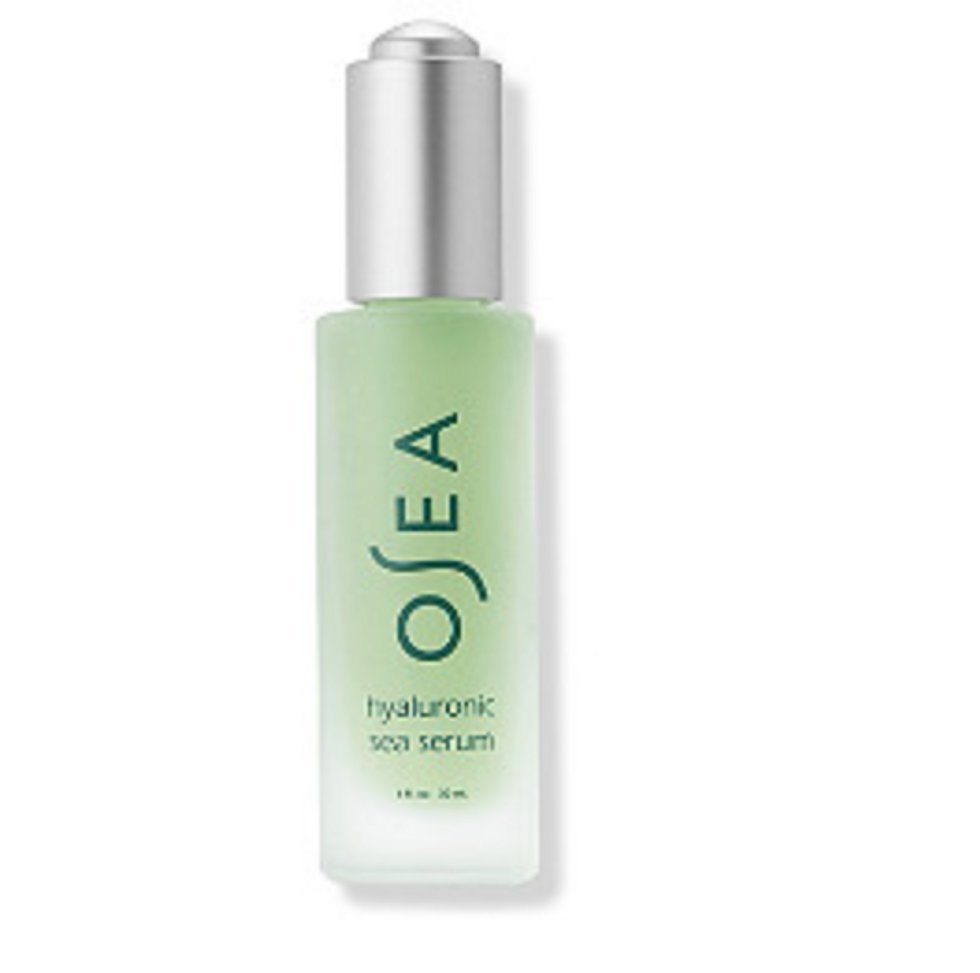 OSEA Hyaluronic Sea Serum
OSEA Hyaluronic Sea Serum is a hydrating serum clinically proven to smooth the look of fine lines and wrinkles.
OSEA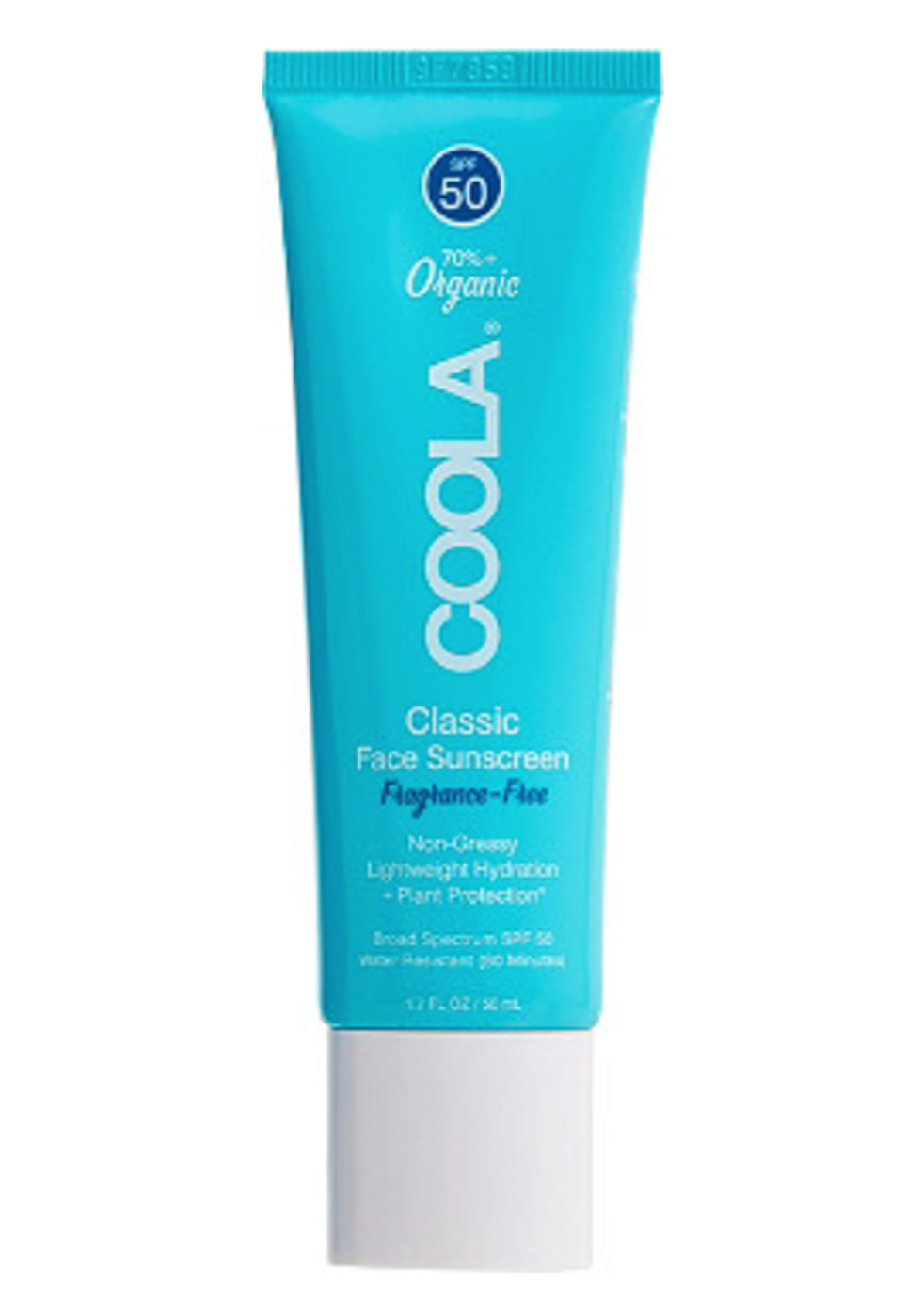 Organic Classic Face Sunscreen
COOLA's sheer Farm to Face organic face sunscreen with broad spectrum UVA/UVB protection that's light, non-greasy, and layers perfectly under makeup.
COOLA