As an extension of my monthly self-care routines, facials have become top priority when it comes to maintaining healthy skin. For months I've noticed excess oil, stubborn breakouts and dry cracked lips forcing me to seek an alternative to my everyday skincare routine. Unable to solve my skincare troubles, I decided it was time to seek the help of a professional to help revive my dull skin.
I love learning about skincare and how to address my personal needs. Not only did I need a relaxing spa treatment but I wanted tips on preserving an all-natural glow. Meeting with the aesthetician, I learned plenty about how and why skin reacts to our environment along with products and at-home treatments to continue until my next appointment. A living breathing organ, there are so many factors that keep our skin from prospering.
As we age, staying up-to-date on products and treatments that promote clear skin from the inside out is important. Check out the common concerns and tips everyone can use to maintain healthy skin no matter your type.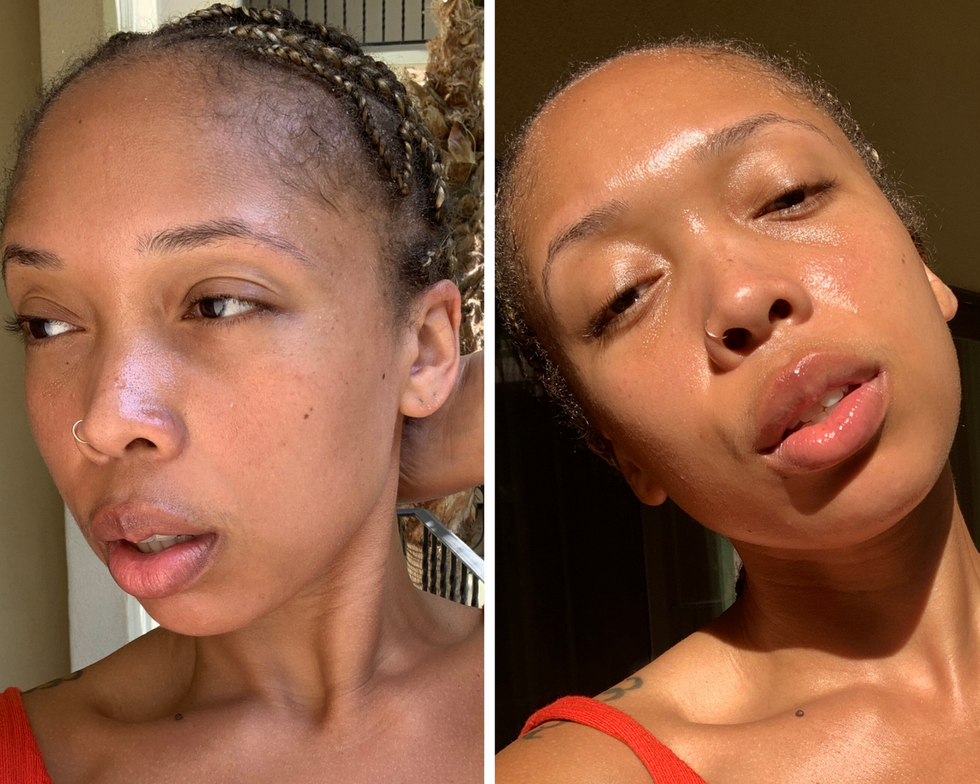 Shahirah Ahmed/xoNecole
1. Skin Sensitivity 
Most of us don't have sensitive skin but most of us assume we do. What we mistake for sensitive skin is just skin irritation from the products we use. A good way to test how sensitive your skin is is by the amount of redness that appears under your skin. Knowing the sensitivity of your skin is the perfect step in perfecting your skincare regimen.
2. Environment
Our daily environment plays a huge role in our skin health. Dirt from face masks and everyday pollution are two examples of elements clogging our pores. Facials are necessary to clear up those minor annoyances that accumulate over time. Sunscreen of SPF 30 or higher is the best protection to maintain youthful looking skin. Most likely in your daily moisturizer, this layer of protection is a preventative measure keeping the elasticity of your skin over time.
3. Exfoliation 
Exfoliation is the process of removing dead skin cells from the outer layer of your skin and should play a major role in your skincare routine. Using an exfoliant can leave your complexion looking brighter and improve the effectiveness of topical skincare products by enhancing absorption. Regular exfoliation can also help prevent clogged pores, resulting in fewer breakouts and smoother skin.
Using a chemical exfoliant vs mechanical exfoliant also makes a major difference for the overall health of your skin. It's advised to stay away from mechanical exfoliants due to the harshness of the ingredients. According to Loreal Paris, this type of exfoliation calls for the use of a tool or product that will act to physically remove dead skin cells from your skin's surface. When you're too rough, or applying intense pressure, it causes your blood vessels to break under the skin.
Applying a chemical exfoliant once a week is the best bet. Advised to use at night due to the sensitivity it can cause, chemical exfoliation involves the use of enzymes to dissolve dead skin cell buildup from the surface of your skin—no scrubbing necessary.
If exfoliating in the morning, follow up with a sunscreen of 30 SPF or higher, as it can cause skin sensitivity when in the sun.
4. Extractions 
One major concern when scheduling my facial appointment were stubborn breakouts. I soon learned that I developed a tiny white bump that typically appears on the nose and cheeks. These occur when keratin becomes trapped beneath the surface of the skin due to excess dirt, sweat that gets clogged within the pores or even sun damage. Keratin is a strong protein that's typically found in skin tissues, hair, and nail cells. After expressing concern, my troubles were diagnosed right away as it is common in people of all ethnicities or ages. Once my issue was identified, the process of clearing up the remaining areas was a breeze. Extractions are important to remove whiteheads and blackheads to give your skin a newer, fresher foundation for skincare products to penetrate and be more effective.
5. Hydrate 
As a follow-up to both exfoliation and extractions, a mask with vitamins A, E and hyaluronic acid was used to replace moisture in the skin. Known as the most efficacious or the best form of Vitamin C, L-Ascorbic acid helps neutralize free radicals, minimize the look of fine lines and wrinkles, and brighten skin tone. The use of Vitamin C also proactively fortifies the skin defenses against environmental assaults while encouraging skin to rebound from previous damage. The best part of this special ingredient is the reduction of fine lines and wrinkles for a beautifully even skin tone, aiding in the restoration of skin to help you appear younger for longer.
Vitamin E is most commonly known for its benefits for both skin health and appearance. When applied to your face, it reduces inflammation, making your skin look younger. Finally, hyaluronic acid also helps reduce the visibility of fine lines and wrinkles by retaining moisture to the skin, creating a plumping effect. When the skin is protected and hydrated, increased skin cell production can take place, as the skin isn't thirsty for hydration which leads to smoother, plumper skin cells.
6. Follow-Up
Immediately after my customized session, I could feel the glow from inside out with my face feeling clear and fresher than ever. We each have unique needs when it comes to caring for our skin. If it's been a while since having a facial or booking an appointment has been on your mind, this is your sign to stop neglecting your self-care, add that spa day to the calendar. Follow-up for a facial appointment may be once a month to once every three months, depending on personal needs.
Featured image by Getty Images
Keep reading...
Show less
Since 2000, Black buying power has increased a whopping 114 percent. According to Business of Fashion, we brandish $1.3 trillion in annual spending power. It's also no secret that Black women move culture like no other, making us one of the largest assets to the U.S. economy. However, for some odd but obvious reason, society tends to question Black women when they level up and revel in luxury.
Unconscious bias creeps in as we scroll through social media and it automatically fills in the blanks as we question why influencers have luxury items. No one gets it worse than Black women. Black girls and women deserve better. And now more than ever, Black women are taking up all the space luxuriously. Despite all that we face, we still showcase our magic for the world to see because being a Black woman is pure power.
A wise woman once said, "Behind every successful woman is a fabulous handbag!" Ahead, find some of our favorite style heavy-hitters sharing their favorite luxury bag, how it makes them feel, and why Black women deserve luxury.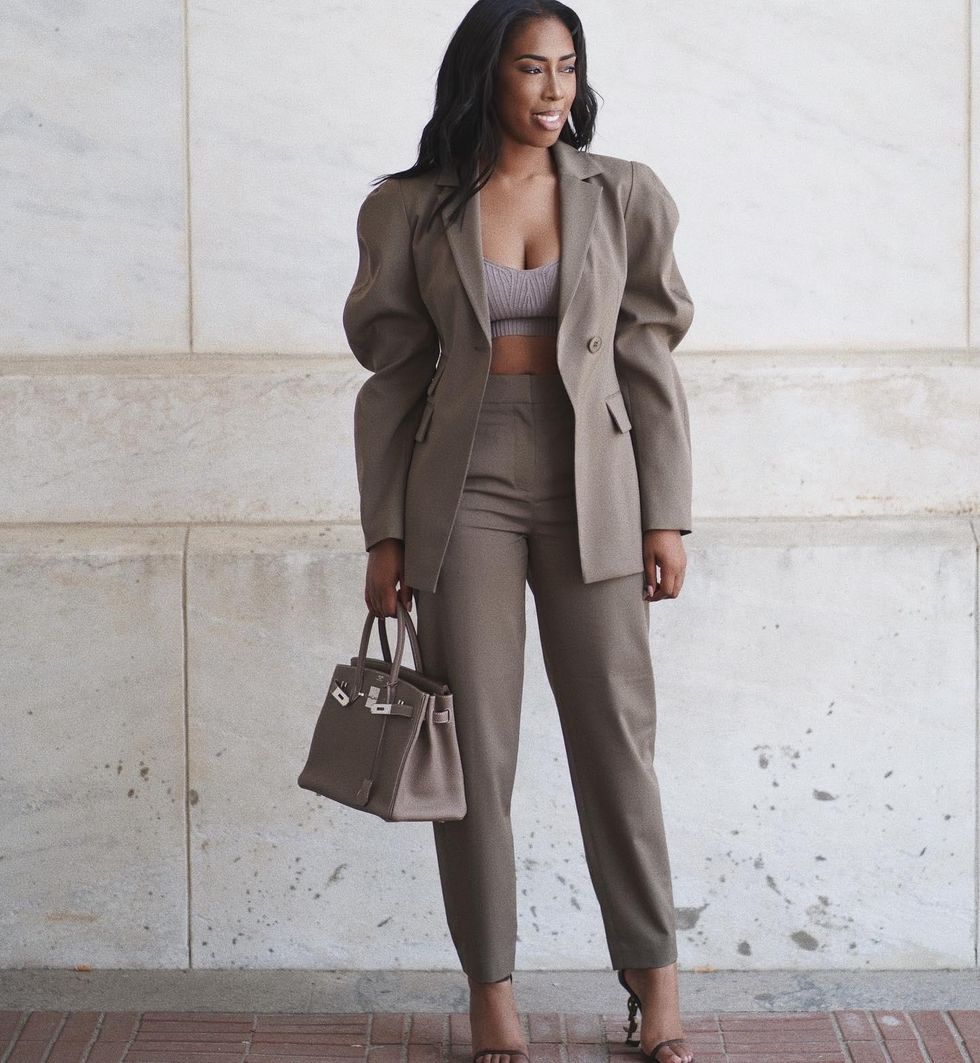 Photo Courtesy of Beverly Beal
Title: Attorney/Entrepreneur

Location: Atlanta, GA
Beverly's Favorite Luxury Bag: Hermès Birkin
"My mother purchased it for my 31st birthday. I'll never forget how proud she was of me. I feel unstoppable when I wear it. It fuels my day doesn't matter what I'm doing. I'm grateful for what I've accomplished and fearless of pursuing future accomplishments. Black women make the world go round, luxury is the least of what we deserve."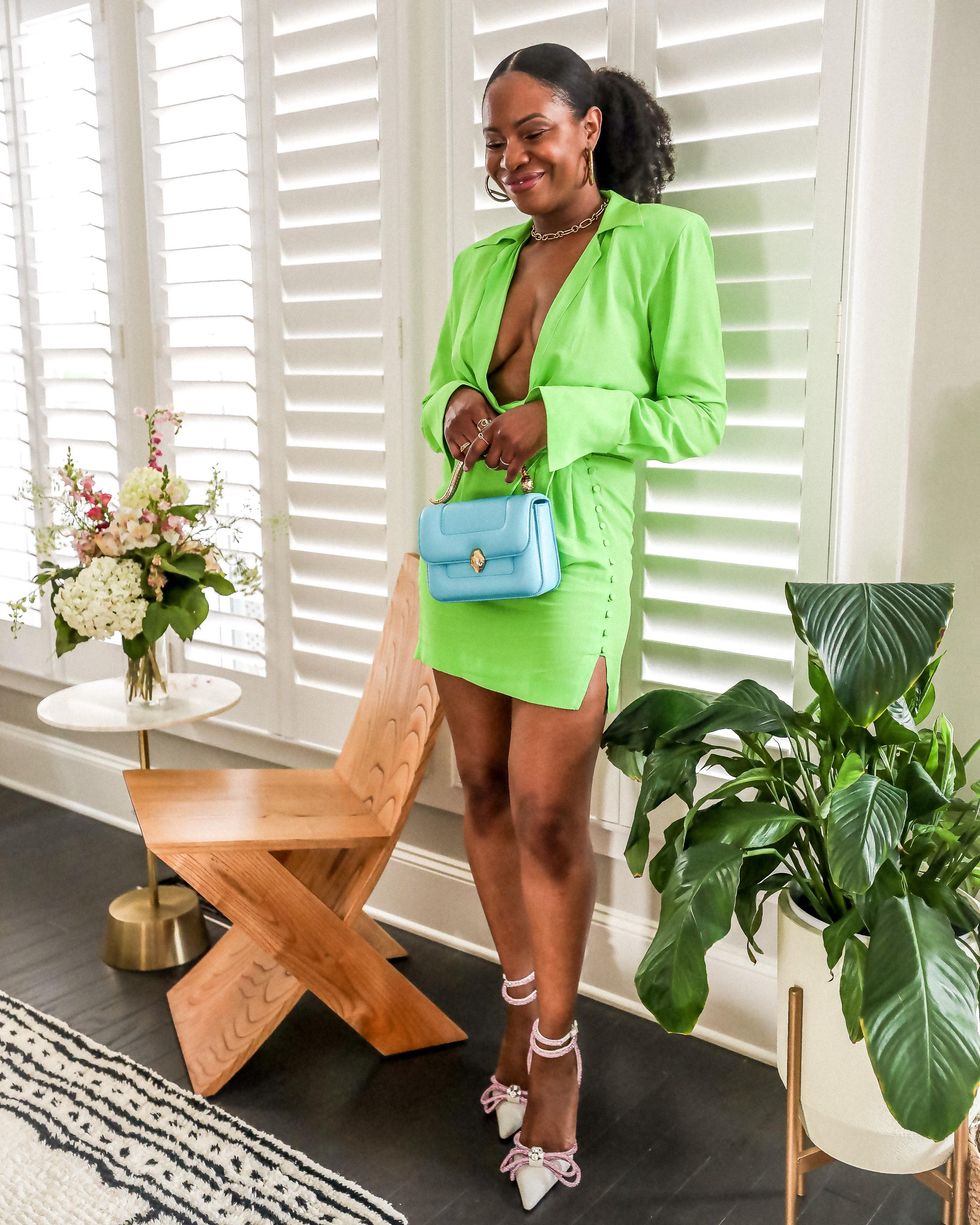 Photo Courtesy of Monica O. Awe-Etuk
Title: Fashion and Lifestyle Blogger/Content Creator

Location: Atlanta, GA
Monica's Favorite Luxury Bag: Bvlgari X Mary Katrantzou Top-handle bag
"Before I purchase a bag, I have to be moved by it. This particular bag did just that. It puts a smile on my face every time as the color is vibrant and bright. I also love the versatility of the bag and the fact that I can wear it as a top handle or a crossbody with its serpentine top handle and gold link long strap."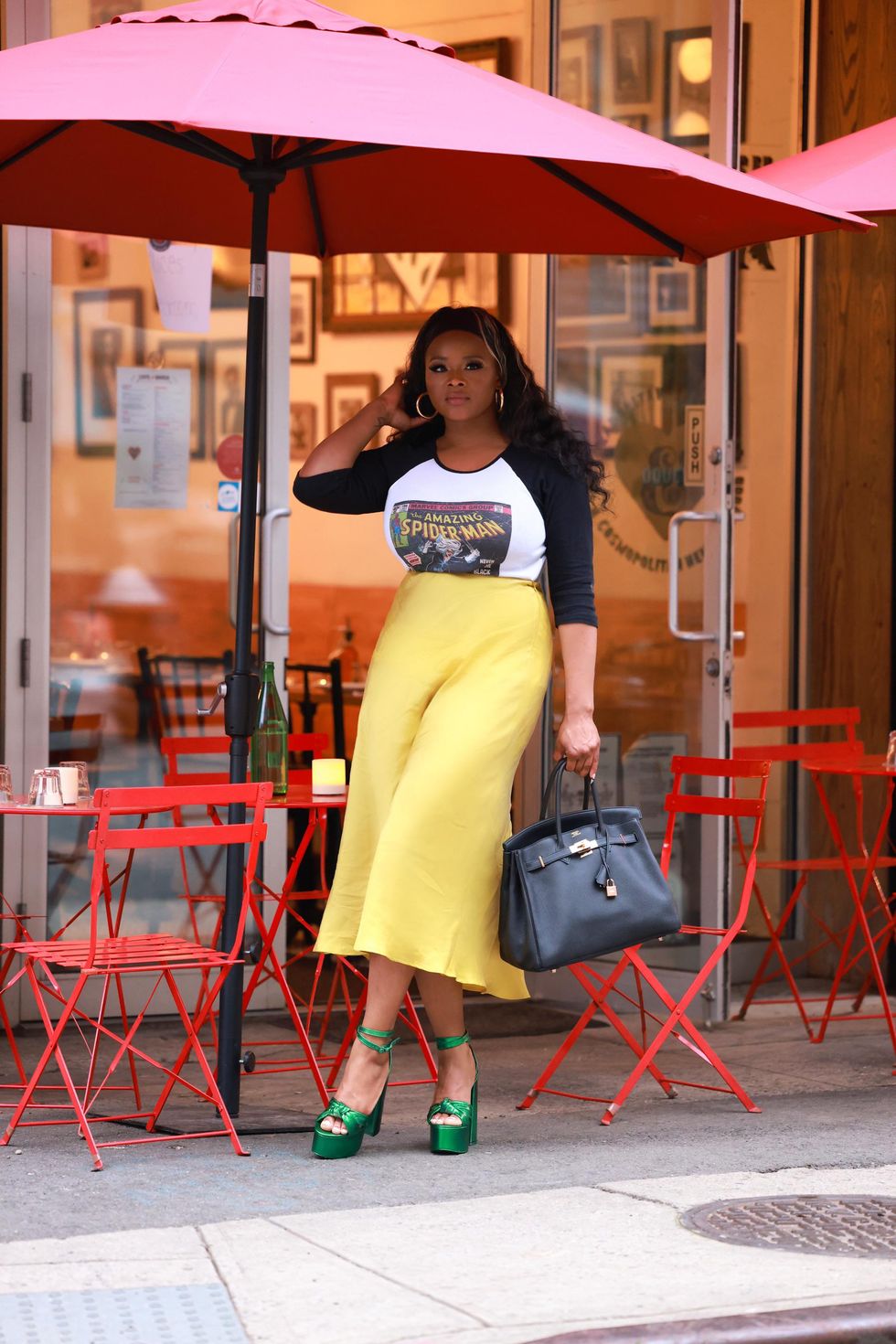 Photo Courtesy of Claire Sulmers
Title: CEO and Founder of Fashion Bomb Daily

Location: Brooklyn, NY
Claire's Favorite Luxury Bag: Black Hermes Birkin Bag 35 with rose gold hardware
"I purchased my bag to commemorate a milestone in my life and a turning point in my career. It's classic, fabulous, and serves as a reminder that anything is possible with faith and hard work. Luxury items are visible symbols of success--they're a cue to the world that you're accomplished and also have good taste.
"Luxury makes me feel confident, sophisticated, and successful. Every woman and every bBack woman deserves to feel that way."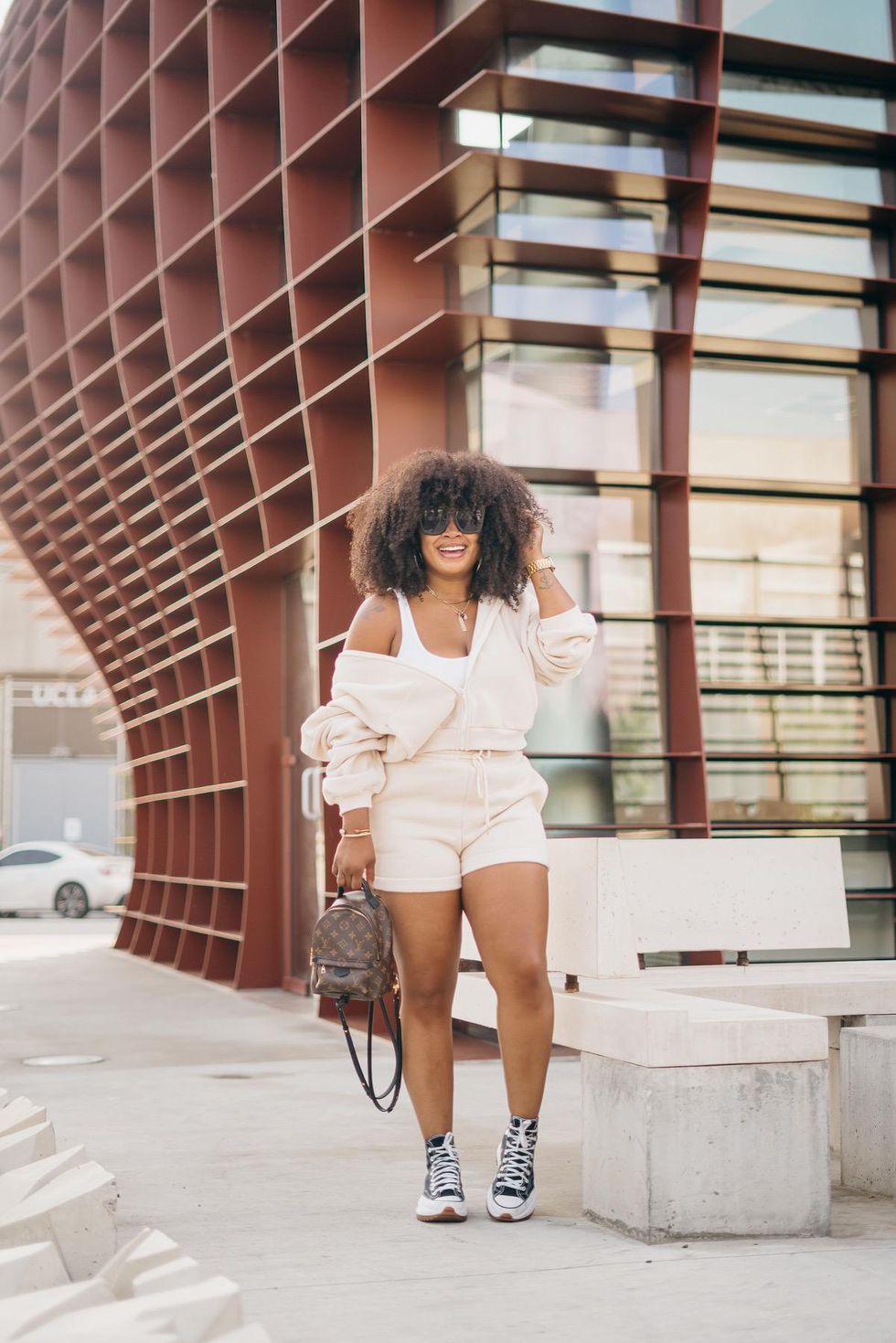 Photo Courtesy of Derria Underwood
Title: Stylist and Content Creator

Location: Los Angeles, CA
Derria's Favorite Luxury Bag: Louis Vuitton Palm Springs Mini
"It's tiny but packs a lot of punch. I can fit just about everything in it. It is also easy to travel with and perfect with every fit. Black women deserve luxury because it's our birthright. Generations before us struggled. All the hard work and perseverance is literally just a fraction of why we deserve luxury."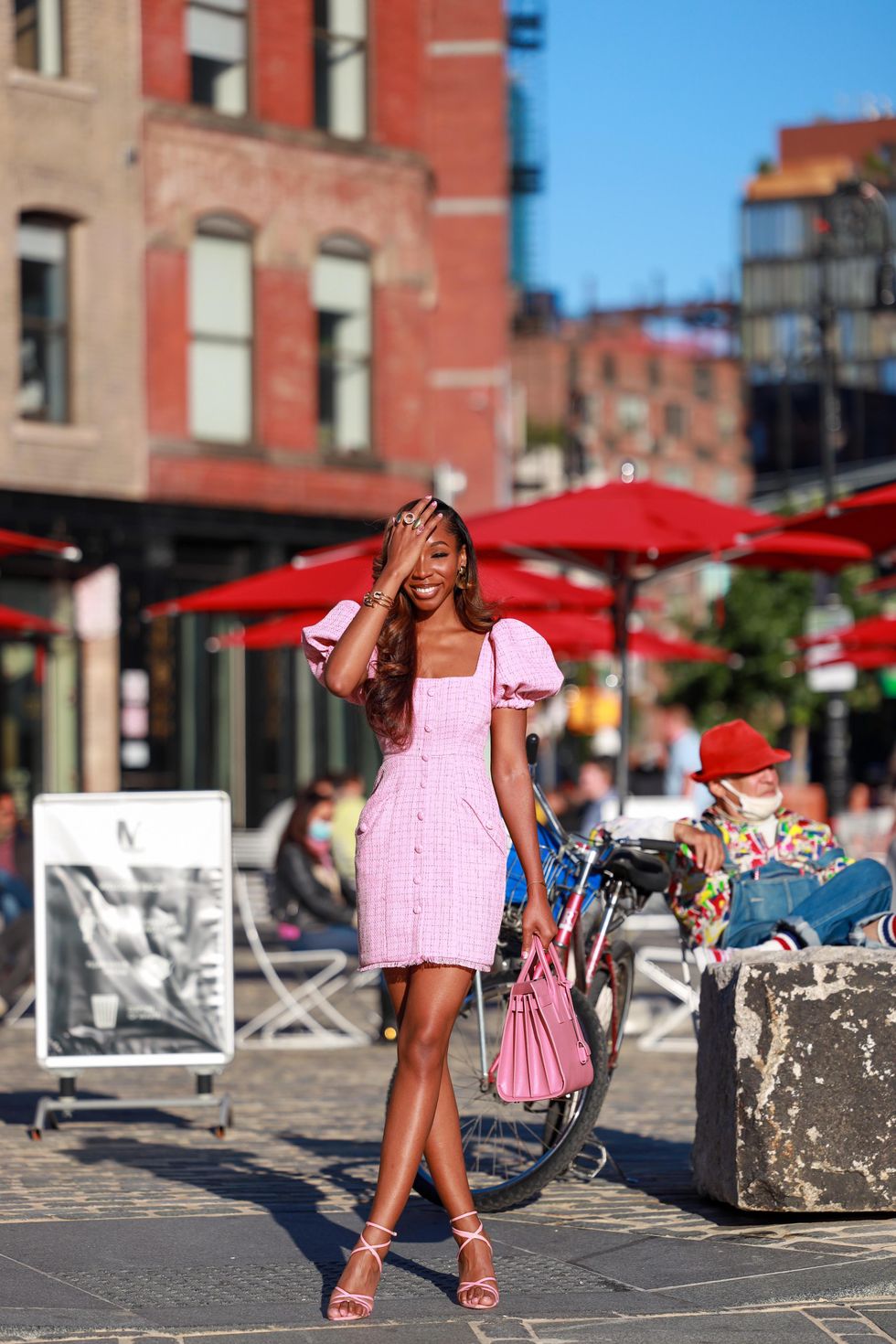 Photo Courtesy of Chinyere Adogu
Title: Content Creator/Style Influencer

Location: New York, NY
Chi's Favorite Luxury Bag: Pink YSL Sac De Jour handbag
"It is one of my favorite handbags. Pink is my favorite color and I love the size and shape of the bag. It's classy, chic, and perfect for traveling. It gives all my outfits a polished finished look. This bag was one of my first luxury bag purchases of color and it's a beautiful reminder of my achievements and how far I've come in my career and in my choice of style. I believe Black women deserve luxury because for a long time luxury and Black women were rarely in the same sentence. Society has told the Black woman to be OK with the bare minimum and I'm happy to see more and more Black women embracing luxury, embodying luxury and inspiring luxury!"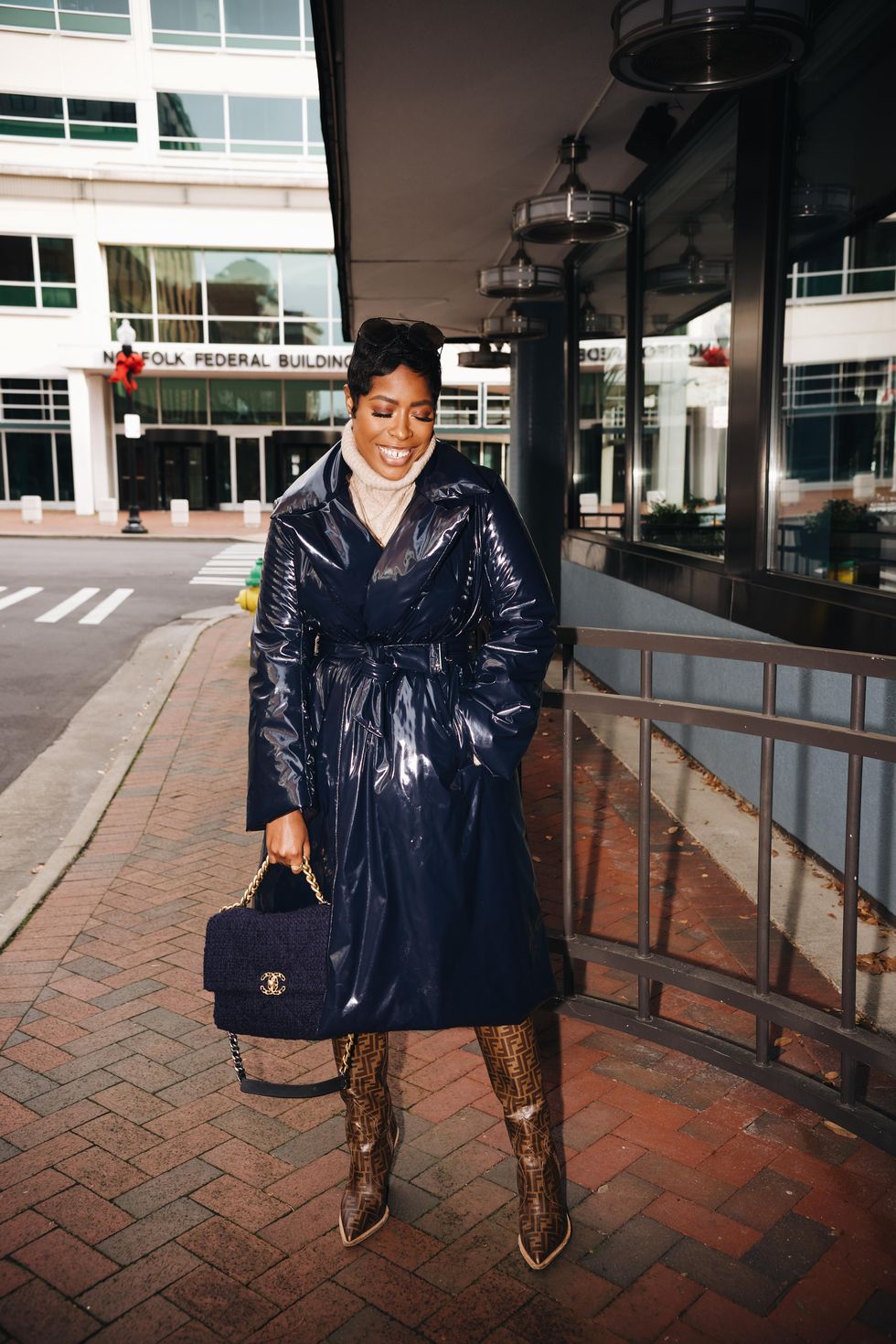 Photo Courtesy of Jenee Naylor
Title: Content Creator (Blogger, YouTuber, Influencer)

Location: Virginia Beach, VA
Jenee's Favorite Luxury Bag: Chanel 19 Large
"It has recently become a classic for Chanel and it's the perfect mix of edgy and elegant which really speaks to my personal style. It's a no-fuss bag, easy to carry and maintain but still feels really unique. I prefer the non-leather options, I think they show less wear and tear and feel a little more special. Accessories are truly the icing on the cake for me, so when I'm choosing a bag to complete an outfit I truly enjoy it. It's the styling and creativity that bring me joy and handbags allow me to flex my creative muscle and bring my ideas to life!"
"I think it's important for Black women to know that they can have whatever their hearts desire, I never imagined I would be where I am currently in life but seeing other women achieve a certain level of success and enjoy the fruits of their labor showed me what was possible and that it was OK to want nice things. Black women have been put in a box for so long that when we try to enjoy nice things we are questioned and second-guessed on whether we can afford it if we deserve it, or who bought it. We deserve luxury and a whole lot more and I will keep sharing my journey for the women who need to know it's possible."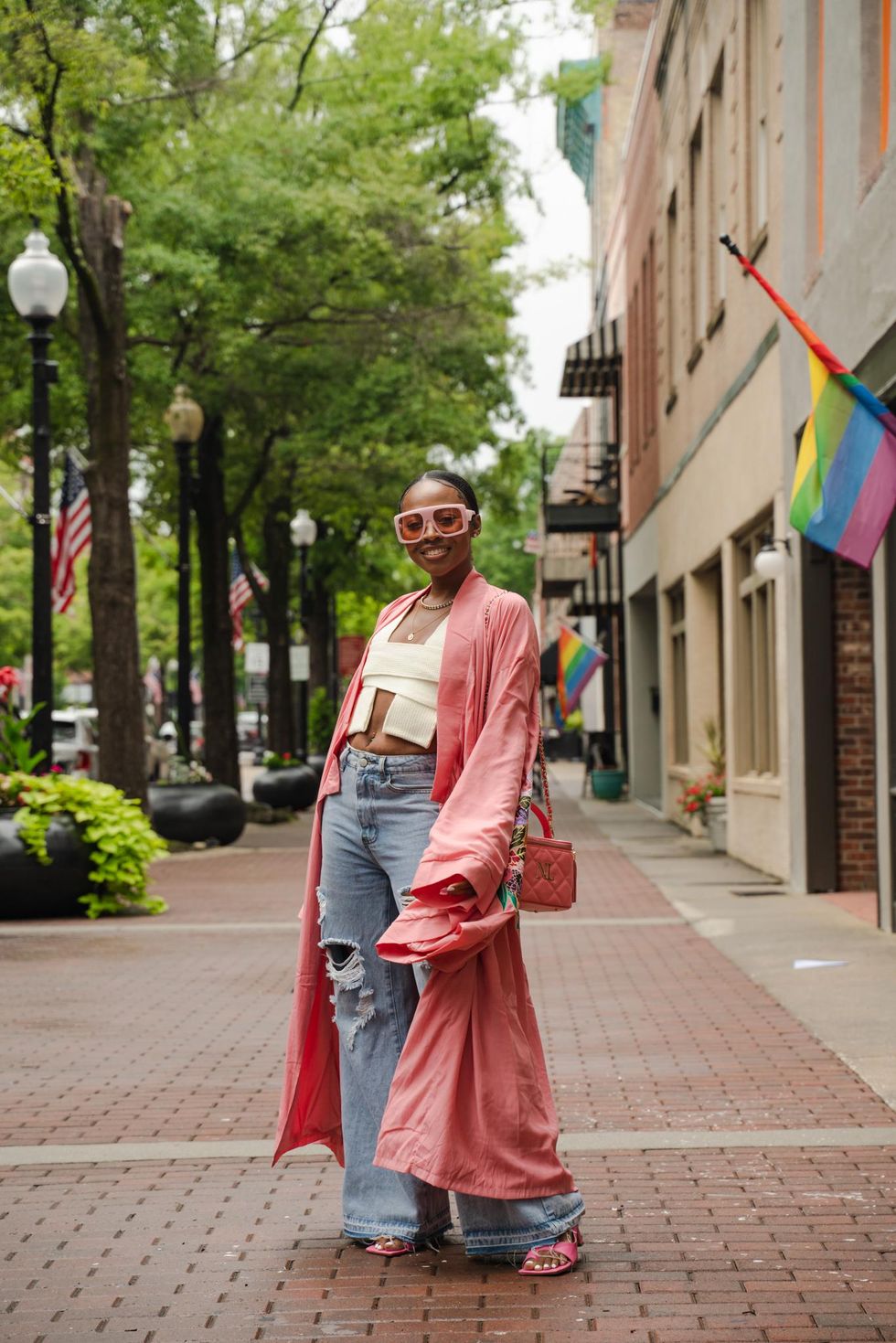 Photo Courtesy of Lanatria Ellis
Title: Influencer, creative director, stylist, entrepreneur

Location: North Carolina
Lanatria's Favorite Luxury Bag: Nichol Lynel NL Lunchbox
"Not only is it fabulous, feminine, but also Black-owned.The attention to detail and quality is amazing! My NL Bag brings me joys because it's so structured, yet detailed, luxe and so ladylike…it's me if I were a purse. Black women deserve luxury because society has made us feel for years we don't deserve and we do the most! We deserve to be pampered, to be considered, celebrated, and wrapped in all the expensive fabrics. I'm just making my ancestors proud with my luxe lifestyle!"
To get your fashion fix and to stay up to date with the latest trends, check out the xoNecole Style section here.
Featured image courtesy of Lanatria Ellis

Keep reading...
Show less
Growing up, my mother didn't let me wear make-up. At the time, I was pissed. Oh, but now that I'm deep into my 40s, I'm ever grateful because it's rare that a week will go by and someone won't be shocked when I tell them my age. Meanwhile, a lot of the — I'm gonna be real — white women who I went to high school with? Whenever I run into them, the combination of constant tanning and piling on cosmetics back in the day now has them looking several — and I do mean, several — years older than I.
Listen, I'll be the first to say that a full face of make-up that's been applied well is an art form. And there are certainly moments when I do enjoy rising to the occasion. However, if there is one season of the year when I will give all of that a very hard pass, it's the summer one. Between living in Nashville and enduring this crazy ass humidity and liking the freedom of not having to worry about reapplying stuff or "rubbing off on people", the summertime is definitely when I'm all about moving around with a low-maintenance face.
If that's how you feel and you'd like some tips on how to create one for yourself, I've got 12 really easy and effective ones below.
1. Arched Eyebrows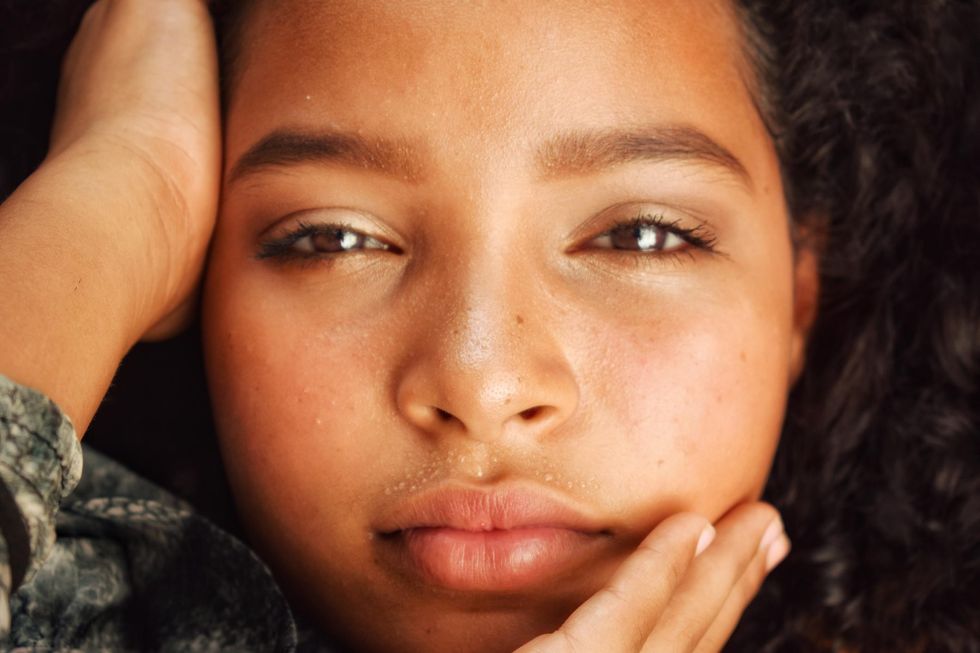 I promise you that if you retain only one point in this piece, please make sure that it's this one. There is nothing that is more beautiful on a woman, whether she's putting forth a natural face or a full-on beat, than well-groomed eyebrows. While I'm actually pretty good at doing mine myself, for the past couple of years, at first, I was getting them threaded; now I'm getting them waxed (mostly because my threading experience is they tend to go too thin and I actually like having fuller ones). A perfect set of brows can make your eyes appear larger (in the best way possible) and brighten up your face overall. So, if you ain't got the coins to do nothin' else on this list, pretty please don't avoid this point. It's a total beauty game-changer.
2. Exfoliant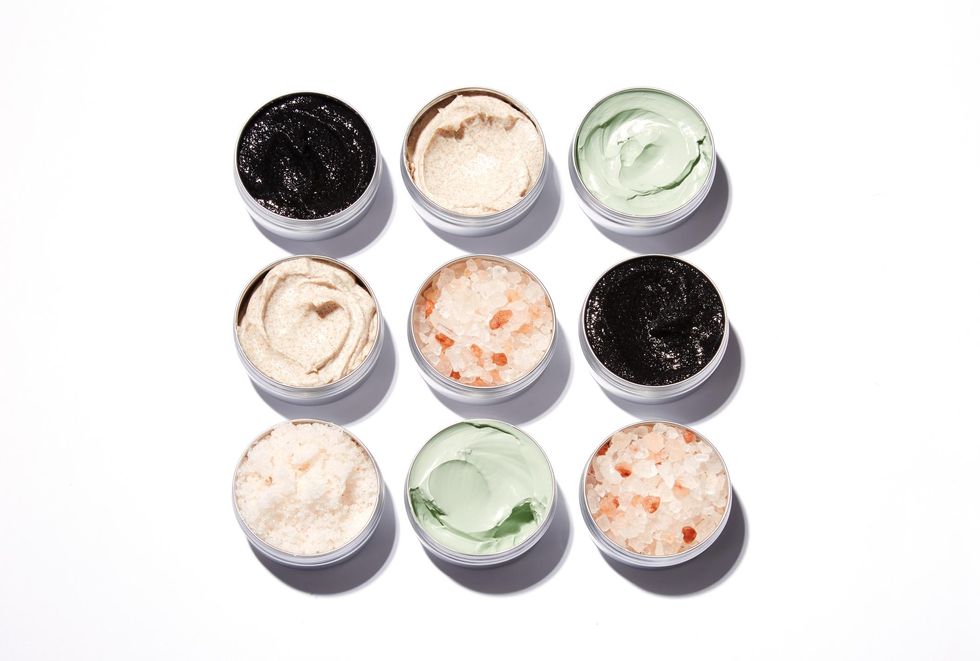 Back when I was in college (and away from my mother), I definitely went all out and decided to wear a lot of make-up; foundation included. For me, it was a frustrating cycle because the more I piled on, the more clogged my pores got, which resulted in more breakouts, which led to more acne marks…which led to me piling on more foundation.
It wasn't until I was in my 30s that I got the memo that if I exfoliated my skin, there would be less of a need for foundation. Why? Because exfoliating does things like remove dead skin cells, unclog pores, soften the appearance of scars, even out skin tone and make skin feel so much smoother — whether you like to wear make-up or not.
For me, sulfur soap has proven to be "that one" when it comes to exfoliating. Yet whether you decide to go with it, a department or drugstore exfoliant or you want to make one of your own (there's a video for how to make one here), definitely commit to exfoliating your face and neck (don't forget about that neck, chile; it can "age" you too if you neglect it) about twice a week. Your face will glow without foundation and it's a great primer if you do decide to put some on.
3. Orange Peels and Almond Powder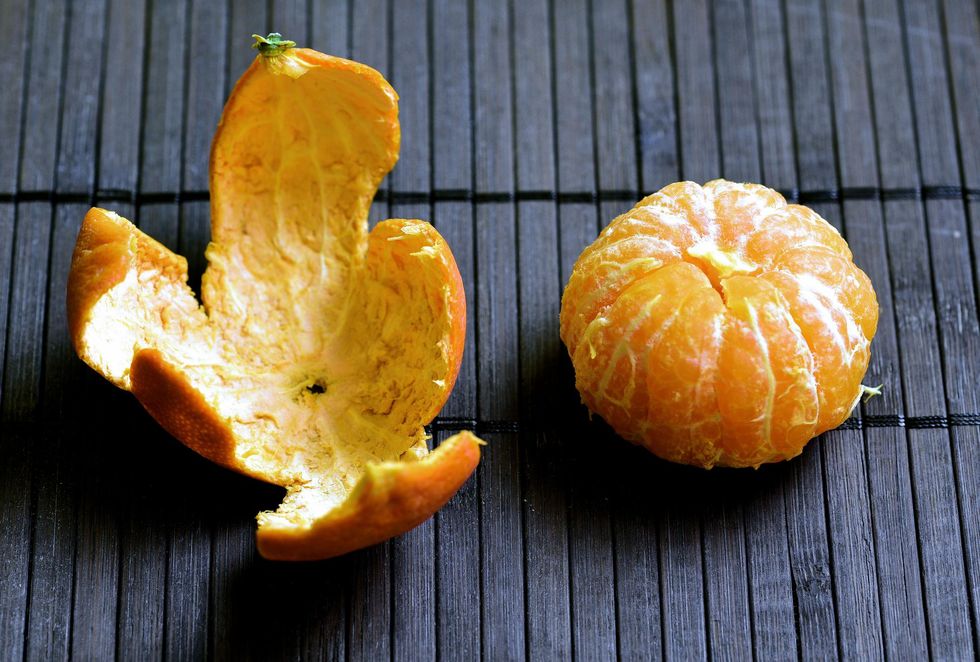 Speaking of exfoliants, if you want to apply a scrub to your face that will also provide it with antioxidants, a collagen boost and, thanks to the almond powder that's in it, it will also be a great source of Vitamin E (which can soften fine lines and deeply moisturize your skin), you should definitely consider making a scrub for your face, neck and body out of dried orange peels and almond powder. Take some orange peels and allow them to stay in the hot summer sun for half a day. Then put them and a handful of almonds into your blender and grind them into a fine powder. Add a teaspoon of turmeric powder (it reduces the appearance of acne scars and helps your skin to glow) and a tablespoon of almond milk (it's another Vitamin E booster and it also helps to deeply moisturize your skin). Apply the mixture to freshly washed skin (that's damp) and gently rub it in circular motions. Do this for five minutes and rinse with first warm and then cool water. Your skin will be baby smooth; much brighter too.
4. Cold Tea Bags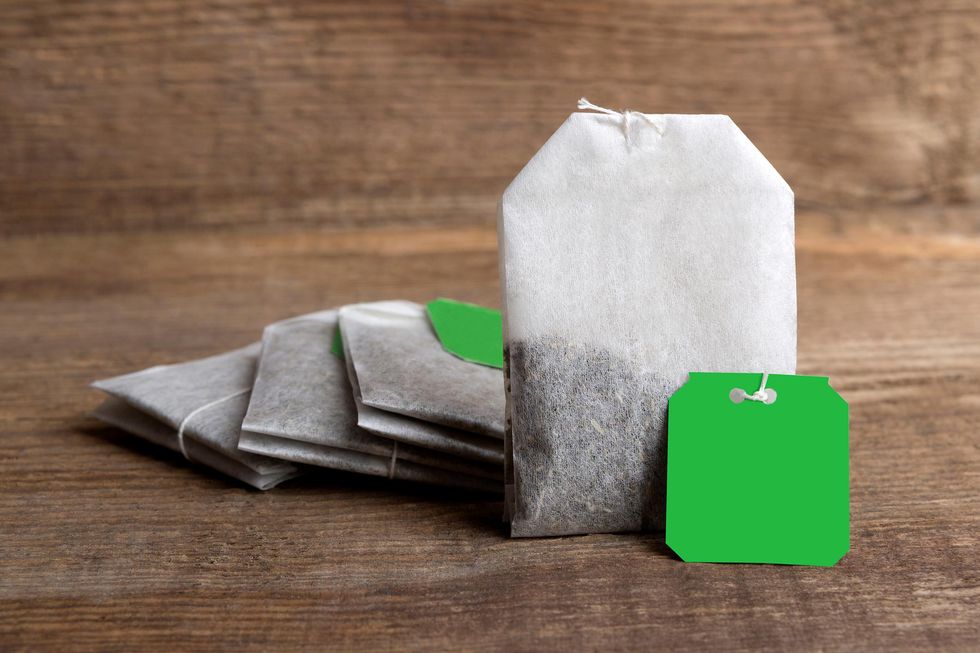 There are a few things that can cause dark circles underneath your eyes. Aging. Fatigue. Genetics. Allergies. Sun damage. Dehydration. Those are some of the top ones. And if you're looking for an all-natural way to make them look less apparent, cold tea bags are the lick. The ones with caffeine in them (like black and green tea) will slow down the blood flow to that area, causing the circles to be less apparent. Herbal teas (like chamomile and calendula) can reduce inflammation. Also, teas overall contain chemical compounds known as tannins. They're great for dark eye circles because they can brighten up your eye area with consistent use. Just boil the bags for 15-20 minutes, put them in the freezer for like 20 minutes and place them over both of your eyes for 15-20 minutes. If you do this once or twice a week, it's a refreshing treat that will give you some pretty impressive results.
5. Rosemary Oil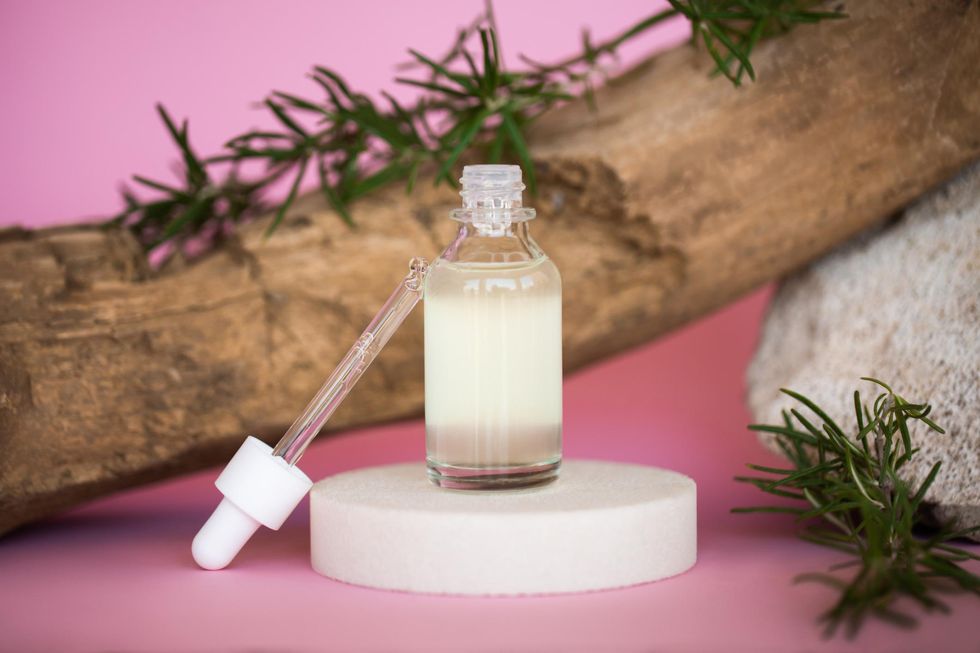 It really does depend on the day, which carrier oil I like the most when it comes to my skin — sweet almond oil or rosemary.
Today, I'm gonna go with rosemary because it contains properties that deeply hydrate; regulates sebum (which reduces the chances of clogged pores and breakouts); soothes skin irritation (which makes it great for eczema and psoriasis); tightens the skin (so that it sags less and appears more supple and firm), and it definitely helps to create a lasting glow without a greasy look or feel.
In fact, rosemary oil is a great go-to if you want to head out without any kind of foundation or powder on yet you still want your skin to be protected from the outer elements. Whether you purchase a bottle of it from your local drug or health store (I actually get mine from Walgreens) or you decide to infuse some oil yourself (check out this video here to learn how), you can't go wrong with applying it to your face and neck. Pretty much ever.
6. Waterproof Concealer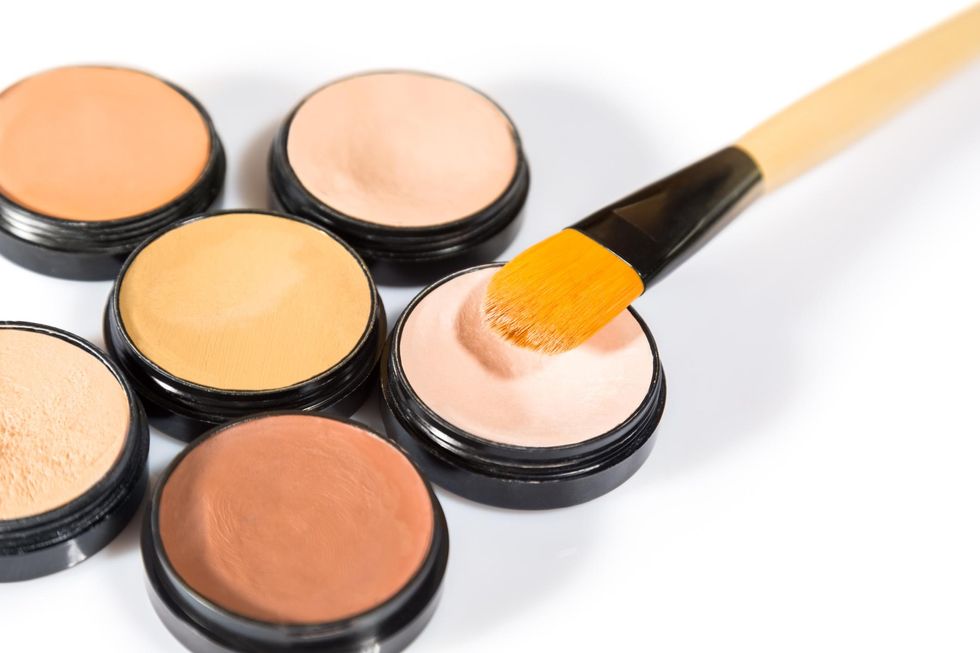 These days, my face is pretty even when it comes to skin tone and having no acne marks. The only exception is when my period decides to leave a parting gift of a pimple that almost always leaves a mark (UGH!). Aside from applying some shea butter at night to speed up the healing process of the zit, something that has brought me a lot of joy is waterproof concealer — and y'all, I am definitely going to shout-out the brand that I use because it's my favorite one, to-date. It's Estēe Lauder's Double Wear Concealer. Y'all…Y'ALL. It's creamy. It's a perfect match (which you know can be difficult for us to find). And it really does stay on through sweat and everything! I won't lie, it ain't the cheapest on the planet (whenever I pick up a tube, it's around 30 bucks). Still, if you want a concealer that looks pretty much just like your skin that you don't have to worry about, that's one that I can totally back up with confidence. And either way, if you want to put forth a flawless face during the summertime, waterproof concealer is an absolute must-have.
7. Cream-Based Make-Up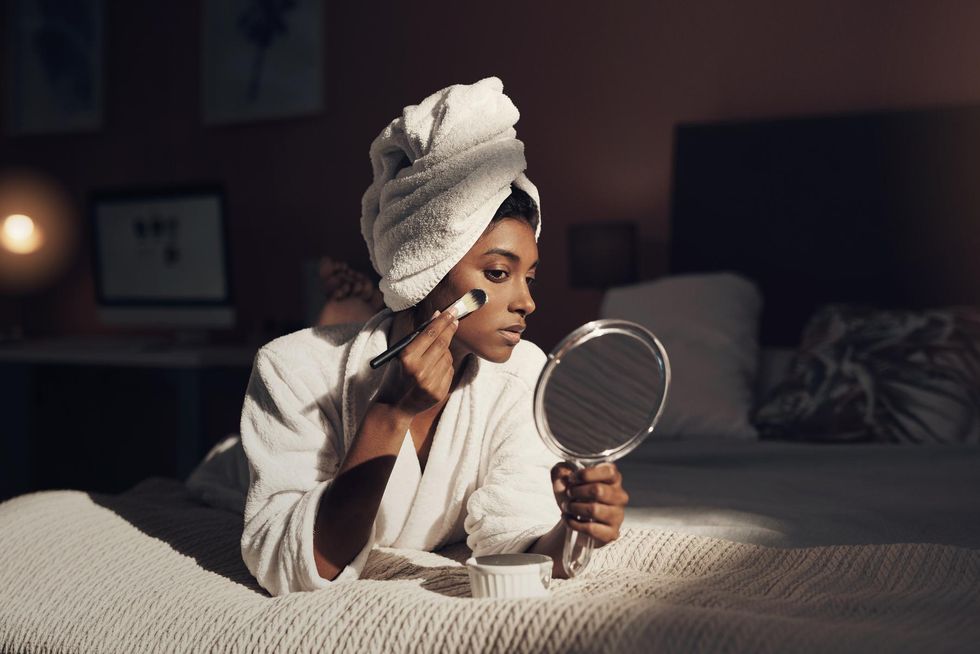 Whether you like to wear make-up just because or you've got a special something coming up and you want to put on a full face for the occasion, definitely go with cosmetics that have a cream base (especially when it comes to foundation, tinted moisturizers and/or blush) during the summer season. Cream bases help to add moisture to your skin, makes it easier to blend in your make-up and it doesn't cake up on your face the way a lot of powder base make-up does. Plus, cream-based make-up can give your skin a dewy look; one that I think looks really spectacular on every woman when it's especially hot outside.
8. Sweet Almond Oil and Rosewater Spritz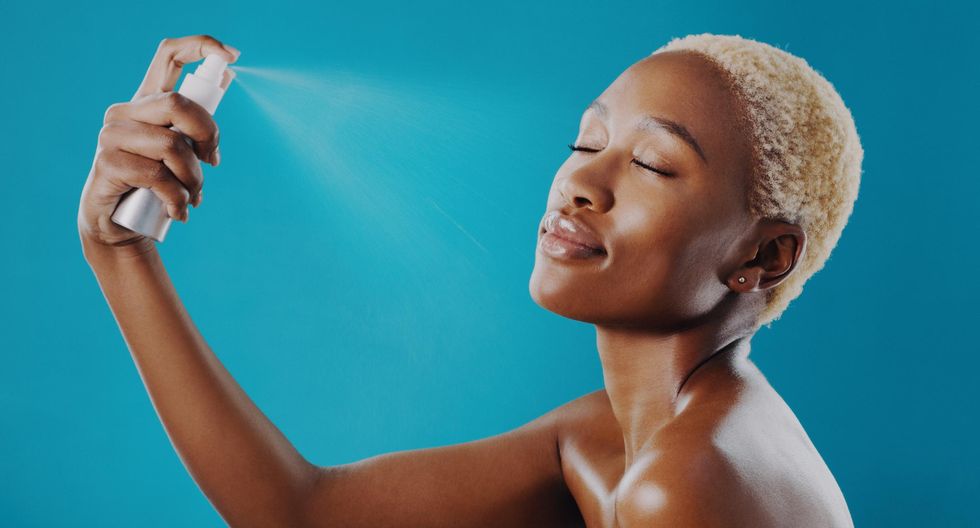 Speaking of looking all dewy 'n stuff, if while you're out, your skin looks or feels a little drier than you would like for it to, give it a bit of a homemade spritz. A very simple recipe consists of sweet almond oil, fresh mint leaves and rosewater. Sweet almond oil is dope because it helps to improve your complexion, soften the appearance of scars, reduce the puffy appearance of your eyes, alleviate acne and, get this, reverse sun damage. Mint leaves (which you should be able to find in the produce department of your local grocery store) contain astringent properties that work to slough off dead skin cells while also hydrating your skin. Rosewater is one of the best things ever for your skin because it also deeply hydrates, contains antioxidants, reduces the appearance of any redness or irritation and helps to keep fine lines and wrinkles from creeping in.
Just put a couple of fresh mint leaves into a small spray bottle (small enough to carry in your purse; you can usually find them at a grocery, drug or beauty supply store) and then fill the bottle about 65-70 percent with rosewater and the rest with sweet almond oil. Let it sit for two days and it's ready for use. Your skin will be provided with all kinds of nutrients and you'll immediately get that sexy dewy look that I've been talking about.
9. Waterproof Mascara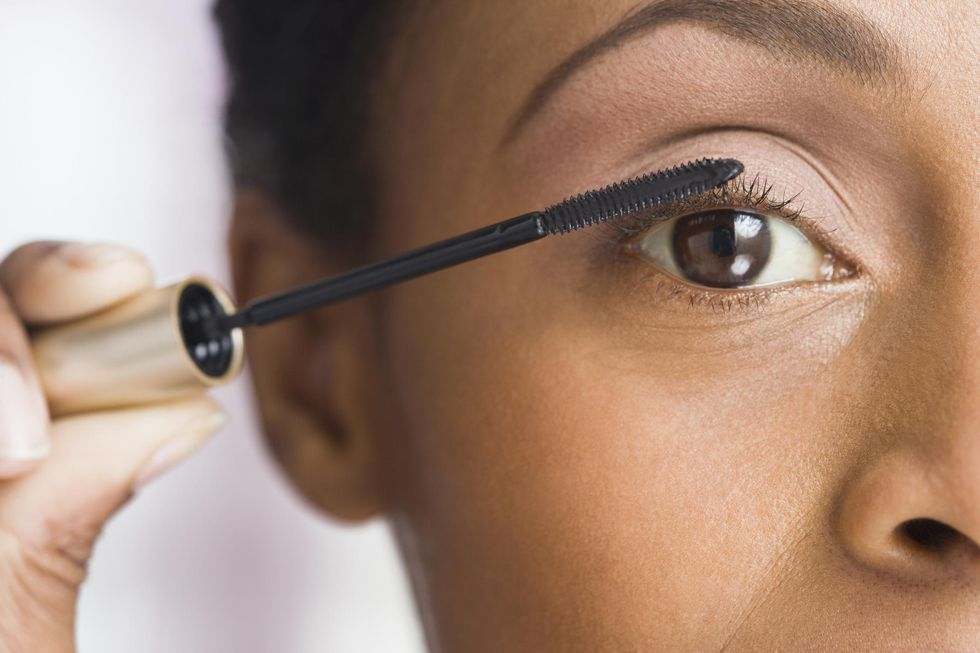 If I was going to list these things in order of importance, honestly, I probably would've shouted out waterproof mascara right under arched eyebrows. Although DNA has blessed me with some pretty nice ones, it's still night and day, the difference that I see, whenever I decide to apply a couple of coats of mascara to them. It thickens my lashes. It darkens them. It elongates them too. The brand that I have stuck with for years now, without absolutely any regrets, is Volum' Express The Rock Washable Mascara. There's something about the plastic curvy wand that coats my lashes perfectly. Anyway, I always get the waterproof kind (especially in the summer) and it's easy to find at your local drugstore or grocery store. Again, if nothing else, arched eyebrows, waterproof mascara — oh, and my next point. Do those and you'll be a natural beauty with very little effort. It's pretty much guaranteed.
10. Colored Lip Gloss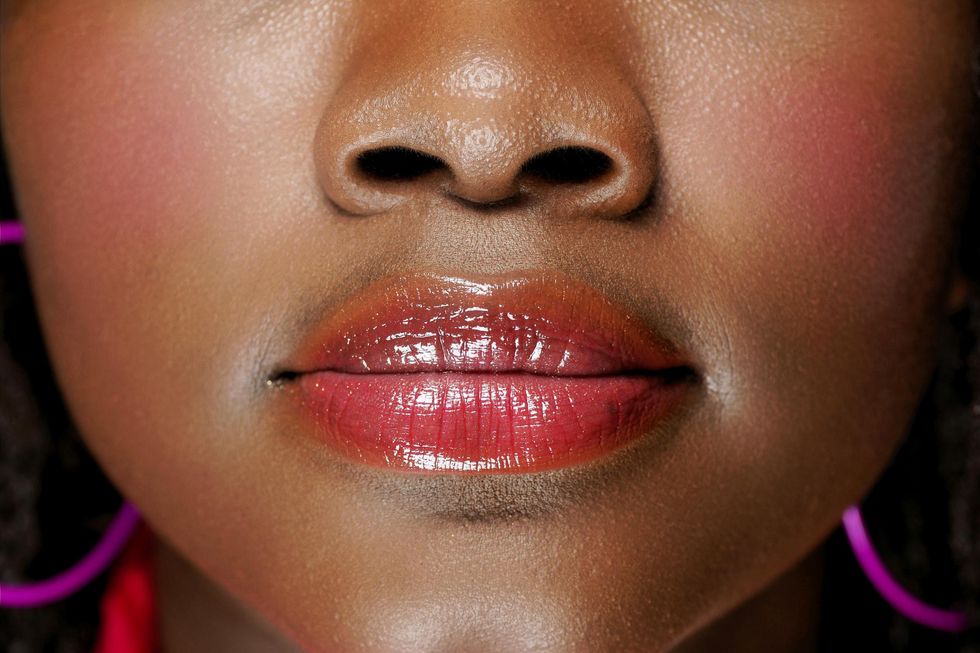 How much do I adore lip gloss? So much that it's mentioned in my bio on this site! I'll be honest, my affection for it is so ridiculous that I can't tell you how many tips I've got at this point.
I personally like lip gloss because it produces a natural shine that makes lips look healthy, moisturized and pretty damn sexy too. Plus, it lasts a long time without having to worry so much about it smearing all over stuff (like lipstick can sometimes do), it's glossy (although you can find different ones to suit your preference texture) and you can find them in delicious flavors if that's totally your thing.
Again, I've got a ton of 'em, but if there's a super inexpensive brand that I would definitely do a commercial for, it's Black Radiance's brand. It provides just enough "pop", it's not very sticky and it comes in hues that are great without lipstick or as a topcoat for it. Lip gloss will have you looking unbelievably kissable, all summer long, sis.
11. Bronzer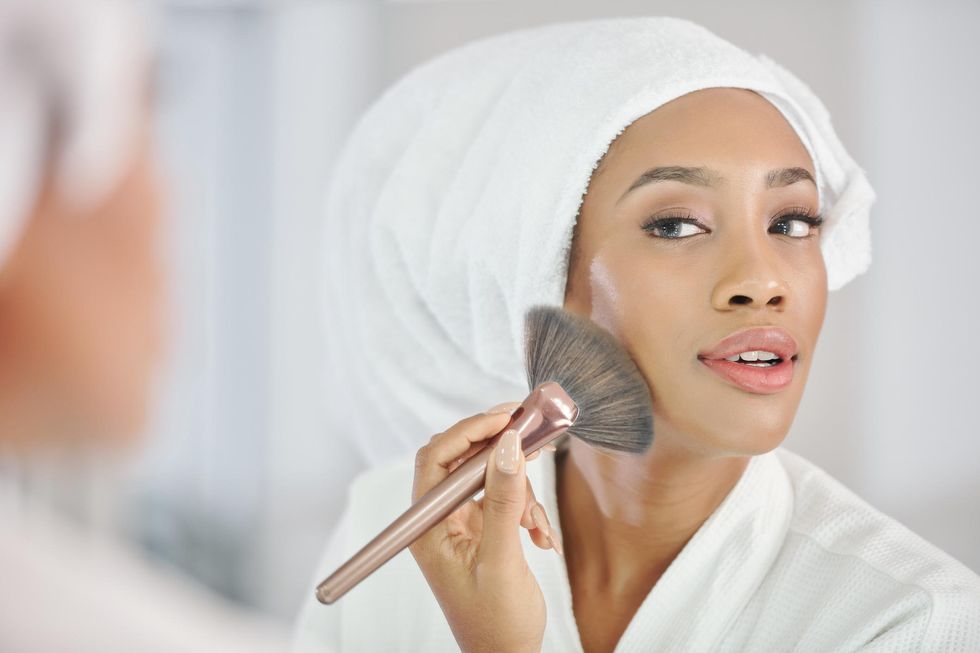 Do you want your skin to literally look like it's glowing? Bronzer. Bronzer is always the answer. Not only can it give your skin some sparkling sheen, when you apply it to places like right underneath your brows and on your cheekbones, it can add contouring in a way that doesn't appear overdone. As a bonus, if you get the kind that can also be applied to the rest of your body, bronzer is able to even out your skin tone and even reduce the appearance of cellulite. Oprah Daily published an article a few years back that featured some of the best bronzers for dark skin (you can read it by going here). Or, if you'd prefer to make bronzer for your face, Thank Your Body has you covered here; for the rest of your body, there's a quick YouTube tutorial here.
12. Less Is More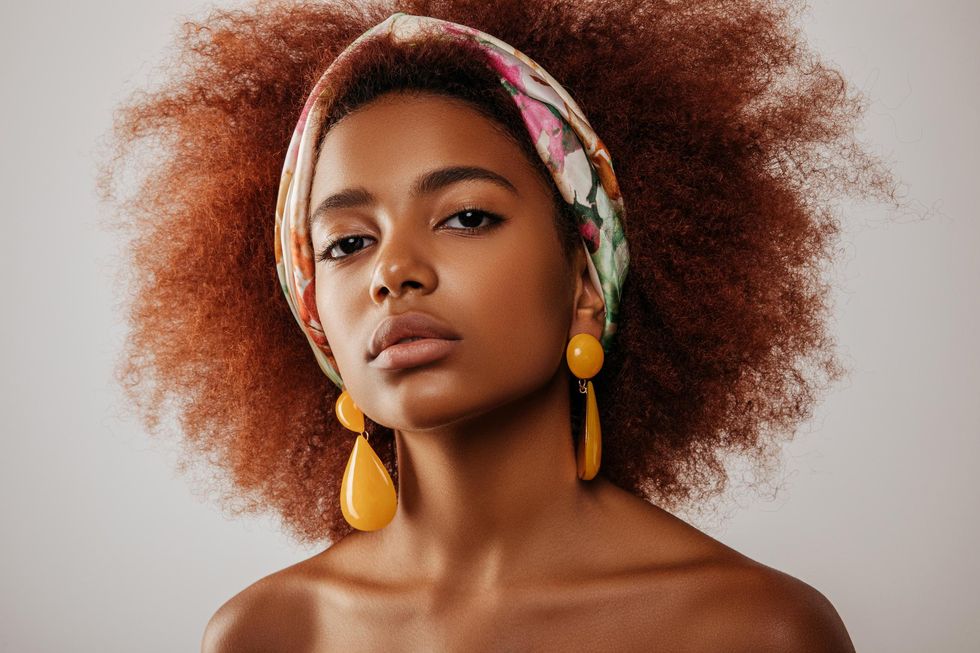 To tell you the truth, even though autumn is, hands down, my favorite time of the year, if there's one thing that I really do like about the summer season is because we tend to show more skin, it drives home how important it is to take really good care of it. And when that happens, we tend to be more comfortable with our natural beauty and taking the "less is more" approach. Hopefully, these 12 suggestions will be able to help you to do just that — care for your skin, take a minimalist approach to beauty and let your naturally dope face glow all the way up. Enjoy the rest of your summer, sis.
Join our xoTribe, an exclusive community dedicated to YOU and your stories and all things xoNecole. Be a part of a growing community of women from all over the world who come together to uplift, inspire, and inform each other on all things related to the glow up.
Featured image by Getty Images
Keep reading...
Show less
Our "Ask An Expert" series continues as we speak to LA-based natural hair enthusiast and protective hair stylist Kamara Brown Lewis of Raww Intuition Salon.
Starting a natural hair journey can seem intimidating and even scary. I understand why many textured hair women are apprehensive about letting our curls loose as we'd much rather have an easier fix. The thought seems overwhelming, especially when thinking of getting lost in the sea of hair products with one brand claiming to do the same as the other. As a "naturalista", I've learned to ask experts on my quest to find what's best for my hair type.
When I'm not wearing protective styles, I routinely "let my hair breathe" in an afro that's way more manageable than I would have ever expected. Even though I've been on my natural hair journey for three years, I'm still learning what formulas are best for my curl pattern and what I need for a healthier head of hair. While patience isn't my virtue, I'm learning to trust the process and let my hair take its time meanwhile discovering how to help it along its way.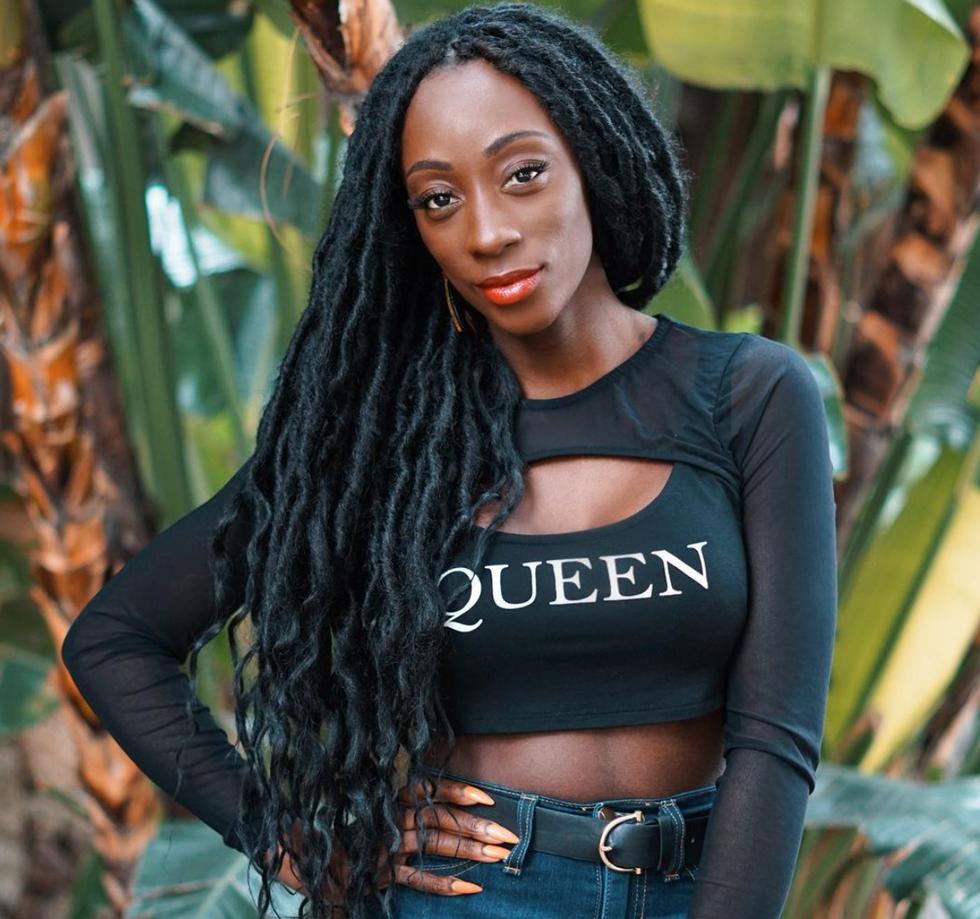 Kamara Lewis, LA-based Protective Hair Stylist & Owner of Raww Intuition Salon
When wearing protective hairstyles, it's important to be conscious of taking care of our hair underneath. Maintaining a healthy scalp is vital for overall hair growth, keeping it moisturized and replenished often. With only a few principles to keep in mind, I want to encourage everyone that being natural is easier than it looks.
To give you the motivation you'll need on this journey, I connected with Kamara Lewis of Raww Intuition for her tips on properly caring for our hair and most importantly, where to begin.
Keep scrolling to get the natural hair advice you've been needing.
Try to Avoid Product Mixing
For those that struggle with dry itching scalp, Kamara suggests using Canviiy's ScalpBliss Itch-Calming Organic-Based Serum (which can also be great for protective styles in-between) and their ScalpBliss Soothing Scalp Purifying Foam Treatment. Both products are helpful with soothing the scalp while also getting rid of buildup. For deep conditioning, she recommends the NaturAll Club product line. She also notes brands like Design Essentials, OGX, Mizani, and KeraCare for must-have hair staples like moisturizing shampoos and conditioners, and curl refreshers.
Most of all though, it is important to stick with brands that are true to this and not new to this. When it comes to companies that have specialized in natural haircare since you were a young girl, it's those legacy brands that have a track record when it comes to getting the job done within the beauty industry. Also, Kamara suggests staying away from what she calls "product cocktails." Pick a brand and stick with the entire collection as "brands use formulas that activate a particular and achieve a particular look when used with other products from its product line."
You're missing out on the full effect when mixing products from several different brands.
Protection
"Sleep with a silk or satin pillowcase or bonnet. Protect your hair at night so you can have fresh and revitalized curls in the morning," Kamara shares another tip. "For those with longer hair, try the pineapple method at night, wrapping your curls up as they sit on top of your head to prolong your natural coils."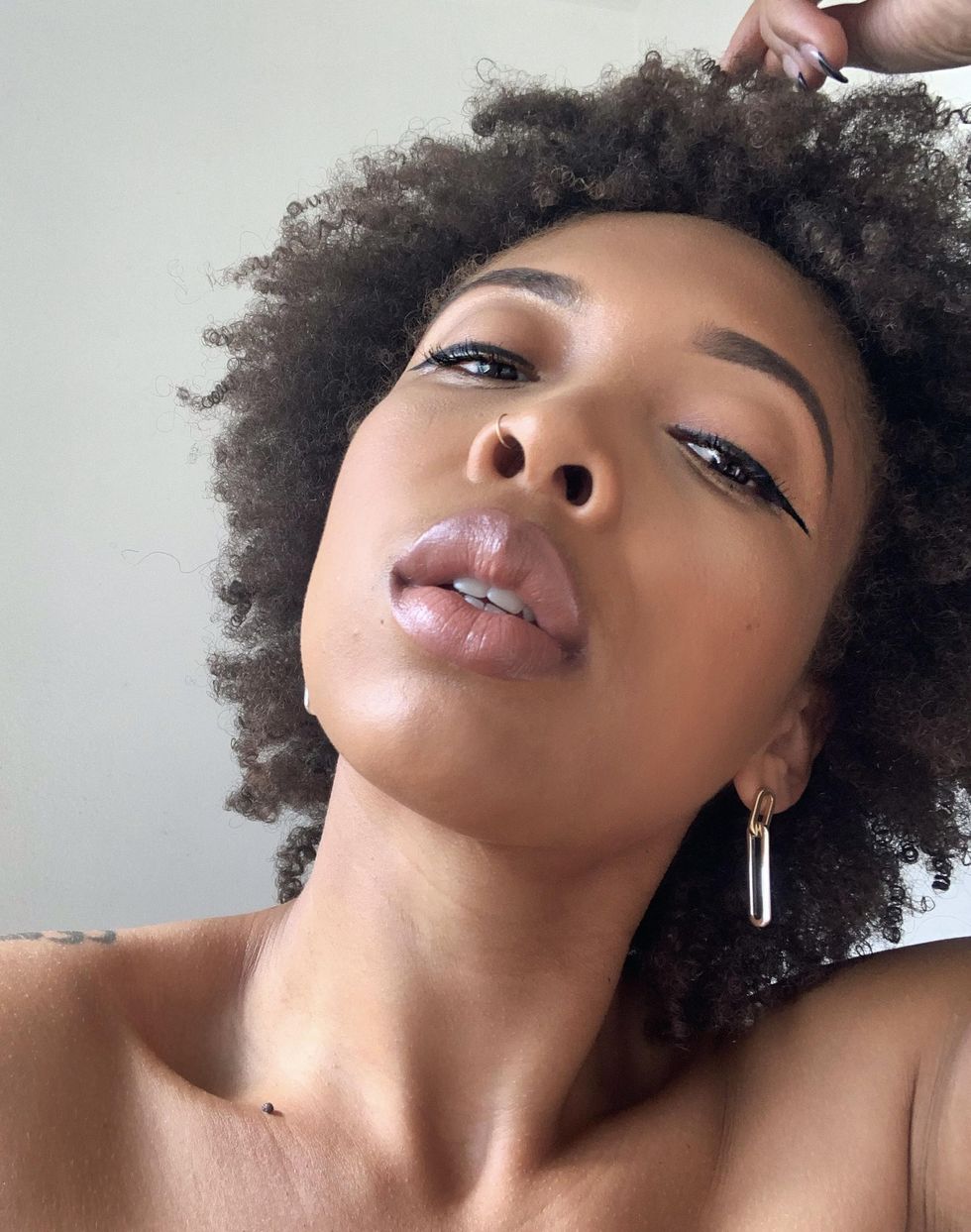 Shahirah Ahmed/xoNecole
Patience 
"Be patient with the growth process. It's not about how long your hair grows but how healthy it is. Stop combing your hair dry and pulling it in tight buns or even protective styles thinking your hair will be long and healthy. It takes time and it's important to make sure you're drinking lots of water and eating healthy before you dive into buying all these hair products."
Keep it Simple
Most importantly, keep it simple. Like most humans, we tend to over-complicate things. Managing your hair does not have to be a day long chore. "Keep your hair regimen simple and straight to the point so it's easier for you to be consistent and have an accurate understanding of what your hair needs," Kamara adds.
Featured image via Kamara Lewis

Keep reading...
Show less
If there is any time of the year when many of us are showing as much skin as possible, the summer season would have to be it. This means two things. One, we've got to make sure that our skin looks as even-toned and healthy as possible. Two, we've got to do whatever we can to protect it from the damage that spending hours out in the summer season sun can potentially bring. This article is gonna tackle both of these points.
It's interesting because, as I was thinking about what to entitle this, "glow" came to mind. I'm glad it did because one definition is "incandescent". Another is "rich and warm in coloring". Still another is "showing the radiance of health". If this is how you want your skin to look right through here, I've got 12 all-natural ways to definitely make that a possibility. Let's do this.
1. Cold(er) Showers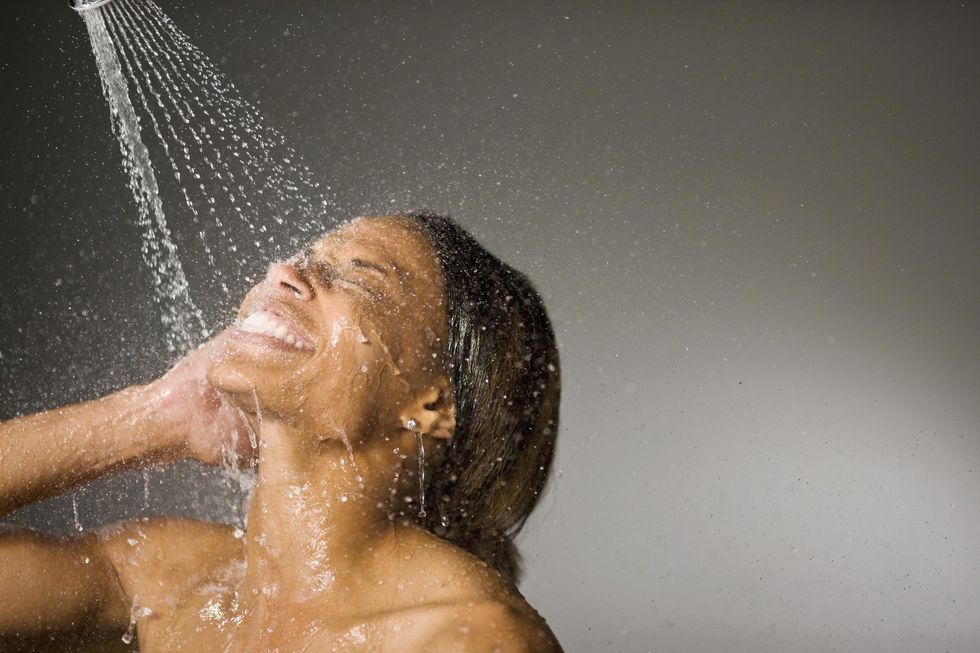 While standing in the shower for long periods of time might feel really good, if your ultimate goal is to retain moisture (and lower your water bill in process), opt for showers in cooler water that lasts for a longer period of time.
The reality is, hot water zaps our skin of a lot of the moisture that it needs. Not only that but cold showers are good at energizing, increasing blood circulation, soothing itchy skin and even upping your metabolism levels.
Listen, no one is saying that the temp has to be as cold as ice. Just opt for cooler than usual. Again, your skin will thank you for it. Plus, it can actually feel really refreshing after a hot summer's day.
2. Tea Bags in Bathwater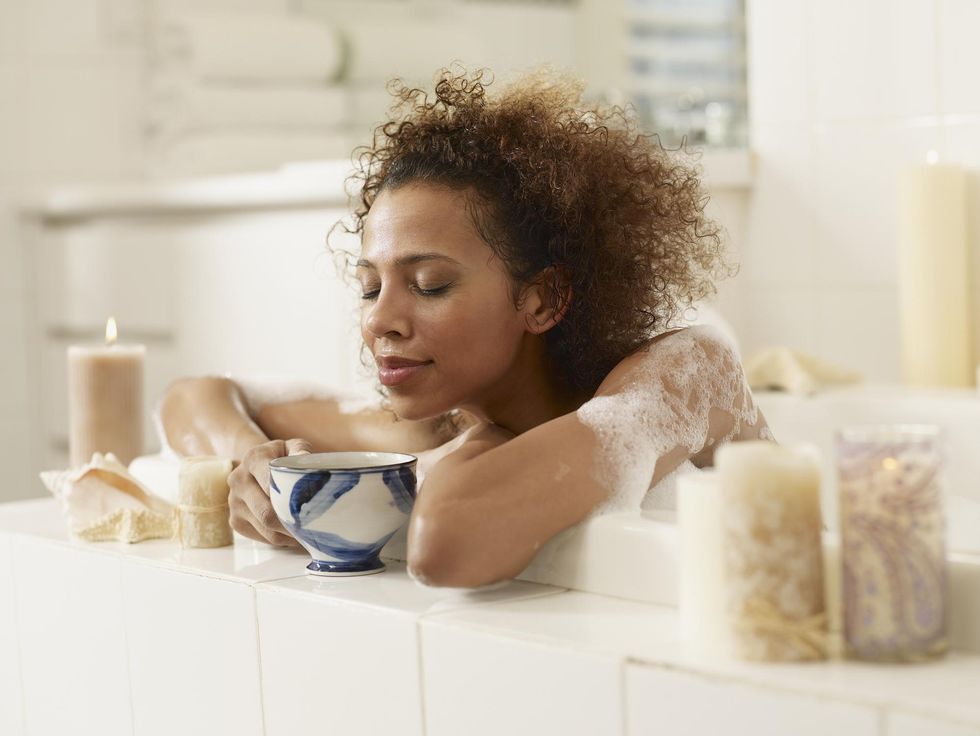 If baths happen to be more your thing, when's the last time you dropped a few tea bags into the tub? If the answer is "never", hear me out. Black tea can help to reduce inflammation. Green tea can soothe muscle soreness. Rose tea is loaded with antioxidants. Lavender tea can relax you. Calendula tea is a natural eczema remedy. Orange blossom tea can soften your skin. And that's just for starters. Since tea bags contain dried herbs in their most potent state, it makes perfect sense that dropping a couple of them into some warm water and then soaking in the tub for 15-20 minutes could be super therapeutic for your skin, as well as the rest of your body, right?
3. DIY Body Wash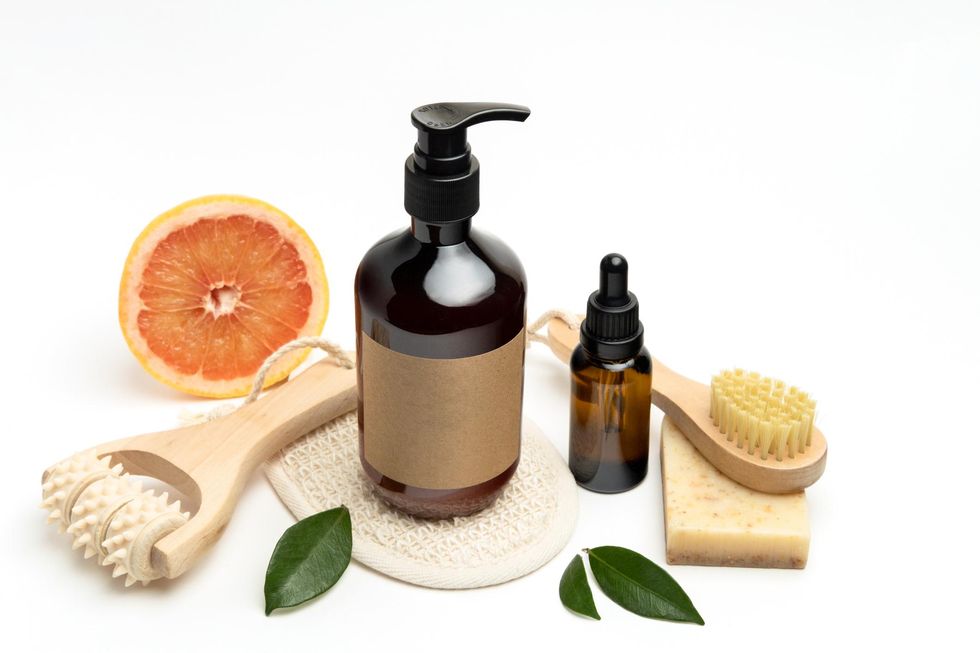 Of course, you wanna be clean. Still, if there's something that you should strongly consider skipping out on, it's traditional soap. A lot of them contain fragrances that can trigger allergies or dry your skin out. Many also have the detergent sodium lauryl sulfate (SLS) in them which can rob your skin of its natural oils, not to mention parabens (a type or preservative) that has been linked to (breast) cancer. For all of these reasons (and more), at the very least, read the labels of the soaps and body washes that you plan on bringing them home. Even better, why not make your own body wash? It's really not as difficult as it might initially sound (I've done it many times before).
A really easy recipe consists of ½ cup of liquid castile soap (it's a really healthy skin-cleansing base that also provides the suds that you may be looking for); one-fourth cup of Aloe vera juice (it's a rich source of antioxidants that can also decrease symptoms related to psoriasis and dermatitis); one tablespoon of grapeseed oil (it's loaded with vitamins C and E to improve your skin's elasticity); one tablespoon of glycerin (it acts as a humectant which will draw moisture from the air), and 10 drops of citrus essential oil and five drops of rose essential oil (both will soften your skin). Put it all in a bottle, shake well and use. It's healthy. It's chemical-free. And you can feel proud that you made it all on your own.
4. Exfoliating Gloves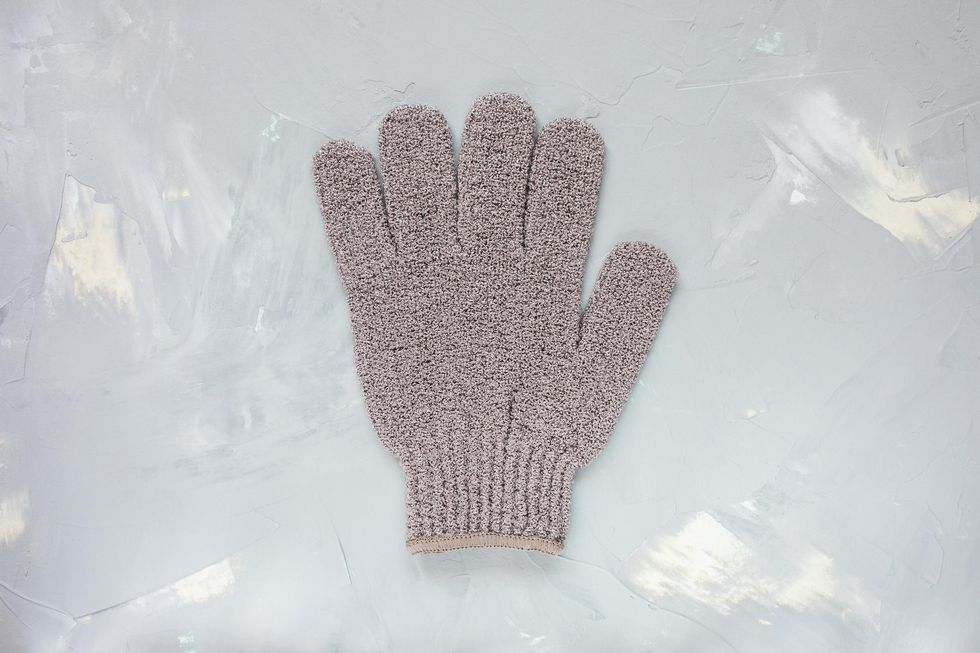 There are a billion reasons why it's a good idea to exfoliate your skin. It sloughs off dead skin cells. It helps to unclog pores. It will draw out impurities. It can soften the appearance of scars over time. And it definitely can make your skin feel softer and smoother. While body scrubs are definitely a great way to exfoliate your skin (feel free to check out some great recipes here, here and here), on the days when you may be in a rush, wash your body with some exfoliating gloves. They get the job done and are mad convenient.
Special note, though. Because exfoliating gloves do get dead skin cells off of you and we reportedly lose somewhere between 30,000 to 40,000 every minute of the day, it's best to replace them every 4-6 weeks. The main reason is because, sometimes the cells can get trapped in the gloves which, over time, is a lot like…cleaning your kitchen counters with a dirty washcloth (if you catch my drift).
5. Herb-Infused Oil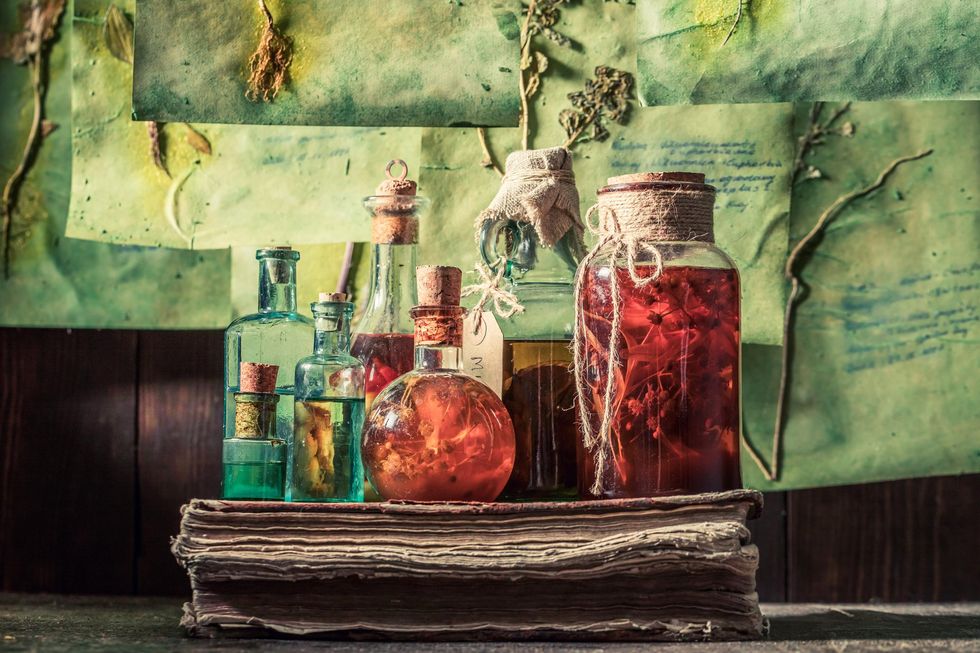 Something that has brought me so much joy over the past several months is making my own herb-infused oil. I actually started doing it for my scalp and hair; however, I've been easing into applying it to my skin and I definitely have no regrets! The cool thing about applying herb-infused oil is it's a powerful way to get the most potent benefits of the herbs that you choose to use. And just how do you know which herbs will best suit your needs? I won't lie, it takes a minute to do your research. Thankfully, sites like Annie's Remedy can help you out. It's got a list of 400 different herbs and benefits that you can check out here.
Once you've decided on a specific herb (or combination of them) that you want to try, sites like Etsy has dried package herbs that are affordable and can be shipped directly to you (go to the site and put "dried herbs" in the search field). Then you'll need a mason jar, a favorite carrier oil (remember that coconut oil solidifies in cooler temperatures, so you might want to go with something else like sweet almond, avocado or jojoba) and a pot to boil some water in. Then you're good to go (a video on how to infuse your herbs is located here). You can also put your herbs and oils into your jar and let them sit in a dark space for 30-45 days but — who's got time for that? Anyway, it's a lick and then some if you want your skin to glow. Definitely give it a shot. I definitely have not one regret.
6. Or Rosemary Oil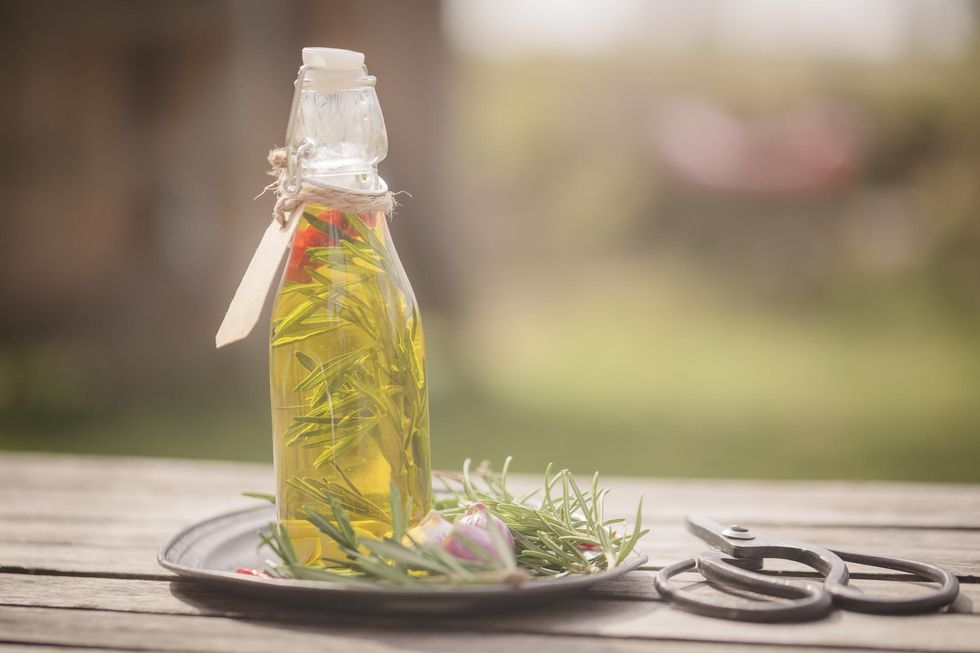 If you're looking for something that is cheaper and quicker, pick up some rosemary oil (a brand that I really like, I pick up at my local Walgreens).
As far as health benefits go, rosemary has the ability to assist when it comes to boosting brain power, relieving pain, increasing blood circulation, decreasing stress levels, soothing joint inflammation and stimulating hair growth. On the skin tip, it's awesome because, not only does it deeply hydrate your skin and, thanks to its antiseptic properties, it can make eczema-related symptoms easier to deal with, rosemary oil is also bomb because it naturally repels bugs.
The ultimate summer skin oil, if you ask me, chile.
7. Homemade Shea Butter Body Butter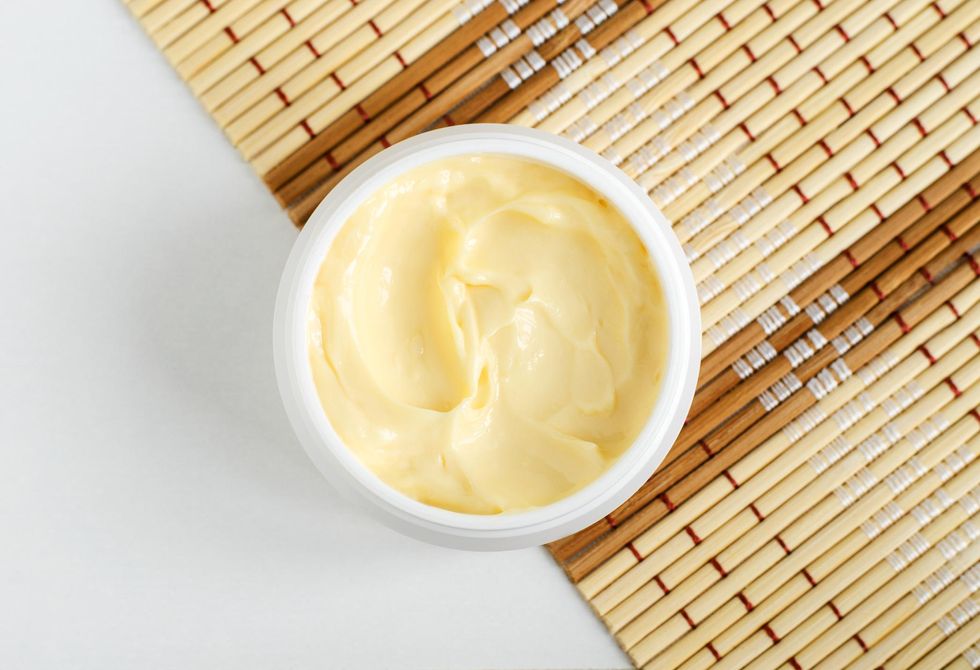 When it comes to skincare — especially our skin — I don't know how you could ever go wrong with shea butter. Aside from all of the fatty acids that it contains, shea butter is oh so good for your skin because it deeply moisturizes; it helps to heal damaged skin tissue; it softens the appearance of acne marks and other scars; it speeds up the healing process of pimples; it fights off free radicals; it reduces skin inflammation and, it contains anti-aging properties too.
Sometimes, I'll simply scoop some shea butter out of its container and apply it right after getting out of the shower. Other times, I'll use it as a base for a body butter. That way, I can add some other ingredients and it's oftentimes less oily that way. Some easy recipes can be found here and here. Oh, and if you want to learn how to best formulate body butters so that they are the exact texture that you want (because there are levels to this ish), a comprehensive video is located here.
8. Witch Hazel and Peppermint Spritz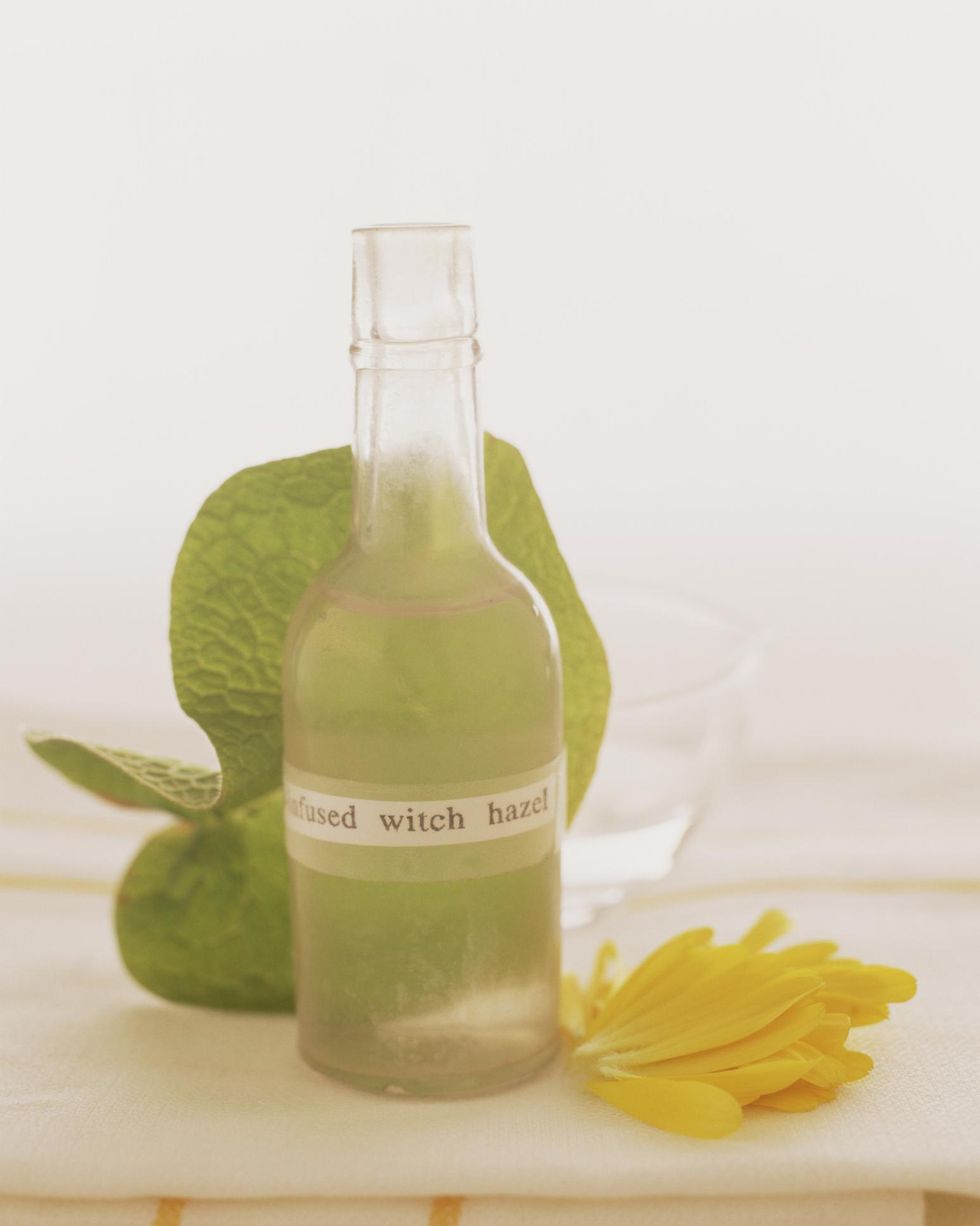 Hands down, one of the cheapest ways to benefit your skin is to cop a bottle of witch hazel, next time you're at your local grocery or drugstore. Usually for under a couple of bucks, you can get something that removes oiliness; dries out pimples (without over-drying your skin in the process); prevents razor bumps; tightens pores; helps to heal bug bites, and tones your skin in a really major way, even from the first time that you use it. If you add to the witch hazel 2-3 drops of peppermint essential oil, the oil's antiseptic and antibacterial properties will soothe irritation, reduce inflammation and help your skin to feel invigorated. I like to combine these and use them as a spritz. It's really great when I put it in the fridge overnight and take it with me when I know that I'm going to be out in the summer sun for a few hours. It pampers my skin and hydrates it too. Another great summer skin hack, if you ask me.
9. DIY Sunscreen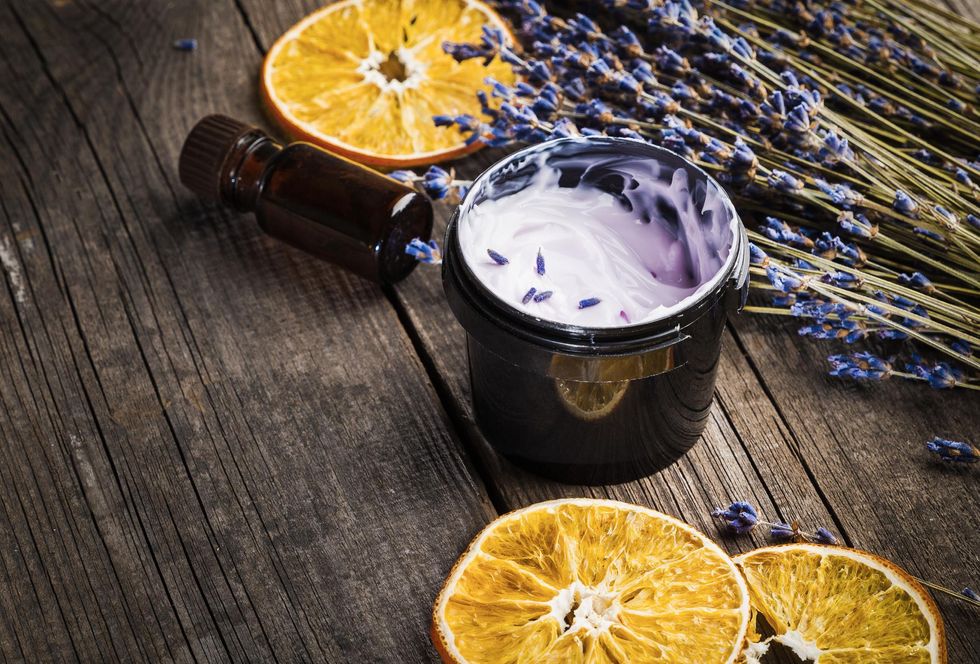 Listen, just because your melanin is poppin', that doesn't mean that you can't experience UV skin damage (check out Healthline's article, "The Sunscreen Gap: Do Black People Need Sunscreen?"). And here's the thing — if you choose to ignore the heads up, over time, that could lead to premature aging or worse, skin cancer. If you're down to apply sunscreen yet you want to use as few chemicals as possible, why not make your own? Wellness Mama is one site that I dig when it comes to natural remedies and DIY tips (you can check out her recipe here). Healthline has some other sunscreen recipes that you might want to peruse here.
10. Lip Gloss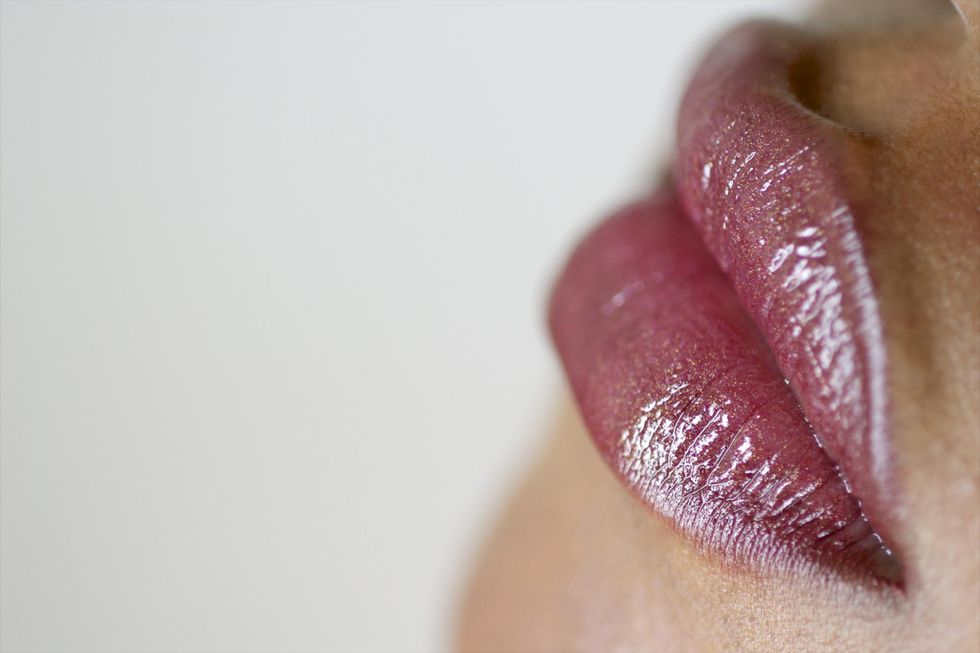 What is the point in your skin looking amazing if your lips are dry, chapped and out here looking a hot mess?
Even on the days when you don't want to put a damn thing on your face, some mascara and a little bit of lip gloss can have you out here looking radiant. Shoot, you can even make your own lip gloss with the help of two teaspoons of castor oil, one teaspoon of vegetable glycerin, a drop of honey and a drop of cinnamon oil. When you're done, put the gloss in a lip gloss container (you can find them at your local arts and crafts stores or at places like Walmart) and apply.
If you want to take even more of a less-is-more approach, dab some shea butter on your lips. It'll keep them pretty and smooth too.
11. Vitamin C-Enriched Foods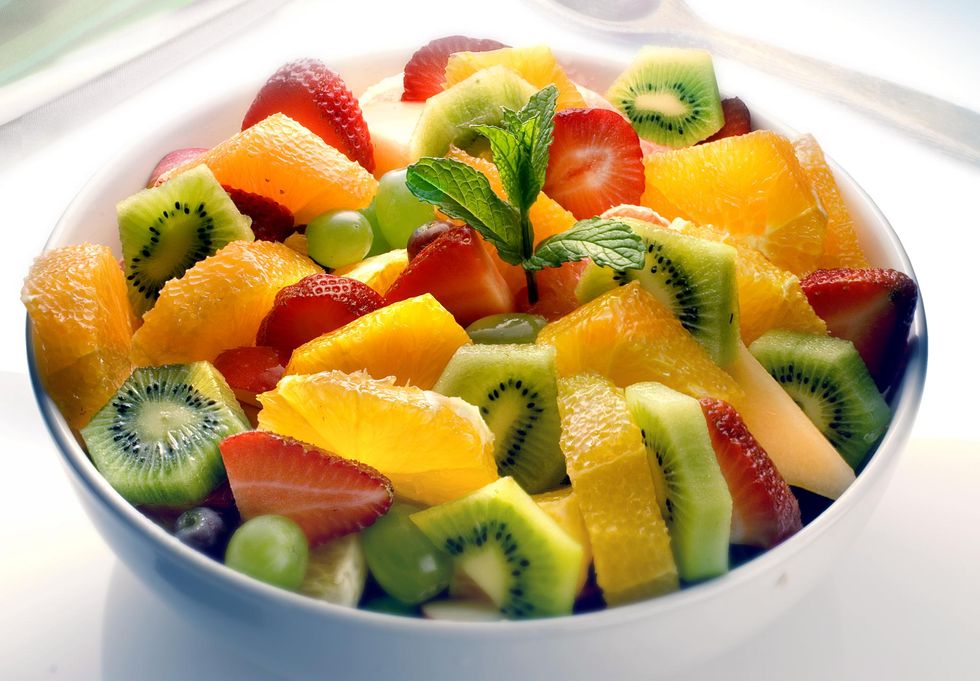 Cultivating glowing skin doesn't just happen via what you do on the outside; you've gotta take care of your skin from the inside out at as well. Since Vitamin C is a nutrient that is loaded with antioxidants and it helps to produce collagen (which gives your skin elasticity so that it can continue to appear luminous and youthful), you definitely need to make sure that you get some of it into your system on a daily basis. Foods that are rich in Vitamin C include dark leafy greens, citrus fruits, berries, potatoes, broccoli, melons, kiwi, Brussel sprouts, cauliflower and red and green peppers.
12. Water. Lots and Lots of Water.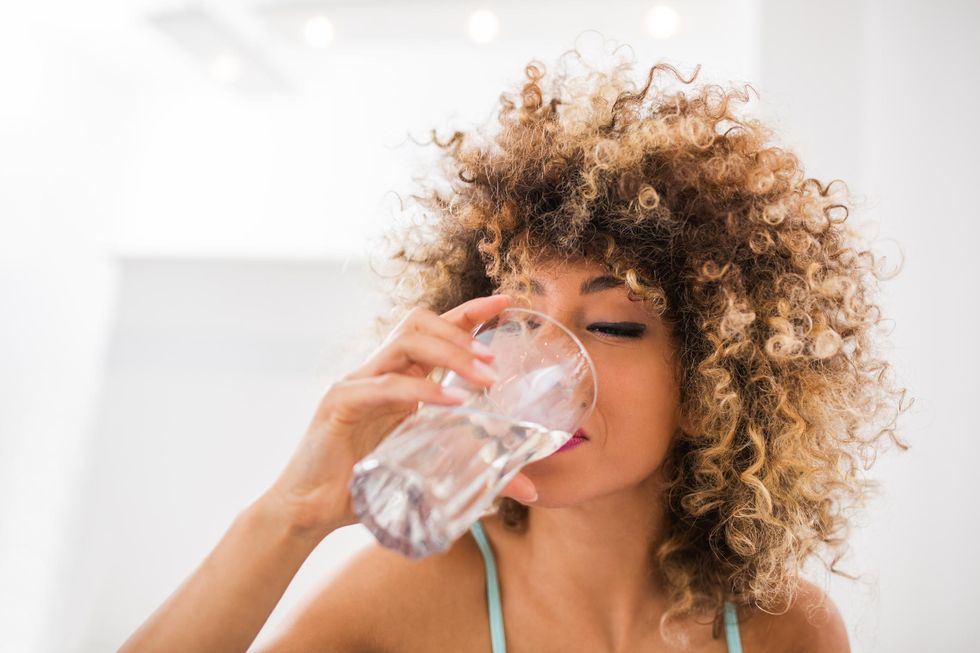 We're made up of over 60 percent water so, of course, our skin needs it. Without it, our skin starts to look dull, our pores appear large and it's easier for fine lines and wrinkles to creep up. So, definitely keep a recyclable tumbler of water (even if it's sparkling or infused) with you at all times. It can help to keep your body temperature regulated, your system running smoothly and your skin glowing, naturally, all summer long!
Join our xoTribe, an exclusive community dedicated to YOU and your stories and all things xoNecole. Be a part of a growing community of women from all over the world who come together to uplift, inspire, and inform each other on all things related to the glow up.
Featured image by Getty Images
Keep reading...
Show less
Let's go back in time. The year is 3500 BC and weaving three strands of hair together is all the rage amongst the Himba people of Namibia. The array of styles and patterns was a way to rep yo' set aka your tribe and aligns with African women using their hair as a form of expression. Not only is it a form of art but it's also a rite of passage in our culture. Some of the most memorable moments of my childhood were of me plopping down in between my mama's legs to get my hair braided.
Whether it was plaits, cornrows or French braids, there was something wildy spiritual about that moment. Looking back, I think sitting there while my mom designed my crown was a way of connecting with my ancestors. To this day, getting braided hairstyles serves many purposes for me, from self-care to amplifying my Blackness.
Over the years, braids became an inventive way to wear our hair in lieu of straightening it or using relaxer. And somewhere along the way, a brilliant being decided to create braid extensions, opening the door to a universe of innovation. One integral part of the process: braiding hair. Black women know this to be Kanekalon hair which provides a kinky texture similar to our natural tresses. There are thousands of brands out there but we gathered some of the best to give you a quick rundown.
Are you a member of our insiders squad? Join us in the xoTribe Members Community today!
Featured image via Getty Images
Keep reading...
Show less