As the saying goes, there is nothing new underneath the sun. So it comes as no surprise that something as groundbreaking as the graphic eyeliner look trend from a couple of years ago is making its rounds again as a must-try beauty trend for the fall season. Saying goodbye to the traditional thick-wit-it non-floating winged liner and hello to the new wave of if-it's-up-then-it's-up-then-it's-stuck eye makeup looks is the ultimate fall beauty move. It's the floating crease for us.
In a 2017 interview with Refinery29, makeup artist Katie Jane Hughes described the look as a "graphic, Twiggy-like line between your lash line and brow." She continued, "It's different from a cut crease in the way that it's graphic and simple, rather than heavily blended and layered"
And if our timelines have any say, the graphic eyeliner look is here to stay. Below are graphic eyeliner looks that have us clicking "save" for our future FOTDs.
Green Eyes
Writer, model, and all-around creative Yaminah Mayo took to her Instagram to flaunt a daring yet subtle rendition of the graphic eyeliner look.
Spiraling Out of Control
For one of her Spirit press days, actress Marsai Martin stunned with a simple white graphic eyeliner eye makeup look perfected by the talented Shannon Pezzetta. In a caption, the makeup artist deemed the style the "Fibonacci spiral."
The Eyes Have It
The eyes take center stage in this graphic look warned by the ever-talented and eye makeup queen, rapper Doja Cat.
Afro Blue
Keeping it electic, podcaster and NYC-based creative Jourdan Ash gave us everything and more with an electric blue shade that looks like it was made for her.
The New Classic
Forever keeping it classic while being on trend is actress Yara Shahidi. The starlet rocked a floating black cat eye in her barely-there makeup look by Nikki Wolff.
Green Eyes
Manchester-based content creator Samio opted for NYX Cosmetics' Epic Wear Liners in green and white to create this graphic eyeliner makeup look. Let's just say, we're green with envy.
Hot Like Fire
If you've never come across her content, get into it. Julia Rodrigues stuns her followers with dazzling looks and goes the extra mile when debuting eye makeup looks. The look above is literally flames.
Need to Know
Do you believe me now when I say Doja is an eye makeup queen? The "Kiss Me More" artist debuted this intricate graphic look on Instagram and we're in love.
21st Century Girl
In a cross between futuristic and sleek, actress Storm Reid donned a graphic eyeliner look created by makeup artist Pauly Blanch.
Featured image by Rich Fury/Getty Images for dcp

Keep reading...
Show less
I was always content with the shape of my body. I never really had major weight issues either. I inherited my small bone structure and my small frame from my mom. I guess you can say I have those good Caribbean genes. I have long arms, long legs, and a short torso. But I also carry my weight well. So, when I gain or lose weight, the distribution of weight is evenly proportioned. At 36, I'm fully grown. I stand 5'4", a DD+, and I don't know where all this ass came from. Now I have a butt I never used to have.

I can't complain. I'm hella thick for my height and frame. But this wasn't always the case. I mean, I was always just skinny. I have always had full breasts, but I also have small, straight, narrow hips. Like, there is no curve to my hips at all.
I used to jokingly say I inherited my Indian side of the family. In my 20s, I was obsessed with wanting perfectly round hips. No matter how many squats, hip adductors, or side leg raises I did, I couldn't achieve what I saw on reality TV or social media.
For reference, I used to be a little obsessive over the Kardashians, Draya Michele, IG models, or fitness influencers. I wanted that hourglass figure that all the Kardashian sisters had.
Slim waist and perfectly curved hips—I wanted that. But it wasn't until recently that I realized this could never be. It's not scientifically possible. Why? Because of the way my hip bones are structured. Skinny or thick, I've accepted that I'm always going to have hip dips.
I can't change my bone structure or how my hips look unless I opt for plastic surgery or Photoshop the hell out of my photos. But none of that is realistic to me, and I do not want to portray an image that doesn't align with what I believe in. However, this is what we see on social media every day.
Our social media feeds are flooded with edited and enhanced faces and bodies.
Self-Image and Social Media
There is no question that social media affects our self-image. Women continuously hurt their body images by constant comparison, Photoshop, filters, and browsing through hashtags like "fitspo." It's like our brain doesn't realize we're comparing ourselves to images that are not 100 percent real. This behavior ultimately leads to disappointment by creating unrealistic ideals for ourselves.
I think this Time magazine article said it best: "If the Internet has been called a great democratizer, perhaps what social media has done is let anyone enter the beauty pageant." The same article points out that when we edit photos to attract positive attention, we create a false sense of control. This leads to a disconnect between perception and reality. We might feel one way about ourselves in real life and feel another about our online persona.

We set ourselves up in trying to achieve these expectations and then stress ourselves out when we cannot meet them.
Does anyone see how unhealthy this is? Because I do. There isn't supposed to be a disconnect between who we are in real life and online.

What The Studies Show
According to an article by Insider, research shows the more time we spend on social media, the worse we feel about our bodies. In 2018, one study found a correlation between time spent on social media, negative body image, and eating disorders. And a stronger correlation was found if the participant was scrolling through appearance-related content.
In a study conducted by a health institution, the Florida House Experience, 87 percent of women compare their bodies to images on social and traditional media.
In the same study, 50 percent of women considered their bodies unfavorable. Social media can also affect pre-existing mental health conditions like anxiety and depression. So, if you already struggle with self-image and body dissatisfaction, social media can trigger or exacerbate these issues.
Forbes interviewed Jennifer Henry, a counselor at Maryville University, who stated:
"Increasing awareness of how we look and specifically, how to obtain the 'best' angle, pose, lighting, filter for social media. It's not unusual to see really young girls posing for pictures doing the 'skinny arm' pose or the 'duck face,' instead of just goofing around and having fun. We are missing out on actual experiences by focusing on how to get the best picture of it for our social media pages."
Where is the lie?
I'll admit it. Like many other women, I let social media get the best of me by comparing my body to altered photos of models, celebrities, and the bodies of fitness influencers. I know the feelings associated with this all too well. Frustration, stress, and self-doubt. I too was obsessed with the notion of "If I did this or that, I could achieve this body type," damn well knowing social media standards are not realistic by any means. This is partly why I'm on social media break now. I got tired of paying attention to other people's bodies and lives when I should be embracing my own body and pouring into my own life. And now, I'm just focused on loving my natural self and making healthy improvements where I can.
When it comes to learning to embrace your natural self, social media—more so Instagram—is not a standard you want to compare yourself to.
Compare yourself to the person you are today, yesterday, and the day before that. She is who you are trying to impress.
Your standard of beauty lies within yourself.
Featured image via Getty Images
Keep reading...
Show less
One of my favorite things about the beauty industry is that there are no rules. There just aren't. There's always a hundred ways to do something, and then a better way to do those hundred ways too. Makeup looks are subjective per person, and you can have as much fun as you want to have to live your best creatively expressed life. Because of this, the internet is filled with experiments or new hacks to keep our juices flowing.
And listen, I recently came across one that made me question everything I ever knew about applying makeup, pull up a chair, let me explain.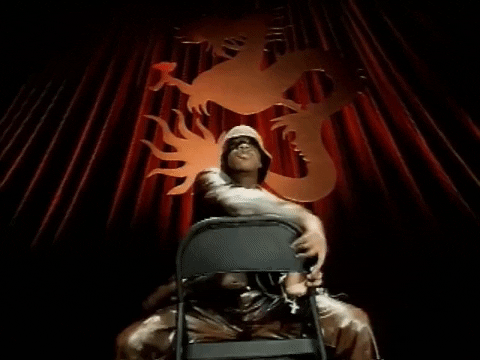 Giphy
It all started when I came across beauty influencer Yasmin Buachie's IG page, where she often shows off her beauty content to her followers. In a video, she was applying her beat for the day and testing out a hack that she learned from another influencer. In the end, after she finishes her makeup, in the oxymoron move of the century, she dunks her face in water to give herself a matte look. Yes, water. Again, to set her makeup, she dunked her full face in water. Science gods, make it make sense!
The video was captioned:
"So I was sent this makeup hack by one of my friends which was done by @makeupbyalissiac and I had to try it. First things first this actually made my skin look flawless no cap like I am shook but also I don't think I'm going to dunk my head in water every time I do my make up haha maybe for a long day out or something. MC was complimenting my makeup all day tho so haha who knows."
And ladies listen, her makeup was beautifully in place when all was said and done.
In fact, the trick has been around for years, hailing from South Korea. It's called 'Jamsu' and it's made its way from South Korea to, well, everywhere else, popping up on TikTok, IG, and even getting mentioned by celebs. Jamsu has been a "thing" since 2017, but has re-emerged this year, thanks to social media discovering the technique and ultimately the pandemic making us bored enough to try whatever we need to do for flawless skin.
The instructions were simple: following base application (foundation, concealer, and powder), dunk your head in cold water three times for about ten seconds. Make sure to use a bowl big enough that you can move your face around in. And as to why it works, Maree Kinder, founder of Beauty & Seoul says:
"The water repels the powder and presses it to set on your skin, which is why powder is the critical step."
And by now, if you're like me, your jaw is on the floor and you're questioning everything you ever thought you knew about makeup application. Yasmine's comment section was amazed as well.
From those that were mind blown:

Instagram
To those who fell in line to give it a try:

Instagram
--
Yasmin hasn't said if this is a practice that she still does after completing her look, but sis, if we need to add water to the regimen, then just say that.
Ladies, would you try this hack?
Are you a member of our insiders squad? Join us in the xoTribe Members Community today!

Featured image by Getty Images
Keep reading...
Show less
Did you know that the average size of women in the United States is between 16 and 18? According to a study published in 2016 in the International Journal of Fashion Design, the number shifted from the data that once stated the average was size 12 about ten years ago. Not that we need data to prove anything because our bodies are the proof, it is nice to know that having curves is normal. Social media and society will have you thinking that you need a flat stomach and fat ass to be beautiful. Now more than ever, I am personally loving the body I have and that means loving my size 12. Ironically, the more I love and give thanks to my body, the more she expresses gratitude in exchange. And that shows up in my everyday life because I feel more free and more comfortable in the skin I'm in.
When it comes to shopping for pieces to compliment my curves, it can be frustrating. You know what has been my go-to since COVID changed all of our lives? Matching sets. They have a way of transforming to fit the mood and the vibe. Their comfort alone got me through the last year and a half. Even when I couldn't find a "f" to give, wearing them made me seem like I put in some effort. Without further ado, say hello to some matching sets that are guaranteed to change the game for curvy cuties!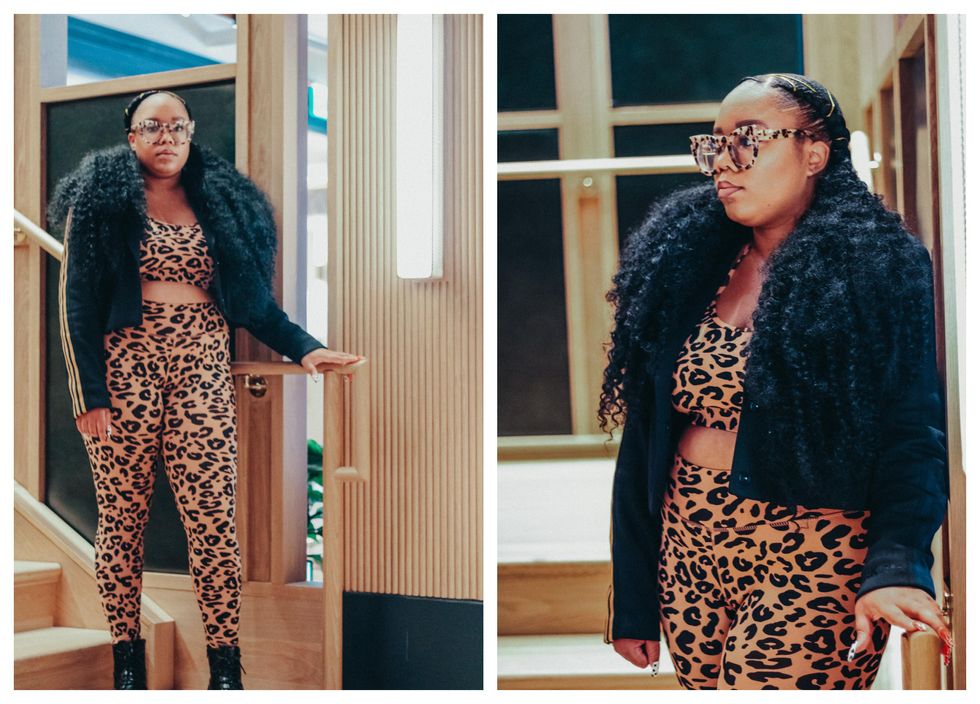 Photography by Curated by Charlie
If you haven't ordered a matching set from Amazon in the last year, I admire your willpower. As for me and my house, I am obsessed; especially with this particular set. It's the versatility for me. I have worn this duo in so many ways. From wearing it to the gym to ATVing in the rainforest to strutting into my favorite members only club, I have maximized the ways in which this comfy set can be worn. Take this look for example. I decided to pair it with my IVY PARK cropped blazer for prime elevation. This is your cue to do the same with your favorite set because she can be worn places other than your Target runs.
Aleumdr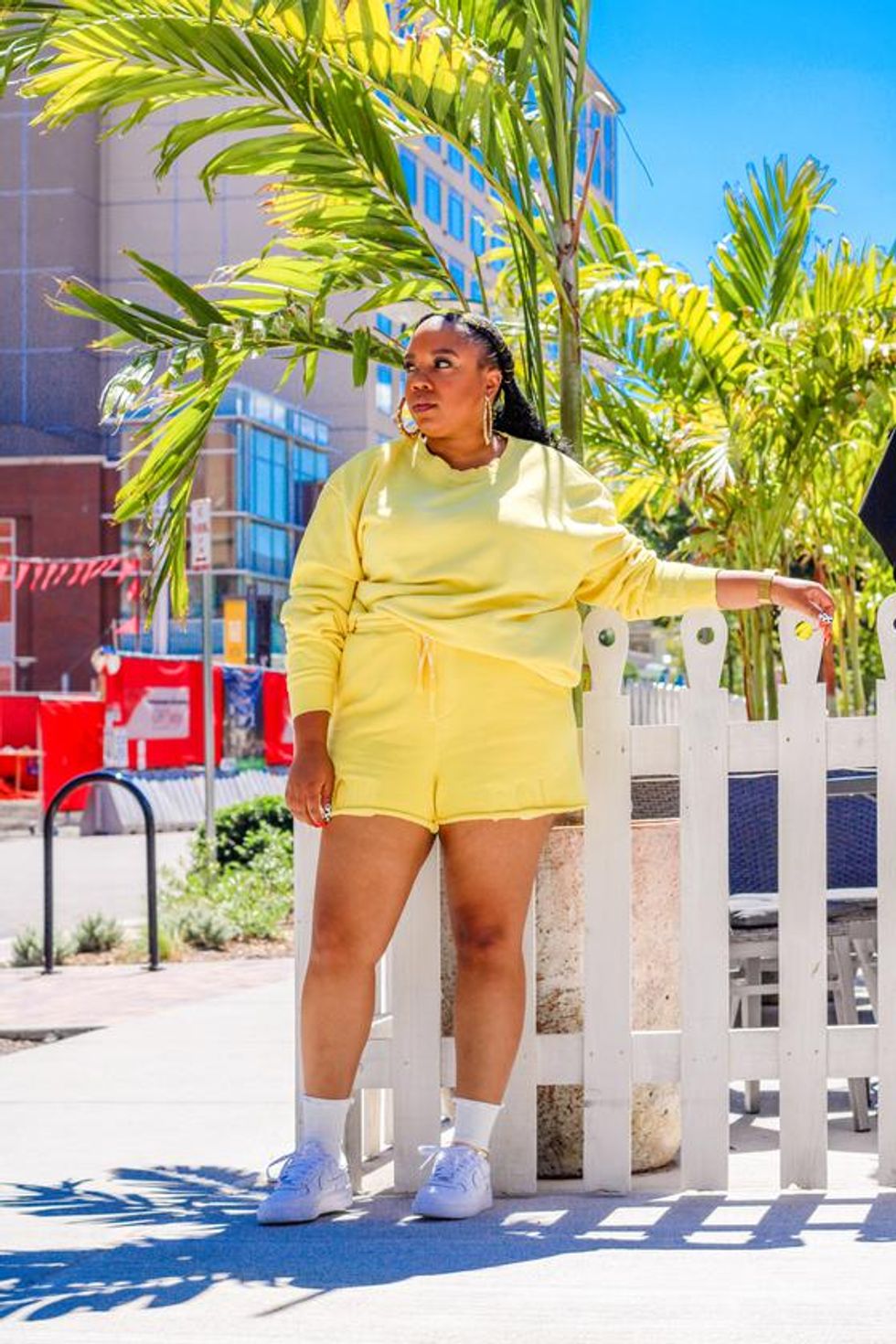 Photography by Curated by Charlie
This is the newest addition to my arsenal and it is now a staple. The color and design are to die for and don't get me started on the material. The material is comparable to a cloud which creates ultimate comfort. One of my favorite Black-female designers, Crystal Lee created the Essential Set for Outside for the people. This set is not only stylish but it's also unisex. It brings a whole new meaning to wearing your partner's clothes because now you can do it fashionably. On this day, I opted for classic Air Force 1s and bamboo earrings to really tap into my roots. You could also style this up with some strappy heels for happy hour with the gang. Lucky for us, this getup comes in an array of colors to brighten up your wardrobe.
C.R. LEE TOMBOI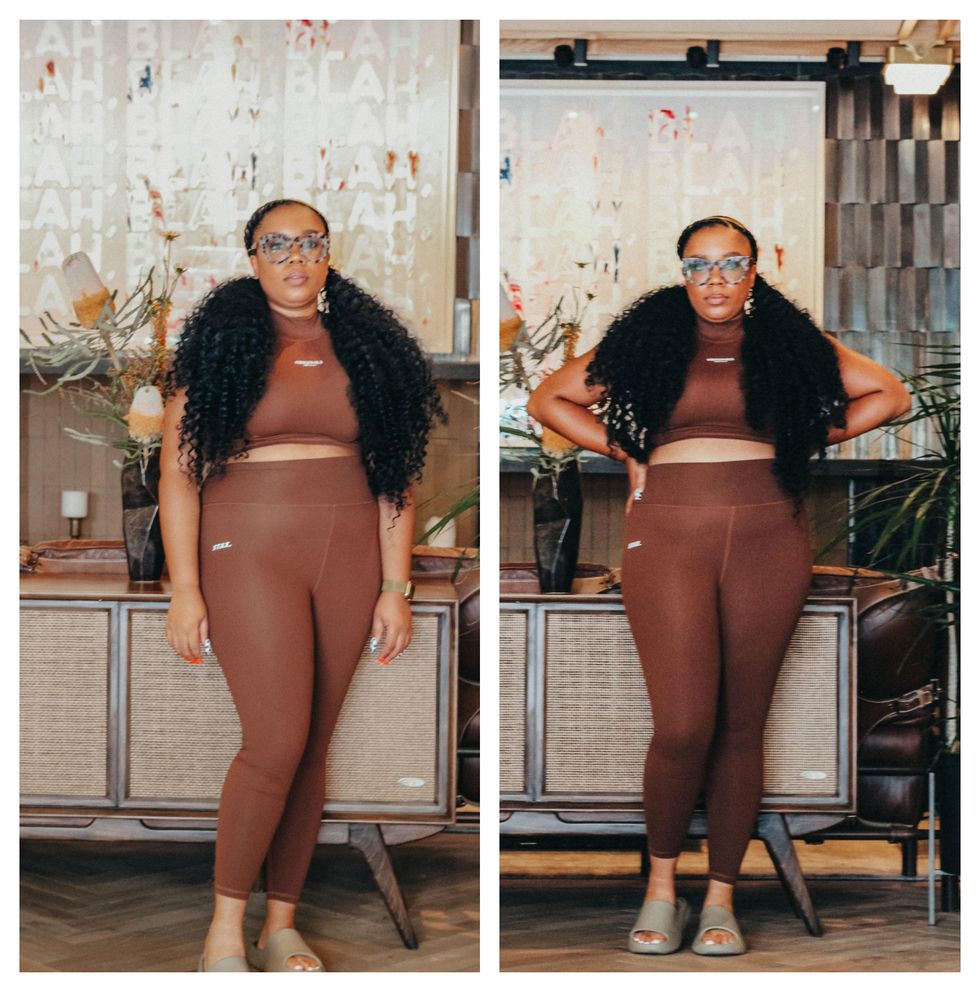 "Fashion focused, figure-flattering premium sports-luxe activewear for both performance and lifestyle," is the motto for my new favorite brand, STAX. In the brand story, they go on to say, "Prioritising high quality whilst demonstrating luxury at affordable prices, STAX. blends a perfect mix of both fitness and fashion, dressing every person at every size, STAX. believes inclusivity should be a general standard." And I can attest that these words are true. The way the BB tights and crop top flatter my curvy figure is nothing short of perfection. Celebrities like Lizzo and Jennifer Lopez are huge fans of the brand as it proves to be the "little black dress of activewear."
STAX.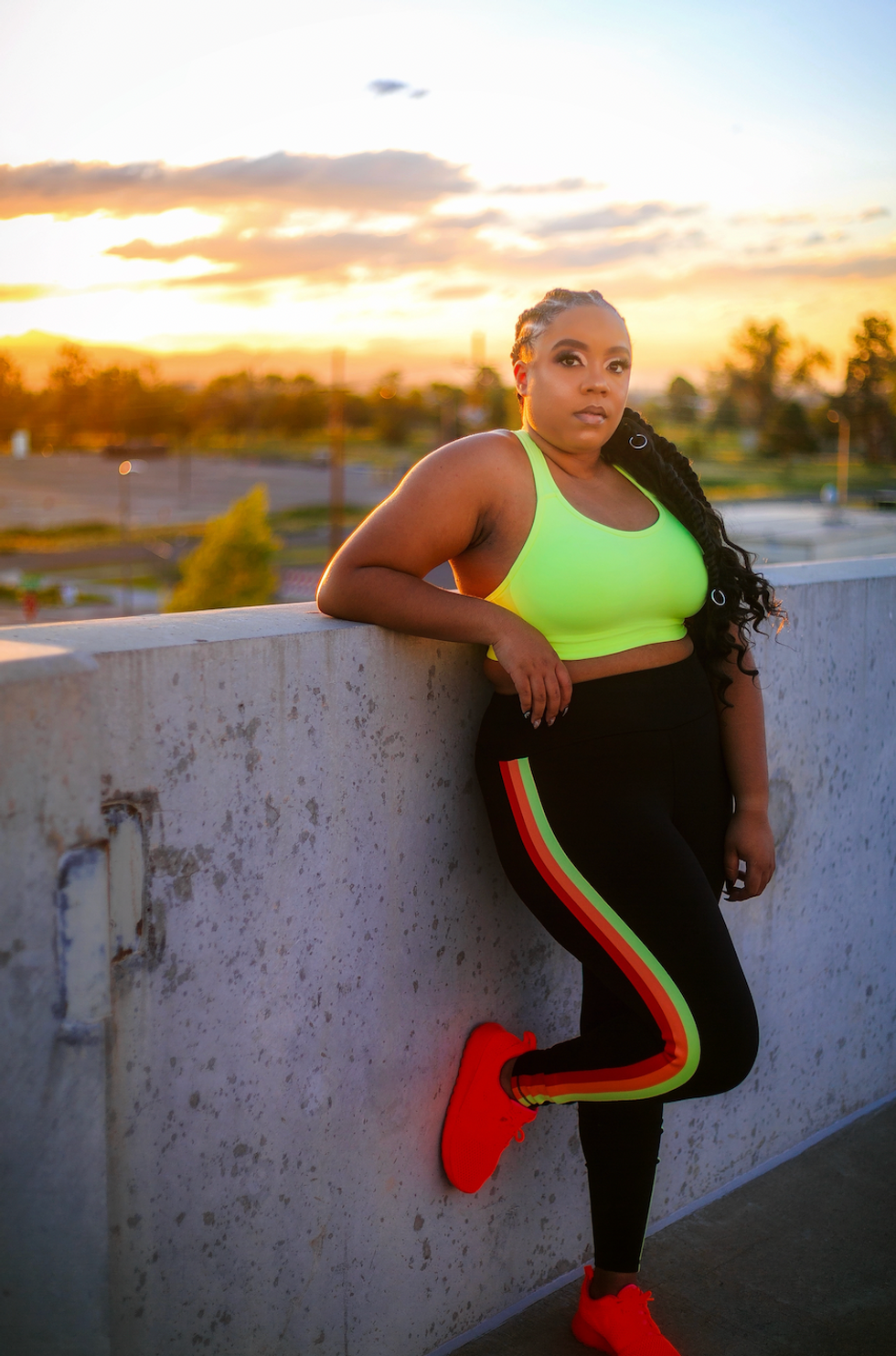 Photography by Curated by Charlie
Sometimes you gotta mix it up and create your own set. That's exactly what I did with these two standalone pieces from good ol' Walmart. One thing about Black women, we are gonna create things off the dome. I was doing some random shopping at Walmart and something drew me to these neon striped leggings. Then, it was almost as if an ultralight beam illuminated this sports bra. And just like that, I created my own set. Neon will always be a part of my wardrobe no matter the season. It was a no-brainer for me to couple my DIY set with equally bold-colored sneakers.
Avia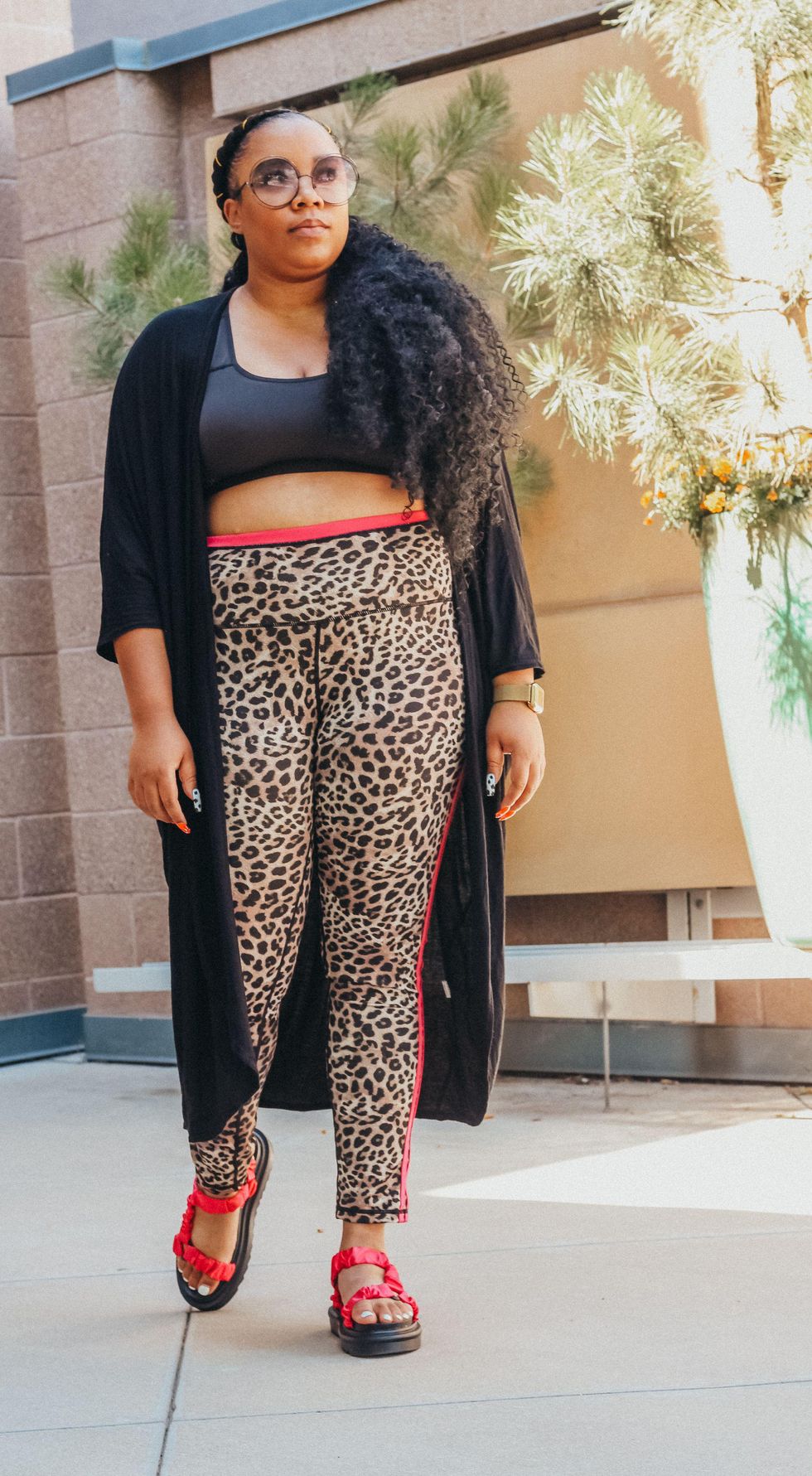 Photography by Curated by Charlie
I recently found Ruby Ribbon and instantly wondered where they had been my whole life. Since its inception, Ruby Ribbon has dedicated its movement to empower all women. Every time I slip on these leggings and demiette I feel just that: empowered. I had no idea what a demiette was until I was introduced to Ruby Ribbon. Recently, the social commerce-driven women's intimates, shapewear and athleisure company announced: "they have been issued their first patent for their top-selling Sport Demiette™."
Lead designer, Cami Raymond, created the demiette constructed with molded cups in the bust and a supportive sling aka she changed the game. The support is real without the uncomfortabilty of a wire. Whether you're rocking this to yoga or a hike, you'll be both fly and cozy.
Ruby Ribbon
To get your fashion fix and to stay up to date with the latest trends, check out the xoNecole Style section here.
Featured image courtesy of Joce Blake
Keep reading...
Show less
While I personally can't think of one thing that I don't like about the season that is right upon us, I must admit that a mistake I used to make, beauty-wise, was not properly caring for my skin (and hair) as the temperatures began to shift. Especially when it came to feeling extra dry, I could certainly tell that I wasn't handling my business.
Something tells me that I'm not the only one who's been guilty of this lil' faux pas, so as we're just days away from what I think is the absolute best season of the year, here are 12 beauty hacks that are affordable, all-natural and a truly wonderful way to welcome autumn in.
1. Exfoliate from Head to Toe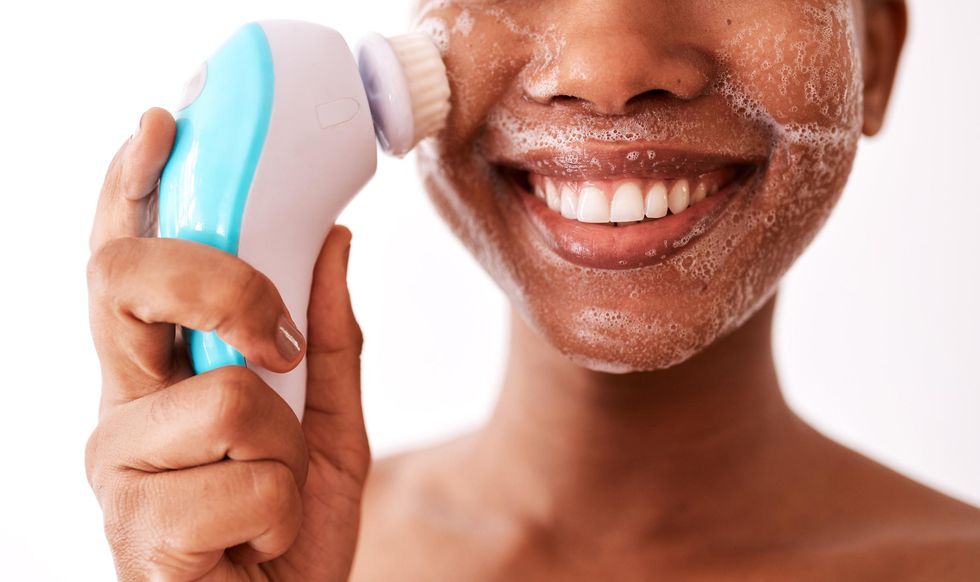 While I'm pretty sure you know what the general concept of exfoliating is all about, if you needed a basic definition, it's removing dead skin cells from the surface layer of your skin. And since we all shed somewhere around 30-40,000 of them every minute, I'm sure you get why that's such a good idea to do. Exfoliating not only gets rid of dead skin cells, it unclogs your pores, helps to prevent ingrown hairs, reduces breakouts, evens skin tone and even makes it easier for your skin to absorb your favorite moisturizer. So, I'm pretty sure you can see why exfoliating, not just your face and neck but your entire body, is a great "fall prep" practice. Since the cold weather can do rough on your skin, exfoliating can help it to absorb whatever you plan on putting on it to keep it soft, supple and smooth. That's why it's a good idea to do it around twice a month.
By the way, coffee scrubs help to reduce inflammation (a recipe is here), brown sugar scrubs are a humectant that can draw moisture in from the air (a recipe for that is here) and charcoal scrubs are great at detoxifying your skin (a recipe for that is right here). So, if you want to customize your body exfoliation process, there's a good starting point to go with.
2. Bathe in Rosewater and Lavender Oil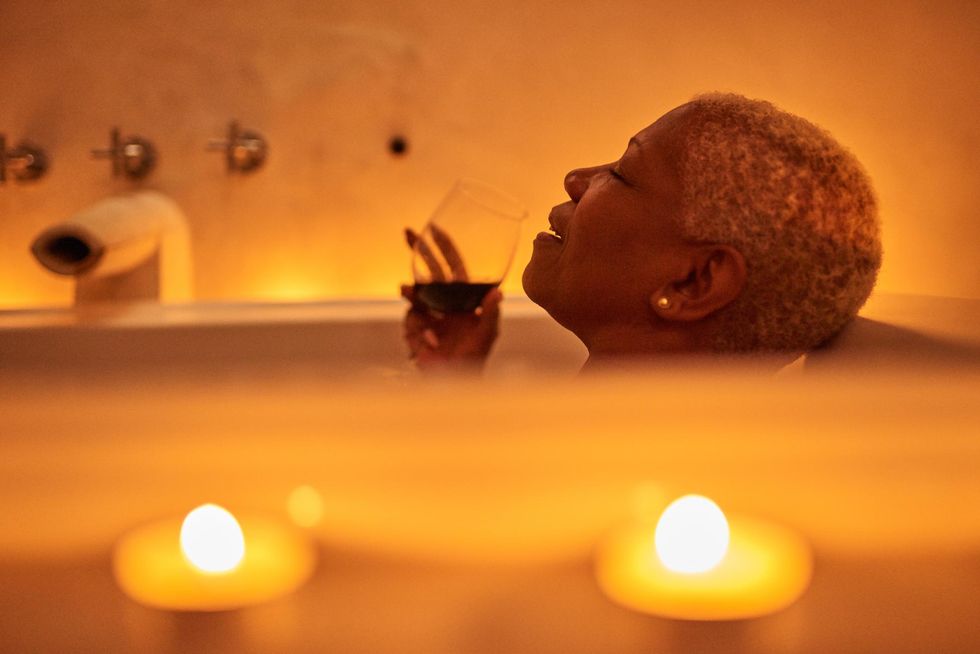 If you like nothing more than coming in from the chilly air and soaking in a hot bath, two things. First, it's best if you wait for your skin to get down to your normal body temperature (going from one extreme to another can put your body into shock or even cause a heart attack; wow, right?) and secondly, try and avoid the "hot as possible" approach. One thing that you want to make sure that you do is not zap your skin of the natural moisture that it already has; hot water will do that which is why warm water is best.
Speaking of caring for your skin, treat it by pouring some rosewater and a few drops of lavender essential oil into your bathwater. Rosewater contains anti-inflammatory properties that will help to reduce redness. It also contains antiseptic properties that can help to soothe any skin infections or surface wounds that you may have. Rosewater is full of antioxidants that can repair any cell damage that you may have experienced. Plus, it's known to improve moods and even bring relief to headaches. Lavender oil is great for your skin because it also contains anti-inflammatory properties that can speed up the healing of breakouts, soothe skin conditions that cold weather may irritate such as eczema, help to remove toxins from your skin and, thanks to its scent, it's really effective when it comes to helping you to relax before bedtime.
3. "Seal" Your Skin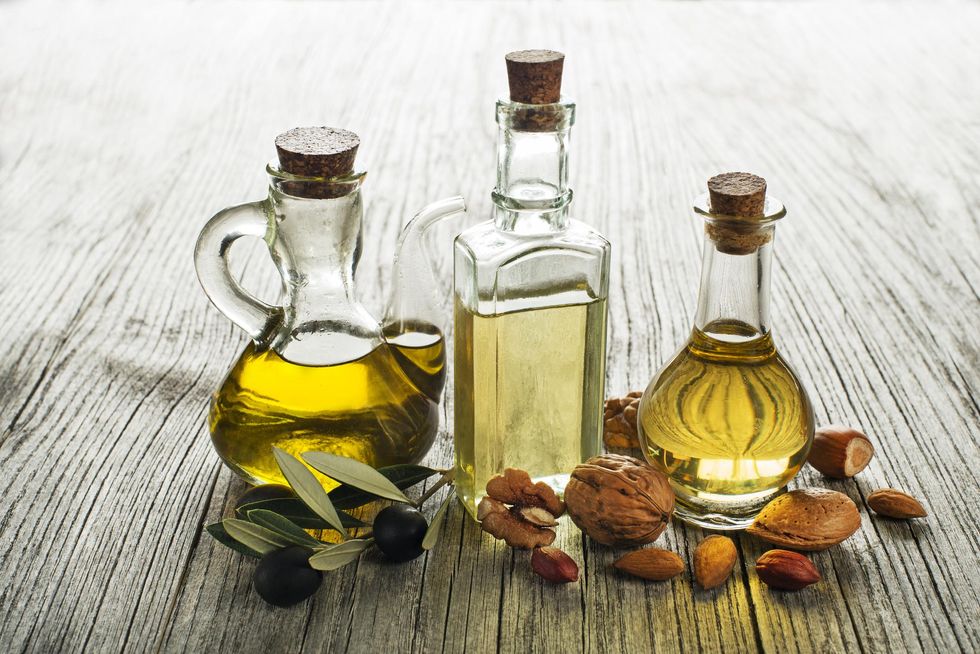 Something that I definitely make sure that I do when I get out of the shower is "seal my skin". Basically, that consists of not immediately drying off, putting some homemade whipped shea butter or sweet almond oil on my skin, letting it sit for a few minutes and then blot-drying my skin. All of this helps to "lock" the moisture in to where I don't need to apply any lotion or anything else once I'm done. Plus, my skin feels silky smooth, pretty much until the next time I take a bath.
4. Steam Your Hair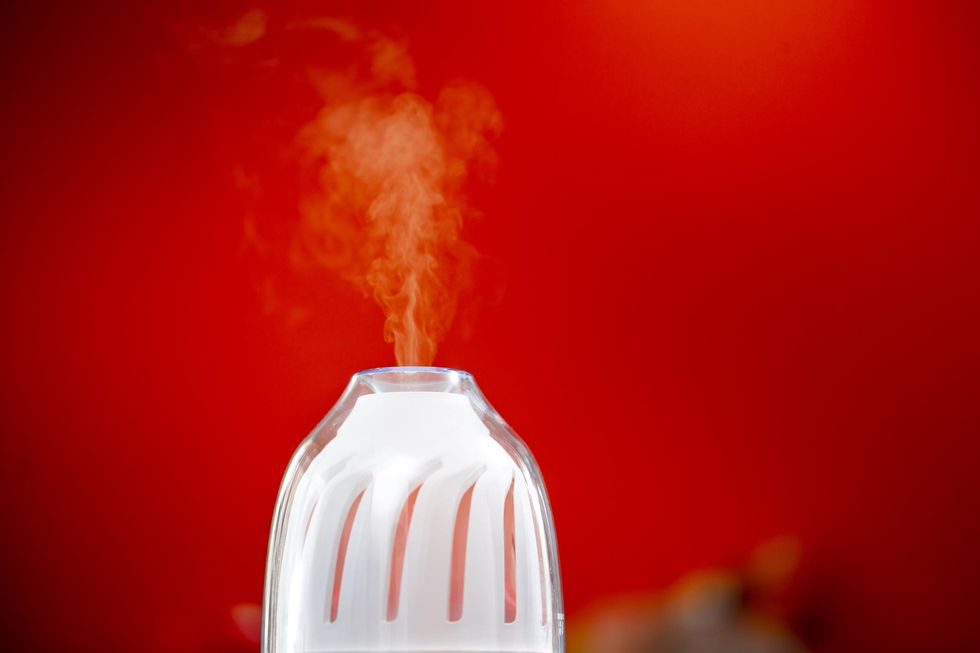 If it seems kinda weird that cold wet weather could actually cause your hair to dry out, here's why it's so problematic. When temps are cold and/or the air is dry, that can result in the cuticles of your hair lifting which can keep moisture from staying in your hair. And when there's no moisture, the dryness can ultimately lead to breakage. A remedy? Well, aside from deep conditioning your locks, it can never hurt to steam your tresses too.
Steam adds moisture. Steam makes it easier for the products that you put into your hair to be absorbed into it. Steam encourages elasticity so that your hair doesn't break as easily when it's being styled. Steam also helps to keep the pores of your scalp unclogged so that your hair follicles can grow freely.
As far as how often you should steam your hair, some folks do it as much as a couple of times a week while others reserve the practice for wash day. Either way, if this is something you'd like to try, Natural Hair Products has a list of some of the best steamers for natural hair here. Also, Melissa Denise is a YouTuber who has some tips on how to steam your hair without a steamer that you can check out here.
5. Line Your Hats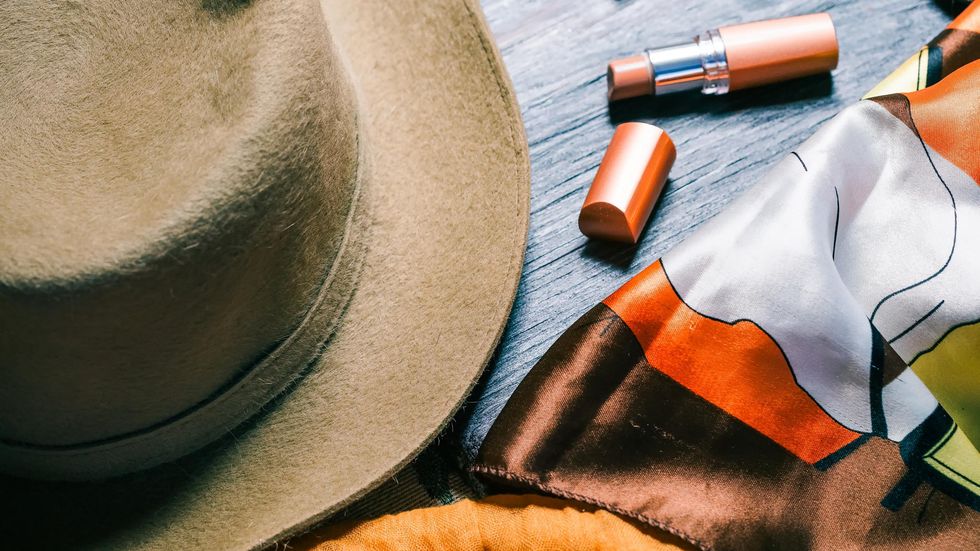 At this point, I can't even tell you how many hats I have. Back when I was wearing really short hair, this particular tip didn't matter all that much to me; however, now that I have some length, I am intentional about lining my hats with satin. Since my golf caps and brims are mostly made of wool, between the way that fabric has a tendency to dry my hair, cause friction and even has the potential for snagging on my ends, making sure my hats are lined is how I keep my hair protected while I'm out here looking fly. If you want to learn how to line your own hats, check out this video and this video.
6. Make a Castor/Argan/Vitamin E Oil Solution for Your Eyelashes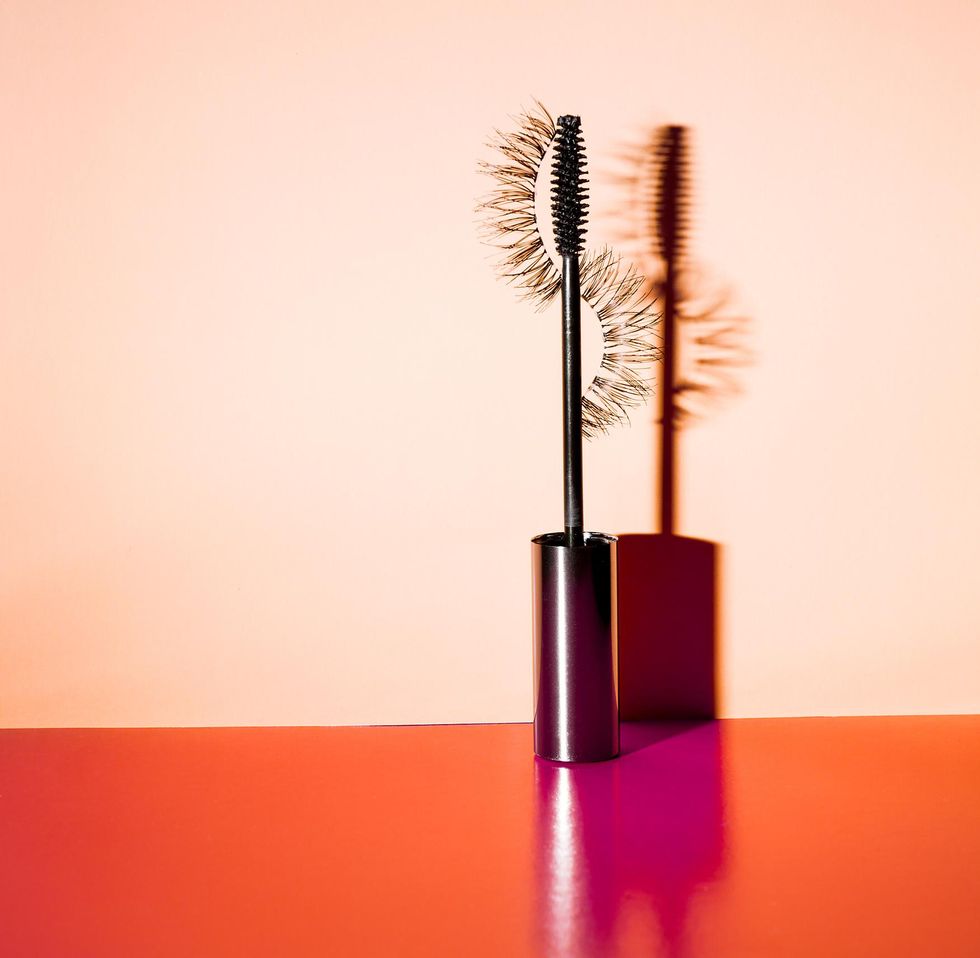 If you want to have longer and thicker eyelashes without having to buy any (so that you can have a few extra coins saved up for the holiday season), make your own serum that consists of Jamaican black castor oil, coconut oil and vitamin E oil. The Jamaican black castor oil contains properties that will help to thicken your lashes and make them appear fuller. Argan oil is packed with fatty acids and antioxidants that will help your lashes to grow longer. Vitamin E is awesome because it stimulates hair growth. If you apply this combo with a mascara wand every night before turning in, you should see some progress with your lashes within 3-4 weeks.
7. Apply Some Shea Butter and Cinnamon to Your Lips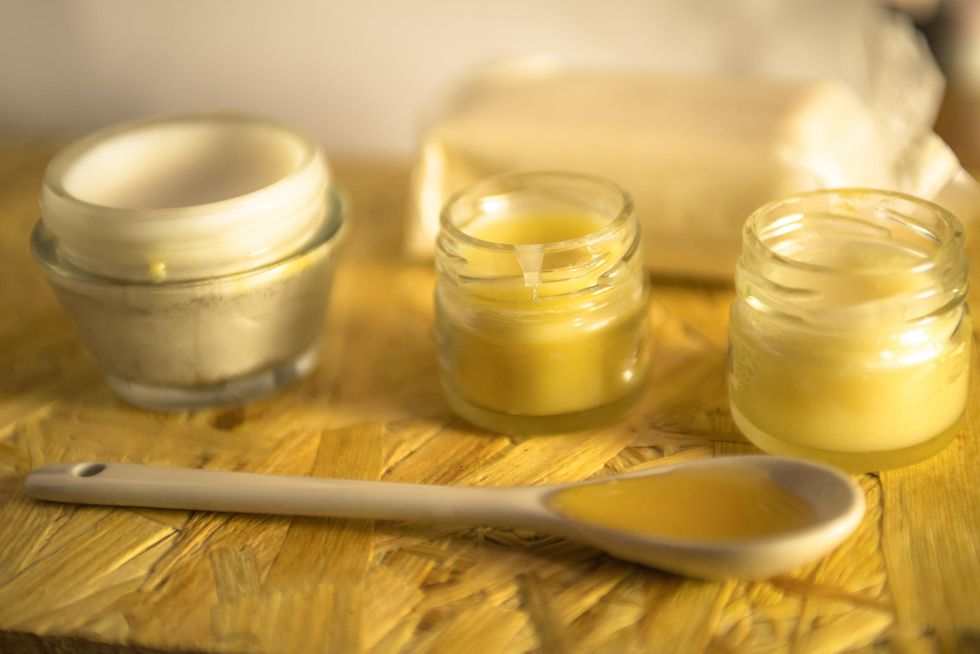 I can't tell you the last time I went to bed without putting some raw shea butter on my lips. Since it's an emollient (which means it creates a barrier between your lips and the atmosphere around you), it's an excellent "base" for lip gloss or lipstick before heading out into the chilly air. Since shea butter is also loaded with antioxidants and vitamins A and E, it can help to soothe and heal your lips if they experience any chapping during the fall and winter seasons. As far as cinnamon goes, if you apply cinnamon oil, it's a natural lip plumper. On the other hand, if you go with its powder (or ground cinnamon) form, it can gently exfoliate while also providing a soft natural sun-kissed glow. Yep, even in the fall. Just add a sprinkle or two of it to a lip container of shea butter and you're all set.
8. DIY a Hand and Foot Cream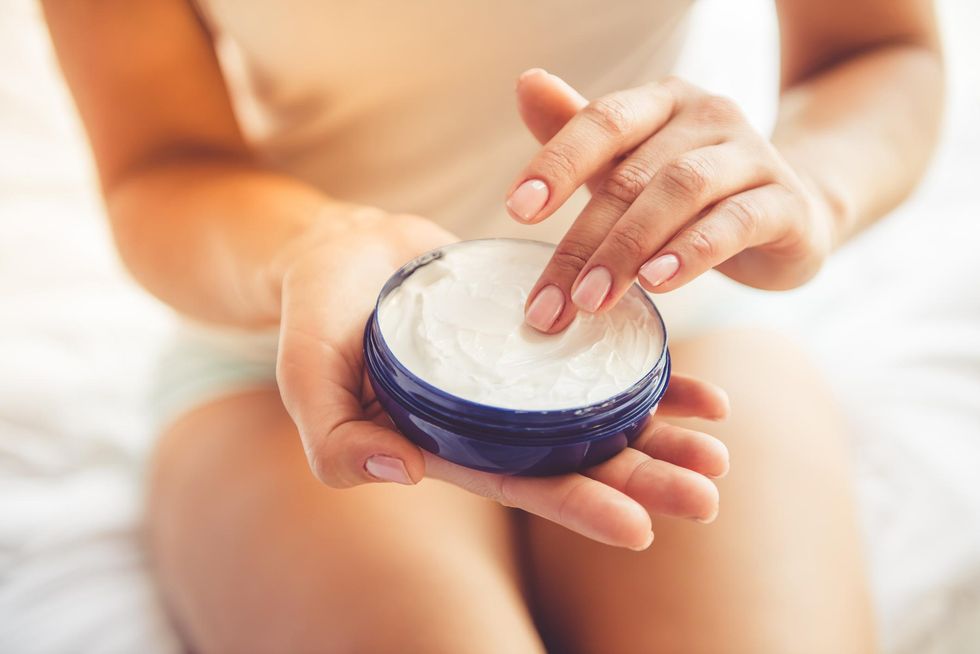 I'm thinking it's a given that you should amp up how much you moisturize your hands and feet as you head into the cooler seasons of the year. All I want to say here is try and avoid commercial brands that are heavy on the perfumes and ingredients you can't pronounce. One, because our skin definitely absorbs some of what we put onto it and two, some of those harsh items can strip our skin of the moisture that it so desperately needs; especially when it's cold.
That's why I'm all about you making your own hand and foot cream. That way, you know exactly what goes into it. The YouTube channel Yaya DIY Creations has a hand cream recipe worth checking out here. paskiiLuv has an easy-to-make foot cream recipe here.
9. Cop Some Bamboo Socks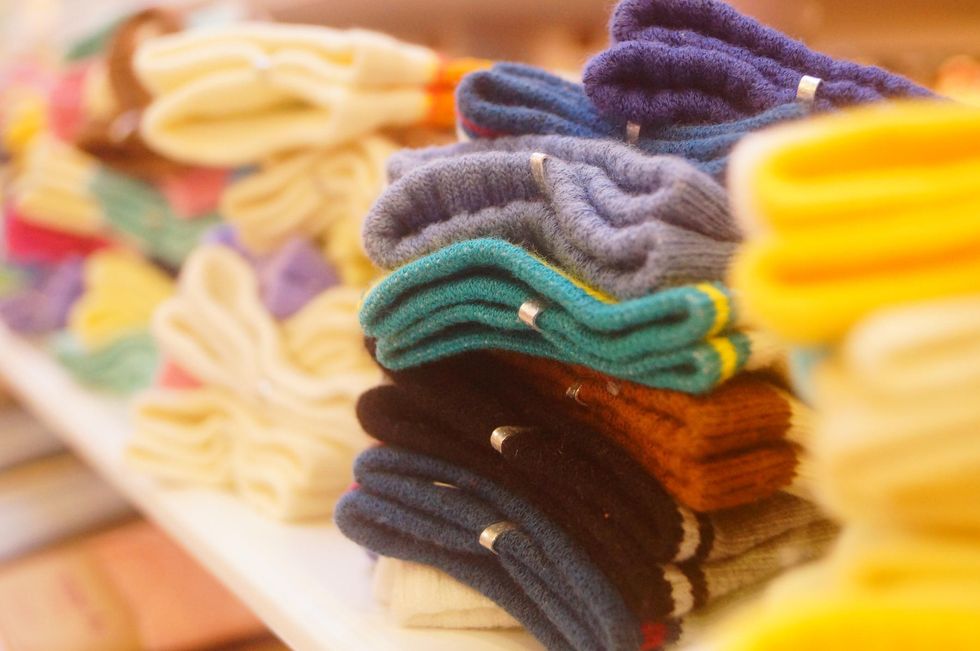 Speaking of feet, just because you're about to swap out sandals for boots, please don't use that as an excuse to slack off when it comes to getting pedicures. That said, since we're all going to be wearing socks a lot more often, did you know that cotton ones can sometimes cause blisters? The "science" behind it is, since cotton is a fabric that absorbs moisture, the longer your feet are damp, the easier it is for a blister to form. That's why wool, synthetic or even bamboo socks are a better route when you're planning to spend a lot of time in inclement weather.
Bamboo socks are cool because they contain antibacterial properties, they're pretty soft, they hold less odor, they are thermo-regulating (which means they help to keep your feet cool in the summer and warm in the winter) and they're sustainable.
Bamboo Comfort is a website that features some of the best bamboo sock brands this year. You can see the list here.
10. Take a Fish Oil Supplement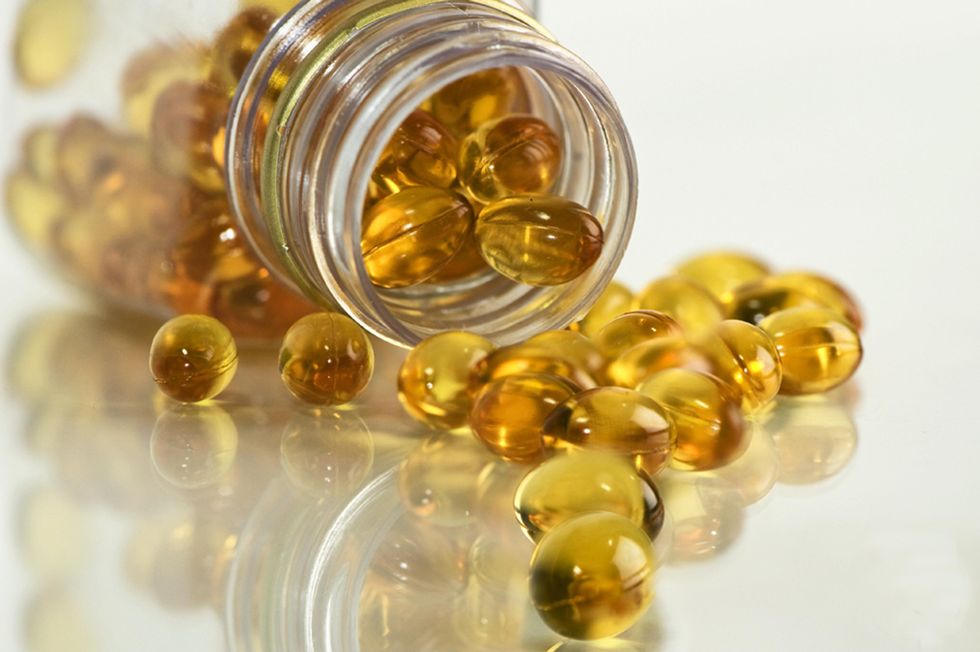 If it seems like you can't stop scratching words with your nails onto your skin (due to how dry it is) no matter how hard you try, you might want to take a fish oil supplement. Fish oil contains anti-inflammatory and healing properties that help to keep your skin hydrated from the inside out. Some other benefits include the fact that it's able to help to heal symptoms associated with psoriasis, decrease the appearance of pimples and also protect your skin from sun damage (and yes, you can experience sun damage any time of the year because, well, the sun is out all 12 months).
11. Invest in Some Local Honey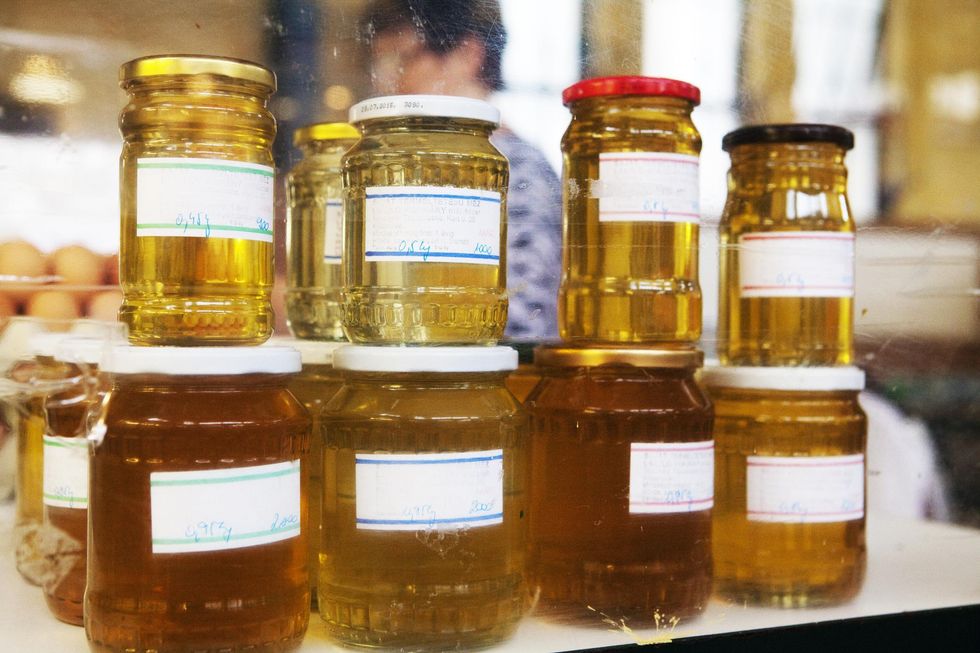 First up, if your allergies are known to kick up during the fall, local honey is what you should look into because it contains similar allergens to what are in the air around you. Taking a teaspoon or so a day can serve as a natural antibiotic, so that your system can develop a resistance to allergens and allergy-related symptoms. Not only that but honey is a powerful humectant as well. This means that if you put a couple of teaspoons into your hair conditioner, it can help to moisturize your hair or if you make a face mask out of it, it can deeply condition your skin. Honey is bomb on a ton of levels. In fact, when it comes to honey in general, check out "Manuka Honey Is The Ultimate Beauty Find".
12. Get Yourself a Pumpkin (or Two)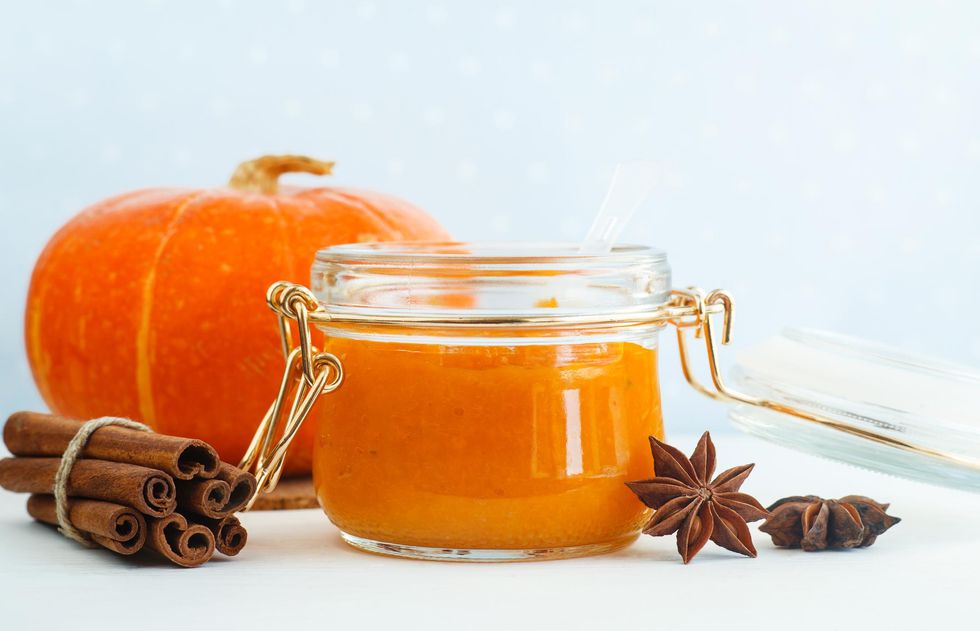 The signature fruit for fall is undoubtedly the pumpkin.
As far as all-natural beauty benefits go, it's great for you because pumpkins are high in vitamins A and C, zinc, antioxidants, fruit enzymes and even alpha hydroxy acids. All of this works together to trigger collagen production in your body, brighten your skin tone, improve your skin's texture, help to reverse UV damage and hinder free radicals from damaging and aging your skin.
So, the next time you're at your local grocery store, pick up a pumpkin or two. Then, when you get home, treat yourself to a pumpkin face mask (recipe is here); a body scrub (recipe is here); a foot scrub (recipe is here); a body butter (which is made with pumpkin spice and recipe is here), or a lip exfoliant (which is also made with pumpkin spice and the recipe is here). You'll feel good. It smells great. And it's one of the best all-natural beauty treatments to officially welcome your skin into this, what I'm sure will be, beautiful upcoming fall season.
Join our xoTribe, an exclusive community dedicated to YOU and your stories and all things xoNecole. Be a part of a growing community of women from all over the world who come together to uplift, inspire, and inform each other on all things related to the glow up.
Featured image by Getty Images
Keep reading...
Show less
Just when you think New York Fashion Week couldn't possible top itself, a new year comes along to snatch our edges, throw our wigs, and make us secretly live out all of our fashion lives. It doesn't mater if you live in Manhattan, or the depths of Mississippi, NYFW is the time when everyone and everything is high-fashion, and the next hot moment is not too far away. It's actually one of my favorite times of the year, mostly because all those stupid rules are thrown out the window, and the only trend is creating your own rules. Blink too fast and you'll miss the latest and hottest purses, or the most popular colors of the season, or even trends that begin right where they stand.
Most importantly, the week always ends with the highly-anticipated Met Gala, which will be streamed live for the first time ever (and hosted by Keke Palmer and Ilana Glazer), and an after-party hosted by the one and only Bad Gyal, Rihanna.
But because we know you ladies love fashion like we do, we thought it would only be right to serve you up a recap of who (or what) stole our edges while strutting down 5th Avenue.
So, without further adieu...
Junie Shumpert
Teyana Taylor recently expressed on her E! Show with husbae Iman Shumpert, that she encourages her daughter Junie (5) to have a presence on social media, and her business ventures are no different as our mini sis shut NYFW down in the best way possible. Taylor had a Pretty Little Thing collection hit the runway, and she invited her firstborn along for the ride, which sis understood everything about the assignment.
Rocking all red, and a cap that only queens understood, she left no crumbs behind as she ate the entire row of the left side of the cookie package. Taylor loved it, naturally, telling ESSENCE that she is inspired by her, and daughter Rue, at all times.
"They are the greatest form of genuine love. They're my biggest fans. I was always a strong person, but having my babies has made me unstoppable. I get my fearlessness from them."
Yara Shahidi
Our girl Yara Shahidi somehow transitioned into literal art during the NYFW festivities, as she attended The Exhibition Christian Dior: Designer of Dreams while wearing a Dior Haute Couture Fall-Winter 2022 black mohair houndstooth sweater, a flannel skirt with a high waistline, and Dior heeled sandals. She uploaded an absolutely stunning photo of her in the dress captioned,
"Don't touch the art."
We won't touch, but we will certainly admire.
LaQuan Smith
LaQuan Smith has secretly been owning New York fashion for quite sometime, so a little week of showing off what he's working with is nothing. In fact, he topped all of our lives, by presenting his newest pieces at the top of the Empire State Building. Yes, the Empire State Building. He became the first designer to ever host a fashion show at the monument, telling the AP:
"I felt like, if we're going to come back to live shows, where's the best place to do it? It really felt like this was the best place to do it," he says. "This is a time when people need to feel fabulous again. This is a time when we need to continue to find reasons to celebrate, after coming out of such a shitty year."
Additionally, he brought out the star power with starlets such as Ciara, La La Anthony, Winnie Harlow, and Lori Harvey serving up all the goals in the front row.

Gender-Bending fashion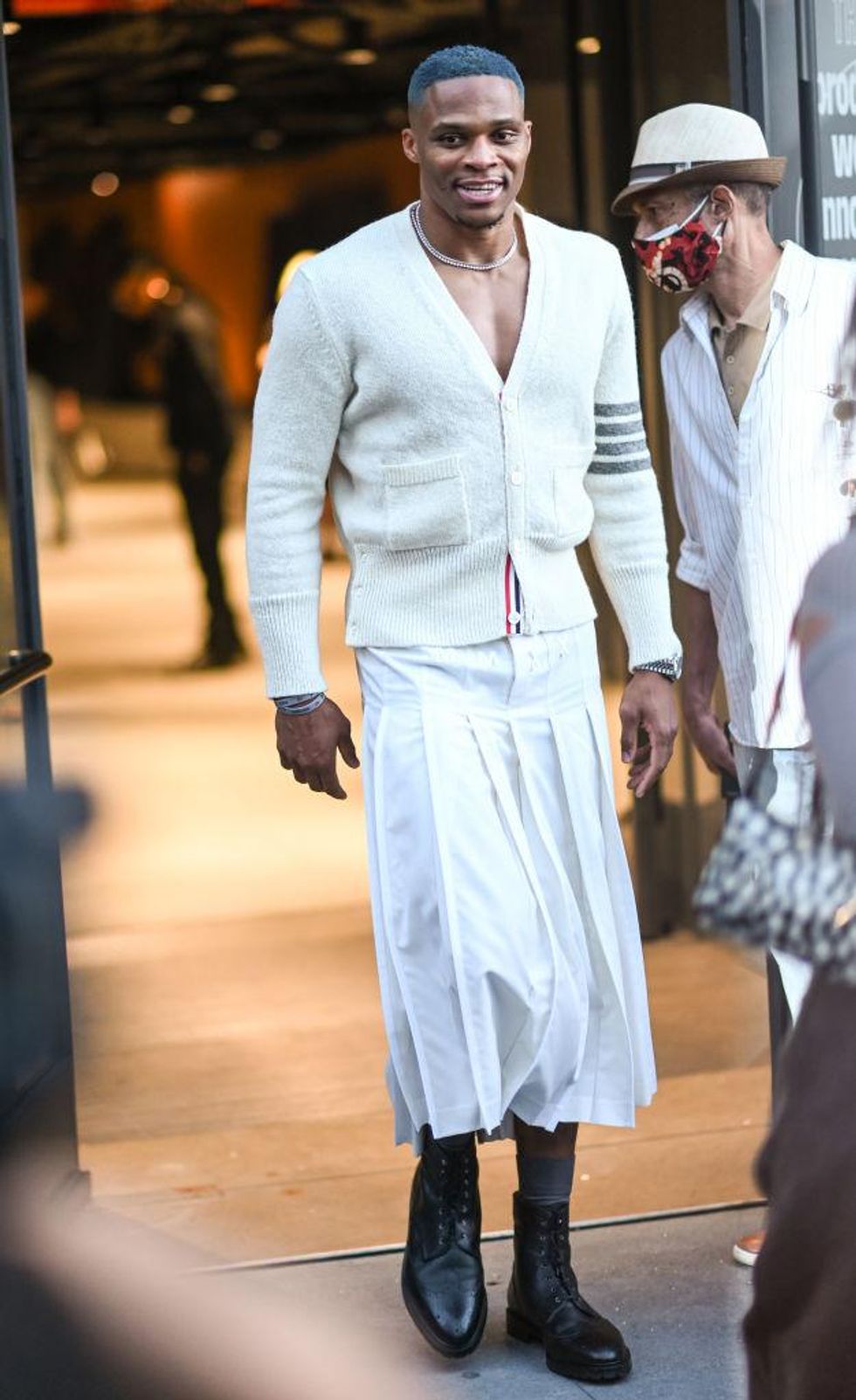 Daniel Zuchnik/Getty Images
Gender-bending has been a hot topic of discussion for much of the past few years, and Russell Westbrook and Kid Cudi decided to up the ante by rocking skirts--erm...kilts--to the festivities. But, the people wanted to know if we all missed the memo because in addition to the fashion risk, they each rocked blue hair to match.
Westbrook showed up to the Thom Brown Spring 2022 show wearing an ankle-length white kilt, off-white cardigan with front pockets and a diamond choker, and Kid Cudi, a floor-length black skirt under a long sleeve Nirvana shirt. Neither men are strangers to taking chances in fashion, but we're here for the bold moves.
Telfar's announcement of...a TV channel?
Telfar has been a game-changer in Black-owned accessories since we all discovered that we have a better chance of winning the powerball than getting a Telfar bag that we didn't prep for. So, when Beyonce was photographed rocking her bag, we collectively sobbed through tears of joy. The brand went on record of saying that although they appreciated the plug, they would never raise their prices and would continue with business as usual.
But now those business moves includes something that none of us saw coming: a TV channel. During a press conference held on the final day of New York Fashion Week, owner/creator Telfar Clemens announced the launch of his label's own television channel, Telfar TV.
The channel will have brand-exclusive content, and viewers will be able to scan QR codes to purchase products, ensuring that anyone who orders the label's famously sold-out bags will get one, without fear of bots purchasing bulk inventory.
It's the innovation for me!
The Gworls
So, it's infamously a no-brainer that Ciara will show up to wherever her little heart desires and shut shit down. NYFW was no different, and she visited numerous shows and gave what was needed to be given. Alongside her adventures was BFF La La Anthony, who always pulls up with big supportive energy, as well as other starlets such as Kehlani, Lori Harvey, or the City Girls.
Some of these ladies happened to link at the LaQuan Smith show and show off why we all love them so. Edges were snatched in the process, but it was seeing them all enjoy each other that we loved the most.
Nicole Ari Parker + Kristin Davis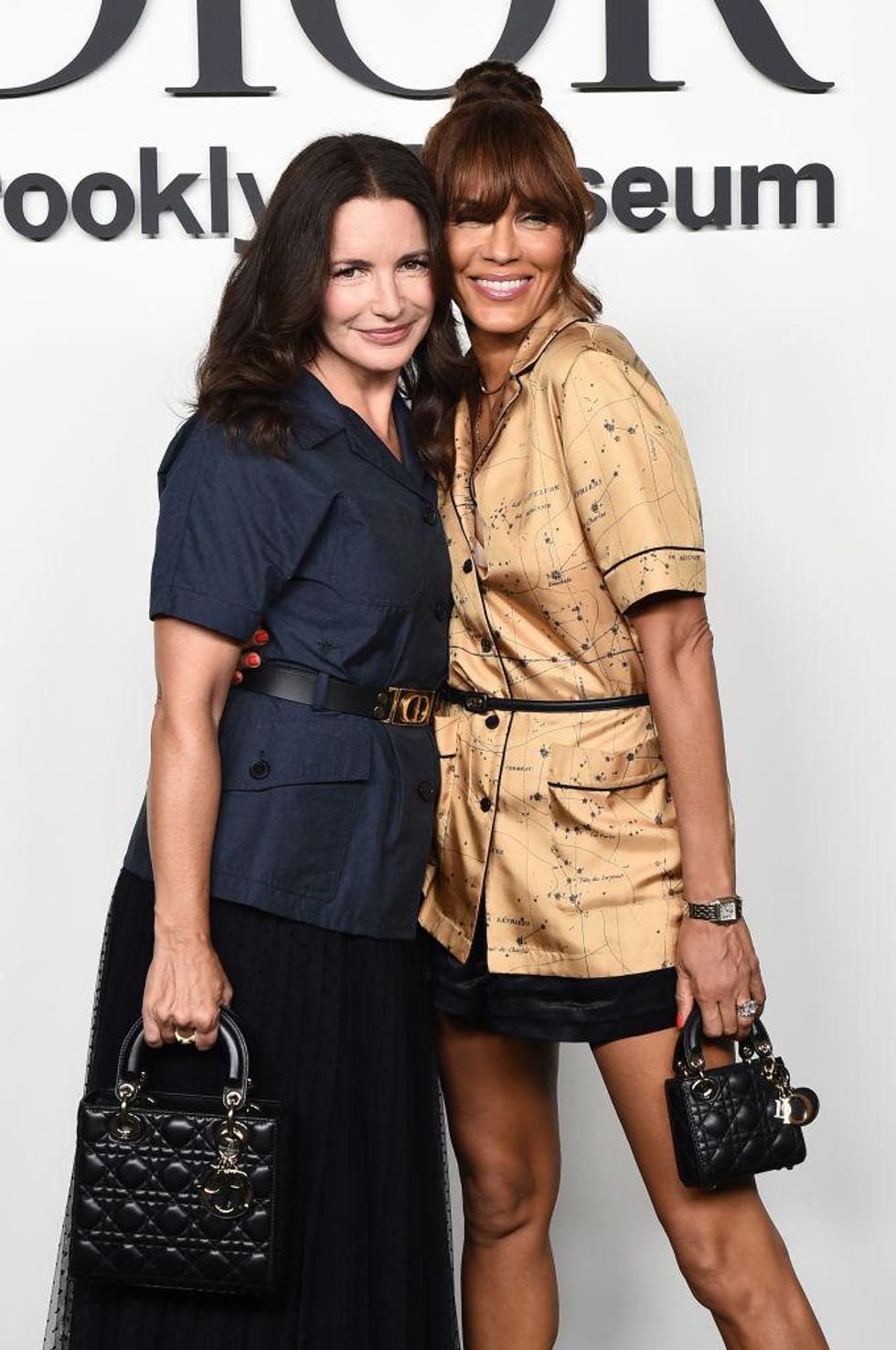 Ilya S. Savenok/Getty Images for Dior
OK, call me sappy, but seeing And Just Like That... co-stars take a break from filming the Sex and the City reboot to attend the Christian Dior Designer of Dreams exhibition cocktail party, was what I needed to prep myself for the show premiere. Seeing the two live out loud their show characters was exciting.
Can't wait to see Nicole crush this role!
Are you a member of our insiders squad? Join us in the xoTribe Members Community today!

Featured image by Ilya S. Savenok/Getty Images for Dior
Keep reading...
Show less