The first time I tried to commit to the natural hair life was in 2015. It had been three years since my last relaxer and I had been rocking sew-ins faithfully. Once I saw how much hang-time my hair had, I wanted to go full throttle in embracing its curls. I watched more than enough YouTube videos and stocked up on all things natural haircare, from twisting creams to co-washing shampoos. I knew nothing about how to find my hair type, let alone how much it mattered.
To me, as long as I was using products for natural hair, they were one and the same… until I was faced with the reality of shrinkage and failed with every twist-out I tried. After doing a little research (and learning that flourishing curls weren't built in a day), I learned that the golden ticket was knowing my hair type.
What Is My Hair Type? A Guide To Your Natural Hair Curl Pattern
First Things First, What Are The Curly Hair Types?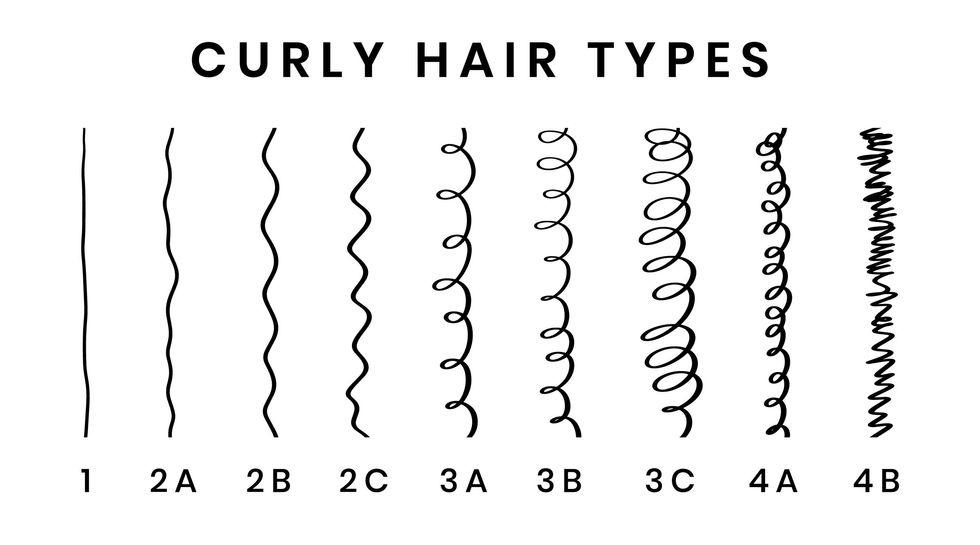 Shutterstock
When it comes to hair, there are nine different types, according to Naturally Curly. Bone straight hair is Type 1. Wavy hair, a.k.a. Type 2 is broken into three categories 2A, 2B, 2C, with 2A being the loosest and 2C the tightest. Type 3 is curly hair and also divided into three categories: 3A, 3B, and 3C, going from loosest to tightest. The final part, Type 4, is for coily/kinky/afro hair -- 4A, 4B, and 4C. And you guessed it, that also goes from loosest coil pattern to tightest.
Knowing your hair type opens the floodgates of truly caring for your natural hair, whether you wear it out after a wash-and-go or wear protective styles like braids and wigs. Below is everything you need to know about each hair type and how to properly nurture yours.
Type 2A Hair
If your hair has very little volume at the root, is fine, and easy to straighten, you could have Type 2A hair. The good thing about 2A hair is that you can use products like styling foam to add a little extra something at your roots for fuller-looking locks. But you have to be careful using a ton of products. Too much can weigh down your tresses.
Type 2B Hair
Raise your hand if your hair is flatter at the top with S-shaped waves toward the middle. If so, you most likely have Type 2B hair. The strands are typically a little thicker than 2A, making it tougher to straighten. For those who want their loose waves a little more defined, you can use a sea salt hairspray. Be sure to opt for one that doesn't make your hair stiff or crunchy.
Type 2C Hair
Is this you? Your waves are thick and you typically have to navigate through frizzy strands. Unlike Type 2B, 2C hair's waves don't start in the middle. Instead, they're going strong from the root. Experts recommend using a leave-in conditioner to show off your natural pattern.
Type 3A Hair
Your hair has bypassed wavy and is instead a texture complete with large and loose curls. While there are tons of curl creams to use before letting your hair air dry, you want to steer clear of using your hands, a brush, or a comb from loosening your hair. It will definitely have a frizzier outcome than you want. To keep your curls, you can find hair milk or spray to freshen up your curls when needed.
Type 3B Hair
If you have ringlets that spring, 3B is all you. The tricky thing about 3B hair is that it can get a bit drier than other types. So when looking for products, look for humectants so the hair and moisture can mesh properly. Use any product when your hair is wet to avoid any undesired frizziness.
Type 3C Hair
These are curls that are similar to tight corkscrews. With 3C hair, you don't lack volume thanks to your strands being super-close together. Still, frizziness is a problem for you, so be sure to use a co-wash product that's creamier and has no sulfate. It's also best to use a layering mousse (like curling mousse) instead of a defining styling cream when your hair is still wet. This cuts down on drying time.
Type 4A Hair
If you have 4A hair, chances are your hair is full of volume and has springy S-patterned coils. Wash-and-gos are your friend, and a curling cream is a necessity to keep your coils defined.
Type 4B Hair
4B hair is typically defined as a dense pattern featuring zig-zag strands. Because of the thicker strands, it's typically best to use multiple products (one that stretches your strands and another that defines them) for easier styling.
Type 4C Hair
There's a special place in everyone's heart for those with 4C hair. It's said to be one of the most difficult patterns to work with as it's prone to shrinkage, drying out, and has more fragile strands. But unlike some folks out here would like you to believe, 4C hair is not unmanageable, nor is it impossible to style. Using a leave-in moisturizer helps fight the dryness. A stretching product is often used against shrinkage.
Are you a member of our insiders squad? Join us in the xoTribe Members Community today!
Featured image by Shutterstock
Keep reading...
Show less