What is a healthy example of love? If you really think about it, how was love shown to you growing up? Do you even know how much your childhood affected your love life as an adult? These are the questions we should be asking ourselves because, let's face it, we all want that love story we've seen on TV or in the movies—even if we aren't saying it out loud. But who's to say we are making the right moves to find not just a relationship, but a healthy one?
Whether you are team Love Jones or team Martin and Gina, how we perceive a healthy love can be based on so many things. And that is not excluding our upbringing. While love can look different for so many people, as long as we can all acknowledge that love should not feel like a challenge, then, we are on the right track. With the right person, love should be beneficial for both partners physically, emotionally, and spiritually. Periodt.
I recently chatted with someone who believes he grew up with healthy examples of love, which has helped him with how he approaches love and dating today. And that person, my friends, is actor Arlen Escarpeta. Arlen was born in Belize and moved to the United States at an early age with his mother. He pursued his acting career after college and landed his first movie role in Playaz Court in 2000. After that, he secured several TV roles including one in the legal series Boston Public, as well as police dramas The Shield and Boomtown. He also starred as Bobby Brown in the Lifetime original film Whitney.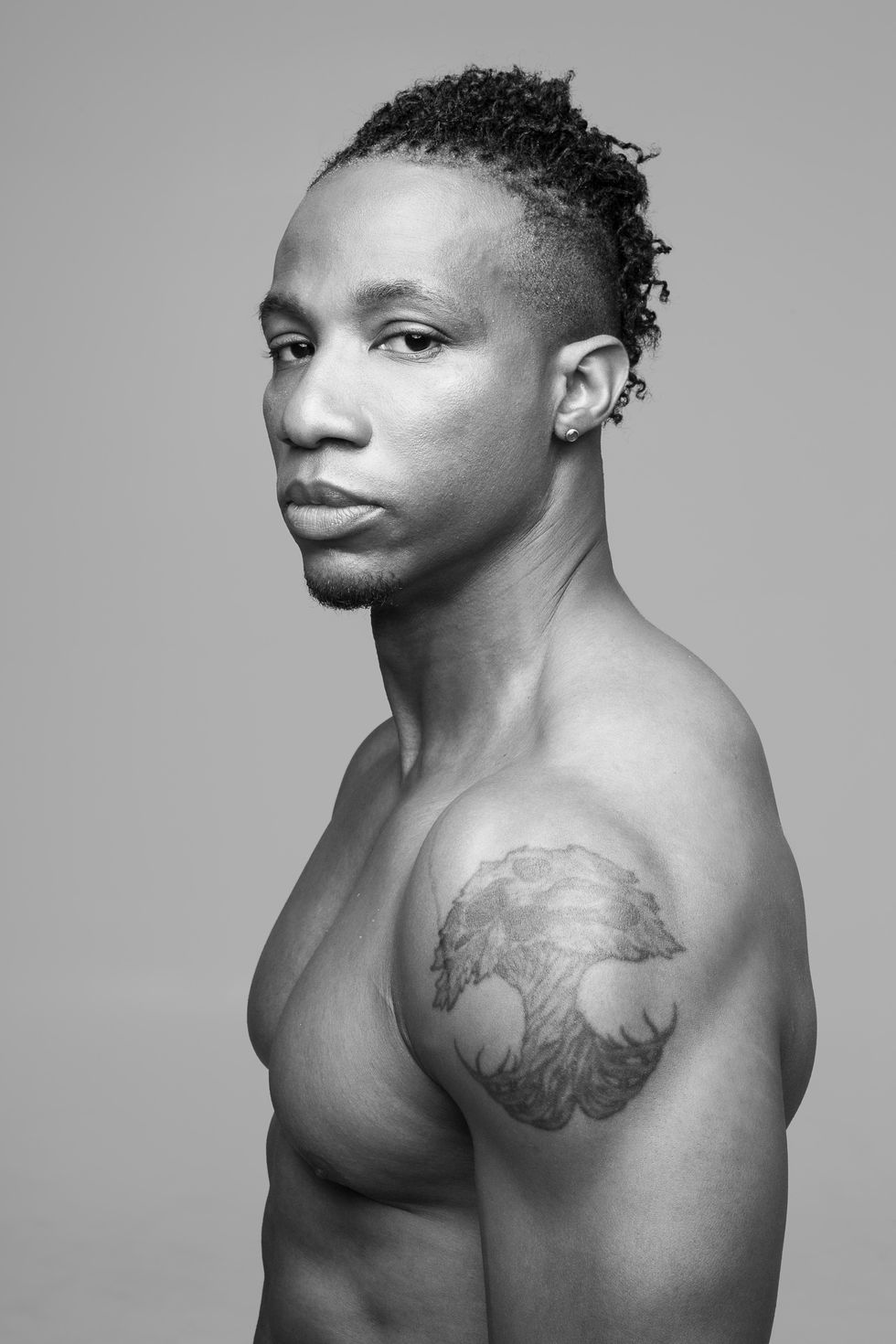 Image courtesy of Shamayim
His most recent role is on OWN's coming-of-age drama series David Makes Man, a show created by Academy Award-winning screenwriter Tarell Alvin McCraney (Moonlight). The drama centers around a teenaged prodigy named David who lives in the projects but tries to navigate his way between his neighborhood and his prestigious school. A newcomer to the series, Arlen plays JG, David's brother, who brings grounding to the young man. He's a rising businessman facing an opportunity that will change him and his community forever. (If you haven't checked out this OWN series, you should. It's so good!)
For this second season, Arlen's bringing the jokes and realness, and he's making the audience feel all the feels. At the same time, in his personal life, Arlen is making sure that he is making time in his love life to be the best human he can be and exude that healthy example of love he learned about while growing up.
xoNecole: In 'David Makes Man,' we see a time lapse between younger versions of the characters and the older version. If you could give your younger self a piece of advice, what would it be and why?
Arlen Escarpeta: Well, something I have learned over the years is that procrastination is not the way to go. I am still learning that now. I consider myself a healthy procrastinator. I recognize the faults of it now whereas before, I would just tell myself I have more time. Since then, I have learned I can get a lot more done when I give myself enough time in the upfront to get things accomplished. When you realize that procrastinating is not the way to go, the better off you'll be.
When you were growing up, who was the most influential person in your life and why?
It sounds so cliche and I am sure a lot of men say this, but it is definitely my mother. My father died when I was very young and my mother moved from Belize to the States. Growing up, my mom was the sole provider and she kept the whole family above water. Her tenacity, drive, faith, and her whole spirit is intertwined in everything that I do.
Do you believe that societal pressures of what a man is supposed to be has affected how men and women date nowadays?
I think the pressures of social media have definitely affected the way people approach one another when it comes to dating. Back in the day, the guy that had the best pickup line got the girl. Nowadays it's about sliding in someone's DM and hopefully you get a response. Even though things have changed, I still believe people are still looking for that real connection with someone. It's just wrapped in a different package.
"Back in the day, the guy that had the best pickup line got the girl. Nowadays it's about sliding in someone's DM and hopefully you get a response. Even though things have changed, I still believe people are still looking for that real connection with someone. It's just wrapped in a different package."
Did you have healthy examples of love growing up? If so, what did you learn about love that you apply to your own relationships?
I think I had plenty of healthy examples around me growing up. I am a hopeless romantic. I was influenced by TV too and would see all these romantic gestures. I'm the type of guy that will go out and get you flowers just because. I want my girl to feel special. But what I have learned about gestures is that the simple ones are just as important as the big ones. It doesn't have to be a grand scale gesture all the time. Something as simple as loading the dishwasher can be received and appreciated the same as a bouquet of flowers. My current partner taught me this as well. Love can be simple.
Another thing I have learned from healthy examples of love is knowing when to walk away in a relationship. I learned that from my mother. When my mother divorced my stepdad, she knew that she deserved more. And now she has more. It is about setting boundaries for yourself and knowing when letting go of a person is better than just holding on. You have to do what makes you happy and [know] what is a better situation for the both of you.
Is it important for you to feel safe within your own relationship? If so, what does feeling safe look like for you?
It is absolutely important to feel safe in a relationship. Feeling safe for me is me being able to say whatever I want to say and trust that my partner hears and understands me. Feeling safe is having effective communication. I know we are going to bump heads sometimes. So being able to have a disagreement with my partner one moment, talk it out, and still be able to kiss them on the forehead later on is healthy to me. I honestly believe that if you are not having those uncomfortable discussions in your relationship, then you are not growing.
"Feeling safe is having effective communication. Being able to have a disagreement with my partner one moment, talk it out, and still be able to kiss them on the forehead later on is healthy to me. I honestly believe that if you are not having those uncomfortable discussions in your relationship, then you are not growing."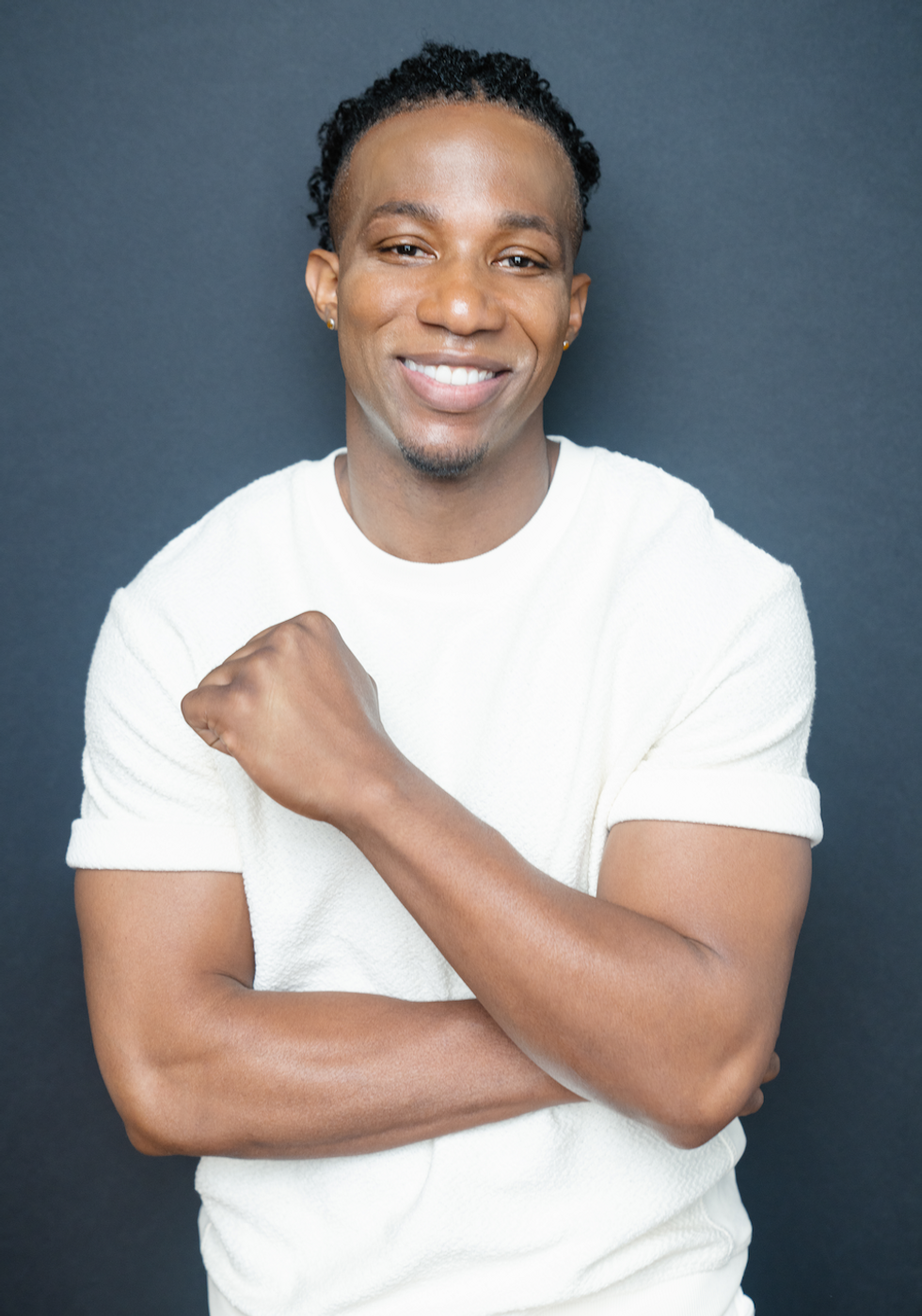 Image courtesy of Shamayim
What is one thing you think a man should work on for himself before he's ready to be in a relationship?
Having accountability. Men are not always held to the highest standards and can get away with some things sometimes. So, while we are quick to judge others, we really have to look at ourselves and call out some of the things that we do. I think accountability can help men receive what they want to receive and communicate better what's on their mind when they enter a relationship.
What advice do you have for single women who may overthink what it means to impress a guy in dating?
If I am speaking just to women, single or in relationships, I would say that it is important to not misrepresent yourself and let it lead the way. What I mean is, that mask that you put on in the beginning, you are going to have to keep that up. The longer you keep that mask on, the less the man is able to really know you. I know we put on masks mainly to protect ourselves. But when you are comfortable with yourself, it is easier to be comfortable with a potential partner. So you are better off being honest and allowing them to like you/love you for who you really are.
In your opinion, what are your three best qualities that you bring to a relationship?
Just three?! I mean I have a long list! Well, I know I mentioned accountability earlier but I think it is a very important quality to have in a relationship—like being aware of what your flaws are. The other quality I have is to be able to trust. You have to trust your partner and you have to be able to trust yourself. For the third quality, I would have to say I am passionate. You need to have passion in a relationship to keep it going. Passion helps keep the spark alive.
What is one thing that people do not notice about you right away that you wish they did when it comes to love and relationships?
I come across as a "glass full" type person. But honestly, I can be a big old baby. I wear my heart on my sleeve and I don't think a lot of people know that about me.
What would you say is your biggest fear about relationships?
Because I am a hopeless romantic, God forbid the relationship ends and my partner no longer views me as a good person. I ask myself, 'Are we able to be friends afterwards or do they see me as the bad guy in the end?' I never want to be the bad guy.
Even when you try to do everything right, there are still circumstances that you have no control over that could lead to a relationship ending. So, with this fear of mine, I try to remind myself it's not about being the good guy or the bad guy. It is about staying true to yourself and putting your best foot forward.
To learn more about Arlen, follow him on Instagram.
Featured image courtesy of Shamayim
Keep reading...
Show less
I don't know about y'all, but I love having girl talk. Me and my girls can kiki about life, sip our wine, and hype each other up about what's coming up next in our lives. However, something that I love a tiny bit more than girl talk, is having guy talk. Don't kill me y'all but I just think it is so refreshing and important to get a guy's perspective on love/relationships. It also keeps me in check sometimes when I am overthinking a situation. In fact, I was talking to one of my guy friends a few weeks ago about the topic of black love.
We talked about the dynamic of black men and women and what may be the best way to show up for black women and vice versa. His thoughts were that it is challenging for him to show up for black women, if there are high expectations on how a black man should be. He also explained that while black men know how to be in relationships, the idea of how a relationship should be has been warped into so many different things. While I can understand my friend's point of view on this, I couldn't help but think about how I prioritize love in my daily life and if asked the question, "How would I want my future partner to show up for me?"
Recently, I had a great "guy talk" with actor Tristen J. Winger. Tristen is someone who knows exactly how he likes to show up for black women. Tristen J. Winger, 35, plays the character Vince on the BET+'s Bigger series.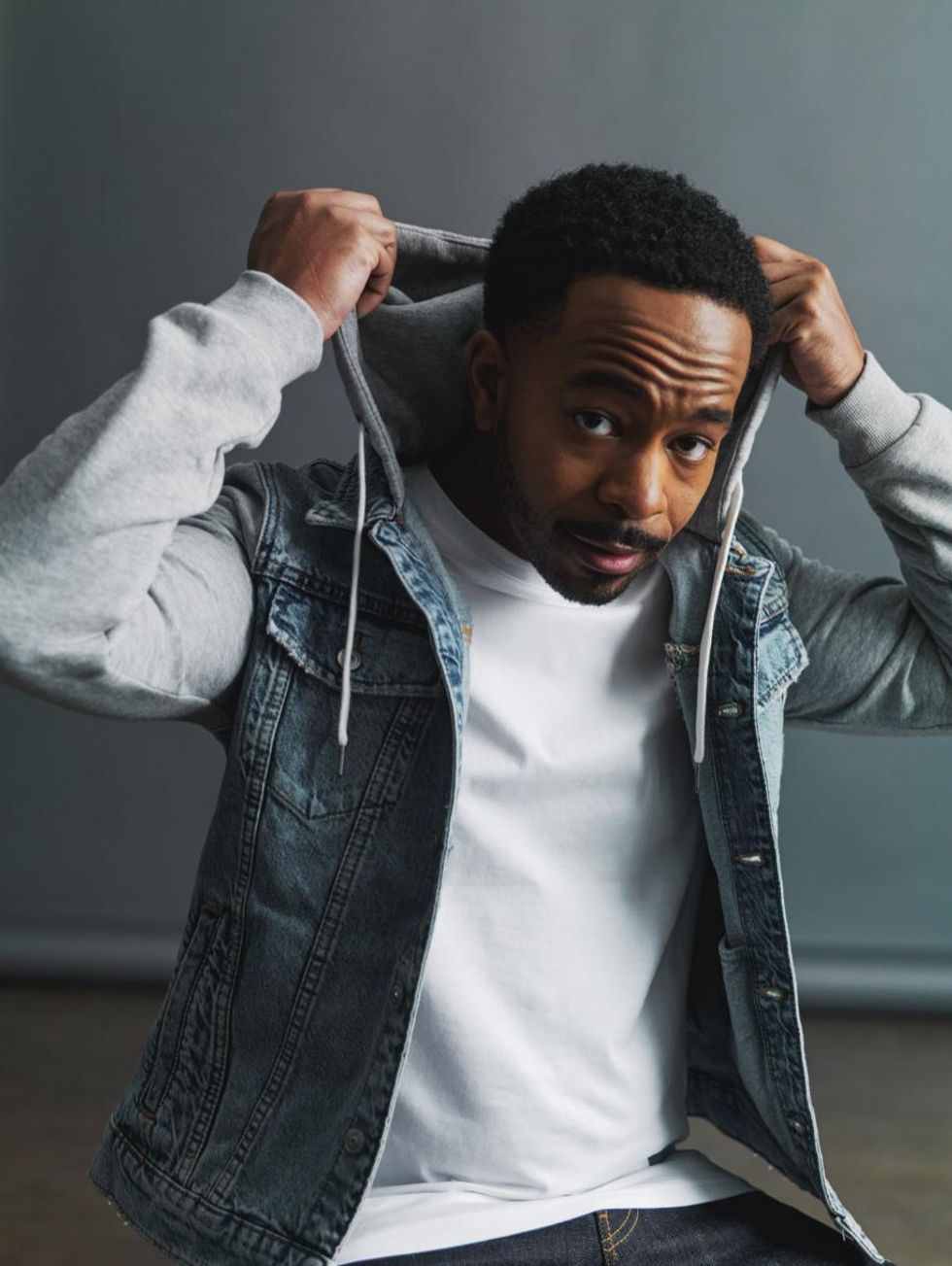 Courtesy of Carlos Nunez
Executive produced by Will Packer, Bigger is a comedy series that takes a deeper look at the stagnant lives of Layne Roberts and her circle of friends as they strive for something bigger and better in all aspects of life. While chatting with Tristen, who plays he was able to give me the truth about his thoughts on black love.
He is a true advocate for uplifting and supporting black women in all spaces and is a believer in keeping the idea of black love in a positive light. Here's what the star had to say.
xoNecole: Do you feel that your character Vince on the series 'Bigger' relates to who you are in real life?
Tristen J. Winger: I believe he does in many ways. Especially, when we find out more about Vince in the second season. Being pushed to pursue one career, but having a passion to be a creative resonates with me. I graduated from high school early and I went to college for Mechanical Engineering. I really love science. My mom would put me in science camps when I was younger and I really enjoyed it.
However, the creative side of me overpowered that. Throughout high school, I was in Performance Arts and I played music. So, when I got to college I was introduced to this music software by a good friend of mine. I was excited that I was able to make music and not do math all day in my other courses (laughs). I knew my mom wanted me to go down this one path, but I chose to follow my passion in being a creative.
xoNecole: Because you relate to Vince's journey in following his passion in music, what advice do you have for other people who want to follow their passion instead of what is expected of them?
Tristen: Always go with your gut. Every time. At the end of the day, we are living this life for us. That's not to say to forget about everyone else. But ultimately, we are the ones who have to live with our decisions. So make decisions that make you happy in the end. Instead of living with regret or having the "what if" in the back of your mind.
xoNecole: What has your professional acting career taught you about dating/romantic relationships?
Tristen: I will say that since acting is about listening and reading between the lines, you have to do the same thing in romantic relationships. You can't just listen to the other person to respond. You have to listen to understand where the other person is coming from and learn from them. We can live this life on our own if we choose to, but if we choose to live a life with a partner, there must be understanding and togetherness.
"We can live this life on our own if we choose to, but if we choose to live a life with a partner, there must be understanding and togetherness."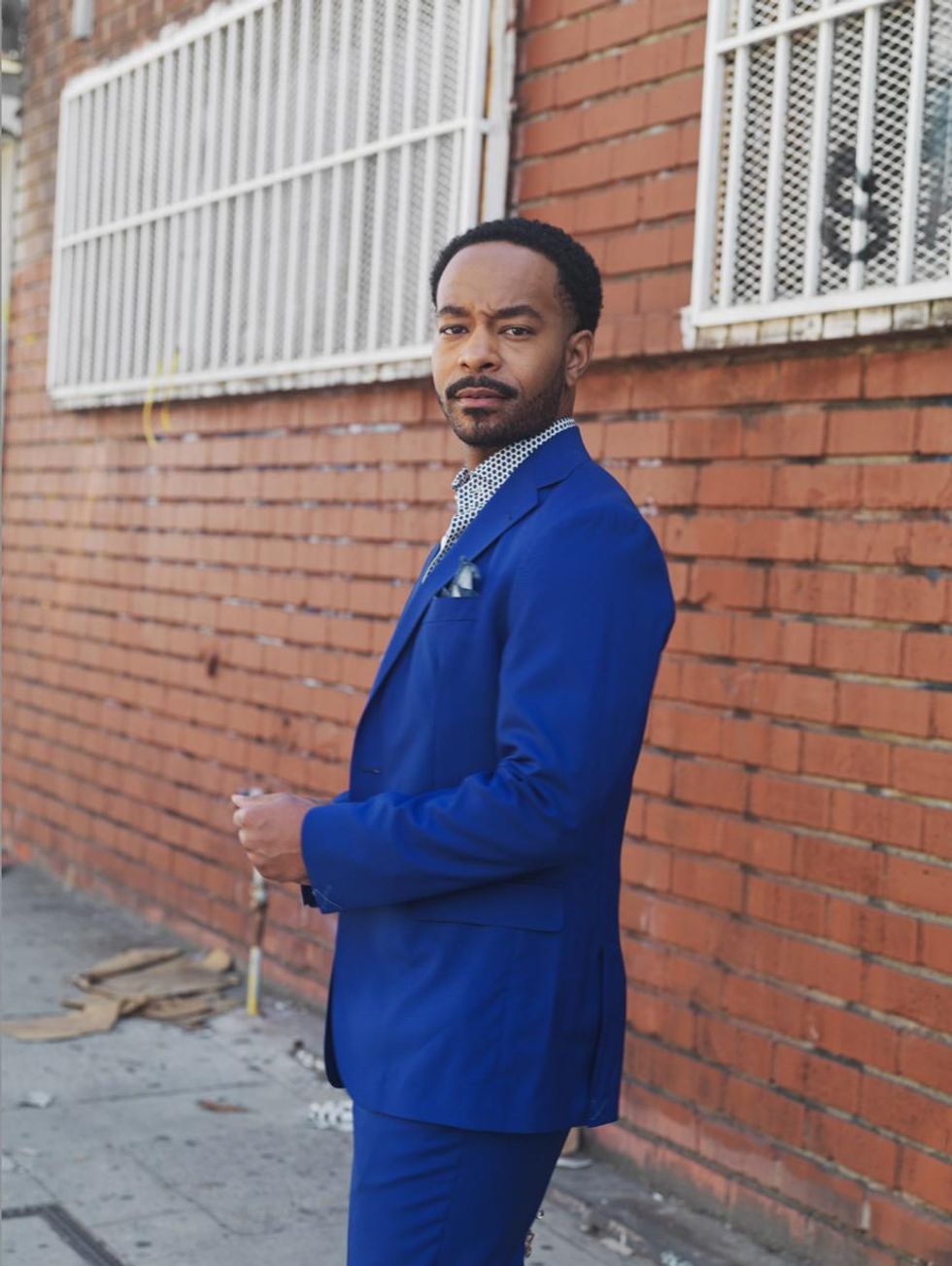 Courtesy of Carlos Nunez
xoNecole: In today's society, do you feel that there is a misconception between black men and black women when it comes to the #relationshipgoals?
Tristen: Looking at social media really confuses me sometimes (laughs). Like why are y'all complaining about $100 dinner dates? (Laughs) That should not be the basis of a relationship. It does seem like nowadays black men and black women are at odds when it comes to relationships. But every day I still see examples of beautiful relationships. I know what black love looks like and while social media may make it seem like it is difficult to achieve true black love, I am not going to believe it.
xoNecole: What do you think are the two key things for a successful relationship?
Tristen: I think empathy but more so, being able to support one another. If you and your partner are a team, the goal should be to win together. In order to win, we have to challenge each other too. You can have a lot of moments that are comfortable and full of ease. But the question is, how are we going to take each other to the next level? So being supportive is key.
"If you and your partner are a team, the goal should be to win together. In order to win, we have to challenge each other too."
xoNecole: You show that you are a huge advocate for black women on social media, how do you like to show up and support black women in romantic relationships?
Tristen: It honestly looks different for different women. Showing up could literally mean showing up and supporting her. Showing up can look like giving gifts or writing poetry. Showing up could even look like listening to her as she vents. You have to find out what her love language is. All of the languages mean something, but each one has a different weight to them.
xoNecole: I am so glad you touched on love languages, because you are absolutely right! So, inquiring minds would like to know.. What is your love language?
Tristen: My top love language is words of affirmation. I think that comes from my childhood. Recognition feels good to me. I remember when I was in elementary school, I would always get perfect attendance awards. Or when I would get A's on my spelling test, it was the recognition from the teacher's that I sought out for. There are times even now, where I wonder if I am doing a good job. So in dating, those words of affirmation are important to me.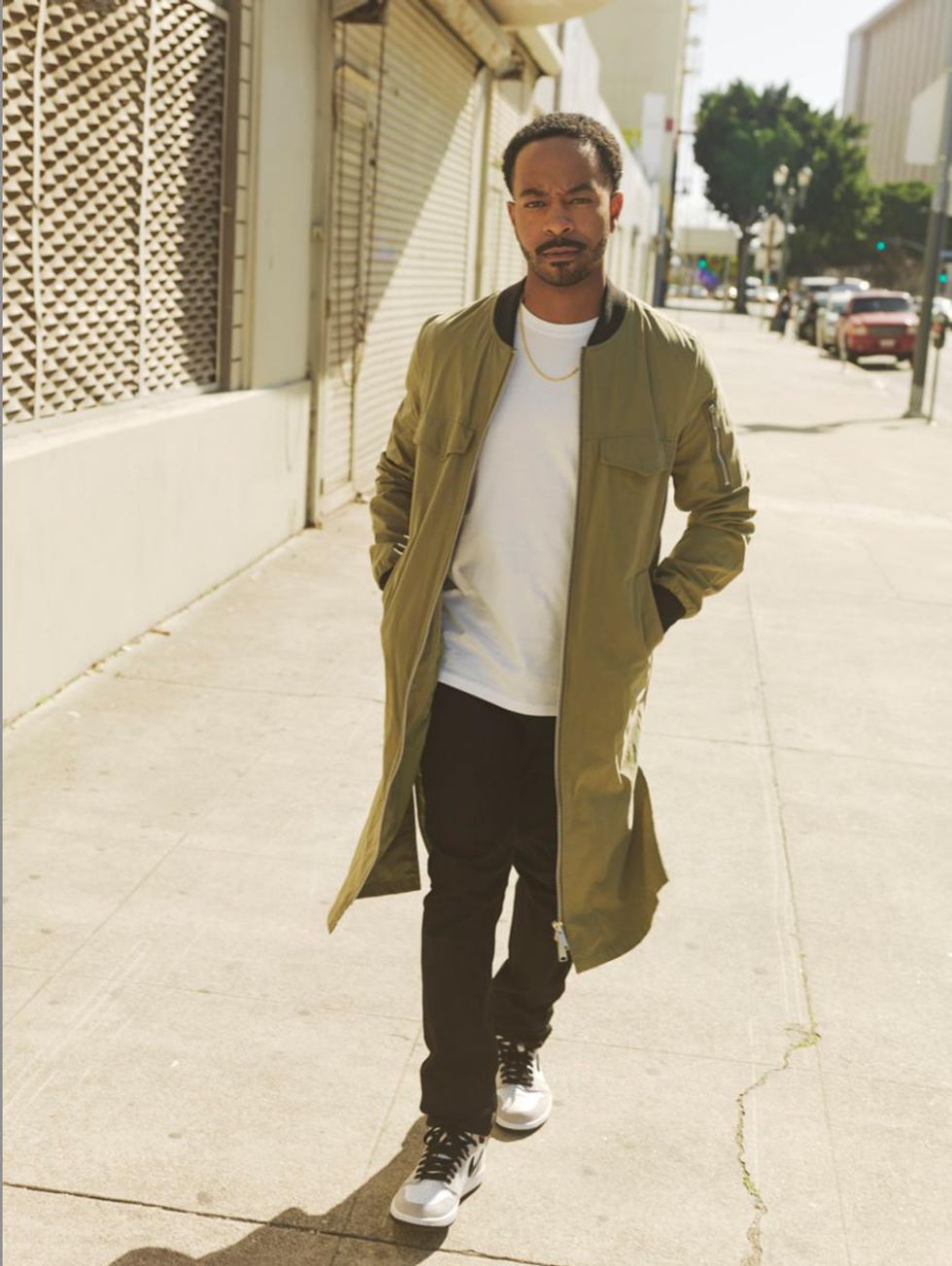 Courtesy of Carlos Nunez
xoNecole: Do you think self-care is important in a relationship? If so, how do you practice self-care for yourself?
Tristen: There are times where I just want to be alone. I don't have to be doing anything specific. I just need that time to myself. I won't and shouldn't feel bad for wanting to spend time with myself (laughs). I am willing to do whatever it takes to recenter myself and ground myself, whether I am in a relationship or not. We give so much to the world, so we have to remember to give back to ourselves.
xoNecole: What is an important lesson you have learned from previous relationships that you will apply in your next relationship?
Tristen: An important lesson for me is how to show up for myself while I am in a relationship. Being raised by a single mom, I used to pour everything I had into my relationships. With doing that, I ended up forgetting what Tristen wanted. So now, I will always speak up for myself in how I like my partner to show up for me.
xoNecole: What are some relationship green flags that you look for when it comes to dating?
Tristen: The first thing that comes to mind is a sense of humor. I love to laugh. If a woman can quote Back to the Future or The Nutty Professor line by line, I'm sold (laughs). I also like a woman who is adventurous and likes music too. Someone who isn't judgemental and is a free-spirit [and] open-minded. These are all great qualities I look for.
xoNecole: If you could curate a love playlist for your future partner, what would be the top 3 songs and why?
Tristen: The first song would be "Can We Talk" by Tevin Campbell. The next song would be "Take It From Here" by Justin Timberlake, produced by The Neptunes. The third song would be "At Your Best" by The Isley Brothers. For "At Your Best," it sounds like he is talking to someone specifically. So when you are creating a playlist for someone, you need that specificity. So I chose all these songs because when I hear the words and I listen to the music, I feel all of it.
I remember in Justin's "Take It From Here" he says, "I wanna be your lake or your bay. And any problems that you have, I want to wash them away." I just want to wash away your problems girl! (Laughs) I just want to wash them away (smiles).
For more of Tristen, follow him on Instagram.
Featured image by Carlos Nunez
Keep reading...
Show less
In 2014, Jeremy Meeks' mugshot went viral because, well, because he was sexy. Today, he has a thriving modeling career and is snagging acting roles left and right. And after famously dating an heiress to a fashion empire, he is happily single. The father of two's (yes, he's a Daddy and a Zaddy) gorgeous green eyes and eight-pack have popped up on-screen in a new project, Dutch. The star-studded release features a load of big names and has all the makings of a winner—a dirty drug ring plotline, a juicy urban fiction read for a script, and Lance Gross. "I read the book this film was based on when I was incarcerated. The Dutch trilogy was written by Teri Woods, back in 2003. It's just crazy how it's all come full circle now," he tells xoNecole.
It's safe to say a lot has changed since his humble beginnings as #PrisonBae (or Hot Felon, as some may call him), and to say he is blessed is an understatement. He knows it too. While we were all baking bread in quarantine, Jeremy was counting his blessings while heating up Instagram one thirst trap at time. xoNecole recently got the chance to chat with Jeremy about what's new with his career and his love life. Here's what he had to say:
xoNecole: You got to work alongside Lance Gross who played the lead character, Dutch, which the film is named after. We're BIG fans of Lance here at xoNecole—how was it being on set together?
Jeremy Meeks: Lance Gross killed it. He is the perfect Dutch. I learned so much from him. You know he taught me a lot of things when it comes to acting and facial expressions. There was an entire incredible cast to learn from on set like Tyrin Turner. I actually wasn't able to be on set with Macy Gray. She's a legend too. That would have been dope. But there's James Hyde, O.T. Genesis, Michael Blackson...there are so many people in this.
Modeling or acting? What direction do you plan to take your career?
Modeling in some sense was just a stepping stone. It was a foot in the door. And then [I thought] how long can I model for? I was looking for longevity in the industry, and I didn't know what that was going to be. When I started acting, I knew instantly. I found a passion, and it feels really good. And so now I'm trying to sponge up every aspect of film that I can. I'm trying to learn how to write, direct and produce.
"Modeling in some sense was just a stepping stone. It was a foot in the door. When I started acting, I knew instantly. I found a passion, and it feels really good."
Was a career in entertainment something you thought you'd ever have?
Not really, I've heard it, numerous times growing up that I could, but in the lifestyle that I was living, that just didn't seem real. I used to see people on TV and think I could do that or hear rappers and think I could rap. I could do anything that anyone can do just as well if not possibly better. I just believe in myself, but I just never thought all of this was possible. Then when the mugshot went viral, I realized all this time I was supposed to be influential in some way. God waited until I was in the right spot mentally to take on this blessing.
It's been years since your mugshot went viral, but how do you navigate the "Prison Bae" thing? Do you respond when folks call you that? 
I am so much more than that. but at the same time, I don't take it to heart. It's been a blessing, it's what got me here. So yeah, I respond, I embrace it. But I'm working hard to shed that nickname and just be Jeremy Meeks, a household name. I'm excited about the future. I know soon I'm gonna get that rom-com. [I feel like] that's my lane.
"God waited until I was in the right spot mentally to take on this blessing."
If you had your pick of Hollywood's leading ladies, who would you want starring alongside you in a rom-com?
It would have to be someone like Meagan Good or Lauren London.
You had a very high-profile relationship spread all over the media in the past—anything you would do differently next time around? What's your relationship like now with both mothers of your sons?
I would never change anything in my past because everything happens for a reason. My relationship is incredible with both of the mothers of my kids.
The last thing I read about you was that you were single, so how's singleness treating you?
Incredible. I'm just at a point in my life where I'm very focused. I'm a relationship kind of guy, you know? I've always been. But at this point in my life, I don't want to get pulled in different directions. I just want to focus on my work, my kids, and their future to change that generational wealth gap. I want to create businesses and leave them. I just have a plan and [am] in a different headspace right now.
So you're not dating, at all?
[I have] friends—very good friends. (Smirks) I'm kind of talking to someone, but we're just friends. We just appreciate each other's energies and each other's conversation.
"I'm just at a point in my life where I'm very focused. I'm a relationship kind of guy, you know? I've always been. But at this point in my life, I don't want to get pulled in different directions."
Best love lesson learned?
To communicate. Communication is everything. If you communicate, no one can get hurt because everything's out in the open. I think that's the key to every relationship. I had trouble communicating in the past and now I just really try to work on things that I know I need to work on because everyone can always improve in some way. So I've been trying to work on my communication.
Best career lesson learned?
To really just take your time and not jump the gun. Do your homework on people and see what they've done and who they've worked with and in this business. Everyone will tell you what you want to hear. It's on you to do due diligence and make sure that all your T's are crossed and your I's are dotted.
At the end of the day, it's business and so you have to make sure everything's professional on your end.
Dutch is out now in select theaters nationwide. And to keep up with Jeremy, make sure to follow him on Instagram.
Featured image by Cheryl Fox, courtesy of Jeremy Meeks
Keep reading...
Show less
The other night one of my girlfriends and I decided to catch up over wine and snacks. We were chatting about work and the new normal and eventually, the conversation shifted to dating and a desire for intimate connection. We discussed the relationships and situationships in our past and reflected on the highs and the lows. But the majority of our conversation was more about us personally, and our time.
Some of those past experiences fostered a lot of energy and emotion just for them to simply be topics of conversation today. So, does that mean we wasted our time? Did we put too much of a focus on our goals and not enough on the development of our personal relationships? Don't get me wrong, I don't subscribe to a societal life timeline. However, it's only natural for those feelings to creep in from time to time, especially during the unique period we're in. And it made me wonder, do men have these thoughts too, or are we alone in these feelings?
That's one of the reasons I was super excited to speak with Houston rapper Slim Thug. Recently, he released a song called "Black Queen", a track where he unapologetically explains his dream girl, which he proudly states is a black woman. Now, when I think of Slim Thug, I think of his features on iconic southern anthems like "Still Tippin" and "Like a Boss". A love song is the last thing I expected to hear from him. But then it dawned on me, just as my feelings and desire for love have changed over time, so could his, and sometimes the best way to release these emotions is through art and healthy dialogue. This is why Thursday evening, after a bit of Zoom drama and a save-the-day conference call line, we had a very transparent discussion.
In our chat, we talked about his new single "Black Queen", thoughts on dating and relationships, and why it's important to make your intentions clear. And I quickly learned, women are not alone in these feelings.
xoNecole: First, can you tell me about your song "Black Queen". What inspired you to create it? 
Slim Thug: I was on Instagram Live playing the beat and I was trying to figure out what I wanted the subject of the song to be. A woman responded, and told me I should talk about my black queens. So, I got right offline and made it, it took me about an hour to create it. I just described my dream woman. "Black Queen" is basically a bio for my dating profile, it's what I'm looking for (laughs).
I like the song a lot, but I love that you referred to her as a Queen. Why do you think it's important to uplift Black women during this time? 
If she's gonna be with a King, she's gotta be a Queen. And it's important to big salute our black women because they need love with all the hate that comes with being a Black Queen in America.
Speaking of time, a lot of women feel pressure to settle down and build a family by a certain age. What are your thoughts on this and do you ever feel that pressure as well? 
I think when some women start thinking of having kids, they start to feel that pressure. Me as a man, I've been single most of my life. Now I'm 40, and I have been thinking, 'Am I gonna be single forever, or am I gonna have a family and have some type of legacy to leave behind for kids and grandkids?' That's where I am in life. I wouldn't run from love if I found it but at the same time, I'm happy where I am, being single. But if I found the right person I would give it a shot.
Interesting, why do you think you've been single for most of your life? 
Because I'm so engulfed in what I do and my work. It's hard for me to even hold down a real relationship. And when you're a rapper and your job is not planned like a 9 to 5, it's hard to connect with other people because life can be so random. Then a lot of women may not believe you actually have to work when you set your schedule.
Also, being single isn't too bad in Houston (laughs), there's a lot of beautiful women out here. But after that, what? It's cool for a little bit but then you start feeling like you're wasting your years. I don't wanna keep wasting two years here or three years there either. I want to find a woman that when we go on trips, we can talk about it when we're 60. I think everybody wants that.
"There's a lot of beautiful women out here. But after that, what? It's cool for a little bit but then you start feeling like you're wasting your years. I don't wanna keep wasting two years here or three years there either. I want to find a woman that when we go on trips, we can talk about it when we're 60. I think everybody wants that."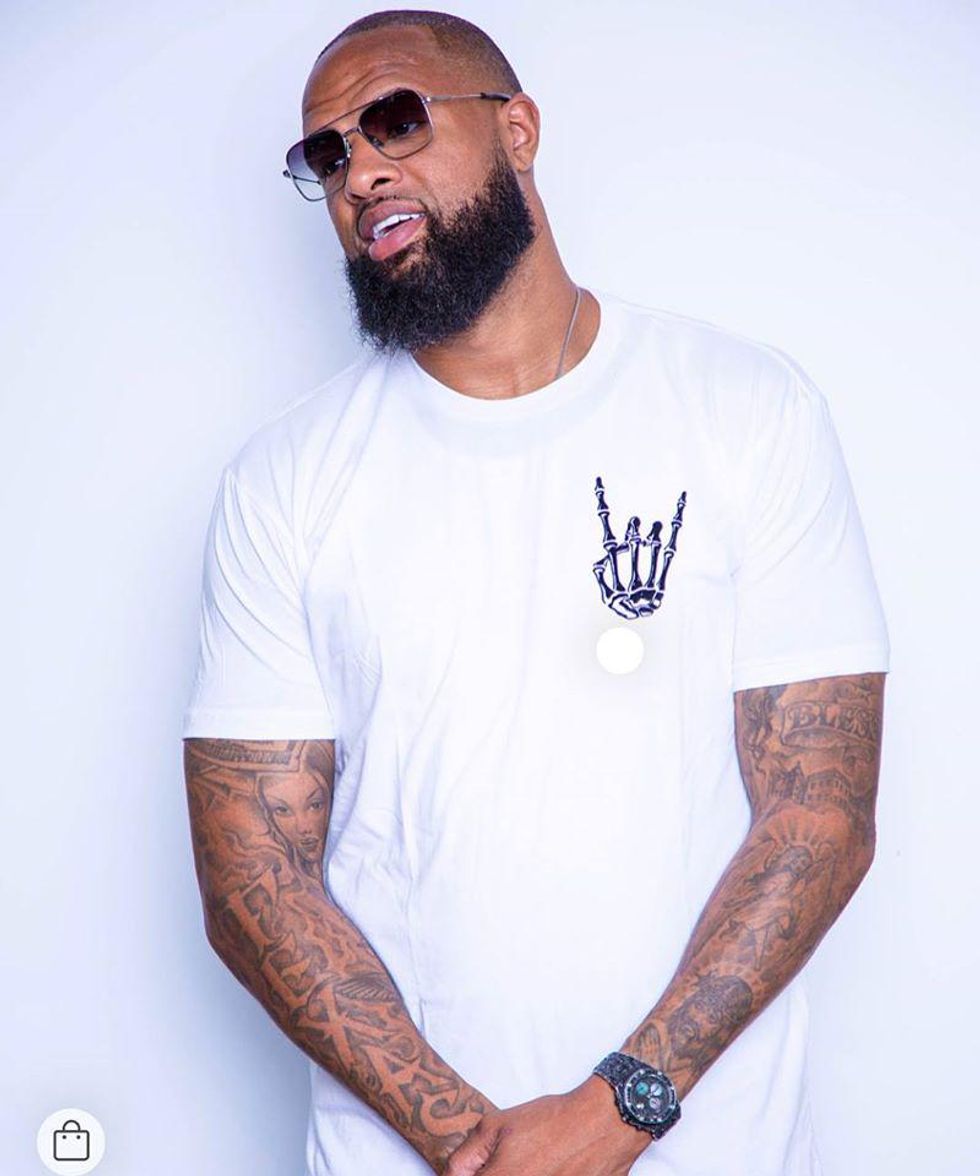 Courtesy of Slim Thug
We're talking a lot about relationships. But what about simply dating and getting to know someone. From a man's perspective, if you could give a piece of advice to women looking for love, what would it be?
I don't think women give enough opportunity. A lot of them are on guard from people who approach them on the regular. Don't shut people down so fast. A lot of time women don't give men outside their type a chance. Just thinking outside of the box and not being so quick to shut people down can help. If there's one thing you don't like, you may be able to figure it out. You aren't gonna get 100 percent, but if you can get enough out of one person, you can work it out with them.
Now I've gotta tell you when listening to past interviews, I've heard you tell some crazy dating stories. I think I even heard a story about you dating a mom and daughter once. How have your views on dating and relationships changed over time?
That's part of why I'm single, because of how my lifestyle was and the things I've seen and done with girlfriends and married women. It scares you, you think it's cool or player at the time, but it makes you have trust issues in the long run. That's what had me for a lot of my life and that's what probably still bothers me today, it's hard for me to trust people. It takes me a long time. I'm not the guy that's gonna jump into a relationship. We have to get to know each other and I know that takes time.
Is that another problem? Do you feel like a lot of women have pushed too quickly for ownership and monogamy? 
Not really, I've dealt with women who have been patient with me honestly and we've had great times. It's been a small issue, but I don't think that's the biggest problem in my dating life. If you want to be that woman, I'm gonna expect a lot from you. A lot of my time and years went to temporary stuff. It was a relationship and it was cool but it never went further than that.
I'm sure a lot of women aren't comfortable with you being a rapper because of the lifestyle that can come with it. We hear about side chicks, multiple women, etc. What inner work did you have to do to unlearn some of these unhealthy traits you might have had in the past when approaching love and relationships? 
In the beginning, a lot of that stuff is part of being a rapper, that lifestyle and world. But as you get older, you become more real and realize what you want and what you don't want. At 40, I like different things. At the end of the day, I still had a great time regardless of the expectation. And I can stay single and do whatever I want, but I do want to find that dream black queen, a woman who brings something to the table, my missing pieces, someone who will help me be a better man.
"As you get older, you become more real and realize what you want and what you don't want. At 40, I like different things. And I can stay single and do whatever I want, but I do want to find that dream black queen, a woman who brings something to the table, my missing pieces, someone who will help me be a better man."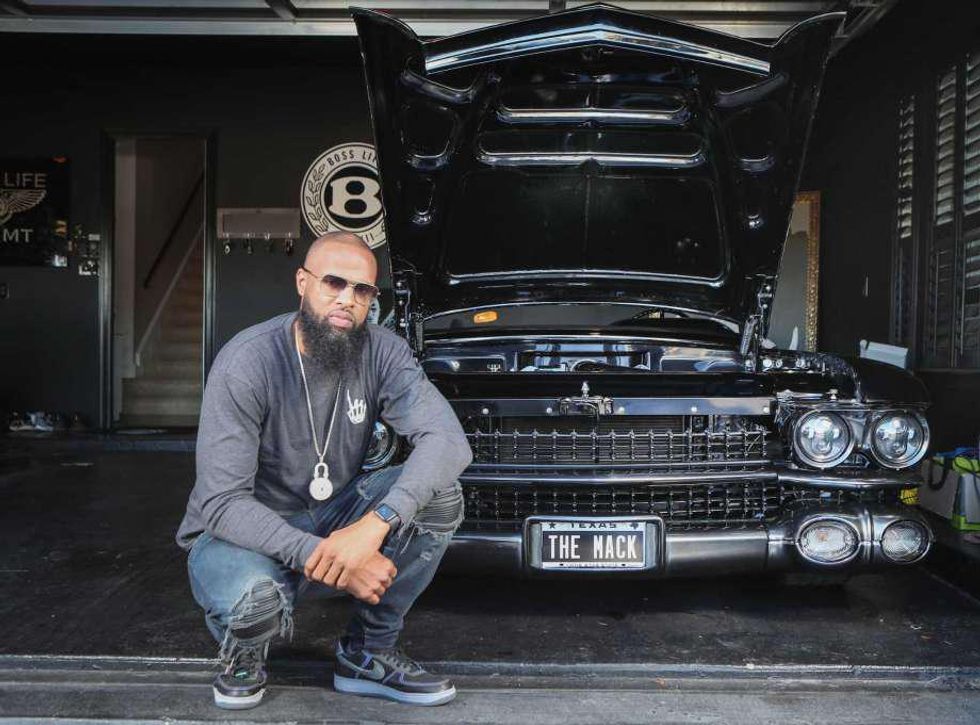 Courtesy of Slim Thug
So, we have to find her for you! Do you prefer to meet people online or in-person, why or why not?
Online is still new to me. I have been catfished and I have slid in a few DMs. I tried the internet wave and it ain't all bad but social media doesn't paint the whole picture of a person. It doesn't matter to me how we meet, as long as it's real.
Well, I know you don't mind shooting your shot because we've all seen you playfully slide in Megan Thee Stallion's comments a few times. But what are your views on women DM sliding, and what made you comment on Megan's post? 
I don't see anything wrong with it, let people know what you're thinking. I rather say what's on my mind and you know than never know. It's worked for me a lot of times in my life. And with Megan Thee Stallion, I was just trolling. Well, not trolling, because she's super fine and from Houston, so I definitely watch her (laughs). But when I first heard of her and was getting on to who she was, the word on the street was that she had a boyfriend so I was always kinda joking. But now I see she's in a relationship with Pardi, I think I should have shot my shot for real. I'm playing but I'm serious (laughs).
Well, having known more than you did in the past, and with all your unique experiences, what do you think are the keys to a healthy, loving relationship?
Trust, loyalty, and being a best friend. I want to enjoy spending time with this woman. I want to want to take her places with me. It can't feel like community service. A lot of people settle for different reasons, like children by the person or finances. Whatever I do it has to be real, she has to be my best friend and that's what it is.
So, you don't see yourself settling at all?
I'm not gonna say I wouldn't sacrifice. In a relationship, you're never gonna get everything you want so in that sense I can't say I won't settle, but I do truly want a Black Queen.
Featured image courtesy of Slim Thug

Keep reading...
Show less
It was a Tuesday afternoon when I connected with Trevor Jackson. Once the Grown-ish actor popped onto my desktop with a neon yellow crew neck and fully connected facial hair, we exchanged greetings and smiles with one another. His energy was calm yet warm, much like his sensual R&B hits are and our vibes synced perfectly like we were homies from back in the day. The "Just Friends" singer has definitely grown since his last conversation with xoNecole.
As he reflected on his younger years in our pre-interview chat, Trevor noted that his mindset is transitioning into, as he would say, "fun time is over now" and he is buckling down on what he actually wants for himself long-term. With his music being a clear demonstration of his evolution as an artist, especially with Rough Drafts, Pt. 2, Trevor expressed his interest in shying away from chart-toppers and putting his focus on history-making hits. Furthermore, he hopes to do so by focusing on love.
"Whenever I'm creating, I try and find something that will always be true. Love is one thing that will always be true," Trevor told me passionately during our check-in. "That's why I'm very excited about this next album at the top of the year and it's going to reflect a lot of that."
xoNecole checked in with the Grown-ish star about how he's grown in his artistry, which of his projects best describes his current sex life, and how he differs from Aaron in more ways than none in his romantic life.*
WE'RE NOT LOVERS, JUST FRIENDS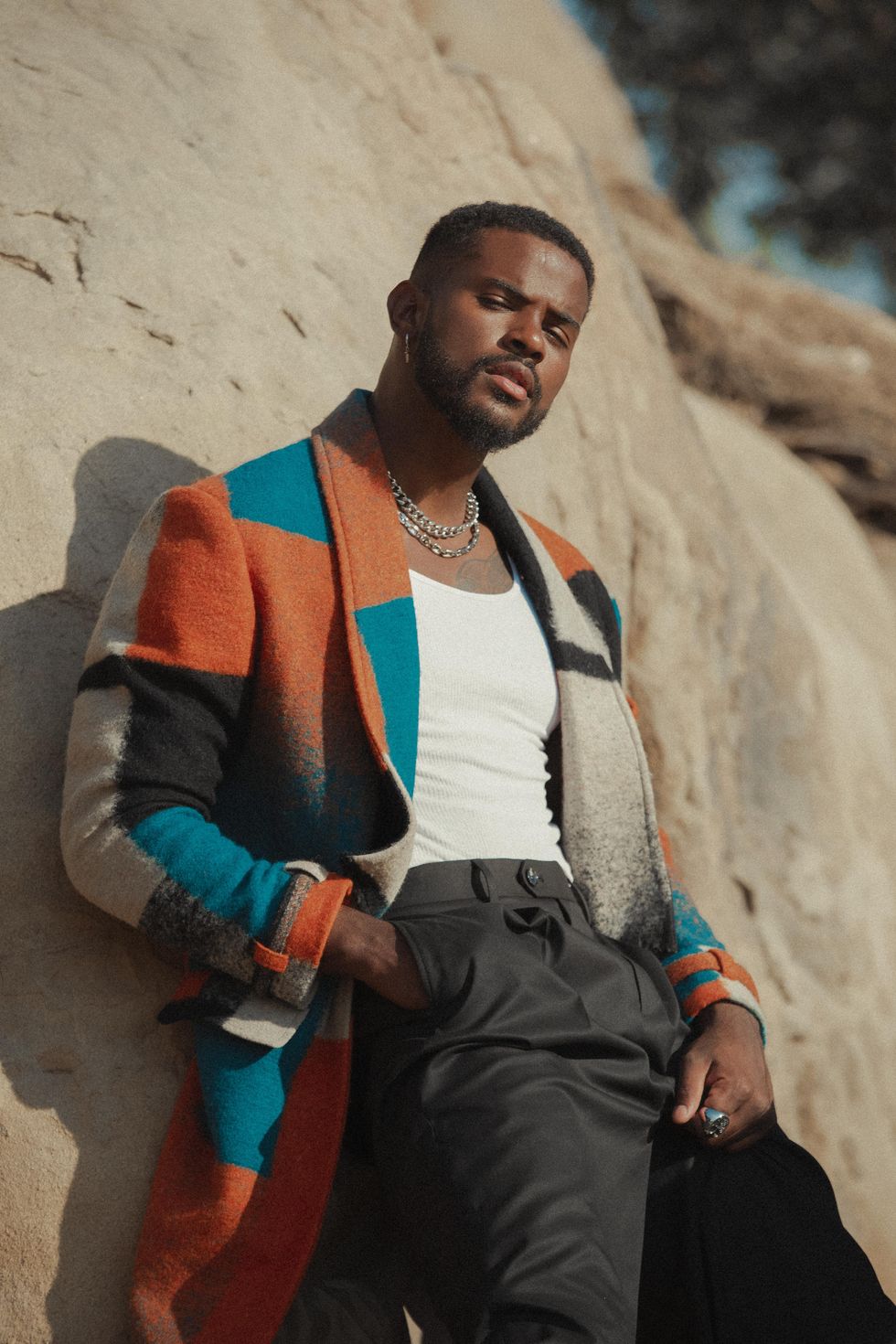 Photo Credit: James Anthony
Trevor Jackson is no stranger to making love songs for a crush, current bae or if you're just trying to get it on in the bedroom. The mastermind behind hits like "Like We Grown", "Here I Come", and his Jacob Latimore duet, "Tru Shit", these days, Trevor has been demonstrating high levels of personal and professional growth in his music through his lyricism, visuals and creative direction. When it comes to his accompanying music videos, he's rather particular - as any creative or artist of his caliber should be. "With my visuals, I really am very specific. If I'm not directing, I've got to make sure I work with [the directors] so they understand the vision because I don't like making things twice," Trevor voiced adamantly about his passion for being original.
In our conversation, I also praised his latest single, "Just Friends", which pays homage to and samples Lil' John's Usher- and Ludacris-featured R&B lustful hit, "Lovers and Friends". As a key influence of Trevor Jackson's and a legend in the artist's eyes, he recalls a simpler time in his childhood where he would be filmed on home video singing Usher's ballads.
In the song, Usher could be heard sweetly beseeching, "Tell me again, can we be lovers and friends?" In Trevor Jackson's "Just Friends", the musician is pondering a similar thought but poses it differently, "Tell me the reason, we're not lovers just friends." In our conversation, he explained the power of non-verbal communication and the in-between moments of are we or aren't we, "It's in the moments where you're not speaking to the person and you know that you're both thinking about the same thing. Go out there, put it on the line, and guess what? If the person isn't down, that's still your friend. Your ego and your pride will get in the way of you having a really good friendship with someone who doesn't want to be more than friends."
The outcome isn't always the one you want and Trevor even slid in his own admittance of being friendzoned in the past. "I have absolutely been friendzoned. It doesn't feel good." It came as a surprise, because who would want to friendzone him? Though this may have been my initial thoughts, he explained to me his piece and thought process of being friendzoned. "If someone isn't accepting and they're not vibing, then that's just not right. It's almost God being like, 'You're welcome,' you know?" he said and interestingly enough, I understood. "Sometimes you'll say [you] want this thing so badly, and when it doesn't work out, you think there must be something wrong with [you]."
"I try to look at my life like that, like there's gotta be a reason why she doesn't see me this way. That reason could be that maybe we're not compatible or it could turn out really bad for both of us. Sometimes God's looking out."
Drops mic.
WE ARE WHO WE ARE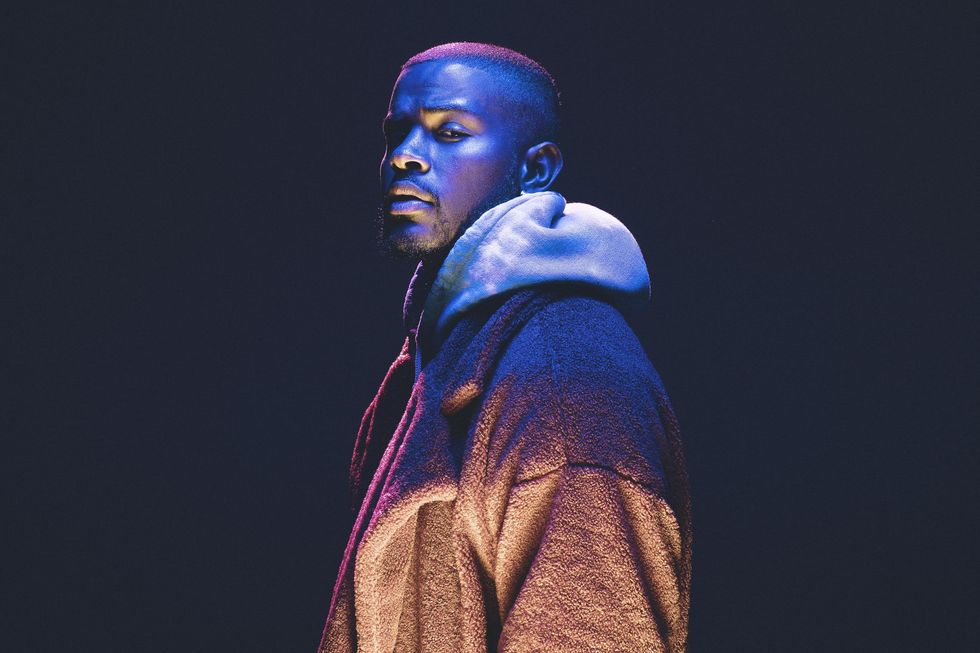 Photo Credit: Derek Bahn
Trevor Jackson has grown in more areas than just professionally and musically - we can't forget the romantic evolution. That's what xoMan is for, isn't it? The actor/musician believes that the majority of his growth over the years lies in the physical realm. "I think I've grown a lot for sure even when it comes to physicality. This could be unpacked heavily, but I'm just keeping it very general. I used to think if I'm going to be physical with this person, that means they're going to be my wife," he admitted.
Trevor told me that for a while, he believed that "being physical with someone meant that you loved them," but over time he learned that physical touch doesn't necessarily equate to forever with a person. While he is technically at the cusp of millennial and Generation Z, Trevor acknowledges that communication is where this generation lacks as a whole about falling short. He said, "It's all about who the person is and what your understanding is. I think communication is so important and people will just not say anything because they want to make sure the other person is good."
Unfortunately, communication isn't all it's cracked up to be, especially when you're in your early- to mid-20s and still embarking on your journey in this thing called life. Trevor continued to explain to me the importance of seeing someone in-person and not relying on texting to be the sole line of communication between him and his potential boo thang in order to build a real relationship. "You need to see that person because anybody is a good responder. We've all tried to figure out what's the best response and try to put something on ourselves to be something."
"If someone doesn't initially fall in love with the unshaped goo that's on the inside of us, the realest parts of us, then that's not the person that's meant for us. There's no exact way to go about being with someone else because we're all too different and we all have too many complexities that make us special. The right chemical balance can be the first time we talk and we'll be perfect."
Trevor added optimistically about aligned mental and spiritual connections with his potential partner, "I feel like we gotta hang out and I think when you really like someone, you can hang out with them and not have to do anything physical with them. I think that's someone I can really laugh with, lay down [with] and not be worried if they're gonna be crazy."
WE'RE GROWN NOW
Now, we couldn't come to this conversation without talking about his latest acting venture, Grown-ish on Freeform. From acting in the Disney Channel original movie Let It Shine with Tyler James Williams and Coco Jones to the blockbuster remake Superfly, Trevor Jackson has yet to disappoint when delivering his lines. When I asked which title from his IMDb best describes his love life, Trevor responded ironically yet hilariously. "Definitely not Let It Shine because that's Jesus," he laughed at his own response. "I'm joking. We love Jesus, but not in the bedroom. I mean, I'd like to combine the Superfly and Grown-ish worlds."
With Grown-ish reemerging from the ashes of quarantine on January 21, Trevor gave me the tea on his personal relationship with his character Aaron Jackson, who is an intelligent, artsy activist and a love interest of Yara Shahidi's protagonist Zoey Johnson. "I'm a little more cold than Aaron. You've got a few chances with me," Trevor said in comparison to how Aaron has been handling love triangles in the coming-of-age sitcom. He dubs his character, with whom he shares the same last name, as "a little bit more mature" than himself when it comes to cutting people off and giving them chances to prove themselves worthy of his time again.
Thankfully, as Trevor has gotten older and we've seen him grow into the handsome triple threat that he is today, he has taken note of his own growth. "Obviously, you turn 9, 10, 15 or 25 and those things don't matter, and it's the same thing with relationships. You put so much pressure, but it's only because of the knowledge you have at that moment but you'll continuously gain more knowledge."
"You'll continuously evolve and realize things aren't as important and other things are more important that you didn't think mattered at all. Just be open, be aware, and you'll be all right."
DATING TREVOR JACKSON: WHAT HE WANTS IN A WOMAN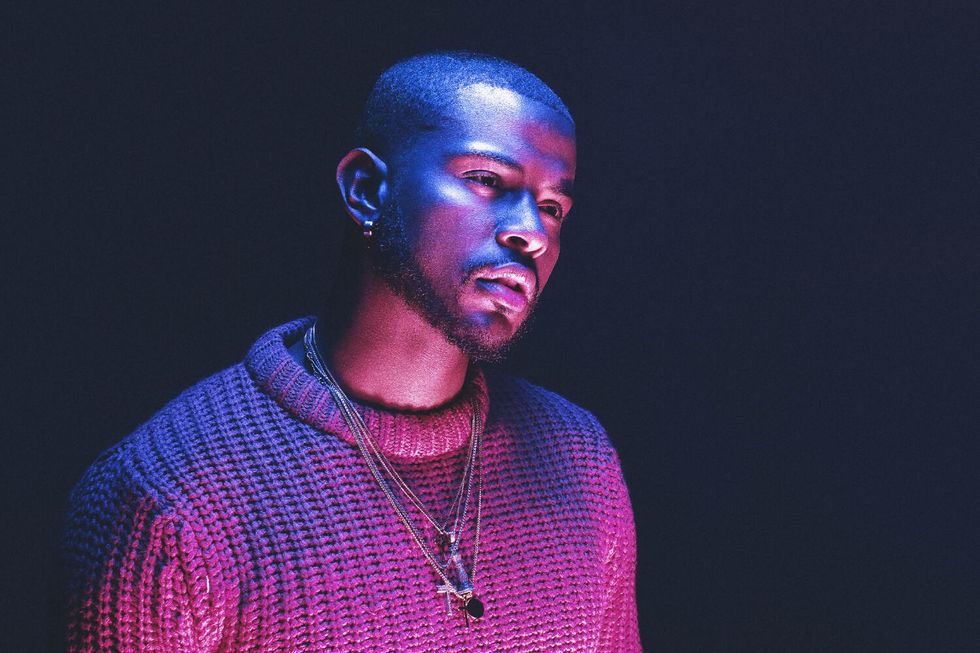 Photo Credit: Derek Bahn
Don't be fake.
"Don't do things because you think that's how you're supposed to be doing them, you know? I've had these conversations and it's like they're being who they've seen in a movie or how you think the character should be. Do you really feel like that? Because I don't think you really feel like that. I think you're trying to be perceived - and perceived by whom - about how you look or coming off. If I'm the person in front of you telling you that, what would that matter? If they want to come off a certain way, that's a pet peeve."
Break down your walls.
"Stop trying to put things over [who you are] to make some picture that you think the person will like because when it's time to take makeup off and lay down in the bed, you don't know who to be because you've put on this [persona] for so long. Put down the walls and someone doesn't fit that, they don't fit that. Don't try to force that."
Be a good person.
"You've got to be a nice person. I'm really keen on how you treat kids, how you treat people you don't know. We can all see someone super attractive and say, 'I'd love to have them,' or whatever, and that moment passes and you're there laying in bed with someone and you're like, 'But are they cool though?' Are they there? How do they treat other people? Are they nice? Are they kind to other people? It's about pulling back the layers."
Put your phone down.

"You can't be on your phone all the time - I don't like that at all."
Appeal to his funny and adventurous side.
"You've got to be funny, adventurous, you can't be stuck in your ways, and you gotta be excited about life. You've got to be willing to be a dork. A turn-on is when the most exciting day to you is going swimming in the ocean to find a treasure chest or something. I'm that type of guy."
Know that his presence is a present.
"I don't care about things. I'll let anyone know now that I don't buy anything. That's not the relationship I'm going to curate with my person. We give and we receive, but we don't need the actual things. It's your time, your words - these things matter. If those things come, those things come but it shouldn't be something that's asked for."
For more Trevor Jackson, follow him on Instagram, purchase his merch and catch him on the mid-season premiere of Grown-ish on Freeform January 21. Stream "Just Friends" on all platforms.
*Some responses have been edited for length and clarity.
Featured images courtesy of SJ Public Relations
Keep reading...
Show less
At first glance, Corey Calliet may come off as a bit intimidating. With a beautiful smile complementing his chiseled frame, the modern-day Adonis, who ironically trained Michael B. Jordan for his role as Adonis in the Creed series, has a well-deserved reputation for building the bodies of some of your favorite Hollywood celebrities.
But the vision the self-proclaimed body architect has for his career doesn't end in the gym or on the red carpet. In addition to training some of the top stars in Hollywood, he has his own apparel company (Levelz), is a featured trainer on Revenge Body with Khloe Kardashian, and has more recently caught the acting bug.
Despite having an impressive resume, it's the trainer's rags-to-riches story that has us begging for more. Growing up between New Orleans and Baton Rouge was no easy feat for Calliet. After losing his mother at the age of four, he was shuffled between his sister and grandmother before finally settling with his aunt and uncle in a crowded home. Enticed by the street life, Calliet learned the art of the hustle that eventually carried him into a successful career.
But he didn't leave home without picking up a few relationship gems from the women who raised him. "We saw love where no matter what you were going through, you weren't going to give up. No matter how bad the situation was, no matter how hurtful, they never quit."

While he may rock sweatshirts that say he's "emotionally unavailable", we can't help but to sneak a peek into this Cancer's emotional side, and dare we say that we like it. As the saying goes, never judge a book by its cover, so we're taking a dive between the sheets of this open book to find out his thoughts on love, why he's not looking for an independent woman, and his biggest fear in a relationship.
Necole: Your life sounds very busy. How do you keep the fire going when you are in a relationship?
Corey Calliet: It takes a very special woman, and I'm single right now, so I haven't mastered it. Every time I get into something serious, I get better, and it's hard because you can't give the love that you want because we know that love is patient, love is kind, love is all of these things. I can't give that to a person all the time. So, it's hard and to be honest with you, I haven't found that woman that can understand what I got going on.

You get up and train early every day. If you were with someone, how does she fit into your mornings? 
When I'm with a woman, she comes first.

When I wake up, I have to make sure she's okay. Is there anything I can do before I get my day started? Anything I could do to make you comfortable? If she's hungry, I need to get breakfast. I need to make sure that everything is taken care of with her first because she's laying next to me, and this is my girlfriend now, this is not some random situation. This is somebody I take care of, somebody I want to be with. So I make sure she has the things that she needs and then I carry on to take care of what I need to take care of myself.
What are some important qualities that you look for in a woman? 
Maybe this is wrong, but I don't need the most independent type woman. We have a generation of women that are coming up and saying, "I don't need you for nothing." I need a woman that's caring, that's nurturing. I need a woman that loves God. She doesn't have to be super successful, just be passionate about what you do. Love what you do. Love yourself. I need a woman, not to just love me, but to like me because if you notice, a lot of people love each other, but they don't like each other. I want a woman that will love my daughter as if she has hers. I want a woman that's strong. A woman that could have my back.
I feel like a woman could bring substance into my life. She could be my foundation. She could recharge me when I need it and we recharge each other.
My thing is, I didn't have a mom. So, I don't know what that's like. So, I don't look for a mother in every woman, but I look for her to have motherly qualities, especially if we plan on having kids. I'm already successful. I probably could help make her life even better. Just support her and build her up.
Sometimes, people want the person they're going to end up with to make a certain amount or at least be financially well-off, and some people don't care. Where are you on that?
I'm not going to say I don't care, but bring something to the table. I'm going to give the analogy of, if I bring a plate, the spoon, the fork, at least just bring the glass. That's it. Just bring the drink. I got everything else.

Looking back on your most recent relationship, if you could name one thing you would have done differently, what would it be? 
I would have paid attention a little more. A lot of times we assume and do stuff that we shouldn't do because we didn't pay attention. I would have paid attention, and she would've been able to understand me because I wouldn't have got it wrong all the time. If I paid more attention, I would have known that I was going down the wrong road, and I would have seen the signs.
If I had a meeting with one of your exes, and I said tell me one thing I should know about Corey, what would she say? 
He's emotional. [laughs]. 100%. She'd say, don't let that hard rock fool you. Don't let his tone fool you. Love him, and tell him that. Let him hear it, and he will give you everything you want. Nobody has been able to do that.
What is your love language?
My first love language is words of affirmation. I want you to be able to look me in my eyes and tell me how much you love me, and how much you care about me. I want to hear it.

To be honest, sometimes the words, "I love you," "I care for you," "I need you," and "I want you" – hearing those words are better than sex.
When you are personally going through something, and your partner has to stand in the fire with you, how would you like for her to support you?
I remember I used to date someone and she'd always say, "I don't have as much as you have. I don't have this. I don't have that." And I told her, "Take away all the accolades in the world and just give me you."

What happens is when I'm going through a place, I don't need nothing that you come with, I need YOU because those things will not last forever. Physically, mentally, emotionally, and spiritually, be there. Be my person that says, "You know what? No matter what, I got you. It's okay. We're going to get through this."
Do you have a fear of abandonment?  
Yeah, to being rejected and shut out. That hurts. That was one of the issues in my past relationship before I moved to LA. She would shut me out at the drop of a dime. She would just cut me off. She lived almost 40 steps away from me, and she would just drop me. Don't answer the phone. Don't answer the door. Don't answer my texts. Don't do nothing. Just cut me out, and I believe that that takes a special type of mean person to just cut a person out completely, and then drag them back in when they feel like it. Like tell me, "I need time. I need space, but I'm letting you know I need this. I will be back, but I just need this."
Don't just cut me off. That's one of my reasons of being afraid of letting people in too close, but I can't help but to let them in 'cause that type of person I am.
So if there's a disagreement, who apologizes first? 
Me. I'm going to apologize first unless you beat me to it. I have the gift of seeing things both ways. I take a step back and understand where you are coming from and why you may not have understood my point, and I will apologize for my actions and my wrongs. I will apologize even if I'm right just to get you to open up, and tell me why you handled things like you did, and what was going on.
Is sex an important part of the relationship?
Sex is very important, but don't overthink it. Sex shouldn't become something we have to do like a time schedule. Sex is about two people wanting each other. When I get married, sex is important, but I'm not going to put a strain on it, like, do we have to have sex every single day? Hell, no.
Your daughter is getting to that age (13) where boys are going to be interested soon. How are you preparing her for that? You got to get your shotgun ready?
I talk to my daughter all of the time. I think the best situation is being able to have an open relationship with the child. Me and Cammy have real conversations like she's almost my age, which is the great thing because we have such a close bond since she was a little girl, and having that open relationship and being able to talk, I think that's how I'm able to prepare her for what's going on. I don't hide nothing from her. I'll let her know what's going on because I need to let her know now so that she can be prepared for it in the future.

When you're dating someone, what's the prerequisite for who gets to meet your daughter? 
Most of the time that she's with me, she meets who I have in my life, but Cammy has this thing where she says, "I'm not getting attached to anybody." She experienced something with my last big relationship with my ex-girlfriend. When we stopped talking, my ex cut her off too, and my girlfriend was like a stepmom to her. She told me she'll never get close to no one again.
For more of Corey, follow him on Instagram.
Featured image via Kathy Hutchins / Shutterstock.com

Originally published on March 4, 2019
Keep reading...
Show less