Kirby Carroll
Kirby Carroll grew up in VA but now calls Atlanta, GA home. She has a passion for creating content and helping brands grow through storytelling and public relations. When not immersed in work, you can find her sipping a mimosa at brunch or binging a new TV drama on Netflix. Keep up with her on social media at @askKirbyCarroll.
I'm so excited because one of my favorite unscripted shows is back. OWN's Ready to Love is a dating series that follows professionals over 30, looking for long-lasting relationships. Hosted by Nephew Tommy, it follows singles who desire true connections and are grouped together to find them.
Each week the power shifts between the men and women in a process of elimination. In the end, three couples remain that will hopefully find love. Past seasons were in Atlanta and Houston, but season four takes place in Chocolate City, Washington, D.C. xoNecole got the opportunity to attend the show's media roundtable, where we got a bit of tea about the season, singles, and their journey to finding love.
And as Camille, one of the participants, put it, "This season is spicy, with Mambo sauce."
But it wasn't easy, the singles dealt with a lot of issues before and during the fast-paced dating series. "There is one point where I literally almost came to tears. I couldn't go anywhere or hide, and the situation was right in front of my face," said Corey, 40.
The women reflected on what it's like living in a city where the ratio of women to men is 17:1, and how many guys in the area feel like they're the prize. Also, the men talked about the importance of substance over physical appearance and how difficult it was to see women who they were interested in dating other men. "If you like a good popcorn situation, this is the show for you. You're gonna get a little bit of everything. All types of flavors visually and many of us have very strong personalities and viewpoints," said Mumen, 36.
One thing Ready to Love always gives is realness, and by the personalities and clear intent, you can tell that's at an all-time high this season. These singles have gone to therapy, raised families, branched careers, and now they're not playing any games about finding their soulmate. "One thing I know for certain is that I am worthy of love. Throughout this self-discovery, I realize I have a lot of good love to give. And I do look forward to that next partner, that twin flame who can add to my life as opposed to taking away from it," added Libba, 44.
I knew D.C. was gonna bring the heat, and I'm excited to add Ready to Love back to the weekend kickoff routine! Make sure you tune in as well!
Season four of Ready to Love premieres Friday, October 15 at 8 p.m. EST on the OWN Network.
Featured image via Ready to Love/OWN
Keep reading...
Show less
Earlier last week Forbes, in partnership with Sprinklr, crowned Bozoma "Bad Ass Boz" Saint John as the world's most influential CMO of 2021. And when I read the article I found myself internally cheering for her and feeling a sense of pride. Now, I'll admit that's not a usual announcement that would excite me, but anyone who is familiar with Bozoma can understand why I'd root for her.
For those who aren't, let me give you some background. The first time I was introduced to Ms. Saint John, the Chief Marketing Officer of Netflix, was on Instagram Live having a girl talk with Saweetie. That alone was enough for me to immediately click the follow button. I mean it's not often that we see corporate executives interacting much on the 'gram, especially authentically and with celebrities. My instincts were right because since then, I've seen her flick it up with Jay Z, travel the world, and offer major fashion inspo.
But don't get it twisted, her lifestyle comes with a lot of hard work.
The role of a CMO, a Chief Marketing Officer, is to oversee all marketing efforts for corporate entities. Prior to joining the streaming giant, Bozoma served as CMO for Pepsi, Uber, and Apple, just to name a few. She joined Netflix about a year ago and has already led multiple campaigns, including an innovative one to limit spoilers for a show called Money Heist, where fans watched the final season on a flight.
Therefore unable to share any information online and ruin it for other viewers. In an interview with Adweek, she said:
"If I'm having a great time with it, then somebody else is also going to be having a great time with it. For us [Netflix], member joy is really at the heart of what it is that we're trying to deliver. We want people to see themselves on screen, but we also want them to explore and to find new ways of being."
According to Adweek, Netflix has brought in 1.5 million new subscribers from July to September alone. Although Bozoma makes a point not to shy away from the praise of her efforts, she also credits Netflix's storytelling for their success.
I think for years there's been this assumption that if you want to climb the corporate ladder, or reach a certain level of success, there's an urgent and specific path one must follow. There's a way to look and act. But, Bozoma defies all of that. She shows up her authentic self, red nails, lipstick and all. And she focuses on the goal rather than the plan.
In a YouTube interview with Forbes, she said:
"Urgency is not about speed. It's about the depth and intention of what I'm trying to accomplish. I want to make sure that I get everything that I can out of this life."
It's clear that she lives by this personally and professionally.
For more on Bozoma Saint John, check her out on social media and be on the lookout for her memoir, available 2022.
Featured image by Ilya S. Savenok/Getty Images for Glamour

Keep reading...
Show less
We put such an emphasis on age in our society. I even do it myself sometimes. And on my latest birthday, I almost let those feelings of inadequacy and insecurity seep into my mind as the clocks struck 12. But once I journaled and had a few moments of reflection, I realized that aging is a gift and an opportunity. It's time to ask yourself, how can I improve? Because one thing is for sure, wine isn't the only thing that gets better with time. I mean just think of your celebrity crushes, time hasn't done anything but bless them as they've gotten older, wiser, and...finer.
When I reflect on the people I look up to, I realize quite a few of them came into their prime as they aged. And if we're talking about physicality, most of my celebrity crushes have aged gracefully. I think it's because there's something so appealing about a man who is experienced and confident in who he is and his appearance. Don't believe me? Check out this list of our favorite MCMs who are 45+, then try to tell me age hasn't turned men we've always envisioned as eye candy into undeniable soul food.
1

.

Idris Elba, 49 (Married)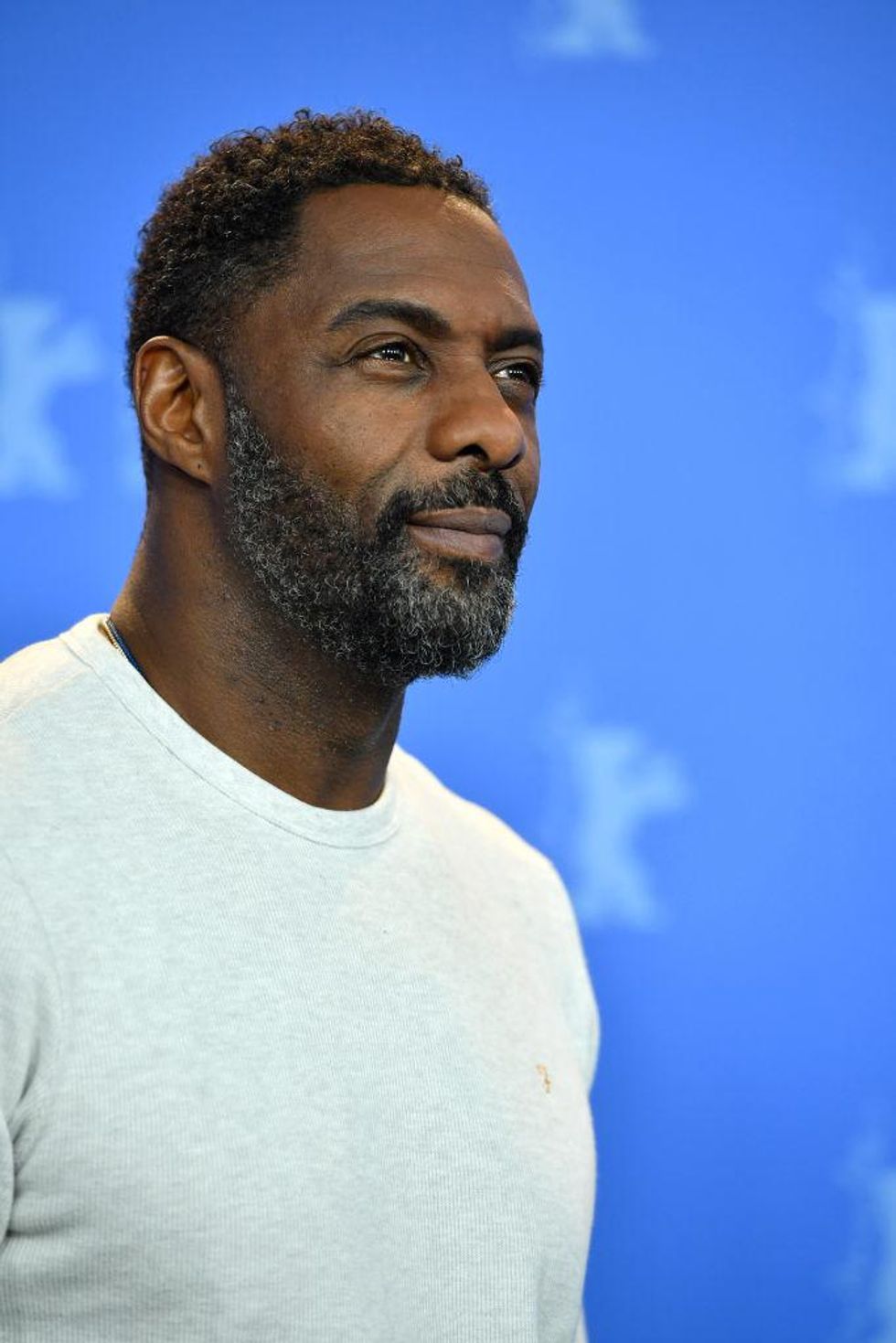 Alexander Koerner/Getty Images
I mean, do we really need an explanation? Whether he is starring in a groundbreaking film like Mandela or a culture-changing show like The Wire, Idris Elba somehow always becomes one of our favorite characters. And the amazing acting isn't the only reason why.
2

.

Nelly, 46 (Single)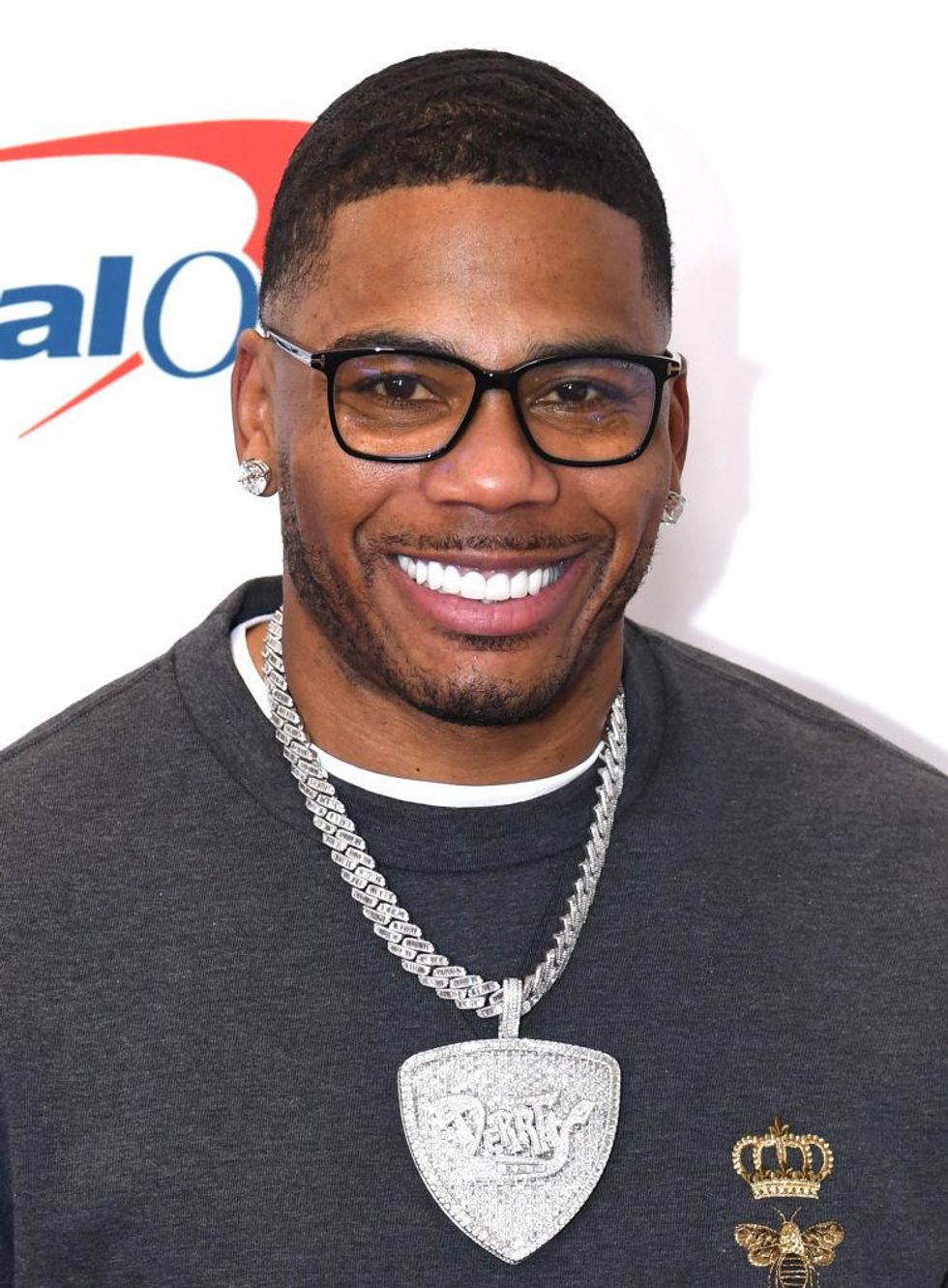 Sam Morris/Getty Images
Is it getting hot in here, or is it just us? This week, Nelly was honored at the BET Hip Hop Awards and reminded us why he will always be on our MCM list.
3

.

Michael Ealy, 48 (Married)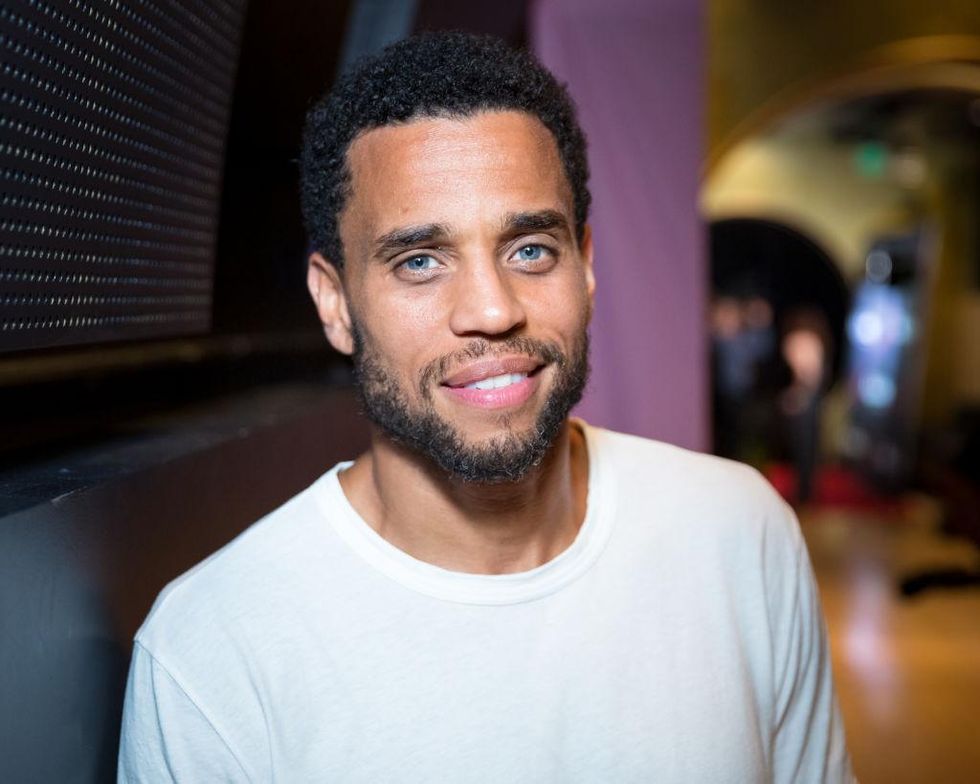 Greg Doherty/Getty Images for HollyShorts Film Festival
Remember the scene in Think Like a Man where Michael Ealy's character (Dominic) licked Lauren's (played by Taraji P. Henson) leg? I think that may have birthed this crush. That, and the eyes.
4

.

Method Man, 50 (Married)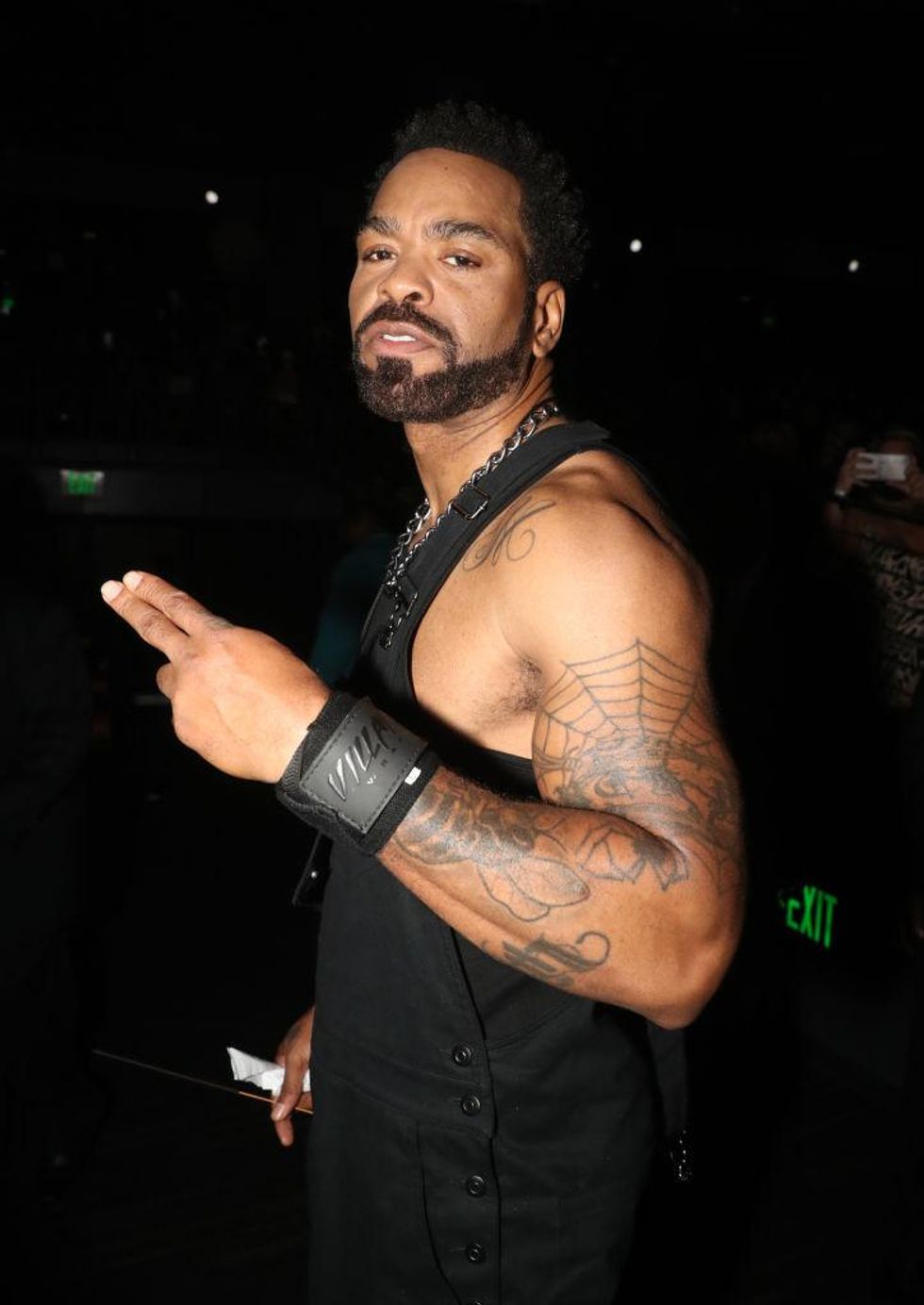 Johnny Nunez/Getty Images for BET
Have you ever noticed that every time a woman interviews Method Man, she seems to be smiling? I don't think that's a coincidence, his personality, and charming features just draw us in!
5

.

Morris Chestnut, 52 (Married)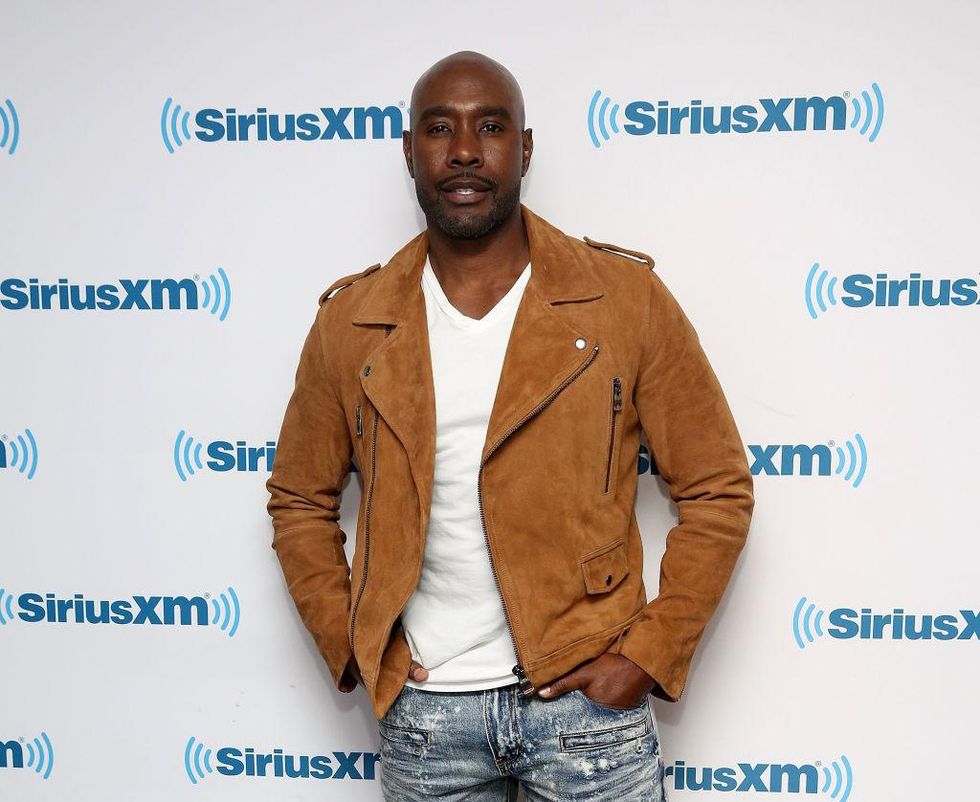 Robin Marchant/Getty Images
Best Man, Boyz in the Hood, Like Mike – and so many more of our classics had Morris Chestnut starring in it. Looking back, I was kinda young to love a couple of these films as much as I did. But, now I appreciate their excellence and Morris Chestnut even more.
6

.

Boris Kodjoe, 48 (Married)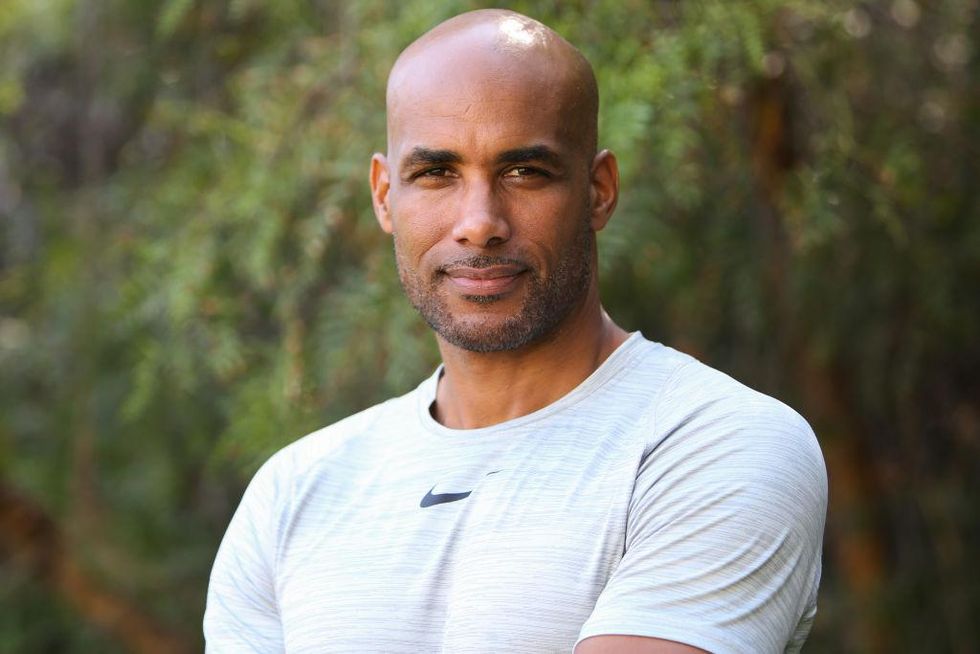 Paul Archuleta/Getty Images
Whew, Boris Kodjoe never disappoints. And the example he and his wife set for married couples, such as Brian J. White and others, is truly beautiful.
7

.

Taye Diggs, 50 (Divorced)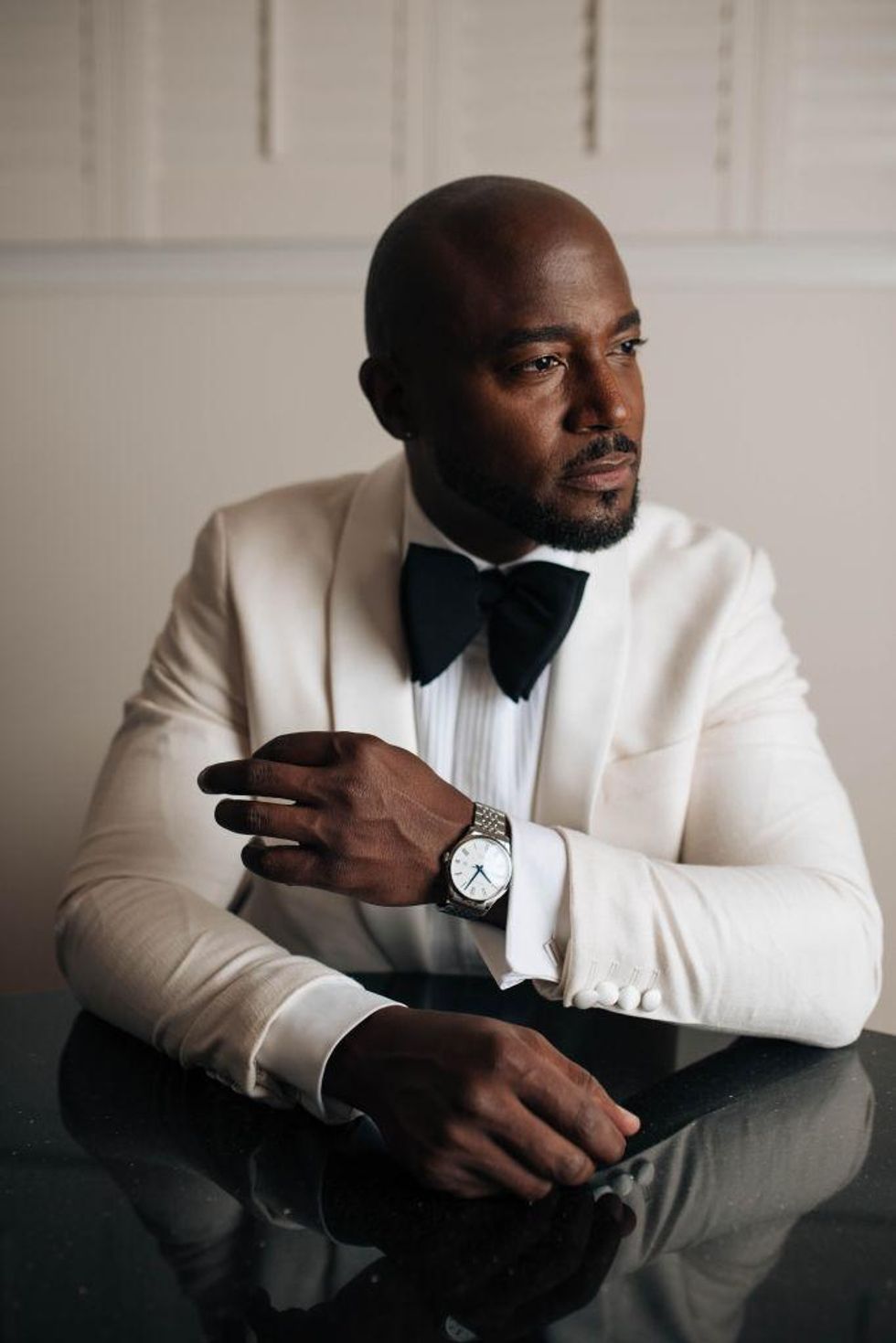 Jillian Clark via Getty Images
Brown Sugar is one of my favorite movies of all time but Taye has been in a host of other classics as well. He's been a consistent face we've seen through the years and I never get sick of seeing him. Also, if you want to check him out in something more current, check out All American on Netflix, but be prepared to binge!
8

.

Omari Hardwick, 47 (Married)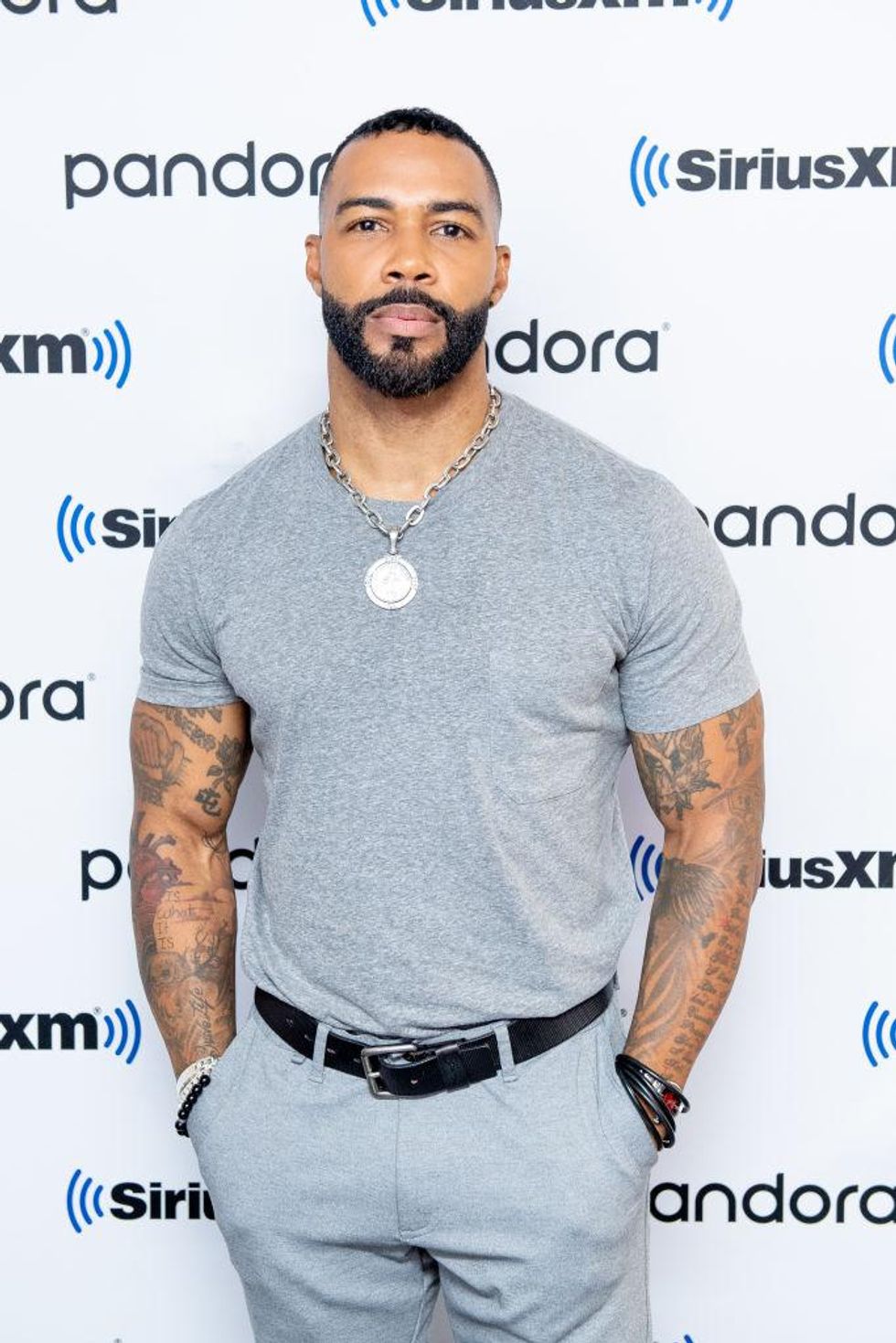 Roy Rochlin/Getty Images
Omari Hardwick. What can we say about that man that melted us all between his roles as the unhappily married man whose heart was elsewhere in Power and Being Mary Jane? It was something we forgave him for though (at times) with one look into those soulful brown eyes and at those six-pack abs. The actor/poet definitely had to make our list.
9

.

Rick Fox, 52 (Divorced)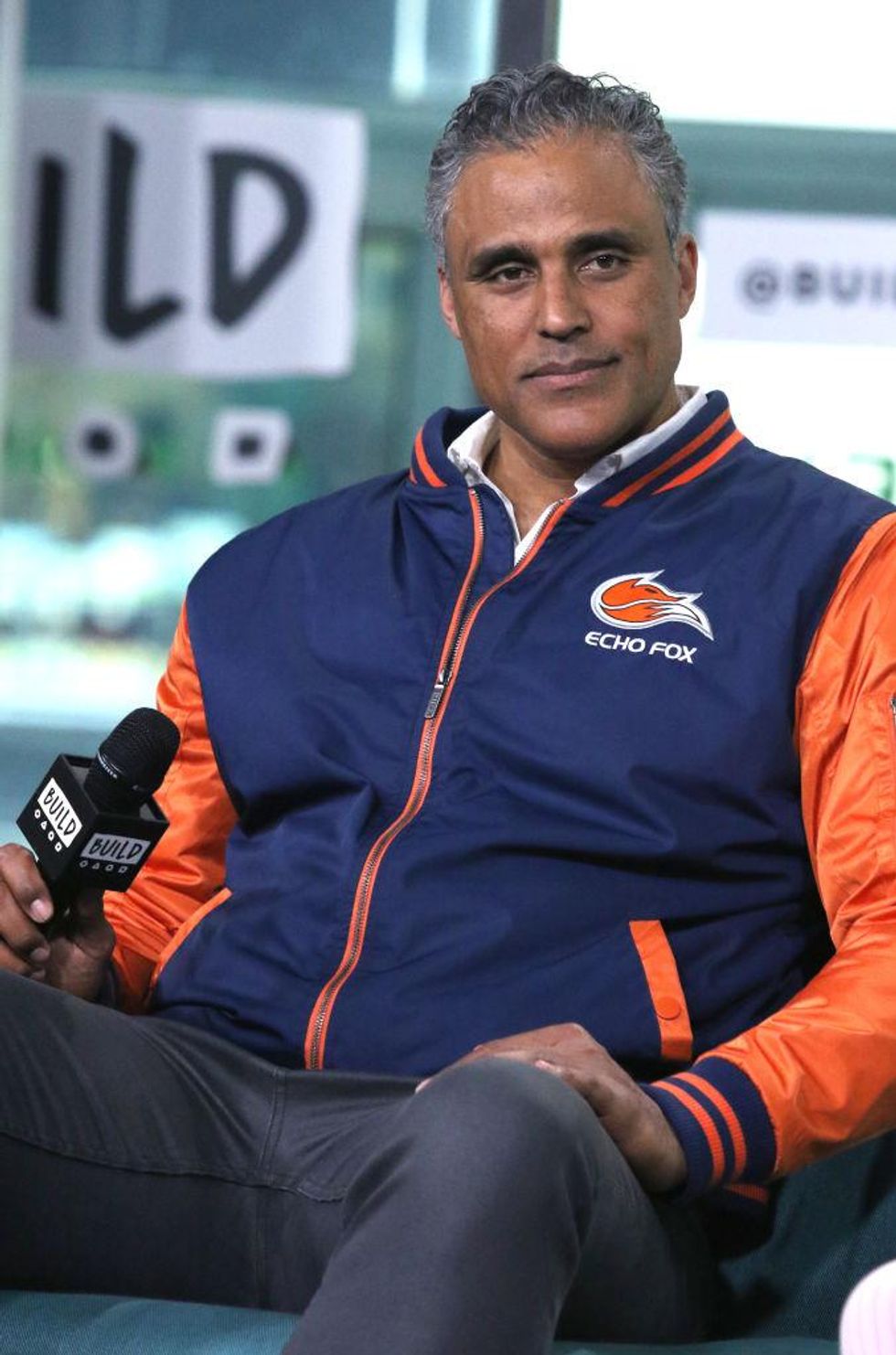 Jim Spellman/Getty Images
His life is proof that some people can be a jack of all trades. I mean Rick Fox has conquered basketball, acting, business and so much more. The fact that he has the looks too almost seems unfair.
10

.

Larenz Tate, 46 (Married)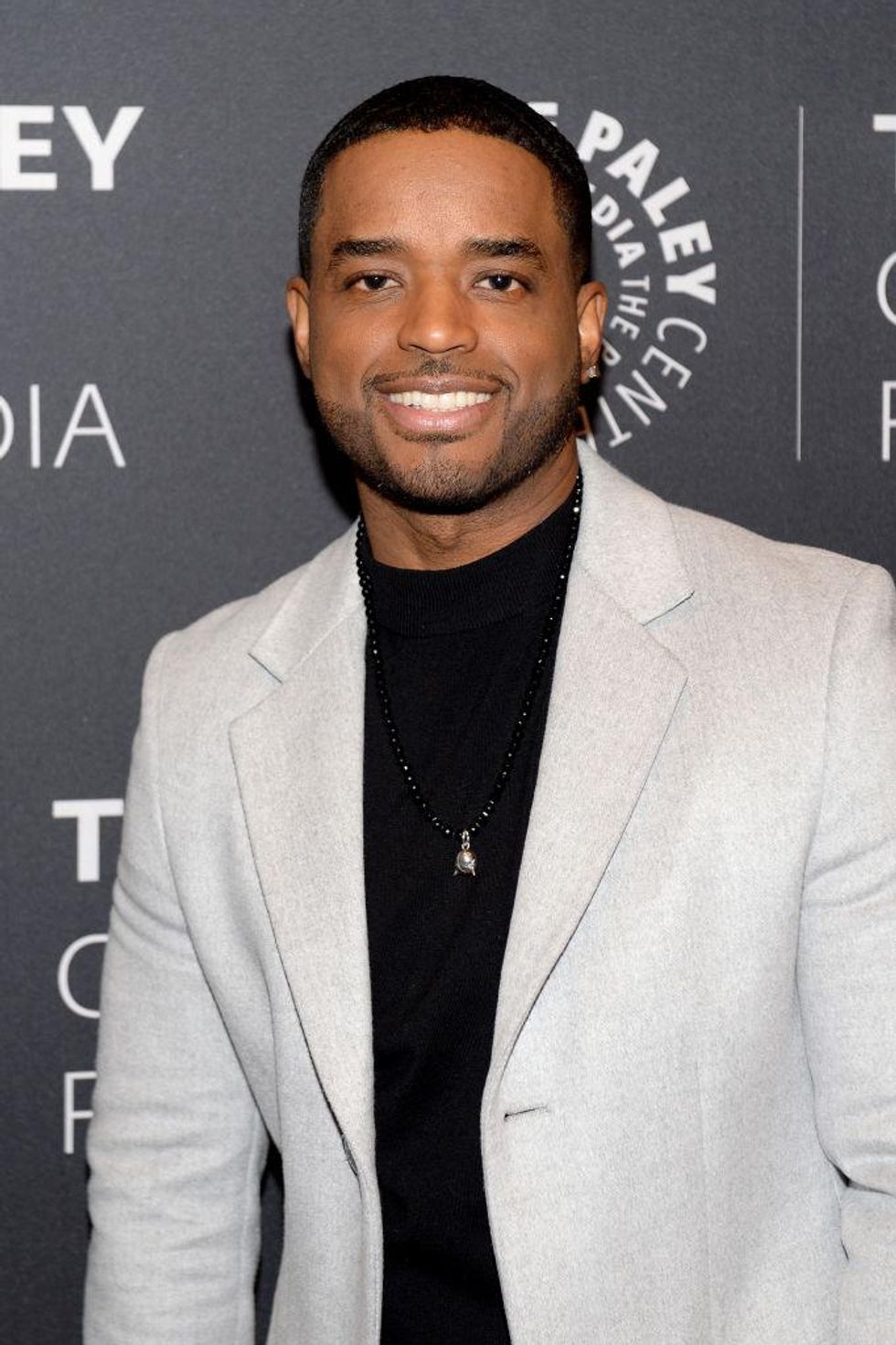 Brad Barket/Getty Images for STARZ
I had to think long and hard about adding Mr. Larenz Tate to the list. Not because of his looks obviously, but because this is supposed to be an ode to aging, and he literally still looks the same way he did when he was "the blues in our left thigh, trying to be the funk in our right."
Whatever skincare routine or diet he's on, I gotta try it! By the way, if you didn't get that quote, do yourself a favor and watch Love Jones, like today.
Featured image by Jillian Clark via Getty Images
Keep reading...
Show less
It's been a little over two weeks since Chloe Bailey, aka Chlöe, snatched our wigs and released her debut solo single, "Have Mercy." From the music and visuals, to the way she and her sister Halle support each other, we can't get enough. And this week, our good sis taught us a couple more things when she appeared on Vogue's Beauty Secrets . There, she gave us all the details to what she calls "Glowy Chlöe," her on-the-go everyday skincare and makeup look.
In the video, she detailed her routine, products, and beauty secrets. Now, we know that sometimes watching makeup tutorials can be kind of overwhelming, so we've recapped it all so you can give it a try.
Let's start with skincare.
Although her face was already clean she used Neutrogena's Skin Balancing Micellar Cleansing Cloths to remove any unseen residue.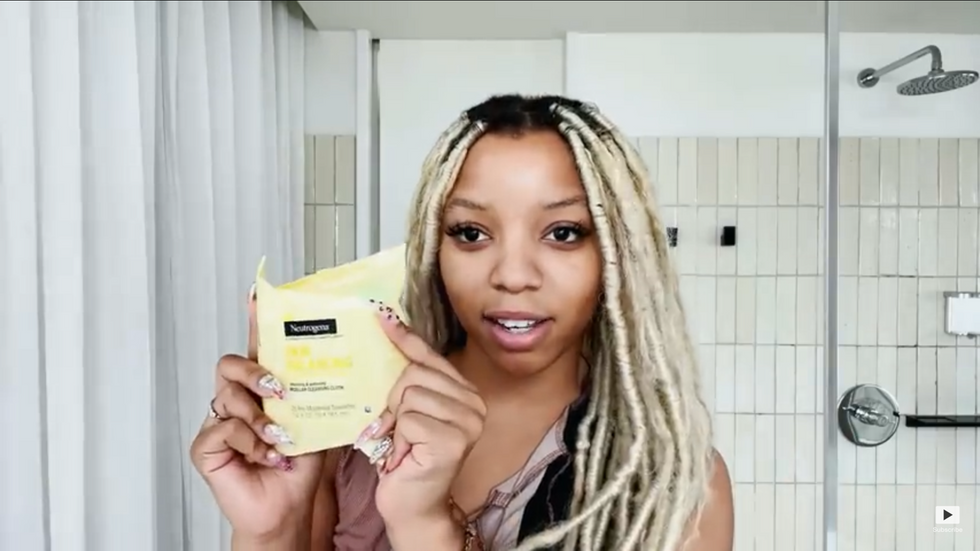 YouTube/Vogue
Then, she massaged her face with a roller and Neutrogena Hydro Boost Hydrating Serum to help her "baby cheeks" transform into the "snatched" look she desires. She gives Vogue an insider tip, saying:
"You always wanna go up [regarding the direction of the face roller]. Because we don't want sagging skin ladies."
Also, when she has a bit of extra time or she is getting glammed up, Chlöe takes a few moments to hold ice cubes under her eyes. This can help reduce puffiness and swelling. With a smile, she says:
"It's like a little subtle difference but I notice it and I feel so much better and confident."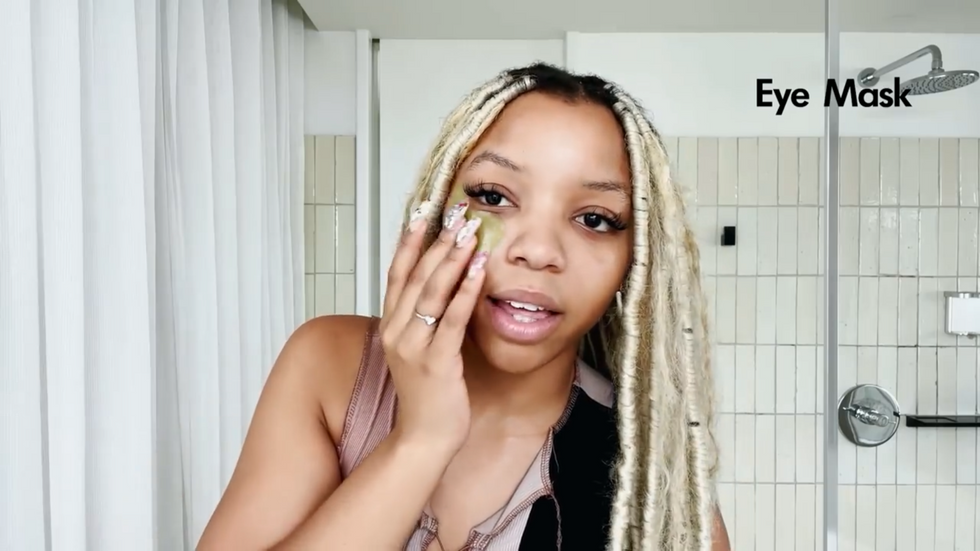 YouTube/Vogue
Finally, she applies sunscreen and rosewater spray by Mario Badescu. And just like that, the skin is glowing and moisturized. She tells Vogue,
"I really love not overcomplicating my skincare routine because I have very sensitive skin. If I do too much I break out, if I'm stressed, I break out. So, I like to keep it to a minimum."
Same sis, same.
"I think it's really important to have time for yourself, where you take care of yourself and your skin and your body. And as I'm 23 right now I'm learning that it is OK to not work so much and take that time into me."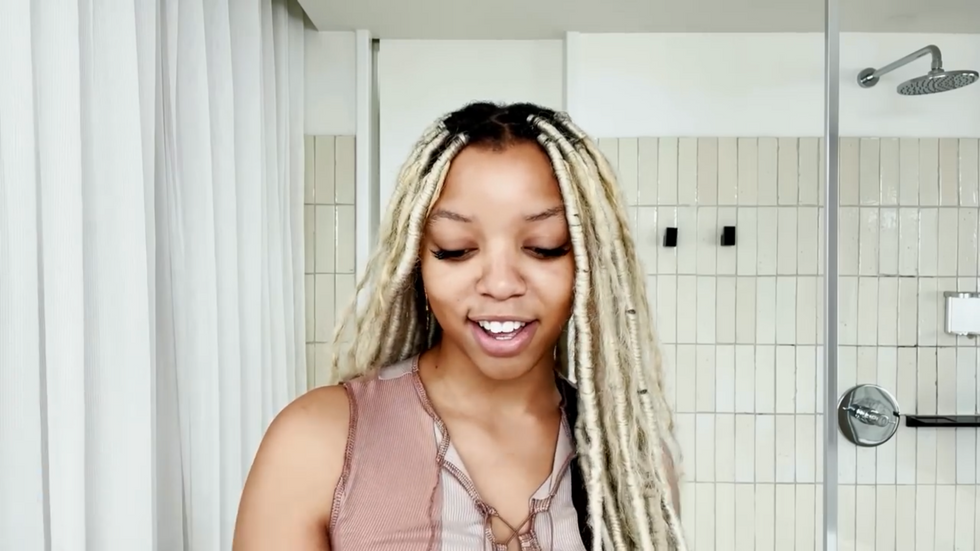 YouTube/Vogue
​Now, onto makeup.
She starts the next part of her routine with a really important element, brows. With an Anastasia Beverly Hills pencil and a Benefit pencil, she lightly fills them in, using concealer and brow gel to perfect the shape.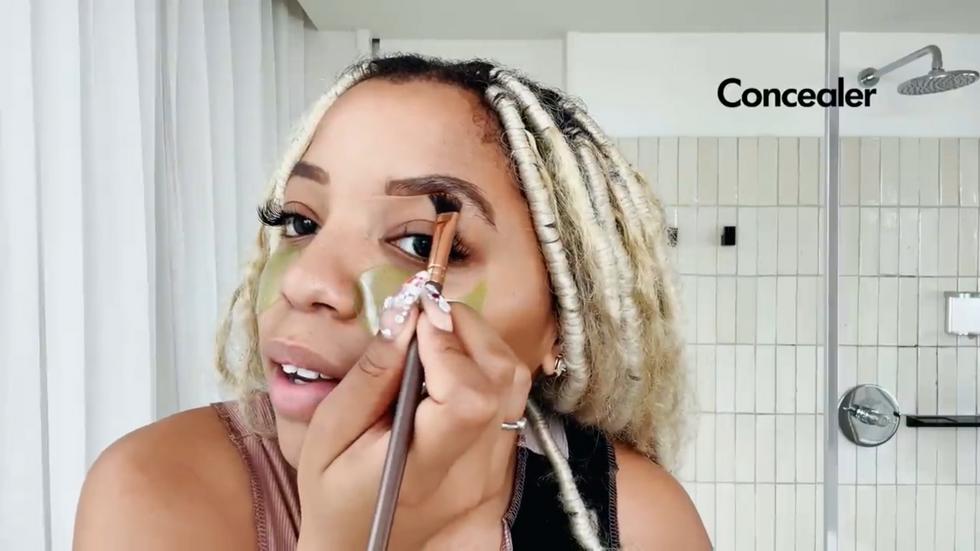 YouTube/Vogue
Staying in the same area, she lines her eyes with a brown (to stand out more) eye pencil by Pat McGrath, before covering her face in Fenty Skin Tint, a product she seems to prefer over foundation.
Next, the "Have Mercy" singer gets real friendly with the concealer. She uses it under her eyes, above her lip, and the bridge of her nose with the help of her Beauty Blender and a spritz of rosewater to blend it out.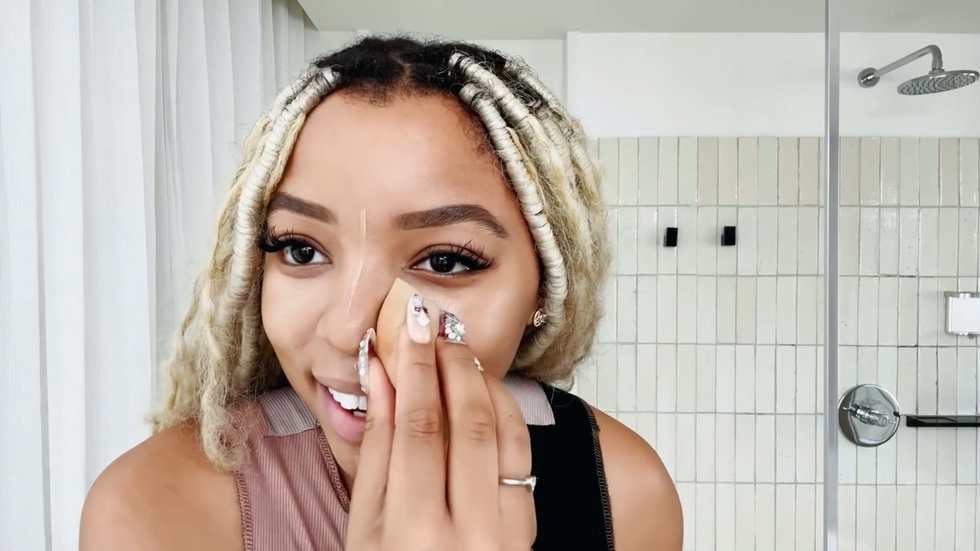 YouTube/Vogue
Later, she moves to the contour, which is still Fenty, by the way!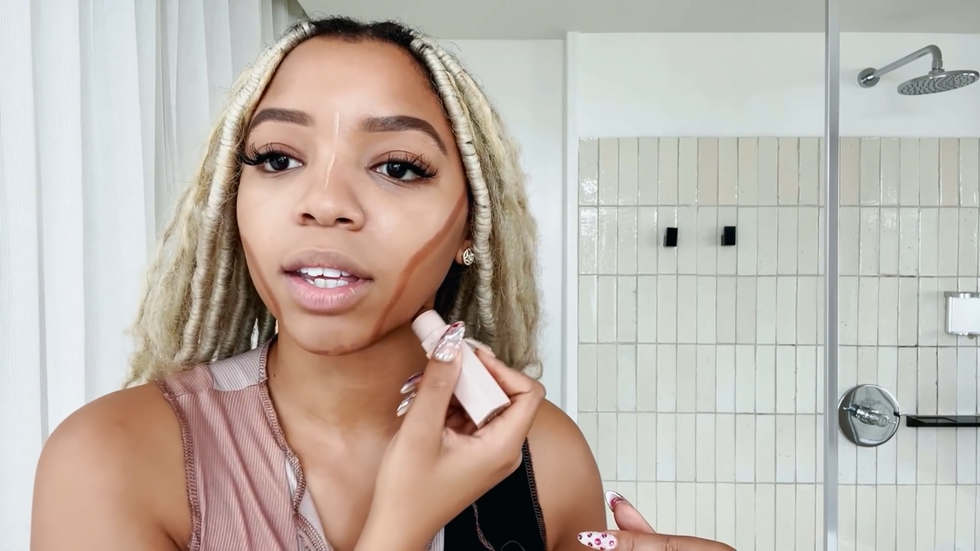 YouTube/Vogue
And Chlöe sets it with a powder bronzer before moving on to blush, highlighter, and lips. She says:
"I love to use the same blush and bronzer on my eyes and cheeks, especially when I travel and I don't have space to pack too much makeup."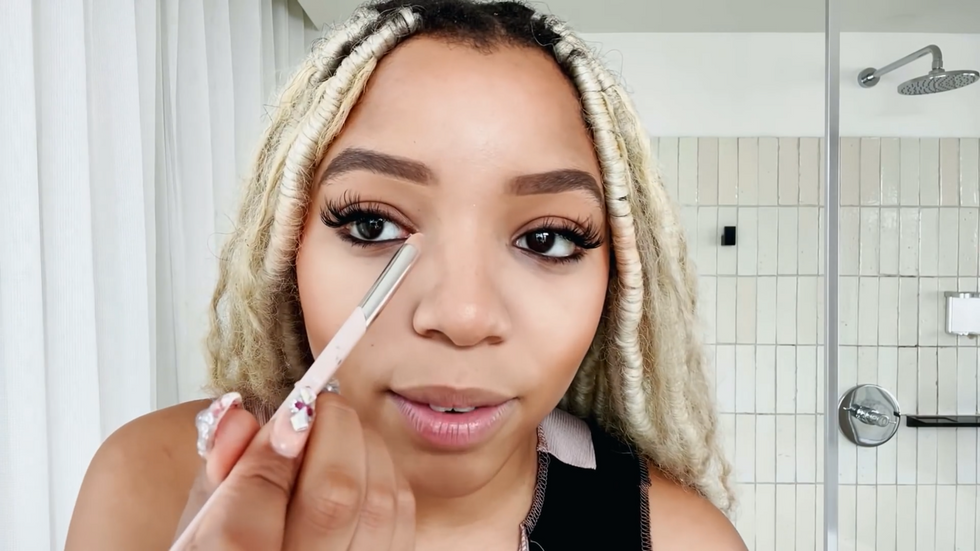 YouTube/Vogue
Finally, we move on to the part I was most interested in, because her lip gloss is always poppin', and apparently that's on purpose. She says:
"My favorite part is the lips, gotta have a nice juicy kissable lip. I'm learning to do a matte lip instead of a gloss because I like to kiss the mic a lot when I sing."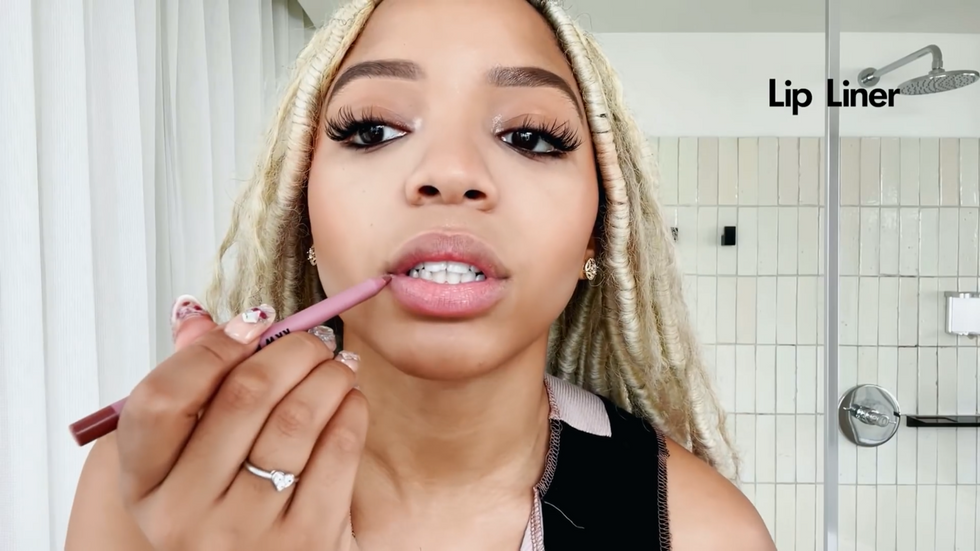 YouTube/Vogue
To get the ideal lip, she uses a lip scrub, cherry lip balm by Dior, a KKW lip pencil, and Fenty lip gloss. She finishes the look by blending it with translucent powder and more sunscreen of course.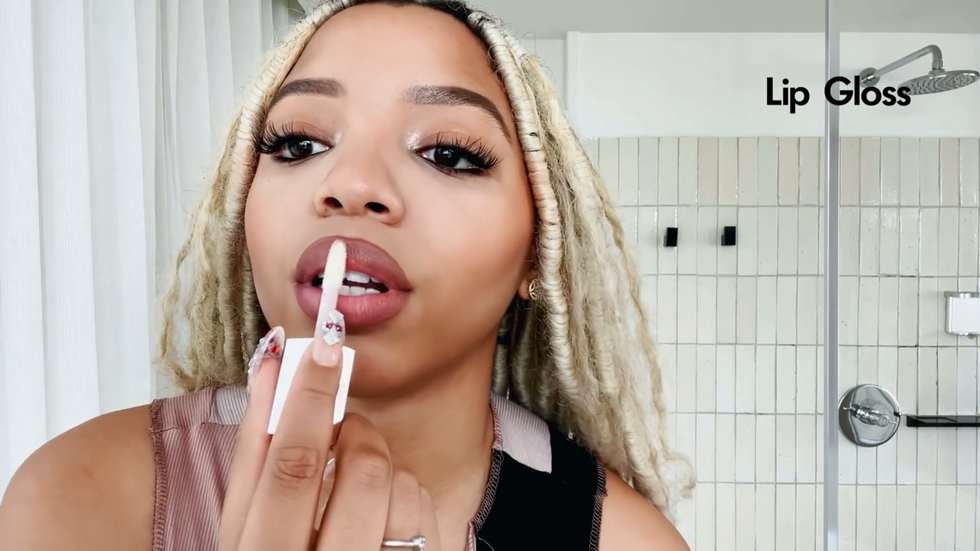 YouTube/Vogue
Almost done, but we can't finish until we wrap our hair.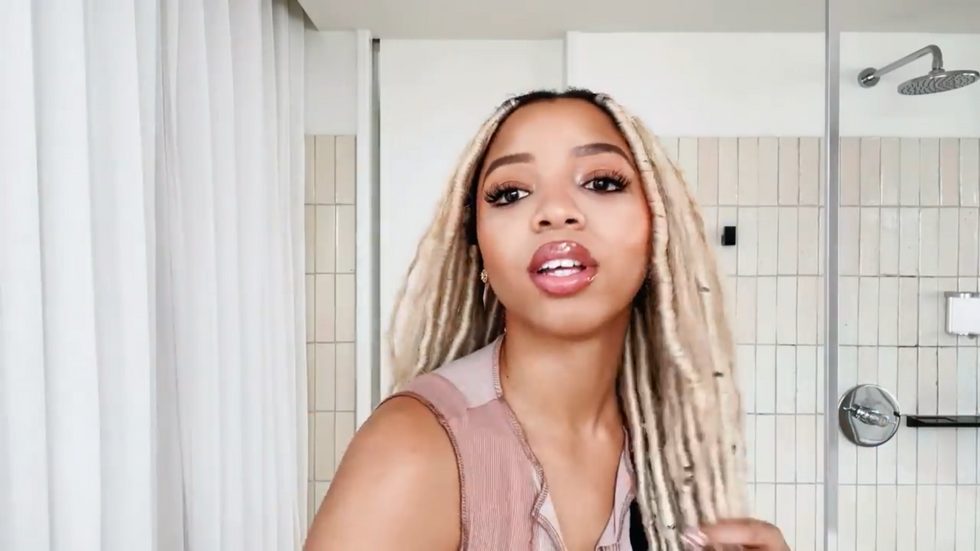 YouTube/Vogue
Now, you might have thought that was the last step, but as we know Chlöe is the full package. And that means she takes care of everything, and that includes her hair. Before finishing her routine, she adds the final touches to her hair by using Pattern Argan Oil.
"It's pretty simple and easy and I think that's why I really love having locs. It [the color] feels like my alter ego in a way and I feel like it brings out my skin."



After watching this video, there were definitely a few products I wanted to buy and techniques I wanted to try! To watch the full video and do the same, check it out here.
Chlöe's Beauty Guide, From Sculpting Skin Care to Full Eyebrows | Beauty Secrets | Vogue
Featured image by YouTube/Vogue
Keep reading...
Show less
Being an influencer started as a career that many didn't understand and some didn't respect. There were all kinds of questions and assumptions surrounding the industry like, "Don't they just take pictures?'' Or, "Can you really earn money from doing that?" But, oh how times have changed! Because babyyy, some of these influencers are bringing in dough! One of my personal favorites is JaLisa Vaughn-Jefferson, a Dallas-based lifestyle influencer and content creator who has taken the social media world by storm.
I came across her page randomly one day and was immediately drawn to her posts. Between the fashion, authentic voice, and her beautiful family, it's pretty easy to want to follow along. Something that stands out about JaLisa is that what you see is what you get. For example, when she was heavily promoting home decor, she was buying a house. And now as a new mom, she's working with a lot of baby brands. So whether the content is branded or not, it feels relatable, and always looks top-tier.
However, this wasn't always her plan. After graduating from college, JaLisa worked in IT for three years and influencing was simply a side hustle that she enjoyed. But the more she shared, the more her audience grew. She told AfroTech:
"After work hours, I would drive to the city, do my shoots, write blog posts and all that stuff. It got to a point where I was making more from those after-hours than I was at my corporate job."
Still, when she decided to leave the position many of her friends and family thought she had made a huge mistake. In fact, she only made $50 on her first branded post.
"When I put a real strategy [behind myself] and started providing value to my audience, that's when things started to monopolize and I set myself up as a brand. I think a lot of people think if you have a lot of followers, then brands will just start reaching out. But you need to be the full package and market yourself [to make real money]."
The energy is a bit different now! So much so that last year Jalisa tweeted, "A mill in brand deals next year. Mark my words and remember this tweet." Well, cue, Lil Wayne's "A Milli" because, earlier this week it became a reality. JaLisa announced via Instagram that she is now a part of the seven-figure club saying:
"Mood when you wake up and realize you hit your $1M brand goal and still have Q4 to go. God I thank YOU."
As she shared in her interview with AfroTech, JaLisa has been able to make the bulk of her income through brand deals, with the remaining 10-15 percent coming from a combination of YouTube and affiliate links. In addition to her consistency and hard work, JaLisa also attributes a great deal of success to her team. Whereas sometimes creatives naturally try to perfect every element of the process, she decided to do things differently, find people who were good in the respective areas, and work as a unit.
Thanks to faith, consistency, and a bomb team, a dream became a million-dollar reality!
Read more about how JaLisa secures the bag on AfroTech here.
Featured image via JaLisa Vaughn-Jefferson/Instagram
Keep reading...
Show less
Talented singer and songwriter Kehlani recently appeared on The Breakfast Club where she discussed spiritual healing, new music, and more. But, the highlight of the conversation was definitely her updates on Mom life. She looked to be in a genuinely happy place, and it seems like her daughter is a large part of the reason for that. Which makes perfect sense, considering real fans know she has always been about the Mom life.
Three years ago Kehlani surprised everyone when she announced her pregnancy in a viral Instagram post. The since-deleted caption read:
"If you know me, you know I've dreamt about motherhood since I was very young. When asked what my goals are, it's always the idea of a big healthy happy family and whatever comes along is a plus."
Kehlani's relationship with her own family is complicated. When she was born, both of her parents were addicted to drugs. And by the time she turned one, her father had been murdered and her mother was incarcerated. Fortunately, she was later adopted by her aunt. And although this was a major blessing, life was still far from easy. However, I'd like to think that all of these things may have contributed to her desire for a happy and healthy co-parenting reality.
In 2018, Kehlani revealed her then relationship with co-parent guitarist, Javaughn Young-White via Nicki Minaj's Queen Radio show. In the interview, she shared many personal details such as the fact that the pregnancy was planned, that the couple started as friends, and that they were both bisexual. She said:
"We just really appreciate each other as human beings, and it's been really awesome to be understood."
The conversation sparked a great deal of dialogue surrounding sexuality and parenting.
Fast forward to today and they are still on the same page! Although they are no longer an item, they still have the same goal, creating the best life for their child, daughter Adeya Nomi. She tells The Breakfast Club:
"Her dad's awesome and he's super fluid when it comes to my career. So he's like, 'You want me to come with her and just we all hang out? And we'll go back and forth?' We just have a great system and we're a great co-parenting team. We'll take it as it comes."
And when Charlamagne questioned the rarity of such a positive co-parenting situation versus baby-mama drama, her response was a whole gem.
"I mean, I can't exactly apply it necessarily to my situation but I think people have a bad habit of viewing each other as 'exes' instead of viewing each other as 'co-parents.' And then they like, they apply 'ex drama' and 'ex attention' and 'ex...chaos' when really at the moment you guys become parents, you guys need to view each other as literally whoever this baby's parents [are]. That's it. All that 'ex' thing needs to go out the window."
By taking away "the dreaded ex" component, it's just all about family, and for Kehlani that removes a lot of the potential nonsense.
"You're 'Team Baby' and if you guys aren't functioning as the proper team, then the only one that really comes down on hard -- super hard -- is the baby."
You can check out Kehlani's latest single, Alter, here.
Kehlani Talks Spiritual Healing, Co-Parenting, New Music + More
Featured image by Gotham/WireImage via Getty Images
Keep reading...
Show less