Kirby Carroll
Kirby Carroll grew up in VA but now calls Atlanta, GA home. She has a passion for creating content and helping brands grow through storytelling and public relations. When not immersed in work, you can find her sipping a mimosa at brunch or bingeing a new TV drama on Netflix. Keep up with her on social media at @askKirbyCarroll.
Whether it was your group chat, social media feed, or your favorite media outlet covering the spectacle, I'm pretty sure you've come across the viral Black wedding between actress KJ Smith (Sistas, Raising Kanan) and actor Skyh Black (All the Queen's Men, Sistas). From their grand entrance to Jay-Z, Kayne West, and Beyoncé's song "Lift Off" to KJ's standout dance routine and the endless celebrity appearances, it's an addictive TikTok scroll you can't help but delve into.
But what many people would be surprised to know is that the couple's original wedding plan was nothing like what it grew to be. What started as her simply scrolling through posts to get ideas eventually transformed into what the internet knows now as #TheBlackExperience. In an exclusive conversation with xoNecole, KJ walked us through her planning process, the morning of her wedding, and what she thinks of the online response.
Some women have their whole wedding planned out, from the bridal gown and venue to the bridal party and playlist. However, KJ was not one of those people. "I didn't foresee a wedding in my future," she reveals. "I was just gonna be the boss chick, rich auntie. I didn't force love in my life until recently. I never had an idea of what a dream wedding would look like, it was easier for me to elope."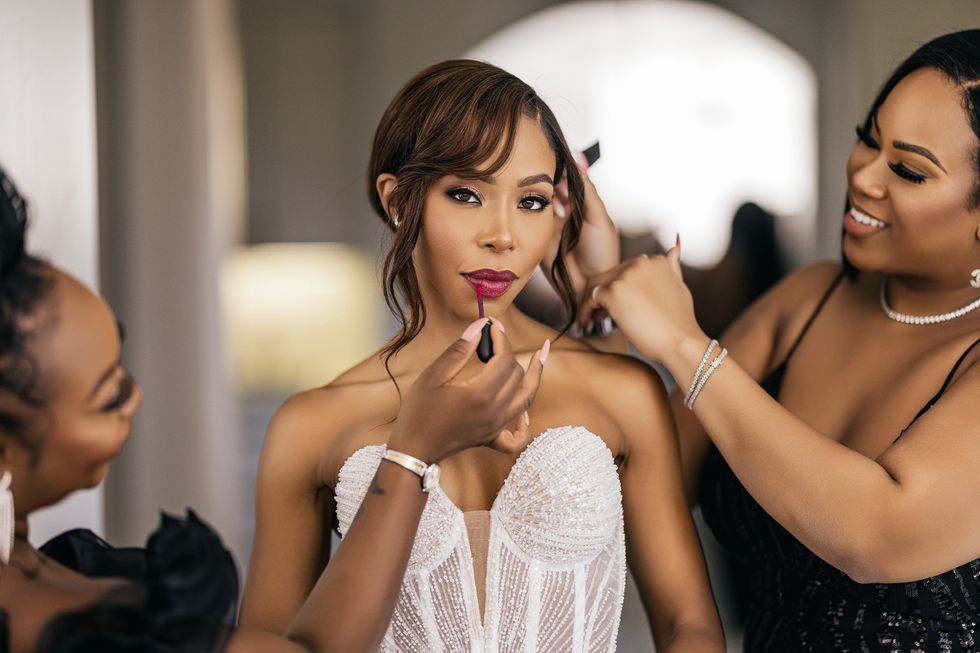 KJ Smith
Photo by Stanley Babb/ Stanlo Photography
And to many people's surprise, that was their original plan – until Skyh brought up a valid concern. He was raised by his grandmother and thought she should be at the wedding, and naturally, that led to KJ wanting her grandmother to be there as well – then her mom – and later her sister – and, you've gotta invite the besties too, right? From there, the guest list continued to blossom. Much like the updo and pop of color bold red lip, she wore on her special day, which was initially on her Pinterest board as a soft glam look with her hair hanging on her shoulders, KJ is okay with changing her plan if it brings her and her loved ones happiness.
So let's get into the wedding, which took place in Malibu, CA. The first thing you should know about the celebrity couple is that they're non-traditional. They know, and they don't care. So, in true unconventional fashion, they shared the morning of the wedding together.
"I woke up with Skyh, we walked our dog, had black coffee, and said good morning to the people who stayed at the venue with us," she says.
Now, it was time for hair and makeup. While she was getting glammed up, she had Black-owned McBride Sisters wine and champagne (which ties into The Black Experience theme) on deck with her mom and friends, had her besties help rework her vows, retried on every outfit (sis is very Type-A), took photos, and ended the early-celebration with prayer and meditation. It seems very non-Bridezilla, I said.
"Yeah, I was the most unbothered bride ever. Everyone was just so supportive. As entertainers, we go on red carpets all the time. We actually have a production company," she explains. "The get-ready process was like a day at work, but with people we love the most. Being entertainers, we didn't feel stressed at all, but my excitement was so high."
Things moved quickly, and before she knew it, it was time to line up to walk down the aisle.
"Yeah, I was the most unbothered bride ever. Everyone was just so supportive. As entertainers, we go on red carpets all the time. We actually have a production company. The get-ready process was like a day at work, but with people we love the most. Being entertainers, we didn't feel stressed at all, but my excitement was so high."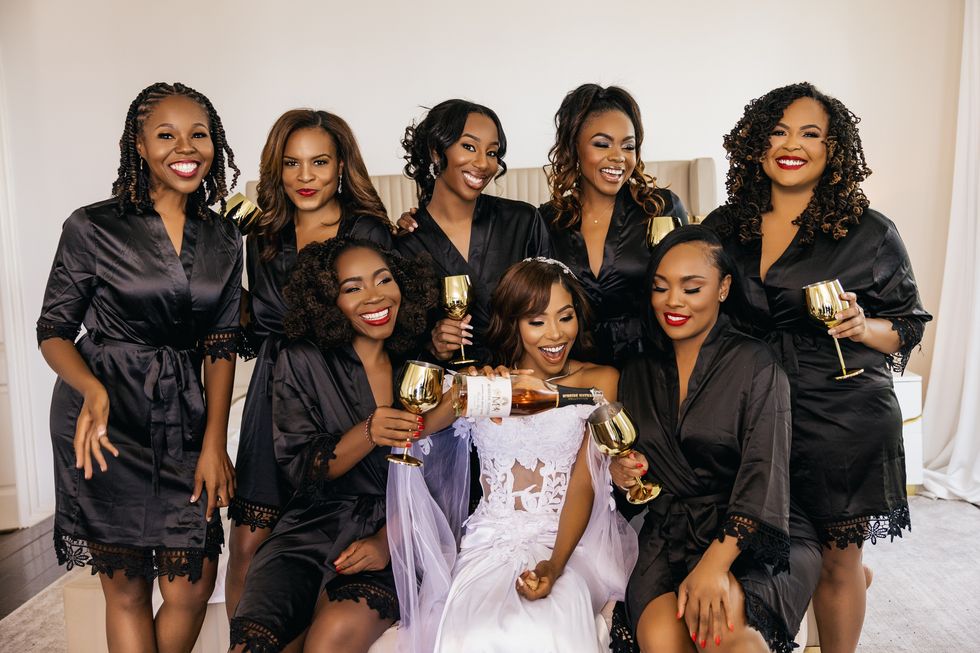 KJ Smith and her bridal party
Photo by Stanley Babb/ Stanlo Photography
Since everything started with their grandmothers, the couple wanted to ensure they honored them and planned to keep an element of their wedding traditional. Although we've all seen the reception videos and photos online, you may have noticed visuals from the wedding itself are harder to find.
"We planned for it to be traditional, but we're not like that, so we tried to create those moments. We jumped the broom and had a salt ceremony (where the bride and groom individually pour salt into a glass container, symbolizing their lives becoming one.) But honestly, still, nothing was traditional about it."
She goes on to explain that her mom caught the holy ghost coming down the aisle, her glam team was on deck, and she became so nervous with excitement that she had an anxiety attack – something she struggled with for years, she explains tearfully. Her friends had to literally cheer her down the aisle because of how overwhelmed she felt until she eventually calmed down.
"Skyh was standing there with his hand on his heart; we have our own little language, and I could feel the support," she shares.
It was surprising to hear all these emotional moments happened before the party we saw online. That is until she once again got into the backstory.
"As a Black woman actress, for so long, it was popular to be mysterious and secretive, but that's not who I am or what I like. Plus, we both wanted to create an experience for everyone there. We are the people who always host family and friends," she says. "Like for me, the first order of business was getting sandals for the women so they can dance all night long. We had oxtail, D'ussé, and a coffee and sativa lounge – which is part of Skyh and I's lifestyle and routine. We wanted to bring them into our world."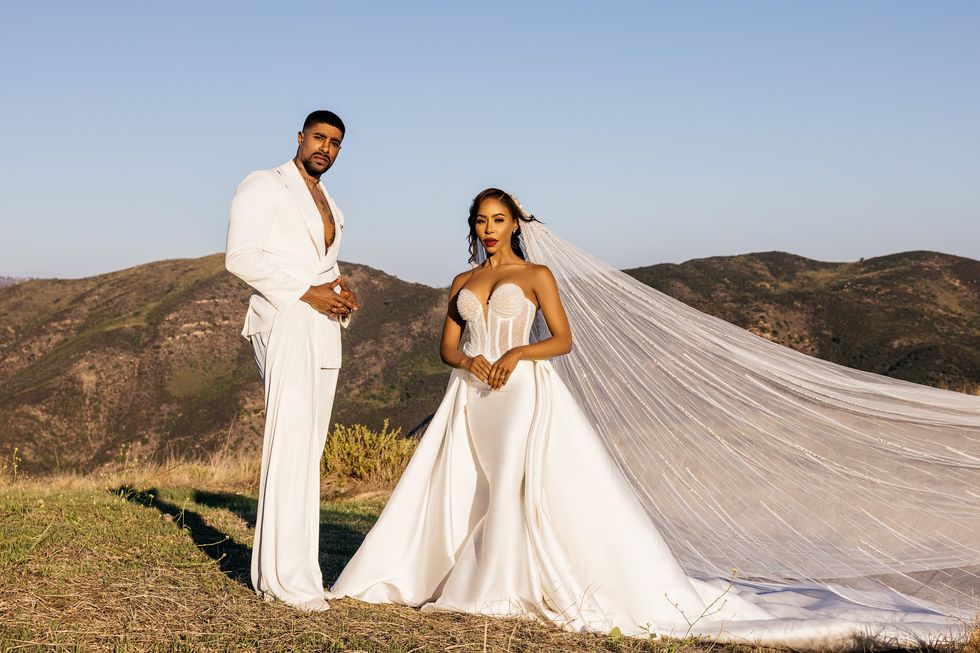 Skyh Black (L) and KJ Smith (R)
Photo by Stanley Babb/ Stanlo Photography
She went on to discuss the dance routine she did for her husband at the reception, which has taken over the internet. Apparently, that's another thing that didn't go according to plan. According to KJ, she had promised a performance at their joint bachelor/ bachelorette party, but her outfit got stolen from her car. So, Skyh ended up performing for her – complete with a strip tease. Still, she never forgot her promise to dance for him.
So, she hired her friend as a choreographer, learned the routine, made friends and family watch it endless times, and attended Beyoncé's Renaissance show a few days before for a confidence boost. It ended up being a show to remember. But that wasn't all the night offered. Lil Mo performed, and the guests received special goody bags featuring their favorite Black-owned products like journals, hair care, and more.
"We made sure everyone was taken care of all night. That kind of stuff makes us happy. I wanted everyone there to experience the joy and love I have for myself, my partner, and for them. I wanted them to feel full and whole, and they had the time of their lives," she says.
But naturally, the internet is going to internet, and while there were countless people praising the event and applauding the newlyweds, some thought it was too over the top. I was curious to know her thoughts on some of the criticism.
"It's cool. We did what we wanted to do. I've decided to share my world with people. Just how I went on social media platforms and found inspiration, I want people to do the same," she explains. "I don't think it's fair to my supporters not to give that out. There's so much I wanna share with brides, specifically Black brides. I love that people are adding it to their Pinterest boards."
"I wanted everyone there to experience the joy and love I have for myself, my partner, and for them. I wanted them to feel full and whole, and they had the time of their lives."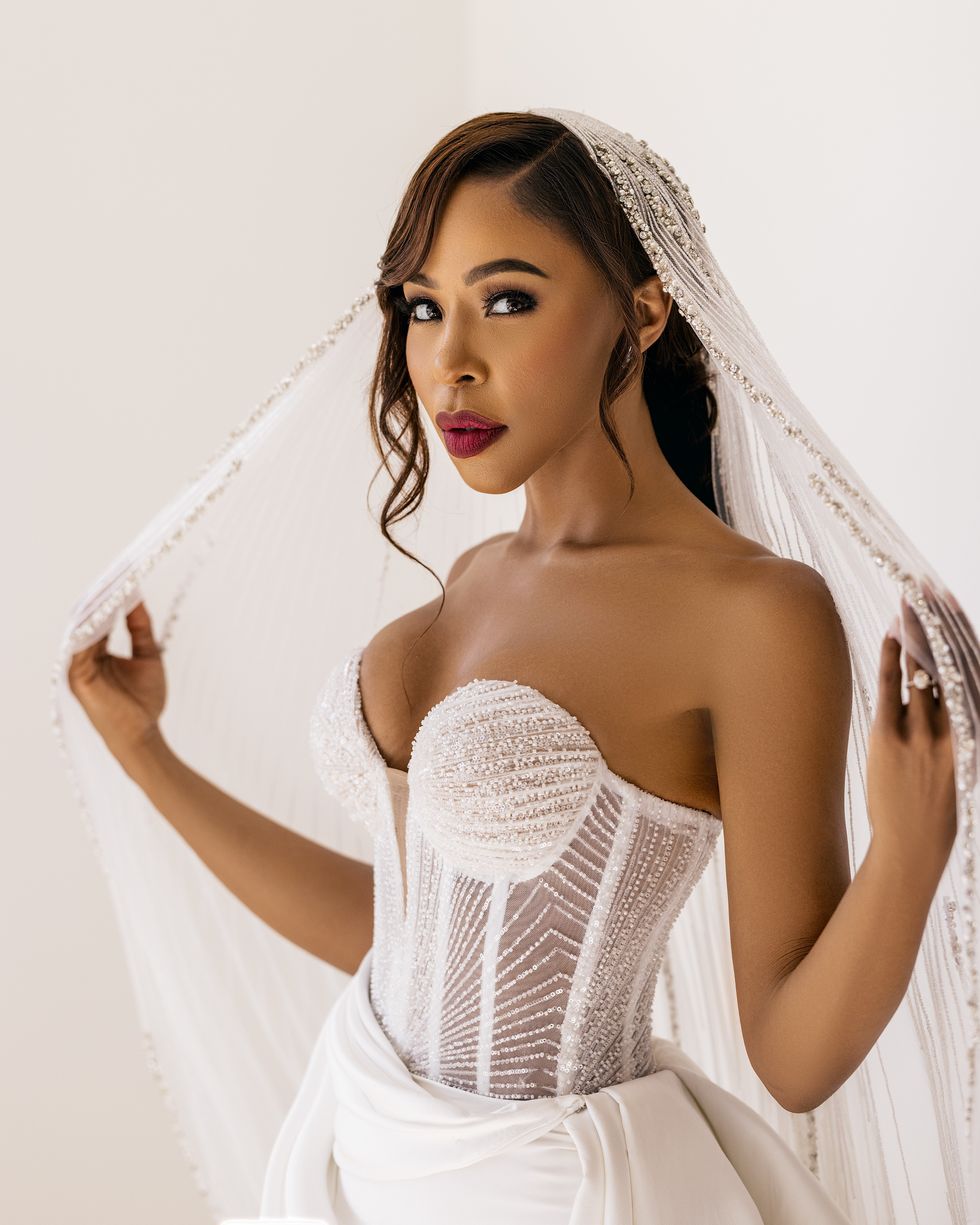 KJ Smith
Photo by Stanley Babb/ Stanlo Photography
"I'm happy with it because we did what we wanted to do. They can do what they wanna do. Don't be cruel, though, because you will get blocked," she said, laughing.
The more I spoke with her, the more her sense of freedom shined through. People are always going to have their opinions, but at the end of the day, it's you who has to live your life, and it seems like the couple realizes that and embraces that power. She also stressed the importance of not living for others and the lessons life has taught her.
"I've been to countless weddings, and I've been in countless weddings. I'm a generally older bride. So when women in my demographic get married, and you and your husband are busy working people like us, you deserve to have the one you want to have," she shares.
"This is what we wanted to do. Our loved ones love and support us. We did so much to honor them, but we also wanted to start our own tradition, legacy, and creation. I'm not going to be pulled back into ideas of the past when I'm trying to create a future with my partner. "
If you'd like to see more of the couple, you probably won't have to wait long. Although no content is planned yet, she admits to being an oversharer. "Me being open and transparent about my experiences lets people know it's okay to have flaws; it makes you human, and for many years, I didn't believe that was okay. I had pressure to be perfect, and I'd crumble every time," she explains to xoNecole.
Now, she owns her flaws and uses them as a superpower to connect with her community and feel and express her love.
"Some people give us [Skyh and KJ] a hard time because they say we just seem too perfect. I'm like, why is that a bad thing? I love the people I love. From my man to my mama, to my friends - unabashedly. We move through time and space how we want to move. If we did it another way, we'd let ourselves and our union down."
Feature image by Stanley Babb/ Stanlo Photography
Tristan Mack Wilds is one of those rare artists we've watched since childhood and continue to follow today. He was hands-down one of my favorite characters on the beloved fifth season of HBO's The Wire and continues to grace our screen on projects like Peacocks' Praise This and the upcoming season of AppleTV+'s Swagger.
Whether he's giving us the perfect R&B vibe to add to "the playlist" or showing off his acting chops, it's safe to say he has a place in many millennial women's hearts. But it's not just his artistry that makes him xoMan-worthy. Recently, he appeared on The Tamron Hall Show with his family and spoke beautifully about marriage and fatherhood. With a quick listen to the interview and a social media scroll, it's clear to anyone that he loves his queen out loud, and we had to get into it.
Now, I'll be honest. One of the first elements that drew me into their story is that they met on the set of The Wire. As a major fan of the series, the timing appealed to me; he was pretty young when the show aired, so I was curious about their journey to marriage. Wilds responded by telling xoNecole, "I think in any successful relationship, you go through ups and downs. It's just like life or career choices. Before you can consider yourself a solidified success, God is gonna put you through tumultuous downs and super-high beautiful ups so that you can feel the emotions and ride it out until you guys understand each other's flow."
He went on to say that while he was filming 90210, she was in college, and they were in a long-distance relationship. Later, they split up but continued to figure each other out as they went on their separate life journeys. It took time, but eventually, they understood each other and self enough to have a child. Through this journey to marriage, they continued to discover more about life and their faults but always remained present for each other. However, he knew since the day he put his jacket on her shoulders on the set of The Wire that she was the one.
"Before you can consider yourself a solidified success, God is gonna put you through tumultuous downs and super-high beautiful ups so that you can feel the emotions and ride it out until you guys understand each other's flow."
That one is Christina Wilds, an author, mother, and entrepreneur in her own right, and while the two are very busy, they still make time for themselves, romance, and date nights. He just finished Snowfall (which he loved), and the couple has been super tapped intoQueen Charlotte: A Bridgerton Story. When he speaks about their lifestyle and fatherhood, it sounds very healthy and fulfilling. "Being a two-time girl dad has taught me to be a lot softer, not only with women but with people and myself. I'm trying every day to make a more concerted effort to be softer with my team, my wife, my family, and myself," he explains. "Sometimes unbeknownst or intentionally, we can come off [as] abrasive. I don't think abrasiveness solves problems, and I'm a problem-solver. I like to get things done."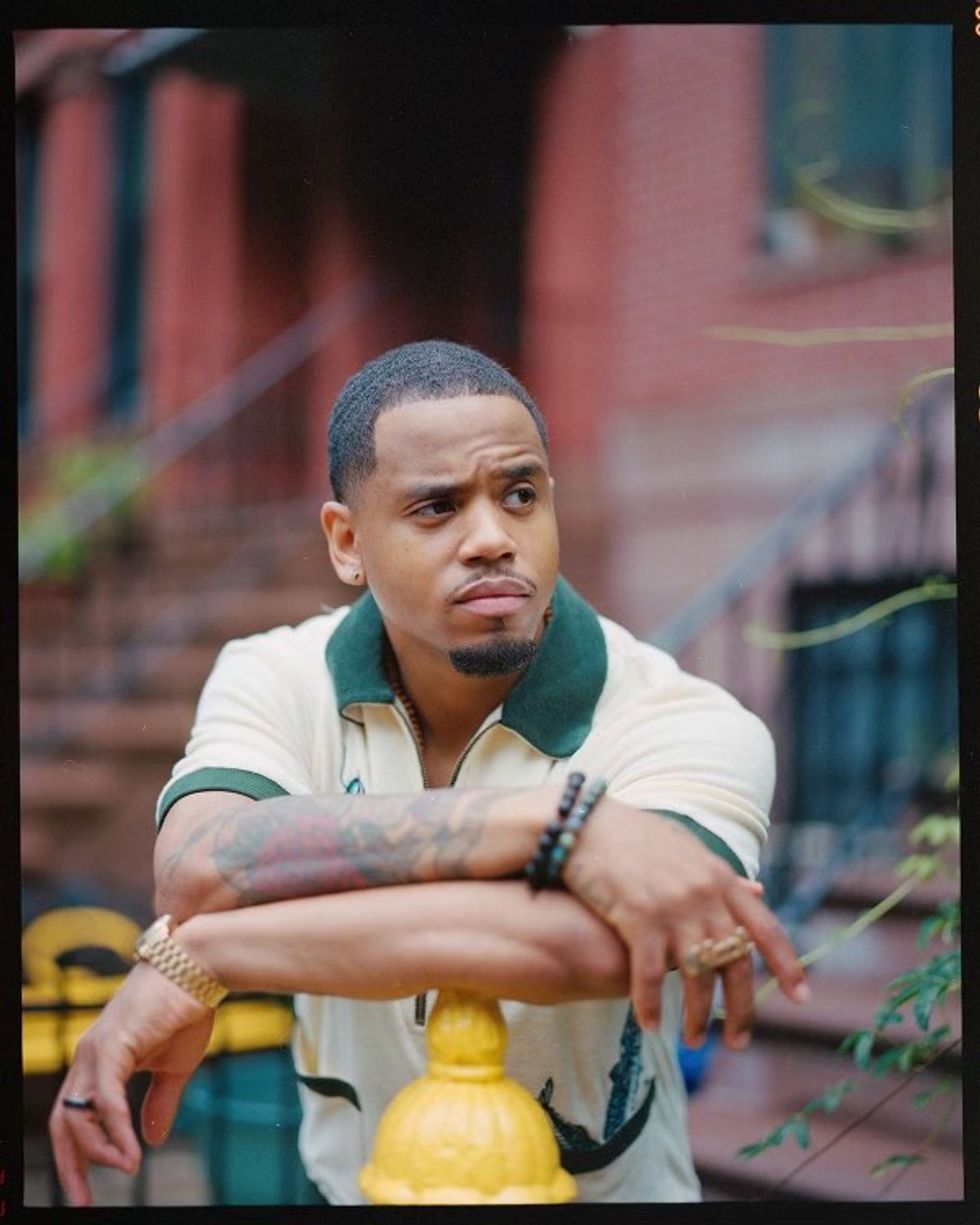 Mack Wilds Photo by Benjamin O'Dea
But the fast-paced entertainment industry has a way of not showcasing marriage and monogamy in the most positive light. There's this narrative out there that men don't want to pursue marriage. So I asked if he could share some advice for the fellas on commitment and settling down. Wilds says, "Well, this is not just for men, it's for women too – especially with the summer coming in. Phones are gonna start going silent, this is the time (laughs). But I think the biggest advice I'd say for knowing when it's time to settle down is to figure out yourself. I think a lot of people settle down too fast or slow, and it's all due to experiences you've had in your prior relationships. First, figure out what you like, love, the things you like to do, and how you like to be touched. Know yourself so when you come in, you're able to give someone an instruction manual." I thought that alone was a gem, but it didn't take him long to drop more.
A piece of advice my father gave me years ago is to: know your friends. There are loved ones you can talk to about what you discovered in therapy, and there are friends you can talk to about the best place to grab a drink, but they're not always the same people – and that's okay. Apparently, this applies to marriage too. I've heard many individuals say that when they get into relationships, they notice they stop hanging out with their single friends. I have mixed views about this, but I was curious about Wilds' thoughts, especially since if you listen to the actor's podcast Guys' Next Door, you know his friends have very varied perspectives.
He responds with a chuckle saying, "There is some validity to that, but I don't think it's so black and white. You hang with people of similar situations, people who have been through what you've been through. You want to have someone that you can speak to and have different conversations. Whether it's about children, being in a relationship, etc. You want to speak to someone who's been through it so it doesn't fall on deaf ears. So whether my friends are single, there's always gonna be a shift to the people that I ask for certain advice. It's all about being around individuals that can provide the things you need. It just so happens that a lot of my single friends happen to be in this business."
He seems to have a nice balance of it all, which must get difficult as busy as he is. But when he speaks of his recent role on Praise This, it sounds more exciting than trying. He describes it as genuinely fun. "It was amazing, we were always joking, and the music was plentiful. Everyone was cracking jokes and singing. I was glad that I could put an update to an idea of what a pastor or religion could or should be."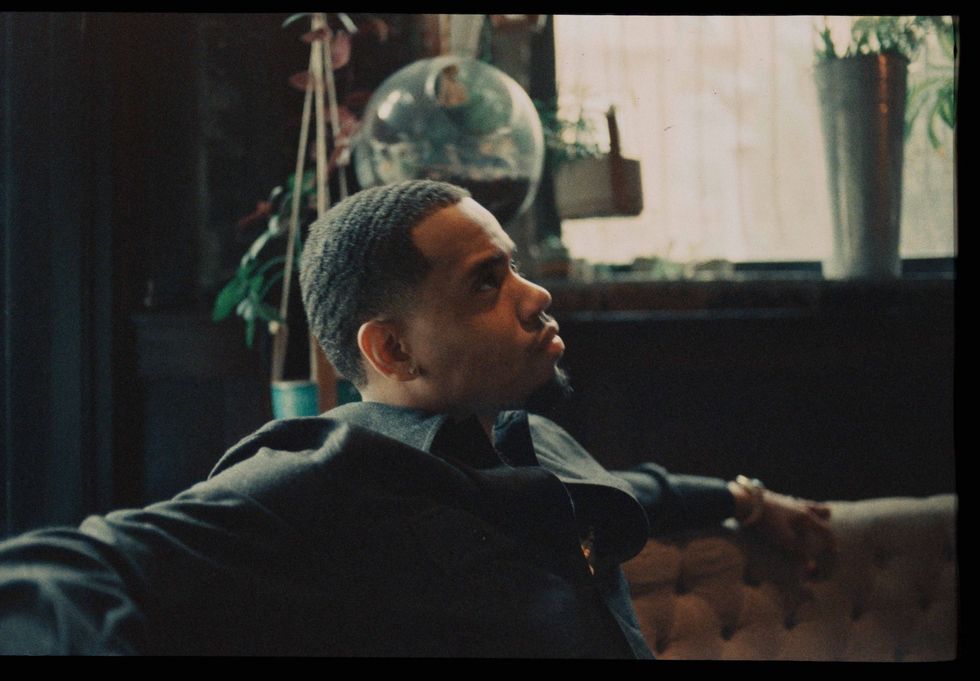 Mack WildsPhoto by Benjamin O'Dea
Now he's gearing up for the return of Swagger on Apple TV + where he plays the complicated character Alonzo. "Alonzo has come up behind the scenes. He finds his way behind the puppets to pull the strings. He makes things happen. He's not the easiest or nicest guy. He's the anti-hero we all need," he says about his character.
I can appreciate the way Mack Wilds shines in his craft, but I also respect how he uses his platform to show a career in the spotlight and Black love. Both are possible.
"No one in the world doesn't like feeling [invalidated], especially by their partner. I want to make sure my wife understands that not only am I her biggest fan, but I'm supporting her in any way I can. It's less about my career and more about her feeling [supported] in everything that she does and that we do," he shares.
"I want to make sure my wife understands that not only am I her biggest fan, but I'm supporting her in any way I can. It's less about my career and more about her feeling [supported] in everything that she does and that we do."
He closed with the best piece of general and relationship advice he's ever been given, saying, "For regular advice, invest your money. Remember it's about assets over liabilities," he adds a shoutout to Nipsey Hussle, Earn Your Leisure, and homies who inspired him.
He continues saying, "For relationship advice, I'd say, when it feels like you're about to have an argument with your partner. Be quiet longer than you think you should be. Let [him] or her get their thoughts out and then respond. I promise you will have a way better conversation if you take time and don't worry about jumping over each other. Take time, let your partner talk, repeat how you heard it, and then respond."
You can catch Tristan "Mack" Wilds in the season 2 premiere of Swagger on June 23rd on AppleTV+.
Let's make things inbox official! Sign up for the xoNecole newsletter for daily love, wellness, career, and exclusive content delivered straight to your inbox.
Feature image by Benjamin O'Dea
Keke "Keep a Job" Palmer, as social media has deemed her, has experienced various sides of the entertainment industry. From acting, hosting, Broadway, and more to creating opportunities for other creatives through her digital network KeyTV, it feels like there's nothing she hasn't explored and conquered. However, when you talk to her about her passion for music and layered views on growing up in the spotlight, it's clear that everything hasn't always been as picture-perfect as it seems.
In this exclusive conversation with xoNecole, Keke shares insight into the struggles she battled within the music industry, what audiences can expect from the Big Boss visual album release, and the impact love and motherhood have brought to her life.
The visual album is a little over 40 minutes long, but in that short amount of time, it taps into many of the multihyphenate's emotions and experiences, like unhealthy relationships, therapy, family dynamics, and more – all while showcasing Keke's bops and fire dance moves. One scene that resonated with me most is when she walks into a music studio with someone in the music industry she thought she could trust, played by Harlem'sRobert Ri'chard.
You expect to be greeted by the studio norms, but instead, the room is filled with dead animals and people eating raw meat, while everyone is strangely oblivious to it. Just from that startling scene, it's clear that her experience within the music industry was a dark one. She explains, saying, "The biggest struggle, simply put, was misogyny and politics, just trying to get people on board with you, people are so clicky and don't see success for you. It's just a lot of drama that's not based on talent, and it gets really exhausting and tears at your spirit."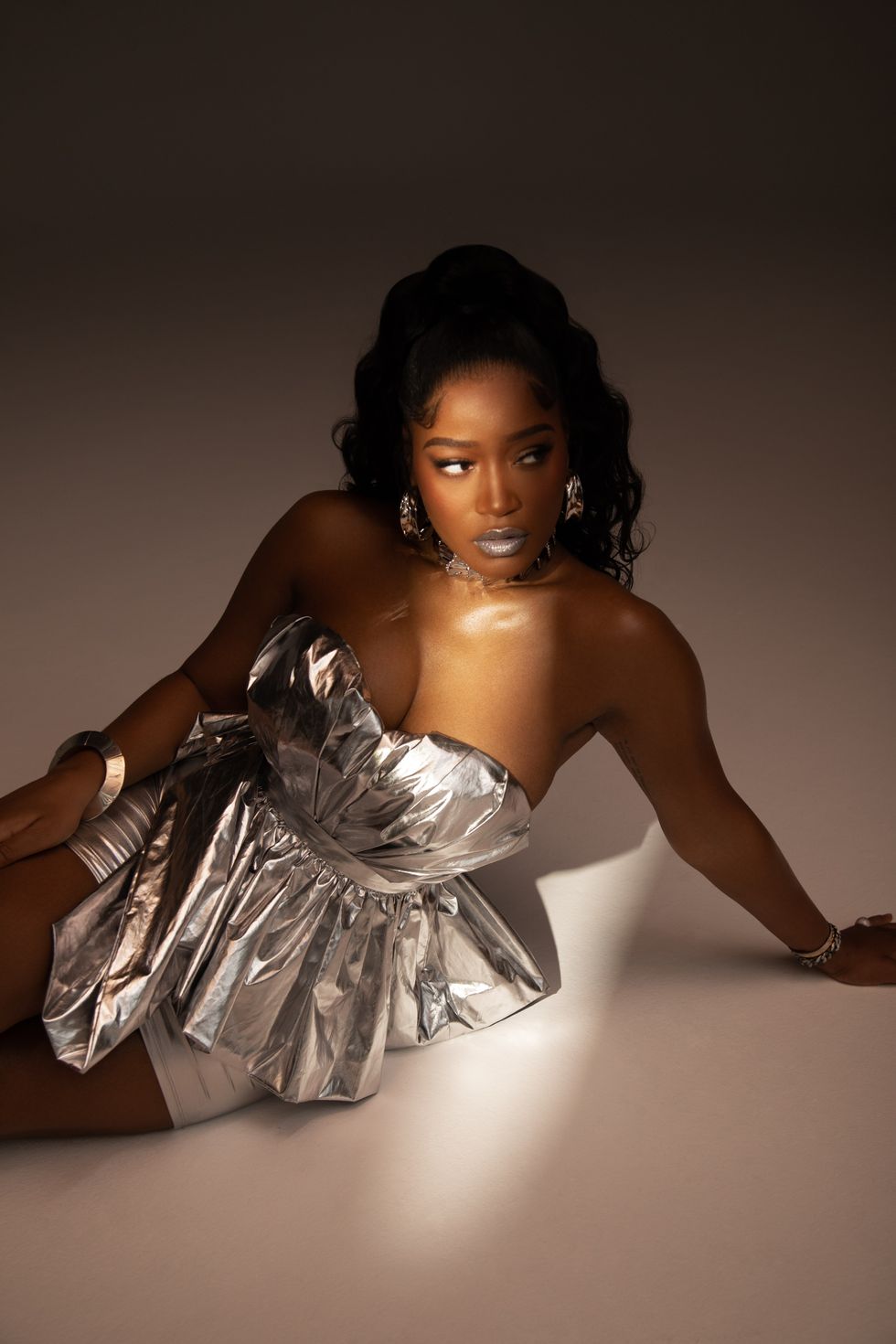 Keke Palmer
Photo courtesy of Keke Palmer
She continues, "Every artist is sensitive and trying to grow, learn, and be safe in their career, and it's constantly halted with all of the other stuff. The people I was choosing to be around were not for me. It's the same people that continued the negative narrative that I became conditioned with from my first record deal."
As the art continues to dig into what she went through in the industry. It also explores her personal relationships with loved ones and how she unpacked them through therapy. In one emotional scene, she opens up about not fitting in. She tells her mother: "I feel trapped. It's like knowing exactly who you are, and everyone's looking at you and seeing something different." I don't know if it was the fact that Mama Palmer was actually playing herself or the power of Keke's words, but it felt very honest, and it made me wonder where it stemmed from.
She expounded on the scene, saying, "Everybody is perceived as someone now in the social media era, but I was coming from my own personal story, growing up in front of people and being seen since I was a kid. I can never go back from that; I can never be a new person again. I'm always going to be whoever people invented me to be. My mom used to say this quote to me, 'never let other people's perception of you be a perception of yourself,' that is hard to do. But I finally had to live up to the quote and resist the temptation to allow people to tell me who I'm going to be and what's there for me, which specifically happens a lot in the music industry."
"My mom used to say this quote to me, 'Never let other people's perception of you be a perception of yourself,' that is hard to do. But I finally had to live up to the quote and resist the temptation to allow people to tell me who I'm going to be and what's there for me, which specifically happens a lot in the music industry."
You can tell sis is feeling real liberated, and the art isn't the only reason. She credits the love from her relationship and son for sparking something new in her. "I have such a beautiful bond with my mother, but it's not something I thought I could realistically have outside of my family," the new mom explains. "The kind of unconditional support and love they give me is so selfless. I just wanted a partner that felt like my family – one that wasn't burdened or intimidated by my success, and I think hoping that and thinking about it brought it into my life."
Keke also feels like motherhood has impacted her creatively and brings a sense of peace. "Nothing is more important to me than my son. It's this sense of ease because there's nothing I care about more than him. Everything will be okay. That ease has brought tons of inspiration, courage, and power," she says. "He's my everything. At one time, all I had was my career, then it went to building a bond with my partner, and that was the beginning of me really having something of my own. It's not a part of entertainment; it's my family, so for that to keep growing, it just makes me that much more creative and full."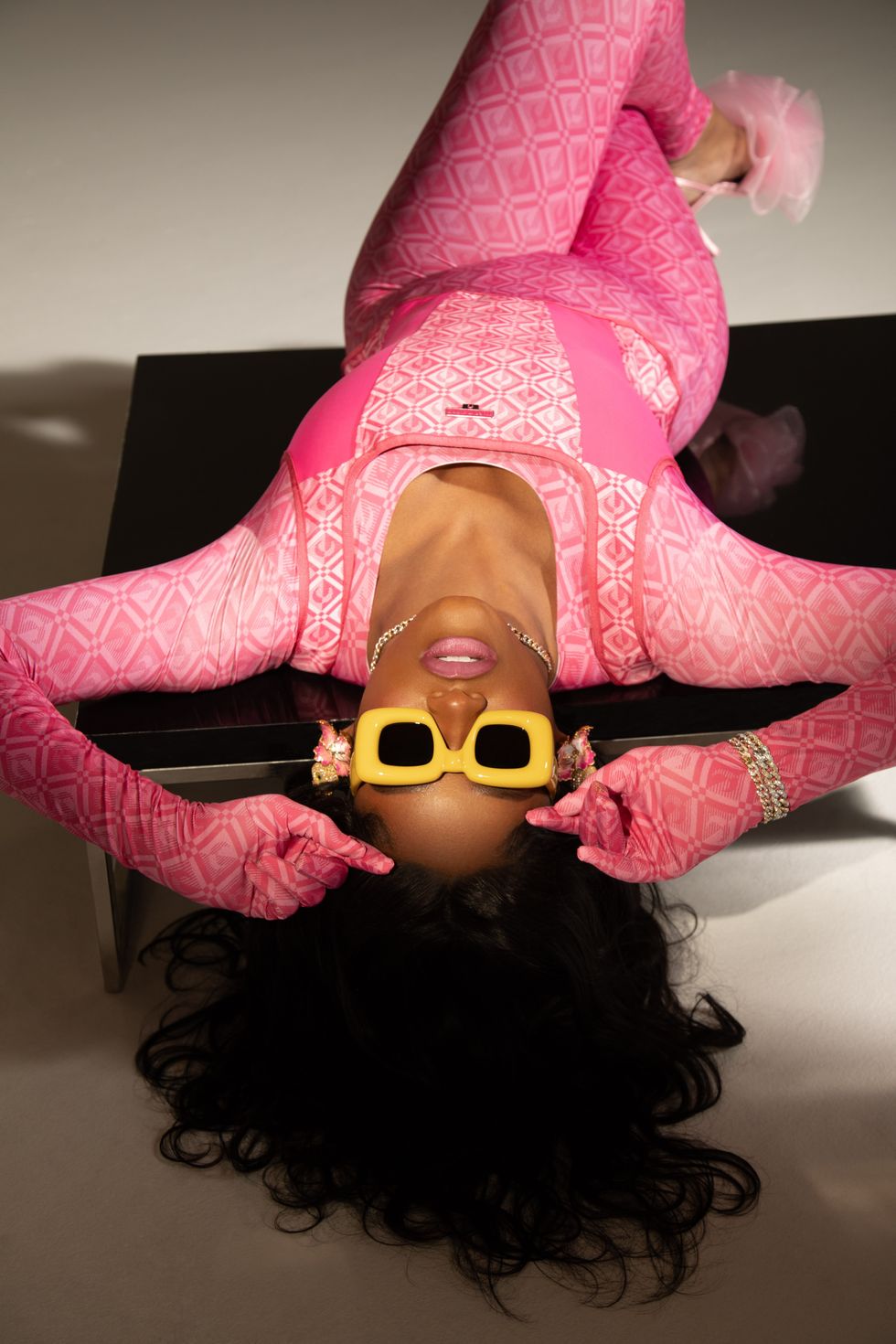 Keke Palmer
Photo courtesy of Keke Palmer
Wait a second – speaking of things her son gave her. We had to get into her mom-bod. Like many, motherhood has changed her body, and the millennial diva looks bomb AF, while she mentioned being appreciative of all the love she's getting online about it, it made us discuss the pressure women sometimes face trying to fit an aesthetic.
"I think I've always been body conscious because so much is about your body in the industry. But after having my son – I'm just like, who gives a shit? I still want to be on point because that's part of my industry. But I think a lot of moms feel that snapback culture because of celebrities and social media."
She continues, "I try to stay on point because of the opportunities I want, but it's never to the point where it's life and death. I think there's a level of confidence I have in this new body. It's really about how I feel inside, more than what it looks like outside. I never thought I would have this (hips, thighs, etc.), but now it's here, and I'm so confident. I feel better than ever."
"I think I've always been body conscious because so much is about your body in the industry. But after having my son – I'm just like, who gives a shit? I still want to be on point because that's part of my industry. But I think a lot of moms feel that snapback culture because of celebrities and social media."
From Barbershop and Akeelah and the Bee to Nopeand Hustlers to the endless viral digital moments, Keke continuously works and keeps us entertained. But one of my personal favorite things about her is how inspiring she is, and the Big Boss music and film is a clear example of that. "I think I've seen a lot of benefits to the seeds I've sown. I overcame a lot. Specifically, I'm not afraid to be my biggest champion. I'm not in a place where I need people to agree. I feel so secure, and that was kinda the energy that we [her and her EP, Grammy award-winning Tricky Stewart] put into the project.
"This Big Boss era is ultimately about ownership, independence, and strength. There's been moments in my life where there might have been hesitation or confusion, but now everything is solution-based." Keke embodies the idea that you can do what you love with who you love on your terms. And I really love this Big Boss Era for her and can't wait to add the music to my playlist. It's giving, summer 2023 is gonna be one for the books!
Big Boss, the film is available Friday, May 12, 2023, exclusively on KeyTV and available for streaming wherever you stream your music.
Feature image courtesy of Keke Palmer
If you're tapped in at all to the culture's current movies and TV shows, then there's no way you're unfamiliar with Woody McClain. The breakout talent started as a content creator on Vine known as "Woody the Great" and a background dancer who toured with Chris Brown, and now he's killing the acting game. He gave us such a genuine and human glimpse into the emotional and triumphant world of Bobby Brown in BET's The New Edition Story and The Bobby Brown Story.
And now, a lot of us tune in every week to see him play the ruthless but alluring Cane Tejada on Starz's Power Book II: Ghost. These roles were both so major that I wasn't sure what to expect when he hopped on Zoom. But after a few exchanges, I realized that not only was he super humble and down to earth, but this was going to be a fun experience.
We started the interview by chatting about our mutual love for music and marching bands. Random fact, he played the tuba in high school and college and credits the experience for his level of discipline. "I had no filter or structure before. I was just running around wild until I got into the band," Woody says to xoNecole. "Shoutout to Mr. Jenkins, my high school band director, who was like a father figure to a lot of people in our class. Every program I've done, from high school band and college band to the dance crew, has been about structure."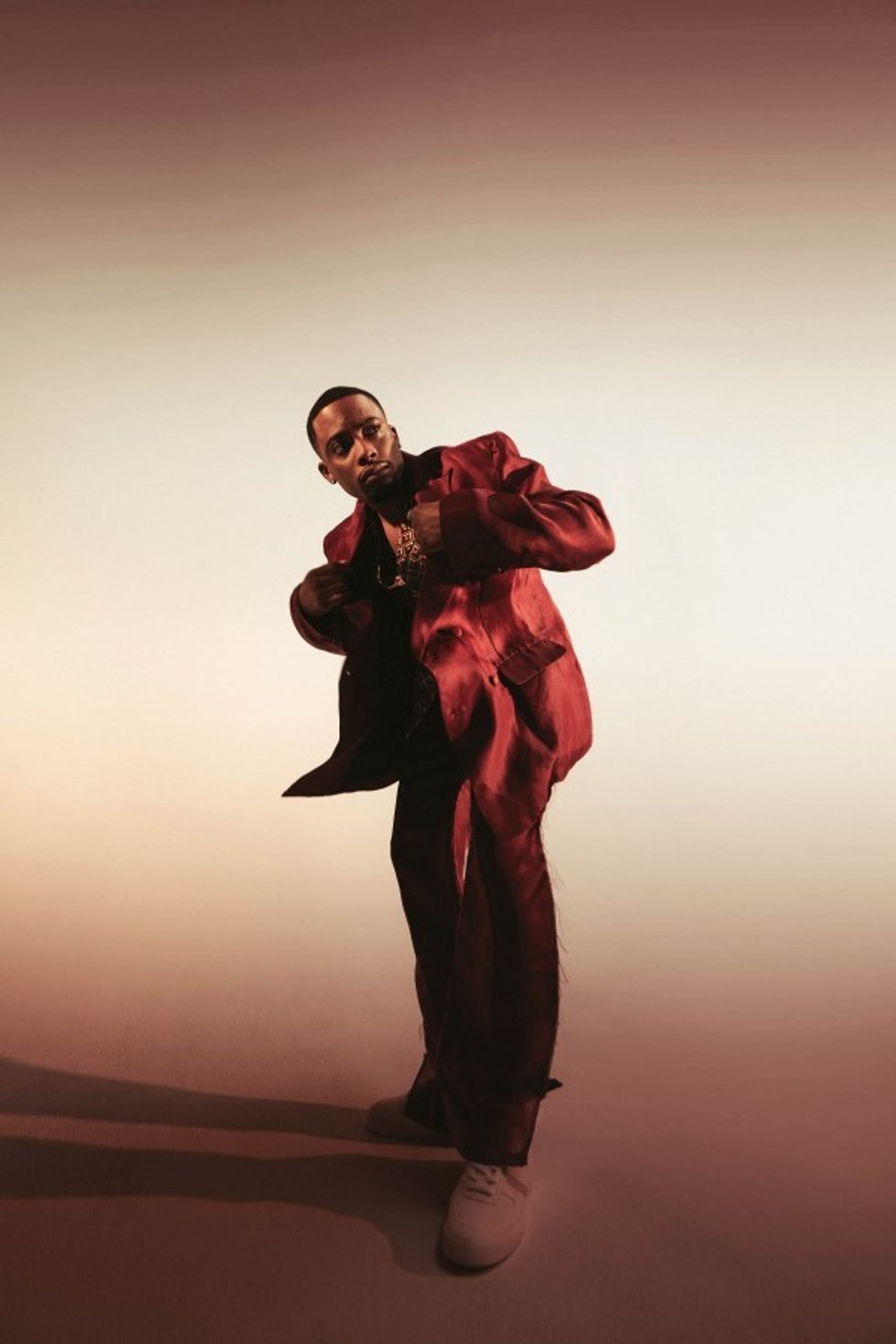 Woody McClain
Photo courtesy of Woody McClain
But as a disciplined HBCU man who came from a traditional family and loves his peace, he's still adjusting to the "celebrity" element of his reality. "I was blessed to work a 9 to 5 until 23. So, I experienced the real world. But once you're on TV, people don't see you as a real person," he explains. "I think that's where it's strange for me. Because you can be like at the airport, and someone can come up and grab you, and I'd just never do that. It can get really tricky; I'm still adjusting."
Although a lot can come with the lifestyle, it's clear he's enjoying what he's doing, and he's not letting anything get in his way – or anyone. When I asked about his dating life, he was very clear on where he stood. "I love dating my career and my craft. That's my boo thang," he says concisely with a smile.
But while he didn't give xoNecole too many deets on that, it was obvious his love of family is very prevalent in his life. In fact, he shares that trait with his character, Cane. "Cane does everything in the best interest of his family. That's how I am in real life," he explains. "I'm trying to make sure my family is okay. That's the only thing we have in alignment, but of course, he goes over the top."
Once we jumped into the "Power Universe," it was only right to get his thoughts on some of the toxicity of the characters we love to hate (IYKYK). This led us to the start of it all and how Woody admired Omari Hardwick's performance, who played Ghost in the original series. "In my opinion, he doesn't always get the credit he deserves. Without Omari, I don't think any of the universes would exist right now," he admits. "He set the bar so high and did such a great job at setting a foundation. Now we're just trying to build off what he's created."
"Without Omari, I don't think any of the universes would exist right now. He set the bar so high and did such a great job at setting a foundation. Now we're just trying to build off what he's created."
xoMan Woody McClain Opens Up About Healthy Relationships
But when we returned to the present, I had to be honest and tell him that I constantly side-eye his character Cane and the crazy decisions he makes. But he responded in a very human way, saying, "All he [Cane] knows is broken love. Monae (played by Mary J. Blige) is a horrible mother. Nobody ever talks about the root, and I think that's very important for a show like this. It's very essential when people have kids to be careful about the information they feed to them because it definitely affects how they are when they're older."
He went on to explain that he saw many examples of healthy love from his grandparents and parents. In fact, he's named after his grandfather and father and plans to keep the tradition going. "My grandfather was a reverend, radio host, and a community activist. He did everything to provide for his eight kids, and I always try to model myself and how I move after him," he says.

I genuinely enjoyed this conversation because his story is such a clear example of an authentic person putting in the work to create a dream-worthy life. In ten years, he sees himself producing his own film, TV, and music projects and creating opportunities for his friends. At the core, he's still Woody the Great. He wants to work with his tribe and make people laugh. When he needs to escape the craziness of the industry, he goes bowling with friends, makes investments, produces music (something he's passionate about), and works on his golf swing (we see you, Black man, smile).
The difference between him and so many others is his intense level of discipline that he continues to hold on to, his natural-born leadership skills – which he feels he's always had, and his trust in God. "Faith has been a part of the entire journey. I wouldn't be here without God opening up certain doors for me. Every door led me to where I am right now. I never question anything; I just follow it."
Let's make things inbox official! Sign up for the xoNecole newsletter for daily love, wellness, career, and exclusive content delivered straight to your inbox.
Feature image courtesy of Woody McClain
If you haven't heard yet, this weekend was all about the second season of Amazon Prime's Harlem, and it was a good time. The series jumped in and answered many of the questions left in the wind from the first season, and it's a fun set-up for what's to come. What I enjoyed most about it is that it touches on personal struggles that many of us deal with in a way that feels funny and lighthearted.
What happens when your best friend is dating someone new and it could affect your friendship? Or what's it like when you have an image of yourself but realize your actions don't align with it? That can be a lot to take in. But the Harlem crew does it with flair – okay, maybe not flair. But the girl gang definitely makes us feel like we're not the only ones going through life's crazy moments, and that I can appreciate.
Wanna know more? Here are 5 things we enjoy about the start of the new season of Harlem. Spoilers ahead.
The Eye Candy
While walking down the street, Angie (Shoniqua Shandai) meets a faux psychic who promises she will "make love to the most handsome man in New York and wonderful things would follow." It doesn't take long for her to put this theory to the test, and it's fun to be a fly on the wall as she tries it out. It starts when she ditches the crew and leaves with a handsome pedicurist. Later, when she's in his room, it's clear they had great sex and even decide to go for an encore. But it still doesn't deter her from flirting with his roommate and suggesting he meet her "identical twin."
Spoiler alert: she doesn't have a twin, but they don't know that.
The Feels
I love romance, and there's nothing like a genuine connection. When we see Quinn (Grace Byers) and Isabela together, their passion is unmistakable. Quinn is her normal quirky self and understandably feels nervous about her first "lady date" (her words, not mine), but Isabela seems to like her all the more for it, and it leads to more than eight orgasms and a beautiful chemistry worth rooting for. Unfortunately, it gets complicated as things progress.
Camille (Meagan Good) is on a mission to right her wrongs. She attempts to get her job back only to re-quit. Also, she officially breaks it off with Jamison after he admits to staying in NYC for their relationship. Camille even accidentally faces Mira, who rightfully calls her out on her selfish decision to kiss Ian the night before their wedding. Still, through all of their mess, you can't help but smile when Ian (Tyler Lepley) and Camille are together. "You are the man I want to be the best for and the one who's seen me at my worst." When she said that to him, I think I actually said "aww" out loud. You just can't help but root for them and their messiness.
The Accountability
Honesty is the best policy, and while the girls may struggle with it in their actions, they count on each other to hold them accountable. When Tye (Jerrie Johnson) reveals her surprise husband alluded to the fact that she has issues with commitment, the women don't deny it. In fact, later, when Quinn and Tye are in the sex store, she even bluntly asks her, "What are you so scared of?" It noticeably affects Tye, and she quickly avoids the question. Real friends care enough to hold you accountable. Harlem was a friendly reminder of that.
The Authenticity
In the words of Issa Rae, I'm rooting for everybody Black, and I appreciate that this show continues to show varied dynamics of multilayered Black women. From the fashion and beauty looks to the conversations and careers, you can tell Black women are not only in front of the camera but behind it, and I'll always support that.
The Sisterhood
Lastly is the characters' connection, which might be my favorite element of the series. As unique as the women are, their bond is beautifully the same. We all deserve a tribe that encourages, empathizes, and supports us. Harlem shows this in such a genuine and relatable way that reminds me of how blessed I am for my own tribe.
Harlem is streaming now on Amazon Prime.
Feature image by Arnold Turner/Getty Images for Prime Video
For years there were many television shows that featured impressive groups of women navigating their lives. I'd watch them and daydream about what my reality would look like in my 20s and 30s. The characters' lives felt admirable but somehow unrealistic since those shows never featured characters that were reflective of my friends or me. But how times have changed. Now that I'm in my 30s, there are quite a few shows that feel familiar and authentic. One of my faves is Tracy Oliver's Harlem, of which the second season makes its emergence on February 3, 2023. But just in case you're like me and need a refresher, we got you.
Spoilers are ahead.
First, let's recap the crew. The show stars Camille (Meagan Good), Quinn (Grace Byers), Tye (Jerrie Johnson), and Angie (Shoniqua Shandai), four fabulous yet flawed Black women living in Harlem. In season one's last episode, Camille asked a crucial question: "Do I go after my fresh start or do I follow my heart?" It was a quick moment, but it defined much of the season. Although the women's issues vary, they are all battling with that decision. From work struggles to dating, they're trying to decide if they should take a safe route or do what fulfills them. I think that's something we can all relate to. This is why I am so happy the Amazon Prime series is making its return.
So, let's relive what's going on in our new favorite girl gang's lives before season two premieres.
Camille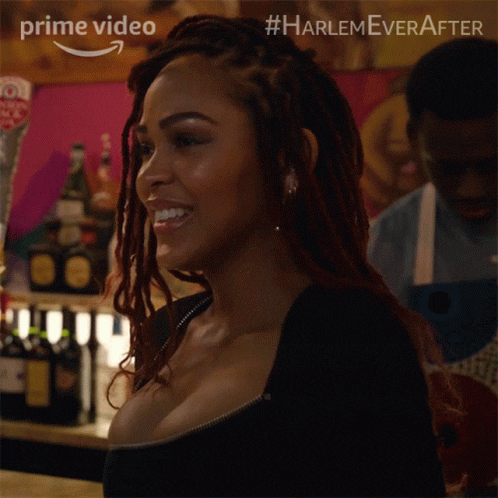 Amazon Studios What GIF by Harlem
Giphy
Camille is a bit off-center, overly focused, loveable, and appears to have everything together – except she doesn't. No matter how much we root for her, she makes the wrong decisions. For example, when Dr. Pruitt, played by Whoopi Goldberg, announces that she's granting the new coveted associate professor position to another Black professional, Camille feels understandably discouraged and vents about it to her former bae (more on that soon, chile). Later, Camille decides to quit her current adjunct role and give Dr. Pruitt a piece of her mind. She shares how much of an asset she is to the university and why her social media presence and teaching style deserve recognition. That makes sense, right? Except she does this by showing up at the professor's house late at night after drinking way too much and almost falling down the steps. All bad, sis.
Then there's her love life. She has two beautiful men who desire her attention. She met Jamison (Sullivan Jones) after they both spoke on a panel for the university. He is supportive, fine, and serious about his intentions with her. So much so that once they're official, he invites her to move with him to Chicago. Unfortunately for him, Camille's heart belongs to her engaged ex Ian, played by the handsome Tyler Lepley – who coincidentally, she broke up with before they planned to live in Paris together. (Clearly, leaving Harlem is a trigger for her. It could be because she grew up a latchkey kid and has some unresolved issues with her mom.) Anyway, Ian and Camille have a special bond that is still very much alive.
Their back-and-forth sparks a lot of crazy moments throughout the season. From Camille almost sleeping with one of her former students to a crazily dangerous Uber ride, Ian fuels a lot of her madness. One of the most memorable moments happened early in the season when they shared a passionate kiss only moments after Camille met his "why is she so perfect" fiancée. But love always wins because, in the end, Camille calls it quits with Jamison and shows up a day before Ian's wedding to finally express how she feels and kiss him again.
I get it. They care for each other, but seriously? They couldn't figure that out before the wedding announcements went out and Camille broke Jamison's heart? Oh, and Ian's fiancée saw the kiss. Yikes.
Quinn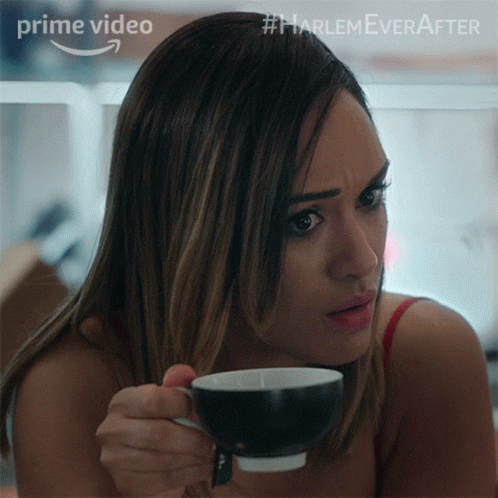 No Way Prime Video GIF by Harlem
Giphy
Then there's Quinn. You know the nice girl who tries so hard and it just doesn't work out for her? That's Quinn. For most of the season, her dating life is in shambles. From her purse getting stolen after a date abandons her at the club to showing up to a "dinner" that was actually a pyramid scheme meeting, you start to feel pretty bad for her. Still, she holds onto her idea of love and what it should look like. That's until she decides to try something or someone new at a strip club. His name is Shawn, played by Robert Ri'chard, and he takes her out of her element. He's different from her usual checklist; he's a stripper and a dad. Although there's a clear interest there, they deal with a few hiccups.
Initially, Quinn tries to tuck away her feelings and keep it casual. Luckily, that doesn't last long because, well, she's her. But still breaking free of her usual "rules'' presents some problems. She even lies about his career and where he went to college when chatting with peers at a fundraiser, making Shawn understandably uncomfortable. Eventually, they work it out, and a budding relationship seems to be in the works. That is until she spends a fun-filled day with Isabela, a hopeful politician and potential mentor turned friend she met through her mother, and her magnetic personality and dedication make Quinn rethink her life and sexuality. In the season one finale, Quinn drunkenly walks into Isabela's office and invites her on a date. When she agrees, we find ourselves cheering for Quinn's boldness yet hoping she doesn't slip into her unhealthy ways.
Professionally she's in a unique space. After leaving her VP Corporate position she opened Quinn Jacob, a sustainable boutique. It's still in the beginning stages but she is very devoted to growing it. She even designed Mila's [Ian's fiancée] wedding dress. (I know – wild.) Moving on, Quinn comes from a wealthy family who has consistently supported her. But it took a while for her to figure out what she wanted to do, which created a tense relationship between her and her hilariously shady mother, played by the legendary Jasmine Guy. Hopefully, this dream and new relationship are here to stay because I think we all wanna see Quinn win.
Tye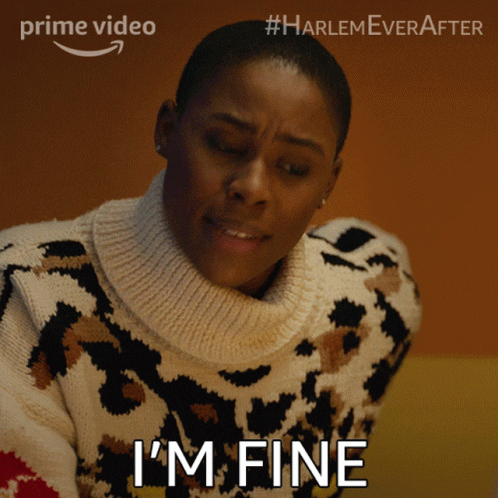 Im Fine Amazon Studios GIF by Harlem
Giphy
I'd describe Tye as confident, ambitious, loyal, and guarded. She is the creator of Q, a successful queer dating app for people of color. It made her very successful and even landed her a spread in Forbes magazine. Also, unlike the other ladies, she has no issues in the dating department. Her problem is relationships. She likes to be the brains and the boss in her situations and that rarely leads to something promising. When the girls call her out on it, she tries to venture out and date outside of her usual type. This allows us to be a fly on the wall as she explores a few short-lived hilarious situations.
But everything comes to a head when she arrives at her Forbes interview and learns that the interviewer is a woman she had a one-night stand with. I should point out that she's a white woman and Tye prefers not to date outside of her race. As her storyline with the journalist continues, the show explores interracial dating and preferences.
Another element I appreciate Harlem highlighting through Tye's character is women's health. In multiple episodes, Tye complains of intense period pain. However, like many of us, she shrugs it off. It takes her passing out on the subway to get help. The doctor ignores most of her complaints and says she's anemic. A few days pass and Tye is preparing to be the keynote speaker at AfroTech. However, she's hospitalized again and learns she has a ruptured ovarian cyst, polyps, and fibroids; this time the doctor says she may need a hysterectomy. As he continues to give feedback he reveals that the surgery's approval was made by her husband, who surprisingly walks in with flowers.
Thanks to a flashback episode and a heated discussion, we learn that Tye abandoned her hometown to start a new life and live in her truth. That means she walked away from her former friends, family, and apparently a husband and never looked back. This background made it a lot clearer why she has trouble moving on because she never fully let go of her past.
Angie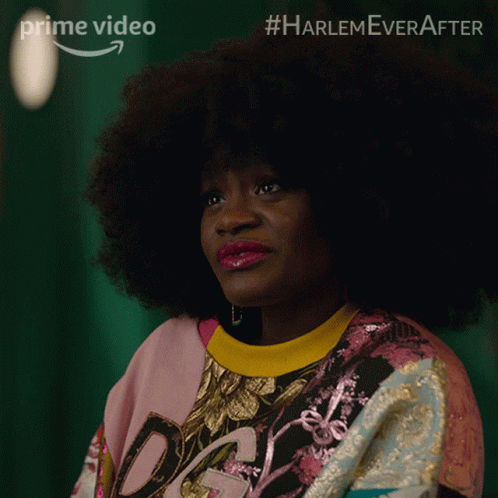 Prime Video Laughing GIF by Harlem
Giphy
Finally, there's Angie, the free-spirited, hilarious, and creative that every friend group needs. We learn pretty early on that she is a talented singer and once had a record deal. Unfortunately, it didn't go the way she planned and now she's living on Quinn's couch. While it's clear that the two have a beautiful friendship, there's an uneasiness there. Angie has a bit of resentment toward Quinn for her wealthy upbringing. And Quinn wishes Angie would be a bit more realistic in her search for a job, especially after she turns down a paid gig.
Still, when Angie meets up with her Uber driver bae who she feels is her soulmate, only to learn after sex that he lives in his car, she takes the new gig. Because this can't be it. The gig in question is Get Out: the Musical. Yes, it's as crazy as it sounds. But the production leads to a lot of funny moments and a bomb scene where Angie beautifully addresses white fragility. While she's chasing her dreams you'll see her pursuing a few dating options, like her bisexual cast mate and friend with benefits, Eric, to Uberbae and more, it's a good time. While Angie provides a lot of laughs in the first season, it's clear she's working through her issues as well.
I love TV shows that are relatable yet fun to watch. Harlem is definitely at the top of my list this month. Make sure y'all check it out too. Season 2 airs on Friday, February 3, 2023, on Amazon Prime.
Feature image by Amy Sussman/ Getty Images