Kirby Carroll
Kirby Carroll grew up in VA but now calls Atlanta, GA home. She has a passion for creating content and helping brands grow through storytelling and public relations. When not immersed in work, you can find her sipping a mimosa at brunch or binging a new TV drama on Netflix. Keep up with her on social media at @askKirbyCarroll.
Thomas "Nephew Tommy" Miles is an actor, comedian, and media personality who has become a comforting face in our community. That's why I was super excited when I learned he had become the host of OWN's Ready to Love, a dating show for mature singles looking for authentic and long-term relationships. Since its start in 2018, Ready to Love has given viewers a personal and authentic look into the lives of everyday people on their journey to find a genuine connection.
This season, Ready to Love is leaving its home in Atlanta to travel to Nephew Tommy's hometown of Houston. And he is excited for viewers to become more familiar with the city he loves, "Houston, it's the fourth largest city [in America]. Though to people here, it's more like a big town. Everybody kind of knows everybody. But regardless of where you are, dating is a challenge. If you've been preoccupied, it's the same thing. You still haven't taken time to focus, and say I'm gonna find what I want."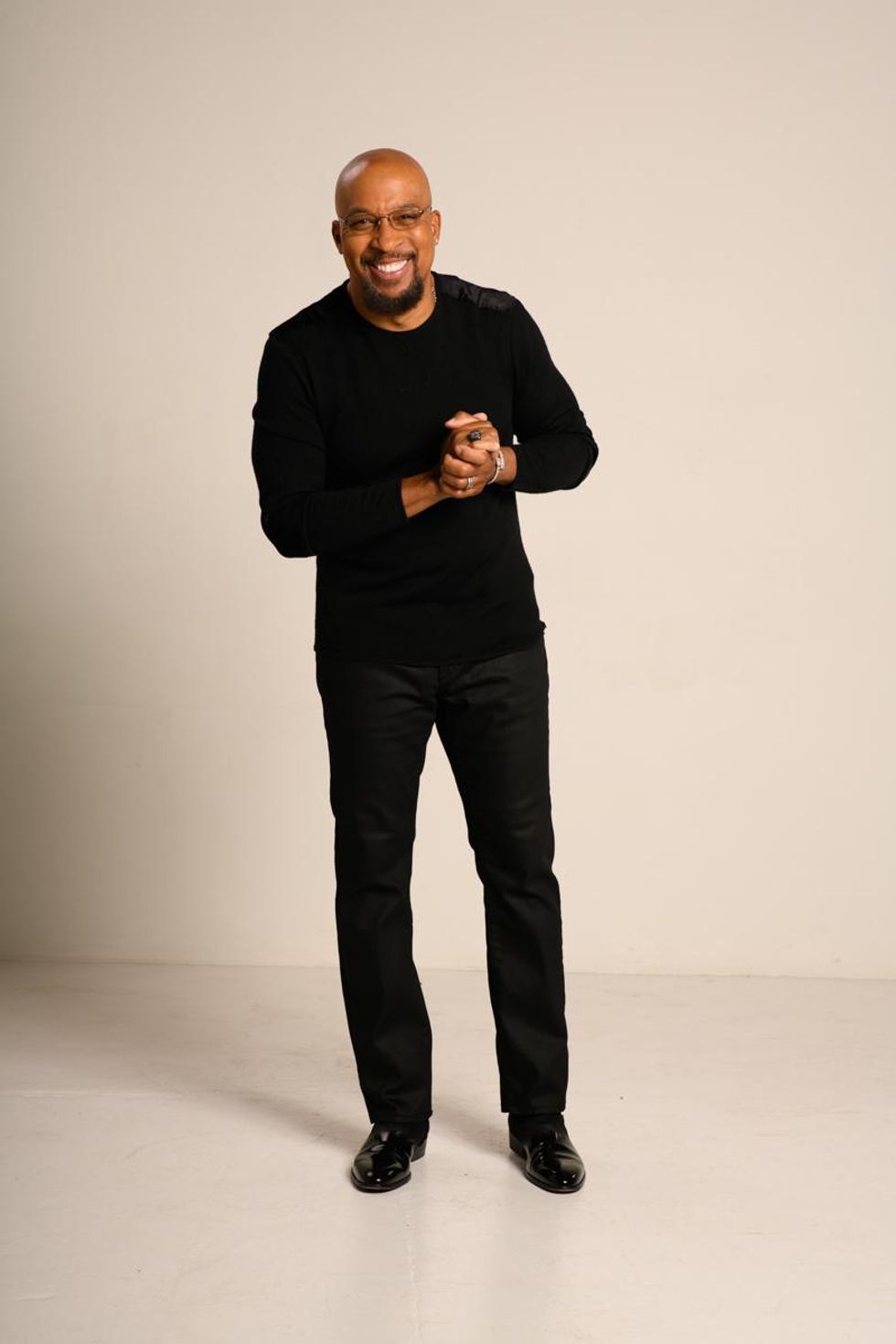 Courtesy of Nephew Tommy
In our conversation, we chatted about what that looks like this season, love and relationships, and marriage. And just as expected, the chat was full of laughs, truth, and a bit of tea. Check it out below.

xoNecole: For those who aren't familiar with the show, tell me more about Ready to Love?
Nephew Tommy: Ready to Love is a dating show, but it's not a typical dating show. These people are in their 30's, 40's, and even 50's, and they're looking for love. These are people that have been in marriages, gotten divorced, and are career-driven, and haven't taken time to find a relationship. We start with 20 singles, 10 women, and 10 men, and it's a process of elimination. Each week, the power shifts back and forth: women eliminate men and men eliminate women until we get down to six people, three couples that hopefully find love. There's no $1,000 reward and there's no trip around the world. The prize is love and you can't put a price on that.
You know, one of the things I like about the show is that the singles are 30 and older; it adds a unique element. How do you think that differs from other television shows?
I think it's different because people are in a different space in their lives. We know what the twenties are like, we all had a lot of fun. But once a person has gotten grown and has responsibilities, and that's the one element they're looking for that they don't have, they want it. And I think the difference in 30-plus in comparison to someone younger, is that the nonsense is out the window and people that want it are chasing it. There are some women on this show that are no-nonsense, and they let the guys know.
Interesting, and how do you think this season varies from other ones. What new and exciting things can we expect?
This one is a bit different to me because it's some boss ladies on there. I mean when I say boss ladies, these ladies are making money. They are lawyers, entrepreneurs and they own their businesses. This takes the stakes up a lot higher, and it makes it where these men have to step up to the plate. And you know, they can't come in insecure because the woman is making more money. It's like, bring your A-game and she might just help you step your game up so you can be a boss man.
Are there any special or funny behind-the-scenes moments from past seasons that you can share with us?
It's been some crazy stuff behind-the-scenes and in front of the scenes. I think the one that's the most bananas is from last season [at] the resort. It was about a week or two before the reunion, and I found out one of my contestants was pregnant the whole time the show was going on. I'm like, 'Are you serious?' And then when I got to the reunion, I found out two of the guys also had babies on the way. The woman could have had the baby during the reunion, she was expecting right then! So yeah, there's a lot behind-the-scenes that sometimes I don't even know.
Well, a lot of times in general people think they are ready to love but have not let go of past situations or are not ready for commitment. From your perspective, when do you think someone truly knows they're in love.
I think you just know, it's a feeling, it's a vibe. There are a few people on our show that I saw and knew exactly when it hit them, and when they connected. But you know when it's there. You don't have to go on one million dates (laughs). You know when you're ready. You get that feeling!
Speaking of feelings, when did you know your wife was the one?
College, I said, "OK, that's the one." But even then, I was in my twenties when we met so I had to go around the world and act a fool before I straightened out and got it together.
Now you know we love a good "How We Met" story at xoNecole, so you gotta take me back, how did you two connect?
It was at Texas A&M in 1986 (smiles). Probably the first couple weeks of school in the common areas. It's where people are shooting pool and there are TVs and lounges, and that's where we talked, connected, and it all happened.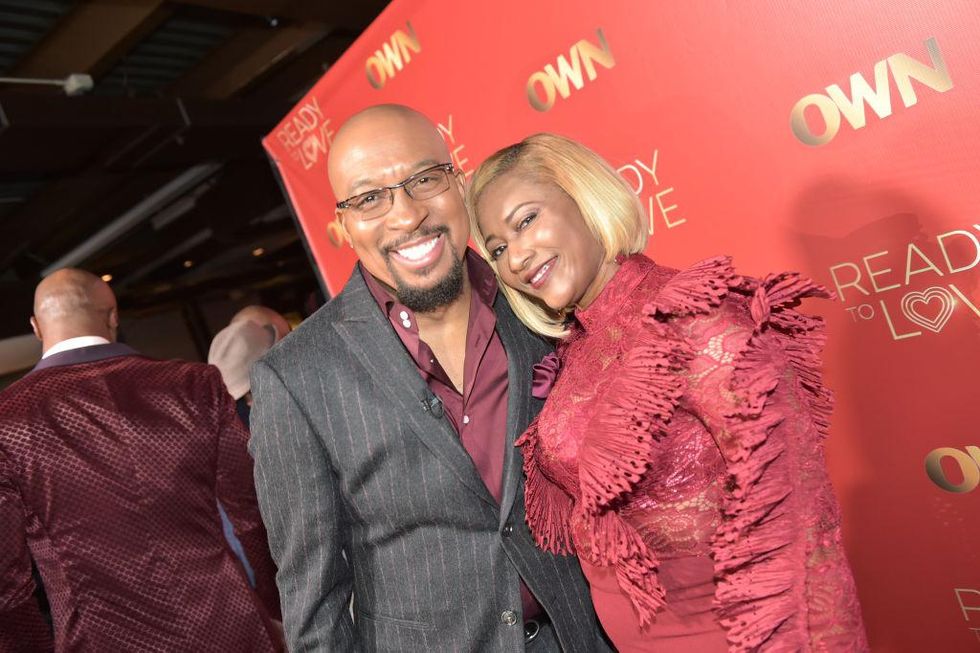 Nephew Tommy pictured with his wife Jacqueline Mills.Moses Robinson/Getty Images
I noticed your wife was in the casting episode of Ready to Love and it was obvious that you guys have a fun relationship. What would you say are the most important traits that fuel your marriage?

Just chemistry and longevity. Over a course of time, it just connects. There are some good and bad days but through it all, you just tough it out and ride it out. It's all about riding it out.
And how important is the idea of partnership to you, is it prevalent in your marriage?
I think it is really important, especially when it comes to what you're good at. I like being the go-getter, the breadwinner, and making it happen for everybody. And trust me, there's a lot of people under that umbrella. But as far as paying this and that bill, I don't want to do that, I'm not good at it. I wanna be this creative guy and go work, and it's nice when you have someone good at different things, and it just all comes together.
Well, I have to ask about the other side as well. What struggles have you guys encountered and how did you combat them?
There are always struggles. In the beginning, I didn't have any money. I mean, I didn't have two nickels to rub together (laughs). But for her to see that I had a dream and just try to follow me with it and stand behind me, was a lot for me. She rode it out and now the tables turned and I'm the breadwinner and everybody gets to chill out at home and doesn't have to work and do anything, everyone's happy.
You guys clearly have a rich history. Still, has hosting Ready to Love taught you anything new about love and relationships?
Communication is the key. I tell the people on the show all the time, there's a difference between hearing and listening. A lot of people hear you but there's very few listening. I can sit on the couch and hear all day long, but am I truly listening? That's the key in a lot of relationships. A lot of people want to be heard and spit back what they think but sometimes it doesn't work because they're not listening.
Finally, for old and new viewers, why should we tune in this season?
People should tune in because this is black love at its best. It's real, it is who we are. I think we wear and carry it well. You can watch it with your girlfriends, brothers can tune in, and a lot of couples watch it together too. You can sit back and put your bets together, and start guessing who is gonna connect and make it to the end. It just becomes a fun thing to do and it's the best thing on Friday nights, and I'm not just saying that because I'm on it. No, I am saying that because I'm on it (laughs).
Catch the new season of Ready to Love, Friday nights at 9/8c on the OWN Network.
Featured image courtesy of Nephew Tommy
Keep reading...
Show less
The other night one of my girlfriends and I decided to catch up over wine and snacks. We were chatting about work and the new normal and eventually, the conversation shifted to dating and a desire for intimate connection. We discussed the relationships and situationships in our past and reflected on the highs and the lows. But the majority of our conversation was more about us personally, and our time.
Some of those past experiences fostered a lot of energy and emotion just for them to simply be topics of conversation today. So, does that mean we wasted our time? Did we put too much of a focus on our goals and not enough on the development of our personal relationships? Don't get me wrong, I don't subscribe to a societal life timeline. However, it's only natural for those feelings to creep in from time to time, especially during the unique period we're in. And it made me wonder, do men have these thoughts too, or are we alone in these feelings?
That's one of the reasons I was super excited to speak with Houston rapper Slim Thug. Recently, he released a song called "Black Queen", a track where he unapologetically explains his dream girl, which he proudly states is a black woman. Now, when I think of Slim Thug, I think of his features on iconic southern anthems like "Still Tippin" and "Like a Boss". A love song is the last thing I expected to hear from him. But then it dawned on me, just as my feelings and desire for love have changed over time, so could his, and sometimes the best way to release these emotions is through art and healthy dialogue. This is why Thursday evening, after a bit of Zoom drama and a save-the-day conference call line, we had a very transparent discussion.
In our chat, we talked about his new single "Black Queen", thoughts on dating and relationships, and why it's important to make your intentions clear. And I quickly learned, women are not alone in these feelings.
xoNecole: First, can you tell me about your song "Black Queen". What inspired you to create it? 
Slim Thug: I was on Instagram Live playing the beat and I was trying to figure out what I wanted the subject of the song to be. A woman responded, and told me I should talk about my black queens. So, I got right offline and made it, it took me about an hour to create it. I just described my dream woman. "Black Queen" is basically a bio for my dating profile, it's what I'm looking for (laughs).
I like the song a lot, but I love that you referred to her as a Queen. Why do you think it's important to uplift Black women during this time? 
If she's gonna be with a King, she's gotta be a Queen. And it's important to big salute our black women because they need love with all the hate that comes with being a Black Queen in America.
Speaking of time, a lot of women feel pressure to settle down and build a family by a certain age. What are your thoughts on this and do you ever feel that pressure as well? 
I think when some women start thinking of having kids, they start to feel that pressure. Me as a man, I've been single most of my life. Now I'm 40, and I have been thinking, 'Am I gonna be single forever, or am I gonna have a family and have some type of legacy to leave behind for kids and grandkids?' That's where I am in life. I wouldn't run from love if I found it but at the same time, I'm happy where I am, being single. But if I found the right person I would give it a shot.
Interesting, why do you think you've been single for most of your life? 
Because I'm so engulfed in what I do and my work. It's hard for me to even hold down a real relationship. And when you're a rapper and your job is not planned like a 9 to 5, it's hard to connect with other people because life can be so random. Then a lot of women may not believe you actually have to work when you set your schedule.
Also, being single isn't too bad in Houston (laughs), there's a lot of beautiful women out here. But after that, what? It's cool for a little bit but then you start feeling like you're wasting your years. I don't wanna keep wasting two years here or three years there either. I want to find a woman that when we go on trips, we can talk about it when we're 60. I think everybody wants that.
"There's a lot of beautiful women out here. But after that, what? It's cool for a little bit but then you start feeling like you're wasting your years. I don't wanna keep wasting two years here or three years there either. I want to find a woman that when we go on trips, we can talk about it when we're 60. I think everybody wants that."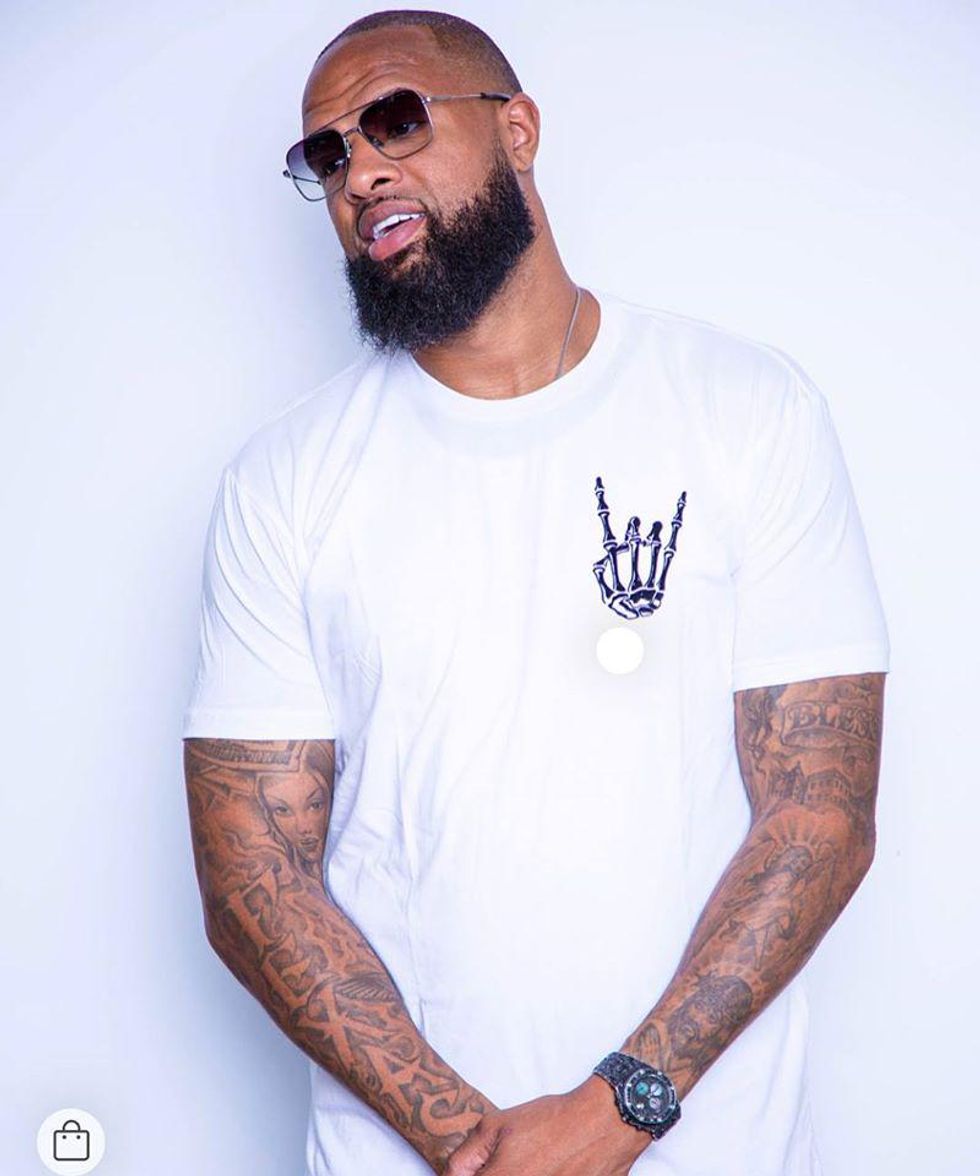 Courtesy of Slim Thug
We're talking a lot about relationships. But what about simply dating and getting to know someone. From a man's perspective, if you could give a piece of advice to women looking for love, what would it be?
I don't think women give enough opportunity. A lot of them are on guard from people who approach them on the regular. Don't shut people down so fast. A lot of time women don't give men outside their type a chance. Just thinking outside of the box and not being so quick to shut people down can help. If there's one thing you don't like, you may be able to figure it out. You aren't gonna get 100 percent, but if you can get enough out of one person, you can work it out with them.
Now I've gotta tell you when listening to past interviews, I've heard you tell some crazy dating stories. I think I even heard a story about you dating a mom and daughter once. How have your views on dating and relationships changed over time?
That's part of why I'm single, because of how my lifestyle was and the things I've seen and done with girlfriends and married women. It scares you, you think it's cool or player at the time, but it makes you have trust issues in the long run. That's what had me for a lot of my life and that's what probably still bothers me today, it's hard for me to trust people. It takes me a long time. I'm not the guy that's gonna jump into a relationship. We have to get to know each other and I know that takes time.
Is that another problem? Do you feel like a lot of women have pushed too quickly for ownership and monogamy? 
Not really, I've dealt with women who have been patient with me honestly and we've had great times. It's been a small issue, but I don't think that's the biggest problem in my dating life. If you want to be that woman, I'm gonna expect a lot from you. A lot of my time and years went to temporary stuff. It was a relationship and it was cool but it never went further than that.
I'm sure a lot of women aren't comfortable with you being a rapper because of the lifestyle that can come with it. We hear about side chicks, multiple women, etc. What inner work did you have to do to unlearn some of these unhealthy traits you might have had in the past when approaching love and relationships? 
In the beginning, a lot of that stuff is part of being a rapper, that lifestyle and world. But as you get older, you become more real and realize what you want and what you don't want. At 40, I like different things. At the end of the day, I still had a great time regardless of the expectation. And I can stay single and do whatever I want, but I do want to find that dream black queen, a woman who brings something to the table, my missing pieces, someone who will help me be a better man.
"As you get older, you become more real and realize what you want and what you don't want. At 40, I like different things. And I can stay single and do whatever I want, but I do want to find that dream black queen, a woman who brings something to the table, my missing pieces, someone who will help me be a better man."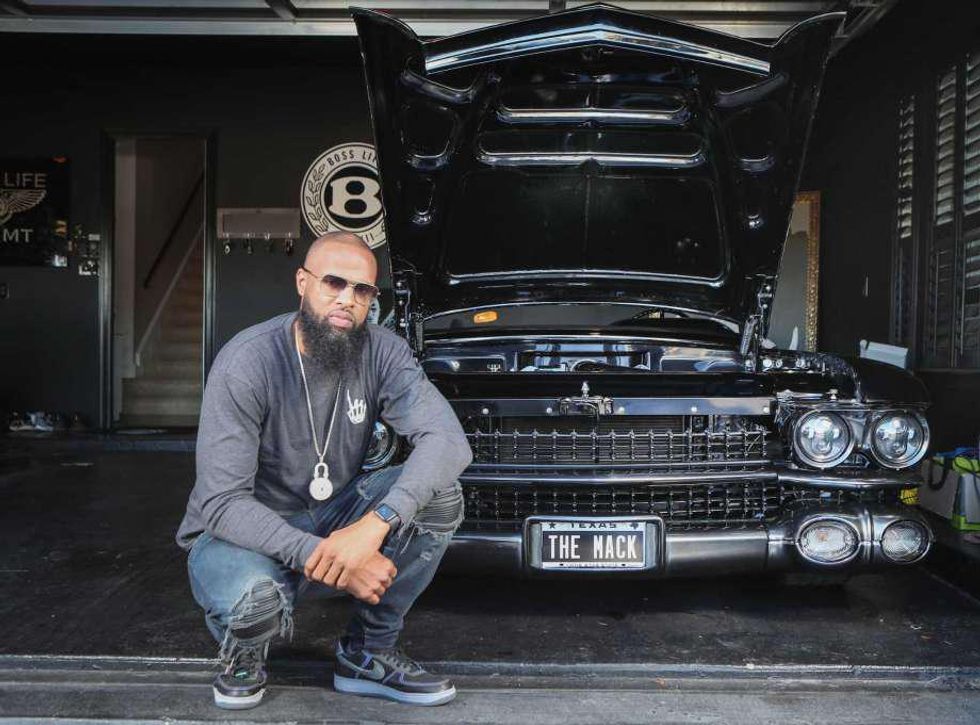 Courtesy of Slim Thug
So, we have to find her for you! Do you prefer to meet people online or in-person, why or why not?
Online is still new to me. I have been catfished and I have slid in a few DMs. I tried the internet wave and it ain't all bad but social media doesn't paint the whole picture of a person. It doesn't matter to me how we meet, as long as it's real.
Well, I know you don't mind shooting your shot because we've all seen you playfully slide in Megan Thee Stallion's comments a few times. But what are your views on women DM sliding, and what made you comment on Megan's post? 
I don't see anything wrong with it, let people know what you're thinking. I rather say what's on my mind and you know than never know. It's worked for me a lot of times in my life. And with Megan Thee Stallion, I was just trolling. Well, not trolling, because she's super fine and from Houston, so I definitely watch her (laughs). But when I first heard of her and was getting on to who she was, the word on the street was that she had a boyfriend so I was always kinda joking. But now I see she's in a relationship with Pardi, I think I should have shot my shot for real. I'm playing but I'm serious (laughs).
Well, having known more than you did in the past, and with all your unique experiences, what do you think are the keys to a healthy, loving relationship?
Trust, loyalty, and being a best friend. I want to enjoy spending time with this woman. I want to want to take her places with me. It can't feel like community service. A lot of people settle for different reasons, like children by the person or finances. Whatever I do it has to be real, she has to be my best friend and that's what it is.
So, you don't see yourself settling at all?
I'm not gonna say I wouldn't sacrifice. In a relationship, you're never gonna get everything you want so in that sense I can't say I won't settle, but I do truly want a Black Queen.
Featured image courtesy of Slim Thug

Keep reading...
Show less
There was a time when my style inspo came solely from TV shows or even popular magazines. Now I simply click on an influencer's profile, and boom a beauty how-to, the latest fashion trend, and sometimes just pure entertainment. It's no wonder that influencer-marketing has become the successful business that it has. As an entrepreneur, I'm always curious to know more about a brand's process. What works and what doesn't? How am I able to make my passions profitable?
A few months ago at the Aunt Jackie's Grapeseed Collection event, I met beauty influencer Kimberly White. We chatted about the highs and lows of being a creative, and she schooled me on the importance of high quality content and consistency. I knew she'd be the right person to explain more on brand-building and landing paid partnerships.
Check out our conversation below.
Tell me a little bit about your brand.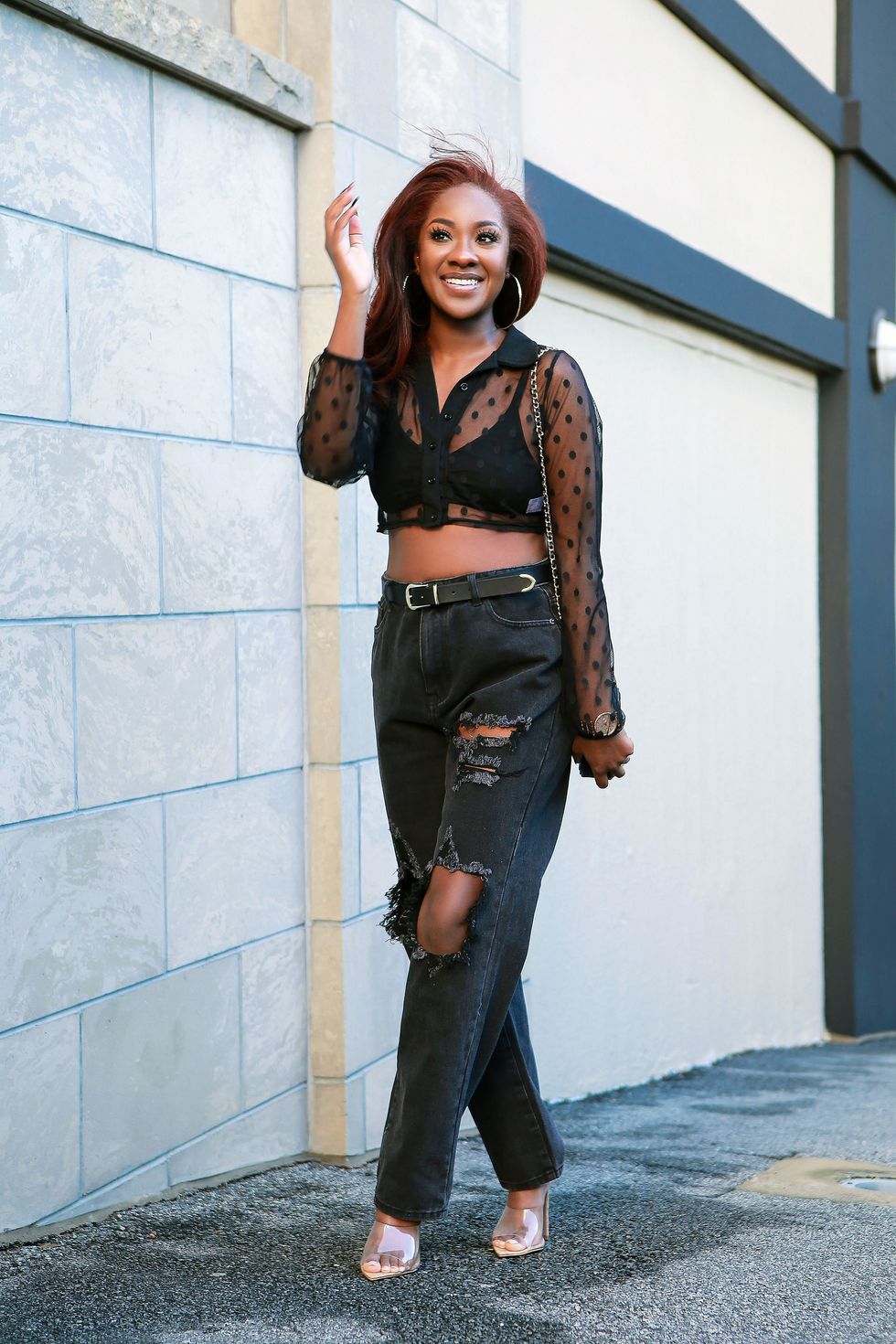 Courtesy of Kimberly White
I created my brand to inspire women to be comfortable in their own skin, while being their most authentic selves. My purpose is to provide hair and skincare information, while showcasing the latest fashion and beauty trends. There aren't many kinky-haired brown-skinned girls represented in the media, so I love being a positive example for others who look like me.
How did you build your following?
I started to build my following by sharing pictures of my natural hair journey. I cut off my heat damaged ends in 2016 and created a pic stitch of the process to share on my Instagram. From there, I continued to show my various hairstyles, the products I was using, and I also created a YouTube channel to help build my audience.
When sharing my pictures on Instagram, I tagged many natural hair pages with large followings, and would often get reposted, so new people would find and follow me through those pages. I also posted consistently to my Instagram page almost every day. Over this past year, I transitioned into lifestyle blogging, where I continue to share hair content, along with beauty, fashion, and more.
How important is hashtagging?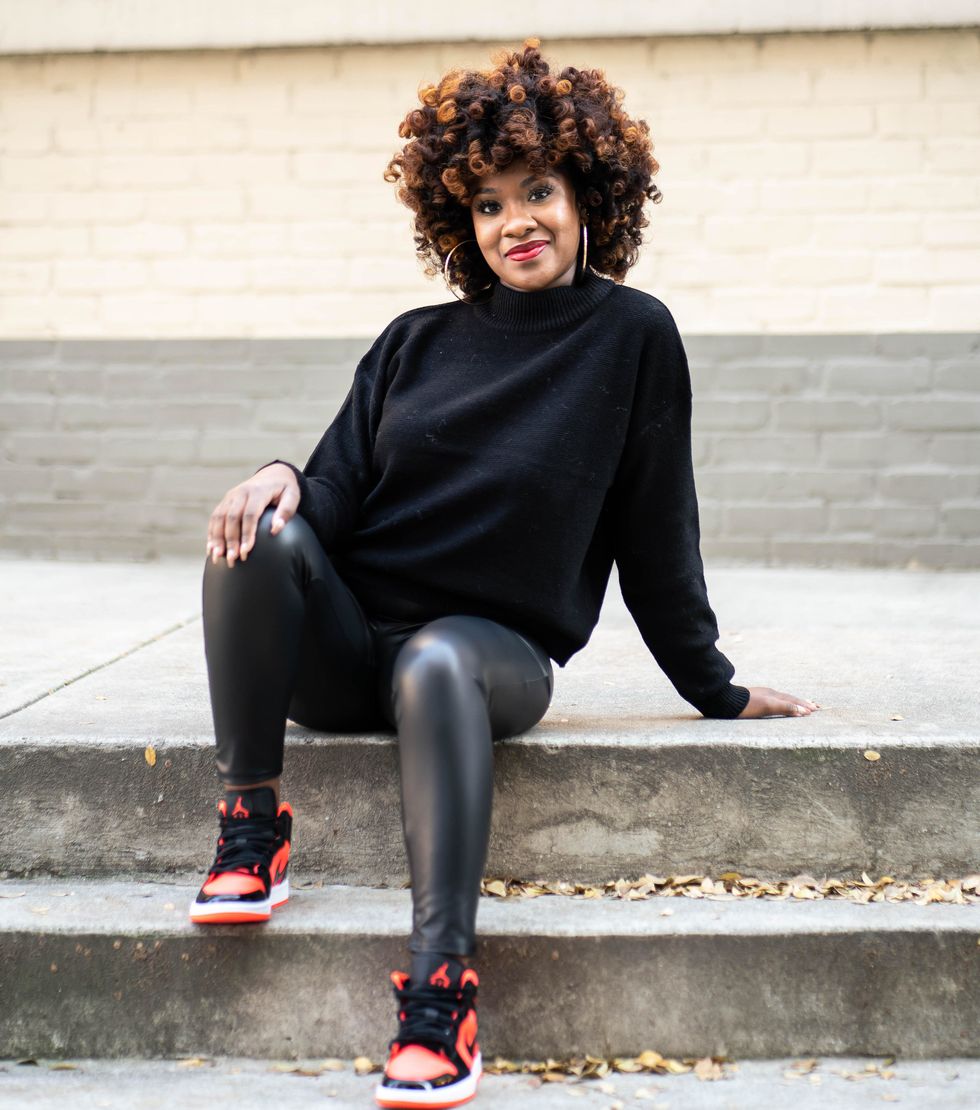 Courtesy of Kimberly White
Using the right hashtags is extremely important if you are looking to build an engaged audience and grow your following. You need to make sure you're using specific hashtags that your target audience will be searching for.
For instance, if you are an Atlanta-based fashion blogger and use hashtags such as #Style or #Atlanta, your posts are a lot less likely to be noticed since those hashtags are very broad. Using hashtags that aren't specific enough, will make it more difficult to stand out amongst other posts that are using those same hashtags.
Narrowing things down by using #AtlantaStyle or #AtlFashion will increase the chances of your posts being found by your target audience and increase your chances of becoming one of the top posts under that particular hashtag.
Can you tell me about your advice for new influencers? 
It's important to not give up too soon, and not be afraid to pivot and try something new if you're not getting your desired results. Building a social media following isn't going to happen overnight and takes patience.
One of the biggest mistakes I see new influencers make is not posting consistently enough. It's going to take more than one or two videos and photos, and there will be a lot of trial and error, but keep going!
Also try to not pay too much attention to what everyone else is doing, and don't be afraid to be yourself! Being different and embracing the qualities that make you unique is what other people, who are similar to you, will resonate with and follow you for. Be yourself!
What was your biggest influencer mistake?
One of my biggest influencer mistakes was not reading a contract thoroughly before signing it. After a few emails back and forth with a brand that wanted to collaborate, we agreed that I would create one YouTube video.
A contract was forwarded over that had "2" beside the requested number of YouTube videos. I signed before I saw that, so I ended up having to record 2 videos for this brand instead of 1. This was one of my first paid collaborations, so I quickly learned to read contracts more than once and make sure all the details reflect what was discussed. It's also better to jump on a call with a brand if you can, as things can easily be misconstrued via email.
What advice do you have for people who are trying to land paid brand partnerships?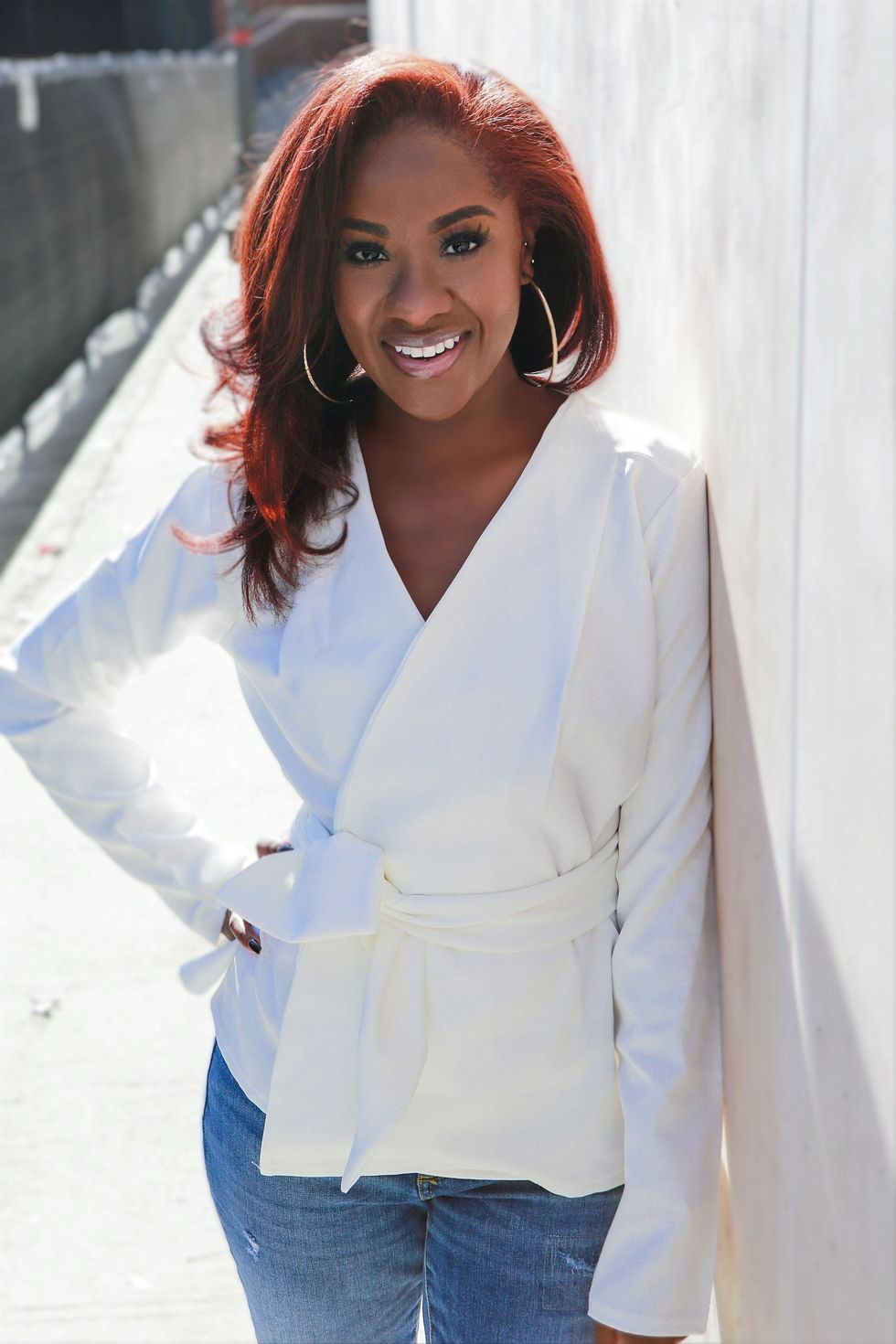 Courtesy of Kimberly White
My number one piece of advice is to create high quality content that is worth brands paying for. Also, tag the brands that you are using and wearing in your posts so they will notice you. Brands are watching, and WILL reach out if they love your work and want to partner with you!
If you want to land paid partnerships, be willing to invest your own money first into your equipment, photography, and more. Also do not be afraid to approach companies and pitch yourself for brand work, and do not let hearing the word "no" discourage you.
Keep up with Kimberly White on IG and FB at @officiallyKimwhite and on Twitter at OfficiallyKimw.
Featured image via Kimberly White
Keep reading...
Show less
Lately, I've been trying to be more intentional about my dating life. In the past I've been afraid to voice the things I want and that's resulted in a few experiences I'm not proud of. One of the worst experiences is being "ghosted". For those who aren't familiar with the term, it's when you're dating someone and it seems to be going great, and then, poof, they disappear. Pre-Quarantine, I was actively making an effort to date more and become comfortable with transparency. That process made me wonder about a few mistakes from the past.
There was a guy I dated about a year ago. I always admired his hard-working spirit and honesty. We had a lot in common and always seemed to get along fine. And then one day, he disappeared. There was no argument or monumental moment to cause it, he just stopped communicating. Naturally being the non-confrontational woman that I am (sometimes to a fault), I stopped reaching out. I assumed all sorts of annoying reasons like: he made up with his ex, he wasn't attracted to me, I opened up too much, etc. But instead of confirming any of these things, I simply unfollowed him online, deleted his text thread and moved on. Looking back I feel embarrassed at my reaction; it was pretty childish.
Why did I assume I was at fault? Why didn't I feel comfortable enough to have a conversation? Recently, curiosity and free time got the best of me (blame Quarantine), and I asked.
To my surprise, I learned that around the time we were dating, he had lost his job and became very withdrawn from life. We ended up discussing a few of the hardships he endured and how we really enjoyed each other's company. "I've come to realize I don't do well dating when my life isn't in order," he said. That made sense. Actually, it made perfect sense. But it made me wonder how many times my girlfriends and I had gotten it wrong. Sometimes we assume the best or worst, when really we just need the truth.
So I decided to ask five guys to give me honest feedback on ghosting. Why they do it, and was it the woman's fault. And whew chile, the responses. Check out some of the stories below.
Featured image by Shutterstock
Keep reading...
Show less
2019 was a difficult year for me. I dealt with months of unemployment, family being ill, and a situationship gone bad. So when 2020 rolled around, I was intentional about making the year different. A few weeks before, I decided to write out a list of goals with clear action plans on how to make them attainable. As I read over the list, I smiled to myself knowing that each one was a possibility. That is, until I added, "Become healthier and make better food choices."
I've never been thin, but within the last couple of years I had put on more pounds than what felt comfortable. I knew something had to be done, but I was stuck on what steps to take. Then days later, one of my best friends called and mentioned she planned to start the Daniel Fast and asked if I wanted to participate. The Daniel Fast is a 21-day religious fast based on the biblical book of Daniel; it requires one to abstain from meat, alcohol, and processed foods. Now, while I never claim to be the most religious person, I still take it very seriously. I knew that if I was gonna agree to it, I'd have to stick to it. But, I was super worried. I've tried many diets in the past and while I do pretty well with them in the beginning, I usually end up quitting. Maybe I don't see results quick enough, or I lose just enough to fit into an outfit, then call it quits. I knew this had to be different. I had to change my perspective. After doing more research and saving hella motivational quotes from the 'gram, I agreed.
Instead of thinking I have to stick to this diet because I want to lose weight, I thought I have to keep this commitment to God because of what He's done, and will continue to do.
I spoke to Him about struggles and goals I hope to achieve. And slowly, my thinking changed. How can I not do this? Both of my parents are cancer survivors. I'm somehow paying my bills, and He's put amazing non-romantic relationships in my life. If He did all this, certainly I can pass on wings and margaritas. I'm telling you; that thought process is a game-changer. Now don't get me wrong, there were tests. For example, I went on a date where a guy actually sat in my face eating lemon pepper wings and constantly asked, "Are you sure you don't want any?" I even worked at a wine festival and couldn't try any of the products. I'm not trying to sound like a lush, but that was a whole struggle. Still, when I think back on that time, I realize how essential it was for my health, wellness and spirituality going into this difficult year.
Here are a few things I learned:
Meat May Cause My Menstrual Cramps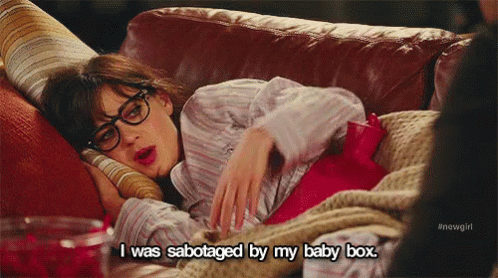 Ever since I was a teenager, I've always dealt with horrible menstrual cramps. During the 21-day fast, I didn't experience any pain. Actually, my cycle completely skipped a month. I went to the gynecologist and she explained that sudden vegan diets often do that. Our moms have said for years they're putting too many hormones in the meat. Turns out, it might be true.
Water Makes Everything Better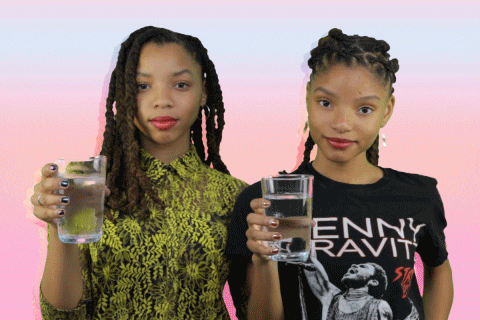 Apparently, I drink a lot of my calories. During the fast, I was unable to consume any sugary drinks so that was replaced by nonstop water. That process made me limit my juice intake and realize how much better I feel hydrated. Oh, and the clear skin is an added bonus as well.
Cooking Saves Money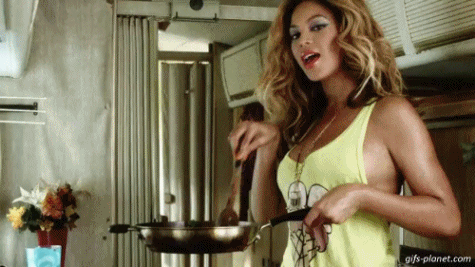 In college, I ate a lot of fast food. Now, while I have graduated to mostly restaurants, I still eat out too much. At the conclusion of the fast, I noticed my checking account was doing a lot better than it usually is. Not only does cooking help you eat better, it saves so much money. If you're looking for a way to make your dollars stretch, delete the take-out app sis.
At the conclusion of the fast, I had lost 15 pounds. But that's not what I was happiest about. It was the renewed spirit I developed.
I felt accomplished and felt spiritually stronger. I even kept a few of the habits. I limit how much meat I eat within a week, make sure to keep a water bottle throughout the work day, and have even attempted a few Pinterest recipes. The physical feeling was great but what stuck with me most is the mental and emotional changes. Thoughts like "I'll get through this" replace ones like "I can't believe this is happening." I also try and remember to have faith that things will manifest the way they're supposed to.
Overall, it encouraged me to look inward instead of seeking a distraction when I feel stressed or overwhelmed.
Want more stories like this? Sign up for our newsletter here to receive our latest articles and news straight to your inbox.
Featured image by Shutterstock
Keep reading...
Show less
It was a bright Sunday morning when I hopped on the Aunt Jackie's bus heading to Montaluce Winery. I found a spot and couldn't help but look around in awe. The seats were filled with influencers, writers, and hair mavens, all flaunting their beautifully styled curls and coils. It's been about four years since I made the decision to chop off my relaxed hair, and I still struggle with styling it. My twist-outs never come out quite right, and the last time I attempted a wash and go, I just stopped.
However at Aunt Jackies Sip & Shine, I learned a little secret: it's all about the products.
Grapeseed oil is the special ingredient in Aunt Jackie's new Grapeseed Collection. The oil contains antioxidants that reduce hair loss and are great for long-lasting moisture and shine. The new line of products include: the POWER WASH (their first clarifying shampoo), RESCUED (a deep conditioner), ICE CURLS (used to soften and hydrate curls), SLICKED (to slay edges and hold styles), FRIZZ PATROL (to set waves and curls), and SHINE BOSS (to give hair that final glow).

With grapeseed being such a focus of the collection, it was only right to celebrate the launch at a vineyard!
The day started with a rooftop lunch at the winery. During this time, we enjoyed a delicious meal while discussing our individual personal and professional journeys. Conversations ranged from the highs and lows of working in creative fields, to motherhood and how important it is to support each other. After a few chimes of "yass sis" and "let me try that wine too", we all agreed there was a genuine feeling of connection.
The rest of the day included a wine-making competition, hayride, games, and more. Crystal Styles, Aunt Jackie's Head of Education, even detailed each product individually. For example, a lot of people like to use holding gel to style their baby hair. Unfortunately, a lot of times this manipulation to the hairline causes breakage. But SLICKED contains marshmallow root and honey which helps prevent hair loss. The more we learned about the products, the more I understood the benefits.
Finally, to close the day, we all gathered together and listened as Erika Pope, Aunt Jackie's Global Brand and Product Development Manager, talked about the importance of women's empowerment. In an exercise, we took turns giving a positive affirmation to someone in the group before taking a piece of yarn and throwing the spool to the next person. Once the final woman spoke, everyone was holding a piece of the tangled yarn. It was a powerful moment that reminded me, no matter how twisted things become, we're always stronger together.
Not only did I go home with some amazing products, I left feeling empowered.

Aunt Jackie's Grapeseed Collection is available here. You can also follow them on Instagram at @AuntJackiescurlsandcoils.
Featured image by Aunt Jackie's/Instagram
Keep reading...
Show less