You can't judge a book by its cover, and apparently, you can't judge a relationship based on its flaws.
I recently watched a supercut of Rasheeda and her husband Kirk Frost's relationship during their time on Love and Hip Hop: Atlanta and, whew child. The drama. After a few consecutive seasons of consistent infidelity and blatant disrespect, even fathering a child outside of his marriage, the internet had just about had it with Kirk Frost; that was until recently, a bomb dropped that no one was expecting.
---
What was supposed to be a peaceful cabin retreat turned into a tell-all therapy session where some of the reality stars kept it 100 about the skeletons in their closet. One of the first to spill the tea was Rasheeda, who revealed that cheating had gone both ways in their relationship. Rasheeda explained:
"Nobody is perfect and relationships have issues, but y'all also gotta understand forgiveness, too. That's what I have learned to understand because we've had to forgive each other for sh-t. I ain't always been perfect in my marriage. We've had dishonesty from both sides of us in this marriage. We've had infidelities from both sides of us in this marriage."
To everyone's surprise, Rasheeda revealed that years ago, she also had been unfaithful. She explained that part of her process of forgiving Kirk and moving forward was being honest enough to acknowledge her own missteps.

"So yes, you know I've had infidelities in the past, early in Kirk and I's relationship. But honestly, at this point, bringing everybody here is for everybody to discuss things and face it. We have to come together and face it and talk about it. That's how you move past it."
Recently, we published an article about Adrienne Houghton finding love in her husband Israel, and after reading the comments I realized the overwhelming consensus is that a cheater is to be doomed to ain't shit-ness forever and can never, ever redeemed; but how does that go when it's the other way around and it's the woman in the relationship who has been unfaithful? Should she be bashed, berated, and banished from happiness and forbidden from ever finding love again?
According to Rasheeda, the answer is no and she extends that same courtesy to her husband. The southern rapper explained:
"Me and Kirk done been through a whole, whole, whole lot of sh-t. We at the point in our relationship where you gotta put things behind you in order to move forward."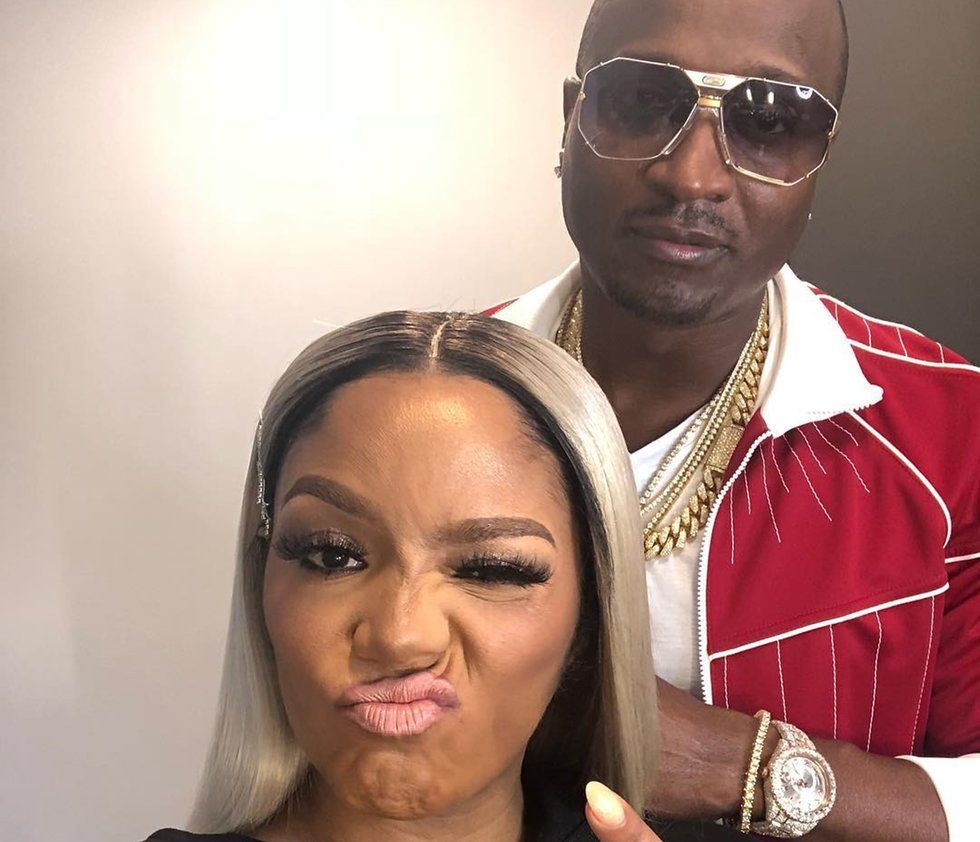 Instagram
Now Rasheeda. I love you girl, but I'm not sure I could ride for a man after he's done everything I saw in that 40-minute supercut. But again, I have to remember, I only saw 40 minutes of this couple's 20-year union. Although their relationship dynamic may not be my cup of tea, I don't have to drink it because it's not my cup. Do what works for you, sis. And if that means finding it in your heart to forgive someone who's done you wrong, personally, professionally, or romantically, then who am I to tell you, 'you're wrong'?
Rashida had this advice for any couple that's currently going through infidelity or period of unrest in their relationship:

"Anybody that's outside of y'all relationship, don't let them have so much power to separate y'all. Because people be miserable."
Please understand, this is in no way a sign to text your ex that God told you to leave alone a few weeks ago. I am not saying that you should automatically fall back in love with someone who hurt you, but what I am saying is you'll probably be a lot happier if you make the decision to forgive them, even if it's just so that you can move on solo in peace.
Watch the full clip below!
Rasheeda Reveals She Cheated on Kirk | Love & Hip Hop: Atlantawww.youtube.com
Featured image by Instagram.