Pretty Honore
Taylor "Pretty" Honore is a spiritually centered and equally provocative rapper from Baton Rouge, Louisiana with a love for people and storytelling. You can probably find me planting herbs in your local community garden, blasting "Back That Thang Up" from my mini speaker. Let's get to know each other: @prettyhonore.
Because I am your good sis, it is my duty to lace you with some hard truths, and I don't know who needs to hear this, but that toxic work environment is sucking you dry, sis. It's your responsibility to leave situations that no longer serve you and Shonda Rhimes is living proof of this fact.

Recently, news broke that Shonda has officially ended her relationship 15-year relationship with ABC because the company refused to give up a $154 ticket to Disneyland, and it was a potent reminder that it pays to know your worth.
The controversy began after Shonda, who planned for a fun day with family, requested an extra ticket to the park and was ultimately denied. After securing passes for her nanny, two younger daughters, and niece, Shonda explained that she then asked a high-ranking company executive to issue an additional ticket for her sister, who suggested that the producer had enough money to pay for the ticket on her own.
Although the Disneyland debacle was the reason Shonda ultimately decided to end her relationship with the network, Shonda said that her departure was years in the making. She told Hollywood Reporter:
"I felt like I was dying. Like I'd been pushing the same ball up the same hill in the exact same way for a really long time."
Shonda said that over the years, she had begun to feel stagnant in her position and her work eventually became a source of anxiety.
"I spend a lot of time going, like, 'We should have made 50 shows by now.' And not for the audience so much as, like, 'What do the bosses think?' And I know they don't think I should have made 50 shows by now, but it's very hard for me to not be the perfect storytelling machine."
Now, with a new deal secured with Netflix worth $150 millon, the writer says that more than anything, she's focusing on creating art that makes her happy:
"The first thing I said was, 'You're not going to get another 'Grey's Anatomy' — not 'Grey's Anatomy' in a cornfield, 'Grey's Anatomy' on a baseball field or 'Grey's Anatomy' at an airport, that's just not happening,' and he said, 'I'd never expect it to,' And then I said, 'I just want to be in a place where I can make stuff and no one's going to bother me or make me feel like I'm beholden,' and he was like, 'That sounds great to me.'
"The reason I came to Netflix is because I wanted to be able to make television without anybody bothering me. And as long as I get to keep making television without anybody bothering me, I'm happy."
To read Shonda's full interview, click here!
Featured image by Kathy Hutchins / Shutterstock.com

One thing about Kelly Rowland—sis is gone put together an outfit and make it a whole moment and in a recent interview with Vogue, the soon-to-be mother-of-two broke down the method behind her iconic style.
According to Kelly, although she's not big on following trends, she's known to keep a good statement piece on deck:
"I'm not as big on trends as I was when I was younger. I love classic pieces and understanding the value of having things in your closet that work for you long term."
In the interview, the singer, who recently announced her second pregnancy in Women's Health, opened up about her latest capsule collection with JustFab and shared her mission of helping every woman slay her work-from-home style one outfit at a time:
"I still wanted to feel cute [but] sometimes going to the grocery store was the only outing that I was having. I put all my clothes into sets, which is why we have a bunch of cozy sets within the collection. I added sweaters because sometimes you don't want to wear a t-shirt or you need something to layer while you're in the house."
"[Women] are already thinking about everything else going on the world, within their households, and how they're going to balance this, that, and everything else. We wanted to take the worry out of it for her."
Although this isn't Kelly's first time around the maternity wardrobe block, she explained that her style is much different this time around.
"I have, for some strange reason, wanted to be sexy this pregnancy. I find that I'm wearing everything quite fitted. I have a vintage Bob Marley tees collection, and I paired one with my little ankle boots the other day. My assistant looks at me and says 'Where are you going—you look like you're headed to Coachella?' I want to see the body, embrace all of the curves and splendor."
Much of her maternity style, Kelly says, is inspired by her good sis Queen Bey, who never holds back when it comes to slaying TF out of a pregnancy.
"B rocked her pregnancies so beautifully. I've been inspired by my girlfriends. I remember we went out for Mexican food one night while [Beyoncé] was pregnant and she was all dressed up. I thought 'I'm going to do that next time because it looks like more fun.' You're already going through a lot, and your body is changing, so you want to have a good time while you're doing it."
With or without a belly, Kelly Rowland's iconic eye for fashion never disappoints.
Featured image by Debby Wong / Shutterstock.com
Spooky season is upon us, my good sisters, but it's safe to say that 2020 has already been scary enough. With the COVID-19 pandemic, an impending election, and ongoing social unrest, this year is giving me horror movie vibes and it is upsetting me and my homegirls.
Although we are battling our own share of monsters in our everyday lives, Halloween falls on a Saturday this year and it's only right that you give yourself a night off to be whoever you want to be.
Whether it be an ode to your favorite TV character, a fairy princess, or a naughty nurse, you still have plenty of time to get your Halloween lewk all the way together and xoNecole has compiled a list of makeup artists that will have you inspired AF.

For all of the makeup artists who have slayed Halloween 2020 so far, scroll below:
Featured image by Instagram/@leilanikeaa.
I don't know who needs to hear this, but being in a relationship won't make you happy. You can only do that for yourself, sis.
While many of us have predicated our love lives on finding someone who makes us feel 'complete', after ending her engagement with former NFL football star Kelvin Hayden, Taraji P. Henson knows that you should come to the table as a whole ass person. On the latest episode of The Breakfast Club, the 50-year-old actress opened up why she and her former fiance decided to end their romantic journey, which Taraji says didn't happen without a fight. She explained:
"I'm dedicated to the black man, y'all. I just turned 50 and I mean, I hadn't said it yet, but it didn't work out. I tried. I was, like, therapy. Let's do the therapy thing, but if you're both not on the same page with that then you feel like, you're taking it on yourself, and that's not a fair position for anybody to play in a relationship."
The former couple dated for two years before announcing their engagement in May of 2018 and planned to tie the knot in June before COVID-19 indefinitely halted their wedding plans. Taraji says that although the couple tried their hardest to salvage their relationship, ultimately, she had to take responsibility for her own happiness.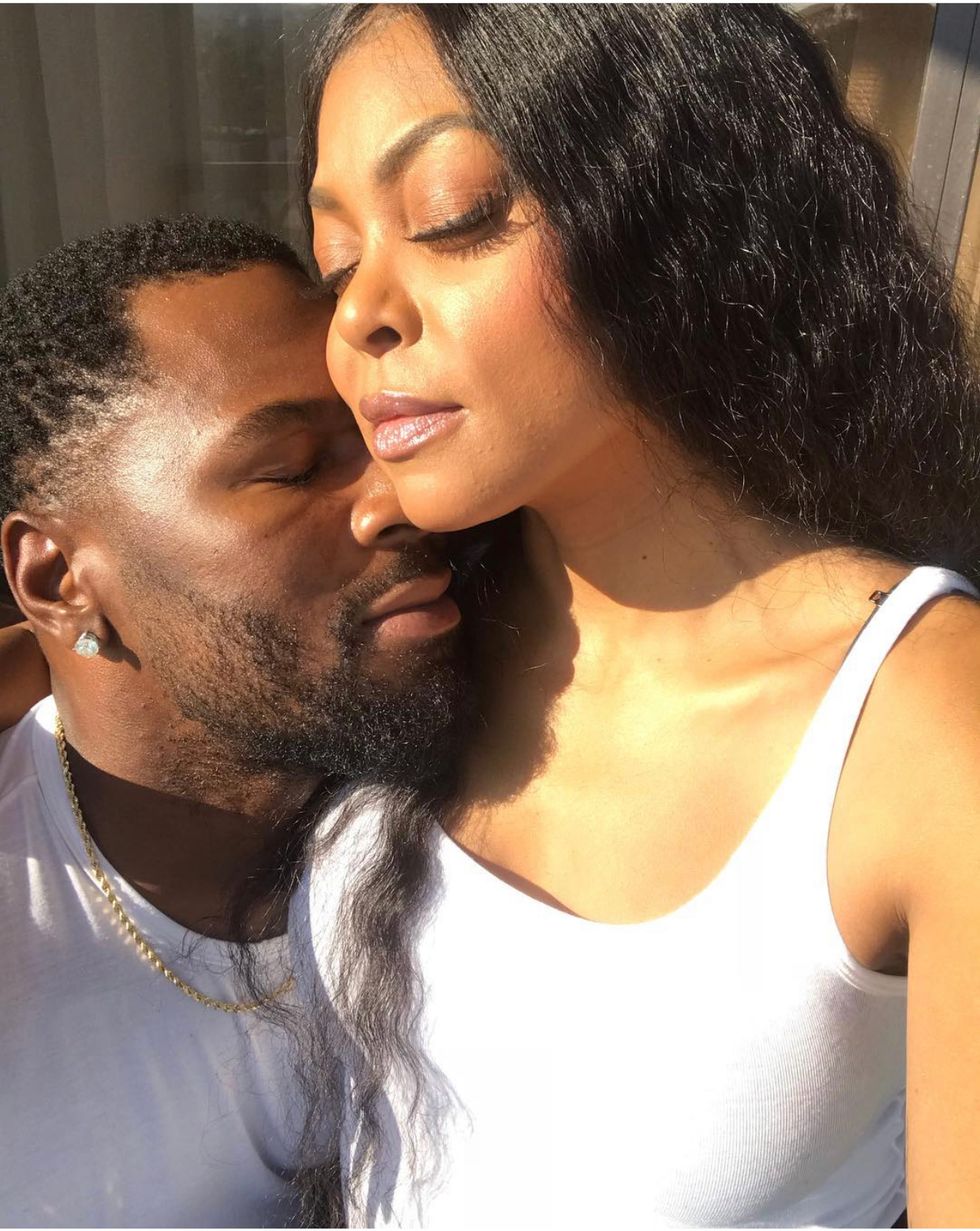 Instagram/@tarajiphenson
"My happiness is not his responsibility and his is not mine. We have to first learn how to make ourselves happy, to make each other happy. So, when one person is taking on the weight of the entire relationship, it's never going to work. You have to show up, yes you want to be understanding but you can't lose yourself in that understanding. You have to still stand up for yourself and be there for yourself but it's hard to do if the other person isn't doing that either."
Taraji added that after taking a more introspective look at her former relationships, she ultimately realized a pattern that she had been subconsciously committed to for years.
"All of my relationships started looking the same. Two broken people trying to pick up the pieces."
To watch Taraji's full interview with The Breakfast Club, click here!
Taraji P Henson, Jay Barnett + Trace Jade Jenkins On Healing Through Therapy, New Talk Show + Morewww.youtube.com
Featured image by Instagram/@TarajiPHenson.

I don't know who needs this, but you've been sleeping on yourself for too long sis. And it's time to wake TF up.
So often, we shrink ourselves to fit into spaces where we don't belong but in a recent interview with Glamour, Regina King had a word about reclaiming your time and stepping into your personal power that will get you all the way together. In the interview, Regina said that she, too, has been a sister in the self-doubt struggle, and explained that her biggest personal goal is to have the courage to be honest with herself, first. Regina told Glamour:
"I'm just allowing myself to be okay with being emotional and being honest about being emotional. I really think it's really important to be honest about all the stuff that we're feeling right now. The worst thing that we can do is to not be true to ourselves about how we feel."
Like most of us, Regina admitted to surrendering to imposter syndrome instead of stepping into her own power and said that's it's only by God's guidance that she's truly been able to access it.
"There are moments where I feel like when I can look back in life and definitely see that maybe I have more power than I thought I had, and because I didn't know, I didn't access it. I didn't allow myself to utilize it, because I just did not realize it."
"I can't say that there was a moment, a particular moment, where a light bulb went off that was like, 'Wow. You've got some cachet. You can move something.' But I will say that thank God for wisdom because I am much more in tune with that power…."
Although Regina tries her hardest to remain diplomatic, she says that since realizing her own personal power, she can't help but be a boss at any table she's sitting.
"I'm hesitating when I'm speaking about power as it relates to me because I have this able concern that it will come off like a dictator or something like that. There's that part of me that always wants to be careful not to come off like that, but I am definitely a person that likes to be in control. I guess I'm a walking contradiction. I think that's just human nature."
To read Regina's full interview, click here!
Are you a member of our insiders squad? Join us in the xoTribe Members Community today!
Featured image by Kathy Hutchins / Shutterstock.com

If the pandemic has taught me anything, it's that being alone and feeling lonely are not synonymous. As an introvert who can admit to having my fair share of intimacy issues, solitude has always brought me a sense of peace, but something about seven months of being forced to be alone in my house just isn't sitting right with my spirit and I know at least, I'm not alone in feeling that.
Now that I've run out of exes to texts and old friendships to rekindle, I'm focused on fixing the relationship that I have with myself and luckily, Tracee Ellis Ross just dropped the sage advice that will help us all do exactly that. In a recent interview with Shape, the 47-year-old actresssaid that although she had previously adapted to her chaotic, on-the-go lifestyle, the pandemic has helped her find peace in pressing pause to focus on herself and the things that bring her the most joy.
"I used to spend so much time trying to be perfect, to get it perfect. But that's not realistic. Bad feelings come up. There was an element of risk to try something different — to try on the idea of: What if the universe is conspiring for good? Not necessarily mine, but what if I don't have the full picture here? What if this is all OK? And that was the start of a turning point. If you keep putting good stuff in your cup, eventually it overflows. And you'll be like, 'Oh, I need a new container.'"
"What I've realized during this pandemic is that my entire home is my meditation space. Look anywhere, and every touch is an ode to happiness. In one spot is a brass bowl from her best friend filled with crystals, many heart-shaped. I'm looking at a little chubby jade pig that I got when I went to Thailand with my mom. These are all things that bring me joy."
In the interview, Tracee also clarified what it means to be happily single during a global pandemic, which, according to her is much easier when you have a healthy relationship with loneliness and actually enjoy your own company.
"I am happily single, though that doesn't mean I am not open to and don't want a relationship. But in my wonderful and robust experience of being single, I have learned to have a productive relationship with loneliness and an intensely juicy relationship with my joyful solitude — I really enjoy my company."
"For example, one of the things I loved to do pre-pandemic is put on something cute and go for dinner and have a beautiful meal and a glass of wine. Well, can't do that. But you know what? I can do that at home. I make a beautiful plate. I set it out and have a glorious meal. I make my bed every morning. One of the things that's been lovely to discover is how I care for myself and how I actively love myself. And I believe that love is an action: You get back what you put in."
The actress told the publication that although she still has hope of finding love one day, she's spent her time as a single woman making sure that she comes to the table as a whole ass person.
"People can be in wonderful relationships but can't actually reap the joy of that connection. Because you can have all the good stuff, but if you don't know how to be with it, it doesn't matter. I realize that I hold the idea of wholeness with great reverence and respect because my goal is to have an experience with myself that is whole."
To read Tracee's full interview with Shape, click here!
Featured image by Instagram/@TraceeEllisRoss.