To hear in 2021, a time where existence has been going on for millions of years, that someone is the first Black anything, is almost mind-blowing, but it definitely is still something that happens. And frequently, actually. Thankfully, this label has re-emerged with one of our dear faves, a woman way beyond her time who is everything we love to see in a modern woman, Ms. Teyana TF Taylor.
Are you a member of our insiders squad? Join us in the xoTribe Members Community today!

Featured image via Rich Fury/Getty Images for Def Jam Recordings
Social media is a powerful tool that is responsible for the careers of so many of today's artists. Much of this credit is due to viral videos on TikTok or other social platforms, where artists now look to to break records. You never know when it's your turn or what potential dance will be created with your music but today, the wave certainly influences the Billboard charts, rather than the other way around. Songs will also trend more on social when well-known creators use them for their content.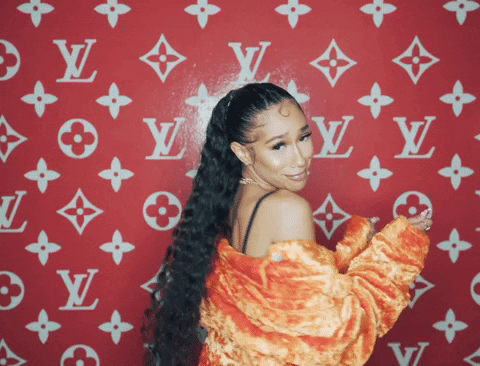 Giphy
This is also proven to be true when celebs use said music in their videos, a move that mega-hyped artist, BIA knows all too well. Born and raised in Boston, the 29-year-old has gone from grinding across the music industry for years, to being seen and heard throughout multiple viral spaces and platforms with artists such as Monica, Toni Braxton, oh, and to a Bajan superstar named Rihanna. And what's best about BIA, is that there's so much more about her story that we love to see.

So here's 7 facts about BIA, the artist on everyone's timeline:
1. BIA debuted on Oxygen's reality television show, 'Sisterhood of Hip Hop'.
BIA's success came to fruition when she was discovered on YouTube, which led to signing with Pharrell's record label, i am OTHER, and an appearance on the widely acclaimed reality TV show titled, Sisterhood of Hip Hop. The show debuted in 2014 and ran for three seasons, with other artists such as Siya, Brianna Perry, Nyemiah Supreme, and more.
Of her time on the show, BIA says although she enjoyed the time, she is done with that part of her career:
"With reality television, you gotta know when to get in and when to get out."
2. Rihanna broke one of BIA's most popular songs with fellow rapper, Russ.
Rihanna is powerful in all that she does. After taking to her social media to personally thank Russ and BIA for their song, "Best on Earth", her 97 million followers went crazy about the song as well, sending it UP up.
"I knew it was going to be a big song because Russ is so incredible. But I didn't know it was going to be like that. I had no idea it was going to be life-changing. [But] I've had a moment like that before with going to the Latin Grammys with Pharrell and J Balvin. I had another moment going on tour with Ariana Grande. Each moment in my life has taught me to be really thankful for where I'm at. I just try to live in the moment now, thank God for what He's doing in my life and just let it take me wherever it's taking me because that's really all you can do. You work so hard to have those moments so when you receive them you gotta be ready for them."
The song went on to peak at #46 on Billboards Hot 100, #22 on R&B/Hip Hop, and #1 on Rhythmic charts.
3. And speaking of Ariana Grande, BIA is good friends with her as well.
In 2017, BIA opened for Ariana Grande's Dangerous Woman Tour, and was even at the tour stop in Manchester, prior to the widely discussed and tragic bombing of the arena, which BIA referred to as 'heartbreaking.' The two went on to form a bond and friendship from there, often collaborating on music such as BIA's leaked song, "Esta Noche" and another unreleased song titled "More."
BIA even attended Grande's 24th birthday party that same year and you can find the other on their social media pages from time to time, with Ariana exclaiming:
"@bia I love you from the bottom of my heart! you were so incredible tonight #estanoche #trapvogue"
4. Her song "SKATE" is the theme song for this year's NHL playoffs.
The soundtrack to the #StanleyCup Playoffs. 🔥 🎶: @BIABIA https://t.co/Hxd80thzok

— NHL (@NHL)1621278380.0
Ahead of the start of the 2021 Stanley Cup playoffs, the NHL teamed up with BIA to mix her track, "Skate", which originally appeared on her For Certain EP from late 2020. The NHL Mix debuted alongside a hard-hitting teaser trailer to build hype for the playoffs.
It features clips of the artist in the recording studio, with footage from the Tampa Bay Lightning victory at the 2020 Stanley Cup, which honestly was everything. Of the mix, she told Complex:
"Turning 'Skate' into the NHL's playoff theme song was so natural and fun to do, can't wait to see who wins the Cup. Go Bruins!"
5. BIA dropped out of school after having an epiphany.
Though BIA's frequent cosigns and collaborations might make it appear as if she's had a smooth path to success, her journey to stardom has been flooded with a series of constant setbacks that actually makes her more grateful for where she is today.
"Before all of this, I was bartending and working all types of jobs to make things happen. I was spending all my money on recording and studio time and I was like, how can I make this a career? School wasn't for me. I had just dropped out of college and was really struggling."
But dropping out of school came with an epiphany.
"I had learned too much for anyone to teach me anything. And so my 'it' moment was when I realized that I had already known what people were trying to teach me. I had a powerful testimony to share with women and the rest of the world."
6. BIA was in a motorcycle accident that nearly claimed her legs.
In 2013, a drunk driver hit BIA and her then-boyfriend who was leaving a music festival. She recounted the story with Hot97:
"It was like 10, 20 of us on bikes. I was a passenger and a drunk driver just whipped a U-Turn. I fell 20, 30 feet in the air and fell on the floor. My helmet stayed on but my driver's helmet fell off and his head split open. He's all right. He got staples in his head. Man, that was crazy. I hit the floor like, "Oh my God. Am I alive?" I looked down and my leg was split open. I didn't know if I was gonna keep my leg or not. It was bad."
The experience eventually humbled the artist, having her turn up her opportunity even more.
"The day after, I was in the studio with crutches. My [scar] looked so ugly but it was never a thought it would get in my way. I was like, "Oh sh**. I'm gonna make it beautiful." Mentally, it traumatizes you. I still get weirded out in the car if someone drives too fast."
7. Most importantly, she's going to be around for a while, because her confidence is unmatched.
"The first day I met Pharrell, I wasn't as nervous as I thought I would and I think it's because I felt like I was supposed to be there at the moment. God put me there for a reason."
She eventually moved on from Pharell's i am OTHER record label through a venture under RCA Records, eventually signing with Epic Records. Sis knows her vision, and stays true to it, as she's been consistent to her hustle for nearly a decade.
"I saw the world differently and it forced me to really know myself through music and to create my own thing. I don't really look at any one like competition, because the lane I'm creating is not there yet."
Are you a member of our insiders squad? Join us in the xoTribe Members Community today!

Featured image via Giphy
Keep reading...
Show less
Nia Talita Long is one of them precious women of the culture, 50, but regal; a goddess amoungst gods, and unapologetic about it. She has had the community enamored with her presence since emerging on our screens in Boyz N the Hood and Fresh Prince of Bel Air thirty years ago. 30!
Today, she opts for a more lowkey lifestyle, sitting in the driver's seat of her career, and accepting all of the cultural praise that makes her a legend within her own right. She even recently addressed the difference of the industry when she was at the height of her career, and now, praising those who have stood on her shoulders to breakout in Hollywood.
"I was lucky enough to start acting and really having unique opportunities in a time — it was the '90s — where Black everything beautiful, proud, loud, and in your face was undeniable. When I started in the business, most of the films that I worked on were Black films. The crew was Black, the director was Black, the writer was Black. Because that was my first experience, I thought that was the norm — that the next set that I went to was going to be Black, Black, Black, but I realized it wasn't."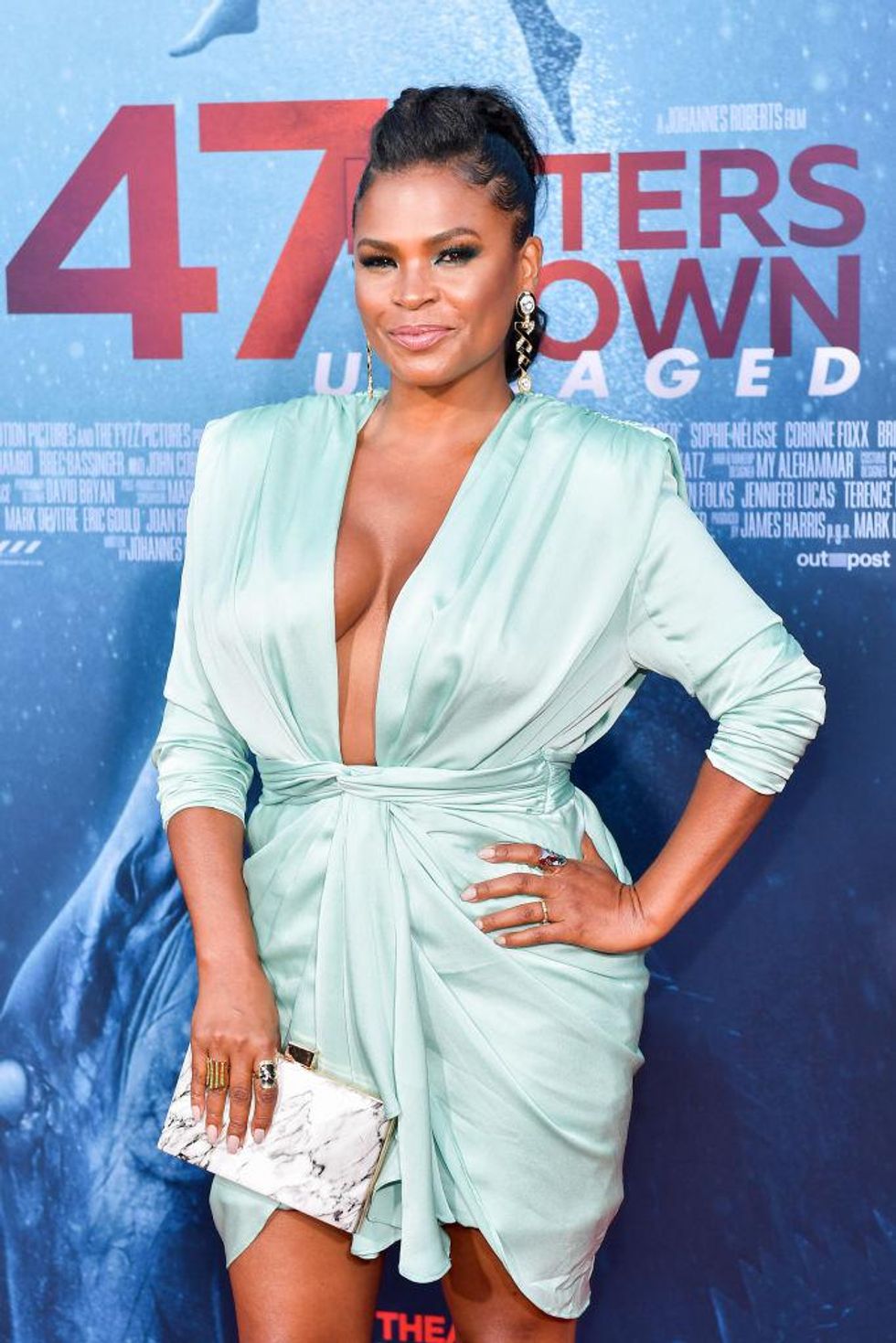 Matt Winkelmeyer/Getty Images
She continues:
"Oftentimes there was a Black director, Black actors, and the entire crew would be white, which I don't really care — if you're good at your job, you should have the job. But what bothers me is the opportunities weren't always offered to Black people. You'd walk into the hair and makeup trailer, and there was no one there to service you, to understand your hair and makeup needs. And then you were labeled difficult if you said, 'No, I'm not getting in front of the camera looking like this because I could do it better myself."
And for years, she was unfairly labeled as difficult for just this, an experience Black women know all too well. She told TV One:
"When I started working, I was in constant competition with...mostly it was me and Jada [Pinkett-Smith]. It was like, 'oh, do you want the brown skin spicy girl, or do you want that light skin spicy girl?' And if you look at the history of film during that time, you will see how we were...divided."
Which is absolutely true, and even stands true today, although not as tolerated. And ironically, Nia beat out Jada to play the love interest of Will Smith for her character, Lisa on the Fresh Prince of Bel Air.
"It's a blessing and a curse because here's what I do know: Nia Long knows her light. Nia Long knows her makeup. Nia Long knows her hair. And you probably can't talk me into something else unless you show me. If you want to call that difficult then...sorry."
Girlllllll, you better be unapologetic with these FACTS, sis! The Love Jones star has now taken the time to praise those who are able to push diversity forward, in a way that she says her or Jada simply couldn't do at the time.
"[The new generation is] demanding diversity in a way that my generation really couldn't. We would ask, but it wasn't always granted. Now there is an awareness and there's an 'I'm not taking no for an answer' attitude, which is really amazing. I'm really proud of the next group of leaders in this industry that are putting their foot down and saying, 'No, we deserve to have the same experience as the next white actress.'"
Oh, Nia. Please remain the pillar that you are. We need you, queen!
Watch the clip discussing her addressing her being labeled as 'difficult' below:
Are you a member of our insiders squad? Join us in the xoTribe Members Community today!
Featured image by Matt Winkelmeyer/Getty Images
Keep reading...
Show less
Issa Rae covers Vanity Fair's June issue looking ready for business in a crisp black suit offset by a gold, armor-like bustier that levels up the whole ensemble. In fact, "Issa Rae Levels Up" is emblazoned across her image and the cover story inside is fitting of the headline. Not only is the writer/actor/producer gearing up for the final season of her "baby" Insecure, but she's hitting the ground running with several projects in the works.
Issa's lineup includes producing a Baldwin Hills-esque docu-series Sweet Life and an adaptation of popular podcast Nice White Parents, plus she's writing, producing, and starring in Perfect Strangers. She also has a second season of A Black Lady Sketch Show which she executive produces coming up, and she's working on a revival of Matt Damon and Ben Affleck's HBO docu-series Project Greenlight, which gave money and support to aspiring filmmakers. So yeah, "levels up" is probably an understatement for what the 36-year-old has coming.
With all these new endeavors happening, one thing remains prevalent throughout Issa's work—the range of relatable Black women characters. If you're an Insecure fan, you know exactly what I'm talking about. Each season the women only get more complex and the introduction of new female roles only adds layers. Her mission is to do this for Black woman characters across the scope of her work.
In her interview with VF, she shares an interesting anecdote of hurting Lauren London's feelings a few years ago that really drove this message home. Luckily, the two have made up since—in part thanks to the late Nipsey Hussle for encouraging Issa to defuse the situation at a birthday party for Diddy.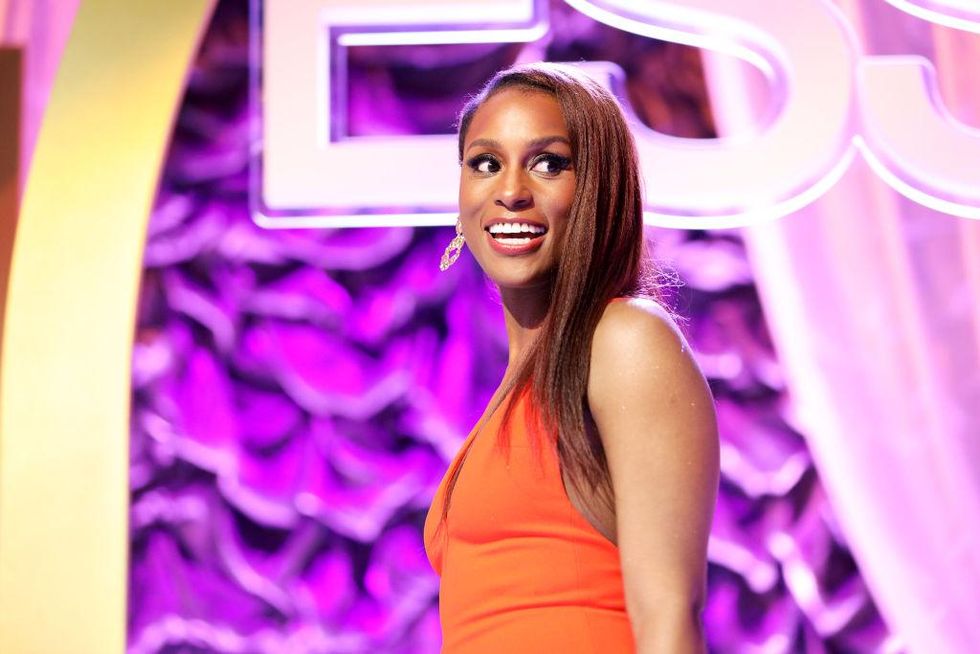 Rich Polk/Getty Images for ESSENCE
Issa recalls a previous interview she did where she told the story of a TV executive who suggested that Lauren, most known for roles in ATL and The Game reboot, play the lead for a cable version of her YouTube hit Awkward Black Girl. That show became what we all love and know today as Insecure, which we can't imagine anyone else other than Issa as the off-beat leading lady.
And Issa couldn't imagine Lauren encapsulating the awkwardness that her character Issa Dee (based on her real self) embodies. Her point was that executives were out of touch with Black women and thought of swapping one for another even when they were nothing alike, but also that dark-skinned Black women could be edited out of their own narratives.
However, Issa's comments in the interview hurt London's feelings.
"One of my biggest regrets, naming her. She took offense to that."
It wasn't until the aforementioned Diddy birthday party two years ago where the pair reconciled:
"[Nipsey] was like, 'You should just talk to her. Let me set it up.' It actually sparked an amazing two-hour conversation. We had so much in common. She was like, 'People don't understand, I'm an awkward Black girl.' In the same way that I was upset about the limited portrayal of Black women, she was like, 'People do the same thing to me.' I completely get that."
Consider the situation a lesson learned. Issa continues to expand her concept of Black female characters.
She also admits to still being in a group chat with Rihanna, Lupita Nyong'o, and Ava DuVernay ever since a rival photo from NYFW '16 that Twitter wants made into a movie, and we concur.
The more versatile Black woman roles, the better.
Featured image by Rich Polk/Getty Images for ESSENCE

Keep reading...
Show less
Real Housewives of Atlanta star Porsha Williams announced her engagement to Simon Guobadia AKA castmate Falynn Guobadia's recently divorced husband last week, and Black Twitter has thoughts. Read Porsha's statement on Instagram below:
"Our relationship began a month ago—yes we are crazy in love. I know it's fast but we are living life each day to its fullest," she wrote on Instagram, confirming rumors circling around social media of their relationship. "I choose happiness every morning and every night. Tuning out all negative energy and only focused on positive wishes. He makes me so happy and to me, that is what matters most."
She continued:

"For all of you that need facts, I get the optics but Simon filed for divorce from a previous marriage in January. I had nothing to do with their divorce filing. That's between the two of them Falynn and I are not friends, and Simon's divorce has been settled. Our relationship is a positive, loving step forward in everybody's lives."
Her note was met with mixed reviews from fans.
Many of Porsha's followers felt like this...
me after "falling in love" with man worth $40million after 1 month. pic.twitter.com/34vD7gQx3x

— Schrödinger's GoldDigger ✨ (@HeyLeauxla) May 11, 2021
We must preface Porsha's engagement news with the fact that Falynn Guobadia, announced to the public that she and Simon had called it quits a few weeks prior. And while on paper they were together for two years, in his own split announcement, he said they were only together a year and a half.
And Porsha stands firm in saying that she didn't start dating him until his divorce was final. (Sidenote: Falynn and Porsha may not be friends, but you know who are friends? The father of Porsha's one-year-old daughter, Pilar, Dennis McKinley, and Simon, as pictured here.)
While Porsha's engagement controversy has been the talk of Twitter, at least she can laugh at herself...
not used my meme on me 😂 https://t.co/iJnR0KpuMT

— Porsha Williams (@Porsha4real) May 11, 2021
Leave it to Porsha's other RHOATL castmate, Kenya Moore, to chime into the conversation as well...
May 11, 2021
One thing's for sure, whether you agree with Porsha's newfound love or don't, we all can't wait to see how this will play out on next season of The Real Housewives of Atlanta. In the meantime let's LOL, because once again the internet is undefeated.
Featured image by Slaven Vlasic/Getty Images
Keep reading...
Show less
As always, the most recent episode of Red Table Talk did not disappoint. The topic struck a nerve with the team here xoNecole in particular because we understand that Black women are beautifully capable beings that deserve the same respect that other demographics are handed, sometimes even undeservingly. Social justice leader Tameka Mallory joined the RTT hosts along with several Black women who have been ignored and mistreated—"The Invisible Black Women."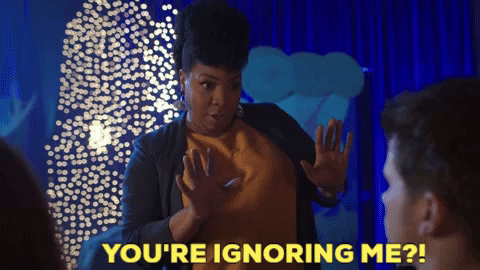 Accounts varied but the core of all their stories was the same. One woman was on a Delta flight when a man had a medical emergency and she told the crew she was a doctor but was asked if she had her medical diploma with her. However, when a white male came forward and said he was a doctor, they didn't question his credentials at all.
Another woman went to the emergency room as she was four months pregnant and was bleeding. Doctors were dismissive of her in the emergency room and when they finally admitted her hours later the doctor said some pretty terrible things to her. The staff was dismissive of the pain she was experiencing and she ultimately had a miscarriage.
Whether on a scale this big or not, these experiences make us feel small and are sometimes life-threatening. Because sharing stories like these make us feel seen, we asked Black women in our circles for accounts where their intuition, credibility, or mere presence was ignored.
Below two xoNecole readers open up on what happened to them and how they handled this type of racism rarely talked about.
There Was a Very Clear Aura of 'She's Being Dramatic'
"Similar to the Black women who have experienced neglect in hospital and medical settings, I've also felt ignored and disregarded in that way. Last year, I experienced a miscarriage. I had what doctors called a blighted ovum, which is essentially when a fertilized egg never develops into an embryo. It causes somewhat of a delayed miscarriage, and the day I arrived at the hospital, there was a very clear aura of 'she's being dramatic' when I first came through the emergency room doors doubled over in pain and being escorted via a wheelchair.
"The doctor assigned to me had to internally inspect me to check for hemorrhaging (severe bleeding), and I was in so much pain that she wasn't able to stick the tool where she needed to. It was traumatizing and agonizing, and she just kept rolling her eyes and sighing in frustration despite my pleas that I was in pain and that I wasn't purposefully tensing up, which prevented her from being able to do the inspection.
"Thankfully, a nurse was there (who appeared to be a Latina woman), and she held my hand and spoke to me with much more grace (this was at the peak of COVID, so no family was allowed into the hospital rooms with me). The doctor returned later a little more empathetic, but still very neglectful of the pain and general discomfort I was feeling. It was disappointing, hurtful, and honestly made me never want to go back to a hospital again." —Diamond Alexis, 27, Journalist and Social Media Manager
She Was Dismissive, She Judged Me, and She Was Cold
"Unfortunately, I had a similar experience as the woman who had the miscarriage. I went into an emergency room because I was eight weeks pregnant and at 4 a.m. on a Thursday morning I started bleeding. I knew what was happening and went to the nearest hospital. I told them my situation but there was no sense of urgency. I was sitting in the waiting room bleeding, crying and thinking the worst.
"My mother had to ask why we were waiting so long to come to find out this hospital had no OBGYN department and the ultrasound tech wouldn't be in for another hour. I got up to leave and some security guard, a black man, told me I might as well stay because they're going to charge me. I was disgusted, needless to say, they called me right after he made that comment.
"I went to the room to get an ultrasound and waited on results. The doctor, who was a white woman, asked questions as if it was impossible for a black woman in her thirties to only have been pregnant once or to have never had an abortion. She was dismissive, she judged me, and she was cold delivering the news."
"I did have a miscarriage and that experience made everything I was going through worse. Not to mention, I was waiting for my mom to get the car and the security guard told me I couldn't sit in the waiting room. I'm losing my first child, in pain physically and emotionally, and from beginning to end during this hospital visit I felt ignored and unseen." —Amiyah Deziire, Radio Personality/Motivator/Writer
Featured image by Phillip Faraone/Getty Images for REVOLT

Keep reading...
Show less