The Harder They Fall has been the talk of social media since it premiered on Netflix last week. The film is a first of its kind. A western with a star-studded, all-Black cast that includes Idris Elba, Regina King, and LaKeith Stanfield, but what makes the story even more interesting is that the characters are all based on real people. While the real people have never met in real life, the actors in the film do and they come together to tell an explosive, yet touching fictional story.
While white men have historically been at the forefront of Western movies, The Harder They Fall puts an end to that by not only having an all-Black cast but also having strong Black female characters.
Regina King's character, "Treacherous Trudy," is just as powerful and respected as Idris Elba's character, who she plays alongside throughout the film. Zazie Beetz's character "Stagecoach Mary" plays alongside Jonathan Majors' character but proves herself to be more than just his love interest.
Lastly, we have "Cuffe," played by Danielle Deadwyler, who defies what a stereotypical woman is supposed to be. The film's director Jeymes Samuel spoke with Essence on the importance of having fearless female characters in the film.
"Just because the story takes place in the 1800s shouldn't give you license to make women subservient," he said. "When Nat Love says to Trudy Smith, 'Where's your boss? She goes, 'Boss?' When Nat Love says to Stagecoach Mary, 'What in my character makes you think I'd allow that?' She goes, 'I wasn't asking for your permission.' Ain't no subservience in this movie. We're kings and queens on horseback."
And why would the women be subservient when they were real-life badasses?
History.com says that Mary Fields aka Stagecoach Mary was the first Black woman to work as a mail carrier and she was known to sport two guns to fight off thieves. Because of her height and tough demeanor, she was feared by many, but also loved and respected.
At 17-years-old, Cathay "Cuffe" Williams became the first documented woman to serve in the United States Army, although she enlisted as a man. When she was found out, she was discharged and later joined the Buffalo Soldiers.
Cathay Williams, aka "Cuffe" was the first-ever Black woman to serve in the US Army. She enlisted as a man in 1866 under the name "William Cathay" when she was just 17.

Where is Cathay's biopic?!?! #TheHarderTheyFall pic.twitter.com/eJsxxIINfw

— McKenzie Jean-Philippe (@McKenzie_JP) November 6, 2021
There is little known information about Gertrude "Treacherous Trudy" Smith, but according to Jeymes, she was a pickpocketer and well-traveled, which explains the character's accent. She also used to run with a woman named Dolly Mickey. It's also reported that the story her character in the film shared about her sister happened in real life.
So, there you have it. These ladies were not only badasses, but they were free Black women who made history. Even in the 1800s, they didn't let being Black and a woman stop them from living life on their own terms.
Now, that's powerful!
Featured image by Kevin Winter/WireImage via Getty Images
Keep reading...
Show less
Yara Shahidi is a force to be reckoned with! The Grown-ish star continues to act in the college sitcom as she attends college in real life at Havard and she is also expanding her activism in a big way.
The actress just signed on for a multi-year deal with Dell XPS to help the next generation use their voice through technology, she is working with former first lady Michelle Obama to live-stream a discussion with college students nationwide and she founded Eighteen x 18, which focused on getting first-time voters to the polls in 2018.
And while Yara has captured our attention with the use of her voice, she has also wowed us with her elegance and style. Her Instagram page is filled with many enviable style moments, but her red carpet looks are to die for. A recent example is her look for the 2021 Met Gala.
Channeling the legendary Josephine Baker, Yara blew us away with her crystal beaded gown and matching long, fitted gloves while she rocked diamonds on her neck, ears, and headpiece. But according to an interview the Black-ish star did with Glamour, that's not even the best thing she has in her closet. The 21-year-old dished on her style, her favorite snacks (which are healthy, go figure!), and the last thing she read.
On Her Personal Style Journey
"My personal style is ever-evolving in that I feel like I have very distinctive eras. There used to be a time where I did not, could not stand jeans, but I loved high-tops. So as a little kid, I was in skirts and high-top tennis shoes. In my all-girls Catholic-school phase, I took the assignment seriously. I had knee-high socks, the plaid skirts, both in and out of school. And now a lot of this phase has been about finding pieces that help further my self-expression, which means I have a much wider dress code."
"I love a good tracksuit. One year of school all I wore were different monochrome tracksuits for every day. But now, whether you've seen me on the red carpet—let's say in that beautiful green dress that my Dior family made for me—or you've seen me in my regular street style, I love just the loud colors of my clothes. It makes me feel seen, especially as a young girl traversing so many new spaces. Often have my clothes helped give me confidence before I get to that space of being confident."
On Routines & Finding Balance
"It starts with the simple things. I love my morning time routine, and not just because I love the way it makes me look. It's the first moment in the day in which I'm starting by taking time for myself... No matter how busy it's been, I'm spending time with myself winding down."
"I'm trying to figure out how I want my schedule to look, and I think this is something for so many young adults. It's more common now than ever to be juggling many things. One thing that I've been doing recently that has been really helpful is taking time to think about what dream of dreams would look like for me? And then seeing ways in which I could make it happen.
"That moment of affirming and setting time aside to not be reactionary to what's happening around me, but to be proactive, has been really helpful."
On The Last Thing She's Read
"I've been reading lots of essays. A good one is by Herbert Cole called 'I Won't Learn From You'! It's talking about the experience of an educator who has a student who's intentionally choosing not to learn from this teacher. But all in all, long story short, it's a really interesting conversation on the way in which race plays into our education and what it's like to be a part of a system that is not seeing you or recognizing you. It's really well written."
On How She Spends Her Day Off
"My favorite way to spend a day off is with family. We really do love each other and probably enjoy each other too much. We love to travel as a family, whether it be a trip where all we're doing is sitting and being next to each other, or it's a trip where we learn history and go on little mini adventures. Smaller things, when we don't get to just get on a plane and get away, would be listening to podcasts. I recommend Heavyweight—there's a new season!—Being Seen, Dead Eyes, and Everytown."

Featured image by Leon Bennett/Getty Images
Keep reading...
Show less
Logan Browning has starred as Samantha "Sam" White in the Netflix show Dear White People for four seasons and now fans are saying goodbye to the show that pushed the envelope on race, identity and sexaulity. The show, which was originally introduced to us as a film, is about Black students at a predominantly white university who face adversity as minorities and work together to be seen and heard and change the narrative on campus.
Logan's character Sam hosts a radio show called "Dear White People" where she has difficult conversations about racism and controversies such as a blackface party that took place on campus.
Sam is smart, unapologetic, and is always down for the cause.
Unfortunately for fans of Sam and other characters, Dear White People has ended after four seasons, but they decided to end the show on a high note.
The fourth and final season is a musical, but that doesn't mean that they still haven't captured the essence of why fans loved the show in the first place. The comedy, the drama, the satire is still there and of course the struggle.
Logan and Marque Richardson, who plays Reggie, spoke with Tamron Hall on her talk show about the show's last season and the legacy it will leave behind.
Logan touched on the ability to have a show that focuses on serious topics that is also coupled with humor.
"They say you gotta get folks laughing so their mouths are open and you can feed them the medicine, but also there is something very funny about being the only one. I mean, so many people have that experience and you're kinda laughing by yourself in your head so this is kinda cool 'cause everybody gets to laugh out loud with each other."
As far as the legacy she hopes the show will leave behind, the actress said:
"If you live in a world where you don't see yourself, you feel like you don't exist and to feel like you don't exist is dangerous and terrifying. So for someone to feel like they're seen in every space is important."
Logan hasn't announced any upcoming projects as of yet, but we're sure sis is booked and busy.
Logan Browning & Marque Richardson Tearfully Say Goodbye to "Dear White People"
Featured image by Amy Sussman/WireImage via Getty Images
Keep reading...
Show less
Black women emcees have been an essential part of sculpting hip-hop music since the late '70s. The genre has grown from the streets of New York City to becoming one of the world's most influential in the world. Though hip-hop is still a very male-dominated industry, women have made their way of snatching the sound and owning their place in the industry.
When female rappers entered the scene, they showed up with bars as prolific or better than their male counterparts — dressed from head to toe in a sexy tomboy flair that was beyond captivating on stage. Black women emcees have created their own lane, starting from battle rapping about systemic challenges in the Bronx, N.Y., to going all the way "Up" with Cardi B celebrating sexual liberation.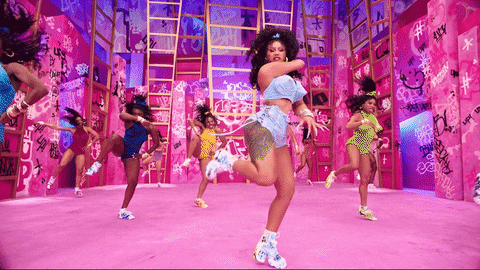 Bardi Gang GIF by Cardi B Giphy
However, some of the biggest challenges in hip-hop music lie in the lack of radical feminism in the genre that shows a vast display of Black women artists of every shade, size, and sexuality—without being hypersexualized. They all need to be seen and celebrated as a mass-market artist.
Over the last few generations, the evolution of hip-hop's purpose and sound has changed dramatically—mainly for mass production and consumption. That's expected because change is inevitable in every form of music, but hip-hop is unique. It was used to amplify the voice of the unheard and highlight systemic oppression related to race and class issues. However, its hypermasculine aspect has always made combating sexism one of the most complex areas to address and has posed a challenge to forging progressive, long-term opportunities for Black women rappers.
Featured Image via Giphy
Keep reading...
Show less
Sunday night was filled with watch parties, buzzing group chats, and never-ending social media posts all in celebration of the beginning of the end to HBO's Insecure. From debates surrounding friendship and relationships to healthy discussions around therapy, postpartum, and office culture, Insecure explored it all, and in a way that felt authentic and incredibly familiar. And while I'm a lover of many different types of television shows, I can honestly say Insecure is just different, special.
And I think I speak for a lot of us when I say as excited as I was for it to come back, I'm just as sad for its approaching end. But, if the first episode of season five is any indication of what's to come, they're definitely going out with a bang. And by that, I mean an emotional bang. Because this first episode was a lot to digest. By the way, I'm about to drop a lot of spoilers so if you haven't watched, head to HBO Max and then come back. But, for those of you that are caught up, here are some of our takeaways from the season five premiere episode.
1

.

Looking back helps you move forward.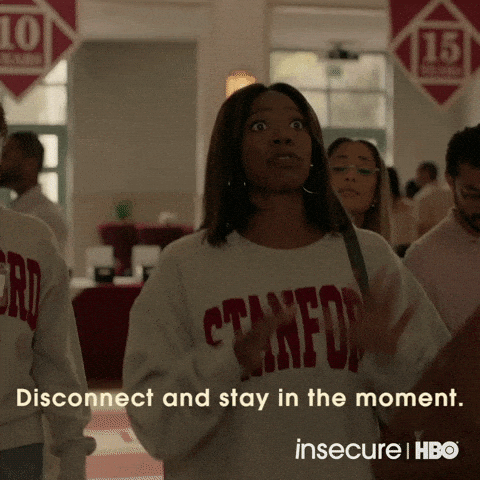 There was something so uniquely beautiful about the cast going back to Stanford (Issa Rae's actual alma mater) for their 10-year reunion. It showed them in a way we kind of always imagined, walking through campus, talking, laughing, and making the memories that formed the relationships we've seen throughout the show. I also have to believe it served as a really good reminder of the things the characters may have previously wanted out of life and how some of those things may have changed while others stayed the same.
For example in this episode, Issa Dee commented on how since Tiffany and Derrick's first date, everyone knew they were a match. And now, here the married couple was walking together happily on the same campus. On the other hand, there's Issa who, while in school, thought she'd become a lawyer and open a firm with Molly, yet there she was excitedly waiting to speak on a panel about being an entrepreneur.
Sometimes looking back allows you to remember the things you wanted, celebrate the things you have, and re-evaluate what's next.
2

.

It's OK to take meaningful risks.
Issa admitting that she's unsure if she's on the right path is real AF.

Like even with the best of planning, the reality is we're all really just winging this shit.

Sometimes it works, sometimes it doesn't and we have to pivot. Whew.. #InsecureHBO

— Shanelle Genai✨ (@shanellegenai) October 25, 2021
Pretty early in the episode, we learn that Issa has been flewed out, thanks to her alma mater and is on a special panel to talk about her new company, BLOCC (Black Life Opportunity, Culture, and Connection). However, when she stutters over what the acronym stands for, it becomes apparent that she's still ironing out the kinks. Nevertheless, during the panel, she's asked many intimidating questions like, "What's the biggest lesson you learned on your journey?" and "When did you know you were on the right path?" And for a moment, we see Issa appear uncomfortable after making one of those awkward yet hilarious outbursts we've grown accustomed to hearing.
But, then she does something else, she shares a transparent truth, that's she's not sure that she's made the right decision and wonders if she's wasting her time. And while that response may not have been a hit with the panel audience, it resonates with Insecure's. Because, thanks to layoffs and toxic office cultures coupled with social media's need to appear like we have it all together, many Insecure viewers know all too well about having to change career paths. And there's something so freeing in embracing uncertainty and chasing true fulfillment.
3

.

Some bonds are forever.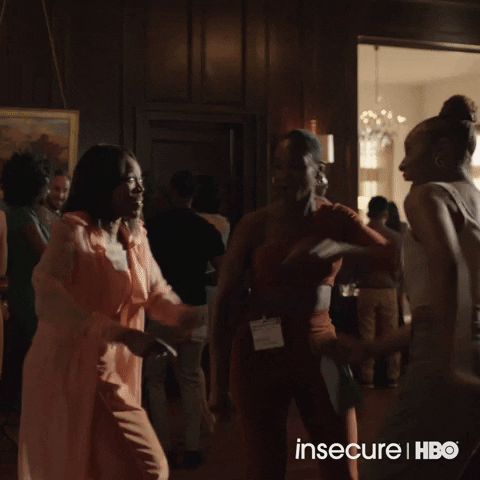 As we know, Insecure always starts a lot of conversation. I mean, one of the best things about the episodes is the gender wars and Twitter threads that appear after they air. But, one pretty clear thing is that this show is full of passionate relationships. And I don't just mean romantically. Issa and Molly's friendship has been a highlight of the show, and when season five begins, we're not quite positive where they stand. I mean sure, they seem friendly, but they're supposed to be best friends.
Friendly isn't really a word I'd use to describe the chemistry between best friends, it's supposed to be much deeper and more comfortable, but the two are clearly putting forth an effort to fix it. However, when they're at gunpoint holding onto each other (thanks to that shady Cheyenne) and later belting out in laughter, it becomes apparent that they have a forever connection. That's how it is with some people. You can go a long time without talking or even suffer hurdles in the relationship, but you're still always going to care for them, and I think Issa and Molly are a really good example of that.
4

.

Friends can be your soulmates, too.
Kelli deserves all the validation because she actually is the best friend to all of them. #InsecureHBO

— stacey.cash (@staceynicole__) October 25, 2021
One of the things I really liked about this episode is that we learned even more about Kelli. Because while she's one of my favorite characters, I don't know as much about her as I do the others. And when the girls are in the car before all hell breaks loose, Kelli irritably shares an authentic truth: she feels like everyone only sees her as the "funny friend." And while the rest of the characters laugh, Tiffany looks at her sympathetically.
To me, that moment spoke to their relationship. Because sometimes when it seems that everyone else doesn't understand you, the person who truly gets you, always will. And at the end of the show when Tiffany verbalizes that emotion to the group by saying "she's my soulmate, sorry Derrick," as she apologizes to her husband, it was just a beautiful reminder of the people in my life I'm thankful for. And that sometimes, friends can be soulmates too.
5

.

Trust your gut.
They ain't never gon just give us a happy & healthy Lawrence & Issa. It's always something #InsecureHBO pic.twitter.com/oWpnayD7gI

— Queen Ky (@CurlyKeekz) October 25, 2021
Whew, this one was hard to type. Because I'm one of the people that is rooting for Issa and Lawrence to find their way back to each other. Now, I know it's been quite messy and he has a whole side baby now, but they clearly love each other! Still, if there's one thing this life has taught me, it's to trust your gut, intuition, or vibe – whatever you want to call it –it's there for a reason. And when Issa was riding in the car with Lawrence during that final scene, it was obvious there was something major she needed to get off her chest. And whether the decision to end things is temporary or permanent, it's good to know she trusted herself.
Who knows what would've happened if she stayed when she truly wanted to leave? Maybe she would have cheated on him again, maybe she would have ruined their relationship altogether, or even formed a wedge between him and his child. Now, I know that may have gone too far, but my point is it reminded me to always trust myself, even if it's difficult or uncomfortable to do so. Because you never know what the repercussions may be. Still, I hope they find their way back to each other.
But maybe she can grab dinner with Daniel before that because I'd like to see him on-screen one more time. (smiles)
Featured image by Giphy
Keep reading...
Show less
Viewers have seen the best friends experience a rollercoaster of emotions in their personal lives and in their friendship and after five seasons, we still may not know where their friendship will end up.
Speaking with Entertainment Tonight, Yvonne revealed she was feeling some kind of way about how Issa and Molly's story ends.
"I told Issa I have beef for the first time in six years, but I think she did a great job," she said.
"I think Molly's happy. I hope the fans are going to be happy. They didn't even call that that was my last scene. I just felt it and I think they knew not to call it because it was already so heavy. In the scene is already emotional, so I'm trying to get through my lines. I'm crying and Issa's crying I was like, 'oh this is going to be a long night,' but we got through it, we hugged it out and it was just a beautiful experience."
The comedian has become accustomed to a lot of online hate as her character Molly. Many Insecure fans have accused Molly of not being a good friend to Issa, but during an interview with CNN, Yvonne says she "don't fight on Twitter" or "in real life" and she believes Molly has been a good friend to Issa.
"Can we go back to season one though? Can we go back to season one where she definitely saved Issa from Daniel and Lawrence meeting? Can we go back to season one where she drove to Malibu? Where do you want to start?" she said.
Yvonne may be right about that, but viewers witnessed their friendship make a turn for the worst after (Spoiler alert) their fight at the block party in Season 4, but based on the season five premiere, their friendship seems to be getting back on track because according to Yvonne, their relationship is based on authenticity.
"You know, when you can actually be honest and be vulnerable and authentic, like authentically you. They get each other because they've known each other for so long, but they also understand how each other vibes. And even in your friendships now, like you have to appreciate their quirks."
The fifth and final season of Insecure comes on Sundays at 10 pm ET.
Featured image by Jeff Kravitz/FilmMagic for HBO
Keep reading...
Show less