It's been weeks since WNBA star and two-time Olympic gold medalist Brittney Griner was arrested in Russia, allegedly for having vape cartridges that contained hash oil (cannabis oil). But the world only found out recently when Russian media released her alleged mugshot. Brittney, one of the world's best basketball players who's been playing for Russia's UMMC Ekaterinburg team during the WNBA off-season since 2015, faces a prison sentence of up to 10 years, if convicted.
Because WNBA salaries can be as low as $60,000 and max out at $228,000 (as compared to the astronomical millions top NBA players can make), it's common practice for WNBA players to go abroad in the off-season, where they can make more than $1 million. When Russia invaded Ukraine, WNBA players began evacuating both countries, but Griner was arrested at Moscow's airport.
So, why is Brittney's arrest a major concern? With Russia being at war with Ukraine, it's reasonable to fear people fear that the two-time Olympic medalist's arrest and imprisonment is a calculated move against the U.S. and a way to use her as a pawn in the war.
Featured image by Michael Hickey/Getty Images
Originally published on March 10, 202
Although she has been working in showbiz since a pre-teen, Keke Palmer still makes self-care a priority. The Nope star has been busy as of late after starring in the new Jordan Peele film but she took a break to speak about how she still finds time to take care of her mind, body, and spirit. In the September issue ofWomen's Health, the 28-year-old explained how saying no has helped her in her personal life and career and much more.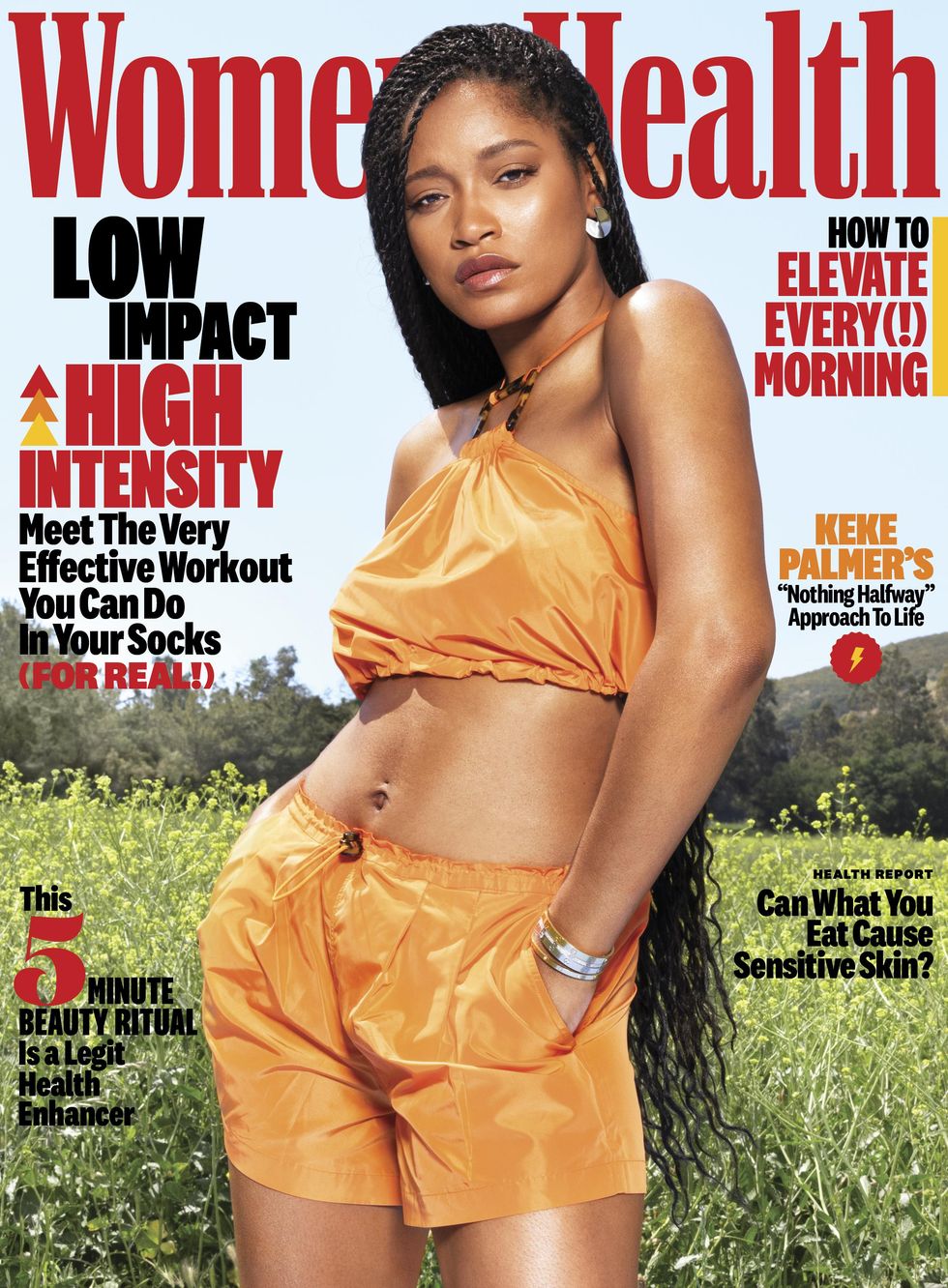 Djeneba Aduayom for Women's Health
"I've learned over the years that to keep my sanity, and to physically keep this machine running, I have to pour into myself as often as I can," she said.
While Keke has gone viral a number of times due to her comedic timing and even serious moments such as her innocently not knowing who former Vice President Dick Cheney was that turned into an iconic meme, she's also been praised for her work ethic. The singer/ actress has been dubbed Keke "Keep a Job" Palmer because she seems to keep many jobs and we have even witnessed her shooting her shot at roles such as Insecure, which she landed in its final season.
And as much as she loves acting, she had to learn to put that same energy into taking care of herself. "It hit me that I have to practice loving myself the same way I practice acting," she admitted. Even with all her many jobs, Keke still turns down gigs after learning the power of saying no.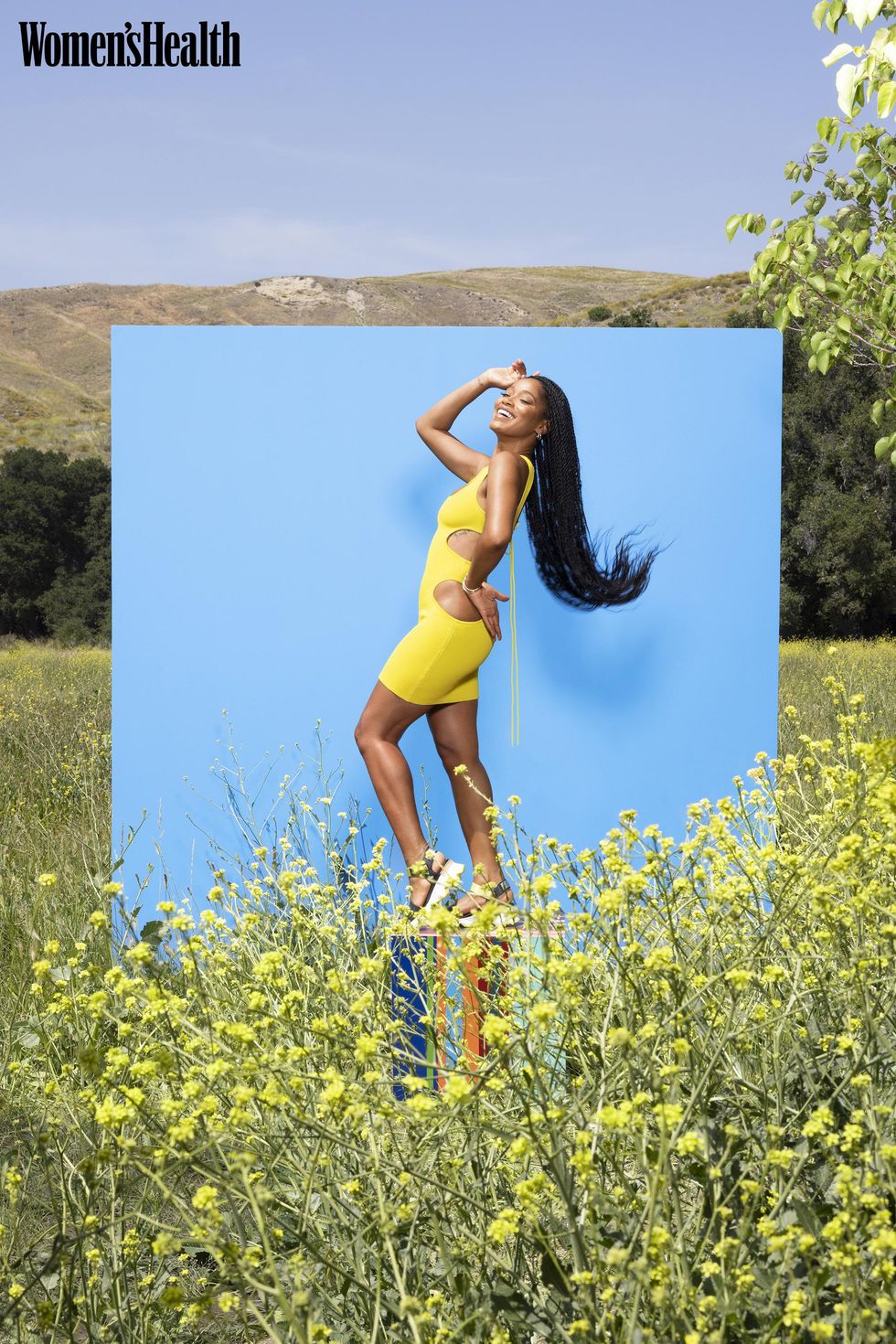 Djeneba Aduayom for Women's Health
"I realized it's hard to say no because we don't trust. We don't trust that if we say no the opportunity will come again," she said. "Or we don't trust that if we say no we've made the right choice. Or we're scared that if we say no we're going to offend somebody. But I realized that saying yes to too many things was stressing me out the most. I've learned not to be afraid to rearrange things and to accept that I'm not going to be able to do it all without hurting myself."

She's still getting used to this power but shared that the self-care practice has actually helped her with loving herself. "It's been two years since I embarked on this whole 'saying no' thing. And I must say, I'm getting really good at it now," she revealed. "That's the grace and the silver lining. Everything I've been through has taught me how to love myself more."
Keke Palmer is Willing to Try THIS for an Adrenaline Rush?! | Once Never Forever | Women's Health
Let's make things inbox official! Sign up for the xoNecole newsletter for daily love, wellness, career, and exclusive content delivered straight to your inbox.
Featured image by Djeneba Aduayom for Women's Health
Bey is back with her highly anticipated seventh studio album, Renaissance. The 16-track record is her first solo album in six years since Lemonade. And like with everything she does, she's raised the bar.
The album is a sonic masterpiece as Bey delivers her style and interpretation of the house music she was exposed to growing up. Beyoncé credits that exposure to her Uncle Johnny, who died of complications from AIDS, and she dedicates Renaissance to him in the album's liner notes.
"He was my godmother and the first person to expose me to a lot of the music and culture that serve as inspiration for this album," she writes. Uncle Johnny was a pivotal figure in Beyoncé's life and career, designing costumes for Destiny's Child with her mother Tina before high-end labels would dress "four Black, curvy, country girls." As a Black queer southerner living with HIV, Beyoncé's decision to dedicate Renaissance to Uncle Johnny and to center Black LGBTQIA voices and Ballroom history and culture in the music is one of unconditional love and hope. Music journalist Gerrick Kennedy agrees.
"She's talked about her uncle over the years, but to really celebrate that [with Renaissance] ... If we hadn't had this moment [with COVID lockdown] where we have been sitting and reflecting, I don't know if we would've gotten a project like this," Kennedy tells xoNecole. "It also feels like [Beyoncé] allowed herself to grieve this family member, but also this part of her and her mother's life and how she was raised and the [queer] scenes that she was privy to as a kid [in the South] before we all really knew her," says Kennedy.
Fans got a taste of her intentions to honor the Black queer community with this album on June 21, when she dropped the lead single from Renaissance, "Break My Soul." The lead single features samples of Robin S.'s 1990 hit "Show Me Love" and the Queen of Bounce, Big Freedia's 2014 song "Explode."
"For [Beyoncé] to extend her hand to her queer fans, hold us up the way that she did and create a universe for us [with this album]. There's something really magical about it," Kennedy says.
"Cozy," the second song on the album, serves as a proudly queer-centric affirmation of being comfortable with who you are and features trans icons Honey Dijon and Ts Madison. In verse two, Beyoncé sings about colors that describe Daniel Quasar's 2018 Progress Pride flag design that brings marginalized LGBTQIA+ people of color, trans people, and those living with HIV/AIDS to the forefront. And in the post-chorus and bridge, there's a sample of Ts Madison's video "B**tch, I'm BLACK."
"There are no words to describe my feelings," Ts Madison tells xoNecole about the opportunity to feature on "Cozy." "Beyonce is a global phenomenon. For her to add my voice and statement piece on this project means a great deal to not only the Black community, but also the trans and queer community," she says.
My favorite track, "Church Girl," reminds me of Sunday sermons ending at 3 p.m., followed by a community fish fry and great music as the Louisiana heat beams down on my skin. Besides its reminder of my southern roots, "Church Girl" serves as a form of catharsis to let go of your burdens, whether at the altar or on the dance floor.
That form of release is the common theme throughout the album, emphasizing the importance of agency, self-love, and freedom to express yourself.
Renaissance also features contributions from The-Dream, Tems, NO I.D., NOVA WAV, Raphael Saadiq, and Mike Dean, to name a few. Songwriter Diane Warren might have tried to come for Beyoncé crediting 24 writers on one track of Renaissance, but it's Beyoncé's communal approach to her craft that makes Renaissance flow so beautifully; it's how she's able to merge regional sounds and flip them with some southern spice.
Music historian and author Craig Seymour says that with her collaborations on Renaissance – like featuring live trumpets played by Bastrop, Louisiana native Jamelle Adisa on "Cuff It," – Beyoncé reconnects house music that had been born in places like Chicago back to its southern roots, honoring the foundation of the genre itself.
"People always want to act like Black history is brand new, but the first thing is to understand the huge influence of the Great Migration," Seymour tells xoNecole. "All those people who created early house music were the grandchildren of Southerners. So those southern cultural traditions and things like that were a part of their lives even though they were in an urban environment," says Seymour. "The kind of yearning, the desire for acceptance that you get with a lot of early house, you can trace a lot of those elements even back to the urban blues, which essentially was the soundtrack to the Great Migration."
Seymour also tells us that the sub-genres of house Beyoncé chose to recreate on the album show her commitment to authentically representing the culture.
pic.twitter.com/wgYIRZg465
— BEYONCÉ (@Beyonce) July 29, 2022
"One of her most significant influences on the album is the sub-genre of house called 'bitch tracks,' which were often made by drag performers who were basically reading somebody on a record. Moi Renee's "'Miss Honey'" is one of the foundational ones, and she sampled Kevin Aviance's "'Cunty'" on [the track] "Pure/Honey," says Seymour.
It's that track, as well as "Alien Superstar" that season one winner of the HBOMax vogue competition show Legendary Calypso Jetè Balmain relates to the most. But Calypso, who's worked with Megan Thee Stallion and more, is no stranger to how thin the line between homage to the culture and commodification can be.
"Being a Black trans woman and knowing Ballroom, going back to the roots and everything, I don't want this to just be another way of getting people to tune into music," says Calypso. "I'm kind of sad that it took for Beyoncé to do things like this [for the community to get the attention it deserves]. I love it; I appreciate it. But I don't want this to be [seen as] a trend because Ballroom has been around for so long." She hopes that the visuals for Renaissance will showcase the culture authentically.
"It will open the eyes of many who are allies or not LBTQIA+. Because right now, people are just hearing it, and people are probably like, 'Oh, my God, this is a great time because Beyoncé made it,' says Calypso. "If you were to walk into a straight club and say, 'Oh, play Kevin Jz Prodigy.' They'll never play Kevin Jz Prodigy. They don't know who that is."
In recent years, Ballroom — traditionally an underground haven for Black and brown LGBTQIA+ folks — has become a part of the mainstream pop culture discussion thanks to TV series like Pose and Legendary, and a resurgence of house music. While the general public gawks at the beauty, glamour, and voguing, there's a deeper story of resilience, survival and strength in community. "Nobody wants to talk about AIDS because it created a substantial generational gap," Seymour says. "The government's inaction caused gay men to die disproportionately of AIDS, especially Black gay men."
And now, at the height of anti-LGBTQIA+ legislation and the short life expectancy of Black trans women, who are attacked daily, we must look beyond the surface. Renaissance is more than a musical masterpiece; it's inherently political and communal as she lends herself and platform to the memory of her Uncle Johnny and to generations of queer folks. Looking back to move forward through music is a form of resistance in her wheelhouse, using this album to bridge young queer folks to their elders, roots, and the ongoing fight for our rights. That's the true essence of Renaissance in every sense of the word.
Let's make things inbox official! Sign up for the xoNecole newsletter for daily love, wellness, career, and exclusive content delivered straight to your inbox.
Featured image by Carlijn Jacobs

Will Packer's series Ready To Love is back and this time it's getting muy caliente. The sixth season of Ready To Love headed down to Miami for some sun, sand, and romance. Twenty melanated singles, 10 women and 10 men come together to fall in love and find their soulmates in this social experiment. With host Tommy Miles as their guide, the cast members have to step out of their comfort zones and build connections with others in order to truly find their perfect match or weed out the ones that aren't committed to the process. In the premiere episode, the cast comes together to mix and mingle at a pool party in a luxurious mansion. While people start trickling into the party, the connections began forming.
However, when Tommy joined them, he reminded everyone that while they are enjoying the process, two people are going home at the end of the night.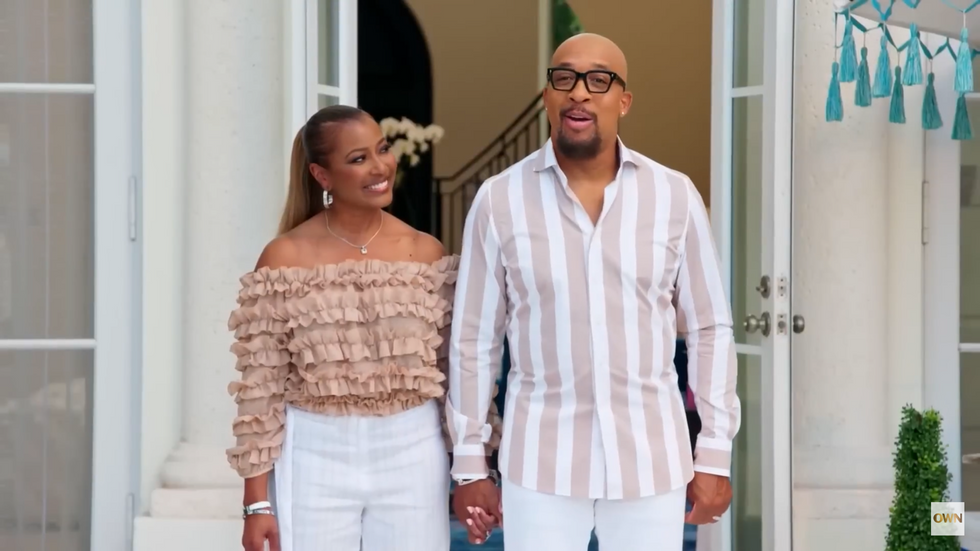 Ready To Love/OWN
There were some one-on-one connections that looked promising and then there was Justice. The 42-year-old event planner was a crowd favorite at the party. Many of the ladies such as April, Tranika, Lunie, and more were all trying to get his attention during the mixer and so he is sure to keep fans on their toes this season.
Here are some one-on-one connections to watch (light spoilers are ahead):
Sampson and Lunie 
This budding couple was all smiles during their conversation. And during her confessional, Lunie, 36, shared that Sampson, 48, had been consistent and put in the effort in trying to get to know her, which is what she liked.
Jamala and Randall
Jamala, 33, described her connection with Randall, 36, as "magnetic." Randall also gushed over Jamala calling her "gorgeous" and he admitted he had his eye on her as soon as she walked in the door.
LJ and Shakyra
LJ and Shakyra seemed to connect on a variety of levels. They both have kids and they both have been single for three years. LJ is a 33-year-old singer from the U.S. Virgin Islands and Shakyra is a 37-year-old media host/ model from Brooklyn, NY. And while they looked chummy with one another, Shakyra did mention that she typically doesn't date men younger than her.
At the end of the party, Sean was eliminated after failing to make genuine connections with the ladies. Sheresse and Dominka were also on the chopping block but were both spared.
So far, this season looks to be an entertaining one. Let's hope there are some true love connections.
Featured image by
I'm one of those people who has a song in mind for almost any keyword said in a sentence. It's a gift and curse, to my friends and my readers. Today's song was "Sex Room" by Ludacris and however annoying it might be, I'm excited to get into it with you all. Netflix's recently dropped a new series – How To Build a Sex Room – which is for sure the adult HGTV series I never knew I needed. But it's so much better than any HGTV series and honestly better than anything I could've anticipated.
The show explores making practical sex rooms for those who will be using them. And a sex room doesn't always mean cold, dungeon vibes. No! Instead, part of what makes the show great is that they meet people where they are and really take into account the purpose or intended use for the sex rooms, in addition to personality. You get a good variety of luxuries mixed with the feelings of home.
And while I'm not going to spoil the show, I do want to get into what and why someone might need a sex room. Maybe you want one for yourself or maybe you're someone who passed the preview of this show and wondered, "What's the point?" If so, keep reading.
Reasons to Consider Having a Sex Room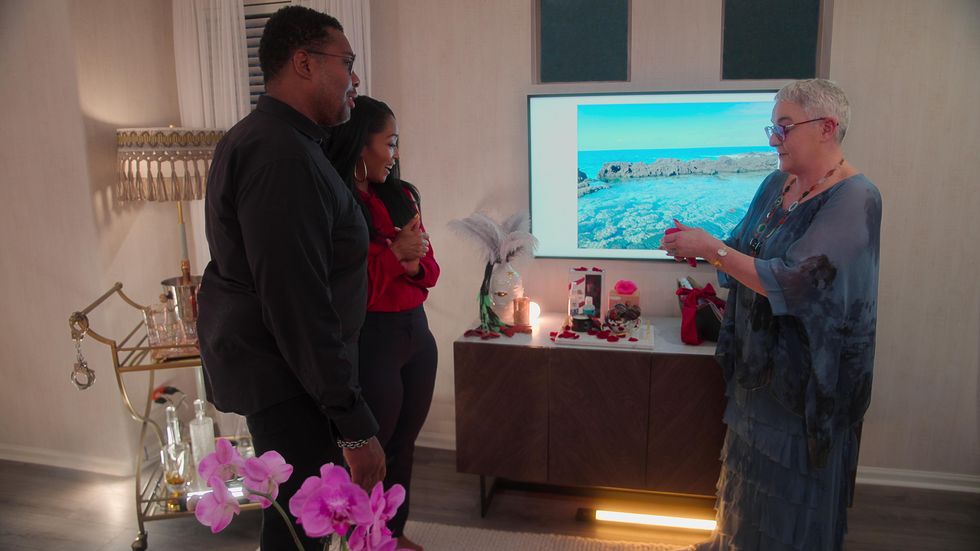 (L to R) Ryan, Raj, Melanie Rose in episode 102 of How To Build a Sex Room.
Courtesy of Netflix
1. Parental Control and Boundaries
Parents who co-sleep with their children may find it difficult to maintain an air of sexiness in the very room they once created their children in. Though we might say at a certain age parents should set boundaries, realistically keeping your child in their own room is not a boundary that's always possible. That said, parents might opt for a sex room in order to rejuvenate themselves back into the seductive period of courting prior to having children. Sometimes the boundary setting is simply a matter of changing the setting and opting for privacy in other, less seemingly dismissive ways. This can be accomplished with a sex room.
2. Separation of Home and Sex
While not every sex room is dungeon-style, some are. And regardless of the aesthetic, there may be people who wish to keep their preferred kinks as private as possible. I can't count on one hand how many times I've forgotten to put away my vibrator and someone walks into my home only to see it on the coffee table. And that's a normalized part of sex…masturbation. However, imagine having someone walk into your home and you forgot to put away your flogger or box of butt plugs, and so on? The sex room helps to provide an extra layer of privacy. Not because you wish to be secretive or feel shameful, but because keeping certain parts of your life separate from others is good form as far as boundaries go. Plus, it can be really sexy to have this part of your home where only you and your lovers exist.
3. Sex, Staycation Style
The monotony of being home and having sex in the same way, in the same place can sometimes be…annoying. But also coming across safe spaces to play with your partner can be equally…annoying. Having one at home allows you to escape the day-to-day without incurring the fees associated with sex clubs. Furthermore, there's this unspoken rule of exclusivity where you really have to know the right people in order to find kink scenes in certain cities. Having your own sex room eliminates the need for that as you create your own.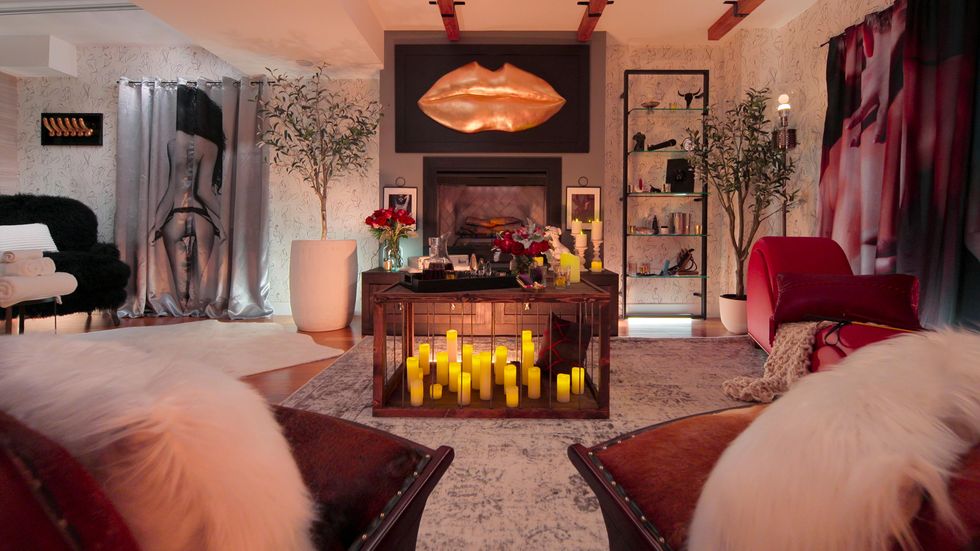 Courtesy of Netflix
4. Swinging Made Easy
​If one of your kinks is swinging, a sex room might just be mandatory. Not every city has swingers clubs and in my experience when they do have swingers clubs they aren't always diverse (age and race-wise). But having a sex room in your home allows you to host other couples consensually, thus minimizing the requirement of having to find a couple to swing with in exclusive spaces.
5. Safe Spaces and Such
For those who are into kink and wish to try out new gadgets and contraptions, I encourage you to do so safely. But hold please, because in this case, the safety I'm speaking of is more towards reading the requirements for hanging your equipment from walls and ceilings. Because this can be necessary for swings and such, some couples may opt for a sex room in an area in their house where the ceilings are more conducive to that type of sex gear – like the basement.
The bottom line is there are many reasons that people may want sex rooms. However, I think in any case it comes down to having a safe space to be able to reconnect or even connect with ourselves in ways that weren't made possible (for whatever reason) beforehand.
If this appeals to you, you may be wondering how to create a sex room for yourself, especially after watching the Netflix series How to Build a Sex Room. Here are some ways.
Self-Survey: Remember A.S.L via Aim? You should and if you don't you're far too young to be reading this article. But similar to that, you want to get a quick and dirty rundown of what you're looking for out of your sex room. So, in this case, A.S.L stands for "agenda, sex, and location."

Agenda – What do you wish to get out of this sex room? What is your why?
Sex – What type of sex or touch do you intend to have in this space? How do you intend to utilize this space? Is it a swinging space, or one that is just for you and bae? Do you want to explore new kinks or are you pretty airtight on the things you want to try?
Location – Where in your home do you envision this work of art being crafted? Are we keeping it in the bedroom or do we want it somewhere covert?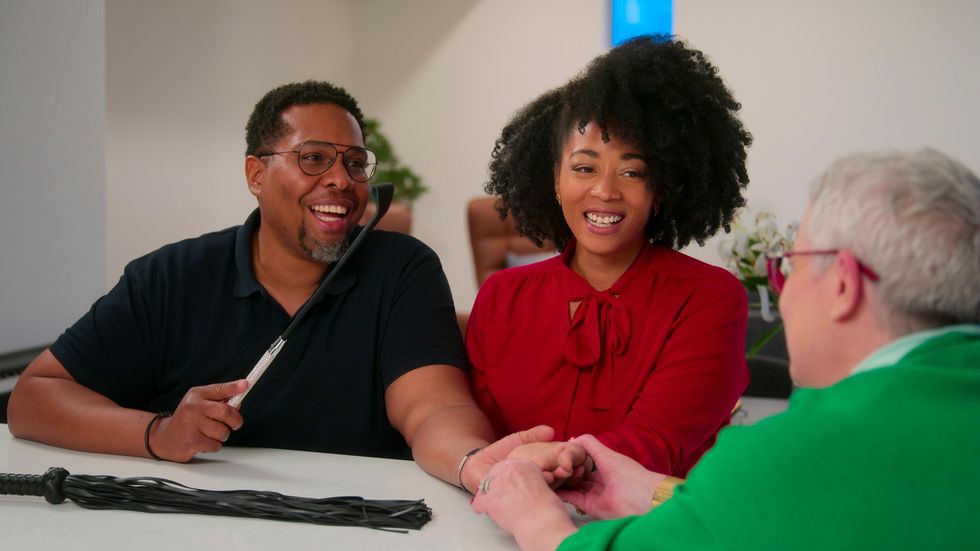 (L to R) Ryan, Raj, Melanie Rose in episode 101 of How To Build a Sex Room.
Courtesy of Netflix
DIY or For Hire: This one is rather simple. Hmm, on second thought, if you're someone who doesn't understand limitations, like me, you might have a difficult time realistically gauging how to go about building your sex room. Nevertheless, you must decide if this is something you want to pull a "do it yourself" with or if it requires you to hire a contractor. Perhaps a combination of the two – it simply depends on the answers to the first two questions.
Secret Shopper: Purchase the toys you'll need to fill this space. However don't get caught up like a kid at Christmas, as we want this space to be fulfilling but efficient – not cluttered. You might consider creating a list of must-haves to get you started and then creating a secondary. Wishlist.
Featured image courtesy of Netflix