Planning your own funeral may sound morbid, but according to Gabrielle Union, it's a must. The award-winning actress recently appeared on Late Night with Seth Meyers to talk about her role in the drama Truth Be Told which stars Octavia Spencer. However, the conversation took a turn when she revealed that she was already planning her own funeral. But in true Gabrielle Union fashion, the producer and mother gave a hilarious yet brilliant explanation as to why.
"Going to a lot of bad funerals," she says as the reason behind already prepping her funeral. "It's kind of like when me and my husband were getting married, like the couple summers before we got married, we were at other people's weddings like 'not that, never that, nope, nope, nope.' So it led me to think, I feel like I need to plan my funeral like down to the smallest detail."
One of those details includes having her choice of photos to be used on the program. "So I've chosen all of the sexiest photos. If I die at 88, I don't want to be 88 on the program. You give me my thirst traps," she says playfully. "All my best material."
Another must-have for Gabrielle's funeral is having a lively (pun intended) playlist. "But like, I've got playlists that they have. Like food, like I want a good funeral."
However, constantly updating the playlist with new songs that come out has become a task of its own. "Now we have a lot of Beyoncé from the latest [album]. You have to constantly update."
We all know that funerals are generally planned by family members, loved ones, or those you were close to but that doesn't always mean they know what's best. According to the Bring It On star, family doesn't always know the real you. "I think we think we are closer to people than we actually are," she says. "Have you ever heard yourself described by a family member? And you're like, do you know me?"
While planning your own funeral or memorial service may not sound like a priority especially when you are under the age of 35, a 2019 survey shows that 19% of 18-34-year-olds have begun planning their own funeral after the loss of a loved one. So, it appears that Gabrielle may be on to something.
Gabrielle Union Reveals Why She's Already Planning Her Own Funeral
Feature image by Theo Wargo/Getty Images
For years there were many television shows that featured impressive groups of women navigating their lives. I'd watch them and daydream about what my reality would look like in my 20s and 30s. The characters' lives felt admirable but somehow unrealistic since those shows never featured characters that were reflective of my friends or me. But how times have changed. Now that I'm in my 30s, there are quite a few shows that feel familiar and authentic. One of my faves is Tracy Oliver's Harlem, of which the second season makes its emergence on February 3, 2023. But just in case you're like me and need a refresher, we got you.
Spoilers are ahead.
First, let's recap the crew. The show stars Camille (Meagan Good), Quinn (Grace Byers), Tye (Jerrie Johnson), and Angie (Shoniqua Shandai), four fabulous yet flawed Black women living in Harlem. In season one's last episode, Camille asked a crucial question: "Do I go after my fresh start or do I follow my heart?" It was a quick moment, but it defined much of the season. Although the women's issues vary, they are all battling with that decision. From work struggles to dating, they're trying to decide if they should take a safe route or do what fulfills them. I think that's something we can all relate to. This is why I am so happy the Amazon Prime series is making its return.
So, let's relive what's going on in our new favorite girl gang's lives before season two premieres.
Camille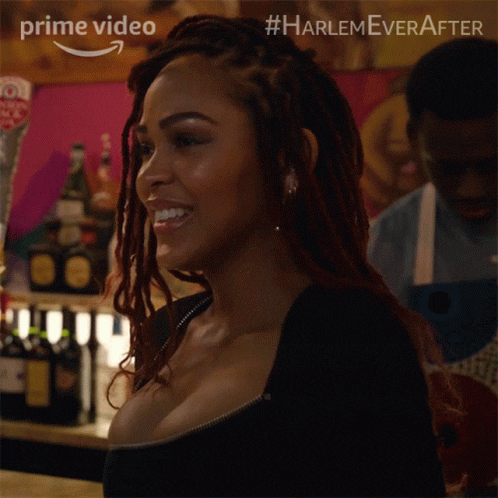 Amazon Studios What GIF by Harlem
Giphy
Camille is a bit off-center, overly focused, loveable, and appears to have everything together – except she doesn't. No matter how much we root for her, she makes the wrong decisions. For example, when Dr. Pruitt, played by Whoopi Goldberg, announces that she's granting the new coveted associate professor position to another Black professional, Camille feels understandably discouraged and vents about it to her former bae (more on that soon, chile). Later, Camille decides to quit her current adjunct role and give Dr. Pruitt a piece of her mind. She shares how much of an asset she is to the university and why her social media presence and teaching style deserve recognition. That makes sense, right? Except she does this by showing up at the professor's house late at night after drinking way too much and almost falling down the steps. All bad, sis.
Then there's her love life. She has two beautiful men who desire her attention. She met Jamison (Sullivan Jones) after they both spoke on a panel for the university. He is supportive, fine, and serious about his intentions with her. So much so that once they're official, he invites her to move with him to Chicago. Unfortunately for him, Camille's heart belongs to her engaged ex Ian, played by the handsome Tyler Lepley – who coincidentally, she broke up with before they planned to live in Paris together. (Clearly, leaving Harlem is a trigger for her. It could be because she grew up a latchkey kid and has some unresolved issues with her mom.) Anyway, Ian and Camille have a special bond that is still very much alive.
Their back-and-forth sparks a lot of crazy moments throughout the season. From Camille almost sleeping with one of her former students to a crazily dangerous Uber ride, Ian fuels a lot of her madness. One of the most memorable moments happened early in the season when they shared a passionate kiss only moments after Camille met his "why is she so perfect" fiancée. But love always wins because, in the end, Camille calls it quits with Jamison and shows up a day before Ian's wedding to finally express how she feels and kiss him again.
I get it. They care for each other, but seriously? They couldn't figure that out before the wedding announcements went out and Camille broke Jamison's heart? Oh, and Ian's fiancée saw the kiss. Yikes.
Quinn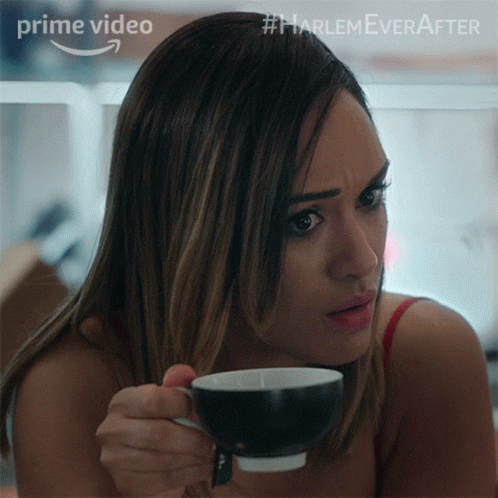 No Way Prime Video GIF by Harlem
Giphy
Then there's Quinn. You know the nice girl who tries so hard and it just doesn't work out for her? That's Quinn. For most of the season, her dating life is in shambles. From her purse getting stolen after a date abandons her at the club to showing up to a "dinner" that was actually a pyramid scheme meeting, you start to feel pretty bad for her. Still, she holds onto her idea of love and what it should look like. That's until she decides to try something or someone new at a strip club. His name is Shawn, played by Robert Ri'chard, and he takes her out of her element. He's different from her usual checklist; he's a stripper and a dad. Although there's a clear interest there, they deal with a few hiccups.
Initially, Quinn tries to tuck away her feelings and keep it casual. Luckily, that doesn't last long because, well, she's her. But still breaking free of her usual "rules'' presents some problems. She even lies about his career and where he went to college when chatting with peers at a fundraiser, making Shawn understandably uncomfortable. Eventually, they work it out, and a budding relationship seems to be in the works. That is until she spends a fun-filled day with Isabela, a hopeful politician and potential mentor turned friend she met through her mother, and her magnetic personality and dedication make Quinn rethink her life and sexuality. In the season one finale, Quinn drunkenly walks into Isabela's office and invites her on a date. When she agrees, we find ourselves cheering for Quinn's boldness yet hoping she doesn't slip into her unhealthy ways.
Professionally she's in a unique space. After leaving her VP Corporate position she opened Quinn Jacob, a sustainable boutique. It's still in the beginning stages but she is very devoted to growing it. She even designed Mila's [Ian's fiancée] wedding dress. (I know – wild.) Moving on, Quinn comes from a wealthy family who has consistently supported her. But it took a while for her to figure out what she wanted to do, which created a tense relationship between her and her hilariously shady mother, played by the legendary Jasmine Guy. Hopefully, this dream and new relationship are here to stay because I think we all wanna see Quinn win.
Tye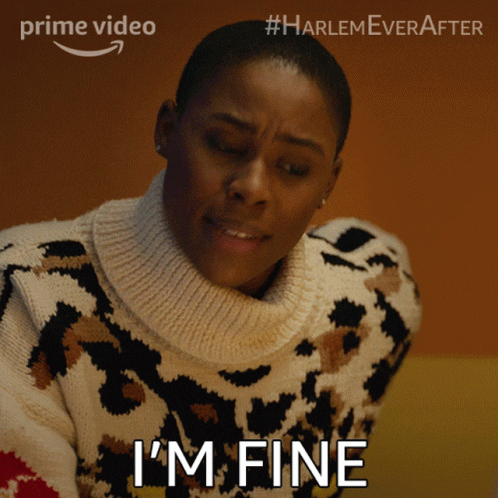 Im Fine Amazon Studios GIF by Harlem
Giphy
I'd describe Tye as confident, ambitious, loyal, and guarded. She is the creator of Q, a successful queer dating app for people of color. It made her very successful and even landed her a spread in Forbes magazine. Also, unlike the other ladies, she has no issues in the dating department. Her problem is relationships. She likes to be the brains and the boss in her situations and that rarely leads to something promising. When the girls call her out on it, she tries to venture out and date outside of her usual type. This allows us to be a fly on the wall as she explores a few short-lived hilarious situations.
But everything comes to a head when she arrives at her Forbes interview and learns that the interviewer is a woman she had a one-night stand with. I should point out that she's a white woman and Tye prefers not to date outside of her race. As her storyline with the journalist continues, the show explores interracial dating and preferences.
Another element I appreciate Harlem highlighting through Tye's character is women's health. In multiple episodes, Tye complains of intense period pain. However, like many of us, she shrugs it off. It takes her passing out on the subway to get help. The doctor ignores most of her complaints and says she's anemic. A few days pass and Tye is preparing to be the keynote speaker at AfroTech. However, she's hospitalized again and learns she has a ruptured ovarian cyst, polyps, and fibroids; this time the doctor says she may need a hysterectomy. As he continues to give feedback he reveals that the surgery's approval was made by her husband, who surprisingly walks in with flowers.
Thanks to a flashback episode and a heated discussion, we learn that Tye abandoned her hometown to start a new life and live in her truth. That means she walked away from her former friends, family, and apparently a husband and never looked back. This background made it a lot clearer why she has trouble moving on because she never fully let go of her past.
Angie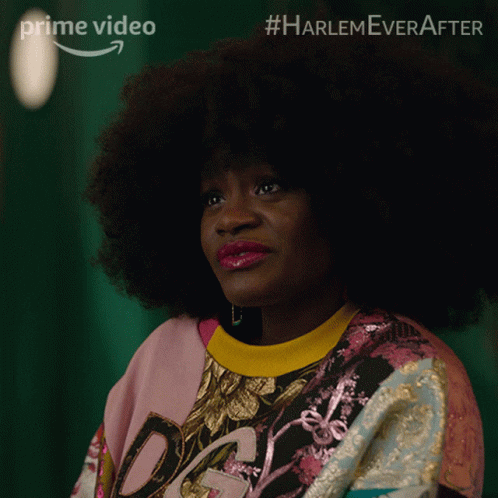 Prime Video Laughing GIF by Harlem
Giphy
Finally, there's Angie, the free-spirited, hilarious, and creative that every friend group needs. We learn pretty early on that she is a talented singer and once had a record deal. Unfortunately, it didn't go the way she planned and now she's living on Quinn's couch. While it's clear that the two have a beautiful friendship, there's an uneasiness there. Angie has a bit of resentment toward Quinn for her wealthy upbringing. And Quinn wishes Angie would be a bit more realistic in her search for a job, especially after she turns down a paid gig.
Still, when Angie meets up with her Uber driver bae who she feels is her soulmate, only to learn after sex that he lives in his car, she takes the new gig. Because this can't be it. The gig in question is Get Out: the Musical. Yes, it's as crazy as it sounds. But the production leads to a lot of funny moments and a bomb scene where Angie beautifully addresses white fragility. While she's chasing her dreams you'll see her pursuing a few dating options, like her bisexual cast mate and friend with benefits, Eric, to Uberbae and more, it's a good time. While Angie provides a lot of laughs in the first season, it's clear she's working through her issues as well.
I love TV shows that are relatable yet fun to watch. Harlem is definitely at the top of my list this month. Make sure y'all check it out too. Season 2 airs on Friday, February 3, 2023, on Amazon Prime.
Feature image by Amy Sussman/ Getty Images
OWN: Oprah Winfrey Network debuts season 4 of its successful relationship series Put A Ring On It Friday, March 17th at 9 p.m. EST | 8 p.m. CST, also available on the OWN app and discovery+. At the center of the emotionally-charged series are three couples embarking on the ultimate 'do or die' relationship test to determine whether they should ring wedding bells … or call it quits. Throughout the impassioned months-long experience, the Atlanta area couples will be guided by Relationship Coach Dr. Stacii Jae Johnson, who has been helping couples discover their truths and healthy romantic relationships for over 25 years.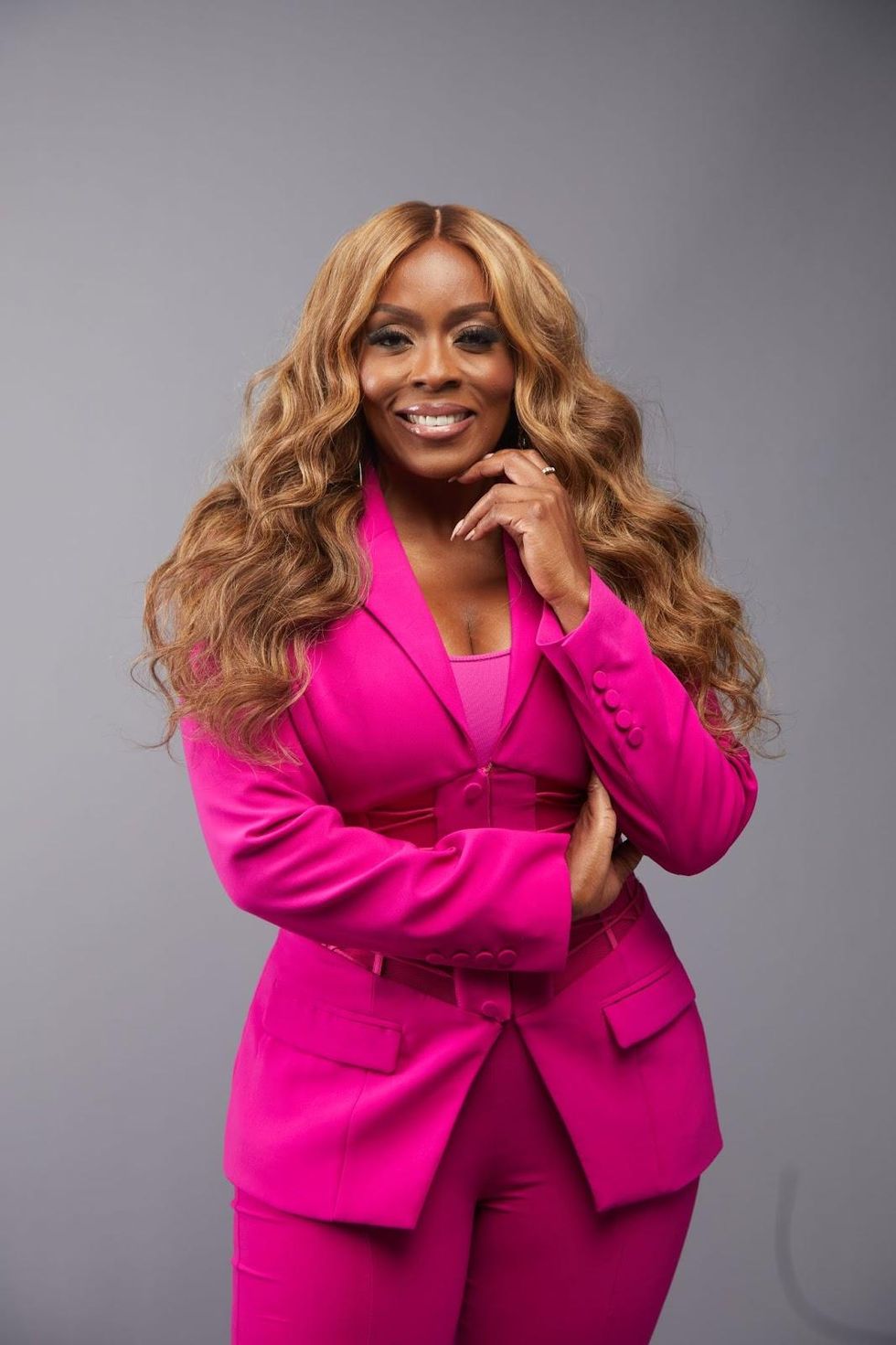 Relationship Coach Dr. Stacii Jae Johnson
Courtesy of OWN
Each week, the couples are pushed, stretched, and tested to confront the one question they've been too afraid to ask: are they really ready for their 'happily ever after?' The couples go on a series of dates with other people to test the waters and perhaps discover if there might be a better love connection out there that they've been missing all along. Their goal: to decide whether it's time to go their separate ways, or make the big leap and 'put a ring on it?'
Meet the Couples of 'Put A Ring On It' Season 4
Dunbar and Chance
Dating for: 2 Years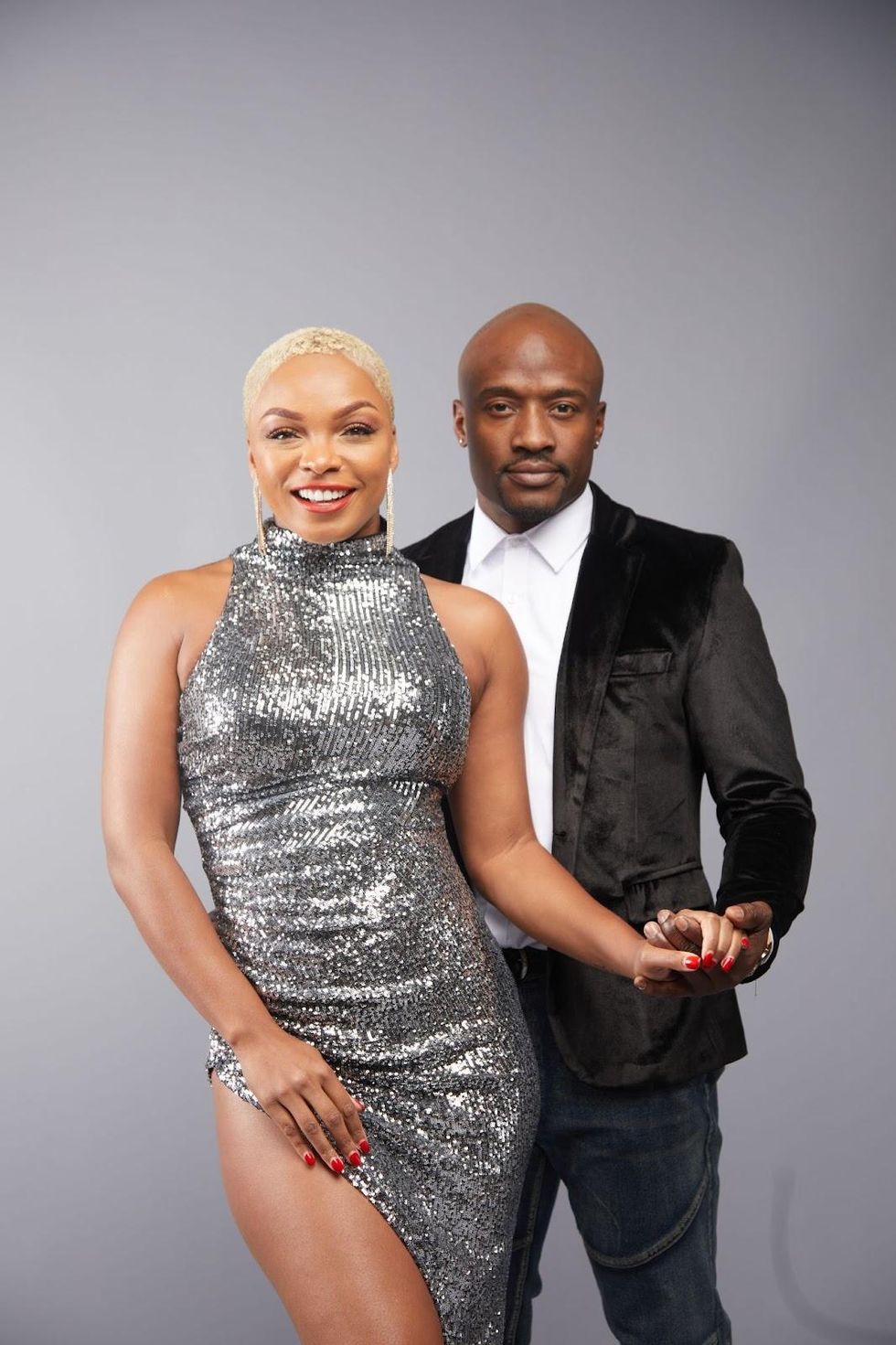 Dunbar and Chance
Courtesy of OWN
Ricky and Catherine
Dating for: 2 Years
Ricky and Catherine
Courtesy of OWN
 Joya and Jasha
Dating for: 2 Years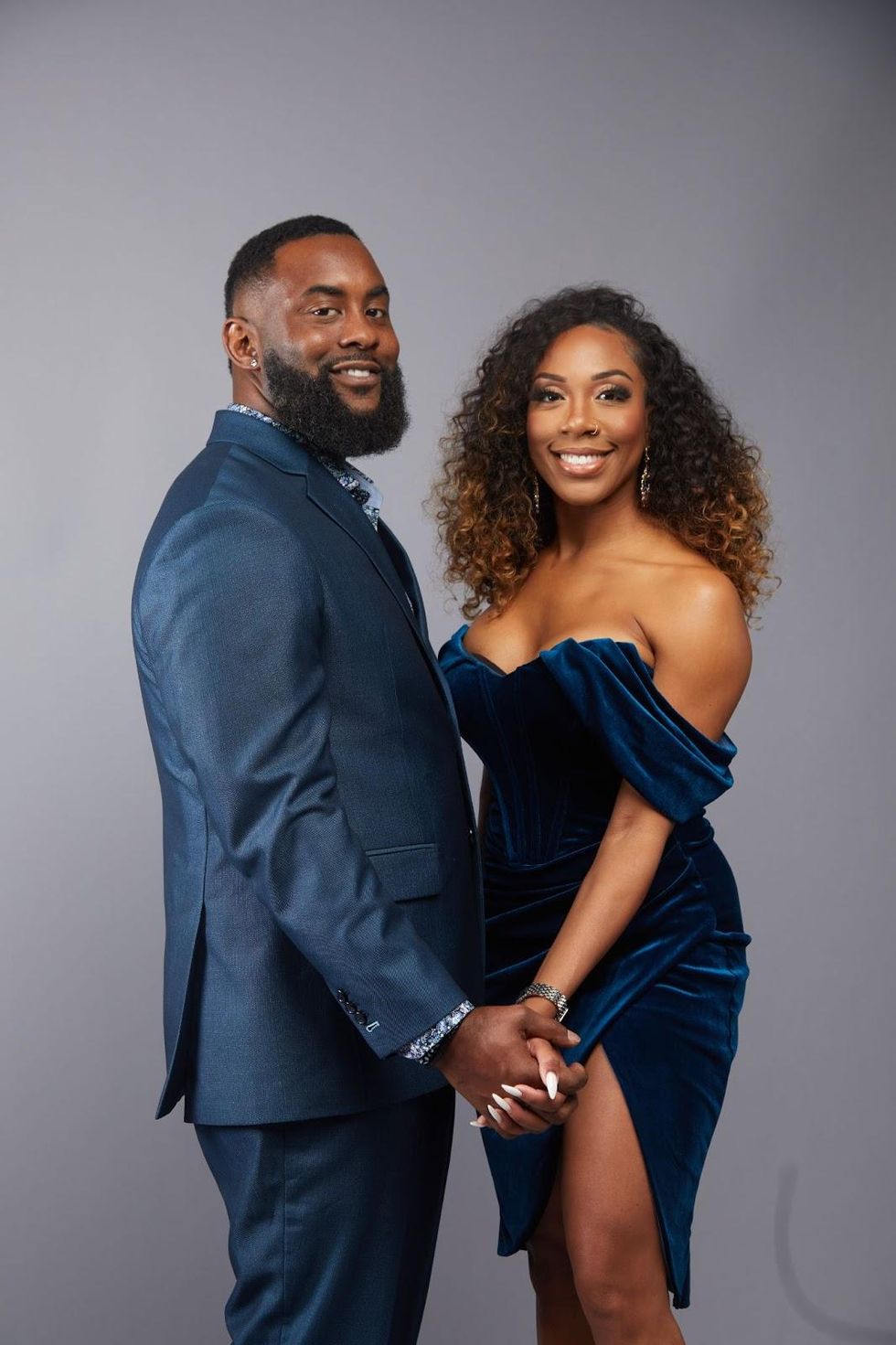 Joya and Jasha
Courtesy of OWN
Put A Ring On It's average viewership grew across each of its first three seasons, climbing +22% from Season 1 (364k P2+) to Season 3 (443k P2+). On average during its most-recent season, Put A Ring On It was the #1 cable telecast in its time period among African-American women and #1 non-sports cable telecast among African-American households and total viewers.
The show is executive produced by Will Packer for Will Packer Media and Jeff Spangler and Rob LaPlante, Lighthearted Entertainment. Anthony Sylvester also executive produces.
Keep up with OWN Unscripted Shows on Facebook, Twitter, and Instagram.
Featured image courtesy of OWN

La La Anthony continues to blow audiences away with her acting roles. Since taking a step back from hosting and focusing on acting, we have seen her star in films like Think Like a Man and Think Like a Man Too, Chi-Raq, and TV series like The Chi, and Wu-Tang: An American Saga. But her role as the beloved character LaKeisha Grant in Power solidified her as a mainstay in Hollywood for her unforgettable performance up until the end.
The mother of one is hoping to strike gold once more with her new role as Markisha Taylor in the Starz series BMF. In a xoNecole exclusive interview, La La dishes on the new season of BMF, her stance on love, and what's next.
The series is back with season two and while Markisha had a brief introduction in the first season, fans will get a chance to know more about the bossed-up beauty who has stolen the main character Terry Flenory's heart.
"They still love each other 'til this day," La La says about the real-life characters. "So, it's a deep love story and I think that Markisha coming into it had [a] very genuine interest. She really cared and ultimately loved Terry. It wasn't like she was coming in for something else at that time. What was she gonna gain from this other than 'oh, he makes me feel good,' 'he's younger,' 'he's paying me attention?' But I think for her, she really saw potential and passion in him and she wanted to help that grow. So, I think that it just makes for such a layered, complicated relationship that will take us throughout the whole season and we'll see which way that goes."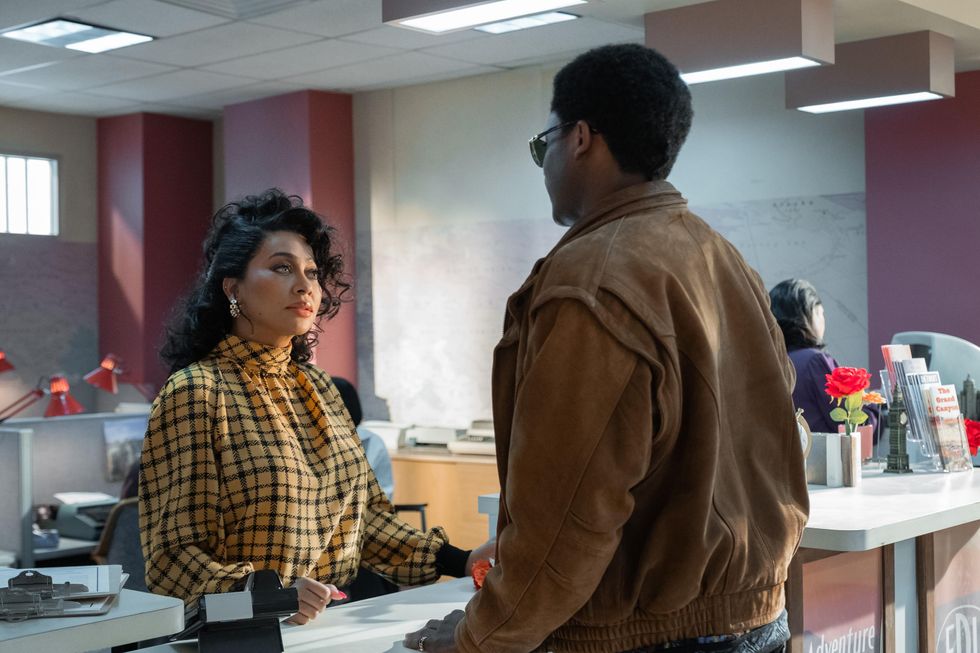 La La Anthony's character Markisha Taylor and Da'Vinchi's character Terry Flenory. Photo courtesy of 'BMF.'
BMF is loosely based on a true story about brothers Demetrius "Big Meech" Flenory and Terry "Southwest T" Flenory becoming one of the most influential crime families in the U.S. and Markisha's love story with Terry, played by Da'Vinchi, will take centerfold alongside the ongoing focus on family.
"That's why I said it's not another crime show or drug show, or violent show. It's so much love and loyalty and care and family at the center of BMF," she says. "That's what they're about, so you get to see all of that. So, it's something that everyone can relate to. [It's a show] where there's a character that we all can say, I see a little bit of myself in this character or I know somebody who's like this. I think you get all of that from BMF."
Watch the full La La video below.
La La Anthony Talks BMF Season 2, Why Love Is Complicated & More
Let's make things inbox official! Sign up for the xoNecole newsletter for daily love, wellness, career, and exclusive content delivered straight to your inbox.
Feature image courtesy of BMF/Starz
We do not endorse cheating. Unless… of course we are talking about the events that should've transpired in the 1996 Christmas classic film The Preacher's Wife.
The Penny Marshall-directed film about an angel sent from above to help a struggling pastor and his congregation starred Denzel Washington when he was at his peak fine and the forever beautiful, late Whitney Houston as Dudley and Julia, respectively. The Preacher's Wife is a staple film in my house and many others during the holidays, in no small part because of the chemistry between Houston's and Washington's characters. And while anyone who has watched the film has certainly thought it, I'm going to be the brave one to say it: Dudley and Julia should've ended up together.
Wait, wait, hear me out.
Now, I know what you're thinking: "Girl, he was literally an angel!" And yes, while that's true, and the prospect of him getting his wings clipped from even just looking at Julia for too long was very real, there is no reality in which the Lord sent down one of his heavenly agents that looks exactly like Denzel Washington and not expect for anyone to fall in love with him, let alone root for him instead of Julia's husband Reverend Henry Biggs, which was played by the brilliant Courtney B. Vance.
Throughout the film, Henry gets so involved in church and his congregants' business that he neglects his martial duties. I know that being a man of God demands a lot, but Dudley, who is a literal angel, seemed to have had time to dedicate to both his Godly duties and making sure Julia was happy.
Dudley becomes increasingly more smitten with Julia as the two of them spend time together. He may have been sent down to help the pastor, but that doesn't mean he couldn't help himself in the process.
And another thing...
It goes without saying that Julia definitely wanted Dudley as well. She knew it. Her mother knew it. Hell, even Henry knew it. You don't just go to lunch, ice skating, and dancing at a club with a man and not fall the teensiest bit in love. Some people (me) would even go as far as to call those "dates."
Just as Julia told her mother when her mother confronted her about all the time she's spent with Dudley: "I can look in the window, even if I don't buy." I would go even further and say that you can try something on in the dressing room even if you don't take it home.
No woman should be expected to be okay with having her needs neglected for so long. She doesn't have to leave her husband for Dudley necessarily, but nothing wakes an emotionally checked-out man more than a little cheating.
In conclusion...
Dudley and Julia should've ended up together. Or at least did something more than a lingering side-of-the-mouth kiss. No one would've even remembered once Dudley left as Dudley explained to Henry. So this Christmas while watching this holiday classic, cut it off just as Dudley switches himself into Julia and Henry's wedding photo because that's the real ending of the film.
Feature image by Fotos International/ Getty Images

The Y2K nostalgia cycle has been in full swing for quite some time now but something about it has been so decidedly…white. Online, most articles and fashion videos dedicated to Y2K feature people dressing like Megan Fox or Hilary Duff's Lizzie McGuire character. There's the crimped hair and the gauchos and the butterfly clips.
But when I think of the early 2000s, my mind goes to Baby Phat, the velour tracksuits, the pink bedazzled phone cases, FUBU, and impossibly beautiful women dressed in scantily-clad outfits surrounded by some of the world's biggest rappers and singers. For many Black women who were just merely girls in the late '90's/early 2000s, our beauty idols were the women who appeared in music videos for artists like Jay-Z, 50 Cent, or LL Cool J — or as they've come to be known more succinctly as video vixens.
Let's make things inbox official! Sign up for the xoNecole newsletter for daily love, wellness, career, and exclusive content delivered straight to your inbox.
Feature image by screenshot from Nelly's "Hot in Herre" music video/ YouTube