It is like witnessing magic when you watch an athlete do what they do best. To see a mere human soar in the air over to the other side of a bar or to witness someone run at a speed quicker than a human thought. A basketball player defying gravity just to get a ball into a hoop. A ballerina turning their body into a top, spinning and spinning without fatigue.
We all know the athletes whose talents have defied logic. The Jordans. The Woods. The Copelands. However, there is probably no person who has achieved alchemy in their career quite like Serena Williams.
For decades we've watched the magnetic chemistry Williams has fostered between her racket and the ball. The thunderous force in which she served. Her muscular physique that looks as if it's been sculpted in the image of a Goddess.
In the recent issue ofVogueshe speaks on her plans to retire or "evolve," as Williams put it, from tennis, the sport she's dominated since the 90s. In the article, Williams is frank about the mixed emotions she's experiencing with this decision she's made. "There is no happiness in this topic for me," Williams says. "I know it's not the usual thing to say, but I feel a great deal of pain." She continues: It's the hardest thing that I could ever imagine. I hate it. I hate that I have to be at this crossroads. I keep saying to myself, I wish it could be easy for me, but it's not. I'm torn: I don't want it to be over, but at the same time I'm ready for what's next."
It seems like Williams' anxiety over leaving can only be rivaled by fans' sorrow of having to say goodbye to the sports legend's career.
To have watched Williams play tennis since she was just a child was a chance to watch as someone took the gift they were born with and turned it into something otherworldly. From the moment she stepped into our collective imaginations donning a head full of beads that adorned her braids at just 14 years old in 1995, she was bringing all of us Black girls along with her.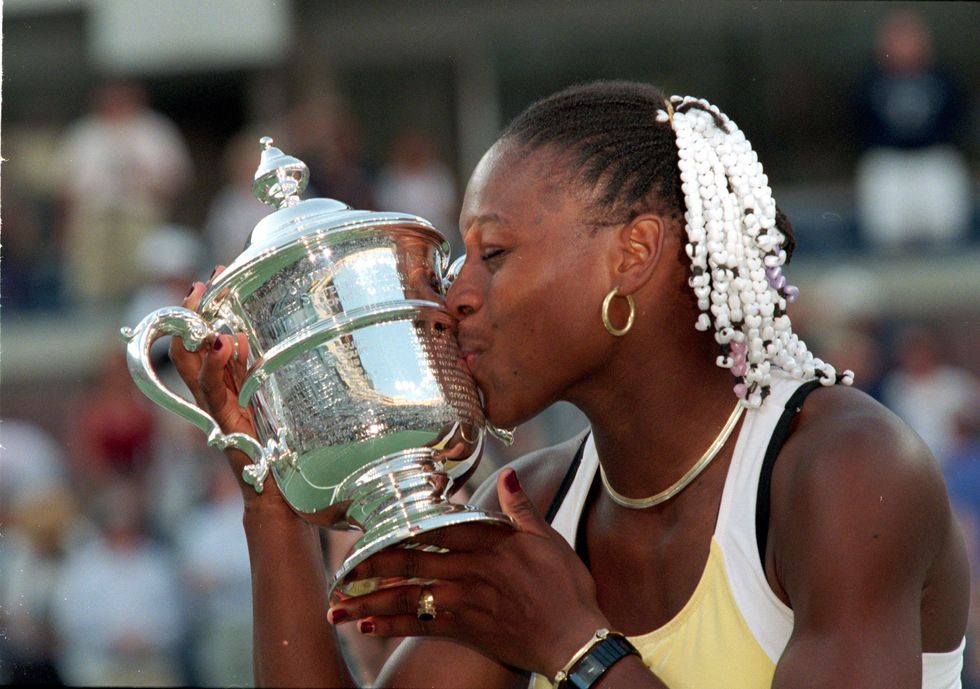 Serena Williams 11 Sep 1999: American tennis player Serena Williams kisses her trophy after winning a match (against Martina Hingis of Switzerland) during the US Open at the USTA National Tennis Courts in Flushing Meadows, New YorkCredit: Jamie Squire /Allsport
There were people perplexed that a Black girl and her equally talented sister hailed from Compton, California — a place that had become synonymous with violence and poverty. Their story had become one about defying the odds, as if not becoming a casualty of the various societal ills was an accomplishment and not an indictment of the system they had to work against in the first place.
This would become a recurring problem throughout her career. From dog whistle comments from the "competitors" she frequently bested like Maria Sharapova, to the media and sports officials, Williams was never able to be just an athlete. She was also forced by the many instances of misogyny and racism in her career to embrace a life of activism.
It's difficult to surmise how much she's impacted a new generation of athletes like Naomi Osaka, Sloane Stephens, and many more Black girls who see themselves in Williams. We are her legacy of Black woman magic and excellence. Whatever the future holds for her is yet to be determined, but if it's anything like her tennis career, it will be iconic.
Let's make things inbox official! Sign up for the xoNecole newsletter for daily love, wellness, career, and exclusive content delivered straight to your inbox.
Featured Image: Getty Images

Some may see romantic comedies and dramas as a guilty pleasure. But author Bolu Babalola indulges in the genre with no apology.
"I love romance," Babalola tells xoNecole. "I've always consumed romance. I've always read romance. I've always written romance," she says. "It wasn't even a conscious decision, it's just a part of me. It's just what I enjoy reading."
In her debut romance novel Honey & Spice, Babalola follows up her debut anthology Love in Colour by once again allowing her love for all things love to bloom into a world brimming with vibrant and lively characters. In Honey & Spice, we are introduced to the character of Kiki Banjo who Babalola describes as "the resident romantic adviser" at the university where Kiki also hosts a love advice radio show for Black women on campus called "Brown Sugar." When a mysterious man arrives at the school and sows discord amongst the ladies, it threatens to undo the work that Kiki has put into trying to lead them all down the right path in their love lives. "A confrontation ensues, an entanglement ensues, and eventually they find themselves having to fake a relationship to save both of their reputations," Babalola says.
Babalola says that creating Kiki allowed her to write about a Black female character that is flawed. "She is messy. And she is giving romantic advice to women at the university but she doesn't have it figured out," Babalola says. "And it was really freeing for me to write a young Black girl like that."
Babalola is joining a recent wave of writers who are allowing audiences to embrace Black women to be their whole complicated and imperfect selves on screen and in books. Along with debut author Raven Lelani's hit book Luster (that Babalola describes as one of the books that made her heart beat fast,) and Insecure's Issa who Babalola describes as a "delight" and "messy." "She's so gorgeous, but she's not exactly smooth," Bablola says.
Of course, romance is one of the many genres that suffers from its share of anti-Blackness, both with who gets to write them and the kind of characters we constantly see being loved and desired. It's the Julia Robertses and the Meg Ryans of the world who are seen as the kind of women that society deems to be worthy of affection. While those women as some of her fave on-screen leading ladies, she also cites Vivica A. Fox in Two Can Play That Game and multi-hyphenate entertainer and rom-com queen Queen Latifah who Babalola says is "beautiful, self-possessed, sexy, deep brown skinned, and fully aware of her beauty."
During our conversation, I was reminded of when Toni Morrison famously said that she "wrote my first novel because I wanted to read it." That was one of my favorite Toni Morrison quotes," Babalola says when I brought it up to her. "It's a compulsion. Maybe it's a little bit narcissistic, but I love writing those stories for my younger self," she says. More than just herself though, Babalola feels a sense of pride every time young Black girls tell her how much her work impacts them. "When they come up to me and say they felt seen, they felt held, 'You made reconfigure my idea of romance, and gave me hope about it,' that makes me really happy."
Despite the cynicism that many critics have of the romance genre, Babalola says that she doesn't let that impact her love for the genre. "I really believe that people who think love is a weak or frivolous thing are –" Babalola pauses for a second. "–I'm trying to say they're dumb but in a nice way," Babalola jokes. "They really don't have an awareness of the kind of complexity that's within that genre, what it takes to forensically explore emotions and human vulnerability."
While binge-watching television when she was in university, she got the idea to expand her writing skills and her love of romance to the screen. Last year, the pilot for her 30-minute hangout comedy Big Age, aired on Channel 4 in the UK. It follows the life of a Black woman who quits her lucrative law job to pursue writing all the while juggling the prospects of a budding new romance and an old flame.
"I'm a storyteller," she says when I ask her if screenwriting was always in her cards. "Books and novels were just the first things that I gravitated to because I read books so I'm gonna write books."
Be it on screen or in a book, Babalola's love for stories about love and messy Black girls will always find a platform.
Let's make things inbox official! Sign up for the xoNecole newsletter for daily love, wellness, career, and exclusive content delivered straight to your inbox.
Featured image by Caleb Azumah Nelson

It's been weeks since WNBA star and two-time Olympic gold medalist Brittney Griner was arrested in Russia, allegedly for having vape cartridges that contained hash oil (cannabis oil). But the world only found out recently when Russian media released her alleged mugshot. Brittney, one of the world's best basketball players who's been playing for Russia's UMMC Ekaterinburg team during the WNBA off-season since 2015, faces a prison sentence of up to 10 years, if convicted.
Because WNBA salaries can be as low as $60,000 and max out at $228,000 (as compared to the astronomical millions top NBA players can make), it's common practice for WNBA players to go abroad in the off-season, where they can make more than $1 million. When Russia invaded Ukraine, WNBA players began evacuating both countries, but Griner was arrested at Moscow's airport.
So, why is Brittney's arrest a major concern? With Russia being at war with Ukraine, it's reasonable to fear people fear that the two-time Olympic medalist's arrest and imprisonment is a calculated move against the U.S. and a way to use her as a pawn in the war.
Featured image by Michael Hickey/Getty Images
Originally published on March 10, 202
Although she has been working in showbiz since a pre-teen, Keke Palmer still makes self-care a priority. The Nope star has been busy as of late after starring in the new Jordan Peele film but she took a break to speak about how she still finds time to take care of her mind, body, and spirit. In the September issue ofWomen's Health, the 28-year-old explained how saying no has helped her in her personal life and career and much more.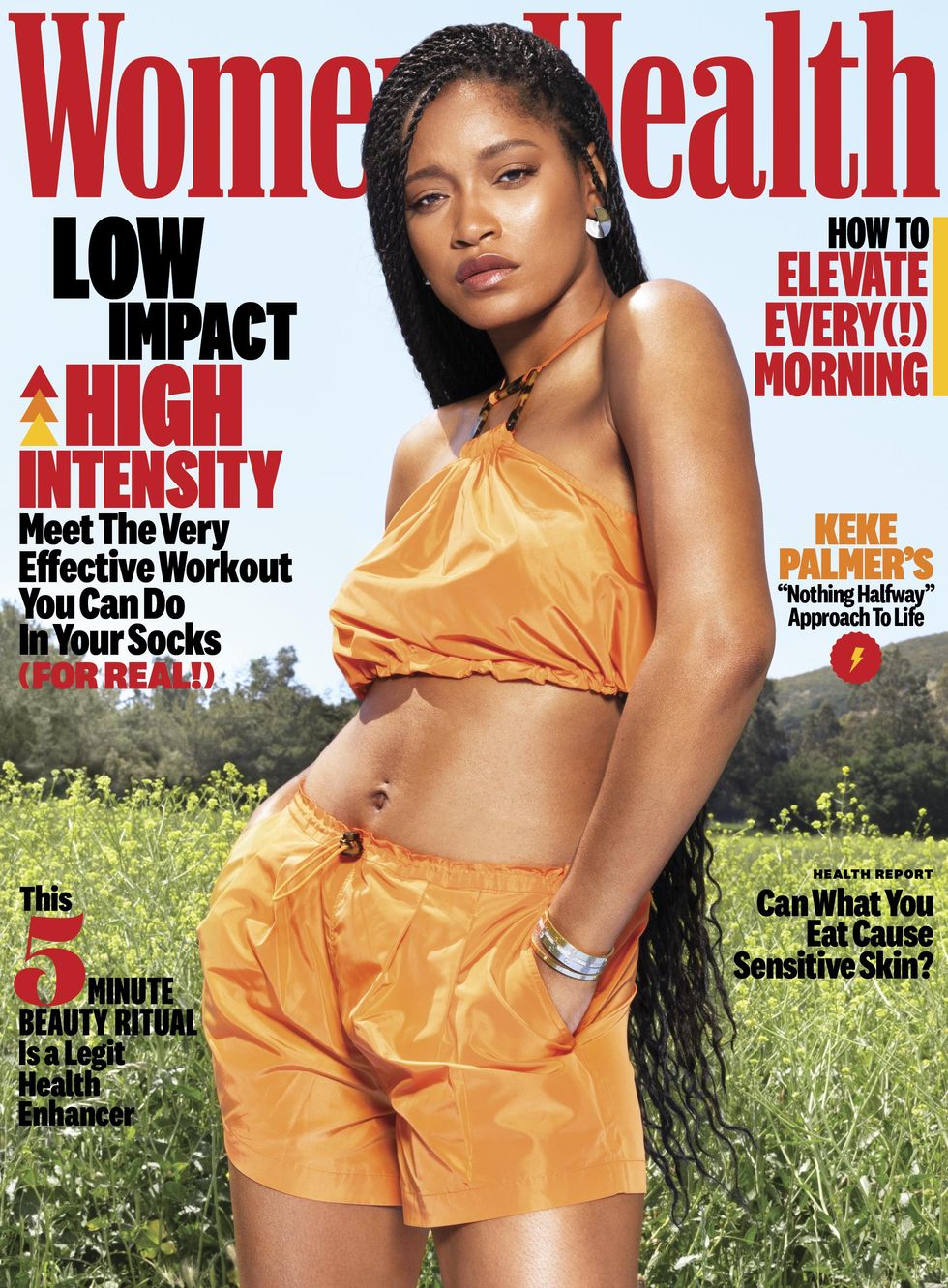 Djeneba Aduayom for Women's Health
"I've learned over the years that to keep my sanity, and to physically keep this machine running, I have to pour into myself as often as I can," she said.
While Keke has gone viral a number of times due to her comedic timing and even serious moments such as her innocently not knowing who former Vice President Dick Cheney was that turned into an iconic meme, she's also been praised for her work ethic. The singer/ actress has been dubbed Keke "Keep a Job" Palmer because she seems to keep many jobs and we have even witnessed her shooting her shot at roles such as Insecure, which she landed in its final season.
And as much as she loves acting, she had to learn to put that same energy into taking care of herself. "It hit me that I have to practice loving myself the same way I practice acting," she admitted. Even with all her many jobs, Keke still turns down gigs after learning the power of saying no.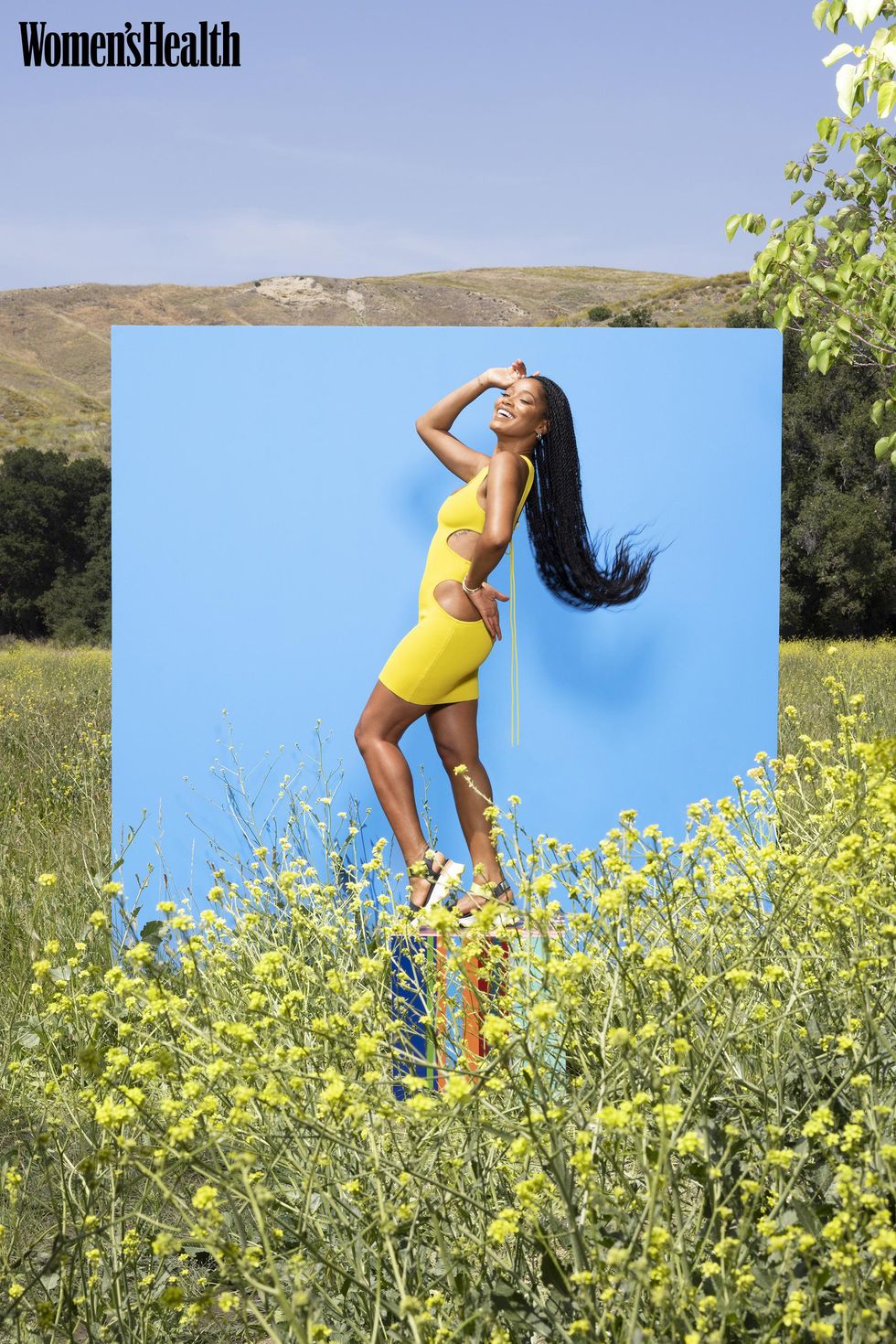 Djeneba Aduayom for Women's Health
"I realized it's hard to say no because we don't trust. We don't trust that if we say no the opportunity will come again," she said. "Or we don't trust that if we say no we've made the right choice. Or we're scared that if we say no we're going to offend somebody. But I realized that saying yes to too many things was stressing me out the most. I've learned not to be afraid to rearrange things and to accept that I'm not going to be able to do it all without hurting myself."

She's still getting used to this power but shared that the self-care practice has actually helped her with loving herself. "It's been two years since I embarked on this whole 'saying no' thing. And I must say, I'm getting really good at it now," she revealed. "That's the grace and the silver lining. Everything I've been through has taught me how to love myself more."
Keke Palmer is Willing to Try THIS for an Adrenaline Rush?! | Once Never Forever | Women's Health
Let's make things inbox official! Sign up for the xoNecole newsletter for daily love, wellness, career, and exclusive content delivered straight to your inbox.
Featured image by Djeneba Aduayom for Women's Health
Bey is back with her highly anticipated seventh studio album, Renaissance. The 16-track record is her first solo album in six years since Lemonade. And like with everything she does, she's raised the bar.
The album is a sonic masterpiece as Bey delivers her style and interpretation of the house music she was exposed to growing up. Beyoncé credits that exposure to her Uncle Johnny, who died of complications from AIDS, and she dedicates Renaissance to him in the album's liner notes.
"He was my godmother and the first person to expose me to a lot of the music and culture that serve as inspiration for this album," she writes. Uncle Johnny was a pivotal figure in Beyoncé's life and career, designing costumes for Destiny's Child with her mother Tina before high-end labels would dress "four Black, curvy, country girls." As a Black queer southerner living with HIV, Beyoncé's decision to dedicate Renaissance to Uncle Johnny and to center Black LGBTQIA voices and Ballroom history and culture in the music is one of unconditional love and hope. Music journalist Gerrick Kennedy agrees.
"She's talked about her uncle over the years, but to really celebrate that [with Renaissance] ... If we hadn't had this moment [with COVID lockdown] where we have been sitting and reflecting, I don't know if we would've gotten a project like this," Kennedy tells xoNecole. "It also feels like [Beyoncé] allowed herself to grieve this family member, but also this part of her and her mother's life and how she was raised and the [queer] scenes that she was privy to as a kid [in the South] before we all really knew her," says Kennedy.
Fans got a taste of her intentions to honor the Black queer community with this album on June 21, when she dropped the lead single from Renaissance, "Break My Soul." The lead single features samples of Robin S.'s 1990 hit "Show Me Love" and the Queen of Bounce, Big Freedia's 2014 song "Explode."
"For [Beyoncé] to extend her hand to her queer fans, hold us up the way that she did and create a universe for us [with this album]. There's something really magical about it," Kennedy says.
"Cozy," the second song on the album, serves as a proudly queer-centric affirmation of being comfortable with who you are and features trans icons Honey Dijon and Ts Madison. In verse two, Beyoncé sings about colors that describe Daniel Quasar's 2018 Progress Pride flag design that brings marginalized LGBTQIA+ people of color, trans people, and those living with HIV/AIDS to the forefront. And in the post-chorus and bridge, there's a sample of Ts Madison's video "B**tch, I'm BLACK."
"There are no words to describe my feelings," Ts Madison tells xoNecole about the opportunity to feature on "Cozy." "Beyonce is a global phenomenon. For her to add my voice and statement piece on this project means a great deal to not only the Black community, but also the trans and queer community," she says.
My favorite track, "Church Girl," reminds me of Sunday sermons ending at 3 p.m., followed by a community fish fry and great music as the Louisiana heat beams down on my skin. Besides its reminder of my southern roots, "Church Girl" serves as a form of catharsis to let go of your burdens, whether at the altar or on the dance floor.
That form of release is the common theme throughout the album, emphasizing the importance of agency, self-love, and freedom to express yourself.
Renaissance also features contributions from The-Dream, Tems, NO I.D., NOVA WAV, Raphael Saadiq, and Mike Dean, to name a few. Songwriter Diane Warren might have tried to come for Beyoncé crediting 24 writers on one track of Renaissance, but it's Beyoncé's communal approach to her craft that makes Renaissance flow so beautifully; it's how she's able to merge regional sounds and flip them with some southern spice.
Music historian and author Craig Seymour says that with her collaborations on Renaissance – like featuring live trumpets played by Bastrop, Louisiana native Jamelle Adisa on "Cuff It," – Beyoncé reconnects house music that had been born in places like Chicago back to its southern roots, honoring the foundation of the genre itself.
"People always want to act like Black history is brand new, but the first thing is to understand the huge influence of the Great Migration," Seymour tells xoNecole. "All those people who created early house music were the grandchildren of Southerners. So those southern cultural traditions and things like that were a part of their lives even though they were in an urban environment," says Seymour. "The kind of yearning, the desire for acceptance that you get with a lot of early house, you can trace a lot of those elements even back to the urban blues, which essentially was the soundtrack to the Great Migration."
Seymour also tells us that the sub-genres of house Beyoncé chose to recreate on the album show her commitment to authentically representing the culture.
pic.twitter.com/wgYIRZg465
— BEYONCÉ (@Beyonce) July 29, 2022
"One of her most significant influences on the album is the sub-genre of house called 'bitch tracks,' which were often made by drag performers who were basically reading somebody on a record. Moi Renee's "'Miss Honey'" is one of the foundational ones, and she sampled Kevin Aviance's "'Cunty'" on [the track] "Pure/Honey," says Seymour.
It's that track, as well as "Alien Superstar" that season one winner of the HBOMax vogue competition show Legendary Calypso Jetè Balmain relates to the most. But Calypso, who's worked with Megan Thee Stallion and more, is no stranger to how thin the line between homage to the culture and commodification can be.
"Being a Black trans woman and knowing Ballroom, going back to the roots and everything, I don't want this to just be another way of getting people to tune into music," says Calypso. "I'm kind of sad that it took for Beyoncé to do things like this [for the community to get the attention it deserves]. I love it; I appreciate it. But I don't want this to be [seen as] a trend because Ballroom has been around for so long." She hopes that the visuals for Renaissance will showcase the culture authentically.
"It will open the eyes of many who are allies or not LBTQIA+. Because right now, people are just hearing it, and people are probably like, 'Oh, my God, this is a great time because Beyoncé made it,' says Calypso. "If you were to walk into a straight club and say, 'Oh, play Kevin Jz Prodigy.' They'll never play Kevin Jz Prodigy. They don't know who that is."
In recent years, Ballroom — traditionally an underground haven for Black and brown LGBTQIA+ folks — has become a part of the mainstream pop culture discussion thanks to TV series like Pose and Legendary, and a resurgence of house music. While the general public gawks at the beauty, glamour, and voguing, there's a deeper story of resilience, survival and strength in community. "Nobody wants to talk about AIDS because it created a substantial generational gap," Seymour says. "The government's inaction caused gay men to die disproportionately of AIDS, especially Black gay men."
And now, at the height of anti-LGBTQIA+ legislation and the short life expectancy of Black trans women, who are attacked daily, we must look beyond the surface. Renaissance is more than a musical masterpiece; it's inherently political and communal as she lends herself and platform to the memory of her Uncle Johnny and to generations of queer folks. Looking back to move forward through music is a form of resistance in her wheelhouse, using this album to bridge young queer folks to their elders, roots, and the ongoing fight for our rights. That's the true essence of Renaissance in every sense of the word.
Let's make things inbox official! Sign up for the xoNecole newsletter for daily love, wellness, career, and exclusive content delivered straight to your inbox.
Featured image by Carlijn Jacobs