While Jay Ellis' claim to fame is starring in Insecure as Lawrence, the 40-year-old actor racked up many acting credits prior to and after the iconic series. He starred in The Game and currently, he's promoting his new film Top Gun: Maverick where he plays the character Payback. The role could be considered a full-circle moment for the actor since he was a military brat.
Jay's father was in the Air Force and they moved around a lot. In an interview with SSENSE, he revealed that he attended 12 schools in 13 years. Due to his successful career, he has been able to give back to his parents who had him when they were teenagers. Jay was a keynote speaker at CultureCon in Atlanta earlier this month and he spoke with xoNecole about the sweet gift he bought his parents for their wedding anniversary.
"I remember the first time I bought my parents cars this year for their 40th wedding anniversary and that to me felt like a full-circle moment," he said. "I don't know if I ever really thought about it before then but that to me was just this moment of like, 'Oh I can do this for my family. I'm excited to do this and proud to do this for them.' And that was huge."
The former model is also a huge proponent of self-care. While there is a community on social media that believes "sleep is for the weak," Jay has no qualms about prioritizing eight hours of sleep a night.
"I get eight hours of sleep no matter what. Always. If I gotta go to bed at 8 o'clock at night that's what I gotta do I don't care," he said. But he also enjoys his quiet time and explains how that has helped him over time. "Whether that's meditation, whether it's prayer, whether it's a walk. I go on a walk pretty much every single morning for like 45 minutes," he said.
"I wake up early before I gotta go to work before I gotta get ready for work to go on a walk just to have some quiet time and to me that's been super helpful. I think it's helped with my energy and endurance but I think even also decision making and all the things coming at you so fast. I feel like it's really helpful to be able to have a moment to step away from all of that and get back to get grounded."
It may be surprising to know that the NAACP Image award-winning actor manages to get eight hours of sleep and finds quiet time now that he's a father. Jay welcomed a baby girl in 2020 and in an interview with Essence that same year, he noted the exhaustion with balancing work and becoming a new father.
"Then I was directing and then becoming a father. I was back and forth to New Orleans every week, and I was just so exhausted that God was like, You need to sit down, and this is the week to do it."
Let's make things inbox official! Sign up for the xoNecole newsletter for daily love, wellness, career, and exclusive content delivered straight to your inbox.
Featured image by Derek White/Getty Images for Paramount Pictures
You may not know her by Elisabeth Ovesen – writer and host of the love, sex and relationships advice podcast Asking for a Friend. But you definitely know her other alter ego, Karrine Steffans, the New York Times best-selling author who lit up the literary and entertainment world when she released what she called a "tell some" memoir, Confessions of a Video Vixen.
Her 2005 barn-burning book gave an inside look at the seemingly glamorous world of being a video vixen in the '90s and early 2000s, and exposed the industry's culture of abuse, intimidation, and misogyny years before the Me Too Movement hit the mainstream. Her follow-up books, The Vixen Diaries (2007) and The Vixen Manual: How To Find, Seduce And Keep The Man You Want (2009) all topped the New York Times best-seller list. After a long social media break, she's back. xoNecole caught up with Ovesen about the impact of her groundbreaking book, what life is like for her now, and why she was never "before her time"– everyone else was just late to the revolution.
xoNecole: Tell me about your new podcast Asking for a Friend with Elisabeth Ovesen and how that came about.
Elisabeth Ovesen: I have a friend who is over [at Blavity] and he just asked me if I wanted to do something with him. And that's just kinda how it happened. It wasn't like some big master plan. Somebody over there was like, "Hey, we need content. We want to do this podcast. Can you do it?" And I was like, "Sure." And that's that. That was around the holidays and so we started working on it.
xoNecole: Your life and work seem incredibly different from when you first broke out on the scene. Can you talk a bit about the change in your career and how your life is now?
EO: Not that different. I mean my life is very different, of course, but my work isn't really that different. My life is different, of course, because I'm 43. My career started when I was in my 20s, so we're looking at almost 20 years since the beginning of my career. So, naturally life has changed a lot since then.
I don't think my career has changed a whole lot – not as far as my writing is concerned, and my stream of consciousness with my writing, and my concerns and the subject matter hasn't changed much. I've always written about interpersonal relationships, sexual shame, male ego fragility, respectability politics – things like that. I always put myself in the center of that to make those points, which I think were greatly missed when I first started writing. I think that society has changed quite a bit. People are more aware. People tell me a lot that I have always been "before my time." I was writing about things before other people were talking about that; I was concerned about things before my generation seemed to be concerned about things. I wasn't "before my time." I think it just seems that way to people who are late to the revolution, you know what I mean?
I retired from publishing in 2015, which was always the plan to do 10 years and retire. I was retired from my pen name and just from the business in general in 2015, I could focus on my business, my education and other things, my family. I came back to writing in 2020 over at Medium. The same friend that got me into the podcast, actually as the vice president of content over at Medium and was like, "Hey, we need some content." I guess I'm his go-to content creator.
xoNecole: Can you expound on why you went back to your birth name versus your stage name?
EO: No, it was nothing to expound upon. I mean, writers have pen names. That's like asking Diddy, why did he go by Sean? I didn't go back. I've always used that. Nobody was paying attention. I've never not been myself. Karrine Steffans wrote a certain kind of book for a certain kind of audience. She was invented for the urban audience, particularly. She was never meant to live more than 10 years. I have other pen names as well. I write under several names. So, the other ones are just nobody's business right now. Different pen names write different things. And Elisabeth isn't my real name either. So you'll never know who I really am and you'll never know what my real name is, because part of being a writer is, for me at least, keeping some sort of anonymity. Anything I do in entertainment is going to amass quite a bit because who I am as a person in my private life isn't the same a lot of times as who I am publicly.
xoNecole: I want to go back to when you published Confessions of a Video Vixen. We are now in this time where people are reevaluating how the media mistreated women in the spotlight in the 2000s, namely women like Britney Spears. So I'd be interested to hear how you feel about that period of your life and how you were treated by the media?
EO: What I said earlier. I think that much of society has evolved quite a bit. When you look back at that time, it was actually shocking how old-fashioned the thinking still was. How women were still treated and how they're still treated now. I mean, it hasn't changed completely. I think that especially for the audience, I think it was shocking for them to see a woman – a woman of color – not be sexually ashamed.
I hate being like other people. I don't want to do what anyone else is doing. I can't conform. I will not conform. I think in 2005 when Confessions was published, that attitude, especially about sex, was very upsetting. Number one, it was upsetting to the men, especially within urban and hip-hop culture, which is built on misogyny and thrives off of it to this day. And the women who protect these men, I think, you know, addressing a demographic that is rooted in trauma that is rooted in sexual shame, trauma, slavery of all kinds, including slavery of the mind – I think it triggered a lot of people to see a Black woman be free in this way.
I think it said a lot about the people who were upset by it. And then there were some in "crossover media," a lot of white folks were upset too, not gonna lie. But to see it from Black women – Tyra Banks was really upset [when she interviewed me about Confessions in 2005]. Oprah wasn't mad [when she interviewed me]. As long as Oprah wasn't mad, I was good. I didn't care what anybody else had to say. Oprah was amazing. So, watching Black women defend men, and Black women who had a platform, defend the sexual blackmailing of men: "If you don't do this with me, you won't get this job"; "If you don't do this in my trailer, you're going to have to leave the set"– these are things that I dealt with.
I just happened to be the kind of woman who, because I was a single mother raising my child all by myself and never got any help at all – which I still don't. Like, I'm 24 in college – not a cheap college either – one of the best colleges in the country, and I'm still taking care of him all by myself as a 21-year-old, 20-year-old, young, single mother with no family and no support – I wasn't about to say no to something that could help me feed my son for a month or two or three.
xoNecole: We are in this post-Me Too climate where women in Hollywood have come forward to talk about the powerful men who have abused them. In the music industry in particular, it seems nearly impossible for any substantive change or movement to take place within music. It's only now after three decades of allegations that R. Kelly has finally been convicted and other men like Russell Simmons continue to roam free despite the multiple allegations against him. Why do you think it's hard for the music industry to face its reckoning?
EO: That's not the music industry, that's urban music. That's just Black folks who make music and nobody cares about that. That's the thing; nobody cares...Nobody cares. It's not the music industry. It's just an "urban" thing. And when I say "urban," I say that in quotations. Literally, it's a Black thing, where nobody gives a shit what Black people do to Black people. And Russell didn't go on unchecked, he just had enough money to keep it quiet. But you know, anytime you're dealing with Black women being disrespected, especially by Black men, nobody gives a shit.
And Black people don't police themselves so it doesn't matter. Why should anybody care? And Black women don't care. They'll buy an R. Kelly album right now. They'll stream that shit right now. They don't care. So, nobody cares. Nobody cares. And if you're not going to police yourself, then nobody's ever going to care.
xoNecole: Do you have any regrets about anything you wrote or perhaps something you may have omitted?
EO: Absolutely not. No. There's nothing that I wish I would've gone back and said to myself, no. I don't think at 20-something years old, I'm supposed to understand every little thing. I don't think the 20-something-year-old woman is supposed to understand the world and know exactly what she's doing. I think that one of my biggest regrets, which isn't my regret, but a regret, is that I didn't have better parents. Because a 20-something only knows what she knows based on what she's seen and what she's been taught and what she's told. I had shitty parents and a horrible family. Just terrible. These people had no business having children. None of them. And a lot of our families are like that. And we may pass down those familial curses.
*This interview has been edited and condensed

Let's make things inbox official! Sign up for the xoNecole newsletter for daily love, wellness, career, and exclusive content delivered straight to your inbox.
Feature image courtesy of Elisabeth Ovesen
Every blue moon a steamy "blockbuster" is released on one of the streaming platforms and it quickly makes its way through the circuit, trending up until each of us has streamed, dissected, and maybe even gotten off to it. Admittedly, I'm always looking for good sex scenes in movies and TV shows to spare me from the traumatic acting in the porn that exists – even in the "Porn for Women" category! And, it's not like we have anything like Zane's Sex Chronicles (who walked so these other lightweight porn movies could run) anymore. The vivid scenes in these movies are enough to get me where I'm going when it comes to my orgasm.
While we often talk about cult classics such as the 50 Shades trilogy or even Monster's Ball, we rarely make room for the sexiest yet most underrated content out there. And, let me keep it all the way real – it's the lightweight pornographic content that doesn't leave much to the imagination. With that in mind, don't be alarmed when you don't see the obvious here! Although there isn't much, there are more than a few hot indie-ish or less known films to go around.
Here are 7 of the movies and TV shows you can stream on either (mostly) Netflix, Hulu, or Amazon the next time you're in the mood to heat things up and want some decent porn playing in the background.
Featured GIF via Netflix
In an alternate universe – much fairer than the one we currently occupy – where Hollywood is a place that allows talent to actually flourish, Tracee Ellis Ross would be the biggest star in the world right now.
My mind struggles to think of anyone else that is as effortlessly funny, endlessly vibrant, and impossibly beautiful right now in Hollywood other than Ross. Of course, being the daughter of legendary Diana Ross certainly lends itself to her charisma. But it's the way she bursts out into a song. Her cackle that fills an entire room. Her smile that only rivals the sun with how bright it is.
Featured image by Jeff Kravitz/FilmMagic
Chelsea Lazkani is the latest addition to the popular Netflix reality series Selling Sunset. The British-Nigerian boss made her debut on season five of the show which is about the luxury real estate market in Los Angeles and the people who sell it. She quickly became a fan favorite due to her captivating fashions and bubbly personality, but Selling Sunset's newest star also wants to open doors for other Black women.
In an interview with Tudum, the 29-year-old realtor said, "My main goal in all of this is to inspire other women, give access to other women, support and help other Black women — who were me — get into living their best life. It's not just in real estate, it's in anything they choose to do."
Featured image by Netflix
Pop culture moments in the making are always something to watch, but no one could've prepared themselves for what was in store for this year's Academy Awards. In fact, I hate to bring it back up because it was so annoyingly over-discussed. Still, I'm bringing this to the table again, and ironically, because it doesn't sit with me how quickly people used this as further proof of Jada Pinkett Smith ruining Will Smith. But, I'm calling bull! It's one thing to turn on Will (though I don't agree due to the murky history the Oscars have of uplifting actual predators), but to turn on Jada?
Well, that's further evidence of my belief that this world is out to get women, especially those who stray from social norms in any shape or form. However, our society has a long-standing history of holding women accountable for the sins or wrongdoing of men.
Time and time again, history has demonstrated that women are expected to not only be pure, holier than thou beings but that when men go astray it is because the woman in his life was a stray arrow. I first learned of this concept in regards to sexuality, but it's clear like many other aspects of life, that it has a trickle-down impact. Twitter critics came out in droves to crucify Jada because it was speculated that she gave Will a look signaling him to defend her honor, then again because of previous clips of her speaking on their relationship dynamic.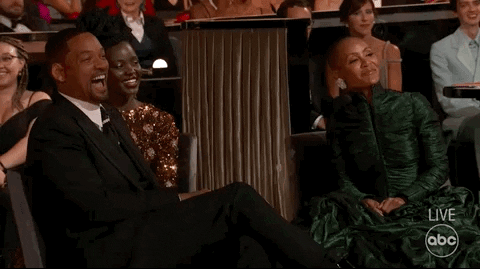 Giphy
People used this as an opportunity to support their previous arguments that Jada was toxic because she as a woman should've willed Will to sit his ass down. They used inaccurate clickbait to have the public believe she had actually spoken against her husband, when in fact, all quotes have been from previous dialogues. While I would love to make this a Black woman issue, this is a woman issue!
This does not negate the fact that this phenomenon may take different shapes when experienced by Black women or be more complicated to navigate. In conversation with xoNecole, Psycho-Historian Shannon Hannaway notes how "blame has historically been shifted to Black women even in instances where the power dynamic in no way reflects the verbiage – even in modern times it is used to describe the events of the past."

She further highlights Thomas Jefferson and his abusive relationship with Sally Hemings, which has never actually been stated that way in history books. To Hannaways's point Hemmings, who was a Black slave, is often described as the dead president's "mistress" rather than "a survivor of sexual assault and abuse."
While purity culture started out as a concept relegated to WASP (White Anglo-Saxon Protestants), I believe respectability politics played a role in Black women attempting to maintain these social constructs no matter how impossible it was due to the controlling images that continued to make a mockery of Black women's attempts to successfully integrate amongst white women in this way (and many others).
Hannaway says, "Purity culture is very much so a WASP concept, although there are variations throughout the history of this idea, the version we know today in the United States is a direct result of the Cult of Domesticity – a movement that began between 1820 and 1860. To be pure and good was a status symbol for wealthy white women, absolute virtue was a sign of this status and women's role in keeping the home, raising children, and acting in accordance with purity and goodness."
"Traditional" womhanood is a farce. Because the femininity script folk speak of when they talk about feminity is a farce created to elevate white women. The purity, piety, domesticity and submissiveness. It is a script.

— Ava Anointing (@SoualiganAmazon) July 25, 2020
However, she pinpoints the tipping point and significant difference as it pertains to the racial piece of our intersectional identities being that "...at this same time slavery was still legal, and even after the Civil War, Black women experienced a shift from formal slavery to near-slavery in the homes of wealthy white women and in fact did a majority of home-keeping behind closed doors."
Hannaway goes on to add, "White women were afforded the privilege to act in accordance with the Cult of Domesticity, whereas Black women and their families were expected and in fact still considered less than despite the end of slavery. Black women did not have the privilege of spending time with their own families, and [were] blamed for their inability to shift careers and be present in their families. Historically Black people have been treated in accordance with white colonial belief systems that commodify bodies and remove personhood, shifting moral righteousness to white people."
This circles back to my initial point of Black women being held and expected to maintain the same standards as white women, as they are the pinnacle of purity and exemplify the behaviors that we Black women ought to mimic – yet constantly finding our best imitation to be unacceptable merely because of our Brown hues and the status attached to it.
Hannaway continues, "In the world we live in, men and women are socialized in a way that removes the blame from men and places a disproportionate amount of responsibility on women starting at an early age. Research reflects that as early as elementary school, the notion that boys are underachievers and girls are compliant and responsible begins. This is reinforced from then on every day, as children become teenagers and later adults, these roles within society become reinforced until they are locked in."

We see it everywhere from the home to the boardroom, where Hannaway says women CEOs are held to more grave consequences than men if and when they fail. And even outside of the company, consumers are less likely to continue to allocate their money in the face of an error made by a woman CEO – further speaking to the collective socialization.
And of course, there are religious roots because aren't there always?

"Women are even tasked with 'changing' men and this is a trope seen in even recent movies such as Failure to Launch, The Kissing Booth, Twilight, to name a few: of note, these are all films with a predominantly young, female audience," Hannaway adds.
I would argue that the sentiment of changing men and controlling, er, reining them in when their behavior is not in alignment with white colonial standards fall within the same vein. You see, apparently, it was more telling of Jada Pinkett Smith's morality and virtue that she wasn't able to predict her husband's next move and use some type of X-Men-like superpower to shift his mood for the greater good of humanity.
I am exhausted by this narrative that @jadapsmith is the reason for #Willsmith behavior. She's not responsible for his behavior or his actions.All the stupid videos on YouTube should the taken down. Jada should sue 4 the toxic & misogynistic things being said about her.

— Ase (@MelaninKemet) April 22, 2022
When I asked Hannaway to further explain the origin of holding women accountable for the actions of men, she shared an interesting finding. "These belief systems and accepted mythologies gave men the ability to blame women for lustful thoughts by association with the paranormal. When a woman was not Christian and white, this belief was even more likely to be acted upon in accordance with the idea that people of color without a Christian God worked with the Devil, and by causing sinful thoughts were surely to blame."

Even more eye-opening and disheartening was the reality that Hannaway spoke on:
"The oppression of women has historically been a way for men to maintain power and control. It's worth noting, that because of this societal structure present in the church and in governments, women's voices have largely been silenced and erased in history. Additionally, women have been the target of violence in the name of assimilation. One argument that makes the most sense, is that women are human beings with the ability to create life and are necessary to the continuity of humanity. To control women is to control life itself. In matriarchal societies, this oppression does not occur in the way it does in patriarchal societies. In patriarchal societies like modern western civilization, women are commodified and objectified."
Needless to say, there's so much more to be said on this matter – all of which is interesting because it holds so much truth. Though we can't possibly get into it all in this one piece, I hope that this raises the consciousness of people everywhere who have managed to perpetuate these acts of misogyny. If change begins with us, I think it's critical that we as a culture begin to evaluate on an individual basis the way that we interact with patriarchal scripts.
Featured image by Getty Images