Joce Blake
Joce Blake is a womanist who loves fashion, Beyonce and Hot Cheetos. The sophistiratchet enthusiast is based in Brooklyn, NY but has southern belle roots as she was born and raised in Memphis, TN. Keep up with her on Instagram @joce_blake and on Twitter @SaraJessicaBee.
Affirmations have the power to change everything around you if you just believe. With your words, you can immediately tap into a new belief system that can shift your life like never before. Creative director J. Ivory is a self-proclaimed Affirmations Queen who is known for being a visual storyteller and manifesting the life God has for her. In doing so, she has learned there is so much power in words and even more so in spoken words.
"The words we speak can either hurt us or heal us. I believe that your words are the most powerful weapon that our humanity has. Believe it or not, you are the very result of the words you have spoken over your life. Positive words have the power to change your life," she told xoNecole.
When it comes to manifesting your destiny, J. Ivory proclaims that you should think of affirmations as the pathway in which you want your actions to go. "You manifest affirmations best by doing the work and some of it is really hard work. I often tell my clients, 'If you see it, you can have it.' Visualize and write out how you see your highest/best self and start showing up as that person every day. Get to know the person you want to become. Be specific. What do they eat? How do they dress?" she asked. J. Ivory went on to say, "What books are they reading? If the person you want to become is financially free and wealthy, and that's what you are affirming, then you need to ask yourself, 'How does my current spending habits and mindset align with the wealthy and financially-free person I want to become? What are some changes I can make today that I can be consistent at that will get me closer to my desired outcome?'"
Above all, she wanted to make sure folks realize that affirming the life you deserve calls for you to be unafraid of the specifics. "Sometimes, I find that people think that affirmations are some type of magic trick." One thing to take away from J. Ivory's knowledge about affirmations is the importance of your actions aligning with your words.
In 2023, we want to be intentional about how we speak in every way. Since being about the action is a part of the beauty of manifesting affirmations, we rounded up 23 women to share the biggest affirmation they are speaking over themselves this year. Here's what they had to say.
Featured image courtesy of Marie Zoumanigui
The gag is Black does crack. Not as often as we think but we must be careful with the catchy saying because it lends to misinformation. And while we love the many blessings of having melanin skin, we still have to be good to our skin. As the temperatures and seasons change, we must arm ourselves with the best products and tips to keep our skin on glow. To do that, we enlisted some help.
Self-proclaimed, Native New Yawker, Danielle Gray is a skincare girly we can trust. For years, she's been helping us get our skin together one online video at a time. You may know her as the @stylenbeautydoc on Instagram but Gray has also been featured in Allure, ESSENCE, Good Housekeeping and seen on Rachael Ray, Dr. Phil, and New York Live. We had the opportunity to chat with her about some hacks and products she trusts and this is what she had to say about keeping her skin glowing all winter long.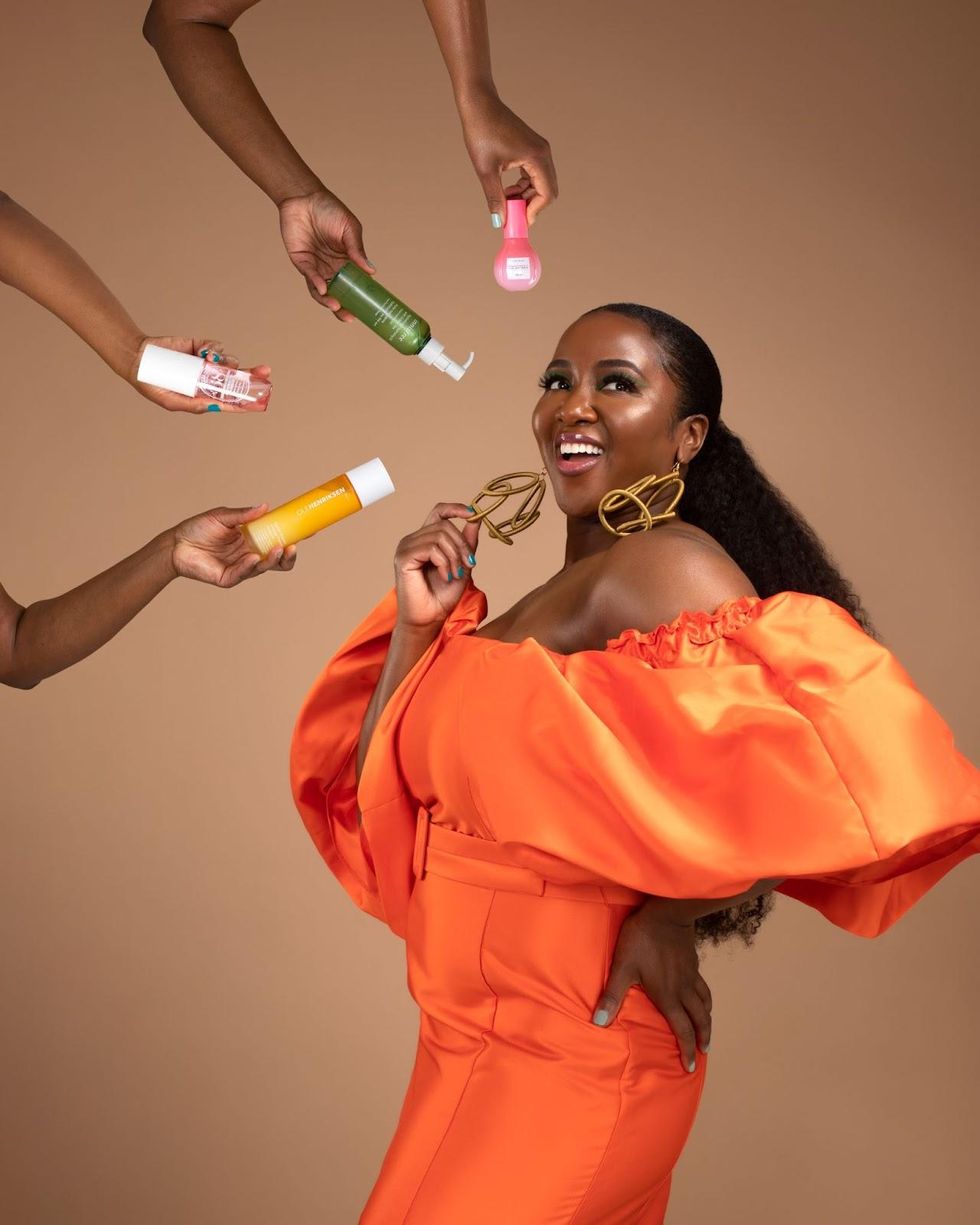 Courtesy of Danielle Gray
Her top fall/winter skincare must-haves: 
Sunscreen: "Yes, even darker skin—sun exposure also worsens pigmentation."
Retinoids: "They do a number of things for the skin—help with texture, discoloration, boosts collagen, etc."
Essence + Hydrating Serum: "Hydrated skin glows, looks bouncy, and is less prone to damage. And yes, you need to hydrate even if you have oily skin. I have oily skin and love using a combo of an essence and a hydrating serum on damp skin, followed by a moisturizer."
Vitamin C: "It may not be for everybody, but I love vitamin C because there's good research on its ability to protect the skin from environmental damage, boosting collagen, and its brightening properties. Aka, it comes with receipts that it's going to help your skin look more snatched and glowy."
Derm visits: "Okay, I know this isn't a product, but I love how my derm treatments have made improvements to my skin along with what I do at home with my skincare routine."
Her go-to products for hyperpigmentation and discoloration: 
"I know my answer is about to make people mad, but honestly, the best product is very subjective. What your skin loves, my skin may hate. But if you're looking to treat discoloration, there are some things you can look for, but you'll have to actually try the products to see how they work for you. Look for ingredients like niacinamide, lactic acid, alpha arbutin, licorice root, tranexamic acid, glycolic acid, vitamin C, retinoids, etc. You don't need to find 8 different products with these ingredients—look for products that have a number of these ingredients, like Murad Rapid Dark Spot Correcting Serum.
"You also want to use sunscreen religiously–year-round. Sun exposure worsens pigmentation. Avoiding getting discoloration is probably one of the best ways to treat it—though in some cases, this isn't practical. Irritation can lead to inflammation that can lead to hyperpigmentation. So avoiding irritation to the skin (i.e. burns, scratches, dryness, bug bites, acne, friction, etc.) can lessen your likelihood of getting dark spots.
"Another great tool is a skin of color pro—an esthetician and/or dermatologist who has extensive experience working on skin of color. Some discoloration doesn't respond well to at-home treatments, and you may need to see a pro—but again, you want to see someone who knows what they're doing with [your skin] because, in the wrong hands, it could get worse."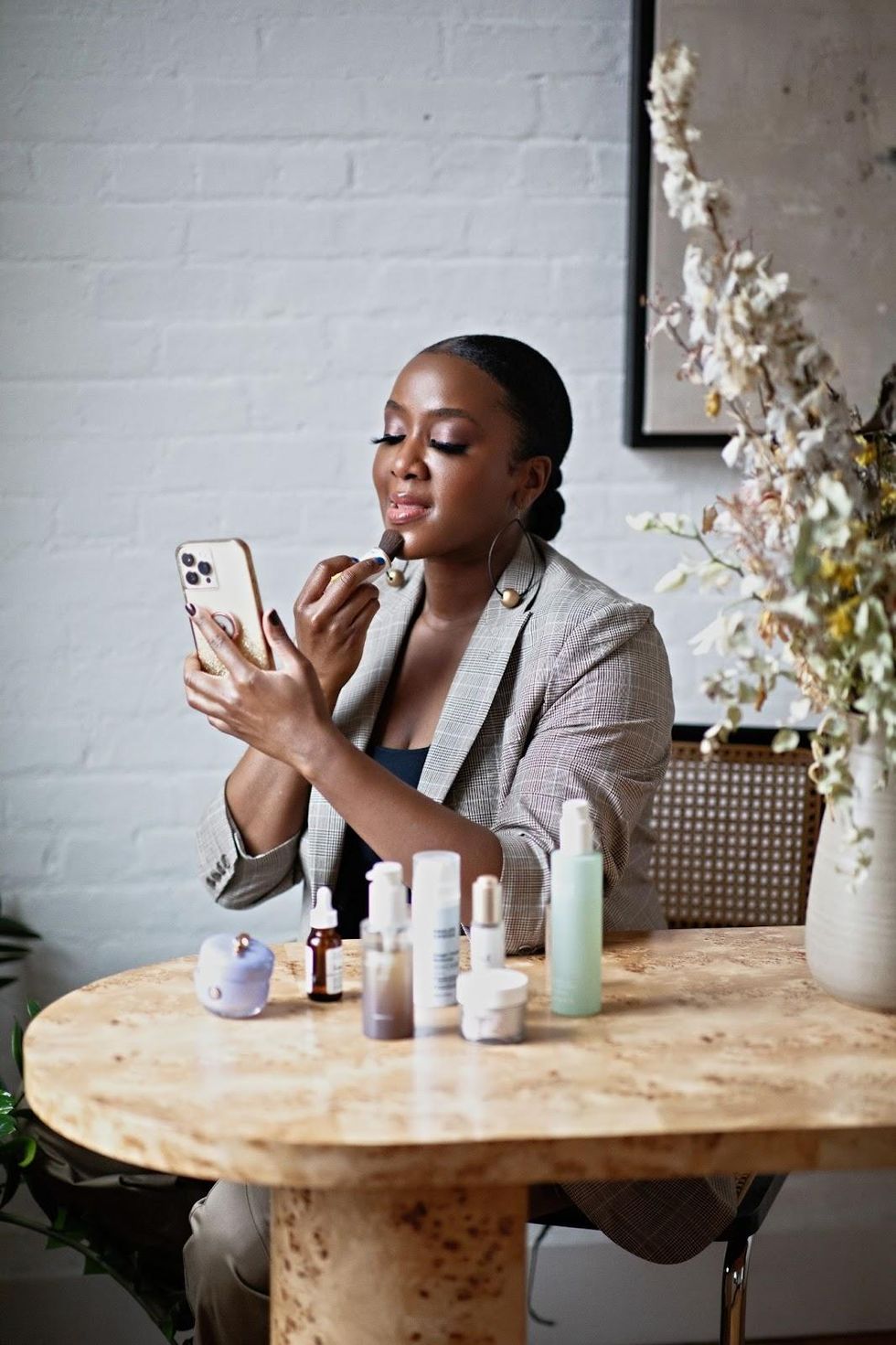 Courtesy of Danielle Gray
Her ultimate tip for avoiding dry skin in the winter: 
"One of the best things you can do is remove yourself from hot showers. People HATE when I say this, but I'm not telling you to take an ice-cold shower. Hot water zaps the skin, and skin of color already suffers from dry skin—when you add cold winter and drying things like indoor heating and fabrics like wool, it's a Sahara. Turn the water temperature down bit by bit. You can do it! Another best practice is to apply your moisturizer right after a shower while your skin is still damp."
Her recommendation for a simple nighttime skincare routine:
"Use a gentle cleanser for your skin type and current skin needs, slap on a moisturizer, and good night. If you wear makeup, remove the makeup first, gentle cleanser, and then moisturize. If you want to elevate this, you can use a retinol moisturizer Olay Retinol24 moisturizerso you kill two birds with one stone."
Featured image courtesy of Danielle Gray
CULTURECON started as an idea birthed in founder Imani Ellis's one-bedroom Harlem apartment. Back in 2016, Ellis and 10 of her friends dreamed of cultivating a community built on supporting one another's dreams and assembling a collaborative space for other creatives to increase engagement. Now, seven years later, the conference serves as one of the leading cultural events of its time.
This was never more evident than this past weekend as an overabundance of creatives of color took over Duggal Greenhouse in Brooklyn for the latest installment of the pivotal summit. 3,500 attendees and 100 speakers across 25 panels to be exact. NYC was the last stop on their 2022 tour, as they have already set Atlanta and Los Angeles ablaze with the innovative energy of The Creative Collective NYC, a creative agency immersed in culture, dedicated to facilitating brave spaces for multicultural creatives. Ellis told xoNecole, "I'm really in awe today. I feel like I'm walking in a dream because I did see this in my head. So then, to see it in real life is a little surreal."
The founder went on to say, "The best part is the people and the community, and I think we always wanted it to feel like a homecoming. And I feel like even for guests who have never been, it feels like even they're coming back to a homecoming, which is like the best thing you could ask for."
Whether you attended a predominantly white institution, a historically Black college or university, or didn't go to college at all, there was a space for everyone. And when I say it was like a homecoming we all dream of, I mean that.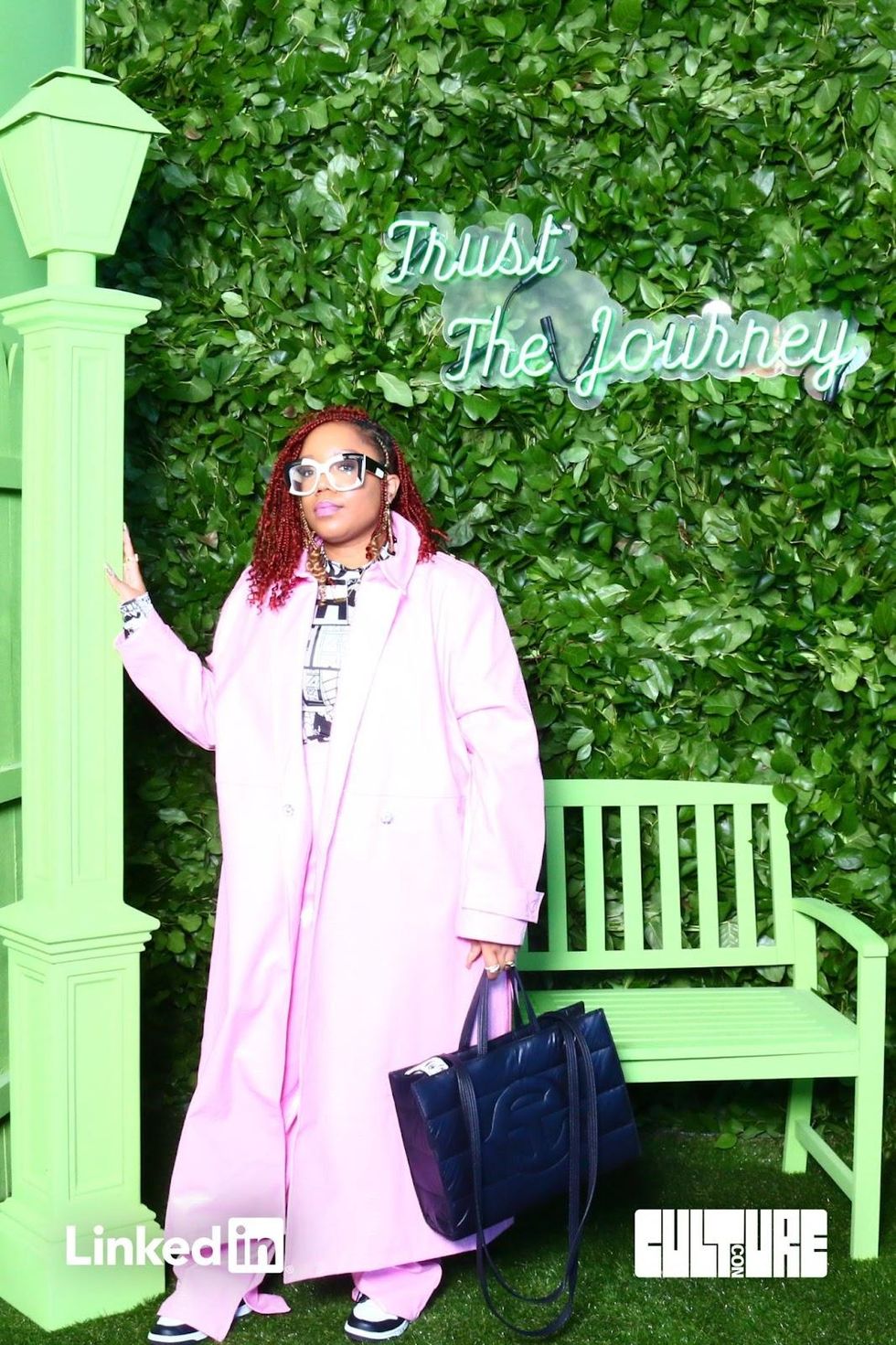 Courtesy of Joce Blake
Activation Alley housed both Instagrammable and teachable moments. From LinkedIn's multicolored stations empowering creatives to "Trust the Journey" and Instagram's activation highlighting the next generation of Fashion Innovators to Onyx Collective's nostalgic experience surrounding the Black hair experience, the activations panned the creative diaspora.
It was the perfect opportunity to connect with other creatives when you weren't soaking up gems from the panels.

Some of those star-studded panels we enjoyed included:

Photo Courtesy of CULTURECON
Creative Genius: Lena Waithe
NYT Bestselling Author and previous Teen Vogue Editor-In-Chief, Elaine Welteroth and Emmy award-winning actress, producer, and screenwriter, Lena Waithe took to the Culture Stage to discuss how Waithe got her start, the difference between community and company, and the power of representation. Waithe recalled watching Halle Berry win her first Oscar when she shared, "I was in my room watching that by myself, emotional as hell. And it's not lost on me that I fast-forward and I have a first at the Emmys for the Thanksgiving episode. And I'm really grateful for that because I can see the straight line from me sitting in my room watching Halle win."
While The Chi creator is proud of what she's invested in her craft, she said it's the community that has lifted her up. "Community is a give and take. Company, you feel drained when it leaves, and with community, you feel full once they're gone," Waithe said.
Plugged[in] From Viral to Visionary
LinkedIn hosted a thoughtful conversation with everyone's multi-hyphenated mom Tabitha Brown, the elite and funny social media star DeAndre Brown, and Erin Ceaser around the realities of being a successful multi-hyphenate while remaining grounded and authentic. It was very on-brand for the panelists and LinkedIn. The biggest nugget: consistency is the key to success, be it your 9 to 5 or your social media platform.
Creative Genius: Taraji P. Henson
In an unfiltered conversation with beauty and style expert, Blake Newby and TV host and producer, Speedy Morman, the oh-so-iconic, Taraji P. Henson dropped some gems. The Golden Globe-winning actress made sure to tell the audience, "For all the filmmakers and writers and up-and-coming producers and directors, we must tell our stories. It's so important."
The D.C. native also shared, "I hate sitting around waiting for someone to give me something, so I create my own doors to open and bring people through." This was a theme throughout the day which spoke to CULTURECON's reminder to all creatives to not only take up spaces but to own them.
Onyx Collective Presents: In Conversation with Tracee Ellis Ross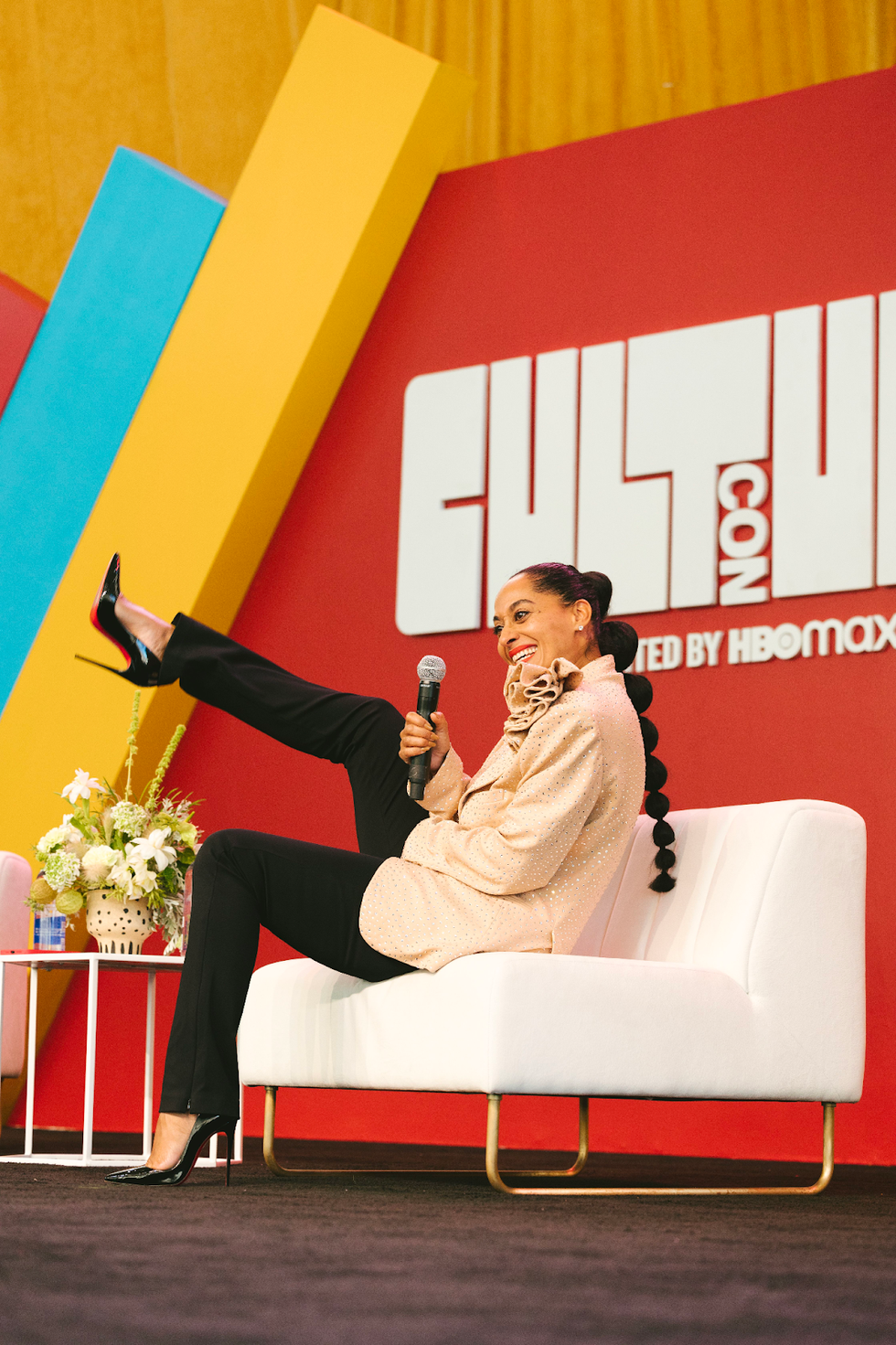 Lalea Raymond/CULTURECON
Everything's Trash star, Phoebe Robinson sat down with award-winning actress, producer, and entrepreneur, Tracee Ellis Ross to discuss Onyx Collective's newest series, The Hair Tales. The intentional docuseries highlights the journey Black women have with their hair and how it leads to self-love. They also spoke about the power of storytelling and living in your whole truth.
Ross said, "As Black people, I feel that we are so often sold a lie about who we are, and I hope that Hair Tales joins the chorus of people who are poking holes in that lie, dispelling that lie and that we as Black people and Black women get to see ourselves and fall even more in love with who we are by watching this series."
Prime Time: A Conversation on Claiming Space in TV
Host, writer and producer, Danielle Young moderated a fun conversation with actress extraordinaire, Meagan Good, actor and activist Kendrick Sampson, and executive producer, Jamal Henderson about their journeys in the television industry. Good shared, "When I have those days that are really tough, it really is about perspective. At the end of the day, this is a day in my life that I will never get back, so I have to choose to be intentional about this being the best day that it can be."
Featured image courtesy of CULTURECON
Raamla Mohamed created Hulu's latest series centering Black women, Reasonable Doubt. And we love anything created by a Black woman for Black women.
Mohamed is best known for her flawless work on "Little Fires Everywhere," but now she's leaving no crumbs behind with the debut of her new legal drama. Joined by Kerry Washington who executive produced and directed the series, and the legendary Larry Wilmore who co-produced the series, Mohamed also had an all-Black writer's room to tell an authentic story of Black love, power and the law.
Centered around Jax Stewart (Emayatzy Corinealdi), Reasonable Doubt is about a lionhearted L.A. native and defense attorney who essentially knucks and bucks through the justice system. Her questionable ethics and wild interpretations of the law and life in and outside the courtroom encapsulate this high-powered woman. Like most Black women, Jax is trying to figure out how to be everything to everyone all the time, and she finds herself in a few entanglements — one of which happens to be with her former client, convicted murderer Damon (Michael Ealy).
There is so much intentionality behind this series that even the series and episode titles are inspired by Jay-Z's discography, from his debut studio album, which inspired the series' name to episodes titled, "N**** What, N**** Who," "99 Problems", and "Song Cry." While there's nothing like it, the show is reminiscent of Scandal and Insecure, two beautiful reflections of Black women.
"I felt it from the moment I read the script. Oh, this is different. We don't always get to see Blackness, but also now tied into a woman who's professional and good at her job. It doesn't have to be either or," Corinealdi told xoNecole. The actress shared that it was important to Mohamed that Blackness was represented in the most authentic way.
Michael Ealy also told xoNecole why he loves Black women and why Corinealdi's role as Jax is so important. "I think Black women are not a monolith. Black people are not a monolith. I think there's an expectation that all Black women believe the same thing. I think that when you see a character like Jax, you see a character that is doing what most Black women have to do, which is they do it all," said Ealy.
Reasonable Doubtpremiered Tuesday, September 27, on Hulu.
Let's make things inbox official! Sign up for the xoNecole newsletter for daily love, wellness, career, and exclusive content delivered straight to your inbox.
Ever since the preview of The Woman King made its rounds on the internet earlier this year, leaving us in awe, we have been impatiently waiting for the film to make it to theaters. Well, the time has come, and we are honored we had the chance to preview the remarkable depiction of one of the most powerful states in Africa, Dahomey.
Not only is it inspired by true events, but the story is surrounded by Black women. From being directed by Gina Prince-Bythewood to Oscar®-winner Viola Davis serving as a producer and star of the film, the proclamation, "We fight or we die," has never been more true as we fight for all of our stories to be told. The motion picture follows the Agojie, the all-female unit of warriors who protected the African Kingdom of Dahomey in the 1800s.
Using unyielding fierceness, General Nanisca, brought to life by Viola Davis, is at the core of the tale as she trains up the next generation of warriors to protect the kingdom from enemies seen and unseen. Overflowing with empowering themes of sisterhood, affirmations, and action, we rate the film three snaps and a fist in the air.
The Woman King Cast Shares Their Daily Affirmationswww.youtube.com
Lucky for us, we got to sit down with the cast to dive deeper into this beautiful vision of Black storytelling. In an exclusive interview with Thuso Mbedu, Lashana Lynch, Sheila Atim, and John Boyega, we talk about why we must protect Black women, how they speak affirmations and their definition of sisterhood.
John Boyega Talks Black Women, The Woman King & Empowermentwww.youtube.com
The Woman King is in theaters now.
Featured image by Santiago Felipe/Getty Images for SiriusXM
If you're preparing for your next hairstyle, this is for you. The fall season commences on September 22, and while many of us are ready to order that first pumpkin spice latte, the real question is: What is our next hairstyle? Because Black women are the true purveyors of hair trends.
To understand how we can fully show up this season, we consulted Marjorie Lightford because of her versatile skill set, creative vision, and amazing ability to transform hair. "Trends have a unique way of connecting people and creating a historical timeline for popular culture. For that reason and so many more, trends are necessary," says Marjorie, master stylist and Redken Certified colorist.
Her motto is "Look good. Feel good. Do well," and she believes she has a responsibility as a hairstylist to cultivate the internal beauty of her clients into a beautiful outward display. Her upbeat and open-minded personality coupled with her dedication to her clients and her craft sets her apart from most and continues to make her a well-sought-after hairstylist.
The stylist told xoNecole, "Trends are not one size fits all. I recommend finding your own aesthetic and uniquely incorporating trends into your personal style. This provides you with a customized look suited just for you that is still current and trendy."
Ahead, Marjorie provides the fall hair inspiration sure to bring you joy!
Protective Style Trends for Fall 2022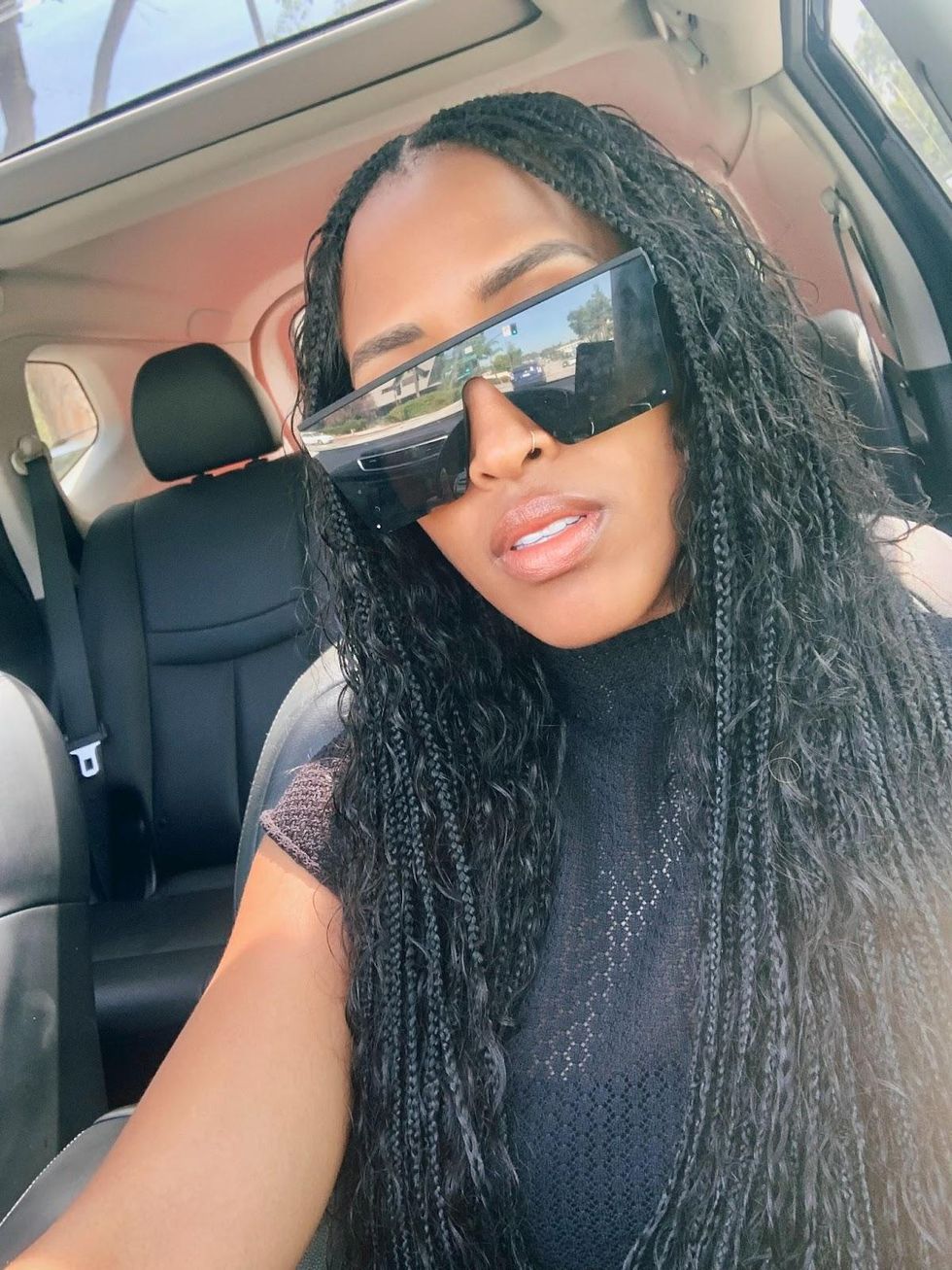 Courtesy of Marjorie Lightford
1. Knotless braids with tousled, loose hair incorporated throughout the braids.
"There is a beautiful merge happening between braids and loose hair that provides protection, low tension, and volume. Knotless braids became popular because, essentially, they "saved our edges." On the contrary, the style did not maintain its freshness for as long as traditional box braids, micro braids, etc. Additionally, knotless braids lacked volume.
"The introduction of weaving loose hairs throughout random braids has not only eliminated that problem but also created a new era. This new look ages beautifully has volume, creates lots of dimension, and is point blank...sexy."
2. Feed-in cornrows with unique designs.
"Cornrows have and will always be great protection for our hair. The goal is to do it in a way that does not provide tension around the edges. Feed-in cornrows are great for that. Cornrows with unique designs are definitely making a comeback."
3. Sew-ins.
"While there are all kinds of new, loose hair extension techniques when it comes to protection, sew-ins are the only option. Other techniques leave the natural hair exposed while sew-ins braid the natural hair and attach wefts using the sewing technique. The beautiful thing about sew-ins is that these can be worn significantly longer than other protective styles before the look has to be redone."
Tip: Use nylon thread with your sew-ins. Traditional wool thread can create breakage at the root.
Favorite Hair Products for Fall 2022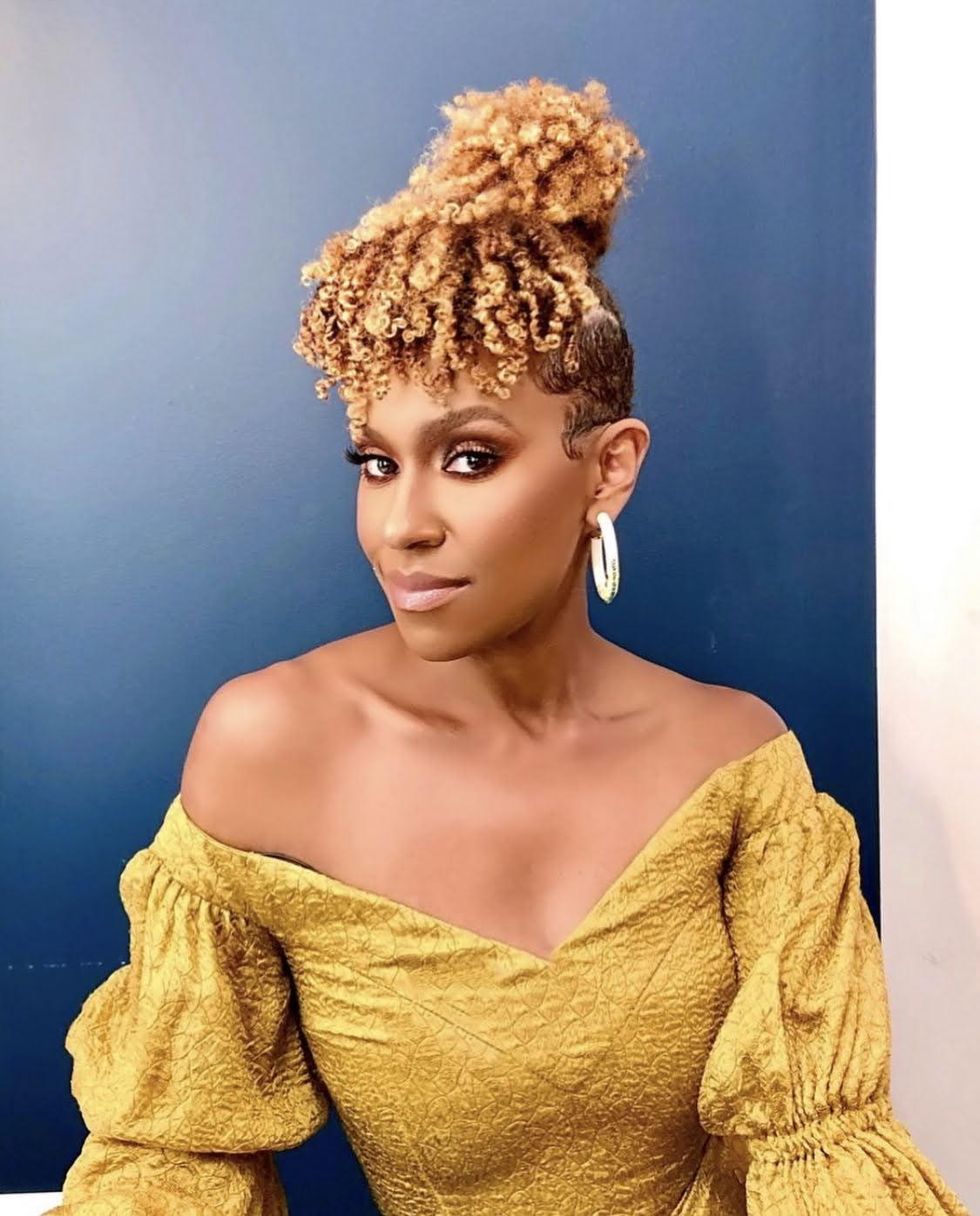 Courtesy of Marjorie Lightford
"This is an anti-frizz, overnight serum for dry hair. Hair is typically the driest between midnight and 6 a.m.; as we move into the fall, the temperatures outside will begin to drop. Hair will naturally become even drier as we crank up the heat in our residences." Marjorie adds that "using an overnight hair serum will soften and nourish the hair from mid-length to end and improve manageability for advanced night care."
"I love this product. It is an absolute must-have for all my clients. This serum repairs hair fibers and is also a heat protectant for up to 450°F. I have my clients use this every morning and night. It's essentially a cuticle sealer and helps to retain the length of your hair."
"This Black-owned brush is the brush that every curly head of hair needs, not just for the fall but year-round. Detangling hair with this brush is easier and more efficient. Its firm, yet flexible technology allows you to detangle from root to ends truly. It is nearly indestructible."
The Best Hair Colors for Black Women in Fall 2022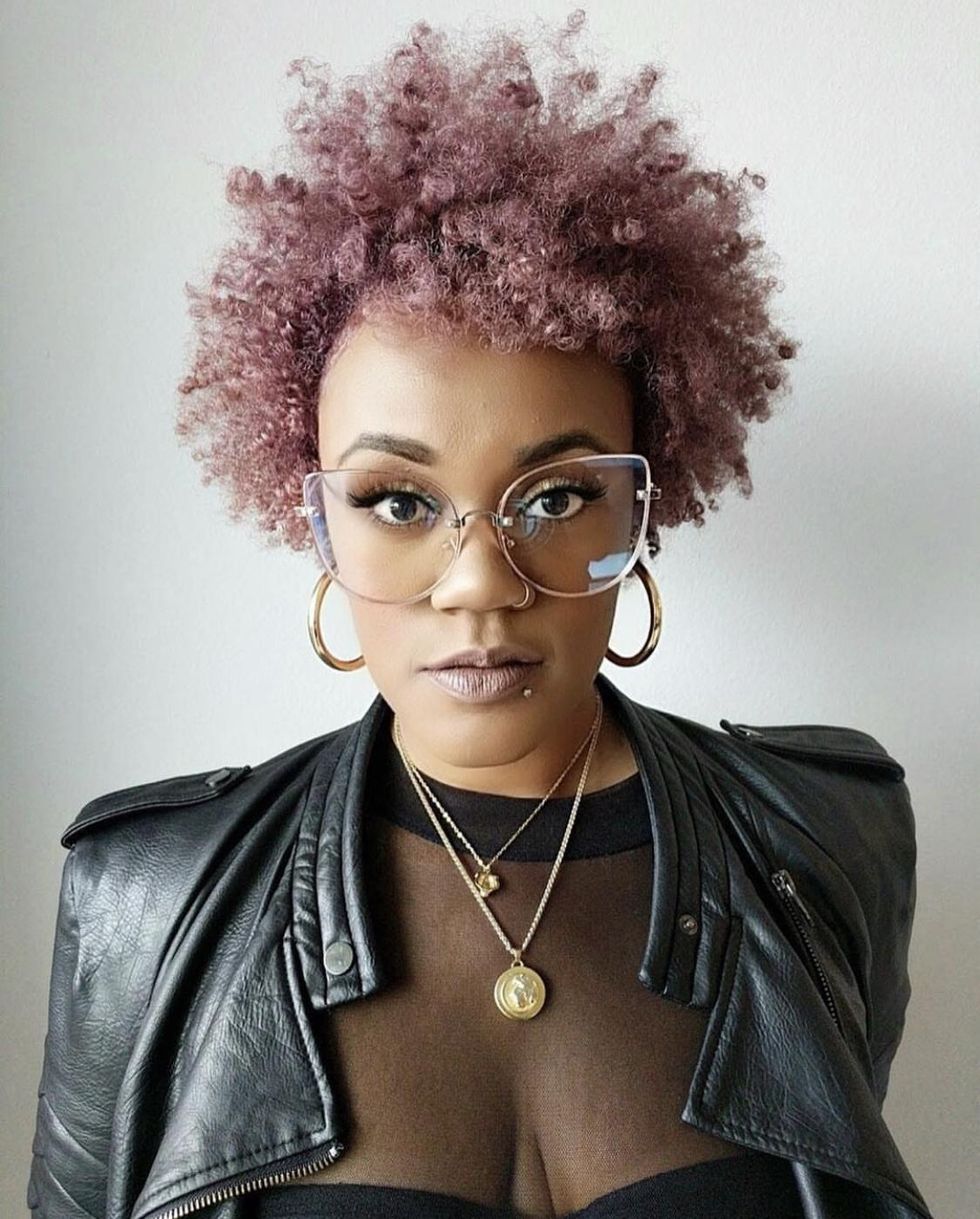 Courtesy of Marjorie Lightford
1. Diffused blondes
"The hair color industry has been shifting for several years. People are wanting to come into the salon less and have a more blended grow-out. Within the melanated community, I find that we are choosing colors that blend better with our natural hair color or are choosing colors that are multi-dimensional.
"I truly believe anybody can wear blonde and when diffused throughout as opposed to applied all over. It really softens the entire look and is less of a contrast. It photographs beautifully and looks great in person too."
2. Warm browns
"I love a golden brown moment on melanated skin. It's our version of 'nude'. Golden Brooks wore it well on Girlfriends years ago, and it has definitely made a comeback. I hope it's here to stay."
3. Mauve and rose gold
"These colors typically look great on melanated skin because they compliment the gold and olive often found in our undertones. And while they are a little high maintenance because they fade fast, if you cannot get a touch-up often, they do fade to a beautiful medium to dark blonde. Essentially, you get two looks for the price of one."
The Trending Haircuts to Try for Fall 2022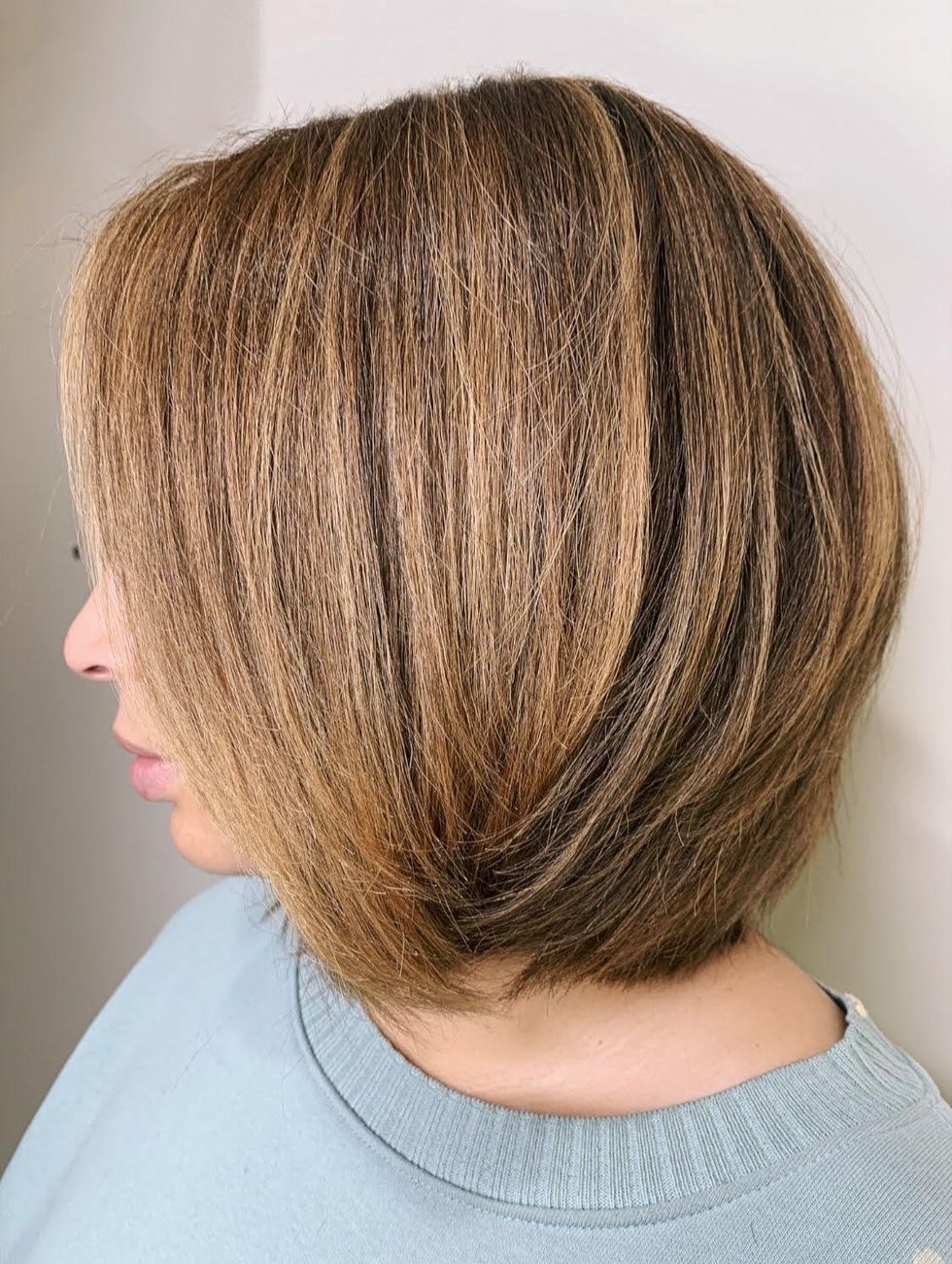 Courtesy of Marjorie Lightford
1. Bob
"Always try a bob. It's like adding high heels to the hair and can be dressed up or down."
2. Curtain bangs
"They're versatile; long enough to be side swept or pulled back but also add softness around the face. I love pairing curtain bangs with a top knot."
3. Mullet
Marjorie notes that the mullet is "definitely an acquired taste and not for every head shape," but adds, "if you are edgy, consider letting the hair grow out in the back to give your hair a unique shape."
Featured image by Jena Ardell/Getty Images