Joce Blake
Joce Blake is a womanist who loves fashion, Beyonce and Hot Cheetos. The sophistiratchet enthusiast is based in Denver, CO but has southern belle roots as she was born and raised in Memphis, TN. Keep up with her on Instagram @joce_blake and on Twitter @SaraJessicaBee.
Have you ever been so enthralled with a series because it reflects multiple aspects of your life? That's what it's like to watch BET+'s Bigger. The binge just hits different when the stories are authentic and "there's no respectability involved." Executive produced by Will Packer and Will Packer Media, the original comedy revolves around a group of wild, hilarious, Black 30-somethings searching for their respective "bigger" in love, career ambition, and friendships. ESSENCE coined the series, "A love letter to the friendships Black women count on."
Creator, executive producer, and showrunner, Felischa Marye, depicts our chronicles in a way that keeps you engaged as you see pieces of yourself in every character. After the first season aired in 2019, the show received acclaim, and the biggest compliment of all was about the relatability of the show. Felischa told xoNecole exclusively, "The show often follows my own journey to bigger, my own journey towards my dreams. And what I've noticed along the way is the closer you get to your dreams doesn't mean you can sit back like, 'Ooh, I have arrived.' It's not a destination. It's like constantly climbing and you think it'll be easy if only I got this, then I'll be fine. If I got here, I'll be straight. I can kick back and enjoy my success."
The screenwriter went on to say that every piece of success makes your world bigger, makes your dreams go even beyond that point. That is what she's most excited about for season 2 of Bigger — the next level that requires you to reassess your dreams once you get closer to them. This chapter of the hit show takes us on that journey through amazing Black storytelling.
"What I've noticed along the way is the closer you get to your dreams doesn't mean you can sit back like, 'Ooh, I have arrived.' It's not a destination. It's like constantly climbing and you think it'll be easy if only I got this, then I'll be fine. If I got here, I'll be straight. I can kick back and enjoy my success."
We had the pleasure of virtually kicking it with the cast and trust me when I say, they are the squad that we all want to be surrounded by. When they say, "Look at your friends and you'll see your future," they were definitely referring to the Bigger gang. Since we are still experiencing the extended version of 2020 and can't be with our friends like we used to, we decided to introduce you to your new friends as a serendipitous mirroring of our new normal.
Meet the cast and characters of BET+'s Bigger.
Layne Roberts - The Quirky Friend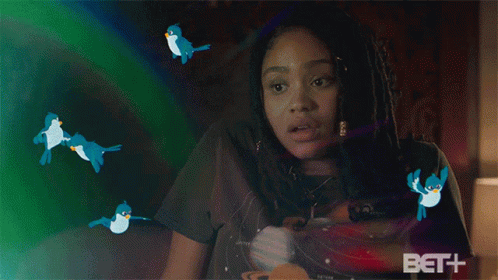 Layne Roberts represents the quirky Black women of the world. Her upbeat and positive energy made her the center of season 1 as she battled with constantly second-guessing herself. Actress, Tanisha Long, who plays this simple beauty told xoNecole, "Our show is telling a story about a group of Black friends that feels very authentic. There's no respectability involved. It's just a group of Black friends. This is their lives. This is what they say and do it's free. This is how me and my friends talk. It's the most flattering thing ever to read that people relate to the show we made, especially as a Black woman, to see Black women my age say, 'You made the show for me.' Because we really did."
In season 2, you can expect Layne to take more risks and who knows where that will lead her? "Layne has definitely evolved, but I feel like she's still a little tentative. I don't want to spoil anything but she definitely is a little more confident and a little more grounded in what she needs and wants, but I think she's still very scared of that and scared of what she has to do to get there still."
As for Tanisha, she is achieving bigger in her real-life by welcoming all the joy in various forms because 2020 taught her to bask in the jubilation of the smallest things.
Deon Lewis - The Corporate-ish Friend
At first glance, Deon Lewis, a fine, college-educated, corporate-working man is the consummate gentleman. Think: instant right swipe on Tinder. But, like many Black men, the successful businessman is stuck between a rock and a hard place: the conundrum of moving up in the corporate world all while playing faux husband to his single mom. When getting the tea from the cast, actor Chase Anthony revealed, "I relate to Deon's corporate confusion. I've had that moment of saying, 'Well, how Black are you going to be at work today?' I was an accountant that had an SS Impala with turquoise 24s on it. Those two, kind of, don't go hand in hand. But when I stopped bringing my car into work and left it in the parking lot, you could see my Blackness is here based on the speakers that I didn't turn down pulling into the garage."
The Atlanta native believes that as Black folk, our likes or dislikes don't mean that we are less capable of doing the job. "I'm actually the best one here, but we didn't talk about that." When watching the new season, you'll find that Deon is less fearful and instead uses his fear to grow in ways that he didn't in the premiere season.
Veronica Yates - The Boss Friend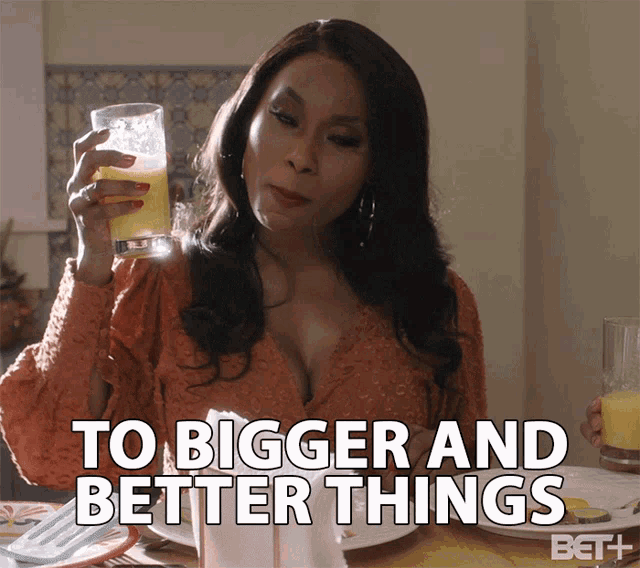 We love anything that involves Angell Conwell. From Baby Boy to Real Husbands of Hollywood, her ability to showcase the many facets of Black women makes her an xoFave. We asked her what advice she would give her character, Veronica Evans, and she blessed us with a whole word.
"It's OK for your comfort zone to no longer be your comfort zone and it's OK for your priorities to change. It's OK to accept that sometimes your comfort zone is no longer your comfort zone. Acceptance is real. That's the first step to change."
It isn't lost on us what Veronica or Angell gives the best advice, considering her status. Veronica's real estate business is flourishing and she's basically at the top of her game. We are personally excited to see what's next for Veronica in the love department in season 2.
Vince Carpenter - The Glow Up Friend
Vince Carpenter (Tristen J. Winger) is all of us. He loves a good 90s throwback moment for more reasons than one. The fashions, the music — the ease of life was just far more simple yet captivating. While Vince has dreams of being the next DJ D-Nice, he is frustrated with how the TikTok generation has taken over a game that he knows he can dominate. Despite his grappling, Vince still gets in his zone and shows the world what he's made of.
"When he's in that space that he loves to be in, whether it's playing music or partying or just being just free, I think we all can relate to someone or, or that part of ourselves that wants to be free," Tristen said about his Bigger character Vince. He goes on to say, "And when we get that little taste of freedom, it's like, this is where I am supposed to be. I'm supposed to be in this place. This is why I'm here. I want to stay in this moment my whole life. If I can continue to find joy and freedom and peace in every moment of my life, I'll be very happy."
From the looks of the trailer, Vince is living his best life in season 2 with his new chain, sunglasses, and more.
Tracey Davis - The Loud Influencer Friend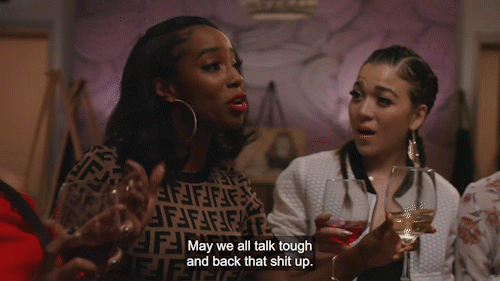 "It's the glow up for me," Rasheda Crockett noted, the breakout star who shines as Tracey Davis. After meeting Rasheda, I understand why she was casted as Tracey, because her energy is extremely empowering and liberating. Even through Zoom, I could clearly see how she easily connects to the fun-loving soul who is always down for a good time. Fun fact: Chase Anthony told us that his favorite character is Tracey because she shows up as the freest version of herself. They are all our favorites but totally understand Chase's choice.
Tracey can go from Coretta Scott King to Cardi B in milliseconds but that doesn't mean she's shatterproof. This go-round we get to see Tracey's vulnerabilities. Rasheda told xoNecole, "Tracy just wants to be loved. She doesn't want to be hurt. She doesn't want to be betrayed. And she just gets really vulnerable this season. I get that. She's sensitive. I think because she's loud, people don't understand how fragile and how sensitive she is."
Trailer + Hot Tea!
Season 2 is packed with guest stars like Tori Spelling and Christopher "Play" Martin along with Jasmine Guy, Eva Marcille, Devale Ellis, Toccara, Karlie Redd, and Debbie Morgan, just to name a few. Tori shared that she's excited to be a part of the show as she is a fan of the series and all of the people that make it the sensation it is. Chris gave us a sneak peek into his debut role on the show and let's just say he has a deep appreciation for "something called the statute of limitations."
If you haven't already, start watching this show created just for us by US. Felicia told us that it was made for you to waste your whole damn day watching because you'll want to know what happens next at the end of every 30-minute episode. "It's just like being with your friends for a couple of hours."
Especially when it's been extremely hard to be with your friends in the middle of this panini.
Check out Season 2 of Bigger on BET+, premiering Thursday, April 22. Be sure to join the conversation with @BET and @BETPlus across all social platforms with #BiggerOnBET.
Featured image via BET+/Bigger
Keep reading...
Show less
Spring is starting to give what it's supposed to give and that means it's time to get your house in order. Shoes, accessories and clothes are just some of the things we are standardizing as the temperatures reach new heights. More importantly, we are preparing for the hairstyles that will match the spring fare.
One thing about Black women, they don't play about their "HAIR(itage)". We spotted this term on Yara Shahidi's Instagram and it perfectly encapsulates our love for donning queen-like hairstyles. It represents who we are: change-makers.
When thinking of our HAIR(itage), we can't help but appreciate the way our African lineage plays a major part in how we continue to redefine our beauty through our tresses. Braids have been on trend since before trends were a thing. We are talking B.C. – before Christ, not before coronavirus. Dating back to the days when Queen Nefertiti ruled, braids have served as a form of art. Each strand is steeped in feminine power and unique creativity. To this day, they continue to empower us to wear our crowns boldly. While you have natural inspiration flowing through your veins, we are here to help with what's popping this spring. Ahead, find nine braid styles that have been lighting up our braid-ar.
Nhyira
Not only did Nhyira abuse us with her melanin but she also snatched all of our edges with this knotless braids style. Knotless braids are one of the most popular braid styles with its convenience and flexibility. Because it does not include the small knot that starts at the root like traditional box braids, they don't put as much tension and stress on your hair. This queen went for a classic half up-half down style and it is perfection.
Caleb
Caleb went for the knotless style but made it her own with curly coils in a bob form. The honey gold hue of her braids complements her skin like magic. The two single strands in her face is giving us 90s sitcom vibes and we all know that those were the best of times for style and hair.
Fayla
You heard our sis! The category is spring so it's time to let your creativity bloom. Butterfly clips are wildly nostalgic and while TikTok will have you thinking it's a new trend, it's been around for decades. You know a Black woman started this trend too. This aesthetic brings back so many memories. One of my favorites was going to the beauty supply store to cop the latest butterfly clips. Ugh, those were the days!
Emani
Can you believe Emani created this beaded braid look all by herself? She's basically superhuman at this point. It takes real skill to cornrow your own hair and also braid individuals in the back. This style shapes her face like a dream. It's a simple style but the beads elevate it to the highest of heights. Cornrows and beads have been popular since the 70s and we don't think they are going anywhere any time soon.
Morgan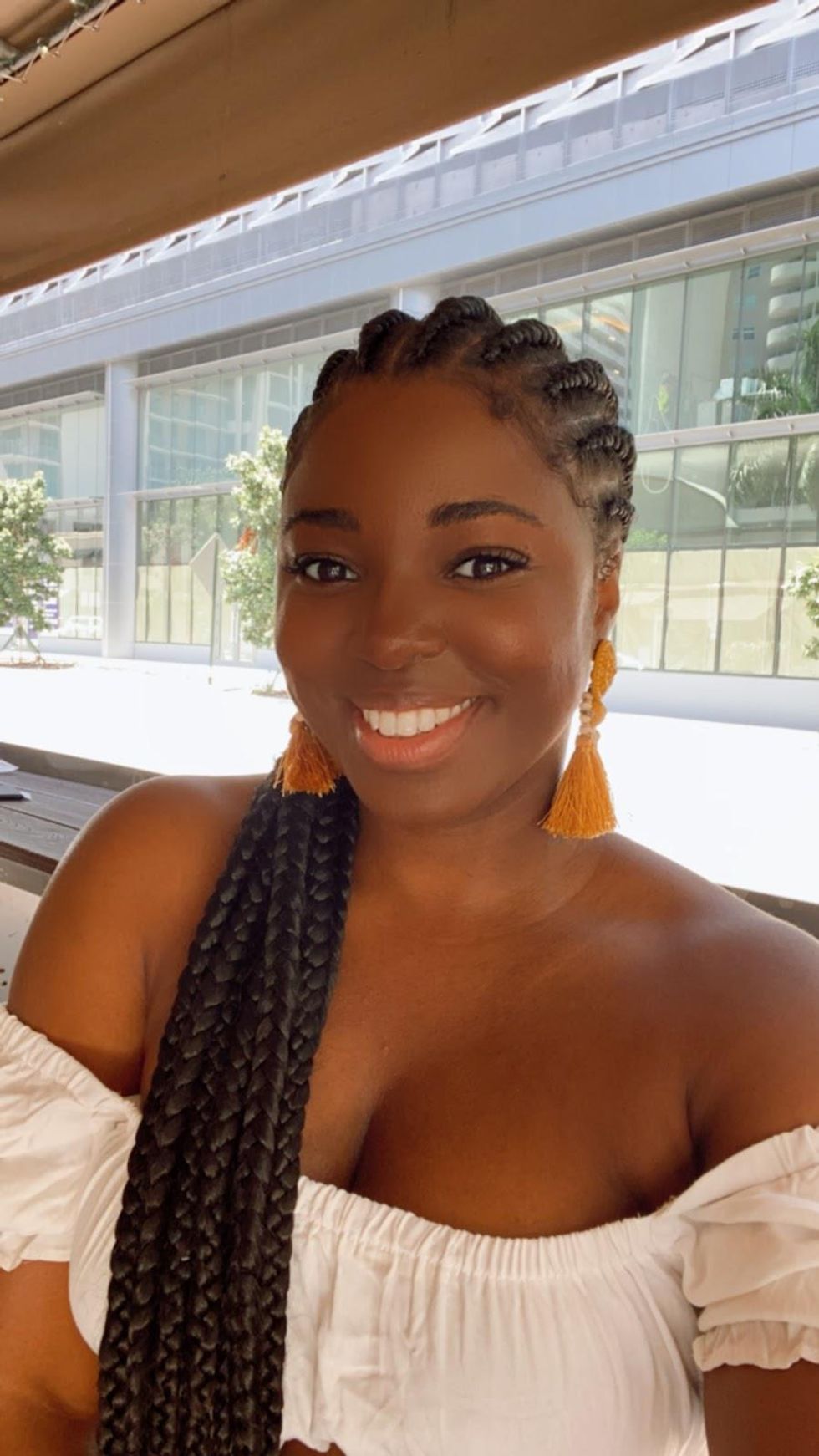 Courtesy of Morgan
Straight backs are the old faithful. Our ancestors provided us with a hairstyle that has withstood centuries and we couldn't be more thankful. It might be one of the most prolific styles across time, genders and cultures. Morgan decided to add extensions to hers for length but she could also rock this style with her luxurious natural hair. We recommend this style for your upcoming vacays once the world really opens up.
Dineo
Looking for a sleek and chic braided option? Dineo is showing exactly how to pull it off. The braided pony is one style that can be worn for various occasions. No more excuses for not working out because you can literally hit the gym, shower then hit up a happy hour with this style. See the way it has Dineo glowing? That could you be you, boo.
Yordanos
Yordanos has put us on to a whole new style with this hybrid creation. This is what happens when jumbo braids meet bubble curls. According to Yordanos, this style was a mistake. The 2 a.m. adventure left her with the wrong packs of hair so she made the best of a tricky situation. It's really the way she innovated a whole hairstyle for us.
Chey
Tribal braids on Chey is all the inspiration needed. So much so that she inspired me to get this style. After searching the gram for my latest 'do, I found this photo and it was love at first sight. The color and the length exuded all the strength and flair I desired. Best of all, I can create various looks with this style to do some shape-shifting.
Krissy
This list wouldn't be complete without our very own hair goddess, Krissy Lewis, in these Pop Smoke-inspired braids. The cornrow style occasionally uses the stitch method, where the hair is sectioned into thin or thick horizontal lines using braiding hair. Since the rapper made the style popular, it has been trending upwards for months. Krissy is a whole mood with this style; we have added it to our list of must-try styles.
Read more about beauty, hair and skin here.
Want more stories like this? Sign up for our newsletter here to receive our latest articles and news straight to your inbox.
Featured image via Yara Shahidi/Instagram
Keep reading...
Show less
Our obsession with picture-perfect bodies ages over decades. Truth be told: we have always equated self-worth with size. As for me and my house, I have never felt comfortable in my body and as the lockdown went on and on, I found myself longing for the body I had in years past. Even then, I thought I was fat. I realized in those moments that my lifetime relationship with my body was toxic.
Not to mention, all the memes in 2020 about quarantine weight. From the quarantine 15 to eating your month's worth of favorite snacks in one day, the innanets had us all feeling guilty for living and adapting to our new normal. As much as we wanted our unusual standards to disappear once 2021 arrived, that's not what transpired. It high key feels like we are basically in an extended version of 2020 with all that is happening in the world.
Our favorite auntie and all-around icon, Tracee Ellis Ross, reminded us of this when she recently posted a video recounting all that we have endured since the beginning of the lockdown. More importantly, she discusses her own struggles with her body and how she had to adjust her expectations while extending grace.
"I don't know about you guys, but after the insanity of the year that we have been through, over a year now that is, you know, it's still creeping along, I didn't like transform my body, exercise like a crazy woman and turn into a vegan. And, and as a result, you know, my body feels different.
"I sat more than I'm used to. I didn't do the same amount of cardio. I wasn't in the gym because of the circumstances of what we were all living in and are all living in. There was like this funnel that was like funneling joy into very small spaces."
The Black-ish star continues to say that joy is a major part of well-being and humanity. It's what makes us feel good. It sparks spontaneity and connection and those beautiful feelings were instantly funneled into our little individual spaces. We totally agreed with Tracee when she professed that most of the things that were in that little funnel were food and drinks because it brought us solace and comfort. The moment she started judging herself for making certain choices, she started asking, "What am I doing?" Which reminded her of a friend who had a contentious relationship with her body after having her first child and decided to write her body a "thank you" note.

"I realized that the softness that I'm experiencing in my body, a little bit of extra weight--all of us have our own version of that--is actually something to say, thank you for that. The softness that my body has been incredibly wise--that thank you for keeping me safe during COVID or if I was a body that got COVID keeping me healthy through and fighting through a virus--that with all the sharpness and harshness and violence and fear that has been around that perhaps the softness of my body is a blessing that it has been able to nurture me in a way that my mind could not...
"I really encourage and invite all of us to just receive the wisdom of our bodies right now and allow the softness, the weight--whatever that looks like and be grateful. Like, I feel like I've made it through this year. And in some ways I've gotten deeper. In some ways I've gotten bigger in some ways. I am forever changed in some ways... I don't think that my physical body is the most important thing to come out of this very difficult time... I think it is--this is a time for us to offer compassion everywhere to our bodies and to each other."
What a powerful, healthy way to reconnect with our bodies. I remember when I started therapy, one of the topics I was the most uncomfortable broaching was my relationship with my body. My therapist told me that one way to reconnect with parts of me that I don't love is by talking to those very parts. Y'all know I looked at her like she was crazy, right? What do I look like caressing my belly and talking to it? It's safe to say I told my therapist I would think about it.
Two days later, I was scrolling on Instagram and saw Lizzo caressing and talking to her belly.
She said in her caption:
"I started talking to my belly this year. Blowing her kisses and showering her with praises. I used to want to cut my stomach off, I hated it so much. But it's literally ME. I am learning to radically love every part of myself. Even if it means talking to myself every morning."
Both women serve as powerful reminders to love yourself, your whole self. But especially the parts of us that our hardest to love.
Want more stories like this? Sign up for our newsletter here to receive our latest articles and news straight to your inbox.
Featured image via Tracee Ellis Ross/Instagram
Keep reading...
Show less
Best friends are a gift from God. For many of us, they are the mirrors that keep us empowered and get us together when we need it. Misty Copeland said, "Anything is possible when you have the right people there to support you." When you add Black women to the mix, you better believe whimsical things are to come. There's no doubt in our minds that best friends are also our soulmates. Some of our favorite Black boss besties believe that to be true. The love they have for one another can be felt through any medium.
Keep scrolling for some of the friendships we absolutely adore.
1. The Pretty Hustlers - Karen Civil & Ming Lee
Karen Civil and Ming Lee exude authentic Black Girl Magic. The way they both show up as their full selves has not only opened doors for them, but it has also made them super-relatable. The marketing guru and beauty maven are building their own empires and have recently teamed up for their unapologetic podcast, Girl I Guess to talk all things business and sisterhood. From letting go of the victim mindset to normalizing Black women living in luxury to $50K giveaways, this podcast is set to break chains and truly advance Black women in the podcast space.
2. The OGs - Gayle King & Oprah Winfrey
Gayle King and Oprah Winfrey are what a 40+ year friendship looks like. Respect and regard have been the pillars of their friendship which has supported longevity. Oprah told O, The Oprah Magazine:
"For years, people have marveled at our friendship—and sometimes misunderstood it. But anyone who has a soulful bond with a friend, a friend who would do anything for you, who revels in your happiness and is there to comfort you in your sadness, gets it exactly."
That's what we all want – someone who gets it and sees us for us. Gayle continues to kill it on CBS This Morning with stirring interviews much like her bestie, Oprah, recently did with her sit down with Meghan Markle. If you need boss interviewers, these are your girls!
Oprah still holds the record as the richest Black woman in America with over five businesses raking in nearly $3 billion. And Gayle, three-time Emmy winner, is booked and busy too with ventures like leading her show, Gayle King In the House on SiriusXM.
3. Destiny's Children - Kelly Rowland & Beyonce
Beyonce doesn't play about a few things: her fifty-leven children, her husband, Mama Tina, Sis Solange and her forever bestie, Kelly Rowland. And the same can be said about Kelly and her devotion to Beyonce. The way they love and support each other proves why women say you're the Kelly to my Beyonce. Kelly's new collaboration with JustFAB is everything your closet needs, and in true Kelendria fashion, it was inspired by confident women. This was Kelly's first fashion collaboration and her 11-shoe collection gave what it needed to give because we want to get dolled up for no reason. Meanwhile, Kelly's bestie is out here constantly adding to her net alleged $500 million worth with her coveted Ivy Park clothing line that is known to sell out in 48 hours or less. There's a reason why she's known as the diva aka the female version of a hustler.
4. The Founders Of Mented Cosmetics Created A Makeup Brand For All Of Us
These Mented Cosmetics founders also happen to be best friends. They created their non-toxic, vegan beauty kingdom after Amanda and KJ discussed their issues with beauty. Myths say that you shouldn't go into business with your friends but KJ and Amanda negate those fables every day. In a podcast episode of The Partnership, KJ said, "At the end of the day, I want Amanda to be happy. Amanda wants me to be happy. Even when we fundamentally disagree, I really, genuinely believe we'll be at the end of it." Rooting for your friend and partner's happiness no matter what is such a high vibration.
5. The Mommy Moguls - LaLa & Ciara
During TV One's Uncensored, La La spilled the tea on her friendship with Ciara. The actress said, "Me and Ciara have been really close for as long as I can remember. We have a lot of the same values, we believe in family, we believe in God, we just bond over so many different things and we're just fun together! I can't think about my life without her."
Ciara's newest addition to her star-studded resume is the launch of House of Love Respect & Care which she co-founded with her hubby, Russell Wilson, and ex-Lululemon CEO, Christine Day. House of LR&C is not only sustainable but also gives 3 percent of each purchase to Russell Wilson's Why Not You Foundation, which promotes children's health, education access, and poverty reduction.
When you don't see Ciara's gal pal, La La, on Lena Waithe's hit series, The Chi, the mogul mommy is showcasing the stories of Black women on their entrepreneurial journey on her new show, "Funded in America." According to Forbes, this six-part web series was the brainchild of digital media company SoulPancake. It was produced in partnership with crowdfunding website Indiegogo and T-Mobile for Business.
6. Set It Off Sisters - Queen Latifah & Jada Pinkett-Smith
We have been stanning these two boss besties since Set It Off. Over the decades, they have continued to lift each other up behind the scenes. Through all of life's ups and downs, they still remain true friends. Queen Latifah told People, "Jada and I can have whole conversations where we haven't really said anything, but we've said a lot." And that is the personification of friendship. While Queen Latifah is kicking ass in The Equalizer in a prime time spot on CBS, Jada is continuing to have riveting conversations around the coveted red table.
Fun fact: Jada and her hubby, Will, created Westbrook Inc., a studio and holding company in 2018 to serve as a studio for subsidiary companies like Overbrook Entertainment and Red Table Talk Enterprises. Then there's the Queen, whose Flavor Unit Entertainment was the first partner on The Essence Creators and Makers Fund dedicated to creating and financing film, television, digital and documentary-style content that reflects the lives and experiences of women of color, according to Deadline.
7. The Creative Duo - Melina Matsoukas & Shiona Turini
If you follow either of these creative geniuses on Instagram, you know they can't get enough of each other in the best ways. This friendship is full of fashion, fun and so much love. The thing that is enviable (the mentally healthy envy) is the way they empower one another. From putting each other on to new projects to singing along to musicals together, they aren't the buzzword type of women empowerment, they really mean it. Melina and Shiona are the poster women for holding the door open for other women. For example, in her role as director, Melina made sure to include Shiona in two of her major projects, Queen & Slim and Insecure, as the costume designer. Not just because they are soul sisters but because she knows that Shiona is going to slay any job put in front of her.
8. The Glow Up Gals - Tania Cascilla & Shay Ingleton Smith
For Tania and Shay, it's about changing the stereotypes that haunt Black women. The two mega-influencers authenticate the truth that we can have a sisterhood and we can share the wealth so that we all win. When creating The Glow Up, that was the goal. And that is now the reality. These women have nurtured a genuine tribe of women who root for each other like never before. In the private FaceBook group, you'll find Tania and Shay giving advice around negotiating rates, offering paid opportunities and how to increase engagement.
Since birthing The Glow Up, Shay has taken on more stock in the influencer realm with her boutique agency, Kensington Grey, which is rooted in diversity. The brand bio says, "We specialize in influencer marketing, casting, talent, strategy and campaign management." This agency garners big name brands from American Express to Sephora. Tania is also racking in major deals with Vaseline and eBay proving what she told us back in 2019, "This is still a new profession, a lot of people don't realize this is work for me, it's not all about taking pretty pics...we grind!"
Are you a member of our insiders squad? Join us in the xoTribe Members Community today!
Featured image by Jess Baumung, courtesy of Tania and Shay
Keep reading...
Show less
Technically, spring began on March 20, but many of us are still experiencing some winter-like temperatures. In real life, the weather gods are having some intermissions across the globe in between official seasons like Second Winter, Spring of Deception, Third Winter, and Mud Season. Either way, we want to be ready for whatever temperatures arise.
We tend to start purging our closets this time of year. Because of that, we wanted to come with a word, "Don't put those boots away yet!" It's natural to put them away because we assume it's going to get warmer immediately. Truth is: it's the weird season where you need to dress in layers. One way to do that is to rock your favorite boots in creative ways. Boots are one of the many fashion pillars that can transition from season to season. Ahead, find nine lewks that are undeniably fly.
1. Chi-Chi
Chi says that this baby blue hue is her go-to color for spring, so that means it's the law. This digital creator is known to slay all looks, all season so when she rocks a color or a trend, it means you should follow suit. Take this simple but chic look. She combined an oversized blazer, crop top, high waist denim, and lace-up booties for the perfect spring outfit. By pairing the same color bag as the shoes, she created a cohesive look.
2. Jasmine
Jasmine has provided us with the ideal brunch outfit made perfect for a rooftop. We love this H&M dress and we love the texture of her thigh-high boots even more. The natural tones of the getup are such a vibe. She looks comfortable and cute so she is ready for whatever Sunday Funday has to offer.
3. Raven
It's time to grab your favorite mini skirt and elevate it just like Raven. Can you believe this dope "Black Women Matter" sweatshirt is from Forever 21? More importantly, a Black woman designed it for their Black History Month collection. With it, Raven opted for an edge by coupling the moto jacket with the skirt and boots. This look is picture-perfect because the skirt is the consummate length in relation to the boots.
4. Janne
Look at Janne inspiring us to be our most confident selves in this bomb fit. I think she wants us to call her 'Purse n Boots' all spring because that's what Spring is all about. These chunky, leather boots can be styled in various ways. Janne went for a retro-printed dress but you can also style these with shorts or boot cut pants with a fun top.
5. Candice
(photo by @shotakawada)
If you haven't tried it yet, it's time to rock a dress with your favorite boots. And because Black women deserve luxury, throw on your fanciest handbag to match. Candice looks like a spring dream in this look even though rocking boots with a dress seems rebellious. It's a fashion risk that most people don't feel comfortable taking but we believe in you!
6. Jenee'
Leave it to Jenee to give us all the inspo! As a style influencer that embodies attainable luxury, Jenee' is all about pairing pieces from all different price points. She is also a boss at styling all types of boots. This combo might be our favorite. Between the structured belt and the textured skirt, this lewk is flawless. It's the way she hoisted the boots with so many classic staples, for me.
7. Courtney
One of our resident-style mavens, Courtney, is showing us how to tuck our pants into our boots. Note: It's a whole skill. Ideally, you want to find some high waist pants to tuck into contrasting boots. This creates an elongated silhouette and by adding an oversized blazer you'll be ultimately shapeshifting.
8. LaNatria
Little White Dresses are the move in this new season. LBDs will always be a mainstay but we challenge you to add some bright whites to your wardrobe for a much-needed change. Designers like Jonathan Simkhai, Loewe, and Valentino showcased white dresses last year so we have no fear that LWDs will be everything from now until summer. Then, there are the boots — the boots provide the sex appeal needed to match the whimsy of the dress. LaNatria's confidence is the accessory that pulls this whole uniform together.
10. Shahirah
Another xoStyle queen, Shahirah, has the color blocking on lock. When rocking color block boots, you want to K.I.S.S: Keep. It. Simple. Sis. Sha made her bold boots the foundation of a mod-ish getup by centering the outfit around the boots. In doing that, she was able to play around with colors that complement the color-blocking. If you're looking to push the envelope, try finding another daring print to wear with your two-toned boots to keep up with street style stars.
Read all about fashion and style here.
Featured image courtesy of Joce Blake for xoNecole
Keep reading...
Show less
Women's History Month was made official in 1987 and has been proclaimed a celebration in the month of March by presidents since 1995. During this month, we commemorate the countless contributions and achievements of women in the United States. And in an effort to smash the patriarchy, we celebrate Women's History Month with pride.
This year's theme: Refusing to Be Silent. A theme that is wildly relevant. With women still making 82 cents for every dollar paid to men, we still have work to do.
Before Women's History Month officially ends, we wanted to share some businesses pouring back into women this month and beyond. This is your friendly reminder to always support women in all ways.
1. Phenomenal Woman Brand
What started as a t-shirt line is now a movement heralded by thousands of women. Meena Harris, Vice President Kamala Harris' niece, began partnering with organizations to bring awareness to world issues. By coining powerful statements like Phenomenally Black and Pro-Science/Pro-Dolly, the Harvard grad has managed to use graphic tees to fight the power for underrepresented communities. Phenomenal Woman is giving back in an innovative way by using bite-size messages to push the culture forward and change the world. Every campaign is linked to a cause that empowers women globally.
2. Able
Over at Able, they proclaim, "Your purchase matters because it allows us to empower women. 96 percent of our employees are women." This ethical fashion brand's mission is to empower women so that we can end poverty. Because they are committed to breaking the cycle of poverty and helping women thrive, they invest in, train, and educate women so they can earn a living. Able started making scarves in Ethiopia and is now a lifestyle brand made up of jewelry, shoes, leather handbags and more.
3. Haverhill
During Women's History Month, Haverhill is pouring back into women with yet another capsule. The two-piece collection consists of a 14K gold necklace and bracelet handcrafted in the USA and engraved with the female gender symbol. With the Venus collection, Haverhill has pledged to donate 10 percent of the purchase price to Catalyst, a global nonprofit collaborating with some of the world's most powerful CEOs and leading companies to build workplaces that work for women. Their thought leadership focuses on four areas: Advancing Women, Women and the Future of Work, Lead for Equity and Inclusion and MARC (Men Advocating Real Change).
4. Azura Bay
A portion of the proceeds of every order from Azura Bay goes to one of three organizations selected by the founder, Ashley. You can choose at checkout and one of the choices is "Because I am a Girl". BIAAG is an initiative run by Plan International and their mission is to end gender inequality and promote girls' rights. There are a "wide range of programs to improve the status of girls and give them equal access to healthcare, education, protection, independence and an opportunity to participate in society."
5. inkWELL Press
inkWELL Press, the maker of all things productivity, was founded on generosity. The creator, Tanya Dutton, based her business on this model because she wants to show her children that it's important to bring forth good in this world. She does that with her New Life Initiative, where inkWELL Press donates their secondhand and surplus items to battered women shelters and residential treatment centers throughout their region. "Our goal with the New Life Initiative is to make a difference in how these women view their lives and empower them with the tools and confidence to begin their new lives."
6. Prosperity Candle
We love a smell-good candle but we love it, even more, when it comes with a side of philanthropy. It all started in 2009 when three people created Prosperity Candle. Through candle-making and beautifully crafted vessels, this social enterprise supports refugees and artisans with refillable/repurposed candles. Every candle has an incredible story poured into it. The 10-people team has one goal: end global poverty. Just think of Prosperity Candle as the Statue of Liberty in action with its foundational values of creativity and quality.
7. Bye Gender
Did you know that the life expectancy of trans women of color is just 35 years old? The struggles the trans community face are unthinkable and that's why Bye Gender exists. Previously known as Werk Those Pecs and Trans is Beautiful Apparel, the brand's mission is still to help trans individuals access the funding they need to survive. In 2016, the fund was first opened for application and since 2019, 25 applicants have been funded thanks to the proceeds from the clothing line. "The majority of the recipients are transgender people who have limited access to housing, or work due to disability, are unable to find employment due to their trans statuses, or are unable to afford their HIV meds or hormones. In November 2019, the Werk Those Pecs Fund was renamed to Bye Gender Trans Survival Fund."
8. Eu'Genia
Eu'Genia was birthed by a mother-daughter duo determined to secure fair wages and opportunities for their female workers in Ghana. Naa-Sakle Akuete and her mother have pledged to donate 15 percent of their earnings right back to the very women who make up the social enterprise by way of an education fund. The secret to their thriving business is raw, unrefined Ghanaian shea butter; thanks to Grandma Sunshine, the Ghanian midwife who birthed Naa-Sakle's mother and partner in equity. The Akuete lineage is emboldened by this natural alternative to chemical and petroleum jelly-filled moisturizers with her mom's establishment of Global Shea Alliance and their current relationship with sustainable farmers.
9. Smarty Pits
It is usually in pain that we find our purpose. That statement is painfully true for SmartyPits founder, Stacia Guzzo. After her mom found a lump under her armpit, they discovered it was breast cancer. The unrelenting search for an aluminum-free, odor-controlled, great smelling, smooth applicator led Stacia to create SmartyPits. A small stovetop plus skincare formulation research resulted in an aluminum-free, paraben-free, phthalate-free, and propylene glycol-free deodorant. Best of all, SmartyPits donates 1 percent of all sales to breast cancer research and free deodorant to oncology centers, survivor support events, and non-profit groups.
10. Thinx
Thinx is the new wave of reproductive health. Meet the underwear that absorbs blood during your period, eliminating the need for pads and tampons. Menstruation is such a taboo topic and we are not educated appropriately on how to take care of ourselves when our monthly visitor arrives. Thinx is actively trying to fix that by advocating for equity, educating future generations, and fighting for access for everyone. "Alongside our partners (and with your support!) we're fighting for better access to puberty education, amplifying grassroots activism, and donating our undies and time. When you purchase Thinx you're helping give life to our programming and initiatives." For us, it's the fact that they donate Thinx to women in need in underrepresented communities and unhoused situations.
Are you a member of our insiders squad? Join us in the xoTribe Members Community today!
Featured image by Shutterstock

Keep reading...
Show less