By now we know it takes vulnerability to establish long-lasting and healthy relationships of all kinds. For someone like me, who is aware of this but a hot mess when it comes to execution, this is easier said than done. So, I spoke to a professional on tangible tips to explore my vulnerable side. India Douglas, LMSW works at a school in Brooklyn, New York teaching underserved kids the fundamentals when it comes to understanding feelings.
She also became a teletherapist at Brooklyn Center for Psychotherapy for all ages and genders during the pandemic at a time when vulnerability issues became a hot topic of discussion. Her background with the building blocks of emotions, I felt was perfect to break down the root of my vulnerability issues and how to move forward.
While she has never treated me, for the purposes of this story, I did share with her a few intimate details about my struggles with opening up wholeheartedly to those I care about. "Your diagnosis would probably be somewhere within the anxiety wheelhouse. It sounds as if you have issues opening up because you fear the response of what would happen if you did and the what-ifs," she explained. "If you get treated at Brooklyn Center for Psychotherapy, you might get an unspecified anxiety disorder diagnosis (found in the DSM-5). Later, they might put a specifier in there, based on whatever past experiences you share with your therapist."
Below find her tips for myself and others like me to navigate the ins and outs of being vulnerable.

How you should work on being more vulnerable:
"Before you get vulnerable with someone else, that vulnerability needs to start with yourself. You have to start by asking yourself the questions that you've been dodging in the back of your head. Begin journaling and really thinking about any traumas that you've had. Also, if something that you struggle with is anxiety—which is just the fear of the unknown—write down a list of what you're afraid of, and then the possible outcomes. Ask yourself, 'What if that did happen? Is it the worst thing? Is it the end of the world? What are you fearing from being that vulnerable? What reaction am I afraid of getting?' Write it down, look at it, stare at it and then figure out, 'OK, if this happened how would I respond to it?' It takes away that fear of the unknown.
"Vulnerability lies a lot with understanding your triggers. A lot of people are triggered by things that are attached to trauma or situations that happened in their childhood. When another person doesn't know these triggers, their reaction can come off negative. But when they do, then you open up a conversation and better communication between each other. So, if you're not open to understanding what your triggers are, how can you possibly be open to being vulnerable with somebody else? That's why people need to take time before they get into romantic relationships to get to know themselves—which can sometimes take years. That doesn't mean you can't date in the meantime, but it does mean that the more you know about yourself, the more you can share with your partner."
How to be more vulnerable in your relationships:
"When it comes to a romantic partner, I suggest taking each other out on dates. One takes the other out on a date and on that date, that's the date planners' day to be vulnerable and talk there about things. Don't approach the date like 'I got a bone to pick with you.' It shouldn't feel like a meeting or something you're dreading. It should be more like, 'This is my date day so I get to pick the spot and choose the topic of discussion this time.' And then next week is your date day to go where you want to go and discuss what you want to discuss. You can do this with family members too if you're trying to build or repair that relationship. Maybe not indefinitely, but for a period of time that gets you both to a better place.
"The number one thing I recommend is couples counseling. The best relationships are where you're in therapy, your partner is in therapy, and you are jointly in therapy. That is the best way to move forward. [Also,] there are card games like We're Not Really Strangers. That's a fun way to kind of get to know someone that you're interested in a bit deeper, and literally laying your cards on the table."
How to be open and expressive if you're afraid of being vulnerable:
"For someone who is not good at being vulnerable, it might feel like, 'I want to be vulnerable with you but I'm scared of being vulnerable with you, and by me having even this conversation with you, is me being vulnerable.' Lean into your strengths instead of focusing on your weaknesses.
"If your strength is drawing, draw a picture that expresses how you feel; if your strength is music, play a song that expresses how you feel; if writing is your strength, write a letter or a card—everybody has certain strengths. You want to play off those strengths, they will empower you."
Being vulnerable with someone who is not receptive:
"If you do step out of your comfort zone and are vulnerable with someone, and they're not receptive, then that is a sign that this person is not ready to be vulnerable back with you. It takes two. Instead, focus on why you're seeking validation from this person who's incapable of giving you what you're giving of yourself. If you feel like this is a person that you want to work on things with, speak to them about it. Have them own up to it. And if they're unable to do that, then move on to somebody else who's willing and ready to be just as vulnerable as you, because it doesn't work if one person is putting in all the work."
How to receive someone's vulnerability when being outwardly emotional doesn't come naturally:
"By saying to them that you hear them and you are appreciative of them being vulnerable with you. Then add that you need some time to digest what was just said to you so that you can give them the proper reaction to that vulnerability. Sometimes when people have a hard time being vulnerable and then other people being vulnerable back, they go into a shell. That's something that needs to be shared with the other person so that they don't feel like, 'Wow, I just laid it all on the line and this person just blinked at me.'"
Patterns, behaviors, and language that should be established to create a space for vulnerability:
"Setting boundaries is a good place to start because once you establish your boundaries, you can figure out who you can trust. Once that trust is established, then the vulnerability just spills out. I feel statements which go something like, 'I feel like this and because of that, I would like this from you moving forward.' Ifeel statements are good because you're starting from the feelings and it's not an attack on that person. It's just you talking about how you feel."
Let's make things inbox official! Sign up for the xoNecole newsletter for daily love, wellness, career, and exclusive content delivered straight to your inbox.
Featured image by SDI Productions/Getty Images

Originally published on March 31, 2021
Tika Sumpter is finally giving up the details about her Mexican wedding getaway. The actress wed her The Haves and Have Nots co-star Nicholas James on May 14, 2022, after meeting back in 2015 on the set of the Tyler Perry series. In an exclusive interview with Brides for their third digital issue of the year, Tika gave a play-by-play of her adults-only destination wedding. The couple settled on getting married in the popular tourist city, Cabo San Lucas, Mexico after reflecting on the beautiful experience they had visiting the beach town in 2016 during their babymoon. The couple shares a 5-year-old daughter named Ella.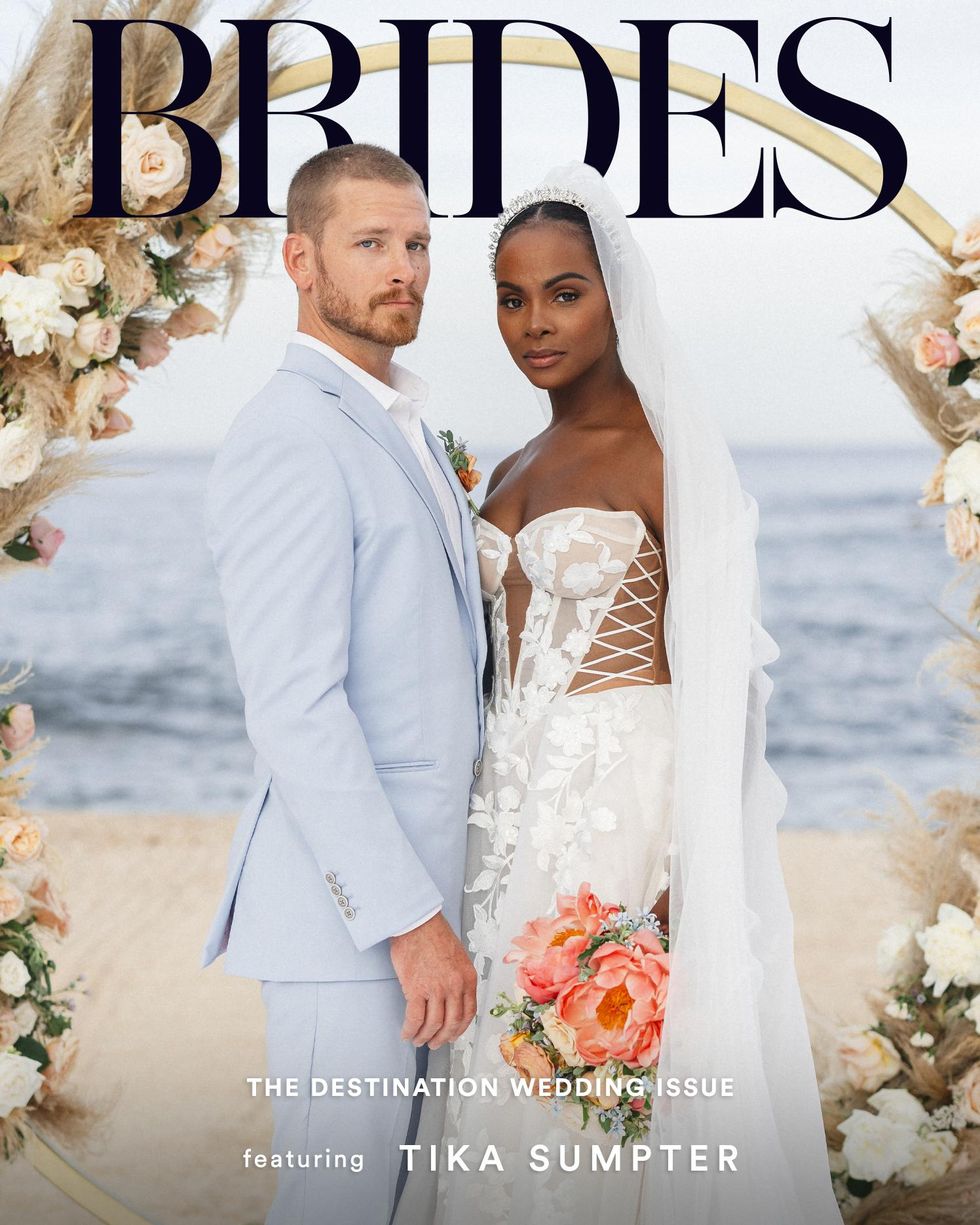 "It was so beautiful, and it wasn't too far away from California, so it was an easy trip," Tika recalled. Once they finalized the location, it was time to find the venue. They found a local wedding planner who helped them secure Chileno Bay Resorts & Residences, Auberge Resorts Collection for their wedding space.
The wedding festivities kicked off on Friday, May 13 with the welcome party. Guests mixed and mingled amongst each other as well with the bride and groom. The welcome party was also the opportunity for family and friends to give speeches. Tika reflected on Tyler Perry as well as her brother's speeches. "We're great friends, so hearing both ends of the stories—when things were bad and things were good and everything in between—was so great," Tika said recalling Tyler's speech.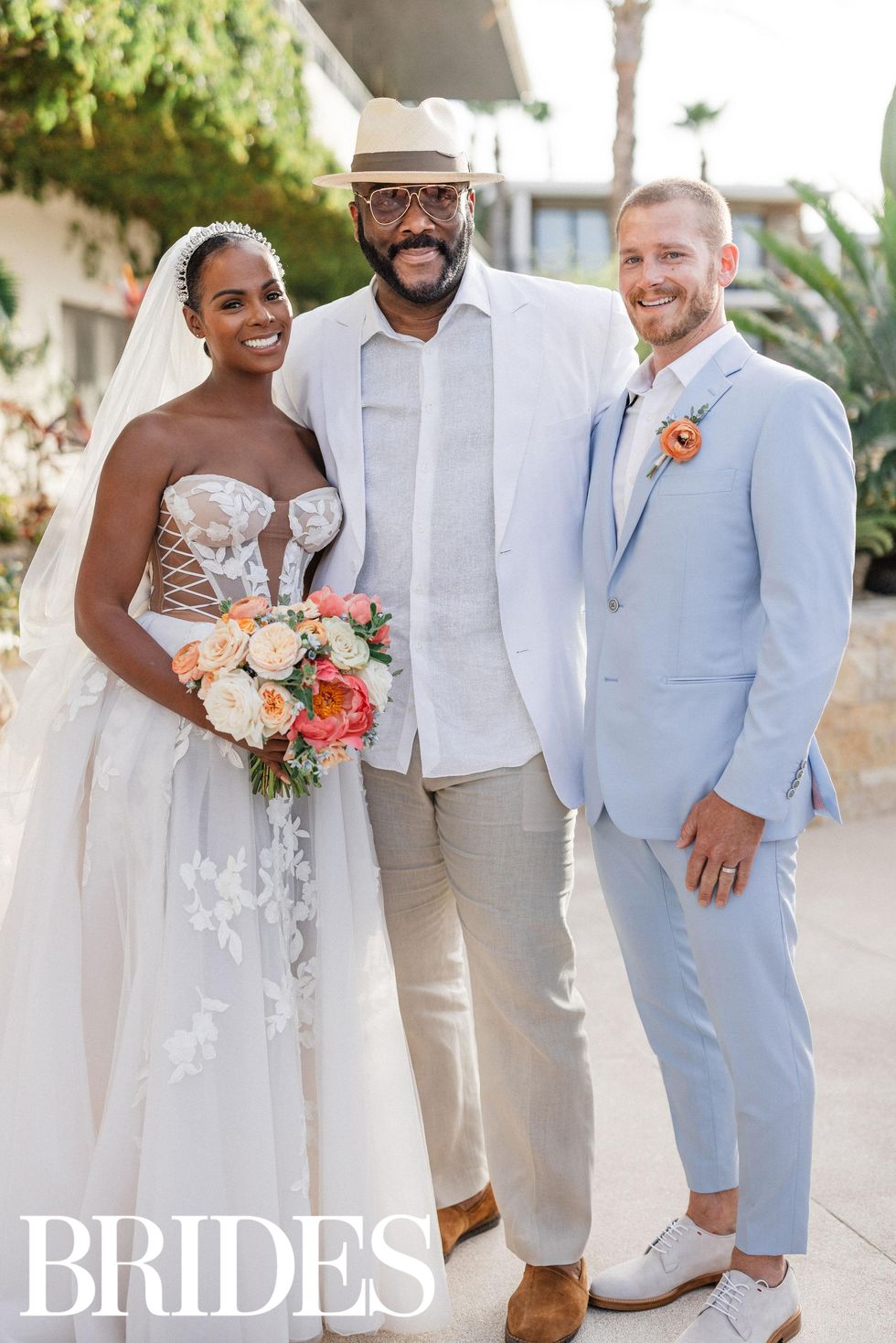 For her wedding ceremony, the Ride Along actress wore a Galia Lahav wedding dress with a floral motif and while it wasn't your typical beach bridal gown, it all came down to how it made her feel.
"I kind of knew right away. It wasn't about the destination. It was about how I felt in the dress," she said. "I wanted to feel sexy, but I also wanted to feel like a bride. This is my first and last wedding, I'm praying, so I just wanted to kind of blow it out."
They got married on the beach with their daughter, who did double duty as the flower girl and ring bearer, by their side. After the ceremony, the guests moved on to cocktail hour while the newlyweds took their official photos as husband and wife. And then it was party time. Tika changed into another look for the reception. "I wanted something fun and flirty, short and a little sexier so that I could dance," she said.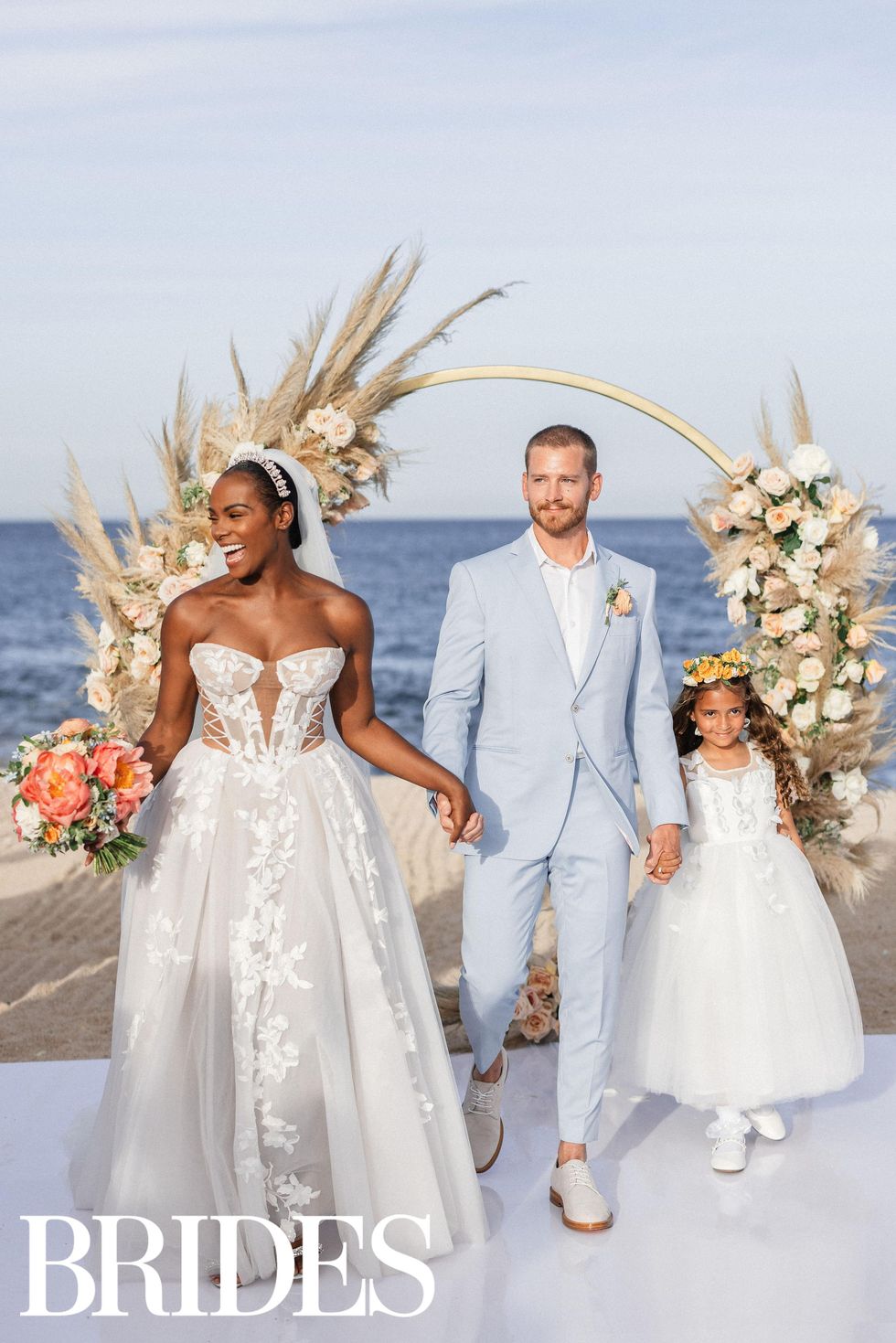 As the three-day extravaganza came to a close, Tika was very grateful to her guests for taking time out to spend the weekend with them and be a witness to her and Nick's love.
"My favorite part of the planning process was just looking at all of the names of my friends and family who were coming," Tika expressed. "Each one made me smile, so it made me even more excited to plan something beautiful. I wanted everybody to have a great time. I really had my friends, my family, my future husband in mind—it wasn't just for me. It was a real celebration of all the people who have held us up on this journey to make it what it is. They're really part of that thread. It was almost like a gift for them to really love where they are, love being together, and just overall having a really great time."
Check out Brides for more exclusive photos of Tika and Nicolas' three-day wedding event.
Featured image by Jana Williams Photography, courtesy of Brides
Will Packer's series Ready To Love is back and this time it's getting muy caliente. The sixth season of Ready To Love headed down to Miami for some sun, sand, and romance. Twenty melanated singles, 10 women and 10 men come together to fall in love and find their soulmates in this social experiment. With host Tommy Miles as their guide, the cast members have to step out of their comfort zones and build connections with others in order to truly find their perfect match or weed out the ones that aren't committed to the process. In the premiere episode, the cast comes together to mix and mingle at a pool party in a luxurious mansion. While people start trickling into the party, the connections began forming.
However, when Tommy joined them, he reminded everyone that while they are enjoying the process, two people are going home at the end of the night.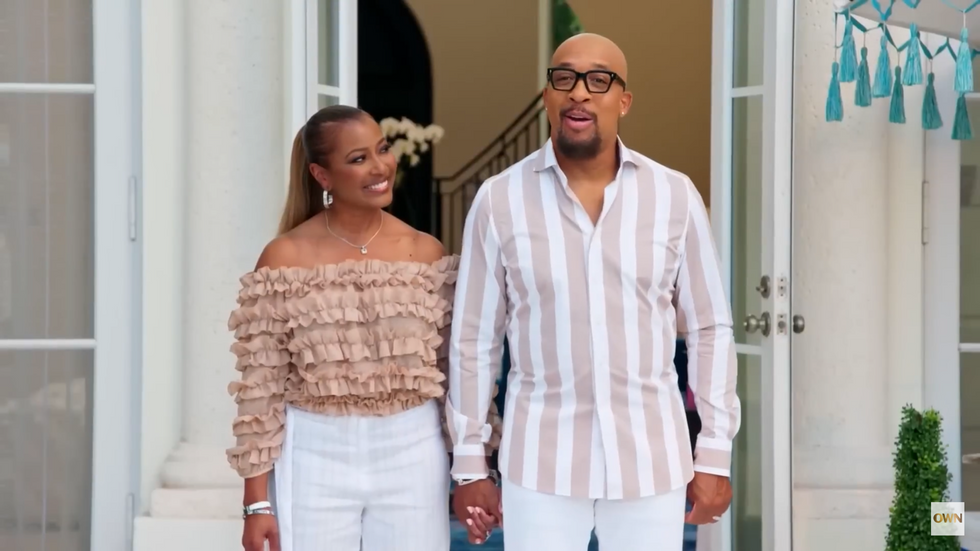 Ready To Love/OWN
There were some one-on-one connections that looked promising and then there was Justice. The 42-year-old event planner was a crowd favorite at the party. Many of the ladies such as April, Tranika, Lunie, and more were all trying to get his attention during the mixer and so he is sure to keep fans on their toes this season.
Here are some one-on-one connections to watch (light spoilers are ahead):
Sampson and Lunie 
This budding couple was all smiles during their conversation. And during her confessional, Lunie, 36, shared that Sampson, 48, had been consistent and put in the effort in trying to get to know her, which is what she liked.
Jamala and Randall
Jamala, 33, described her connection with Randall, 36, as "magnetic." Randall also gushed over Jamala calling her "gorgeous" and he admitted he had his eye on her as soon as she walked in the door.
LJ and Shakyra
LJ and Shakyra seemed to connect on a variety of levels. They both have kids and they both have been single for three years. LJ is a 33-year-old singer from the U.S. Virgin Islands and Shakyra is a 37-year-old media host/ model from Brooklyn, NY. And while they looked chummy with one another, Shakyra did mention that she typically doesn't date men younger than her.
At the end of the party, Sean was eliminated after failing to make genuine connections with the ladies. Sheresse and Dominka were also on the chopping block but were both spared.
So far, this season looks to be an entertaining one. Let's hope there are some true love connections.
Featured image by
Relationships can be complicated, this is for certain! But, they get even more complicated when we keep trying to go with the flow of societal norms rather than doing what feels good to both ourselves and our partner(s). Yes, this is easier said than done and it also requires us to acknowledge limiting beliefs that we may hold about ourselves and our relationships. Fortunately, more and more people push the boundaries and norms in order to create a relationship that is tailored to the couple in it rather than greater society. We hear of more couples opening their relationships to polyamory (not to be confused with polygamy) and actively choosing not to have children and so much more.
Personally the more I know, the more inspired I become to live my truth and extend that truth into my relationship. Living and loving outside the lines really forces us to unpack what we once knew to be true in an effort to unearth what actually holds true for ourselves. For our relationships. But maybe you're someone who doesn't know the ways in which your relationship might look different, you simply know something is missing. For those of you feeling that way, here's a list that hopefully serves as a catalyst – 5 things to normalize in your romantic relationship.
I encourage you to take meat and leave the bones – meaning take what works and leave what doesn't agree with you. However, whatever you do, don't write it off without giving it some thought.
Featured image by Getty Images
I'll be turning 30 soon and the one thing that always gets me gleeful is how much change my generation has seen in such a small time frame. Day-to-day life, technology, and the growth in how we view sexuality have all shifted vastly in such a short time. Outside of walking to the corner store for a full bag of chips at only 25 cents, I remember my school giving away those translucent Apple computers aka Macintoshes before Apple was Apple. I remember dialing up on the internet. And though I was too young to partake in conversations with the adults on subjects such as sexuality, I can also tell there's been a shift in the way it is discussed.
Sexuality as a whole, and in this case, sexuality particularly referring to attraction is ever-expanding to make room for new identities. But with the shift, there are far more terms to keep up with and understand in order to best understand yourself. Today, we're going to hit on what it is to be asexual – a sexual orientation that grows more and more in popularity cause "the more ya know," right?
Featured image by Maskot/Getty Images
I don't know about you, but the natural scent of a man just does something to me. Ladies, you know what I mean too. But what if your natural scent can make a man more attracted to you or get the attention of that one person you've been secretly crushing on? And when I say your natural scent, I am talking about the natural scent of your vagina. According to the latest TikTok trend, there is some type of truth to this and it's called vabbing. A mix between the word "vagina" and "dabbing," influencer and fashion writer Mandy Lee's (@oldloserinbrooklyn) video about vabbing has gone viral with over 1.5 million views. TikTok users are swearing that vabbing is working for their dating life too.
Let's explore what exactly vabbing is and what it means for women, sex appeal, and feeling more confident.
Featured image by LaylaBird/Getty Images