Yes, it may be true that I haven't been on a date since dinosaurs walked the earth, nor have I visited Atlanta in months, but one thing I do have at my disposal is a very 'well-pinned' Pinterest board and an Instagram app bookmarked with my most wanted date night spots in Atlanta. The southern town that has become the mecca of all things culinary and refined- Atlanta has truly centralized the best of all cuisine options to include a balance in ambiance, style, decor, and of course, food selections.
Here is a list of a few places that I have saved in my Instagram profiles for whenever I finally meet the perfect match on Hinge.
St. Cecilia (3455 Peachtree Rd., Atlanta, GA)
This European-posh restaurant is fit for clean girl aesthetics and a sophisticated palate. St. Cecilia offers a picturesque menu that captivates delightful and filling sea-to-table fare. For the model couple that loves taking Instagram photos sans the filter, this is a fresh ingredient complimentary ode to what happens when you combine good flavors and design. From their oyster dishes to their fresh pasta and pastries. The aesthetically beautiful restaurant nestled in Buckhead's Pinnacle Building is a local trip to Europe that will leave you satisfied without the travel fees.
The James Room (661 Auburn Ave. NE, Suite 280, Atlanta, GA)
The James Room reminds me of opening a fresh bottle of Apple Crown Royal on a dark and stormy night. It's just that sexy and mature! This sophisticated cocktail lounge is very Noir Atlanta with a speakeasy vibe by night and a cafe by day. A place for the couple that doesn't mind starting the line dance in the club- The James Room as described by their website is "a vibe." They create this vibe through the love of music and food colliding to create the perfect accompaniment. With a nostalgic R&B vibe, patrons can create their own grown and sexy conversation amongst a variety of food options including- charcuterie boards, salads, and crab cakes, just to name a few.
The Wisteria (471 North Highland Ave. NE, Atlanta, GA)
A true southern classic that reads like a storybook- The Wisteria is a coastal Georgian's date night palace. If you're a couple looking to be swept away into the moss trees of the low country like royalty, the Wisteria's adaptation of rich, fried southern cuisines does not disappoint. This date night spot is a satisfying classic that aims to please. Featuring signature bar drinks and an elevated take on southern classics like fried chicken, Brussels sprouts, and oysters that will bring joy and comfort to you and your date. This is a spot for the couple who need a reason to get dressed up before they Netflix and chill.
The Capital Grille (225 East Paces Ferry Road NE, Atlanta, GA)
Combine work and play life at Capital Grille. This regional American steakhouse is a classic spot for those who want good food in a signature location with a wide variety of wine and steak options. This place is great for traditional couples who love good eateries that have a consistent and nostalgic taste. The food here is an experience that many want to indulge in far beyond Valentine's Day.
Read Shop by the Merchant (4300 Paces Ferry Road SE #125, Atlanta, GA)
Sometimes the best Valentine's date is one that involves peace, much like what Read Shop by the Merchant provides. This darling bookstore is the perfect place to turn off your brain and relax in satisfying bliss while reading or enjoying a hot beverage. This might even be a cute place to write how much you love your honey for V-day while you both enjoy your favorite novels.
Feature image by MesquitaFMS/ Getty Images
Throughout the years, O'Ryan has been relatively lowkey but it appears that all of that is beginning to shift. The singer, who is also Omarion's younger brother, debuted his self-titled album in 2004 and four years later, he became a father to Namiko Love, whom he shares with singer Jhené Aiko. Lately, O'Ryan has been back in the spotlight and causing a frenzy on social media thanks to his thirst traps with his brother and their "OMG" moment of eating watermelon on stage during Omarion's Verzuz battle with Mario last year. He's also been speaking up more as well. Recently, he visited the Jst Us podcast and finally revealed what happened between him and Jhené but his reason for their breakup caused a divide online with some people applauding him for being honest and others calling him out for making excuses.
"We were very young. We were in a relationship like 18, 19, very young love, and when she got pregnant, for me, I had to make a decision," he says. "I never had my dad like super active in my life or any super male influence so I was afraid of kinda messing up one or the other. I can't be like a good baby father and like a good man. I haven't seen it, for me, in my life personally, growing up."
So, while he was committed to being there for their child, he felt as though he couldn't do the same as a boyfriend. "I was just like, I'ma be the best father I can be for you and I'ma be here for you. I'ma be your friend and all [of] that but I'm not gonna act like I can be with you and maybe break your heart or maybe ruin this whole thing we have going on," he explains. "We just gonna be cool. She stayed with me the whole pregnancy, [I] cared for her, all [of] that and you can have your life. You can do whatever you want but it's like for me, I wanted to focus on, what kind of father I was gonna be."
O'Ryan describes that moment in his life as a time of self-reflection but he also continued to support the "Sativa" artist with her blossoming singing career. He explains that as he was figuring out his next phase in life, Jhené was consistent with her music and had a lot of things moving.
"She was working really hard at her career. I was just kinda tryna figure things out for myself as well," he says. "She had a lot more going on as far as–she had a manager, she had studios that she would go to, and stuff like that. I was just really supportive like, 'aye whatever you need, you know what I'm saying, Nami, like go in the studio, do your thing 'cause I don't even know what I'm gonna do. But you got it together, get it poppin' and it got lit."
But no matter the discussion his comments have sparked, O'Ryan seems to have no regrets. He believes that if he didn't make the decision to focus on being a good father versus a good boyfriend, he wouldn't have the relationship he has with his daughter today.
While the "Take It Slow" singer only has one child, Jhené recently gave birth to a baby boy with Big Sean, making her a mother of two.
Jst Us Podcast Ep 9 | Oryan on Co Parenting , Music and Onlyfans |
Feature image by Paras Griffin/Getty Images
For years there were many television shows that featured impressive groups of women navigating their lives. I'd watch them and daydream about what my reality would look like in my 20s and 30s. The characters' lives felt admirable but somehow unrealistic since those shows never featured characters that were reflective of my friends or me. But how times have changed. Now that I'm in my 30s, there are quite a few shows that feel familiar and authentic. One of my faves is Tracy Oliver's Harlem, of which the second season makes its emergence on February 3, 2023. But just in case you're like me and need a refresher, we got you.
Spoilers are ahead.
First, let's recap the crew. The show stars Camille (Meagan Good), Quinn (Grace Byers), Tye (Jerrie Johnson), and Angie (Shoniqua Shandai), four fabulous yet flawed Black women living in Harlem. In season one's last episode, Camille asked a crucial question: "Do I go after my fresh start or do I follow my heart?" It was a quick moment, but it defined much of the season. Although the women's issues vary, they are all battling with that decision. From work struggles to dating, they're trying to decide if they should take a safe route or do what fulfills them. I think that's something we can all relate to. This is why I am so happy the Amazon Prime series is making its return.
So, let's relive what's going on in our new favorite girl gang's lives before season two premieres.
Camille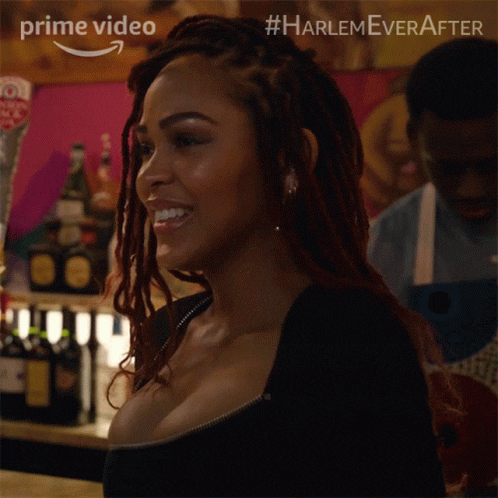 Amazon Studios What GIF by Harlem
Giphy
Camille is a bit off-center, overly focused, loveable, and appears to have everything together – except she doesn't. No matter how much we root for her, she makes the wrong decisions. For example, when Dr. Pruitt, played by Whoopi Goldberg, announces that she's granting the new coveted associate professor position to another Black professional, Camille feels understandably discouraged and vents about it to her former bae (more on that soon, chile). Later, Camille decides to quit her current adjunct role and give Dr. Pruitt a piece of her mind. She shares how much of an asset she is to the university and why her social media presence and teaching style deserve recognition. That makes sense, right? Except she does this by showing up at the professor's house late at night after drinking way too much and almost falling down the steps. All bad, sis.
Then there's her love life. She has two beautiful men who desire her attention. She met Jamison (Sullivan Jones) after they both spoke on a panel for the university. He is supportive, fine, and serious about his intentions with her. So much so that once they're official, he invites her to move with him to Chicago. Unfortunately for him, Camille's heart belongs to her engaged ex Ian, played by the handsome Tyler Lepley – who coincidentally, she broke up with before they planned to live in Paris together. (Clearly, leaving Harlem is a trigger for her. It could be because she grew up a latchkey kid and has some unresolved issues with her mom.) Anyway, Ian and Camille have a special bond that is still very much alive.
Their back-and-forth sparks a lot of crazy moments throughout the season. From Camille almost sleeping with one of her former students to a crazily dangerous Uber ride, Ian fuels a lot of her madness. One of the most memorable moments happened early in the season when they shared a passionate kiss only moments after Camille met his "why is she so perfect" fiancée. But love always wins because, in the end, Camille calls it quits with Jamison and shows up a day before Ian's wedding to finally express how she feels and kiss him again.
I get it. They care for each other, but seriously? They couldn't figure that out before the wedding announcements went out and Camille broke Jamison's heart? Oh, and Ian's fiancée saw the kiss. Yikes.
Quinn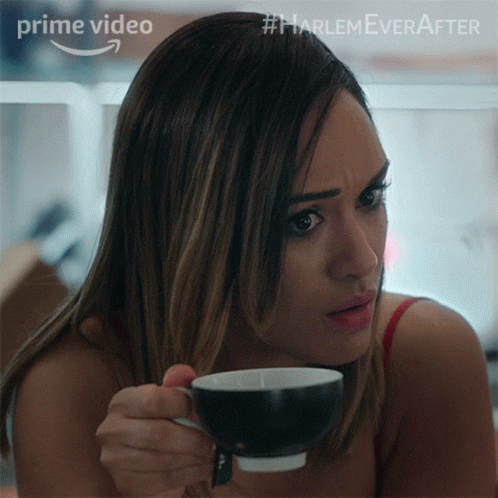 No Way Prime Video GIF by Harlem
Giphy
Then there's Quinn. You know the nice girl who tries so hard and it just doesn't work out for her? That's Quinn. For most of the season, her dating life is in shambles. From her purse getting stolen after a date abandons her at the club to showing up to a "dinner" that was actually a pyramid scheme meeting, you start to feel pretty bad for her. Still, she holds onto her idea of love and what it should look like. That's until she decides to try something or someone new at a strip club. His name is Shawn, played by Robert Ri'chard, and he takes her out of her element. He's different from her usual checklist; he's a stripper and a dad. Although there's a clear interest there, they deal with a few hiccups.
Initially, Quinn tries to tuck away her feelings and keep it casual. Luckily, that doesn't last long because, well, she's her. But still breaking free of her usual "rules'' presents some problems. She even lies about his career and where he went to college when chatting with peers at a fundraiser, making Shawn understandably uncomfortable. Eventually, they work it out, and a budding relationship seems to be in the works. That is until she spends a fun-filled day with Isabela, a hopeful politician and potential mentor turned friend she met through her mother, and her magnetic personality and dedication make Quinn rethink her life and sexuality. In the season one finale, Quinn drunkenly walks into Isabela's office and invites her on a date. When she agrees, we find ourselves cheering for Quinn's boldness yet hoping she doesn't slip into her unhealthy ways.
Professionally she's in a unique space. After leaving her VP Corporate position she opened Quinn Jacob, a sustainable boutique. It's still in the beginning stages but she is very devoted to growing it. She even designed Mila's [Ian's fiancée] wedding dress. (I know – wild.) Moving on, Quinn comes from a wealthy family who has consistently supported her. But it took a while for her to figure out what she wanted to do, which created a tense relationship between her and her hilariously shady mother, played by the legendary Jasmine Guy. Hopefully, this dream and new relationship are here to stay because I think we all wanna see Quinn win.
Tye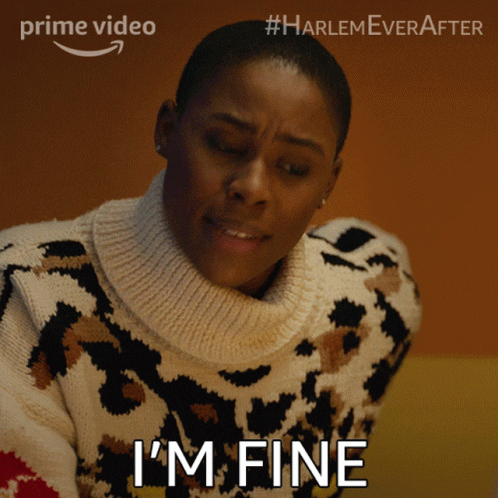 Im Fine Amazon Studios GIF by Harlem
Giphy
I'd describe Tye as confident, ambitious, loyal, and guarded. She is the creator of Q, a successful queer dating app for people of color. It made her very successful and even landed her a spread in Forbes magazine. Also, unlike the other ladies, she has no issues in the dating department. Her problem is relationships. She likes to be the brains and the boss in her situations and that rarely leads to something promising. When the girls call her out on it, she tries to venture out and date outside of her usual type. This allows us to be a fly on the wall as she explores a few short-lived hilarious situations.
But everything comes to a head when she arrives at her Forbes interview and learns that the interviewer is a woman she had a one-night stand with. I should point out that she's a white woman and Tye prefers not to date outside of her race. As her storyline with the journalist continues, the show explores interracial dating and preferences.
Another element I appreciate Harlem highlighting through Tye's character is women's health. In multiple episodes, Tye complains of intense period pain. However, like many of us, she shrugs it off. It takes her passing out on the subway to get help. The doctor ignores most of her complaints and says she's anemic. A few days pass and Tye is preparing to be the keynote speaker at AfroTech. However, she's hospitalized again and learns she has a ruptured ovarian cyst, polyps, and fibroids; this time the doctor says she may need a hysterectomy. As he continues to give feedback he reveals that the surgery's approval was made by her husband, who surprisingly walks in with flowers.
Thanks to a flashback episode and a heated discussion, we learn that Tye abandoned her hometown to start a new life and live in her truth. That means she walked away from her former friends, family, and apparently a husband and never looked back. This background made it a lot clearer why she has trouble moving on because she never fully let go of her past.
Angie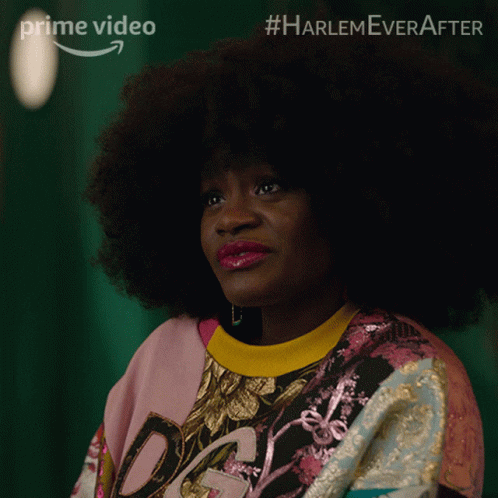 Prime Video Laughing GIF by Harlem
Giphy
Finally, there's Angie, the free-spirited, hilarious, and creative that every friend group needs. We learn pretty early on that she is a talented singer and once had a record deal. Unfortunately, it didn't go the way she planned and now she's living on Quinn's couch. While it's clear that the two have a beautiful friendship, there's an uneasiness there. Angie has a bit of resentment toward Quinn for her wealthy upbringing. And Quinn wishes Angie would be a bit more realistic in her search for a job, especially after she turns down a paid gig.
Still, when Angie meets up with her Uber driver bae who she feels is her soulmate, only to learn after sex that he lives in his car, she takes the new gig. Because this can't be it. The gig in question is Get Out: the Musical. Yes, it's as crazy as it sounds. But the production leads to a lot of funny moments and a bomb scene where Angie beautifully addresses white fragility. While she's chasing her dreams you'll see her pursuing a few dating options, like her bisexual cast mate and friend with benefits, Eric, to Uberbae and more, it's a good time. While Angie provides a lot of laughs in the first season, it's clear she's working through her issues as well.
I love TV shows that are relatable yet fun to watch. Harlem is definitely at the top of my list this month. Make sure y'all check it out too. Season 2 airs on Friday, February 3, 2023, on Amazon Prime.
Feature image by Amy Sussman/ Getty Images
As Told To is a recurring segment on xoNecole where women are given a platform to tell their stories in the first-person narrative, as told to a writer.
This is Amoya Shante's story, as told to Sheriden Chanel.
When I decided to uproot my life, move to Mexico, and leave everything I knew behind, I was at one of the lowest points in my life. My business was failing, my dating life was a joke, my finances were scary, and I felt like I hit rock bottom. I craved something different. A fresh start. A new beginning. The desire to move abroad and start over grew within me like a fire and after a while, I couldn't ignore it. Nor did I want to.
The first time I moved to Mexico was after I went through a divorce. I shed the things that did not serve me by selling all of my possessions and embarked on my Eat, Pray, Love journey with my kids in tow. Traveling was a catalyst of healing and for two and half years, I ate, I prayed, and I loved. Eventually, my journey led me back home to the United States but the seed of moving abroad to Mexico had already been planted and it would continue to bloom as I was met with feelings I felt before.
I was back at square one. I was lost, unmotivated, uninspired, burnt out, and broke, and Mexico called to me, reminding me of the healing I experienced there. I started over before, I could start over again.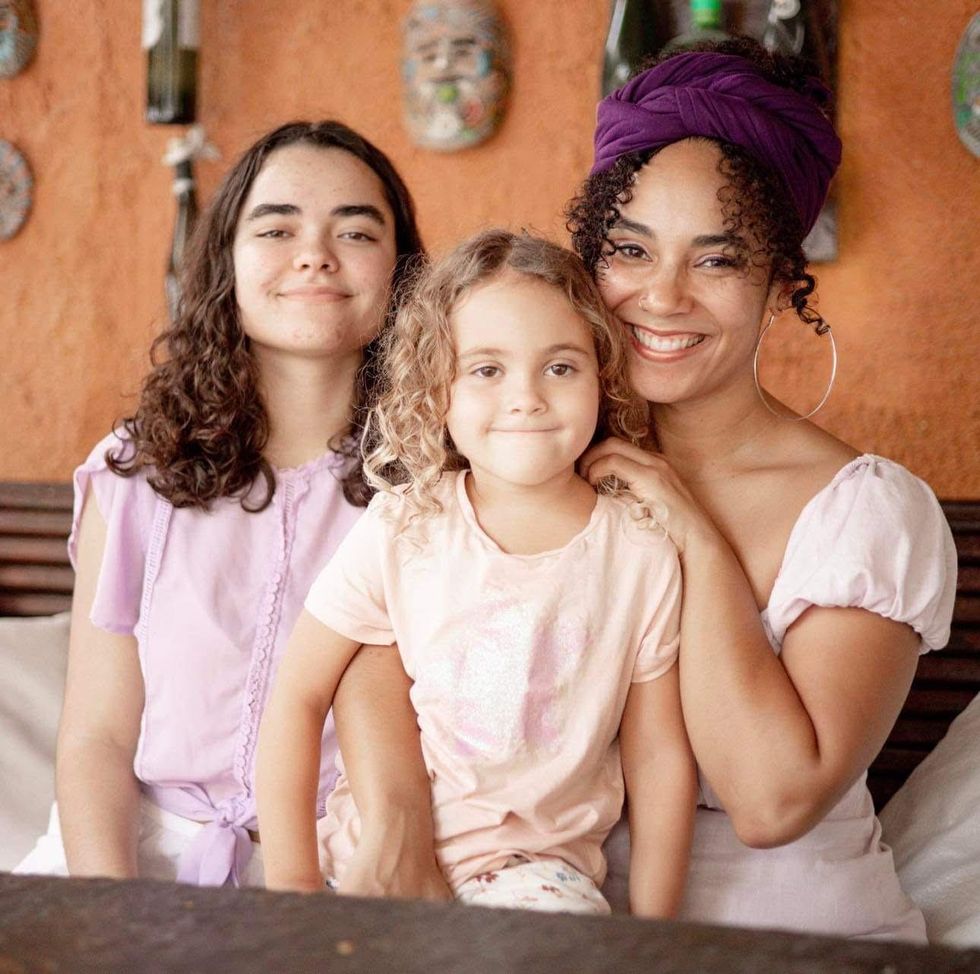 Courtesy of Amoya Shante
But as a single mom of three, I had hesitation. I feared Mexico originally due to the U.S. news and I was so sure that my kids would be kidnapped and harmed in some way if I went. It was through talking to other expats living in Mexico and understanding reality beyond the sensationalism of news stories that my nerves calmed a bit. Again, I sold all of my possessions and decided to take a leap of faith.
As a believer in the magic of manifestation, I believe I can do all things. I had my military retirement and an online business at the time, so I definitely still had to live paycheck to paycheck when I first moved to Mexico. But I jumped like I've done so many times before with faith that the universe would catch me like it always did before I fell. I set my intention, leap, and I don't get too caught up in the 'how.' I trust and I follow that inspired action. Moving to Mexico in July 2021 was no different.
I remember arriving in Mexico at night and taking a taxi from the airport to our Airbnb which was an hour away. Everyone was so kind. I didn't feel scared at all. Actually, I felt like I had been lied to my whole life. The energy in Mexico was different.
I felt calm, safe, and at peace.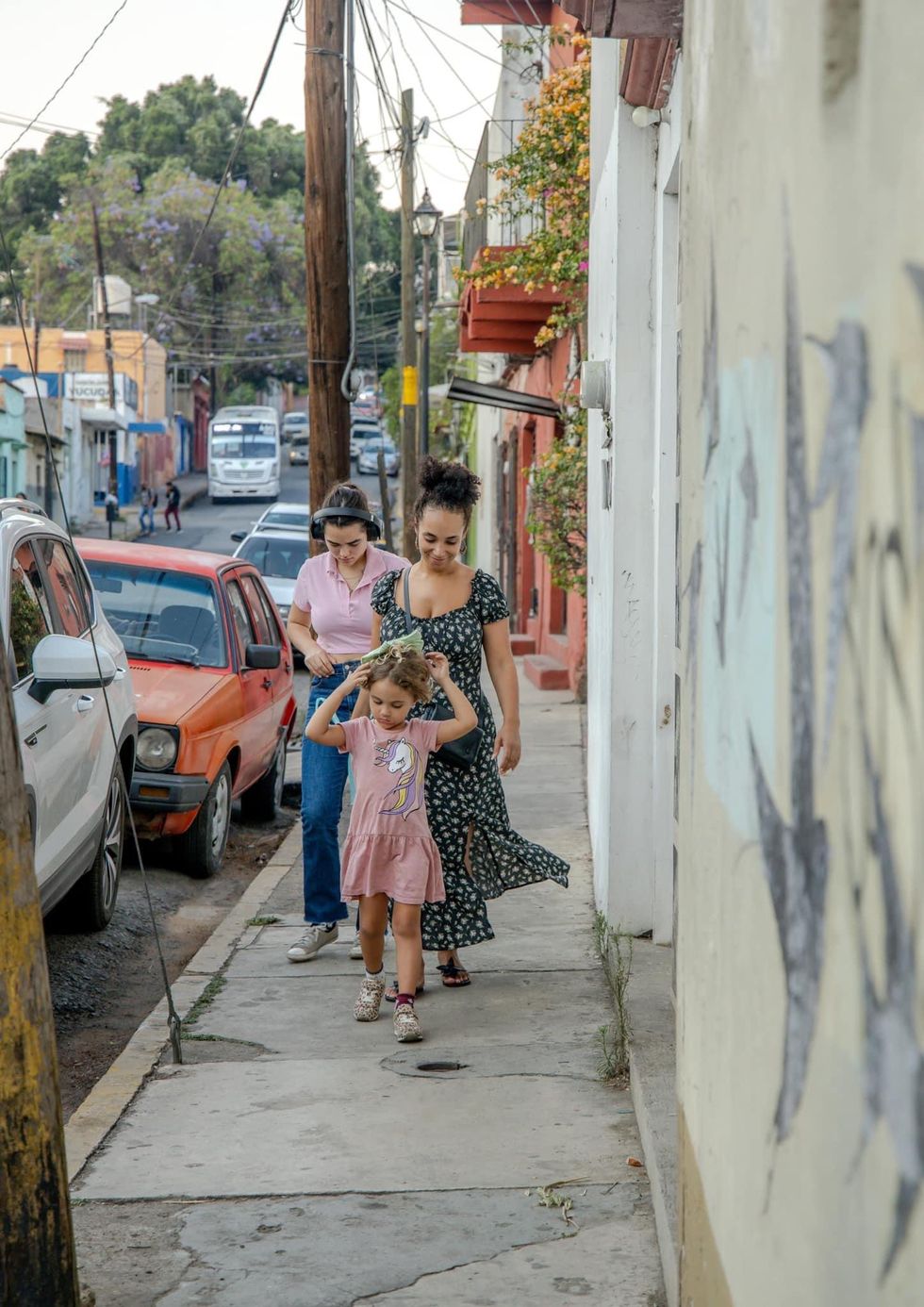 Courtesy of Amoya Shante
Those feelings would only reaffirm my decision each day that passed while living in Mexico. I was there for all of one month before meeting the love of my life. I was searching for a photographer in one of the expat groups I was in and from a list of about 60 photographers, I somehow zeroed in on his name, Julio. I don't know why. I was drawn to him. Even then. I went to his Instagram, checked out his work, and sent him a message.

I didn't look at or check prices with any other photographer. I just felt compelled to hire him.
Upon meeting Julio for the first time, I immediately recognized him as a soul I had already known. I initially tried to ignore the feelings he gave me but he pursued me in a way I never experienced before. From the very beginning, he felt so familiar to me. It was like we were two souls that had spent many lifetimes together. My normal energy in dating was one of anxiousness and desperation but with him, there was none of that. Nothing between us was ever forced, it just flowed.
With him, I felt calm. I felt at peace.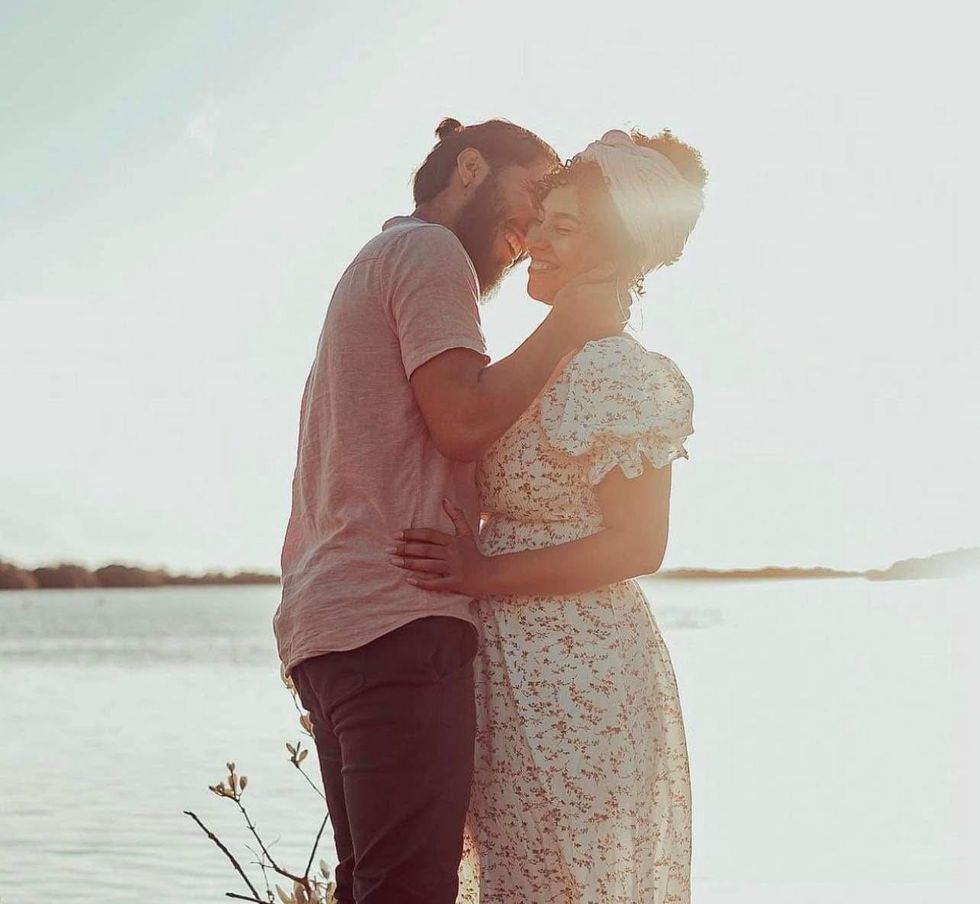 Courtesy of Amoya Shante
We had our differences. Julio is Mexican. I'm American. I'm 10 years older, he's younger. Even still, he is easily the most emotionally mature man I've ever been with. In the beginning, he spoke very little English and I spoke very little Spanish. Cultural differences and language differences hit us right away. I believed the dating process meant dating multiple people until I was in an exclusive relationship, but in his culture, that is not a thing. They take dating seriously and only date one person at a time and then need to speak to their family before asking you to be their partner. After you are official, you then meet the family.
Julio pursued me from the very beginning and still does so today. I never had to wonder what he was doing or who he was with. I never had to wonder if he was going to write because the man didn't let an hour go by without sending a message or a text. And despite the language barrier, he would also call, which wasn't something I was used to. I knew he was the one early on because I was able to be my true self with him. I didn't have to act in any way or overthink things. I could just be.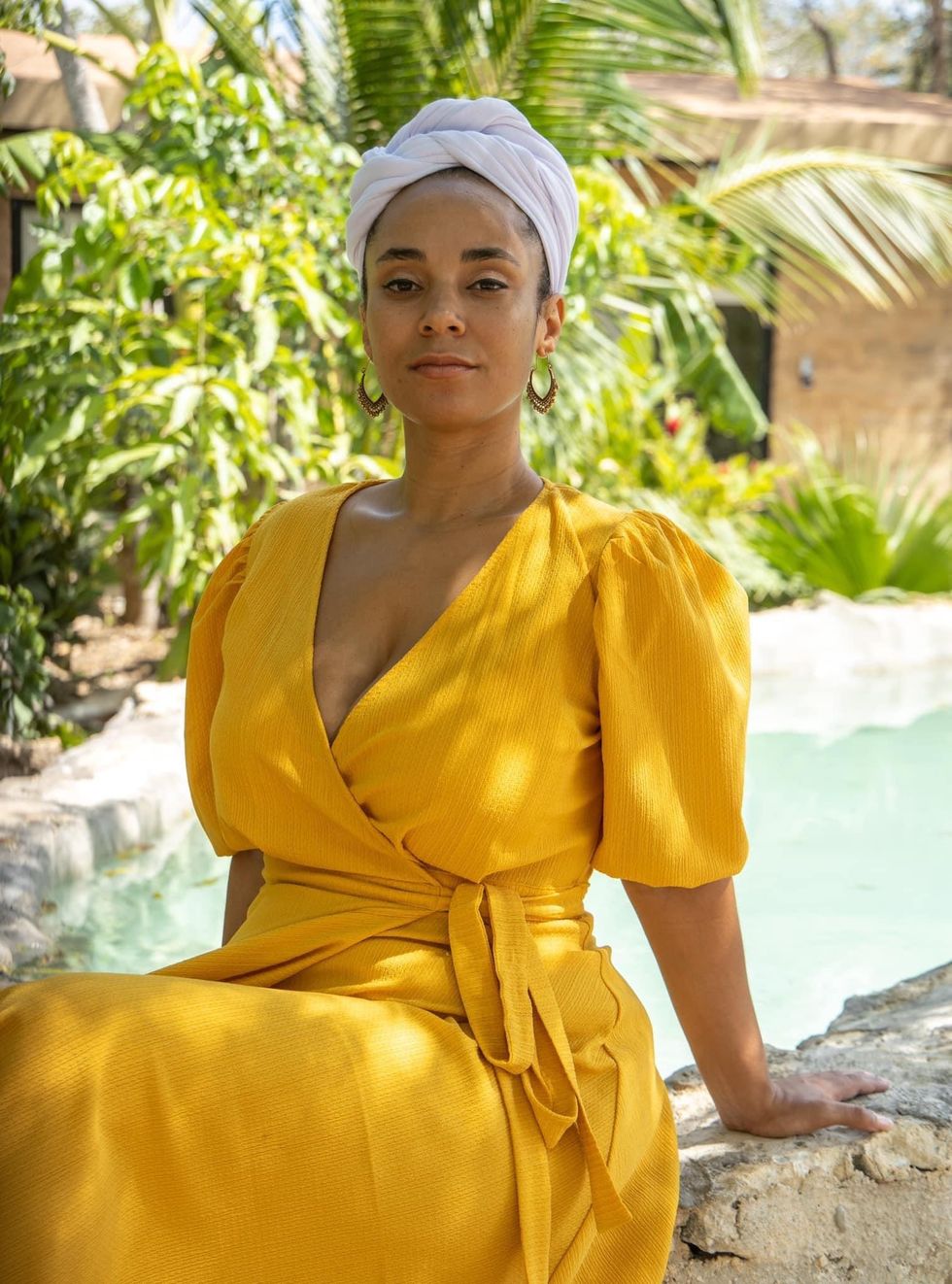 Courtesy of Amoya Shante
For a while, I felt unworthy of love because I was a single mom. In order to be ready for the love I manifested in my relationship with Julio, I had to let go of that and develop a belief that not only was I worthy of love but I was worthy of the most amazing relationship ever. I had to develop a belief that it was safe to love again after being in an emotionally abusive marriage. Not only did I have to learn to love again in a healthy, nontoxic way but I had to learn how to love myself wholly and completely so I would show up in a relationship healthy in mind, body, and spirit.
He respected my way of dating although he did not like it and he chose to remain true to his own values of only talking to and dating one person at a time. Julio was committed to getting to know me so he wasn't letting a language barrier get in the way. I remember traveling back to the States for two weeks after meeting Julio and him FaceTiming every night where we would talk for hours. He was getting an immersive experience with the English language. In so many ways, he taught me that if they want to, they will.
Despite our differences, we are most connected over our values. We value freedom, travel, family, and spirituality.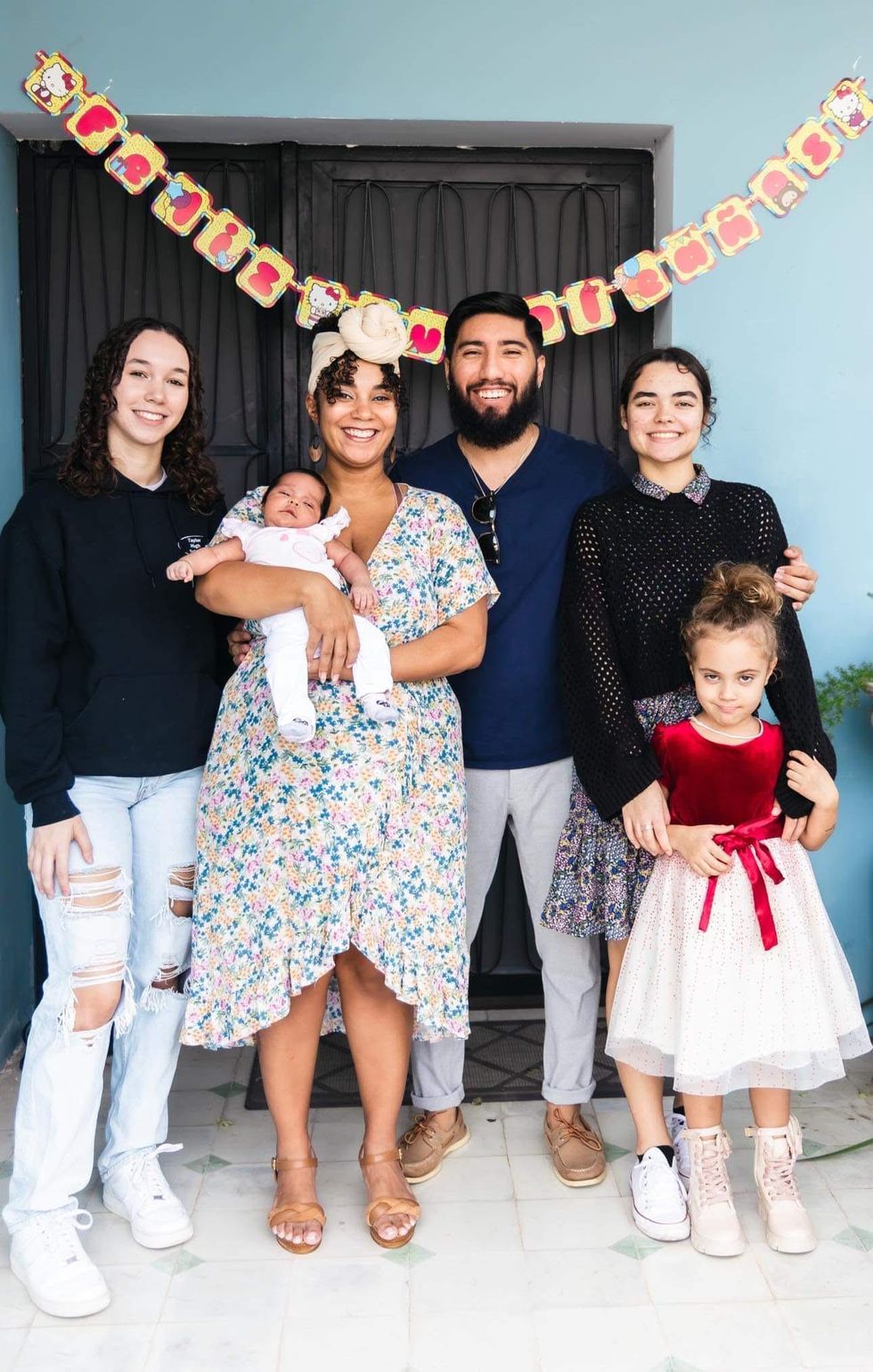 Courtesy of Amoya Shante
Not a day goes by where I don't feel seen. He listens to me. Not kind of listens but truly listens with his whole body and energy. He chooses our girls and me every single day and even though my three older daughters are not his, he has never made them feel any different than his own daughter. He takes care of us in every way by leading in a healthy masculine energetic way that allows my feminine energy to come out to play. I feel safe with him.
That is not something I experienced in my entire life. Feeling safe. He supports me and my vision and purpose. He is my biggest cheerleader. Julio is my balance. He keeps me grounded and calm. He is the best human I have ever met and I am so grateful to have found him again in this lifetime.
When I was at my lowest, I sought to manifest freedom, abundance, soul-aligned friendships, a business that lights me up, a chef, a nanny, a housekeeper, a villa with a pool, and of course, my soulmate. I am happy to say that within 16 months of moving to Mexico, I have manifested all of it.
Julio and I are engaged, run a six-figure business, and also welcomed our first child together, another baby girl to our family! And this is the first time I was able to enjoy newborn life because I am being fully supported and cared for.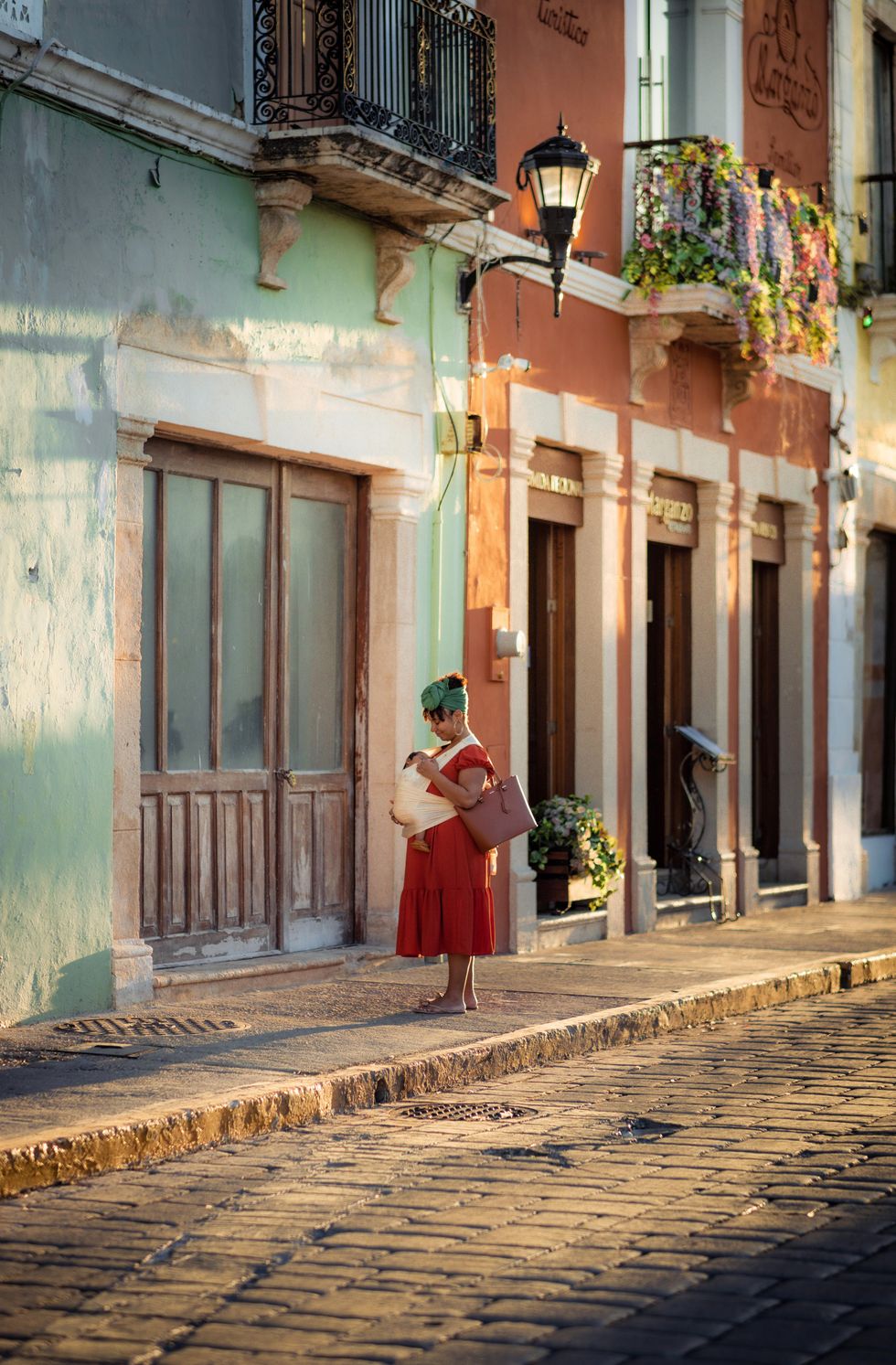 Courtesy of Amoya Shante
However, all of the rewards that are bearing fruit in this season of my life weren't without risk and they definitely weren't without inner work.
I invested heavily in my personal growth and self-development. A few months prior to moving to Mexico, I became certified in neuro-linguistics programming, timeline therapy, hypnotherapy, and life coaching.
I did deep inner work. I stopped treating my business as a hobby, started charging what I was worth, set up strong boundaries, and created a product that I knew worked so it would be easy to sell. I surrounded myself with people who inspired and motivated me and held me accountable to boldly live the life I saw myself.
There is always more healing and lessons to be learned but overall I am healthy, whole, and complete and now get to help others feel the same.
Featured image courtesy of Amoya Shante
Lori Harvey has achieved many things in her life such as starting her own successful sold-out skincare line, SKN by LH, and modeling and partnering with many high-fashion brands such as Burberry and Tiffany & Co. However, her love life has always made its way into the forefront. It's no secret that the model has had many male admirers and has been attached to the likes of Future and Michael B. Jordan, and now it appears that she is dating Snowfall actor Damson Idris.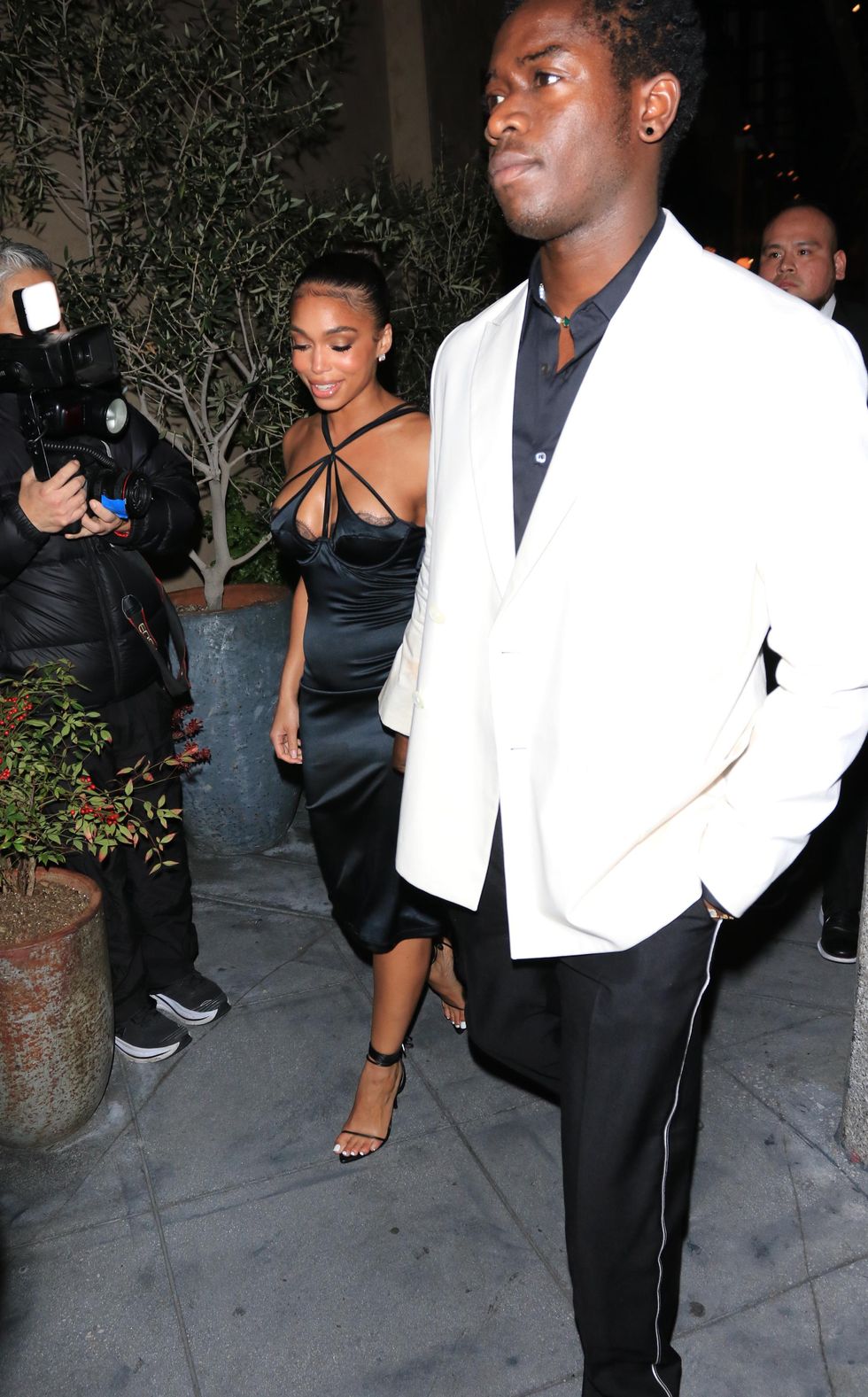 Wilbert Roberts/GC Images
But for whatever reason, her dating life has consistently been a topic of conversation and sometimes ruffles a lot of feathers. Black Twitter lit the internet up when the socialite made her relationship with the British actor Instagram official a few weeks ago. Some people even made off-color jokes about how she changes men like she does her underwear, or Damson is the next man she's checking off her list.
Seeing how angry her love life makes people, especially Black men, is exhausting. Anytime her latest relationship hits the blogs, so does a slew of hateful comments calling her hurtful names and making assumptions about who she is. Now, not to sound like Chris Crocker (Cara Cunningham) or anything, but leave Lori alone.
Fortunately, there is one good thing about her overexposed dating life. It has revealed the poisonous double standards between men and women in the industry.
How can Future, Diddy, and others have a troupe of women and, at times, seemingly degrade those same women's characters, but Lori can't actively date as the 26-year-old that she is? Diddy appears to currently be dating several women (with one he recently had a baby with) including City Girls rapper Yung Miami. No one rarely says anything about how he moves but constantly attacks the women he's dating online.
Let's not even get started on Nayvadius aka Future. How many women have Future dated and publicly humiliated including Lori after dissing her in a song? Not to mention, at that time he was linked to rapper Dess Dior.
While Lori is often judged for her decisions in dating, others applaud her. Many Twitter users utilize her name as the "action" of leaving a man alone or the title of their next chapter in life. They applaud her for knowing her worth and not choosing to turn her wheels for the sake of a relationship.
Lori has clarified that she will not settle and nothing is wrong with that. She recently sat down with E! Newsand shared the details about her cover with Essence, her thoughts on love, including her father, Steve Harvey's advice. When shooting the cover, Lori explained how it was an honor to grace Essence's "Black Love Issue" as a single woman. Months prior, she called it quits with Michael and it was before her current relationship with Damson.
"I feel like it's always been [about] me attached to something or someone: This time, it's about me. It's my time," she said.
Lori also spoke about her growth – as a woman and individual – and how she won't allow her past relationships to overshadow this period in her life. However, my favorite part was the advice she said her father gave her. "Just remember that you're the prize always," she playfully stated. So, what does his golden rule look like for the 26-year-old?
"It just means not compromising like, my values, my happiness, my peace. Not settling for less than what I know I deserve and not being afraid to walk away from a situation if it's, like, no longer serving me," she said
During her E! News interview, the entrepreneur admitted to finding the rumors about her "entertaining" and dispelled some of them, including dating a father and a son (alluding to dating Diddy and his son Justin Combs.) However, as she continues to grow, she is also allowing herself grace and letting the negative things people say roll off her shoulders. I can always stan a graceful queen who knows what she wants and moves silently.
Featured image by Jon Kopaloff/Getty Images for Tiffany & Co
I saw a tweet the other day that said, "The dating pool has piss in it." This message came from a woman talking about an unfavorable courting experience she recently had online. Now, I've seen this phrase numerous times online and I've also heard multiple people say it when discussing their frustrations with dating in this day and age. The amount of times I've heard this line of thinking has me thinking that there may be some truth to this phrase. According to Olivia, an author/blogger on the website, The Right Kind of Black Girl, folks are tired. And I can see why.
In a recent post, she shared her thoughts on whether or not there's really pee in the dating pool, stating:
"Men are tired of being used as EBT cards. Women are tired of being asked what they bring to a table with no legs. I'm personally tired of the inability to hold a conversation and plan a date."
If you ask me, she has a point! When it comes to dating, people are tired of being treated as objects rather than human beings. We have so many expectations around what men and women "should" be doing when they are dating because so many of us are afraid of someone seeing our insecurities, but when we set up all of these rules and expectations for dating, we rob people of the authenticity they need to express to cultivate relationships with people who are in alignment with their values.
Whether you want to admit it or not, we all have some red flags about us because we are human. The dating pool may have 'piss' in it but it's all about your perception and what you're calling in. Your perception of your dating experiences will come from the lens you are viewing them through.
Are you viewing your dating life through a lens of abundance and wholeness or through a lens of lack and insecurity? What are you learning from these experiences? How are you showing up differently in the types of people you are choosing? I believe now more than ever, people are becoming more aware and unapologetic about what they want out of their dating experiences and setting the standard to achieve those things.
As we continue to navigate through the "pissy pool" of dating (your words, not mine), the following are some dating trends to expect to see in 2023.
Featured image by andreswd/Getty Images