"Black men, we're in constant warfare. Every day is a fight outside of my house, so why would I want to come home to more fighting when that is the very place where I should be resting? There are loved ones who I don't speak to as much anymore because they aren't peaceful people. A huge part of the reason why I am happier without my ex is she was rarely a source of peace. The older I get, the more I realize that peace really is the foundation of everything; especially relationships, because how can I nurture anything if I'm in a constant state of influx and chaos? Guys don't care how fine a woman is or how great the sex may be if she's not peaceful because there is nothing more valuable than peace. If the closest person to me is not a source of it, that can ultimately play a role in all kinds of disruption and destruction. No man wants that."
My ever-since-college friend Anthonol recently said that as I was talking to him about a conclusion that I have firmly come to after having countless conversations with men about what they prize more than just about anything in a long-term relationship. Yep, you guessed it — peace. I don't care if the guy is 18 or 60, single or married, I can't tell you how many times a man has told me that they have remained with someone or left them in a heartbeat and it was all because that individual, for them, was not a very peaceful person and/or did they cultivate an environment of peace.
And honestly, I get it. The older — and hopefully wiser — that I become myself, something that I too value is peace. I want to be a haven of peace. I want the people around me to cultivate an atmosphere of peace. And yes, I will be quick-fast-and-in-a-real-hurry to remove myself from people, places, things and ideas that do not bring peace to my space and psyche.
Personally, whenever I think of the word "peace", the Hebrew word for it comes to mind — shalom. One of my favorite things about the word is it has so many meanings. Today, I want to touch on five of them in hopes that, if someone reading this is looking of a bona fide and surefire sign that they are with the person who is truly right for them, they will 1) come to understand that peace is absolutely essential and 2) gain even more clarity on what peace is — and requires.
Tranquility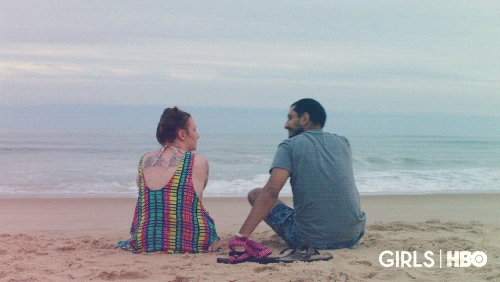 The reason why I picked a GIF that has the ocean in it is for this particular point is because that type of environment is what immediately comes to my mind whenever I think of tranquility. To be tranquil is all about being peaceful and calm. That's already dope; however, there is more to it than that. Did you know that another definition of tranquil is "free from or unaffected by disturbing emotions"? That said, another male friend of mine (who prefers to be off the record) said something that really stood out to me — "Women don't mind feeling a wide range of emotions throughout the day. Some of y'all will literally be like, 'I want to cry. Let me find a movie that will make that happen.' Your emotional focus and sometimes even resilience is wired like that. We like to remain as even as possible because there is so much going on that we know we need to remain centered and focused. So, anything or one that constantly triggers us to be upset, bothered or angry, we'll avoid that."
To me, here is a great place to start. When you're in a healthy relationship, it will not consist of you constantly feeling disturbed, confused or unsettled. Typically, when we're feeling that way, it's alerting us to the fact that something is…off. And if things are always off, something is…really off. No relationship is perfect and there are going to be times when things are a little disruptive. Still, if you can't use "calming" as a way to define what you are currently in, don't ignore that reality check. Please ponder what's really going on.
Agreement/Harmony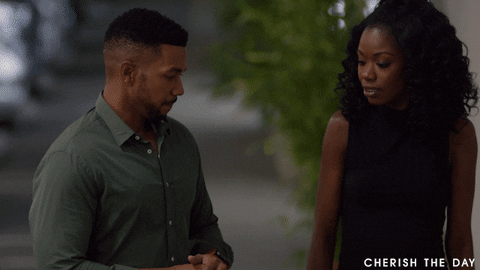 Another word that defines peace is agreement. Here's the thing about that, though. To agree is "to have the same views, emotions, etc." and "get along together". This speaks to having similar views, values and to some extent, even communication styles. Still, don't sleep on another definition of the word which is to "come to an arrangement or understanding". You know what this means, right? People who are in peaceful relationships, even when they don't have the same views or feelings about something, they are able to negotiate. Peaceful people are the folks who are far more interested in keeping the relationship healthy and moving forward than being right all of the time. They can compromise. They are open to hearing someone else's point of view. They can even agree to disagree when needed.
Another definition of agree is harmony. I'm a huge music fan, so that makes me think of a choir. Sopranos, altos and tenors all sound different yet when they come together and everyone knows and does their part (which is so key, y'all), the collective sound is beautiful. Men and women aren't supposed to be the same. There are proven scientific differences that help us to come together and cultivate a balance — a beautiful sound, so to speak. When it comes to your relationship, do you have similar views? Do you get along more times than not? When there is discourse, can you come to an understanding that you both can feel good about? If not…why not?
Wholeness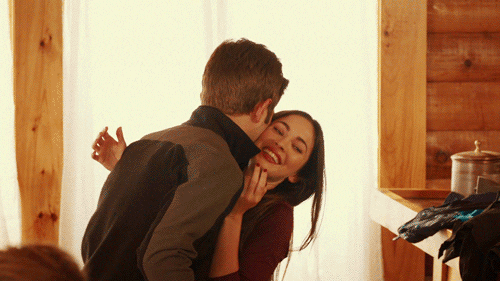 Something that I shared not too long ago is I'm a firm believer that no one should expect another person to make them happy. Humans are fallible; they tend to be pretty fickle too, so there are going to be times when they disappoint you, hurt your feelings and straight up piss you off. If you feel like they should never do that, because they should be the source of your happiness, you really should stay single because that expectation is unrealistic as all get out. I mean, do you make yourself happy all of the time? Exactly.
Same thing goes for another definition of shalom-peace which is wholeness. While a partner can help to cultivate a sense of wholeness, it shouldn't be expected of them to "make you whole". No, the focus here should be more along the lines of "containing all the elements properly belonging". Healthy relationships are better able to go the distance when they contain the "core ingredients" that make a relationship work and last — love, respect, patience, support, consistency, attentiveness and similar relational goals are certainly a great place to start.
I can't tell you how many couples I've worked with where the love is there yet so many other things are lacking. You can't ever truly be at peace in a relationship if what it takes to make one work is fractionated on some level. Is yours? It can never hurt to direct this same question to your partner too.
Completion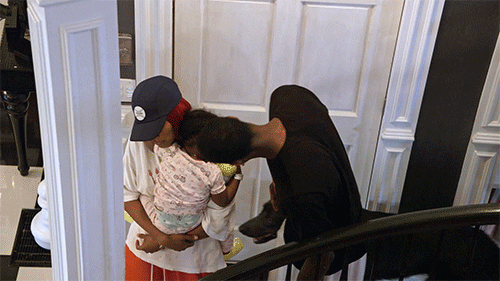 While it might seem a bit redundant to have wholeness and completion listed as signs of peace, even when shalom is broken down, the words are separated. I get why too. It's because while complete does mean "having all the required or customary characteristics, skills, or the like", it also means "thorough", "consummate" and "uncompromised". Let's break all three down a bit, shall we?
Thorough. When it comes to relationships (really, when it comes to almost anything), very few words are literally gonna make me literally tingle more than proactive and thorough. A thorough person pays attention to detail. A thorough person isn't negligent. A thorough person is extremely careful when it comes to what they say and do. And a person like that? How can they not be seen as a source of peace?
Consummate. You wanna know why couples can get their marriage annulled if they never had sex? It's because sex is considered to be what completes their wedding day. Yes, to consummate is to complete. It's also to fulfill and to fulfill is to satisfy. It's very easy to feel peaceful in a relationship when you also feel satisfied with the person you are with. Not that you are needy (needy people are like a bottomless pit); that your needs are being met — the needs that you've clearly expressed and your partner has verbally agreed to meet.
Uncompromised. Whenever I think of the word "uncompromised", I think of character and stability. While again, no human being is perfect, someone who operates from a space of being uncompromised is someone who says what they mean and means what they say. You can trust them because they are dependable, reliable and steady. And how can you not feel totally at peace with a person like that?
Restoration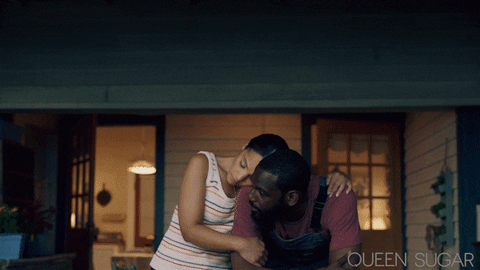 One more. Y'all, let me preface this final word by saying, it is no one's job to save or restore us. EVER. That is God's task and even then, we've got to be willing to do a lot of work, along with his help.
So, when I say that a sign that you're with the right person is that they will bring you peace and that a definition of shalom-peace is restoration…"encourage" is what I think of. The right guy will encourage you to come back to a place of health or vigor if you haven't been there in a while. The right guy will encourage you to return to an original state if you've felt lost or like you've been unclear about some things. The right guy will encourage you to improve, repair and strengthen (all words that are synonyms for restore) the areas of your life that need them. There will be something about that man that will always motivate and inspire you to want to be better — to get back to what makes you your absolute best.
Y'all, there's a reason why I entitled this article using the word "right" instead of something like, "a sign that you're in love". It's because loving someone doesn't mean that they are right for you (trust me, I've got a few T-shirts on this point). When someone is right, they are good. When someone is right, they line up with facts and truth. And when someone is right, a part of what comes with them and your relationship is peace. Loads of peace.
I'm not sure why peace is so underestimated in relationships. Hopefully, you're reading this and possibly sharing it with others will help us to maintain the healthy relationships and release the unhealthy ones. 'Cause chile, if you ain't at peace…if your relationship isn't bringing you peace…what in the world is "right" about it?
Join our xoTribe, an exclusive community dedicated to YOU and your stories and all things xoNecole. Be a part of a growing community of women from all over the world who come together to uplift, inspire, and inform each other on all things related to the glow up.
Featured image by Getty Images
Keep reading...
Show less
Whether still dealing with the aftershocks of the pandemic, not being able to get enough time off or money being a little on the tight side is what's preventing you from going on a romantic vacation this summer, who's to say that you can't do a sexy staycation instead? If the mere thought of that feels like a poor man's — or woman's — consolation prize, I promise you that it absolutely does not have to. Opting to stay at home while possibly throwing in a couple of day trip adventures (which is a classic definition of a staycation, by the way) can be loads of fun, super romantic and also really cost effective without feeling mad cheap.
All you need is an open mind, this article and a willingness to put a plan into place as soon as possible. Ready to get started?
1. Tell Everyone You're Going to Be Away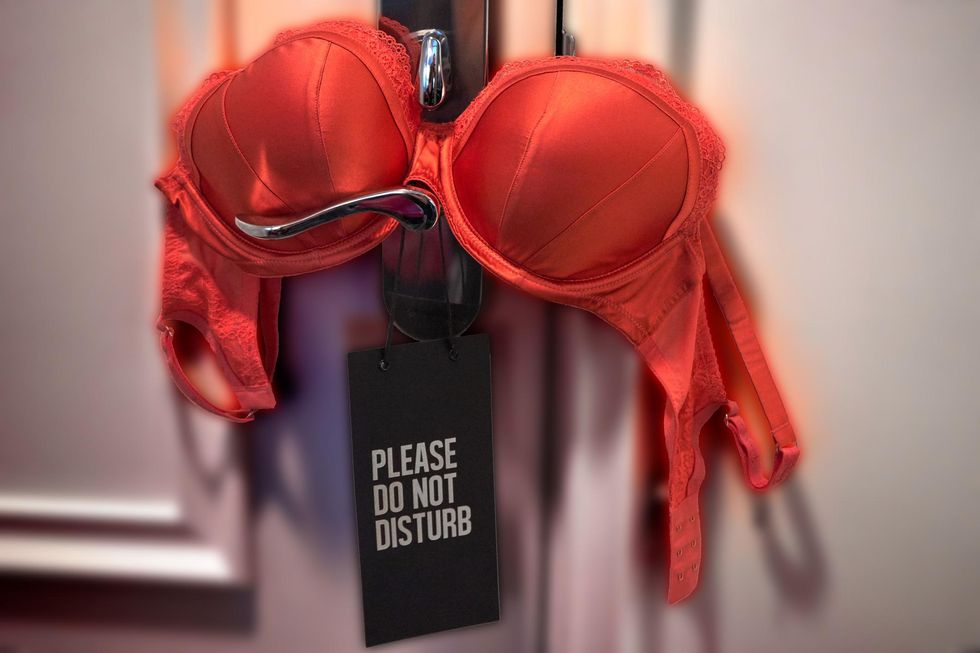 When it comes to putting a staycation together, one of the biggest mistakes that people make is not announcing that they are going to be away for a little while. Listen, even if you're gonna do nothing other than camp out at your home for a week, it's important that family, friends and co-workers don't treat you like you're just a phone call or stop by away.
A staycation is still a form of a vacation, so make sure you let everyone know that you won't be available (unless it's an absolute emergency) once you've got some dates in place.
2. Order Breakfast in Bed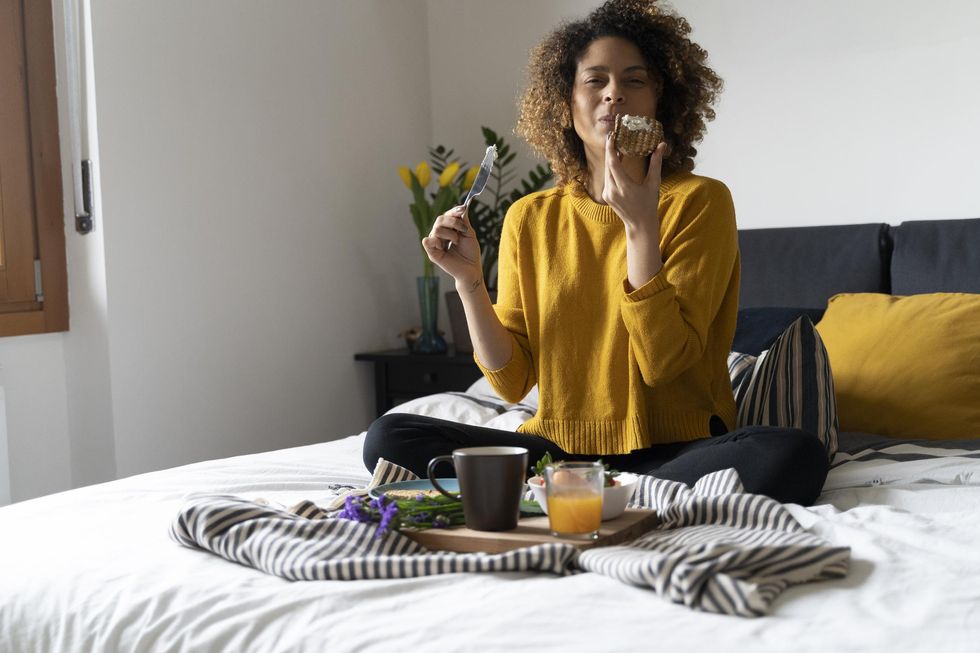 OK. Personally, I like to cook. I also think that cooking dates can be kind of sexy. Here's the thing, though. When you're on a staycation, it's important to deviate from your usual routine, as much as possible, even when it comes to how you get down in your house. A huge benefit that comes with being on vacation is sleeping in, right? So, when it comes to the most important meal of the day, avoid the urge to cook or settle for nothing more than a bowl of cereal. I'm pretty sure you've got some great breakfast/brunch restaurants in your area. Support local businesses and treat yourself by ordering breakfast to be delivered to your house, at least a couple of times, instead.
3. Dine at a New Romantic Restaurant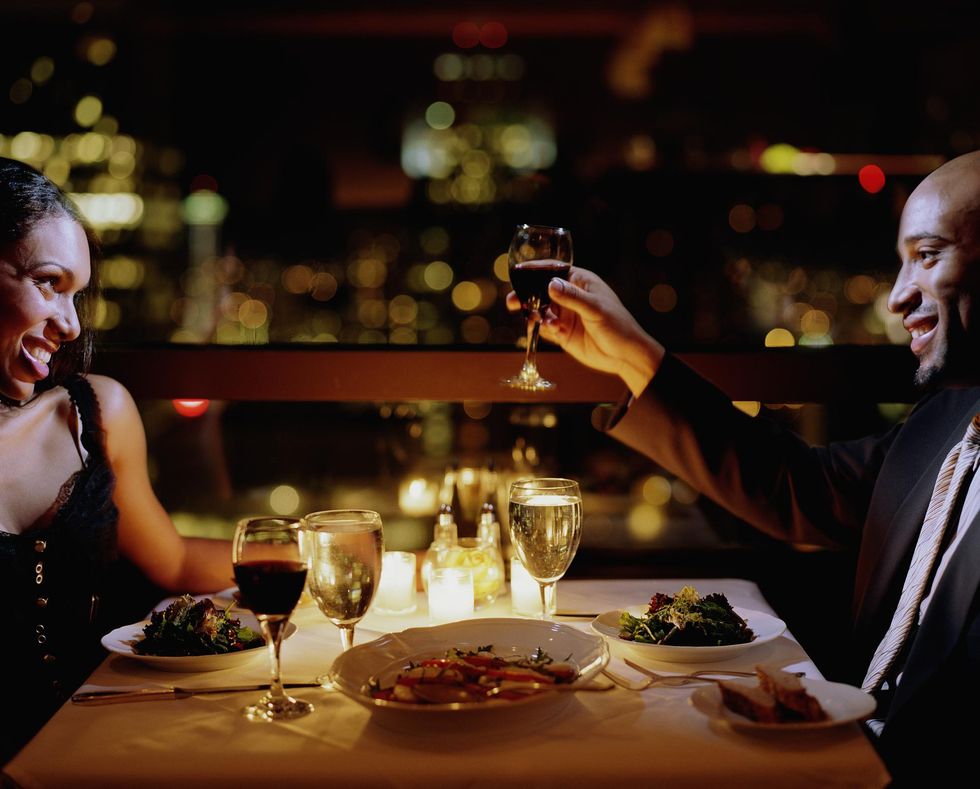 Not too long ago, someone asked me in an interview if going out for dinner can get old for a couple. My answer was, "No. Not if the restaurant requires dressing up and you're not constantly going to the same one." Unfortunately, when it comes to eating out, a lot of us seem to only treat it as a functional outing rather than an uber romantic experience. Avoid being that kind of statistic by finding an upscale restaurant and dressing to the nines. Good food, good ambiance and good company can never be boring; especially when you're on a staycation.
4. See If 'Let's Roam' Works in Your City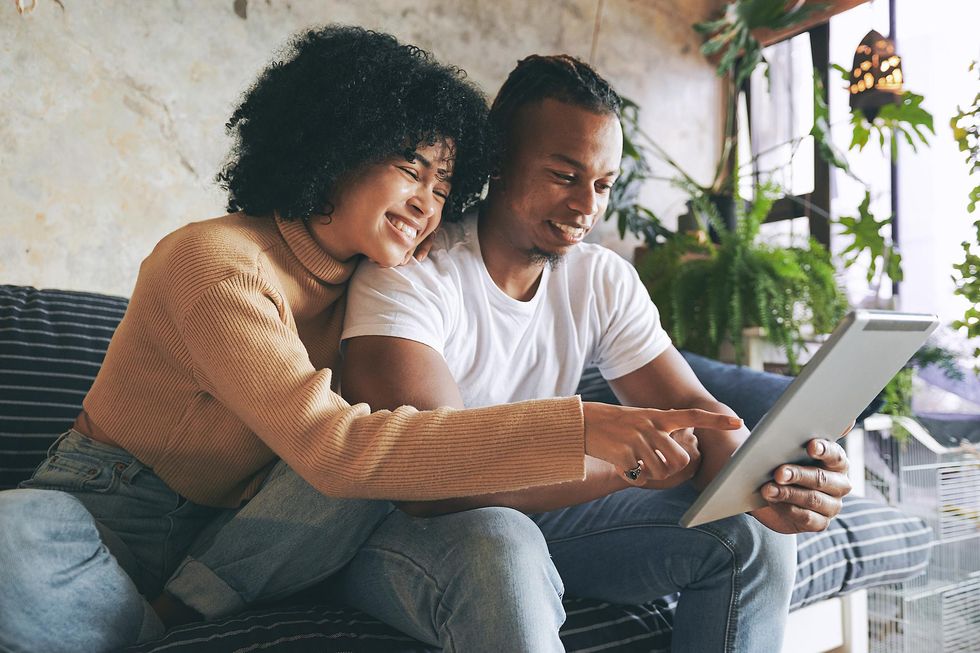 When I take staycations, I promise you that I can never leave the house and be just fine. For those of you who end up feeling a little stir crazy after a day or two, be a tourist in your city — only with a romantic twist. In 300 different cities to-date, there is an app called Let's Roam. The cool thing about it is, for under fifty bucks (for both of you), you can go on a scavenger hunt throughout your city. It could be a unique way to create some new memories. If you're interested in learning more, go here.
5. Upgrade Your First Date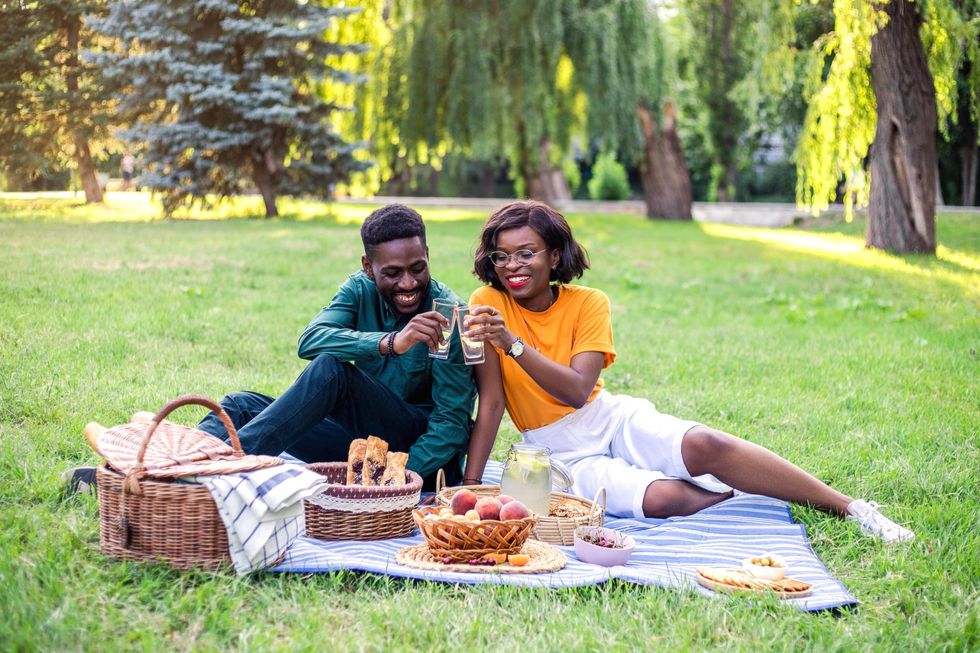 Whether your first date was super extravagant or it consisted of meeting at a coffee shop, there are few things more romantic than revisiting the moment when you and yours officially made a "formal" connection. Thing is, for many of us, as great as the experience may have been, we secretly wish that some tweaks could've been made to make things that much better. During your summer staycation, seize the opportunity by redoing your first date…by upgrading it a bit. If you wish the date had been earlier and longer, make that happen this time. If you would've preferred a quieter restaurant or one with a different cuisine, find a place that fits the bill and go there. If the connection was awesome but the location/venue could've used some work, change the place and wear the same outfit. You get the drift. Upgrading a first date while reminiscing about the actual first date is a form of mental foreplay like no other.
6. Redo Your First Night Together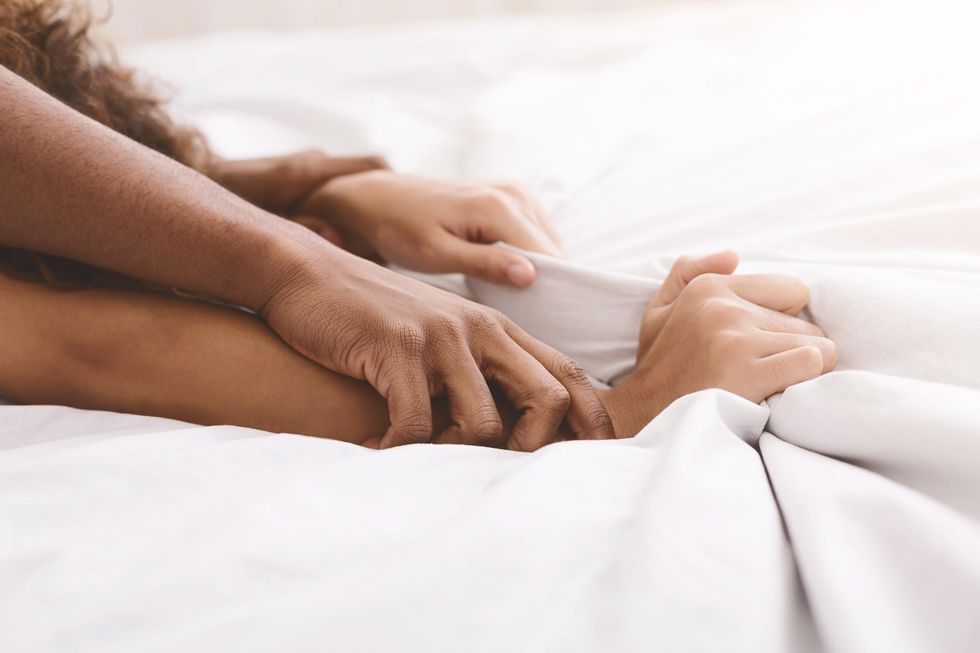 Speaking of foreplay, chile…while we're in the spirit of redoing things, how about replaying your first night together too? The key here is to not make either one of you feel self-conscious by critiquing what could've been done differently or better. It's more about first discussing all of the amazing memories you recall from your first experience with each other and using that as a way to mentally go back to that time, in order to enjoy each other all over again.
The mind is the biggest sex organ we've got. You'd be amazed how merely discussing the first time you were one with each other in that way can take sexual pleasure to a whole 'nother level.
7. Take a Day Trip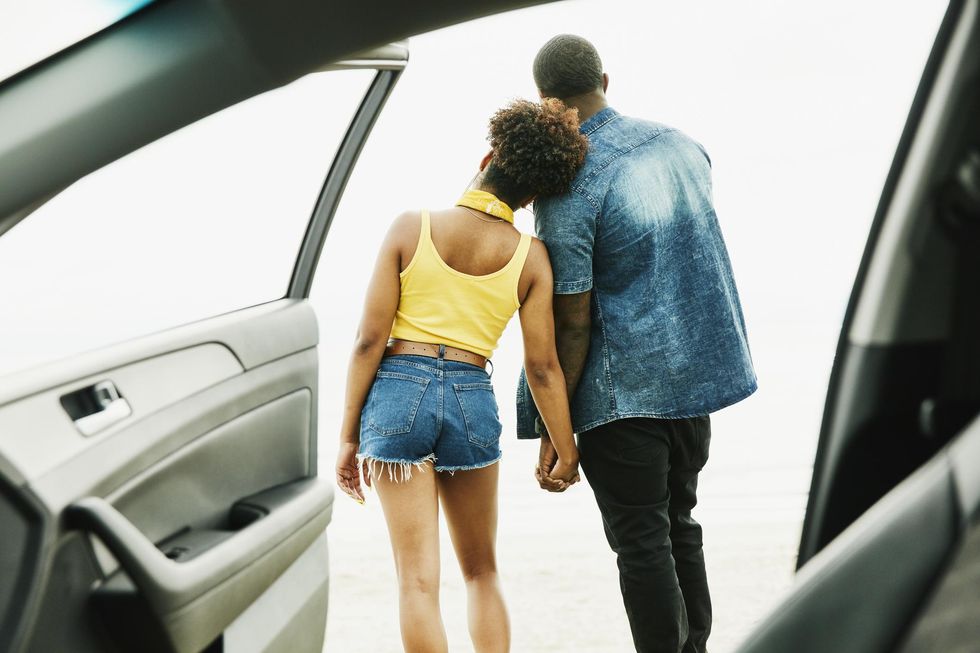 Remember how I said that a staycation doesn't mean that you've got to stay cooped up in your house or even in your city the entire time? Going on a day trip can be romantic too because the time in the car can give you the opportunity to catch up in a way that you may not have been able to in a while. Plus, there's nothing like finding some romantically random bed and breakfast in some quaint little town. If you'd like some help finding one within a 150-300 mile radius to you, bnbfinder and BBOnline can be of some great assistance.
8. Make a Different Cocktail (or Mocktail) Every Day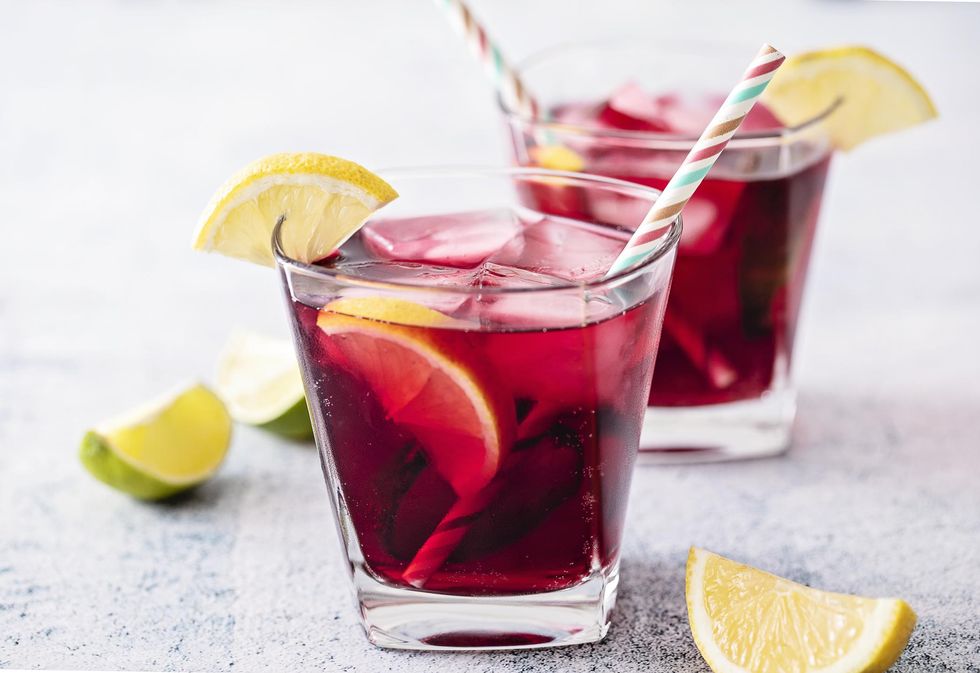 Whether you and your boo decide to stay in bed all day or you stroll the mall, take in a movie and dine outdoors, very few things are more relaxing and delightful than a cocktail or, if you don't consume alcohol, a mocktail (which is basically a virgin cocktail). In the spirit of keeping things sexy, check out "8 Summer-Themed Alcoholic Drinks That Can Boost Your Libido". For some mocktail ideas, go to your favorite search engine and put "mocktail recipes" in the search field.
9. Play Some 'Monogamy' or 'Fog of Love'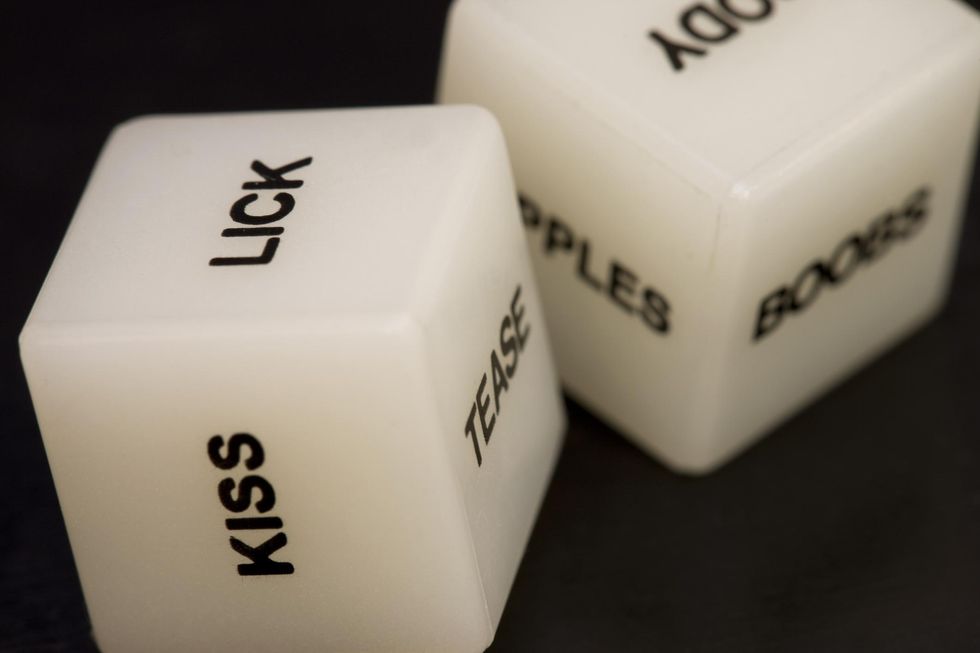 Do you and yours like to play games (the good kind) when you're able to spend some quality time together? If so, two that you may really like are the sex-driven conversational board game Monogamy (you can get it here) and Lovehoney Oh! Sexploration Vouchers 52 Weeks of Adventures (you can get it here); it consists of a deck of romantic and raunchy cards to pull from. If you put on some sexy music, pull out a bottle of wine and make sure that you don't have much on, you'll be sure to have a super entertaining evening.
10. Then Go for a Round of 'Truth or Drink'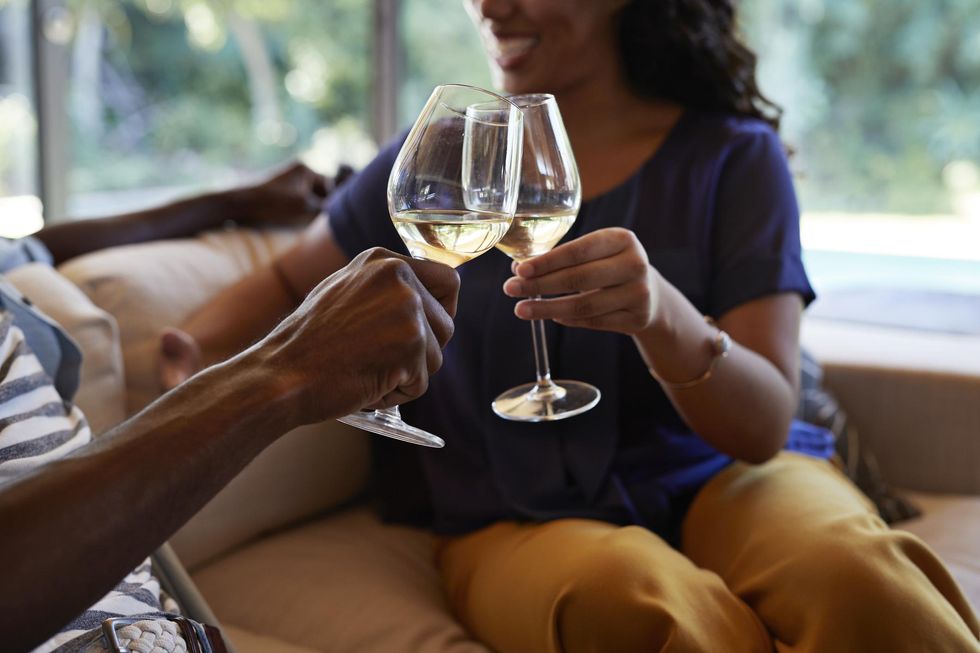 While you've got that bottle out, something else that you might want to do is play a round or two of Truth or Drink. Now, I'll be the first to say that super sensitive or even potentially insecure couples should probably steer clear of this one (especially as the drinks get to flowing). But if your relationship is based on a solid friendship and you both are very open with each other anyway, this game can be a lot of fun because there's no telling what you'll find out about your partner.
As the title of it goes, it's pretty self-explanatory. Each of you gets to ask a question and the other person gets to choose whether they want to answer or take a sip (or shot). If you want to raise up the ante a bit, throw in some sexy dares too. If you'd like some help coming up with some questions, Scary Mommy's site has 145 to inspire you. Check them out here.
11. Enjoy a Night of 'Movie Strip'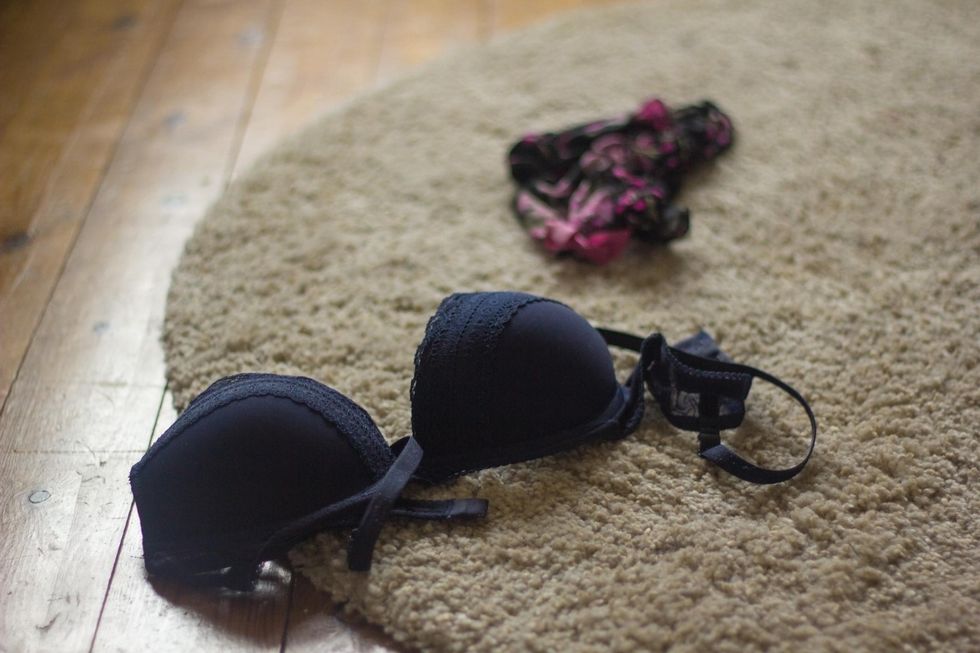 What the heck is Movie Strip? It's another thing that one of my blasts from the past and I used to do.
We'd each pick a favorite movie, watch it and then quiz each other on the details in the film. For every time we got an answer wrong, we'd have to take off a piece of clothing. I'm pretty sure it goes without saying that whoever ends up naked first loses.
Well, sorta. #wink
12. Try to Literally Have Sex All Night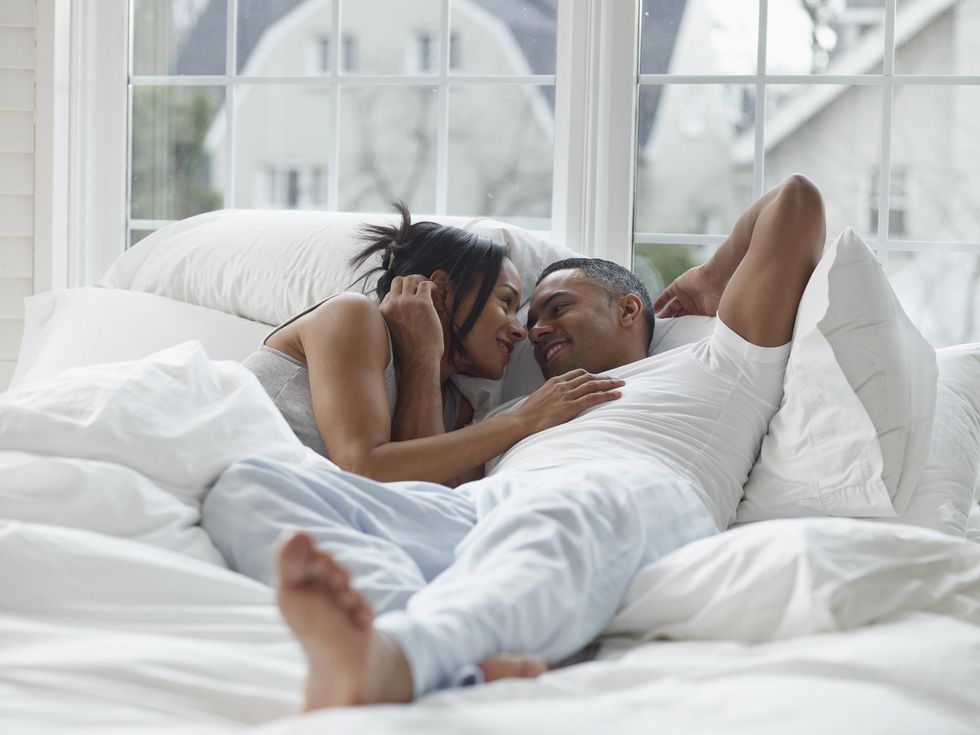 Anyone who knows me knows that very few things make me happier than listening to 90s R&B for hours on end. However, if there's one thing that really does tickle me about a lot of R&B music is the lies, lies…LIES it tells about people when it talks about having sex all night long. C'mon now. Who has the time, the energy or the natural lubrication required to make that happen? Chile, please. Still, when you're on a sexy staycation, it can be enjoyable to see how close to that goal you can actually reach. Shoot, to serve as extra motivation, some sort of prize can be offered to the partner who doesn't "tap out" first. It could be doing a household chore for a week that one of you hates, running errands that one of you likes to avoid — something that makes winning really worthwhile, even after your staycation is over.
13. Have an Orgasm Competition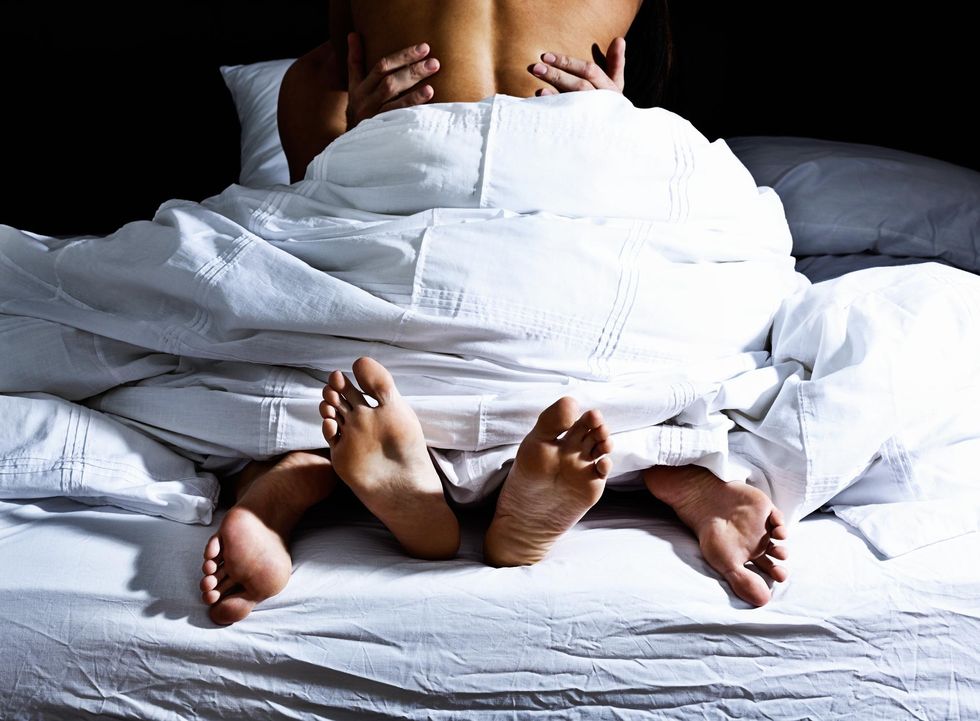 Speaking of being up all night long…back when I was sexually active (le sigh), one of my partners and I used to literally compete to see who could give each other the most orgasms in one sex session (well, one night but you know what I mean). It was actually a strategic kind of "game" because while it can be pretty easy to get the first one off, it requires a bit more finessing, technique and intentionality to enter into the multiple orgasms lane. Nothing beats trying though. Wheeeeeeeew-whee.
14. Stay Naked Most of the Time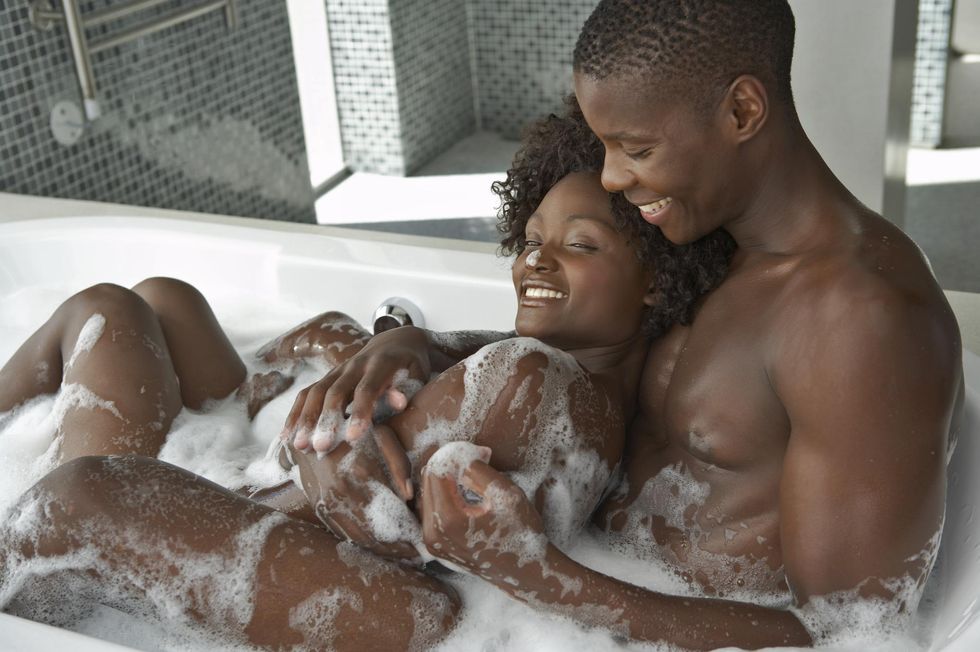 Whenever I'm in a counseling session and the topic of improving a married couple's sex life comes up, it never fails that women want more foreplay while men want visual stimuli to go up a few notches. For some, that means they wish that their partner would play dress up in more lingerie. However, what I tend to hear even more than that is men wish that their lady would be naked way more often than right before it's time to "get it in". Surely y'all are not shocked by that. Still, there's no time like this article to encourage you to disrobe more than usual. I mean, you're on a staycation and you want to make it as HOT as possible so — why the heck not?
Being naked is not only alluring and appealing as hell, it's a great way to keep your body temperature stabilized, decrease your stress levels, make you feel more comfortable with your body image, give your vagina the time and space it needs to "air out" a bit and, it definitely is an entry way to more intimacy.
I live alone, work from home and even I can't tell you how many days you can find me in nothing but a blanket for most of the day. There is something very freeing about nudity. There's also something erotic about it when you're that way with your partner. Even if it's just for a couple of days, take it off, TAKE IT ALL OFF, while you're on your staycation.
15. Pitch a Tent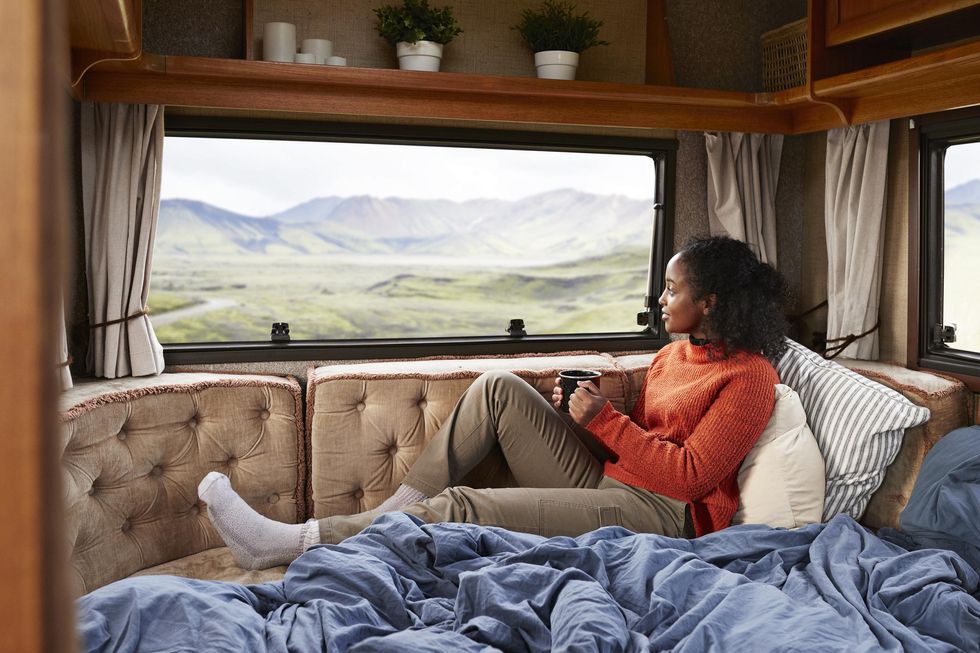 If you've got a private backyard, there really is something sweet about pitching a tent, bringing a few snacks outside, along with blanks and pillows and cuddling up while looking up at the stars until you both fall asleep. It's a super relaxing and very sentimental way to culminate what will hopefully be one of your best vacations ever — a super hot staycation.
Join our xoTribe, an exclusive community dedicated to YOU and your stories and all things xoNecole. Be a part of a growing community of women from all over the world who come together to uplift, inspire, and inform each other on all things related to the glow up.
Featured image by Getty Images
Keep reading...
Show less
Nothing says, "I wanna spend a little bit of quality time with my man" quite like a well-planned out date does. And personally, I agree with someone I was talking to recently who said that the traditional dinner and a movie can get kinda old, pretty fast, mostly because it's so predictable and typically lacks creativity.
So, in honor of doing something that's a little outside of the box, when's the last time that you and yours went on a picnic? And to add a bit of a twist to it — an indoor one. If it's been a minute or you never have and you'd like a few tips on how to make one happen without a hitch, I've got 15 tips that can help your first — or 10th — indoor picnic be one of your best dates ever!
1. Buy a Picnic Basket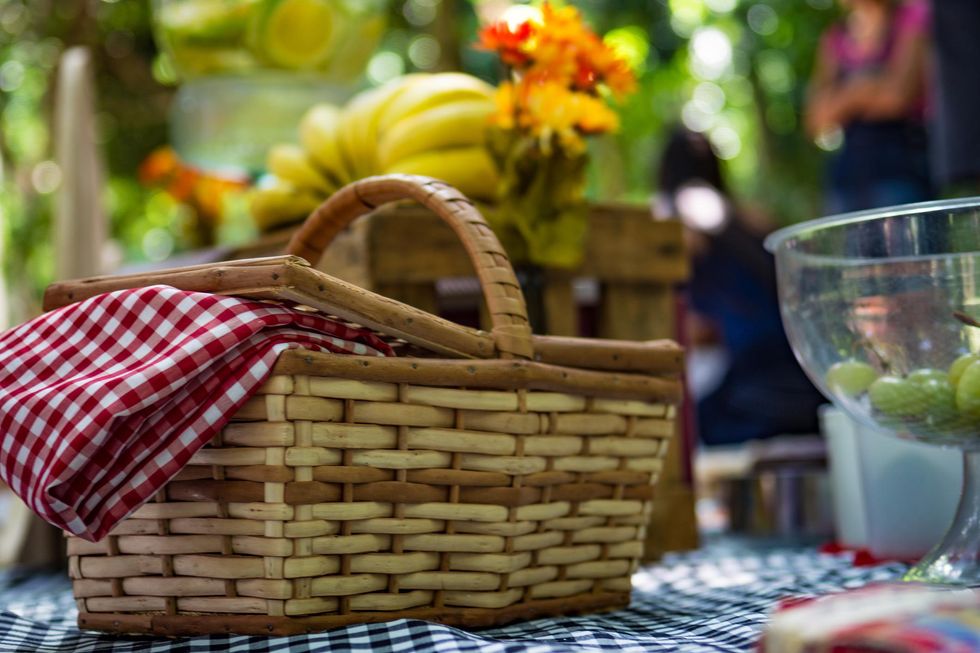 Let's start off with the obvious. Whether you're outdoors or inside, there is absolutely no way that you can have an authentic picnic without a picnic basket. If you're wondering if you've got to break the bank in order to cop one, you don't. Places like Target and Walmart typically sell them for around $25 and, the cool thing is, once you've got one, you won't need another for several years to come.
2. Pitch a Tent
Once you've got your basket in tow, it's time to create a bit of ambiance. Since you're going to probably be in your living room, den or basement, something you might want to consider doing is pitching a tent. For a basic one, all you need is a sheet, some clothespins and maybe a few twinkle lights. Then you can put some throw pillows and blankets on the inside of it. Once you're done making your tent, you'll probably be surprised by how cozy you'll feel underneath it. Anyway, if you want to give it a shot, Our Mini Family is a blog that can walk you through the steps. You can check out their instructions here.
3. Or Bring in a Tree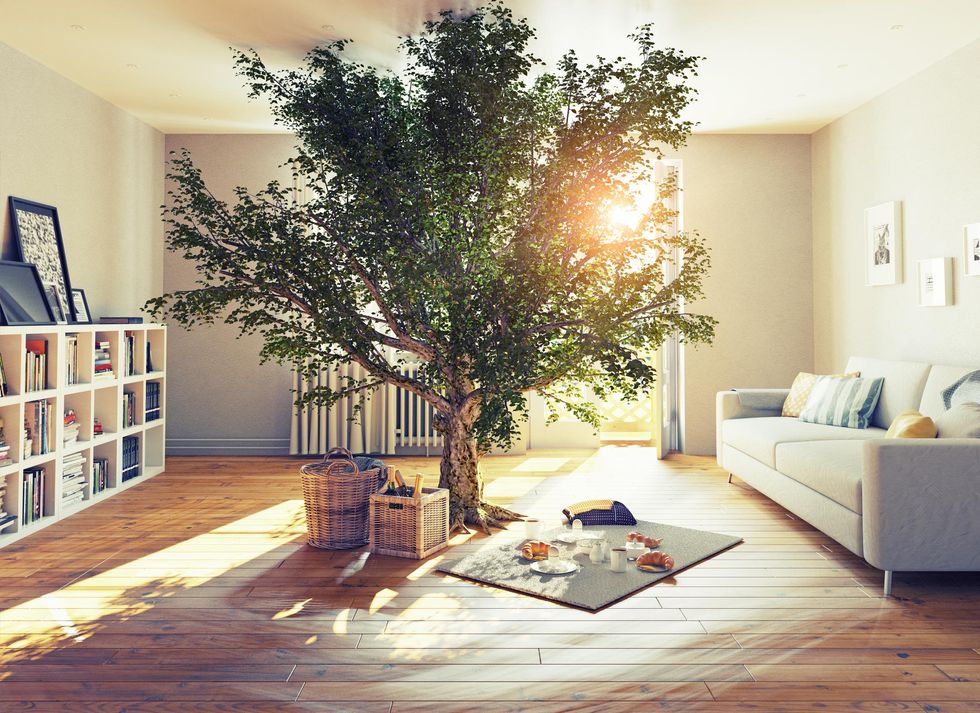 I've shared before that one of my favorite décor additions in my home are two big faux trees (kinda sorta like the one in this picture). I have one in my living room and one in my bedroom. I dunno what it is about 'em; they just seem to make my space feel "warmer".
If you've got one as well, something that can make you feel almost like you are outside is to position your tree in such a way where it is the centerpiece of your indoor picnic. If you want, you and your partner can use paper clips to attach notes for you and your partner to read before or after your meal. It really is a very sweet touch.
4. Play Nature Sounds
While playing some of your favorite music in the background is always a great way to set a romantic mood, more and more, I am coming to like the sound of nature sometimes. I fall asleep to ASMR rain sounds. Sometimes, I like to hear waves crashing instead. Again, I am never (ever) gonna knock a good R&B playlist. Still, why not try the sounds of wind blowing or waterfalls with birds chirping, just to see if you like it? YouTube has free ASMR videos that will literally play for hours (just go to the site and put the sound that you are looking for in the search field).
5. Sprinkle Some Flower Petals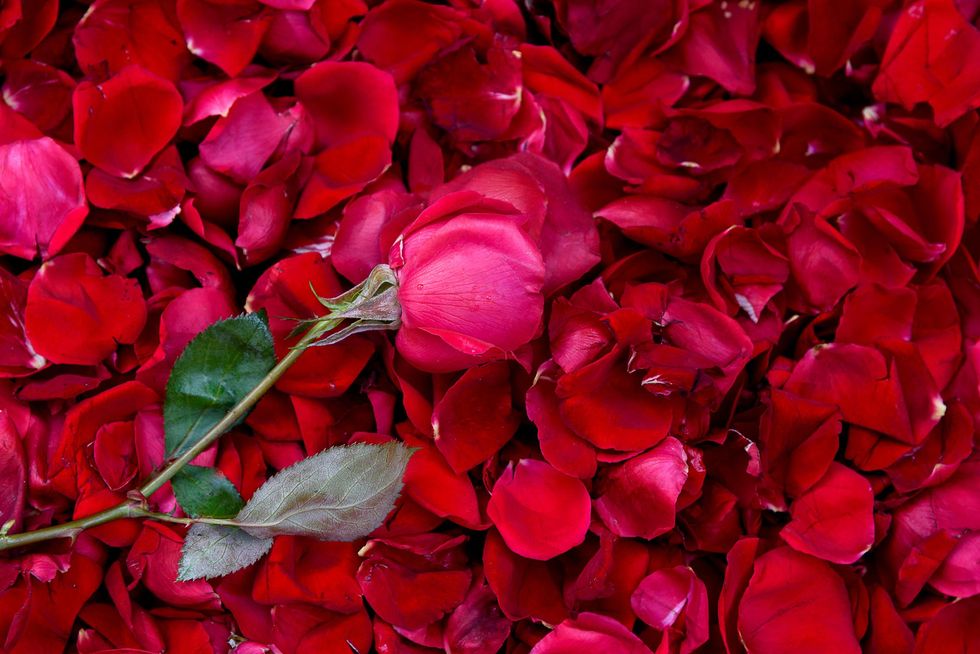 Whether you go with a tent, a tree or nothing but a blanket on the floor, definitely get yourself some fresh (preferably rose) flower petals. They absolutely scream romance. They also add a nice aroma to the space and they're an easy way to make your picnic something really pretty to look at. A lot of grocery stores sell petals in boxes (so do florists) or you can always buy a half-dozen stems and pull the petals off yourself.
6. Go with Natural Lighting, Candles or Lanterns
OK. One more thing about the ambiance. When you want to cultivate a romantic mood, lighting really is everything. If you're planning to have your picnic during the daytime, open up your window treatments and let some natural light shine through. If it's going to be during the evening or nighttime hours, light some scented soy tealight candles, go to a local arts and crafts store to get some cheap lanterns or change the color of your overhead lighting or lamps to bulbs that are a red, green, blue or purple hue. Soft lighting is really sexy and will definitely help to set the mood.
7. Wear. Less.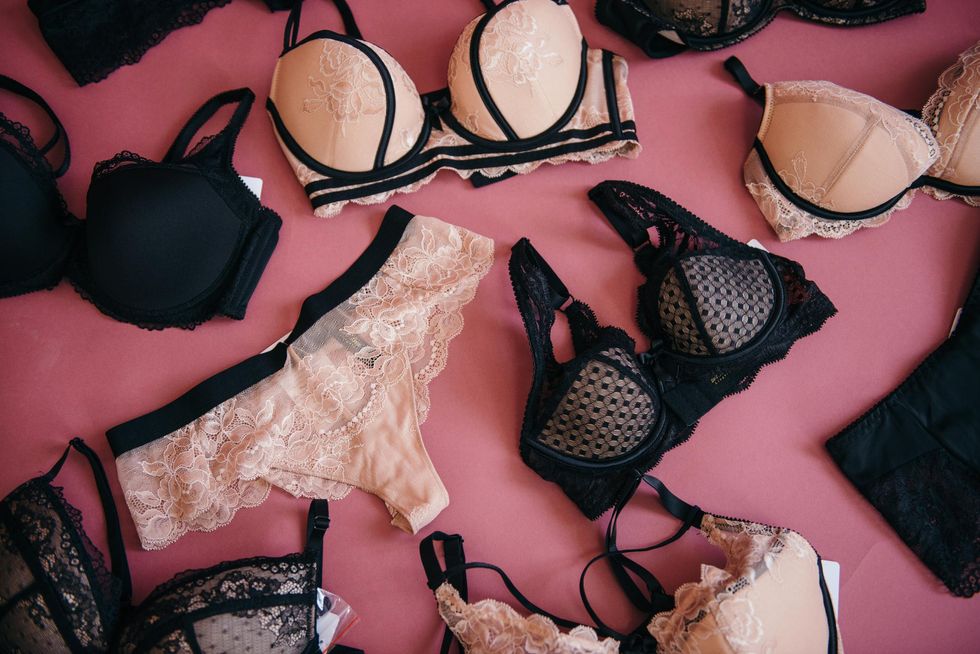 One of the best things about having a picnic indoors instead of outside is you can wear whatever the heck you want because you are in the comfort, convenience and privacy of your own home. So, pull out some lingerie in your partner's favorite color, wear nothing but a cute frilly apron or — wear nothing at all.
After all, nothing says, "This ain't your family reunion kind of picnic" like having barely anything on. Right?
8. Enjoy Your Meal...in Stages
Speaking of providing things with a bit of a twist — as we get into some cool food ideas for your romantic picnic, why not serve things in stages? By that I mean, with appetizers could come some compliments. With cocktails could come a little bit of dancing or kissing. After dessert…well, comes dessert. Because it's just gonna be you and your boo, build up the anticipation of every part of the meal by incorporating some much-needed — and I'm sure, appreciated — affection. It will make the picnic that much more special.
9. Serve Romance-Themed Appetizers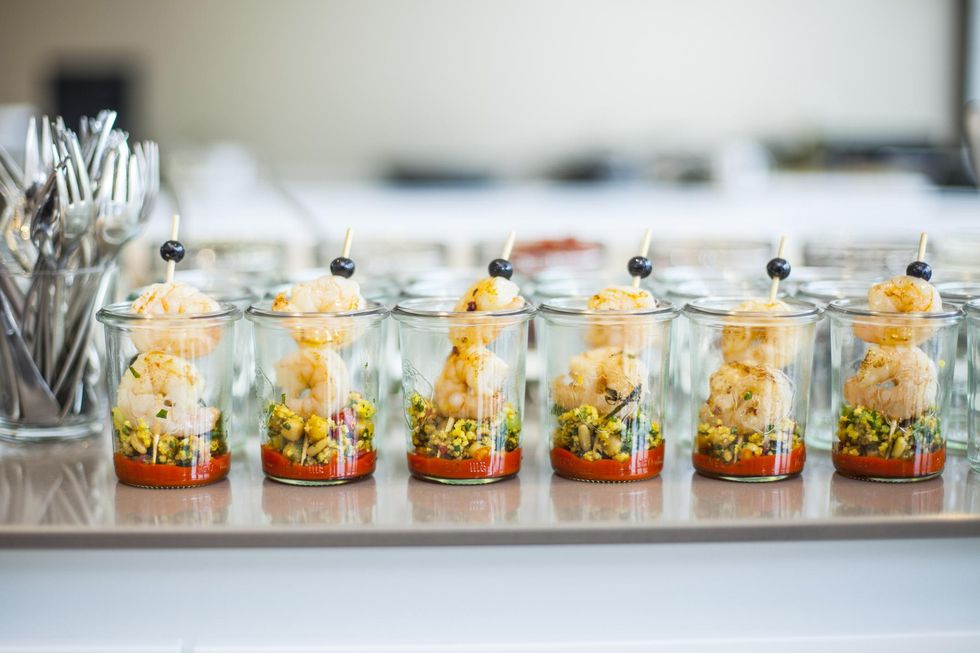 Now for the actual foods. While most of us know what an appetizer is, were you aware of the fact that the literal definition of the word is it's a small portion of food or drink that makes you want to have even more? Since the theme of this particular picnic is romance, when it comes to the appetizers that you serve, try and think of what will make you and your partner feel like you want to be more in each other's space. Little shrimp cocktails. Smoked salmon bites. Baked asparagus. Skewered ravioli. Fig and goat cheese bruschetta. Vietnamese chicken and vegetable spring rolls. Wafflized mozzarella sticks with salsa. The idea here is to come up with an appetizer idea that is delicious, not super difficult to make, and will be easy for the two of you to feed one another — because there is something about letting your partner feed you (as you do the same to him) that is low-key sexy as hell.
10. Make Some Fondue
Speaking of sexy, is there anything better than some chocolate fondue? It's great for dipping fruit, cookies, angel food cake (or any cake, really), marshmallows, graham crackers, licorice, bacon (ever had beef bacon? Whew, chile!) — pretty much anything that you enjoy dipping chocolate into. And since you're considering breaking everything up into stages, if neck kissing or finger sucking is on "the menu", fondue is a great way to implement it. (If you don't happen to have a fondue pot, you can learn how to make chocolate fondue without one by going here.)
11. Have Strawberries on Deck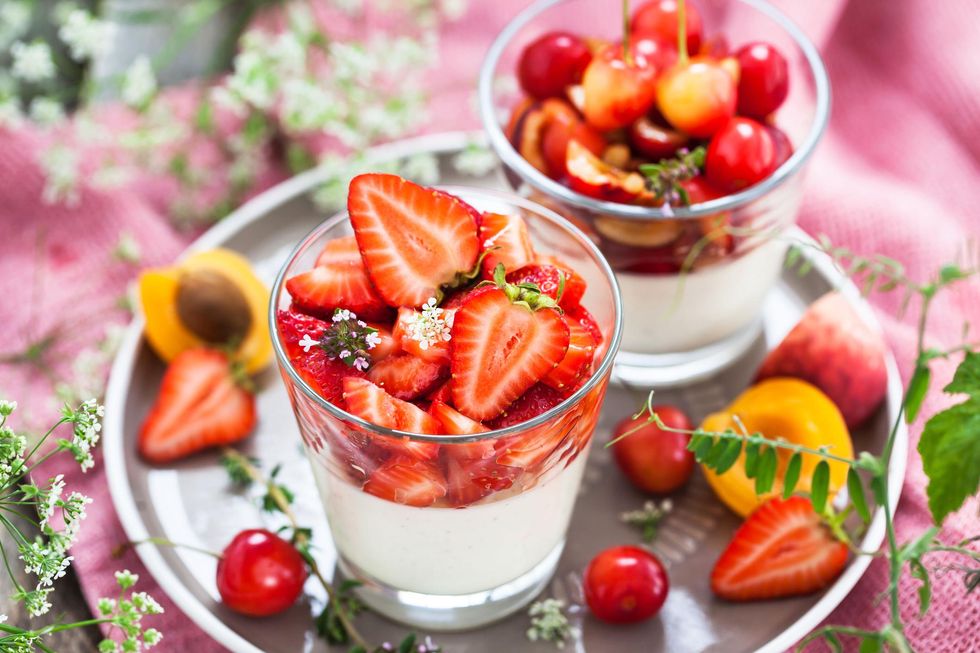 Speaking of fruits to put into your homemade chocolate fondue, did you know that back in the days of Ancient Rome, strawberries were considered to be the symbol of Venus, the Goddess of Love, due to their shape and color? That's a big part of the reason why they are also on the list of foods that are an aphrodisiac.
Chocolate-covered strawberries. Strawberries, whipped cream and orange liqueur. Arugula salad with strawberries in it. Strawberries, pomegranates and dried rose petals. Strawberry-ginger lemonade floats. These are just a few creative ways to incorporate strawberries into your indoor picnic meal.
12. Create a Cocktail
Speaking of lemonade, something that I'm all about, for pretty much any occasion, is a signature cocktail. It's fun. It's unique. And when you're coming up with one that only has you and yours in mind, it can be uber romantic too. If you're totally down yet you're just not sure where to start (because I won't lie, mixing the wrong stuff together could land you in your bathroom rather than your bedroom), a blog called Life by Olivia has a quiz that could help to point you into the right direction. Check it out here (also, putting "how to create a signature cocktail" in the search field of your favorite search engine can help you out as well).
13. Order the Main Meal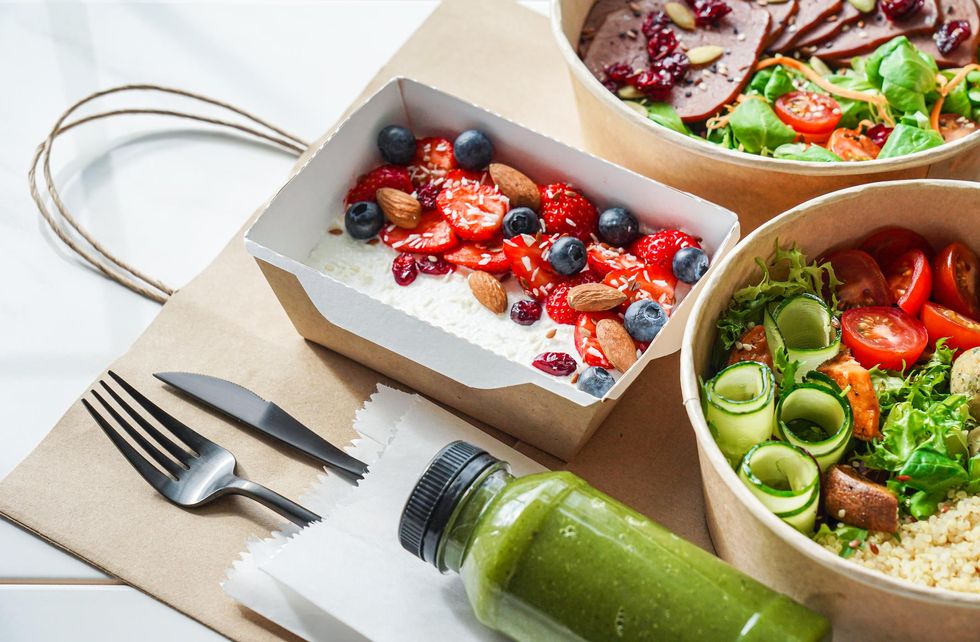 OK. I definitely don't want you being in the kitchen all day and night. Matter of fact, please keep in mind that all that I've said so far, you can "remix it" however you wish.
Yet if you do decide to follow through with everything, my two cents would be to order the main meal. Heck, why not? There have been appetizers, fondue, strawberries and a one-of-a-kind drink — so, order a pizza, some Chinese or even favorite dishes from two different restaurants and have it delivered. It's not uncommon at all for folks to pick up traditional picnic foods from places like a local deli because, when it comes to a picnic, it's more about the atmosphere and presentation than anything else.
Remember that.
15. Pull Out Some Throw Pillows/Blankets. Then Nap Together.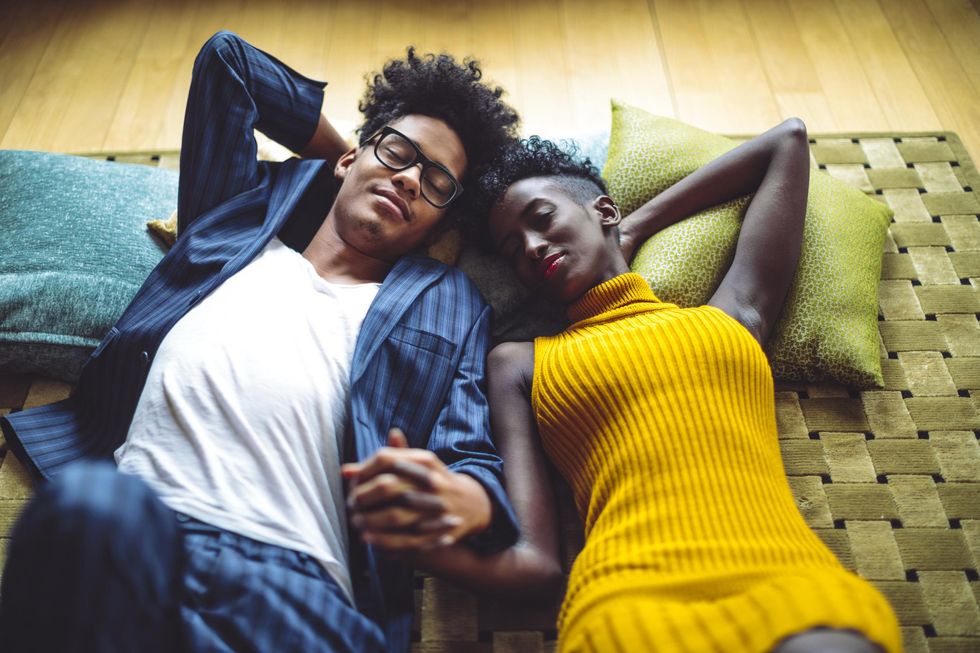 Whether I'm having a picnic outdoors or inside, there is something about a full stomach and the right blanket that makes me feel cozy enough to want to go to sleep. You're indoors. You're with your boo thang. Why not put your head on some of those pillows, get up underneath a blanket and cuddle until you fall asleep? I can't think of a more wonderful way to end a romantic picnic — and possibly gear up for something else…once the two of you wake up (if you know what I mean). #wink
Join our xoTribe, an exclusive community dedicated to YOU and your stories and all things xoNecole. Be a part of a growing community of women from all over the world who come together to uplift, inspire, and inform each other on all things related to the glow up.
Featured image by Getty Images
Keep reading...
Show less
Kinky sex is more common than many of us realize. The only difference lies in what's normalized versus what has yet to become normalized. But when you think about it, many of us vanilla-ish folks get our rocks off on things like being spanked and/or straight up slapped, choked, and more recently having shared bodily fluids such as spit. And this doesn't begin to touch on the other, more miscellaneous spaces of kinky sex.
The irony that of the term "vanilla," which I've noticed myself and expert Monica Brown calls out is this:
"The concept of vanilla sex seems to have a connotation of boring (untrue) and can often mean different things depending on who you're talking to. Here you are thinking that you're going to introduce someone to something freaky yet you're the one now strapped in a door harness in a state of delightful shock."
Vanilla has a spectrum and it can get dark if you prefer it that way -- as far as ice cream references go, we can add and remove toppings as we crave them. But, of course, the most important thing is communicating these desires for kinky sex to your partner(s).
Featured image by Getty Images
Keep reading...
Show less
Most experts would agree that it's best to maintain a safe distance from an ex following a breakup. But with social media being the clickbait that it is, keeping many of us tethered to our devices at any given minute, it's that much harder to resist the temptation to engage in risky business after a breakup (i.e. lurking onto our ex's social profiles). Aside from the infringement of privacy into our ex's day-to-day activities, staying digitally connected can stunt our own process of healing.
As a Relationship Ex-pert, I've helped countless men and women steer clear of romantic ruin after a relationship. Here's my list of social media mishaps to avoid post-breakup.
1. AVOID Doing The Most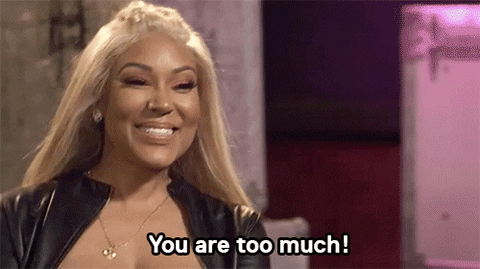 doing the most love and hip hop GIF by VH1
Giphy
It may take some time to get back to your normal self after a split, and in an attempt to prove that you're OK, you might head to social media to show that you're all smiles. This behavior has the potential to backfire and it can actually do more harm than good. Avoid looking overzealous, eager, or like you're trying too hard to seem happy. Now, if you've always been a social butterfly, then it's OK to proceed as usual, but if you're typically a private person, then it wouldn't make sense to all of a sudden start broadcasting your life, now would it? Keep it cute---and normal. If you start going live or posting every other hour, then you're oversharing and it might come off as desperate.
Breakup tip: Remember that the same way your own posts might make you and your life appear better than you may feel, the same could be true for your ex. Much of what you see in their online photos may simply be their own social media front. Keeping this in mind can help offset feeling upset that they seem so happy without you.
2. AVOID The Revenge Post
Imagine you're having one of those really good days post-breakup: You know, when your hair is flourishing and your skin is glowing and you feel so good that you decide to check your ex's Insta. It's been two whole weeks since the two of you have talked and you're completely healed, right? Upon scrolling through their feed, you find out your ex posted someone new just days after your breakup, which causes you to have a knee-jerk reaction of wanting to post something that you'll probably regret. Remember, while your goal may be for one particular person to see it, once you post, it's out there for the entire world to have an opinion on. Keep in mind that when you post publicly, you open yourself up to opinions from other people in the comment section unless, of course, you turn off the comments.
Breakup tip: Never post to social media out of anger or to get revenge on someone. Instead, live vicariously through one of your favorite outspoken IG profiles like this one.
3. AVOID The Thirst (Trap). It's Real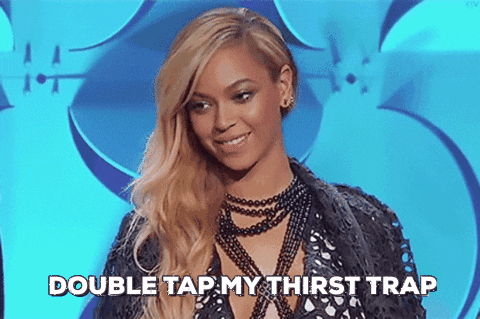 thirst trap GIF by Jasmyn Lawson, Editor
Giphy
First of all, let me state the obvious: Instagram is one big-ass thirst trap, in and of itself. All I'm saying is, try to avoid falling into the "hot girl" cliche of posting semi-nudes and OnlyFans content for attention unless of course, you've always been into that sort of thing. Otherwise, don't get out of your character, no matter how attention-starved you feel. Besides, is it really worth having the usual creep squad in your DMs afterward?
Breakup tip: Determine why you're choosing to put yourself out there in this way before posting. Understanding the reasons might help you decide if you want to follow through with it.
4. AVOID Giving TMI (Too Much Info)
It's one thing to post a daily status of what you're up to, but it's quite another to give the world a play-by-play of your life, literally letting people know your every move. In case you're not familiar with social media data policies, these platforms obtain certain information like your location and active status so others can see when and where you're logged on or when you were last active, so if you happen to be creeping on demon time, then they may be able to see that.
Breakup tip: Update your privacy settings so your location and active status don't show.
5. AVOID Subliminal (Breakup) Messages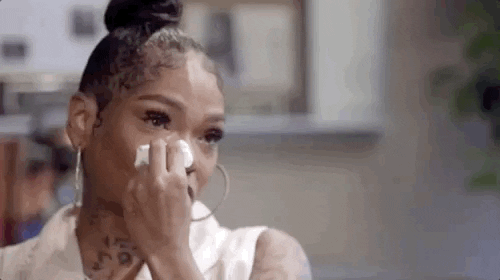 Sad Love & Hip Hop GIF by VH1
Giphy
This goes for posting them and checking to see if your ex is posting them. I have to be honest, sub posts are the worst because they're so obviously intended for an ex. Unless you're someone who regularly posts about relationships, it's painfully obvious to the general public when you're posting because you're in your feelings.
Breakup tip: If it's something you just really need to get out of your system, but you fear that you may regret it later, might I suggest posting it to your least favorite social platform. For example, I have no idea how to work my Twitter feed so I reserve this medium for venting and an occasional rant with four-letter expletives.
6. AVOID Viewing Old Pics
Most people will remove all traces of an ex from their accounts immediately after a split. For some people, this will be changing a profile picture or their name. If your relationship took the step of being FBO (Facebook Official), then it's bad enough that you have people in your business speculating on your relationship status. And God forbid FB sends you a memory from one of your date nights with your ex-bae. Things like this won't help you in your efforts to let go of the past, so if there is a digital footprint from your time as a duo, it's time to retrace your steps.
Breakup tip: Get ahead of those FB memories popping up on your timeline by changing your settings so you're not caught off-guard. See Facebook's section on how to turn off notifications for Memories here.
7. AVOID All Social Media For A While.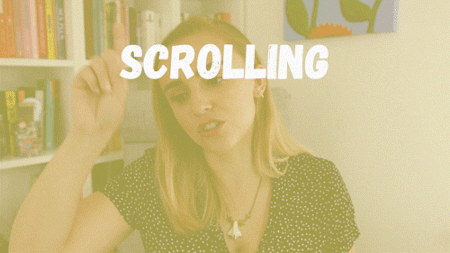 Scrolling Social Media GIF by HannahWitton
Giphy
Why? Because it's a constant reminder of your ex and it can make it feel impossible to get over them. You'll read way more into anything they post, trying to get clues or put together pieces of a puzzle that might not exist. There are too many triggers which means scrolling through a feed can stir up old feelings. And unless you have some hella restraint (i.e. emotional discipline), you won't be able to refrain from venting about you know who. Immediately after a breakup, it can feel like there's no escape. And research has shown that engaging in such behavior can contribute to greater distress over the breakup, negative feelings, sexual desire, longing for the ex-partner, and lower personal growth.
Breakup tip: If you have the guts to go cold turkey with a social detox, then go for the gusto, otherwise, start small. Commit to uninstalling the app for 24 hours, reminding yourself that it's only temporary. Who knows? If all goes well, then you may decide that you can do without it even longer.
8. AVOID Mutual Friends, Too
While unfortunate, it's likely that at some point you'll fall down the rabbit hole of lurking, stalking, and creeping on your ex's page or anyone close to them, which ultimately turns out to be a self-torture chamber. If you don't go through your ex's page, then you may find the new love interest (which is even worse) and start sizing them up and screenshotting for your girlfriends. This is why I suggest not only muting your ex but any of your friends you two had in common so you're not as tempted to spy.
Breakup tip: Block, delete, repeat. Even if you unfriend your former flame, you may still receive notifications from friends in common that give you insights into your ex's post-relationship routine, so it's best to take a break from their family members and mutual friends, too. If you're not ready to commit to blocking them entirely, then Facebook offers the Snooze feature which allows you to take a break for 30 days, 60 days, or until you turn off the option.
How we choose to handle the transition of a relationship goes a long way toward shaping our potential for success in future relationships. Instead of comparing your singlehood journey to your ex's, focus on becoming the best you can be for yourself and your future partner.
A final breakup tip: Be genuine. There's absolutely nothing wrong with getting some good news and wanting to share your excitement on the 'Gram but always be clear of your own intentions. If you are truly happy, it's important to be present and embrace the moment. And yes, it's a natural reaction to want to share your moments of happiness with others, but it's even more important to be content within yourself, preferably off of social media and in real life.
Featured image by Getty Images
Keep reading...
Show less
Her IG is now filled with girls' trips, coordinated 'fits, self-care shots, and sis switched up the 'do, which got us out here hollering 'new hair, who dis?!'
Well, now our girl LeToya is ready to open up, as she took to her Instagram to confirm her divorce and offer up the biggest lessons she's learned in the process.
While on vacation in Cabo, the "Torn" singer took a moment to address and clear up what's been going on in her life. She went on IG Live, and opened up about it all.
"You know, I think that as long as people keep the kids first, and what's in the best interest of the children, that's what's most important. When you consider them first. Sometimes--most of the times--it's not about us. It's not about the parents, [or] things that went wrong."
She continued as she dropped a few gems, all while reiterating there's no chance in a reconciliation.
"My therapist told me, what's important when you're in the co-parenting space is to try not to fix what went wrong in the marriage in the co-parenting space. Don't try and fix your problems from the past in your new chapter. Don't bring it with you although, the same people are gonna be there and you guys are in a new relationship, if you will."
LeToya and ex-husband Tommicus, are coming off of a trip, where they took all of their children, including Tommicus' daughter Madison, to Disneyland. The trip was steeped in co-parenting goals as they walked the park and enjoyed their kids in videos posted to their social media accounts.
"If you're in the co-parenting space, focus on co-parenting, focus on what's best for the kids, not trying to fix or save--but if you want to save or reconcile, baby hey, have at it, I'm all here for the love! Yes, I am. But, if that's not your focus and those aren't your intentions, then yes, I would definitely suggest not trying to fix what happened in the past, in your co-parenting space. It's not gone help. It's gone cause problems."
And according to the newly single mom, the only way to make sure lines aren't blurred, is to set crystal-clear boundaries.
Back in March, Tommicus very publicly went on a campaign to get his wife to come home by writing on social media, "I need my wife back," to which LeToya seemingly responded with a meme'd statement of her own shortly after: "Make room for the right people to enter your life by clearing out those who don't belong. Be firm about what you deserve."
Since, she has moved on, secretly divorced, figured out a new normal in this very relationship, and chose herself. A reconciliation may not be in the cards for the two, and that's a boundary that LeToya has always made known. Cheers to the maturity and the work put in by both, to ensure the kids are priority above all.
Are you a member of our insiders squad? Join us in the xoTribe Members Community today!

Featured image by Aaron J. Thornton/WireImage
Keep reading...
Show less