When it comes to growing and strengthening natural hair, a dynamic duo of products and a healthy routine are necessary. It's unrealistic to think you can do one without the other and expect strong, healthy, and vivacious curls and coils. If you're wondering why your hair is damaged or in a stagnant phase, you may need to take a look at your routine and make sure your hair is getting the care it truly needs.
There is no quick fix to rapid growth but if you schedule your trims, keep your hair hydrated, and use products with ingredients that stimulate growth — it'll get you on the right track. This is why I want to introduce you to VIP Luxury Hair Care.
VIP Luxury Hair Care was created by Ashanti Lation to help with the growth, health, and overall maintenance of all hair whether you're relaxed or natural. The brand offers three different lines to cater to your needs — the GREAUX Collection, SILK SHOT Collection, and the DAY PARTY Collection. I had the opportunity to try their most popular collection, the GREAUX Collection, which offers six growth stimulating products.
Here is what I thought of each product and how my wash day went using the collection.
Featured image by Krissy Lewis/xoNecole
Keep reading...
Show less
Cantu has literally had its foot on our necks with their newest releases and it seems like they're moving in an even more natural direction when it comes to ingredients. Although Cantu products have always been free of parabens, phthalates, and sulfates, they're now incorporating more natural ingredients with their Skin Therapy collection. When Cantu initially released their Skin Therapy collection, it consisted of body lotion and creams, now they've added a Raw Blend line of products for people with extremely dry skin.
Cantu Skin Therapy Softening Hemp Seed Oil Raw Blend & Cantu Skin Therapy Hydrating Cocoa Butter Raw Blend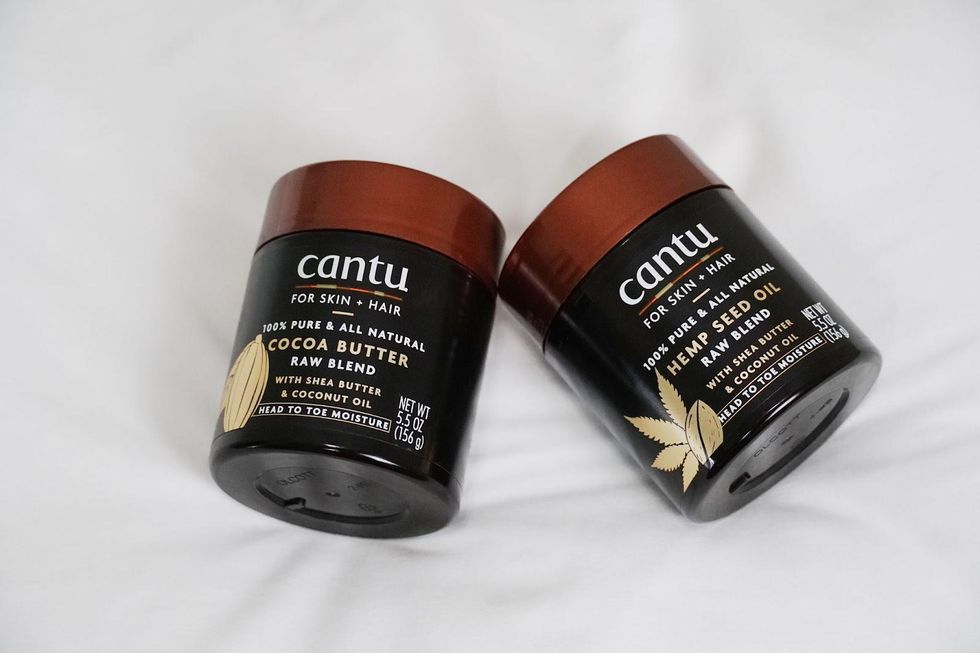 Krissy Lewis/xoNecole
The collection aims to deliver head to toe moisture with just three simple and natural ingredients. Each moisturizer is made with coconut oil and shea butter, but you also have a choice when it comes to your active ingredient of choice including Hemp Seed Oil, Cocoa Butter, Tea Tree Oil, and Mango Butter. This is honestly right up my alley because my skin tends to get drier the more I travel and I get eczema flare-ups if my skin isn't moisturized properly.
So I decided to try the Cantu Skin Therapy Softening Hemp Seed Oil Raw Blend and Cantu Skin Therapy Hydrating Cocoa Butter Raw Blend on my skin (and hair) and this is what I thought…
The Smell
I love that what you see is what you get as far as ingredients goes, each formula has only three ingredients, which also means no added fragrances. The Cantu Skin Therapy collection doesn't really have a smell, in fact you may only notice a faint scent of the raw shea butter or oils, but nothing else. So, if you don't mind the smell of shea butter and natural oils, then this is right up your alley.
If you're also someone who struggles with sensitive or acne-prone skin, then a fragrance-free and natural moisturizer would be the most ideal option to minimize breakouts. In fact, clean beauty can be more effective when treating skin concerns like dryness, acne, psoriasis, eczema, and general skin irritation.
The Feel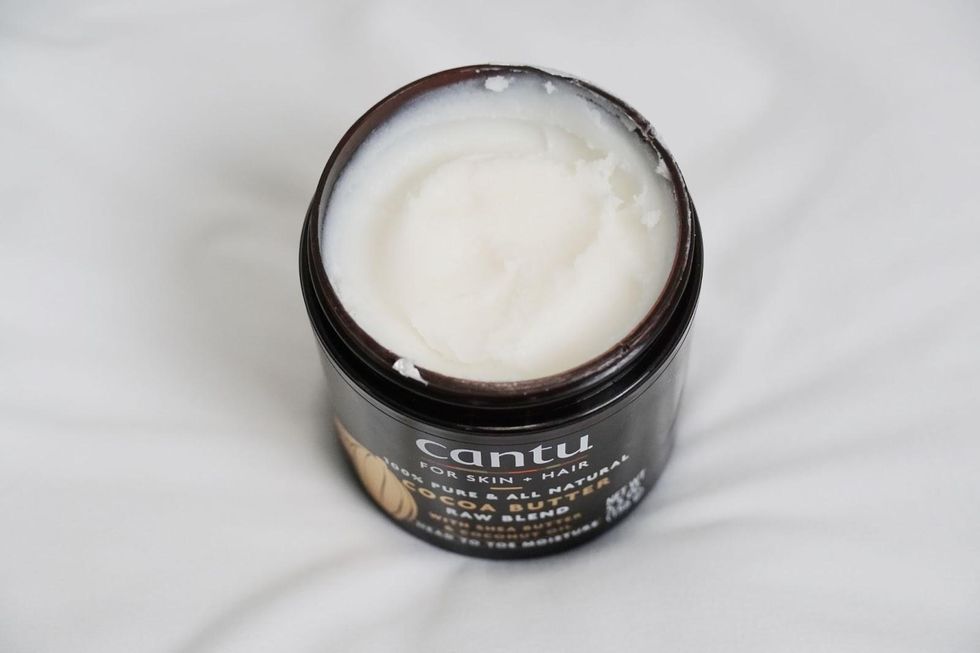 Krissy Lewis/xoNecole
Before actually trying the Cantu Skin Therapy Hydrating Cocoa Butter with Shea Butter & Coconut Raw Blend, I thought it was going to feel like raw shea butter. If you've used it before, then you know that it's very thick and can sometimes take a lot of muscle to rub into your skin. I'm happy that this moisturizer is not as difficult to massage into your skin or hair. It's more of a rich balm texture and it does have some weight to it. It looks pretty thick in the jar but once you apply it to your skin, it literally melts, leaving your skin or hair soft and smooth.
The Finish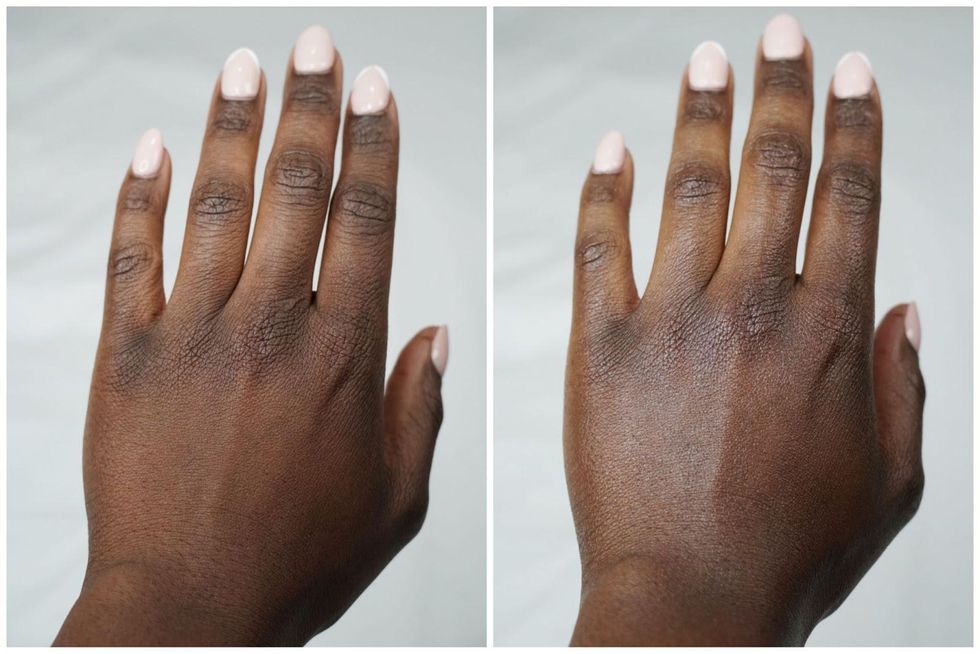 Krissy Lewis/xoNecole
I love the finish of both the Cantu Skin Therapy Hemp Seed Oil Raw Blend and the Cantu Skin Therapy Cocoa Butter Raw Blend, it gives your skin a very dewy and radiant glow that lasts for hours! The moisture is long-lasting and you won't need to reapply throughout the day. However, you should know that it is a bit greasy so avoid using too much.
When I applied it for the first time, I used way too much for my hands and needless to say it left greasy fingerprints around my apartment. You can literally see everything I touched. To remedy this, I just wiped my hands with a cloth and even though I removed the extra grease, my skin still felt moisturized. When it came to hair, I applied a dime-sized amount or even less, a little goes a long way.
My Final Thoughts
You don't need to buy every type of Raw Blend moisturizer. As I mentioned earlier they offer a range that includes Hemp Seed Oil, Cocoa Butter, Tea Tree Oil, and Mango Butter and to be honest, if you tried one, then you have tried them all. I also feel like this is more practical and efficient as a skincare product and not a haircare product. I say this because thicker moisturizers like shea and cocoa butter should be used as sealants and not moisturizers. It also does the same thing an oil does, seal in moisture and add shine.
In my opinion, oil is an easier and efficient sealant when it comes to any density of hair. Because this is a thicker sealant, it can clog the pores in your scalp and prevent moisture from getting in. So if you do choose to use it on your hair, use a little to trap moisture in, instead of using it as a moisturizer.
Lastly, I think this is a good product especially for the price point ($5.99). I would personally use this as a sealant for my skin as well to ensure all-day moisture. I wouldn't use it as a standalone product. It's a great sealant and will easily give your skin that natural summer glow.
I would also just use this on my body, but it is a natural product so you can wear it anywhere you choose.
Featured image by LaylaBird/Getty Images
I can honestly say that I haven't used Cantu since I went natural back in 2016. It's not that I don't like the brand — let's be honest, Cantu is the holy grail brand that a lot of us probably started our natural hair journey with. It was and still is affordable, accessible, and effective haircare. I somewhat strayed away though because it's very easy to get caught up in trying different brands that some products honestly just get lost in the sea of haircare. Nevertheless, Cantu has dropped a few collections that I couldn't help but try. One of their most recent drops is the Jamaican Black Castor Oil line which works for all hair types but is made with 4C hair in mind.
What really piqued my interest in this drop is that Cantu partnered with Emmy award-winning hairstylist and entrepreneur, Angela Stevens. Angela has worked in the hair industry for over 16 years with a focus on healthy versatile haircare, hair education, and celebrity styling. She has worked with a variety of talents like Rita Ora, Elaine Welteroth, and brands like Mielle Organics, Girl + Hair, and now Cantu.
I always appreciate when brands consult or partner with hairstylists because it provides an extra layer of trust to me. It shows that the line was put together with haircare in mind and is working to solve haircare problems that many of us face at home.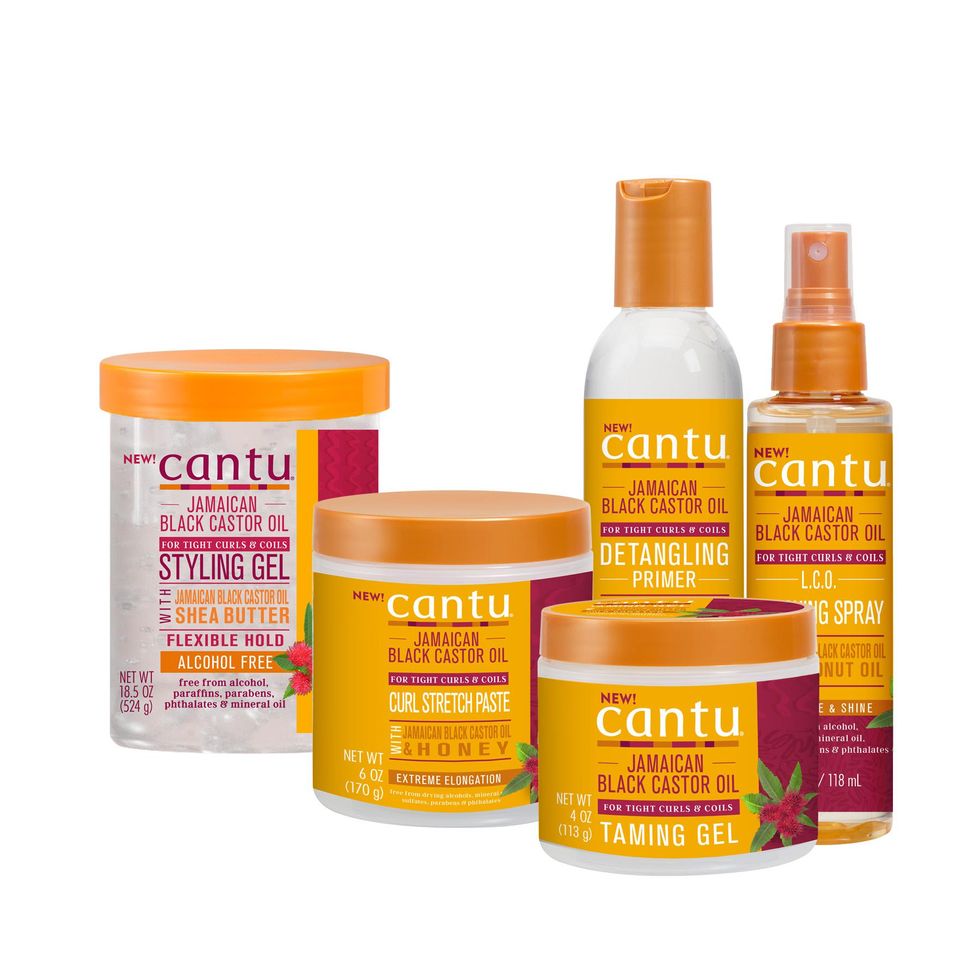 Cantu
About The Jamaican Black Castor Oil 
As I mentioned earlier, the JBCO collection is made with 4C Kings and Queens in mind. While I don't have 4C hair, I think this collection also works if you have very dense and dry hair. The line features five styling products: a detangling primer, a curl stretch paste, a taming gel, a styling gel, and finishing spray. Each product is made with Jamaican Black Castor Oil, so it has a heavier consistency than most to provide hydration and moisture retention.
Cantu Jamaican Black Castor Oil Detangling Primer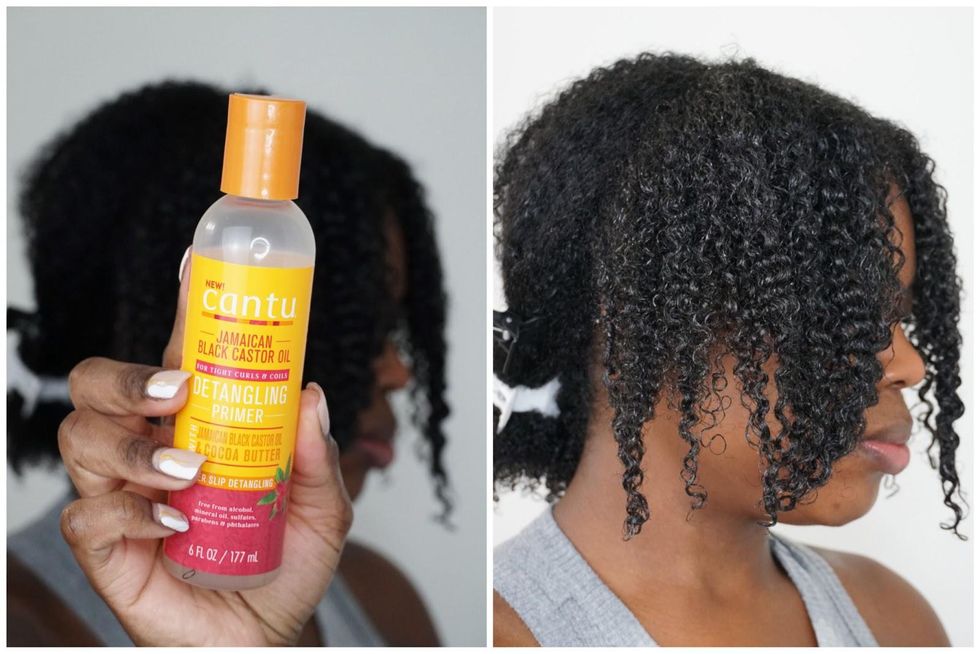 Krissy Lewis/xoNecole
The primer is the first step of styling, it acts as a leave-in conditioner to help detangle, soften, and smooth your hair before you start your twist/braid-out or wash n' go style. I personally prefer lighter consistency leave-in conditioners because my hair absorbs it better. This was just as easy to detangle my hair because it has a heavy slip that helps your fingers easily glide down your strands.
You can feel a difference in your hair as soon as you apply it and I noticed that I didn't have to use as much as I usually do. I'm pretty generous with leave-in primers and conditioners but I didn't have to apply too much of this. It provides enough slip and moisture that a little goes a long way with this product.
If you try it, I recommend paying attention to your hair and how it feels. You'll know when you've used enough and it's important to keep in mind that the products are heavy and this is just the first layer so you don't want to use too much.
JBCO Curl Stretch Paste
This product is mainly for styling braid-outs, twist-outs, and rod sets. It's a pomade-like paste that elongates, stretches, and defines your hair. When I used this to style my twist-out, the paste felt really sticky. I wasn't a fan of how it felt on my hands but I loved how it felt on my hair. When I applied it, it moisturized, defined, and added hold to my curls.
In my opinion, the curl paste is moisturizing enough that depending on your hair needs and density, you can probably skip the primer or leave-in. This would be a great one product styler if you wanted to use less products. This is a one and done product for me, meaning, it does everything you need it to.
Cantu Jamaican Black Castor Oil Taming Gel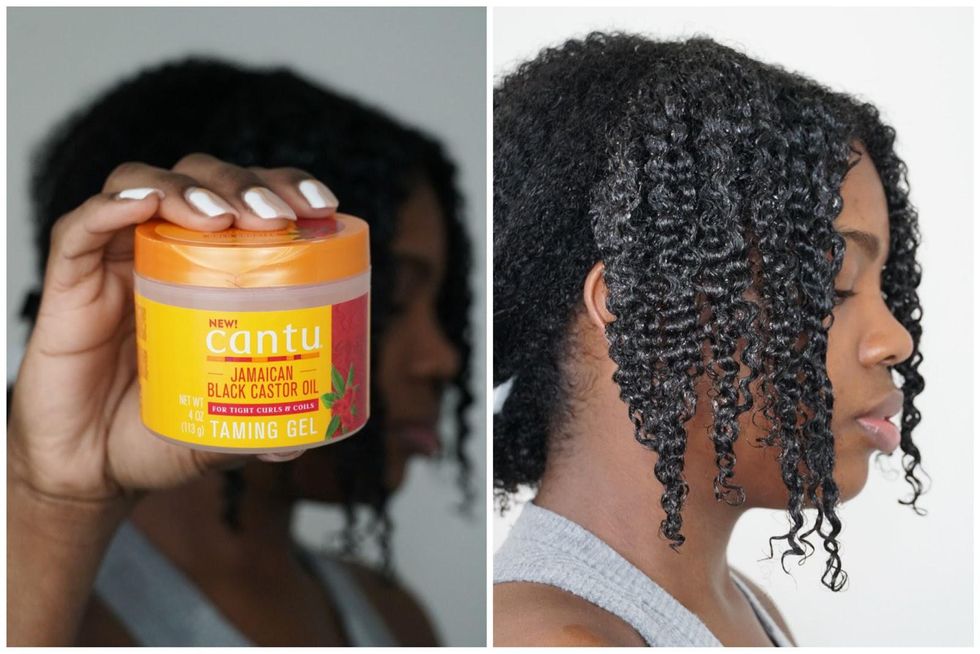 Krissy Lewis/xoNecole
This is another product that felt sticky on my hands but amazing on my hair, but that's common with most gels. I think the JBCO is perfect for laying edges, slicked-back styles, flat twists, and especially wash n' go's. I used this mostly for styling my wash n' go styles because it adds moisture, a long-lasting hold, and tames frizz and flyaways. My wash n' go lasted five days before I had to refresh it which is surprising because traveling dries my hair out quicker than usual, plus wash n' go's are already a drying style so I was impressed by the longevity I had with this product.
One thing to keep in mind is, you don't need a lot. When I first tried it, I wasn't sure how much hold I was going to get so I packed it on and I noticed I had a lot of flakes and it stuck to my clothes and everything. I recommend applying it in small sections on detangled hair so you can see how much you really need and make sure that your strands are completely coated with the gel. If I would have started in smaller sections, I would have made sure that my hair was properly coated and I wouldn't have to go back and add more.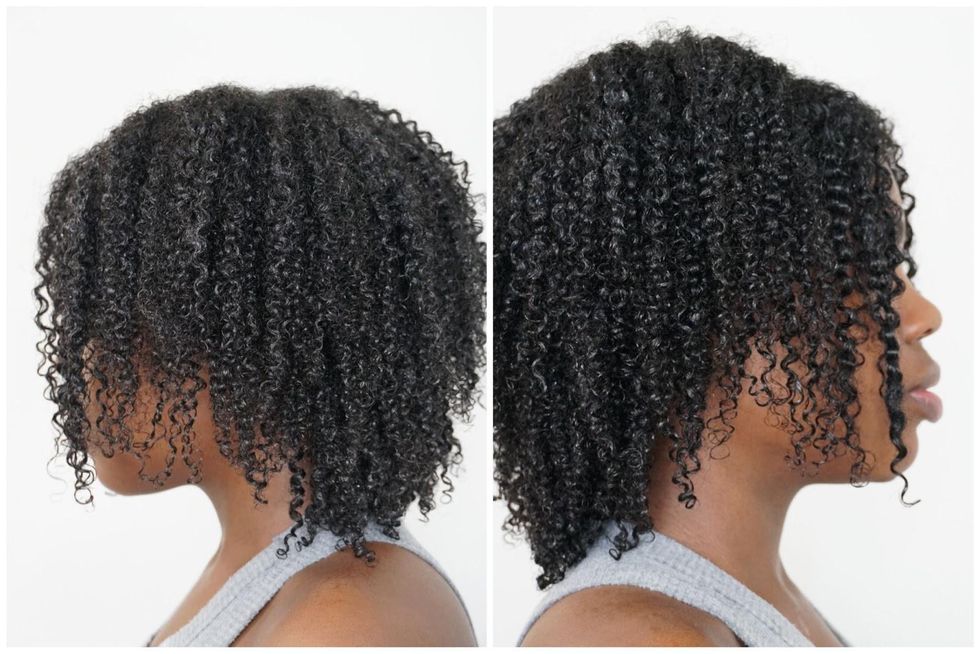 Krissy Lewis/xoNecole
Cantu Jamaican Black Castor Oil Finishing Spray
This finishing spray does exactly what it claims, it basically just adds the finishing touches to your styles. I used it on both my twist-out and wash n' go once my hair was completely dry to help seal in moisture and add shine. I would recommend using this after your hair is dry regardless of the style because I really believed it helped make both my styles last as long as it did.
I actually really appreciate the oil being in a spray bottle because it helped me use the right amount of oil. Again...she's thick! I didn't use more than three sprays for my hair, but I think that varies depending on your hair needs.
My Overall Review of Cantu's JBCO Collection
Overall, I loved the collection and I would actually recommend getting all four products. I do think that this collection caters to curls and coils that struggle with getting moisture in and are more dense. I would not recommend it for those who have extremely thin or less dense hair because the line might be too heavy for your hair. The thing about castor oil is that it can be good and bad if not used correctly. What I mean is, it can clog your hair follicles if you use too much and because it's heavy and thick, it doesn't take much to do that. This line is also made with other heavy ingredients like shea and cocoa butter. So, if your hair is thicker it can take the heaviness, you just have to use the right amount.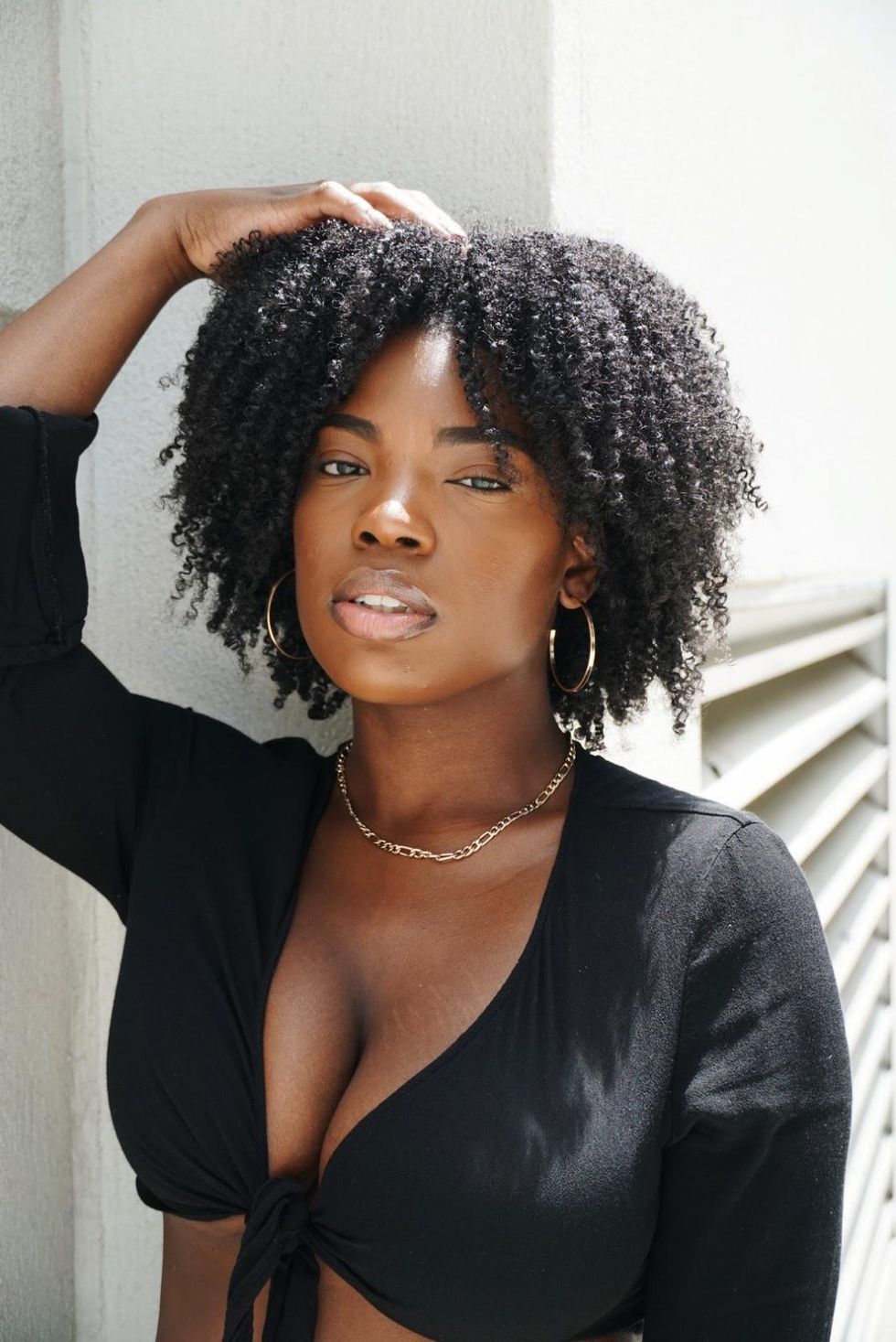 Courtesy of Krissy Lewis
I think the line offers a variety for each styling need. I don't think you need to use every product in one styling session and I wouldn't recommend it if you have my hair type (4A/4B) because it would be way too much. I can't speak too much for what would be enough for 4C hair, but I recommend just trying it out until you find out what combo works best for you. However, based on my experience with the product and Angela Stevens' recommendations, here's a product combo for different natural hair styles:
JBCO Detangling Primer and Taming Gel: wash n' go's, edges, slicked-back styles, flat twists, and up-dos. Add finishing oil to seal.
JBCO Curl Stretch Paste and Finishing Oil: twist-out, braid-out, and rod sets.
You are not limited to this though, natural hair is not a one routine fits all so you have to find out what works best for you.
Featured image by Krissy Lewis/xoNecole

Keep reading...
Show less
The beauty industry is an ever-growing industry. There are constant releases in haircare, skincare, and makeup and it can be overwhelming and expensive to keep up with. However, if you're someone who likes to try new things for a portion of the price, then you may want to consider a subscription beauty box. It's a simple way to get everything you need delivered right to your door. And if there's anything that this pandemic taught us, it's how to survive when the world is forced to stay six feet apart. Even though most of the world is going back to "normal," this is another option for those of you who still want to keep it safe.
Let's address the elephant in the room, one of the biggest concerns with beauty boxes is having a box full of products that don't fit our skin or hair type. It is very frustrating to get a box of eight products and you can only use two of them. One key thing to look into when joining a subscription service is, who are these products really for? Is it made with black women in mind? Does it provide useful products for me? Don't worry...I got you, sis.
Let me save you the hassle and tell you why Femailer is the subscription box you never knew you needed.
What's a Femailer?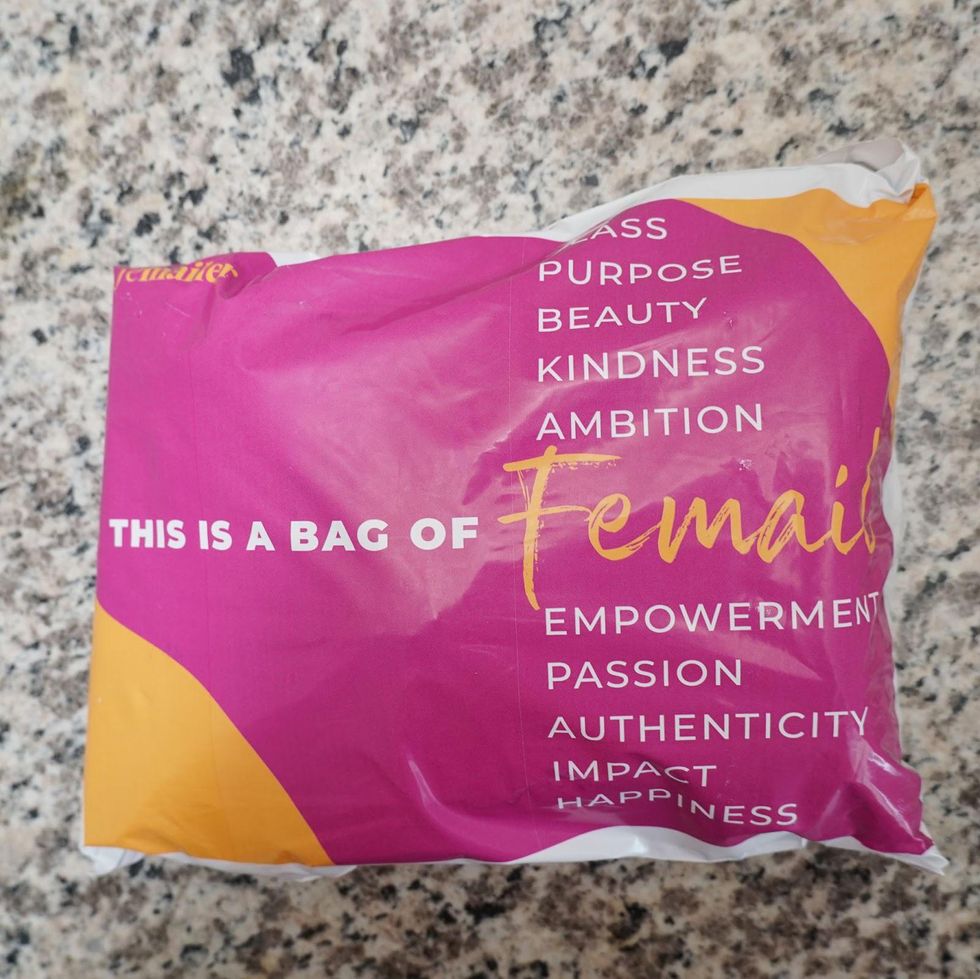 Krissy Lewis/xoNecole
Femailer is a quarterly beauty box that features a range of 5-8 full-sized beauty products for women of color at an affordable price. The value of a typical box is up to $120, but as a member, you get it for more than half the price, $30 to be exact -- every season.
The creator of Femailer, Ashlee Gomez, has combined her 11+ years in the beauty industry as a licensed cosmetologist and beauty marketing professional to deliver a solution that allows women of color to identify and embrace not just their outer, but more importantly their inner beauty.
Each box is curated with three main missions in mind: to satisfy your beauty needs, give you inspiration and resources that'll help you flourish inside and out, and introduce you to quality products by other black-owned brands.
Each quarterly box features premium haircare, skincare, makeup, and lifestyle products from brands like Creme of Nature, Black Radiance, SheDavi, Lottabody, custom Femailer jewelry, and much more.
In my box, I received: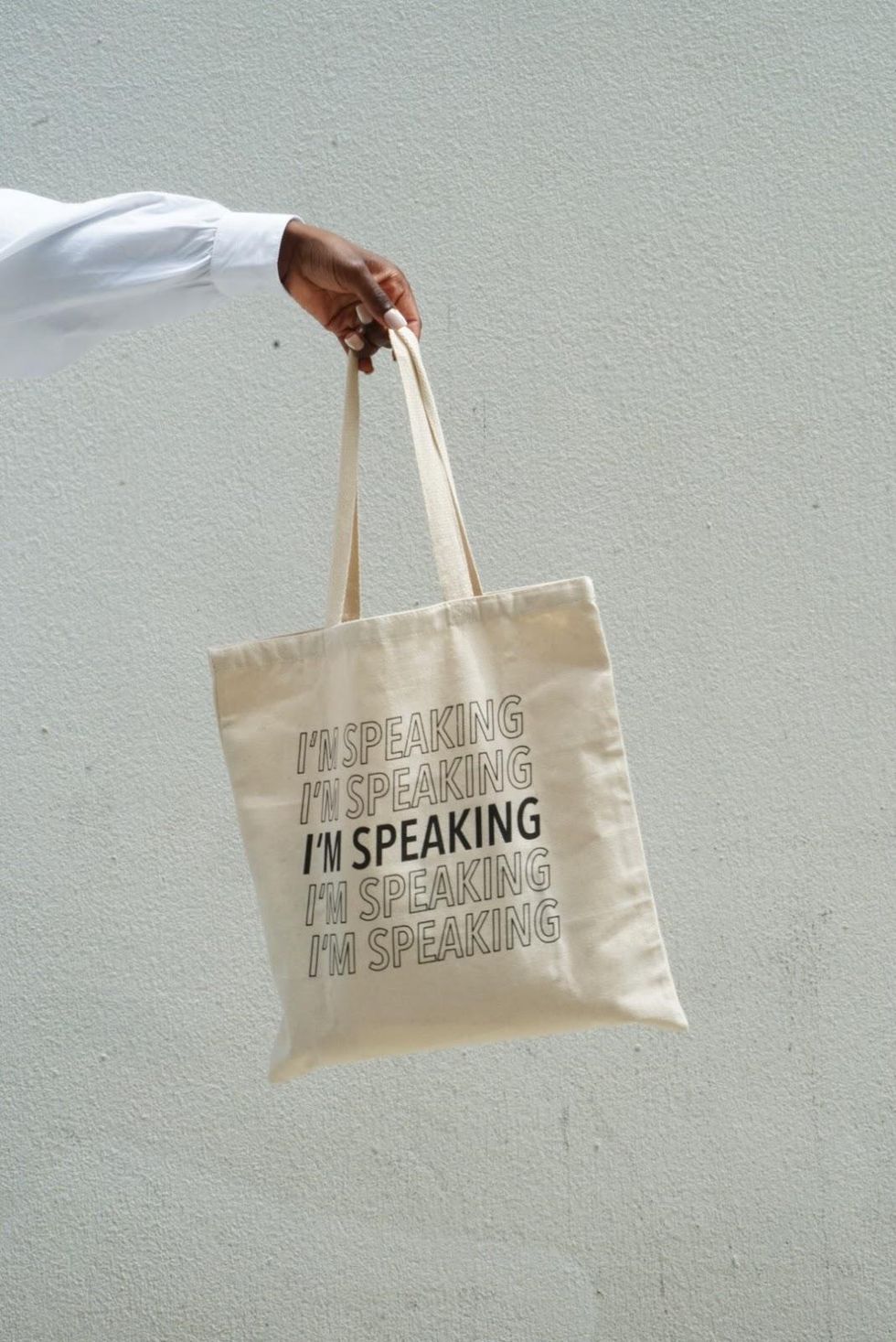 Krissy Lewis/xoNecole
"I'm Speaking" Tote Bag
Lottabody Boost Me Curl Boosting Smoothie
Lottabody Hold Me Maximum Hold Styling Gel
Lottabody Elongate Me Curl Stretcher
Beauty Bakerie | Brownie Bar
AHAVA l Mineral Hand Cream
KISS - Glam Fantasy Nails | Trampoline Set
Along with two bonus items:
Lottabody Satin Scarf
"I'm Making Herstory" Button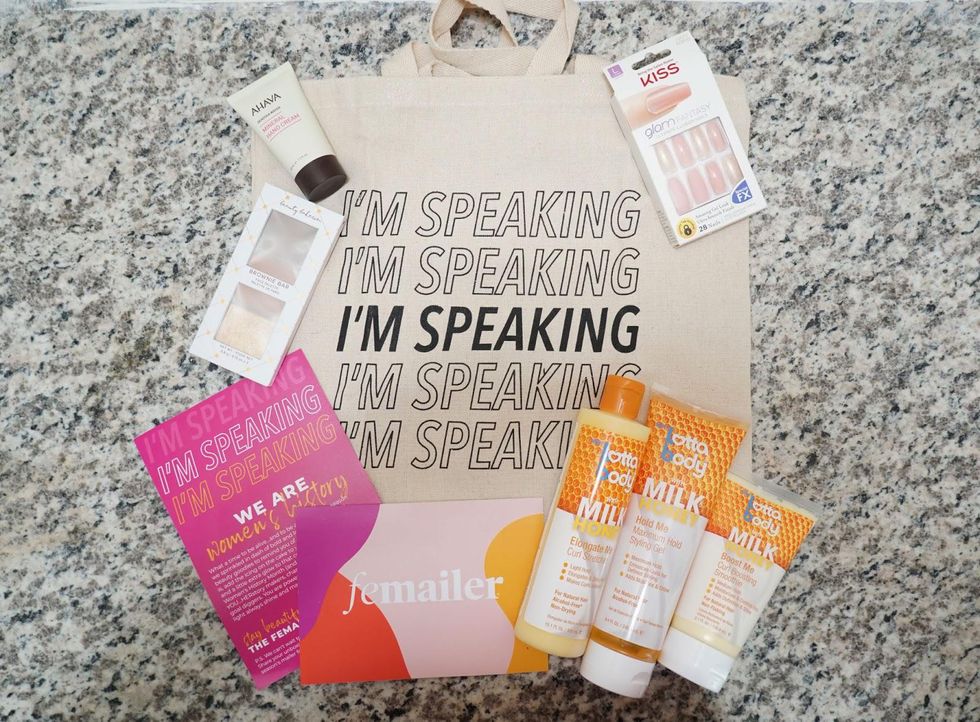 Krissy Lewis/xoNecole
Each product is hand-picked, Ashlee and her team actually use themselves to make sure members are getting quality products that promote healthy hair and beauty practices for each season. It's also worth mentioning that Femailer also provides tips and tricks on how to use each product. So whether you're a beginner or seasoned beauty guru, you get access to tutorials, reviews, and even members-only pop-up shops.
I'm saying...this is a lot for just $30, it's definitely a steal!
My honest review: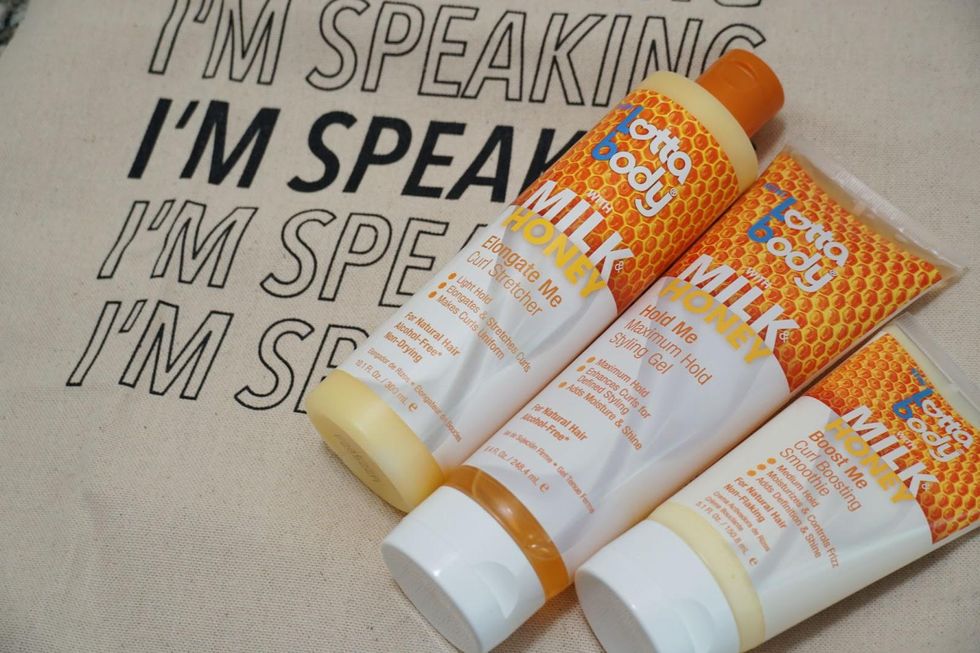 Krissy Lewis/xoNecole
Let's start with the Lottabody products.
The entire Milk & Honey collection is made with milk protein and honey to help restore moisture to your hair. Here's a breakdown of each product I received:
The Lottabody Milk & Honey Boost Me Curl Boosting Smoothie
The Lottabody Boost Me Curl Boosting Smoothie is a curl-enhancing formula that adds definition, shine and a light-to-medium hold to your hair. This product is so good it can stand alone to style and refresh your curls. Because of its versatility, it can be used as a leave-in and styling cream for wash n' go's, twist-out, and braid-out styles.
The Lottabody Milk & Honey Elongate Me Curl Stretcher
The Elongate Me Curl Stretcher is a thick nourishing cream that treats dry, rough strands and helps restore moisture to brittle hair. It can be used as a styler and leave-in. It moisturizes your hair and helps minimize frizz. To be honest, it's a tough claim to elongate curls with just a product because shrinkage is inevitable.
I wouldn't rely heavily on this for fighting shrinkage, but it's good for added moisture and definition. To help fight shrinkage, you can use the raking method and apply the gel after to hold your curls in place.
The Lottabody Milk & Honey Hold Me Maximum Hold Styling Gel
Lastly, is the Hold Me Maximum Hold Styling Gel. The hold with this gel is 10 out of 10. I say that because it has the key things you want in a styling gel: hold, crunchless curls, no flaking, definition, and shine. The Hold Me styling gel also helps prolong the wear of your hairstyle; it kept my curls intact for 4-5 days.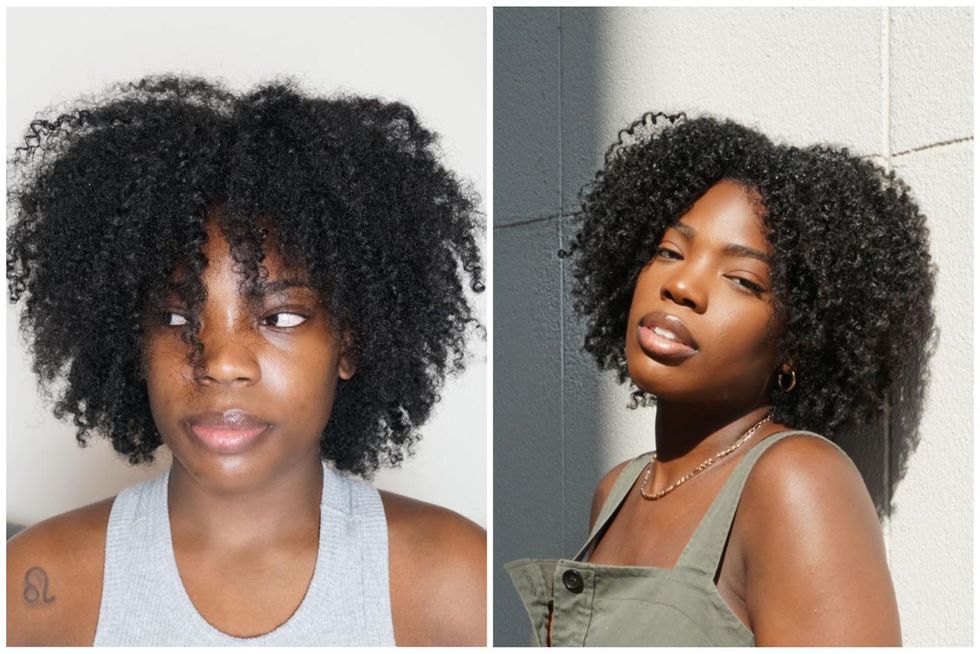 On the right, old twist-out; on the left, old twist-out refreshed and revived with Lottabody.
Krissy Lewis/xoNecole
I used the Boost Me Curl Boosting Smoothie and Hold Me Maximum Hold Styling Gel to refresh my old, dry twist-out and those two products were all I needed. It enhanced my curls and gave my hair more volume and hold. I don't think you need to use both the curl stretcher and the curl boosting smoothie together, one or the other is fine but it depends on what your hair needs.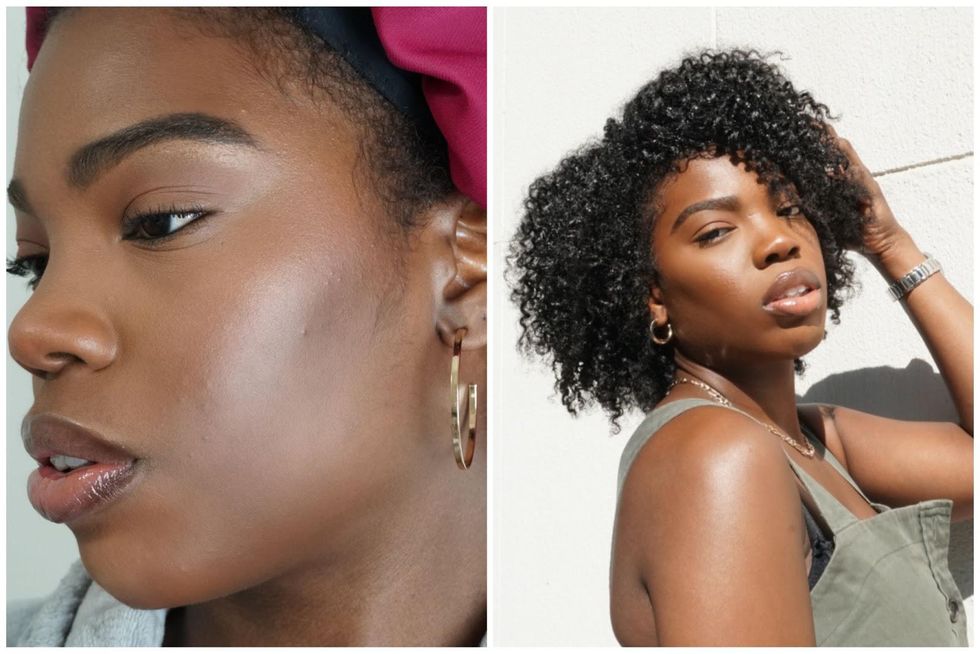 On the left, close-up of pigmented highlighter; on the right, defined cheekbone with Beauty Bakerie.
Krissy Lewis/xoNecole
The next product I used was the Beauty Bakerie Brownie Bar Face Palette. I've been wanting to try Beauty Bakerie for a while, so I'm glad I was able to try it out because I love this palette. The Brownie Bar comes with a powder contour, bronzer, and highlight. The formula is buildable so that you can start light and get the hang of how and where to contour.
I need to warn y'all though, I'm very new to bronzing and contouring but this is very beginner-friendly and gave me the confidence to try it out. It's also very blendable and pigmented, so a little goes a long way especially with the highlighter. On the left is a close-up of how pigmented the highlighter is and I only used a small amount. On the right is how defined my cheekbone is after using the bronzer.
Overall, I definitely think Femailer is worth a try. It features products for women of color with all skin and hair types so you'll never have to wonder if a product will work for you. In my experience, I also think it motivates you to try new products and techniques! Like I mentioned before I've been wanting to try contouring and it's like the universe heard me and brought me this.
I also want to add that the vibe of the bag was very empowering, from the statement tote and pin to the beauty finds, I really enjoyed the experience Femailer provided.

Featured image by Krissy Lewis/xoNecole
Keep reading...
Show less
Clean beauty products have been trending for a minute. Every time I walk into Target or Ulta, I spend hours in all the beauty aisles. Makeup. Skin. Hair. All of it. If the packaging screams "try me", I want to try it. But I never really cared to try any clean beauty brands until recently. I love clean beauty products for skincare, but I have yet to try any for haircare. It's no secret that when it comes to curly hair, finding the right products is a hit or a miss. How many times have you bought a curl product that doesn't agree with your curl type and end up having to return the item? I have been guilty of this so many times. Let me just say, knowing your curl type is the number one curl rule. If you don't know your curl type, take a curl type quiz.

I also love that we have so much variety when it comes to textured hair, but sometimes it can be overwhelming. And for me, I'm always skeptical of trying new shit. I like to stick to what works until the brand decides to switch up the ingredients. I recently came across Function of Beauty's haircare line at Target. For those of you that don't know, Function of Beauty is an international clean beauty brand offered in 45 countries and uses over 60 natural ingredients to create customized formulas for hair, skin, and body goals. Yes y'all, Function of Beauty offers customized skin and body products too. But we will save that review for another day.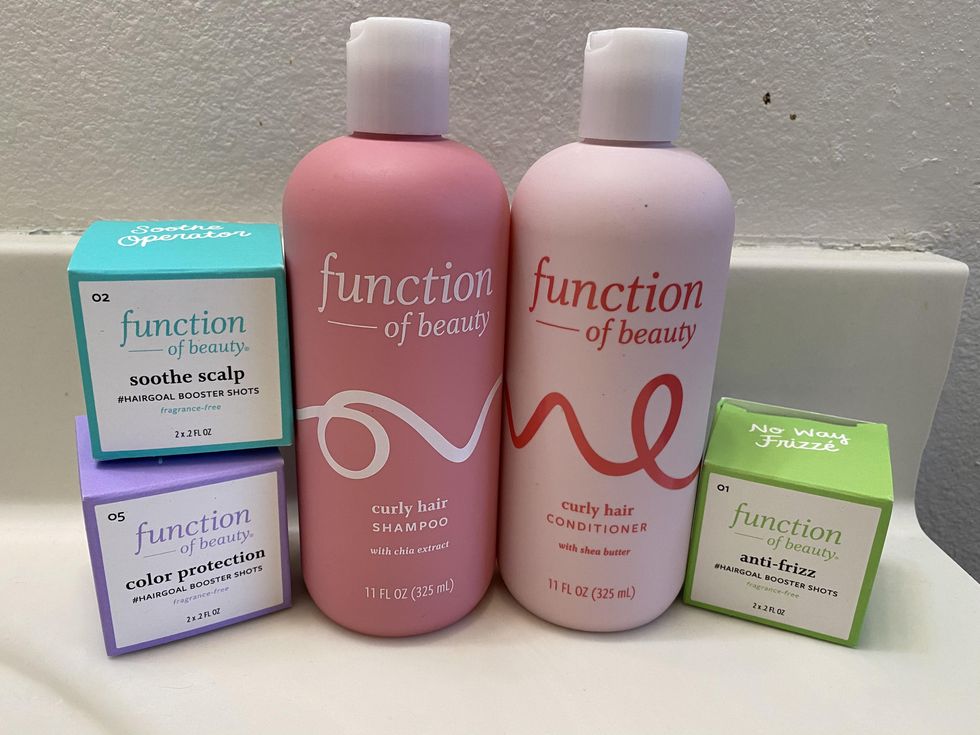 Writer Camille Ali/xoNecole
As I stopped in front of Target's Function of Beauty display, the pink packaging that read "curly" called to me. Not only is the product affordable, but you can also customize each shampoo and conditioner based on your hair goals and needs. Sis was sold. I picked up a bottle of the shampoo and conditioner along with three booster shots. You can choose from 10 different booster shots, but I chose color protection, anti-frizz, and soothe the scalp. The shampoo and conditioner were $10 each. Each booster shot was $2.99. I left Target spending a total of $50 bucks. But I mean, who doesn't leave Target spending more than they had planned to? Guilty.
I Tried Function Of Beauty On 3B Hair, This Is My Review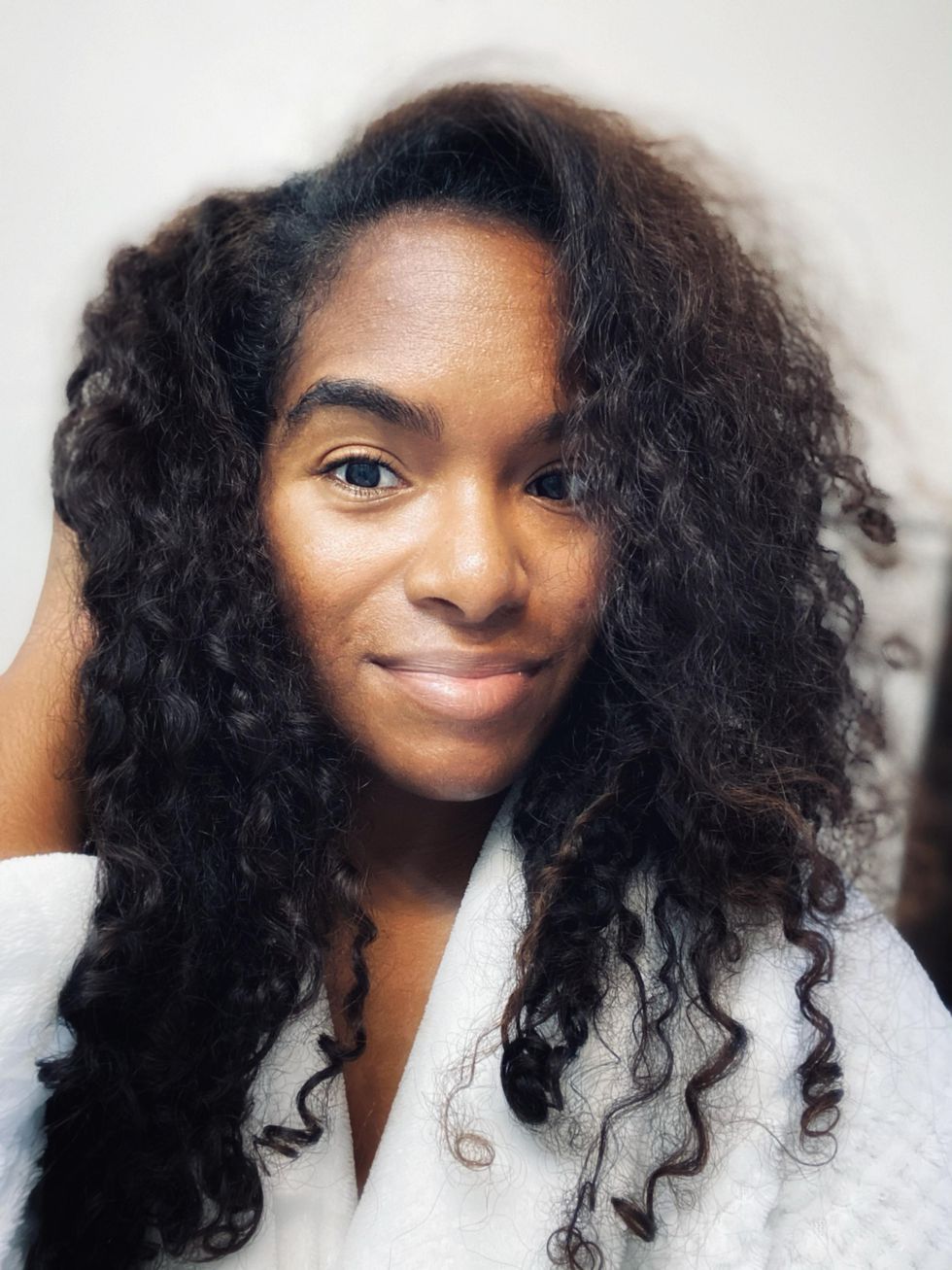 Writer Camille Ali/xoNecole
Here is how my wash day went using my customized Function of Beauty's Curly Shampoo and Conditioner.
The Function of Beauty Curly Hair Shampoo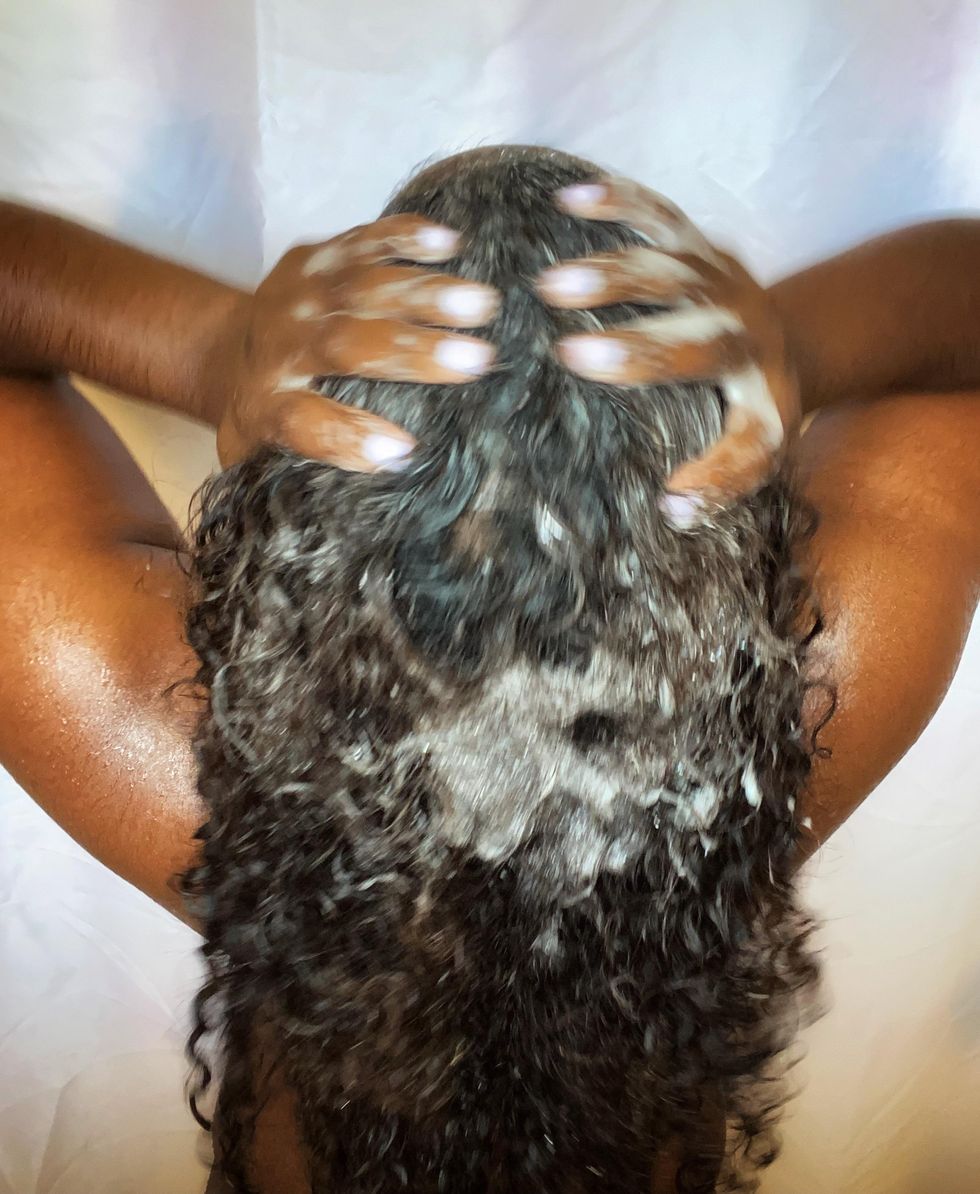 Writer Camille Ali/xoNecole
Most shampoos tend to dry out my hair after one wash, so I was interested to see how my hair would react to this shampoo. I never feel like my scalp or my hair gets clean when using "no-poo" shampoos. I need some soap suds. First of all, the smell is divine. It's a light sweet smell. Actually, it's their signature scent – peach. As I massaged the shampoo into my scalp, my hair felt super soft. The shampoo created a lather that was just right – not too heavy and not too light. I only needed to rinse my hair out once. After rinsing out the product, my scalp and my curls were clean. And nothing makes me feel better than a clean scalp.
The Function of Beauty Curly Hair Conditioner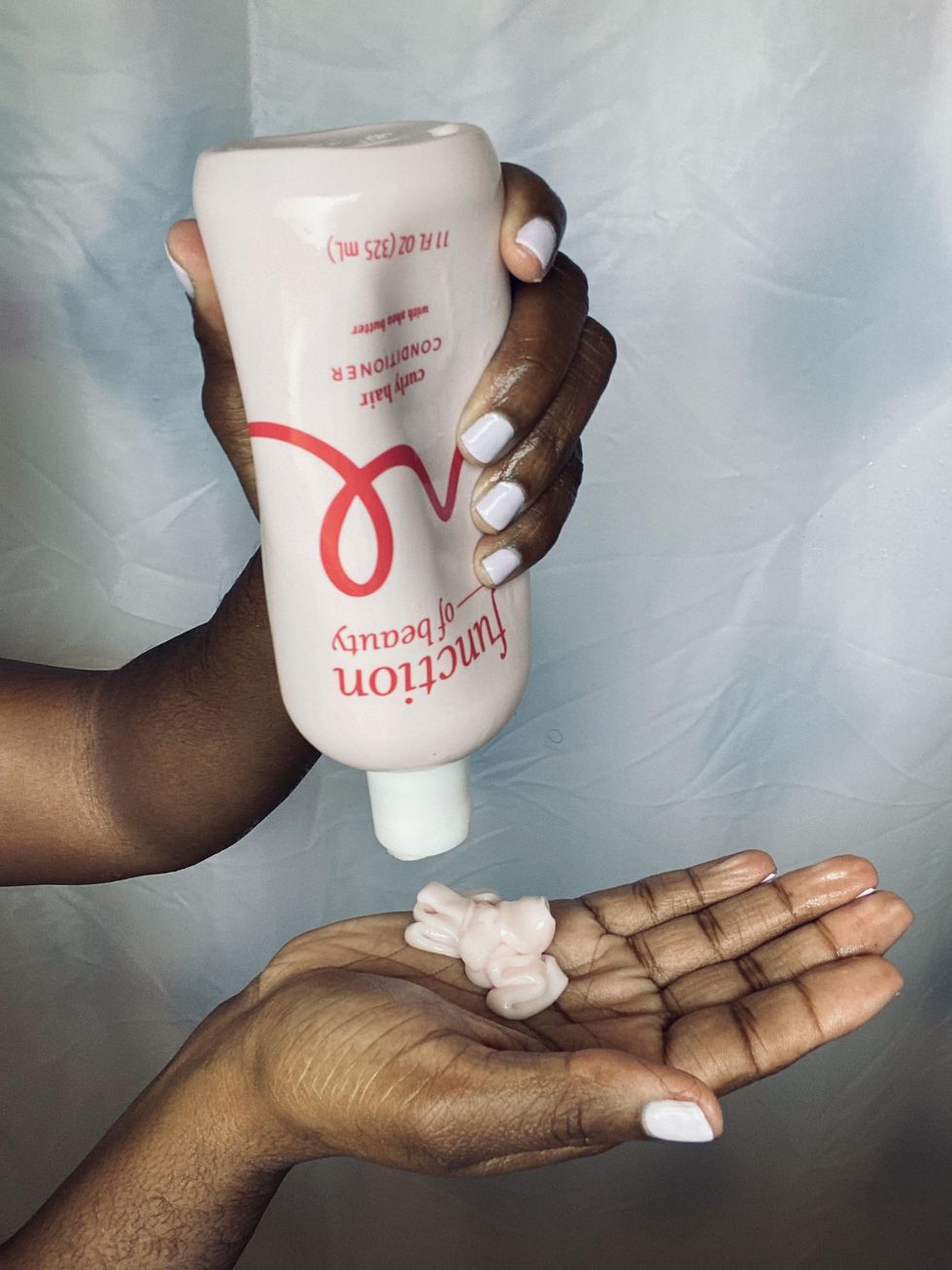 Writer Camille Ali/xoNecole
Next, I applied the conditioner to the ends of my hair. I like my conditioners to be thick, the more slip the better. It helps me detangle my hair. I'm not a fan of products that can't help detangle my hair. It's my biggest challenge and the main feature I look for when trying a new conditioner. As I worked the product through my curls, it gave me just enough "slip" to finger-comb my hair. Usually, I have to work the conditioner in for a few minutes before I begin detangling. But the product agreed with my hair so well that detangling was easy!
I loved how the conditioner coated and softened my curls. After rinsing the conditioner out, my hair still felt soft. Some conditioners leave your hair feeling like rope after rinsing. Dry and brittle.
The Results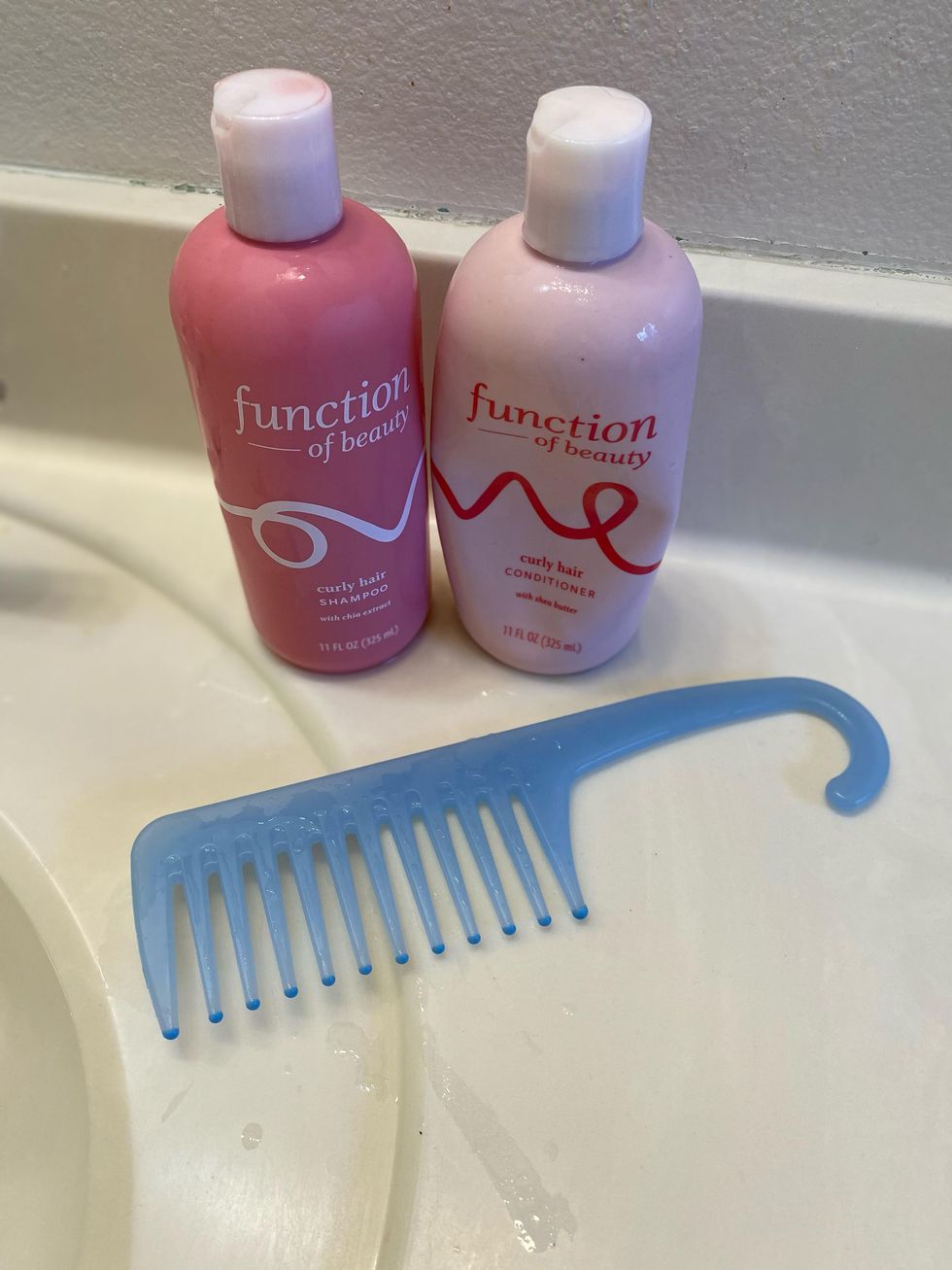 Writer Camille Ali/xoNecole
Most of us curly girls hate wash day, but I love wash day. I am telling you – there is something about a clean scalp and detangled curls that just makes me feel good. Especially, when you find products that agree with your hair. And for me, Function of Beauty did that y'all. My curls were soft, hydrated, shiny, and ready to be styled. Styling products are not offered through the Function of Beauty x Target partnership. BUT they do have a customizable leave-in-conditioner I am dying to try in their regular collection. The regular collection can be purchased online through their website.
It's hard to find curl products that work for your curl type. And when you do find a product that agrees with your hair, it's usually a few brands to choose from. Function of Beauty is one of those brands. Affordable, vegan, good for your hair, and good for the environment. I would continue to use their product line as part of my wash day routine. I have enjoyed my wash day experience so much, that I am ready to order my own customized Function of Beauty curl collection (color, scent, and ingredients) personalized with my name on it! I'll call it Function of Cam.
I'm ready to meet my #hairgoals, are you?
Are you a member of our insiders squad? Join us in the xoTribe Members Community today!
Featured image by Function of Beauty
Keep reading...
Show less
I stepped out of my car and took my first few steps toward the large, brown, and unassuming commercial building off the expressway. As I walked to the building, I said a little prayer. I didn't know what I was getting myself into, but I was desperate to find a tool to help me feel better and more like myself.
Before starting my journey towards healing, I dealt with quite a bit: low energy, lack of clarity, resentment, and I couldn't seem to tap into my intuition. There were many culprits at that point: the current state of the States, the life comparisons none of us want to admit we make on social media, and the overall exhaustion of trying to balance work, passion projects, and volunteering.
I was burnt out.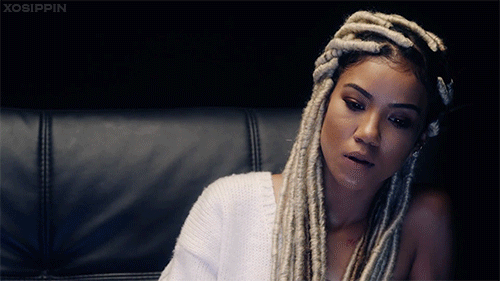 I was moody, forgetting things, and had an overall pessimistic view of my future. The pressures were mounting and I couldn't seem to get any relief. I started to research different healing modalities like EFT (Emotional Freedom Technique also known as tapping), grounding exercises, and meditation. I also researched energy healing and ultimately decided to try it.
Energy healing was used in ancient cultures throughout the world to stimulate the body's natural ability to heal. It's not specifically tied to a religion or any spiritual practice. Of course, energy is in everything, so it can be beneficial to anyone.
Walking up the stairs to the suite, I noticed a shift. The once-sterile building entrance turned into a bright and buzzing office space. There was a welcoming staff, yogis preparing for class, and mindfulness flyers on the wall. I tiptoed to my seat in the waiting area. (In my mind, if I tiptoed and kept quiet, I wouldn't throw off the positive energy that was oozing through the walls, carpet, and the people all around me.) Not too long after, my practitioner came out to greet me. Have you ever met someone and in an instant you knew they were good people? Yeah, that was my immediate reaction to her. Her vibe was compassionate and earnest.
Before the session began, I chatted for about ten minutes with my practitioner. We talked about how I was referred to her (by a friend), some of the things I was struggling with, what I wanted to work on, and what would actually happen during the session. This mini therapy-like conversation really helped ease my apprehension. First off, it's always nice to talk to a caring individual about what you are going through. Their objectiveness and active listening are healing in itself. Secondly, she described to me exactly what was going to happen, which helped a scary-ish person like me to relax even more.
It's safe to assume no one energy healer is the same. But, generally, you can expect to have a conversation about some of your challenges and your intentions. My facilitator had a very well-lit room that was filled with the aroma of essential oils. Meditation music was playing and I laid face up on a massage table. I just took off my shoes. From my research, this is what typically happens with any healer.
As she started the work, I thought about my intention, which was to receive clarity. Listen, I have to be honest, I kept my eyes closed the entire session because it was so relaxing. The best way to describe it is when someone is washing or styling your hair. You know that feeling when you start nodding off in the salon chair? You're so relaxed, it's almost impossible to keep your eyes open. That is how I felt at times, but I never went to sleep, and I was totally aware of my surroundings.
My energy healer started at my feet and she held them lightly. It seemed like she worked on my feet for a while. There were times that I saw bright colors like orange and yellow, giant redwood trees, and felt tingly sensations throughout my body. But, I can't stress enough how peaceful and relaxing the process was.
Seeing the colors or feeling the sensations weren't scary at all.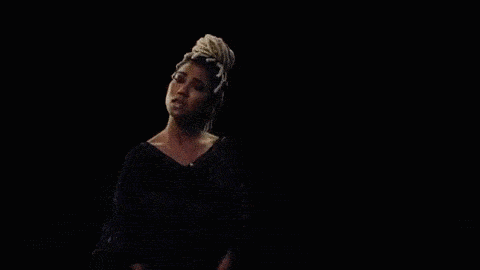 From there, she touched my knee area. Then, she continued up my body (my stomach area, my neck, and the center of my forehead). This may sound a bit woo-woo, but as she worked each energy center, I sensed affirmative phrases like, "You are safe," "It's working out."
When it was done, she had to nudge me. I wasn't sleep, but more in a meditative state. When I sat up, I felt so much lighter. I was shocked at the immediate difference I felt. We talked about my experience and I told her about the huge trees I saw when she worked on my feet. She said that she was grounding and rooting me, and it was amazing that I saw the trees. I also told her the words that came to me. She shared some insights to help me continue to work on my healing and gave me ideas for affirmations to use and some self-care tips.
Here are some of the self-care tips my practitioner suggested:
Start the day with intention. I was so busy and exhausted that I would rush out of bed, get dressed, and go straight to work. My energy healer suggested that I think of a word, phrase, or feeling that I wanted to commit to for that day. Intentions help you become more mindful of how you move through your day. Some of my past intentions are:

I intend to be gentle with myself today.
I intend to find beauty all around me today.
I intended to laugh a lot today.

Say "no". This is a pretty simple tip, but always a good reminder. She encouraged me to begin to decline invites, opportunities, or anything that didn't excite me.
Tell the story you want to live. Often we think and talk about the things we don't want to happen and of course, those things tend to happen. My practitioner reminded me the power of my words and that I should make a habit to think about what I really wanted. Not only does it put me in a better mood, but it often manifests.
A few of the affirmations she gave me were:
Everything is working out for my highest good.
I am Divinely guided.
I let go and flow with life.
Needless to say, after that session, I felt clearer and was more confident in the decisions I made. I've had a few more sessions since then where I focused more on forgiveness, and I've found them to be just as beneficial. Energy healing can be a powerful tool to use if you are feeling stuck.
After all, energy doesn't lie.
Featured image by Shutterstock
Originally published June 12, 2019
Keep reading...
Show less