None of us are strangers to remote work at this point, especially after the nightmare that was the Great Pandemic of 2020. Working from anywhere—with my favs being at home, from a beachfront restaurant in Jamaica, or in a chicly decorated boutique hotel room—is a norm for me. That being said, wearing whatever I want during work hours has been a norm for me as well, even if it's wearing absolutely nothing at all.
So, when I found out that the first Friday in February is U.S. Working Naked Day, I thought, "Well, hell, I've been celebrating a holiday I never even knew existed in my own way all along!"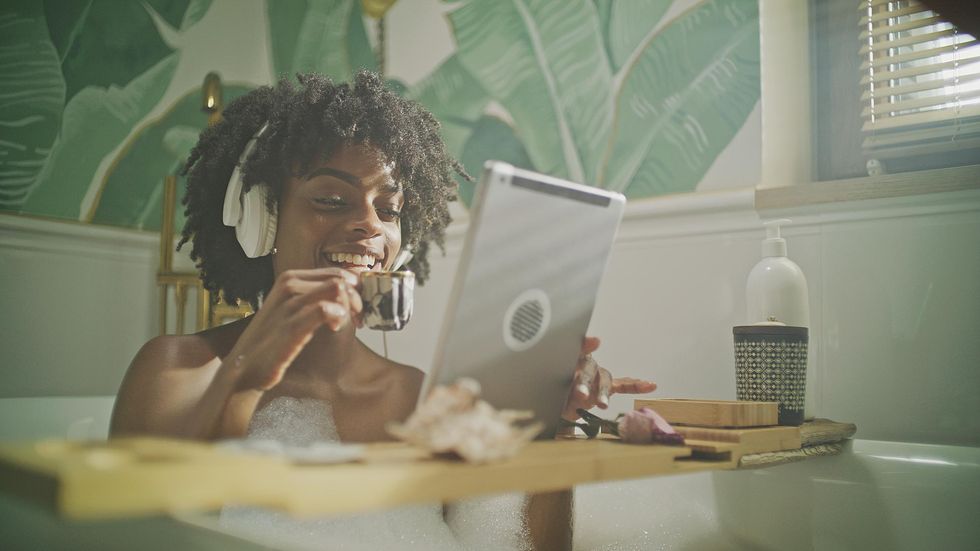 janiecbros/Getty Images
To be fair, the day is less about being in your birthday suit and more about empowering you to celebrate the benefits and feelings of "freedom and flexibility" you get when you work from home. Since I'm now aware that there's an official day for this, I finally get the chance to officially let the cat out the bag (pun intended) and admit that the girlies (i.e. my DDs) stay out when I'm working from home, almost every day of the week.
I've been a huge fan of the boldness and freeness of embracing nudity while home since the day I decided, 20 years ago, to sleep in the nude. I'd always read up on the benefits, for example, of not wearing panties in order to let your vagina "breathe," and how skipping the bra at bedtime could help alleviate body discomfort. After having a hard time with waking up in uncomfortable sweats during all seasons, I noticed that when I'd sleep naked, I'd wake up in a better mood, with no sweat or anxiety.
So you can imagine, with me working from home, especially for Work Naked Day, I'd simply just continue my day, in the nude, anyway.
I typically start my day with a cup of coffee, naked, while seated in my bedroom's velvet reading chair. I literally sit in silence, trying to get my thoughts together and just take time to just be. (I usually take a shower before bed, so they're not usually part of my morning routine, by the way, especially when working from home.)
After about 30 minutes of silence and prayer and maybe 30 minutes of some social media scrolling, I'll drink some water and begin prepping for my office hours.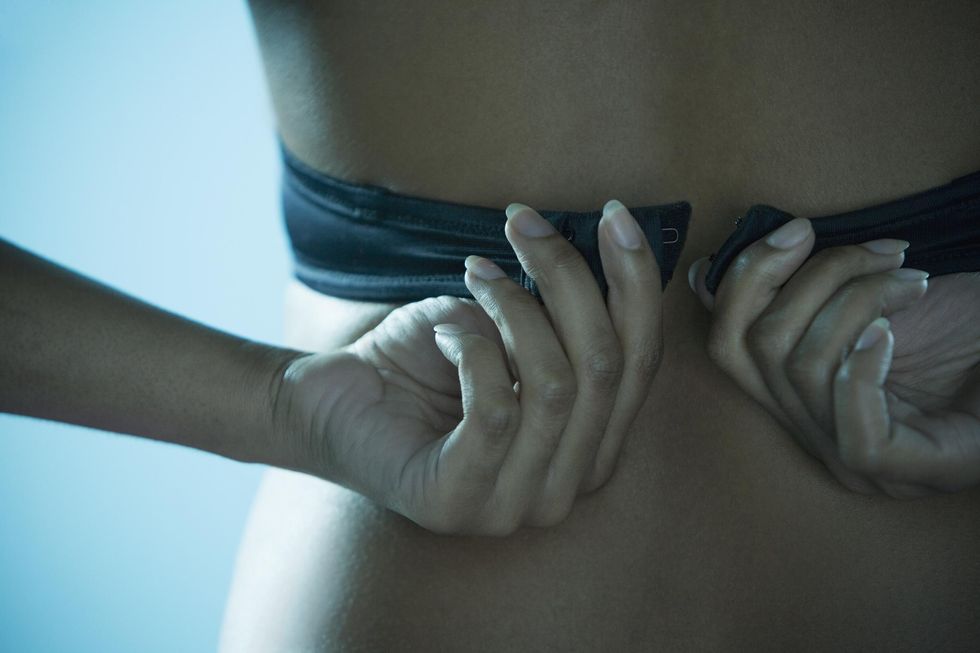 Terry Vine/Getty Images
Half of my work days are spent writing and editing, so it's not like there's a manager knocking on my door or back-to-back in-person meetings to be concerned with. On those days, I'm typically on my laptop, and if I'm not traveling, I'm seated at my home office desk (with a folded towel under my butt because, duh, who wants to sit their naked booty on a cold leather office chair?).
I keep the heat in my home on summer-in-Jamaica-hot during the winter, and again, since I travel a lot and prefer the digital nomad life to being at home, it's refreshing to sit, naked, imagining that I am indeed at an oceanfront eatery in nothing but a bikini top and a sarong. (Jamaica, in particular, has nude options for me to enjoy in public (on private grounds), but I digress).
After sending out emails to freelancers I manage for one publisher, finalizing assignments for another, and trying to keep to my office hour boundaries for both, I have to force myself to take a break and either order in or cook.
I often choose the latter and end up looking like a tall female version of Ving Rhames in that infamous Baby Boy kitchen scene. Lunch with a side of T&A, anyone?
I've been obsessed with veggie subs lately, so that would mean frying up broccoli, zucchini, and olives, adding some provolone cheese, Italian seasonings, oil, vinegar, and mayo, and toasting an Italian sub roll.
Then, I go back to work on my laptop until my obnoxious iPhone alarm goes off to remind me of the time-blocking boundaries I promised to keep to ward off freelancer burnout. (It's even worse than the burnout I'd experienced as a 9-to-5er due to the fact that, since my schedule is so flexible, I've often felt obligated to keep working and working until I'm annoyed, achy, and frazzled.)
I might even take a 15-minute break to have a naked stretch session, but nothing too strenuous because I don't exactly enjoy the pain that comes with jumping up and down as my huge geriatric-millennial boobs slap my chin and chest.
If I have a package delivery, I usually wait at my peephole to ensure nobody's still lingering about, crack the door, swiftly sneak it open slightly, push out a foot, and shuffle the boxes close enough to my foyer before quickly sliding them in and shutting the door. I find it thrilling and would do this for a food delivery if not for the fear of bae having a fit at the mere thought of some strange man getting an accidental flash of nip with his tip.
There was that time, during the first year in my current place, that the maintenance man used his key to enter for a repair I'd forgotten I requested. Yes, it was a work day. And yes, I was partially naked.
I was on a call, topless, and thought somebody was breaking in. The New Yorker in me prompted the dropping of the phone, the gathering of both breasts in my arms, and the one quick move, by sheer adrenaline and instinct, that took that guy all the way out. I charged him like a linebacker, all the way out my front doorway, and boldly slammed the door, only to hear him yelling, minutes later, "Maintenance! It's maintenance! I'm so sorry! I'm so sorry!" I told my man about it, in fact, and he damn near cussed me out, angry about the fact that I had hardly any clothes on, naming every emergency in the world that could happen in a condo, and commanding me to get a security bar for my front door (which I did).
So what about those days when I indeed have virtual meetings? Well, my cam would simply be turned off. I know that some folk find it odd to have a Google Meet or Zoom meeting with no video, but I don't see a problem with it. I actually loathe video calls, and my clients and network respect my preference.
Working naked, for me, is liberating and helps me in my mental health journey (especially after experiencing a real-deal nervous breakdown from being laid off at the last serious long-term publishing job I had). It reminds me that I am truly the master of my destiny, that I can create the life I want, and that I'm not a slave to any organization's rules but my own.

My experience with completing my work day in the nude is just what Work Naked Day is all about: truly tapping into all that makes you a talented, bad-ass, independent professional whose prowess and skills are only enhanced by the expensive power suits, the cool sneakers-tee-and-blazer combos, the Fashion Nova coordinated sets, the multicolored scrubs, the well-starched uniform—or whatever you wear to do your best at your job every day.
I hope that you, too, will find a way to celebrate freedom and flexibility today, whether you choose to spend the day butt-ass naked or not.
Featured image by Peter Griffith/Getty Images
Whether we like it or not, TikTok is somewhat of a beauty haven. Now, are all of the trends floating around worth it—or even safe—to try? That answer changes daily. But in the case of one beauty hack trending, we'd say you could try this one without worrying if you've knocked your skin barrier out of whack.
Meet the blush-on-the-go trend. There is some debate about who should be credited for starting this trend on the platform. But makeup maven Avonna Sunshine is the first creator to show us how she uses this hack. But we do want to note this makeup technique has been on the scene for many years. So, let's get into it.
The Blush Hack TikTok Trend
So, this hack is all about waking up the face when you only have seconds to get out the door without eyeshadow. Avonna Sunshine used a pretty duo blush palette from Juvia's Place in Vol 1 and swiped in a circular motion around the eyes and the contour just above her cheeks. In seconds her face was brighter, and she looked refreshed.
My Experience Trying the TikTok Blush Hack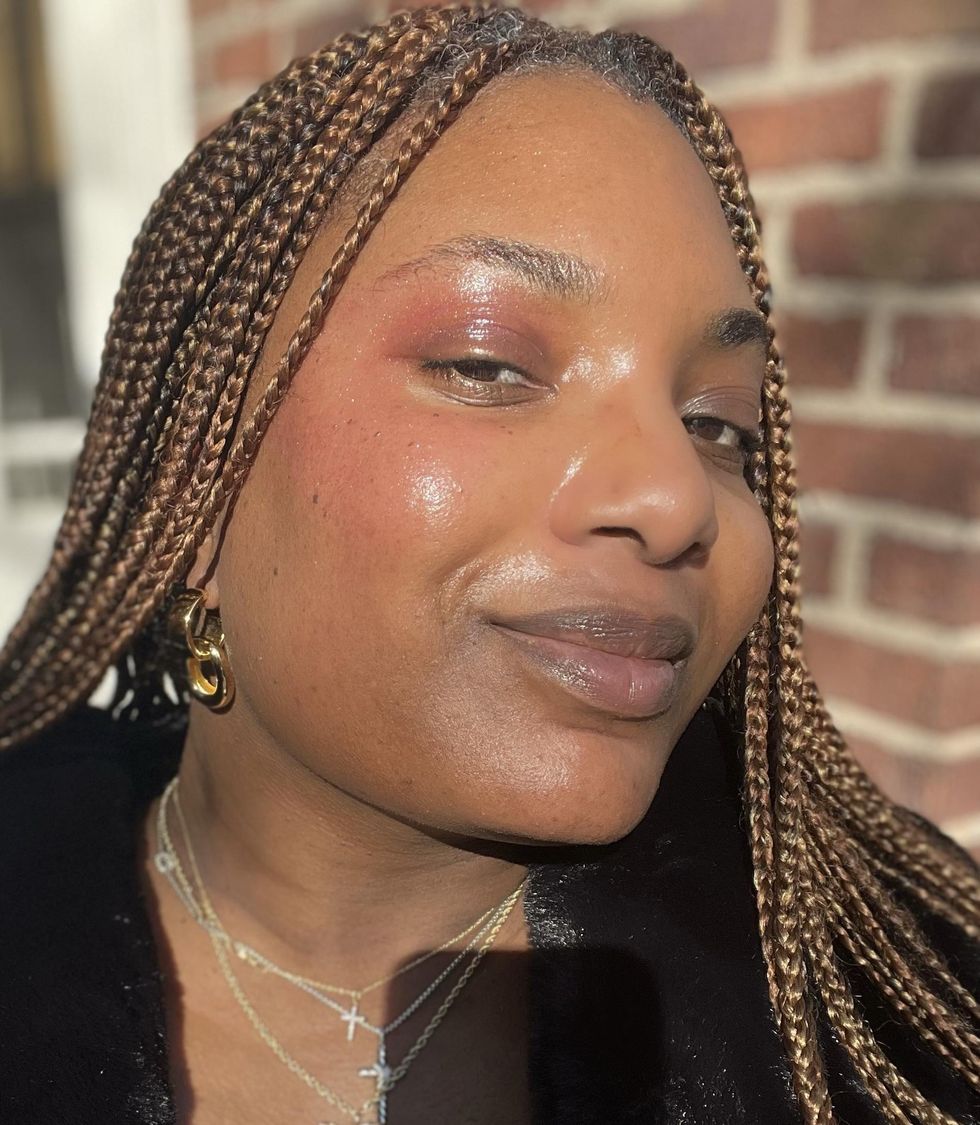 Bianca using the blush technique with only blush.
Bianca Lambert
These days, I mostly use liquid blushes. But a powdered formula is what I used to test the waters. To create a foundation, I used a little skin tint and powder. Next, I went in with my blush. I tried this with one color, but a duo I realized is the best way to get that brightly-hued multidimensional pop of color. And if you're like me and tend to use more plum-shaded blushes, you'll definitely need a brighter color in the mix with the deep plums.
If you like liquid or oil blushes like me, you can still make this hack work. For your cream blush (think: Rare Beauty), apply it to the back of your hand first, then use the same twirling technique to work the color in. For an oil blush (think: youthforia), I applied it directly to the spots where I wanted to brighten (with a light hand first) and worked it in with my brush.
When trying this technique, start with a little and add more. Because we're not all makeup experts like Avonna Sunshine, going from awake to circus could quickly happen.
Final Thoughts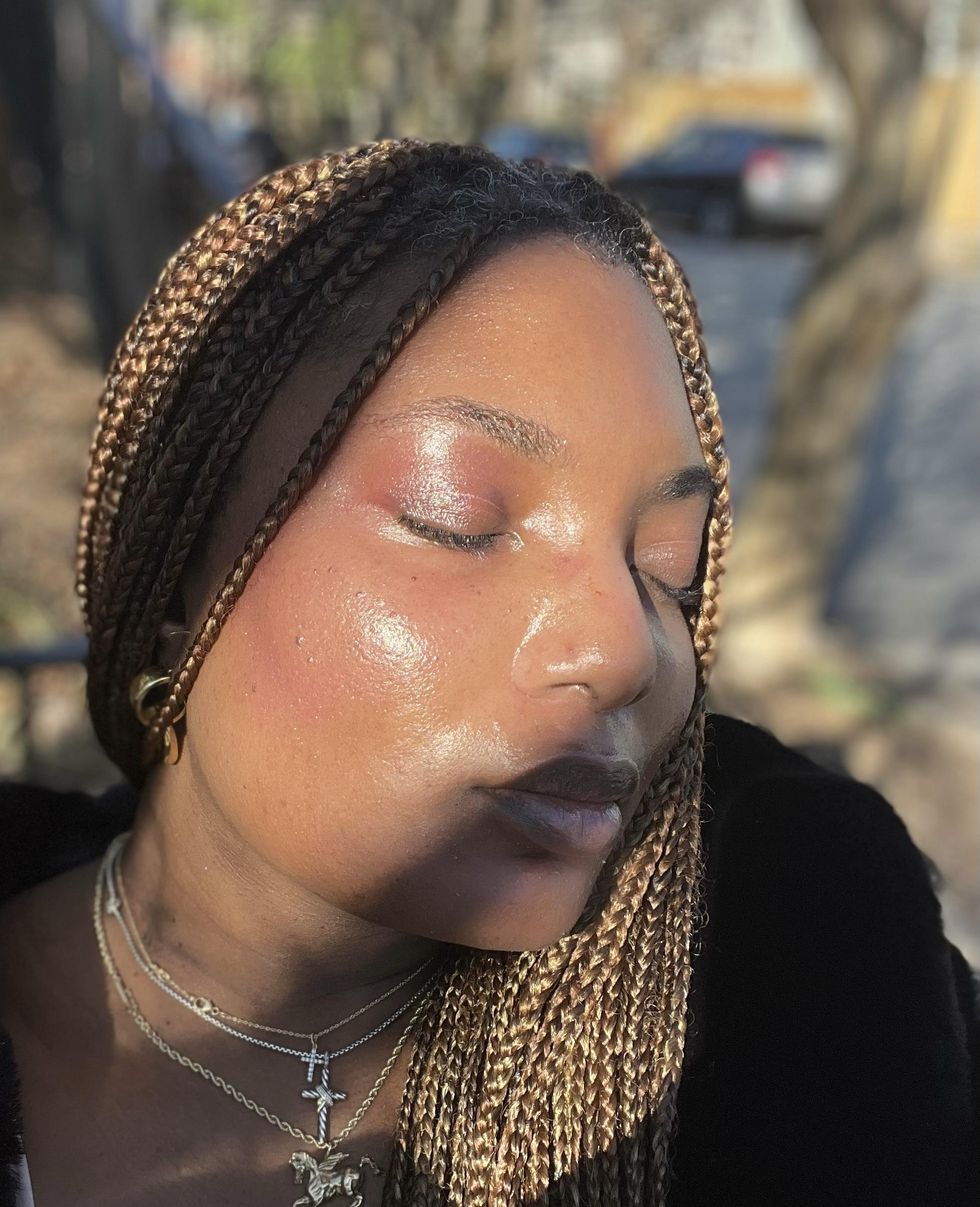 Bianca pairing the blush technique with bronzer.
Bianca Lambert
Blush can wake up the face. So when you're in a pinch, this breezy technique can make you look put together in seconds. And, if bronzer is more your style, you can apply the same rules. But instead of bronzer with a more mattifying finish, I recommend one with brightening, gold undertones.
Featured image by Aja Koska/Getty Images
When I heard that Tracee Ellis Ross' Pattern Beauty was dropping something new, I was elated. As someone who has been using her products since she launched, hearing about a hot tool was super exciting, especially since I've had such a great experience with hair treatments and styling products. Celebrity drops are a large part of the beauty industry, and at times they can feel like what many would call a cash grab.
However, for Ross, as she told me and a room full of fellow beauty editors in New York City on launch day, "I've never understood the concept of marketing where it's about shaming you into buying a thing so that you can then feel better about yourself," she says. "I really want to reframe the historical relationship of heat as submission to heat as a possibility."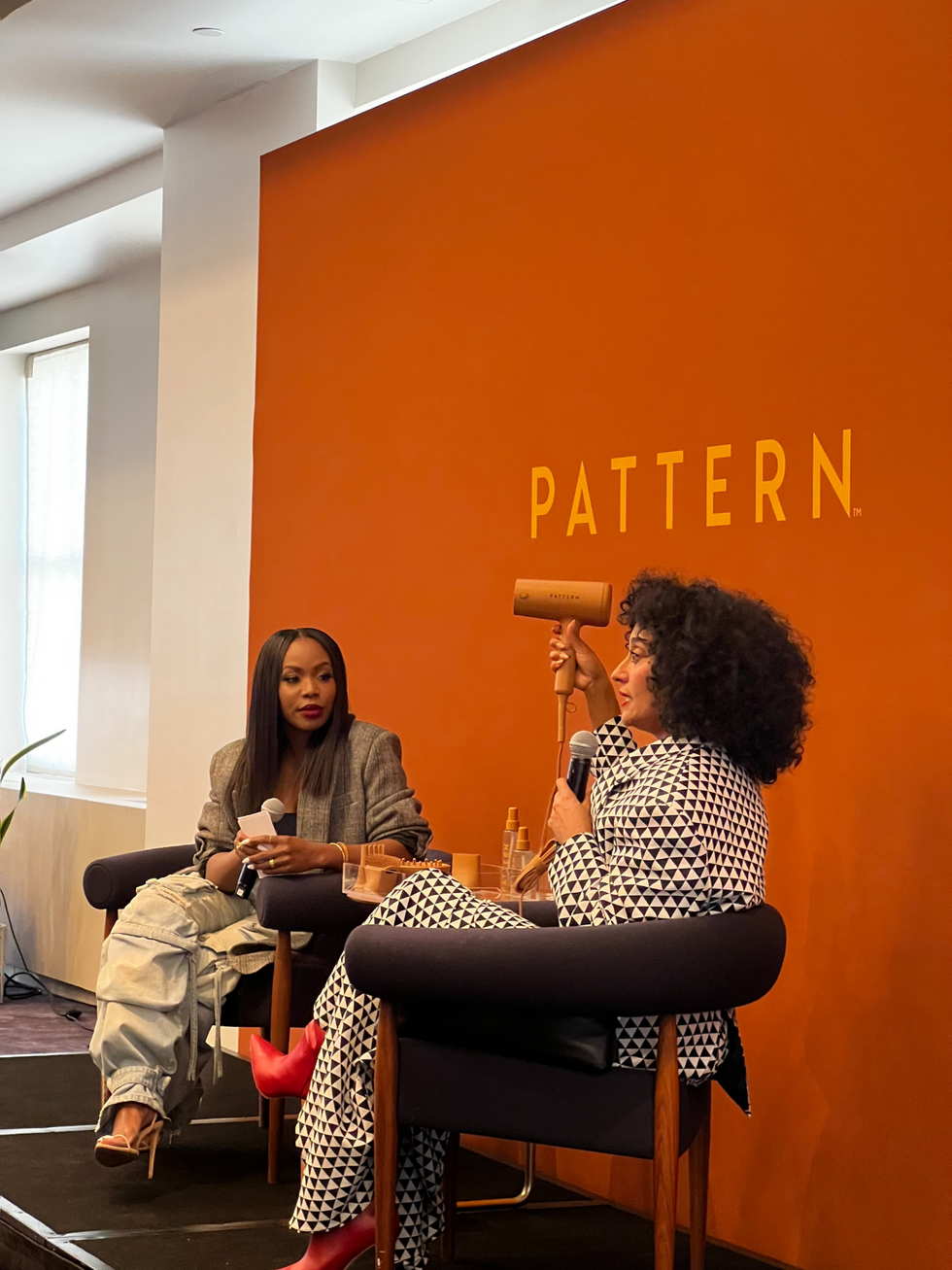 Courtesy of Bianca Lambert
I don't use much heat on my hair unless I'm blowing my hair out for box braids or gently diffusing my curls after sitting under a hair dryer to set them. But there's always a need for a blow dryer. However, I know that this is one of the tools many of us struggle to get right. So, I'm going to give this latest drop from Pattern a test run. Keep reading for the deets.
PATTERN Blow Dryer: My Honest Review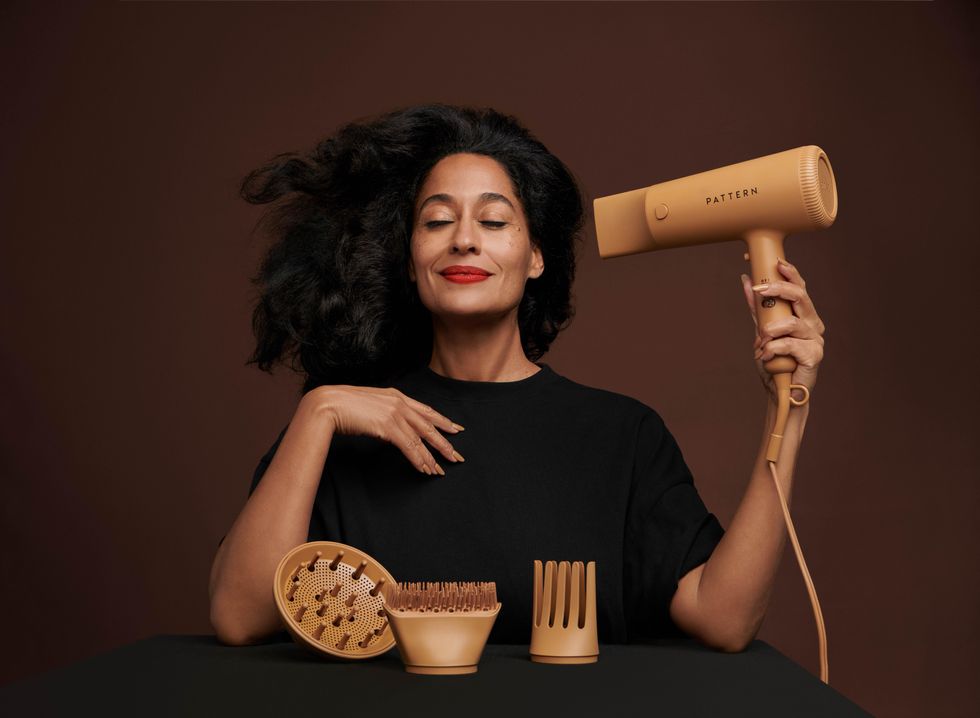 Courtesy of PATTERN
The Design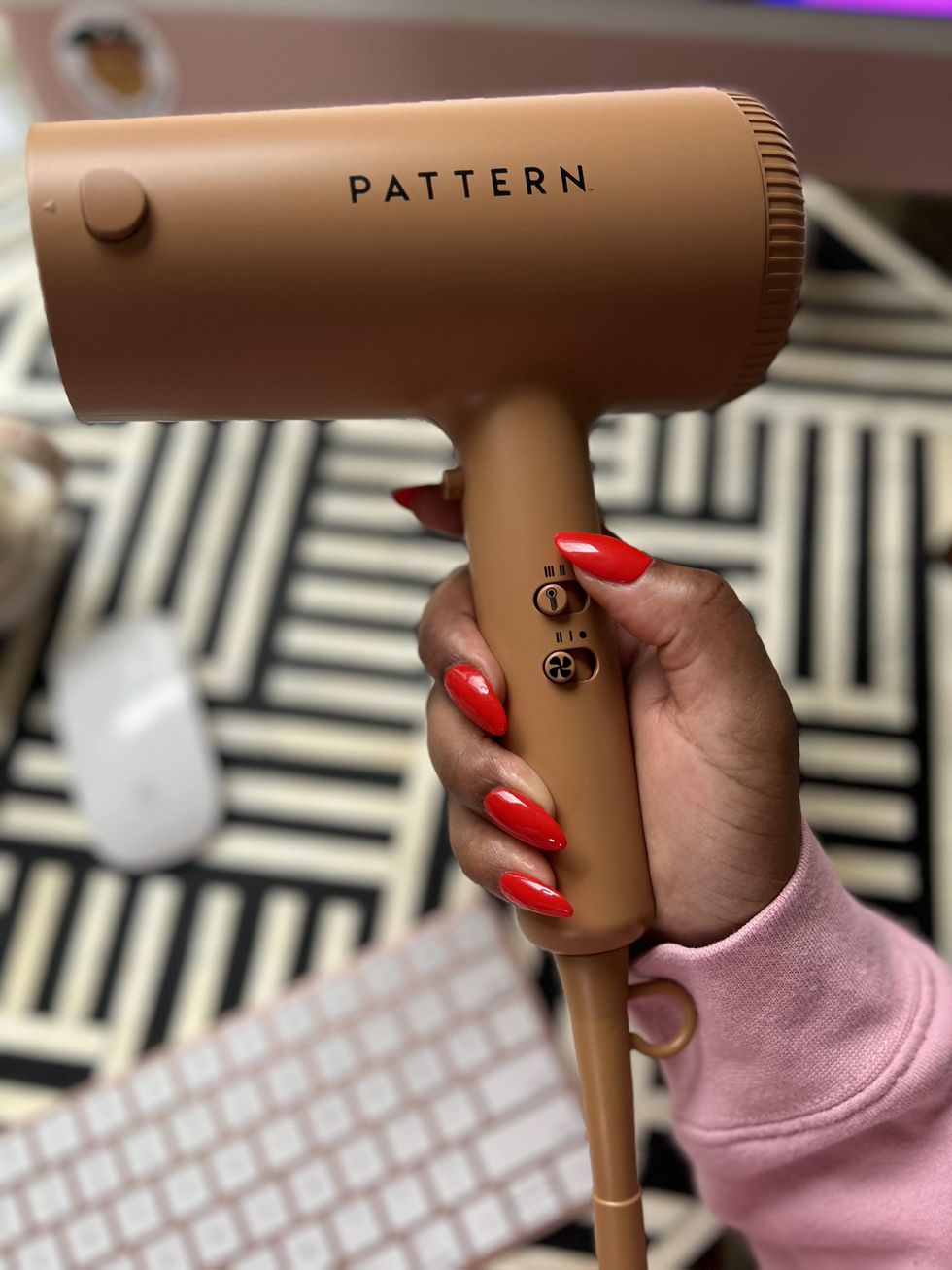 Courtesy of Bianca Lambert
When I opened the box holding the matte caramel brown blow dryer—which Ross said took two years to bring to life— I was immediately impressed. The sleek minimalistic hot tool comes with four attachments: a diffuser, wide tooth comb, brush, and concentrator, which is a nice element considering that many blow dryer attachments come separately. As she chatted with us, I quickly realized how much thought went into creating this petite but mighty dryer. When I say mighty, I mean it has a professional motor—which is mega important for minimizing drying time—three heat and two-speed settings, and a cool shot button. The coolest part: you can switch the settings without ever having to remove the dryer from your head.
Additionally, if you're tired of losing your attachments while you blow dry, the Pattern team devised a remedy: a dual-locking structure to keep them in place sans any movement. And get this, Ross really wanted the cord to match the rest of the dryer. However, she was told that may or may not be able to happen. Well, it happened! And, I have to say, it's a nice touch.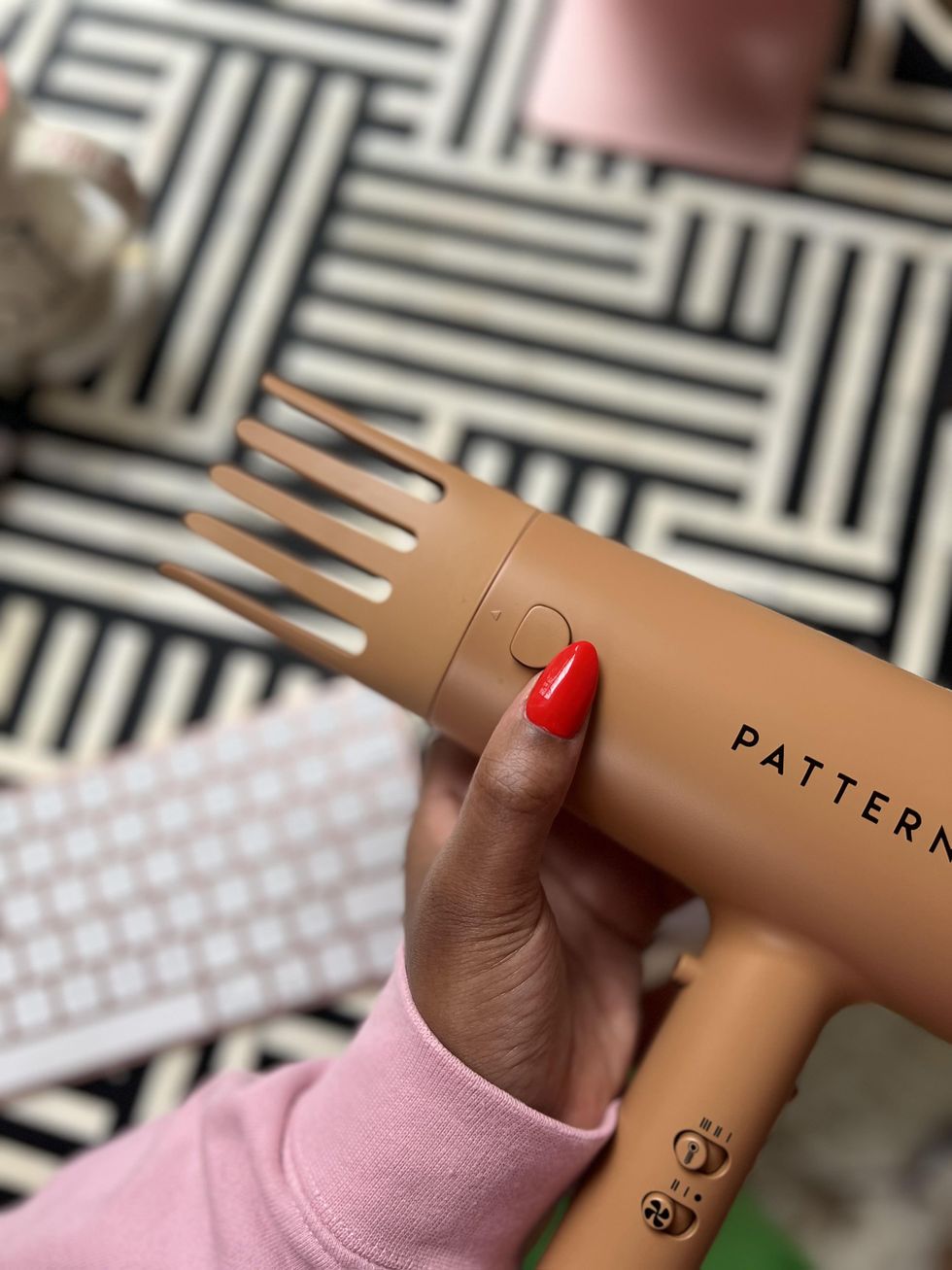 Courtesy of Bianca Lambert
When it comes to the design, I can't forget to mention two of the attachments that are clearly designed with curly and coily hair at the forefront. First, there's the wide-tooth comb attachment. I can't be the only one whose every broken plastic bristles on a comb attachment. So, I love the idea of this wide-tooth version designed to glide through the hair and distribute heat evenly.
And then there's the brush attachment. I haven't used the Pattern Shower Brush, but this attachment design mimics the beloved brush. This attachment is made for drying and stretching coils, tight textures, and shorter hair lengths.
The Experience
I'm currently rocking box braids to give myself a little break from manipulating my hair. However, even with braids, I keep up my weekly wash day routine. "What about the frizz," you may be asking yourself. Truthfully, my hair health means more to me than worrying about frizz. But I've managed to find a way to reset my hair after each wash with minimal frizz, which involves a blow dryer. I typically use a Dyson, which carries a hefty price tag. So I was super excited to try this on my small knotless braids.
After washing, conditioning, and adding a leave-in, I layer my hair with a mousse. I go between Pattern's Curl Mousse and The Doux Bee Girl CrazySexyCurl Honey Setting Foam, depending on my hair's frizz factor. In this case, I went with Pattern. After applying the mousse, I tie my hair down with a satin scarf and let it air dry, and then I go back in maybe an hour later to dry it.
Because I was headed out to dinner with a friend and had gone swimming before, I had to wash my hair. I timed my dry session, which started at 5:46. My hair from roots to ends was dry by 6:02, which was perfect given that I was already running late and my high-density hair can take forever to dry, even with braids.
Ross says to start with the lowest heat setting, which I did. What I found the most revealing was that this little dryer really did pack a punch. Because I was pressed for time, I went with the second heat setting and used the diffuser on my roots and then the concentrator on the length of my braids. I loved that my arm never felt heavy.
Final Thoughts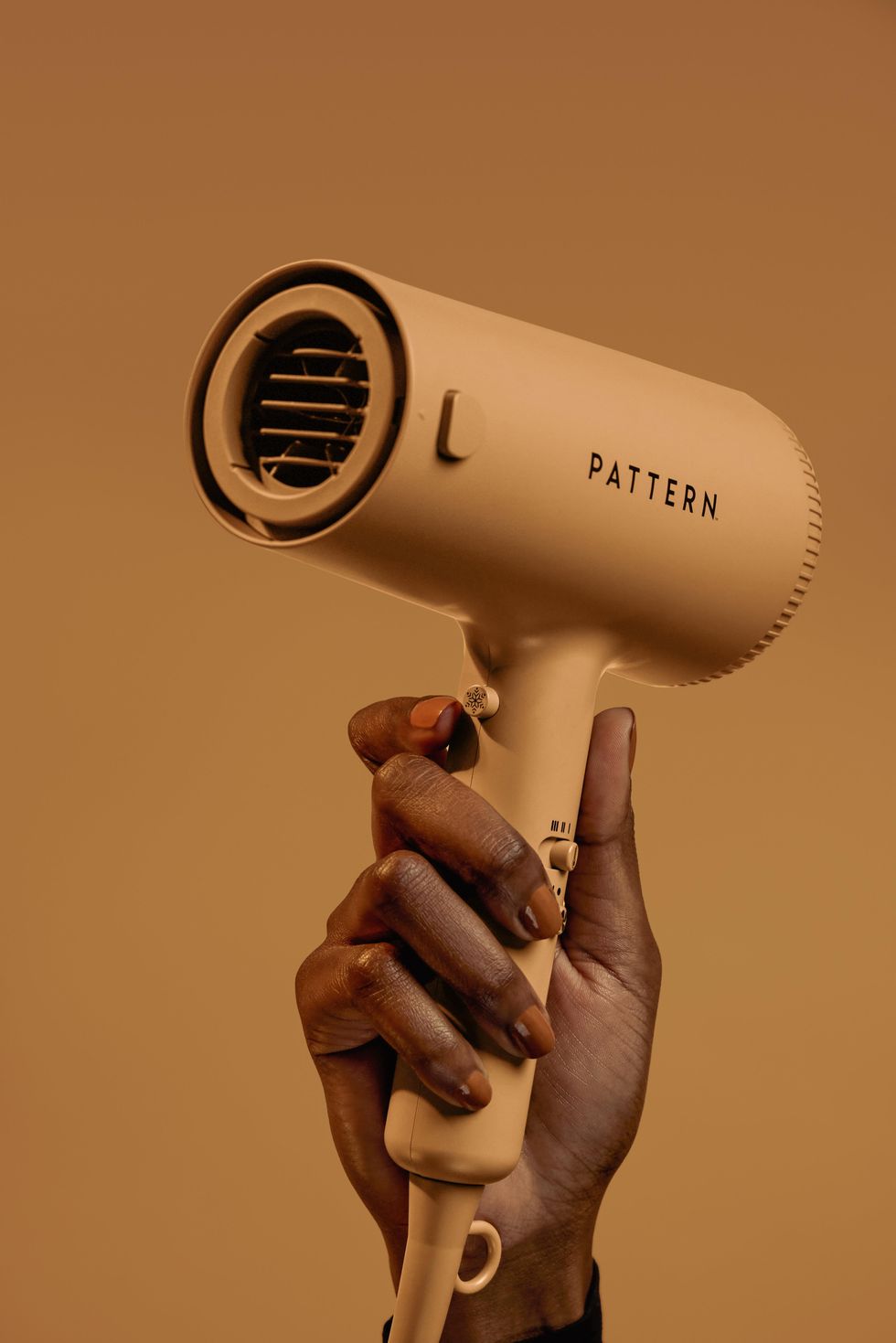 Courtesy of PATTERN
I love that this dryer comes with four attachments because, so often, once you purchase your blow dryer, now you have to budget for the attachments. Additionally, there's the design and not just aesthetics. It's the fact that the blow dryer not only has a professional-grade AC motor, but it's also lightweight, easy to use, and it can go right in a carry-on because of its size. And I can't forget the fact that you don't have to remove the dryer from your head when switching the setting, and I don't have to worry about my attachments hitting me in the head and falling off.
One final pro for me: the price. This dryer is nearly half the price of the best-known dryers on the market, and it's made for curly and coily textures.
Featured image courtesy of PATTERN
I have a pussy mold. Similar to expecting moms getting molds of their bellies, I got a mold of my pussy. Artist Andrew Prince, the owner of 3D Perceptions, specializes in lifecasting and I discovered his profile through Instagram's discover page. Lifecasting produces three-dimensional replicas of a human body by molding and casting techniques. Some of his best work was featured on his Instagram page, which has since been deleted.
His lifecast pieces included butts, breasts, vulvas, penises, and a few full-body casts. Among my favorites was the full-body cast of two lovers intertwined in a sex act. After falling in love with Andrew's work, I DM'd him to inquire about having my mold made.
The Man Behind the Mold
Andrew operates out of his garage in Huntsville, Alabama. It is filled with plasters, Hoyer lifts, benches, and everything needed to create the dynamic works of art he creates. Andrew, a NASA engineer by day, explained that he became interested in molding after he constructed a 3D volcano with his son for a school project. Lifecasting was born out of curiosity after he made a mold of his former girlfriend's ass to sell on Etsy.
Nowadays, Andrew sells his pieces in art shows around the world. His work has been exhibited in Las Vegas, Erotic Art Shows in Seattle and Detroit, as well as in London, England. Depending on the piece, his art sells for $300-$3500. If you prefer to do your own casting, he also sells at-home kits for $60.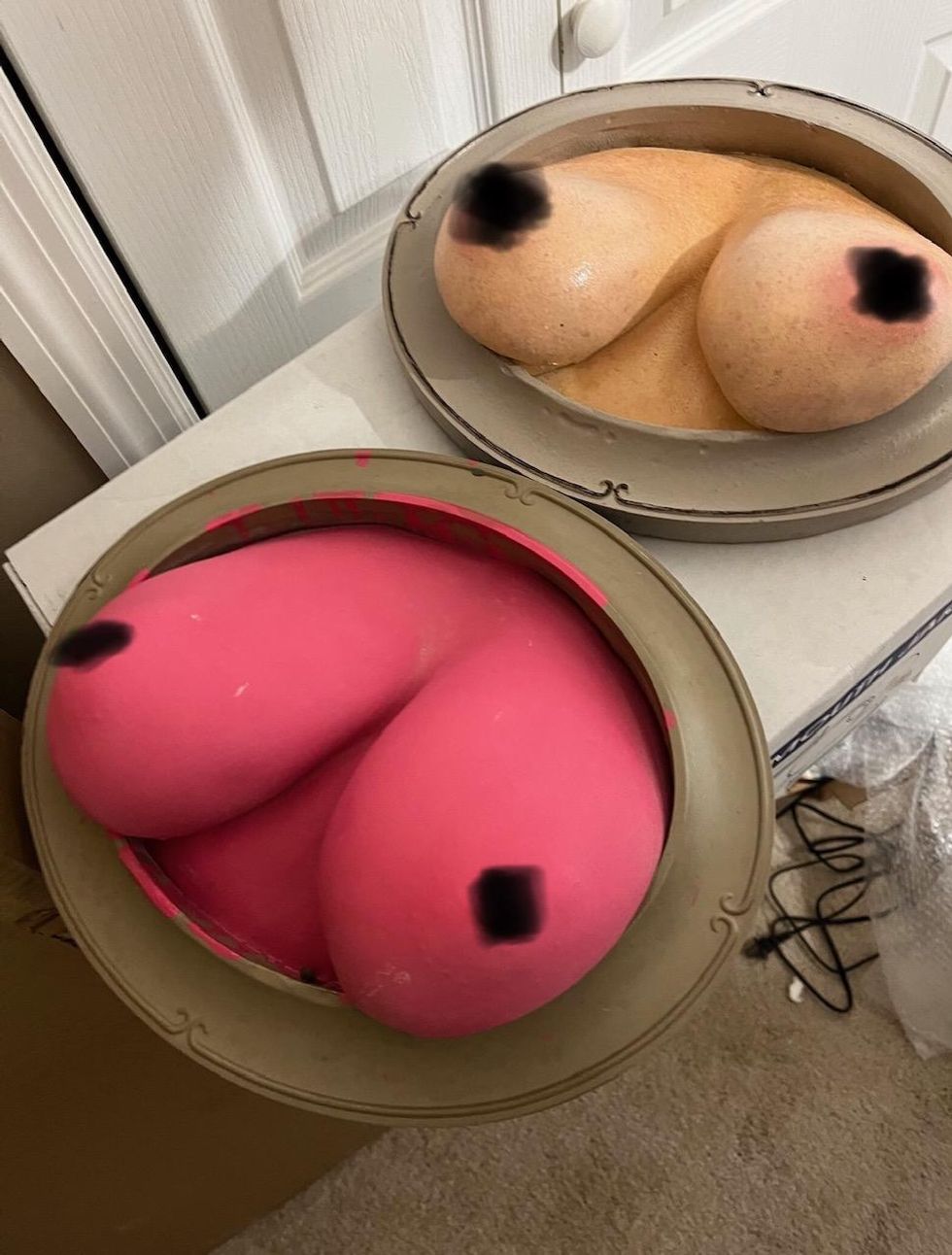 Courtesy of Ashley Cobb
The Process
Usually, Andrew finds his models through Craigslist or word of mouth, rather than on Instagram as he did with me. Because his art pieces are so time-consuming and can require some flexibility, modeling for Andrew isn't an easy task. The entire process takes about 40 minutes. Essentially, I had to lay perfectly still for nearly an hour with my legs in stirrups, similar to a Gyno visit. I'm not sure about your legs, but my legs aren't used to holding that position for more than ten minutes. Talk about a workout!
He began by layering my pussy with an all-natural seaweed-type lubricant used as an alginate. The alginate also added a layer of protection between the plaster and my vulva. Pussies are sensitive and we can have plaster getting into them throwing off pHs and shit. He then added plaster and plaster bondages layer by layer in a similar manner to paper-mâché. There was a lukewarm, creamy texture to the plaster, similar to yogurt. As the plaster sets, it becomes slimy and feels like firm jello as it warms up.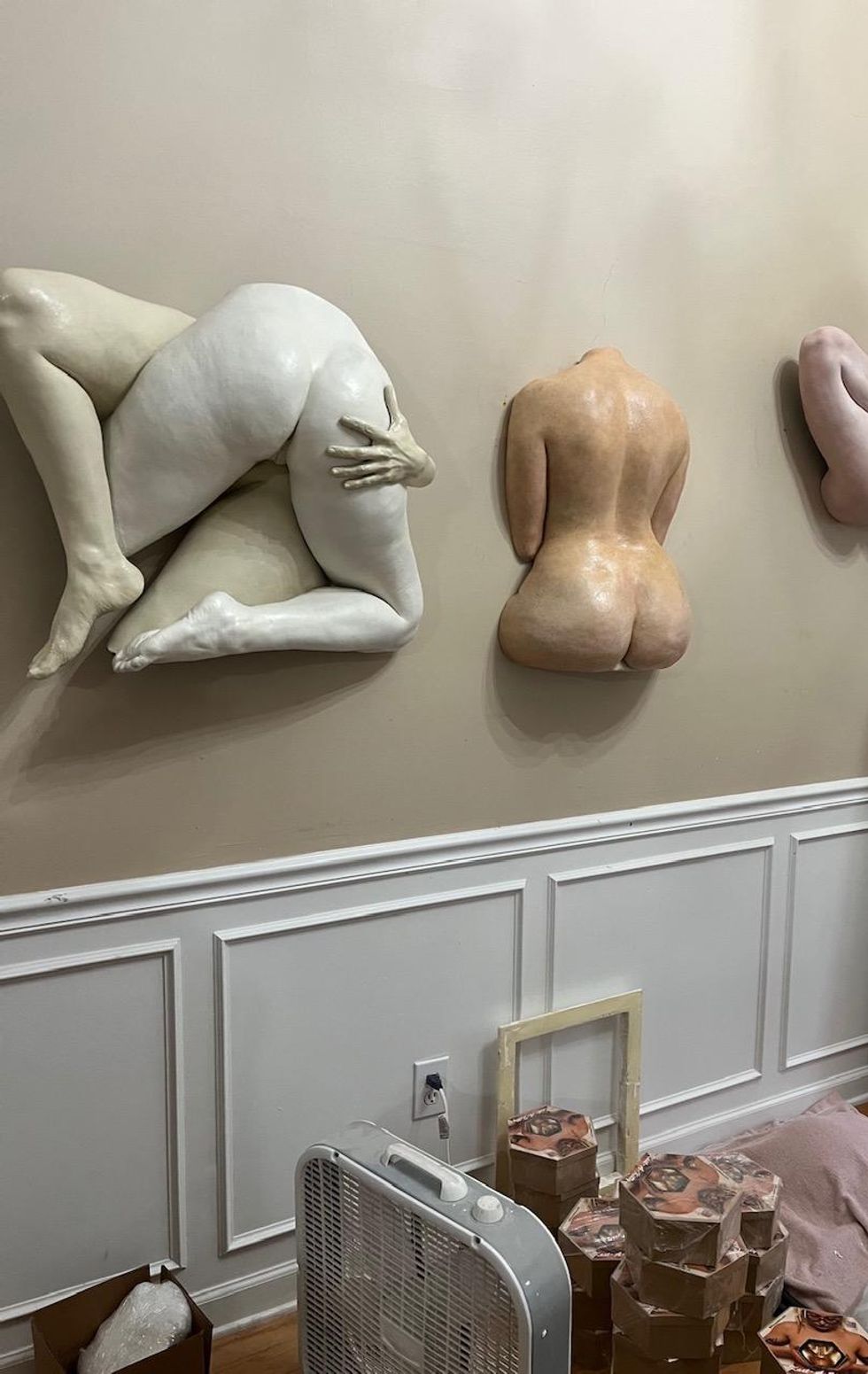 Courtesy of Ashley Cobb
The Result
Once completely set, Andrew eased the plaster off of me. Since it wasn't sticky, it slipped right off. As Andrew de-molded, sanded and detailed my pussy mold, I went to the bathroom to wash off any remaining plaster. Typically, it would take Andrew several days to weeks to complete his molds and get them ready for sale. However, because I wasn't selling mine, he completed it in a few hours.
I'm still not sure what I'm going to do with my pussy mold. I may paint it and hang it up on my wall. But then again, do I really want everyone who comes to my house looking at my pussy?
To find out more about Andrew and 3D Perceptions, visit www.etsy.com/shop/3DPerceptions.
Let's make things inbox official! Sign up for the xoNecole newsletter for daily love, wellness, career, and exclusive content delivered straight to your inbox.
Feature image by Harbucks/ Getty Images
Okay, I know what you're thinking: WTF is a liquid vibrator? Or you might even be wondering, Does a liquid vibrator work the same way as a regular vibrator? I admit, when I first heard the term 'liquid vibrator,' I was a bit curious and confused as well. Turns out, a liquid vibrator isn't a vibrator at all, it's a clitoral arousal gel. Aphrodisiac herbs and other elements such as ginger, leaf oils, and sometimes menthol are used in arousal gels to enhance sexual pleasure.
Clitoral arousal gels have been on the market for quite some time. However, with so many types of liquid vibrators on the market, it's hard to know which is the best option. Upon doing some research, I discovered Buzz by Doc Johnson produces pleasurable pulse-like sensations that leave your vulva all tingly. I was dying to experience those 'pulse-like sensations' for myself, so I had to order a bottle. I'm single AF so any type of clitoral excitement was worth a try.
Doc Johnson's Buzz Liquid Vibrator Review
How to Use the Buzz Liquid Vibrator:
Buzz Liquid Vibrator comes in a small, discreet tube, similar to that of lip balm, that can easily fit in your purse without drawing suspicion. The gel's formula is made from natural ingredients and is paraben-, glycerin-, and sugar-free. Rather than being runny, it has a semi-thick texture that allows it to stay in place. For the most part, there was no sticky residue and it essentially stayed only in the areas I applied it.
As per the directions, I applied two to three drops onto my clitoris. The angled tip on Buzz makes it super easy to use to apply. Simply squeeze one to three drops on your finger then apply to your vulva or whatever erogenous zone and wait. There was a light buzzing sensation upon application but nothing to write home about. It warmed my clitoris within three to five minutes but never really escalated to a tingle. I waited about 30 minutes to see if the sensations would intensify but they never did.
Looking back, maybe I should've added more gel, but I was afraid to overstimulate my clit.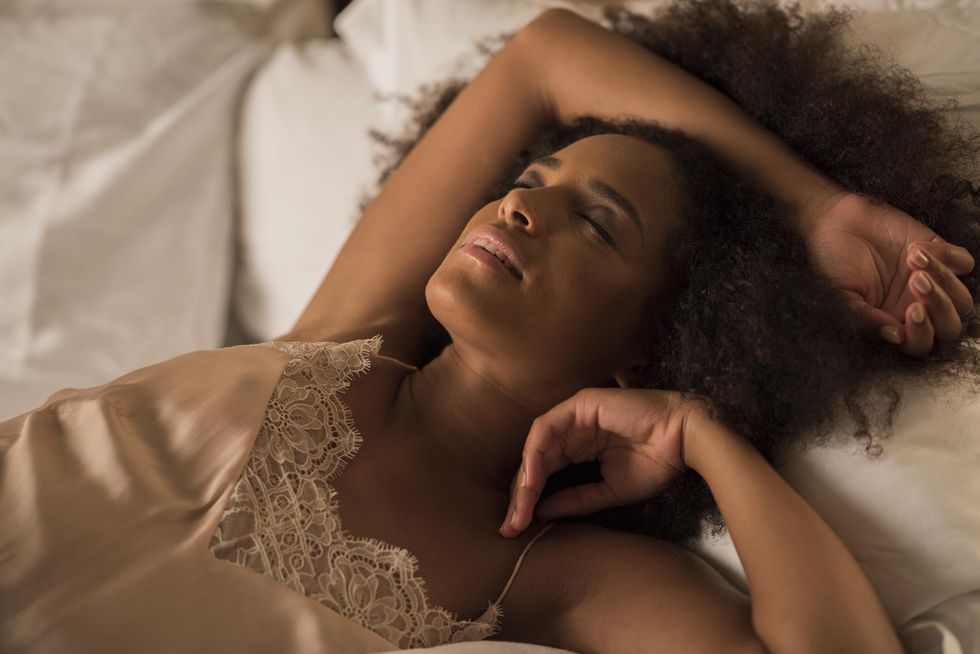 Bob Thomas/Getty Images
Do Liquid Vibrators Actually Work?
I waited for lightning to strike, but when nothing happened, I thought I might try the liquid vibrator on my nipples.
If I'm being completely honest, I love nipple play. Playing with my nipples is a must during sexual encounters. I added two drops of Buzz to my nipples but then decided to add some extra for good measure. After about a minute, I started feeling a very light, warm sensation on my nipple. Instead of tingling, it felt like the warm feeling you get when someone lightly plays with your nipple.
The feeling lingered around for a pretty long while after I applied the gel. I could still feel it stimulating my nipples almost an hour after I put it on. I'm barely capable of focusing on anything for more than 30 minutes, so it was refreshing to feel that arousal for longer than my usual 10 minutes.
My Thoughts on the Liquid Vibrator Overall:
Overall, Buzz Liquid Vibrator didn't turn me into a one woman orgasm-having machine. I was underwhelmed by the lack of 'pulse-like sensations' I felt on my clit. But baby, those nips though! Those nips were thoroughly pleased! I think next time I'll try using it while having sex to see if it brings me better orgasmic results.
Featured image by Bob Thomas/Getty Images
Creative Producer and Spelmanite Maura Chanz has amazing, flawless skin, so we had to know, what's her skincare routine?
Maura tells xoNecole her secret is the Black woman-owned and created Amina Adem all-natural skincare products. The founder of her eponymous skincare line, Amina Adem, is an internationally renowned beauty therapist and certified aromatherapist who's used her skills to create products with therapeutic-grade essential oils that smell great and keep your skin soft and clear.
Maura tried Amina Adem and hasn't looked back. She walks xoNecole through her simple skincare routine.
Featured image courtesy of Maura Chanz