Five months into 2022 and already it feels like it has been a year. New levels come with new devils (new stresses) and though we are proud of our accomplishments in the year so far, as a team, to say we aren't in need of a vacay is an understatement. A part of recovery from burnout includes being intentional about how we approach our self-care practices. With May being Mental Health Awareness Month, the xoNecole team decided to put better mental health into practice. And what better way to prioritize our mental health and manage our stress levels than through the use of CBD products?
The first Black woman-owned CBD brand that came to mind was Brown Girl Jane. CBD is the non-psychoactive 'cousin' of THC known for its more medicinal properties. When infused in products like oils, water, and gummies, CBD is used to provide relief to those experiencing health conditions like anxiety, stress, inflammation, depression, migraines, and even chronic pain. With product offerings like Balance Wellness Drops, CBD Gelées, and Rest Wellness Drops, Brown Girl Jane is taking up space as beauty and wellness innovators tapping into the power of CBD.
BGJ has a wide variety of products, both edible and topical, and we at xoNecole were all very excited to try them all. Here's what each team member had to say about their experience with Brown Girl Jane's CBD products:
Featured image by Getty Images
I'm learning the importance of trusting my instinct, especially when it comes to aspects of life I take pride in maintaining. In 2018, I committed to achieving healthy hair which began with freeing myself of unwanted and excessive damage caused by years of straightening. I remember the day of my big chop—a weight lifted from my shoulders. I felt a mix of both excitement and relief as my dead ends fell to the floor. As part of my promise to take care of and nourish my hair, I vowed to never make the same mistake twice, refraining from heat entirely.
While faithfully dedicated to my kinky texture, I became curiously anxious to do a length check four years later. I'd be lucky to enjoy straight hair for 3 to 4 days. What could go wrong? I knew I would either hate my straight hair or love it, but never did I think it would be the last time seeing my curls fully intact. As predicted, after less than a week of straight hair my curls began to revert, slowly returning to their natural state—or what was left of it. My once carefully defined curls were no longer existent. Devastated, I took to social media to express my shock and frustration for going against my "no heat" rule. Immediately after posting a clip of my damaged hair, I received messages suggesting I use the Olaplex hair repair treatment to improve the look of my hair.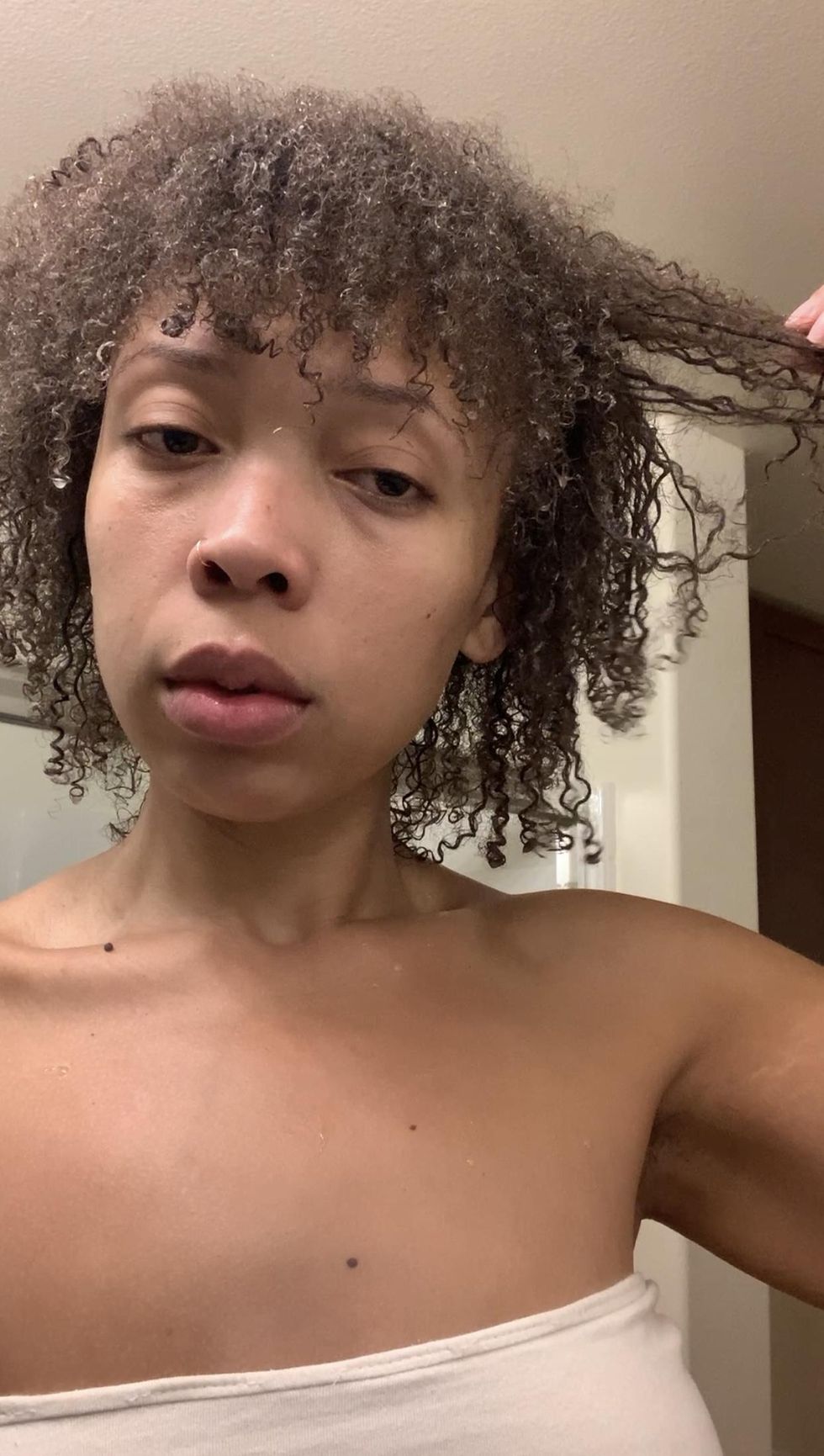 Courtesy of Shahirah Ahmed
Devastated, I took to social media to express my shock and frustration for going against my "no heat" rule. Immediately after posting a clip of my damaged hair, I received messages suggesting to use the brand Olaplex's hair repair treatment to improve the look of my hair.
Within those 24 hours, I received several messages from women with a range of textures claiming this brand is an absolute game-changer when repairing hair to its proper state. Surprised by the number of recommendations raving about the positive results of the products, I was desperate to try anything with reviews from people I know in real life.
Does Olaplex Help Repair Damaged Hair?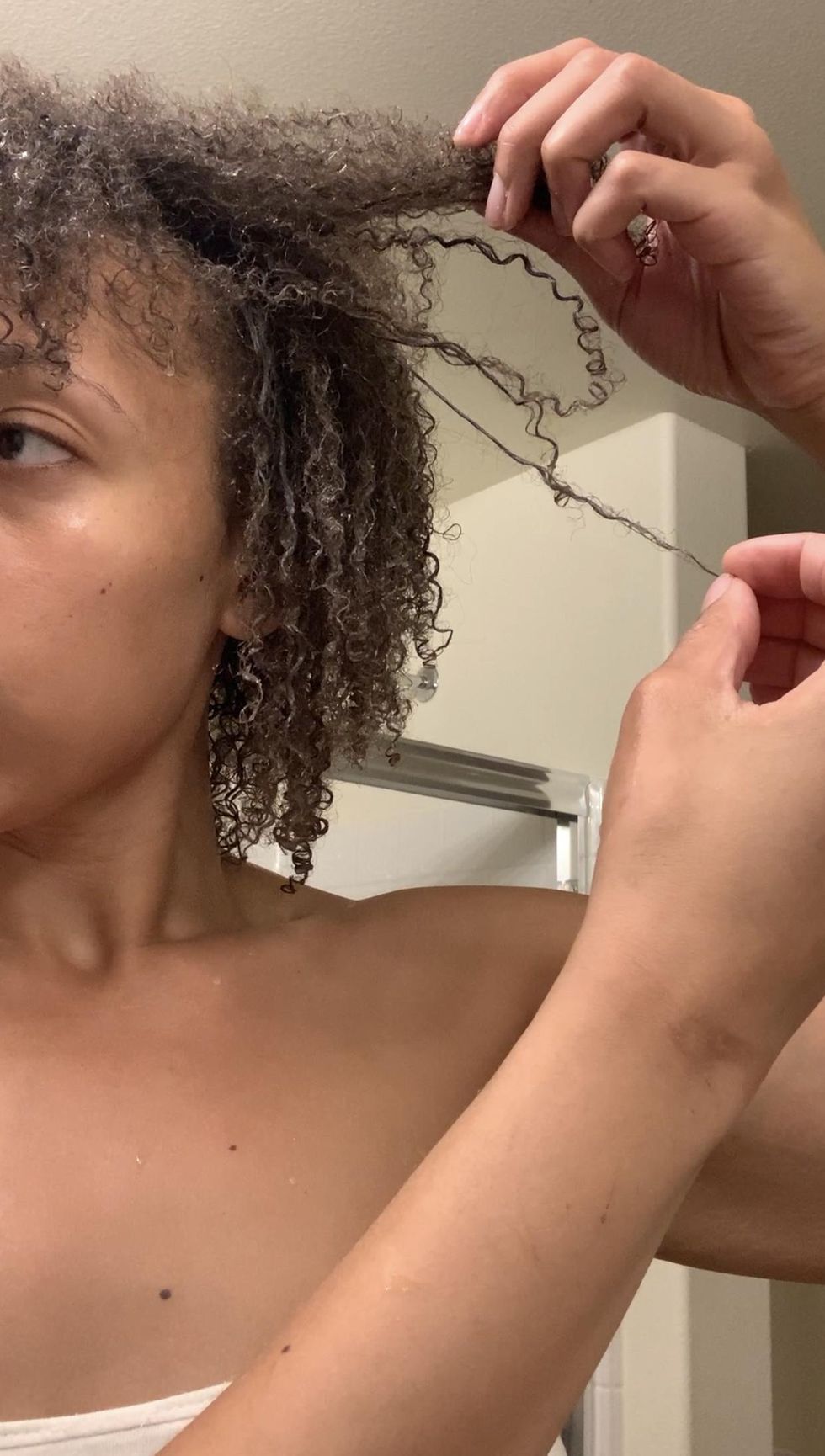 My curls before using Olaplex.
Courtesy of Shahirah Ahmed
Olaplex is a patented system to treat extreme damage using technology that restores compromised hair by repairing it from the inside out. Within our hair, bonds provide structure, strength, and stability. When broken, these bonds become weak and the result can be flat, dull, and unflattering.
There are several causes of damage, including destructive hair habits, hot tools, chemicals, dye, and styling. Olaplex uses a patented single ingredient, bis-aminopropyl diglycol dimaleate, which helps build bonds, and in alignment, you have healthy and beautiful hair. From curly hair to stick straight, the brand states it's suitable and beneficial for all hair types, so I decided to try it for myself.
Olaplex First Impressions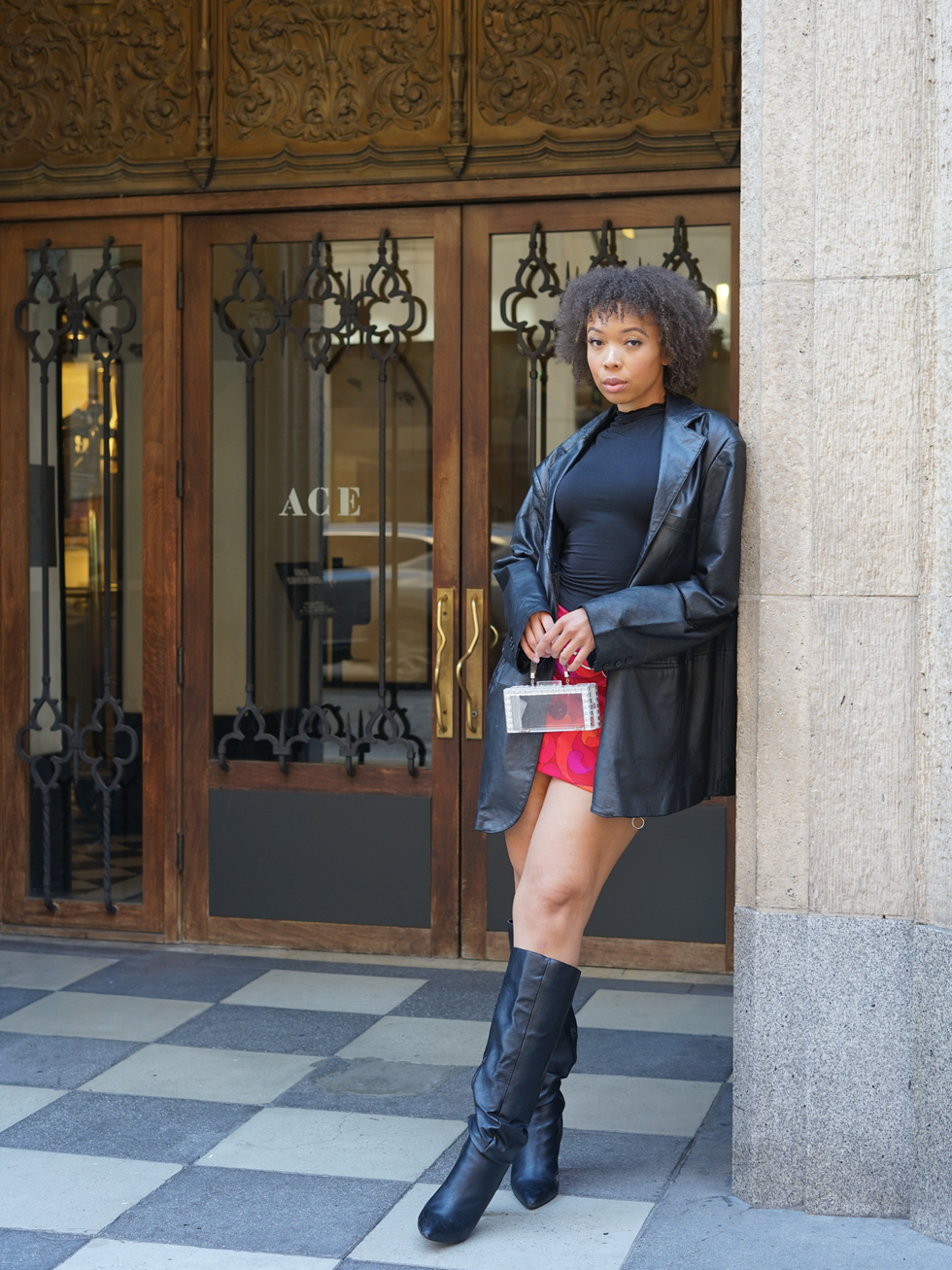 My curls after one week of using Olaplex.
Courtesy of Shahirah Ahmed
In all honesty, I was a bit skeptical of the blanket claim to help all hair types (even kinky curls like mine). Not all hair care is created equal. Starting off, I purchased the No. 0 Intensive Bond Building Treatment ($28/5.2 fl oz) and No.3 Hair Perfector ($28/3.3 fl oz). Because they were a pricey investment, I was hopeful each bottle was worth every penny.
The No. 0 Intensive Bond Building Treatment is a two-part at-home treatment for damaged hair created to absorb nourishment when used along with No. 3 Hair Perfector, 1 to 3 times per week. Considering the size of both bottles and the amount of repair I was in need of, I decided to apply the products twice per week.
Is Olaplex Worth It?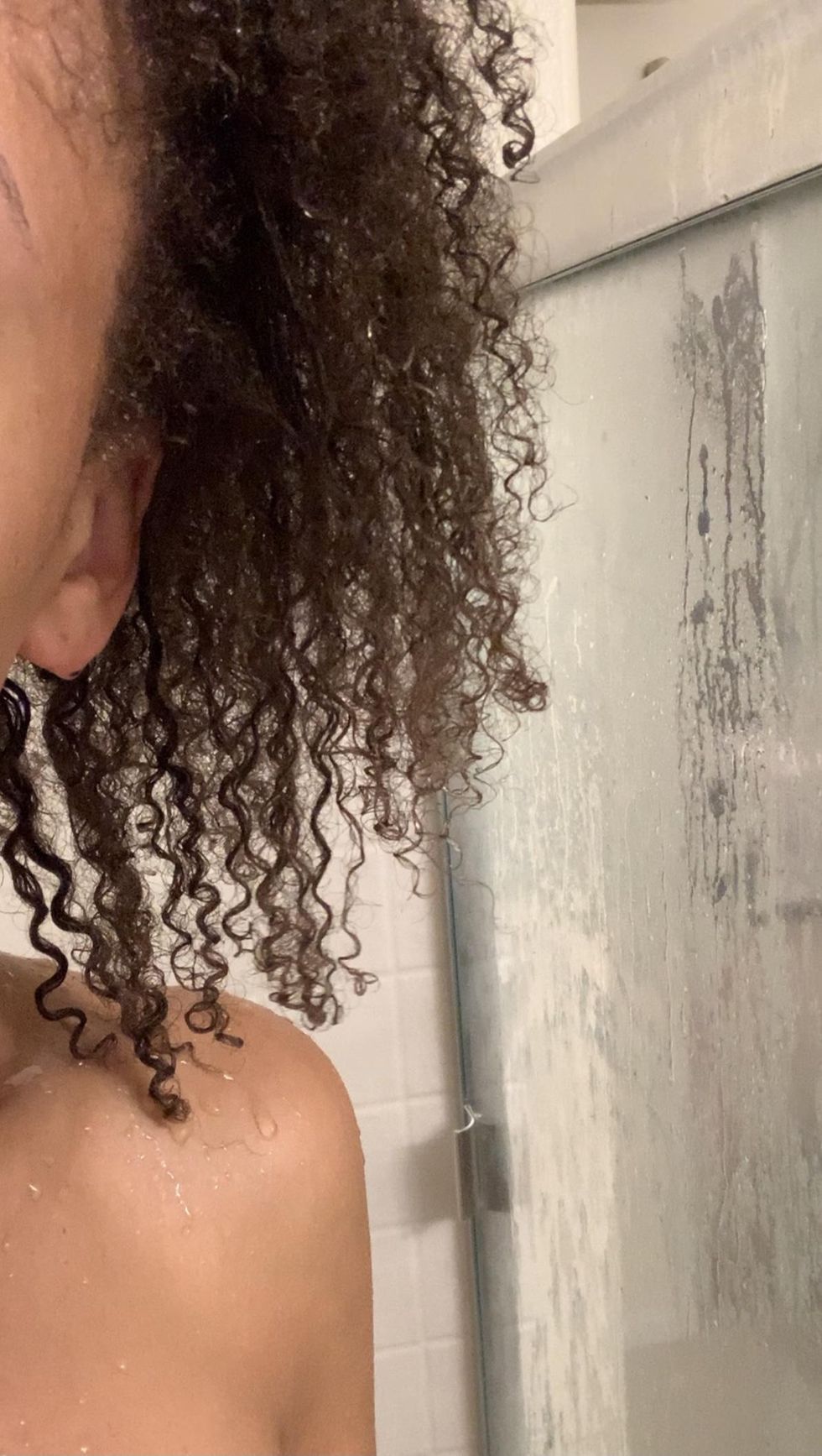 My curls after week four of using Olaplex.
Courtesy of Shahirah Ahmed
I didn't see much progress after the first week, but nothing great happens overnight. Not to be discouraged, I continued with the duo seeing a slight yet recognizable return of my natural curl pattern appearing in week two after the fourth application. By week three, I began to see texture reappear where curly strands had previously been completely lifeless and flat.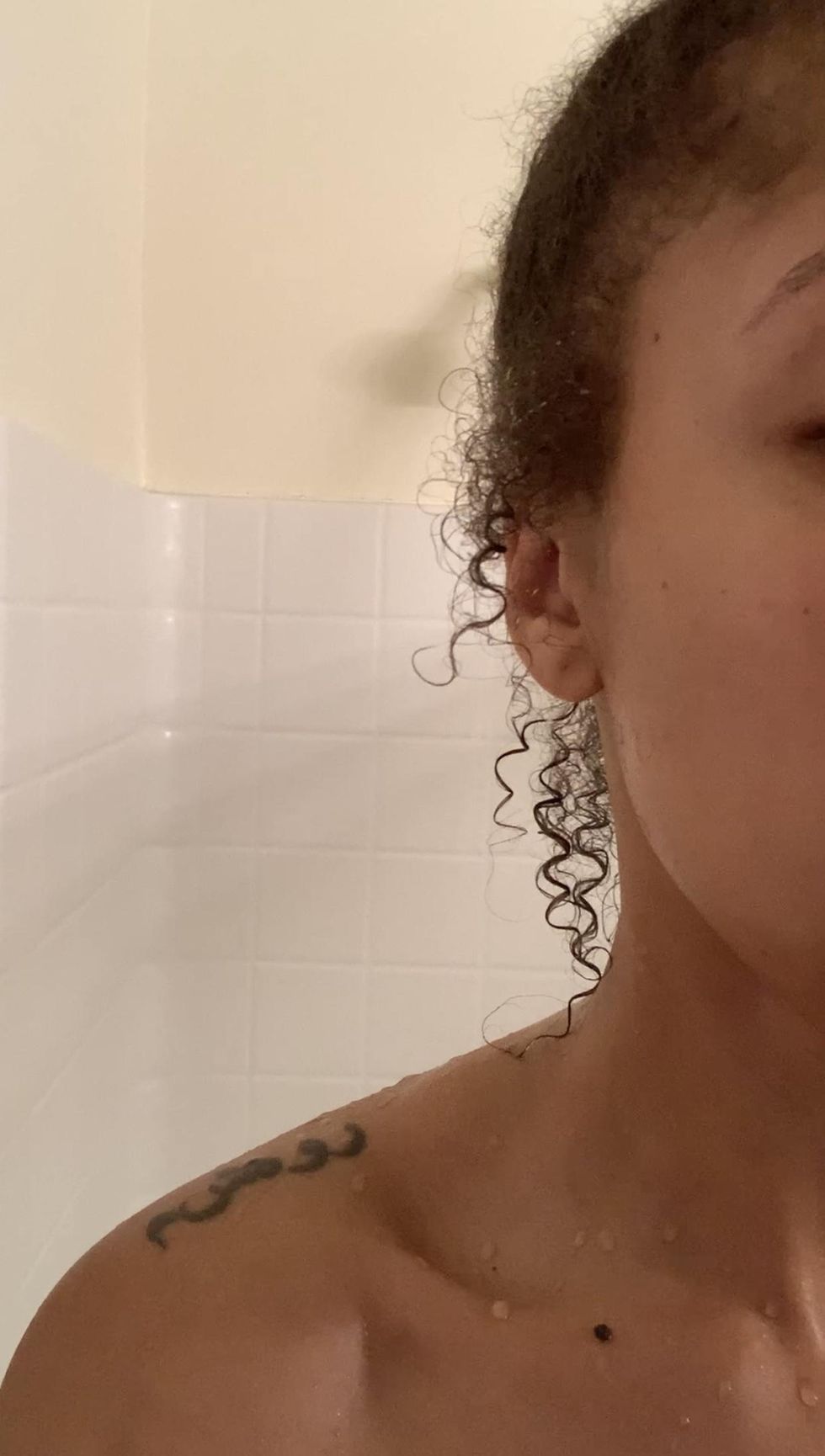 My curls after four weeks of using Olaplex.
Courtesy of Shahirah Ahmed
After week four, I noticed not only had most of my curls come back to life, but my hair also appeared more hydrated, more full. My curls were more defined than ever before. While there are still damaged areas in need of improvement, I'm convinced that continued and consistent use of Olaplex products will allow my curls to be at their peak.
A game-changer revolutionizing the hair industry, these are products that should remain in our hair-care collections at all times.
Featured image courtesy of Shahirah Ahmed
I've never been a foundation girl. Truthfully, I typically stay away from it because it can break out my skin, and it's tough to find a shade that fits. I have yellow undertones with a sprinkle of hyperpigmentation from previous acne struggles. Foundations with yellow undertones don't seem to have it all the way together yet. In my experience, the foundations always give banana-hued vibes. I usually purchase two foundations and mix to find my perfect shade, which isn't always ideal for my wallet.
When I scrolled on TikTok and came across the L'Oreal Magic Skin Beautifier, I was intrigued. The lightweight BB cream was going viral for its so-called ability to adjust to any skin tone. I watched as beauty gurus purchased it in green or orange, melted it into their skin, and raved about the results. At the time, I was entertained and fully convinced until I realized one common denominator: Everyone who reviewed the product was a white woman. I searched the "For You" page on the app to find women of color who had tried the product but fell short.
Still curious about the viral magical BB cream, I decided there was only one thing left to do. I added the product to my cart and purchased it. Check out more on my experience with the L'Oreal Magic Skin Beautifier:
About The Product
According to the site, the product is made to deliver four elements that will enhance your skin: It revives tired and stressed skin, evens tone, and hydrates. It's also supposed to transform into your perfect shade for a flawless look. I must say, the idea of a product adjusting to every skin tone and having us all looking amazing sounds way too good to be true. Skin is very complicated and unique to the individual.

Before we go any further, we should look at the ingredients. While doing my research, I noticed the product doesn't have SPF. I see this detail as a positive rather than a negative because SPF in beauty products can land differently depending on skin tone. I also noticed the product contains dimethicone which some may see as harmful to the skin because it is not a natural ingredient, however, this ingredient can prevent clogging pores by sealing any sweat or dirt on the face. Those with sensitive skin or who are prone to breakouts may appreciate this.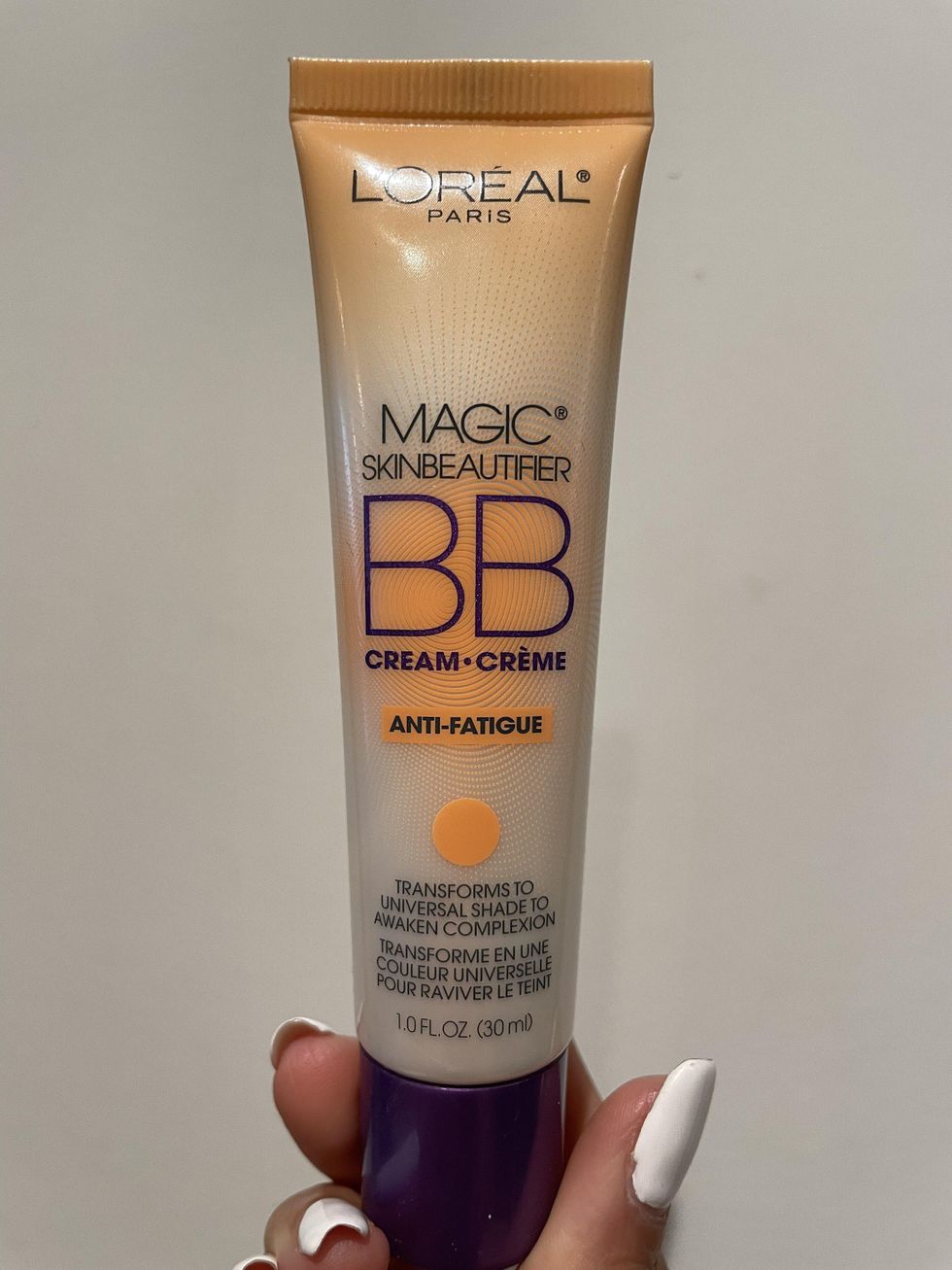 Courtesy of Celeste Polanco
About My Skin
My skin has been through many different phases in my life. There was the oil phase, which honestly was my favorite phase. My skin was glowing, and I barely found the need to use any highlighter or even foundation. I loved my skin's natural glow. Next was the acne phase, and as you can imagine, this was the least favorite time in my life. The stress of college and a toxic ex had my skin out of whack, but when college and my relationship ended, so did my acne.
Today, my skin is clear and more on the drier side. I love it, but I can admit that it could use an extra life boost.
I Tried The L'Oreal Viral TikTok BB Cream
I purchased the L'Oreal BB cream in orange because it aligned best with my needs. My skin looked very fatigued, and the orange BB cream targeted those issues. The alternative would have been the BB cream in green, which is specifically for dark spots, but I use concealer for those areas. As seen on TikTok, I squeezed the product directly on my face and rubbed it in. The orange color was intense at first, but as I massaged it into my skin, the product began to transform as promised.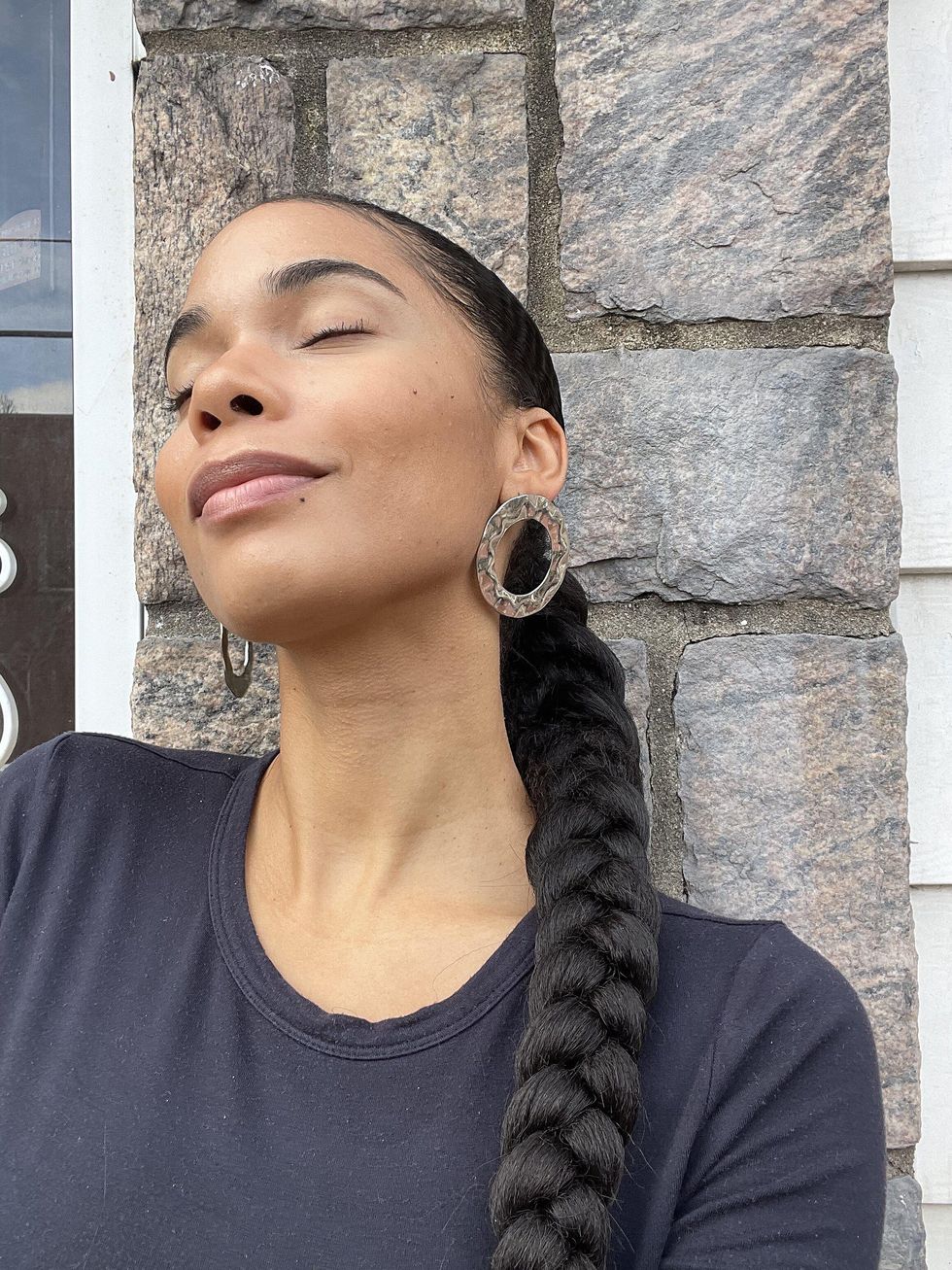 Courtesy of Celeste Polanco
The BB Cream Tried Me
The results of the L'Oreal Magic Skin Beautifier weren't that magical. Once the product settled in, I was pretty disappointed by the results. The product felt very dry on my skin, and when the orange liquid settled, my skin didn't look as flawless as expected. I felt the BB cream gave my skin a dull appearance. Since the product targets fatigued skin, I was surprised by a dull result.
I brought my skin back to life with bronzer and concealer, and the BB cream did take the layering of other makeup products better than expected. I was grateful for this, but I still wouldn't consider it a holy-grail product.
The Value
The only reason I'm not too upset about the result is because of the price point. At $10.99, it's a very fair price for a drugstore BB cream. If you're still debating trying this product, at least it won't break the bank.
The Final Verdict
To be honest, this just wasn't for me, and that's OK. I have yellow undertones and still felt like the product didn't align with my skin tone. People with darker skin tones may also struggle to find this product fitting. If you feel like the result may be different for you, go for it. The product is not expensive and won't take up all of your coins. However, for me and an ideal BB cream, the marathon continues.

Featured image courtesy of Celeste Polanco
If there's anything I love about makeup, it's a bold lip. I am that girl that will wear red, hot pink, and even black lip colors. As a child, I was always indifferent about my full lips. I now know that my insecurities stemmed from unrealistic beauty standards that catered to white features, so wearing a bold color is my creative way of taking back my power. It's also my way of saying my full brown lips are beautiful, good enough, and do not need anyone's approval to be part of the beauty standard. My lips are my way of being vocal, loud, and unapologetically proud.

Although I love my beautiful bold lip colors, I felt it was time I took things up a notch. While shamelessly scrolling on the #beautytiktok hashtag on TikTok, I came across Stay Golden's Glitter Lip Kit. The now-viral glitter lip kit is an electrifying vibrant kit that will have the spotlight on anyone's lips. I believe in my heart this glitter lip kit is my spirit animal. I was captivated by the videos showing how the glitter flawlessly glistened in the sun or a nighttime setting. I'm not ashamed to say I fell for classic social media marketing and bought the lip kit to try for myself. Keep reading to learn more about my experience with Stay Golden's Cosmetics Glitter Lip Kit:
A Little Tea About The Brand
Stay Golden Cosmetics is proudly island girl-owned by Danielle Edmond. The Jamaica-born model started her business on her living room floor in Brooklyn, N.Y. Her love for the city's nightlife and cosmopolitans infused her idea to create a beauty line that shined brighter than the city's night lights. She is now known for her super-popping glitter lip kits sweeping the TikTok For You page.
About My Lips
My lips are sweet, supple, and brown. Since the colder months are upon us, my lips are more prone to getting dry. My self-care routine for my lips consists of sugar scrubs and lip masks to keep them moisturized and smooth. I treat my lips with kindness when removing harsh lip stains or lipsticks. My preference is to use an oil cleanser to remove any bold lipstick of choice. I believe these treatment methods have helped to keep my lips healthy, helping me avoid over-drying, cracks, or sores.
Celeste Polanco
How To Apply: Easy... Too Easy
The only thing that made me nervous about this product was the application. I was worried the process would be pretty messy. Although I love glitter, the last thing I want is a sparkly mess in my bathroom. To my surprise, applying the look was easy and didn't require any bathroom maintenance afterward. I credit this to the instructions, which listed steps that included using the lipliner, then gliding on the gloss bond, and finally adding the glitter on dry lips. All three items were included in the lip kit.

When I applied the gloss bond the texture surprised me. I would compare it to glue—which makes sense given the glitter must stick—but the feeling was a bit uncomfortable. It dried my lips more, but I guess that's the sacrifice you make for beauty in this case.
Applying the glitter was easy and fun, and I used the applicator brush that came with the kit to gently apply it. I had full control of where and how much of the glitter I wanted to put on.
The Results:
I gotta admit, I typically don't believe everything I see on social media, especially when it comes to cosmetics. You ever bought a beauty product because the hype on social media was too real, but then you get it in the mail and realize you've been bamboozled? I've been fooled by the algorithm and convincing beauty gurus one too many times. However, I am not a victim of buyer's remorse. I chose to spend my coins, and I've paid for my choices—literally.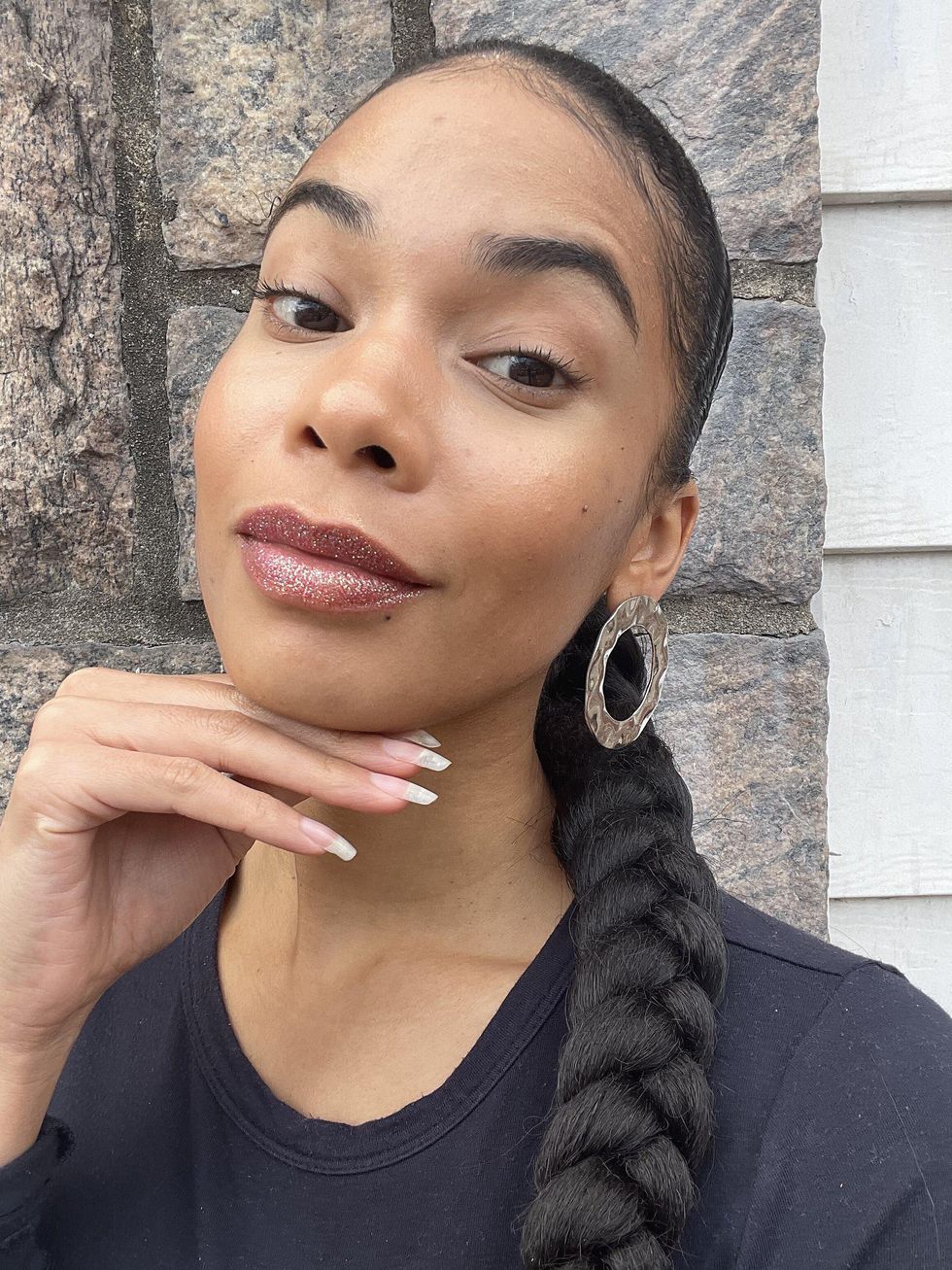 Celeste Polanco
I'm happy to report the coins were not wasted! This product looked exactly how it did when displayed on social media, if not better. The glitter was unbelievably gorgeous on my lips! At first, I expected the glitter to fall throughout the day or to find bits of it on my face. The total opposite happened! The glitter remained on my lips the entire day as I drank water, caught up with friends, and went about my business.
Remember that drying feeling we discussed earlier? After I applied the glitter, I put clear lip gloss on for moisture and extra pop.
The Value: Worth It
The kit retails for $20 plus shipping. I have to admit I'm actually OK with the price. Why? Because it works! I personally do not mind spending a coin on Black- and Brown-owned brands especially if the product works. I love that this kit provides you with everything you need to achieve the best results. Best $20 I've ever spent!
The Final Verdict
I mean, do I even need to say it? I love this product! I appreciated how bold the glitter was on my lips and how well it held up throughout the day. The removal process was also painless. Using an oil cleanser or coconut oil to remove this product will work just fine. Sure, the gloss bond was uncomfortable at first, but lip gloss took great care of that problem. The price point is appropriate, the product works, and it's Black-owned. Seriously! What's not to love?
10 out of 10, would recommend!

Featured image by Celeste Polanco
If a trigger was a person, it would be my family. I know y'all can relate. From a cultural perspective, Caribbean families just don't respect or understand boundaries. A lot of my anxiety is rooted in trauma and it was in March 2021 when my anxiety decided to act up. I had just been released from my previous therapist in October 2020 too. I knew I needed to find a new therapist to work through whatever remnant of trauma was still inside of me. I thought I was done with therapy after a past life regression and hypnotherapy session but managing mental health is a bitch.
So, I decided to search for mental health providers that accepted my health insurance. It was hard because finding a new therapist is like a blind date. You don't know how you will connect until the first session.
I was able to narrow down my choice to Dr. Amber Fasula. I emailed her with my history and medical records via email. A few days later she responded with a recommendation to try equine-assisted therapy (EAT), or horse therapy. Horse therapy is a psychotherapy that involves interaction with horses through a range of activities. I had previously written and read about how horse therapy helps children with behavioral problems or autism. But what I didn't know was horse therapy can help adults who are clinically diagnosed with anxiety, depression, PTSD or have experienced trauma.
I was the perfect candidate because I was struggling with all of it. I didn't know what I was getting into but horses are my favorite animal. So, I was willing to give it a try. And the best part was that my health insurance covered each session. I was only responsible for a small copay and a fee for caring for the horses every other week.
I was ready.
How Horse Therapy Works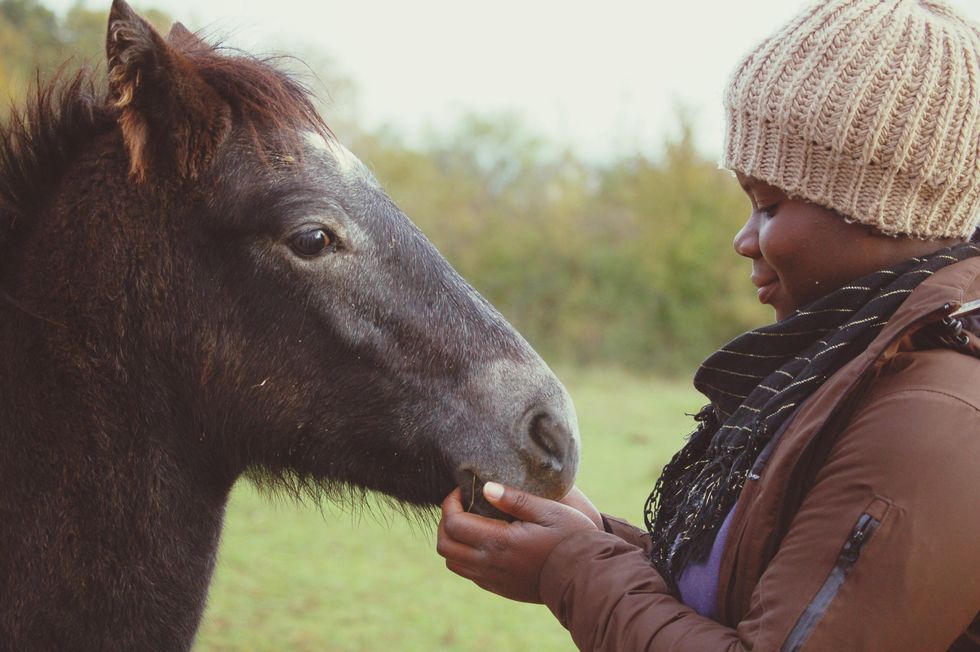 Getty Images
My treatment program encompassed a total of 10 sessions and my first appointment was set for April. On my first day, I drove 20 minutes from my house to Crossroads Corral. I didn't know what to expect, all I knew was that I'd essentially be outdoors. I wore an oversized t-shirt, a pair of gray joggers, and some old sneakers. After I parked and got out of my car, I was greeted by Dr. Fasula and Chessie. He was the horse trainer and was there to ensure my safety. Chessie would also be the one to interpret the interactions between the horse and me.
Dr. Fasula and Chessie led me into an open pasture. I immediately fell in love with every single horse on the property. But when they explained what I had to do next, I was completely lost (for privacy purposes, I cannot disclose specific details of the activities, but just know working with a horse was like learning a foreign language). My initial response was, "Huh? You want me to do what?" Now, I'm not scared of horses, I just never interacted with a horse so up close and personal.
And the thing is horse therapy involves a level of problem-solving where you have to figure out the solution on your own. With little to no help. It was the most challenging thing I ever did besides walking away from a six-figure salary.
I left my first session completely confused because I didn't know how to interact with the horse. I was beating myself up for something I had no knowledge or experience in. But I loved being around the horses. For me, it was therapeutic and peaceful. What people don't know is horses can pick up on your energy. This is how you build trust with your horse. Horses gain your trust through simple interactions. Just by petting the horse, you can see if the horse trusts you or not.
I was intrigued. I was determined. And I wanted to know more.
Revealing Patterns 
The first session was an introduction, but the second session was the real test. By this session, Dr. Fasula could easily see I had weak boundaries just by my interaction with the horse. I couldn't even deny it, because it was true. So many times in my life, I've found that people don't respect my boundaries or push me until I snap. This is the session that almost broke me. I had to quickly learn that logic doesn't apply here. And I learned it the hard way because I froze for the entire 45 minutes when they asked me to complete the next task.
I didn't even try because nothing about what I was asked to do with my horse made sense in my head. I swallowed my tears as I walked back to my car. I left this session feeling completely defeated. I wanted to give up. I didn't even want to come back. But I knew that wasn't an option.
I had met my truest self, and she had some things to figure out.
Showing Up To Do The Work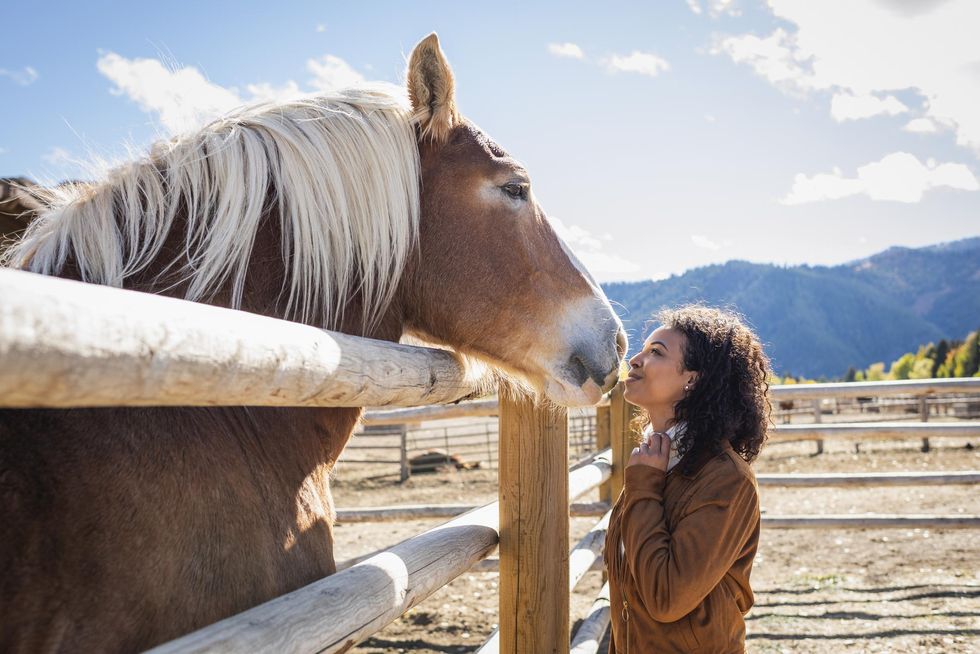 Getty Images
Before my next session, I spoke with one of my closest cousins. We will call him "R." I expressed to him how I failed my second horse therapy session. "R" said, "You have to show up to therapy the same way you did when you decided to create a new life path." He was right. It was now May and my third horse therapy session. Dr. Fasula asked me if I was ready to try again. I said, "Well, we're here now and there is no turning back." I showed up ready to do the work and it was noticeable. We repeated the same task from session two. This time I succeeded. This was the turning point. We will call it the breakthrough because now I understood I had to show up as a different Camille to ascertain the desired result.
In the following sessions, more patterns were revealed. For example, my tendency to blame myself for certain outcomes even when it's not my fault. This behavior demonstrates how I can miss out on opportunities because of the way I internalize certain situations. I also learned about obstacles, life stages, transitions, boundaries, and communication. With each task given to me – I succeeded. I had learned what the horse needed from me for us to work together. It was beautiful.
There were times I struggled, but I attempted to try without judgment. And when I didn't have it quite right or the right knowledge to complete the task with my horse, Chessie would step in to direct me.
Horse therapy became my safe space.
Graduation Day
It was now August and I dreaded showing up for my final session. It was graduation day. Which meant I would no longer see my horse and my heart broke. I had learned so much about myself. What I was capable of and patterns I needed to break. Overall, equine-assisted therapy was a confidence booster. Dr. Fasula knew I didn't want to leave. She said, "There is nothing more for you to work through." But I just wanted to be able to see my horse. You see, horses are my spirit animal and represent freedom. And I'm a free spirit.
Since completing equine-assisted therapy my life hasn't been the same. I manage my anxiety and PTSD better. This experience has been more effective than talk therapy, journaling, hypnotherapy, and EMDR. I still have monthly check-ins with another therapist where we engage in talk therapy, but even she said, "You don't need me anymore."
If you struggle with overcoming trauma or struggle with anxiety, depression, or PTSD, I would recommend looking into equine-assisted therapy.
Your patterns will reveal all that you need to know about yourself.
Featured image by Getty Images
When it comes to growing and strengthening natural hair, a dynamic duo of products and a healthy routine are necessary. It's unrealistic to think you can do one without the other and expect strong, healthy, and vivacious curls and coils. If you're wondering why your hair is damaged or in a stagnant phase, you may need to take a look at your routine and make sure your hair is getting the care it truly needs.
There is no quick fix to rapid growth but if you schedule your trims, keep your hair hydrated, and use products with ingredients that stimulate growth — it'll get you on the right track. This is why I want to introduce you to VIP Luxury Hair Care.
VIP Luxury Hair Care was created by Ashanti Lation to help with the growth, health, and overall maintenance of all hair whether you're relaxed or natural. The brand offers three different lines to cater to your needs — the GREAUX Collection, SILK SHOT Collection, and the DAY PARTY Collection. I had the opportunity to try their most popular collection, the GREAUX Collection, which offers six growth stimulating products.
Here is what I thought of each product and how my wash day went using the collection.
Featured image by Krissy Lewis/xoNecole