Yasmine Jameelah
Dubbed one of the "21 Black Women Wellness Influencers You Should Follow" by Black + Well, Yasmine Jameelah continues to leave her digital footprint across platforms ranging from Forever 21 Plus, Vaseline, and R29 Unbothered discussing all things healing and body positivity. As a journalist, her writing can be found on sites such as Blavity, Blacklove.com, and xoNecole. Jameelah is also known for her work shattering unconventional stigmas surrounding wellness through her various mediums, including her company Transparent Black Girl. Find Yasmine @YasmineJameelah across all platforms.
It comes as no surprise that the cannabis industry and the legalization of marijuana are yet another barrier that Black business owners face. A new report released by Grand View Research, Inc stated that the global legal marijuana market size is expected to reach $73.6 billion by 2027. However, many states have very specific guidelines that stand as barriers for many people of color looking to get into the cannabis business, and Black and brown people are still serving harsher sentences for the possession and distribution of drugs than their white counterparts.
In tandem with that, Black people across the country lack the capital and access to venture into the marijuana business due to the various restrictions on who can own cannabis businesses. While the fight continues to dismantle another area in which systemic racism oppresses our community, these business owners are propelling forward to be the diversity that the whitewashed wellness industry so desperately needs. Here are five Black-owned CBD brands to support with varying products.
The Jersey-based CBD dispensary founded by Almaz Adeigbolo offers everything from pre-rolls and honey, to bath bombs that reduce anxiety. They also sell strains of CBD flower to help with depression and insomnia. Additionally, Adeigbolo is also a chef, and she curates cannabis-infused culinary experiences with her boutique food company, brwnbox kitchen.
BROWN GIRL jane is owned by sisters Malaika and Nia Jones and beauty and wellness expert Tai Beauchamp. The Spellman grads started the company after Malaika fell in love with the healing properties of plants and CBD, and felt frustrated with the lack of representation of people of color. Their products range from facial serums to body butter and yoni oils.
Founded by Dorian Morris, Undefined Beauty combines cannabis and skincare. The clean beauty advocate's line features firming serums, cruelty-free lip balms, and bath salts.
Not sure where to begin your CBD journey? This company provides a monthly subscription service of products such as calming wearable patches, chocolates that fight anxiety, nourishing facial masks, feel-good teas, healthful treats, and soothing balms all delivered to your door.
Yes, you read that right, hot sauce. Chef Paul Booker intends to blend up his passion for food and cannabis for all to enjoy. The former athlete shared that after enduring injuries and extreme physical stress on his body after his college football days, Satan's Breath was born.
If you're curious about exploring CBD, support these Black-owned brands as you venture into this area of wellness!
Let's make things inbox official! Sign up for the xoNecole newsletter for daily love, wellness, career, and exclusive content delivered straight to your inbox.
Featured image by Catherine Falls Commercial/Getty Images
Originally published on September 23, 2020
In 2018, The Center for American Progress reported that African-American women are three to four times more likely to die from childbirth than non-Hispanic white women, and socioeconomic status, education, and other factors do not protect against this disparity. Celebrities like Beyonce and Serena Williams have also helped to bring awareness to these claims, as they both shared the trauma surrounding their emergency C-sections in their respective documentaries Homecoming, and Being Serena.
Additionally, Black mothers' anxiety surrounding childbirth has increased significantly during COVID-19, due to hospitals limiting the number of people that can enter the delivery room, leaving many expectant moms feeling defenseless and unsupported. In tandem with that, a recent meta-analysis researching over 20 years of studies revealed Black patients were 22 percent less likely than white patients to receive any pain medication as they were perceived to have a higher tolerance for pain, have thicker skin, and less sensitive nerve endings.
On the other side of the statistics and fears, is holistic doula, and founder of Mama Glow, Latham Thomas. The Oprah Super Soul 100's Teacher established the first company to offer doula support at every stage along the childbearing continuum - including fertility doula service for women looking to conceive. Her company, which currently has over 400 doulas worldwide, has been at the helm of this resurgence of Black women reclaiming their birth experiences and seeking midwives and doulas to assist them in various stages of their pregnancy.
Here's what the author shared with us the state of home births during COVID-19, how we can show up for Black moms, and self-care:
The Current State Of Home Births
"They're a bunch of clients who were primed for a home birth, but systemically, midwives of color have been marginalized. Dating back to the 1600s, Black slaves acted as midwives and doulas until the mid to late 1700s. When obstetrics was introduced into America, white male physicians replaced midwives, and by the 1800s, legislation was created to ban midwives from practice altogether, and in some states, midwifery is still illegal. So, they are working at their fullest capacity and because there's not so many. Our county has created legislation that's undermined the sustainability of midwives and midwifery, so, unfortunately, it's not accessible to everyone."
How Expectant Mothers Can Stay Encouraged
"While there is a one support person rule that some hospitals have enacted, there are many things that a doula can assist you [with] via Zoom during childbirth. And if you're a single mom or single by choice, you can still bring your doula to act as your one support person.
"This is a challenging time, but it's also an exciting time in how you can prepare yourself in this process. It shouldn't be about being afraid but feeling empowered; I really want Black women to know that reclaim joy, I know tons of people who are having amazing births at this time. We can't allow fear to seep into our consciousness."
"It shouldn't be about being afraid but feeling empowered; I really want Black women to know that reclaim joy, I know tons of people who are having amazing births at this time. We can't allow fear to seep into our consciousness."
For Moms Who Can't Afford A Doula
"There are doulas everywhere that do community-based work, and they will work with people regardless of the rate. This is a part of our scope of service at Mama Glow; it's my duty to put you in contact with someone who can help you even if I can't. We also have new doula trainees, and those doula services are much less expensive."
How We Can Support New Moms During This Time
"When thinking about Black mothers and how we are as a culture, we're with our people. We don't do this alone, we're a community that raises our children together, and not having that village surrounding us right now can impact new moms mentally. They're struggling; they don't have the support. There's no one cooking for you, holding the baby while you shower - we need to show up for them.
"I'd suggest sending them gift cards for groceries and having daily Zoom calls to check in on them so that the mom sees people every day, so if she has markers for postpartum depression, they're being seen. They should also consider reaching out to a licensed healthcare partner, as many therapists are offering that service online, with a sliding scale so they can work with you from home."
"For us, self-care is not just a frivolous thing, it's a necessity that allows us to combat things that can fry us emotionally."
What Self-Care Should Look Like For Black Moms
"I want us to figure out what self-care rituals that you can practice daily so that you can design a life you don't have to escape from. You might need to declare, 'I need a nap. I'm going to take my iPad in the bathtub and watch my favorite show, or I'm going to throw on some Beyonce and twerk.' We need to explore happiness. Recently, self-care for me has been putting together my 'stop doing list' where I proclaim what I won't take in. Black mothers accumulate so much.
"As I was thinking about the murder of Ahmaud Arbery, I couldn't help but appreciate that my 16-year-old child son is home with me during this time. I sleep at night soundly, because I know where he is. The spikes of anxiety Black mothers face when we think about the safety of our children can destroy our nervous system. We need to think about the stress level that exacerbates our mental health; for us, self-care is not just a frivolous thing, it's a necessity that allows us to combat things that can fry us emotionally. I want us to practice self-preservation and self-love and use it as a model for ourselves and our children."
For more of Latham, follow her and Mama Glow on Instagram.
Featured image via Latham Thomas/Instagram
Originally published on May 22, 2020
Have you ever looked at the hashtags of self-care? The first few hundred photos are mostly of white women smiling, brunching with their girlfriends, and in facial masks and expensive robes. The takeaway? Black women can't afford to take time for themselves.
I'm a firm believer that self-care Saturdays and Sunday should be abolished because my needs aren't defined by what day of the week it is, but I get it - the goal is to emphasize check-ins on you.
But who sets that standard for us? Last year, I decided that my self-care would be radical - which meant that I'd go out of my way to take care of me. And while I love a good spa day as much as the next person, I needed a routine that doesn't cost much, and helped my life run much smoother. Here are nine things you can add to your self-care arsenal:
1

.

Making difficult decisions.
Someone once told me that happiness isn't a destination that you find yourself at, it's a series of choices. It's those things you don't notice--getting up earlier, saying 'no', leaving your ex on 'read', setting a budget--that ultimately helps you create a life for yourself that love.
2

.

Owning when you need me-time.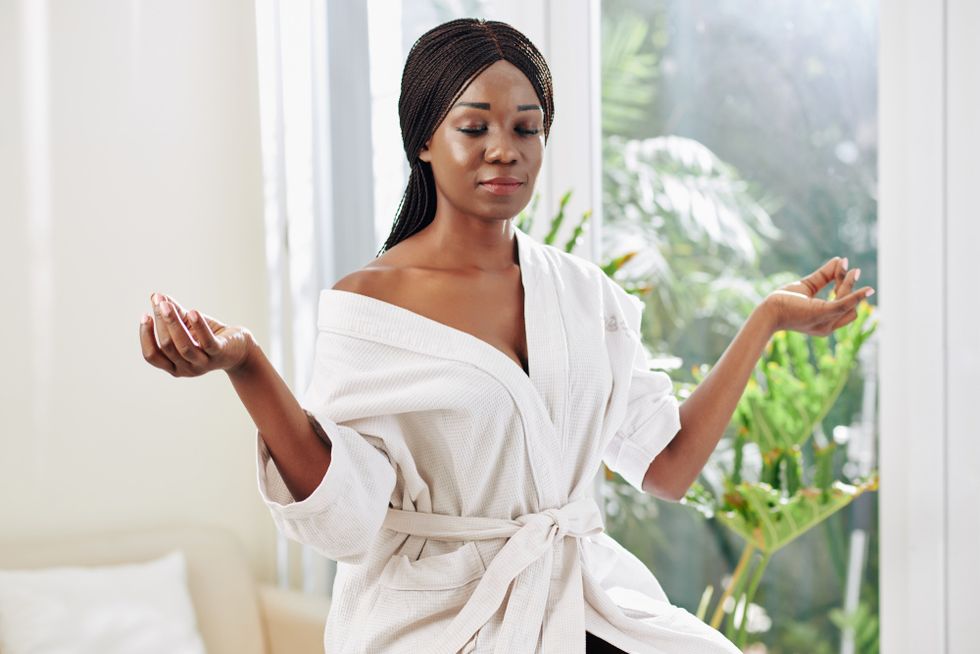 Shutterstock
I find that most Black women wear being there for everyone as a badge of honor, and I refuse to subscribe to those toxic expectations that left our mothers and grandmothers overworked, underpaid, and their love tank on E. When I need time for me, I take it. I've learned that the opposite of selfishness isn't selflessness; it's boundaries and realistic expectations.
3

.

Doing your laundry before your hamper overflows.
Because being on your last pair of underwear, or your favorite workout gear not being clean in time for a gym session with your girls, never made anyone feel better about their lives (now I can't tell you that I folded the laundry, just know I washed it, sis, I don't know what you want me to tell you).
4

.

Drinking tea while it's hot.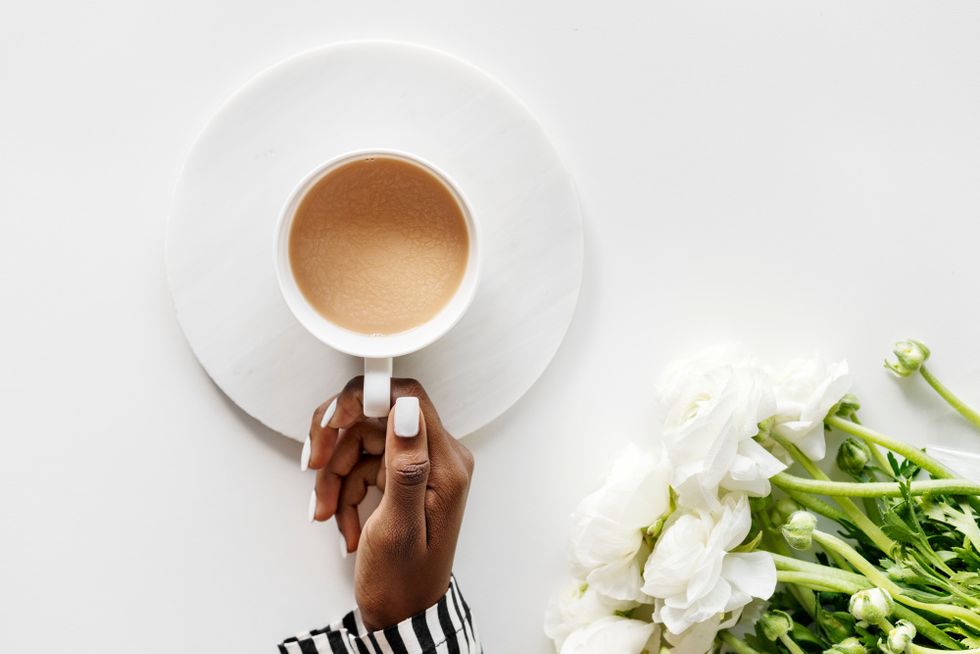 Shutterstock
Raise your hand if you made tea, sat it down to take care of a million other things, and by the time you picked it up, it was cold - you all just virtually raised your hands. Taking the time to be in the moment and drink my matcha while it's hot in the smallest way is a way I can affirm that I deserve to be still, and enjoy small pleasures.
5

.

Going to therapy.
Therapy isn't free, but for Black women, it's essential. The weight that we carry around in this world mentally and emotionally deserves release, and we need to normalize prioritizing our budget for it. My co-pay has become my happiest weekly expense because that time on the couch will benefit me for years to come.

6

.

Clearing out unread emails.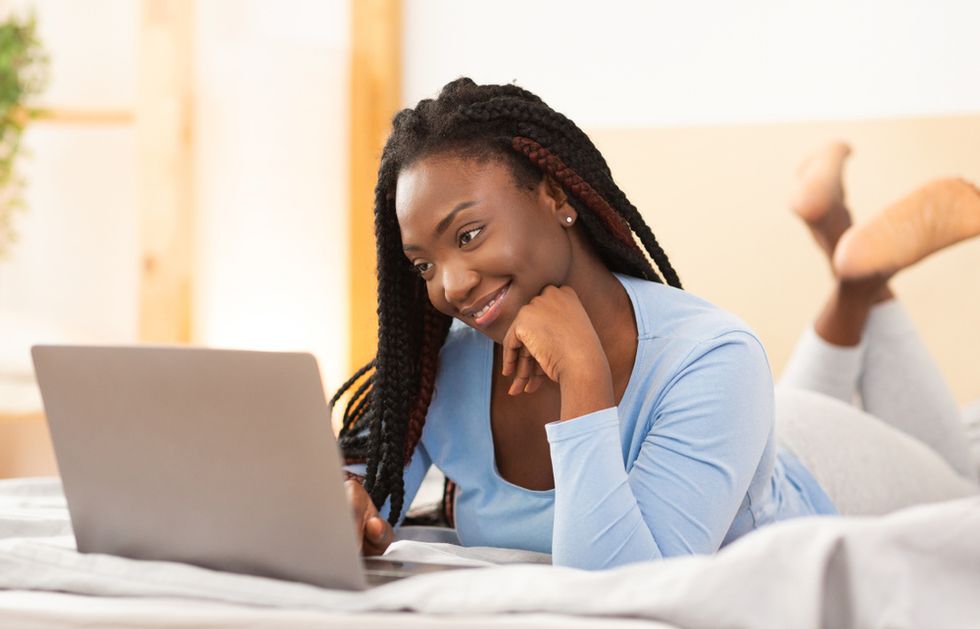 Shutterstock
Answering unread emails/cleaning out spam has become my new favorite pastime. Having tons of people awaiting my response can trigger anxiety, so taking the time to assess my priorities and what I can/can't say 'yes' to is paramount to my organization routine.
7

.

Spend time with your best friend.
As crazy as my schedule can get, I make it a point to at least once a month make time to hang out with my best friend. Even if it's something as small as a coffee, take that time to check-in with the person that knows you like no one else.
8

.

Twerk lessons via YouTube.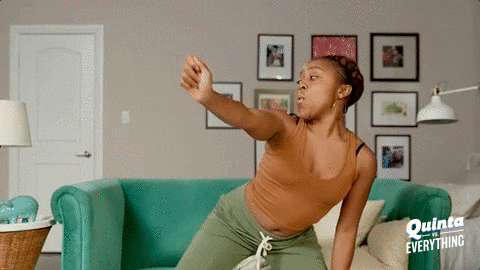 I don't know if it's just me, but I got tired of not being able to twerk like my girl, Meg. One Friday night, I locked myself in my room, and I didn't come out until I learned how to twerk like the Houston rapper. Even if twerking isn't your thing, learn a new TikTok dance. Laughter and movement are therapeutic in and of itself.
9

.

Watch your favorite show.
My favorite show of all-time is Girlfriends, and I love watching it in the bathtub with some wine (as well as rose petals, if I have any on-hand). I used to think that romantic baths had to involve a partner, but that time to myself helped me realize that I can treat myself well, whether someone is there to facilitate, or enjoy it with me, or not. I deserve self-care because being a Black woman in American is a revolutionary act and as much as we can - we need to honor that and tend to us, first.
Want more stories like this? Sign up for our newsletter here to receive our latest articles and news straight to your inbox.
Featured image by Shutterstock
Originally published on May 20, 2020
I'd like to think I'm very comfortable in my singleness, I'll never forget a text a friend sent me this past Valentine's Day: "Thank you for being an example of what self-love is." I was so good by myself until COVID-19 hit, and now I'm just like everyone else wondering where my Rona bae is. TV shows make single life look so carefree, and to some extent, it is - but for every day we're able to book a last-minute flight, there's a night where you're sick and the only person bringing you soup is Uber Eats.
Don't get me wrong, I love the freedom the single life provides - but right about now, matching pajamas and corny TikTok videos ain't looking too shabby. In a matter of days, Rona has made everyday life, uncomfortable AF. And while there's so much self-help for couples who want to keep date nights spicy, and parents who've become teachers overnight - what about us? So, if you're struggling between playing Megan Thee Stallion or Jhene Aiko, use these tips to cope with COVID before you get in your feelings.
1

.

Own the happiness and loneliness single life brings.
I recently listened to a live episode of Oprah'sSuperSoul Conversations with Tracee Ellis Ross, where the Pattern Beauty founder spoke about making space for all the emotions single life provides.
"I can feel scared that I'm gonna be lonely and also ask myself, 'Well, don't you like being alone?'"
Keeping space for both truths allows you to live an honest life - when it feels good, and when it doesn't.
2

.

Plan a date night with yourself indoors.
Honestly, solo dates need to become just as normal as date nights for couples. Get cute for yourself, sis! Run a bath, put on what makes you feel the sexiest, grab some wine, and watch something that makes you laugh, hard. It might not sound like much, but you'd be surprised how those small choices can change the course of your coming week. Last night, I watched Lena Waithe's Twenties in my favorite bodysuit, and I woke up this morning, ready to go for my goals and leave my favorite 90's playlist on repeat all day.
3

.

Check on your other single friends; chances are they're struggling too.
Singleness can often result in many of us, living very selfish lives (it's not our fault, 80 percent of the time it's just us.) Last week I was feeling alone, so I called a friend who's newly single to catch up. Minutes in, I found out she was pregnant, switching jobs, and moving during the pandemic. Naturally, I switched gears, ready to put on strong friend hat, but to my surprise, she held space for me too. She told me it was OK to be sad, and that she was proud of me for leaving a past relationship. That conversation reminded me that even when I feel alone, I have a community of women ready to hold me down, too - no matter what.
4

.

Be patient with yourself.
The lot of us were already dealing with everyday issues, and then Rona came adding more stress. Collectively, I don't think we've given each other the space to feel however we need to right now. So if you wake up and have the energy to work on that side hustle, do it - but if all you have room for is your 9 to 5 via Zoom, and reheating leftovers, that's OK too. Whether we realize it or not, our mental health can be impacted by staying indoors for so long, give yourself room to just be.
5

.

Get a virtual happy hour going.
Thanks to the liquor store being named an essential business, my girls and I have been hanging whether we can link up IRL, or not. I was curious if a virtual happy hour would feel the same, but three hours later, I felt just as connected to my crew as I do on our girls' night out.
Ultimately we don't know how long we'll be inside, but while we're here, let's be extra kind to each other. Check on your group chat, call your mom, watch your favorite movie as many times as you need to. And when you go to get essentials, make sure you fly sis - your Quarantine ting might be waiting for you in the aisle re-upping on his favorite snacks.
Want more stories like this? Sign up for our newsletter here to receive our latest articles and news straight to your inbox.
Featured image via Shutterstock
Originally published on April 12, 2020
This year has proven that even breaks from make-up aren't a cure for all skin concerns. Quarantine has brought about a new pesky trend, called maskne, acne around the face due to mask-wearing for hours daily. There is a myriad of things to consider as to how your maskne might be present - your quarantine diet, stress, and skincare routine. But what you should think about most is the amount of time you're wearing a mask, and if that material of the mask is causing you breakouts.
A month after social distancing restrictions were put in place, I was ready to work out in the park again and I decided to get four miles in on the track near my home daily. While it felt great to get outside and have the sun hit my face, my skin repeatedly broke out due to wearing a mask as I'd often find myself passing runners, families, etc during my workout.
I tried so many things to eliminate the acne, switching up my cleanser, diet, detox, and nothing worked as well as my latest toy - a steamer.
Why I decided to purchase the steamer: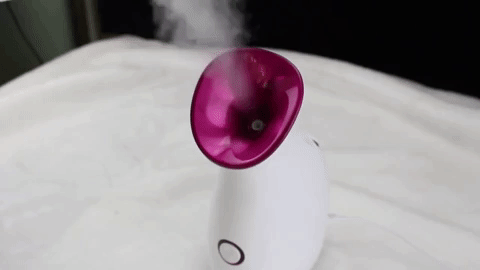 Prior to COVID-19, I swam and went to the sauna weekly and my skin never looked better. My weekly sauna trips opened my pores and my skin had the perfect glow, even in the coldest days of winter. With the gyms closing, I wanted to get creative and have a similar steaming experience that was safe (I tried putting my head into a pot on the stove, it's doable but a struggle - get the steamer, sis) and affordable. There are many sites that sell steamers, here's the one I purchased.
What to do before you steam?
Remove all the makeup/moisturizer off of your face, and as simple as it sounds, enjoy the experience. When I steam, I attempt to recreate the same experience as the sauna. I even purchased a bath head wrap and towel to make me feel like I'm somewhere else.
How long do I steam for?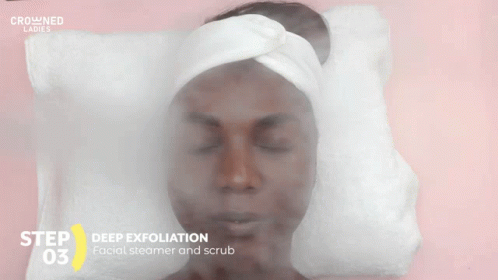 The instructions stated that I should steam for 10 minutes, so I took the steamer into my room and set a timer. I tried standing in my bathroom for ten minutes and it made the process less enjoyable. Being able to relax on my bed made me feel excited about the experience, and enjoy myself.
How does my skin feel after?
While I didn't initially see the difference, two days later, a pimple I had that was extremely painful disappeared, and the scar was much lighter when it left in comparison to the acne scars that have been left on my face following a pimple. Additionally, I slept better following the steam, and the skin on my face and neck appeared clearer the next day.
Featured image by Shutterstock
There have been many studies about the benefits of houseplants. NASA revealed that houseplants can remove up to 87 percent of air toxins in 24 hours. In tandem, studies have also proven that indoor plants improve concentration and productivity (by up to 15 percent), reduce stress levels, and boost your mood — making them perfect for not just your home but your workspace, too. Not to mention the latest craze of plant moms across social media and the posts outlining tips to care for your plants, and what plant you're likely to own by zodiac sign (which was very wrong for me, I'm an Aries who hate succulents).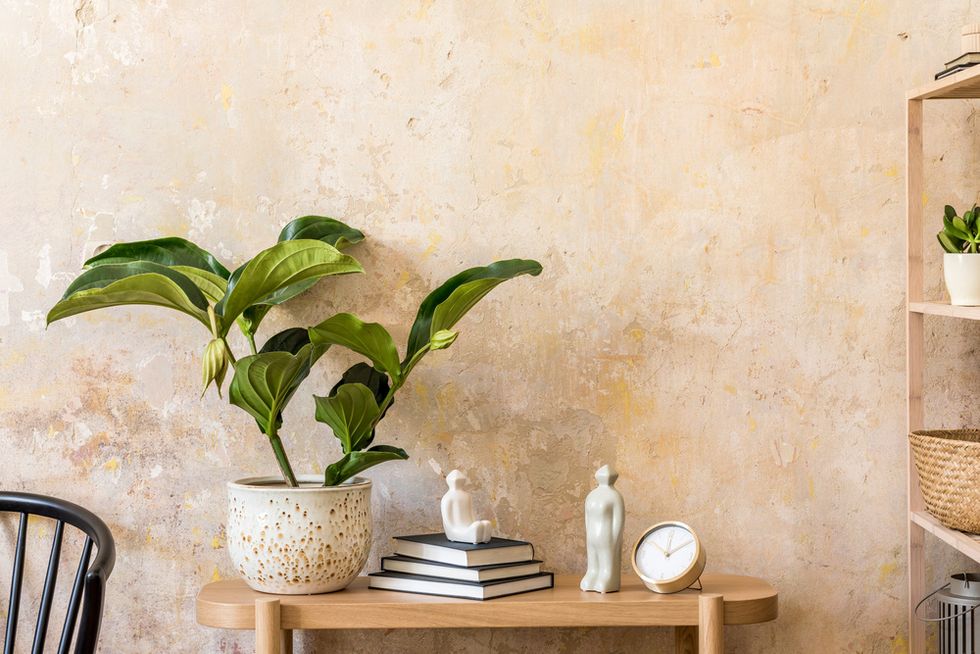 Shutterstock
Months into learning my plants, I've realized that while caring for them is a new experience, the feedback that I'd received online (of often plants just die no matter how much you care for them) that plant care was much deeper than water, repotting, and exposure to sunlight - your plants are telling of your self-care regimen for yourself.

Here's how I came to the realization that your plants expose your patterns. If you're neglecting your plants, chances are:
You're neglecting your morning routine.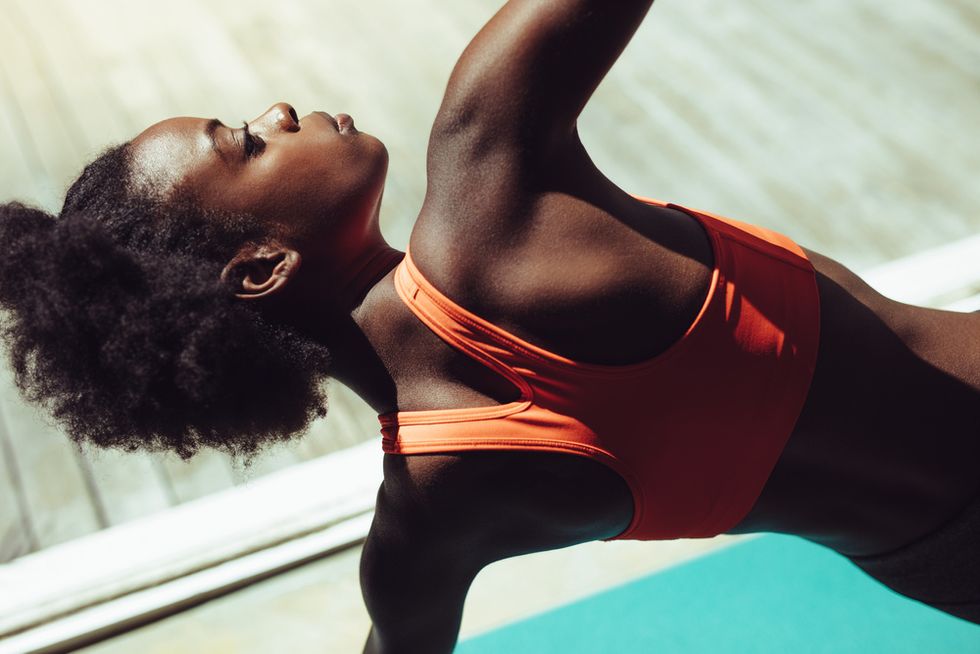 Shutterstock
My morning routine starts off with scripture, drinking a liter of water, and watering my plants. When I skipped that, I not only neglected my own moments of stillness before my day, I neglected my plant's time to feel supported - and connected to me.
You're not in a good mood.
Watering my plants, seeing the drainage knowing that they've been fully hydrated, and wiping the leaves makes me happy. It allows for me to have an opportunity to show appreciation for what they bring to my space. When I water my plants, I typically play upbeat music, and it fills me up for the day. If I'm upset, chances are I'm skipping what brings me joy and my plants days later look sad (aka the leaves droop).
You're not completing tasks well.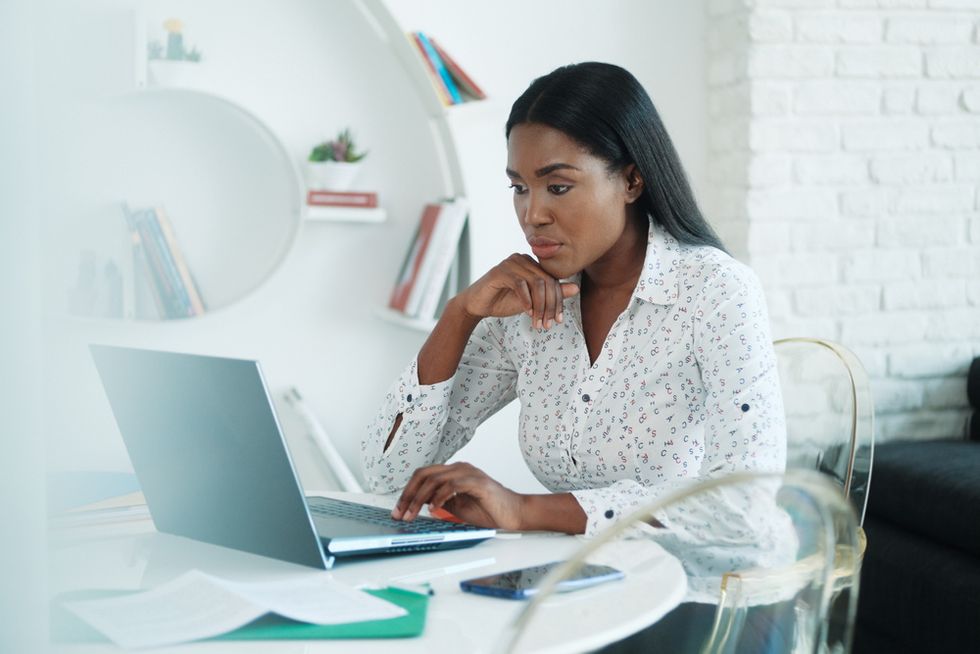 Shutterstock
Plants are work, so much so that there are many people that opt-out to purchase fake plants that fill their home. When you ignore your plants, you're allowing for a task and responsibilities that you signed up for to not be taken care of. Sure, repotting and watering can at times become redundant, but the growth of your plants is rewarding if you're consistent and care enough to be.
Your space isn't clean.
Watering my plants is a part of my housekeeping routine. I not only care for them, I clean around the pot, underneath, and the space behind my plants in my home for dust. Chances are if your plants are dying, you're ignoring the place in your home where your plants are (and additionally missing the opportunity for a check-in with your plants to see if they're happy with the area they're placed in within your home).
Featured image by Shutterstock