---
"We don't really care about the trends you like to follow…"
These are the first lyrics that pop into my head when I think of Chloe x Halle. These undeniably talented sisters are single-handedly responsible for the Grammy-nominated soundtrack of my life, The Kids Are Alright. Their artistry has evolved from their days as YouTube famous cover artists with viral renditions of Beyonce's "Pretty Hurts" and John Legend's "All Of You". They've taken over the music charts, our television screens as the Forster twins on Freeform's Grown-ish, and graced the stages of their mentor's On The Run II Tour. Additionally, the two will be gracing the big screens showing off their separate cinematic acting chops in Miramax's The Georgetown Project and the live-action remake of Disney's The Little Mermaid. Need I say more about how incredibly talented these multihyphenates are?
When first connecting with the "Forgive Me" songstresses, I could feel their positive energy radiating through the merged call from the moment they clicked over. Before the interview started, I had to praise them for their uplifting virtual tribute for my alma mater, Spelman College, and using their platform to amplify Black voices during these times of racial injustice and heightened systemic racism. As always, I asked the Grammy-nominated "Do It" duo about their mental health and if they were OK to proceed with the interview before starting. "Right now, I'm feeling very grateful and so tired, but so grateful and happy," Chloe Bailey answered. "And I'm feeling hopeful in a way too with everything going on and seeing everyone raise their voices to make a greater change. I'm in a positive vibe right now."
I had the pleasure of speaking with Chloe x Halle about the creation and inspiration behind their latest album Ungodly Hour, their growth as musicians and actresses, and their appreciation for Gen Z activism against police brutality.
xoNecole: When did you two know that music was your God-given talent?
Chloe Bailey: I remember my parents and my aunts telling me they would hear me sing in the car when I was like two in my diaper (laughs). When I knew that Halle and I had something special together singing was actually when we had our very first performance and it was at the Spelman Summer Camp Variety Show; we sang "Summertime" and we were 5 and 7 and we won. I remember in that moment, I was like, "Hey, this might be our little thing." So, ever since we were 5 and 7. It kind of progressed from there.
You two have always been transparent about your self-taught musical abilities with production, arranging and writing. Now that your artistry and your popularity has grown and blossomed before our eyes, do you still find great importance in having a creative hand in your own work?
Halle Bailey: Absolutely, my sister and I, we definitely take ownership in every single thing that we do. Our musicianship is very important to us. Our dad always instilled in us - our dad and our mom - that we can do anything we put our minds to and you don't have to wait on other people to do these things for you; you can learn them yourself. My beautiful sister is an amazing producer, she produced both of our records front to back. We write every single word that we sing, and that is so very important to us because it's our story and we want it to be truthful and we want it to be healing and we want people to be able to relate to what we're saying. We feel like when it comes from the heart, it's best and we definitely take full ownership of everything that we do and remind each other that we can do this.
"We write every single word that we sing, and that is so very important to us because it's our story and we want it to be truthful and we want it to be healing and we want people to be able to relate to what we're saying. We feel like when it comes from the heart, it's best and we definitely take full ownership of everything that we do and remind each other that we can do this."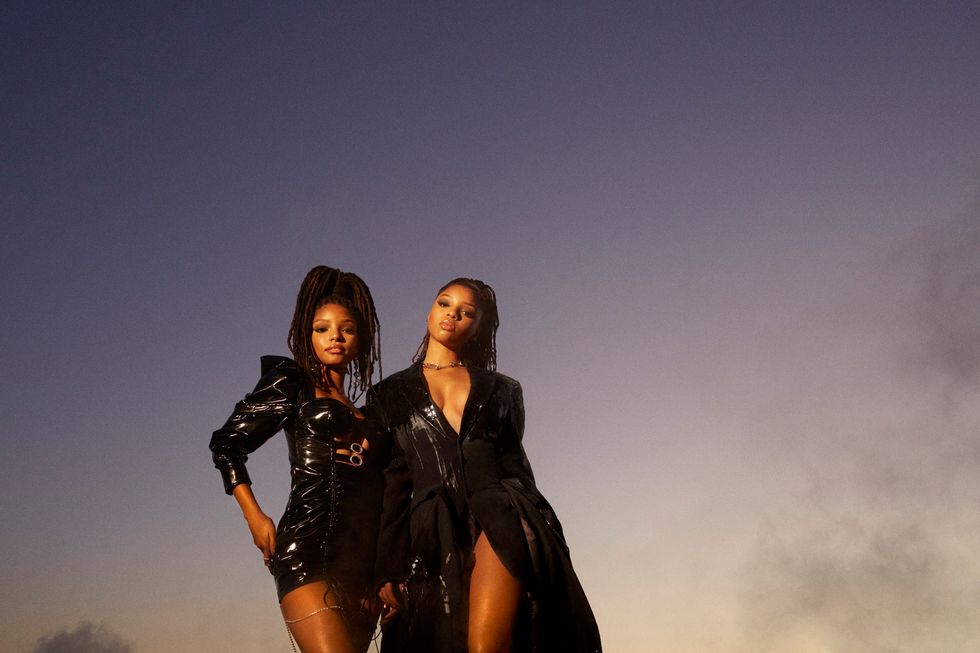 Photo Credit: Robin Harper
Who were some of your major musical influences growing up? Did you two have the same or did you have a different sense of musical styling?
Chloe: It was different. For me, I grew up loving Destiny's Child, Toni Braxton, Nina Simone, Jill Scott [and] would always be playing [those artists] in our household. And Erykah Badu and Outkast. There's so many people that we have been inspired by. As I've gotten older, I've really been inspired by Kelis - I love her so much. I love Imogen Heap and Grime. That's for me. Oh, and Donna Summer!
Halle: For me, I've always been a super big jazz-head since I was 5. I discovered Billie Holiday because I saw that her CD was pink and I was like, "Oh, this is cool" (laughs). I've always been a big jazz-head so Billie Holiday, Nina Simone, Nat King Cole, Sarah Vaughan - those have been my go-to. That's what really inspired me to want to continue to sing.
How would you describe your sound? Obviously the lyrics are powerful and the harmonies are definitely there, but there's a lot of variety and interesting textures that play throughout the background of your music. Do you two have a creative process when you're in the studio or writing music, and does it differ from one another's?
Halle: Our creative process in the studio is actually very exciting and fun. We are two very completely different human beings, so it kind of stems from one of us [starting] it and then we finish it off together. For me, I like to sit on the floor when I'm in the studio (laughs). Like I'm [an] on-the-floor-rolling-around-on-the-carpet type of girl, and [I'm] playing my guitar and just playing anything until I get inspired - starting there, for me.
I normally start with my guitar, lyrics flow and then we finish out the song together. Or maybe it varies where Chloe makes a really cool beat and we kind of build up from there and finish up the song. It's never an exact way. It's never a formula and that's what keeps it so exciting because that's the creative process. It's fun to be different and it's fun to not to do the same thing every single time. I really respect that my sister and I have two completely different creative processes because when it comes together, it's really nice.
And, what would you say is your favorite part about producing your music?
Chloe: My favorite part is that we have complete creative control and I also love having this moment when you listen back and realize what you've created from absolutely nothing. That's always a great feeling when you know it's good and not like, bad (laughs).
You two say in nearly every interview I've ever seen that personally you two are complete opposites. I need to know how and what do you two love about each other?
Halle: I'm an Aries and a very fiery type of person, very passionate. If I feel some type of way about something, I'm the first one to say it and to scream it and to get it out. My beautiful sister is a Cancer; she's more sensitive and when it comes to her communication style, she is a bit calm in a way. Like if we're discussing something business-related or not seeing eye-to-eye about something, she's kind of the one to walk away or hold her tongue, but me, I'm kind of the opposite. What I love about my sister is that we learn from each other, you know? I learned from her to embrace more of my sensitive side and to open myself up a bit more, and I think she has had to kind of speak up for herself and not let people walk over her in a way.
Chloe: Yes! (laughs)
Halle: We kind of learn from each other in that way and that's cool.
And Chloe, what do you love about Halle?
Chloe: I love how she knows what she wants. She'll never really take 'no' for an answer. She's so headstrong and when she puts her mind to something, she can make it happen. That's what I love about her and that's really inspiring to me, and I forget that she's my little sister constantly. She's so mature, so wise and I don't know what I'd do without her so God knew what He was doing when He put us together.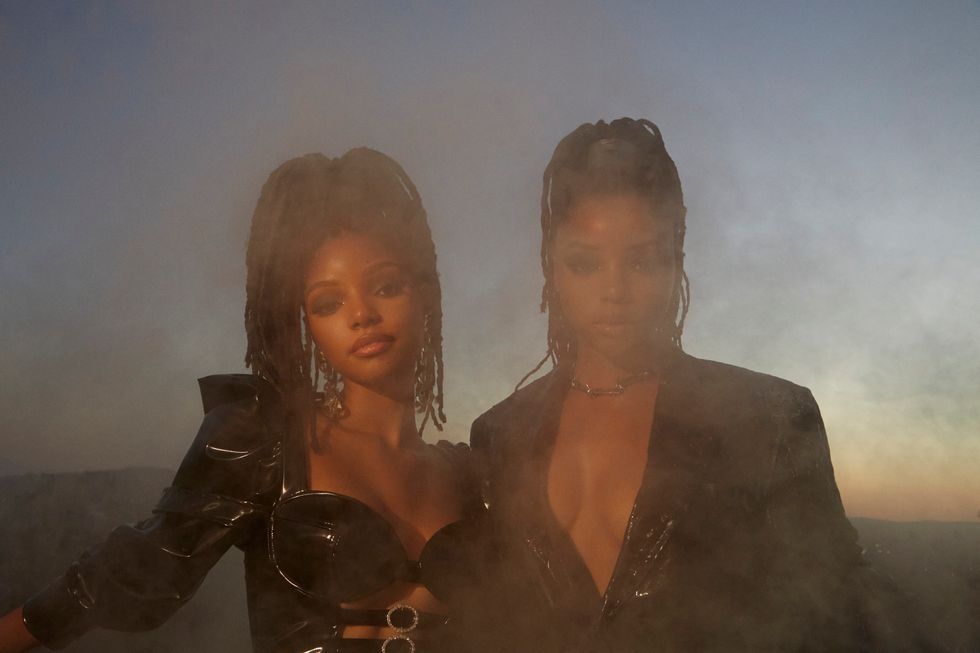 Photo Credit: Robin Harper
How do you two manage your sisterhood and your business relationship? Is there a fine line between the two relationships or can you not have one without the other?
Chloe: You know, I feel like it's really all we know. We make it work so well because we have a balance, like we're each other's best friends. Even before we create the music, we're always just laughing about situations or things the other one is dealing with. When it comes to making the music, we're just baring our souls and that's a way that we express ourselves - not only individually, but together - and it's therapeutic for us. Because we know each other so well, it makes it that much easier. In terms of the business standpoint, we don't have to sugarcoat anything with each other, we don't have to walk around the bush, we can be honest and upfront and I think it's the best product, you know, and I truly feel like we bring out the best in each other.
So much of who you are is rooted in your identity as Chloe x Halle, however it's extremely obvious you two are individuals within your own unit. How do you embrace your individuality while being a duo?
Halle: I would say I embrace my individuality by just taking little moments to myself. I mean, my sister and I are really great at respecting each other's space when it comes to doing press all day together and at the end of the day being tired and just separately going our own way in our room. I kind of meditate and pray just to center myself or have a spa night to reset myself. But the most exciting thing is always going back to my sister. I mean, that's my best friend. At the end of the day, I am the little sister so I'm kind of the one who wants to be around her all the time, but at the same time, it's a beautiful thing to have your own identity and really have somebody who respects that and supports that and will lift you up in every single way. That's just natural and very easy for us.
And, Chloe? How do you embrace your individuality?
Chloe: Because we are individuals, naturally, it's easy. We just have to be ourselves. It's not really hard to try to be someone I'm not because that's really impossible for me (laughs). We're naturally two completely different beings, so I'm just myself. I love the water; I love working out because I overthink so much and the pain on my legs and arms, I'm thinking about that instead of everyday life (laughs), so that helps me, too. I love praying - that always helps center me because I'm learning that I can't control everything in my life and I'm learning to be OK with that. I love how we are two completely different individuals, especially with our music, too. Even our tones; a lot of times [with] siblings, their tones will sound similar, but I think because we both were inspired by completely different types of music, that definitely was an influence on our tone.
Speaking of music, your latest project was very grown and sexy in comparison to your other music. From your first project, 'The Two of Us', to your recent 'Ungodly Hour', how have you two grown as artists and how is 'Ungodly Hour' a reflection of that?
Halle: I feel like we truly have grown as artists in every way very naturally. I'm 20 now and my sister's about to be 22 in two weeks. It's easy to make music that reflects the times going on in your life. When people are like, "Oh, it's so grown," or "It's so different from what we've heard from you," it's like, yes, of course because we're growing as individuals. Every single day, there's an evolutions that's going on. We're experiencing more things. We're learning to love ourselves. We're embracing our insecurities and we're putting that all into the music. So, of course it's gonna be a bit more evolved than three years ago with our debut album, The Kids Are Alright, because for that album, we were kids. In a way, as we're becoming women, we have been documenting that into this album Ungodly Hour, which is just a story of us finding ourselves while also kind of knowing who we are and navigating our life through love, relationships and figuring out what we want and what we don't want in life and taking our power back. That's definitely a natural evolution that happened for us just because of us growing.
"In a way, as we're becoming women, we have been documenting that into this album Ungodly Hour, which is just a story of us finding ourselves while also kind of knowing who we are and navigating our life through love, relationships and figuring out what we want and what we don't want in life and taking our power back. That's definitely a natural evolution that happened for us just because of us growing."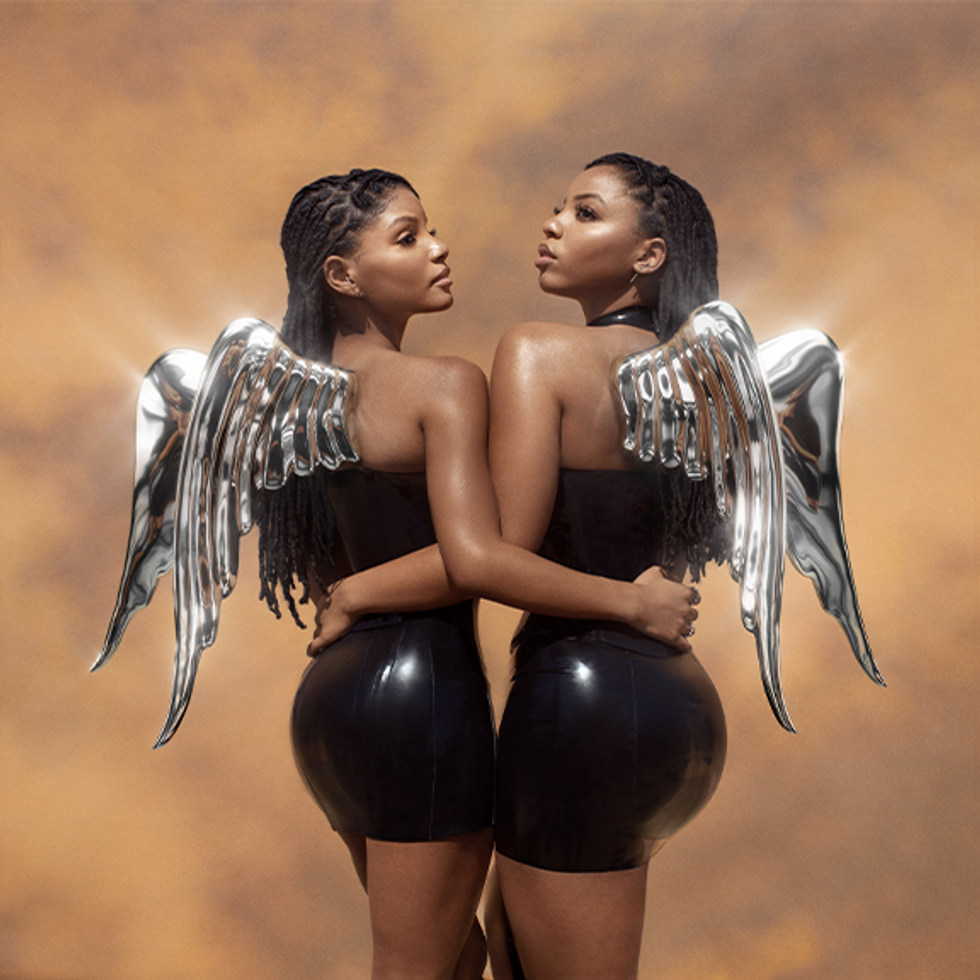 Courtesy of the artists
When I think of the term "ungodly hour", I think of a young man hitting me up way past my bedtime or my mom waking me up wicked early. How did you two come up with the title of the album?
Chloe: I love how the title can mean a variety of things. For us and how we were inspired, we were in this session with Disclosure and I had a phrase written in my notes, "ungodly hour", and me, Halle and the two brothers of Disclosure were like, "What can we say with this phrase?" We came up with "love me in the ungodly hour", which means love me when I'm not at my best, when I can't stay still, when my mind is going crazy and filled with insecurities, and love me when I'm the most vulnerable. So, we felt that that phrase really meant - well, really what the whole album was about. We're baring our full souls and you're not just seeing perfect angel version[s] of us; you're seeing multi-layered women. You're hearing what we're going through: heartbreak, love, learning to embrace our flaws. You hear all of that in the music and we're truly saying to the world, "love us at our ungodly hour," and that's what that title means to us.
As the album touches on more grown themes like sex and love, and really the duality of sexuality and femininity as women, do you two ever find time to date or explore romance? Do you two help each other with your love lives?
Chloe: Oh, we definitely make time because we're human beings. I feel like humans thrive off of human touch and human experience, and that's what is helping fuel the creativity and help write these songs when we go through these things. If we didn't really experience it firsthand, I don't think we'd be able to write lyrics as raw as we did because we actually were going through these things, so it felt so much more real and everyone who has one through heartbreak or love like we have, they can relate too because love is a common thing.
Even when you're with someone, it may feel so special and it's like the only thing is the world is just you two, but it's an entire world and we all have the same feelings and I'm glad that people are saying these songs reflect what they've gone through. So, definitely we make and find time - it's hard because we're working so hard and business always comes first, but whenever we have those little off-days, yeah (laughs).
How are you each putting your mental health first when it comes to creation and production of new music amidst everything that's happening within the Black community culturally and politically?
Halle: For me, I'm honestly taking it day-by-day. I'm taking social media breaks when needed because as a Black person, it's traumatizing seeing your family get killed every single day. Sometimes I just need to step away. In terms of music, that has always been, and still is, therapy for me so when it comes to being creative during this time, we can [be a] vessel and put all of the pain into the words of your writing and singing. It just gets it out of our systems and it allows us to feel lighter and freer through all of this together. I definitely can say I've just been putting my head down, prayer, meditation, stepping away from social media when I need to and holding the ones that I love so much.
Chloe: Definitely music has been therapy and just immersing myself in that has always been therapeutic for me, and also prayer.
Right now, unfortunately we're in a time where a lot of what's going on in the Black community is being brought to light and you two have taken to your platforms to sing "Life Every Voice" and "We Shall Overcome". You even pushed back the delivery date of your album. How're you doing right now and how are you using your platform to raise awareness?
Halle: Right now, we're doing much better than we were a few weeks ago when everything kind of felt like it was piling on the world. Every time we see something like what happened to George Floyd, it's just so devastating. You get this horrible feeling in your stomach and for me, I think of my baby brother. I think of my father because it could've been them. [George Floyd] could've been our uncle. It's a terrible thing that's been happening in our community, to our people for a very long time and people are just now seeing it, or just now wanting to pay attention to it. All I can do right now, my job, is to lift people up with my voice and to stand up for what I believe in and to stand up for what's right, which is getting justice for all of our beautiful brothers and sisters who have lost their lives to senseless police brutality. That is our number one goal as this generation.
We are so proud to be part of this generation because we're not afraid to speak up, we're not afraid to yell and to demand justice. We want to be a part of that and do everything that we can. The reason why we pushed back our album was because in our souls, it did not feel right to release that during that moment and we wanted to shine the light on George Floyd, Breonna Taylor and all of the others who need justice. That's why we decided to drop it a week later because at the end of the day, music is a healer and has always been healing our community for so many years ever since this has been happening to us. We have used music to heal us, so we only hope that this album has done that and eased the pain for some of us and helped us.
For more of Chloe x Halle, follow them on Instagram. Ungodly Hour is out now.
Featured image courtesy of the artists