Red Table Talk co-host and multifaceted artist Jada Pinkett Smith is no stranger to sharing stories and dropping gems about her lived experience. In honor of the life lessons she shares in the form of wise words, we're about to dive into a collection of inspirational quotes that reflect the depth, introspection, and versatility of the Worthy author.
From her journey to self-love to her musings on true unconditional love, get ready for a dose of wisdom and inspiration from Jada that'll leave you feeling enlightened and empowered in 25 quotes or less.
Featured image by Jada Pinkett Smith/Instagram
Cam Newton is giving us a little more insight into what made girlfriend Jasmin Brown the one. The couple, who recently announced they were pregnant, are pretty lowkey, but every now and then, the NFL star-turned-podcaster will open up about their relationship on his podcast Funky Friday, and during his recent interview with Chrisean Rock, he shared how the comedian allowed him to feel safe and be transparent about something he was going through.
"I told her from day one I was like, yo, I think I have a sex addiction," the former Carolina Panthers quarterback revealed. "I've had sex with a lot of women, so you gotta bear with me to understand me. No woman has ever wanted to understand."
He explained that it was something he dealt with by himself as he typically dealt with a lot of things alone, and so he was surprised that Jasmin was willing to talk him through it.
"I had to figure out myself and identify, so it took me a long time to realize, like, bro, I think I got an addiction. It was more or less, I don't drink. I don't smoke," he said. "I have a addictive personality and challenge, very like you what I'm saying, bravado, broad shoulders, and anytime I see a woman, it's like the challenge for me is yo, I bet I can."
He continued, "It took patience and, most of all, communication, and I never was with a person who really wanted to know why, and I was blown away like you really want to know?"
Earlier in the interview, Cam shared that he was excited about the new baby and called Jasmin a "helluva woman." He is a known family man and has seven kids and shared that one of the first things he told the content creator when they began dating was that his family was the most important thing to him. He even waited two years before she met his kids.
But now everyone has met and he says everyone is getting along. This will be Jasmin's first baby and Cam's eighth.
Feature images by Prince Williams/WireImage
In a shocking turn of events, a lawsuit brought to federal court on Thursday (Nov. 16), R&B singer Casandra "Cassie" Ventura accuses rapper and media mogul Sean "Diddy" Combs of rape and subjecting her to years of control and abuse throughout their decade-long relationship.
Per The New York Times, Cassie, who was a signed artist under Diddy's label and 19 at the time they met, alleges in her suit against the famed record executive that she experienced a cycle of abuse and control from Diddy starting not long after they met in 2005 and later signed to Bad Boy.
According to the filing, this reportedly included several incidents of physical abuse (the filing notes beatings that occurred "multiple times each year") as well as forcing her to engage in sexual encounters with male prostitutes where he watched and filmed the acts as a part of his "voyeurism" fantasy that was referred to as "freak offs" by Diddy according to the documents. Cassie also alleges being raped toward the end of their relationship in 2018.
The lawsuit asserts that Diddy kept Cassie plied with "copious amounts of drugs," including ketamine and ecstasy, drugs that "allowed her to disassociate." Due to the alleged violence and beatings she would receive, the lawsuit notes that she was fearful that seeking help from law enforcement "would merely give Mr. Combs another excuse to hurt her."
Additionally, Cassie claims in her lawsuit that Diddy's control included having access to her medical records, paying for her car, her clothes, and her apartment, and beating her as a means of intimidation or retribution in incidents where she didn't adhere to his methods of control. "Ms. Ventura felt that saying 'no' to Mr. Combs would cost her something — her family, her friends, her career, or even her life," the suit reads.
The 37-year-old "Me & U" singer detailed an incident that happened involving rapper Kid Cudi, whom she briefly dated in 2011 during a time she and Diddy had cooled off their relationship. Diddy became irate after discovering their email correspondences on her phone. Cassie tried to run away at the time, but "feeling like she could not escape Mr. Combs and his network of enforcers, Ms. Ventura returned to Mr. Combs," the suit says. "He hit her several times, and then kicked her in the back as she tried to run out the door."
The suit goes on to say that in 2012, Diddy threatened to blow up Kid Cudi's car "and that he wanted to ensure that Kid Cudi was home with his friends when it happened," the lawsuit states. "Around that time, Kid Cuid's car exploded in his driveway," the suit went on to say.
Since news of her lawsuit broke, Kid Cudi has confirmed Cassie's claims of what went down. "This is all true," the "Rose Golden" rapper said in a statement via a spokesperson.
"In one incident described in the court papers, Cassie says that in early 2012, Diddy grew so angry about her dating Kid Cudi that he said he would blow up the rapper's car. "Around that time," the suit says, "Kid Cudi's car exploded in his driveway."

Through a spokeswoman, Kid… pic.twitter.com/11j0RSgdZl

— philip lewis (@Phil_Lewis_) November 16, 2023
Regarding Thursday's filing, Cassie shared a statement within the legal document where she says:
"After years in silence and darkness. I am finally ready to tell my story, and to speak up on behalf of myself and for the benefit of other women who face violence and abuse in their relationships."
Diddy has responded to the lawsuit, calling the allegations "offensive and outrageous" and implying that it's all blackmail. In a statement for Diddy, his lawyer, Ben Brafman said, "Mr. Combs vehemently denies these offensive and outrageous allegations. For the past six months, Mr. Combs has been subjected to Ms. Ventura's persistent demand of $30 million, under the threat of writing a damaging book about their relationship, which was unequivocally rejected as blatant blackmail.
"Despite withdrawing her initial threat, Ms. Ventura has now resorted to filing a lawsuit riddled with baseless and outrageous lies, aiming to tarnish Mr. Combs's reputation and seeking a payday," Brafman adds.
The damages Cassie is seeking with her filing have not been specified, but her suit was filed under New York's Adult Survivors Act, which allows people who claim to be victims of sexual offenses to file lawsuits even if the statute of limitations has expired.
"With the expiration of New York's Adult Survivors Act fast approaching it became clear that this was an opportunity to speak up about the trauma I have experienced and that I will be recovering from for the rest of my life," Cassie said in her filing.
Sending prayers of protection over Cassie and her family during this time.
For additional details, read the New York Times article here. You can also read the lawsuit in full here.
Let's make things inbox official! Sign up for the xoNecole newsletter for daily love, wellness, career, and exclusive content delivered straight to your inbox.
Featured image by Dimitrios Kambouris/Getty Images
Whether you're a seasoned pro or a newbie to hosting Thanksgiving or Christmas, knowing how long to cook a turkey is crucial for putting on a delicious holiday feast. In the traditional Thanksgiving or holiday dinner spread, a turkey acts as the centerpiece and often the dish that all the other dishes complement.
When it comes to cooking the perfect mouthwatering bird, the size of your turkey plays a big role in determining how long it should be in the oven. Think of this as your cheat sheet for how long to cook a turkey. So, grab your apron, and let's break down the ideal cooking time for the perfect turkey for your holiday meal!
How Long To Cook Turkey
First things first, defrost your turkey.
​And how long do you defrost a turkey? Well, standard practice is to defrost a turkey for 24 hours for every 4-5 pounds of turkey. So, a turkey that is 4 pounds would be defrosted for 24 hours; a turkey that is 8 pounds would be defrosted for 48 hours, and so on and so forth. A 12-16 pound turkey can take 3-4 days to thaw in the fridge.
The safest way is to defrost your turkey in the fridge. Place your bird in a large tray or on a plate to catch any drips, and keep it covered to prevent any cross-contamination.
If you're short on time, you can use the cold water method to unthaw your turkey safely. Submerge the turkey in a large container with cold water. Change the water every 30 minutes, and allow 30 minutes of thawing for every pound of turkey.
Cooking the Perfect Turkey
Cooking a turkey at 325 degrees Fahrenheit is a great choice for a delicious and evenly cooked bird. As a rough guideline, you can estimate about 15 minutes of cooking time per pound of turkey.
However, it's super important to use a meat thermometer to ensure it's fully cooked. The internal temperature of the thickest part of the turkey (typically the thigh) should reach 165 degrees Fahrenheit. Keep reading to learn more about ideal cook times for different pounds. The oven temperatures are based on Fahrenheit.
How long to cook a 10 pound turkey?
For a turkey that is 10 pounds, you can cook it in the oven for 2¾ to 3 hours at 325 degrees.
How long to cook a 13 pound turkey? 
Cook a 13-pound turkey for 2¼ to 2½ hours in the oven at 425 degrees.
How long to cook a 15 pound turkey?
For a 15-pound turkey, cook it for 3 to 3¼ hours at 425 degrees.
How long to cook a 20 pound turkey?
For a turkey that is 20 pounds, cook it for 4 to 4½ hours at 325 degrees.
How long to cook a 24 pound turkey in the oven?
​A 24-pound turkey can be cooked in around 5 to 5¼ hours at 350 degrees.
Let the Turkey Rest
Also, don't forget to allow your turkey to rest for about 15-20 minutes after taking it out of the oven. This helps the juices redistribute for a juicy, tender turkey.
Let's make things inbox official! Sign up for the xoNecole newsletter for daily love, wellness, career, and exclusive content delivered straight to your inbox.
Featured image by Drazen Zigic/Getty Images
After a little over a year of dating, Lori Harvey is once again saying on to the next.
Lori and her now-ex-beau Damson Idris shared a joint statement with The Hollywood Reporterannouncing their decision to split. According to the statement, the decision to end things is an amicable one. "We are at a point in our lives where our individual paths require our full attention and dedication," the statement read. "We part ways remaining friends with nothing but love and respect for each other and the time we shared together."
Rumors of a breakup brewing between the two initially sparked earlier this week when news spread that Lori and Damson were no longer following each other on Instagram and seemed to wipe each other's existence from their accounts. Some outlets even pointed out that they arrived at Odell Beckham Jr.'s birthday party separately on Monday night (Nov. 6), which seemed to be yet another hint that pointed to the couple being broken up.
Lori, 26, and Damson, 32, first ignited dating rumors around this time last year when they were spotted having dinner together in December. Their romance picked up steam rather quickly, with the two sharing post showcasing their love on social media in January 2023 and making their red carpet debut as a couple during the premiere of the final season of Damson's hit FX series, Snowfall, in February 2023.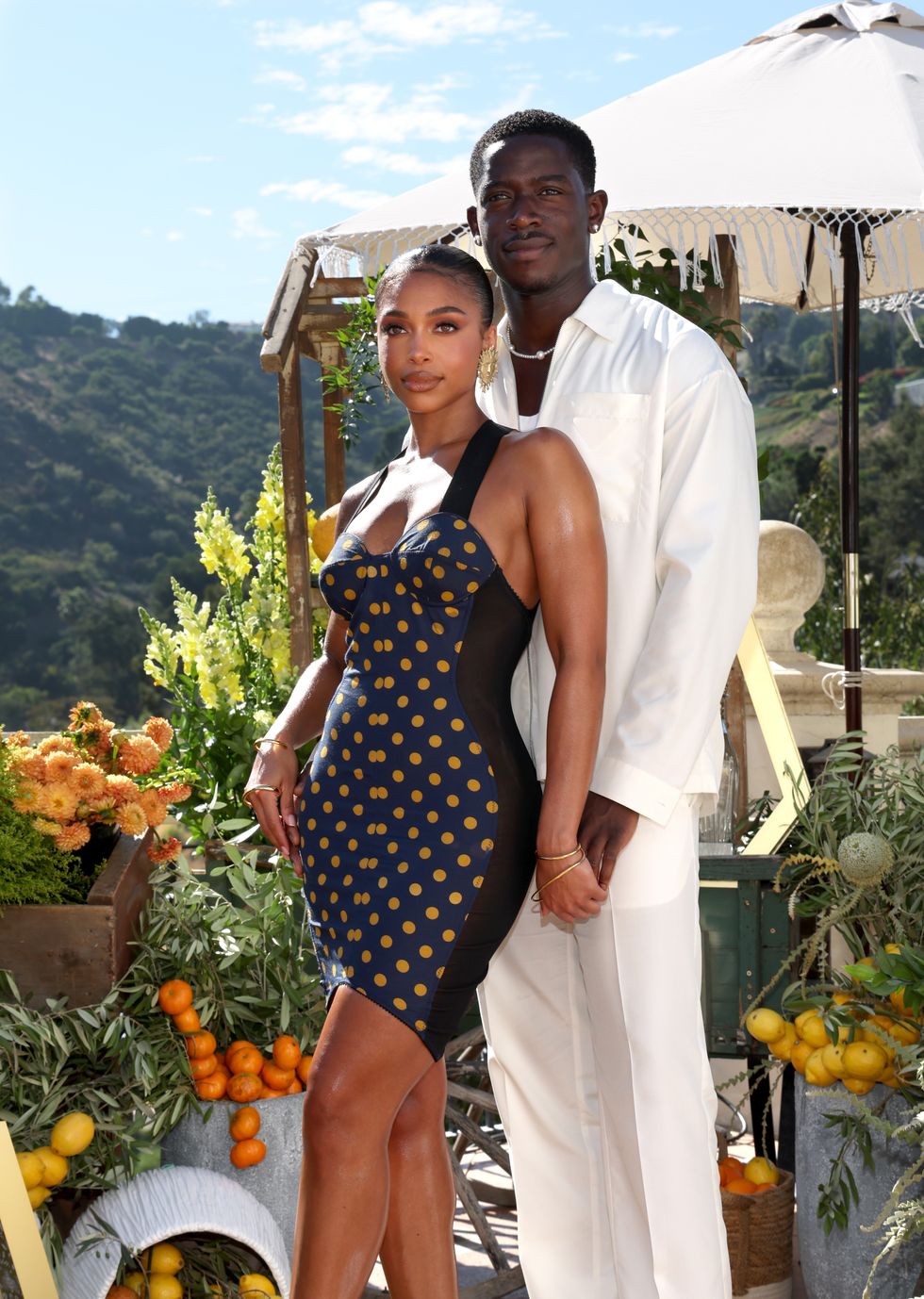 Jerritt Clark/Getty Images for REVOLVE
Damson revealed in a March 2023 interview with Complexthat he was more public-facing with his budding love for Lori than in his past relationships because he was growing. "With my private life today, with my relationship today, it's great. Life is great, and I'm just moving forward."

Compared to her previous high-profile relationship with a certainCreed actor, Lori kept things relatively low-key in interviews, not sharing much with the media about her romance with Damson outside of Instagram pics, red carpet photos, birthday and couples trips, and paparazzi candids.
It's no secret that Lori's dating history can be a hot topic, but the model-turned-entrepreneur is just uncompromising and purposeful about what she is looking for in love. As she should. The shift for her in owning a dating mindset of "not compromising my values, standards, and my requirements" came after Lori almost got married to her former fiancé Memphis Depay at the very young age of 21.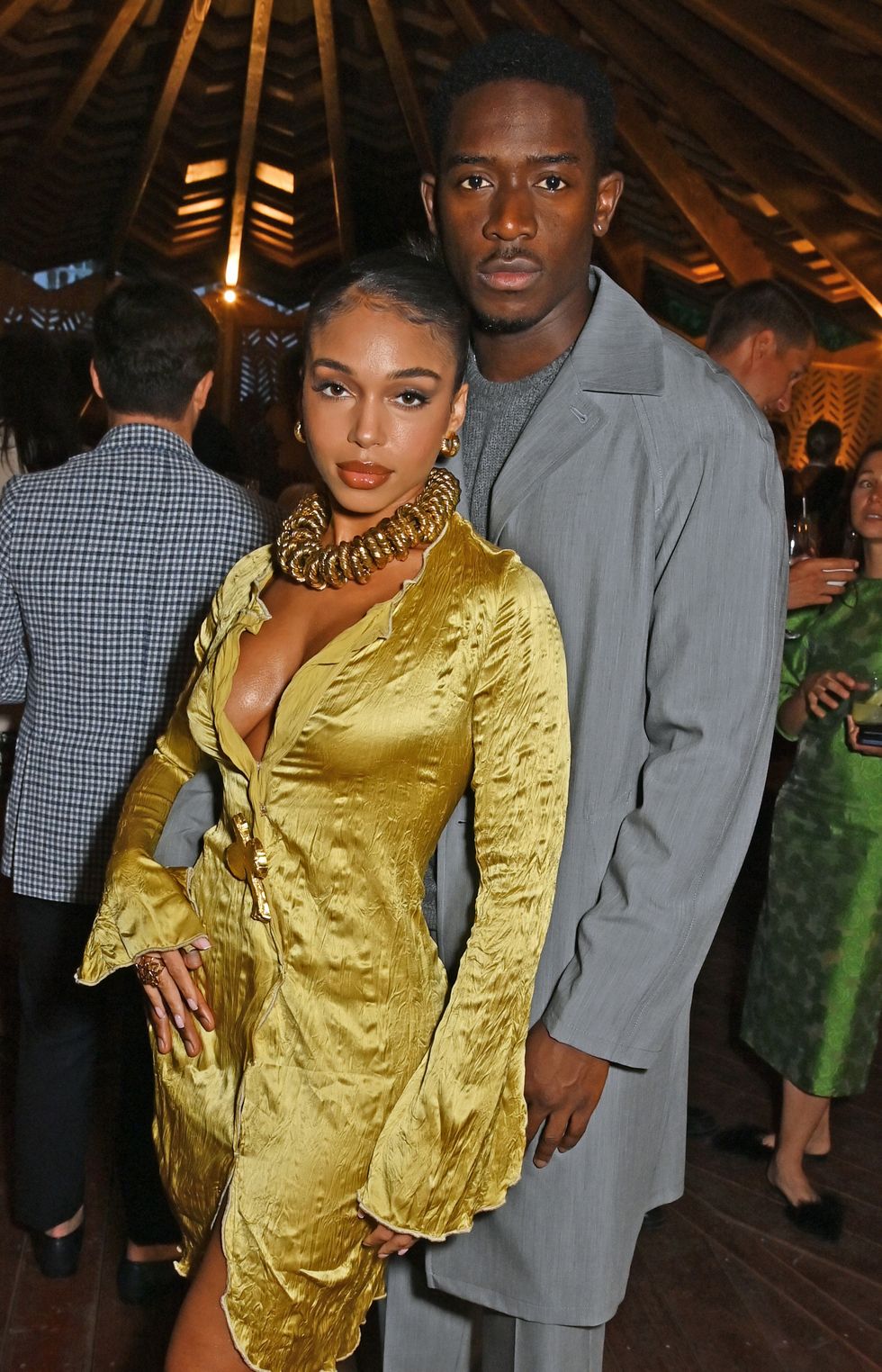 Dave Benett/Getty Images
She explained in a 2022 interview for Bumble, "I felt like I hadn't really experienced anything. I didn't really know myself, I didn't really know what I liked, what I didn't like. I just feel like I hadn't really experienced life."

Lori added, "At that point then I was like I'm about to, like I said, just date on my own terms. However, I want to move, whatever I want to do, I'm going to do it. And if it's no longer serving me, I'm going to move on."
Let's make things inbox official! Sign up for the xoNecole newsletter for daily love, wellness, career, and exclusive content delivered straight to your inbox.
Featured image by Jerritt Clark/Getty Images for REVOLVE
Aside from the trick-or-treating, costume parties, and abundance of Halloween candy, something else that is common during this time of year is horror movies. Scary movies can be watched year-round, but cozying up for a fright night during the month of October adds another layer of spine-tingling thrills to the horror.
For the horror movie aficionado in you who might be more likely to reach for the remote than go out for Halloween party plans, we've got the perfect movie list for you. Grab your popcorn, dim the lights, and prepare for a terrifyingly good time as we explore the must-watch horror movies and TV shows on streaming that will haunt your dreams.
Scary Horror Movies and TV Shows To Stream This Halloween
Featured image by valentinrussanov/Getty Images