Michael B. Jordan is in love y'all and is telling everyone about it. The Creed actor and Lori Harvey sent the internet into a frenzy when rumors first swirled of the couple dating in late 2020 after they were spotted leaving a flight together. And in January 2021, the two confirmed their relationship with the public. Now, after celebrating their one-year anniversary, the once Hollywood's most eligible bachelor is professing his love for the model.
Michael spoke with The Hollywood Reporter about his upcoming romantic film A Journal for Jordan and how his love for Lori helped him with his role.
"There are roles that I passed on that I knew I didn't have enough life experience to play," Michael said. "I was like, 'What can I pull from?' But I finally found what love was."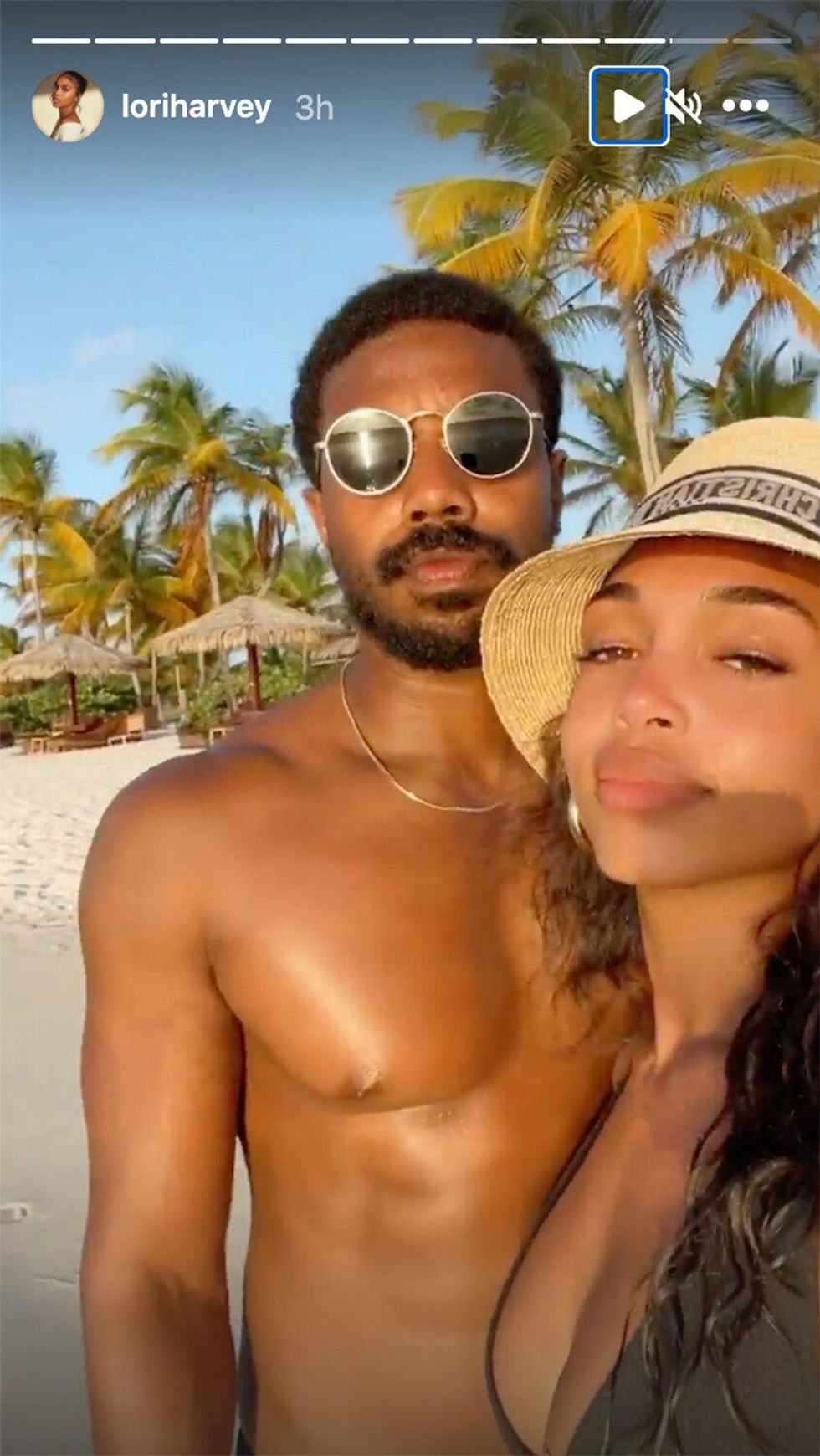 Lori Harvey/Instagram
The actor, who is gearing up for his directorial debut with Creed III has notoriously kept his love life private and so it was a shock to everyone when it was confirmed that he was dating Lori, whose dating history has been a hot topic for some time.
While the skincare entrepreneur has been linked to the likes of Future, Trey Songz, and Diddy, Michael has never publicized who he was dating, but he has a great reason for that.
"When I was younger, I don't know if I could have handled the onslaught of opinions and being picked apart, and also being conscious of what the other person's going to go through. It takes a special person to deal with that," he said.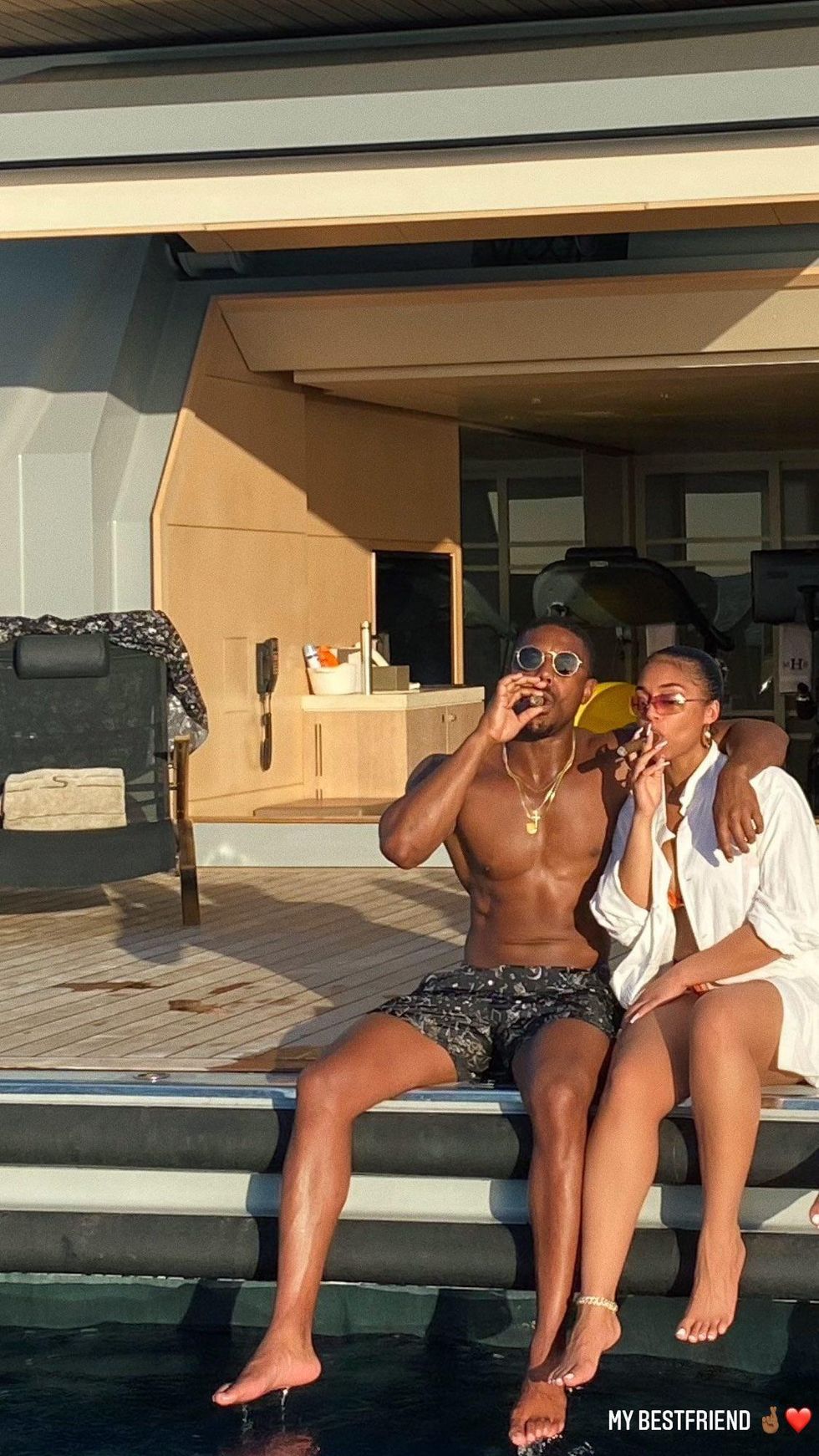 Lori Harvey/Instagram
And it looks like the 24-year-old beauty is that special person. The couple has shared many intimate moments with each other on social media such as their extravagant Valentine's Day where Michael rented out an aquarium and most recently Thanksgiving with their families.
"There's a premeditated planning of staying out of the way [of the public eye] that sometimes kills spontaneity and intimacy," he said. "I wanted to take that away and give this the best chance it had, in this weird world that we live in, to be somewhat normal. Long story short, I think it's just the timing of everything. It was the right time for me. Yeah. I'm happy."
How cute! In the spirit of love, here are a few swoon-worthy moments of the beautiful couple.
Michael B. Jordan Gives a Heartfelt Speech to Lori Harvey at the Launch of Her Skincare Line SKN by Lori Harvey
The video made its rounds on social media after a person in attendance shared it on their platform. While Michael didn't share the video, he did post a photo on his Instagram story of the couple and captioned it, "Her smile lights up a room."
Lori and Michael Cuddle Up on Thanksgiving
The lovely couple spent Thanksgiving together this year at what appears to be Steve and Marjorie Harvey's home. "Extremely thankful 🤍🦃," Lori wrote.
Lori Harvey And Michael B. Jordan Spend Their First Valentine's Day Together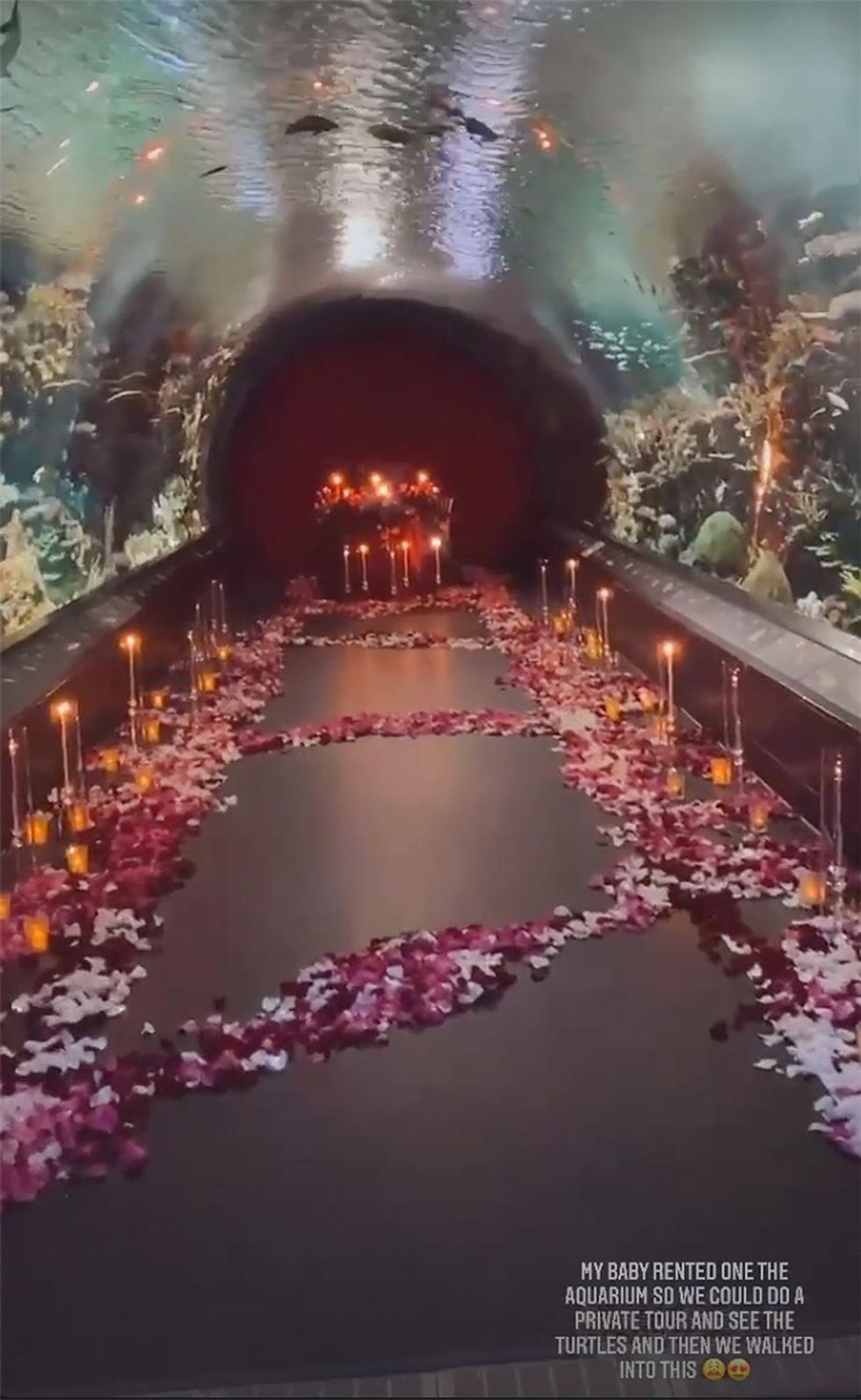 Lori Harvey/Instagram
While fans got to see an up-close and personal look at her romantic dinner at the Georgia Aquarium in her Instagram Story, for her Instagram page, the model only shared pics of her and Michael together. Lori simply captioned the pics, "All Smiles."
Michael Confirms Relationship with Lori
Michael and Lori spent some time in the snow while also confirming their relationship back in January. "10:10 HBD 🐢 #24," he wrote as the caption.
Lori Shares Sunset Video with Michael
Lori shared a sweet video of her and Michael in the pool while the sun was setting. "Thank you God, 🤍" Lori captioned the photo.
Featured image by Paras Griffin/Getty Images for BET
Keep reading...
Show less
Since Kehlani first burst onto the scene in 2015 with their song "The Way," fans have witnessed the singer experience many evolutions in their career and personal life. From becoming a mother to coming out as a lesbian, Kehlani's journey has been nothing short of ordinary as they continue to find themselves with the world watching. Now, it looks as if the "Nunya" singer's identity is experiencing another rebirth.
Kehlani recently covered Byrdie's latest issue and in the interview, the 26-year-old opened up about using non-binary pronouns she/ they to describe themselves. While they are open to being referred to as the pronoun "she," they see the pronoun "they" as more "affirming."
"I don't mind when people say 'she' at all, but something feels really affirming when people say 'they," she told the outlet. "It feels like... you really see me."
The Bay Area native has been on a long journey to self-discovery. In 2018, they made it known that they identified as queer in a series of now-deleted tweets. And in April 2021, they posted a TikTok video coming out as a lesbian.
In the video, Kehlani joked that her self-revelation didn't surprise anyone who knew her. "I finally know I'm a lesbian" and "I am gay, g-gay, gay," they said in the video.
"I'm like, 'Guys, (referring to her friends) I finally know that I'm gay — like, I'm gay gay,' and they're like, 'We know. Duh, stupid. Duh.'"
She continued, "I feel like, 'No. I want you to fall on the floor and be like, 'Congratulations! We had no idea!' Everyone's just like, 'Duh. You're the only one who didn't f---ing know. The f---ing closet was glass,'" she said.
"So I guess I just wanted y'all to know that everyone knew but me."
While the singer continues to find themselves, they want others to look at their journey as self-discovery and not necessarily focus on their sexual identity.
Telling Byrdie, "I wish it was more of a journey discovering how I love and what I need versus putting the emphasis on having to 'come out' with my sexual identity."
Featured image by Karwai Tang/WireImage via Getty Images
Keep reading...
Show less
We first reported on Meagan Good starring in the new Amazon Prime Video series Harlem in November and now the veteran actress is opening up about her character on the show. Harlem is written and executive produced by Tracy Oliver and highlights four Black women in their 30's who are best friends and taking on New York's famous Black neighborhood.
Meagan stars alongside Shoniqua Shandai, Jerrie Johnson, and Grace Byers who is best known for her role in Empire. Meagan Good plays Camille who is a professor struggling with her breakup from P-Valley's star Tyler Lepley who plays Ian.
The 40-year-old revealed what drew her to the character and the show in an interview with POPSUGAR. According to the synopsis, Meagan's character Camille is "a popular young anthropology professor at Columbia who has an extensive knowledge of the dating norms of many cultures, but has a hard time navigating her own love life."
"I immediately fell in love with Camille mainly because she's just so quirky and honest, even when she's trying to hide and trying to play it off," Meagan shared with the outlet.
"There's still an honesty and a purity to her, but she's also very much of a grown-ass woman who is pursuing her career, smart, intelligent, and all these things."
The Jumping the Broom actress has an extensive career in acting and has been in the business since she was a child.
However, when she reached adulthood, she became a sex symbol and often acted in roles that catered to the male gaze. And her looks almost made her miss out on the role of Camille.
Harlem's executive producer made the surprising revelation during an interview with Entertainment Weekly in October.
But because Meagan was open to notes, Tracy quickly saw her Camille. "This was before she knew she had [the role]. And she was just like, 'I'll do whatever to prove that I can embody this role,'" Tracy said.
"And then as soon as she did, we were all like, 'Oh, it's her. It's absolutely her.' And she was amazing. And I was wrong. You can be gorgeous and you can be smart and you can be strong. And all of these things put together," she concluded.
When it comes to the series, Meagan hopes that women see themselves and their friends in the characters. "It's incredibly inappropriate, but in the most amazing way . . . it's very honest, but also fun and very vulnerable," she said.
Harlem premieres Friday, Dec 3. on Prime Video.
Featured image by Arnold Turner/Getty Images for CMA Entertainment
Keep reading...
Show less
I just checked the beauty forecast and it looks like red is in. And what better way to usher in the holiday season than with one of the brightest, most eye-catching colors. While the color red has different meanings in many cultures, when it comes to hair, it can only be defined in one word: sexy. From fiery red to burgundy, the intensity of this hair color captures the attention of everyone, just like the celebs who sport it.
Who can forget Rihanna's Loud era where she rocked red hair from a short bob to long straight tresses? Now, there's a whole crop of gworls who are daring to walk on the wild side with this magnetic hair color.
Take a look at the celebs who are donning red hair this season.
Saweetie
While our girl Saweetie is getting fans ready for "Icy" season, she decided to say goodbye to the blonde for now and introduced a new spicy hairstyle. The "Best Friend" rapper first donned hair red tresses in October and ever since then she has been showing out from hosting the 2021 EMA's to her appearance on SNL where she performed her new song "Icy Chain."
Nicki Minaj
We can always count on Nicki Minaj to give us a lewk especially when it comes to her hair and she rarely disappoints. The "Queen" MC showcased her red hair a week ago that included a side part and flip.
Teyana Taylor
As Teyana Taylor is making her rounds across the U.S. with her farewell tour, she made sure to give fans an unforgettable show and lewk. The "Rose in Harlem" singer has been sporting a red wet and wavy bob that is parted down the middle.
Chloe Bailey
Taking a page from her Instagram caption, Chloe Bailey is "red hot." After having fun with blonde locs, the 23-year-old singer switched it up on us and started rocking red locs instead. The "Have Mercy" artist premiered her new look during her 2021 AMA appearance.
Featured image by Matt Winkelmeyer/Getty Images for MRC
Keep reading...
Show less
Rico Nasty received the opportunity of a lifetime to tour with Playboi Carti, however, it seems like that dream has turned into a nightmare. The rapper joined Playboi Carti's King Vamp tour as the opener and she has experienced everything, but a warm reception from fans attending the concerts. She has been booed while performing and during their tour stop in Portland, Oregon, the "Magic" rapper confronted the crowd after someone threw a bottle at her.
The unfortunate experience led Rico to tweet out her frustrations with some tweets alarming her fans.
The 24-year-old sent out the now deleted tweets on Nov. 27 writing, "I dead ass need atleast two hours out of each day. To just cry. Crazy how I wanted a tour bus my whole life and now I just be on the tour bus crying myself to sleep every night."
She also tweeted, "I wish I was dead just as much as y'all do trust me...Y'all win."
While Playboi Carti has been silent on the matter, many of Rico's female peers have showered her with support.
JT from the City Girls was one of the first people to come to Rico's defense tweeting, "I want them to stop disrespecting her that shit not cool! Or nothing to laugh about!!!!!!" Rico retweeted JT and thanked her for the support.
Good morning to a beautiful ass strong ass amazing artist/woman @Rico_nastyy 🔥💙

— TINA SNOW (@theestallion) November 28, 2021
Megan Thee Stallion, Kehlani, and Rico's "Money" collaborator Flo Milli also showed support to the rapper.
"Good morning to a beautiful a-s strong a-s amazing artist/woman @Rico_nastyy," tweeted Megan.
"Rico is a gem of an artist and person," tweeted Kehlani.
Flo Milli tweeted, "i love u forever friend."
We hope Rico gets the adoration she deserves as she continues on the tour, which wraps on Dec. 23 in Atlanta, Georgia.
Featured image by Phillip Faraone/Getty Images

Keep reading...
Show less
Kelly Rowland is proof that you can be both a mother and exude sex appeal. The singer is a mother to two boys, Titan, 7, and Noah, 10 months, and she keeps looking better and better.
Kelly broke the internet the week of November 2, after she posted a seductive video of herself wearing a leopard print dress while making flirty gestures to the camera and who can forget her look at The Harder They Fall premiere in Los Angeles when she had the viral moment with Jay-Z.
The chocolate goddess is debunking the theory that mothers can't be sexy one photo at a time and she also spoke about it with Access Hollywood. The "Ice" singer is promoting her new holiday film Merry Liddle Christmas Baby, in which she stars in and she spoke about being a sexy mama.
Featured image by Jerritt Clark/Getty Images
Keep reading...
Show less