Doja Cat has followed in the footsteps of the likes of Saweetie and Tiffany Haddish and shaved her head. She debuted the look on Instagram Live and also decided to shave her eyebrows. During her Instagram Live, the "Vegas" rapper explained why she finally let go of her hair. "I feel like I was never supposed to have hair anyway," she said. "I, like, don't like having hair. I never liked having hair. I cannot tell you one time, since the beginning of my life, that I've ever been like, 'This is cool. I just do not like to have hair.'"
She also recalled the struggle of wearing wigs while trying to exercise. "I remember feeling so f–king just exhausted with working out. Whenever I went to go train, I had a trainer at one point and I'd be wearing wigs and they would be getting tacky," she said.
"They would re-tack because of the moisture and then they would start sliding and peeling while I'm doing this incredibly strenuous thing."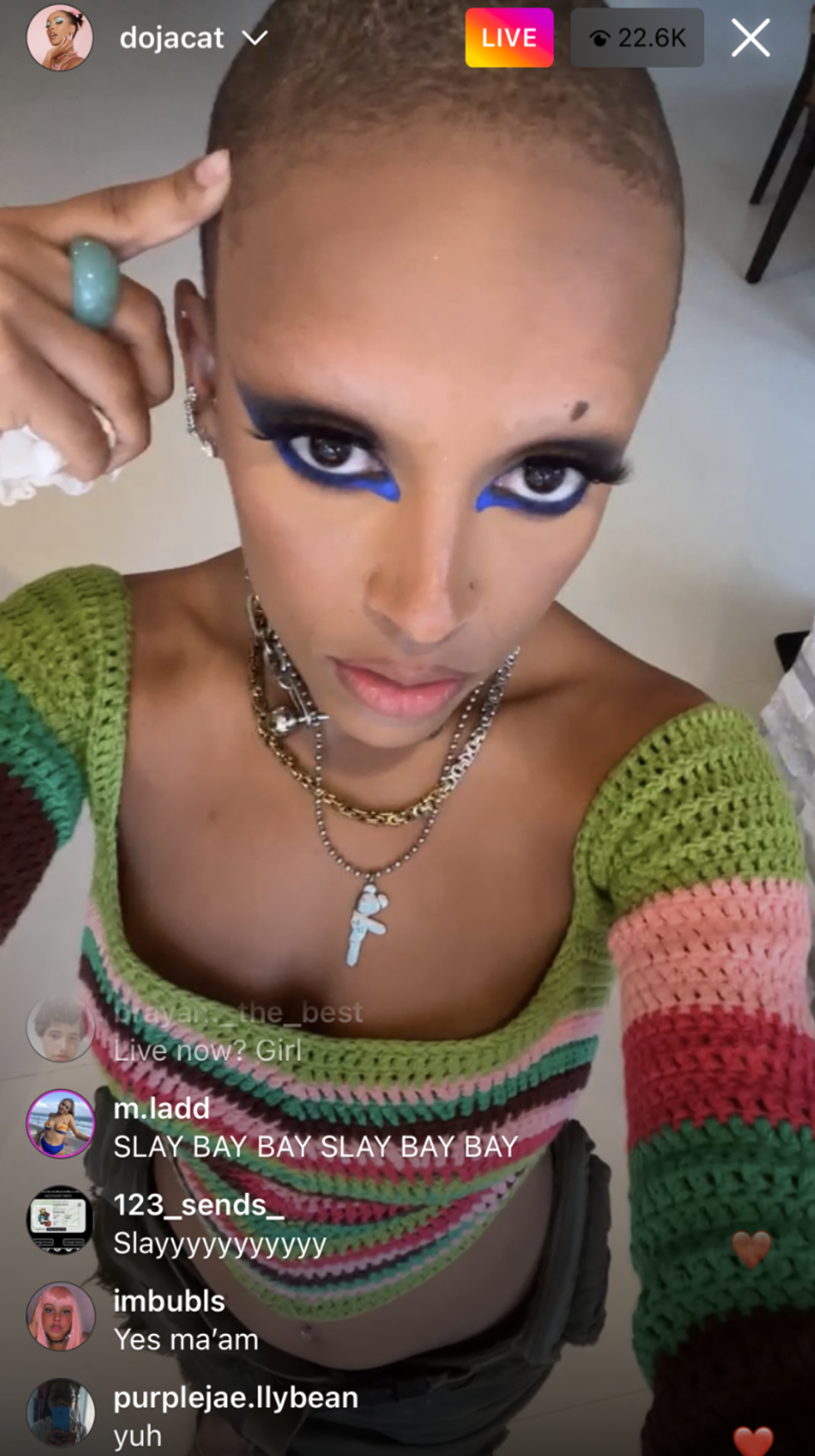 @dojacat/Instagram
"I would be working out, but I couldn't focus because I was more concerned about how I looked or how my hair was doing, and how to keep it adhered to my scalp," added.
She revealed that she would try a variety of ways to keep her wig from sliding off such as wearing a beanie which only made things more uncomfortable due to how many layers she was wearing on top of her head.
"I just can't believe that it took me this long to be like, 'Shave your f–king head," she said.
Doja is no stranger to sharing her hair issues. The Grammy award-winning artist is half Black South African and half white and has naturally kinky curly hair. In 2020, she opened up on Instagram Live about taking care of her natural hair while also dealing with wigs.
Doja Cat's natural hair: 
First gas up of 2020 pic.twitter.com/wRaFRAyytV

— smell it (@DojaCat) January 5, 2020
"I have a lot of trouble taking care of my hair, so when my hair is either straightened I have a wig on, I'm pretty much okay, but when I'm trying to comb out, wash, do this twists…everything. It's frustrating for me. It's very hard for me," she admitted in the 2020 Instagram Live video. "A lot of my friends would agree, who have hair like mine, agree they have [a] problem taking care of it."
She ended her explanation by stating, "In no f–king way does it mean that I hate my hair. My hair is amazing. I have beautiful hair. I get lots of compliments. In another thing and an inner thing. I know that I am beautiful. I love myself."
Featured image by Jerritt Clark/Getty Images for ELLE Magazine
Omarion has found himself at the center of attention over the last few years. From the controversy surrounding his former bandmate Lil Fizz dating the singer's ex and mother of his children Apryl Jones to becoming a viral meme after a TikToker recreated his dance from a 2015 performance. And more recently he received a lot of criticism for his Verzuz battle against Mario. But drama aside, Omarion has also had people singing his praises.
The "Touch" singer has been making the ladies swoon with his sexy photos along with his equally attractive brother O'Ryan and his "unbothered" attitude has kept him on the tips of everyone's tongues. He's now capitalizing off of being the king of being unbothered by releasing a new book Unbothered: The Power Of Choosing Joy as well as a five-part docuseries Omega The Gift & The Curse. The father of two opened up to HelloBeautiful about his unbothered title, being a sex symbol, and much more.
"I think a lot of people get the concept and idea of unbothered misconstrued because sometimes people think that being unbothered is not acknowledging certain things," he shared. "Being unbothered is, is maintaining your emotional intelligence and power and realizing that this person might be doing this intentionally, so do I react or do I respond? And I'm very much so a thoughtful person."
Omarion was given the unbothered title by fans after Fizz and Apryl began dating. While we don't know how he truly felt about the situation, he appeared to be nonchalant. "It's not about anybody else because to be completely honest with you, I could burn the world down in the worst way and those are the thoughts that come through my mind—but how beneficial is it for me?" He added. "I will protect myself but at the end of the day, how we respond to things really puts us in the victory position or it puts us in a losing position and you know, me; I'm a winner. I'm a winner in life and I have a winner attitude."
His unbotheredness could be rooted in his spirituality. The "O" crooner has shared multiple videos on social media lighting sage and saying daily mantras in an effort to practice peace. He cited his grandmother as one of the first people to introduce holistic practices in his life. "I experienced a lot of different religions, a lot of different cultures," he explained. "She never really pushed me to do any of those things but it was always around, candles, burning sage incense, my Nana used to make jewelry, all of those Afrocentric things that come from that era."
As a spiritual being, he also acknowledges that he is a sex symbol and plans to always be one which may affect his dating life.
"Prince never stopped being a sex symbol, D'Angelo, Lenny Kravitz…" he said. "The essence of being sexy—either you, you have it or you don't. My sexiness to the core is just who I am," he adds. "Being sexy doesn't mean that we're gonna do it, but it's a vibe and I don't get tired of it. I actually plan on maintaining my sexiness for life."
He is also working on building generational wealth for his family which means work always comes first. So, when it comes to dating, he admitted that "it's tricky."
"The support in a relationship can either be a distraction or a beautiful thing. In the past, it has been a distraction," he revealed. "I'm still continuing to build my wealth as a businessman, so it's easy and hard. It's easy to love me because I'm lovable but you know, with all of the other things that come with it, you gotta be special."
Featured image by Paras Griffin/Getty Images
With a hit TV show that was recently nominated for several Emmy awards, Quinta Brunson is a busy woman. So when she's not working, she makes time for herself by sticking to a few self-care tips. The Abbott Elementary creator was recently named the new face of OLAY's Retinol 24 + Peptide Night collection and likes to use some of their products as it keeps her skin looking fresh especially when she isn't wearing makeup.
"It's going to sound like I'm plugging OLAY here, but it's just the truth. My writers' room is half on Zoom, half in person, and I'm in the writers' room a lot, and I don't like to wear makeup while I'm there," she toldHarper's Bazaar. "I wear so much makeup on set and for events that I like to let my skin breathe when it can. OLAY has a brightening line that I use in the morning, which I just think really helps, especially their eye cream."
"At the end of the day, I look tired—I'm doing a lot, and I get tired—and I have these big, huge eyes, so I get these big, huge bags," she added. "And that's what I need, products that make me feel like I can be fresh-faced and face whatever's coming in my day."
Quinta's hectic schedule may keep her on the go at all times but she makes sure she gets proper rest. The actress, whose career began to take off after she became a meme, is an advocate for taking time for yourself to rest and recharge.
"To rest—I've been thinking a lot about that. I know it's hard because we're in a society that promotes working a lot and working yourself to the bone," she said. "Hustle culture is still very much alive, but I think people need to schedule time to sleep, rest, and do nothing—which includes not being on their phones and having their brains going a mile a minute."
"But solace with no distractions, no television, because I think our brains need rest too. And we're so used to our brains being fed at every moment, thanks to social media and so many things to watch on TV. But I think it's good to be able to give yourself a turn-off really. Find out what you find out in the quiet."
Another self-care tip appeals more to her senses. Like many women, the 32-year-old loves candles and enjoys making her home smell good. "I light candles all the time, I love candles, and I have so many that I guess I don't technically have a favorite," she admitted.
"But I'm also a little more into diffusers now. Any eucalyptus scent is my go-to to freshen up the house—I just love it. I'll start the day with a eucalyptus oil in my dressing room, in my office, at home—it just feels like a wake-up smell. Oh, that's a weird shower thing I do: hanging eucalyptus in the shower. I just love the scent around me."
Let's make things inbox official! Sign up for the xoNecole newsletter for daily love, wellness, career, and exclusive content delivered straight to your inbox.
Featured image by
It's been weeks since WNBA star and two-time Olympic gold medalist Brittney Griner was arrested in Russia, allegedly for having vape cartridges that contained hash oil (cannabis oil). But the world only found out recently when Russian media released her alleged mugshot. Brittney, one of the world's best basketball players who's been playing for Russia's UMMC Ekaterinburg team during the WNBA off-season since 2015, faces a prison sentence of up to 10 years, if convicted.
Because WNBA salaries can be as low as $60,000 and max out at $228,000 (as compared to the astronomical millions top NBA players can make), it's common practice for WNBA players to go abroad in the off-season, where they can make more than $1 million. When Russia invaded Ukraine, WNBA players began evacuating both countries, but Griner was arrested at Moscow's airport.
So, why is Brittney's arrest a major concern? With Russia being at war with Ukraine, it's reasonable to fear people fear that the two-time Olympic medalist's arrest and imprisonment is a calculated move against the U.S. and a way to use her as a pawn in the war.
Featured image by Michael Hickey/Getty Images
Originally published on March 10, 202
John Boyega has been making noise over the last few years by speaking up for himself and how he's felt he's been treated in the entertainment industry. In June 2020, during the height of the Black Lives Matter movement, the Star Wars actor went viral after speaking at a protest in his hometown of London, England. Then in the fall of that year, he called out Disney for sidelining his Star Wars character Finn. Now, the British actor is gearing up to star alongside Viola Davis in The Woman King. In an interview with Men's Health, John opened up about his career, BLM, and standing up for himself and what he believes in.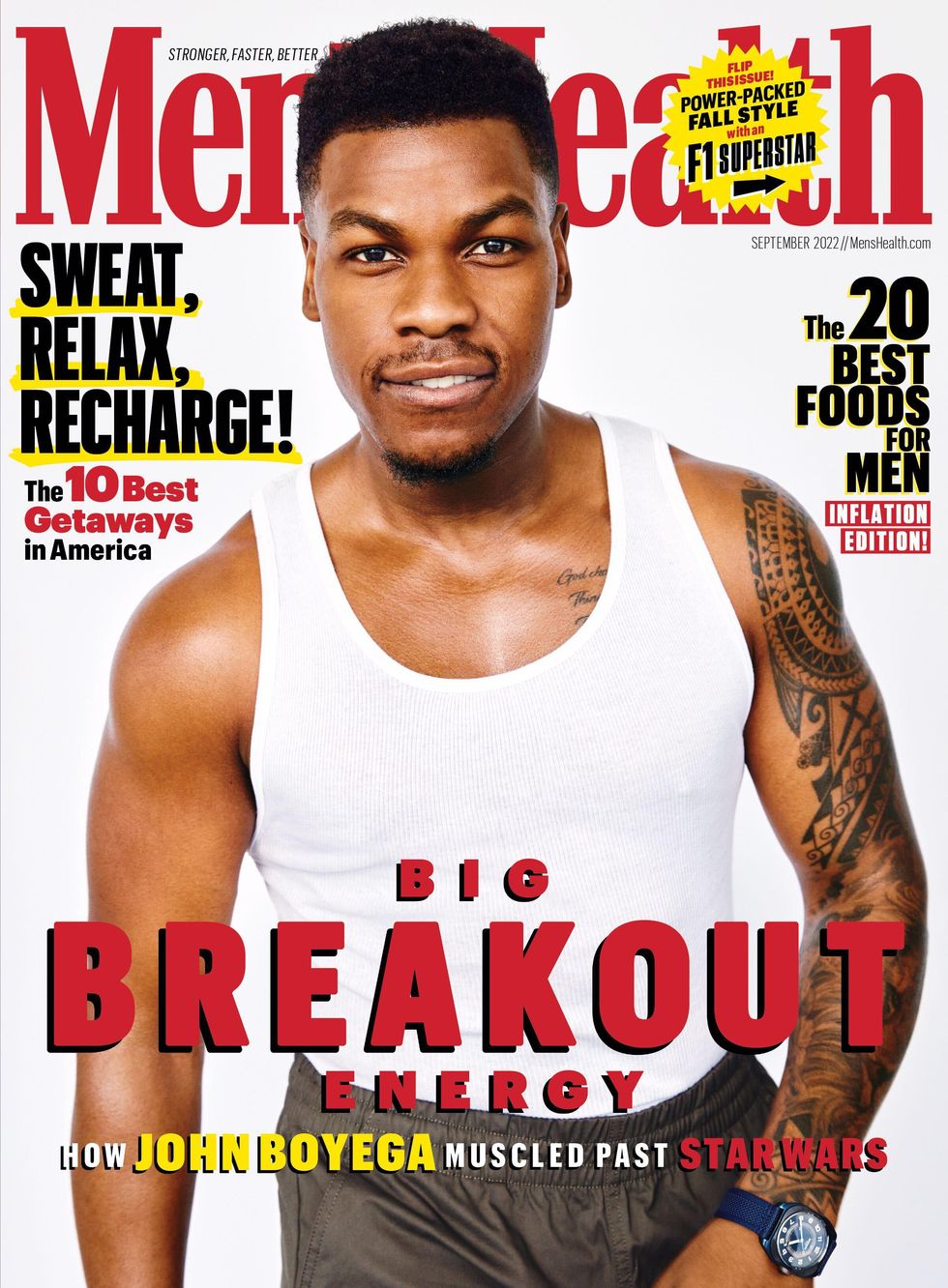 Danny Kasirye for 'Men's Health'
John started gaining popularity due to starring in the Star Wars franchise films such as Star Wars: The Force Awakens and Star Wars: Episode VIII- The Last Jedi. However, he claimed in a GQinterview that his character was pushed aside after initially promoting it as if he would be having a bigger role.
He reflected on that moment with Men's Health. "I'm the one that brought this to the freaking forefront," he said. "At least the people going into it now, after my time, [they're] cool. [Lucasfilm is] going to make sure you're well supported and at least you [now] go through this franchise knowing that everybody is going to have [your] back. I'm glad I talked out everything at that time."
He also claimed he never received support after experiencing racism from the renowned franchise's fans. But he continues to use his voice to raise awareness about what is going on in the Black community and in Hollywood. "Any of us keeping our mouth shut at this point, it doesn't really feel too comfortable. Because even if you're British, [you're] working in the States; the gun's going to go off before your accent does," he said.
John was one of many Black entertainers who participated in BLM following the death of George Floyd. While it may have started in the U.S., the movement was worldwide and made its way to London where the 30-year-old participated in the protests. He shared whether or not he received backlash for his passionate speech.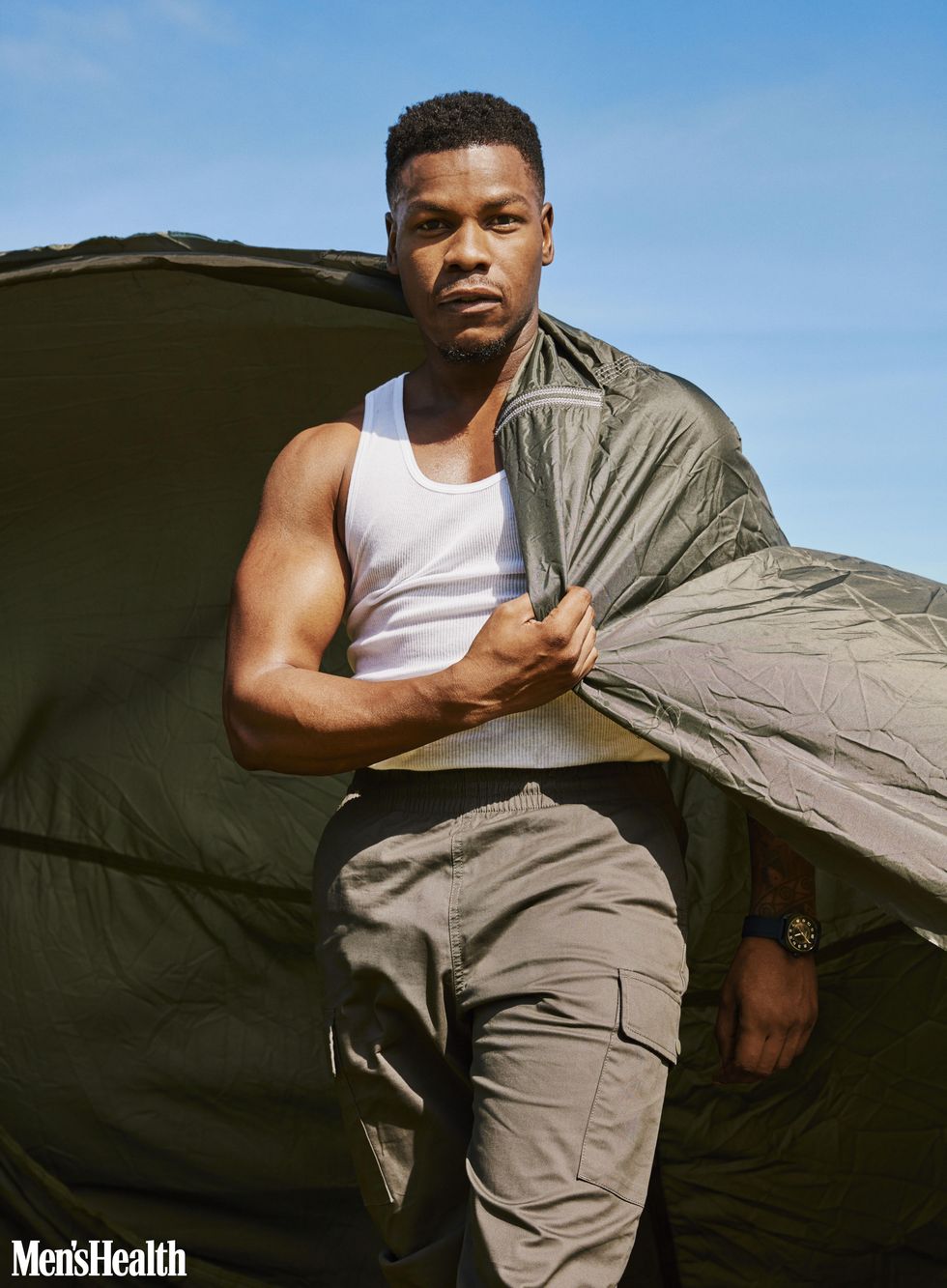 📸📸Danny Kasirye for 'Men's Health'
"Our empowerment is not your demise. Of course there's backlash. Seen and unseen. It's just how it goes," he said. "You'll see who's for you and who's really not…. [But] this is who I am. I'm going to speak about what I believe in and make sure that whatever I do is aimed at supporting the people."
John's parents are from Nigeria and they immigrated to London in the 1980s. He called his parents his "heroes" and was excited about taking on the role in The Woman King as it allowed him to somewhat mimic his father. The actor plays King Ghezo in the West African kingdom of Dahomey, which is present-day Benin.
"The fact that I would be able to speak in my father's accent, in my native tongue, and portray something that's different from what I've done before, I was like, 'Yeah, I'm coming. I want to be a part of that big-time.'"
Featured image by Danny Kasirye for Men's Health
Although she has been working in showbiz since a pre-teen, Keke Palmer still makes self-care a priority. The Nope star has been busy as of late after starring in the new Jordan Peele film but she took a break to speak about how she still finds time to take care of her mind, body, and spirit. In the September issue ofWomen's Health, the 28-year-old explained how saying no has helped her in her personal life and career and much more.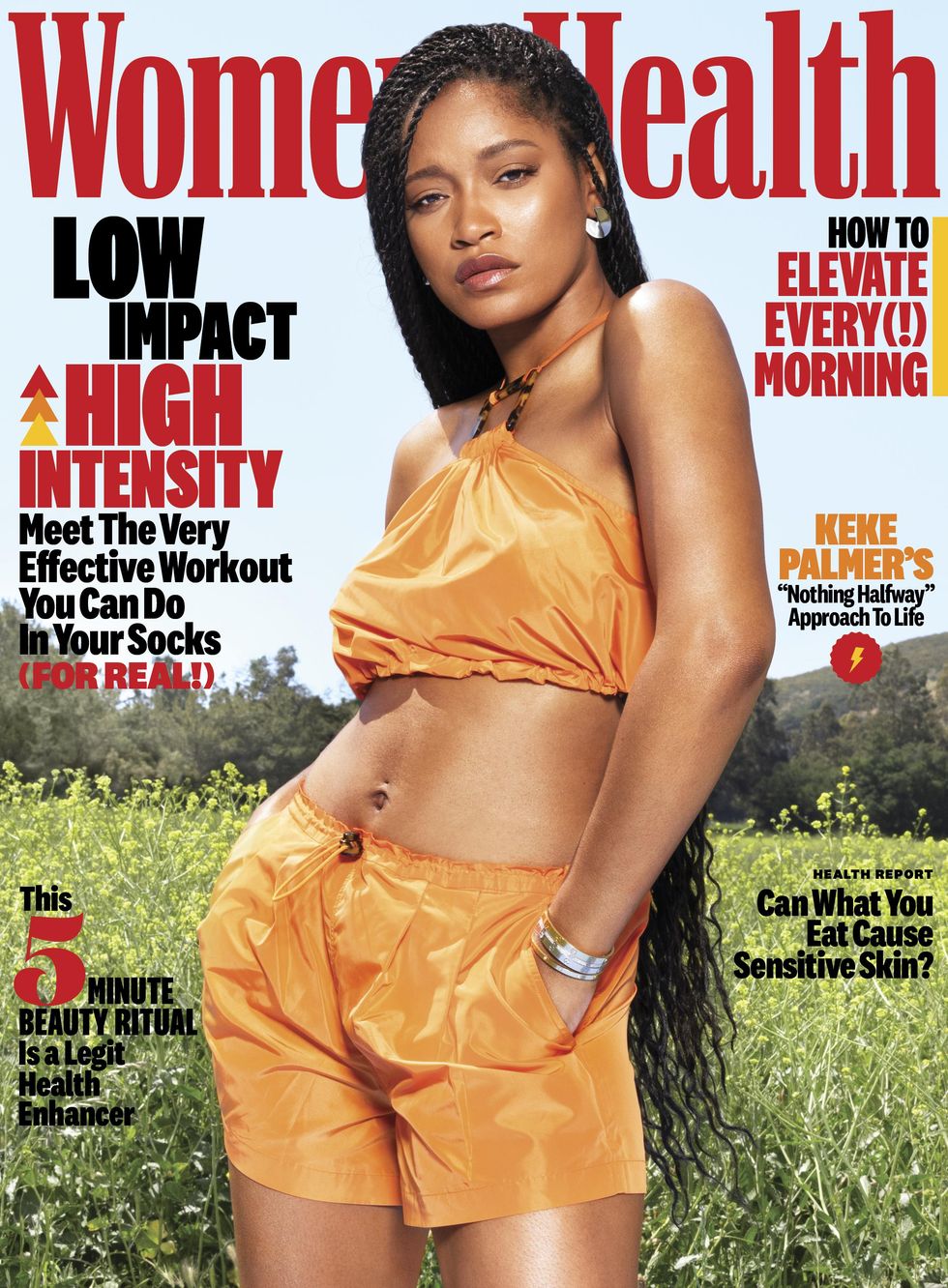 Djeneba Aduayom for Women's Health
"I've learned over the years that to keep my sanity, and to physically keep this machine running, I have to pour into myself as often as I can," she said.
While Keke has gone viral a number of times due to her comedic timing and even serious moments such as her innocently not knowing who former Vice President Dick Cheney was that turned into an iconic meme, she's also been praised for her work ethic. The singer/ actress has been dubbed Keke "Keep a Job" Palmer because she seems to keep many jobs and we have even witnessed her shooting her shot at roles such as Insecure, which she landed in its final season.
And as much as she loves acting, she had to learn to put that same energy into taking care of herself. "It hit me that I have to practice loving myself the same way I practice acting," she admitted. Even with all her many jobs, Keke still turns down gigs after learning the power of saying no.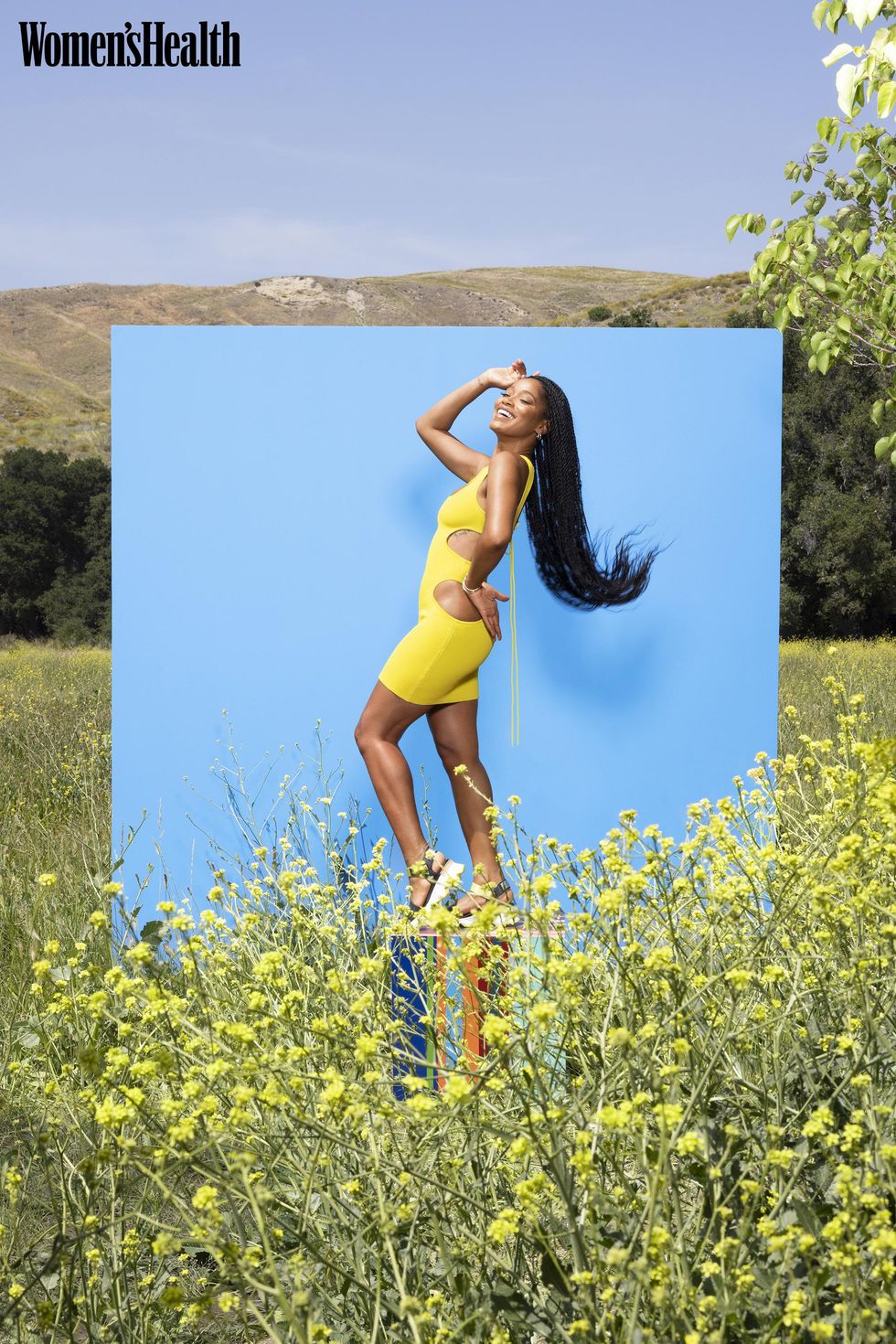 Djeneba Aduayom for Women's Health
"I realized it's hard to say no because we don't trust. We don't trust that if we say no the opportunity will come again," she said. "Or we don't trust that if we say no we've made the right choice. Or we're scared that if we say no we're going to offend somebody. But I realized that saying yes to too many things was stressing me out the most. I've learned not to be afraid to rearrange things and to accept that I'm not going to be able to do it all without hurting myself."

She's still getting used to this power but shared that the self-care practice has actually helped her with loving herself. "It's been two years since I embarked on this whole 'saying no' thing. And I must say, I'm getting really good at it now," she revealed. "That's the grace and the silver lining. Everything I've been through has taught me how to love myself more."
Keke Palmer is Willing to Try THIS for an Adrenaline Rush?! | Once Never Forever | Women's Health
Let's make things inbox official! Sign up for the xoNecole newsletter for daily love, wellness, career, and exclusive content delivered straight to your inbox.
Featured image by Djeneba Aduayom for Women's Health