A big congratulations is certainly in store for the Jameses! Earlier this week, on September 14, LeBron and Savannah James celebrated their 8th year wedding anniversary. Symbolically speaking, the 8th year in marriage is usually represented by bronze. A mixed metal, bronze is durable and stronger than copper and iron (two symbols of earlier wedding anniversaries), which is why it is traditionally gifted to couples who make it to this milestone.
The superstar athlete has been a force of nature on the basketball court and has the accolades to prove it, but something he also takes pride in is his relationship off the court with his long-time love and high school sweetheart, Savannah. So bronze is no doubt worth its weight in gold for this couple.
Savannah took to her own Instagram to share more candid photos of the couple with a heartwarming caption of her own punctuated with the hashtag #LookWhatWeDid:
"Happy Anniversary to my forever scary movie partner, my forever feet warmer, the Capricorn to my Virgo, my bestie, my babe!!! 8 years down, forever to go! Love you deep!!"
LeBron and Savannah have a relationship that spans over two decades now. And though they are living and loving in the lifestyles of the rich and famous now, the couple had humble beginnings, including a first date that was at Outback Steakhouse in 2002.
Back then, LeBron was making a name for himself in football and basketball in Akron, Ohio while Savannah Brinson was a a cheerleader at a rival school. As the classic high school love story goes, the athlete and the cheerleader fell in love. Though Savannah acknowledged it wasn't love at first sight in an interview with Harper's Bazaar, she knew the potential for something more was being planted there, even at 16:
"I knew he loved me when I left my leftovers from dinner in his car. I'd totally forgotten about them, and he brought them to me. I think he just wanted another excuse to come and see me."

In 2003, LeBron would become a top pick for the NBA draft and would be selected to play for his home team, the Cleveland Cavaliers. It would be the beginning of a frutiful career in the NBA for the legendary King James. He'd go on to win Olympic gold medals, four NBA championships, four NBA Finals Most Valuable Player awards, four NBA Most Valuable Player awards -- and that's just the tip of the iceberg as far as accolades go.
2004 marked LeBron's rookie season in the NBA and would also be the year that LeBron and Savannah became parents. The couple welcomed their first child, a son named LeBron James, Jr. in October of that year. In regards to the surprise pregnancy, Savannah told Harper's Bazaar that she questioned how their lives would be impacted:
"I was very scared. I was bawling. But he (James) said, 'It's not going to slow me down, and it's not going to slow you down. We're going to keep doing what we have to do.'"
The couple would welcome their second son, Bryce Maximus James, on June 14, 2007. Three years later, in 2011, LeBron popped the question and proposed to his long-time love and the mother of his two sons, Savannah on New Year's Eve in France. He'd later tell Oprah Winfrey that deciding to propose was like "a finals game":
"I had been thinking about it, you know, for a while but it just came to me one day and I was like 'this is a part of growth for me.' This is I was like this is the lady and the woman I have been with through all the good and all the bad. She's been there for a long time and I wanted her to continue to be there with me, so I felt like at that moment it was time."
While it took nearly a decade for him to feel ready to propose, their engagement would only last two years. On September 14, 2013, LeBron and Savannah tied the knot amid a three-day star-studded wedding event. Guests included Dwyane Wade, Gabrielle Union, Chris Bosh, and La La Anthony. And the Jameses did it up big for their big day by getting Beyonce and Jay-Z to perform their collab hit "Crazy in Love" for their reception.
On October 22, 2014, Savannah gave birth to the couple's third child together. This time, a daughter named Zhuri Nova James. LeBron spoke candidly in 2018 about how becoming a girl dad made him a better man:
"I had two boys first, my oldest son, LeBron Jr., and my younger son, Bryce Maximus, and people always told me, if you ever have a girl she'll change you. Three years ago, this bright spot right here happened to our family. And not only did she change me, she's made me a better person. A more dedicated person, a stronger person. I guess a more sensitive person that realized that I have so much more of a responsibility to women in general. So, thank you, Zhuri."

Years later, for the couple's fifth wedding anniversary, LeBron kept the love train going by enlisting the help of singer Daniel Caesar to serenade Savannah with "Best Part" in the couple's living room. "Love you forever," LeBron captioned his Instagram story highlighting the surprise.
In an Instagram post commemorating their anniversary, LeBron clarified that though it was five years of marriage, it has been 18 years of being in a relationship for the lovebirds. "In all actuality going on 18 years. Happy Anniversary Queen," his caption read.
That same year, in a cover story with The Hollywood Reporter, LeBron shared his thoughts on the vital role his wife plays in his life. He credits a lot of his success to her and appreciates the fact that she was there when he had nothing else:
"But in all actuality, Savannah was with me shooting in the gym when I [had] absolutely nothing... [Savannah] was down when I was at my high school, no cameras, no lights. And she was there with me. You wouldn't be talking to me right now if it weren't for her."

LeBron is no stranger to shouting his love and devotion to Savannah from the rooftops for all the world to hear and see. Back in 2019, he penned a heartfelt message on Instagram to show his queen some much-needed appreciation just because:
"The only reason why I can do what I do at the highest level both on and off the floor is my because my best friend got my back regardless the outcome! I'm just the car, she's the engine! Appreciate you Wonder Woman aka Queen."
19 years and three children later, we're happy to see this Black love alive and thriving!
Congratulations LeBron and Savannah!
Featured image by Albert L. Ortega/Getty Images
Keep reading...
Show less
What is a Virgo like in love? A Libra? A Sagittarius or a Capricorn? It's no secret, looking up the zodiac sign of a person we're dating is something we all do from time to time, whether we are a true believer of the zodiac sign and horoscopes, or if we casually dabble in the metaphysics here and there. Whether it's keeping up with horoscopes monthly or researching what a *insert zodiac sign here* man does in love or why he's distant, we've all managed to drink from the horoscope Kool-Aid at one point or another.
In the dating game, I've found that horoscopes, particularly what someone's sun sign is, is something a lot of us out here want to know quick, fast, and in a hurry for the sake of compatibility. Even deeper than that, we crave knowing what a person is like in love to gain insight into a person's good traits and bad, but to also get a glimpse into someone's feelings for us based on how their zodiac sign is in love.
To help you figure out the key to solving your love life puzzle, below is how each of the 12 zodiac signs are in love.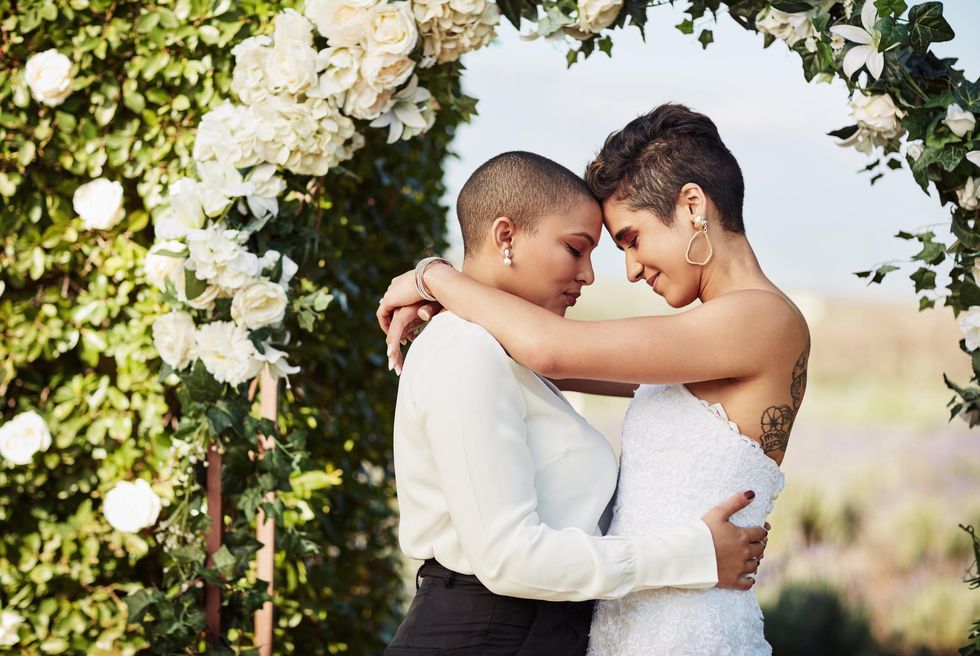 Getty Images
Aries are typically super friendly people, and that makes them get along with just about everyone. But like most zodiac signs, they tend to be most compatible with their elemental group, which includes Sagittarius and Leo. Aries can be bright, bubbly, upbeat, outgoing, and very much about that action. However, Libras, the opposite sign of Aries, makes a great connection in the bedroom. Libras are givers and Aries are takers, and that combination works well together when things get more intimate.
When the Aries falls in love, they are unapologetic and unashamed at how much they love their partner. They are also one of the mushiest and most romantic of the zodiac signs. Being in a relationship with an Aries will never leave you bored, it will always be full of fun. You can expect lots of travel, sex, and adventure from the Ram.
Read more about the Aries sun sign in love here.
People who are normally drawn to a Taurus are attracted to their chill and sensual vibe. Taureans are always down for a good time. In love, a Taurus mostly get along well will other Earth signs (Capricorns and Virgos). Their favorite subjects to talk about are home improvements, food, shopping, and, of course, money. After all of that, take a nap together to top off their experience. They are most sexually compatible with Scorpios because they both take pleasure seriously and are committed to adventure as well as climaxing. This makes for a truly intense sexual bond.
Be their friend first. Keep it simple and peaceful.
Read more about the Taurus sun sign in love here.
Governed by their intellect, a Gemini in love doesn't necessarily require the emotional connection that is often associated with romantic relationships. This isn't to say that they don't have the capacity to be intimate. However, their sweet spot lies in the meeting of the minds. Symbolic of the twins, these curious lovers aspire to come into union with someone who can match their mental astute. It's imperative that their lover be able to hold a good conversation and even offer insights that Gemini hasn't even thought of themselves.
Throughout their early life, they have a tendency to date around before fate unites them with their twin. Bear in mind, that they aren't expecting you to be exactly like them. In actuality, they want you to be so damn comfortable being your most authentic, eccentric self that you seamlessly just gel into their lives like two quirky peas in a pod. As a mutable sign that is constantly evolving, it's important that their lover be flexible and open-minded to how expansive their Gemmie truly is.
Read more about the Gemini sun sign in love here.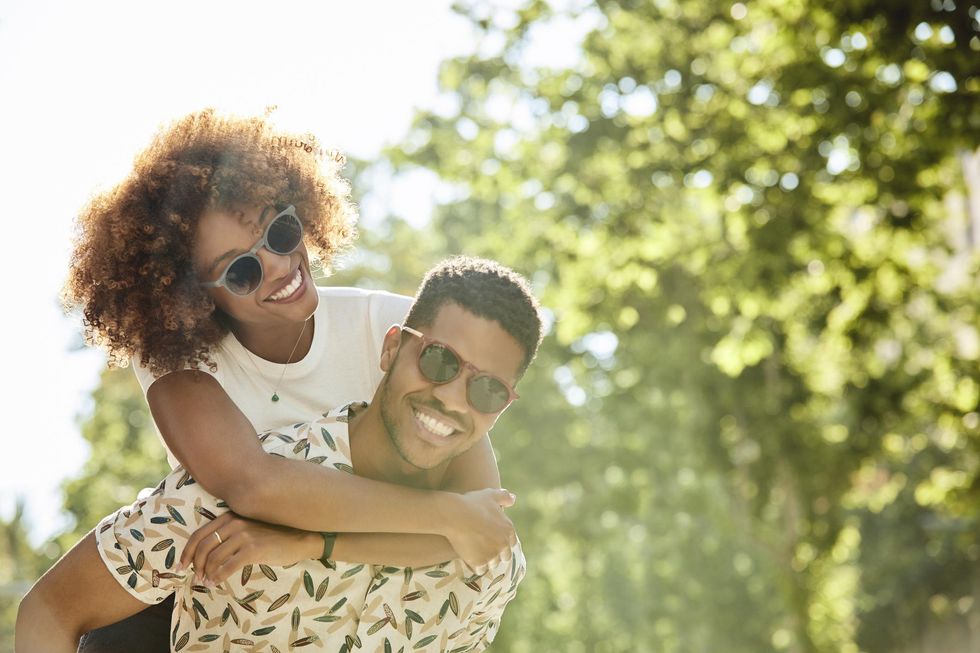 Getty Images
When it comes to love, Cancerians seek security. They are also attracted to people with strong family values. Best believe, they will definitely judge you by the way you treat your mother. You'll get some extra brownie points if you make an effort to connect with their parents as well. If a Cancer allows you into their precious space trust that, in due time, you will become an extension of their own family. It may take a little time for these cautious lovers to warm up to you but once they put down their guards, you can trust that you'll have a devoted partner for life.
They just don't allow any ol' body to access that part of themselves. Given their indirect—and sometimes passive-aggressive—nature, it's important for a Cancerian's partner to be just as perceptive as their crabby lover. They may not always tell you when something is wrong and more often than not, they hope you'll just "get it" like they often do. Once you start to learn the changing rhythms of their lunar energy, you'll be able to navigate their moodiness with ease and grace.
Read more about the Cancer sun sign in love here.
What's the Leo zodiac sign like in love? In love, this affectionate zodiac sign loves to shower their significant other with words of affirmation and gifts. But this doesn't come without them vetting you first. Due to their generosity often being taken advantage of, Leo has learned the hard way that even their giving must have limits. To be their happiest, they must have a partner who is equally as generous (if not more). Leo needs a partner who doesn't mind stroking their ego with lavish expressions of love. If these sultry lovers don't feel worshipped, then it's a hard pass for them.
Being in a relationship with this fixed fire sign will test your patience at times given their stubborn, know-it-all nature. Sometimes it's best to just let them lead than to pick a fight. This doesn't mean you need to be a doormat; however, these feisty individuals do like a little push-back that could eventually lead to some frisky play time in the bedroom. When it comes to sex, Leo typically likes to dominate and they take a lot of pride in satisfying their lover.
Read more about the Leo sun sign in love here.
When it comes to a Virgo in love, there's a lot to unpack when it comes to "The Virgin" of the zodiac. Don't get it twisted though. These individuals are the epitome of "a lady in the streets but a freak in the sheets". Often mislabeled as prudish, Virgo is far from that. Now, yes, they can be selective (as anybody should be when it comes to relationships and sex) but once they connect with someone that truly sees them for who they are beyond their neatly packaged image, they will completely give of themselves to their lover. Their natural willingness to serve others makes them superior in the bedroom (that is, of course, if they're not consumed by performance anxiety).
Before you're granted the privilege of being sexually intimate with them, you must first put in the work of winning over their approval. As critical as Virgo can be of others, this is merely a reflection of how they are with themselves. Oftentimes, their own worst enemy, this analytical zodiac sign needs someone doesn't overthink everything. If you want to impress a Virgo, the easiest way to do so is by offering to help them with practical tasks like cleaning up, running errands, and making sure they eat in the midst of their hectic schedule.
Read more about the Virgo sun sign in love here.
With Venus as their planetary ruler, it's rare that you ever find the lovebirds alone. Their natural affinity for being in partnership typically makes them an easy person to be with. However, be equipped to read in between the lines if you're getting romantically involved with a Libra. They have a hard time speaking up even regarding the most annoying, and sometimes even disrespectful, behaviors. This isn't to say that they're naive and willing to put up with being mistreated for too long. Just like with anyone, they have their breaking point, too.
As accommodating as they can be, in love, it's important that Libra have a thoughtful lover that is willing to give their personal helper a little assistance as well. Even though they are self-sufficient when it comes to their work, it doesn't hurt to offer some assistance which can be as simple as figuring out where the two of you will eat for dinner. Known for being ridiculously indecisive, a simple decision can turn into a day-long affair. Although their inability to make a quick decision can get annoying after while, you'll equally find appreciation in their ability to see both sides of a story.
Read more about the Libra sun sign in love here.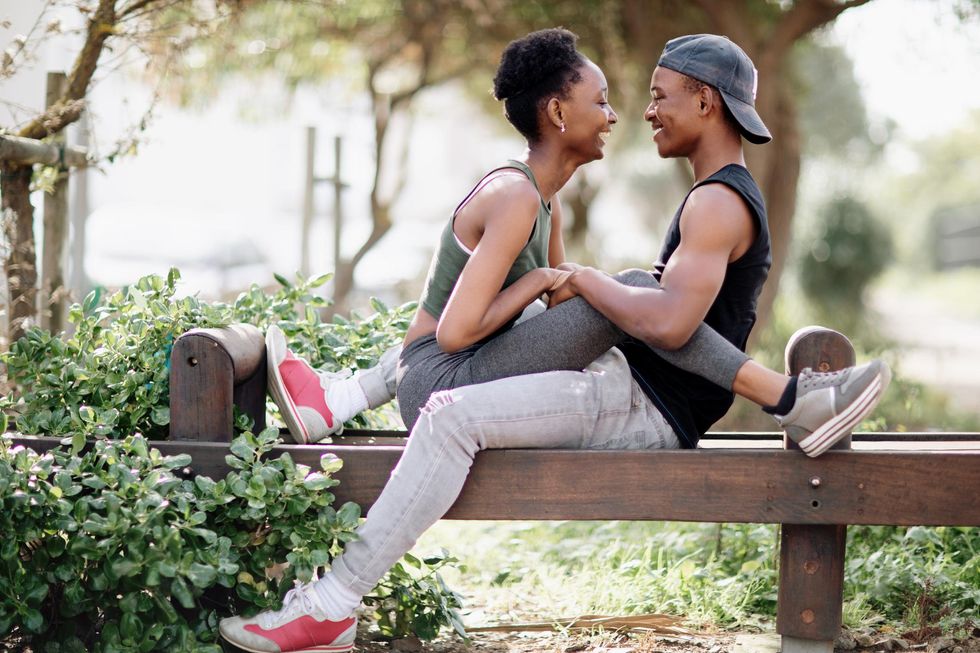 Getty Images
More than likely, a Scorpio wrote the prototype marriage vows particularly that one line that emphasizes "until death do us part." Once they're in a relationship, they are in it which typically grants them the wherewithal to deal with toxic bullsh*t a lot longer than most—all for the sake of an eternal love. They are literally obsessed with the idea of finding, and possessing, that one special person that just gets all of their weird ways that most people don't have the patience to understand. If you're thinking about partnering up with one of these sultry hotties be prepared to merge your souls-- possibly through some sort of blood binding ritual that will seal your fates together for all of eternity. *inserts evil laugh*
Exaggeration or not, a Scorpio in love aims to go deep (in more ways than one). Commonly known as the freakiest sign of the zodiac, they aim to please but don't mind taking on a more dominating role either. Remember—they're ancient ruler is Mars. During sex, they prefer a rough ride whether they're the ones getting pushed around or the one handing out the lashings while they have you handcuffed to the bed. There will never be a dull moment in the bedroom with these pleasers.
Read more about the Scorpio sun sign in love here.
With freedom being their top priority, Sagittarius usually takes the longest to explore their options prior to "settling down." In their younger years, it's typically best to allow them free reign. Committing at a young age can be disastrous for them and anyone they're involved with due to their wandering eye. Over time, they'll eventually get tired of the fleeting, whirlwind romances that don't seem to amount to much but a sexy situationship. Given their impulsivity, they can be promiscuous when single.
Once they actually decide they want to be in a relationship, it's important to keep things fresh to keep them interested. Not one for vanilla sex, Sagittarius wants a partner who is open to exploring some unconventional methods. Out of all of the zodiac signs, they'd likely consider an open relationship. As much space as they need to do their own thing, a long-distance relationship could be perfect for them.
Read more about the Sagittarius sun sign in love here.
Typically, a Capricorn in love likes to take their time in building a relationship. Remember, they are an Earth sign so they're going to move a little slower but usually with good reason. With their legacy being an important factor, they have no problem waiting until they hit the genetic jackpot. As driven as they are, it's important for their partner to have their own thing going on so they don't suffocate the poor Capricorn who gets a bit squeamish if emotions get involved too quickly.
Secretly, these composed lovers desire to surrender to wild romance; however, their Saturnian nature won't allow their feelings to trump their logic. It takes a special person to see through this defense mechanism and to not take it personally when they're immersed in their work (it's their happy, safe place). They have a tendency to distract themselves with work when their feelings get stirred up. In due time, they'll grant you access to their precious inner world in which you'll begin to see the innocence and purity that lies within them.
Read more about the Capricorn sun sign in love here.
With an Aquarius, or any sign, it's important to learn their love language. As a masculine Air sign, this isn't the most emotionally expressive zodiac sign (although you'd be surprised by the chaos that is underneath the surface of their steely-eyed gaze). Sometimes referred to as the Ice Queen/King, it can take a little time for them to warm up to a new suitor. In the earlier stages of a connection, they're enticed by the idea of picking someone's brain to figure out who they're dealing with. The road to intimacy is a well thought-out process so you can forget about this sign falling head over heels for you (unless they have some prominent Water or Fire placements in their chart).
Oftentimes, it's common for an Aquarius to end up pursuing a relationship with a long-time friend. They like to know that there is common ground between them and their partner that isn't solely based on a physical attraction or the oh so dreaded feelings. Sometimes they can send mixed signals in an attempt to create emotional distance and to emphasize their independence. If they're not careful, someone can easily take their approach as a lack of interest.
Read more about the Aquarius sun sign in love here.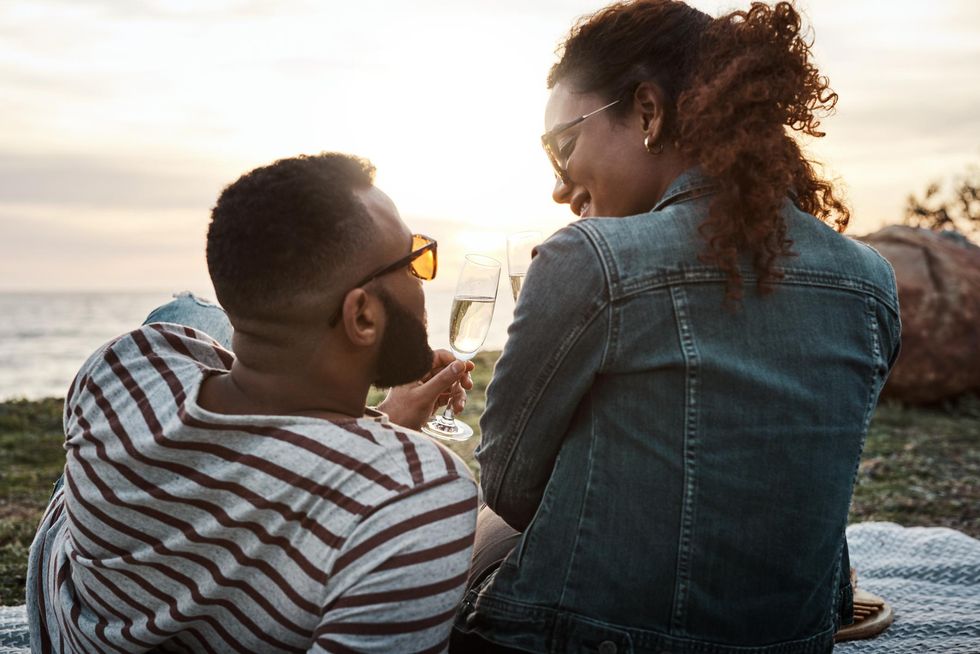 Getty Images
As a mutable Water sign, Pisces can be a little difficult to figure out but that's also the allure about them. On one hand, they can be sympathetic and compassionate, while on the other hand they can be distrustful and wounded. Not one to dive in head first, they prefer to test the waters before taking the plunge. In the beginning, Pisces will only reveal but so much as they do possess a mystique about them.
Once you've passed the test, they'll happily reveal their innermost self to you. Given their power of subtle influence, they have the ability to get their needs met—usually without even being direct. This is a result of their mastered manipulative streak which can sabotage the growth of the authentic relationships they deeply crave. Their sacrificial nature and giant hearts make them a sucker for people who are suffering. They are weak to a good sob story and love to be the one to pick up the pieces.
Read more about the Pisces sun sign in love here.
Featured image by Getty Images

Keep reading...
Show less
If you know me, you know first and foremost I'm a free spirit. And I found healing through writing. But by trade, I'm a business consultant. And because of my blended skill set and expertise, my service offering allows me to give my clients the best of both worlds. Recently, I found myself having to renegotiate my fees with one of my clients for the scope and level of work I produce. I had requested three times my fees at a monthly flat rate due to scope creep and the expansion of the role. My client counter-offered with a rate that would be considered unacceptable for anyone with a background similar to mine.
I had wanted to respond right away to the offer. But I decided to listen to my intuition and take the weekend to sit with the email I received late one Friday afternoon. I started to rationalize their response in my head, almost wanting to accept the offer. I thought to myself, "Don't take it personally. Don't get offended, this is business."
I'm nice, not naive.
Corporate America taught me, and a big four consulting firm raised me.

And they taught me extremely well. Corporate America might have ruined my life at one point, but they didn't leave me without the knowledge and experience to succeed at anything I do. It broke me down and built me up, but I bounced back one hundred times better. Now, I can make boss moves like this.
BTW, this is the only damn thing I am thanking Corporate America for.
Everything inside of me knew my client was trying it and trying me. On the real though, I low-key love it when people try me because they don't expect the clap back. And one thing about me is I will clap back when necessary. And I do it with grace and eloquence. Always. Come that Sunday night, I strategically drafted an email to my client clarifying my role, scope of work, work product, and deliverables. I stated all the facts. Come that Monday morning, I clicked on the send button and the email was sent.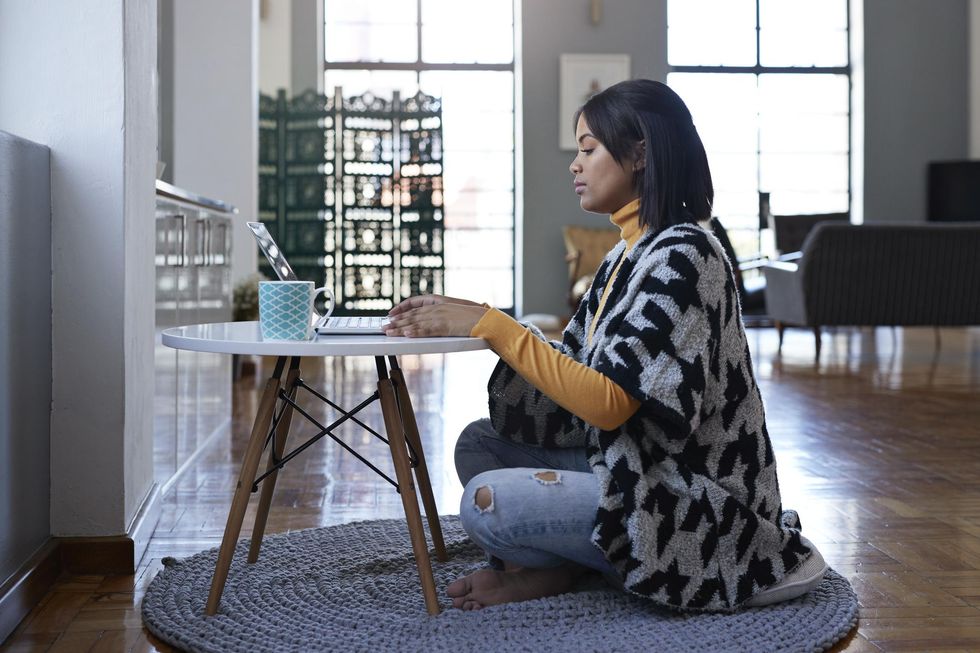 Getty Images
I was confident. I know who I am. I know what I'm doing. And I told no lies. There are ethics to this shit.
Not only did I know my client was trying it, so did my circle. This is where the importance of the right people in your circle comes to play. A remote working session with two of my homegirls allowed me to further talk through the situation. When I gave them my life update, their initial reaction was, "OH, HELL NO." They were angry and in their feelings for me too. One of my friends also pointed out, "They tried to box you into a title and role you were never doing as an 'employee' when you're an independent consultant." She was right, and I had completely looked over this small detail.
Maybe this is why I felt slighted as all hell.
Because I'm not working for someone anymore, I am working with them. And that's where some clients have it all the way fucked up. I have most of the say so, not them. I set my rates and hours, not them. My homegirls immediately reminded me of my worth. And I was ever so grateful. It gave me the confidence to stand by my response and be prepared to make certain decisions.
Listen.
If your friends don't remind you of your worth, they ain't it.
If your friends don't help you plan your exit strategy, they ain't it.
If your friends don't help you to play big, they definitely ain't it.
If your friends don't encourage you to be bold and brave, they ain't it either.
I walked away from a six-figure salary and title, what makes anyone think I wouldn't walk away from a client?
Not all money is good money. Your currency is your time, energy, and peace. You cannot put a price point or a market value on these things.
You have to know your worth more than any dollar amount or currency in this world.
And I want to remind you to always know your worth in any space.
Featured image by Getty Images
Keep reading...
Show less
For Padma Lakshmi, entertaining is a habit, so get like her. The model, host, and author is best known for her contributions to the hit Bravo cooking competition show Top Chef. So, it's no surprise that Etsy tapped her for the Etsy Edit that is the chef's kiss when it comes to hosting the summer get-togethers of our dreams.
The Taste the Nation host's biggest entertaining tip? "The most important thing when you're doing a party at home, whether it's for three people or 30, is to choose a menu that is forgiving, where 70 percent of the items are doable ahead of time like warming up a casserole dish in the oven or stovetop," Padma shares with Good Housekeeping. "People don't want to see the host completely stressed out. If you're having fun, they'll have fun and feel relaxed. It's never about the food or the objects on the table. It's about the audience, the environment you create and how people are feeling."
Vaxxed and waxed is the mantra of the season and as the world opens back up outside, we are also opening up our homes to invite friends and family to pull up, vibe and chill. From cookouts and outdoor barbecues to pool parties and picnics, the carefully curated collection has a little something from every kind of host. Check out some of our favorite artisan finds from Padma's collection edit below.
*Some links are affiliate links. If you make a purchase, xoNecole may earn a small commission.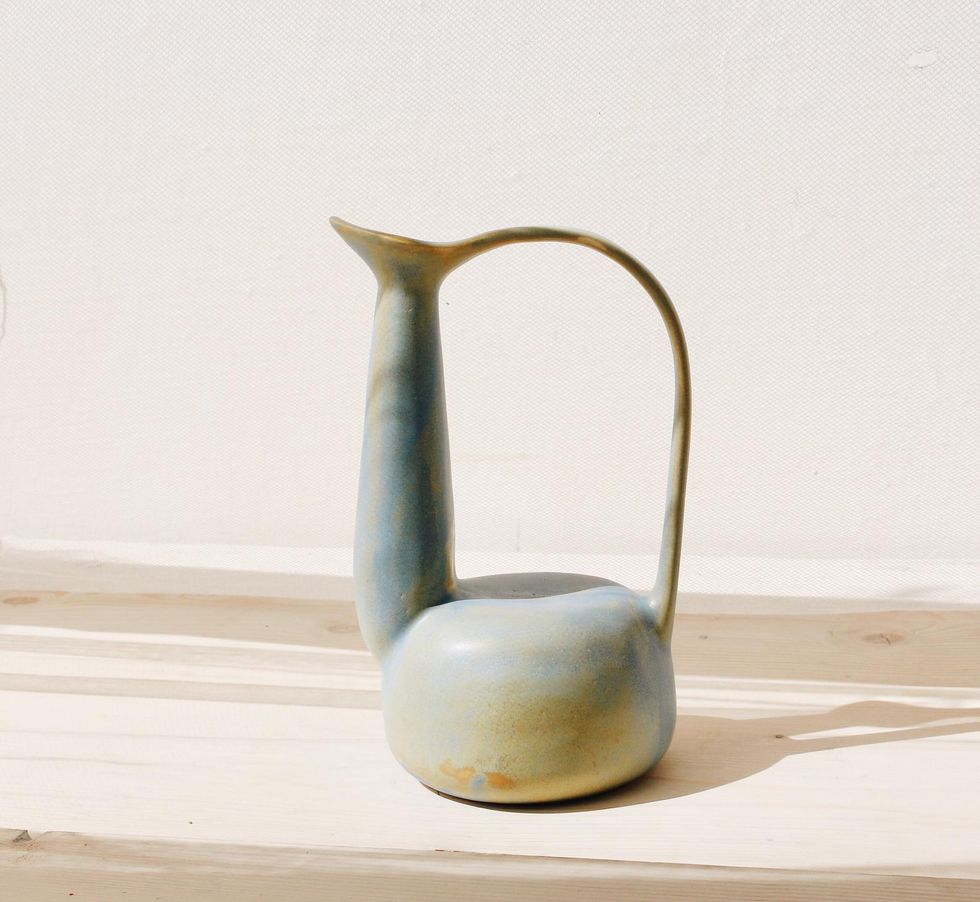 Etsy
EpalladioCeramics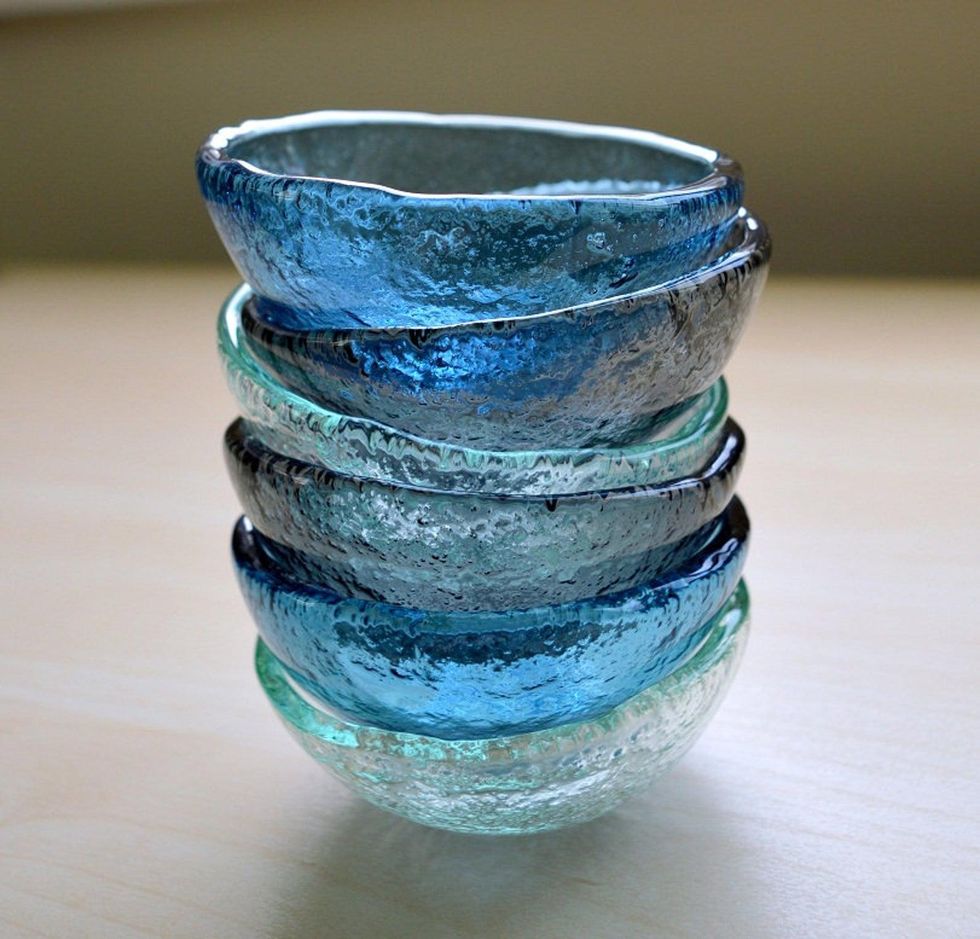 Etsy
Vetrocity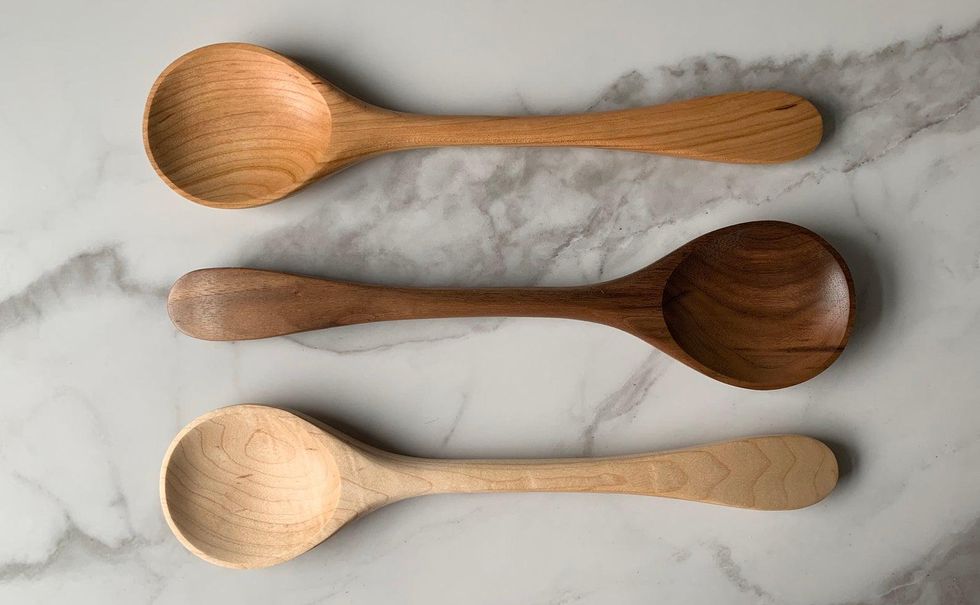 Etsy
CarvedWoodenSpoons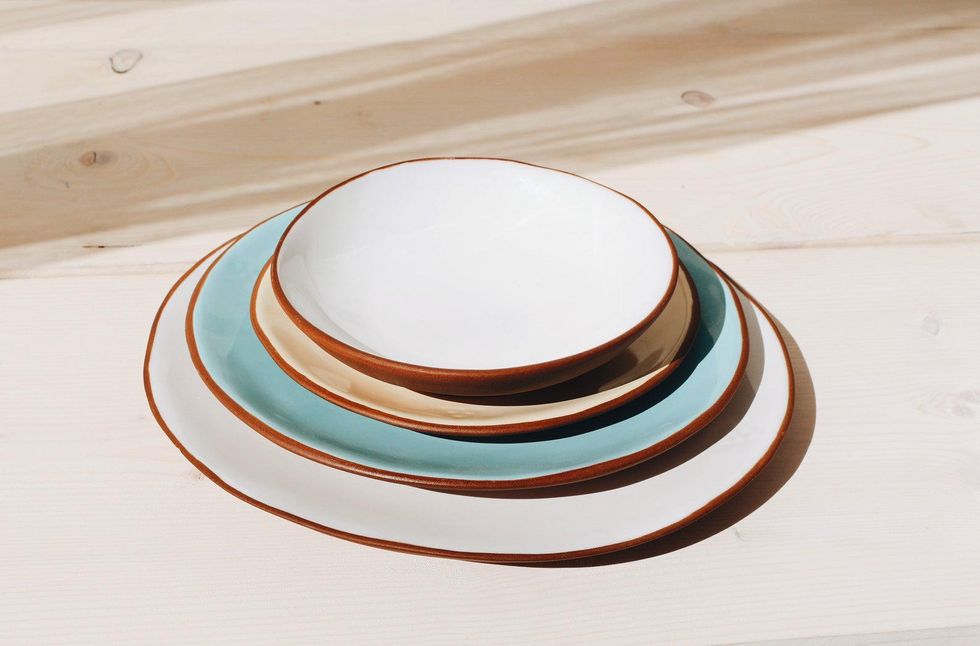 Etsy
EpalladioCeramics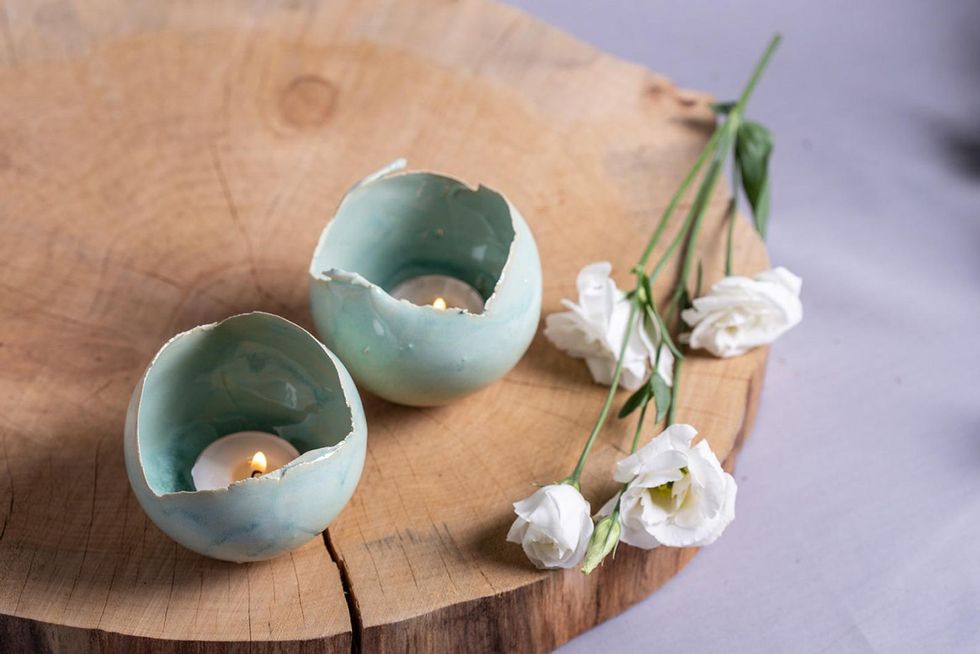 Etsy
ClaybyDannah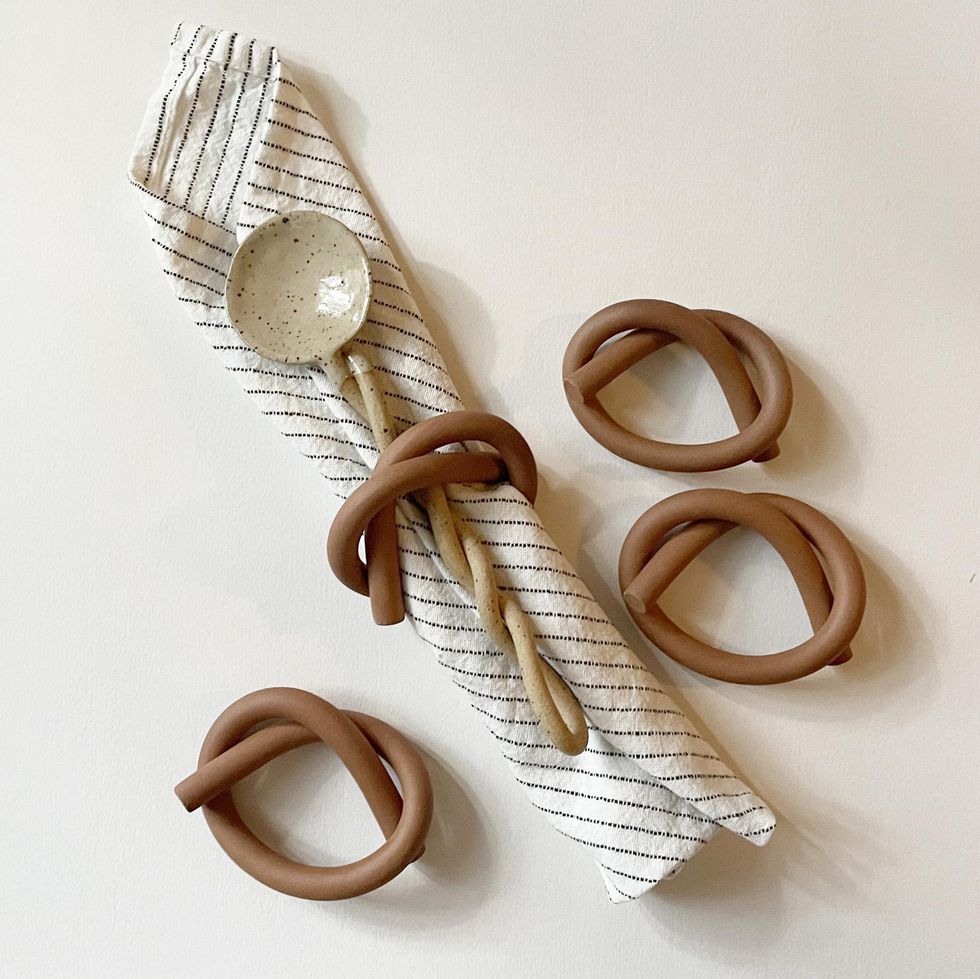 Etsy
SundayStudioBrooklyn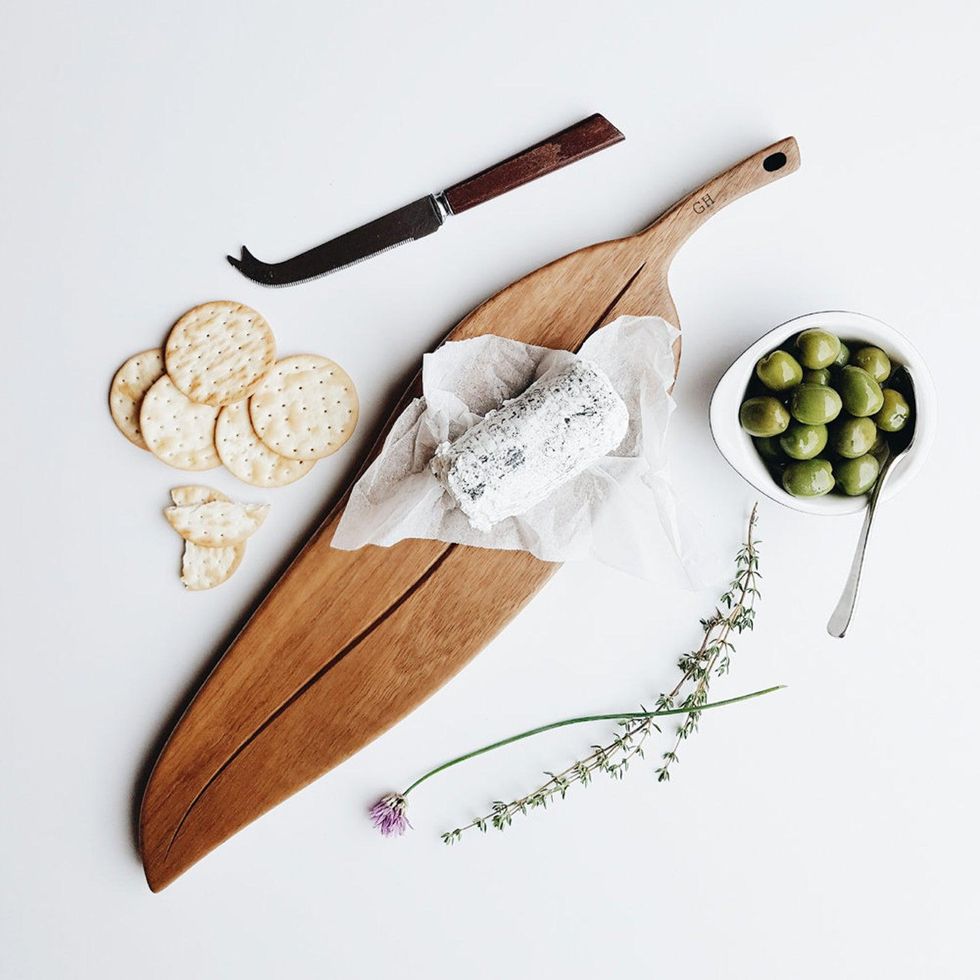 Etsy
ManualArtsDEpt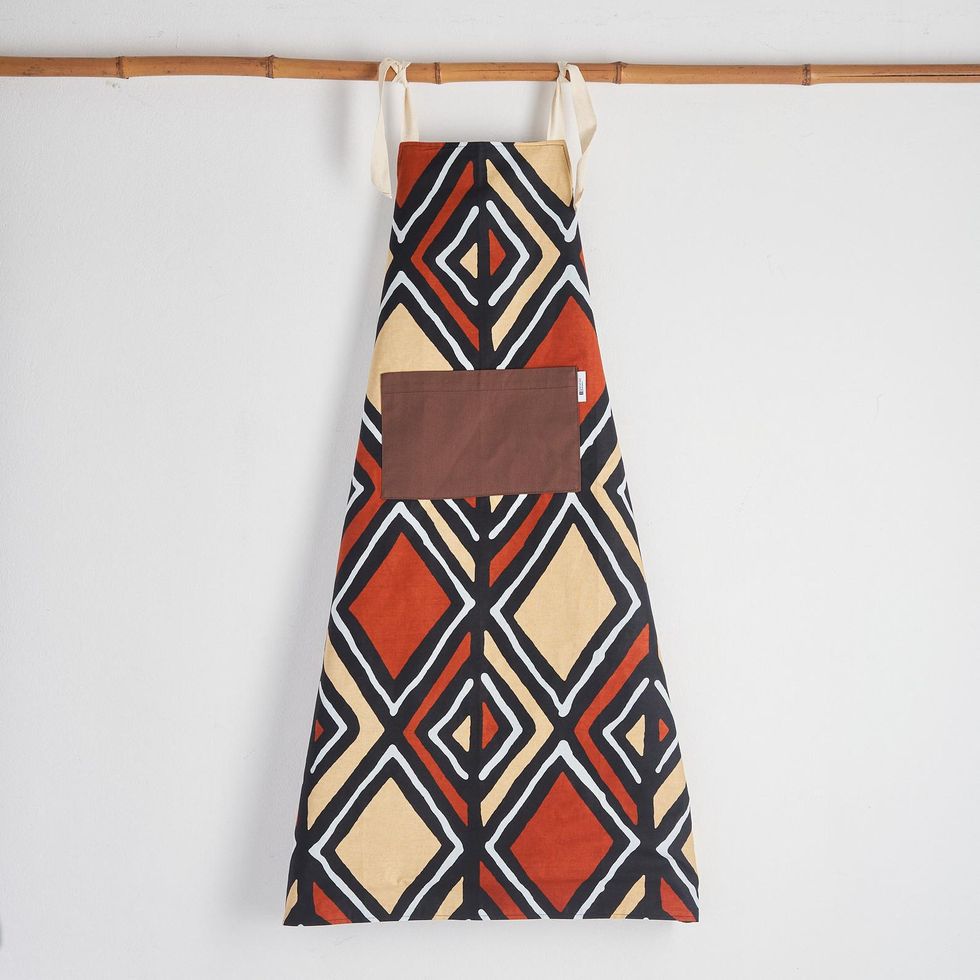 Etsy
BespokeBinny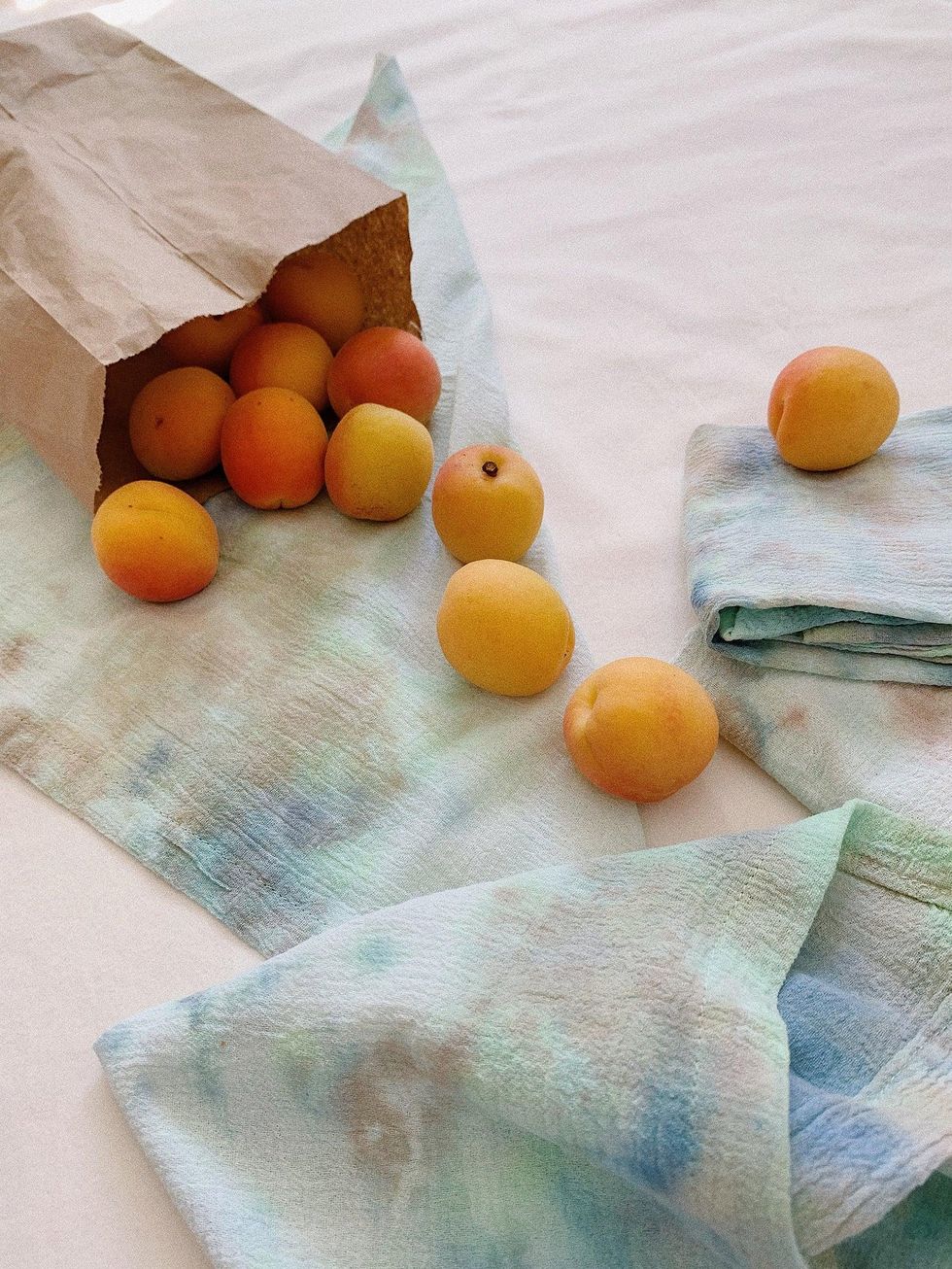 Etsy
ApricotLA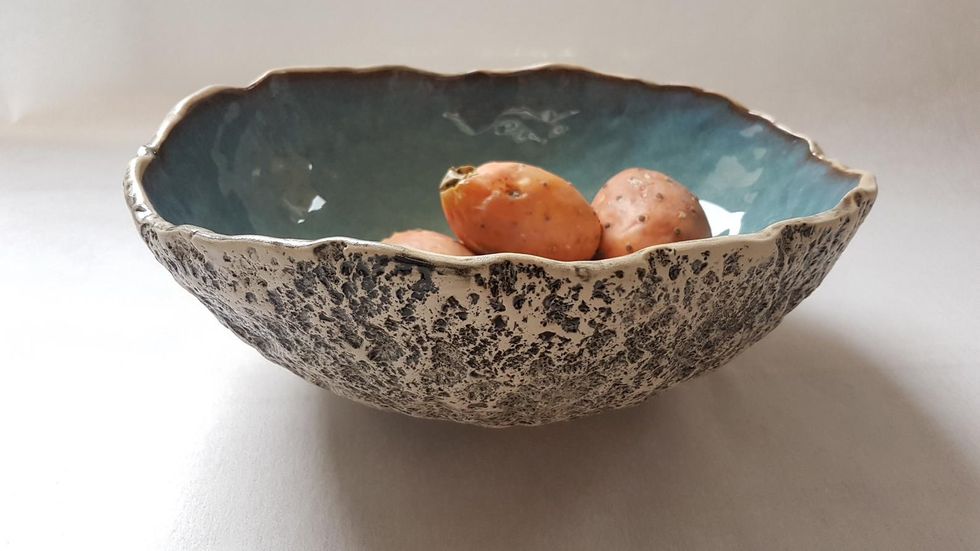 Etsy
KariCeramics
Featured image by Dimitrios Kambouris/Getty Images for 30th Annual IFP Gotham Awards

Keep reading...
Show less
When it comes to body language, perhaps no one knows it better than dancer turned actress Taylour Paige. The star of the new Twitter-inspired film Zola traded her footwork for the pole-work in the portrayal of her titular character. And much like with the film's viral 148-tweet source material, Taylour is the talk of the town and absolutely sizzles in her on-screen performance, on and off the pole. The end result? Taylour was able to tap into a freedom she didn't know she needed.
The 30-year-old took the acting world by storm when she came onto the scene via her breakout role in the hit series Hit the Floor. But what some may not know is that Taylour's lead role in the show wasn't a far cry from her own reality. While the actress might have been portraying Los Angeles Devils girl Ahsha Hayes on-screen, she was a former Los Angeles Lakers girl in real life.
Zola, however, is quite the departure from her goody-two-shoes image as doe-eyed Ahsha. Much like the Twitter "hoeism" thread it was based on, the A24 production follows Zola (portrayed by Taylour) and Stefani (portrayed by Riley Keough) as they journey to Florida to make money dancing and the crazy ride that ensues as their time together unfolds. The dramedy is a chaotic blend of suspense, thongs, and intrigue.
When trading in her dancing shoes for stilettos, Taylour admitted wearing Zola's shoes required more of her than any character has before. She told The Wrap:
"I'm a dancer, but I worked at the strip club for four weeks. I think all my life experiences prepared me for the role. I didn't want to look like an actor trying to dance, I didn't want to look like a dancer trying to strip, I wanted to look like this person in the given circumstances who works at a restaurant and also dances."
During her time researching her role, Taylor also connected with the real-life Zola, A'Ziah-Monae King, who also helped her add color and texture to her portrayal on-screen.
"We just talked a lot and I got to know her voice and her spirit. She's just so funny and quick and smart. Her use of punctuation, like everything about her … she's on some other s–t."
That friendship, preparation, and overall starring role in the indie film has changed Taylour forever. Stepping into the shoes and the skin of someone else helped her shed a layer of herself she didn't know she needed to lose.
"[The role gave me] freedom to be a woman and love my body and my sexuality, and not being also self-conscious or such a perfectionist. Just giving myself grace to figure it out as I go and be as present and honest as I can with the dialogue … it just marked a really, really, really pivotal change in my life."
Zola is out now in theatres.
Featured image by Tommaso Boddi/Getty Images
Keep reading...
Show less
Whether it's street style and high fashion moments, the lucrative lane she's carved through her multiple businesses, or the question of "where's the album sis?", multi-hyphenate Rihanna's every move is a new headline. The latest subject on all of our radars is our favorite bad gyal's love life. Though currently wrapped up in a whirlwind romance with long-time friend A$AP Rocky, who the singer has dated has always been of public interest and public opinion (if you know, you know).
Though she has been in her fair share of high-profile romances throughout the year, Rihanna has always maintained a sort of elusive quality to her. Even more so in recent years as she has navigated single life and a previous relationship with a particular billionaire. Something that has us thinking the good sis can be tamed is rapper boyfriend A$AP who took to GQ recently to reveal our girl Riri is "the One" and the love of his life. His words.
However, Rihanna was recently spotted commenting the sentence "If I was a paragraph" underneath a photo explaining that if you aren't happy single, you aren't going to be happy taken. While it could mean trouble in lovers and friends paradise, a little birdie mentioning she covered her matching tattoo with former beau Drake amid her new romance with A$AP could signify she might be feeling something similar (i.e. Mr. Rocky could be "the one").
Either way, we thought there's no time like the present to explore the past. Let's review Rihanna's relationship history by taking a walk down memory lane: Exes Edition.
Chris Brown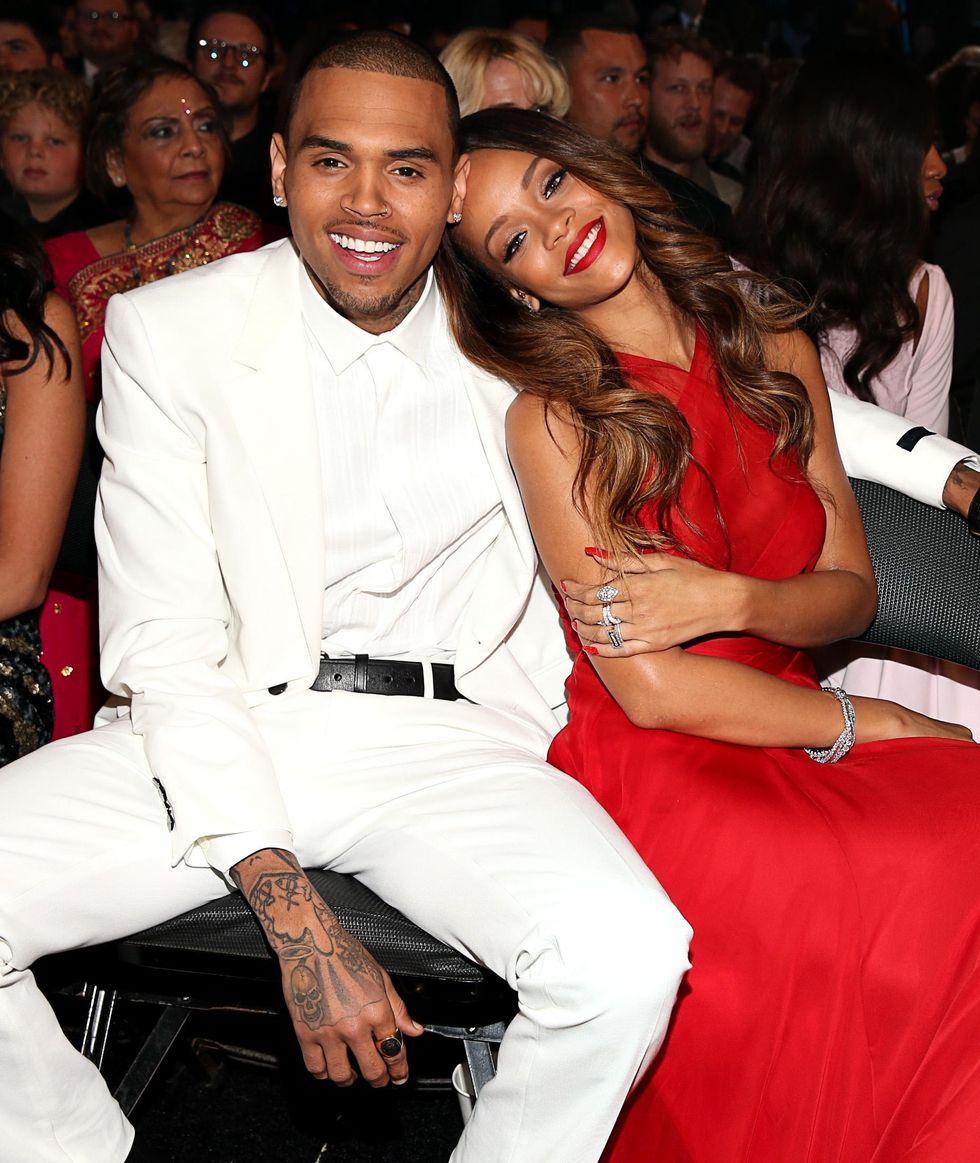 Chris Brown and Rihanna attend the 55th Annual GRAMMY Awards at STAPLES Center on February 10, 2013 in Los Angeles, California.
Christopher Polk/Getty Images for NARAS
From 2007 to 2009, Rihanna dated singer Chris Brown. The relationship ended in turmoil in 2009 due to a devastating domestic violence incident resulting in Brown being charged with making criminal threats and assault. The two would eventually rekindle their relationship briefly between 2012 and 2013, even briefly collaborating on songs again together, the raunchy "Birthday Cake" and the middle finger to the court of public opinion "Nobody's Business".
In 2015, Rihanna would reveal to Vanity Fair about her seemingly toxic bond with her ex and what ultimately led her to leave.
"I was very protective of him. I felt that people didn't understand him. But you know, you realize after a while that in that situation you're the enemy. You want the best for them, but if you remind them of their failures, or if you remind them of bad moments in their life, or even if you say, 'I'm willing to put up with something,' they think less of you — because they know you don't deserve what they're going to give."
Drake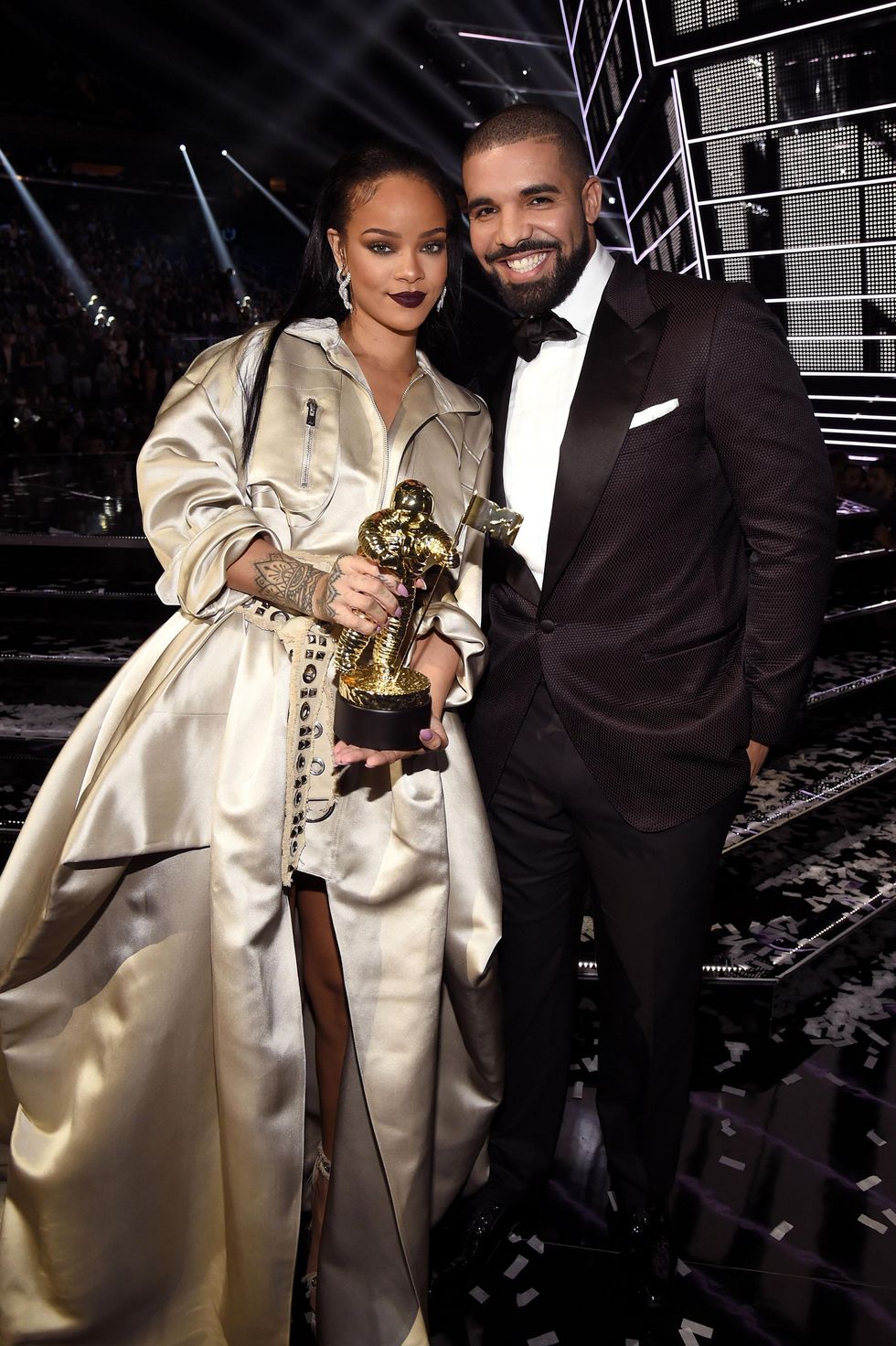 Rihanna (L) and Drake pose onstage during the 2016 MTV Video Music Awards at Madison Square Garden on August 28, 2016 in New York City.
Kevin Mazur/WireImage
Another on-again off-again relationship in Riri's life, Drake and her reportedly began their first of a couple of flings in May 2009, after meeting in 2005. In an April 2012 to Max Choice FM, the Toronto rapper shared about their romance:
"I think that we have a connection that's established for life and that is that I love her and support her unconditionally, and I like to think that she feels the same way. Do I fancy her? Of course, I mean who wouldn't? Look at her, she's stunning. Of course I do. Yeah, no, she's incredible. But you know, it's one of those things that it's a maybe one day, maybe not."
As the pair dwindled and rekindled throughout the years, the Grammy winners have gifted fans with plenty of dope tracks, including "What's My Name?", "Too Good", "Take Care", and "Work". In reference to those glorious collabs, Drake told Zane Lowe:
"We do well together as a team. I think we do great music together. It's tough to do guy-girl collabs. I think [the chemistry] is what makes the records better, though. It's something genuine there. We're not forcing some story on people. A lot of the music that we make and the energy that we bring is genuine. We have a lot of genuine energy between us."
In 2016, sparks ignited again between the two before parting ways months later. In 2018, Drake unfollowed Rihanna after she revealed to Vogue:
"We don't have a friendship now, but we're not enemies either. It is what it is."
Matt Kemp
Rihanna dated professional baseball player Matt Kemp from January to December 2010. Allegedly, Kemp initiated the split because of the songstress' hectic schedule. Back when the two were an item, Rihanna giddily opened up to ELLE, calling their relationship her "peace":
"I have a boyfriend. I'm so happy. I feel really comfortable, and it's so easy. I have such a chaotic life, but at the end of the day, that is just my peace. It keeps me sane, really, talking to him and talking to my family."
Travis Scott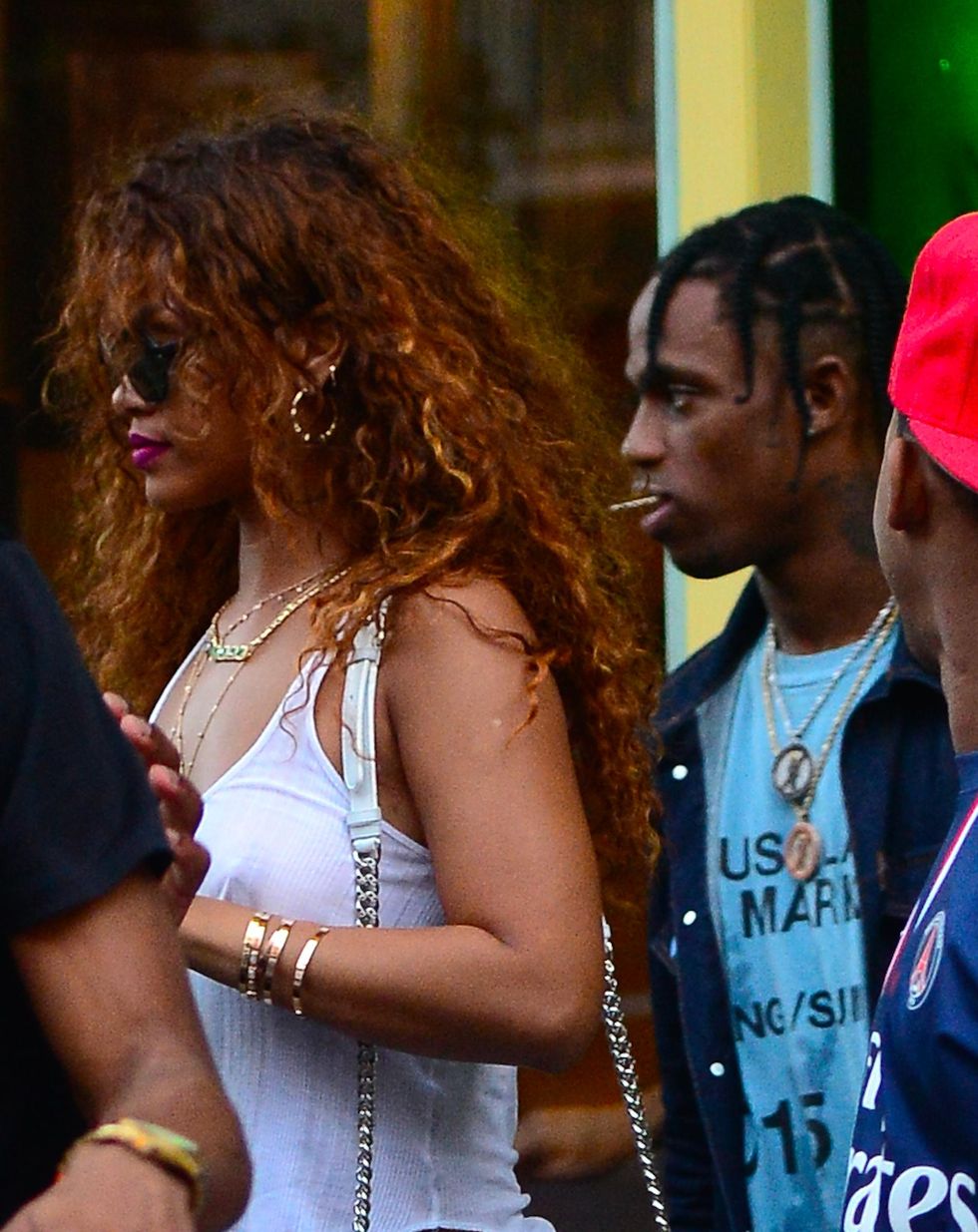 Singer Rihanna and Travis Scott are seen coming out of Coppelia restaurant in Soho on August 12, 2015 in New York City.
Raymond Hall/GC Images
Like her alleged flings with actors Leonardo Dicaprio and Ryan Phillippe, this short-lived romance with rapper Travis Scott has only been confirmed by sources close to the two. However, those of us who spotted the subtle hints towards each other between Riri and Trav during their time together, we know the things! We peeped!
Hassan Jameel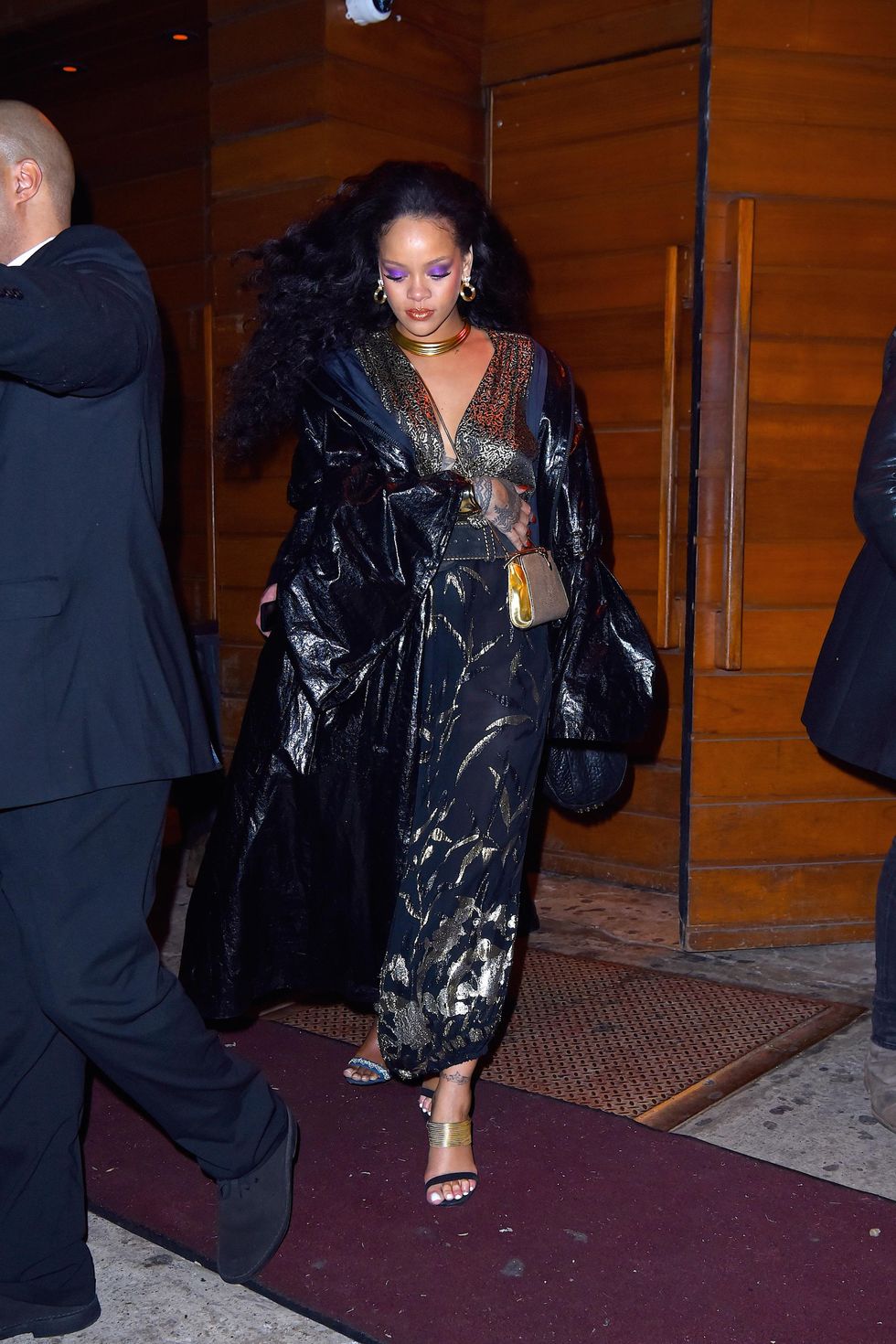 Rihanna seen at 1-Oak nightclub after partying with rumor boyfriend Hassan Jameel after attending the 2018 Grammy Awards after party on January 28, 2018 in New York City.
Robert Kamau/GC Images
Perhaps her most private relationship was the one she started in 2017 with billionaire beau Hassan Jameel. In fact, though revealing in a cover story with Interview magazine that she was "of course" in love with him, she was pretty quiet publicly about their time together.
"I'm actually in an exclusive relationship for quite some time, and it's going really well, so I'm happy."
The couple reportedly split in January 2020.
A$AP Rocky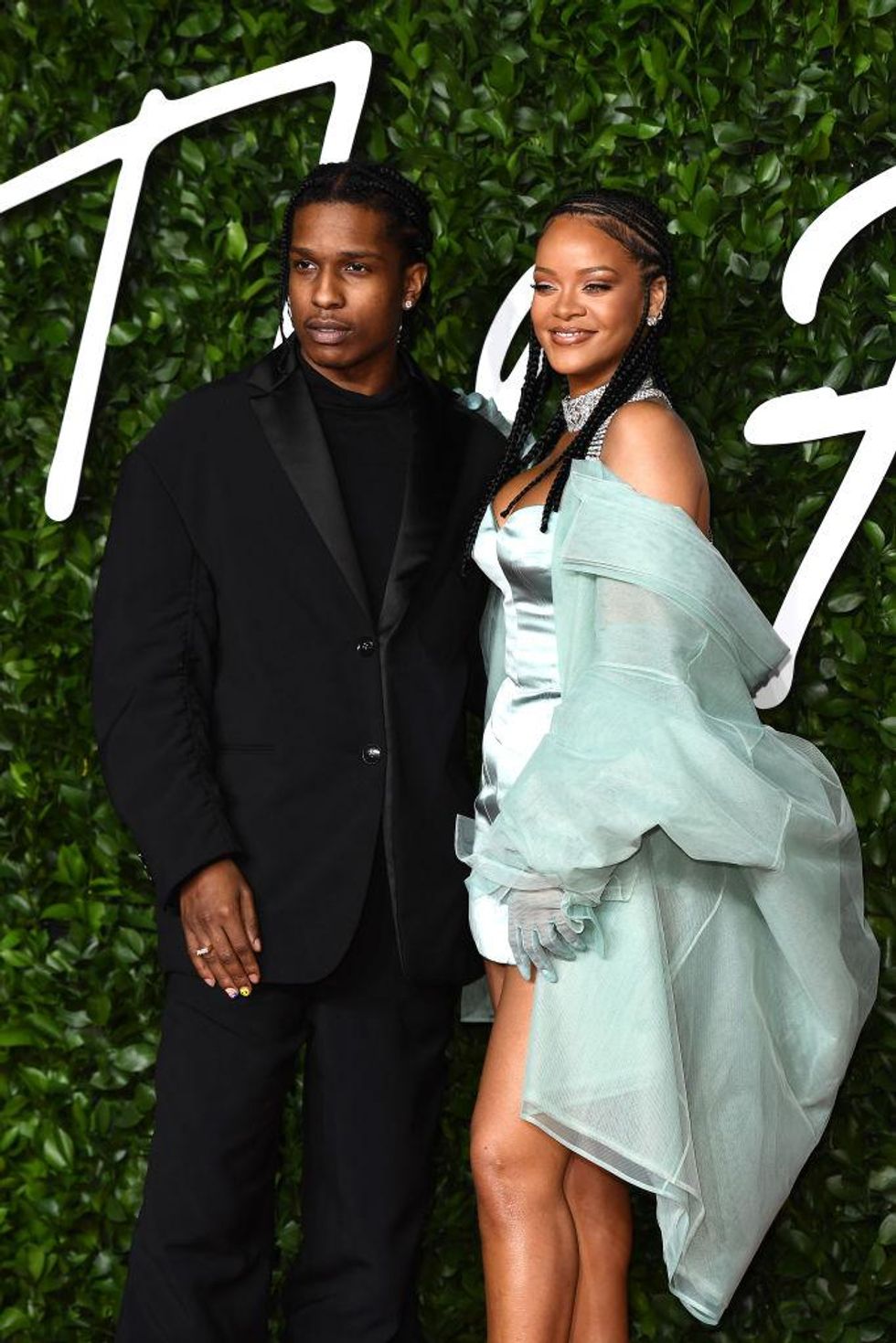 Rihanna and ASAP Rocky arrive at The Fashion Awards 2019 held at Royal Albert Hall on December 02, 2019 in London, England.
Jeff Spicer/BFC/Getty Images

We'll call this chapter "Lovers & Friends" as A$AP Rocky and Rihanna have friendship as a foundation. Before taking their relationship to the next level by becoming an item, the two artists were friends. Riri starred in A$AP's "Fashion Killa" music video in 2013 and the rest is history. Seeing them paint the town red on date nights galore has been an energy we live for!
While it's been speculated the pair have dabbled into "more than friends" territory throughout the years, nothing has served as confirmation as much as the photos of them together in the last year. And in 2021, A$AP took things a step further publicly by confirming their relationship to GQ.
"She amounts to probably, like, a million of the other ones... I think when you know, you know. She's The One."
Featured image by Kevin Mazur/Getty Images for Savage X Fenty Show Vol. 2 Presented by Amazon Prime Video
Keep reading...
Show less