I started dreaming about moving abroad when I was about 21 years old. I remember returning from a two-week study abroad trip to Dublin, Ireland having my eyes and mind wide open to the possibility of living overseas. This new travel passion was intensified after graduating from college in 2016, and going on a group trip to Italy. I was intoxicated by my love for Italy. It's hands down my favorite place. However, my post-grad life was one twist and turn after the next. I'm sure you can relate.
The pressure to find a "real job," start my career, launch a business, date, make new friends, move to a new city, and so on. I felt this immense internal pressure to be settled and have my life nice and neat. Honestly, It was anything but. Any time I talked about travelling, I was usually met with questions such as: "What are running from?" Or projections such as "That's so expensive," "Sounds dangerous," or even "You probably haven't found someone cause you travel too much." Ouch, that last one hurt the most.
All of these comments made me hesitant and afraid towards taking the leap. The opinions of others seeped into my mind causing me to think that maybe I didn't have what it takes, and that I would end up broke and homeless in the middle of some remote region. However, there are some dreams I just can't shake. Obviously, the pandemic halted my travel plans, but if we're being honest, I was afraid of the nomadic lifestlye long before 2020.
After being laid off twice, and paying off my student loans, I felt peace and alignment to make this dream a reality. Now that I'm abroad, I'm thankful I did it in God's perfect timing for my life.
If you're ready to move abroad or simply head in the direction of travelling more, here are the steps I took. Never give up on a dream because of the time it will take to accomplish it, the time will pass anyway. So with that mindset, here are 5 things you can do to prepare for your move abroad.
Don't Rush.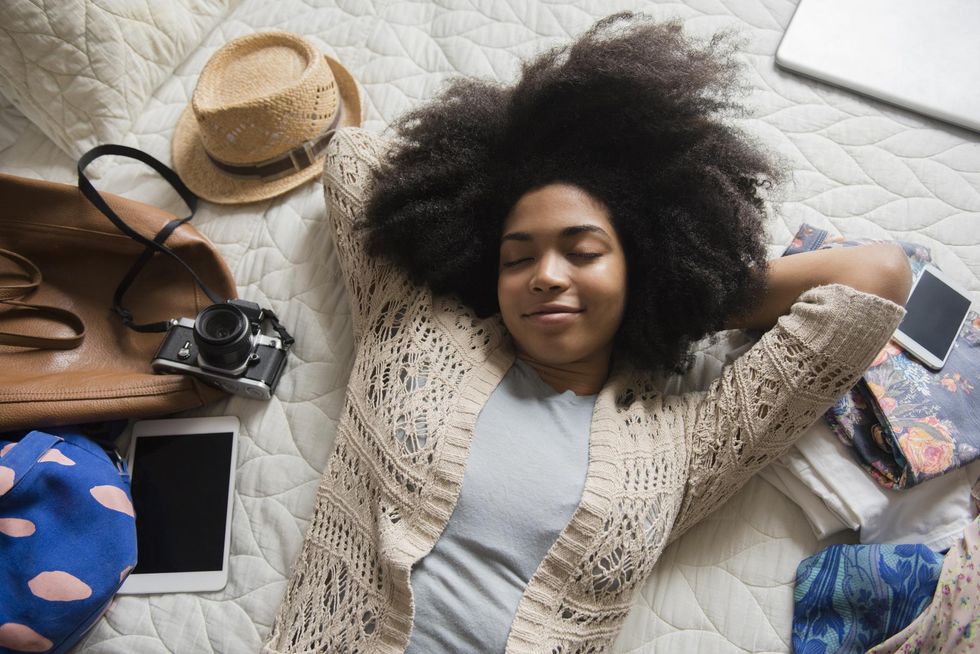 Getty Images
My plans to move abroad got delayed on multiple occasions. But delayed does not mean denied. Looking back, each move set me up for something better. It's easy to want to chase our passions, and keep up with whatever is trending on social media. Yes, travel is one of my passions, but so is being financially stable. For a season, I focused on my financial life. I took side jobs to help me pay off debt, and developed discipline. You don't have to accomplish everything in one day. There is time. No rush, just diligent steps in the right direction. In the end, we'll all get to where we're supposed to be.
Save. Save. Save. 
I know Instagram has conveyed that folks hastily quit their "corporate jobs to move abroad," and that's a cool story, but it's not mine. Take your time to save and create a strategy to move abroad. Identify what type of travel experience you want, and be open. Build out at least six months of an emergency savings, start a travel savings account, create a budget and stick to it. Tokyo will be just as amazing in 2022 or 2025. But do you know what's not fun? Not being able to afford basic life expenses. Save, sis.
Study. Study. Study.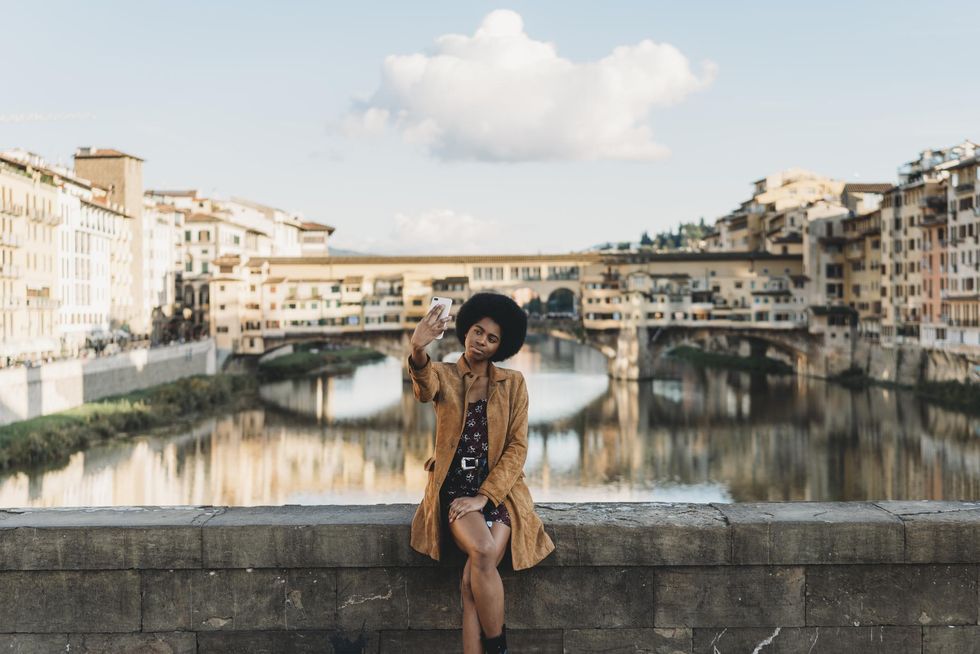 Reading articles like this is a great start. I've taken free courses, read books, followed my favorite travel accounts, consumed blog post after blog post, and all the resources about moving abroad I could find. We are in the information age, so anything you want to find or know is literally at your fingertips.
Your Friends Ain't Coming. Take Action Anyway. 
Your life is yours, and that's it. This is your dream and vision, no one else's. Having a travel buddy, bae, or whatever else is great, but don't let that be the only thing holding you back. Now is a perfect time to live the life of your dreams. A meme was trending on Instagram recently, it said: "Your purpose ain't a conference call." The people who are supposed to be on the journey with you will come, but you have to take the first step. It's absolutely scary. I'm still processing the fact that I sold all my stuff to move abroad, but I did it.
Find Your Travel Crew.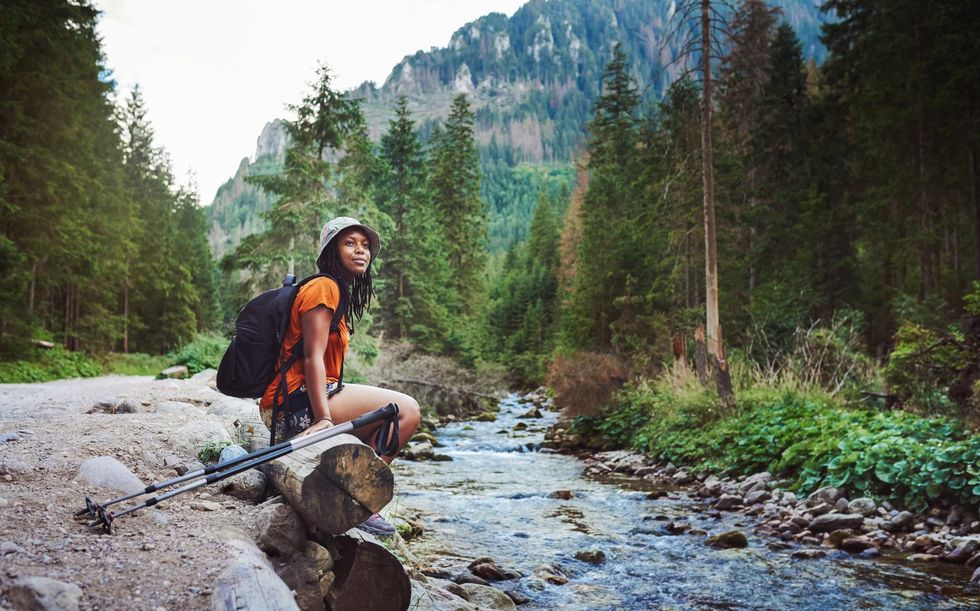 Getty Images
Now, once abroad, there are plenty of resources to find like-minded people. Facebook groups and hashtags are great places to start. If you want to ease back into travelling, then finding a group trip through companies like Dipaways and Wind Collective are great places to start. Work up the confidence to talk to locals or book group tours. We're all looking for connection and friends out here, so remember you are not alone in your desires for community.
To follow along with my journey, check out my Digital Nomad Vlog #1: Saying Goodbye, Surfing, and Natural Hair below!
In this video, I show y'all goodbyes from friends and family, an empty house/co-living tour, a morning surf trip, and what's the heck I'm doing with my hair,...

Featured image by Getty Images

Keep reading...
Show less
If you are a frequent reader of my articles, then you know that I am front-of-the-class here for the culture. Using all of my platforms to be vocal about Black women and all things Blackity, Black, Black, Black is how I get down, and frankly, if you aren't here for me bragging on my people, then we probably won't have much in common. The wave has been snowballing too, because so many feel the same way I do, which is something we've had to consciously build up as a community.
The internet is filled with pages showing love to melanin, comments are up and stuck in celebrating our likeness, and we stick together, m'kay?! Just ask TikTok.
Are you a member of our insiders squad? Join us in the xoTribe Members Community today!

Featured image by Getty Images
Keep reading...
Show less
Whether still dealing with the aftershocks of the pandemic, not being able to get enough time off or money being a little on the tight side is what's preventing you from going on a romantic vacation this summer, who's to say that you can't do a sexy staycation instead? If the mere thought of that feels like a poor man's — or woman's — consolation prize, I promise you that it absolutely does not have to. Opting to stay at home while possibly throwing in a couple of day trip adventures (which is a classic definition of a staycation, by the way) can be loads of fun, super romantic and also really cost effective without feeling mad cheap.
All you need is an open mind, this article and a willingness to put a plan into place as soon as possible. Ready to get started?
1. Tell Everyone You're Going to Be Away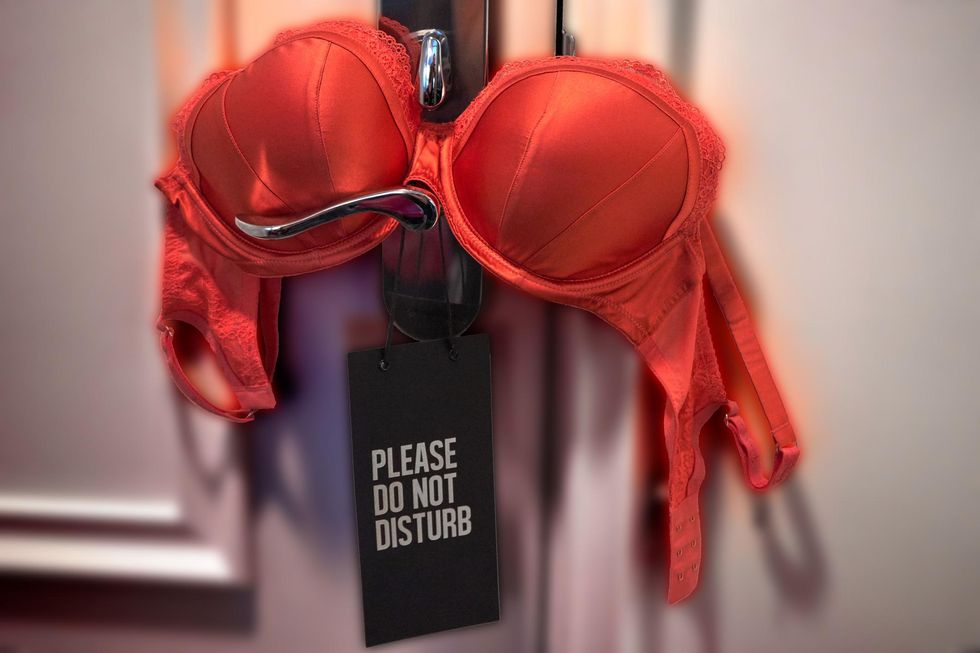 When it comes to putting a staycation together, one of the biggest mistakes that people make is not announcing that they are going to be away for a little while. Listen, even if you're gonna do nothing other than camp out at your home for a week, it's important that family, friends and co-workers don't treat you like you're just a phone call or stop by away.
A staycation is still a form of a vacation, so make sure you let everyone know that you won't be available (unless it's an absolute emergency) once you've got some dates in place.
2. Order Breakfast in Bed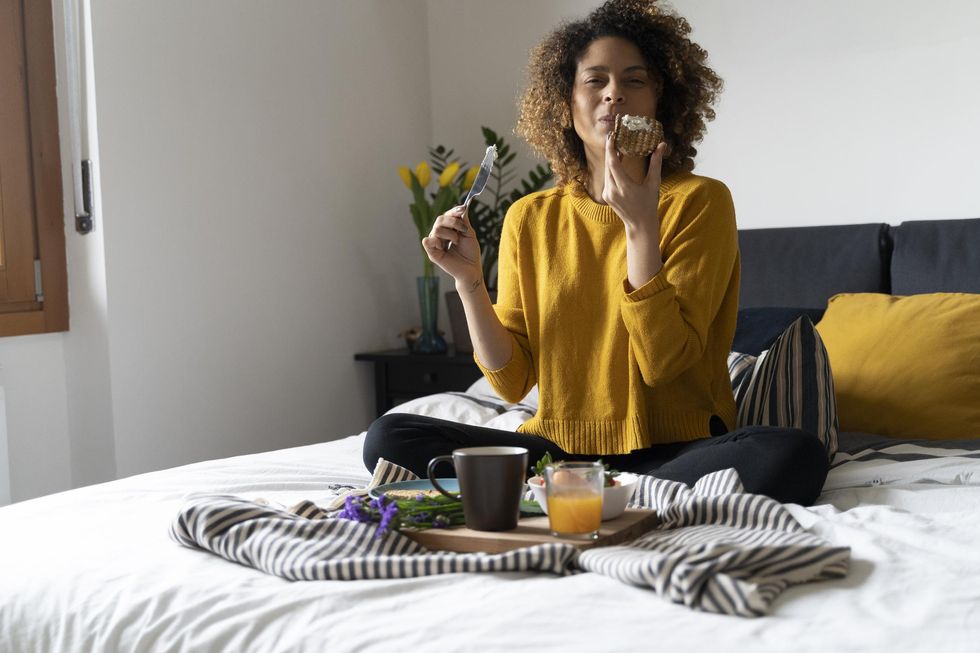 OK. Personally, I like to cook. I also think that cooking dates can be kind of sexy. Here's the thing, though. When you're on a staycation, it's important to deviate from your usual routine, as much as possible, even when it comes to how you get down in your house. A huge benefit that comes with being on vacation is sleeping in, right? So, when it comes to the most important meal of the day, avoid the urge to cook or settle for nothing more than a bowl of cereal. I'm pretty sure you've got some great breakfast/brunch restaurants in your area. Support local businesses and treat yourself by ordering breakfast to be delivered to your house, at least a couple of times, instead.
3. Dine at a New Romantic Restaurant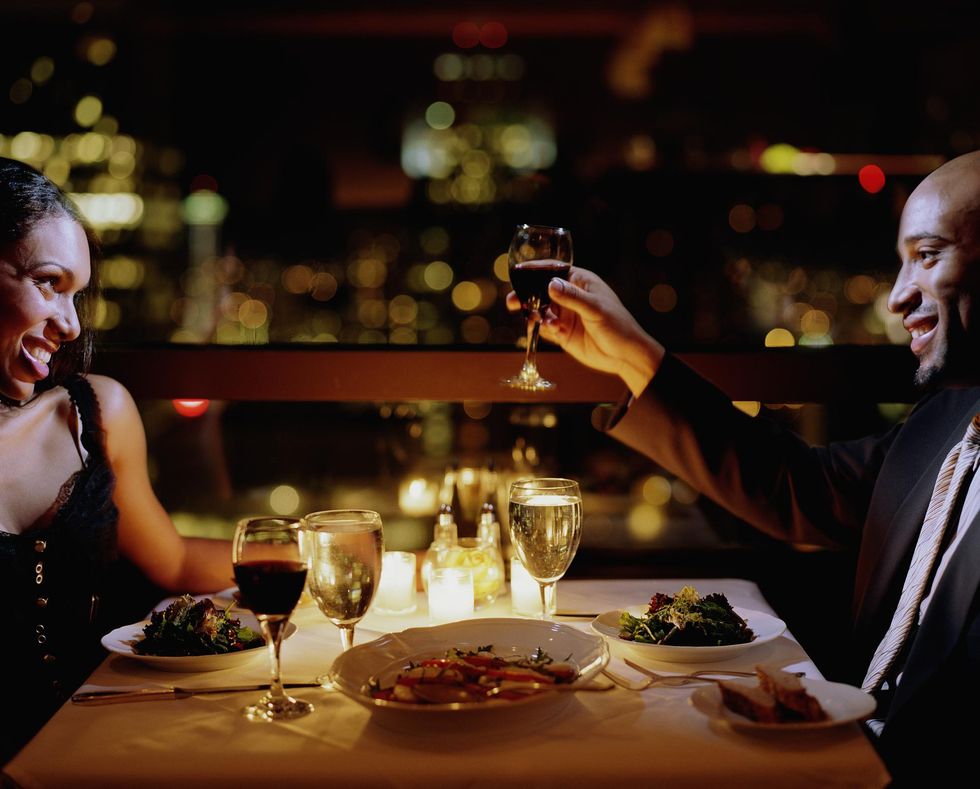 Not too long ago, someone asked me in an interview if going out for dinner can get old for a couple. My answer was, "No. Not if the restaurant requires dressing up and you're not constantly going to the same one." Unfortunately, when it comes to eating out, a lot of us seem to only treat it as a functional outing rather than an uber romantic experience. Avoid being that kind of statistic by finding an upscale restaurant and dressing to the nines. Good food, good ambiance and good company can never be boring; especially when you're on a staycation.
4. See If 'Let's Roam' Works in Your City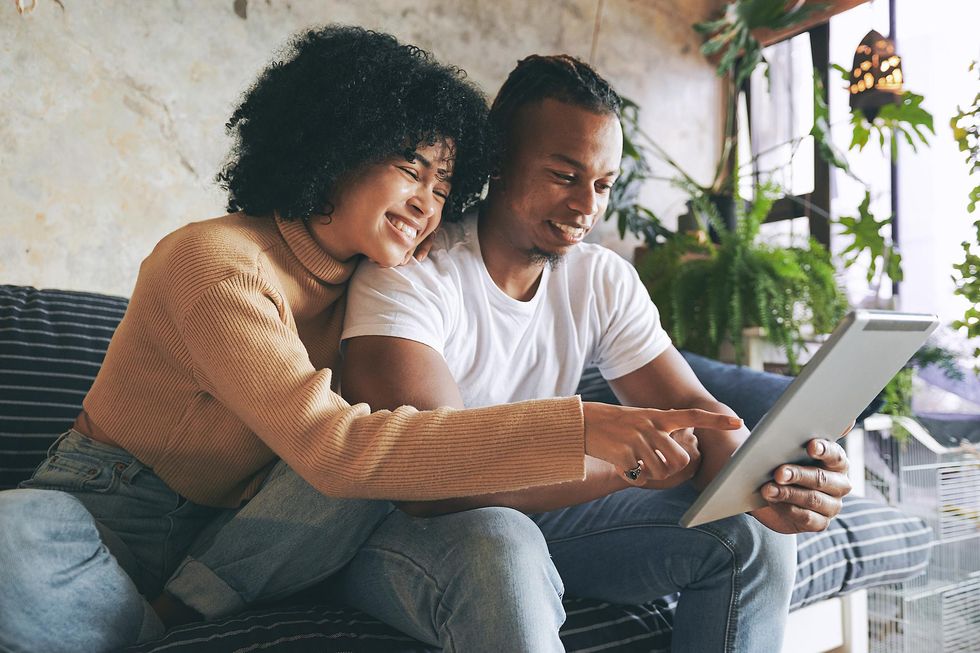 When I take staycations, I promise you that I can never leave the house and be just fine. For those of you who end up feeling a little stir crazy after a day or two, be a tourist in your city — only with a romantic twist. In 300 different cities to-date, there is an app called Let's Roam. The cool thing about it is, for under fifty bucks (for both of you), you can go on a scavenger hunt throughout your city. It could be a unique way to create some new memories. If you're interested in learning more, go here.
5. Upgrade Your First Date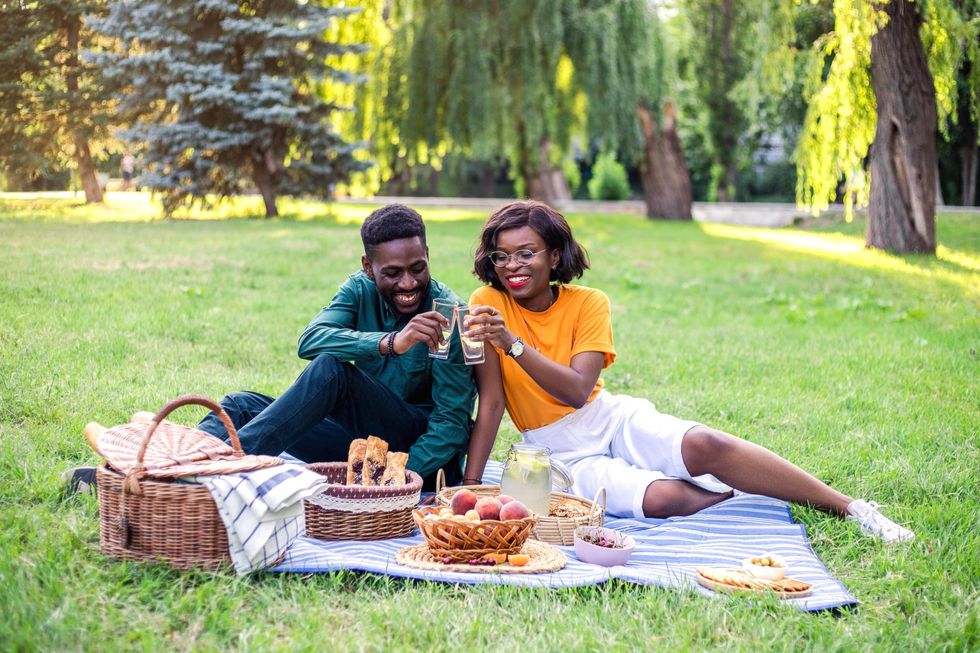 Whether your first date was super extravagant or it consisted of meeting at a coffee shop, there are few things more romantic than revisiting the moment when you and yours officially made a "formal" connection. Thing is, for many of us, as great as the experience may have been, we secretly wish that some tweaks could've been made to make things that much better. During your summer staycation, seize the opportunity by redoing your first date…by upgrading it a bit. If you wish the date had been earlier and longer, make that happen this time. If you would've preferred a quieter restaurant or one with a different cuisine, find a place that fits the bill and go there. If the connection was awesome but the location/venue could've used some work, change the place and wear the same outfit. You get the drift. Upgrading a first date while reminiscing about the actual first date is a form of mental foreplay like no other.
6. Redo Your First Night Together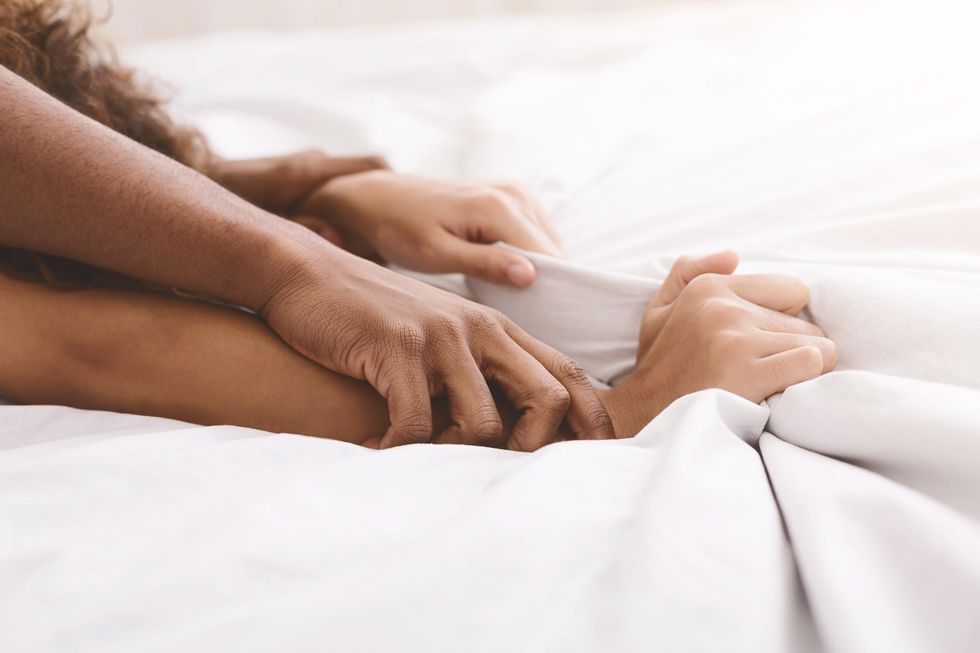 Speaking of foreplay, chile…while we're in the spirit of redoing things, how about replaying your first night together too? The key here is to not make either one of you feel self-conscious by critiquing what could've been done differently or better. It's more about first discussing all of the amazing memories you recall from your first experience with each other and using that as a way to mentally go back to that time, in order to enjoy each other all over again.
The mind is the biggest sex organ we've got. You'd be amazed how merely discussing the first time you were one with each other in that way can take sexual pleasure to a whole 'nother level.
7. Take a Day Trip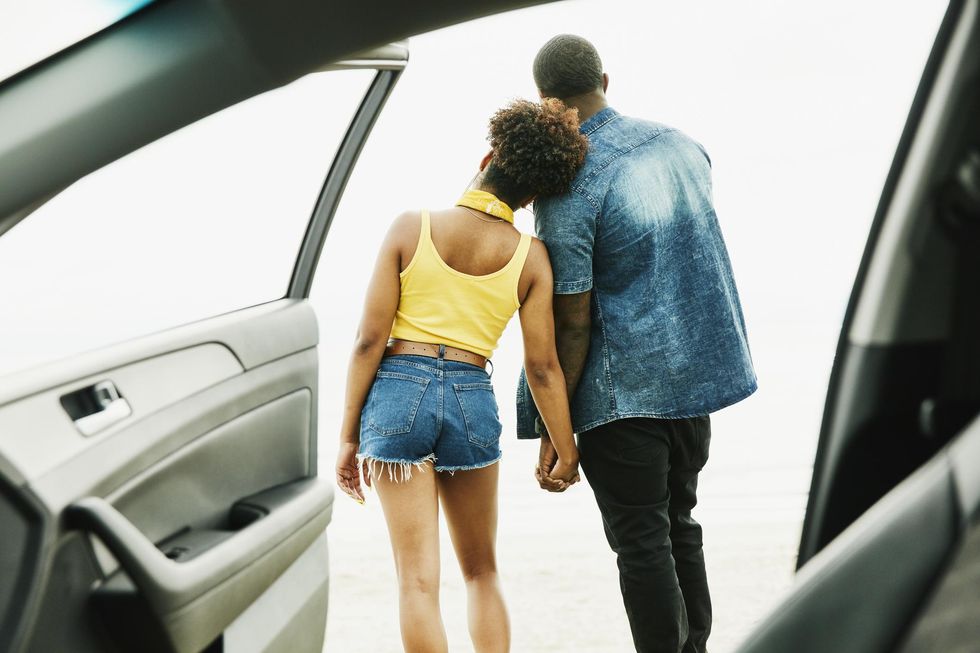 Remember how I said that a staycation doesn't mean that you've got to stay cooped up in your house or even in your city the entire time? Going on a day trip can be romantic too because the time in the car can give you the opportunity to catch up in a way that you may not have been able to in a while. Plus, there's nothing like finding some romantically random bed and breakfast in some quaint little town. If you'd like some help finding one within a 150-300 mile radius to you, bnbfinder and BBOnline can be of some great assistance.
8. Make a Different Cocktail (or Mocktail) Every Day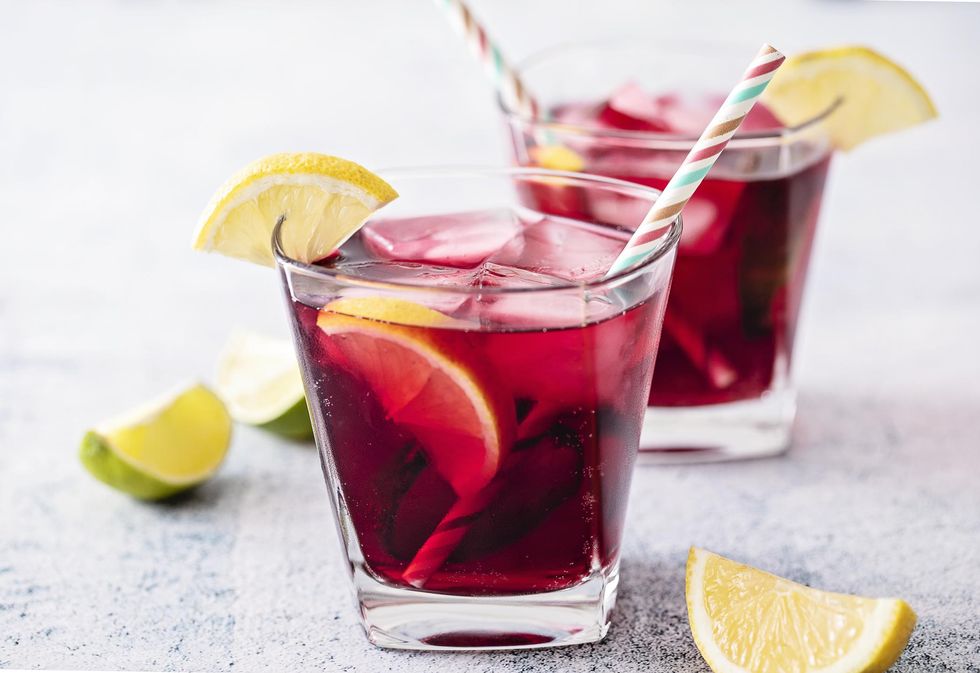 Whether you and your boo decide to stay in bed all day or you stroll the mall, take in a movie and dine outdoors, very few things are more relaxing and delightful than a cocktail or, if you don't consume alcohol, a mocktail (which is basically a virgin cocktail). In the spirit of keeping things sexy, check out "8 Summer-Themed Alcoholic Drinks That Can Boost Your Libido". For some mocktail ideas, go to your favorite search engine and put "mocktail recipes" in the search field.
9. Play Some 'Monogamy' or 'Fog of Love'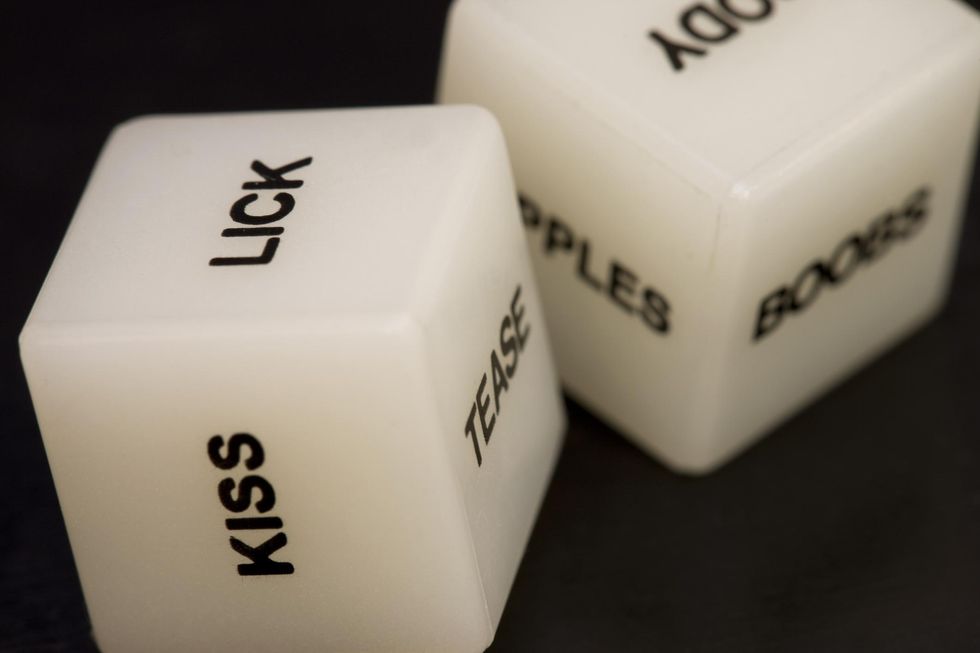 Do you and yours like to play games (the good kind) when you're able to spend some quality time together? If so, two that you may really like are the sex-driven conversational board game Monogamy (you can get it here) and Lovehoney Oh! Sexploration Vouchers 52 Weeks of Adventures (you can get it here); it consists of a deck of romantic and raunchy cards to pull from. If you put on some sexy music, pull out a bottle of wine and make sure that you don't have much on, you'll be sure to have a super entertaining evening.
10. Then Go for a Round of 'Truth or Drink'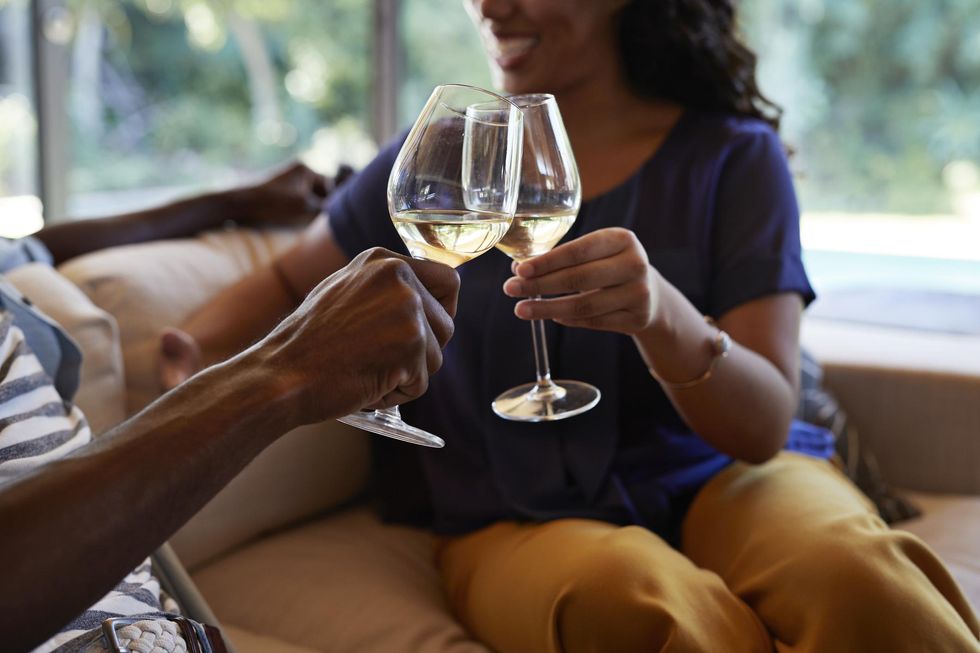 While you've got that bottle out, something else that you might want to do is play a round or two of Truth or Drink. Now, I'll be the first to say that super sensitive or even potentially insecure couples should probably steer clear of this one (especially as the drinks get to flowing). But if your relationship is based on a solid friendship and you both are very open with each other anyway, this game can be a lot of fun because there's no telling what you'll find out about your partner.
As the title of it goes, it's pretty self-explanatory. Each of you gets to ask a question and the other person gets to choose whether they want to answer or take a sip (or shot). If you want to raise up the ante a bit, throw in some sexy dares too. If you'd like some help coming up with some questions, Scary Mommy's site has 145 to inspire you. Check them out here.
11. Enjoy a Night of 'Movie Strip'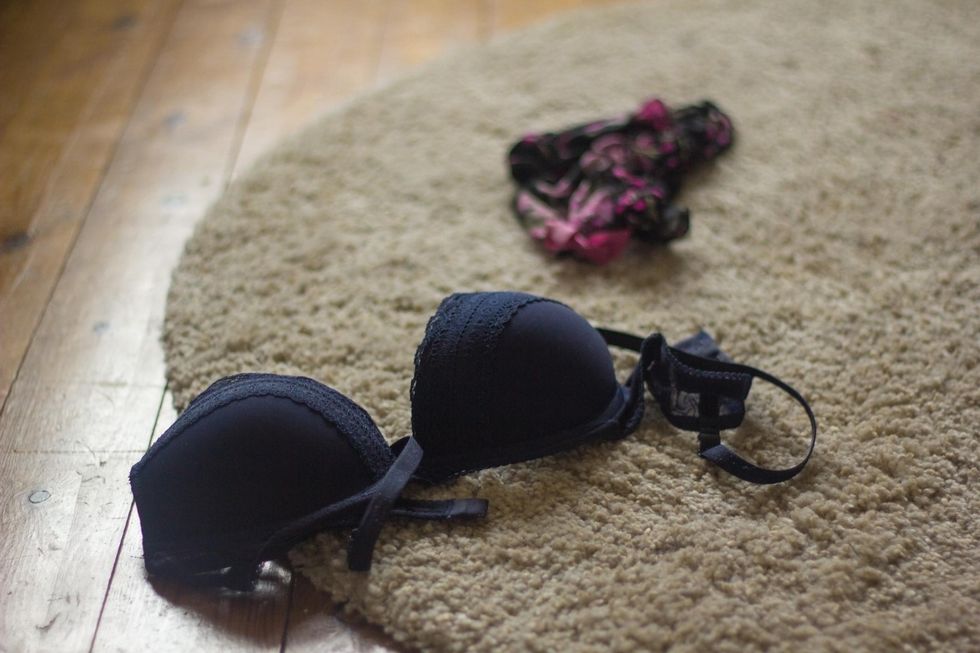 What the heck is Movie Strip? It's another thing that one of my blasts from the past and I used to do.
We'd each pick a favorite movie, watch it and then quiz each other on the details in the film. For every time we got an answer wrong, we'd have to take off a piece of clothing. I'm pretty sure it goes without saying that whoever ends up naked first loses.
Well, sorta. #wink
12. Try to Literally Have Sex All Night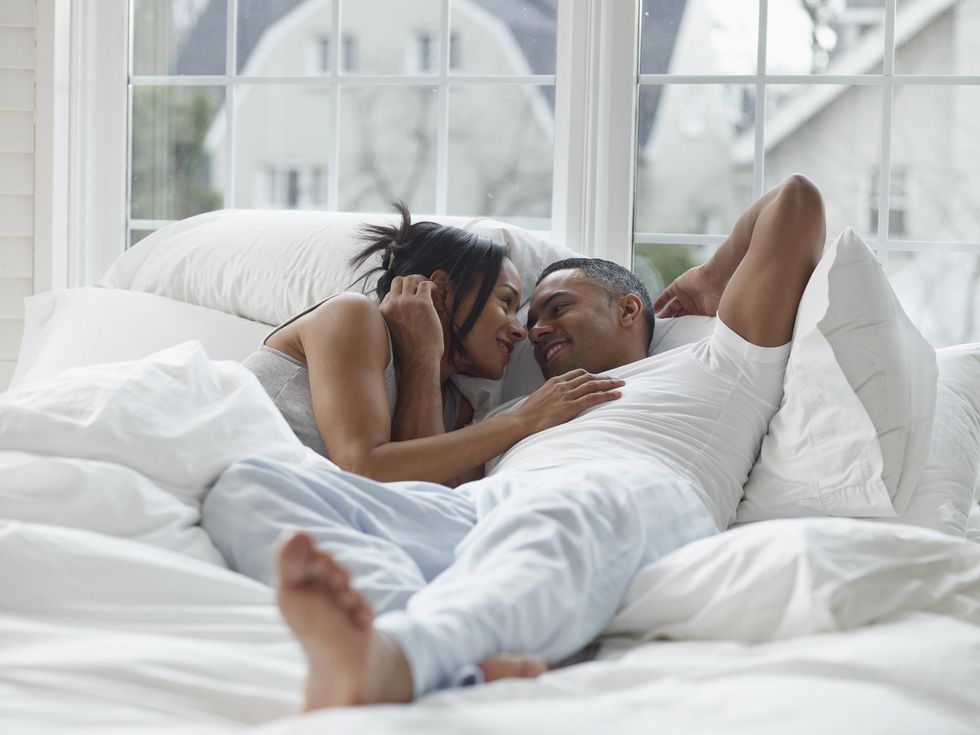 Anyone who knows me knows that very few things make me happier than listening to 90s R&B for hours on end. However, if there's one thing that really does tickle me about a lot of R&B music is the lies, lies…LIES it tells about people when it talks about having sex all night long. C'mon now. Who has the time, the energy or the natural lubrication required to make that happen? Chile, please. Still, when you're on a sexy staycation, it can be enjoyable to see how close to that goal you can actually reach. Shoot, to serve as extra motivation, some sort of prize can be offered to the partner who doesn't "tap out" first. It could be doing a household chore for a week that one of you hates, running errands that one of you likes to avoid — something that makes winning really worthwhile, even after your staycation is over.
13. Have an Orgasm Competition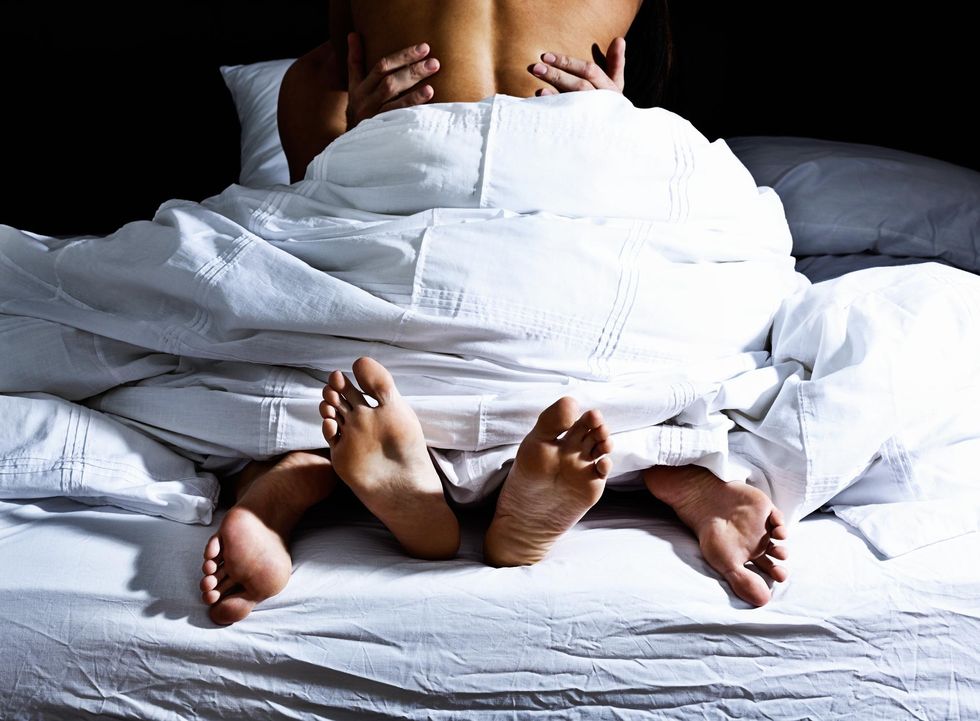 Speaking of being up all night long…back when I was sexually active (le sigh), one of my partners and I used to literally compete to see who could give each other the most orgasms in one sex session (well, one night but you know what I mean). It was actually a strategic kind of "game" because while it can be pretty easy to get the first one off, it requires a bit more finessing, technique and intentionality to enter into the multiple orgasms lane. Nothing beats trying though. Wheeeeeeeew-whee.
14. Stay Naked Most of the Time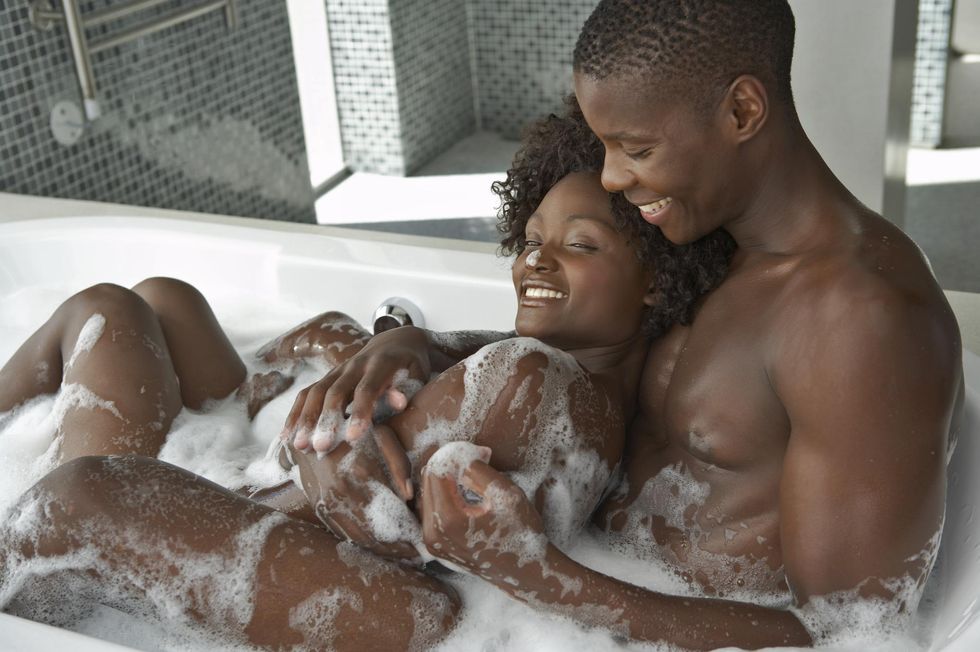 Whenever I'm in a counseling session and the topic of improving a married couple's sex life comes up, it never fails that women want more foreplay while men want visual stimuli to go up a few notches. For some, that means they wish that their partner would play dress up in more lingerie. However, what I tend to hear even more than that is men wish that their lady would be naked way more often than right before it's time to "get it in". Surely y'all are not shocked by that. Still, there's no time like this article to encourage you to disrobe more than usual. I mean, you're on a staycation and you want to make it as HOT as possible so — why the heck not?
Being naked is not only alluring and appealing as hell, it's a great way to keep your body temperature stabilized, decrease your stress levels, make you feel more comfortable with your body image, give your vagina the time and space it needs to "air out" a bit and, it definitely is an entry way to more intimacy.
I live alone, work from home and even I can't tell you how many days you can find me in nothing but a blanket for most of the day. There is something very freeing about nudity. There's also something erotic about it when you're that way with your partner. Even if it's just for a couple of days, take it off, TAKE IT ALL OFF, while you're on your staycation.
15. Pitch a Tent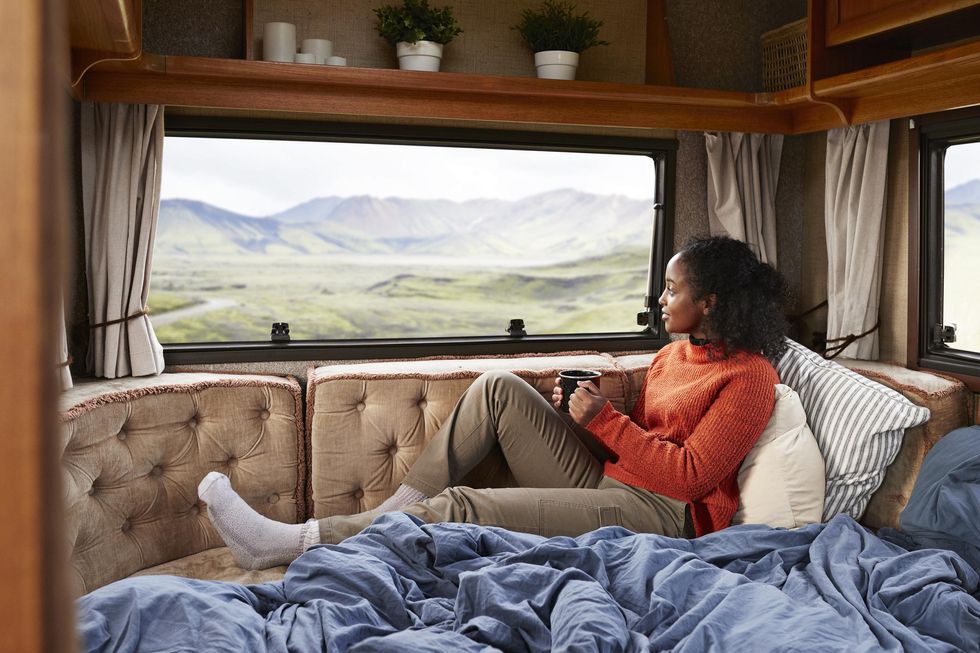 If you've got a private backyard, there really is something sweet about pitching a tent, bringing a few snacks outside, along with blanks and pillows and cuddling up while looking up at the stars until you both fall asleep. It's a super relaxing and very sentimental way to culminate what will hopefully be one of your best vacations ever — a super hot staycation.
Join our xoTribe, an exclusive community dedicated to YOU and your stories and all things xoNecole. Be a part of a growing community of women from all over the world who come together to uplift, inspire, and inform each other on all things related to the glow up.
Featured image by Getty Images
Keep reading...
Show less
It's no secret that the pandemic hit all of us hard, and now that restrictions have been lifted, offices have reopened, and work seems to be getting to a new normal outside of quarantines and isolation, we all want to take our lives back. If you only learned one lesson in the past year, it's to look out for No.1, i.e. yourself, and practice a bit more balance in self-care.
Research has shown that many of us were overworked and pretty much burned out, and we missed out on vacations last year, too. The average work day extended at least an hour, and millions of vacation days wasted away.
Well, now that the advocacy for remote work has gotten stronger, so has the prioritizing of vacation days so that companies can not only attract top talent, but keep their current workforce.
Check out companies, via FlexJobs, that not only offer remote work but are taking steps to offer competitive vacation packages:
This platform has become a favorite among travelers, offering diverse experiences, from budget to luxury. And the AirBnb doesn't skimp on the vacation perks for their employees. Workers there get annual travel and expenses credits, and "generous" parental and family leave.
If you're into project management, then you've heard of Basecamp. Founded in 1999, the company has 50 employees working across 32 cities. Business Insider reports that employees who have worked with the company for at least a year can choose from 16 paid vacation packages each year, with trips valued at $4,000 to $5,000 each.
Many entrepreneurs and professionals use Calendly (which is Black-owned by the way) for scheduling meetings and coordinating calendars, and it's one of the top such tools on them market. Well, employees here get flexible time off, the option to "pick your own perk," a $1,000 annual vacation stipend.
Who hasn't gone to TripAdvisor to get the real tea on any restaurant, hotel, or travel experience around the world? The company has more than 350 million monthly users who book flights, hotels, rentals and offer insights for other travels through reviews. Employees at this company can get a travel reimbursement of $250 or more and discounts on vacation packages.

Motley Fool, a platform that offers business and investing advice, gives its employees unlimited vacation time and the opportunity to participate in their "Fool's Errand" program in which an employee is randomly chosen monthlty and given "a decent chunk of money" to use for a two-week vacay.
Travelzoo, a site that promotes deals for entertainment and travel experiences, gives its employees a stipend and extra days of PTO to book their travel experiences on the platform.

Expedia is another popular go-to site to book hotels and flights or find deals that give members percentages off their bookings. Employees at the company get a travel reimbursement and discounts on any packages they buy via the site.
Moz develops marketing, has a dope community of online marketers, and is a leader in the industry, and professionals who work there reportedly get at least 21 days paid time off per year, 10 paid holidays, seven days of sick leave, and a $3,000 per year vacation expense reimbursement.
To find out more about remote jobs that offer competitive vacation packages, visit Flexjobs.
Featured image via Getty Images
Keep reading...
Show less
Joie Chavis has been fitness goals for many of us since she danced her way into our hearts a few years ago. She is a mother of two, one being kid superstar Shai Moss, and a fitness influencer, as owner of Joie In Life fitness brand. She also has her own YouTube channel, where she showcases her daily life as an entrepreneur and mom, a channel that has well over 140K subscribers.
Recently, she uploaded a video on her channel discussing all things fitness, from tips and tricks, to her own experiences. And because sis has bawdy-ody-ody-ody-ody, anything she has to say about achieving a healthier lifestyle in order to look like that, well, consider me front row. Like, Seat 1, Row 1 m'kay?
Continue reading for a few quick tips to get our bodies together for the rest of the summer!

Disclaimer: Joie is not a licensed nutritionist or trainer, these tips are based on what works for her.
On How To Gain Weight & Get Thick: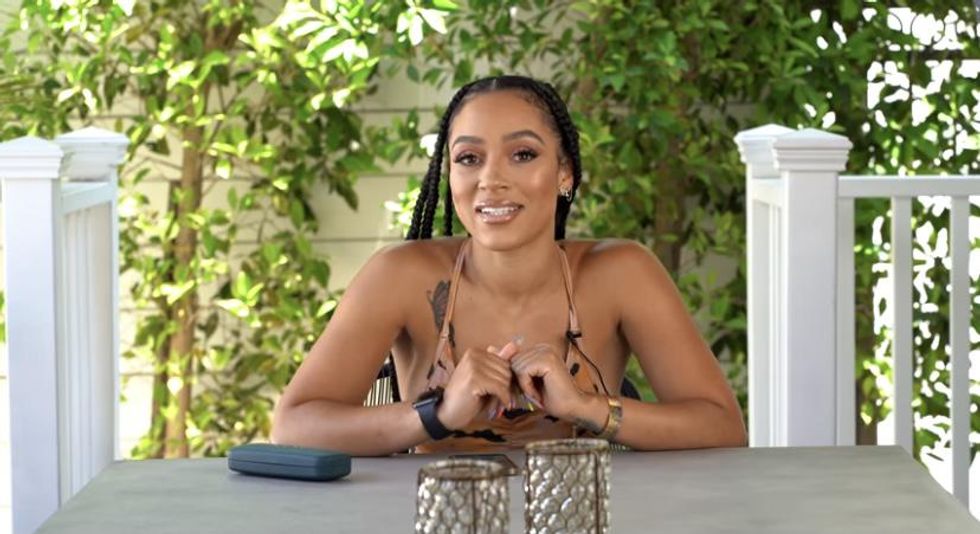 Joie Chavis/YouTube
Joie opens the video with a quick introduction, and hops right in.
The first question? How can we get thicker, sis?! Well, her answer is simple: be consistent and lift weights.
"People stray away from lifting weights because they're scared they're going to get bulky. Don't be afraid of lifting weights. The weights are going to help you build the muscle. It's going to help give you muscle tone in your legs and arms along with eating a lot of protein."
Here's what she recommends: Lift, lift, lift, and incorporate protein shakes into your diet to help gain healthy weight.
On Why It's So Hard To Get Rid Of Your Tummy: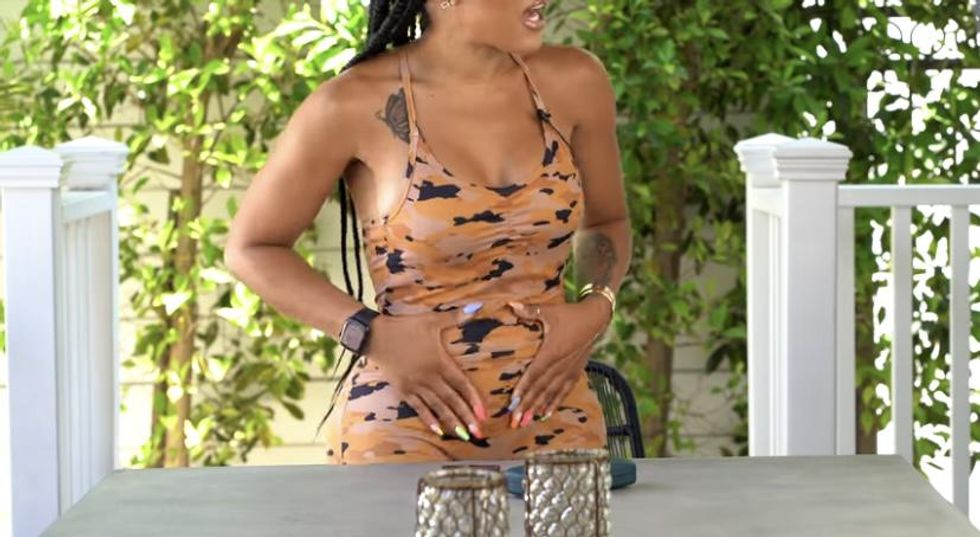 Joie Chavis/YouTube
"The stomach is the hardest area to tone, especially if you're so up and down with your weight or you've had kids and you have loose skin. That's where your uterus is so you can't get rid of it, but you can tone your stomach. It's mostly just cardio that I do to keep my stomach tight, and diet. Diet is so important."
Here's what she recommends: Start small. Try a week without eating breads/flour, sweets, dairy, or sodas, and double your protein. "I promise you, it'll make a huge difference."
On If You Should Focus On Cardio Or Strength Training In Order To Lose Weight: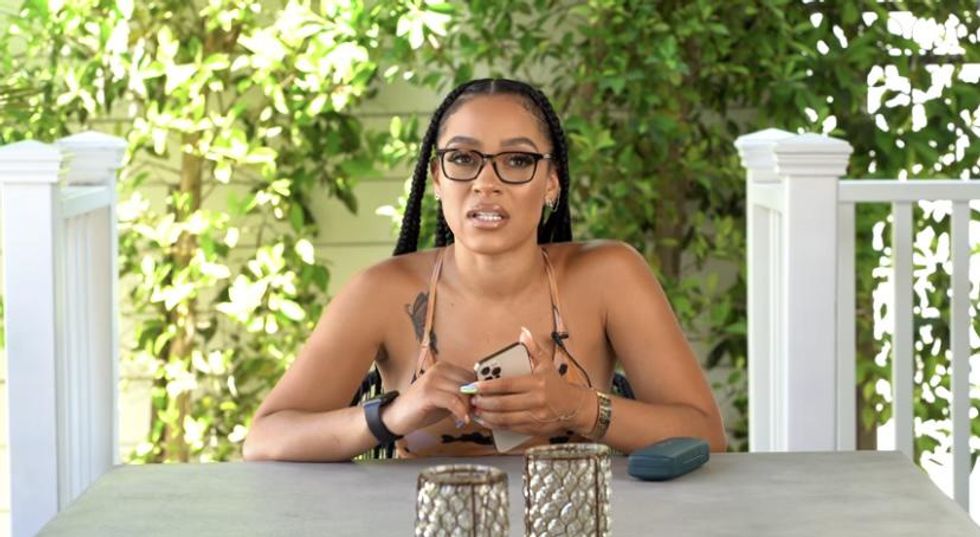 Joie Chavis/YouTube
Joie reveals that she notices that she has better results when she does both to tighten up.
"I would do both. If you're trying to lose weight, I feel like, you should do both because you don't want to lose so much weight from cardio and you're super flabby or you have loose skin but you have no muscle tone, no definition, you just lost weight. I would do weightlifting and cardio. Intense cardio, though."
Here's what she recommends: Sprints, stairs, weightlifting, and clean dieting.
On If Waist Trainers Are For Back Support Or Losing Inches: 
"Both. It gives you really good posture. The more you wear it, and sweat with it, and eat with it on, you're [also] not going to eat as much."
Joie On How Long It Took Her To See Progress In Her Butt Growth Journey: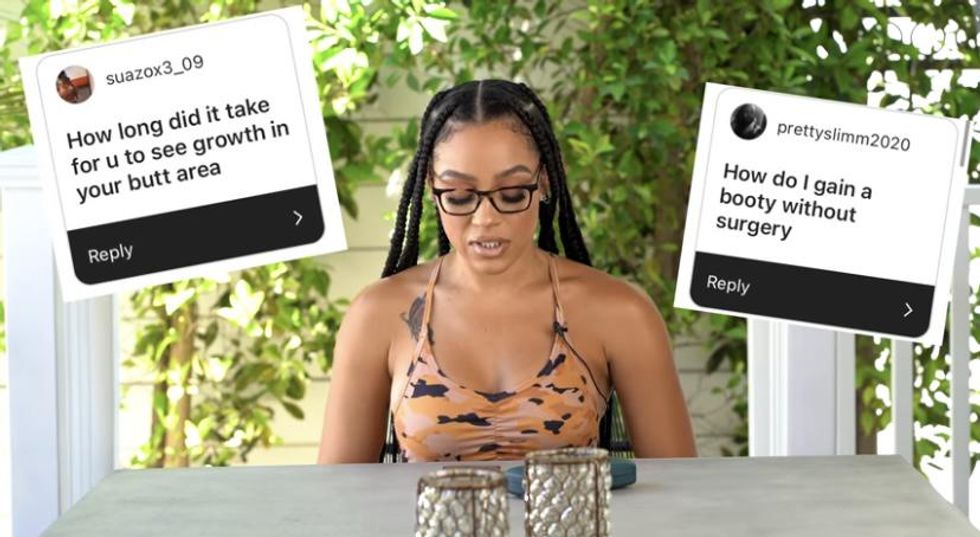 Joie Chavis/YouTube
OK, so we all know that Ms. Joie has an amazing rear that has us hitting 1000 squats a day. And according to the model, that will help, as long as you're patient with the process.
"It really takes time. It's not going to happen overnight and maybe because I'm getting older, it takes me a little bit longer and it's harder to be strict on what I eat. It just takes time. You look at some of the challenges that me and my trainer have put together, it's amazing to see their bodies transform."
Here's what she recommends: Be consistent and give yourself a few months to see real changes. "It'll push you to just keep going further."
On Hacks For Curbing Your Appetite When Dieting:
"You really have to snack. That's why they say it's better to eat like seven small meals in a day rather than three big ones. Water is essential."
What she recommends: Consistently have something with you, whether it's nuts, fruit, a smoothie, or water. Increase your water intake and eat small meals.
Joie also touches on how she resists eating bad foods when going out, hitting weight loss plateaus, and what pills she takes when dieting. Watch the full video below:
Are you a member of our insiders squad? Join us in the xoTribe Members Community today!
Featured image by Joie Chavis/YouTube
Keep reading...
Show less
A few years ago, there was a show that came on Lifetime that I actually really liked. It was called UnREAL and it was a take on what goes on behind the scenes of the franchise The Bachelor/Bachelorette (on ABC). Word on the street is that some former producers actually wrote for the show which meant that a lot of the storylines were based on real life situations. Anyway, because a lot of reality television is really anything but real, and oftentimes features a lot of folks who are altering — if not flat-out manipulating — storylines, it was interesting to see (in the third season) one of UnREAL's field producers and master manipulators, Rachel Goldberg, go through a course that she called Essential Honesty. Basically, via a book and some audio sessions, she was reprogramming her mind to not lie — to always tell the truth, no matter what the cost. Trust me, that was quite the mission for her. That character could lie like water.
When I sat down to write this piece, that was the first thing that came to mind. Mostly because, there are a lot of us who also manipulate, if not flat-out lie, oftentimes to ourselves, in the real world. And in order to get out of some of the delusions, distractions and lack of personal accountability cycles that we find ourselves in, it's important that we send ourselves through our own versions of essential honesty.
And just how can you know if you're someone who falls into this category? How can you know for certain that you are indeed honest with yourself most of all? If you've read the content that I've written for this site long enough, you know that I'm big on questions leading to genuine answers. Today, I've got five that could help you to get to the root of whether or not you're as honest with yourself as you should be. But first, why is all of this such a challenge for so many people?
Featured image by Getty Images
Keep reading...
Show less