While mantras and the dedication to more self-care and health practices are a beautiful way to press reset year-round, a lot of us forget how important it is to nurture our most sacred space. And by that I mean, our homes. While the outside world comes with stresses and responsibilities and chaos, your home very much embodies the eye of the storm. There you find peace, tranquility, and solace. And because it does, you shouldn't be afraid to elevate the way you think about it and how you make it work for you. Dare to do something different as you set your intentions for the rest of the year. Turn your home into a place that takes care of you.
Give these 10 feng shui tidbits a try and ignite a positive and nourishing energy shift in your life for 2022.
1

.

Keep Your Entryway Clutter-Free, Well-Lit, and Laced With an Inviting Aroma
Everyone who enters your home will take on the attitude and energy that greets them when the front door opens. Your entryway should inspire guests to bring only the happiest, healthiest parts of themselves into your home. We all have baggage, but bright paint and a fragrant scent will encourage your grumpiest neighbor to leave their negativity at the curb. Clutter-free means no trash, no stacks of mail, no piles of shoes, no shovels, and no raggedy coat racks in the doorway.
Make sure your home's entrance is saying, "Girl! Come on in here, so we can relax and have fun" as opposed to, "Ugh! What took you so long? I'm drowning in here!"
2

.

Designate a Place for Guest To Leave Their Shoes
For centuries, ancient Chinese feng shui pioneers have followed this rule: do not wear shoes in the house. Shoes carry gum, mucus, feces, and much more from the street into your home. Allowing people to walk around your home in their shoes is the equivalent of walking through Times Square barefoot. Secondly, letting shoes be worn in your home energetically represents people carrying their problems into your residence. As you can imagine, other people's issues to settle into your space can seriously interfere with your home's peace and positivity.
Do yourself a favor and always have the guests leave their shoes and their troubles at the door.
Tip: Keep a small basket of ankle socks on hand to offer those girlfriends whose toes haven't seen a pedicure in a while.
3

.

Protect Your Kitchen
The kitchen nourishes the family both literally and energetically. Anything that sustains you is worth protecting. It is best if you cannot see into the kitchen from the front door. Do something to cover your kitchen doorway. Energetically, visible access to the kitchen from the front door gives way to problems with nourishment-related health problems.
Tip: Use all four fires on your stovetop when cooking. Most people (especially singles) tend to use the same jet repeatedly. In feng shui, putting all stovetop jets into action energetically balances your body's health.
4

.

Shut the Bathroom Door (and Put the Toilet Seat Down)
Bathrooms are physically and energetically set up to "get rid of" what we no longer need or want. We all use the bathroom to wash away dirt and release other bodily things we are too ladylike to mention here. But did you know that bathrooms will energetically wash away your finances as well? Keeping your toilet seat up and the bathroom door open is the energetic equivalent of saying, "Here, take my money, I don't need it." So next time bae heads to the bathroom, tell them to put the lid down because your bank account depends on it.
5

.

Be Sure the Living Room Doesn't Feel Like a Museum
Living rooms should be set up for conversation. It is the room where "living" (being with loved ones, communicating, enjoying good company) is supposed to take place. Seating should be set up fairly close together, clutter-free, cozy and inviting. Furniture set far apart or lined up along the walls does not encourage "living" or togetherness. It's okay for the living room to look like the cover of ArchitecturalDigest, as long as it doesn't feel like the Smithsonian.
6

.

The Bedroom: Sleep, Sex and Solitude 
There are lots of fun, feng shui facts about the bedroom, so take note. Bedrooms are the lungs of the home where deep breathing (relaxation) should take place. Bedrooms are best when placed at the back of the home, where the energy is more yin. Every bed should have a headboard because, when we rest at night, energy from the universe enters our bodies through the tops of our heads. Too much cosmic intake can be overstimulating and disrupt your sleep. And lastly, do not store items underneath the bed. Doing so symbolizes underhanded, sneaky, or backstabbing behavior from others.
7

.

It's Electric! (And Unhealthy.)
Electrical currents are harmful to our human bodies. In modern times, it is hard to avoid. Nevertheless, there are things we can do to decrease our electrical exposure. What your grandmama said about not sitting so close to the TV is correct but the most vital place to reduce your contact with electrical currents is in your bedrooms. Free your bedroom of all electrical items like TVs, radios, and electrical alarm clocks.
If full-on monastery mode is not your cup of tea, then at least unplug the electronics before you sleep. Just plug everything into a power strip and turn the strip off at night. For those who sleep with their cellphones, try and break that habit by sleeping with all electronics a minimum of four feet away from the foot of the bed. And, yes…that includes your cellphone as it charges overnight.
8

.

Table Talk
When shopping for a table, keep this in mind. The most uncomfortable tables are those with a glass tabletop. Fear of breaking or cracking the table is a visitor's worst nightmare. People can't help but feel tension when they have to place something on a glass table. The stress is distracting and takes away from good conversation and fun activities. So, when you're redecorating, swap the glass out for wood, leather, or some other less fragile tabletop.
9

.

Big Windows and High Ceilings
When choosing a new home or apartment, be sure the top of the window frame is higher than the tallest resident or frequent overnight guest. Short window frames give college baller bae -- that uneasy, trapped feeling. We don't want that energy creeping into our relationship.
10

.

 Place a Protector Near the Entryway
Every queen needs protection. Feng shui suggests using a talisman at or near your home's entrance as a tool of security and an attractor of good vibes. Different cultures have different talisman items. The Chinese culture likes the Bagua or fu dogs, while a home of African descent may choose an Ankh or the Eye of Ra. The choice is yours.
Let's make things inbox official! Sign up for the xoNecole newsletter for daily love, wellness, career, and exclusive content delivered straight to your inbox.
Featured image by JGI/Tom Grill/Getty Images
Originally published on October 24, 2019
I planned the trip of a lifetime for my 40th birthday -- a solo trip to Salvador de Bahia, Brazil. They were hosting the World Cup during my birthday week, so even though I don't follow soccer, it seemed like the perfect chance to party in South America with people from all over the world. I booked my flight and put in my vacation request at work. You already know what happened. They said, "No." Well, not exactly "no", but close enough.

They approved me for three vacation days (not consecutive, sigh) and said that if I wanted the rest of the time off, I'd have to find someone else to cover my shifts. I worked in a hospital pharmacy on the night shift. Nobody ever wanted to work my hours. I hardly even want to work my hours. So, I took matters into my own 40-year-old hands and called in sick from Brazil. I'd earned paid vacation as part of my compensation package, so why did I always have to beg to use it?
This was a long-time problem for me that repeated itself over and over again with every job I'd had. I made IVs for hospital patients. Sure, my job was an important part of providing patient care. But I needed time off. And so do you.
Everybody needs time to rest from work and replenish their mental energy.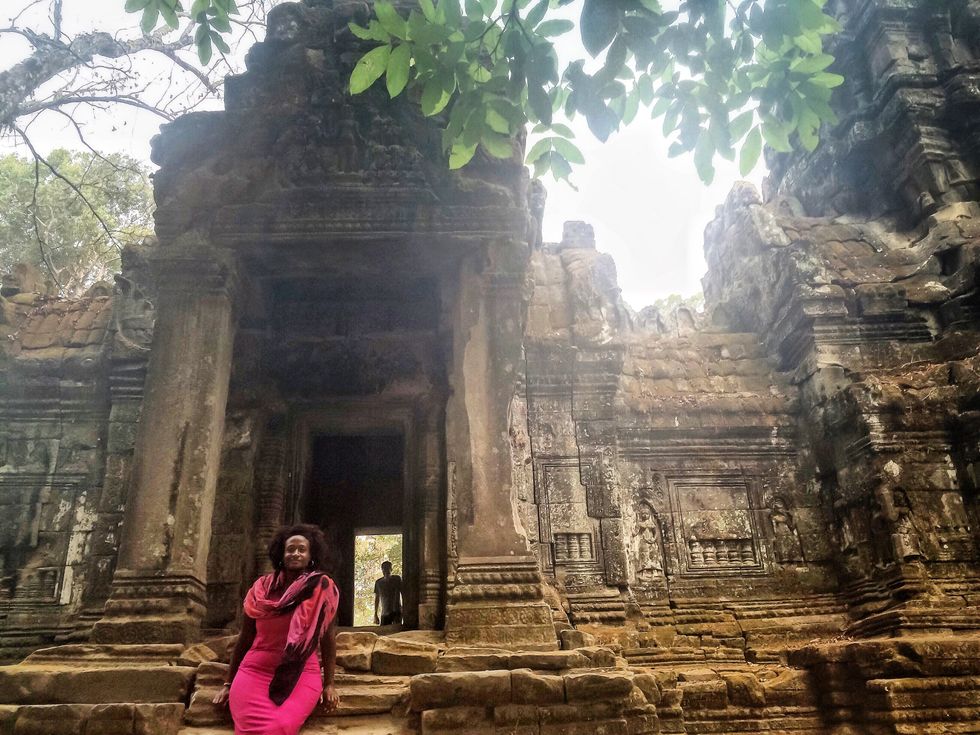 Courtesy of Stephanie Perry
It turns out that during my wonderful trip to Brazil, I met two millennials from San Diego who put me on to a new work philosophy. They worked jobs that were always hiring. So, they worked and saved up their money to travel long-term. And then they'd quit and travel to places where their money stretched further than it would at home. When they ran out of money, they went back home and got new jobs. I knew immediately that this was what my near future would look like. At least for a year or two.

I went home to Delaware and back to my hospital job -- short a few sick days -- with a new mission. I needed to save up enough money to travel around Southeast Asia for a year.
Fifteen months later, I was on a plane headed to Kuala Lumpur, Malaysia.
I broke into a serious sweat the day I went in to give two weeks' notice at work. But I'd already paid for my flight, so there was no turning back. Once I took some deep breaths and told my supervisor September 15 would be my last day, it was smooth sailing.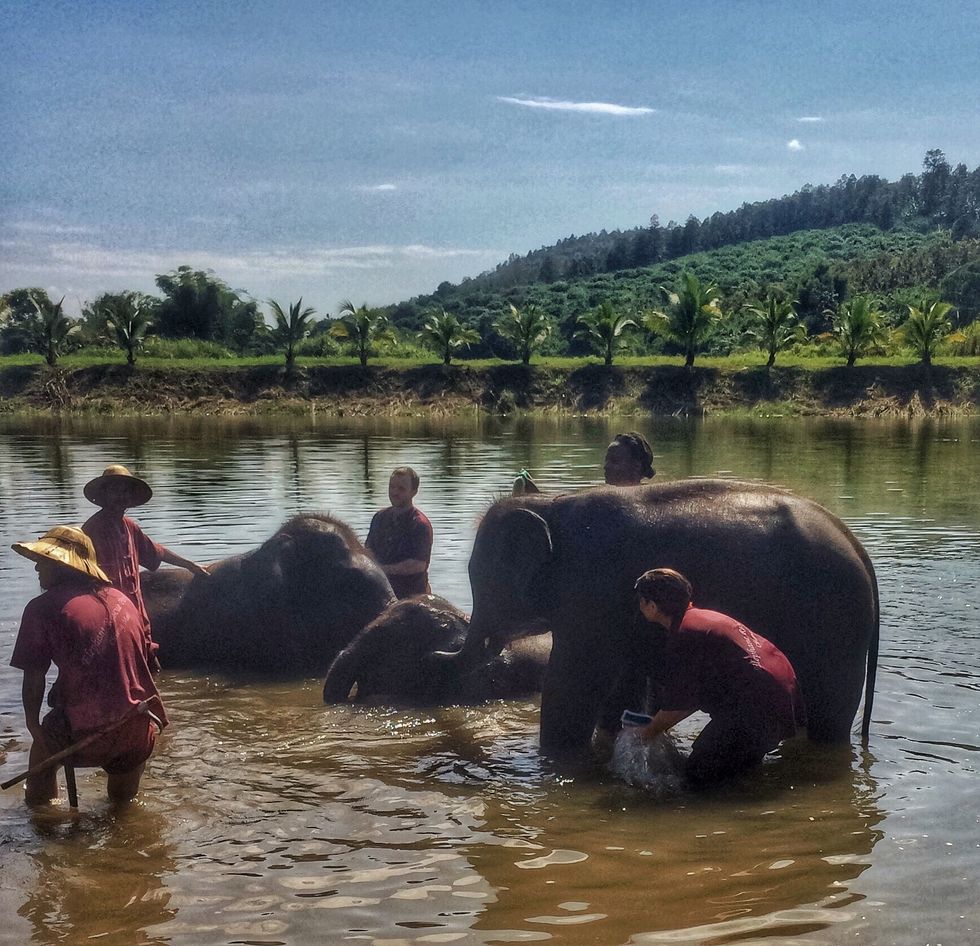 Elephants in ThailandCourtesy of Stephanie Perry
For a year, I backpacked around SE Asia right alongside the 21-year-olds from the Netherlands who seem to be everywhere. I slept in dorm rooms in hostels and once volunteered on a cricket farm for free room and board. I had adventures that, at 41, I used to think were out of my reach. I bathed elephants in Thailand. I took a three-day motorbike tour in Vietnam. And I met people who showed me kindness and generosity like I'd never imagined.
The trip was both harder than I expected and more fulfilling. Sure, I got to check things off my bucket list. But I also learned how resilient and resourceful I can be.

And the sabbatical gave me time to dream.
Most days during that year, I set an alarm so I could drop what I was doing and watch the sunset. When I worked night shift, I often slept from sun up to sun down, especially in the wintertime. But that winter I was on a beach in the Philippines watching the sky put on a show like I couldn't believe.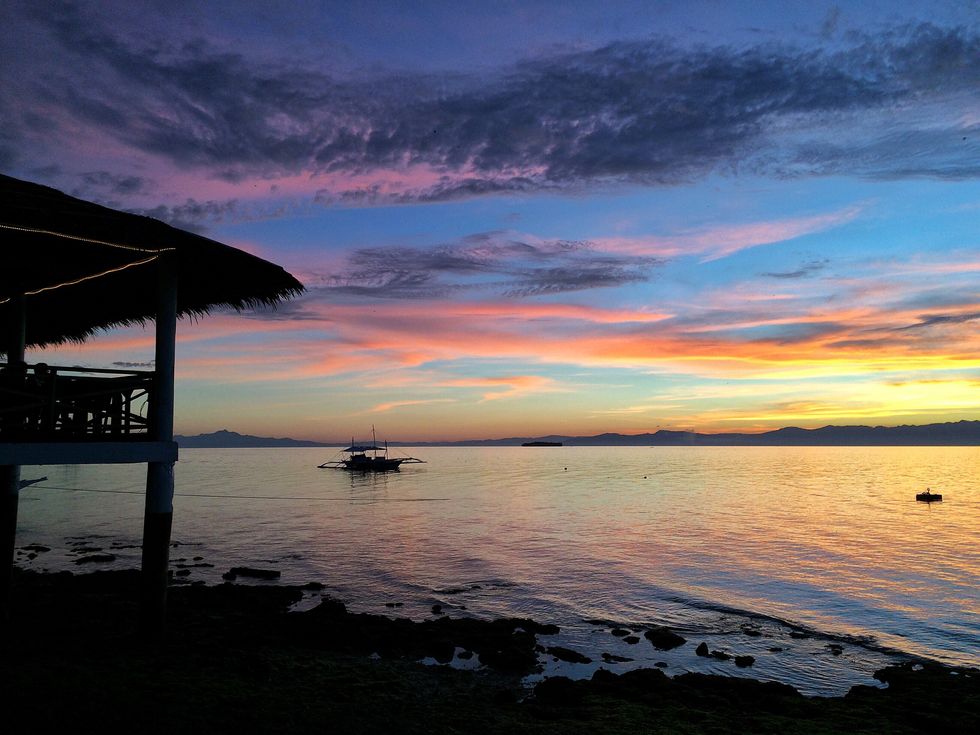 A sunset in the PhilippinesCourtesy of Stephanie Perry
When we're always busy and always tired, our minds don't have a chance to play. We don't have the time to ask ourselves if we are who we want to be or set goals for our future that make our hands shake while we write them.

I quit my job just to see the world without someone else being in charge of whether or not I could go. But somewhere during the trip -- maybe while I was riding in a tuk-tuk in Cambodia on my way to see the Temples at Angkor Wat -- it became about more than travel.
I was free to BE anywhere and DO anything I wanted. And what I wanted was to keep it going.
I traveled from country to country until my money ran out -- exactly 52 weeks later. I went back home to Delaware and even got offered my old job back. But I knew that the next job I took wouldn't last long. I had to get back on the road. So, I took a different job for a few weeks while I set up my next adventure. I used that time to find better ways to stretch my newly earned money, and I found a few ways to support myself while I travel. And then I quit that job too.
I don't regret quitting two jobs to travel. And I don't regret taking time off of work to explore myself. And most importantly, I'm so glad I don't have to regret never taking the chance in the first place.
Featured image via Stephanie Perry/Instagram
Originally published on November 19, 2019
I love the soft life aesthetic. I love seeing Black women and femmes indulge in rest and find new ways to treat themselves to nice things. But, it isn't lost on me that some components of this lifestyle require access to resources that are hard to come by. For many people, a soft life is the ultimate goal—nobody wants to struggle. Unfortunately, life is not always easy and carefree.
You won't always have the funds to take a trip on short notice, visit the spa weekly or pay someone to clean your home. We often sacrifice our time and energy to meet deadlines at work, take care of our loved ones, or work multiple jobs to make ends meet. Sometimes, we go through difficult experiences that test our resilience and strength.
While a soft life might seem like a pipe dream for some, it's important to remember that we all have different definitions of what a soft life looks like. For some people, simply being able to experience leisure and enjoy the simple pleasures in life is enough. For others, the soft life means a life of luxury.
No matter how you define a soft life before you can have one, you must work on your mindset and create habits that will help you maintain the lifestyle long-term. Here are a few ways you can do that:
1. Schedule "me time." 
"Me time" is intentional time you spend nurturing yourself and restoring your energy so you're not running on empty. This is essential to sustaining your well-being, but it's one of the first things we'll sacrifice. Sometimes we'll notice that we have free time on our schedule and immediately think of how we can use that time to be productive. Someone will ask us to help them, and we'll say "yes" even though we want to spend that time doing something for ourselves. Think of "me time" as going on a date with yourself. Don't cancel your date! If you have to cancel, make sure you reschedule. Remember, "me time" isn't your free time.
2. Cultivate new beliefs about rest. 
If you tie your self-worth to how productive you can be or grew up in an environment where you were called lazy for relaxing, you may feel guilty when you aren't busy. Rest shouldn't be the response or reward for overworking yourself. Making time for restshould be a staple part of your daily routine. If you find yourself overworked, even when unasked, try setting boundaries and limits with yourself. For example:
No working past 6 p.m.
No working on weekends and holidays.
Take three breaks during the workday.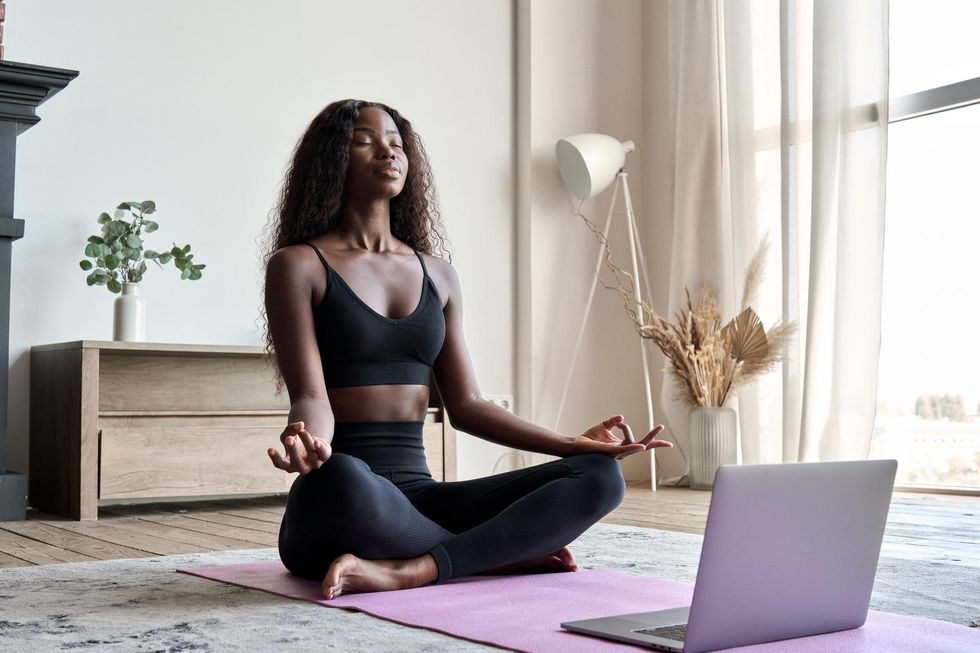 insta_photos/Getty Images
3. If you don't have to struggle, don't.
Struggling doesn't always make the journey worthwhile or the destination meaningful. You don't have to struggle to have an empowering, "relatable," or inspirational story. We aren't all dealt the same cards, so if you currently have access to things that make it "easier" for you to accomplish something or achieve your goal, take it—don't feel guilty. Choose ease.
4. Let people help you.
This is a big one. If you have well-intended people in your circle of trust willing to help you, let them help. Some of us fear letting people help us because we don't want to be a burden, we fear coming off as incompetent, or we don't want people to throw us needing help back in our faces. Life is hard. Trying to figure everything out on your own is overwhelming. Find the courage to be vulnerable and accept help when it's being offered. If you have people in your life who make you feel like a burden or you're in one-sided relationships, it may be to re-evaluate whether you want to continue investing your energy with those people.
5. Speak to yourself kindly.
We spend a lot of time talking to ourselves. What does your inner voice sound like? Does the voice inside your head tend to be negative and critical? If it is, that's okay. Negative self-talk is something that starts in childhood. Statements like "you're so dumb," and "what would even possess you to do something so stupid" can get ingrained in our psyche. But we have the power to interrupt that voice and replace it with one that's compassionate and kind. If you find yourself engaging in negative self-talk often, try placing affirmations around your house and say them out loud when you see them. It may be uncomfortable at first, but over time you'll become used to associating yourself with positivity. Also, take time to examine where those negative thoughts came from and do the work to let them go.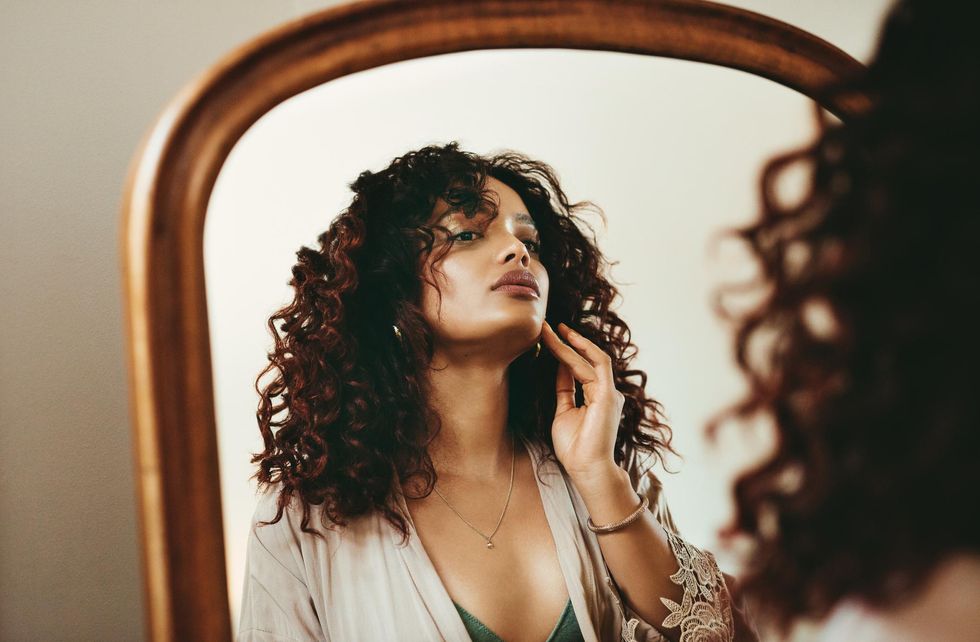 Delmaine Donson/Getty Images
6. Stop trying to be humble.
I hate when people say, "I don't want to gas you up" or "don't let it get to your head." People always try to remind people not to get too full of themselves. Why? Humility means "not proud or haughty; not arrogant or assertive." It doesn't mean you don't take time to not compliment yourself and bask in all the great things about you. Tell yourself you did a good job today. Tell yourself you look good. That way, when people reiterate those thoughts to you, you're not shocked and it doesn't feel foreign to you.
7. Focus on what you can control.
Sometimes we worry about things we can't control, like other people, the future, and the past. We worry about things that might not even happen, ruminate, or how we wish things would have gone. We can't stop worrying, but we can try to interrupt these thought patterns and focus on calming methods.
8. Stop trying to be the hero.
It isn't your job to heal, fix and rescue everyone from themselves. Sometimes we play the role of rescuer in our friendships and romantic relationships because it gives us something to do. Sometimes we fall into that role to avoid facing what's most important, ourselves. We end up losing ourselves and straying further from our own healing and happiness attempting to save other people. Find the courage to focus on rescuing and keeping yourself.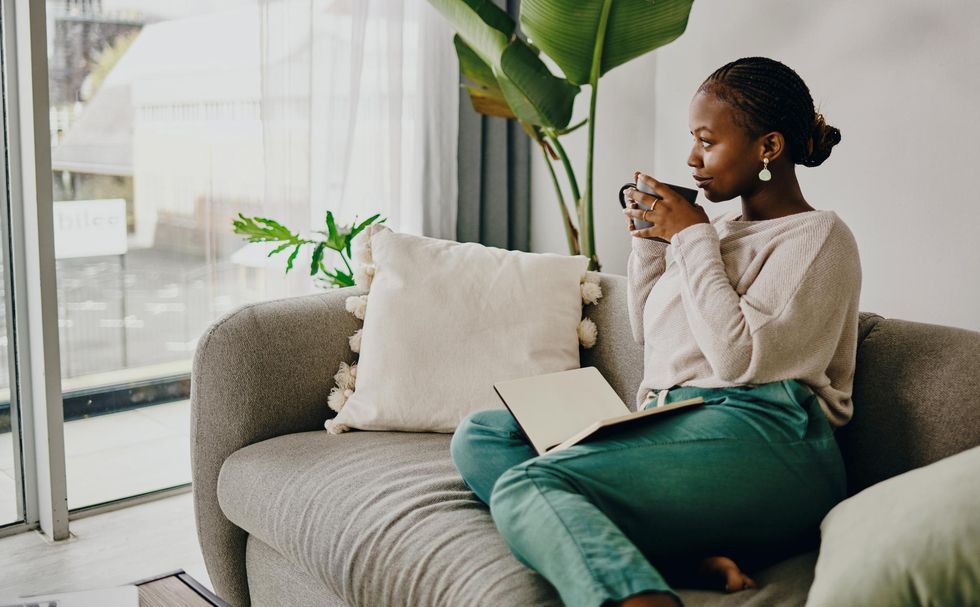 Delmaine Donson/Getty Images
9. Prioritize joy.
Indulge in things that make you smile or make you feel genuinely happy. Dancing to your favorite song, watching an episode of your favorite show, reading your favorite book, or wearing your favorite shoes. Savor those fun and peaceful moments.
10. Accept that you are worthy and deserving.
You don't need to do anything to deserve the soft life—it doesn't have to be earned. When we believe we are worthy of a life guided by ease and comfort, we will reject things that don't align with that vision and make decisions that get us closer to maintaining that lifestyle.
Let's make things inbox official! Sign up for the xoNecole newsletter for daily love, wellness, career, and exclusive content delivered straight to your inbox.
Featured image by JLco - Julia Amaral/Getty Images
Weddings, for many people, are beautiful affairs where we celebrate and witness the blending of two people into a union of one. They are fairytale gatherings as old as time. While a wedding is not always a dream that each of us cherishes for ourselves — it is a celebration that we all enjoy being a part of. Hell, I think more people get ready to scrap it out or feel slighted when they don't get a wedding invite than they do about catching the bouquet. However, for those getting married, it can also be a stressful season for many reasons. But overall, it comes down to the planning process.
And, though I have yet to plan a wedding myself I imagine even the smallest details become some of the gravest stressors. One little detail that many of us may not consider when planning a wedding or even dreaming of one is tradition. Because if nothing else, weddings are often steeped in tradition. I think these traditions, and whether or not to participate, can prove even more challenging to decide on if you and your betrothed aren't a traditional pair or are on the more modern side of things. Being a modern gal, in a traditional world, can be frustrating. As a modern woman, I also find that the difficulty lies in really and truly not falling into the binary. I'm somewhere in the middle — I do enjoy the benefits of some gender roles and I do enjoy some tradition.
So what's a girl to do? First, you can know more about each of these traditions before you jump through hoops when the goal is to simply jump the broom. While there are some people who enjoy full-out tradition regardless of how they came to be, I'm not judging either way. Pinky promise. But for those who fall somewhere in the middle, being informed may be the key to ruling some of them out.
1. Getting the Father's Approval and the Giving Away the Bride Tradition
Both of these practices are rooted in the same patriarchal concepts of possession over women. Historically speaking, single women were viewed as property and their fathers "owned" them until they were married to another man. Asking for a woman's hand in marriage was a tradition born out of the necessity of the father approving the marriage and ensuring that the man asking for her hand could provide a good future for the daughter. In other customs, asking for a father's approval was also a way of establishing some sort of arrangement, like a dowry in exchange for "ownership" of the daughter. Giving away the bride at a wedding ceremony was seen as the person, usually, the father, walking the bride down the aisle and "giving her away" to the groom at the end was a form of blessing the unity.
While it can be a sweet gesture to ask for permission to marry your betrothed from their father or for a father to "give" the bride away at ceremonies, it's not entirely necessary. Both practices have evolved with the times, offering some creative freedom for ways to include important family members during the ceremony. For example, some brides opt to have their mother or even both parents walk them down the aisle as an honorable gesture for what they mean to them in their lives.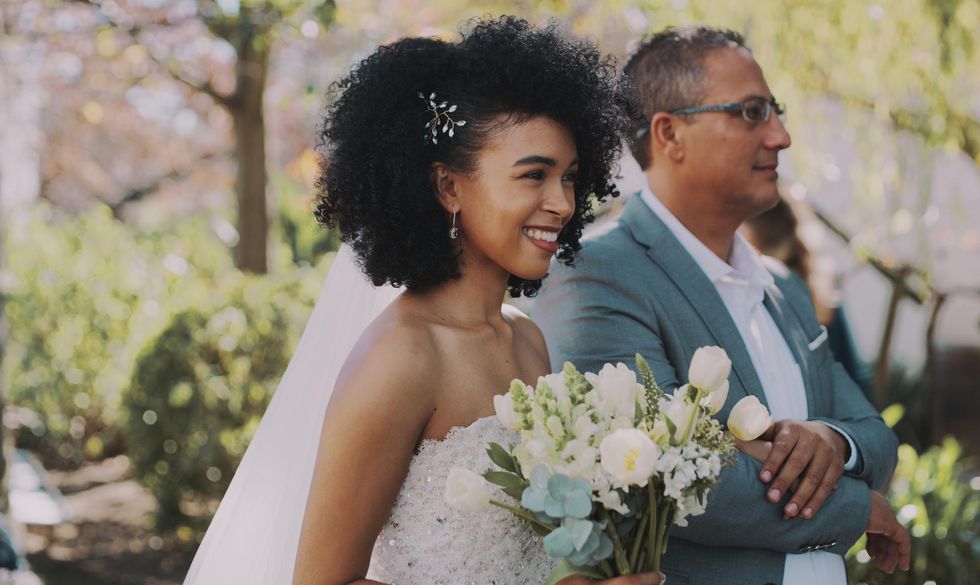 Delmaine Donson/Getty Images
2. The Tradition of the Bride Wearing White
Wearing white as a bride has been a tradition in Western culture that has spanned hundreds of years. And why do brides wear white? If you guessed that it's because wearing white is derived from purity culture, you were right. Traditionally, white was symbolic of virtue and purity and represented a woman's chastity upon walking down the aisle and meeting her betrothed. Again, the white dress is beautiful and I wouldn't necessarily mind keeping this particular tradition for my own vain reasoning. However, if you don't want to wear white because of what it represents or because you want to veer away from tradition, wear whatever makes you feel your best.
3. The Bridal Bouquet Tradition
This is going to blow your mind! But, you can do without your bouquets. Really both you and the squad. The purpose of a bouquet traditionally is that of a deodorizer for your B.O. The bridal bouquet came to be to mask the smell of body odor, obviously well before we had deodorant in the 20th century. This tradition is beautiful and does add a certain touch to weddings, but also floral arrangements are typically very pricey. Even the most bougie of deodorants is cheaper than bouquets, which run you anywhere from $80 - $200, according to Brides. Alternatively, if you don't want to forgo floral arrangements on your big day completely, you might opt for artificial flowers, feathers, or something else in the form of your bridal bouquet.
Yuri Arcurs/Getty Images
4. The Tradition of the Bride's Family Paying for the Wedding
Much like the first two points on this list, this tradition is predicated on women being the property of men. First, their fathers and then their husbands. Women were seen as chattel to trade, and because the most beneficial marriage arrangements were made if and when the bride's family was able to pay a suitable dowry to the husband-to-be (and his family). This is what I mean when I say marital arrangements were more often about financial gain for the parties directly involved and not love until relatively recently. This differs from now where the financial gain is also commercial – fancy rings, extravagant venues, etc.
5. The Wearing a Veil Tradition
Wearing a veil is yet another sexist and really odd, insignificant way of signifying a virginal or pure woman. Interestingly enough, an expert at Brides' indicates that this is one of the first and oldest "bridal ensembles." Wearing a white veil in combination with the white gown was the visual embodiment of delivering a bride to her groom as a "modest and untouched maiden." For the woo-woo girls, you might be interested in the fact that it was also thought to keep evil spirits at bay – particularly from attempting to rain on the bride's parade.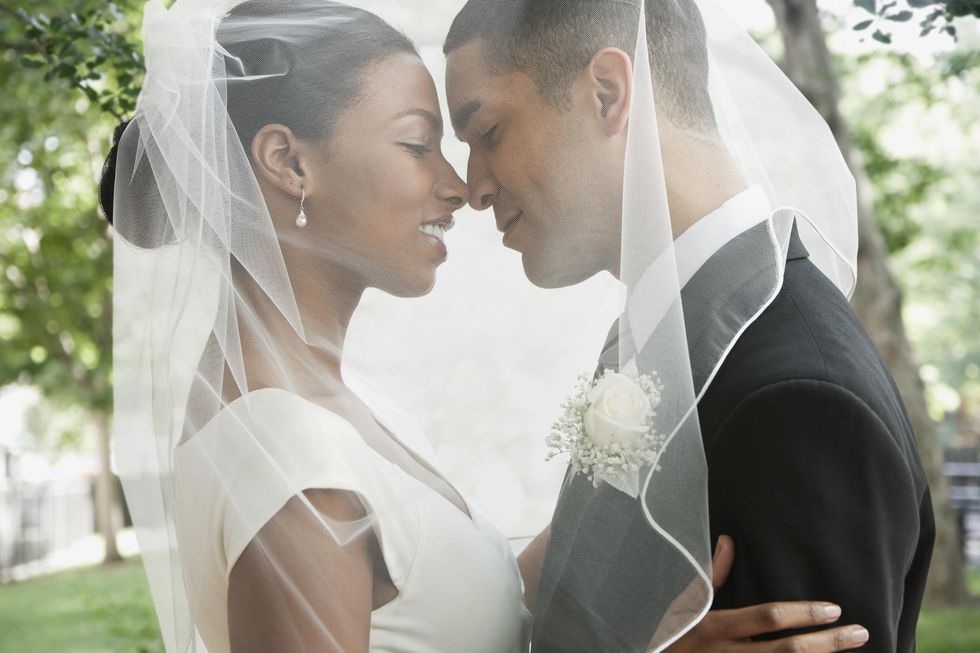 Jose Luis Pelaez Inc/Getty Images
6. Having a Wedding Party
The point of having people at your wedding was simply the need for witnesses. Back in the day, multiple witnesses (specifically 10 at minimum) were required for a wedding. Over time, this requirement evolved into a more fun, celebratory committee of peers known as the wedding party – made of bridesmaids and groomsmen. Though this is not the most costly arrangement since the parties typically pay for their own dresses – you are paying for flowers and even going through the motions of dealing with other people which can add to the intense planning process.
Let's make things inbox official! Sign up for the xoNecole newsletter for daily love, wellness, career, and exclusive content delivered straight to your inbox.
Featured image by Delmaine Donson/Getty Images
The Paris of the South, The Big Easy, The Crescent City, no matter the moniker, New Orleans is a legendary city brimming with things to do, see and eat. Whether you're flocking to the city with your girlfriends for ESSENCE Fest, attending Jazz Fest with your significant other, partying during Mardis Gras, or simply enjoying a weekend getaway filled with food, fun, art, and history, there is something for every type of traveler. Here are some of our top picks for where to eat, play and stay in New Orleans.
Featured image by Getty Images
Sex sells! That's on Little Bo Peep, Mary and her little lamb, and whoever else. We see it all over the television and even outside of it. These days, novelty experiences are on the rise and are no longer reserved for bachelor and bachelorette parties! Folks can enjoy erotic outings and ideas any time, any place. And social media is making it easier than ever to sell these products and experiences in new and intriguing ways. Seriously, do phallic- and p*ssy-shaped desserts not make for Instagram-worthy content?
Is it not aesthetically eye-catching to add those things to our Instagram Stories and feeds? It's very similar to the popularization of selfie museums, in my opinion. They were popular by themselves but because of the new influencer agenda on social media – everyone can be someone – it makes specific experiences appear to be richer. Leave it to someone like myself, a sexuality enthusiast, if you will – the person whose friends send all the raunchy, wild content to because in their mind there's no limit – to find a good sex novelty experience.
My documentation of my trip to New York's Museum of Sex was followed by my TikTok algorithm recommending a bakery in NYC that sells vulva pastries. It made me wonder how many other fun places like these existed in the world. Though there are many, I compiled a list of 9 novelty sex experiences that would make the teenaged version of you that used to frequent Spencer's blush.
New York, New York
Black-owned and specializing in tasty goodies that are as sweet as they are sexy, Kinky's Dessert Bar comes in at the top of the list! This adorable little pink shop is vibrant and fun-looking with a name to match it – who wouldn't want to stop by? Alas, those under 18 aren't allowed inside, and for good reason. However, if you are old enough to ride this ride, don't leave feeling teased – try one of their explicit waffles, cupcakes, or cookies.
Dallas, Texas
Booze and Nudes used to be a whole movement that began in Atlanta, however, it seems the OG promoters stopped doing this event. It garnered so much traction in ATL that they took this act on the road (trust me, I know). I've been pressed to find another one ever since but only recently found this new one based in Dallas. By far one of the most fun girls' night out experiences I had – dick swinging and all – it was like a less intense strip club (which is welcomed) combined with a sip and paint. The dates here are limited, so try it out while tickets last.
New York, New York
​This museum covers a wide variety of sexuality-related topics rather than finding any one niche. And, the Museum of Sex also doubles as a novelty store as well making for a one-stop-shop. My favorite part about this museum is they switch out their funtivity every now and then, at one point there was a booby bounce house. I'm keeping my fingers crossed that they will run it back!
Toronto, Canada
If you're a U.S. resident looking for an excuse outside of Carabana to visit Toronto, here it goes! Similar to Kinky's Dessert Bar, Members Only brings all the boys and girls to the yard with their phallic-shaped waffles. However, they have also expanded into making other NSFW treats, most notably ones featuring female genitalia, because balance.
San Francisco, California
I would love to make a trip to visit the Antique Vibrator Museum, as masturbation via sex toys is one of my favorite topics. This museum is run by Good Vibrations and in all fairness, it's just one small room so it's probably best to plan this trip around other things to do if you are ever in San Fran. However, it's still worth visiting to be able to see up close and personal the transition of vibrators along with the sexist history that they harbor.
Philadelphia, Pennsylvania
​Though the Naked Bike Ride occurs in multiple cities and countries, I first discovered this event living in Philadelphia. As much as I love riding bikes and being naked, I'll be the first to admit this isn't my forte as a combined act. Bike seats are already so comfortable so just imagine. Nevertheless, I've heard it's nothing less than an experience. Plus, the purpose is to advocate for body positivity and eco-efficient options, and who doesn't like nudity for a good cause?
Chicago, Illinois
Leather Archives and Museum is committed to highlighting the leather, kink, fetish, and BDSM history through their exhibits. Not only is this a fun stop to make if you're ever in the Chicago area, but it also brings better understanding to a community that is often misunderstood.
Amsterdam, Netherlands
In addition to its architecture and canals, Amsterdam is most known for its liberal attitude towards sex and drugs. Their wild nightlife scene points to them being a city that is forever young, wild, and free. But specific to sex, they are known for legalized sex work which occurs in the Red Light District. Red Light Secrets in particular talks about the history of sex work which I think is great considering how stigmatized it is, despite the whole sex sells bit. But, the most fun part about this experience is that it's located in an old brothel!
Seattle, Washington
This is a multimedia art festival showcasing the erotic via visual arts, performance, film, and literary art. Though the time to attend for 2022 has come and gone, the festival has already released dates for 2023. If all goes well with the world, you can expect to attend on April 21-23. This event has a minimum age of 21, so be sure to leave the kiddos behind for this sweet getaway.
Let's make things inbox official! Sign up for the xoNecole newsletter for daily love, wellness, career, and exclusive content delivered straight to your inbox.
Featured image by Getty Images