July is the month to focus on allowing yourself to receive. There are beautiful opportunities for blessings this month when you can get out of your own way, and release self-doubt. With Cancer Season here, emotions are flowing, love is showing up, and home is wherever your happiness is. The power of attraction is strong this month as Pallas enters Gemini on July 4 as well, and deep insights are prevailing. July is the time to gain the clarity and answers you have been looking for, and decide where to move forward from there.

On July 5, Mars moves into Taurus until August 20, and there is strong importance on values, comfort, family, satisfaction, and safety right now. While Mars is in Taurus we are motivated to accumulate and indulge a little. Taurus makes us balance our checkbooks, but this sign also loves their pleasure, and with Jupiter moving retrograde this month, we have been reminded of the importance of non-overindulgence. Mars is overall here to give you a clear view of what happiness feels and looks like to you and to allow more of this heart-centered energy into your life, with balance.
Mercury transits both Cancer and Leo this month, and while Mercury is in Cancer until July 19, communications are colored with a more emotional display. Sensitivities are heightened, and overall the gifts are in speaking from the heart right now and gaining emotional understanding. Once Mercury moves into Leo towards the end of the month, the focus turns to self-expression, personal passion, and defining your personal truths. The Full Moon of July is occurring in Capricorn on July 13 and is the Full Buck Moon of the year. This Full Moon is a time to get grounded, release old stories that restrict your beliefs today, write a list of gratitude, and remember what holds value for you.
Chiron and Jupiter both go retrograde in Aries this month at the end of July, and there is healing and divine contemplation that wants to take place now. Over the next few months, revelations will be taking place, and your worldview expands as Jupiter retrograde brings things front and center to be addressed before moving forward again. Jupiter retrograde is about preparing for blessings, redefining your intentions for them, and gaining some spiritual insight through it all. The New Moon in Leo on July 28 is making sure the month ends with a dramatic flair, and fireworks are appearing. The more you keep the faith and believe you deserve all good things this month, the more you are aligned with what is.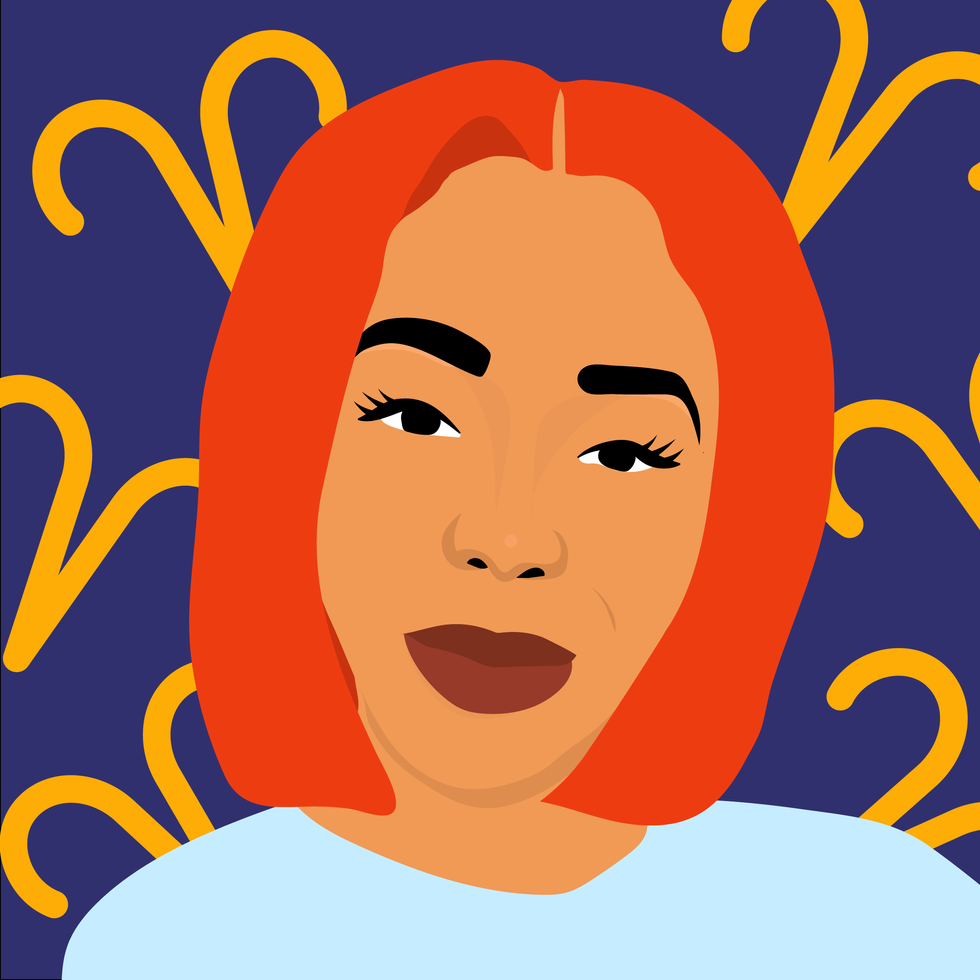 AriesKyra Jay for xoNecole
Aries July 2022 Horoscope
Life is moving forward, and you are journeying through new experiences this month, Aries. July is a time of awakening for you, and a space where you are moving through an energetic shift in your life. Things are changing, but it's nothing your free spirit can't fully take advantage of. This is the month to expand your worldview and to see where new perspectives will take you. Everything comes together when you can trust yourself and the doors that are opening for you now.

Chiron and Jupiter are currently transiting through your sign, and they both go retrograde this month. On July 19, Chiron, the wounded healer, will enter retrograde in Aries until December 23, and Jupiter in Aries will go retrograde on July 28 until November 23. You are in the process of completing one cycle and manifesting another. You are in a major cleanse this month and are making space for happiness to continue to grow.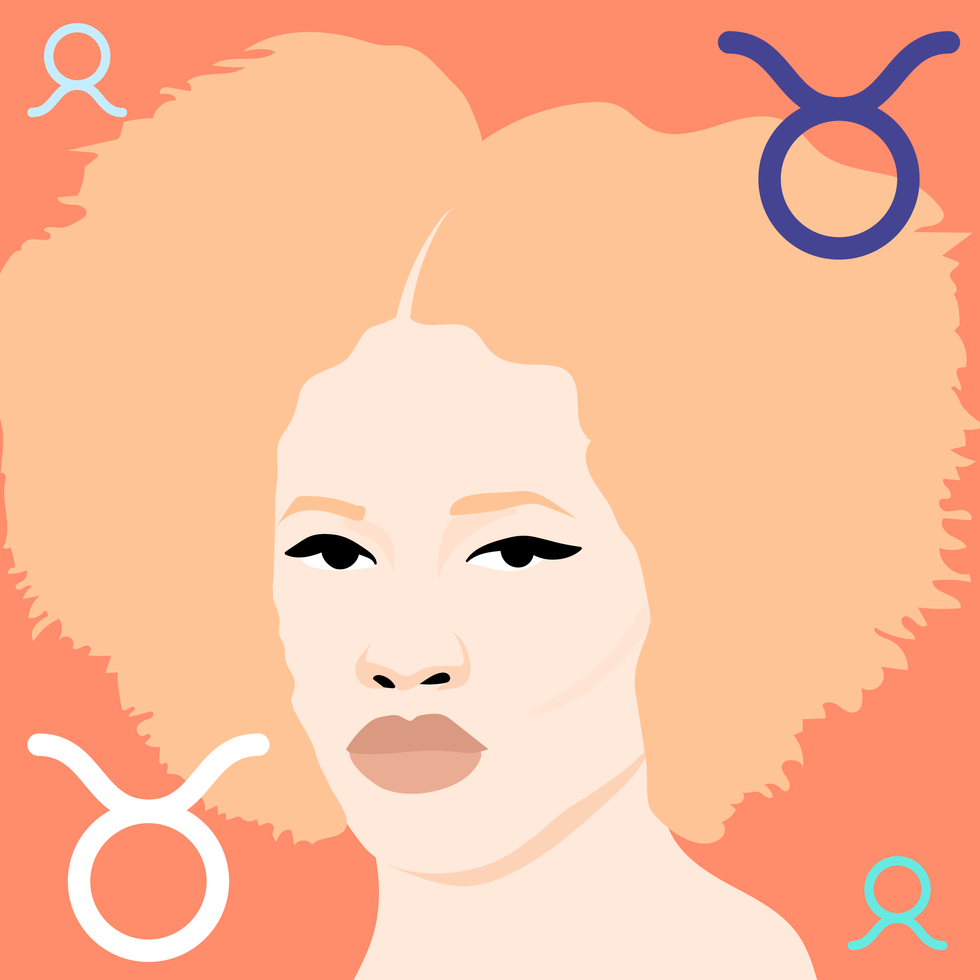 TaurusKyra Jay for xoNecole
Taurus July 2022 Horoscope
July is a month of release, and recovery for you, Taurus. You are seeing some goals and achievements come to fruition right now, and you are also moving through a space of healing from the past and what it's taken to get you here. Your guidance for the month is to give yourself kindness and safety as you move through this growth process in your life and to believe in the intentions you are seeding right now.

With Mars entering Taurus at the start of the month from July 5 until August 20, you have passion and stamina on your side right now. The energy is with you to see some important goals through, and with Mars in your sign over the next month, you have the inspiration and motivation to do so. July is your month of releasing yourself from the past, gaining a new vision, and reclaiming your power, and success.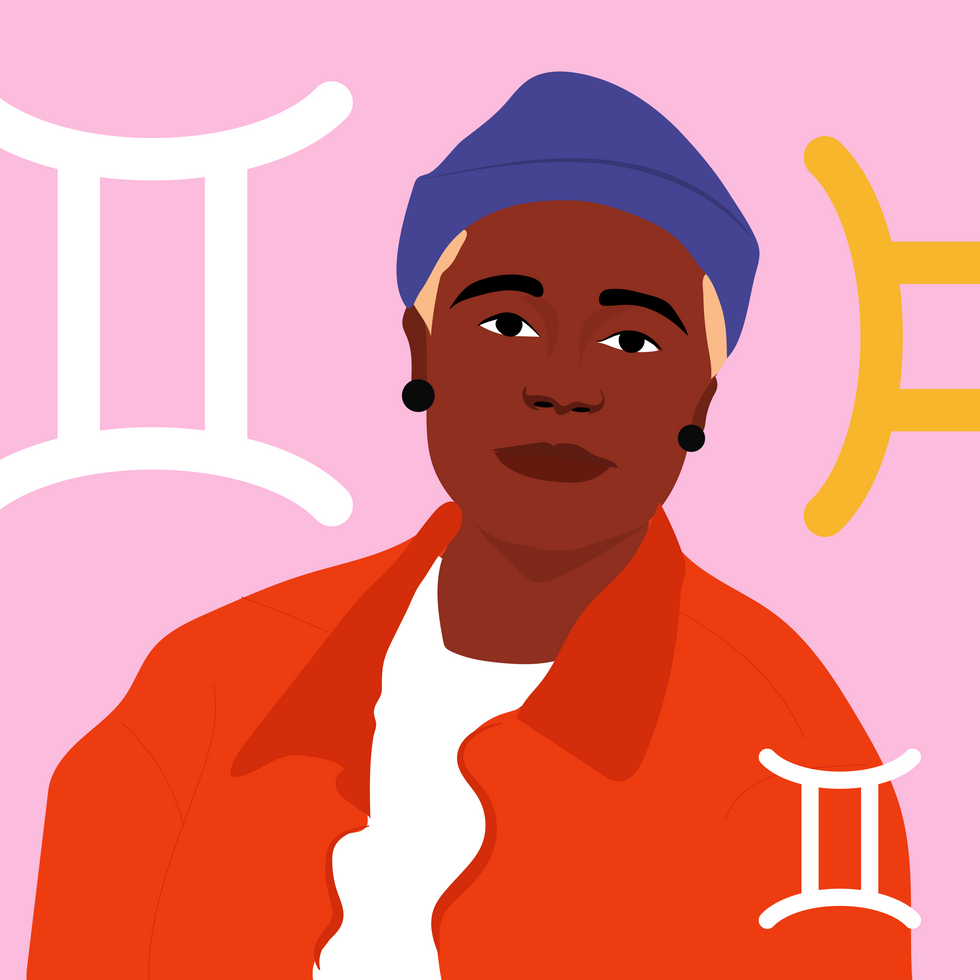 GeminiKyra Jay for xoNecole
Gemini July 2022 Horoscope
July is all about gaining insight and getting the answers you have been looking for, Gemini. There is incredible wisdom and insight to grab ahold of this month, and the clarity is flowing in your life. You are being guided to speak up for what you believe in, and to show up for your unique ideas and perspectives. Pallas enters Gemini from July 4 until September 6, further enhancing the coming together and inner clarity you are experiencing this month.

Your ruling planet Mercury will be moving through your 2nd house of finances until July 19, and your mind is flowing where the money is going. This is a good month to get organized, go over your finances, and plan for the future. The New Moon in Leo on the 28th before the month ends is your time of receiving important messages and following the signs. The clarity that is coming into your life in July is game-changing, Gemini.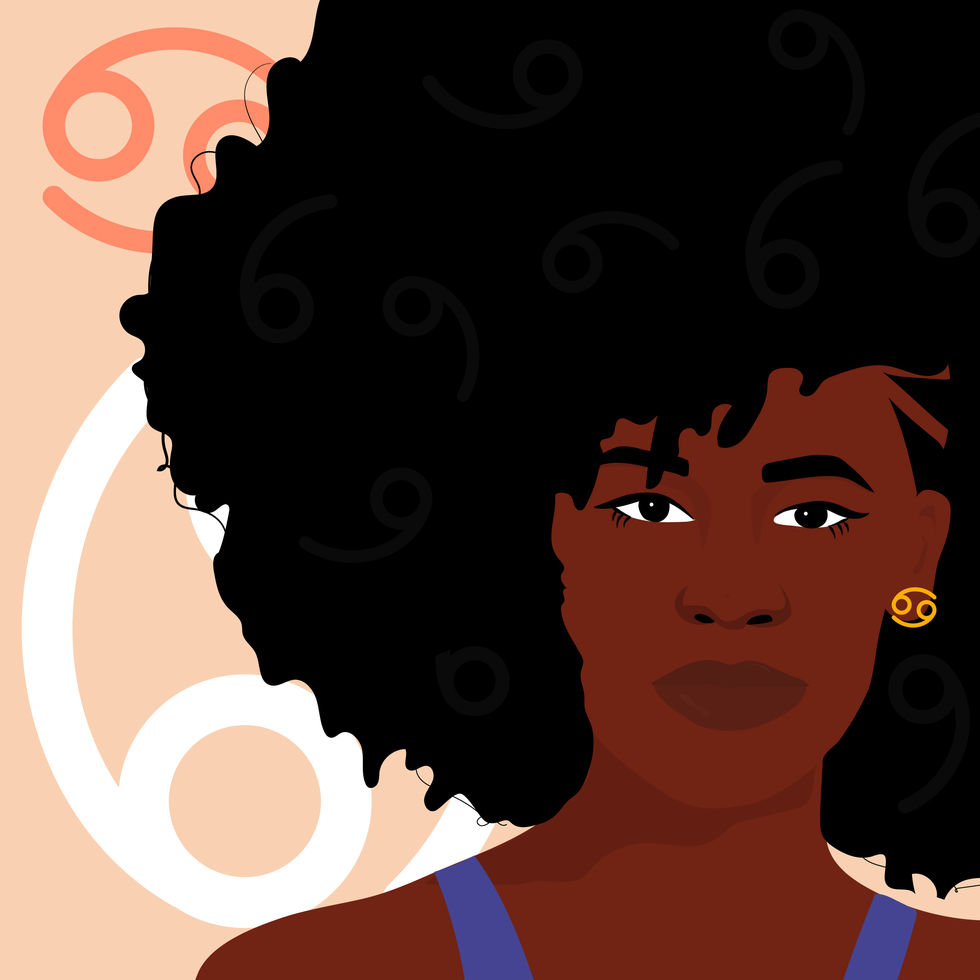 CancerKyra Jay for xoNecole
Cancer July 2022 Horoscope
This month is all about allowing. Cancer, July is your season, and this Cancer Season is all about opening up to receive the beautiful blessings that are flowing towards you this month. You are an intuitive Moonchild, and this month you are connecting to this sensitive strength of yours. Remember the gift of your existence, and allow others to recognize and appreciate you this month, Cancer.

Mercury enters your sign on July 5 until July 19, and Venus enters Cancer on July 17 until August 11, making July a time where you are gaining mental clarity, having important conversations, moving around, and also a month where you are feeling the love. With the Full Moon happening mid-month also occurring in your 7th house of love and relationships, the universe has one mission for you this month Cancer: for you to know how loved you are and to feel that within.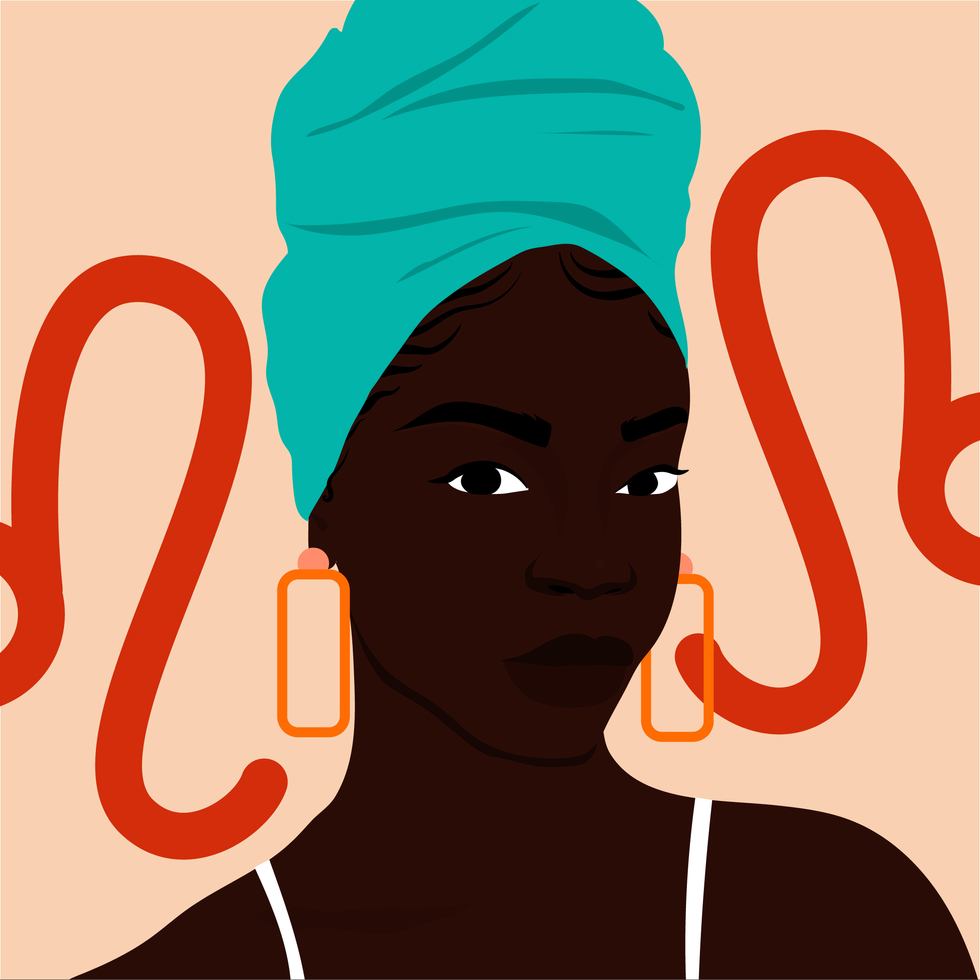 LeoKyra Jay for xoNecole
Leo July 2022 Horoscope
July is all about opening the heart, Leo. You are rising above previous doubts and concerns, and claiming your power in all situations. This is the month to believe in your dreams and to believe in the gifts of love. There have been challenges you have had to move through this year, a lot of them unexpected, but that doesn't mean you will have to continue to live on a rollercoaster when there is solid ground for you to walk on right now.
July is a powerful month for you overall, with Leo Season beginning this month. This year Mercury will be entering Leo from July 19 until August 4, Leo Season begins on July 22, and there is New Moon in Leo on July 28. July is a month of recognizing the opportunities and peace that comes from letting go of restrictions and allowing yourself to be loved and blessed by the divine, Leo.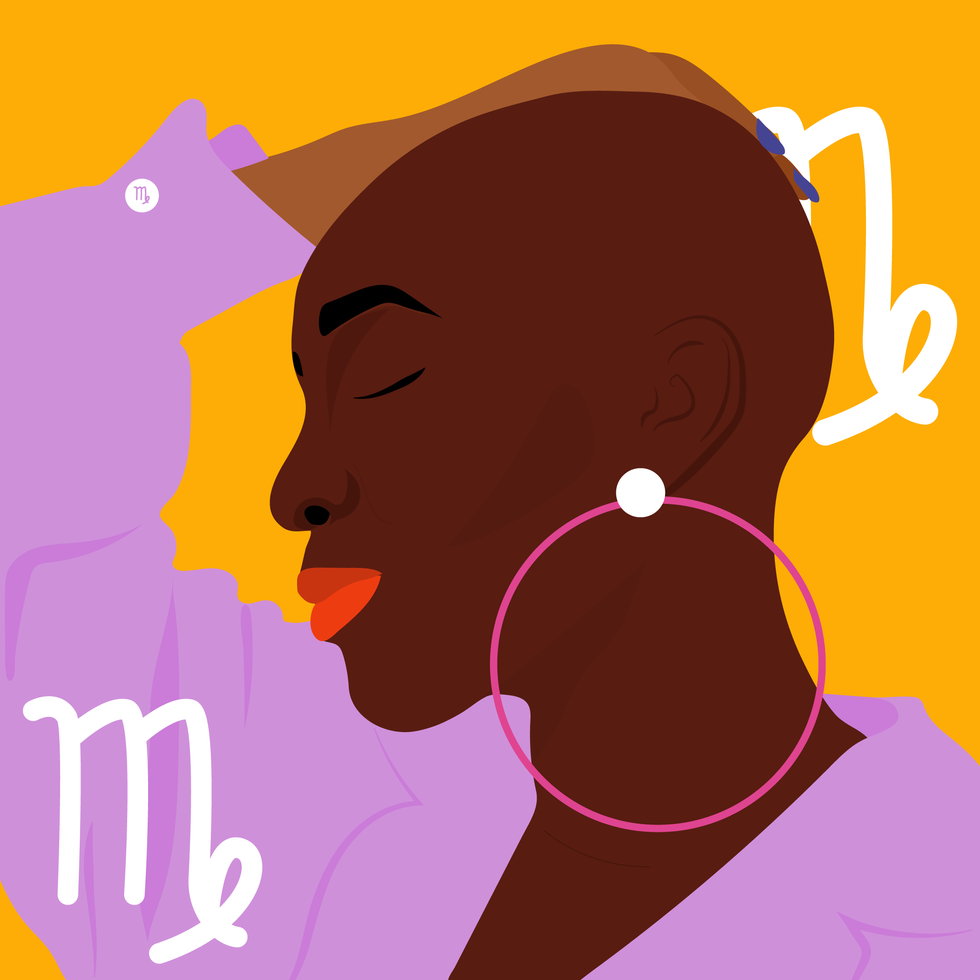 VirgoKyra Jay for xoNecole
Virgo July 2022 Horoscope
This is a month of rejuvenation and bringing things into divine order, Virgo. Positive resolutions and outcomes are happening for you in July, and this is the month to believe in a miracle. Don't dismiss the possibilities of something really good happening this month, and keep your eyes open for a helping hand. You deserve more time and space to just be. This month is about learning the truth and beauty of doing less and gaining more.
Friendships, community, your network, and where you see yourself going from here are all key themes for you in July. This is a month of forming new connections and strengthening ones that have remained unmoved through the transitions of this year. You are recharging your spirit this month and with a Full Moon in a fellow earth sign, Capricorn, happening in your 5th house of romance this month, July is sure to be full of pleasant surprises.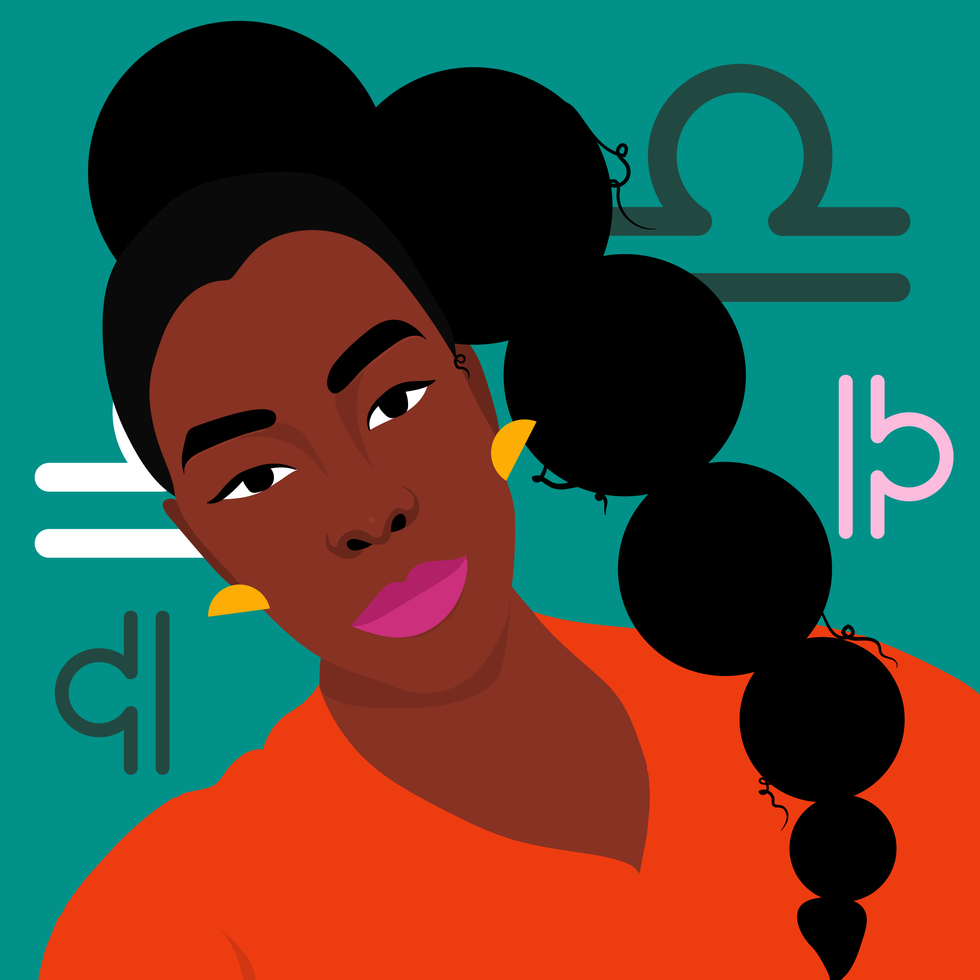 LibraKyra Jay for xoNecole
Libra July 2022 Horoscope
Trust the process, Libra. July is all about remaining in your peace and finding your balance through what is becoming. You are thinking a lot about your career goals, achievements, and responsibilities in the home space. Finding the balance between all the things you want to do and be can be difficult at times, and this month is about giving yourself the time to figure out what works for you and your divine flow right now.

The Full Moon this month is occurring in your 4th house of home and family, and this is a good time of the month to declutter, cleanse the home, rest, and regain your center. A few days later, your ruling planet Venus moves into your 10th house of career, and you are evolving into some new spheres of success this month. Before July ends, there is a New Moon in your house of friendships, and you are feeling a new sense of support in life moving into August.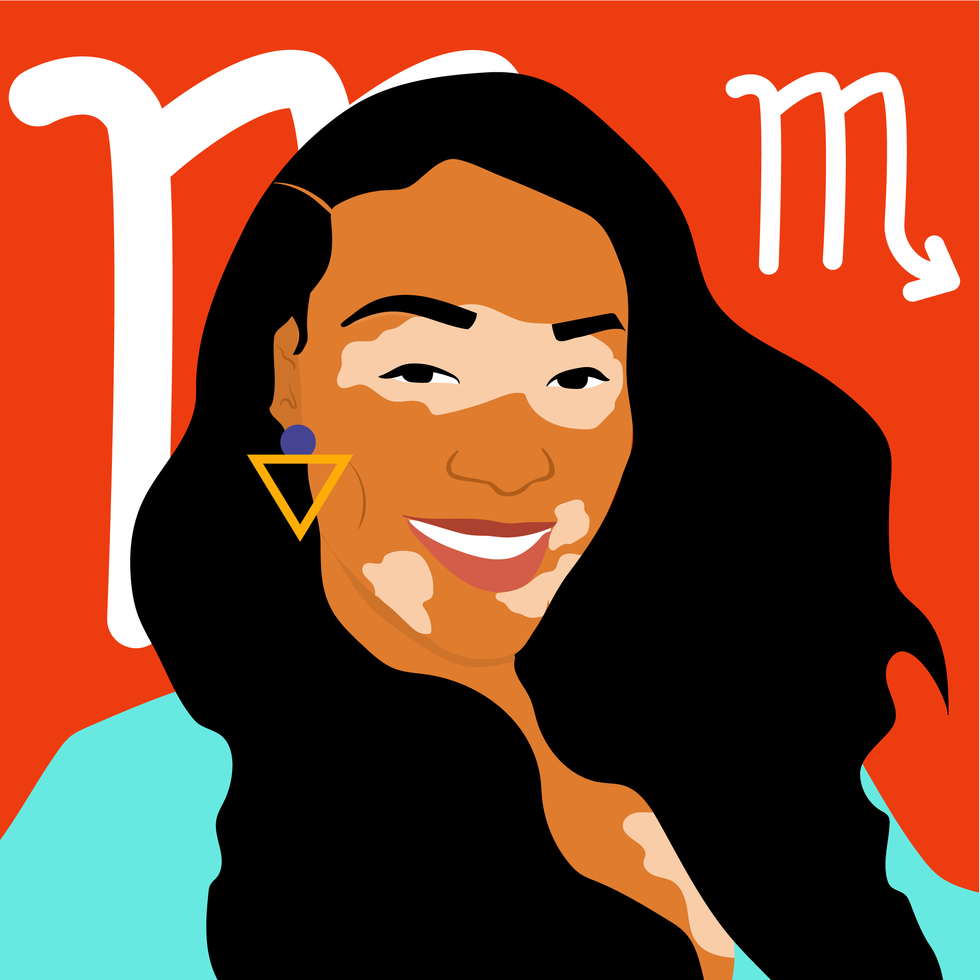 ScorpioKyra Jay for xoNecole
Scorpio July 2022 Horoscope
July is about recalling your power, Scorpio. You have the divine insight to move through previous challenges and obstacles, and paths are clearing for you this month. There is a deep understanding that is coming into your world in July, and what is coming full circle for you now is everything needed to feel protected and grounded moving forward. This month is about allowing yourself to live by your standards and your truths, and doing so confidently.
The Full Moon on the 13th of this month is moving through your house of the mind, and with this being a Full Moon, you are seeing with clear eyes. The clarity is there, and Venus moving into your 9th house of spirituality and adventure a few days later, is birthing new ideas and opportunities into your life. Before July ends Jupiter goes retrograde in your 6th house, and you are focused on your personal healing and empowerment as the month ends.
SagittariusKyra Jay for xoNecole
Sagittarius July 2022 Horoscope
July is a month of a river of blessings flowing into your life, Sagittarius. You have set yourself up for success and this is the month of experiencing more of those treasured moments. Powerful blessings and manifestations are appearing for you now, and the universe is giving you a big YES to proceed forward. You have listened to your intuition and lived by your personal truths, and have moved into some fortunate circumstances.
The Leo New Moon on the 28th is a passionate affair that you can get on board with, and this New Moon is fueling your sense of adventure and excitement. By the end of the month, you are setting your intentions for the future, and dreaming up the most divine vacations your soul can think of. Your ruling planet Jupiter goes retrograde on the same day until November, and you are being reminded as well, of the importance of following your bliss balanced with logic.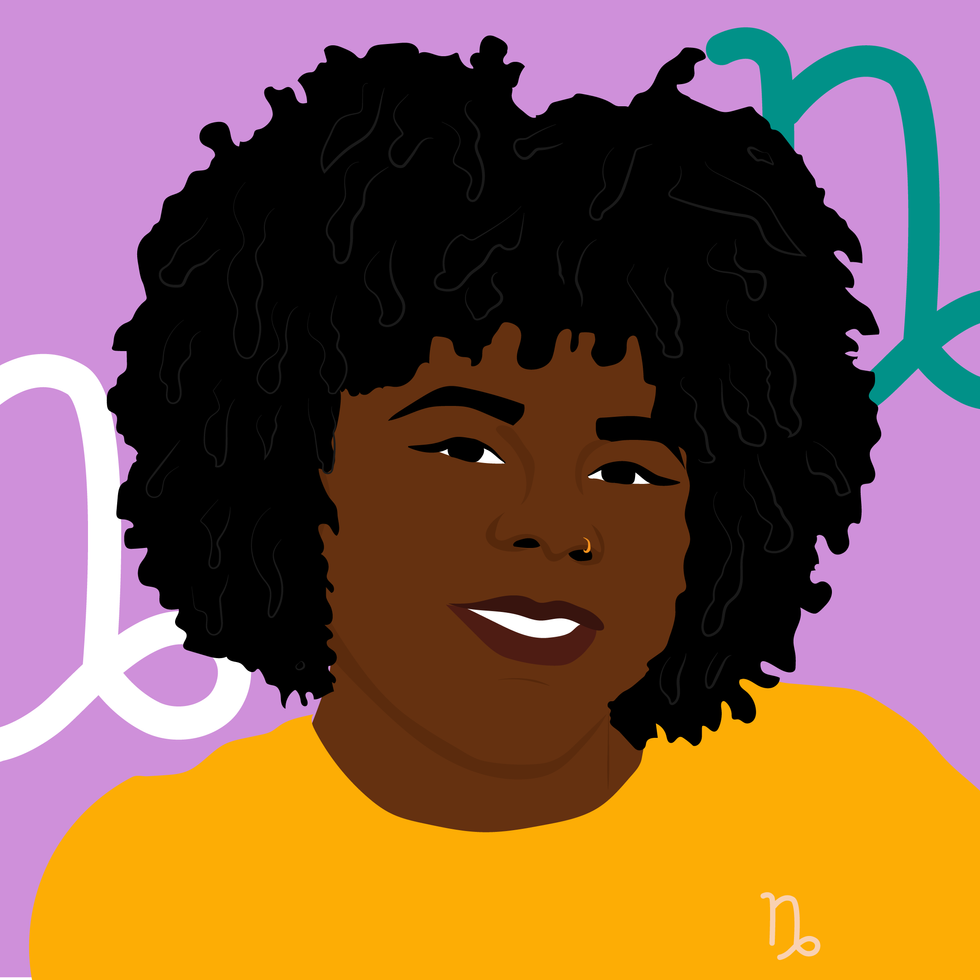 CapricornKyra Jay for xoNecole
Capricorn July 2022 Horoscope
July is a month of rising above and coming together in love, Capricorn. Soulmate connections are moving into your life this month, and you are connecting with the gifts of clarity of the heart. You have found an inner peace that is both strengthening and also vulnerable, and it's attracting new experiences for you in love. This is the month to let go of what was, and live in the beauty of what is here today.

Mid-July there is a Full Moon in your sign on July 13. This Full Moon is a time of personal revelation for you, and also a time where you are closing a major chapter in your life. Take as much time as you need with your healing and growth, and trust that where you are going from here is so much better than where you have been. Venus enters your house of love a few days later, and it's about showing up for divine partnerships right now.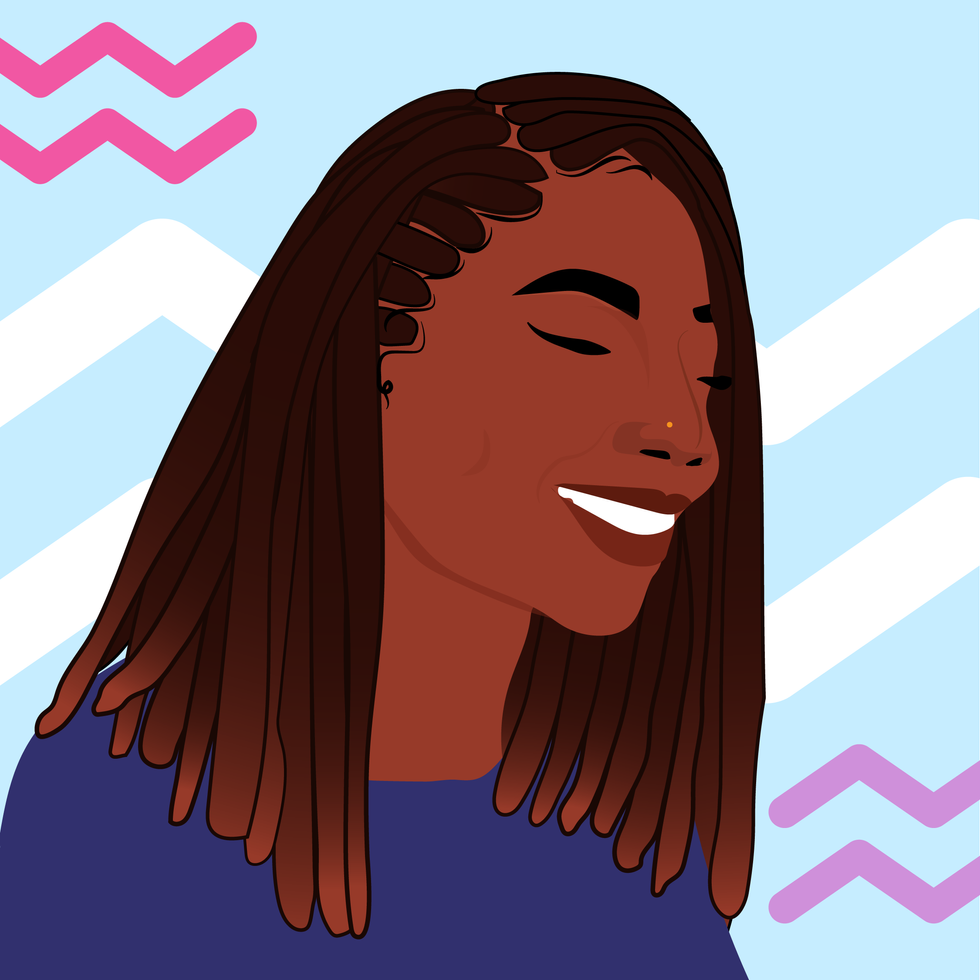 AquariusKyra Jay for xoNecole
Aquarius July 2022 Horoscope
July is a dynamic month for you, Aquarius. Some deep transformations are taking place this month, and you are living in your wisdom, empowerment, and passion. You are being reminded this month that you are divinely protected with every step you take in life and that you can create some major breakthroughs in your life with the power of belief. July is about being fearless in your pursuits, and about allowing your truth and wisdom to shine.

The Full Moon happening mid-month is occurring in your 12th house of endings, dreams, and the subconscious, and you are ready to let go of what hasn't served right now. You are releasing old patterns and limitations, and allowing your blessings to unfold. By the end of the month, there is a New Moon in your opposite sign of Leo, and this New Moon is a time of new developments in love. July is all about taking your time and going at your own pace while light unfolds.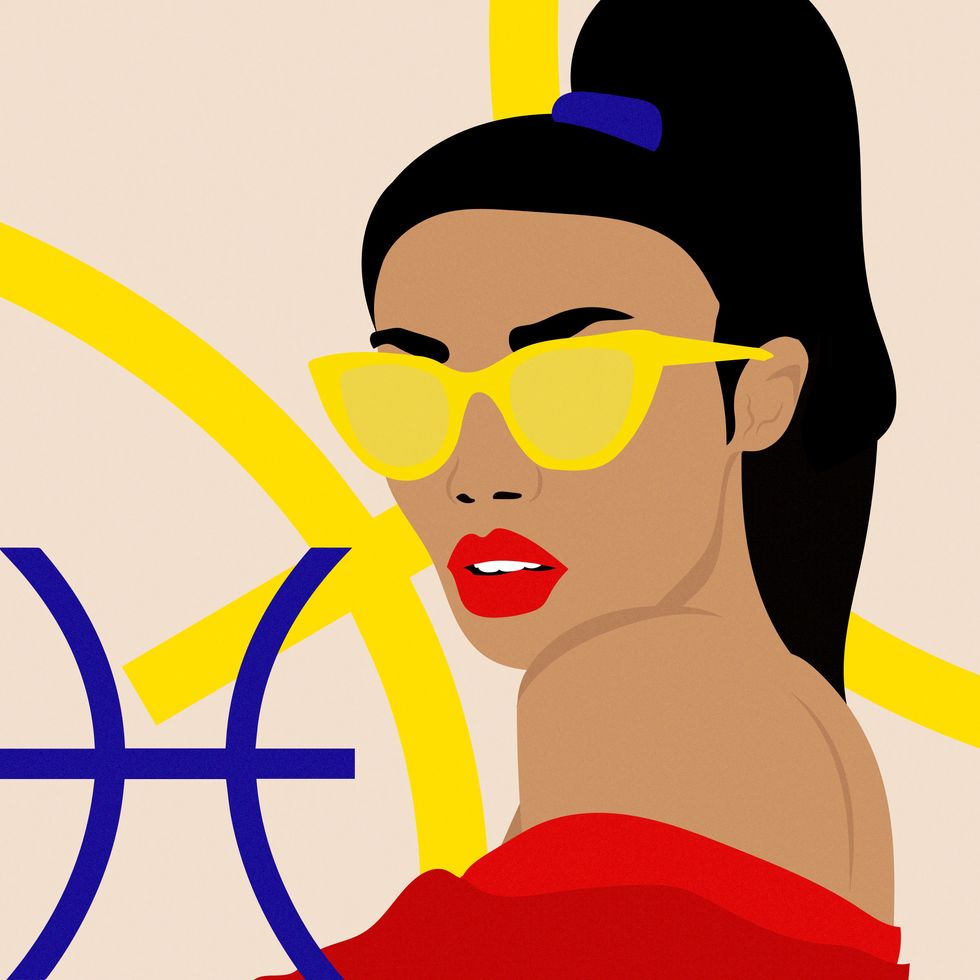 PiscesLaci Jordan for xoNecole
Pisces July 2022 Horoscope
July is all about the universe fueling your world with divine support, love, and compassion. This month is a time of nurturing yourself and what you are bringing to fruition right now, Pisces. There is support with you as you take some time to sort through what is and figure out where your heart stands now. July is all about releasing yourself from any attachments to outcomes and allowing the path of least resistance.
With one of your ruling planets, Jupiter, going retrograde on the same day as the Leo New Moon this month on July 28, you are finding the balance between what you need to allow some more time to unfold, and what you are moving forward with now. It's about giving yourself the grace to move through this time and about speaking up for yourself and what you need as well. Remember how supported you are, Pisces.
Let's make things inbox official! Sign up for the xoNecole newsletter for daily love, wellness, career, and exclusive content delivered straight to your inbox.
Featured image by Kyra Jay for xoNecole
"Who made the potato salad?" As summertime kicks off, this is the universal question that, without fail, will be asked at every barbeque and backyard kickback over the coming months. With the Fourth of July also nearing, summertime celebrations and cookouts will be in full force. However, as the tide begins to turn in this new day and age, more Black Americans are celebrating Juneteenth, instead of the Fourth of July, because, after all, there were still over 250,000 Black Americans enslaved in Galveston, Texas during this so-called Independence Day.
In the words of our brother Frederick Douglass, "What to the Slave is the Fourth of July?" Also, with the world being put on pause for over two years due to COVID, and in many cases keeping families separated during this time, now is the perfect time to reach back to our roots and bring back family reunions as an alternative to celebrating the Fourth of July.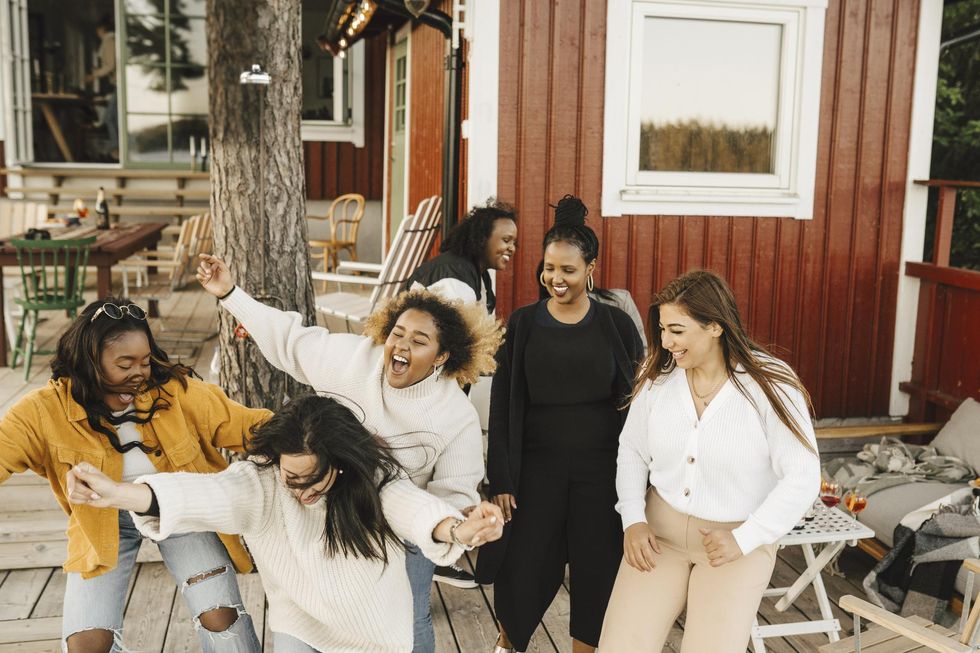 Getty Images
It's time to cue the Soul Train line as folks boogie down to the beats of Earth, Wind and Fire's "September," and Cameo's "Candy." Of course, you have to whip out the card table for endless rounds of spades and hear the back-and-forth banter that will surely ensue, followed by the familial "whack!" sound as some unsuspecting soul just got their deuce of diamonds cut by a little joker and backdoored by the big joker to seal the win. "Who got next?!" the victor queries.
Tables shake and "bones" rattle over an intense game of dominoes. Uncle So-and-So, the self-proclaimed grill master, throws down on the grill while rocking the universal "barbeque sandal." You know the ones we're talking about. Paper plates sit on laps and red Solo cups rest by feet. Family, food, and fellowship -- ahhh yes, the perfect recipe for a family reunion.
How Family Reunions Started
Family reunions go beyond those, just the right touch of sweet, baked beans and finger-lickin' good barbeque ribs. While food may be the vessel through which we fellowship and frolic with our folks, how Black American family reunions took shape dates back to the times of the Emancipation Proclamation. During enslavement, Black families were ripped apart.
According to an Equal Justice Initiative report, "It's estimated that more than half of all enslaved people in the Upper South were separated from a parent or child, and a third of their marriages were destroyed by forced migration." After the Emancipation Proclamation, newly freed Black Americans desperately sought out their missing family members, posting advertisements in local newspapers as a part of their search efforts. If history has taught us anything, it's taught us that our ancestors are resilient and resourceful.
Whether it was through advertisements or word of mouth, the nation experienced what would become known as the Great Migration where nearly 4 million African Americans migrated from the South to the North. This migration and reunification of Black families was the beginning of family reunions as we know them.
Nowadays, family reunions have evolved to be more than just a picnic. They are now oftentimes multi-day events that alternate locations from year to year, and out-of-towners make the pilgrimage, much like the ancestors, to reunite with family.
The Importance of Family Reunions
Why are Black family reunions so important? Because, while our roots may be intertwined with a harrowing past, our resilience is what has led us to where we are today, and that is to be celebrated. Black family reunions serve as an opportunity for us to sit at the feet of our elders and learn about our family's history and legacy -- to soak up the knowledge that we will one day be able to pass down to those that come after us. It is an opportunity to truly connect, beyond the computer screens and social media statuses, and to gather for events besides weddings or funerals. Life, lineage, and legacy should be celebrated while living, and while there are things that should be buried with our ancestors, i.e. generational curses, our family's stories should live on forever.

Want to incorporate some new traditions at your next family reunion? Here are a few suggestions:
1. Shop with Black-owned brands and businesses.
Family reunions are the perfect time to support skinfolk by shopping Black. Use Black vendors for things like catering, DJs, decorations, etc. Those matching t-shirts we mentioned earlier, use a Black-owned t-shirt printing company. Keep those dollars circulating in the Black community.

2. Create a family journal.
Creating a family journal for your family reunion is a great tradition to start as a way to document the lives, stories, and words of wisdom from the family. There are a few ways this can be done. You can create a video journal, which is likely the easiest and quickest way to capture information, especially for elders who may be unable to write or type. Another way is to have people physically write their stories or advice and have it all scanned into a digital ebook. Another possible option is for everyone to submit their information electronically and then it is all compiled into physical or digital books. Imagine future generations being able to have a tangible book of their family's words that have been passed down for generations.

3. Create a family cookbook.
Some of the best recipes are those that have been passed down from generation to generation. Some of the best recipes are buried in graves because our loved ones refused to let anyone in on their secret ingredients. For shame. However, for those willing to depart with their secret 11 herbs and spices, creating a family heritage cookbook is a great way to do it. Give them fun titles like "Aunt Mary's Make You Wanna Slap Yo' Mama Mac & Cheese" or keep it simple like, "Uncle Bobby's BBQ sauce." These recipes will stay in the family long after loved ones have departed.

4. Create a scholarship fund.
Starting the family reunion tradition of creating a scholarship fund is a way to pour into the family youth while promoting family unity through academic excellence. Applicants could be high school seniors who must complete an application form and essay. One of the questions could be "How do you plan to continue the family legacy?" Whether there are multiple recipients or a single recipient, another requirement could be that they must pour into or give back to the next year's recipient(s), whether that is through time and mentorship and/or financially.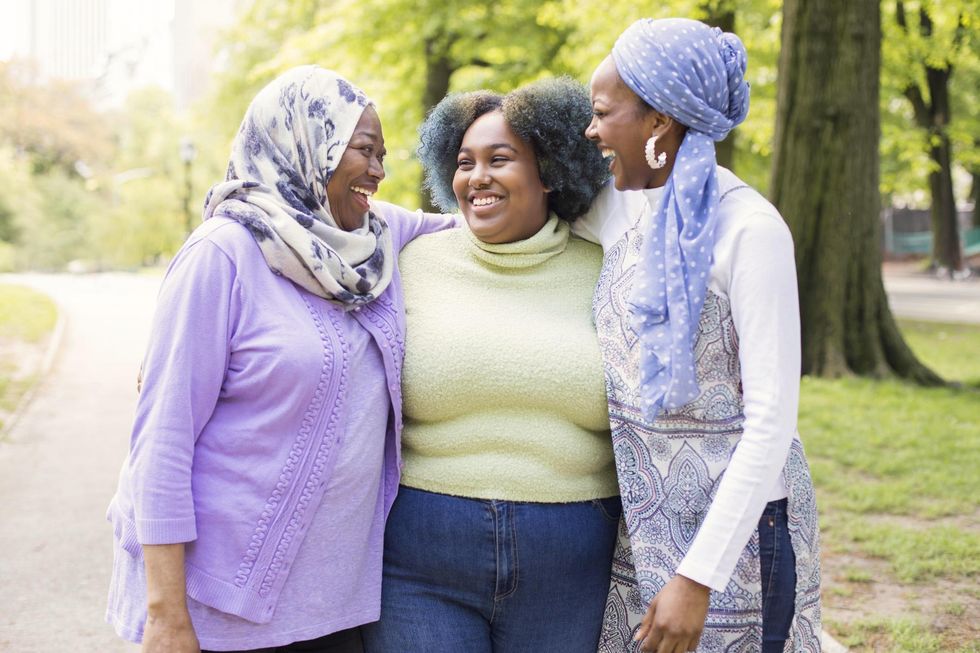 Getty Images
5. Host a fashion show.
Who doesn't love a reason to get gussied up and dressed to the nines? Having a family reunion fashion show is a fun way to get everyone involved, young and old. Themes can change yearly, or however often you have your family reunion. Or if you don't want to hassle the family with packing extra clothes, you can simply do a "Strut Your Best Stuff" fashion show, and the person that serves the fiercest strut and garners the biggest crowd reaction will be crowned the victor.

No matter how you celebrate, big or small, consider getting the family together for a family reunion as an alternative to Fourth of July celebrations.
Let's make things inbox official! Sign up for the xoNecole newsletter for daily love, wellness, career, and exclusive content delivered straight to your inbox.
Featured image via Getty Images
This post is in partnership with Toyota.
Whether it's the lazy afternoons spent laying out on the beach, or nights spent sipping cocktails at your local rooftop hangout, there are so many reasons to love and look forward to summer. It's a time for respite, fun in the sun, and adventure. But as any Chicagoan can tell you, there's something particularly special about "Summertime Chi." The vibes in the Windy City are on 100 when the temperatures rise, and the city literally comes alive in the most magical way.
Chicago-based personal trainer and fitness influencer Sara Hunt knows this all too well. The Grand Rapids, Michigan native came to Chicago for college in 2008. After falling in love with Chicago, she decided to stay and put down roots in the bustling city. And the summers spent in Chicago really underscore her love for the Chi each year. "My favorite thing about Chicago is 'summertime Chi,'" she tells xoNecole. "There's just so many festivals and things to do. There's a plethora of really good food, whether it's healthy or not-so-healthy food. Summertime in Chicago is unmatched [compared to] other places, with the amount of [activities] that are available to you."
Just like the Toyota Corolla Cross, Sara is always on the move. She's a mom with a busy career who maintains an active presence in the gym. Throughout all of life's demands, Sara is diligent about showing up for herself. It was her motivation to make fitness a lifestyle in the first place. But that discipline has carried her through in so many ways. "I used to put everybody else before me. Now, I put myself in a category that I would put other people in," she tells xoNecole. "I'll even put it in my calendar that I need to book a massage or go and get my nails done. Because if I don't do that, then sometimes my own personal things will go under, be left behind."
She sees her fitness journey through the same lens: a way of giving back to herself that isn't motivated by external sources. "Before getting serious about my fitness journey, I was starting and stopping. I wasn't really doing it for myself. I had a boyfriend at the time and it felt like I was trying to look good for him. And then when I started [working out] for me, that's when I started to love it."
See Sara's Chicago city guide below:
Swallow Cliff Stairs, 8999 W 123rd Street Palos Park, IL 60464
"There is a place in Palos Hills, a suburb of Chicago, called Swallow Cliffs, and there are these massive stairs. Sarah. It's very daunting to look at. People look at it and think, 'I don't know if I'll be able to survive.' But all the extreme fitness people will drive from the city to go here. One round is up and down, and then you have to walk around [to go again].10 rounds for me takes about an hour. So there's that."
Cryobar, 1205 W Webster Ave, Suite 1 Chicago, Il 60614
"I love going here to get cryotherapy done. It's the equivalent of taking an ice bath. There are a lot of benefits to getting cryotherapy. For instance, if you did a really intense workout and your muscles are really sore, doing cryotherapy helps out with that soreness so that you can continue working out the next day and not be in pain."
Lou Malnati's, 439 N Wells Street, Chicago, IL 60654

"I think Chicago has the best pizza, and I can agree with other Chicagoans that deep dish pizza is overrated. We like tavern-style pizza, and we have the best. Don't get me wrong, we have great deep-dish pizza too, but that's a touristy thing. There's a place called Lou Malnati's, and they're my favorite place to get pizza. I personally like veggie pizza."
Mesler Chicago, 1411 East 53rd Street | Chicago, IL 60615
"One of my neighborhoods to hang out in Chicago is Hyde Park. I personally feel like that's an area where it is pretty diverse and it's also safe. There's a lounge in there that I like to go to sometimes called Mesler. It has a nice little upscale vibe to it. The drinks are great and it's the perfect place to take someone who is visiting from out of town."
Lake Shore Drive

"Everyone's favorite place for a drive in Chicago is Lake Shore Drive. It's the perfect place to just clear your mind, see the city, and look at the skyline. And if you go when the sun is setting, it's the most beautiful time to drive down because you'll see the sun setting on Lake Michigan which is breathtaking. And then you see the skyline. I think Chicago has one of the best skylines, but of course, I'm a little biased."
A Cancer and Virgo relationship is often a match made in heaven. There are a lot of similarities in the ways that Cancers and Virgos love that gives them a special kind of kinship. Cancer and Virgo are service-oriented signs. They love to give, be there for each other and have a natural gift for making others feel good or better in some way.

In a relationship, there is a sweet alliance these two form, and they quickly become each other's strongest allies. A Cancer woman's emotional world may be a little more foreign to a Virgo man's analytical mind, but he has a sense of wanting to protect and know this soul. They both live up to each other's type of ideal partner in many ways and they are more about working together rather than anything else. This partnership can last the tests of time and is one that both nourishes and grounds.
What attracts a Cancer woman and a Virgo man to each other?
There is an attraction between these two that is often one of those, "how have we not met sooner" moments. These two almost always meet like magnets and are at the right place at the right time when this connection forms. The Cancer woman is attracted to the Virgo man's sense of assuredness yet humble nature and wants to know what else is behind the stern exterior. She can immediately sense there are layers to this man and she is intrigued to dive deeper and know more.

The Virgo man is attracted to the Cancer woman's nurturing yet empowering nature. There is alluring energy that a Cancer woman exudes that makes the connections she forms somewhat mysterious to others. The Virgo man likes to make sense of things and will find the Cancer woman an intriguing mystery he wants to figure out. The immediate connection between these two is empowering yet almost vague and it's once these two dive deeper, trust each other, and let their guards down, is when the true connection and relationship begin to form.
What is the relationship like between a Cancer woman and a Virgo man?
When in a relationship this couple loves to spend time at home in their safe spaces, they love to make food or go out to eat together, and their relationship is filled with doing sweet things for one another as well as for others. Tiny gestures go a long way with these two and they quickly learn this about each other. Both Virgo and Cancer's love language is acts of service and they both tend to feel fulfilled in what they are receiving in the relationship. If one person can keep up with a Virgo's perfectionist eye, it's another Virgo or a Cancer.

These two create a strong bond almost immediately, and that bond doesn't go away. As they continue to learn more about each other they continue to fall even deeper in love, and this relationship is a gift that keeps giving. Although both signs can get a little cranky and critical over the tiny things, they also remember the tiny things, and this relationship is filled with a lot of sweet moments.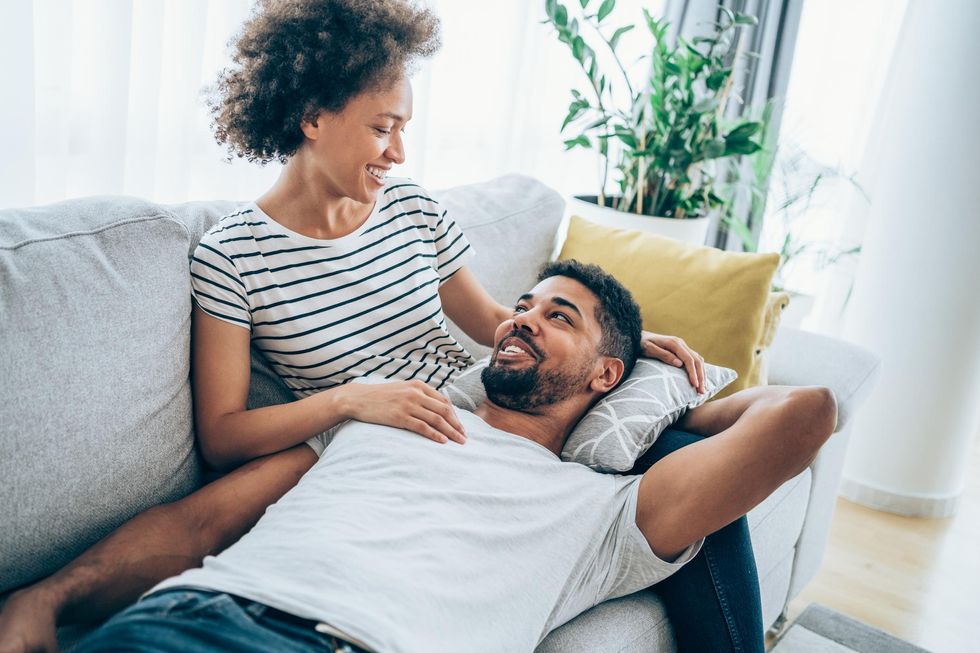 Getty Images
What is the sex like between a Cancer woman and a Virgo man?
Sex between a Cancer woman and a Virgo man is all about understanding each other's needs. Both of these signs love to cater to one another, and they will take their time in figuring out what works for them and what doesn't. The chemistry these two have does most of the work, and there isn't much these two have to complain about in the bed. A Cancer woman is all about creating the right vibe and atmosphere, and this sense of comfortability and care is important to the Virgo man. They both want to have the best experience and will work with one another to provide that.

Differences can arise here between the two when it comes to the Cancer woman wanting their sex life to be more surprising and impulsive and will want to make love in those emotionally exciting moments. A Virgo man has to make sure everything is checked off his to-do list before he can feel fully relaxed and in the moment more often than not. The biggest challenge these two will have is timing when it comes to making love, and will have to work together here.
What makes a relationship between a Cancer woman and a Virgo man work?
What makes a relationship between a Cancer woman and a Virgo man work is their chemistry and dedication towards one another. Both signs aren't ones to give up on something important to them, and they create the right conditions for their relationships to continue to bloom. The Cancer woman makes the house a home, and the Virgo man wants to sustain what world they have created together. Their support systems outside of the relationship all most likely see them as the nurturers and givers in their own lives and value that these two types of people have found each other.

There are not too many dull moments in the relationship of a Cancer woman and a Virgo man as Cancer is always feeling through something and Virgo is always thinking through something. If the Cancer woman wants to be in her shell, the Virgo man is probably in his two, and rather than poke at each other all day, they respect each other's boundaries and needs. Both of these signs tend to feel more pressured around the fire or air signs as they need a lot more external stimulation than they can always provide. What makes this relationship work is that they can truly just be in each other's company in silence or laughter and feel completely fulfilled and satisfied.
What may cause a Cancer woman and a Virgo man to break up?
What can get these two tangled in challenges is their tendency to be too critical toward one another. Both of these signs have a moody nature to them and if they aren't on the same page immediately, it can be difficult to get there. If the Cancer woman isn't feeling good internally, she isn't feeling good externally; and if the Virgo man isn't feeling good about what's happening externally, he isn't feeling good internally. Although these signs both tend to be more introverted, Virgo's high sensitivities are activated by external circumstances, which cannot always be controlled. Virgo will try to fix the outside before the in, whereas Cancer is like let's work through these emotions before we figure out what to do externally. They both will need to work on getting on the same page and meeting each other in the middle in this relationship.

They have to understand that they aren't always going to be on the same emotional plane and learning how to find the balance between each other's needs in that moment is critical to giving each other and the relationship the proper support and nurture needed to grow. These two can learn a lot from each other through open and honest discussion and by allowing each other space and time for reflection when needed. They have to remember that they won't always have the same needs or ways of expression, and learning to understand one another's personal habits or rituals can lead to more synergy in the relationship.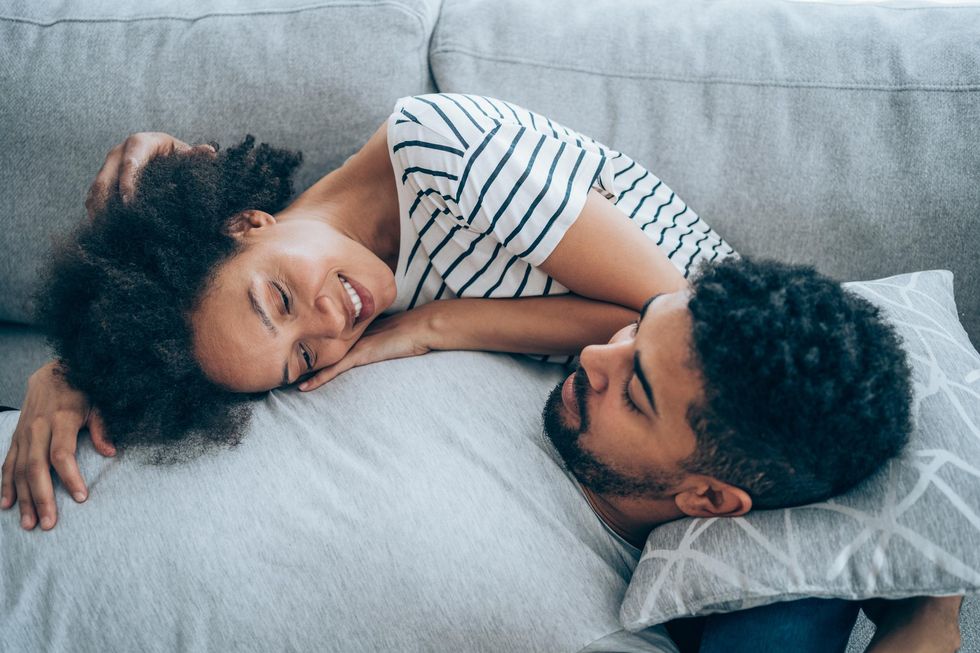 Getty Images
Summary
Overall, this is a relationship that takes less effort to work and leaves more room to love. These two naturally can give each other what the other is looking for, and even through their differences, they see so many similarities between each other that are heart-warming. Often an immediate attraction, the Cancer woman and Virgo man get together with the idea of forever in mind.
They understand that this is a love they both can't pass up, and they truly value each other's presence and heart. Loyalty is both important to the two, and they can provide this type of trust, security, and happiness in the relationship. Water and earth signs tend to give soulmate energy, and this pairing resonates well with that.
Let's make things inbox official! Sign up for the xoNecole newsletter for daily love, wellness, career, and exclusive content delivered straight to your inbox.
Featured image by Getty Images
This post is in partnership with Toyota.
Rosco Spears is a do it all type of woman that can adapt to any position she's called to, and she credits that with growing up in Detroit. Known as the "motor city," this famous midwestern city has a thriving art, culinary, and nightlife scene. Rosco currently works as the creative director of The Lip Bar alongside the brand's founder Melissa Butler. Rosco and Melissa had been friends since high school. The Lip Bar has become a nationally recognized beauty brand, and the brand's corporate offices are right in the heart of the city they grew up in.

"I'm from the west side of Detroit," Rosco tells xoNecole. "Dexter and Linwood, to be exact, which is a little hood, but it's still home."
Despite the negative stereotypes that exist about Detroit, Rosco believes there is so much beauty and togetherness in her hometown. "For a while, people were making [Detroit] out to be a very dark and eerie place. But Detroit is so beautiful. I mean, I'm pretty sure everybody would say that about their hometown, but it's really such a beautiful place. The people are genuinely good and friendly. it feels like family."
As a busy executive, wife, and new mom, Rosco is committed to building a future and legacy for herself and her family. While she currently resides in North Carolina with her family, she often travels back to Detroit for business and to visit family. Reflecting on Detroit brings up many memories for Rosco, including growing up with folks that looked like her.
Her most fond memory is escaping to Belle Isle for the most scenic drives. Since the new Toyota Corolla Cross is made for cruising, Rosco recommends this offshore destination as one of the best ways to experience the city. "This is not technically Detroit, but I love the St. Clair shores. You just get to drive along the shoreline. That's like if you're riding up Jefferson, which is a very popular street downtown, you just keep going up Jefferson and you can get a scenic route. It's such a great way to experience the city.
Check out Rosco's favorite hang outs, wellness experiences, and eateries in her Detroit city guide below.
Condado Tacos, 634 Selden St, Detroit, MI 48201
"I love Condado Tacos. It's a Mexican spot. They have amazing tacos, amazing drinks, amazing taco bowls, veggie bowls. I've never had anything on their menu that I complained about. I think it's amazing."
Yum Village 6500 Woodward Avenue, Detroit, MI 48202
"There's this really amazing Caribbean spot called Yum Village. I actually found out about them because they used to have a food truck right behind our pop-up store. They have the most amazing plantains and the most amazing jerk chicken."
American Coney Island, 114 W Lafayette Blvd Detroit, MI 48226
"American Coney Island is the spot that you go to after the club because that's the only thing that's open. So it's essentially the let-out, because after everybody is out partying, Coney Island is open and they literally have everything. You can get salads, you can get a chicken pita wrap, you can get chicken wings, you can get a steak. But they're known for their Coney Dog which is a hot dog with chili, onions, and mustard. I would say the Coney Dog is a Detroit staple."
Woodhouse Day Spa, 1380 H Street, Washington, D.C. 20002
"What's funny is that I work in the beauty industry, but I am the opposite of a beauty girl. But when I want to get my body wrap done or a massage, I go to Woodhouse Day Spa. They're Black-owned and the founders are very kind people."
The Heidelberg Project, 3442 McDougall Street Detroit, MI 48207
"There's this guy, his name is Tyree Guyton. He created the Heidelberg project where he essentially went to this neighborhood that was kind of impoverished, lots of abandoned houses, and created artwork everywhere. So he painted the cement, he painted the streets, he painted the houses, he did installations all around. I love visiting it and taking people visiting Detroit for the first time. I like to take them over there because it's just such a wild art installation and it's so unexpected."
BLOOM Transformation Center, 227 Iron St. Detroit, MI, 48207
"The last time I was home, I went to this spot called BLOOM Transformation Center. I went with my sister for sound therapy. We went in, we took our shoes off, we laid on the mats, and we just spent an hour having a sound bath, and it was the most amazing experience."

"Reclaiming my time" isn't just a catchphrase coined by our beloved 'Auntie' Maxine Waters. It is an assertion that Black Americans have been striving to obtain for centuries. Pillaged and plucked from our Motherland, stripped of our culture, and robbed of our freedom, Black Americans have fought vigorously to not only reclaim our time but to reclaim our identity for centuries. While the foundation was laid by those that came before us, the world saw an undeniable shift in 2020. George Floyd, like so many others, paid the ultimate price. As a result of his untimely death, the world reached a tipping point. Black squares standing in solidarity filled our timelines, companies plastered their promises on their websites, and DEI, all of a sudden, became a buzzword. The world was now "woke" from its all-too-complacent slumber.
More than ever before, the nation wanted to hear our stories and right its wrongs. Let's be clear, not everyone shared these sentiments. Go to any corporate Instagram page and read the comments under any Black-centric, supporting, post. The vileness of some keyboard warriors never ceases to amaze me. Nonetheless, historic shifts were made. People like Dr. Opal Lee, the 95-year-old activist who set out to walk from Texas to Washington D.C. in hopes of gaining support from Congress to officially name Juneteenth a national holiday, finally saw her dreams and hard work manifest into reality. For the first time since its inception over 150 years ago, Juneteenth became a recognized Federal holiday in June 2021.
Now, more than ever, people are privy to the date etched in history in which all enslaved Black people were set "free" as deemed by the Emancipation Proclamation. This day, when General Gordon Granger rode into Galveston, Texas with his Union soldiers to inform over 250,000 enslaved Black people they were now free, came two and a half years after the actual Emancipation Proclamation, on June 19th, 1865. Despite Black history, Black stories, and Black celebrations like Juneteenth being brought to the forefront, there are still seemingly gaps that need to be bridged between our present and our past. There are stories from our ancestral archives that need to be told and retold, so that our history, all-too-often diminished by high-rise condos, quaint cafés, and overpriced artisanal shops, may never be forgotten.
This was evident when I made my first visit to Houston a year ago and learned about the history and legacy of Freedmen's Town, a neighborhood built by newly freed Black Americans in the 1800s. This was a community built by hand, brick-by-brick, where Black businesses boomed and Black families flourished. It was a place where Blacks had freedom of choice and could reclaim their identities that had been stripped through years of slavery and oppression. There were dozens of Freedmen's Town settlements across the United States, but most notably in Texas. Houston's Freedmen's Town is the only remaining freed slave community of its kind in the United States.
Not surprising, Texas was the location of the first Juneteenth celebrations. In 1872, Jack Yates and members of his church raised $1,000 to purchase ten acres of land in Houston, known as Emancipation Park. This community cornerstone served as a formal gathering space for Juneteenth celebrations.
While the nation may be just now catching on to Juneteenth celebrations, Juneteenth roots run deep in Texas. To get a better idea of how Texans honor and celebrate Juneteenth in this day and time, their perceived importance of the holiday, and how they define their Blackness, I tapped some locals to get their perspective.
Zion Escobar
Executive Director of the Houston Freedmen's Town Conservancy (HFTC)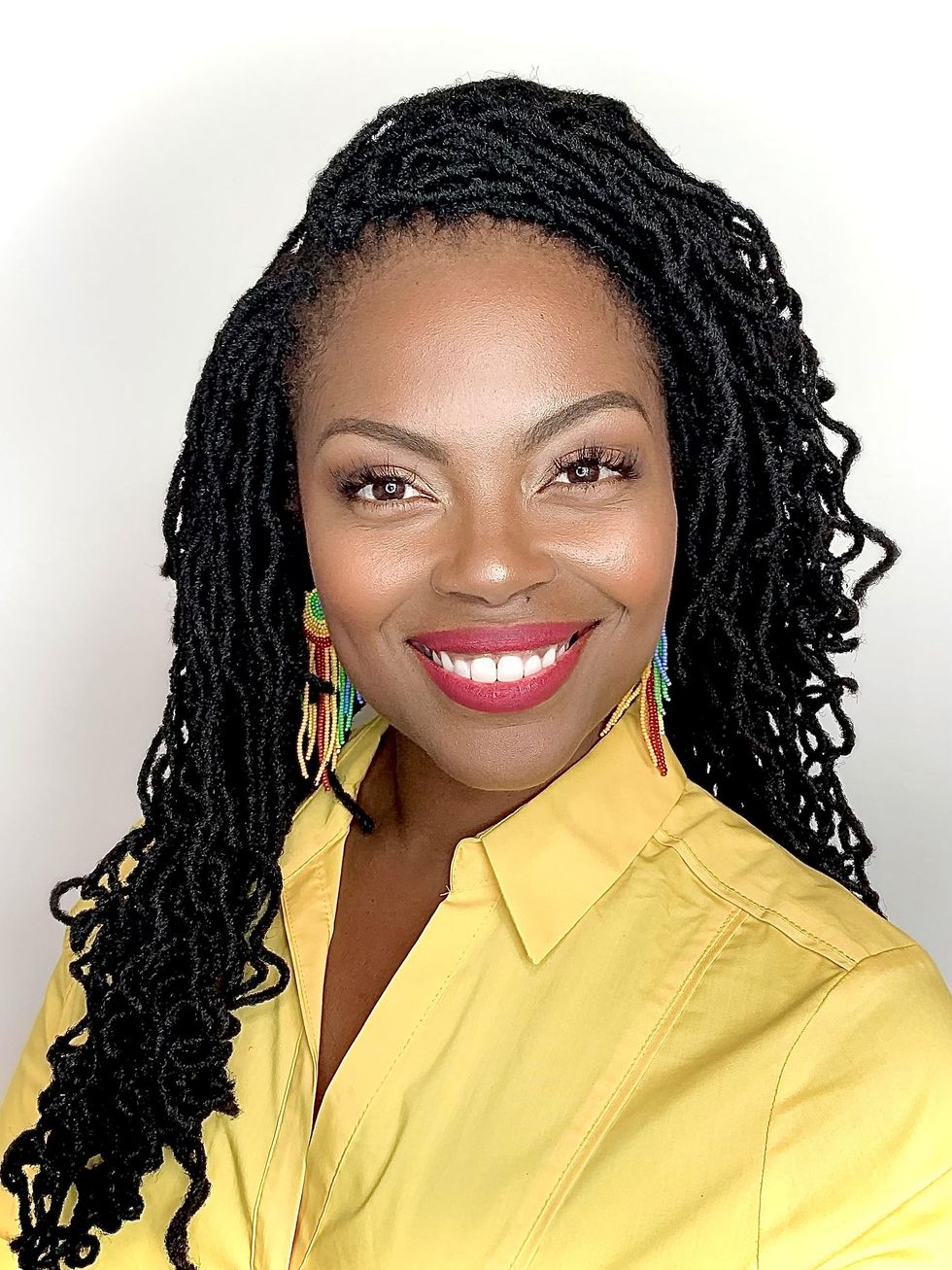 Courtesy of Zion Escobar
I, myself, have older family members who have never heard of Juneteenth, despiteJuneteenth having been around for over 150 years now. Why do you think there are still so many people who don't know about this celebration?
When I'm kind of pondering that question, I really actually have to reflect on the surface level -- why I think people don't know about this, and then the deeper level -- why I think they don't know, right? And, if I start with the idea that context is everything, I truly believe that once the country is introduced to the story of freedom -- which, a.k.a., the story of Freedmen's Town, the story of the Houston/Gavelston region's Juneteenth story, and the context that has, to the social justice movement happening throughout the country, to modern-day issues of policing and how all of these things really track back culturally to norms and Jim Crow laws, and post Reconstruction Era, decisions that were made, in regards to redlining in Black communities and culture erasure -- when people have that context, they'll realize that a lot of the things that they are out in the streets fighting for, that this is so not new. That this problem is 150+ years old. I think that more people will start to understand. The example that I would use as a kind of that beacon of hope is that the 1619 Project has set the context for America, for a conversation that's been around since 1619.
So, I think the answer is that context is everything. People have a tendency to say, "Oh, Juneteenth is about slavery and nobody wants to talk about slavery" and people actually don't understand that it's actually the story of freedom. And, it's the story of what we did, what Black excellence looks like before all these systems of oppression really took hold and were established as a system.
As the Director of Houston's Freedmen's Town Conservancy have you seen an evolution in the way that Juneteenth has been celebrated in Houston? How so?
As the director of the Houston Freedmen's Town Conservancy, I have seen a substantial shift in how Juneteenth is being celebrated in Houston. Case in point, we've been free for over 150 years now, and for the first time ever, the grassroots, the foundational non-profit organizations' leadership in Houston have come together to collaborate on a city-wide Juneteenth experience; meaning, we are not just having a parade that the city gets to come to.
As Black organizations, we are working with each other to uplift, co-program, co-fund, co-market and communicate what this is about, and to show unity in a way that I think people need to see around the world -- that we are all on board with this story and we understand that this needs to come into the American consciousness in a very real and solid way and we are showing up to do the work and we understand the assignment.
[In] previous years, I can't say that there was such a cohesive consciousness of understanding, and the social justice movement has awakened that vigor, that thing, within everyone to say, "We need to get it together and make sure that the story is clear and that the context is clear"; because people are celebrating Juneteenth in far reaches of the globe and they don't have the context. Which is how you get Juneteenth ice cream and Juneteenth Vaseline.
"It's too important to the fabric of Houston's history, to America's history, to the history of the slaves that came and laid the foundation for what we know as Houston today that all of America is celebrating -- the wonderful Black culture and music and expressions that have come from Houston. People need to understand the context."
So, we are ready to do that work, because we are not going to see the Cinco de Mayo of Juneteenth, where people say it's tacos and beer and no one actually knows the true history. It's too important to the fabric of Houston's history, to America's history, to the history of the slaves that came and laid the foundation for what we know as Houston today that all of America is celebrating -- the wonderful Black culture and music and expressions that have come from Houston. People need to understand the context. So, it's evolved because it is time and we're ready and I think the consciousness of the collective community is ready. And so, I'm excited to see what we do and I'm excited to continue this inaugural effort in collaboration with everyone.
Finish this sentence: My Black is ________.
Resilient.
Lauren Greer
Principal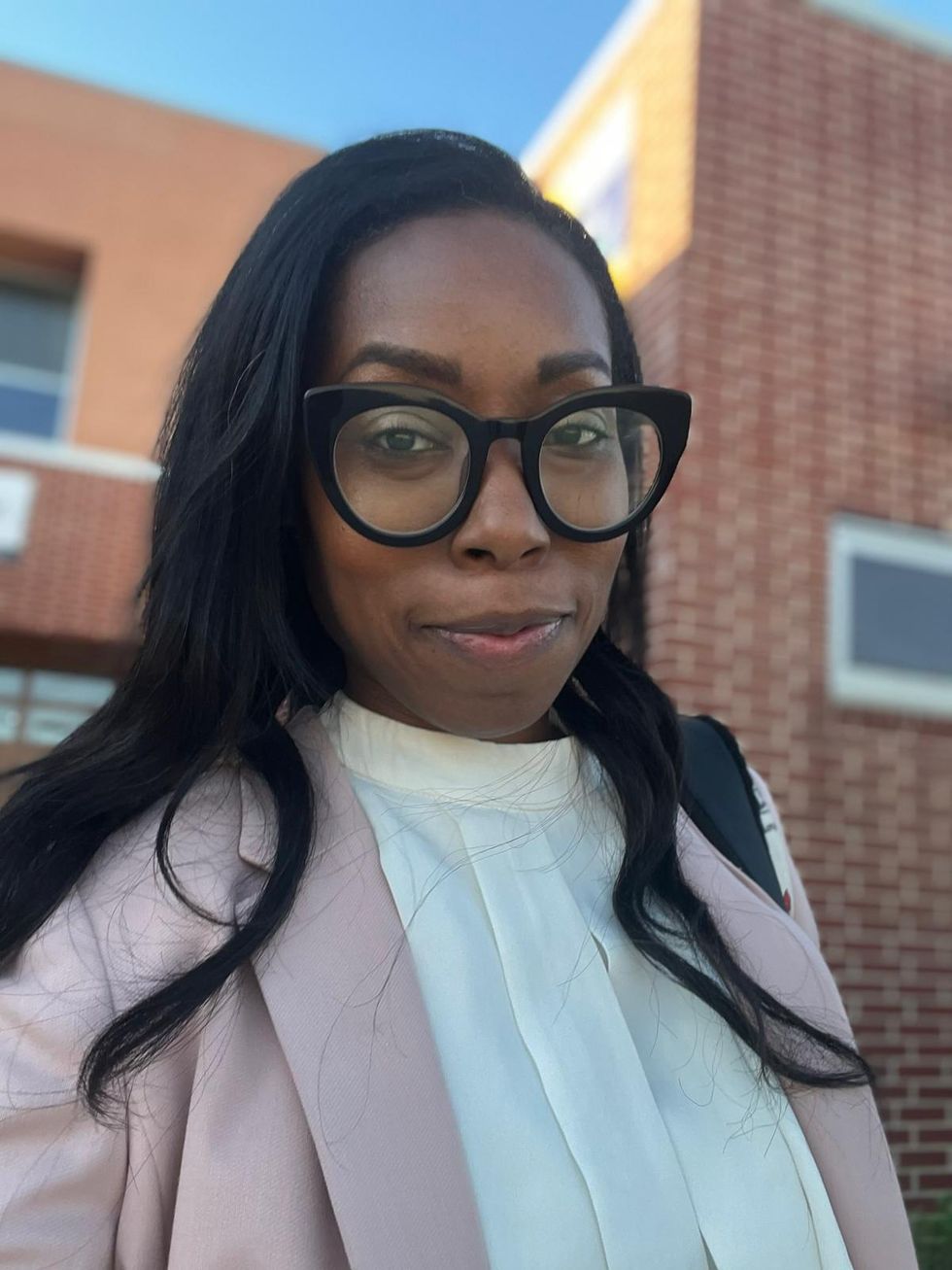 Courtesy of Lauren Greer
Black history is American history. As an educator, how are you seeing Juneteenth being taught in school systems, if at all?
So, that's interesting just because as an educator, just in light of all the things that have happened recently, there's some conversations about critical race theory and things of that nature, and because I am in an urban school district, there have been lots of initiatives just around all things cultural diversity and things of that nature. I will say though, as far as just teaching Juneteenth in and of itself, I still haven't seen that in the classrooms. However, I'm also in an elementary school setting as well. So, it looks a little bit different than what it looks like say in middle school or high school or something like that.
This is the first year, though, where they have the actual holiday on the school calendar. So, my kiddos are off on June 20, that Monday. This will be the first time ever that that's happened. There are lots of schools in our district. We have different calendars that are already on summer break, but my babies are not on summer break yet. So, we will actually experience the national holiday for Juneteenth while we are still in school. So, while there are initiatives for cultural diversity, Juneteenth still is not a primary focus, as of yet.
As a Texan, has Juneteenth always been something that was celebrated by you and your family? Please explain.
Yes. A lot of the things that I learned, like all things Black history and Black culture, things like that I actually learned at church. Because, the neighborhood I grew up in was a predominantly Caucasian neighborhood, but my church was always Black American. So, from Black history plays, to Juneteenth, to picnics in the park, to the parades that come with it, all of that has always been a part of my upbringing. So, it was not uncommon to literally go to the neighborhood park for all of these things -- for picnics, and just, you know, games, and things of that nature.
Learning all the history that comes with all that was just an embedded part of what I learned in church all the time. And, then just my mom, she just wanted to make sure that we knew our history and so literally I grew up hearing about this all the time in my household, on Sundays or Wednesdays, Vacation Bible Schools, all of those things is the space that I really learned all of the things Black history and Black culture.
How do you celebrate and honor Juneteenth now?
All things Blackity Black Black Black to be completely honest. Usually, getting with friends, picnics, hanging out in the backyard, just reminiscing on history. But, we kind of live it every single day. So, now that there's a national holiday for it, so to speak, that doesn't change how we've always felt about it, it doesn't change how we always felt about our culture. It's given us a space to embrace it a little bit more. Just because of all the things that have happened in our nation in the last few years it's kind of really drawn light to some things. So, it causes us to be more aware of our culture and also more proud of our culture and who we are as well.
And, so, we take those opportunities on a daily basis to kind of reminisce, but on that day we like to get together and kind of hang out and chill together as well. So, that will probably likely happen again this year. We will all probably get together at somebody's house just to be around each other.
Finish this sentence: My Black is __________.
When I thought about that question, the cliche answer is 'beautiful.' But, then, as I was thinking about it again this morning -- my Black is needed. I really believe that all of us have been given an assignment on the earth. And I really believe that there's something that I bring to the table that someone else doesn't bring, and there's something that someone else brings to the table that I don't bring. So, I feel like it is so needed. There has been a target out for our culture for so long, and I feel like we cannot allow society to keep subtracting from our culture.
"There are people that need us to stand in the gap. There are lessons that need to be learned from each and every last one of us. And there is wisdom that needs to be poured into the land. And, each one of us has a responsibility to do that."
Whether it be through entertainment, whether it be through politics, whether it be through education we can't allow that because we are needed. There are people that need us to stand in the gap. There are lessons that need to be learned from each and every last one of us. And there is wisdom that needs to be poured into the land. And, each one of us has a responsibility to do that. Lauren has a responsibility to do that too, in all of Blackness and all of her educated-ness. The world needs that, and so my Black is needed.
Ebony Parker
Residential Loan Officer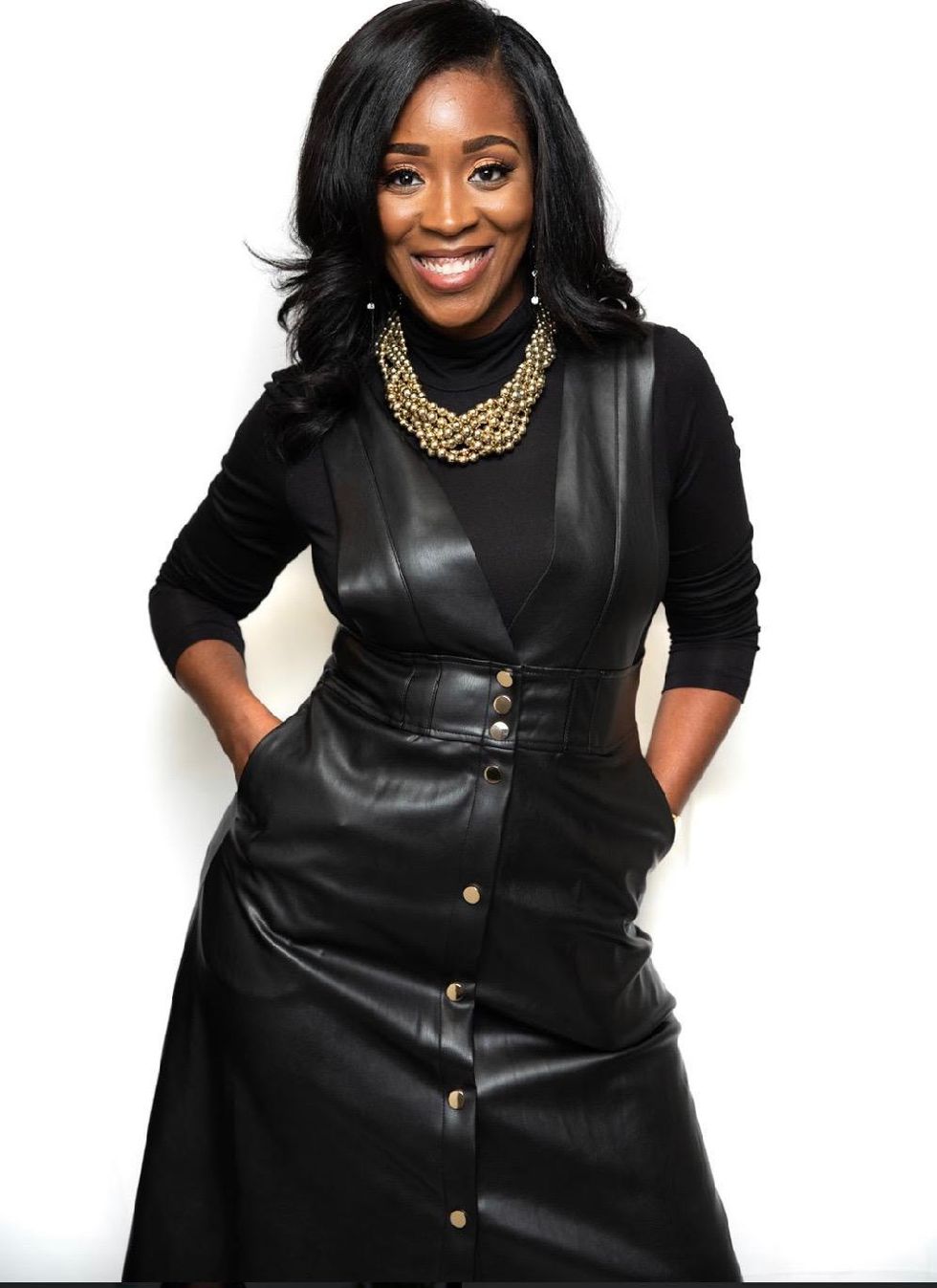 Courtesy of Ebony Parker
What does Juneteenth mean to you?
Juneteenth to me is a representation of perseverance and displays our ability to make lemonade out of lemons at any time. It is us, as a people, continuing to get the leftovers but making them appear as a five-course meal. Juneteenth is the beginning of laying the foundation for our future as the freedom finally granted was the work of our ancestors, but the starting point for us to be able to accomplish the many things we have accomplished. Without the notification of freedom, we would still be sitting on the sidelines, unfortunately. Instead, we are now the trendsetters that everyone is continuously trying to duplicate, unsuccessfully.
As a born and raised Texan, has Juneteenth always been something that was celebrated by you and your family? Please explain.
Unfortunately, Juneteenth wasn't always celebrated for me. The school system, especially in Texas, has always taught a watered-down and quite often inaccurate version of history, typically leaving out any representation of Black people outside the role of slaves (which unfortunately the textbooks now also consider us as "workers" instead as that narrative makes them appear innocent versus revealing the genocide and cruel things done to my ancestors and even more unfortunate are the things that are still occurring daily). My mother, too, was uneducated on the significance of the day and unable to pass down the knowledge.
"Juneteenth is the beginning of laying the foundation for our future as the freedom finally granted was the work of our ancestors, but the starting point for us to be able to accomplish the many things we have accomplished."
Therefore, I began educating myself on Black culture in college and embraced Juneteenth while finding less of a desire to celebrate July 4 as it along with other "federal holidays" wasn't an inclusive holiday for those of us that didn't meet the "standard."
How do you celebrate and honor Juneteenth now?
I like to do all things Black at an exponential level. I ensure that I don't allow myself to drift towards code-switching. I spend time with my loved ones being unapologetically me. I ensure to be intentional in educating my children and peers. But, more importantly, I celebrate the day by setting a new goal to crush that will further my family, community, and culture.
Finish this sentence: My Black is __________.
My Black is simply Ebony! It is beautiful, intelligent, excellence, confident, sassy, trendsetting, nurturing, loving, and perseverance!
MyKayla Searles-Houston
UTHealth Graduate Student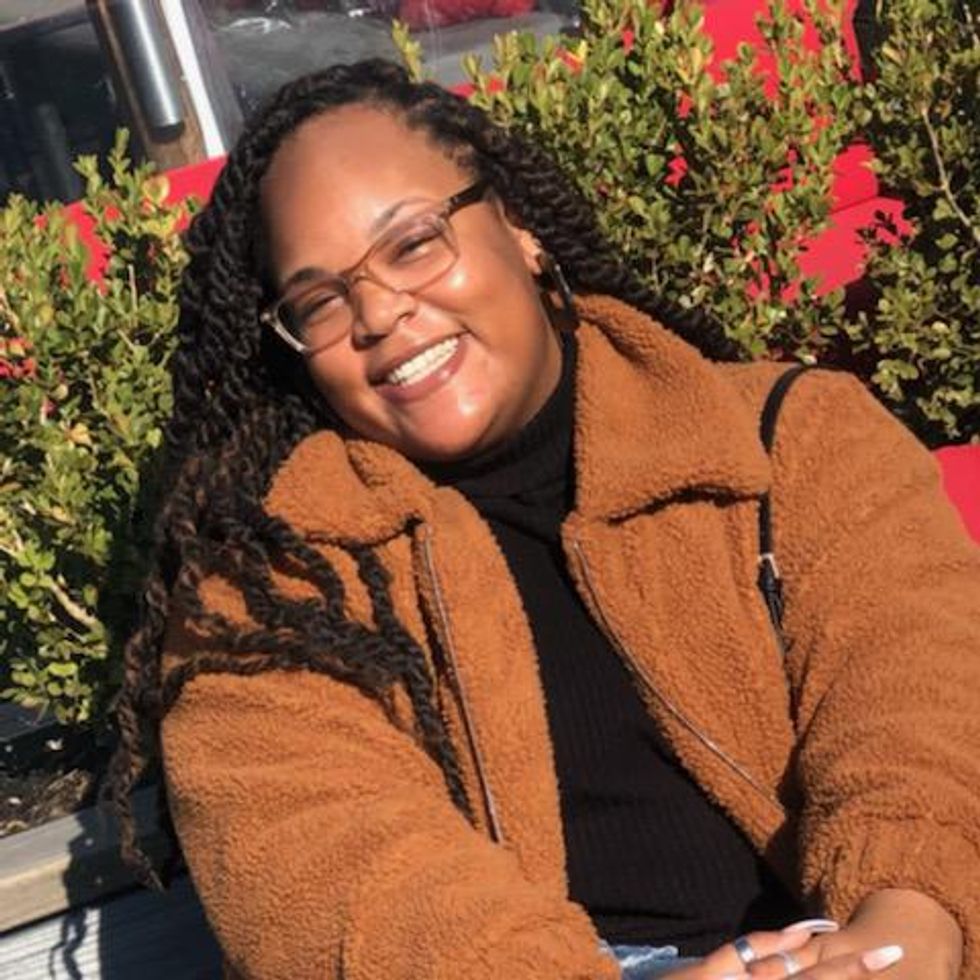 Courtesy of MyKayla Searles-Houston
Why do you think it's important for younger generations to learn about Juneteenth?
I think it is important for the younger generation to learn about Juneteenth because this is our history. This is a part of our culture, especially being Black and from Texas. And, I think it's important to hear from our community and families because oftentimes we are taught history from a narrative or perspective that is not centered in Blackness. So, learning about Juneteenth should be something families talk about with all age groups because one day it'll be the younger people's responsibility to pass down this information.
"I think it is important for the younger generation to learn about Juneteenth because this is our history. This is a part of our culture, especially being Black and from Texas."
How do you celebrate and honor Juneteenth?
I usually celebrate Juneteenth by hanging out with my friends or family! Somebody may barbecue, or we will go to local community festivities which are always nice. There is usually some great food around which is one of the best parts! Honestly, I just love being surrounded by Black people who show love to each other, and being together on Juneteenth is another way for us to express ourselves and have some fun!
Finish this sentence: My Black is __________.
My Black is loving, intentional, and full of care and compassion.
Let's make things inbox official! Sign up for the xoNecole newsletter for daily love, wellness, career, and exclusive content delivered straight to your inbox.
Featured image courtesy of Ebony Parker