Becoming a mother in 2020 took on a whole new meaning to so many women of the world. With global chaos ensuing, incompetency leading the way, and drastic changes taking place in hospitals, giving birth during this time meant...well, we aren't sure. Many women took the challenge head-on, accepting that their new normal, no matter how different from the stories they've always heard, were just that: their new normal.
From baby showers that were masked and mobile, to having a q-tip shoved up your nose multiple times a month, adjusting took its damn time. And a year later, we're all still adjusting.
These babies are now turning one-year-old, one year of surviving it all. We found four women who shared their journey about how exactly the adjustment is going.
Here are the beautiful stories that we heard: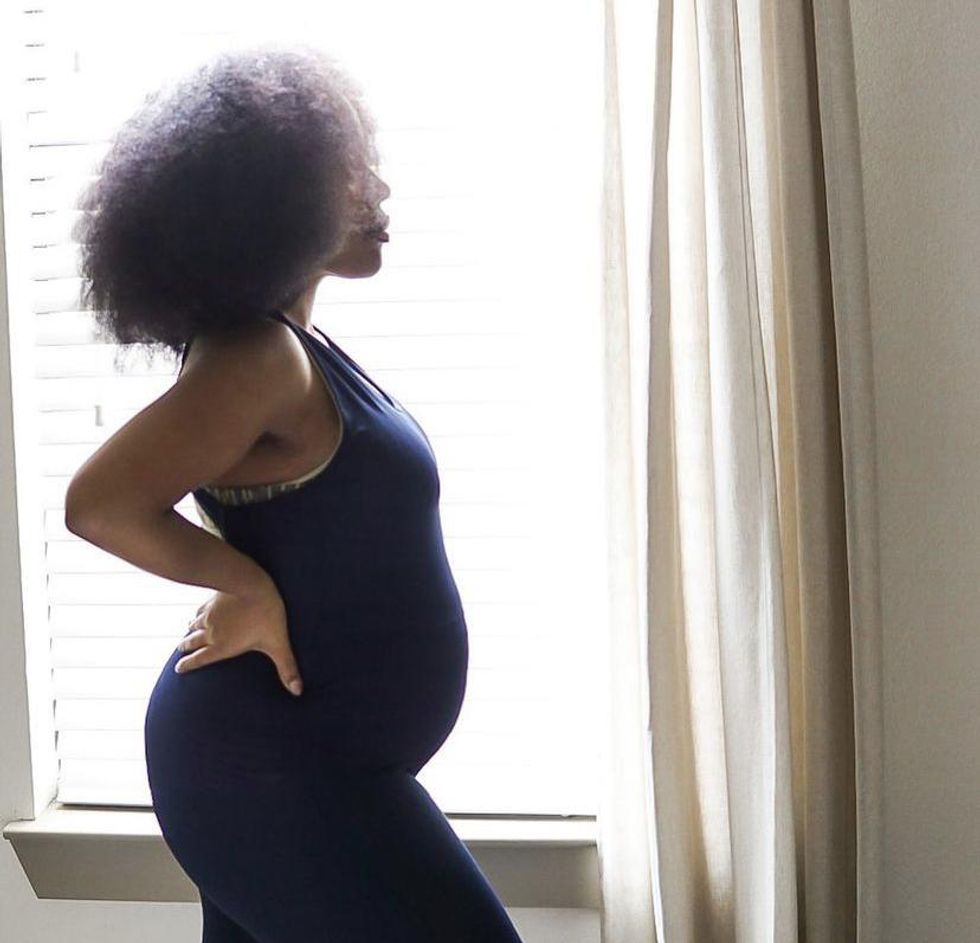 Southernsophis/Instagram
I actually gave birth to my daughter back in August (2020), and this entire time I've just been kind of basking in the whole moment of motherhood and pregnancy. I'm sure you can imagine this was a huge eye-opening shift in my life, and in my family's life, because this was not what we expected whatsoever.
During my first trimester, it would suck to have to go to my doctor check-ups without any support. Like, they couldn't even wait in the waiting room. And because Dallas was considered a 'hotspot' for COVID, our rules were strict. From the constant questioning to temp checks, it was all a mess. Many first-time mommy classes had gone virtual. I wanted to have a water birth, but I couldn't. I even had to wear a mask during labor. The changes were nonstop.
I ended up having a C-section because after being in labor for 24 hours, with no medication, I couldn't take the pain anymore. It was go time.
Afterwards, I allowed my body to heal. I didn't rush it. My main goal was to safely recover. And even through all the pain and worry, my baby made it home with me, happily and healthy.
Being pregnant during a global pandemic and a racial injustice war has brought on many emotional highs and lows. If you had told me a few years back that this is what I'd experience during my first pregnancy, I probably would've laughed in your face.
But one thing I will say, despite the chaos, I've been able to truly pause, self-reflect, acknowledge my fears, doubts, and worries as well as tap into a different level of strength I didn't know existed, so I'm grateful for that opportunity.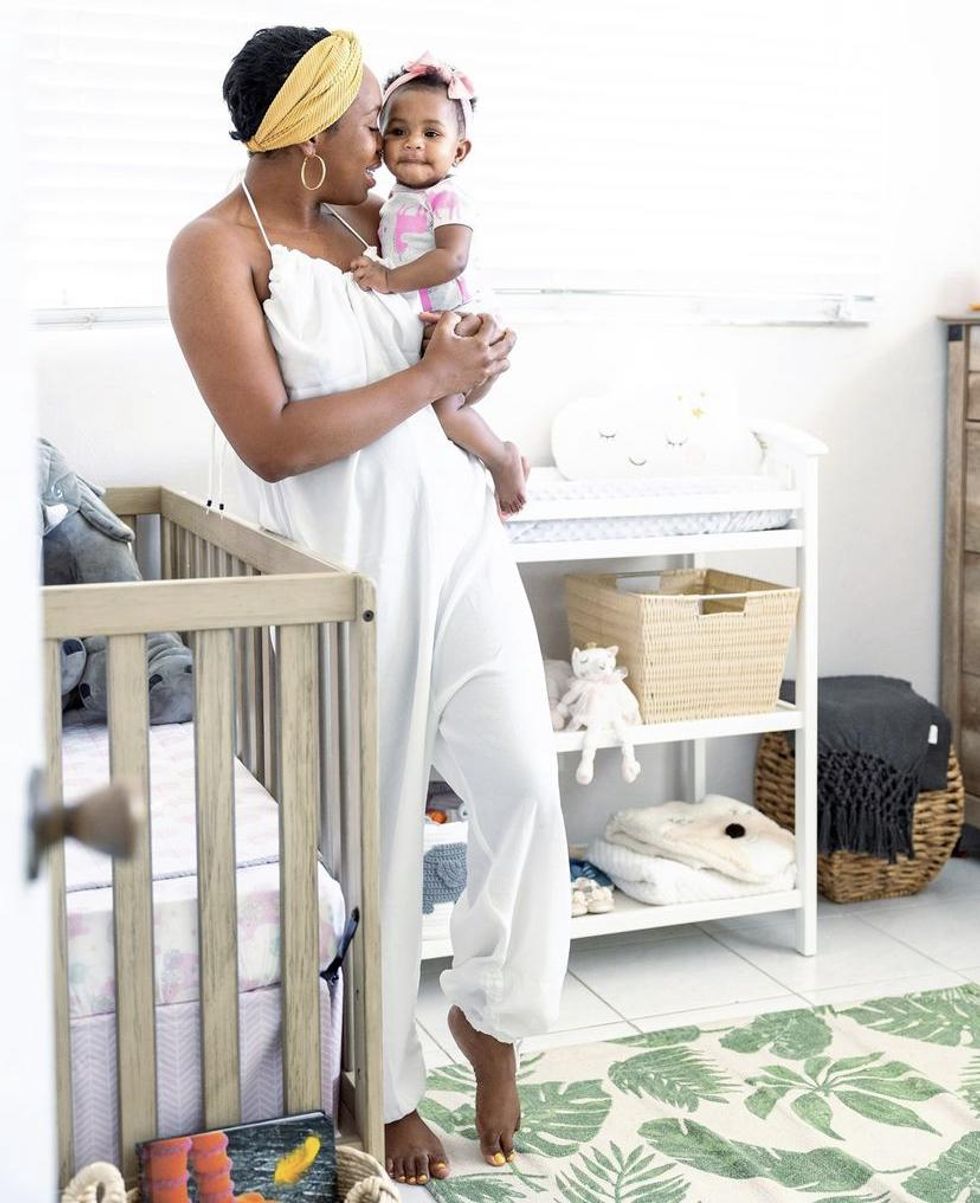 Ianthia/Instagram
I never imagined that I'd give birth during a global pandemic or that my husband wouldn't be by my side as our child entered the world. But thanks to the COVID-19, nothing I had planned for my birth experience happened. From having to cancel our baby shower, not being able to shop for and set up our nursery, to my husband being kicked out of the delivery room at the last minute COVID-19, really stole many of our joys.
My moods would go from super happy, to just heartbreaking as the virus took over the world. Quarantine forced us to social distance from our friends and family and had us on government mandated curfews and lockdowns. But after a lonely, hard experience...there were tears of joy!
I'm so blessed to have the shoulders of so many amazing women to stand on as I navigate motherhood; so much strength, so much resilience, so much love I've witnessed and received and I'm now equipped to give my little one.
I'm learning early on that support from everyone around you is crucial, from friends to family, and even those who end up becoming family. Every time I think about what I'm going to tell her of this time, her birth and the uncertainty that consumed the world, I'll show her the picture I have of her meeting her grandfather for the first time.
I'll tell her, "This is you at two days old meeting your grandfather for the first time...through a closed window. A deadly virus had already killed thousands of people around the world and several right here at home. We were warned to take extreme measures to keep you and everyone else safe.
"Those first few weeks were hard too; physically because you had a sleep schedule all your own, emotionally because we had to do it all without family and mentally because no one knew when it all would end. Still, you were loved unconditionally, through video chats, phone calls and...windows."
And now, with seeing us triumph, and how blessed my family is, I wouldn't have it any other way.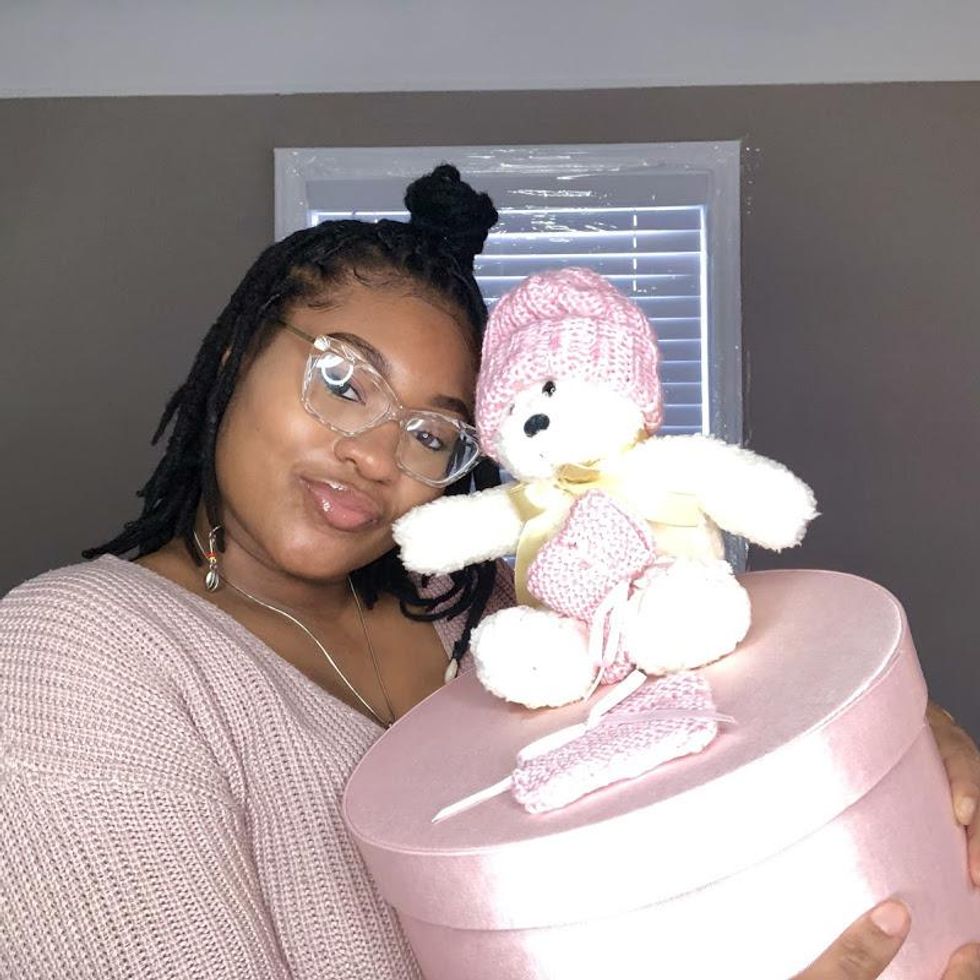 Atavia Skai/Instagram
After a completely healthy pregnancy, my husband and I lost our baby girl, Junie at 41 weeks on May 19, 2020. And the pregnancy and birth took place during the COVID pandemic. As I am navigating this loss, I have found some comfort in others sharing their stories to help me in my journey, which is the purpose of me speaking out. I felt alone and I want to share for anyone who may feel how I once did.
Everything leading up to it, was completely normal. We had never heard the word "perfect" so many times in our lives. At that point, I was having appointments weekly, ultrasounds, stress tests. I woke up one day, my routine was completely normal. I was doing my daily talks with her, my affirmations.
On the way to my appointment, things changed. I hadn't felt her move in a while. My ultrasound tech started the process of checking the baby at my appointment, and she had a blank look on her face. She wasn't blinking. My intuition was off the charts.
And then, my doctor looked at me and said, "I am so sorry to tell you this, but your baby doesn't have a heartbeat."
And I said... "OK."

You know, it's funny how the brain works. My mind was racing, but I couldn't articulate anything. I was having an out-of-body experience. And that's all I could say. "OK."
I was numb to everything happening around me. I was broken.

I went to the next hospital to deliver my baby girl, and had to take a Coronavirus test, which came back positive. I was moved to another side of the hospital, swept away from my family, quarantined by myself. And on top of it all, I had to somehow process how my baby was no longer with me. It took a while for me to process it all. I still am, actually. But ultimately, I learned I am not alone.
Educating myself, and learning the statistics of stillborn births aided me in coping. Additionally, I had to learn that it wasn't my fault. My midwives and nurses would assure me all the time that we did everything right, everything we possibly could have done.
But listen ladies: my story is traumatic. And unfortunately, so many women experience the same as I have. But my pregnancy was also a beautiful experience. I would not rewrite or delete this chapter of my life at all. The grieving has been exceptionally hard.
And without my support and the amount I had, I don't know how I would navigate this, honestly. Family, my husband, friends. I have two amazing therapists that have helped me. In the end, working with them, and telling my story, has given me peace. I hope it does for any mama out there reading this, and that has experienced the same as I have, as well.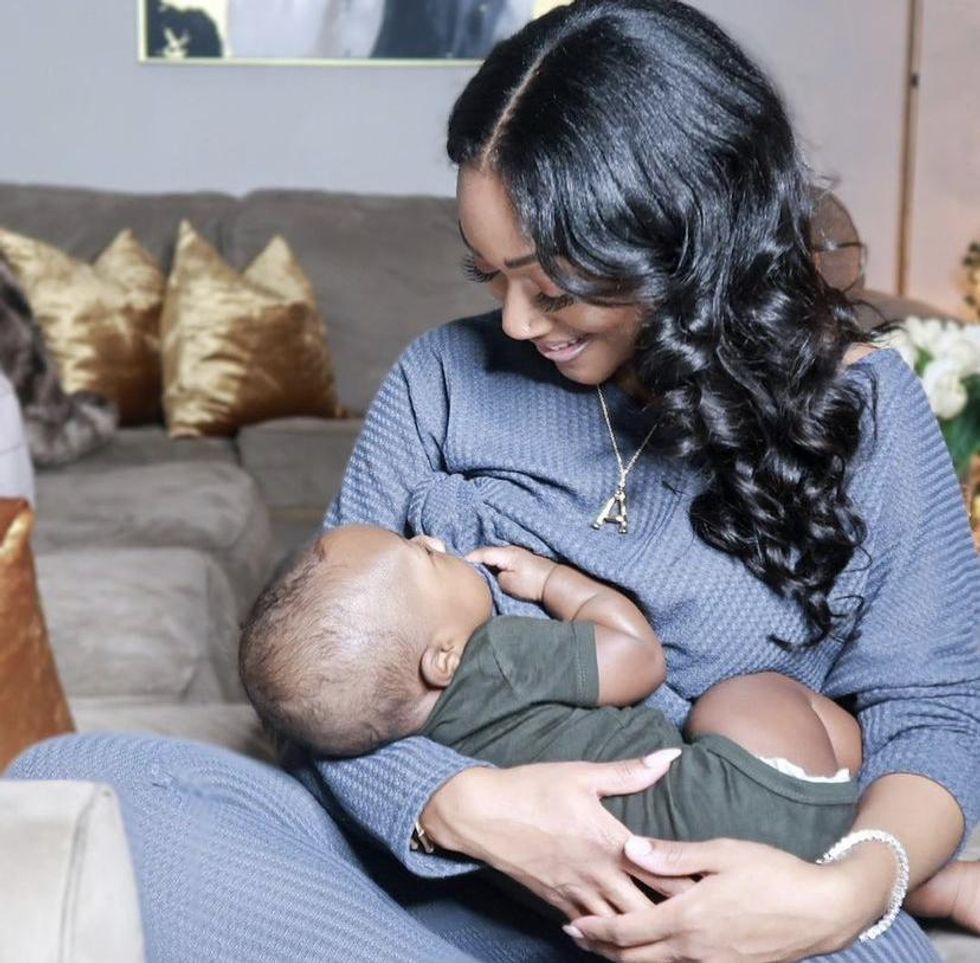 Alanna Foxx/Instagram
Giving birth during COVID-19 is just a little different, so my heart goes out to those of you who were not able to have anyone in the delivery room with you. I was blessed enough to have my husband right there by my side in the delivery room, but my baby boy did come a little earlier than expected. I actually had a scheduled C-section. But my little boy decided that he wanted to come a few days before the scheduled C-section.
Something that was very important to me was that my doctor looked like me, due to the statistics that we hear nowadays definitely can make being a woman of color [who is] expecting pretty nervous.
With me moving to a new area, and with the pandemic, I wanted to make sure I felt 100 percent comfortable with whoever was delivering my baby. I trusted her 100 percent.
Around this time, my husband and I had a very deep conversation about what the world is going through. There are a lot of people that were really sick and thousands that lost their lives. People are out of work, resources in some communities are limited. Children that once looked to college or school as an escape from toxic homes don't have that anymore.
Domestic abuse and child abuse is at an all-time high...and to top it all off, I gave birth and lost one of the most important people in my life. He lost his battle with COVID. The only dad and father that I've ever known. Literally my everything. My support system, my superhero, my advocate, anything that I ever needed, he was there for me.
But now, walking into 2021, I've achieved a newfound wisdom and grace over our family. Perspective is everything right now and even if you don't have much to give, just compassion and prayer is sufficient.
Featured image by Ianthia Ferguson/Instagram
Keep reading...
Show less
I always say my power is my voice and my words inspire. And they do. I believe in the power of my voice to no end. But I didn't always have the courage and strength to use my voice. I wasn't always this outspoken. I wasn't always so quick to offer my two cents either. This part of me was suppressed for most of my life. Even when I didn't know my voice is the very essence of all that I am. Finding my voice was something that took time to do. I had to unlearn conditioned behaviors I learned as a child and as an adolescent. Like, don't ask questions or speak only when spoken to. I'm a Sagittarius y'all – it's only natural for me to be inquisitive by nature. I yearn for knowledge. I am opinionated AF. And I love to talk.
Imagine finding your voice, giving it power, and then feeling like you cannot speak. This was me. Recently, after a severe anxiety attack, I had to make a difficult decision to take down my Medium page. It wasn't something I wanted to do, but in this situation, protecting my peace and space is everything to me. In making this decision, I felt like my voice was taken from me. I felt like my voice was blocked and stripped. I had struggled for so long to be able to speak my truth. And what I didn't know was that sharing my truth could inadvertently cause me harm.
Now, there was a lump stuck in the base of my throat. A few days later, my ears started to hurt and my throat was sore. Mind you, throughout this whole pandemic I have yet to be sick. I ended up with a whole ass sinus infection. Most would have attributed this to the pollen count or allergy season. But nah, not this time.
Now, that I am spiritually aligned, I knew this was physically and energetically connected. Remember, the mind, body, and soul work as one. Your body will give you the answers you seek. I became so anxious I made myself sick. And I knew my throat chakra was blocked. It took me a while to feel like I could speak again, but after my physical symptoms went away, I was able to speak my truth once more. And now, I'm back on.
If you're struggling with communicating or using your voice, here is how to know if your throat chakra is blocked.
A Word About The Throat Chakra
The throat chakra is the fifth chakra of seven chakras in the body. It is the chakra of personal power and is related to our self-esteem and self-confidence. It is responsible for communication, creativity, self-expression, and the ability to speak your inner truth. When your throat chakra is imbalanced or blocked you may have a hard time communicating effectively. So, what causes blockages in the throat chakra? It's hard to say. We are all individuals, and our life experiences vary. But you must look inward for the answer to face your truth and remove the blockages.
Your Body Hurts
When your throat chakra is blocked, the flow of energy through this chakra is disrupted. And when that happens, you may experience any of the following physical symptoms below:
Hoarseness
Chronic sore throat
Mouth ulcers
Thyroid problems
Neck pain
Gum disease
Laryngitis
Your Emotional Well-Being Is Affected
Blocked throat chakras can show up as nonphysical symptoms too. Remember, I said the mind, body, and soul are interconnected. What shows up in the body will manifest mentally and emotionally too. Emotional signs of a blocked throat chakra include the following:
Anxiety
Depression
Shyness
Low self-esteem
Fear of speaking your truth
Inability to express thoughts
Inhibited creativity
Inconsistency in speech and actions
5 Ways to Open Up and Heal Your Throat Chakra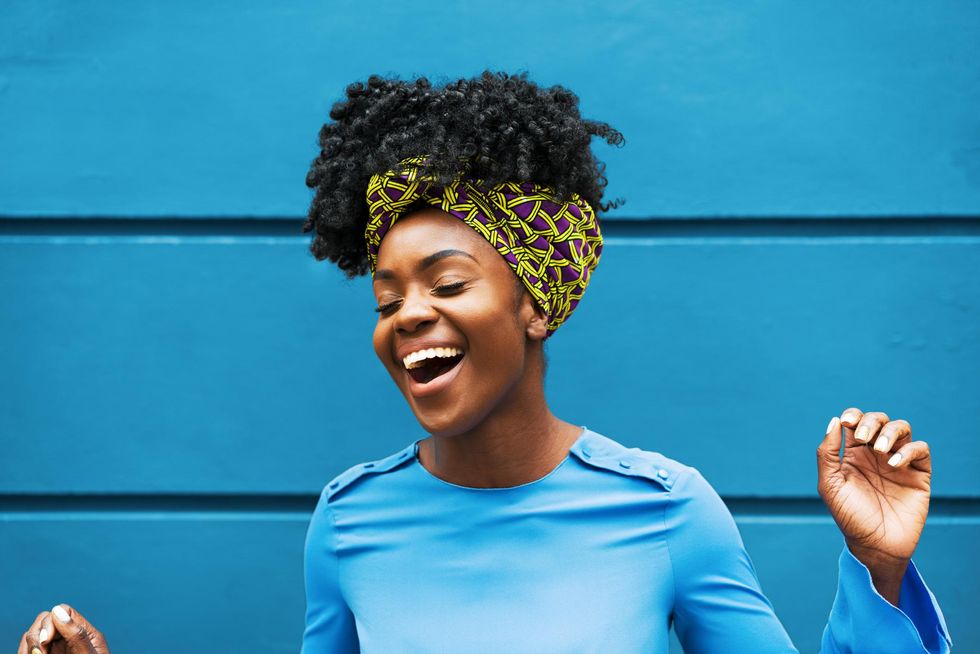 Getty Images
If your throat chakra is blocked, you need to clear it. This means learning to let go and trust your inner voice. You must work through and release negative emotions to restore the energy balance in the throat chakra. Inner work is never easy, it requires you to face yourself. Be prepared to deal with what you find.
1. Learn How To Journal
For me, journaling is how I started writing. But journaling can help you express your feelings when you're not able to vocalize them. It's a transformative practice that can help in different areas of your life. So, take time during your day or week to write down thoughts or feelings. It's not about spelling or grammar. It's about taking the time to acknowledge what you feel and be honest about it.
2. Put Some Blue In Your Life
The color blue helps free the natural energy that resides in your throat chakra. This could look like buying blue flowers, a blue candle, blue curtains, or adding blue bedsheets to your bedroom. Consider wearing blue jewelry or blue clothing too. This can also look like spending time outside under clear blue skies.
3. Get You Some Crystals Sis
Crystals for the throat chakra includes lapis lazuli, amazonite, turquoise, or aquamarine. You can keep these crystals under your pillow, by your nightstand, or use them as home decor. But my favorite way to use crystals is to carry them in my backpack or as jewelry. You can find crystals for the throat chakra at any metaphysical store in your local area.
4. Use Affirmations
Mantras or affirmations are another way to help heal the throat chakra. These can be used as a reminder, part of your journaling practice, or in daily meditation. And the beauty of it is, you can use any affirmation you want. You can say something like, "My voice is heard," "I claim and honor my true voice," "I speak my truth freely and openly," or "I'm not scared to speak my mind."
5. Book A Reiki Session
I really can't say enough about the power of reiki. Reiki is a spiritual healing art that stems from Japan. It is the life energy that flows through all living things. This healing practice can clear bad energy from the body, remove energy blockages, and rebalance the flow of energy. I typically do a reiki session a few times a year to balance my chakras and energy. After a reiki session, I feel so much lighter and renewed.
So, how do you know that your throat chakra is healing? Well, when your throat chakra begins to open, you become more aware of your own self and the people around you. You become calm and relaxed. You also start to feel confident in expressing your thoughts and ideas. How you communicate is clear and consistent.
I would also say listen to your intuition; you'll know when your throat chakra is no longer blocked because energy does not lie. Your voice is a gift. It is one of the greatest gifts next to life itself. It's what makes us original, authentic, and different.
I encourage you to find your voice, and then speak from your heart and your core.
Are you a member of our insiders squad? Join us in the xoTribe Members Community today!
Featured image by Getty Images

Keep reading...
Show less
As we know, if anyone is the queen of solo travel, it's Tracee Ellis Ross. Year after year, she takes her banging body poolside, or to somebody's island, in an effort to show us how this shit is really done.

She has perfected the 'solo selfie', and is a master at teaching the art of self-love, and working hard, but absolutely playing much frickin' harder.
And this vacay was no different as our good sis packed up her bags and headed where the beaming sun resides.
She didn't say much, just enjoyed, and captured glimpses of her getaway. She laughed. She danced. She rested. She slayed. She was boundless in her "me time", a lesson we all needed as we gear up for a panorama-less summer, or at least a new normal. But most of all, she was unapologetic in why she was there, with simple captions, mainly one that kicked off the trip:
"Consider this my out of office reply!"
And listen, it's no secret that Ross is happily single and not waiting for anyone--a man OR friends--to catch these flights. She's living openly, on her own terms, and living her best life doing so. She tells Brit + Co:
"I think that was a big growth opportunity for me as I was coming of age and learning how to be on my own. I'm very comfortable traveling alone and being my own best friend."
Which she wants you to learn to be as well. And if you aren't sure how to do so, she has a bit of advice: baby steps.
"I would experiment going to a restaurant at 8pm on your own on a Saturday night to see how it feels. You start to get a sense of what it is that you're comfortable with."
What better way to jumpstart the summer than to revist some of our favorite Tracee vacays? Keep scrolling for your reminder that this year is THE year to take that solo trip, boo!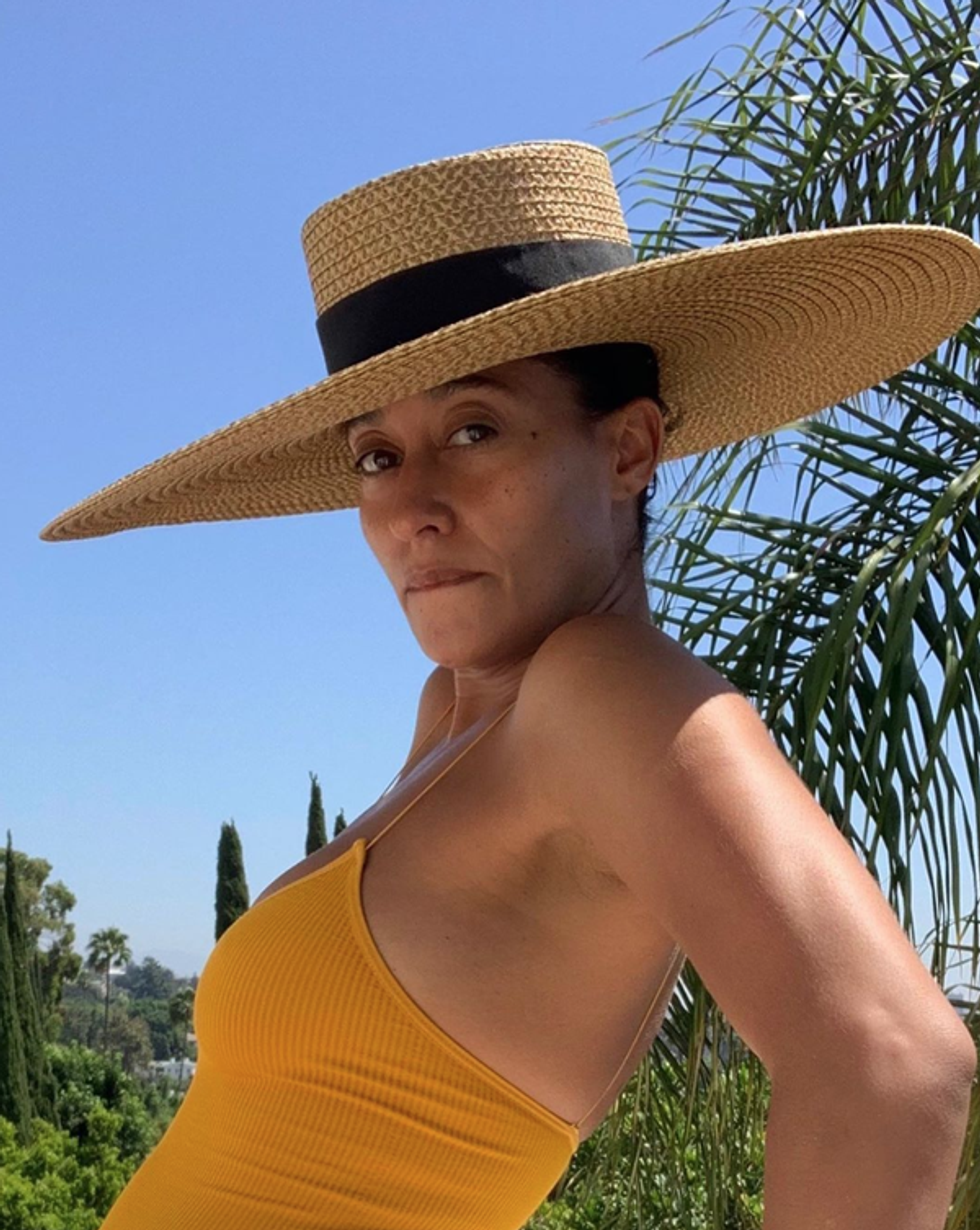 Tracee Ellis Ross/Instagram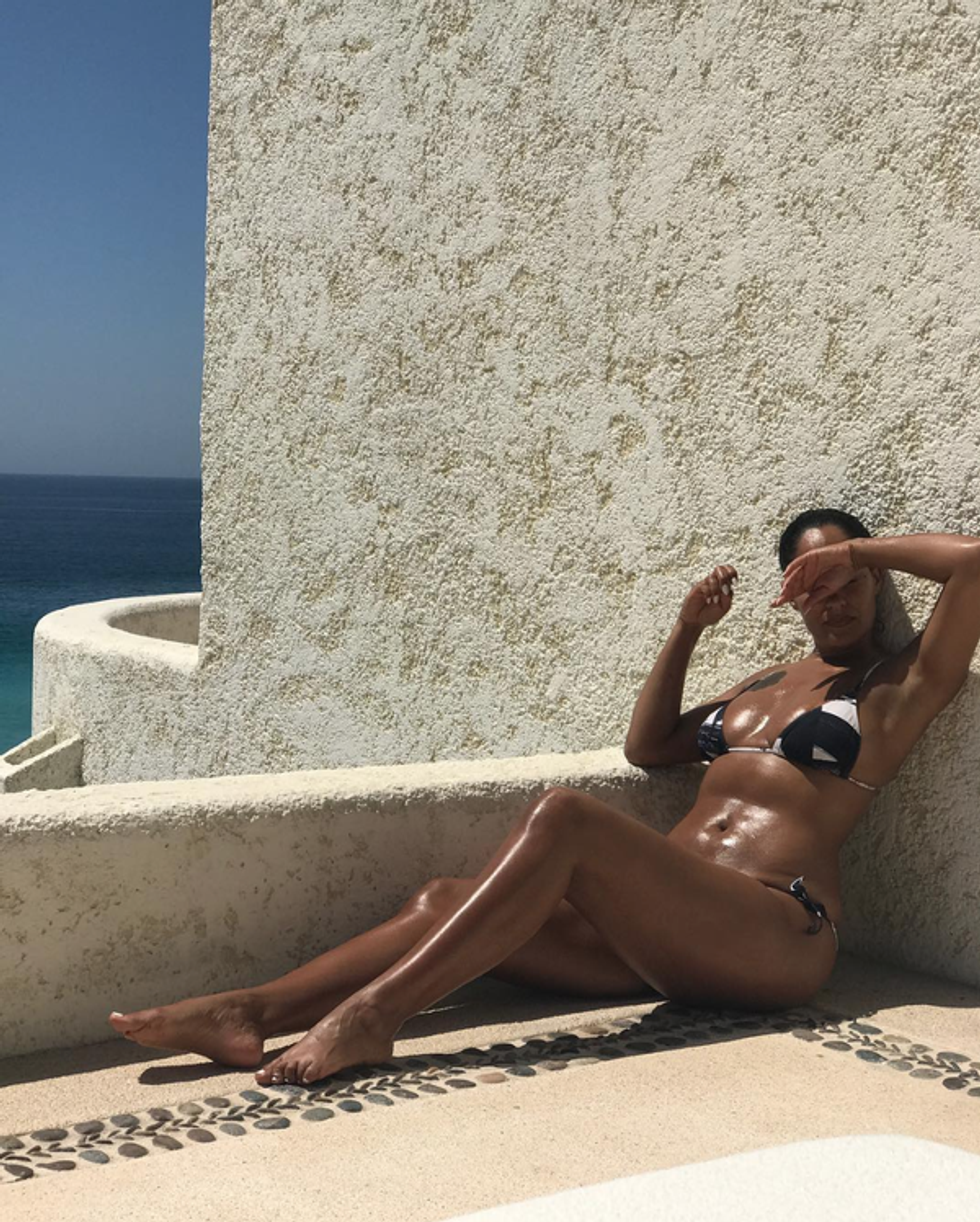 Tracee Ellis Ross/Instagram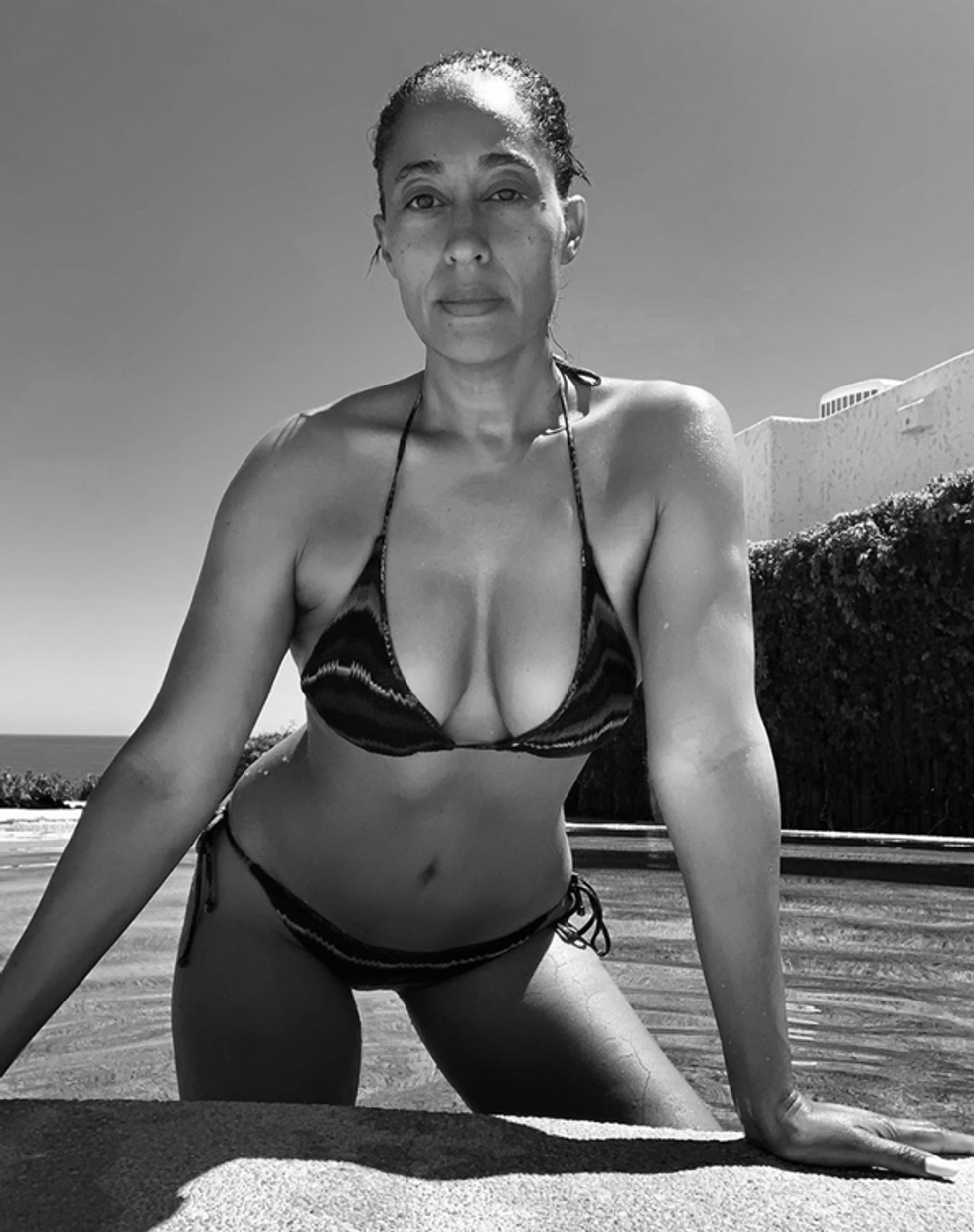 Tracee Ellis Ross/Instagram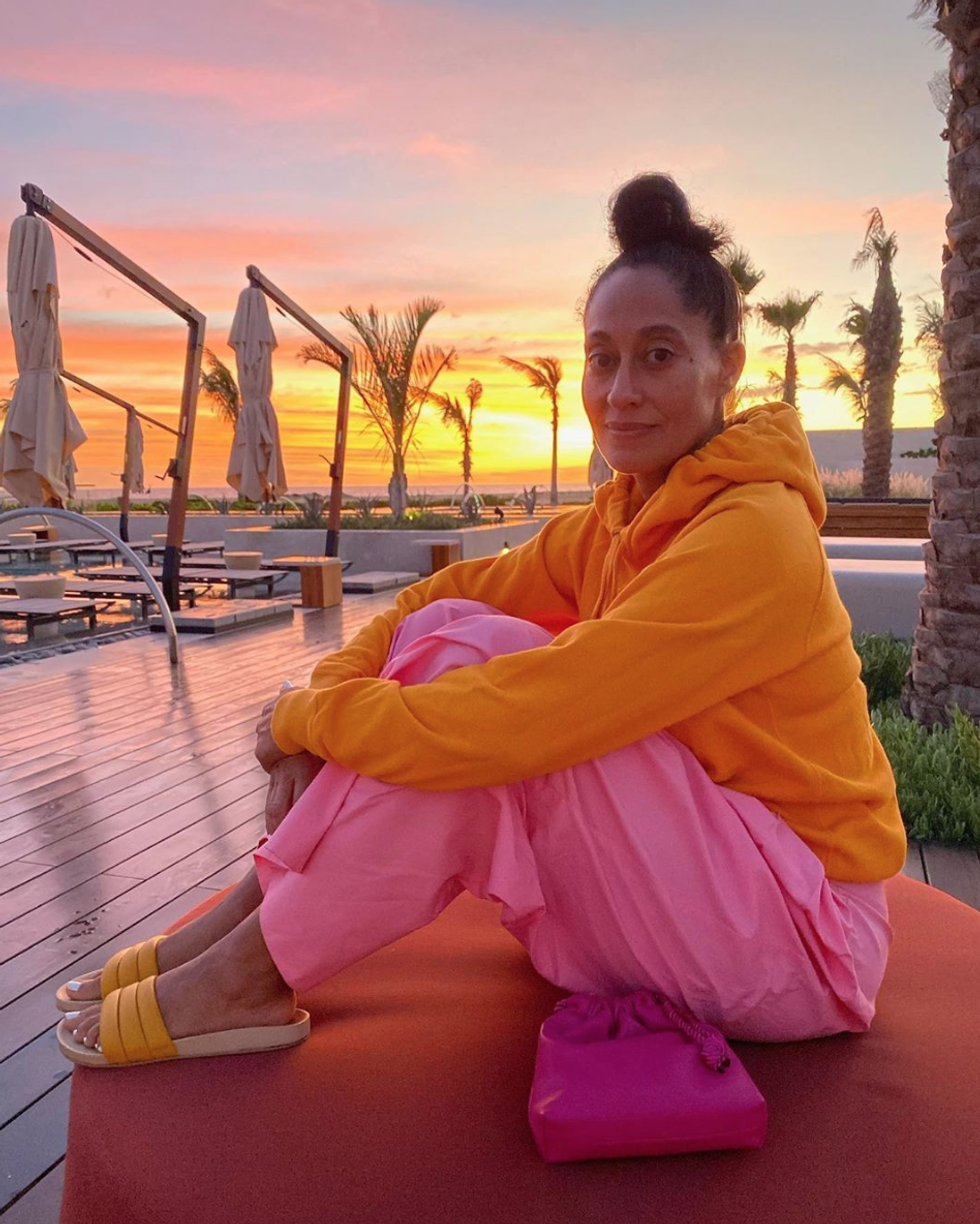 Tracee Ellis Ross/Instagram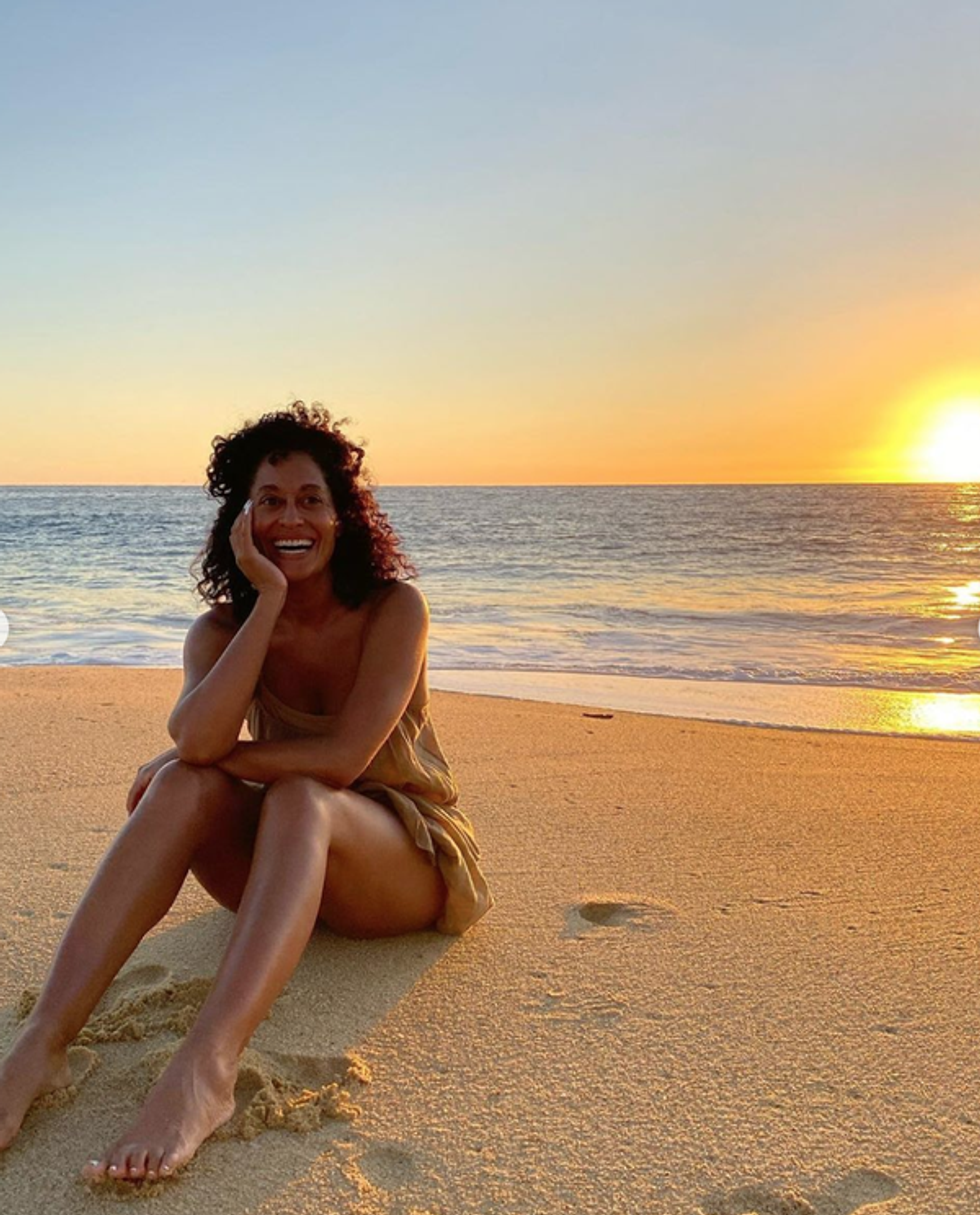 Tracee Ellis Ross/Instagram
And bonus! Here's a clip of Tracee discussing her vacations below:
Oh, Tracee. How we love you so. How we don't deserve you authenticity, but we welcome it. We're not worthy but we thank you!
Are you a member of our insiders squad? Join us in the xoTribe Members Community today!

Featured image by Jamie McCarthy/Getty Images for Marc Jacobs
Keep reading...
Show less
Goal-setting is at its highest point around the first of the year. But all too often, the grind of our everyday routines distract us from reaching the finish line. Before we know it, days turn into months, in what seems like the blink of an eye, and we end up putting our dreams on hold until the countdown of a new year. According to a study by the University of Scranton and published in December in the Journal of Clinical Psychology, 92 percent of people who set goals as New Year's resolutions fail to achieve them. I've been guilty of this myself, in the past, so I know just how frustrating it can be. But instead of staying stagnant and continuing to let my dreams fall by the wayside, I wanted to know the secrets of the 8 percent of those who do achieve their goals. I did some research on the habits of successful people and this is what I found.
1. Real change begins with a shift in mindset.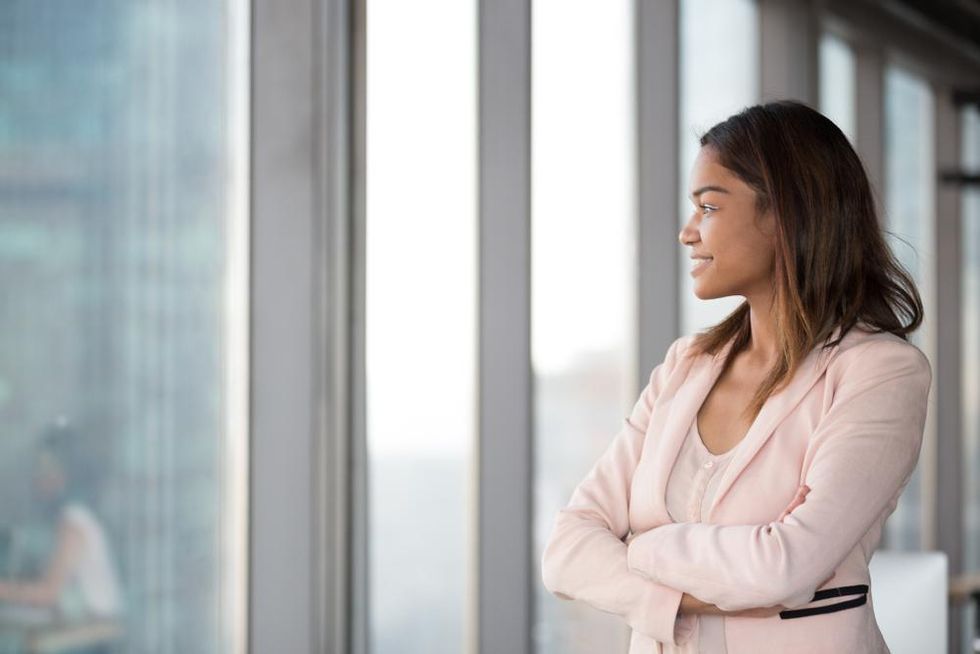 Shutterstock
As a communication researcher, I love seeing what I call "the mindset movement". What most people refer to as a shift in mindset is actually derived from a combination of theories known as cognitive reframing, or looking differently at a person, situation, or relationship and intrapersonal communication or self-talk. Most people apply these concepts in the form of an affirmation, a short statement that offers encouragement and support. Using affirmations to replace negative thoughts with positivity is a great way to rearrange your thoughts. Changes in your mindset, even small ones, can be used over time to help you cope with problems, embrace change, and move you in the direction towards reaching your goals.
2. Get clear about what you want. 
When setting a goal, it's important to understand what exactly you're working towards. For example, if you're looking to improve your love life, ask yourself some key questions like: Am I looking for a committed relationship or do I want companionship, instead? Am I ready for a long-term relationship or a close friendship? When you don't really know what you're looking for, then you may not recognize it once it shows up. Oftentimes, it's easier to identify what we don't want but we're unclear about what we do want. This is why it's important to seek clarity. Eliminate vagueness.
3. Make a plan & write it down.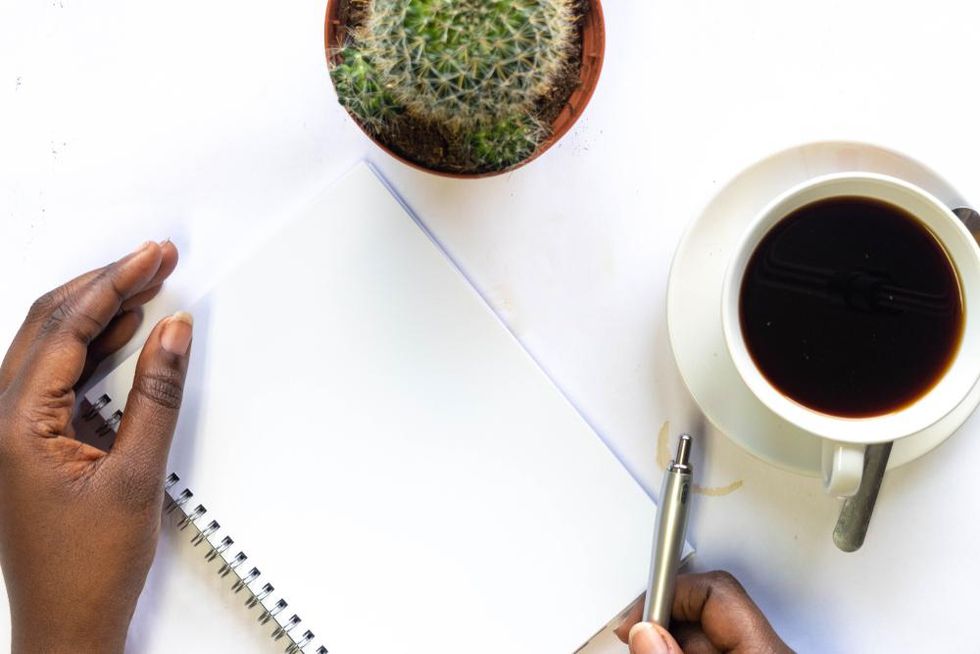 Shutterstock
I didn't always understand the importance of having a written plan but now I see it as a way to organize my ideas, and it serves as a tangible representation of my thoughts. I've also learned that it helps to have physical evidence of your goal. Vision boards, checklists, or daily planners work well for personal ideas. And business plans are usually required for aspiring entrepreneurs. While I've used this strategy in my romantic life by making a "bucket list" of what I want in a future partner, this idea can be extended to specify your goals, whether it's getting into shape, meditating, or writing a book.
The key to a great plan is to be specific, so try creating a plan that specifies when, where and how often you plan to work on your goal. Instead of just saying, "I want to work out," you could write something like, "I plan to work out at the gym for 30 minutes on Tuesday and Thursday of next week." Once you have it on your calendar, or somewhere you can see it, it's no longer an idea but something you are responsible for checking off your list.
4. Save money to fund your dream.
Whether it's a dream vacation or starting a new business venture, your goal will likely require some kind of cash flow. I like to use what I call the trade technique where you trade the money that you would usually spend on one monthly expense, for another. For example, if you are someone who subscribes to a monthly subscription box, manicures, or haircare, you'll use the money from those expenses to go towards your "vacation fund". It's not easy, but it's worth it knowing that your money is going towards something more valuable than acrylics.
5. Find a coach, mentor, or accountability partner.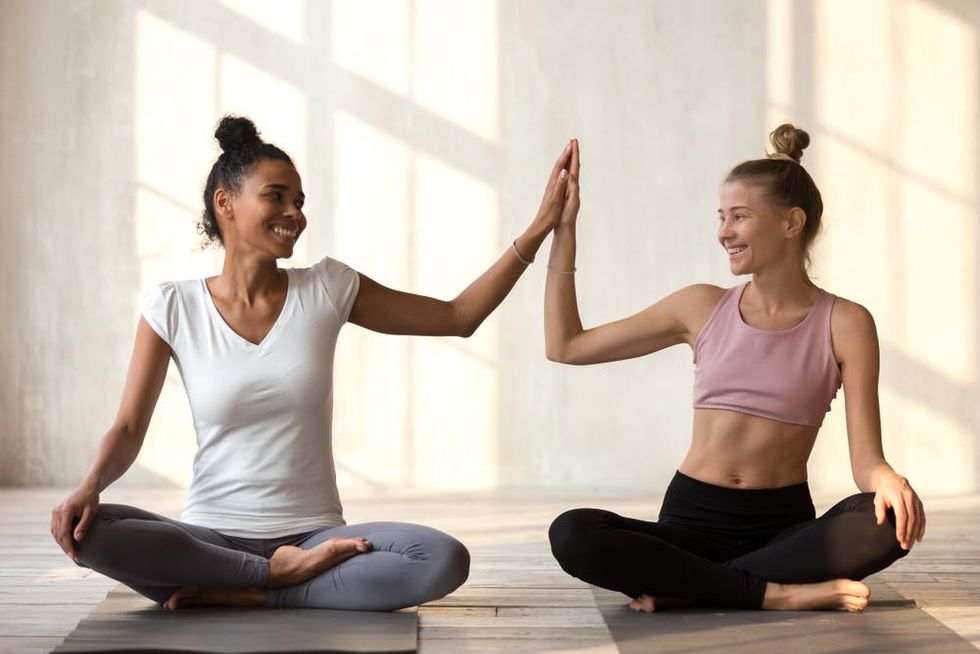 Shutterstock
These days, you can find a person for everything from financial advising to career planning. I, myself, work as a Breakup Coach so I recognize the value of having a checks and balances system in place. Not only do coaches hold you accountable and provide support, but we also seek to help our clients maximize their potential with positive feedback and practical strategies to reach their desired results.
6. Set small goals.
Experts suggest when you have a long-term goal, like writing a book, that it's best to break down your goals into more short-term ones. For example, if you want to be a writer, set a weekly goal for a certain number of words you'd like to write. This does two things: first, it creates a sense of immediate gratification because you've completed something you set out to do. Second, it coincides with the bigger picture of writing your book and gets you one step closer to your goal.
7. Celebrate success, no matter how small.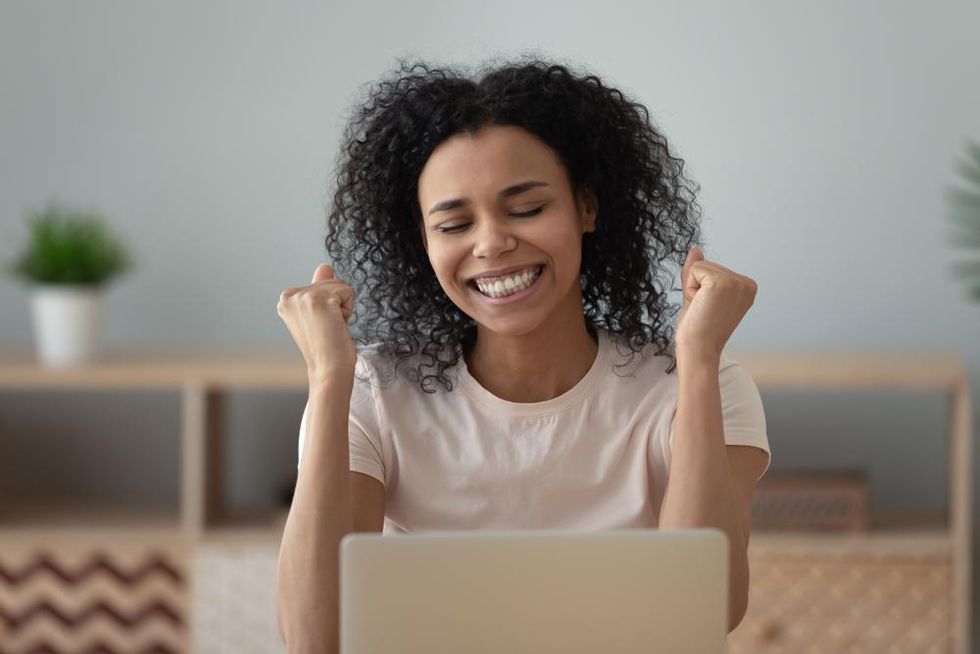 Shutterstock
It's helpful to acknowledge the progress you're making towards your goals. Celebrating your accomplishments can remind you of how far you've come and motivate you to continue on. You can do this by cutting a deal with yourself. Decide if you do 'X' by 'Y' then you'll reward yourself with 'Z'. Take time to reflect on what you accomplished. A win is a win.
8. Send yourself a reminder. 
Write yourself a letter (or an email) in the future and schedule it to send to yourself on a certain date. You can do this in one of two ways. First, you can write a letter to your future self to remind you of your goals and deadlines you set for yourself. It may even help you remember ideas that have slipped your mind. You can also write yourself a "love letter" just to check on yourself, love on yourself, and encourage yourself. Remember to be kind to your future self and remind yourself how proud you are of everything you have accomplished.
9. Take a break if you need to.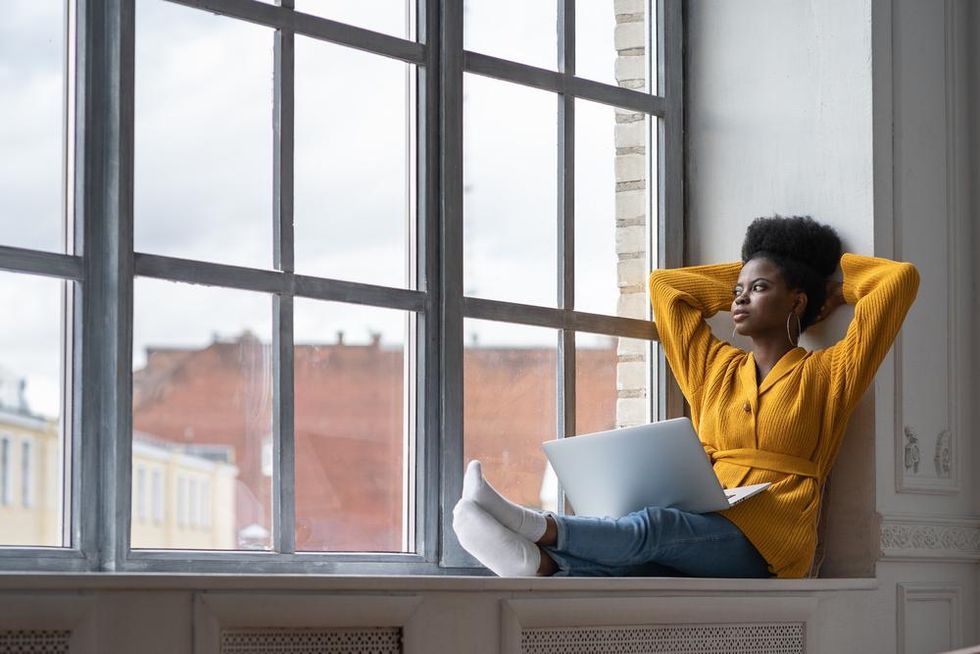 Shutterstock
Burnout is a real thing so taking time to reset or tweak your original plan may be necessary. Just be sure that if you take a break, you establish a timeline for getting back to work. When I was going through my breakup, I gave myself a designated amount of time to cry. I decided that I could cry for a day, a whole day if I needed to, but then I'd pick myself back up the following day and get back to my routine. That doesn't mean I didn't cry again after that day, likewise, you may need another time to step away and reset again, but the important thing is to not allow your break to become permanent.
10.  Stay the course.
Consistency. In his book, Atomic Habits, James Clear explains the importance of consistency and describes how breakthrough moments can change the trajectory of our goals. The moments leading up to the breakthrough are what the author calls the "plateau of latent potential." Clear uses the analogy of an ice cube to illustrate how shifts in temperature from 29 to 31 degrees seem to do nothing in terms of melting. But with the increase of just one more degree (to 32 degrees), the ice cube begins to melt.
Just as we can't see the inner workings of molecules in an ice cube, it's important to remember that while we may not always see the process working, that doesn't mean it's not. If you get a chance to read his book, I think you'll find it's packed with tips for successfully creating habits.
Are you a member of our insiders squad? Join us in the xoTribe Members Community today!
Featured image by Shutterstock
Keep reading...
Show less
Astrology is gaining new popularity with many beginning to acknowledge what our ancestors have realized for civilizations - that astrology can reveal an awful lot about our lives, our personalities, and our psyches. Sure, we're all pretty familiar with the personality types of certain signs, but did you know that astrology can also reveal insights about your relationships with certain people? Specifically, your Moon sign can shed a ton of light on your relationship with your mother - for better and for worse!
Are you and your mother thick as thieves, or is your relationship with her strained? Can you tell her your deepest and darkest secrets, or do you find it difficult to be yourself around your mother? Are you the apple of your mother's eye, or do you feel like you were never able to really please her?
Knowing your moon sign can reveal a lot about the way you view the person who brought you into this world.
If you do not know your full birth chart, find your moon sign here and then check out the information below to get a glimpse inside you and your mom's emotional dynamic.
I. Moon In Aries:
If your moon is in Aries, your mom is the leader of her household. Growing up, you viewed her as brave, bold and fun-loving. She was fiery and knew exactly how to put others in their place, if needed. You respect her, but may have found her to be overbearing at times.
II. Moon In Taurus:
If your moon is in Taurus, your mom knew how to tend to all your creature comforts. She expressed love through food and the material nourishment she provided to you. She was a very hands-on, affectionate mother but also extremely headstrong and stubborn. Not the best at negotiating, your mom wants things to go her way or the highway!
III. Moon In Gemini: 
If your moon is in Gemini, your mom is extremely expressive and intelligent. You felt most connected to her through words and your stimulating conversations with her. Her behavior, at times, seemed unreliable to you, but you admired her on an intellectual level. Always moving, you probably felt like she was difficult to pin down as a child.
IV. Moon In Cancer: 
If your moon is in Cancer, you are the apple of your mother's eye. You love and care for her deeply. In fact, sometimes you served as a mother to her - comforting her and constantly expressing your understanding of her emotionally. You are extremely close - sometimes too close. Your mom tends to err on the clingy, over-mothering side.
Growing up, you sometimes felt like you needed more emotional and physical space from her. You share a psychic connection with your mother - it's easy for you to take on her emotions and moods as your own, for better and for worse.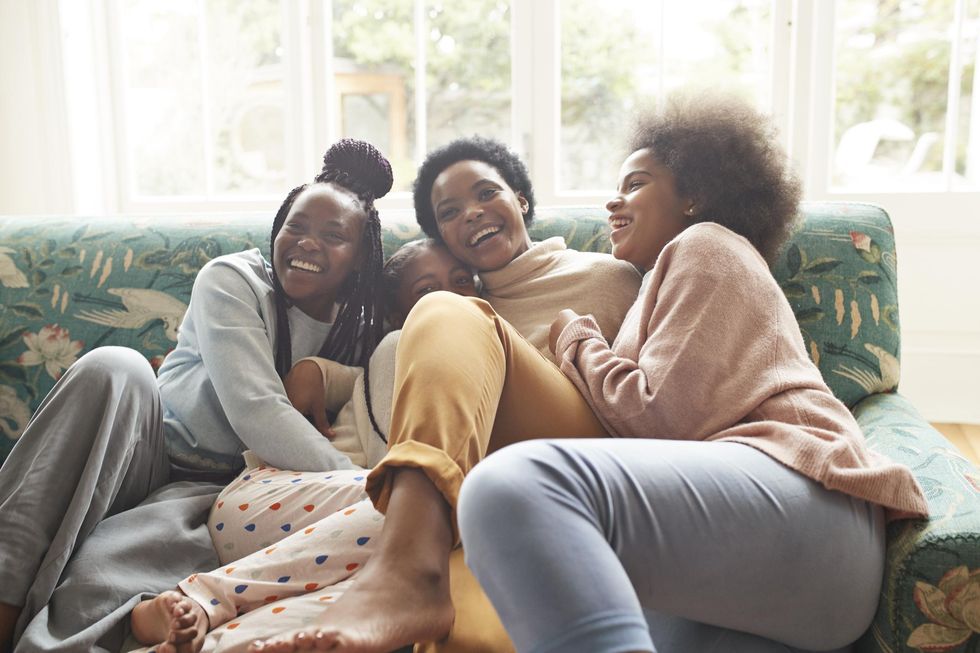 Klaus Vedfelt/Getty Images
V. Moon In Leo:
If your moon is in Leo, your mother has always been a large presence in your life. Growing up, you felt a pressure to present yourself a certain way in order to preserve your mother's reputation. You felt the way you looked and behaved was a direct representation of your mom so you had to stay sharp! Your mom was potentially someone of public note, someone that many people in your neighborhood or community knew very well.
VI. Moon In Virgo: 
If your moon is in Virgo, you love your mother dearly and would move mountains for her. You are extremely protective and defensive of her. Your mother is your world. Though you've always needed her deeply, you sometimes felt like she was unable to be there for you in the ways that you yearned for. You've been aware of her shortcomings since birth; otherwise, you found her to be very nit-picking and critical of you.
VII. Moon In Libra: 
Growing up, your mother was known for her attractiveness, fashion-sense, her ability to throw a fun party and the beautiful way in which she kept her home. If your moon is in Libra, it is likely that your mother was popular for her congenial and pleasant personality. Erring toward the formal and structured in your relationship, you've learned to establish specific roles in each other's lives, making sure not to over-step them in order to maintain peace and a sense of fairness between you both.
VIII. Moon In Scorpio: 
Your mother has affected you in deep and profound ways; deeper than she or you may even realize. If your moon is in Scorpio, your relationship has gone through major transformations through the years. You've felt that she was, at times, out of tune with your emotions.
You wished and expected that she would be able to intuitively understand you. When she didn't, you may have felt somewhat abandoned by her.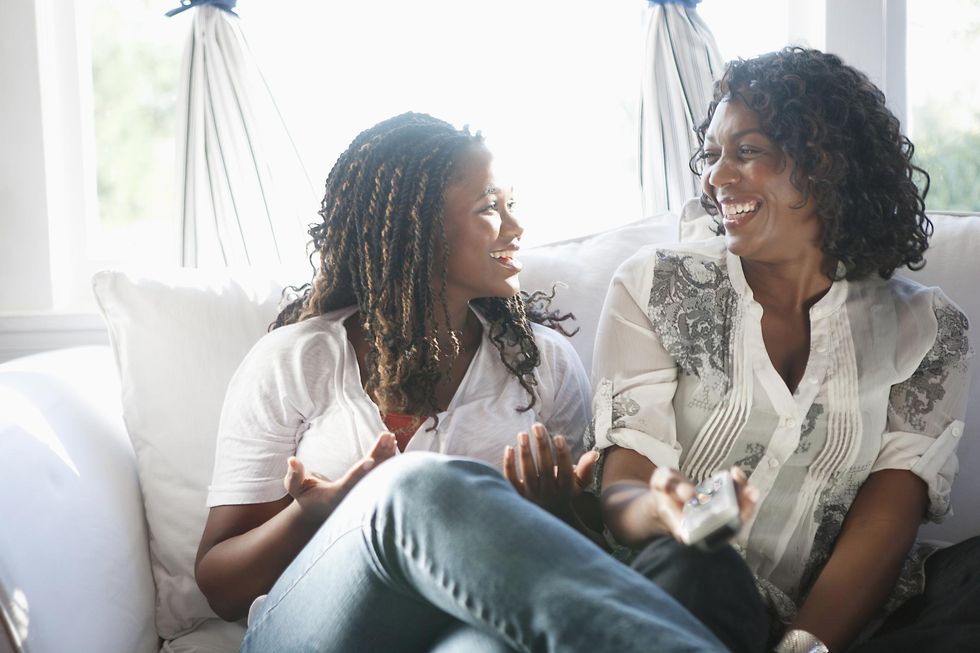 Jennifer Boggs/Amy Paliwoda/Getty Images
IX. Moon In Sagittarius: 
If your moon is in Sagittarius, you've always required freedom in life. If your mother respected this, you both enjoyed a fun-loving and adventurous relationship together. If she did not fully respect your desire for freedom, you may have felt unfairly held back or restricted growing up. Wise beyond your years, you may have perceived her to be immature and naive, learning to rely on your own judgement rather than hers.
X. Moon In Capricorn: 
If your moon is in Capricorn, your mother has always been more concerned with the serious matters of life. She viewed you as mature and knew she could rely on you for support and sound judgement. Self-sacrificing, she always put work before play and constantly had tons on her plate. You sometimes wondered why she worked so hard and why she didn't take an easier approach to life. She held extremely high standards for you growing up. Favorably, she pushed you to be ambitious in pursuing your goals.
XI. Moon In Aquarius: 
If your moon is in Aquarius, you've always viewed her as more of a peer than a parent. Being chastised by her felt unnatural and foreign to you - almost silly! Parenting was unconventional - you did not have the typical parent-child dynamic. You were raised to be emotionally self-sufficient and didn't rely on her for an overly emotional or affectionate relationship.
XII. Moon In Pisces: 
If your moon is in Pisces, you share an extremely intuitive bond with your mother. You often took on her burdens and emotions as your own. You were extremely sympathetic to the things she went through in life and were mindful not to add anything else to her plate. You felt like her caretaker in certain ways. You loved her extremely deeply and would fight for her. You are keenly aware of all of the sacrifices she's made in life for you. You wish you were able to rely on her more as a child and may have felt like you had to grow up much quicker than you would have liked.
What's your moon sign and how would you describe your relationship with your mother?
Are you a member of our insiders squad? Join us in the xoTribe Members Community today!
Featured image by Klaus Vedfelt/Getty Images
Keep reading...
Show less
On paper, I had every Black woman's dream. A six-figure salary. A flashy career in entertainment. But what most didn't realize is that I was severely burnt out. Corporate America had me working 70-hour work weeks, on average. I was juggling this while raising two small children. And as if that wasn't impossible enough, I was (and am!) an empath.
I peep everything, intuitively pick up on vibes and easily absorb other people's energy and intentions. Fast-paced environments that require lots of social interaction are extremely taxing for empaths and introverts, and that was my life for 10-12 hours each day! Every day, I constantly brushed off racist and sexist microaggressions, executed high-stakes presentations (despite being shy), schmoozed with celebrities and took on all of the last-minute, high-pressure projects needed to overcompensate for the deep insecurity that I felt inside about being a Black introvert.
Looking back, I was a train wreck waiting to happen. And happen it did.
At the height of my career, my once statement-making hair started to fall out in clumps. Then, the stomach issues, joint pain and random food allergies set in. Imagine being a young Black woman trying to convince your doctor that you're struggling with all of these random symptoms? Good luck!
Life has a funny way of forcing you to slow down when you refuse to slow down by choice; I was finally diagnosed with lupus and had to resign from my job. My doctor told me that my condition was likely triggered by my stressful lifestyle. Without realizing it, ignoring my true nature made me sick.
Although it was a hard pill to swallow at first, I recognize now that diamonds are forged through fire. Being diagnosed with lupus led to my spiritual awakening. If I hadn't gone through this crisis and discovered my passion for the metaphysical, my self-acceptance journey would have never begun. And for that, I am eternally grateful.
Despite society making Black women feel like we need to constantly display super-human strength and resilience, I am proud to be an empath. My experiences have taught me to respect my deep intuition and my need for a quieter, more introspective lifestyle. These are some of my favorite metaphysical practices as an empath that keep me healthy, emotionally, physically and spiritually.
1. Crystal Healing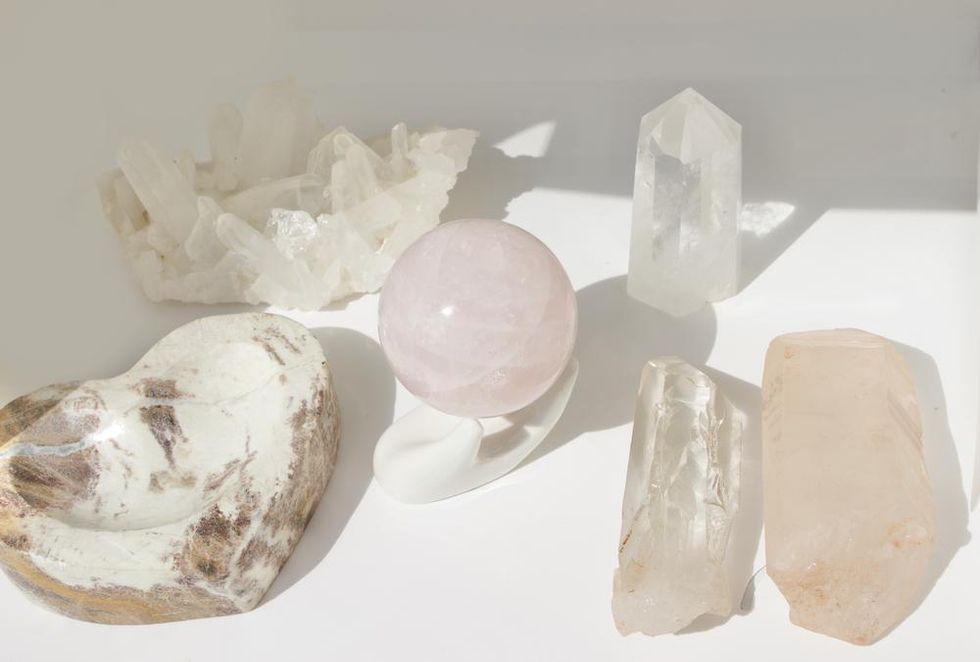 Shutterstock
According to Harper's Bazaar, crystal healing is a type of alternative therapy that involves using gemstones to bring balance to your life and mind. Healing crystals have been referenced in the Bible, by ancient philosophers, and were frequently used as healing and protective talismans in ancient civilizations like Egypt, Greece and Japan.
Each crystal emits a unique energy pattern and frequency. Carrying these crystals influences your own personal frequency and the quality of your aura in very specific ways.
Rose Quartz crystals are purported to attract love. Citrine is rumored to attract wealth. My personal favorite is Black Tourmaline. I never leave my house without it. It is highly protective and resistant to negative energy. It shields you from taking on the energy of your surroundings and the people around you - an absolute must-have for empaths, introverts, and highly sensitive people.
2. Acupuncture
According to PopSugar.com, acupuncture is the "placing of acupuncture needles at certain acupuncture points to treat a variety of ailments and pain, which are rooted in the blockage of energy." I have used acupuncture consistently over the past five years and for me it has significantly reduced bloating and joint pain and has improved my digestion. It has also promoted deeper sleep, reduced stress, and tons of other benefits that I swear by. I always feel incredibly refreshed and sleep deeply following my acupuncture treatments and try to schedule these in at least 1-2 times a month.
3. Mindfulness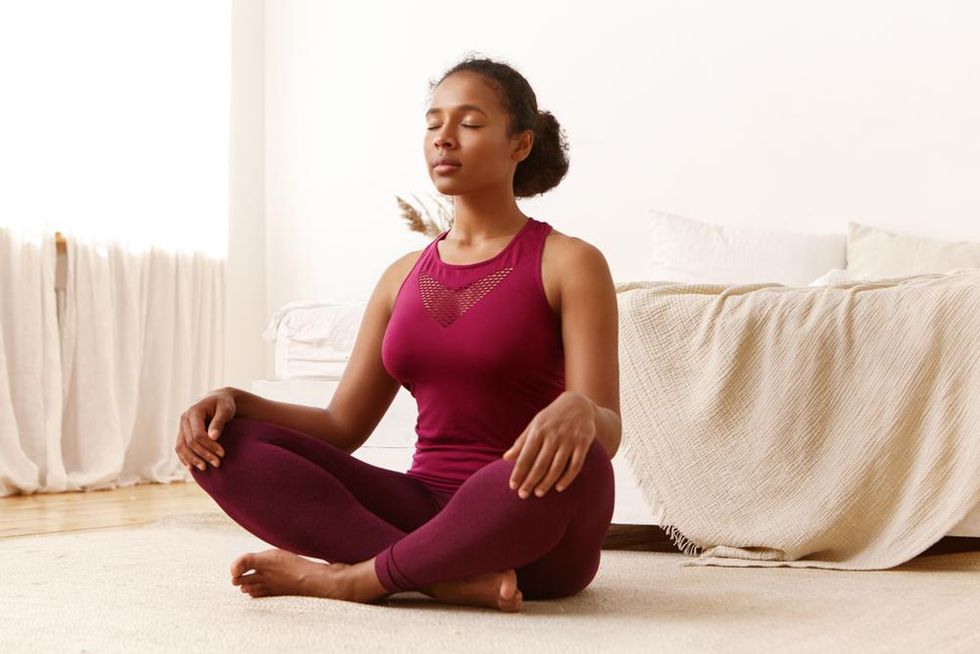 Shutterstock
According to MayoClinic.org, mindfulness is "a type of meditation in which you focus on being intensely aware of what you're sensing and feeling in the moment, without interpretation or judgment." The key to practicing mindfulness successfully is through allowing ourselves to be "fully present, aware of where we are and what we're doing, and not overly reactive or overwhelmed" by what's going on around us.
I practice mindfulness by taking a phone-free walk for at least 30 minutes each day and turning on my senses so that I can fully take in and appreciate all that is going on around me. Limiting your time on social media, turning off your phone, and doing one thing at a time (like eating with the TV off) are other ways to incorporate mindfulness into your life.
4. Astrology
Astrology is "the study of the influence that distant cosmic objects, usually stars and planets, have on human lives." Astrology boasts lots of legendary followers including Psychologist Carl Jung, Hippocrates, and bank tycoon J.P. Morgan who famously said, "Millionaires don't follow Astrology. Billionaires do."
Whether you believe in astrology or not, science has shown that the phases of the moon and planets have a profound effect on humanity, especially those who are already highly sensitive by nature. I notice that I am particularly tense and wound up during the full and new moon phases when lunar energy is super charged. Knowing my astrological placements and transits have also been extremely helpful and incredibly accurate in determining my energy patterns and experiences in the days and weeks ahead.
5. Feng Shui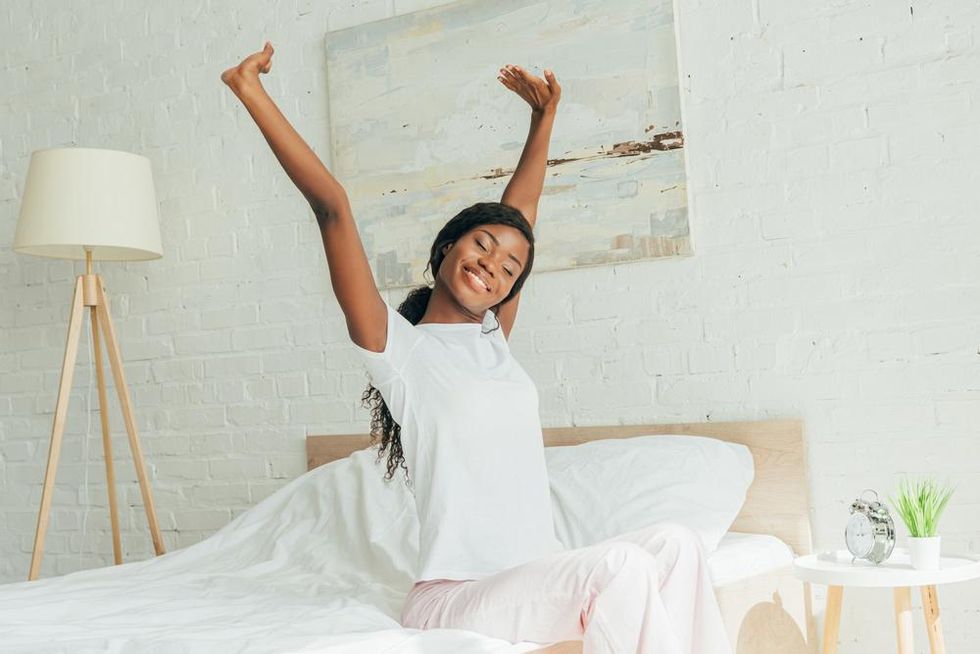 Shutterstock
According to Invaluable.com, feng shui, "often referred to as the art of placement" is, in the simplest of terms, "about positioning different elements to optimize 'Chi,' or energy in your environment." It is based on the belief that your environment has a direct effect on your mood and experiences.
I am so fascinated by feng shui and have noticed that when I follow its basic practices, like making sure my living space is clear and clutter-free so that energy can freely move, my mood, productivity and energy levels are instantly elevated. Notice how you feel immediately uplifted after cleaning your room? Having clutter and clothes around can be extremely draining to empaths and highly sensitive people.
6. Reiki
According to Reiki.org, "Reiki is a Japanese technique for stress reduction and relaxation that also promotes healing. It is administered by 'laying on hands' and is based on the idea that an unseen 'life force energy' flows through us and is what causes us to be alive."
When our "life force energy" is low, we are more likely to get sick or feel stress, and if it is high, we are more capable of feeling happy and healthy.
Reiki for me has been like therapy. The advice and energy that I receive from my Reiki practitioner is holistic and makes me keenly aware of the patterns and imbalances in my life. I try to schedule in a session at least once a month.
7. Taking Spiritual Moon Baths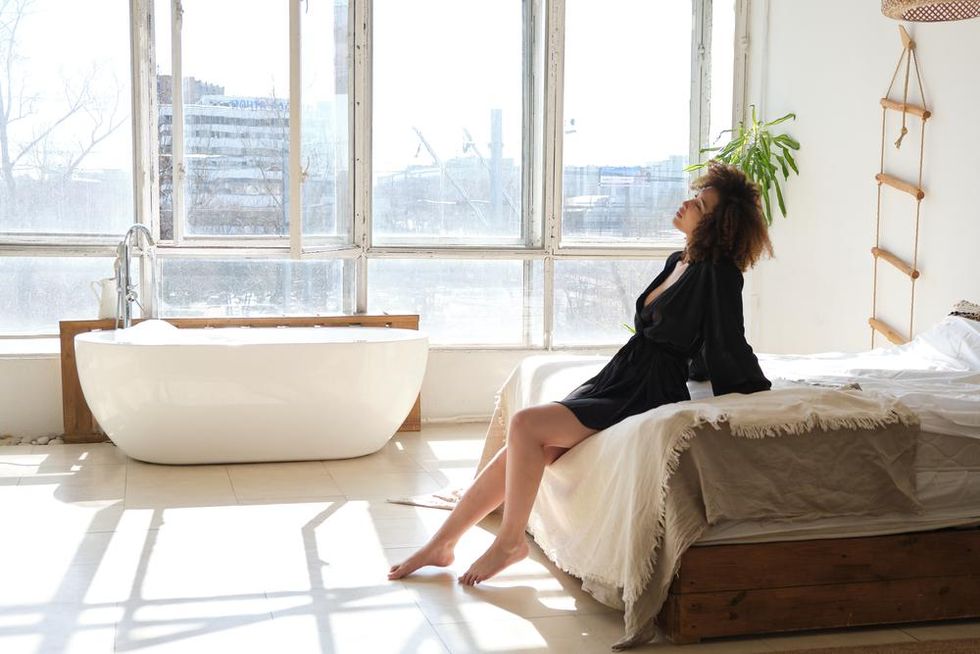 Shutterstock
Rooted in ancient Ayurvedic practice, moon bathing is the act of tapping into the powerful energy of the moon to promote optimal physical and emotional health. There are a number of ways to tap into the energy of the moon - my favorite way is through my bi-weekly Moon Bath Regimen, i.e. taking a healing bath with crystals, essential oils, herb botanicals and a variety of sea salts.
When I take my baths, I use formulas that are specifically targeted to what's going on in my life at the time. I use Ylang ylang and Rose quartz if I need to boost feelings of acceptance and love for myself or to reconnect romantically with my partner. I use Green Aventurine and Eucalyptus essential oil if I'm feeling stagnant and unmotivated. Rhodonite is my go-to if I'm going through a tense situation like a break-up, or difficult work project. This practice has helped me so much that I created a company out of it.
Of all of my metaphysical and ritual self-care practices, moon baths are by far the most fulfilling and effective for me. I schedule them in twice monthly during the New Moon and Full Moon phases - with additional baths whenever I am feeling particularly heightened or over-stimulated. I view my ritual moon baths as much-needed alone time where I'm able to manifest positive vibes and experiences in my life.
Are you a member of our insiders squad? Join us in the xoTribe Members Community today!
Featured image by Shutterstock

Keep reading...
Show less