Janell Hazelwood
Janell Hazelwood is a journalist, speaker, editor, and consultant who has worked for companies including The New York Times, Black Enterprise, and Conde Nast. She's fluent in women's issues, black entrepreneurship, guilty (reality TV) pleasures, and Trini patois.
We've all been there: Exhausted, lacking motivation, on edge, or simply not feeling like working at all. And we might have even used up all of our sick days, not to rest from a cold or injury, but just to get a bit of relief from those job or business responsibilities. Sometimes, you're not able to shake that nagging feeling of gloom, eventually finding yourself in a toxic pattern of unhealthy habits and behaviors. There's a larger issue that goes way beyond just needing a break.

Taking care of your mental health is definitely essential for overall wellness, but if you needed even more of a push to put a focus on the mind and spirit, just check this out: Recent research has found that 46% of people with "problem debt" also have a mental health issue, and 86% have indicated that their financial situation "made their mental health problems worse." That means that while your mental health isn't all about the money, neglecting it can certainly impact your finances or ability to earn a living.
There are often reports about what mental health neglect costs employers, and while we all can appreciate our jobs, now's the time to hone in on the person in the mirror, the priceless human being who exists even beyond a role or office and who has to be able to thrive and flourish. Just like you would invest in preventative care for your body, it's also a good idea, at least financially, to invest in quality mental wellness care.
Featured image by Getty Images
Wellness seems to be the "it" buzzword of the day, but it's not something to take lightly. As Black women, it's important to be able to tap into what keeps us happy, mentally balanced, and all-around good. And while beauty and fashion are important aspects of life, there are a few trends we all should at least consider in order to not only stay on top of what keeps us ticking, but also upgrade out of the obligatory coach seat of that wellness journey.
Here are four trends that might be your perfect intro to a new way to approach wellness and meet the needs of that glow up you've been experiencing (or are set to achieve) this year:
Featured image by Getty Images
It's National Nurses Week, a time for recognizing the amazing work nurses do and the innovations, issues, and challenges they face in the healthcare industry. Nurses have been impacted tremendously by the complications and demands of the job, especially in minority communities that are disproportionately affected by the COVID-19 fallout. Research shows that there are almost 4.2 million registered nurses in the U.S. and more than 325,000 licensed nurse practitioners. Black people make up the second-largest group of minorities in the field, at 6.7%.
Featured image by Getty Images
It's always a good idea to have a decent online presence even if you're not an influencer or content creator. This is especially true if you're a leader in your industry, are looking for new career opportunities, are experiencing a career rut, or if you want to transition into another field altogether. Everyone from investors to recruiters, to journalists, to your fellow high-achieving industry leaders uses the internet to find folk who are killing the game, innovating, or have interesting stories to tell.
So, sis, let this be that final sign you needed to upgrade your online presence. Here are four ways to do so: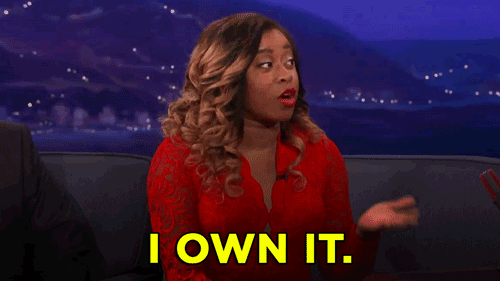 1. Create your own website or page versus depending on the free stuff.
Nothing says boss like your own website. Many of us learned a hard lesson during the infamous Facebook outage of late 2021. The platform and its app fam including WhatsApp and Instagram, were down for hours, leaving some who rely on traffic, social media-based product sales, and brand partnerships missing out on the bag. It's important to have your own little space on the internet that is for you and by you.
Creating a page or a website for yourself not only empowers you to be the sole controller of content and to be able to update as you see fit, but you can leverage it to get new opportunities and build your own community of followers and supporters.
Then you can allow your Facebook, LinkedIn, or Instagram to complement your main website. Even if you're a regular-degular professional, you can have something to give recruiters that shows your creativity, your abilities to strategically market a very hot commodity (yourself), and stand out from those who only have that one LinkedIn page or their social platforms to rely on. Resources like Wix, GoDaddy, Squarespace, or WordPress are easy to use and have quality tools for building reasonable DIY websites.
(Another big tip: For me, as a journalist, I'm more apt to contact a professional or small business owner for an expert voice or feature who has their own branded website. It just shows that they take their jobs and businesses seriously and go above and beyond. More than likely, they can offer a certain A-level of expertise needed and have stories of reputability that I and many media outlets require.)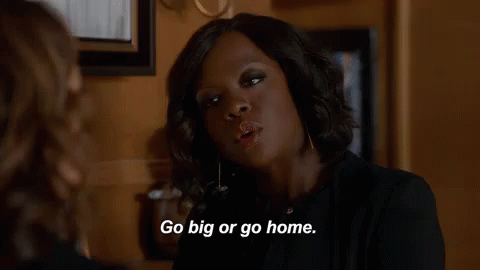 Giphy
2. Invest in updating your visuals, including photos and text.
If you've still got that college graduation shot from 2006 or that ID picture from five jobs ago as your lead visual on your LinkedIn, Facebook, or Instagram profiles, sis, it's time for a refresh. And how about hiring a photographer to get some new professional shots of you? You never know when your voice might be needed for an article, conference, commercial, or YouTube interview, and you want the best version of yourself presented as your first web-based impression. Also, sometimes your branded website, About.me page, or the visuals you use on your social sites need to be upgraded, too.
The quality of visuals shows you're serious and competitive, and while it's great to be able to DIY things, some results scream "amateur and unprofessional" when you're a true boss IRL. Take a look at the full picture and figure out if it's time to change a few color schemes, invest in a new camera or program, or use that Canva or Adobe time and money to hire a real-life graphic artist or professional photographer. Also, the way in which you tell your story or offer your products and services is important, so you'll need to make sure that all information is up-to-date, accurate, and best represents, holistically, who you are and what you offer.
What vibe does it give off? Do the colors, wording, and placement of elements like photos and titles reflect who you really are as a professional or business owner? Intelligence? Quirkiness? Fun? Creativity? Boldness? Simplicity? Be sure you're sending the right message in both the look, feel, and content of your sites, and if you're not sure, hire a copywriter, PR professional, or coach who can help you tell your story best.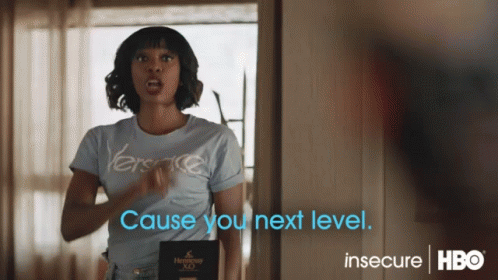 Giphy
3. Get into SEO and learn how content is searched and shared on the internet.
You don't have to be an expert on search engine optimization (SEO) but you'll need to at least know a thing or two about how people search the web and how you can get them to find you among the billions (or trillions?) of pieces of content shared via Google and other search engines. There are certain words, phrases, and types of content that get more love based on your goals of why you'd want someone to get to know you via the internet, so it's good to know what those elements are. Try blogs (like this awesome one via Hubspot) or other online tutorials. Also, use the tools available to you on your blog's dashboard, Instagram's insight resources, or helpful content creators' tips (like those offered by these amazing women.)
Be patient with yourself if this is super-new to you or if it's something that baffles you. Learning from trial-and-error, through inspiration, or by simply experimenting with titles, formatting, headlines, hashtags, and visuals can be fun if you remember your goal: to boost your online presence and reach your success goals.
And if you just really can't be bothered with all this between boss moves, schedule a consulting session with someone who can. You can even hire someone (if you have distinct goals for this) to monitor, assess, and boost your visibility for search. They can let you know the dos and don'ts that could be costing you customers, interest, or partnerships.
Giphy
4. Try a different way of showcasing who you are online.
Listen, I don't expect you to be doing TikTok dances all up in the videos (in my Suge Knight voice) and I definitely don't expect you to upload new Instagram Reels every other hour, but come on sis, get creative. If you're passionate about what you do, can offer smart insights on career advancement, technology, beauty, finance, or whatever it is that you're great at, try getting in front of the camera and offering those tips via a Facebook or Instagram live, writing a blog post, or even posting a few simple informative updates on your LinkedIn page a few times a week.
What's unique about you and how you do your job? Find ways to showcase that with video, tutorials, brand packages, or artistry. If you're not into overdoing, oversharing, or just doing themost, guess what? Even that's something you can leverage to show who you are online.
Start a podcast or network to be a guest on one. Showcase your work via great graphics (a simple comedic or straight-to-the-point phrase graphic can do wonders) or videos (even if you're not in front of the camera). Infuse your personality in what you do, especially if you're an introvert (like me) or you're into niche and nontraditional things. (Listen, there's a space for you considering there are at least thousands of other people who can relate.)
Get deliberate about pursuing the many ways you can become more visible as a leader in your industry and still remain authentic, balanced, and on point, whether you're an entrepreneur, freelancer, or 9-to-5er. Tap in!
Featured image by Tim Robberts/Getty Images
Sometimes, being "outside" can be just as lit (if not more) when you're literally 30 minutes to an hour from home. And if you're not too keen on being around crowds, spending your last on (very) high flight tickets, or having to get yet another COVID test after a week-long stay in Jamaica, a staycation might be just what you need for some fun, relaxation, or a change of scenery.
Try one of these four fun staycation ideas for your next girls' trip, family get-together, or that solo getaway you've been putting off:
Featured image by Vladimir Yelizarov on Unsplash
Poetry has always been an art form that transcends boundaries, enhances understanding, and expands the ability to wonder. It's a magnificent medium only mastered by those who know the nuances of language, expression, and flow. And today, poets have continued to carry the torch passed to them by our favs like Maya Angelou, Audre Lorde, Ntozake Shange, Sonia Sanchez, and Rita Dove.
As we near the close of April, commemorated as National Poetry Month, let's check out a few Black women who are taking poetry to the next level, continuing to serve empowerment, imagination, and revelation:
Featured image by Getty Images