Janell Hazelwood
Janell Hazelwood, MAOL, is a journalist, speaker, editor, and consultant who has worked for companies including The New York Times, Black Enterprise, and Conde Nast. She is a proud HBCU journalism graduate and has served, for more than 15 years, as a journalist, editor, strategist and commentary writer. She also holds a master's degree in organizational leadership (MAOL) with a concentration in coaching, allowing her to pursue her ultimate goal as a lifelong servant leader to women professionals, entrepreneurs, and nonprofit founders.
Natalia Bryant, the daughter of Vanessa and Kobe Bryant, made news recently when her name was spotted among the credits for Beyoncé's Renaissance World tour. She's reportedly serving as an intern for Parkwood Entertainment, a management, production, entertainment company, and record label founded by Beyonce in 2010.
Bryant is a film student at the University of Southern California, so it's no surprise that she'd take on the gig since we've all seen the fabulous and innovative TV and film projects Beyoncé and the fam have blessed the world with. Parkwood's body of work (think Lemonade, Cadillac Records, and Homecoming) speaks to the power of owning your narrative as a Black creative while offering an authentic and unique voice in telling other stories of Black culture as well.
And I'm sure the opportunity to network, work with, and learn from the best of the best in entertainment aren't bad perks, either.
When it comes to landing a dream internship that will indeed set your career on the right path, there are a few important things to remember:
1. Make the most of your current network and the networks of those who love you when pursuing a top internship (or any job opportunity.)
You could be reading this article and thinking, "Well, it is Natalia Bryant. She has privilege and her mom has access to the who's who of sports and entertainment." Well, maybe.
But, that's not the point.
When it comes to the family we are born into, the place where we live, or other major aspects of our lives, we must think about our resources and how we can tap in. We all have the play the hell out of the cards we have in our hands in that regard.
Whether it's your parents' colleagues, your school's alumni, or your close vicinity to a company's headquarters, use every advantage you have, speak up, and pitch yourself for the internship (or other job opportunities) of your dreams. Be sure you're professional, you know your stuff, and you're able to humbly follow the application process without the expectation of a "hook up" or "special treatment." You must indeed be an asset.
Even if you're not just starting out but want to break into a different aspect of your industry, make a career pivot, or change careers altogether, it might be a good idea to apply for an internship, externship, or fellowship as a side hustle to get the experience, gain the contacts, learn the lessons, and get your foot in the door.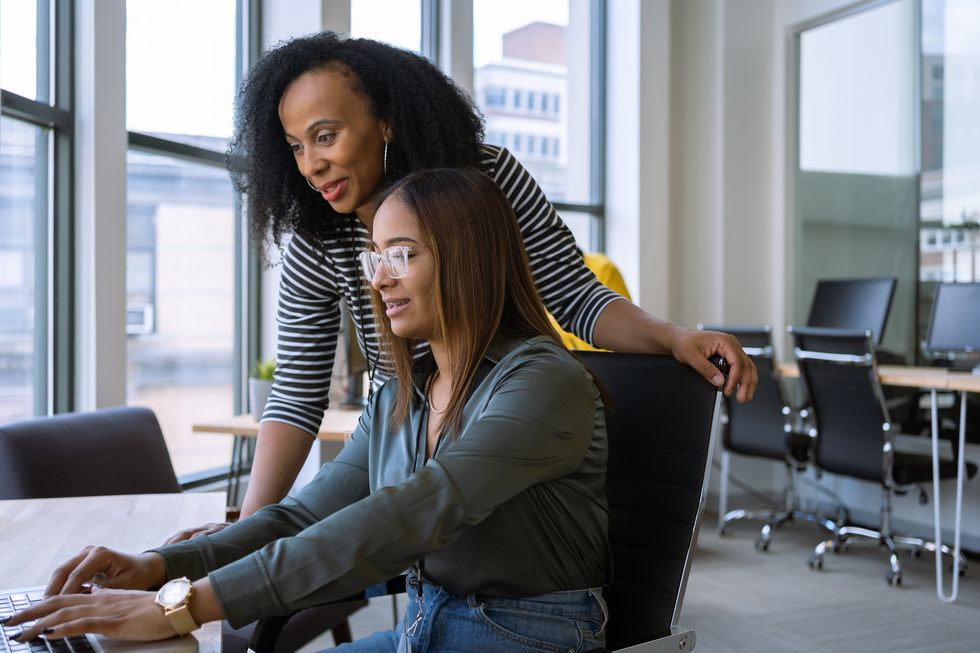 Michelle Pevide/Getty Images
2. Be an open-minded, deliberate, and creative thinker when applying for the chance to hone your craft via an internship.
As public spectators of this recent news, we can't be sure of Bryant's exact career goals related to filmmaking, but with an internship that involves working in any capacity on a major global tour, there are so many facets of creative direction, project management, communications, and other vital skills she might learn in the process.
That being said, don't limit yourself when it comes to a certain company or title when pursuing an internship. Sometimes going for a spot at a small business doing big things is better than competing with thousands of others for those same few spots at the Fortune 500s. Sometimes finding other ways to get in the door is better than going the traditional or popular route for an internship.
At 19, I applied to a program facilitated by a prestigious organization that my dream magazine was a member of, not directly to that magazine's HR. I knew that going through that organization would hold a lot more weight, I'd get prime placement, I'd get to network with other young journalism students who were chosen out of hundreds of applications, and I'd be offered certain perks that came with being part of their program.
Once in the office, several of the interns who applied directly to the magazine expressed to me, at the time, that they were getting coffee most days and doing "grunt work." I, on the other hand, worked closely with award-winning seasoned writers, got a cubicle of my own, and was mentored by an independent publisher within the company (who, by the way, honored me with an editorial assistant credit on a special book project I helped edit and assisted in producing).
I also got a published clip, something, by the end of that summer, was elusive to other interns there. I indeed had to work hard and prove myself---and the experience didn't come without tears, a bit of gaslighting, and early Devil Wears Prada-type lessons about the magazine industry---but being strategic and open-minded proved smart for me.
After the internship was over, I applied for---and was offered---a job with the publishing organization, as I saw that as a power move, but my path would lead me to continue to be a writer and editor. As the cliche goes, the rest is history.
(And to clarify: There's nothing necessarily wrong with getting coffee or making copies as an intern if that's something you can leverage, if you're forward-thinking when interacting with those you're doing those tasks for, and if you're not being taken advantage of via a waste of your talent and time capital.)
3. Find a way to stand out as an applicant in the most unique, authentic way possible.
Once you have the basics down---a well-crafted resume, a professional communication style, creative ideas, and a work ethic that speaks for itself---find something about yourself that stands out and work the hell out of that. If you're always in the know about the interesting or behind-the-scenes aspects of an industry, trade, or craft, be able to illustrate that when interviewed. If you're an innovator who does things in a different way, has a unique approach to processes, or can do something quicker and more efficiently than others, use that.
If you're a savvy speaker with a gift of gab or you're simply fabulous and know how to work a room, use it, sis. If you're the most emotionally intelligent, solid person who's relied upon during times of crisis and calm, talk about applicable situations in which that has been beneficial.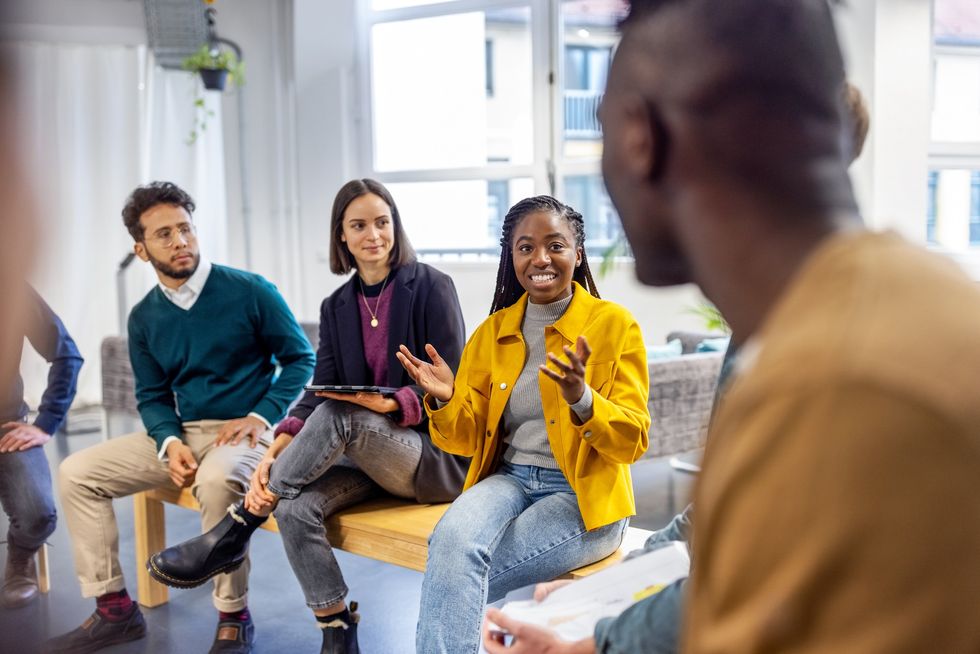 Luiz Alvarez/Getty Images
Back when I was a student, I was always one to speak my mind--especially in class discussions or when asked my opinion on something. I attended an HBCU, so I was super-confident in taking up space and using my voice. I was also very well-trained in giving something 150% of effort---you know, that whole good-better-best, early-is-on-time type of college upbringing.
I'd always look at issues in a totally different light or add my own spin to approaching a story. This served me well when applying for top internships, as well as after landing them.
I once felt so intimidated by my peers during my time at a summer institute hosted by one of the top global newspapers that I totally flopped my first news assignment. To be honest with you, it was focused on a coverage area that I just wasn't particularly interested in, and I wasn't being true to myself.
For the next assignment, while others were writing about gruesome crimes in the community or some other elaborate exposé in an effort to impress, I chose to write what I knew: Black culture and its societal impact. The story ended up being a big hit and won over the editors of that newspaper. (I'd later work for the host newspaper and become an instructor at the institute.)
I tell that story to say, find what makes you unique and run with it. Internships are where you can shine while failing forward, but remember that being you is super-valuable as well.
If anything, allow the news of Bryant's internship to inspire you to go for your dreams today, get more deliberate about placing yourself in direct alignment to collide with success, and be super-unapologetic about it.
Let's make things inbox official! Sign up for the xoNecole newsletter for daily love, wellness, career, and exclusive content delivered straight to your inbox.
Featured image by Steven Simione / Contributor /Getty Images
Oftentimes, my creative juices flow much more freely in an office that gives the vibes. As a creative, that means anything but sterile cubicle walls, bland nudes, or spaces that just don't scream vibrant invention and individuality. I like to be inspired to do more and to elevate my thoughts in any workspace, so infusing color and culture is a must.
I often look to Instagram or Pinterest for inspiration when it's time to refresh my workspace, and I just love seeing the manifestation of professionals' auras, accomplishments, and tastes all reflected in their office spaces. Here are a few that I find intriguing, enlightening, and inspiring that I hope will inspire you as well:
Featured image by myriam meloni/Getty Images
Do you remember what you did with your first real-job paycheck? I mean that check that was the answer to all your prayers. You could finally afford rent, groceries, and happy hour. Maybe you were able to put a down payment on your dream car. Maybe you bought your first house or bought that Fendi bag you'd been eyeing since childhood. (Was that just me?)
Spending that first major paycheck is both a moment of celebration and a way to acknowledge your hard work. It's a dream realized. It can also be the biggest mistake of your life. (And that's okay. Life is about making those and moving on to bigger and better from the lessons).
Featured image by Aaron J. Thornton/Getty Images
I've always been a stan for reading, and I've been a so-called book geek since kindergarten. My mom would always reward good grades and behavior with a trip to the local library, something my siblings loved more than any new toys or free time to play outside. We would spend hours at the tall stone building in the downtown area of the small town I spent my childhood in, first in the downstairs "Children's Room" (which only had books for readers 5-13). I later graduated to going (i.e., snuck) upstairs to find all the juicy celebrity autobiographies, travel books, and classics like Sula, Moby Dick, and A Midsummer Night's Dream.
So today, when I see so many Black women part of #bookstagram, I feel seen because many of us love not only to read but to drown in books by Black authors, poets, historians, and researchers who continue to add to the narrative and reflection of what it truly means to be a Black person---a Black woman---in America.
Check out (and follow) a few of my favorite Black women bookstagrammers and the books that empower us:
Featured image by myriam meloni/Getty Images
It's so interesting how many essential aspects of our self-care, wellness, and personal development as adults are linked to our childhood. And as much as I sometimes hate the whole cliche of tapping into an inner child (a concept of which I've struggled with because, after a few years of therapy, I've wished that metaphoric version of me would actually grow up and stop constantly instigating battles with old triggers), there are so many positives to embracing the positive aspects of child-like wonder, creativity, and fun as a very grown-ass woman.
That's where play comes in, especially in reference to the importance of enjoying life. Research has shown that adults who explore their favorite activities or hobbies from childhood and deliberately seek activities of joy can increase feelings of happiness, support, comfort, and creativity. And it's no secret that those feelings are the key to success behind many of the successful, fly Black women in business we all admire or want to emulate.
Two enterprising acquaintances-turned-friendpreneurs know just how empowering the pursuit of enjoyment can be, and they've seen the benefits —in their careers, friendships, and within the community of Black women they've built via their platform Paradise + Vibe.
Founders Iana Edwards, CEO, and Kasondra McConnell, CFO, launched the platform in 2020, offering retreats, pop-up events, and other ways for women to connect, relax, release, and, of course, have fun. Friends since 2014, they'd been on the pulse of the intersection between wellness and play in their own respective lives before teaming up for Paradise + Vibe.
"In 2019, Iana became a yoga instructor, and her career just took off in the yoga space to the point where hotels were asking her to teach," Kasondra said. "Later, we went to Jamaica for her birthday, and the last day we were there, we were just in the ocean, talking, and I said, 'I really think you could do something where you bring people together—because you're the attraction for the yoga—so why not use your own platform to better yourself?' From there, we came up with a name and launched with the intention to provide a space for wellness for people of color to feel safe and connected and in tune with all of the things that make you feel well and whole."

"With our retreats, we are bringing people together where they can connect in a place where they can play, be present, and get back to what they need at their core—just to feel good."
Even outside of the retreats and other events they host, Iana and Kasondra make sure they infuse play into their everyday lives, and reiterate that the activities don't have to be super-strenuous or structured. Many of the things they love to do for enjoyment in adulthood tie directly into fond memories of their childhood. Kasondra loved watching Legends of the Hidden Temple, a '90s action-adventure game show and used to create backyard obstacle courses in the backyard with her family. Today, she still loves being out in nature, enjoying the mental clarity of walking or hiking. "I oftentimes have to use my brain a lot, but with hiking, you don't. You're just putting one foot in front of the other. I live near a trail, and so I'll go walk there. And anytime I'm engulfed in water, I love it," she said.
One of Iana's favorite childhood memories of fun is going with her schoolmates to a dinosaur exhibit at Fernbank Museum in Atlanta. "We had peanut butter sandwiches, and I was just enamored with the surroundings, getting out of the classroom setting and being with my classmates. It was then that I realized joy is simple, and it's sometimes just a choice."
Iana and Kasondra pride themselves on embodying a different take on wellness, especially for Black women. "We bonded over that before I went to yoga training, and we just saw, inadvertently, a need for something that wasn't there," Iana said. "We have always been very rogue when it comes to wellness. We've given pushback on the whole [idea that] you have to eat a certain way, you have to be a vegan, you have to eat raw foods, [or] you can't eat this, you can't eat that— this trope of, to be a yogi, you have to look and identify as a certain type."
"We love to dance. We love to go out. We love to listen to ratchet music. We do yoga. We do move our bodies. But we're also people, human, and women, and we are a little bit of everything. We approached it like, 'You know what? We're going to take a true holistic approach to wellness and encompass it all and not leave out the turn-up aspect.'"
Iana, who has been practicing yoga for almost a decade (and has been trained by the best to teach it), and Kasondra, a serial entrepreneur who has worked in real estate, retail, and events, merged their talents, skills, and experiences in order to provide something to the market they felt was missing.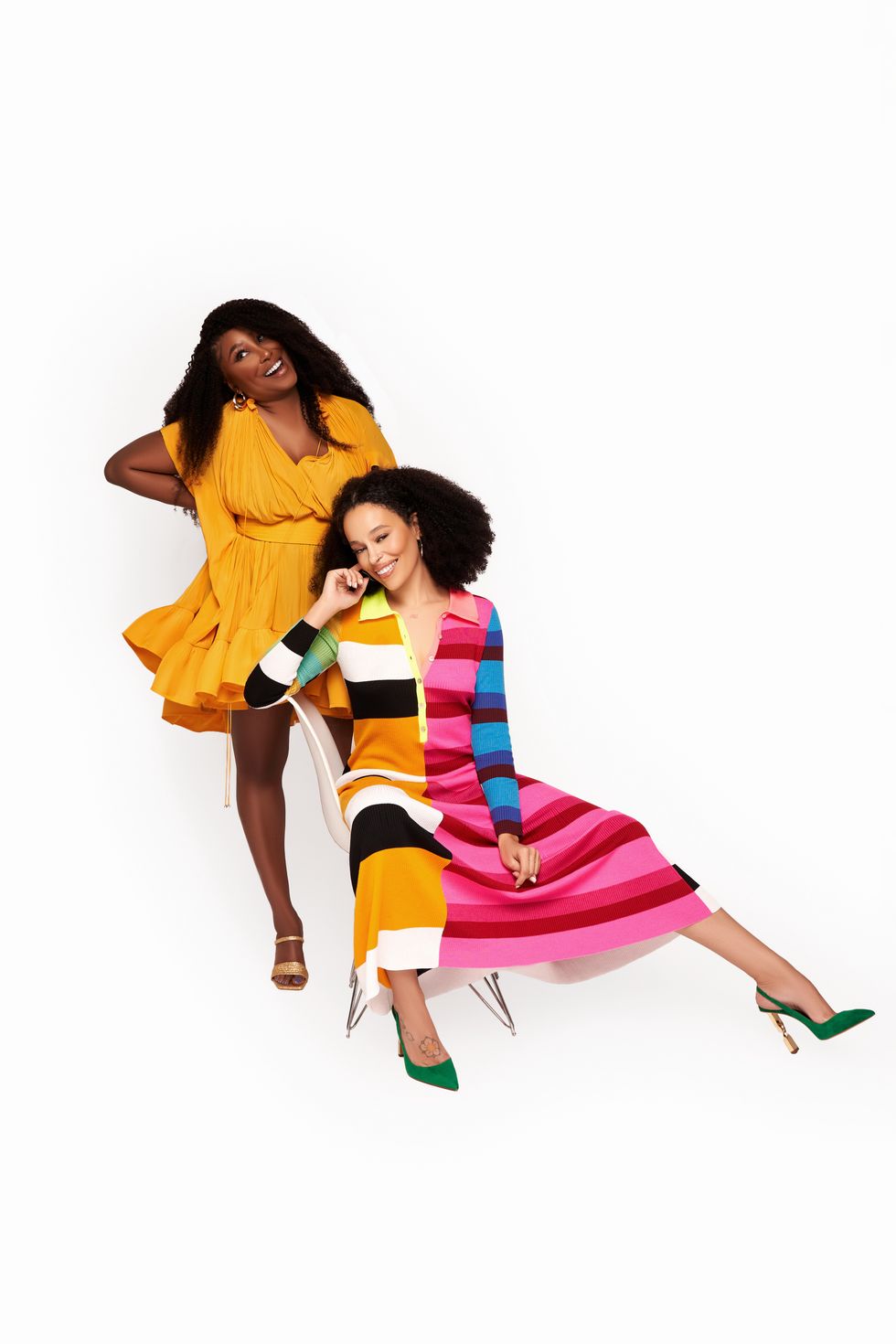 Courtesy of Paradise + Vibe
Both agree that wellness is all about intention and energy, not just what you put into your body. And when Black women are able to truly enjoy the things that lead to laughter, comradery, amusement, and pleasure, innovative, life-changing, and culture-shifting things happen. "One day, Kasondra said, 'Friend, wellness is about connection. It's not about whether we're eating a salad. It's so much deeper than that,'" Iana recalled.
"When you think about [when we were] children, in our most pure form as humans, we were a little more connected then," Kasondra added. "When you were playing, you were outside, taking in Vitamin D from the sun, energy from the Earth. You were connecting with other people. Play takes you out of being so heady and into the present moment. You're not so worried and anxious about what you have going on and more so connected to being present."
With Paradise + Vibe retreats, women are supported in participating in group activities and yoga, with the backdrop of paradise in global locales—including South Africa, Brazil, Mexico, and Indonesia—that truly facilitate freedom, leisure, and bliss. "There's proof that, if you look at what depression is, it's essentially being stuck in the past, and anxiety is being occupied with the future and what's to come," Kasondra said.
"So if you can do things like Bikram yoga, which Iana teaches, it's so hot and so intense but so rewarding. It gets you into the present moment. [With] play [it's] the exact same thing, so we took these ideas, and we injected it into our retreats. We select activities that allow people to do things that will take them out of their comfort zones, especially for our audience, which is predominantly Black women. We're talking about in Costa Rica, where we're white-water rafting. In Jamaica, we hiked Mayfield Falls. There's parts of the water where you have to swim, and [that took] people out of their head and got them into the present moment."
Changing the narrative on wellness, enjoyment, and self-care for Black women is vital, especially when choosing a holistic approach that's both considerate of one's personal experience and passions and pushes them to break boundaries. That's what connected Kasondra and Iana in the first place. "We love a hot spring, a body of water. Let's get on an ATV. Let's go to an elephant sanctuary—any kind of activity that breaks our adult avatar," Kasondra said. "When you are engaged in some sort of play, you're the closest you've ever been to your childhood version of yourself."
For more on Kasondra, Iana, and Paradise + Vibe events, visit them on Instagram or their website.
Featured image courtesy of Paradise + Vibe
Never take for granted the power of a good motivational wordto speak life into your mind and spirit. I know things can get a bit corny and cliche when you see motivational speakers or quotes on social, and maybe you're on that de-motivation train. But sis, it's good to pour into ourselves with positive words, affirmations, and truths.
While I'm not too keen on self-help or the hell-fire preaching type of motivational speeches, I absolutely love wise, encouraging, and thought-provoking insights from women based on their experiences, education, training, relatability, or life story. For me, it's all about who the message is coming from, the context and energy behind it, and the actual impact the women have made on the world. Here are a few motivational quotes that I often reference when I'm feeling that mid-week slump:
"I don't ever see myself in a position of controlling how other people think or how other people view me... What's most important is how I see myself." —Actress and Educator Phylicia Rashad
"That's how I go into every situation. I treat it as if nothing is impossible, so I don't let anything limit me, let anything stop me, let anything scare me." —Rapper and Producer Megan Thee Stallion
"I hate to lose, but I think losing is what brought me here today...And some of them are extremely painful, but I wouldn't take any of them away because every time I lose, it takes a long time for me to lose again because I learn so much from it. If you lose, learn from it. Don't live in the past. Live in the present. And don't make the same mistakes in the future." —Tennis champion Serena Williams
"We all have an idea of our plan, like, 'This is how it's going to work out.' And then we all see that the plan is not always what we think it will be. ... Never more have I learned to bet on myself. You have to bet on yourself." —TV Host and Journalist, Tamron Hall
"I believe that nobody can be the best you but you. So you might as well show up and show out." —Author, Host and Actress, Bevy Smith
"How I choose to affect change is by speaking up, by being a first, and by being a domino. ... Being the domino for me looks like speaking up and doing the things that are really difficult, especially when they're really needed, with the hope that others will follow suit." —Author and Entrepreneur, Luvvie Ajayi Jones
"And finally I said, 'God loves me.' It still humbles me that this force, which made leaves and fleas and stars and rivers and you, loves me—me, Maya Angelou. It's amazing. I can do anything and I can do it well...any good thing... because God loves me." —Author, Actress and Poet, Maya Angelou
"Give yourself a thousand second chances. Realize that you've got a thousand times to get it right. Life is about practicing and replaying... Life is not about perfection." —Author and Speaker, Lisa Nichols
"Don't hate on yourself. Don't speak negatively about yourself. Don't be your own worst enemy. It's about just having the courage and knowing who you are ... This is a gift. Have the courage. Just do it." —Singer, Author, and Actress, Mary J. Blige
Featured image by Westend61/Getty Images