Janell Hazelwood
Janell Hazelwood, MAOL, is a journalist, speaker, editor, and consultant who has worked for companies including The New York Times, Black Enterprise, and Conde Nast. She is a proud HBCU journalism graduate and has served, for more than 15 years, as a journalist, editor, strategist and commentary writer. She also holds a master's degree in organizational leadership (MAOL) with a concentration in coaching, allowing her to pursue her ultimate goal as a lifelong servant leader to women professionals, entrepreneurs, and nonprofit founders.
Deanna Robinson, a health and wellness advocate and professional based in the Washington D.C. area has been helping Black and brown women reach their fitness goals for more than a decade. And with her brand of self-love and faith, she's redefining just what "fitness" means when it comes to women of all shapes and sizes.
There's definitely a need for women like Robinson, especially since recent research shows that between 47% and 55% of Black consumers' needs "are not being met" in the wellness space, and the U.S. fitness industry hit $32 billion last year and that it's important for Black women to see themselves prominently in the space.
As a health and wellness programming expert, licensed nutritionist, mom, wife, and former all-women's gym owner, Robinson has built up a body of experience that has culminated into doing something she loves via the FabBody Retreat, an experience for women ages 30-60 to be enriched via group activities, good food, and connection in the backdrop of tropical peace and tranquility.
This year's retreat was held in Grenada, with special guest and TV host icon Free Marie (BET's 106 & Park). Next year's event will be held in St. Maarten with plenty of opportunities to enjoy beach vibes, authentic and healthy dishes, and all the pleasures of being among other fabulous Black women seeking holistic wellness in paradise.
"My God-given purpose is to help serve, connect, and heal Black and Brown women," she said, taking her experiences serving corporate and individual clients via projects like the NFL's "Fuel Up To Play 60" initiative and the Nike Training Club live experience, to do just that.
xoNecole caught up with her to talk about why she chose the fitness industry, her success in launching and running the FabBody Factory, and how she's pivoted to use her skills to build impact on a larger scale in health and wellness.
xoNecole: What sparked your interest in a career in health and wellness?
Deanna Robinson: I have always been involved in sports, always been active in cheerleading, dance, [and] gymnastics. In my college career, I was a competitive cheerleader at the University of Maryland, College Park, and I've just always been passionate about physical activity, health, and fitness. I double-majored in kinesiology and public and community health, and it's always been a passion for me about others being well.
Out of college, I wanted to be a personal trainer, and I interviewed at a big-chain gym. I was really excited about getting this job, but when I had the interview, they informed me of what the split was—what the client paid, what I'd get as a personal trainer, and what the gym got. And I just thought it was a ridiculous split. I've always been into entrepreneurship as well, and doing things on my own terms, so I actually opened up my own gym in the community I grew up in called the FabBody Factory, an all-female gym in Upper Marlboro, Maryland.
I was able to hire several trainers, offer group classes and personal training, and one of the things I was always a big proponent of is making sure that they got a better cut than they would get at larger chains.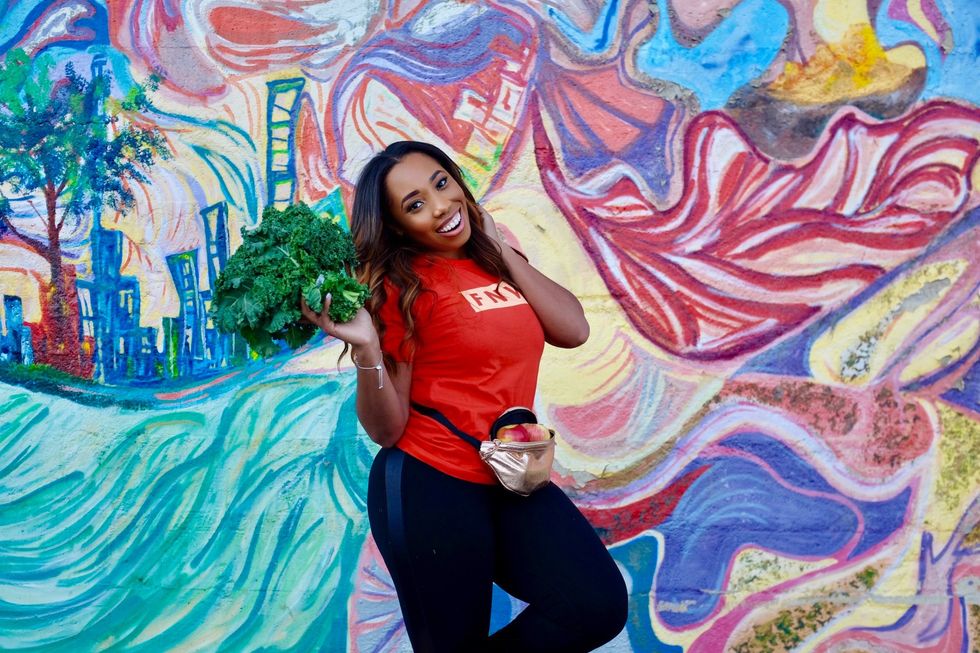 Courtesy
xoN: Talk a bit more about that in terms of starting a gym, especially one that caters to women. What was the process and motivation?
DR: I have worked out in big-box gyms before and just never felt comfortable. It was always really uncomfortable working out in a huge gym where men would be gawking at you or try to get your number when you're trying to focus on yourself in that moment. So I always wanted the FabBody Factory would be a safe haven where we didn't have to worry about our titties flopping when we're doing jumping jacks, it was just for us by us, and we could just [be] comfortable making ourselves a priority.
I was almost talked out of doing something like that because people would say, "You're cutting off half of your potential clientele," but I never had an issue. Women flocked to the gym, and I'd sometimes have to split classes. I might have to do part one of a class at one time and a second another time. It was majorly successful. Ladies loved it. And on top of this being all-women, it was all Black and brown women.
Culturally, we get each other, so it was a big social thing for us, too. We were able to fellowship with each other and get fit at the same time.
xoN: Your brand includes the concept of a 'Fab Body.' What does that mean for you---and just wellness---in general, for Black and brown women?
DR: FabBody in itself is not a look at all. It's more of a mindset and a willingness to invest in your mental, spiritual, and physical self. In promoting the FabBody Retreat, I actually had someone DM me and ask me, "Do you have to have a 'Fab Body' to come on the retreat?" and my response to her was that you do have a 'Fab Body.' Everyone has a Fab Body. It's more of a state of being—a sound, healthy mind, body, and spirit. It's not about aesthetics at all but about overall improvement.
xoN: You decided to pivot from owning a gym, which you ran successfully for more than a decade, to your current role in health and wellness programming and launching the FabBody Retreat. How did this come about?
DR: My gym closed last year, and the reason was because of where I saw myself going and where I wanted to be in the next 10 years. A lot of my time at the gym was selling and getting people to register for classes, and it wasn't as lucrative and fulfilling for me as it had been in the beginning.
Now I'm doing more consulting work with larger companies. One of my passions is programming, and that is where I see my future going. I'm moving more toward passive income, coming from my being able to use the knowledge I have from years in this industry and putting together programming that can reach the masses versus individuals.
xoN: What can people expect from the FabBody Retreat next year, and how does this venture continue your love for advocating for health and wellness among Black and brown women?
DR: One of the things that really sets this event apart from so many other retreats is that I have married everything that is important to me: wellness, my faith, and my community. God is a huge part of all of the events we do, and all are interwoven with faith-filled, intentional activities, and I think that's what makes it different. On Sunday, we do a service on the beach, and we always have a guest speaker—someone you can relate to where you don't feel like you're being preached to. It's an awesome experience, unlike any retreat I've seen.
It's definitely rooted in faith, but at the same time, there's a balance. We'll get on a boat and have a cocktail with an umbrella in it, and then we'll go back to wellness. There's a healthy balance.
Find out more about Deanna Robinson via Instagram @deannarobinsonfit and more on the FabBody Retreat via the website.
Featured image courtesy

Self-employment is something many people prefer or aspire to, as being your own boss is both admirable and empowering. And women are bossing up more than ever, representing almost 40% of all self-employed professionals. Being self-employed myself, I can attest to the benefits, but like everything in life, there are two dueling sides to every coin. And if you're considering taking the leap from 9-to-5er to self-employed, there's a lot to consider before totally pulling the plug on your day job.
Here are a few things to know, from my own experience, before transitioning into self-employment:
1. Recognize that self-employment is not entrepreneurship.
There are key differences between being an entrepreneur and being self-employed that many people get all mixed up and confused about. The terms are often used interchangeably, but they are definitely not the same.
A self-employed person operates just like an employee, often offering services and talents to business owners, nonprofits, or organizations. An entrepreneur typically offers goods and services to a client or customer, registers their business for tax purposes, and can reap the benefits of resources like business bank accounts, financing, and investments.
When you're self-employed, you often don't get paid if you don't work, most typically as a freelancer or on a project-by-project or client-by-client basis. When you're an entrepreneur, you can successfully scale a business where you can reap the benefits whether you're actively working in it or not.
You can indeed launch a one-person business (i.e., as a limited liability company or LLC), but there are requirements related to that, particularly when it comes to taxes. There are also things to consider, such as lifestyle, goals, and risk tolerance. The annual and financial obligations entrepreneurs have aren't the same as self-employed professionals, like additional taxes, filing fees, and mandatory financial reports.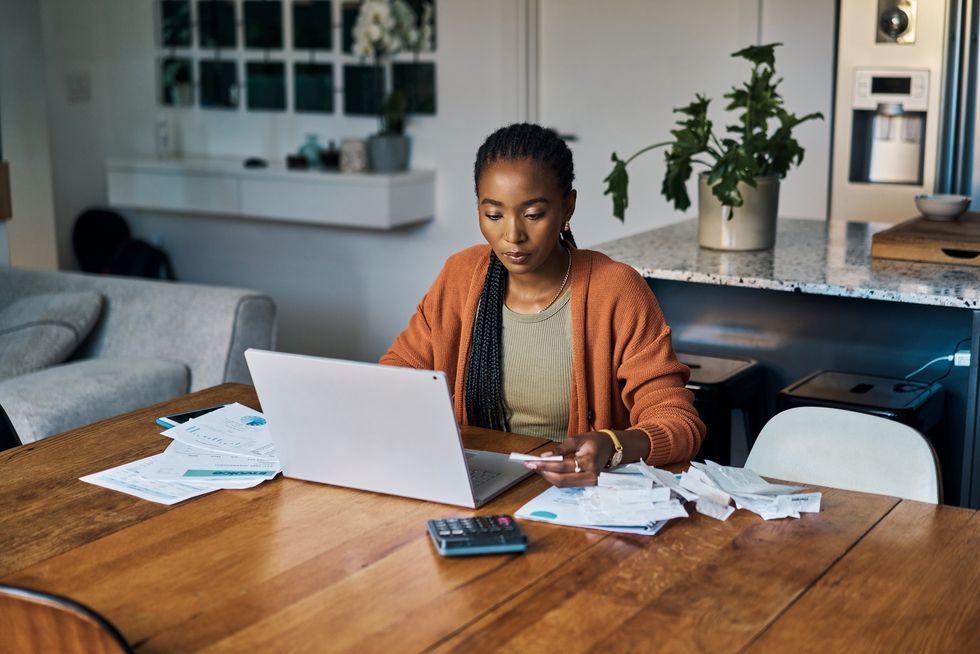 pixdeluxe/Getty Images

(I know some of y'all entrepreneurs might be reading this with a side-eye, but hey, not every self-employed person is a business person, and some simply might not want the extra maintenance and responsibilities of having a registered business, no matter the perks.)
While I'm not discouraging any self-employed person from launching a business, knowing the difference between the two is important because it sets the tone for how you approach the work that you do, your expectations on the lifestyle and requirements, and what benefits might be afforded to you.
Many entrepreneurs can employ people, scale their businesses for expansion, get capital investment, and even take days, weeks, or months off without having to actually work yet still reap the benefits. This is often not the case for a self-employed person whose salary largely depends on actual work hours, paid invoices, and strategic budgeting.
2. Inform yourself about the tax obligations and other financial shifts that might happen once you are self-employed.
When you're working a 9-to-5, your company handles taking taxes out of each check. This is not the case for self-employed folk. There's a quarterly schedule that must be followed for federal taxes, and there are other regulations based on the state where you primarily work (even if you're working remote). If you're used to having a hands-off approach to taxes (other than going to the tax preparer once a year), you definitely want to shift your expectations and get to know all the information you can about self-employment taxes.
Also, the way you budget might be a bit different when you're self-employed. If you find, for example, that you're constantly living check to check or that you're used to a guaranteed paycheck every two weeks, you'll need to shift the way you look at how money flows in your household.
Self-employment can include periods where you're not getting paid as consistently, and many companies work with invoices that are paid 30, 60, or even 90 days after you've finished the work you've done for them. Keep this in mind and plan accordingly based on the industry you'll be working within.
Talk to a tax or personal finance professional to find out about how your finances and tax obligation might change once you decide to become self-employed, and then set up a plan so that you won't get caught slipping come Tax Day. The process is different for self-employed people, and this is an important aspect of the process that will save you lots of money and stress in the long run.
I learned the hard way to negotiate, upfront, a set period of time for my services (when applicable and reasonable) to be written into a contract and to set my rates not solely based on my previous salary but considering additional costs like WIFI, travel, health insurance that I have to pay for out-of-pocket, home office technology and tools, and the time it actually takes to complete tasks. The pandemic brought home how super-important this was because, as a freelancer, someone can simply cut you with no compensation or warning.
3. Get to know your true strengths and weaknesses when it comes to work ethic, skills, environment, and motivation.
Self-employment is definitely not for the faint at heart. It can be a constant hustle in the beginning, and if you're not careful, you might end up wondering how you'll pay your rent or car note simply because you don't have clients or work lined up. It's good to be a self-starter and super-organized. It's also good to brush up on your marketing, communications, and sales skills because you'll need to pitch yourself and your background in order to land projects and clients.
While working your full-time job, take a few courses or find a self-employed mentor so that you can strengthen your skills in areas where you might need some improvement (i.e., pitching, online marketing, social media branding, or project management.) Practice self-employment on the side as an intern or with a side hustle so you can learn a bit more about yourself that you might be overlooking while serving as an employee.
Being self-employed means you become multiple departments in one person. For example, your current company provides support like assistants, accounting departments, legal teams, and IT, so you might not be used to having to handle all of those things on your own. For some, this can be overwhelming, while others find the challenge invigorating and worth the sacrifice if it means having autonomy and financial and time freedom.
Also, if you're motivated to do your best by being around teams or working in an office, self-employment might be too isolating for you. True, there are groups and co-working cultures you can join, but it's definitely not the same as having built-in comradery of fellow full-timers at a company. Be aware of these things so that you're realistically making a choice that suits the life you want to live and the work experience you want to have in order to thrive.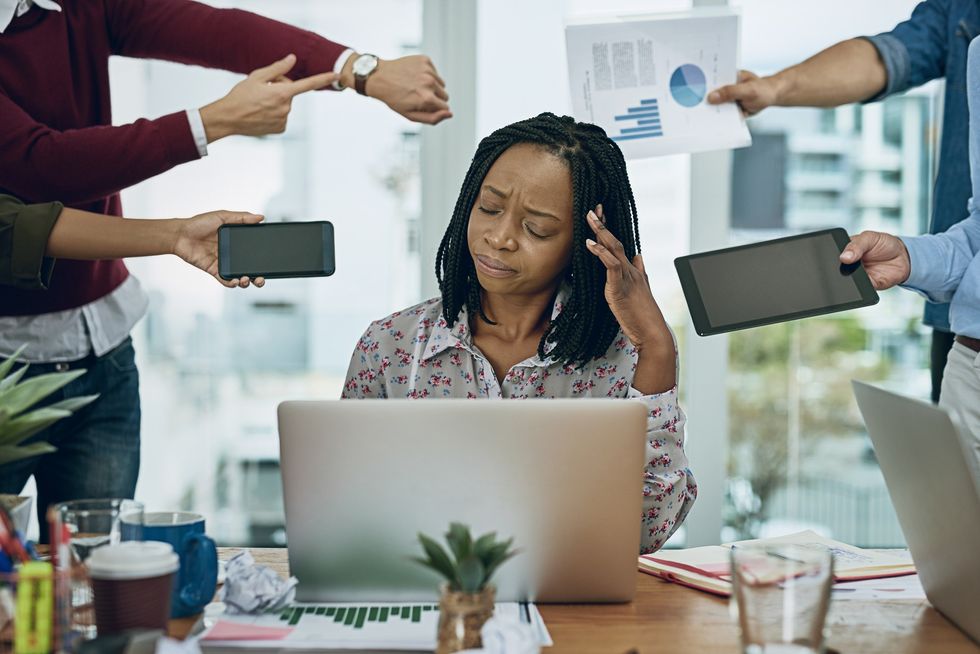 PeopleImages/Getty Images

4. Create an emergency fund solely for the transition.
While you're working a 9-to-5, create a separate savings account just for the transition. Anything can happen between quitting your job and getting your first freelance gig, client, or project. When I first stepped out to be self-employed, I thought I had the dream client, only to find out that it wasn't a good fit and I'd be looking for a new one after six months. This might happen several times before you really hit a groove, find your fit, build up your reputation, and get consistent work.
Having a financial cushion outside of your usual emergency fund helps to soften the blow if something like a client loss, a late invoice payment, or an unexpected work-related expense (i.e., computer replacement or broken equipment repair) comes up.
Sometimes, self-employment can include certain up-front costs like renting an office space, investing in new technology or other tools, travel expenses, or hiring other self-employed professionals (i.e., a consultant, web designer, or tax preparer), so you'll want to be smart, be prepared, and keep your receipts.
5. Understand your why.
Every great and sustainable journey starts with a good reason---a "why" that keeps a person going. If you know your why, you're less likely to just give up when things get rough, and you're less likely to make costly, mentally and physically draining mistakes. I decided to go for full-time self-employment because, after more than a decade working in my field, I really felt burned out at the time, began to resent not being promoted as quickly as I thought I should, and saw that I could make more money contracting my skills and talents out than working full-time for one company.
I also loved that I could pick and choose who I worked with and align my values with the projects that I was part of (versus being forced due to being a full-time employee beholden to a contract and the so-called values of a corporation or company.)
I've made quite a few mistakes over the years, but my why remains the same, and when times get hard, I simply remember the overall peace, flexibility, and autonomy I have in serving the women millennial audiences I want to serve through journalism and communications.
6. Be sure that you're offering services or expertise that can be used for years to come and that's competitive.
If you're considering self-employment, be sure your skills are competitive and have a future of need. I knew, even a decade ago, that much of the media industry was going the freelance route, and today, with layoffs becoming commonplace and full-time employee budgets being cut, contract work has become the name of the game. I saw this industry shift coming a mile away, and, like my early foray into digital media before publishing houses were monetizing it, I knew eventually, freelance work would be abundant and preferred.
If you're already doing a job that is in high demand or you offer something niche and one-of-a-kind, working for yourself might be the move. But if you've found that your current skills might be obsolete in the next two to five years, try learning another skill, shifting how you do the work you do, or tapping into another passion that can ensure you're offering something valuable in a market where it's direly needed.
Self-employment can be a joy and a pain, and for many of us, it's the only choice for self-care, mental wellness, and financial freedom. If you're considering taking the leap, take into account these tips and go forward in bold confidence, informed, and prepared.
Let's make things inbox official! Sign up for the xoNecole newsletter for daily love, wellness, career, and exclusive content delivered straight to your inbox.
Featured image LaylaBird/Getty Images
The issue of emotional safety at work has steadily been a thorn in the side of Black women for decades, and it doesn't seem to be letting up. Recent research conducted by the creators of Exhale, a mental wellness app for women of color, found that 36% of Black women left a job due to not feeling emotionally safe.
And we all know the debilitating horrors of microaggressions, discrimination, and sexism we've had to deal with at one time or another in the workplace, whether overt or covert. (And don't say you can't relate. At best, you're probably getting paid less than your white male and female counterparts in your industry, so even if you love your job and everyone is "super-nice," you're experiencing one or more of these issues, sis.)
With all that we, as beautiful, ambitious, go-getter Black women, have to deal with at work, what does emotional safety really look like in the workplace? And are we really in spaces where we're truly at ease and able to fully flourish?
Featured image by jeffbergen/Getty Images
Being broke can be subjective because it means different things to different people. I had a coworker who said she felt "broke" when she only had $2,000 in all three of her checking accounts. Another considered having a negative account balance as "broke" after using overdraft fees to keep spending even when her account balances were low. Some might think "broke" is living off of credit cards after their cash has depleted. Others might have thousands of dollars in their accounts but not enough to cover their everyday bills with a bit left over for a rainy day.
No matter what your "broke" definition is, it's never a good thing, and with so much talk about financial fitness, recessions, and unemployment, how can you focus on better days when you're barely making ends meet, you're living check to check, or you're struggling with debt? Here are a few helpful tips that I lean on, especially when my pockets are screaming, "Chile, we're tired!"
Featured image via Getty Images
Oftentimes, when we're in a rut, unhappy at work, or just overall dissatisfied in our professional lives, there are triggers. And many of us have very catastrophic thoughts in response to those triggers, from, "Every day is terrible at work, but I can't do any better than this," to "I'm totally stuck and need the money to pay my bills."
You might be two seconds from hitting send on that resignation notice you've had in your email drafts for months, ready to risk it all and just give up.
When you're feeling utterly annoyed, frustrated, disinterested, or just bored at work, here's a refreshing thing to consider: Your feelings might not have anything to do with your overall career choice. It's the actual job, sis. Here are a few signs you might need to rethink the job versus your career as a whole:
1. Your relationship with your direct manager or supervisor is simply not a good fit.
If you've tried all you can to perform, show up to work on time, and excel, it might not be the industry you're in but the manager you're directly reporting to. And sometimes, just like in love, a work relationship just might not be a good fit. While many aspects of our jobs are personal to us, leadership compatibility can have nothing to do with you or your manager and more to do with the fact that their style or way of doing things is just not conducive to you thriving in that position.
If one-on-ones and mediation meetings with your manager aren't helpful, but you love the company and the industry you're in, the best thing you can do in this case is ask for a transfer to another branch or location of your current company.
2. You're bored with the duties required for your job.
I experienced this as a copy editor. My mentor had advised that pursuing such a position was a great way to get my foot in the door, especially at a major global publication, and he was right. However, after a few years, my ambitions grew, and the role itself just became monotonous and isolating. I still loved journalism, the company I worked for, and the people I worked with, but I just couldn't shake those Sunday Scaries that would overcome my thoughts week after week.
I decided to volunteer to edit digital content at a time when digital media wasn't financially lucrative for publishers. Print content was king. It was experimental for many major publishers because they had not yet learned how to disrupt and monetize content on the Internet. It was the best decision of my life because I was a team member at the company who could lead once digital media really took off.
You don't have to necessarily quit altogether because you no longer have a passion for your job duties. Talk with your manager or HR department and apply or request to be placed in a different department that will really challenge you as a professional. If you can, volunteer for projects that allow you to work in other aspects of a business or for corporate volunteer opportunities that will put you on teams with upper-level executives.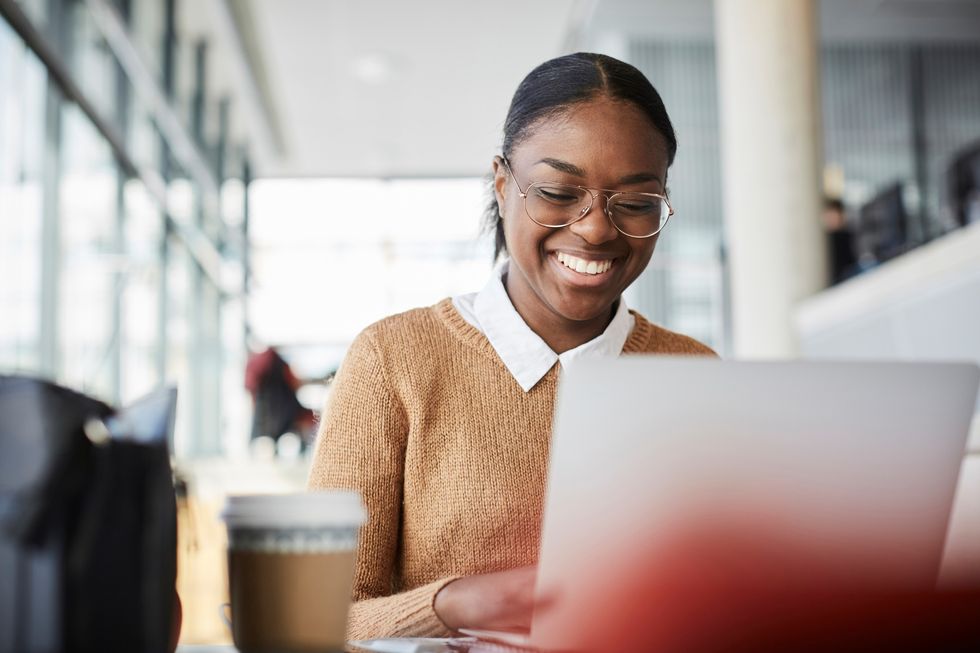 Getty Images
3. You've been in the same title position for more than three years.
Sis, advocate for yourself and ask for that promotion, especially if you're a mid-level professional managing anything (i.e., content, processes, people, or budgets). If there are clear success metrics attached to your contributions to the company, it's time to move on up. And be sure to ask for the salary that goes along with it. Y'all know these companies try to play us with title promotions, but no money behind the added duties and responsibilities.
I made the mistake of making lateral moves within a company for five years, so it didn't seem urgent for the company to promote me. It was as if I was content (and they certainly were content paying me the same for more and more work.) It wasn't until I requested a promotion that they knew my contributions and time had outgrown the title, and my experience reflected that of an associate, and I was indeed promoted with a pay raise.
If a promotion at your current company is just not an option, apply for higher positions at another company. Be sure you have the career receipts, reputation, and experience to do so, but don't shy away from a more advanced title within your industry. Again, you don't want to be stagnant in your career journey, so it's time to step it up and challenge yourself with a higher title and pay.
4. You have a new interest in a different aspect of your industry.
Say you started in children's education but now feel a pull to take your teaching skills to empower adults. Well, go for it. That's not necessarily a total change in career but a shift in the people you serve. If you're in fashion, focused solely on women, why not venture out into men's, children's, or another niche? If you're in tech marketing but find yourself to be a savvy inventor, project manager, legal expert, or process visionary, shift to jobs that light a fire under those skills.
Just because you have one job today that you love doesn't mean you can't shift to a different job within your industry (or even at the same company) that you love and are just as good at.
Also, growth in your career oftentimes means you lose interest in things you used to be super-excited about, and that's totally okay. Shift gears to apply a different skill set within the industry and keep those relationships you had before. You might even walk into a lucrative side hustle or business of your own.
5. Your mental and physical health is at stake.
I knew a woman who worked in emergency care in a role that really became draining for both her mental and physical health. Instead of quitting the medical industry altogether, she went into advocacy and administration, where she could work from an office, handle the more strategic parts of the job, and interact with people who made decisions on processes and protocols.
Sometimes, back-breaking, tedious, or high-stress jobs just have an expiration date, so if you can no longer take it, apply for a different role that fits your current mental and physical wellness goals. Some of us are called to very stressful, physically taxing jobs, and we love it, while others are meant to transition into other roles, and there's nothing wrong with that. You don't have to tough it out or feel guilty for wanting a role that affords you more ease. Make the best decision for you while contributing to the greater good in your industry.
Let's make things inbox official! Sign up for the xoNecole newsletter for daily love, wellness, career, and exclusive content delivered straight to your inbox.
Featured image via Getty Images
Working remote can be lonely as hell. There, I said it. I've been working remote, off-and-on, for more than ten years now, and the truth of the matter is that once you get past the high of time and space flexibility and the euphoric pleasure of not having to tolerate Chatty Cathy or Over-Ya-Shoulder Micromanager Molly, there's a crash phase where it all becomes this tragic scene of jaded disconnect.
And clearly, I'm not alone. Recent research shows that more than one-third of professionals feel lonely when working remote, and that loneliness increases by 67% when compared with working in a traditional office setting.
As much as remote work is glamorized, I, and many others, have oftentimes missed out on the benefits of everyday interactions with coworkers, teams, and supervisors, especially when it comes to mentorship, emotional support, and promotions. (I mean, let's be honest: Promotions really happen when managers and CEOs can actually observe, in person, your communication, social, emotional intelligence, and leadership skills. And there are certain nuances of leadership that are not truly evident via a virtual presentation or Slack thread.)
When the isolation sets in, work days can become monotonous, and you start to feel like you're not even a valuable part of the team anymore. Everything becomes just work, with hardly any of the human connection perks along with it. So how do you beat these feelings of loneliness and disconnect? Here are a few helpful tips: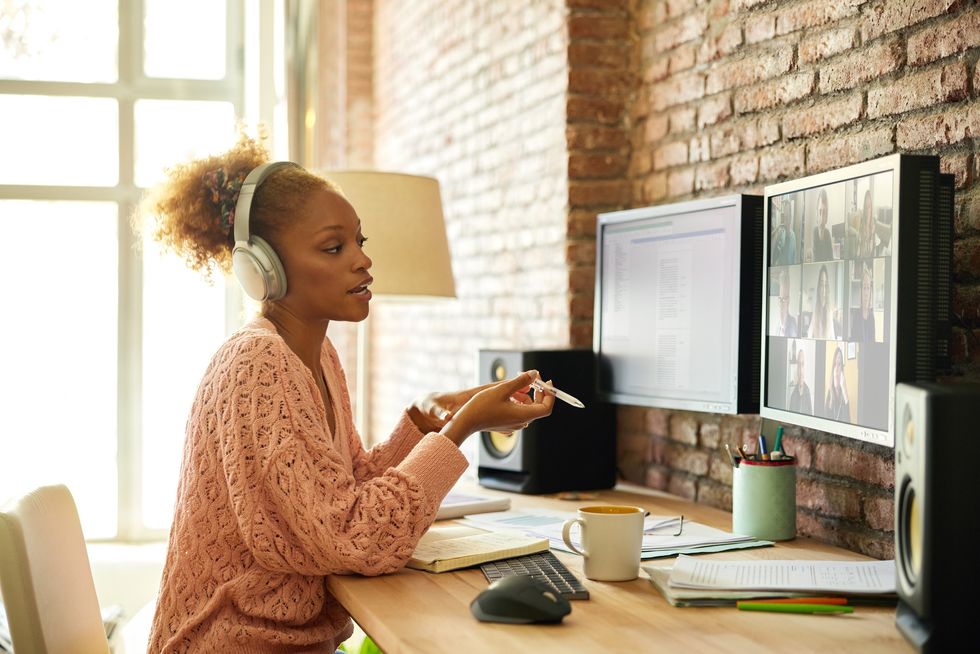 Getty Images
1. Invite coworkers to in-person meet-ups, game nights, or happy hours.
Just because you're remote doesn't mean you can't actually interact with others who work for your company. Send a Slack DM, a group email, or a LinkedIn message and invite coworkers or colleagues to have happy hour cocktails, go bowling, or get coffee. Attend local networking, volunteer, and conference events that you know in-office members of your team will be. Ask your manager about heading up a meet-and-greet for other remote professionals, or coordinate one of your own. This was super-helpful for me in moments of loneliness throughout the years simply because I found that I wasn't the only one feeling that way and that there were opportunities to connect that I hadn't really tapped into as much as I should have.
Find ways to interact with others to make that real-life connection beyond Zoom meetings or virtual activities that you've probably mentally checked out of being interested in anyway.
2. Schedule breaks to spend time outside during your work day.
Take your lunch to a park or nearby outdoor space and get some fresh air. Sometimes we get so caught up in meeting deadlines, staring at screens, and taking calls that we forget we need a bit of natural vitamin D from being outside. If you can, link up with other people in your industry (or who also work remote and live in your city) to do something fun during your lunch hour, and if you barely know anybody on your team, again, LinkedIn is your friend. Even if you don't directly interact on a day-to-day basis, having someone to talk to during a work break is always a great way to stay connected or even make a new friend.
For me, taking walks or getting lunch outside of my home office (hotel or Airbnb) office just helped me feel less detached and isolated.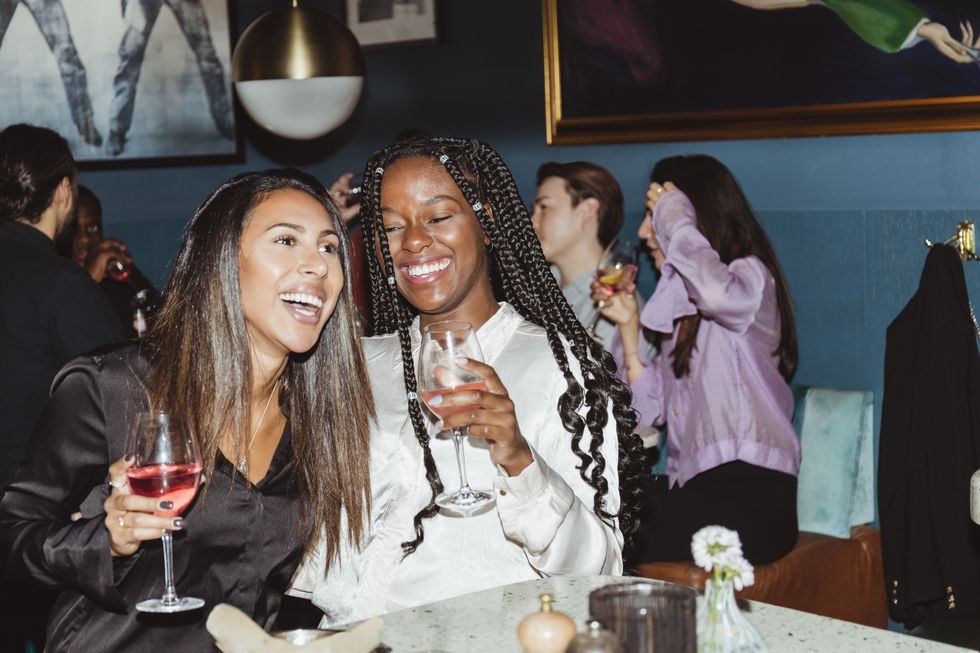 Getty Images
3. Spend more time with family, friends, bae, former classmates, and members of organizations you're part of.
Loneliness is oftentimes a sign you need to really lean into your current relationships with family, friends, and other people currently part of your network. I know, I know, sometimes mama-sister-cousin-and-em can't relate to the woes you face professionally, but maybe they can serve as the perfect reminder that you are indeed loved---which always, for me, fends off any feelings of loneliness when working remote. Go to that brunch, church service, BBQ, or lunch with your favorite family members and friends, and take deliberate steps to keep in touch on a consistent basis.
Sometimes loneliness is par for the course when working remote, but it doesn't have to make the experience a total fail. And if all else fails, request to return to the office, seek a hybrid situation, or find employment that truly taps into interaction with others.
Let's make things inbox official! Sign up for the xoNecole newsletter for daily love, wellness, career, and exclusive content delivered straight to your inbox.
Featured image by Getty Images