Janell Hazelwood
Janell Hazelwood is a journalist, speaker, editor, and consultant who has worked for companies including The New York Times, Black Enterprise, and Conde Nast. She's fluent in women's issues, black entrepreneurship, guilty (reality TV) pleasures, and Trini patois.
So, there's no doubt we love us some Instagram. (Well, most of us. As a journalist, I have a love-hate relationship with the platform, but I won't digress.) Research even shows that 40% of Black adults have accounts. Go figure.
It's easy to get lost in the fashion, travel, political, and gossip posts, but IG is also a great space for business inspiration, information, and tips. Whether you're a freelancer, full-time entrepreneur, or a side-hustle diva, here are the top Instagram accounts for entrepreneurs. (But wait, sis. Before you scroll, are you following xoNecole? Just checking.):
Featured image via Getty Images
Keep reading...
Show less
When some of us think of Amazon, we think of products, most sourced and shipped from Asia, that we can get quick, fast, and in a hurry. Oh, and lets not forget in bulk and cheap. However, small business owners have been leveraging the platform, mastering how to sell products on Amazon that are high in quality and innovation.

Ranay Orton is one such entrepreneur. Her company, Glow by Daye, offers luxury trademarked satin bonnets, heat caps and other hair accessories, and was sparked from Orton's own struggles to find a product on the market that was effective for her hair. "When it came to the bonnets I was most familiar with or would buy at the local beauty supply store, they were thin, see-through, and still snagged my hair," Orton recalls. "And even online, there were options for custom-made bonnets but you'd have to wait weeks or months to receive."
"I'm the type of person who would have a different hairstyle every other week, from braids to extensions to my natural hair, and I wanted my bonnet to fit all those different hairstyles and provide quality enough to withstand those transitions."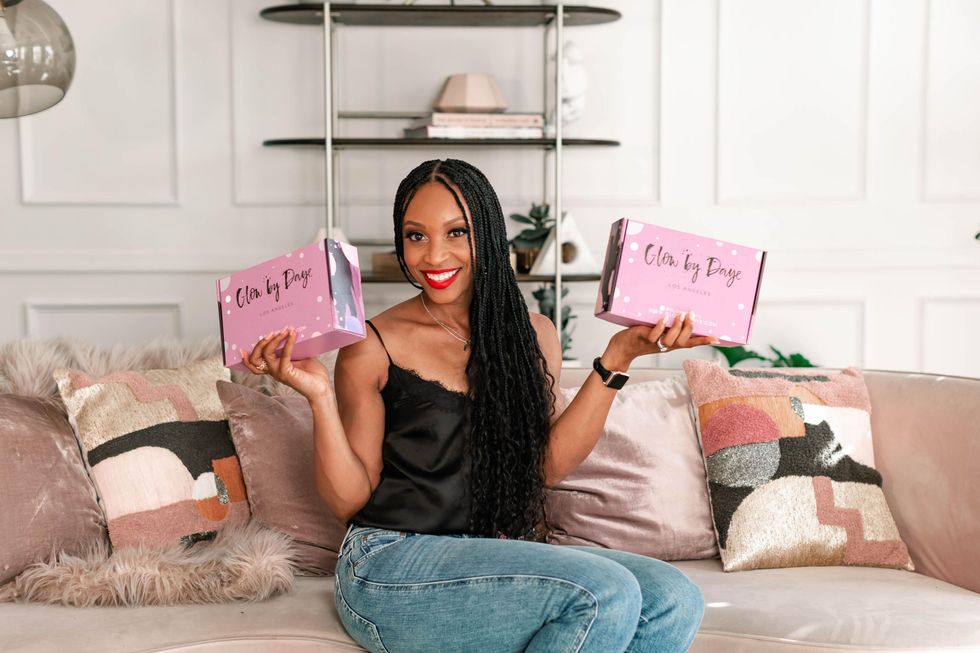 Image courtesy of Ranay Orton
In the first year of selling on Amazon, Ranay saw more than $1 million in sales. "It was a success from the beginning because there was nothing like it on Amazon at the time," she says. "The complete perimeter and inside is satin lined, the quality of satin has that slip our hair needs, and we've since introduced new products such as our heat and shower caps. Our products are large and adjustable to fit longer, higher-volume hair. They're intentionally designed for people who are weaving in and out of natural or protective styles and they have unique features that are respectful of our hair when it comes to retaining moisture and all of those facets of healthy hair."

The move to sell via Amazon has further allowed Ranay to expand her customer base, kick off continued revenue boosts even during the pandemic, and land a recent partnership with Fashion Nova. Check out the keys to how she was able to find success using Amazon as an entrepreneur:
1. Be sure you're offering something unique to the market and authentic to you as an entrepreneur.
For Ranay, being a Black woman who could thrive in an authentic niche by cultivating a realistic and relatable image of someone to trust in offering a haircare product on Amazon was key. "We were able to speak to a unique Amazon shopper who probably hadn't been spoken to before," Ranay says. "For the products that I was selling, it was new to see that we were marketing to women specifically for their coils, kinks, and curls in the way we were able to communicate what we offered."
"I'm my main avatar, so I was able to speak directly to some of the key pain points of my customer. You're buying bonnets that are falling off your head in the middle of the night, for example. It was really just speaking to a customer that hadn't been spoken to directly on Amazon before."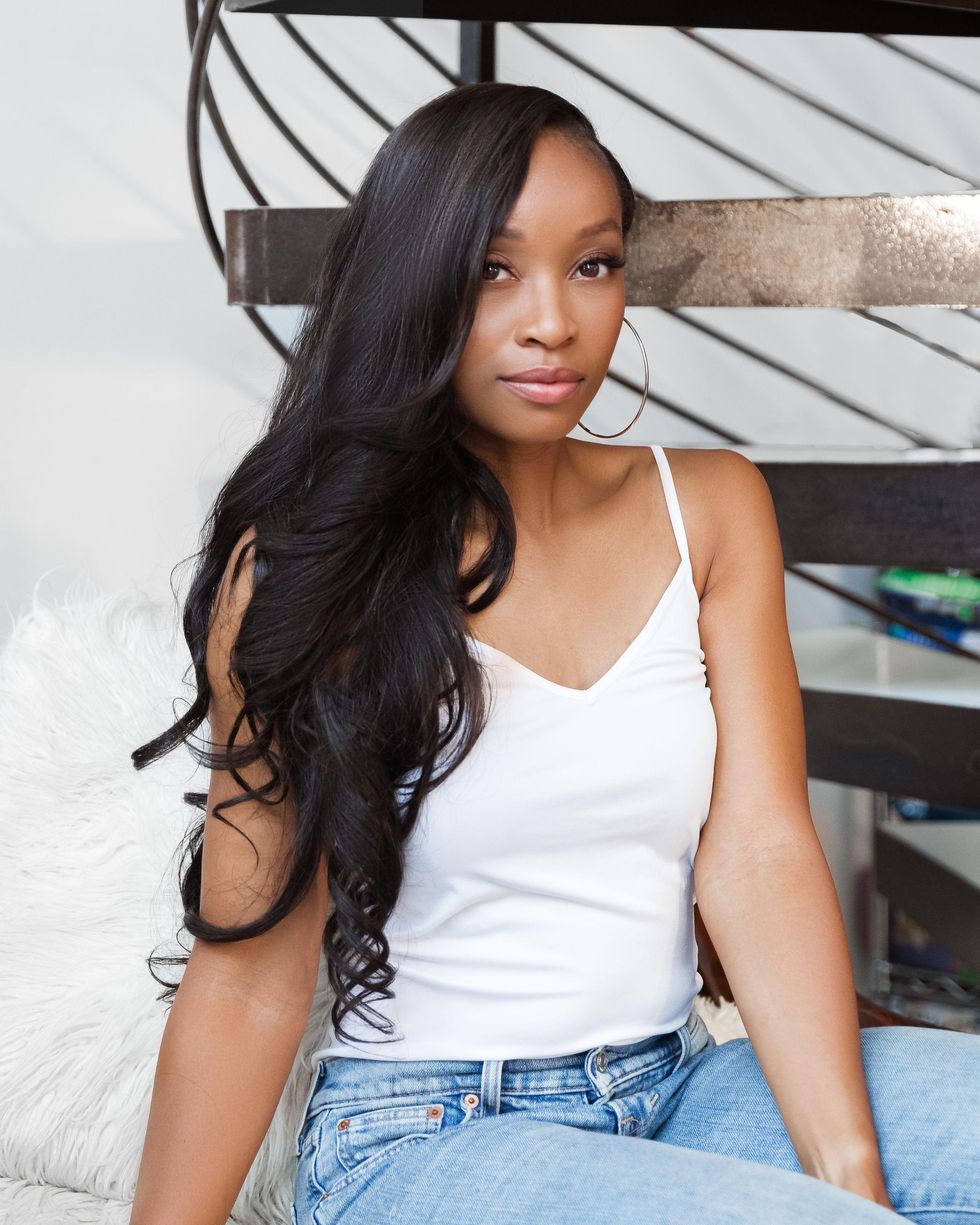 Image courtesy of Ranay Orton
2. Prioritize quality with any product you offer and market how that quality makes your product stand out.
"Having a good product is what you need in order to see sustainability on any platform, but especially on Amazon because there's a lot of competition. There's [also] a lot of crap on Amazon. People will sell you a hope a dream, and you get it and it does not live up to what was sold," Ranay says candidly. Sellers must have a good product to offer.
For Ranay, this means getting the best in satin and other materials, working with top manufacturers, and testing out what she offers in order to provide products that will build loyalty among customers. It also means taking into account the insights and opinions of her customers via her own website's channels as well as social media.
3. Research and tap into Amazon seller and fulfillment resources. 
Amazon has a large percentage of the online market among shoppers, and they offer resources for entrepreneurs who sell via the platform in order for it to succeed. "They have the buyers, so they're looking for people to supply quality products to those buyers. I utilized the fulfillment by Amazon program called Amazon FBA. In the beginning of launching the brand, I was still working full-time as a medical sales representative, so [the program] allowed me to [let Amazon] handle things like customer service, for the most part, and shipping. I was able to just send the products to their warehouses to store, pack, and ship. That took a lot off me so that I could really concentrate on product development and marketing."
By utilizing the resources, Ranay was able to focus more on creating new products, building out her own website, nurturing relationships with customers, and building a community via her social media platforms.
Find out more about Ranay and Glow by Daye products via Instagram and her website.
Featured image courtesy of Ranay Orton.
There's a rush of intrigue, fear, and guilt that happens in a moment of curiosity that prompts a search of online stories about how to start an OnlyFans. (I can't be the only one, sis.) I mean, whenever you think about the popular platform, the first words that come to mind are all related to adult films or sex.
But that's not all that savvy entrepreneurs and side hustlers are using the site for. By pure usability, the site was made for creators to offer their content for a subscription fee, putting money in their pockets and allowing them the freedom to expand their audiences or customers. According to OnlyFan's website, you could earn up to $7,495 per month—depending on the number of subscribers—offering all sorts of content.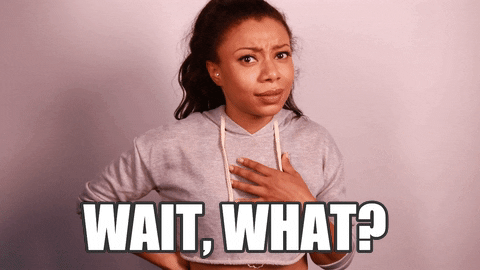 Image via Giphy
Sexual material in any form has obviously been the most dominant and talked about on the site, but that's a fact across the internet, period.
Another great caveat: There's a second option where you can offer free content and get paid per view. So it's a win-win either way for those who know how to leverage the platform's offerings.
OnlyFans charges a fee of 20% of creators' earnings from subscriptions and views, which is more attractive than having revenues on other popular video-based platforms deeply impacted by ads and other ever-changing (and often limiting) algorithms.
And you might be wondering: Why not just offer video content via your own website or a third-party webinar platform? Well, it's the same reason you wouldn't just bake 50 cakes from scratch when there's a very capable baker down the road who can manage the whole process and bake the cakes more effectively and efficiently.
Anywho, check out a few ideas for starting an OnlyFans when you're not into showing tits, booty, or any other part of your body for that matter. These are perfect for the savvy freelancer or entrepreneur with great content to offer:
1. Fitness Tutorials
True, you could post fitness sessions, tips, or advice on other platforms, but again, there's an exclusivity factor and money-making opportunity that might be being missed. A great way to complement the content you offer on other sites practically for free (or pennies for the average person just starting out) is to give a tease via the others and then promote more exclusive content via an OnlyFans page.
2. Consulting Sessions
If you have tried-and-true skills in leadership, business advancement, personal finance, or entrepreneurship, this is a huge space for you. Again, it's all about exclusivity and quality of experience. You can teach people virtually about how to start a business (or anything to do with successful business practices) and earn extra bucks for your knowledge and skin in the game.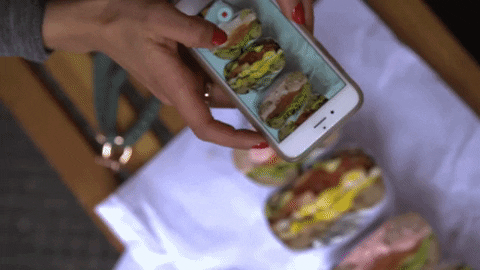 Image via Giphy
3. Food and Cooking Videos
A really cool avenue for this would be specialized cooking based on location (ie Southern, African, Italian or Asian), dietary restrictions (i.e. vegetarian, vegan, plant-based, or raw) or purpose (i.e. weight loss, weight gain, maternal health, geriatrics, etc). It's cool to produce videos for other popular platforms, but again, check your receipts and look at the return on investment. If you're great at what you do, have a unique perspective to presenting your recipes or food, or want to talk industry or workplace issues specific to food, this is a great lane to explore.
4. Fashion or Apparel Demonstrations
Ever heard of QVC or Amazon Live? Well, you literally could create your own home shopping events (or at least one that showcases the best ways to wear your items or use your creations) via an OnlyFans.
If you're like me, you've walked past something in a store thinking, "Nah, I don't need that," only to return to said store and buy said item after seeing it in a video haul, styled by a favorite fashion vlogger. And that's the sales power of demonstration in action.
Also, who doesn't like to get updates on deals, secret sales, discounts or ways to save money that others are not privy to? Many of us shopping fanatics subscribe to magazines, email newsletters, and sample sale lists for just that.
5. Live Music Performances
If you're a musician or even someone who works in the business and has access to cool events, artists, and industry updates, offer it up via video snippets, a news show, or curated experiences that can only be seen via your OnlyFans. Many people yearn for that concert or festival vibe that was relished pre-COVID, and we can all see by the super-success of platforms like Verzuz that there's definitely an audience. It's one thing to DJ or give away content for free on other sites. It's another to create real community and connection via a subscription-based portal.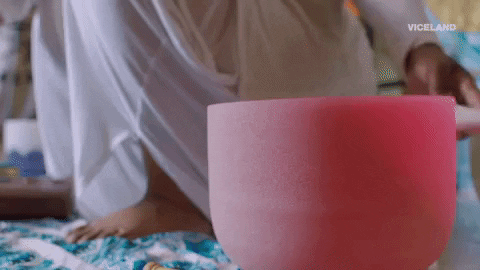 Image via Giphy
6. Wellness Sessions
There are so many apps on the market that offer limited free content just to get you hooked (hey, Calm), then draw you into paying for more access. Sis, if you're into affirmations, sleep therapy, meditation, spiritual guidance, or specialized yoga, get in where you fit in. Managing separate appointments, setting up one-off virtual webinars, and juggling multiple platforms while focusing on healing folks may not be the business. Plus, you'll be able to really zero in on a customer base that you can further connect with via other mediums.
7. Behind-the-Scenes Videos
Many people connect with brands and public figures simply by getting to know them personally (or at least feeling like they do). If you can share how you created something or videos about your day-to-day life as a mother, influencer, businesswoman, college student, newlywed (or any other major life journey), you can offer a breath of fresh air in the sometimes very dark and gloomy world of online media. Watching content on other video platforms gets a bit formulaic and dry after a while, so being able to connect with a favorite figure, brand or business in other ways can be a joy for supporters.
8. Exclusive Events Coverage
Even in this virtual post-pandemic (still pandemic?) environment, there are events to attend and people to link with. If you're an events coordinator or you're just known for always being where the action is, let people become social voyeurs for a fee. It's especially cool if you have an unique perspective, style, friend group, or personality to add a little flair to the content and context of what's being watched whether through commentary, hosting, creating pranks, or just being you.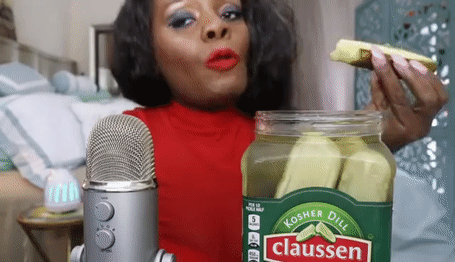 Image via Giphy
9. Exclusive Livestreams
So, we're not talking sexual or raunchy here. We're talking about being free to talk how you want to talk, look the way you want to look, and be your full self (with the obvious and very necessary limits based on the rules of the site and state and federal laws).
One thing about OnlyFans is that if it allows sexual content, it definitely allows a certain kind of freedom that other platforms either restrict heavily or don't allow at all. The censorship is real, sis.
For example, you could be restricted on some platforms for posting a very innocent photo of your feet, fully covered by bubbles, in a bathtub with a "self-care" hashtag (happened to me) or for affectionately using certain provocative words or hashtags. (This has allegedly happened to quite a few influencers and everyday folk, and many bans are determined by algorithms or filters that clearly have issues related to appropriate filtering). If you want to talk about topics you're passionate about or want to offer content that covers topics in a way that's not watered-down and stifled, this might be the perfect platform for you.
10. Niche or Specialized Community-Building
Let's say you're into cosplay (and not that kind, sis), you're a Trekkie, you love Yorkies, you're a couponing fanatic, you're obsessed with Black art, or you're into geocaching. This platform might be a great space to not only build a community of like-minded folk, but provide a space for them to be supported and nurtured. You could be into fine jewelry collection, antiquing, thrifting, independent filmmaking, or adventure tourism. Curation and quality is key, and you can offer something that connects others to opportunities, experiences or information on specialized hobbies, activities, or businesses.
Are you a member of our insiders squad? Join us in the xoTribe Members Community today!
Featured image via Getty Images
Keep reading...
Show less
There's nothing like finding a tribe that empowers you to be your best self, especially during challenging times like these. And when you can also find ways to partner up, build legacies, and build wealth together, that's even better. Friendpreneurs Tai Beauchamp, Nia Jones, and Malaika Jones have enjoyed the fruits of all of that with their plant-based wellness brand Brown Girl Jane. The collection of products include broad-spectrum CBD, an ingredient that has been found to improve issues like anxiety, pain, stress, acne, skin dryness and much more, and can be found at Nordstrom, within Birchbox, and online via their website.
Sisters Malaika, who is CEO, and Nia, who is the Chief Impact Officer (CIO), found kinship in fellow Spelman grad Tai, who serves as the Chief Brand Officer (CBO). They decided to combine their talents, networks and experiences to offer a product line that promotes wholeness, balance, and beauty from the inside-out.
"The brand started very organically," Malaika said in an exclusive interview with xoNecole. "We come from three very different backgrounds in terms of professional career but we were confronting the same wellness challenges even though we're approaching them from different directions. In terms of creating the brand, we recognized a need to craft a beautiful wellness collection centered on women of color. We were amazed at the efficacy of the plant and all that it could do and the different ways it could be used. In terms of getting started, we created the brand we always wanted to exist."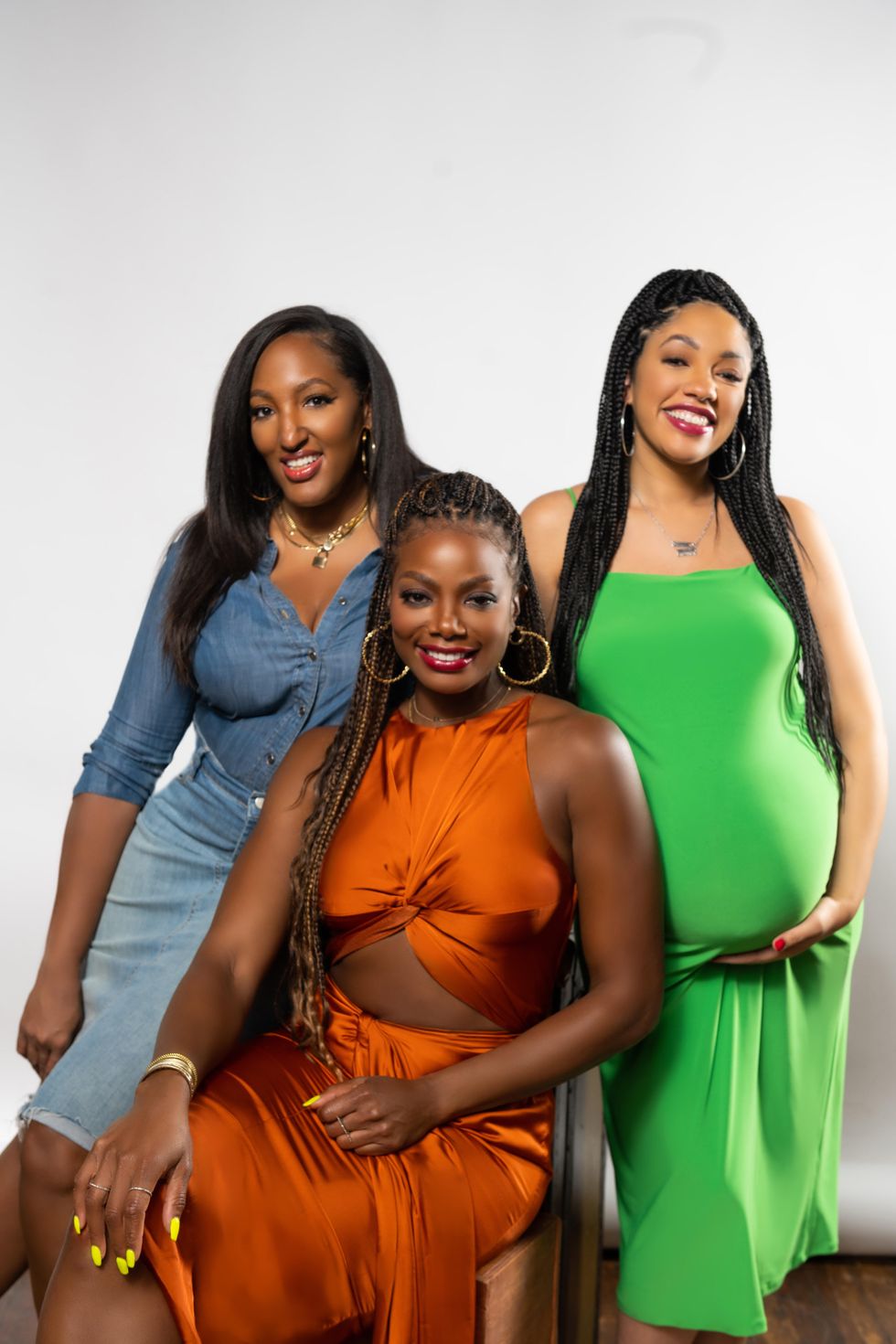 Brown Girl Jane co-founders, Malaika Jones, Tai Beauchamp, and Nia Jones
Image courtesy of Brown Girl Jane
The founders of Brown Girl Jane have also been able to build a community that centers on inclusive luxury and transparency about what Black women are putting in and on their bodies. Working directly with the people involved in the process of making their products, the founders ensure that they interact with everyone from the farmers to the chemists to the manufacturers. "We are self-funded, and we really just broke apart all of the components of the brand," Malaika added.

"My background is in finance and on Wall Street, and so building a business and knowing the functions and operations of business is something I've done before. Tai obviously has her expertise in brand-building, marketing, and publishing. And Nia has done enormous work in mission. We've brought together those components to craft the brand that we wished existed."
The mark of any great (and lucrative) venture is filling a void in the market and providing a solution to a problem that would impact a large number of people. Each founder had their own personal connection to wanting to solve everyday problems in their own lives. "I think the other thing in terms of how it started was recognizing the needs of women like us and feeling more well," Tai added.
"Specifically, [it was] Malaika's experience with giving birth to her youngest daughter and having a spinal cord injury and not wanting to take the pharma route of medicating. CBD plant-based solutions provided a great deal of benefit to her physically. For me, travelling and being on the road constantly and feeling anxious about getting sleep and all those things, obviously also impacted [me]."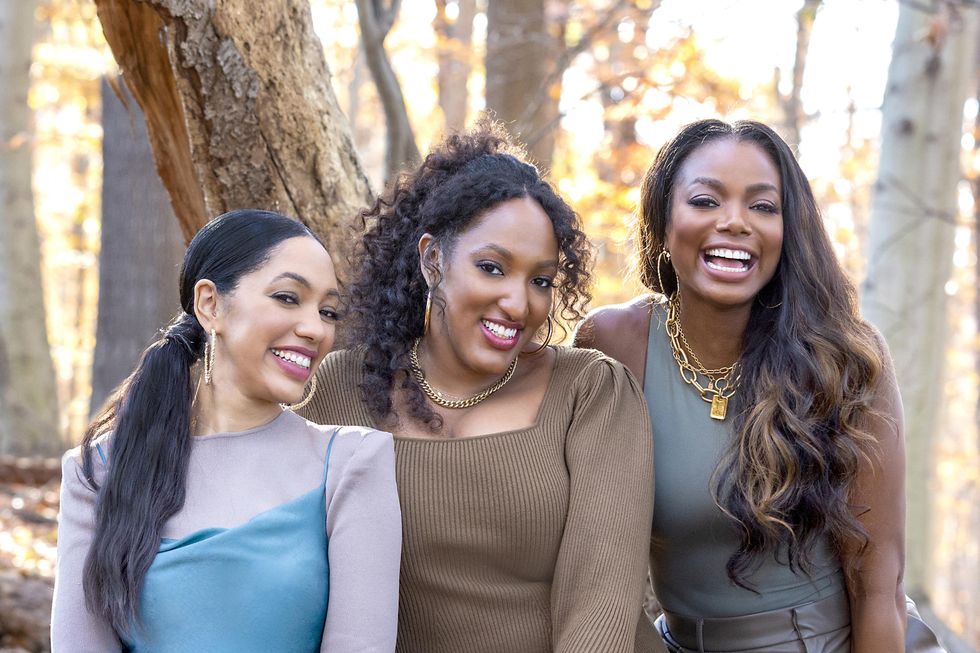 Image courtesy of Brown Girl Jane
With health and isolation issues related to the pandemic, the transitions of politics, and the issues of police brutality and racism at the forefront, many of the challenges they faced were those that other Black women around the world could relate to. "This is really about solutions not only for women as a whole, but that can support how we feel, how we look, and how we're able to show up, from anxiety from sleep deprivation, from pain and what have you," she continued.
"That's what we're doing with this collection as a whole. It's really centering what have been areas of challenge and opportunity for us to not necessarily being able to thrive to our fullest potential and providing both community, a tribe, as well as a collection that takes all of that into consideration, saying, 'Here's your toolkit sister. Here's what you need in order to live your most elevated life.'"
The women agree that it's important to not only offer products with a super-popular, trending ingredient like CBD, but provide a holistic, authentic platform for women to address the many facets of what wellness means for them. "That was intentional. And these products actually work in terms of the level of efficacy, the level of quality, and the level of intentionality in how we craft our collection even as we consider expanding beyond CBD. There is an intentionality, and we want to ensure that this [product] is highly advantageous."
There's a special sense of being the change you want to see even beyond offering a product to consumers, and this is surely evident through the founders, who are indeed real-life sister-girlfriends who aren't afraid to be the embodiment of their beliefs. Cultivating community and finding power in partnering up with fellow women is a key part of the company that tangibly manifests itself through the founders' connections with one another.
"Being founded by three Black women—two of whom are biological sisters and all of whom are Spelman sisters—there is a profound recognition of who we are individually but also who we are in the power of our collective," Tai said. "And in recognizing the power of our collective, because that is ultimately what has sustained us when we didn't have our collection, when we didn't have Brown Girl Jane as a product and brand, we had our sisters, as a community, who held us, who supported us, and who were essential to our toolkit."
"We wanted to make sure that the women we look to support have that same resource because that's foundational. In partnership with the collection, centering ourselves, and changing some of the systemic belief systems that have held us back in some ways in prioritizing health and wellness, we can all be well. We can feel more whole. There can be healing. There can be support. We can be a resource. That was intentional."
The trio's relationship sets a tone for providing a different narrative that challenges other age-old negative stereotypes about female friendships and further illustrates the power of partnering up with other Black women to build something great. "We can approach everything with a different set of eyes," said Malaika.
"I would encourage that when people are working with friends, you actually want people who think differently and have different sets of expertise, but who share the same north star, which for us is just wanting women of color to be able to live their best lives. We want to be helpful along their journey toward wholeness. That's very consistent across the founder team and that's really just the expertise which is varied, and that's amazing to be able to lean upon one another for."

Follow Brown Girl Jane on Instagram @itsbrowngirljane and find their products on Nordstrom.com or their website.
Featured image courtesy of Brown Girl Jane
Keep reading...
Show less
Just a few years ago, Dunnie Onasanya, affectionately known as Miss Dunnie O, had the perfect winning trio of a roster of amazing clients, a huge online following, and a relationship that was publicly among the coveted, sparking IG comments like "Bae goals." She and her ex launched a popular Los Angeles-based swimwear brand, leading to the further increase of her online following and widening the brand presence of the then mother of one and events producer. But things got messy when the couple separated and subsequently divorced, with details of the split playing out very publicly on social media.
After finalizing the divorce, taking a step back, and getting the support of family and friends, she decided to pursue a passion she'd had since childhood but had never really considered as a viable career choice. She's a Tuskegee University alumna and Delta Sigma Theta member who studied business administration and marketing before starting her path in entrepreneurship.
Today, she's an artist-in-residence at VisArts in Rockville, M.D., and she earns five figures and up for her pieces that reflect her faith and Nigerian heritage. She also recently celebrated the birth of her second daughter, with an internationally famous new bae (one whose identity we will be keeping on the hush hush as to respect our good sis's privacy.)
We caught up with the artist to talk about how she was able to overcome the hurt, heartache and public scrutiny of the past, totally reinvent herself to reclaim her life, and how other women can tap into pursuing their wildest dreams after divorce: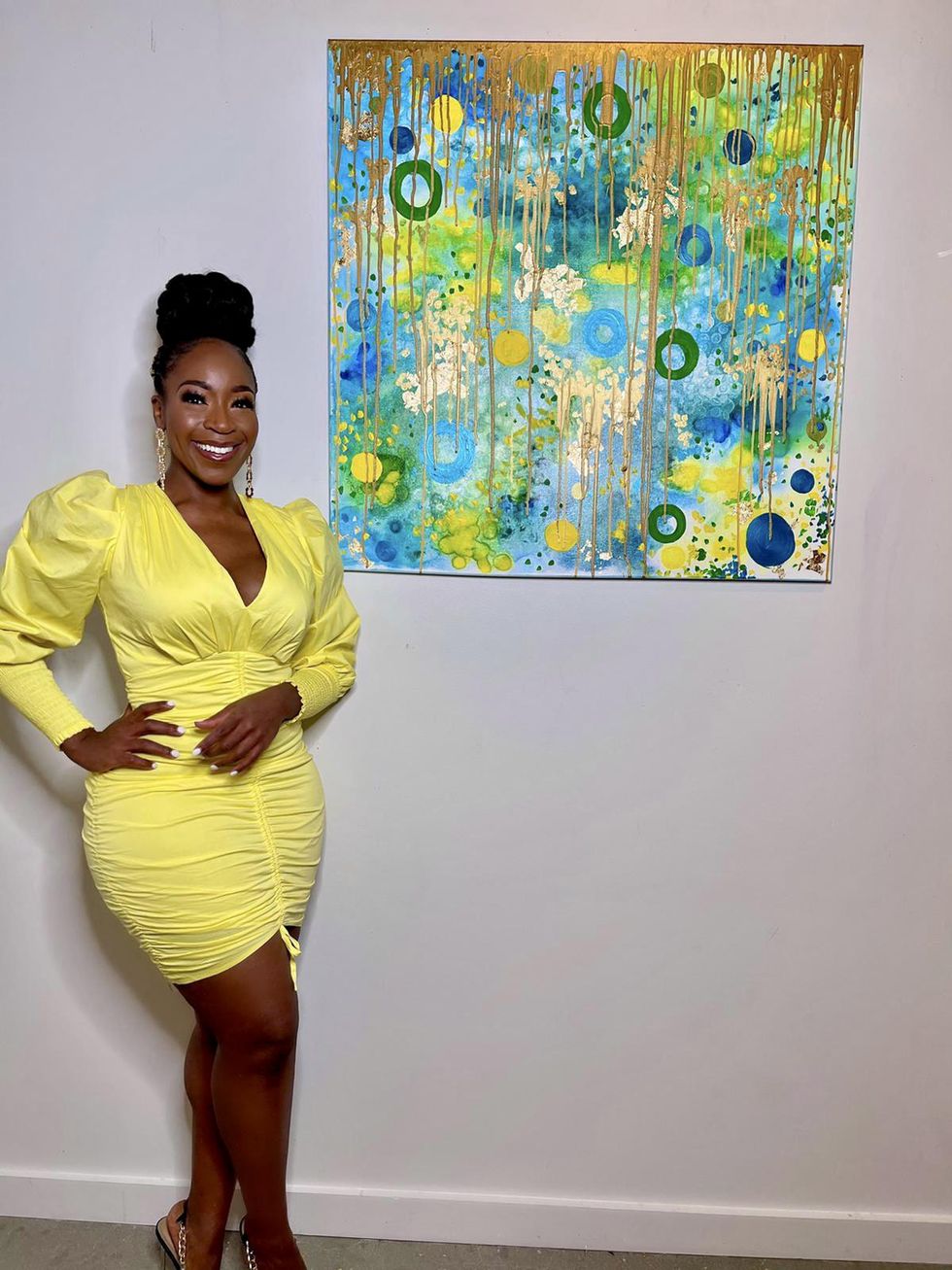 Image by Dunnie O
xoNecole: Any separation or divorce is tough, and it can be even more challenging for a successful businesswoman and mom whose 2018 separation played out online in front of tens of thousands of followers. What was it like for you going through that?
Dunnie O: Well, it was a very toxic situation. I feel like a lot of women will be able to relate in the sense that a lot of women stay in situations because they are trying to keep their families together, even though they probably know deep down inside this is not healthy. And sometimes it takes your friends or people closest to you at the time to help you navigate out of those types of situations. So, I'm grateful for the support system that I did have in L.A. [at the time] because they were able to help me get out of that situation and back to a safe and healthy environment for my daughter and myself.
Our wedding was all over the Internet, and you kind of feel that obligation to your followers or to your family. It's like, 'Oh my gosh, I don't want to let people down or make people upset.' But then are you actually living? That's what's most important. I think the biggest lesson that I learned out of that situation is that perception, you know, people are always going to talk.
"People are always going to have something to say, but at the end of the day, you need to be able to go to sleep at night with peace of mind, knowing that you've made the best decisions for your own wellness—for your mental health and physical health."
It's crazy because sometimes when you're in relationships, you know, things don't start off that way. It's usually a progressive build and there's some kind of breaking point or something to where the other person starts to make poor choices that are now affecting the entire household. And you can either choose to suffer in silence or break away and move on.
xoNecole: That's so true. We have to practice self-care and do what's best for our well-being. So, how did you transition from that and your work in branding, events and PR, to your current work as a full-time artist?
Dunnie O: Art is something I always loved as a child, but it was never something I actually thought I could pursue as a career. And when I came back home and everything, my mom's just like, 'Well, what are you going to do? You want to go back to school?' I was like, no, I really want to try painting. I didn't go to art school, but I just knew I at least wanted to give it a shot. I was like, OK, let me try this for a year and see how it goes. If it doesn't work, then I'll go back to school and maybe pursue something like healthcare, something more stable.
"I'm so blessed because God really allowed for me be fruitful in this endeavor. I started painting and then I just started sharing my work online, just from the platform I already had."
People reached out wanting to purchase my work, which was super encouraging to just keep going with it. Within my first year, I got invited to exhibit in Toronto as an international artist for a big festival out there. Then I got commissioned to do a few different projects in my area and in Canada, too. So, all of that first-year work was the perfect thing that I needed to actually apply to be a resident at an art gallery. I was attending a networking event with a friend and someone at the event told me [about VisArts]. Initially, it felt like, you know, impostor syndrome.
That's what I essentially had because I literally turned my application in the day before the deadline. About a month later, they sent me an email. They're like, "We would love to have you as an artist-in-resident at the gallery." It was a huge accomplishment—a testimony for me—just because it was something that I really wanted. I didn't go to art school, but, you know, it was a personal miracle in the sense that yeah, I got it.
It's amazing [because] as a result of being a studio artist there, I've been able to teach and host artists talks. Even in the pandemic I've had to work from home primarily, but I still have my studio space so I'm able to meet clients for pickups and remain plugged into the community that way. I'm really grateful to be where I am on my journey so far.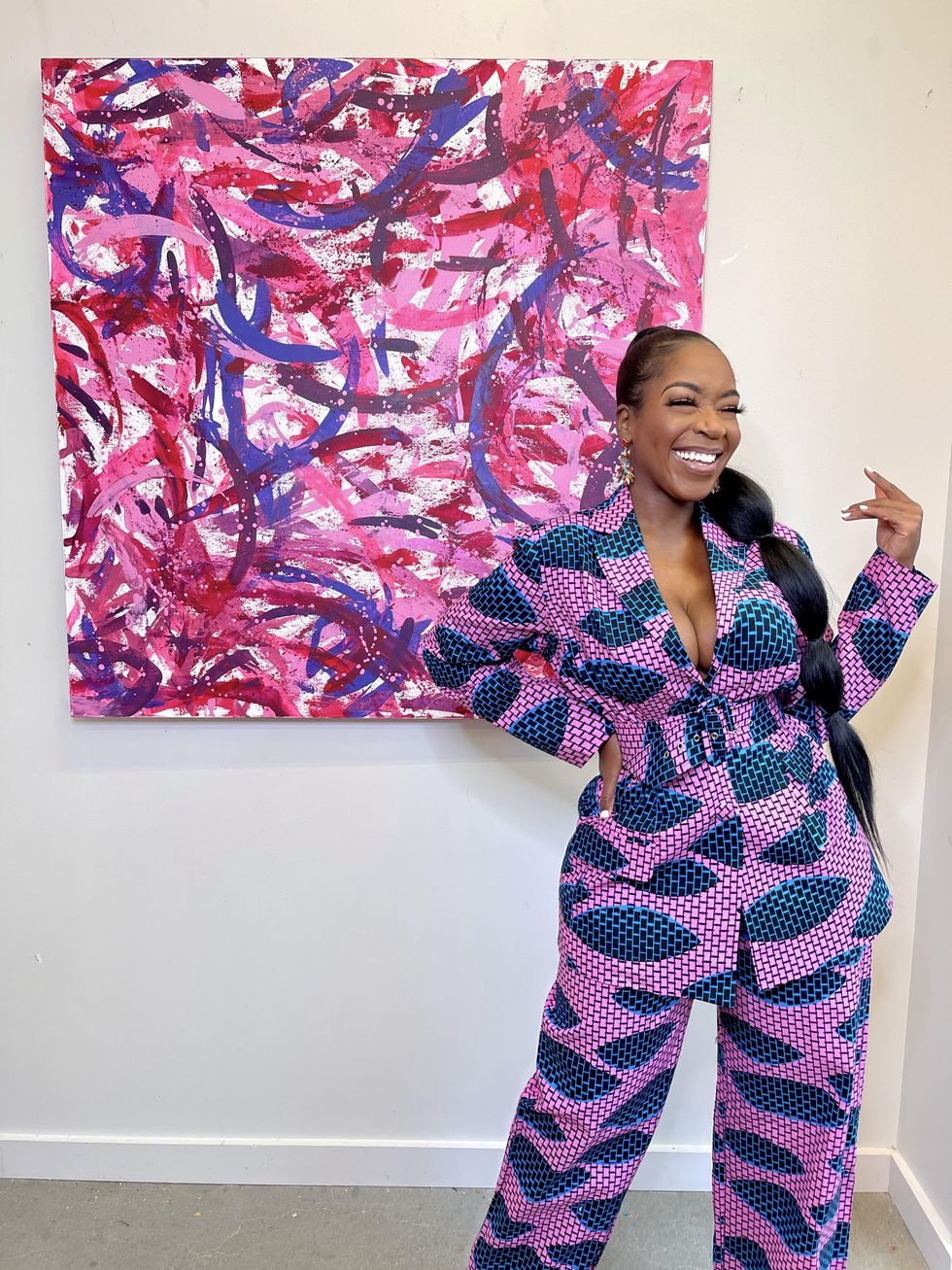 Image by Dunnie O
xoNecole: That's amazing. Now, shifting from one lifestyle and career to another can definitely have a major effect on one's finances. What has the journey been like for you in that regard, and how do you find opportunities that allow you to earn well as an artist?
Dunnie O: Well, it starts with putting your work out there and letting people know what's for sale. People need to know that you are offering a service or offering a product that they can readily purchase. I believe I've built a niche for myself in the sense that people now seek me out for custom paintings for their homes or their businesses. I [recently] put out a spring collection of paintings that people can purchase that are readily available to ship.
"I literally built my business around what I love to do, so it's not strenuous and I'm happy in the work that I do."
I have a request form on my site. People can request then it gives me information to generate a quote for them in terms of what it would cost for me to take on their project. I basically applied the same skill set as I would to produce an event. It's the same skills, and I tweaked a few things and made it to apply toward artistry.
So now, my starting prices for an original on the smaller end can start at $500 [per piece], and I've done projects at this point now, like one-offs, starting at $11,000 [each]. And I think the really cool thing about art is that, you know, it's a luxury buy, so it's something that people are also looking to as an investment. As my brand grows and as I continue to grow, so will the value of my work. Art collectors who decide to invest in the early or the potential trajectory of my [art career], the worth of my collection down the line, you know, is pretty substantial.
xoNecole: Yes, many art lovers would agree with that. And we see art value appreciating all the time. So, what have been the biggest lessons about yourself that you've learned overall in the transitions, both personally and career-wise?
Dunnie O: It was definitely challenging, but [it was about] owning my story and knowing that I cannot allow myself to be defined by other people, you know? If I allowed myself to be defined by my divorce [then] that's what I'd be, a 'divorced chick' the rest of my life, you know what I mean? But that's not going to be my story. That was one chapter, [and I'm now] moving along to the next.
"My artistry has been my therapy and brought about so much of my healing. Renewing my faith in God has helped me to start this new chapter of my life and fully transition into my career as a visual artist and muralist."
With consistent prayer, practicing unapologetic self-love, meditating, and affirming myself daily, I've been working consistently to grow spiritually so that I stay in alignment with my purpose and soul mission. As a result of staying in alignment I've learned how to protect my peace of mind. God has blessed the works of my hands with financial success, and I've established consistent income with my artistry and amazing clientele who truly value and appreciate all of the artwork that brings me so much joy to create.
For more of Dunnie O., follow her on Instagram.
Featured image by Pablo Raya
Keep reading...
Show less
It's always good to see women winning in business. And when it's a family affair, that's even better, especially for Black women who are creating legacies and creating generational wealth by working with loved ones. Mother-daughter entrepreneur duos are killing the game today, making sure their families are set and getting to the money by working smart. From 2014 to 2019, female-led ventures launched by women of color grew by 50 percent, and more recent stats show that 60 percent of family businesses have women in top management positions. Almost a quarter are led by women CEOs or presidents.
This Mother's Day, let's celebrate a few mother-daughter business duos who continue to show us that you can indeed work with family, thrive, and succeed: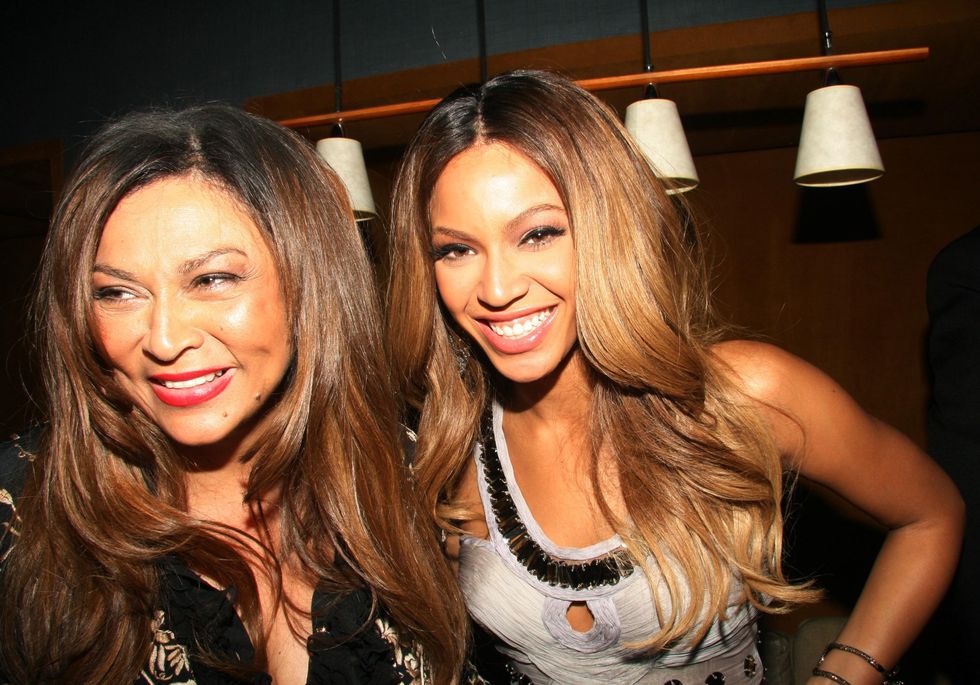 Johnny Nunez/WireImage
Tina Knowles-Lawson and Beyonce Carter
We're always here for Auntie Tina, the mother of Queen Bey and Solange, and we're definitely here for the moves she's made not only as a mom but as a businesswoman and social justice advocate. Bey and Solange grew up with boss beautician mom who ran her own salon in Houston. Along with designing major looks for Beyonce and Solange, she co-founded Beyond Productions, a lucrative designer and licensor of women's apparel and accessories (and the company behind House of Dereon and Miss Tina lines). Tina Lawson also partnered on numerous charity and service initiatives with organizations including the BeyGOOD foundation, the Knowles-Rowland Center for Youth, and The Survivors Foundation. She continues to lend her voice, resources, and influence to issues of police brutality, racism, and justice system reform.
Stacia Pierce, the mother in this duo, is a dynamic speaker and life and business coach who founded her online platform to be a resource to women leaders across the country. Her daughter, Ariana Pierce, is an author, coach, and entrepreneur in her own right. They've teamed up to launch the Women and Wealth Success Club and virtual conferences to empower women.
Edith Cooper and Jordan Taylor are the founders of Medley, a membership-based community made up of curated small groups who get coaching and leadership resources for career growth. They also help facilitate diversity and employee retention through their efforts in building community and providing safe spaces for workers.
Courtney Adeleye, the multi-millionaire founder of super-successful haircare line The Mane Choice, has instilled the same business savvy into her daughter, founder of Lily Frilly. The fun and colorful line of children's accessories, apparel, and backpacks that are available at Target, and the brand has expanded as a resource of empowerment for children and youth via networking and events.
Described as a "love project," BoujFleaMarket is an online marketplace sparked by an idea seven-year-old Anastasia Linkpon had to offer fun items for kids or those who are a "kid at heart." Her mom, Adriane Mack, supported the vision and the site was launched, offering things like vegan bodycare, cute lightning-bolt earrings, and purses shaped like fast-food takeout, to name a few.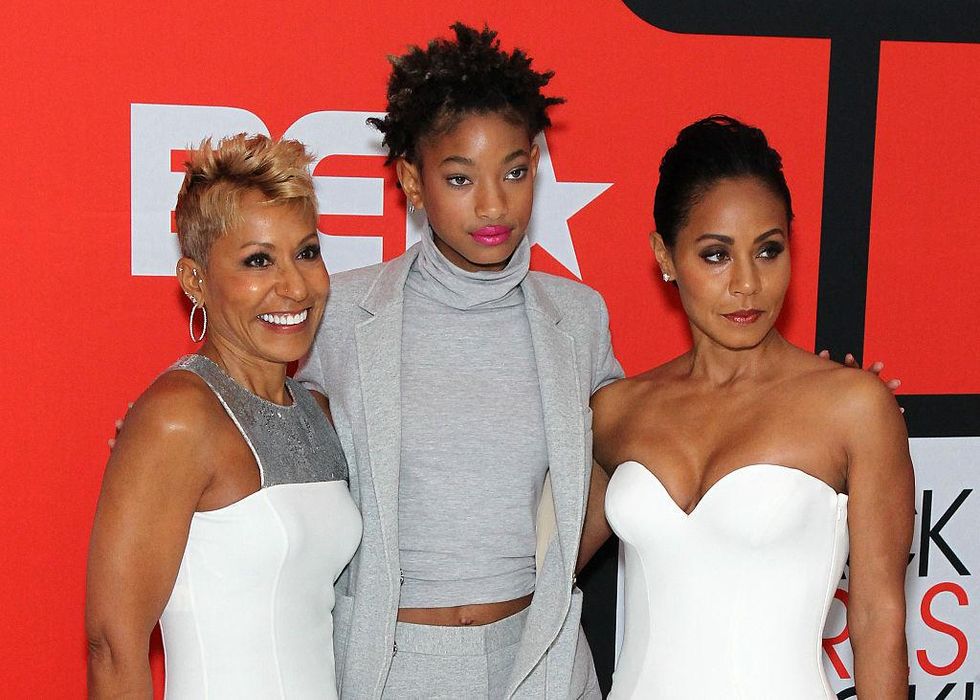 Bennett Raglin/BET/Getty Images for BET
Adrienne Norris, Jada Pinkett Smith and Willow Smith
This trio of Black girl magic who sits around the infamous crimson platform for Facebook's Red Table Talk is simply the breath of fresh air we all need on the Web. They host multi-generational conversations on topics including family traumas, love, mental health, and more, and Jada Pinkett Smith is co-founder of Westbrook Media, the production company behind the show. Adrienne Norris, also known as "Gammy", hosts her own podcast Positively Gam, where she talks aging, sex, and issues in the Black community, and Willow Smith continues to slay in music and fashion, having previously served as the face of Chanel Eyewear.
These women have revolutionized the phrase "Black girls work out, too," and given us all inspiration for fitness, wellness, and business. Ellen Ector and Lana Ector are co-founders of Gymnetics Fitness, a private studio and online platform founded in 2010. They bring a combined 25 years of training and fitness regime experience to the wellness space, diversifying the images and influencers we see that promote healthy lifestyles and habits.
BeatHouse Cosmetics, a boxing-inspired makeup line, was founded by two Augusta, Ga. natives, Danielle Pasha and Samiah Pasha. Mom Danielle appointed her teenage daughter as the face of the brand and the CEO. With names for colors and palettes like "Million Dolla Lady," "Undisputed" and "The Champ" the ladies are surely set to remind makeup lovers and pros to be confident and persevere.
The beauty and fierceness of Teyana Taylor and her momager Nikki Taylor is undeniable, and they both bring the hustle and flair of Harlem, N.Y. to whatever they do. Taylor, a mother, artist, director, actress, and wife to NBA star Iman Shumpert, has gotten huge deals with brands like MAC, and she has topped the charts with her music. She's also snatched more than a few wigs with her amazing explosive live performances.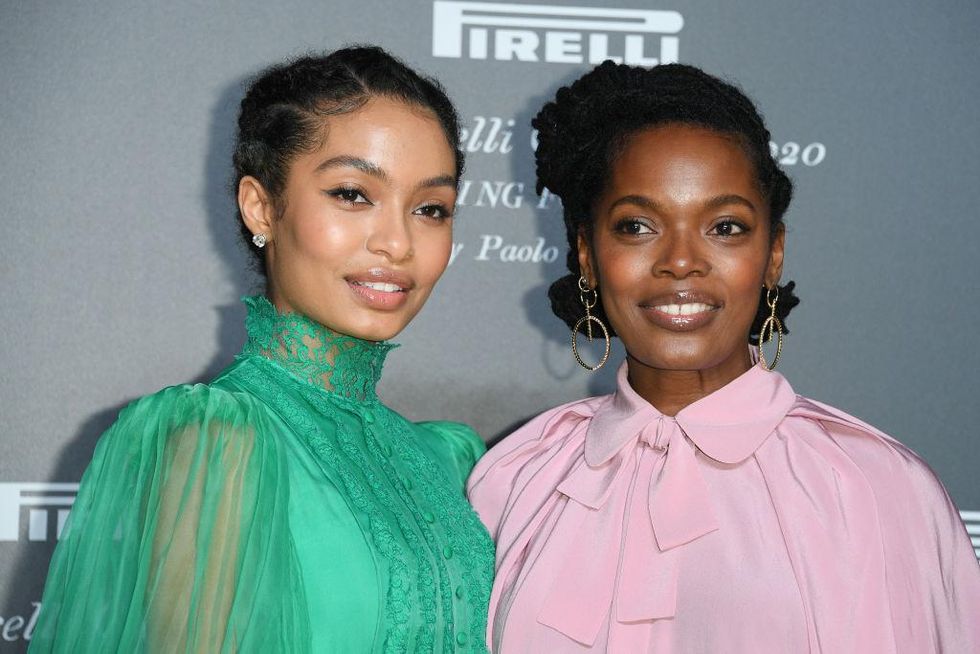 Daniele Venturelli/Daniele Venturelli/Getty Images
Keri Shahidi and Yara Shahidi
We all know and love Yara Shahidi from her roles on Black-ish and Grown-ish and of course for her work in activism. We love it even more that her momager, Keri Shahidi, has had her back throughout her career, even in business ventures. The two just landed a deal with ABC Studios last year to launch a production company, 7th Sun, which is set to release a new single-camera comedy that centers around a budding cannabis entrepreneur.
Featured image by Daniele Venturelli/Daniele Venturelli/Getty Images
Keep reading...
Show less