Janell Hazelwood
Janell Hazelwood, MAOL, is a journalist, speaker, editor, and consultant who has worked for companies including The New York Times, Black Enterprise, and Conde Nast. She is a proud HBCU journalism graduate and has served, for more than 15 years, as a journalist, editor, strategist and commentary writer. She also holds a master's degree in organizational leadership (MAOL) with a concentration in coaching, allowing her to pursue her ultimate goal as a lifelong servant leader to women professionals, entrepreneurs, and nonprofit founders.
The subject of cancer is one that always hits a super-sensitive sore spot for me. I've lost several women in my family, who were very dear to me, to breast cancer, and while I can always remember them in my heart, reminiscing on their last days and reliving the disappointment about how I'll never get the chance to share pivotal experiences with them in my adulthood still hurts.
And I'm not alone: Between 1999 and 2020, 909,488 Black people died from complications of breast cancer, the CDC reports, devastating their families psychologically and financially. Non-Hispanic Black women have the highest death rates for this type of cancer as well, and it's not just something that hits middle-aged or elderly women, either. The Breast Cancer Research Association notes that young Black women (under 50) have double the mortality rate of young white women for breast cancer.
Featured image by South_agency/Getty Images
None of us are strangers to remote work at this point, especially after the nightmare that was the Great Pandemic of 2020. Working from anywhere—with my favs being at home, from a beachfront restaurant in Jamaica, or in a chicly decorated boutique hotel room—is a norm for me. That being said, wearing whatever I want during work hours has been a norm for me as well, even if it's wearing absolutely nothing at all.
So, when I found out that the first Friday in February is U.S. Working Naked Day, I thought, "Well, hell, I've been celebrating a holiday I never even knew existed in my own way all along!"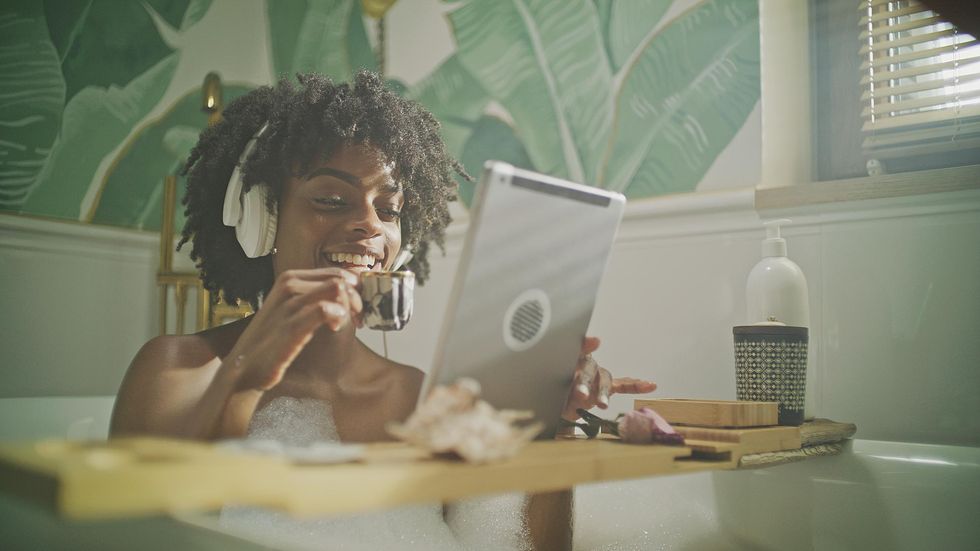 janiecbros/Getty Images
To be fair, the day is less about being in your birthday suit and more about empowering you to celebrate the benefits and feelings of "freedom and flexibility" you get when you work from home. Since I'm now aware that there's an official day for this, I finally get the chance to officially let the cat out the bag (pun intended) and admit that the girlies (i.e. my DDs) stay out when I'm working from home, almost every day of the week.
I've been a huge fan of the boldness and freeness of embracing nudity while home since the day I decided, 20 years ago, to sleep in the nude. I'd always read up on the benefits, for example, of not wearing panties in order to let your vagina "breathe," and how skipping the bra at bedtime could help alleviate body discomfort. After having a hard time with waking up in uncomfortable sweats during all seasons, I noticed that when I'd sleep naked, I'd wake up in a better mood, with no sweat or anxiety.
So you can imagine, with me working from home, especially for Work Naked Day, I'd simply just continue my day, in the nude, anyway.
I typically start my day with a cup of coffee, naked, while seated in my bedroom's velvet reading chair. I literally sit in silence, trying to get my thoughts together and just take time to just be. (I usually take a shower before bed, so they're not usually part of my morning routine, by the way, especially when working from home.)
After about 30 minutes of silence and prayer and maybe 30 minutes of some social media scrolling, I'll drink some water and begin prepping for my office hours.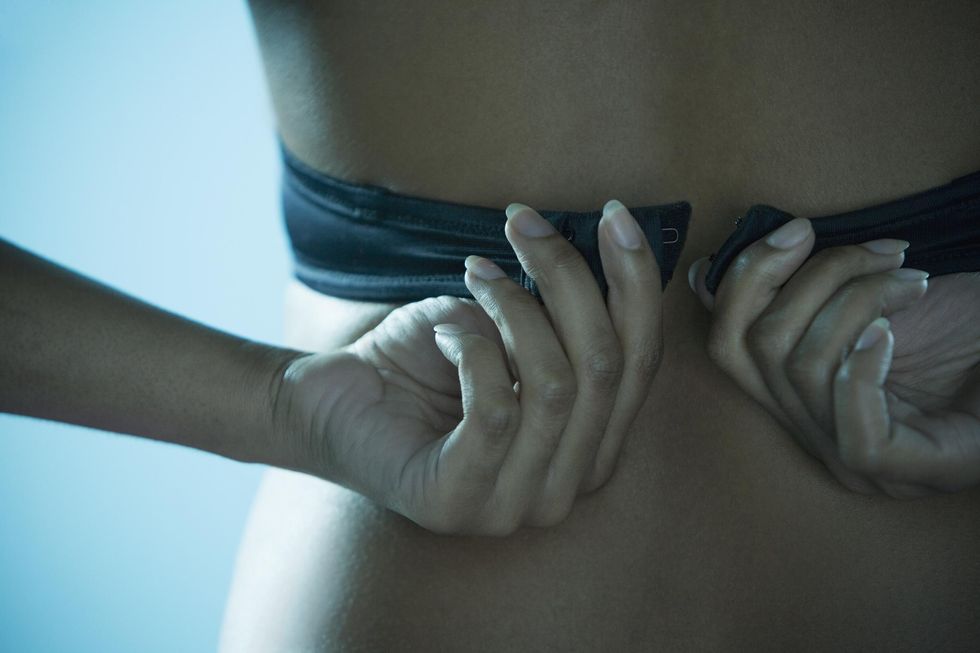 Terry Vine/Getty Images
Half of my work days are spent writing and editing, so it's not like there's a manager knocking on my door or back-to-back in-person meetings to be concerned with. On those days, I'm typically on my laptop, and if I'm not traveling, I'm seated at my home office desk (with a folded towel under my butt because, duh, who wants to sit their naked booty on a cold leather office chair?).
I keep the heat in my home on summer-in-Jamaica-hot during the winter, and again, since I travel a lot and prefer the digital nomad life to being at home, it's refreshing to sit, naked, imagining that I am indeed at an oceanfront eatery in nothing but a bikini top and a sarong. (Jamaica, in particular, has nude options for me to enjoy in public (on private grounds), but I digress).
After sending out emails to freelancers I manage for one publisher, finalizing assignments for another, and trying to keep to my office hour boundaries for both, I have to force myself to take a break and either order in or cook.
I often choose the latter and end up looking like a tall female version of Ving Rhames in that infamous Baby Boy kitchen scene. Lunch with a side of T&A, anyone?
I've been obsessed with veggie subs lately, so that would mean frying up broccoli, zucchini, and olives, adding some provolone cheese, Italian seasonings, oil, vinegar, and mayo, and toasting an Italian sub roll.
Then, I go back to work on my laptop until my obnoxious iPhone alarm goes off to remind me of the time-blocking boundaries I promised to keep to ward off freelancer burnout. (It's even worse than the burnout I'd experienced as a 9-to-5er due to the fact that, since my schedule is so flexible, I've often felt obligated to keep working and working until I'm annoyed, achy, and frazzled.)
I might even take a 15-minute break to have a naked stretch session, but nothing too strenuous because I don't exactly enjoy the pain that comes with jumping up and down as my huge geriatric-millennial boobs slap my chin and chest.
If I have a package delivery, I usually wait at my peephole to ensure nobody's still lingering about, crack the door, swiftly sneak it open slightly, push out a foot, and shuffle the boxes close enough to my foyer before quickly sliding them in and shutting the door. I find it thrilling and would do this for a food delivery if not for the fear of bae having a fit at the mere thought of some strange man getting an accidental flash of nip with his tip.
There was that time, during the first year in my current place, that the maintenance man used his key to enter for a repair I'd forgotten I requested. Yes, it was a work day. And yes, I was partially naked.
I was on a call, topless, and thought somebody was breaking in. The New Yorker in me prompted the dropping of the phone, the gathering of both breasts in my arms, and the one quick move, by sheer adrenaline and instinct, that took that guy all the way out. I charged him like a linebacker, all the way out my front doorway, and boldly slammed the door, only to hear him yelling, minutes later, "Maintenance! It's maintenance! I'm so sorry! I'm so sorry!" I told my man about it, in fact, and he damn near cussed me out, angry about the fact that I had hardly any clothes on, naming every emergency in the world that could happen in a condo, and commanding me to get a security bar for my front door (which I did).
So what about those days when I indeed have virtual meetings? Well, my cam would simply be turned off. I know that some folk find it odd to have a Google Meet or Zoom meeting with no video, but I don't see a problem with it. I actually loathe video calls, and my clients and network respect my preference.
Working naked, for me, is liberating and helps me in my mental health journey (especially after experiencing a real-deal nervous breakdown from being laid off at the last serious long-term publishing job I had). It reminds me that I am truly the master of my destiny, that I can create the life I want, and that I'm not a slave to any organization's rules but my own.

My experience with completing my work day in the nude is just what Work Naked Day is all about: truly tapping into all that makes you a talented, bad-ass, independent professional whose prowess and skills are only enhanced by the expensive power suits, the cool sneakers-tee-and-blazer combos, the Fashion Nova coordinated sets, the multicolored scrubs, the well-starched uniform—or whatever you wear to do your best at your job every day.
I hope that you, too, will find a way to celebrate freedom and flexibility today, whether you choose to spend the day butt-ass naked or not.
Featured image by Peter Griffith/Getty Images
Gia Peppers is that girl-next-door, friend-in-your head who slays and stays super-booked and super-busy, cares a lot about the plight of Black folk (especially sistas), and makes sure you stay enlightened and reflective about some of the most difficult but necessary topics affecting Black communities. She's also that bestie that is sure to drop some Bible-laced inspo as easy as breathing, with quips and realness that remind you why we, as Black women, need sisterhood, friendships, and thriving networks now more than ever.
"I just want people to not put too much pressure on themselves for this new year and don't worry if their goals are not done within the first month," she said in an interview with xoNecole. "To give themselves the grace that we may give others all the time. We've been through a crazy last two years and it takes a lot for us to fully show up within the parameters of what we want to accomplish without really dealing with what these last two years have done to us as a people, especially for Black women because that's what I know and who I am."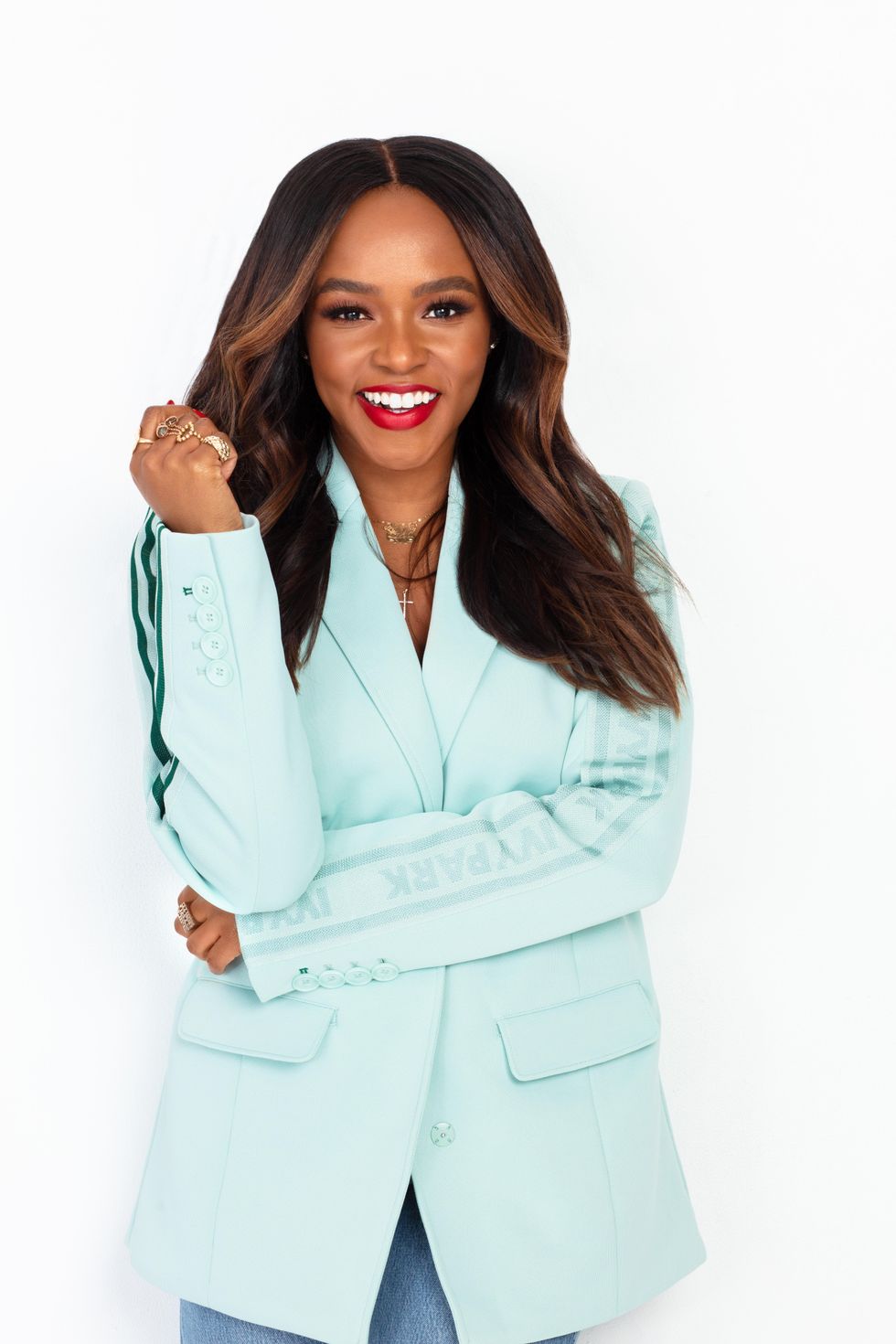 Courtesy of Gia Peppers
The award-winning journalist and TV personality–who, by the way, is doing triple-duty as a contributor on the Today show, host on Amazon Music's R&B Rotation, and co-host of the wildly popular podcast, Black Girl Pod—is geared up for Season 3 of More Than That With Gia Peppers.
The Rutgers University grad, who splits her time between New York and Los Angeles, is super-excited about the opportunity to continue to serve radio and online listeners in more than 100 markets, with many of the episodes airing via Black-owned stations across the U.S. The show amplifies Black voices, excellence, perspectives, and experiences on subjects including wellness, entertainment, and wealth. "We were awarded Adweek's Best DEI podcast in 2021," she added. "So we are doing work that people are finally really celebrating, which is awesome because we have a team of creatives who are just as passionate about telling these real stories that impact us as I am."
xoNecole caught up with Peppers to get the deets on just what's in store for the show, why she continues to ride for the power of storytelling in shifting narratives and forging change in Black communities, and what she loves more about the unique medium of podcasting.
​xoNecole: You've had a successful career in media for years. What would you say is the key to the longevity?
Gia Peppers: It starts with your mindset, as everything does. You have to be relentless in your pursuit of storytelling, evolving with technology as it evolves, and figuring out new ways to enter into this space that align with what you believe you're here to do. It's a balance of purpose. It's [also] a balance of reflection and realigning.
xoN: You've got some fresh conversations coming with your podcast and radio show, More Than That. What's new that listeners can expect from season 3?
GP: First, More Than That is one of those shows that we have the privilege of being able to tell stories about the conversations we're having in real-time. One of my favorite things to note is that we'll literally pull conversations that are trending and figure out the experts to talk to when it comes to how we can approach wellness in a whole bunch of different ways and that doesn't just mean wellness traditionally. How can we make sure that we're talking about sustainability and what does that really mean and how do we apply it.
This season we're really setting our eyes toward the future. We did a lot of great storytelling in 2020 when we started this. It was the height of the Black Lives Matter 2.0 movement where we were in the racial reckoning in this country and we had to tell the reality of what it means to move forward within the grief of what we've been through but also understand there are more ways to tap into what we want to say and do and be in this moment.
And we continued that for season 2 with motivation and this time we're thinking about the future. Our first episode, one of the great things we've seen is the resurgence of the attention on HBCUs [from] the mainstream and how that's affecting enrollment and funding and things like that and I mean, the culture is clearly impacted by HBCUs and the graduates. We have a great conversation about how we are going to utilize this moment within our culture so that this is not a passion moment—that HBCUs thrive from this moment on.
We have David Banner, an HBCU graduate, and [he is] just one of those iconic men who gets all the aspects of hip-hop culture [and] education moving forward. We talked to Cari Champion as well, because she's something who has covered sports for the past 15 years and is a person who knows how incredible it is to have athletes coming out of high school, who are the top-ranked in the world, choosing HBCUs and what that means to our community. And the same way ADifferent World impacted how many people looked at HBCUs twice, this new wave of athletes is also doing the same thing for our high school and our Gen Z students.
It was such a great conversation, and again, we're thinking about forward movement.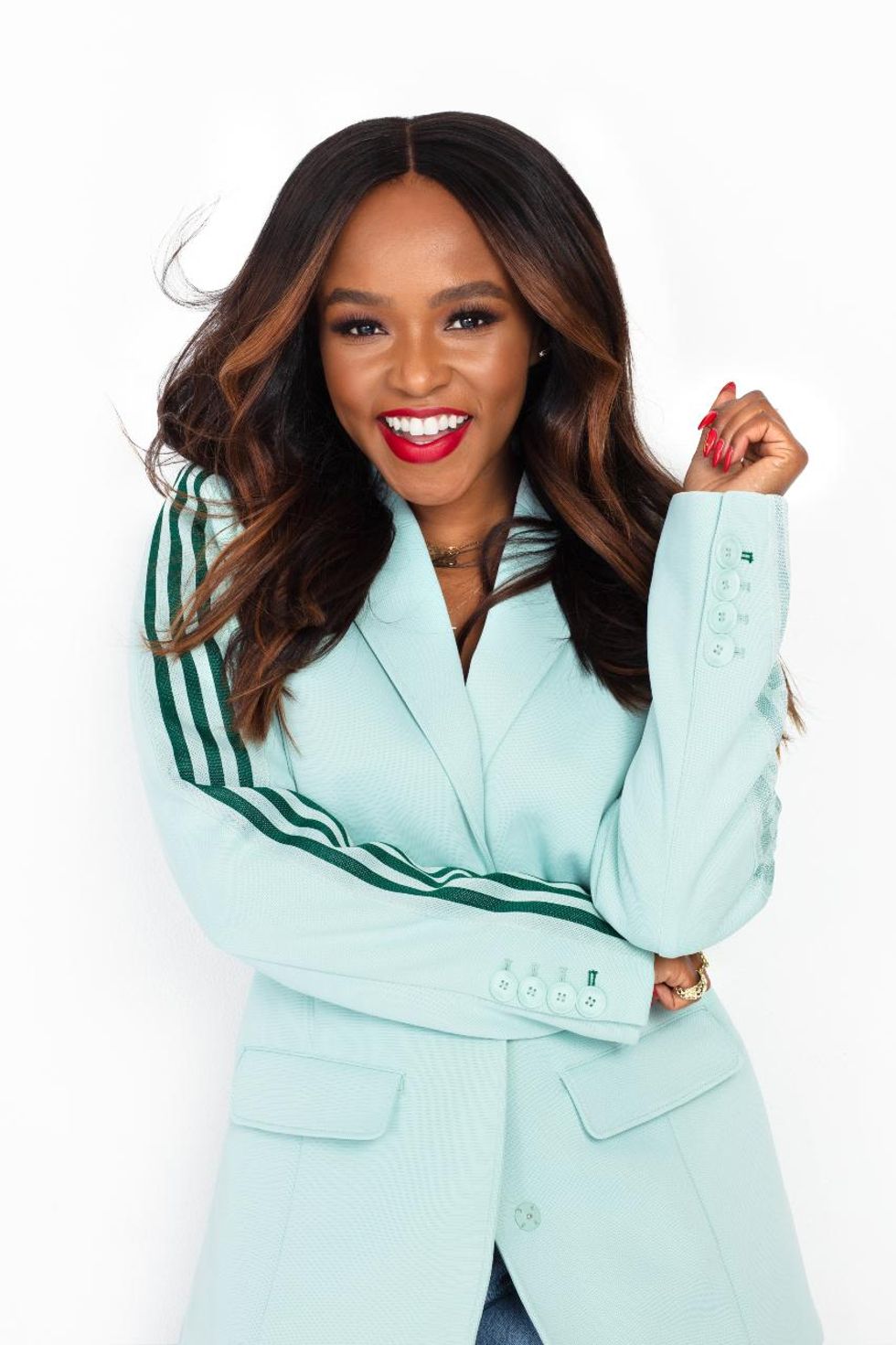 Courtesy of Gia Peppers
​​xoN: Working in media, you can have some very prolific moments with interviews and conversations. Who has been your most memorable guest on the show?
GP: Well, there have been so many great people on our show! It's hard to choose! We did an episode featuring a farmer from Urban Mothers Finest Farms in North Carolina, and she just changed my perspective of going to put my feet in actual soil and grounding, and what properties exist in the sun and the land, especially for Black women. Just standing there and being more centered and being connected to the space where so much trauma has happened and for our people in this country specifically but where so much life is. I learned we absolutely need to put our feet in soil sometimes and sit there and be connected to something that is bigger than ourselves.
And the healing—I know as I'm driving down the East Coast and you get to certain parts of town, you [are] like 'Dang, this used to be a plantation. I don't even want to look at it.' But then it's like yeah, but these people survived and thrived, and I am the living evidence of their dreams and prayers and their faith that something would change. Just the idea of watching something grow and seed and sprout is good for our mental and spiritual health. She just changed my mind in so many ways.
Another person who was so great was Lynae Bogues. Of course, we all know her. We get her brilliance every week in Parking Lot Pimpin.' She's just such a brilllant historian and she knows so much about the past and beautifully connects it with the future.
​xoN: What do you love the best about podcasting that's different from other types of media?
GP: This one is hard because I might like all of media the same. All of it is a lift. Your best version of that story is you showing up in the fullness of your experiences, your research, your passion for the conversation—that's always going to be the common thread with all types of storytelling. It doesn't matter the medium.

With podcasting, people are a lot less worried about cameras and more interested in the conversation and feel less pressure to be perfect. We do a lot of focus on making sure our guests know that this is not a get-ya-got-ya show [and] this is not a tea [gossip] show. This is a real conversation around what matters to our community, what's affecting our community, and how we can make it better.
I love that, with this particular podcast, we get to have conversations that don't just focus on messiness and focuses on solutions around how we can be better within our personal and external lives.
For more of Gia, follow her on Instagram @giapeppers. And click here to check out the new season of More Than That.
Featured image by Jonavennci Divad
When you think of a seasonal business, you might picture those random Christmas mugs sold on Amazon and or those Valentine's Day baskets with Victoria's Secret lotions in them that your favorite side-hustling auntie sells at work every year. But don't sleep on these kinds of businesses. Whether it's landscaping, holiday-themed, or a bed-and-breakfast, savvy entrepreneurs who offer amazing, unique, and convenient services and products can bank hundreds of thousands, if not millions, in profits.

And with Valentine's Day around the corner, now is your chance to consider tapping into a prime opportunity to not only build a flexible side hustle but, if you're really passionate and skilled, a successful seasonal business that can sustain itself year-round. Here are five options to consider:
1. Holiday-Themed Sweets And Treats: 
Sales for these sorts of products (candies, cookies, and other dessert snacks) are expected to grow from $36.9 billion to $44.9 billion by 2026. (Let that marinate for a second). It's obvious that people love a good sweet treat, and if you can offer your own recipe, your own way of decorating or packaging, or healthy options (that actually taste good), even better.
​2. Celebration Party Planning: 
This includes birthdays and anniversaries, and you can do so many different things in this realm other than actually planning the party. Services like location scouting, venue management, party favors, and party decor creation (or rentals) are all great ways to be part of this lucrative industry. Also, you don't have to limit yourself or your business to small groups, family members, or micro organizations. You can organize large-scale parties for Christmas, Valentine's Day, the Fourth of July, and more. (Think about the last time you went to a New Year's Eve party and paid $250 for a VIP ticket.) As the organizer and backing company, you could make six to seven figures in profit.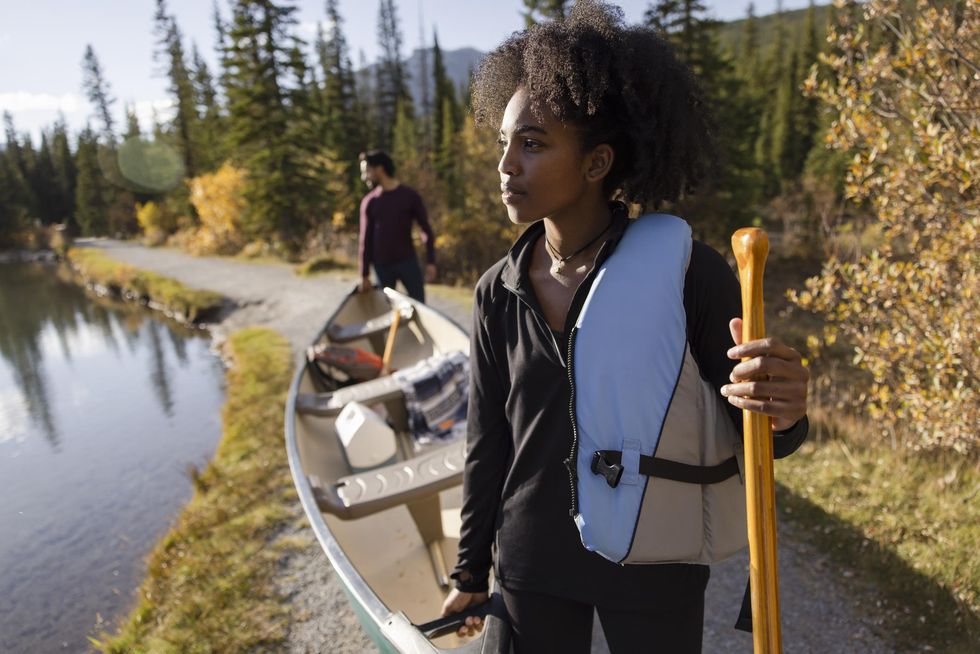 Hero Images Inc.
​3. Food Truck: 
You might think this isn't a seasonal business but just remember: This involves working from a vehicle outdoors. (Also, many food truck owners who live and work in places other than popular dining meccas like Los Angeles, New York, and Chicago can only enjoy a consistent stream of customers during a limited time each year.) Even then, it's still possible to make more than $100,000 a year with this venture (and even more if you're in the aforementioned food truck sweet spots). Again, offering something unique, quality, culture-centered, or with a spin to it (Hello: Vegan oxtails, anyone?) is key.
​4. Watersports Adventures or Tours: 
This one is perfect for those who might want to live or travel abroad full-time or who just love nature and connecting with people. You can offer parasailing, jet skiing, hiking, bar crawls, and other interactive activities for tourists or locals. This is also something you could start on a site like Airbnb with little overhead costs, depending on the extent of the adventures you're getting into. This industry brings in $124.5 billion each year.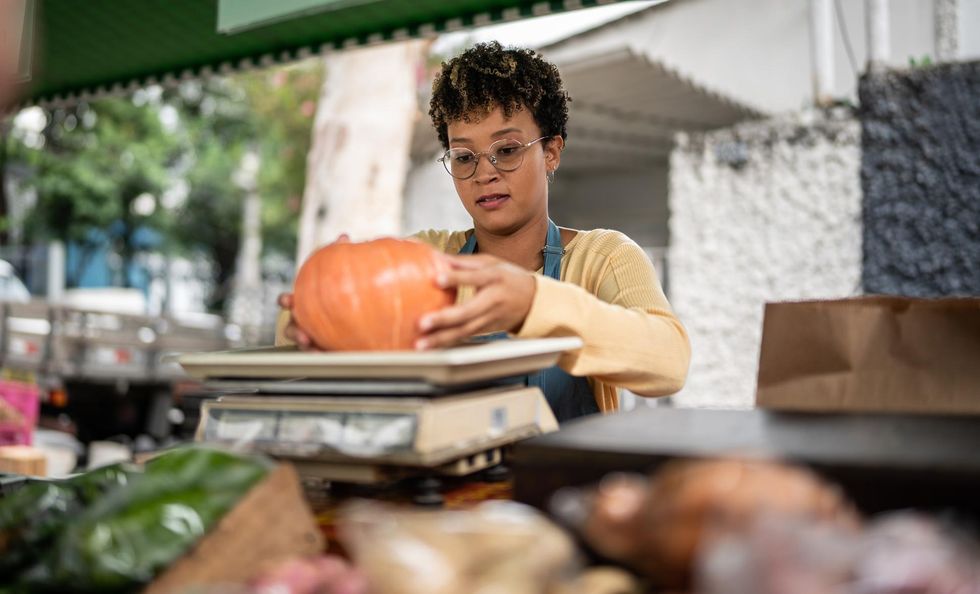 FG Trade/Getty Images
5. Niche Farmer's Market: 
If you have a green thumb or are into specialty foods, this might be perfect for you. And you don't have to have a huge farm to do this. You could specialize in offering diverse types of one produce (such as mushrooms, which can be grown right in your backyard, in a home-based grow room, or on rented farmland), gourmet jarred goods (like preserves or pickles), exotic plants, or organic tea mixes in order to stand out and build a unique customer base. Not only would you be serving your community and helping to combat problems associated with food deserts, but you could also be part of an industry raking in at least $2.9 billion.
Featured image by Jose Luis Pelaez Inc./Getty Images
We've all heard about the benefits of manifesting your dreams by mere thought or creating vision boards to illustrate, in plain sight, what you want out of life. Many of us might even have the same cliche perception of what vision boarding actually entails--- something as simple as cutting out photos and words from magazines and pasting them on posters like an elementary school project.
I must admit, as a professional in my 20s, I'd never really believed in vision boards. I'd always been raised to believe that faith and action were enough, and I strategized my plan for success accordingly. (And I'm sure I wasn't alone. According to research, apparently "fantasizing" about an "idealized future" can actually be counter-productive and "sap energy" needed to actually achieve goals.)
By 30, I'd reached management status, had my own blogs and columns, hired teams, and led successful campaigns. I'd felt like I'd somewhat made it in my industry, quite early actually. Along with the accomplishments came the career rut and utter burnout, so I found creating a vision board to be yet another task to add more pressure and anxiety to my life. The vision board would only serve as a reminder that I hadn't become "like Oprah," made a million with a best-selling book, or landed a prime placement on somebody's news show.
There was one major key I'd been missing: While it's awesome to have goals and make them plain in writing or illustrations, one also must pair belief with strategic planning in consideration of one's true purpose and talents that aligns with the vision board. A vision board is not the end-all-be-all to mapping out success. It is simply a complementary tool part of that process. And many successful people, in this way, swear by them, including Steve Harvey, Cardi B, and Tamera Mowry.
Another such leader who has elevated the conversation around vision boarding is Mariko Bennett, founder of COCO B. Productions, and author of The Blueprint: to Manifest Your Dreams. She and her team offer leadership development workshops and strategy sessions and offer tailored solutions for government agencies, corporations, professionals, associations, nonprofits, and other organizations.
Here's more from her on elevating your approach to vision boarding and taking action on your wildest career dreams:
xoNecole: You've written a book that describes a 'blueprint' for planning career advancement and success. What should readers expect?
Mariko Bennett: The Blueprint: to Manifest Your Dreams is my purpose project. I am a master manifester and did not realize [it] until friends of mine told me. We would sit down, at that point, we'd called them 'vision boards' but now call them 'blueprinting boards' and I would manifest everything on my board. They would say 'You did that?! You did that?!' Absolutely. What I found out was that 92 percent of people never really reach to achieve their dreams and goals.
I set out, when I wrote this book, to help the 92 percent of people to become master manifesters. In the book, I talk about seven life-focus areas, I talk about SMART goal-setting, I talk about being intentional, and about understanding what the obstacles are so that you can make plans to get around those obstacles.
I talk about my 4-C's of manifesting, which is really my secret weapon as to how I've been able to be successful. I talk about the power of belief and affirming yourself. It's literally a blueprint to manifesting your dreams---personal and professional.
xoN: What would you say to someone who might be skeptical when it comes to the power of manifesting or vision boards?
MB: We approach our blueprinting boards in a different way. Why are boards important? Why is putting your vision down important? It's a strategic plan. If people don't understand vision boards, they do understand a strategic plan. That's the first thing I'd say to anyone who's hesitant. You have a vision in the words of quotes, photos, and images that remind you of what your vision is, in life form. We take it a step further. That's where the SMART goals come in.
It's important to have a vision---which is where that first C comes in, crystalize---and you've gotta go an extra step, where you customize the plan and you're doing SMART goal-setting. Then you go to the third C, which is cultivate, where you have to do the work. Manifesting doesn't work just because you look at a board. You have to cultivate it. You do the work. The fourth C is when you curate, and that's when you're measuring success and fine-tuning your approach as you are manifesting.
xoN: What does 'putting the work in' look like after creating this vision board, or 'blueprinting'?
MB: In customizing, you're looking at what you have and what you need to reach that vision. What works for your life? [For example], if you want to finish school in 4 years, how many credits do you need to take? How much will it cost you? Where do you want to live? And with cultivating, it's where a lot of people begin to fail or quit. It gets difficult. You actually have to show up at that job all the time to get that money. You actually have to save those dollars, right?
Whatever you're working on, you actually have to put the work in to get it done. And then, life can happen, which may throw people off. And so, it's important that you have your blueprint and your vision to remind you what you promised [yourself] and you've got your plan so that you can work to get back to it once life happens.
xoN: What's a recent example of how you've used this process, for yourself, in any current career transitions, for spaces you're in now?
MB: Absolutely. We did a blueprint for Coco B Productions, at the beginning of the year, and one of the goals was to get minority certifications as a firm. I customized a plan. And sometimes your plan is beyond you. I am not the person to sit there and do all the applications. That's where the accountability partners come in that are cheering you on and reminding you of what you promised yourself.
Sometimes they're helpers. They do the work for you. I hired a firm to help me get my certifications. Yes, I had to give them a lot of paperwork and I had to do the work to get us there, but they actually did the filing for me and really just helped me to get across the finish line.
For more of Mariko, follow her on Instagram @mariko_bennett1.
Featured image courtesy of Mariko Bennett
We all hear and see a lot about the "soft life," as the concept dominates social and news media. The prospect of grinding for success seems taboo, almost as if hard work is something to loathe or avoid. However, as many of us know, it still takes deliberate effort, experience, and a bit of grit to reach higher levels of success, especially in business. And for Brittany Yates, a serial entrepreneur who prides herself in always thinking about how she can apply her skills to win in launching new platforms and enterprises, it's something she finds joy in doing, within reason.
Yates balances a 9-to-5 in communications and working to expand her business, all while pursuing a Ph.D. "There's nothing wrong with the soft life, but that life can look different for different people," she tells xoNecole. She was able to land investors for Grind On The Go through her network, and it helped that— even after putting a pitch deck together to map out the concept and funds needed— she'd already started other businesses that showed she had a go-getter spark. "They were like, we're in," Yates says. "I plan to do this full-time and I plan for expansion."
With about $56,000, she said, she was able to get the ball rolling. She also contacted a lawyer, got an accountant and consultant, tapped into Facebook groups for support and information, and from there, the coffee-centered brand and community came to life. The brand now has its own online retail portal, offers wholesale opportunities, and has a growing community of supporters and customers after launching during the pandemic.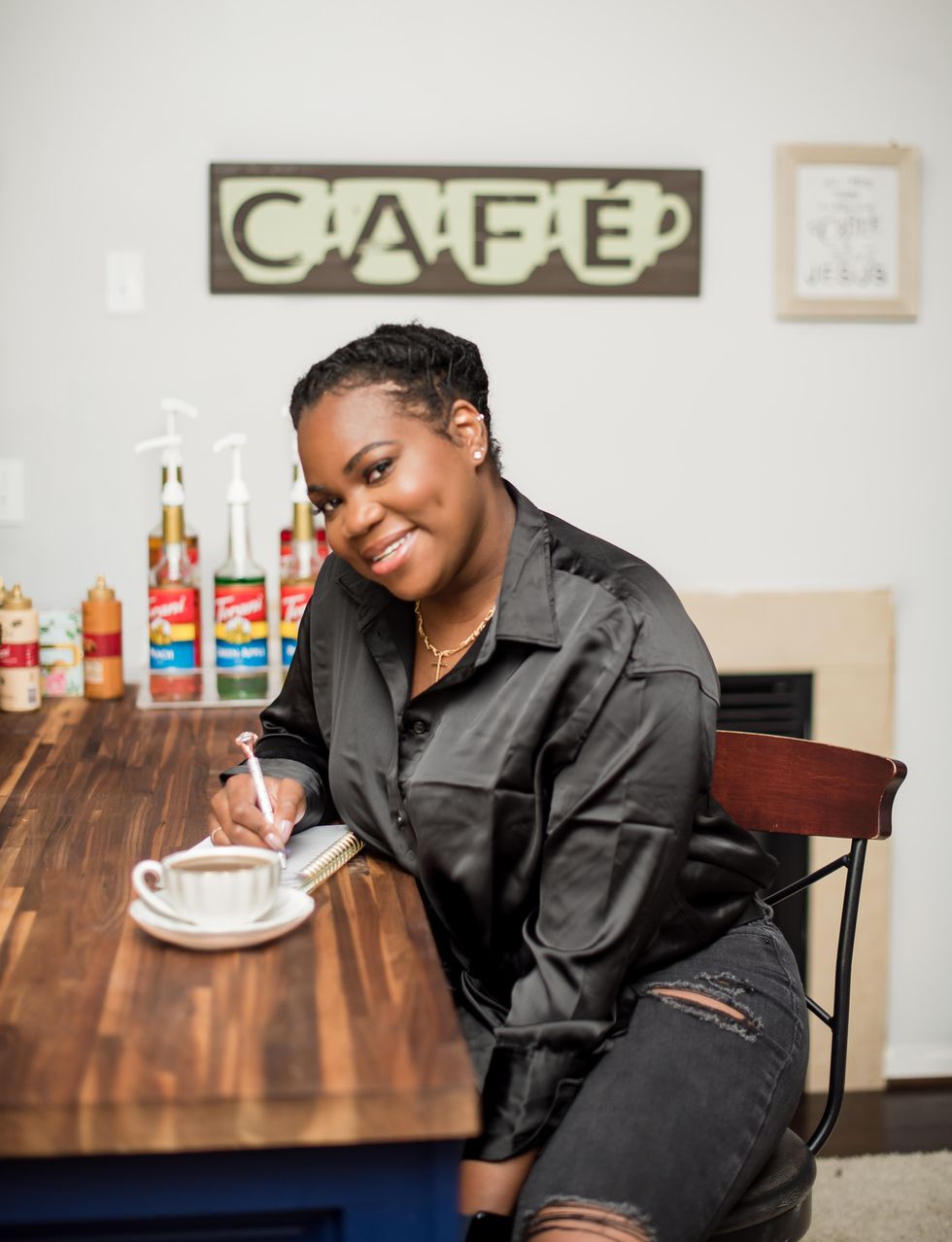 Arleshia McGirt/Authorized Shot Photography
xoNecole: What was the inspiration behind Grind On The Go?
Brittany Yates: It comes from my love for hard work and my love for coffee. When I was getting my undergrad education, I would always go to a French bakery and it was [open] 24 hours. As I was in there, I'd see all these people on their laptops. Just being in a room full of people working motivated me to keep going. It just made me feel like, 'We all have a common goal. We're all working toward something.'
I kept working from there doing my schoolwork, and I said, 'You know what? I want to create a collaborative space where people can come and do what I love most, which is hard work—grind—and then coffee, which is the coffee grind.' It just came about with me being in a room of people who were grinding and I just wanted to create a community out of that.
xoN: Everybody's talking about pursuing the "soft life," which seems to be the antithesis of the "grind." You mentioned "hard work," so, as an entrepreneur, what's your take on how people see "grinding" as the opposite of the soft life?
Yates: People who are into the soft life mentality, I feel like that's fine. I don't feel like you have to choose between the two. I like living the soft life in that I like living the soft life in terms of how I like being pampered, I like vacationing, but I do like hard work, too. Regardless of how much I like being pampered, how much I like chilling, it's something in me that won't let me just do nothing. And not that the soft life is doing nothing, but I don't think you have to choose. You can have a soft life and a life where you work hard. Just because you work hard, doesn't mean you're not working smart.
xoN: With so many coffee companies out here, how have you been able to gain a foothold and build a community along with your brand?
Yates: For me, it's a couple of things. I always tell people, we're a coffee company but we're not just a coffee company. We encourage you to pursue your grind, whatever that grind might be, whether it's a stay-at-home mom or a student, an entrepreneur, or [a] 9-to-5 professional. While other coffee companies might have a mission, I haven't [come] across a coffee company that simply promotes [that]. We're launching a community called Girl on the Grind, a community aspect.
When you talk about a business meeting, people always meet over a cup of coffee. A coffee shop is where there's that common ground between people, where people come to meet, to have conversations. You can people-watch. Coffee is like comfort.
xoN: You're a professional, entrepreneur and student, how do you balance it all?
Yates: My mindset is that if it's something I really want to do, I can do it. [Some people would say] that's over-simplified, but for me, if I want to do something, I'm doing it. Another thing is time management. I time block, in a sense, so I'll say I'm working a certain amount [of time] on this, and a certain amount of time on that. I live in Google, and so I use the Suites for meetings, emails, calendars, [and] tasks. And my third thing is to just stay organized. For example, I have my Tasks lists [and] my Google Drive with different folders for different tasks for school, work, and my business. Organization is definitely key.
xoN: How are you measuring success for your business?
Yates: For me, customer feedback is a really big thing. I pride myself on exceptional customer service. It can literally make or break your business. [So, it's] hearing customer reviews [and] customer stories, saying, 'This coffee is so good,' or 'I referred to this person and that person.'
Also, the revenue portion. We started at the start of the pandemic, so it was like 'Oh my goodness.' We had so much happen. We originally started with a food truck. The food truck was stolen. We had to rebrand because then there was an issue with the original name we had. It was just a lot of things that we had to through at the beginning. So aside from the revenue, was our resilience. We didn't quit. I think that's a good measure of success because some people quit and you don't even know if you could do it because you stopped.
Also, what you get out of it (as the entrepreneur). I don't [go] in doing things just to do it, so I would say, your health and wellness is a measure of success. Am I happy just doing this? Am I still getting something out of what I'm doing?
Let's make things inbox official! Sign up for the xoNecole newsletter for daily love, wellness, career, and exclusive content delivered straight to your inbox.
Featured image by Arleshia McGirt/Authorized Shot Photography