Janell Hazelwood
Janell Hazelwood is a journalist, speaker, editor, and consultant who has worked for companies including The New York Times, Black Enterprise, and Conde Nast. She's fluent in women's issues, black entrepreneurship, guilty (reality TV) pleasures, and Trini patois.
It can be more than challenging trying to balance childcare, COVID-19 prevention (hey, Delta), and work. It's hard enough not worrying about whether your kid's school will cancel in-person classes or shut down altogether while facing the not-so-usual growing pains of children and teens who are forced to live in whatever phase of a pandemic we're in right now. (I mean, is it really post-pandemic? Is it halfway done or just beginning? And what's "normal" about this "new" environment?)
Moms, we feel your pain.
There are many things the pandemic has revealed. Quality of life and finding balance in managing home and work are super-important, and now, more than ever, parents want to be able to have the flexibility to put family first.
In fact, a FlexJobs survey found that 61% want to continue to work remotely full-time and 62% even said that they would quit their job if they can't.
Some parents who are being asked to return back to the office are having difficulty finding childcare, and with concerns about future COVID-19-related complications, some just don't want to take the risk of being in an office, even with the vaccination options in place.
If you have children, we're sure you want a work situation that is parent-friendly. Well, here are a few red flags you can look out for when looking for new opportunities (or weighing the pros and cons of your current gig):
1. Only the bare minimum of paid time off (PTO) is offered.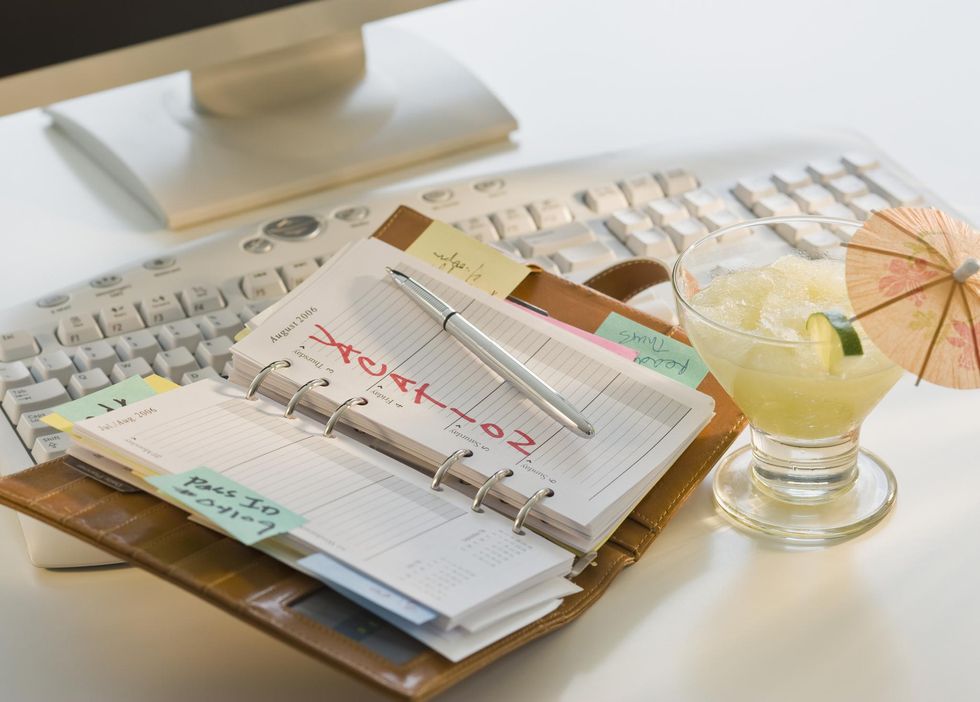 Getty Images
You might think that getting just two weeks of vacation and less than 12 sick or personal days a year is industry standard, but you might also be selling yourself and your family short by accepting this as a norm. Considering the challenges of COVID-19 and the constant changes in policies, legislation, and school closures, having the flexibility to take off without having to worry about losing money is a top priority for parents.
Companies that offer more PTO time or flexible policies on using it often have positive outcomes related to retention and worker satisfaction, and that means you, as the employee, should be at least asking for more or looking elsewhere if your current company is not budging. Competitive companies consider the health and welfare of their workers to be an important asset to productivity, and while you're not going to be able to excessively call out of work, you should still be able to lean on flexible policies.
With more employers adjusting policies to accommodate unlimited sick leave, unlimited vacation, and options to take a few hours off for an appointment (versus requiring taking a full day), please do side-eye the ones that are still stuck in the pre-pandemic limbo of being stingy with PTO.
2. Care-giving support? What's that?
More companies are now offering expanded childcare benefits such as stipends, discounts via childcare partners, or even on-site daycare resources, thus, this is a competitive and realistic benefit to look out for. If a company you're interviewing with (or you currently work for) has not even a semblance of understanding of this concept, it might be a good idea to pause talks of moving forward. This is yet another benefit that often leads to retention, and top Fortune 500 companies offer childcare assistance, so it's not an unreasonable option for parents to expect or ask for.
3. Remote or hybrid work schedules are not allowed.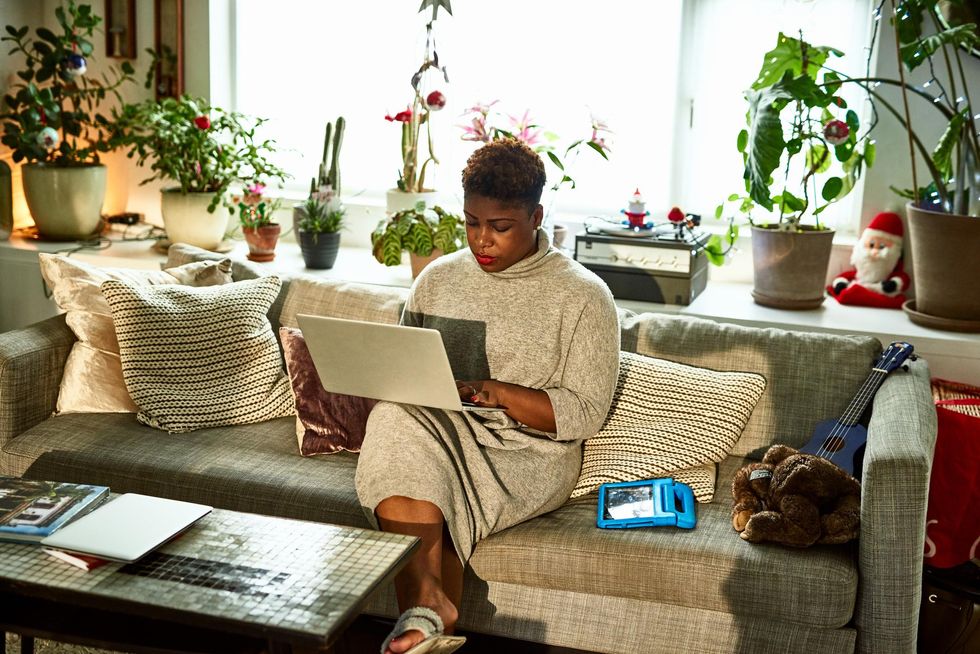 Getty Images
For some jobs, it's totally understandable that working from home is simply impossible. But for others, working in an office full-time is slowly becoming obsolete.
If managers at your current job (or prospective employer) are strictly against allowing remote work (with little to no evidence that doing so would negatively impact productivity), again, explore other options.
You might be among the parents who would rather continue homeschooling your children, who isn't too comfortable yet with school policies related to COVID-19, or who enjoys the extra time a lack of commute has given you. Being able to work remote, at least some of the time, is one perk you'll want to look out for if you're a parent who falls into those categories.

4. Maternity leave is very limited or non-existent.
There was once a time when professionals had to use disability leave or lose pay altogether just to take off while pregnant or after having a baby. (And some companies probably still force employees' hands with this one). But if a company doesn't offer maternity leave in today's day and age, there's a problem.
If you get just one golden nugget from this article, it should be that reputable companies that are successful and competitive put their workers' needs at the forefront. If they want to keep great talent, they ensure that that talent is healthy and happy. More than half of top employers in the U.S. actually offer maternity leave and the number continues to grow.
Being pregnant and having to finesse time off or thug your way through being sick, tired, and on the verge of hospitalization just to keep your job is just not the move.
And if you have plans to have children, be sure ask about the details of this benefit before taking an offer, including inclusive policies for single parents and LGBTQ couples.
5. There's a workaholic culture.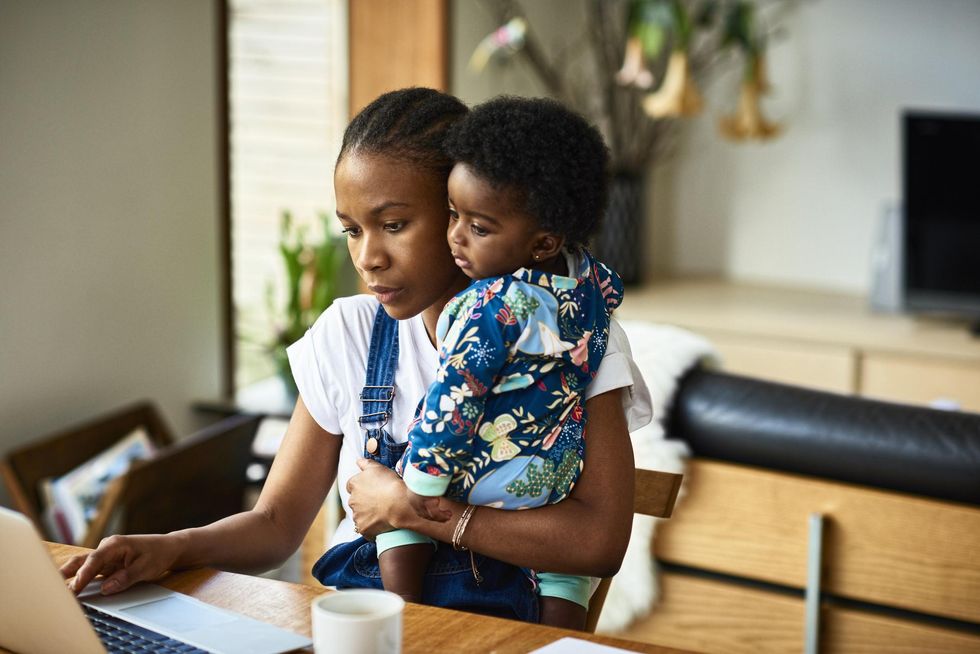 Getty Images
Some companies offer all the benefits in the world, but this means nothing if there's an undertone of workaholic expectations lurking in the shadows. Let's say you ask during the interview, "What are the confirmed work hours of this position?" and the manager gives you a vague answer like, "However long it takes to get the job done." Major red flag, sis.
Or maybe pre-pandemic, you had time to make dinner and actually sit with your kids to eat it, but now you're ordering more DoorDash and taking calls and emails into the late-night hours. Yep, red flag.
What about the manager that gives an end-of-day directive at 5:50 p.m., dumps a two-week deadline on you for a project that should take months to complete, or constantly calls you while on vacation? The lack of boundaries might prove to become toxic for working parents. Be sure to ask questions during interviews or reevaluate whether you want to continue working for an employer thinks you're a robot.
6. There's a clear disregard for the value of family and parenting.
From snide jokes to outright questioning your ability to manage being a mom and doing your job, these are signs that a prospective employer (or your current one) is not a good fit. If you're being made to feel guilty about making time to pick your child up from sports practice or using PTO to stay at home with your baby, or you're constantly being compared to employees who don't have children, it's inappropriate and toxic. A balanced work environment accommodates all employees and embraces a diverse workforce, therefore, and if the managers of a company aren't ensuring this, it's time to chuck the deuces.
If you're on the job hunt, check LinkedIn or the company's website to find clues about the culture or values related to family and parenting.
(Some managers might list parenting organizations they support or include their children and spouses in their bios, for example.) Pay close attention to what is said during your interview process, and infuse small details about being a parent to get responses that might allude to potential issues. Insert something like, "My daughter just finished pre-school..." and see what the interviewer says. If it's anything close to distrust or outright disrespect, go ahead and scratch that company off your list.
With all that's going on the world, it's a good idea to think of what's really important for you and your family. Go for the opportunities that not only allow you to flourish but support the chance to be the best parent you can be. Let these red flags be the wake-up call you need to pursue what you and your children deserve.
Featured image by Getty Images
Keep reading...
Show less
There's always talk about entrepreneurship and how it can be the key to making your financial dreams come true, but there often isn't as much talk about the sacrifices—especially those that hit your pockets hard—required to get a business off the ground, nevertheless keep it running. And maybe you've got a great idea, but when you're out there just trying to live a normal life, who can even think about taking money out of the I'm-barely-making-ends-meet account and putting it toward starting a business? Research even shows that one of the top reasons women don't start businesses is because of the startup costs required.
Well, we're not into discouraging our aspiring bosses out there. We're here to talk solutions for starting a business with little money. Here are a few ideas inspired by those who have done just that so you can get started on making your business vision a reality:
1. Start small and scale.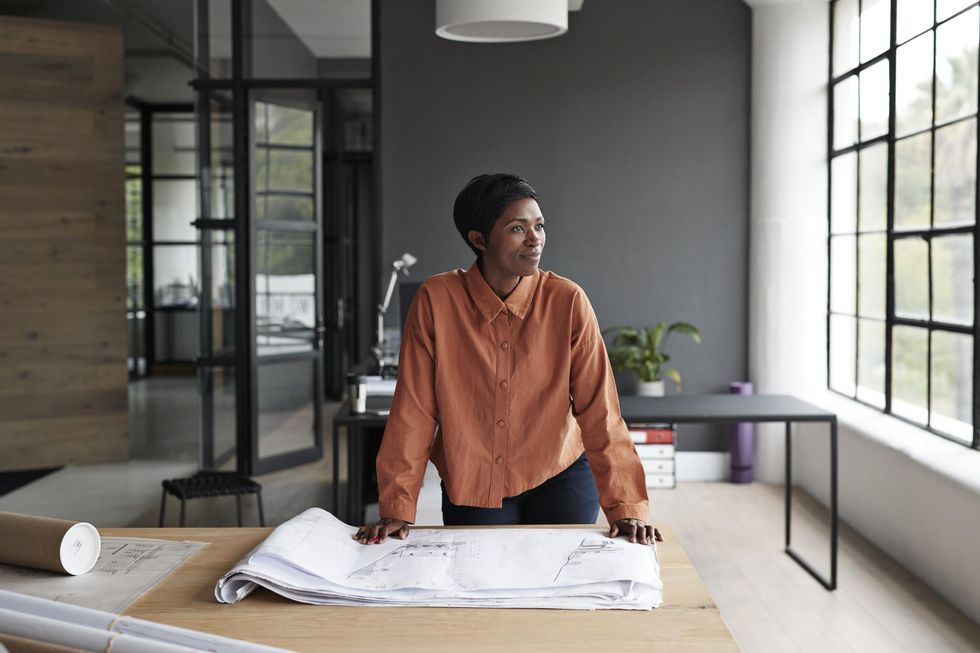 Getty Images
Sometimes that infamous quote, "Go big or go home," might not apply to startup costs. Take a nod from the founder of The Mane Choice who is now CEO of Olbali Corp. Courtney Adeleye started her line of haircare products by making the first product in her home, and she took advantage of free resources such as YouTube and Instagram to build her customer base. Within a few years, she was able to turn those small efforts into millions of dollars in sales and expansion into collections of products in stores likeTarget.
Get out of your own head and get into facts by reading up on what it truly costs to start your business and then calculate, based on your finances and lifestyle, what you can realistically afford to do.
For example, if you want to sell clothes, maybe start with one cache item, see how that sells, and then expand the line. Want to offer a service? Start with one niche that you can excel at, track the success, then pivot and change your strategy where necessary. Want a storefront? Try a mobile or online business first, build up your capital and customer base, and create a plan for saving up and financing for your grand opening at a later date.

2. Pool investors.
There are many ways to do this, but don't let that overwhelm you. (Also, don't be intimidated by the big-money talk or the multi-millionaire professionals who are the movers and shakers.) If you have a good product, prototype, brand, or idea, think strategically about who could invest in your launch and get in the game.
Angel investment organizations or firms are a good place to start (and there's a good list of those that support women- and minority-led startups here). Platforms created by women like Arielle Loren, founder of 100K Incubator, are also great resources for finding investors and networking with other entrepreneurs.
You'll want to weigh the pros and cons of taking on an investor to start up your venture. Getting money is great, but investors sometimes have authority over important aspects of your business including how the money is spent or even the name of your company. They might also, down the line, play a role in how you run your brand or even decide whether you remain as the leader at all.)
Another great option is crowdfunding or microfunding, where you use a platform like Kickstarter, present your business idea or project to the world, and raise funds via community investors.
Dawn Dickson, founder of Flat Out Heels and CEO of PopCom, was able to raise more than $1 million to launch and expand businesses via supporters in her community. Other entrepreneurs have used this method and raised funds even without having a physical product, gauging interest and building momentum via pre-sales, offers of equity, and prizes.
Oh, and don't overlook networks within your family, your school, your civic organizations, or your workplace. There might be someone less than six degrees of separation from you who is willing to invest just to gain a percentage in profits or ownership or to contribute to the greater good.
3. Get into a pitch competition.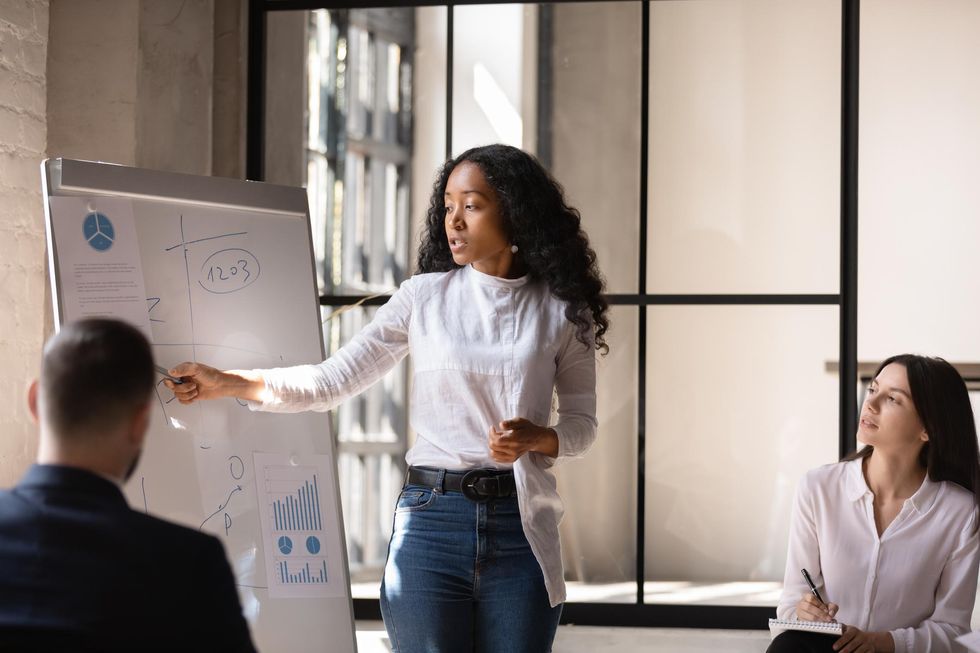 Getty Images
Be inspired by the story of Stephanie Smith, founder of Digital Insomnia, who won $25,000 to put toward creating a digital marketing simulator prototype. Or the story of Range Beauty founder and CEO, Alicia Scott, who was able to take her brand from $300 to $300K by becoming a master of pitching her business. Organizations and businesses often sponsor pitch competitions that offer thousands of dollars in startup funds as prizes, and this is a great way to get that financial boost you need to start your business. Some even cover all expenses and offer additional support resources like mentors and tech tools.
Sharpen up those public speaking, marketing, and sales skills, sis, and make sure your business plan is a solid one. Invest in a coach, watch competitions online, or attend a few so you can hear common feedback from judges.
The better prepared you are, the more likely you'll come out the victor. (Oh, and of course, here's a great list of a few to start with. Yep, you're welcome.)
4. Outsource and partner up.
Any time you can split the costs of something, you save, so if you have a similar idea as someone else or you might be serving the same audience, why not partner up and pool resources? Malaika Jones, Nia Jones, and Tai Beauchamp, the three Spelman sisters who founded wellness brand Brown Girl Jane, are a great example of how combining talents and resources for launching a brand is more than smart.
Let's say you want to start a business building and selling phone apps. Well, maybe there's a tech professional in your network (or someone you could get to know through, well, networking) who wants out of the 9-to-5 life and has plans to transition into tech entrepreneurship. Pitch your idea and see where there might be common goals. Match their skills and network with yours and you might have a winning combo in which you can split the costs of bringing an idea to life.
Not too keen on partnering up and sharing profits? Many online vendors can handle certain aspects of getting your business off the ground in a more cost-effective way due to their level of experience or expertise. It might be a better idea, in the long run, to simply pay them a one-time fee to handle those areas.
Contacting a consultant with skills in coming up with cost-effective strategies for starting your business can sometimes save you money in the long run. LinkedIn is a great place to start to find other professionals and entrepreneurs to become partners or consultants, and nothing beats attending events and seminars (whether virtually or in person) where smart business-minded and successful folk congregate.
5. Try low-investment retail.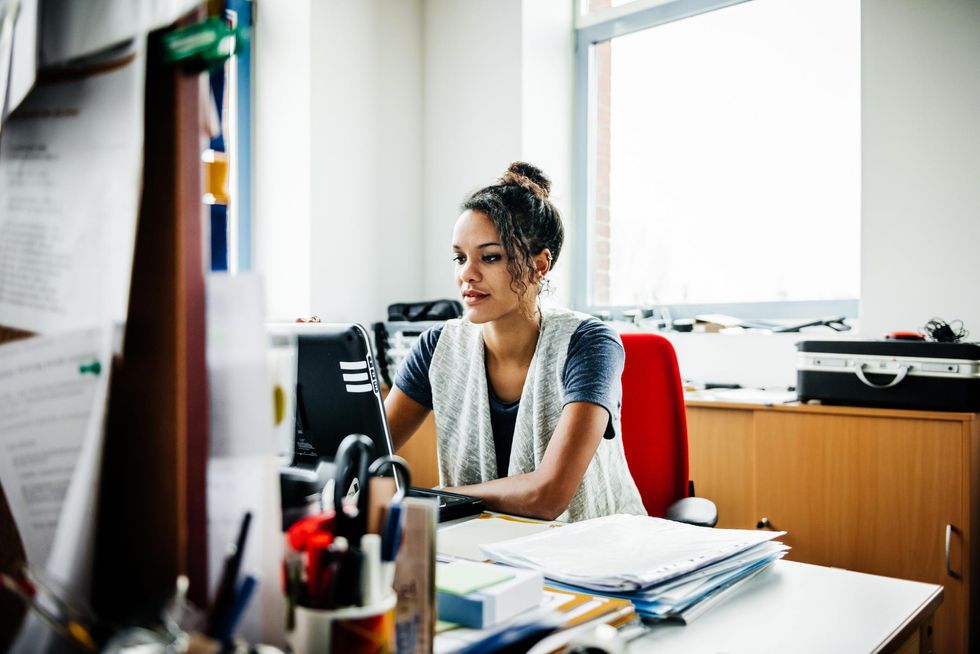 Getty Images
Just a disclaimer on this one: We're not talking about "easy" or "get-rich-quick" ways to start a business, and you'll want to be aware of all risks associated with these sorts of businesses (or any business, for that matter). That being said, dropshipping, print-on-demand, and direct sales are options for breaking into a business without shelling out a lot in upfront costs.
Picture this: You design something for T-shirts, mugs, or other custom items (or pay a one-time fee for someone else to), upload the design on a third-party supplier portal, build your store on a platform like Shopify (which costs less than $50 to launch), and then let the third-party supplier take care of the production, inventory, and shipping.
Products are made only after orders are received (thus, printed "on demand"), allowing you to avoid several overhead. Sites like Amazon offer dropshipping, and there are other platforms that allow you to create your own marketplace without having to take care of order fulfillment.
If you've ever heard of Avon, Mary Kay, or Tupperware, then you know a bit about direct sales. With this model, you might have to pay a registration or starting fee (several of which are less than $100), be offered an optional, moderately priced starter kit of products, or both. You'll earn a commission on sales (with some as much as 50 percent) and you'll be able to tap into a network of support from others in the industry.
The direct-sales market includes selling almost anything nowadays—cosmetics, kitchenware, coffee, health and wellness supplements, hair extensions, appliances, even medical scrubs—but be sure to look into the fine print on quotas, refund policies, and earnings or incentive models. Avoid scams, and be sure you have a realistic understanding of the sales savvy, time commitment, and financial investment required for success in these types of businesses.
6. Be patient and save up.
Some of us want to start something without worrying about a loan to pay back or investors to answer to, so a savings plan is the best option. If you don't have enough money right now, save up. It may take a bit longer, but hey, you have to start somewhere. Karen Young, founder of Oui The People, a personal care brand, saved up $1,500 while working for Estee Lauder to launch the beginnings of her business. Shana Cole, founder of The Shana Cole Collection, used $4,000 in savings to launch her first line of lipsticks and expand her customer base from Jamaica to the U.S.
Slow and steady can win the race, and if you're able to be disciplined, set a goal, and stick to a plan, you'll eventually have the money you need to get started. Think about it: Saving just $5 a day can go a long way. In one year, you'll have more than $1,800 for your entrepreneurship adventure.
Look at your current budget and needs, and find areas where you might be able to cut back or adjust in order to pour into your "Business Launch" fund. Also, be sure to look into savings accounts that have higher interest rates or high yield options so you can get the most from your efforts. Squirrel away your next tax refund, or find ways to give your savings a boost such as reselling items or downsizing your home or car. Implement settings like automatic transfers or deposits to a separate account so that you'll be sure to hit your goal in the time you need to.
Finding the money to start your business on a small (or barebones) budget is all about being creative and figuring out the best route for your future. The key is to at least take that first leap, with research and planning as your parachutes, and just go for it.
Featured image by Getty Images
Keep reading...
Show less
It doesn't matter what culture, race, or group you identify with, the concept of small efforts leading to big results is a common one. Whether it's from the Bible (look up Matthew 17:20) or quotes from people like Oprah (who said that small steps can "take on greater meaning"), we all know that small efforts toward a goal can lead to big wins.
If you need proof, let's just take a look at recent happenings in the life of a very talented 24-year-old chef. Keanu Hogan, who became a contestant to reckon with on the 20th season of Hell's Kitchen, got the once-in-a-lifetime opportunity not by efforts of grandeur, desperation, or viral foolery, but by simple, authentic action. The Baltimore native was one of the youngest on the show to make it as far as she did, and she represented proper for Southern melanated queens, cooking up dishes like smoked shrimp and grits while rocking box braids with baby hair laid and lip gloss popping.
After paying quite a few dues, Keanu had finally gotten the chance to spread her wings and learn from one of the best in the culinary industry: Gordon Ramsay.
At the time, she wanted a change, and she knew she had to do something in order to prepare for whatever transitions were coming her way. She had worked in clubs, bars, and restaurants on the super-tough, appearance-focused Los Angeles scene and had become disenchanted. "My confidence suffered a lot, and I compared myself to a lot of the women who were out there," Keanu recalled. "There was a lot of [focus on] plastic surgery and competition. I just missed home. I was in the process of trying to move back to Baltimore and decided that, before I moved, I would really work on my business."
"I started cooking dishes and my best friend would take pictures of everything. We'd be up all night. All we had was a ring light. We didn't have anything else."
Her urge proved to be right on time. Once she started being more strategic about creating a brand presence on Instagram, she'd built up a following of just 250 when she was contacted via direct message by producers of the hit show. "They just asked, 'Are you interested in being on Hell's Kitchen?' In the beginning, I thought it was a joke. I responded, and I got an email. I did a Skype interview and then did another interview. I was back and forth, visiting with family and traveling to LA, and I was selling meals from my home. I sent the producers what they asked for, and they said, 'OK we're going to fly you out to Vegas for your third interview.'"
After not hearing from producers for weeks after, Keanu said she thought she hadn't made the cut. She finally got a call where she was instructed to pack her bags for a three-week stay. The experience allowed her to not only be in front of millions of Fox viewers, but to solidify her confidence in her craft and abilities.
"A lot of people don't get one-on-ones with the Gordon Ramsay, even in past seasons. I just remember him looking me straight in my eyes and he has this way of seeing you for who you are. That was really liberating."
"He told me that I was a firecracker, and I didn't know he noticed," Keanu added. "When you're around this figure you're inspired by, you tend to want to put on your best self, and a lot of us did that, so sometimes we were trying to be so perfect. To hear him say that I'm this assertive individual with a tenacious might [was] amazing. He was also impressed by my story, knowing that I was from a small city where people usually struggle and that I was able to move out of that and do my own thing at 23. He said I need to step up and assert myself more and be a leader. I will never forget that. "
While on the show, Keanu drew from her experiences growing up in Maryland, as well as her training at Monroe College in New York as a collegiate team competitor.
"My youngest memories are centered around food and the kitchen. They stuck with me. I remember birthday cake when I was four, peanut butter sandwiches my great grandmother made for me after school, and the sausage and biscuits my grandmother would make from Bisquick."
"Watching someone prepare something for me—I just loved the intention that was put into food prepared by my family," she added. Keanu would begin to help in making some of the family's meals, and was always under the nose of anybody who was in the kitchen. "I learned how to make sweet potato pie before I was 10 years old. We went fishing and camping a lot and we would grill. My mom always had a cast-iron pan just so we could have scrambled eggs and bacon in the mornings. It was just something that I didn't realize made me feel really good, no matter how young I was."
Though she didn't come out the victor on Hell's Kitchen, she was able to tap into a larger audience, gain exposure, and hone in on monetizing her passion in a way that would be lucrative. Today, she has more than 10,000 IG followers along with two thriving businesses. Tastee Towers, offers unique, small-batch desserts that take you back to the days of treats at grandma's or sweets you'd get from your local candy lady back in the day. "We focus on nostalgic desserts that you grew up eating like an oatmeal creme pie, s'mores, strawberry banana pudding, or egg custard snowballs, and we make layers of it. We don't use refined sugar and we make everything from scratch. We just layer on the fun," Keanu said. "We also sell water ice in the summer months, and we will have a storefront really soon."
Thee Perfect Bite, is a full culinary experience that focuses in on the vibes, feelings, and memories behind enjoying well-prepared meal—one made with ethically sourced and organic ingredients. It was launched at the onset of the pandemic due to increased need for fresh meals prepped for home delivery.
"It's not just about the small portion, but having it like that allows people to focus on more than the food and realize it's really about the energy, love, care, tribe, community, and culture. It's something that someone put love into. It's sacred."
Keanu has also hit another major milestone, becoming a mom to a 16-month-old daughter. "While I've been nurturing her, I've been learning new techniques. I've been eating a plant-based diet because I'm trying to make sure she has good eating habits. I'm showing her that good food doesn't have to be processed. This journey in business and my career taught me a lot in that regard. Everything I do now, motherhood reflects in it, and that includes being a chef and a businesswoman."
Find out more about Chef Keanu Hogan via her Instagram @Follow_theleeda.
Featured image courtesy of Chef Keanu Hogan
Keep reading...
Show less
We've all heard the common phrase "Jane of All Trades" thrown around, but it's always a bonus to be able to put a face with the concept that we, as Black women, can both aspire to and relate with. Angela Yee is one such person.
Many of us know her as the lone female voice (of smart-witted reason) who has held it down proper for all of us as a host on The Breakfast Club, offering a dose of powerful femininity and intelligence that keeps her co-hosts, out-of-pocket callers, and famous guests in line when need-be. She's done this while juggling duties as the co-founder of Juices for Life, a juice bar launched in Brooklyn, N.Y., managing director of Drink Fresh Juice, a juice and wellness drink brand, founder of Private Label Detroit, a boutique line of hair extensions and wigs, and her latest venture Coffee Uplifts People (CUP), a coffee brand that puts inclusivity at the forefront.
Oh, and let's not forget the podcast, Lip Service, which she hosts with two other unapologetically boss and bold women, Stephanie Santiago and Gigi Maguire, where they talk sex and relationships with hip-hop and pop culture elite.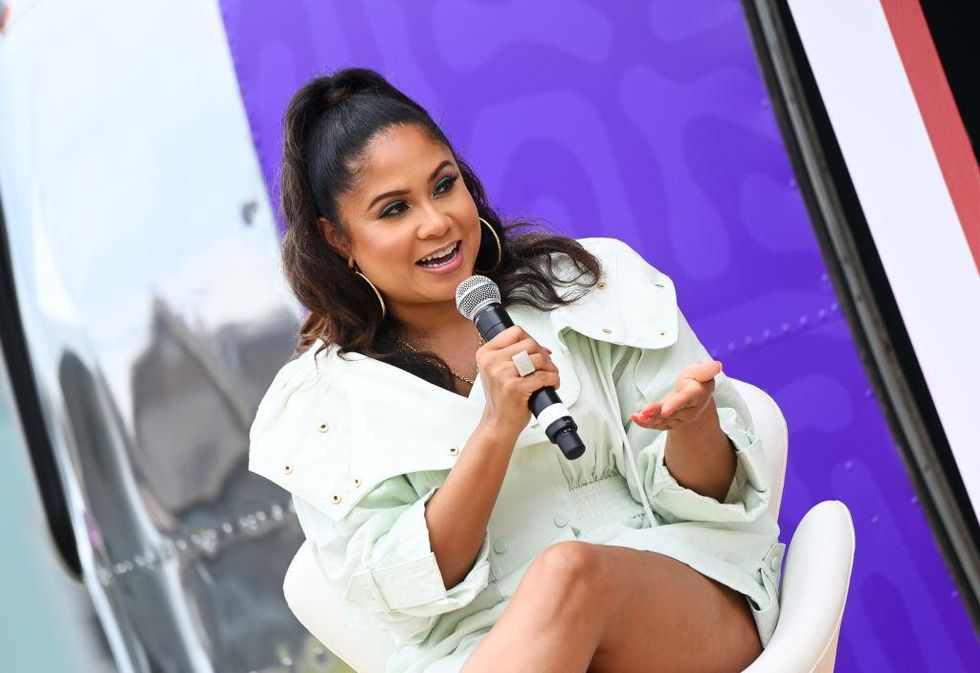 Paras Griffin/Getty Images
So you might have read all that and said, "Well, sis, that ain't all trades." Let's go back a bit: Yee got her start in entertainment interning for MTV and, later, for the legendary powerhouse that is the WuTang Clan. She transitioned into a management role with the group, handling payroll, attending label meetings, and organizing events. Before that, she was a teacher of 6th- and 7th-graders, and she'd eventually go on to work in satellite radio, hosting and co-hosting popular shows before becoming part of the award-winning trio at The Breakfast Club.
And she does it all with the kind of coy smile and effortless style that brings to mind Bey's "I Woke Up Like This" mantra.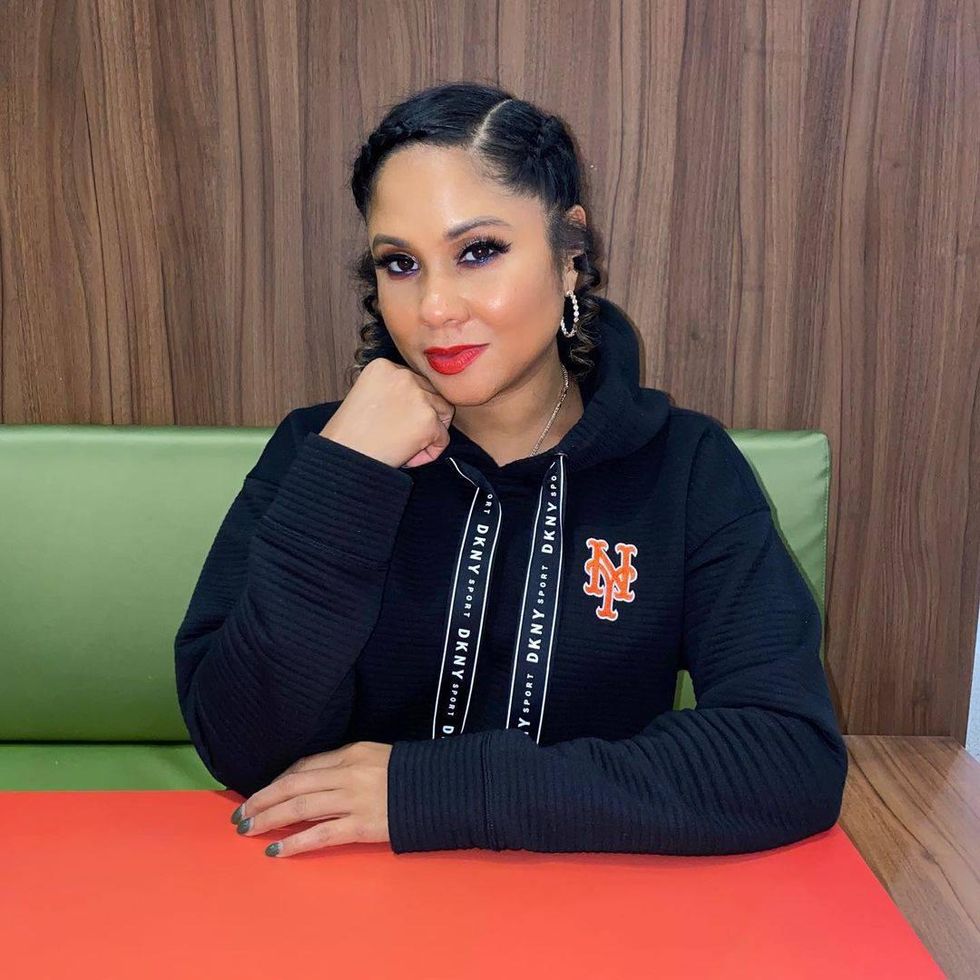 Image via TeamYee/Facebook
We caught up with Yee for this exclusive xoNecole interview, right before her appearance at this year's Célébrez en Rosé, a two-day VIP experience taking place in Washington, D.C. on Labor Day weekend.
The event, which centers on culture, Rosé and entertainment, is set to feature headliners including Lupe Fiasco and Estelle. "I am really just deliberate about supporting other Black entrepreneurs," Yee said. "We've had such a rough past year-a-half, and it's not even over yet. The fact that they're doing it in two days this year so that it can be a socially distanced event is something that shows that we need some time and space to be together, but we need to do that as cautiously as possible. We need it."
Yee talked further about why women need to stick together and rely on their tribes, what's really behind her more than 15 years in entertainment, and why she chooses to keep pushing boundaries in business.
xoNecole: You've been in the media business for many years and have remained relevant, fresh, and successful. What do you think has helped in your longevity?
Angela Yee: Networking has been one of the main things, especially early on, but to continue doing that is one of the most important. Also, it's about being able to work really hard and having the ability and skill to accomplish the things you want to. Another thing [that's key is] supporting people and treating people well, along with that networking. Whether it is the receptionist or the president of the company, you should treat everybody with respect.
"Once I start feeling comfortable in a position, I know it's time for me to figure out what my next move is. I never want to become complacent or feel like, 'OK I got this down pat' because I feel like I'm not challenging myself. So it's always important to challenge myself."
Along with that is to always learn. I'm always taking classes on different things or even just looking online to find out ways I can improve myself. With starting a business and being an entrepreneur, I still take classes with the Small Business Administration in New York. I'm getting my real estate license as well, so I believe that you should always be challenged to advance and learn even more.
And last, it's really hard work. Nothing beats hard work, and you can't just coast by. I still go the extra mile. If you listen to the show, I'm the one who most likely has done the research. I'm the one looking up the story and making sure I get to work before everyone else. Hard work is just a fundamental thing. Nobody wants to work with somebody who doesn't pull their own weight, and I go above and beyond.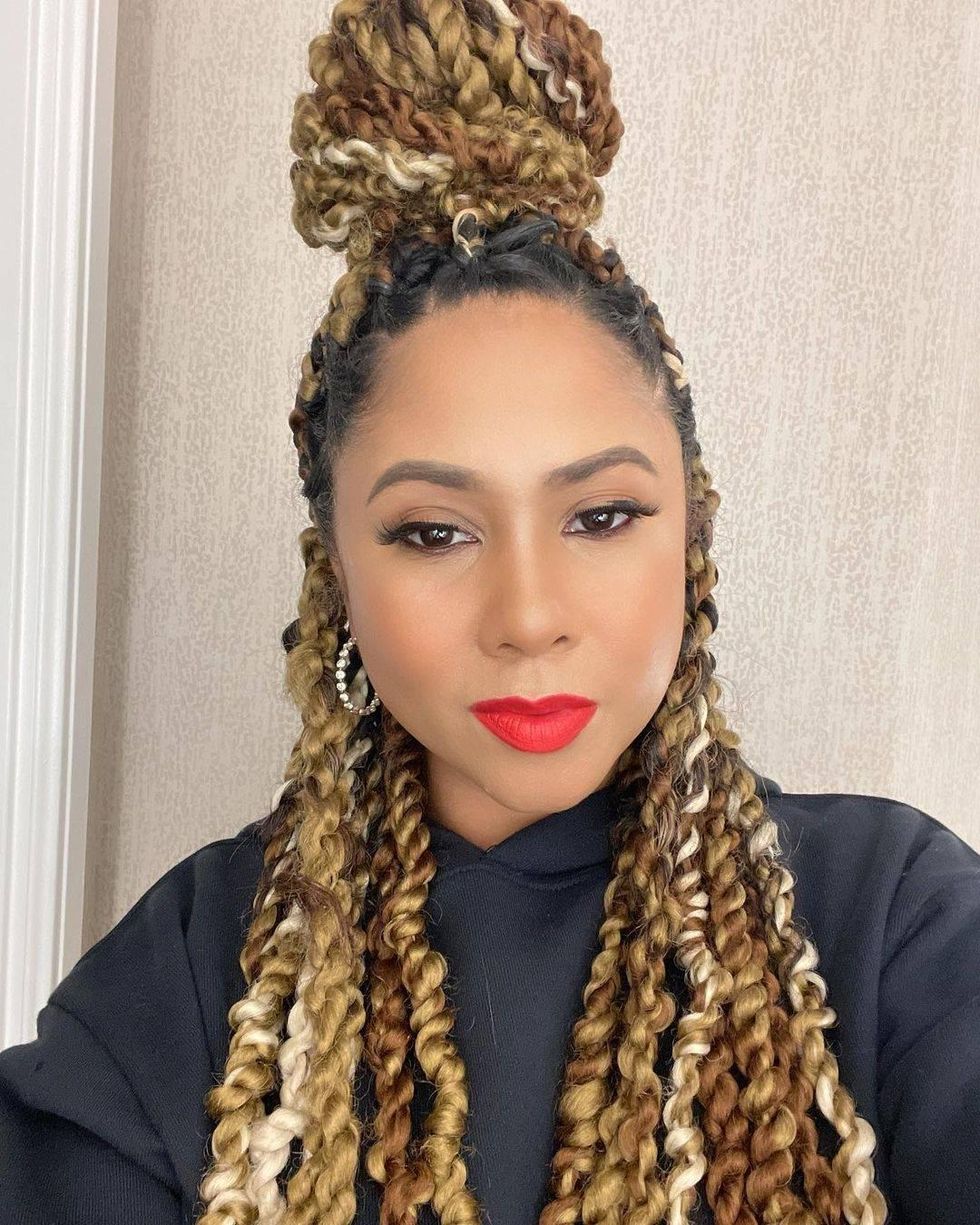 Image via TeamYee/Facebook
And that's even clear in the multiple businesses you've launched, from your juice bar to your line of juices and wellness drinks, to the extensions line, and now with CUP. Why get into coffee?
We were looking for a space during the pandemic to store the juices. So we met with the owner of Brooklyn Roasting Co. [Jim Munson] about their place at the Brooklyn Navy Yard because they had this huge refrigerator we could use. Our guy LaRon [Batchelor], who's one of my partners for the company, had worked with him already, doing sales and distribution. So after our meeting, we all just had a synergy, and he told us, "You guys should think about starting a coffee company." We were already like, "Hmmm, maybe we could actually do that."
Partnering up with a company like Brooklyn Roasting that already knows the ins and outs of the business, we knew they'd be able to support us if they were on board. They own 25 percent of CUP and they're helping us a lot, even with opening the space, with the equipment, and with training. They are also able to roast our beans. It was just kind of a no-brainer at the time.
"There are several reasons that coffee might not be healthy [such as] when you add a lot of cream and sugar, but the coffee beans themselves are really good for you. I know it's helped me so much as far as my mind being sharp and the caffeine helping me stay awake for the day. It also has great benefits for your digestive system. I only add almond milk. That is my trick to make sure I get those benefits."
I also love the fact that the history of coffee [began] in Ethiopia. Most of the population there drinks coffee and so it really is something we should be involved in from start to finish in all different aspects. I want to make sure we're always educating ourselves and encouraging people to be on board with that. Sometimes, I think when we think of coffee, we think middle-aged white man. We have to change that thinking.
In wearing many hats, sometimes you've also been the only woman in the room holding your position. What's your advice for other women to take up space?
We always must show and prove. And get your tribe together. Make sure you have other supportive women around you, and support other women as well, because we have so many things in common when it comes to being in these spaces not always feeling welcome, comfortable or valued.
"We should be intentional about learning from other women so that we can have people we can lean on. That's helped me a lot. It's great when you have a rough day at work or something happens and you have someone you can speak to—who you can vent to and come up with a plan of action."
Also, don't let people make you feel defeated. You have to go hard. That really drives me because I know what my skills and abilities are and I'm not going to give anybody the pleasure of ever seeing me fail.
For more on Angela Yee and her ventures, follow her on Instagram @AngelaYee. And to check out more information on headliners and tickets for the Célébrez en Rosé festival, visit their website.
Featured image via Angela Yee
Keep reading...
Show less
Courtney Adeleye is no stranger to making multi-million-dollar moves that not only change lives but empower others to do the same. As the founder of The Mane Choice⁠—a line of natural haircare products that went from her home to the shelves of major stores like Target⁠—she took $500 and turned it into more than $100 million within a few years. Her online brand is undeniable⁠—bright, bold, and uber-confident⁠—and her more than 380,000 followers on Instagram alone eat it up.
Her most recent transition has been her biggest yet. She struck a deal with MAV Beauty Brands for millions more, which meant The Mane Choice would be acquired by the Canadian company and more doors would be open for partnerships like the Generational Advantage Fund that would help women build generational wealth. She also made a personal investment, to the tune of $30 million.
Yep. Sis, is about that life. "Doing the acquisition gave me the ability to expand and to continue to grow in other areas of business that I wouldn't have had the ability to do," Courtney said in a recent interview with xoNecole. "It's not only a financial thing but it's about a resource, a growth, and an understanding. It put me in a position to do other things I really enjoy which includes pouring back into women, investing back into female brands, and creating the conglomerate I have today."
We talked with her more on those other things, which right now fall under the umbrella of her newest venture, Olbali Corp. The conglomerate houses brands Lily Frilly (where her 7-year-old daughter is the CEO), Foolproof Body, Cool Coffee Clique, and POPtritional.
Check out what Courtney had to say about how she finds multi-million-dollar sweet spots in business, how she remains inspired as an entrepreneur, and her advice for other Black women who want to continue to grow and advance in building the lives of their dreams:
You've got your hands in multiple businesses. What inspires you to pursue certain industries? How do you know it's worth the risk?
I don't think there's an industry out there that I'm not interested in. I can look at a category and I can see what we call in business the 'white space.' I always think, 'What are those opportunities that could possibly exist?' So creating a company like Olbali, we're going to play in different areas from a consumer-product goods perspective, whether that be food or health and wellness.
I thought, 'Do I see an opportunity to do it better? Do I see an chance to give the industry something it doesn't have?'
Even with my daughter's brand, I definitely feel representation matters. Sometimes we can't achieve what we haven't seen. So, it's about putting her in a position where she can speak to little girls across the world to let them know they can do it, too. I definitely felt like we had a lack of representation in a community in regard to what we see in the retail world and what we see on TV. You're never too old and never too young. Entrepreneurship is a special gift from God and you have to give that back to the world.
This is so fascinating, because you've been able to take several businesses and turn them into platinum. Tell me more about this 'white space' concept.
A lot of times, we're motivated only by what we see. It's easy to pinpoint what's already been done. Ultimately, when you look at a business, there are not many things out there that are totally new or haven't been done before, but what makes a business special is doing it in a way that hasn't been done before—doing it in the unique way you have to offer.
I see a lot of entrepreneurs who think they're too young or too new and they think they have a lot missing, but what's missing is what makes them special. I always say don't be afraid to infuse that thing that makes you different into your brand.
Take an industry, such as coffee, which you could say is a boring industry. I look at it and say, "No, there's a lot of white space there because if it's so boring, who can make it dope? Who can make it classy? Who can make it something everyone would want to be part of?" I think there's a lot of white space in everything we do. You have to look at something and innovate. It's easy to say, "Hey, this is how it's always been done," but in order to be innovative you have to be willing to take those risks and do things differently.
For example, with [Cool Coffee Clique], it's very risky to make coffee [packaging] pink. It's like, 'Am I excluding men?' But I have to be confident in what I have to offer and say, "But it's been done before in black, brown, and in every traditional way. How do I make it interesting?" That's where that white space comes in.
That's awesome. We have to tap into those white spaces where we can create what we want to see on the market. So, to some, you pretty much made it when you started earning millions. What's the key to continue growing and leveling up?
We can all agree that no matter what your age, there's experience there that's going to give you the jump on entrepreneurship or innovation. And I have to continue doing that, to continue innovating. That experience is the very thing you amplify and use for your brand. It's important to have an understanding that you can grow as you go. You don't have to seek funding in order to make it. I started with $500. I didn't have a line of credit or a credit card.

Also, it's understanding that distractions come in many shapes, forms, or fashions. It could be a relationship, time, or lack of support. Distractions are the No. 1 deterrents to someone going into business, no matter what age you are.
Sometimes, isolation is going to help you ascend to the next level. You're going to have to lock yourself in that room in order to think. It's going to take you not being at those functions sometimes, which, as you mature, you understand that's not always where it's it. I have to think about my future.
Ask yourself, "How do I compare to people who are dominating in the industry?" It's not about comparing to say, "I need to mimic that," but what elements about that brand inspire you? There's something you can do to make your own brand attractive. Many times I'll sit with entrepreneurs and ask, "Do you think you have the best product?" and many times, the scary thing I hear, is "No I don't." Well, why? Whatever that reason is, you've got to address it and fix it.
You're looking at someone else's social media page and saying, "I think everything they post is clean. Everything is dope." Meanwhile, you have the ability to come close, even if you're not mimicking it--even if you're inspired to go get an AirBnB, for example, and take some great pictures. You say, "I'm going to call some models in and take some product shots."
Business is business. You have to understand you're taking the market share from somebody. I'm in the coffee industry, so I understand, "Hey Starbucks is dominating. How can I take that consumer? How does that translate to the consumer? What are the things I can do?"
I'm always about leveling up—always try to do it better. If I did something great last year, how do I do better this year?
Follow Courtney Adeleye and learn more about her brands via Instagram @courtneyadeleye, or via Olbali's website.
Featured image courtesy of Olbali Corp.
Keep reading...
Show less
We all have heard the terms "Black girl magic" and "self-care" thrown around a lot over the past few years, and they seem to do this very confusing dance that a trauma-bonded couple might enjoy. What self-care means can depend on the person, their socioeconomic status, their lifestyle, their culture, and their career. And, of course, Black girl magic seems to apply to any woman of color who is wearing that same superwoman cape Karen White very beautifully lamented about in the '80s.
And for many women, self-care is something that has to fold into their desires to hold their households, spouses, and families down or pursue the life of their dreams. If you work hard, achieve, and gain recognition—well, there's the "magic"—then you just throw in a few bubble baths, mani-pedi appointments, and European vacays in there for the self-care checklist, so you don't "burn out."
You might even go a bit deeper into therapy, diet and exercise transformations, 24-7 leisure living, or religious epiphanies. Go off, sis.
Well, I want to give an honor and shout out to the pro athletes who have recently shown many of us a very different version of self-care. Though their actions aren't new to celebrities and high-earning everyday professionals, they've shined a renewed light on what truly matters when one thinks about preserving what's important in the grand scheme of things. The concept certainly takes a whole different turn once sports records, millions of dollars, career credibility, and people's livelihoods are at stake.
I know I might hurt a few feelings with this one, but I'm going to go there: Their latest exercises in self-care on the part of our amazing athletic sisters puts the term "Black girl magic" on its heels and sparks a question of identifying what "strong" can look like that many of us don't want to face.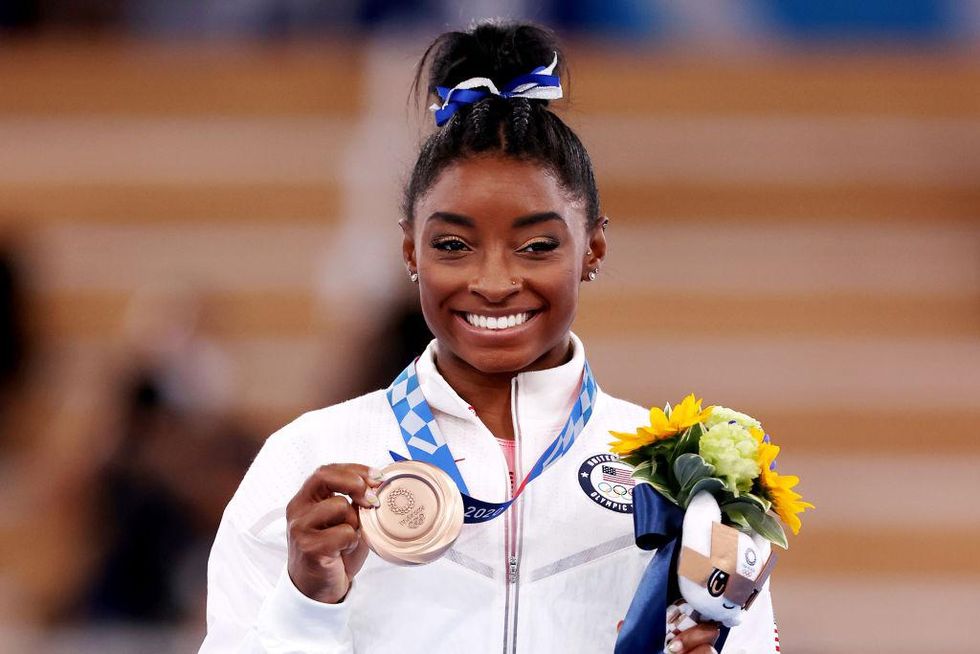 Jamie Squire/Getty Images
Self-care takes a different spin when you think about the power of shaking off the mystical label given to Black women who are simply being excellent, gifted human beings (and should not be solely defined by race or skin tone when talking about our amazing-ness).
This version allows us to throw that stereotypical, overused, superwoman cape to the side, and really start to look at what being the best version of ourselves requires—no matter what phase of life we might be in.
Take pro gymnast Simone Biles, who was all set to light the Tokyo Olympic games on fire when she abruptly chose to sit this year's festivities out. She already holds records in her sport and is known as a young legend at 24, with more than 30 Olympic and world medals. She faced harsh criticism for her decision and was accused of letting down her team, but she stood her ground, telling reporters:
"I just felt like it would be a little bit better to take a back seat, work on my mindfulness."
She's also decided to focus more on mental health advocacy. For one of the few Black women on her level in a sport that's majority-white, that had to have been a difficult decision, and even beyond the racial aspect, there's this sense that athletes should be able to push through both physical and mental challenges to get the job done.
Just take a look at this story about Serena Williams' Australian Open win while pregnant or this one about a past Venus Williams win at the U.S. Open or this whole list of athletes that have performed—and triumphed—through painful injuries. (My own father played basketball and once completed a whole game with a torn ankle. By the time he got home, his whole leg looked like an elephant's. He shrugged it off, wrapped it, iced it, and was back playing a few days later.)
Sound familiar? As Black women, we're often expected to just bare the brunt of pain or hardship in order to "push through" or reach a certain goal, and even the progressive among us (i.e. me) who tell ourselves that we will not be defined by the echoing voices of our grandmas, aunties, or moms—those voices don't allow for "giving up" or "letting people down"—we still push ourselves to the limit almost by default.
There's a trigger there that says, "Nah, I can't just walk away. I have bills to pay," or "Taking a break is weak. I can do more. That's what it takes to be among the best. I must ride this wave until the wheels fall off and reach success by any means."
And to the sis shaking your head, like, "Nah, that ain't me," just think about that last time you didn't say no to an opportunity because you didn't want to miss out, when that Twitter post, IG photo, or Facebook message didn't trigger a response of wanting to do something that would push a boundary, when you couldn't say "I'm busy" to that fantasy bae, or you had to get that 10th toy for your kids that you really couldn't afford. Yea, you, too. You are us, too.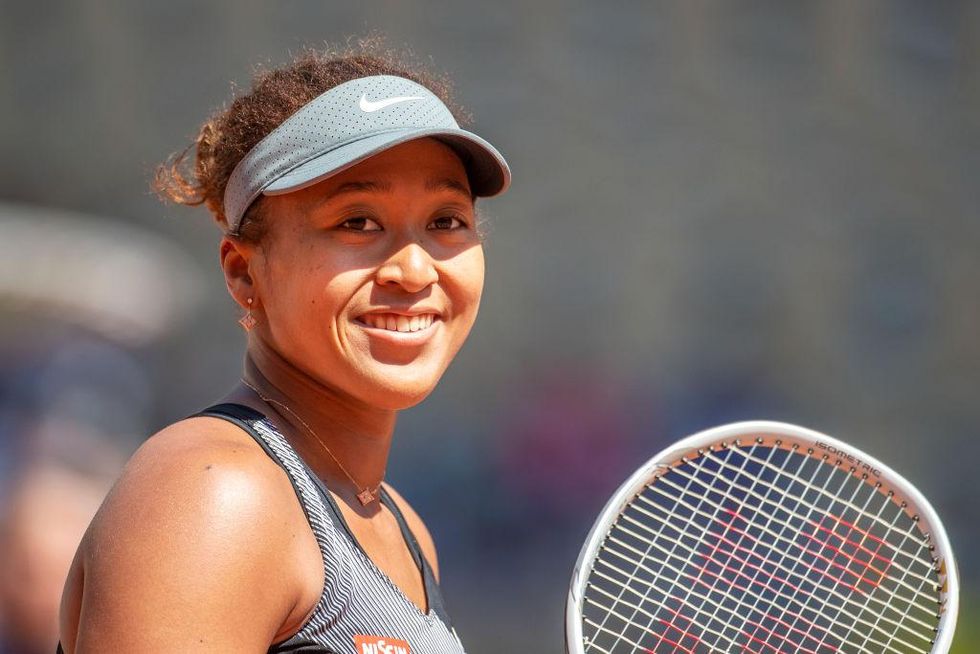 Tim Clayton/Corbis via Getty Images
When Naomi Osaka, the world's second-ranked tennis player, withdrew from the French Open this year to focus on her mental health, she faced thousands of dollars in fines for not completing a press conference in her effort to preserve her sanity. She was publicly shamed and met with doubt, as critics turned on her stating that she was simply making excuses.
It's all "Black girl magic" until you need a day off or a break. Being great at what you do in your career doesn't allow for a sick day or even a change of course, and if you're this super-powered character--as many high-achieving Black women have been pegged to be—you can't really be human.
This, to me, is dangerously similar to those archaic, racist theories about the performance and endurance abilities of African slaves and how they had a "higher tolerance for heat," an built-in "immunity to certain diseases" and "were impervious to pain."
And here comes that trauma-bonding two-step between self-care and Black girl magic yet again. Who needs much self-care when you're a durable, high-functioning, well-oiled, enchanted supernatural creature who's just expected to thrive and survive?
Simone Biles, Naomi Osaka, Serena and Venus Williams, shot-put Olympian Raven Saunders, WNBA stars Maya Moore, Renee Montgomery, and Chamique Holdsclaw—these are just a few of our athletic Black queens who are showing us that self-care means taking the time to step away and advocate for the foundational parts of life that enrich all that so-called "magic." Their pause-for-the-cause moments haven't diminished their accomplishments, greatness, or legacies—they've enhanced them.
Our mental and physical health and safety anchor us and allow us to be able to be our full selves, whether that means winning trophies, breaking records, making big bucks, or not. And there's no amount of superhuman stereotyping that can deny that.
These women prove that self-care can indeed mean walking away from high stakes and taking a few steps back to address and develop elements of our lives and selves that lend to balance. As Black women, we've got to be inspired by these athletes to redefine what self-care really means for our lives beyond a surface-level, fly-by-night buzz word.
When we lay the incredibly draining pressure of holding "magic" in our bosoms and embrace the vulnerability of our humanity in a way that honors the fullness and balance of who we are and what we're called to accomplish, we can truly reach our God-given potential.
Featured image Tim Clayton/Corbis via Getty Images
Keep reading...
Show less