At 13 years old, DJ OHSO was told that girls don't DJ.
---
They cook, they clean, they get respectable degrees as a doctor or lawyer, but they don't stay out late at night rocking parties until the sun comes up. After all, the only things open after midnight are legs and liquor stores. They don't rock gold bottoms, get decorated in tattoos and use vulgar language, for that's not lady-like. And most certainly, they don't vocalize their disapproval with society's attempt to confine and silence women, for no man wants a woman whose opinions are as strong as the bodies that birthed them.
Thankfully, DJ OHSO has never been one to be conventional or follow the rules.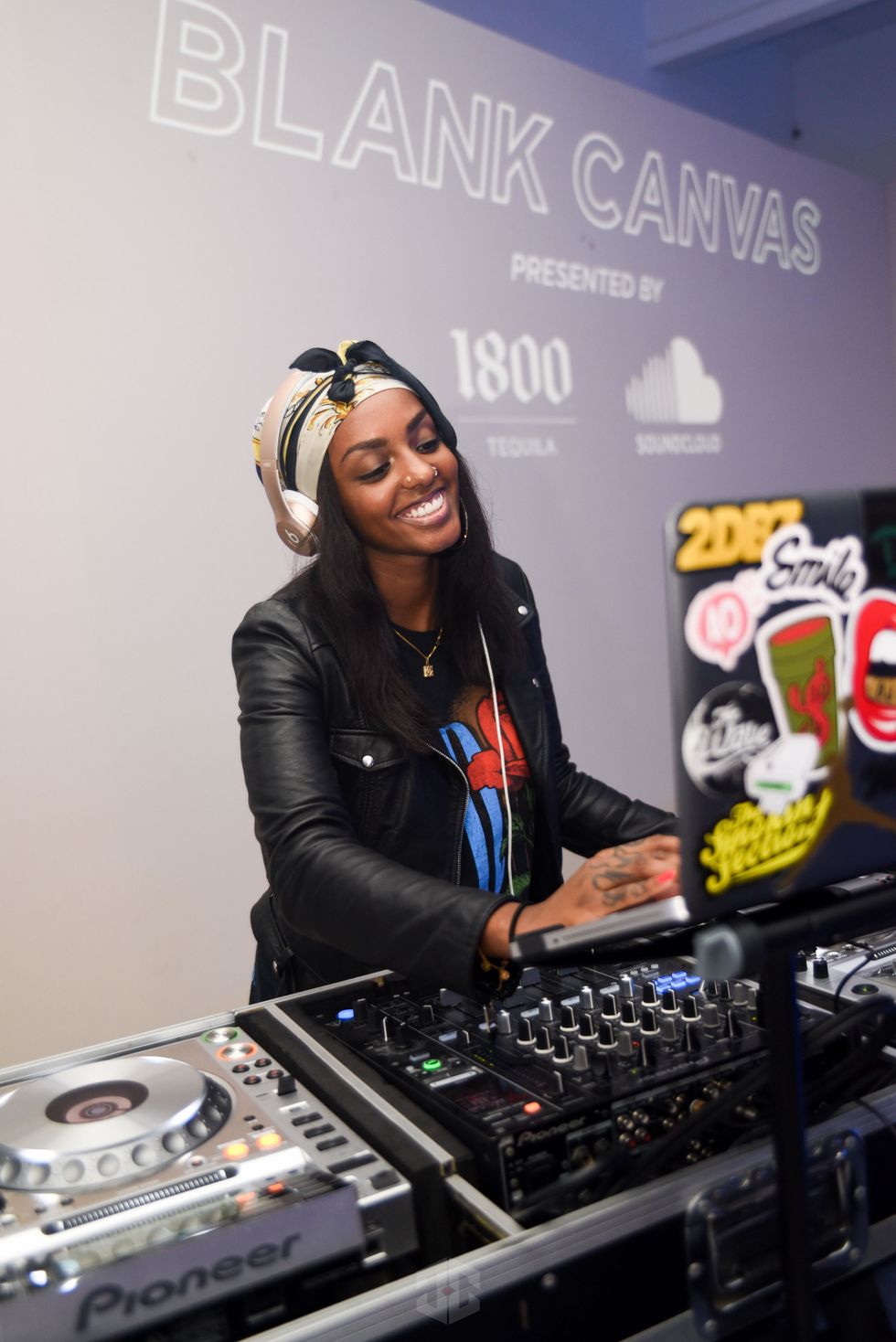 Courtesy of DJ OHSO
I met with OHSO on a warm day in Atlanta, where spring temperatures escalate to a comfortable 79 degrees on a Sunday afternoon. The sound of rapid drum beats and synthesizers permeate the air. The hypnotizing soca riddim draws girls in short shorts and barely-there tops and guys with flag bandanas boasting their native islands tied around their necks and heads. Unbeknownst to me today is Soca de Mayo—a block party event hosted by The Rum Punch Brunch in celebration of the Caribbean culture in Atlanta.

Ear pressed to my phone, I guide OHSO through the crowded sidewalks from the safety of the normally quiet coffee shop, and instantly spot her as she breaks rank, marching to the beat of her own drum. Her purple Toronto Raptors jersey and signature bright-colored nails—today a neon yellow—contrast the stark white of the space that we're meeting for our interview.
"It's crazy out there! I had to park a few blocks away," she says once she walks in the door. She's not complaining though, it's the same energy that she strives to have at her own party Bounce Dat—a monthly event where women can feel free to shake their ass while sipping on signature cocktails like "Free JT" and "Thee Stallion."
"It wasn't meant to be an all girls party. It was always just meant to be a party that favors women and the music is our anthems," she says.
"You're not going to hear all the 'Lils', we're playing soca and dancehall, Afrobeats and Hip-Hop and R&B."
When she expresses her surprise at the amount of guys who showed up for the latest Thursday night soiree, I share her sentiment and tell her that based on the advertisements I assumed it was a Girls Only event. "And I'm okay with people seeing it as that and guys opting not to go because they think that," she says with a grin. "A lot of these guys aren't going to connect to the music, and I don't want you just standing around."
If it seems as if OHSO is taking sides between the battle of the sexes, you'd be absolutely correct, and rightfully so. Growing up, OHSO was sold the story that girls didn't get behind the turntables and rock crowds, so she considered pursuing real estate investment instead. In an effort to build up her credit in hopes of purchasing property to rent out to students, she took out multiple credit cards, only to rack up debt in lieu of a high credit score. "Irresponsible me was just racking up shit and buying stuff, and then I ended up owing all this money and I'm like fuck, I gotta pay all of this shit back."
At the time OHSO didn't have plans to attend college, so instead she held a series of 9 to 5s over the next few years while she paid off her debt, achieving her goal of financial freedom at the age of 25. "It was the biggest weight off of my shoulders. That's when I was like yo, I can just do anything I want right now!"
With the burden of debt in her rear-view mirror, she realized that she no longer had a specific goal to work towards. She wasn't sure what she wanted to do with her life, and the idea of stacking up student loans for a degree she'd possibly never use also didn't appeal to her, so she continued working her call center job until one day she connected with a co-worker who was moonlighting as a DJ.
Remembering her childhood dream that was sparked at a Talib Kweli concert, she expressed an interest in learning the craft, but wasn't sure if it was possible for a woman to get behind the mic.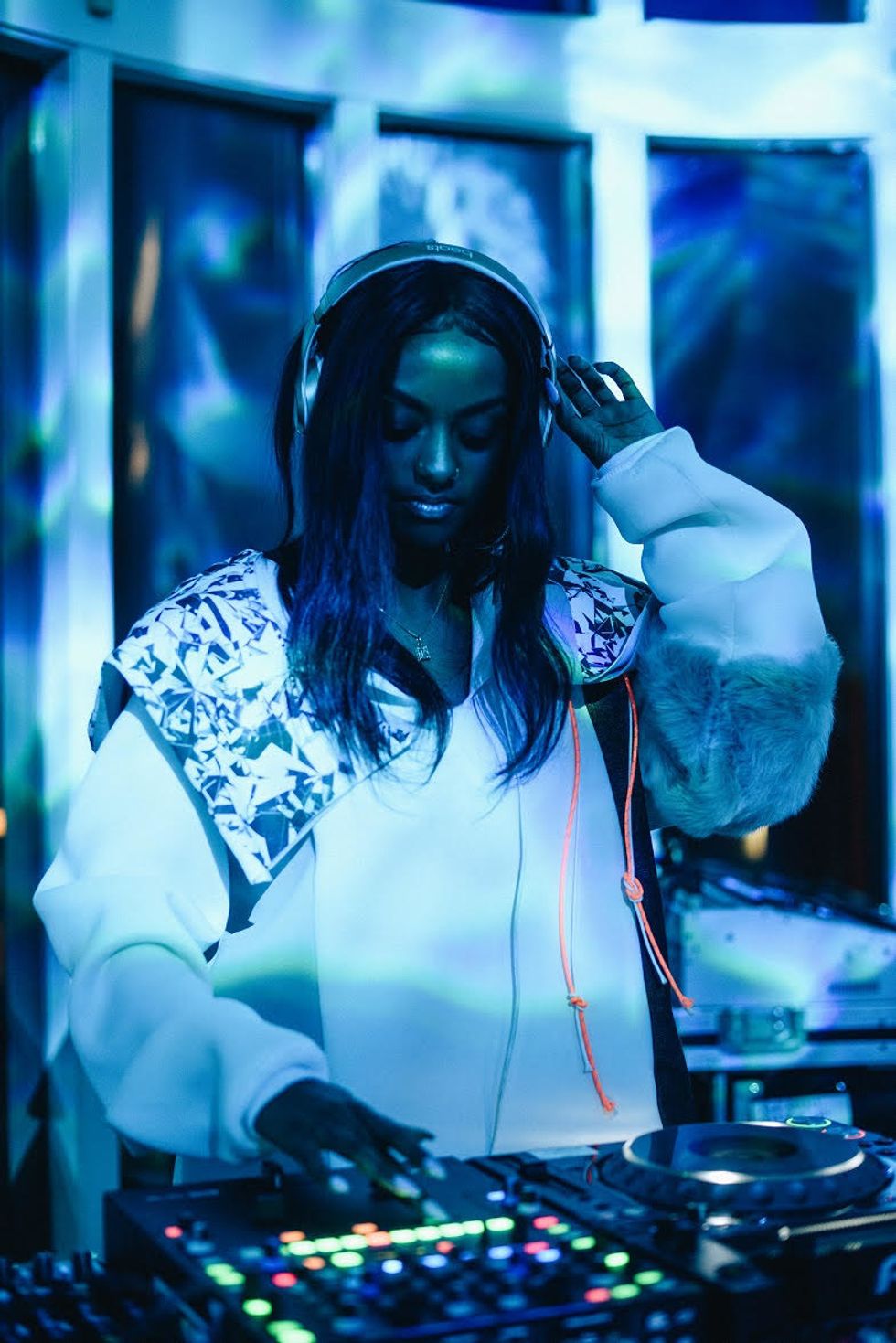 Courtesy of DJ OHSO
After her co-worker ran down a list of her musical predecessors including DJs Beverly Bond, Lazy K and Jazzy Joyce, what once felt like an impossibility became a possible reality. "I went by his house and he showed me how to mix and understand counting beats and BPMs. He was like just go with what feels good. He left me and I was in there for like three or four hours, but it felt like 20 minutes. I was in there having a blast."
These days it's not uncommon to see women DJs repping OHSO's hometown of Toronto (queue DJ Lissa Monét). On any given night, you can spot a woman scratching records, and a number of all-female DJ collectives are sprouting up around the city. But while there's slow progress towards having representation of women in the industry, it was only six years ago when OHSO went through the struggle of getting some respect on her name. After six months of practicing her craft, she felt ready to hit the party scene and test out her new skills. Her peers in the industry, unfortunately, didn't feel the same.
"I had friends who were promoters and I was like maybe they'll put me on some gigs, but they all played me a little bit. They were like umm yeah nah. You have to pay your dues. You have to DJ for like three years before you start making money, and I'm like three years? I'll be 28 and just starting to make money? Fuck no."
There are two reactions that can occur whenever a person tells you no. One, the corners of your mouth turn down and the light in your eyes extinguishes. You slump your shoulders and hang your head low, turning around to walk away in defeat. Or two, you throw a middle finger to the doubters and prove them wrong. Despite the no's and rejections, OHSO chose to embrace the latter response and continued pushing towards her dream anyway.
With little support from family and friends and limited room for growth in her hometown, OHSO felt it was time to go. After listening to motivational interviews from Will Smith, she knew that her dream lived on the other side of her fears, and that having a Plan B wasn't an option. So she told her parents that she was going on a vacation and booked a one-way flight to Miami.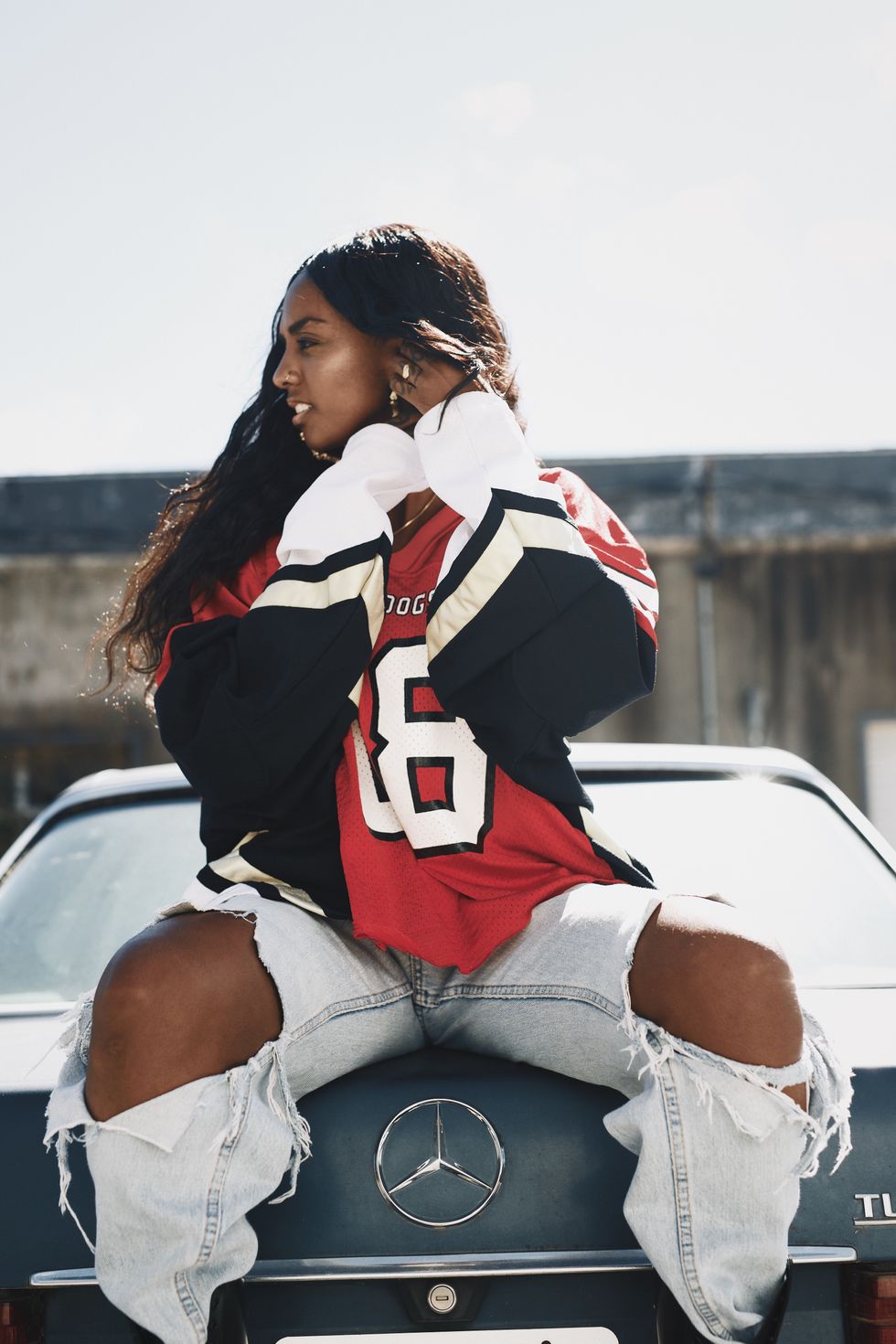 Courtesy of DJ OHSO
"I was just like I need to do this. It didn't matter what anybody said, I felt in my heart that this is what I want to do. I am good at it and I'm going to get better at it, and I'm going to make a name for myself."
In Miami, OHSO rented a room and hit the ground running. After two weeks of frequenting the clubs on South Beach and talking to promoters and club owners, she landed her first gig at a hole-in-the wall dive bar for their popular party Classic Sundays at a coveted early morning time slot. But there was one problem—she had never actually DJ'd a party before. "I'm like you want me to play in front of people? Today? I didn't even know what to do. I'm like, 'Fuck it, God would not take me this far to not be in this room'."
OHSO's first confirmation that taking a risk was worth the reward came from the very person who inspired her to pick up and move. "[The club owner]'s like, 'Oh yeah, by the way, Will Smith is here. Just don't be nervous or anything'. I'm looking at him like, do you even understand that I'm only here because of him? And I'm thinking to myself, wow. This is a direct message from God telling me this is what you're supposed to be doing. Any doubts that you've ever had, just get rid of them because I'm telling you right now this is confirmation."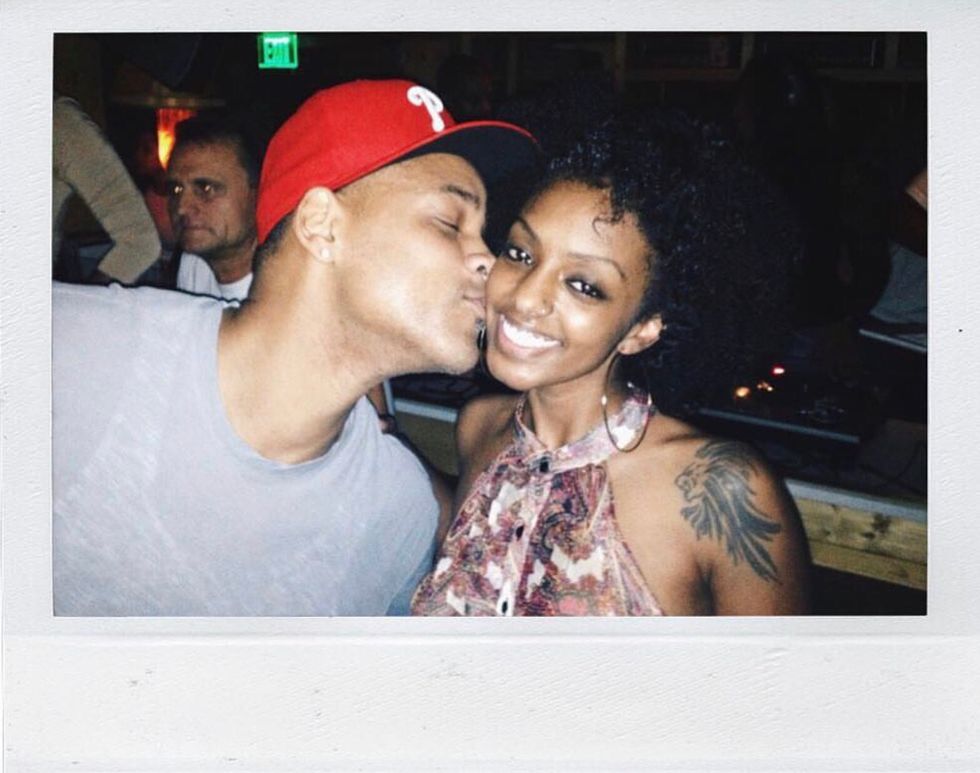 DJ OHSO pictured with her real-life confirmation, Will Smith
Courtesy of DJ OHSO/Instagram
After successfully rocking the party and getting Will to go to town to "Motown Philly" and her New Jack Swing set, the opportunities for OHSO started pouring in. Athletes and celebrities requested her to DJ at their brunches and parties, and she began building her buzz and her brand. But after two years in Miami, OHSO was once again pushed out of her comfort zone, requiring a move that would bring her to Atlanta where once again she'd have to network and build up her name.
Within three weeks of her transition, OHSO landed a job at Atlanta's Scratch DJ Academy as an instructor. The new position would not only expand her brand, but also help her become a better businesswoman. She began releasing mixes on SoundCloud, which landed her out-of-town gigs, radio play in London and Paris, and on tour as the official DJ for Oakland rapper Kamaiyah.
"I learned so much from my peers just paying attention and asking questions whenever they weren't too busy. I got to learn about marketing and producing events. I started to demand a certain rate. They helped me to know what's fair because no one has conversations about [money]; no one knows what they should be asking for. It was frustrating because people would be like this seems fair because this is a little bit more than what you'd get at a job, but I'm spending as many hours as someone who's in an office."
Learning how to demand her worth is one thing that she openly shares with those coming in the game behind her. "Someone gave me a quote once and it stuck with me: 'If you play for free today, who's going to pay to see you play tomorrow?' That was enough for me to be like, 'You're right.'"
Today, OHSO's gigs take her all around the country where she's DJing and hosting parties, including xoNecole's recent Pajamas & Lipstick event. With so much time on the road, it's important for her to have a healthy routine just as much as it is to build her brand. Wake up, avoid social media for the first hour, drink a glass of water, light a candle, and pray and meditate are just a few habits that she's developed to center herself before beginning the day as her own boss.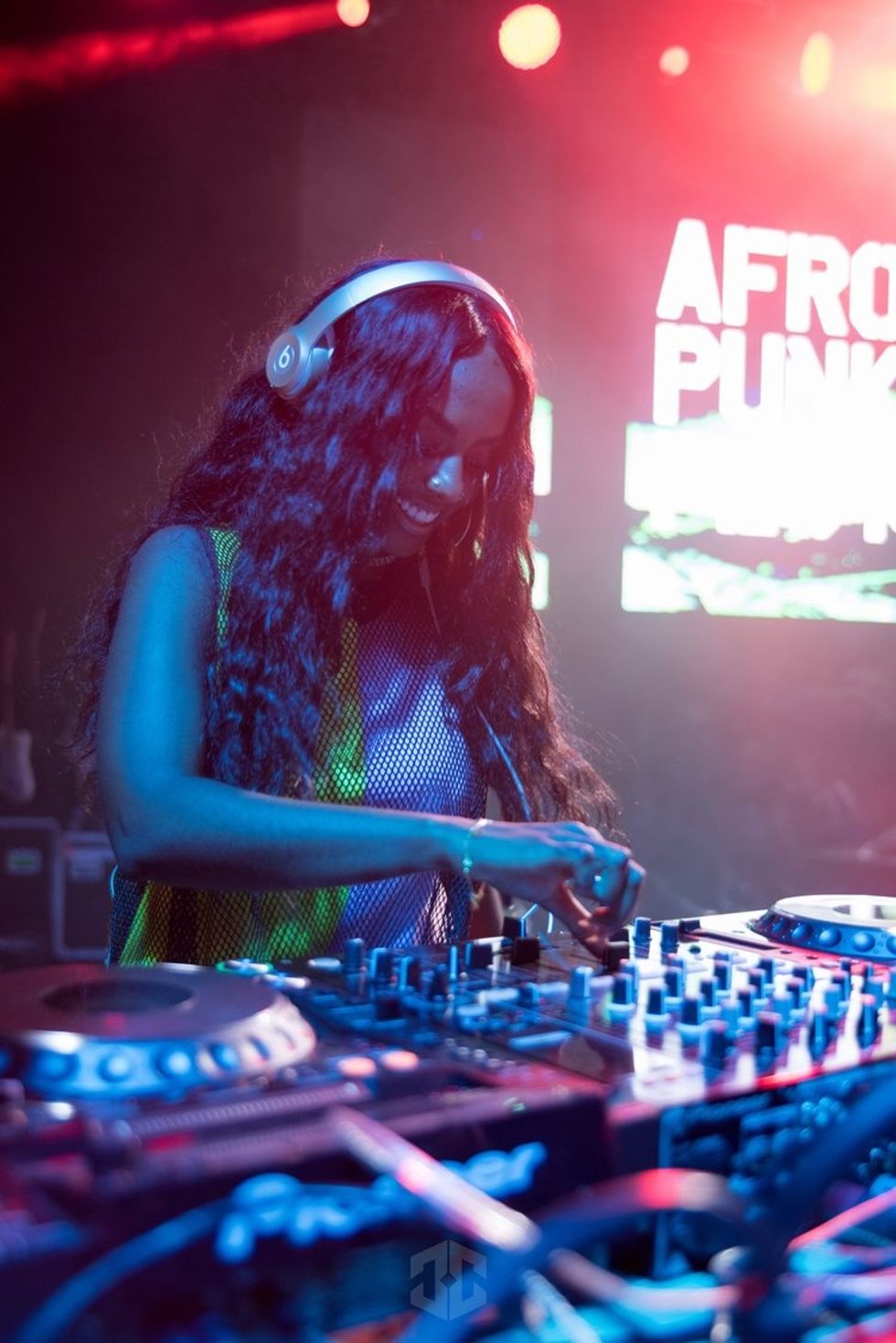 DJ OHSO at Afropunk Atlanta '17
Courtesy of DJ OHSO
"God gave me a job that I couldn't call in sick to. Every single time I feel overwhelmed or like I don't want to do this or I'm too nervous, I can't. It's just too much riding on it."
As if that's not enough, OHSO also stays committed to putting other women in the position to win. She's in the process of building an all-women creative agency to put together projects for big brands, and is looking to start a nonprofit for young girls, introducing them to different industries where women aren't the norm.
"There's a large group of people that think that there are certain jobs that are only meant for men, and I really want to go into these communities and show them that it's possible because that's one thing that I was lacking at 13," says OHSO. "I didn't have the resources to know that it was possible, so now I can pass the baton to a girl who doesn't even know what she's interested in but can see somebody who does it right now and she can ask questions. If it's a photographer, put a camera in their hand. I think that would change the game."
One thing's for sure, the 31-year-old is determined to leave her mark and isn't going to let anybody get in her way. "It's the same thing as when white people are threatened by people of color being smarter or being faster, you always want to keep people right here because you know that they can fucking rule the world. I just want to show everybody that they have power, especially young girls."
If well-behaved women rarely make history, OHSO is definitely on the path to having her name written in the books.
For more of DJ OHSO, follow her on Instagram. And check out where to see her spin next by visiting her website.