The relationship between a Pisces woman and a Taurus man is one of receptivity, intuition, compassion, and beauty. With both signs being highly attuned to the heart and both having a strong love for beauty, art, and creativity, these two come together in sweet harmony. A water sign/earth sign duo is always the best way to go for each sign as these elements work together in synergy.
They understand each other's differences and similarities and often find that the other person has something in them that they feel is missing themselves, or shows characteristics that benefit them to express themselves more. This duo is all about pleasure, making sure they are both happy and feeling well, and about sweet acts of love.
Pisces Woman and Taurus Man Love Compatibility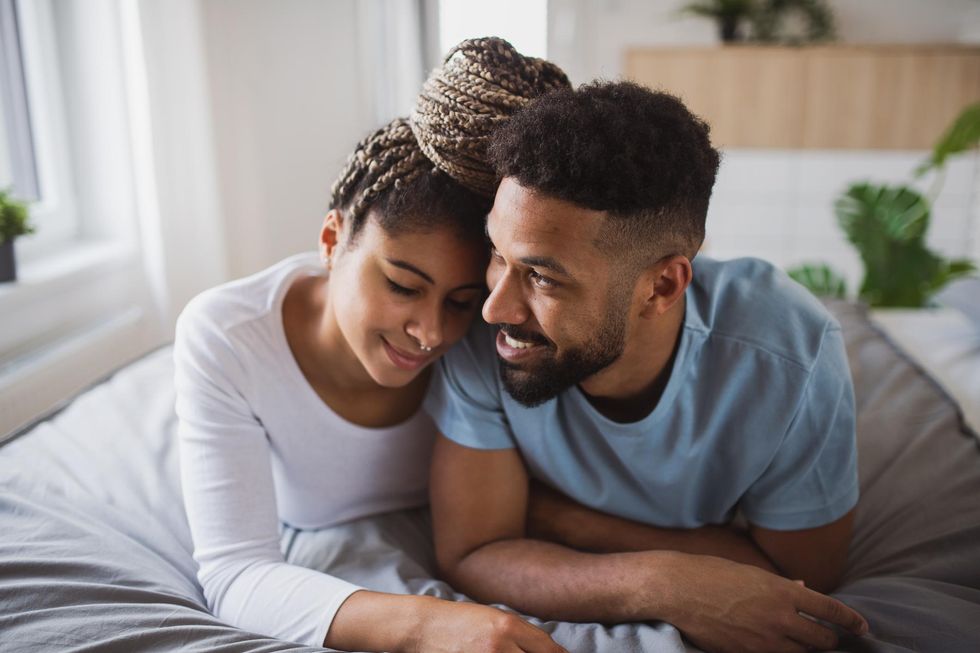 Getty Images
What attracts a Pisces woman and a Taurus man to each other?
When it comes to what attracts these two loving signs to each other, it's just that: love. They both have a strong grasp on love, on having compassion, and connect through this beautiful energy that they both exude. The Pisces woman immediately notices the Taurus man's brood behavior and can tell there is a softy under the tuff bull exterior. Where some people can be intimidated by a Taurus man and their somewhat stubborn perception, a Pisces woman is intrigued and feels like their presence can do good in the Taurus man's life, and she is right.
The Taurus man is instantly excited by the presence of a Pisces woman. A Taurus man is a rock, a Pisces woman is the lightning that strikes it. He feels like he can drop his walls a little and live out his fantasies and daydreams about love because the Pisces woman will encourage this sense of emotional freedom and expression within him. There is a sense of these two having immediate rose-colored glasses when they first meet as it all feels very real, very sudden for them.
What is the relationship like between a Pisces woman and a Taurus man?
The relationship between a Pisces woman and a Taurus man involves playfulness and loyalty, with undeniable chemistry. Taurus tends to take the lead, and Pisces doesn't mind not having to deal with any serious decision-making that keeps them out of their good-vibe flow. Taurus doesn't mind the mundane, Pisces finds it extremely boring. Pisces doesn't mind taking things one day at a time and seeing where things go, Taurus has a plan for everything.
The Taurus man helps Pisces build within her self-empowerment and stability in life. The Pisces woman encourages Taurus to loosen his grip a bit and to enjoy more of the life he has worked so hard for. They thrive when working together on something, and when at home just relaxing. These two provide a good dynamic and energy in each other's lives.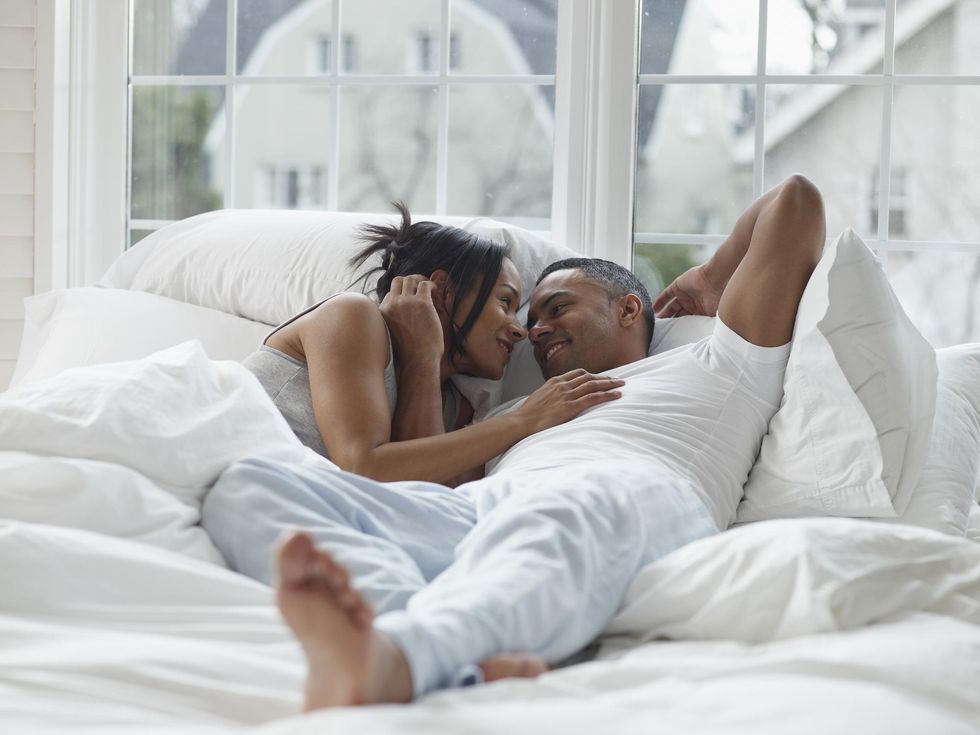 Getty Images
What is the sex like between a Pisces woman and a Taurus man?
Taurus men are Venus-ruled men and know well about sensuality, love, sex, romance, and all the pleasures of life. Taurus men are extremely sensual beings and highly attuned to this energy in life. A Pisces woman is Neptune-ruled and loves the fantasy and escapism of sex. These two signs get lost in the romantic, sweet, and receptive type of sexual energy they both provide and find that they fit each other well in all aspects.
With the Pisces woman being the free spirit she is, she wants to experiment more in bed than the Taurus man may be used to, and this sense of emotional liberation that comes easily for Pisces is something that the Taurus man works on overtime in the relationship. A Taurus man prefers consistency in bed, a Pisces woman prefers a transcendent experience. They learn to work together with what each other needs and doesn't need, and often do not have any challenges here because their chemistry is so strong. The Pisces woman is selfless and loves to be the pleaser in bed, and the Taurus man loves to be pleased and can't help but feel enamored by the Pisces woman's pure intentions here.
What makes a relationship between a Pisces woman and a Taurus man work?
This relationship works well because they both have a deep level of understanding of each other. These two signs love to be in love, they love their family and friends, and they love to be there for others. This energy benefits them both within their relationship as they are someone they can both count on. These two may grow and stabilize at a slower place, Taurus does like to take their time, however, the attraction, love, and chemistry are immediately there. The Taurus man makes the Pisces woman want to settle down, or at least let a partner into the fairytale world she likes to live in.
The Taurus man provides the Pisces woman the type of stability that allows her to fulfill her dreams and live out her life, without so many extremes and ups and downs. The Pisces woman lives free, the Taurus man lives grounded. When they come together, they meet in the middle and create their own heaven on Earth. Their life together is one of love, security, pleasure, and romance.
What may cause a Pisces woman and a Taurus man to break up?
The thing about a water sign/earth sign relationship is that eventually, their differences do show up and they can get in the way of things if not handled properly. A Taurus man is often known for being controlling and possessive at his worst, as a Taurus is all about his possessions and his assets. Typically this type of investment strategy strictly goes towards his finances, his work, and his home, but he can put this energy into his relationships as well, making the Pisces woman feel smothered, to say the least. A Pisces woman strives for freedom. She isn't the most independent-natured and loves that the Taurus man is always there, but at the same time she also deeply needs room to grow, to be, and to change her mind about things as this mutable nature of hers helps her remain flexible.
The Pisces woman can "go with the flow" too much for the Taurus man, and the lack of stability he craves will make things detrimental here. The Taurus man's analytical approach can be too rigid to the girl who is all about her feelings and emotions. Things can also get stale if this couple is spending too much time at home and not enough time out and with other people, as they both love their sleep and their comfort. However, they also provide a loving and nurturing home space because of this energy.
Summary
A Pisces woman and a Taurus man are a match made for the gods. Yes, there are differences, but they are differences that they both can work on coming together on, and aren't differences that are make or break for each other. They both have a strong sense of romance to them and they enjoy being in love, being together, and sharing this beautiful experience they have both created together. When they come together, they are in it for the long haul and are the type of couple who are lovers and best friends. They can joke around, have fun together, plan for the future, and still feel a sense of ease with the whole thing. This couple may seem very different to outsiders, but when you dive deeper you can not only see but feel the connection and love they have for each other.
Featured image by Getty Images
May is a month where passion, freedom, and growth are all coming together in alchemy. Some significant transits that Astrologers alike have been anticipating are occurring this month, and it's changing dynamics moving forward. May begins with Venus moving into the fiery energy of Aries on May 2, and will remain in this independent and direct sign until May 28. While Venus is moving through Aries this month, love and relationships are about initiating intentions, being confident in your pursuits of love, and recognizing that you deserve the love you give.
The second out of the four Mercury retrogrades of 2022 is happening on May 10 and will begin in the sign of Gemini until May 22 before finishing its retrograde transit in Taurus until June 3. With Mercury retrograde moving through one of its ruling signs, Gemini, communication haywire can feel even more prevalent for the time being. Extra precaution should be used when it comes to transportation, communication, networking, and investments with this Mercury retrograde. Mercury retrogrades are all about having a sense of humor and acknowledging that sometimes we don't always know why things are happening the way they are, but that they probably needed to.
On the same day that Mercury goes retrograde, the most significant transit of the month occurs as Jupiter, the planet of blessings, moves out of its year-long transit from Pisces and moves into Aries. Jupiter will be in Aries this year from May 10 through October 28 and will be retrograde in Aries from July 28 to October 28. Jupiter will move back into Pisces for a brief moment at the end of this year, and then finish its year-long transit in Aries from December 20 until May 16, 2023. While Jupiter begins its transit in Aries this month, the vibes turn from emotional expansion and understanding to inspired direction and understanding of thy self. While Jupiter is moving through Aries, there is a lot of drive, inspiration, and momentum to grab ahold of, and it is exciting energy for the world.
Moving more into May, there is a powerful Full Moon Lunar Eclipse in Scorpio on May 15-16, and transformations are evident. Whenever the moon is in Scorpio, emotions run deep and intimacy levels are heightened. Scorpio's strong intuition never goes missed and during this eclipse, the revelations will be plenty. This is the Eclipse to release any emotional and financial restrictions you have been feeling, and soak in the gratitude of what is present for you right now.
Gemini Season begins a few days later on the 20th, and there is a New Moon in Gemini on May 30 before the month ends. Gemini likes to keep things light and exciting, and moving out of May the collective is bringing light to the inspired ideas and visions that this month has brought.
Featured image by Kyra Jay for xoNecole
This week's episode of xoNecole's web series The Real vs. The Reading features Diamonde and Sydney. The couple met on Myspace and are now engaged after dating for six years. Diamonde is a Leo and Sydney is a Libra, which makes them a fun, social couple, and their fire and air elements mean they work well together. However, astrologist and spiritual coach Dani Simone focused more on the couple's rising signs in her reading.
Diamonde shared what drew her to Sydney. "When we first got together for real, I was all over the place," she said. "I was moving around a lot, I was trying to pursue my dream." She added that emotionally, she was a wreck and Sydney was there for her. "I wanted to settle down with you because you just kept me grounded. I was all over the place and I needed an anchor and I feel like she was my anchor." Sydney agreed that their different personalities balanced each other out.
Dani, who is from xoNecole's Tarot Reading Lives, collected the birthdays, birth times, birthplaces, and relationship duration of the seven couples featured in season one of the series to curate her readings. Her readings covered romance, challenges, and intimacy.
So, let's get into it. Diamonde is a Capricorn rising and Sydney is a Scorpio rising. Their rising signs indicate that they both have a way with words, which can be a good and a bad thing. One thing Dani suggested in her reading is that their arguments can lead to them saying hurtful things to each other. In their reaction to the reading, the couple confirmed that they both tend to battle it out with their words in arguments and Diamonde even admitted, "We gotta work on that."
Watch Diamonde and Sydney's full relationship reading and how "the real" compares to "the reading" in the video below:
The Real vs. The Reading is a xoNecole original series with full episodes posted on YouTube. Subscribe to get notified of new episodes.

*Both segments were filmed separately for authenticity.
Featured image by Kyra Jay
April is a time of growth, transformation, love, and fresh starts. There is a need to balance passion with emotions and grace with courage this month, as many different pieces of the puzzle begin to come together after somewhat of a confusing start to 2022. April begins with the Sun in Aries and a New Moon in Aries on April 1. The month begins with fiery passion, self-expression, and initiation, and signifies the fresh starts that this month is bringing in general. Change is inevitable and Aries reminds us of the empowerment that can come from making things happen for yourself, no matter what obstacles may previously have been there.
Venus enters Pisces on April 5 and will remain in this emotionally influenced water sign until May 2. Love is about going deep, transcending, and moving with compassion right now. The emotional inspiration is strong while Venus is in Pisces, and this is a good time to create art and admire the connection to love and the mysteries of life. Mercury enters Taurus on April 10 before Taurus Season begins on April 19. And while Mercury is in Taurus, communications become more grounded and rooted in the facts and the meaningful. Mercury in Taurus wants to build, grow with another, and express love in practical ways and there is a balancing act happening this month between wanting to stabilize what is, and letting things flow how they want to right now.
On April 12, there is a powerful conjunction forming between Jupiter and Neptune, and this conjunction signifies intentions turning into manifestations, and making your dreams come true. The effect of this conjunction will be flowing throughout the entire year, and this is one of the most important days of the year for positive thinking, intention setting, and creative and spiritual pursuits. A few days later, Mars moves out of Aquarius and enters Pisces on April 14, and the drive turns from mental pursuits to emotional.
Although we are in fire and earth seasons this month, April has a strong emotional pull to it and these are where a lot of the transformations are taking place right now. April is overall the month of new beginnings and emotional breakthroughs. There are two New Moons and one Full Moon happening this month, which is significant in and of itself. The powerful New Moon in Aries on April 1, the balanced Full Pink Moon in Libra on April 16, and the transformative New Moon Partial Solar Eclipse in Taurus on April 30.
Emotions are high, and they are meant to enlighten and awaken at this time. This is the month to claim your new beginnings.
ARIES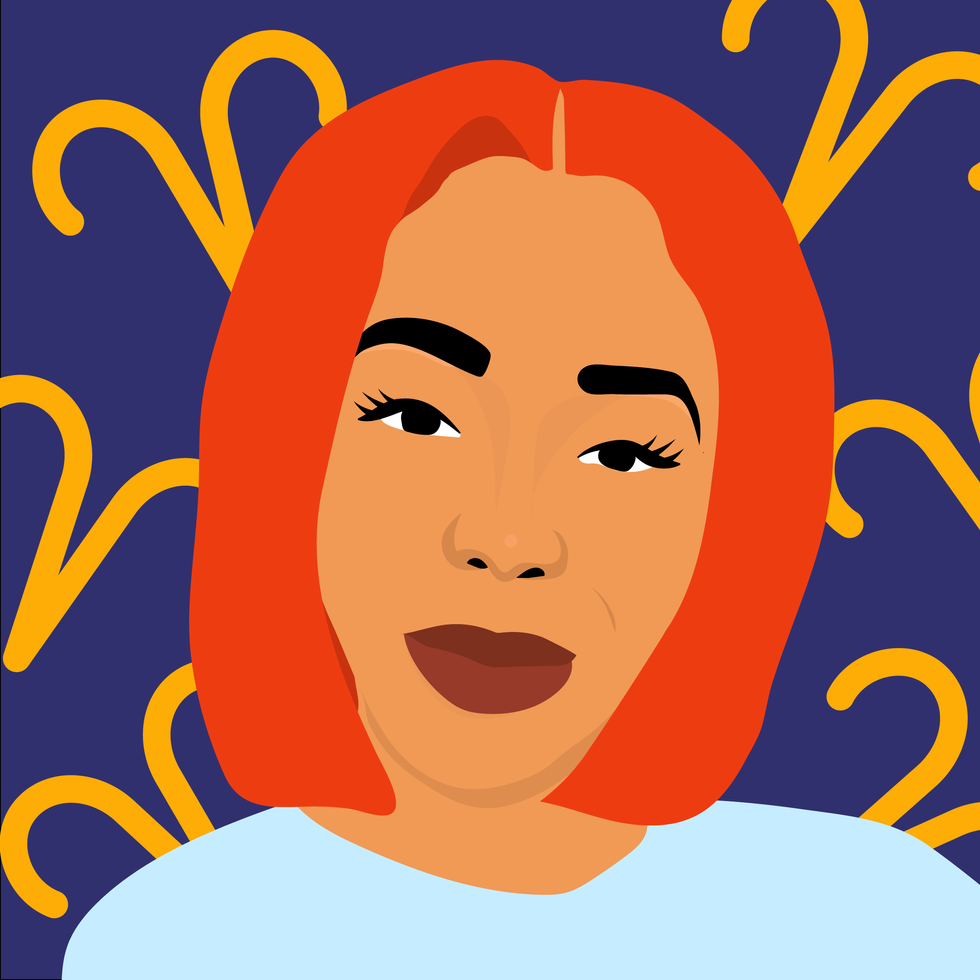 AriesKyra Jay for xoNecole
Aries Season is here, and it's your time to shine, Aries! This month brings with it a time of fresh starts, growth, and compassion. With a New Moon in your sign on the first day of the month, you are entering April claiming your new beginnings and your empowerment. Goals are being attended to, and you have all of the support with you right now to make some major waves in life. Your inner world is flowing with ideas, gifts, and truths, and your intentions are showing fruition in April.
Although you are seeing major progress and growth right now, you are still in a time of important self-reflection and of releasing from your life what hasn't been serving you. From April 5 to May 2, Venus is in your 12th house of endings, the subconscious, and all things hidden, and your emotional world is spending some time in reflection. You are learning from the past, letting go of old patterns here, and seeking your emotional truths. With a Full Moon in your opposite sign Libra and a Solar Eclipse in your 2nd house before the month ends, something about your partnerships is changing this month, and you are the one making the calls here.
TAURUS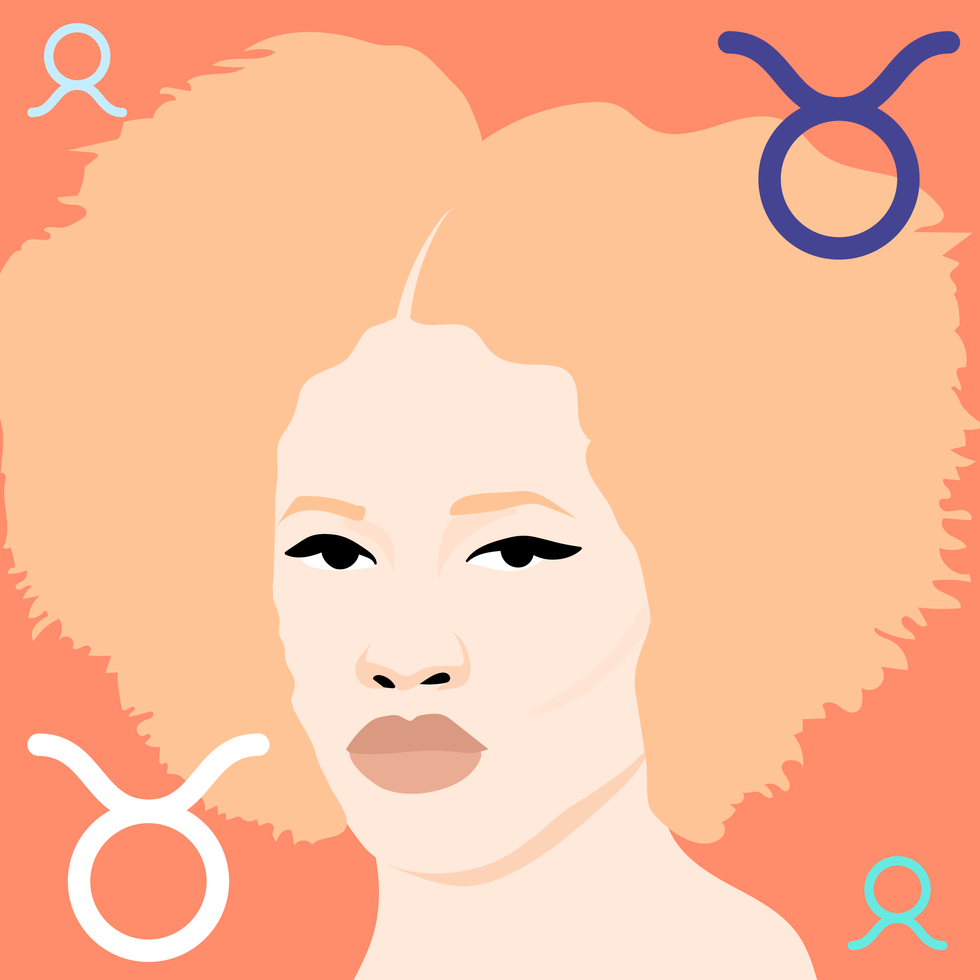 TaurusKyra Jay for xoNecole
You are on the path towards greater abundance right now, Taurus. April is a time of transformation and a time where the seeds of your intentions are blooming into the flowers of your desires. You have been doing important work when it comes to self-love, valuing yourself, and valuing what you bring to the table, and this energy is transforming things in positive ways when it comes to your financial world. Make space for more to come this month, and take the time to plan for your future. With your ruling planet Venus moving through your 11th house of friendships, aspirations, and community in April, you have the people around you to help make your dreams come true.
Moving into the month, the energy begins to move into your sign, and your solar return is here. On April 10, Mercury moves into Taurus, on April 19, Taurus Season begins, and on April 30, there is a New Moon Solar Eclipse in Taurus as well. April is your time of becoming. You have been working diligently towards the things that are most important to you in life and you are feeling a renewed sense of vitality with the support, abundance, and connection that is in your life in April.
GEMINI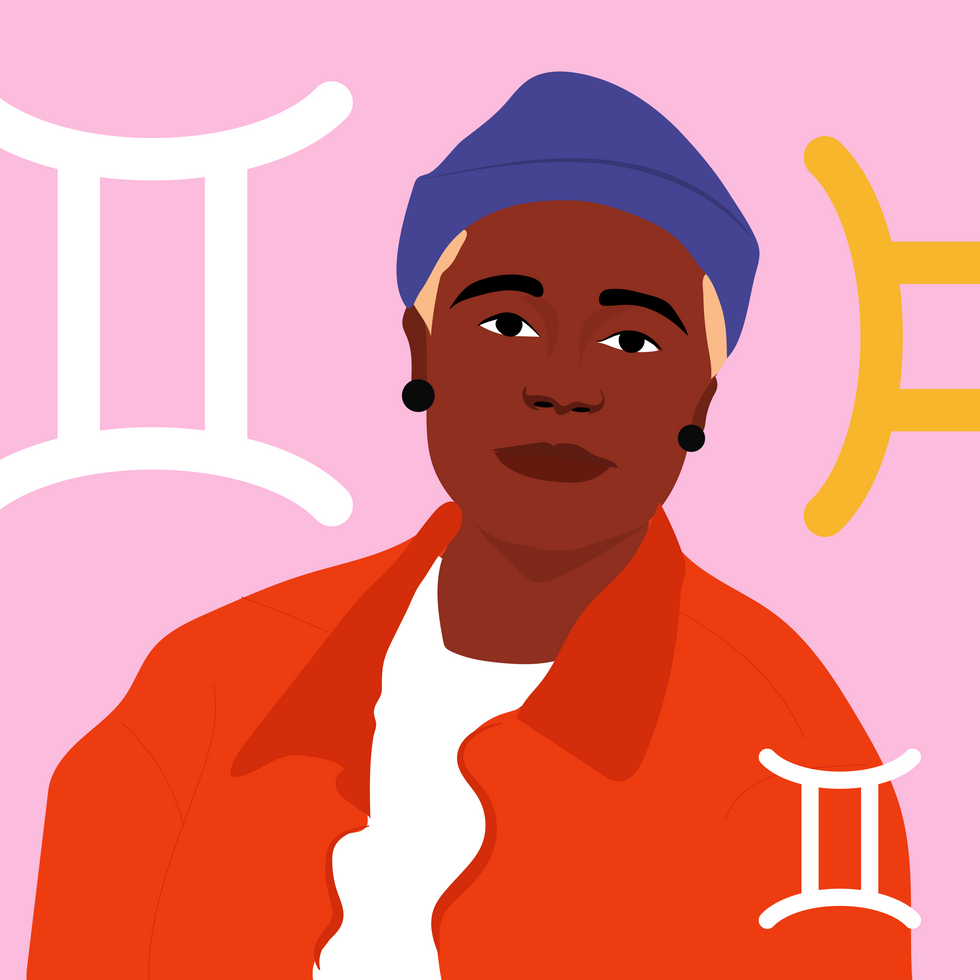 GeminiKyra Jay for xoNecole
April is a time of balance, patience, and trusting everything is coming together for you, Gemini. There has been a strong focus on your career this year, and April is bringing in those achievements and recognition you have been looking for. The New Moon on April 1 is transiting your 11th house, and you are moving into April with your community, social circle, and friendships in mind, and are seeing some new beginnings here. This month is all about learning to work together with others in harmony, and keeping an open mind when it comes to different perspectives and ways of navigating your experiences with another.
There is a need for some closure this month, some time to understand the different perspectives and self-beliefs within, and to dive deep into which ones serve and which ones hinder. Mercury will be in your 12th house of the unknown until it moves into your sign on April 29, and for most of the month some more mental downtime, rest, and self-reflection are necessary. With a Full Moon in fellow air sign Libra on April 16, there are key moments of love in your life this month, and gratitude should be acknowledged right now.
CANCER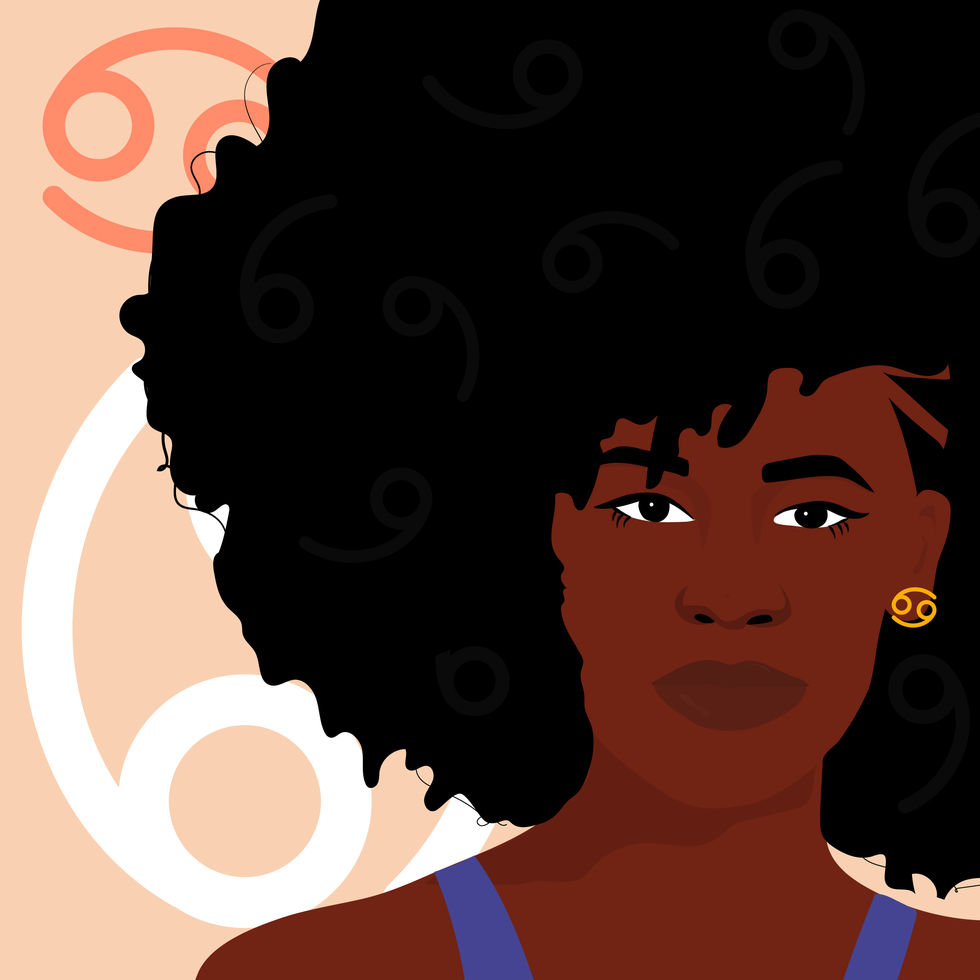 CancerKyra Jay for xoNecole
​April is all about not overthinking things and letting things come to you, Cancer. There is a New Moon in your 10th house of reputation as the month begins, and your Moonchild Soul is shining in your authenticity. You are thinking a lot about your career and professional successes at the beginning of the month, and processing the changes that have been flowing through here. April overall is the time for you to take things one day at a time, honor your creativity and inspirations, and to continue to show up for yourself.
Venus moves through fellow water sign Pisces from April 5 to May 2, and this energy is positively influencing your love life and sense of adventure. With Venus in your 9th house of travel and exploration for most of the month, April is a good time to take that trip you've been wanting to take, and to overall get some time away to decompress. Your mind is a gift, and you are learning more about the different perspectives and intuitive insights that have been flowing through your world. April is your month to align, gain clarity, and explore what the universe has to offer you, Cancer.
LEO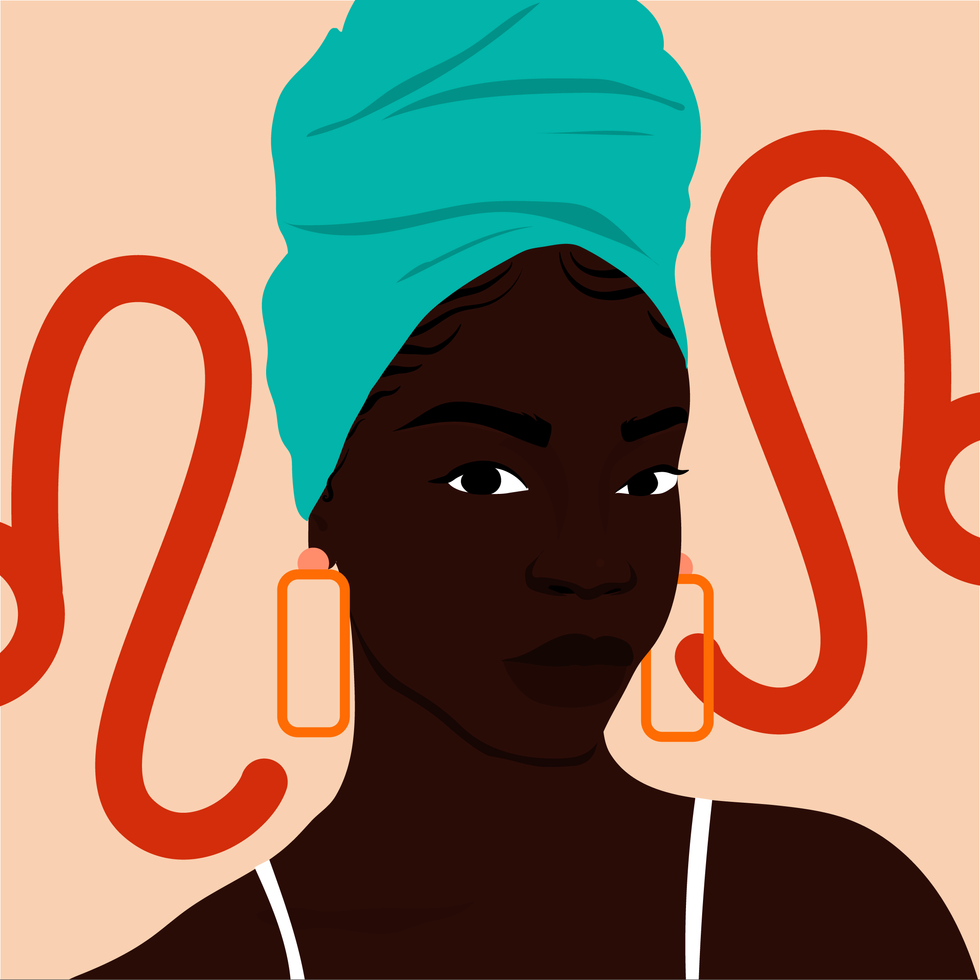 LeoKyra Jay for xoNecole
​This month is a time of karmic justice, and the tables turning in your life, Leo. You are moving out of a time of challenge and into more of your personal success, as past decisions and paths show fruition. April begins with a New Moon in fellow fire sign Aries, and opportunities are headed your way at the beginning of the month. There is a sense of passion, inspiration, and freedom in the air for you and there are some exciting experiences to say yes to right now. What's unfolding for you is the divine plan, and it's coming through from your dignity, patience, and the time you took to really consider your options and your path in life.
With Venus moving through your house of intimacy for most of the month, and a Solar Eclipse in your house of publicity before the month ends; balancing personal life with professional life is necessary. There is an emotional need to connect, commit, and dive deeper emotionally this month, and you are getting opportunities to grow with another. Your guidance is to trust your intuitive visions and insights and to uncover what wants to come to the surface right now. You are making the unknown known this month, and breaking free.
VIRGO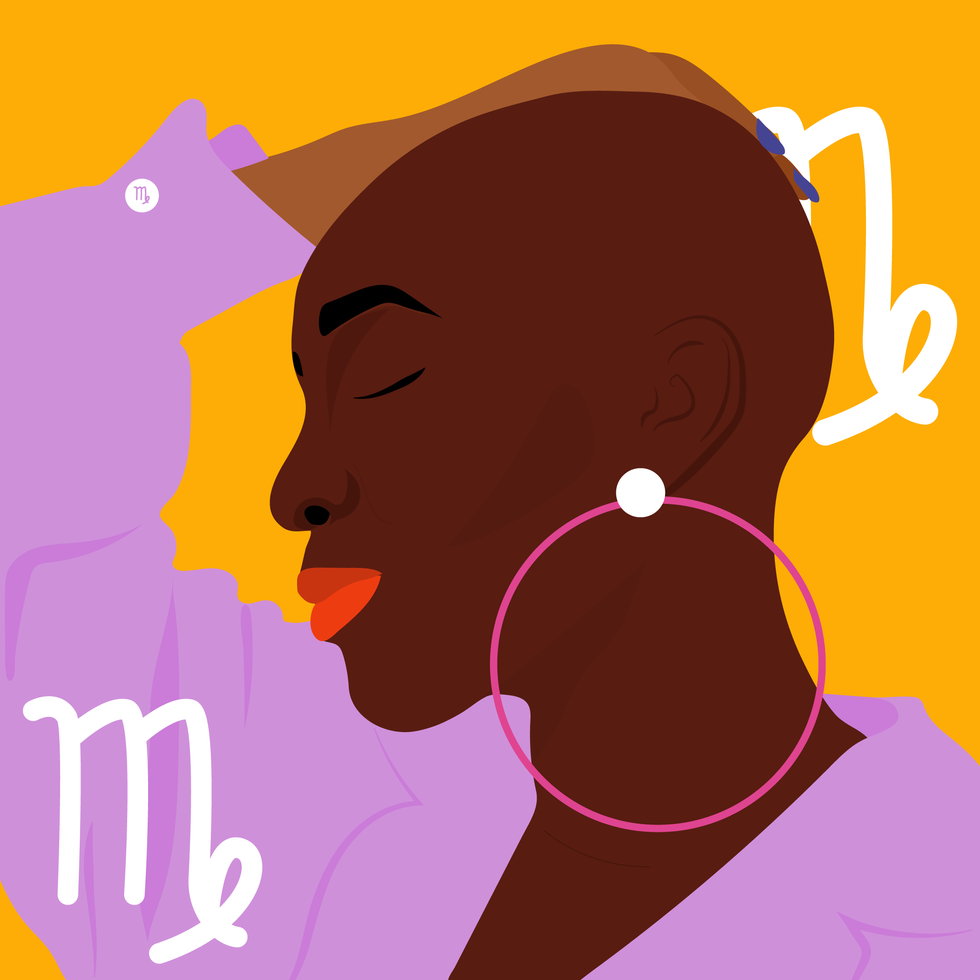 VirgoKyra Jay for xoNecole
​Love is the motive this month, Virgo. April is a time of new beginnings for you in your relationships and within your emotional world. With a New Moon in your 8th house on the first of the month, you are breaking through any barriers that have been placed between you and love and letting the walls fall. With Venus moving through an area of your chart dealing with relationships for most of April, you are feeling the progress, connection, and alignment you have been looking for in love, and there is a confidence in you both physically and emotionally.
Your ruling planet Mercury is moving through your 9th house of adventure from April 10 to April 29, and you are exploring your options in life right now. With a Full Moon in your 2nd house of values, assets, and income in mid-April, you are releasing from your life anything that doesn't add up with how you see yourself, your future, and how you value yourself. April is all about playing your cards right, and thinking out of the box to gain new insights. There is a Solar Eclipse happening on April 30, and you are ending the month inspired by the paths that are opening for you right now.
LIBRA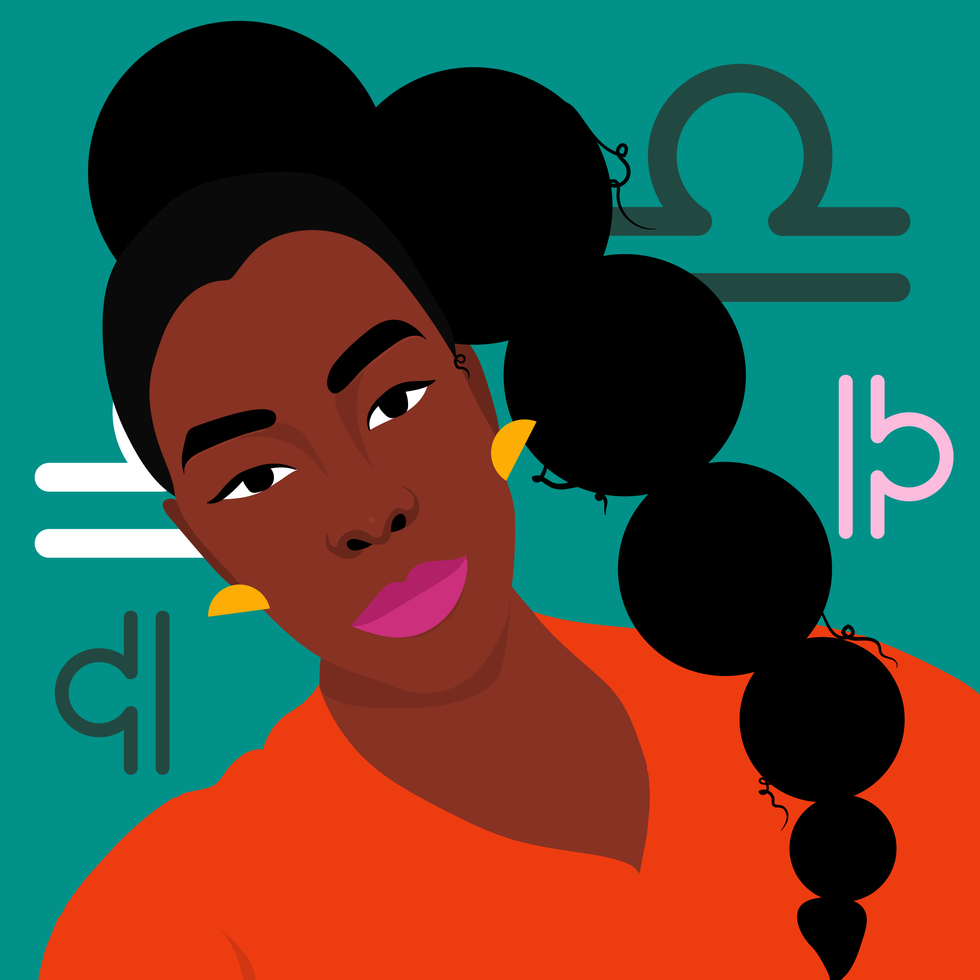 LibraKyra Jay for xoNecole
​April is all about fresh starts, speaking your voice, and cutting through the bs. You are empowered by the transformations that you are moving through right now, and others are inspired by your process and progress this month, Libra. You start the month out with Mars in your 5th house of romance and a New Moon in your 7th house of love, and this combo is exactly what it sounds like. The beginning of the month is all about basking in love and letting yourself receive the love that you so often give to others. Make your happiness the priority right now, Libra.
Moving into the month, there is a Full Pink Moon in your sign on April 16. This is a time where you are going to really be seeing the culmination, endings, and new beginnings in your life, and a time to release what doesn't feel like you anymore. Boundaries may need to be placed this month to honor your self-respect and self-love, and you are getting the space to do just that. The balance of the yin and yang within comes into play right now, and April is the time to accept, release, renew, and speak up. You are powerful, Libra.
SCORPIO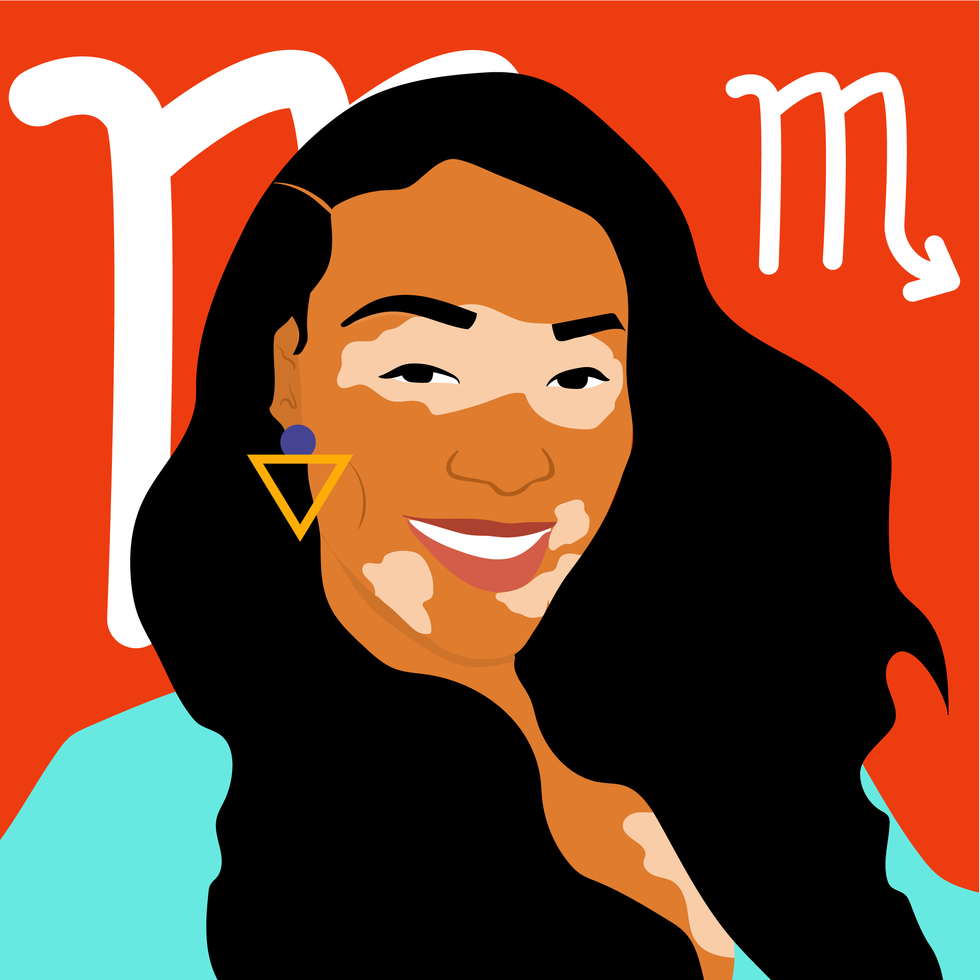 ScorpioKyra Jay for xoNecole
​Positive outcomes are coming through for you this month, Scorpio. April is a time when you are shining in your joy, your truths, and your compassion. The beginning of April is bringing in new beginnings to working/everyday life and you are seeking out new, beneficial, healthy routines that work with you. You are taking a grounded approach to things right now, and letting the blessings unfold for you. With Venus moving through your house of romance for most of the month, April is all about feeling the love, giving it, and grounding yourself in gratitude.
Old chapters are closing in April, and you are satisfied with what is coming to fruition for you right now. You are ready to leave the past behind and are finding peace in doing so. On April 29, one of your ruling planets Pluto goes Retrograde, and there is a need for more patience and understanding when it comes to communications, expression, and making your voice heard. On the next day, there is a New Moon Solar Eclipse in your sister sign Taurus, and you are gaining clarity on what support systems, love, and relationships have and will be there for you through it all.
SAGITTARIUS
SagittariusKyra Jay for xoNecole
This is a month of seeking truth, understanding, and new developments, Sagittarius. There is a New Moon in the fellow fire sign on April 1, and this New Moon is influencing your love life and sense of happiness. The beginning of the month is all about reminding you how loved you are, and about giving you those nudges to speak up for yourself, your heart, and what it needs. View things within the lens of self-love this month, and don't let any naysayers get you down. You know what is best for you and you have the power to connect with more of the people who align with that as well.
With Mercury in your 6th house of work, health, and daily routines from April 10 to 29, and a Solar Eclipse in this area of your chart on April 30, you are moving towards the end of the month with your health and well-being in mind. The ideas, insights, and breakthroughs are coming in for you right now to see what needs to be released and what would nourish you. April is about clearing out any old perspectives that aren't serving you now and letting yourself rise to your new beginnings, Sagittarius.
CAPRICORN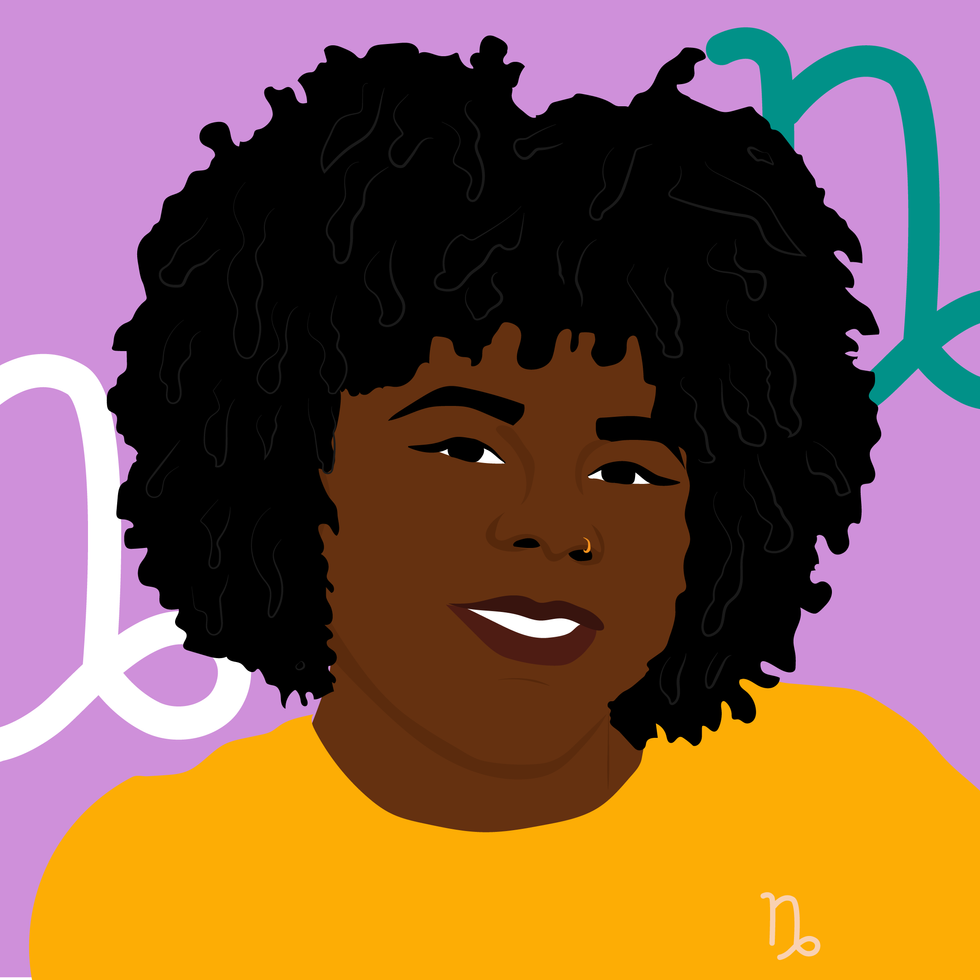 CapricornKyra Jay for xoNecole
April is your month of breakthroughs and fortune, Capricorn. You are entering a time of success after some experiences of feeling like your world has been flipped upside down. April is all about things falling into their divine place, finding your ground, and you benefiting from the transitions you are seeing in life right now. With Venus flowing through your 3rd house of communication for most of the month, you are speaking from the heart and receiving messages of love as well, and this is a good month to connect, communicate, and get your ideas and thoughts heard.
You are known for being your goal-oriented and hardworking self, and with a Full Moon on April 16 in your house of career, you are getting the right opportunities to close out old chapters in your professional world, and see some new paths open for you here too. There is a sense of leveling up this month. Pluto goes Retrograde in your sign on April 29 before the month ends, you are entering a journey of understanding yourself more, your path in life, and what feeling personally empowered means to you. Flow with change--don't force, and make space for your blessings, Capricorn.
AQUARIUS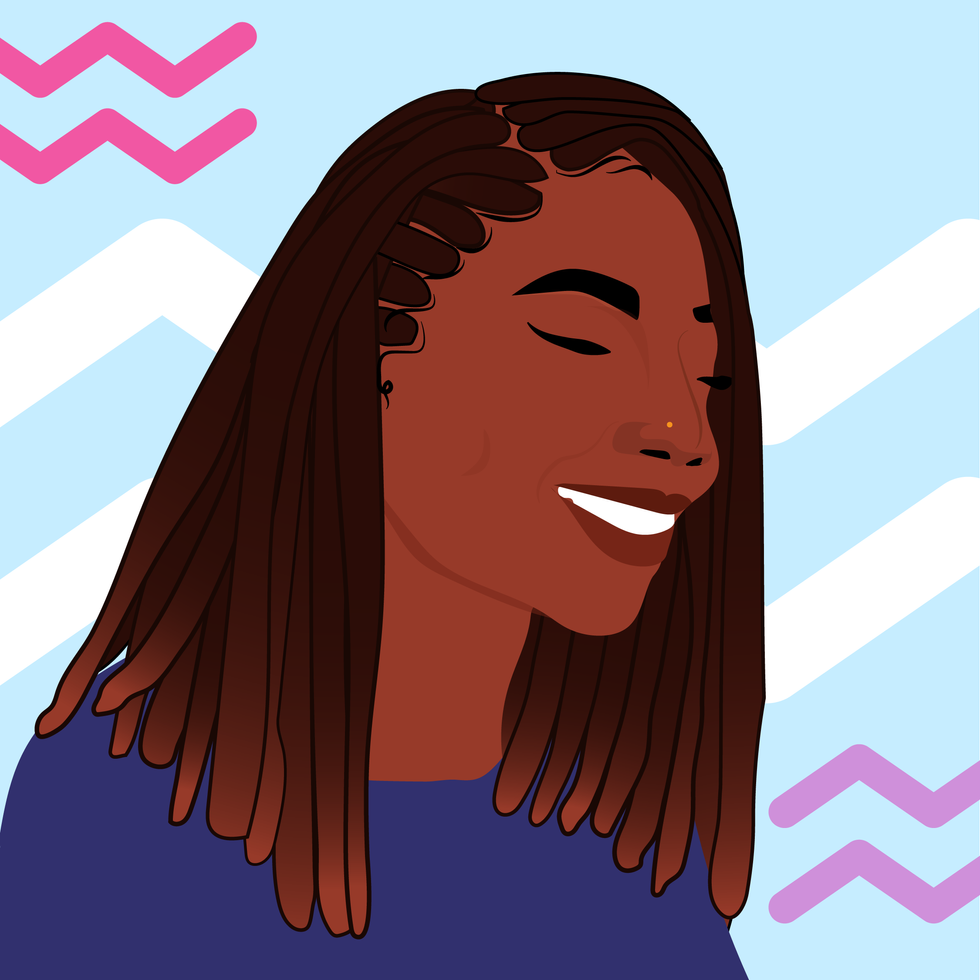 AquariusKyra Jay for xoNecole
​This month is all about gaining new insights, opening your mind, and spending some time reflecting on all that's been, Aquarius. The New Moon on April 1 is highlighting your communications and your personal influence, and this is a good time to express yourself, connect with others, and get some errands done. Some important messages are coming through right now. April is all about acting on intuition and intention rather than impulse, and about making sure your actions align with your values. You are seeing things with new eyes this month and also taking into account who and what supports this vision for yours, Aquarius.
With Mars in your sign until April 14, you have some extra energy at your disposal right now, and all the opportunities to move forward with your personal dreams. The Full Moon happening in fellow air sign Libra on April 16 is happening in an area of your chart that has to do with adventure and expansion, and April overall is a good month for you to network and meet some new people. Have fun with your self-expression this month, and remind yourself how valuable and needed your perspective and knowledge is in this world, Aquarius.
PISCES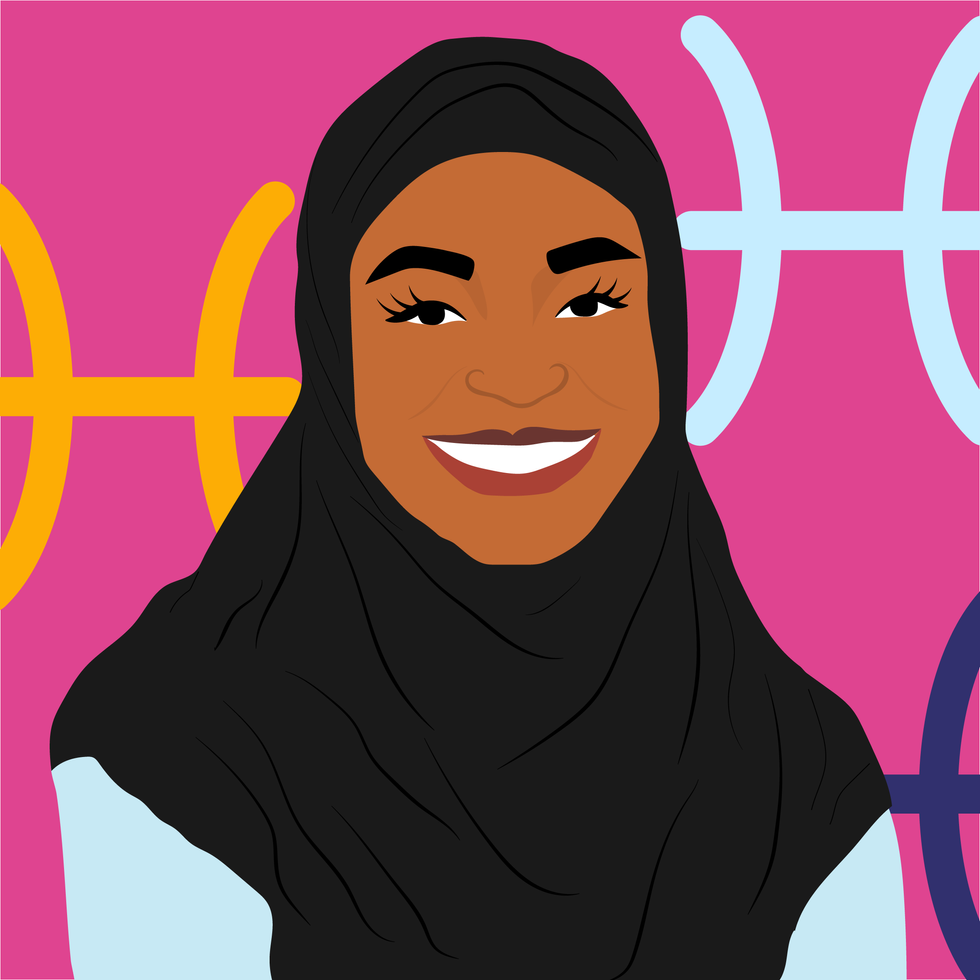 PiscesKyra Jay for xoNecole
Although Pisces Season has wrapped up, you are still feeling the inspiration and the strong influence of Pisces energy with Venus and Mars moving through your sign for most of the month, joining Jupiter and Neptune who are here as well. 2022 in general is a big year for Pisces, and this month is when things really begin to get going for you. The beginning of April is a time to look at your bank statements, financial growth, and financial goals, and to plan for the future. This is a good month to take into account the giving and receiving in your life and to make sure everything adds up with what equates to balance for you.
Jupiter and Neptune form a powerful conjunction in your sign on April 12, and this is a good day to make a wish. The energy you naturally bring forth is being highlighted and well-received and you are shining with creativity and passion as you move into the month. Mars finishes its transit in your sign on April 29, and there is a New Moon Solar Eclipse the next day. The end of April is all about transformations within your personal community, communications, and perspective, and you are getting the full picture, Pisces.
Featured image by Kyra Jay for xoNecole
A Saturn Return is your entry into adulthood and one of the most important astrological transits on your journey of self-growth. It comes around every 27 to 29.5 years and signifies a time where major life changes and transformations happen, which set you up on the path and legacy you build for yourself in life. Although Saturn Returns have often had a negative connotation, your Saturn Return isn't something to fear, but rather something to work with. It is your rite of passage into the next level of your life and although challenging at times, it's also that time in your life when you look back and see how things changed for the better for you.
Saturn is like the parent that wants to see you do well but will give you the tough love when you need it. It seeks to break down any falsities and replace them with truth, and something stable enough for you to build upon. Saturn is known as the Lord of Karma in Astrology, it teaches, enforces, and brings justice. Saturn asks you to view the systems you have built for yourself and walked on in life and to see if these foundations support the growth you intend for yourself. A Saturn Return is divine intervention and through what falls or transforms, new blessings become. Saturn is known as the great taskmaster in Astrology and a lot of growth and experiences that force you to mature tend to happen during this time.
Your Saturn Return is your checkpoint in life where the universe is like, "Okay, let's take some time to get to the bottom of things right now and to figure out what is going to serve you in the long run." This is a key time in your life to build new systems and structures for yourself, think long-term, and master your reality.
HOW TO KNOW WHEN YOUR SATURN RETURN IS
When it comes to when to expect your Saturn Return and how to prepare and move through this time, it is important to note your Saturn Return begins the day Saturn moves into the sign it was in at the time you were born. Saturn is currently in the middle of its transit through Aquarius, and if you have Saturn in Aquarius in your birth chart, you are going through your Saturn Return right now. Another important date of your Saturn Return is the day(s) Saturn is at the exact degree it was at the time you were born and shows you the more critical times of your Saturn Return. You can look up the exact date(s) of your Saturn Return by running your birthday information through a free Saturn Return Calculator.
To dive even deeper, by looking up your birth chart through a free online Birth Chart Calculator, you can find out what house Saturn is placed in your chart, and see which area in life specifically your Saturn Return will be influencing.
See below for what Saturn Returns through each house signifies.
SATURN RETURN IN THE 1ST HOUSE
A Saturn Return in the 1st house is asking you to look at the inner foundations that build you and your sense of self. Does your view of the world and how the world views you add up with how you want to move through life and be perceived? Movement is critical for you during this time, as getting your body moving and strengthening your connection to the self is what Saturn is here for. There could be physical changes you are seeing at this time as the 1st house rules the physical self, and overall your Saturn Return is very personal and all about your personal growth, goals, character, and evolution. Self-confidence is key for you right now.
SATURN RETURN IN THE 2ND HOUSE
A Saturn Return in the 2nd house is a time of challenges and breakthroughs when it comes to your financial world. The 2nd house rules income, assets, the material world, and your value systems; and Saturn is asking you during this time to balance the books, make sure you are spending with your future in mind, and will also be opening up new avenues for you for earning as well. You could feel more pressured to obtain assets and "have it all" right now. And there also tends to be more situations in life where big purchases are necessary in general with this energy. Saturn is here to help you build a sustainable path for yourself financially in life and to make sure you are valuing yourself in the process.
SATURN RETURN IN THE 3RD HOUSE
With your Saturn Return occurring in an area of your birth chart having to do with communication, transportation, neighbors, siblings, and your immediate community, there are a lot of different areas of life Saturn will be highlighting. During your Saturn Return, you are seeing the interconnectedness of it all, and this time is all about intentional movement and communication. Extra precautions should be handled with transportation and technology, and not rushing things here is key. Saturn is here to rebuild your sense of connection and community and help you find your voice.
SATURN RETURN IN THE 4TH HOUSE
A Saturn Return in the 4th house is all about your emotional and physical foundations in life. Saturn is highlighting your inner world and asking you to take a look at your support systems in life and create boundaries if necessary. The 4th house rules the home, family, your roots, tradition, and inner nourishment in life; and with Saturn moving through here, changes are happening in the home and within. This is a deep time of healing for you, especially when it comes to childhood wounds and experiences of the past. There could be some distance and unsteadiness you are feeling when it comes to laying down roots or feeling a sense of home and family, and Saturn is here to help you build that. Your Saturn Return is all about unpacking and rebuilding.
SATURN RETURN IN THE 5TH HOUSE
Your Saturn Return is all about finding your happiness and committing yourself to pursue it. The 5th house rules romance, children, creativity, hobbies, and entertainment, and with Saturn the planet of tough love moving through the house of joy, this can put a damper on things at times. This transit is all about speaking up for yourself and from the heart and expressing your creativity. Saturn energy is more serious and your Saturn Return is about recognizing those moments of discontent and finding new ways to heal the inner child and seek out your happiness. Self-expression is key for you right now.
SATURN RETURN IN THE 6TH HOUSE
With a Saturn Return in the 6th house of health, work, daily lifestyle, and routines, your health is the priority right now. Saturn is making matters of well-being more pressing during this time and will be showing you the importance of a daily routine that you can stick to. Changes in your working life are also happening now, and what your everyday environment looks like is transforming into something you can see yourself doing for the long run. You may feel like you have to work harder than usual during this time and Saturn is helping you find the balance between service to others and service to yourself.
SATURN RETURN IN THE 7TH HOUSE
A Saturn Return in the 7th house brings things to the forefront when it comes to love, relationships, marriage, business partnerships, and your relationship to your finances as well. This Saturn Return seeks to bring change within your personal relationships and to provide you with the stable ground for love to grow on. This transit will be helping you define what you want/need in love, your view on commitment, and whom you want to build this sense of partnership with. Relationship challenges are likely during this time, but meeting people that provide you a greater sense of emotional satisfaction and stability is the purpose of this transit for you.
SATURN RETURN IN THE 8TH HOUSE
With the 8th house ruling shared finances, taxes, debt, intimacy, death, rebirth, sexuality, intuition, and all things taboo, you are experiencing a deep inner awakening during your Saturn Return. Saturn is making you aware of anything that's been blocking you off from feeling the vulnerability, commitment, and intimacy you are looking for in life, and helping you overcome some emotional fears. Saturn is pushing you to be a little more fearless during this time and to have the courage to confront some emotions that have been buried down until now. Your Saturn Return is all about shadow work, healing, and spiritual growth.
SATURN RETURN IN THE 9TH HOUSE
Your Saturn Return is a time of exploring the mind and what growth can occur through keeping an open perspective. The 9th house rules travel, adventure, higher education, and philosophy, and this is where Saturn is shaking things up for the time being. There can be a delay in educational pursuits during this time or more pressure to learn in general. Travel should be taken carefully during your Saturn Return as these are instances where Saturn will be more active in your life and can be challenging. Overall, you are learning the importance of connecting to your higher self right now, and are learning about self-mastery and trusting your own path in life.
SATURN RETURN IN THE 10TH HOUSE
The effects of your Saturn Return tend to be more public than most. A Saturn Return in the 10th house is here to help you build new systems of success for your career. The 10th house rules your professional and public life, social status, skills, talents, where you shine in life, and also your reputation. With Saturn moving through here there can be some delays when it comes to reaching goals and you may feel like you have to overcome a lot on your professional journey to get to where you want to be. Saturn isn't here to put a halt to your success in life, it's here to make sure you are personally aligned with what you are doing in your career, and if not, to make the necessary changes so you are following your soul purpose.
SATURN RETURN IN THE 11TH HOUSE
With a Saturn Return in the 11th house of friendships and community, you are finding your people during this time. This time in your life can feel a little more isolated than usual and Saturn is urging you to reach out, connect, and build your community during this time. Saturn is helping you shine in your authenticity during your Saturn Return, and guiding you towards ways you can show up for not only your community but your personal aspirations and goals as well. With the 11th house also being the house of manifestation and making your visions come to life, this is a good time to learn more about manifestation and your gifts as a creator.
SATURN RETURN IN THE 12TH HOUSE
A Saturn Return in the 12th house is a time of healing, understanding what's below the surface of your life, and releasing yourself from the past. The 12th house is the last house of the zodiac wheel, and rules endings and all things hidden. With Saturn in the 12th house, you've been on a life journey of being your biggest supporter in life, rather than catering to self-sabotaging behavior. This is a good time to see a healer, therapist, astrologer, etc., and to get serious about your healing journey and mental health. If you've had any challenges with addiction, Saturn will be addressing them during this time and helping you overcome them. Your Saturn Return is all about doing the inner work.
Featured image by Getty Images
In episode two of xoNecole's new YouTube series, The Real vs. The Reading, astrologist and spiritual coach Dani Simone chats with married couple, Ernest and Dayna Bolden. Like in the previous episode, Dani gives a reading and the couple reveals whether or not the reading matches their habits.
Seven couples in total were interviewed separately to be featured in season one of the YouTube series with a variety of relationship stages such as married, engaged, and dating.
Dani collected the happy couples' birthdays, birth times, birthplaces, and relationship duration to curate her readings based on each individual's birth chart. The readings are separated into three categories: romance, challenges, and intimacy, and at the end, the couples confirm or deny if the reading was accurate as "the real."
Both Dayna and Ernest admitted that they weren't followers of astrology, but were intrigued to learn more about it for themselves and each other.
Dayna is a lifestyle influencer who met her husband Ernest on MySpace 14 years ago. "I remember one day in my dorm room I was really bored and I researched 6ft tall, dark skin, athletic and he popped up," Dayna said about how they met. She sent him a friend request on the social media site and the rest was history. They have been married for nine years and share two children.
But what makes them a good match? Both of them are air signs with Dayna's sun sign in Aquarius and Ernest's sun sign in Gemini, which means they both like to nurture their social lives, their intellect and are open to learning more about each other.
Gemini and Aquarius Compatibility | The Real vs The Reading
However, there are some differences. According to Dayna, Ernest expresses himself very well and Ernest concurred by referring to himself as a "poetic lover," which Dani confirmed in her readings. Dani also suggested that Dayna was a hothead due to her Mars being placed in Sagittarius. Ernest agreed by saying that the influencer would go "0 to 100 real quick," but they have since worked through that.
When it came to intimacy, Dani's reading suggested that the couple loved vacations and staycations to keep things spicy. Ernest also agreed by revealing that although they get it "on and poppin'" at home, it was something different about vacation sex.
All in all, the couple unanimously agreed that Dani's readings were accurate.
"I learned a lot about myself. I learned a lot about you (to Dayna). I learned some stuff that I was unsure about, but this was assurance like alright you ain't trippin' that's just the way things are," Ernest said.
The Real vs. The Reading is a xoNecole original series and full episodes will be posted on YouTube. Subscribe to get notified of new episodes.
Featured image by Kyra Jay