Whether it's street style and high fashion moments, the lucrative lane she's carved through her multiple businesses, or the question of "where's the album sis?", multi-hyphenate Rihanna's every move is a new headline. The latest subject on all of our radars is our favorite bad gyal's love life. Though currently wrapped up in a whirlwind romance with long-time friend A$AP Rocky, who the singer has dated has always been of public interest and public opinion (if you know, you know).
---
Though she has been in her fair share of high-profile romances throughout the year, Rihanna has always maintained a sort of elusive quality to her. Even more so in recent years as she has navigated single life and a previous relationship with a particular billionaire. Something that has us thinking the good sis can be tamed is rapper boyfriend A$AP who took to GQ recently to reveal our girl Riri is "the One" and the love of his life. His words.
However, Rihanna was recently spotted commenting the sentence "If I was a paragraph" underneath a photo explaining that if you aren't happy single, you aren't going to be happy taken. While it could mean trouble in lovers and friends paradise, a little birdie mentioning she covered her matching tattoo with former beau Drake amid her new romance with A$AP could signify she might be feeling something similar (i.e. Mr. Rocky could be "the one").
Either way, we thought there's no time like the present to explore the past. Let's review Rihanna's relationship history by taking a walk down memory lane: Exes Edition.
Chris Brown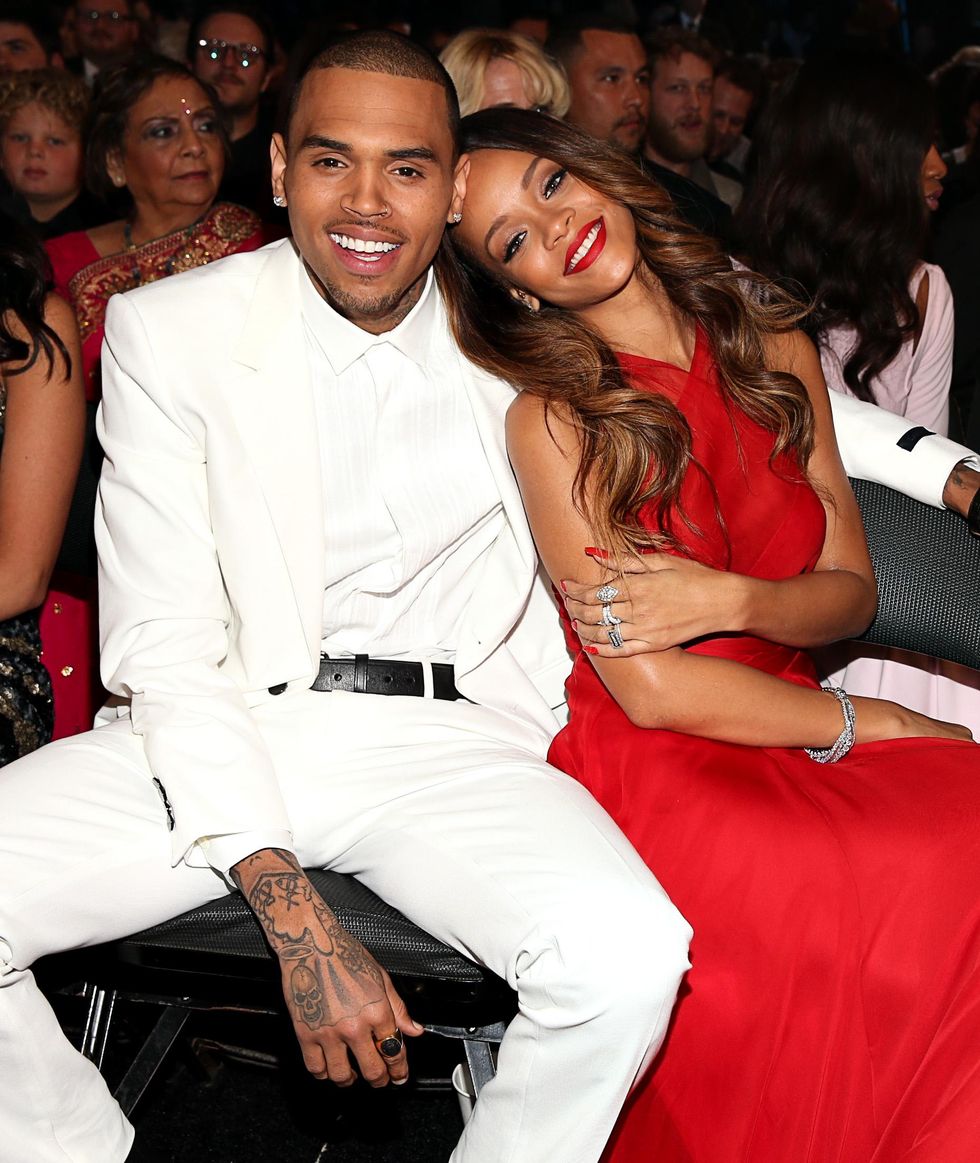 Chris Brown and Rihanna attend the 55th Annual GRAMMY Awards at STAPLES Center on February 10, 2013 in Los Angeles, California.
Christopher Polk/Getty Images for NARAS
From 2007 to 2009, Rihanna dated singer Chris Brown. The relationship ended in turmoil in 2009 due to a devastating domestic violence incident resulting in Brown being charged with making criminal threats and assault. The two would eventually rekindle their relationship briefly between 2012 and 2013, even briefly collaborating on songs again together, the raunchy "Birthday Cake" and the middle finger to the court of public opinion "Nobody's Business".
In 2015, Rihanna would reveal to Vanity Fair about her seemingly toxic bond with her ex and what ultimately led her to leave.
"I was very protective of him. I felt that people didn't understand him. But you know, you realize after a while that in that situation you're the enemy. You want the best for them, but if you remind them of their failures, or if you remind them of bad moments in their life, or even if you say, 'I'm willing to put up with something,' they think less of you — because they know you don't deserve what they're going to give."
Drake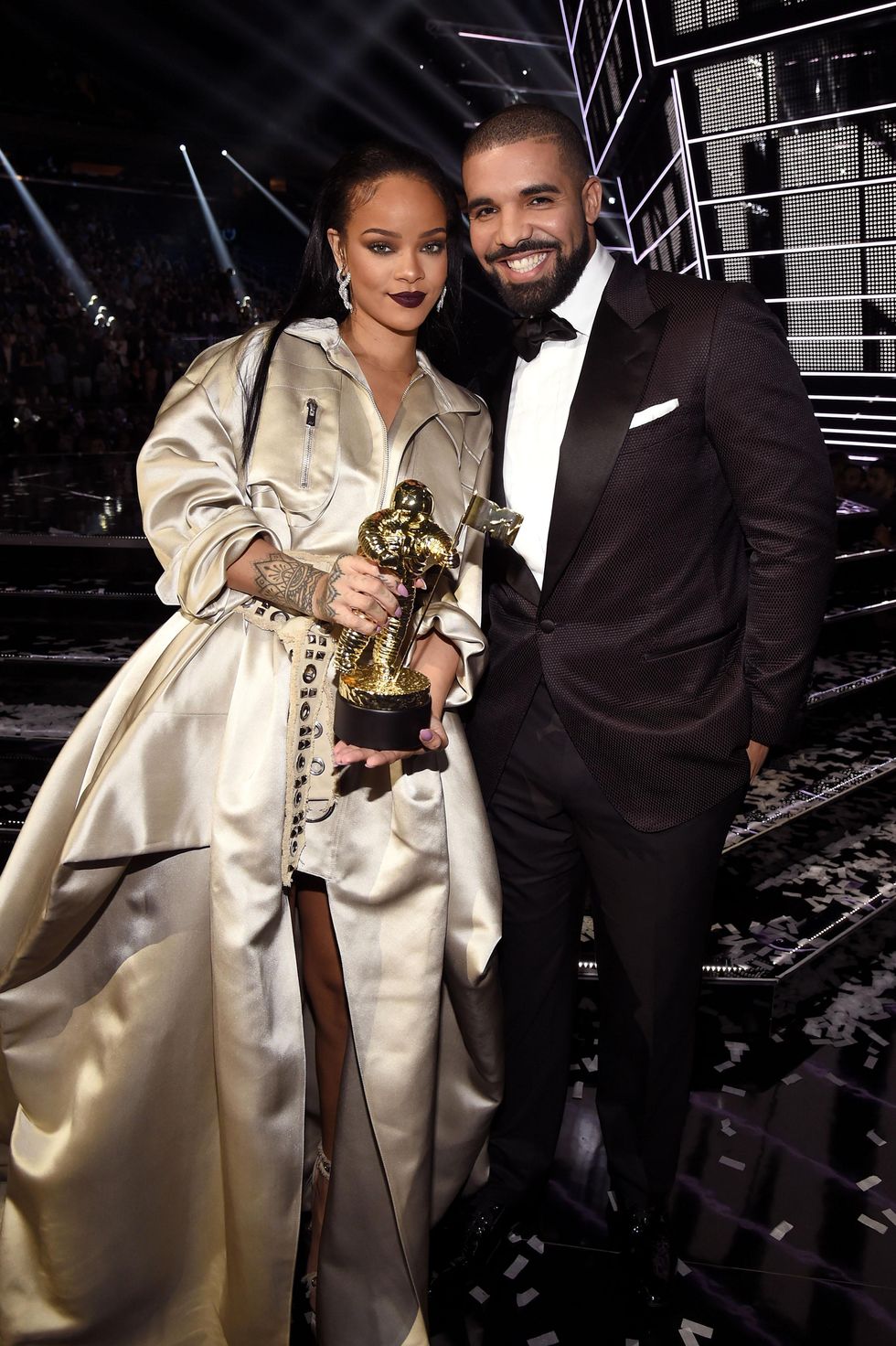 Rihanna (L) and Drake pose onstage during the 2016 MTV Video Music Awards at Madison Square Garden on August 28, 2016 in New York City.
Kevin Mazur/WireImage
Another on-again off-again relationship in Riri's life, Drake and her reportedly began their first of a couple of flings in May 2009, after meeting in 2005. In an April 2012 to Max Choice FM, the Toronto rapper shared about their romance:
"I think that we have a connection that's established for life and that is that I love her and support her unconditionally, and I like to think that she feels the same way. Do I fancy her? Of course, I mean who wouldn't? Look at her, she's stunning. Of course I do. Yeah, no, she's incredible. But you know, it's one of those things that it's a maybe one day, maybe not."
As the pair dwindled and rekindled throughout the years, the Grammy winners have gifted fans with plenty of dope tracks, including "What's My Name?", "Too Good", "Take Care", and "Work". In reference to those glorious collabs, Drake told Zane Lowe:
"We do well together as a team. I think we do great music together. It's tough to do guy-girl collabs. I think [the chemistry] is what makes the records better, though. It's something genuine there. We're not forcing some story on people. A lot of the music that we make and the energy that we bring is genuine. We have a lot of genuine energy between us."
In 2016, sparks ignited again between the two before parting ways months later. In 2018, Drake unfollowed Rihanna after she revealed to Vogue:
"We don't have a friendship now, but we're not enemies either. It is what it is."
Matt Kemp
Rihanna dated professional baseball player Matt Kemp from January to December 2010. Allegedly, Kemp initiated the split because of the songstress' hectic schedule. Back when the two were an item, Rihanna giddily opened up to ELLE, calling their relationship her "peace":
"I have a boyfriend. I'm so happy. I feel really comfortable, and it's so easy. I have such a chaotic life, but at the end of the day, that is just my peace. It keeps me sane, really, talking to him and talking to my family."
Travis Scott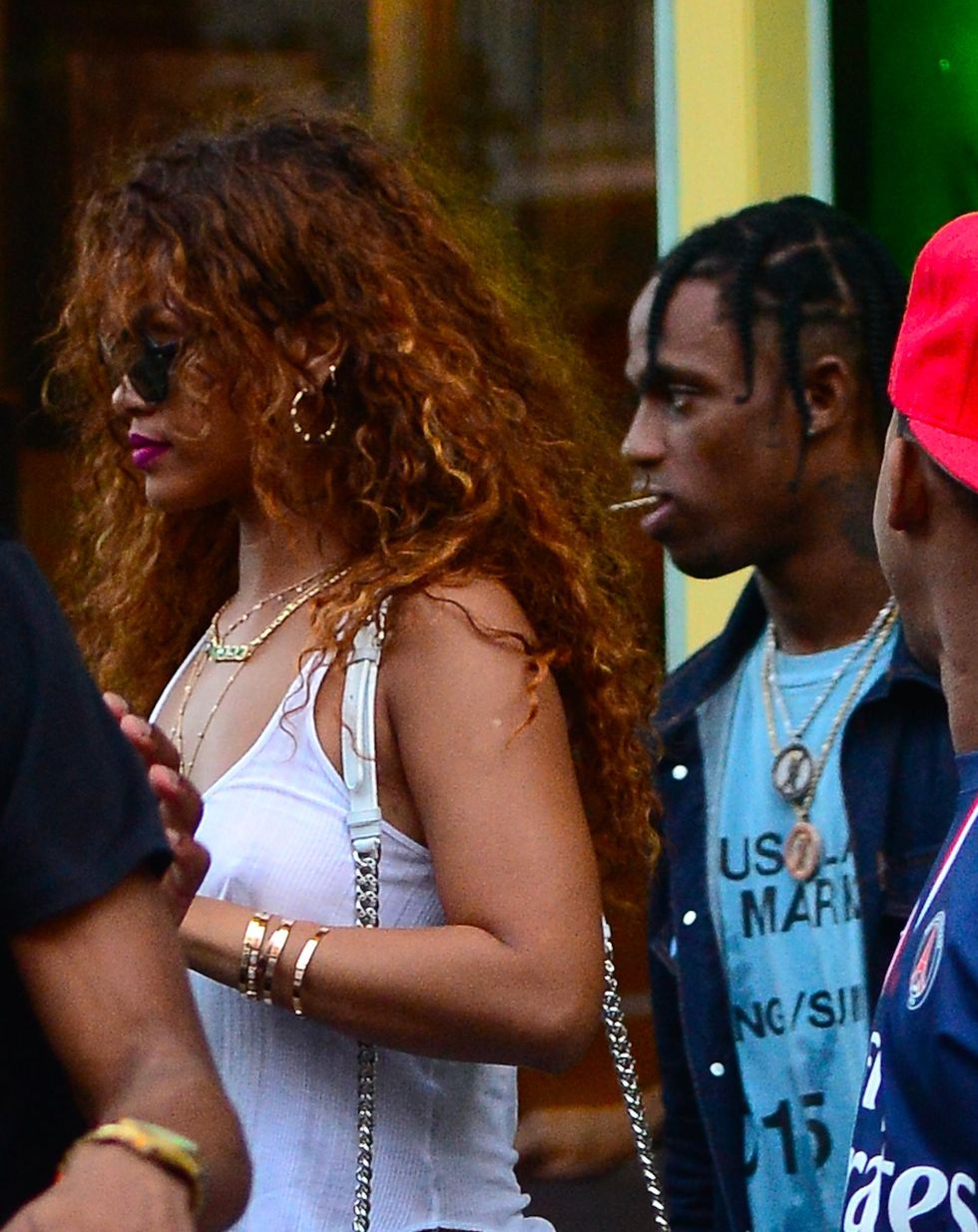 Singer Rihanna and Travis Scott are seen coming out of Coppelia restaurant in Soho on August 12, 2015 in New York City.
Raymond Hall/GC Images
Like her alleged flings with actors Leonardo Dicaprio and Ryan Phillippe, this short-lived romance with rapper Travis Scott has only been confirmed by sources close to the two. However, those of us who spotted the subtle hints towards each other between Riri and Trav during their time together, we know the things! We peeped!
Hassan Jameel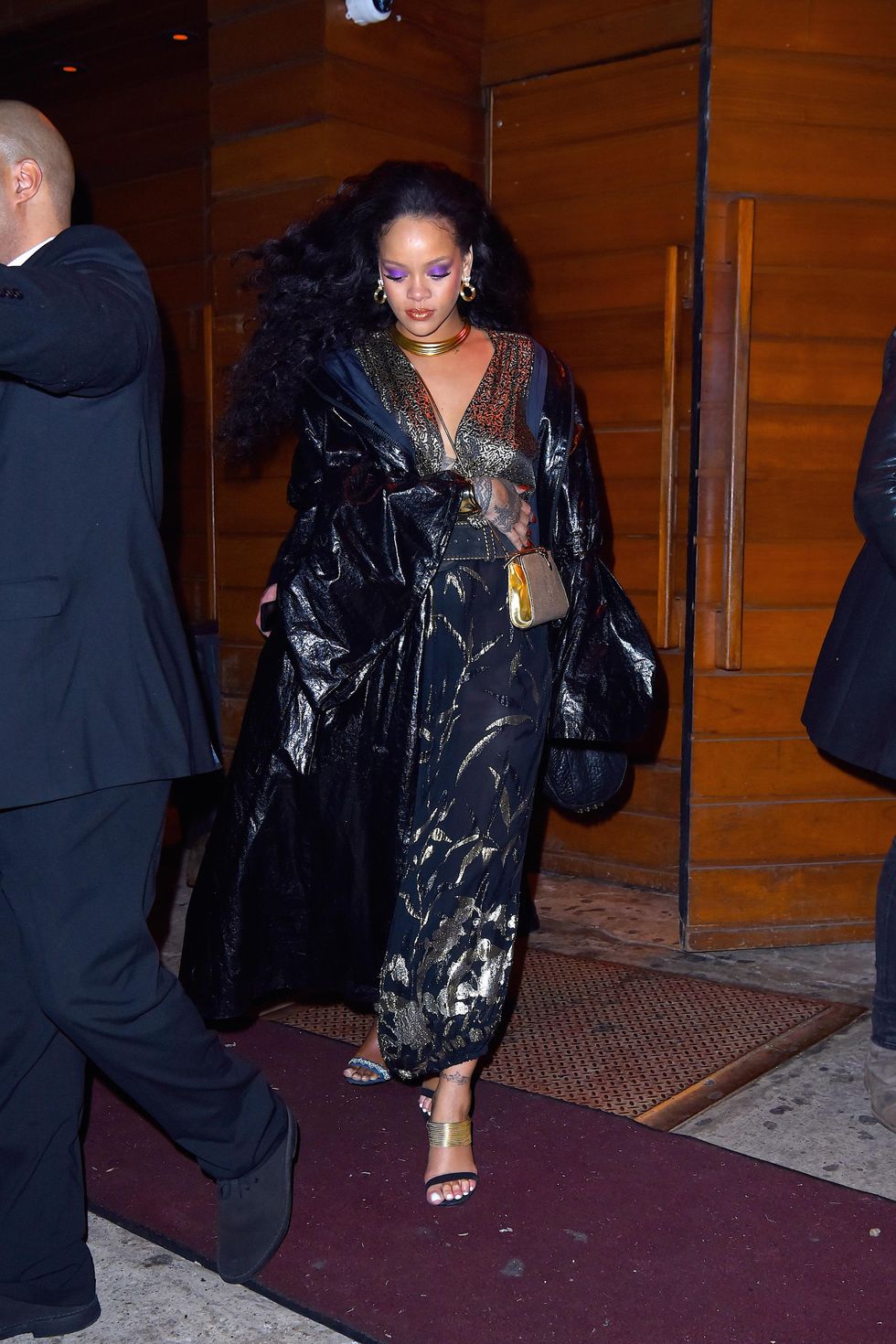 Rihanna seen at 1-Oak nightclub after partying with rumor boyfriend Hassan Jameel after attending the 2018 Grammy Awards after party on January 28, 2018 in New York City.
Robert Kamau/GC Images
Perhaps her most private relationship was the one she started in 2017 with billionaire beau Hassan Jameel. In fact, though revealing in a cover story with Interview magazine that she was "of course" in love with him, she was pretty quiet publicly about their time together.
"I'm actually in an exclusive relationship for quite some time, and it's going really well, so I'm happy."
The couple reportedly split in January 2020.
A$AP Rocky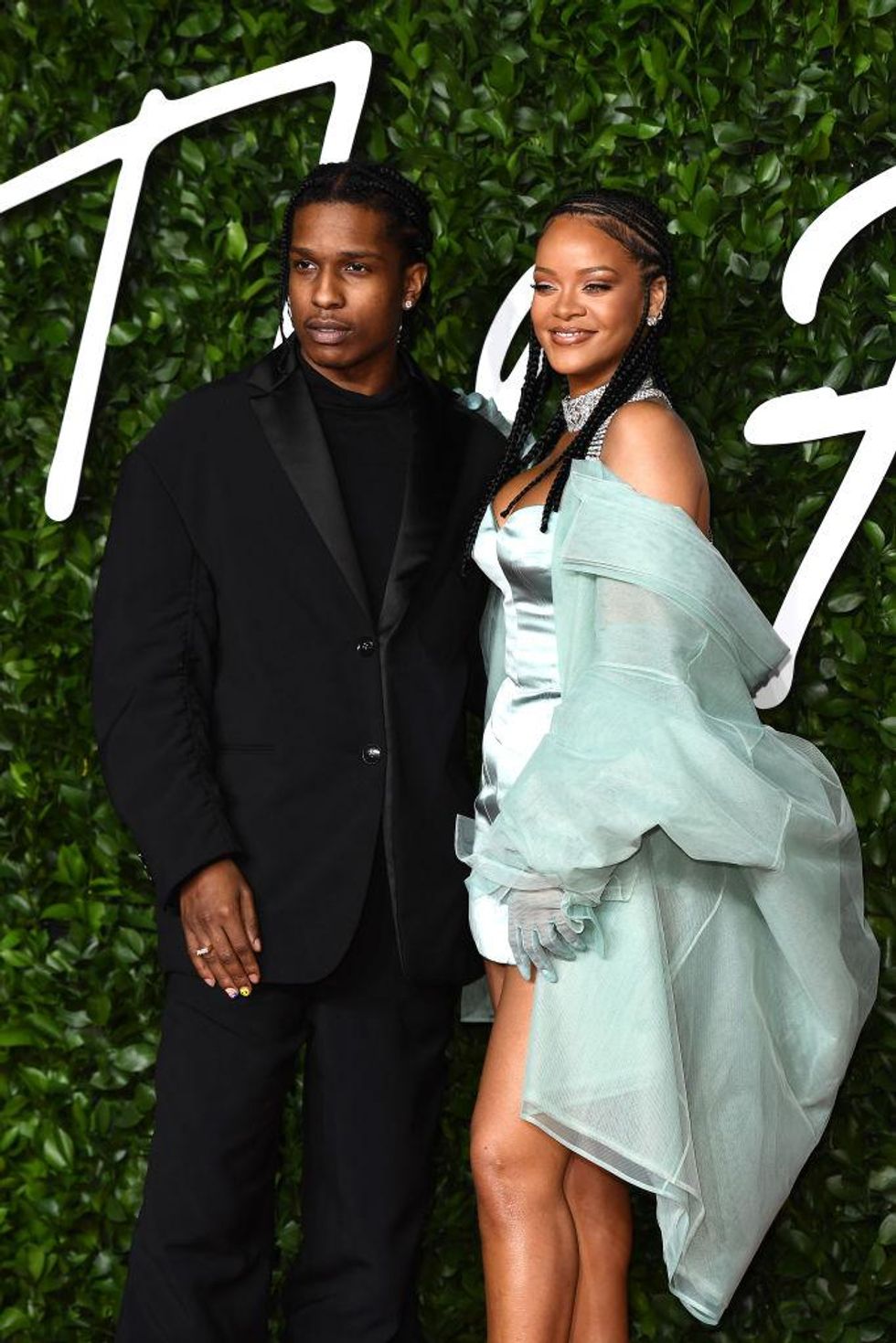 Rihanna and ASAP Rocky arrive at The Fashion Awards 2019 held at Royal Albert Hall on December 02, 2019 in London, England.
Jeff Spicer/BFC/Getty Images

We'll call this chapter "Lovers & Friends" as A$AP Rocky and Rihanna have friendship as a foundation. Before taking their relationship to the next level by becoming an item, the two artists were friends. Riri starred in A$AP's "Fashion Killa" music video in 2013 and the rest is history. Seeing them paint the town red on date nights galore has been an energy we live for!
While it's been speculated the pair have dabbled into "more than friends" territory throughout the years, nothing has served as confirmation as much as the photos of them together in the last year. And in 2021, A$AP took things a step further publicly by confirming their relationship to GQ.
"She amounts to probably, like, a million of the other ones... I think when you know, you know. She's The One."
Featured image by Kevin Mazur/Getty Images for Savage X Fenty Show Vol. 2 Presented by Amazon Prime Video