Deanna Taylor
DeAnna Taylor is a NC-based attorney turned author, writer, and content creator. She is a native of Charlotte and loves catching a cheap flight when she can. You can find her on social media at: @brokeandabroadlife.
Black Friday and Cyber Monday have long been reserved for those looking to snag deals on gifts, gadgets, and gizmos just before the holidays. While most folks keep an eye out for insane deals on gaming systems, TVs, and home decor— what many often miss are the travel deals that come out around this time of year, too.
In 2024, we're all looking to jet set a little more. Whether that means finally taking advantage of our PTO to go, lay on a beach, and let the soothing sounds of crystal blue waters carry us away or booking a quick weekend escape with bae. Either way, a vacation is deserved, so why not save a few coins in the process?
If you're ready to add some new destinations to the list, or you are just the type of person who loves a good sale, we've rounded up some of the best airline and hotel deals for you to check out this Black Friday and Cyber Monday.
Black Friday and Cyber Monday Airline Deals
Since travel rebounded after the global pandemic, flight prices have increased. And, depending on your home airport, those prices could be borderline astronomical— hello, Charlotte. So, being able to lock in a discount fare for your trip is always a win.
Check out a few of the best airline deals we've come across for BFCM thus far.
TAP Air Portugal: Starting now until November 24, the Portugal-based airline carrier is advertising economy class flights starting at $379 for travel through May 31, 2024. Departure airports include Newark (EWR), Boston (BOS), Miami (MIA), Chicago O-Hare (ORD), and D.C. (IAD), with the lowest-priced flights heading to Rome, Italy, and Lisbon, Portugal.
Qatar Airways: Consistently voted one of the world's best airlines, you can take advantage of up to $350 off in premium class and up to $150 off in economy to select destinations from all gateways across the US, Canada, and Brazil. This offer ends 11/24/2023.
French Bee: Deemed a budget airline with service to Paris and other popular international destinations, the carrier is taking things up a notch with flights to Paris and Tahiti from New York City, San Francisco, L.A., and Miami starting at as low as $387 roundtrip. The cheapest option is NYC to Paris for $387. The sale runs November 20 - 27, 2023, and it must be for travel between November 20, 2023, to March 31, 2024.
La Compagnie: The 100% smart business-class airline is bringing back its annual "Blue Friday" deal from November 17 to 21, 2023. Travelers can get roundtrip business class flights to Paris, Milan, or Nice, France, for $2,000. The sale only applies to flights between December 1, 2023, and May 31, 2024.
*Editor's Note: Most US airline carriers typically announce any BFCM sales on the actual days, so be sure to look out for those as well.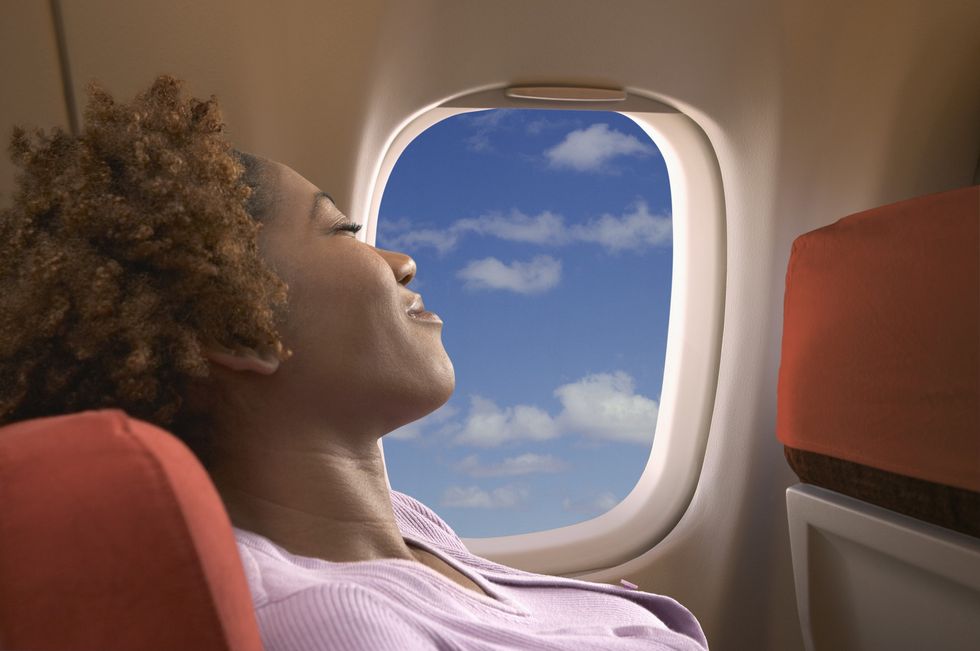 John Lund/ Getty Images
BFCM Hotel Deals
You've purchased your flight, and now it's time to lock in the last part standing between you and a vacay— the hotel. Long gone are the days of "staying anywhere because we'll barely be in the room." No, we want to be able to kick back and lap in luxury at the hotel, too. These deals will certainly help you achieve that.
Windjammer Resort - Saint Lucia: If you saw Chloë's stunning beach shots from St. Lucia, they were taken along the sands of this resort. Save up to 60% on all room categories, plus get a $250 resort credit, daily breakfast, and complimentary access to world-class amenities for the entire family. The sale runs November 20 - 28, 2023.
Marriott Bonvoy: Current Bonvoy members can save 20% off bookings made through the app for stays between November 26, 2023, and January 15, 2024. The offer runs from November 21 - 28, 2023.
The Spectator Hotel - Charleston, SC: Receive 23% off bookings made from November 27, 2023, through December 3, 2023, for travel happening before December 31, 2024. Without the discount, the hotel's rates start at $299/night.
Intercontinental Miami: From November 24, 2023, to November 28, 2023, get 40% off a second night when booking a two-night stay from November 24, 2023 - March 31, 2024. This also includes complimentary early check-in and late check-out based on availability.
Sugar Beach, a Viceroy Resort - Saint Lucia: Save up to 35% on bookings made for stays between January 4, 2024 - December 20, 2024. A 4-night minimum stay is required to receive this discount.
The Standard Hotels - worldwide: Between November 24, 2023, and November 28, 2023, The Standard Hotels are offering rooms across all its hotel properties at 35% off the best available rate for stays between November 14, 2023, and August 31, 2024. Some blackout dates do apply.
SLS South Beach: Get up to 50% off stays between December 12, 2023, to June 30, 2024, when you book between November 15, 2023, to November 19, 2023, and November 23, 2023, to November 27, 2023. For all other days between November 13, 2023, and November 28, 2023, the SLS South Beach is offering rooms up to 35% off for stays with a minimum length of two nights throughout 2024.
Royalton Resorts - worldwide: Available now, you can save up to 25% off your hotel booking. Resorts include Royalton Negril, Hideaway at Royalton Riviera Cancun (Adults-only), Royalton Punta Cana, and more.
Virgin Hotels Las Vegas, Curio Collection by Hilton - Las Vegas: Get 40% off the best available rate when you book November 20 – December 5, 2023. Travel dates must be between November 20, 2023 – December 31, 2024.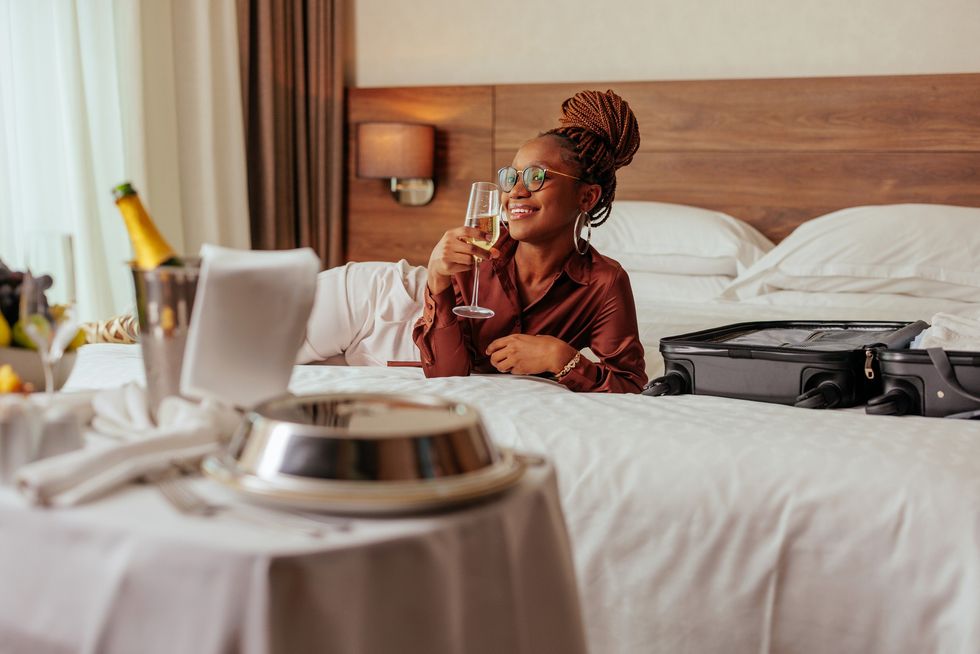 Dimensions/ Getty Images
Hilton Los Cabos - Los Cabos, Mexico: Between November 20, 2023, and December 15, 2023, save up to 35% off accommodations and receive a $100 resort credit. Applies to travel between January 1 – September 30, 2024. Some blackout dates apply.
Karisma Hotels & Resorts - worldwide: Get savings of up to 70% off on stays and up to $1,000 in resort credits at world-class properties in Mexico, the Dominican Republic, Jamaica, and Belize. Book now through Dec. 7, 2023, and travel between November 16, 2023, to January 2, 2026, to take advantage.
General Saint Lucia BFCM Hotel Sale: Nearly two dozen hotels, villas, and resorts in Saint Lucia are offering discounts and perks up to 76% off for Black Friday, Cyber Monday, and Travel Tuesday 2023. Deals include discounts on room rates, upgrades, resort credits, spa discounts, and more.
General The Islands of the Bahamas Sale: If you're ready for white sands and cerulean blue waters in 2024, the Bahamas has created an entire website of all the BFCM deals the islands are offering this week. From 40% off hotels to discounts on adrenaline-pumping excursions.
Freehand Hotels and Generator Hotels - across the US: For a limited time, this Black Friday flash sale features BOGO (buy one, get one) room rates, which allows you to stay two nights at any Freehand or Generator property for the price of one. This applies to travel dates between January 1, 2024, and March 31, 2024. This deal is available to book from November 21, 2023- November 27, 2023.
Feature image by Xavier Lorenzo/ Getty Images
Barcelona, Spain, is a bustling city filled with stunning cathedrals, gaudy architecture (literally), and delicious cuisine— hello, tapas. It's also a destination that perfectly blends land and sea, as it is home to golden sand beaches and lush green mountains that house some of the region's best wine labels.
I recently popped into the Spanish destination to test drive the all-new Volvo EX30. Although I'm an avid traveler, I've never actually driven while abroad. So, I jumped at the opportunity to check something new off my travel bucket list while also exploring the area behind the wheel of the car brand's smallest EV yet.
My second time in Barcelona, I was able to cover even more territory than my initial visit nearly ten years ago. From Black-owned restaurants to DIY upcycling studios to getting "the shot" in front of the famous The Cheetah Girls 2 movie backdrop. Here's an insider's take on what to eat, see and do while there.
Where to Stay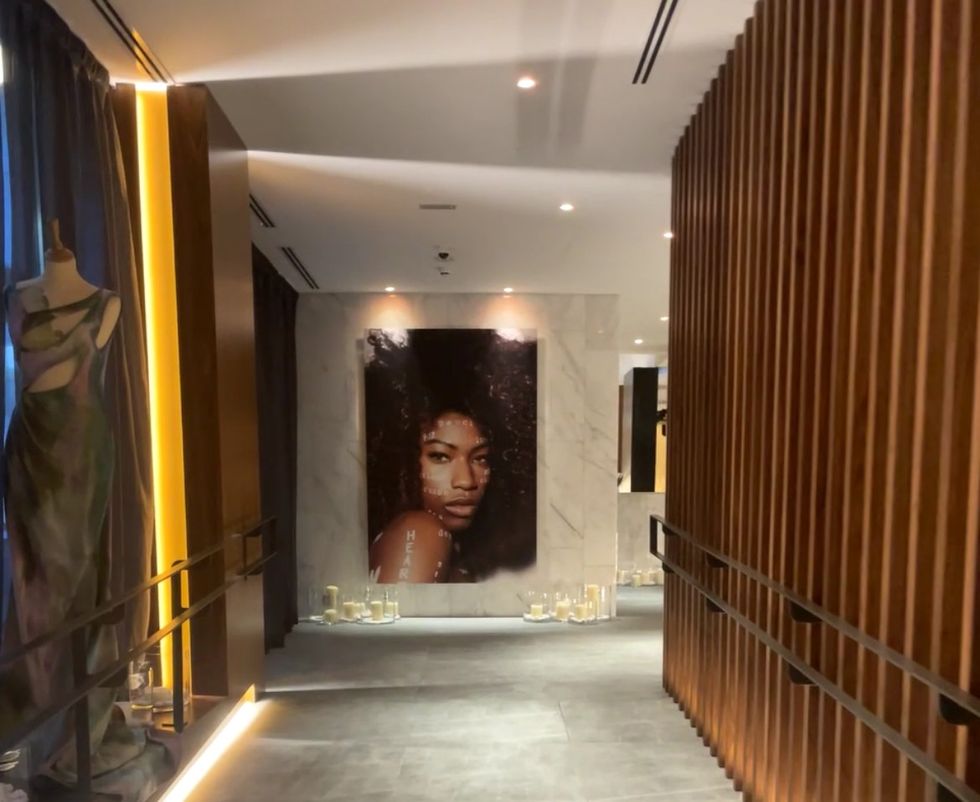 The key to any major city is staying in a central location. This way, you can easily get around, whether by foot, rideshare, or even public transportation. For this trip, I stayed in the ultra-trendy ME Barcelona. With gorgeous imagery of Black women rocking their natural kinks and coils filling its walls, the hotel is a dream for any Black girl that likes to feel seen.
The entire property is decked out in neutral tones and wood accents. There's a rooftop pool for those visiting in warmer months, a late-night bar accented with pink florals hanging from its ceiling, and a delicious restaurant with tons of greenery splashed throughout.
What to See and Do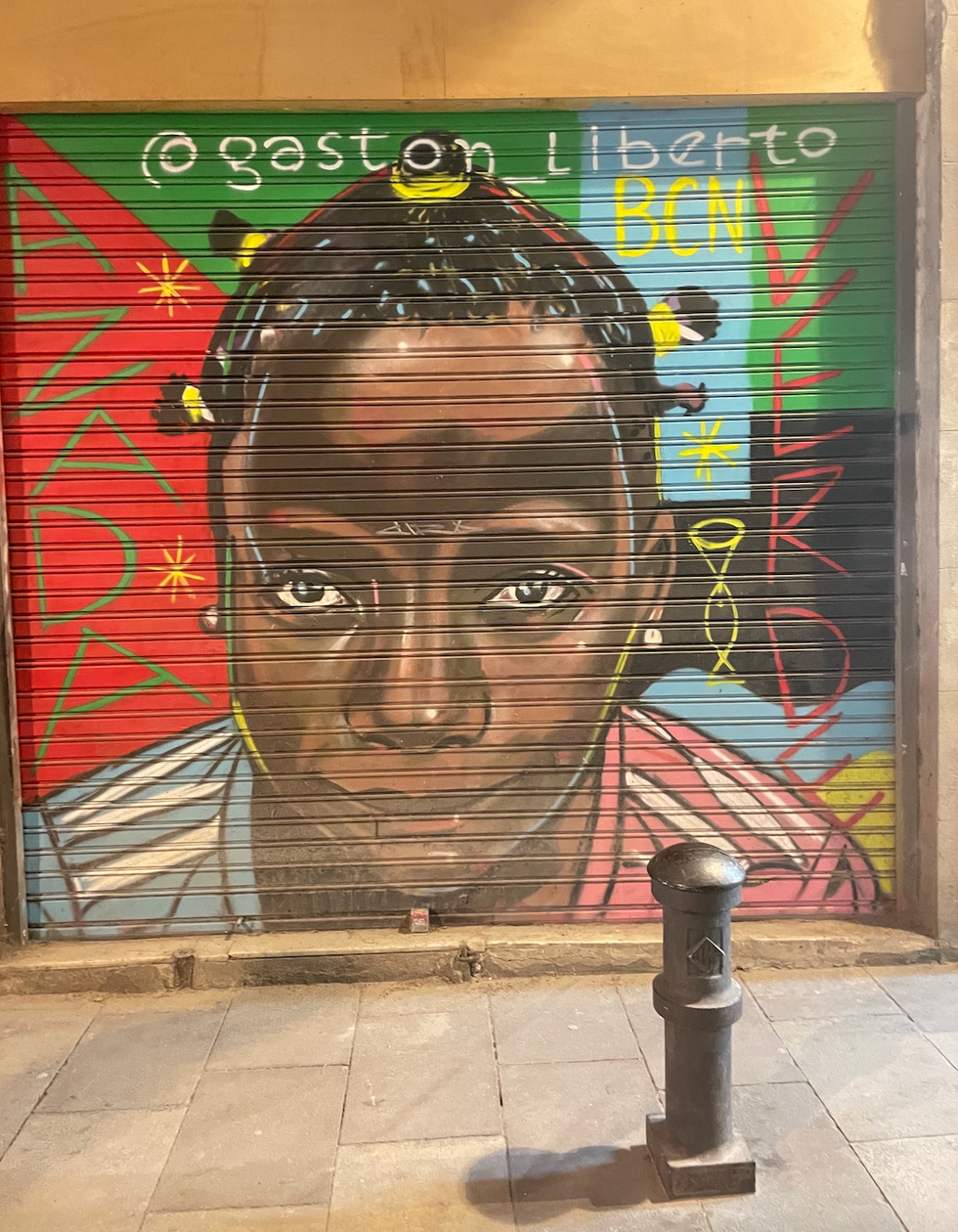 First and foremost, you're in Europe, so retail therapy is a must. With the EU having the VAT (value-added tax) refund, it's the perfect excuse to get in a little designer shopping while also saving a few coins in the process. With Spain being the home of fashion house Loewe (pronounced Loh-eh-vey), you're sure to get your hands on some of the brand's hottest bags and shades for a fraction of the price in the US. Oh, and there's a nice designer outlet just 30-minutes outside Barcelona proper— you can thank me later. You can also find great shopping around Plaça de Catalunya, as well as the iconic La Rambla (Barcelona's famous pedestrian strip).
For the artsy girls, add a visit to Upcycling Barcelona Shop (L'Escola d'Upcyling) for unique pieces as well as the chance to take one of the collective's daily DIY upcycling classes. The shop mostly works with denim, so you could walk away with your own custom piece. Also, no trip to the city is complete without seeing the various buildings and houses built by architect Antoni Gaudí. Words really don't do these structures justice, so you'll just have to see them for yourself.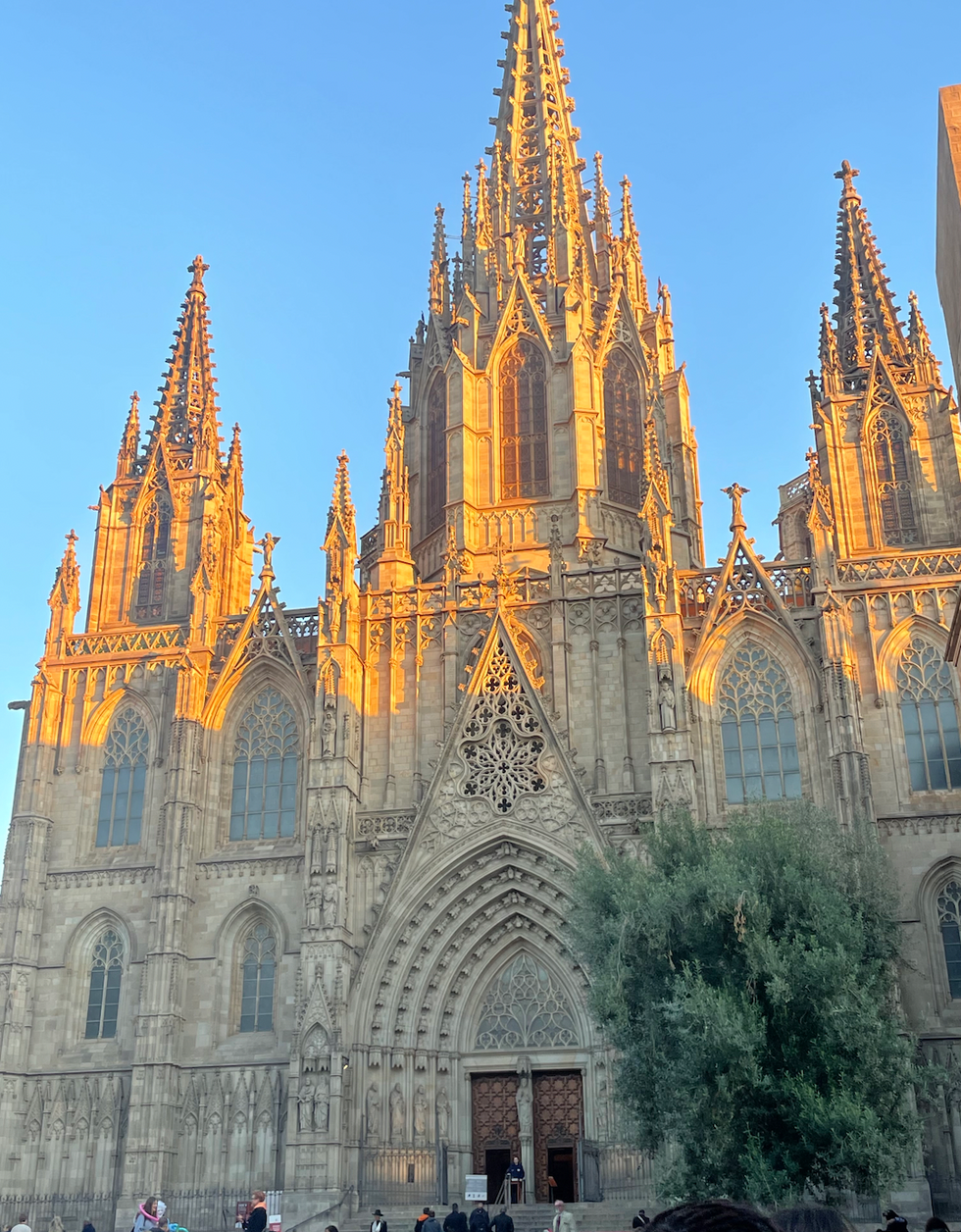 Be sure to spend some time getting lost in the alleys of the Gothic District, which is filled with tons of street art and murals.
Were you a Cheetah Girls fan growing up? The city served as the backdrop to the second installment of the Disney film, and some of the most memorable scenes were shot in Park Güell. Pro Tip: If you want to get "the shot" get there early as the crowds can be overwhelming with everyone trying to snap photos of the landmark. Also note that there's a 10 euro entry fee to even walk the park.
Where to Eat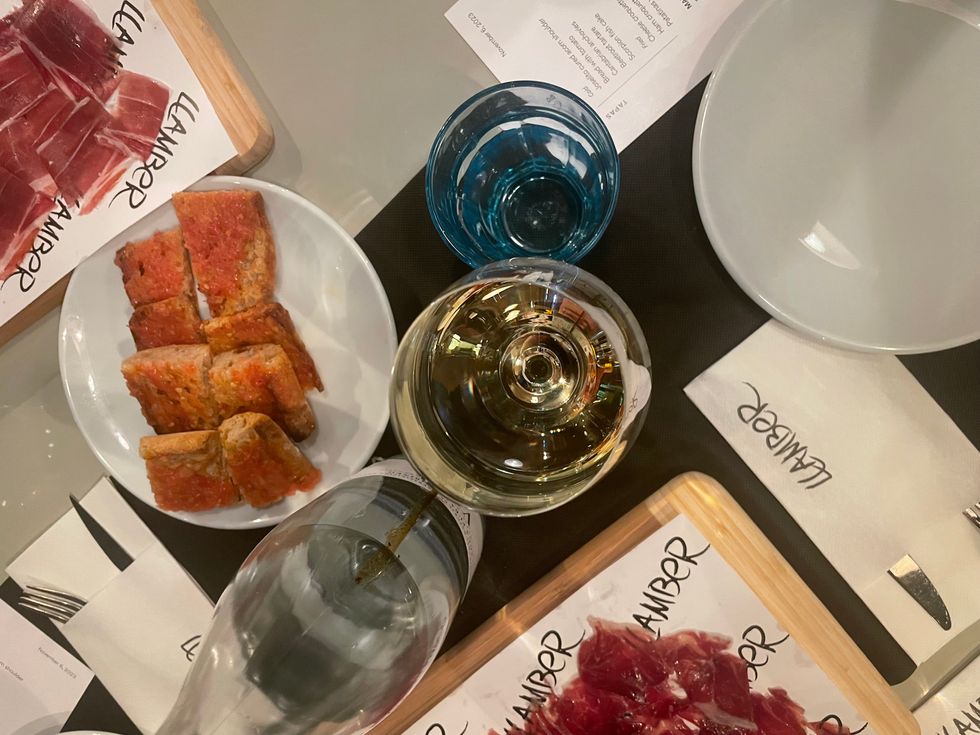 Spain, in general, is famous for its tapas culture. Nearly any sit-down restaurant around the city will serve up an array of small, shareable plates for you and your group. Some of my favorites: the tomato bread with olive oil, fried croquettes, and grilled octopus.
If you're on your Issa Rae vibe right now— rooting for (and supporting) everyone Black— check out Black-owned Spice BCN and Fori, both known for their African influences and cuisine.For a local vibe, make a reservation at Taberna Llamber tucked away in the city's back alleys. This spot is popular for local residents, so keep that in mind because it can get packed.
For a unique spin on tapas, head to Fismuler, which also offers live music on most nights.
For the vino enthusiasts, Barcelona is known for its wine tourism as the country is home to the popular sparkling varietal, Cava. Add a full-day wine tour to your itinerary to partake in some of the region's best labels.
Feature image by DeAnna Taylor
Can I be honest? Grief is hard. Not only is it hard, but it's a never-ending process and journey. I lost my mother to metastatic endometrial cancer in February 2021, and while my grief process hasn't been as hard as some, it definitely has not been easy. So, as a way to change my perspective on her no longer being here physically, I decided to participate in a Dia de los Muertos (Day of the Dead) celebration in Mexico on the actual day.
Traditionally, Dia de los Muertos is observed on November 1 and 2. Families gather and build ofrendas (a type of altar with various offerings) to peacefully welcome and guide the deceased's spirit back to the "other side." The offerings consist of everything from the person's favorite foods, a photo of them, a mirror, candles, and a cross, among other things. On that night, people may dress in catrina attire and paint their faces with skull-like art to resemble the country's take on ghosts and spirits. There's also a dinner as well as singing and dancing throughout the night. It's literally a celebration.
In full transparency, I've never been one to participate in ceremonies like this or traditional rituals that essentially "call" spirits or the ancestors back. We can mostly blame that on being raised in North Carolina— you know, the whole bible belt South, and their beliefs that anything "beyond the Bible" is a sin or the devil. But I'll digress there.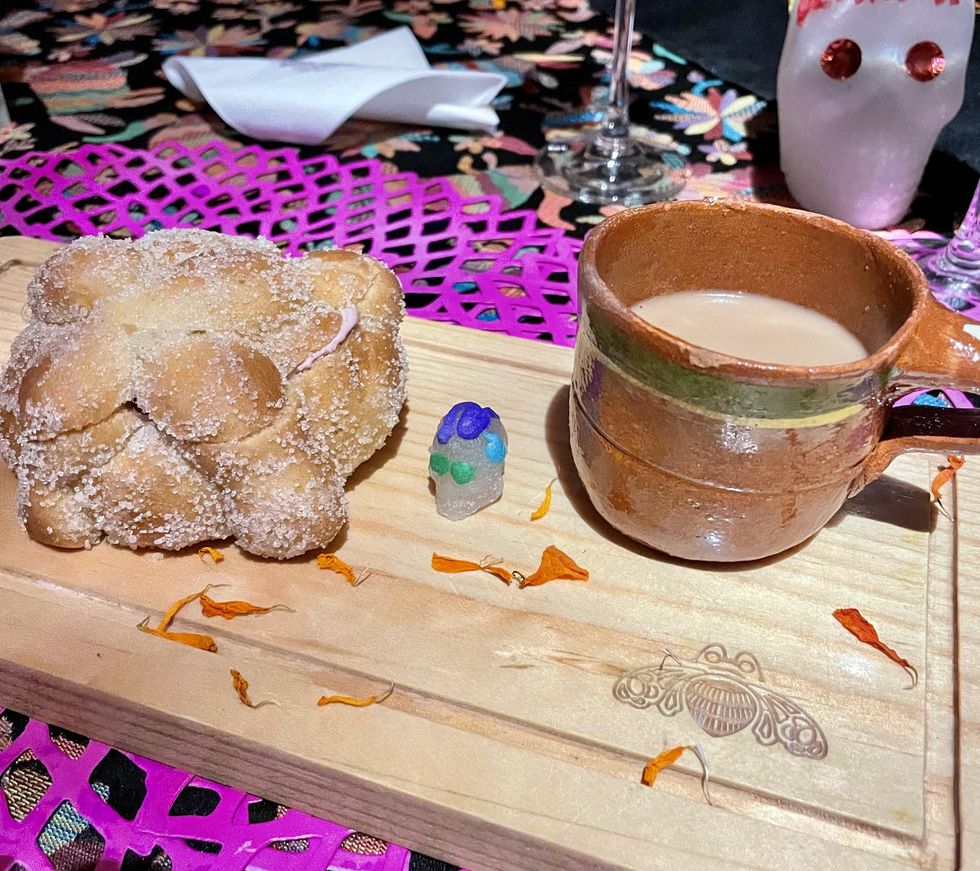 Photo courtesy of DeAnna Taylor
I traveled to the Jalisco state of Mexico to spend a few days visiting Hacienda Patrón, aka the tequila brand's main compound and distilling site. I was invited to stay in the private guesthouse— La Casona— as we spent time learning everything about the popular spirit company. From how Patrón only uses three ingredients (water, agave, and yeast) to seeing the details put into each bottle, it was truly a unique and memorable experience. But the best part was being able to participate in the local area's Dia celebration.
That evening, we started by getting our makeup done. Since we are ultimately honoring those who have passed on, I opted for a design made from pearl-like jewels. My mother would always tell me how, as a lady, I needed to keep a set of pearls at all times. She and my maternal grandmother— who has also passed on— loved them and saw them as elegant. So, it was only right that I incorporated them into the night. Since I wasn't in my own home or even a family member's home, I wasn't able to build my own ofrenda, so this was my "offering" in a sense.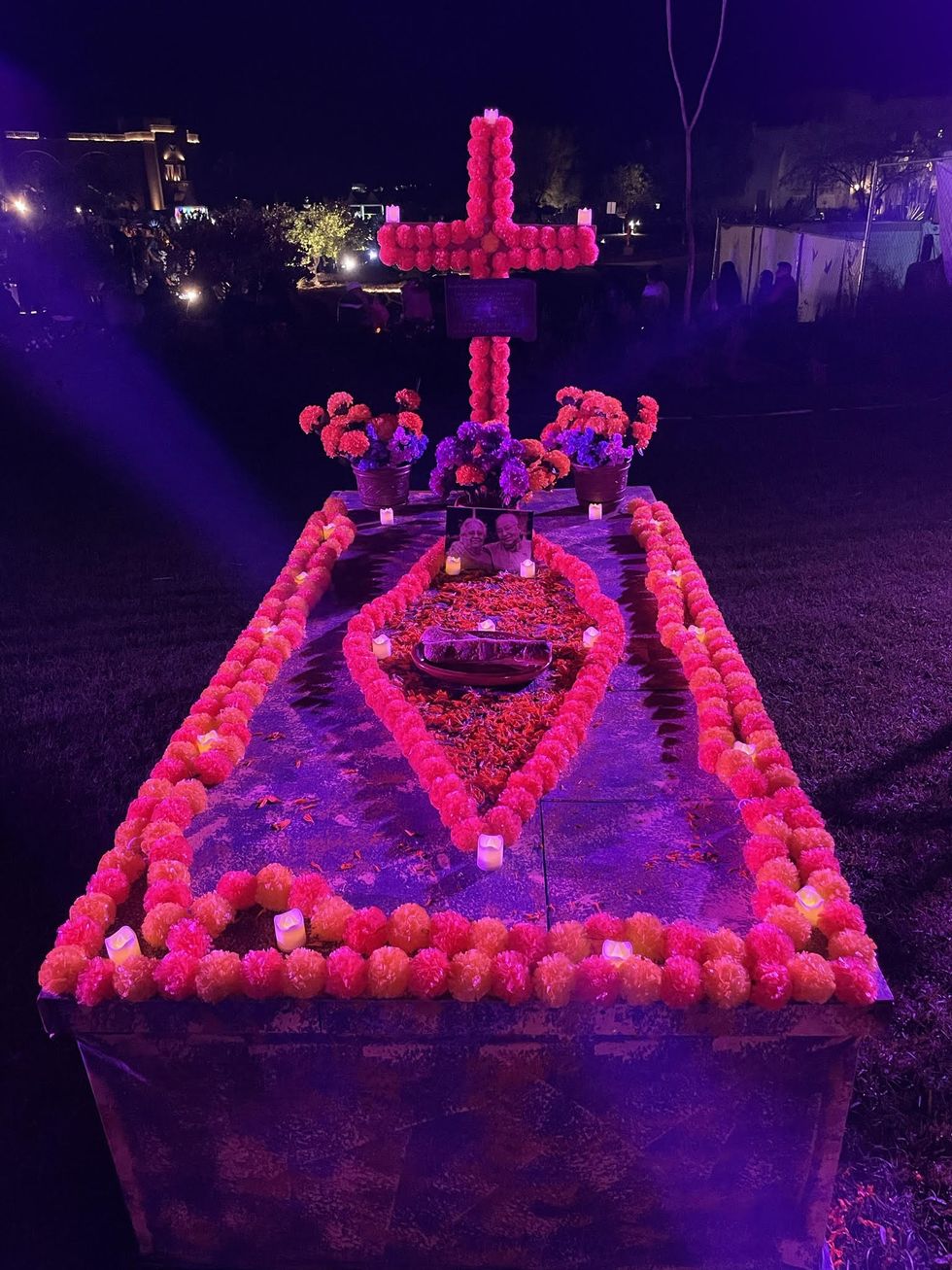 Photo courtesy of DeAnna Taylor
Beyond the makeup, I was able to partake in a traditional dinner that consisted of several courses, including pan de muerto (bread of the dead)— which is usually baked on the holiday as a part of the offerings.
Dressed in all black, we then joined the larger community celebration, where several families publicly displayed their ofrendas for the entire crowd. We spent time viewing each one, and it was very reminiscent of walking in a cemetery, except everything was colorful and bright. Most ofrendas were decked out in freshly cut marigolds placed in ways that made out special designs or messages to the deceased. There were tons of candles and of course, all the trinkets and snacks that the non-living family member would have loved.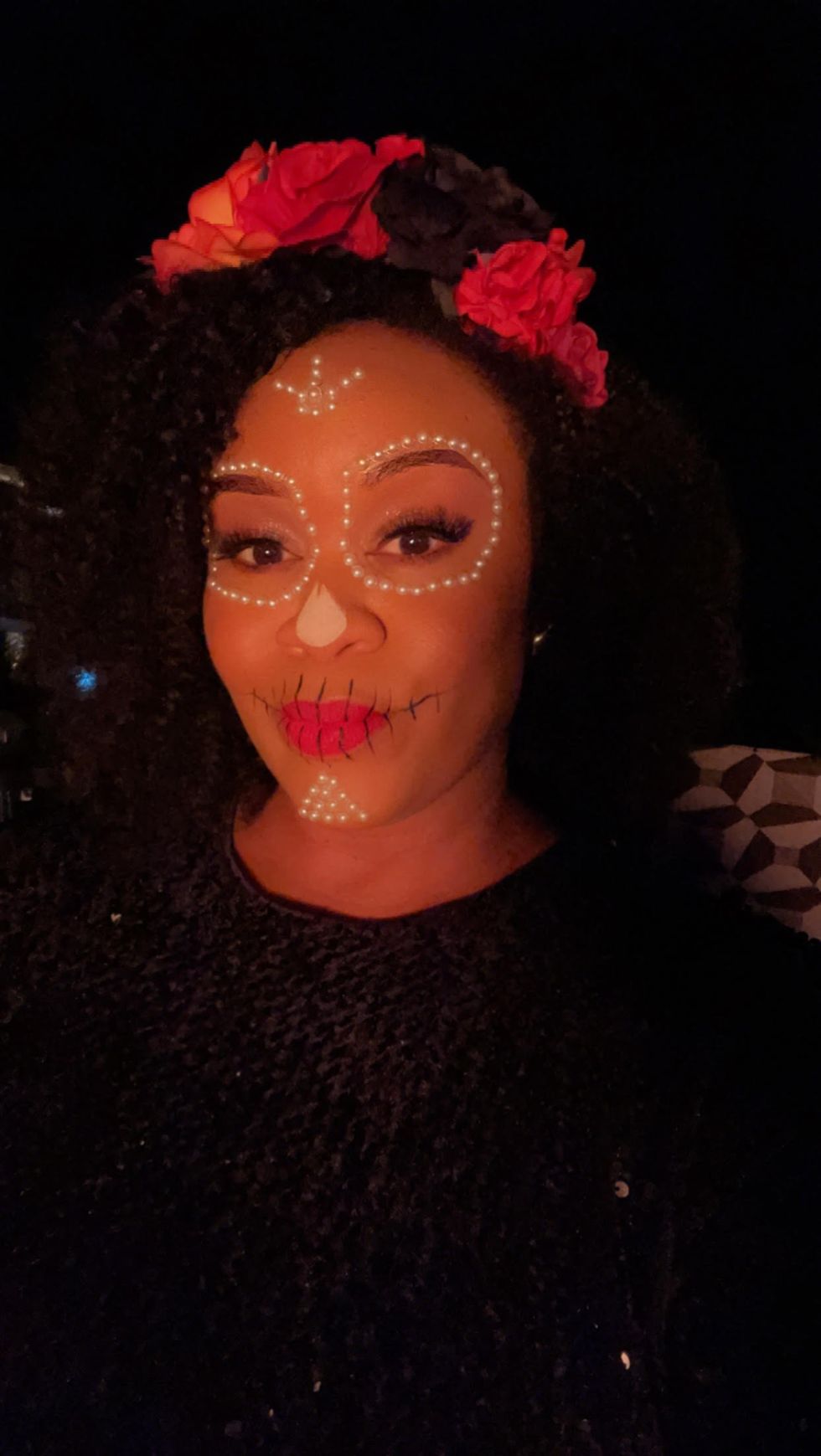 Photo courtesy of DeAnna Taylor
Walking around, I felt an overwhelming sense of joy, which is unique for me as I am often uneasy when walking in a cemetery— even in the daylight. Seeing those families honor their deceased loved ones in such a celebratory and joyful way while bringing a bit of humanity back to them was so beautiful.
When I got back to my room at La Casona, a wave of emotion came over me— I cried, but they were happy tears. I couldn't help but think of my mother and, ultimately, the things I would place on an altar to honor and guide her back to the other side. Of course, there would be pearls, a photo of her, vanilla-scented candles, some Corn Flakes with bananas, and maybe even a steak from Outback— because those were some of the meals she loved.
Being able to experience this type of event served as a reminder that although my mom is no longer here physically, she's never too far away in the spiritual realm. It allowed me to essentially find an added layer of peace with her passing, too. I think from here out, I will incorporate some of the elements of Dia de los Muertos into my own life because, as far as I'm concerned, my mother's spirit is always welcomed back to visit. I love you, ma!
Feature image courtesy of DeAnna Taylor
Kelly Rowland is like a bottle of the Earth's finest wine; she only gets better with time. Even in her early forties, the Destiny's Child member and singer has somehow found a way to age backwards, with a level of grace and class that we could only dream of. And she does so while juggling multiple hats and roles at once. In addition to giving us hits like "Motivation," the multi-hyphenate is also a wife, actress, executive producer, and, her greatest role of all, a mother.
Always proudly doting on her two sons, Titan and Noah, Rowland shares how teaming up with WaterWipes for their Hallowclean campaign and kickoff event in New York City on October 21 was an easy choice for her—as the brand is one that she keeps stocked regularly.
"WaterWipes has been in my household for I don't know how long. We don't just use them for Noah; I keep them in the car and my makeup bag, too," Rowland shares in an exclusive interview with xoNecole. "I also like the fact that they are natural. I'll definitely have them in my fanny pack for trick-or-treating. This is Noah's second Halloween, and I know he's going to be excited and digging in his pail to try the different candy, and his little fingers will be messy. He's going to want to get dirty. So, I love that WaterWipes is putting up ten Hallowclean stations across the country for parents to use; it's such a great idea. I just love Halloween, and I really love Halloween with my kids, so I thought this campaign was a really great idea."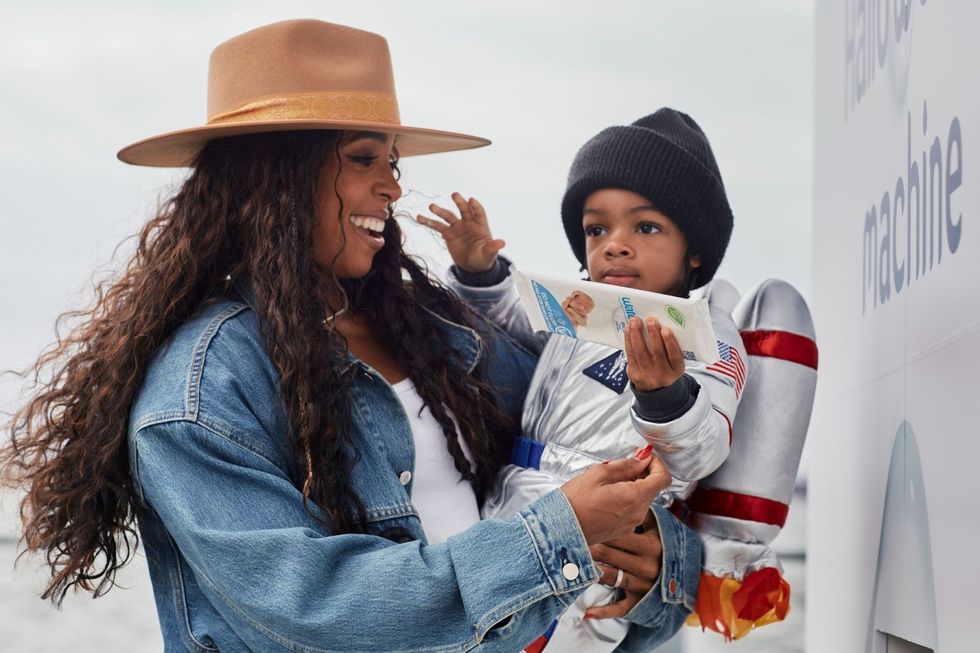 Kelly Rowland and son Noah at the WaterWipes Hallowclean Machine in Brooklyn, NY.
Photo courtesy of WaterWipes.
She and her youngest son, Noah, attended the event, where the two enjoyed a day of family-friendly activities while he sported the most adorable astronaut costume. But the Spooky Szn fun doesn't stop there for the Merry Liddle Christmas actress and executive producer.
We recently caught up with Kelly Rowland over Zoom to learn more about her Halloween (and holiday) plans, her keys to a healthy marriage, and she even dropped her go-to cold-weather skin routine—finally.
xoNecole: What are your family's upcoming trick-or-treat plans? Will you do a fun group costume, or is everyone going to do their own thing this year?
Kelly Rowland: I'm preparing for tour, so I've been in rehearsals and pre-production. And my husband's schedule has picked up, too. But the kids are going trick-or-treating; we usually go with people we know, so mommy and daddy will definitely be home to take them. We're actually letting the kids dress us up this year, which means my costume will be a complete surprise to me. I told Noah he could paint my face or even go to the costume store and pick something out—it's literally up to them. So, I don't know what that will be. And, right after, I'll be back to rehearsals.
xoN: Speaking of holidays, what do you look forward to most during the season?
KR: We love having people over, especially during the holidays. It looks like we will be home this year—thank God— just enjoying each other and spending quality time together. I like to decorate the house and go completely ham; it always looks like Christmas threw up in my house. From the stairwells to the exterior of the house and the lights—everything. We go so crazy. I also love the smells, it's one of my greatest memories with my mom, God rest her soul. So I love to play all of that up.
I like to bake something every day, I like to make sure there is something for the kids to do or make each day, we watch Christmas movies, and we even do a wine tasting sometimes. It's just all really sweet and cozy.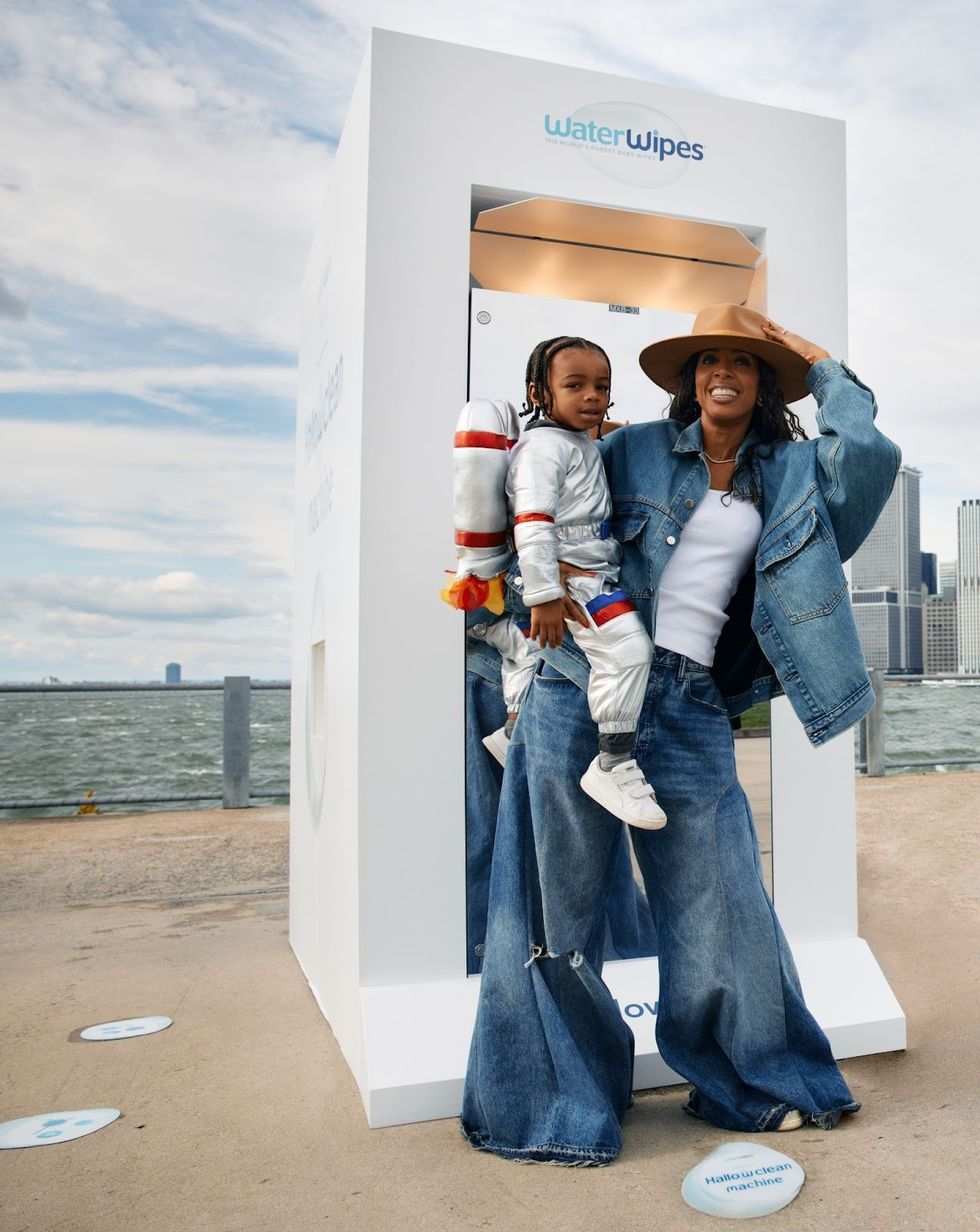 Kelly Rowland and son Noah at the WaterWipes Hallowclean Machine in Brooklyn, NY.
Photo courtesy of WaterWipes.
xoN: We love that family is so important to you, and it always shows in your posts, especially those with your husband. What would you say has been that "key" to a healthy marriage as partners and spouses for you two?
KR: I would say, each of us doing the self-work. I have not seen marriages last long in my lifetime. I haven't been given the tools to "make it last forever." We just try to do the work on ourselves and not sweat the small stuff.
Communication is key for us, too. We communicate everything. Whether I'm upset or I'm not sure about something, I communicate it. I also just like being around him, he's fun. He's a really great person and makes me laugh. We can literally sit together and watch a game and not say anything. We understand what true intimacy is, and now we're almost ten years into our marriage.
xoN: Now, Kelly, we have to ask. Skincare. What is your cold-weather routine and the products you're reaching for as temperatures drop?
KR: Right now, I'm all about moisture. I will wash my face morning and night, I do not skip. I'm obsessed with this 111SKIN toner. It smells good, but it also feels good on my skin. There's also this product from Vanessa Lee of The Things We Do. They are these coconut eye patches with these little beads. I place them under my eyes and around the corners of my mouth—talk about a game changer. I like to put them on at night and then rub in the extra serum all over my face. Between that and this lactic acid by Shani Darden, they are both game-changers for me this season.
xoN: So, since you've found the key to aging backwards, should we be on the lookout for the Kelly Rowland skincare line anytime soon?
KR: Honestly, that market is so saturated. I wanted to do it a while back, but I have to really think about what I want to bring to the marketplace to really impact culture. It's not just about a product for me. I love the way Selena Gomez has created a community. I want to be able to create a community as well. When it's not just about skincare, it turns into a space for people to be their most authentic selves. And that's what I love.
Feature image by Natasha Campos/Getty Images for Tres Generaciones
Every week, I see yet another 'rest in peace' status on my social media feeds. Sadly, they also happen to be for people that are around my age. Because of this, I have developed a very 'YOLO' approach to life. The crazy part of it all, I was raised to be the exact opposite. Let me set it up for you.
I was raised by a parent that, for reasons unknown, developed a very skewed outlook on life. As a child, I was raised to often be in fear, not just of my surroundings but of stepping outside of 'the box' in general.
Like most kids, I had a very large imagination and expressed my desire to grow up and work in certain career fields like acting or even becoming a lawyer. While the average parent would encourage such hopes and dreams, I was instructed that 1) acting wasn't a real career path and 2) that becoming a lawyer was way too hard.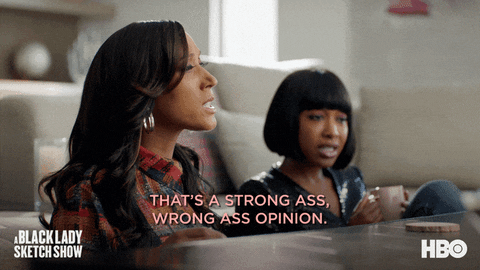 media3.giphy.com
So, I developed this thing where I would accomplish goals for the sake of proving people wrong. Whether it was going out for varsity cheerleading squad in high school or taking the necessary steps to actually get into law school, I found myself living for the approval of others.

Around the age of 25 (yes it took me that long), I slowly started to see that I was doing this thing called life all wrong and that my life was mine to live the way I wanted to live it. Thank you therapy!
It started with my desire to travel. Before 2012, I had never stepped foot beyond the East Coast, let alone to another country. I saw friends that traveled often and knew it was something that I wanted to try, so I did. I applied for my passport and the rest was history.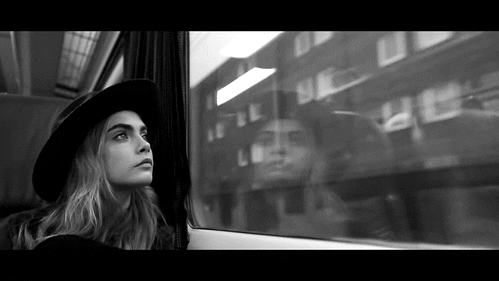 media3.giphy.com
I started with a cruise and then a trip to Cancun. There was so much outside of that little comfort zone I was told to stay in, and I had to keep going. I then found myself traveling internationally at least twice a year.

To date, I've traveled to over 30 countries.
Next, was my desire to try more thrill-seeking, adrenaline-pumping experiences. There was always a little Evel Knievel inside of me, I just had to set her free. First, there was jet skiing and parasailing. I loved every single second. Fast forward to present day and I've added skydiving, paragliding, and diving in the Great Barrier Reef to that list.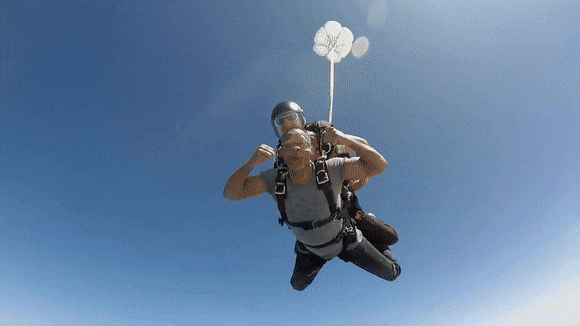 thumbs.gfycat.com
Now, my career. While I am still very much a licensed attorney in good standing, that's not what I choose to do these days. Luckily, it is a career that I can return to as long as I remain active. Instead, I've decided to follow my love of writing and traveling. I've touched 6 of the 7 continents, interviewed famous people, and have even been able to try new experiences like glamping (glamorous camping).
In the last two years, I have seen and done things that many people would only dream of doing. All because I found the courage to live.
If someone would have asked me if this is where I saw my life going less than 10 years ago, I probably would have laughed. So often we are conditioned to live by "society's rules", that we wind up losing out on our own happiness. For me, that's no longer an option.

While life isn't perfect, I can say that I am 100% living the way I want to and that's what's most important. Don't be afraid to step outside of that box, you never know what's waiting on the other side.
Featured image by Shutterstock.
xoNecole is always looking for new voices and empowering stories to add to our platform. If you have an interesting story or personal essay that you'd love to share, we'd love to hear from you. Contact us at submissions@xonecole.com.

Burned out. Stressed. Just all around unfulfilled at times. From the outside, looking in, my life was great. I was a lawyer, I had my own apartment, my car was paid for, and I was personal training on the side. I was taking trips and, to others, I was #goals. But your girl was tired.
I always had the desire to move abroad, but I didn't know how people would react and I didn't know what steps to take to do so. I knew that practicing law abroad was out because I would need to take an overly expensive exam to do so. I was good on that.
I had several friends that moved abroad after college to teach English in Asia. Again, this was right after college when most people are still trying to figure out life but still put money in their pockets. So, it made sense. But what about someone who has been in their career for the last 7 years? A career that you put so much time, money, and effort trying to get?
I knew I would get several side-eyes for my decision, but I could no longer stand to be in the rat race that I was in. After lots of research, praying, and chatting with friends who had done it—I knew it was what I wanted to do.
I settled on going to South Korea because I didn't have a teaching degree that other countries require and they had the best benefits package for those without credentials. Yes, it was a significant pay cut from what I was used to but the cost of living made it worth it. Plus, my apartment, utilities, and healthcare were covered, which was something I definitely wouldn't get at my regular job. I would make about $2,000 each month plus receive a nice pension for each year that I carried out a contract.
I initially went through a recruiter, but that didn't work out. I posted in a Black expats in Korea Facebook group, asking if anyone had any other leads and, minutes later, another woman messaged me about a program she was working for that had a great reputation. I reached out to the rep and somehow, someway within weeks I was hired to become an English teacher in Korea.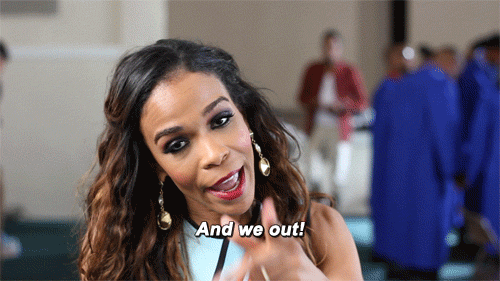 media.giphy.com
It took some time to explain this to my mother, mostly because she's never been one to understand my need to travel the world, but after a few months, it clicked that my mind was made up and nothing could stop me from going. Lucky for me, the time that I would need to be in Korea to start was right around the same time that my lease was up at my apartment. Talk about divine order.
I officially left the states on July 20, 2017.
I was anxious, nervous, and excited. So many emotions were running through me all at once. I had watched several YouTube videos to get an idea of the Black experience there, but I took it with a grain of salt because each experience is what you make it. I was assigned to teach in two elementary schools in a city about an hour outside of Seoul. I instantly connected with the kids and knew that I was where I was supposed to be.
Sure, there were rough days and the language barrier was tough but prior to going, I spent time on my own learning their language too so that I could show them that me being there wasn't a one-sided thing; it was for us all to learn from each other.
During my one year abroad, I was truly my happiest self. I was refreshed and glowing. I traveled often, bonded with an amazing group of Black women who kept me sane, and learned more about who I was as a person.

The plan was to stay longer than a year, however, I had a minor situation with a racist business owner that left a bad taste in my mouth. This happened around the time that we had to give notice if we would renew our contract. As things go, I was over the situation within days but it was too late to change my decision.
I moved back to the States on August 8, 2018. I've been back a little over a year now. I miss my life abroad often. While I'm not 100% back in the rat race I was in before, I miss the freedom and peace of mind that I had while being there. Not having to worry about bills, or keeping up with the latest styles and trends. I could unapologetically be myself there.
I am making the most of my time at home, but I also see myself making a move abroad again. Something keeps calling me back and I just can't stay away!
xoNecole is always looking for new voices and empowering stories to add to our platform. If you have an interesting story or personal essay that you'd love to share, we'd love to hear from you. Contact us at submissions@xonecole.com.
Featured image by Shutterstock.