Taysha Robinson
Taysha Robinson is a writer and high school English teacher, based in metro-Atlanta. A self described philomath, you can find her reading books and articles of every genre, attending educational conferences, and hiking wherever the terrain will allow.
It's unusual to see an artist who built her career on social media abruptly abandon the scene. PinkPantheress, who prioritizes her mental health over fame, demonstrates the value of using social media for career advancement, as well as how to put it aside for one's mental health. PinkPantheress' origins begin with her getting her big break on TikTok using 2000s music samples, but it is far from the conclusion of the story.
With hits like "Boy's a liar Pt. 2," PinkPantheress is demonstrating that she is a contender in the new music scene two years after her refreshing breakout as she enters the Billboard top 100 and quickly starts releasing albums and EPs. It's about time you heard about the new TikTok sensation, since her lyricism and whisper-like voice will soon be played in more venues than they already have. Check out the six things you should know about the new internet phenomenon, and quickly become a fan.
PinkPantheress' Real Name & the Meaning Behind Her Stage Name
PinkPantheress is one of several contemporary artists whose stage identities are quite different from their real names. PinkPantheress, whose real name is Victoria Beverly Walker, received her nickname while watching a television show. PinkPantheress' stage name was derived from her TikTok account of the same name, which was motivated by the Pink Panther movie franchise and a game show question from The Chase in the UK.
According to PopSugar, PinkPantheress shared, "When I was picking a TikTok username, which ended up being the catalyst for this whole situation that I seem to find myself in now, I tried to just go for 'pantheress' because I'd heard it in a game show where the question was 'What is a female panther called?' and I was like, 'That's sick.'" PinkPantheress explained, "I tried to have it as my username and it was taken so I just put 'pink' in front of it, because Pink Panther is a great film."
PinkPantheress' Parents & Early Life in England
In 2001, PinkPantheress was born across the pond in Bath, England. The singer, songwriter, and record producer was born to a Kenyan mother who worked as a caregiver and an English father who taught statistics. Eventually, she and her family moved to Kent, England, where she spent most of her adolescence. Afterward, PinkPanthress moved to South London where she started studying film at the University of the Arts London until 2022 when she made the choice to discontinue.
PinkPantheress Likes Her Privacy
PinkPantheress prides herself on maintaining privacy in her personal life. Even her real name wasn't known to admirers until a year ago. Surprisingly, despite her TikTok fame, PinkPantheress' need for attention is still modest. In a 2021 BBC interview, she claimed social media to be "a very crowded place." Later on stating, "I don't feel like I need to overshare and I really do respect my own privacy." The interview, which takes from two years ago, reveals this to still be the case as the new social starlight's interests and personal life still remain little to mostly unknown.
PinkPantheress Credits Green Day and Paramore As Big Musical Influences
PinkPantheress, a self-described pop-punk enthusiast, has mentioned My Chemical Romance as one of her all-time favorite bands, as well as Green Day and Paramore as influences. She adores the songwriting of the well-known emo-punk bands, and in her teenage years, she often covered a number of their songs. In addition to emo music, horror films inspired PinkPantheress' foreboding aesthetic. PinkPantheress demonstrates how well horror can influence art by drawing inspiration for her debut mixtape, To Hell with It, from timeless horror movie posters and 90s cartoons.
PinkPantheress' "New Nostalgia" Sound
PinkPantheress describes her music as "new nostalgia," with strong influences from the music of the 1990s and 2000s. Not to mention that the majority of her compositions were created utilizing samples of other songs from the UK garage, DnB, and pop scenes, which PinkPantheress' ethereal vocals then layered over. She adds her unique spin to each sample by either slowing the music down or adjusting the tone to show a different milieu within an existing sound, even if this does not imply that her tracks lack originality. Because of how different this music is, one can even speculate that this new retro atmosphere may be a separate genre.
The Success of "Boy's a liar Pt. 2"
The idea of a rapper and emo-grunge pop artist seems out of place at first, but with its cool unflappable tone and unabashedly mocking of oneself, it's just right. Over a Jersey dance beat, produced by Mura Masa, Ice Spice gives bars that are funny responses to a partner who turned out not to be worth the effort. Meanwhile, PinkPantheress glides over the track in a hypnotic, breathless melody that will leave you in a trance with a sad realization: boys are liars.
Number 5 on the Billboard, and having reached the highest of 3 thus far, "Boys a liar Pt. 2" is steadily climbing the charts. With only five weeks on the chart, PinkPantheress and Ice Spice have made this conversation between two friends a seamless, contagious bop. Short and sweet, this song will have you uncontrollably dancing in your seat. PinkPantheress provides a remix we hadn't known we needed, but so desperately crave.
Let's make things inbox official! Sign up for the xoNecole newsletter for daily love, wellness, career, and exclusive content delivered straight to your inbox.
Featured image by
In 2019, Grammy-nominated Tank and the Bangas released their second live album, Live Vibes 2 (Live). On this album, Tank begins her song "DM Pretty," with a spoken word poem that discusses the problem of being seen as beautiful only on social media or being told about it only through secrecy. Early this year, her infamous riff of "this boy be in my DM say I'm pretty," took TikTok by storm and became the new audio clip worth putting on any video of a beautiful girl's page.
The poem and clip conclude with Tank stating that although the compliment was appreciated, it was unnecessary, because "she already knew that." Her beauty is not and would not be defined by someone's late-night 2 a.m. discovery.
Tank and the Bangas - Full Set | Best of the Beat 2020New Orleans favorite Tank and the Bangas deliver a stellar set for OffBeat Magazine's 2020 Best of the Beat Awards. The band ...
Now, many wonder who this trailblazer is, igniting herself and others in a relentless form of self-love and setting the bar for those who shower her in misguided affection. To understand who Tank truly is, it's time to get out of her DMs and into her discography.
Here are the top 8 Tank and the Bangas songs that will keep you out of her DMs, unless it is to state that her music should have been found years ago.
1. "To Be Real" (feat. Hasizzle, Keedy Black & Big Choo)
In 2020, during the height of the pandemic, Tank and the Bangas had me by the throat when they released the EP Friend Goals. On this EP was the track "To Be Real," a song that from the moment it begins will have you bobbing from side to side, only to get up and shake your ass a minute later. Her lyrics tell of a house party, her music makes you feel like you're having one in New Orleans, Louisiana. By the time the song ends, you will be out of breath and happy for the dance break.
2. "Spaceships"
"Money. Look at all the money. Look at the money, money fallin'' from the sky."
This song is just plain fun, as it should be given its theme. This song is like a pat on the back when one understands they have finally accomplished their goal of reaching the charts. Tank and her crew choose to simply throw their money up and enjoy their riches, rediscovering themselves back home, where it all began, rather than lavishly spending it and wasting it on expensive items and destinations. Though, she does consider the idea of pointlessly wasting it all. Thanks to Mark Batson's incredible beat, the children's catchy chorus, and the pure delight of oneself, this song will be in your head for days.
3. "Boxes and Squares"
One thing about Tank is that she is extremely aware of her value; in fact, she is occasionally forced to remind her suitor when he forgets. In this song, she takes the time to tell her ex all of the wonderful things she could have been for him. She is no longer interested in the nothingness he can offer, however, as a result of his constant falsehoods, jokes, closed-off demeanor, and immature desires. He simply offers empty boxes and loops of never-ending mediocrity, while she embodies everything that healthy cultivation entails. Tank makes it abundantly clear, she's the bar.
4. "Dope Girl Magic"
It's crazy how simple things may seem when you're really good at them. Tank tells her audience that being this dope is almost too simple as she slickly follows along with the music. She may grow a little tired of it all because it is so simple. Yet, that doesn't stop her from being boastful and bragging about how talented she and her bangas are. She is limitless. She is extraordinary, and she is only beginning. Her group is distinct in its excellence, and she knows it. Some might be great, but their type of great is so different that it's unattainable by others.
5. "No ID"
What a groovy song, and an even better message. "No ID" sends the crystal-clear message to any would-be suitor: I'm not interested. Tank compares her admirer to someone who thinks she is so simple-minded that she will just fall for his old tactics with the help of some clever tropes. But she has dealt with men who seem to want her without truly working for it before, and she is too busy now to deal with them. Particularly when she is so familiar with the game's outcome. He needs to demonstrate his desire for her more clearly than he has, and he most definitely needs to provide proper ID.
6. "Heavy"
What a fantastic soulful track to accompany a fantastic soulful album. Tank and the Bangas is excellent because she feels confident in her abilities and desire. She knows exactly what she wants; in this case, she wants everything to hit her heavily. She desires an almost crushing pressure of connection, trust, communication, and love. She has a healthy longing for every moment to be remembered and cherished and a lover who wants the same.
7. "Fluff" (feat. DUCKWRTH)
In "Fluff," Tank and DUCKWRTH watch a young lady who seems to be addicted to fluff. She wants all of the drugs, the parties, the festivals, and everything else that is simply unimportant. In the end, they come to the realization that the girl is looking for something in all of life's joy, but is not successful in finding anything enjoyable. She sings about a woman who can never be satisfied and should be left behind over another 70s groove.
8. "Nice Things"
​Tank's only goal in this song is to gain appreciation. She, therefore, implores her lover to show her some kindness. He ought to take her dining out, shopping, to the beach, among other things. She merely wants some nice things, because she is conscious of her value.
Must See: NPR Tiny Desk, Tank and the Bangas (NPR Performers of 2017)
Take a moment to actually be entertained by Tank and the Bangas' Tiny Desk NPR Performance. You will smile nonstop for about 25 minutes thanks to the band's chemistry, showmanship, and musical prowess. Once you're done watching, you'll see why they won performers of the year.
Tank and the Bangas' Pretty Poems EP is available now on all platforms.
Featured image by Vivien Killilea/Getty Images for Universal Music Group for Brands
The core of a healthy, functional body is its structural support. It is crucial to have a strong core since it can improve balance, flexibility, posture, cardiovascular health, and injury prevention. Our core muscles softly power everything we do by playing a critical role in the connection and transfer of power between the upper and lower bodies during movement. They assist in preserving the spine's health and support both passive and active movements. Therefore, it's important to periodically exercise and check on these muscles.
Exercises like the HIIT abs routine below can help you develop stronger abs and core muscles more quickly. Not to mention that you can achieve your goal of having washboard abs that you can show off in the summer with the help of these exercises.
Pro Tip: For intense intervals, aim for a heart rate of 85 to 90 percent.
Before you begin, determine your rest-to-work ratio:
Week 1: 30-sec work/60-sec rest
Week 2: 30-sec work/45-sec rest
Week 3: 30-sec work/30-sec rest
Week 4: 45-sec work/30-sec rest
Featured image by PixelsEffect/Getty Images
Being a Black woman is a double-edged sword that is skillfully crafted and delicately balanced. On the one hand, we have been honed and sculpted into powerful, independent women who can look after ourselves and our loved ones, while still creating significant works of art. On the other side, there are times when the pain of our forced invincibility and independence pierces so deeply that an endless stream of blood, sweat, and tears flows.
Overuse has made us dull, but we still shine. After all, Black women are the only things to grow without nourishment. Yet, despite our incredible achievement, this precarious balance shouldn't have become our norm. With protection on one end and potential danger lurking around the other, we shouldn't have accepted this balancing act as the ultimate truth. If we stop considering the blades of this sword as an inevitable outcome, it may lose its edge.
Therefore, rather than being content with the fact that we were injured one moment and recovered the next, we should want to fully heal ourselves to avoid engaging in this dangerous balancing act. To make sure our healing is effective and less risky, here are the top self-help/self-development books to help every Black woman set these blades aside to become someone where their overuse is never necessary.
Featured image by myriam meloni/Getty Images
Your strong legs are more than just for show. Even the most fundamental daily actions, like walking and balancing, require leg strength. So, if you want to ensure the betterment of your physical health, you need to include leg exercises in your routine. And if you're looking for a HIIT workout to keep your legs in tip-top shape, we've got you covered. But first things first...
What Is a HITT Workout?
HIIT, also known as high-intensity interval training, is a type of interval training that entails short bursts of extremely intense exercise followed by rest intervals or periods of lower-intensity exercise. In just about five to 30 minutes, HIIT routines can be completed, with the intensity of the workout increasing with the length of time. With HIIT exercises, you can work up a sweat without paying for or traveling to a gym, and it is an incredibly quick and effective form of training.
HIIT workouts deliver the same health advantages as low- and moderate-intensity aerobic workouts in a lot less time and have been shown to increase metabolism and build strength. High-intensity interval training, has been proven to enhance metabolism and build strength, and it offers the same health benefits as low- and moderate-intensity aerobic exercises in a lot less time.
Pro Tip: For intense intervals, aim for a heart rate of 85 to 90 percent.
Determine your rest-to-work ratio:
Week 1: 30-sec work/60-sec rest
Week 2: 30-sec work/45-sec rest
Week 3: 30-sec work/30-sec rest
Week 4: 45-sec work/30-sec rest
Beginner Workout: 
Squats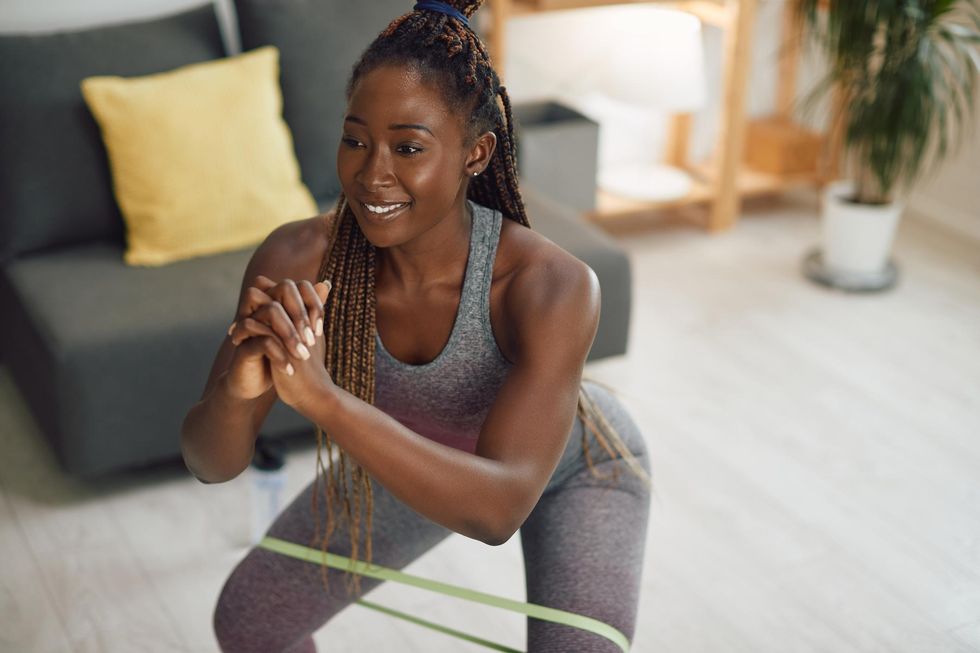 Drazen Zigic/Getty Images
Point your toes forward and space your feet just wider than hip distance apart.
To move your hips back, gently extend your knees while bending at the ankle and knee.
Keep your shoulders back and your heels and toes firmly planted on the ground as you kneel.
In order to be parallel, which should be the ultimate objective, the knees should be at a 90-degree angle.
Set your heels down and lengthen your legs to stand up straight. Your knees shouldn't go over your feet while squatting. Instead, they should be behind the toes.
30-sec work/60-sec rest or preferred rest-to-week ratio.
Jumping Jacks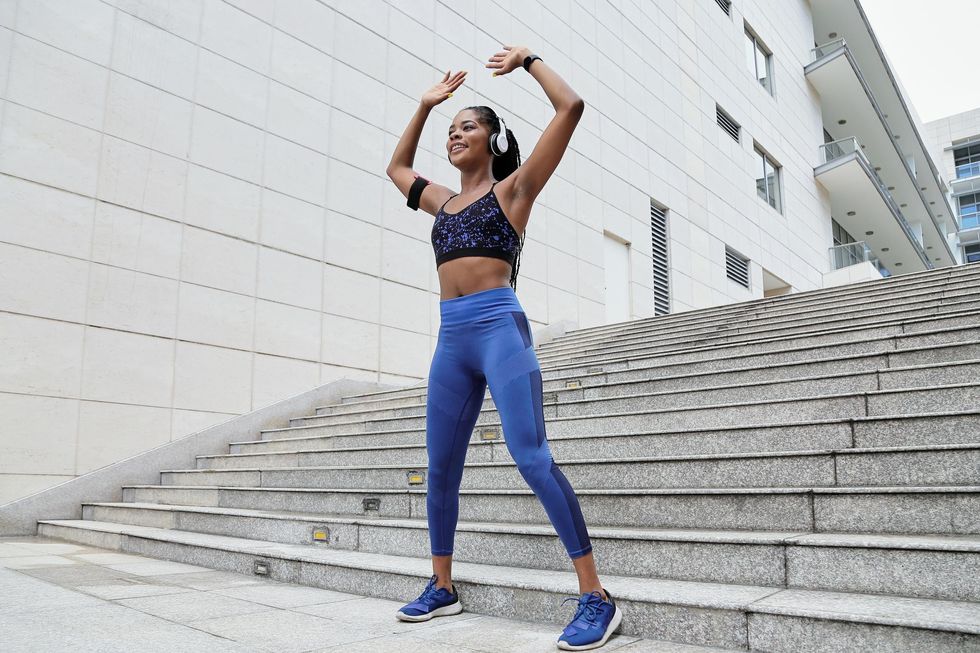 DragonImages/Getty Images
Holding your hands at your sides, stand straight with your back straight.
Jump while kicking your feet wide and raising both of your arms.
Repeat.
30-sec work/60-sec rest or preferred rest-to-week ratio.
Forward and Backward Lunges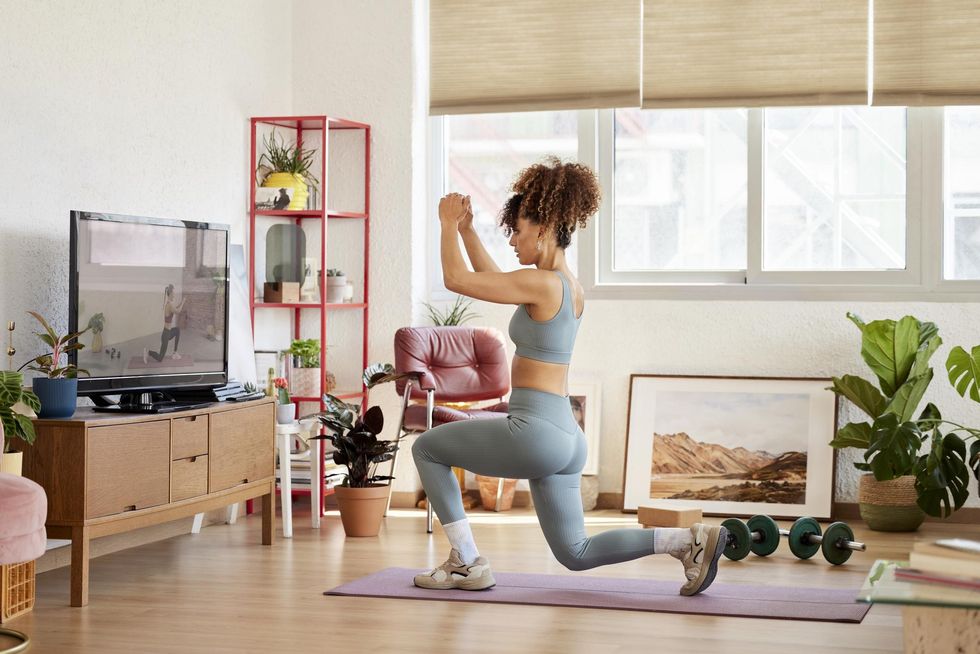 Morsa Images/Getty Images
1. Step forward while keeping your hips separated, then slowly stretch both knees until your back knee is barely off the ground.
2. Step backward with the leg you used to stand up, then bend both knees to crouch down with your back knee just above the floor.
3. Keep going. Change legs after the set is complete.
30-sec work/60-sec rest or preferred rest-to-week ratio.
High Knee Run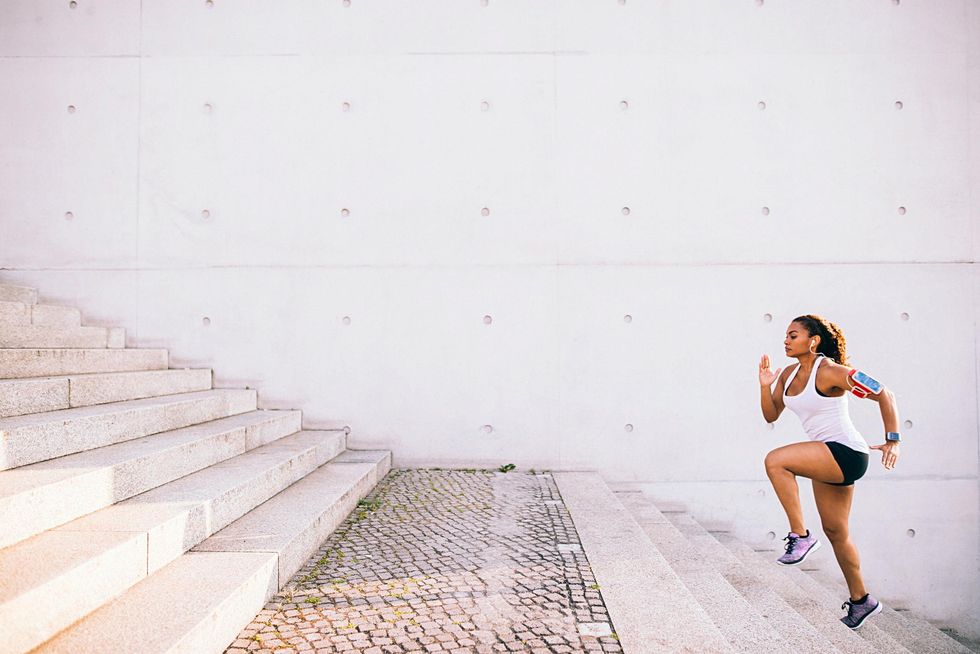 Guido Mieth/Getty Images
Start by jogging while keeping your knees elevated.
Slowly advance while jogging with your knees raised and your arms pumping back and forth.
Proceed for 30 more seconds.
30-sec work/60-sec rest or preferred rest-to-week ratio.
Squat Side Step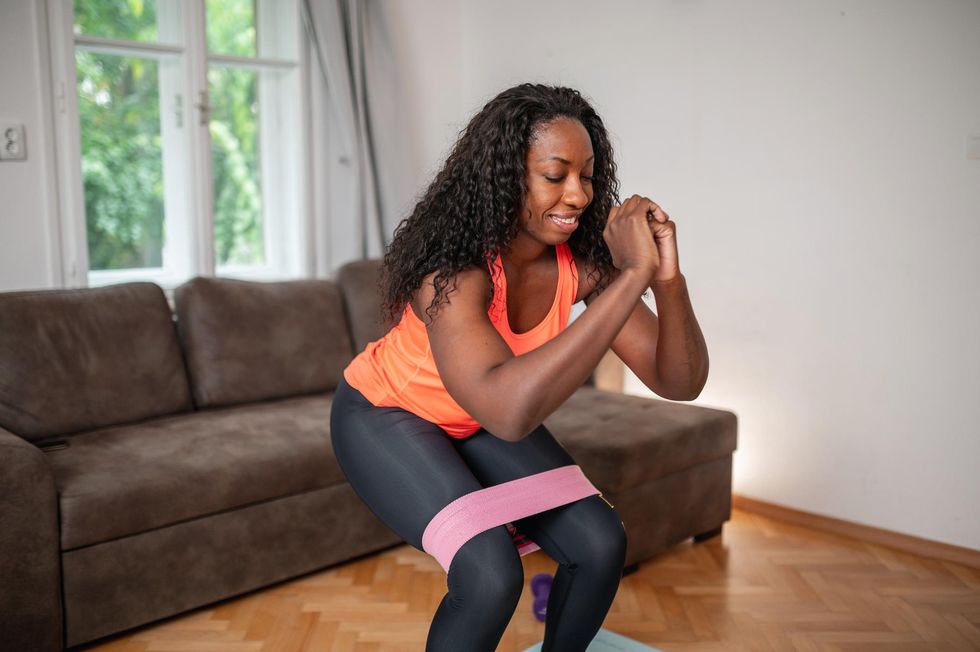 AzmanJaka/Getty Images
1. Start by assuming a straight posture and placing your feet shoulder-width apart.
2. Pushing your hips back, squat.
3. Get to your feet, move to the side, and squat down once more.
4. Go back to your starting posture and continue performing this side-to-side motion until the set is finished.
30-sec work/60-sec rest or preferred rest-to-week ratio.
Lunge Pulses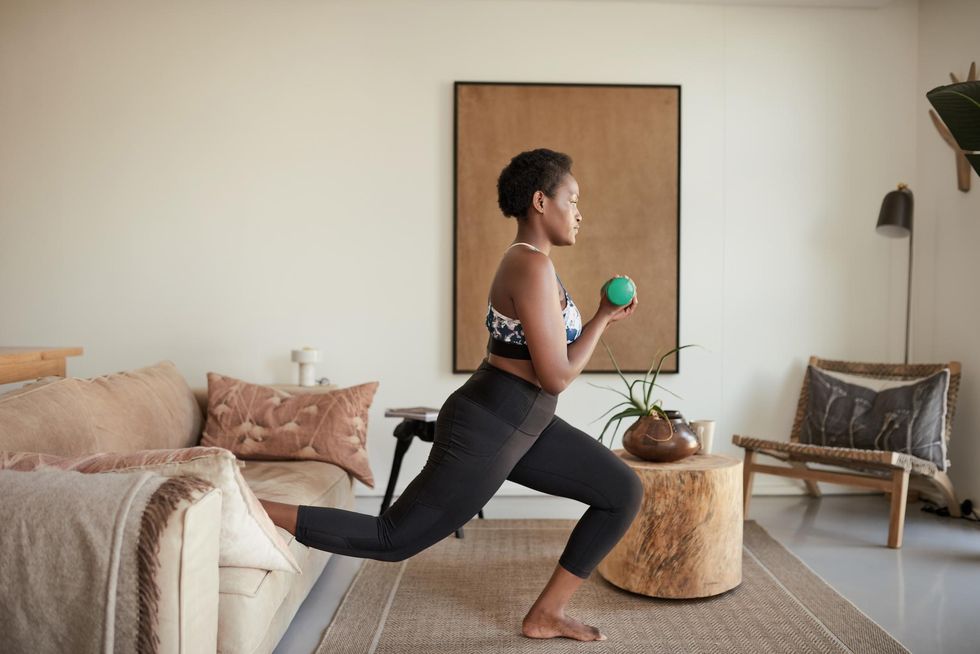 LaylaBird/Getty Images
1. From a standing start, advance like you would when lunging.
2. Partial lunge, similar to a standard lunge, about a fourth of the way down. This is where everything begins.
3. Start your workout by pulsating up and down, then perform a lunge by rising and descending by around three inches. Make sure you remain in the lunge stance the entire workout, never standing up.
30-sec work/60-sec rest or preferred rest-to-week ratio.

If you want to add more intensity to this workout, keep reading for intermediate and advanced modifications to suit your fitness needs.
Intermediate Workout: Alternating Jump Lunges
For an intermediate workout, add the following exercise, in addition to the exercises above.
Bend your knees and take a deep lunge to get ready to jump. As you contract your abdominal muscles, naturally gravitate forward. Throughout the exercise, your core muscles will continue to be engaged.
Put your weight down swiftly, then drive both feet into the ground with explosive force, launching your body upward while fully extending your knees and hips.
Bring your feet together quickly as you jump into the air, then switch feet as you start to land. As you do this, you should alternate your arms.
Keep your feet in a balanced stance as you land. The front knee shouldn't go past the front foot. Try to softly land on your forward mid-foot, letting your heel make contact with the ground. Avoid staying on the forward foot's toes. Allow your hips and knees to bend fully to absorb the landing while keeping your hips back. Keep your knees from locking.
As you get ready to begin the next jump lunge, lower yourself to a deep lunge stance.
For the duration of your workout, repeat the jump-lunge motion.
30-sec work/60-sec rest or preferred rest-to-week ratio.
Intermediate Workout: Rear Leg Lift
Beginning on all fours, place your hands under your shoulders and your knees beneath your hips.
Set one leg out in the back of you. Avoid crossing your legs over since doing so can make your lower back hurt. Instead…
The leg should be raised to hip level and then slowly brought back down.
Continue until the set is finished with the opposing leg.
30-sec work/60-sec rest or preferred rest-to-week ratio.
Advanced Workout: One Leg Drop
For an advanced workout, add the following exercise, in addition to the exercises above.
Lay on your back on a mat with your legs straight and parallel to the floor.
Start the exercise by slowly lowering your right leg until it nearly reaches the floor while maintaining bent knees. To lower the leg, try to take three to five seconds. Raise your leg to the starting position after a brief pause.
Continue as necessary with the right leg, then switch.
30-sec work/60-sec rest or preferred rest-to-week ratio.
Advanced Workout: Pile Squat
Place your feet wider than shoulder-width apart when standing. Make a 45-degree turn outward with your toes. If your flexibility allows, you can turn your feet out further. But make sure your hips, NOT your knees, are doing the moving. You should have a straight line from your toes to your knees.
Straighten your spine, hold in your abs, and stand tall. For balance, you can also extend your arms in front of you or to the sides.
Bend your legs, push your knees out, and lower yourself until your thighs are nearly parallel to the floor while maintaining your upright posture. Avoid bending forward and avoid letting your lower back round.
Stand upright and repeat.
30-sec work/60-sec rest or preferred rest-to-week ratio.
Featured image by LaylaBird/Getty Images
xoNecole's I Read It So You Don't Have To is a recurring series of self-discovery that breaks down self-help books into a toolkit of takeaways and tips that are meant to assist you in finding the best life you can live. Take what works for you, and leave everything else where it is.
Since we first started to count, women have been indoctrinated into thinking we are inherently bad with money. When it comes to women and finance, there is a recurring theme: women are large, careless spenders. The vocabulary employed in commercials and periodicals, as well as in television and cinema, all reference this idea. Men learn how to generate money, while women learn how to spend it. Just like that. Therefore, it is understandable why women think they are unsuccessful at accumulating wealth given this deeply ingrained notion.