Taysha Robinson
Taysha Robinson is a writer and high school English teacher, based in metro-Atlanta. A self described philomath, you can find her reading books and articles of every genre, attending educational conferences, and hiking wherever the terrain will allow.
Someone once told me that being happy was a choice. Like the English aphorism, "fake it until you make it" the idea of obtaining happiness can be as simple as imitating an optimistic mindset and achieving what you seek. Though this idea has been proven true and beneficial in many situations, it is not the solution for everything and rarely works 100 percent of the time. In fact, sometimes, the only way to be truly be happy, is to first embrace the sadness. Sometimes, giving yourself the permission to fall apart, break down, and cry it out, is all one needs to truly find happiness.
So, to assist you on your quest to contentment and relentless joy, I present to you 20 movies (and limited series) on Netflix that will give you the cathartic release you need. Whether you're looking for a happy cry, angry cry, or sad cry, xoNecole's got you covered with films guaranteed to open the floodgates.
Fatherhood (2021)
Based off the 2011 memoir, Two Kisses for Maddy: A Memoir of Loss and Love by Matthew Logelin, comes Netflix original film, Fatherhood. Fatherhood tells the story of Matthew Logelin (Kevin Hart), a new father, who struggles raising his daughter, Maddy, after the sudden death of his wife. In the comedy-drama film, watch as Logelin deals with "doubts, fears, and heartache" as he learns to navigate life and fatherhood after his devastating loss. In addition to Hart, the film stars DeWanda Wise, Alfre Woodard, Deborah Ayorinde, Melody Hurd and Anthony Carrigan.
Loving (2016)
In another biographical piece comes the story of the Lovings. Loving follows interracial couple, Mildred and Richard Loving, as they navigate being in love during the Jim Crow Era. Shortly after marrying in 1958, the Lovings are arrested for the crimes of living as husband and wife. In hopes to avoid jail, the Lovings agree to leave the state of Virginia never to return, again. Nevertheless, after growing tired of living in isolation, the Lovings return to the Virginia to challenge the anti-miscegenation laws, laws that reinforce racial segregation by prohibiting interracial marriage, in the Supreme Court and across the nation. The film stars Joel Edgerton and Ruth Negga.
Get on Up (2014)
Starring the late Chadwick Boseman is 2014 biographical drama, Get on Up. Based on the life of singer James Brown, the film nonlinearly tells of Brown's journey from a childhood riddled with poverty and abandonment, to an adulthood of fame and stardom. Though, the film has comedic moments from time to time—the opening scene comes to mind—the heart of the film comes from moments of reflection, where Brown considers what has been sacrificed for the sake of his dream. Also starring Viola Davis, Octavia Spencer, Nelsan Ellise, Craig Robinson and Dan Akroyd, this is a film that will have you seeing legendary musician James Brown in another light.
When They See Us (2019)
When They See Us is a limited series by award-winning and critically acclaimed director Ava DuVernay, which focuses on a group a teenage boys, coined "The Central Park Five." After a brutal attack on a white woman in Central Park, five teens from Harlem become the targets of a racially influenced allegations when they are falsely accused of rape and violent assault. A biographical story, When They See Us shows the lives of Kevin Richardson, Raymond Santana, Antron McCray, Yusef Salaam, and Korey Wise as they face the racial profiling, discrimination, and inequality of the American justice system and media while on a heavily publicized trial.
13th (2016)
Exploring the "intersection of race, justice, and mass incarceration in the United States," is the 2016 documentary film, 13th. Reframing American History, director Ava DuVernay explores how the 13th Amendment, infamously known for freeing those enslaved, led to an epidemic of mass incarceration in the United States. In the 13th amendment, lawmakers created a loophole, which proclaims a form of slavery is acceptable in the legal form of criminal punishment.
Due to this loophole, America's prisoners make up 25 percent of the world's prisoners, despite the American population making up for five percent of the world population. In this heart-wrenching documentary, watch how DuVernay and experts, explore the shortcomings of America's justice system and politicians, while demanding the acknowledgement of racial injustice and the influence of racism in our criminal and legal systems.
American Son (2019)
When their son goes missing, an estranged couple reunite at a police station in hopes to find an answer. Based on the 2018-2019 Broadway play of the same name, American Son, discusses the social issues of discrimination and racial inequality in the legal system. Starring Kerry Washington, Steven Pasquale, Jeremy Jordan, and Eugene Lee, American Son shows the devastation and helplessness one faces when the system one should trust remains untrustworthy.
I Am Not Your Negro (2016)
Inspired by Remember This House, an unfinished manuscript that consists of a collection of letters and notes written by James Baldwin in the 1970s, I Am Not Your Negro explores the fate of a nation Baldwin believes is intertwined with that of a Black man. In James Baldwin's critique of American society, he states, "I can't be a pessimist, because I'm alive...so I'm forced to be an optimist. I am forced to believe we can survive, and we must survive. But the future of the Negro in this country, is precisely as bright or as dark as the future of the country. It is entirely up to the American people..."
Divided into four chapters, the social documentary focuses on the school integration era of the Civil Rights Movement, the depiction of the White gaze in film and its impact on society, social racial division, and the continuous exploitation of Blacks in America.
I Called Him Morgan (2016)
I Called Him Morgan is a documentary on the life and death of jazz trumpeter Lee Morgan. Created over the course of seven years, the documentary is told as Helen Morgan recounts the couple's life and Morgan's triumphant legacy, decades after she has been imprisoned for his murder. This enticing documentary beautifully, captivatingly, and unapologetically tells a story of what happens when an exasperated, possessive lover, an adulterous recovered musician, and a record breaking blizzard collide.
Miss Virginia (2019)
There is no doubt that systematic inequality creates barriers to jobs, healthcare, and education within the Black community. In Miss Virginia, the challenges facing Black America are brought to light when a struggling mother sacrifices everything to ensure her son is given a good education. Based on true a story, Virginia Walden places her son into a private school, as a last resort to losing him against drugs and violence of the street. When tuition proves unreasonable, she creates a movement to change the system that is destroying him and other minorities alike. In an impassioned performance, Emmy Winner Uzo Aduba is Virginia Walden Ford, a single mother who fought for the creation of a scholarship program for at-risk students and won.
Becoming (2020)
"Unplugged for the first time" is Michelle Obama in the 2020 documentary Becoming. Focusing on the former First Lady, Becoming is based on the bestselling and acclaimed memoir of the same name. The documentary highlights footage of Michelle Obama as she travels and works during her time as First Lady. Nevertheless, the film also chooses to focus on Michelle Obama's accomplishments before joining the White House. Returning to her children in South Side of Chicago, the documentary travels through Obama's days in school, her old law firm, early stages of marriage, parenthood, and even marriage counseling.
In this 90-minute film, Michelle Obama invites the audience to explore—with supervision—her accomplishment and life outside of her husband's legacy. After all "so little of who [she is] happened in those eight years, so much of who [she was] happened before."
Monster (2018)
"What do you see when you look at me? Boy? Artist? Outsider? Should one moment define my life?"
From 1999 book of the same name by Walter Dean Myers, Monster tells about the injustices young, Black men face at the hands of the court and legal system. Once an aspiring artist, Steve Harmon, a 17-year-old, and three others are labelled "monsters" as they stand trial for murder. Arguing to have only been involved in a robbery and not a murder, Harmon must convince the jury that he made the mistake of being look out, while discrediting the claims that he pulled the trigger.
Two Distant Strangers (2020)
It is fascinating, yet terrifying to think that you're most celebrated day, could also be your worst. In this Academy Award-winning live action short film, Two Distant Strangers meet and launch an examination of Black American deaths at the hands of the police. Carter experiences his best day and worst nightmare when he finds himself stuck in a Groundhog Day time loop. In a loop that inevitably ends in death, Carter tries to get home to his dog, after he is repeatedly confronted and harassed by white Officer Merk. In this clever, yet enraging short film, cast Joey Bada$$, Andrew Howard, and Zaria Simone, show the frustrations and helpless Black Americans feel while merely existing in America.
Giving Voice (2020)
From executive producers Viola Davis and John Legend, Giving Voice follows the annual August Wilson Monologue competition, and the high school participants who compete for the opportunity to perform on Broadway. Well-known for creating stories that were "epic in scope, tragic in circumstance, and yet still somehow hopeful," August Wilson leaves behind the legacy of "giving voice" to the voiceless Black community. Now, in hopes of honoring his legacy, young students and actors work alongside coaches and teachers as they speak up and out about their love for theatrical performances and Wilson's life-changing work.
Middle of Nowhere (2012)
Nine years ago, Ava DuVernay released her first acclaimed written and directed film, Middle of Nowhere. Winner of Best Director Award for 2021 Sundance Film Festival, Middle of Nowhere tells the story of nurse, and aspiring doctor, Ruby who devotes her time to visiting her imprisoned husband Derek. When she discovers the legitimacy of her husband imprisonment and deception, Ruby must decide whether to stay in the familiarity of living in the "middle of nowhere" or embrace the uncertainty of navigating the world alone.
In Our Mother's Garden (2021)
"Black women often aren't exposed to the idea that healing is possible."
In her debut film, In Our Mother's Gardens, Shantrelle P. Lewis creates a space for Black women and the lineages who helped shaped them. Celebrating the determination and resiliency of Black women and families, Lewis explores the idea of self-healing, self-importance, and self-care while analyzing the relationship between Black mothers and daughters. Throughout the film, various Black women account impactful stories that show feminist love and familial love, within the African-American community. Often explaining the central issues Black women face today, In Our Mother's Garden inspects the issues Black women face with imposter syndrome, ingrained indoctrinated servitude replacing self-care, and the generational trauma of racism and sexism.
Da 5 Bloods (2020)
For decades, the idea of joining the military has been sold to the American people as one's patriotic duty. From the World War to the Afghan War, the idea of joining the forces has been encouraged amongst all communities alike. Though, within the Black community, joining the armed forces is viewed with more trepidation than patriotism. This is mainly due to the Vietnam War where African-Americans risked their lives for a country—which at the time—openly showed they wouldn't do the same. In Spike Lee's Da 5 Bloods, he explores the imbalanced relationship between Black veterans and the country they fought for. Returning to Vietnam 50 years later, four Black vets attempt to find the body of their fallen brother and the gold they've buried as repayment for fighting "an immoral war."
Come Sunday (2018)
Based on the excommunication of Christian minister Carlton Pearson, is the drama Come Sunday. After the death of a relative, Reverend Pearson (Chiwetel Ejiofor) experiences a moment of introspection which causes him to question his faith. Unable to accept the idea that suffering people who haven't been saved will be damned to Hell, he concludes, that there isn't a Hell at all. After announcing this conclusion within his sermon, his trouble begins when his congregation demands his removal.
Let It Fall: Los Angeles 1982-1992
After the publicized death of George Floyd, the chairman of Black Lives Matter of Greater New York, Hawk Newsome, told an interviewer, "If this country doesn't give us what we want, then we will burn down this system and replace it." This warning came after years of civil protest, demands for change, and government inaction. As if history demands to repeat itself, this same cry for justice can be heard from decades before in the cities of Atlanta and, more recently, Los Angeles. In an in-depth examination of a clamorous time in the city of Los Angeles, Let It Fall: Los Angeles 1982-1992, details a decade of tension that leads to the culmination of citywide violence in 1992. After years of oppressive police aggression, failed justice for Black lives, and continuous neglect from government officials, citizens of Los Angeles show what happens to a city when its people decide to let it fall.
Whose Streets? (2017)
"We're trying to mourn, and you came here with 300 cop cars and riot gear and canine units. This is the same thing that pretty much got us here."
Whose Streets? is a documentary about the killing of Michael Brown and the Ferguson uprising of 2014. Told by activists and leaders, instead of news reporters and government officials, Whose Streets? follows the lives of the men and women who live and breathe the Black Lives Matter Movement. This documentary doesn't only focus on unrest ignited by Brown's killing and verdict, but it also focuses on understanding the people lived it. With a lens that seeks to understand the community, Whose Streets? focuses on the trauma and confusion created by those in Ferguson, Missouri when they officials have given them nowhere to turn. Directed by Sabaah Folayan and Damon Davis, Whose Streets? is a film definitely worth watching.
Ma Rainey's Black Bottom (2020)
Ma Rainey's Black Bottom is a biographical musical drama based on August Wilson's 1982 play of the same name. The story follows influential blues singer, Ma Rainey (Viola Davis), who has been recently contracted, by white producers, to record a record. During her recording session, she collides with an overconfident and overly ambitious trumpeter, Levee Green (Chadwick Boseman) who hopes to gain his own record deal, and the producers who only seem to be "interested in [her] voice." Played stunningly by Viola Davis and the late Chadwick Boseman, Ma Rainey's Black Bottom is a "celebration of three real-life Black artists and legends."
Honorable Mentions:
Fruitvale Station (2013)
Les Miserables (2012)
Tangerine (2015)
The Boy Who Harnessed the Wind (2019)
See You Yesterday (2019)
Irreplaceable You (2018)
I Will Follow (2010)
Little Boxes (2016)
Roxanne, Roxanne (2017)
Rodney King (2017)
Featured image by Getty Images
Keep reading...
Show less
In the summer where couples are breaking up left to right, the idea of keeping one's relationship seems implausible. With the endless bickering, never being on the same page, and constant dissatisfaction, it is only natural for couples to want to call it quits. Though, just because it's natural, doesn't mean it's necessary. Sometimes the best thing for a rocky relationship is to take a step back and decide what you want and need. This could be something as simple as acquiring your partner's attention ("Focus"), space and time to return to yourself ("Distance"), or just a time out from yet another fight ("Don't Wanna Fight").
Regardless of what it is, it is important to attempt to fix one's relationship before throwing the whole thing away. In a time where things are so easily picked up and thrown back down, fighting for your relationship, no matter how frustrating, might just be your solution. At the end of the day, if it doesn't work out, you'll know you at least gave it your all. With break-up songs leading in the summer hits, turn off the radio, and put these hits about fixing your relationship at the top of your queue.
1

.

"Need U Bad" - Jazmine Sullivan
"Need U Bad" by R&B sensation Jazmine Sullivan perfectly represents the relentless, desperate passion one exudes when attempting to save their relationship. Over a Carribean bounce, and entranced by a harmonious flow, Sullivan calmly begs for her lover. She is begging for him to let her back in, to regain his trust. Extremely self-aware, she apologizes for her shortcomings. Although, it's clear that she has some groveling to do. Eventually, the juxtaposition of the calm island sway combined with the anxious drums, bleeds into an emotion-filled R&B groove. It's good. Making-an-ugly-face-and-shaking-your-head kind of good. So good, that it's the perfect song to fully explain how heart-wrenching and critical fixing a relationship can be.
2

.

"Ordinary People" - John Legend
Contrary to those who preach: relationships are hard. Learning to be with another person is hard. They don't think the way you do. They don't act the way you do, and they certainly don't react the way you do. Therefore, it's hard. Despite learning the way they speak, argue, or react, everyone manages to go back default sooner or later, and arguments are bound to happen. In "Ordinary People," John Legend knows exactly this. In this piano ballad, Legend explains that he is in love with this woman. Not cute, infatuated love, but real, honest to God—hand to the Bible kind of love. And in being in love, he is willing to take a step back and consider fixing their relationship. Maybe things aren't working out because they're putting too much pressure on themselves, and, in turn, one another. Instead, they should consider the notion that they are just ordinary people.
3

.

"Don't Wanna Fight" - Alabama Shakes
"Don't Wanna Fight" shows how truly frustrating fixing a relationship can be. Beginning at the 40-second mark, at what could only be interpreted as a frustrated screech, Brittany Howard perfectly depicts the moment where you realize you love your partner, but you don't quite like them. In moments like this, it's best to step back, acknowledge what has been said, and take a break. Sometimes it is crucial to just let a fight die. Especially when you realize that what you're fighting for, isn't something worth fighting about at all. There is a clear difference between fighting for a relationship and fighting pointlessly for your pride. When this is discovered, Alabama Shakes serves as a reminder to give up the battle for the sake of winning the war.
4

.

"We Belong Together" - Mariah Carey
I'm sure that I don't have to explain why "We Belong Together" makes for a great song about fixing a relationship. Although, in case I do, here it goes: Mariah Carey. This chef's kiss of a song, doubles as a ballad and a bop. The moment the piano riffs and Mariah harmonizes, it's clear she is out for blood. And boy, how easy it was to fall into her trap. With enticing vocals, layered harmonies, and a moment to scream, it's hard not to. "We Belong Together" is the final call. The moment where everything is laid out on the line. Where you try to stop the arguments, the coldness, or whatever it is that's making your relationship rocky. Instead, you work out your problems because the idea of the two you not being together is ridiculous. After all, returning to one another is inevitable.
5

.

"Distance" - Emily King
"One room just ain't enough when there's two folks trying to get along." A truer statement has never been said. "Distance" by Emily King shows that, sometimes, the best way to fix a relationship is to give one another space.
Not the type of space in the sense of "taking a break." But more in the sense of maybe you should spend a day apart returning to yourself. In relationships, it easy to get lost in being someone's else partner. Being stuck in just that one role, when you're a multitude of others, can be irritating and result in unnecessary arguments. Therefore, spend a day or two apart. Take time to check in with yourself and what you want. Then, if you must return back to your argument when you're both clear of mind.
6

.

"Let's Stay Together" - Al Green
Why break up when you can just stay together? In "Let's Stay Together," Al Green believes that if you love someone you should work with them whether your relationship is at the highest high, or lowest low. Mainly about compromising, "Let's Stay Together" talks about what happens when one person is willing to compromise what they want for what their partner needs. Sometimes, it is OK to give a little, especially when what you're fighting for doesn't compare to what you could lose. To fix a relationship--as long as you're not playing martyr for your partner--consider if what they're asking for is rational and plausible.
7

.

"Slipping" - Eryn Allen Kane
In the impassioned ballad, "Slipping," Eryn Allen Kane sings about the hardships of solely fixing a relationship. Unlike some of the ballads before her, Kane doesn't need a chance to step back and view her relationship. Instead, she sees things for what they are: her partner is unhappy. Knowing this, she makes it her mission to help them find happiness. Though, in doing so, she loses her own when she realizes her partner doesn't care for her efforts. There is an enchantment in being seen. Though she sees her love, she becomes bitter knowing that he doesn't see her. In the end, she challenges him. They could either work it out, or continue to slip away. They still have time to win, but he is going to have to be willing to step up.
8

.

"Passionfruit" - Drake
This song is a coin toss. On one hand, it's clear that Drake is realizing that his relationship might've come to an end and wants to fight for it. On the other hand, he understands why his lover might choose to leave. Regardless, in this R&B, pop, dancehall tune, Drake attempts to fix his relationship. Having a long-distance relationship is stressful. Not only are you separated from the person you care most about, but that separation can also bring about insecurities.
In "Passionfruit," this is no different. Drake is constantly away and the woman he has left behind has had enough. This eventually puts them at an odds, where Drake is left to explain that he is still wanting this relationship. Although, he understands why his romantic interest might think differently because he is not around to prove it. By the end of the song, he is left fighting for the relationship, but whether his partner wants to remain is up to her.
9

.

"Focus" - H.E.R.
Giving your partner attention is important. Despite our hectic lives and busy schedules, the need to ensure connection with your partner should always come first. When connection and attention are often ignored, problems in the relationship can easily occur. In H.E.R.'s "Focus," politely demands attention of her partner. Instead of being focused on the games, phones, and other miscellaneous things, she asks that he just focus on her. This song shows many ways a relationship can be fixed. The most important way being communication. Unlike other songs, she isn't beating around the bush, she isn't alluding to what she wants. Instead, H.E.R. is very clear about what she needs to save this relationship, and that's her partner's unrelenting focus.
10

.

"Lost In Translation" - Johnnyswim
Listening to "Lost in Translation" by Johnnyswim is like listening to the aftermath of a huge, heated argument. Stopping in the middle of their argument, or immediately after one has ended, Abner takes things into perspective. Realizing that he might have taken things too far, he wants to know what can be done to salvage their relationship and the guilt he feels. He no longer cares why they are arguing, he just wants to return back to how things were. Meanwhile, Amanda agrees. She acknowledges that they are missing something, so instead of choosing to fight or figure it out that night, she wants them to enjoy one another's company like they did in the past. Fighting has gotten them nowhere and they are aware that despite wanting the same thing, they keep colliding. So, instead of trying to end the argument, maybe the best thing would be to leave it where it is.
11

.

"He Won't Go" - Adele
At times, fixing a relationship often requires silencing the people closest to you. Not that they're not right in what they're saying. They just aren't as informed as you. They know only what you've told them and are responding with your best interest in mind. You and your partner on the other hand know what you've gone through and what has brought you in. This can be said for "He Won't Go." In this R&B pop song, Adele sings about wanting to try for her relationship because her past cannot let her easily leave it behind. The same can be said for her partner. Therefore, they are going to try to make the relationship work because they have something worth fighting for. As long as he is willing to stay, she is, too.
12

.

"Mercy" - Jacob Banks
This type of relationship in need of fixing is far from romantic. Nevertheless, it could be interpreted as such. "Mercy" by Jacob Banks talks about the ostracism African-American experience in the United States. Tired of being treated like a "second-class citizen," Banks demands "a little mercy" be given to himself and his community. After sacrificing and playing along with the majority, he hopes to be treated like someone who has hopes and aspirations of his own. This makes the perfect song for fixing a relationship, because it calmly takes things into perspective. When we're in a rough place, we spend most of our time victimizing ourselves and wondering why we're being treated badly. Nonetheless, when the situation is calmly addressed, there is an opportunity to acknowledge and validate the imbalance someone might be experiencing in a relationship. This can, of course, lead to a road of rectification.
13

.

"Loved By You" - Kirby
When you've been a relationship for too long, it is easy to take advantage of what you have. Whether you're used to the affection, care, love, kindness, or whatever it is your partner gives to you, it would be wise to speak up and openly appreciate the love given. Otherwise, you won't know what you had until it's too late. Kirby's soulful, heartfelt ballad, "Loved By You" is the final chance to acquire the love she always wanted. Hoping to amend her previous relationship, Kirby openly expresses her desire to love and be loved. She knows that this might be the last chance that she is given to experience true, all-encompassing, passionate love and she wants to work on doing so with the one she admires.
14

.

"Piano Joint (This Kind of Love)" - Michael Kiwanuka
Michael Kiwanuka has been beaten and bruised by love. This time, he won't let it happen, again. "Piano Joint (This Kind of Love)" focuses his relationship on the right type of love. Kiwanuka tells his partner that he is tired of fighting and hopes that in choosing to lose this battle, he might actually win in the end. Giving up in hopes of fixing his relationship, he tells his love that this kind of love is something that he has never experienced. Due to this, he knows that this has the potential to make him happy. So, he chooses to put their grievances aside and gives himself the opportunity to enjoy "this [new] kind of love" that has liberated him.
15

.

"Mad" - Ne-Yo
According to studies, going to bed while angry can create long-term damage in relationships. When one goes to bed angry, one's brain places that experience into sections that hold long-term memories, while asleep. Which ultimately results in the argument holding a lasting impression and intensified anger on the matter. Therefore, it's best to refrain from going to bed mad and/or find a comprisable stopping point. Ne-Yo's hit single "Mad" says just this. Knowing that possibly going to bed mad will only ruin his relationship, Ne-Yo asks his girlfriend what they're fighting for. When they realize that they can't recall why they're arguing or why they're mad in the first place, Ne-Yo asks for the argument to end. He doesn't want to go to bed mad at her or vice-versa, so it's best to just settle things.
Featured image by Getty Images
Keep reading...
Show less
Between May's randomness and June's endless heartbreak, I was beginning to think that July would be another moment of Summertime Sadness. Nevertheless, the artists of this week show that there is always a rainbow at the end of the storm. With the broken-hearted out of the way, room has been made for the fun ("Pink Noise"), the smiting ("Around), and the downright in love ("Sinner").
Get ready to turn up the heat with these latest hits that will be sure to reignite your summertime happiness.
"Pink Noise" - Laura Mvula
First of all: You're welcome.
Second of all: Thank you, Laura Mvula.
Everything this song is and everything this song tries to be is nothing short of excellent. Supreme. Top-notch and/or whatever whimsical adjective you fancy. This 80s-fueled dance pop track, "Pink Noise" will have you moving before the ten-second mark begins and you won't stop until long after it concludes. It's the fun summer song you've been looking for, long deprived of and my goodness it's a shame we haven't gotten it sooner. There's no denying that this song will have you hooked with its Janet Jackson and Grace Jones vibe. With its audacious trumpets and compelling vocals, "Pink Noise" is a summer hit I pray doesn't go ignored.
Also, if you're in the mood for a little self-care, treat yourself to Laura Mvula's newest album Pink Noise. Now available on all streaming platforms.
"The Jackie" - Bas ft. J. Cole & Lil Tjay
Juxtaposing their previous collaboration "Tribe," Dreamville's Bas and J. Cole return with a summertime hit made for the clubs. With the addition of rapper Lil Tjay, Bas and J. Cole share stories of their adventures while traveling along Jackie Robinson Highway, which connects Brooklyn and Queens ("The Jackie"). This song will definitely become a summer anthem. Between J. Cole's catchy hook and verse, Bas and Lil Tjay sing-song-esque melodious flow, the song is guaranteed to make you move. This is J. Cole's first appearance since dropping his latest acclaimed album, The Off-Season this past May. Meanwhile, Bas is rumored to be dropping an album later this year.
"Around" - JONES ft. Nardeydey
"Around" by JONES ft. Nardeydey perfectly captures and recreates the butterflies one gets in their stomach whenever a crush is near. It's the dopey grin you never knew you could make. The little giggle you're too embarrassed to release. It's the nervous feeling you get when you're uncertain if your crush feels the same. The excited feeling you get when you discover they do. It's incredibly cute. And it's the perfect summer vibe in a time where breakups seem endless. Perfect for a summer jam, "Around" is a charming, melodic tune worthy of being saved to your library.
"Get Up" - Logic
Logic returns from his short-lived retirement, with his second single in two weeks, "Get Up." In this reflective and acoustic-heavy single, Logic reflects on his journey and career as an artist. Focusing on his accomplishments, he gives recognition to his family, friends, and team for helping him get this far. Though, he is willing to also give some credit onto himself, crediting a lot of his success to his own determination, ambition, and perseverance. With lyrics like "every time I fall, you know I get up," Logic's new single "Get Up" is the motivational song you need for the summer.
YS Collection Vol.1 album, including single "Get Up," is now available on all streaming platforms.
"I Love You, I Hate You" - Little Simz
From the upcoming album Sometimes I Might Be Introvert, is Little Simz newest single, "I Love You, I Hate You." Reminiscent of 90s and 80s rap, Little Simz confronts her absent father over a grooving baseline and eccentric jazz track. Entering and leaving the chorus, she mentions that she loves her father, but because of the person he chooses to be she hates him. The verses are raw and impactful as she explains her resentment and hatred toward his absence and denial. Ultimately, she discovers that she must forgive her father for herself and that it is OK to simultaneously love and hate his existence.
Sometimes I Might Be Introvert will be released September 3, 2021.
"Day Off" - Cynthia Erivo
"Day Off" is the second single released from Cynthia Erivo's forthcoming album Ch. 1 vs. 1. Perfect for an early morning, or relaxing evening, this calming track is an alt-R&B song about making time to spend with a significant other. With Erivo melodiously requesting for one to take the day off, it's hard not to be allured by the soothing plea. By the time the song has concluded, you'll be so enraptured by the soul-stirring synth and tranquil vocals, you'll be compelled to do just as she asks.
Ch. 1 Vs. 1 will be released September 17, 2021.
"Make U Go" - Duckwrth
In his upcoming EP SuperGood 8, newly independent artist Duckwrth returns with single, "Make U Go." In his signature rap-singing flare, Duckwrth sings about the pleasures that he can give a woman, should he be given the opportunity to. Ever the confident one, Duckwrth assures her that she will have a great night, one worth bragging about to her friends. Though, despite his experience, she will not need to worry because despite his "thotty ways" she is the only one he wants to make go "ooh." This single is fun, relaxing, and the very song you need during this summer of break-ups. It's playful without being silly and smooth without being cocky.
Duckwrth's EP SuperGood 8 drops September 3, 2021.
"ARE YOU WITH THAT?" - Vince Staples
Having just released his self-titled album, Vince Staples returns with his second single, "ARE YOU WITH THAT?" In an album meant to offer fans and peers a new insight to who Staples truly is, "ARE YOU WITH THAT?" questions what Staples is down with and what he has outgrown. Throughout the song, he mentions gangbanging and violence nonchalantly and as a former aspiration. When he was younger, all Vince Staples imagined was being "a thug," now that he is older and wiser, he questions what he is willing to return to and the life that he now chooses to claim. With a more somber take, this song might not be a club sensation, but that's a sacrifice one is willing to take with a song of such substance.
Vince Staples, the album, including single "ARE YOU WITH THAT?," is now available on all streaming platforms.

"Go(l)d" - Mereba
"Go(l)d" is serene. Warm. Hopeful. And a little romantic. Beginning with a soft acoustic guitar and brooding rhythms, Mereba reflects on her journey and how she has changed during its travel. At the end of this journey, she has seen hardships, and she is unsure what everything she has seen means. Nevertheless, despite what she has seen and the confusion exploring the world has created, she manages to still "believe in gold" and the good things that the world has to offer. Doing so might make her crazy, nonsensical, or even a little naive, but in this new chapter of life (motherhood) a little faith can go a long way.
AZEB EP, including single "Gold?," is now available on all streaming platforms.
"Sinner" - Adekunle Gold ft. Lucky Daye
Nigerian singer-songwriter Adekunle Gold collaborates with Lucky Daye in his newest single "Sinner." Smoothly romantic, the song begins with a violin reminiscent of Celine Dion's "My Heart Will Go On" only to later take a calming trance with the addition of drums and Adekunle Gold's melodious vocals. The song could easily fall into the a cliched romance about love being almost sinful, but with his entrancing instrumentals and a gentle, confident approach, the song is anything but. Instead, we are left with a something that reflects the peace one exudes when finding the one. This might be about sinner, but it isn't about one remorseful of their sin. Instead, Gold believes that if their relationship is sinful, he is more than happy to worship at this alter.
For more new music releases in the month of July so far, keep scrolling:
"Wild Side" - Normani ft. Cardi B
Normani x Cardi B – "Wild Side" Out Now!Listen Here: https://smarturl.it/xWildSide Follow Normani:https://www.twitter.com/Normani https://www.facebook.com/n...
"Bouncin" - Tinashe
"F Yah Job" - Childish Major
"MIA" - Ray BLK ft. Kaash Paige
"Lonely As I Ever Was" - Spencer.
"Romeo" - Jungle ft. Bas
"Type of Day" - BJ the Chicago Kid
"My Lil Dance" - Hotboy Wes ft. Gucci Mane
"Nevada" - YoungBoy Never Broke Again
"Plastic Surgery" - YN Jay ft. Lil Pump
"Section" - Ant Clemons ft. Kehlani
"Fuck Him All Night" - Azealia Banks
"Whole Lotta Money (Remix)" - BIA ft. Nicki Minaj
"Wake Up" - Drumma Boy ft. Lil Got & Kollision
"Feeling Good" - Ledisi
"Worth It" - Mya
"Aura" - Mariah the Scientist
"Shirt (Partial)" - SZA
The 48:26 mark, thank us later.
"Good Good" - Tanerelle
"Gametime" - Amine & Lil Tecca
Featured image via Giphy
Keep reading...
Show less
Growing up, black representation was few and far between. With black leads only making up five percent of television, it was difficult to find someone who looked and act liked us, reflected on screen. Even more so, if you were looking at animations. Although, despite the lack of prominent representation, there were a few black cartoon characters that made the experience of growing up worthwhile.
From Storm's fierce relentlessness to Frozone's disarming charm, these are the top ten black cartoon characters that make our inner child scream black girl (and boy) magic.
1

.

Ororo "Storm" Munroe (The X-Men)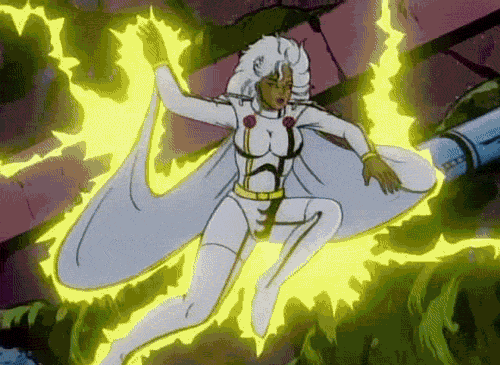 90s marvel GIF
Giphy
Making her debut over 45 years ago, Ororo "Storm" Munroe is hands down the best cartoon depiction of what it means to be a black superhero. Despite the live action movies constantly getting her wrong—remember when Halle Berry had an accent and then suddenly didn't—the origins of this character is worth exploring. Daughter of a Kenyan tribal princess and an American journalist, Storm was orphaned at a young age. As a result, she spent time as a petty-thief before choosing to use her power for good. With the abilities to control the weather (Atmokinesis), witchcraft, telepathic resistance, and eventually godhood, Storm is one of the strongest mutants in the X-Men universe.
Not only is she a powerful superhero, but she is also a compassionate one, often using her powers to stop man-made or weather-related disasters. Nevertheless, despite being an interesting and omnipotent hero, Storm is often overlooked in films and cartoon adaptations. Although, now that Marvel has obtained the rights to X-Men, hopefully this will change in the near-future. With the care that the Marvel Universe gives towards their superhero stories, there is a good chance that will see the Storm we all deserve on the big screens soon.
2

.

Virgil "Static Shock" Hawkins (Static Shock)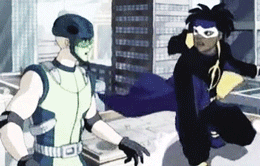 Giphy
Get up, get up, gotta go. Gotta get up, get up, gotta go. Here we go!
Static freaking Shock was the best thing about childhood cartoons. Premiering almost 21 years ago on WB, and 28 years ago in the comics, Static Shock is the pseudonym of teenage superhero, Virgil Hawkins. Made a social outcast due to his high intellect, Hawkins was subjected to constant ridicule and bullying from his peers. After a particularly harsh beating, Virgil attempts to get payback, where he was ambushed by the cops and sprayed with supernatural tear gas, which resulted in Hawkins obtaining electromagnetic mutant abilities. He later chooses to use his abilities to save those of Dakota City from both supernatural beings and petty criminals. Despite being an interesting superhero and having an enticing origin story and series, there hasn't been many adaptations of the cartoon/comic book character. Though, that looks like it might be changing soon.
During the DC Fandom last August, Reginald Hudlin teased an upcoming Static Shock film. Not long after, in October 2020, Blank Panther's Michael B. Jordan announced that he would be producing the Static Shock DC Superhero movie adaptation. There is still no word on who will be playing Static Shock or when the movie is set to production, but regardless of when it does, I'm sure it will do what it has always done: put "a shock to our systems" that will never run out.
3

.

Numbuh 5 (Codename: Kids Next Door)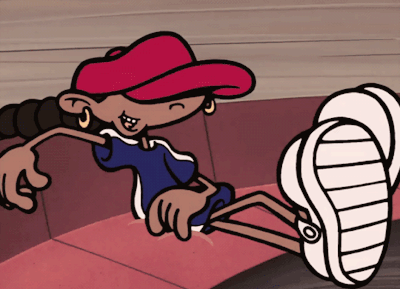 "We are the Kids Next Door, Numbuh 4! We save kids. That's our job."
A job well done, indeed. Saving us from the sheer boredom of weekends at home was the infamous and adventurous Codename: Kids Next Door. Voiced by showstopper in all things black, Cree Summer, Numbuh 5 was the best KND member around. Second-in-command, due to her relaxed nature and wicked intelligence, Numbuh 5, or Abigail Lincoln if you dare, was the only African-American teammate of the codename crew. Taking all of her missions seriously, Numbuh 5 used her book and street smarts to help execute successful operations.
Numbuh 5 was a fun character from KND. Balanced perfectly between wholehearted earnestness and plain absurdity (refusing to give up a treasure chest of candy), she often created hilarity in the foil of her character. Numbuh 5 was the first of few black female cartoon characters that was given more than background roles to play. With a good amount of the episodes surrounding Numbuh 5 and her relationship with others, it was no wonder why we were all glued to our TVs. And because they respected her enough to develop her character to be more than just her race, there is no doubt that "We're going to be Kids Next Door [fans] forever."
4

.

Penny Proud (The Proud Family)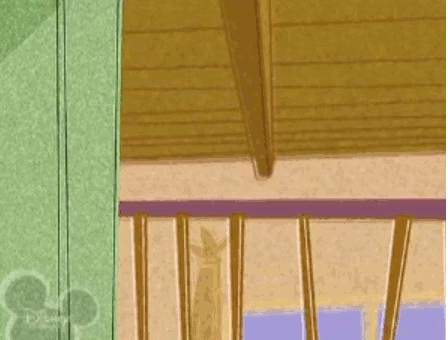 Mad The Proud Family GIF
Giphy
Sing it with me: She's Penny Proud, she's cute and she's loud. And she gots. It. Going on.
Let's be real, you sung that in the proper cadence without me even having to mention the where to find the video. Between its original airing times, the movie, Destiny's Child and Solange Knowles' theme song, its promised revitalization on BET, and the reruns on Disney+, The Proud Family is a show that is hard to forget. It's an even harder show to put down, despite the show's final episode premiering nearly 16 years ago. The Proud Family follows the family and friends of 14-year-old Penny Proud who live in Wizville, California. Confident and fearless, Penny spends most of her time seeking out what she wants and relentlessly achieving those goals. As a jack of all trades and master of none, most of her adventures are sporadic and varying in degree.
One moment she is a pop singer, traveling the world, and the next she is attempting to babysit her siblings who insist on going on adventures of their own. With every episode being something new to explore, your journey with the Proud Family will be like traveling with your own dysfunctional family. A show ahead of its time, The Proud Family had all black families, smiling from ear to ear and glued to the TV. After all, what's better than seeing yourself reflected back on television?
Though the show follows protagonist, Penny Proud (voiced by Kyla Pratt), it is hard to watch it without acknowledging all of the characters that make us so damn proud to watch it in the first place. With Suga Mama putting her feet in everything, Oscar's constant yelling, Trudy's insistence on keeping her family together, the twins' escapades, the Gross Sisters' thieving, and Dijonay's unreliability—except in her love for Sticky, this show was only meant to succeed.
5

.

Frozone (The Incredibles)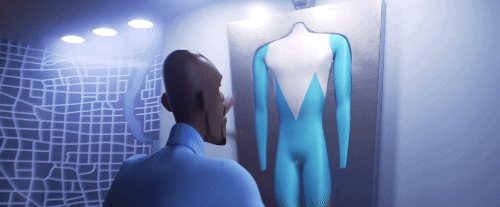 the incredibles animation GIF by Walt Disney Studios
Giphy
Frozone probably had the total of thirty minutes of screen time in The Incredible movies combined, but in those thirty minutes, he knew how to steal a show. Known for his "where's my super suit" scene and Samuel L. Jackson voice, Frozone was a Black cartoon character that we just simply can't forget. As a longtime close friend to Mr. and Mrs. Incredible and surrogate "Uncle Lucius" to the kids, Frozone was essential to helping the Incredibles fight villains. With his ability to create ice and freeze surfaces with his hands, he often got himself and the Incredibles out of situations when super-strength just wouldn't do. Despite not seeing him nearly as much as we hope in The Incredibles and its sequel, a little birdie (Pixar Animation Studios and Walt Disney Pictures) says that they plan to release a Frozone film as the prequel to The Incredibles movies. Thus far, it looks like Samuel L. Jackson will return to voice the role, alongside Zoe Saldana, Jordan Peele, Kimberly Adair Clark, Tracy Morgan, and Craig T. Nelson.
6

.

Riley and Huey Freeman (The Boondocks)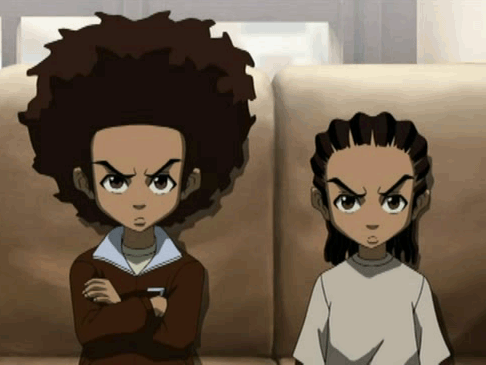 The Boondocks was a show that everyone just happened to find. Without a single amount of advertisement, rhyme, or reason, every night around midnight and two, you'd find yourself in front of the television laughing at these children, who behaved like anything but. Between Riley and his constant need to buck the system and Huey and his endless need to dismantle it, The Boondocks offered an adult animation from the perspective of children. Children, who at most times, behaved better than the adults. And man was it beautiful ride.
Balancing itself perfectly between offensive and woke, The Boondocks offered a comedic outlook on how African-Americans see themselves and the world they live in. Voiced by Regina King, John Witherspoon, Gary Anthony Williams, and other various stars and guests, The Boondocks discussed topics of Blackness in a comedic and objective way. Whether they were talking about the first Black President, systematic racism, peer pressure, perms, or the Civil Rights Movement, The Boondocks was a show that knew what story it wanted to tell and just how to tell it. Now in the political climate where it is necessary to have Black stories told, The Boondocks is seemingly set to return for the 2022 television season on HBO Max. This means more stories of the Freeman family and friends navigating the world both carefully and carelessly, and we're over the moon to see it.
7

.

Libby Folfax (Jimmy Neutron)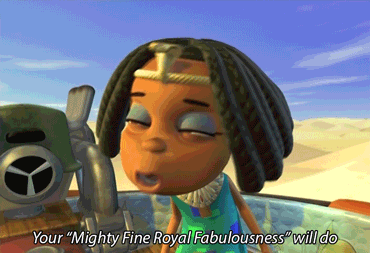 Own It Jimmy Neutron GIF by Nickelodeon
Giphy
Liberty "Libby" Folfax is one of five central characters in Nickelodeon's Jimmy Neutron. Although, when the show first premiered it didn't seem this way. Clearly unsure of what to do with her character, in the early seasons, Libby was often seen, but rarely heard. She could be found in the background or in Cindy's shadow offering very little lines with even less substance. Nevertheless, this was rectified in season three of the beloved television show, and with this came the endless joy of Libby Folfax. From discovering her ancestor was an Egyptian queen to fashion model turned werewolf, and eventual dictator, Libby was given one interesting story after the other for little Black girls to fall in love with. With her candid personality, inability to lie, and levelheadedness, Libby was often a breath of fresh air in a show that thrived on endless chaos.
8

.

Susie Carmichael (The Rugrats)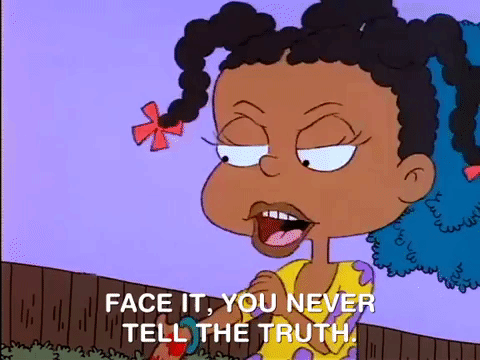 nicksplat rugrats GIF
Giphy
Susie Carmichael was the absolute best. She was kind, caring, witty, and most importantly, she read Angelica for filth. Though she didn't appear in Rugrats nearly as much as she should've, when she did, Susie stole the show. First appearing in the 1993 episode, "Meet the Carmichaels," Susie quickly showed herself to be a promising character. Bright, friendly, fun-loving Susie was often put against Angelica, showing that she was willing to be supportive of Tommy and the crew's adventures. Ever the protector, she often stood up for the babies when bullies would attempt to get in their way and showed herself to be a character worthy of admiration. Eventually Susie and her family were given their own-spin off, The Carmichaels, nevertheless due to the Rugrats and All Grown Up universes, the series was axed due to continuity issues, leaving Susie and all her glory behind.
9

.

Princess Tiana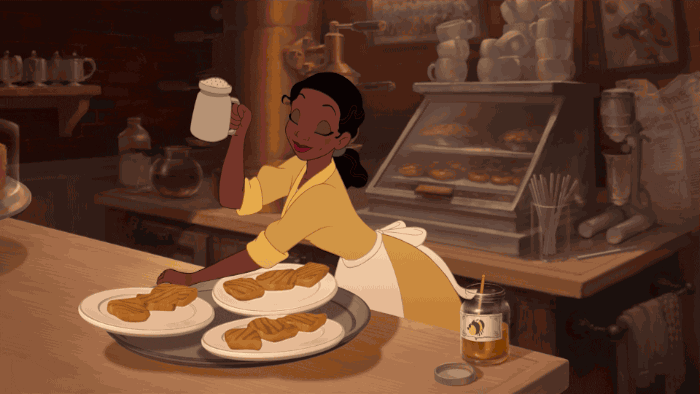 New Orleans Food GIF by Disney
Giphy
To be honest, I am indifferent towards Princess Tiana. Admittedly, this indifference has nothing to do with Princess Tiana herself, but everything to do with The Princess and the Frog. I found it frustrating that when given the first chance to have a Black princess, Disney doesn't actually make her a princess, but a damn frog for the majority of the film. As if it couldn't get worse, the film's use of voodoo, jazz, and African-American dialect reflected the Black community in some unflattering light. Regardless, this is not meant to bash the Disney film that came out nearly 12 years ago, instead it's to mention and appreciate the only thing they managed to get right: Princess Tiana.
Voiced and sung by the amazing and disgustingly under-appreciated Anika Noni Rose, Princess Tiana is the first Disney princess who creates her own wealth, dreams, and manages to not be saved by a prince, or any man, for that fact. With her lively number of "Almost There," Princess Tiana encourages young Black girls to be driven and hardworking, as she works towards her goal of fixing up an old sugar mill to pursue her dream of creating her own restaurant. She constantly faces challenges, from being a social outcast to being a Black woman in the 1920s, yet she remains unshakably true to herself and her dreams, while dealing with the pressure of others. Despite the movie's issues, Tiana makes for a worthy heroine to root for and reflects the magic—and sometimes burden— of being a Black woman accurately and well.
10

.

Garnet (Steven Universe)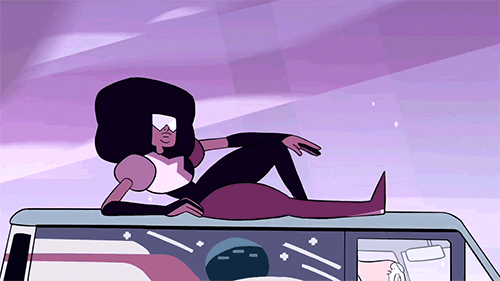 steven universe garnet GIF
Giphy
"Take a moment to remind yourself to take a moment and find yourself."
If you're looking for a strong, fierce, and clever character development, look no further than Steven Universe's Garnet. A fusion of the Ruby and Sapphire, Garnet is one of the most dynamic characters on this innovative and daring show. As the leader of the Crystal Gems, she is known to be a pragmatic, blunt character, though she rarely thinks a situation through before acting. With her combined size and strength, Garnet makes for a formidable hero against the show's biggest and baddest villains.
And with her old (yet youthful appearance) age, comes limitless wisdom, which she isn't afraid to share with her Gem family and audience alike. Garnet teaches young Black girls to be outwardly and unapologetically themselves, despite the expectations forced on them by society. Not to mention, she is voiced by singer Estelle, which makes her songs soulful and enticing to listen to.
Featured image via Giphy
Keep reading...
Show less
This just in: Gossip Girl is back online, and like a horses' stampede, I can hear her click-clattering away on her messy keyboard. Or shall I say, based on the original ending, (spoiler) his messy keyboard? Regardless, this new group of private school Upper East Siders, centers around half-sisters Julien (Jordan Alexander) and Zoya (Whitney Peak), a wealthy social media influencer and a middle-class newcomer, respectively. Addressing social media's affects in Generation Z, Gossip Girl arrives back on the interweb to create chaos amongst the group, who've known each other since "they were babies."
With the buzz around nostalgic television series reboots, such as iCarly, The Boondocks, and The Proud Family, it's only natural to find millennials resting at the edge of their seats for what the Gossip Girl revival will have in store. So, until we have the chance to see, it's only fair that we get to know who we're seeing. Or in this case, the most talked about newcomer and lead: Jordan Alexander.
Because we know you'll love her, here are 8 things you should know about Gossip Girl's Jordan Alexander. And remember to watch the season premiere of Gossip Girl, July 8, 2021 on HBO Max.
Xoxo
1

.

Oh, Canada: Jordan is repping for Toronto.
Despite America's obsessive need to claim someone as our own, rep for Jordan Alexander will have to go a little further up the map. Jordan Alexander is a Canadian actress and singer, born in Vancouver, raised in Toronto, Ontario.
2

.

Jordan Alexander also has the title of 'singer-songwriter on her resume.
In June 2021, Jordan Alexander released her piano-ballad single "You." In the single, Alexander admonishes herself for not being over her love. Joining the summer of breakup songs, she sings about missing her love and feeling purposeless without their existence.
Her voice is powerful and sultry, as she battles against what her heart wants and what her brain knows she needs. She knows that she will have to get over this relationship, this heartache, but also knows that it will take time to forget the love she once had. With her latest single, "Jordan Alexander creates a colorful expression for the emotional human experience."
3

.

She performed at Toronto Pride and opened for Kehlani.
Speaking of releasing music, Jordan is no stranger to releasing singles and performing on big stages. Though, "You" is her newest single, it is far from her first. In the last few years, she's done everything from headlining a nationwide Pride campaign for BudLight alongside Carley Rae Jepsen to opening for Kehlani for Toronto Pride 2018 to releasing an album, The Lonely Hearts Club.
4

.

Jordan's signature shaved head helped her reclaim her identity.
When auditioning in Toronto, Jordan Alexander claims to have seen people who looked exactly like her auditioning for the same roles. Despite being uniquely herself, she found it disturbing that she and so many others fit the same criteria box. As a sign of rebellion, and as an act to reclaim her identity, Jordan shaved her head and has never looked back.
"I think I was just having a moment. I was trying to figure out what I wanted, and one of the things that I didn't want was hair."
5

.

'Euphoria' was the first time Jordan saw herself reflected in media.
Indifferent to whether it is because of lack of representation or finally understanding herself, Jordan Alexander credits Euphoria for being the first show she found herself in a character. Euphoria's, Rue, played by Zendaya, is a mixed queer girl, who Alexander says she identifies with because she is also mixed and queer. She also believes that Rue is a complex character with a complex storyline that she found inspiring.
6

.

Her sister discovered she was casted in 'Gossip Girl' long before the announcement.
Jordan Alexander is a middle child, stuck between two sisters Sydnei (older) and Chloe (younger). Alexander names her older sister as her hero, giving her credit for influencing her career and shining within her own field. Her older sister is a nurse, and her younger sister is an "online detective," who managed to discover she was casted in GG before its announcement.
7

.

Jordan quit acting for a brief period of time.
Shortly after starting her acting career, Jordan Alexander left acting to pursue music. It was under her sister's influence that she continued to act after leaving it behind. She credits her sister, Sydnei, to taking images off her Instagram account and sending it to agencies on her behalf. Due to her sister's encouragement and coercion, Alexander landed a role on the Facebook Watch series, Sacred Lies.
"She's [her sister Sydnei] very much a stage mom. She's always sending me Kris Jenner memes saying, 'you're doing great, sweetie!' She was adamant for the past six years that I try acting, and her persistence broke through...well, not really. I didn't actually do anything, so she took pictures from my Instagram and sent them to agents in Toronto, corresponded with them and then forwarded it to me."
8

.

Jordan says her grandparents were the hardest for her to come out to.
With her two consecutive performance at Toronto Pride, it is no surprise to discover that Jordan Alexander is a part of the LGBTQ community. While asked who was the hardest person to come out to, the out and proud, queer actress-singer, claims it was her grandparents. Stating:
"I guess, maybe, my grandparents, which is funny because it wasn't hard at all. Because the people who made it hard to come out to, I just didn't, but for some reason it was hard for me with my grandparents, because we are very close. I love my grandparents so much, but they were like 'oh, okay.'"
Featured image by Dia Dipasupil/WireImage

Keep reading...
Show less