Taysha Robinson
Taysha Robinson is a writer and high school English teacher, based in metro-Atlanta. A self described philomath, you can find her reading books and articles of every genre, attending educational conferences, and hiking wherever the terrain will allow.
Three hundred and one days ago, I embarked on a journey to change the trajectory of my life.
Gradually and unknowingly, I exited my permanent fog and discovered I had been residing safely and warmly between the crossroads of dissatisfaction, anxiousness, depression, and self-pity. As a permanent resident, I had grown accustomed to the rollercoaster that was my mental and physical health. I had grown used to endless disappointment and claimed them as an inseparable essence of my being.
I was an anxious person. Therefore, I avoided places where my triggers would be present. I was a depressed person. Therefore, I would stay at home until the feeling passed. I was an insomniac, so I turned my nose to the idea of sleeping through the night. I was a pessimist disguised as a realist, so I planned for the best but knew the worst wasn't too far behind. In claiming these titles, I had given myself the unlikely chance of finding residency anywhere else.
Instead of discovering how to notice my triggers and work alongside them, my social anxiety got worse in seclusion. Resulting in panic attacks that would sometimes ease me into unconsciousness. In hopes that my depressive episodes would pass, I isolated myself, only prolonging its run. In my negligence to find manageable ways to fall asleep, the fog I existed in only grew thicker. In my disguised pessimistic approach, the thoughts I held always became my worst enemy.
I was stuck in a vicious cycle of noticing the hell I had placed myself in and continued to find redundant ways to get myself out. The process was always the same: (1) I'd find a new therapist, one who was affordable, and encouraged me to rant or unnecessarily relive past trauma, instead of one who was receptive and gave advice; (2) I'd create new goals, goals that would make life somehow much better than it had been now, though unobtainable without effective systems; (3) I'd reach out to my support system, only to listen to advice that was similar to what I wanted to hear; (4) and I would wallow in self-pity when I noticed my fruitless ways brought nothing sweet to fruition.
Like clockwork, three hundred and one days ago, I had prepared to run the same course, see the same scenery, and experience the same damn disappointment. But as I readied myself to bear my monotony, a question bore itself to the forefront of my mind: Don't you get tired of being in your own way? God yes. I had grown so tired that until that moment, I believed going through the same motions would somehow result in different results.
This time around, for once, I was determined to change my course. So, after days of consideration and prolonging my journey, I created a new plan. This time around, I would do everything within my power to save myself. To move out of this crossroads, and finally find a residence in an environment where happiness, peace, and love can grow.
So, for the next year, I challenged myself to attack the root of the problem: I would learn how to love myself and live wholeheartedly. In this quest, I read various novels and listened to endless audiobooks and podcasts where experts provided tools on how to live happily and sincerely. Now that I'm just a few months shy of a year, I wanted to share some wisdom that has saved me and molded me over the past few months, in case you're someone who happens to find yourself standing in your own way. I read all of it, so you wouldn't have to.
In the "I Read It, So You Don't Have To" series, I will provide you with a collection of self-help and lifestyle novel reflections. This is meant to be a collection of suggestions on how to live a happy, wholehearted life, though it is by no means a "how to guide" on how to live life. Instead, this series will be a toolkit of takeaways, and tips that are meant to assist you in finding the best life one can live. Take what works for you, and leave everything else where it is.
The first novel that accompanied me on my journey is Brene Brown's The Power of Vulnerability. Here are the ten tips and takeaways from the novel on how to wholeheartedly live.

Featured image by David Espejo/Getty Images

There was a lot of pressure placed on the shoulders of television this year. After being stuck in our homes forever, and watching everything there was to know, audiences became more critical of small screen stories than critics themselves. A demand for more was given, without the actual qualifications as to what that truly meant. Did they mean more heart-wrenching dramas or gut-busting comedies? Did they mean more of the supernatural or more of the mundane? Did they mean more of the past or a glimpse into the future?
Regardless of what the audiences called for, creators and producers stepped up and gave us all of what we demanded in our vagueness--and so much more. Now out of a debilitating year of hell, and still in recovery, television has arrived with stories worth waiting for and here are the top ones of the year.
1

.

Pose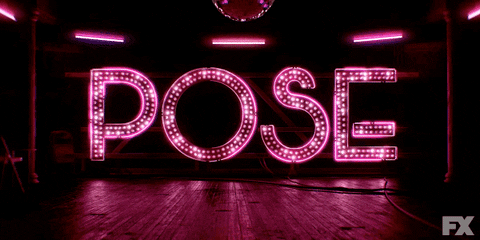 lights GIF by Pose FX
Giphy
The category is…grateful. When it was announced in 2020 that Pose's third season would be its final one, I remember wishing that each and every character would be given the conclusion they deserved. After watching two seasons of endless heartbreak, temporary wins, and watery smiles, I wanted a chance for the characters to get the happy ending that I knew the people they represented never did. For the sake of not spoiling the show, I refuse to mention if they do get the ending that they deserve. I will, however, mention that I am satisfied with the creation and conclusion of this beautifully heart-wrenching and heartwarming masterpiece.
Pose is a drama spotlighting the icons and ferocious house mothers of New York's underground ball culture in the '80s and '90s. Following gay and transgender characters (and actors), Pose focuses on Blanca Rodriguez (MJ Rodriguez), Pray Tell (Billy Porter), Elektra (Dominique Jackson), and others as they navigate the LGBTQ+ world, while also battling the HIV/AIDS epidemic.
With heavy themes and ruthlessly honest depictions of humanity, it would be easy for Pose to become riddled with unwatchable struggle and sorrow. Yet, the show's intentional decision to balance its sadness with conspicuously endearing characters—and their love for themselves and their self-appointed families—creates a series where one cannot help but to adoringly watch in awe as they live, work, and pose.
2

.

WandaVision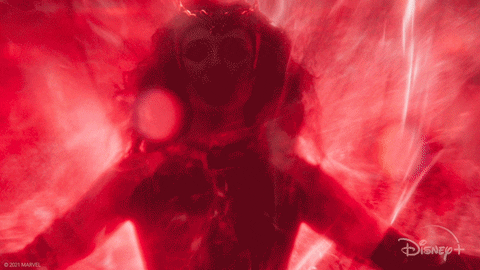 Scarlet Witch Marvel GIF by Disney+
Giphy
At this point, I have made it pretty clear how much I love television. And when I say "love" I mean it in the biggest misuse of terms, because the word I truly want to use hasn't been invented yet. Ever since I was a kid, and especially as an adult, I have found television to be an elegant art form. The music has to be powerful, but not so overpowering that it takes away from the scene. The writing has to be eloquently crafted to sound as regular as it is otherworldly. The sets must be inviting yet exclusive. The actors must be the characters.

To get one thing wrong means changing what could have been a powerful impactful story, into a wasted mess of potential. The more imaginative the show, the more room for error. WandaVision was very imaginative, and--when it came to perfecting its craft--had plenty of room for error.
The music was so noticeable that oftentimes even the characters would acknowledge it. The writing style changed with every episode, as if from various time periods. The sets were inviting, but never as it would seem. The actors were at times miscast. Yet, I have never seen something more masterfully executed than this adroit television show.
WandaVision follows Avengers, Wanda Maximoff, and Vision, three weeks after the events of Avengers: Endgame. Living in Westview, Wanda and Vision indulge in living in mundane suburbia, while trying to hide their true identities. Nonetheless, things are not as they seem when their surroundings begin to travel through decades and characters prove to be more than their tropes. This show is wondrous and if you haven't seen it yet, you're in for an amazing nine episodes.
The story of WandaVision is one that has not been seen in a while, especially in this diluted sea of superheroes. What could have been easily a Marvel show gone wrong (looking at you season four and up of Agents of Shield) turned into an extraordinary, artful portrayal of uncontrolled grief. This fantastic mini-series shows what happens when a character who loves television is created by people who love it, too.
3

.

Snowfall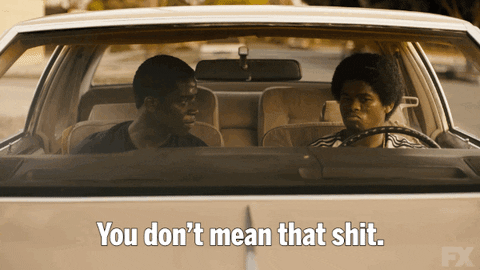 Season 3 Fx GIF by Snowfall
Giphy
What a fall from grace. Then again, was Franklin ever truly graceful? Returning with its fourth season, Snowfall continues its following of anti-hero, Franklin Saint as his dirty work contributes to the 1980s cocaine epidemic. Under the influence of the morally bankrupt CIA operative, Teddy, Franklin, and his family find themselves completely out of (and somehow in) their element when they sink further and further into the cocaine business.
After watching this season, I find it hard to believe that I ever fell for the charm that is--was (is?) Franklin Saint. In the beginning, he was a character worth rooting for. Despite his obvious shortcomings-his unrelenting quest for power--it was hard not to want Franklin to succeed. I had hoped that his desire to get himself and his mom out of Los Angeles and gain enough money to return to college would turn into something. I had hoped that he would become something more than what was expected of him.
Then he went and pursued selling and making cocaine, and...I'll be completely honest: I continued to root for him. I didn't see Franklin as a criminal, I only saw him as a result of systematic circumstances. I understood Franklin turning to crime when education turned its back to him. Now, I don't see that anymore. That person, that person mentioned before no longer exists. After everything that has happened, especially this season, I can no longer absolve Franklin of his decisions, nor do I think he should be.
Despite this, I eagerly tune in every week to see what will happen next. Franklin is a disaster, but he does have some redeemable qualities, and if I were to think on it all of the characters--except for Teddy--do. They're messy, but they are human and trying. They love each other despite loving power just a little more. I can't stand to watch their descent, but I can't bear to look away.
The upcoming season has been announced to be Snowfall's final, and after all of the trouble, I'm just hoping that season five will give everyone some reprieve, and make this entire messy descent worth it.
4

.

The Underground Railroad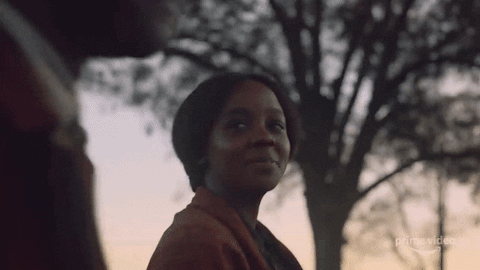 The Underground Railroad GIF by Amazon Prime Video
Giphy
I almost missed this piece of art. Not because I didn't know it existed, but because with every fiber of my being, I did not want to see it. As a Black person, I am so sick and tired of seeing Black pain. It's in the news, it's on social media, and the last place I wanted it to be was purposefully on my TV. When I saw the trailer and ads for the show, I pushed it aside and wiped my hands clean of it.
Then, out of the blue, I cracked. I don't know how. I don't know why. All I know is that I sat in front of the TV and managed to stumble on the first episode. Once I left the first episode, the second was playing and before you know it I was ten episodes in. Call me weak if you must, but if you ask me, it was one of the best decisions I had made this year.
The Underground Railroad follows Cora, an escaped enslaved woman, as she boards a train to embark on an agonizing journey towards true freedom. Meanwhile, she is being chased by a notorious slave catcher, who is determined to return her to where he believes she belongs.
This show is considered one of the best shows of the year because of three reasons: Thuso Mbedu (Cora), William Jackson Harper (Royal), and Barry Jenkins. Mbedu in the lead role is truly exceptional. The South African actress deserves accolades and then some for her portrayal as Cora. One of the most moving scenes would appear in the first episode, where she is told that she will be able to see America as it is if only she looks out the window. Throughout the show, we watch the hopefulness that Cora once felt in the face of freedom dwindle as she truly sees America for what it is. America was beautiful and under the perception of Jenkins' lens, its beauty is clear. But with the people who make America what it is, its beauty can be hard to notice under the light of its hate.
Mbedu carries this show on every pore of her back and when she needs a moment, which is rare, Harper picks it up. The entire show is filmed like art, and the lessons the characters learn are as heartbreaking as one would expect. Nevertheless, every heartbreaking moment is worth it, especially when we get to see this Black woman become the hero of her own story.
5

.

Invincible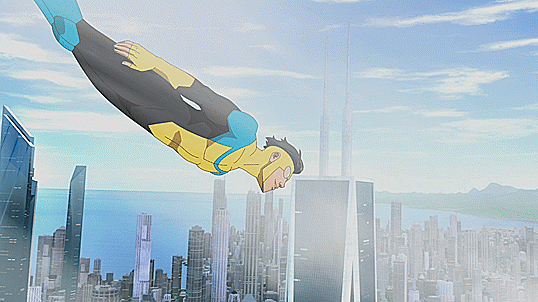 Admittedly, I didn't want to watch Invincible.
Despite watching Shang-Chi and all of his rings, braving The Eternals despite its reviews, and preordering tickets to the recently released Spider-Man: No Way Home film, I grew tired of superhero things. Besides the heroes that I had already committed myself to--remember the WandaVision review from a second ago--I didn't feel the desire to get attached to a new hero. I didn't have the care to see the same story told through another animation. I had seen it all. So much so that I believed I could tell the story myself.
So, when I finally sat down to watch Invincible, I found myself thinking just that. It had followed the same trope that we had all seen before. There is a semi-normal person, Mark Grayson, who wants to follow in his father's footsteps, the hero Omni-Man, but cannot. Why? He doesn't have powers. Although, this does not remain a problem for long. When he obtains his invincible powers, Mark eventually learns what it means to be a superhero from his parents. With his ability, though it will take time, he will save the world. Typical, right? Not so much.
What seemed like a cookie-cutter, fun but expected animation quickly turns into something more dark and drastic than ever expected. Over the course of eight episodes, 40-ish minutes long each, we discover that falling into the typical hero trope might not be such a bad thing. Because when done right, what is expected makes room for the unexpected to shine.
By the final scene, the characters are launched into a new chapter that shows that all heroes are villains in another's story. And that sometimes the ones who save the day are the ones you never believed could. Whether you like animation doesn't matter, you're going to like this.
6

.

Lupin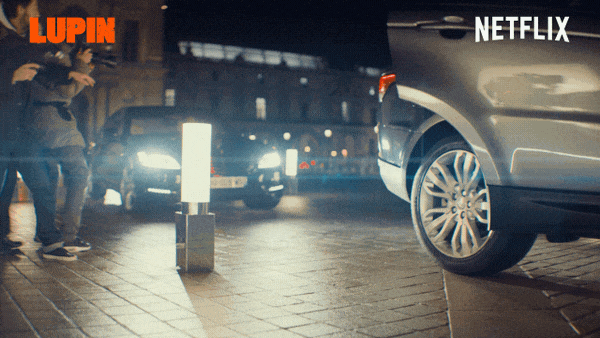 Suit Up French GIF by NETFLIX
Giphy
Like all great shows of this year, Lupin–the little engine that could–came out of nowhere.
A crime, mystery-thriller series, Lupin follows a man, Assane Diop (Omar Sy), who is inspired by the nefarious actions of thief Arsene Lupin. After his father is framed for the theft of an expensive diamond necklace, he hangs himself in prison when his sentencing becomes unbearable. Years later, now an adult, Assane decides to seek vengeance on the true thief, his father's former employer, Hubert Pellegrini, and his family.
Split into two parts–the first coming out in early 2021, the second mid-2021–Lupin leaves the audience constantly on the edge of their seats and always wanting more. Unlike most thrillers, this show leans into being both mysterious and fun. The heist that Diop plans are simultaneously over the top and just enough to make the viewers constantly wonder if and when he will truly be caught.
This show reminds me of the early 2000s TNT show Leverage, a show where heists were done on a regular basis, only to go wrong, just to turn out oh so right. Lupin is very similar in the sense of things going wrong, and somehow, only looking wrong to the audience. Just when you think Diop has nowhere to go, he changes like the wind and adapts to situations in a way that could never be predictable. It's entertaining. It's nail-biting. It's immensely fun.
In addition to this, the show does a great job of making the setting just as much of an important character as Diop himself. Paris gets a chance to shine in a light that is more than just being the "city of lights." Instead of showing the typical tourist sights, the audience is given all of Paris and its beauty. Though, these often picturesque locations are the backdrop to messier, and undesirable situations.
With just ten episodes, Lupin can be watched over the span of a weekend. With subtitles, it should be watched diligently. Regardless of when and how you choose to watch it, it is an entertaining and thrilling experience worth adding to the front of your queue.
7

.

Blindspotting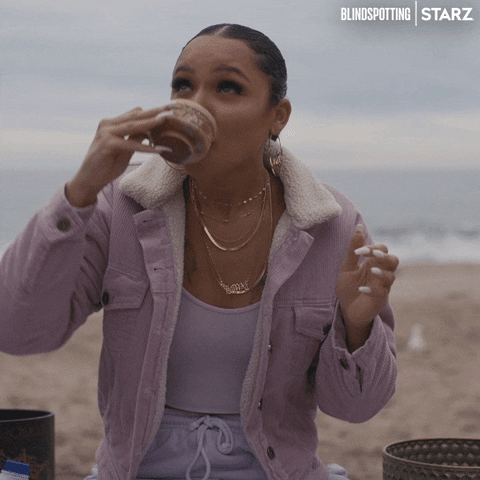 Sipping Tea Time GIF by Blindspotting
Giphy
There is a reason why Jasmine Cephas Jones' award shelf keeps getting more and more crowded. Though, before you shout Hamilton, know that that was six years ago (despite Disney+ release), and not the biggest reason at the moment. Instead, Jones' current awards and accolades come from her stunning performance in Blindspotting.
Based on the 2018 indie film with the same name, Blindspotting follows Jones as she reprises her role of Ashley, a young mother in Oakland who struggles to keep her house in order when her boyfriend of 12 years is arrested for selling drugs. With dreams once in sight, Ashley finds herself trying to rebuild her life when she learns that she will have to leave her newly built home, and bunk with her boyfriend's mother when she discovers that he won't be returning for a while. From this typical family drama ensues, nevertheless, Jones' performance is what truly steals the show.
Similar to Starz's gone-too-soon hit, Vida, Blindspotting does a wonderful job of showing what happens when one is born from a neighborhood but doesn't necessarily belong in the neighborhood. From the very moment she returns, it is clear that Ashley and her son are somewhat welcomed by the people, but that she shouldn't be there in the first place. She does not enjoy the same things those of the block do. She does not value the same things either. This often pits her against her boyfriend and his family's ideals. What they see as an everyday thing, she sees as "fuckery" that isn't worth dealing with.
Not only this, but it is very clear through Jones's performance of the difference between Ashley and those of the neighborhood. She doesn't stick out like a sore thumb, from first sight, it seems as if she truly belongs there. Nevertheless, because she has ambitions outside of the block and outside of the life her boyfriend has given her, it becomes very obvious that she will never be truly satisfied.
The term "blindspotting" defined within the movie by writer and star Daveed Digg's character, Rafael Casal, relates to the limits of one's perception, a dualism that cannot be seen.
While the term in the film was meant to show why the characters might not be able to move past where they are, this term does not completely fit the character of Ashley, which might contribute to her greatest hindrance. Ashley can see the dualism and she is not satisfied with the life that she is constantly forced to see outside of her doors. With drugs, gentrification, and the lack of a steady place to call her own, Ashley takes a completely different approach from the other characters of the show/film.
While they see home, Ashley sees a prison worthy of escaping now that she has outgrown it. Though, escaping it might be easier said than done.
8

.

Squid Games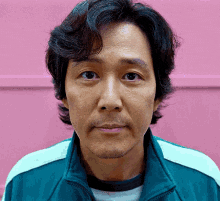 Round 6 Game GIF
Giphy
This wouldn't be a "best TV shows of 2021" list if Squid Games was not on it. As stated before, the best shows this year came out of nowhere, and man did this come out of nowhere. As ruthless as it is intriguing, Squid Games was such a hit, mainly because it did what no other show was willing to do: it held a mirror to the world as it is.
Yes, one could argue that The Underground Railroad did this, reflecting America's biggest sin on the screens. Nevertheless, that sin is only limited to America pertaining to its longevity of enslavement and ruthlessness. Squid Games, although a South Korean show, shows how truly terrible we are as an overall global society. These errors aren't rooted in the past, instead, it is formed and cultivated right in the depressing and at times hopeless present.
Often compared to the likes of Hunger Games, Squid Games finds itself to be just a little more gruesome. Even though the Hunger Games has more ruthless arenas and children killing each other, Squid Games is just a little worse, mainly because its cruelty is presented through our childhood games. Meaning, the games aren't difficult to complete, what makes it truly difficult and Hunger Games-esque, is how willing everyone is to kill one another to seek their economic goal. Which only reflects how awful our current world is because if given the chance to relieve myself of debt, and this game had been an option, I would honestly consider completing it.
Squid Games shows what is truly wrong with our current world, and it also shows how easily this wrong could be rectified, if only our leaders would spend more time helping their people, rather than pitting them against one another. Like other Netflix originals, Squid Games is dubbed, but to truly understand and feel the cruelty of the show, go the extra mile and enjoy it with captions.
9

.

Reservation Dogs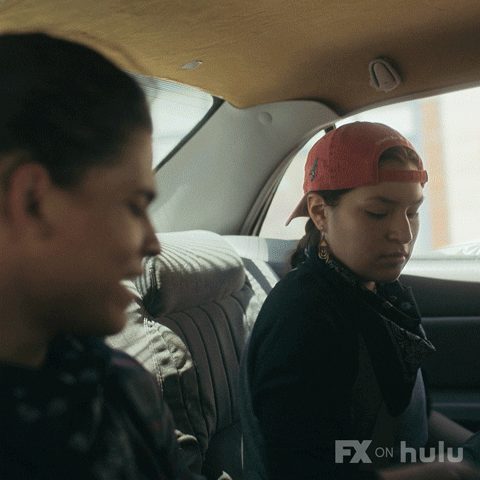 Native American Indian GIF by Reservation Dogs
Giphy
Hear ye, yes, hear me: Any show or story about a person of color I am watching. I repeat, any damn story that is told about a person of color, by a person of color, I am watching.
If it just so happens to be good, I am watching and I am staying. Reservation Dogs, FX's newest comedy show, is a show about people of color, made by people of color, that is definitely worth staying for.
Reservation Dogs focuses on four Native American teenagers who commit insouciant crimes to fund their mutual dream of moving to California. Until they can raise enough money, they spend most of their time with limited opportunities while hindered by the loss of their close friend Daniel, whose death they blame on the circumstances of their community. Due to this, drama ensues, which at times can be heartbreakingly dramatic, but for the most part, it is presented with hilarity that has never been associated with Native American people on-screen.
This show is why representation truly matters. With its four teenage characters, Elora, Bear, Cheese, and Willie, Reservation Dogs tells a delightfully intriguing story of people who are just trying to live. That's it. Yet, it is fantastic in its depth and actual representation of who Native American people are today, which is a perfect blend of their old and modern cultures. In some episodes, the air time is shared between all four characters and we get to understand why they want to leave as a collected group. In other episodes, the time is divided and we are given reasons why each character has a reason to leave.
These reasons make us wish the characters could go and start that life they so desperately want in California, and after watching their daily nonsense we root for their petty crimes to succeed. Although knowing how California is, and knowing how the world cares not for the many, a part of me wishes for them to stay within their community. Though, I know California could be better for them, there is still that chance that it won't be, and it would be a shame for such likable characters to be let down once more.
Reservation Dogs is a show that everyone must see. Not because the story being told is groundbreaking, but because the people who get to tell their story are. It is rare to see a show that follows a particular culture and group despite it being 2021, and it is even more rare to see it be Native American people who have somehow been erased from their own history.
Watching Reservation Dogs will make you cry, it will make you laugh, and most importantly it will make you say, "it is about damn time."
10

.

Harlem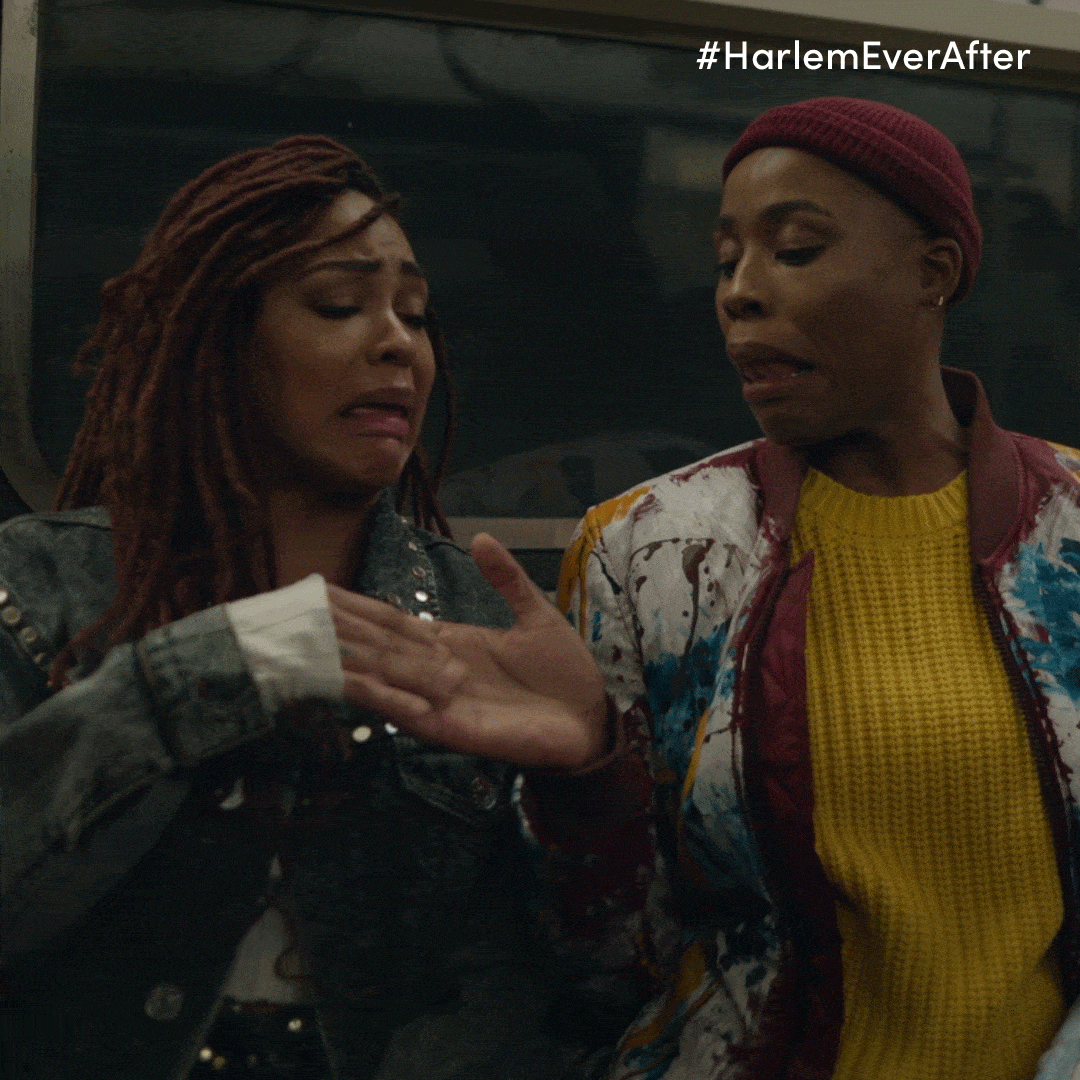 Meagan Good Kidding GIF by Harlem
Giphy
Prime has done it, again. Sneaking in with just a minute to spare--it premiered on December 3, 2021--Harlemis another top show worthy of watching this year. Following four girlfriends as they navigate their personal lives and careers, Harlem is what occurs when Girlfriends meets Insecure and Living Single. Created by Girls Trip writer Tracy Oliver, Harlem is grounded in its friendships and the hilarity that occurs when life gets as ridiculous as it does get complicated.
During the first few episodes, we are introduced to Harlem through the perspective of Camille (Meagan Good) a newly single (if you can call a year new) anthropology professor. When she attempts to jump back into the dating world, her friends are introduced to help her maneuver through the world of dating apps and disappointment. Despite being introduced to this world through Camille, the audience continues to travel through Harlem with the (mis)guidance of Quinn, Tye, and Angie, too. Like Camille, they must deal with messy love lives, not-so-wise decision-making, and the burden of just trying to "human" right. Nevertheless, the beauty of this show is that they manage to deal with all of this together.
The issues they find themselves in are often avoidable, but honestly, most situations we all find ourselves in are just that. Regardless, what makes Harlem entertaining is how they manage to get themselves out of a situation they knew from the beginning was never meant for them. At times, this behavior can be seen as messy and pointlessly so. Other times, it just seems entertaining and as if they are making decisions because they know it could be a great story to tell in the future.
No matter what it is, Harlem shows the power Black-female friendships can create, but in a typical Tracey Oliver fashion, it also shows what can happen when people are just allowed to live proudly and unapologetically the way they choose.
Honorable Mentions:We Are Lady Parts, Girl5Eva, Hacks, Mare of Easttown, The Great, Midnight Mass, and Only Murders in the Building.
Featured image by Getty Images
After the exhausting start of the decade that was last year, 2021 revealed itself to be yet another trying year for our patience with everyone and the audacity they held. Though, instead of wallowing in the uncertainty created by all of the unexpected, like we did last year, this year we were given a soundtrack that challenged how we'd interpret our world.
Last year, the best songs were the ones that distracted us from the tragedy outside. This year, the best songs came from artist who embraced themselves and found peace with the tragedies within. These artist gave us songs that taught us how to love the world we are in, but most importantly, they gave us songs that taught us how to love ourselves within this world.
Below, check out the list of artists that made this year memorable, and brought a wondrous soundtrack to the chaotic second year of what's sure to be an inevitably chaotic decade.
1

.

Megan Thee Stallion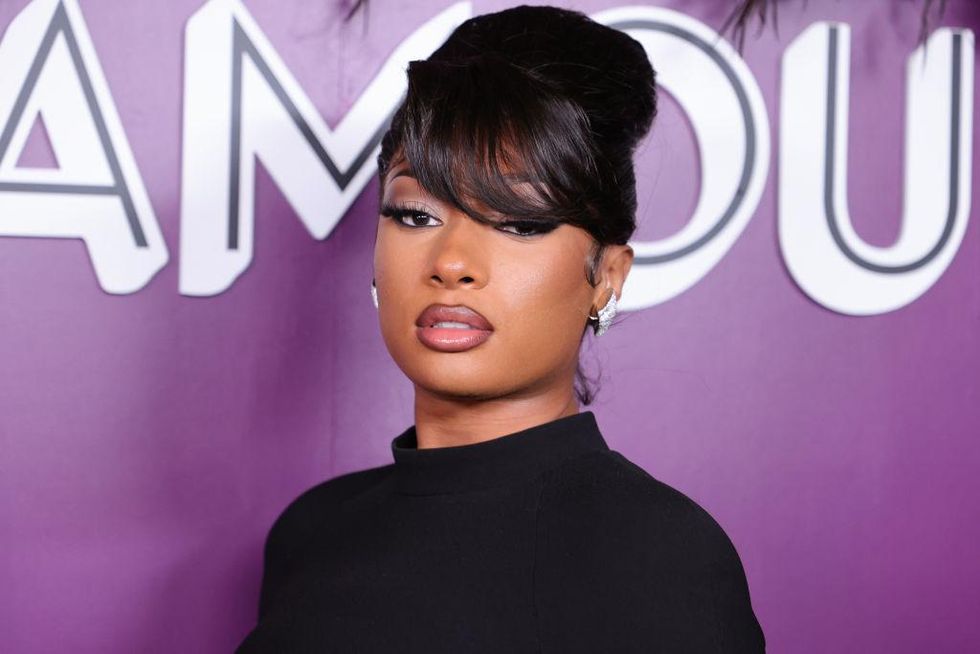 Megan Thee Stallion
Theo Wargo/Getty Images
There are some people that you don't have to meet to know that they are good people and should, at all times, be rooted for. For example, Barack and Michelle Obama. I don't need to know them to know that they are probably the nicest people in the world. Don't get me wrong. I know that they aren't perfect, but so do they, and that only makes them that much more desirable to root for. Amongst them, I would count Megan Thee Stallion. Yes, I know she is not in the exact same category as the Obamas. She is not a huge activist or civil worker as they are, but her genuineness and her ambition place her among their ranks.
Whether it's Megan judging ballroom on HBO Max's Legendary, her three Grammy wins, her promotion of "The Hottie Sauce" for her partnership with Popeyes, her collaborations with Ariana Grande, BTS, Maroon 5, Lil Nas X, her Sports Illustrated cover, her Met Gala appearance, or even graduating college with a degree in health administration, Megan Thee Stallion has made this year her own. And don't we love to see it!
Unlike the other artists on this list, Megan Thee Stallion has managed to succeed in every aspect of her life this year. While being in school, she managed to bring her music and artistry to other artists and to her own stage. Her performances have been entertaining, her features have been awe-inspiring, and her relentless body positivity has been a mirror for all Black women to unapologetically love themselves.
She has been a great artist, but most importantly, she has been a great reflection of how someone can succeed despite all of the odds stacked against them.
2

.

Silk Sonic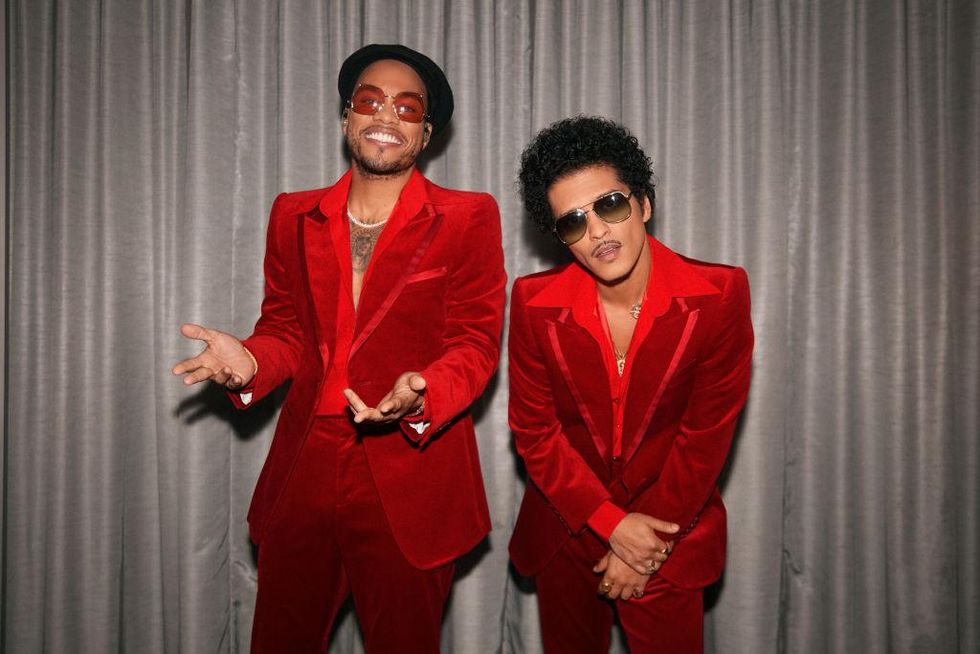 Silk Sonic
John Esparza via Getty Images
Before the announcement of their collaboration, the idea of Anderson .Paak and Bruno Mars teaming up was ludicrous to me. Like a shot out of nowhere, I remember finding myself thinking, What a strange occurrence. Don't get me wrong, I had known them to have toured together before, but I never imagined them making an album together. My greatest bewilderment of the pairing had been everyone else's selling point: Bruno Mars. My mind just could never wrap its head around Bruno Mars truly being an R&B singer. (In hindsight, I attribute this to my once insistent belief--which I know now to be wishful thinking-- that Bruno Mars' singing funk and R&B was just a phase.) Nevertheless, my concerns were quickly assuaged from the moment the duo released "Leave the Door Open" under the name Silk Sonic.
Recreating R&B of the 60s and 70s, Silk Sonic easily reminded audiences of the once bold, vibrant, and adorned music of our past.
From "Leave the Door Open" to "Smoking Out the Window," Silk Sonic has made "come through" messages, insistent flirting, and unforeseeable heartbreak soulful, passionate, and, at times, downright silly. Their music is as smooth as it is nostalgically fun. Even listening toAn Evening With Silk Sonic album felt like a Friday after a long week, with a warm, inviting fire and cold beer. The album isn't perfect, but its playfulness and fervent delivery are worth a listen. With "Leave the Door Open" still on repeat on the radio (and in my car) twenty times a day nine months later, there is no doubt that Silk Sonic remains powerful artists of this year.
3

.

Doja Cat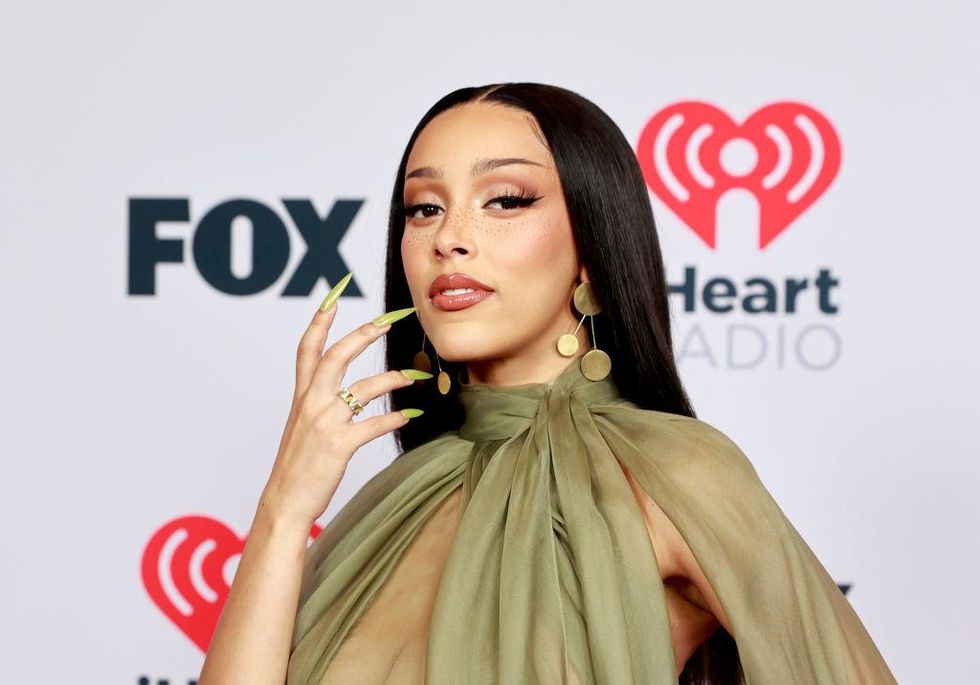 Doja Cat
Emma McIntyre/Getty Images for iHeartMedia
I am by no means a Doja Cat fan. Between her endless antics--her use of anti-gay slurs, her mockery of COVID (just to get it months later), alleged association with white supremacists--and constant evasion of cancellation, I find it hard to root for her. With this in mind, I reluctantly listened to Doja Cat's Planet Her album after not being able to escape one damn single from the radio. After listening, I find myself coming to a stunning realization: Planet Her is a damn good album, and the marketing behind its promotion was exceptional.
With a star-studded collaboration set, Planet Her is an infectious pop album that is quirky, insouciant, and quippy. While remaining pop, Doja Cat cleverly takes on melodies and beats of other genres, incorporating musical elements such as afrobeat, reggaeton, pop-rap, funk, trap, amongst others, to tell a compelling story. Which, in turn, makes songs that would have been typical and redundant into something new, worth enjoying. The album comes across as strong due to its intentionality. Nevertheless, this intentionality does not seem forced, or contrived, but instead cleverly crafted.
Some songs embrace womanhood and feminine diversity, such as "Woman," other songs explore the anxiety that one receives from the idea of intimacy, "Naked." Some aren't as thought-provoking and are made to only seduce or show one's desire to be seduced ("Need to Know" and "You Right").
Though there is no chance that Doja Cat will be seeing me at a concert any time soon nor paying any amount of money towards her empire, I must admit, with this album it is understandable why she is considered one of this year's guilty pleasure artists.
4

.

Lil Nas X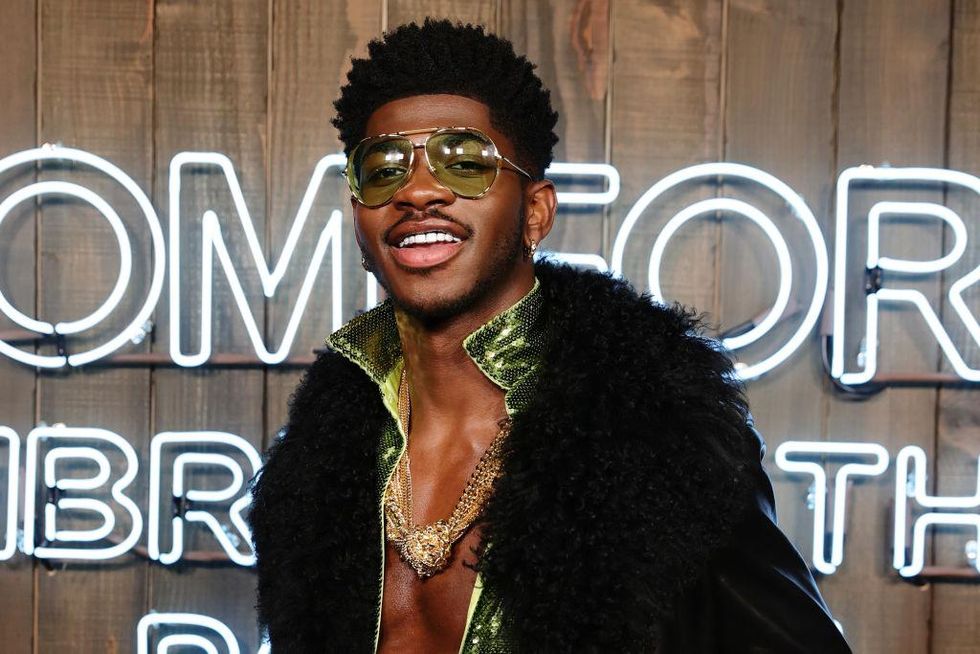 Lil Nas X
Rich Fury/Getty Images
Truth be told, I thought "Old Town Road" would be the first and last time we'd ever see Lil Nas X. Damn, I have never been happier to have been so wrong. At this point, I am elated that the world has not turned its backs on this beautifully, proudly open Black queer man. I am happy that the public is allowing his music to speak for itself and that Lil Nas X does not have to hide in a shadow of shame like so many queer Black men are forced to do in the music industry.
Every single released this year from Lil Nas showed that he has always been more than just some cheap gimmick, but an artist and businessman worth respecting. The visuals of his videos have been staggeringly artistic. His debut album Montero played with different genres and sounds, while the artist remained completely and unapologetically himself.
The album also reveals the loneliness that comes when one is a lone force to be reckoned with. It is catchy, yes, it is entertaining, but underneath all of the drums, the pop hooks, and melodious tunes, it is clear that happiness is a journey for the young artist. He is happy being himself, but with the price of that happiness, he seems to be sacrificing it everywhere else. Nevertheless, this year has been Lil Nas X's for the taking.
5

.

H.E.R.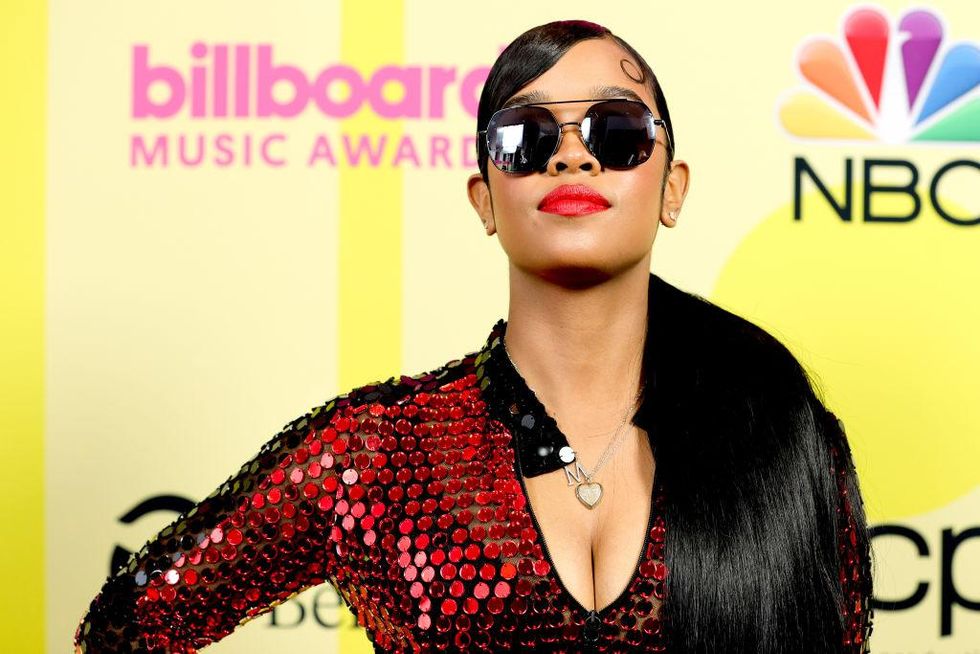 H.E.R.
Rich Fury/Getty Images for dcp
Despite only being around for five years, it feels like there has never been a time without H.E.R. and her music. With her EP H.E.R. Volume 1 and compilation albums H.E.R. and I Used to Know Her, the artist made a name for herself amongst the public and the music industry. As if overnight, H.E.R. songs became known for their soulful flare, beautifully elegant arrangements, and powerful messages.
In 2021, she won a Grammy for Song of Year for the single "I Can't Breathe," a song about the anger, frustration, and pain of witnessing the death of another black innocent man, George Floyd. That same night, she won another for her moving ballad "Fight for You." Later this year, she followed up her wins with her first full-length album Back of My Mind. This album received acclaim for its maturity, ballads, and messages on success. Heavily leaning towards ballads, Back of My Mind is an R&B album that showcases H.E.R.'s vocal talents, but most importantly her songwriting skills.
By placing a contemporary spin onto the R&B genre, H.E.R. released an album that is as soulful as it is political, romantic, and unremorsefully honest.
6

.

Jazmine Sullivan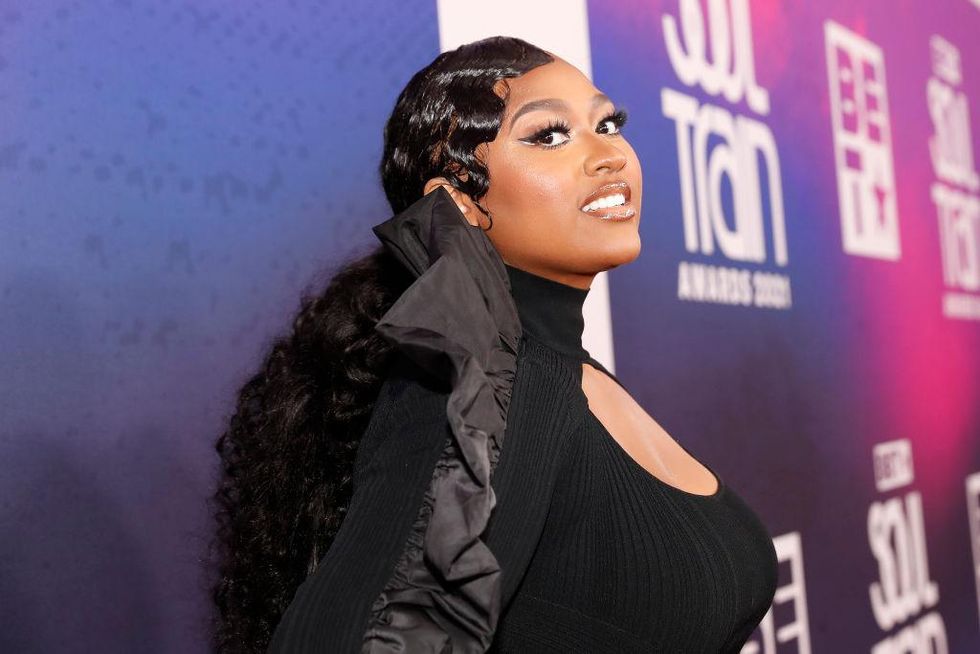 Jazmine Sullivan
Johnny Nunez/Getty Images for BET
It has always been my biggest grievance (and if you've read any of my other music reviews you'd see that I have not hidden it well) that the world does not give Jazmine Sullivan the recognition she has always been due. Despite being an artist since 2003, and known to many, she always seemed to be a best-kept secret in the industry. There were moments when she would go mainstream ("Bust the Windows Out Your Car" is what mainly comes to mind), but those moments were few and rare in between.
Luckily, this year, the world showed Jazmine Sullivan that it is better to show up late to the party than to never come at all. And instead of turning her back to those who are finally looking, Jazmine Sullivan has made it her mission to step out and give us a show.
With the exceptional, empowering EP Heaux Tales, Jazmine Sullivan discusses the themes of feminism, sexuality, classism, body-shaming and positivity, and other moving topics with interludes in between. The EP is art and her live renditions of the album's songs, especially "Pick Up Your Feelings," only highlight the show-stopping talent that Sullivan has always been.
During her well-deserved SoulTrain Award for Album of the Year acceptance speech, Jazmine Sullivan mentioned being "uncomfortable being seen," and that after some time, she made a "promise to [herself] to not hide anymore." And thank goodness for that because the music scene and the Black community are much better for such deserving representation.
7

.

The Weeknd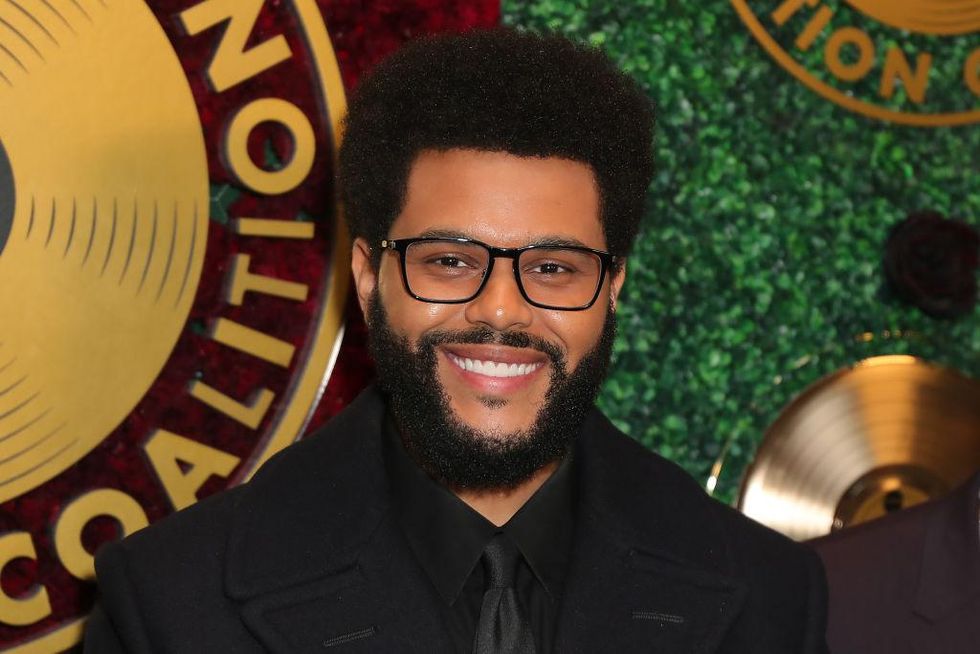 The Weeknd
Leon Bennett/WireImage
After his big showdown with the Recording Academy and lackluster halftime show at the Superbowl earlier this year, one expected The Weeknd to take some time off and focus on his artistry away from the public eye. However, this was not the case. Instead, every month, we found The Weeknd releasing something new. Whether it was a single that could, "Blinding Lights" dethroning "The Twist" for the all-time No. 1 Billboard single, or another collaboration with a fellow pop artist, Doja Cat or Post Malone, The Weekend managed to stay in the spotlight all of 2021. So much so, Apple Music named him the "Global Artist of the Year."
No longer known as the pop-synth guy, The Weeknd revealed himself as a true artist with his creation of After Hours. His ability to receive Grammy nominations, despite his boycott, shows just how truly an amazing artist the Weeknd is.
8

.

SZA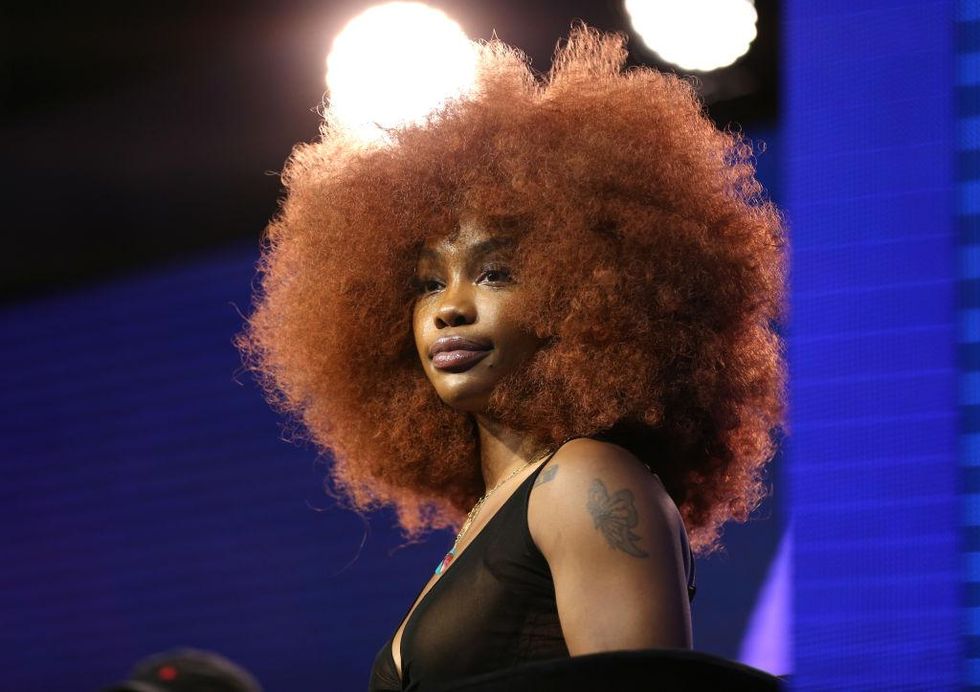 SZA
Phillip Faraone/Getty Images for REVOLT
SZA has been everywhere and, strangely, nowhere at all this year. Here, let me explain. With SZA's December release of "Good Days," it was inevitable that the single would climb the charts in the new year. After the release, SZA recorded live sessions from her home singing the single amongst others. In March, she released a video for "Good Days" and a month later "Kiss Me More," by Doja Cat featured the alt-R&B singer.
In later months, she would continue to release live performances, a mini fall tour, a single for Dear Evan Hansen's terribly acclaimed film, Summer Walker's "No Love," and another single titled "I Hate U." So, it's clear that SZA has been everywhere. Yet, in between all of these releases, she had managed to disappear from the limelight, for weeks to months at a time. So much so, that you would often have to go to her Twitter or Instagram profile to see what was going on with the singer.
Small clips of potential videos would be released, but when it came to the video--I'm looking at you, "Shirt"--and other projects, it all just felt like a tease. We know the work is out there, we can even see it. We just can't quite touch it. Still, I believe this "tease" is what has made SZA one of the artists of the year. She was never too much, always just enough.
She would release songs when the time was right and when it wasn't she would be off doing whatever she wanted while we shouted for another album. And honestly, despite desperately wanting that album, I find myself eager to wait because this year alone says it will be worth it. There are glimpses of her continuous indecisive behavior in her singles, that reflect the acclaimed CTRL. However, it is clear that the SZA that stands before us is one that is a little more whole than the one four years ago.
As if she's playing chess, SZA's ability to be in within and far out of one's reach this year, made it easily hers for the taking.
9

.

Tyler, the Creator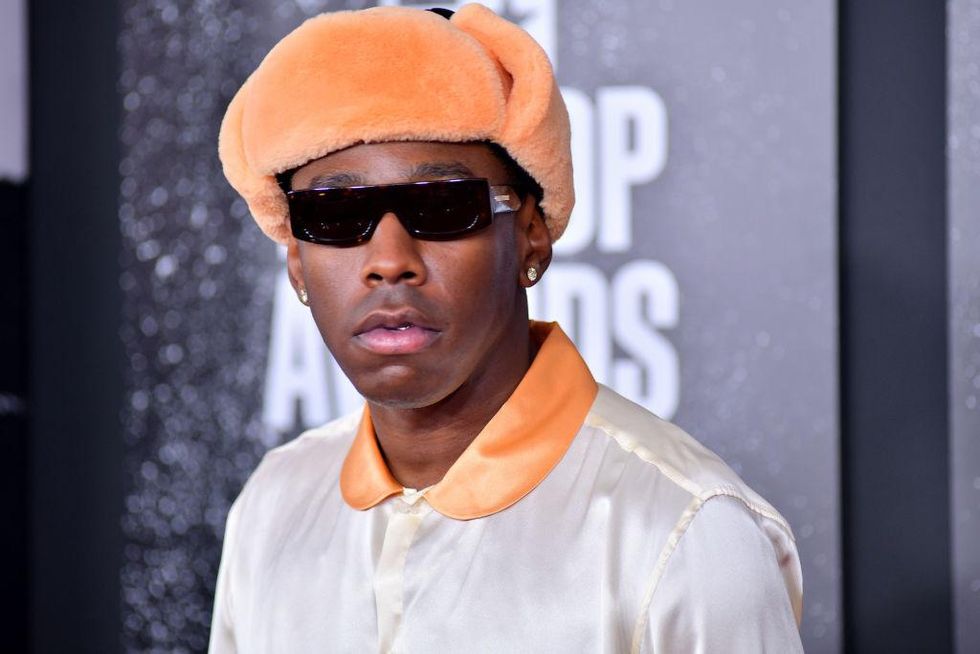 Tyler, the Creator
Derek White/WireImage
Who would have thought that the teenager eating cockroaches and singing about killing other artists to a demon in his head would, or even could, come so far?
Now, over the last ten years, Tyler, the Creator has released six albums, each one better than the formidable one before. Especially the newest release, Call Me If You Get Lost, which is the most cohesive and artistic album to date. Talking about the blessing and curse of growing up in the public eye, Call Me If You Get Lost takes us into the world of Tyler, the Creator under the guidance of DJ Drama. In this album, he confronts his success and the rollercoaster it has created. Tyler talks about love and its haunting. He talks about becoming wealthier and wiser, but in the end, the album seems a little more broken than before, but not unsalvageable.
The album is masterful, and in addition to his features this year, Tyler, the Creator himself is the same. He shows what beauty can be created when a person is given time to grow, instead of immediately calling for one's cancellation. He is more refined here, more mature, but he is still himself as audacious as ever.
Now, it's just a little more purposeful and controlled.
10

.

Cardi B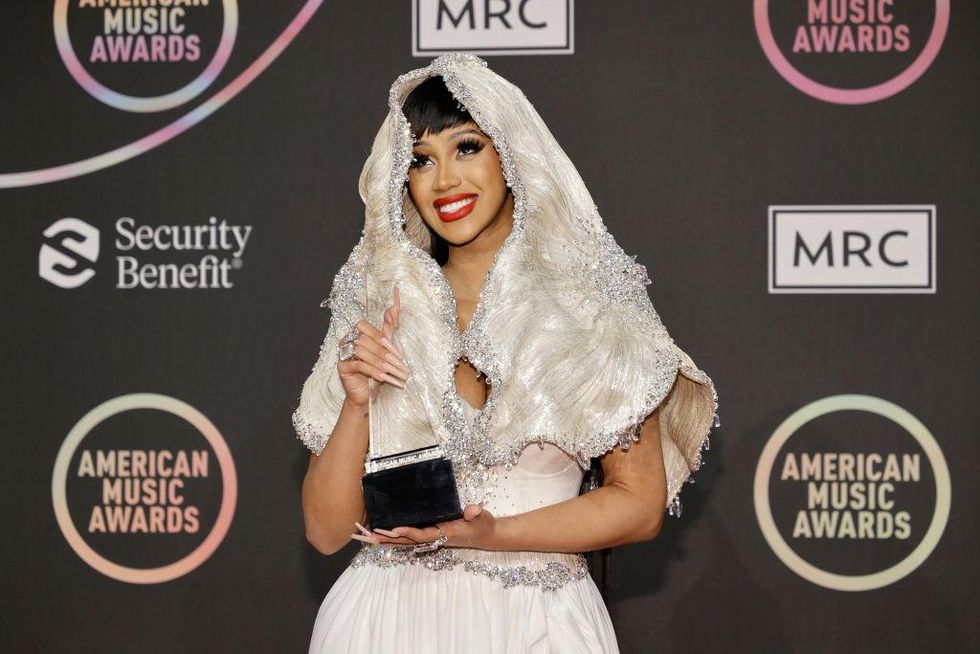 Cardi B
Amy Sussman/Getty Images
Cardi B hosted the American Music Awards. She recently earned her third diamond single certification with the song, "I Like It." She starred in Normani's heavily praised "Wild Side" video while pregnant. She set February on fire with "UP" single, video, and TikToks. She collaborated with Lizzo, gave inspiration to Summer Walker, and became one of the most lucrative female rappers in 2021.
Cardi took the year for her own in the early part of the year, had a baby, took a two-month break, and came back to dominate the fall.
Just like H.E.R. and Meg Thee Stallion, Cardi B made her career off being 100% authentic and cultivated her career in knowing just when to be so. She could have released a full-length album this year, and in the spirit of rappers, it is honestly surprising that Cardi hasn't released more albums between now and her first. Instead, this year we found Cardi stepping into the role of product promoter, host, collaborator, and businesswoman.
Due to her ability to put on multiple hats--and wear them nicely--Cardi has shown all audiences and fans alike why she will always be "up" and "stuck."
Featured image by Arturo Holmes/Getty Images for Whipshots
Someone once told me that being happy was a choice. Like the English aphorism, "fake it until you make it" the idea of obtaining happiness can be as simple as imitating an optimistic mindset and achieving what you seek. Though this idea has been proven true and beneficial in many situations, it is not the solution for everything and rarely works 100 percent of the time. In fact, sometimes, the only way to be truly be happy, is to first embrace the sadness. Sometimes, giving yourself the permission to fall apart, break down, and cry it out, is all one needs to truly find happiness.
So, to assist you on your quest to contentment and relentless joy, I present to you 20 movies (and limited series) on Netflix that will give you the cathartic release you need. Whether you're looking for a happy cry, angry cry, or sad cry, xoNecole's got you covered with films guaranteed to open the floodgates.
Fatherhood (2021)
Based off the 2011 memoir, Two Kisses for Maddy: A Memoir of Loss and Love by Matthew Logelin, comes Netflix original film, Fatherhood. Fatherhood tells the story of Matthew Logelin (Kevin Hart), a new father, who struggles raising his daughter, Maddy, after the sudden death of his wife. In the comedy-drama film, watch as Logelin deals with "doubts, fears, and heartache" as he learns to navigate life and fatherhood after his devastating loss. In addition to Hart, the film stars DeWanda Wise, Alfre Woodard, Deborah Ayorinde, Melody Hurd and Anthony Carrigan.
Loving (2016)
In another biographical piece comes the story of the Lovings. Loving follows interracial couple, Mildred and Richard Loving, as they navigate being in love during the Jim Crow Era. Shortly after marrying in 1958, the Lovings are arrested for the crimes of living as husband and wife. In hopes to avoid jail, the Lovings agree to leave the state of Virginia never to return, again. Nevertheless, after growing tired of living in isolation, the Lovings return to the Virginia to challenge the anti-miscegenation laws, laws that reinforce racial segregation by prohibiting interracial marriage, in the Supreme Court and across the nation. The film stars Joel Edgerton and Ruth Negga.
Get on Up (2014)
Starring the late Chadwick Boseman is 2014 biographical drama, Get on Up. Based on the life of singer James Brown, the film nonlinearly tells of Brown's journey from a childhood riddled with poverty and abandonment, to an adulthood of fame and stardom. Though, the film has comedic moments from time to time—the opening scene comes to mind—the heart of the film comes from moments of reflection, where Brown considers what has been sacrificed for the sake of his dream. Also starring Viola Davis, Octavia Spencer, Nelsan Ellise, Craig Robinson and Dan Akroyd, this is a film that will have you seeing legendary musician James Brown in another light.
When They See Us (2019)
When They See Us is a limited series by award-winning and critically acclaimed director Ava DuVernay, which focuses on a group a teenage boys, coined "The Central Park Five." After a brutal attack on a white woman in Central Park, five teens from Harlem become the targets of a racially influenced allegations when they are falsely accused of rape and violent assault. A biographical story, When They See Us shows the lives of Kevin Richardson, Raymond Santana, Antron McCray, Yusef Salaam, and Korey Wise as they face the racial profiling, discrimination, and inequality of the American justice system and media while on a heavily publicized trial.
13th (2016)
Exploring the "intersection of race, justice, and mass incarceration in the United States," is the 2016 documentary film, 13th. Reframing American History, director Ava DuVernay explores how the 13th Amendment, infamously known for freeing those enslaved, led to an epidemic of mass incarceration in the United States. In the 13th amendment, lawmakers created a loophole, which proclaims a form of slavery is acceptable in the legal form of criminal punishment.
Due to this loophole, America's prisoners make up 25 percent of the world's prisoners, despite the American population making up for five percent of the world population. In this heart-wrenching documentary, watch how DuVernay and experts, explore the shortcomings of America's justice system and politicians, while demanding the acknowledgement of racial injustice and the influence of racism in our criminal and legal systems.
American Son (2019)
When their son goes missing, an estranged couple reunite at a police station in hopes to find an answer. Based on the 2018-2019 Broadway play of the same name, American Son, discusses the social issues of discrimination and racial inequality in the legal system. Starring Kerry Washington, Steven Pasquale, Jeremy Jordan, and Eugene Lee, American Son shows the devastation and helplessness one faces when the system one should trust remains untrustworthy.
I Am Not Your Negro (2016)
Inspired by Remember This House, an unfinished manuscript that consists of a collection of letters and notes written by James Baldwin in the 1970s, I Am Not Your Negro explores the fate of a nation Baldwin believes is intertwined with that of a Black man. In James Baldwin's critique of American society, he states, "I can't be a pessimist, because I'm alive...so I'm forced to be an optimist. I am forced to believe we can survive, and we must survive. But the future of the Negro in this country, is precisely as bright or as dark as the future of the country. It is entirely up to the American people..."
Divided into four chapters, the social documentary focuses on the school integration era of the Civil Rights Movement, the depiction of the White gaze in film and its impact on society, social racial division, and the continuous exploitation of Blacks in America.
I Called Him Morgan (2016)
I Called Him Morgan is a documentary on the life and death of jazz trumpeter Lee Morgan. Created over the course of seven years, the documentary is told as Helen Morgan recounts the couple's life and Morgan's triumphant legacy, decades after she has been imprisoned for his murder. This enticing documentary beautifully, captivatingly, and unapologetically tells a story of what happens when an exasperated, possessive lover, an adulterous recovered musician, and a record breaking blizzard collide.
Miss Virginia (2019)
There is no doubt that systematic inequality creates barriers to jobs, healthcare, and education within the Black community. In Miss Virginia, the challenges facing Black America are brought to light when a struggling mother sacrifices everything to ensure her son is given a good education. Based on true a story, Virginia Walden places her son into a private school, as a last resort to losing him against drugs and violence of the street. When tuition proves unreasonable, she creates a movement to change the system that is destroying him and other minorities alike. In an impassioned performance, Emmy Winner Uzo Aduba is Virginia Walden Ford, a single mother who fought for the creation of a scholarship program for at-risk students and won.
Becoming (2020)
"Unplugged for the first time" is Michelle Obama in the 2020 documentary Becoming. Focusing on the former First Lady, Becoming is based on the bestselling and acclaimed memoir of the same name. The documentary highlights footage of Michelle Obama as she travels and works during her time as First Lady. Nevertheless, the film also chooses to focus on Michelle Obama's accomplishments before joining the White House. Returning to her children in South Side of Chicago, the documentary travels through Obama's days in school, her old law firm, early stages of marriage, parenthood, and even marriage counseling.
In this 90-minute film, Michelle Obama invites the audience to explore—with supervision—her accomplishment and life outside of her husband's legacy. After all "so little of who [she is] happened in those eight years, so much of who [she was] happened before."
Monster (2018)
"What do you see when you look at me? Boy? Artist? Outsider? Should one moment define my life?"
From 1999 book of the same name by Walter Dean Myers, Monster tells about the injustices young, Black men face at the hands of the court and legal system. Once an aspiring artist, Steve Harmon, a 17-year-old, and three others are labelled "monsters" as they stand trial for murder. Arguing to have only been involved in a robbery and not a murder, Harmon must convince the jury that he made the mistake of being look out, while discrediting the claims that he pulled the trigger.
Two Distant Strangers (2020)
It is fascinating, yet terrifying to think that you're most celebrated day, could also be your worst. In this Academy Award-winning live action short film, Two Distant Strangers meet and launch an examination of Black American deaths at the hands of the police. Carter experiences his best day and worst nightmare when he finds himself stuck in a Groundhog Day time loop. In a loop that inevitably ends in death, Carter tries to get home to his dog, after he is repeatedly confronted and harassed by white Officer Merk. In this clever, yet enraging short film, cast Joey Bada$$, Andrew Howard, and Zaria Simone, show the frustrations and helpless Black Americans feel while merely existing in America.
Giving Voice (2020)
From executive producers Viola Davis and John Legend, Giving Voice follows the annual August Wilson Monologue competition, and the high school participants who compete for the opportunity to perform on Broadway. Well-known for creating stories that were "epic in scope, tragic in circumstance, and yet still somehow hopeful," August Wilson leaves behind the legacy of "giving voice" to the voiceless Black community. Now, in hopes of honoring his legacy, young students and actors work alongside coaches and teachers as they speak up and out about their love for theatrical performances and Wilson's life-changing work.
Middle of Nowhere (2012)
Nine years ago, Ava DuVernay released her first acclaimed written and directed film, Middle of Nowhere. Winner of Best Director Award for 2021 Sundance Film Festival, Middle of Nowhere tells the story of nurse, and aspiring doctor, Ruby who devotes her time to visiting her imprisoned husband Derek. When she discovers the legitimacy of her husband imprisonment and deception, Ruby must decide whether to stay in the familiarity of living in the "middle of nowhere" or embrace the uncertainty of navigating the world alone.
In Our Mother's Garden (2021)
"Black women often aren't exposed to the idea that healing is possible."
In her debut film, In Our Mother's Gardens, Shantrelle P. Lewis creates a space for Black women and the lineages who helped shaped them. Celebrating the determination and resiliency of Black women and families, Lewis explores the idea of self-healing, self-importance, and self-care while analyzing the relationship between Black mothers and daughters. Throughout the film, various Black women account impactful stories that show feminist love and familial love, within the African-American community. Often explaining the central issues Black women face today, In Our Mother's Garden inspects the issues Black women face with imposter syndrome, ingrained indoctrinated servitude replacing self-care, and the generational trauma of racism and sexism.
Da 5 Bloods (2020)
For decades, the idea of joining the military has been sold to the American people as one's patriotic duty. From the World War to the Afghan War, the idea of joining the forces has been encouraged amongst all communities alike. Though, within the Black community, joining the armed forces is viewed with more trepidation than patriotism. This is mainly due to the Vietnam War where African-Americans risked their lives for a country—which at the time—openly showed they wouldn't do the same. In Spike Lee's Da 5 Bloods, he explores the imbalanced relationship between Black veterans and the country they fought for. Returning to Vietnam 50 years later, four Black vets attempt to find the body of their fallen brother and the gold they've buried as repayment for fighting "an immoral war."
Come Sunday (2018)
Based on the excommunication of Christian minister Carlton Pearson, is the drama Come Sunday. After the death of a relative, Reverend Pearson (Chiwetel Ejiofor) experiences a moment of introspection which causes him to question his faith. Unable to accept the idea that suffering people who haven't been saved will be damned to Hell, he concludes, that there isn't a Hell at all. After announcing this conclusion within his sermon, his trouble begins when his congregation demands his removal.
Let It Fall: Los Angeles 1982-1992
After the publicized death of George Floyd, the chairman of Black Lives Matter of Greater New York, Hawk Newsome, told an interviewer, "If this country doesn't give us what we want, then we will burn down this system and replace it." This warning came after years of civil protest, demands for change, and government inaction. As if history demands to repeat itself, this same cry for justice can be heard from decades before in the cities of Atlanta and, more recently, Los Angeles. In an in-depth examination of a clamorous time in the city of Los Angeles, Let It Fall: Los Angeles 1982-1992, details a decade of tension that leads to the culmination of citywide violence in 1992. After years of oppressive police aggression, failed justice for Black lives, and continuous neglect from government officials, citizens of Los Angeles show what happens to a city when its people decide to let it fall.
Whose Streets? (2017)
"We're trying to mourn, and you came here with 300 cop cars and riot gear and canine units. This is the same thing that pretty much got us here."
Whose Streets? is a documentary about the killing of Michael Brown and the Ferguson uprising of 2014. Told by activists and leaders, instead of news reporters and government officials, Whose Streets? follows the lives of the men and women who live and breathe the Black Lives Matter Movement. This documentary doesn't only focus on unrest ignited by Brown's killing and verdict, but it also focuses on understanding the people lived it. With a lens that seeks to understand the community, Whose Streets? focuses on the trauma and confusion created by those in Ferguson, Missouri when they officials have given them nowhere to turn. Directed by Sabaah Folayan and Damon Davis, Whose Streets? is a film definitely worth watching.
Ma Rainey's Black Bottom (2020)
Ma Rainey's Black Bottom is a biographical musical drama based on August Wilson's 1982 play of the same name. The story follows influential blues singer, Ma Rainey (Viola Davis), who has been recently contracted, by white producers, to record a record. During her recording session, she collides with an overconfident and overly ambitious trumpeter, Levee Green (Chadwick Boseman) who hopes to gain his own record deal, and the producers who only seem to be "interested in [her] voice." Played stunningly by Viola Davis and the late Chadwick Boseman, Ma Rainey's Black Bottom is a "celebration of three real-life Black artists and legends."
Honorable Mentions:
Fruitvale Station (2013)
Les Miserables (2012)
Tangerine (2015)
The Boy Who Harnessed the Wind (2019)
See You Yesterday (2019)
Irreplaceable You (2018)
I Will Follow (2010)
Little Boxes (2016)
Roxanne, Roxanne (2017)
Rodney King (2017)
Featured image by Getty Images
In the summer where couples are breaking up left to right, the idea of keeping one's relationship seems implausible. With the endless bickering, never being on the same page, and constant dissatisfaction, it is only natural for couples to want to call it quits. Though, just because it's natural, doesn't mean it's necessary. Sometimes the best thing for a rocky relationship is to take a step back and decide what you want and need. This could be something as simple as acquiring your partner's attention ("Focus"), space and time to return to yourself ("Distance"), or just a time out from yet another fight ("Don't Wanna Fight").
Regardless of what it is, it is important to attempt to fix one's relationship before throwing the whole thing away. In a time where things are so easily picked up and thrown back down, fighting for your relationship, no matter how frustrating, might just be your solution. At the end of the day, if it doesn't work out, you'll know you at least gave it your all. With break-up songs leading in the summer hits, turn off the radio, and put these hits about fixing your relationship at the top of your queue.
1

.

"Need U Bad" - Jazmine Sullivan
"Need U Bad" by R&B sensation Jazmine Sullivan perfectly represents the relentless, desperate passion one exudes when attempting to save their relationship. Over a Carribean bounce, and entranced by a harmonious flow, Sullivan calmly begs for her lover. She is begging for him to let her back in, to regain his trust. Extremely self-aware, she apologizes for her shortcomings. Although, it's clear that she has some groveling to do. Eventually, the juxtaposition of the calm island sway combined with the anxious drums, bleeds into an emotion-filled R&B groove. It's good. Making-an-ugly-face-and-shaking-your-head kind of good. So good, that it's the perfect song to fully explain how heart-wrenching and critical fixing a relationship can be.
2

.

"Ordinary People" - John Legend
Contrary to those who preach: relationships are hard. Learning to be with another person is hard. They don't think the way you do. They don't act the way you do, and they certainly don't react the way you do. Therefore, it's hard. Despite learning the way they speak, argue, or react, everyone manages to go back default sooner or later, and arguments are bound to happen. In "Ordinary People," John Legend knows exactly this. In this piano ballad, Legend explains that he is in love with this woman. Not cute, infatuated love, but real, honest to God—hand to the Bible kind of love. And in being in love, he is willing to take a step back and consider fixing their relationship. Maybe things aren't working out because they're putting too much pressure on themselves, and, in turn, one another. Instead, they should consider the notion that they are just ordinary people.
3

.

"Don't Wanna Fight" - Alabama Shakes
"Don't Wanna Fight" shows how truly frustrating fixing a relationship can be. Beginning at the 40-second mark, at what could only be interpreted as a frustrated screech, Brittany Howard perfectly depicts the moment where you realize you love your partner, but you don't quite like them. In moments like this, it's best to step back, acknowledge what has been said, and take a break. Sometimes it is crucial to just let a fight die. Especially when you realize that what you're fighting for, isn't something worth fighting about at all. There is a clear difference between fighting for a relationship and fighting pointlessly for your pride. When this is discovered, Alabama Shakes serves as a reminder to give up the battle for the sake of winning the war.
4

.

"We Belong Together" - Mariah Carey
I'm sure that I don't have to explain why "We Belong Together" makes for a great song about fixing a relationship. Although, in case I do, here it goes: Mariah Carey. This chef's kiss of a song, doubles as a ballad and a bop. The moment the piano riffs and Mariah harmonizes, it's clear she is out for blood. And boy, how easy it was to fall into her trap. With enticing vocals, layered harmonies, and a moment to scream, it's hard not to. "We Belong Together" is the final call. The moment where everything is laid out on the line. Where you try to stop the arguments, the coldness, or whatever it is that's making your relationship rocky. Instead, you work out your problems because the idea of the two you not being together is ridiculous. After all, returning to one another is inevitable.
5

.

"Distance" - Emily King
"One room just ain't enough when there's two folks trying to get along." A truer statement has never been said. "Distance" by Emily King shows that, sometimes, the best way to fix a relationship is to give one another space.
Not the type of space in the sense of "taking a break." But more in the sense of maybe you should spend a day apart returning to yourself. In relationships, it easy to get lost in being someone's else partner. Being stuck in just that one role, when you're a multitude of others, can be irritating and result in unnecessary arguments. Therefore, spend a day or two apart. Take time to check in with yourself and what you want. Then, if you must return back to your argument when you're both clear of mind.
6

.

"Let's Stay Together" - Al Green
Why break up when you can just stay together? In "Let's Stay Together," Al Green believes that if you love someone you should work with them whether your relationship is at the highest high, or lowest low. Mainly about compromising, "Let's Stay Together" talks about what happens when one person is willing to compromise what they want for what their partner needs. Sometimes, it is OK to give a little, especially when what you're fighting for doesn't compare to what you could lose. To fix a relationship--as long as you're not playing martyr for your partner--consider if what they're asking for is rational and plausible.
7

.

"Slipping" - Eryn Allen Kane
In the impassioned ballad, "Slipping," Eryn Allen Kane sings about the hardships of solely fixing a relationship. Unlike some of the ballads before her, Kane doesn't need a chance to step back and view her relationship. Instead, she sees things for what they are: her partner is unhappy. Knowing this, she makes it her mission to help them find happiness. Though, in doing so, she loses her own when she realizes her partner doesn't care for her efforts. There is an enchantment in being seen. Though she sees her love, she becomes bitter knowing that he doesn't see her. In the end, she challenges him. They could either work it out, or continue to slip away. They still have time to win, but he is going to have to be willing to step up.
8

.

"Passionfruit" - Drake
This song is a coin toss. On one hand, it's clear that Drake is realizing that his relationship might've come to an end and wants to fight for it. On the other hand, he understands why his lover might choose to leave. Regardless, in this R&B, pop, dancehall tune, Drake attempts to fix his relationship. Having a long-distance relationship is stressful. Not only are you separated from the person you care most about, but that separation can also bring about insecurities.
In "Passionfruit," this is no different. Drake is constantly away and the woman he has left behind has had enough. This eventually puts them at an odds, where Drake is left to explain that he is still wanting this relationship. Although, he understands why his romantic interest might think differently because he is not around to prove it. By the end of the song, he is left fighting for the relationship, but whether his partner wants to remain is up to her.
9

.

"Focus" - H.E.R.
Giving your partner attention is important. Despite our hectic lives and busy schedules, the need to ensure connection with your partner should always come first. When connection and attention are often ignored, problems in the relationship can easily occur. In H.E.R.'s "Focus," politely demands attention of her partner. Instead of being focused on the games, phones, and other miscellaneous things, she asks that he just focus on her. This song shows many ways a relationship can be fixed. The most important way being communication. Unlike other songs, she isn't beating around the bush, she isn't alluding to what she wants. Instead, H.E.R. is very clear about what she needs to save this relationship, and that's her partner's unrelenting focus.
10

.

"Lost In Translation" - Johnnyswim
Listening to "Lost in Translation" by Johnnyswim is like listening to the aftermath of a huge, heated argument. Stopping in the middle of their argument, or immediately after one has ended, Abner takes things into perspective. Realizing that he might have taken things too far, he wants to know what can be done to salvage their relationship and the guilt he feels. He no longer cares why they are arguing, he just wants to return back to how things were. Meanwhile, Amanda agrees. She acknowledges that they are missing something, so instead of choosing to fight or figure it out that night, she wants them to enjoy one another's company like they did in the past. Fighting has gotten them nowhere and they are aware that despite wanting the same thing, they keep colliding. So, instead of trying to end the argument, maybe the best thing would be to leave it where it is.
11

.

"He Won't Go" - Adele
At times, fixing a relationship often requires silencing the people closest to you. Not that they're not right in what they're saying. They just aren't as informed as you. They know only what you've told them and are responding with your best interest in mind. You and your partner on the other hand know what you've gone through and what has brought you in. This can be said for "He Won't Go." In this R&B pop song, Adele sings about wanting to try for her relationship because her past cannot let her easily leave it behind. The same can be said for her partner. Therefore, they are going to try to make the relationship work because they have something worth fighting for. As long as he is willing to stay, she is, too.
12

.

"Mercy" - Jacob Banks
This type of relationship in need of fixing is far from romantic. Nevertheless, it could be interpreted as such. "Mercy" by Jacob Banks talks about the ostracism African-American experience in the United States. Tired of being treated like a "second-class citizen," Banks demands "a little mercy" be given to himself and his community. After sacrificing and playing along with the majority, he hopes to be treated like someone who has hopes and aspirations of his own. This makes the perfect song for fixing a relationship, because it calmly takes things into perspective. When we're in a rough place, we spend most of our time victimizing ourselves and wondering why we're being treated badly. Nonetheless, when the situation is calmly addressed, there is an opportunity to acknowledge and validate the imbalance someone might be experiencing in a relationship. This can, of course, lead to a road of rectification.
13

.

"Loved By You" - Kirby
When you've been a relationship for too long, it is easy to take advantage of what you have. Whether you're used to the affection, care, love, kindness, or whatever it is your partner gives to you, it would be wise to speak up and openly appreciate the love given. Otherwise, you won't know what you had until it's too late. Kirby's soulful, heartfelt ballad, "Loved By You" is the final chance to acquire the love she always wanted. Hoping to amend her previous relationship, Kirby openly expresses her desire to love and be loved. She knows that this might be the last chance that she is given to experience true, all-encompassing, passionate love and she wants to work on doing so with the one she admires.
14

.

"Piano Joint (This Kind of Love)" - Michael Kiwanuka
Michael Kiwanuka has been beaten and bruised by love. This time, he won't let it happen, again. "Piano Joint (This Kind of Love)" focuses his relationship on the right type of love. Kiwanuka tells his partner that he is tired of fighting and hopes that in choosing to lose this battle, he might actually win in the end. Giving up in hopes of fixing his relationship, he tells his love that this kind of love is something that he has never experienced. Due to this, he knows that this has the potential to make him happy. So, he chooses to put their grievances aside and gives himself the opportunity to enjoy "this [new] kind of love" that has liberated him.
15

.

"Mad" - Ne-Yo
According to studies, going to bed while angry can create long-term damage in relationships. When one goes to bed angry, one's brain places that experience into sections that hold long-term memories, while asleep. Which ultimately results in the argument holding a lasting impression and intensified anger on the matter. Therefore, it's best to refrain from going to bed mad and/or find a comprisable stopping point. Ne-Yo's hit single "Mad" says just this. Knowing that possibly going to bed mad will only ruin his relationship, Ne-Yo asks his girlfriend what they're fighting for. When they realize that they can't recall why they're arguing or why they're mad in the first place, Ne-Yo asks for the argument to end. He doesn't want to go to bed mad at her or vice-versa, so it's best to just settle things.
Featured image by Getty Images
Between May's randomness and June's endless heartbreak, I was beginning to think that July would be another moment of Summertime Sadness. Nevertheless, the artists of this week show that there is always a rainbow at the end of the storm. With the broken-hearted out of the way, room has been made for the fun ("Pink Noise"), the smiting ("Around), and the downright in love ("Sinner").
Get ready to turn up the heat with these latest hits that will be sure to reignite your summertime happiness.
"Pink Noise" - Laura Mvula
First of all: You're welcome.
Second of all: Thank you, Laura Mvula.
Everything this song is and everything this song tries to be is nothing short of excellent. Supreme. Top-notch and/or whatever whimsical adjective you fancy. This 80s-fueled dance pop track, "Pink Noise" will have you moving before the ten-second mark begins and you won't stop until long after it concludes. It's the fun summer song you've been looking for, long deprived of and my goodness it's a shame we haven't gotten it sooner. There's no denying that this song will have you hooked with its Janet Jackson and Grace Jones vibe. With its audacious trumpets and compelling vocals, "Pink Noise" is a summer hit I pray doesn't go ignored.
Also, if you're in the mood for a little self-care, treat yourself to Laura Mvula's newest album Pink Noise. Now available on all streaming platforms.
"The Jackie" - Bas ft. J. Cole & Lil Tjay
Juxtaposing their previous collaboration "Tribe," Dreamville's Bas and J. Cole return with a summertime hit made for the clubs. With the addition of rapper Lil Tjay, Bas and J. Cole share stories of their adventures while traveling along Jackie Robinson Highway, which connects Brooklyn and Queens ("The Jackie"). This song will definitely become a summer anthem. Between J. Cole's catchy hook and verse, Bas and Lil Tjay sing-song-esque melodious flow, the song is guaranteed to make you move. This is J. Cole's first appearance since dropping his latest acclaimed album, The Off-Season this past May. Meanwhile, Bas is rumored to be dropping an album later this year.
"Around" - JONES ft. Nardeydey
"Around" by JONES ft. Nardeydey perfectly captures and recreates the butterflies one gets in their stomach whenever a crush is near. It's the dopey grin you never knew you could make. The little giggle you're too embarrassed to release. It's the nervous feeling you get when you're uncertain if your crush feels the same. The excited feeling you get when you discover they do. It's incredibly cute. And it's the perfect summer vibe in a time where breakups seem endless. Perfect for a summer jam, "Around" is a charming, melodic tune worthy of being saved to your library.
"Get Up" - Logic
Logic returns from his short-lived retirement, with his second single in two weeks, "Get Up." In this reflective and acoustic-heavy single, Logic reflects on his journey and career as an artist. Focusing on his accomplishments, he gives recognition to his family, friends, and team for helping him get this far. Though, he is willing to also give some credit onto himself, crediting a lot of his success to his own determination, ambition, and perseverance. With lyrics like "every time I fall, you know I get up," Logic's new single "Get Up" is the motivational song you need for the summer.
YS Collection Vol.1 album, including single "Get Up," is now available on all streaming platforms.
"I Love You, I Hate You" - Little Simz
From the upcoming album Sometimes I Might Be Introvert, is Little Simz newest single, "I Love You, I Hate You." Reminiscent of 90s and 80s rap, Little Simz confronts her absent father over a grooving baseline and eccentric jazz track. Entering and leaving the chorus, she mentions that she loves her father, but because of the person he chooses to be she hates him. The verses are raw and impactful as she explains her resentment and hatred toward his absence and denial. Ultimately, she discovers that she must forgive her father for herself and that it is OK to simultaneously love and hate his existence.
Sometimes I Might Be Introvert will be released September 3, 2021.
"Day Off" - Cynthia Erivo
"Day Off" is the second single released from Cynthia Erivo's forthcoming album Ch. 1 vs. 1. Perfect for an early morning, or relaxing evening, this calming track is an alt-R&B song about making time to spend with a significant other. With Erivo melodiously requesting for one to take the day off, it's hard not to be allured by the soothing plea. By the time the song has concluded, you'll be so enraptured by the soul-stirring synth and tranquil vocals, you'll be compelled to do just as she asks.
Ch. 1 Vs. 1 will be released September 17, 2021.
"Make U Go" - Duckwrth
In his upcoming EP SuperGood 8, newly independent artist Duckwrth returns with single, "Make U Go." In his signature rap-singing flare, Duckwrth sings about the pleasures that he can give a woman, should he be given the opportunity to. Ever the confident one, Duckwrth assures her that she will have a great night, one worth bragging about to her friends. Though, despite his experience, she will not need to worry because despite his "thotty ways" she is the only one he wants to make go "ooh." This single is fun, relaxing, and the very song you need during this summer of break-ups. It's playful without being silly and smooth without being cocky.
Duckwrth's EP SuperGood 8 drops September 3, 2021.
"ARE YOU WITH THAT?" - Vince Staples
Having just released his self-titled album, Vince Staples returns with his second single, "ARE YOU WITH THAT?" In an album meant to offer fans and peers a new insight to who Staples truly is, "ARE YOU WITH THAT?" questions what Staples is down with and what he has outgrown. Throughout the song, he mentions gangbanging and violence nonchalantly and as a former aspiration. When he was younger, all Vince Staples imagined was being "a thug," now that he is older and wiser, he questions what he is willing to return to and the life that he now chooses to claim. With a more somber take, this song might not be a club sensation, but that's a sacrifice one is willing to take with a song of such substance.
Vince Staples, the album, including single "ARE YOU WITH THAT?," is now available on all streaming platforms.

"Go(l)d" - Mereba
"Go(l)d" is serene. Warm. Hopeful. And a little romantic. Beginning with a soft acoustic guitar and brooding rhythms, Mereba reflects on her journey and how she has changed during its travel. At the end of this journey, she has seen hardships, and she is unsure what everything she has seen means. Nevertheless, despite what she has seen and the confusion exploring the world has created, she manages to still "believe in gold" and the good things that the world has to offer. Doing so might make her crazy, nonsensical, or even a little naive, but in this new chapter of life (motherhood) a little faith can go a long way.
AZEB EP, including single "Gold?," is now available on all streaming platforms.
"Sinner" - Adekunle Gold ft. Lucky Daye
Nigerian singer-songwriter Adekunle Gold collaborates with Lucky Daye in his newest single "Sinner." Smoothly romantic, the song begins with a violin reminiscent of Celine Dion's "My Heart Will Go On" only to later take a calming trance with the addition of drums and Adekunle Gold's melodious vocals. The song could easily fall into the a cliched romance about love being almost sinful, but with his entrancing instrumentals and a gentle, confident approach, the song is anything but. Instead, we are left with a something that reflects the peace one exudes when finding the one. This might be about sinner, but it isn't about one remorseful of their sin. Instead, Gold believes that if their relationship is sinful, he is more than happy to worship at this alter.
For more new music releases in the month of July so far, keep scrolling:
"Wild Side" - Normani ft. Cardi B
Normani x Cardi B – "Wild Side" Out Now!Listen Here: https://smarturl.it/xWildSide Follow Normani:https://www.twitter.com/Normani https://www.facebook.com/n...
"Bouncin" - Tinashe
"F Yah Job" - Childish Major
"MIA" - Ray BLK ft. Kaash Paige
"Lonely As I Ever Was" - Spencer.
"Romeo" - Jungle ft. Bas
"Type of Day" - BJ the Chicago Kid
"My Lil Dance" - Hotboy Wes ft. Gucci Mane
"Nevada" - YoungBoy Never Broke Again
"Plastic Surgery" - YN Jay ft. Lil Pump
"Section" - Ant Clemons ft. Kehlani
"Fuck Him All Night" - Azealia Banks
"Whole Lotta Money (Remix)" - BIA ft. Nicki Minaj
"Wake Up" - Drumma Boy ft. Lil Got & Kollision
"Feeling Good" - Ledisi
"Worth It" - Mya
"Aura" - Mariah the Scientist
"Shirt (Partial)" - SZA
The 48:26 mark, thank us later.
"Good Good" - Tanerelle
"Gametime" - Amine & Lil Tecca
Featured image via Giphy