Taysha Robinson
Taysha Robinson is a writer and high school English teacher, based in metro-Atlanta. A self described philomath, you can find her reading books and articles of every genre, attending educational conferences, and hiking wherever the terrain will allow.
Being a Black woman is a double-edged sword that is skillfully crafted and delicately balanced. On the one hand, we have been honed and sculpted into powerful, independent women who can look after ourselves and our loved ones, while still creating significant works of art. On the other side, there are times when the pain of our forced invincibility and independence pierces so deeply that an endless stream of blood, sweat, and tears flows.
Overuse has made us dull, but we still shine. After all, Black women are the only things to grow without nourishment. Yet, despite our incredible achievement, this precarious balance shouldn't have become our norm. With protection on one end and potential danger lurking around the other, we shouldn't have accepted this balancing act as the ultimate truth. If we stop considering the blades of this sword as an inevitable outcome, it may lose its edge.
Therefore, rather than being content with the fact that we were injured one moment and recovered the next, we should want to fully heal ourselves to avoid engaging in this dangerous balancing act. To make sure our healing is effective and less risky, here are the top self-help/self-development books to help every Black woman set these blades aside to become someone where their overuse is never necessary.
Featured image by myriam meloni/Getty Images
Your strong legs are more than just for show. Even the most fundamental daily actions, like walking and balancing, require leg strength. So, if you want to ensure the betterment of your physical health, you need to include leg exercises in your routine. And if you're looking for a HIIT workout to keep your legs in tip-top shape, we've got you covered. But first things first...
What Is a HITT Workout?
HIIT, also known as high-intensity interval training, is a type of interval training that entails short bursts of extremely intense exercise followed by rest intervals or periods of lower-intensity exercise. In just about five to 30 minutes, HIIT routines can be completed, with the intensity of the workout increasing with the length of time. With HIIT exercises, you can work up a sweat without paying for or traveling to a gym, and it is an incredibly quick and effective form of training.
HIIT workouts deliver the same health advantages as low- and moderate-intensity aerobic workouts in a lot less time and have been shown to increase metabolism and build strength. High-intensity interval training, has been proven to enhance metabolism and build strength, and it offers the same health benefits as low- and moderate-intensity aerobic exercises in a lot less time.
Pro Tip: For intense intervals, aim for a heart rate of 85 to 90 percent.
Determine your rest-to-work ratio:
Week 1: 30-sec work/60-sec rest
Week 2: 30-sec work/45-sec rest
Week 3: 30-sec work/30-sec rest
Week 4: 45-sec work/30-sec rest
Beginner Workout: 
Squats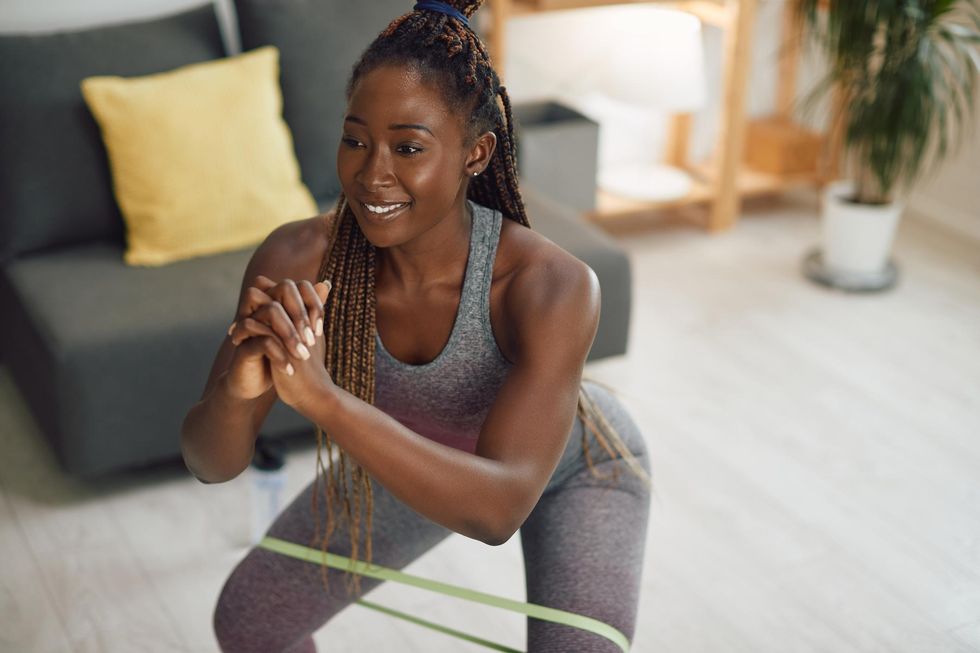 Drazen Zigic/Getty Images
Point your toes forward and space your feet just wider than hip distance apart.
To move your hips back, gently extend your knees while bending at the ankle and knee.
Keep your shoulders back and your heels and toes firmly planted on the ground as you kneel.
In order to be parallel, which should be the ultimate objective, the knees should be at a 90-degree angle.
Set your heels down and lengthen your legs to stand up straight. Your knees shouldn't go over your feet while squatting. Instead, they should be behind the toes.
30-sec work/60-sec rest or preferred rest-to-week ratio.
Jumping Jacks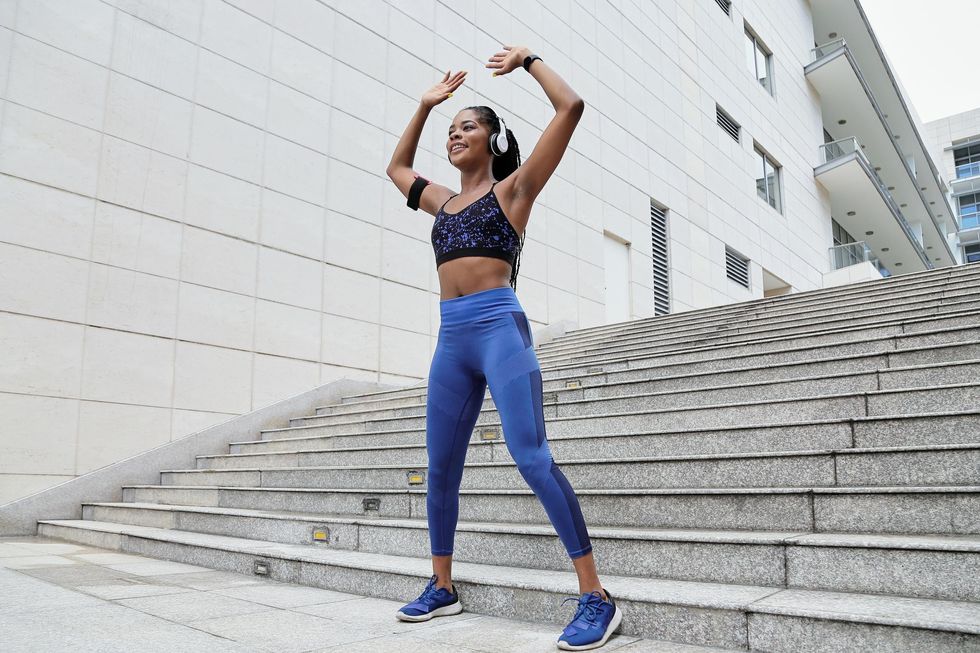 DragonImages/Getty Images
Holding your hands at your sides, stand straight with your back straight.
Jump while kicking your feet wide and raising both of your arms.
Repeat.
30-sec work/60-sec rest or preferred rest-to-week ratio.
Forward and Backward Lunges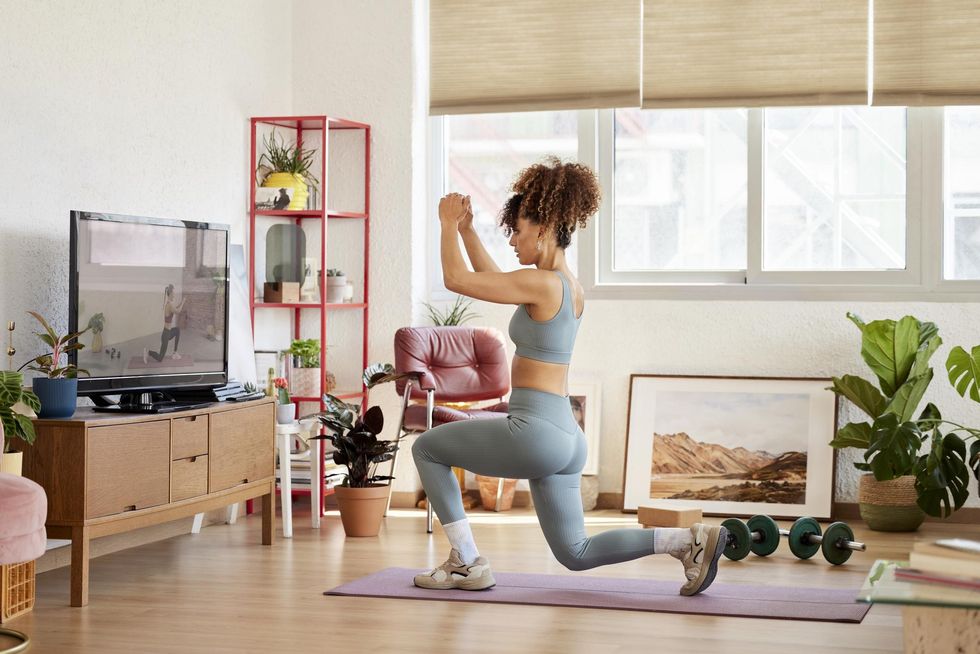 Morsa Images/Getty Images
1. Step forward while keeping your hips separated, then slowly stretch both knees until your back knee is barely off the ground.
2. Step backward with the leg you used to stand up, then bend both knees to crouch down with your back knee just above the floor.
3. Keep going. Change legs after the set is complete.
30-sec work/60-sec rest or preferred rest-to-week ratio.
High Knee Run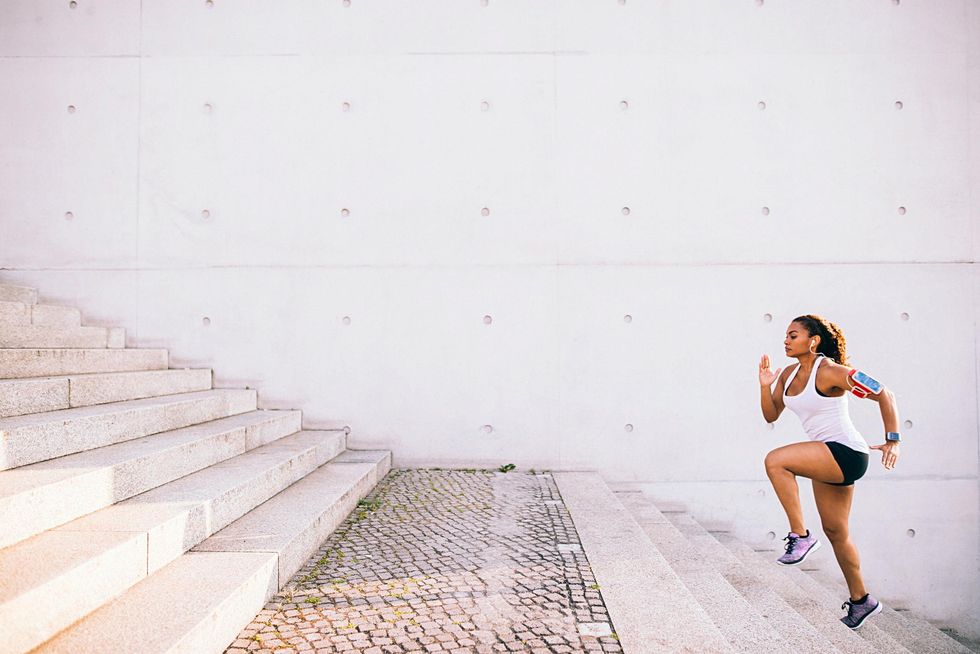 Guido Mieth/Getty Images
Start by jogging while keeping your knees elevated.
Slowly advance while jogging with your knees raised and your arms pumping back and forth.
Proceed for 30 more seconds.
30-sec work/60-sec rest or preferred rest-to-week ratio.
Squat Side Step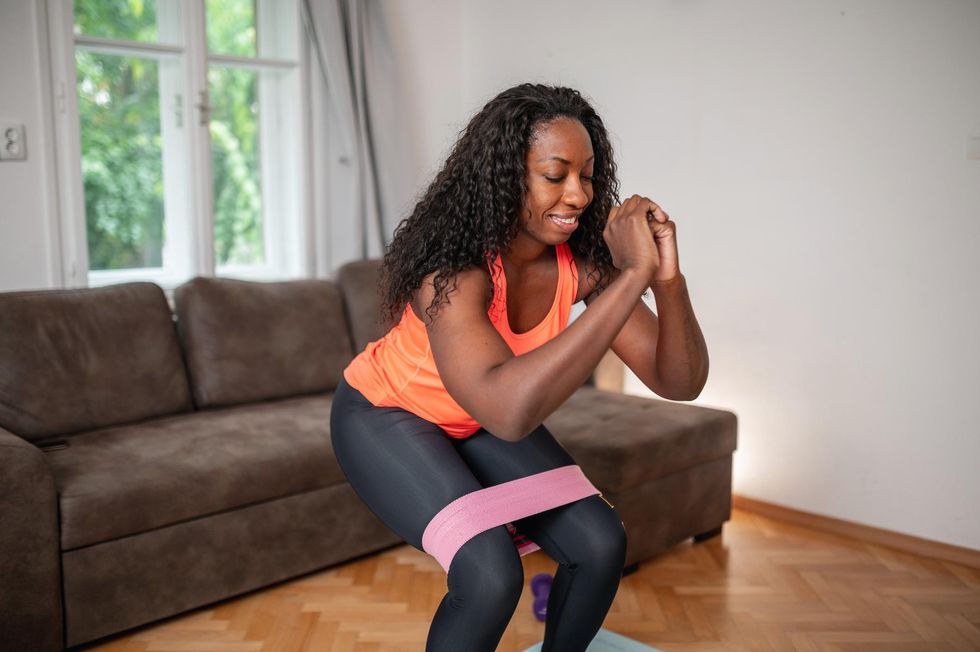 AzmanJaka/Getty Images
1. Start by assuming a straight posture and placing your feet shoulder-width apart.
2. Pushing your hips back, squat.
3. Get to your feet, move to the side, and squat down once more.
4. Go back to your starting posture and continue performing this side-to-side motion until the set is finished.
30-sec work/60-sec rest or preferred rest-to-week ratio.
Lunge Pulses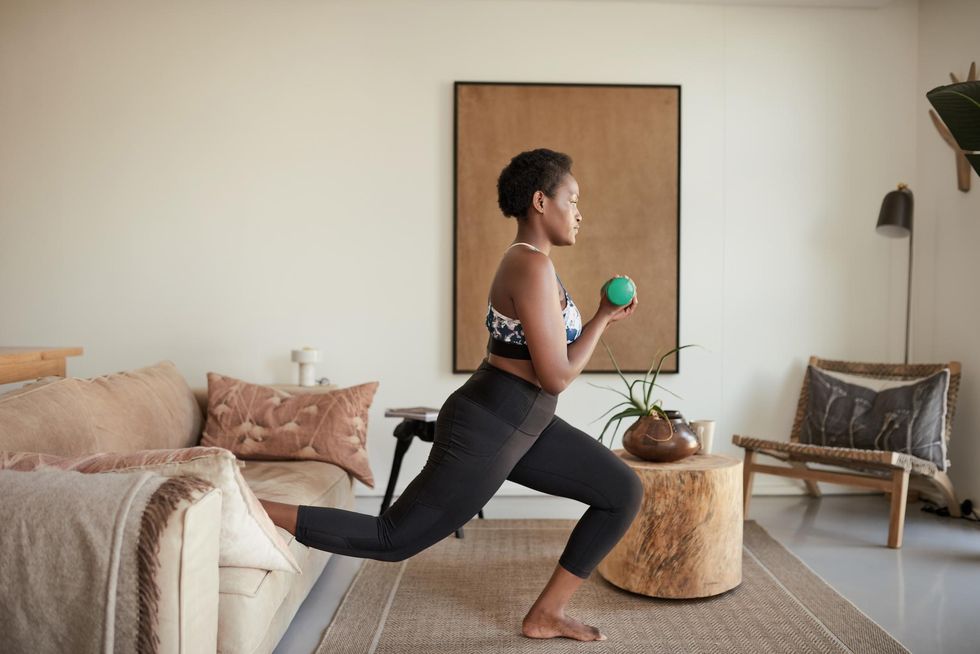 LaylaBird/Getty Images
1. From a standing start, advance like you would when lunging.
2. Partial lunge, similar to a standard lunge, about a fourth of the way down. This is where everything begins.
3. Start your workout by pulsating up and down, then perform a lunge by rising and descending by around three inches. Make sure you remain in the lunge stance the entire workout, never standing up.
30-sec work/60-sec rest or preferred rest-to-week ratio.

If you want to add more intensity to this workout, keep reading for intermediate and advanced modifications to suit your fitness needs.
Intermediate Workout: Alternating Jump Lunges
For an intermediate workout, add the following exercise, in addition to the exercises above.
Bend your knees and take a deep lunge to get ready to jump. As you contract your abdominal muscles, naturally gravitate forward. Throughout the exercise, your core muscles will continue to be engaged.
Put your weight down swiftly, then drive both feet into the ground with explosive force, launching your body upward while fully extending your knees and hips.
Bring your feet together quickly as you jump into the air, then switch feet as you start to land. As you do this, you should alternate your arms.
Keep your feet in a balanced stance as you land. The front knee shouldn't go past the front foot. Try to softly land on your forward mid-foot, letting your heel make contact with the ground. Avoid staying on the forward foot's toes. Allow your hips and knees to bend fully to absorb the landing while keeping your hips back. Keep your knees from locking.
As you get ready to begin the next jump lunge, lower yourself to a deep lunge stance.
For the duration of your workout, repeat the jump-lunge motion.
30-sec work/60-sec rest or preferred rest-to-week ratio.
Intermediate Workout: Rear Leg Lift
Beginning on all fours, place your hands under your shoulders and your knees beneath your hips.
Set one leg out in the back of you. Avoid crossing your legs over since doing so can make your lower back hurt. Instead…
The leg should be raised to hip level and then slowly brought back down.
Continue until the set is finished with the opposing leg.
30-sec work/60-sec rest or preferred rest-to-week ratio.
Advanced Workout: One Leg Drop
For an advanced workout, add the following exercise, in addition to the exercises above.
Lay on your back on a mat with your legs straight and parallel to the floor.
Start the exercise by slowly lowering your right leg until it nearly reaches the floor while maintaining bent knees. To lower the leg, try to take three to five seconds. Raise your leg to the starting position after a brief pause.
Continue as necessary with the right leg, then switch.
30-sec work/60-sec rest or preferred rest-to-week ratio.
Advanced Workout: Pile Squat
Place your feet wider than shoulder-width apart when standing. Make a 45-degree turn outward with your toes. If your flexibility allows, you can turn your feet out further. But make sure your hips, NOT your knees, are doing the moving. You should have a straight line from your toes to your knees.
Straighten your spine, hold in your abs, and stand tall. For balance, you can also extend your arms in front of you or to the sides.
Bend your legs, push your knees out, and lower yourself until your thighs are nearly parallel to the floor while maintaining your upright posture. Avoid bending forward and avoid letting your lower back round.
Stand upright and repeat.
30-sec work/60-sec rest or preferred rest-to-week ratio.
Featured image by LaylaBird/Getty Images
xoNecole's I Read It So You Don't Have To is a recurring series of self-discovery that breaks down self-help books into a toolkit of takeaways and tips that are meant to assist you in finding the best life you can live. Take what works for you, and leave everything else where it is.
Since we first started to count, women have been indoctrinated into thinking we are inherently bad with money. When it comes to women and finance, there is a recurring theme: women are large, careless spenders. The vocabulary employed in commercials and periodicals, as well as in television and cinema, all reference this idea. Men learn how to generate money, while women learn how to spend it. Just like that. Therefore, it is understandable why women think they are unsuccessful at accumulating wealth given this deeply ingrained notion.
xoNecole's I Read It So You Don't Have To is a recurring series of self-discovery that breaks down self-help books into a toolkit of takeaways and tips that are meant to assist you in finding the best life you can live. Take what works for you, and leave everything else where it is.
When I first embarked on this journey of self-compassion, self-care, and self-love, I was told to readAtomic Habits by James Clear. Admittedly, this book recommendation did not make me want to jump up for joy and read this novel the first chance I got. For one, I didn't think that I had any 'bad' habits. Well, at least any that were detrimental to my health and/or worth changing. Or, at least, so I thought.
If anything, I believed my habits were well beyond what anyone would consider 'good.' Hell, they were great. I woke up on time. Made it to work on time. I completed school work and errands with fidelity. I paid my bills long before the collector thought to knock on my door. I scheduled times to talk to friends and family. I was committed to whatever task I said I would, and managed to also feed myself at the end of the day. I had systems that were so well placed, it would be ludicrous for me to change them. So, why add a book about 'atomic' habits to my reading list when I had my habits in order?
When I posed this question, I was given a follow-up; one that shut me up and sat me down. If my habits were so great--if everything had been going so well...why was I still so unhappy?
Yes, I woke up on time, but I laid in bed for 45 minutes before I would start the day. Yes, I made it to work on time, but it was often with watery eyes and unshed tears. Yes, I completed school work and errands with fidelity, but this was after I panicked about all the time squandered before the inevitable deadline arrived. Yes, I committed to whatever task, but this did not go without resentment to have made the commitment in the first place. And yes, I managed to feed myself at the end of the day, but this meal was often my only. I got through the day, but that didn't mean I did so without taking hits at every turn.
After minutes of being unable to come up with a decent response, I was told again to read Atomic Habits. And this time, I managed to listen. With the assistance of this truly exceptional, easy-to-read, and helpful-as-hell novel, I realized that though I had great habits, the bad ones were the ones that ruled my life.
This book gives readers strategies for maintaining modest routines that gradually add up to have the impact they desire for the life they want. Remember, this is meant to be a collection of suggestions on how to live a happy, wholehearted, purposeful, and intentional life, though it is by no means a "how-to guide" on how to live life. Take what works for you, and leave everything else where it is.
Here's how to form better habits for the life you aspire to obtain.
First Law of Building Better Habits: Make It Obvious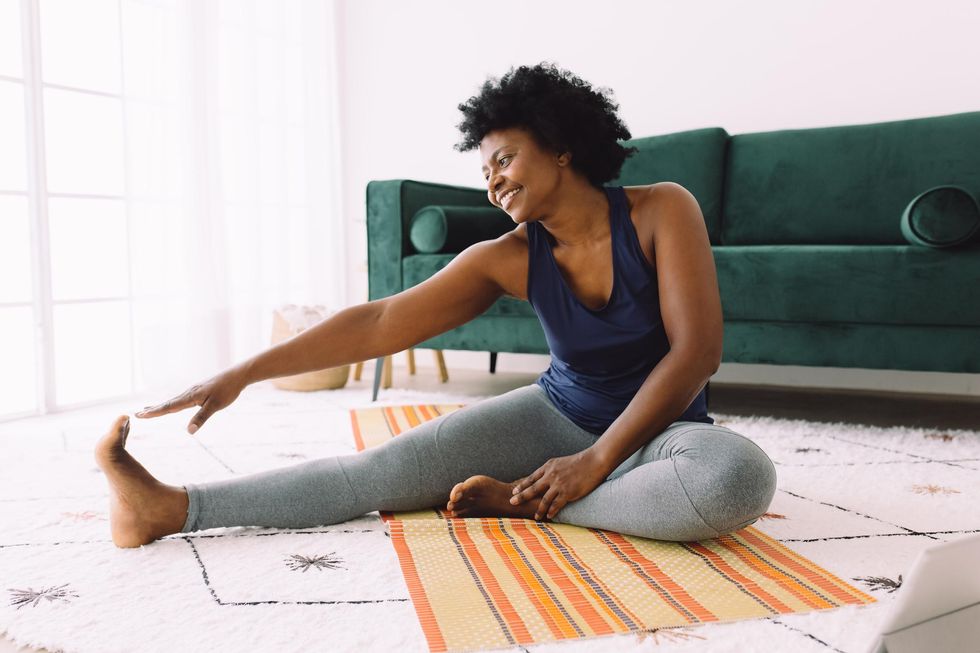 JLco - Julia Amaral/Getty Images
Creating awareness of your habits is the first rule of developing healthy habits. Unless someone points out our habitual behaviors, we frequently miss our cues (or the actions that trigger the habits we perform), since we are not aware of them. We must, therefore, become more self-aware if we are to fulfill the first law.
To make your habits obvious, list your everyday routine for a moment to become conscious of your behaviors. What occurs when you first open your eyes? Then what? Then what? Make a list of your routines and activities, from every day, without exception. After that, evaluate each activity and ask yourself whether it is a 'good,' 'bad,' or 'neutral' habit.
It is crucial that you prioritize self-compassion above shame while you make this list. This is not the time to punish yourself for the bad habits you may or may not have. Instead, this is the time to just acknowledge the good and bad habits that you possess.
Implementation Plan:

Once your behaviors are clear, it's time to design an implementation strategy. A strategy for implementation is crucial because this is the point where most habits fall by the wayside. Those plans we have are just that—plans—without a proper implementation system. Making an implementation plan is straightforward; you simply list the new habit you want to develop, the location where you want to establish it, and the time of day you would implement it.
For example, "I will [insert new habit] at [insert time] in [insert location]." This formula will ensure you are making space for your habit in your daily activities, while consciously becoming aware of when it has to be completed.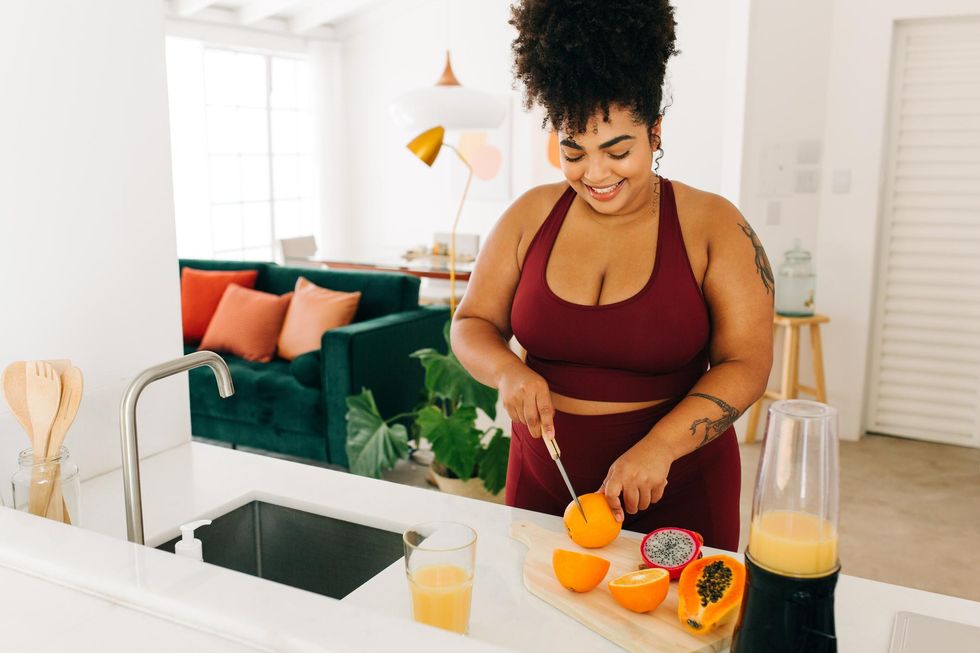 JLco - Julia Amaral/Getty Images
Habit stacking is another technique for implementing your new habit throughout the day. Pairing a new habit with an existing one is known as habit stacking. By using your old, inescapable habit as a cue to start the new habit, you will guarantee the new habit is completed. Therefore, combine your new habit with a positive or neutral behavior from your list using your implementation formula.
The Motivation Myth:
Keep in mind that motivation is not a factor as you go about putting your new habit into practice. We won't always be motivated to do something, and waiting around till we are motivated won't result in anything getting done. Your environment, not your motivation, plays a role in the development of your new behaviors. For instance, depending on the environment we are in, we act in habitual ways.
We know to hush when we enter a library. We know to keep quiet when we go to the movies. Habits will be encouraged by the environment to become associated with their surroundings, therefore do your best to connect habits to a location. You may need to select fresh locations on occasion to prevent negative habits from persisting.
Second Law of Building Better Habits: Make It Attractive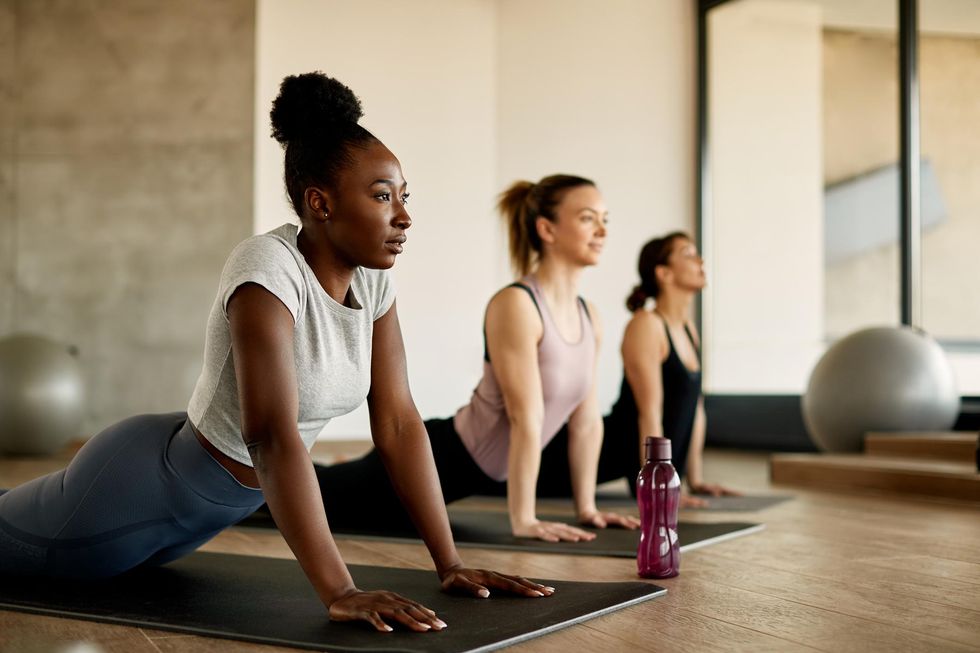 Drazen Zigic/Getty Images
"Make it attractive" is the second step in habit building. Most of the time, when we create a new habit, we do so resentfully, as though our new ambition suddenly transformed into a new challenge. Make your habit irreversible, rather than thinking of it as something you must do. You'll find yourself enacting the new habit more frequently if you pair a habit you want with something you already enjoy doing. For example, if you want to read more, but you can't find the time between long drives to work and home, start listening to audiobooks on the long drives to work.
Utilizing our inherent herd-like mentality is another way to make habits more appealing. Be among people who already practice the behaviors you want. You are more influenced by others around you than you may realize. Spend more time with people who are already practicing the behaviors you desire, you'll be more likely to stick with them. It will be simpler to develop the habit because your desired conduct will be considered "normal behavior" by the group.
Third Law of Building Better Habits: Make It Easy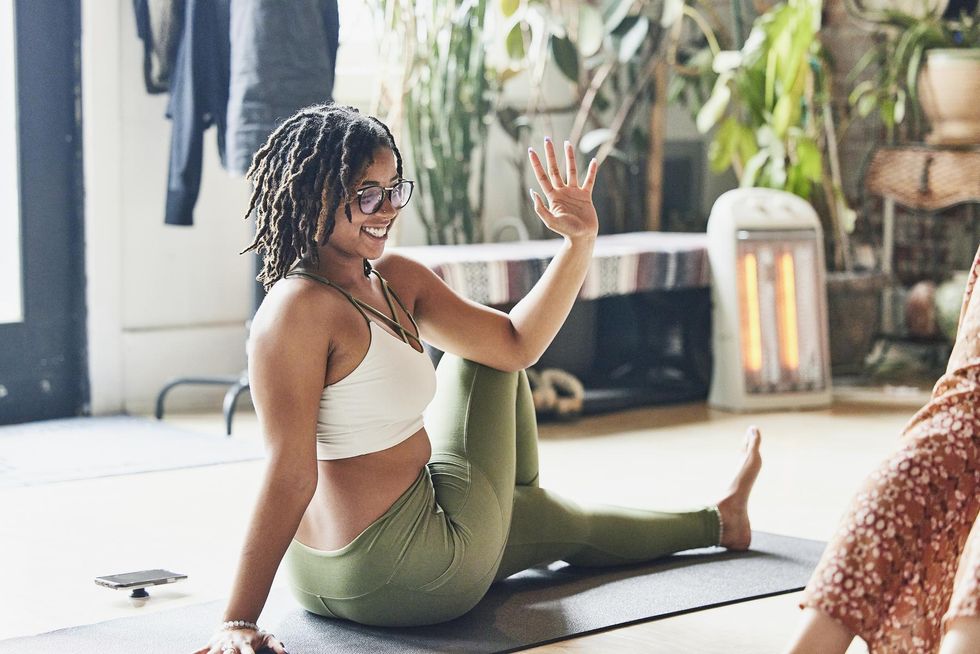 Thomas Barwick/Getty Images
The third law is to make your new habit easy. Finding strategies to make our good habits less frictional while making our bad habits more frictional is a big part of the effort to develop better habits. For example, if you want to exercise more and watch television less, place a pair of exercise clothes on the couch, the bed, or wherever else you find yourself watching television. You can start forming good habits where exercising is possible by keeping your workout attire in an accessible place.
Also, starting as small as possible is another strategy for making it simpler to form new habits. This is referred to as the "Minimum Viable Effort." For example, if you want to practice meditating more, instead of focusing on the goal of 30 minutes a day, start off with one. Then gradually increase this number over time. If you start small, the new habit you're cultivating doesn't seem so daunting and you are much more likely to stick with it.
Fourth Law of Building Better Habits: Make it Satisfying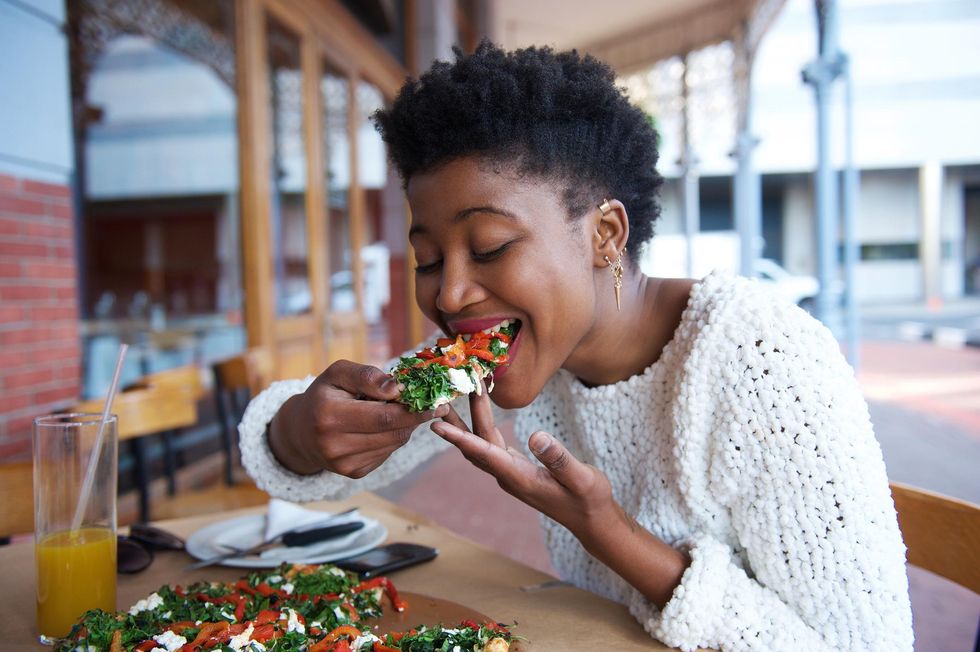 m-imagephotography/Getty Images
The fourth law is to make your new habit satisfying. This can easily be done by giving yourself a reward upon the completion of your new habit. You need a motivating factor at first to keep on course. Because of this, quick rewards are crucial. They maintain your excitement as the delayed benefits build up in the background. What we're actually discussing here is the cessation of a behavior. Any experience's end is crucial because it's the part we tend to remember the most.
Your new habit should stop in a gratifying way for you. Reinforcement, which is the process of utilizing an immediate incentive to raise the rate of behavior, is the best strategy. Therefore, at the end of your new habit, give yourself a reward that will keep you coming back. For example, if you're creating the habit of exercising, reward yourself by grabbing your favorite smoothie or favorite food spot to go to, seeing a movie, enjoying a massage, or something else incentivizing upon completing your time at the gym.
Featured image by Evgeniia Siiankovskaia/Getty Images
Three hundred and one days ago, I embarked on a journey to change the trajectory of my life.
Gradually and unknowingly, I exited my permanent fog and discovered I had been residing safely and warmly between the crossroads of dissatisfaction, anxiousness, depression, and self-pity. As a permanent resident, I had grown accustomed to the rollercoaster that was my mental and physical health. I had grown used to endless disappointment and claimed them as an inseparable essence of my being.
I was an anxious person. Therefore, I avoided places where my triggers would be present. I was a depressed person. Therefore, I would stay at home until the feeling passed. I was an insomniac, so I turned my nose to the idea of sleeping through the night. I was a pessimist disguised as a realist, so I planned for the best but knew the worst wasn't too far behind. In claiming these titles, I had given myself the unlikely chance of finding residency anywhere else.
Instead of discovering how to notice my triggers and work alongside them, my social anxiety got worse in seclusion. Resulting in panic attacks that would sometimes ease me into unconsciousness. In hopes that my depressive episodes would pass, I isolated myself, only prolonging its run. In my negligence to find manageable ways to fall asleep, the fog I existed in only grew thicker. In my disguised pessimistic approach, the thoughts I held always became my worst enemy.
I was stuck in a vicious cycle of noticing the hell I had placed myself in and continued to find redundant ways to get myself out. The process was always the same: (1) I'd find a new therapist, one who was affordable, and encouraged me to rant or unnecessarily relive past trauma, instead of one who was receptive and gave advice; (2) I'd create new goals, goals that would make life somehow much better than it had been now, though unobtainable without effective systems; (3) I'd reach out to my support system, only to listen to advice that was similar to what I wanted to hear; (4) and I would wallow in self-pity when I noticed my fruitless ways brought nothing sweet to fruition.
Like clockwork, three hundred and one days ago, I had prepared to run the same course, see the same scenery, and experience the same damn disappointment. But as I readied myself to bear my monotony, a question bore itself to the forefront of my mind: Don't you get tired of being in your own way? God yes. I had grown so tired that until that moment, I believed going through the same motions would somehow result in different results.
This time around, for once, I was determined to change my course. So, after days of consideration and prolonging my journey, I created a new plan. This time around, I would do everything within my power to save myself. To move out of this crossroads, and finally find a residence in an environment where happiness, peace, and love can grow.
So, for the next year, I challenged myself to attack the root of the problem: I would learn how to love myself and live wholeheartedly. In this quest, I read various novels and listened to endless audiobooks and podcasts where experts provided tools on how to live happily and sincerely. Now that I'm just a few months shy of a year, I wanted to share some wisdom that has saved me and molded me over the past few months, in case you're someone who happens to find yourself standing in your own way. I read all of it, so you wouldn't have to.
In the "I Read It, So You Don't Have To" series, I will provide you with a collection of self-help and lifestyle novel reflections. This is meant to be a collection of suggestions on how to live a happy, wholehearted life, though it is by no means a "how to guide" on how to live life. Instead, this series will be a toolkit of takeaways, and tips that are meant to assist you in finding the best life one can live. Take what works for you, and leave everything else where it is.
The first novel that accompanied me on my journey is Brene Brown's The Power of Vulnerability. Here are the ten tips and takeaways from the novel on how to wholeheartedly live.

Featured image by David Espejo/Getty Images

There was a lot of pressure placed on the shoulders of television this year. After being stuck in our homes forever, and watching everything there was to know, audiences became more critical of small screen stories than critics themselves. A demand for more was given, without the actual qualifications as to what that truly meant. Did they mean more heart-wrenching dramas or gut-busting comedies? Did they mean more of the supernatural or more of the mundane? Did they mean more of the past or a glimpse into the future?
Regardless of what the audiences called for, creators and producers stepped up and gave us all of what we demanded in our vagueness--and so much more. Now out of a debilitating year of hell, and still in recovery, television has arrived with stories worth waiting for and here are the top ones of the year.
1

.

Pose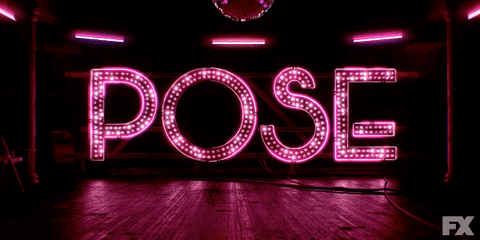 lights GIF by Pose FX
Giphy
The category is…grateful. When it was announced in 2020 that Pose's third season would be its final one, I remember wishing that each and every character would be given the conclusion they deserved. After watching two seasons of endless heartbreak, temporary wins, and watery smiles, I wanted a chance for the characters to get the happy ending that I knew the people they represented never did. For the sake of not spoiling the show, I refuse to mention if they do get the ending that they deserve. I will, however, mention that I am satisfied with the creation and conclusion of this beautifully heart-wrenching and heartwarming masterpiece.
Pose is a drama spotlighting the icons and ferocious house mothers of New York's underground ball culture in the '80s and '90s. Following gay and transgender characters (and actors), Pose focuses on Blanca Rodriguez (MJ Rodriguez), Pray Tell (Billy Porter), Elektra (Dominique Jackson), and others as they navigate the LGBTQ+ world, while also battling the HIV/AIDS epidemic.
With heavy themes and ruthlessly honest depictions of humanity, it would be easy for Pose to become riddled with unwatchable struggle and sorrow. Yet, the show's intentional decision to balance its sadness with conspicuously endearing characters—and their love for themselves and their self-appointed families—creates a series where one cannot help but to adoringly watch in awe as they live, work, and pose.
2

.

WandaVision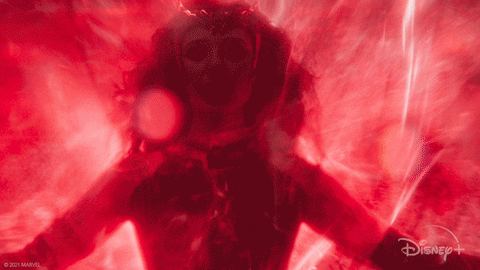 Scarlet Witch Marvel GIF by Disney+
Giphy
At this point, I have made it pretty clear how much I love television. And when I say "love" I mean it in the biggest misuse of terms, because the word I truly want to use hasn't been invented yet. Ever since I was a kid, and especially as an adult, I have found television to be an elegant art form. The music has to be powerful, but not so overpowering that it takes away from the scene. The writing has to be eloquently crafted to sound as regular as it is otherworldly. The sets must be inviting yet exclusive. The actors must be the characters.

To get one thing wrong means changing what could have been a powerful impactful story, into a wasted mess of potential. The more imaginative the show, the more room for error. WandaVision was very imaginative, and--when it came to perfecting its craft--had plenty of room for error.
The music was so noticeable that oftentimes even the characters would acknowledge it. The writing style changed with every episode, as if from various time periods. The sets were inviting, but never as it would seem. The actors were at times miscast. Yet, I have never seen something more masterfully executed than this adroit television show.
WandaVision follows Avengers, Wanda Maximoff, and Vision, three weeks after the events of Avengers: Endgame. Living in Westview, Wanda and Vision indulge in living in mundane suburbia, while trying to hide their true identities. Nonetheless, things are not as they seem when their surroundings begin to travel through decades and characters prove to be more than their tropes. This show is wondrous and if you haven't seen it yet, you're in for an amazing nine episodes.
The story of WandaVision is one that has not been seen in a while, especially in this diluted sea of superheroes. What could have been easily a Marvel show gone wrong (looking at you season four and up of Agents of Shield) turned into an extraordinary, artful portrayal of uncontrolled grief. This fantastic mini-series shows what happens when a character who loves television is created by people who love it, too.
3

.

Snowfall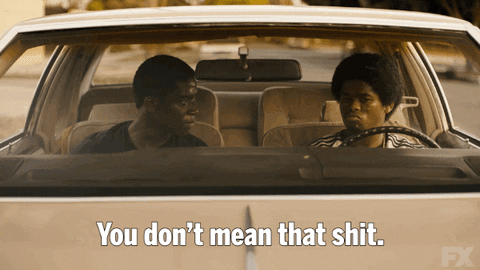 Season 3 Fx GIF by Snowfall
Giphy
What a fall from grace. Then again, was Franklin ever truly graceful? Returning with its fourth season, Snowfall continues its following of anti-hero, Franklin Saint as his dirty work contributes to the 1980s cocaine epidemic. Under the influence of the morally bankrupt CIA operative, Teddy, Franklin, and his family find themselves completely out of (and somehow in) their element when they sink further and further into the cocaine business.
After watching this season, I find it hard to believe that I ever fell for the charm that is--was (is?) Franklin Saint. In the beginning, he was a character worth rooting for. Despite his obvious shortcomings-his unrelenting quest for power--it was hard not to want Franklin to succeed. I had hoped that his desire to get himself and his mom out of Los Angeles and gain enough money to return to college would turn into something. I had hoped that he would become something more than what was expected of him.
Then he went and pursued selling and making cocaine, and...I'll be completely honest: I continued to root for him. I didn't see Franklin as a criminal, I only saw him as a result of systematic circumstances. I understood Franklin turning to crime when education turned its back to him. Now, I don't see that anymore. That person, that person mentioned before no longer exists. After everything that has happened, especially this season, I can no longer absolve Franklin of his decisions, nor do I think he should be.
Despite this, I eagerly tune in every week to see what will happen next. Franklin is a disaster, but he does have some redeemable qualities, and if I were to think on it all of the characters--except for Teddy--do. They're messy, but they are human and trying. They love each other despite loving power just a little more. I can't stand to watch their descent, but I can't bear to look away.
The upcoming season has been announced to be Snowfall's final, and after all of the trouble, I'm just hoping that season five will give everyone some reprieve, and make this entire messy descent worth it.
4

.

The Underground Railroad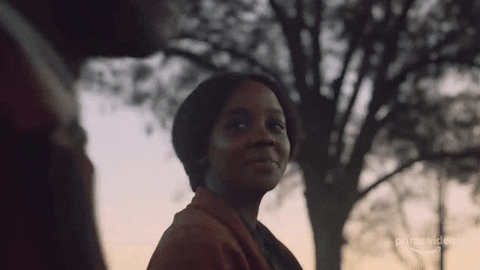 The Underground Railroad GIF by Amazon Prime Video
Giphy
I almost missed this piece of art. Not because I didn't know it existed, but because with every fiber of my being, I did not want to see it. As a Black person, I am so sick and tired of seeing Black pain. It's in the news, it's on social media, and the last place I wanted it to be was purposefully on my TV. When I saw the trailer and ads for the show, I pushed it aside and wiped my hands clean of it.
Then, out of the blue, I cracked. I don't know how. I don't know why. All I know is that I sat in front of the TV and managed to stumble on the first episode. Once I left the first episode, the second was playing and before you know it I was ten episodes in. Call me weak if you must, but if you ask me, it was one of the best decisions I had made this year.
The Underground Railroad follows Cora, an escaped enslaved woman, as she boards a train to embark on an agonizing journey towards true freedom. Meanwhile, she is being chased by a notorious slave catcher, who is determined to return her to where he believes she belongs.
This show is considered one of the best shows of the year because of three reasons: Thuso Mbedu (Cora), William Jackson Harper (Royal), and Barry Jenkins. Mbedu in the lead role is truly exceptional. The South African actress deserves accolades and then some for her portrayal as Cora. One of the most moving scenes would appear in the first episode, where she is told that she will be able to see America as it is if only she looks out the window. Throughout the show, we watch the hopefulness that Cora once felt in the face of freedom dwindle as she truly sees America for what it is. America was beautiful and under the perception of Jenkins' lens, its beauty is clear. But with the people who make America what it is, its beauty can be hard to notice under the light of its hate.
Mbedu carries this show on every pore of her back and when she needs a moment, which is rare, Harper picks it up. The entire show is filmed like art, and the lessons the characters learn are as heartbreaking as one would expect. Nevertheless, every heartbreaking moment is worth it, especially when we get to see this Black woman become the hero of her own story.
5

.

Invincible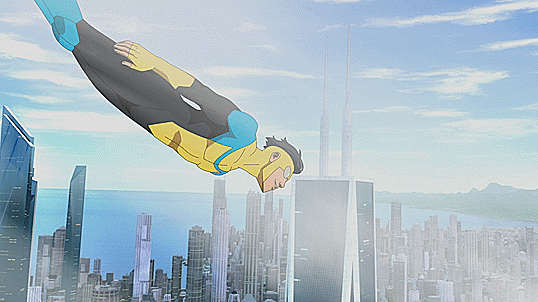 Admittedly, I didn't want to watch Invincible.
Despite watching Shang-Chi and all of his rings, braving The Eternals despite its reviews, and preordering tickets to the recently released Spider-Man: No Way Home film, I grew tired of superhero things. Besides the heroes that I had already committed myself to--remember the WandaVision review from a second ago--I didn't feel the desire to get attached to a new hero. I didn't have the care to see the same story told through another animation. I had seen it all. So much so that I believed I could tell the story myself.
So, when I finally sat down to watch Invincible, I found myself thinking just that. It had followed the same trope that we had all seen before. There is a semi-normal person, Mark Grayson, who wants to follow in his father's footsteps, the hero Omni-Man, but cannot. Why? He doesn't have powers. Although, this does not remain a problem for long. When he obtains his invincible powers, Mark eventually learns what it means to be a superhero from his parents. With his ability, though it will take time, he will save the world. Typical, right? Not so much.
What seemed like a cookie-cutter, fun but expected animation quickly turns into something more dark and drastic than ever expected. Over the course of eight episodes, 40-ish minutes long each, we discover that falling into the typical hero trope might not be such a bad thing. Because when done right, what is expected makes room for the unexpected to shine.
By the final scene, the characters are launched into a new chapter that shows that all heroes are villains in another's story. And that sometimes the ones who save the day are the ones you never believed could. Whether you like animation doesn't matter, you're going to like this.
6

.

Lupin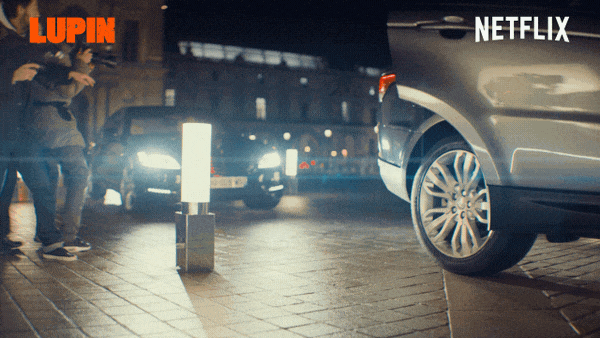 Suit Up French GIF by NETFLIX
Giphy
Like all great shows of this year, Lupin–the little engine that could–came out of nowhere.
A crime, mystery-thriller series, Lupin follows a man, Assane Diop (Omar Sy), who is inspired by the nefarious actions of thief Arsene Lupin. After his father is framed for the theft of an expensive diamond necklace, he hangs himself in prison when his sentencing becomes unbearable. Years later, now an adult, Assane decides to seek vengeance on the true thief, his father's former employer, Hubert Pellegrini, and his family.
Split into two parts–the first coming out in early 2021, the second mid-2021–Lupin leaves the audience constantly on the edge of their seats and always wanting more. Unlike most thrillers, this show leans into being both mysterious and fun. The heist that Diop plans are simultaneously over the top and just enough to make the viewers constantly wonder if and when he will truly be caught.
This show reminds me of the early 2000s TNT show Leverage, a show where heists were done on a regular basis, only to go wrong, just to turn out oh so right. Lupin is very similar in the sense of things going wrong, and somehow, only looking wrong to the audience. Just when you think Diop has nowhere to go, he changes like the wind and adapts to situations in a way that could never be predictable. It's entertaining. It's nail-biting. It's immensely fun.
In addition to this, the show does a great job of making the setting just as much of an important character as Diop himself. Paris gets a chance to shine in a light that is more than just being the "city of lights." Instead of showing the typical tourist sights, the audience is given all of Paris and its beauty. Though, these often picturesque locations are the backdrop to messier, and undesirable situations.
With just ten episodes, Lupin can be watched over the span of a weekend. With subtitles, it should be watched diligently. Regardless of when and how you choose to watch it, it is an entertaining and thrilling experience worth adding to the front of your queue.
7

.

Blindspotting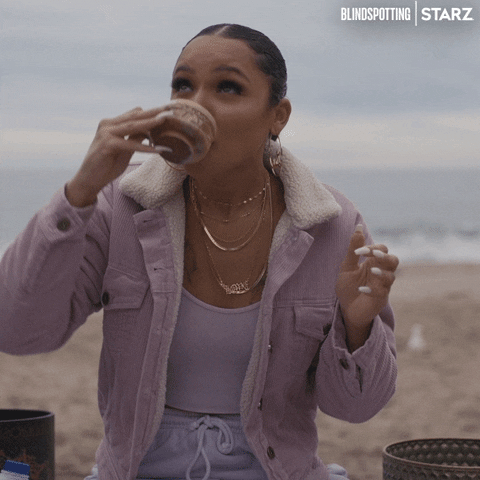 Sipping Tea Time GIF by Blindspotting
Giphy
There is a reason why Jasmine Cephas Jones' award shelf keeps getting more and more crowded. Though, before you shout Hamilton, know that that was six years ago (despite Disney+ release), and not the biggest reason at the moment. Instead, Jones' current awards and accolades come from her stunning performance in Blindspotting.
Based on the 2018 indie film with the same name, Blindspotting follows Jones as she reprises her role of Ashley, a young mother in Oakland who struggles to keep her house in order when her boyfriend of 12 years is arrested for selling drugs. With dreams once in sight, Ashley finds herself trying to rebuild her life when she learns that she will have to leave her newly built home, and bunk with her boyfriend's mother when she discovers that he won't be returning for a while. From this typical family drama ensues, nevertheless, Jones' performance is what truly steals the show.
Similar to Starz's gone-too-soon hit, Vida, Blindspotting does a wonderful job of showing what happens when one is born from a neighborhood but doesn't necessarily belong in the neighborhood. From the very moment she returns, it is clear that Ashley and her son are somewhat welcomed by the people, but that she shouldn't be there in the first place. She does not enjoy the same things those of the block do. She does not value the same things either. This often pits her against her boyfriend and his family's ideals. What they see as an everyday thing, she sees as "fuckery" that isn't worth dealing with.
Not only this, but it is very clear through Jones's performance of the difference between Ashley and those of the neighborhood. She doesn't stick out like a sore thumb, from first sight, it seems as if she truly belongs there. Nevertheless, because she has ambitions outside of the block and outside of the life her boyfriend has given her, it becomes very obvious that she will never be truly satisfied.
The term "blindspotting" defined within the movie by writer and star Daveed Digg's character, Rafael Casal, relates to the limits of one's perception, a dualism that cannot be seen.
While the term in the film was meant to show why the characters might not be able to move past where they are, this term does not completely fit the character of Ashley, which might contribute to her greatest hindrance. Ashley can see the dualism and she is not satisfied with the life that she is constantly forced to see outside of her doors. With drugs, gentrification, and the lack of a steady place to call her own, Ashley takes a completely different approach from the other characters of the show/film.
While they see home, Ashley sees a prison worthy of escaping now that she has outgrown it. Though, escaping it might be easier said than done.
8

.

Squid Games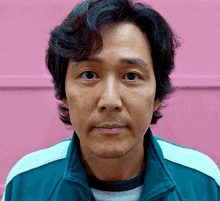 Round 6 Game GIF
Giphy
This wouldn't be a "best TV shows of 2021" list if Squid Games was not on it. As stated before, the best shows this year came out of nowhere, and man did this come out of nowhere. As ruthless as it is intriguing, Squid Games was such a hit, mainly because it did what no other show was willing to do: it held a mirror to the world as it is.
Yes, one could argue that The Underground Railroad did this, reflecting America's biggest sin on the screens. Nevertheless, that sin is only limited to America pertaining to its longevity of enslavement and ruthlessness. Squid Games, although a South Korean show, shows how truly terrible we are as an overall global society. These errors aren't rooted in the past, instead, it is formed and cultivated right in the depressing and at times hopeless present.
Often compared to the likes of Hunger Games, Squid Games finds itself to be just a little more gruesome. Even though the Hunger Games has more ruthless arenas and children killing each other, Squid Games is just a little worse, mainly because its cruelty is presented through our childhood games. Meaning, the games aren't difficult to complete, what makes it truly difficult and Hunger Games-esque, is how willing everyone is to kill one another to seek their economic goal. Which only reflects how awful our current world is because if given the chance to relieve myself of debt, and this game had been an option, I would honestly consider completing it.
Squid Games shows what is truly wrong with our current world, and it also shows how easily this wrong could be rectified, if only our leaders would spend more time helping their people, rather than pitting them against one another. Like other Netflix originals, Squid Games is dubbed, but to truly understand and feel the cruelty of the show, go the extra mile and enjoy it with captions.
9

.

Reservation Dogs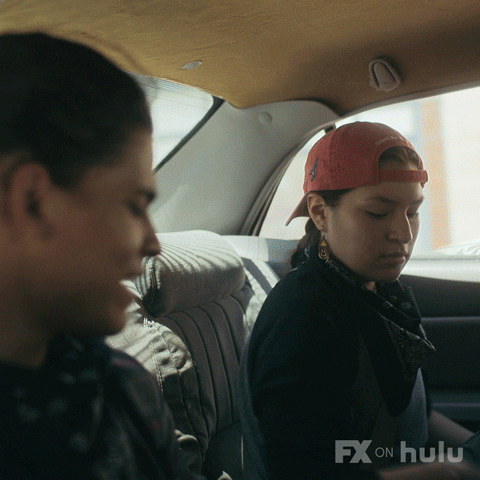 Native American Indian GIF by Reservation Dogs
Giphy
Hear ye, yes, hear me: Any show or story about a person of color I am watching. I repeat, any damn story that is told about a person of color, by a person of color, I am watching.
If it just so happens to be good, I am watching and I am staying. Reservation Dogs, FX's newest comedy show, is a show about people of color, made by people of color, that is definitely worth staying for.
Reservation Dogs focuses on four Native American teenagers who commit insouciant crimes to fund their mutual dream of moving to California. Until they can raise enough money, they spend most of their time with limited opportunities while hindered by the loss of their close friend Daniel, whose death they blame on the circumstances of their community. Due to this, drama ensues, which at times can be heartbreakingly dramatic, but for the most part, it is presented with hilarity that has never been associated with Native American people on-screen.
This show is why representation truly matters. With its four teenage characters, Elora, Bear, Cheese, and Willie, Reservation Dogs tells a delightfully intriguing story of people who are just trying to live. That's it. Yet, it is fantastic in its depth and actual representation of who Native American people are today, which is a perfect blend of their old and modern cultures. In some episodes, the air time is shared between all four characters and we get to understand why they want to leave as a collected group. In other episodes, the time is divided and we are given reasons why each character has a reason to leave.
These reasons make us wish the characters could go and start that life they so desperately want in California, and after watching their daily nonsense we root for their petty crimes to succeed. Although knowing how California is, and knowing how the world cares not for the many, a part of me wishes for them to stay within their community. Though, I know California could be better for them, there is still that chance that it won't be, and it would be a shame for such likable characters to be let down once more.
Reservation Dogs is a show that everyone must see. Not because the story being told is groundbreaking, but because the people who get to tell their story are. It is rare to see a show that follows a particular culture and group despite it being 2021, and it is even more rare to see it be Native American people who have somehow been erased from their own history.
Watching Reservation Dogs will make you cry, it will make you laugh, and most importantly it will make you say, "it is about damn time."
10

.

Harlem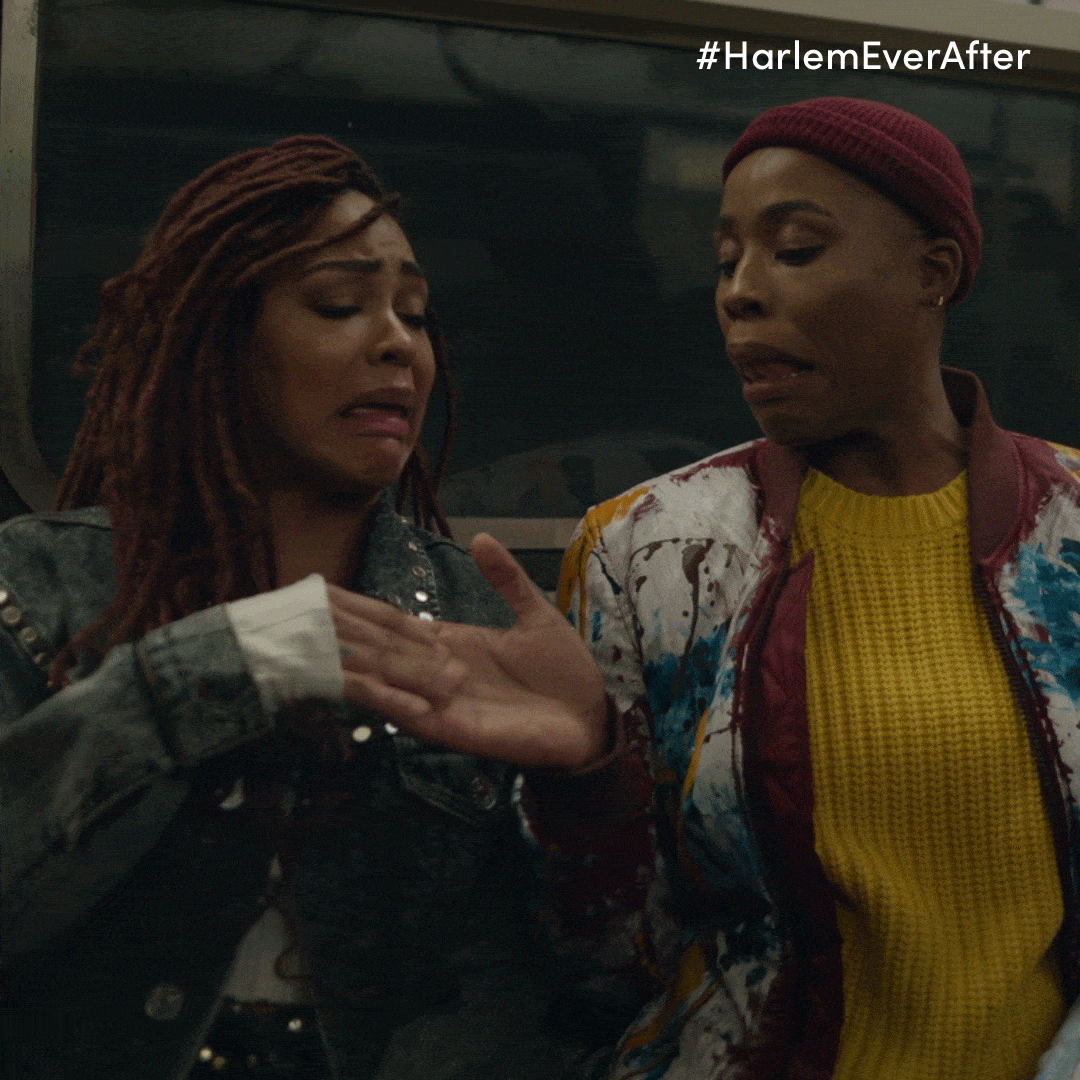 Meagan Good Kidding GIF by Harlem
Giphy
Prime has done it, again. Sneaking in with just a minute to spare--it premiered on December 3, 2021--Harlemis another top show worthy of watching this year. Following four girlfriends as they navigate their personal lives and careers, Harlem is what occurs when Girlfriends meets Insecure and Living Single. Created by Girls Trip writer Tracy Oliver, Harlem is grounded in its friendships and the hilarity that occurs when life gets as ridiculous as it does get complicated.
During the first few episodes, we are introduced to Harlem through the perspective of Camille (Meagan Good) a newly single (if you can call a year new) anthropology professor. When she attempts to jump back into the dating world, her friends are introduced to help her maneuver through the world of dating apps and disappointment. Despite being introduced to this world through Camille, the audience continues to travel through Harlem with the (mis)guidance of Quinn, Tye, and Angie, too. Like Camille, they must deal with messy love lives, not-so-wise decision-making, and the burden of just trying to "human" right. Nevertheless, the beauty of this show is that they manage to deal with all of this together.
The issues they find themselves in are often avoidable, but honestly, most situations we all find ourselves in are just that. Regardless, what makes Harlem entertaining is how they manage to get themselves out of a situation they knew from the beginning was never meant for them. At times, this behavior can be seen as messy and pointlessly so. Other times, it just seems entertaining and as if they are making decisions because they know it could be a great story to tell in the future.
No matter what it is, Harlem shows the power Black-female friendships can create, but in a typical Tracey Oliver fashion, it also shows what can happen when people are just allowed to live proudly and unapologetically the way they choose.
Honorable Mentions:We Are Lady Parts, Girl5Eva, Hacks, Mare of Easttown, The Great, Midnight Mass, and Only Murders in the Building.
Featured image by Getty Images