It's been established that women are from Venus and men are from Mars, so we obviously speak two different languages when it comes to love and well, just about anything else. But what if you had the opportunity to change that temporarily?
---
What if you could get insight into a man's thoughts and intentions without even needing his permission? Will Packer and Taraji P. Henson just teamed up with Paramount to give us a glimpse into what that's like.
What Men Want is slated to release January 11, 2019, and will offer a freshly melanated version of the millennium classic starring Mel Gibson. Taraji P. Henson will play the leading lady, Ali Davis, who is an ambitious sports agent that suddenly gains the ability to hear the thoughts of her male counterparts. Her gift, or her curse (depending on how you look at it), will help her secure the bag and then some by giving her a powerful advantage in a male-dominated industry.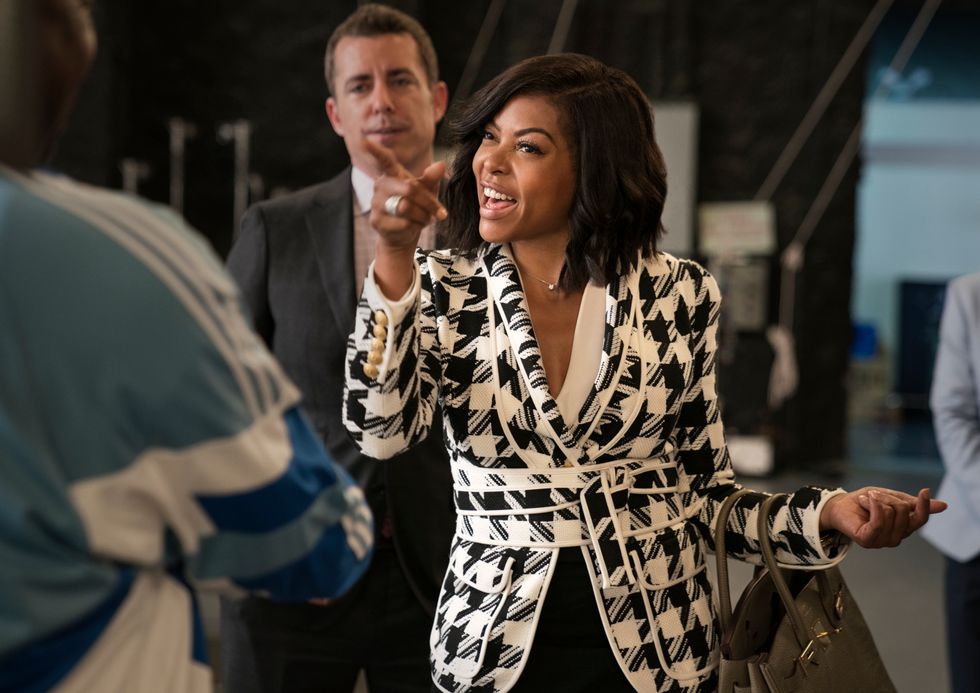 Taraji P. Henson in a still from 'What Men Want'
The remake will add to Packer's extensive list of wildly popular films that have a predominantly black cast and xoNecole recently sat down with the cast and crew to get the scoop on the film.
Taraji always does her thing, but it will be a special treat to see her in a leading comedic role (especially in a romantic comedy), which has been a rarity in her career. After originally forfeiting a role in the film Girls Trip, when Packer approached Taraji again with What Men Want, she knew that it was be the opportunity she had been looking for. Although she is normally casted in dramas, Packer and Taraji both knew that this would be the perfect role for her. Ali is literally the role of Taraji's dreams.
"This is the role I've been waiting for. You know, as a single parent, moving to LA, you know, doing a half hour sitcom was a dream role for someone in my position because I still had time to go home and do homework. You know so, it didn't require those crazy hours. As God would have it, I was always doing drama, so I've always wanted to do this. And I knew I'd have a lot to prove like, 'You don't do comedy.' I try to put comedy into everything I do because in life you laugh one minute, you cry the next… I enjoy comedy. Thank you, God, I'm not crying this summer!"
Packer said that his motivation to make this film, which was almost immediately fast-tracked by Paramount, came from his overall goal to make mainstream media more inclusive and more reflective of what today's world looks like.
"If you think about it, this whole movie, it was Mel Gibson. It was a white man who could hear the thoughts of women and use it to his advantage. That feels very 1980-whenever it came out. If you're going to do this movie in 2018 and beyond, you gotta have a sista in the center of that, in my opinion. You gotta have a strong woman of color. She gets the power, she uses it to her advantage, wins over the men - to me, those are the things that are really resonating right now."
"I just think there's a lot of diverse representation we haven't had because for so long Hollywood was just a patriarchy. Really, literally, [it used to be] who is like the white male star of the moment and how many movies can we put him in? And that worked for a while. But now the world is changing, the world looks very different than it did in the 80s... I think this is the time to do it and people like me who have a little bit of power, a little bit of opportunity to do it, this is where we should be doing it. We should be taking responsibility and giving agency to us and our stories."
Among the star-studded cast is star of the HBO Special 2 Dope Queens, Phoebe Robinson, who said that working on the project with Packer and Taraji has been a one of a kind experience.
"Obviously this movie is female centric. I think all of the female characters are well-rounded, have their own agency outside their relationship status, and when I think when you guys see the whole movie and see the ending, you're gonna feel like, 'Oh this is a movie of this moment.' And I'm really excited about it.
Phoebe said that the movie was especially close to her heart because it offers black women a new lane in the entertainment industry.

"I think we're still seeing so many comedies and romantic comedies don't have women of color at the lead. Women of color aren't necessarily the love interest, the main person that's being pursued, they're the best friend. And in this case, it's like you know, we're all in relationships, Taraji's dating around. And it's really nice to see that on-screen. And I'm really pumped that this movie is gonna be another one hopefully in the line of movies that show that women of color have fun, they go on dates, they sleep around a little bit, they get their Prince Charming, or they decide to choose themselves instead and I think that's great."
Ali's love interest in the movie, Will, is played by Aldis Hodge (Black Mirror) who said that his character finds love like most of us do: by surprise.
"Will is a bartender and single father when he meets Taraji's character Ali in the time she's not at a high point in her life or career wise. Their relationship just sort of sparks in the sense of just having fun and not foreseeing anything around that but of course, things happen."
Hodge said that his character, much like the original, acts as a catalyst for change during a major crossroads in Ali's life.

"He's not the only catalyst for change. He's a part of that. I think what the film does in a smart way is, was address what women deal with on a regular basis and trying to navigate through a male dominated space in in their personal life as well, how they have to address their own femininity. So she deals with the professional space, with her job, she deals with the love space. How she feels, whether it is love or not love in that introduction. Again, there's different reasons why she evolves as person throughout the film. Again, Will is just one of those elements that adds to her journey."
We all need an element or two every now and then, right?
Now, I have my popcorn already buttered and salted for next January, and I'm hoping that Taraji can help us answer the question we're all thinking: What tf do men want? Check out a sneak peek of the flick by watching the official trailer below: