Zendaya and Tom Holland are one of the hottest young couples in Hollywood. After being casted together in Spider-Man: Homecoming in 2016, fans were hoping that the two were more than just co-stars due to their on-screen chemistry and after years of speculation, fans got their wish.
---
It's been said that the best relationships start off as friendships and it looks like that's the case with Zendaya and Tom. They both met while filming Spider-Man and in an 2017 interview with People, the English actor referred to Zendaya as his best friend.
"We are like the best of friends. She's so great and amazing," Tom said. "I'm a little worried [about dealing with fame … but] Zendaya is super famous and she's been through this, and I just call her up and say, 'How do I manage being famous?' I'm very glad I have a friend like her."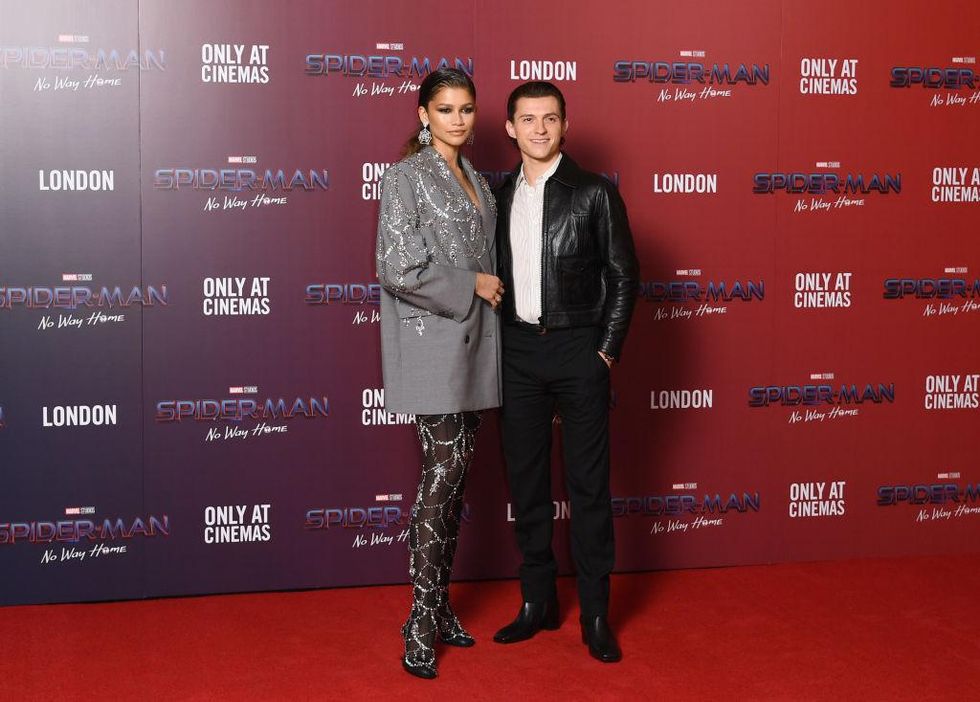 Gareth Cattermole/Getty Images
Adorbs!
However, it seems that they have been in an on-and-off relationship as they have been linked to other people since initially sparking romance rumors in 2017.
The Disney alum reportedly dated her Euphoria co-star Jacob Elordi in 2020 and Tom was rumored to have a romance with family friend Olivia Bolton in 2019. But like any on-and-off relationship, they found their way back to each other.
Here's a timeline of Zendaya and Tom's relationship:
2016
The 25-year-old actress made her first appearance on her now beau's Instagram back in July 2016. While it appeared like an innocent pool day with friends, this could also be looked at as the beginning of their romance.
@Zendaya Does the press tour count 😂😝 https://t.co/2WsstZPyde

— Tom Holland (@TomHolland1996) July 13, 2017
While Tom said that he and Zendaya were just friends in the People July interview, another source claimed that they were more than that. The source said that they began dating while filming Spider-Man.
"They've been super careful to keep it private and out of the public eye but they've gone on vacations with each other and try and spend as much time as possible with one another," claimed the source. "They're both really ambitious and they challenge each other — but, most importantly, they make each other crack up. They seem to have a really similar sense of humor and love joking around together. They have great banter back and forth."
However, both of the actors denied the claims on Twitter. "Wait wait...my favorite is when it says we go on vacations together HA! I haven't been on a vacation in years! hbu @TomHolland1996???," Zendaya tweeted. Tom retweeted her and wrote. "Does the press tour count?"
The rumors didn't stop there. In December of the same year, Tom had an outing with Zendaya and her parents. Page Six reported that the actress' parents seemed to be "charmed" by the Englishman.
2018
Both Zendaya and Tom were pretty lowkey this year, sans a couple of Instagram posts Tom shared of the Dune actress. In May, he praised his "mate" for her MET Gala look. "All hail the queen. Killing it mate 🙌🏻," he wrote.
Later on in September, he wished the Euphoria star a happy birthday. "Me, myself and the birthday girl. Happy birthday mate - keep killing it and paving the way for the rest of us ♥️," he shared on Instagram.
2019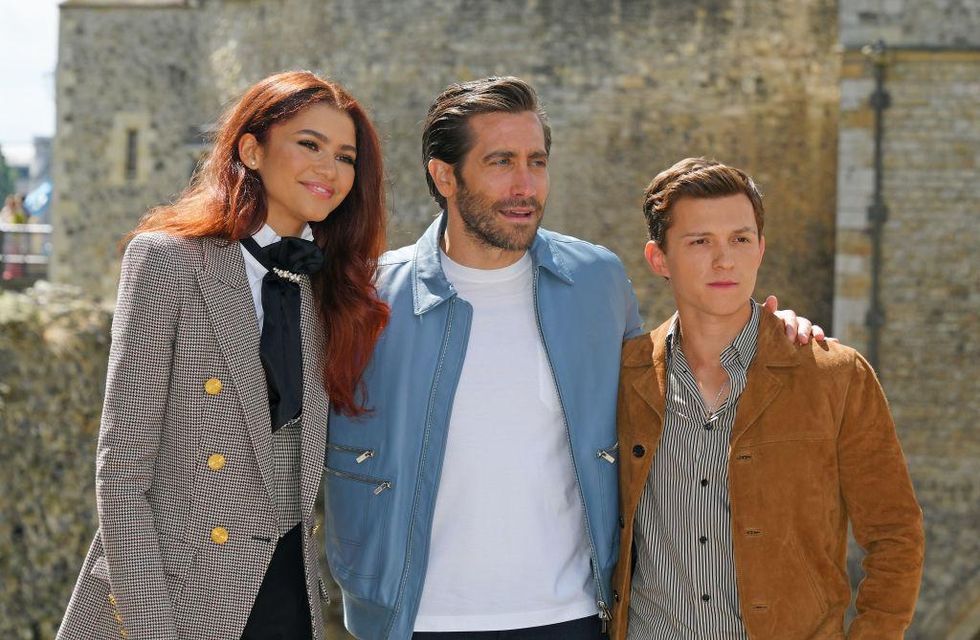 David M. Benett/Dave Benett/WireImage
In 2019, the Spider-Man co-stars were reportedly dating other people. Zendaya sparked dating rumors after she was spotted vacationing with her Euphoria co-star Jacob in August 2019. Tom was also seeing Olivia.
2020
Paparazzi caught Zendaya and Jacob kissing in New York City in February, but they never confirmed that they were a couple. Tom, however, broke up with Olivia, but seemingly confirmed that he was back off the market after he shared a photo of Nadia Parkes on Instagram.
2021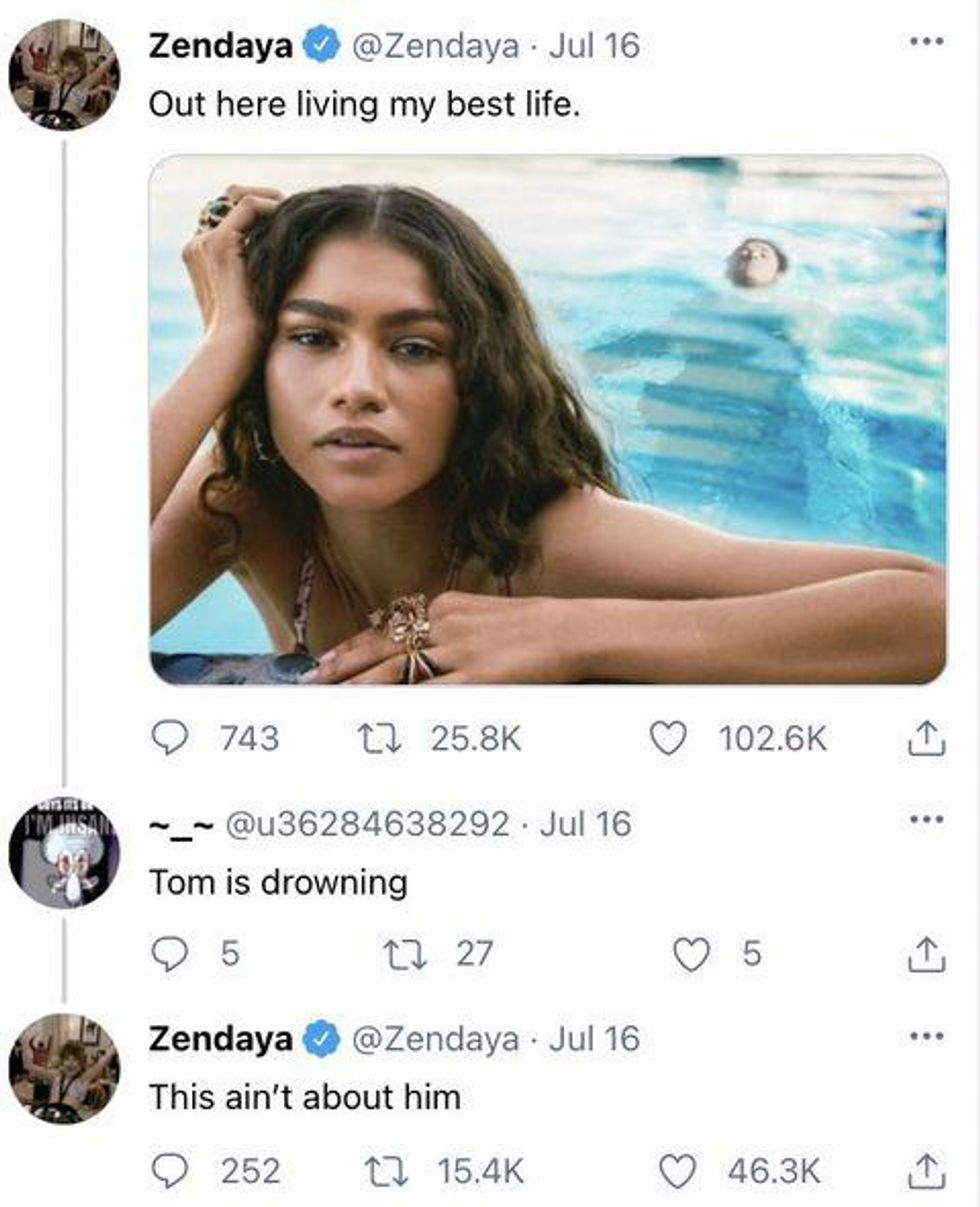 Zendaya playfully shading Tom in a since-deleted tweet back in July.
Twitter
In July 2021, paparazzi photos of Zendaya and Tom kissing appeared online, which sent Twitter in a tailspin.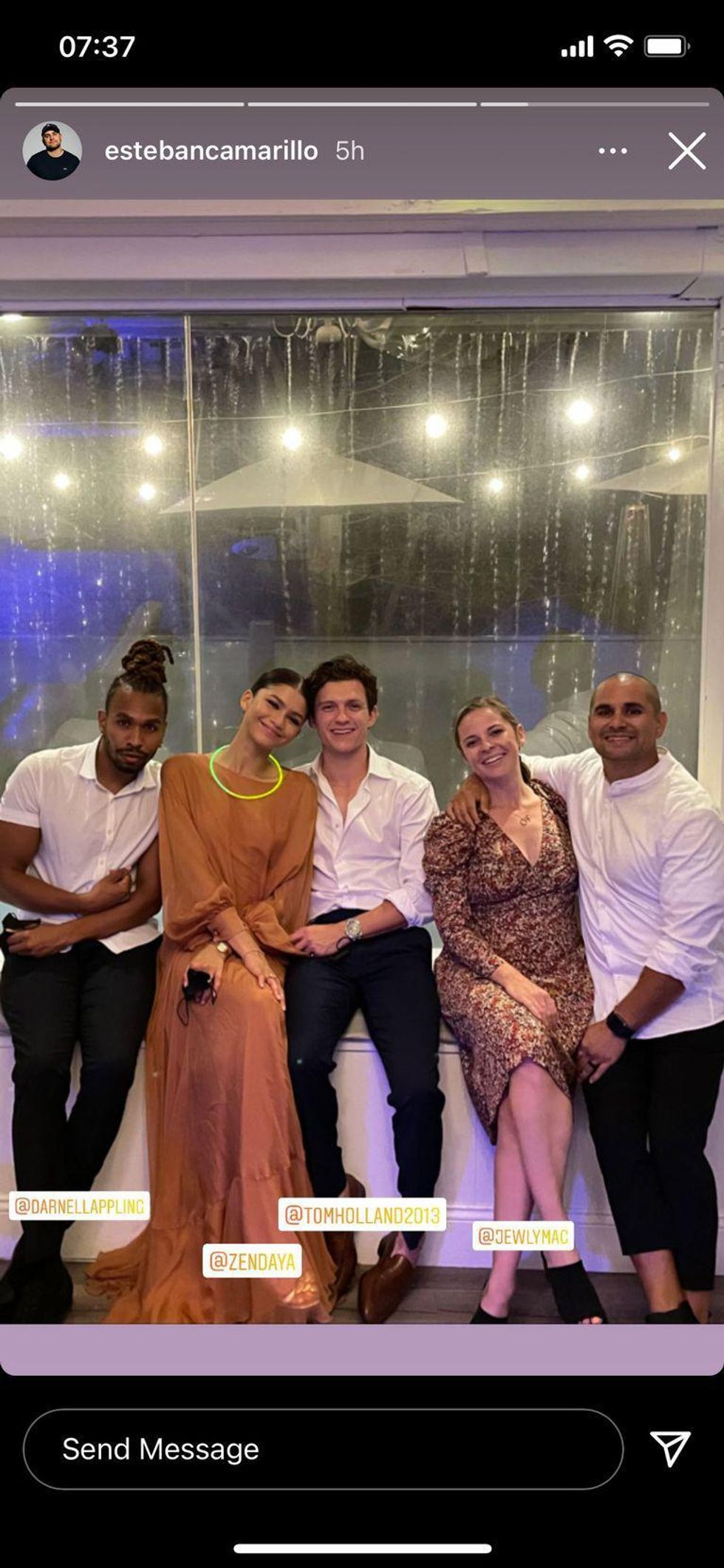 Esteban Camarillo/Instagram
A month later, the pair were spotted attending a wedding together in Esteban Camarillo's IG Story, a fellow guest at the wedding. In regards to romance rumors, Tom and Zendaya kept it cute and still on mute.

However, a source toldUS Weekly, "They're both not one to make their relationship public. They're private when it comes to dating so any photos that have come out would've just been them going about their business and not knowing photographers were around."
In September 2021, not one to shy away from shouting out Zendaya when she's slaying, Tom shared a photo of him and the beauty on his Instagram. "My MJ," it read, "have the happiest of birthdays. Gimme a call when your up xxx."
A month later in October, while on a promo tour for the box office smash Dune, Zendaya took a BFF test with co-star and best friend, actor Timothée Chalamet. One of the questions the BuzzFeed series asked was about their biggest celebrity crushes.
Timothée cheekily responds for Zendaya by saying, "Easy. Tom Holland." To which Zendaya laughs knowingly before answering the same question for her co-star. The adorable moment starts at 1:01.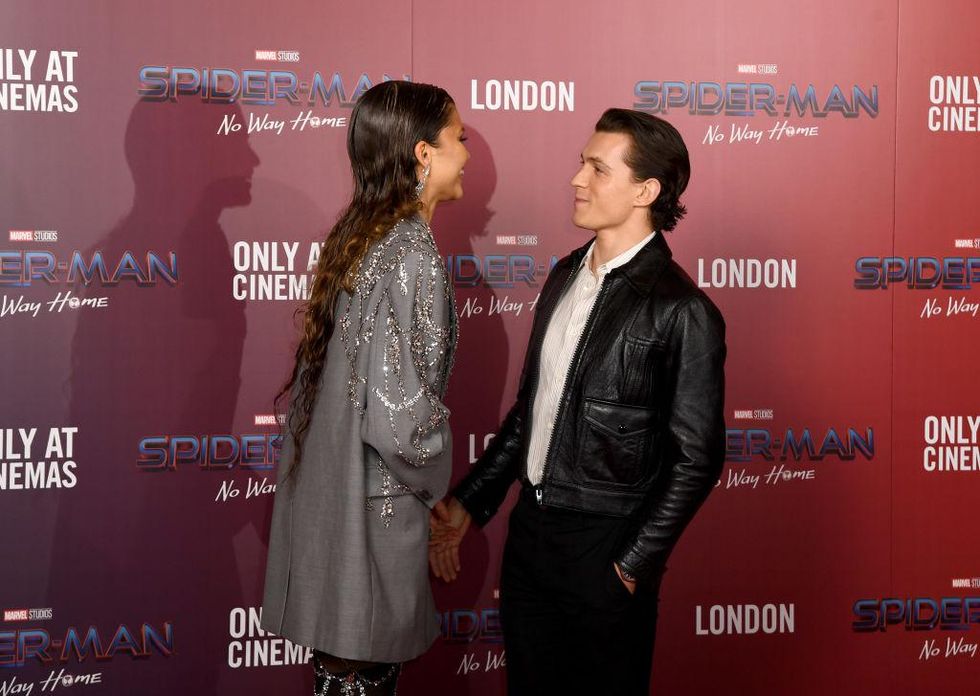 Gareth Cattermole/Getty Images
It wasn't until December 5, however, that they made their first red carpet appearance as a couple. They were all smiles as they attended a photocall in London for their film Spider-Man: No Way Home.

After news broke of their relationship, the actors openly gushed about each other during interviews. Speaking with GQ in November, both Zendaya and Tom spoke highly of each other.
"Having her in my life was so instrumental to my sanity," Tom said. "She is so good at being the role model for young guys and girls. When anyone comes up, like, 'Can I have a picture?' it's never a bad time. Whereas my initial reaction was: 'Why are you talking to me? Leave me alone.'"
Zendaya shared, "The equal sentiment [we both share] is just that when you really love and care about somebody, some moments or things, you wish were your own…"
"I think loving someone is a sacred thing and a special thing and something that you want to deal with and go through and experience and enjoy amongst the two people that love each other."
Featured image by David M. Benett/Dave Benett/WireImage via Getty Images