Rihanna and A$AP Rocky have been friends for well over a decade, crossing each other's path in the industry from time to time. But as we all know, the two have decided to take a chance on love, entering a relationship where Rocky pretty much declared his admiration for in a new interview with GQ Magazine.
---
The 32-year-old A$AP Rocky confessed his love for Rihanna in an exclusive when asked about the Fenty Beauty mogul.
"She amounts to probably, like, a million of the other ones. I think when you know, you know. She's the One."
Additionally, he refers to Rih as his "lady," and the love of his life.
But the foundation of their relationship and friendship began in 2012, when he hopped on a remix to her song, "Cockiness (Love It)."
This is one of the first times we see the pair together, at MTV's Video Music Awards on Sept. 6, 2012. She attended the awards show with former flame Chris Brown, after a controversial rekindling of their relationship.
Rocky then went on to join Rihanna as the opening act on the North American leg of her Diamonds World Tour. Rihanna would also later star in the music video for Rocky's song "Fashion Killa" in 2013.
In May/June of 2017, Rih began dating billionaire, Hassan Jameel and the two lost connection, although in 2018, they were spotted together.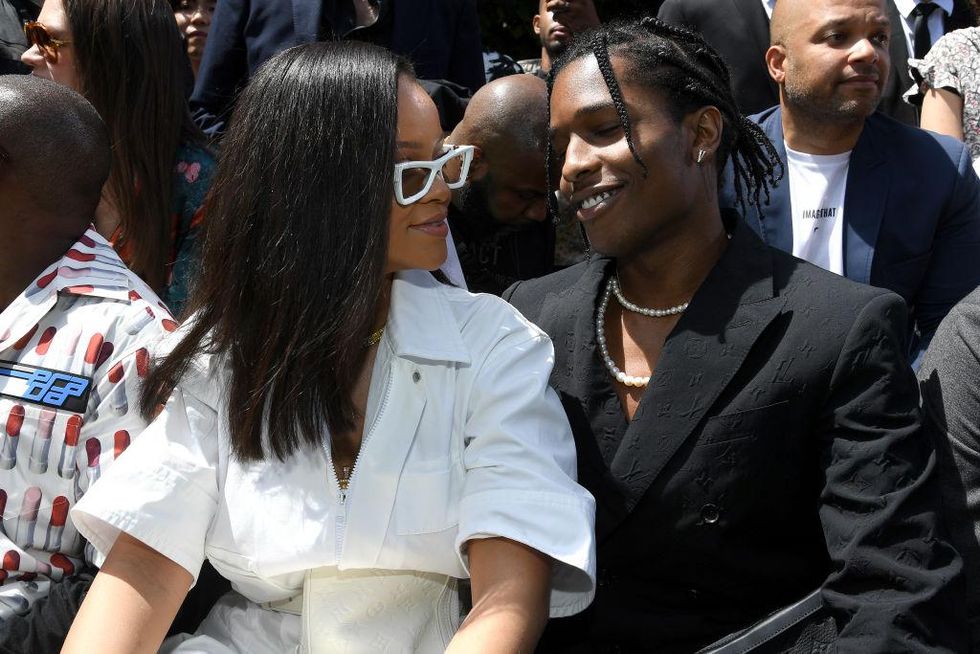 Pascal Le Segretain/Getty Images
Rih and Rocky sat front row at Louis Vuitton's Spring/Summer 2019 fashion show at Paris Fashion Week. The two were laughing and taking in fashion, something they each are notoriously famous for.
That same year, Rihanna invited Rocky to her 4th Annual Diamond Ball, her fashion charity event she created to support her Clara Lionel Foundation, which she founded to support global educational programs. It was his first time attending the event. He went on to attend the following year as well.
The couple then linked up to model her newly-created fashion brand, Fenty.
They each attended the Fashion Awards in London and even posed for photos on the red carpet together.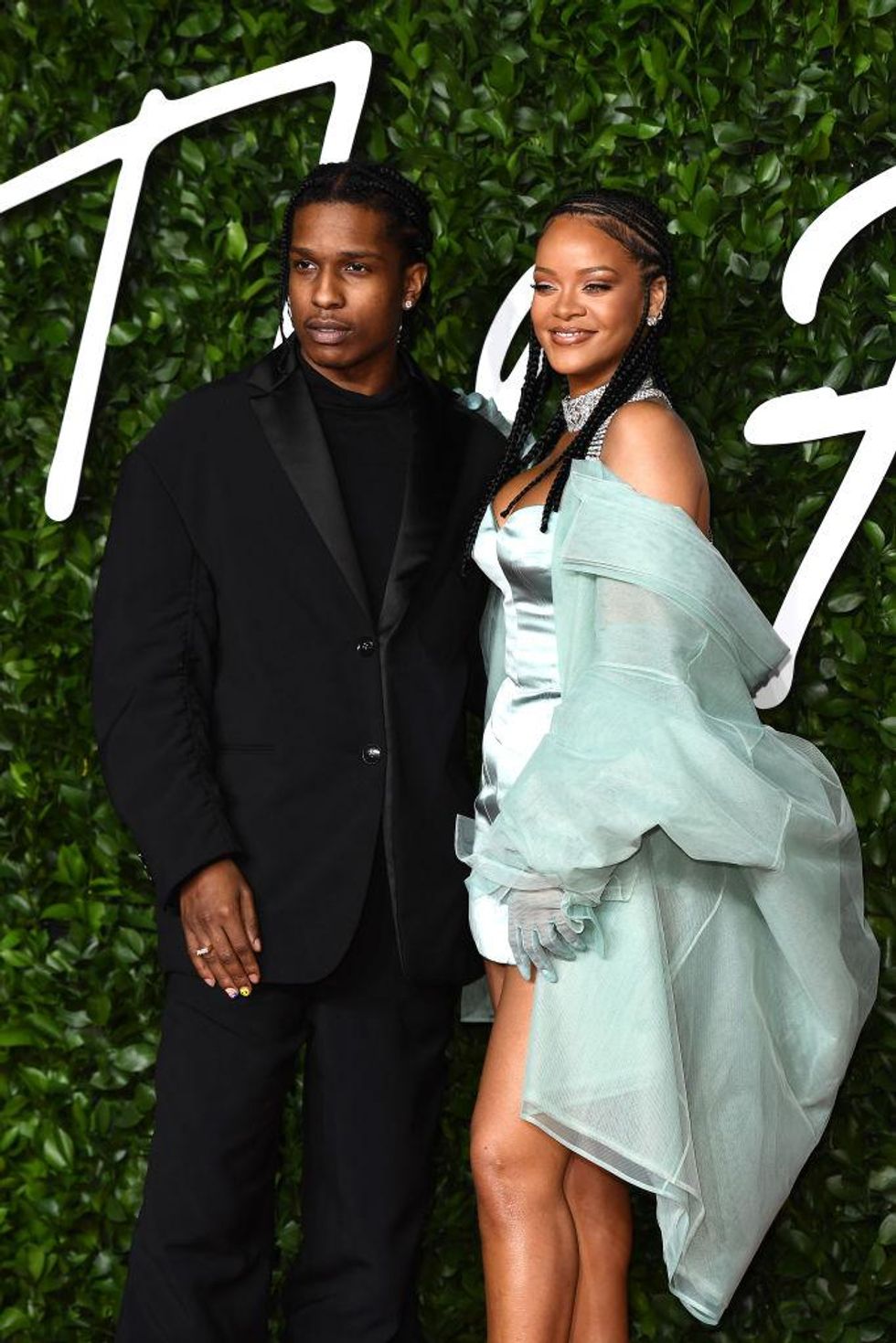 Jeff Spicer/BFC/Getty Images
Rocky labeled this look his favorite one, all because he "saw it in person."
The 'first Black Dior model' even told GQ, while rating his best and worst looks:
"That's a fly photo because she looked fire right there. She looks sexy as f*ck, I love her braids. She might have wore better stuff before, but I was there in person to see it on her. She designed my tuxedo, that's a Fenty tuxedo with the Rick Owens shoes on. I was in all Fenty that day."
Soon after, Rih and billionaire bae Hassan called it quits after three years and then Rocky and Rih posed for Fenty Skin in an ad campaign.
Romance rumors surrounding Rih and Rocky began to hit the internet after they promoted the launch by doing an exclusive video interview with GQ, where Rocky got candid about his own skincare journey.
"I had to discover face cleansing and skincare all at the same time when I was a young buck in the shower. You can't wash your body with the same rag you wash your face with. I was lucky enough to be the type of guy that wants to wash my face."
Their chemistry was off the charts in the video, forcing everyone to take a second look, likeeee, 'what's really going on, sis?!'
And listen, they fought off relationship rumors as long as they could, labeling everything as "friends" every chance they got. But then, the couple went on a cruise to Rih's homeland of Barbados, where Rocky *allegedly* met her family and spent time with them on Christmas.
Shortly after, they were seen together quite often, whether for an evening stroll, or dinner at the Beatrice Inn in New York City. Rih even publicly supported Rocky's collaboration with footwear designer Amina Muaddi as she wore a bomb pair of the Amina Muaddi x AWGE LSD Gladi Thigh Heels on her insanely popular Instagram.
Which brings us to their present day 'friendship-to-relationship' pivot that we all stan. 
Rocky reveals that last summer he rented a tour bus with Rih and embarked on a country-wide trip with stops in Texas, Tennessee, and some national parks, which he admitted strengthened their bond.
"I met myself. Being able to drive and do a tour without feeling like it was an occupation or an obligated job agreement, I feel like that experience is like none other. I never experienced nothing like it."
He. Met. Himself. Whew, Rih what's the secret sis!?
Listen, we are so here for this relationship. Soooo here for it. Primarily because women and men so often claim that they want to be friends with their significant other, but then turn around and file the two separately. These lovebirds took the time to build a foundation and truly understand their working relationship, partnership, and now, romantic relationship.
And although Rih likely is annoyed by the recent influx of attention on the pair, the fact that Rocky absolutely could not help himself when she came up in conversation, is what we love to see. Let's learn a quick lesson from this one, ladies.
Can't wait to see where their relationship goes from here!
Are you a member of our insiders squad? Join us in the xoTribe Members Community today!

Featured image by Jeff Spicer/BFC/Getty Images