Charmin Michelle
Charmin Michelle is a southern native and creative spirit who works as a content marketer and events manager in Chicago. She enjoys traveling, #SummertimeChi, and the journey of mastering womanhood. Connect with her on Instagram @charminmichelle.
Ciara is living her life outside the confines of what anyone wants her to be. When it comes to balancing her career, being a mom to her three adorable kids, having one of the most praised marriages in the world of A-list sports and entertainment, and getting to walk around as one of the most beautiful women in the world, she proves to remain unde-frickin-feated.
Featured image by Paras Griffin/Getty Images for Strength Of A Woman Festival & Summit
Lizzo is taking her stab at being a beauty influencer. Well, kinda.
In a video uploaded to TikTok, the "About Damn Time" singer showed fans how she does her own semi-full face beat after "giving her makeup artist the day off" and inviting fans to apply makeup with her. She opened the video with a bare face, sharing, "I'm excited 'cause I just bought a bunch of cool new stuff, so I think I'm gonna try to give myself a semi-full face beat,...semi, as in do a little...and we might even do a lash."
Sidebar: can we get into this skin, though!? Whew!
Here's the routine:
Featured image by Sarah Morris/Getty Images for The Recording Academy
I always find myself falling down steep rabbit holes to learn the backstories of how Black women broke into Hollywood. Every celebrity has their own story, and oftentimes, it's the same old song: networking, making connections, knowing someone who knows someone who knows someone. Girl meets agent, agent knows person, person knows three other people, who can connect you to the cousin of someone else -- you know, the usual.
So, when it comes to our fave, Issa Rae, learning that her writing career ignited in the most perfectly Issa way possible, I found myself loving her even more (if that can even happen). It all started while watching a 2021 Bustle interview. In the clip, Issa shares some of her most major life-changing moments. While telling the story of the time she visited the set of UPN's Moesha, she opened up about how that moment shaped her career.
"So in 1996 I got to go to the set of 'Moesha' and be in the live studio audience. And I won a script. That script was like the blueprint, it was the template, it was the ticket to get into the industry for me and that's what I used to write my own stuff."
The way my inner teenage girl is screaming at the thought of Brandy birthing THE Issa Rae is almost too much to handle. And it's so damn "Issa."
The best part is this isn't even the first time that Rae has paid homage to the show. In 2018, the newlywed portrayed '90s Black sitcom characters in a profile for GQ, while discussing her rise and life as the showrunner and star of Insecure.
In the photoshoot for the profile, Issa portrayed fellow legend and Grammy-winning songstress, Brandy as Moesha, alongside the likes of Steve Urkel from Family Matters, Will Smith from The Fresh Prince of Bel-Air, and Dwayne Wayne from A Different World.
Issa's take on Moesha caught the eye of Brandy, who sent Rae a sweet message via Twitter, thanking her for the acknowledgment.
"@IssaRae you're such a beautiful spirit. Thank you for portraying me in your @GQMagazine shoot for #BlackTvIcons #MoEsha #blessing"
To see the impact of Moesha, a series that tackled social issues such as drug use, racism, the death of a parent, and pre-marital sex in a time where representation was becoming more and more prevalent, is one thing, but to know it birthed the creativity of Issa Rae, is one we love to see.
Let's make things inbox official! Sign up for the xoNecole newsletter for daily love, wellness, career, and exclusive content delivered straight to your inbox.
Featured image by Aaron J. Thornton/Getty Images
One of my mentors once told me, "To be a Black woman is to show up in spaces as Beyoncé, just to prove that you're Beyoncé." I remember when she said it, a refreshing take from the usual "work twice as hard" mantra. In fact, safe spaces such as xoNecole exist for this reason: To let it unapologetically be known who really drives society in those moments when our accomplishments are watered down.
More specifically, in the case of Raven-Symoné, one of the most impactful women of our generation, to think she would be anything other than THE Raven-Symoné may be unfathomable for you and me, but believe it or not, there was a time when people questioned it even though the actress, singer-songwriter, and multi-hyphenate, now known as Raven-Symoné Christina Pearman-Maday, is revered as one of the greatest child stars of all time.
For decades, she has carried our childhood classics, starring or appearing in movies/shows such as The Little Rascals, The Cheetah Girls, Doctor Dolittle, and so much more. Sis has been nominated for various Emmy Awards, served as a host for ABC's The View, racked up Kid's Choice Awards, multiple Young Artist Awards, and has more NAACP Image Awards than I can count. Symoné has been GOATed since before she could talk, making her multi-generational career speak for itself.
Or, so one would think.
In 2002, she arrived at Disney at the young age of 15 to star in, produce, and creatively steer the reigns of That's So Raven, birthing one of the greatest sitcoms of all time. Yet, in a tale as old as time, according to her co-star, Anneliese van der Pol, the Disney Channel sitcom about a teen psychic in San Francisco was originally supposed to be quite different.
Van der Pol appeared on former fellow Disney star Christy Carlson Romano's podcast Vulnerable recently and broke down what "Raven" looked like.
"When I went into audition, the show was called Absolutely Psychic–it wasn't called That's So Raven at all," the actress revealed. "At the time, Raven wasn't the lead, she was the sidekick. They were looking for a lead. I came in to audition for the lead. I think the character's name was Molly. I auditioned, and a couple [of] other people auditioned. I didn't get the part — somebody else got the part — but when they filmed, they realized that Raven was the funniest one and had a following, and so they bumped her up to first position and started auditioning people again."
@christycarlsonromano

Me and Anneliese are revealing some Disney secrets tomorrow over at @thevulnerablepodcast … stay tuned 👀 #ravenshome #anneliesevanderpol #disneychannel #foryou #fyp
Disney then shifted the focus to Symoné and held new auditions. "I went into a big cattle call, and I finally got the part. I think the character's name was like Molly, then Emma, and then it became Chelsea. And I think it was kind of like racism at a low level, if that's even a possibility. They couldn't really see a Black girl leading a show."
"With Disney, it's like, it's not personal, it's business," Romano responded.
Hm.
That's So Raven went on to air on the Disney Channel from 2003 to 2007, holding the title of the first Disney Channel show to hit the 100-episode mark...ever.
Ever.
Thankfully, Symoné's main character energy how she approaches life as well, proudly showing off the fact that she is a gem to our generation.
Like the time she decided to reboot 'That's So Raven,' and introduce a new generation to 'Raven's Home'​ (but this time as the boss).
Raven's Home is in its sixth season and centers around lead character, Raven Baxter, and her son Booker, who has inherited her psychic abilities, as they move to her hometown of San Francisco to look after her father, who suffered a mild heart attack.
"It feels so good to be able to see the journey of Raven Baxter as she is raising a teenage son, is taking care of her father, and finding who she is," Raven-Symoné said. "I think that story can resonate with a lot of mothers as their children grow up. Just seeing what that means for her and how she decides to tackle life in that manner," she told ESSENCE.
When she transitioned from hesitancy in revealing her sexuality, to openly putting on for the LGBTQ community.
"While it was a selfish thing for me to keep my secret to myself for as long as I did, I am very happy that I'm out if only to help someone else feel comfortable," Raven-Symoné revealed to Variety as part of their inaugural "Power of Pride" issue.
"It is about that one person who you'll never see or meet who watches the show and feels that confidence to just say, 'Hey, guess what? I'm gay. And if you can't accept me, it's okay because I see Raven pushing through.' That feels good. It's a hard journey, though. It's difficult."
Or the time she publicly opened up about depression and normalizing therapy because she knew her voice held weight.
On an episode of the podcast Mayim Bialik's Breakdown, Raven-Symoné and her wife Miranda discussed her defense mechanisms, their individual therapy journeys, and their struggles with depression.
"At 18, I told my parents I wanted to go to therapy," which they didn't quite understand. "Started there," Raven continued, "got pretty much the understanding that I have PTSD and… I don't have bipolar syndrome, but I have depression that is in that world, so took some medicines for that." One of which she stopped taking after it resulted in finding herself "underneath a table while filming, and could not get up."
She continued:
"Growing up in the industry from the age of 16 months to 36 years old leaves an interesting trail of bread crumbs that can be used in a positive light for others, can help others, can inform others. And when it comes to me personally I'm dealing with that through my therapist."
When she decided to take her health seriously and didn't want to make a big fuss about the weight loss that came with it.
The actress said her diet is one she has carefully educated herself on, adding, "I don't try to speak for anybody else."
"I'm not over here trying to be a little twig," the former The View co-host shared. "I'm not trying to be, like, 'Oh my God, look at me.' I have a goal in mind, and it's not just weight loss, it's really complete body health."
She continued:
"The way people were treating me while I was bigger was emotionally damaging. [After I lost weight] I remember the moment I went on the red carpet, and in my head, I was cussing everyone out. I'm like, 'Wow, now you want to look at me because I'm skinny, thanks.'"
And the time she recognized her hard work and the legacy she has built by just being herself.
Raven-Symoné was so ahead of her time and basically raised a generation of women through comedy. She told Entertainment Weekly:
"It didn't impact me as much then as it does now because I was 15, I was like, cool, I got my own show. It means so much now because I understand the [gravity] of what it means and the caliber of humans that I am in the pool with. I think it was kind of a good thing that I didn't let it go to my head. It was just about working and wanting to create great content at the time."
She continued, "Whether it's like a young Black girl saying, 'You gave me the confidence to do this or that because I loved Raven Baxter,' or if it's a grown gay man who is like, 'Wow, I had the hardest time coming out, but seeing you two gives me such joy,' it's really cool."
Let's make things inbox official! Sign up for the xoNecole newsletter for daily love, wellness, career, and exclusive content delivered straight to your inbox.
Featured image by Stefanie Keenan/Getty Images for WIF (Women In Film)
Gabrielle Union serves as a giant, wearing many hats for the culture. She's an advocate for believing in your child unconditionally. She speaks up for equal opportunity in work, justice, and equality. And now, she is showing the girls that 50-year-olds can, in fact, do it better in her latest film, The Perfect Find.
The actress dropped a few screengrabs of the film on her Instagram, leaving the fans squealing after noticing Keith Powers as her love interest (and who happens to be 20 years her junior). "It's almost time! First look at my new movie, THE PERFECT FIND, coming to @Netflix on June 23! @NetflixFilm #ThePerfectFindNetflix #Tudum," the post was captioned.
But what can we expect from Netflix's newest romantic comedy? Here's everything we know about Union's new film, 'The Perfect Find.'
In the film, Keith Powers plays Gabrielle Union's boss' son.
Map that one out in your mind.
After being fired from her high-profile job and losing her long-time boyfriend in a chaotic way, Jenna (Union) is forced to move back to New York City in an attempt to revive her career. Things get a bit messy as she finds herself working for her frenemy, Darcy (Gina Torres), but also falls for her younger, charming coworker, Eric (Powers), who also happens to be Darcy's son. Jenna is then faced with the decision to risk it all on the secret romance, and see if there can be a future with Eric despite their age and generation gap.
"Rom-coms are back," director Numa Perrier teases at Netflix's Tudum. "This is the movie. You're going to laugh, you're going to cry and it is very sexy. We will have our chemistry, we will have our sensuality, we will have all the things."
When it came to selecting Powers as her love interest, Union says it was a no-brainer.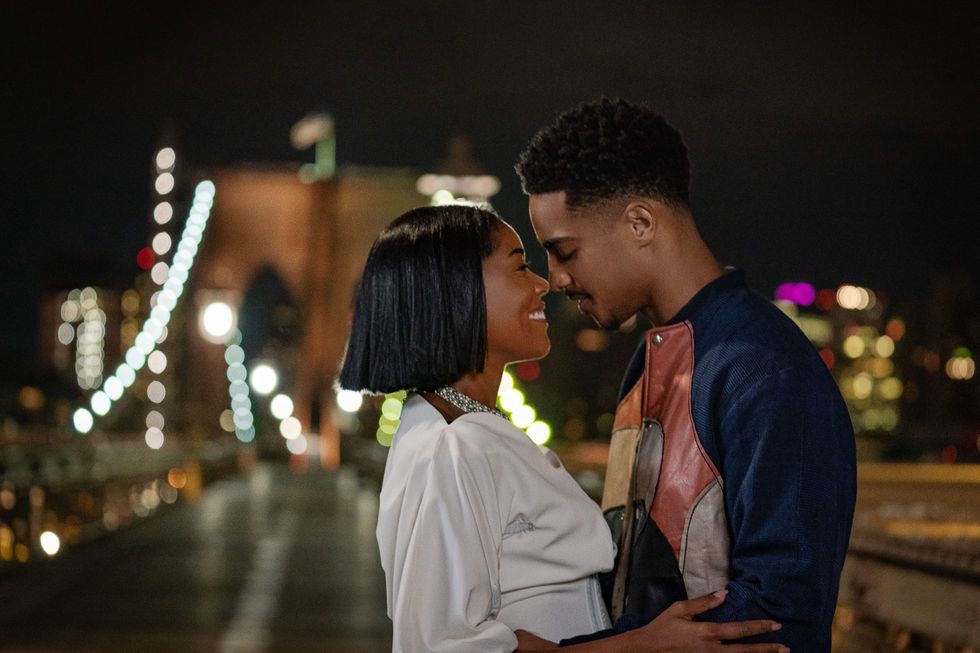 Courtesy of Netflix
"Everyone was like, 'Okay, that might be a slightly younger person that people might throw it all away for,'" she told Vanity Fair. It also helped that Union and her husband, Dwyane Wade, were fans of how Powers and his on-again-off-again girlfriend, Ryan Destiny, handled their relationship publicly.
"We were openly fanning about Ryan and Keith and just loving how they moved through Hollywood, how they handled their relationship, how they handled the public love. It was just kind of a natural progression of a friendship that already existed, but it comes out of respect. He has an enormous amount of respect for Dwyane, I have an enormous amount of respect for Ryan, and it just made working super easy."
The movie also stars Devale Ellis, DB Woodside, Janet Hubert, La La Anthony, Niecy Nash, and Gina Torres.
Perrier gives flowers to the cast, revealing that Torres is a scene-stealer as Eric's mom and Darzine e-zine founder Darcy Hill and so much more. "She's so magnetic, she lights up every room," Perrier says. "We wanted her to just be an absolute New York fashion woman who's bold and unapologetic and takes up all the space in the room. That's who Gina Torres is. We don't get to see her like that a lot because she plays very buttoned-up characters, but she really got to let go in the role of Darcy."
Perrier similarly praised Hinds and Anthony, who plays Billie and Elodie, Jenna's best friends and chosen family. "The three of them together, you feel like these are friends that have known each other and are supporting each other through every good and bad decision that they've made," she says. "You feel that realness."
Union says the film offered her the opportunity to tell a story that resonates.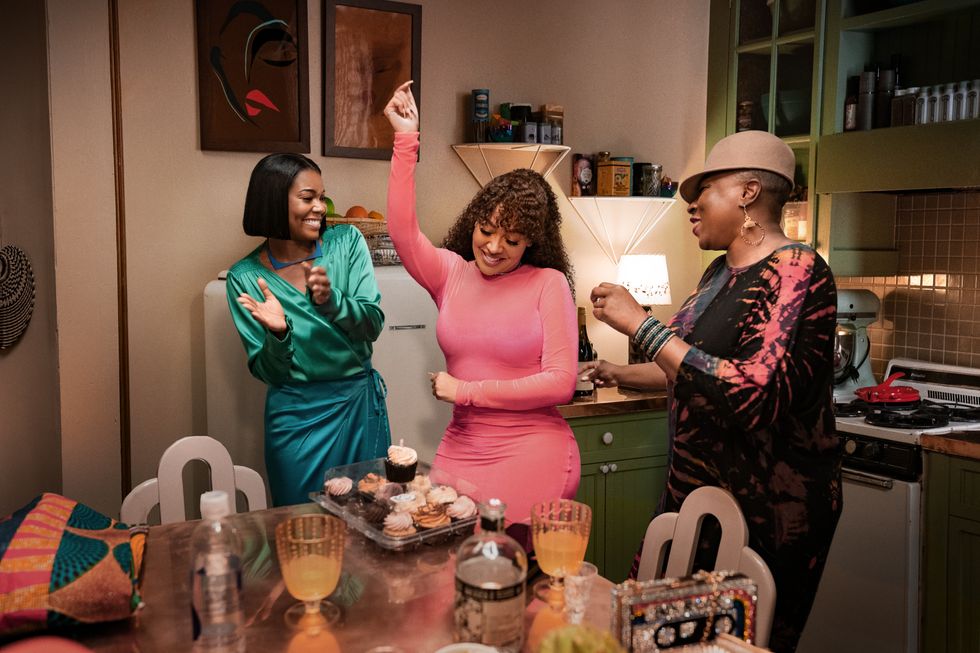 Courtesy of Netflix
"[It] really sparked something inside of me about older women and how we can oftentimes disappear from society, almost, in terms of people looking at us as like we are past our prime," she revealed. "That we carry no value, that no one sees value in a woman over 28, much less over 35, much less over 40, but baby, I'm thriving. So I wanted something that spoke to that that I hadn't done before. Which is tough, because I've done a lot of rom-coms. This one is new. I'm thrilled."
The film is based on the 2016 novel of the same name by Tia Williams.
Union was busy producing a rom-com for another A-list actor when she was inspired to make her own. Her production company, I'll Have Another, had recently optioned Robinne Lee's The Idea of You, "a very specific story to an aging white woman," Union tells Vanity Fair, "I knew it wasn't something I could just shove myself into because it really wasn't the right story for me…. We got Michael Showalter and Anne Hathaway and Cathy Schulman, and it was up and running."
The movie left Union with a desire to do the same for the culture. "It made me be on the lookout for a story that made me feel the same way, basically," That's when she was presented with the idea of bringing Tia Williams's 2016 novel, The Perfect Find to the big screen, a book suggested to Union by producer Tommy Oliver. "I'd already read it. I love that book. I love Tia. She's the shit. We have mutual friends. I'm like, Oh, my God, why didn't I think of that?"
Grab the book here!
Remember when Dwyane Wade surprised Union on set with the sweetest over-the-top romantic gesture? This was the set.
Wade sent a group of singers, dancers, and musicians to serenade Union with some of her favorite songs and also hand her a bunch of gorgeous white flowers. D'awwww!
Filming for The Perfect Find started in June of 2021 and lasted only seven weeks, officially ending by August. The film will be released on Netflix on June 23. Will you be watching?
Let's make things inbox official! Sign up for the xoNecole newsletter for daily love, wellness, career, and exclusive content delivered straight to your inbox.
Featured image courtesy of Netflix
Since the beginning of time, all the way to just this morning (for me), a childless woman has been asked when she will "finally" decide to bear children. Oftentimes, we can't even be out here happy, healthy, and celebrating the fact that we have none without the question slapping us in the face from granny (or the like), who probably had about 12 of them thangs by the time she was 30.
And what's wild is that the disrespect follows us around, where even legends like THE Tracee Ellis Ross, who lives her best rich auntie life regularly, isn't safe. She, a woman with a full career that comes from a legendary family and that lives as fiercely and positively out loud as she does, is surrounded by baby-making innuendos from interviewers who are inviting themselves--and society--to be all up in her uterus.
And listen, this has me mad, y'all. I mean, because let's be real: while Tracee is stigmatized for her choices, childless celebrity (Black) men are rarely publicly force-fed the kid requirement (or at least it isn't the topic of conversation in male spaces), yet, there are pages and pages for women who have been categorized as disappointments for deciding to be without (for now). I tested this theory and honestly couldn't find much evidence to support otherwise except an old 2021 interview with mega-athlete Kevin Durant, who was publicly asked why he doesn't have kids at the age of 34.
And somewhere in the midst of my hunt for evidence, I went from initially being pleasantly surprised by the fact that Durant was even asked about his offspring choices to becoming even more distracted by his response altogether.
It all took place on Bleacher Report's, Chips With Draymond Green of the Golden State Warriors. In the segment, while chopping it up about life, Green went right in, asking the usually private Durant, "So, family. You have no kids. I got three kids, and I'm 31, so I, you know, took a little different route. But you have no kids. Why? Do you want kids ultimately, do you not want kids?"
After taking a nervous moment to listen to the question, Durant responded notably, saying:
"That's a big commitment. For one, I always felt like I was just really zoned in on my work and my alone time, and my free time. It's too much for me to lock in on something like that, you know. And eventually, I do want that, but the older I got, I think it's the better because I'm maturing more, knowing myself more, and knowing my situation a little bit more, so I think the longer I wait, is only going to be for the better."
He then goes on to reveal that time has been on his side in this way because he wouldn't even want his child to know what his profession is in order for them to "escape the pressures of being KD's son." And despite the fact that Durant was famously close to family life in 2013 when he became engaged to his high school sweetheart, former WNBA player, Monica Wright, they would eventually go their separate ways, which he was also refreshingly honest about, telling GQ:

"I had a fiancée, but…I really didn't know how to, like, love her, you know what I'm saying? We just went our separate ways…We was just hanging out, chilling. And I felt the energy. I felt 'I need to do this right now.' And I just did it. I was like…We're engaged right now? We're about to get married? So I was just like, cool! I love this girl. But I didn't love her the right way."
So far, that's 2/2 mature, and accountable, responses regarding the life choices of Kevin Durant from Kevin Durant himself, I accept. But this conversation is seemingly one-of-one. Is it time to normalize this pressured conversation in predominantly male spaces too? Or should we stop asking altogether?
Watch the full interview below (Durant/Green begin speaking on family life at 20:00):
Draymond and KD Reveal What Really Happened with Warriors Fallout | FULL INTERVIEW (Chips)
Let's make things inbox official! Sign up for the xoNecole newsletter for daily love, wellness, career, and exclusive content delivered straight to your inbox.
Featured image by Theo Wargo/Getty Images