Charmin Michelle
Charmin Michelle is a southern native and creative spirit who works as a content marketer and events manager in Chicago. She enjoys traveling, #SummertimeChi, and the journey of mastering womanhood. Connect with her on Instagram @charminmichelle.
Amala Ratna Zandile Dlamini, known professionally as Doja Cat, marches to the beat of her own electric guitar. As a rising juggernaut of the glitterati, she isn't someone you can box into any category, which spans from her red carpet or concert looks, all the way to how she communicates with her fans. No subject is considered to be an overshare, not even the honest news of cosmetic surgery.
The Grammy winner confirmed back in November 2022 that she had plans to undergo plastic surgery after the controversy over her sans-surgical body sent social media into a frenzy. "I'm literally about to get surgery this winter lmao," she tweeted. "I just want my titties pulled up cuz some of my tops don't fit the way I want them to." Since, she has taken to social media to inform her fans she'd officially undergone a breast reduction and liposuction, and she has reported back that she's doing just fine post-op.
She followed it up with how she's healing, saying:
The best part, in the most Doja-esque move of them all, after much speculation, she shut down the rumor mill and revealed that she actually got a breast reduction in lieu of the obviously-assumed enhancement, ultimately backing up what she told VLADTV in 2018, saying,"
There's these boobs out here that are two basketballs, and they don't make sense. They defy gravity; they defy science. It's unexplainable. It's f**king, yeah. I don't get it. I don't get fake boobs."
Although this isn't the "Kiss Me More" singer's first stint with public rest for medical reasons. While she's home healing now, last summer she was in the same predicament for surgery to have her tonsils removed. Doja shared photos from the hospital after having two surgeries on her tonsils, which ended up being the removal of an abscess from her left tonsil.
"My whole throat is f---ed so i might have some bad news for y'all coming soon. I was taking f---in' antibiotics but forgot that i was taking them and then I drank wine and was vaping all day long and then I started getting a nasty-ass growth on my tonsil so they had to do surgery on it today," she revealed.
Where all this leaves us as far as her new music goes is unclear for now as she is tight-lipped, but while we patiently await an update on Doja's fourth studio album, she made it pretty apparent that she's doing some much-desired upgrades in the interim, with a possible break from her career on the horizon.
"I want to finish this tour up, kill it, and see my fans happy. And then, I want to start writing again. I'm going to finish this next album, and then I'm going to get the f*** out for a second. I want to disappear for a little bit and just do things like wear slides and go to the farmers market."
Doja's new project is slated to hit us in the mouth sometime this year, as she has discreetly shared small details through profile edits on social media into what we can expect next. The Planet Her creator told Variety last month that this album will have more "masculine" elements, "I know that I've done a lot of pink and soft things, a lot of pop and glittery sounds, but for this next era, I'm going in a more masculine direction."
A direction we're excited to see as soon as frickin possible. Wishing you a speedy recovery, sis!
Let's make things inbox official! Sign up for the xoNecole newsletter for daily love, wellness, career, and exclusive content delivered straight to your inbox.
Featured image by Jeff Kravitz/FilmMagic

Gather 'round all! The one and only Megan THEE Stallion is back, ladies, she's back! After dealing with a hectic few months, our girl decided to channel the negative energy into a statement new look, just in time for last week's Vanity Fair's Oscars Party in Beverly Hills.
The annual event is considered a rite of passage in Hollywood, serving as a key celebration for the who's who of the industry – actors, directors, casts, crews, managers, agents, artists, and so on, all of which trade one red carpet for another and pull off a wardrobe change before showing out on the dance floor.
This year's guest list consisted of Donald Glover, Till's Danielle Deadwyler, Tracee Ellis Ross, Gabrielle Union, Queen Latifah, and so much more.
Draped in a custom Houston couturier Bach Mai gown, Thee Stallion worked the room and cameras, reminding us all that resurfacing happy, healthy, and healed is our favorite outfit for Black women. Additionally, it was confidence that was the period on the sentence for me because not only was she basking in the galaxy of BGM, but she also came with Big Hair Energy.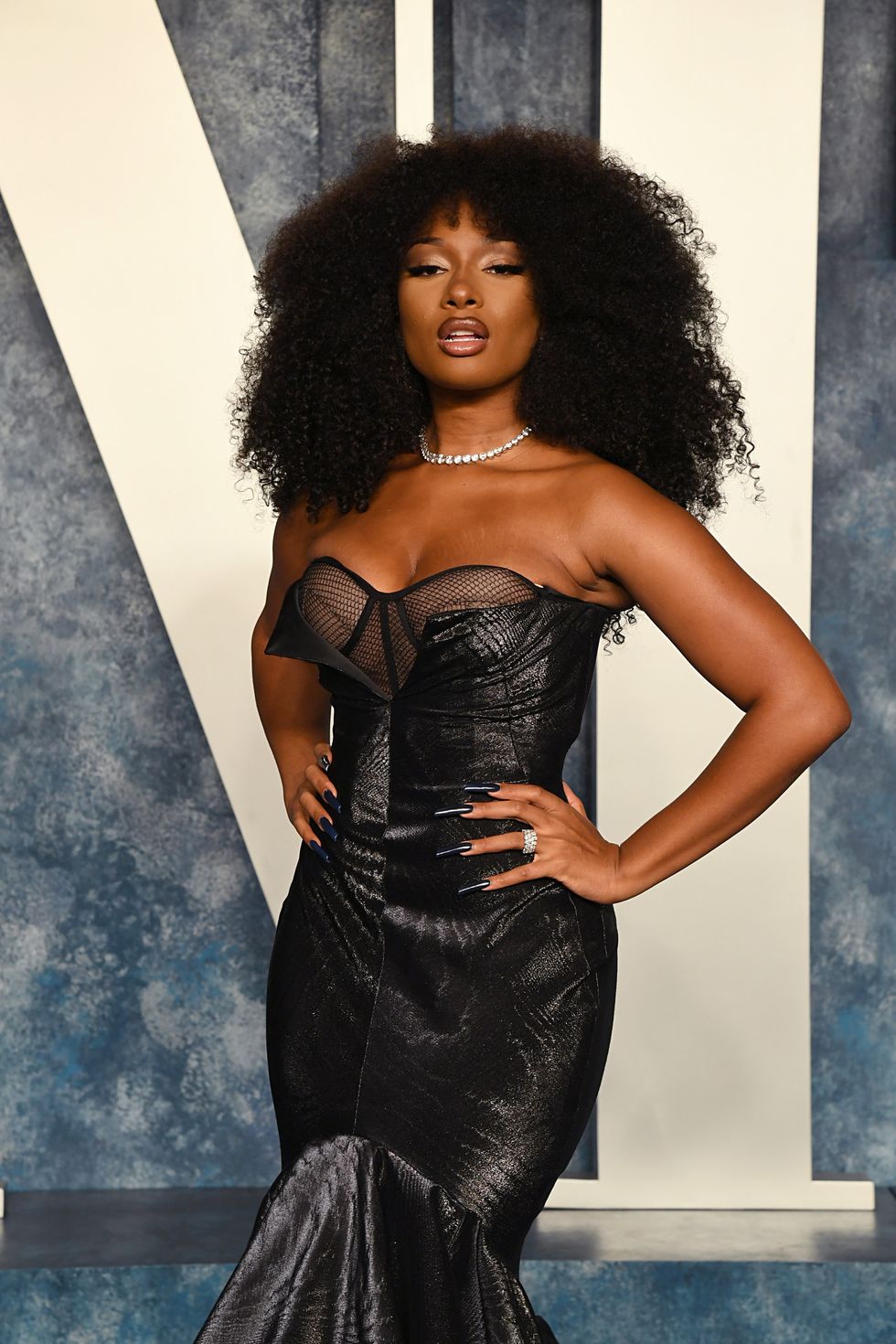 Jon Kopaloff/Getty Images for Vanity Fair
It was all in her walk, in her poses, the photos that she posted to IG, and even in the brief red carpet interview where she was asked if she is working on new music, to which she dropped the most Meg response possible.
And listen, Big Hair Energy is never about hair, after all. As Zendaya once said, "It's never 'just' hair." Black women have an unspoken but known code that comes with wearing our natural hair in predominantly white spaces. Taking this another step by wearing our natural hair as an afro, can be even more of a "Black-girl-glance" moment.
Zendaya
As previously mentioned, Zendaya, who is known for taking risks with her hair, never shies away from her Big Hair Energy. She looked like pure royalty when she stepped straight out of an Afrosheen commercial and headed to the 2017 Instyle Awards with the most perfect hair.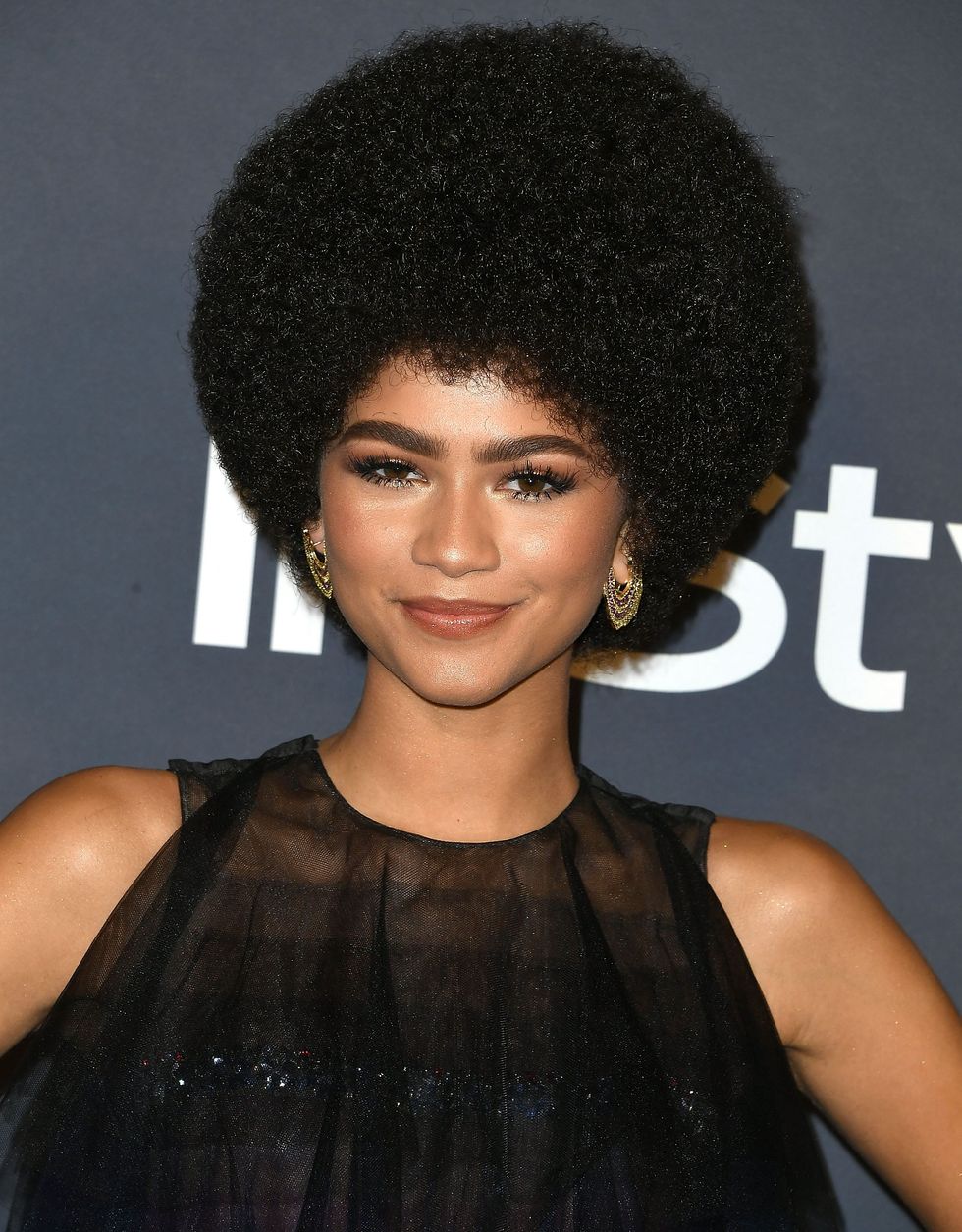 Steve Granitz/WireImage
In a post shared to her Instagram, she credited her 'stunning aunties (who were members of the Black Panther Party) for inspiring her to wear the iconic look, saying, "Last night's inspo...my stunning aunties and a hint of Angela Davis." Zendaya has spoken in the past about the importance of representation in pop culture, and she also wore a blown-out style to the 2017 Met Gala.
Viola Davis
In 2012, Viola Davis pulled up to the 84th Academy Awards with her 4B and 4C curl pattern on display, and she has done so frequently on numerous red carpets. Whether in Cannes or Brooklyn, auntie has zero regrets for unapologetically being who she is.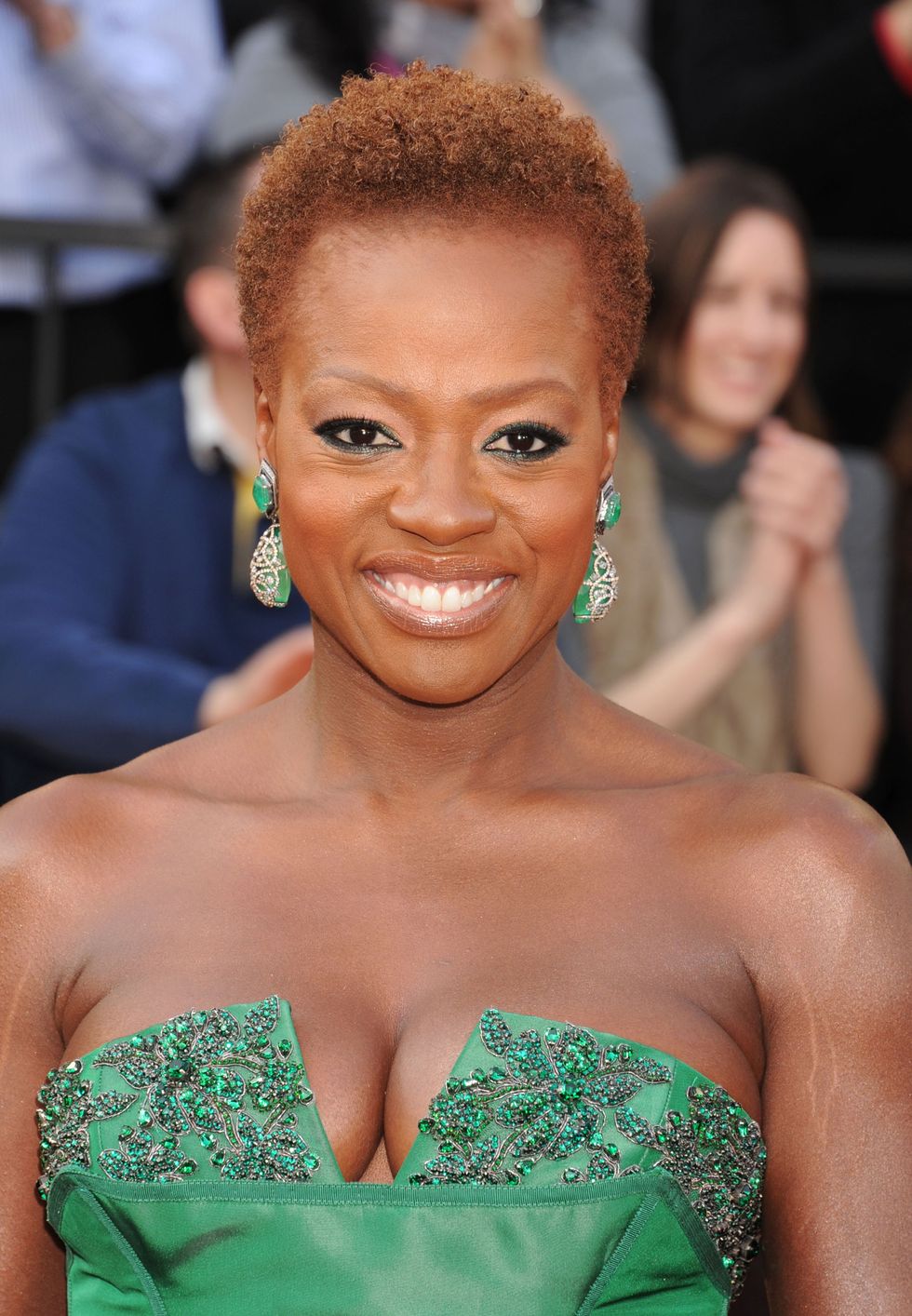 Jeffrey Mayer/WireImage
Lupita Nyong'o
Lupita Nyong'o spared no glances at the 2019 Met Gala, with her 'fro updo with the culture on full display as she wore multiple gold-hued Afro picks. Of the style, her hairstylist, Vernon François, captioned on IG, "Our goal is to continue to demonstrate the power of our hair texture that it is the most moldable and luxurious hair texture there is." Nyong'o frequently pushes the boundaries of beauty through style and hair, making her a favorite to see before any award show.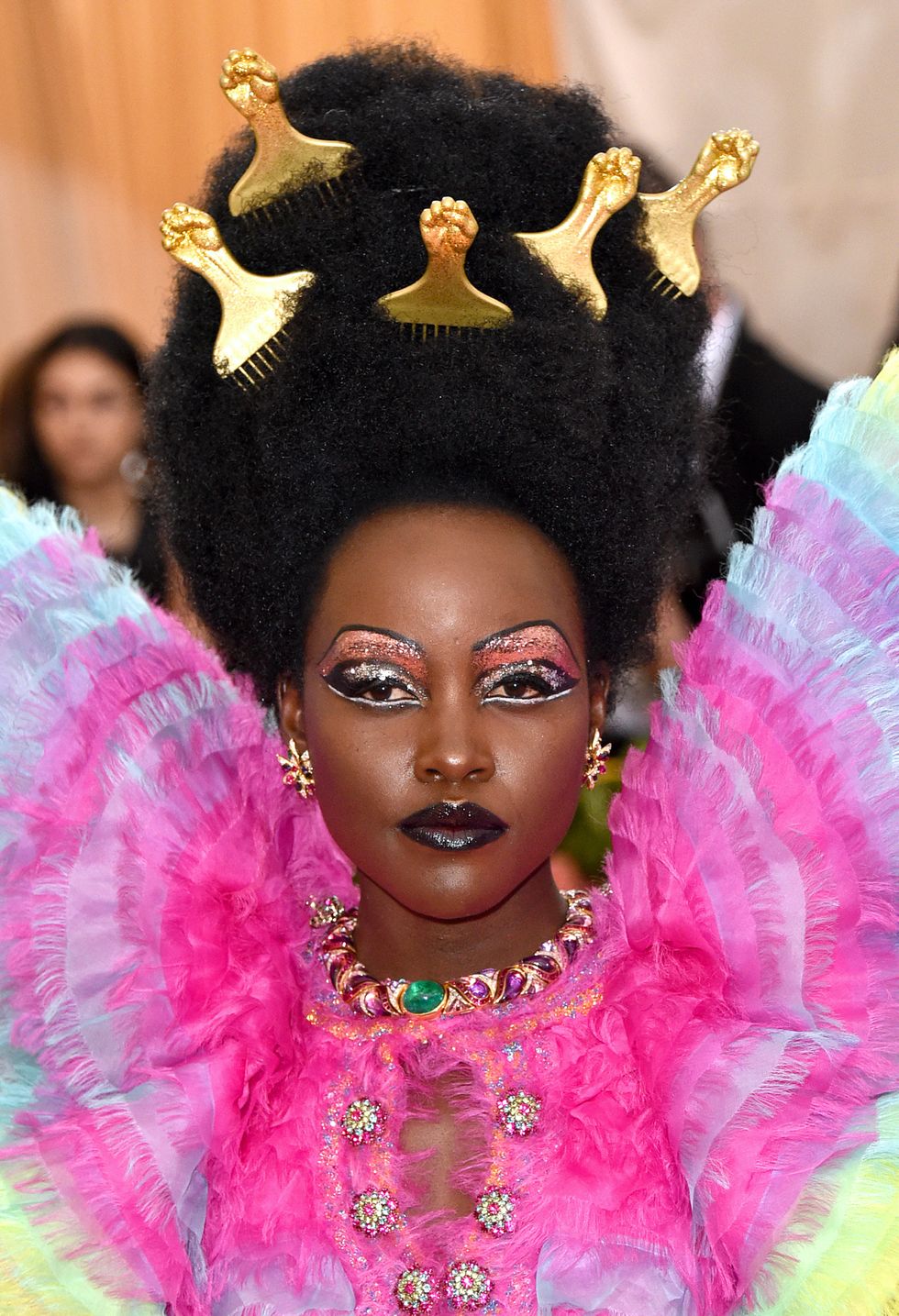 John Shearer/Getty Images for THR
Solange
Solange, who may single-handedly be the face of Big Hair Energy, is frequently in her big hair season, enough for her to popularize the phrase, "Don't touch my hair" and put it on wax. The 2013 Met Gala was no different, where she showed up to do the tireless work of redefining the standards of unconventional beauty. From her ever-changing hairstyles of long braids to natural curls to bold pixies, Knowles proves she is never afraid to play up her tresses.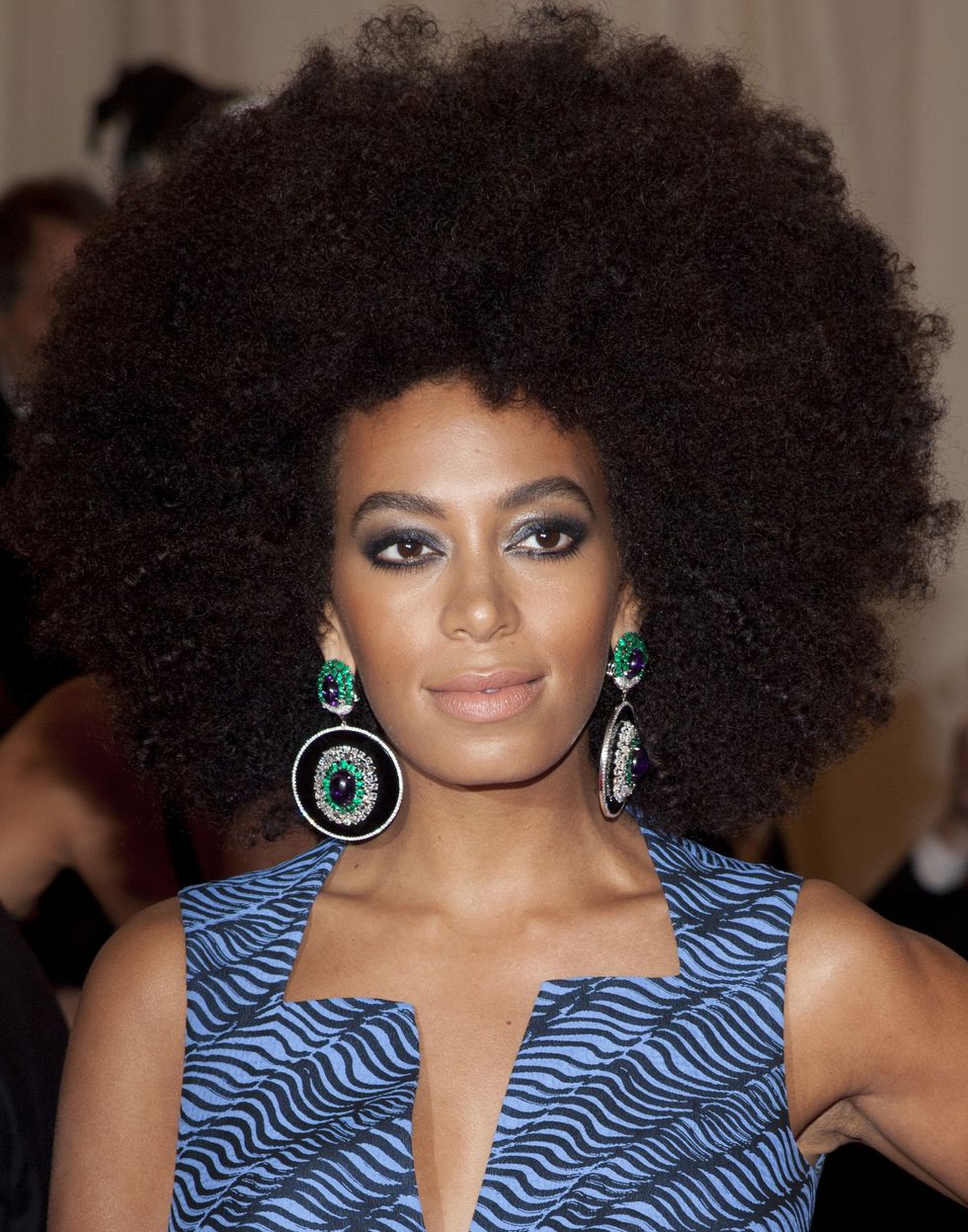 Lars Niki/Corbis via Getty Images
Other celebs such as Jill Scott, Erykah Badu, and others have proudly rocked their large tresses on the red carpet, with hopefully more up-and-coming artists falling in line.
Which celeb would you say have Big Hair Energy?
Let's make things inbox official! Sign up for the xoNecole newsletter for daily love, wellness, career, and exclusive content delivered straight to your inbox.
Featured image by Karwai Tang/WireImage
Some engagements last a lifetime, while others can last less than a month. Both aren't any of our business, but it is an interesting topic: what is a good timeline for engagement?
Well, this depends on who you ask.
Recently, Tamar Braxton was a guest host on the syndicated radio show, The Breakfast Club alongside DJ Envy and Charlamagne tha God. When discussing daily topics, the hosts got on the subject of proposing, and the pending timeline of when the marriage should take place afterward. Envy and Charlamagne each agreed that the answer isn't definitive, but Tamar made it clear very quickly that when it comes to time, sis does not have it.
When asked if her opinion formed because a person she dated in the past took too long to get to the altar, Tamar quipped:
"No, you don't have that long with me. Listen, this table is a reserved table, people want to sit at this table, okay, you can't hold up this table that long."
The words must have gone from her lips to the universe's ears because soon after, the news broke that the Grammy nominee was engaged to her "best friend, life partner, and fiancé," Jeremy "JR" Robinson, who she recently brought in her 46th birthday with (and a bit more drama).
"Happy birthday to an amazing woman. It's just the beginning of your birthday, but we're gonna have fun in New York and Miami, and Atlanta. Here's to 46. Let the fun begin," Robinson says in the post.
Tamar got engaged to her Queens Court finalist in the Peacock dating show's final episode.
"I knew I was different than my siblings," Braxton told Robinson in the episode. "I prayed for somebody to understand me and not look at me and my flaws and just accept me for who I am. And then I met you. And then I saw every single thing that I ever prayed for as a child."
Robinson proposed to Braxton on the season's finale, saying, "I don't wanna be your friend. I wanna be your husband. I'm here forever because I don't see my life without you. And I love you, Tamar. Tamar, will you marry me?" to which she accepted. An update at the end of the episode confirmed that the two have been planning their wedding, which stands true to what she preached as a guest host.
And she even threw a few hints of her new love into the mix when asked if she wanted to have more kids at The Breakfast Club too.
"I did. I just believe in having kids in a different kind of way, like I'm into blended families now. I feel like I can offer a child a different kind of love, you know, so I don't necessarily have to birth another child for that child to feel like my own."
JR has kids with four different women. One of those women recently had a few shady thangs to say about the couple, to which both he and Tamar shut down with class.
In the end, Tamar just wants the ladies to stop allowing men to prolong the relationship with stalling tactics steeped in engagements:
"You've got to love yourself [enough] to move on. If you're not ready to get married, just date. The clock starts now. If you're engaged, we are in the planning of our life. So, if you're not into planning our life, then don't ask her."
You better say that.
Let's make things inbox official! Sign up for the xoNecole newsletter for daily love, wellness, career, and exclusive content delivered straight to your inbox.
Featured image by Paras Griffin/Getty Images
It was thirteen years ago, almost to the day, that Rozanda 'Chilli' Thomas blessed us with reality TV greatness at a time when reality TV was in its prime. It may not have been on your bingo card in 2010 for 1/3 of mega group TLC to be showing the world What Chilli Wants, but it certainly was a time.
Chilli, who has been linked to super-producer, Dallas Austin (also who she shares her only son with) and held down a high-profile romance with the one and only Ursher Baby, was almost 40 years old at the time, and still navigating love like the rest of us. The show lasted for two seasons and gave us plenty to openly discuss amongst girlfriends, such as the importance of knowing, having, and standing firm on our "lists" – or the list of requirements we're looking for in a partner (y'all remember that?).
Anyway, fast forward to today, where our girl's dating life had flown under the radar until last August when rumors began to swirl that the "No Scrubs" singer was getting her sip on in Waikiki with Boy Meets World star, Matthew Lawrence. And although this probably wasn't on our bingo card either, the two eventually made it all Insta-official when sis claimed him while promoting his new podcast with his also-famous brothers Joey and Andrew, titled, The Brotherly Love Podcast.
The best part? He adores her, y'all. Like truly speaks highly of her, which you know we're always here for a Black woman being loved at 100%.
Lawrence spoke about their relationship, how they connected, and more withEntertainment Tonight, saying "I hope," when pressed on whether a family with Chilli is on the table.
"That's the game plan. That's what we're trying to do. My life is in complete bloom right now. I get to spend time with an amazing woman like Chilli," he noted, before describing the singer as "really, really special."
Chilli is already a mother to 25-year-old son, Tron, and Lawrence, has no kids, but is coming off of a divorce from Dancing With The Stars alum, Cheryl Burke.
Lawrence also revealed how they connected and that it was a snowstorm that prevented their relationship from becoming a missed connection.
"I had to be back for work, so I was getting (the airline) to change my flights all around," he explained, adding that the only flight that was available for him at the time was one with a connecting stop in Atlanta, where Chilli lives. The opportunity allowed the two to talk and before parting, the two agreed to stay in touch. "It almost did not happen. I mean, literally an hour before the flight took off, they're like, 'Okay, we got you on this flight. You gotta go.'"
The two did in fact stay in touch. So much so, that the energy is permeating through Lawrence's brother, Joey, who told PEOPLE, "She's great, a sweet person, super genuine, so warm and kind. And yeah, they're just having a great time and it's just good to see him happy and he makes her happy. So that's all you can ever ask for. Life is [full of] unexpected twists and turns — you don't know what's up next, but you just hope that everybody ends up happy. And he's happy right now and she's happy, and that makes us happy."
It must be so rewarding to find a new love willing to openly meet you in whatever season your life is in.
As for Chilli, she believes in God's timing, writing on Instagram: "God has perfect timing. Never early and never late," her New Year's Eve post read. "It takes a little patience and a lot of faith."
You better say that.
Congrats, lovebirds!
Let's make things inbox official! Sign up for the xoNecole newsletter for daily love, wellness, career, and exclusive content delivered straight to your inbox.
Featured image by Randy Shropshire/Getty Images for Lifetime
Cassie Ventura--actress, singer, wife, mother, legend, and friend--has removed herself from the industry's chaos in the best way. She packed her bags, married her bae, Alex Fine, who she shares two beautiful daughters with, and threw the deuces up at whatever was no longer serving her. Cassie and Alex, who wed in September 2019, welcomed daughters Frankie Stone in December 2019 and Sunny Cinco in March 2021.
Since, the beauty icon has kept a somewhat low profile, focusing on her family and a less indulgent lifestyle, even recently making a rare appearance opposite Chris Brown in his "Psychic" video. Despite opting for a quieter lifestyle, Cassie is always on board to chat about beauty, which thankfully, The Cut caught up with the singer to discuss all things from home life, advice she would give to herself, and her skincare routine. Keep reading for more.
Cassie on her morning routine:
Cassie has morning rituals that she sticks with, which include meditating and starting her morning with a cup of peppermint tea. "It calms my stomach, and it helps me recenter before the day starts. I'm also a huge water drinker. I have alkaline filters throughout our house. My favorite is the one in the shower, which has helped with the health of my skin and hair so much."
Game changer?
Cassie also indulges in daily quiet time as a personal reboot. "Even if I only get three minutes to just be quiet, I believe in it. I think it's important for my sanity."
On motherhood:
"I actually repetitively remind myself to stay present. I never did that before," she tells the mag. "I had a moment the other day where one of my daughters was on a rampage and I got really frustrated. My older daughter, Frankie, said, 'Mommy, don't forget to breathe.' I was like, 'Oh my God.' When you give them certain things, they give them back to you. It was wonderful to feel that from her. We sat, and she helped me breathe, and then I calmed down and I was fine."
On advice to her younger self:
"Don't worry so much because everything works itself out, and if you place yourself where you feel like you're supposed to be, you'll be fine. Doing things outside of your comfort zone is important, but doing things that aren't right isn't."
On how she preserves her youthfulness:
"By minding [my] business. I don't pass judgment on what people choose to do for themselves. I feel like there's a lot to be said about people that live their lives and not everyone else's."
Cassie's Skincare Routine:
Summer Fridays Super Amino Gel Cleanser, $35

Cassie always starts her morning with a double cleanse. She goes in with Summer Fridays' restorative gel cleanser, an amino-acid blend that replenishes and protects the skin. "It's really helped keep my skin clean without feeling overly dry," she told The Cut.
Youth to the People Superfood Antioxidant Cleanser, From $12
The next cleanser is her favorite, Youth to the People's superfood cleanser, a gel with nourishing ingredients such as spinach, kale, and green tea, which soothe the skin while fighting signs of aging. On days when she's rushing and doesn't have time to double cleanse, this is the one cleanser she uses.
Buttah Skin Aloe Rose Refreshing Face Mist, $19
Cassie is not huge on using toner but is looking to work it into her routine with the help of Buttah's founder. The balancing spray acts as a toner by hydrating the skin with aloe vera and rosewater.
Ustawi Vitamin C Antioxidant Serum, $45
Next up is Ustawi serum, which is one she refuses to skip. "The products are made for melanin skin, and I'm obsessed," she says. The oil-and-water-gel serum brightens the complexion and restores the skin's natural glow.
Mario Badescu Herbal Hydrating Serum, $30
Cassie likes using hyaluronic acid–based serums like this one from Mario Badescu. It's super-hydrating and boosts the skin's production of collagen for a healthy glow.
Starface Hydro-Stars Party Pack - 32-Count, $11
When the inevitable breakout happens, Cassie busts out Starface pimple patches, which are dermatologist tested and absorb fluid from pimples to expedite the skin's healing process. "Pimples are the absolute worst, and we're all trying to get rid of them, but it's okay to embrace them too," she says.
Ustawi Baobab Fruit Ultra-Nourishing Moisturizer, $37
The final step in keeping her skin looking luminous is applying the Ustawi Baobab Fruit Ultra-Nourishing Moisturizer. Baobab is a natural African fruit that detoxifies and nourishes the skin. It leaves the complexion cushiony-smooth and targets hyperpigmentation.
Let's make things inbox official! Sign up for the xoNecole newsletter for daily love, wellness, career, and exclusive content delivered straight to your inbox.
Featured image by Dimitrios Kambouris/Getty Images
If there ever was a year for new artists to show themselves, it's without a doubt been within the post-pandemic era. Thanks to the increasingly widespread rise of the social media platform, TikTok, artists have secured another means of promoting their work and figured out how to cash in on simply being viral sensations. New artists such as Coi Leray, Yung Baby Tate, Doechii, and Ice Spice are just a few examples of on-the-rise superstars who've thrived from TikTok streams, and inevitable Billboard charting success, but Ice Spice, alone, is figuring out her own lane: one that's about being herself and enjoying young, rockstar lifestyle fame.
And if you've been anywhere near social media lately, then you've probably heard, seen, and been enamored by the star that the kids can't get enough of – whether streaming videos, reading about her in headlines, or learning from them what a 'munch' is.
Standing at 5-foot-7, she dons an enviable, signature curly 'fro, as she raps in a calm, Bronx-laced monotone flow. She rose to popularity in the fall of 2022 with "Munch (Feelin U)" which took social media by storm, and is now, sitting pretty on Billboard's #3 Hot 100 Song as a feature on PinkPantheress' "The Boy's a Liar Part 2." Now, it's her time to shine as she becomes the face of Gen-Z's best attribute: rebelling against society's made-up rules and trailblazing their own paths.
So, while we sit back and wait for her to shoot into superstardom, here are 7 things you should know about emerging hip-hop starlet, Ice Spice:
1

.

Her music is considered 'Bronx-drill.'
Despite the cute pop sound you've heard from her lately, Ice's roots are heavy into the Bronx's drill music scene. Originating in Chicago in the 2010s from artists like Chief Keef, drill music is a type of hip-hop trap music that focuses on inner city daily occurrences and crime. Although it can get pretty dark, the drill sound means a lot to those who can relate to the lyrics and the city from which it originated from. When asked about her hit song, "Munch (Feelin U)," Ice Spice, 23, told Rolling Stone:
"'Munch' is bringing out the fun in drill. It was a little serious before, a little violent sometimes, which is cool. I be bumping that rah-rah shit all day. But 'Munch' definitely brought out the zesty side of it. I want everybody to feel like a baddie."
2

.

Despite her genre, Ice Spice wants to collaborate most with Rihanna.
We're not sure how the two sounds would mix, but she sure doesn't mind telling Ellethat she loves Coldplay and The 1975, but if she could collaborate with any artist—it would be Rihanna. "She's the GOAT. She's gorgeous. I love her. I'm obsessed with her."
Spice also lists Doja Cat and Nicki Minaj as dream collabs.
3

.

Erykah Badu and her daughter, Puma Curry, interviewed her for 'Interview Magazine.'
Puma introduced her legendary mother to Ice Spice's music, which prompted them to sit down for an interview. The trio discussed what life was like growing up for Ice in the Bronx, her relationship with her parents as she adjusts to fame, and her plans for 2023. They thanked her for her time and gave her words of encouragement, with Spice simply replying, "Thank you. Puma, you're the GOAT."
4

.

Ice Spice credits her dad for giving her the courage to rock her signature 'fro.
When asked about her signature hairstyle, Spice gave credit to her dad, who she says taught her the importance of individuality:
"I think my father helped me get past [wearing my curls] because he would always say, 'It's beautiful, you're beautiful, wear your natural hair.' I loved to straighten my hair and I loved to pretend it wasn't curly. I would literally pray to God before I went to sleep, like, 'Please let me wake up with straight hair,' because at the school I went to, there were so many white girls, and I was the only one with curly hair."
She adds:
"Once I finally started doing it, it was like ripping off a Band-Aid. I'll never forget the first time I went to school with my natural hair. I spent so much time in the bathroom just looking at myself before going back to class. I was so nervous for something that didn't even fucking matter. But when you're 15, the whole class's opinion matters to you."
5

.

She's all about girl power.
During her Interview Magazine interview, Spice was asked what type of imprint she wants to make during her career to which she responded, "I want to make girls feel confident. Like the Marilyn Monroe impact or the Rihanna impact, the Erykah impact. You have a way of hypnotizing people, you cast a spell on them. I want to do the same thing."
Confidence is a constant theme for Spice as she also says 'confident' is one of the top three words she'd use to describe herself.
6

.

Ice Spice's influence has the numbers to back it up.
You know how the saying goes, "men lie, women lie, numbers don't," and when it comes to Spice, this rings true. Whether you understand her rise to stardom or not, the girl has pull and certainly has the figures to back it up. In addition to sitting pretty at #3 on Billboard's Hot 100, the hashtag #munch now has over 2 billion views on TikTok, with videos reiterating the song's lyrics "You thought I was feeling you?" as a trend. The hashtag #IceSpice has over 4 billion views.
But don't think she isn't planting her roots. Her EP Like..?, released on Jan. 20, included singles "Bikini Bottom," which samples music from the cartoon series SpongeBob SquarePants, and "In Ma Hood," which has over 30 million collective Spotify streams.
7

.

Beyoncé personally chose her for IVY PARK x Adidas "DISCOVER YOUR PARK" collection.
On Feb. 9, IVY PARK dropped its new Park Trail performance-wear collection in collaboration with Adidas. The brand tapped Ice Spice as one of the celebrities to star in the campaign for the launch, alongside Offset (and his son Kody Cephus), Devon Aoki, and more sporting head-to-toe camouflage in the form of cargo pants, jackets, and even sock boots.
Ice Spice told PEOPLE:
"When I got the call I was in disbelief. It was all sinking in on the flight over [to the photo shoot]. I'm still so excited to be a part of this!"
In an Instagram post, Beyoncé herself said that IVY PARK Park Trail is "my favorite drop to date."
Let's make things inbox official! Sign up for the xoNecole newsletter for daily love, wellness, career, and exclusive content delivered straight to your inbox.
Featured image by Matt Winkelmeyer/Getty Images for Spotify