Charmin Michelle
Charmin Michelle is a southern native and creative spirit who works as a content marketer and events manager in Chicago. She enjoys traveling, #SummertimeChi, and the journey of mastering womanhood. Connect with her on Instagram @charminmichelle.
You know, love is a funny, funny thing. I once read that 90 percent of it is based on the friendship developed by the two of you, and only 10 percent is actually based on love. And oftentimes, your marriage will boil down to the work put into maintaining and nurturing that 90 percent. Ain't that sumthin?
That's why when I see couples who have been married for many years, especially those in the public eye, I take every opportunity to celebrate their union with them. After all, love fades, and it can even vary from day-to-day. Friendship is the basis of all of this, it's the foundation.
Are you a member of our insiders squad? Join us in the xoTribe Members Community today!

Featured image via Jeffrey Mayer/WireImage
In a move that makes us so happy, the ever-so-stunning Ryan Destiny has been making her rounds lately, showing off her subtle but enamoring vibe in recent appearances with Vogue, HelloBeautiful, and even Doja Cat's new "Need to Know" music video. The former Star actress and singer also took a moment to join Harper Baazar for their 'Go to Bed With Me' segment, a video series where various celebs show off their nighttime skincare routines.
This appearance was our absolute fave because to see her demonstrating how to maintain her beautifully radiant skin is something we all want to know, right?! Right. So, sis...we gotchu just in time for summer!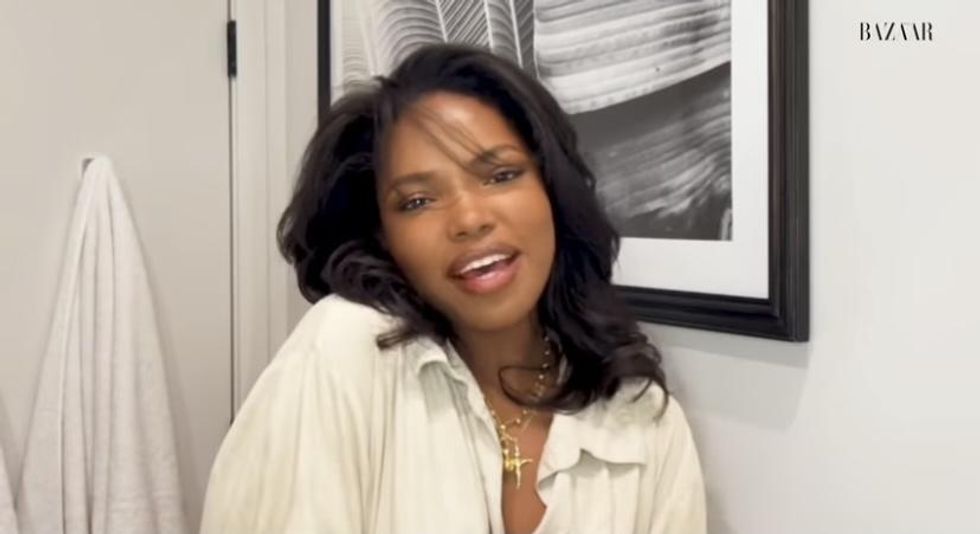 ​Harper's Bazaar/YouTube
Rocking a blow-out for the gawds, after a cute intro, Ryan opens with this one simple, but loud, tip:
"Wash your hands. Wash your hands before you start anything."
She then proceeds to use the La Mer Cleansing oil and thoroughly massages the product all over her face and neck. Get in there good ladies, this step is important!
"Rub it all over my face, get down on my neck. And once I feel that it's all broken down, I am going to rinse."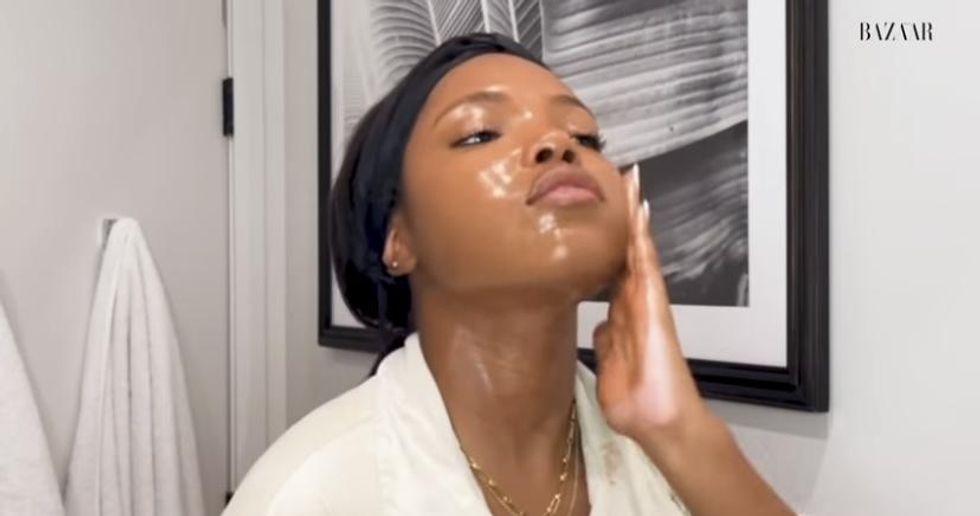 Harper's Bazaar/YouTube
Next up, Ryan focuses on a problem area that many of us have: hyperpigmentation. To combat this, she uses the Black Opal Blemish Control Bar, a brand she has used since she was 16 years old. She is also the face of the brand, which is Black woman-owned.
"What's really really great for the hyperpigmentation that I sort of have a lot of right now, is the . It's like extra, extra important to me to take of all of the makeup before you go to bed. It just makes such a difference. It's the worst when you go to sleep with your makeup still on, and you just know it just sets you back like a whole week."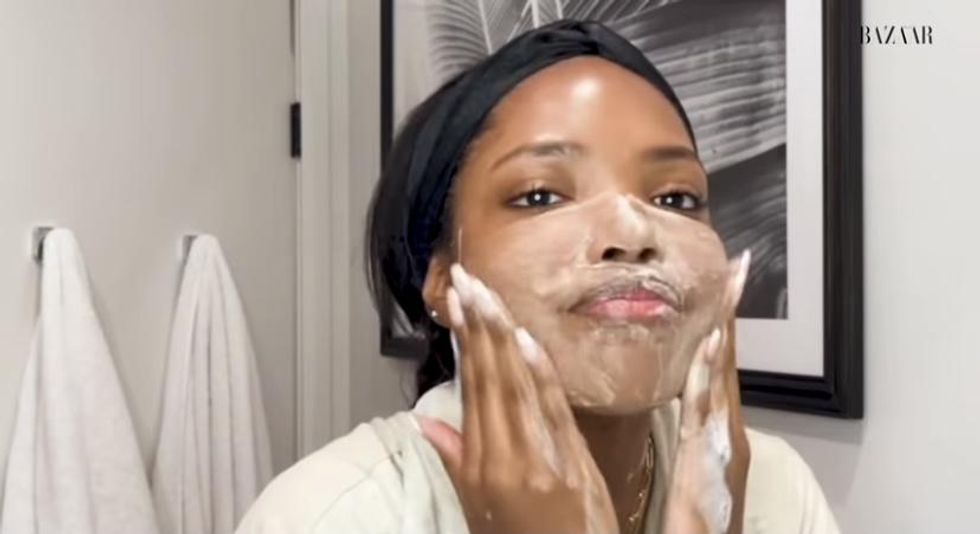 Harper's Bazaar/YouTube
Destiny then moves on to hydrating her lips with the Black Opal Lip Oil.
"I kinda sorta sorta kinda kinda have chapped lips. But not anymore becuase I did a lot of trial and error, and I found something that works for me. It works with my makeup as well. It nourishes and hydrates my lips, it's not there to just look pretty, you know."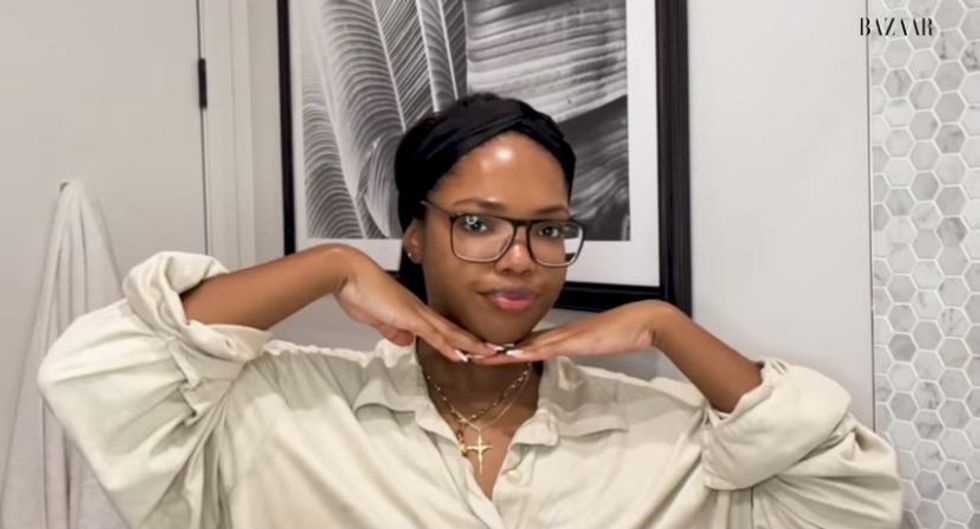 Harper's Bazaar/YouTube
As a final step, she moves on to her serums for pigmented skin and dark spots. Here she uses the CosMedix Clarity Serum and Black Opal Brightening and Plumping Serum.
"This is also really great for prepping your makeup. I use this serum right before I start doing my makeup. It like, glides right on and helps my makeup look better and apply on my skin better."
We stan a simple but effective routine, sis!
Watch the full video below:
Are you a member of our insiders squad? Join us in the xoTribe Members Community today!

Featured image by Bennett Raglin/Getty Images for BET
Marriage is a subject in our society that has followed women everywhere since the beginning of time. We can't even be out here living our best lives because someone, somewhere, is going to ask about it. And for single, accomplished women everywhere, the subject of marriage usually never goes away.
I think back to a tweet from Necole Kane that had me snapping with the stank face all night:
Are you a member of our insiders squad? Join us in the xoTribe Members Community today!

Featured image by WireImage via Getty Images
To hear in 2021, a time where existence has been going on for millions of years, that someone is the first Black anything, is almost mind-blowing, but it definitely is still something that happens. And frequently, actually. Thankfully, this label has re-emerged with one of our dear faves, a woman way beyond her time who is everything we love to see in a modern woman, Ms. Teyana TF Taylor.
Are you a member of our insiders squad? Join us in the xoTribe Members Community today!

Featured image via Rich Fury/Getty Images for Def Jam Recordings
Social media is a powerful tool that is responsible for the careers of so many of today's artists. Much of this credit is due to viral videos on TikTok or other social platforms, where artists now look to to break records. You never know when it's your turn or what potential dance will be created with your music but today, the wave certainly influences the Billboard charts, rather than the other way around. Songs will also trend more on social when well-known creators use them for their content.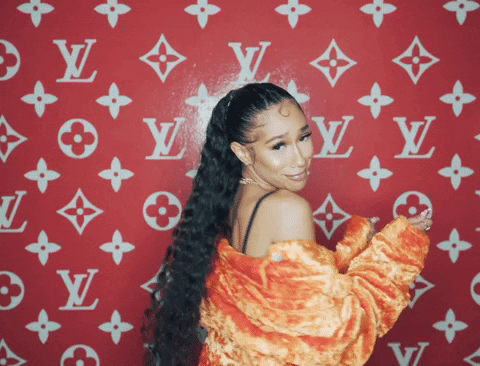 Giphy
This is also proven to be true when celebs use said music in their videos, a move that mega-hyped artist, BIA knows all too well. Born and raised in Boston, the 29-year-old has gone from grinding across the music industry for years, to being seen and heard throughout multiple viral spaces and platforms with artists such as Monica, Toni Braxton, oh, and to a Bajan superstar named Rihanna. And what's best about BIA, is that there's so much more about her story that we love to see.

So here's 7 facts about BIA, the artist on everyone's timeline:
1. BIA debuted on Oxygen's reality television show, 'Sisterhood of Hip Hop'.
BIA's success came to fruition when she was discovered on YouTube, which led to signing with Pharrell's record label, i am OTHER, and an appearance on the widely acclaimed reality TV show titled, Sisterhood of Hip Hop. The show debuted in 2014 and ran for three seasons, with other artists such as Siya, Brianna Perry, Nyemiah Supreme, and more.
Of her time on the show, BIA says although she enjoyed the time, she is done with that part of her career:
"With reality television, you gotta know when to get in and when to get out."
2. Rihanna broke one of BIA's most popular songs with fellow rapper, Russ.
Rihanna is powerful in all that she does. After taking to her social media to personally thank Russ and BIA for their song, "Best on Earth", her 97 million followers went crazy about the song as well, sending it UP up.
"I knew it was going to be a big song because Russ is so incredible. But I didn't know it was going to be like that. I had no idea it was going to be life-changing. [But] I've had a moment like that before with going to the Latin Grammys with Pharrell and J Balvin. I had another moment going on tour with Ariana Grande. Each moment in my life has taught me to be really thankful for where I'm at. I just try to live in the moment now, thank God for what He's doing in my life and just let it take me wherever it's taking me because that's really all you can do. You work so hard to have those moments so when you receive them you gotta be ready for them."
The song went on to peak at #46 on Billboards Hot 100, #22 on R&B/Hip Hop, and #1 on Rhythmic charts.
3. And speaking of Ariana Grande, BIA is good friends with her as well.
In 2017, BIA opened for Ariana Grande's Dangerous Woman Tour, and was even at the tour stop in Manchester, prior to the widely discussed and tragic bombing of the arena, which BIA referred to as 'heartbreaking.' The two went on to form a bond and friendship from there, often collaborating on music such as BIA's leaked song, "Esta Noche" and another unreleased song titled "More."
BIA even attended Grande's 24th birthday party that same year and you can find the other on their social media pages from time to time, with Ariana exclaiming:
"@bia I love you from the bottom of my heart! you were so incredible tonight #estanoche #trapvogue"
4. Her song "SKATE" is the theme song for this year's NHL playoffs.
The soundtrack to the #StanleyCup Playoffs. 🔥 🎶: @BIABIA https://t.co/Hxd80thzok

— NHL (@NHL)1621278380.0
Ahead of the start of the 2021 Stanley Cup playoffs, the NHL teamed up with BIA to mix her track, "Skate", which originally appeared on her For Certain EP from late 2020. The NHL Mix debuted alongside a hard-hitting teaser trailer to build hype for the playoffs.
It features clips of the artist in the recording studio, with footage from the Tampa Bay Lightning victory at the 2020 Stanley Cup, which honestly was everything. Of the mix, she told Complex:
"Turning 'Skate' into the NHL's playoff theme song was so natural and fun to do, can't wait to see who wins the Cup. Go Bruins!"
5. BIA dropped out of school after having an epiphany.
Though BIA's frequent cosigns and collaborations might make it appear as if she's had a smooth path to success, her journey to stardom has been flooded with a series of constant setbacks that actually makes her more grateful for where she is today.
"Before all of this, I was bartending and working all types of jobs to make things happen. I was spending all my money on recording and studio time and I was like, how can I make this a career? School wasn't for me. I had just dropped out of college and was really struggling."
But dropping out of school came with an epiphany.
"I had learned too much for anyone to teach me anything. And so my 'it' moment was when I realized that I had already known what people were trying to teach me. I had a powerful testimony to share with women and the rest of the world."
6. BIA was in a motorcycle accident that nearly claimed her legs.
In 2013, a drunk driver hit BIA and her then-boyfriend who was leaving a music festival. She recounted the story with Hot97:
"It was like 10, 20 of us on bikes. I was a passenger and a drunk driver just whipped a U-Turn. I fell 20, 30 feet in the air and fell on the floor. My helmet stayed on but my driver's helmet fell off and his head split open. He's all right. He got staples in his head. Man, that was crazy. I hit the floor like, "Oh my God. Am I alive?" I looked down and my leg was split open. I didn't know if I was gonna keep my leg or not. It was bad."
The experience eventually humbled the artist, having her turn up her opportunity even more.
"The day after, I was in the studio with crutches. My [scar] looked so ugly but it was never a thought it would get in my way. I was like, "Oh sh**. I'm gonna make it beautiful." Mentally, it traumatizes you. I still get weirded out in the car if someone drives too fast."
7. Most importantly, she's going to be around for a while, because her confidence is unmatched.
"The first day I met Pharrell, I wasn't as nervous as I thought I would and I think it's because I felt like I was supposed to be there at the moment. God put me there for a reason."
She eventually moved on from Pharell's i am OTHER record label through a venture under RCA Records, eventually signing with Epic Records. Sis knows her vision, and stays true to it, as she's been consistent to her hustle for nearly a decade.
"I saw the world differently and it forced me to really know myself through music and to create my own thing. I don't really look at any one like competition, because the lane I'm creating is not there yet."
Are you a member of our insiders squad? Join us in the xoTribe Members Community today!

Featured image via Giphy
Keep reading...
Show less
Naomi Osaka is the superhero that we didn't know we needed in our lives. Or maybe we did? I mean, I knew she was a superhero from the moment she boldly and unapologetically took the stage in the name of police brutality in 2020. She was over the questioning as to why she decided to represent for Black pain, and decided to bring the message to the covers of Vogue Magazine. Emmett Till's name and legacy is in Vogue. VOGUE. A place where at the time of his murder, he would have never been welcome.
Alexa, throw on "What A Time To Be Alive."
Because witnessing Naomi is just that. But this time, thanks to her routine fearlessness, Naomi is being a leader in a different way: by removing herself from one of the biggest tournaments in the game of tennis all for the sake of her mental health.
It all started when she announced via social media that she would not partake in this year's French Open press, mainly because the constant questioning and scrutiny created an added layer of stress to the athlete. The four-time major champion and No. 2-ranked player was eventually fined $15,000 when she didn't speak to reporters after her first-round victory, causing the champ to pull out of the tournament entirely the next day.
Her entire statement is below:
The courage of removing herself for herself, encouraged other athletes to take a step back and question what it means to be forced to face constant questioning and berating on a grand scale. And a plethora of athletes and celebs alike, who understand her perspective firsthand, gathered around and supported her 1000 percent.
From fellow tennis champions Venus Williams, Coco Gauff, and Sloan Stephens:

Naomi Osaka/Instagram

Naomi Osaka/Instagram

Naomi Osaka/Instagram
All the way to other pro-athletes who could relate:

Naomi Osaka/Instagram

Naomi Osaka/Instagram

Naomi Osaka/Instagram

Naomi Osaka/Instagram
(Sidebar: it's worth noting that Kyrie Irving has been fined $60,000 this season alone for skipping media obligations.)
As for now, the French Open's President responded to Naomi's withdrawal by saying he wishes Osaka "the quickest possible recovery." Um, OK. I'm sure there will be more to come from them on the subject, but anyway.
Thankfully, what we can all appreciate about Naomi's courage is that maybe if we took a step back and took the time to think differently about the processes in place, then maybe we have the opportunity to witness pro-athletes compete at an all-time higher level, especially with personal battles in tact.
As for us, we're going to always support and protect this queen at all costs. Here's to hoping that we all do the same. Take care of yourself, Naomi!
Are you a member of our insiders squad? Join us in the xoTribe Members Community today!

Featured image by Graham Denholm/Getty Images
Keep reading...
Show less