Charmin Michelle
Charmin Michelle is a southern native and creative spirit who works as a content marketer and events manager in Chicago. She enjoys traveling, #SummertimeChi, and the journey of mastering womanhood. Connect with her on Instagram @charminmichelle.
As Told To is a recurring segment on xoNecole where real women are given a platform to tell their stories in the first-person narrative as told to a writer.
This is Paige Mariah's story, as told to Charmin Michelle.
My last relationship was a whirlwind.

And not in a bad way. But in the best way possible.
When we met, he told me upfront that he had applied for the Peace Corps and would be leaving in a year to serve in The Gambia for 27 months. Though I had my reservations, I allowed myself to let my guard down and really fall in love for the first time.
Man, we had such an intense romance. It almost felt as if our love was on a timer, so we were always looking for new and exciting experiences together to make the most of the little time we had left. Sometimes we would even take sick days together from work, just so we could be in each other's presence longer.
As his time in the States began to wind down, I knew that I had to start to figure out what was next for me, before the heartbreak completely consumed me. My relationship became my primary source of happiness when everything else around me felt so unsure and complicated. What was I going to do once he left? He was choosing himself and I felt like I needed to do something big and exciting that would benefit my own life as well.
If he was able to drop everything to follow his dreams, why couldn't I?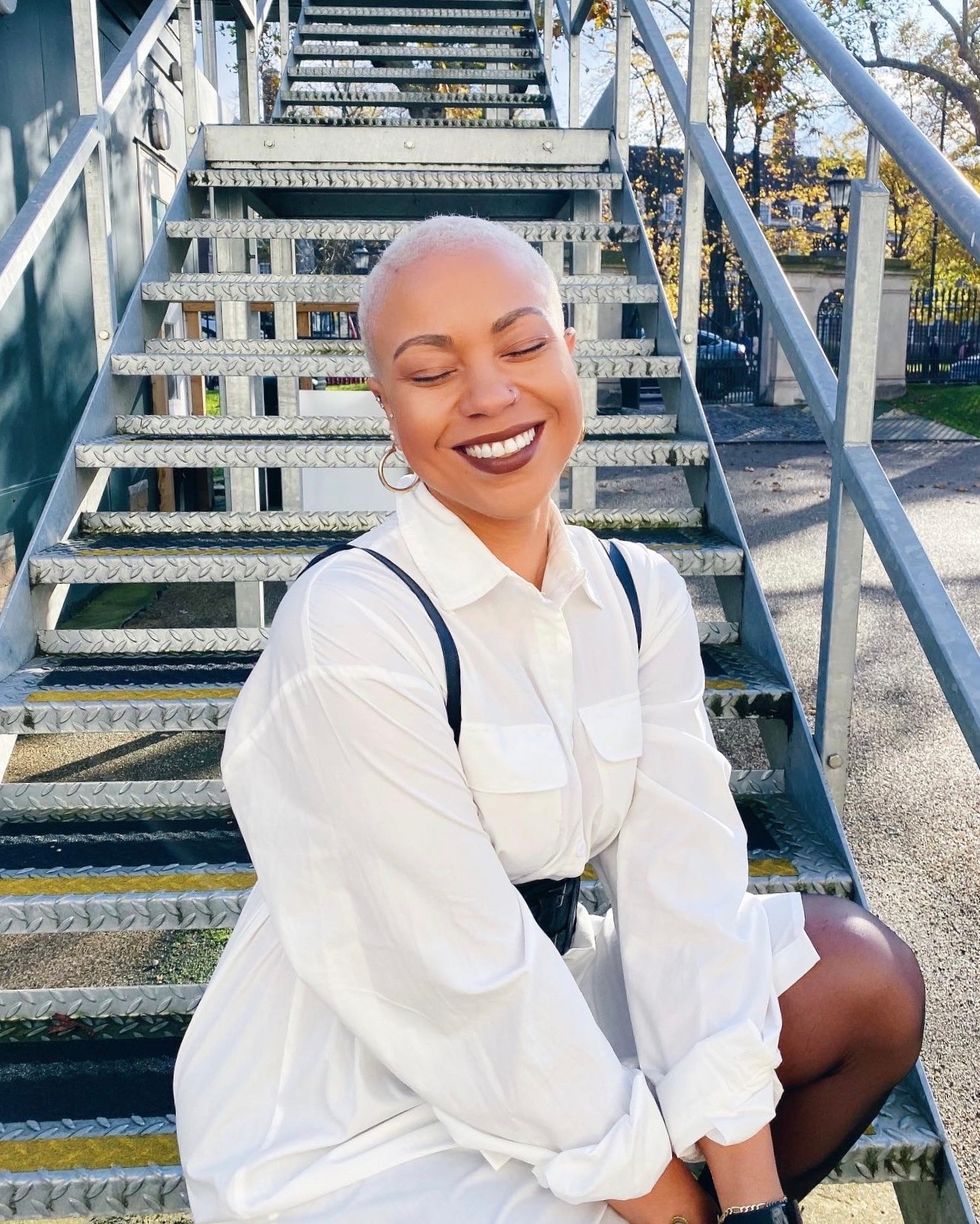 Courtesy of Paige Mariah
I'm a digital content creator by trade, hailing from the suburbs of Chicago. I attended Hampton University and returned to Chicago to begin my career once I graduated. Though I had a 9-5, my 24/7 was digital content creation—from written blogs to YouTube videos to building my social media presence. I've always been passionate about sharing my experiences in hopes of helping others.

After four years at my job, I was feeling extremely stagnant and my love life was just as unfulfilling. I just felt something was missing in my life. Though I wasn't happy in my career, I was slightly convinced that once I found true romantic love, that emptiness would begin to be filled. Then, it felt like all of my prayers were finally answered with my last relationship.
So, to feel this way, suddenly meet the man I prayed for, and have it was all ripped away from me...I was destroyed.
But even though I dreaded losing him, a major part of me always felt he was very brave for making the decision to leave everything to pursue his passion. He seemed so sure of himself and his decisions, whereas I overthink and often second-guess myself. How can I not admire that? He forced me to realize just how much I was holding back in my own life. And although London always had been the city of my dreams, actually living there never felt quite possible or realistic. But I didn't care. I stripped myself of my fears and decided to go for it. I applied to grad school and prepared to move to London.
We broke up about two months before I was scheduled to leave, which I thought would be enough time to heal and get over him. So when I arrived, I started dating almost immediately—probably like the second week of being here. I got into a new situation with a really great guy, but then the honeymoon phase quickly ended. He had no idea what he was getting himself into and neither did I. I found myself acting so out of character. I was mean, snappy. Everything he did just seemed like the opposite of what my ex would do and it would irritate me. I told myself that maybe this was because I hadn't given myself the opportunity to "multi-date" and really enjoy the single life.
During my spring break, I went on a 10-day tour around Europe. I climbed to the top of a mountain in Switzerland, did paragliding in Austria—basically having the experiences of a lifetime, but yet I still felt so incredibly sad. I was convinced that I just missed my ex, my home, my comfortable life. I finally accepted that there was some much-needed self-work that needed to be done. Immediately.
It was time to work on my relationship with myself.
I took an official hiatus from dating and ended things with any guys pursuing me romantically. I stopped relying on "good morning texts" for comfort or being "chosen" by a guy as reassurance. I needed to figure out why being alone was so scary.

To combat this, I spent a lot of time alone; taking walks, listening to audiobooks and podcasts that focused on manifestation, positivity, and self-love. These forced me to face deeply-rooted issues and insecurities that I never even realized that I had. I knew this was the best thing I could have done for myself.
When you lose control of the reasons someone is no longer in your life, your mind is filled with millions of irrational thoughts. I would frequently ask myself questions that negatively affected my mental health.
"What are you going to do with yourself when he leaves? Will you ever find anything as good as this again? How much longer will it take for me to start over with someone else to get married and start a family one day? Will he fall in love with someone else who can relate to his experience in a way you will never be able to? Would people think I wasn't good enough to make him stay?"
Ladies, we have to stop doing this to ourselves.
After my little hiatus, I developed a totally different perspective on dating. I now feel less pressure and stress when it comes to finding "the one". I don't settle anymore. I once felt like I had to come off low maintenance and agreeable to find love. Now, if I realize that a guy isn't what I want, I just move on.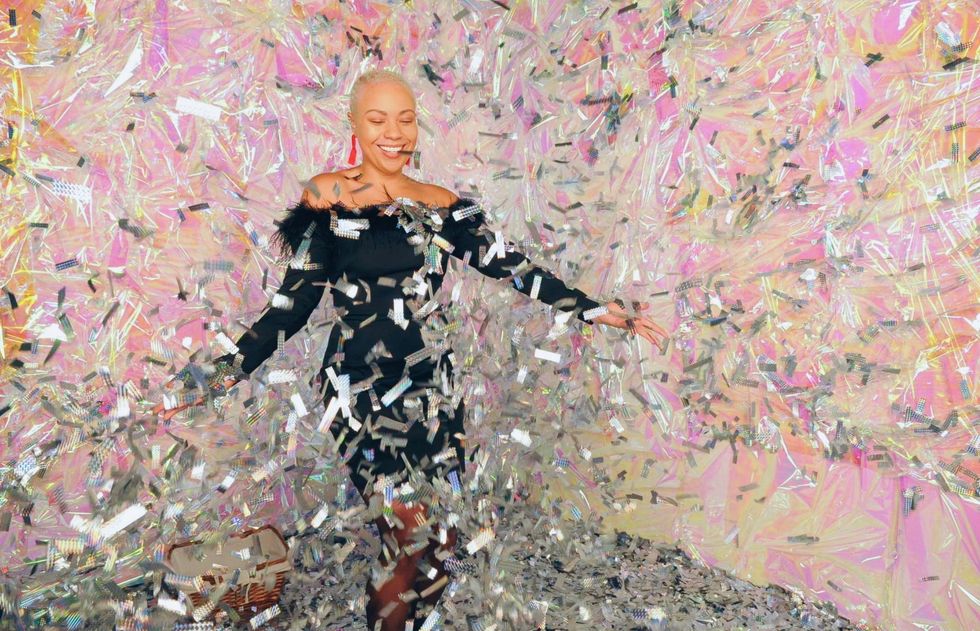 Courtesy of Paige Mariah
I am complete by myself.
Of course, I will always enjoy and desire companionship and love. But approaching dating this way just feels so much lighter.

Things are looking up for me and I feel the happiest, and sometimes even emotional, when I'm doing something as simple as walking down the street or grocery shopping. I still look around and can't believe that I really live in London. I just feel so grateful for how far I've come, how blessed I am to be living this dream, and how much I've been able to grow over the last year.
I feel closer to my purpose than I ever have in my life. And honestly, couldn't ask for anything more.
Featured image courtesy of Paige Mariah
Originally published on January 14, 2020
When it comes to money, many of us are behind in ways to provide passive income strategies for our families. Particularly, something that many of us in the culture don't do enough of, is investing. It's simple, to the point, a way to make sure your family is comfortable without putting much effort into doing so.
Well, the celebrities of today does lots of it. In fact, many of their careers take a backseat to the opportunities they have to build their portfolios and create generational wealth for years to come. Now, celebs do more than just sing, act, play a sport, or secure a few little endorsement deals. Additionally, now, they push the limits on those contracts, or with building that business, or capitalizing on their brands. And I ain't mad at them. In fact, I celebrate and welcome them. So, join me as we do just that.
Here's a list of the leading Black celebrity investors in the world:
Note: Data is complied from money.co.uk. They were surveyed on five factors: net worth, number of investments (personal and partner investments), highest investment sum, estimated total amount of funding and average investment sum.
Jay Z + Beyonce
Rapper turned billionaire entrepreneur, a.k.a. Jay Z, obviously topped the list as the celebrity with the most investments. He has made stacks from his album sales and tours, sure, but most of his coins come from his business moves, which include music, tech, art, and luxury alcohol brands. Jay is very well aware of his influence and uses it to his advantage. Buying art for a small(ish) price, rapping about said artist in multiple songs to increase the value, and sitting back and watching it collect prestige, is what he does. And now, the rest of his portfolio, according to money.co.uk, has at least 11 personal and partner investments with a total investment sum of $983M--tech and champagne being his biggest investment areas.
This means that the once kid from Marcy projects, is now worth a cool $1.2 billion.
As far as Bey, she recently announced that she was investing in a hemp farm to obtain her own CBD. She also has a partnership with Adidas, as well as many upcoming business ventures on the way (you know she doesn't give too much away until she's ready).
Oprah
Up next is Oprah Winfrey--also a billionaire, but that has found huge success in media with a career that spans well over 20 years. From here, she pivoted her talk show into a business, and her brand into an empire.
Oprah has a 25.5% stake in her created cable channel OWN. She also has a 10% stake in Weight Watchers. Her other investments includes Maven clinic, Oatly, Apeel Sciences, True Food Kitchen and Waywire.
Dr. Dre
The one and only Compton doctor, Dr. Dre came in next. Dr. Dre is the epitome of what a music producer is and has held this title in a way that no other has. His entrepreneurial journey began in 1996 when he created The Aftermath, shortly after leaving Death Row records that March. And as we all know, he eventually founded Beats by Dre, and sold it to Apple for $3 billion. He still has 20% stake in the company. #whew
Serena Williams
The greatest athlete of all time, Ms. Serena Williams, through her Serena Ventures, has invested in 34 startups over the past five years, with 60% of the investments focused on companies founded by women and minorities. OK, I'm going to say that again: The greatest athlete of all time, Ms. Serena Williams, through her Serena Ventures, has invested in 34 startups over the past five years, with 60% of the investments focused on companies founded by women and minorities.
She launched a self-funded, direct-to-consumer clothing line, S by Serena, in 2018. She also owns stakes in the NFL's Miami Dolphins and Dana White's UFC. Flex on the people, sis!
Will.i.am
Williams Adams, a.k.a. the brainchild of popular eclectic group, Black Eyed Peas, is quite the entrepreneur. He invested in (and acquired) a $4.6 million stake in app-only bank Atom in 2017, and he has also dabbled in tech in the last few years, putting his money in startups such as the app 'Knock Knock', and he's even launched his own line of headphones.
Will.i.am is even international with his investments, as he's invested £5m ($6m) in Music Messenger's Series A round, followed by a further investment of £5m in Shellanoo Group and £3m investment in Honest Dollar.
Nas
Nasir Jones has quietly established himself as one of the most prolific investors in the world. In April, Yahoo News reported that he could be $100 million richer following his 2013 investment in Coinbase, the cryptocurrency exchange expected to reach over $100 billion in valuation once going public. He's also the founder of QueensBridge Venture Partners, which has reportedly invested in more than 40 start-ups across a range of sectors like financial technology, health care, and music production.
Additionally, Nas has invested in Lyft, Dropbox, Tradesy, and LANDR, a start-up that uses big data and artificial intelligence to produce music.
Will Smith
According to Crunchbase, Will Smith has made 21 investments across multiple industries. He has invested in companies such as Superhuman, Titan, Sundae, Sandbox VR, Flockjay among others. He also happens to have one of the best pages on the 'gram.
Rihanna
We're never going to get anymore music from Rihanna with the way she collects the bag elsewhere. Sis is making billions from her side hustles! Rihanna is the richest female musician in the world with a net worth of $1.7 billion. Her investment portfolio includes a 50% stake in Fenty Beauty which accounts for $1.4 billion of her worth. The rest of her worth comes from her stake in her lingerie company, Savage x Fenty, worth an estimated $270 million, and her earnings from music and acting. She's even venturing into the perfume business, because, why not?
50 Cent
Outside of music, 50 Cent famously invested in Vitamin Water, which was sold to Coca-Cola for $4.1 billion. His other ventures include footwear, headphones, Casper mattresses, Le Chemin du Roi Champagne and Branson Cognac.
Tyra Banks
Tyra has been lowkey these days, but that doesn't mean that sis hasn't been quietly getting those coins too! We know her as an actress, author, television personality, supermodel, and founder of TZONE. But she's also an investor in TheSkimm, Videogram, The Muse and Shop Tap Industries.
Featured image by Amy Sussman/Getty Images for ABA
If you haven't heard by now, Yahya Abdul Mateen II is the 'it guy' in Hollywood. He currently stars in Nia DaCosta's adaptation of the cult thriller Candyman, and he hasn't slowed down since. His appeal? His unwavering charm, his statuesque gladiator silhouette, and unfamiliar name that commands the room. But he's much more than that.
He's actually an 'Emmy-winning' those things.
Additionally, he's an 'Emmy-winning' those things that has the ladies lining up at the door to shoot their inevitable shot (because when you're beautiful, you already know it's coming your way). The actor joined Buzzfeed for their 'Thirst Tweets' segment, a segment where celebrities read tweets hilariously lusty tweets about said celebrity, that are found on the internet. And listennnnn, the ladies did not disappoint.
The video opens with him introducing himself and saying:
"I'm a little bit afraid of what these are going to say because my timeline be off the hook. Let me see what y'all got."
The tweets started out simple and complimentary: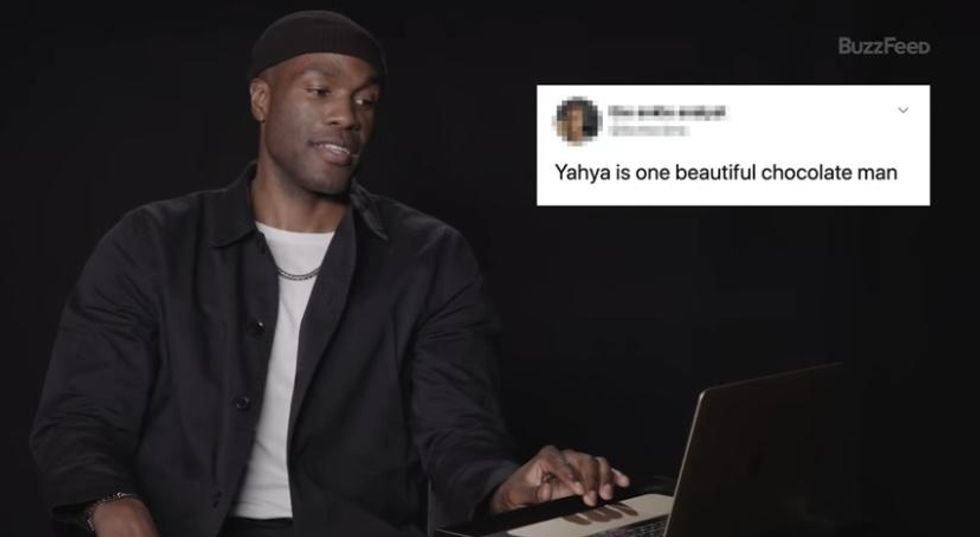 YouTube
"That's tame, that's very tame. I'll take it."

He then goes on to say that he loves his beard and he loves to cook! Ladies, he cooks! He loves to wear his grill too, which he proudly claims that ladies that love that will 'mess around and get snatched up.'
But then the ladies started asking what we all wanted to know: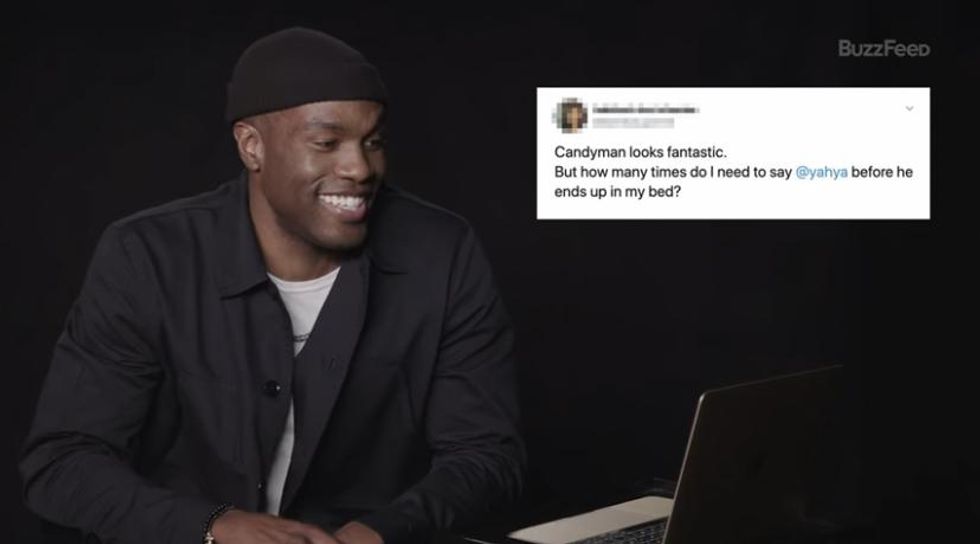 YouTube
Well, we're on count 52, but I have all night to keep going. #kanyeshrug
"You should tweet me compliments more often. If you tweet me, I'll read them in the morning. I'll make a calendar of all your tweets, or just for every month, it'll be a different tweet, and I'll just read it. Keep my confidence high. I like that."
And slowly started getting to the point: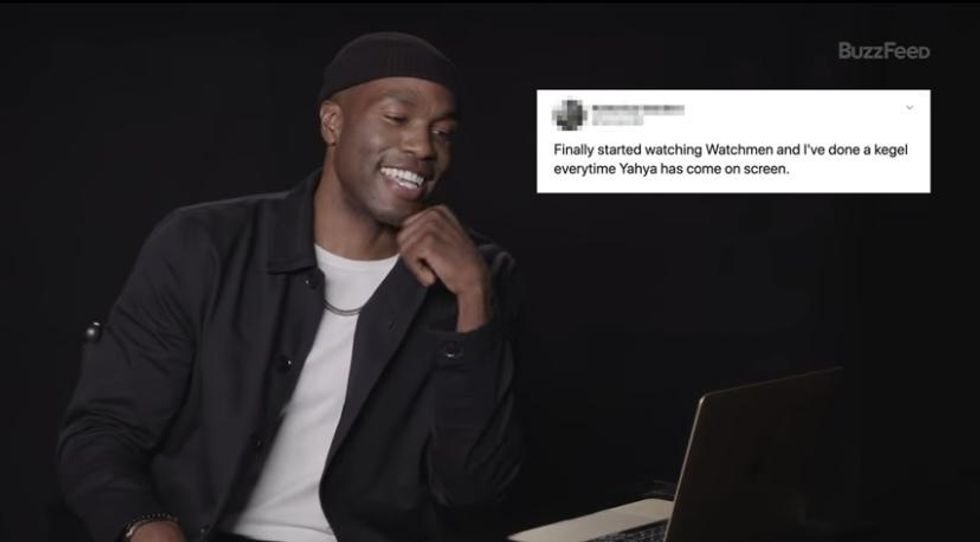 YouTube
After getting a good laugh, at the thought of women doing kegels on sight, he says:
'That's funny.'
I'm confused...you didn't know this was normal, sir? *stares in collective Black woman confusion*
The whole entire, and CLEAR, point: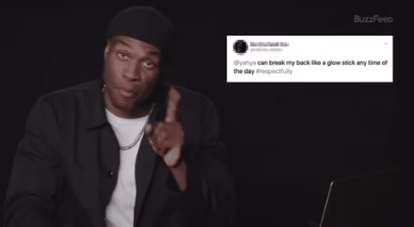 Giphy/YouTube
"Alright, you better holler at me. I appreciate the respectfully, because respectfully is important. But getting your back broke like a glow stick is important too."
He ends the video reading a few more tweets and even shared a quickly story about the life affirmations his grandmother would speak into him.
Watch the full hilarious clip below:
Are you a member of our insiders squad? Join us in the xoTribe Members Community today!

Featured image by Brian Ach/Getty Images for TAG Heuer
One of my favorite things about the beauty industry is that there are no rules. There just aren't. There's always a hundred ways to do something, and then a better way to do those hundred ways too. Makeup looks are subjective per person, and you can have as much fun as you want to have to live your best creatively expressed life. Because of this, the internet is filled with experiments or new hacks to keep our juices flowing.
And listen, I recently came across one that made me question everything I ever knew about applying makeup, pull up a chair, let me explain.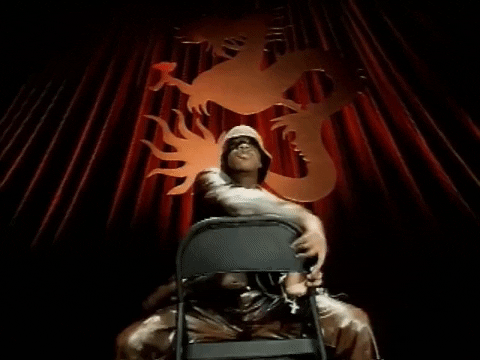 Giphy
It all started when I came across beauty influencer Yasmin Buachie's IG page, where she often shows off her beauty content to her followers. In a video, she was applying her beat for the day and testing out a hack that she learned from another influencer. In the end, after she finishes her makeup, in the oxymoron move of the century, she dunks her face in water to give herself a matte look. Yes, water. Again, to set her makeup, she dunked her full face in water. Science gods, make it make sense!
The video was captioned:
"So I was sent this makeup hack by one of my friends which was done by @makeupbyalissiac and I had to try it. First things first this actually made my skin look flawless no cap like I am shook but also I don't think I'm going to dunk my head in water every time I do my make up haha maybe for a long day out or something. MC was complimenting my makeup all day tho so haha who knows."
And ladies listen, her makeup was beautifully in place when all was said and done.
In fact, the trick has been around for years, hailing from South Korea. It's called 'Jamsu' and it's made its way from South Korea to, well, everywhere else, popping up on TikTok, IG, and even getting mentioned by celebs. Jamsu has been a "thing" since 2017, but has re-emerged this year, thanks to social media discovering the technique and ultimately the pandemic making us bored enough to try whatever we need to do for flawless skin.
The instructions were simple: following base application (foundation, concealer, and powder), dunk your head in cold water three times for about ten seconds. Make sure to use a bowl big enough that you can move your face around in. And as to why it works, Maree Kinder, founder of Beauty & Seoul says:
"The water repels the powder and presses it to set on your skin, which is why powder is the critical step."
And by now, if you're like me, your jaw is on the floor and you're questioning everything you ever thought you knew about makeup application. Yasmine's comment section was amazed as well.
From those that were mind blown:
Instagram
To those who fell in line to give it a try:

Instagram
--
Yasmin hasn't said if this is a practice that she still does after completing her look, but sis, if we need to add water to the regimen, then just say that.
Ladies, would you try this hack?
Are you a member of our insiders squad? Join us in the xoTribe Members Community today!

Featured image by Getty Images
Venus Williams is one of the highest-regarded athletes of our time. She has multiple trophies and Grand Slams, she competes at a high level that many of us will never understand, and she's related to one of the most important sports figures that changed the shape of the history of sports as we know it: Mr. Richard Williams.
Oh, and Serena too.
And, when she's not expanding her widely successful tennis career, you can catch Venus building businesses, advocating for wage equality, and raising awareness about mental health and self-care. Because Venus is so busy, and if you were to look to her sister, who has married and has a precious four-year-old daughter, this struck the need for people to feel like they can chime in on when she plans to settle down and have kids, which sis was notttt feeling at all.
In fact, when asked how she deals with social pressures to have children and settle down with someone long-term, she said:
"I like my life and I don't want to change it for any reason."
Bloooop. She added:
"I have a lot of friends who don't believe me when I say that I like my life and I don't want to change it for any reason. I'm not desperate and they don't believe me. They say things like, 'You're going to miss your window.' I'm like, 'Please, relax. You might feel this way, but I don't. I promise you I don't.'"
Lord, how many times do we have to talk about this? Mind your own uterus! And if you don't have one, guess what? Guess what?! What society says is for women, may not be what that woman wants and that is OK. Venus has taken on many roles, and if she doesn't want to be a mother, that is her choice.
Instead, she chooses to focus on supporting a balanced mental health for female athletes, which has been under the spotlight in recent months, after fellow-queens Naomi Osaka and Simone Biles opened up about their experiences. Venus revealed her own struggles at points during her career, where tough took on a whole new meaning. She detailed her struggles in an opinion piece forthe New York Times, she said:
"I used to think that winning depended on my physical health. Then my mother told me, that was only the half of it.
She continued:
"It doesn't matter who you are... you can't divorce mental health from anything you do. It impacts your physical well-being, your decision-making, your ability to cope with difficult moments. Admitting you're vulnerable is no joke. It isn't easy to ask for help or confide in people about having emotional struggles."
This echoed the sentiments of both Osaka and Biles, who famously prioritized their own well-being over any performative expectation in front of them, which is key to taking care of yourself whole-heartedly, no matter what.
In the meantime, my good sis Venus said she'll be over here on vacation, reading, relaxing, and taking care of her damn self. And I ain't mad at it.
Watch the clip of her discussing what's next (her way) below:
Are you a member of our insiders squad? Join us in the xoTribe Members Community today!

Featured image by Bertrand Rindoff Petroff/Getty Images
Back in July of 2017, the spin-off heard around the world hit our televisions in the name of the hit show Raven's Home. The show was a continuation of its original, That's So Raven, both starring the super talented Raven-Symone. The show centers around Raven Baxter, who is now a divorced mother of two, who still catches glimpses of the future, but now she uses those powers to help her be a better mother, friend, and fashion designer. Her son has also inherited her psychic ability to look forward, causing mischief from time to time.
But as the saying goes, what happens on the show, stays on the show, and Raven means that literally.
While speaking to the Pride podcast, Raven revealed that Disney actually offered to make the spin-off character a lesbian to accommodate Raven-Symone, who is gay in real life.
"There was a conversation before the series started, and I was asked the question, 'Would you like Raven Baxter to be a lesbian?' And I said, no. I said no."
But the reason goes deeper than you think:
"The reason I said no wasn't because I wasn't proud of who I was, or I didn't want to represent the LGBTQ+ community in any way. It was because Raven Baxter is Raven Baxter is Raven Baxter. And Raven Baxter is a character that I was proud to play, even if she is straight, cisgender — I don't mind — let her have her moment."
If you recall, Raven has quietly spoken about her sexuality in the past up until formally announcing she was gay. In fact, back in 2013, she praised the U.S. government after same-sex marriage was legalized, stating:
"I can finally get married. Yay government! So proud of you."
Three years later, she gave advice and support for LGBTQ+ youth in a It Got Better video.
"My awareness of my sexuality was prevalent to me at 12, but there was some things younger in like the… single digits."
But after years of enduring the industry and its viewpoints on out LGBTQ+ talent, Symoné is fully, and blissfully, living in her truth alongside her wife Miranda Maday. She even admitted that getting married during the height of the pandemic was the best thing she ever did.
"The Rona has put a dampener on everyone's life but, because of her, I was able to get married to the love of my life in so many ways. It helped me stop and see what was going on instead of always being pulled left and right, having to focus on everything but my happiness. I love her."
Raven secretly got married in 2020 in a small ceremony put together by their friends. Auntie Debbie Allen hosted the nuptials in her garden and even cooked for the guests (how cool!).
In the end, even though Raven is happily as gay as can be, when it comes to her work, she's protective of just that.
"If you ever see me in another character, you see Raven Baxter, and that's just what the deal is. And I think the one thing that differentiates me from her is now a lot more."
Which is exactly how she wants it.
Watch the full 'Turning The Tables' episode featuring Raven-Symone below: 
Are you a member of our insiders squad? Join us in the xoTribe Members Community today!

Featured image by Kevin Winter/Getty Images