Charmin Michelle
Charmin Michelle is a southern native and creative spirit who works as a content marketer and events manager in Chicago. She enjoys traveling, #SummertimeChi, and the journey of mastering womanhood. Connect with her on Instagram @charminmichelle.
The legendary, and somehow 50-year-old Regina Hall has been on her press rounds to promote her latest project, new TV series Nine Perfect Strangers. The show is based on the New York Times best-selling book of the same name by Liane Moriarty and filmed in Byron Bay. "We shot it in Australia, which is gorgeous. It's so pretty I thought it was CGI," Hall explained.
And with the actress resurfacing happy and as hilarious as ever, with quarantine now behind her (a time where she has said she's struggled), she can finally address the top-tier birthday video she released for her 50th this year. The conversation surrounding it has followed her around everywhere she goes, a recent visit to The Ellen Show being no different.
While chatting with frequent guest-host tWitch, she opened up about the milestone.
"I am very happy because the option is death. You're either going to get older every year or you're going to die. So, I'm happy to be alive and honoring what you do gain. There's a lot of, like, wisdom and I do think it's beautiful to age."
tWitch showed the birthday celebration song Hall had released online as the two continued to discuss, eventually touching on why she used the word 'bitch' to refer to herself in the song, noting that the word can also mean a female fox or otter. To that, her reply went in the aging flex hall-of-fame:
"I'm in fox season."
One of the best qualities of Hall is her comedic style, which tows the line of dark humor, and just plain ole funny. This has been the same about her since the Scary Movie franchise, where she got her biggest break. And sis has been working ever since, with more projects up her sleeve. She tells ESSENCE:
"The fact that I've been able to work throughout the years, as Scary Movie celebrates 21 years, I feel like there is no greater due that someone can give you than to continue to have you working. I feel really, really blessed in that way. It's good. I'm still here. What else could I want?"
Last October, Hall secured a first-look deal with Showtime to develop projects under her own production company, Rh Negative, thus expanding her relationship with network, coming off the news that her comedy series Black Monday had been renewed for a third season. Of the deal, Hall says:
"I've wanted to produce for a second now. I find great scripts that would be wonderful for myself and really for other people. There are a lot of things and a lot of opportunities for writers and it excited me to be able to create those opportunities and to create programs and movies that people would enjoy—stories that haven't been told or perspectives of stories that haven't been told."
Can't help but to love and support her!
Watch the clip of Hall discussing her 'fox season' below:
Are you a member of our insiders squad? Join us in the xoTribe Members Community today!

Featured image by Bennett Raglin/Getty Images for BET
Keep reading...
Show less
Naomi Osaka has recently released her self-titled Netflix docuseries, and giving us a rare glimpse into the 23-year-old tennis player's personal life. She shows off her relationship with rapper Cordae, and we also see her close bond with her older sister, Mari Osaka. Like Naomi, Mari is an experienced tennis player. The 25-year-old made her professional debut in 2014, then retired in early 2021.
While the two have shared the tennis court from time to time, including in a doubles match at the Pan Pacific Open in Japan in 2017, they are a close duo off the court as well. The sisters have shared some adorable snaps together on their Instagram accounts over the years, making them a Serena and Venus-like sisterhood that we can't help but to love.
With captions like, 'sister, sister" or, when speaking of Mari, lovingly referring to her as "the only person who can match my crazy, possibly exceed," their relationship has us swooning.
Additionally, Mari opens up about their bond in "Voices of a Champion," a featurette narrated by the older sister over throwback home videos and pictures of the two.
"We dreamed of being champions. Defying labels, courting excellence, each choosing victory over the other. Our parents organized our dreams and trained us to fulfill them. Their excellence reflecting in our character, in our discipline."
She continues, as footage of her playing against Naomi on the tennis court years ago.
"Play became serious and we learned as I schooled you. Me: accustomed to winning; you: saying you'd beat me tomorrow. The day you caught up to me something clicked in you, and that piece of your destiny became real. Each win builds a platform that we'll use to make impact, finding purpose on and off the court and opening ourselves up and cheering each other on. Parallel paths. Becoming the champions we need. We dreamed of being champions, Mari and Naomi."
Mari's love letter to Naomi comes three months after she announced her retirement from professional tennis in March, which she admits she didn't particularly love. She captioned a photo in a since-deleted Instagram post:
"I am retired from playing tennis. It was a journey which I didn't enjoy ultimately but I'm grateful for all the memories and support I've gained and received over the years from the sport. I'm moving on now so you can look forward to new fun projects upcoming in the future."
Happy birthday to my sister! 😩❤️🙌🎂🎉🎊🎁 https://t.co/UbpPHEMXmF

— NaomiOsaka大坂なおみ (@NaomiOsaka大坂なおみ)1522775405.0
The siblings last competed against one another in March 2019 at the Miami Open.
That same month, the currently most powerful tennis star told The New York Times about growing up playing against Mari.
"Up until I was 15 she was 6-0-ing me, ridiculous. I don't know what happened, maybe finally something clicked in my head, but for sure she was beating me. In the win-loss record, she's up by like a million or something."
Where have we heard this story before?
Naomi Osaka is streaming on Netflix now.
Watch "Voices of a Champion," narrated by Mari below:
Are you a member of our insiders squad? Join us in the xoTribe Members Community today!

Featured image by Kevin Mazur/Getty Images
Keep reading...
Show less
If you are a frequent reader of my articles, then you know that I am front-of-the-class here for the culture. Using all of my platforms to be vocal about Black women and all things Blackity, Black, Black, Black is how I get down, and frankly, if you aren't here for me bragging on my people, then we probably won't have much in common. The wave has been snowballing too, because so many feel the same way I do, which is something we've had to consciously build up as a community.
The internet is filled with pages showing love to melanin, comments are up and stuck in celebrating our likeness, and we stick together, m'kay?! Just ask TikTok.
Are you a member of our insiders squad? Join us in the xoTribe Members Community today!

Featured image by Getty Images
Keep reading...
Show less
Karrueche Tran, I like her. She minds her business, she makes smart business moves. She has integrity, and most importantly, she loves herself enough to leave situations that no longer serve her. Tran popped on the scene roughly a decade ago as the girlfriend of Chris Brown. They had a whirlwind romance, filled with just as many highs as lows. Eventually, Karrueche ended the relationship after she found out Brown had a daughter on the way, and she moved on to pursue her passions within the entertainment industry.
This led to acting, where she's starred as Vivian Johnson-Garrett in the web series The Bay, and Virginia Loc on the TNT series Claws.
But it is her latest money move that solidified her place in the career pivot hall of fame, because sis is coming off of her first Emmy win!
The Emmy was for Outstanding Performance by a Lead Actress in a Daytime Fiction Program, for her performance as Vivian Johnson-Garrett in Popstar! TV's The Bay. Her win is a mega milestone for the Emmys, as Tran (who is Black and Vietnamese) is the first lead actress of AAPI descent to take home the trophy for either Daytime or Primetime Emmys.
And sis, this is a flex!
Her latest win makes this Tran's fourth Emmy win for The Bay. She won three prior trophies as a producer on the digital series, which won in the Outstanding Digital Daytime Drama Series category in 2016, 2017, and 2018.
She began her speech with speechless shock saying:
"I can't even talk. I'm so thankful and so blessed and so grateful. Thank you to the Academy and to the other nominees."
She went on to thank her friends and family, 'who have always supported me,' adding that she had to thank The Bay family, "who have believed in me from day one in me when nobody did at all. I just won an Emmy. Oh my God. Thank you so much!" she added. When asked what storyline she was most proud of this year, she said she was proud to "shine a light" on the Black Lives Matter protests.
The Bay is a soap opera, set in the posh seaside town of Bay City, where the privileged residents are entangled in one scandal, betrayal or love affair after the other.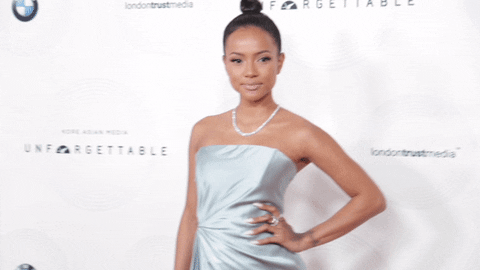 Giphy
Karrueche later took to Instagram to bask in her win.
"Y'all.. I.. really don't even know where to begin… lol when I got nominated I was soooo surprised and grateful but was like nah there's no way I'm gonna actually win.. the nom was more than enough.. but God had a different plan for me.. I'm still in shock!"
She continued:
"The icing on the cake was finding out I'm the first AAPI lead actress Emmy winner in both Daytime Emmys and Primetime.. excuse me WHATTT??! I fucking made Emmys history.. that is HUGE and makes me extremely emotional.. to be a representation of a community that is so often overlooked and under appreciated brings me to tears.. WOW I am on such a high that I know will last for a long time."
Watch the clip of her discussing the show with co-stars below:
Congratulations on such a historic win!
Are you a member of our insiders squad? Join us in the xoTribe Members Community today!

Featured image by Aaron J. Thornton/Getty Images for BET
Keep reading...
Show less
The queen of everything Ms. Naomi Campbell, known for being a pioneer of every single element of what it means to be a super model, is now a mommy! She surprised fans with the news, accompanied by a photo of baby girl's tiny feet back in May, captioning the photo:
"A beautiful little blessing has chosen me to be her mother. So honoured to have this gentle soul in my life there are no words to describe the lifelong bond that I now share with you my angel. There is no greater love."
Additionally, she added "Mother" to her Instagram bio.

Details so far have been kept firmly under wraps, but that doesn't mean she didn't break the internet. She posted all the above three days before her 51st birthday, making her a mom for the first time much later in life, after spending decades living her life as a single woman, and unfortunately being subjected to having to answer to the reason why she doesn't have kids. But since 2018, she has hinted at her time coming, with possible babies on the way.
She admitted to the Mirror:
"I think about having children all the time. But now with the way science is I think I can do it when I want."
Of course, Campbell is referring to IVF or in vitro fertilization, a process where an egg is combined with sperm in vitro. Doctors monitor and stimulate a person's ovulatory process, removing an ovum or ova from their ovaries and letting sperm fertilize them in a lab. In Campbell's case, she likely had a surrogate inseminated, but this doesn't rule out potential adoption either.
"I'll see what the universe brings me. For now, what the universe has delivered is very much in the spirit of a 'chosen family.'"
And by 'chosen family' she means young celebs who she mentors, such as Ryan Destiny, who she endearingly refers to as her daughter, fashion model Adut Akech, who affectionately refers to Campbell as her "mama" in the fashion world, or the children from the Rising Sun, a Kenyan orphanage.
But now, Naomi is a true mama.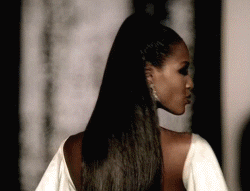 Giphy
Campbell joins the ranks of another supermodel, Tyra Banks, who welcomed a son via surrogate, with then-partner Erik Asla in 2016 after a similar years-long struggle to become a parent. Tyra had been dating the Norwegian photographer since 2013, and shared a photo captioned:
"The best present we worked and prayed so hard for is finally here. He's got my fingers and big eyes and his daddy Erik's mouth and chin. As we thank the angel of a woman that carried our miracle baby boy for us, we pray for everyone who struggles to reach this joyous milestone. York Banks Asla, welcome to the world."
For now, Naomi is extremely tight-lipped on the details and only showing off glimpses. But she did thank everyone for their well wishes, saying on Instagram:
"Never have I felt so much love like I have over these past few weeks , I am so thankful for the love that you've poured onto my daughter.and I Thank you all for the Warm messages of support and birthday wishes."
In other words, your next chapter in life starts when you want it to. No matter how old you are. Congratulations to this new mom!
Are you a member of our insiders squad? Join us in the xoTribe Members Community today!

Featured image by Kevin Mazur/Getty Images for Amazon Studios
Keep reading...
Show less
Joie Chavis has been fitness goals for many of us since she danced her way into our hearts a few years ago. She is a mother of two, one being kid superstar Shai Moss, and a fitness influencer, as owner of Joie In Life fitness brand. She also has her own YouTube channel, where she showcases her daily life as an entrepreneur and mom, a channel that has well over 140K subscribers.
Recently, she uploaded a video on her channel discussing all things fitness, from tips and tricks, to her own experiences. And because sis has bawdy-ody-ody-ody-ody, anything she has to say about achieving a healthier lifestyle in order to look like that, well, consider me front row. Like, Seat 1, Row 1 m'kay?
Continue reading for a few quick tips to get our bodies together for the rest of the summer!

Disclaimer: Joie is not a licensed nutritionist or trainer, these tips are based on what works for her.
On How To Gain Weight & Get Thick: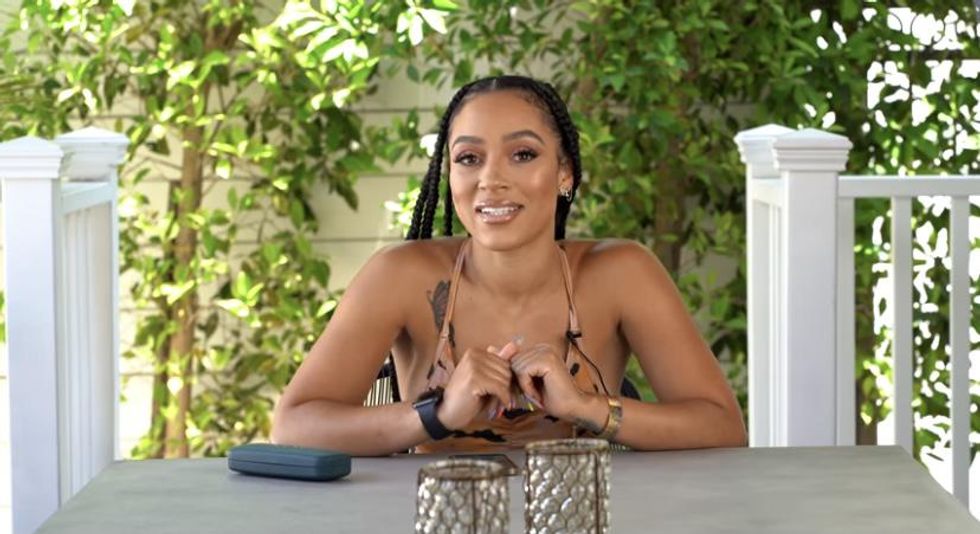 Joie Chavis/YouTube
Joie opens the video with a quick introduction, and hops right in.
The first question? How can we get thicker, sis?! Well, her answer is simple: be consistent and lift weights.
"People stray away from lifting weights because they're scared they're going to get bulky. Don't be afraid of lifting weights. The weights are going to help you build the muscle. It's going to help give you muscle tone in your legs and arms along with eating a lot of protein."
Here's what she recommends: Lift, lift, lift, and incorporate protein shakes into your diet to help gain healthy weight.
On Why It's So Hard To Get Rid Of Your Tummy: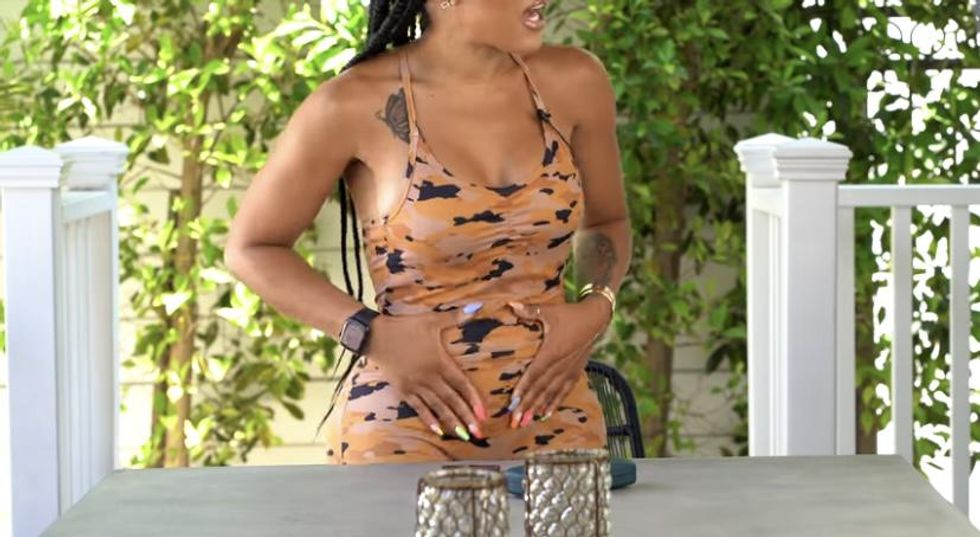 Joie Chavis/YouTube
"The stomach is the hardest area to tone, especially if you're so up and down with your weight or you've had kids and you have loose skin. That's where your uterus is so you can't get rid of it, but you can tone your stomach. It's mostly just cardio that I do to keep my stomach tight, and diet. Diet is so important."
Here's what she recommends: Start small. Try a week without eating breads/flour, sweets, dairy, or sodas, and double your protein. "I promise you, it'll make a huge difference."
On If You Should Focus On Cardio Or Strength Training In Order To Lose Weight: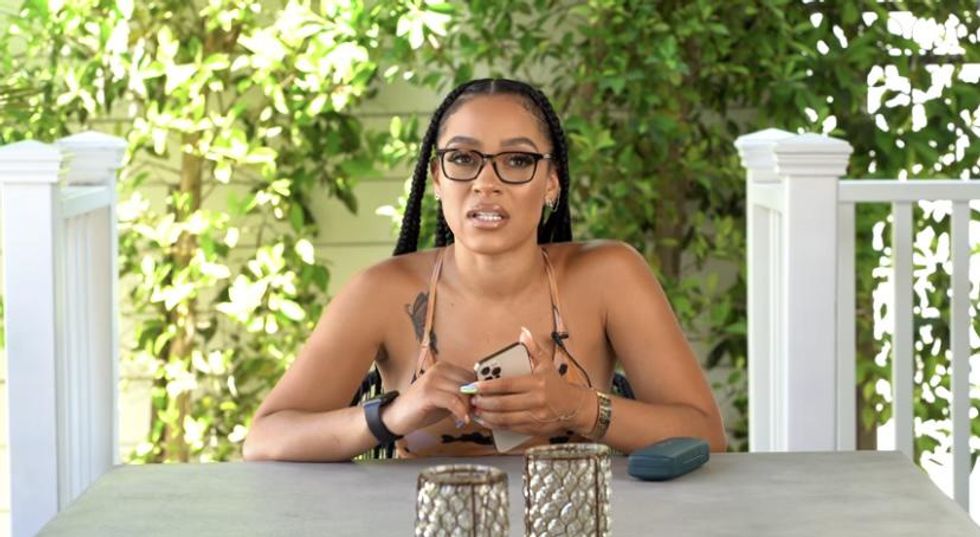 Joie Chavis/YouTube
Joie reveals that she notices that she has better results when she does both to tighten up.
"I would do both. If you're trying to lose weight, I feel like, you should do both because you don't want to lose so much weight from cardio and you're super flabby or you have loose skin but you have no muscle tone, no definition, you just lost weight. I would do weightlifting and cardio. Intense cardio, though."
Here's what she recommends: Sprints, stairs, weightlifting, and clean dieting.
On If Waist Trainers Are For Back Support Or Losing Inches: 
"Both. It gives you really good posture. The more you wear it, and sweat with it, and eat with it on, you're [also] not going to eat as much."
Joie On How Long It Took Her To See Progress In Her Butt Growth Journey: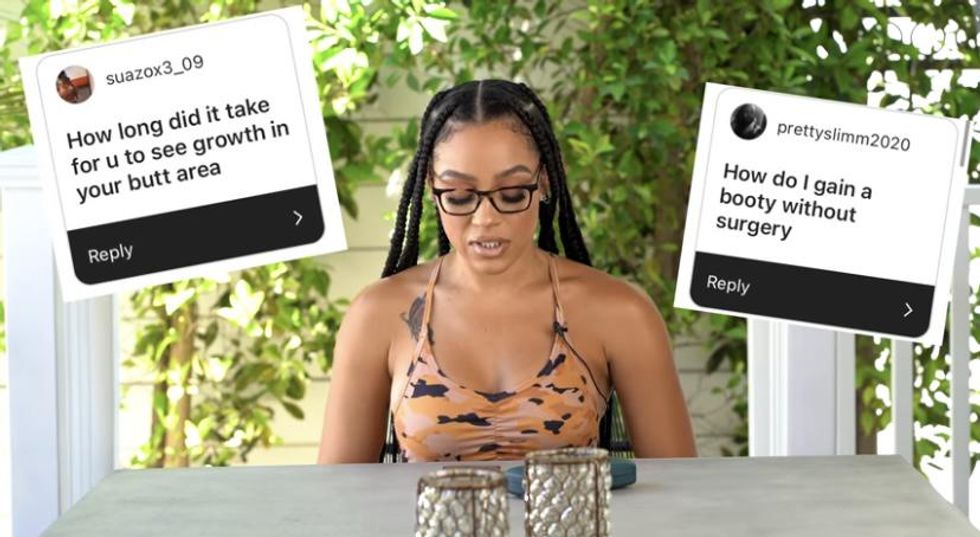 Joie Chavis/YouTube
OK, so we all know that Ms. Joie has an amazing rear that has us hitting 1000 squats a day. And according to the model, that will help, as long as you're patient with the process.
"It really takes time. It's not going to happen overnight and maybe because I'm getting older, it takes me a little bit longer and it's harder to be strict on what I eat. It just takes time. You look at some of the challenges that me and my trainer have put together, it's amazing to see their bodies transform."
Here's what she recommends: Be consistent and give yourself a few months to see real changes. "It'll push you to just keep going further."
On Hacks For Curbing Your Appetite When Dieting:
"You really have to snack. That's why they say it's better to eat like seven small meals in a day rather than three big ones. Water is essential."
What she recommends: Consistently have something with you, whether it's nuts, fruit, a smoothie, or water. Increase your water intake and eat small meals.
Joie also touches on how she resists eating bad foods when going out, hitting weight loss plateaus, and what pills she takes when dieting. Watch the full video below:
Are you a member of our insiders squad? Join us in the xoTribe Members Community today!
Featured image by Joie Chavis/YouTube
Keep reading...
Show less