Hyperpigmentation and acne scarring are two of the biggest battles black women face when it comes to skincare.
---
If you've ever wondered why some areas of your skin are darker than others or why your pimples tend to leave dark spots, it's because of all of that beautiful melanin. Hyperpigmentation usually occurs when there's an excess of melanin and it causes the patches of skin to become darker than the surrounding skin.
While you can get on Google and research all the ways to treat hyperpigmentation, it can be a process. Sometimes we're looking for a quick fix and that's where color correcting comes in. Color correcting is the simple process of evening your skin tone before you apply your foundation. Color correcting/concealer helps you cancel out dark or red spots and helps improve the overall look of your foundation. The color correcting colors range from: green, orange, red, and peach and depends on your skin tone and the problems you're looking to solve.
Read on to check out our Black girl's guide to color correcting:
Orange Color Correctors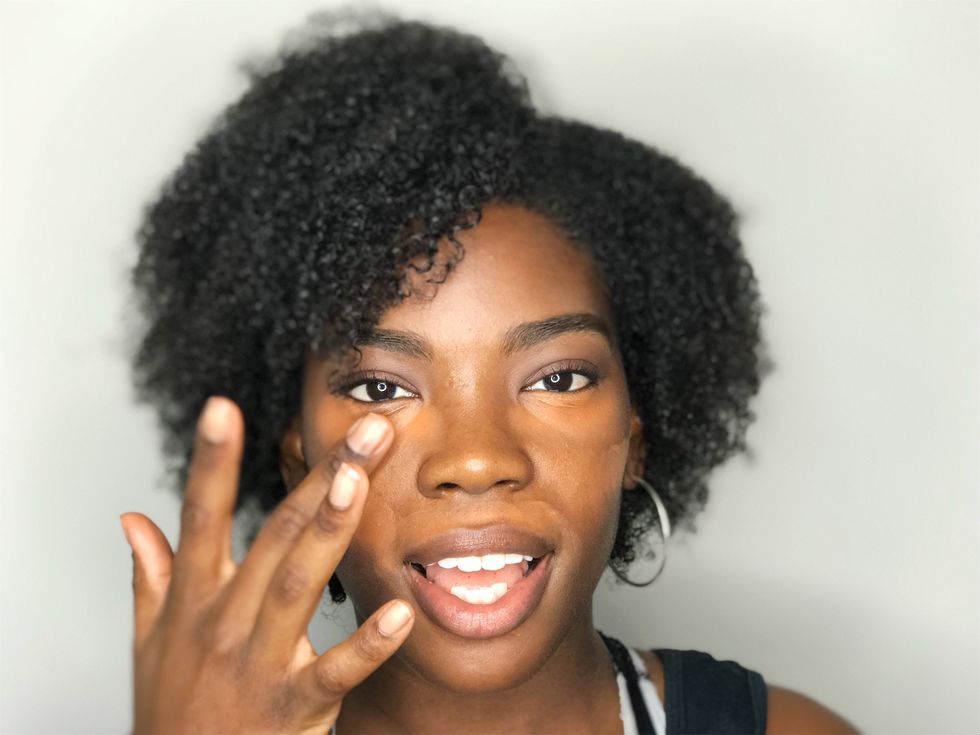 Krissy Lewis/xoNecole
Orange color correctors are good for people with dark skin tones looking to cover dark spots and dark circles. For a real-time example, check out how Cydnee Black applies her color corrector here.
Recommendations: LA Girl Pro Concealer & MAC Studio Finish Skin Corrector
Red Color Correctors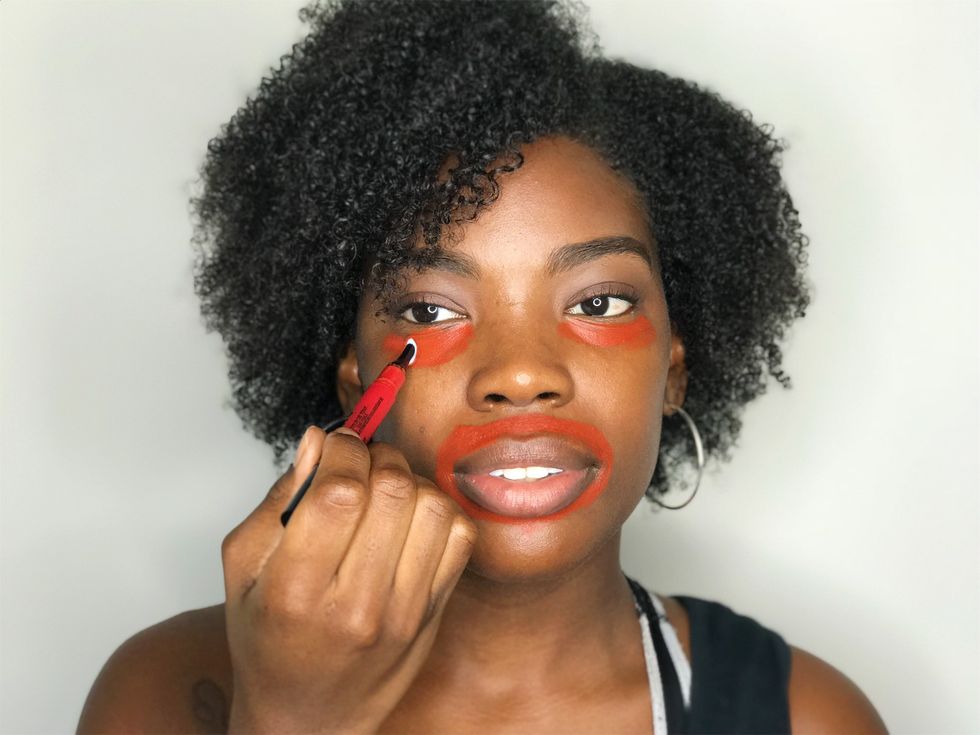 Krissy Lewis/xoNecole
Red color correctors help cancel out dark spots on deep skin tones. Sometimes finding the right red color corrector can be hard, but Khloe Dosh reminds us when it doubt, red lipstick is another option. Check out her tutorial here.
Recommendations: Maybelline New York Master Camo by FaceStudio Pens & Huda Beauty Demi Matte "Boy Collector" Lipstick
Green Color Correctors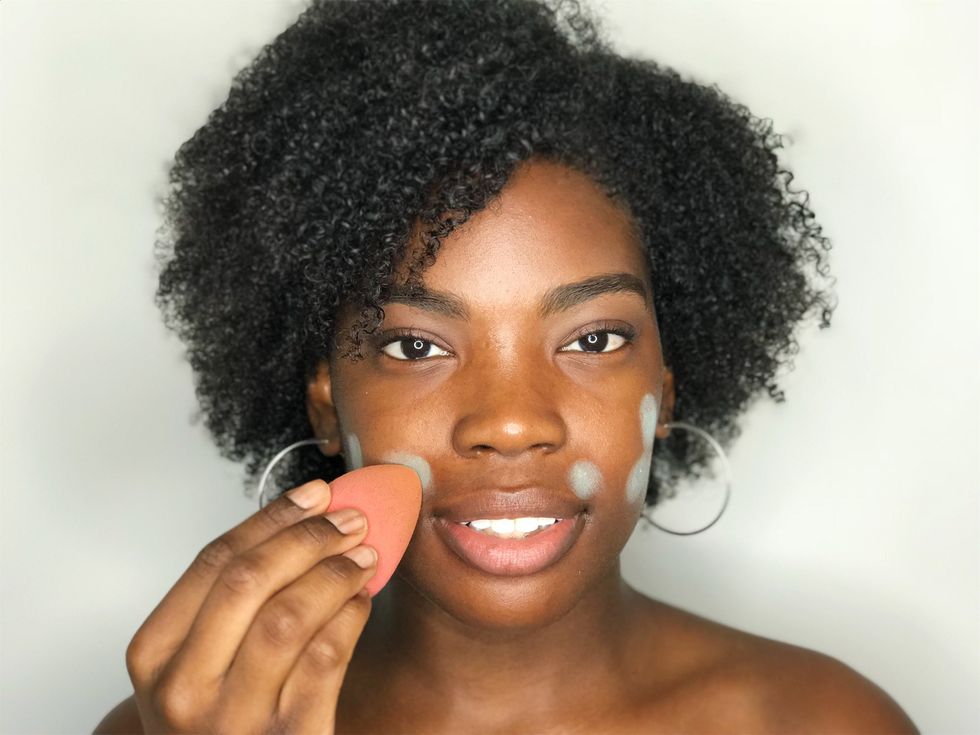 Krissy Lewis/xoNecole
Green color correctors are great for eliminating redness on all skin types. Since green neutralizes the color red, it helps reduce the appearance of zits, pimples, and other red marks. It can help you cover dark spots on lighter skin tones too, if you mix it with a yellow or peach concealer. Check out how The Beauty Maine applies green concealer here.
Recommendations: NYX Professional Makeup HD Concealer Wand & Tarte's limited-edition Color-Correcting Palette (It's an all-in-one palette to correct discolorations, contour, and brighten skin with six shades).
Peach Color Corrector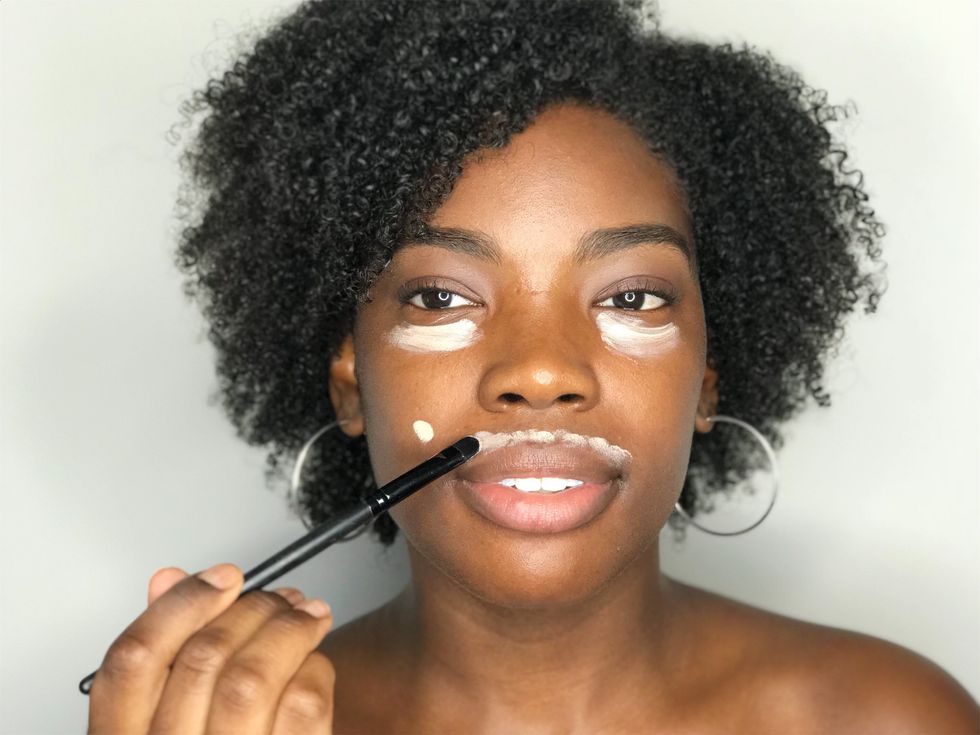 Krissy Lewis/xoNecole
Peach concealers are for light skin tones looking to cancel out dark circles and spots. A dark pink and salmon color work well for lighter skin tones as well. Check out how Vilma Martins color corrects her skin with peach concealer here.
Recommendations: MAC Prep + Prime Highlighter Pen - Peach Lustre & NAKED SKIN Color Correcting Fluid
Do's and Don'ts of Color Correcting
Do choose the right hues for your skin. Your color corrector will be most effective if you find the right tone.
Do apply color corrector to your problem areas ONLY.
Don't use colors that you don't need. For example, if you don't have redness in your skin, then a green color corrector wouldn't be for you.
Don't use too much color corrector, more is not always merrier! Keep in mind that you still need to apply your foundation and concealer. Too much product will make you look caked up.
Do use a beauty tool to blend your color corrector. I prefer a Beauty Blender but if your fingers work, then knock yourself out. Be sure to tap the area to blend instead of sweeping motions.
Don't worry about coverage, that's what your foundation is for.
Don't use it if you don't have any acne scars, redness, or dark spots.