Krissy Lewis
Freelance writer, content creator, and traveler. She enjoys the beauty of simplicity, a peaceful life, and a big curly fro. Connect with Krissy on social media @iamkrissylewis or check out her blog at www.krissylewis.com.
There are so many new beauty releases being pushed to us it can be hard to figure out what product actually works and what's worth spending the coins on. I've been on the hunt for quality lip care products, from lip care to makeup. I was determined to build a lip collection that nourishes, enhances, and looks good on my lips.
When it comes to lip care, your best lips start with a simple but effective routine in place. Our lip care isn't synonymous with our skincare routine. If you think about it, our lips are exposed to just as much if not more, and have the thinnest layer of skin, requiring a little extra attention. A good foundation is important with anything, and I find that the better you treat and care for your lips, the better your glosses and lipsticks look.
Some of us underestimate the importance of healthy smooth lips or just don't know what products to use to achieve it. Don't worry, though, we got you! We created this list of products with everything from lip scrubs to lip glosses to help build a lip care routine that will keep your lips hydrated, smooth, and beautiful. Here are eight lip care products you need to try now:
Featured image by PeopleImages/Getty Images
This post is in partnership with SheaMoisture.
When it comes to healthy hair care, there are a few things that will help you achieve healthy strands: a healthy hair care regime, hydration, consistent treatments, and scalp care. While scalp care is one of the most neglected practices, it is also one of the most important. Why? Because it helps promote healthy hair growth, clear hair follicles, and remove build-up.
When it comes to creating a healthy scalp routine, it helps to know exactly what you're up against so you know how to specifically treat it. Two of the most common concerns are dandruff and dry scalp. It can be tough to decipher which is which, but here's a quick breakdown: dry scalp is caused by a lack of moisture in the skin, while dandruff is caused by an excess of oil and yeast buildup on the scalp. Knowing that both of these are big concerns, SheaMoisture released two separate product lines to address both issues: the Scalp Moisture collection and the Anti-Dandruff collection.
Needless to say, if you tend to experience dandruff then I'd recommend you try the Anti-Dandruff collection. However, my biggest concern has always been dry scalp. A lack of moisture on the scalp can be caused by several factors like weather, age, and hair products to name a few. I've noticed that when I use certain gels or skip out on a deep scalp cleanse, my roots feel itchy and dry nonstop, which is uncomfortable.
The only way to relieve the discomfort is to properly wash and moisturize my roots, so I tried the Scalp Moisture collection and this is what I thought.
Krissy Lewis for xoNecole
First, What's In The Collection?
The Scalp Moisture collection is a four-product line that includes a pre-wash masque, a moisturizing shampoo and conditioner, and a moisturizing scalp cream. Each product uses moisturizing and strengthening ingredients like aloe butter and vitamin B3 as active ingredients to provide eight times the moisture. Together, aloe butter and vitamin B3 work to restore dry and brittle hair, as well as add relief to the scalp.
Now, let's break down each product…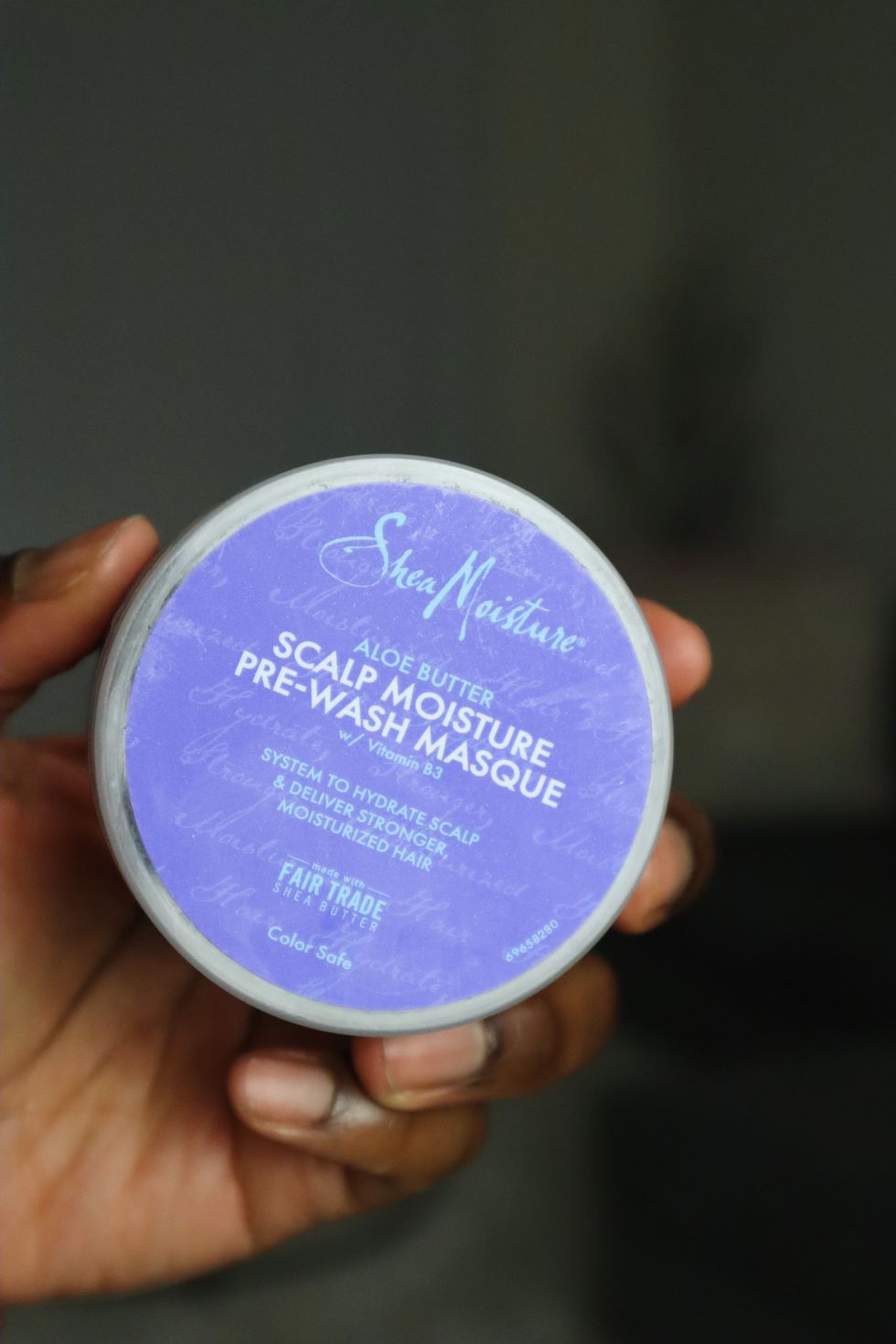 Krissy Lewis for xoNecole
Scalp Moisture Pre-Wash Masque
The SheaMoisture Scalp Moisture Pre-Wash Masque may actually be the all-star of the collection. Using this deep conditioning masque is one of the best ways to target your dry scalp, restore hydration, and nourish your strands before shampooing.
I started by completely saturating my hair and scalp with water, then making small sections to apply the masque directly to the root. For my girls who have experience with relaxers and perms, it helps to apply the masque to your roots just like you would do with a relaxer. This way you can make sure you've covered as much of your scalp as possible while minimizing any breakage.
Pro tip: you can also use a color application brush to make this step easier.
After I completely covered my scalp, I massaged the product into my roots, used any excess on my strands, then left the masque in for 30 minutes. I was shocked by how moisturizing and clarifying my scalp and hair felt. One of the things that I love about the masque is the slip and how much softer it made my hair. While this is marketed as a scalp care product, it can completely transform your hair from dry and parched to completely hydrated.
In my opinion, the downside of this masque is that the quantity is too small for my liking. Truth be told, naturals go through deep conditioners faster than any other product (especially when it's this good.) So SheaMoisture, if you're reading this, we'd love a bigger jar.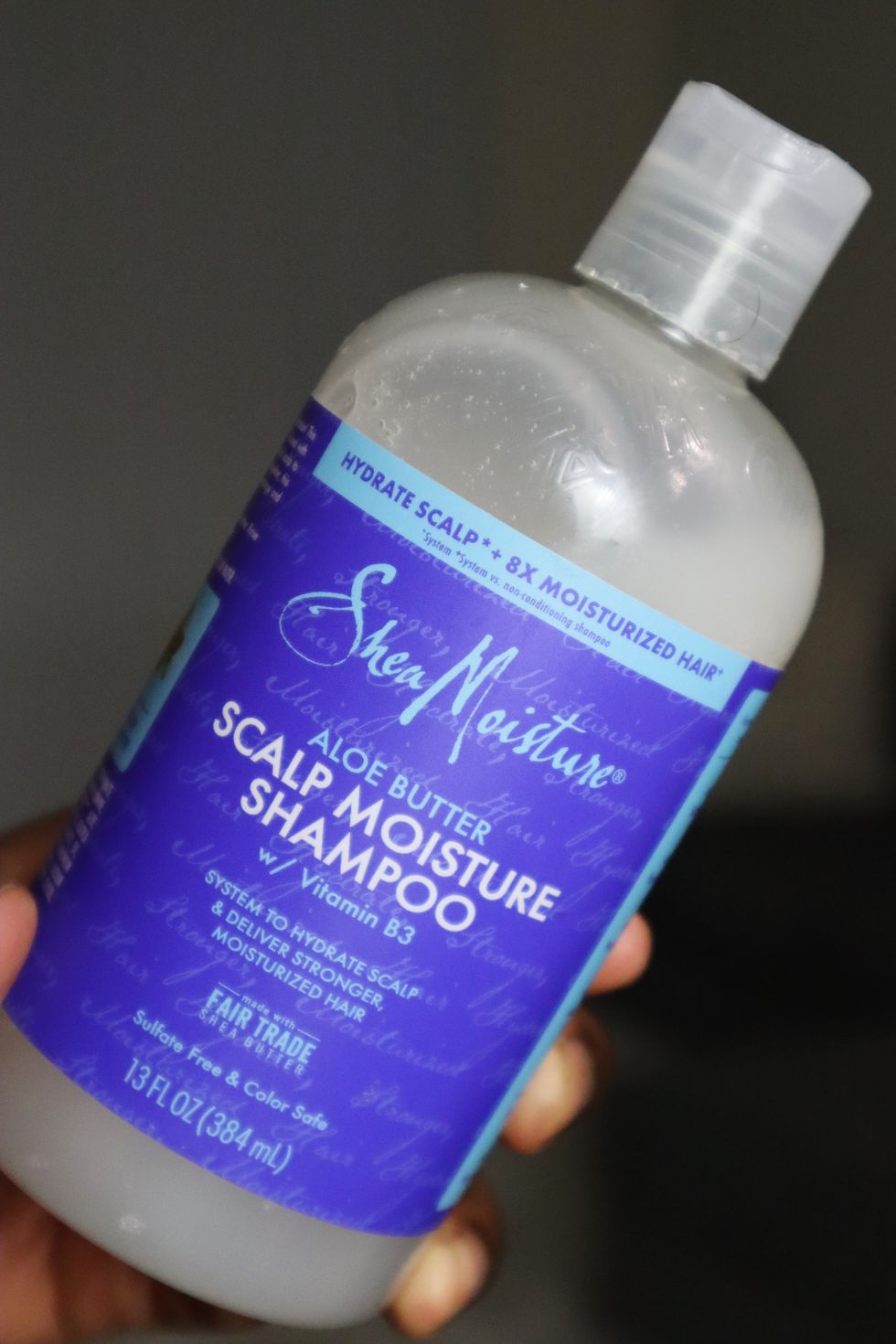 Krissy Lewis for xoNecole
Scalp Moisture Shampoo
The SheaMoisture Scalp Moisture Shampoo is a gentle cleanser packed with the same moisture as the masque. The pearl-colored shampoo is lightweight with a serum-like consistency and a light and clean scent. The smell is pleasant, subtle, and not overbearing. When I applied the shampoo, I noticed immediately that it foams and lathers up very quickly, so less is more.
After applying the shampoo, I parted my hair and started at the roots to target as much of my scalp as possible. I recommend really taking the time to work the product and massage your scalp as much as possible.
Pro tip: using a scalp massager makes it easier and it feels amazing.
Once you start to massage your hair you'll feel the product start to work. There's a tingling sensation that might catch you off guard if you're not used to it, but it's not nearly as strong as other scalp products I've tried. I know some may not appreciate the sensation, but I loved it! My scalp felt clean, light, and breathable.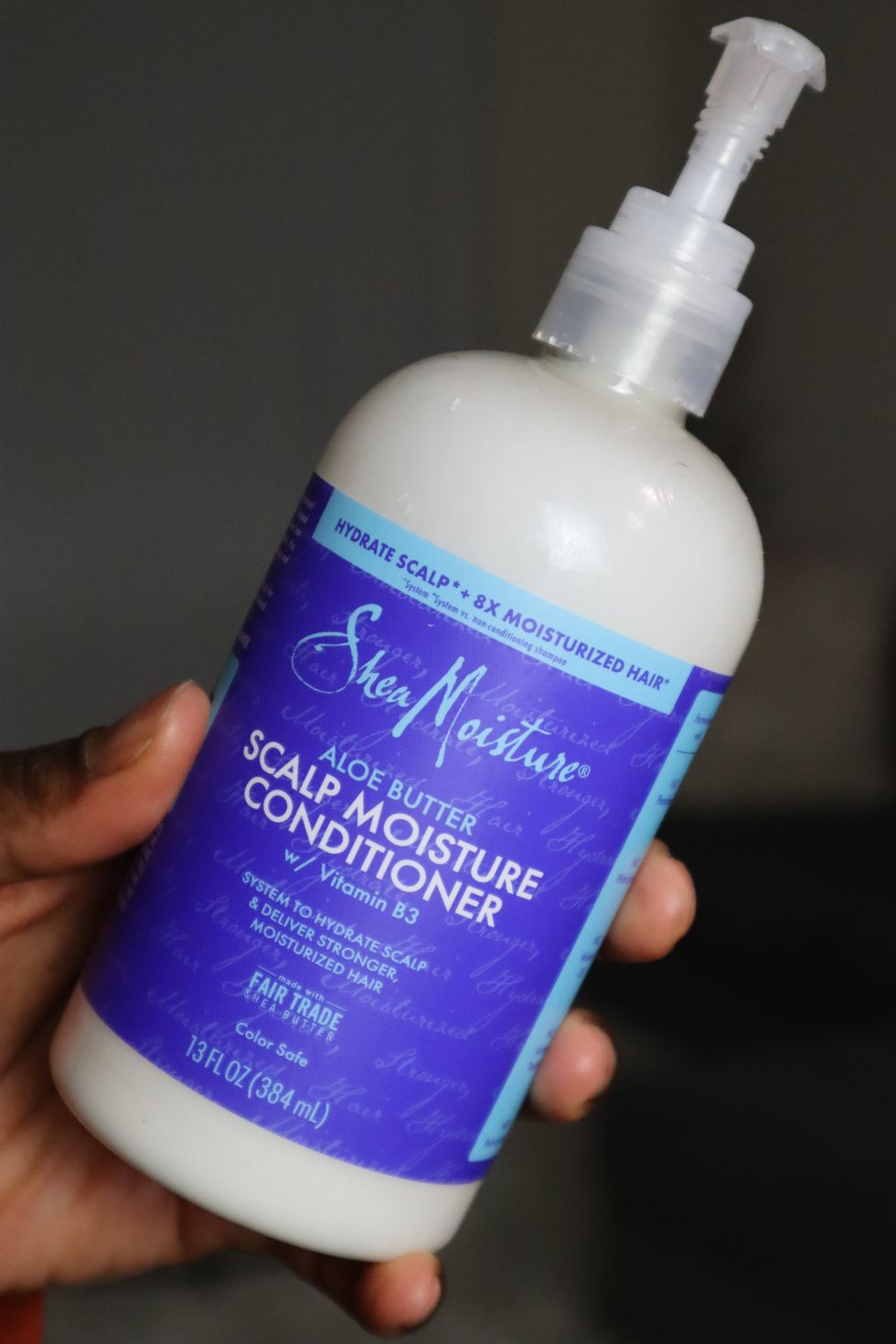 Krissy Lewis for xoNecole
Scalp Moisture Conditioner
Like the shampoo, the SheaMoisture Scalp Moisture Conditioner shares that pearly color and serum-like feel. It applies very easily while softening and moisturizing your hair. When I applied it to my hand, it gave my hands a lotion-like feel, which speaks volumes about its hydration capabilities. I also loved that the conditioner comes with a pump, instead of having to squeeze the product out – to me, it makes application easier.
I typically apply my conditioner to the ends first but because this is a scalp care product I started at the root and worked my way down to my ends. I did leave the conditioner in for ten minutes, although the bottle recommends leaving it in for three. The conditioner also provides that same breathable feel to your scalp. I honestly loved the relief.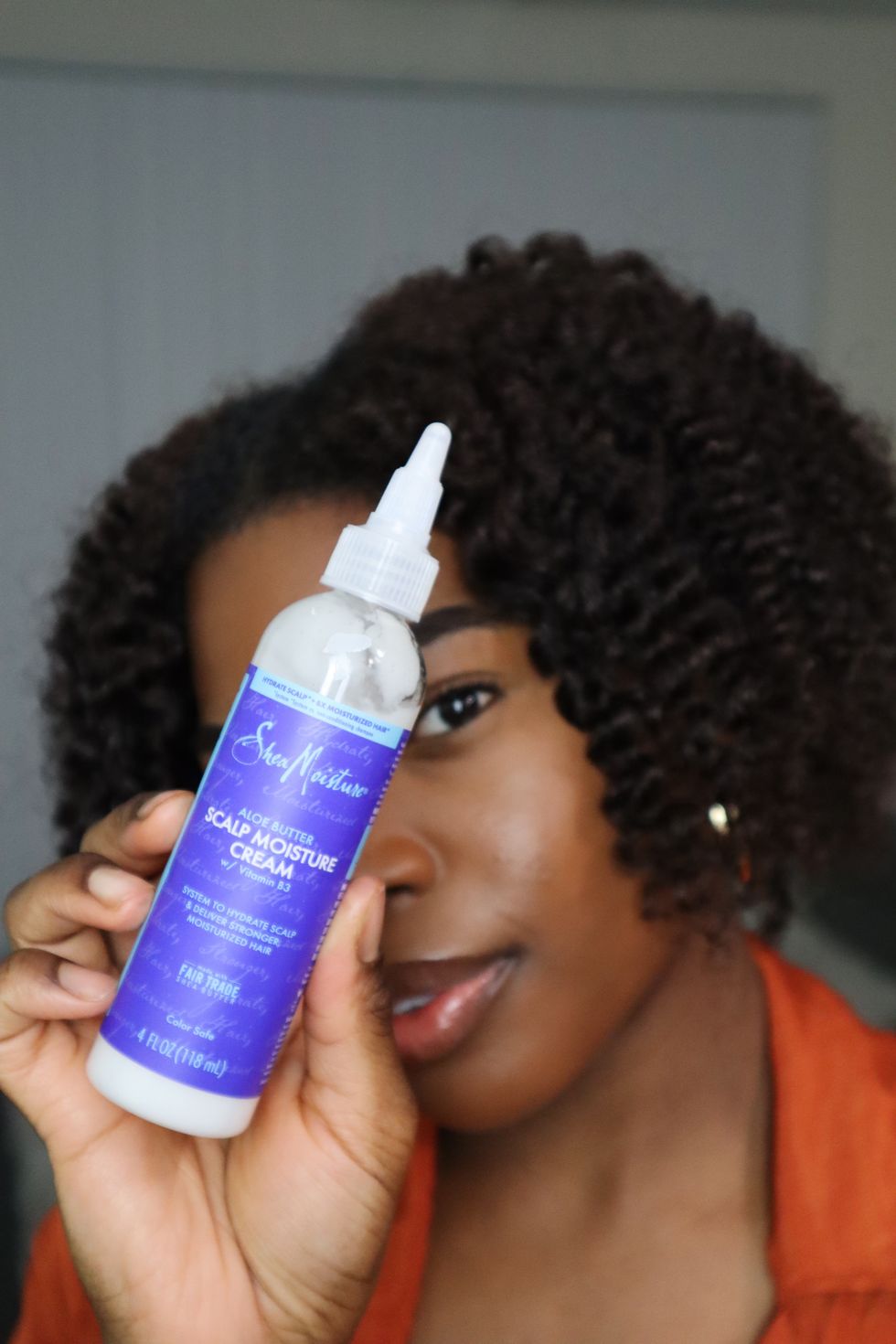 Krissy Lewis for xoNecole
Scalp Moisture Cream
The SheaMoisture Scalp Moisture Cream is more of a daily relief product for your roots rather than your overall hair. It's great for providing moisture and immediate relief to a dry and itchy scalp. Just like most of the collection, it gives a light and breathable feel – without the tingle. The applicator bottle targets specific parts of your scalp and makes applying easier.
Pro tip: I typically just squeeze the bottle to wherever I need the relief and use the tip to massage it into my scalp so it doesn't mess up the hairstyle.
Overall, SheaMoisture's scalp care line lives up to its claims – it moisturizes, strengthens, and provides immediate scalp relief. I definitely recommend trying the Scalp Moisture collection for an affordable way to treat itchy and dry scalp.
Featured image by Krissy Lewis for xoNecole
The fear of heat damage has been instilled in me since I went natural six years ago. Since then, I vowed to take my hair health seriously and put that above all else, unfortunately, straightening my hair didn't seem to align. People will constantly tell me, "Don't straighten your hair, it'll mess up your curls." I heard this so much that it made me nervous every time I had to do it.
However, I would also see other naturals wear their hair straight, only for it to revert right back to its tight curly pattern. It made me curious, and I started to ask different natural hair stylists whether the myth was true. They all responded, "You can, but not too much."
In case you're like I was and are a little hesitant about applying heat to your hair out of fear of damage, I want to debunk a lot of the hair-straightening myths so you don't have to be afraid to switch up your style every now and then. Here's the truth about heat on natural hair and how to prevent damage.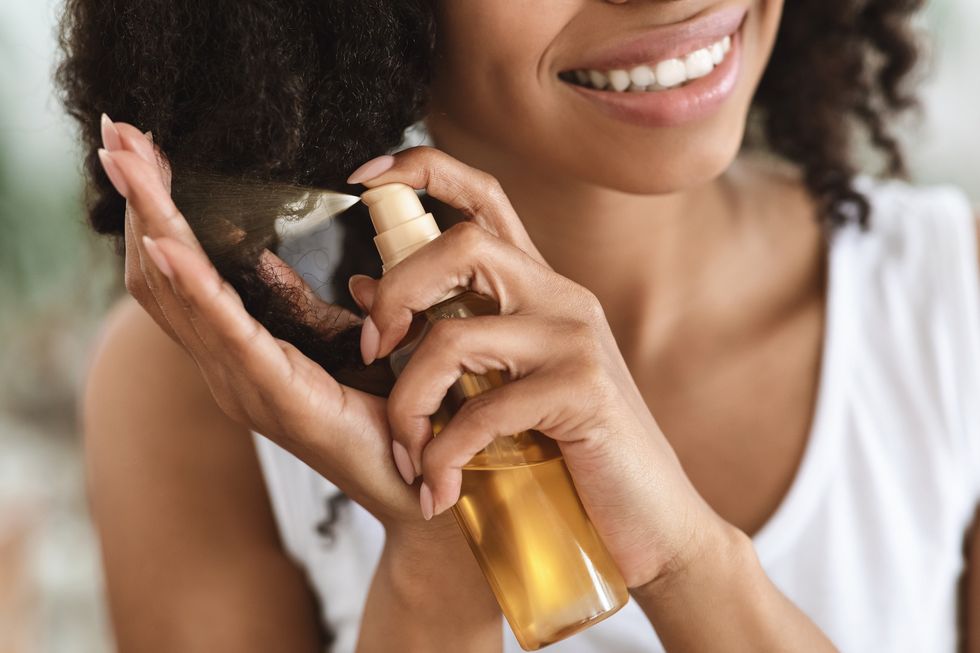 Deagreez/Getty Images
​Straightening Your Hair Isn't Bad
Don't listen to the naysayers, the only person you should listen to is your stylist. If you're considering switching up your curly hairstyles for something sleekier, your stylist will guide you and give you tips on the best way to do that.

One of the benefits of natural hair is that it's typically stronger and has high elasticity to fight breakage and damage. Plus, natural hair is versatile and not confined to just one style or look. In fact, my hairstylist, Aliya Abbey of Mane Mastery, says:
"One myth that I tend to see when it comes to natural hair is we need to stay away from all heat – blow drying and straightening. While some naturals prefer to avoid heat completely, it can actually work against you. Stretching the hair for trims gives more precision and a better look at the overall health of the strands, whereas curls can camouflage split ends and damage."
​There's No Specific Rule Book
Generally, there are best practices for maintaining healthy hair, but truth be told, it's not one size fits all. Hair texture, porosity, health, etc., all play a role in what you can do and how to do it. What may work for you may not work for others, and vice versa. Aliya continues, "Some hair strands can withstand more heat than others."
It's important to know your hair so you can create a routine and plan that works best for you.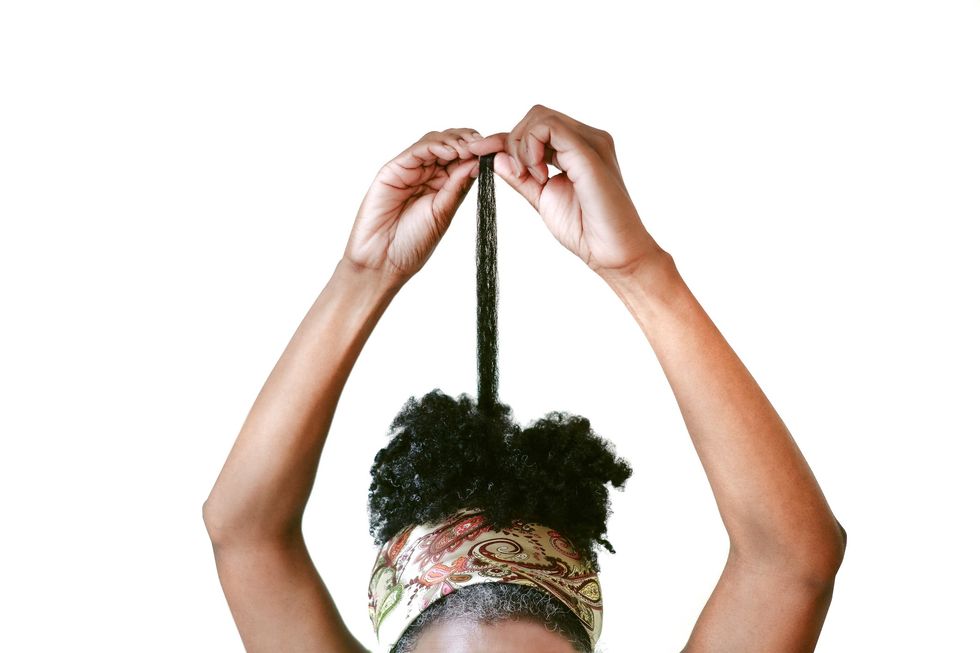 Grace Cary/Getty Images
​Moderation and Minimization Are Key
As I mentioned before, too much of anything can be bad for you. When thinking of straightening your hair, protective styles, etc., it's important to be aware of how often you're manipulating your hair. In general, a lot of naturals can't keep our hands out of our hair, it kinda comes with the territory.
Implementing a low-manipulation routine can minimize breakage, create stronger hair strands, and promote hair growth. It's not always what you do but how much you're doing it. In terms of how often you should straighten your hair, Aliya adds that "straightening more than two times a month could cause weakness in the hair."
Use the Right Tools
I used to think all heat tools were the same. I've always based healthy straightening practices on technique. While that's true, the tools you use are just as important. The cheaper blow dryers and flat irons tend to overheat your hair or not straighten your hair well enough. When it comes to flat irons, it is best to get one where you can control the heat via temperature instead of high and low. This will allow you to see how much heat you're putting on your hair and have control.
On the other hand, if the blow dryer or flat iron isn't of quality, it will require you to pass through your strands more than necessary and possibly burn your hair. "Heat damage is caused by tools that are too hot, tools that are being passed by a section of hair too many times, and/or dehydrated hair. It's important to take note of the type of tools being used and the frequency of straightening. Don't forget to steam and hydrate!"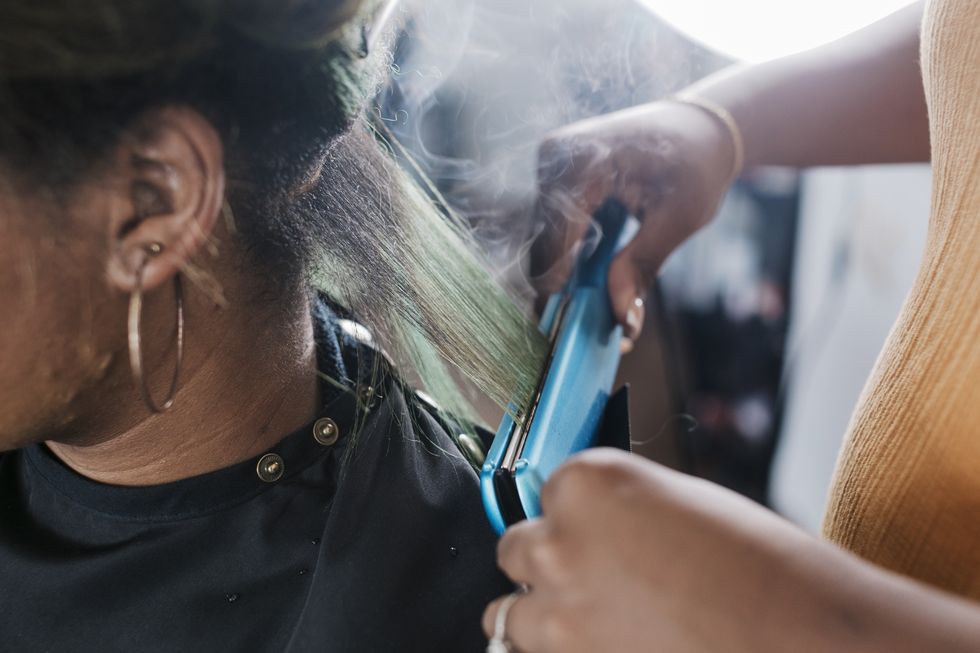 Willie B. Thomas/Getty Images
​Heat Damage Is Preventable
One last fact about straightening natural hair is that heat damage is preventable, not inevitable. There are a few ways to avoid heat damage, one being steam and deep conditioning your hair. Doing this not only makes the strands more hydrated but also stronger.
Secondly, using a heat protectant is important. It creates a barrier between hair and heat exposure to protect your strands.
Lastly, have a professional do it. If you don't know what you're doing, get someone who does. Using the right care and technique can save you and your hair a lot of stress. Seeing a stylist who specializes in natural hair and silk presses can promote strong, healthy hair and avoid heat damage.
Don't be like me and let the unnecessary fear of heat deter you from your versatility. As long as you prioritize your hair health, you'll be okay. I follow the exact same routine with the help of my stylist, and my hair thickness, elasticity, and health have never been compromised.
Let's make things inbox official! Sign up for the xoNecole newsletter for daily love, wellness, career, and exclusive content delivered straight to your inbox.
Featured image by Deagreez/Getty Images

Living in a world where we're over-consuming and over-producing information and content, it can feel like some trending topics are complete fads. While that may be true, some of these ideas are helpful and can greatly impact our lives, one being slow mornings. Slow mornings can look different to everyone, but the general idea is to counter the fast-paced lifestyle and create more time for ourselves, lessen anxiety, and prioritize self-care.
I'm a huge advocate for adopting this type of wellness practice into your morning routine. It has completely changed the game for me. Prior to adopting this routine, I'd wake up with just enough time to get ready and go. I never prioritized time to sit and eat, dance a little as I get ready, or any type of wiggle room for the unexpected (I'm sure you can imagine the anxiety that builds when something out of the norm happens). Most times I felt flustered and disorganized, which started to affect my mood, productivity, and my mindset. I knew I needed to make some changes.
I started to incorporate more mood-boosting activities and became realistic about how much time I actually needed to get my day started. If I'm being honest, my slow mornings rely heavily on time management. I try my best to at least get seven hours of sleep and set my alarm early enough to get ready for work at a smooth and intentional pace without interrupting my rest. My work days typically start with music, my favorite podcast or meditation as I get ready, a cup of decaffeinated tea instead of coffee, setting intentions and affirmations, then prayer before my drive to work.
I always get to work early with enough time to sit and eat, review work materials, prep, and brief my colleagues. Slow mornings allow me to gain more without losing anything.
If this hasn't already inspired you to switch things up, here are six more reasons you should incorporate a slow morning routine.
Slow Mornings Can Work for Everyone
Slow mornings rely mostly on being intentional with what you choose to prioritize and moving at a pace that doesn't feel rushed. It's less about the strict routine of waking up at 5 a.m. every day, as that is not realistic for everyone. I have a very flexible schedule so every day looks different and no day starts at the same time. Typically, I think about how much time I have in the morning and prioritize my mornings around that. One thing I do regardless of the time is play something motivational, express gratitude, pray, and say my affirmations. It's small acts that make a big difference. However, if I start my day a little later, I can do more with my morning like journaling and working out.
Slow mornings allow you flexibility and take the pressure of feeling like you have to do so much with the time you have, to me that defeats the purpose. It's more about making sure you pour time into yourself without pressure or feeling rushed.
Slow Mornings Reduce Stress and Anxiety
As I mentioned, slow mornings take the chaos, anxiousness, and stress out of planning and getting ready for your day. Slow mornings cause you to start your day in a relaxed and calm way by prioritizing the thing that makes you feel good. Taking the time to physically, mentally, and/or emotionally prepare yourself leaves you better equipped to take on the day.
Slow Mornings Create Time to Pour Into You
I've stopped putting myself last. I've given up the notion that everything and everyone has to be catered to before I'm able to do that for myself. I remind myself that I can't give what I don't have and if I'm not at my best, I can't give my best. While I know this, I also needed my actions to reflect it.
Implementing slow morning routines creates the space for you to pour into yourself, fuel yourself, and be more intentional. It makes you examine what your needs are and what focusing on your well-being can do.
Slow Mornings Reduce the Risk of Burnout
Slowing your mornings down will also inspire you to slow down in general. The notion of being busy and glorifying a never-ending workday will seem less appealing. Once you realize the power of being intentional, you'll adopt this routine in all aspects of your life. This will help reduce your chances of burning out because you have better workload management, a clear mental space, and awareness of when you're doing too much.
In general, I think we are all overstimulated by our influences and technology, but eventually, the feeling of constant rush and over-exertion will start to fade.
Slow Mornings Increase Productivity
If you take your time to wake up and implement healthy habits, you'll feel more energized and creative. As I mentioned before, slow mornings allow us to get better at managing time. It helps us focus on what's in front of us which increases productivity. I used to measure my productivity by how much I can get done, which is a race in itself. Instead, I focus on the quality and intention behind it.
Slow mornings allow you to spend time giving things the time and effort it needs, without falling behind.
It Boosts Your Confidence
If you take the time to affirm yourself in the mornings and do activities that make you feel good, then you'll do good.
Creating a morning routine that prioritizes time management, peace, and intentional living will make you feel a greater sense of accomplishment and success. It increases our faith and belief in ourselves to do things and do them well.
Slow mornings won't look the same for everyone, but creating time to prioritize yourself and live more intentionally may be the subtle change you need to improve your well-being. It's okay to slow things down and get off autopilot. Do what's best for you and know that you can't pour from an empty cup.
Let's make things inbox official! Sign up for the xoNecole newsletter for daily love, wellness, career, and exclusive content delivered straight to your inbox.
Featured image by LaylaBird/Getty Images
I've been through more than a few break-ups in my life, but my therapist breaking up with me is nothing I could've imagined.
I take my life and my mental health very seriously, so this isn't a relationship I would play with nor put at risk of losing. This was my first real therapy experience. In the past, I've called my insurance company and talked to whoever was available, but I needed something more consistent. I was looking for a relationship where I met with one person, I can build a relationship with (for the sake of healing), and, most importantly, who I trust and had a connection with.
So I got on Therapy For Black Girls and began my search. This is no reflection on the site because I do believe it's an amazing resource for people who are searching for a therapist. The thing about finding a therapist, or anyone for that matter – doctors, nail techs, you get the gist – is that it can be a process of trial and error. You may have to go through different people to find the one. Based on my search and what I read about this therapist, it seemed to be a perfect fit, so I made my first appointment.
Things seemed to be going great, we talked about building healthy self-care habits to get through the rough days, how to tackle the loneliness (this was during quarantine), and navigating the relationship with my parents. I found all of her talks and recommendations very helpful, and most of them seemed to work. So much so that I discovered the mental and physical space I was living in was starting to get to me.
Mentally, I was lonely, and although I'm someone who loves alone time, this felt different. Every part of my life seemed to be filled with loneliness. I would walk through empty airports, fly on empty planes, and come to an empty home. I started to feel a sense of abandonment. My mom was so afraid of catching COVID that she didn't want me at the house and vice versa. The apartment management completely abandoned its tenants and slowly but surely neglected their responsibilities which made my home a place I came to hate.
I talked about all of this with my therapist, and we worked on ways to resolve these issues. One resolution was to find a new place.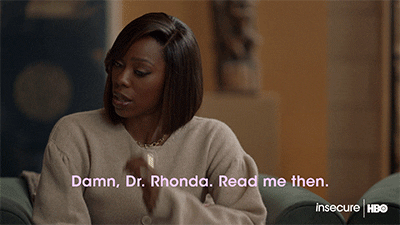 Yvonne Orji Therapy GIF by Insecure on HBOGiphy
A place that I loved and had the quality/amenities I wanted and wasn't influenced by financial fears of the pandemic. I set a budget, assessed my savings, and made a list of what was important to me. After that, I let my therapist know that I would be moving and because I still had to travel for work, attending our sessions would be too much, and I would prefer to continue once I was settled. She agreed and had no problems with that.
However, two and a half weeks later, I was unable to book an appointment. I was confused and decided to contact the office. When I couldn't get through by phone, I sent an email. The reply I received was: "Our policy states that after three months from the last appointment without communication from a client, it is assumed that services are no longer needed and future counseling services are terminated."
I was very confused because it hadn't even been a month since my last session, so I reached out, hoping this was a mix-up, and instead received a referral to other therapists. This was a huge slap in the face. I was heartbroken, to be honest. For my therapist to terminate services just didn't sit right with me.
It had me questioning myself and therapy as a whole. How could you terminate services in the middle of someone's healing? How can you be mistaken about your own policy and not even respond when I'm trying to rectify it? Did she always want to terminate the relationship? How could this be so transactional? All of these things kept going through my head…what did I do?
Suffice it to say, I took all of this very personally because what in the actual f*ck! I wrote off therapy entirely and decided to pursue healing on my own. That only worked for so long. I actually felt like I ended up with more issues than I started with. This added another layer of trust issues and abandonment.
It took me a year and a half, but eventually, I was able to finally start therapy again. A few things that helped me do that include:
I had to find acceptance and forgiveness. 
I had to accept the situation for what it was. If I didn't, I would've carried resentment not just for her but for therapy as a whole. I had to remember things happen for a reason and this was just a redirection. I had to forgive not only her but myself for carrying that burden and internalizing all of it. I kept affirming to myself: I did everything I can do.
I learned how to cope.
While the departure was hurtful, I did learn valuable skills from our sessions. I used those habits to help me grieve and move forward. I read books about healing and articles about people who also experienced this, I created the affirmations I needed to hear, look for value in the experience, and noted everything I learned.
I didn't rush back into therapy.
I took my time to think about what I wanted from therapy and what qualities I wanted in a therapist. I understand it's a business, but it's also an emotional bond of trust, care, and respect to work toward a goal. I wanted a therapist who was understanding, had policies I could adhere to, and had the integrity I looked for.
This is also a grieving process. I had to heal from this situation and all that came with it before moving on.
I committed to reading and understanding the policies during consultations.
My mistake the first time was not reading or asking questions about the policy. Moving forward, this is a must!
I learned to read the policy agreement through and through and ask questions about things I didn't understand or needed more clarity on. I try to do this for the consultation, if possible, or the first session. If the policies are too strict, I know it's not the right fit for me. I want a sense of ease, I don't want to be fearful or anxious about having to reschedule an appointment or skip a session or two.
I let my new therapist know what I'd been through.
I definitely think it's important to discuss this with your new therapist, it gives them an idea of what your experience with therapy has been like. It also gives them the opportunity to know what reservations you may have and what the process of building trust might entail.
I realize through all of this, there's good in the bad. I love how my current therapy sessions are going. I love the homework, the feedback, and the vulnerability. I decided to use this experience to find a therapist and healing process that works for me.
Let's make things inbox official! Sign up for the xoNecole newsletter for daily love, wellness, career, and exclusive content delivered straight to your inbox.
Featured image by SDI Productions/Getty Images
There's been a lot of talk recently surrounding Mielle Organics and their partnership with Procter & Gamble, also known as P&G. Many consumers of the brand took to social media to express their disdain for the partnership, in fear that the beloved OG natural hair company would stray away from the things that made us fall in love. While this is a valid feeling because we've seen this before, it may not be the case for Mielle Organics.
Co-founder, Monique Rodriguez, expressed the goal is to not only "level up" but to continue serving Black and brown communities with innovative products. As a long-time lover of the brand, I'm here to tell you that they're doing precisely that, and the new Avocado & Tamanu collection is proof.
The Avocado & Tamanu line is an anti-frizz system that uses cold application technology which requires you to refrigerate some of the product before you use it. This helps to close hair cuticles and reduce frizz. The five-product collection uses active ingredients like avocado to add moisture, while the tamanu encourages stronger and healthier hair. I tried the collection, and here's my honest review…
Featured image courtesy of Krissy Lewis