Krissy Lewis
Krissy Lewis is a freelance writer, content creator, and explorer from New York, but she currently calls Atlanta home. When she's not writing for other publications or traveling the world, she inspires women to look good, feel good, and do good through beauty and inspiration on her blog. Keep up with Krissy on social media @iamkrissylewis or check out her blog at www.krissylewis.com.
We should be wearing sunscreen every day, regardless of the season, skin tone, or whether we can see the sun or not. Sunscreen is a very crucial step to our skincare routine because it not only protects us from the harshness of the sun, but it helps fight against aging, hyperpigmentation, and skin cancers like melanoma. Let's be honest, there are several reasons why black people still aren't wearing sunscreen. For one, the medical field historically hasn't played fair when it comes to awareness and treatment in the black community. Two, we grew up with myths like "black don't crack" or not realizing that black people can get sunburn too. And lastly, the lack of diversity in the actual sunscreen formula itself.
Historically, sunscreen has been catered to white people. For a long time, sunscreen brands didn't concern themselves with how the formula worked on people of color. Sunscreen formulas now and then often gave people with deeper tones the Casper or ghost effect, which left a white cast on our skin. Believe it or not, this is a huge deterrent for people of color and I can't blame them. Who seriously wants to walk around with a white or gray hue on their skin? I don't and I know you don't either. Thankfully, some brands cater to sun protection for all skin tones.
Here are 10 Black girl-friendly sunscreens that won't give you the Casper effect.
*Some links are affiliate links. If you make a purchase, xoNecole may earn a small commission. xoNecole only recommends products that we know and love.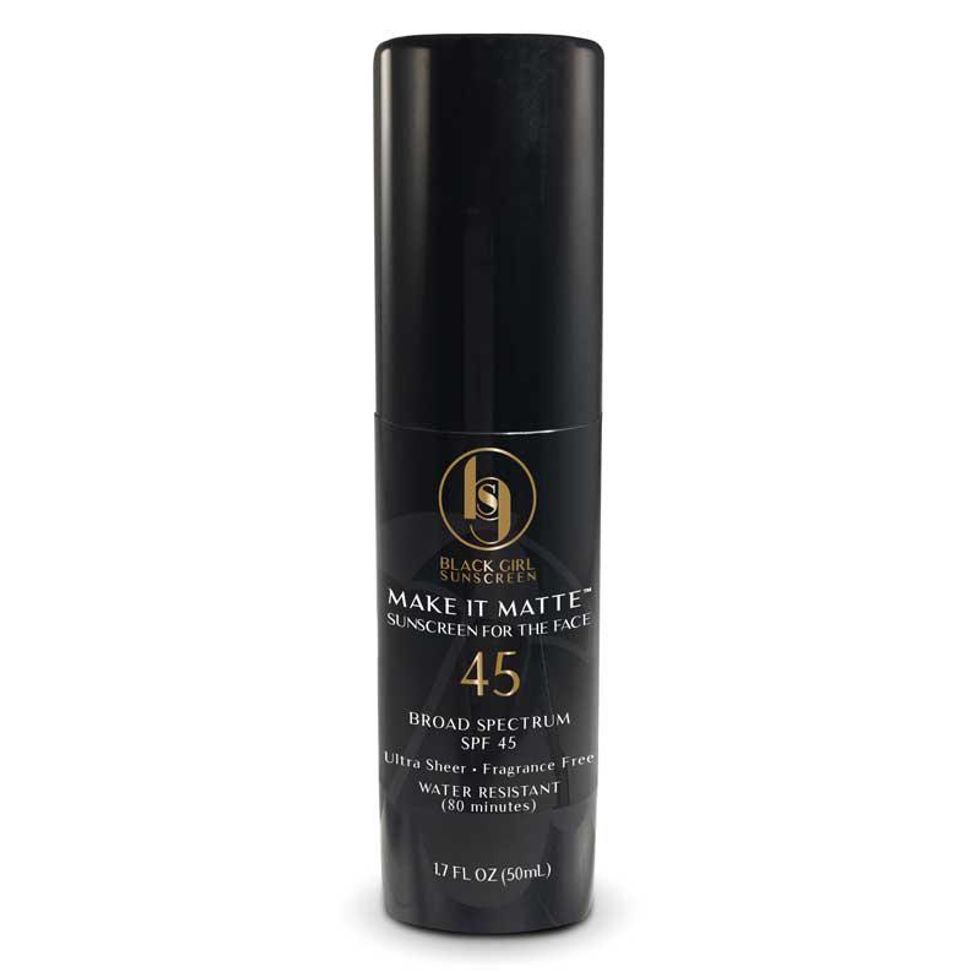 Black Girl Sunscreen
The Black Girl Sunscreen Make it Matte has SPF 45 and consists of aloe, squalene, and shea butter that help moisturize, soothe and heal your skin. It works for all skin types but it's ideal for people with oily skin looking to control the oils and find a balance of hydration and nourishment that isn't too thick and greasy. The love is defintely real, as the product is currently out of stock as I type this, but if I were you, I'd get on that "notify me" email list quick for the restock.
Black Girl Sunscreen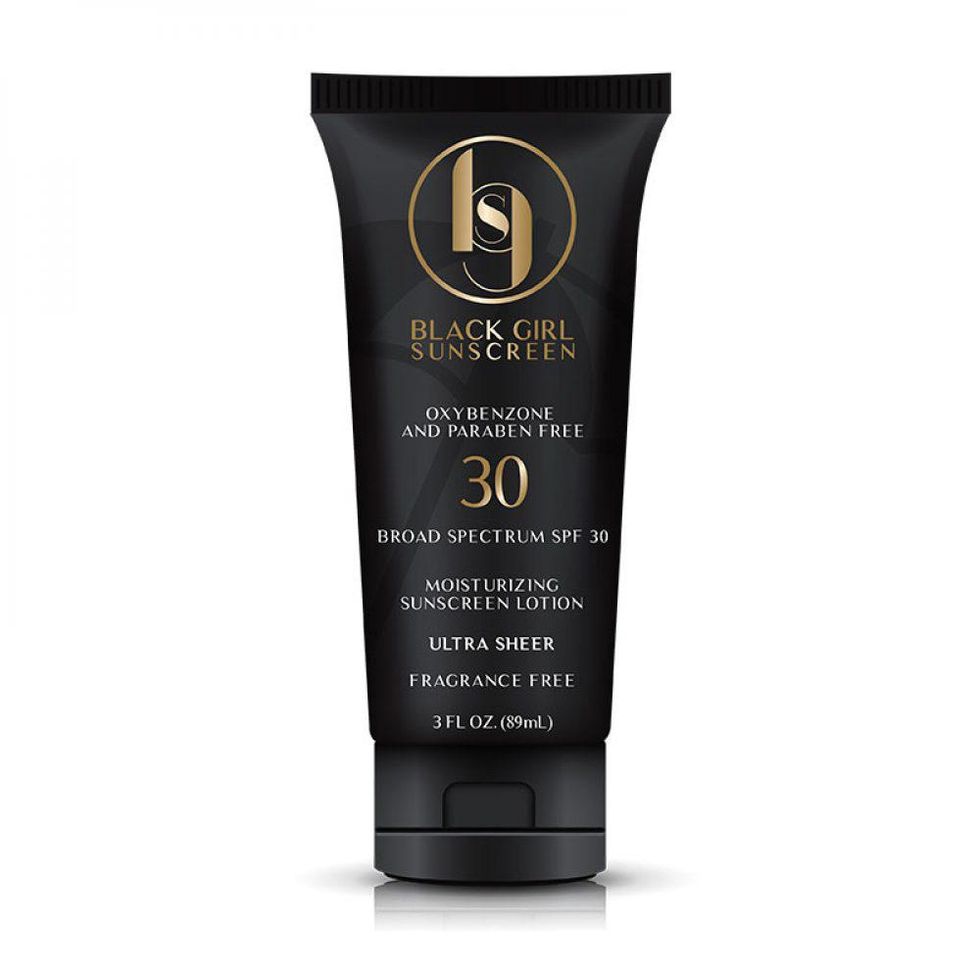 Black Girl Sunscreen
A cult favorite, the Black Girl Sunscreen original creamy formula has SPF 30 and consists of natural ingredients avocado, jojoba, sunflower oil, carrot juice, and cacao. It works for all skin types and doubles as a moisturizing lotion while protecting your skin. And unlike its Matte successor, it is for individuals who aren't afraid of a glow.
Black Girl Sunscreen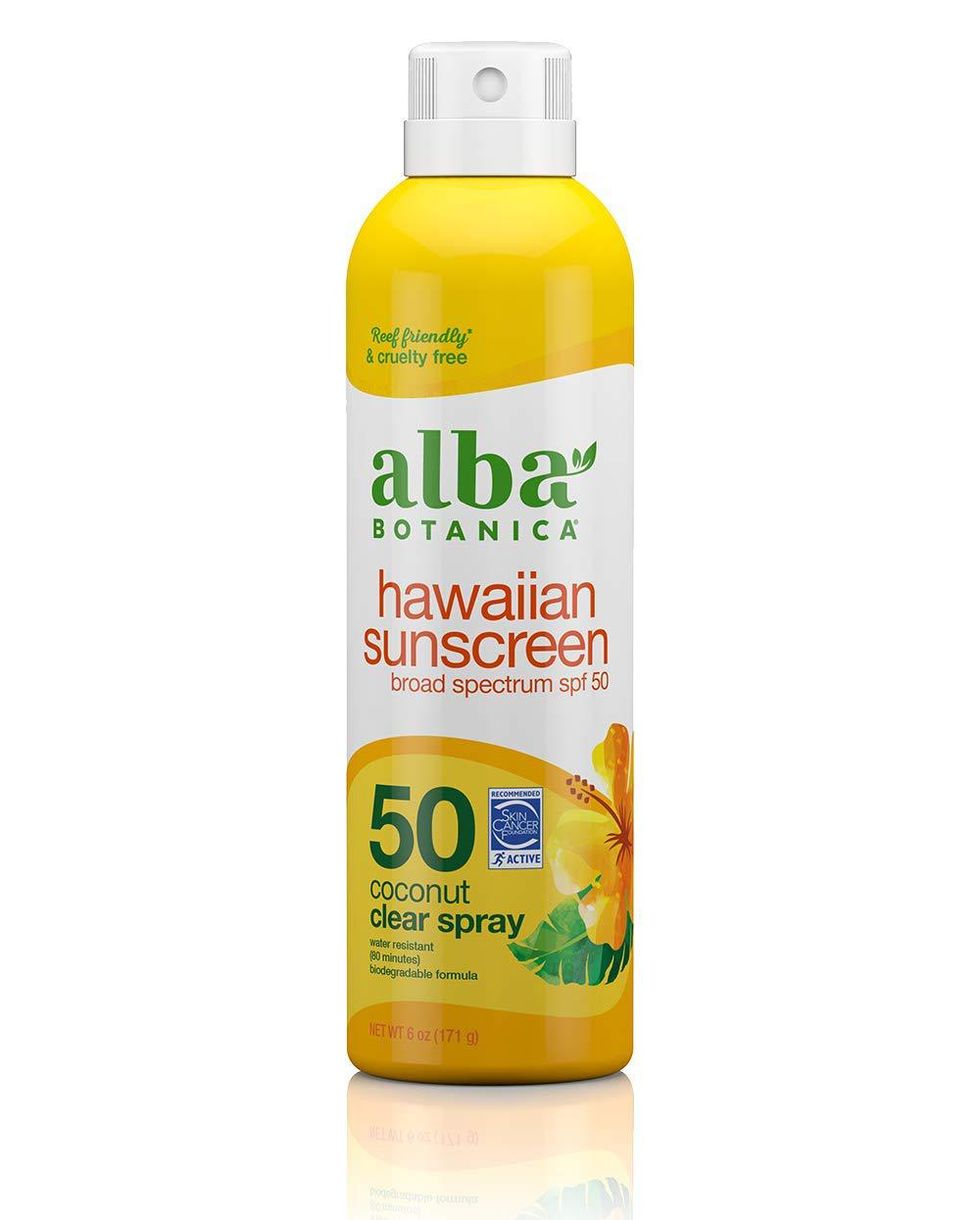 Amazon
Alba Botanica Hawaiian Coconut Clear Spray Sunscreen is a lightweight, quick-dry mist made with SPF 50, coconut, and shea butter to protect against sunburn, skin cancer, and premature signs of aging. It has a subtle scent and leaves your skin with an extra glow.
Alba Botanica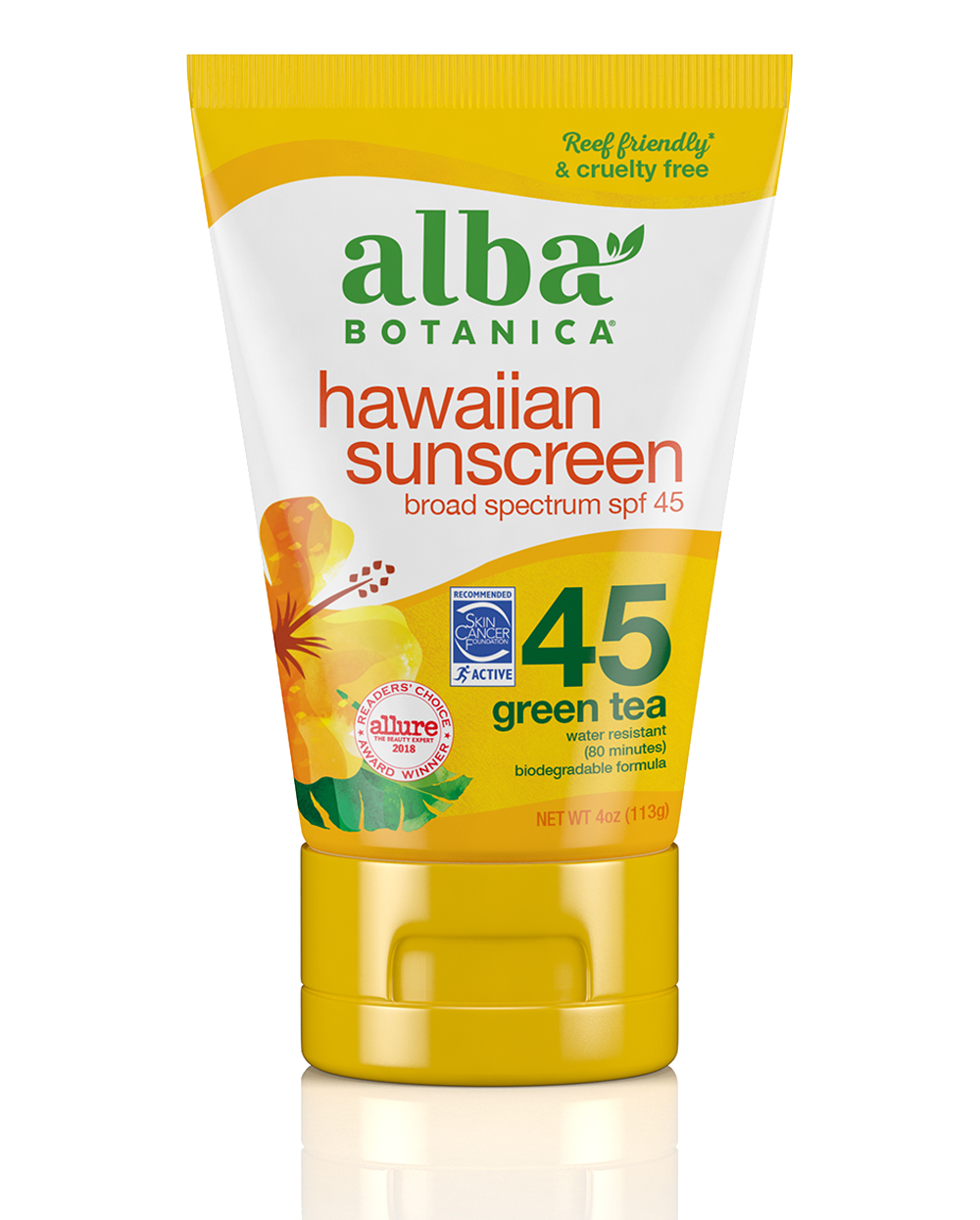 Amazon
Alba Botanica Hawaiian Green Tea Sunscreen Lotion is a creamy non-greasy moisturizing sunscreen lotion with SPF 45 made of aloe vera, green tea, and tropical fruit extracts. This is a 100 percent vegetarian-friendly product and does not contain oxybenzone, octinoxate, gluten, or synthetic fragrances.
Alba Botanica
Dermstore
EltaMD UV UV Clear Broad-Spectrum SPF 46 is a clear sunscreen formula made with SPF 46, sodium hyaluronate to moisturize, and lactic acid to refine your skin to clear pores and reduce shine. It's fragrance-free and protects your complexion from harmful UVA and UVB rays.
Dermstore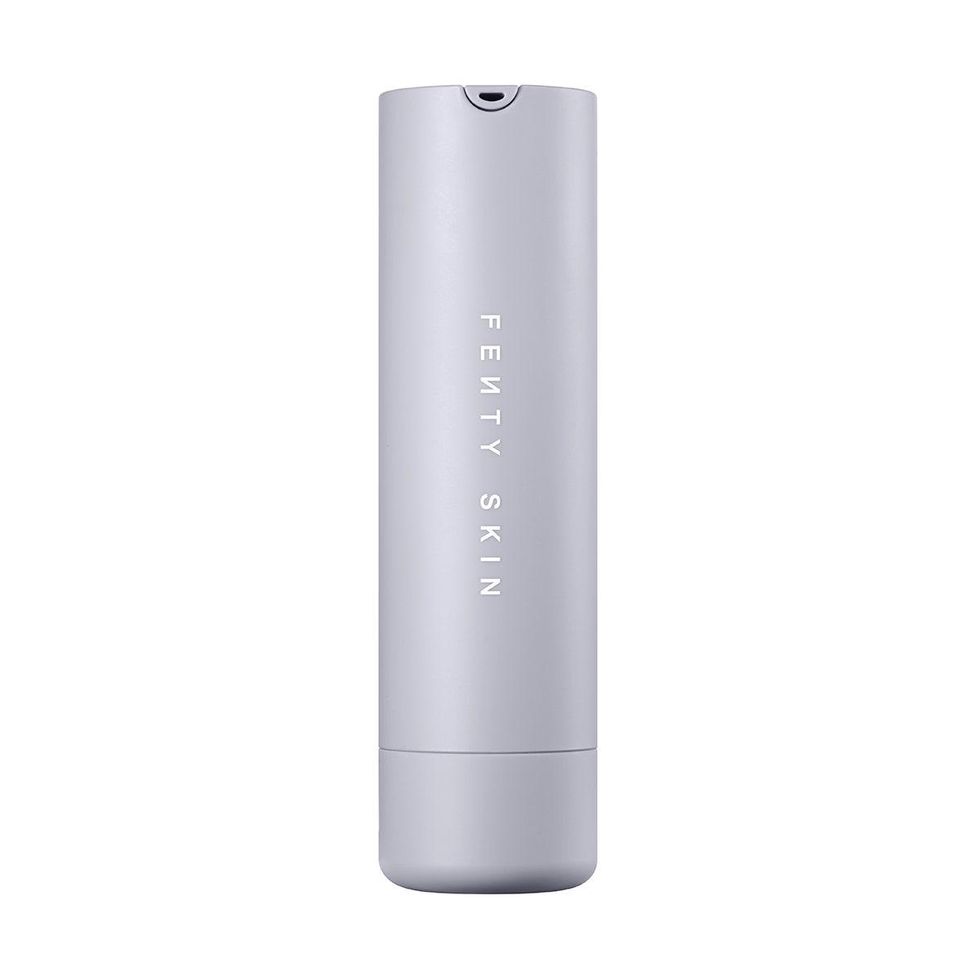 Fenty Skin
Fenty Skin Hydra Vizor Moisturizer Broad Spectrum Sunscreen is made with SPF 30 and acts as a moisturizer and sunscreen. It's lightweight, oil-free, and invisible on all skin tones. Another added benefit of this sunscreen is you can purchase refills instead of repurchasing the bottle. Another bonus? It's vegan.
Fenty Skin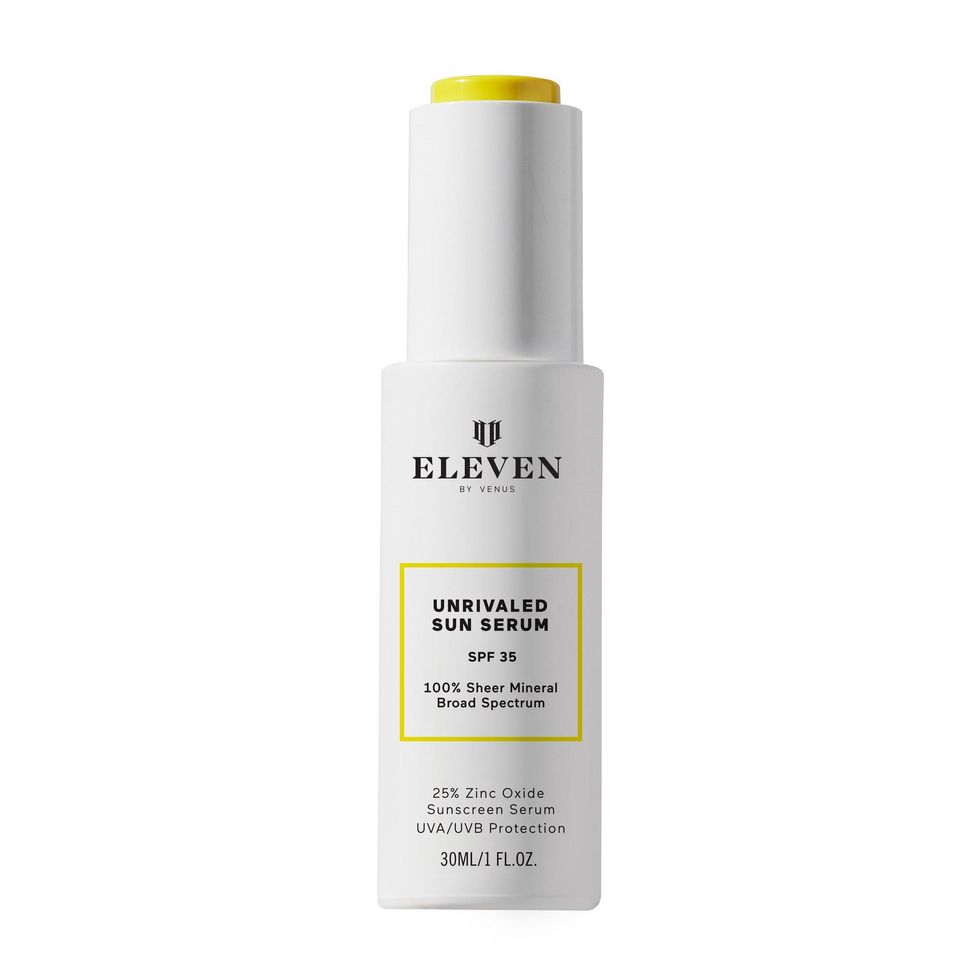 EleVen
EleVen's Unrivaled Sun Serum by Venus Williams is a lightweight serum that combines skincare and mineral sun protection. It's made with SPF 35 to protect you from UVA and UVB rays. It also provides long-lasting hydration while calming and soothing your skin, creating a smooth velvety finish.
EleVen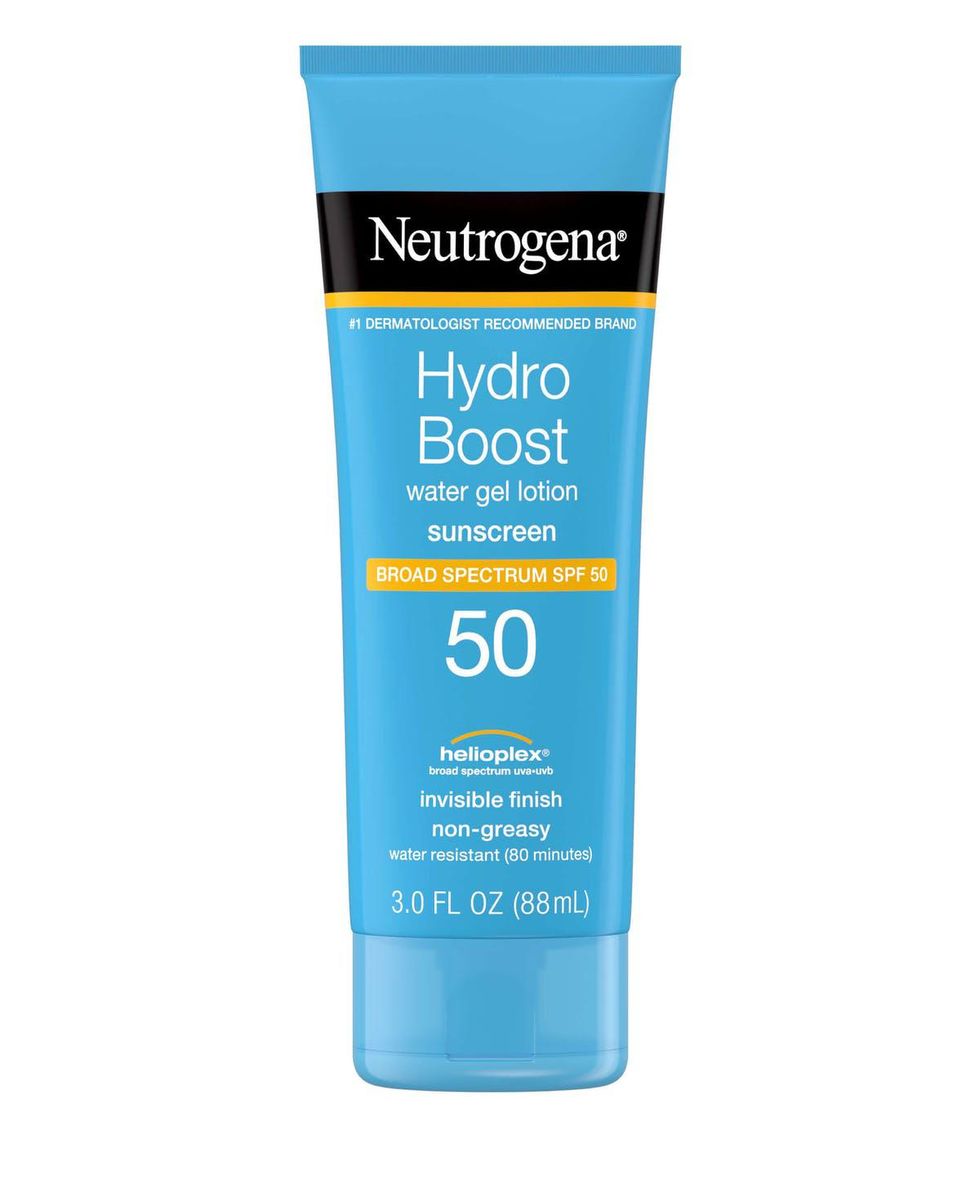 Neutrogena
Neutrogena has mastered the cooling and hydrating water-gel formula in most of their products and it's no different with their sunscreen. The Hydro Boost Water Gel Lotion is made with SPF 50 to protect and moisturize your skin. It gives your skin a cooling and refreshed feel without any white residue. It's also oil-free and non-comedogenic, which means it won't clog pores.
Neutrogena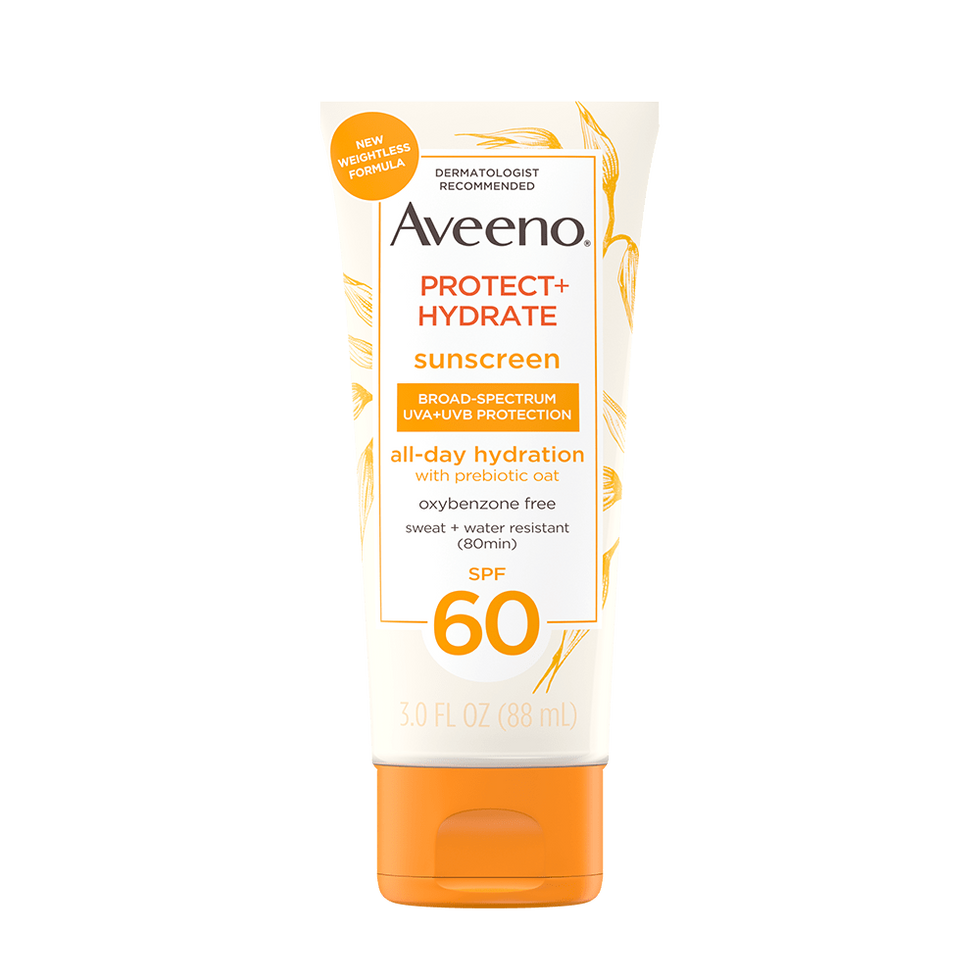 Aveeno
Aveeno Protect + Hydrate Sunscreen Lotion has SPF 60 and prebiotic oat to protect and heal dry skin. This sunscreen can be used on all skin types but is ideal for people with sensitive and extremely dry skin. It aids in relieving itchy skin while strengthening the skin's barrier.
Aveeno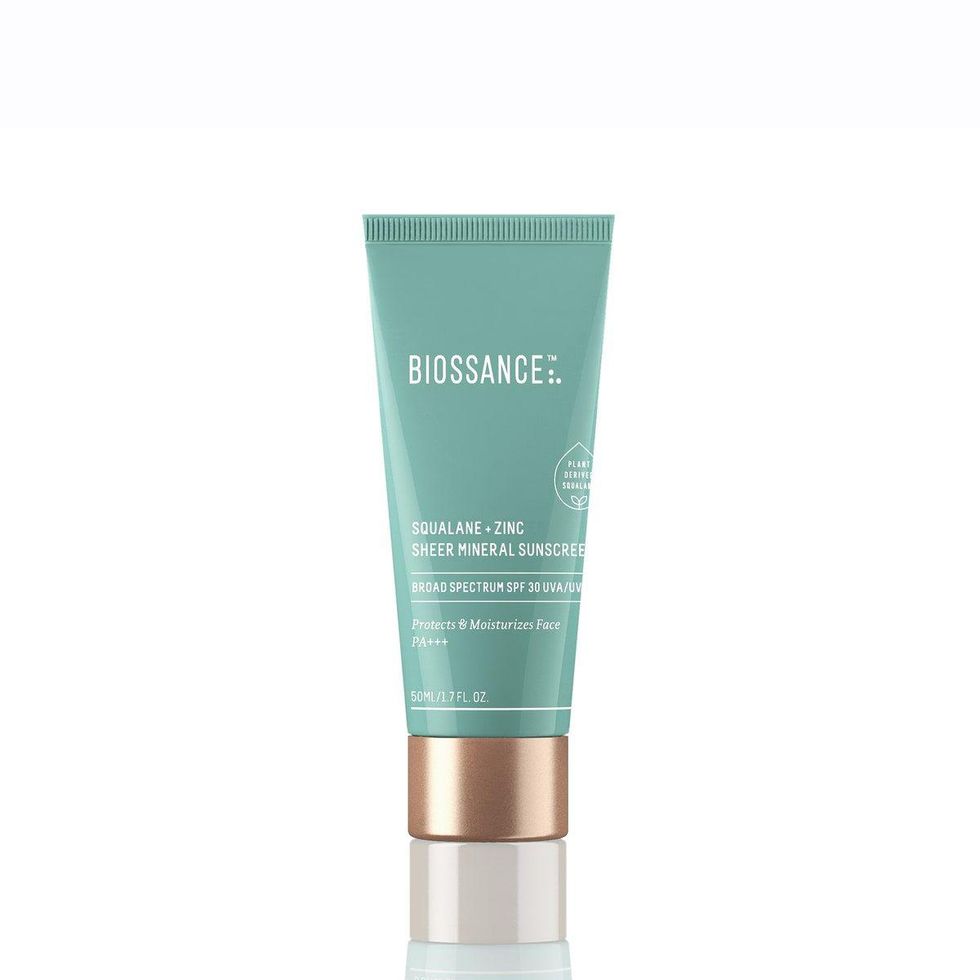 Biossance
Biossance Squalane + Zinc Sheer Mineral Sunscreen is a good option for those who can only use a mineral sunscreen and have sensitive skin. It has an invisible, non-toxic formula that calms and cools your skin with a dewy finish. It's made with SPF 30 squalane, and water lily for a cool, refreshing feel.
Biossance
Featured image by Shutterstock
Keep reading...
Show less
So, you and your partner aren't on the same level sexually...what do you do? Well, it depends. There's isn't one answer to this, there's no one-size-fits-all solution. Ordinarily, when we talk about not being on the same level sexually, it is in reference to sex drives not being in sync. But sexual incompatibility can go beyond sex drives. In fact, two people can be sexually incompatible for a variety of reasons. Things like experience, patience, communication, love language, and even who your partner is to you and how you define that can come into play.
While some people might be able to drop the situation like a bad habit, others might find themselves in more committed partnerships like a long-term relationship or a marriage. If that's your reality, what's the solution? To further shed light on the conversation around being sexually incompatible, I asked four people who have experienced being on different levels sexually than their partners, and it went like this.
Angie, 25
When it came to Angie's experience, she felt like she didn't have enough. She had been dealing with a sexual partner who treated sex like a chore and got straight to it — no foreplay, kissing, or any physical build-up to sex. "He would call me, we would smoke and that was everything that gave me that feeling," she explained. "I wanted foreplay. I wanted everything and I didn't know how to come out and say I need more sexually."
As a solution, she brought the issue to his attention. She explained that she needed more to get her in the mood so that she could fully enjoy the experience. Unfortunately, he never made any improvements or attempts to fulfill her needs and she felt like it was starting to affect her sex drive.
"You just need that energy to feed off of and if us just smoking is the only thing giving me that drive, I can't give you anything else. If he gave me that energy back, it could have been a really good experience. Why would I give you all of this and you're giving me the bare minimum?"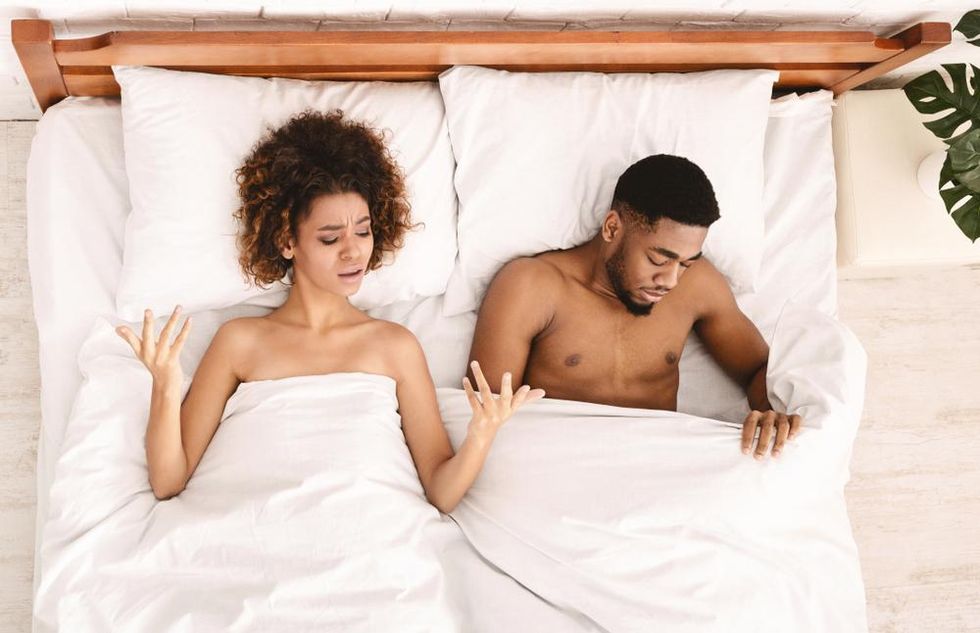 Shutterstock
Donny, 30
With Donny, he experienced this in two different situations. The first time it happened, he was dealing with someone who wasn't on his level sexually. He felt prior to leading up to sex it had been overhyped and when it finally happened he was disappointed because the talk didn't match the action. "Sometimes women talk their sh*t like, 'You're not ready for this' or 'I'm going to put it on you' and when the time comes you don't know what you're doing. She was off her game."
"Maybe we weren't flowing, but the second time around you need to bring your A-game. It didn't happen and I just chalked it up to maybe she didn't have that many sexual partners."
As for a solution, he never found one. It goes back to what I mentioned earlier about the solution depending on who your partner is. For both, this was a casual thing, so he didn't care to tell her or try to resolve it. However, there were cases where he saw things could be better and sent suggestions. He explained, "I'll send some links and gifs that will spice it up. I'll say, 'This looks fire, you think we could try it?' or something like that before I tell you it's wack. We all have the internet and I've learned how to use it to my advantage."
On the other hand, when he was dealing with someone who was older and more experienced, he found it fun and it made him appreciate the experience even more. "It was exciting and exhilarating because shorty went into at least two or three positions that I wasn't really ready for. She kind of wrapped her legs around my waist and did like a handstand but was still throwing it back. I was somewhere in between trying not to nut because it's so lit and figuring out what I can do to challenge this because I didn't really have any moves."
With this, there wasn't a solution either. He couldn't keep up with her and didn't pursue the sexual relationship any further.
"She bodied me. She definitely told me about myself and had every right to. She was like, 'I don't know if I can give this to you again.' This is why I don't do the bragging and I keep it super humble."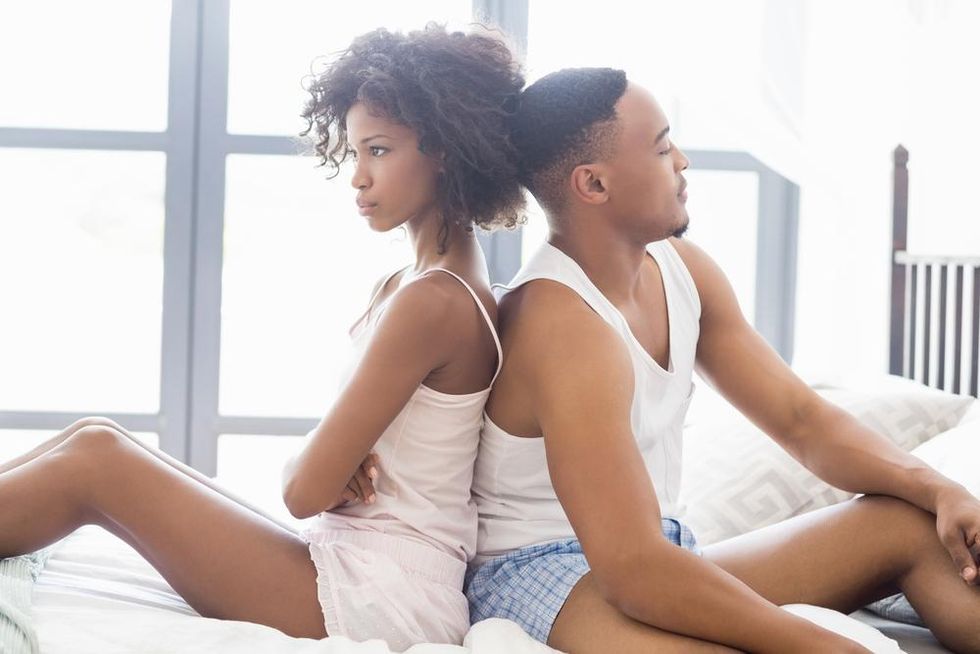 Shutterstock
Ron
Ron also experienced not being on the same level as his previous partner. At the time, he was younger and less experienced than his partner. During their sexual relationship, he wasn't quite comfortable with all of the things his partner wanted. She wanted things that he didn't know if he was ready for. "It became an uncomfortable situation because she wanted oral, anal, and all these different things, and I was just on the first step. So it can feel like the person is taking the lead or you're not pleasing them and it becomes more of a chore instead of an experience with one another. It was definitely uncomfortable. I think that that definitely ruined the relationship."
Before things went south, he did make an effort to salvage the relationship while trying to find a solution that would please both of them. When Ron brought up the issue, his partner started to compare him to her other partners. Unfortunately, things continued to get even more uncomfortable and they ended up going their separate ways. Although they didn't find a solution, he learned a lot from the experience. Ron explained:
"If there was more patience, more of a gradual growth towards things, and open-mindedness about the situation in the first place before anything occurred, I think that I could have understood more of where she was and she would have understood where I was instead of having expectations for one another."
He also learned that when it comes to sex and dealing with people, there's so much that correlates with it and people's sex drives. If you really want to make things work, you may have to sacrifice some things, be understanding to your partner, and have a level of patience if finding a solution is important to everyone involved.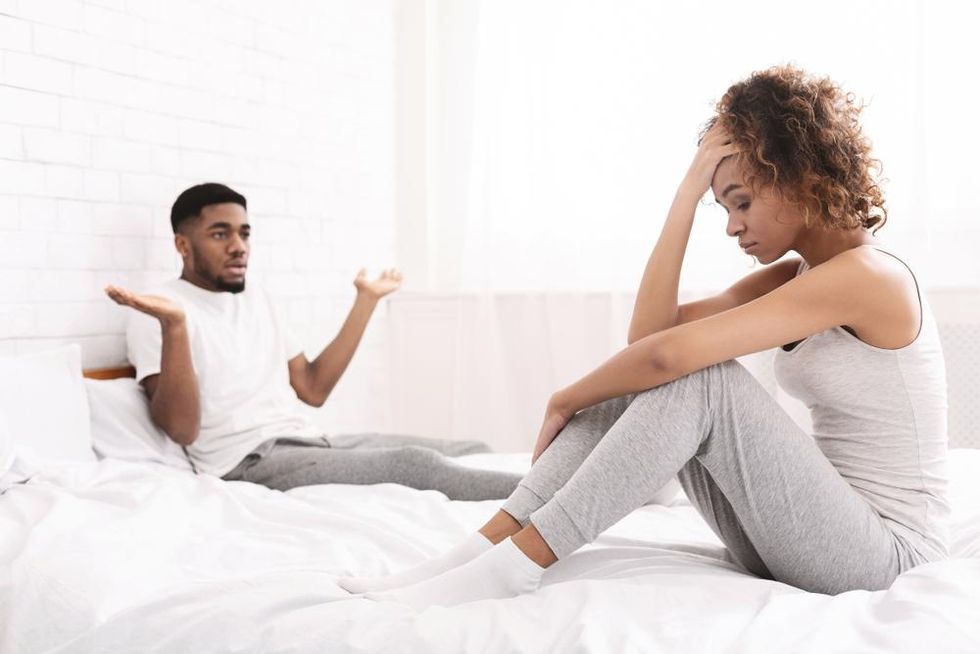 Shutterstock
Mone, 33
Last but not least, I was able to speak with Monet and she highlighted the importance of listening to your body. She emphasized that being spiritually aware and attuned with your body and vagina allows you to get a better sense of what your vagina wants. She continued, "I'm a very spiritual person and I do a lot of meditating with my vagina, so me and my vagina are on the same page. I can literally hear when she's not interested in something and so she will literally tell me, 'Yo, this is not where I want to be and this is not what I want to be doing'."
In a time where she was sexually incompatible with her partner, she felt one of the reasons was because she rejected what her vagina was telling her. She explain the experience like this, "We were really cool, we had a great relationship as far as being able to communicate [and have] great energy. It was like a best friend relationship but there was chemistry. So we did decide to try to make it into a sexual relationship, but the energy when we started to get intimate was thrown off. There was no chemistry, it was awkward, and it became a forced situation."
Monet ended up ending the sexual relationship and because she realized this is not what her vagina nor body wanted. She ignored what her body was telling her and learned that she need to be more disciplined with what her body was telling her and try not to force anything.
"We can be spiritual our whole lives, have that intuition, and a voice within us but until you become spiritually aware with that voice, able to really listen to it, and be disciplined enough to listen to that voice, a lot of decisions that put you in situations you don't want to be in can be avoided if we just listen to our intuition and voice."
You may not have to end every relationship, but knowing when to say when is paramount. Additionally, with each interview, communication has proven to be key when overcoming a situation with sexual incompatibility. It's important to communicate what you're feeling (or not feeling) with your partner and determine if sexual incompatibility is something you both are willing to work through.
If so, here are a few things to consider:
Having patience
You'll need to understand that finding a solution won't be easy and it will take some time. You have to have patience and move at a pace that both of you are comfortable with.
Exploring other forms of physical intimacy
If getting in the mood is an issue, there are many ways to feel stimulated aside from penetrative sex. You can explore different types of physical intimacy like kissing, cuddling, massaging, etc. to reinforce sexual activity. Start with this and add more once the time feels right.
Creating a sex menu
You can also explore different sex postions and activities. Whether this be solo or together, there are ways to improve sex and find a happy medium where both partners are satisfied.
Rethinking monogamy
If none of these options seem to work, you may also want to consider rethinking monogamy. There are several options like polyamory, open relationships, or even inviting others to the bedroom (threesomes). Be open-minded when it comes to finding a solution that works best for you and your partner.
Are you a member of our insiders squad? Join us in the xoTribe Members Community today!
Featured image by Shutterstock
Keep reading...
Show less
To be honest with you, I don't feel like my 4C Queens get as much shine as they deserve. Yes, the beauty industry has made more efforts to include all hair textures in campaigns, product launches, etc., but we still have a long way to go. Sadly, 4C hair is very underrepresented and that lack of inclusion doesn't properly represent the natural hair community as a whole. If we're talking natural hair, every hair type needs to be included. Natural hair is not a one-size-fits-all type of thing nor does it have one look. I can't stress this enough.
Representation is everything and by not having it, people are constantly excluded and it creates a false narrative of what beauty is. It can be hard for some naturals to imagine how a hairstyle may look on them, what the best style for that hair type is, or simply love their hair if it's constantly left out of conversations. With that being said, here are 10 hairstyles that not only show the beauty of 4C hair but also gives it the shine it deserves.
10 Ways To Style 4C Hair
Featured image via Giphy

Keep reading...
Show less
OK so boom, I like to masturbate. Whether I'm single or not, I make masturbation a part of my sexual self-care routine. However, I know the topic of masturbating can still be uncomfortable for a lot of women. Aside from pleasure, masturbation is an enjoyable experience that any woman should take pride and confidence in with herself. It is a profound way to practice self-exploration and self-discovery. Masturbation gives you the keys to understanding what you like to do and what you like to be done to you.

If you find yourself intrigued by sex and masturbation, but don't know where to start, a dope resource is the Instagram account Sexual Essentials. On it, you can learn essential sex tips (including solo sex) and access classes that help you reach your climax like hands-on masturbation, squirting 101, foreplay, and vaginal orgasms, to name a few. For any woman looking for the best tips and toys to use for solo sex, the founder and sex educator behind Sexual Essentials, Samia Burton, is a vessel of knowledge.
"I realized the first time I had successful masturbation, I never had a real orgasm and I was disappointed," she revealed. "After I got into masturbation, I started playing with certain things and it was just easier. You can tell someone, 'Hey do this,' because you felt it before. That matters!"
For women who struggle with having orgasms during sex, indulging in solo sex can be a powerful tool in getting into the flow of sex and taking control of your vagina. The end result could make it easier to achieve orgasm through sex. Samia explained,
"A lot of people don't understand orgasms are like muscle memory, so the more you orgasm the easier it will be to have another one. Also, the more you orgasm, the more you will wake the vaginal area up. Masturbation bought my sex life back and I had stronger orgasms after, but it took work."
When it comes to the work Samia speaks of, the sex toy you use matters. You need the right toy to give you the feeling and the climax you want to reach. I would just pick up a vibrator and go because I know that as long as my clit was stimulated I was good, but Samia quickly let me know that the right toy makes a difference during your solo sex sessions. As we get through this list, remember to keep an open mind and eventually open legs…
With that being said, here are the best toys for solo sex.
Featured image by Shutterstock
Keep reading...
Show less
If you find yourself constantly feeling discouraged, unable to commit to your goals or see things through, then you may be self-sabotaging. Sometimes we can get in our own way without even realizing that the root of some of our issues is our mindset. When Girlfriends hit Netflix, one thing I just couldn't get over was the self-sabotaging traits Joan portrayed. I felt that she was more than capable and deserving of having a successful career and marriage. Unfortunately, she got in her own way a lot, and, honestly, a lot of us do the same thing.
I don't want this article to trigger you, instead, let this be a self-reflection because we all have exhibited some self-sabotaging behaviors in our lives. Self-sabotaging can be caused by a number of things like low self-esteem, a desire to gain a sense of control, a result of anxiety, and just not even realizing the things we do and say to ourselves. Recently, I saw a post on Twitter by ThirdEyeLove which laid out traits of a self-sabotager and how she overcame it. Per that thread, here are signs that you are actually self-sabotaging yourself.
Featured image by Shutterstock
Keep reading...
Show less
This article is in partnership with Ulta Beauty.
When it comes to blowing out natural hair, it can be tricky. Naturally, our hair thrives with less manipulation, but that doesn't mean you can't blow it out from time to time. Depending on your hair, it could cause damage depending on how often you blow out your hair and how much heat you add to it. It's no doubt that blow-drying your hair is less damaging than flat ironing it, but if not done correctly and too often you may sacrifice your curl pattern.
This week's Ulta Beauty Gorgeous Hair Event has a lot of great sales on products and tools that will make blowing out your hair healthier and easier. One of the best dryers to use on natural hair is the Deva Curl Devadryer and Devafuser, which is 50% off this week. It's a two-in-one dryer that you can use for drying your curls or blowing it out without too much heat.
Here's a step-by-step tutorial of how to get the perfect blowout without ruining your curls and what the best products to use are.
Step 1: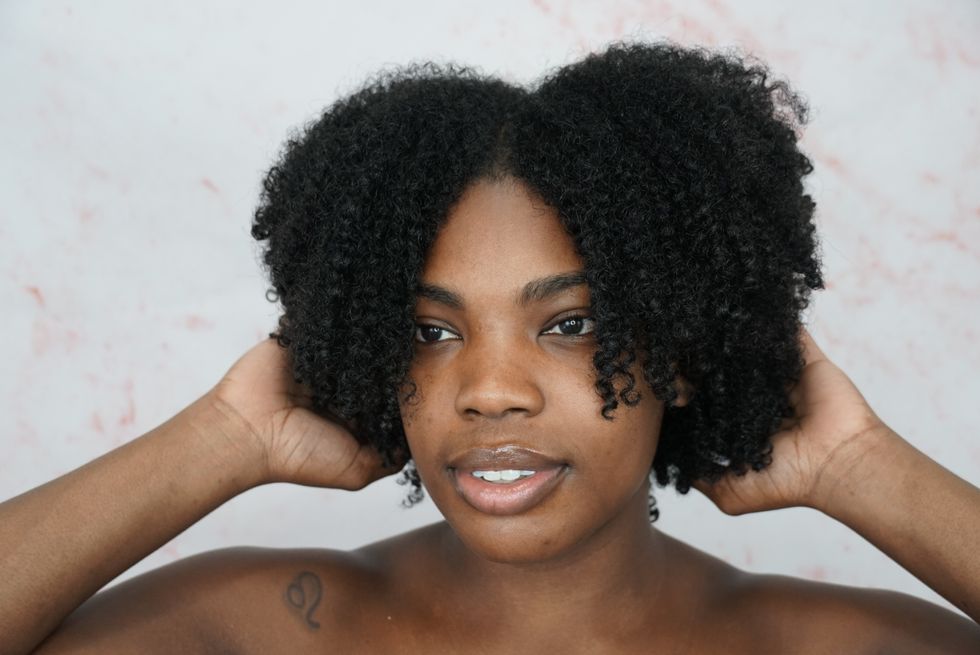 Krissy Lewis for xoNecole.com
Start with your hair washed and conditioned.
Step 2: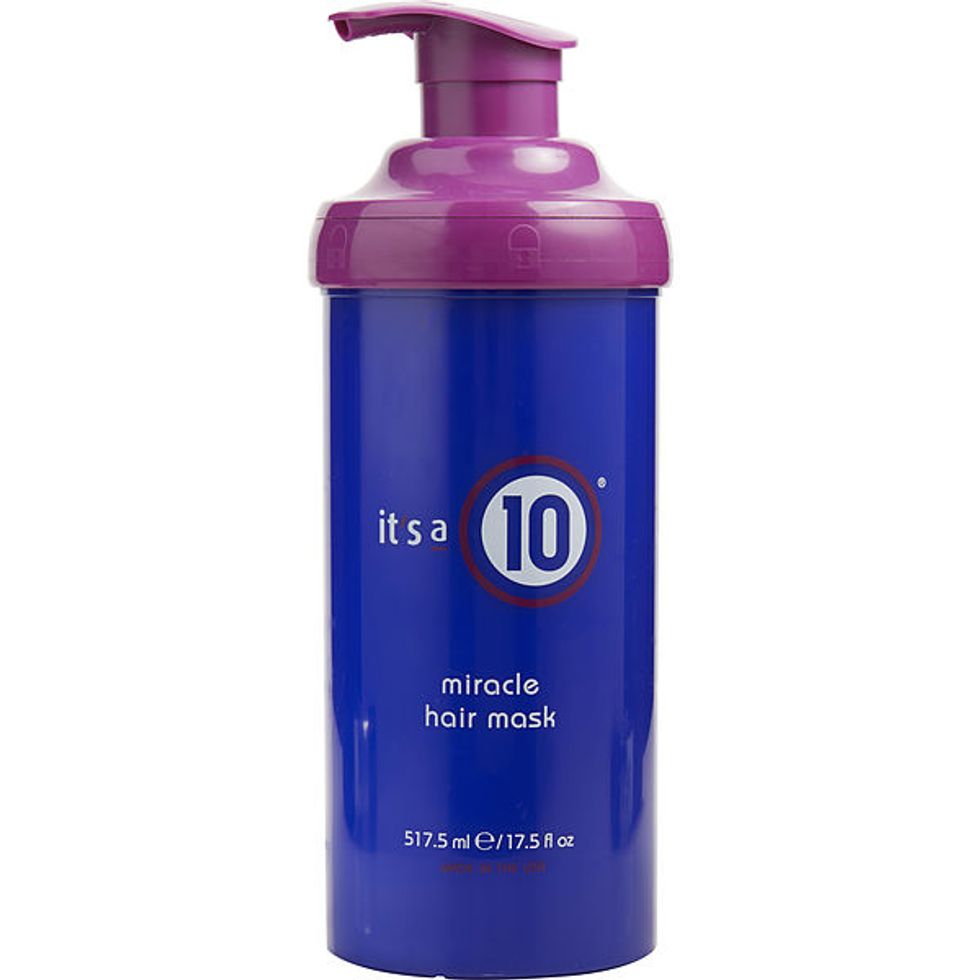 Ulta Beauty
Deep condition your hair with the It's A 10 Miracle Hair Mask and apply a medium palm-sized amount all over your hair. This hair mask helps strengthen and protect hair while softening it. Deep conditioning is important, especially when preparing for your blow out. The It's A 10 Miracle Hair Mask is on sale for 24 hours only today Oct. 10 for 24 hours only at 50% off.
Step 3: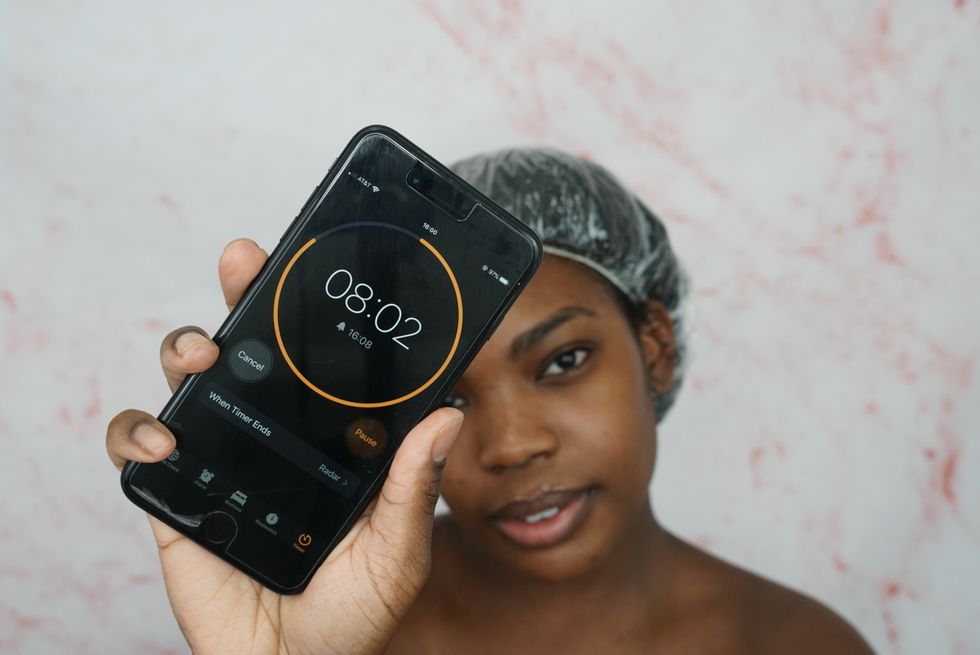 Krissy Lewis for xoNecole.com
Comb through hair to remove any knots with the Tangle Teezer Mint & Lilac Ultimate Detangler and wrap your hair with a plastic cap for 10 minutes.
Step 4: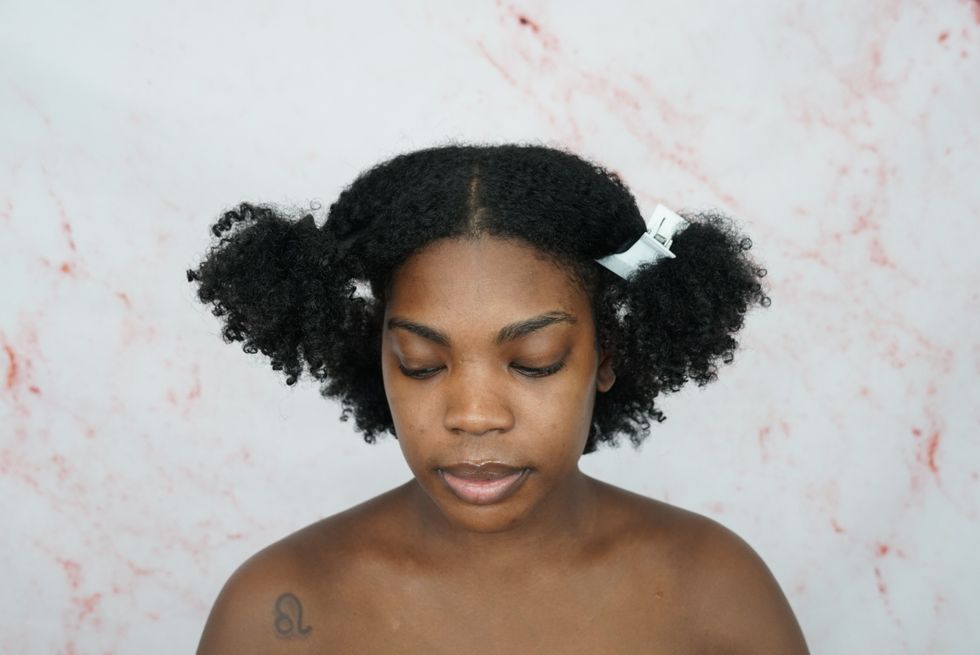 Krissy Lewis for xoNecole.com
Rinse thoroughly with cool-water rinse (if desired).
Step 5: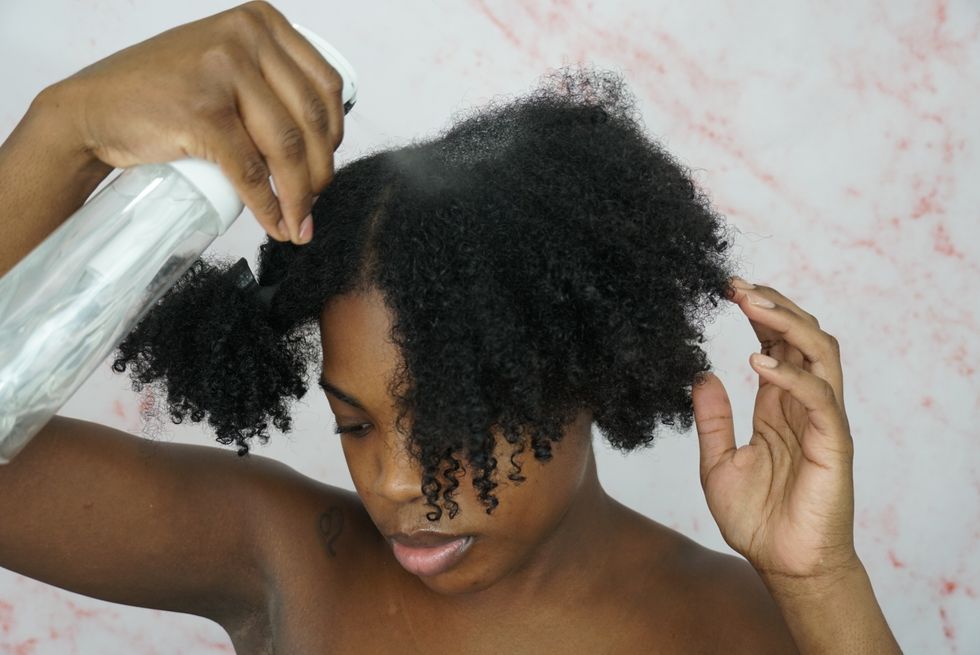 Krissy Lewis for xoNecole.com
Apply a leave-in conditioner and heat protectant.
Step 6: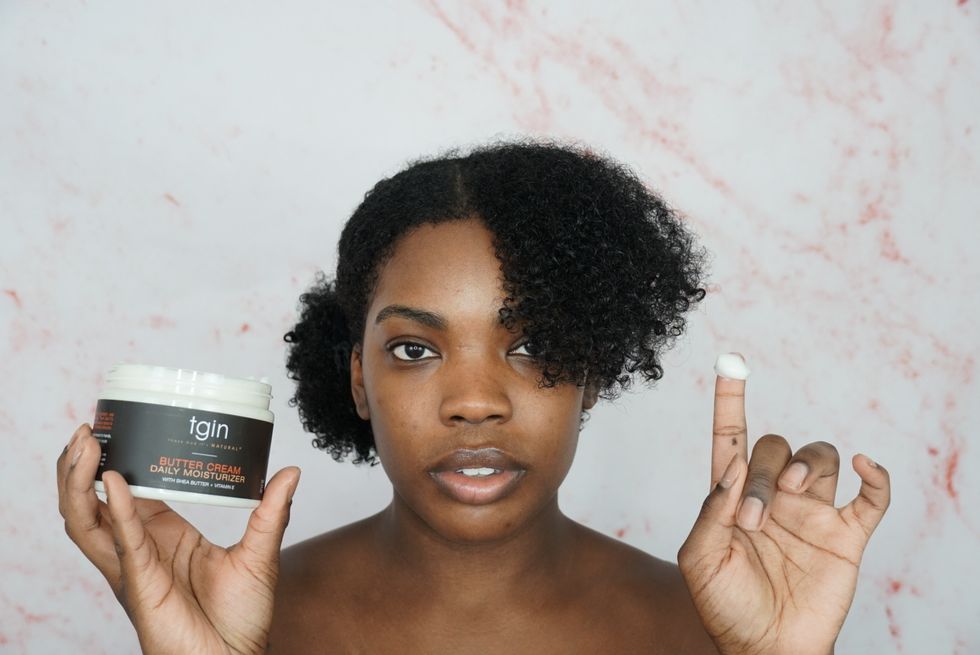 Krissy Lewis for xoNecole.com
Apply the Butter Cream Daily Moisturizer by tgin, a Black-owned brand that promises to add additional moisture, shine, and seal moisture.
Step 7: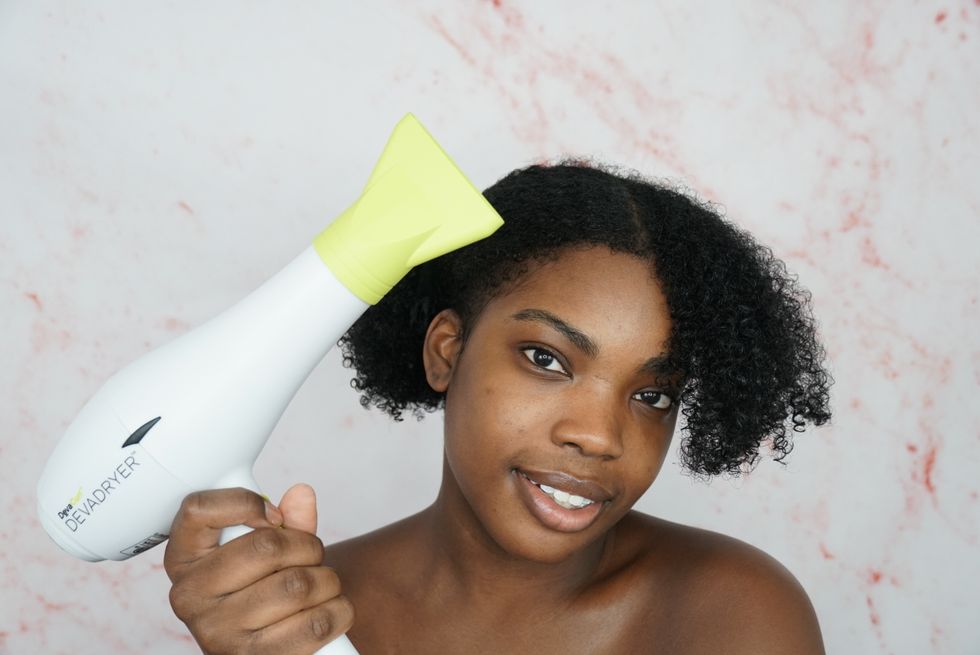 Krissy Lewis for xoNecole.com
Create small sections and blow-dry your hair with the DevaCurl Deva Dryer & DevaFuser.
Step 8: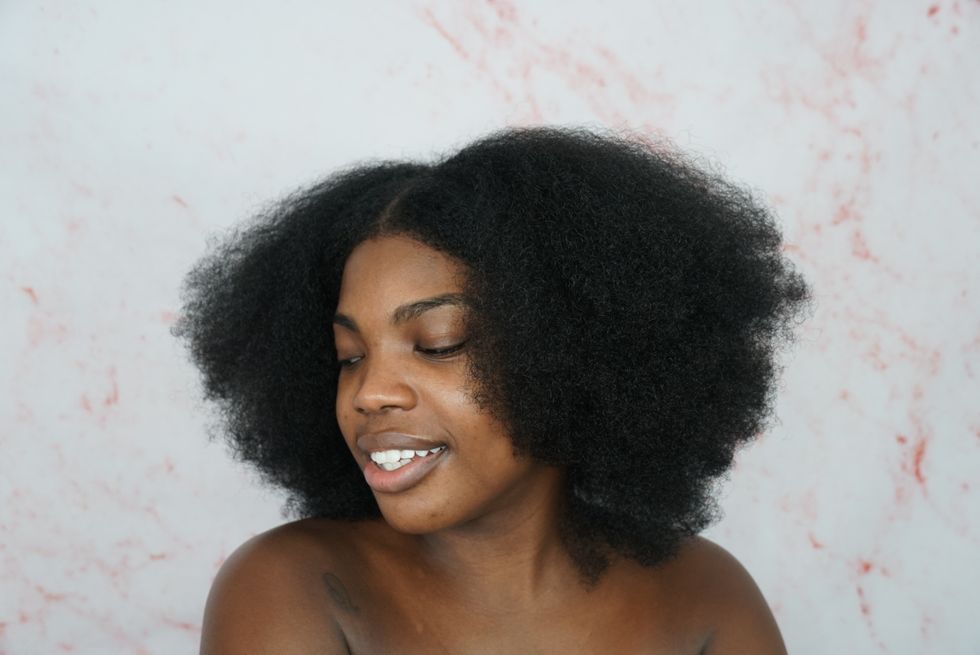 Krissy Lewis for xoNecole.com
Add more of the Butter Cream Daily Moisturizer by Black-owned brand, tgin as needed and style as desired in a stretched twist or braid out, a flexi/perm rod set, or prep for a protective style.
The Final Look: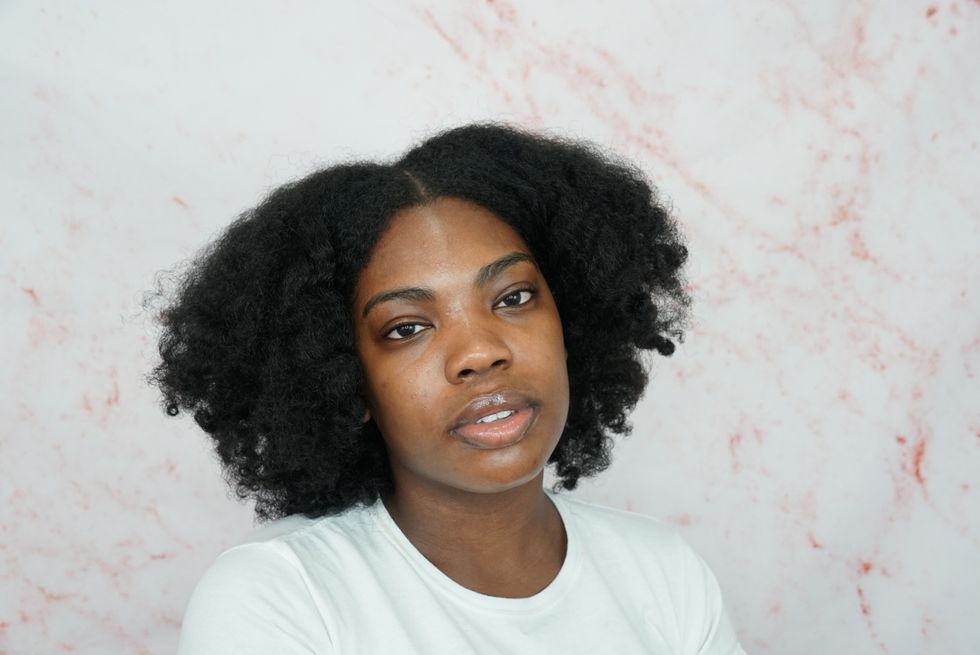 Krissy Lewis for xoNecole.com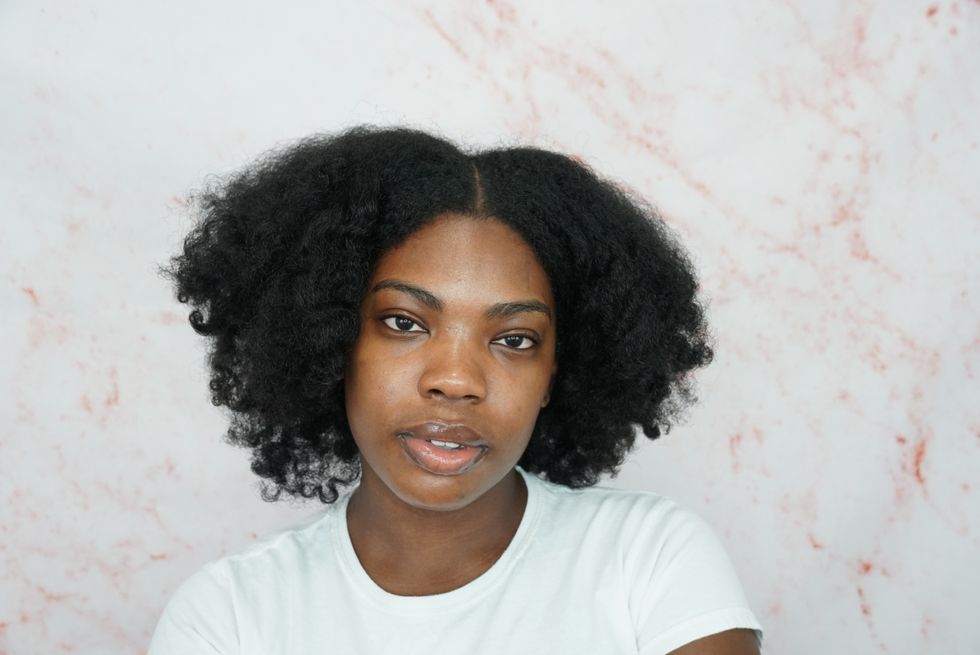 Krissy Lewis for xoNecole.com
Lastly don't forget that you can get each of these products 50% off this week only during Ulta's Gorgeous Hair Event. Click below to shop!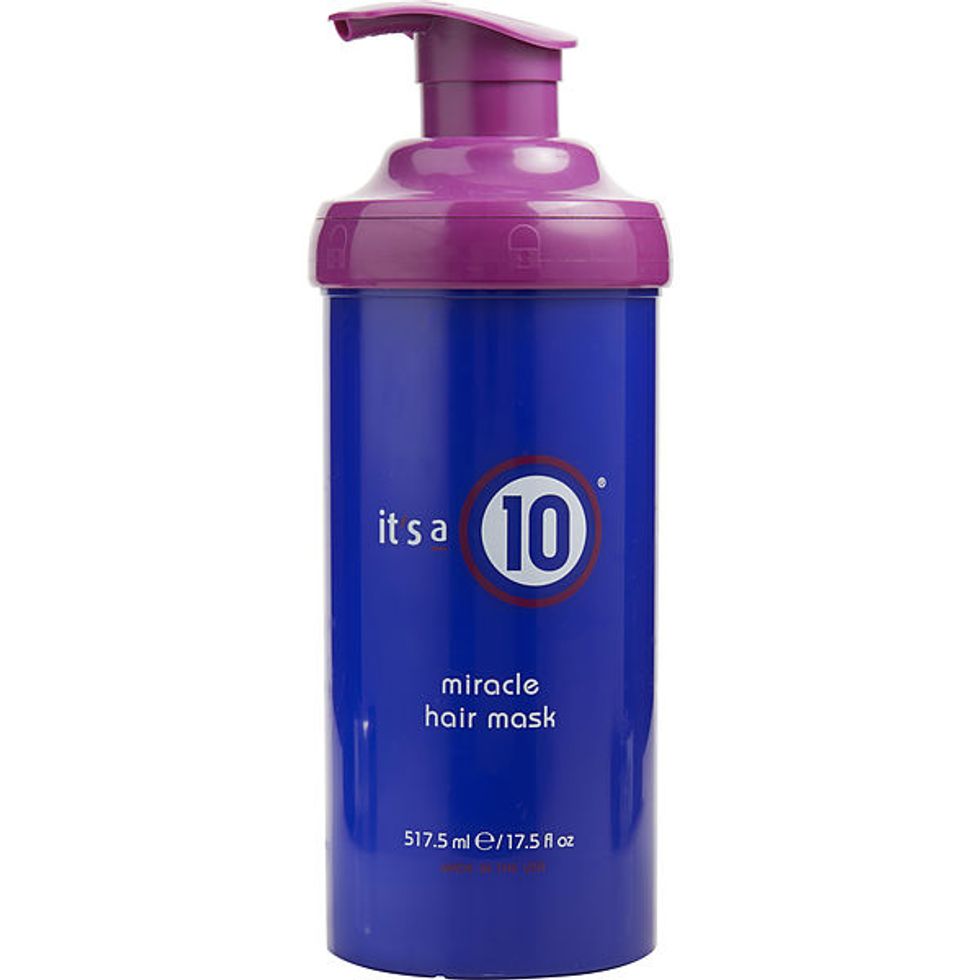 Ulta Beauty
Regular Price: $52.99
Sale Price: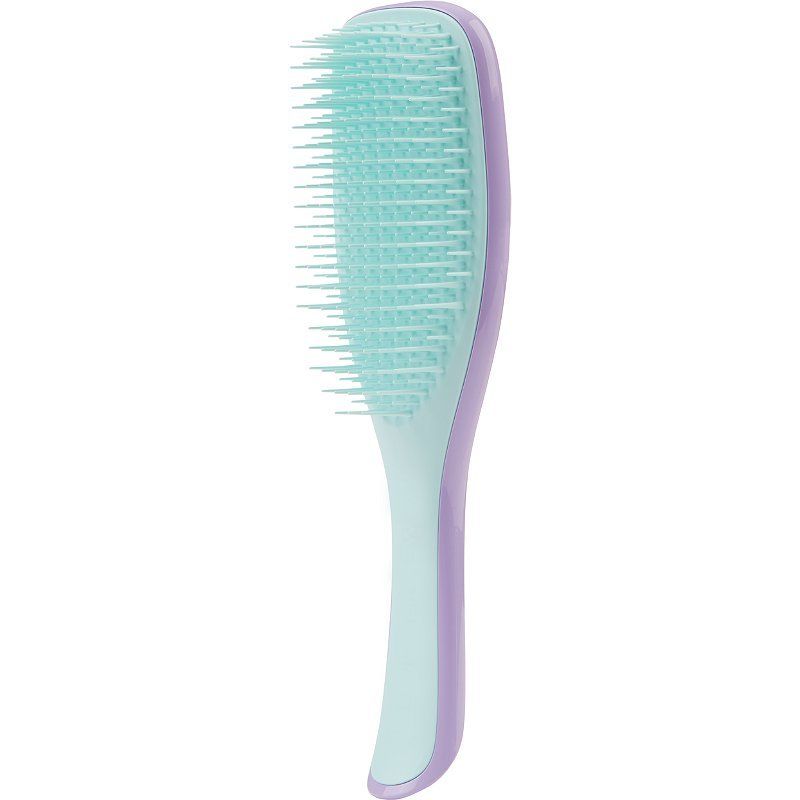 Ulta Beauty
Regular Price: $14
Sale Price: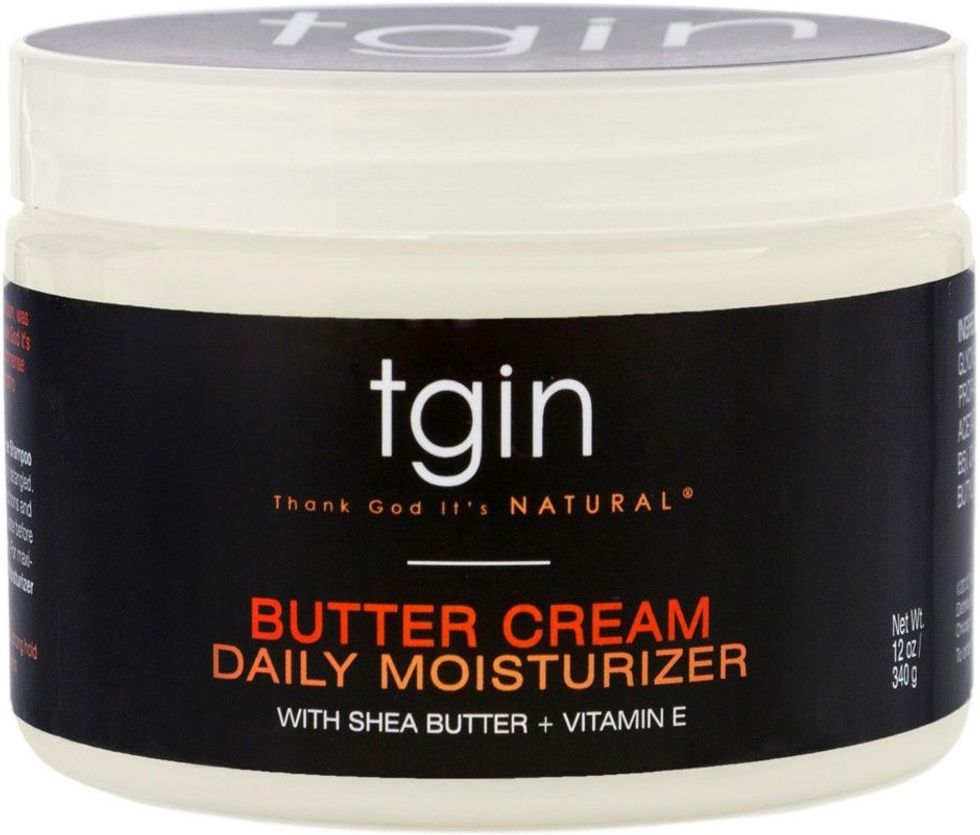 Ulta Beauty
Regular Price: $6-9
Sale Price: $11-17
Ulta Beauty
Regular Price: $159
Sale Price:
Featured image by Krissy Lewis for xoNecole.com.

Keep reading...
Show less