Krissy Lewis
Krissy Lewis is a freelance writer, content creator, and explorer from New York, but she currently calls Atlanta home. When she's not writing for other publications or traveling the world, she inspires women to look good, feel good, and do good through beauty and inspiration on her blog. Keep up with Krissy on social media @iamkrissylewis or check out her blog at www.krissylewis.com.
When it comes to growing and strengthening natural hair, a dynamic duo of products and a healthy routine are necessary. It's unrealistic to think you can do one without the other and expect strong, healthy, and vivacious curls and coils. If you're wondering why your hair is damaged or in a stagnant phase, you may need to take a look at your routine and make sure your hair is getting the care it truly needs.
There is no quick fix to rapid growth but if you schedule your trims, keep your hair hydrated, and use products with ingredients that stimulate growth — it'll get you on the right track. This is why I want to introduce you to VIP Luxury Hair Care.
VIP Luxury Hair Care was created by Ashanti Lation to help with the growth, health, and overall maintenance of all hair whether you're relaxed or natural. The brand offers three different lines to cater to your needs — the GREAUX Collection, SILK SHOT Collection, and the DAY PARTY Collection. I had the opportunity to try their most popular collection, the GREAUX Collection, which offers six growth stimulating products.
Here is what I thought of each product and how my wash day went using the collection.
Featured image by Krissy Lewis/xoNecole
I have a love-hate relationship with the classic '90s ponytail. I love how versatile it is. It works for every hair type/texture and it fits every occasion from day to night. On the not-so-loving note: It's an addictive style and doing it too much can mean constant tension, eventually wreaking havoc on your roots and edges. If done right though, you can get the sleekness without the damage.
My forever high-ponytail inspo is our Queen Normani. She kills it every time. From the debut of her "Motivation" video to "Wild Side," it has become her aesthetic, and she's bodied every version of the '90s look since. So who better to get tips on creating a high ponytail from than one of her stylists, Ashanti Lation. The master stylist and CEO of VIP Luxury Hair Care sat down with xoNecole to tell us how she got started, her best tips for creating the perfect ponytail, and how to protect your hair while doing it.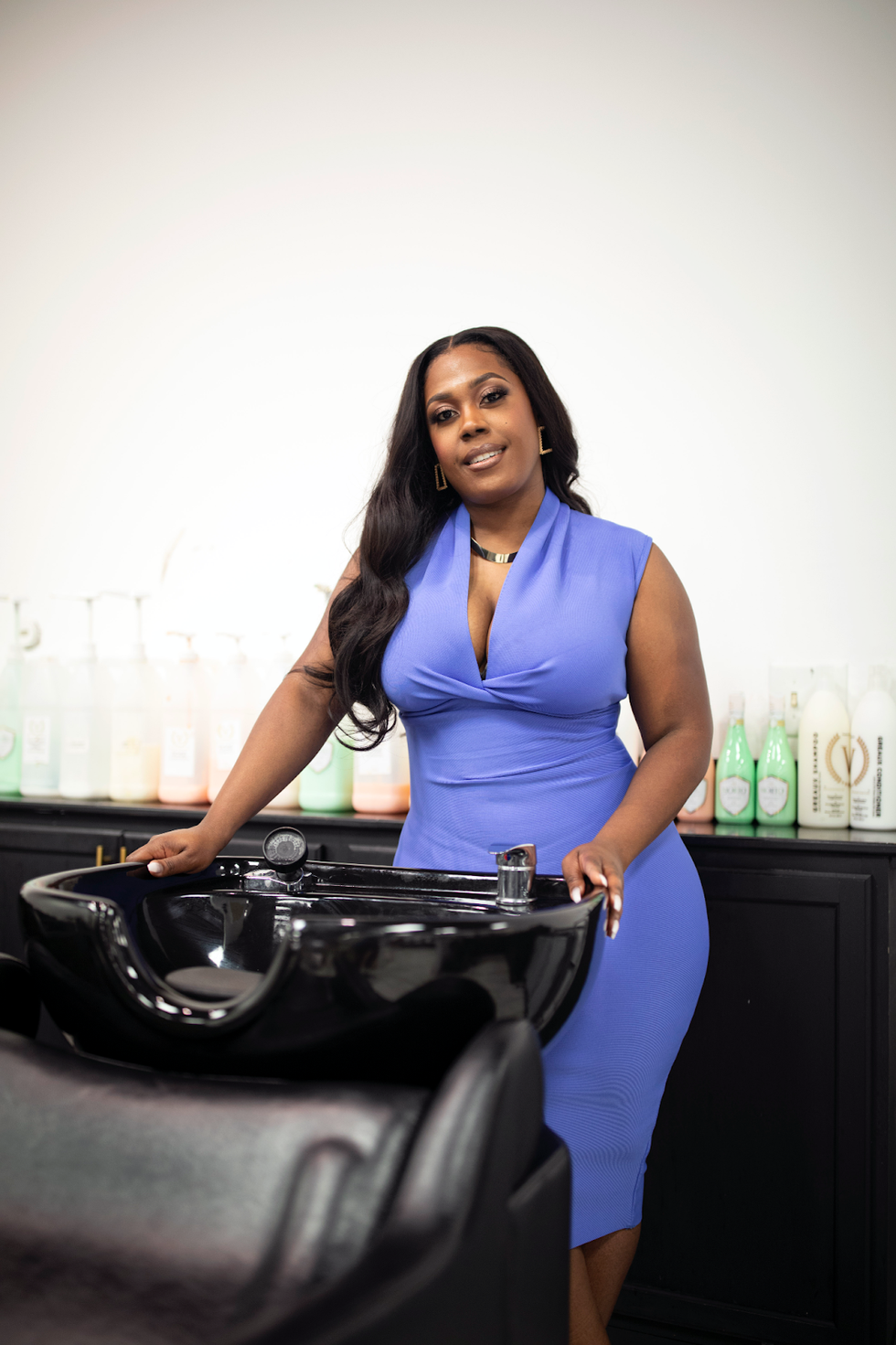 Darius Varnado

xoNecole: What inspired you to become a hairstylist? Where did you start?
Ashanti Lation: I started doing hair in high school because I wanted my hair done all the time. Then, I would try [styles] and it came out good to me, [so] a few other people would ask me to do their hair. About a week later, I started charging my neighbors and other high schools in my city. From that point on, I got popular.
I also have eczema and allergies so because of that the skincare aspect of doing hair was always important to me. I always focused on the hair [and scalp] because I was particular about what my clients used and didn't want it to affect my skin. If you know anyone with eczema, then you know if it breaks out on your hands or neck, it takes a long time to recover. In initially being cautious, my clients would have great results for their hair, and I followed that path with them. I started studying the skin [and] scalp and creating products.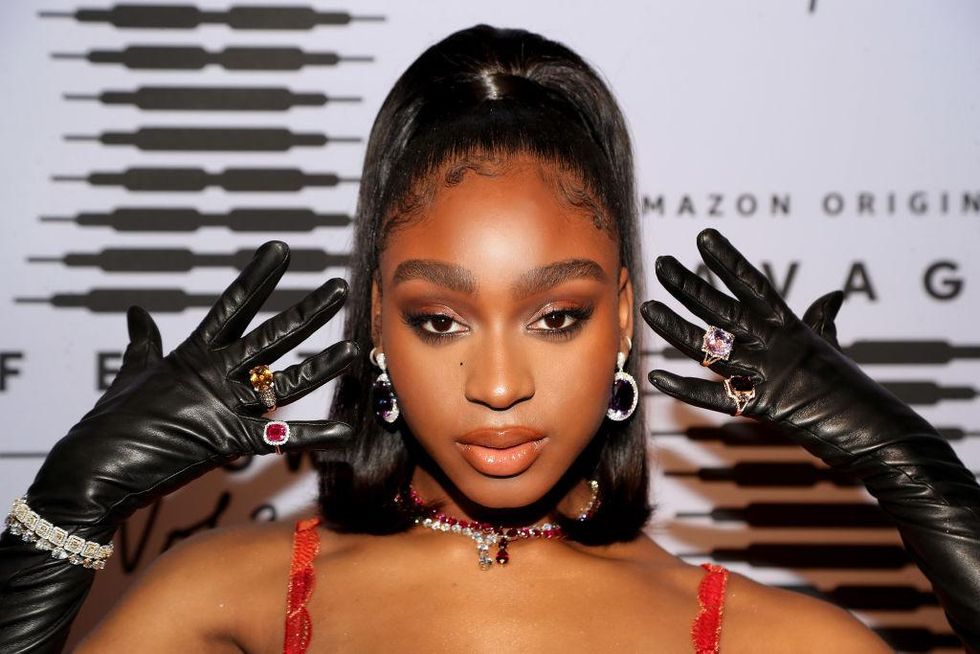 Jerritt Clark via Getty Images
When did you start working with Normani?
I'm the healthy hair guru, and a couple of celebrities and people in other industries have reached out to me asking for hair advice. She [had been] using our products [Greaux Drops] because a frontal had damaged her hair a little bit and the product was helping her hair grow back. She [contacted me] when she was in New Orleans and said, "Let's connect," and so we did and I did my thing. From that moment on, I've been her go-to haircare specialist.
When it comes to styling ponytails and keeping haircare in mind, what recommendations do you have to avoid damage?
It can be trying on the edges and at the top of your head from tension. Some people start to have bald spots at the top because the ponytails are very heavy, so I always tell people:
Avoid too much tension. Some people will make a section then swoop another section on top [to make it sleek and get it in a ponytail] it's too much. Try to get the hair as sleek as possible before you pull it up in a ponytail. So if you have to get a silk press first to smooth it out, then do that first. Prep the hair before you start the ponytail!
Use less product. Use holding spray first because sometimes using excessive gels, puddings, and wax, can become a lot, especially for the finer hair types. It will pull it out then thin it out.
Use the right band. Putting too many bands [on your hair] can damage the crown and cause balding. I like to use thick black rubber bands. Some people like scrunchies but I never try to unwrap them when taking them out. Just cut it out and throw it away! Don't try to keep using it because you'll get it tangled like that.
The base of the ponytail is important. Don't just use one rubber band. Use at least two and the wraps to create a structure like you're building something. It needs to be strong enough to support the hair. If you're doing one band, all that tension falls on your hair trying to hold the ponytail up. You can also do the ponytail on your thickest area so it will be less damaging to your hair.
Be gentle. Haircare is a slow dance, not a fast song.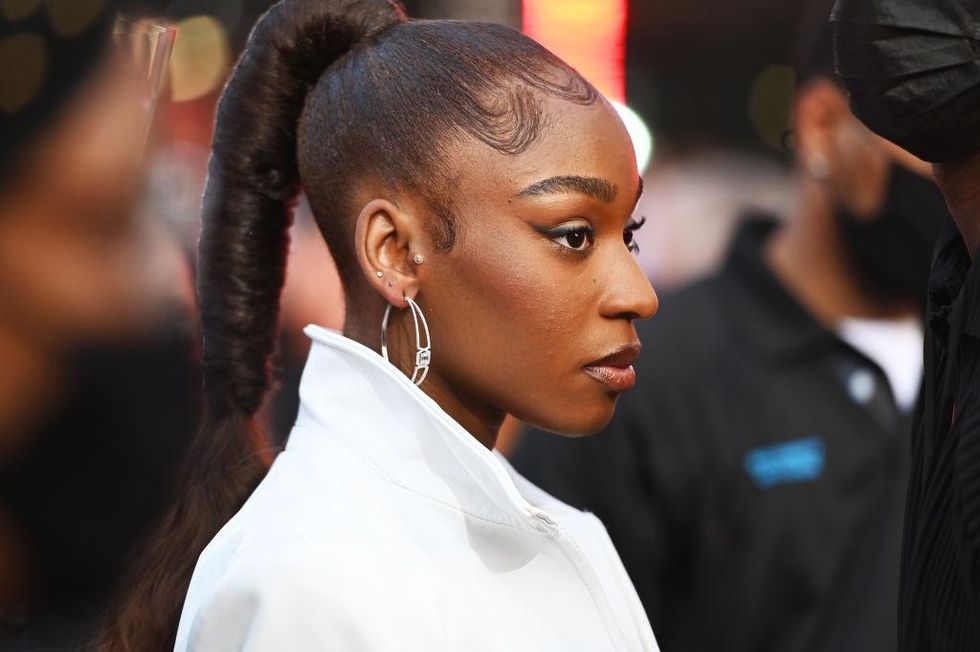 Noam Galai via Getty Images
What products are needed to achieve a Normani-inspired ponytail?
A pomade like Jam and an edge control like Elite Edge. You can use wax if you want but don't use gel. You'll need the hair of your choice. You can finish with a light-holding spray. You'll also need thick rubber bands and wrapping strips.
Can you walk us through your step-by-step process of creating a ponytail and prepping for it?
For a heat-free process, you'll need more product to sleek it because you're laying it down. For Normani's hair, we don't use any heat at all. We twist it and let it dry overnight. It will be sleek and you'd think we pressed it.

1. Make sure you smooth your ponytail out as much as you can before you put the product on it.
2. Use a pomade like Jam and add the Elite edge control on top of that and smooth it out with your hands.
3. Tie it up with the black hair wraps and let it settle until it's fully dry.
4. When you take it down it holds but it's still soft.
5. Use two bands and then start your top knot.
If you use heat and flat-iron it first, you can pretty much slick it up with a little serum and a holding spray to keep it in place.

What hair would you recommend? We know that some hair can be heavier than others.
There's human hair or braid hair. Try to weigh it out and see what feels better to you. It depends on your texture. Less is always more if you can get hair that's fuller. And avoid using too many bags of hair.

For more hair tips and product recommendations, follow Ashanti Lation on Instagram.
Featured image by Jerritt Clark via Getty Images
Cantu has literally had its foot on our necks with their newest releases and it seems like they're moving in an even more natural direction when it comes to ingredients. Although Cantu products have always been free of parabens, phthalates, and sulfates, they're now incorporating more natural ingredients with their Skin Therapy collection. When Cantu initially released their Skin Therapy collection, it consisted of body lotion and creams, now they've added a Raw Blend line of products for people with extremely dry skin.
Cantu Skin Therapy Softening Hemp Seed Oil Raw Blend & Cantu Skin Therapy Hydrating Cocoa Butter Raw Blend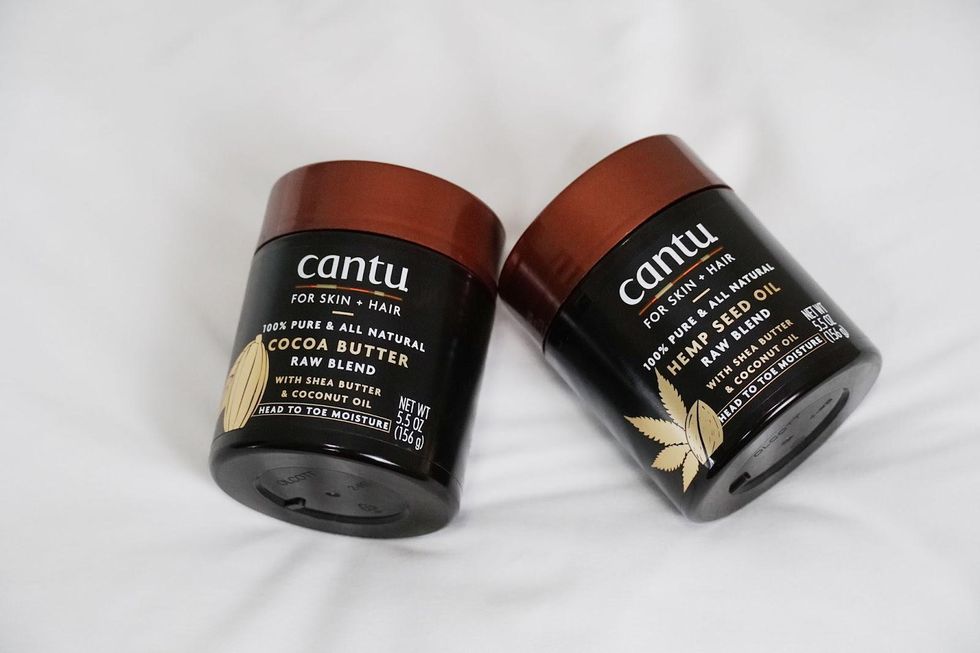 Krissy Lewis/xoNecole
The collection aims to deliver head to toe moisture with just three simple and natural ingredients. Each moisturizer is made with coconut oil and shea butter, but you also have a choice when it comes to your active ingredient of choice including Hemp Seed Oil, Cocoa Butter, Tea Tree Oil, and Mango Butter. This is honestly right up my alley because my skin tends to get drier the more I travel and I get eczema flare-ups if my skin isn't moisturized properly.
So I decided to try the Cantu Skin Therapy Softening Hemp Seed Oil Raw Blend and Cantu Skin Therapy Hydrating Cocoa Butter Raw Blend on my skin (and hair) and this is what I thought…
The Smell
I love that what you see is what you get as far as ingredients goes, each formula has only three ingredients, which also means no added fragrances. The Cantu Skin Therapy collection doesn't really have a smell, in fact you may only notice a faint scent of the raw shea butter or oils, but nothing else. So, if you don't mind the smell of shea butter and natural oils, then this is right up your alley.
If you're also someone who struggles with sensitive or acne-prone skin, then a fragrance-free and natural moisturizer would be the most ideal option to minimize breakouts. In fact, clean beauty can be more effective when treating skin concerns like dryness, acne, psoriasis, eczema, and general skin irritation.
The Feel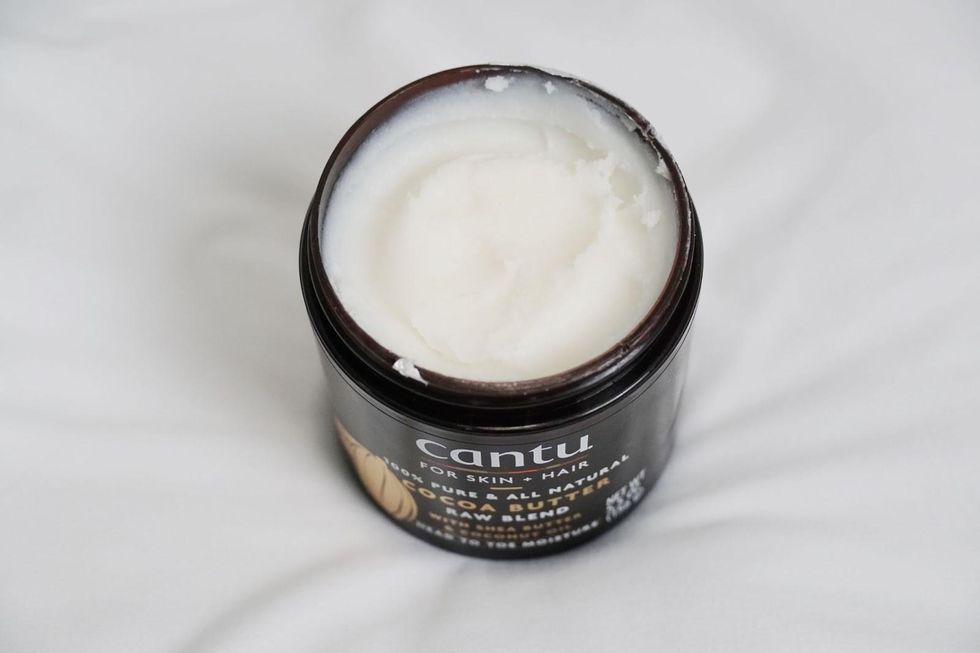 Krissy Lewis/xoNecole
Before actually trying the Cantu Skin Therapy Hydrating Cocoa Butter with Shea Butter & Coconut Raw Blend, I thought it was going to feel like raw shea butter. If you've used it before, then you know that it's very thick and can sometimes take a lot of muscle to rub into your skin. I'm happy that this moisturizer is not as difficult to massage into your skin or hair. It's more of a rich balm texture and it does have some weight to it. It looks pretty thick in the jar but once you apply it to your skin, it literally melts, leaving your skin or hair soft and smooth.
The Finish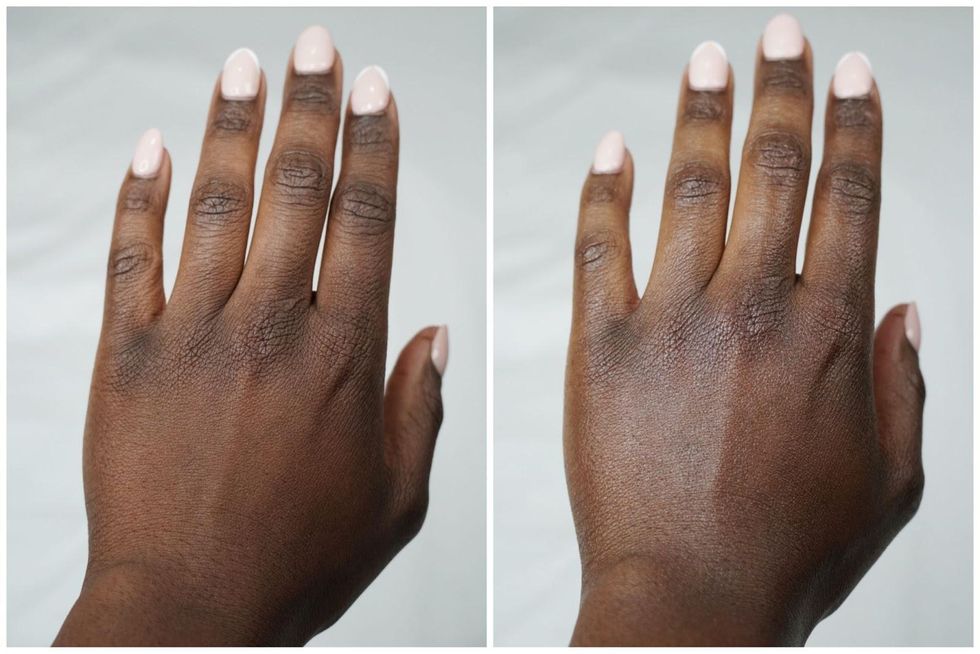 Krissy Lewis/xoNecole
I love the finish of both the Cantu Skin Therapy Hemp Seed Oil Raw Blend and the Cantu Skin Therapy Cocoa Butter Raw Blend, it gives your skin a very dewy and radiant glow that lasts for hours! The moisture is long-lasting and you won't need to reapply throughout the day. However, you should know that it is a bit greasy so avoid using too much.
When I applied it for the first time, I used way too much for my hands and needless to say it left greasy fingerprints around my apartment. You can literally see everything I touched. To remedy this, I just wiped my hands with a cloth and even though I removed the extra grease, my skin still felt moisturized. When it came to hair, I applied a dime-sized amount or even less, a little goes a long way.
My Final Thoughts
You don't need to buy every type of Raw Blend moisturizer. As I mentioned earlier they offer a range that includes Hemp Seed Oil, Cocoa Butter, Tea Tree Oil, and Mango Butter and to be honest, if you tried one, then you have tried them all. I also feel like this is more practical and efficient as a skincare product and not a haircare product. I say this because thicker moisturizers like shea and cocoa butter should be used as sealants and not moisturizers. It also does the same thing an oil does, seal in moisture and add shine.
In my opinion, oil is an easier and efficient sealant when it comes to any density of hair. Because this is a thicker sealant, it can clog the pores in your scalp and prevent moisture from getting in. So if you do choose to use it on your hair, use a little to trap moisture in, instead of using it as a moisturizer.
Lastly, I think this is a good product especially for the price point ($5.99). I would personally use this as a sealant for my skin as well to ensure all-day moisture. I wouldn't use it as a standalone product. It's a great sealant and will easily give your skin that natural summer glow.
I would also just use this on my body, but it is a natural product so you can wear it anywhere you choose.
Featured image by LaylaBird/Getty Images
I can honestly say that I haven't used Cantu since I went natural back in 2016. It's not that I don't like the brand — let's be honest, Cantu is the holy grail brand that a lot of us probably started our natural hair journey with. It was and still is affordable, accessible, and effective haircare. I somewhat strayed away though because it's very easy to get caught up in trying different brands that some products honestly just get lost in the sea of haircare. Nevertheless, Cantu has dropped a few collections that I couldn't help but try. One of their most recent drops is the Jamaican Black Castor Oil line which works for all hair types but is made with 4C hair in mind.
What really piqued my interest in this drop is that Cantu partnered with Emmy award-winning hairstylist and entrepreneur, Angela Stevens. Angela has worked in the hair industry for over 16 years with a focus on healthy versatile haircare, hair education, and celebrity styling. She has worked with a variety of talents like Rita Ora, Elaine Welteroth, and brands like Mielle Organics, Girl + Hair, and now Cantu.
I always appreciate when brands consult or partner with hairstylists because it provides an extra layer of trust to me. It shows that the line was put together with haircare in mind and is working to solve haircare problems that many of us face at home.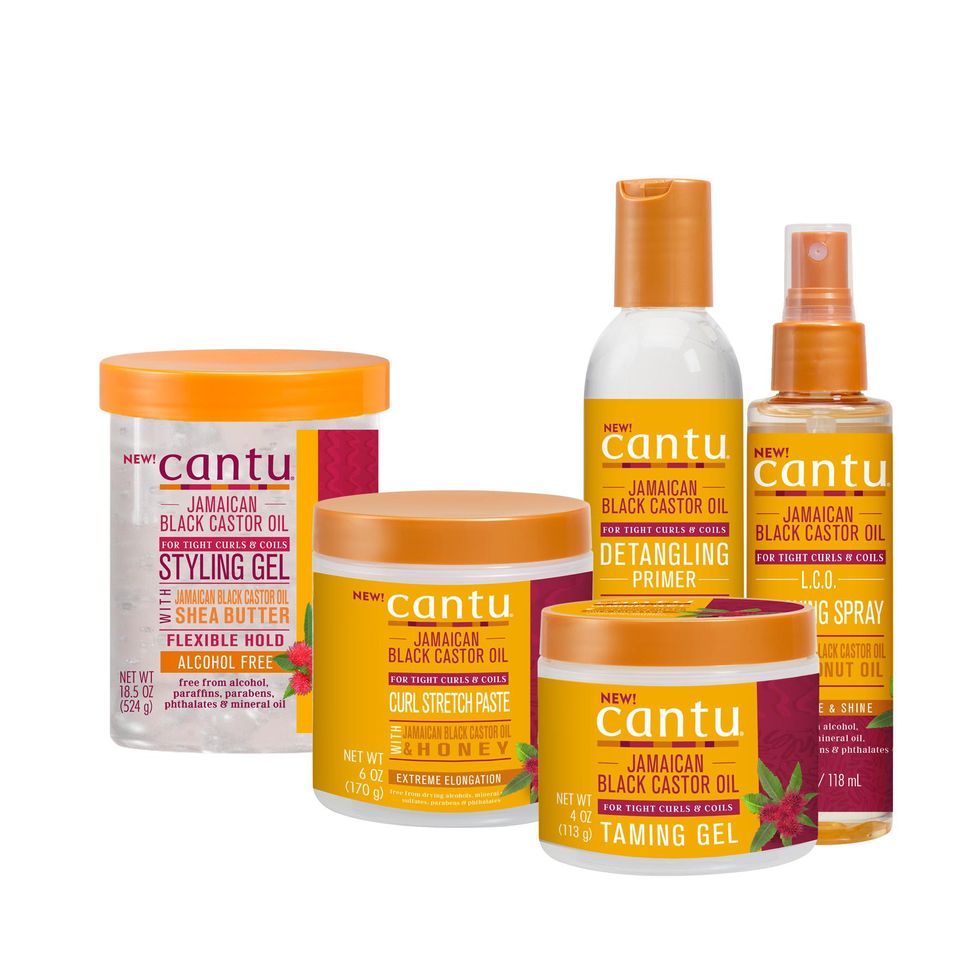 Cantu
About The Jamaican Black Castor Oil 
As I mentioned earlier, the JBCO collection is made with 4C Kings and Queens in mind. While I don't have 4C hair, I think this collection also works if you have very dense and dry hair. The line features five styling products: a detangling primer, a curl stretch paste, a taming gel, a styling gel, and finishing spray. Each product is made with Jamaican Black Castor Oil, so it has a heavier consistency than most to provide hydration and moisture retention.
Cantu Jamaican Black Castor Oil Detangling Primer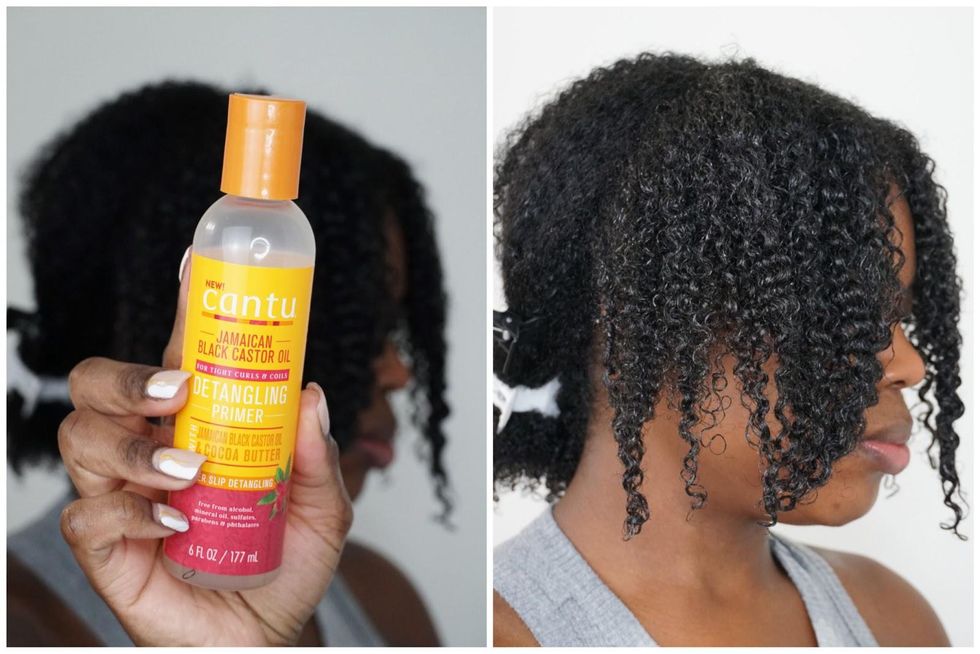 Krissy Lewis/xoNecole
The primer is the first step of styling, it acts as a leave-in conditioner to help detangle, soften, and smooth your hair before you start your twist/braid-out or wash n' go style. I personally prefer lighter consistency leave-in conditioners because my hair absorbs it better. This was just as easy to detangle my hair because it has a heavy slip that helps your fingers easily glide down your strands.
You can feel a difference in your hair as soon as you apply it and I noticed that I didn't have to use as much as I usually do. I'm pretty generous with leave-in primers and conditioners but I didn't have to apply too much of this. It provides enough slip and moisture that a little goes a long way with this product.
If you try it, I recommend paying attention to your hair and how it feels. You'll know when you've used enough and it's important to keep in mind that the products are heavy and this is just the first layer so you don't want to use too much.
JBCO Curl Stretch Paste
This product is mainly for styling braid-outs, twist-outs, and rod sets. It's a pomade-like paste that elongates, stretches, and defines your hair. When I used this to style my twist-out, the paste felt really sticky. I wasn't a fan of how it felt on my hands but I loved how it felt on my hair. When I applied it, it moisturized, defined, and added hold to my curls.
In my opinion, the curl paste is moisturizing enough that depending on your hair needs and density, you can probably skip the primer or leave-in. This would be a great one product styler if you wanted to use less products. This is a one and done product for me, meaning, it does everything you need it to.
Cantu Jamaican Black Castor Oil Taming Gel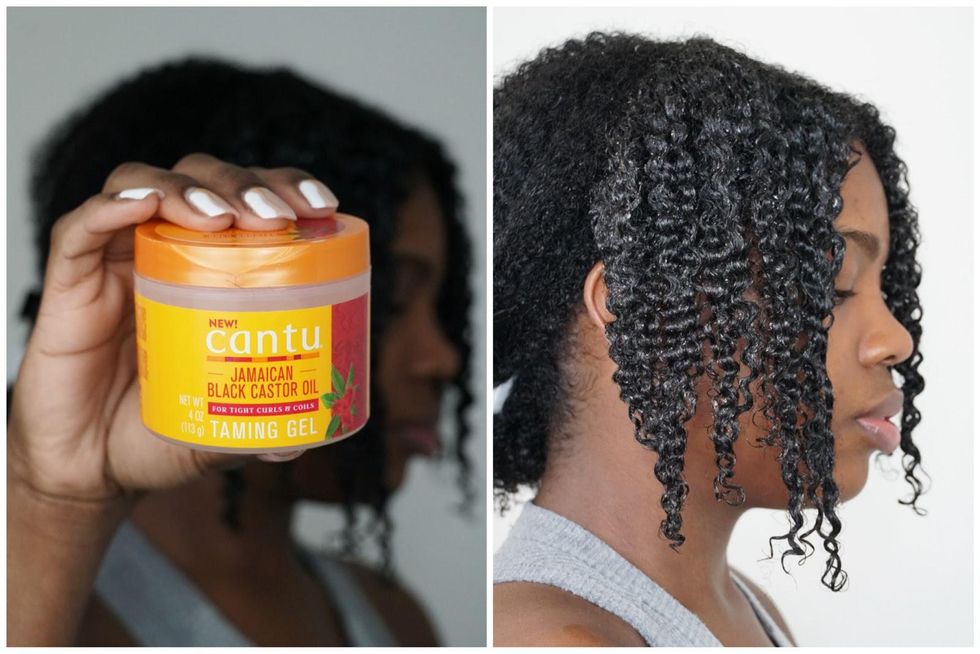 Krissy Lewis/xoNecole
This is another product that felt sticky on my hands but amazing on my hair, but that's common with most gels. I think the JBCO is perfect for laying edges, slicked-back styles, flat twists, and especially wash n' go's. I used this mostly for styling my wash n' go styles because it adds moisture, a long-lasting hold, and tames frizz and flyaways. My wash n' go lasted five days before I had to refresh it which is surprising because traveling dries my hair out quicker than usual, plus wash n' go's are already a drying style so I was impressed by the longevity I had with this product.
One thing to keep in mind is, you don't need a lot. When I first tried it, I wasn't sure how much hold I was going to get so I packed it on and I noticed I had a lot of flakes and it stuck to my clothes and everything. I recommend applying it in small sections on detangled hair so you can see how much you really need and make sure that your strands are completely coated with the gel. If I would have started in smaller sections, I would have made sure that my hair was properly coated and I wouldn't have to go back and add more.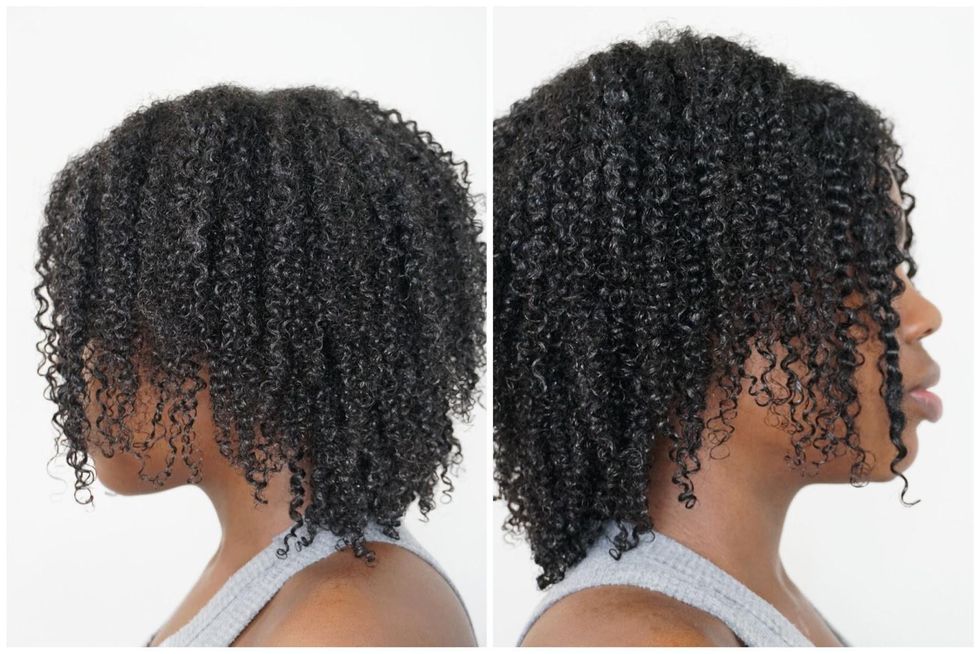 Krissy Lewis/xoNecole
Cantu Jamaican Black Castor Oil Finishing Spray
This finishing spray does exactly what it claims, it basically just adds the finishing touches to your styles. I used it on both my twist-out and wash n' go once my hair was completely dry to help seal in moisture and add shine. I would recommend using this after your hair is dry regardless of the style because I really believed it helped make both my styles last as long as it did.
I actually really appreciate the oil being in a spray bottle because it helped me use the right amount of oil. Again...she's thick! I didn't use more than three sprays for my hair, but I think that varies depending on your hair needs.
My Overall Review of Cantu's JBCO Collection
Overall, I loved the collection and I would actually recommend getting all four products. I do think that this collection caters to curls and coils that struggle with getting moisture in and are more dense. I would not recommend it for those who have extremely thin or less dense hair because the line might be too heavy for your hair. The thing about castor oil is that it can be good and bad if not used correctly. What I mean is, it can clog your hair follicles if you use too much and because it's heavy and thick, it doesn't take much to do that. This line is also made with other heavy ingredients like shea and cocoa butter. So, if your hair is thicker it can take the heaviness, you just have to use the right amount.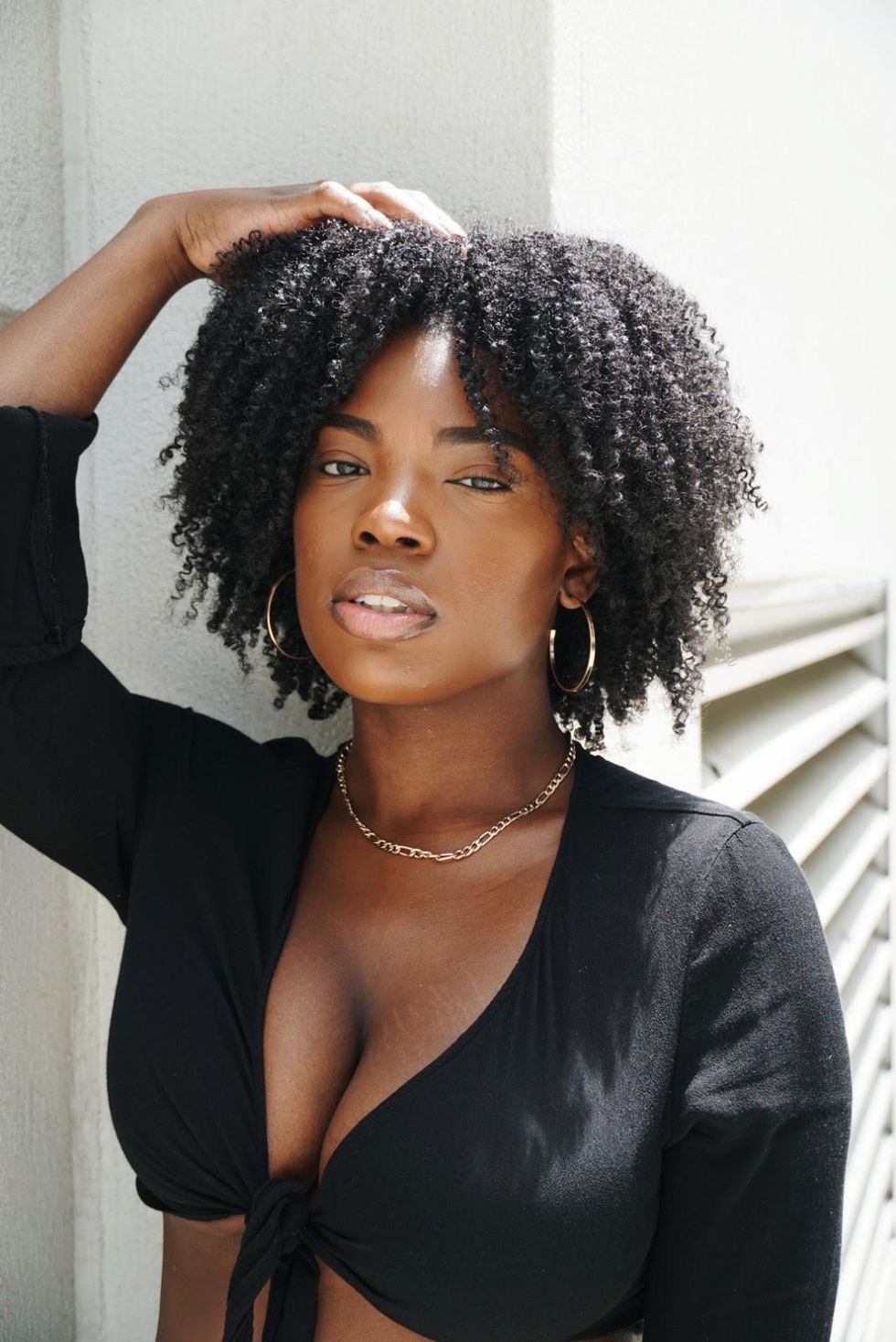 Courtesy of Krissy Lewis
I think the line offers a variety for each styling need. I don't think you need to use every product in one styling session and I wouldn't recommend it if you have my hair type (4A/4B) because it would be way too much. I can't speak too much for what would be enough for 4C hair, but I recommend just trying it out until you find out what combo works best for you. However, based on my experience with the product and Angela Stevens' recommendations, here's a product combo for different natural hair styles:
JBCO Detangling Primer and Taming Gel: wash n' go's, edges, slicked-back styles, flat twists, and up-dos. Add finishing oil to seal.
JBCO Curl Stretch Paste and Finishing Oil: twist-out, braid-out, and rod sets.
You are not limited to this though, natural hair is not a one routine fits all so you have to find out what works best for you.
Featured image by Krissy Lewis/xoNecole

The beauty industry is an ever-growing industry. There are constant releases in haircare, skincare, and makeup and it can be overwhelming and expensive to keep up with. However, if you're someone who likes to try new things for a portion of the price, then you may want to consider a subscription beauty box. It's a simple way to get everything you need delivered right to your door. And if there's anything that this pandemic taught us, it's how to survive when the world is forced to stay six feet apart. Even though most of the world is going back to "normal," this is another option for those of you who still want to keep it safe.
Let's address the elephant in the room, one of the biggest concerns with beauty boxes is having a box full of products that don't fit our skin or hair type. It is very frustrating to get a box of eight products and you can only use two of them. One key thing to look into when joining a subscription service is, who are these products really for? Is it made with black women in mind? Does it provide useful products for me? Don't worry...I got you, sis.
Let me save you the hassle and tell you why Femailer is the subscription box you never knew you needed.
What's a Femailer?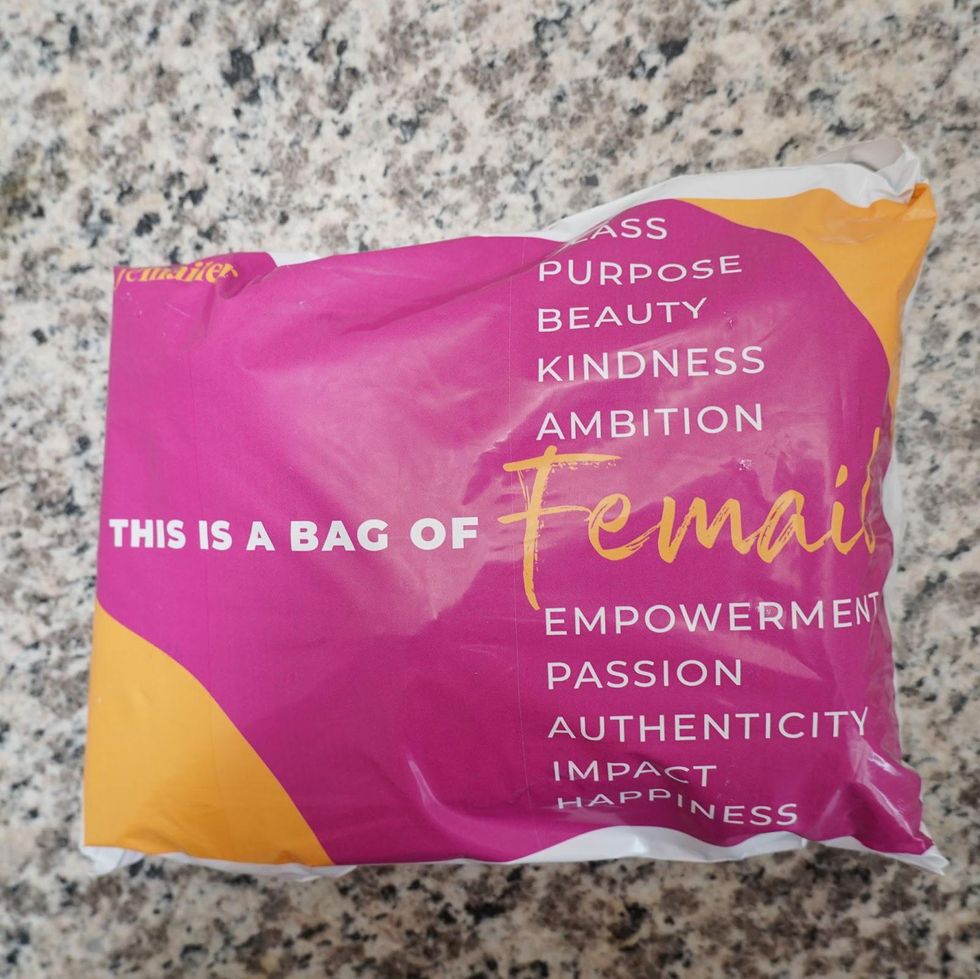 Krissy Lewis/xoNecole
Femailer is a quarterly beauty box that features a range of 5-8 full-sized beauty products for women of color at an affordable price. The value of a typical box is up to $120, but as a member, you get it for more than half the price, $30 to be exact -- every season.
The creator of Femailer, Ashlee Gomez, has combined her 11+ years in the beauty industry as a licensed cosmetologist and beauty marketing professional to deliver a solution that allows women of color to identify and embrace not just their outer, but more importantly their inner beauty.
Each box is curated with three main missions in mind: to satisfy your beauty needs, give you inspiration and resources that'll help you flourish inside and out, and introduce you to quality products by other black-owned brands.
Each quarterly box features premium haircare, skincare, makeup, and lifestyle products from brands like Creme of Nature, Black Radiance, SheDavi, Lottabody, custom Femailer jewelry, and much more.
In my box, I received: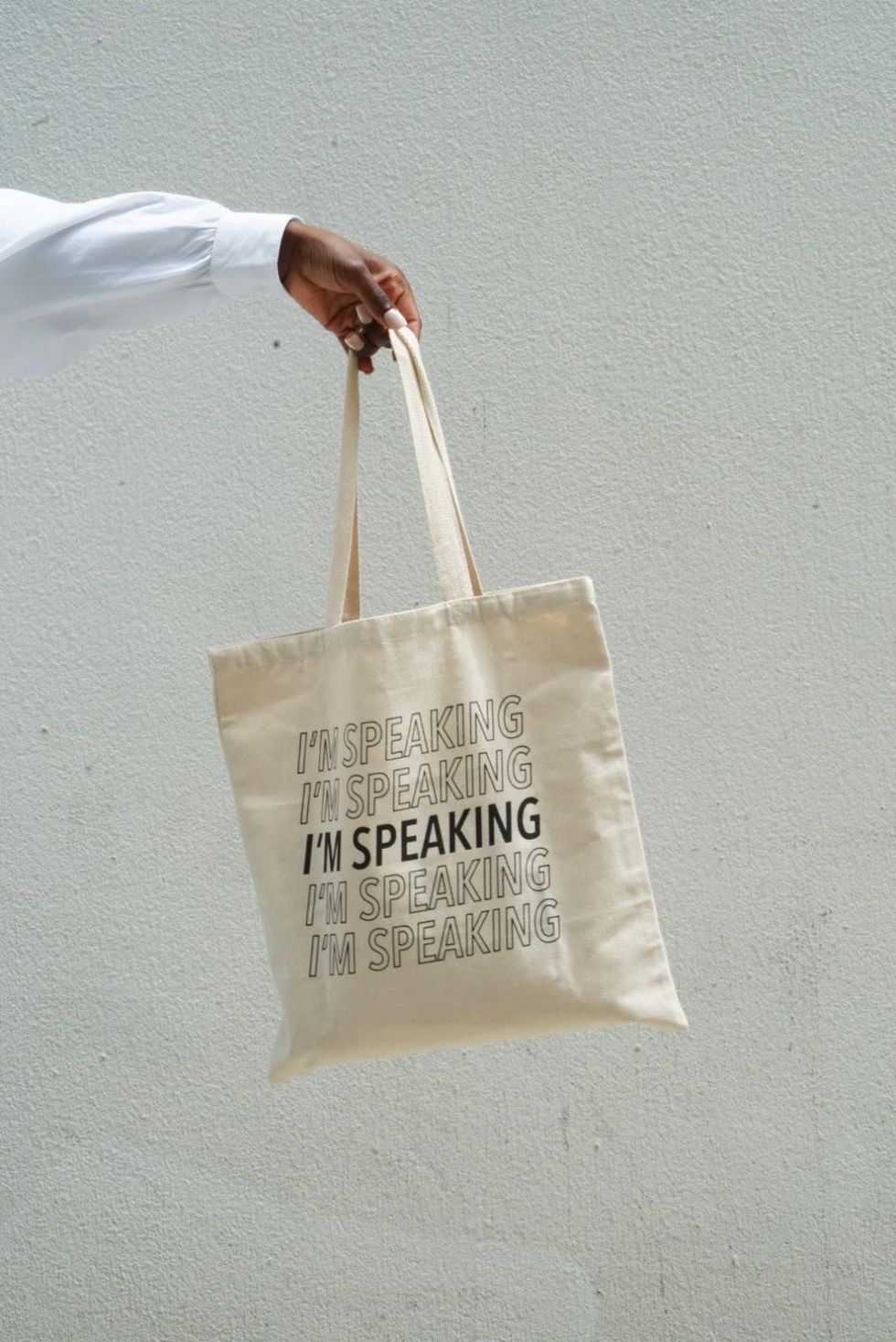 Krissy Lewis/xoNecole
"I'm Speaking" Tote Bag
Lottabody Boost Me Curl Boosting Smoothie
Lottabody Hold Me Maximum Hold Styling Gel
Lottabody Elongate Me Curl Stretcher
Beauty Bakerie | Brownie Bar
AHAVA l Mineral Hand Cream
KISS - Glam Fantasy Nails | Trampoline Set
Along with two bonus items:
Lottabody Satin Scarf
"I'm Making Herstory" Button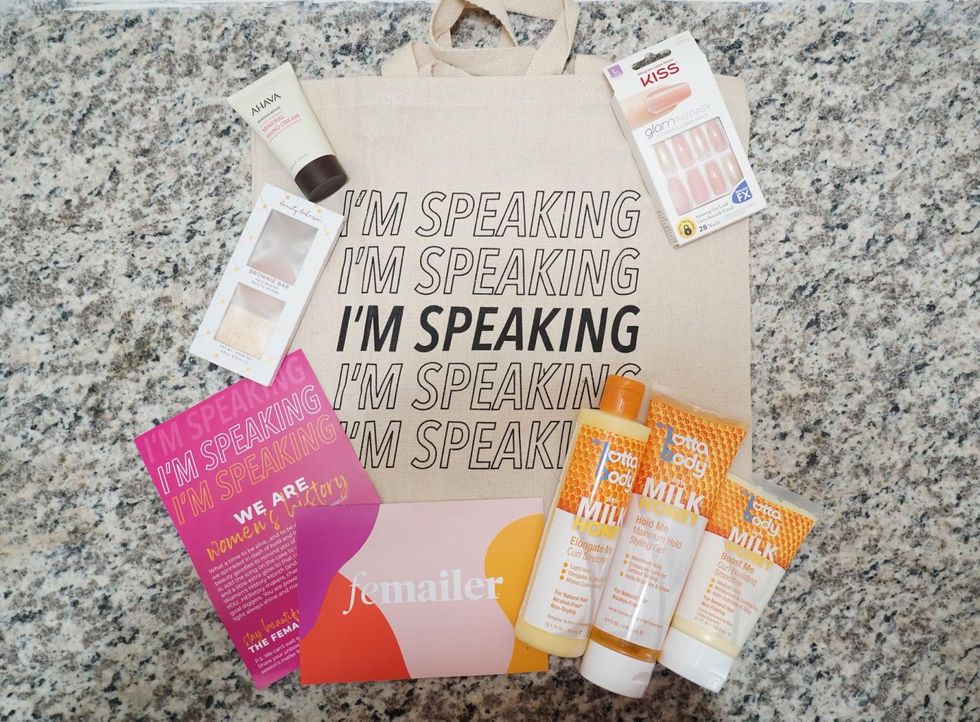 Krissy Lewis/xoNecole
Each product is hand-picked, Ashlee and her team actually use themselves to make sure members are getting quality products that promote healthy hair and beauty practices for each season. It's also worth mentioning that Femailer also provides tips and tricks on how to use each product. So whether you're a beginner or seasoned beauty guru, you get access to tutorials, reviews, and even members-only pop-up shops.
I'm saying...this is a lot for just $30, it's definitely a steal!
My honest review: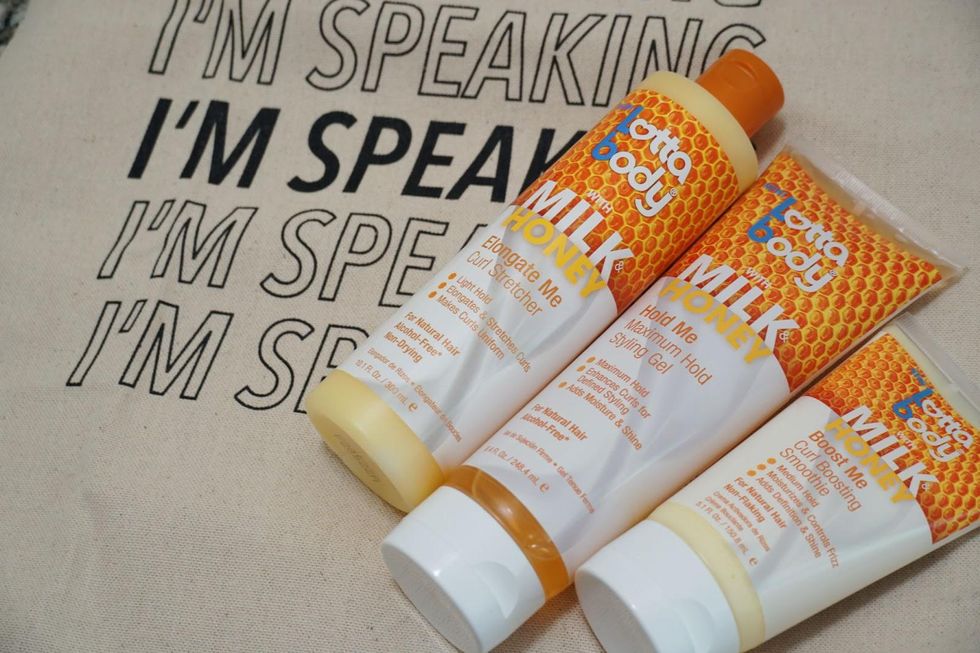 Krissy Lewis/xoNecole
Let's start with the Lottabody products.
The entire Milk & Honey collection is made with milk protein and honey to help restore moisture to your hair. Here's a breakdown of each product I received:
The Lottabody Milk & Honey Boost Me Curl Boosting Smoothie
The Lottabody Boost Me Curl Boosting Smoothie is a curl-enhancing formula that adds definition, shine and a light-to-medium hold to your hair. This product is so good it can stand alone to style and refresh your curls. Because of its versatility, it can be used as a leave-in and styling cream for wash n' go's, twist-out, and braid-out styles.
The Lottabody Milk & Honey Elongate Me Curl Stretcher
The Elongate Me Curl Stretcher is a thick nourishing cream that treats dry, rough strands and helps restore moisture to brittle hair. It can be used as a styler and leave-in. It moisturizes your hair and helps minimize frizz. To be honest, it's a tough claim to elongate curls with just a product because shrinkage is inevitable.
I wouldn't rely heavily on this for fighting shrinkage, but it's good for added moisture and definition. To help fight shrinkage, you can use the raking method and apply the gel after to hold your curls in place.
The Lottabody Milk & Honey Hold Me Maximum Hold Styling Gel
Lastly, is the Hold Me Maximum Hold Styling Gel. The hold with this gel is 10 out of 10. I say that because it has the key things you want in a styling gel: hold, crunchless curls, no flaking, definition, and shine. The Hold Me styling gel also helps prolong the wear of your hairstyle; it kept my curls intact for 4-5 days.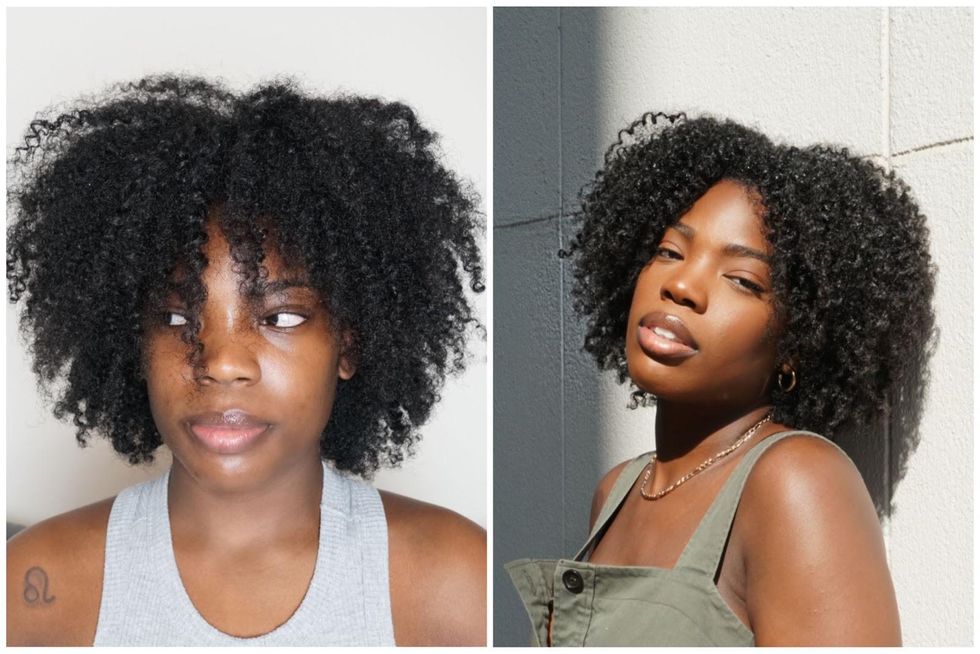 On the right, old twist-out; on the left, old twist-out refreshed and revived with Lottabody.
Krissy Lewis/xoNecole
I used the Boost Me Curl Boosting Smoothie and Hold Me Maximum Hold Styling Gel to refresh my old, dry twist-out and those two products were all I needed. It enhanced my curls and gave my hair more volume and hold. I don't think you need to use both the curl stretcher and the curl boosting smoothie together, one or the other is fine but it depends on what your hair needs.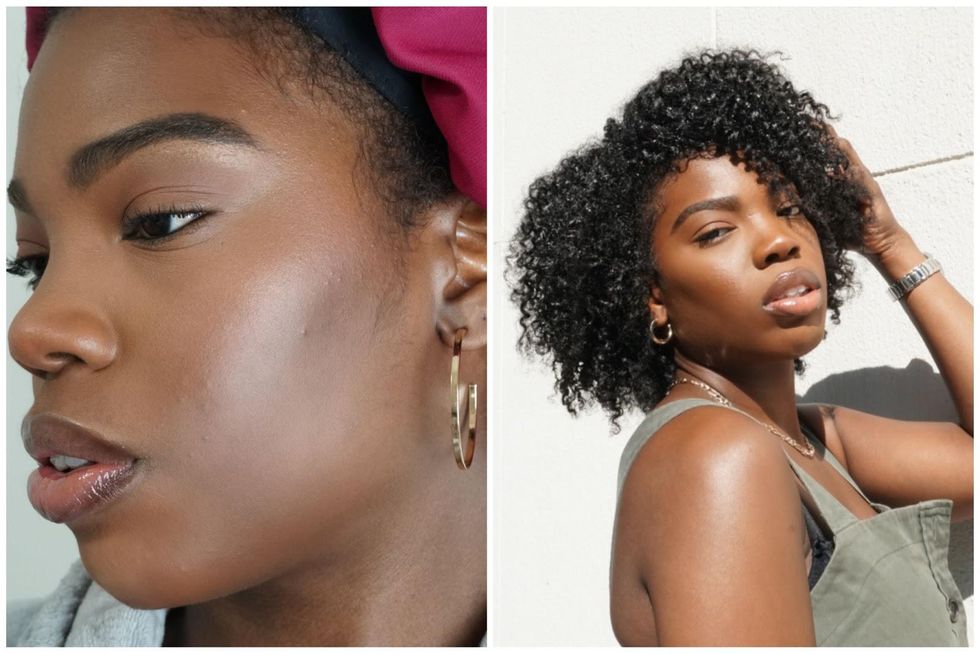 On the left, close-up of pigmented highlighter; on the right, defined cheekbone with Beauty Bakerie.
Krissy Lewis/xoNecole
The next product I used was the Beauty Bakerie Brownie Bar Face Palette. I've been wanting to try Beauty Bakerie for a while, so I'm glad I was able to try it out because I love this palette. The Brownie Bar comes with a powder contour, bronzer, and highlight. The formula is buildable so that you can start light and get the hang of how and where to contour.
I need to warn y'all though, I'm very new to bronzing and contouring but this is very beginner-friendly and gave me the confidence to try it out. It's also very blendable and pigmented, so a little goes a long way especially with the highlighter. On the left is a close-up of how pigmented the highlighter is and I only used a small amount. On the right is how defined my cheekbone is after using the bronzer.
Overall, I definitely think Femailer is worth a try. It features products for women of color with all skin and hair types so you'll never have to wonder if a product will work for you. In my experience, I also think it motivates you to try new products and techniques! Like I mentioned before I've been wanting to try contouring and it's like the universe heard me and brought me this.
I also want to add that the vibe of the bag was very empowering, from the statement tote and pin to the beauty finds, I really enjoyed the experience Femailer provided.

Featured image by Krissy Lewis/xoNecole
We should be wearing sunscreen every day, regardless of the season, skin tone, or whether we can see the sun or not. Sunscreen is a very crucial step to our skincare routine because it not only protects us from the harshness of the sun, but it helps fight against aging, hyperpigmentation, and skin cancers like melanoma. Let's be honest, there are several reasons why black people still aren't wearing sunscreen. For one, the medical field historically hasn't played fair when it comes to awareness and treatment in the black community. Two, we grew up with myths like "black don't crack" or not realizing that black people can get sunburn too. And lastly, the lack of diversity in the actual sunscreen formula itself.
Historically, sunscreen has been catered to white people. For a long time, sunscreen brands didn't concern themselves with how the formula worked on people of color. Sunscreen formulas now and then often gave people with deeper tones the Casper or ghost effect, which left a white cast on our skin. Believe it or not, this is a huge deterrent for people of color and I can't blame them. Who seriously wants to walk around with a white or gray hue on their skin? I don't and I know you don't either. Thankfully, some brands cater to sun protection for all skin tones.
Here are 10 Black girl-friendly sunscreens that won't give you the Casper effect.
*Some links are affiliate links. If you make a purchase, xoNecole may earn a small commission. xoNecole only recommends products that we know and love.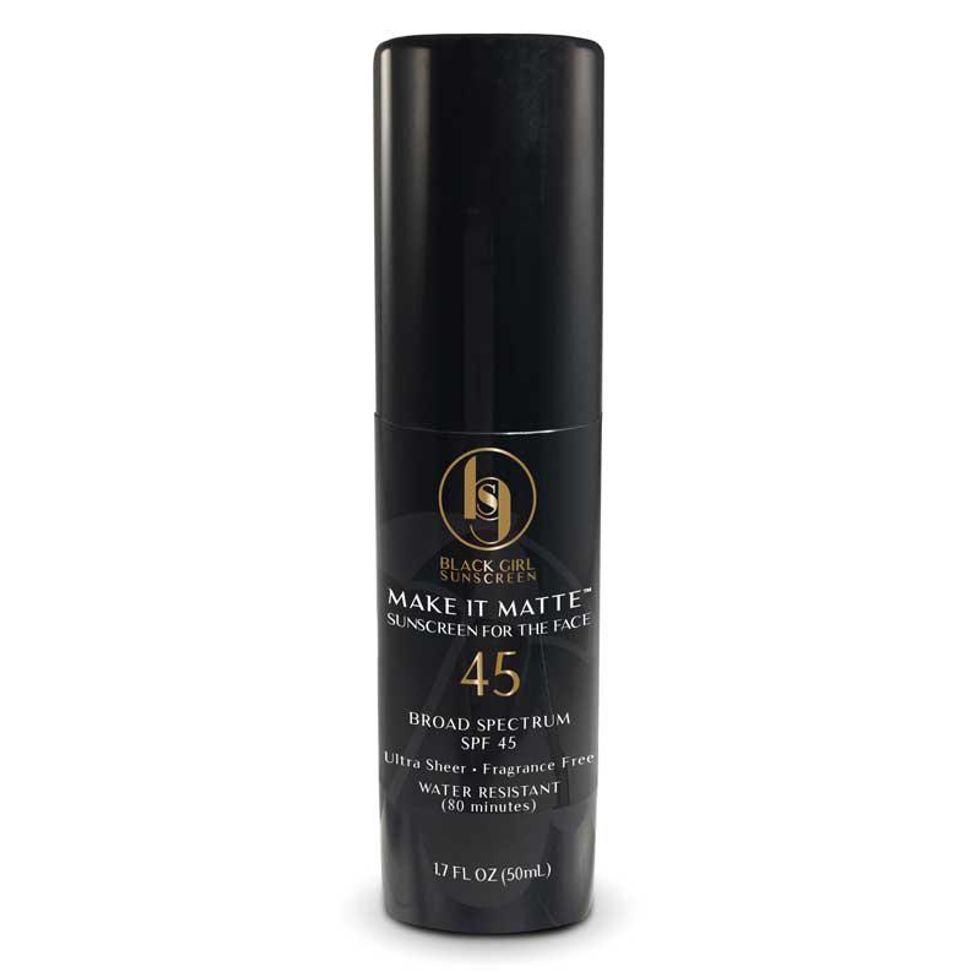 Black Girl Sunscreen
The Black Girl Sunscreen Make it Matte has SPF 45 and consists of aloe, squalene, and shea butter that help moisturize, soothe and heal your skin. It works for all skin types but it's ideal for people with oily skin looking to control the oils and find a balance of hydration and nourishment that isn't too thick and greasy. The love is defintely real, as the product is currently out of stock as I type this, but if I were you, I'd get on that "notify me" email list quick for the restock.
Black Girl Sunscreen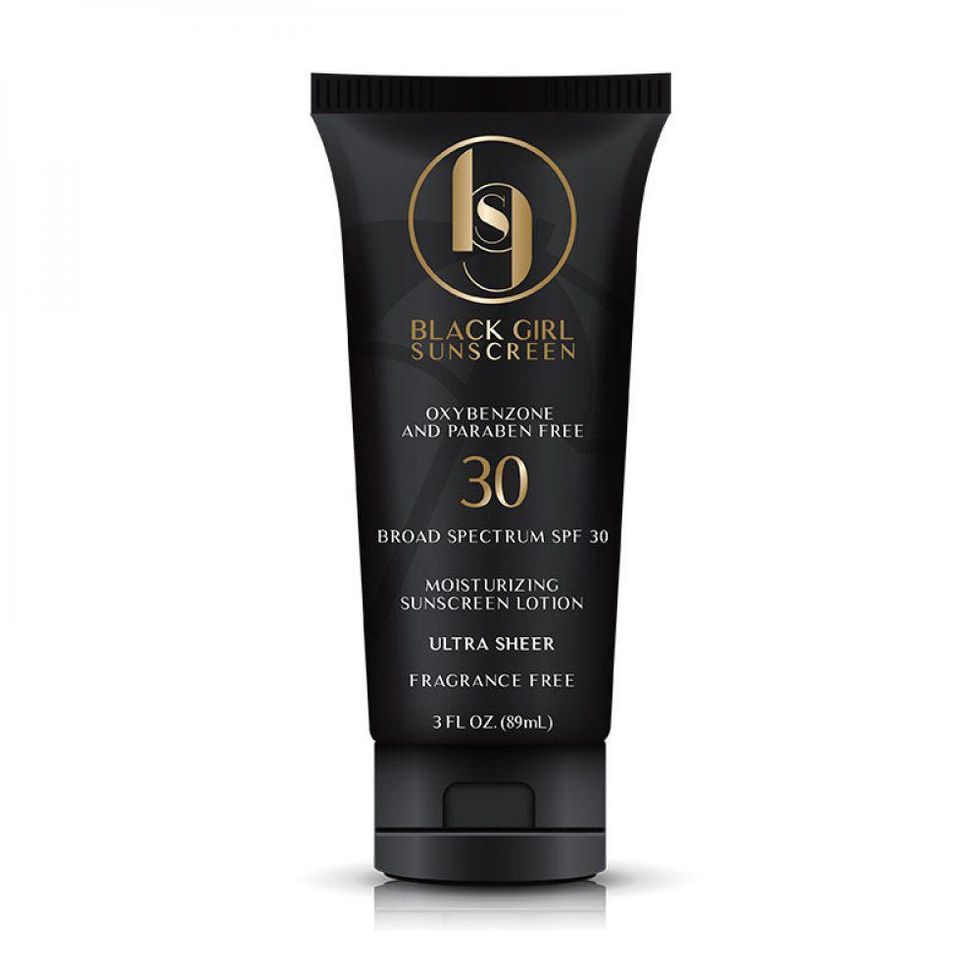 Black Girl Sunscreen
A cult favorite, the Black Girl Sunscreen original creamy formula has SPF 30 and consists of natural ingredients avocado, jojoba, sunflower oil, carrot juice, and cacao. It works for all skin types and doubles as a moisturizing lotion while protecting your skin. And unlike its Matte successor, it is for individuals who aren't afraid of a glow.
Black Girl Sunscreen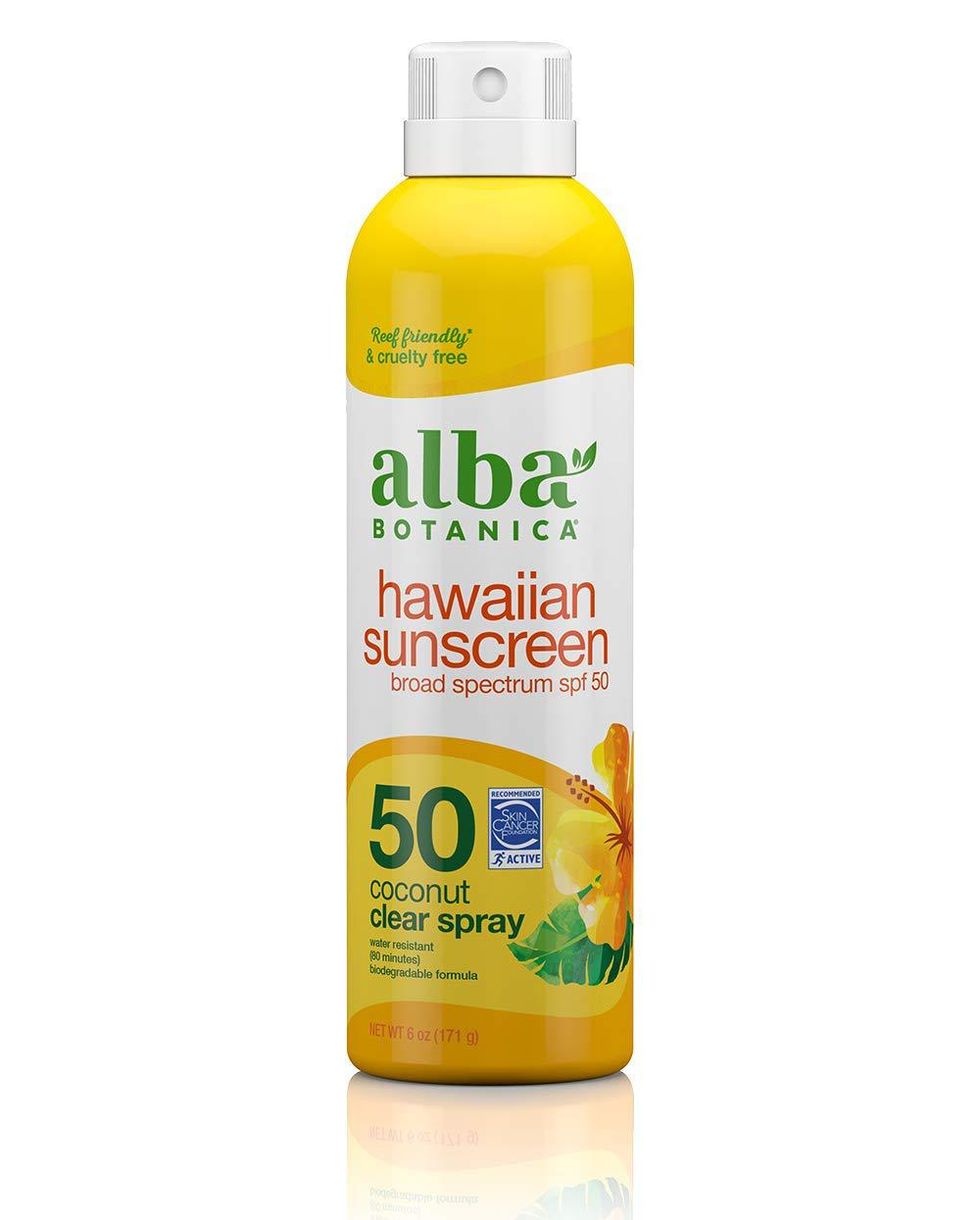 Amazon
Alba Botanica Hawaiian Coconut Clear Spray Sunscreen is a lightweight, quick-dry mist made with SPF 50, coconut, and shea butter to protect against sunburn, skin cancer, and premature signs of aging. It has a subtle scent and leaves your skin with an extra glow.
Alba Botanica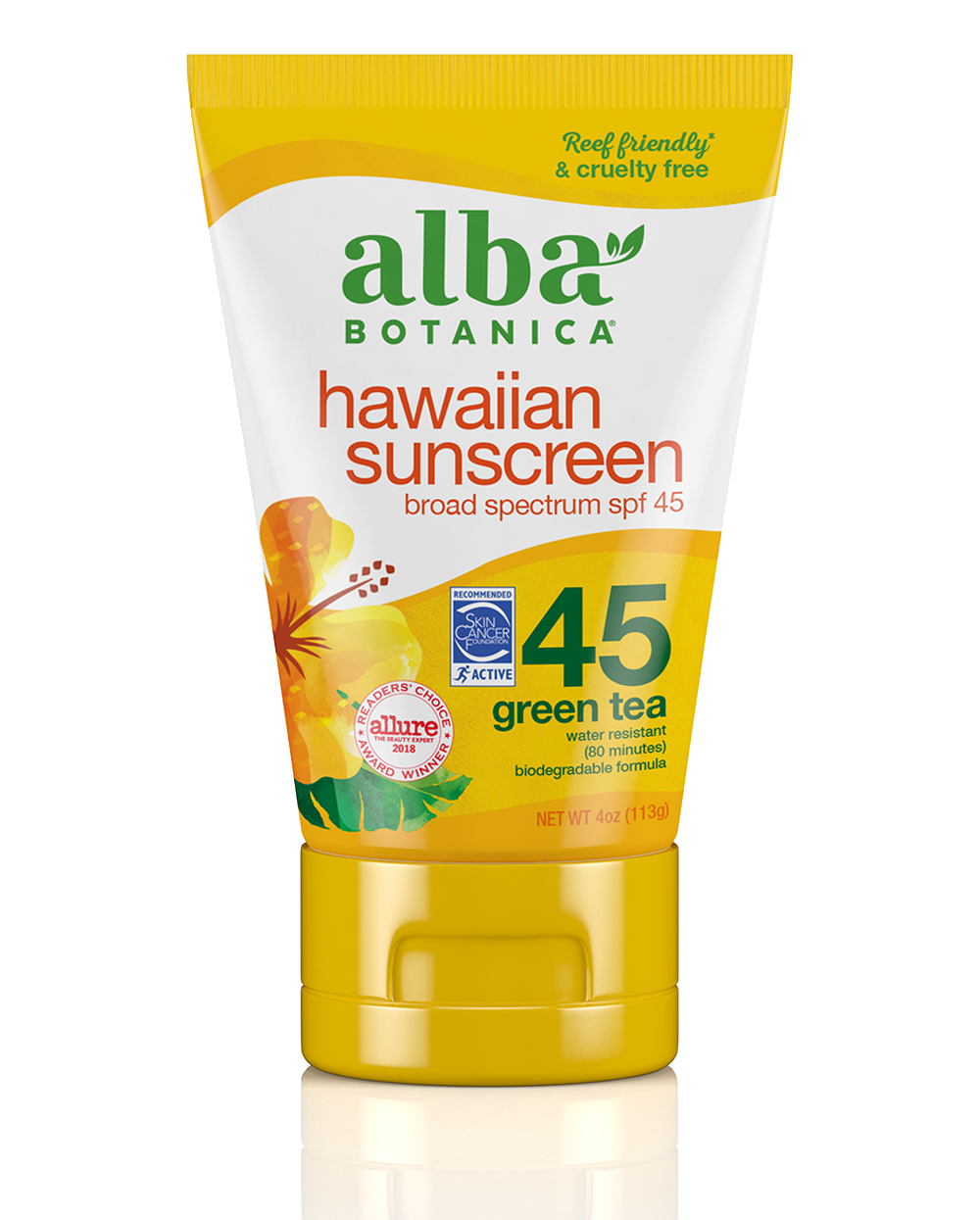 Amazon
Alba Botanica Hawaiian Green Tea Sunscreen Lotion is a creamy non-greasy moisturizing sunscreen lotion with SPF 45 made of aloe vera, green tea, and tropical fruit extracts. This is a 100 percent vegetarian-friendly product and does not contain oxybenzone, octinoxate, gluten, or synthetic fragrances.
Alba Botanica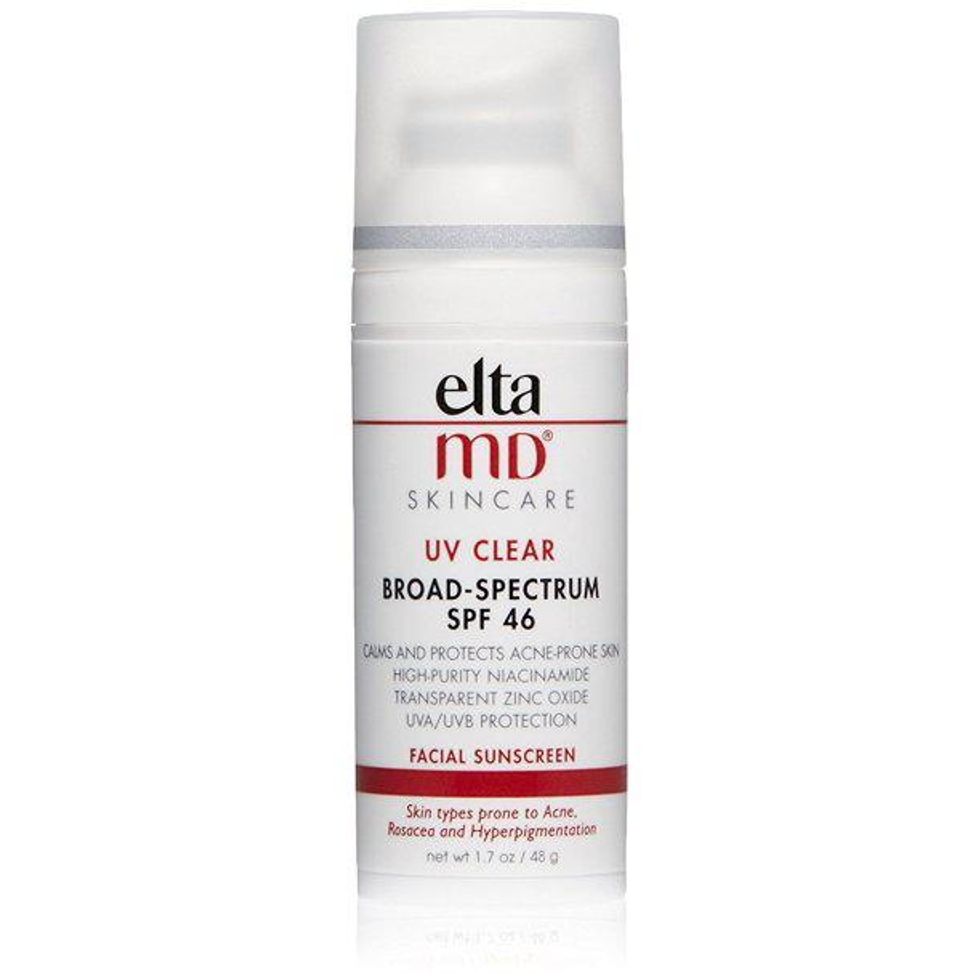 Dermstore
EltaMD UV UV Clear Broad-Spectrum SPF 46 is a clear sunscreen formula made with SPF 46, sodium hyaluronate to moisturize, and lactic acid to refine your skin to clear pores and reduce shine. It's fragrance-free and protects your complexion from harmful UVA and UVB rays.
Dermstore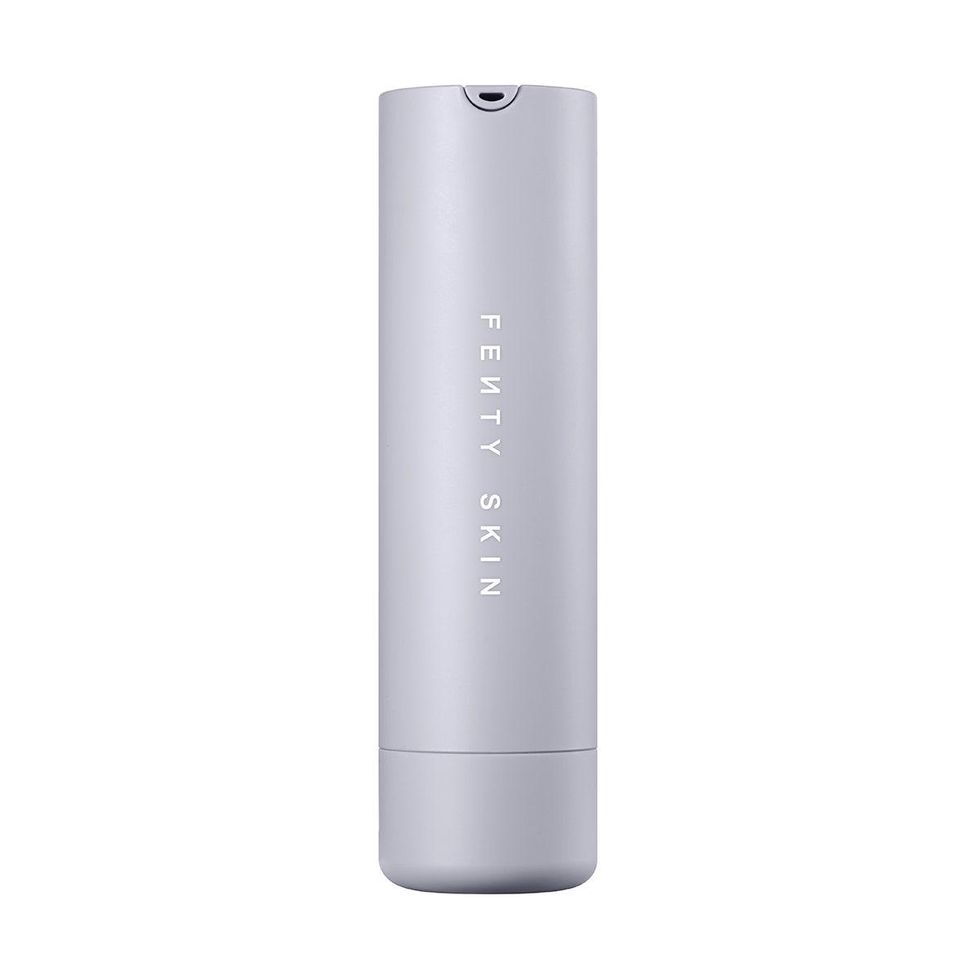 Fenty Skin
Fenty Skin Hydra Vizor Moisturizer Broad Spectrum Sunscreen is made with SPF 30 and acts as a moisturizer and sunscreen. It's lightweight, oil-free, and invisible on all skin tones. Another added benefit of this sunscreen is you can purchase refills instead of repurchasing the bottle. Another bonus? It's vegan.
Fenty Skin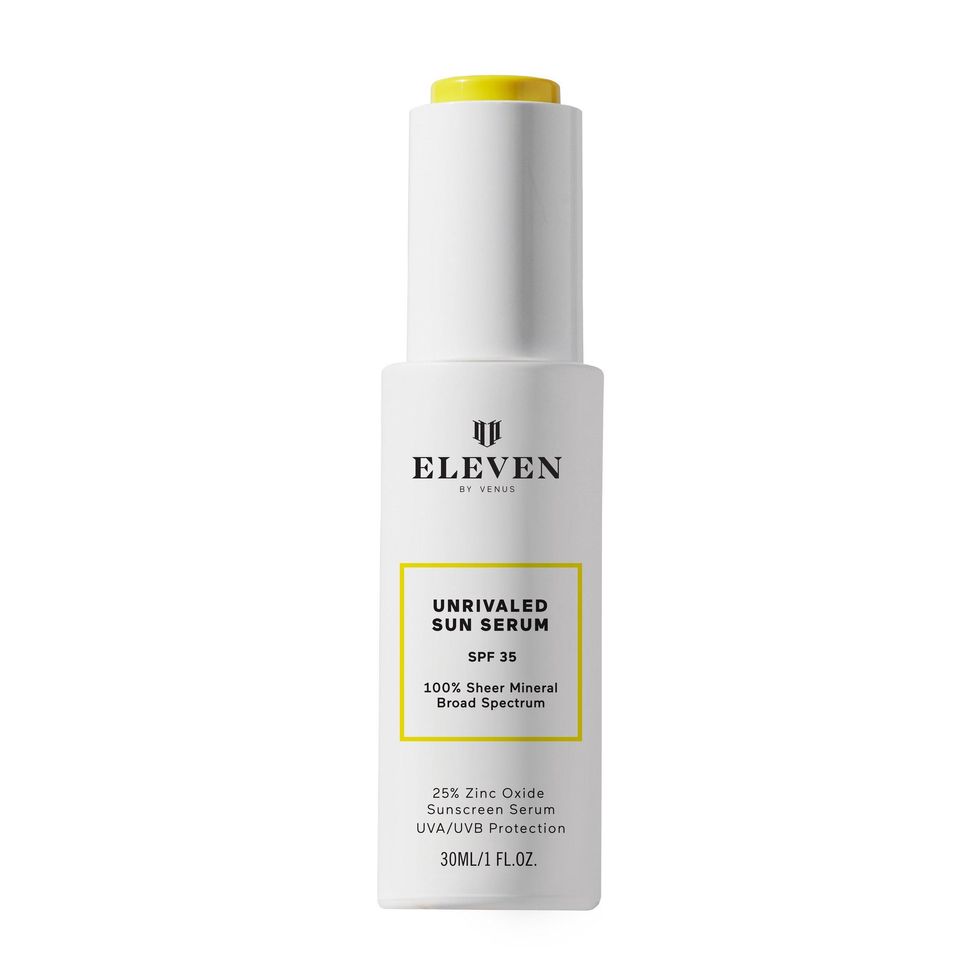 EleVen
EleVen's Unrivaled Sun Serum by Venus Williams is a lightweight serum that combines skincare and mineral sun protection. It's made with SPF 35 to protect you from UVA and UVB rays. It also provides long-lasting hydration while calming and soothing your skin, creating a smooth velvety finish.
EleVen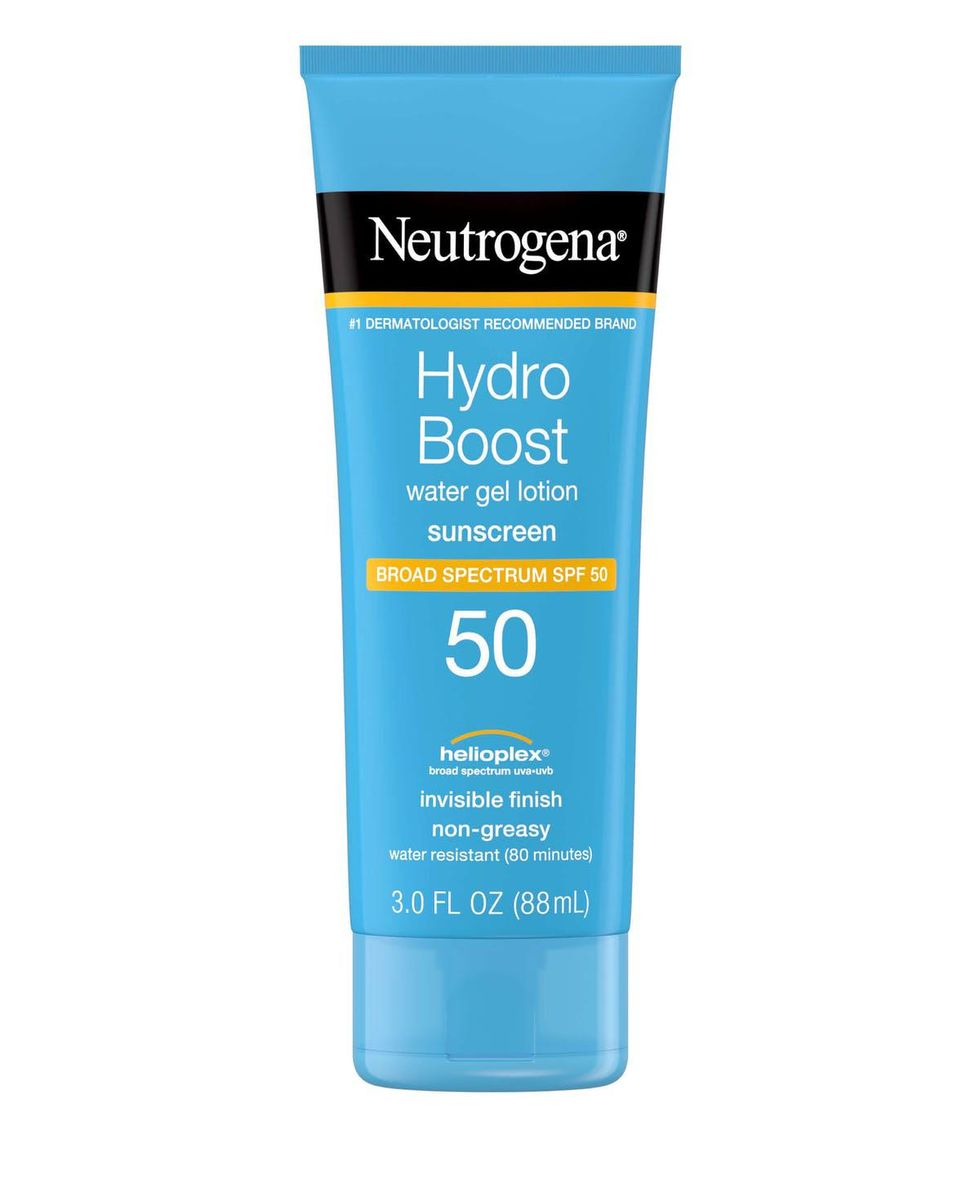 Neutrogena
Neutrogena has mastered the cooling and hydrating water-gel formula in most of their products and it's no different with their sunscreen. The Hydro Boost Water Gel Lotion is made with SPF 50 to protect and moisturize your skin. It gives your skin a cooling and refreshed feel without any white residue. It's also oil-free and non-comedogenic, which means it won't clog pores.
Neutrogena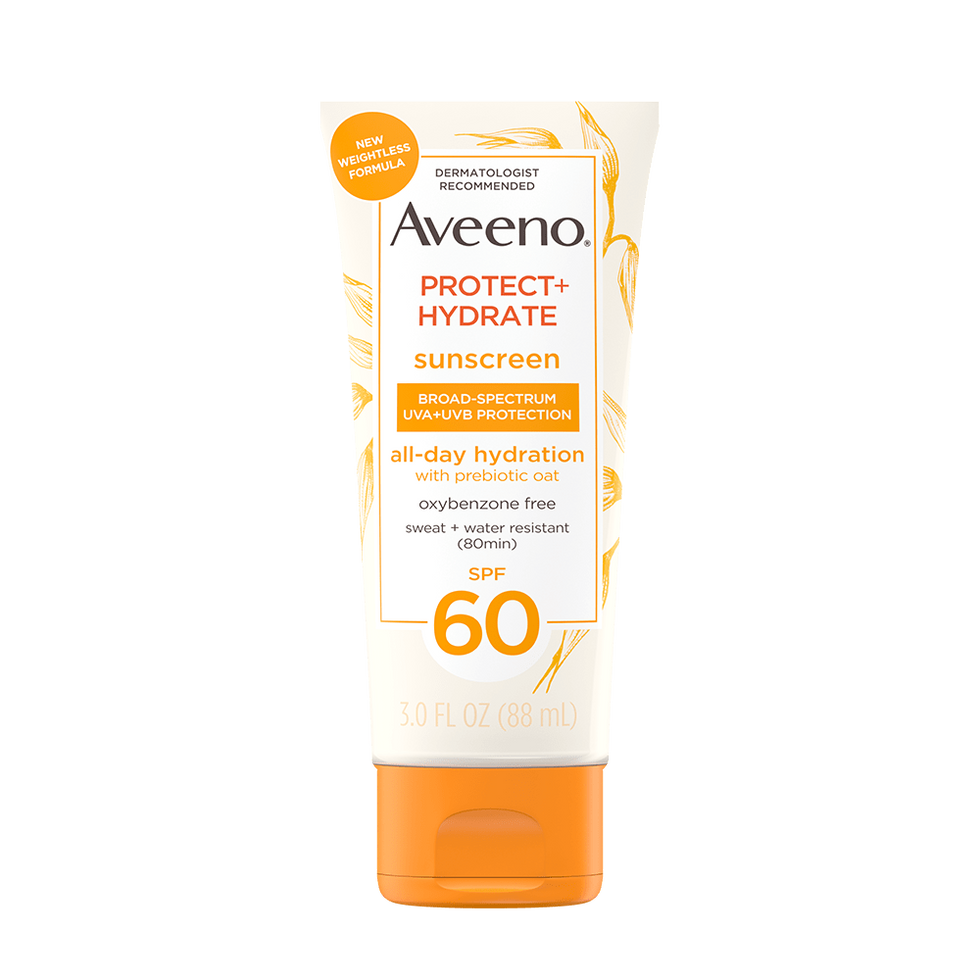 Aveeno
Aveeno Protect + Hydrate Sunscreen Lotion has SPF 60 and prebiotic oat to protect and heal dry skin. This sunscreen can be used on all skin types but is ideal for people with sensitive and extremely dry skin. It aids in relieving itchy skin while strengthening the skin's barrier.
Aveeno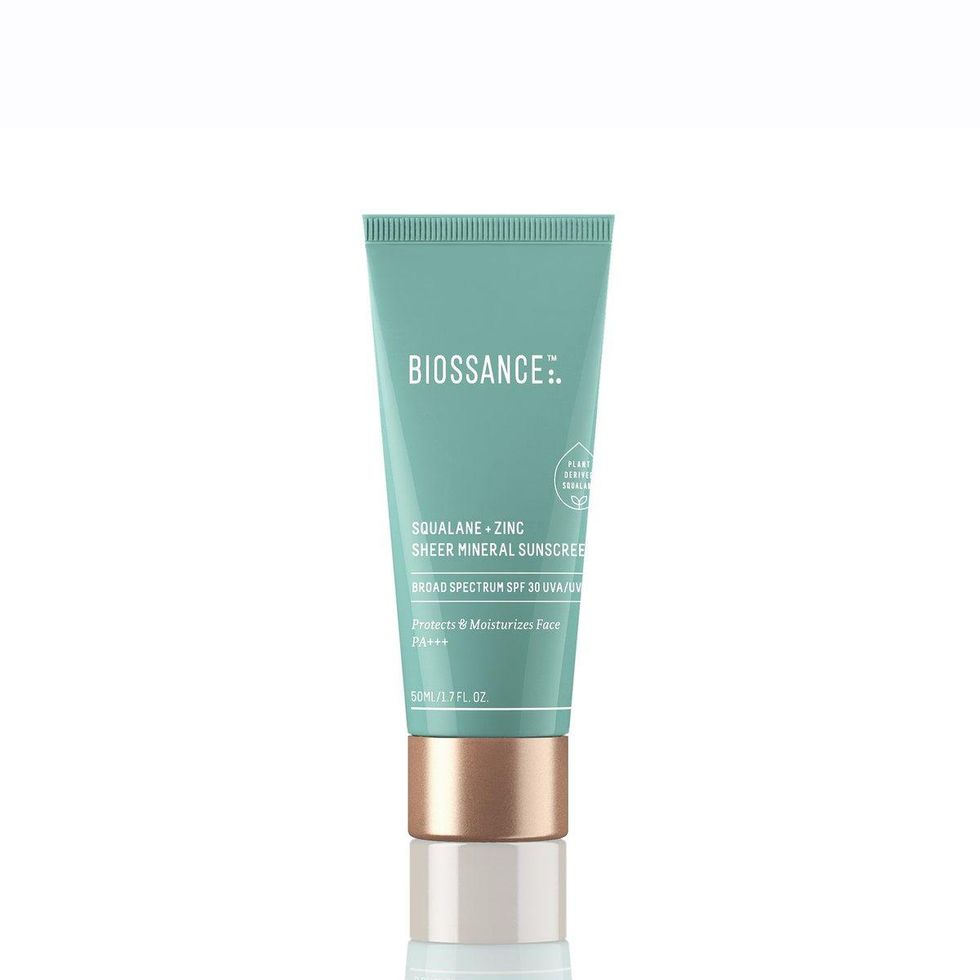 Biossance
Biossance Squalane + Zinc Sheer Mineral Sunscreen is a good option for those who can only use a mineral sunscreen and have sensitive skin. It has an invisible, non-toxic formula that calms and cools your skin with a dewy finish. It's made with SPF 30 squalane, and water lily for a cool, refreshing feel.
Biossance
Featured image by Shutterstock