The ladies of Harlem participated in an exclusive girl chat with xoNecole in Twitter Spaces over the weekend and, while discussing their show, they also shared some deep, inspiring words with us. Meagan Good, Grace Byers, and Shoniqua Shandai each opened up about love and friendships while also revealing some personal experiences that really resonated with the audience. While you can listen to the full conversation here, we also broke down some of the most memorable gems to give you some affirmations that you can take with you wherever you go.
On Their Daily Mantras
"No matter where He takes me, no matter where I go, I am fearfully and I am wonderfully made for the room that I'm in." - Shoniqua Shandai
"God I am your child. I am dearly loved. I am loved unconditionally. I belong to you God. Jesus, I am your friend. Jesus, I am your bride. God, I am your residence. Greater who is He, who is in the world. I am blameless. I am righteous. I am adequate. I am a new creation. I am never alone." - Meagan Good
"I will show up as I am and I will love myself there." - Grace Byers
On Rejection and Disappointment 
"You may not have accepted what I brought to the table, but that does not define who I am nor will it define what I'm going to do in another realm after this." - Grace Byers
"Even in this pain, I know that I'm being propelled forward." - Shoniqua Shandai
"Rejection is the Lord's protection." - Meagan Good
On Feeling Safe In Friendships
"Not everybody has to be your best friend. Some people you are just called to be there for, but that doesn't necessarily mean that they have to be there for you." - Meagan Good
On the Art of Letting Go
"My mind shift of letting go is allowing myself to feel the feelings, but really reminding myself that the priority of letting someone go is choosing myself." - Shoniqua Shandai
"We're going in two different paths. I love me. My love is not worthy in the eyes of what you say it is and I know what my love and my worth and my value truly are and because of that, I'mma step away with some grace." - Grace Byers
"Having faith when things are going well is easy. Having faith when things are crazy and they don't make sense and you're confused or whatever it may be, that's when it really matters and that's when you get the closest to God." - Meagan Good
On Self-Love
"For Black people, for people of color, all we know is how to hustle 'cause that's the world that has been built for us. We hustle, we hustle, we work hard. We always have to go over and beyond, but so much of our humanity, so much of our strength is in our rest and is in our joy." - Grace Byers.
"Our introduction to this land was violent. We have been whipped into shape and that mentality is so harmful to ourselves and to our minds and I just want us to be gentle to ourselves." - Shoniqua Shandai
"You have to love yourself otherwise how is someone else gonna know how to love you fully." - Meagan Good
Featured image by Hatnim Lee/WireImage/Getty Images
Keep reading...
Show less
It's the fourth quarter. October 1 through December 31 marks the most compressed time of the year. Everyone is trying to finish the year strong and be better than they were on January 1. And while that's all well and good, being busy isn't cool anymore. It's all about being balanced.
As we know better and do better, we learn our unique balance equation. For us, that equation includes affirmations. Whether you need some inspiration or want to add this as a daily practice, we hope this menu of affirmations helps you speak life into this last quarter of the year.
1

.

Everything that is happening now is happening for my ultimate good.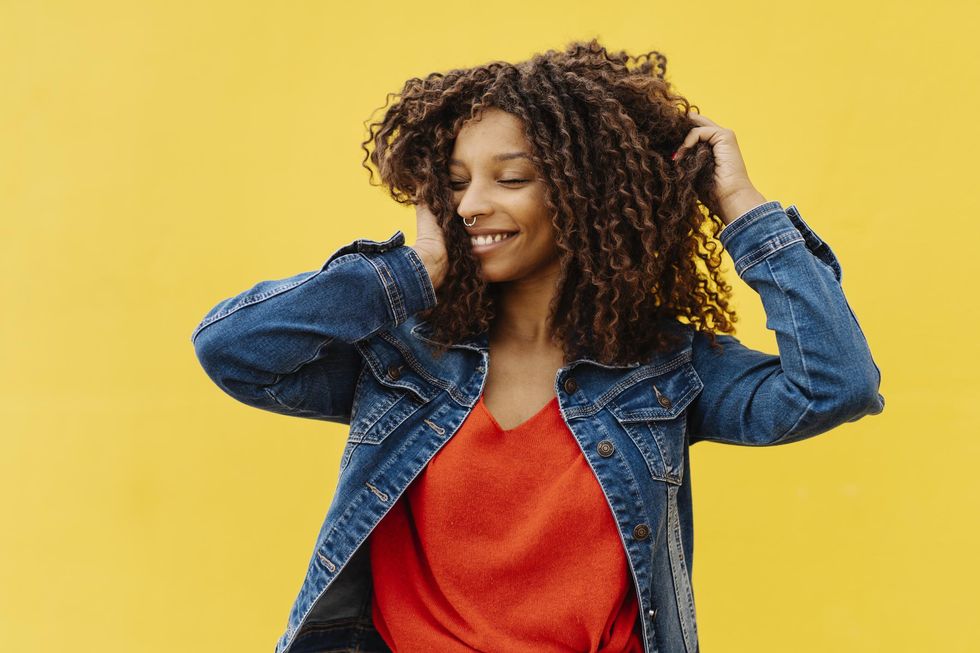 Getty Images
The truth is: we are all learning, growing, and overcoming obstacles. Things don't always make sense at the moment and this affirmation validates that trusting the process is essential. Remember that you are being led to a greater destination and a better outcome. Keep believing.
2

.

My body is healthy; my mind is brilliant; my soul is tranquil.
When it comes to healing, you must include your entire being which is your mind, body, and soul. We have learned that the mind is the power of the brain, the soul is the power of the body, and the soul is your spiritual essence. Ideally, you want to be balanced in all three areas to maintain alignment. When one is off, you feel it and the best way to stay aware is by checking in with yourself.
3

.

Breathing in, I focus on what I can control. Breathing out, I release what I can't control.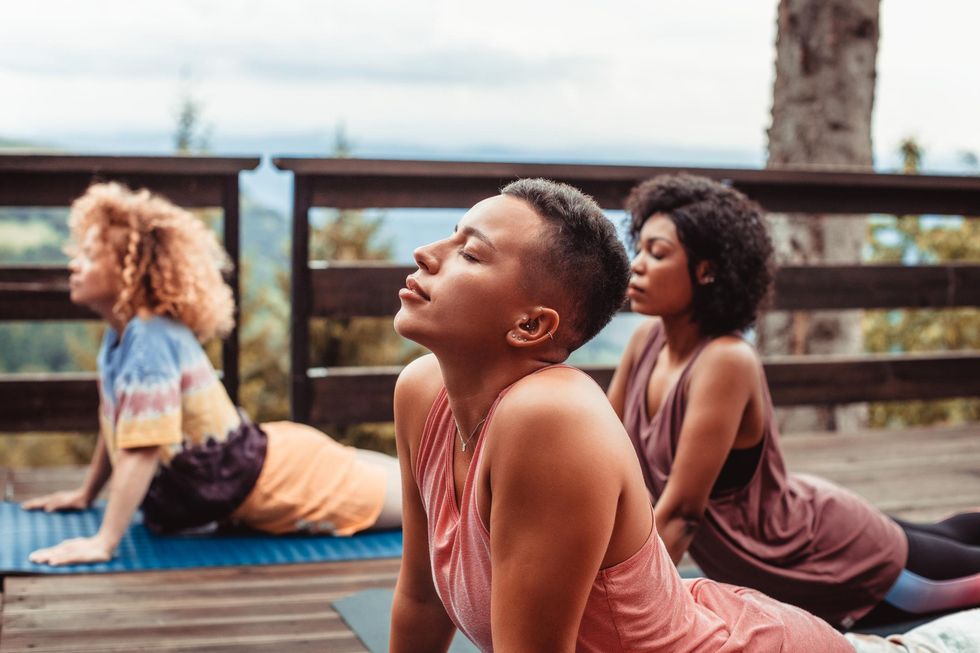 Getty Images
Go ahead and free yourself by releasing what you cannot control. It's definitely easier said than done but when you release, you make room for greater. This affirmation helps us to shift our vision and prioritize things that serve us.
4

.

I am inspiring people through my work.
Look in the mirror and tell yourself that you matter. You were placed in this world with an assignment and each day that you show up for yourself, you empower someone else to do the same. Isn't that powerful? By simply walking in your purpose, you show someone else that it is possible and they can do it too.
5

.

I am turning DOWN the volume of negativity in my life, while simultaneously turning UP the volume of positivity.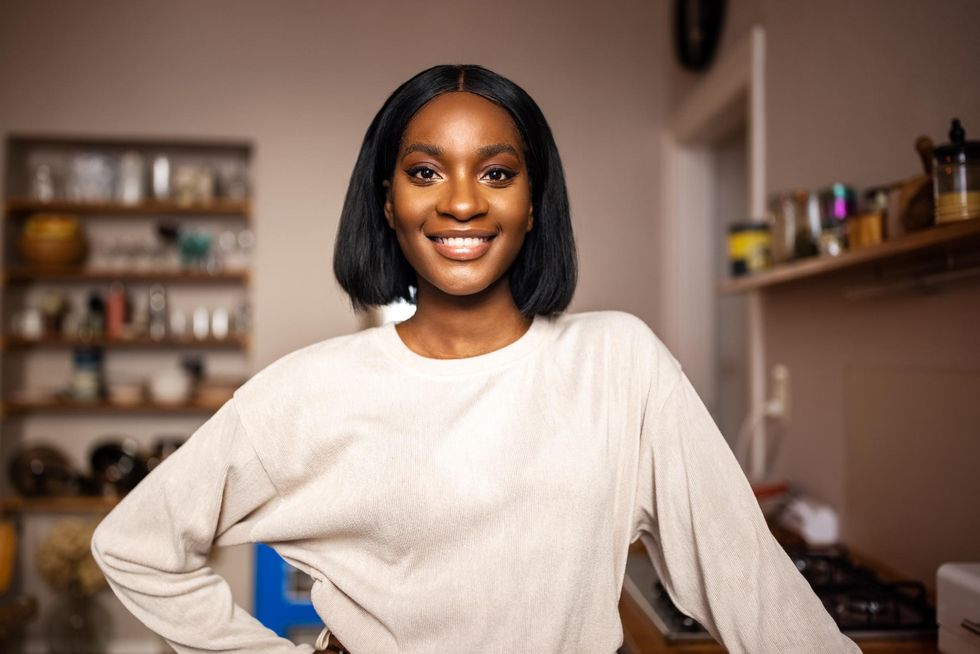 Getty Images
When you build positive thoughts, positive actions follow. It's difficult to not have negative thoughts but we want to challenge you to follow them with positivity when they appear. Think of it as your emotional contingency plan when things don't go as we want them to. The mindfulness practice, AWARE, can help you break the cycle:
Accept: Acknowledge your thoughts but don't become them.
Watch: Pay attention to your body and what and how you feel.
Act: Journaling and visualizing are great ways to move into action.
Repeat: If you feel yourself spiraling, repeat the three steps above: accept, watch, and act.
Expect: Last but not least, expect realistic improvement.
6

.

I have clarity and energy.
Mental clarity leads to an appreciation of your life. You see the positivity in all things and it creates a space free from distractions. As someone who overthinks, clarity helps me to be present because my brain space is allocated for things that fill me up.
As for energy, Emily Maroutian says:
"Energy is the currency of the universe. When you 'pay' attention to something, you buy that experience. So when you allow your consciousness to focus on someone or something that annoys you, you feed it your energy, and it reciprocates with the experience of being annoyed. Be selective in your focus because your attention feeds the energy of it and keeps it alive, not just within you, but in the collective consciousness as well."
7

.

I am the architect of my life; I built its foundation and will choose its contents.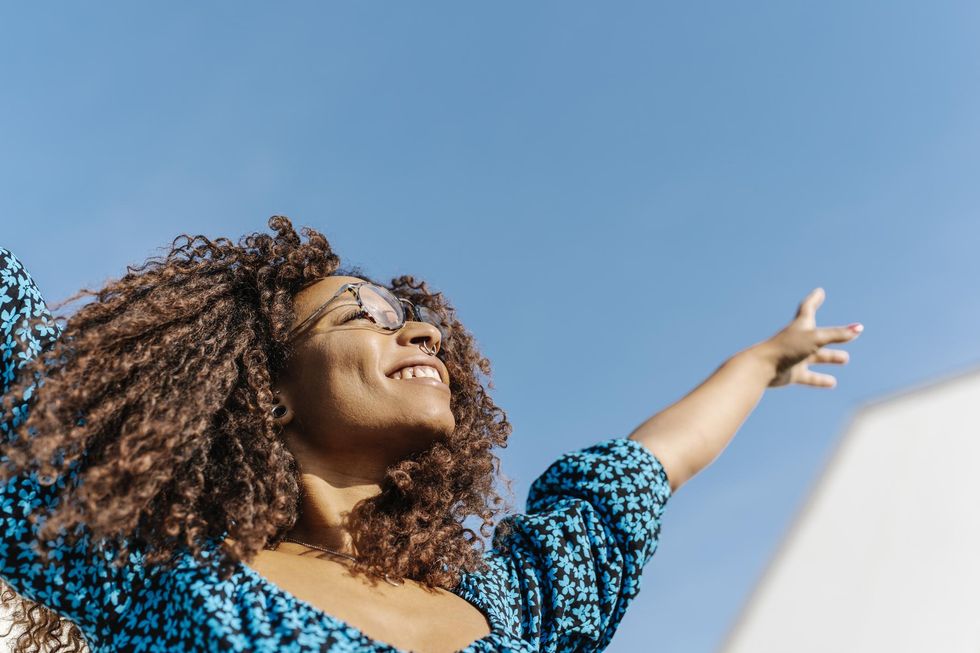 Getty Images
The first step in being the architect of your own life is believing and deciding that you create the life you desire. Just as you hire contractors to build your dream house, you must employ yourself to design a life you'll love.
8

.

I've made it through hard times before, and I've come out stronger and better because of them. I'm going to make it through this.
Surviving hard times makes us resilient and while it's difficult to remember this when you're in the middle of a storm, acceptance opens the door to purpose. Everything happens for a reason and finding the silver lining supports healthy self-esteem.
9

.

Note to self: I am going to make you so proud.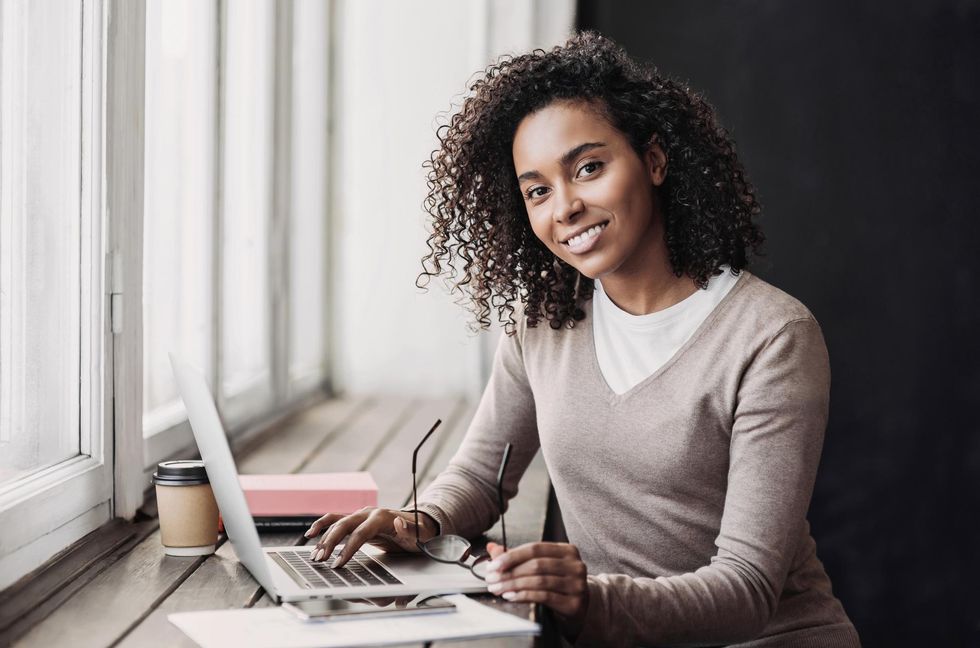 Getty Images
To acknowledge your growth is to have a strong sense of self-worth. It's OK to be proud of yourself and we would even say that you should take some time to brag about yourself to yourself while keeping an attitude of gratitude.
10

.

Through the power of my thoughts and words, incredible transformations are happening in me and within my life right now.
Our habitual thoughts and actions determine our destiny so it's time to think about the life-changing events we will soon experience. In order for transformations to happen, you have to release outdated thoughts and actions. God and the universe won't move until you do.
For more inspiration, self-care, and healing tips, check out xoNecole's Wellness section here.
Featured image by Getty Images

Keep reading...
Show less
It's no secret that Alicia Keys exudes inner peace and bares the succulent skin of our youth that we're spending $$ in adulthood trying to re-capture. So when sis listed her commandments to balanced beauty and wellness in Elle, you better believe we took notes. Adding to her credibility as a skincare guru, the star launched a wellness brand—Keys Soulcare—in the midst of the pandemic that included a line of facial products.
Now, the 40-year-young mom of two is launching an equally soothing body care line we're deeming essential. The newbies to Keys Soulcare include a Renewing Hand and Body Wash, Rich Nourishing Body Cream, and Sacred Body Oil.
First Things First, Rituals and Affirmations Are a Must
According to Alicia, affirmations have the "ability to remind ourselves how incredible we are." She believes this so much so that each product under Keys Soulcare comes branded with an affirmation. The idea is that even taking just a moment for yourself by reciting one of these affirmations while using your fave product creates a ritual that brings you one step closer to inner peace.
One of her most popular face products was the Golden Cleanser, which she reformulated for use all over as the Renewing Body + Handwash. "The mantra of this product is, 'I love myself as I am.'" She also shared her thoughts on her personal fave, the Sacred Body Oil. "When you get out of the shower, put some drops on your damp skin and say the mantra is 'Everything I do is an act of creation,' which is powerful. Think of that as you're creating this moment for yourself and your day."
Be Kind to the Skin and Body You're In—It's the Only Set You Have
Alicia says she suffered from "skin issues for a long time" and classified herself as having been a thicker girl. "I had a lot of curves early," she explained while adding the added attention was an insecurity of hers in her younger years. But she says it's important to note that the body and skin are ever-evolving. As she got older she had a new set of insecurities to embrace.
"When I had kids, I felt like, 'Oh, my gosh, I'll never look the same ever again.' And that creates insecurity. It fluctuates and flows, but I feel like today, right now, I feel really good about my body. Every day, what your body does is a miracle. We're like the walking embodiments of miracles, and I like to remember that."
Her point? Beauty is not only skin-deep, and finding things that bring a healthy beauty perspective is important. She shared, "I feel really beautiful after a hard hike. My strength and ability is sexy and sensual. Or laying on a beach chair with some sun beating down on me. And I feel beautiful when I'm just with my family and my sweatpants on a couch, and we're all just cuddled up and hugging, watching a movie—that feeling of pure bliss and love."
Always Be Gracious and Always Celebrate 
Don't forget to thank yourself for how far you've come, which is a practice that Alicia enforces with herself regularly. "I'd have never thought 20 years ago [when I released my first album] that I'd be here flourishing and more creative than ever and creating the best music of my life, making the best connections of my life. When I look back [at my 20-year-old self], I'm just profoundly appreciating her because she helped to create me now," says the singer.
She adds, "The advice I would give my 20-year-old self is, you already have it right. You don't have to change anything. You don't have to fix anything, you don't have to try to fit in anything or be whatever people want you to be. All you have to do is keep doing you."
Featured image by Rich Fury/Getty Images for dcp

Keep reading...
Show less
Being a new mom can really get to your head. It definitely wasn't what I was expecting (to say the very least). Not that I thought it would be easy peasy, but any mom knows that you can never really prepare for motherhood. We all have different stories of bringing life into the world. Mine included having a baby 10 weeks early, and being in the hospital myself after being diagnosed with preeclampsia that reached severe status within two days.
After my C-section, my room was suddenly full of strangers from a lactation consultant to a hospital social worker consuming me with a checklist of tasks that I had to complete before I could even think about bringing me and my baby home. At that point, I had a breakdown thinking, This is overwhelming. This is stressful. How am I going to do this? This is just... a lot.
Six months later, those thoughts really haven't gone away.
You wonder if you're doing a good job while you try to provide cruise ship-like entertainment for your little one 24/7 - and the nagging "mommy guilt" is more than difficult to shake. Sometimes all it takes is hearing someone say, "You're a great mom" to give us the strength we need to keep going. But when we don't get that reassurance from others, what stops us from giving it to ourselves?

We spend a lot of alone time with little humans who can't communicate back with us. This leaves plenty of room for self-deprecating thoughts. A turning point for me came when I was scrolling through Instagram stories and saw a set of affirmations from fellow new mom Aisha Howard, who welcomed her beautiful baby girl in December (can we just salute the moms that are super vulnerable with their journey? It's so brave!).
As much as I love affirmations, I never thought about doing them for myself and my life as a mom. Ever since, I've been doing my best to replace negative, self-consuming thoughts with positive statements that are true. With these affirmations, we can all start to conquer motherhood like the super-sheroes we really are.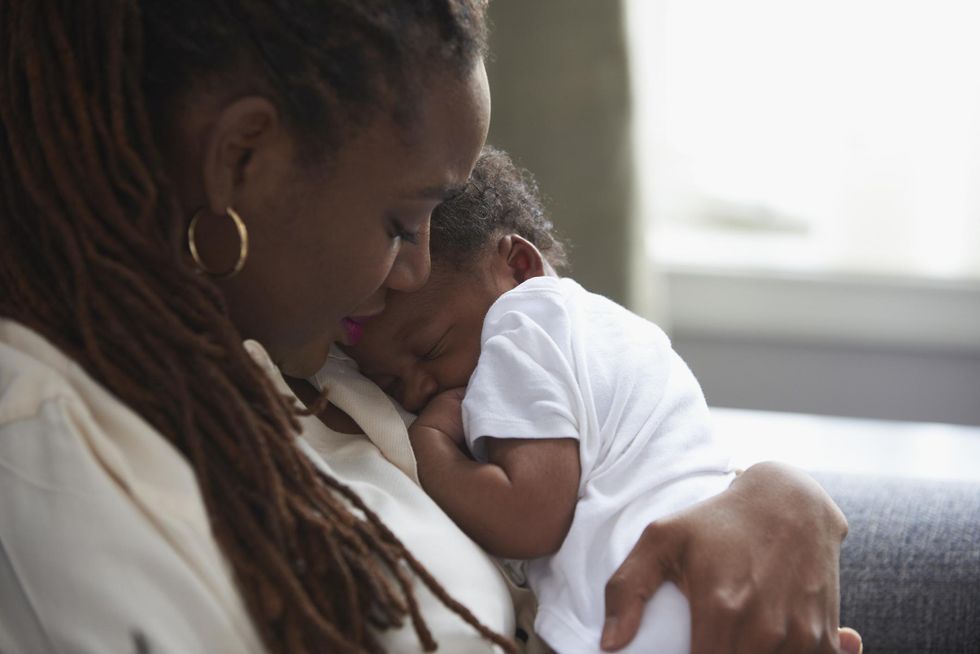 LWA/Dann Tardif/Getty Images
1. "I'm doing a great job."
Because you are. You will never be perfect, but that's the beauty of it all. It's so tempting to scroll on Instagram and see other moms with their capes on doing it ALL and wonder if you're depriving your child. You're not *insert air hug here*. The most they need from you is love, compassion, and affection. You're giving them that, so give yourself a break.
And no matter what you (and your little one) look like at the end of the day (because let's be real, it can get rough), just know you did your best, and that's more than good enough.
2. "I deserve grace and compassion."
"..And I'll give it to myself first." Working from home with a baby is more than challenging. From spit-ups to diaper blowouts between emails and to-do lists, it can be overwhelming. But whether you're balancing life between loving on baby and Zoom meetings, a stay-at-home mom, or a full-on working woman, motherhood is not for the faint at heart.
You deserve grace, you deserve compassion, you deserve a break, and it's OK to provide it to yourself before anyone else does (or even knows to). Remind yourself that you were made for this and that you can do it with this affirmation.
3. "I'm an amazing mom."
That's it. That's the affirmation. Like the others, it's short and sweet, but powerful enough to switch the ongoing gears in your mind to a positive mindset instead of a negative, self-defeating one. Ultimately, it all boils down to the fact that you're such an amazing mom. Even though it might mean the world to hear that compliment and affirmation from others, sometimes we have to channel our inner mirror-rapper Issa Dee and tell ourselves with confidence and certainty that we are simply amazing mothers.
We give everything, including our actual selves, to our child(ren) as we pour out our energy and love daily. It might not always look the way we hoped and dreamed during our pre-motherhood life, but it's still nothing short of amazing.
4. "Needing a break doesn't make me a bad mom."
I think most new moms are realizing that a break is needed sooner than we're ready to take one. I'm literally in talks with my husband right now about putting our little one in daycare a couple of days a week. At the same time, there's this tugging feeling of whether I'm really ready to put her in someone else's care (especially a stranger *cringe*) for hours at a time.
But whether it's all day or just for an hour or two, you have to give yourself permission to need and take a break. It doesn't mean that you're careless, it means that you understand you have can't pour from an empty cup. So take the break, sis. Your mind, body, and soul will thank you for it. And you'll be refreshed and recharged to continue being an amazing mom.
5. "I'm the best mom for my child(ren)."
You were made to mother the children you have. It's one of the handful of purposes you were born for. However you became a new mom, through childbirth, adoption, surrogacy, you name it, you are the best person God has chosen to serve as the miraculous role of being their mom. No one else can do it but you. No one else is graced to do it.
Each child has their own story, challenges, and the journey that they'll experience, and God saw fit for you to be the one to help lead and guide them through it all. It really changes the perspective when you realize you were made for each other and gives you the confidence and strength to live, think, and speak accordingly.
6. "I cherish this time."
Because it goes so fast... so I've heard a million times. When we first brought our daughter home from the NICU, we received compassionate and empathetic eyes from every parent who noticed how exhausted we looked from sleepless nights and early mornings. But in hindsight, those first couple of months flew by.
As tiring as it can be, I know I'll miss these days that she actually wants me to hold and kiss her and overwhelm her with affection. So in the overwhelming times, I'm reminded with this affirmation to cherish it (and every phase of life we get to experience), because once it's gone, we can't get it back.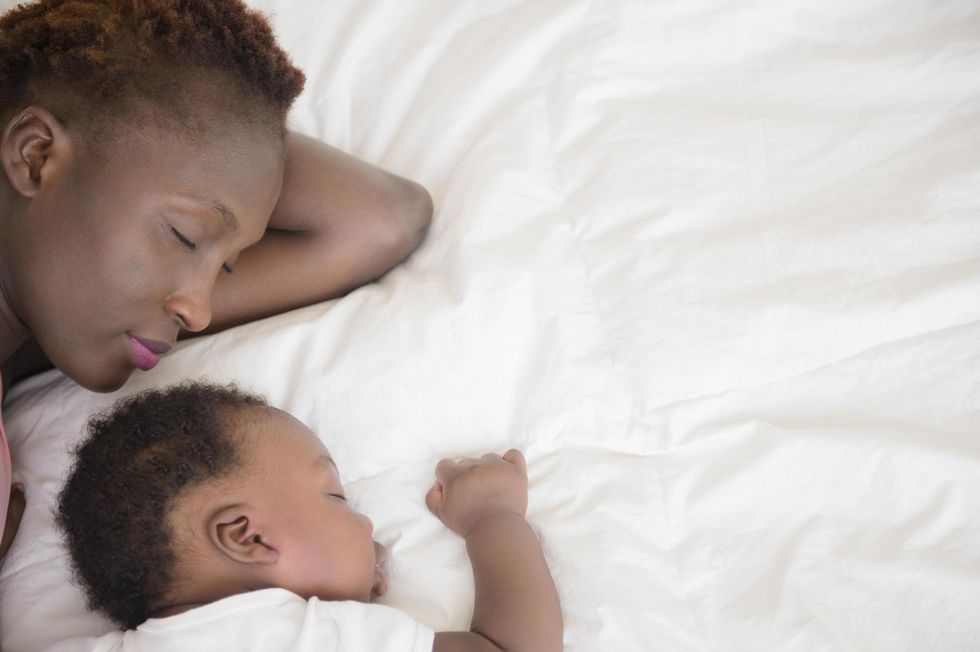 JGI/Jamie Grill/Getty Images
7. "I understand that to be my best, I have to take care of myself."
It seems impossible. Days go by before you think, "Wait.. when was the last time I showered?" Taking time to enjoy a long bath or a trip to the nail salon seems like it's out of the question, but like the flight attendants tell you on the airplane, you have to put on your own oxygen mask first before trying to help anyone with theirs.
I remember our first flight with our little one, they made sure I knew that I had to help myself before I could try to help her. That was a tough pill to swallow in the rare event a mask would be needed. But the reality is, we can't pour from an empty well. And there's nothing wrong with taking time to fill up.
8. "I am strong."
Motherhood can make us feel like we're falling apart. Before venturing on this lifelong journey, we had it all together or at least felt like we did. We didn't have another human life to constantly look after and protect. Now, we find ourselves feeling inadequate as we try to balance it all. But the truth is, your strength is what helps you.
No matter how little of it you have, you use it daily to be the mother and woman you were born to be. It doesn't always feel like it, but you're strong and capable. On those days your strength is depleted, speak this affirmation and hang on to your second wind.
9. "I can do this."
Take a look back over your journey of motherhood. No matter how long it's been, you'll realize that not only can you do this, but you have been doing it. Life can be a blur as you learn to take care of your little one, yourself, and everyone in your household. But you can do it because you already are.
Remember that you were literally made for this. It's one of the amazing reasons you were born. And after you reflect (and give yourself an "I did that!") and say your affirmation, take a well-deserved break.
10. "I'm not alone."
You can also add, "It's OK to ask for help." Motherhood can be a lonely journey, but the truth is you're not by yourself. The more I talk to moms, whether they're new in the game or have years of battle scars, the more I realize we're all in this together. If you don't have family or friends you feel like you can lean on, I feel for you.
Still, there are ways you can connect with other moms from local Facebook groups to apps like Peanut that help you build relationships. You might feel lonely at times, but just know you're not alone. You got this!
11. "I am exactly what he/she needs."
If (and when) you find yourself wondering if you're fit to be their mom, know that you are, and this affirmation helps you remember that. As new moms, and as moms in general, we can easily obsess over every small decision that we believe will determine their long-term path. We question if we're doing the right thing, if we're the best thing for them, and even if there's someone else who could do the job better.
You are the best thing, and there's not someone else. You're the woman who is most fitting to nurture and care for your child as their mom. Yes, they will have other influences in the forms of aunts, friends, cousins, etc., but there's nothing like the bond they'll have with you.
12. "I'm more than a mom."
Life doesn't stop when you become a mom. Yes, your time is entangled with diaper changes, feedings, and going through multiple baby outfits a day, but you're still more than that. Being a mom is a major part of your life, but it doesn't have to be your life. Whatever your job or career is, it's vital to keep pursuing your passions so you don't lose yourself.
I'm not an expert (and already see my six-month-old as my new BFF), but I feel like part of the reason we get overwhelmed is that we don't take time to indulge in things that excite us. It might be because we don't think it's OK or mom guilt is on 100. It's perfectly normal to be consumed with your children, but you need a life of your own too.
Are you a member of our insiders squad? Join us in the xoTribe Members Community today!

Featured image by LWA/Dann Tardif/Getty Images

Keep reading...
Show less
I always say my power is my voice and my words inspire. And they do. I believe in the power of my voice to no end. But I didn't always have the courage and strength to use my voice. I wasn't always this outspoken. I wasn't always so quick to offer my two cents either. This part of me was suppressed for most of my life. Even when I didn't know my voice is the very essence of all that I am. Finding my voice was something that took time to do. I had to unlearn conditioned behaviors I learned as a child and as an adolescent. Like, don't ask questions or speak only when spoken to. I'm a Sagittarius y'all – it's only natural for me to be inquisitive by nature. I yearn for knowledge. I am opinionated AF. And I love to talk.
Imagine finding your voice, giving it power, and then feeling like you cannot speak. This was me. Recently, after a severe anxiety attack, I had to make a difficult decision to take down my Medium page. It wasn't something I wanted to do, but in this situation, protecting my peace and space is everything to me. In making this decision, I felt like my voice was taken from me. I felt like my voice was blocked and stripped. I had struggled for so long to be able to speak my truth. And what I didn't know was that sharing my truth could inadvertently cause me harm.
Now, there was a lump stuck in the base of my throat. A few days later, my ears started to hurt and my throat was sore. Mind you, throughout this whole pandemic I have yet to be sick. I ended up with a whole ass sinus infection. Most would have attributed this to the pollen count or allergy season. But nah, not this time.
Now, that I am spiritually aligned, I knew this was physically and energetically connected. Remember, the mind, body, and soul work as one. Your body will give you the answers you seek. I became so anxious I made myself sick. And I knew my throat chakra was blocked. It took me a while to feel like I could speak again, but after my physical symptoms went away, I was able to speak my truth once more. And now, I'm back on.
If you're struggling with communicating or using your voice, here is how to know if your throat chakra is blocked.
A Word About The Throat Chakra
The throat chakra is the fifth chakra of seven chakras in the body. It is the chakra of personal power and is related to our self-esteem and self-confidence. It is responsible for communication, creativity, self-expression, and the ability to speak your inner truth. When your throat chakra is imbalanced or blocked you may have a hard time communicating effectively. So, what causes blockages in the throat chakra? It's hard to say. We are all individuals, and our life experiences vary. But you must look inward for the answer to face your truth and remove the blockages.
Your Body Hurts
When your throat chakra is blocked, the flow of energy through this chakra is disrupted. And when that happens, you may experience any of the following physical symptoms below:
Hoarseness
Chronic sore throat
Mouth ulcers
Thyroid problems
Neck pain
Gum disease
Laryngitis
Your Emotional Well-Being Is Affected
Blocked throat chakras can show up as nonphysical symptoms too. Remember, I said the mind, body, and soul are interconnected. What shows up in the body will manifest mentally and emotionally too. Emotional signs of a blocked throat chakra include the following:
Anxiety
Depression
Shyness
Low self-esteem
Fear of speaking your truth
Inability to express thoughts
Inhibited creativity
Inconsistency in speech and actions
5 Ways to Open Up and Heal Your Throat Chakra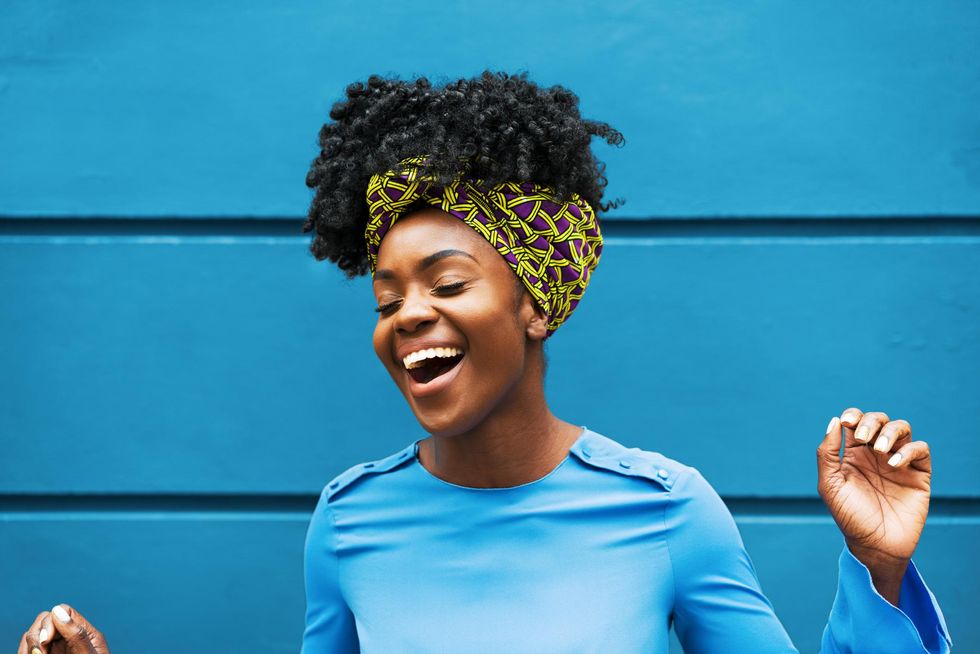 Getty Images
If your throat chakra is blocked, you need to clear it. This means learning to let go and trust your inner voice. You must work through and release negative emotions to restore the energy balance in the throat chakra. Inner work is never easy, it requires you to face yourself. Be prepared to deal with what you find.
1. Learn How To Journal
For me, journaling is how I started writing. But journaling can help you express your feelings when you're not able to vocalize them. It's a transformative practice that can help in different areas of your life. So, take time during your day or week to write down thoughts or feelings. It's not about spelling or grammar. It's about taking the time to acknowledge what you feel and be honest about it.
2. Put Some Blue In Your Life
The color blue helps free the natural energy that resides in your throat chakra. This could look like buying blue flowers, a blue candle, blue curtains, or adding blue bedsheets to your bedroom. Consider wearing blue jewelry or blue clothing too. This can also look like spending time outside under clear blue skies.
3. Get You Some Crystals Sis
Crystals for the throat chakra includes lapis lazuli, amazonite, turquoise, or aquamarine. You can keep these crystals under your pillow, by your nightstand, or use them as home decor. But my favorite way to use crystals is to carry them in my backpack or as jewelry. You can find crystals for the throat chakra at any metaphysical store in your local area.
4. Use Affirmations
Mantras or affirmations are another way to help heal the throat chakra. These can be used as a reminder, part of your journaling practice, or in daily meditation. And the beauty of it is, you can use any affirmation you want. You can say something like, "My voice is heard," "I claim and honor my true voice," "I speak my truth freely and openly," or "I'm not scared to speak my mind."
5. Book A Reiki Session
I really can't say enough about the power of reiki. Reiki is a spiritual healing art that stems from Japan. It is the life energy that flows through all living things. This healing practice can clear bad energy from the body, remove energy blockages, and rebalance the flow of energy. I typically do a reiki session a few times a year to balance my chakras and energy. After a reiki session, I feel so much lighter and renewed.
So, how do you know that your throat chakra is healing? Well, when your throat chakra begins to open, you become more aware of your own self and the people around you. You become calm and relaxed. You also start to feel confident in expressing your thoughts and ideas. How you communicate is clear and consistent.
I would also say listen to your intuition; you'll know when your throat chakra is no longer blocked because energy does not lie. Your voice is a gift. It is one of the greatest gifts next to life itself. It's what makes us original, authentic, and different.
I encourage you to find your voice, and then speak from your heart and your core.
Are you a member of our insiders squad? Join us in the xoTribe Members Community today!
Featured image by Getty Images

Keep reading...
Show less
It's 2021 and we are officially two months down and almost at our one year pandemic anniversary. It's natural to want to slow down and remind yourself of your wants, needs, and goals. I feel like this last year has tested me in so many ways that oftentimes I've given up hope on the things that I really wanted for myself. As I revisited my 2021 vision board, I realized that visuals were not enough, I needed to write down what I wanted and how I was feeling, and this came out in the form of affirmations.
While it may be easy for us to dream of all the things that we want out of life, sometimes saying it out loud can build our confidence to actually attain these things. Affirmations can be used for every area of our lives, as a way to reaffirm the things we know and affirm the things that are still to come. Last year may not have gone how we wanted, but we still have time to make 2021 the best year yet. I believe there is power in the tongue, so below are 12 affirmations to put out into the universe to solidify this being the year that you do nothing but shine. You ready, sis?
Positive Affirmations for Love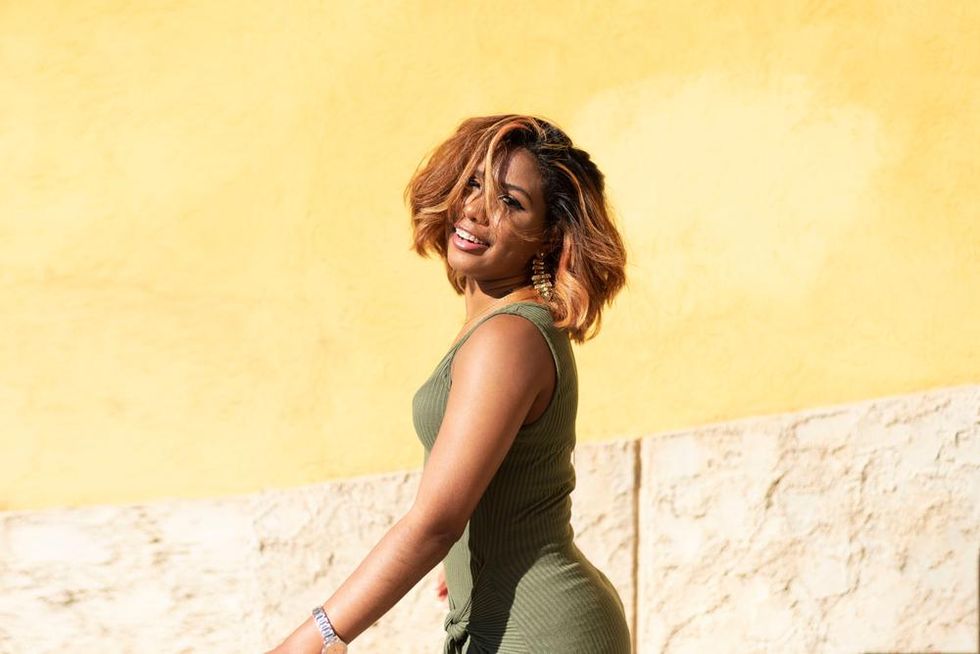 Shutterstock
"My heart is open and ready to receive love."
Wanting companionship and love is one thing, but actually feeling open and ready to experience it is another. It's one thing to say you want a boo this year, but have you opened yourself to receive it when it comes? This year we are recognizing how deserving we are of wonderful, sweep-you-off-your-feet love, and preparing our hearts to take it all in.
"I don't need to do anything to be worthy of love."
Let's stop this narrative that some people are more deserving or worthy of love than others. We are all worthy of that kind of love that surprises you with how good it feels. Your mistakes don't void you of your worthiness for love, just as doing right in the world doesn't put you in the front of the line. There is nothing extra or special we need to do to be deemed worthy of love, except just being. This affirmation is true for friendships, romantic relationships, and even family ties.
"I choose love over fear."
This affirmation is for those who may have been hurt by love before, or those who just have given up on finding the right person. Being vulnerable and open to love can be scary, intimidating, and sometimes disappointing. But don't let the past, and fear of the future, get in the way of you experiencing the love that is waiting for you. Even in the best relationships, we can experience fear of losing it, or making a mistake, but push that fear aside and let love guide you in this journey.
"The love I seek from others must begin within me first."
You didn't think I would end this section without an affirmation about self-love, did you? Before we start opening up our minds and heart to receiving love from others, we have to practice that same loving on ourselves. When we cultivate self-love, it's so much easier to know how to love someone else, as well as know what kind of love we truly crave. The only thing better than being loved by one person, is being loved by two. Let that second lover be you, sis.
Positive Affirmations for New Opportunities
"I have limitless potential."
Say it loud and proud: I have limitless potential! 2021 is the year we are facing new opportunities with the confidence of a mediocre white man. There is no limiting what we can and can't do this year because there is no limit to what we can achieve and what we are capable of doing. Don't you dare let self-doubt or the haters block you from what is already yours: anything and everything you want!
"I am grateful for what I have and for what is coming to me."
Before the new blessings flow in, take a moment to express gratitude for everything you already have in your life. This affirmation is confirmation that you have a divine appreciation for what your life currently is, and are therefore ready to welcome in new and better. There's power in expressing thankfulness right now for what has not happened yet, proving that you already believe in what is coming next.
"Every goal and plan I have for this year is achievable."
There are no big or small goals this year, just goals. Period. Every goal you set for yourself can be met, and it starts with your mindset. If you tell yourself that the goal is too big or might be out of your reach, you're already setting yourself up for failure. WIth every step you make towards that end goal, stop and remind yourself that it is attainable and right within your reach.
"This year I will welcome an abundance of wealth and prosperity. Money will come to me in both expected and unexpected ways."
Where are we going this year? Where the money resides, and nowhere else! This affirmation is about boldly accepting that you are deserving of more money and more wealth, and it is coming to you tenfold. We are no longer settling for less, and instead are committing to reaching our financial goals, and then tripling them. Say hello to financial freedom and increased prosperity.
Positive Affirmations for Life in General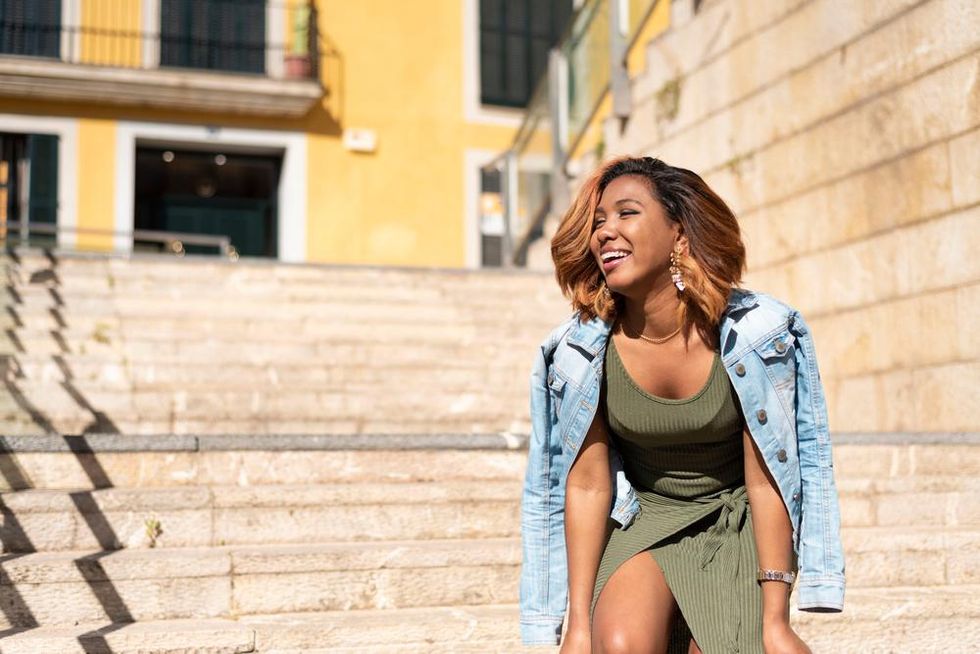 Shutterstock
"I am allowed to be new."
We have a new 365 to do better and be better, and anything that stifled our growth and potential in the past is a thing of last year. You have permission to make mistakes and then start over, to let go of what isn't working, and to hit refresh when things aren't going how you want them to. This is not limited to this month; a fresh start can happen at any time and anyplace. Release yourself from that guilt and move on.
"I am ready to see things differently in 2021."
A positive mind will always yield positive results. Let 2021 be the year you let go of negative thinking and welcome the blessings that are coming your way. If last year didn't go as planned, this is the year to have another outlook on life, love, and any other goals you have. Even when things don't go as planned this year, stop looking at it as a failure and start seeing it as a sign that it wasn't meant for you in the first place because better things are on the way.
"My magnetic energy draws amazing opportunities and people into my life."
Being your true, amazing, authentic self will attract similar things and people into your life. Remind yourself that you are a dope individual with amazing energy, and this will always bring the best people and things into your world. Trust that you don't have to fight for attention or try to be something you are not in order to attract the things you deserve.
"I have faith in myself and in my abilities. It is impossible for me to fail."
Say that last line one more time out loud: "It is IMPOSSIBLE for me to fail." Failure is not an option when you are confident in your abilities, and begin to look at things from a different perspective (reread the affirmation above if you need help with that last part). Just know that you have all the skills and tools to accomplish any and everything you set out to. That faith that you have in your own abilities will give you a boost to walk confidently into success.
2021 will be the year that you unapologetically claim everything that is yours.
Are you a member of our insiders squad? Join us in the xoTribe Members Community today!
Featured image by Shutterstock

Keep reading...
Show less