Affirmations have the power to change everything around you if you just believe. With your words, you can immediately tap into a new belief system that can shift your life like never before. Creative director J. Ivory is a self-proclaimed Affirmations Queen who is known for being a visual storyteller and manifesting the life God has for her. In doing so, she has learned there is so much power in words and even more so in spoken words.
"The words we speak can either hurt us or heal us. I believe that your words are the most powerful weapon that our humanity has. Believe it or not, you are the very result of the words you have spoken over your life. Positive words have the power to change your life," she told xoNecole.
When it comes to manifesting your destiny, J. Ivory proclaims that you should think of affirmations as the pathway in which you want your actions to go. "You manifest affirmations best by doing the work and some of it is really hard work. I often tell my clients, 'If you see it, you can have it.' Visualize and write out how you see your highest/best self and start showing up as that person every day. Get to know the person you want to become. Be specific. What do they eat? How do they dress?" she asked. J. Ivory went on to say, "What books are they reading? If the person you want to become is financially free and wealthy, and that's what you are affirming, then you need to ask yourself, 'How does my current spending habits and mindset align with the wealthy and financially-free person I want to become? What are some changes I can make today that I can be consistent at that will get me closer to my desired outcome?'"
Above all, she wanted to make sure folks realize that affirming the life you deserve calls for you to be unafraid of the specifics. "Sometimes, I find that people think that affirmations are some type of magic trick." One thing to take away from J. Ivory's knowledge about affirmations is the importance of your actions aligning with your words.
In 2023, we want to be intentional about how we speak in every way. Since being about the action is a part of the beauty of manifesting affirmations, we rounded up 23 women to share the biggest affirmation they are speaking over themselves this year. Here's what they had to say.
Featured image courtesy of Marie Zoumanigui
I am a foreign woman, in every definition of the word. I am all of the things that it evokes in feeling, memory and sound. I am a womanhood that exists on the outside of history, record, country, marriage and love.
In this blank space, at the edge of the world, I peered over. This is where I began my journey into more than womanhood, but into the creation of a new world, a place where women like me are loved.
The chasm in between the two is where I found myself, though it required a bit of a fall. I grew up thinking that the world was a place of great freedom. I came of age thinking that the world was one of great lack. How did we get here? Girls and little queer kids with eyes full of bright possibility at the wonder and mystery of life turn to women who recoil from living. If I had a daughter, how would I save her from the brutality of being shamed into acts of humility that deny her life?
I vastly underestimated that some people use a deeper understanding of you, not to love you more efficiently, but to hurt you more intimately.
When I first embraced myself and openly embarked on the journey of womanhood, albeit a queer one, I was excited about the prospect of what a more modern world would have to offer a Black trans woman. I kicked off the weight of my teen years -- experiences that rendered me both invisible and hypervisible -- and fearlessly led with exploratory pride in my multilayered identity. I truly believed that the only barrier the world had to loving women like me was a lack of understanding and misplaced memory. I believed that if I spoke truthfully enough that I could help set the world on the course of miracles. There was a robust history of women who had done the same and now was the turning point. This wasn't untrue, however I vastly underestimated that some people use a deeper understanding of you, not to love you more efficiently, but to hurt you more intimately. And therefore, I learned to use discretion in where I place my energy.
This is a lesson I learned both romantically, professionally and in my own personal activism. Slowly, I began to realize that there is no convincing someone to love you and anyone who pretends that there is, by demanding the education of your pleading, is exploiting your need.
Whether it be people who love to watch you labor for love in the interest of their own validation, at best; or collective movements that are hellbent on misunderstanding you for nefarious political ends, at worst. You especially cannot convince the many people you meet as an "othered" woman, who waffle back and forth between obsession, desire, need and refusing you their heart because you are the "wrong type" of woman. Ultimately, there is freedom in not being able to convince anyone to love or accept you. Only then can you put down your arms and allow love to blossom wildly, where it wishes, rather than trying to bend the earth where its brutality denies you.
Venus, in fact, was teaching me: How not to pour my offerings into the plates of other people and their gods, but to pour the best of myself first in the temples of love in my own heart.
For so much of my life, it really felt like Venus, the Goddess of love herself, was really coming down to tell me, "You are just not that girl." Slowly, I learned that Venus, in fact, was teaching me how not to pour my offerings into the plates of other people and their gods, but to pour the best of myself first in the temples of love in my own heart. Within this temple, I found my heart atop an altar rather than trying to find value within romantic relationships that finally validate the social markers of my womanhood. It is a grueling lesson in love, but one that each of us must learn in the journey back to our own humanity.
The biggest lesson I learned was that not even a legacy of colonialism and its present imperialism can deny my humanity. It can create material conditions that threaten my life and disrupt the systems that are for my survival, but it can not move me out of my own body and lay claim to my soul or birthright as a divine being on this planet. I do not have to fight for love. It endures within me. I do not have to shrink from desire, it is an expression of my hunger for living and emboldens me to be more alive. I do not have to carve acceptance out of my own blood, because I am never forgotten or alone, as long as I do not forget or abandon myself.
I do not have to fight for love. It endures within me.
Now, as a slightly more experienced woman, my values are the same. They are just more embodied. Being Black is more about the moments of private comfort that I truly embrace myself and find peace, instead of trying to bend the world to my will and shout it into loving me. Being a transgender woman is more about the recognition of what it means to be alive, instead of forcing myself into a static and restrictive ideal, and therefore receptive to the mystery of the feminine; to be trusting enough in that mystery to remain open, while confident enough to enforce boundaries without the fear of being abandoned for expressing human needs and desires. In this space life gives to me, though I don't always understand or know what the final fruit will yield, I give life back with my offerings of creation in response to it.
My moments of embodied womanhood and humanity are now about looking at myself, not through the eyes of what is considered to have social value, but through my own eyes before I learned any of those things.
In the blossoming of this new world and in the creative act of opening its door, I invite you into more love. I invite you into seeing yourself, not through an imagination of lack and competition, where you "are" because others "are not." I invite you into new eyes. I invite you into a feeling of "enoughness." I invite you into strangeness, a place that never denies the contradiction of your need in response to the harshness of the world. I invite you into embodied being, a place where women like you are always loved because it is an undying act that will always find its way back home.
Read all of the stories in the Issa Rae: She Comes First editorial series here.

Featured Image: Ponomariova_Maria / Getty Images

Let's make things inbox official! Sign up for the xoNecole newsletter for daily love, wellness, career, and exclusive content delivered straight to your inbox.
I love the soft life aesthetic. I love seeing Black women and femmes indulge in rest and find new ways to treat themselves to nice things. But, it isn't lost on me that some components of this lifestyle require access to resources that are hard to come by. For many people, a soft life is the ultimate goal—nobody wants to struggle. Unfortunately, life is not always easy and carefree.
You won't always have the funds to take a trip on short notice, visit the spa weekly or pay someone to clean your home. We often sacrifice our time and energy to meet deadlines at work, take care of our loved ones, or work multiple jobs to make ends meet. Sometimes, we go through difficult experiences that test our resilience and strength.
While a soft life might seem like a pipe dream for some, it's important to remember that we all have different definitions of what a soft life looks like. For some people, simply being able to experience leisure and enjoy the simple pleasures in life is enough. For others, the soft life means a life of luxury.
No matter how you define a soft life before you can have one, you must work on your mindset and create habits that will help you maintain the lifestyle long-term. Here are a few ways you can do that:
1. Schedule "me time." 
"Me time" is intentional time you spend nurturing yourself and restoring your energy so you're not running on empty. This is essential to sustaining your well-being, but it's one of the first things we'll sacrifice. Sometimes we'll notice that we have free time on our schedule and immediately think of how we can use that time to be productive. Someone will ask us to help them, and we'll say "yes" even though we want to spend that time doing something for ourselves. Think of "me time" as going on a date with yourself. Don't cancel your date! If you have to cancel, make sure you reschedule. Remember, "me time" isn't your free time.
2. Cultivate new beliefs about rest. 
If you tie your self-worth to how productive you can be or grew up in an environment where you were called lazy for relaxing, you may feel guilty when you aren't busy. Rest shouldn't be the response or reward for overworking yourself. Making time for restshould be a staple part of your daily routine. If you find yourself overworked, even when unasked, try setting boundaries and limits with yourself. For example:
No working past 6 p.m.
No working on weekends and holidays.
Take three breaks during the workday.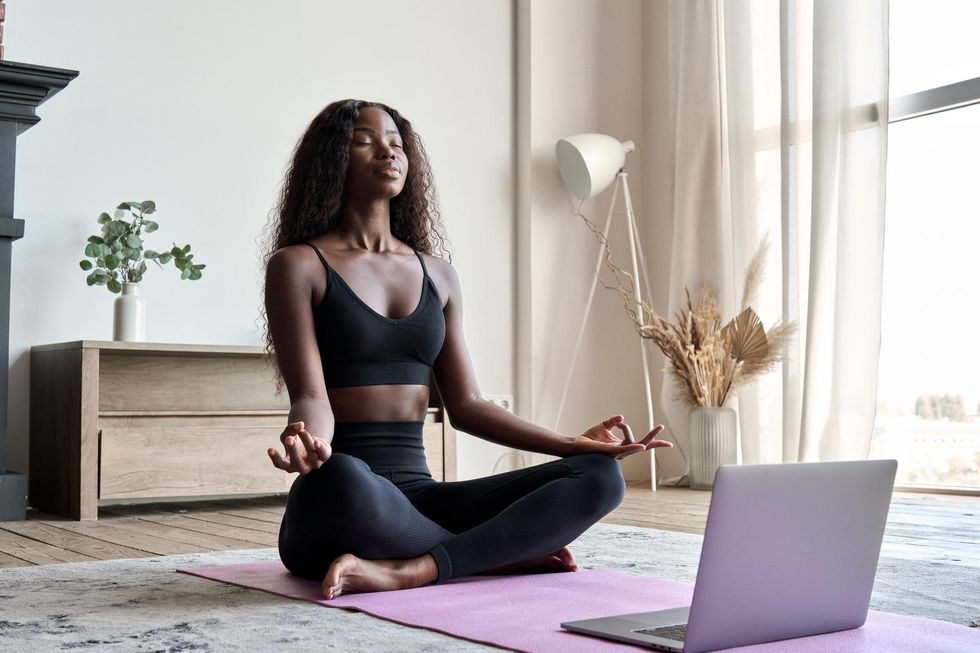 insta_photos/Getty Images
3. If you don't have to struggle, don't.
Struggling doesn't always make the journey worthwhile or the destination meaningful. You don't have to struggle to have an empowering, "relatable," or inspirational story. We aren't all dealt the same cards, so if you currently have access to things that make it "easier" for you to accomplish something or achieve your goal, take it—don't feel guilty. Choose ease.
4. Let people help you.
This is a big one. If you have well-intended people in your circle of trust willing to help you, let them help. Some of us fear letting people help us because we don't want to be a burden, we fear coming off as incompetent, or we don't want people to throw us needing help back in our faces. Life is hard. Trying to figure everything out on your own is overwhelming. Find the courage to be vulnerable and accept help when it's being offered. If you have people in your life who make you feel like a burden or you're in one-sided relationships, it may be to re-evaluate whether you want to continue investing your energy with those people.
5. Speak to yourself kindly.
We spend a lot of time talking to ourselves. What does your inner voice sound like? Does the voice inside your head tend to be negative and critical? If it is, that's okay. Negative self-talk is something that starts in childhood. Statements like "you're so dumb," and "what would even possess you to do something so stupid" can get ingrained in our psyche. But we have the power to interrupt that voice and replace it with one that's compassionate and kind. If you find yourself engaging in negative self-talk often, try placing affirmations around your house and say them out loud when you see them. It may be uncomfortable at first, but over time you'll become used to associating yourself with positivity. Also, take time to examine where those negative thoughts came from and do the work to let them go.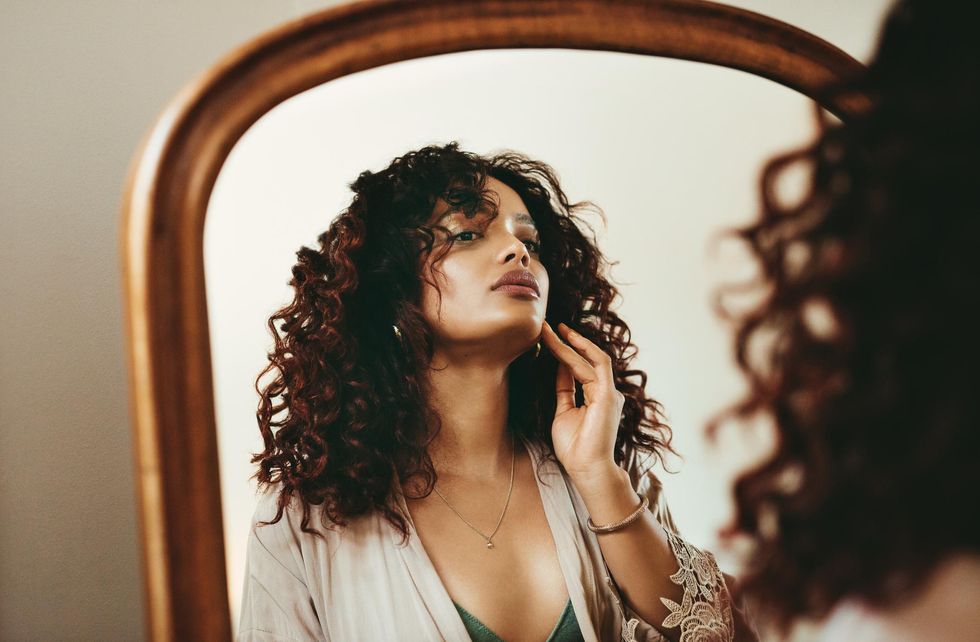 Delmaine Donson/Getty Images
6. Stop trying to be humble.
I hate when people say, "I don't want to gas you up" or "don't let it get to your head." People always try to remind people not to get too full of themselves. Why? Humility means "not proud or haughty; not arrogant or assertive." It doesn't mean you don't take time to not compliment yourself and bask in all the great things about you. Tell yourself you did a good job today. Tell yourself you look good. That way, when people reiterate those thoughts to you, you're not shocked and it doesn't feel foreign to you.
7. Focus on what you can control.
Sometimes we worry about things we can't control, like other people, the future, and the past. We worry about things that might not even happen, ruminate, or how we wish things would have gone. We can't stop worrying, but we can try to interrupt these thought patterns and focus on calming methods.
8. Stop trying to be the hero.
It isn't your job to heal, fix and rescue everyone from themselves. Sometimes we play the role of rescuer in our friendships and romantic relationships because it gives us something to do. Sometimes we fall into that role to avoid facing what's most important, ourselves. We end up losing ourselves and straying further from our own healing and happiness attempting to save other people. Find the courage to focus on rescuing and keeping yourself.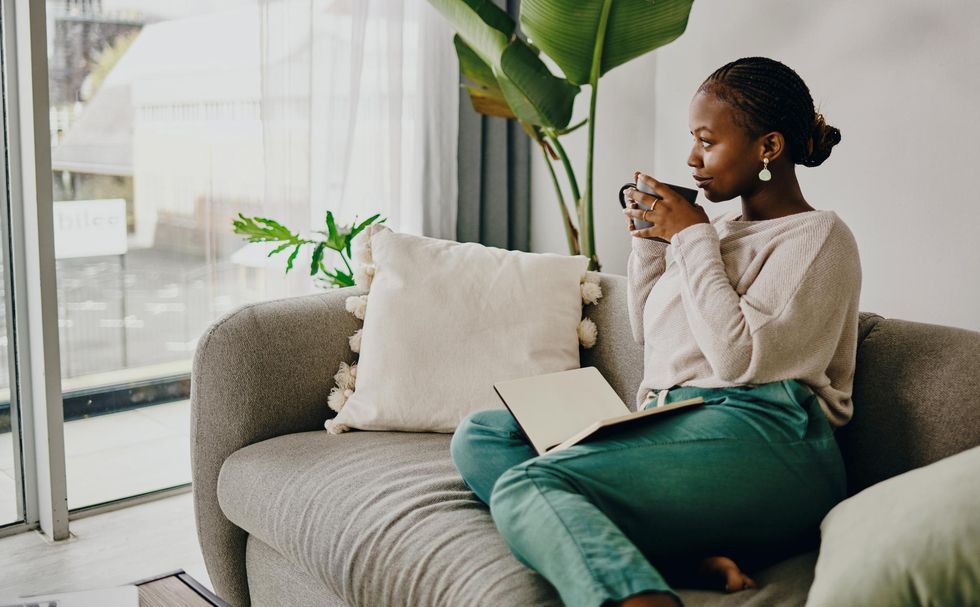 Delmaine Donson/Getty Images
9. Prioritize joy.
Indulge in things that make you smile or make you feel genuinely happy. Dancing to your favorite song, watching an episode of your favorite show, reading your favorite book, or wearing your favorite shoes. Savor those fun and peaceful moments.
10. Accept that you are worthy and deserving.
You don't need to do anything to deserve the soft life—it doesn't have to be earned. When we believe we are worthy of a life guided by ease and comfort, we will reject things that don't align with that vision and make decisions that get us closer to maintaining that lifestyle.
Let's make things inbox official! Sign up for the xoNecole newsletter for daily love, wellness, career, and exclusive content delivered straight to your inbox.
Featured image by JLco - Julia Amaral/Getty Images
We've all been there: Exhausted, lacking motivation, on edge, or simply not feeling like working at all. And we might have even used up all of our sick days, not to rest from a cold or injury, but just to get a bit of relief from those job or business responsibilities. Sometimes, you're not able to shake that nagging feeling of gloom, eventually finding yourself in a toxic pattern of unhealthy habits and behaviors. There's a larger issue that goes way beyond just needing a break.

Taking care of your mental health is definitely essential for overall wellness, but if you needed even more of a push to put a focus on the mind and spirit, just check this out: Recent research has found that 46% of people with "problem debt" also have a mental health issue, and 86% have indicated that their financial situation "made their mental health problems worse." That means that while your mental health isn't all about the money, neglecting it can certainly impact your finances or ability to earn a living.
There are often reports about what mental health neglect costs employers, and while we all can appreciate our jobs, now's the time to hone in on the person in the mirror, the priceless human being who exists even beyond a role or office and who has to be able to thrive and flourish. Just like you would invest in preventative care for your body, it's also a good idea, at least financially, to invest in quality mental wellness care.
Featured image by Getty Images
When we think of gaslighting, we typically associate it with a person in our life whether it's a romantic partner, friend, co-worker, or family member. But have you ever stopped to think whether you were gaslighting yourself? The definition of gaslighting is a form of manipulation that causes the victim to question their thoughts, their reality, and even memories and events. It questions a person's sanity and is viewed as emotional abuse.
Gaslighting can lead to self-doubt, low self-esteem, and other unhealthy habits. And while there are outside forces that can cause you to develop these insecurities and be in an abusive relationship, you can also unconsciously be in an abusive relationship with yourself. Here are some signs that you are self-gaslighting.
Featured image by Getty Images
Over the years, Kelly Rowland has been open about her insecurities and lack of self-confidence in her skin, but now she's sharing how affirmations helped her overcome self-doubt. The "Motivation" singer spoke with Hello Beautiful about the many challenges women face when looking in the mirror. "My biggest insecurity would probably be, one of the many, I usually challenge how smart I am," she said.
When that happens, Kelly likes to send herself flowers and little notes that remind her of how smart she actually is. A technique I think we all can benefit from. But that's not all. The singer also speaks positive affirmations to herself, which can also be a helpful tool.
"I counter it immediately, by telling myself, you are capable. You make great decisions. You are very smart. You make great decisions. Look at all the decisions you've made in the past," she said. Speaking of the past, Kelly has talked about how as a dark skin woman, she struggled with her beauty.
In 2013, she did a red carpet interview where she revealed how Tina Knowles Lawson helped her love her "chocolatiness." "You know what I had great women in my life to help me overcome that. I remember I went through a period where I didn't embrace my 'chocolatiness,'" she said. "I don't know if that's a word, but I didn't embrace my chocolate lifestyle. Just being a chocolate, lovely brown skin girl and being proud of that."
"I remember Tina Knowles, Bey's mom and I remember being out in the sun and I was trying to shield myself from the sun and she said, 'Are you crazy?' She said 'You are absolutely gorgeous,' and she just told me how beautiful I was and how rare chocolate is and how gorgeous the skin is, all of this stuff. And I was just like 'Yeah!' Like a light went off."
She added, "So between her and my mother and then me sitting out in the sun a little more, just to be a little more chocolate. You just embrace it. You embrace everything that you are as a woman, even your flaws too."
That is the reason why the mother of two was moved by the February 2022 British Vogue issue that featured all dark skin, African women.
"I lost my mind and posted it immediately," she said. "I'll never forget looking at a Vogue cover years ago and I saw three white women — all blonde — and they said this is what beauty looks like."
She continued, "This cover literally made my eyes well up because it's like the moment did the complete opposite and he [Edward Enninful] has no idea what he did to my soul. It erased that memory out of my head. I want to genuinely write him a letter and thank him — it meant so much to me as a brown girl."
Featured image by Rich Fury/Getty Images