I love the soft life aesthetic. I love seeing Black women and femmes indulge in rest and find new ways to treat themselves to nice things. But, it isn't lost on me that some components of this lifestyle require access to resources that are hard to come by. For many people, a soft life is the ultimate goal—nobody wants to struggle. Unfortunately, life is not always easy and carefree.
You won't always have the funds to take a trip on short notice, visit the spa weekly or pay someone to clean your home. We often sacrifice our time and energy to meet deadlines at work, take care of our loved ones, or work multiple jobs to make ends meet. Sometimes, we go through difficult experiences that test our resilience and strength.
While a soft life might seem like a pipe dream for some, it's important to remember that we all have different definitions of what a soft life looks like. For some people, simply being able to experience leisure and enjoy the simple pleasures in life is enough. For others, the soft life means a life of luxury.
No matter how you define a soft life before you can have one, you must work on your mindset and create habits that will help you maintain the lifestyle long-term. Here are a few ways you can do that:
1. Schedule "me time." 
"Me time" is intentional time you spend nurturing yourself and restoring your energy so you're not running on empty. This is essential to sustaining your well-being, but it's one of the first things we'll sacrifice. Sometimes we'll notice that we have free time on our schedule and immediately think of how we can use that time to be productive. Someone will ask us to help them, and we'll say "yes" even though we want to spend that time doing something for ourselves. Think of "me time" as going on a date with yourself. Don't cancel your date! If you have to cancel, make sure you reschedule. Remember, "me time" isn't your free time.
2. Cultivate new beliefs about rest. 
If you tie your self-worth to how productive you can be or grew up in an environment where you were called lazy for relaxing, you may feel guilty when you aren't busy. Rest shouldn't be the response or reward for overworking yourself. Making time for rest should be a staple part of your daily routine. If you find yourself overworked, even when unasked, try setting boundaries and limits with yourself. For example:
No working past 6 p.m.
No working on weekends and holidays.
Take three breaks during the workday.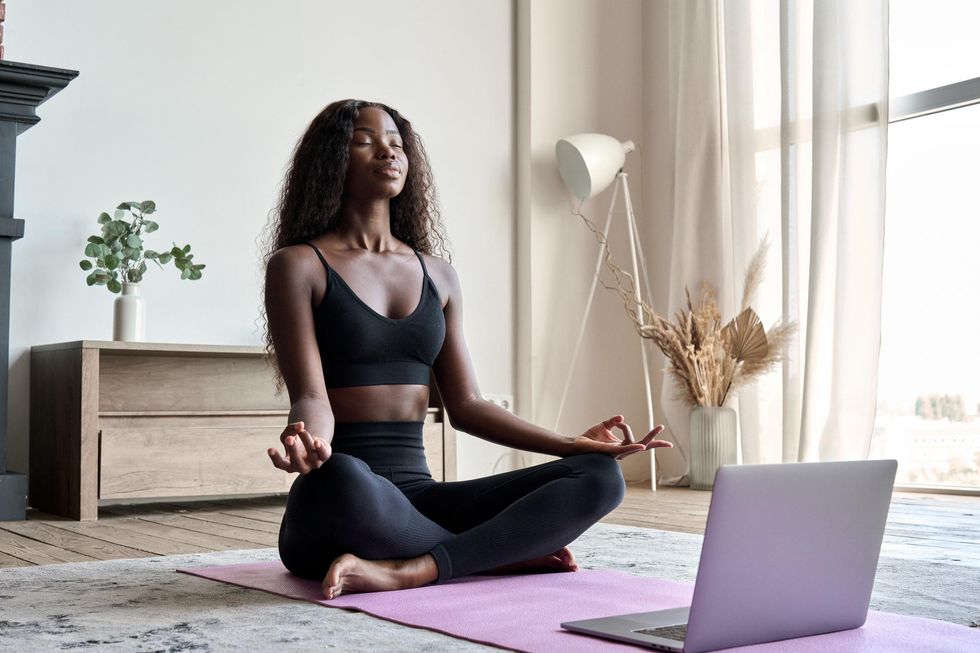 insta_photos/Getty Images
3. If you don't have to struggle, don't.
Struggling doesn't always make the journey worthwhile or the destination meaningful. You don't have to struggle to have an empowering, "relatable," or inspirational story. We aren't all dealt the same cards, so if you currently have access to things that make it "easier" for you to accomplish something or achieve your goal, take it—don't feel guilty. Choose ease.
4. Let people help you.
This is a big one. If you have well-intended people in your circle of trust willing to help you, let them help. Some of us fear letting people help us because we don't want to be a burden, we fear coming off as incompetent, or we don't want people to throw us needing help back in our faces. Life is hard. Trying to figure everything out on your own is overwhelming. Find the courage to be vulnerable and accept help when it's being offered. If you have people in your life who make you feel like a burden or you're in one-sided relationships, it may be to re-evaluate whether you want to continue investing your energy with those people.
5. Speak to yourself kindly.
We spend a lot of time talking to ourselves. What does your inner voice sound like? Does the voice inside your head tend to be negative and critical? If it is, that's okay. Negative self-talk is something that starts in childhood. Statements like "you're so dumb," and "what would even possess you to do something so stupid" can get ingrained in our psyche. But we have the power to interrupt that voice and replace it with one that's compassionate and kind. If you find yourself engaging in negative self-talk often, try placing affirmations around your house and say them out loud when you see them. It may be uncomfortable at first, but over time you'll become used to associating yourself with positivity. Also, take time to examine where those negative thoughts came from and do the work to let them go.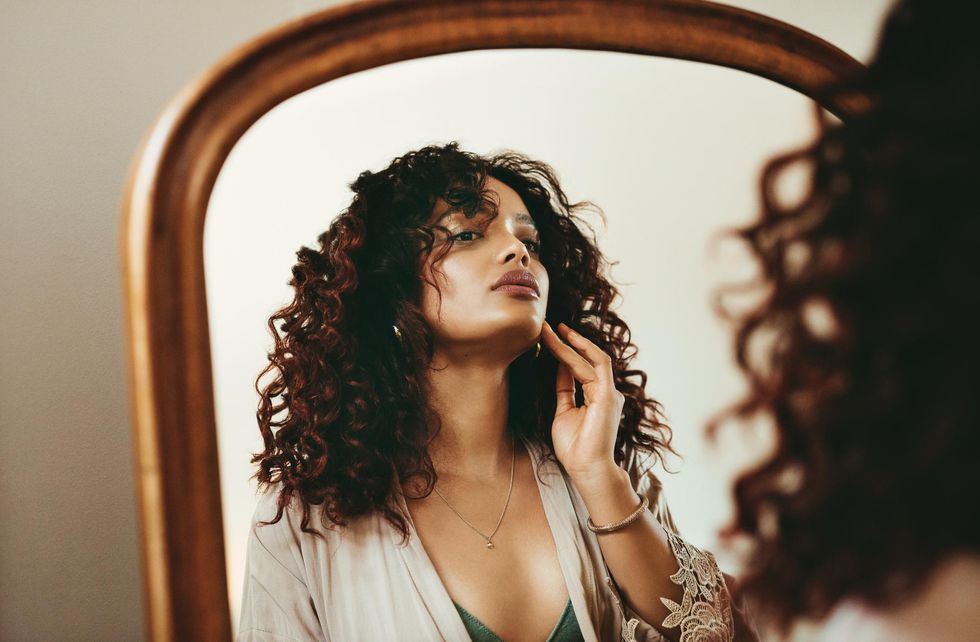 Delmaine Donson/Getty Images
6. Stop trying to be humble.
I hate when people say, "I don't want to gas you up" or "don't let it get to your head." People always try to remind people not to get too full of themselves. Why? Humility means "not proud or haughty; not arrogant or assertive." It doesn't mean you don't take time to not compliment yourself and bask in all the great things about you. Tell yourself you did a good job today. Tell yourself you look good. That way, when people reiterate those thoughts to you, you're not shocked and it doesn't feel foreign to you.
7. Focus on what you can control.
Sometimes we worry about things we can't control, like other people, the future, and the past. We worry about things that might not even happen, ruminate, or how we wish things would have gone. We can't stop worrying, but we can try to interrupt these thought patterns and focus on calming methods.
8. Stop trying to be the hero.
It isn't your job to heal, fix and rescue everyone from themselves. Sometimes we play the role of rescuer in our friendships and romantic relationships because it gives us something to do. Sometimes we fall into that role to avoid facing what's most important, ourselves. We end up losing ourselves and straying further from our own healing and happiness attempting to save other people. Find the courage to focus on rescuing and keeping yourself.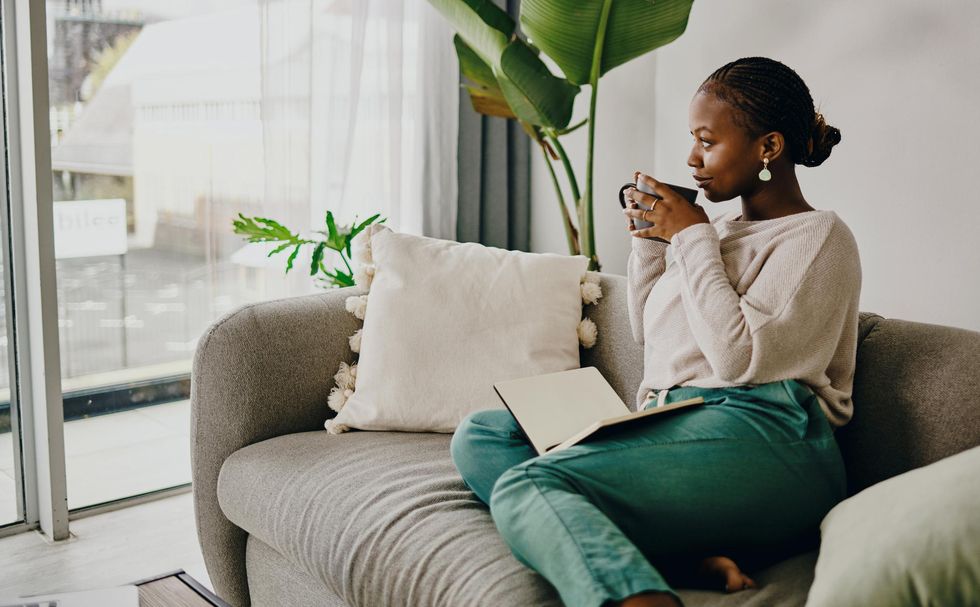 Delmaine Donson/Getty Images
9. Prioritize joy.
Indulge in things that make you smile or make you feel genuinely happy. Dancing to your favorite song, watching an episode of your favorite show, reading your favorite book, or wearing your favorite shoes. Savor those fun and peaceful moments.
10. Accept that you are worthy and deserving.
You don't need to do anything to deserve the soft life—it doesn't have to be earned. When we believe we are worthy of a life guided by ease and comfort, we will reject things that don't align with that vision and make decisions that get us closer to maintaining that lifestyle.
Let's make things inbox official! Sign up for the xoNecole newsletter for daily love, wellness, career, and exclusive content delivered straight to your inbox.
Featured image by JLco - Julia Amaral/Getty Images
Keep reading...
Show less
We've all been there: Exhausted, lacking motivation, on edge, or simply not feeling like working at all. And we might have even used up all of our sick days, not to rest from a cold or injury, but just to get a bit of relief from those job or business responsibilities. Sometimes, you're not able to shake that nagging feeling of gloom, eventually finding yourself in a toxic pattern of unhealthy habits and behaviors. There's a larger issue that goes way beyond just needing a break.

Taking care of your mental health is definitely essential for overall wellness, but if you needed even more of a push to put a focus on the mind and spirit, just check this out: Recent research has found that 46% of people with "problem debt" also have a mental health issue, and 86% have indicated that their financial situation "made their mental health problems worse." That means that while your mental health isn't all about the money, neglecting it can certainly impact your finances or ability to earn a living.
There are often reports about what mental health neglect costs employers, and while we all can appreciate our jobs, now's the time to hone in on the person in the mirror, the priceless human being who exists even beyond a role or office and who has to be able to thrive and flourish. Just like you would invest in preventative care for your body, it's also a good idea, at least financially, to invest in quality mental wellness care.
Featured image by Getty Images
Keep reading...
Show less
When we think of gaslighting, we typically associate it with a person in our life whether it's a romantic partner, friend, co-worker, or family member. But have you ever stopped to think whether you were gaslighting yourself? The definition of gaslighting is a form of manipulation that causes the victim to question their thoughts, their reality, and even memories and events. It questions a person's sanity and is viewed as emotional abuse.
Gaslighting can lead to self-doubt, low self-esteem, and other unhealthy habits. And while there are outside forces that can cause you to develop these insecurities and be in an abusive relationship, you can also unconsciously be in an abusive relationship with yourself. Here are some signs that you are self-gaslighting.
Featured image by Getty Images
Keep reading...
Show less
Over the years, Kelly Rowland has been open about her insecurities and lack of self-confidence in her skin, but now she's sharing how affirmations helped her overcome self-doubt. The "Motivation" singer spoke with Hello Beautiful about the many challenges women face when looking in the mirror. "My biggest insecurity would probably be, one of the many, I usually challenge how smart I am," she said.
When that happens, Kelly likes to send herself flowers and little notes that remind her of how smart she actually is. A technique I think we all can benefit from. But that's not all. The singer also speaks positive affirmations to herself, which can also be a helpful tool.
"I counter it immediately, by telling myself, you are capable. You make great decisions. You are very smart. You make great decisions. Look at all the decisions you've made in the past," she said. Speaking of the past, Kelly has talked about how as a dark skin woman, she struggled with her beauty.
In 2013, she did a red carpet interview where she revealed how Tina Knowles Lawson helped her love her "chocolatiness." "You know what I had great women in my life to help me overcome that. I remember I went through a period where I didn't embrace my 'chocolatiness,'" she said. "I don't know if that's a word, but I didn't embrace my chocolate lifestyle. Just being a chocolate, lovely brown skin girl and being proud of that."
"I remember Tina Knowles, Bey's mom and I remember being out in the sun and I was trying to shield myself from the sun and she said, 'Are you crazy?' She said 'You are absolutely gorgeous,' and she just told me how beautiful I was and how rare chocolate is and how gorgeous the skin is, all of this stuff. And I was just like 'Yeah!' Like a light went off."
She added, "So between her and my mother and then me sitting out in the sun a little more, just to be a little more chocolate. You just embrace it. You embrace everything that you are as a woman, even your flaws too."
That is the reason why the mother of two was moved by the February 2022 British Vogue issue that featured all dark skin, African women.
"I lost my mind and posted it immediately," she said. "I'll never forget looking at a Vogue cover years ago and I saw three white women — all blonde — and they said this is what beauty looks like."
She continued, "This cover literally made my eyes well up because it's like the moment did the complete opposite and he [Edward Enninful] has no idea what he did to my soul. It erased that memory out of my head. I want to genuinely write him a letter and thank him — it meant so much to me as a brown girl."
Featured image by Rich Fury/Getty Images
Keep reading...
Show less
The ladies of Harlem participated in an exclusive girl chat with xoNecole in Twitter Spaces over the weekend and, while discussing their show, they also shared some deep, inspiring words with us. Meagan Good, Grace Byers, and Shoniqua Shandai each opened up about love and friendships while also revealing some personal experiences that really resonated with the audience. While you can listen to the full conversation here, we also broke down some of the most memorable gems to give you some affirmations that you can take with you wherever you go.
On Their Daily Mantras
"No matter where He takes me, no matter where I go, I am fearfully and I am wonderfully made for the room that I'm in." - Shoniqua Shandai
"God I am your child. I am dearly loved. I am loved unconditionally. I belong to you God. Jesus, I am your friend. Jesus, I am your bride. God, I am your residence. Greater who is He, who is in the world. I am blameless. I am righteous. I am adequate. I am a new creation. I am never alone." - Meagan Good
"I will show up as I am and I will love myself there." - Grace Byers
On Rejection and Disappointment 
"You may not have accepted what I brought to the table, but that does not define who I am nor will it define what I'm going to do in another realm after this." - Grace Byers
"Even in this pain, I know that I'm being propelled forward." - Shoniqua Shandai
"Rejection is the Lord's protection." - Meagan Good
On Feeling Safe In Friendships
"Not everybody has to be your best friend. Some people you are just called to be there for, but that doesn't necessarily mean that they have to be there for you." - Meagan Good
On the Art of Letting Go
"My mind shift of letting go is allowing myself to feel the feelings, but really reminding myself that the priority of letting someone go is choosing myself." - Shoniqua Shandai
"We're going in two different paths. I love me. My love is not worthy in the eyes of what you say it is and I know what my love and my worth and my value truly are and because of that, I'mma step away with some grace." - Grace Byers
"Having faith when things are going well is easy. Having faith when things are crazy and they don't make sense and you're confused or whatever it may be, that's when it really matters and that's when you get the closest to God." - Meagan Good
On Self-Love
"For Black people, for people of color, all we know is how to hustle 'cause that's the world that has been built for us. We hustle, we hustle, we work hard. We always have to go over and beyond, but so much of our humanity, so much of our strength is in our rest and is in our joy." - Grace Byers.
"Our introduction to this land was violent. We have been whipped into shape and that mentality is so harmful to ourselves and to our minds and I just want us to be gentle to ourselves." - Shoniqua Shandai
"You have to love yourself otherwise how is someone else gonna know how to love you fully." - Meagan Good
Featured image by Hatnim Lee/WireImage/Getty Images
Keep reading...
Show less
It's the fourth quarter. October 1 through December 31 marks the most compressed time of the year. Everyone is trying to finish the year strong and be better than they were on January 1. And while that's all well and good, being busy isn't cool anymore. It's all about being balanced.
As we know better and do better, we learn our unique balance equation. For us, that equation includes affirmations. Whether you need some inspiration or want to add this as a daily practice, we hope this menu of affirmations helps you speak life into this last quarter of the year.
1

.

Everything that is happening now is happening for my ultimate good.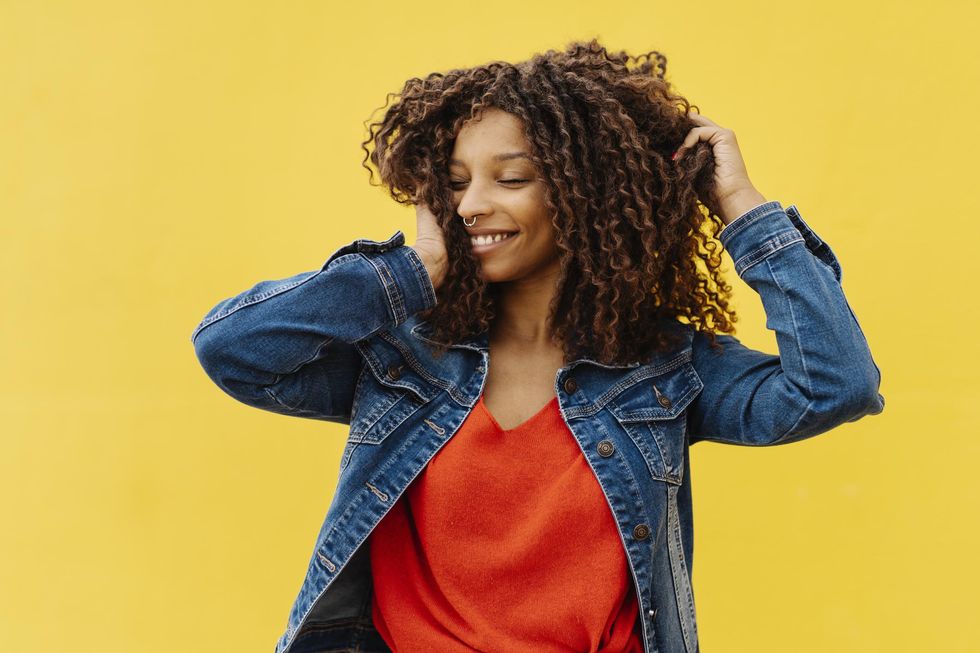 Getty Images
The truth is: we are all learning, growing, and overcoming obstacles. Things don't always make sense at the moment and this affirmation validates that trusting the process is essential. Remember that you are being led to a greater destination and a better outcome. Keep believing.
2

.

My body is healthy; my mind is brilliant; my soul is tranquil.
When it comes to healing, you must include your entire being which is your mind, body, and soul. We have learned that the mind is the power of the brain, the soul is the power of the body, and the soul is your spiritual essence. Ideally, you want to be balanced in all three areas to maintain alignment. When one is off, you feel it and the best way to stay aware is by checking in with yourself.
3

.

Breathing in, I focus on what I can control. Breathing out, I release what I can't control.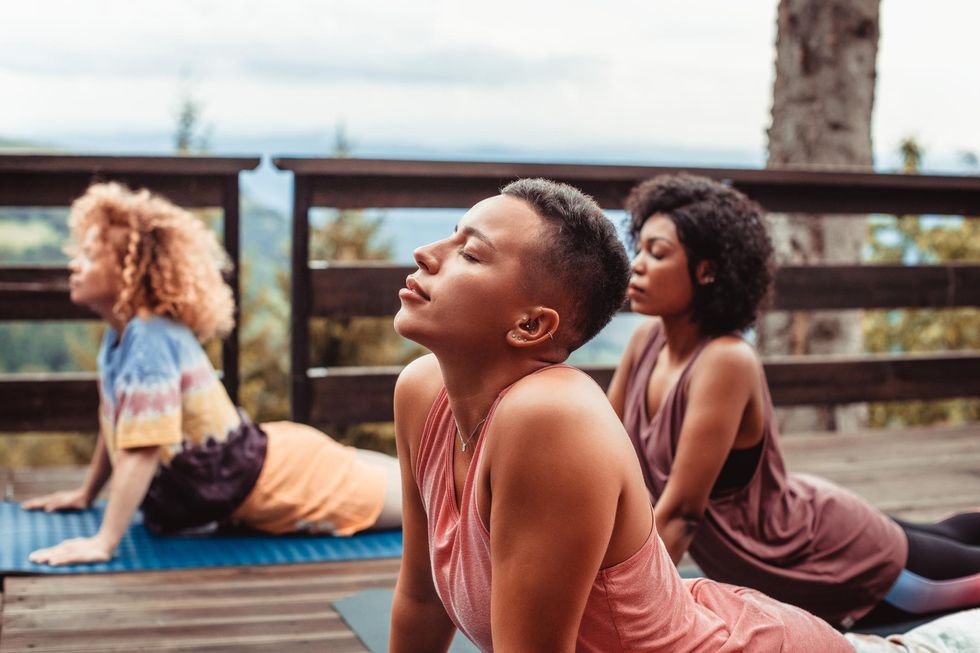 Getty Images
Go ahead and free yourself by releasing what you cannot control. It's definitely easier said than done but when you release, you make room for greater. This affirmation helps us to shift our vision and prioritize things that serve us.
4

.

I am inspiring people through my work.
Look in the mirror and tell yourself that you matter. You were placed in this world with an assignment and each day that you show up for yourself, you empower someone else to do the same. Isn't that powerful? By simply walking in your purpose, you show someone else that it is possible and they can do it too.
5

.

I am turning DOWN the volume of negativity in my life, while simultaneously turning UP the volume of positivity.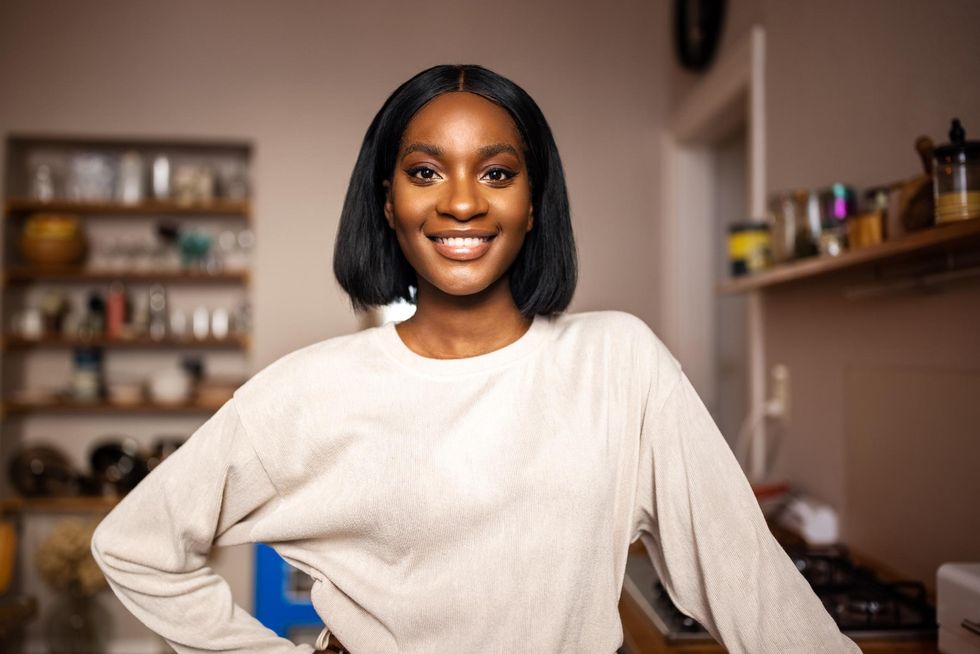 Getty Images
When you build positive thoughts, positive actions follow. It's difficult to not have negative thoughts but we want to challenge you to follow them with positivity when they appear. Think of it as your emotional contingency plan when things don't go as we want them to. The mindfulness practice, AWARE, can help you break the cycle:
Accept: Acknowledge your thoughts but don't become them.
Watch: Pay attention to your body and what and how you feel.
Act: Journaling and visualizing are great ways to move into action.
Repeat: If you feel yourself spiraling, repeat the three steps above: accept, watch, and act.
Expect: Last but not least, expect realistic improvement.
6

.

I have clarity and energy.
Mental clarity leads to an appreciation of your life. You see the positivity in all things and it creates a space free from distractions. As someone who overthinks, clarity helps me to be present because my brain space is allocated for things that fill me up.
As for energy, Emily Maroutian says:
"Energy is the currency of the universe. When you 'pay' attention to something, you buy that experience. So when you allow your consciousness to focus on someone or something that annoys you, you feed it your energy, and it reciprocates with the experience of being annoyed. Be selective in your focus because your attention feeds the energy of it and keeps it alive, not just within you, but in the collective consciousness as well."
7

.

I am the architect of my life; I built its foundation and will choose its contents.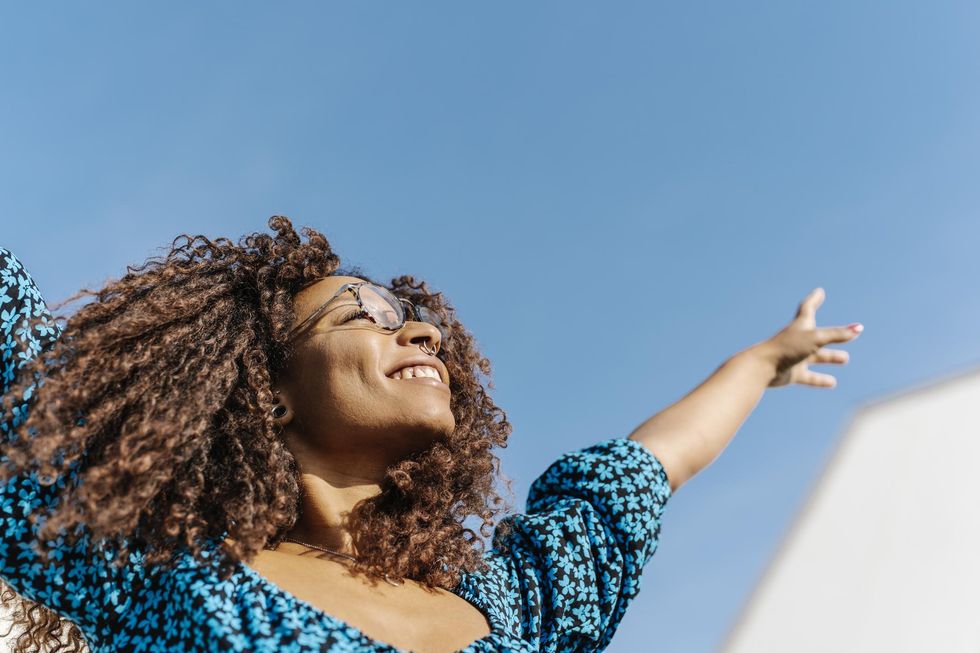 Getty Images
The first step in being the architect of your own life is believing and deciding that you create the life you desire. Just as you hire contractors to build your dream house, you must employ yourself to design a life you'll love.
8

.

I've made it through hard times before, and I've come out stronger and better because of them. I'm going to make it through this.
Surviving hard times makes us resilient and while it's difficult to remember this when you're in the middle of a storm, acceptance opens the door to purpose. Everything happens for a reason and finding the silver lining supports healthy self-esteem.
9

.

Note to self: I am going to make you so proud.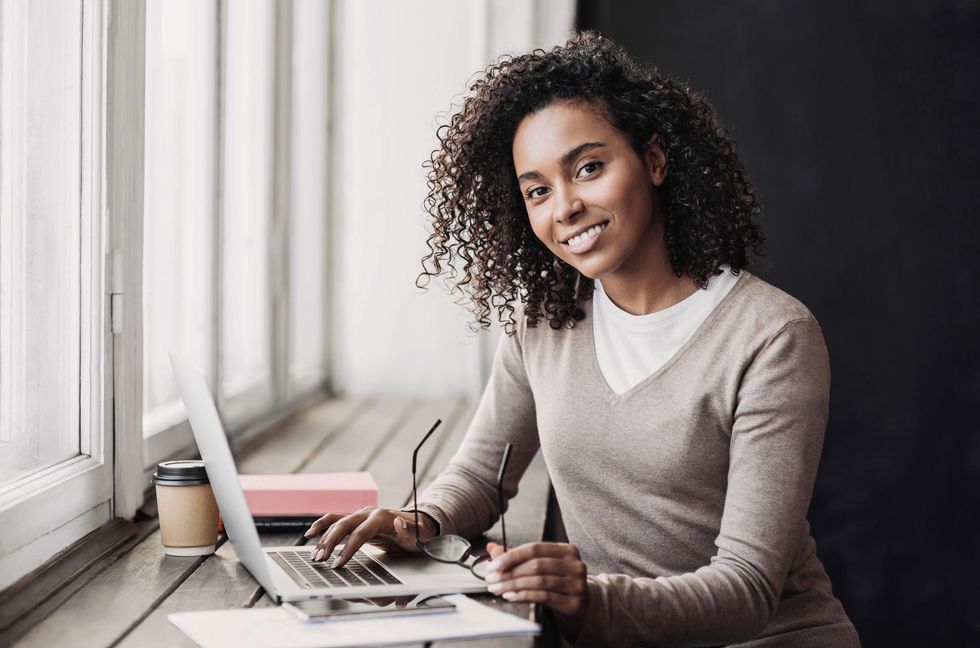 Getty Images
To acknowledge your growth is to have a strong sense of self-worth. It's OK to be proud of yourself and we would even say that you should take some time to brag about yourself to yourself while keeping an attitude of gratitude.
10

.

Through the power of my thoughts and words, incredible transformations are happening in me and within my life right now.
Our habitual thoughts and actions determine our destiny so it's time to think about the life-changing events we will soon experience. In order for transformations to happen, you have to release outdated thoughts and actions. God and the universe won't move until you do.
For more inspiration, self-care, and healing tips, check out xoNecole's Wellness section here.
Featured image by Getty Images

Keep reading...
Show less