Erica Fraser
Erica Fraser is a writer and wellness educator from the Bronx, NY. For daily self-love notes, follow her on Instagram @ericacfraser.
Having ashy lips may be worse than having ashy knees. It's true. And now that it's getting colder, it's getting harder to keep our skin moisturized, and the skin on our lips is no different. Dry lips can be painful and uncomfortable. In extreme cases, they can even lead to bleeding and infections. So how can you keep your lips moisturized during the fall and winter months?
Here are a few tips to keep your lips soft, supple, and healthy!
Featured image by skyNext/Getty Images
I've never been a person who thrives on routines or waking up early, and I know I'm not the only one. But we can do a few things in the morning to help us get a good start to the day. Ayurvedic medicine, also known as Ayurveda, is an ancient form of Indian medicine that has been practiced for thousands of years and still plays an integral role in India's traditional healthcare system.
Ayurveda medicine practitioners encourage us to start the day with a set routine. This series of activities, known as Dinacharya, helps to promote balance in the body and mind. The specific activities vary depending on the individual's needs, but they often include dry brushing, tongue scraping, and meditation. While it may take some time to get used to, incorporating Ayurvedic principles into your morning routine can greatly improve your health and well-being.
If you aren't doing these already, here are 10 Ayurvedic practices you can try, in no particular order.
Featured image by xavierarnau/Getty Images
I've spent the past five years of my life learning to love myself and striving to be at peace. After being in a constant state of learning and unlearning, I was ready to breathe. I was ready to be free and live. So, when I was diagnosed with thyroid cancer last July, I didn't know how to feel.
In early 2019, I got a yeast infection that wouldn't go away for three months. After trying several over-the-counter remedies and being prescribed a few Diflucan pills, I stopped believing my problem was untreatable yeast. I went to a women's clinic that happened to perform routine thyroid ultrasound exams during their gynecological visits. They found a nodule on my thyroid during the ultrasound and referred me to the radiologist. The doctor told me thyroid nodules weren't uncommon, but I should visit the radiologist as a precaution. She looked slightly concerned and kept asking me if I felt a lump or pain in my neck, but I didn't. I also didn't think much of it because I didn't know anyone in my family with thyroid issues, and I was focused on treating the uncomfortable yeast that wouldn't go away.
The radiologist confirmed that there was a nodule on my thyroid—in fact, there were three. He requested that I get them biopsied and urged me to get my blood work done because he was worried my thyroid wasn't functioning correctly based on what he saw on the ultrasound. When my primary care physician reviewed my tests, she told me my thyroid levels were normal, but I was anemic. My body was running on its reserve iron levels, which had gotten dangerously low. My doctor put me on an iron treatment plan because I didn't have enough white blood cells to fight my yeast infection, even when I was on medication. With treatment, my yeast infection went away, and I felt great. Then my neck started hurting.
It was a dull pain that would shift from the left to the right side of my neck. I thought my years of sleeping without a pillow finally caught up to me, but the pain wasn't surface level. My doctor told me that I could have developed allergies, and the pain was likely due to swollen lymph nodes. The pain continued for the rest of the year, but I tried my best not to scare myself. I had a habit of assuming the worst-case scenario and driving myself into a panic. This time, I wanted to do things differently. My blood work was "normal," and the pain in my neck wasn't constant, so I told myself there was no need to fear the unknown.
Featured image by Mario Arango/Getty Images
For the past few years, I've been working to create a life I don't want to escape from. A huge part of that journey has been dedicated to doing more of the things that make me happy and accepting that I'm worthy of a life I love. I had become accustomed to accepting what life threw at me and learning to be grateful for it. But, I wasn't happy, nor was I fulfilled.
I often found myself forcing gratitude out of fear of seeming ungrateful. Forcing myself to always focus on what was going great in my situation or telling myself it could be worse stopped me from addressing the lack of joy I was experiencing daily. It also prevented me from seeking opportunities that aligned with the vision I had for my life.
I was in community with a few people at the time who knew they weren't happy with their lives, and we were deciding to settle. When I would ask them about good things happening in their lives, some would only be able to reference events from high school or college, but 10 years had passed since then. Some people experienced tragic or unplanned things that derailed their goals and became stuck in a cycle of thinking about what could have been. They were in their late twenties and early thirties and already felt like their best days were behind them.
Well, the average person lives to be 72 years old and I eventually found myself wondering what they would do for the rest of their days while allowing their past to define their reality. I knew I didn't want that for myself and became determined to do something different. If you can relate to these feelings, keep reading to learn what I did to keep the spark going when I didn't feel excited about life.
1. "Lean into the discomfort."
When I was a resident advisor, my team leader would end each meeting by reminding us to "lean into the discomfort" because it was the only way we would grow. I thought it was a cool reminder, but as I've gotten older, it's become integral to how I move through life. Becoming comfortable with being uncomfortable is one of the first steps in the growth process.
Sometimes we'll shy away from being uncomfortable because we assume we're in danger. We may perceive that we're at risk of failing or embarrassing ourselves. These concerns are valid because when we're operating outside of our comfort zone, we're vulnerable. We may be hyper-aware of how others see us and may even be uncomfortable adjusting to the changes we see within ourselves. But, two things can be true at the same time. This period of discomfort could be one of the scariest and most exciting times of our lives!
We also don't have to throw ourselves out into the unknown unprotected. During times of transition, we must practice self-care and self-soothing activities. Taking risks exposes us to rejection, judgment, anxiety, and hearing the word "no" more often. We won't succeed or get the outcome we were hoping for each time, and that's okay. Finding support systems and engaging in stress relief activities can help us navigate the challenges.
Over time, doing things that scare us can help build our capacity to tolerate uncertainty and increase our self-confidence when we realize we can do hard things.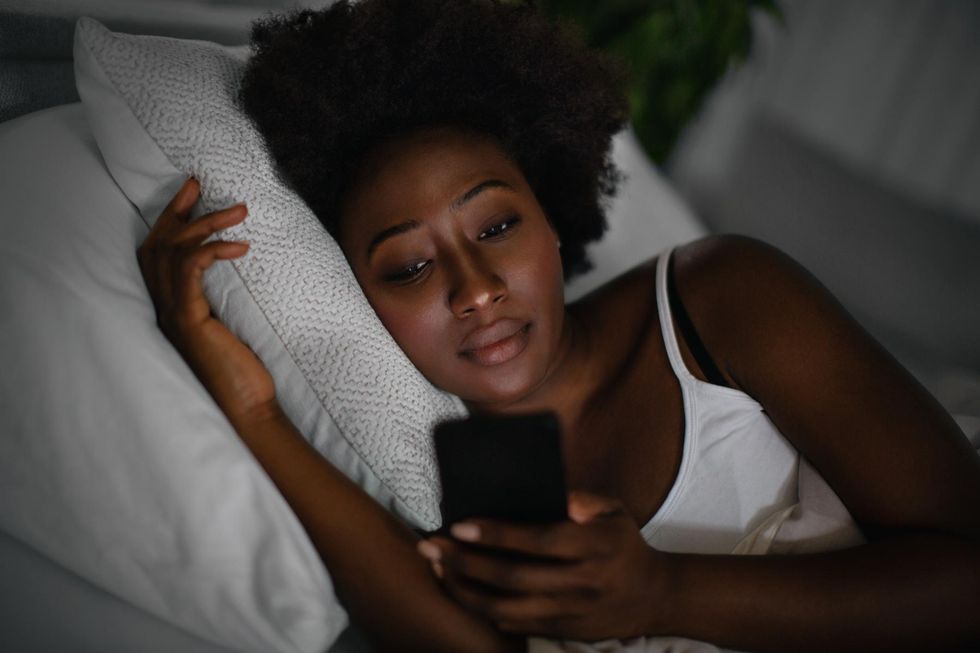 Aja Koska/Getty Images
2. Stop comparing yourself to others. 
Social media is a great tool to connect with people and be exposed to new things, but it can also leave you feeling defeated if you aren't careful. Social media has made it easy for us to participate in the 'Comparison Olympics.' We watch the highlight reel of someone's life and question why we don't have what they have or couldn't navigate a similar hardship the way we did.
We could receive news we're hoping or praying for and might not allow ourselves the space to be excited because we saw that someone share what we perceive to be more significant news on Instagram. We could be getting ready to take a much-needed vacation and become sad that we can't travel to the locations we see on travel pages.
We may even become upset that more people aren't more forthcoming about their negative life experiences. Sometimes we want to know that other people are struggling because we don't want to feel alone in our situation. But the truth is, we don't need to know every single detail of someone else's life to feel better about our own. It isn't healthy, and most times, it isn't our business.
No one on the earth is without worry or hardship. People are allowed to remember and display their lives the way they want. Focusing on what you can see about others takes the focus of what matters most and what you actually have power over: your life.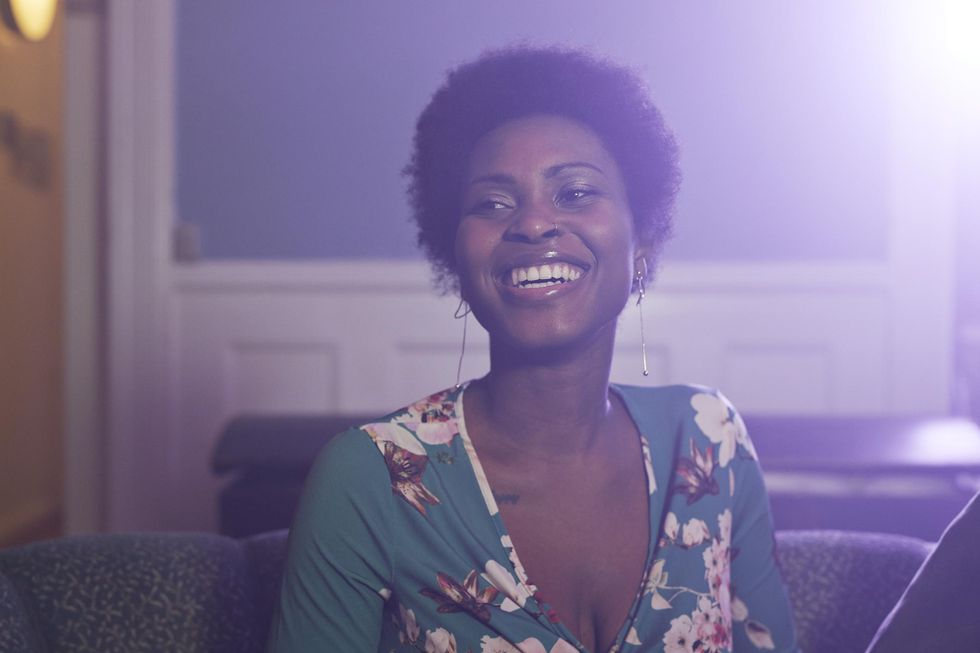 Klaus Vedfelt/Getty Images
3. Find things to look forward to. 
​Sometimes we are afraid to look forward to things because we're afraid to be disappointed. The past two years have been rough. People had big plans for 2020, but the pandemic caused a lot of social shifts and grief. It seemed like we were always anticipating the next tragedy. But grief and joy can coexist.
Grief and happiness are both important parts of the human experience—you can't have one without the other. Give yourself the space to feel how you feel and process your feelings. But also give yourself permission to move on. Ruminating over what could have been or obsessing over what could be, makes us feel powerful because it gives us the illusion of being in control. But none of that is real, and we end up stuck.
If we're going to incorporate more joy into our lives, we must remember that we only have the present moment and we have to let the present be enough. We may not know what will happen next year or next week, but we can still schedule a time to do the things that make us happy.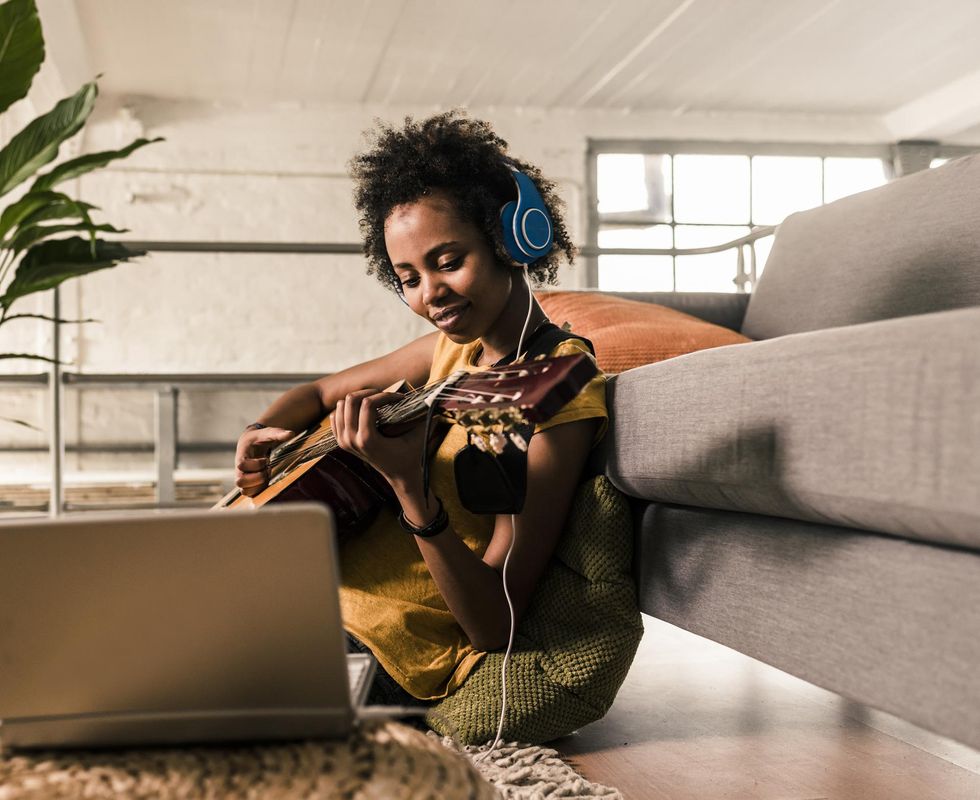 Westend61/Getty Images
4. Learn something new. 
I attempt to learn something new whenever I'm stressed to shift my focus. I thought I lacked discipline and the ability to concentrate (which can be true lol), but then I read that learning something new helps ease stress and increases your self-worth. I also learned that learning also makes you happier and increases your self-confidence.
Learning doesn't have to be structured or confined to the classroom. You can learn through meeting new people and hearing their life experiences. You can also take dance, writing, or drawing classes from YouTube University. It also makes you open to trying new experiences because you'll be confident in your ability to take on new challenges.
Learning can also help you realize that you're never stuck. You'll be confident in your ability to take on new challenges because you'll know you can develop the skills to succeed. As long as you're willing to learn something new and put yourself out there, you have the opportunity to reinvent yourself and change your life.
So, get out of your own way. Your best life is waiting for you.
Featured image by LaylaBird/Getty Images
Sometimes we think that if we had no expectations, lowered our standards, suppressed our feelings, or didn't express our needs, our relationships would be easier to manage. It would make it impossible for people to feel frustrated, overwhelmed, or annoyed with us. Ultimately, they wouldn't leave, and we'd never feel the pain of abandonment.
Unfortunately, it doesn't work that way.
By lowering our expectations and hiding our needs, we abandon ourselves and the things we need to feel safe in relationships with other people. There have been times I've told friends, "I don't ask for much. I don't require much. Why isn't this working?" Over time I realized it wasn't working because I wasn't being authentic. I wasn't being honest about what I needed to make the relationship work. I was playing myself. And why should I be rewarded for that?
Why should any of us be rewarded for playing ourselves?
If we're going to feel fulfilled in our relationships, we have to give ourselves permission to do the following:
1

.

Be honest about who you are.
Attempting to gain acceptance by hiding who we are and taking on a persona we think people would like more causes us to feel unseen, unloved, and lonely. We start to feel like we're not good enough and that we'll never be loved. To build lasting relationships, we must be honest about who we are and what we need. Finding the courage to be honest about who we are is scary, especially if we've experienced rejection in the past.
It's natural to want to protect ourselves from that pain by hiding who we are. But we owe it to ourselves to heal so we can experience freedom in our relationships and feel at peace. If you find yourself questioning what you need to do and who you need to be to make your relationship work or gain someone's attention, it may be time to reflect on your desire to be in the relationship.
2

.

Practice delayed gratification.
How different would life be if we waited for what we really wanted? Sometimes we force ourselves to bend and contort to fit in spaces we don't belong because we feel like the relationship is the best we can do. We feel uncomfortable being alone or fear that we're running out of time as we watch our peers partner and get married. Fear takes over, and we feel pressured to settle.
Making decisions out of fear often leads to unfulfillment because we risk over-compromising on things that matter most. We have to find the courage to honor ourselves and our values even when we're scared, even if that means walking away and continuing to wait for what we want and deserve.
3

.

Stop justifying the unjustifiable. 
When you're settling for less than you deserve, you may also find yourself justifying your decision to remain committed to the relationship. Statements like, "I know people who are dealing with worse" and "Nobody is perfect" cause us to stay in places far longer than we need to. They also help us deal with feeling ashamed and embarrassed about our situation. Anyone that raises concern is promptly shut down because we don't want to deal with the feelings and concerns we've become accustomed to denying.
We start looking for any small sign that our discomfort is worth it; if we practice patience, things will get better. But when we're honoring ourselves in our relationships, we won't need to justify our decision to stay to ourselves or the people who love us.
4

.

Work on the relationship you have with yourself. 
When we're operating from a basis of self-love and high self-esteem, we're less likely to settle than we deserve. When we don't think highly of ourselves, we may question if we deserve to have the relationship and love we desire. We'll question our worthiness, choose people who aren't suitable for us, and force ourselves to stay.
5

.

Stop staying and complaining. 
Sometimes when we lower our standards to remain in a relationship, we feel our partner should express gratitude by giving us the things we desire. Like, "Look how great I am. You should want to be different or be better so you can stay in a relationship with me." Our ego gets the better of us, and instead of leaving we demand that someone else change to make us more comfortable in the relationship. No one wakes up and spontaneously combusts into a new person; if they do, they've likely been motivated to change for themselves, not for someone else. When we maintain our position in the relationship and complain to anyone who will listen about our unhappiness, we further frustrate ourselves. Complaining may make us feel in control because we can offload heavy feelings, but we aren't doing the work to build long-term fulfillment.
Most importantly, we can't convince someone we're worthy of things as we desire if we continue to tolerate and make space for the treatment we claim to be better than. At a certain point, who are we trying to convince? Them or ourselves?
6

.

Practice acceptance. 
When we accept someone for who they are, we also accept that they may not be the person for us. We won't be able to be in healthy relationships with everyone we like or love, and that's okay. "You can love someone and not be compatible with them." Instead of searching for a solution based on either of you changing yourselves to make it work, it may be time to move on. Letting go isn't easy, but one of the ways we practice love in action is by making space for ourselves and others to be in community and partnership with people they can be their authentic selves with.
Abandoning ourselves for love and settling for less than we deserve causes us to end up in unhappy and unfulfilling relationships. We become disconnected from our partners and ourselves, and we miss out on the chance to experience deeper love and connection; we miss out on the opportunity to create something special. Waiting for the relationship and love we deserve can make us feel anxious, but it's always worth it. It's the only way to find lasting happiness and fulfillment.
So don't be afraid to reject or let go of things that don't serve you. You're worth it.
Let's make things inbox official! Sign up for the xoNecole newsletter for daily love, wellness, career, and exclusive content delivered straight to your inbox.
Featured image by Westend61/Getty Images
I love the soft life aesthetic. I love seeing Black women and femmes indulge in rest and find new ways to treat themselves to nice things. But, it isn't lost on me that some components of this lifestyle require access to resources that are hard to come by. For many people, a soft life is the ultimate goal—nobody wants to struggle. Unfortunately, life is not always easy and carefree.
You won't always have the funds to take a trip on short notice, visit the spa weekly or pay someone to clean your home. We often sacrifice our time and energy to meet deadlines at work, take care of our loved ones, or work multiple jobs to make ends meet. Sometimes, we go through difficult experiences that test our resilience and strength.
While a soft life might seem like a pipe dream for some, it's important to remember that we all have different definitions of what a soft life looks like. For some people, simply being able to experience leisure and enjoy the simple pleasures in life is enough. For others, the soft life means a life of luxury.
No matter how you define a soft life before you can have one, you must work on your mindset and create habits that will help you maintain the lifestyle long-term. Here are a few ways you can do that:
1. Schedule "me time." 
"Me time" is intentional time you spend nurturing yourself and restoring your energy so you're not running on empty. This is essential to sustaining your well-being, but it's one of the first things we'll sacrifice. Sometimes we'll notice that we have free time on our schedule and immediately think of how we can use that time to be productive. Someone will ask us to help them, and we'll say "yes" even though we want to spend that time doing something for ourselves. Think of "me time" as going on a date with yourself. Don't cancel your date! If you have to cancel, make sure you reschedule. Remember, "me time" isn't your free time.
2. Cultivate new beliefs about rest. 
If you tie your self-worth to how productive you can be or grew up in an environment where you were called lazy for relaxing, you may feel guilty when you aren't busy. Rest shouldn't be the response or reward for overworking yourself. Making time for restshould be a staple part of your daily routine. If you find yourself overworked, even when unasked, try setting boundaries and limits with yourself. For example:
No working past 6 p.m.
No working on weekends and holidays.
Take three breaks during the workday.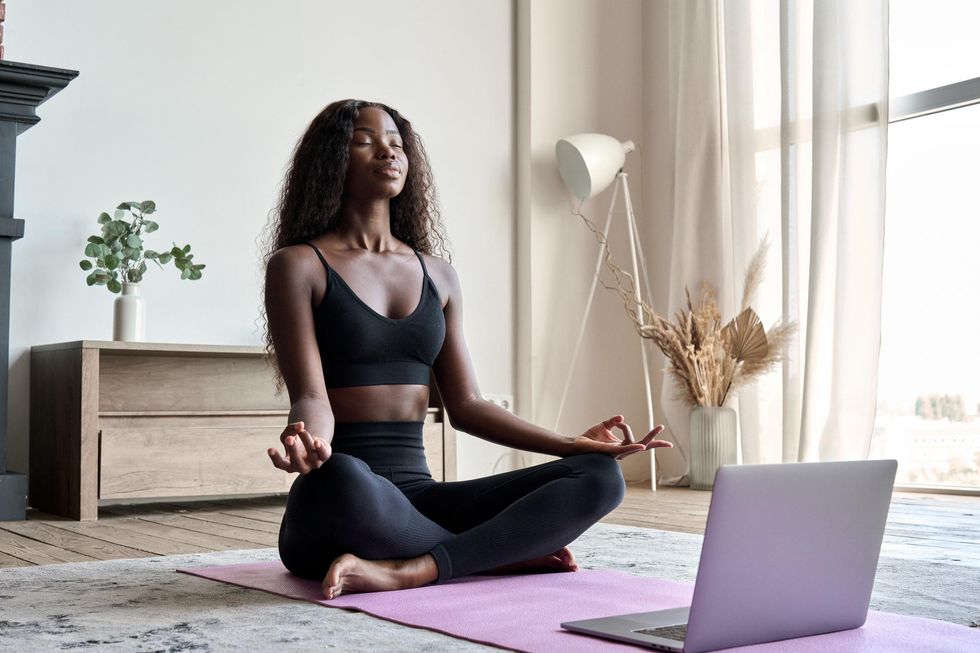 insta_photos/Getty Images
3. If you don't have to struggle, don't.
Struggling doesn't always make the journey worthwhile or the destination meaningful. You don't have to struggle to have an empowering, "relatable," or inspirational story. We aren't all dealt the same cards, so if you currently have access to things that make it "easier" for you to accomplish something or achieve your goal, take it—don't feel guilty. Choose ease.
4. Let people help you.
This is a big one. If you have well-intended people in your circle of trust willing to help you, let them help. Some of us fear letting people help us because we don't want to be a burden, we fear coming off as incompetent, or we don't want people to throw us needing help back in our faces. Life is hard. Trying to figure everything out on your own is overwhelming. Find the courage to be vulnerable and accept help when it's being offered. If you have people in your life who make you feel like a burden or you're in one-sided relationships, it may be to re-evaluate whether you want to continue investing your energy with those people.
5. Speak to yourself kindly.
We spend a lot of time talking to ourselves. What does your inner voice sound like? Does the voice inside your head tend to be negative and critical? If it is, that's okay. Negative self-talk is something that starts in childhood. Statements like "you're so dumb," and "what would even possess you to do something so stupid" can get ingrained in our psyche. But we have the power to interrupt that voice and replace it with one that's compassionate and kind. If you find yourself engaging in negative self-talk often, try placing affirmations around your house and say them out loud when you see them. It may be uncomfortable at first, but over time you'll become used to associating yourself with positivity. Also, take time to examine where those negative thoughts came from and do the work to let them go.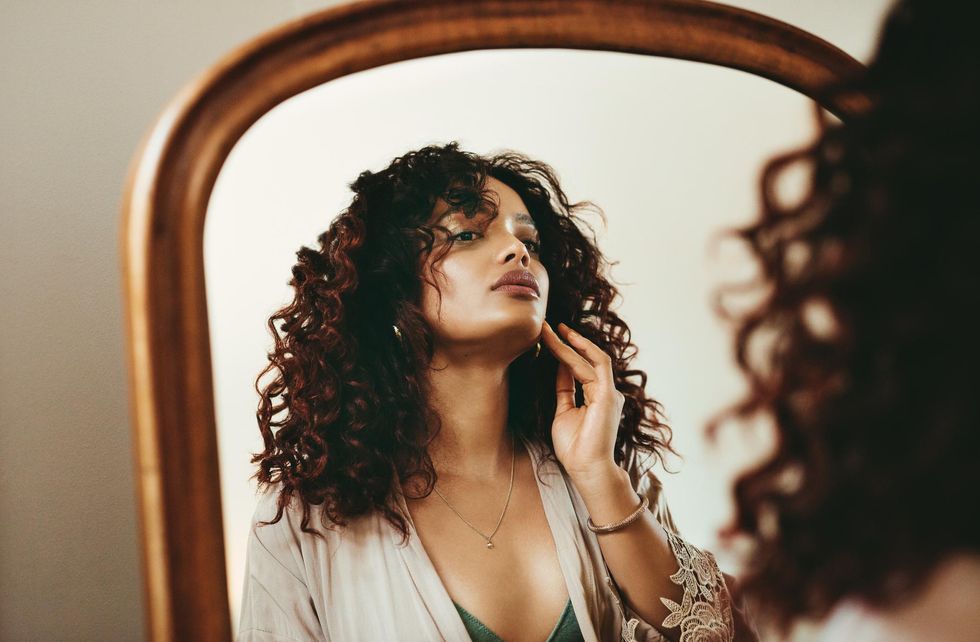 Delmaine Donson/Getty Images
6. Stop trying to be humble.
I hate when people say, "I don't want to gas you up" or "don't let it get to your head." People always try to remind people not to get too full of themselves. Why? Humility means "not proud or haughty; not arrogant or assertive." It doesn't mean you don't take time to not compliment yourself and bask in all the great things about you. Tell yourself you did a good job today. Tell yourself you look good. That way, when people reiterate those thoughts to you, you're not shocked and it doesn't feel foreign to you.
7. Focus on what you can control.
Sometimes we worry about things we can't control, like other people, the future, and the past. We worry about things that might not even happen, ruminate, or how we wish things would have gone. We can't stop worrying, but we can try to interrupt these thought patterns and focus on calming methods.
8. Stop trying to be the hero.
It isn't your job to heal, fix and rescue everyone from themselves. Sometimes we play the role of rescuer in our friendships and romantic relationships because it gives us something to do. Sometimes we fall into that role to avoid facing what's most important, ourselves. We end up losing ourselves and straying further from our own healing and happiness attempting to save other people. Find the courage to focus on rescuing and keeping yourself.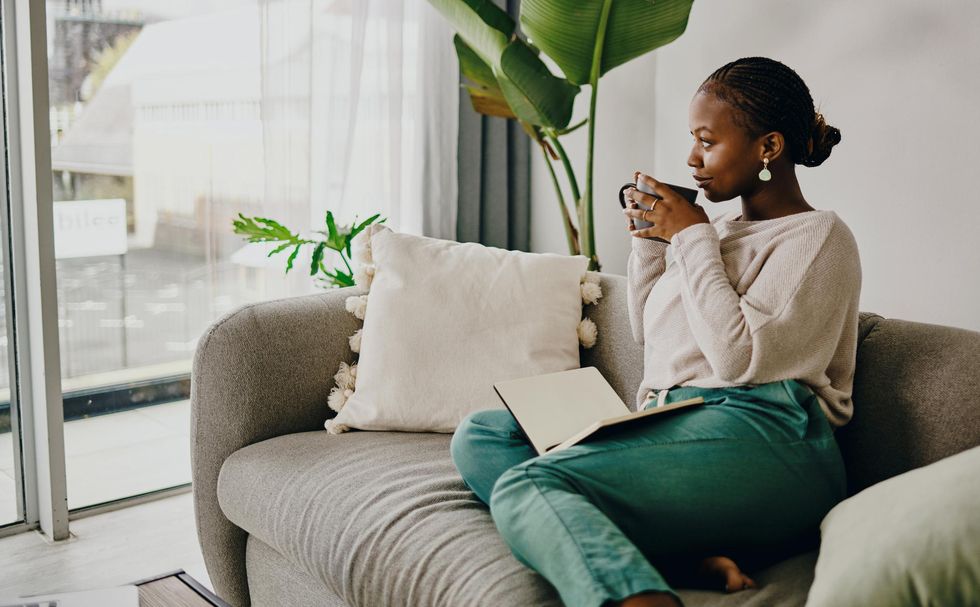 Delmaine Donson/Getty Images
9. Prioritize joy.
Indulge in things that make you smile or make you feel genuinely happy. Dancing to your favorite song, watching an episode of your favorite show, reading your favorite book, or wearing your favorite shoes. Savor those fun and peaceful moments.
10. Accept that you are worthy and deserving.
You don't need to do anything to deserve the soft life—it doesn't have to be earned. When we believe we are worthy of a life guided by ease and comfort, we will reject things that don't align with that vision and make decisions that get us closer to maintaining that lifestyle.
Let's make things inbox official! Sign up for the xoNecole newsletter for daily love, wellness, career, and exclusive content delivered straight to your inbox.
Featured image by JLco - Julia Amaral/Getty Images