Erica Fraser
Erica Fraser is a writer and wellness educator from the Bronx, NY. For daily self-love notes, follow her on Instagram @ericacfraser.
The law of attraction is tricky. A few years ago, I felt something was deeply wrong with me because I kept attracting people who hurt me. No matter how hard I tried to fix myself, and alter my energy, the same type of people kept coming my way. I'd talk to my friends about it and ask them, "Why do I keep attracting this type of person? Why do I keep having the same experiences?"
It took me a while to realize that the biggest thing I was doing "wrong" was not recognizing the power I had in choosing the people I let into my life. Blaming myself for the people I was "attracting" was pointless because I had no power or control over who was attracted to me. None of us do.
Instead of asking ourselves, "Why do I keep attracting this type of person?" we should try asking, "Why do I continue to give energy to people who show signs of not being a good fit for me?"
To have healthier and more fulfilling relationships, we must be intentional about who we entertain and make space for in our lives. We have to own our decision to continue patterns with people because they provide us with a familiar discomfort we've become accustomed to settling for. While we aren't responsible for the way people treat us, we are responsible for understanding why we decide to stay.
So, how do we lay the foundation for choosing the right people?
1. Show up as yourself. 
When we first meet someone, it's tempting to show up as our representative or be the person we think someone is looking for. To find people we're compatible with, we must be brave enough to be ourselves, even if that means not being liked or accepted. As long as we find the courage to radically love, value, and accept ourselves, we put ourselves in the position to meet people with whom we can sustain healthy and meaningful relationships.
2. Build a relationship with yourself.
Being disconnected from ourselves can make it hard to be connected with other people. Learning to love, honor, and respect ourselves helps us create a strong foundation for building healthy relationships with other people. When we feel safe with ourselves, we'll feel more confident when putting ourselves out there to get to know others. When we begin having conflicts, which is guaranteed to happen whenever people get to know each other, we'll be able to communicate our needs and boundaries to increase intimacy in the relationship. If the relationship doesn't work out, we're less likely to blame ourselves and more likely to trust that we can make more fulfilling connections in the future.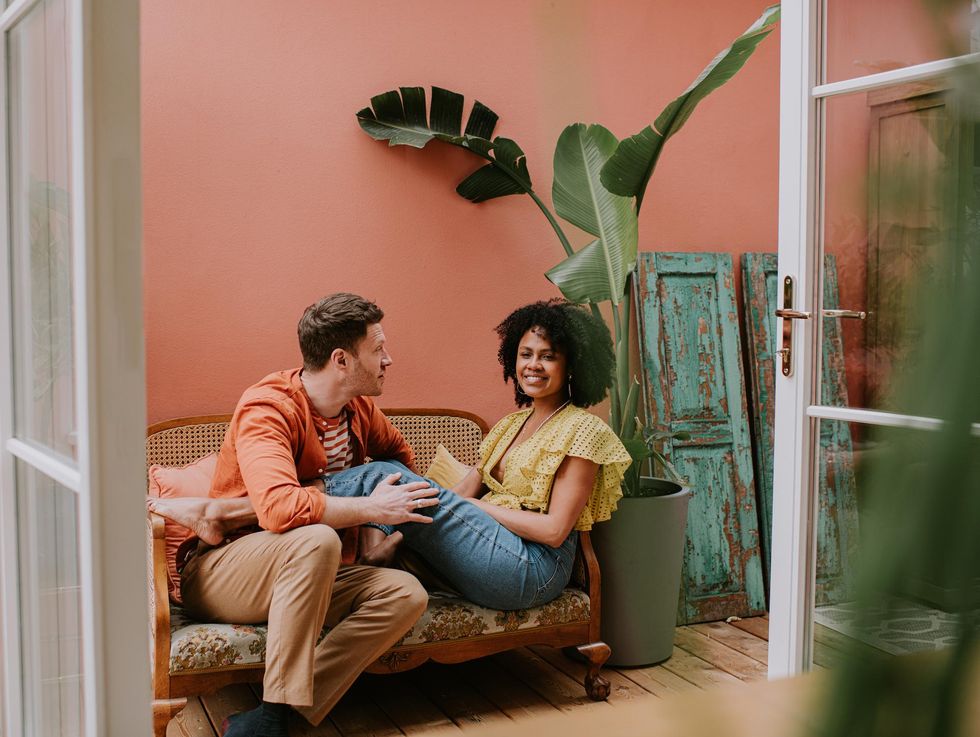 Getty Images
3. Don't be afraid to look "needy."
Sometimes we're afraid to ask for what we need to feel safe or comfortable in a relationship because we fear looking "needy." When we present as "needless," we end up in a community with people that like being around us because we don't ask for anything. As a result, the relationships become one-sided as they grow more comfortable and content with not doing anything for us. As the relationship progresses, we attempt to let our needs be known and grow resentful as our requests go unnoticed. Being open about our needs helps us discover people we're compatible with in friendship and romance. Having needs is one of the things that makes us human, and some of these needs can only be filled when we're in relationships with other people. Remember, sometimes you're not asking for too much; you're simply asking the wrong person.
4. Let people unfold. 
Sometimes we commit to people too quickly. We become captivated with the idea of someone, and when the truth of that person is revealed, we are disappointed, or worse, we're in denial. Natalie Lou, the author of the Baggage Reclaim Series, always reminds readers that "people unfold." Over the course of getting to know someone, we may discover signs that unveil incompatibility. If we're not careful, we'll overlook those signs and keep moving forward because we don't want to be wrong about someone.
We don't want to be alone again. We don't want to stop being friends with someone. But, in the end, we hurt our own feelings by choosing to deny the reality of our situation. We also draw out the ending of what would likely be an unfulfilling relationship. The more time we spend engaging with people we aren't compatible with, the less time we spend connecting with people we fit well with.
5. Choose people that choose you. 
Stop chasing after people who are running away from you. Some of us learned that we were difficult to love, and we internalized that our relationships would be challenging and filled with uneasiness. When we receive mixed signals, crumbs of attention, or poor treatment, we're prepared to fight and perform to sustain the relationship and prove ourselves. Our nervous system gets triggered, and we mistake those feelings of uncertainty for attraction and love. But that's not love, and we are worthy and deserving of so much more.
We deserve mutuality. We deserve to be around people who want to be with us as much as we want to be with them. We shouldn't be in a state of constantly questioning if someone is as invested as we are, nor should we be performing for love. Choose people that choose you—no forcing, no begging.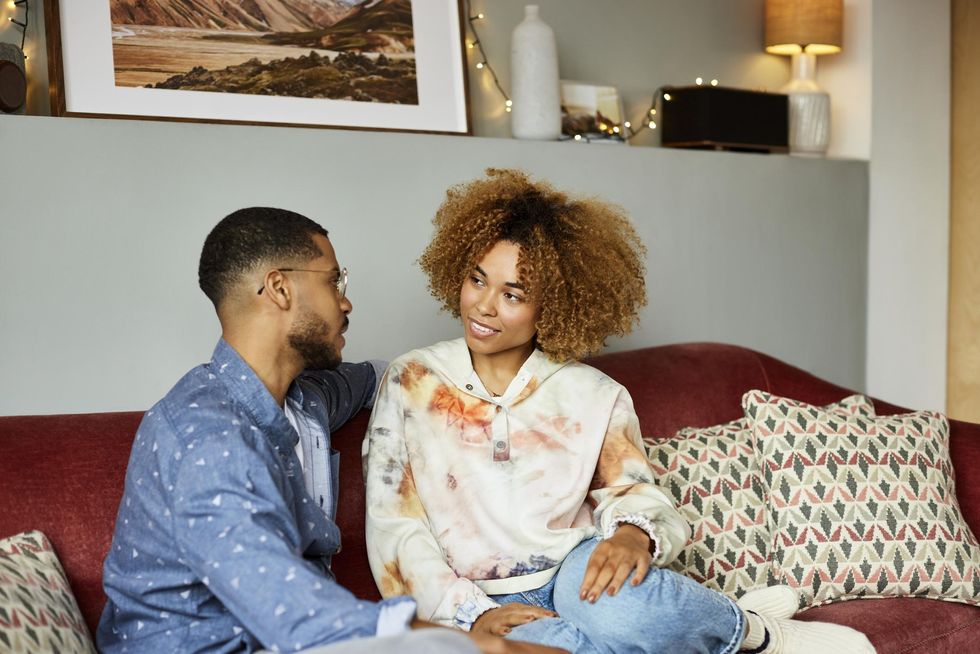 Getty Images
6. Become comfortable with impermanence. 
Everyone you meet and build a relationship with won't stay in your life forever, and that's okay. Everyone isn't meant to stay. Sometimes we try to prevent people from leaving or refuse to walk away because we're uncomfortable with endings. More importantly, we're uncomfortable with what endings say about us. By trying to control whether or not people stay, we're attempting to control the uncontrollable. It's a losing game, and we end up hurting ourselves and others in the process. Longevity in a relationship is not an indicator of health or fulfillment, nor does it serve as a reflection of our worthiness.
7. Stop making excuses for people. 
When we feel unlovable, we can have a strong desire to stop other people from feeling the same way. We'll try to accommodate, justify and tolerate unacceptable behavior in other people because we don't want to be mean or reject people. We aren't responsible for protecting other people from rejection or disappointment. If we're being honest, sometimes we struggle with the idea of rejecting someone because we don't want to deal with the pain of being rejected and assume others can't handle it either. When people hurt us, we lean into being too understanding instead of assessing the relationship and establishing boundaries. Don't fall into the trap of blaming yourself for someone else's behavior in hopes that if you take responsibility, you can evoke change. Part of being in healthy relationships and establishing respect is showing others you have the strength and courage to protect yourself.
Taking responsibility for our lives is scary, but it's where healing begins. While we can't be in control of everything, we can exercise our power to choose. Letting people into our lives isn't a passive activity. The relationships we choose to pour energy into play a significant role in our happiness and well-being. Give yourself the love, compassion, and foundation you need to choose wisely.
Let's make things inbox official! Sign up for the xoNecole newsletter for daily love, wellness, career, and exclusive content delivered straight to your inbox.
Featured image by Getty Images
Keep reading...
Show less
Does anyone else feel like they aren't feminine enough?
Last year I was having dinner with a friend and we started discussing feminine energy. I shared that I wanted to be more feminine or get better at exuding it, whatever that meant. She laughed, leaned in, and said, "Erica, you give off feminine energy. You have nothing to worry about."
The thing is, I was never worried about being "feminine enough" before that.
Feminine energy is characterized as "being." It's centered on receiving, flowing, creating, feeling, and being vulnerable. On the converse, masculine energy is rooted in "doing." It's based on giving, planning, achieving and remaining focused. We are constantly floating between our masculine and feminine energy, and maintaining a healthy balance of both energies allows us to live a harmonious and fulfilling life. Unfortunately, we live in a society dominated by "doing," and patriarchy deems feminine energy inferior and only purposeful for domestic duties. So, many of us live out of balance because we fear seeming weak or unproductive. But feminine energy is powerful.
I started thinking more about the power of feminine energy when I stumbled upon Ayesha K. Faine's work Women Love Power in 2017. I loved that she was helping women recognize the importance of harnessing their feminine energy and telling the world that bringing feminine energy to the forefront would be crucial in establishing balance and harmony worldwide. I also enjoyed learning about my feminine archetype (I was a Gamine then). Ayesha taught us how our archetype manifested in our lives, how to use feminine energy to be successful, and how I could use it to gain a deeper understanding of myself and improve my relationship with others. Her work was empowering.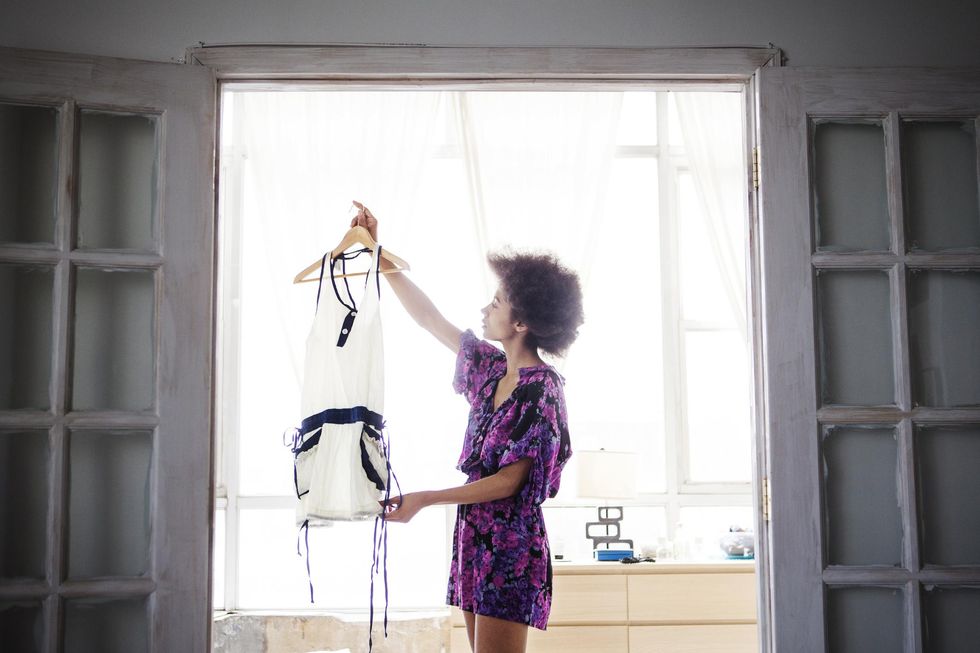 Getty Images
Recent conversations about feminine energy seem focused on shaming. Statements like,
"You're not feminine enough."
"You're too masculine."
"You need to lean into your feminine,"
seem to have replaced with statements like,
"You need to do this to get a man."
"You don't know how to let men lead."
and (my favorite),
"This is why men don't like you."
The conversation is tired, old, and problematic.
Attempting to shame someone into embracing more of their feminine energy isn't helpful or loving. Black women can be loved and encouraged to make decisions that will help them love, nurture, and care for themselves. Encouraging Black women to embrace softness instead of unyielding strength is an act of love. Reminding Black women they are worthy of receiving help from others and that they aren't a burden is an act of love. Creating safe spaces for Black women to be vulnerable and receive care is an act of love. All of these things give Black women the freedom to incorporate more feminine energy into their lives in a way that benefits their mental, emotional and physical well-being. None of these benefits are men-centered or men-focused.
Everything can't be about men. Everything can't be about appealing to the male ego. If you are someone that wishes to be in relationships and community with men, it's natural to care about what they think. But it isn't healthy to be controlled by what men think. Because who is the deciding voice on whether or not you're "feminine enough"?
Who are you giving that power away to?
I would hope no one. But I'm on the internet more often than not, and I have conversations with women I love all the time. The femininity conversation always goes back to finding ways to maintain or obtain a man's attention. And it doesn't serve us to be men-centered in that way.
Centering men in our decisions can cause us to abandon ourselves. We attempt to bend, fold, contort and conform to fit a phenotype or personality that doesn't come naturally to us and become resentful when it doesn't result in us being chosen. It's madness and deeply unfulfilling. But the reasons were ready to listen to someone tell us were inadequate or fail to measure up are understandable. We're scared. We don't want to be alone. We don't want to be the person that doesn't get chosen.
But allowing people to continually profit off of our insecurity is hurting us.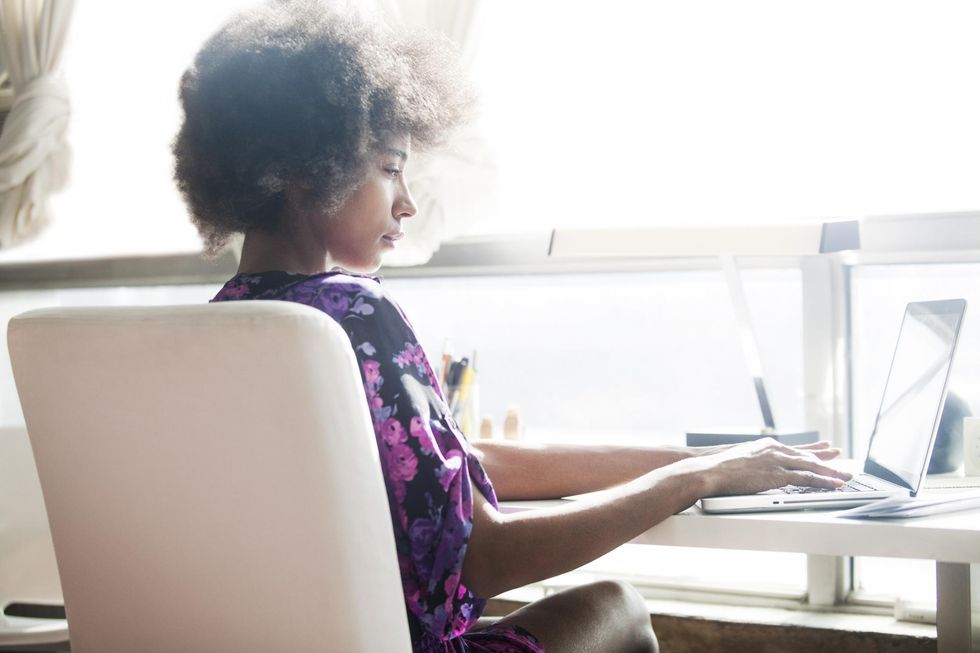 Getty Images
Some of the femininity rhetoric is anti-Black and being used to shame Black women for adapting to environments that required us to lean into more "masculine energy." For example, I struggle with letting people help me; many of us do. It's not intentional. I'm not resisting my feminine energy to be combative or difficult; I doubt anyone is. Framing the conversation that way doesn't help. There are various reasons someone may be unable to embrace more feminine energy. Maybe their environment isn't safe enough for them to be "soft." Perhaps they aren't around people that can lead in non-egocentric ways. Maybe they had to become hyper-independent to survive as children.

The way we approach people and the way we approach having these conversations with ourselves is important. Conversations rooted in kindness, compassion empathy are transformational. Conversations based on shame lead to low confidence and a lack of self-love.
If you're going to embrace more feminine energy, do it for yourself. Do it because you love yourself. Do it because you see it improving your life and your well-being. Don't do it because you're seeking the validation and approval of a stranger. Don't do it because you're hoping to obtain something outside yourself because you can't control anything outside of you.
Stand in your power and be the deciding voice on whether or not you are enough.
Let's make things inbox official! Sign up for the xoNecole newsletter for daily love, wellness, career, and exclusive content delivered straight to your inbox.
Featured image by Getty Images
Keep reading...
Show less
"Don't die with your dreams."
It's a simple statement, but one I really needed to hear. After attending the live taping for The Hey, Girl Podcast's finale episode, I realized I'm not living my dream life. I have a decent job, my own place, and a great social life, but something is missing. That something? I'm doing what I'm supposed to, not what I want to do. However, shifting gears to have a more fulfilling life would require faith, taking risks, and being vulnerable—all things I struggle with. And I know I'm not the only one.
Some of us are settling for our life because we're afraid to try and fail. We're so scared to seem lost, directionless, or uncertain. We don't want to be judged or fear being misunderstood when we attempt to explain our lack of fulfillment to family and friends. We fear seeming "too old" to not have it "all together." We may also feel inclined to listen when the little voice in our head tells us we don't have what it takes to achieve our dreams or we don't deserve the joy and fulfillment that comes from walking in our purpose.
While these feelings and fears are valid, they don't reflect the reality of our situation. These feelings and fears are often rooted in stories that protect us from being vulnerable but keep us further away from our dreams.
We have to find the courage to tell ourselves a new story. One that affirms that we're exactly where we need to be and this part of life that feelings confusing, scary and uncertain is a necessary part of the journey.
Here's how we find the courage to do that:
Forgive yourself for not trying sooner. 
As we get older, we may feel more pressured to settle down and play it safe when making big decisions. We may tell ourselves that we should have taken risks sooner and that it's too late in the game to attempt something new. It's hard to imagine new possibilities when we keep judging ourselves for choices we made in the past. We can wonder why the 25-year-old version of ourselves didn't make different decisions, but we can't change the past, and living with regret makes it hard for us to access our dreams. Forgiving yourself and being compassionate with yourself will allow you to access the confidence you need to be successful.
Stop comparing yourself to other people.
Reading and following the success stories of those we admire is a huge source of motivation. It can inspire us to dream big and imagine how different our lives could be if we took a risk. Unfortunately, it can also scare us into staying stuck because we'll fall into the comparison trap. We'll scroll through Instagram, Facebook, and LinkedIn and feel inadequate because people are further along than us. We may get discouraged when we discover people have access to funds, people, and opportunities that can help them excel faster than we can.
The truth is we don't know every detail of their story. We don't know what they've sacrificed or how scared they were when they started. What we do know is that they didn't give up. They found the courage to keep going despite their challenges, and we have the power to do the same.
Don't be controlled by what other people think. 
It's natural to care about other people's thoughts because we're human. We thrive off being included and feeling connected. But we can't allow ourselves to be controlled by what other people think. Someone will always have thoughts about our decisions and desires. But we can't let the opinions of others keep us stuck and fearful. There is a difference between what we want and what others think we can, and should, have. Even people who love and care about us may attempt to limit us based on their fears and perceptions of who we're meant to be. But they don't have the final say over our lives, nor were they given our vision.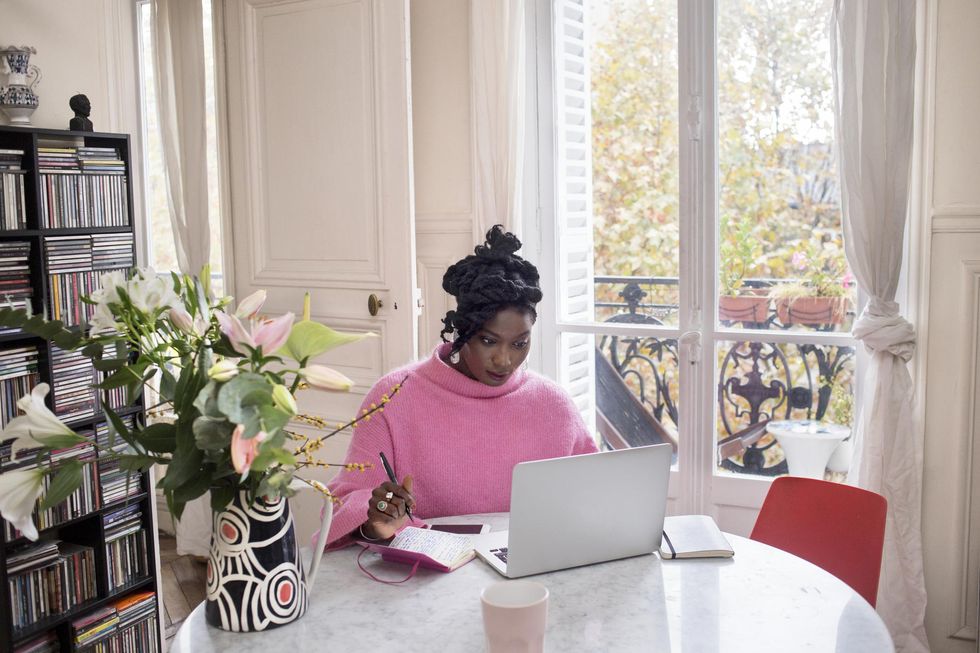 Getty Images
Have faith the pieces will come together.
One of my favorite lines in Paul Coelho's The Alchemist is, "when you want something, the whole universe conspires in helping you achieve it." When we begin pursuing our dreams and taking steps to walk in our purpose, opportunities and experiences will open up to help us on our journey. To notice these opportunities, we have to lean into abundance. Shifting to an abundance mindset is hard when you've become accustomed to living in scarcity. There is enough money, help, opportunities, time, and resources to make our dreams a reality.
Lean into the unknown.
When we don't know the answer or something seems uncertain, we sense that moving forward would put us in danger. We figure the more we know, the less daunting the process will be and the more successful we'll be in the end. But that's not true. We can't control or plan for everything. Where we've been conditioned to see danger, we could begin to see possibility. There is a lot of joy in the unknown. Sometimes we'll need to have faith in ourselves and trust that we have what it takes to be okay wherever we land.
You have to stick with it even when it sucks. 
You can't skip the hard days. Sometimes we want to reach our dreams without struggling. As soon as something undesirable happens, we question the entire process and wonder if we've made a mistake. But experiencing lows is part of the journey. It won't always be easy, even when you want something and you're meant to have something. You can take a break, rest, and give yourself space to reassess the plan. But remember, "if the plan doesn't work, change the plan, not the goal."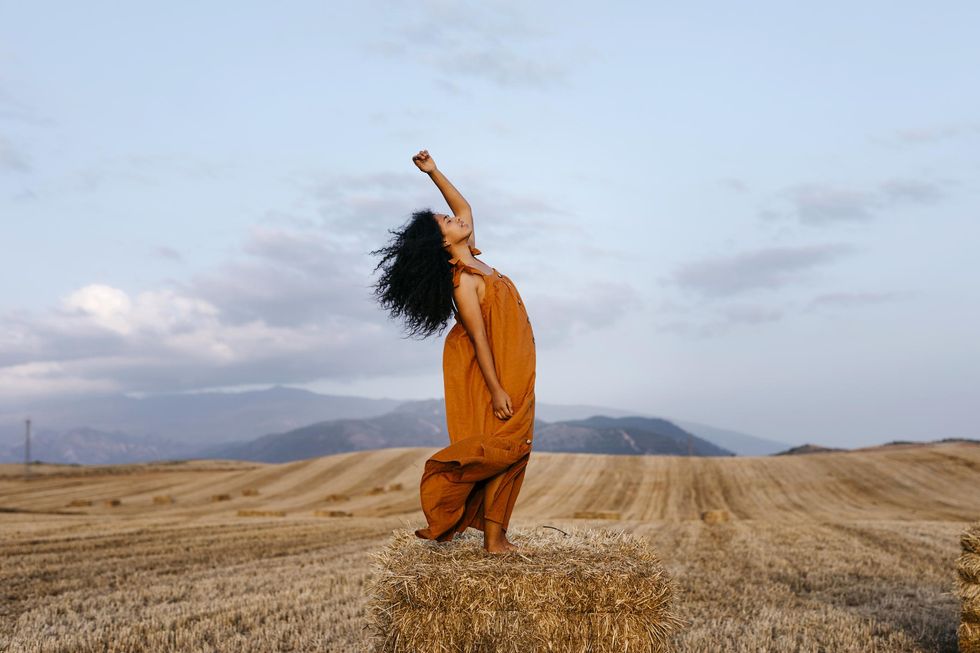 Getty Images
Make time for your dreams.
Sometimes we're so busy using our time, energy, intellect, and creativity as conduits to other people's dreams that we forget to make time for our own. We'll feel productive, but we won't feel fulfilled. We have to stop hiding behind other people's happiness and make time to create our own.
Be vulnerable.
One of the hardest things to do is ask for help. But when you have big dreams, you need a big network. You need a community of people that loves, supports, and encourages you. You also need people that share similar interests and goals. Don't be afraid to share that you're struggling and need help. Asking for help can be scary because it creates opportunities for people to judge you and question your ability to succeed, but those people likely weren't rooting for you to begin with. People who love and support you won't view you asking for help as a sign of incompetence.
Finding the courage to chase your dreams when you feel like you've waited too long is hard. But telling yourself that you've "waited too long" is keeping you stuck and unfulfilled. The person you are in five years will thank you for starting today. The choice is yours. But remember, "don't die with your dreams."
Let's make things inbox official! Sign up for the xoNecole newsletter for daily love, wellness, career, and exclusive content delivered straight to your inbox.
Featured image by Getty Images
Keep reading...
Show less