Erica Fraser
Erica Fraser is a writer and wellness educator from the Bronx, NY. For daily self-love notes, follow her on Instagram @ericacfraser.
When I went natural, I spent hours on YouTube trying to find the perfect regimen and best products to care for my hair. I wanted my 'fro to be soft, long, and luscious. I washed my hair with a peppermint oil-infused shampoo and massaged my scalp nightly with an oil to stimulate hair growth. It worked. My hair grew long, and I loved it until I opted for a shorter style.

When I realized I could wash, condition, and style my hair in less than 30 minutes, I got lazier with my routine. Over time, I stopped massaging my scalp, removed oil from my routine, and shampooed my hair less. I stopped focusing on the health of my hair because I wasn't concerned about the length. If something went wrong, I told myself I would just cut my hair shorter and start over.
That was the wrong approach.
While my hair looked good, there were times I scratched my scalp until it was tender. I shampooed my hair more often to fix the issue, but it was only a temporary solution that probably made the itching worse. A healthy head of hair starts at the roots, and I was neglecting mine.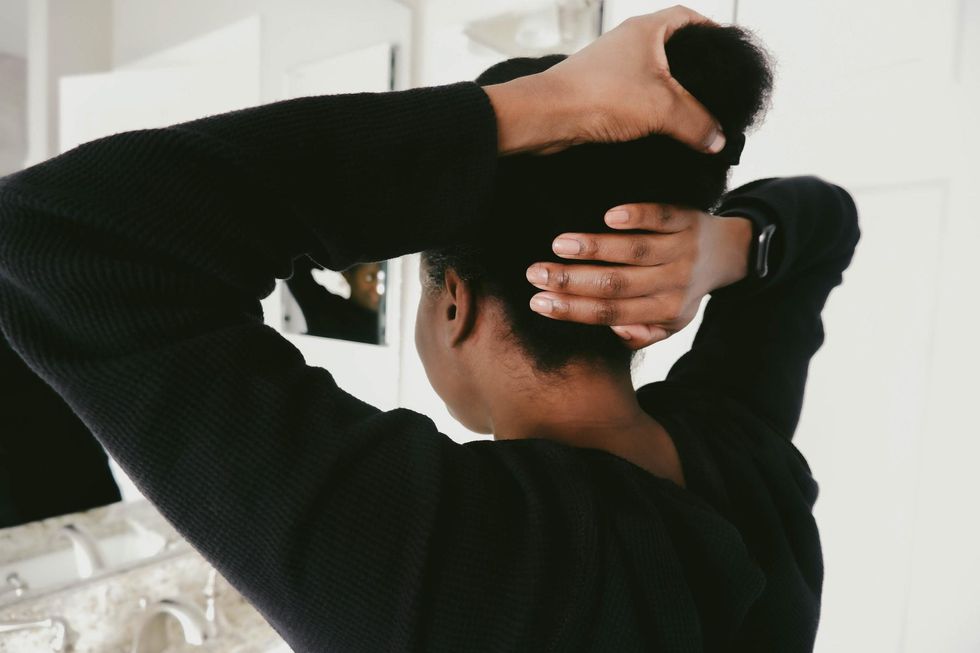 Grace Cary/Getty Images
Our scalp contains around 100,000 hair follicles that produce sebum or oil to keep it moisturized. This sebum also helps shield the skin from infection and allows hairs to grow. When the organisms that dwell on the scalp are out of balance, it can lead to breakage, thinning, and hair loss.
An itchy scalp is one of the most common signs of an unhealthy scalp. If you find yourself constantly scratching your head, it could mean that your scalp is dry or irritated. An itchy scalp may also be a sign of dandruff, a condition that causes the dead skin on your scalp to flake off. Dandruff isn't a sign that your hair is dirty. Taking care of the skin on your scalp and your hair can require different products. While dandruff can be uncomfortable to experience, it is a common skin issue.
Stubborn dandruff that is difficult to get rid of can be a sign of several scalp-related issues, such as atopic dermatitis and psoriasis. If you are experiencing dandruff with one or more of the following symptoms, it may be time for you to see a dermatologist and receive medical treatment:
Redness or inflammation: If you notice that your scalp is red or swollen, it could be a sign of irritation or infection. Bacteria or fungi often cause scalp infections, which can be painful and uncomfortable. Skin infections can not be treated and healed on their own. Most require medical treatment.
Greasy scales: If you notice greasy scales on your scalp, it could be a sign of Seborrheic Dermatitis, a chronic form of eczema that can last for years. It can also cause the skin to become flaky and white or yellow. It can also result in oily skin all over the body. While this condition is more common in men and adults ages 30 - 60, BIPOC people are likely to have a severe form of the disease called Petaloid Seborrheic Dermatitis.
Oily scalp: If you find that your hair is greasy or oily, it could be a sign that your sebaceous glands are overactive. An oily scalp can also lead to hair loss, as the oil can clog the pores on your scalp and prevent new hair from growing.
Hair loss: This is another sign that your scalp may be unhealthy. Several factors, including genetics, hormonal imbalances, medications, and infections, can cause hair loss.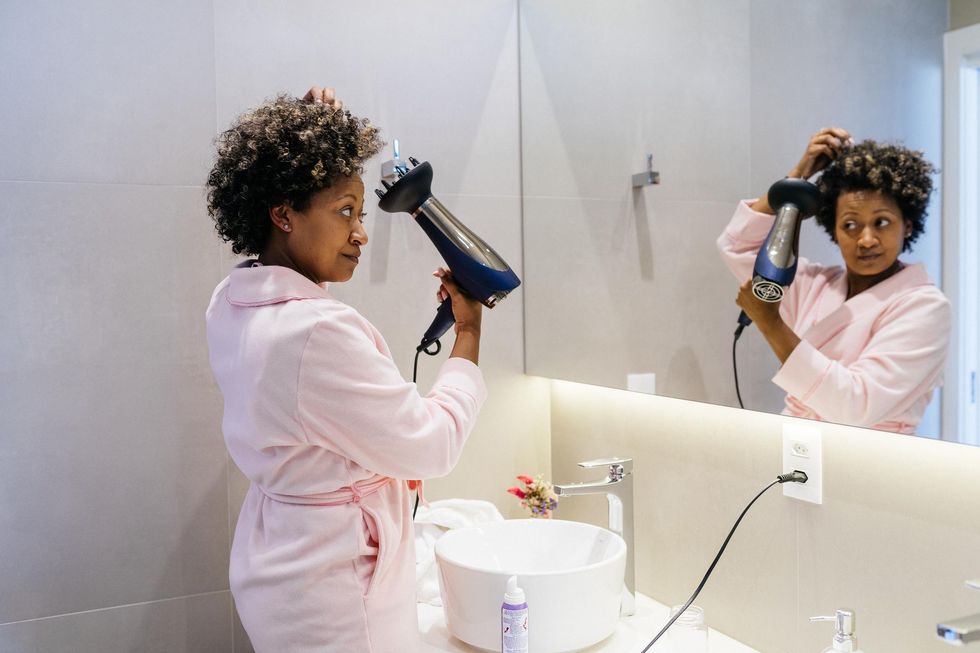 Igor Alexander/Getty Images
How to Get Rid of Dandruff
Once you speak with your doctor and they've ruled out any underlying medical conditions, there are a few steps you can take to manage your dandruff and restore your scalp health. Remember that everyone's combination of hair type and scalp could require a different approach, so don't hesitate to speak with your doctor about what might work for you before resorting to store-bought products that could damage or make the problem worse.

1. Avoid harsh chemicals.
This includes chemicals that you may use on your hair, such as shampoo and conditioner, and those that you may be exposed to in your environment, such as cleaning products or pollutants. When choosing haircare products, look for ones designed for dry and sensitive scalps, and avoid those containing sulfates, fragrances, or other harsh ingredients.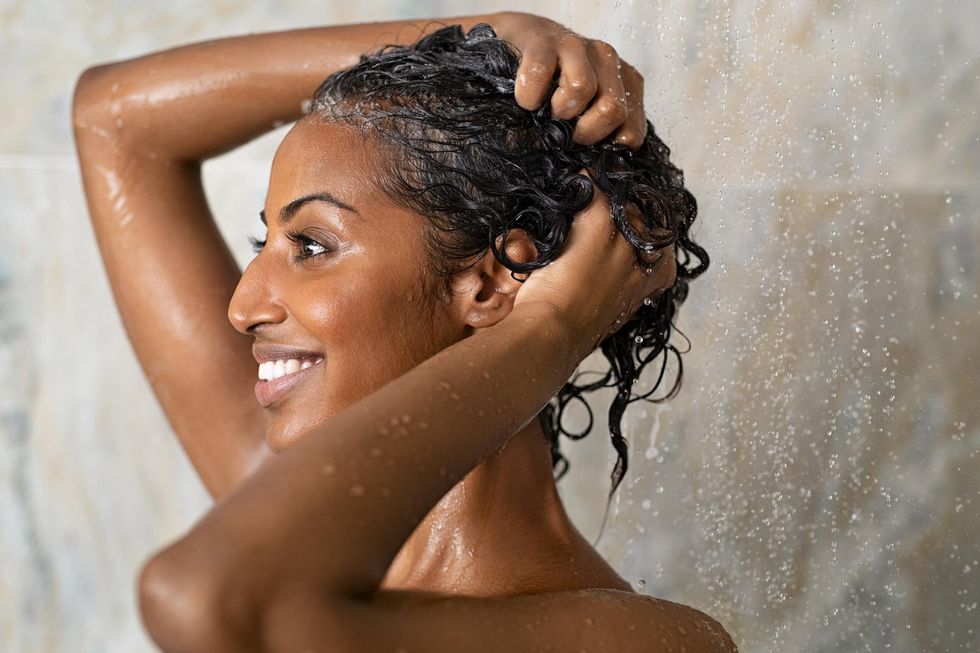 Rido Franz/Getty Images
​2. Keep your scalp clean.
For women with natural hair, moisture and conditioner are staples in our regimens, but shampoo is important too. Shampooing regularly with a gentle shampoo and avoiding hairstyles that can trap dirt and oil on the scalp helps maintain hair health. Shampoos with pyrithione zinc, selenium sulfide, and salicylic acid contain antifungal properties and help exfoliate the scalp. Just be sure to rinse your hair thoroughly after shampooing to remove all traces of soap and residue.
​3. Moisturize your scalp.
The scalp is skin that needs moisturizing too. Products such as leave-in conditioners, oils, and serums keep our scalps hydrated, especially during the old weather months. While there are many options to choose from on the market, several shampoos and conditioners have also been designed to moisturize the scalp.

​4. Avoid hot showers.
Long hot showers may feel good on the skin, but they can damage your scalp. The heat from the water can strip away natural oils, leaving your scalp feeling dry and irritated. If you wash your hair in the shower, use lukewarm water when showering or rinse your hair with cold water.

​5. Protect your scalp from the sun.
Just like the rest of your skin, your scalp can be damaged by exposure to the sun's ultraviolet rays. To protect your scalp, wear a hat or scarf when spending time outdoors, and consider using sunscreen specifically designed for the scalp.

A healthy scalp is the foundation of any good haircare routine. Following the tips we've shared can keep your scalp clean and promote healthy hair growth. If you're experiencing dandruff, the most important thing is to figure out what's causing it in the first place – once you know that, you can take steps to fix the issue. If you've been chaining your routine and don't see the results you're hoping for, don't hesitate to see a dermatologist. Your hair will thank you for it.
Featured image by F.J. Jimenez/Getty Images
Growing chin hair can be a stressful experience for women. Beauty standards tell us we should maintain smooth, hairless, silky blemish-free skin, especially on our faces. Hair popping up in 'unusual' places may make us feel self-conscious or insecure about our appearance. But growing a hair or two on your face is common. As we age, we can expect it to happen more frequently, and here's why.
Two types of hair follicles can be found under the skin, vellus hair and terminal hair. Vellus hair is fine in texture and feels like fuzz. Terminal hair is long, thick, and deeply rooted. Most women have vellus follicles on their faces and chin.
When women grow chin hair, it's usually due to hormonal imbalance. Women experience hormonal imbalances throughout life, especially as they near menopause. While men and women produce testosterone, women typically have smaller amounts. When a woman's testosterone levels are outside what would be considered the normal range, it can cause an increase in facial and body hair growth because testosterone changes vellus follicles into terminal follicles. This male-like patterned hair growth in women is called Hirtuism.
Hirtuism impacts 5-10% of women around the world. It can be caused by various health issues that lead to hormone imbalances. If you experience a sudden change in hair growth or you've noticed that the hair has become dark and coarse, speak with your doctor. Excess facial hair that's dark in color can sometimes be a sign of an underlying medical condition such as Polycystic Ovary Syndrome (PCOS), menopause, adrenal gland disorders, and thyroid disorders. Certain medications that contain androgen or testosterone, such as birth control pills and hormone replacement therapy, can also cause changes in facial hair.
Once you speak to your doctor and rule out potential health conditions requiring treatment of the underlying medical condition, you can create a regimen to get rid of the chin hair. Here are a few methods you can try:
1

.

Use a depilatory cream.
Depilatory creams are hair removal products containing chemicals that dissolve the hair. They are typically very effective at removing hair but can also be harsh on the skin. If you use a depilatory cream, test it on a small area of skin first to ensure you don't have an allergic reaction or experience a skin burn.
2

.

Use a razor.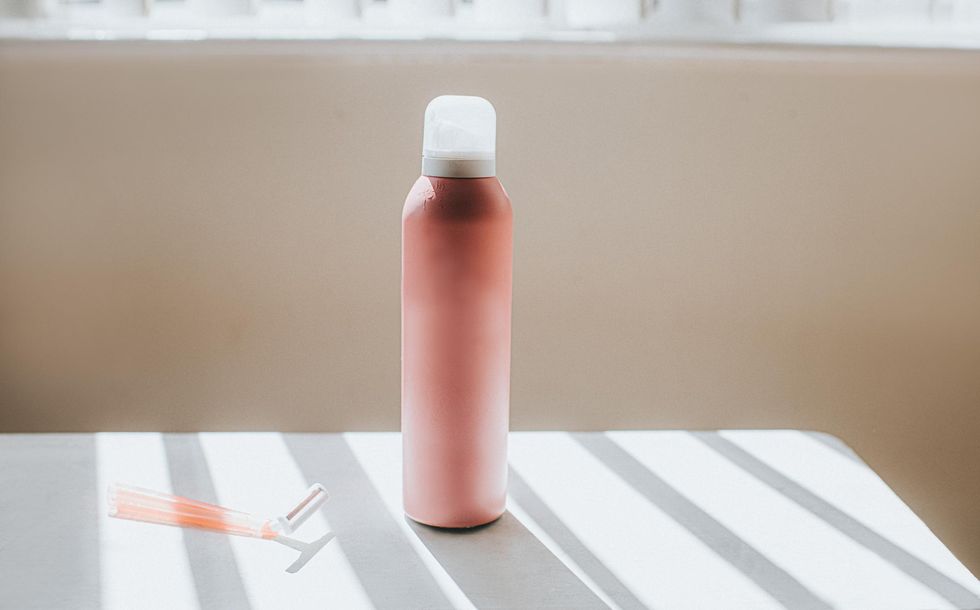 Catherine Falls Commercial/Getty Images
​Shaving is a quick and easy way to remove chin hair, but the process can also irritate the skin. If you decide to shave, use a sharp razor and use after-shave products, to reduce your chances of razor burn. Shaving also doesn't remove hair from the root, so the hair will grow back faster tempting you to shave more often.
3

.

Use tweezers.
​Tweezing is another quick and easy way to remove chin hair, but it can be pretty painful. If you decide to tweeze your chin hair, sterilize the tweezers first by boiling them in water for five minutes, and use a numbing cream in the area before you start to reduce pain.
4

.

Use wax.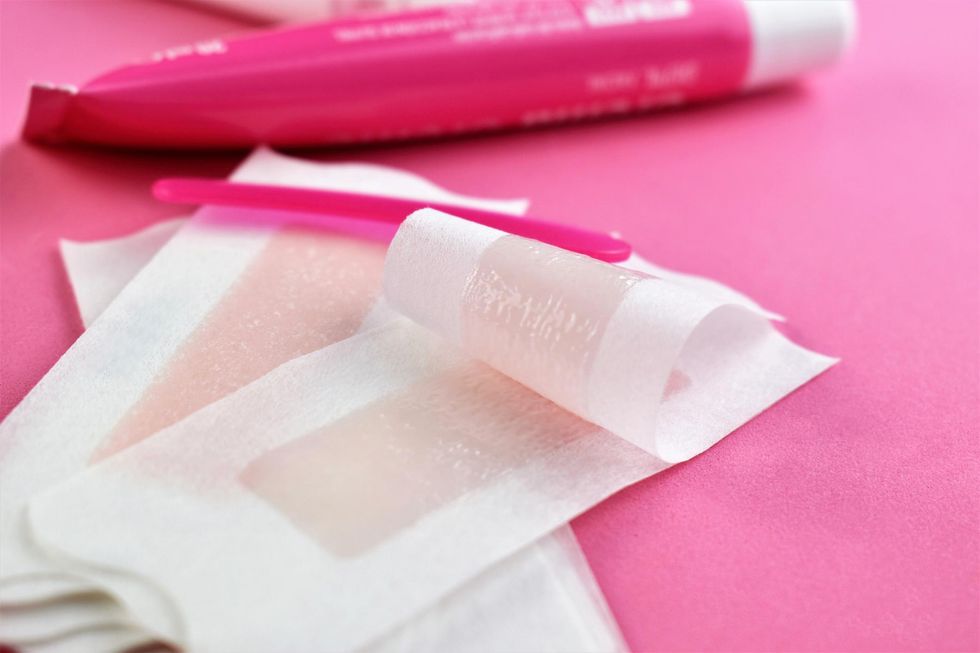 Blanchi Costela/Getty Images
Waxing your chin hair is a great way to temporarily get rid of unwanted facial hair. With waxing, there's no need for painful tweezing or expensive laser treatments. It's an effective method with visible results that will last up to 6 weeks. You can also do it yourself in the comfort of your home with an at-home wax kit.
5

.

Use threading.
Threading originated in Central Asia and India. It involves using a piece of thread to remove hair from the root. Since the hair is pulled from the root, the results last longer than shaving. Since the hair is removed in small sections, the process can be painful, but if you have sensitive skin, threading is a great option because no chemicals or heat is used in the process.
6

.

Use laser hair removal.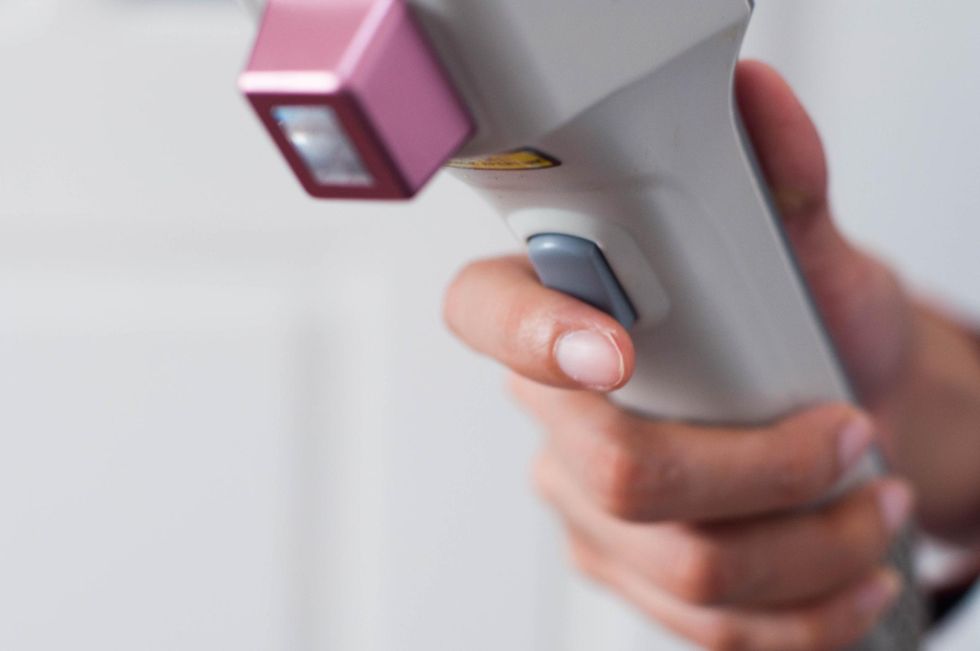 Karl Tapales/Getty Images
​Laser hair removal uses pulses of laser light to destroy the hair follicle. It is considered to be permanent, but some people may experience growth after the recommended number of sessions. Additionally, laser hair removal may not be suitable for all skin types. People with darker skin may be at risk of changes in skin pigmentation.
7

.

Use electrolysis.
Electrolysis is a hair removal method using an electrical current or heat to destroy the hair follicle. While it can be expensive and time-consuming—requiring multiple sessions for a year for the best results—"electrolysis is the only FDA-approved method for permanent hair removal."
There are three different methods of electrolysis: thermolysis—the fastest and simpler option, galvanic—the least common method and the most painful, and a mix of both methods which is typically used for people that have thick or curly hair. It's also effective and safe for dark skin.
Let's make things inbox official! Sign up for the xoNecole newsletter for daily love, wellness, career, and exclusive content delivered straight to your inbox.
Featured image by brizmaker/Getty Images
Having ashy lips may be worse than having ashy knees. It's true. And now that it's getting colder, it's getting harder to keep our skin moisturized, and the skin on our lips is no different. Dry lips can be painful and uncomfortable. In extreme cases, they can even lead to bleeding and infections. So how can you keep your lips moisturized during the fall and winter months?
Here are a few tips to keep your lips soft, supple, and healthy!
Featured image by skyNext/Getty Images
I've never been a person who thrives on routines or waking up early, and I know I'm not the only one. But we can do a few things in the morning to help us get a good start to the day. Ayurvedic medicine, also known as Ayurveda, is an ancient form of Indian medicine that has been practiced for thousands of years and still plays an integral role in India's traditional healthcare system.
Ayurveda medicine practitioners encourage us to start the day with a set routine. This series of activities, known as Dinacharya, helps to promote balance in the body and mind. The specific activities vary depending on the individual's needs, but they often include dry brushing, tongue scraping, and meditation. While it may take some time to get used to, incorporating Ayurvedic principles into your morning routine can greatly improve your health and well-being.
If you aren't doing these already, here are 10 Ayurvedic practices you can try, in no particular order.
Featured image by xavierarnau/Getty Images
I've spent the past five years of my life learning to love myself and striving to be at peace. After being in a constant state of learning and unlearning, I was ready to breathe. I was ready to be free and live. So, when I was diagnosed with thyroid cancer last July, I didn't know how to feel.
In early 2019, I got a yeast infection that wouldn't go away for three months. After trying several over-the-counter remedies and being prescribed a few Diflucan pills, I stopped believing my problem was untreatable yeast. I went to a women's clinic that happened to perform routine thyroid ultrasound exams during their gynecological visits. They found a nodule on my thyroid during the ultrasound and referred me to the radiologist. The doctor told me thyroid nodules weren't uncommon, but I should visit the radiologist as a precaution. She looked slightly concerned and kept asking me if I felt a lump or pain in my neck, but I didn't. I also didn't think much of it because I didn't know anyone in my family with thyroid issues, and I was focused on treating the uncomfortable yeast that wouldn't go away.
The radiologist confirmed that there was a nodule on my thyroid—in fact, there were three. He requested that I get them biopsied and urged me to get my blood work done because he was worried my thyroid wasn't functioning correctly based on what he saw on the ultrasound. When my primary care physician reviewed my tests, she told me my thyroid levels were normal, but I was anemic. My body was running on its reserve iron levels, which had gotten dangerously low. My doctor put me on an iron treatment plan because I didn't have enough white blood cells to fight my yeast infection, even when I was on medication. With treatment, my yeast infection went away, and I felt great. Then my neck started hurting.
It was a dull pain that would shift from the left to the right side of my neck. I thought my years of sleeping without a pillow finally caught up to me, but the pain wasn't surface level. My doctor told me that I could have developed allergies, and the pain was likely due to swollen lymph nodes. The pain continued for the rest of the year, but I tried my best not to scare myself. I had a habit of assuming the worst-case scenario and driving myself into a panic. This time, I wanted to do things differently. My blood work was "normal," and the pain in my neck wasn't constant, so I told myself there was no need to fear the unknown.
Featured image by Mario Arango/Getty Images
For the past few years, I've been working to create a life I don't want to escape from. A huge part of that journey has been dedicated to doing more of the things that make me happy and accepting that I'm worthy of a life I love. I had become accustomed to accepting what life threw at me and learning to be grateful for it. But, I wasn't happy, nor was I fulfilled.
I often found myself forcing gratitude out of fear of seeming ungrateful. Forcing myself to always focus on what was going great in my situation or telling myself it could be worse stopped me from addressing the lack of joy I was experiencing daily. It also prevented me from seeking opportunities that aligned with the vision I had for my life.
I was in community with a few people at the time who knew they weren't happy with their lives, and we were deciding to settle. When I would ask them about good things happening in their lives, some would only be able to reference events from high school or college, but 10 years had passed since then. Some people experienced tragic or unplanned things that derailed their goals and became stuck in a cycle of thinking about what could have been. They were in their late twenties and early thirties and already felt like their best days were behind them.
Well, the average person lives to be 72 years old and I eventually found myself wondering what they would do for the rest of their days while allowing their past to define their reality. I knew I didn't want that for myself and became determined to do something different. If you can relate to these feelings, keep reading to learn what I did to keep the spark going when I didn't feel excited about life.
1. "Lean into the discomfort."
When I was a resident advisor, my team leader would end each meeting by reminding us to "lean into the discomfort" because it was the only way we would grow. I thought it was a cool reminder, but as I've gotten older, it's become integral to how I move through life. Becoming comfortable with being uncomfortable is one of the first steps in the growth process.
Sometimes we'll shy away from being uncomfortable because we assume we're in danger. We may perceive that we're at risk of failing or embarrassing ourselves. These concerns are valid because when we're operating outside of our comfort zone, we're vulnerable. We may be hyper-aware of how others see us and may even be uncomfortable adjusting to the changes we see within ourselves. But, two things can be true at the same time. This period of discomfort could be one of the scariest and most exciting times of our lives!
We also don't have to throw ourselves out into the unknown unprotected. During times of transition, we must practice self-care and self-soothing activities. Taking risks exposes us to rejection, judgment, anxiety, and hearing the word "no" more often. We won't succeed or get the outcome we were hoping for each time, and that's okay. Finding support systems and engaging in stress relief activities can help us navigate the challenges.
Over time, doing things that scare us can help build our capacity to tolerate uncertainty and increase our self-confidence when we realize we can do hard things.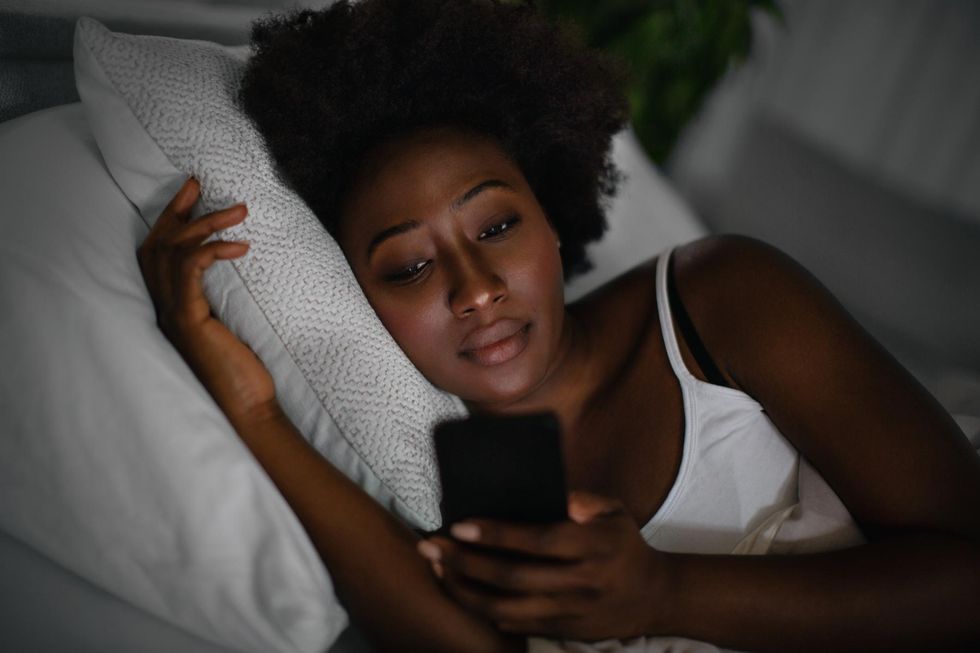 Aja Koska/Getty Images
2. Stop comparing yourself to others. 
Social media is a great tool to connect with people and be exposed to new things, but it can also leave you feeling defeated if you aren't careful. Social media has made it easy for us to participate in the 'Comparison Olympics.' We watch the highlight reel of someone's life and question why we don't have what they have or couldn't navigate a similar hardship the way we did.
We could receive news we're hoping or praying for and might not allow ourselves the space to be excited because we saw that someone share what we perceive to be more significant news on Instagram. We could be getting ready to take a much-needed vacation and become sad that we can't travel to the locations we see on travel pages.
We may even become upset that more people aren't more forthcoming about their negative life experiences. Sometimes we want to know that other people are struggling because we don't want to feel alone in our situation. But the truth is, we don't need to know every single detail of someone else's life to feel better about our own. It isn't healthy, and most times, it isn't our business.
No one on the earth is without worry or hardship. People are allowed to remember and display their lives the way they want. Focusing on what you can see about others takes the focus of what matters most and what you actually have power over: your life.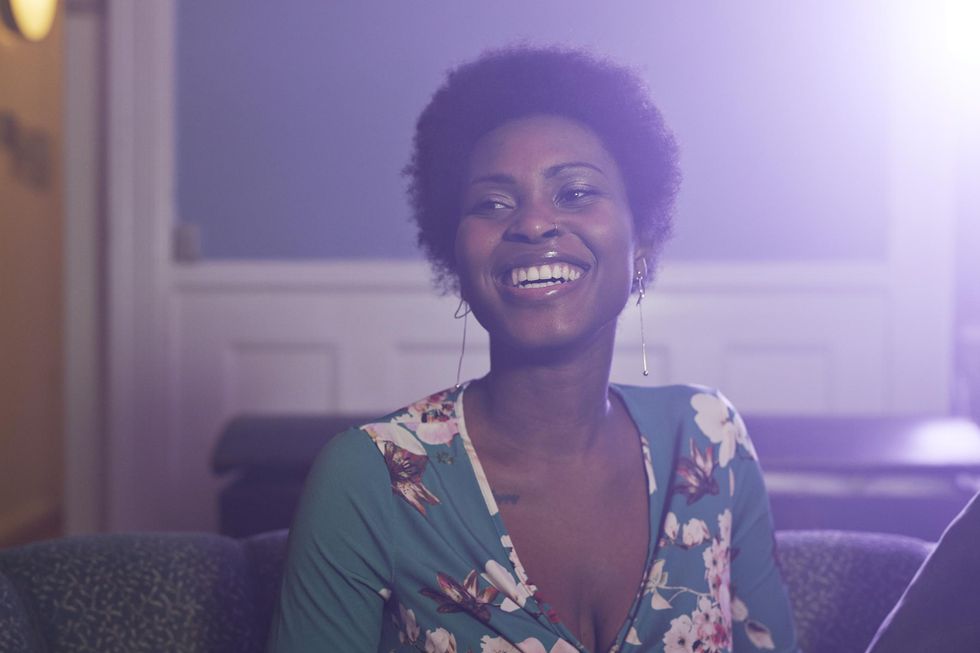 Klaus Vedfelt/Getty Images
3. Find things to look forward to. 
​Sometimes we are afraid to look forward to things because we're afraid to be disappointed. The past two years have been rough. People had big plans for 2020, but the pandemic caused a lot of social shifts and grief. It seemed like we were always anticipating the next tragedy. But grief and joy can coexist.
Grief and happiness are both important parts of the human experience—you can't have one without the other. Give yourself the space to feel how you feel and process your feelings. But also give yourself permission to move on. Ruminating over what could have been or obsessing over what could be, makes us feel powerful because it gives us the illusion of being in control. But none of that is real, and we end up stuck.
If we're going to incorporate more joy into our lives, we must remember that we only have the present moment and we have to let the present be enough. We may not know what will happen next year or next week, but we can still schedule a time to do the things that make us happy.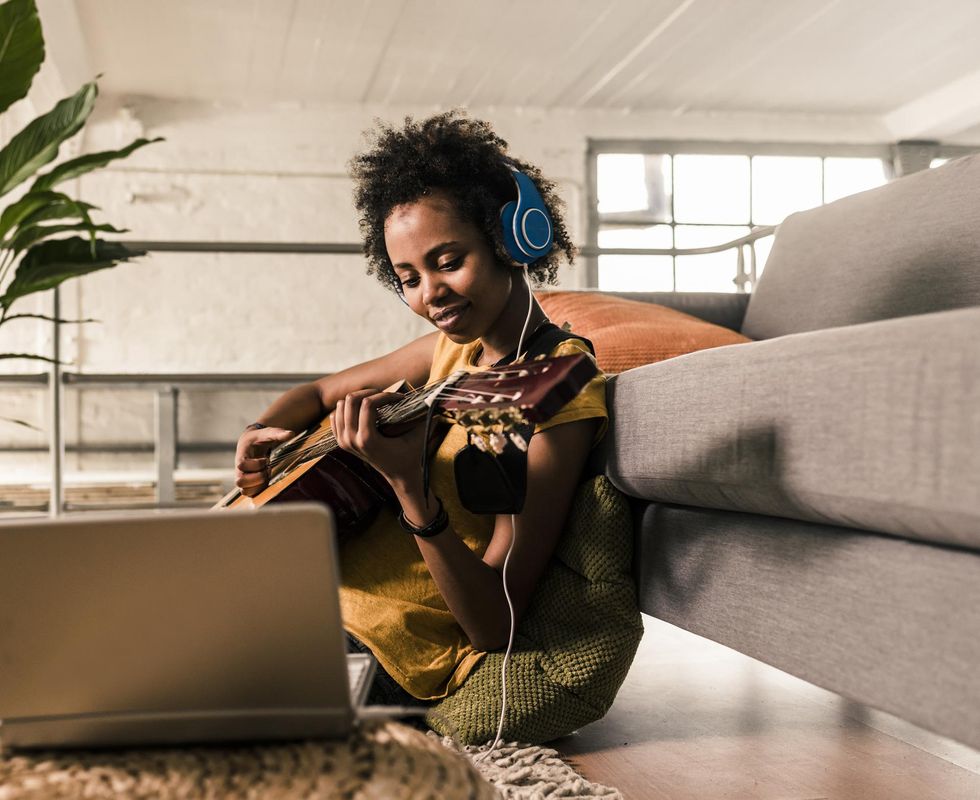 Westend61/Getty Images
4. Learn something new. 
I attempt to learn something new whenever I'm stressed to shift my focus. I thought I lacked discipline and the ability to concentrate (which can be true lol), but then I read that learning something new helps ease stress and increases your self-worth. I also learned that learning also makes you happier and increases your self-confidence.
Learning doesn't have to be structured or confined to the classroom. You can learn through meeting new people and hearing their life experiences. You can also take dance, writing, or drawing classes from YouTube University. It also makes you open to trying new experiences because you'll be confident in your ability to take on new challenges.
Learning can also help you realize that you're never stuck. You'll be confident in your ability to take on new challenges because you'll know you can develop the skills to succeed. As long as you're willing to learn something new and put yourself out there, you have the opportunity to reinvent yourself and change your life.
So, get out of your own way. Your best life is waiting for you.
Featured image by LaylaBird/Getty Images