The subject of cancer is one that always hits a super-sensitive sore spot for me. I've lost several women in my family, who were very dear to me, to breast cancer, and while I can always remember them in my heart, reminiscing on their last days and reliving the disappointment about how I'll never get the chance to share pivotal experiences with them in my adulthood still hurts.
And I'm not alone: Between 1999 and 2020, 909,488 Black people died from complications of breast cancer, the CDC reports, devastating their families psychologically and financially. Non-Hispanic Black women have the highest death rates for this type of cancer as well, and it's not just something that hits middle-aged or elderly women, either. The Breast Cancer Research Association notes that young Black women (under 50) have double the mortality rate of young white women for breast cancer.
Featured image by South_agency/Getty Images
This article is in partnership with Meta Elevate.
If you've been on the internet at all within the past decade, chances are the names Hey Fran Hey and Shameless Maya (aka Maya Washington) have come across your screen. These content creators have touched every platform on the web, spreading joy to help women everywhere live their best lives. From Fran's healing natural remedies to Maya's words of wisdom, both of these content creators have built a loyal following by sharing honest, useful, and vulnerable content. But in search of a life that lends to more creativity, freedom, and space, these digital mavens have moved from their bustling big cities (New York City and Los Angeles respectively) to more remote locations, taking their popular digital brands with them.
Content Creators Hey Fran Hey and Maya Washington Talk "Embracing The Pivot"www.youtube.com
In partnership with Meta Elevate — an online learning platform that provides Black, Hispanic, and Latinx-owned businesses access to 1:1 mentoring, digital skills training, and community — xoNecole teamed up with Franscheska Medina and Maya Washington on IG live recently for a candid conversation about how they've embraced the pivot by changing their surroundings to ultimately bring out the best in themselves and their work. Fran, a New York City native, moved from the Big Apple to Portland, Oregon a year ago. Feeling overstimulated by the hustle and bustle of city life, Fran headed to the Pacific Northwest in search of a more easeful life.
Her cross-country move is the backdrop for her new campaign with Meta Elevate— a perfectly-timed commercial that shows how you can level up from wherever you land with the support of free resources like Meta Elevate. Similarly, Maya packed up her life in Los Angeles and moved to Sweden, where she now resides with her husband and adorable daughter. Maya's life is much more rural and farm-like than it had been in California, but she is thriving in this peaceful new setting while finding her groove as a new mom.

While Maya is steadily building and growing her digital brand as a self-proclaimed "mom coming out of early retirement," Fran is redefining her own professional grind. "It's been a year since I moved from New York City to Portland, Oregon," says Fran. "I think the season I'm in is figuring out how to stay successful while also slowing down." A slower-paced life has unlocked so many creative possibilities and opportunities for these ladies, and our conversation with them is a well-needed reminder that your success is not tied to your location…especially with the internet at your fingertips. Tapping into a community like Meta Elevate can help Black, Hispanic, and Latinx entrepreneurs and content creators stay connected to like minds and educated on new digital skills and tools that can help scale their businesses.
During a beautiful moment in the conversation, Fran gives Maya her flowers for being an innovator in the digital space. Back when "influencing" was in its infancy and creators were just trying to find their way, Fran says Maya was way ahead of her time. "I give Maya credit for being one of the pioneers in the digital space," Fran said. "Maya is a one-person machine, and I always tell her she really changed the game on what ads, campaigns, and videos, in general, should look like."
When asked what advice she'd give content creators, Maya says the key is having faith even when you don't see the results just yet. "It's so easy to look at what is, despite you pouring your heart into this thing that may not be giving you the returns that you thought," she says. "Still operate from a place of love and authenticity. Have faith and do the work. A lot of people are positive thinkers, but that's the thinking part. You also have to put your faith into work and do the work."
Fran ultimately encourages content creators and budding entrepreneurs to take full advantage of Meta Elevate's vast offerings to educate themselves on how to build and grow their businesses online. "It took me ten years to get to the point where I'm making ads at this level," she says. "I didn't have those resources in 2010. I love the partnership with Meta Elevate because they're providing these resources for free. I just think of the people that wouldn't be able to afford that education and information otherwise. So to amplify a company like this just feels right."
Watch the full conversation with the link above, and join the Meta Elevate community to connect with fellow businesses and creatives that are #OnTheRiseTogether.
Featured image courtesy of Shameless Maya and Hey Fran Hey
Affirmations have the power to change everything around you if you just believe. With your words, you can immediately tap into a new belief system that can shift your life like never before. Creative director J. Ivory is a self-proclaimed Affirmations Queen who is known for being a visual storyteller and manifesting the life God has for her. In doing so, she has learned there is so much power in words and even more so in spoken words.
"The words we speak can either hurt us or heal us. I believe that your words are the most powerful weapon that our humanity has. Believe it or not, you are the very result of the words you have spoken over your life. Positive words have the power to change your life," she told xoNecole.
When it comes to manifesting your destiny, J. Ivory proclaims that you should think of affirmations as the pathway in which you want your actions to go. "You manifest affirmations best by doing the work and some of it is really hard work. I often tell my clients, 'If you see it, you can have it.' Visualize and write out how you see your highest/best self and start showing up as that person every day. Get to know the person you want to become. Be specific. What do they eat? How do they dress?" she asked. J. Ivory went on to say, "What books are they reading? If the person you want to become is financially free and wealthy, and that's what you are affirming, then you need to ask yourself, 'How does my current spending habits and mindset align with the wealthy and financially-free person I want to become? What are some changes I can make today that I can be consistent at that will get me closer to my desired outcome?'"
Above all, she wanted to make sure folks realize that affirming the life you deserve calls for you to be unafraid of the specifics. "Sometimes, I find that people think that affirmations are some type of magic trick." One thing to take away from J. Ivory's knowledge about affirmations is the importance of your actions aligning with your words.
In 2023, we want to be intentional about how we speak in every way. Since being about the action is a part of the beauty of manifesting affirmations, we rounded up 23 women to share the biggest affirmation they are speaking over themselves this year. Here's what they had to say.
Featured image courtesy of Marie Zoumanigui
xoNecole's I Read It So You Don't Have To is a recurring series of self-discovery that breaks down self-help books into a toolkit of takeaways and tips that are meant to assist you in finding the best life you can live. Take what works for you, and leave everything else where it is.
Since we first started to count, women have been indoctrinated into thinking we are inherently bad with money. When it comes to women and finance, there is a recurring theme: women are large, careless spenders. The vocabulary employed in commercials and periodicals, as well as in television and cinema, all reference this idea. Men learn how to generate money, while women learn how to spend it. Just like that. Therefore, it is understandable why women think they are unsuccessful at accumulating wealth given this deeply ingrained notion.
The holidays are widely known as a time for celebration. It is a time when many people gather together to engage in community, cultivate connection and experience the joy of togetherness. Hallmark movies play on most TV screens and the dinner table is spread to serve people in abundance. A season that is often widely known for joy, can simultaneously be a season of grief for many. There are folks who will go through this holiday season with someone they love missing from the dinner table. A stocking that would usually be found hanging over the fireplace will be out of sight. No one talks about the heaviness of death and loss during the holidays.
Losing a loved one is a deeply complex and difficult experience to navigate. We are all wired for connection, and when the thread called life that ties us together is severed, it brings forth a multitude of emotions, many of which are painful, and rightfully so. The first year after a death is often the most painful because it elicits the shocking reminder that the person you love is gone and all of the traditions you hold will look different compared to the past.
Grief is an emotional response to loss, and as we approach this holiday season many people find peace and healing in shifting their attention to gratitude as a way to manage the heaviness of their loss. Gratitude is a way to honor those who have passed and celebrate the life they lived as well as the memories that were shared.
Here are a few tips to help you make space for gratitude after losing a loved one this holiday season:
1

.

Manage anticipatory grief.
After losing a loved one, the thought of the holidays approaching can actually be more triggering than the holiday itself. The anxiety of it all may make people decide to cancel their holiday plans, not make any at all, or become filled with dread when it comes to planning. When we are grieving, it is normal to hope for things to be the same, but when a loved one passes away, things will be different and that's okay too. Consider the things that are making you anxious as you begin planning and find ways to meet yourself where you are by focusing on how you would want to honor your loved one.
2

.

Honor the duality of your emotions.
As people, we often get stuck in black-and-white thinking which causes us to shrink the complexity of our humanness. It is important to remember that we are people who are capable of holding space for many feelings at once, which means as you make space for joy and gratitude, it is okay to honor and own that you are simultaneously feeling anger, sorrow, sadness, and more. We do not have to pick one over the other, we are allowed to let our feelings co-exist. Give yourself permission to feel all of your emotions, not just the good ones.
3

.

Stay connected to family and friends for support and comfort. 
Grief can be so painful to manage it might cause us to withdraw or isolate ourselves from others, but that only worsens the pain. Making space for gratitude can look like being connected to those you love and having an understanding of the grief that you are going through. The loss of a loved one doesn't just impact you alone, it impacts the family system and others who are connected to it. Use this time to gather together with others and share memories and stories that honor the dead but also creates an atmosphere of support and comfort.
4

.

Make space for gratitude by finding ways to honor your loved one.
A beautiful way to tap into gratitude this holiday season is by honoring the person who passed on and the impact they had on your life. Actionable ways to honor them can look like cooking their favorite dish, using one of their special recipes, sharing stories about them, or even reflecting on the impact they had on you. Some reflection questions to think of include:
I am grateful to have known this person because…
This person positively impacted my life by….
I want to honor their legacy by…
5

.

Create new rituals/traditions to cope with the loss of your loved one.
When a loved one passes on, it can be painful trying to keep the same routine or tradition so starting a new one might be a way to express gratitude for what was, as you make space for something new. New traditions can look like assigning new roles to people who may be assisting with hosting, prepping dinner, etc. opting out of cooking all together and going out to a restaurant, or even trying new recipes to avoid being triggered by that dish your loved one always used to cook.
When dealing with grief, it is always important to remember this: You are allowed to grieve and express gratitude without feeling guilt. There is nothing wrong or bad about focusing on good things and positive memories. You get to decide what your heart can handle and remember that both grief and gratitude can co-exist.
Let's make things inbox official! Sign up for the xoNecole newsletter for daily love, wellness, career, and exclusive content delivered straight to your inbox.
Featured image by Klaus Vedfelt/Getty Images
There's that age-old saying that applies to major decisions in your life: "When you know, you know." And when it comes to my sanity, happiness, or financial future, it's a saying that has rung true time and time again. Finding the right time to quit a job is never easy, whether you hate the job, love it but have to move on, or feel indifferent about it.
In my case, I knew that quitting a job after just a few weeks would be a far less painful experience than sticking it out. Continuing in the role, for me, would have led to the digging up of old career wounds and a horrible reversion in the progress I'd made both professionally and personally.
In just a short time at the job, I felt like I was in a nightmare remake of a Christmas classic, except this film would be called, Ghosts of Toxic Workplace Past. It was like allowing my ex to take me on a 10-day baecation cruise. Immediately, no.
And as much as I'm all for giving something (or someone) second and third chances (as I often did in the case of my ex), I'm a huge fan of Black women taking up space by not taking crap in order to prove our worthiness, tenacity, or stamina. As "strong" women, we're supposed to accept that "work 10 times harder" and big-girl-panties mission, even at a job that makes us miserable. Not only are we to survive, but we must overachieve and thrive. As my favorite auntie Betty Wright once said: No pain, no gain, right?
Well, after too many years of that, I now advocate for nipping things in the bud early, especially in matters of the heart and profession and especially when it's to your detriment.
While I don't recommend this as a smart option for every professional, it's a good idea to think through why you'd want to quit a job and when is best to do it. Here are a few red flags that led me to push the resignation button so soon: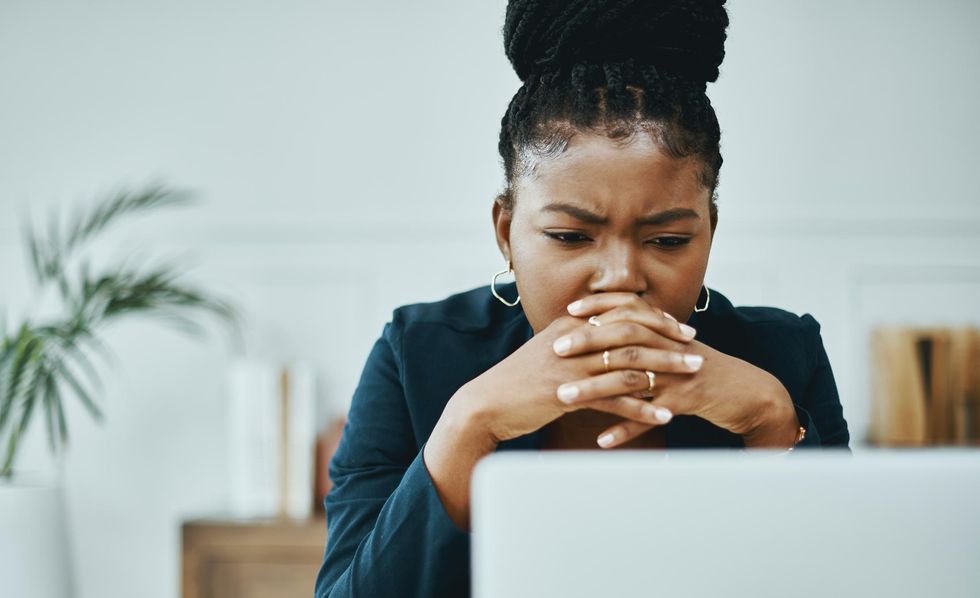 Delmaine Donson/Getty Images
1. From day one, the job description did not match my understanding of the duties.
Keywords: my understanding. I often overthink almost everything in my life, so I definitely asked quite a few questions during the multiple rounds of interviews for the job. I also re-read the description and asked questions via email so that I could get a few things in writing before the actual offer was made. I thought I knew exactly what I was getting into. As someone with almost 20 years of experience in my field, I figured, hey, a few minor things might be adjusted, but the overall expectations of the job, the people I'll be leading, and the nature of the work, won't deviate much---at least not in the first six months.
Wrong.
Immediately upon starting the job, I noticed that not only was I suddenly given an extra team to lead, but the switcheroo was done very casually as if it were normal. I was taken aback and expressed that I was not aware that I'd be taking on managing more people than what was told to me during the interview process. The response: "Oh, it's just..."
Yeah, anytime someone of authority at work uses the word "just," it's a clear dismissal of what it truly takes to do your job, and from my experience, is a key sign that many of your valid concerns related to your job will be dismissed, whether passively or aggressively. And the dismissive responses to your concerns won't end. You'll end up a doormat and out of fear and obligation, take on more work than you have the mental capacity to do well.
You'll grow sick, physically, due to burnout, end up using the few sick days you have simply for a break, have none for when you actually do get sick, then be labeled "difficult" for finally setting boundaries one day in a frenzied act of tears and desperation. (Yep, this happened to me as well, which is why, again, this job clearly wasn't for me. Too many triggers. Too many oh-hell-naw signs to run. It was like being on a date with an ex.)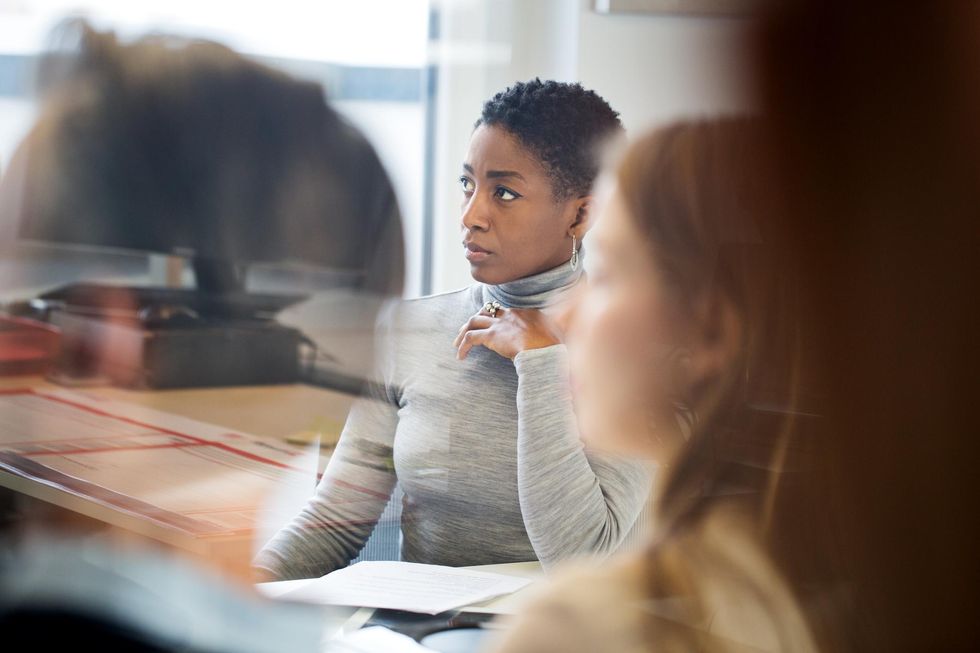 Luis Alvarez/Getty Images

2. For me, the actual (well... "updated") job requirements did not match the pay.
Again, keywords here: for me, as in, in my professional opinion based on the job's requirements and market value for the role. Additional team members were added, along with the time, energy, and talent it takes to manage them, with no raise in pay or update on my benefits package. None.
Do I need to say more? I'd worked at major companies and for major brands---proven myself time and time again--for almost two decades, with the career receipts and education to prove it, only to be flagrantly asked to do the extra work for free. And as a Black woman, I found it even more insulting.
3. My "manager" had totally different work experience and credentials that I felt were unrelated to mine.
While this particular person was amazingly welcoming and great at what she did, her talents and skills were for a totally different aspect of the business than mine, yet she was serving as my supervisor. I also learned that she'd floated around to various "management" positions in different departments. She'd been taking on multiple jobs and "helping out" in order to onboard me.
In my experience, I've known that professionals who do this are often either looking to be promoted elsewhere or are the go-to person who takes on tasks nobody else wants to do. I also knew that this was a recipe for disaster, especially if I would be looking for leadership and/or mentorship support in my role.
It seemed to me that this person was simply biding their time until a better opportunity came along or that the person was doing a favor for someone in order to advance in some other way at the company. Also, if the person judging me on my performance does not have the educational or professional background and/or credentials I have, how can they offer a fair and reasonable review of my work, especially in my role as a manager? This, too, just seemed too problematic.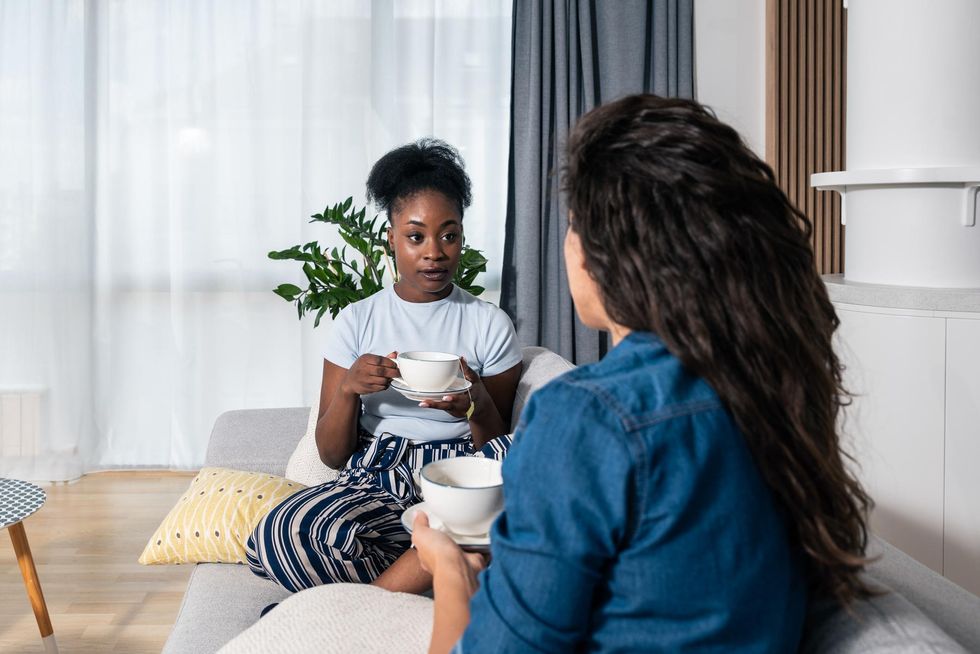 Srdjanns74/Getty Images

4. I was given the responsibility to lead a team that was already emotionally battered from previous issues at the company.
During my first few weeks, I knew it would be a smart move to have one-on-ones with the teams I was meant to lead. The company had gone through a series of lay-offs before they'd hired me, and my experience taught me that it's good to get a gauge of where the remaining survivors' heads were at so that I could be of service and approach managing them in a strategic way.
What I found from the one-on-one meetings were signs of disenchantment, disinterest in the questions I was asking, or lackluster responses when talking about what they love about working for the company. One person even seemed to be playing a game on his phone while in the meeting. There were a select few who were enthusiastic, welcoming, and forthcoming, but they seemed to have differing versions of their own roles and responsibilities. And the team members who were positive were newer hires, just like me.
The majority of the team seemed like they didn't even want to be there or as if they'd rather have been talking to someone else, maybe a previous manager who was laid off. As much as I love a challenge, at the time, I just couldn't stomach the idea of having to fight through and win the team members over. I just didn't have it in me. I'd be tasked with not only meeting certain company deliverables attached to my role but also appeasing the hardened hearts of disgruntled workers who'd been working at the company for years.
No, thank you.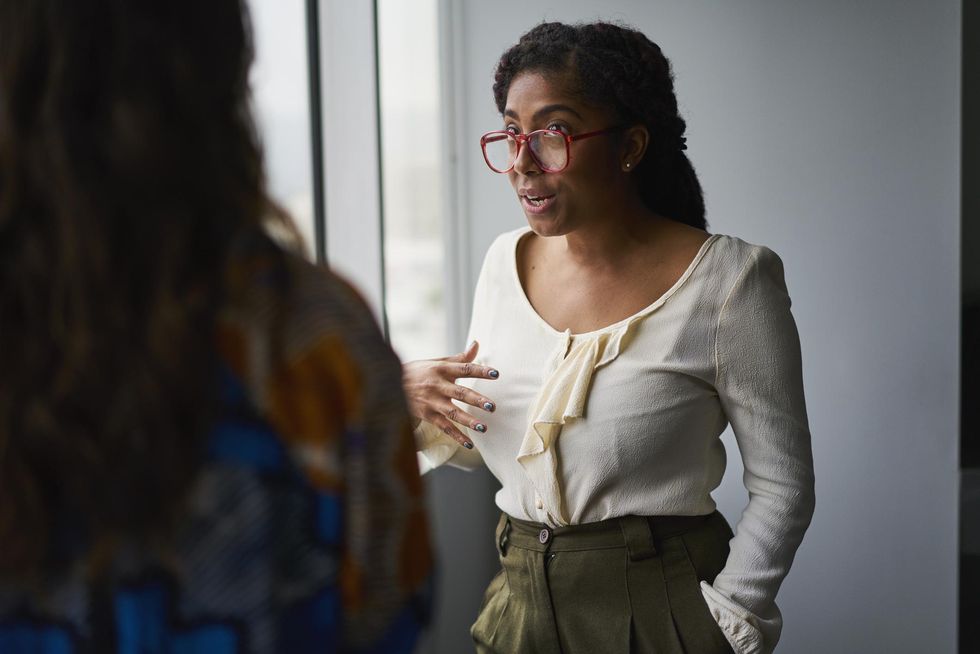 The Good Brigade/Getty Images
5. I found that I'd constantly have to re-affirm my credentials and skills.
As much as this is often seen as a "norm" at companies, I'd had my fair share and was tired of it. I went solo as a self-employed consultant for this very reason. I would no longer tolerate work environments where I didn't feel affirmed by those who managed me or who had the power to back me up when I'd need to assert authority. I also would not waste my time re-affirming what was already talked about during the interview process and was the very reason I was hired. This happens to Black women in leadership all the time and it not only takes a toll on your mental health, but it doesn't allow you room to grow in leadership.
I've had jobs where I had to test to even make it to the final round of candidates, where I've had to interview with multiple members of small staffs, and where I've had to constantly play along with what's called "micro" aggressions that were very much notmicro or small at all.
And yes, I learned all of this after only a couple of weeks in that position.
Years later, I can say that quitting so soon was the best decision of my life. It was scary at the time because I wasn't sure how I was going to supplement my income, but God always comes through for your girl. And it helps that I'm not new to self-employment and the savvy of finding solutions to unemployment.
I went on to work with more freelance clients and made more money than I would have if I stayed at that job. I still have a flexible schedule, I can travel when and where I want, and I'm proud of the work I do, serving women professionals and entrepreneurs as both a coach and a seasoned journalist and editor. The companies I currently work with value my input and my experience and make me feel like a loved member of their fam. While I still face challenges, they're the type that allows me to grow in leadership and learn more about myself and the world.
So, sis, here's your confirmation: Don't wait for things to get worse. Send that resignation email (of course, after looking at your contract or offer letter) today. Stop second-guessing that gut feeling and go for yours. The time is now.
Featured image by Three Spots/Getty Images