I don't know who needs to hear this, but sis, it's time for you to start having better sex. And not for the obvious reasons. Yes, we all know that sex is great for boosting the immune system, improving your sleep, clearing your skin, and is a form of preventative medicine. But did you also know that sex is a great inclusion to your manifestation practices? When exercised properly, your orgasms can be the gateway to getting the things you ultimately want in life. This can be achieved through a little-known practice called "sex magic."
Now sex magic is a tantric ritual dating back to the 19th century. It is the practice of harnessing your sexual energy and your power to bring the things you want in life to fruition. It can be done either by yourself through solo pleasure or with your partner(s). What's most important is that when you do begin your sex magic practice, you remain grounded, keeping your intentions as the focal point.
How to Practice Sex Magic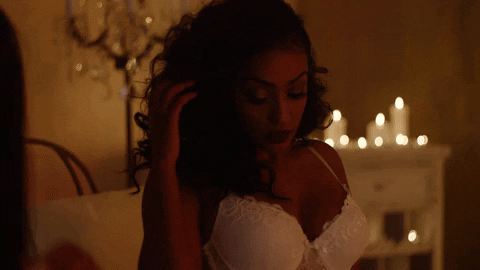 Giphy
There is no perfect way to practice sex magic. There are no specific intentions that you should set. You don't have to share anything with anyone. And best of all, you don't even need to have an orgasm. So for those who struggle with achieving the "Big O," you too can still engage in sex magic as long as you remain focused on your energy.
Before practicing sex magic always create a welcoming environment. One that feels comfortable and keeps you present and at ease. This could mean lighting candles, burning incense, donning your sexiest lingerie, or playing music that gets you in the mood. You should also hone in on your intentions.
Whether it's writing out your goals, creating checklists, or even using the vision boards that many of you have recently made, begin to visualize yourself having the things you want.
Focus on the Outcome You Desire
As you begin to focus on your desires, it is important to be specific. Like with all manifestation practices, being specific is key as we truly have the power to speak things into existence. That and you don't want to get less than or something not quite what you're asking for. If you want a million dollars, see yourself receiving that amount. If you want a new house, see the exact house you want. If you want to travel more, see yourself getting on planes and going to places you have always dreamed of.
Whatever it is that you want to manifest for yourself, keep that image in your mind when it's time for the main event. For an added bonus, you can even include your sex magic practice with your New or Full Moon rituals. You can also incorporate crystals, essential oils, and/or herbs.
While having sex, whether it be with yourself or someone else, focus on your breath and embrace those feelings of walking into your manifestations throughout your body. If you want, you can begin to calmly and silently repeat a mantra of your choosing to yourself. One that will help to intensify your intentions bringing you closer to your orgasm or deepening your pleasure. As you approach your big finish, see your intentions skyrocketing into outer space, solidifying that you have successfully put your desires out into the universe. And when you're done, express gratitude for what just took place.
Focus on Yourself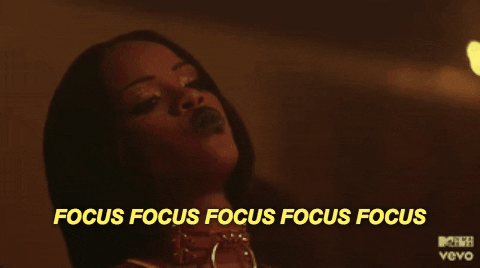 One important thing to note when practicing sex magic is to focus on yourself. Like other forms of manifestation, your sex magic practice is to be used solely for the purpose of elevating the things that you want out of life. It is a personal moment used and not to be used as a means to control or manipulate someone else's fate. So if you're thinking about using sex magic as a way to force your partner to propose to you, think again. Because at the end of the day, using spells, magic, or anything else on another person does nothing but cause it to backfire. And we don't want that for ourselves.
At the end of the day, your sex magic practice can be an empowering tool once you master the art of using it. It can be used to change your trajectory, help you to better visualize your goals, and even connect with yourself on a deeper level. So the next time you're feeling in the mood, try incorporating a sex magic ritual or two into your sexcapades. And give your sex life the heightened experience it deserves.
Featured image by Getty Images
Keep reading...
Show less
The ladies of Harlem participated in an exclusive girl chat with xoNecole in Twitter Spaces over the weekend and, while discussing their show, they also shared some deep, inspiring words with us. Meagan Good, Grace Byers, and Shoniqua Shandai each opened up about love and friendships while also revealing some personal experiences that really resonated with the audience. While you can listen to the full conversation here, we also broke down some of the most memorable gems to give you some affirmations that you can take with you wherever you go.
On Their Daily Mantras
"No matter where He takes me, no matter where I go, I am fearfully and I am wonderfully made for the room that I'm in." - Shoniqua Shandai
"God I am your child. I am dearly loved. I am loved unconditionally. I belong to you God. Jesus, I am your friend. Jesus, I am your bride. God, I am your residence. Greater who is He, who is in the world. I am blameless. I am righteous. I am adequate. I am a new creation. I am never alone." - Meagan Good
"I will show up as I am and I will love myself there." - Grace Byers
On Rejection and Disappointment 
"You may not have accepted what I brought to the table, but that does not define who I am nor will it define what I'm going to do in another realm after this." - Grace Byers
"Even in this pain, I know that I'm being propelled forward." - Shoniqua Shandai
"Rejection is the Lord's protection." - Meagan Good
On Feeling Safe In Friendships
"Not everybody has to be your best friend. Some people you are just called to be there for, but that doesn't necessarily mean that they have to be there for you." - Meagan Good
On the Art of Letting Go
"My mind shift of letting go is allowing myself to feel the feelings, but really reminding myself that the priority of letting someone go is choosing myself." - Shoniqua Shandai
"We're going in two different paths. I love me. My love is not worthy in the eyes of what you say it is and I know what my love and my worth and my value truly are and because of that, I'mma step away with some grace." - Grace Byers
"Having faith when things are going well is easy. Having faith when things are crazy and they don't make sense and you're confused or whatever it may be, that's when it really matters and that's when you get the closest to God." - Meagan Good
On Self-Love
"For Black people, for people of color, all we know is how to hustle 'cause that's the world that has been built for us. We hustle, we hustle, we work hard. We always have to go over and beyond, but so much of our humanity, so much of our strength is in our rest and is in our joy." - Grace Byers.
"Our introduction to this land was violent. We have been whipped into shape and that mentality is so harmful to ourselves and to our minds and I just want us to be gentle to ourselves." - Shoniqua Shandai
"You have to love yourself otherwise how is someone else gonna know how to love you fully." - Meagan Good
Featured image by Hatnim Lee/WireImage/Getty Images
Keep reading...
Show less
Emotional intelligence or, EQ as it is commonly called, is the ability to identify and manage one's emotions. It is how you overcome challenges and identify triggers that threaten to impact your day-to-day. It is being in control of your emotions so that you can healthily express them. As well as understanding the art of honoring your feelings without being overwhelmed. But being emotionally intelligent doesn't just apply to oneself. It is also being in tune with the feelings of those around you and showing compassion when needed.
Having a strong sense of emotional intelligence allows for individuals to easily adapt to change, navigate difficult conversations, and build strong, healthy relationships. Further allowing them to conquer their goals while making better, more informed decisions. Turning their intentions into action.
For some, having a high EQ comes effortlessly. They are naturally empathetic when it comes to the needs of both themselves and the people around them. The moment they feel something amiss, they automatically spring into action. They are the ones who express themselves effortlessly, often speak up for those who cannot, and consider how their actions will impact others.
However, not everyone is born emotionally intelligent. Those with a low EQ often lack accountability, have poor social skills, and are self-centered. They are the ones who struggle with managing their emotions, often resulting in unpredictable outbursts. And are also the ones who lack empathy, are quick to judge, and are most likely to say or do the wrong things at the wrong time.
But whether it is with friends, family, or romantic partners, at work or in leadership, being emotionally intelligent is necessary for building relationships, managing stress, and improving overall satisfaction. So for those who struggle with emotional intelligence, here are five steps towards improvement.
1. Self-Awareness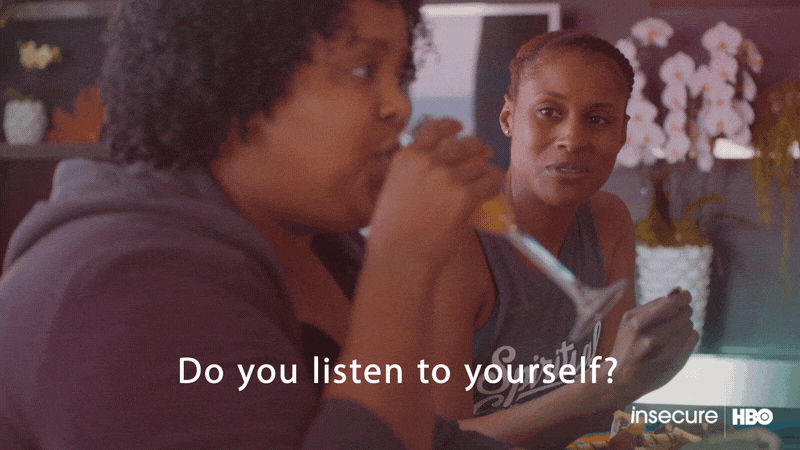 Giphy
Beyond being cognizant of your emotions, self-awareness is understanding the effects of your thoughts, moods, and actions on others. It is getting to the why behind your behaviors and being open to learning how to correct them. Self-awareness is also having confidence, learning how to be comfortable in your skin, having the ability to laugh at your mistakes, and being open to new experiences.
Ways to improve self-awareness are journaling, meditation, practicing mindfulness, and goal-setting.
2. Self-Regulation
This is where you learn how to control your impulses. Self-regulation is thinking before speaking and making well-informed decisions. Simply put, it's finding the appropriate way to express yourself. Self-regulation is holding yourself accountable and being flexible at the onset of change. As well as being mindful of the influence that you may have on others.
Ways to improve self-regulation include practicing communication, rethinking how you view obstacles, being conscious of your feelings, and finding different approaches when your emotions get the best of you.
3. Motivation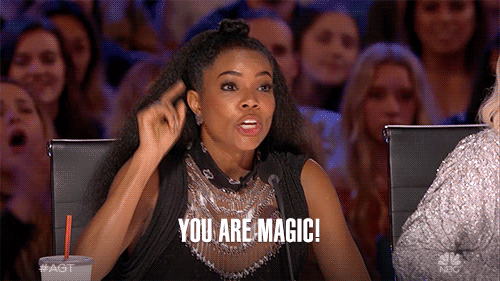 Giphy
When it comes to being emotionally intelligent, motivation is the desire to self-improve. It is being committed to seeing things from conception to completion, even in the face of adversity. It's being action-oriented. Always striving for better and being quick to take initiative.
Ways to become more motivated are establishing small, measurable goals, finding accountability partners, and celebrating your wins, especially the small ones.
4. Empathy
Valuing one's individual experiences. Sharing in someone's feelings. Appreciating the perspectives of others. Those are all examples of empathy. Being empathetic is both being interested in someone's concerns and anticipating how they will respond in difficult situations. Empathy is also understanding power dynamics and their influence on various relationships.
Ways to become more empathetic are listening to understand and not to respond, being vulnerable, and imagining how you would feel if the roles were reversed.
5. Social Skills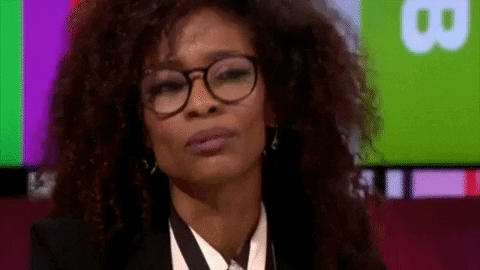 Giphy
Being able to communicate effectively, resolve conflicts, and manage relationships are all characteristics of social skills. Social skills look at what it takes to create and maintain bonds with others. It's finding that common ground and developing a strong rapport with those you interact with regularly. Social skills also assist with developing a stronger relationship with oneself.
Ways to improve on your social skills include acknowledging the skill sets of others, showing interest in what people bring to the table, and being mindful of body language as well as other forms of nonverbal communication.
At the end of the day, becoming emotionally intelligent, like most forms of self-improvement, is a marathon, not a sprint. As we are all continuously evolving into better beings, there will be times where we won't be as emotionally intelligent as we think. And that's OK.
What's most important is that we give ourselves grace, remain open to correction, and when all else fails, return to the first step in becoming emotionally intelligent. Because it always starts and stops with you.
Featured image by Getty Images
Keep reading...
Show less
I'm pretty sure that we've all heard the saying, "opinions are like buttholes" (yeah, I cleaned that up a bit) and everyone has one. Well, when it comes to the topic of advice, if we're gonna be real about it, a lot of times all it is, is an opinion too. So, does this mean that we're never supposed to ask for advice or take any when it's offered? I mean, I get that since I'm a marriage life coach, it comes off as completely on-brand that I would say that receiving advice can actually be quite beneficial.
At the same time, though, because I'm also aware that there is a lot of bad advice, both online and off, that exists in the universe, I thought it would be a good idea to offer up a bit of a cheat sheet — just so you can know if you someone is actually dropping gems or completely wasting your time. So, let's get into my advice about advice (and yes, the irony here has not escaped me).
1. It Doesn't Feel Forced Upon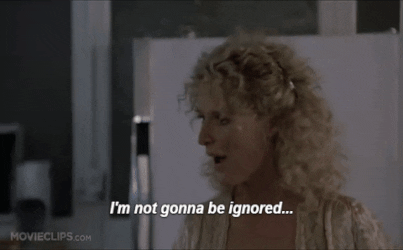 There are people in my family who are pretty insightful. Problem is, they are also controlling as hell (AS HELL), so their timing and delivery can be super off-putting. And you know what? True confession is because that is a part of my DNA and what I was used to being around for many years, I used to be very similar to them. Whether people wanted it or not, I was gonna give my advice. Regardless of their personality or temperament, I was gonna give it the same way, across the board. Whether I had already given advice, realized they were gonna do the opposite because that's what always happened in times past, I was still gonna be a-yappin'. And yes, when advice is offered up in this fashion, not only can it feel like someone is trying to cram it down your throat, it has a tinge of being condescending and patronizing too…whether the person on the delivering end realizes it or not.
Without question, sometimes advice can be really good, regardless of how it's delivered. Still, what people need to remember is advice is to serve as a guide and when you hear the word "guide," nothing about that carries the energy of being pushed or pulled. So, if that's how you feel when it comes to some of the advice that you're hearing right through here, so long as it's not your ego or pride that's trying to ignore it (because those things HATE the hear anything but themselves), then at the very least, ask yourself why it's making you feel so uncomfortable — and why the person on the giving end of the advice, to you, makes you feel as if they are forcing their words on you.
2. It Doesn't Compromise Your Morals or Values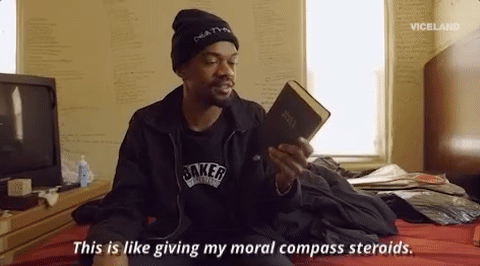 When it comes to what I do for a living, I hear advice about how to go about doing it better or differently, pretty much on a daily basis; especially when it comes to how I can expand my platform. Here's the thing, though — although I am a little on the "buck" side when it comes to what I am willing to openly discuss, I've got more personal convictions about things than a lot of y'all may think. And when it comes to my morals and value system, I won't budge. Ask any boss I've ever had and they'll vouch for that. So no, you can't pay me enough money to compromise my standards, no matter what. That's what having integrity is all about.
Only you know what you stand for. Whatever that is, though, the moment that someone is able to "get you off of your square," you just took some really bad advice because you should NEVER do ANYTHING that will cause you to shift from what your core beliefs are. And the person who tries to tell you otherwise? That's who you should shut down, in the advice department, as soon as possible.
3. It's Not Rooted in Bitterness, Pain or Regret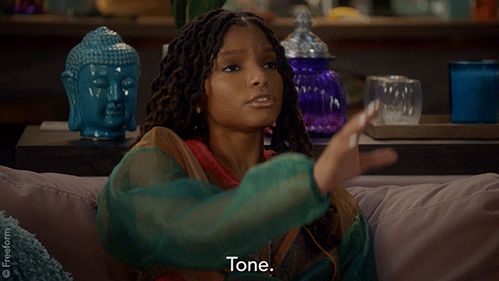 As it relates to this particular point, an article that I wrote, not too long ago, helps to illustrate my point. In "Ever Wonder What It Means To Be Bitter? The Answer Might Surprise You.," one of the things that I shared are gross generalizations that are typically rooted in bitterness. That's why I steer very clear of women who talk about all men being trash. Chile, nothing about that is good advice; you are simply throwing up pain and who wants to eat someone else's word vomit? I'll pass. You know, what I oftentimes say to my clients is what I will encourage you to keep in mind — healed and wounded people see things very differently. When advice is snarky, delivered with anger, or even has so much regret attached to it that it basically tries to get you to avoid things due to self-imposed fear — that's not anything that should be taken to heart.
Here's an example. I know a divorced guy who had a pretty horrible marriage. For about a year now, he's been sitting in barbershop chairs telling men to never get married. After hearing him talk about this for a couple of months, I called him out. "Dude, you were warned not to marry 'her' and you did it anyway. Not only that but have you told those guys the role that you played as well? If not, shut up. Marriage isn't bad. Humans jack it up and you're a good example."
Again, healed and wounded people see things from a totally different angle. So, if there is any part of you that hears some "advice" and the energy seems dark, strange, or just plain off, be intentional about not allowing it to penetrate. It would be a shame to miss out on something good because you listened to the "misery loves company" chorus.
4. It Avoids "If I Were You" Angles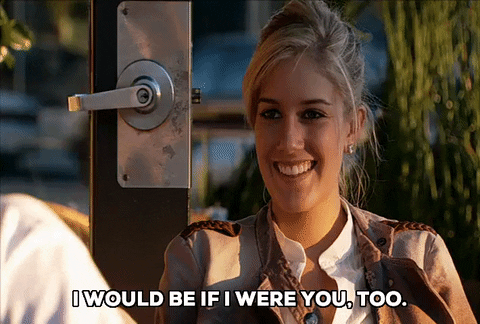 OK. This one right here can be difficult for pretty much any human to avoid because most of us have grown up hearing advice that starts off with "If I were you…." Still, think about how ridiculous that actually sounds. Being an individual means that our genetic make-up, personality traits, upbringing, likes, and dislikes, personal experiences, and shoot, the list goes on and on, all of which cause us to see life in different ways. And so, when the advice comes from the angle of "If I were you…," chile, you're NOT me, so telling/encouraging me to do something based on how you would do it is a bit…futile.
As a marriage life coach, something that I've been working on is trying to be as objective as possible while working with my clients. In fact, this is a part of the reason why I roll my eyes whenever people try-and-try-me about not being "qualified" to work with married people when I've never been married before. Listen, what y'all need to watch are some of these married therapists/counselors/life coaches because they are peak "If I were you…" advice-givers — and just like every person is unique, so is every marriage. This means that what might work for their unique union may not for another one that is just as exclusive.
Bottom line, while it may be difficult for folks to avoid saying "If I were you…" while delving out advice, listen closely to whether they are inserting themselves and their lives into what they are advising you to do about your own because what works for them may not work for you…simply because they aren't you.
5. It Challenges You to Evolve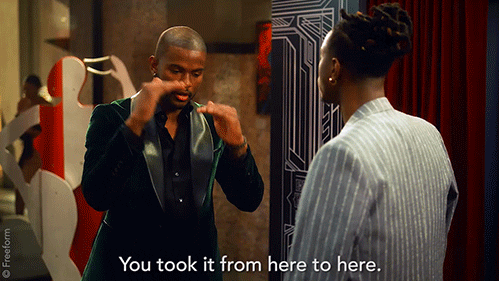 A lot of people don't want to hear good advice; they merely want to be coddled. That's unfortunate too because the only way that you can truly evolve as an individual is if you are challenged — and good advice is usually going to do that on some level. And just what are telling signs that what you are hearing is trying to help your personal evolutionary process? It's encouraging you to break bad habits. It's encouraging you to see things from a different or broader perspective. It's encouraging you to set new or higher goals. It's encouraging you to cultivate better boundaries. It's encouraging you to manage your time, money, and resources better. In short, it's encouraging you to take life up a notch.
I won't lie to y'all — some of the best advice I've ever received really tried me because, again, my ego wanted to hear something — anything — else. Yet because I knew that the words were coming from a place of truly caring about me and also because it got to my conscience (more on that in a sec), I couldn't just ignore it, no matter how much I may have wanted to…because I knew that the advice was calling me to grow up. And yes, sometimes growing pains are just that — PAINFUL. Thing is, when the advice is good, it won't JUST be painful. It will be highly beneficial to your overall progress as well.
6. It Confirms Some Things in Your Spirit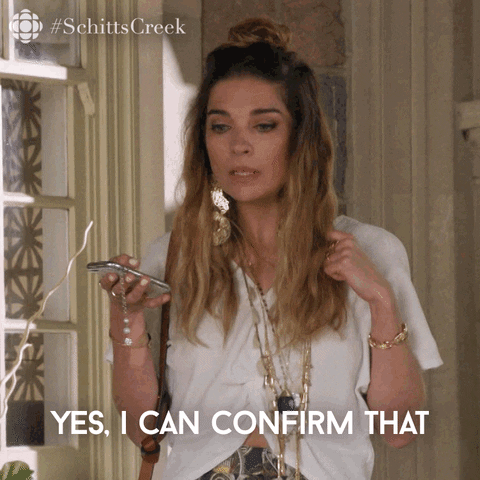 In the Christian faith, there is something known as spiritual gifts (I Corinthians 12). Long story short, they are things that are given by the Holy Spirit to help edify the Church as a whole (if you want to take a spiritual gifts test, a good one is here). I've taken several over the years and what always comes up on top is prophecy, wisdom, and discernment. I'm grateful too because it helps me to literally discern when folks are saying something that they just think is going to happen vs. what sounds pretty on track.
For instance, I've had people "claim to prophesy" that I'm gonna marry certain individuals. I don't know what they were smokin' but…nope. On the flip side, years ago, some women from Jamaica came to a church that I used to visit and when I walked past them, they all said, "Books! Lots and lots of books!" While I'm only on two so far (gonna work on two more this year), because I was already a writer at the time and they didn't know me from Adam, it confirmed something that I had been praying over and pondering about. The future husbands? I repelled that, pretty much from the moment I heard it.
Again, by no means am I saying that advice is always going to make you feel good. That's ridiculous and not what confirmation is all about. At the same time, though, when you hear something and it either "clicks" for you or it triggers your conscience on some level, then you know that it is heading in the right direction. Yeah, when it comes to advice pay more attention to how your spirit (check out "Here's Exactly How To Start Protecting Your Spirit") responds more than how your emotions want to react.
7. It Brings You Peace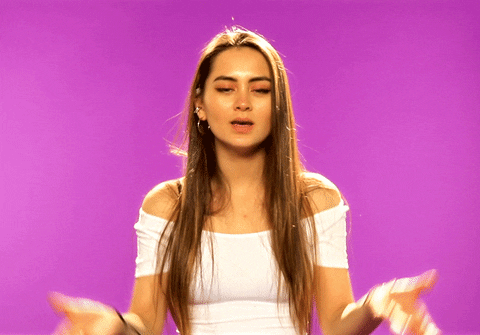 Saint Francis de Sales once said, "Never be in a hurry; do everything quietly and in a calm spirit. Do not lose your inner peace for anything whatsoever, even if your whole world seems upset." John F. Kennedy once said, "Peace is a daily, a weekly, a monthly process, gradually changing opinions, slowly eroding old barriers, quietly building new structures." Bernie Siegel once said, "Love and peace of mind do protect us. They allow us to overcome the problems that life hands us. They teach us to survive... to live now... to have the courage to confront each day." If there's one thing that all of these quotes have in common, is the fact that they are reminders of what peace looks and lives like.
Good advice. Genuine advice. Helpful advice. It is going to get you that much closer to peace; especially inner peace. Peace encourages calm. Peace encourages love. Peace encourages reconciliation. Peace encourages rest, serenity, and patience — if not immediately, it will create steps that will help to get you there sooner than later. So, just know that if what you're hearing from someone is encouraging chaos, confusion, and drama, it's not even close to being the kind of advice that you need. Because "good" and "peace" have A LOT in common.
Therefore, good advice has to have peace somewhere in it too. Simple as that, sis. It really is.
Featured image by Getty Images
Keep reading...
Show less
I'm still in shock that HBO's Insecure has come to an end. It truly feels like the end of an era. And much like the show's main characters, my friends and I have changed so much since the first episode aired. I think that's why I connect with the series. It told our stories in such a clear, funny, yet beautiful way that seemed familiar to real-life problems, relationships, and friendships. But, the other obvious reason we rallied behind the show is clearly the mastermind herself, Issa Rae.

As a creative, her story motivates me so much. She defied the Hollywood rules and created her own path to achieve her dream. From the viral web series Awkward Black Girl to a five-year deal with Warner Media, her journey continues to inspire me. Still, it's not just her story that resonates. It's also her attitude and personality.
Whenever I see her interviews (and I've watched many) or watch her on the red carpet, I get the feeling she is completely being herself. And that self is a talented, awkward, and successful businesswoman who seems to pour herself into her art and helping others. January 12, Rae's birthday, feels like a good time to focus on her, so let's take a few moments to celebrate Issa by reflecting on 10 of her most inspirational quotes.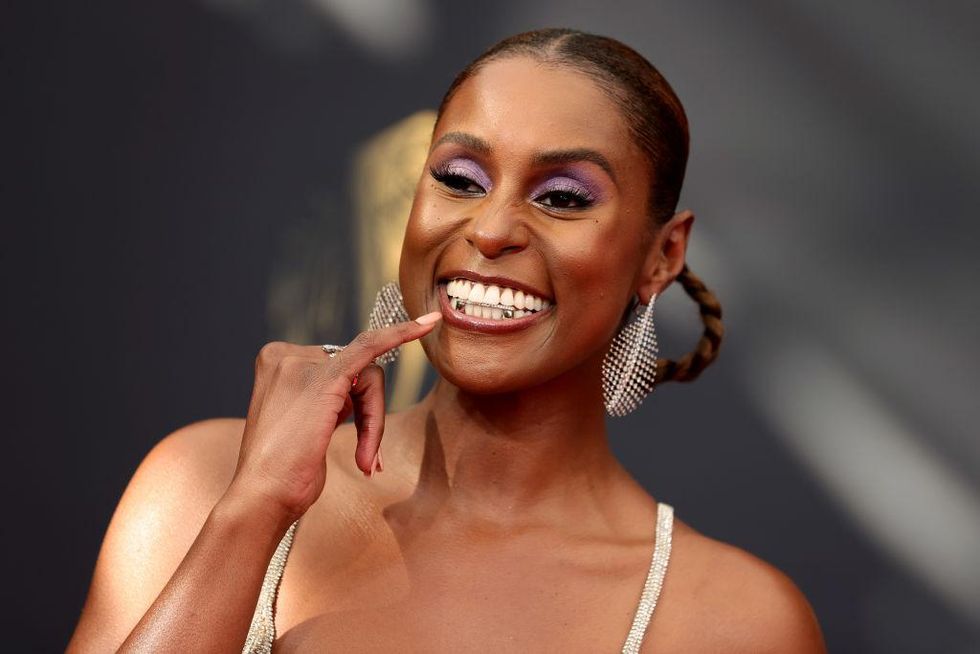 Rich Fury / Getty
There's no code-switching over here! This meme moment will live in our heads forever. When an interviewer asked Issa Rae who she was supporting, she nonchalantly stated that she was "betting on Black." And her delivery was everything we didn't know we needed.

This Issa Rae quote serves as a reminder not to tie myself into one skill or trait, it's OK to grow and change paths.

Don't feel like you have to fit into a mold. Celebrate yourself and those who see you for who you are.
Basically, I love this one because it's an ode to Black girl magic and how we continue to be great no matter how much turmoil is thrown at us.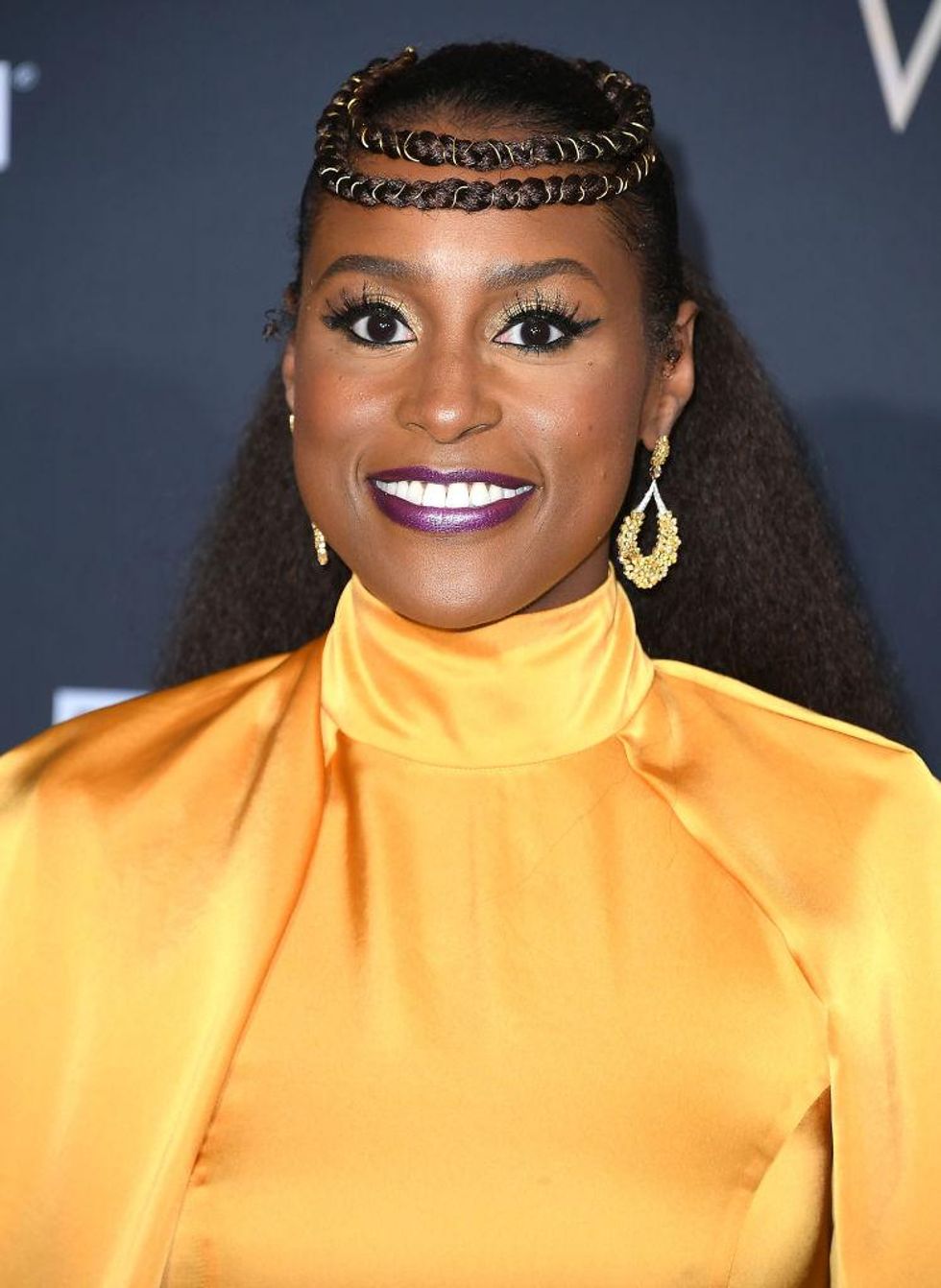 Christopher Polk / Getty

Often it's easy to diminish our goals yet magnify our problems. You know what I mean: "I got that little promotion" or "I did OK on my exam," when you actually aced it! We should be comfortable celebrating our accomplishments and need to be careful not to minimize them.

With this one Rae simply reminds us not to fade into the background and be comfortable using our voice.

It's so easy to put off goals and projects, especially when you're passionate about them. But, this quote reminds me not to let fear make decisions for me.
Being confident in yourself can get you far, and I think it feels better in the end when you remain true to who you are.
Just go for it. Whatever it is, don't be afraid to start it. Nothing is ever perfect but it can't be improved until it exists.
Because, it's a perfect reminder that we're never a monolith.
Featured image by Arturo Holmes/Getty Images for American Express
Keep reading...
Show less
There's no better way to hit the reset button than taking a digital detox. With the year we've all had, unplugging should be more normalized and encouraged living in this ongoing pandemic. We constantly have our phones or laptops in our palms or within arm's reach, which enhances symptoms of anxiety, depression, and self-esteem issues. This is why more and more people are jumping on the bandwagon of digital detoxing or "unplugging" to combat the burnout caused by our devices.
As we can see, COVID is still impacting our daily lives, leaving everything up in the air and forcing us to be more present. The end of the year brings forth a rush of emotions navigating gift buying, the pressure to "finish strong," immersing with family members we may not get along with, or mourning loved ones.
Overall the end of the year can be a rush of joy but also exhaustion and endless comparison, which is why we should force ourselves to slow down and prioritize internal self-care. Living in a digital era, we miss a lot of things in the moment because we are glued to our phones. Let this time of year be the start to a new normal, detaching from your phone — coming back home to ourselves, and cherishing the limited time spent with our loved ones.
Here's a list of suggestions for taking a digital detox:
1

.

Turn off all of your notifications.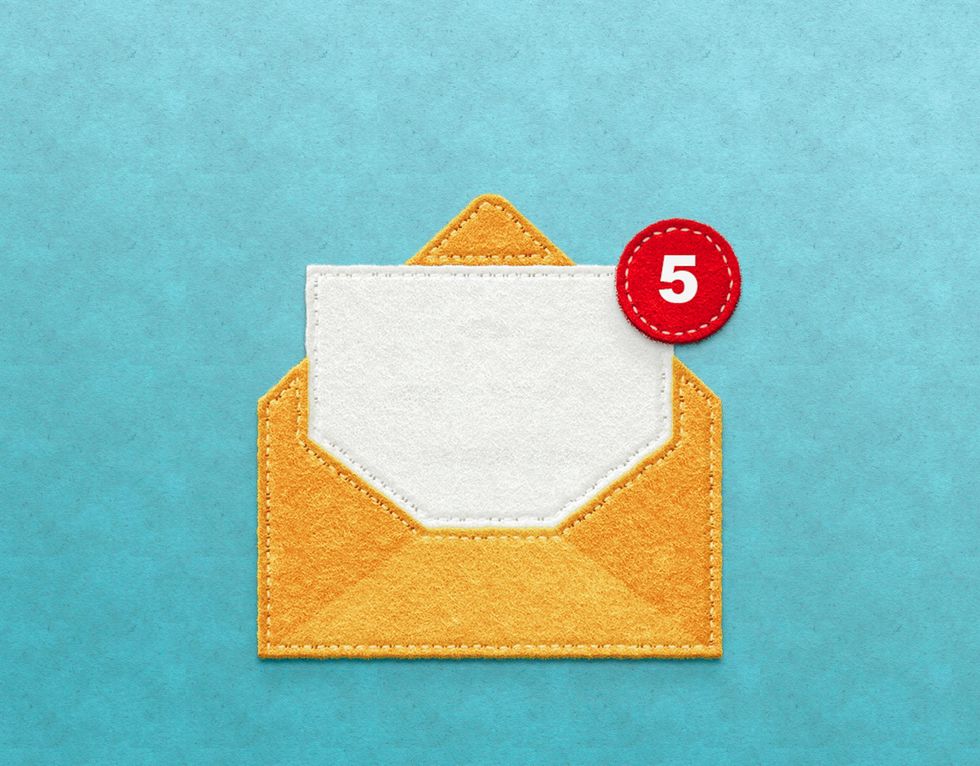 Getty Images
If you're the person that needs to reply to every notification as soon as you see a text, call, social media alert, or email, this will help you significantly. Turning off all of your notifications is a great start to decreasing the time spent on your phone because it's one less bing or vibrating alert to connect you to the world.
If you want to take it up a notch, I'd suggest utilizing the Do Not Disturb function on your phone, so there is really no need to have your phone in your hands.
2

.

Immerse yourself in other activities.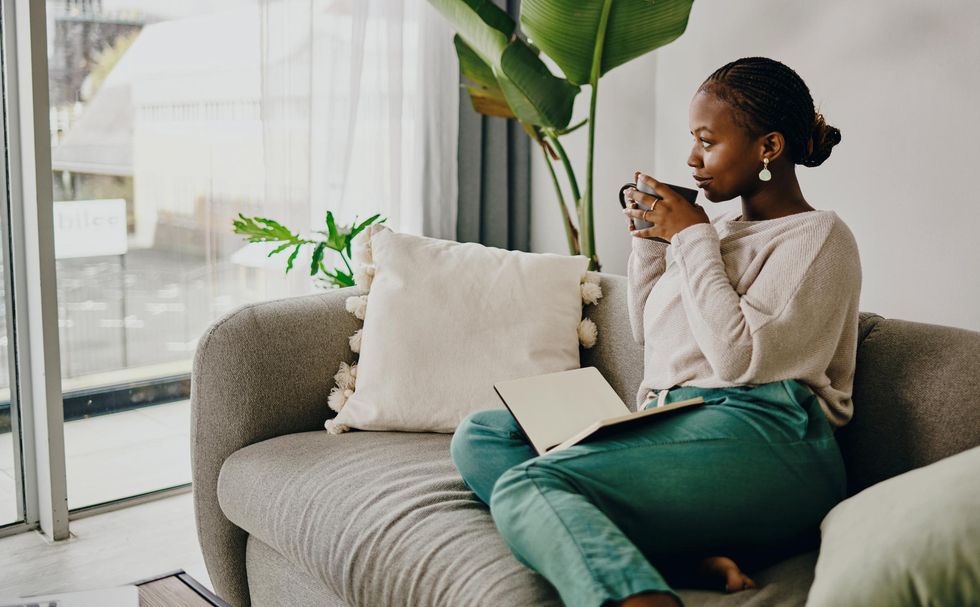 Getty Images
If you are addicted to your phone like most people these days, try to be super intentional with your limited to no phone usage for the remainder of the holiday season. Plan things to keep you busy, maybe catching up with friends in person, painting, playing an instrument, reading, working out, meditating, journaling, or maybe dancing in your room for the hell of it! Keep yourself entertained or well-rested with your phone out of reach or in another room to hold yourself accountable on your digital detox journey.
3

.

Try phone stacking if you're with a group of people.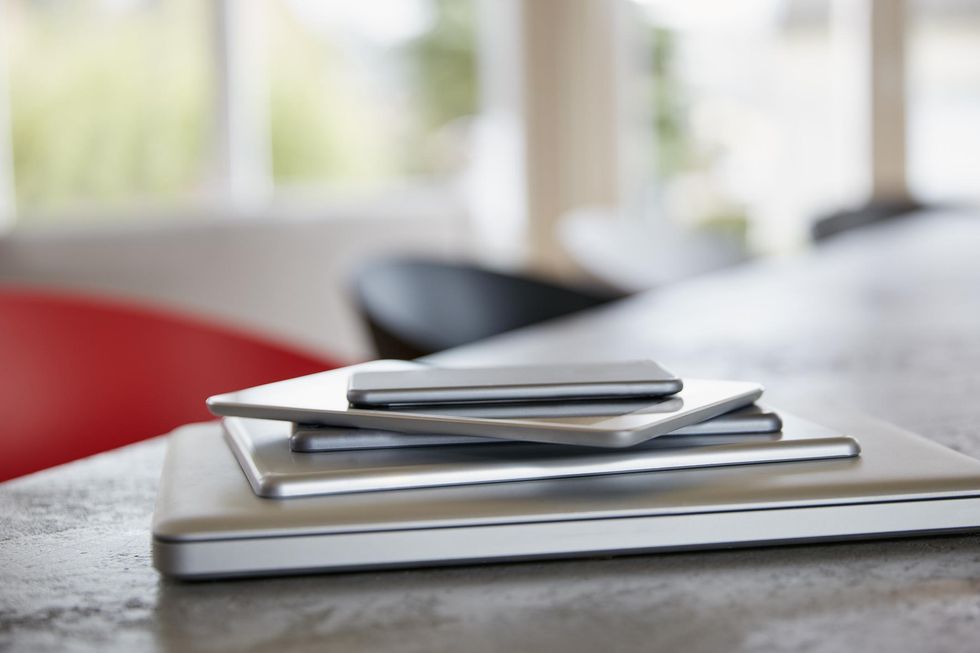 Getty Images
Phone stacking in groups is one of the best ways to hold everyone accountable during the digital detox because if everyone isn't on their phones next to you, there is zero temptation to hop back on your phone. It allows everyone to be completely immersed in the moments shared together. Instead of everyone being in the same room taking a million selfies, it forces everyone to have more in-depth conversations catching up, reflecting on the year they'd had, and sharing endless laughs.
4

.

Leave your charger at home or out of the way.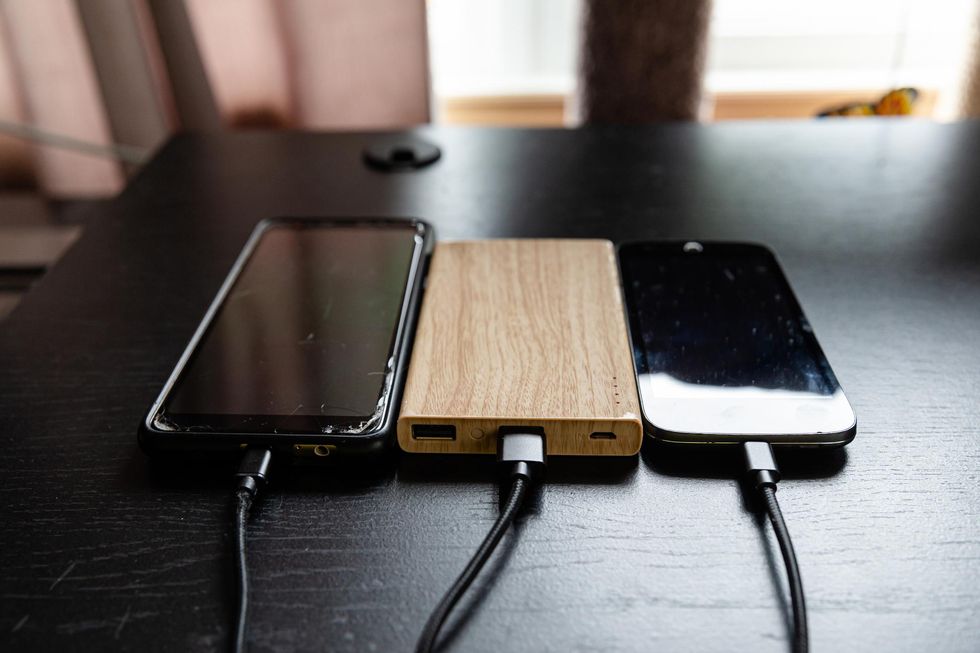 Getty Images
If you're heading to your family or friend festivities for the holidays, why not leave your charger at home? Knowing you left your charger at home allows you to be more intentional with your phone usage; you can't be on social media apps or news sites all day browsing the web because your phone has limited battery life. Keep your phone on airplane mode to preserve the energy for GPS purposes and limit calls or texts to your loved ones for your arrival and departure.
5

.

Dive into some self-reflection activities.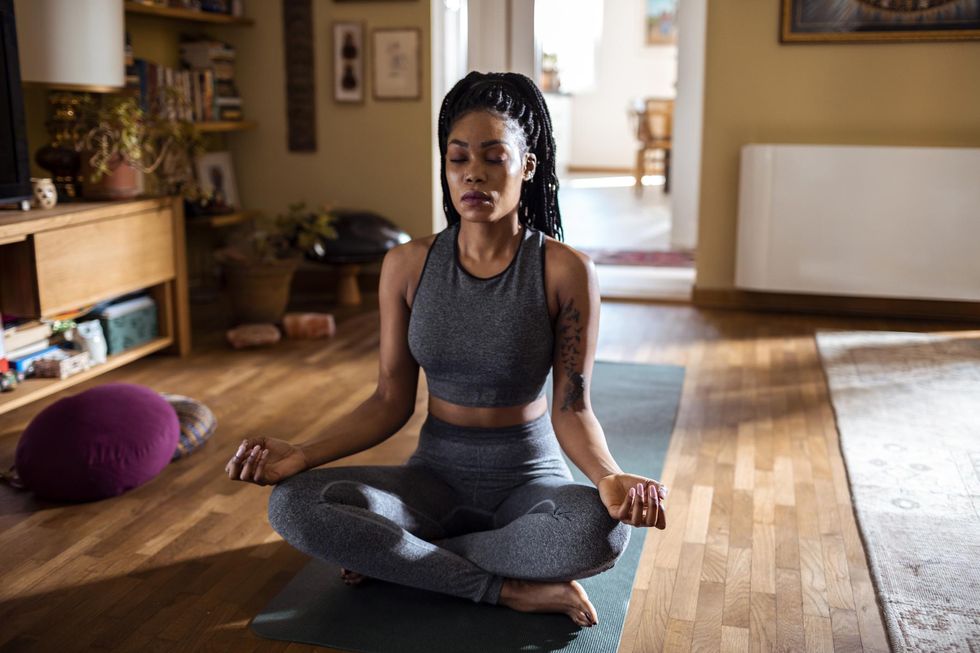 Getty Images
Whether you're spending the holidays alone or with loved ones, there is more than one way to dive into some self-reflection activities. If your friends are into doing breathwork, guided meditation, yoga, or have a guided journaling session. You can make up some self-reflection questions to answer alone or in a group about the things you learned this year, reflect on moments that brought you joy, lessons from adversity, and what new goals do you want to be intentional about for the following year.
Y'all, if the COVID era isn't teaching us one thing, it's teaching us to value being present more because nothing lasts forever. And though the last two years have felt like a blur, so much has happened, which is all the reason why you should prioritize time to recharge.
I hope you enjoy digital detoxing coming home to yourself, and taking in the cherished moments with your loved ones as well as with yourself.
Featured image by Getty Images
Keep reading...
Show less