Like a true Beyoncé stan, when Renaissancedropped, I listened promptly at 12 a.m. with the rest of Twitter. The 16-track album was released just over a month after the debut of its only single "Break My Soul" and, based on my adoration for that song, I knew the album was one that I was guaranteed to dance to–even if alone in my living room. The song that directly follows "Break My Soul" on the house-inspired album is none other than the transformative track "Church Girl."
When I first read the name of the track, I was fully prepared to hear a ballad featuring a religious reference or nod, but what I was not prepared for was hearing a sample from none other than gospel legends, The Clark Sisters. In "Church Girl," Beyoncé samples their song "Center Thy Will." The song starts with a religious cry from the original lyrics, "Lord, place me, Lord, place me. I want to be centered in thy will" before a beat drop that transforms the song into a certified twerk anthem that makes it impossible to sit still.
Featured image by Delmaine Donson/Getty Images
The words "reality TV" used to make me cringe when they were used to describe the docuseries, Couples Therapy on Showtime, that my husband Dale and I took part in. I'm no reality television star. I've never thrown a drink in the face of an associate called 'friend' or confessed my disdain for another person during a pre-taped confessional. No, I'm just a woman, a mother, a wife – and ultimately a person that was desperate to have a positive impact on my marriage by any means possible.
To some it may be "entertainment," but for us, it is quite actually our reality that just so happens to be on TV, and without it, I am not sure where we would be today had we not taken this unconventional journey towards our healing and understanding. No, we are not "fixed," but we are fixated on being a better version of ourselves for the betterment of our marriage, ourselves, and our family.
When COVID-19 reared its ugly head and the world seemed to shut down all around us, my husband and I found ourselves left with the responsibility of looking within our relationship and making some difficult assertions. The fighting, the bickering, the misunderstandings – they all became too much and one day I found myself Googling in desperation for info on a therapist who could come to our aid. Because of the circumstances that we all found ourselves in with the lockdowns, that task proved to be impossible, and we were left to figure out things on our own; for better or for worse.
That's when we learned about the docuseries project, Couples Therapy. It was advertised as an in-depth look into the relationship dynamics of several couples, with a seasoned, licensed professional at the helm, guiding them to their collective healing.
At the time we had tried relationship therapy a couple of times before to not much success, but we knew that we needed some form of intervention to help guide us out of our own heads and emotions, and this program, though not specific to us at the time, seemed the best tool available to help us along our journey.
We both quickly became fans of the show, and more importantly, fans of psychologist and psychoanalyst Dr. Orna Guralnik, who seemed both patient and wise, as she offered insight and guidance to the couple on the show who seemed to be as much in crisis as Dale and I were at the time. Certain aspects of the show really hit home and before you knew it we were actually taking notes and engrossed in the show in a way that I hadn't expected.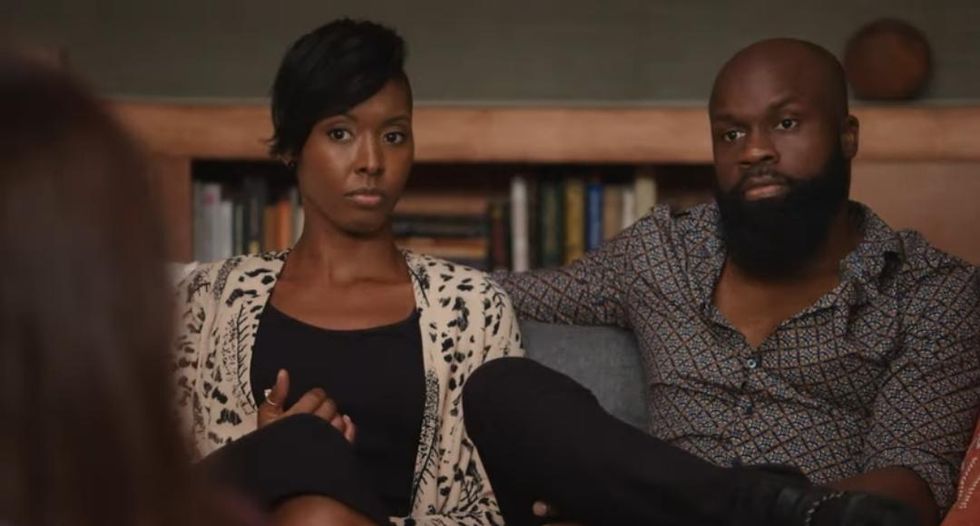 Courtesy of SHOWTIME
One day while perusing the internet an ad popped up, informing me that Showtime was on the hunt for participants for the third season of Couples Therapy.
Blame it on algorithms. Call it fate. Even regulate it to just dumb luck, but I took that as a sign that I should apply – and I did. Within a couple of weeks, we were contacted by someone on the production team for the show and after an arduous application process, we were finally chosen as one of the season's featured couples and before you knew it, we were laying our entire relationship on display for the world to consume.
Though I naturally had a bit of apprehension about what we were about to get ourselves into, I was ready to try anything to be the version of ourselves that we were when we said "I do" a mere year prior. We dove headfirst into the process and were open and honest in a way that genuinely surprised me, as did the result.
And what was that result?
For starters, I went into the process not knowing just how much work would be needed to be done on myself by myself. I tell people all the time that relationship therapy is 80% individual work and 20% couples therapy. You must commit to working on yourself and identifying the unhealthy patterns and traumas that have created what are now your personality traits. The coping mechanisms that we form due to the unaddressed issues that we hold on to from within are evident in everything that we do – from our relationships to how we view ourselves.
I knew that there were aspects of my personality that were a direct result of the experiences I've encountered throughout my life, but I never knew how profound the trauma response was when it came to who we are as people. I didn't consider many of the things that I went through as being traumatic, but that was simply because we were trained to normalize these occurrences and not give them the proper contextualization that they deserved. I learned how they not only impacted me but also how it impacted my husband and as a result, our marriage.
I also learned that you have to go into therapy with the goal of connecting with your spouse in a manner that is mutually beneficial and honest. At the time, I so wanted to be heard that I often found myself waiting for Dale to finish his thought just so I could defend myself or make my point. I wasn't listening, and neither was he and we played the tit-for-tat game mercilessly until Dr. Guralnik redirected our communication efforts and showed us how to speak and listen with intent and focus.
Couples Therapy showed me that as imperfect as my marriage is, it's mine and is something that I am proud of and am willing to fight for. No, we are not "healed," and no, all of our problems did not magically vanish from our union, but we left that experience with a new appreciation for each other and an understanding of how we may have gotten to the point that we found ourselves in, in the first place. Therapy changed the dynamics of who we individually were and as a result, our marriage and our family benefited greatly.
As Black folks, we tend to shun therapy and look at it as a process that would demonize and label us, instead of the life-changing, helpful tactic that it is. It's always frowned upon to "put your business out there" to be judged and criticized, and oftentimes we are left trying to figure things out on our own, bumbling around with no real direction when real help is only a phone call away.
Would I do it all over again if ever given the chance? Heck yeah! I walked out of that situation with a renewed, optimistic viewpoint of my marriage, and with the tools necessary to make it everything it was destined to be. Do we use those tools effectively daily? I would have to admit that we don't. But we are constantly growing and morphing into better versions of ourselves.
For that, I am thankful.
Featured image courtesy of SHOWTIME
All too often we see people being rejected on their viral proposal videos, in front of family first and then again in front of the entire world. But what I'm coming to realize is that people seem to put more thought into a beautiful, intricate proposal than they do the marriage and what marriage means. You see, good marriages are rooted in communication, and the fact that people are proposing without knowing the response they're going to get, speaks volumes about the lack of communication. Or, at the very least it points to the fact that they don't know their partner well enough to commit to marriage.
A marriage proposal itself should not be a surprise. A couple should be very clear on where they are in a relationship, their goals for the future, and ideally when they would like to take that next step and if they want to take that next step. Going into a proposal, you should know your partner's answer based on the relationship you have together. The grand gesture? Well, that's the surprise and the only surprise. Throughout the dating phase, you should get to know one another in a way that allows having discussions around desires, boundaries, values, and core beliefs.
These topics are also a point of discussion in the article, "5 Relationship Standards You Shouldn't Compromise On," a piece that I think is very much applicable here because many people are afraid to have these necessary conversations early on. In my opinion, these conversations grow more challenging to have the longer they are postponed. You become enamored or smitten with a person and instead of focusing on learning how compatible you are with someone long-term, the fear shifts to, "What if they don't respond in the manner that I would like?"
Talk about the important things before trying to get engaged. 
First, you want to find out if each of you is even interested in marriage – and to what degree. If each of you falls on the extreme point of the spectrum, that may not work and there may not be room for compromise on this topic. This is indeed a question that should come up in the year of being in a committed relationship with a person. You also may want to ask questions surrounding timelines of what feels too soon and what feels like a realistic time to start talking about marriage or getting engaged. Lengthy engagement period or short? Living together prior to marriage? Are there boundaries on your willingness to do certain things for your partner prior to marriage?
If marriage is important to you, and it's been a couple of years, you might want to ask directly if your person sees themselves marrying you and perhaps rehash the specifics covered earlier in the relationship at that moment. Circle back to questions regarding the timeline and such because now those answers can be more concise and less hypothetical as they now know you more and furthermore know if they would like to say "I do" to you. If your visions for the future aren't aligned, consider if the relationship is worth further investing in, if there is a trajectory that works better for you as a couple mutually, or if you'd just like to move on from the relationship altogether.
Either way, this conversation in particular should be a huge indicator of if and maybe even when a marriage proposal should follow. If you're not on the same page, why even pop the question?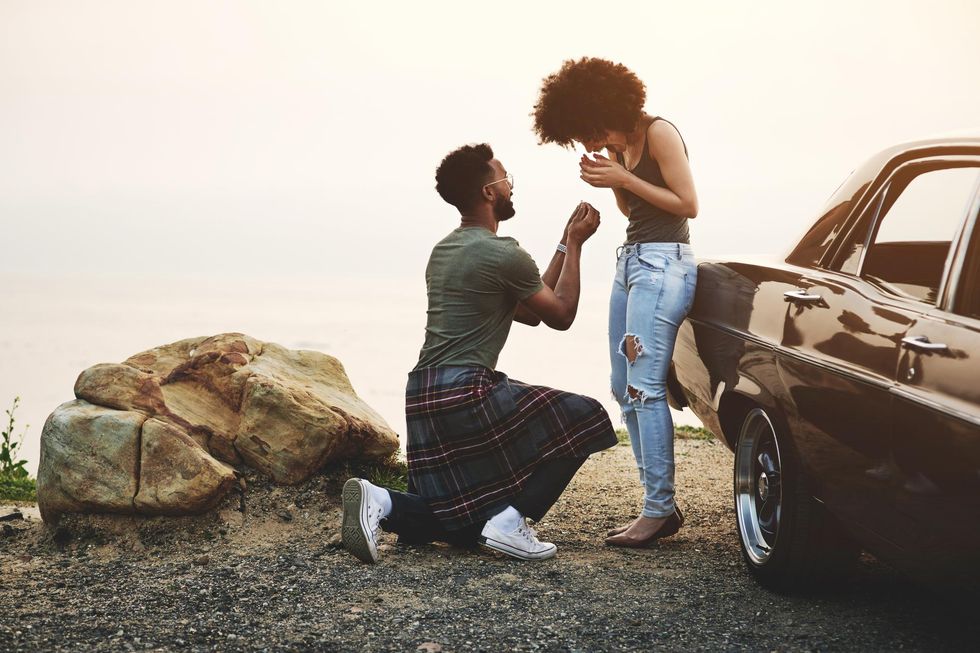 Dean Mitchell/Getty Images
The takeaway. 
Full disclosure, I am not a dating coach so this is a gentle suggestion for when these discussions should be had. However, I did specialize in a sex therapy track that allows me to stand on a soapbox and tell you relationships that don't have these types of conversations are often relationships that will fail. Just the same as a house without a strong base ain't lasting!
So it's with love that I say please don't make a fool of yourself with a romantic gesture of a proposal when you haven't gotten a direct answer from your person about marriage and a future together. Take a beat and ask yourself if you're standing on solid ground to even ask for their hand in marriage. Be sure you've asked all the tough questions, both through internal dialogue and aloud with your partner.
A communicative marriage is a lasting marriage.
Let's make things inbox official! Sign up for the xoNecole newsletter for daily love, wellness, career, and exclusive content delivered straight to your inbox.
Featured image by Dean Mitchell/Getty Images
You know that Caresha TikTok voiceover that goes, "My man, my man, my man," and so on? Yeah?! Well, I hate to break it to you but that is how some (one too many) parents, particularly mothers, sound in regard to their sons. I've always found it to be weird, but I find it even more noticeable since becoming pregnant with a baby boy, likely because people keep projecting that bullshit onto me. Sidenote: I truly believe being pregnant has a way of bringing attention to the weird shit that people say so that you know who you don't want around your child (at any given stage) or who not to take parenting advice from.
Anyways so many mothers have said things to me along the lines of, "You're so lucky to be having a little boy. The love he's going to have for you will be like no other." And the implication in my mind is that they're saying my son will fulfill the love I one day seek in a romantic relationship – not realizing that this is emotional incest.
Similarly, are the parents who crown their sons "man of the house" or refer to them as "my King" – my immediate thought is almost always, "What in the world is going on?" As harmless as they might intend comments like that to be, they're actually very confusing and dangerous in reference to the attachment to your children you create. In fact, I feel so… triggered by the use of these phrases that I've sorta come to the consensus that even terms like "little man" will be banned in my home.
This isn't f*cking Bridgerton, and there's nothing cute about it! And it's not a flex nor is it "woke" to call your son your "King."
Parents are here to love children unconditionally, but that love is not meant to be applied in the opposite way. Children aren't required to love you through your bullshit. The emotional incest language and behavior send the message that they should otherwise be supporting and loving of you – no matter what.

Wait, let me backpedal just a bit here and explain emotional incest. Emotional incest, sometimes referred to as covert incest, is when an adult or parent leans on a child for the emotional support of an adult partner. Quick enough, right? And how many parents did you think of immediately after reading that simple definition?
It seems to be more common than we might imagine (but that's just my opinion). Still, I want to warn parents against doing this. Use age-appropriate language to describe your children, especially Black children (who are already adultified from the age of six for girls and 10 for boys.) In fact, emotional incest and adultification go hand in hand, as adultification is the idea that children are more cognitively aware and capable than their peers based on their intersectional identities.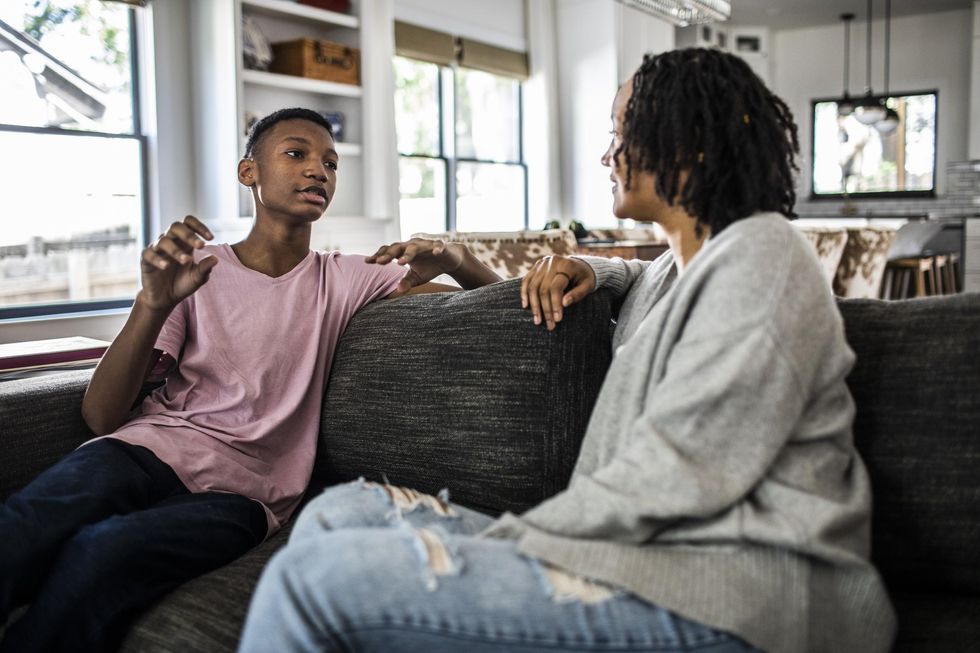 Getty Images
Though my take may seem extreme in some ways (such as refusing to bestow nicknames like "little man" upon my baby son), I, personally, never want there to be confusion about my expectations for my child. And those expectations are simply for him to be a child for as long as developmentally appropriate. Language speaks volumes.
Words are self-fulfilling prophecies, so if you talk to a child or treat them as adults long enough, they become that, and not in the healthy, developmentally appropriate way – in the traumatic and stressful way.
The beautiful thing about parenting is that it's your personal journey, but keep in mind it is also the scary part in that you are responsible for shaping and molding a tiny life (that has the potential to be grand).
I will say, stop projecting that shit onto me and mine. Please and thank you!
Let's make things inbox official! Sign up for the xoNecole newsletter for daily love, wellness, career, and exclusive content delivered straight to your inbox.
Featured image by Getty Images
Does anyone else feel like they aren't feminine enough?
Last year I was having dinner with a friend and we started discussing feminine energy. I shared that I wanted to be more feminine or get better at exuding it, whatever that meant. She laughed, leaned in, and said, "Erica, you give off feminine energy. You have nothing to worry about."
The thing is, I was never worried about being "feminine enough" before that.
Feminine energy is characterized as "being." It's centered on receiving, flowing, creating, feeling, and being vulnerable. On the converse, masculine energy is rooted in "doing." It's based on giving, planning, achieving and remaining focused. We are constantly floating between our masculine and feminine energy, and maintaining a healthy balance of both energies allows us to live a harmonious and fulfilling life. Unfortunately, we live in a society dominated by "doing," and patriarchy deems feminine energy inferior and only purposeful for domestic duties. So, many of us live out of balance because we fear seeming weak or unproductive. But feminine energy is powerful.
I started thinking more about the power of feminine energy when I stumbled upon Ayesha K. Faine's work Women Love Power in 2017. I loved that she was helping women recognize the importance of harnessing their feminine energy and telling the world that bringing feminine energy to the forefront would be crucial in establishing balance and harmony worldwide. I also enjoyed learning about my feminine archetype (I was a Gamine then). Ayesha taught us how our archetype manifested in our lives, how to use feminine energy to be successful, and how I could use it to gain a deeper understanding of myself and improve my relationship with others. Her work was empowering.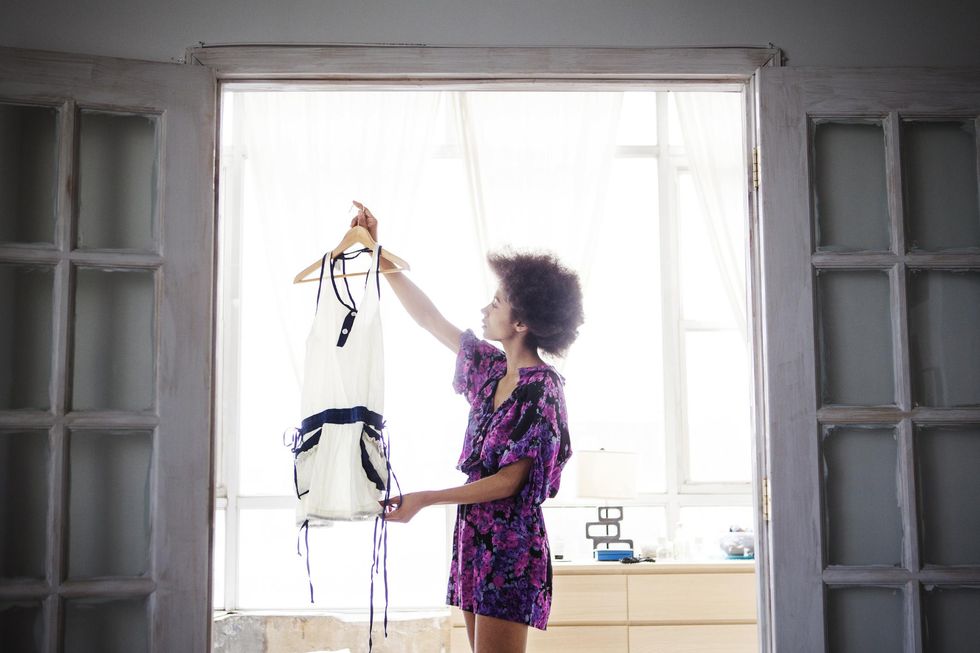 Getty Images
Recent conversations about feminine energy seem focused on shaming. Statements like,
"You're not feminine enough."
"You're too masculine."
"You need to lean into your feminine,"
seem to have replaced with statements like,
"You need to do this to get a man."
"You don't know how to let men lead."
and (my favorite),
"This is why men don't like you."
The conversation is tired, old, and problematic.
Attempting to shame someone into embracing more of their feminine energy isn't helpful or loving. Black women can be loved and encouraged to make decisions that will help them love, nurture, and care for themselves. Encouraging Black women to embrace softness instead of unyielding strength is an act of love. Reminding Black women they are worthy of receiving help from others and that they aren't a burden is an act of love. Creating safe spaces for Black women to be vulnerable and receive care is an act of love. All of these things give Black women the freedom to incorporate more feminine energy into their lives in a way that benefits their mental, emotional and physical well-being. None of these benefits are men-centered or men-focused.
Everything can't be about men. Everything can't be about appealing to the male ego. If you are someone that wishes to be in relationships and community with men, it's natural to care about what they think. But it isn't healthy to be controlled by what men think. Because who is the deciding voice on whether or not you're "feminine enough"?
Who are you giving that power away to?
I would hope no one. But I'm on the internet more often than not, and I have conversations with women I love all the time. The femininity conversation always goes back to finding ways to maintain or obtain a man's attention. And it doesn't serve us to be men-centered in that way.
Centering men in our decisions can cause us to abandon ourselves. We attempt to bend, fold, contort and conform to fit a phenotype or personality that doesn't come naturally to us and become resentful when it doesn't result in us being chosen. It's madness and deeply unfulfilling. But the reasons were ready to listen to someone tell us were inadequate or fail to measure up are understandable. We're scared. We don't want to be alone. We don't want to be the person that doesn't get chosen.
But allowing people to continually profit off of our insecurity is hurting us.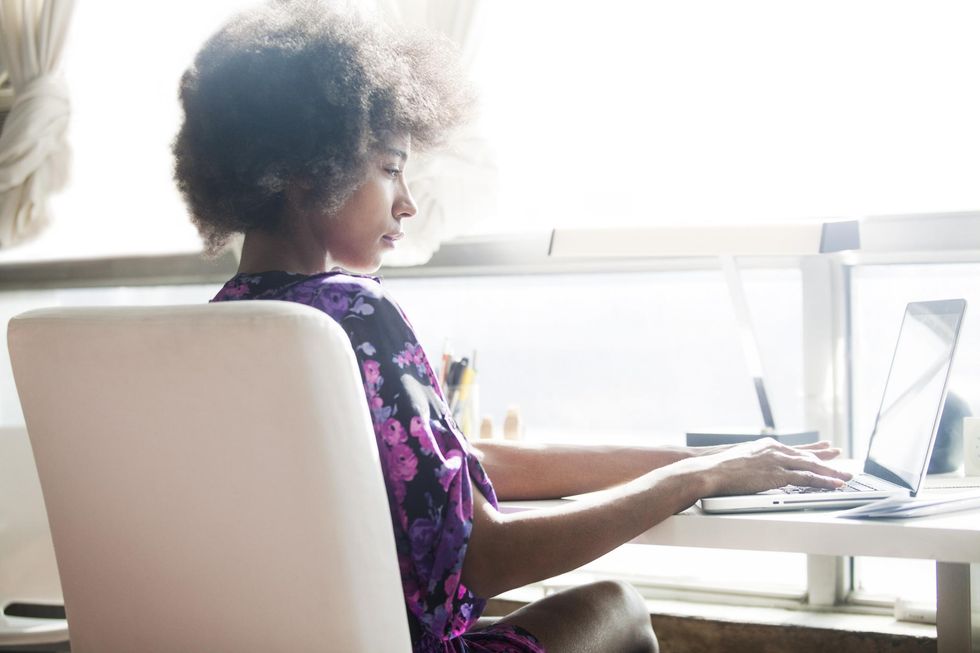 Getty Images
Some of the femininity rhetoric is anti-Black and being used to shame Black women for adapting to environments that required us to lean into more "masculine energy." For example, I struggle with letting people help me; many of us do. It's not intentional. I'm not resisting my feminine energy to be combative or difficult; I doubt anyone is. Framing the conversation that way doesn't help. There are various reasons someone may be unable to embrace more feminine energy. Maybe their environment isn't safe enough for them to be "soft." Perhaps they aren't around people that can lead in non-egocentric ways. Maybe they had to become hyper-independent to survive as children.

The way we approach people and the way we approach having these conversations with ourselves is important. Conversations rooted in kindness, compassion empathy are transformational. Conversations based on shame lead to low confidence and a lack of self-love.
If you're going to embrace more feminine energy, do it for yourself. Do it because you love yourself. Do it because you see it improving your life and your well-being. Don't do it because you're seeking the validation and approval of a stranger. Don't do it because you're hoping to obtain something outside yourself because you can't control anything outside of you.
Stand in your power and be the deciding voice on whether or not you are enough.
Let's make things inbox official! Sign up for the xoNecole newsletter for daily love, wellness, career, and exclusive content delivered straight to your inbox.
Featured image by Getty Images
Everyone has something to say about 25-year-old Lori Harvey these days, and I'm sure for many more days to come. Right now, the particular topic of conversation is her recent breakup with her boyfriend of over a year Michael B. Jordan. A source told PEOPLE exclusively that though the couple was no longer together, they both "still love each other." Of course, this news spread across the social media landscape like wildfire with many people feeling a way about how Lori moves in her romantic relationships.
But that's neither here nor there, at least not where it concerns Michael B. Jordan – today's focus is Lori Harvey because there truly should be no conversation but because she's Black and a woman she's met with misogynistic/misogynoir critique regarding her dating pool.
The definition of dating is to go out with someone who we are romantically interested in, you don't do this lightly and you damn sure don't do it in small numbers because dating is a numbers game, especially for women who outnumber men in this world leaving them with fewer viable options (for whatever reason).
Before you say she was exclusive with these men, I want to point out that Lori Harvey has rarely come out and confirmed allegations that she is exclusively with any of these men – it's the public that ships her with every man she takes a picture with. When in reality my girl could just be on her Diddy-shit, "having fun" with some fun company without commitment.
​Though well-meaning, those who have defended her often use her age as a defense stating that this is how she should be dating at that age and I think this still does a disservice to her. Arguably, we should all be dating like Lori Harvey so long as we're single and in search of a life partner. Qualifying her dating habits based on her age implies that there is a cutoff and respectability in dating in a more socially acceptable manner after reaching a certain age. And furthermore, she doesn't need a qualifier to date around! She deserves to just exist in her search for whatever it is that she's searching for.
Lori Harvey dates with purpose and this is something that so many of us lack, both men and women, but especially women because we constantly are asked to settle so as not to seem whorish. When in reality 1) we're all grown 2) dating doesn't equate to fucking every person you date. Women, more than anyone, need to make every effort to see what's out there every step of the way and get as comfortable with Ms. Harvey – walking away soon as people no longer serve her long-term goal.
We need more comfortability around the idea that dating is an interview process for the bigger picture. I'll never forget me worrying endlessly if a man was into me or found me boring, worthy, or whatever was going through my mind at that time. A friend gently said over the phone, "Stop worrying so much about if he likes you and ask yourself if you actually like him. Treat it like a first-round interview."
People who are naysayers of Lori Harvey are people that hate women, particularly those with the will to choose-up, rather than settling on the decent dick and a few good dates. Hell, I don't care if the dick is fire af – women should be free to create and operate by a dating system that they deem preferable in peace, just the same as men.
And if we're ever to really come by happily ever after, I see this being the only way – truly learning to grant women the autonomy that they're entitled to.
Let's make things inbox official! Sign up for the xoNecole newsletter for daily love, wellness, career, and exclusive content delivered straight to your inbox.
Featured image by Mike Coppola/Getty Images