If you know me, you know first and foremost I'm a free spirit. And I found healing through writing. But by trade, I'm a business consultant. And because of my blended skill set and expertise, my service offering allows me to give my clients the best of both worlds. Recently, I found myself having to renegotiate my fees with one of my clients for the scope and level of work I produce. I had requested three times my fees at a monthly flat rate due to scope creep and the expansion of the role. My client counter-offered with a rate that would be considered unacceptable for anyone with a background similar to mine.
I had wanted to respond right away to the offer. But I decided to listen to my intuition and take the weekend to sit with the email I received late one Friday afternoon. I started to rationalize their response in my head, almost wanting to accept the offer. I thought to myself, "Don't take it personally. Don't get offended, this is business."
I'm nice, not naive.
Corporate America taught me, and a big four consulting firm raised me.

And they taught me extremely well. Corporate America might have ruined my life at one point, but they didn't leave me without the knowledge and experience to succeed at anything I do. It broke me down and built me up, but I bounced back one hundred times better. Now, I can make boss moves like this.
BTW, this is the only damn thing I am thanking Corporate America for.
Everything inside of me knew my client was trying it and trying me. On the real though, I low-key love it when people try me because they don't expect the clap back. And one thing about me is I will clap back when necessary. And I do it with grace and eloquence. Always. Come that Sunday night, I strategically drafted an email to my client clarifying my role, scope of work, work product, and deliverables. I stated all the facts. Come that Monday morning, I clicked on the send button and the email was sent.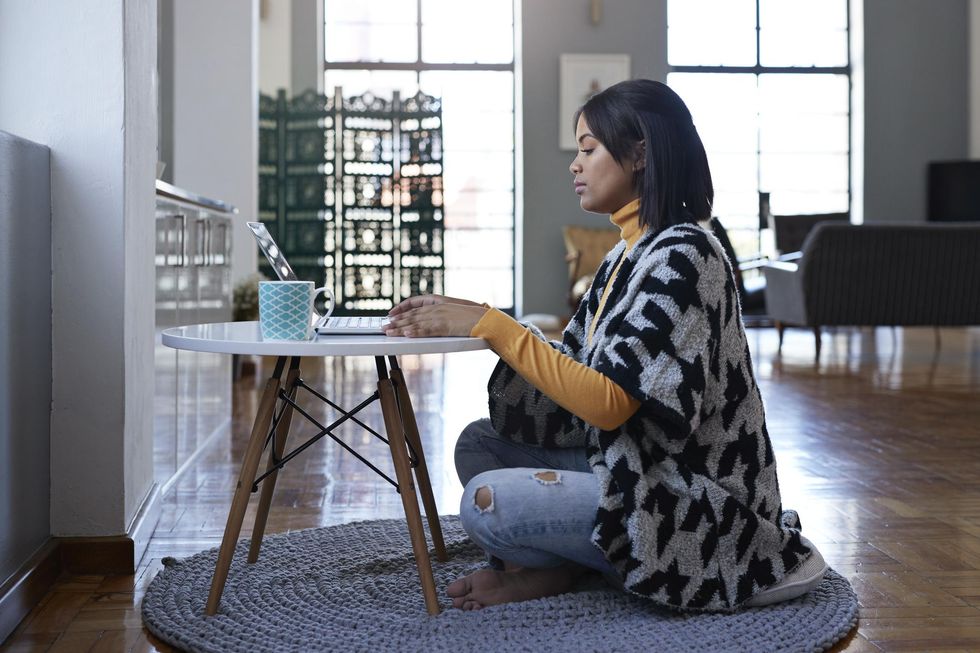 Getty Images
I was confident. I know who I am. I know what I'm doing. And I told no lies. There are ethics to this shit.
Not only did I know my client was trying it, so did my circle. This is where the importance of the right people in your circle comes to play. A remote working session with two of my homegirls allowed me to further talk through the situation. When I gave them my life update, their initial reaction was, "OH, HELL NO." They were angry and in their feelings for me too. One of my friends also pointed out, "They tried to box you into a title and role you were never doing as an 'employee' when you're an independent consultant." She was right, and I had completely looked over this small detail.
Maybe this is why I felt slighted as all hell.
Because I'm not working for someone anymore, I am working with them. And that's where some clients have it all the way fucked up. I have most of the say so, not them. I set my rates and hours, not them. My homegirls immediately reminded me of my worth. And I was ever so grateful. It gave me the confidence to stand by my response and be prepared to make certain decisions.
Listen.
If your friends don't remind you of your worth, they ain't it.
If your friends don't help you plan your exit strategy, they ain't it.
If your friends don't help you to play big, they definitely ain't it.
If your friends don't encourage you to be bold and brave, they ain't it either.
I walked away from a six-figure salary and title, what makes anyone think I wouldn't walk away from a client?
Not all money is good money. Your currency is your time, energy, and peace. You cannot put a price point or a market value on these things.
You have to know your worth more than any dollar amount or currency in this world.
And I want to remind you to always know your worth in any space.
Featured image by Getty Images
Keep reading...
Show less
At the end of August 2020, I quit my job and took a leap of faith to pursue my creative passions of writing and connecting Christian women. This wasn't an easy decision for me because 1) I have worked since the age of 15. With the exception of my freshman year of college, I don't know what it's like to not have a steady income. And 2) I worked for a very prestigious government agency and had accomplished a lot during my time there. I wasn't walking away from a small thing; this was security, especially in a time where many experienced unstable employment.
However, my husband had just graduated from dental school and got a job in Dallas, TX. I truly believed God had shown me that this was the perfect time to transition. And although I knew the unknown wouldn't be easy (new city, new experience of defining work for myself), I could've never imagined just how difficult this change would be.
I've read a lot of inspirational blog posts about leaving your 9-to-5 and pursuing your passions, entrepreneurship, and #blackgirlbosses. They usually tell us to push fear aside, chase after our dreams, and be OK with failing because the process is worth it in the end. But in all my reading, I've never seen anyone talk about the other struggle that comes with entrepreneurship, specifically that of an independent black woman.
You see, when I left my job, I didn't have a set plan. I had just launched a blog with an idea to parlay that into a larger business, but the logistics weren't there. So, I used the first few months of unemployment to seek God and gain clarity and direction for my vision. Then, I began to work toward it: writing blog posts, promoting content on social media accounts, adding in YouTube videos, and creating a monthly newsletter. And all the while, my income remained at zero. Sure, I had a few final checks roll in from my previous job, but after they were deposited, it was nada.
For the first time in a very long time, I didn't have an income.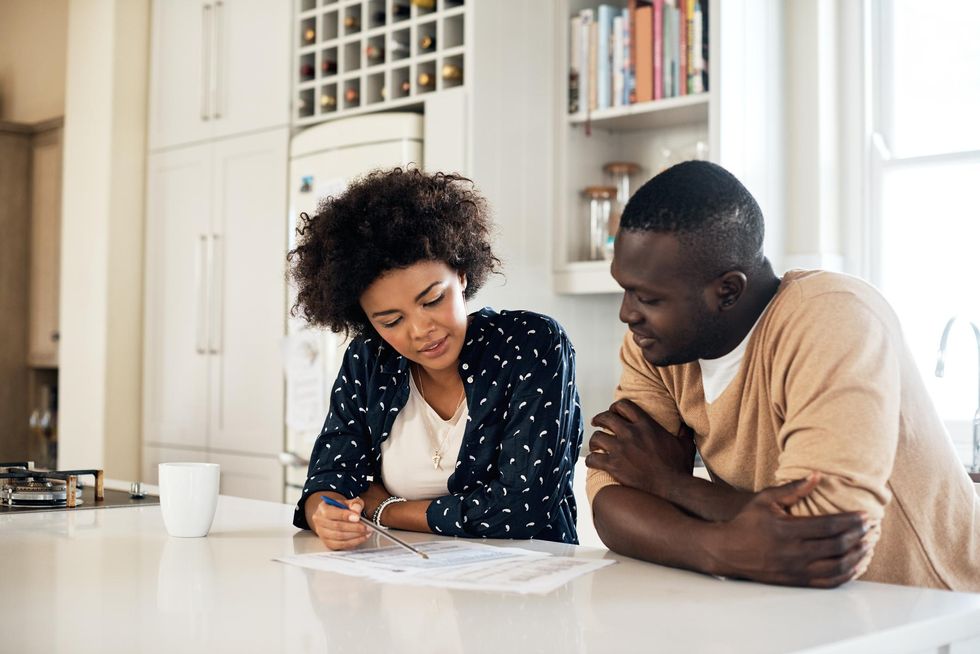 Getty Images
And I quickly realized that this was challenging for my independent self.
But, I know you're thinking, you mentioned that your husband graduated from dental school, right? Yes, my husband is a dentist, which is another reason why the timing of the transition worked out. He was now going to have an income to support us both, so I truly had the opportunity to not work traditionally or be concerned about making money so that I could focus on starting my business.
You would assume that provision would put me at ease, but I have to be honest: it did the opposite. I know there are many women who would love for a man to fully provide for them, and although I understood that it was a blessing, I wouldn't quite say my feelings toward it were joyous.
I continued battling with these feelings one evening as my husband and I talked. I was discouraged by the different expenses that came along with starting my own business and even more so by the fact that I needed to keep spending without contributing financially to our household. Now, this type of conversation wasn't new for us. I'd cry about my no-income insecurities and my husband would remind me that although he's working, it's our money; I am working toward something greater that will benefit us in the future, and I contribute in so many ways beyond the finances. And even though, mentally, I knew all these things were true, emotionally my heart couldn't accept them.
"Maybe I'll get a real job," tears filled my eyes as I spoke. "That way I can bring money in and not feel like a leech." My husband looked at me lovingly and asked, "Babe, why can't you just let me take care of you?"
It was at that moment that I realized a profound but sad truth: I didn't know how.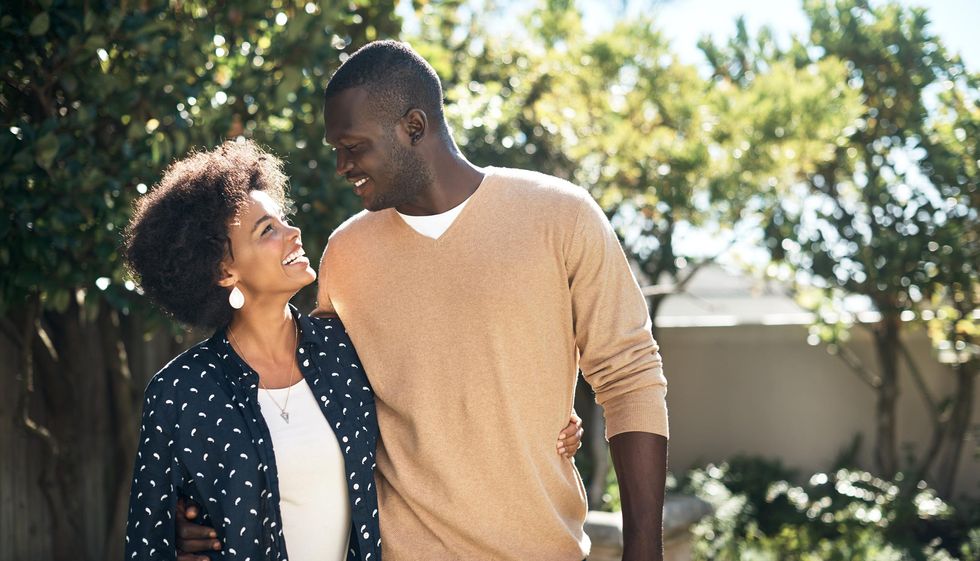 Getty Images
I don't know how to be taken care of. It hurts to write this, but I need to let it sink in.
I'm newly married and now in a position to be taken care of, but I don't know how to allow my husband to do that.
And I realized it's because throughout my life, I have rarely had that luxury. When I was younger, I used to love singing along with Ne-Yo to "She Got Her Own". It wasn't until I got older that I realized she had no other choice.
How many black women are independent because they've had to be? Because as a child, you saw your single mother struggling to raise you and your siblings, so you made it a point to take the pressure off her, at least when it came to providing for you? In my hometown, we could start working at age 15 and a half, and six months after my 15th birthday, I had my first job at Kroger. Of course, I didn't make much, but I was able to use my little paychecks to buy my school clothes and take a small burden off my mother.
In college, I saw those around me receive financial help from their parents, yet I was solely responsible for all my expenses. I applied for every scholarship available to help pay my tuition, bought a used car with my refund check, and worked multiple internships to pay my rent and cover books, food, and gas. I had no other choice.
And not only have I continued providing for myself, but I am also the one who usually financially supports my family. So, it makes sense that being a "receiver" is foreign to me when I've been used to my "giver" role—marriage included. When my husband and I first got married in 2018, he was in dental school while I worked. Although he contributed financially from his tutoring gigs or DoorDash runs (bless his heart), I was the real breadwinner for the first two years of our marriage.
Although my husband constantly reminds me that I supported us then so that now he can, it's still so easy for me to feel uncomfortable in this position.
There is a sense of comfort that comes with knowing you're fully taken care of and you don't need to hustle and grind to make ends meet. Many black women have given themselves that comfort because they didn't have other dependable options.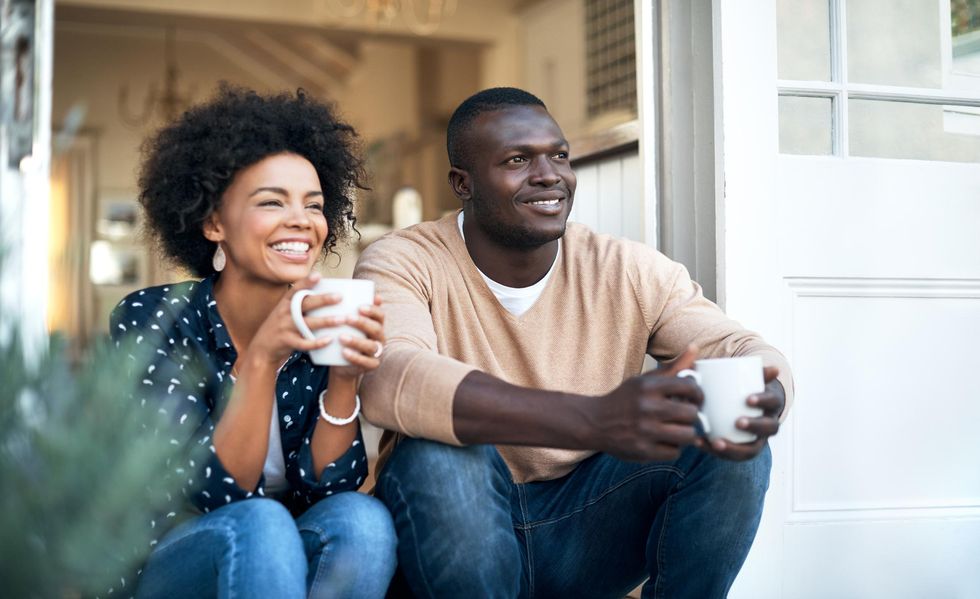 Getty Images
I have prided myself on being an independent black woman. I'm proud that I was able to take care of myself and still can if need be. But, I am coming to realize that if left unchecked, this self-sufficiency can hinder me from experiencing a different type of freedom.
There is so much power in having a choice, and for so long, my only choice was to depend on myself. But this season is teaching me that I can provide for myself in a new and much-needed way: by allowing someone else to support me.
Working so much to provide for my financial needs caused me to neglect many personal aspirations. But now I am able to support a different part of myself because I'm choosing to receive.
Accepting support is a form of self-care, something even the most Destiny's Child-esque independent women need. And it's more than OK to embrace this option when you're blessed to have that choice—sometimes it's the best way to truly look out for you.
Featured image by Getty Images

Keep reading...
Show less
Earlier this summer, the media chastised R&B singer Chloe Bailey for her rendition of Nina Simone's song "Feeling Good." Some thought her Juneteenth performance was too sexualized and took away from the meaning of Juneteenth. Many felt Chloe's performance represents the stigma of hypersexualized Black women. And I think Chloe might have thought a Juneteenth performance would be a safe space to show the world how she has evolved as a young Black woman.

A young Black woman that isn't scared to be her true self. Strong, sexy, bold, talented, successful, and everything nice. She also performed a less sensual version of the classic song on Good Morning America.
Chloe performs 'Feeling Good' on 'GMA' | GMA www.youtube.com
Both performances differ in how she chooses to present herself to the world. But…the question isn't whether if how Chloe chooses to present herself is a good or bad thing.
The question is why are we criticizing a young girl for embracing her transition into a young woman?

As a society, we have always criticized women in general for being too much or too little of something. There is this notion of what a young woman should be, and how she should act. There is also this notion that we as women have to fit into a certain image or persona to acquire social status. If we don't fit into this overarching status of what a woman is supposed to be, it becomes a problem.
And it then becomes a bigger problem for Black women too.
Black women and other women of color already struggle with being their authentic selves from a cultural standpoint. As much as we have evolved as a society, allowing ourselves the freedom to be feminine and sexual beings is still seen as offensive when it shouldn't be. Women are now learning how to embrace all of their feminine energy.
And Chloe Bailey is too.
Chloe Bailey On Owning Her Womanhood
Chloe let us know she is ready to step all the way into her divine feminine. Whether it was through the Silhouette Challenge, Buss It Challenge, or dancing in a t-shirt and panties on the 'gram, she caught the attention of us all. She confidently embraces her curvaceous body through her choices in clothing, movement, and song. She is charismatic, playful, innocent, and soft. But it was the social media uproar Chloe didn't see coming. These social media trolls swayed her enough into giving an emotional justification for her behavior on an Instagram Live earlier this year:
"It's really hard for me to think of myself as a sexual being or an attractive being quite frankly. So, when I see all the uproar about my posts and stuff, I'm a bit confused. Like, I really don't understand because I've never seen myself in that way or in that light. ... I don't post what I post to get attention. I don't need that."
"For every woman out there, don't change who you are to make society feel comfortable. And, I'm telling myself that's not what I'm going to do."
"Even when I posted the video yesterday [pictured above], I posted it because I was saging and doing Palo Santo and I was like, 'Let's spread positive vibes.

I didn't even really notice you guys were talking about my ass because I was like, 'OK, I'm just walking in from one seconds, two seconds. And I feel like I've shown my ass more than I have with that like if you look at our performance videos, the last performance we had in December."
"With my songwriting and producing, I feel so badass and I get the same feeling when I dance in my room, when I just own who I am and my body. And for so long, I used to think I was, like, fat, and like, I used to hate my stretch marks and my cellulite. But it's like now, I really love who I am."
If you ask me, Chloe's explanation is unwarranted. I don't think Chloe had anything to apologize for. She didn't owe her fanbase or followers an explanation for growing up or being her authentic selfauthentic self.
The issue is we knew Chloe and her sister, Halle Bailey, to be the sweet singing duo who emerged on the scene from the Disney television film Let It Shine, and YouTube song covers. They were kids. But as they have grown into young women, we are now learning who they are. We forget these adolescent entertainers eventually become young adults. We forget that their image will constantly change. While they may be in the public eye more often than most, we forget they are still human. Humans, with the same emotions, feelings, insecurities, and struggles we all encounter.
We don't criticize Cardi B, Beyonce, or Megan Thee Stallion for owning their sexuality when they take the stage or on social media. We expect it. So, why should we make Chloe feel bad for owning her sexuality? But this has been the trend for Black women and all women who grow up in the music industry.
What Critics Have Said
unpopular opinion: chloe bailey is forcing her sex appeal🥴

— courtney🌻 (@causeimcourt) July 13, 2021
Several media outlets have said Chloe is doing too much. A tweet on Twitter read, "unpopular opinion: chloe bailey is forcing her sex appeal." Another Twitter user came to Chloe's defense and tweeted:
"

How's she doing too much? She's grown, super talented, and successful. She's not getting naked. Not stripping. Not doing porn. What's the issue? A grown black woman can't even own her own sexuality without other black women tearing her down. I don't get it."
And it's true. Chloe, let alone other Black women, cannot express their sexuality without commentary.
In a news article by MTV Australia, they stated:
"It's that sense of exploration, and exploration of female desire, which is discomforting for a predominantly patriarchal society to sit comfortably with, especially if it's not in charge of it."
It is also stated that because there are few Black women in major pop music spaces when a young Black woman wants to show their true personality, sexuality, and body, they are shamed for it. Author Sarah Raughley analyzed Chloe's emotional admission within the context of the industry forTeen Vogue where it was argued:
"If you're a Black girl trying to make music, it doesn't matter who you really are inside, Hyper-sexuality is what audiences demand you to be."
In a Refinery29 op-ed, writer Ineye Komonibo wrote:
"From a young age, everything about Black girls is placed under an intense sociocultural microscope. The way we dance, the clothes we wear — even the way that we style our hair can be seen as 'grown' or 'fast.'"
But for Chloe, her sexual expression is about her personal journey, self-love, and acceptance. In the January 31st Instagram Live, she revealed:
"When I perform, and make music, and dance, that's when I get to tap into the sexier side of myself. That's where I find my confidence. So, it really means a lot to me when I can finally get to a place where I share who I really am because I've been really insecure for a long time."
Black Women, Femininity, & Sexuality
I think Black women compared to any other women of color are judged the most for how they choose to express themselves. We are often labeled as oversexualized, loud, relentless, and angry. But there is so much passion in everything we say and do. And most perceive this innate passion for negativity. All because it doesn't fit into the narrative of how women of color should present themselves to society. We are told to use our voice, invoke thought, and encourage change. Yet when it comes to self-expression and owning our femininity, we are subject to limitations. How does that work?
Why should we apologize or restrict parts of who we are to make others comfortable? Pleasure, joy, and movement are key traits of femininity. Women are moved by emotions and feelings. Especially in art. And a true artist doesn't inhibit the flow of their creativity, they allow it to be seen, heard, and felt.
Unfortunately, this is what Chloe Bailey had to go through. Chloe chooses to show up as her authentic feminine self. A Black woman, a sexual woman, and an artist. She gives herself permission to "just be", allowing herself joy and happiness not just through music and movement but also as everything a feminine woman is. She gives herself permission to embrace her sexuality when most women don't dare to do this.
Whether that's through her social media presence or her performances. And was then ridiculed for expressing her emotions and feelings through her artistry.
Do you see what's wrong with this? I do. Regardless of the stereotypes and stigmas, I wish more Black women gave themselves permission to embrace all of their authentic selves. As a multi-ethnic woman of color, I didn't allow myself to be any of those things that Chloe is being criticized for in my twenties. Like Chloe, I didn't see myself as sexual or desirable either. But all women are intrinsically these things. It's not just inherited from our social environments, it's in our genetic code too.
The problem is we are taught to repress that side of us. I didn't want to become more of my feminine self until my thirties. And now that I am in my mid-thirties, I'm confidently wearing all the things and flexin' all over the 'gram too.
Despite the social media uproar, Chloe Bailey still continues to thrive. And more importantly, she continues to teach us how to be unapologetically feminine Black women.
If you ask me, we just need to sit back, watch, and take notes.
Featured image by
Keep reading...
Show less
We all have heard the terms "Black girl magic" and "self-care" thrown around a lot over the past few years, and they seem to do this very confusing dance that a trauma-bonded couple might enjoy. What self-care means can depend on the person, their socioeconomic status, their lifestyle, their culture, and their career. And, of course, Black girl magic seems to apply to any woman of color who is wearing that same superwoman cape Karen White very beautifully lamented about in the '80s.
And for many women, self-care is something that has to fold into their desires to hold their households, spouses, and families down or pursue the life of their dreams. If you work hard, achieve, and gain recognition—well, there's the "magic"—then you just throw in a few bubble baths, mani-pedi appointments, and European vacays in there for the self-care checklist, so you don't "burn out."
You might even go a bit deeper into therapy, diet and exercise transformations, 24-7 leisure living, or religious epiphanies. Go off, sis.
Well, I want to give an honor and shout out to the pro athletes who have recently shown many of us a very different version of self-care. Though their actions aren't new to celebrities and high-earning everyday professionals, they've shined a renewed light on what truly matters when one thinks about preserving what's important in the grand scheme of things. The concept certainly takes a whole different turn once sports records, millions of dollars, career credibility, and people's livelihoods are at stake.
I know I might hurt a few feelings with this one, but I'm going to go there: Their latest exercises in self-care on the part of our amazing athletic sisters puts the term "Black girl magic" on its heels and sparks a question of identifying what "strong" can look like that many of us don't want to face.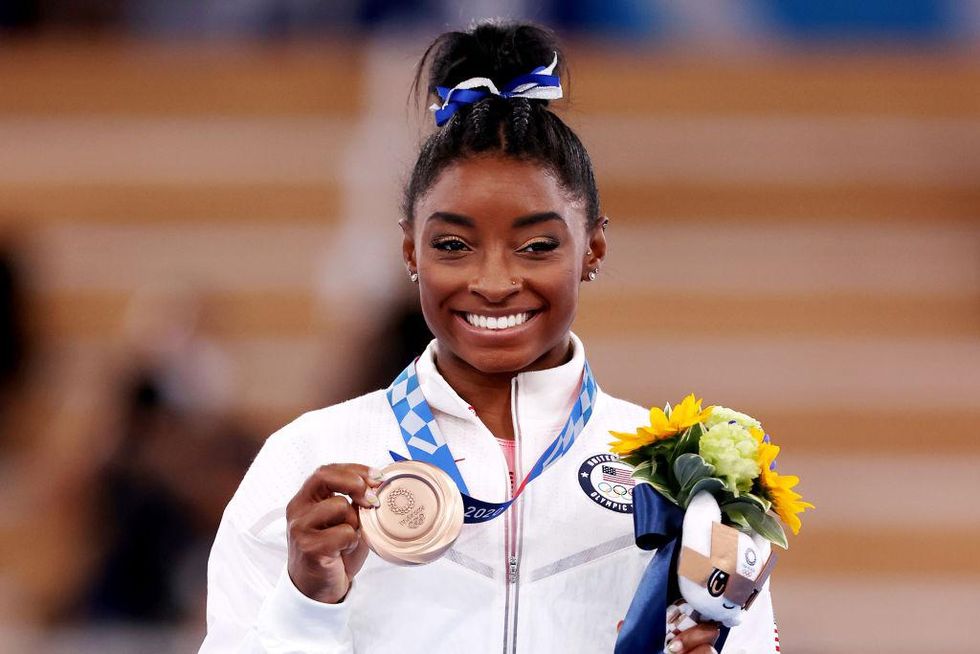 Jamie Squire/Getty Images
Self-care takes a different spin when you think about the power of shaking off the mystical label given to Black women who are simply being excellent, gifted human beings (and should not be solely defined by race or skin tone when talking about our amazing-ness).
This version allows us to throw that stereotypical, overused, superwoman cape to the side, and really start to look at what being the best version of ourselves requires—no matter what phase of life we might be in.
Take pro gymnast Simone Biles, who was all set to light the Tokyo Olympic games on fire when she abruptly chose to sit this year's festivities out. She already holds records in her sport and is known as a young legend at 24, with more than 30 Olympic and world medals. She faced harsh criticism for her decision and was accused of letting down her team, but she stood her ground, telling reporters:
"I just felt like it would be a little bit better to take a back seat, work on my mindfulness."
She's also decided to focus more on mental health advocacy. For one of the few Black women on her level in a sport that's majority-white, that had to have been a difficult decision, and even beyond the racial aspect, there's this sense that athletes should be able to push through both physical and mental challenges to get the job done.
Just take a look at this story about Serena Williams' Australian Open win while pregnant or this one about a past Venus Williams win at the U.S. Open or this whole list of athletes that have performed—and triumphed—through painful injuries. (My own father played basketball and once completed a whole game with a torn ankle. By the time he got home, his whole leg looked like an elephant's. He shrugged it off, wrapped it, iced it, and was back playing a few days later.)
Sound familiar? As Black women, we're often expected to just bare the brunt of pain or hardship in order to "push through" or reach a certain goal, and even the progressive among us (i.e. me) who tell ourselves that we will not be defined by the echoing voices of our grandmas, aunties, or moms—those voices don't allow for "giving up" or "letting people down"—we still push ourselves to the limit almost by default.
There's a trigger there that says, "Nah, I can't just walk away. I have bills to pay," or "Taking a break is weak. I can do more. That's what it takes to be among the best. I must ride this wave until the wheels fall off and reach success by any means."
And to the sis shaking your head, like, "Nah, that ain't me," just think about that last time you didn't say no to an opportunity because you didn't want to miss out, when that Twitter post, IG photo, or Facebook message didn't trigger a response of wanting to do something that would push a boundary, when you couldn't say "I'm busy" to that fantasy bae, or you had to get that 10th toy for your kids that you really couldn't afford. Yea, you, too. You are us, too.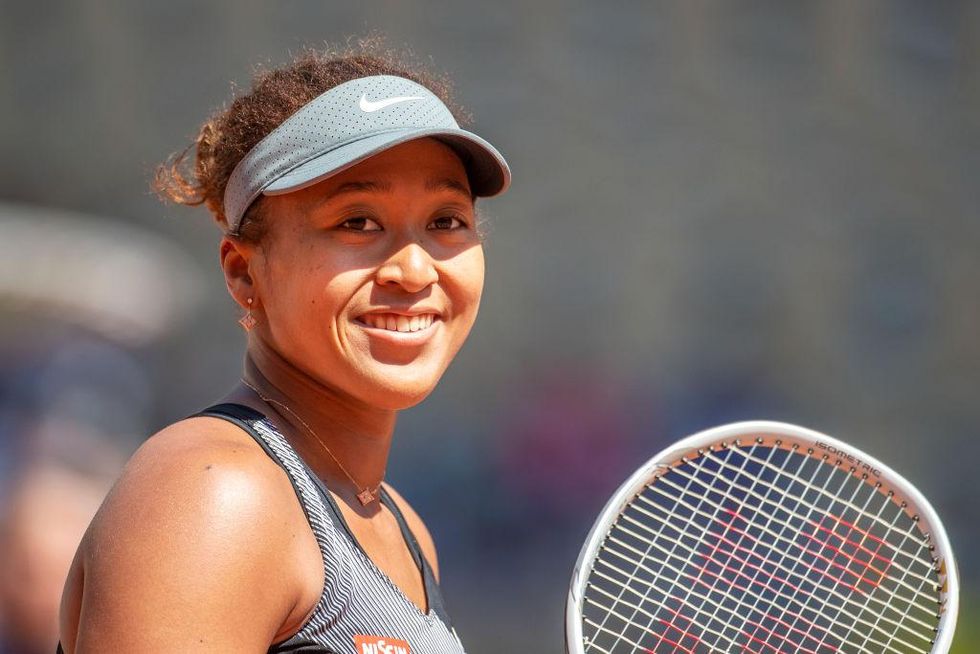 Tim Clayton/Corbis via Getty Images
When Naomi Osaka, the world's second-ranked tennis player, withdrew from the French Open this year to focus on her mental health, she faced thousands of dollars in fines for not completing a press conference in her effort to preserve her sanity. She was publicly shamed and met with doubt, as critics turned on her stating that she was simply making excuses.
It's all "Black girl magic" until you need a day off or a break. Being great at what you do in your career doesn't allow for a sick day or even a change of course, and if you're this super-powered character--as many high-achieving Black women have been pegged to be—you can't really be human.
This, to me, is dangerously similar to those archaic, racist theories about the performance and endurance abilities of African slaves and how they had a "higher tolerance for heat," an built-in "immunity to certain diseases" and "were impervious to pain."
And here comes that trauma-bonding two-step between self-care and Black girl magic yet again. Who needs much self-care when you're a durable, high-functioning, well-oiled, enchanted supernatural creature who's just expected to thrive and survive?
Simone Biles, Naomi Osaka, Serena and Venus Williams, shot-put Olympian Raven Saunders, WNBA stars Maya Moore, Renee Montgomery, and Chamique Holdsclaw—these are just a few of our athletic Black queens who are showing us that self-care means taking the time to step away and advocate for the foundational parts of life that enrich all that so-called "magic." Their pause-for-the-cause moments haven't diminished their accomplishments, greatness, or legacies—they've enhanced them.
Our mental and physical health and safety anchor us and allow us to be able to be our full selves, whether that means winning trophies, breaking records, making big bucks, or not. And there's no amount of superhuman stereotyping that can deny that.
These women prove that self-care can indeed mean walking away from high stakes and taking a few steps back to address and develop elements of our lives and selves that lend to balance. As Black women, we've got to be inspired by these athletes to redefine what self-care really means for our lives beyond a surface-level, fly-by-night buzz word.
When we lay the incredibly draining pressure of holding "magic" in our bosoms and embrace the vulnerability of our humanity in a way that honors the fullness and balance of who we are and what we're called to accomplish, we can truly reach our God-given potential.
Featured image Tim Clayton/Corbis via Getty Images
Keep reading...
Show less
If you don't want your family member to go to jail or an officer-involved shooting, deal with your family issues without the police. Once the police are involved, you no longer have control.
What we saw was another young Black life taken away too soon. What we saw was a 16-year-old girl who was loved by many gunned down by another White police officer again. And we called it systemic racism, police brutality, and all the things. We said the system failed her again. We blamed the police, and we blamed the system. But when did we stop to examine what was going on with this adolescent in the home? With the rise of the Black Lives Matter movement, we can easily categorize this tragic death as systemic racism, but some beg to differ. I beg to differ.
This incident is multi-layered with complex issues. I see how the foster system failed this teenage girl. And with that being said, I see how family dynamics played a role in this particular incident too.
What I mean by this is, we have a young teenage girl growing up in a broken home with (as far as we know) parents that couldn't care for their children. Then, we have relatives stepping up to care for said children but do not have the capability or means. Next, we have an overburdened foster system placing kids in overburden foster homes with foster parents who cannot provide the proper attention and care.
And I see how a young police officer made a split-second choice when he could have made other choices based on his training to diffuse the situation. Ma'Khia Bryant didn't have to die. But when a police officer is called to a scene where a deadly weapon is involved, he or she is forced to stop any threat with minimal to no attention to situational information. The officer has to try to save lives while immediately stopping a perceived threat.
All of this leads me to question: Did Ma'Khia's community fail her?
All of this makes me wonder what the real issue is. Let's look at some known facts.
Ma'Khia Bryant's Family Dynamics
Ma'Khia Bryant was a daughter, sister, granddaughter, friend, and honor roll student. She was also a foster child. In two years, Ma'Khia was placed in five different homes. Due to confidentiality reasons, we may never know why Ma'Khia and her sister were placed in foster care, but multiple dysfunctional homes did play a role in this incident. According to an article by city-journal.org, she and her sister were removed from the care of their mother in March 2018. Police responded to an incident at the Bryant residence with clear evidence of abuse and unsupervised children.
As any grandmother would, Ma'Khia's grandmother took temporary custody of her grandchildren. But because their mother failed to comply with court-ordered mental health counseling and visitation orders, Bryant's grandmother was then forced to return her grandchildren to foster care. Fast forward to foster care. CNN reported police records show multiple 911 calls in the last three years to all of the foster homes Ma'Khia lived in.
Now, can you see the level of dysfunction and emotional chaos Ma'Khia had to live with? For roughly two years, she may have felt unsafe, unwanted, and unprotected with the lack of stability in the home. As a result, this may have caused Bryant to engage in violent behaviors like pulling out a deadly weapon to survive, given the events that led to her death.
America's Foster Care System Failed Ma'Khia Bryant
In an article by The Grio, American journalist and author, Dr. Stacey Patton, shares her personal experience in the foster care system. Patton calls the American foster care system traumatizing; being placed in foster care can cause stress and additional trauma to a child based on the type of home or agency the child is placed in. She states statistics regarding Black children and foster care.
"

According to federal data, Black children are placed into foster care at twice the rate of white children. They are more likely to be placed into foster care than receive in-home services even when they have the same problems as white children. Black children stay in foster care longer, receive fewer services, are more likely to be given psychotropic medications to control their behaviors, and increasing numbers are being funneled through the foster-care-to-prison pipeline."
"This is not a system that is designed to heal, empower, or prepare children to become healthy, thriving and productive adults. When Black families and communities fail their children, they are placed at risk for an entire ecosystem of negative outcomes."
What people don't know about the foster care system is that it can be very damaging to a child. According to the New Jersey Herald, it was Ma'Khia's parents and the foster care system that created a girl so mad she wanted to kill someone. Bryant wasn't born angry, they teamed up to put the knife in her hand. Did you know that according to the National Coalition for Child Protection Reform (NCCPR) foster care is considered unsafe for children? This same agency has reported the rate of sexual abuse to occur four times higher than the rate in the general population. In group homes, there was more than ten times the rate of physical abuse and more than 28 times the rate of sexual abuse as in the general population.
Now, can you see the type of environment Ma'Khia Bryant may have been living in? Can you see how a system neglected this child? If you ask me, a social worker should have been called to the scene too. Maybe then, the police officers called to the scene would have made an informed decision as opposed to reacting to a perceived threat. Then maybe more than one life would have been saved that day.
But based on laws, Ma'Khia still may have been arrested for a criminal act and placed in the juvenile justice system. There was only one victim that day and it was not her.
Ohio's Foster Care System Failed Too
It has also been said that families and children fall through the cracks when people are not performing their job adequately. To be a civil servant is to protect and serve. The assistant director, Scott Britton, of the Public Children Services Association of Ohio, disclosed Ohio's foster care system struggled to help families with a high turnover rate or loss of caseworkers in recent years. It wasn't until recently Ohio State created an advisory panel to find ways to improve their foster care system which included recommendations of additional support and oversight.
In addition to system racism or police brutality in shooting deaths like Ma'Khia Bryant, we must also examine the home.
Accountability starts and ends in the home.
Featured image by Stephen Zenner/Getty Images
Keep reading...
Show less
At 21, I found out I was pregnant. I was devastated. As a first-generation college student, I was ready to take on the world and start my career. Instead, I was dealing with one of the biggest decisions of my life: to keep the child or not. I chose to become a mom. Accepting motherhood wasn't the hardest part, it was knowing the child's father was not ready to be a man.
There were moments, more than I'd like to admit, that gave me a glimpse of what life would look like in the future. He was short-tempered, irrational, and a cheater. In my mind, I thought I could change him, and that the birth of our child would bring us closer together. My pregnancy was spent trying to convince myself that we would make it by playing house. There was no amount of cooked meals, feeding his ego, or promises that could undo the inevitable.
Two weeks after giving birth, I was back in my family's home with a newborn. Living together proved to be more of a burden than what it was worth. I was so concerned with the optics of what a family looked like that I forget I was important too. More fragile than ever before, I needed to be surrounded by love and kindness.
There is no way you can fully extend love to your child without giving it to yourself first.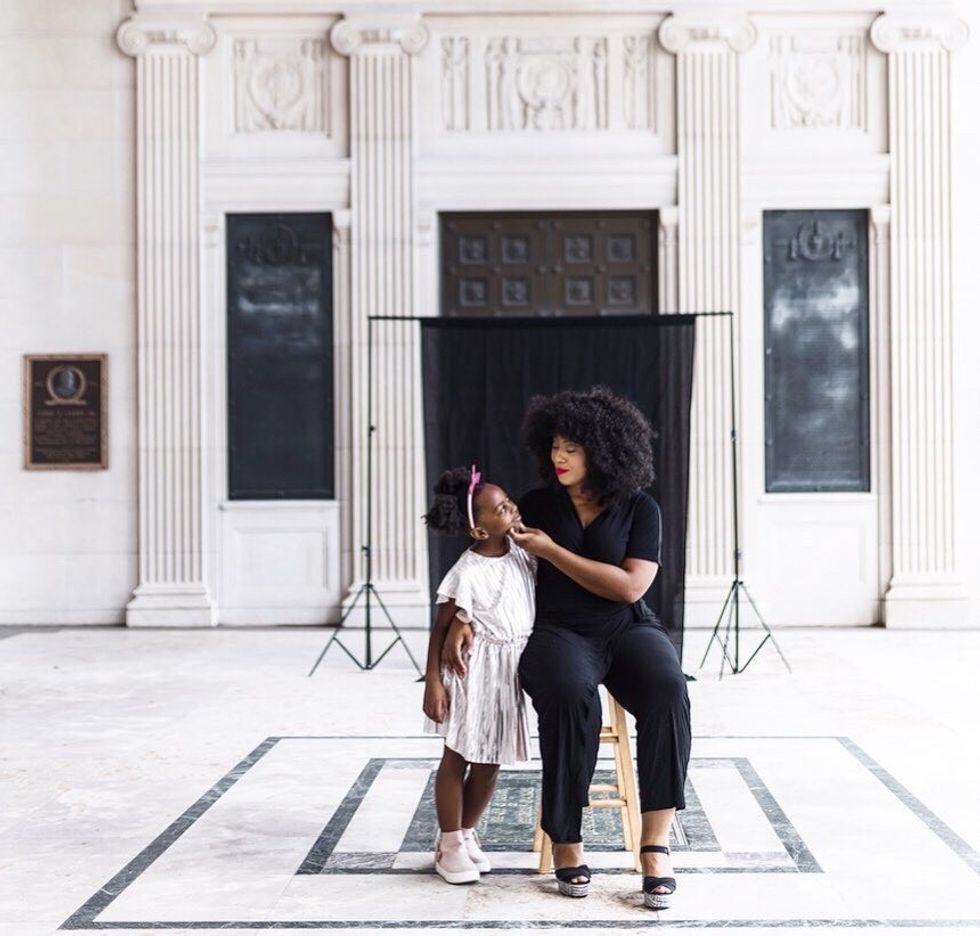 Photography by S. Bola Okoya
Our relationship fell into a pattern of harsh breakups and emotional makeups. We were young and inexperienced with these kinds of issues. Eventually, we parted ways. Therapy helped me break the cycle of trying to make it work. I remember sitting on a big brown couch in what was supposed to be couples therapy, alone. The therapist, a white middle-aged man, asked me, "Why do you stay and allow yourself to get hurt?" I didn't have an answer. I'm sure back then I thought it was because the family was important to me, but now I think it was a learned behavior. The long-suffering (girlfriend) wasn't a new concept to me; it surrounded me like an invisible cloak, both familiar and toxic. By the next session, I had decided to start a new chapter as a single mom. It was the best decision I've ever made.

I firmly believe that once you let go of things that no longer serve you will be rewarded with peace of mind.
My renewed spirit made space for laughter and love. I went from crying myself to sleep from unanswered calls to sleeping peacefully next to my child. There was no longer a need to crack the password to his Facebook account or call family members to confirm his whereabouts. I was free. The kind of freedom that only comes when you choose your happiness over others.
For what it's worth, this was the first time since I started dating at 15 that I had experienced this type of control over my love life. Usually, I stayed too long in relationships that had run its course or waited until the other person did something so egregious that it made it easy for me to leave. I got the hint this time and finally took back my power. This meant learning who I was without the approval of a man, finding out my likes and dislikes, as well as creating healthy boundaries.
If you're a parent and questioning your relationship, I suggest asking yourself the following questions:
If there wasn't a child involved, would your relationship be over?
Does your partner exhibit toxic traits?
Have the attempts to fix the relationship been unsuccessful?
Do you have doubts about their loyalty?
Do you feel unsupported?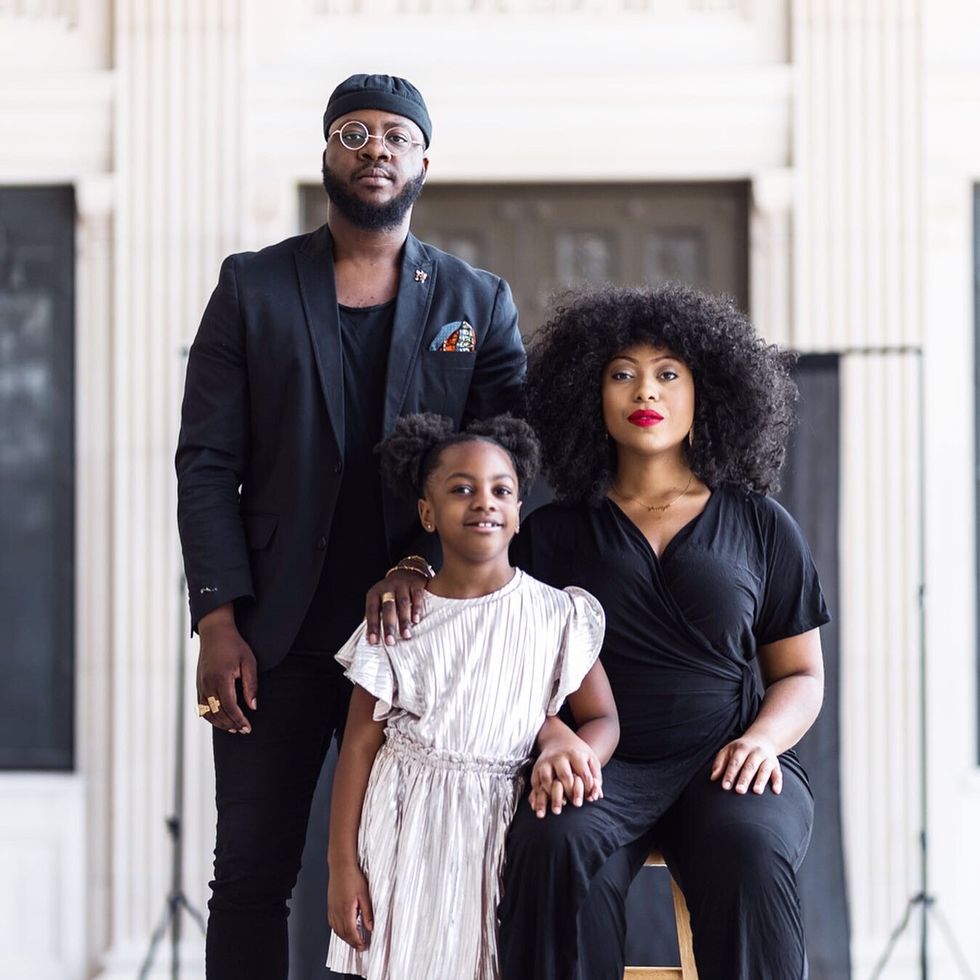 Photography by S. Bola Okoya
If you answered yes to any of the questions, then it may be time to consider your options. If you answered no, great, there's still hope. All relationships are susceptible to rough patches and if it's worth fighting for then do the work.
My child's father became a footnote in a bigger love story, a journey that led me to a healthy relationship with my partner of five years. This man loved my baby and me and proudly assumed the fatherhood role. There was hope for me, and I know there's hope for you too.
Featured image via Ayana Iman/Instagram
Originally published on November 10, 2019
Keep reading...
Show less