Lori Harvey has achieved many things in her life such as starting her own successful sold-out skincare line, SKN by LH, and modeling and partnering with many high-fashion brands such as Burberry and Tiffany & Co. However, her love life has always made its way into the forefront. It's no secret that the model has had many male admirers and has been attached to the likes of Future and Michael B. Jordan, and now it appears that she is dating Snowfall actor Damson Idris.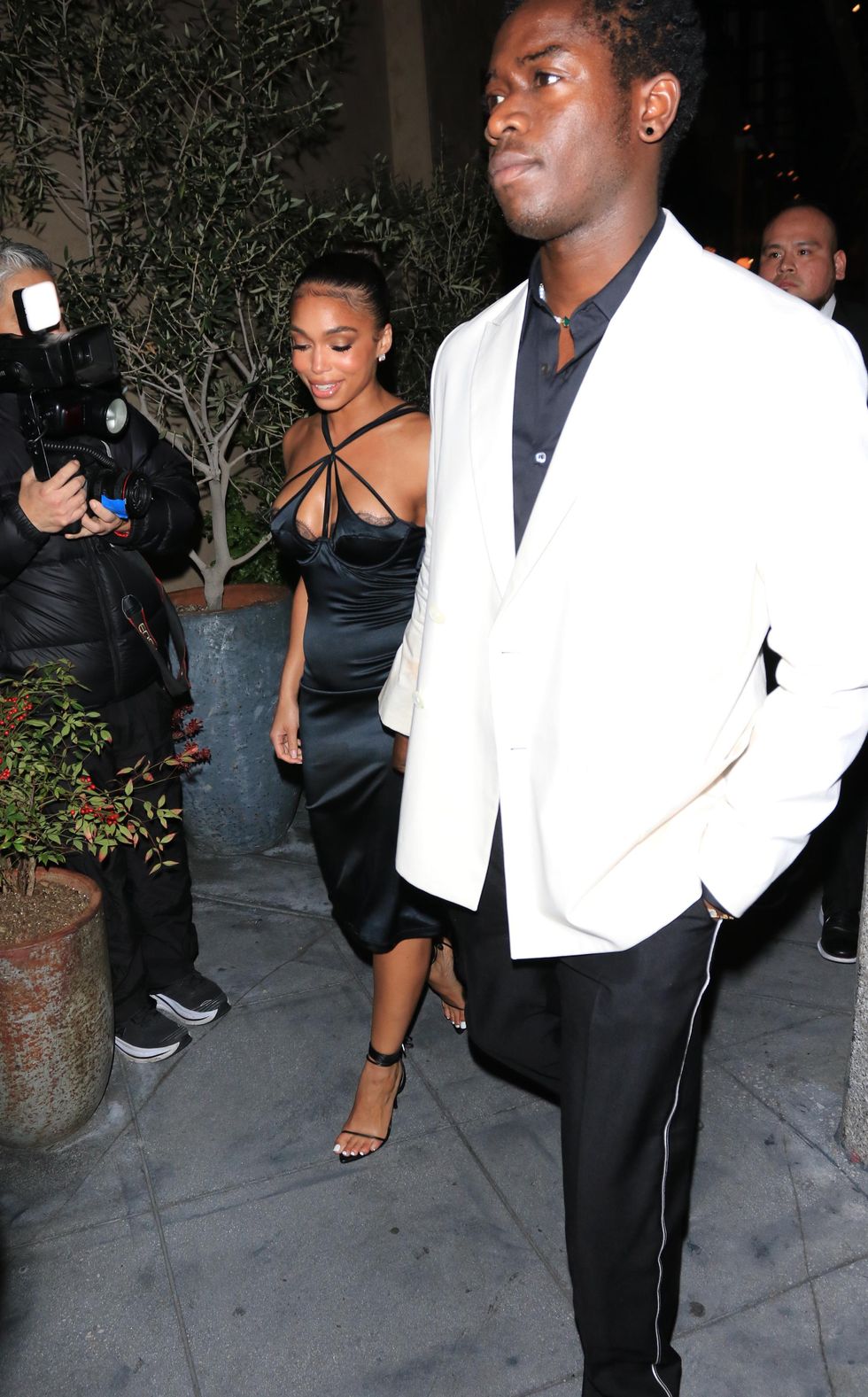 Wilbert Roberts/GC Images
But for whatever reason, her dating life has consistently been a topic of conversation and sometimes ruffles a lot of feathers. Black Twitter lit the internet up when the socialite made her relationship with the British actor Instagram official a few weeks ago. Some people even made off-color jokes about how she changes men like she does her underwear, or Damson is the next man she's checking off her list.
Seeing how angry her love life makes people, especially Black men, is exhausting. Anytime her latest relationship hits the blogs, so does a slew of hateful comments calling her hurtful names and making assumptions about who she is. Now, not to sound like Chris Crocker (Cara Cunningham) or anything, but leave Lori alone.
Fortunately, there is one good thing about her overexposed dating life. It has revealed the poisonous double standards between men and women in the industry.
How can Future, Diddy, and others have a troupe of women and, at times, seemingly degrade those same women's characters, but Lori can't actively date as the 26-year-old that she is? Diddy appears to currently be dating several women (with one he recently had a baby with) including City Girls rapper Yung Miami. No one rarely says anything about how he moves but constantly attacks the women he's dating online.
Let's not even get started on Nayvadius aka Future. How many women have Future dated and publicly humiliated including Lori after dissing her in a song? Not to mention, at that time he was linked to rapper Dess Dior.
While Lori is often judged for her decisions in dating, others applaud her. Many Twitter users utilize her name as the "action" of leaving a man alone or the title of their next chapter in life. They applaud her for knowing her worth and not choosing to turn her wheels for the sake of a relationship.
Lori has clarified that she will not settle and nothing is wrong with that. She recently sat down with E! Newsand shared the details about her cover with Essence, her thoughts on love, including her father, Steve Harvey's advice. When shooting the cover, Lori explained how it was an honor to grace Essence's "Black Love Issue" as a single woman. Months prior, she called it quits with Michael and it was before her current relationship with Damson.
"I feel like it's always been [about] me attached to something or someone: This time, it's about me. It's my time," she said.
Lori also spoke about her growth – as a woman and individual – and how she won't allow her past relationships to overshadow this period in her life. However, my favorite part was the advice she said her father gave her. "Just remember that you're the prize always," she playfully stated. So, what does his golden rule look like for the 26-year-old?
"It just means not compromising like, my values, my happiness, my peace. Not settling for less than what I know I deserve and not being afraid to walk away from a situation if it's, like, no longer serving me," she said
During her E! News interview, the entrepreneur admitted to finding the rumors about her "entertaining" and dispelled some of them, including dating a father and a son (alluding to dating Diddy and his son Justin Combs.) However, as she continues to grow, she is also allowing herself grace and letting the negative things people say roll off her shoulders. I can always stan a graceful queen who knows what she wants and moves silently.
Featured image by Jon Kopaloff/Getty Images for Tiffany & Co
The journey to success for a lot of Black women oftentimes looks like breaking generational curses. Curses like poverty, a lack of resources, and a lack of opportunities to get out of the vicious cycle. This experience usually starts during our adolescence by way of elder family members telling us to keep books before boys and to stay focused on school. While the idea itself is digestible, it can sometimes result in Black women experiencing a disconnect within their own families.
I was a first-generation college graduate and my family was extremely proud of me and still is. But keeping my head in the books meant that my achievements didn't stop there. I went on to accomplish a couple of other "firsts" like getting my master's, working in television, and traveling the world. Coming from nothing and being able to accomplish what I have so far, was a lot to adjust to for both my family and myself. I never took into account that I would have to change certain aspects of myself, in order to accomplish what I have.
I also didn't consider how my accomplishments would affect the relationship I had with my family.
One thing about your family, they know how to humble you more than anybody. I attended college in Atlanta but was born and raised in Chicago. As a young adult, I slowly stopped living in survival mode and began to discover myself, including my likes and dislikes. South African artist and sociologist Khanyisile Mbongwa spoke on this perfectly during a Ted Talk. She talks about how getting out of the bondage of survival mode is another form of breaking generational curses. As for me, I developed a routine for how I take care of myself, my eating preferences changed, my wardrobe changed, etc.
On this journey, a lot about me changed. However, in the early days when I would come home to visit, it seemed that the person I had grown into, wasn't welcome. I was instead, thrown back into my childhood routine; doing what I was told, eating what was provided, and not complaining about any of it. It became an issue of respect for me. I wasn't a child anymore. I was a grown woman with grown thoughts, routines, and preferences. It left me feeling like a bougie outsider.
To me, I felt like I was being treated as the child I once was, instead of the woman I had become.
"I wasn't a child anymore. I was a grown woman with grown thoughts, routines, and preferences. It left me feeling like a bougie outsider. To me, I felt like I was being treated as the child I once was, instead of the woman I had become."
Subsequently, I became anxious about not trying to do too much or say too much around my family because I didn't want to come off as a know-it-all. Which led to me coming around less and less. For a number of years, I was angry and confused that the same people who told me to keep my head in the books were now criticizing me because I did just that. I did exactly what they told me to do and my life changed as a result of it. So why was I being picked on? Or at least, that's what it felt like.
One thing successful people often talk about regarding their journey is that you sometimes have to "unlearn" certain aspects of yourself because the old you can't go where the new you is taking you. Will Smith spoke on this in his autobiography Will. In talking about the early days of filming The Fresh Prince of Bel-Air, Will says an executive got in his face one day and started yelling at him about a script change. Will and his friend immediately jumped into their old Philly ways and almost went toe to toe with the executive.
Benny Medina (esteemed manager and talent agent at the time) later explained to Will that the star overreacted. Benny clarified that the executive's behavior is actually common in the industry and should've been handled with care. Will was really upset with himself afterward and realized then that he had to unlearn certain elements of himself that no longer served him, or he would miss out on some great opportunities. His initial reaction to defend himself served Will, back then, but that old Will was hurting the "new" Will's career so he had to do some unlearning.
It is not easy breaking generational curses, especially when some of that battle is coming from those you love the most. However, I am here to tell you, Black women, there are ways to remedy this. Maybe your experience hasn't been like mine. Maybe it was worse or maybe you're in the thick of it right now. Being the first to accomplish anything means you don't have a blueprint for how it's done and that you're figuring it out along the way. My experience has taught me a few things that I think can be helpful to you and your journey.
"It is not easy breaking generational curses, especially when some of that battle is coming from those you love the most. However, I am here to tell you, Black women, there are ways to remedy this."
Black women know we carry enough burdens. However, it is important to learn to not only give yourself grace but to give that same grace to your family. Them experiencing this new version of you is new for them as well. Give them space to get it right and to get it wrong. It's also important that you check in with your family as often as you can. Chasing the bag does sometimes mean you don't have a lot of free time on your hands. But if it's nothing, but a simple text, 5-minute call, or a quick email to let them know that you're thinking about them, then do it. Don't let months or years go by before checking in with your family. Find ways to "include" them in your journey. Please seek therapy. Therapy is an additional form of emotional and mental support that is so necessary for your journey to breaking generational curses.
Lastly, check your blind spots. Be sure you're treating your family with love and respect as well. Your dreams, goals, and desires are all your own. That doesn't mean that others share the same thoughts as you so it is important that you respect that as well. Don't try to force-feed people information that worked for "you." Be respectful of everyone's journey.
Feature image by Jasmin Merdan/ Getty Images
There's that age-old saying that applies to major decisions in your life: "When you know, you know." And when it comes to my sanity, happiness, or financial future, it's a saying that has rung true time and time again. Finding the right time to quit a job is never easy, whether you hate the job, love it but have to move on, or feel indifferent about it.
In my case, I knew that quitting a job after just a few weeks would be a far less painful experience than sticking it out. Continuing in the role, for me, would have led to the digging up of old career wounds and a horrible reversion in the progress I'd made both professionally and personally.
In just a short time at the job, I felt like I was in a nightmare remake of a Christmas classic, except this film would be called, Ghosts of Toxic Workplace Past. It was like allowing my ex to take me on a 10-day baecation cruise. Immediately, no.
And as much as I'm all for giving something (or someone) second and third chances (as I often did in the case of my ex), I'm a huge fan of Black women taking up space by not taking crap in order to prove our worthiness, tenacity, or stamina. As "strong" women, we're supposed to accept that "work 10 times harder" and big-girl-panties mission, even at a job that makes us miserable. Not only are we to survive, but we must overachieve and thrive. As my favorite auntie Betty Wright once said: No pain, no gain, right?
Well, after too many years of that, I now advocate for nipping things in the bud early, especially in matters of the heart and profession and especially when it's to your detriment.
While I don't recommend this as a smart option for every professional, it's a good idea to think through why you'd want to quit a job and when is best to do it. Here are a few red flags that led me to push the resignation button so soon: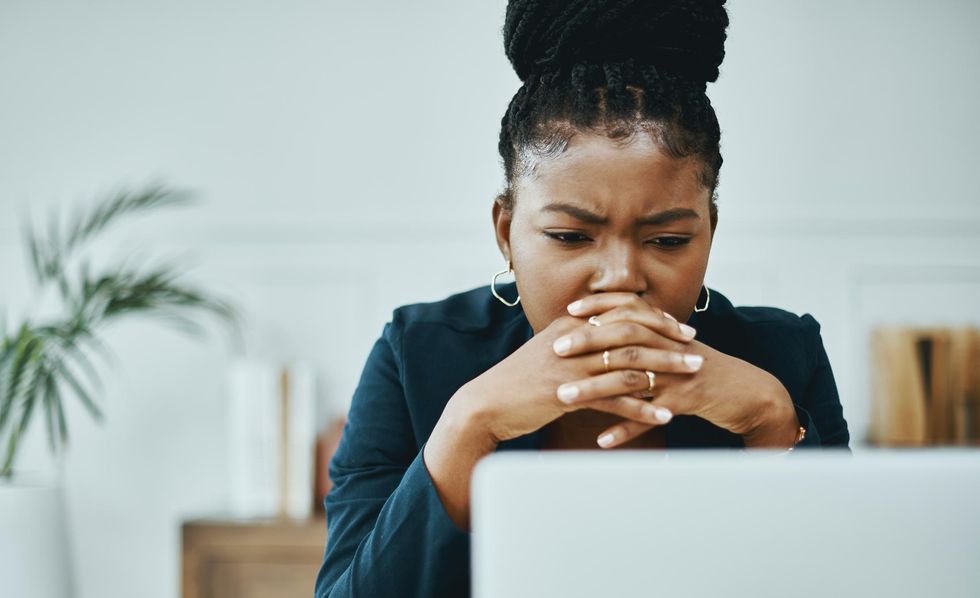 Delmaine Donson/Getty Images
1. From day one, the job description did not match my understanding of the duties.
Keywords: my understanding. I often overthink almost everything in my life, so I definitely asked quite a few questions during the multiple rounds of interviews for the job. I also re-read the description and asked questions via email so that I could get a few things in writing before the actual offer was made. I thought I knew exactly what I was getting into. As someone with almost 20 years of experience in my field, I figured, hey, a few minor things might be adjusted, but the overall expectations of the job, the people I'll be leading, and the nature of the work, won't deviate much---at least not in the first six months.
Wrong.
Immediately upon starting the job, I noticed that not only was I suddenly given an extra team to lead, but the switcheroo was done very casually as if it were normal. I was taken aback and expressed that I was not aware that I'd be taking on managing more people than what was told to me during the interview process. The response: "Oh, it's just..."
Yeah, anytime someone of authority at work uses the word "just," it's a clear dismissal of what it truly takes to do your job, and from my experience, is a key sign that many of your valid concerns related to your job will be dismissed, whether passively or aggressively. And the dismissive responses to your concerns won't end. You'll end up a doormat and out of fear and obligation, take on more work than you have the mental capacity to do well.
You'll grow sick, physically, due to burnout, end up using the few sick days you have simply for a break, have none for when you actually do get sick, then be labeled "difficult" for finally setting boundaries one day in a frenzied act of tears and desperation. (Yep, this happened to me as well, which is why, again, this job clearly wasn't for me. Too many triggers. Too many oh-hell-naw signs to run. It was like being on a date with an ex.)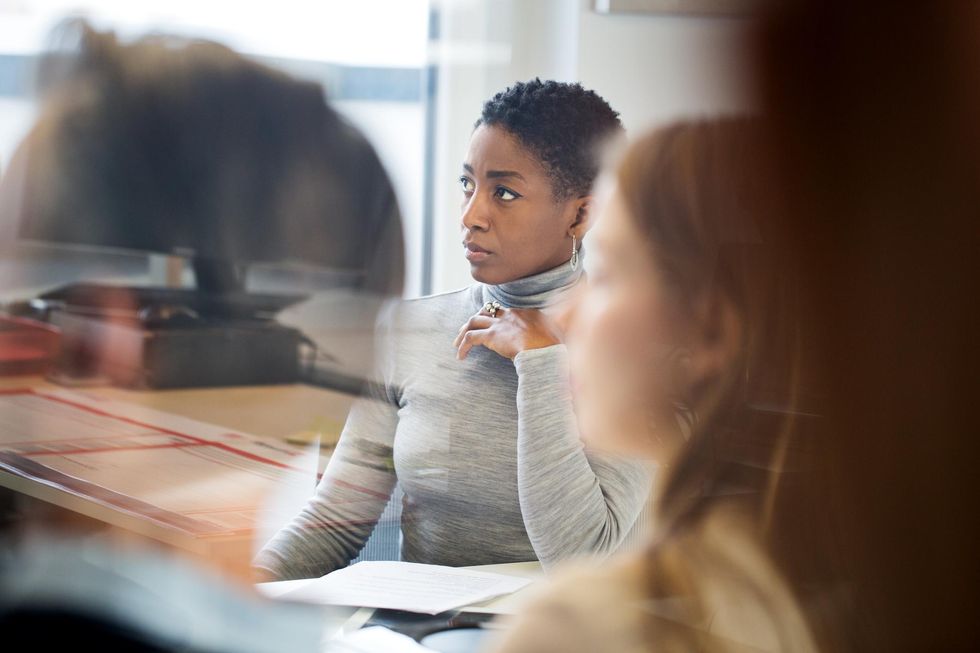 Luis Alvarez/Getty Images

2. For me, the actual (well... "updated") job requirements did not match the pay.
Again, keywords here: for me, as in, in my professional opinion based on the job's requirements and market value for the role. Additional team members were added, along with the time, energy, and talent it takes to manage them, with no raise in pay or update on my benefits package. None.
Do I need to say more? I'd worked at major companies and for major brands---proven myself time and time again--for almost two decades, with the career receipts and education to prove it, only to be flagrantly asked to do the extra work for free. And as a Black woman, I found it even more insulting.
3. My "manager" had totally different work experience and credentials that I felt were unrelated to mine.
While this particular person was amazingly welcoming and great at what she did, her talents and skills were for a totally different aspect of the business than mine, yet she was serving as my supervisor. I also learned that she'd floated around to various "management" positions in different departments. She'd been taking on multiple jobs and "helping out" in order to onboard me.
In my experience, I've known that professionals who do this are often either looking to be promoted elsewhere or are the go-to person who takes on tasks nobody else wants to do. I also knew that this was a recipe for disaster, especially if I would be looking for leadership and/or mentorship support in my role.
It seemed to me that this person was simply biding their time until a better opportunity came along or that the person was doing a favor for someone in order to advance in some other way at the company. Also, if the person judging me on my performance does not have the educational or professional background and/or credentials I have, how can they offer a fair and reasonable review of my work, especially in my role as a manager? This, too, just seemed too problematic.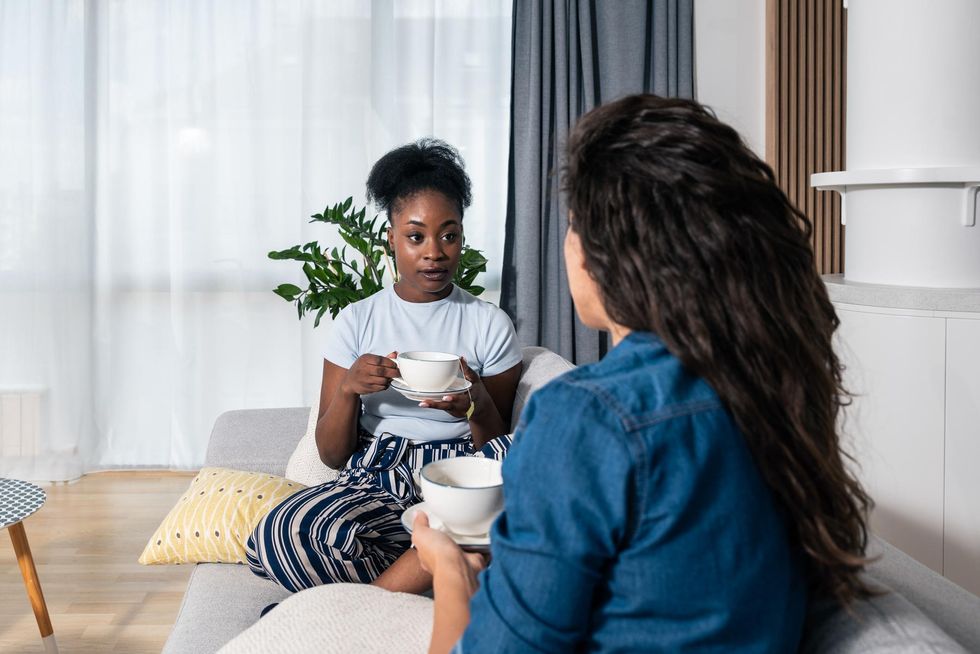 Srdjanns74/Getty Images

4. I was given the responsibility to lead a team that was already emotionally battered from previous issues at the company.
During my first few weeks, I knew it would be a smart move to have one-on-ones with the teams I was meant to lead. The company had gone through a series of lay-offs before they'd hired me, and my experience taught me that it's good to get a gauge of where the remaining survivors' heads were at so that I could be of service and approach managing them in a strategic way.
What I found from the one-on-one meetings were signs of disenchantment, disinterest in the questions I was asking, or lackluster responses when talking about what they love about working for the company. One person even seemed to be playing a game on his phone while in the meeting. There were a select few who were enthusiastic, welcoming, and forthcoming, but they seemed to have differing versions of their own roles and responsibilities. And the team members who were positive were newer hires, just like me.
The majority of the team seemed like they didn't even want to be there or as if they'd rather have been talking to someone else, maybe a previous manager who was laid off. As much as I love a challenge, at the time, I just couldn't stomach the idea of having to fight through and win the team members over. I just didn't have it in me. I'd be tasked with not only meeting certain company deliverables attached to my role but also appeasing the hardened hearts of disgruntled workers who'd been working at the company for years.
No, thank you.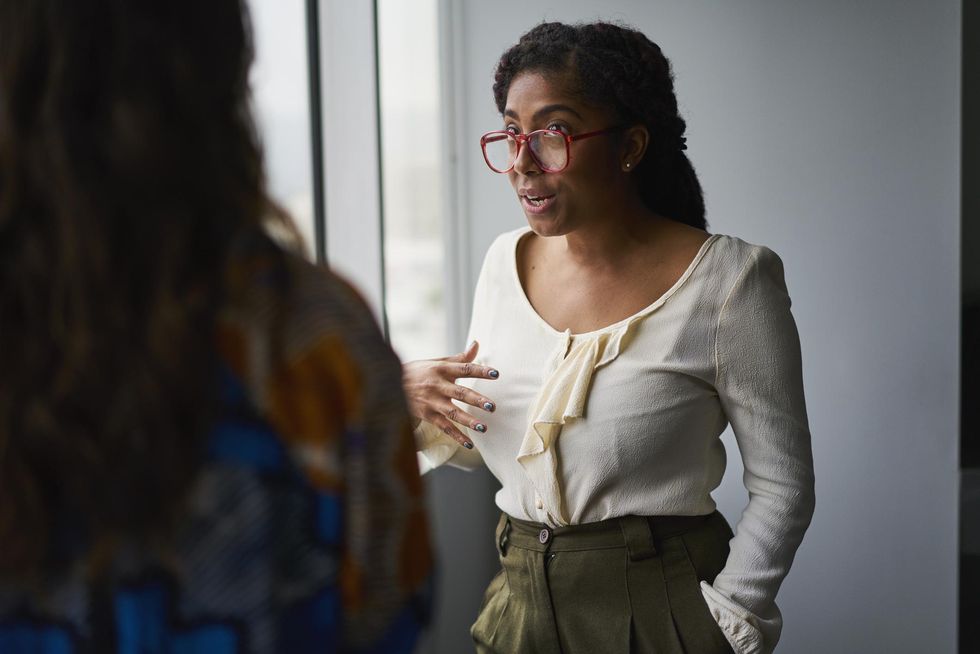 The Good Brigade/Getty Images
5. I found that I'd constantly have to re-affirm my credentials and skills.
As much as this is often seen as a "norm" at companies, I'd had my fair share and was tired of it. I went solo as a self-employed consultant for this very reason. I would no longer tolerate work environments where I didn't feel affirmed by those who managed me or who had the power to back me up when I'd need to assert authority. I also would not waste my time re-affirming what was already talked about during the interview process and was the very reason I was hired. This happens to Black women in leadership all the time and it not only takes a toll on your mental health, but it doesn't allow you room to grow in leadership.
I've had jobs where I had to test to even make it to the final round of candidates, where I've had to interview with multiple members of small staffs, and where I've had to constantly play along with what's called "micro" aggressions that were very much notmicro or small at all.
And yes, I learned all of this after only a couple of weeks in that position.
Years later, I can say that quitting so soon was the best decision of my life. It was scary at the time because I wasn't sure how I was going to supplement my income, but God always comes through for your girl. And it helps that I'm not new to self-employment and the savvy of finding solutions to unemployment.
I went on to work with more freelance clients and made more money than I would have if I stayed at that job. I still have a flexible schedule, I can travel when and where I want, and I'm proud of the work I do, serving women professionals and entrepreneurs as both a coach and a seasoned journalist and editor. The companies I currently work with value my input and my experience and make me feel like a loved member of their fam. While I still face challenges, they're the type that allows me to grow in leadership and learn more about myself and the world.
So, sis, here's your confirmation: Don't wait for things to get worse. Send that resignation email (of course, after looking at your contract or offer letter) today. Stop second-guessing that gut feeling and go for yours. The time is now.
Featured image by Three Spots/Getty Images
If you made it out of this Mercury retrograde barely alive, you are not alone. From what we have been witnessing in recent weeks, it seems like so many celebrity couples have been experiencing relationship challenges now more than ever before. Or at least, that's the pattern we are seeing on social media.
Now some of you may be familiar with Mercury retrograde, but let me just give you a brief overview before we go any further. The planet Mercury normally moves faster than Earth around the sun and usually three times a year, but this year in particular (four times, to be exact), the planet Mercury begins to slow down.
When Mercury is slowing down, we call that Mercury retrograde, and, energetically for us, that simply means that life gets tenser, there tends to be a lot of miscommunication, relationships are challenged and people from your past may circle back offering reconciliation.
In my opinion, Mercury retrograde gets a really bad rap because it is challenging, but not every challenge is inherently "bad." During this time period, it may seem like everything is going wrong, but we must shift our mindset in order to embrace the wisdom that Mercury retrograde has to offer.
If we pay attention and actually move with the planet and simply allow ourselves to slow down, Mercury retrograde can be a time when we take a good look at our personal lives and our relationships and reassess why we are in them.
Featured image by David Livingston/Getty Images
I've spent the past five years of my life learning to love myself and striving to be at peace. After being in a constant state of learning and unlearning, I was ready to breathe. I was ready to be free and live. So, when I was diagnosed with thyroid cancer last July, I didn't know how to feel.
In early 2019, I got a yeast infection that wouldn't go away for three months. After trying several over-the-counter remedies and being prescribed a few Diflucan pills, I stopped believing my problem was untreatable yeast. I went to a women's clinic that happened to perform routine thyroid ultrasound exams during their gynecological visits. They found a nodule on my thyroid during the ultrasound and referred me to the radiologist. The doctor told me thyroid nodules weren't uncommon, but I should visit the radiologist as a precaution. She looked slightly concerned and kept asking me if I felt a lump or pain in my neck, but I didn't. I also didn't think much of it because I didn't know anyone in my family with thyroid issues, and I was focused on treating the uncomfortable yeast that wouldn't go away.
The radiologist confirmed that there was a nodule on my thyroid—in fact, there were three. He requested that I get them biopsied and urged me to get my blood work done because he was worried my thyroid wasn't functioning correctly based on what he saw on the ultrasound. When my primary care physician reviewed my tests, she told me my thyroid levels were normal, but I was anemic. My body was running on its reserve iron levels, which had gotten dangerously low. My doctor put me on an iron treatment plan because I didn't have enough white blood cells to fight my yeast infection, even when I was on medication. With treatment, my yeast infection went away, and I felt great. Then my neck started hurting.
It was a dull pain that would shift from the left to the right side of my neck. I thought my years of sleeping without a pillow finally caught up to me, but the pain wasn't surface level. My doctor told me that I could have developed allergies, and the pain was likely due to swollen lymph nodes. The pain continued for the rest of the year, but I tried my best not to scare myself. I had a habit of assuming the worst-case scenario and driving myself into a panic. This time, I wanted to do things differently. My blood work was "normal," and the pain in my neck wasn't constant, so I told myself there was no need to fear the unknown.
Featured image by Mario Arango/Getty Images
When you know your worth and value, you refuse to accept anything less than what you deserve. One thing about Tracee Ellis Ross (and so many Black women) is that she more than understands her value and has "no interest in being in a relationship just to be in a relationship." She stated in a recent interview on Kevin Hart's Hart to Heart show, "I'm a rare breed."
Kevin did in fact give Tracee her flowers and celebrated her success throughout the interview, but at one point, the conversation started to feel as if a mystery was being explored through her vulnerability when the topic of relationships came up. The infamous question: why are you still single?
Although Kevin didn't directly ask Tracee "why are you still single," I wasn't convinced that Kevin believed that Tracee could be successful, single, content, and not have something wrong with her. Sometimes, when you know who you are and stand in your truth, it's hard for others to accept a reality that's different from their own.
Featured image by David M. Benett/Dave Benett/Getty Images for PATTERN Beauty by Tracee Ellis Ross