It's no secret that for the past few years most of us were dying to get a glimpse of Ciara's prayer. In the wake of the disastrous dating scene, we desperately needed answers, sis. It was evident that God had done it for her, delivered her from Future unto Russell, and we wanted in on the secret. So when Summer Walker released her album and blessed us with Ciara's prayer, it quickly stirred up a frenzy. I went on Instagram and within the hour, at least 20 women I followed had posted it on their Instagram Stories. Let's not even talk about the running commentary ranging from, "I will recite this prayer daily" to "I am going to have it tattooed on me."
While this is commendable that we finally realize that our love lives need Jesus, I felt we were missing the point. That same evening during my quiet prayer time God said to me, "What you need is Russell's prayer in order to see the whole picture." You see we are so accustomed to thinking that women are the only ones that give God their requests for a partner, specifications and all. We forget that just as God is protective of his Queens, he is just as loving and protective over his Kings. God loves his daughters, but if at any point God felt Ciara was not ready to receive Russell, then she was going to have to wait and the opposite scenario would be true.
Both Ciara and Russell had to have a conducive environment within themselves individually and around them in order to envision, manifest and nurture this relationship we now admire. Once I got this, God was like, "I'm not done yet, just so you know the power to deliver what Ciara asked for wasn't vested in what she said. It wasn't her choice of words, her diction, that got the spirit moving." Well, OK so what was it? Stay with me, sis. The following analysis will tell you what you need to know.

Featured image by Rich Fury/Getty Images
Keep reading...
Show less
My heart breaks for humanity knowing that we have succumbed to coexist in two worlds both offline and online. And what I mean by this is our unhealthy dependency on social media for human connection. I hate the way we need the 'gram to feel connected. And the thing is before COVID-19, a healthy balance existed between online presence and reality. Now, not so much. Since the pandemic, our reliance on social media has become our daily norm. A temporary solution instantly became a reality and still is a reality today. And I am not sure if things will ever be the same.
The fact that we receive instant gratification from little red notifications is very telling. I, too, was guilty of being completely enamored and somewhat obsessed with an online presence. Likes, comments, DMs, reactions, and follows. It wasn't until a recent four-month social media break that I realized how much social media has changed human connection. I initially took a social media break to be more productive. I was and I have been. With all this masculine energy flowing through me, I'm out here slayin' my fourth-quarter goals. But then it got quiet—almost too quiet.
As the silence grew, I started to feel completely isolated and lonely.
Featured image by Getty Images
Keep reading...
Show less
The pandemic has caused millions of men and women to lose their jobs, but a large subset of the population not returning to the American workforce are women. In a tweet shared in September, Madam Vice President Kamala Harris stated that the lack of affordable and quality childcare in our nation inhibits women from returning to work. And the clap back on Twitter was real. Responses to MVP Harris's tweet varied with multiple opinions from both men and women.
Millions of women have dropped out of the workforce during the pandemic. It's a national emergency.

We need to invest in quality, affordable child care to help get working mothers back to work and set our economy up for sustainable, long-term growth.
— Kamala Harris (@KamalaHarris) September 16, 2021
Twitter followers pleaded with Madam Vice President Harris to introduce maternity leave or to provide women with the support they need to make their own decisions, whether that is choosing to be a stay-at-home mother or to work. Some suggested for our government to model our healthcare system after our foreign counterparts which allows one parent to stay at home and one parent to work.
Other responses stated the solution is to invest in livable wages for the childcare workforce or implement a mask mandate in schools so parents can feel safe sending their children to school. In the end, Twitter agreed that the factors that contribute to women not returning to the workforce are not entirely due to our poor childcare system alone.

How Childcare Affects Working Black Mothers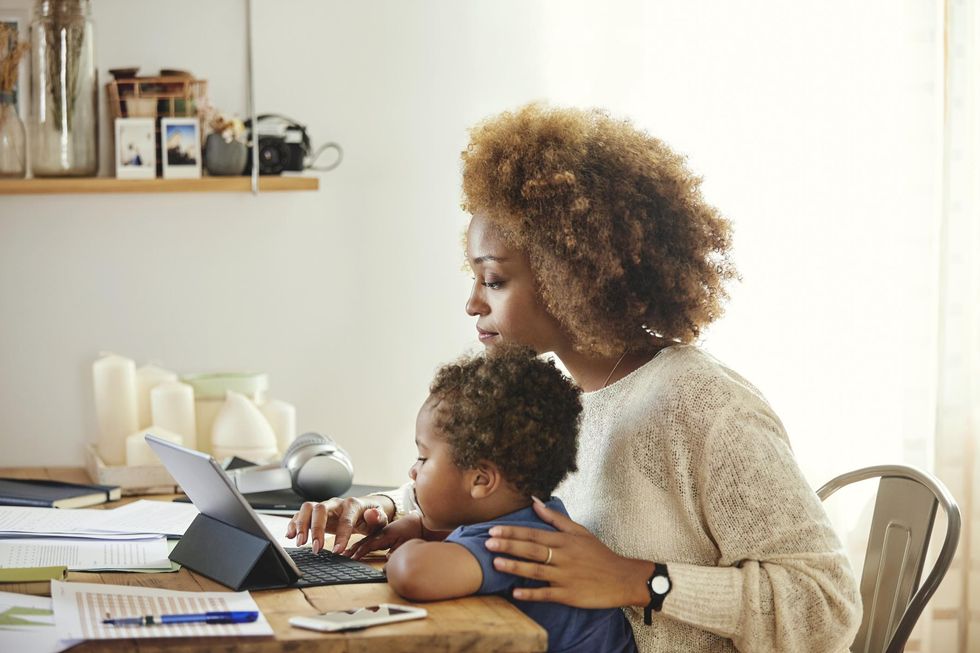 Getty Images
Yahoo News reports before the pandemic, Black mothers struggled to access affordable childcare and had lower workplace flexibility. The cost of childcare has increased pressure on Black mothers who were juggling work and childcare responsibilities.
According to the National Women's Law Center, Black women over the age of 20 have faced the largest drop in employment since the start of the pandemic and have an unemployment rate of 7.6% as of July 2021. Black women also experienced more job losses since July 2021, while women overall gained jobs.
The Stats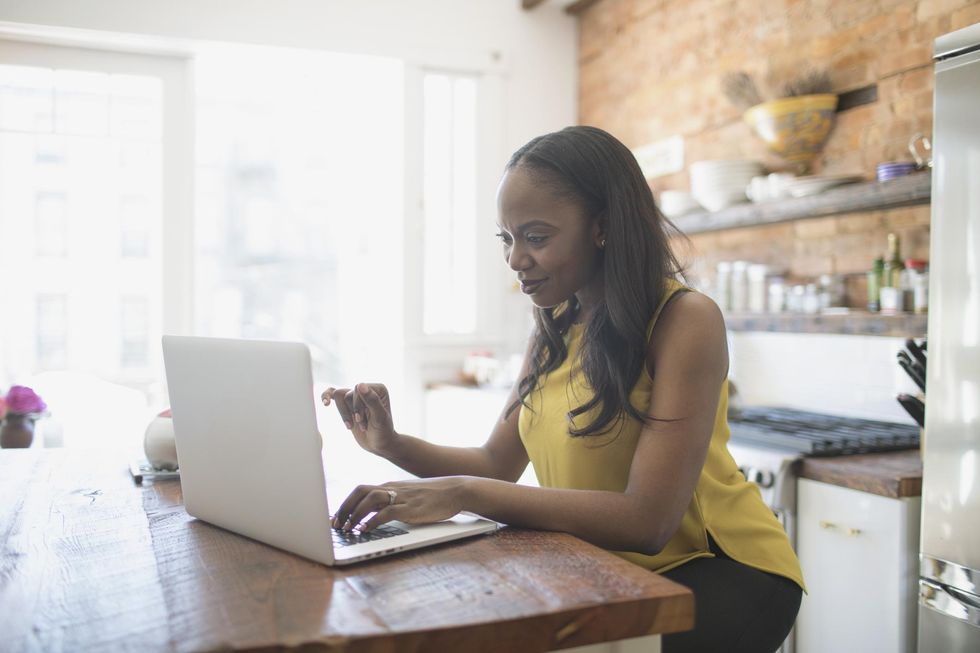 Getty Images
According to CNBC, about 3 million women have left the workforce since the beginning of the coronavirus pandemic in 2020. And in September, 300,000 women left the workforce, according to the Bureau of Labor Statistics jobs report. News outlets report that getting women back into the workforce is a key factor in sustaining the U.S. economy. The industries that suffered the most job losses are state and local government, and private education. Combined, this is a total of 676,000 jobs lost before the pandemic.
Not only is childcare expensive, but childcare industries are also suffering a shortage of workers as many are taking jobs with higher pay. U.S. News states the childcare business has operated in a broken market. Low wages for workers and high costs for consumers. Coupled with the pandemic, the lack of affordable childcare limits jobs people can accept and harder for many to climb the corporate ladder.
Since the pandemic, 9% of licensed childcare programs have permanently closed. Between December 2019 and March 2021, roughly 16,000 centers and in-home daycares in 37 states no longer exist. With that said, many women are opting to stay home with their children and accept lower-paying wages rather than spend their entire paycheck on increased daycare tuition.
The Great Resignation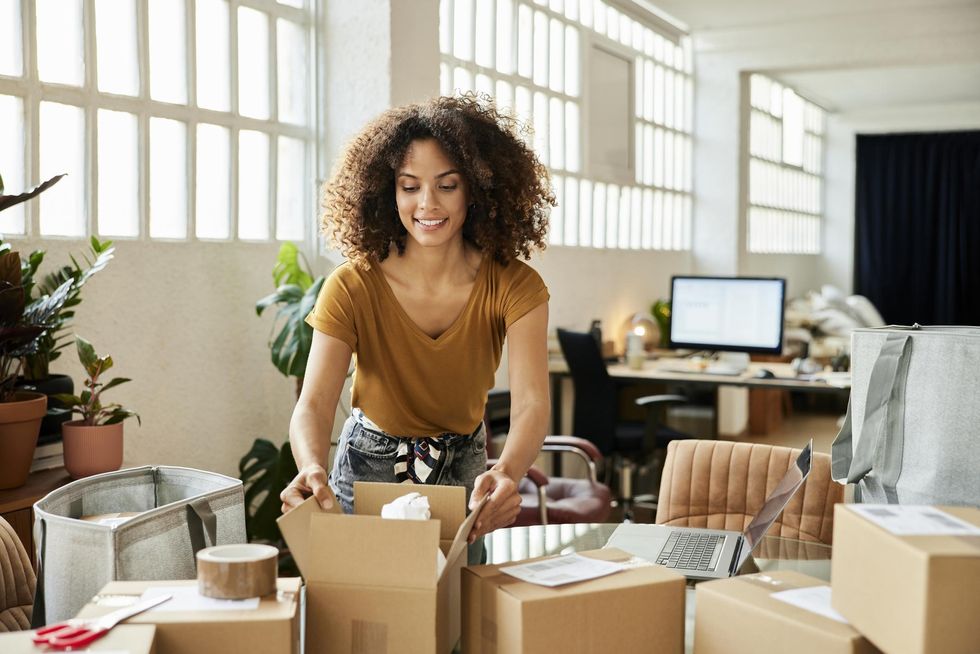 Getty Images
Many women, regardless of color and age are carving their own path. It's not just about the lack of childcare, it's about the quality of life for all women. Single, married, kids, or no kids. We straight up told Uncle Sam, "NO. I am not doing this anymore." And honestly, America needs to catch up to our neighboring countries in achieving a desired work-life balance.
Even though remote work is readily available, the way our workforce is structured and systemized just ain't it. We are still pouring the majority of our time into a job title and not truly living.
In an article by CBS News, the number of job transitions for women has surged to 54% in 2021 compared to a year ago. The pandemic allowed many of us to reassess not just our careers, but our happiness and well-being. We took a moment to sit with the fact that we were burnt out. With infinite time on our hands, we had to realize what is important to us. We had to ask ourselves if our current jobs and salaries are worth the sacrifice. And for many women, the most important thing to us is freedom, time, and flexibility.
Women have begun to bet on themselves and take risks. And why wouldn't we take the risk? Women are resilient. We tend to always land on our feet. It's a movement, not a crisis. We are living authentically, flourishing in our purpose, thriving in our element, and securing the bag. Since the pandemic, women have quit their corporate jobs to pursue their true passion or entrepreneurship.
According to a study by Northwestern Mutual and OnePoll, 10% of Americans have quit their job to pursue their dreams. The study also revealed 50% of women are willing to explore making a bold move like this compared to men at 44%.
The Solution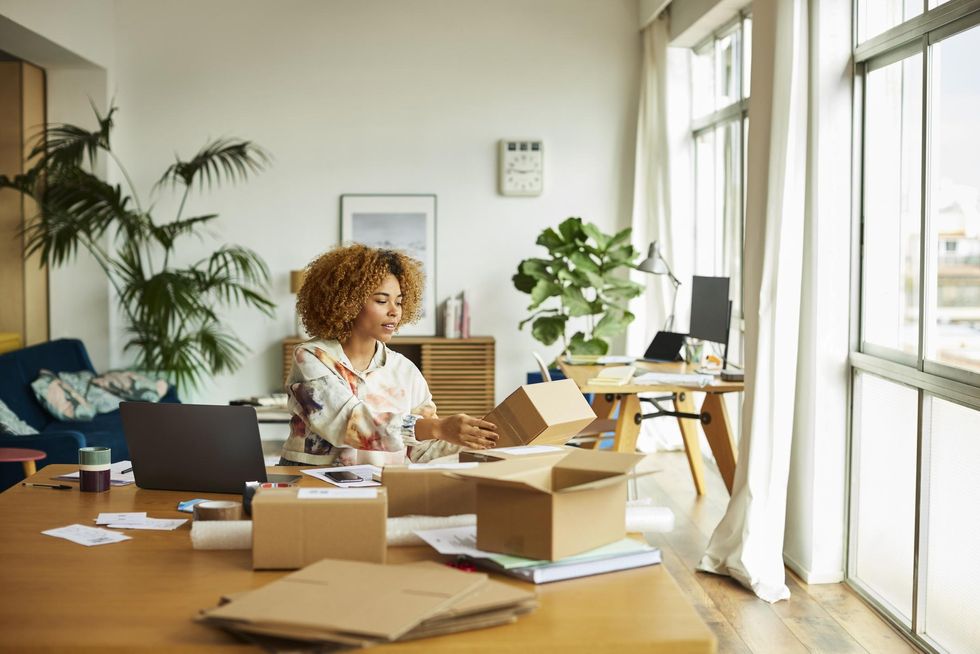 Getty Images
Women have fought so hard throughout history for equal rights, status, and pay. Now, there is a call to action to use this newfound power to fix something we didn't break or mismanage? It's not the responsibility of a specific gender, women, to fix this economy. The solution starts with realizing how much our society has changed as a whole, the direction women are moving in, and building a structure and/or system to accommodate those changes. And the reality is, we are moving far away from traditional jobs or careers more and more. I will say the solution is complex and it always will be. When it comes to policy and programs, it's difficult to know where to start without adversely affecting another group of people, budget, economy, and/or industry.
While the majority of people leaving the U.S. workforce are women, it is not without cause. I know because I was one of them. As we entered the pandemic and we navigated a mandated quarantine, I too was faced with the decision of whether or not I was going to reenter the workforce. Once you have experienced the level of freedom and flexibility that most people dream of, it's a hard thing to walk away from let alone give up. You'll do almost anything to protect this level of peace. Once you realize your full potential and that you have the power to create the life you want to live, the possibilities are endless. I mean, we have women moving overseas and converting vans into living spaces now.
For me, the writing was on the wall. I decided I wanted to choose how I show up in the workforce. It was my choice to make regardless of tradition, conditional beliefs, cultural norms, and social standards. I refused to blindly continue to buy into companies that were solely concerned with my performance or my level of profitability. And like many of my sisters, I chose myself. I always will. Now here I am, a published writer, an independent consultant, and a small business owner.
I have to say, what a time to be alive.
And as we begin to close out 2021 and prepare to enter 2022, there is no better time to be a woman.
Featured image by Getty Images
Keep reading...
Show less
Black women emcees have been an essential part of sculpting hip-hop music since the late '70s. The genre has grown from the streets of New York City to becoming one of the world's most influential in the world. Though hip-hop is still a very male-dominated industry, women have made their way of snatching the sound and owning their place in the industry.
When female rappers entered the scene, they showed up with bars as prolific or better than their male counterparts — dressed from head to toe in a sexy tomboy flair that was beyond captivating on stage. Black women emcees have created their own lane, starting from battle rapping about systemic challenges in the Bronx, N.Y., to going all the way "Up" with Cardi B celebrating sexual liberation.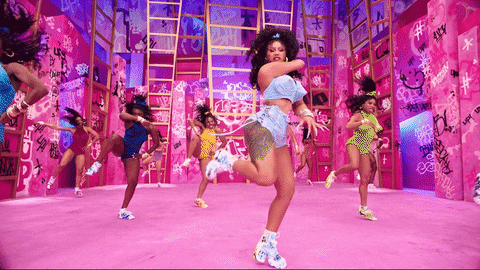 Bardi Gang GIF by Cardi B Giphy
However, some of the biggest challenges in hip-hop music lie in the lack of radical feminism in the genre that shows a vast display of Black women artists of every shade, size, and sexuality—without being hypersexualized. They all need to be seen and celebrated as a mass-market artist.
Over the last few generations, the evolution of hip-hop's purpose and sound has changed dramatically—mainly for mass production and consumption. That's expected because change is inevitable in every form of music, but hip-hop is unique. It was used to amplify the voice of the unheard and highlight systemic oppression related to race and class issues. However, its hypermasculine aspect has always made combating sexism one of the most complex areas to address and has posed a challenge to forging progressive, long-term opportunities for Black women rappers.
Featured Image via Giphy
Keep reading...
Show less
If you know me, you know first and foremost I'm a free spirit. And I found healing through writing. But by trade, I'm a business consultant. And because of my blended skill set and expertise, my service offering allows me to give my clients the best of both worlds. Recently, I found myself having to renegotiate my fees with one of my clients for the scope and level of work I produce. I had requested three times my fees at a monthly flat rate due to scope creep and the expansion of the role. My client counter-offered with a rate that would be considered unacceptable for anyone with a background similar to mine.
I had wanted to respond right away to the offer. But I decided to listen to my intuition and take the weekend to sit with the email I received late one Friday afternoon. I started to rationalize their response in my head, almost wanting to accept the offer. I thought to myself, "Don't take it personally. Don't get offended, this is business."
I'm nice, not naive.
Corporate America taught me, and a big four consulting firm raised me.

And they taught me extremely well. Corporate America might have ruined my life at one point, but they didn't leave me without the knowledge and experience to succeed at anything I do. It broke me down and built me up, but I bounced back one hundred times better. Now, I can make boss moves like this.
BTW, this is the only damn thing I am thanking Corporate America for.
Everything inside of me knew my client was trying it and trying me. On the real though, I low-key love it when people try me because they don't expect the clap back. And one thing about me is I will clap back when necessary. And I do it with grace and eloquence. Always. Come that Sunday night, I strategically drafted an email to my client clarifying my role, scope of work, work product, and deliverables. I stated all the facts. Come that Monday morning, I clicked on the send button and the email was sent.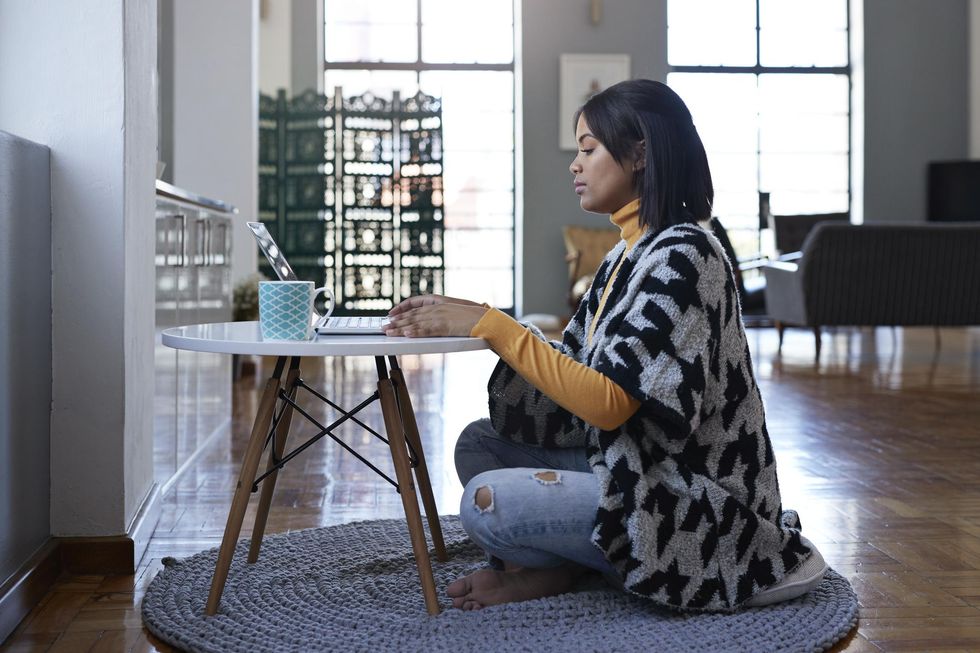 Getty Images
I was confident. I know who I am. I know what I'm doing. And I told no lies. There are ethics to this shit.
Not only did I know my client was trying it, so did my circle. This is where the importance of the right people in your circle comes to play. A remote working session with two of my homegirls allowed me to further talk through the situation. When I gave them my life update, their initial reaction was, "OH, HELL NO." They were angry and in their feelings for me too. One of my friends also pointed out, "They tried to box you into a title and role you were never doing as an 'employee' when you're an independent consultant." She was right, and I had completely looked over this small detail.
Maybe this is why I felt slighted as all hell.
Because I'm not working for someone anymore, I am working with them. And that's where some clients have it all the way fucked up. I have most of the say so, not them. I set my rates and hours, not them. My homegirls immediately reminded me of my worth. And I was ever so grateful. It gave me the confidence to stand by my response and be prepared to make certain decisions.
Listen.
If your friends don't remind you of your worth, they ain't it.
If your friends don't help you plan your exit strategy, they ain't it.
If your friends don't help you to play big, they definitely ain't it.
If your friends don't encourage you to be bold and brave, they ain't it either.
I walked away from a six-figure salary and title, what makes anyone think I wouldn't walk away from a client?
Not all money is good money. Your currency is your time, energy, and peace. You cannot put a price point or a market value on these things.
You have to know your worth more than any dollar amount or currency in this world.
And I want to remind you to always know your worth in any space.
Featured image by Getty Images
Keep reading...
Show less
At the end of August 2020, I quit my job and took a leap of faith to pursue my creative passions of writing and connecting Christian women. This wasn't an easy decision for me because 1) I have worked since the age of 15. With the exception of my freshman year of college, I don't know what it's like to not have a steady income. And 2) I worked for a very prestigious government agency and had accomplished a lot during my time there. I wasn't walking away from a small thing; this was security, especially in a time where many experienced unstable employment.
However, my husband had just graduated from dental school and got a job in Dallas, TX. I truly believed God had shown me that this was the perfect time to transition. And although I knew the unknown wouldn't be easy (new city, new experience of defining work for myself), I could've never imagined just how difficult this change would be.
I've read a lot of inspirational blog posts about leaving your 9-to-5 and pursuing your passions, entrepreneurship, and #blackgirlbosses. They usually tell us to push fear aside, chase after our dreams, and be OK with failing because the process is worth it in the end. But in all my reading, I've never seen anyone talk about the other struggle that comes with entrepreneurship, specifically that of an independent black woman.
You see, when I left my job, I didn't have a set plan. I had just launched a blog with an idea to parlay that into a larger business, but the logistics weren't there. So, I used the first few months of unemployment to seek God and gain clarity and direction for my vision. Then, I began to work toward it: writing blog posts, promoting content on social media accounts, adding in YouTube videos, and creating a monthly newsletter. And all the while, my income remained at zero. Sure, I had a few final checks roll in from my previous job, but after they were deposited, it was nada.
For the first time in a very long time, I didn't have an income.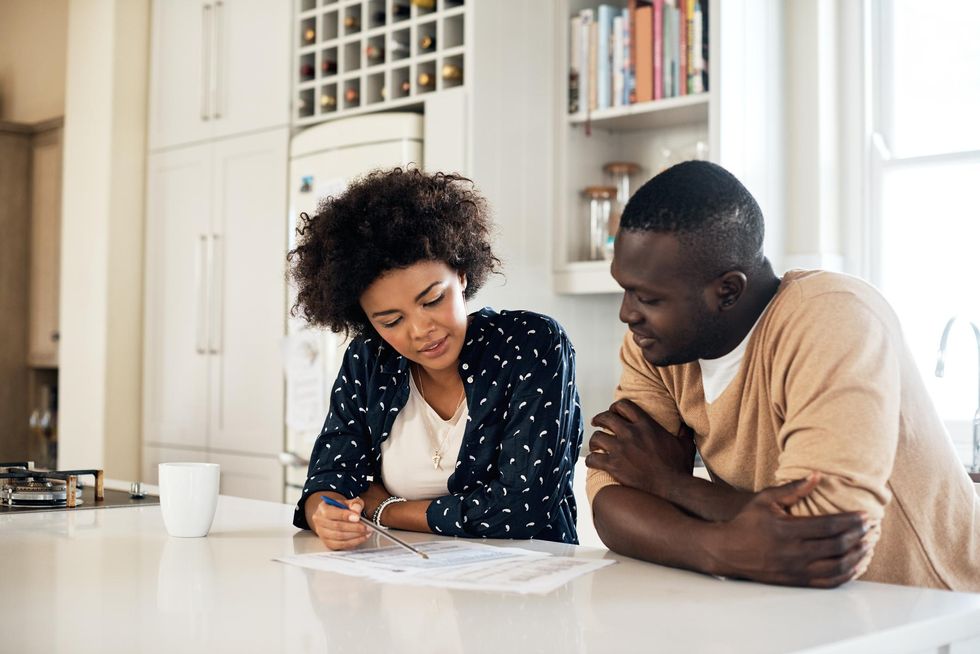 Getty Images
And I quickly realized that this was challenging for my independent self.
But, I know you're thinking, you mentioned that your husband graduated from dental school, right? Yes, my husband is a dentist, which is another reason why the timing of the transition worked out. He was now going to have an income to support us both, so I truly had the opportunity to not work traditionally or be concerned about making money so that I could focus on starting my business.
You would assume that provision would put me at ease, but I have to be honest: it did the opposite. I know there are many women who would love for a man to fully provide for them, and although I understood that it was a blessing, I wouldn't quite say my feelings toward it were joyous.
I continued battling with these feelings one evening as my husband and I talked. I was discouraged by the different expenses that came along with starting my own business and even more so by the fact that I needed to keep spending without contributing financially to our household. Now, this type of conversation wasn't new for us. I'd cry about my no-income insecurities and my husband would remind me that although he's working, it's our money; I am working toward something greater that will benefit us in the future, and I contribute in so many ways beyond the finances. And even though, mentally, I knew all these things were true, emotionally my heart couldn't accept them.
"Maybe I'll get a real job," tears filled my eyes as I spoke. "That way I can bring money in and not feel like a leech." My husband looked at me lovingly and asked, "Babe, why can't you just let me take care of you?"
It was at that moment that I realized a profound but sad truth: I didn't know how.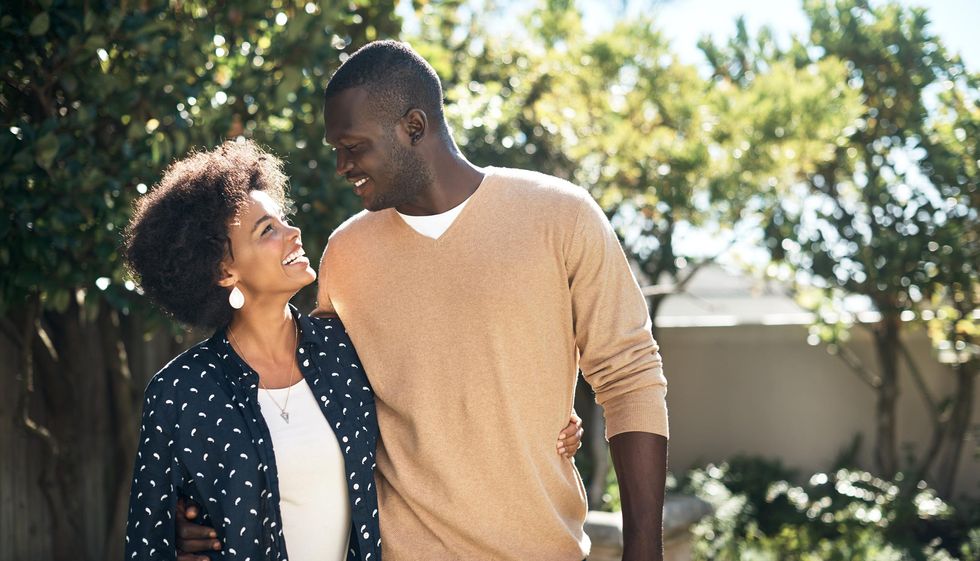 Getty Images
I don't know how to be taken care of. It hurts to write this, but I need to let it sink in.
I'm newly married and now in a position to be taken care of, but I don't know how to allow my husband to do that.
And I realized it's because throughout my life, I have rarely had that luxury. When I was younger, I used to love singing along with Ne-Yo to "She Got Her Own". It wasn't until I got older that I realized she had no other choice.
How many black women are independent because they've had to be? Because as a child, you saw your single mother struggling to raise you and your siblings, so you made it a point to take the pressure off her, at least when it came to providing for you? In my hometown, we could start working at age 15 and a half, and six months after my 15th birthday, I had my first job at Kroger. Of course, I didn't make much, but I was able to use my little paychecks to buy my school clothes and take a small burden off my mother.
In college, I saw those around me receive financial help from their parents, yet I was solely responsible for all my expenses. I applied for every scholarship available to help pay my tuition, bought a used car with my refund check, and worked multiple internships to pay my rent and cover books, food, and gas. I had no other choice.
And not only have I continued providing for myself, but I am also the one who usually financially supports my family. So, it makes sense that being a "receiver" is foreign to me when I've been used to my "giver" role—marriage included. When my husband and I first got married in 2018, he was in dental school while I worked. Although he contributed financially from his tutoring gigs or DoorDash runs (bless his heart), I was the real breadwinner for the first two years of our marriage.
Although my husband constantly reminds me that I supported us then so that now he can, it's still so easy for me to feel uncomfortable in this position.
There is a sense of comfort that comes with knowing you're fully taken care of and you don't need to hustle and grind to make ends meet. Many black women have given themselves that comfort because they didn't have other dependable options.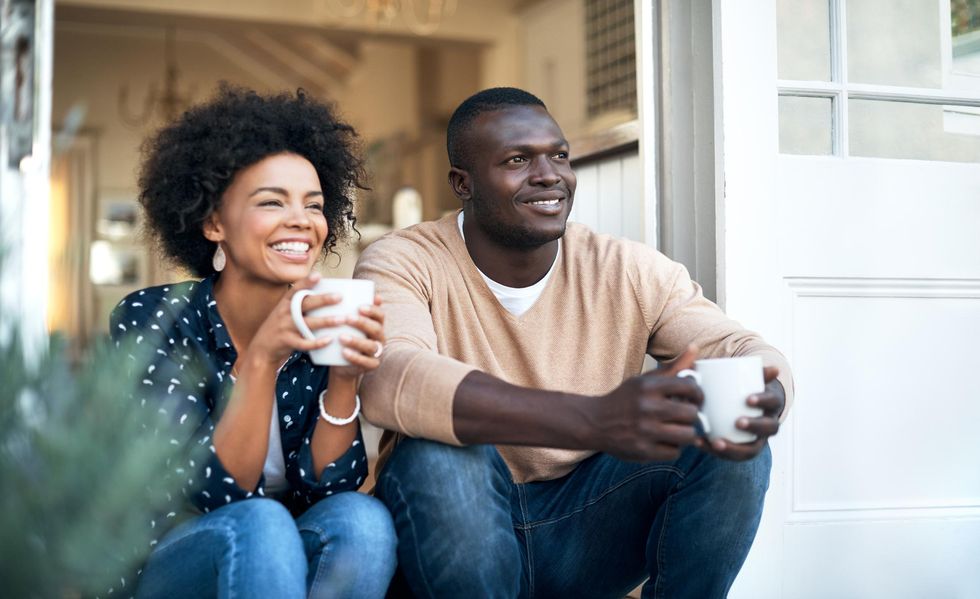 Getty Images
I have prided myself on being an independent black woman. I'm proud that I was able to take care of myself and still can if need be. But, I am coming to realize that if left unchecked, this self-sufficiency can hinder me from experiencing a different type of freedom.
There is so much power in having a choice, and for so long, my only choice was to depend on myself. But this season is teaching me that I can provide for myself in a new and much-needed way: by allowing someone else to support me.
Working so much to provide for my financial needs caused me to neglect many personal aspirations. But now I am able to support a different part of myself because I'm choosing to receive.
Accepting support is a form of self-care, something even the most Destiny's Child-esque independent women need. And it's more than OK to embrace this option when you're blessed to have that choice—sometimes it's the best way to truly look out for you.
Featured image by Getty Images

Keep reading...
Show less