When some of us think of Amazon, we think of products, most sourced and shipped from Asia, that we can get quick, fast, and in a hurry. Oh, and lets not forget in bulk and cheap. However, small business owners have been leveraging the platform, mastering how to sell products on Amazon that are high in quality and innovation.

Ranay Orton is one such entrepreneur. Her company, Glow by Daye, offers luxury trademarked satin bonnets, heat caps and other hair accessories, and was sparked from Orton's own struggles to find a product on the market that was effective for her hair. "When it came to the bonnets I was most familiar with or would buy at the local beauty supply store, they were thin, see-through, and still snagged my hair," Orton recalls. "And even online, there were options for custom-made bonnets but you'd have to wait weeks or months to receive."
"I'm the type of person who would have a different hairstyle every other week, from braids to extensions to my natural hair, and I wanted my bonnet to fit all those different hairstyles and provide quality enough to withstand those transitions."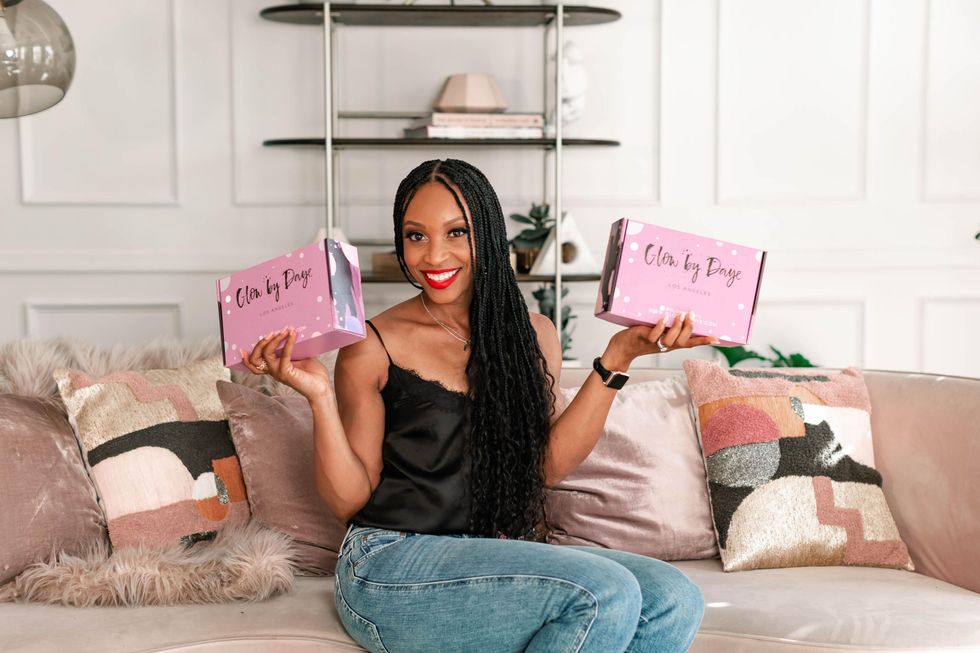 Image courtesy of Ranay Orton
In the first year of selling on Amazon, Ranay saw more than $1 million in sales. "It was a success from the beginning because there was nothing like it on Amazon at the time," she says. "The complete perimeter and inside is satin lined, the quality of satin has that slip our hair needs, and we've since introduced new products such as our heat and shower caps. Our products are large and adjustable to fit longer, higher-volume hair. They're intentionally designed for people who are weaving in and out of natural or protective styles and they have unique features that are respectful of our hair when it comes to retaining moisture and all of those facets of healthy hair."

The move to sell via Amazon has further allowed Ranay to expand her customer base, kick off continued revenue boosts even during the pandemic, and land a recent partnership with Fashion Nova. Check out the keys to how she was able to find success using Amazon as an entrepreneur:
1. Be sure you're offering something unique to the market and authentic to you as an entrepreneur.
For Ranay, being a Black woman who could thrive in an authentic niche by cultivating a realistic and relatable image of someone to trust in offering a haircare product on Amazon was key. "We were able to speak to a unique Amazon shopper who probably hadn't been spoken to before," Ranay says. "For the products that I was selling, it was new to see that we were marketing to women specifically for their coils, kinks, and curls in the way we were able to communicate what we offered."
"I'm my main avatar, so I was able to speak directly to some of the key pain points of my customer. You're buying bonnets that are falling off your head in the middle of the night, for example. It was really just speaking to a customer that hadn't been spoken to directly on Amazon before."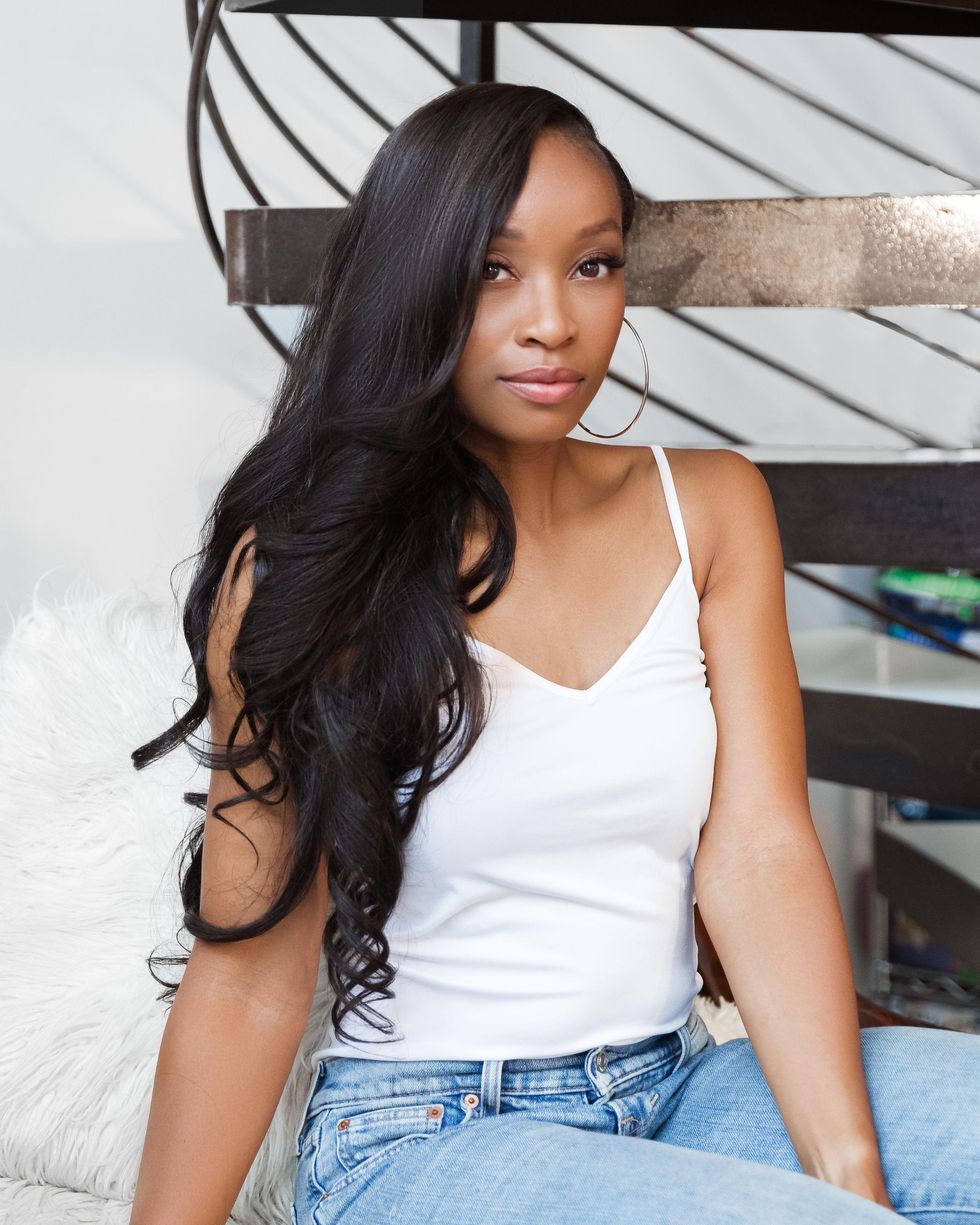 Image courtesy of Ranay Orton
2. Prioritize quality with any product you offer and market how that quality makes your product stand out.
"Having a good product is what you need in order to see sustainability on any platform, but especially on Amazon because there's a lot of competition. There's [also] a lot of crap on Amazon. People will sell you a hope a dream, and you get it and it does not live up to what was sold," Ranay says candidly. Sellers must have a good product to offer.
For Ranay, this means getting the best in satin and other materials, working with top manufacturers, and testing out what she offers in order to provide products that will build loyalty among customers. It also means taking into account the insights and opinions of her customers via her own website's channels as well as social media.
3. Research and tap into Amazon seller and fulfillment resources. 
Amazon has a large percentage of the online market among shoppers, and they offer resources for entrepreneurs who sell via the platform in order for it to succeed. "They have the buyers, so they're looking for people to supply quality products to those buyers. I utilized the fulfillment by Amazon program called Amazon FBA. In the beginning of launching the brand, I was still working full-time as a medical sales representative, so [the program] allowed me to [let Amazon] handle things like customer service, for the most part, and shipping. I was able to just send the products to their warehouses to store, pack, and ship. That took a lot off me so that I could really concentrate on product development and marketing."
By utilizing the resources, Ranay was able to focus more on creating new products, building out her own website, nurturing relationships with customers, and building a community via her social media platforms.
Find out more about Ranay and Glow by Daye products via Instagram and her website.
Featured image courtesy of Ranay Orton.
Dr. Lakisha Simmons, an author and single mother of two children, saved $750,000 in four years and is on the road to be a millionaire by the end of 2022. However, this wasn't always her reality. The Nashville, Tennessee resident once described herself as "house poor."
Growing up, Simmons followed the "American Dream" path until she realized it wasn't the dream it was sold to be. "I was doing all the things that you're taught you're supposed to do: Go to college, get a good job, a nice car, house, get married, and have kids," she told xoNecole.
But that path led her to hit rock bottom. After a divorce in 2016, her finances were being used to keep up with a lifestyle that no longer satisfied her and left her feeling depleted. "It was completely draining me," she said.
"My money was going into the house and utilities with $300 a month. The lawn care was $150 every two weeks. I'll never forget. I was in this huge house that was supposed to be a happy home, yet I was broken and cried my way into the new year in 2017."
After hitting rock bottom, she knew there was nowhere left to go but up. She started asking herself questions about her finances such as: What can I do to grow my money? What can I do to be financially independent?
After being honest with herself and researching, she discovered a solution that would change the trajectory of her life: the FIRE Movement, which is an acronym for Financial Independence Retire Early.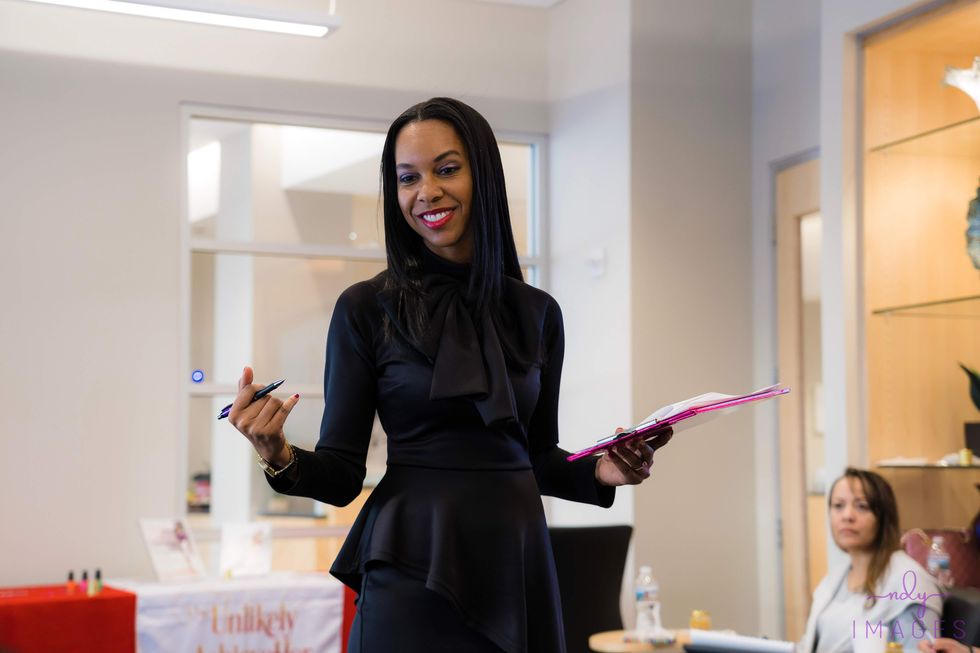 Courtesy of Lakisha Simmons
For adopters of the FIRE Movement lifestyle, the intention is to save and invest in extreme amounts over a short period of time with the goal being to retire early as a result. Lakisha explained:
"I focused on the idea of financial independence by saving up 25 times my annual living expenses and I will live off of 4% of that lump sum."
Simmons is now teaching people through courses and workbooks about her financial freedom journey and how the FIRE Movement put her on a path to becoming a millionaire.
"I've consistently invested 60% of my income and proceeds from my workbook to help women learn how to skills to make themselves more marketable in The Unlikely AchieveHer. Not having to 'work' to pay my bills and live a comfortable lifestyle is a stress-free way to live so it isn't difficult for me to cut back on some luxury items here and there in order to invest more money. I have more choices on how I spend my time and that's what life is all about," she added.
If you're ready to level up your finances in 2021 and expand your mind to what is financially possible for you, then here are the steps Simmons recommends.
1. Reduce Your Expenses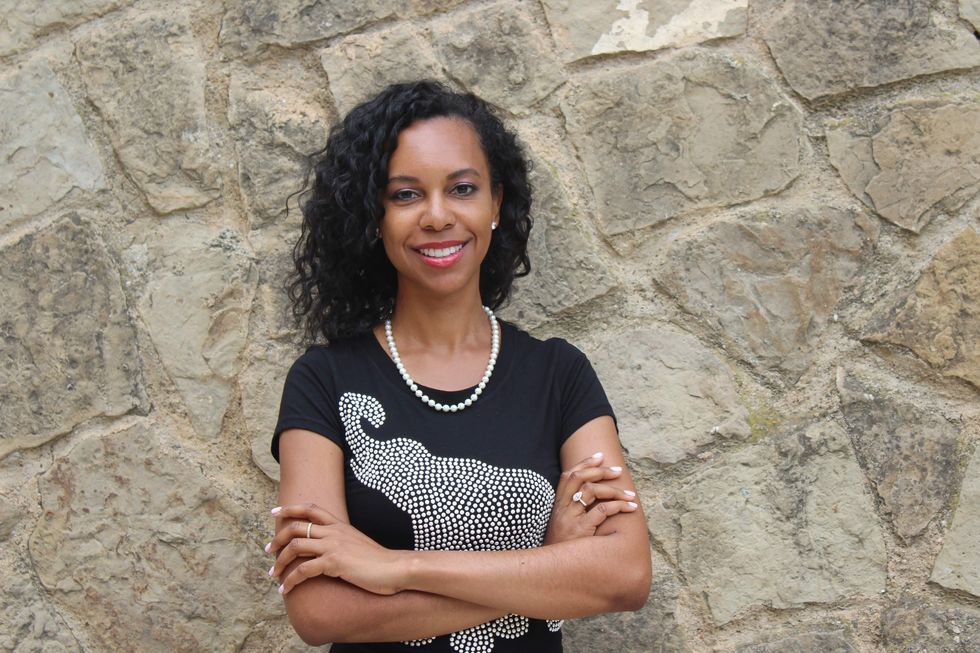 Courtesy of Lakisha Simmons
One of the first steps Simmons took was selling her home. Even though the appearance of it was nice, she knew she no longer needed it for where she wanted to go. This decision allowed her to save $12,600 a year, according to Business Insider. To slash your expenses, you should look at where your money is going line by line in your budget, and identify areas you can cut back on.
Cut your grocery bills by considering Aldi (gluten-free, organic, and fresh produce options available).
Cut your phone bill by switching to Mint Mobile - plans start at just $15 a month. Simmons says she's been a customer for years.
Shop around for auto and home insurance every two years.
Don't be afraid to downsize, don't be ashamed.
Ask yourself what you truly value, and determine the expenses holding you back that can go. No need to keep up with Joneses!
2. Invest. Invest. Invest.
Simmons highly encouraged women at any age to start investing. "It's not as scary as it seems," she said.
Adding, that a common fear she noticed was that people believed they would "lose all their money in the stock market." She explained that you should calculate your risk in the stock market and allow your money to sit, grow, and mature.
"We're going to plant a seed out of our 401k this year, and in five years, seven years, 10 years, that seed will be fully grown in blossom and harvest into a nice lump sum."
If your employer doesn't contribute to your 401k, she went on to explain what it's still important to contribute:
Your contributions are tax-deferred which means you get to invest the money pretax. That actually allows you to save money that isn't taxed and lowers your taxable income on your paycheck.
Compound interest is your friend. Over the years, the stock market's compound interest is working for you growing your money even if you stop contributing new funds.
3. Maximize Your Retirement Accounts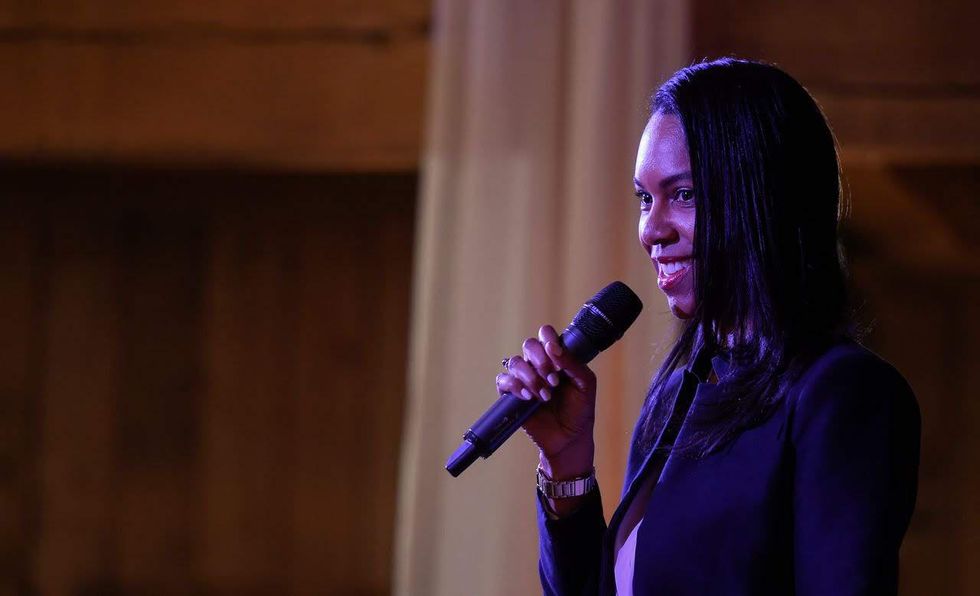 Courtesy of Lakisha Simmons
One of the main challenges Simmons sees among women is that they are not taking advantage of their tax-deferred retirement account at work.
"That's how I built most of my wealth," she said. She noted that she has a 457(b) through her employers. A 457(b) plan is an employer-sponsored, tax-favored retirement savings account. With 457(b) plans, you contribute pre-tax dollars, which won't be taxed until you withdraw the money.
"The benefit of the 457 is as soon as you leave that workplace, you can start accessing that money. So it's perfect for people in the FIRE Movement because I'm planning to retire early. I can go ahead and start using my 457 as soon as I decide."
One of the biggest challenges she had to overcome was her mindset and belief that she could do it. She encourages women to find community. Simmons offers a free Facebook group people can join and courses and coaching opportunities for people ready to dive in.
Looking back on her financial journey, she can't believe how far she's come, and if she could tell her younger self anything, it would be to be fearless.
"I would tell her to be fearless, set a stretch goal for yourself. Because anything that you put out in the atmosphere that you want, you can have it as long as you believe you can have it," she said.
For more of Lakisha, check out her website.
Featured image courtesy of Lakisha Simmons

Keep reading...
Show less
As always, the most recent episode of Red Table Talk did not disappoint. The topic struck a nerve with the team here xoNecole in particular because we understand that Black women are beautifully capable beings that deserve the same respect that other demographics are handed, sometimes even undeservingly. Social justice leader Tameka Mallory joined the RTT hosts along with several Black women who have been ignored and mistreated—"The Invisible Black Women."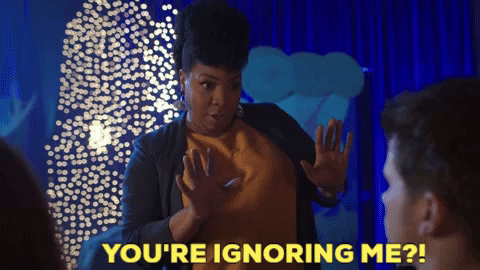 Accounts varied but the core of all their stories was the same. One woman was on a Delta flight when a man had a medical emergency and she told the crew she was a doctor but was asked if she had her medical diploma with her. However, when a white male came forward and said he was a doctor, they didn't question his credentials at all.
Another woman went to the emergency room as she was four months pregnant and was bleeding. Doctors were dismissive of her in the emergency room and when they finally admitted her hours later the doctor said some pretty terrible things to her. The staff was dismissive of the pain she was experiencing and she ultimately had a miscarriage.
Whether on a scale this big or not, these experiences make us feel small and are sometimes life-threatening. Because sharing stories like these make us feel seen, we asked Black women in our circles for accounts where their intuition, credibility, or mere presence was ignored.
Below two xoNecole readers open up on what happened to them and how they handled this type of racism rarely talked about.
There Was a Very Clear Aura of 'She's Being Dramatic'
"Similar to the Black women who have experienced neglect in hospital and medical settings, I've also felt ignored and disregarded in that way. Last year, I experienced a miscarriage. I had what doctors called a blighted ovum, which is essentially when a fertilized egg never develops into an embryo. It causes somewhat of a delayed miscarriage, and the day I arrived at the hospital, there was a very clear aura of 'she's being dramatic' when I first came through the emergency room doors doubled over in pain and being escorted via a wheelchair.
"The doctor assigned to me had to internally inspect me to check for hemorrhaging (severe bleeding), and I was in so much pain that she wasn't able to stick the tool where she needed to. It was traumatizing and agonizing, and she just kept rolling her eyes and sighing in frustration despite my pleas that I was in pain and that I wasn't purposefully tensing up, which prevented her from being able to do the inspection.
"Thankfully, a nurse was there (who appeared to be a Latina woman), and she held my hand and spoke to me with much more grace (this was at the peak of COVID, so no family was allowed into the hospital rooms with me). The doctor returned later a little more empathetic, but still very neglectful of the pain and general discomfort I was feeling. It was disappointing, hurtful, and honestly made me never want to go back to a hospital again." —Diamond Alexis, 27, Journalist and Social Media Manager
She Was Dismissive, She Judged Me, and She Was Cold
"Unfortunately, I had a similar experience as the woman who had the miscarriage. I went into an emergency room because I was eight weeks pregnant and at 4 a.m. on a Thursday morning I started bleeding. I knew what was happening and went to the nearest hospital. I told them my situation but there was no sense of urgency. I was sitting in the waiting room bleeding, crying and thinking the worst.
"My mother had to ask why we were waiting so long to come to find out this hospital had no OBGYN department and the ultrasound tech wouldn't be in for another hour. I got up to leave and some security guard, a black man, told me I might as well stay because they're going to charge me. I was disgusted, needless to say, they called me right after he made that comment.
"I went to the room to get an ultrasound and waited on results. The doctor, who was a white woman, asked questions as if it was impossible for a black woman in her thirties to only have been pregnant once or to have never had an abortion. She was dismissive, she judged me, and she was cold delivering the news."
"I did have a miscarriage and that experience made everything I was going through worse. Not to mention, I was waiting for my mom to get the car and the security guard told me I couldn't sit in the waiting room. I'm losing my first child, in pain physically and emotionally, and from beginning to end during this hospital visit I felt ignored and unseen." —Amiyah Deziire, Radio Personality/Motivator/Writer
Featured image by Phillip Faraone/Getty Images for REVOLT

Keep reading...
Show less
In America, one woman is fatally shot by an intimate partner every 14 hours. A black woman is fatally shot every 10 hours. This means two black women are killed daily. Forgive me in advance because I know this is gruesome and a very hard pill to swallow. Sometimes, I don't have the stomach for it. I used to work in homicide for a local district attorney's office. I have heard, seen, read, and listened to things that the average woman isn't privy to. Femicide can take many shapes and forms. We often hear about the general rape or murder of Black women in abusive relationships, but femicide can also look like Black fathers harming their daughters, too.
This can happen when a mother decides to leave an abusive situation or is involved with an abusive partner. Take, for example, Alyse and Ava Williams, ages six and nine years old, whose father killed them and then killed himself. Before the incident, he was charged with domestic violence. Police reports stated a domestic dispute occurred between him and his wife before the killing, but this time he murdered their daughters. In another case, Larry Cosby killed his daughter Britney and her girlfriend Crystal because she was a lesbian. This murder is twofold – femicide and homophobia. Austin Stevens raped his 10-month-old daughter which is an example of sex-based violence because she was targeted, and she was a female child.
Femicide can also look like a woman being killed after a man gropes her or a man is rejected by a woman. Shadina Smith, 29, was killed after she told her fiancée she was groped by another man, and they were both shot by the assailant. Aieshia McFadden, 36, was killed in front of her daughter after she rejected the advances of a man who groped her butt. Tiarah Poyau, 22, was shot in the face after telling a man to stop "grinding" on her at a Caribbean parade.
All of these Black women were killed for different reasons, and these examples are all classified as domestic violence. If this is the first time you are hearing the word femicide, you're not alone.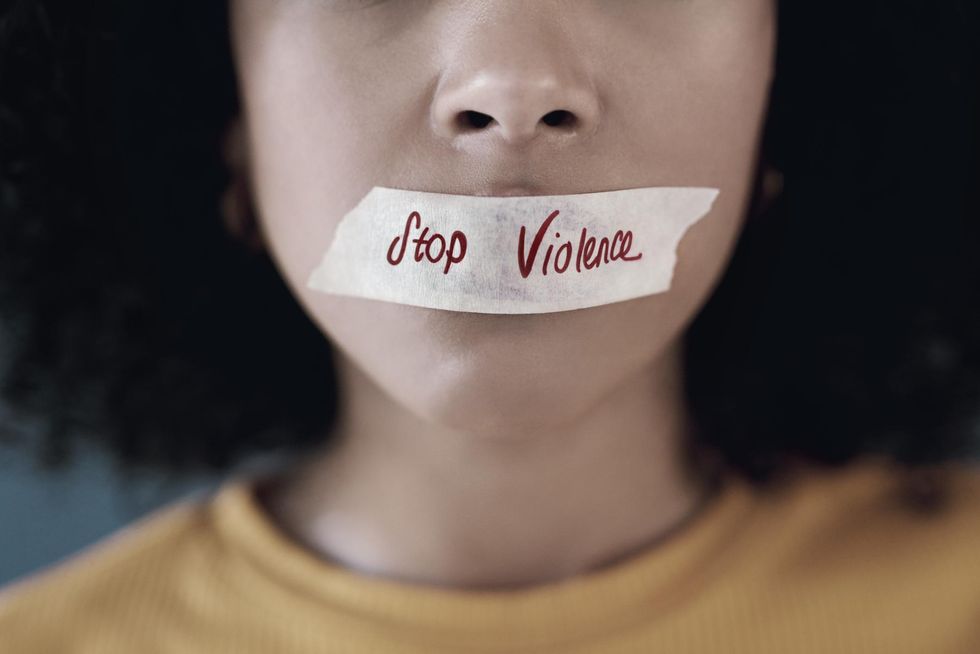 Getty Images
What Exactly Is Femicide?
When I learned what femicide was, my heart sank into my stomach. And I was saddened to learn that my home country of Trinidad tops this list with 6.6 deaths per 100,000 women. We were never valued. It is no surprise that femicide is a worldwide epidemic. Women are murdered across Latin America, South East Asia, the Middle East, Africa, and the Caribbean.
As defined by the World Health Organization (WHO), femicide is the intentional murder of women because they are women, but broader definitions include killings of women or girls.
But let's take a step back to understand that violence against women is a major public health problem and a violation of human rights. According to WHO, violence is the leading cause of injury, disability, and risk factor for other physical, mental, sexual, and reproductive problems. And femicide is happening right here in the United States too. It just looks and sounds a little different than what you might see or read about in other countries.
So, what can we say about femicide in the United States? We can say a whole lot, but almost nothing at all. What I mean by this is that all violence against women is categorized as domestic violence. We don't have a special category for gender-based violence. It's typically ruled as a general homicide. BTW – gender-based violence is the term coined for violence against women and what femicide essentially is. This includes domestic violence and intimate partner violence.
For background and context, the Violence Against Women Act (VAWA) was passed in 1994 to help end domestic violence. VAWA responds to victim needs by holding offenders accountable and allowing for data collection measures to learn more about domestic violence, sexual assault, dating violence, and stalking crimes. And as a result of the government shutdown in 2018, it expired. It was briefly renewed in early 2019 through legislation but expired again. It is currently a stalled bill in the U.S. Senate. However, VAWA is eligible for renewal every five years.
So, what's the holdup then? Domestic violence victims and survivors are just out here unprotected?
The Holdup
The Boyfriend Loophole: if a person is convicted of domestic violence, current federal law does not prohibit abused or current former dating partners from having firearms, even though more than half of all initiate partner homicide is committed by dating partners.
Stalker Loophole: if a person is convicted of felony stalking, current federal law only prohibits them from accessing guns, but people convicted of misdemeanor stalking can still legally obtain guns.
The question now is where do we go from here?
Thanks to women like Dawn Wilcox and Rosalind Page, we now have a place to start to understand the extent of the issue. Page has been a nurse for 31 years, she works with the community within the health advocacy space for those who cannot afford insurance or have little to no access to healthcare resources. She also works for the Veterans Affairs Department, lending her expertise to women veterans who have experienced high levels of abuse from within the community and as a serviceperson.
The two, nurses based out of Texas and Arkansas, respectively, have been collecting data and tracking cases of femicide in the United States for roughly five years to fill in the gap in data on femicide and bring awareness to this unseen crisis. Rosalind primarily focuses on femicide in African-American communities, while Dawn focuses on femicide in the U.S. as a whole through her organization Women Count USA to bring awareness, challenge media narratives and societal myths about femicide and domestic violence in the United States.
Rosalind is the founder of Black Femicide US. A Facebook group with more than 23,000 followers focuses on sharing the untold stories of crimes against Black women.
What We Do Know About Femicide In The United States 
There is no standard definition of femicide in the United States. Crimes against women, whether it meets the criteria or not, are categorized as domestic violence or defined as intimate partner violence. As defined by the Center for Disease Control (CDC), this includes physical violence, sexual violence, stalking, and psychological aggression. Although the World Health Organization recognizes the killing of women has steadily increased since 2014 in the U.S., it is not recognized as a problem like it is in other countries.
The U.S. doesn't recognize femicide as a special crime, so there is no legal definition of femicide in America because there are no laws for it.
For example, sex crimes are gender-neutral, but there are enhanced penalties if the victim is younger. There are enhanced penalties for domestic violence crimes, but they are hardly used because one can almost never prove the intent was based on gender in a court of law.
Femicide And Black Women 
According to the Violence Policy Center, 1,948 women were killed by men in 2017. In the same year, the CDC also reported that Black women experienced the highest rates of homicide than any other racial group in the U.S. The specific issue for Black women is that 4 in 10 Black women experience physical violence in their lifetimes. Twenty percent of Black women have experienced rape during their lifetimes which is higher than other women overall. According to data from the CDC, and the Institute for Women's Policy Research,
Black women face a higher risk of being killed by a man, 2.5 times higher than White women. 9 out of 10 Black women that were murdered knew their killers. The main risk factor is easy access by perpetrators to firearms, both legally and illegally.
From a cultural standpoint, Black women are expected to be strong and able to handle abuse due to the "strong Black women" stereotype.
Data collected and reviewed by Rosalind shows that Southern states appear to have an increase in violence against Black women. This was even before the pandemic and those numbers have seemed to increase. And according to independent data collection, Rosalind concludes on average three Black women or girls are murdered daily. As of today, 230 victims have been recorded.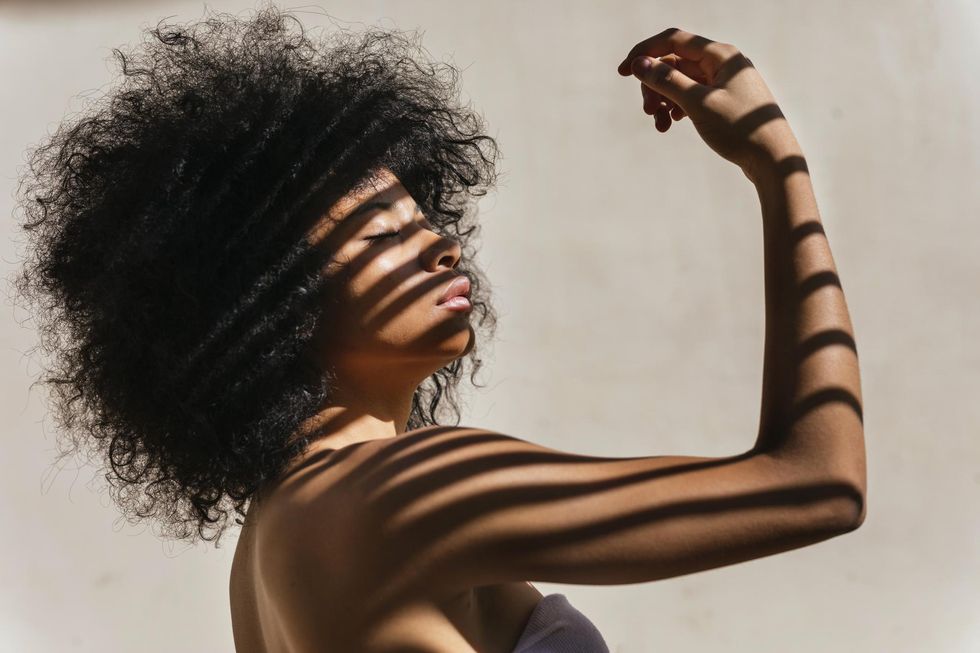 Getty Images
Femicide Awareness, Advocacy, And Solutions
From a micro and macro level, femicide is an epidemic. There is so much that needs to be done regarding gender-based violence against Black women and all women in the U.S. The most important thing we can do is to have these conversations often. We must be open and honest about this silent crisis in our communities. Men and women alike must acknowledge that this is a problem and urge local, state, and federal politicians to legislate for laws that protect victims and hold perpetrators accountable.
Rosalind Page also points out we can start by, "advocating for stricter sentencing guidelines, having a national Domestic Violence registry (much like the sex offender registry), making femicide a hate crime due to it being a targeted group. More groups dedicated to educating young men and women about what domestic violence looks like. How to recognize that someone may be a victim of it, and getting help. More financial assistance to organizations that help women and children get out of domestic violence situations."
These are only a few ways we can bring awareness to femicide against Black women and femicide in the United States. But it's a start.
Though I have heard stories about women being killed from my days at the district attorney's office or in the news, I personally don't know of anyone who was a victim or is a victim of gender-based violence. I can only hope that we use our voice to speak up. And that we are loud enough to be heard in this ongoing cry for help.
Stop hurting us, stop killing us, and start respecting us.
Featured image by Getty Images
Keep reading...
Show less
The COVID-19 pandemic has put a halt to so many things that we all took for granted: going out without masks, going to concerts, visiting family and friends, and traveling wherever we want. However, there is one thing that COVID-19 cannot stop and that is the miracle of childbirth. When babies are ready to come into this world, they are coming no matter what is or isn't going on around us. The addition of a global pandemic to a time in a woman's life where there is already so much going on, so many things to decide, so many things to do, and so many emotions seems unfair. Yet, that has been the reality for many women for almost a year now. However, it should come as no surprise that women all over the world have accepted the new normal with strength and grace and do what women do best: get it done (and beautifully, might I add).
I recently connected with five incredible women who either gave birth during the pandemic or are currently expecting. They shared everything from their reactions to finding out that they were pregnant, to how the pandemic reshaped their initial thoughts on pregnancy and motherhood. I was both touched and inspired by their outlook and their strength. Despite the fact that things looked different than they imagined they would, with limitations on who can attend prenatal visits or the hospital during the birth, these women have been able to pivot, remain positive, and adjust to their new normal.
Check out their stories below.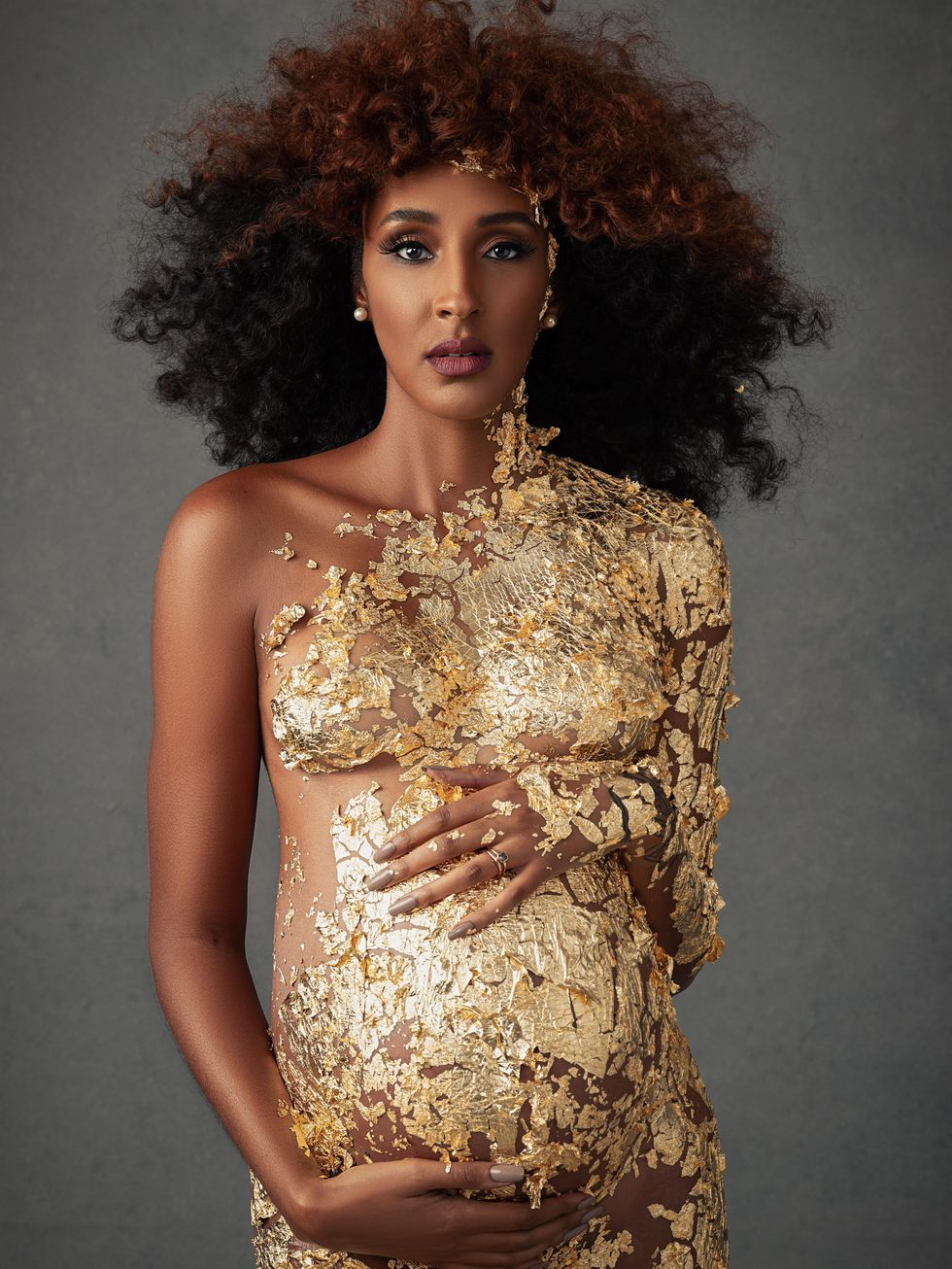 Photo Courtesy of Erica James-Strayhorn
Erica is a first-time mom to a baby girl born in December 2020.

"I was very excited to find out that I was pregnant. I knew that things might be different, I just wasn't exactly sure what that looked like. I remained open and focused on how I wanted my pregnancy and delivery to be and focused on that. One thing that was impacted was the decision to have a home birth instead of having her at a birthing center. I made this choice based on the number of people allowed to be present at the birth center.
"My pregnancy and motherhood, so far, have been pretty close to how I thought it would be, even during a pandemic. I was focused on creating the experience I wanted when it came to the pregnancy and the birth. I have an amazing community, friends, and family who have supported me. It was upsetting knowing that my husband could not attend doctor appointments with me and that he could not attend our baby's appointments with us. However, that encouraged us to find creative ways for him to be involved in that part of her life and for me to make sure I was communicating information from those appointments to him.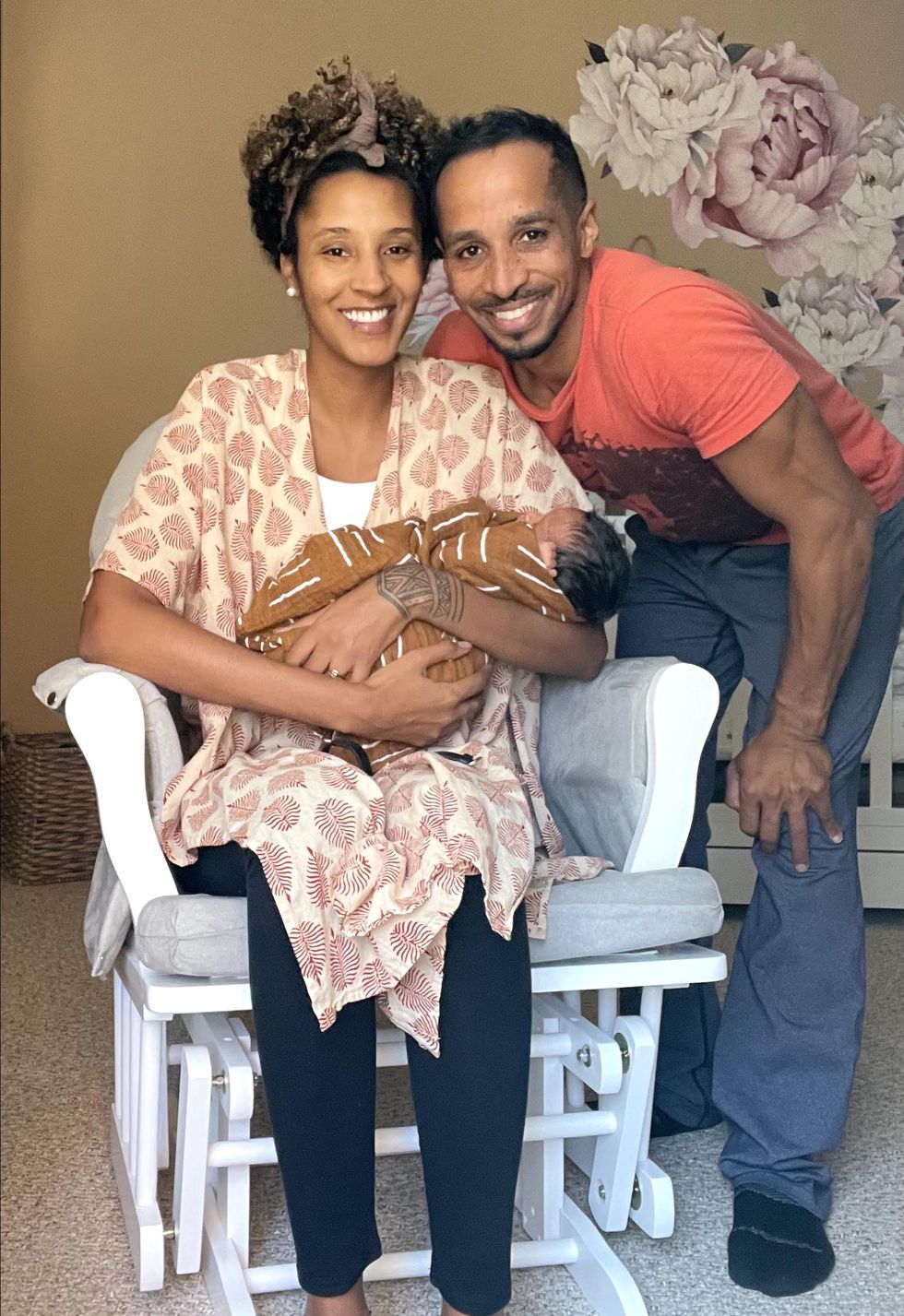 Photo Courtesy of Erica James-Strayhorn
"Becoming a mother during this time has encouraged me to continue to be really mindful of the messaging and fear-based narratives that I have taken on so that I do not pass those on to her. It has also encouraged me to continue to take a stand for myself and for my family and honor what I feel is best for us. Slowing down and being present in each moment are two major things I am focusing on now that she is here. It goes beyond cherishing these moments. For me, it is about connecting to how each moment feels, without distractions."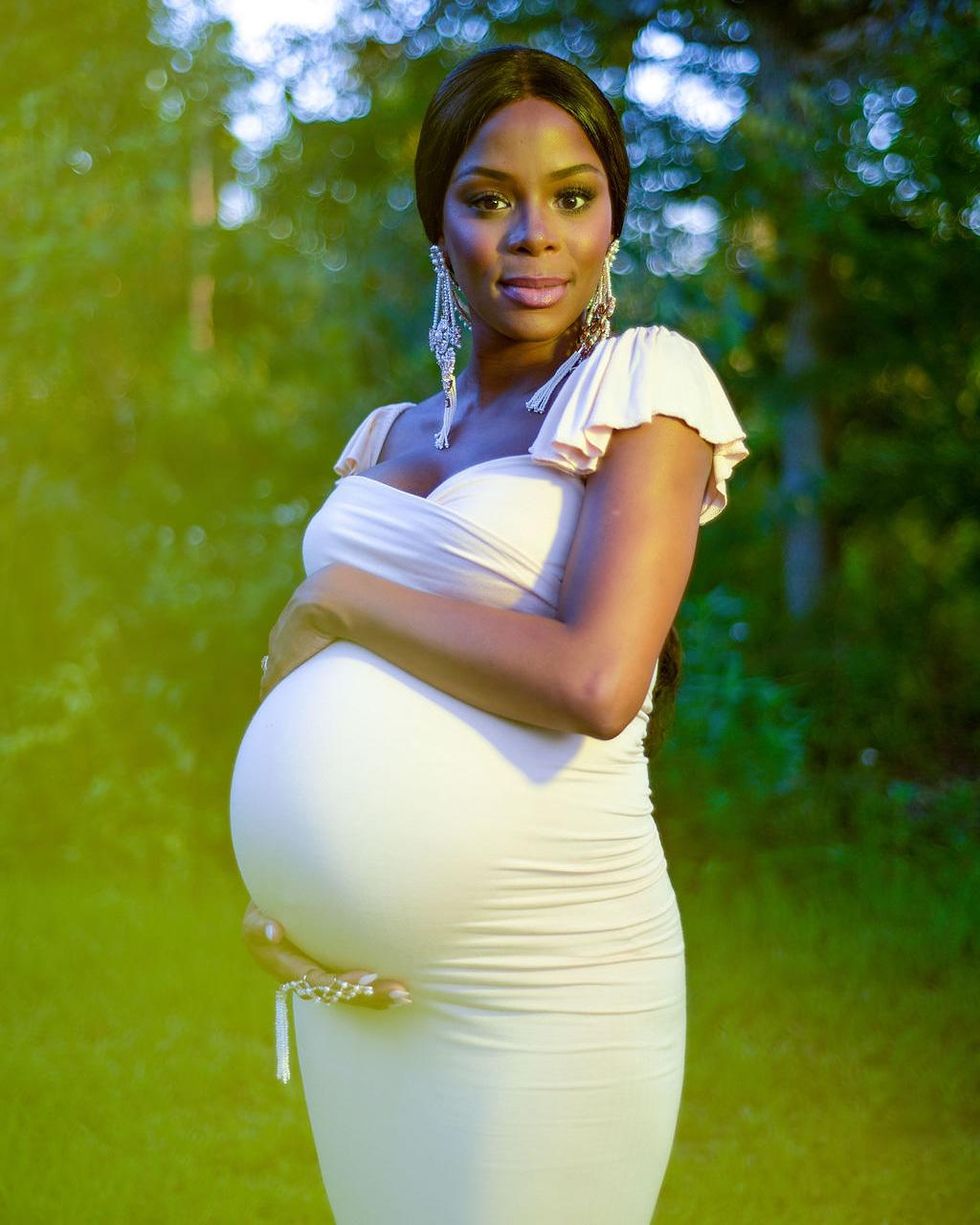 Photo Courtesy of Marshana Dahlia Spavento
Marshana is a first-time mom to a baby boy born in November 2020.

"We found out on March 10th that we were pregnant. We had just returned from our delayed honeymoon to Dubai. We landed, and the first thing I did was take a pregnancy test. We had married just seven weeks earlier and were thrilled that we got pregnant with relative ease. I was 38, one day shy of 39, and my husband was 49 at the time so we knew that we were blessed to be pregnant. The day after finding out we were expecting was my birthday and the same day that COVID-19 was determined a pandemic. Then on March 12th, I lost my job due to the pandemic. Needless to say, it was challenging looking ahead with so much uncertainty around us. Our plan was always for me to be a stay-at-home mom, but due to the pandemic, those plans were thrust upon us a little early.
"The pandemic really restricted the view that I had for myself as a mom. My mother passed away unexpectedly in December of 2018 and I always saw my motherhood journey with her by my side. Losing her was not only crushing, but the idea of becoming a mom, without her guidance and help was frightening."

"When I found out we were expecting, I was met with the reality that not only would my mother not be here for me, but no one would. None of my aunties or friends could come and help me out as a first-time mom. I was going to have to go at this one on my own. Of course, my husband is a great support, and he is so hands-on with our son. I would be lost without him. However, there is something to be said about having help from a fellow mom, and I just have to go without for safety reasons.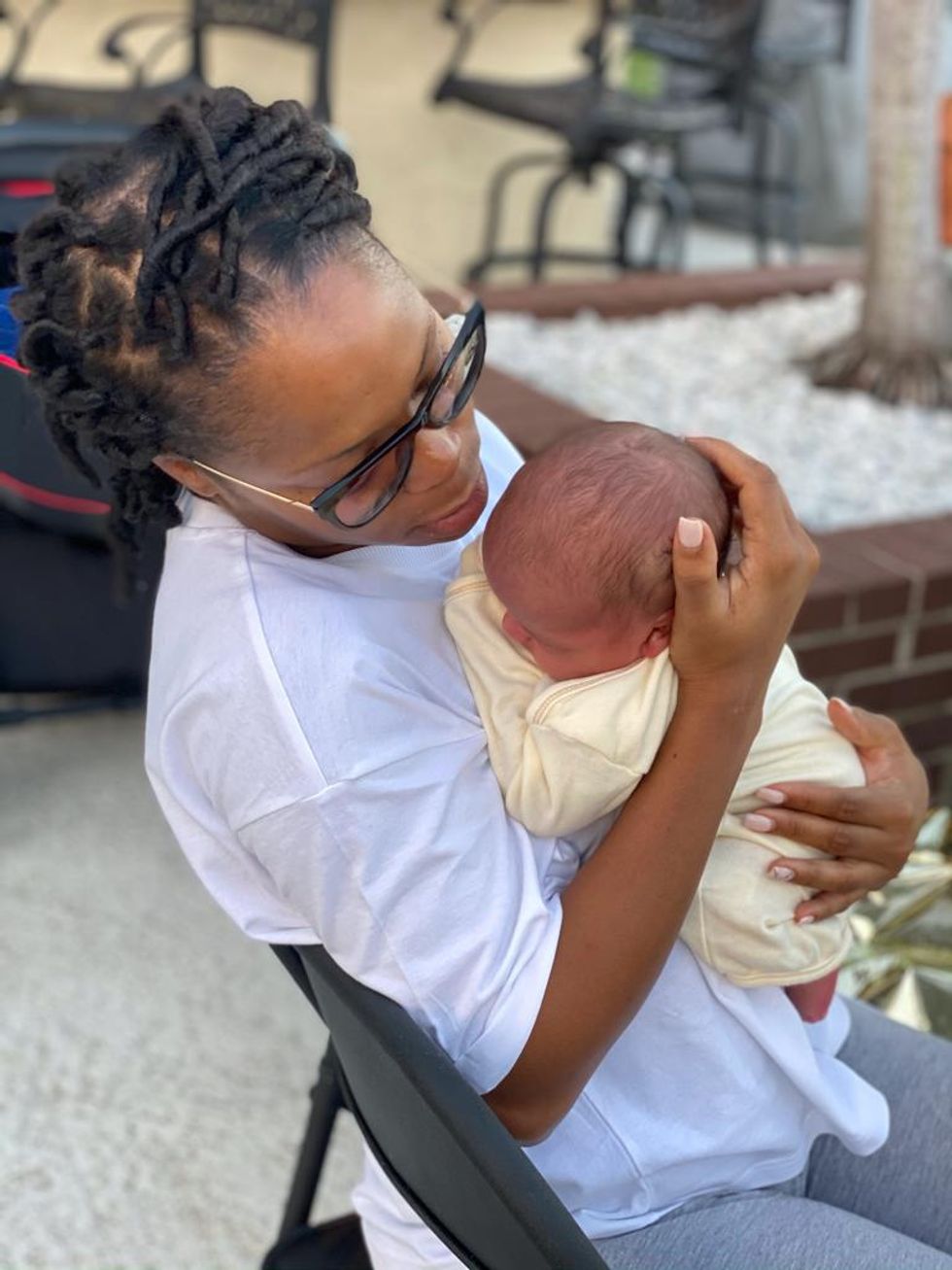 Photo Courtesy of Marshana Dahlia Spavento
"Becoming a mom in a pandemic is a true testament to the resilience of womankind. We truly hold inherent and innate power. From time, women have brought forth children, during times of war, times of peace, times of sorrow, or times of joy."

"As much as I wished my husband would have been able to attend my prenatal appointments, or that we could have toured our hospital's maternity ward ahead of time, I realized that even in these dire times, other women were bringing forth life just the same. That gave me hope. If they could do it, so can I."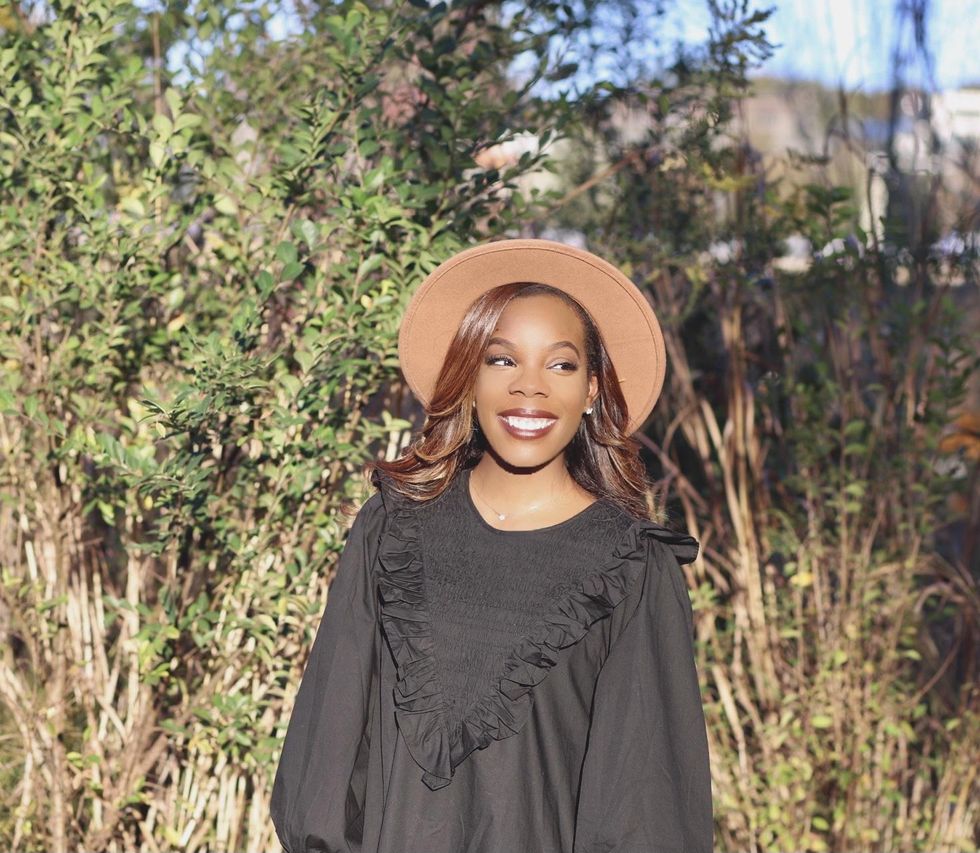 Photo Courtesy of Jessica Cooper
Jessica is expecting her first child in June 2021.
"The pandemic did not affect my reaction as my husband and I were actually trying to conceive. Although, we were apprehensive about getting pregnant while in the middle of a pandemic, we knew that God wouldn't give us more than we could handle. Lastly, because we had been trying for a few months, we were absolutely elated to find out we were expecting!
"The pandemic has reshaped my views on the superficial aspects of my pregnancy like hosting certain social events like a gender reveal or a baby shower. I am a social butterfly and love to entertain, so I've been planning my baby shower long before we were even trying to conceive! Due to the uncertainty of the pandemic, it's very likely I won't be able to have a formal, large baby shower, but I am OK with that because I am just grateful for my health and those of my close family and friends. I realized it's more to the pregnancy and motherhood than just the 'social' aspects of it and that I am more than blessed when it comes to embarking into the motherhood phase of my life.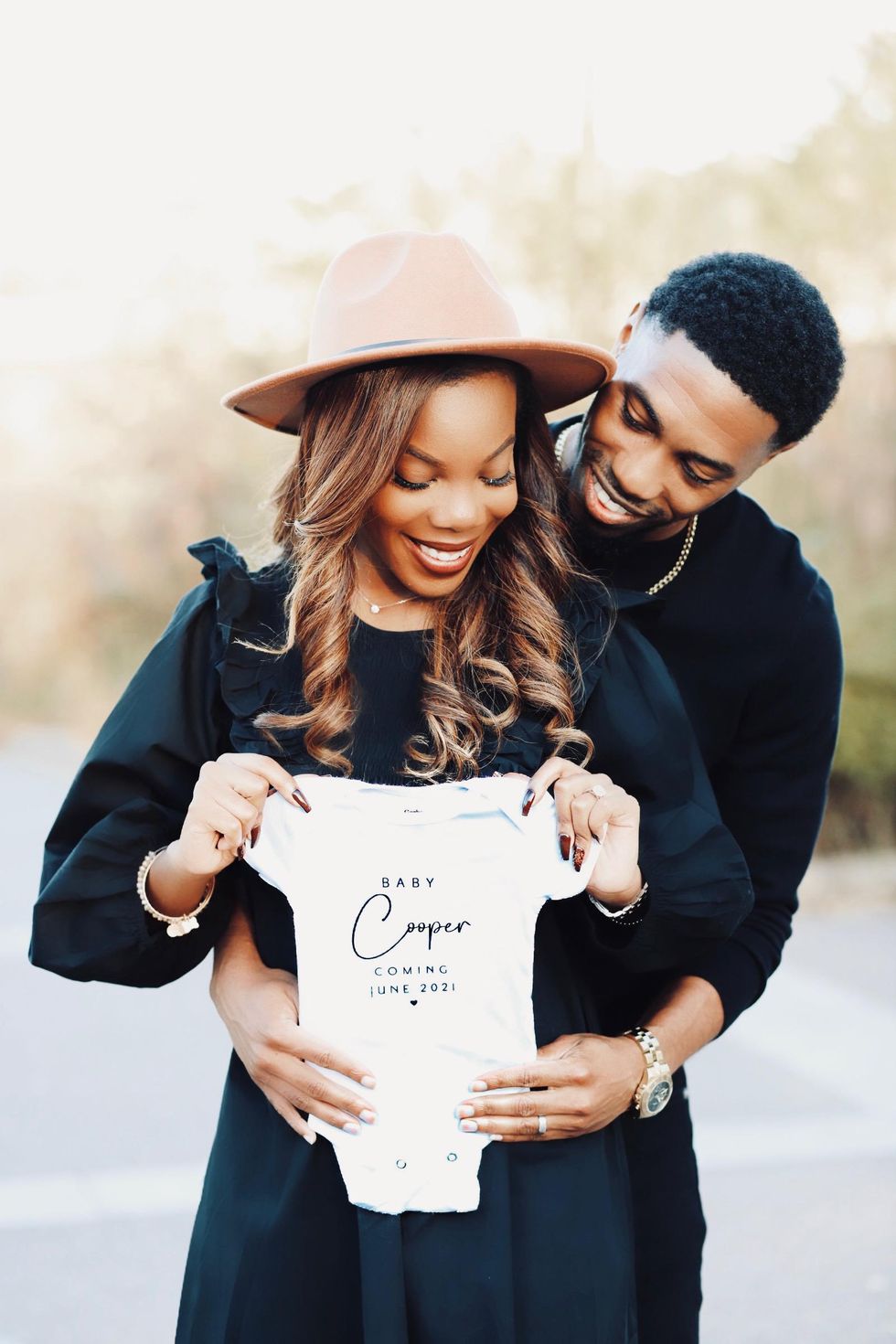 Photo Courtesy of Jessica Cooper
"I have a newfound respect for moms and moms-to-be who are preparing for and/or raising a family all while still working full-time and still finding time to work on their dreams and aspirations. I started to feel anxiety at the beginning of my pregnancy just thinking about how I was going to juggle becoming a mother, working full-time as an educator, building my consulting business, The Savvy Counselor LLC, building my brand The Stylish Organized Wife, and maintaining a meaningful godly marriage! I realized though that the power of God is within me and that he has built women to naturally be strong beings. Giving myself grace and patience and asking for help when necessary is definitely OK."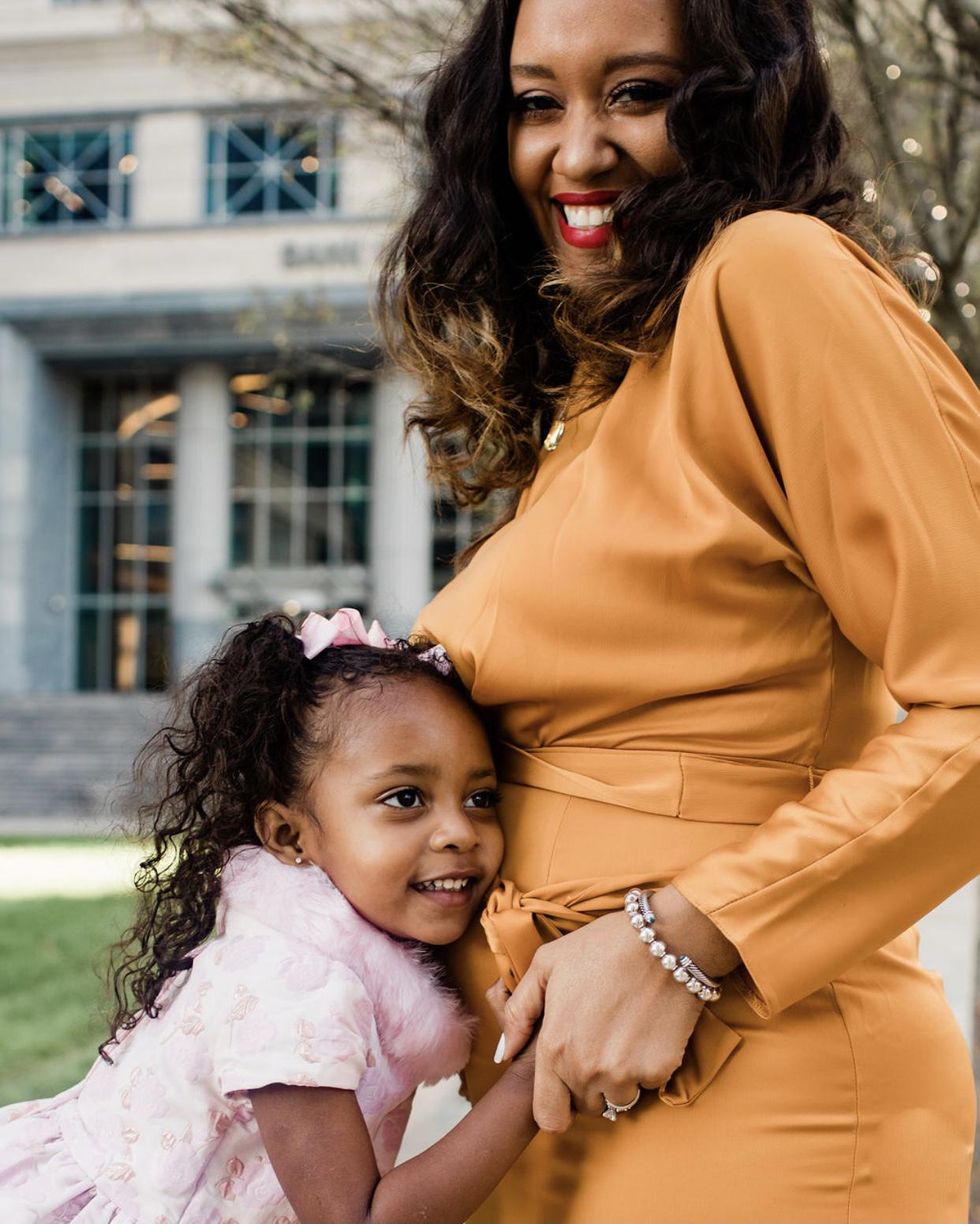 Photo Credit: Kathryn Hastings Photography
Photo Courtesy of Diamond Nurse
Diamond is a mom of a 2.5-year-old named Emerald. Diamond 's second daughter is due in April 2021.
"Initially, I was quite anxious and nervous due to all of the unknowns of COVID-19 and how it would affect my birthing experience and its effect on expecting mothers. I knew the hospitals were having more restrictions and it was important to me to have my husband and my doula to be a part of/assist in the birth of our new baby. I could have never foreseen a world stricken by a pandemic nor could I have known what that would mean for my life as a mom, wife, and owner of Diamond M.I.N.E Social Media Group. While my goals have not changed, I have learned to think about these things a little differently.
"COVID-19 has made me more efficient and intentional about how I spend my time. I love that I get to watch my daughter experience the world around her. It brings me so much joy and I hope to inspire her the way that she inspires me. As a mom, this pandemic has shown me the importance of community and being intentional about the time we spend together. We have shifted to having playdates with our 'COVID-19 bubble' who also have daughters the same age. This has been super helpful for us, as our children are mostly impacted by the restrictions. A toddler does not completely understand why you have to social distance or wear a mask. It's been such a blessing to be able to continue our playdates.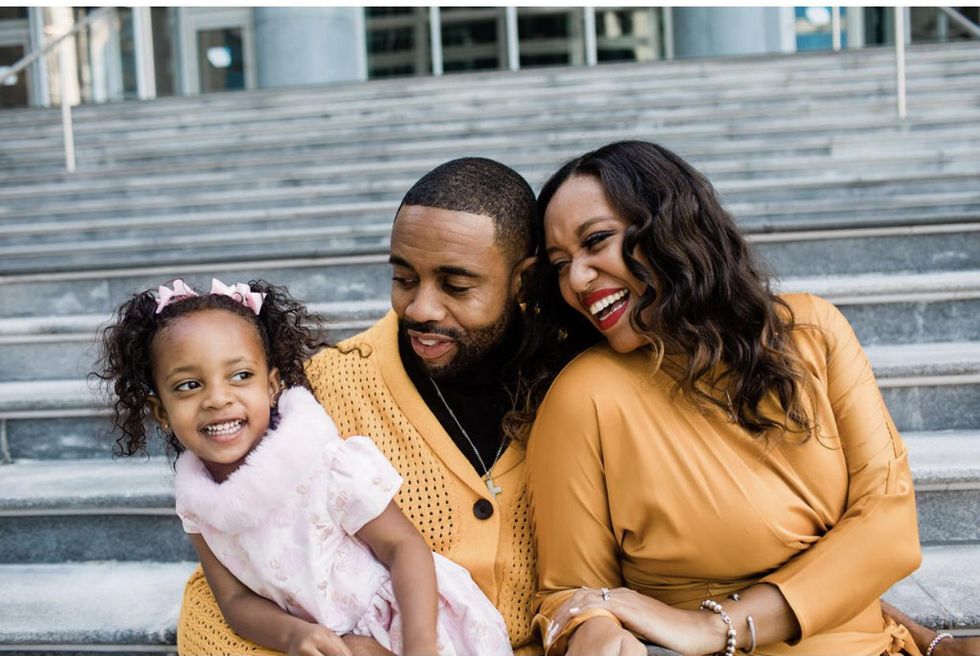 Photo Credit: Kathryn Hastings Photography
Photo Courtesy of Diamond Nurse
"This pregnancy has been physically draining, due to nausea and fatigue, but I have also been emotionally drained due to not only COVID-19 but also the racial unrest our country is facing."
"It's important to me that I keep a level of hope and positivity as I am carrying new life and also reflect on what's going on and continue to be an inspiration to my daughters. I love what a mom friend of mine said, 'While the world is experiencing chaos, I am creating life.' That in itself is powerful! Being a woman is powerful. I am grateful to be a woman and love being a woman. Living through the crazy times we are in has made me feel even more vulnerable, strong, and powerful. I love encouraging my sistas, especially my mamas. Through this all, I intend to give myself permission to take a break, show up as my authentic self and be present in my home life, where it counts the most."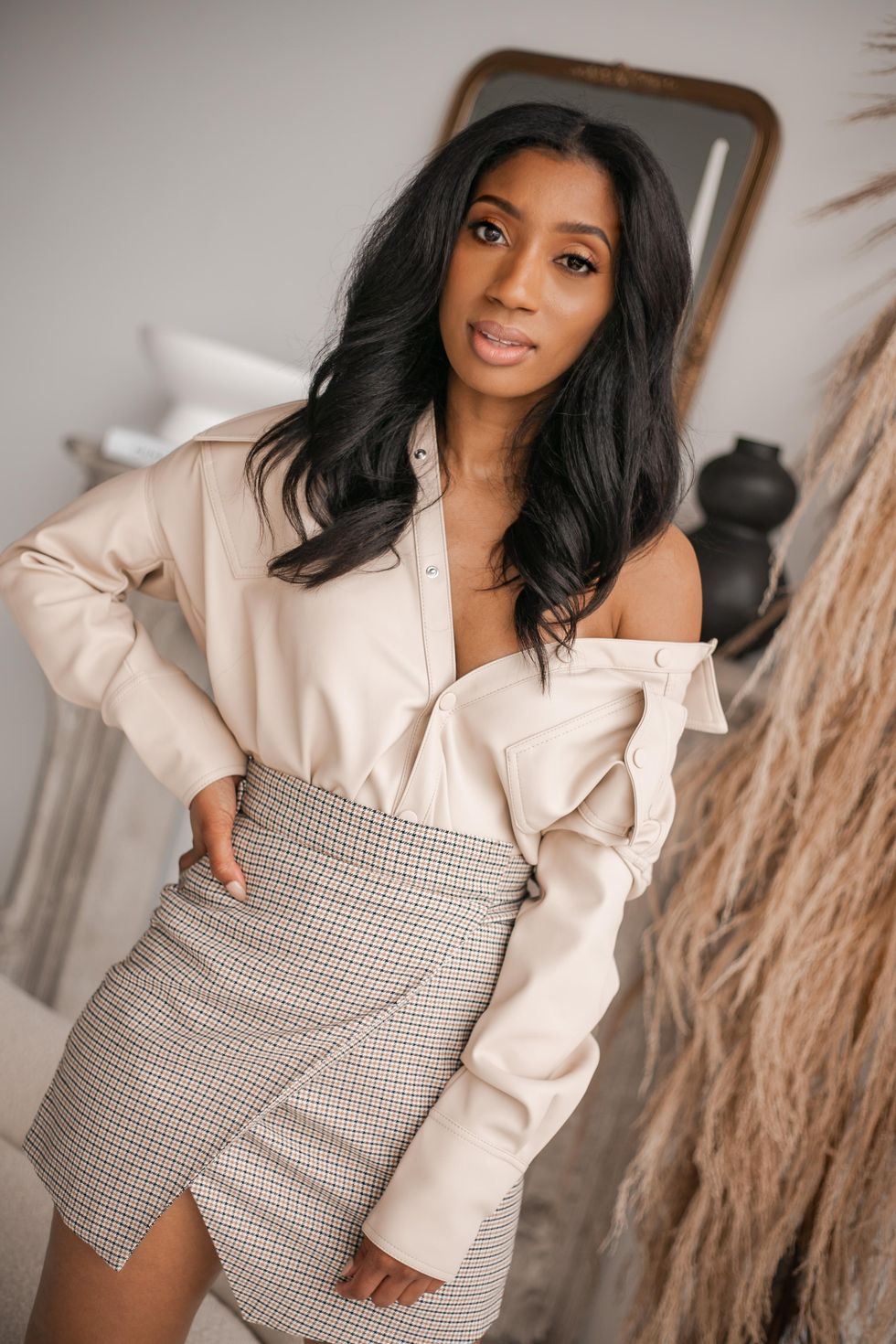 Photo Courtesy of Whitney Rene Osborne
Whitney is expecting her first child due in Feb 2021.
"My then-fiancé and I were still doing long-distance at the time we found out, so trying to coordinate travel and other things were extremely difficult and scary at the beginning of everything shutting down. Having to experience doctor's appointments alone or on FaceTime was also a little disappointing, but we eventually got used to it and made the best of it!
"I don't think the pandemic has reshaped my thoughts of pregnancy or motherhood since I haven't experienced it any other way. I've pretty much convinced myself this was the best time to be pregnant since everyone is missing out on things, not just the pregnant lady that can't drink or handle late nights! As far as motherhood, I will absolutely be more cautious and protective of my little one since the pandemic has made me even more of a germaphobe than I was before.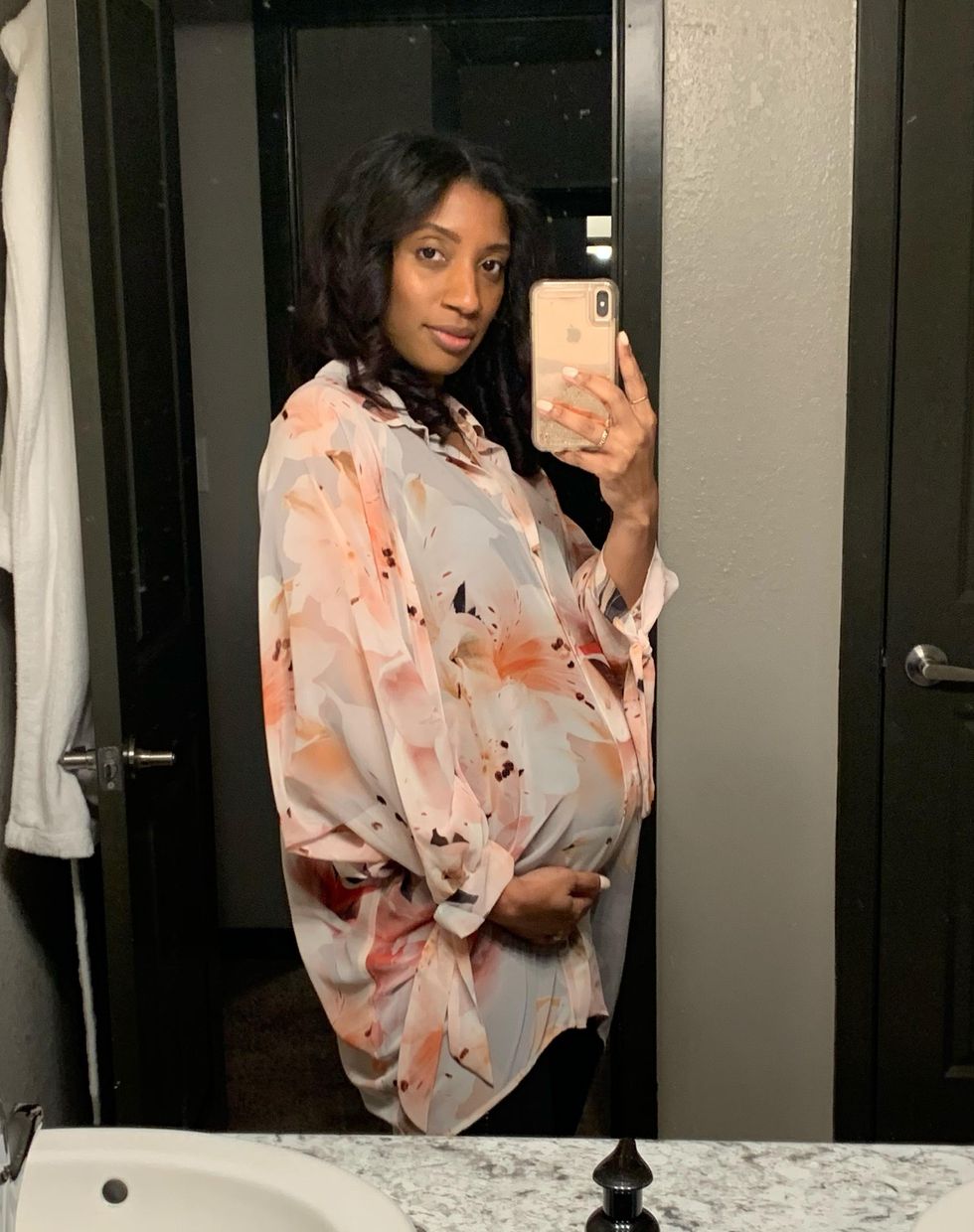 Photo Courtesy of Whitney Rene Osborne
"Even with the challenges we all are facing during the pandemic, I have been blessed to have a very healthy pregnancy. This has allowed me to focus my energy on creating a healthy foundation for my little bundle. Being a business owner, a wife, and soon-to-be mother, I feel like I am unlocking my superhero powers one at a time. It is overwhelming to think about what it truly means to carry my own legacy as I go through my day — a constant reminder of the power of womanhood."
Featured image courtesy of Diamond Nurse

Originally published on January 29, 2021
Keep reading...
Show less
If you have an Instagram page, then surely you've seen the growing number of black women getting into the plant game. Since we began quarantining due to the COVID-19 pandemic, the number of black women becoming plant moms has grown exponentially. Caring for plants has propelled itself far past its aesthetic roots, and instead the act of growing, cultivating, and watering something outside of ourselves has become a lifeline, a reminder of normalcy, and an act of self-care. From the Fiddle-leaf fig tree to Bird of Paradise, houseplants have become a reminder of how beautiful growth can be.
Still, for many, having plants was a passion long before we even heard of COVID-19. I reached out to some of these women, women I like to call OG plant moms. During our conversation, we discussed how they got into caring for plants, what plants they love, and tips and tricks for caring for plants just in case you need help like me. Here's the rundown.
Meet the Ladies
Antonia
Antonia, who is a teacher by day, not only cares for her two dogs, she also has over 60 plants. She runs a site called The Modern Plant Lady where she gives you the quick rundown and simple steps to care for your houseplants. Follow Antonia @themodernplantlady.
Chanel
Chanel Anice is a self-proclaimed plant mom, vibe cultivator and yogi. Chanel drops tons of tips and tricks on her Instagram page, so make sure you follow her @chanel.alamode.
Veronica
Veronica, who is known in the houseplant space as The Houseplant Therapist, uses plants for therapy. She's also the creator of #brownskinplantmama. Access a free plant buying guide here and follow her @brownskinplantmama.
How did you develop your green thumb?
Antonia: I developed my green thumb through lots of research and plant conversations with my mother. I spent many hours reading and learning about plants.
Chanel: Growing up, my mom always kept a ton of plants around the house. Like, a lot, even by my standards. But they were just always there so I never paid them much attention— until I bought my first plant (a snake plant) back in 2016. One plant became two, then three and my collection just slowly grew from there! I always say to start with something easy and low-maintenance to boost your confidence. From there, you really can learn a lot from YouTube University! There's a whole thriving plant community on there with a wealth of knowledge. I can be kind of intense and love learning about new things, so there was a period of time where I was literally watching hours of plant videos daily, just completely in awe of their magic!
Veronica: My mother is a master gardener and I grew up with a living room full of houseplants of all different types. There were so many plants you could barely see out of the front window! In addition to our indoor plant collection, we grew food in our outdoor garden. I would help my mother tend to our different fruits and vegetables at a young age, so I guess you could say that my ability to care for plants is an inherited gift that was passed down because, in addition to my mother, I come from a lineage of sharecroppers.
What plants do you find yourself gravitating towards?
Antonia: I find myself gravitating towards big ones! I get excited about anything that's big and green. I love tall plants and ones that spread out wide. I remember the first time I got my hands on a tall Fiddle-leaf fig (taller than me), I was ecstatic! I would walk into my living room and regularly gawk at it. To have something so beautiful in my home made me extremely happy.
Chanel: I have all sorts of plants in my collection, but I always find myself drawn to tropical plants— Monsteras, birds of paradise, ZZ plants, Rubber Plants. Those are a few of my favorites. They make such a bold statement with their striking leaves, and I really love that kind of boho, jungle vibe for my space. Tropical plants are the perfect way to add that flair.
Veronica: I absolutely love pothos and philodendron varieties. Each have their own uniqueness and I love that they can either climb or trail.
"Plants have become a form of self-care for me because they force me to slow down and give them attention. I check on my plants every Wednesday and Saturday. This means that no matter how crazy the week is, right in the middle of it all, I have to take time to check on every plant in my home and give it the care it needs. When Saturday rolls around after an exhausting week, waking up and tending to my plants provides me a sense of calmness and clarity."
How have plants become a form of self-care in your home, especially during these times of COVID-19?
Antonia: Plants have become a form of self-care for me because they force me to slow down and give them attention. I check on my plants every Wednesday and Saturday. This means that no matter how crazy the week is, right in the middle of it all, I have to take time to check on every plant in my home and give it the care it needs. When Saturday rolls around after an exhausting week, waking up and tending to my plants provides me a sense of calmness and clarity. It relaxes me and helps me decompress from the week.
Chanel: My plants have always been a form of self-care for me. They are natural mood-boosters and stress-reducers, which is one of the first things that I noticed when I first started taking care of plants a few years ago. With all the uncertainty in the world, it's so easy to get caught up in thinking about the past or worrying about the future, which is ultimately the root of a lot of the feelings of sadness, worry, and anxiety we might be experiencing. My plants keep me grounded in the moment because you really have to get still and pay attention to learn each plant and her unique needs. Putting that time and energy into taking care of my plants naturally translates into me taking better care of and being kinder to myself. Plus, the simple joy of seeing the plant you've been nurturing putting out a new leaf is like nothing else! All the amazing people and communities I've met through my plant journey have been an unexpected bonus. That sense of connectedness is something that a lot of us are missing while we're stuck at home.
"My plants keep me grounded in the moment because you really have to get still and pay attention to learn each plant and her unique needs. Putting that time and energy into taking care of my plants naturally translates into me taking better care of and being kinder to myself."
Veronica: I truly believe that plants can be used as therapeutic properties for mental emotional and spiritual healing. My sister died unexpectedly in February of 2018. I avoided going to grief therapy for a year and finally embarked on the journey after putting it off for an entire year. Having successfully gone through a year and one month of traditional talk therapy, I ended our relationship (it was amicable) and was met with the responsibility of continuing the hard work I had done over the last year. One week prior to the shutdown, I visited my local nursery to grab some new plants hoping that they would uplift my spirit from the late winter blues.
Little did I know that one trip would not only bring me back to my love for plants, but provide me with a healthy practice to continue my journey of self-love and healing after the intentional work with my therapist. I had lost myself completely when my sister died. I was in a very dark place and didn't have the will to care for myself or anything else (other than my daughter). It was all a divine connection the way plants saved me. Had I not selected the therapist that I did (who had plants all over her office which piqued my interest in them again), I would not have seen and experienced the healing properties of plants and I most certainly would not have a platform that is geared towards helping others find and understand that plant therapy is real! All of this happened unexpectedly during the pandemic as my next necessary pivot. I am humbled to be the vessel to do such divinely inspired empowerment work.
"I truly believe that plants can be used as therapeutic properties for mental emotional and spiritual healing... I had lost myself completely when my sister died. I was in a very dark place and didn't have the will to care for myself or anything else (other than my daughter). It was all a divine connection the way plants saved me."
Can you share any tips or tricks that you've learned on your plant journey?
Antonia: Reach out and connect with other plant parents and lovers. There's a wealth of knowledge in the plant community and most plant folks love to talk about plants and help others with their plants. Most plants get overwatered. Go under before over. If you're struggling with a plant, don't give up. Do some research, reach out to plant-loving people and keep trying. Don't be so quick to throw it out and get a new one. Getting to know a new plant takes time. The tips and tricks out there on the web are a great starting point, but sometimes it takes you figuring it out on your own as you get to know your plant. Be patient.
Chanel: It might sound obvious, but when it comes to keeping your plants happy, light and water are really the two most important factors. So, before you choose a plant, take some time to learn your space. Are there lots of trees or tall buildings outside of your window? What type of light does your space get? Watch how the light moves and changes in different rooms throughout the day. Pull out the compass app on your phone and figure out which direction your windows face— a north-facing window is going to get a lot less light than a south- or west-facing window. Then you can choose plants that will actually survive and thrive in your space. Next, I always recommend you get a moisture meter. They're only $12 on Amazon and they basically take all the guesswork out of watering.
Veronica: The most vital tip that I have learned and constantly share is that you must know the conditions of your living space first because going out to buy a ton of plants. If you don't have the environment for your plants to thrive, you will not be successful at keeping them alive. Knowing the lighting situation in your home is so important because it will lessen the headache that comes with trying to care for a plant in the ways it needs. Knowing the lighting situation in your space also allows you to find particular plants that thrive in that environment. Not doing so will cause many headaches down the line so let's avoid that before it becomes an issue (P.S. grow lights are helpful when you don't have the best lighting, but I wouldn't recommend them until one has some care experience under their belt).
Join our xoTribe, an exclusive community dedicated to YOU and your stories and all things xoNecole. Be a part of a growing community of women from all over the world who come together to uplift, inspire, and inform each other on all things related to the glow up.

Featured image by Look Studio/Shutterstock

Originally published August 20, 2020
Keep reading...
Show less