Love was in the air at Adele's One Night Only special. The British singer gave fans an event of a lifetime with an intimate concert at the Griffith Observatory in Los Angeles that premiered Sunday, Nov. 14 on CBS.
There were celebrities in attendance such as Lizzo, Oprah, Drake, Gabrielle Union and Dwyane Wade, and many more. And while the audience was there to enjoy the angelic sounds of Adele, little did they know that they would also get to witness the proposal of a lifetime.
Adele One Night Only - Surprise Proposal
The "Hello" singer stopped her show and announced what was going to take place. As the lights went down, a man, Quentin Brunson, and a woman, Ashleigh Mann, walked out in front of the audience.
Quentin guided his blindfolded girlfriend down a path as she questioned what her beau was up to. As she took the blindfold off, she was caught off guard after realizing she was surrounded by a sea of people looking at her and Quentin, who was on bended knee.
Quentin started off his speech by thanking her for being patient with him. "I'm extremely proud of you and every day, you blow my mind," he said. "There's absolutely nothing that you can not do and I just know that you're going to be an amazing mother to our kids one day and I love you."
There were waterworks as he continued to praise Ashleigh, and while she too was crying she asked, "Who are these people?" Which made everyone laugh. After a lot of "Oh my God's" from Ashleigh, Quentin was finally able to pop the question to which she replied, "yes."
After the audience broke out into applause, Adele came out on stage, and Ashleigh's expression was priceless. The singer instructed the couple to sit down and enjoy the show and as they sat down, Ashley realized she was sitting next to Lizzo and comedian Melissa McCarthy, shocking her even more.
Adele began performing her hit song "Make You Feel My Love," which she also dedicated to the lovely couple. Quentin and Ashleigh spoke about the heartwarming moment with Gayle King on CBS Mornings.
Couple of 7 years gets engaged at "Adele One Night Only" CBS special
As to how the proposal came about, Quentin said he answered an ad that was looking for couples to propose and he had a feeling that he and Ashleigh would get chosen.
"They didn't give me a lot of information for the good because it would have made me more nervous. So I found out about it being Adele maybe a couple of days before it happened and I did not know who was going to be there in the audience," he said.
In fact, Quentin avoided looking at the audience so he wouldn't be as nervous. As far as what was going through Ashleigh's mind when blindfolded, she said, "I honestly thought we were going to go on a hayride," she said. "I'd been talking about going to the pumpkin patch so I just assumed we were doing something cool like that, but I saw him down on one knee and Adele was standing there, and I was like, 'Am I alive? This could be a dream.'"
The couple also had to keep their engagement under wraps until the special premiered. Quentin and Ashleigh have been together for seven years, which Ashleigh hilariously mentioned during the proposal that that was a "long time."
Featured image via CBS Mornings
Keep reading...
Show less
Being an influencer started as a career that many didn't understand and some didn't respect. There were all kinds of questions and assumptions surrounding the industry like, "Don't they just take pictures?'' Or, "Can you really earn money from doing that?" But, oh how times have changed! Because babyyy, some of these influencers are bringing in dough! One of my personal favorites is JaLisa Vaughn-Jefferson, a Dallas-based lifestyle influencer and content creator who has taken the social media world by storm.
I came across her page randomly one day and was immediately drawn to her posts. Between the fashion, authentic voice, and her beautiful family, it's pretty easy to want to follow along. Something that stands out about JaLisa is that what you see is what you get. For example, when she was heavily promoting home decor, she was buying a house. And now as a new mom, she's working with a lot of baby brands. So whether the content is branded or not, it feels relatable, and always looks top-tier.
However, this wasn't always her plan. After graduating from college, JaLisa worked in IT for three years and influencing was simply a side hustle that she enjoyed. But the more she shared, the more her audience grew. She told AfroTech:
"After work hours, I would drive to the city, do my shoots, write blog posts and all that stuff. It got to a point where I was making more from those after-hours than I was at my corporate job."
Still, when she decided to leave the position many of her friends and family thought she had made a huge mistake. In fact, she only made $50 on her first branded post.
"When I put a real strategy [behind myself] and started providing value to my audience, that's when things started to monopolize and I set myself up as a brand. I think a lot of people think if you have a lot of followers, then brands will just start reaching out. But you need to be the full package and market yourself [to make real money]."
The energy is a bit different now! So much so that last year Jalisa tweeted, "A mill in brand deals next year. Mark my words and remember this tweet." Well, cue, Lil Wayne's "A Milli" because, earlier this week it became a reality. JaLisa announced via Instagram that she is now a part of the seven-figure club saying:
"Mood when you wake up and realize you hit your $1M brand goal and still have Q4 to go. God I thank YOU."
As she shared in her interview with AfroTech, JaLisa has been able to make the bulk of her income through brand deals, with the remaining 10-15 percent coming from a combination of YouTube and affiliate links. In addition to her consistency and hard work, JaLisa also attributes a great deal of success to her team. Whereas sometimes creatives naturally try to perfect every element of the process, she decided to do things differently, find people who were good in the respective areas, and work as a unit.
Thanks to faith, consistency, and a bomb team, a dream became a million-dollar reality!
Read more about how JaLisa secures the bag on AfroTech here.
Featured image via JaLisa Vaughn-Jefferson/Instagram
Keep reading...
Show less
I was always content with the shape of my body. I never really had major weight issues either. I inherited my small bone structure and my small frame from my mom. I guess you can say I have those good Caribbean genes. I have long arms, long legs, and a short torso. But I also carry my weight well. So, when I gain or lose weight, the distribution of weight is evenly proportioned. At 36, I'm fully grown. I stand 5'4", a DD+, and I don't know where all this ass came from. Now I have a butt I never used to have.

I can't complain. I'm hella thick for my height and frame. But this wasn't always the case. I mean, I was always just skinny. I have always had full breasts, but I also have small, straight, narrow hips. Like, there is no curve to my hips at all.
I used to jokingly say I inherited my Indian side of the family. In my 20s, I was obsessed with wanting perfectly round hips. No matter how many squats, hip adductors, or side leg raises I did, I couldn't achieve what I saw on reality TV or social media.
For reference, I used to be a little obsessive over the Kardashians, Draya Michele, IG models, or fitness influencers. I wanted that hourglass figure that all the Kardashian sisters had.
Slim waist and perfectly curved hips—I wanted that. But it wasn't until recently that I realized this could never be. It's not scientifically possible. Why? Because of the way my hip bones are structured. Skinny or thick, I've accepted that I'm always going to have hip dips.
I can't change my bone structure or how my hips look unless I opt for plastic surgery or Photoshop the hell out of my photos. But none of that is realistic to me, and I do not want to portray an image that doesn't align with what I believe in. However, this is what we see on social media every day.
Our social media feeds are flooded with edited and enhanced faces and bodies.
Self-Image and Social Media
There is no question that social media affects our self-image. Women continuously hurt their body images by constant comparison, Photoshop, filters, and browsing through hashtags like "fitspo." It's like our brain doesn't realize we're comparing ourselves to images that are not 100 percent real. This behavior ultimately leads to disappointment by creating unrealistic ideals for ourselves.
I think this Time magazine article said it best: "If the Internet has been called a great democratizer, perhaps what social media has done is let anyone enter the beauty pageant." The same article points out that when we edit photos to attract positive attention, we create a false sense of control. This leads to a disconnect between perception and reality. We might feel one way about ourselves in real life and feel another about our online persona.

We set ourselves up in trying to achieve these expectations and then stress ourselves out when we cannot meet them.
Does anyone see how unhealthy this is? Because I do. There isn't supposed to be a disconnect between who we are in real life and online.

What The Studies Show
According to an article by Insider, research shows the more time we spend on social media, the worse we feel about our bodies. In 2018, one study found a correlation between time spent on social media, negative body image, and eating disorders. And a stronger correlation was found if the participant was scrolling through appearance-related content.
In a study conducted by a health institution, the Florida House Experience, 87 percent of women compare their bodies to images on social and traditional media.
In the same study, 50 percent of women considered their bodies unfavorable. Social media can also affect pre-existing mental health conditions like anxiety and depression. So, if you already struggle with self-image and body dissatisfaction, social media can trigger or exacerbate these issues.
Forbes interviewed Jennifer Henry, a counselor at Maryville University, who stated:
"Increasing awareness of how we look and specifically, how to obtain the 'best' angle, pose, lighting, filter for social media. It's not unusual to see really young girls posing for pictures doing the 'skinny arm' pose or the 'duck face,' instead of just goofing around and having fun. We are missing out on actual experiences by focusing on how to get the best picture of it for our social media pages."
Where is the lie?
I'll admit it. Like many other women, I let social media get the best of me by comparing my body to altered photos of models, celebrities, and the bodies of fitness influencers. I know the feelings associated with this all too well. Frustration, stress, and self-doubt. I too was obsessed with the notion of "If I did this or that, I could achieve this body type," damn well knowing social media standards are not realistic by any means. This is partly why I'm on social media break now. I got tired of paying attention to other people's bodies and lives when I should be embracing my own body and pouring into my own life. And now, I'm just focused on loving my natural self and making healthy improvements where I can.
When it comes to learning to embrace your natural self, social media—more so Instagram—is not a standard you want to compare yourself to.
Compare yourself to the person you are today, yesterday, and the day before that. She is who you are trying to impress.
Your standard of beauty lies within yourself.
Featured image via Getty Images
Keep reading...
Show less
Steph and his wife Ayesha Curry are one of those couples that you just love to love. They do mostly everything right and try not to get swept up in the trenches of fame. They are grounded and keep their morals close by as they attempt to put their influence toward the good of the culture and for the good of the world.
In fact, one of the things that I love most about them is that they often try to do all of the above in new and creative ways. For example, Steph Curry is one of the loudest sponsors for the Howard University Collegiate Golf team. And because we know that golf isn't as prevalent in the Black community as a sport such as basketball, this is what I mean when I say they find new and creative ways to be involved.
They find the holes and seek resolutions.

This is especially true in their latest efforts: the effort to eliminate food deserts in Oakland. And they're doing so with a loud and colorful school bus.
The 'Eat. Learn. Play. Bus' is a hot pink, pale blue and yellowish gold mobile bus that will roll through the streets of Oakland, in an effort to do much more than the old school ice cream trucks that we know from back in the day. Instead, this bus will feed, teach, energize and engage Black children (and other youths of color) in Oakland's stressed communities. Ayesha opened up about the vision saying:
"This idea came basically from me wanting to find a way to eradicate food deserts within the Oakland area. At first, the idea was around, 'How can we find locations where people can come and pick up fresh produce and other things for their families?' Logistically, especially with Covid, that idea started to seem far-fetched."
From here, according to reports, CEO of Eat. Learn. Play. suggested a bus and the rest goes down in we-gotta-look-after-our-communities history. Cruising Kitchens was solicited to convert the bus, and Oakland mural artists Illuminaries created the visuals on the bus that include Ayesha Curry cooking, Stephen Curry shooting a basketball, local landmarks like the San Francisco-Oakland Bay Bridge and more. So awesome!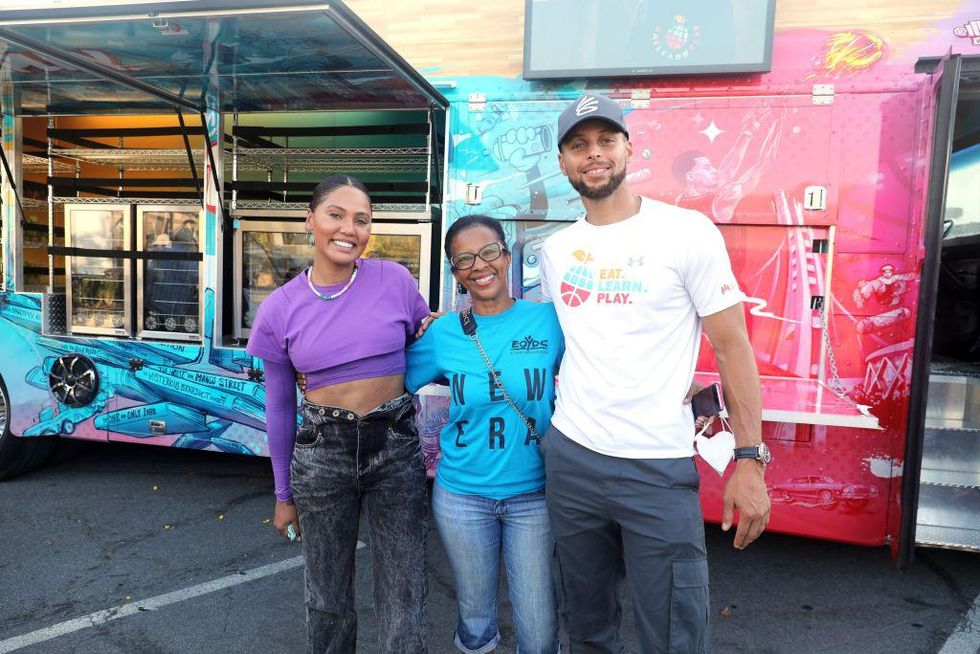 Kelly Sullivan/Getty Images for Eat. Learn. Play.
One side will function as a food truck or mobile pantry to provide the community with free hot food and fresh produce to children and families. The other side is a stacked library, packed with books and ways to engage all, which is the Currys way of staying on top of Oakland's troubling literacy rate (Black children in Oakland are four times more likely to be reading many years below their grade level in comparison to white students #whew). The bus also houses flat-screen TVs, a sound system to get the kids pumped, and a bus rooftop area that can hold up to 35 children. Of the schedule, Steph says it will travel randomly to schools, community centers, and churches.
"We want mystique about it. So it may show up anywhere, take on a life of its own and has the capabilities to host an event anywhere."
Ayesha added:
"And I know a guy who plays basketball, so we added a basketball hoop for the play pillar. It turned into this bigger-than-life idea. It's not the teacher's fault. It's not the parents' fault. It's a community issue. Let's get together, give this model a try and see if we can create some excitement around reading. If we can all join together and try to fix the issue together and turn these numbers around, then I think we're doing something right."
Adore these two! Be sure to be on the lookout, Oakland!
Are you a member of our insiders squad? Join us in the xoTribe Members Community today!

Featured image by Kelly Sullivan/Getty Images for Eat. Learn. Play.
Keep reading...
Show less
It was 48 years ago when the Supreme Court of the United States (SCOTUS) issued a 7-2 decision in the case of Roe v. Wade. This single case granted women in the United States the fundamental right to choose whether or not to have abortions without excessive government restriction. And it was four months ago when Texas state Governor Greg Abbott signed a bill into law that makes abortion procedures illegal six weeks into a pregnancy. Thus, making it one of the nation's strictest abortion measures.
How? Most women don't even know they are pregnant at six weeks.
At the bill signing ceremony, Governor Abbott stated:
"Our creator endowed us with the right to life and yet millions of children lose their right to life every year because of abortion."
​And recently, SCOTUS ruled in support of the Texas abortion ban.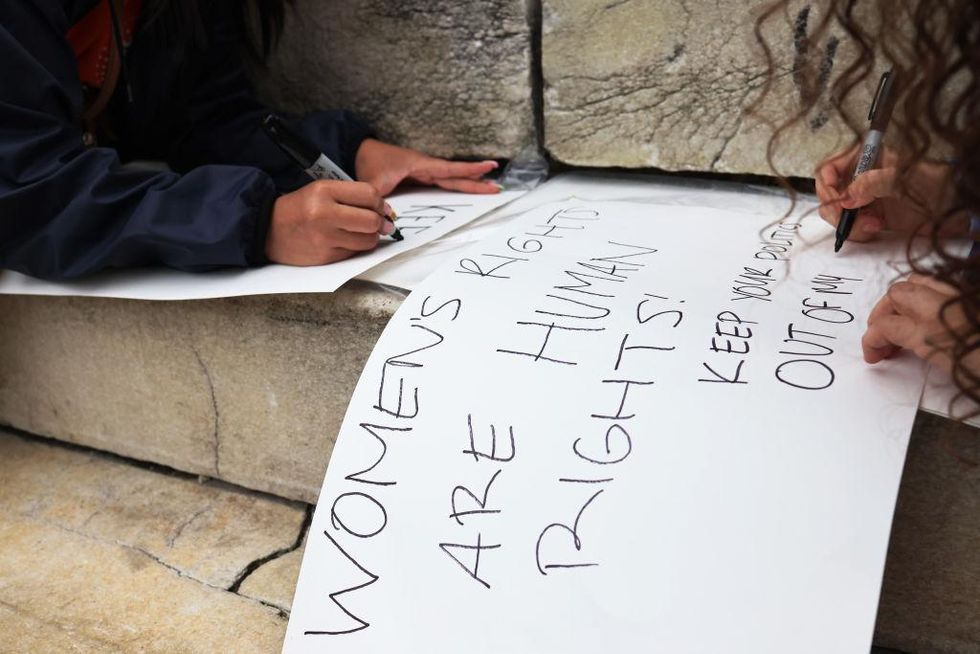 Michael M. Santiago/Getty Images
The Supreme Court justices once ruled Texas abortion bans as unconstitutional and now, they have ruled Texas's newest abortion ban as constitutional. If this doesn't scream contradictory, I don't know what does. I want to clarify that abortion is not illegal in the state of Texas nor is it illegal nationwide. But abortion is becoming less accessible.

Other states can regulate and limit the use of abortion. States with "trigger laws" or unenforced pre-Roe abortion bans written into their laws include Arkansas, Idaho, Kentucky, Louisiana, Mississippi, Missouri, North Dakota, South Dakota, Tennessee, and Utah. If Roe v. Wade was overturned, these laws can take immediate effect, making abortion illegal within the first and second trimesters.
What is even scarier is the Supreme Court is scheduled to consider the constitutionality of abortion in the case of Dobbs v. Jackson Women's Health Organization. This case concerns a Mississippi law that bans nearly all abortions after 15 weeks of pregnancy. This same case can ultimately upend Roe v. Wade, leaving abortion rights unprotected in 34 states and five U.S. territories.
What The Texas Abortion Ban Means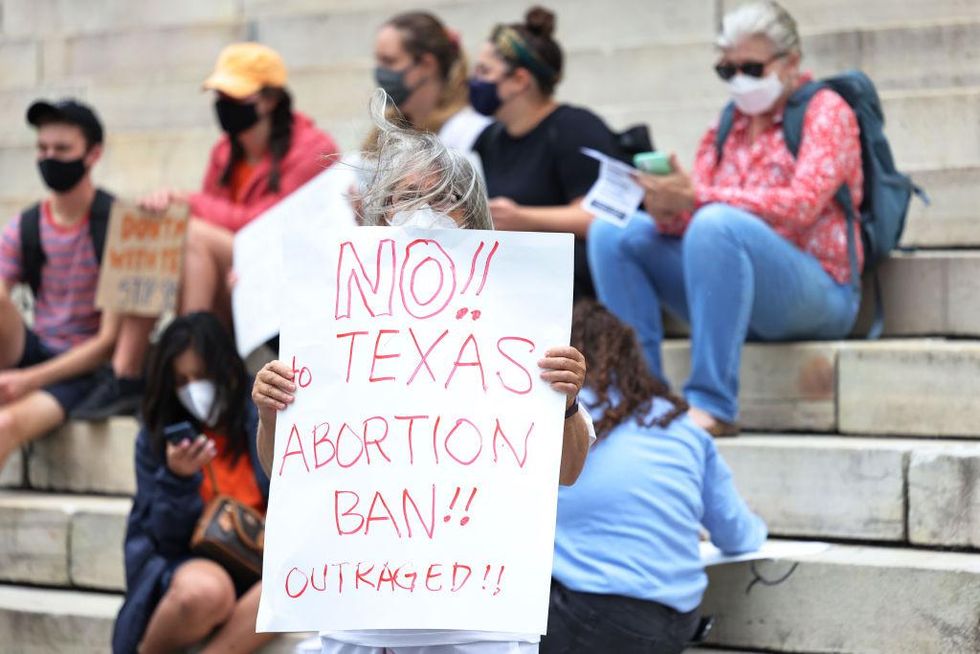 The Texas abortion ban, also known as Senate Bill 8, almost prohibits abortion completely, as 85 to 90 percent of abortions happen at the sixth week of pregnancy in Texas. The law states if a doctor can detect a heartbeat, then they cannot perform an abortion. The only exception is for women with medical emergencies. However, Whole Woman's Health, a clinic in Texas reports 90 percent of women who come into their clinic are more than six weeks into their pregnancy. This also means that a woman has six weeks from the first day of their last period to end their pregnancy. This leaves women with at least one to two weeks to make a difficult and emotional life decision. But we all know biology doesn't work that way.
What is different about this specific law is the way it is structured. It was designed to make it difficult to fight abortion cases in court. It also incentivizes abortion providers to comply with the law. According to the Texas Tribune, Senate Bill 8 relieves the government from enforcing the law and allows private citizens to sue abortion providers or anyone who helps someone get an abortion after a fetal "heartbeat" has been detected.
And here is the plot twist: the law doesn't require the person suing to be someone who is connected to the person who had the abortion or connected to the provider. So, basically, anyone who is anti-abortion can sue anyone who is in support of abortion.
Yes. You read that correctly.
Because of the broad language of the bill, family members, abortion funds, rape crisis counselors and medical professionals could be open to a lawsuit. What this also means if an abortion case is brought to court, and a judge sided with the plaintiff (the person suing), he or she would be awarded at least $10,000 and costs for attorney's fees. While Senate Bill 8 doesn't allow rapists to sue, it shows no mercy to victims of rape or incest.
Women who are victims of rape, sexual assault, and/or incest are equally subjected to this law too. But the problem is most women do not report rape or any type of sexual violence when it happens.
In an interview with CNN's Anderson Cooper, Senator Alexandria Ocasio-Cortez responded to Abbot's comments about eliminating rapists and allowing women reasonable time to get an abortion.
"I'm sorry we have to break down Biology 101 on national television, but in case no one has informed him before in his life, six weeks pregnant means two weeks late for your period. And two weeks late on your period ... can happen if you're stressed, if your diet changes, or for really no reason at all. So, you don't have six weeks."
The Texas abortion ban would also require doctors that are sued to report the lawsuit upon renewal of their medical licenses. And 24 hours before the law went into effect in Texas, patients were waiting five to six hours to have their procedures done at one of the Whole Woman's Health Texas locations.
The Supreme Court's Decision
We should all be able to make our own decisions about our health & future. We have to fight for everyone's reproductive freedom. Join me in standing with the women of Texas, sign the petition https://t.co/7A7e6TokUw #BanOffOurBodies pic.twitter.com/kNLkXksdW5

— kerry washington (@kerrywashington) September 1, 2021
The New York Times reports the Supreme Court's decision resulted from a 5-4 split vote. In the 12-page Supreme Court opinion, it states the application for injunctive relief is denied.
"

The applicants now before us have raised serious questions regarding the constitutionality of the Texas law at issues. But their application also presents complex and novel questions antecedent procedural questions on which they have not carried their burden."
The written opinion goes onto explain:
"

And it is unclear whether the named defendants in this lawsuit can or will seek to enforce Texas law against the applicants in a manner that might permit our intervention. The state has represented that neither it nor its executive employees possess the authority to enforce the Texas law either directly or indirectly. Nor is it clear whether, under existing precedent, this Court can issue an injunction against state judge asked to decide a lawsuit under Texas's law."
Translation? It means that the case brought before the Supreme Court did not strongly meet the burden requirement so that SCOTUS can intervene.
The dissenting justices also filed opinions. Justice Sonia Sotomayor wrote, "The court's order is stunning. The court has rewarded the state's effort to delay federal review of a plainly unconstitutional statute, enacted in disregard of the court's precedents, through procedural entanglements of the state's own creation." Justice Sotomayor further stated, "The court should not be so content to ignore its constitutional obligations to protect not only the rights of women but also the sanctity of its precedents and of the rule of law."
Chief Justice Roberts wrote, "The statutory scheme before the court is not only unusual but unprecedented. The legislature has imposed a prohibition on abortions after roughly six weeks, and then essentially delegated enforcement of that prohibition to the populace at large. The desired consequence appears to be to insulate the state from responsibility for implementing and enforcing the regulatory regime."
Chief Justice Roberts did not deny the constitutionality of the Texas law either. He explains, "Although the court denies the applicants' request for emergency relief today, the court's order is emphatic in making clear that it cannot be understood as sustaining the constitutionality of the law at issue."
Justice Elena Kagan points out that the court's practice of deciding important issues in rushed decisions is problematic. She states that the court's shadow docket decision-making is "unreasoned, inconsistent, and impossible to defend." For context, shadow docket decision-making is when the court believes an applicant will suffer "irreparable harm" if the request is not immediately granted. This means decisions are at least a paragraph long, unsigned, and without a full briefing or oral arguments.
Can you imagine a court deciding an issue without hearing oral arguments? Because I cannot, but it does happen.
On a positive note, the Supreme Court's ruling is provisional.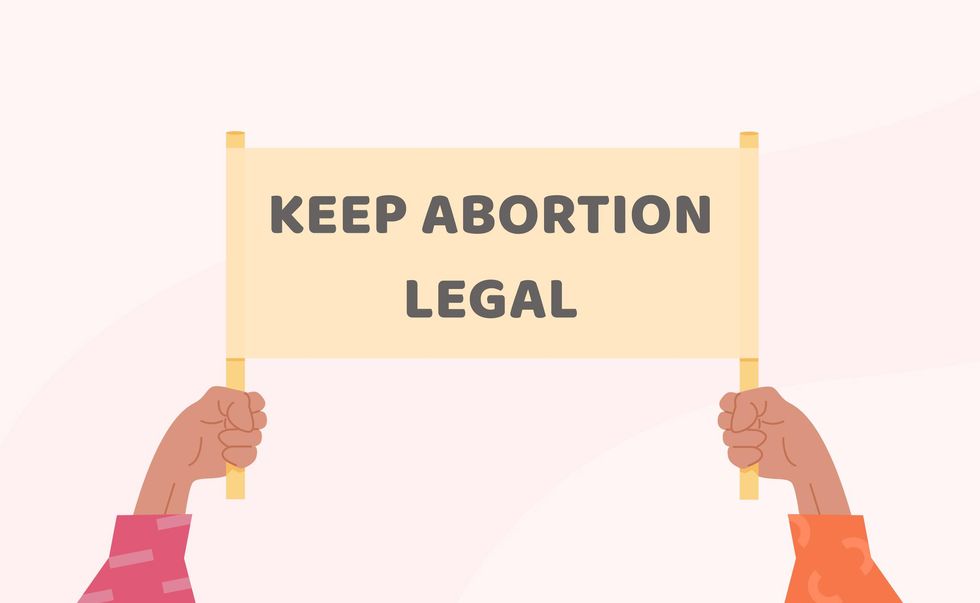 Getty Images
According to the New York Times, challenges to the new Texas law is pending in the lower federal courts and they are able to work through complex issues of the case. I find it interesting that a 1973 abortion case that protected our abortion rights originated from Texas. Now a 2021 Texas abortion case limits access to abortion. And soon a Mississippi abortion case may overturn the same landmark case.

I asked a friend of mine, a local prosecutor, who wants to remain anonymous, their thoughts on the Texas abortion ban. This is what they had to say, "It's mean-spirited nonsense that should be found unconstitutional." My friend wasn't too sure on the procedural questions that the Supreme Court decided on, but agrees that their recent decision "definitely violates their precedent."
I have so many words, yet no words at all. Throughout our country's history, women have fought for their rights in multiple systems, industries, and spaces. We have fought for equality and our voices to be heard. And now in 2021, we are still being told what we can and cannot do with our bodies not only by men but by a system that does not understand the biology of a woman's body or respect a woman's bodily autonomy.
In the words of Tupac Shakur, "Since a man can't make one, he has no right to tell a woman when and where to create one."
Featured image by Getty Images

Keep reading...
Show less
As a Black child growing up in America, Blackness can look like many different perspectives based on different locations. Oftentimes, cultural conversations are had in separate rooms with only one culture in the room – making it very easy to see Blackness subconsciously as a monolith. I'm from Brooklyn, NYC, the home of the second-largest Afro-Caribbean migrated community in America, second to Florida, according to the Migration Information Source. So as a child, the first massively Black population I was exposed to was the Afro-Caribbean community.
Then, I moved during the middle of middle school to a predominantly white neighborhood in P.A., and it was a complete culture shock. I immediately felt out of place and missing referencing Caribbean cultural topics with my friends back home. In high school, my family moved to a mixed neighborhood, and it exposed me to other types of Blackness, Afro-Latinas, Black Americans, Africans, etc. It wasn't until after college that I thought to myself, wow, I really only know one Black community in-depth, and that's the Afro-Caribbean culture because of how I was raised and moving back to Brooklyn, and it's still my main friend group.
Looking back to what I learned in my history classes, there was very little information given regarding Black history, that's only taught about 8-9% of the school year. So, 1) we're robbed about learning about majority Black American pioneers; and 2) Black immigrants' stories are often misrepresented from Black media and literature, which leaves our learning about each other through who we grew up around, self-educating ourselves, and traveling, which is another luxury in itself.
For way too long, we have been learning about every aspect of whiteness, from Italian, French, British, Germans, etc., and they are all allowed to take up space and be celebrated as separate white cultures globally. But when it comes to Blackness, we're often looked at as homogeneous and robbed the access to all those resources and tend to go off of stereotypes of each other or comparing struggles of each other's journey.
So let's be open to healing from these stereotypes and learn about our actual cultural journeys. Take a look at some of the resources below to be more informed about the collective Black women experience through the lens of various Black cultures like Black American, African, Afro-Caribbean, Afro-Latinas, Bi-racial black women, and transracial Black women experiences.
How To Learn More About The Afro-Caribbean Experience In America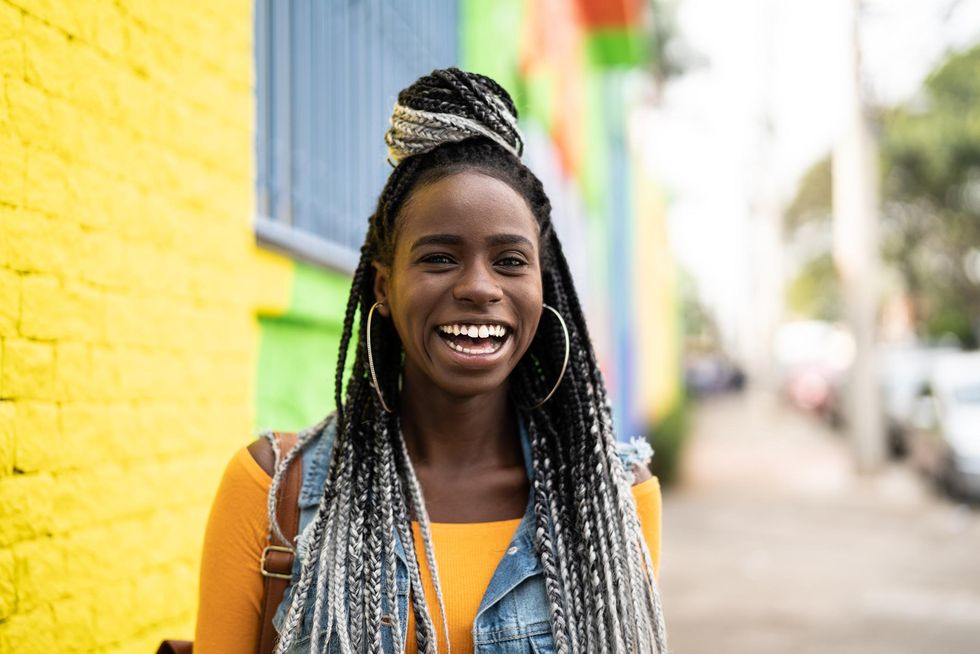 Getty Images
The Afro-Caribbean community in America started increasing in the 1960s throughout the country. Many immigrants moved here thinking the "American dream" is accessible to everyone, when in reality, it's just a scam. Back in the 60s- 90s, it wasn't cool to be from the Caribbean; they were often told to go back on their banana boats to their countries because, in Black Americans' eyes, they were robbing their opportunities, but that was never their goal. They fled from their home countries that didn't face many racist issues but faced classism and economic issues.
Unfortunately, many people weren't educated enough regarding how the Black American community was treated at the time; Afro-Caribbeans heard stories of how intense segregation and Jim Crow Laws were, but hearing about it and living it are two different experiences. Like many immigrant communities, they tend to flee from their countries to spaces that many other people from their communities are, so some of the biggest Caribbean communities in the States are in Florida, NYC, and Atlanta, but they are also sprinkled throughout the nation as well.
Some books to read to familiarize yourself with the Afro-Caribbean experience in America are Black Ethnics: Race, Immigration, and the Pursuit of the American Dream by Christina M. Greer and Black Identities: West Indian Immigrant Dreams and American Realities by Mary C. Waters. You can also check out a phenomenal documentary series called Small Axe, directed by Steve McQueen, based on the initial migrating Afro-Caribbean community in the U.K. called "Windrush generation."
How To Learn More About The Black American Experience In America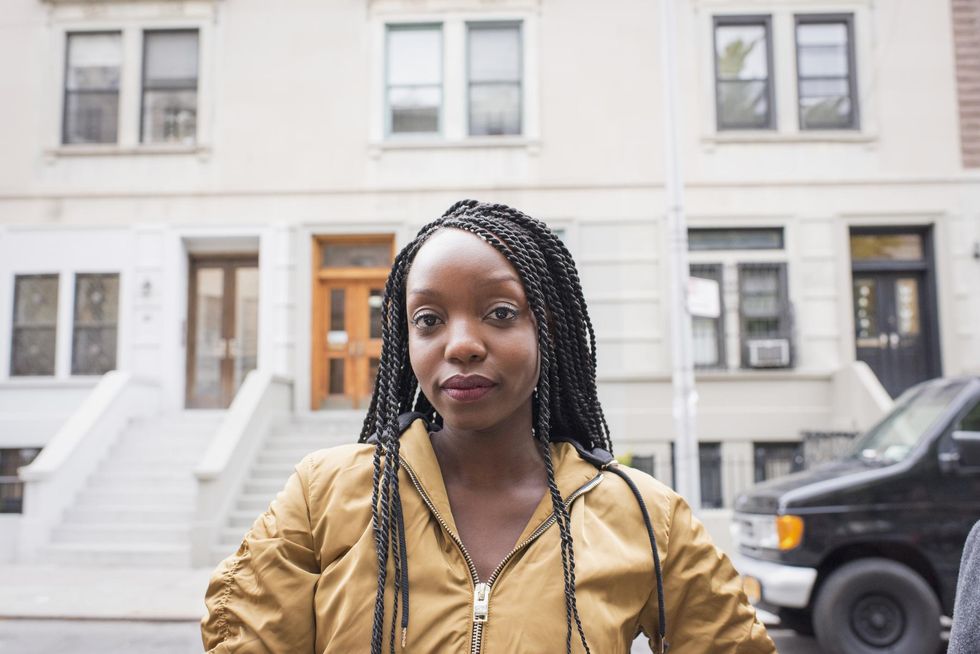 Getty Images
You would think learning about the Black American experience is easy because they are the dominant Black community in America. However, we live in a timeframe where Black culture is celebrated more than Black history. And often, Black history is ostracized from American history, so it's harder to access it if you aren't self-learning.
The community that deserves the most flowers for paving the way for all Black people in America is Black Americans – for all the doors they've opened thus far.
I think it's essential to read some older books based on the Black American experience from the past few decades prior to be more effective with combating issues in the present. Frequently, patterns of oppression repeat themselves but through new ways in a different generation.
Some of my recommendations for every Black person to read is The Autobiography of Malcolm X, written by Malcolm X, and Ain't I a Woman: Black Women and Feminism by Bell Hooks, which is an informative read about the history of Black feminism in America. There are countless recommendations regarding the modern-day Black experience, like Between the World and Me by Ta-Nehisi Coates and The New Jim Crow by Michelle Alexander. The latter thoroughly explains today's modern-day slavery in the nation's mass incarnation system that disproportionally targets Black men.
How To Learn More About The Afro-Latina Experience In America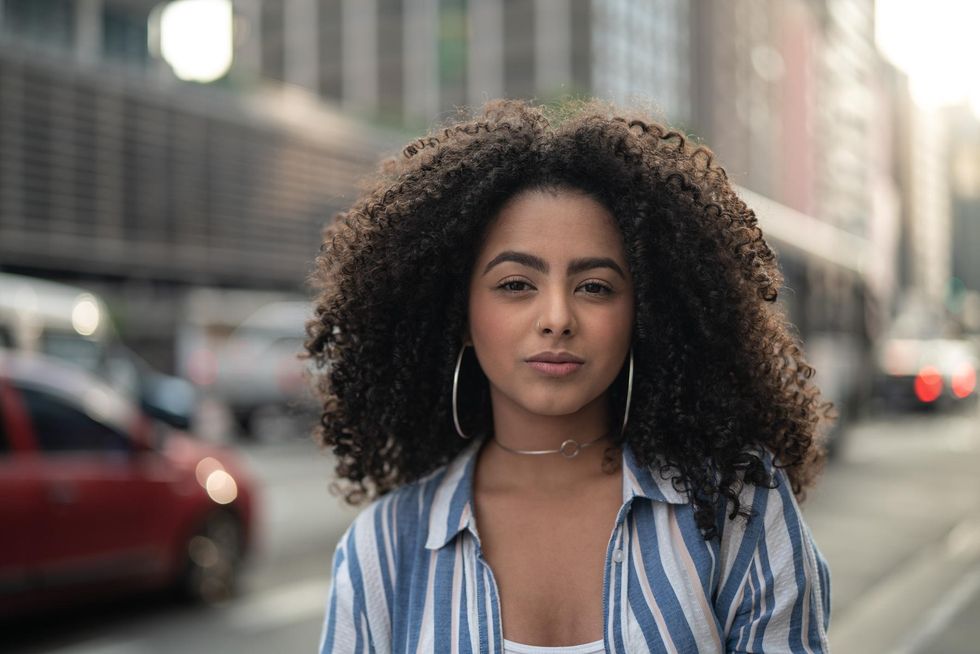 Getty Images
The Afro-Latina experience feels like such a new age sub-culture of Blackness because for so long, I just heard several Latinas say they were just 'Latina' as if it's a race, or they would say they are Black, but they just speak Spanish based on where they come from. But the truth is, Afro-Latinos collectively have existed for generations. According to Pew Research Center, "for a long time, several Latin countries didn't collect official statistics on ethnicity or race, especially from populations with African origins." It was only within the last few years it's been recorded because of the high demand of minority groups requesting it. This means that many people aren't fully aware of their racial background from those countries.
Afro-Latinas, like Haitians, have another layer of an intersectional Black experience in America because their first language is Spanish, French, or Portuguese. Anyone coming from Hispanic countries, inclusive of the Caribbean, Central America, South America, that comes from African descent are Afro-Latinos. Their race is Black, and their ethnicity is Latinx.
An educational documentary series I watched recently called Black in Latin America opened my eyes to the lineage and discrimination of Afro-Latino communities in Cuba, Mexico, Peru, Dominican Republic, and Brazil. And a great read to get acquainted with to learn more about the Afro-Latina experience in America is The Afro-Latin@ Reader: History and Culture in the United States by Miriam Jiménez Román.
How To Learn More About The African Woman Experience In America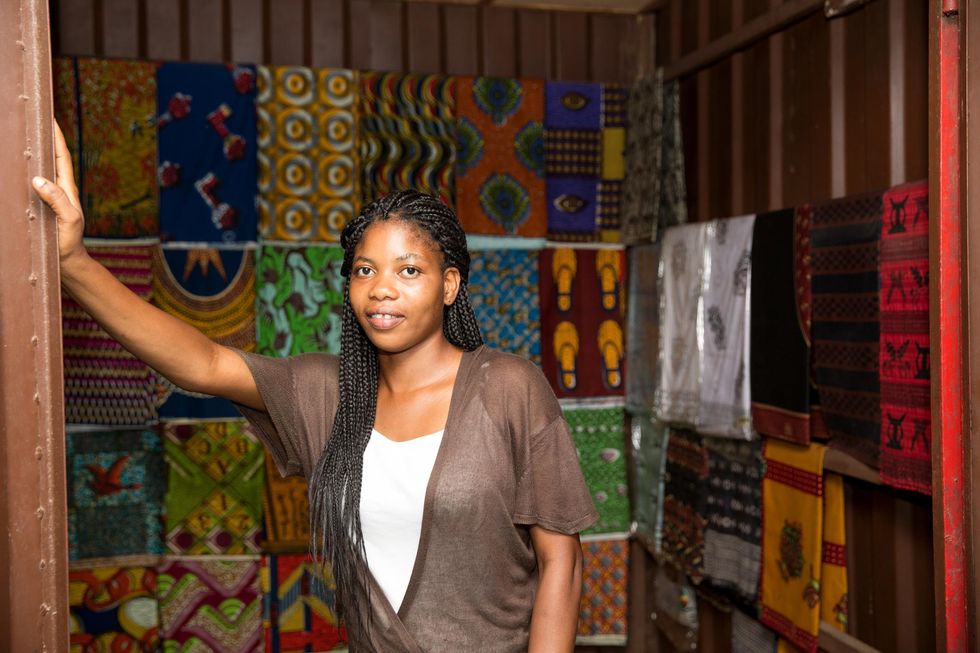 Getty Images
African women are a unique group of Blackness because they aren't included in the Black diaspora because they come from the motherland. So to all my African-American sistas, you aren't the only ones that don't know where you come from. Afro-Caribbeans and Afro-Latinas also don't know our full roots because we were brought to these western countries based on colonization and slavery.
Don't let our new flags, foods, and cultures fool you; we have always been digging to learn about our African roots too.
They also come from predominantly Black countries that are more fixated on classism and don't deal with as many racist issues as Afro-Caribbean countries. Africans have another intersectional Black experience to deal with in America; many of them speak languages other than English as their native language, like Igbo, Hausa, Oromo, Yoruba, Portuguese, Francophone Africa, etc. An enlightening read to start with is Voices of African Immigrants of Kentucky: Migration, Identity, and Transnationilty by Francis Musoni, Iddah Otieno, and Angene Wilson.
How To Learn The Black Bi-Racial Woman Experience In America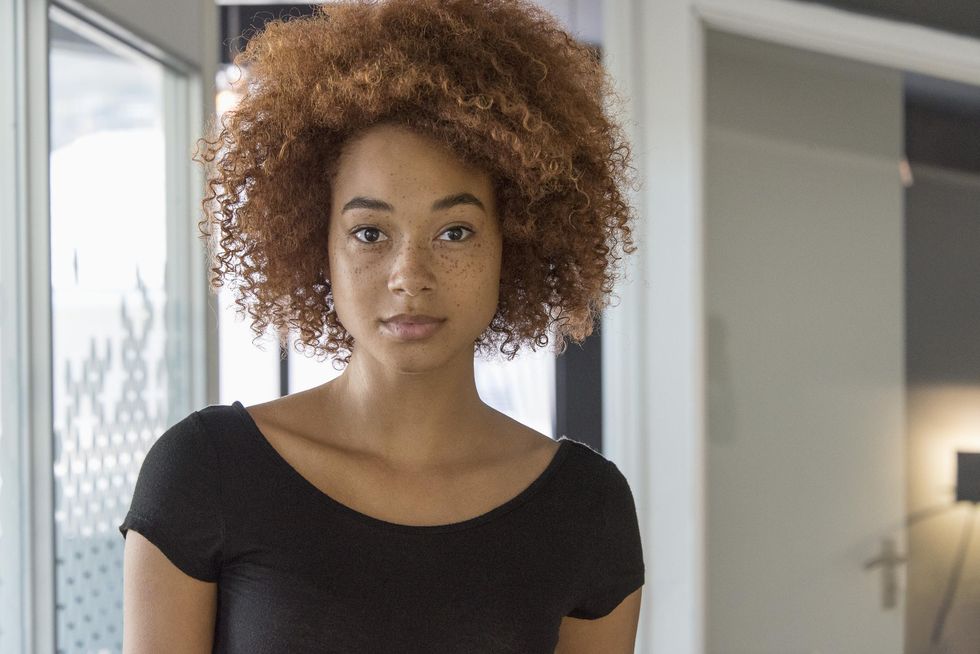 Getty Images
Being a Black Bi-Racial woman in America is a subjective experience based on how you were raised, if both partners were in your life, and what race you look more like. Black bi-racial women are perceived and treated very differently in society based on how dark or light their complexion is, as well as what their hair and facial features like. What could be perceived as two people from different backgrounds in a loving relationship and having a child in the world brings forth a range of conflicting issues to deal with once this child is born.
Most individuals in the world aren't mixed, and they often want their child to choose their race more than their partner's race. I've been there myself because I'm a bi-racial Black woman, that has always identified as more Black based on how I was raised, the parent I was closest to, and what I look like more. But my experience isn't apples to apples with other bi-racial black women that may look less Black or identifies more with her non-Black side.
Then, there is the you're never Black enough to lead the protest, or you can't speak to the Black women experience because you're not "fully" black conversation. And there is a long list of bothersome fetishes as if we chose our racial ethnicities or our existence is some hip trend. Overall most bi-racial people never feel like they truly fit, and we're interrogated of whether or not we are being Black enough or enough of our other race. An informative read exploring the Black bi-racial journey is Half and Half: Writers on Growing Up Biracial and Bicultural by Claudine Chiawei O'Hearn. You can also check out this documentary called Armor: Biracial in the Deep Douth directed by Sarah Gambles.
How To Learn More About The Transracial Adopted Black Woman Experience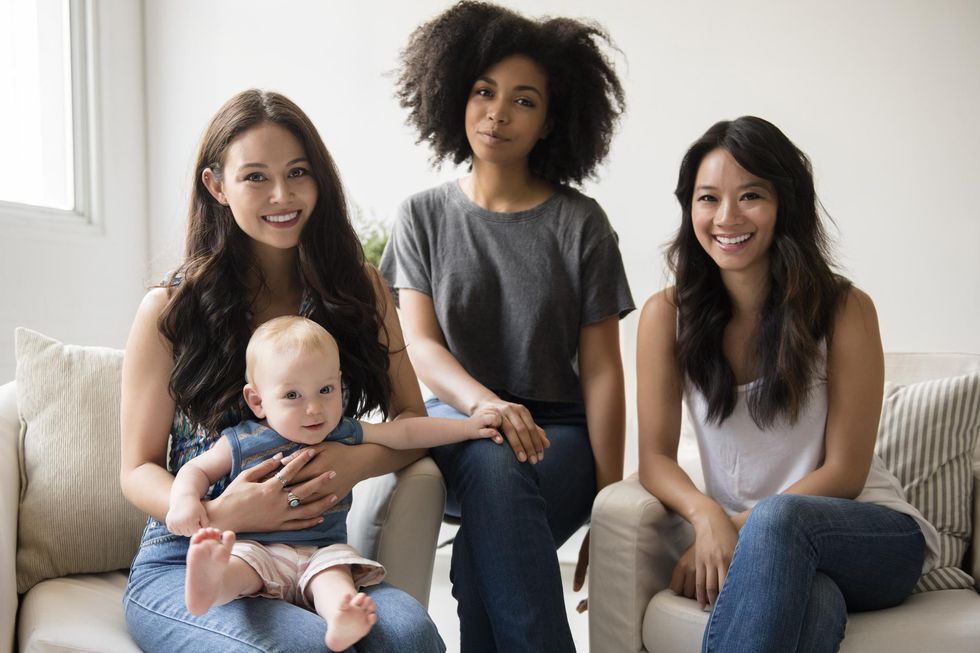 Getty Images
Transracial adopted Black women are Black women that are adopted by non-Black families. This experience isn't often spoken of in-depth, and it was brought to my attention when I listened to an episode on the Therapy for Black Girls podcast where Dr. Joy Bradford interviewed Judith Sadora about the transracial adoption process. People often see adoption as something to be grateful for, but it's more responsibility to adopt a child outside of your race. It becomes the adopted parents' responsibility to teach and provide resources for their children based on how the world sees them and is going to treat them.
However, many people aren't aware of the additional responsibility and just raise them as their race. And because of that, transracial adoptees often grow up with a lot of identity issues, having no biological parents to reference for things that speak to their direct racial issues.
Some good resources to inform yourself about this particular journey are tuning into the bonus episode of Therapy for Black Girls podcast interviewing transracial adoptee Angela Tucker. You can also tune into her podcast, the Adoptee Next Door Podcast. Also, one of my favorite shows currently streaming on Hulu, called This is Us, is a heartfelt show that features a transracial Black man growing up searching to connect with his Blackness all throughout his life.
There is so much power with learning our stories! It's an unfortunate reality that the world is currently complacent with obsessing over Black culture rather than they are about learning about all the beautiful layers of the Black lineage. The more we are open to learning about each other's specific journeys allows space for less criticizing and the more empathy that we can extend to each other. No more crabs in a bucket lifestyle; we need to change the narrative because it's always gone against us with every other culture working together to help each other, not hold each other back. We all have unique qualities to contribute to the collective Black lens.
As brother Malcolm would say, "Without education, you're not going anywhere in this world." Without learning about each other, it limits our collective growth when staying in segregated cultural Black communities, so be the pan-Africanist you want to see in the world.
Featured image by Getty Images

Keep reading...
Show less