This article is in partnership with Meta Elevate.
If you've been on the internet at all within the past decade, chances are the names Hey Fran Hey and Shameless Maya (aka Maya Washington) have come across your screen. These content creators have touched every platform on the web, spreading joy to help women everywhere live their best lives. From Fran's healing natural remedies to Maya's words of wisdom, both of these content creators have built a loyal following by sharing honest, useful, and vulnerable content. But in search of a life that lends to more creativity, freedom, and space, these digital mavens have moved from their bustling big cities (New York City and Los Angeles respectively) to more remote locations, taking their popular digital brands with them.
Content Creators Hey Fran Hey and Maya Washington Talk "Embracing The Pivot"www.youtube.com
In partnership with Meta Elevate — an online learning platform that provides Black, Hispanic, and Latinx-owned businesses access to 1:1 mentoring, digital skills training, and community — xoNecole teamed up with Franscheska Medina and Maya Washington on IG live recently for a candid conversation about how they've embraced the pivot by changing their surroundings to ultimately bring out the best in themselves and their work. Fran, a New York City native, moved from the Big Apple to Portland, Oregon a year ago. Feeling overstimulated by the hustle and bustle of city life, Fran headed to the Pacific Northwest in search of a more easeful life.
Her cross-country move is the backdrop for her new campaign with Meta Elevate— a perfectly-timed commercial that shows how you can level up from wherever you land with the support of free resources like Meta Elevate. Similarly, Maya packed up her life in Los Angeles and moved to Sweden, where she now resides with her husband and adorable daughter. Maya's life is much more rural and farm-like than it had been in California, but she is thriving in this peaceful new setting while finding her groove as a new mom.

While Maya is steadily building and growing her digital brand as a self-proclaimed "mom coming out of early retirement," Fran is redefining her own professional grind. "It's been a year since I moved from New York City to Portland, Oregon," says Fran. "I think the season I'm in is figuring out how to stay successful while also slowing down." A slower-paced life has unlocked so many creative possibilities and opportunities for these ladies, and our conversation with them is a well-needed reminder that your success is not tied to your location…especially with the internet at your fingertips. Tapping into a community like Meta Elevate can help Black, Hispanic, and Latinx entrepreneurs and content creators stay connected to like minds and educated on new digital skills and tools that can help scale their businesses.
During a beautiful moment in the conversation, Fran gives Maya her flowers for being an innovator in the digital space. Back when "influencing" was in its infancy and creators were just trying to find their way, Fran says Maya was way ahead of her time. "I give Maya credit for being one of the pioneers in the digital space," Fran said. "Maya is a one-person machine, and I always tell her she really changed the game on what ads, campaigns, and videos, in general, should look like."
When asked what advice she'd give content creators, Maya says the key is having faith even when you don't see the results just yet. "It's so easy to look at what is, despite you pouring your heart into this thing that may not be giving you the returns that you thought," she says. "Still operate from a place of love and authenticity. Have faith and do the work. A lot of people are positive thinkers, but that's the thinking part. You also have to put your faith into work and do the work."
Fran ultimately encourages content creators and budding entrepreneurs to take full advantage of Meta Elevate's vast offerings to educate themselves on how to build and grow their businesses online. "It took me ten years to get to the point where I'm making ads at this level," she says. "I didn't have those resources in 2010. I love the partnership with Meta Elevate because they're providing these resources for free. I just think of the people that wouldn't be able to afford that education and information otherwise. So to amplify a company like this just feels right."
Watch the full conversation with the link above, and join the Meta Elevate community to connect with fellow businesses and creatives that are #OnTheRiseTogether.
Featured image courtesy of Shameless Maya and Hey Fran Hey
The journey to success for a lot of Black women oftentimes looks like breaking generational curses. Curses like poverty, a lack of resources, and a lack of opportunities to get out of the vicious cycle. This experience usually starts during our adolescence by way of elder family members telling us to keep books before boys and to stay focused on school. While the idea itself is digestible, it can sometimes result in Black women experiencing a disconnect within their own families.
I was a first-generation college graduate and my family was extremely proud of me and still is. But keeping my head in the books meant that my achievements didn't stop there. I went on to accomplish a couple of other "firsts" like getting my master's, working in television, and traveling the world. Coming from nothing and being able to accomplish what I have so far, was a lot to adjust to for both my family and myself. I never took into account that I would have to change certain aspects of myself, in order to accomplish what I have.
I also didn't consider how my accomplishments would affect the relationship I had with my family.
One thing about your family, they know how to humble you more than anybody. I attended college in Atlanta but was born and raised in Chicago. As a young adult, I slowly stopped living in survival mode and began to discover myself, including my likes and dislikes. South African artist and sociologist Khanyisile Mbongwa spoke on this perfectly during a Ted Talk. She talks about how getting out of the bondage of survival mode is another form of breaking generational curses. As for me, I developed a routine for how I take care of myself, my eating preferences changed, my wardrobe changed, etc.
On this journey, a lot about me changed. However, in the early days when I would come home to visit, it seemed that the person I had grown into, wasn't welcome. I was instead, thrown back into my childhood routine; doing what I was told, eating what was provided, and not complaining about any of it. It became an issue of respect for me. I wasn't a child anymore. I was a grown woman with grown thoughts, routines, and preferences. It left me feeling like a bougie outsider.
To me, I felt like I was being treated as the child I once was, instead of the woman I had become.
"I wasn't a child anymore. I was a grown woman with grown thoughts, routines, and preferences. It left me feeling like a bougie outsider. To me, I felt like I was being treated as the child I once was, instead of the woman I had become."
Subsequently, I became anxious about not trying to do too much or say too much around my family because I didn't want to come off as a know-it-all. Which led to me coming around less and less. For a number of years, I was angry and confused that the same people who told me to keep my head in the books were now criticizing me because I did just that. I did exactly what they told me to do and my life changed as a result of it. So why was I being picked on? Or at least, that's what it felt like.
One thing successful people often talk about regarding their journey is that you sometimes have to "unlearn" certain aspects of yourself because the old you can't go where the new you is taking you. Will Smith spoke on this in his autobiography Will. In talking about the early days of filming The Fresh Prince of Bel-Air, Will says an executive got in his face one day and started yelling at him about a script change. Will and his friend immediately jumped into their old Philly ways and almost went toe to toe with the executive.
Benny Medina (esteemed manager and talent agent at the time) later explained to Will that the star overreacted. Benny clarified that the executive's behavior is actually common in the industry and should've been handled with care. Will was really upset with himself afterward and realized then that he had to unlearn certain elements of himself that no longer served him, or he would miss out on some great opportunities. His initial reaction to defend himself served Will, back then, but that old Will was hurting the "new" Will's career so he had to do some unlearning.
It is not easy breaking generational curses, especially when some of that battle is coming from those you love the most. However, I am here to tell you, Black women, there are ways to remedy this. Maybe your experience hasn't been like mine. Maybe it was worse or maybe you're in the thick of it right now. Being the first to accomplish anything means you don't have a blueprint for how it's done and that you're figuring it out along the way. My experience has taught me a few things that I think can be helpful to you and your journey.
"It is not easy breaking generational curses, especially when some of that battle is coming from those you love the most. However, I am here to tell you, Black women, there are ways to remedy this."
Black women know we carry enough burdens. However, it is important to learn to not only give yourself grace but to give that same grace to your family. Them experiencing this new version of you is new for them as well. Give them space to get it right and to get it wrong. It's also important that you check in with your family as often as you can. Chasing the bag does sometimes mean you don't have a lot of free time on your hands. But if it's nothing, but a simple text, 5-minute call, or a quick email to let them know that you're thinking about them, then do it. Don't let months or years go by before checking in with your family. Find ways to "include" them in your journey. Please seek therapy. Therapy is an additional form of emotional and mental support that is so necessary for your journey to breaking generational curses.
Lastly, check your blind spots. Be sure you're treating your family with love and respect as well. Your dreams, goals, and desires are all your own. That doesn't mean that others share the same thoughts as you so it is important that you respect that as well. Don't try to force-feed people information that worked for "you." Be respectful of everyone's journey.
Feature image by Jasmin Merdan/ Getty Images
There was a moment before adult performer Demi Sutra reentered the industry for what would be her second of three separate times in under a decade when she realized that her profession was in desperate need of change. "I didn't love everything that I saw," Sutra tells xoNecole. "[But] I still wanted to be there." This realization came to her after she reached out to several Black performers through Twitter to ask about their experience dealing with the racism that plagues adult entertainment. "It was just incredibly obvious that it needed help."
Sutra first entered adult entertainment when she was 23 which she describes as being "not a good time" for her. "I found it to be problematic and really hurtful," she says about her experience of being pigeonholed to sites specifically meant for Black female performers.
In 2018, she would move to Los Angeles from Florida to relaunch her career only to leave again in 2019. The second time she would leave she cited being overworked and blatant racism. "I didn't like my agency. [There was] a lack of protection for me when it came to racism," she says.
The inaction by her then agency (the famed Spiegler Girls) led to Sutra becoming vocal on her own social media. "When you do those callouts you risk being blacklisted," Sutra says. "But I was really just tired of it and I started saying shit about companies online." Despite the slow change, she said she saw from her being vocal online, Sutra was still frustrated with the industry's racism.
"I had so many directors for multiple companies say to my face: 'Oh man, you're really talented. I really wish I could book you for more scenes but we met our Black girl quota.'" Sutra was taken aback when told this. "So your boss is racist and you're okay with that?"
That experience would echo that of another Black female performer xoNecole spoke with. Wanting to remain anonymous, she says that "for Black girls, they don't want to have us on there too much, even if we're doing well because they don't want to be seen as a 'Black girl site.' It makes it so our trajectory in the industry is slower."
Misogynoir in adult entertainment is a systemic issue that has manifested itself in many different ways for Black women performers.
Newcomer Elsie's short-lived mainstream career came to an end towards the close of 2022 after the constant struggle to have Black scene partners. "They told me Black on Black doesn't sell." She says the difficulty in selling these kinds of scenes is due to the kind of viewers that mainstream adult entertainment caters to. "The audience they have created is not Black," Elsie says. "It's catered to white people. A lot of the tropes, like the stepsister stuff, that's not catered to us."
Blacked, a popular adult entertainment production company that produces content with Black men and white women has come under scrutiny in particular for some of the racist stereotypes they perpetuate. "Blacked symbolizes something so dirty," Sutra says as she recounts her discovery of the website. She says that performers who have worked with Blacked have reached out to her telling her that the company makes the white female scene partners look as if they're uncomfortable and in pain. "In this evangelical fucking white America that we live in, [white women] were put on a pedestal and Black men were killed."
Despite Sutra's vocal objections to the website on her Twitter account, she says that she gets the most pushback from Black male performers and Black male fans. "[Blacked] did have a convo with all of their Black male talent and two of the Black female talent they were shooting at the time … and asked the Black men – they didn't even ask the women – if the title bothered them," Sutra says. "All of them said no."
Sutra says following her criticism of Blacked, that she was harassed and received death threats on social media. "It was really insane that I was trying to stand up for something that I know to be right and it's not a positive thing."
Sutra's hope for a better industry isn't lost despite all the backlash she's faced. After the country-wide racial reckoning in 2020, Sutra said she saw the most dramatic change in the industry since she's been there. She points to programs like BiPoc started by Sinnamon Love that addresses the racial inequality within the industry that would later receive funding from Adult Video Network or AVN. "That program which does enable Black pornstars to be able to get therapy, get testing — because some people can't afford it, especially being that there's so few places for Black talent in pornography."
Moreover, Sutra is looking toward her own future in the industry. In 2021, she signed with Brazzers, marking her third official time with the industry. She is most excited however for the future generation of Black female stars. "I've fully stepped into the phase of uplifting younger Black women in the industry and that is what I'll continue to do."
Feature image by @demisutra/ Instagram
Much like the hair that grows out of our heads, our body hair is heavily policed and politicized. Whether it is our armpit hair, the hair on our legs or even the hair on our knuckles, no part of our bodies is free from the white patriarchy's grueling gaze.
"I love my bush!" 24-year-old Eva tells xoNecole. The "bush" they are referring to is the one growing in between their thighs. Women's pubic hair has long been a particular point of contention in society that would rather see women retain their hairless, prepubescent form.
Over the decades, the hair that covers our intimate parts has gone through a series of cultural transformations. There was the unmanicured bush. There was the landing strip and other festive shapes. And of course, there was just completely bald. Some of the women xoNecole spoke with cycled through similar options with their crotch hair before landing on rocking a full bush.
"I have tried shaving, waxing, and sugaring," an anonymous 28-year-old woman tells xoNecole, saying that she stopped because of the unbearable pain that she experienced during the process. Eva explains how she initially felt disgusted with her body hair growing up and would look for ways to remove it. "When I was like eleven I got in trouble because I kept stealing my mom's little cheap-ass disposable BIC razors and fucking up my legs." She continues, "I took myself for my first bikini wax at 18 which looking back was way too young."
For some of the women xoNecole spoke with, the process of embracing their bush was less about a technical process and more about unlearning the toxic ideals about their bodies they had internalized.
"I never had a partner explicitly ask or demand that I shave but I definitely did feel the societal pressure," says an anonymous 25-year-old who now loves their bush. 37-year-old Nanette who says she is "pretty happy" with her bush these days, tells xoNecole, "I wouldn't shave a f—cking thing if I didn't feel like I had to."
A few of the women say that they never felt particularly pressured either way when it came to shaving. "I think because I had no older sister or older girl cousins I never was aware that this was a common thing to feel shame/ disgust for," says the 28-year-old. She continues by saying that while she understands why other women might opt for the bald look, she personally feels her sexiest with her bush. "I think pubic hair is so normal. I'm really disgusted by men who have a strong preference for a bald look."
Regardless of the journey it took for a woman to begin embracing the way their pubic hair naturally grows, the women we spoke with agree that the work to unlearn society's toxic messaging has been an added bonus. As one of the women put it: "I am fully bushed and very proud of it."
Feature image by Delmaine Donson/ Getty Images

In a recent viral clip, 15-year-old water activist Mari Copeny, or Little Miss Flint as she's come to be known, broke down into tears during her appearance on The Tamron Hall Show. "I'm sorry, it's just been really hard trying to get money and stuff for this event because people haven't been treating me very nice," the teen says. "And it's just been very hard and it means a lot, really."
Those of us familiar with Little Miss Flint will recognize the precocious teen from the years she's spent organizing around the still ongoing water crisis in Flint, Michigan. At just eight years old, she first gained national attention after then-President Barack Obama replied to the letter she sent him raising awareness of the dire situation in Flint.
\u201cYes I cried on National tv. People tend to think I am always happy, but people sometimes are not nice. This year has been so hard to fundraise and even with the toy donation we still need to get closer to my goal. I have under a week to fundraise. \n\nhttps://t.co/JHat7hAq6F\u201d

— Mari Copeny (@Mari Copeny) 1670623972
Since writing that letter, her online presence has been used to track the systemic failure that continues to ravage her community. On Twitter, she holds up a sign showing just how long residents of Flint have been without clean water. "Flint, Michigan, has been without clean water since April 24th, 2014." Her most recent reminder would come this past April. Eight years later.
It's almost easy to forget behind all her impossible adorableness, that a Black girl has been robbed of her childhood by the evils of environmental racism. No amount of girlhood sweetness can sugarcoat the deep moral rot of a country that coerces Black girls out of their childhood and into a life of defending their right to simply exist. There's no tidy bow to wrap around how this country would rather see Black girls beg for life-sustaining resources than just simply give it to them.
There are many hands that have steered us in the direction of this particular catastrophe. There's the Flint, Michigan officials who decided to skim on costs by changing the city's water supply to a supplier that would eventually lead to poor water quality. There's Governor Rick Snyder whose gross negligence has only exasperated the water crisis. Then there's Obama himself, who during his visit to Flint in 2016 drank a cup of what was purportedly Flint's tap water as a gesture that the crisis was over. It should be noted that the crisis was not and presently is still not over.
The direct impact on the community has been immeasurable. There were all the illnesses from the lead exposure, some of which have resulted in multiple deaths. There's also the mental strain it has taken on the residents.
Mostly I think about the toll it has taken on the youth of Flint, namely Copeny. If nothing changes, in two years, she will have lived longer without clean water than she lived with it. Another tragedy to add to this catastrophe's unending list.
Feature image by Bryan Steffy/WireImage
I have a pussy mold. Similar to expecting moms getting molds of their bellies, I got a mold of my pussy. Artist Andrew Prince, the owner of 3D Perceptions, specializes in lifecasting and I discovered his profile through Instagram's discover page. Lifecasting produces three-dimensional replicas of a human body by molding and casting techniques. Some of his best work was featured on his Instagram page, which has since been deleted.
His lifecast pieces included butts, breasts, vulvas, penises, and a few full-body casts. Among my favorites was the full-body cast of two lovers intertwined in a sex act. After falling in love with Andrew's work, I DM'd him to inquire about having my mold made.
The Man Behind the Mold
Andrew operates out of his garage in Huntsville, Alabama. It is filled with plasters, Hoyer lifts, benches, and everything needed to create the dynamic works of art he creates. Andrew, a NASA engineer by day, explained that he became interested in molding after he constructed a 3D volcano with his son for a school project. Lifecasting was born out of curiosity after he made a mold of his former girlfriend's ass to sell on Etsy.
Nowadays, Andrew sells his pieces in art shows around the world. His work has been exhibited in Las Vegas, Erotic Art Shows in Seattle and Detroit, as well as in London, England. Depending on the piece, his art sells for $300-$3500. If you prefer to do your own casting, he also sells at-home kits for $60.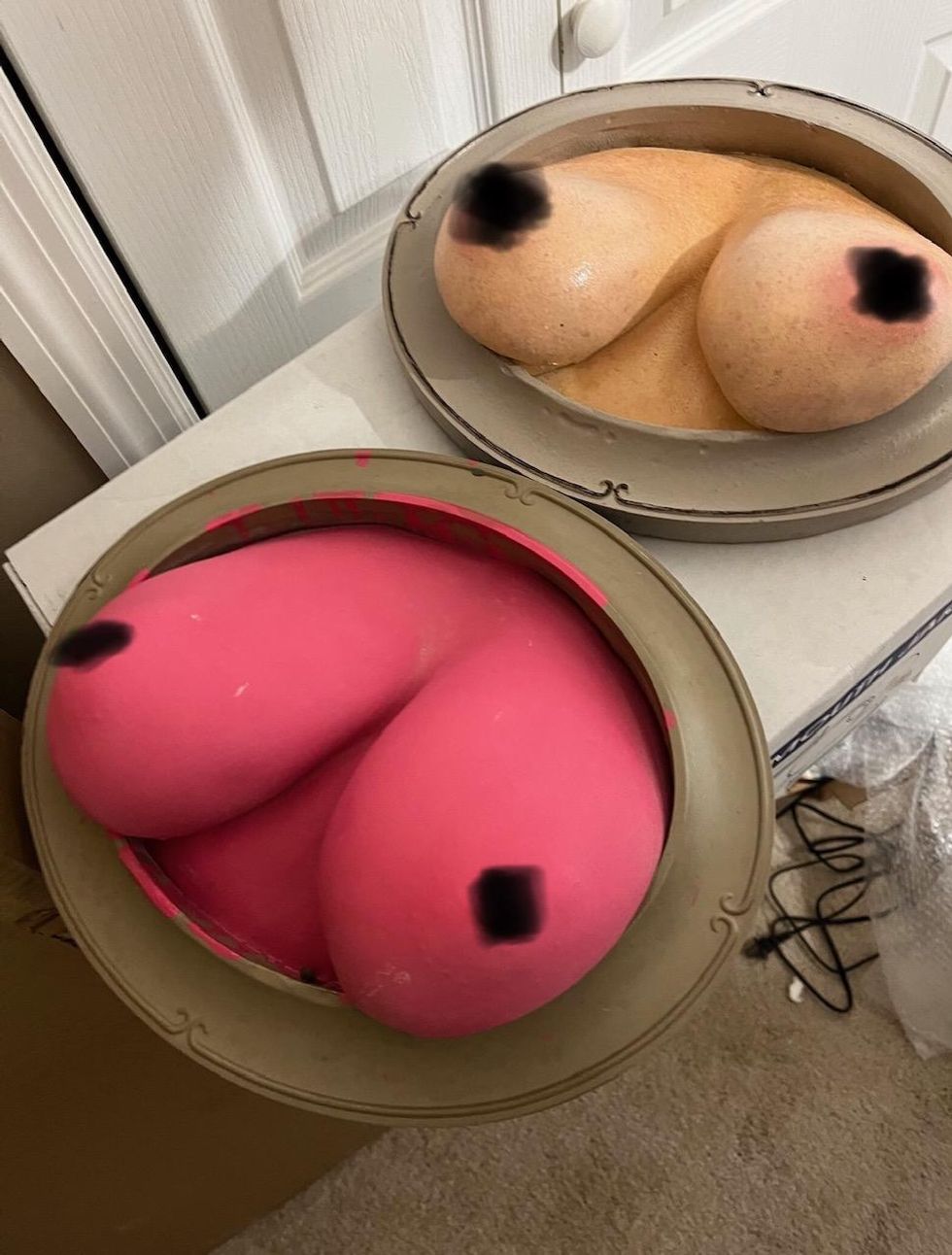 Courtesy of Ashley Cobb
The Process
Usually, Andrew finds his models through Craigslist or word of mouth, rather than on Instagram as he did with me. Because his art pieces are so time-consuming and can require some flexibility, modeling for Andrew isn't an easy task. The entire process takes about 40 minutes. Essentially, I had to lay perfectly still for nearly an hour with my legs in stirrups, similar to a Gyno visit. I'm not sure about your legs, but my legs aren't used to holding that position for more than ten minutes. Talk about a workout!
He began by layering my pussy with an all-natural seaweed-type lubricant used as an alginate. The alginate also added a layer of protection between the plaster and my vulva. Pussies are sensitive and we can have plaster getting into them throwing off pHs and shit. He then added plaster and plaster bondages layer by layer in a similar manner to paper-mâché. There was a lukewarm, creamy texture to the plaster, similar to yogurt. As the plaster sets, it becomes slimy and feels like firm jello as it warms up.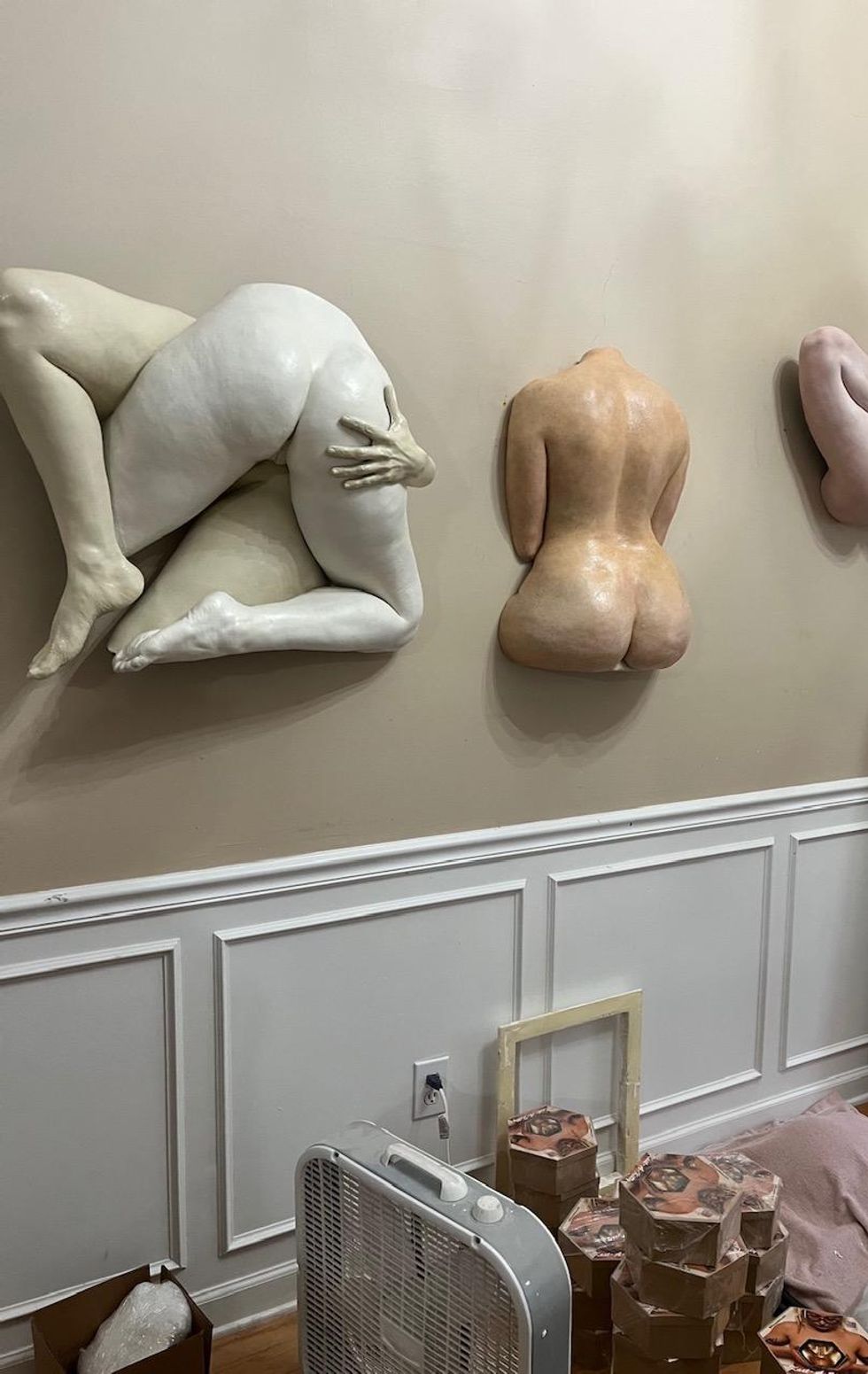 Courtesy of Ashley Cobb
The Result
Once completely set, Andrew eased the plaster off of me. Since it wasn't sticky, it slipped right off. As Andrew de-molded, sanded and detailed my pussy mold, I went to the bathroom to wash off any remaining plaster. Typically, it would take Andrew several days to weeks to complete his molds and get them ready for sale. However, because I wasn't selling mine, he completed it in a few hours.
I'm still not sure what I'm going to do with my pussy mold. I may paint it and hang it up on my wall. But then again, do I really want everyone who comes to my house looking at my pussy?
To find out more about Andrew and 3D Perceptions, visit www.etsy.com/shop/3DPerceptions.
Let's make things inbox official! Sign up for the xoNecole newsletter for daily love, wellness, career, and exclusive content delivered straight to your inbox.
Feature image by Harbucks/ Getty Images