Tunde Oyeneyin inspires countless people who take her cycling class weekly but many may not know the journey that took her to become a successful Peloton instructor. The Nigerian beauty who was raised in Katy, Texas is opening up about her life in her new book Speak: Find Your Voice, Trust Your Gut and Get From Where You Are to Where You Want to Be. Tunde stopped by Tamron Hall Show where she discussed her motivation for writing the book and the cycling class that changed her life.
"Speak is an acronym. Surrender, power, empathy, authenticity, and knowledge," she said. "I looked at those words as elements and how they showed up in my life. Every misstep has got me here." The 36-year-old fitness enthusiast went on to share the many tragedies she faced in her life over a short period of time. Tunde lost many of her family members including her mom, dad, and brother back to back. "I lost my little brother when he was 19-years-old. Three years later I lost my dad and three years later I lost my mother. Within six years I lost half of my immediate family," she revealed.
But she managed to keep on pushing after she "realized we don't get to choose what happens to us but we do get to choose how we react." "Every single day is a new day so I choose to show up new in that day," she said.
While Tunde has become well-known as a Peloton instructor, her first love was makeup. She worked as a makeup artist for 15 years and one makeup gig actually led her to the career change. "I was actually in New York City. I lived in L.A. at the time and I was in New York City on a makeup gig and I wanted to get a workout in. I went to a cycling class that changed my life," she said.
"After my very first cycling class, I knew that I'd be cycling for the rest of my life. I knew with certainty that I would be teaching it without even knowing what Peloton was. After my very first class, I knew that I would be able to touch and impact the lives of tens of thousands of millions of people."
Another thing that many people may not know about the famed instructor is that she also struggled with her weight growing up. During her appearance on Today, Tunde shared that when she was 13 years old she weighed 200 lbs and wore a size 18. Even as a fitness instructor now she still sometimes struggles with snacking and has an open and honest dialogue about it in her classes.
"I want people to know that even though I'm in the fitness world, I'm human too. I struggle just like everyone else. You don't just lose weight and then just magically stay there. It's a lifelong, forever journey," she said.
Famed Peloton Instructor Tunde Oyeneyin's Incredible Weight Loss Journey
Let's make things inbox official! Sign up for the xoNecole newsletter for daily love, wellness, career, and exclusive content delivered straight to your inbox.
Featured image by Bennett Raglin/Getty Images for Bring Change To Mind
As common as bacterial vaginosis (BV) is, no one likes to talk about it. And why would they want to? It's an overgrowth of bacteria in the vagina that upsets the pH balance and can lead to a fishy smell, abnormal discharge, itching, and/or burning during urination. But there is one woman who decided to share her experiences with BV on TikTok and has garnered an audience of women who can also relate.
Roxanne Ramsey made a TikTok video venting her frustrations about BV after a doctor's appointment, and from there she has continued to share stories and provide tips on treating BV, yeast infections, and UTIs.
Featured image via TikTok
These women are using their platforms to empower women with disabilities and show that they are just like everyone else. The CDC reported that 61 million people are living with a disability and 1 in 4 are women. The National Center for Disability and Journalism also reported that over 6 million people living with a disability are Black.
While it is a large community, disabled people are still rarely represented in the public eye. But thanks to these influencers, that is all sure to change soon. From Hollywood actress Lauren "Lolo" Spencer to everyday moms like TaLisha Grzyb, women are using their social media to speak up for those who are just like them and show the world that they also matter.
Featured image by Stefanie Keenan/Getty Images for Create & Cultivate
If the vote splits along the party lines as it is expected to, judge Ketanji Brown Jackson will be confirmed as the next justice of the Supreme Court of the United States of America.
The former public defender and judge will have the distinction of being the first Black woman to occupy the prestigious and coveted role, a fact that has dominated much of the conversation around her nomination and her confirmation hearings.
For four days, Judge Jackson sat in front of a belligerent committee answering a barrage of questions ranging from the ridiculous to the downright offensive. Questioning whether her time as a public servant makes her equipped to become a justice to asking her topical — yet irrelevant —- questions about critical race theory and transgender identity. Notably, Texas senator Ted Cruz grilled Jackson about whether he could "turn Asian" or if "babies could be racist" while holding up a copy of an anti racist book for babies. During the hearing, Republican Senator and Senate Judiciary Committee member Thom Tillis from North Carolina even quipped that the extent of his legal knowledge comes from watching the show Law & Order.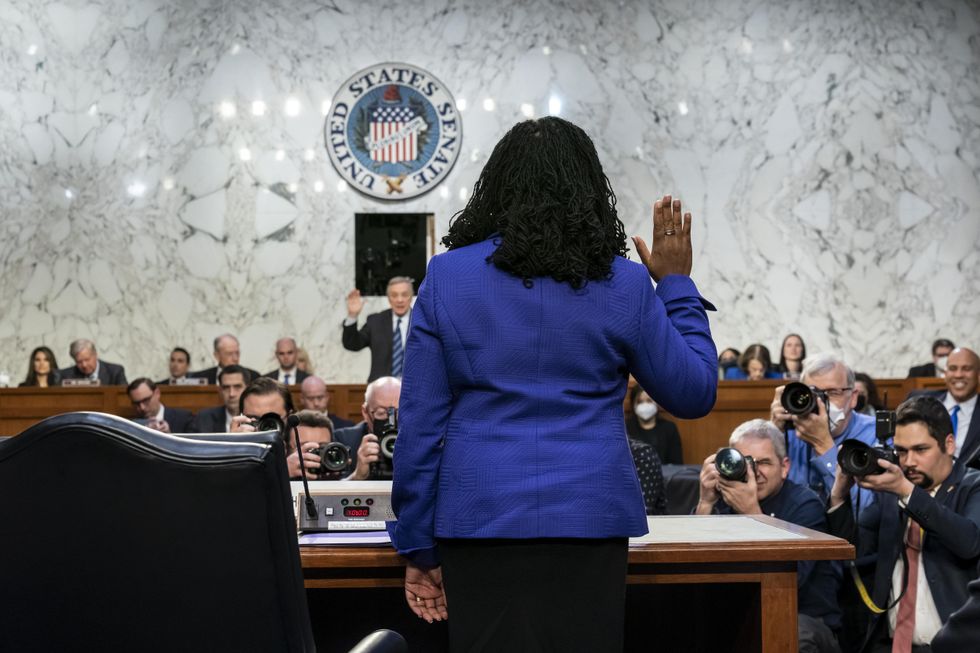 Judge Ketanji Brown Jackson being sworn in for her SCOTUS nom hearing
J. Scott Applewhite-Pool/Getty Images
Of all the performances that took place during the confirmation — the bravado, the racism masking as curiosity, the feigned ignorance — it is perhaps the role of the worthy that we all watched Jackson play. There was a photo taken of Jackson as she stands squarely in the middle of a group of white photojournalists who have their lenses fixed directly on her – an almost too apt visual metaphor for the constantly leering gaze of whiteness that Black women operate under.
The disrespect that Jackson faced inflamed a familiar wound for many of the Black women who watched the hearings. There's not only an expectation for Black women to absorb the verbal assault that comes from being a Black face in a white space, but a virtue that we must inhabit in order to survive.
Much is made about the breaking of glass ceilings, but nothing about the blood that pours out from the person who does the shattering. We've been convinced that abuse is worth accepting for the sake of class ascension and being in rooms we've historically been barred from. Instead of questioning whether these spaces are worth assimilating into or worth existing at all, we laud the strength of Black women who trek through the treacherous world of whiteness as a way to assuage our guilt for not doing anything to alleviate the burden that requires resilience.
It matters little that Judge Jackson is considered the most qualified person who would ever sit on the Supreme Court or that she has a white husband and the backing of organizations like the Fraternal Order of the Police or that she's well educated or one of the "good ones." There's a fluidity to whiteness' cruelty, an ever expanding playing field that allows for such moral impurity to happen. What if instead of trying to climb the ever increasing ladder that is required of us to get into these elite spaces, we decided that the ladder isn't worth climbing? Or that the ladder shouldn't exist at all?
During the confirmation hearings, Senator Cory Booker gave a speech of support and celebration for Judge Brown Jackson's nomination that roused many but left me unmoved. He spoke about the legacy of resistance that led to both him and Jackson being able to sit in that room this week. But violence is just as much as a part of that legacy. After listening to Booker's speech, I couldn't help but feel that after all those years of righteous struggle, the best we could do was become a part of the thing that tried to kill us.
Tara Roberts was working for a non-profit when she discovered a photo that changed her life. During a visit to the National Museum of African American History and Culture in Washington D.C., Tara came face to face with a photo of Black scuba divers that sparked her curiosity. "It stopped me in my tracks," she said on the Tamron Hall Show.
"It made me super curious about who they were. And so I read the little information about them and it said that they were a part of this group called Diving with a Purpose and that part of their mission was to search for and help document slave shipwrecks." According to their website, Diving with a Purpose is a 501 (c)(3) non-profit that is a leading international organization that provides education and training programs, mission leadership, and project support services for submerged heritage preservation and conservation projects worldwide with a focus on the African Diaspora.
Feeling that she had to be a part of the group, she began her scuba diving certification training, which took three months and it took her almost a year to get the training needed to be a part of Diving with a Purpose, in which she was required to do 30 ocean dives. She revealed that it was after her 5th dive that she realized that she wanted to document their journey.
"I was like, wait a minute, this is a story to tell. People need to know about this work and they need to know about this history," she said. Tara, who has a background in journalism, began documenting their journey and is now a National Geographic Explorer with her six-part podcast seriesInto the Depths for National Geographic which launched in January. She is also the first Black female explorer to be on the cover of National Geographic and is currently a lab fellow for MIT Open Documentary.
When she is underwater, she is not only exploring the ocean, but she also uses that time to reflect in silence, be present, and feel her surroundings.
"The fact that 1.8 million Africans died in the middle passage is not a number that I think most people know," she said. "Most of those people who died have never been mourned. They've never been grieved. There's no memorials to them. So, when I'm under the water, I'm thinking a lot about acknowledging these people and honoring these people and that gives me such joy and pride. It gives me power and agency to help bring these lost stories up from the ocean bottom and bring them back to collective human memory. It feels really powerful."
She Quit Her Job to Tell the Stories of Black Scuba Divers Searching for Slave Shipwrecks
Let's make things inbox official! Sign up for the xoNecole newsletter for daily love, wellness, career, and exclusive content delivered straight to your inbox.
Featured image by Getty Images
Richelle Carey lived the life that most broadcast journalists do. Moving from state to state chasing a story and a better opportunity. Eventually, she got an opportunity to work with the esteemed Al-Jazeera news, which meant moving to the country of Qatar. However, her desire to become a mom was much stronger than her career and in 2020, she moved back to the States and moved in with her parents in order to adopt, which led her to finally have a child of her own in 2021 named Avery.
Richelle sat down with Tamron Hall on her talk show and discussed her journey to adoption.
"I thought I was progressive enough that I would say you don't have to be a mom to have a family because I truly, truly believe that and some people are that way," she said. "But I finally had to admit that for me personally, I really wanted to be a mom. I wasn't any less significant when I wasn't a mother, but that was the last piece that I really needed."
At 43, she decided to freeze her eggs and a few years later she began in vitro fertilization (IVF). However, according to Essence, Richelle faced multiple unsuccessful rounds, which led her to the path of adoption. She began researching adoption options while she was still living in Qatar and in 2018 she got approved to adopt. And although she was finally able to live her dream of becoming a mom, living outside of the U.S. presented obstacles that forced her to choose between her career and motherhood.
With nothing lined up, she made the fearless decision to move back home with her parents in Texas during the pandemic. "I was nervous. I was anxious," she told Tamron. "But I felt like everything that I had done in my life had gotten me to this point to be able to have choices and options and I know that everybody can't do that. I understand that but I worked hard to get to that point and I needed to lean in and do it."
While Richelle noted that it was a risky move, she had the support of her family and is loving every minute of motherhood.
"I am 50 years old living at home and I wouldn't trade it for the world," she said.
This Journalist Gave Up Everything & Became a Mom at 50
Let's make things inbox official! Sign up for the xoNecole newsletter for daily love, wellness, career, and exclusive content delivered straight to your inbox.
Featured image by Larry Busacca/Getty Images for Women in Cable Telecommunications