Chivone Smith
Chivone Smith is a reality television producer, born and raised in Chicago, Ill. After obtaining her Bachelor's degree from Clark Atlanta University, Chivone stayed in Atlanta and quickly began establishing herself as a journalist. After working as a news producer for one of the top news stations in the country, WSB-TV, she would go on to produce for other news outlets through ABC and the CBS network. Knowing that news journalism wasn't where she wanted to be 10 years down the line, Chivone began pursuing opportunities to produce for reality television, where she currently works. Today, Chivone is a journalist by trade and a super producer by choice. She has always enjoyed the element of storytelling and has also understood the responsibility of producing work that thousands will see. Chivone believes that in her former life, she was an explorer. Outside of work, Chivone enjoys the simple things nature has to offer. If she's not at home, you can find her driving around, nature-watching, taking hikes, and looking for her next adventure. But if you do happen to find her at home, then you'll likely find her in the kitchen. She gets much joy out of cooking for others, hosting, and remaking her favorite restaurant meals, at home. Chivone is no stranger to change and taking risks and is soon planning to enter into the scripted industry where she plans to write and who knows, maybe even direct TV shows.
The lawsuit was filed on August 2, 2023, by The American Alliance for Equal Rights (AAER). It claims that Fearless Fund, an Atlanta-based venture capital firm, offers a grant contest that racially excludes women who are not Black. The lawsuit claims that the "Strivers Grant" violates Section 1981 of the Civil Rights Act of 1866, which mandates that private contracts be made available to all people regardless of race. The group also filed a motion for a temporary restraining order to stop the Fearless Fund from closing its application period or awarding grants as scheduled at the end of August.
The Fearless Fund firm launched back in 2019 and awards thousands of dollars in grants to small business owners looking to secure money to grow their ventures. The organization was initially co-founded by actress and businesswoman Keshia Knight Pulliam, along with Ayana Parsons and Arian Simone. However, Pulliam is no longer affiliated with the company. Since its inception, the organization has already seen much success with investors, including PayPal, Bank of America, and General Mills, just to name a few. To date, the firm has raised more than $25 million for over 40 companies, including the popular Black woman-owned restaurant Slutty Vegan.
Both Parsons and Simone are still actively working with the organization and, along with Attorney Benjamin Crump, spoke publicly on the lawsuit during a sit-down interview on The Breakfast Club. Both Parsons and Simone believe that they're being sued "because" their organization is creating Black and brown female billionaires. During the interview, Parsons says Black women are the most founded entrepreneur demographic who start more businesses than anyone else but are still getting the least. Shocker! According to Simone, their firm not only provides grants to their clients but valuable tools on how to run a successful business.
AAER is led by Edward Blum. Blum's organization is also affiliated with the decision from the U.S. Supreme Court to strike down affirmative action in college admission. In reference to the Fearless Fund lawsuit, Blum told the Atlanta Journal-Constitution (AJC) that three white and Asian female entrepreneurs are the ones claiming that the Strivers Grant violated civil rights laws and proceeded to ask Blum to represent them.
As a result of this lawsuit, Simone says she and Parsons are now developing their own legislative order, telling The Breakfast Club, "If you want to use the law against us, we need some more laws to protect us." As for the next steps, Attorney Crump wants to be clear that this is all of our problem. Crump is concerned that this lawsuit can open Pandora's box for Black and brown people everywhere, telling The Breakfast Club, "You have to stop him on this. If you don't stop him now, it's open season on all of us." But Blum's organization is acting as if a sin was committed.
Some would argue that this lawsuit is just another attempt of the AAER to dismantle any and all programs that attempt to leverage generational wealth in America, which is concerning. The basis of the lawsuit seems blurred, at minimum, being that it is against progressiveness and equity. The point of the Fearless Fund is to invest in businesses that get looked at last, if at all. So Blum pretending that these inequities don't exist is problematic in itself, and if he is successful, then Crump is correct; it could very well be open season on us all.
Ben Crump, Arian Simone & Ayana Parsons On The Fearless Fund, Racial Discrimination Lawsuit & More
Feature image by Johnny Nunez/WireImage
Unless you're a creature of habit who likes to watch the same shows over and over, then prepare to be on a steady diet of reruns. As a result of the Hollywood strike happening now, it is likely that U.S. TV viewers won't be seeing new scripted content or new seasons of their favorite shows until 2024…or even later than that. While it may seem like what is happening in Hollywood is an isolated protest, let me explain why this affects us all and why everyone should be participating.
What Is Happening? 
Hollywood is on pause after Writers Guild of America (WGA) and Screen Actors Guild – American Federation of Television and Radio Artists (SAG-AFTRA) creatives decided to team up protesting work conditions on set, fair pay & the introduction of AI technology in production. The last time this happened, roughly 60 years ago, industry executives were forced to accommodate the actors' and writers' demands because they saw each other as collaborators rather than enemies.
Second assistant director and DGA member Meaghan Gillenwater-Stark has worked on a number of box office films and is directly impacted by what's happening in Hollywood. Meaghan explains to xoNecole that what's happening right now is bigger than entertainment, "There's a bigger picture to all of this. There's so many unions fighting for fair wages who are making their CEOs billionaires!" she says.
Legal Ramifications Of Striking 
As a result of the protests, union actors and writers are not allowed to work on any major studio films, but Meaghan says it gets deeper than that, adding that legal stipulations are also involved. For example, if you are a SAG member, you can get kicked out of the union if you're caught filming with a major studio or streamer at this time. As for other working actors with hopes of one day joining a union, if they are caught working with a studio and SAG found out, according to Meaghan, "If SAG was to find out, they can decline your membership in the future." She continues, "There's cause and effects. Certain unions have rules and restrictions."
This is new information to supervising docu-series producer Andrea Harris-Charles. Andrea tells me she's been learning a lot about Hollywood since the protests. Like most people, Andrea assumed that cast and crew members alike received royalties on all of their projects, saying, "I had to check myself with my own thoughts and beliefs. These people are hungry and living check to check like we are. It's all been very eye-opening."
How Has Hollywood Responded? 
Hollywood's upper echelon has already begun to respond to SAG-AFTRA and WGA's demands. Disney CEO Bog Iger called the strike "disturbing," saying the industry is still yet to bounce back from COVID. He even went as far as to say that the strikers are "adding to the set of challenges that this business is already facing" and finds this all very "disruptive." The AMPTP (Alliance of Motion Picture and Television Producers) also released a statement saying that SAG-AFTRA members dismissed an offer that included "historic pay." They fear that the Union has chosen a path that will lead to financial hardship for thousands of people who depend on the industry.
There's Scripted, Then There's Reality TV 
Speaking of those thousands of people, actors and writers aren't the only ones affected by this strike, don't forget about everyone else who works on set. According to Meaghan, "Think of the people who make up films; the receptionist, makeup artist, etc. Those are the people who fight for fair wages too. Everybody deserves a fair wage. People assume you're automatically rich [because you work in television or film]," she says.
As a result of this pause, you're likely to see a surge of reality TV shows as well as live-streaming content. But don't be mistaken, gigs in the docu-series world have been scarce well before the union strikes. A lot of people may not know this, but reality television is operated differently than scripted television. With the exception of a few shows, reality television is not a unionized institution, and the struggles its crew members endure oftentimes reflect that. "The people staffing up in reality [TV] know it's a struggle out here and are taking advantage. Their attitude is 'take it or leave it.' Inflation, cost of living, etc. They know that people are almost desperate for work. [But] people are taking the low rate instead of us banning together." She adds, "My skill should be met with adequate compensation. Instead, it is an industry sweatshop."
Power In Solidarity 
It's not just actors and writers, a lot of people are struggling to get by. Andrea tells xoNecole, "Bigger picture-wise, we should all be involved. If they don't get what they need, then it will get worse for us." UPS workers have seemed to follow in Hollywood's footsteps by having their own protests. Entertainment aside for a moment, UPS workers have seemed to follow in Hollywood's footsteps. The workers were gearing up to protest their company's corporation by fighting for fair wages on BEHALF OF THEIR PART-TIME WORKERS! Salute to them!
However, what would have been one of the largest strikes in UPS history was averted after union leaders decided to offer pay raises for all UPS workers. In other positive news, following the strike, the WGA has already started the process of unionizing shows like MTV's Ridiculousness. The union believes that the show fairs in comparison to pre-existing comedic shows like America's Funniest Home Videos, where various comedic writers are involved.
How Will The 2023 Writers Guild Of America Strike Affect Everyone 
Well, it's obvious that nothing is getting filmed until the strike comes to a positive conclusion. What that means for you is that a number of your favorite shows won't air a new season for quite some time. Shows like P-Valley,Power Book II: Ghost, Stranger Things, and Abbott Elementary, just to name a few. Even the long-running live sketch show SNL has gone dark in honor of the union writers' strike. On a local level, some states, including Georgia, offer tax incentives for productions filming in their state.
Last year, the film industry brought over $4 billion dollars into the state of Georgia, but since the strike, some local businesses in Georgia are beginning to feel the absence of Hollywood in their monthly revenue. And as viewers find alternative things to do and watch, they're likely to discontinue their streaming platform subscriptions since no new shows will be airing anytime soon.
What Happens Now 
We wait. Industry leaders on both sides will constantly be at the table, revising proposals and hoping for the best. Until then, actors, writers, and other scripted crew members alike have an uncertain future ahead. While some may be able to wait out the strike, that's not the reality for everyone. "A lot of people I know are leaving the industry. A lot of people won't return, and it will affect us for years to come," Meaghan shares.
"You have people who took other jobs and found happiness working regular paying jobs with decent hours." Like many of us, Meaghan was left without a job for a few months during COVID, but says she's more prepared this time. "I've already applied for other jobs," she reveals. There are rumors swirling that the strike will be over in October or maybe even next year, but for Meaghan, "There's always hearsay. I would like to think they won't draw it out that long. [So] looking for another source of income is important."
Once everything settles and needs are met, Andrea is hoping for an even bigger outcome and doesn't want the protests to stop in Hollywood, "The same fight needs to happen for the unscripted genres as well. Don't forget about us. We are also fighting. We need allies as well," she pleads.
How You Can Show Support For The Writers Strike
Honestly, rent is high, the cost of living is increasing, and have you seen the price of chicken in the grocery store lately? It's a wonder we all aren't out in the streets protesting in general. "We all need fair pay, overtime, we all need the same things. We all need breaks. I hope we are all able to be allies after this," Andrea says.
But for now, outside of canceling streaming services and hitting them in the pockets, Meaghan suggests you choose the right form of protest for you. "If you don't want to watch streaming, then cut it off. If you want to be more vocal, go to where they are striking. Do the research. There's not much to do than applying pressure," she says.
Feature image by David McNew/Getty Images
Is there such a thing as social media etiquette when it comes to romantic relationships? A common hidden rule is that you don't post your partner until there's a ring involved. Back in the good old days, things were less complicated. It wasn't official until one or both of you changed your Facebook status to "in a relationship." Bonus points if you actually tag your partner! While some like to keep things private, it is clear that others have no problem spilling it all!
By now, you've all seen the headlines surrounding Keke Palmer after her son's father, Darius Jackson, tweeted about an issue he had with her outfit choice. The tweet was in response to a video of Usher serenading Keke during his performance at his Las Vegas residency. Funny enough, that viral tweet came just days before another clip of the couple circulated online.
During a sit down on a podcast, Darius questioned how Keke would respond if folks online accused him of being unfaithful. The megastar star insinuated she wouldn't discuss private affairs like that publicly. If that's not enough, Darius' viral tweet came just one day before Keke tweeted about how much she loves her boyfriend.
Not long after that, our Little Mermaid, Halle Bailey, and her boyfriend, rapper, and YouTube star, DDG's public affairs, grabbed headlines. The up-and-coming rapper recently turned heads after releasing a song called "Famous." In the track, he expresses his insecurities about Halle's career choice. He even questions how she feels kissing other men onscreen. Much like Keke, fans were quick to rush to Halle's aid, expressing how the song was apparently distasteful. Halle has yet to speak on the track itself, but the singer was quoted in an interview once saying how she stays off social media when it comes to people's opinions of her relationship, adding how other people's opinions can take a toll on her life.
So can posting intimate details about your relationship do more harm than good? While that may be true for some, the same might not be said about influencer-turned-actor Devale Ellis and his wife, Khadeen. Years ago, the two introduced themselves to social media as a pair of millennial parents trying to figure it out, and they've been doing just that. The couple are often transparent online about many intimate topics in their relationship, including sex. The pair would grow to face their own amount of backlash regarding the decisions they make within their relationship. Ultimately, they have been consistent in showing the ups and downs of marriage and owning their individual careers while also parenting four children.
All and all, who doesn't want to share their special someone with the world? It shouldn't be something to fear, but we've all seen, in real-time, how social media has contributed to the downfall of many relationships. The opinions on how to discuss your partner online vary. What remains true across the board is that having different posting styles than your partner will likely lead to conflict. Because if you don't check them, social media surely will! While you can't control how people perceive your relationship, as couples, you do at least have a responsibility to each other to discuss how public you want to make the private details of your partnership.
Let's make things inbox official! Sign up for the xoNecole newsletter for daily love, wellness, career, and exclusive content delivered straight to your inbox.
Feature image by Derek White/WireImage
If you haven't been to Africa, this is your sign to go. My first time visiting the continent of Africa also happened to be my first time working on the continent of Africa. I worked there for a little over a month and did minimal research before I went. I was very well aware of the picture that America has painted of Africa since I was a child, so I wanted to go there without any additional preconceived notions, and I'm glad I did.
I learned so much, saw so much, and unlearned even more. Africa is so rich in culture, views, and traditions. In talking to the citizens there, it is clear that their love for the U.S. runs deep. I am so thankful to have experienced Africa first-hand and that so many of my previous understandings were debunked and replaced with new, more accurate depictions.
Most people who've visited the motherland will talk highly about Ghana, Kenya, and Liberia (as they should). But Cape Town, South Africa, should be held to the same standard. From the food, the views, the activities, and most importantly, its citizens, Cape Town has fast become one of the most popular places to visit in Africa. If you need a good head start on where to go, this list of places below should give you a good head start.
Places to visit in Cape Town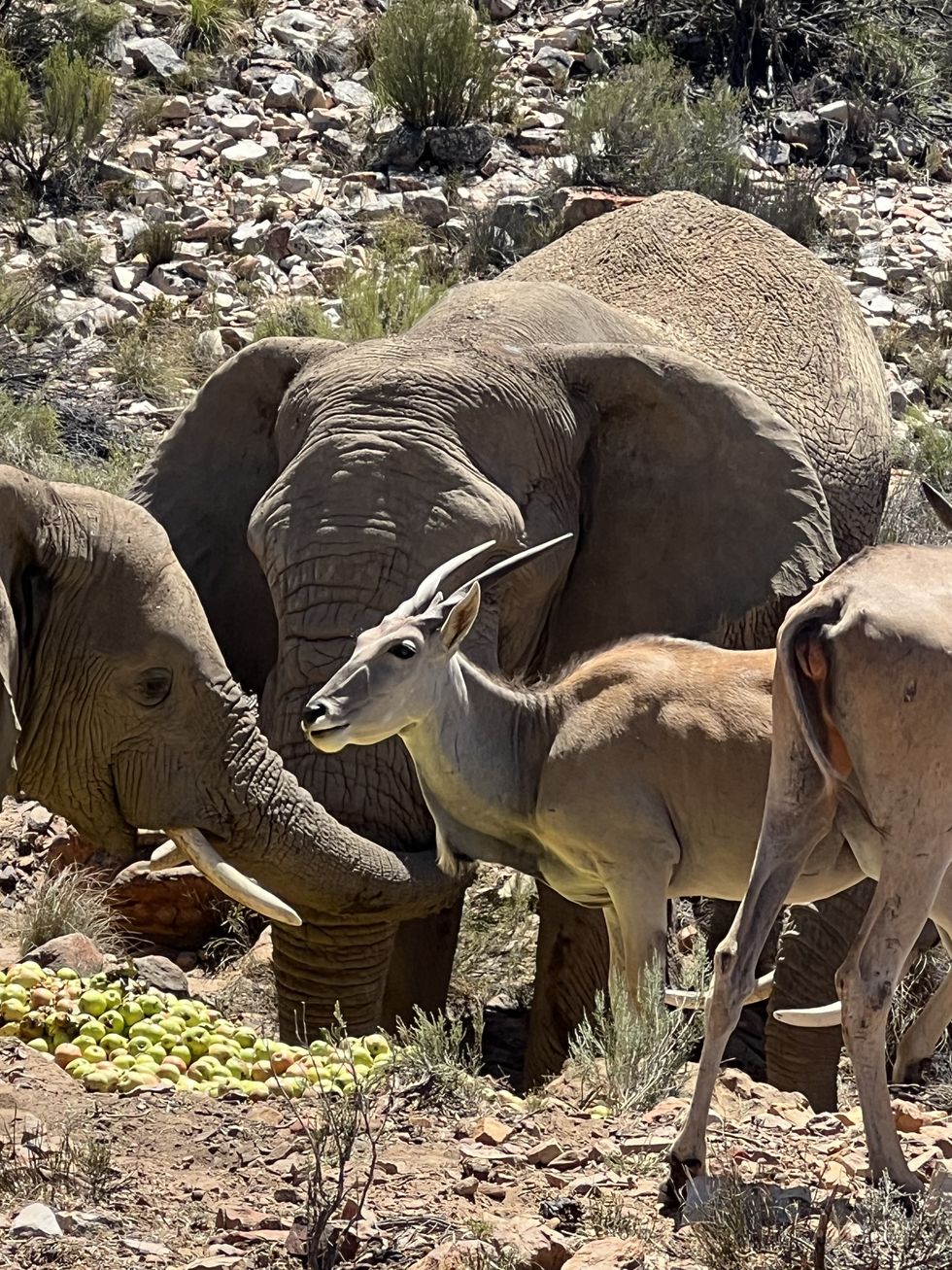 Aquila Private Game Reserve
Photo courtesy of Chivone Smith
Bo Kaap – This beautiful residential neighborhood in Cape Town has quickly become an Instagramable favorite for many tourists visiting the capital city. Many people enjoy taking pictures in this neighborhood because the homes are so colorful and vibrant. Visitors are also welcome to tour Bo Kaap and learn about the neighborhood and its history.
Aquila Private Game Reserve – What's a visit to Africa without touring one of their most notable safari's? Aquila Private Game Reserve is also where they house "The Big 5;" elephants, lions, buffalos, leopards, and rhinos. This location also offers horseback riding, among other festivities.
Quad Biking – ATV'ing is one thing in the States, but in South Africa, it's a whole other experience.
Newlands Forest – If you're looking for a good walking/biking trail or for some good views, Newlands Forest is a must-stop. If you're driving, just be careful. The street entryway is right off the street and can get a little dangerous if you're not careful.
Kloof Street – Kloof Street is a popular street in Cape Town. It's full of various restaurants, nightclubs, shops, and so much more!
Soi Bar – A personal favorite of mine, Soi Bar is a semi-new bar spot infused with various Asian dishes. If nothing else, you must try their creative drinks. Be sure to ask for the drink they offer on the hidden menu. Included with the drink is a security escort.
Green Street Market - talk about supporting Black businesses. Be sure to stop by Green Street Market to find the latest jewels, hand-stitched fabrics, and more! Cause what's a trip without souvenirs?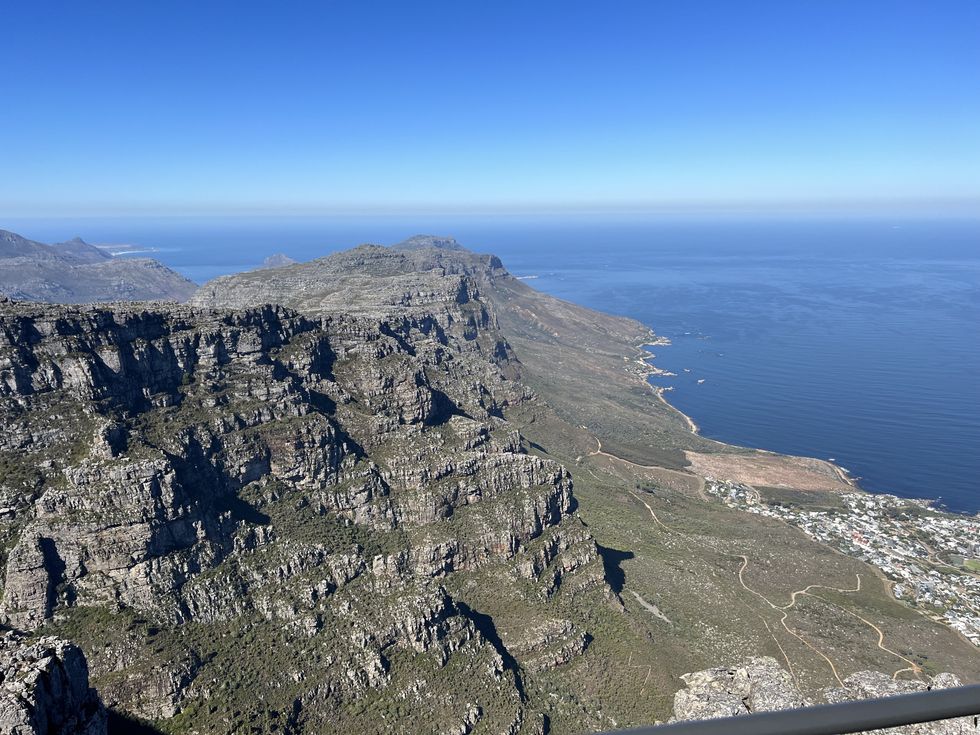 Table Mountain
Photo courtesy of Chivone Smith
Chapmans Peak - Be sure to take your time and drive slowly as you're en route to Chapmans Peak. Also, note that it will be like nothing you've ever seen before.
Table Mountain – You've not been to Cape Town if you haven't visited Table Mountain. For all my SpongeBob Squarepants fans, you'll also be able to learn a little back story about The Flying Dutchman. Most, if not all, people who've gone will tell you to take the cable car up the mountain. One, it's a five-minute glide-up, and the view is worth it. But, if you're feeling adventurous, you can also hike up the mountain. And I mean hike! Depending on where you start, hiking up the mountain will take a minimum of 2 1/2 hours up, and be sure to release your inner Meg knees for that walk down. It's the hardest part!
Canal Walk Shopping Center - If you're looking for more urban or modern attire, then head on over to one of, if not the biggest mall in Cape Town, which is located at Canal Walk shopping center. It's even got a grocery store inside.
Banana Jam Cafe – As for late-night festivities or if you and some friends just want to wind down for some drinks and good food, Banana Jam Cafe is a great place to start. It's a nice Caribbean vibe. They brew their own beer, and the music is just right. You won't be disappointed!
Boulders Beach – I've heard of horses at the beach, maybe even pigs, but have you ever seen penguins on the beach? You will at Boulders Beach!
Whether you're traveling solo or with some friends, you'll get bonus points if you know some phrases and words to help you along your journey. Here are a few words and phrases that I picked up while in Cape Town: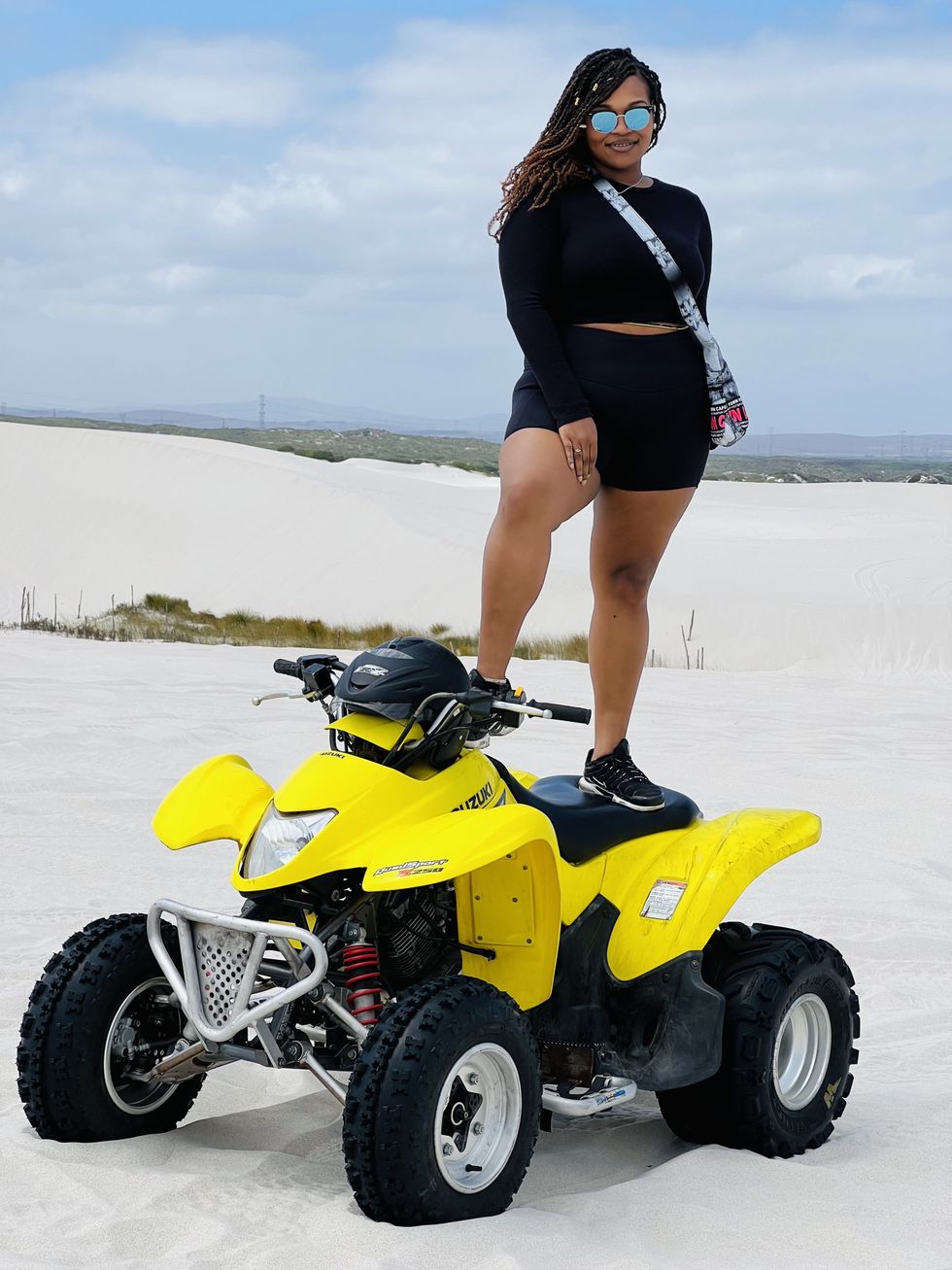 Quad biking
Photo courtesy of Chivone Smith
Kushushu (Koo-Shu-Shu)- Hot
Iza (E-za) - Come
Izapha (E-za-puh) - Come here
Imma (Ee-ma) - Wait
Bamba (Bam-Buh) - Hold
Tata (Tah-Tah) - Carry or take
Langa (Lan-guh) - Sun
Amanzi (Uh-man-zi) - Water
Puza (Pu-zah) - Drink
Ewe (Eh-wei)– Yes
Hamba (Ham-ba)/ Vaya (Vi-ya) – Go
Ke Sharp (Ke-Shap) – It's good
Ndilambile (Dee-lam-bee-leh) – I'm hungry
Lala (La-la) - Sleep
Mzanzi (Mm-Zan-zee) – South Africa
A con (A-con) - Air conditioner
Dankie (Dan-kee) - Thank you
Chomey (Cho-me)/Mikey (Mikey) - Friend
Baie (Bai) Dankie (Dan-kee) - Thank you very much
Cheers – Goodbye
Feature image courtesy of Chivone Smith
The journey to success for a lot of Black women oftentimes looks like breaking generational curses. Curses like poverty, a lack of resources, and a lack of opportunities to get out of the vicious cycle. This experience usually starts during our adolescence by way of elder family members telling us to keep books before boys and to stay focused on school. While the idea itself is digestible, it can sometimes result in Black women experiencing a disconnect within their own families.
I was a first-generation college graduate and my family was extremely proud of me and still is. But keeping my head in the books meant that my achievements didn't stop there. I went on to accomplish a couple of other "firsts" like getting my master's, working in television, and traveling the world. Coming from nothing and being able to accomplish what I have so far, was a lot to adjust to for both my family and myself. I never took into account that I would have to change certain aspects of myself, in order to accomplish what I have.
I also didn't consider how my accomplishments would affect the relationship I had with my family.
One thing about your family, they know how to humble you more than anybody. I attended college in Atlanta but was born and raised in Chicago. As a young adult, I slowly stopped living in survival mode and began to discover myself, including my likes and dislikes. South African artist and sociologist Khanyisile Mbongwa spoke on this perfectly during a Ted Talk. She talks about how getting out of the bondage of survival mode is another form of breaking generational curses. As for me, I developed a routine for how I take care of myself, my eating preferences changed, my wardrobe changed, etc.
On this journey, a lot about me changed. However, in the early days when I would come home to visit, it seemed that the person I had grown into, wasn't welcome. I was instead, thrown back into my childhood routine; doing what I was told, eating what was provided, and not complaining about any of it. It became an issue of respect for me. I wasn't a child anymore. I was a grown woman with grown thoughts, routines, and preferences. It left me feeling like a bougie outsider.
To me, I felt like I was being treated as the child I once was, instead of the woman I had become.
"I wasn't a child anymore. I was a grown woman with grown thoughts, routines, and preferences. It left me feeling like a bougie outsider. To me, I felt like I was being treated as the child I once was, instead of the woman I had become."
Subsequently, I became anxious about not trying to do too much or say too much around my family because I didn't want to come off as a know-it-all. Which led to me coming around less and less. For a number of years, I was angry and confused that the same people who told me to keep my head in the books were now criticizing me because I did just that. I did exactly what they told me to do and my life changed as a result of it. So why was I being picked on? Or at least, that's what it felt like.
One thing successful people often talk about regarding their journey is that you sometimes have to "unlearn" certain aspects of yourself because the old you can't go where the new you is taking you. Will Smith spoke on this in his autobiography Will. In talking about the early days of filming The Fresh Prince of Bel-Air, Will says an executive got in his face one day and started yelling at him about a script change. Will and his friend immediately jumped into their old Philly ways and almost went toe to toe with the executive.
Benny Medina (esteemed manager and talent agent at the time) later explained to Will that the star overreacted. Benny clarified that the executive's behavior is actually common in the industry and should've been handled with care. Will was really upset with himself afterward and realized then that he had to unlearn certain elements of himself that no longer served him, or he would miss out on some great opportunities. His initial reaction to defend himself served Will, back then, but that old Will was hurting the "new" Will's career so he had to do some unlearning.
It is not easy breaking generational curses, especially when some of that battle is coming from those you love the most. However, I am here to tell you, Black women, there are ways to remedy this. Maybe your experience hasn't been like mine. Maybe it was worse or maybe you're in the thick of it right now. Being the first to accomplish anything means you don't have a blueprint for how it's done and that you're figuring it out along the way. My experience has taught me a few things that I think can be helpful to you and your journey.
"It is not easy breaking generational curses, especially when some of that battle is coming from those you love the most. However, I am here to tell you, Black women, there are ways to remedy this."
Black women know we carry enough burdens. However, it is important to learn to not only give yourself grace but to give that same grace to your family. Them experiencing this new version of you is new for them as well. Give them space to get it right and to get it wrong. It's also important that you check in with your family as often as you can. Chasing the bag does sometimes mean you don't have a lot of free time on your hands. But if it's nothing, but a simple text, 5-minute call, or a quick email to let them know that you're thinking about them, then do it. Don't let months or years go by before checking in with your family. Find ways to "include" them in your journey. Please seek therapy. Therapy is an additional form of emotional and mental support that is so necessary for your journey to breaking generational curses.
Lastly, check your blind spots. Be sure you're treating your family with love and respect as well. Your dreams, goals, and desires are all your own. That doesn't mean that others share the same thoughts as you so it is important that you respect that as well. Don't try to force-feed people information that worked for "you." Be respectful of everyone's journey.
Feature image by Jasmin Merdan/ Getty Images