If there's anything I love about makeup, it's a bold lip. I am that girl that will wear red, hot pink, and even black lip colors. As a child, I was always indifferent about my full lips. I now know that my insecurities stemmed from unrealistic beauty standards that catered to white features, so wearing a bold color is my creative way of taking back my power. It's also my way of saying my full brown lips are beautiful, good enough, and do not need anyone's approval to be part of the beauty standard. My lips are my way of being vocal, loud, and unapologetically proud.

---
Although I love my beautiful bold lip colors, I felt it was time I took things up a notch. While shamelessly scrolling on the #beautytiktok hashtag on TikTok, I came across Stay Golden's Glitter Lip Kit. The now-viral glitter lip kit is an electrifying vibrant kit that will have the spotlight on anyone's lips. I believe in my heart this glitter lip kit is my spirit animal. I was captivated by the videos showing how the glitter flawlessly glistened in the sun or a nighttime setting. I'm not ashamed to say I fell for classic social media marketing and bought the lip kit to try for myself. Keep reading to learn more about my experience with Stay Golden's Cosmetics Glitter Lip Kit:
A Little Tea About The Brand
Stay Golden Cosmetics is proudly island girl-owned by Danielle Edmond. The Jamaica-born model started her business on her living room floor in Brooklyn, N.Y. Her love for the city's nightlife and cosmopolitans infused her idea to create a beauty line that shined brighter than the city's night lights. She is now known for her super-popping glitter lip kits sweeping the TikTok For You page.
About My Lips
My lips are sweet, supple, and brown. Since the colder months are upon us, my lips are more prone to getting dry. My self-care routine for my lips consists of sugar scrubs and lip masks to keep them moisturized and smooth. I treat my lips with kindness when removing harsh lip stains or lipsticks. My preference is to use an oil cleanser to remove any bold lipstick of choice. I believe these treatment methods have helped to keep my lips healthy, helping me avoid over-drying, cracks, or sores.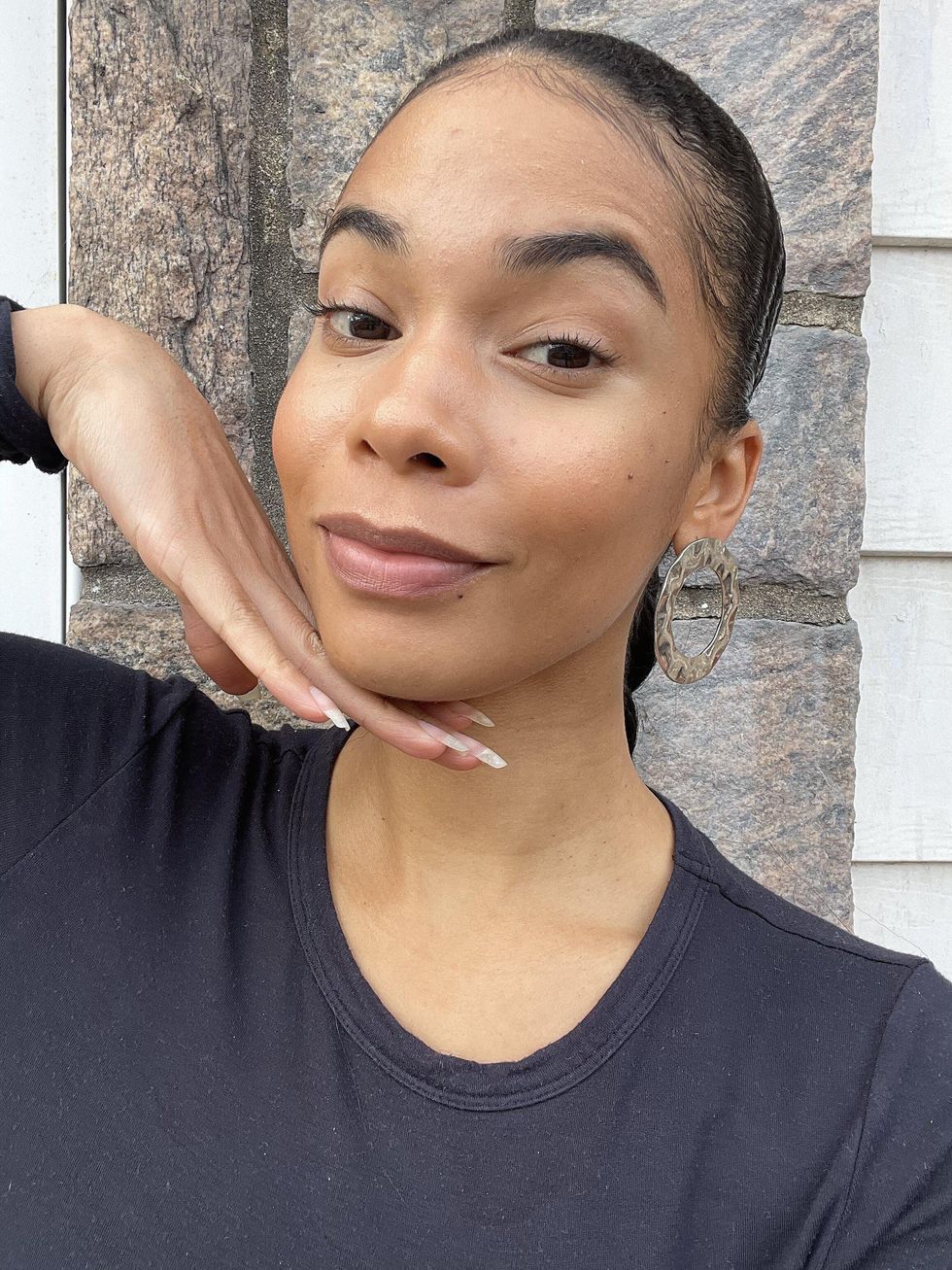 Celeste Polanco
How To Apply: Easy... Too Easy
The only thing that made me nervous about this product was the application. I was worried the process would be pretty messy. Although I love glitter, the last thing I want is a sparkly mess in my bathroom. To my surprise, applying the look was easy and didn't require any bathroom maintenance afterward. I credit this to the instructions, which listed steps that included using the lipliner, then gliding on the gloss bond, and finally adding the glitter on dry lips. All three items were included in the lip kit.

When I applied the gloss bond the texture surprised me. I would compare it to glue—which makes sense given the glitter must stick—but the feeling was a bit uncomfortable. It dried my lips more, but I guess that's the sacrifice you make for beauty in this case.
Applying the glitter was easy and fun, and I used the applicator brush that came with the kit to gently apply it. I had full control of where and how much of the glitter I wanted to put on.
The Results:
I gotta admit, I typically don't believe everything I see on social media, especially when it comes to cosmetics. You ever bought a beauty product because the hype on social media was too real, but then you get it in the mail and realize you've been bamboozled? I've been fooled by the algorithm and convincing beauty gurus one too many times. However, I am not a victim of buyer's remorse. I chose to spend my coins, and I've paid for my choices—literally.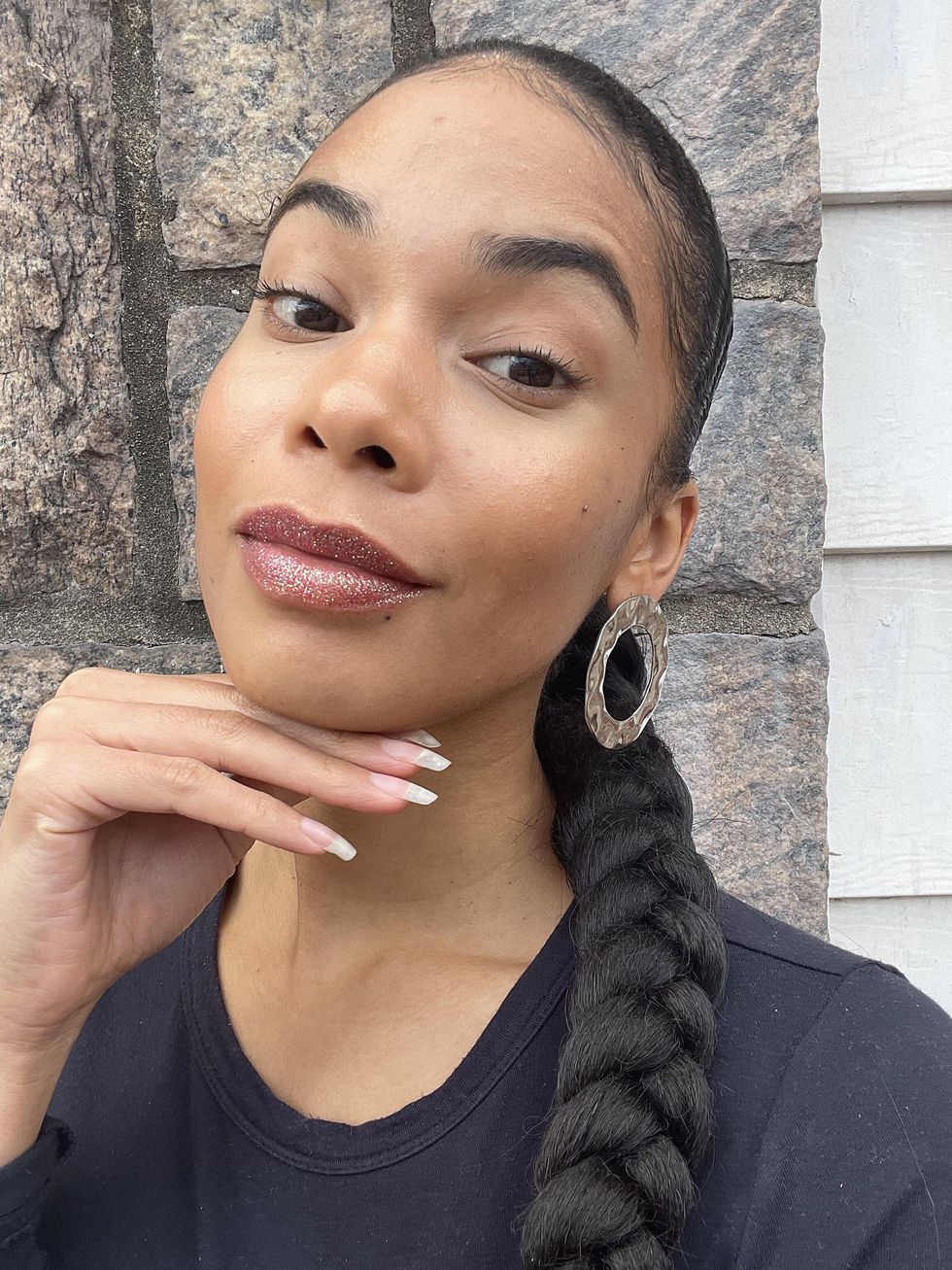 Celeste Polanco
I'm happy to report the coins were not wasted! This product looked exactly how it did when displayed on social media, if not better. The glitter was unbelievably gorgeous on my lips! At first, I expected the glitter to fall throughout the day or to find bits of it on my face. The total opposite happened! The glitter remained on my lips the entire day as I drank water, caught up with friends, and went about my business.
Remember that drying feeling we discussed earlier? After I applied the glitter, I put clear lip gloss on for moisture and extra pop.
The Value: Worth It
The kit retails for $20 plus shipping. I have to admit I'm actually OK with the price. Why? Because it works! I personally do not mind spending a coin on Black- and Brown-owned brands especially if the product works. I love that this kit provides you with everything you need to achieve the best results. Best $20 I've ever spent!
The Final Verdict
I mean, do I even need to say it? I love this product! I appreciated how bold the glitter was on my lips and how well it held up throughout the day. The removal process was also painless. Using an oil cleanser or coconut oil to remove this product will work just fine. Sure, the gloss bond was uncomfortable at first, but lip gloss took great care of that problem. The price point is appropriate, the product works, and it's Black-owned. Seriously! What's not to love?
10 out of 10, would recommend!

Featured image by Celeste Polanco