---
Natural hair and protective styles are becoming one and the same to the culture. Dating back to slavery, we have managed to figure out a way to upkeep our very versatile hair. The creativity is what gives us life and the fact that it belongs to us, is how we find new and innovative ways to add to the arsenal of hairstyles . So, when entertainers feel compelled enough to rock any protective style inside a very narrow-minded and culturally clueless fame bubble, I cannot help but to stan-literally each time.
And Tia Mowry gave me alllll my life when she decided to do just that.
Taking to Instagram to show off her look, Mowry sported bantu knots, shaped in the form of a mohawk. Additionally, the photo captioned , "Keep your circle small and your mind at #peace . Quality over Quantity. #bantuknots ," shows the actress in a knee-length white dress and gold accessories to tie it all together.
For much of 2020, Mowry has been embracing her natural locks, after doing the big chop at the start of the year.
"My sister [Tamera] and I started in this business and I've never worn my hair [natural] until adulthood. My curly hair was seen as problematic and inconvenient, and it made me insecure. My outlook changed in adulthood, I felt like, If this is what God gave me, I am gonna roll with it."
And sis has been giving us hair envy ever since.
But Mowry isn't the only one wearing the popular 'do, many celebs have sported them faithfully. A few of our faves are below:
Ciara
Ciara debuted a costume at a performance at the Bacardí Halloween Event, which included braided knots for us to swoon.
KiKi Layne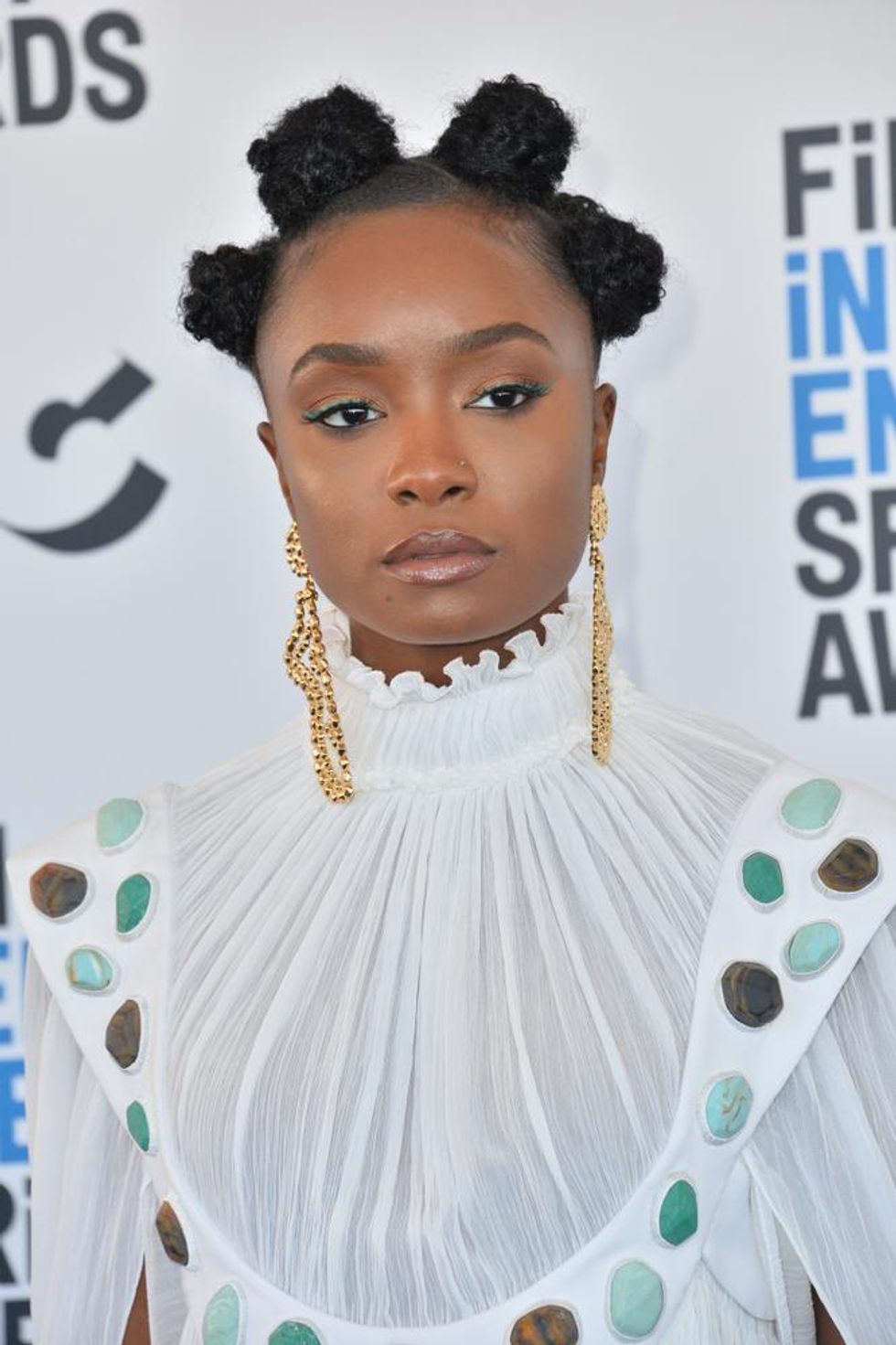 Featureflash Photo Agency / Shutterstock.com
Actress KiKi Layne was an absolute boho-chic vision as she stunned the red carpet of the 2019 Film Independent Spirit Awards.
Tracee Ellis Ross
Tracee Ellis Ross posted being posted up at home in her knotted style.
Rihanna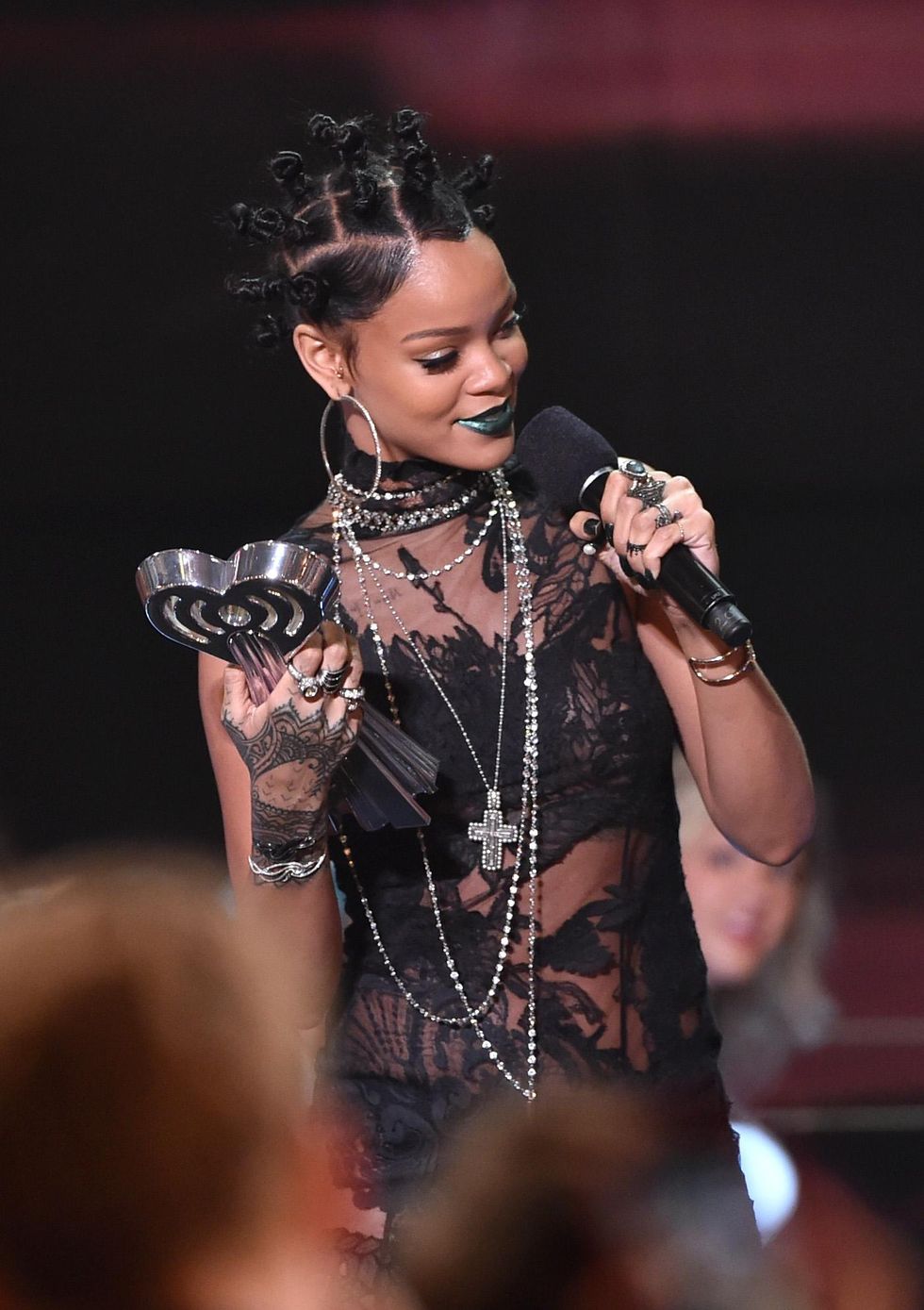 Kevin Winter/Getty Images for Clear Channel
Of course, Robyn Rihanna Fenty rocked tf out of her knots (which she has done, publicly, on more than one occasion). This bold look was from the 2014 iHeartRadio Music Awards.
Amandla Stenberg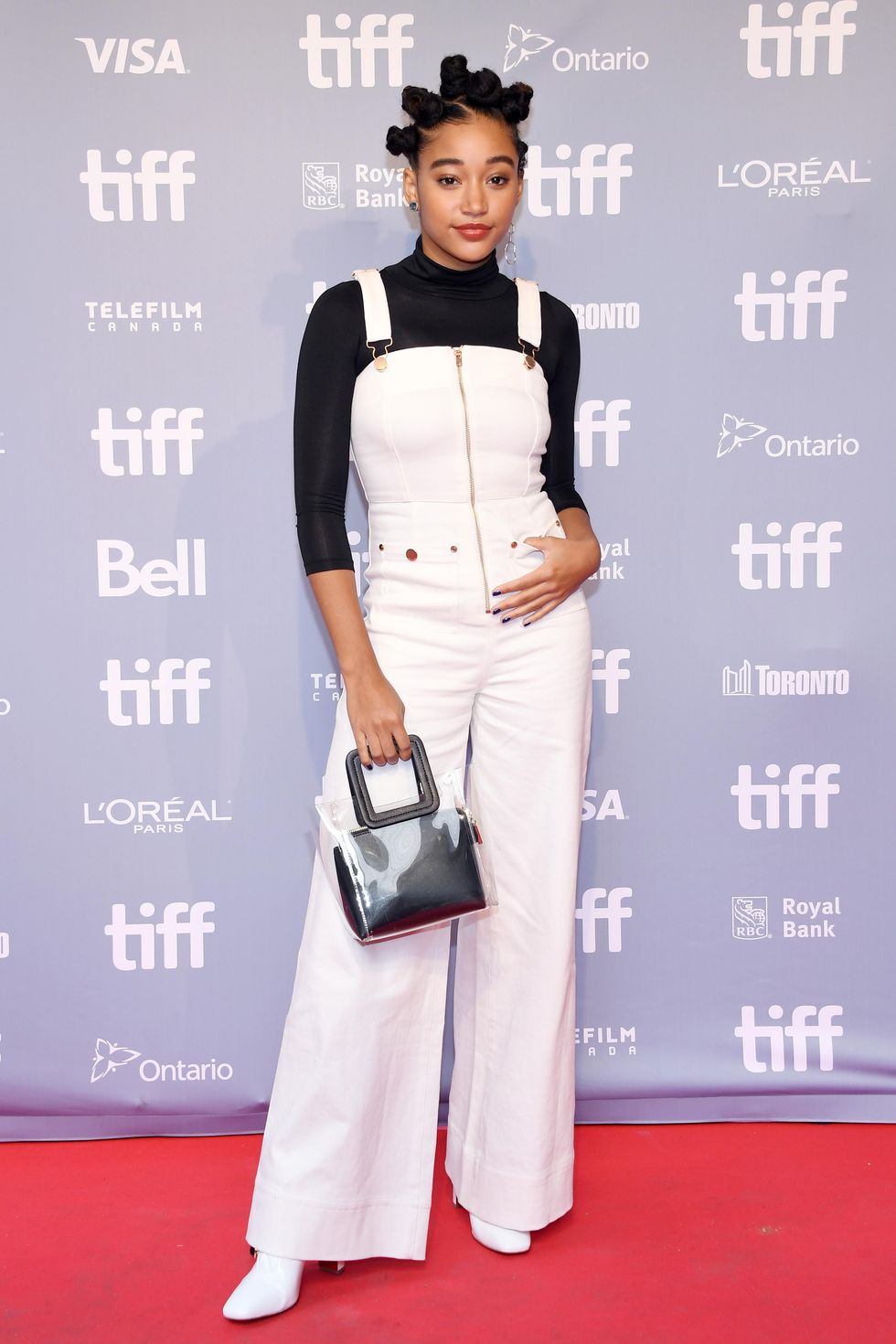 GP Images/WireImage
Amandla Stenberg stunned at the 2018 Toronto International Film Festival for The Hate U Give with her take on bantu knots.
Tessa Thompson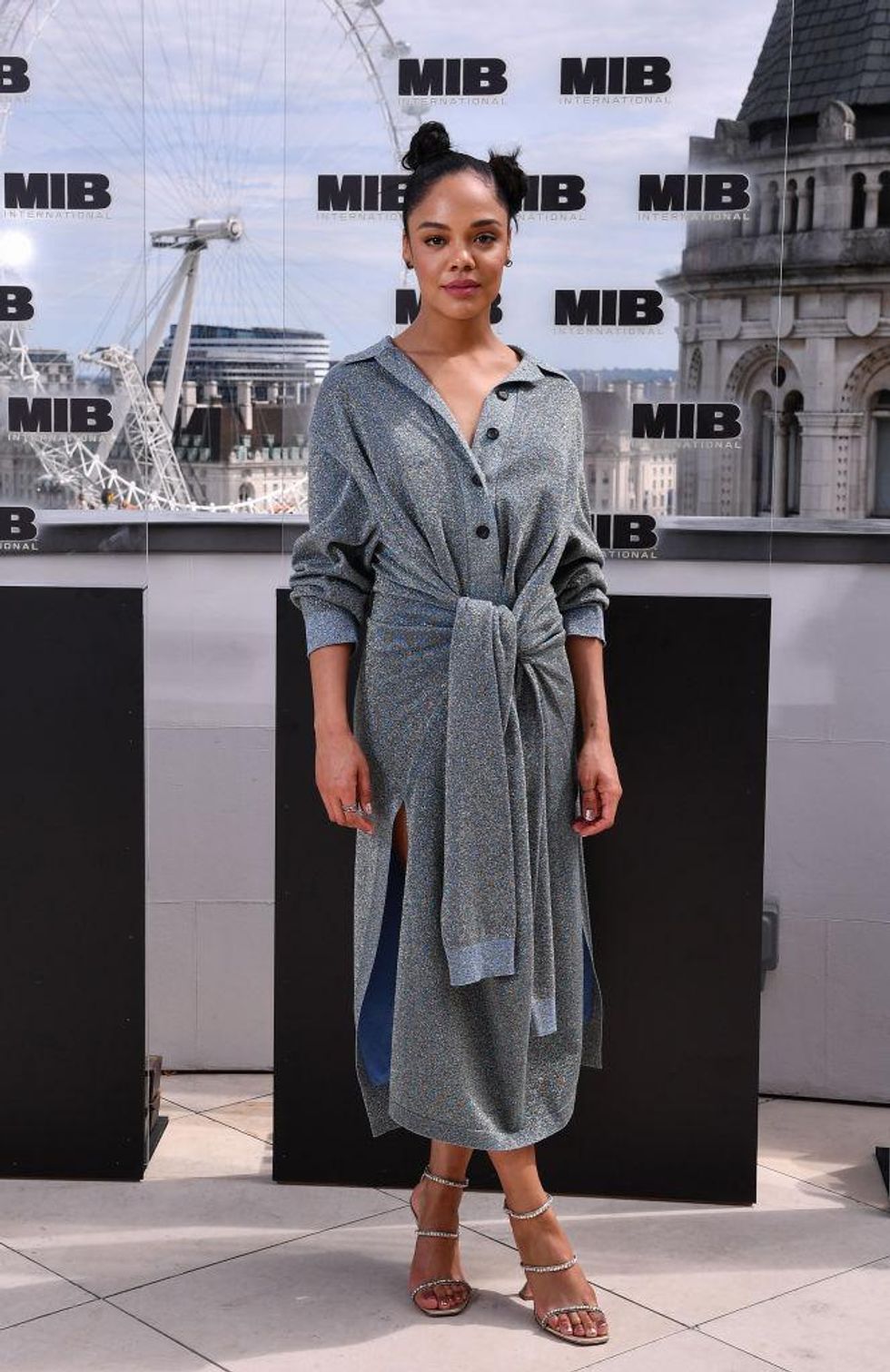 Jeff Spicer/Getty Images for Sony Pictures Entertainment
Always a vision, Tessa Thompson slayed her bantu knot rendition at a Men in Black: International London photocall. And sis did not disappoint.
Yara Shahidi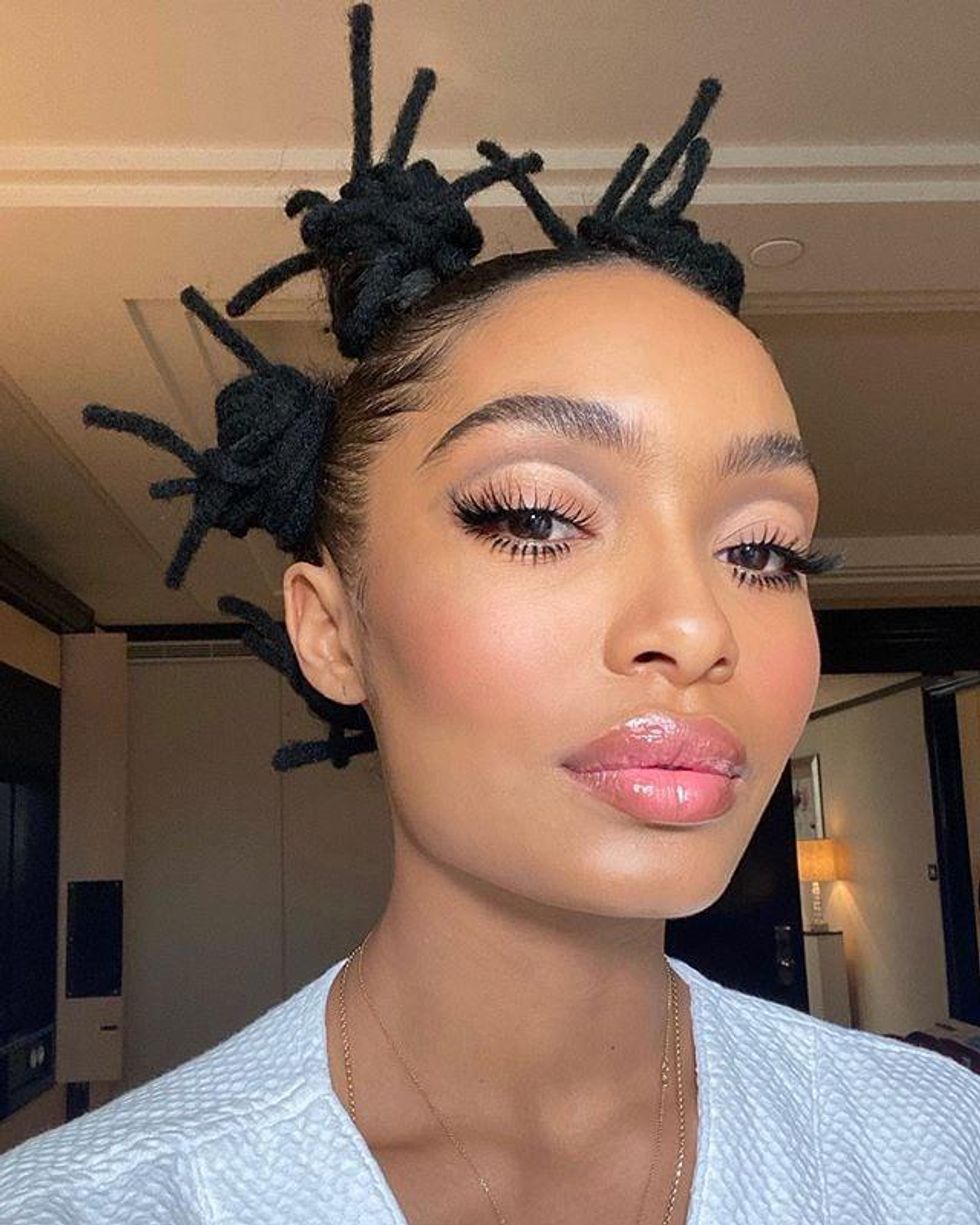 Yara Shahidi/Instagram
And Yara stole the show at Paris Fashion Week with her amazingly perfect take on the bantu knot style.
As the natural movement continues to gain steam, we look forward to witnessing the evolution of this, and many other styles over the next few years. Love to see it!
Featured image by Kathy Hutchins / Shutterstock.com

Charmin Michelle
Charmin Michelle is a southern native and creative spirit who works as a content marketer and events manager in Chicago. She enjoys traveling, #SummertimeChi, and the journey of mastering womanhood. Connect with her on Instagram @charminmichelle .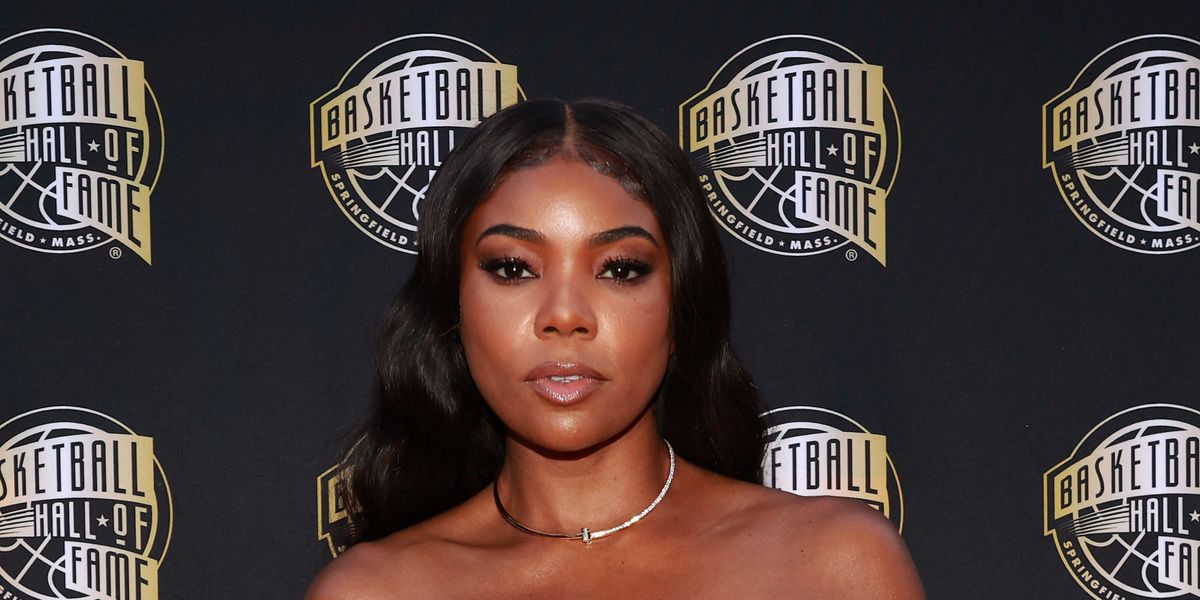 Whenever Gabrielle Union graces the movie screen, she immediately commands attention. From her unforgettable scenes in films like Bring It On and Two Can Play That Game to her most recent film, in which she stars and produces Netflix's The Perfect Find , there's no denying that she is that girl.
Off-screen, she uses that power for good by sharing her trials and tribulations with other women in hopes of helping those who may be going through the same things or preventing them from experiencing them altogether. Recently, the Flawless by Gabrielle Union founder partnered with Clearblue to speak at the launch of their Menopause Stage Indicator, where she also shared her experience with being perimenopausal.
In a xoNecole exclusive, the iconic actress opens up about embracing this season of her life, new projects, and overall being a "bad motherfucker." Gabrielle reveals that she was 37 years old when she was diagnosed with perimenopause and is still going through it at 51 years old. Mayo Clinic says perimenopause "refers to the time during which your body makes the natural transition to menopause , marking the end of the reproductive years."
"I haven't crossed over the next phase just yet, but I think part of it is when you hear any form of menopause, you automatically think of your mother or grandmother. It feels like an old-person thing, but for me, I was 37 and like not understanding what that really meant for me. And I don't think we focus so much on the word menopause without understanding that perimenopause is just the time before menopause," she tells us.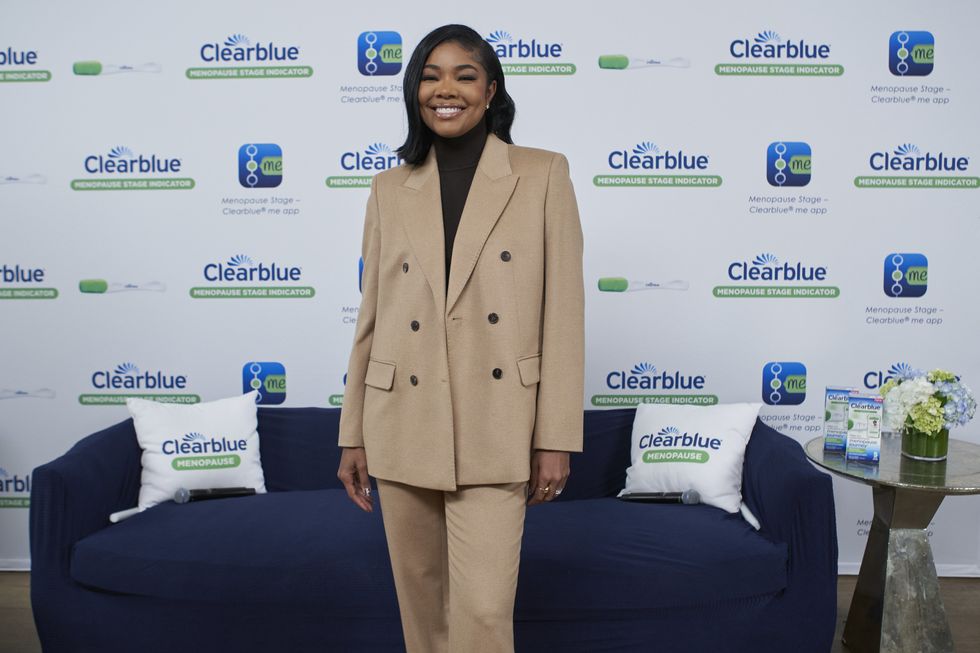 Gabrielle Union
Photo by Brian Thomas
"But you can experience a lot of the same things during that period that people talk about, that they experienced during menopause. So you could get a hot flash, you could get the weight gain, the hair loss, depression , anxiety , like all of it, mental health challenges , all of that can come, you know, at any stage of the menopausal journey and like for me, I've been in perimenopause like 13, 14 years. When you know, most doctors are like, 'Oh, but it's usually about ten years, and I'm like, 'Uhh, I'm still going (laughs).'"
Conversations about perimenopause, fibroids, and all the things that are associated with women's bodies have often been considered taboo and thus not discussed publicly. However, times are changing, and thanks to the Gabrielle's and the Tia Mowry 's, more women are having an authentic discourse about women's health. These open discussions lead to the creation of more safe spaces and support for one another.
"I want to be in community with folks. I don't ever want to feel like I'm on an island about anything. So, if I can help create community where we are lacking, I want to be a part of that," she says. "So, it's like there's no harm in talking about it. You know what I mean? Like, I was a bad motherfucker before perimenopause. I'm a bad motherfucker now, and I'll be a bad motherfucker after menopause. Know what I'm saying? None of that has to change. How I'm a bad motherfucker, I welcome that part of the change. I'm just getting better and stronger and more intelligent, more wise, more patient, more compassionate, more empathetic. All of that is very, very welcomed, and none of it should be scary."
The Being Mary Jane star hasn't been shy about her stance on therapy . If you don't know, here's a hint: she's all for it, and she encourages others to try it as well. She likens therapy to dating by suggesting that you keep looking for the right therapist to match your needs. Two other essential keys to her growth are radical transparency and radical acceptance (though she admits she is still working on the latter).
"I was a bad motherfucker before perimenopause. I'm a bad motherfucker now, and I'll be a bad motherfucker after menopause. Know what I'm saying? None of that has to change. How I'm a bad motherfucker, I welcome that part of the change."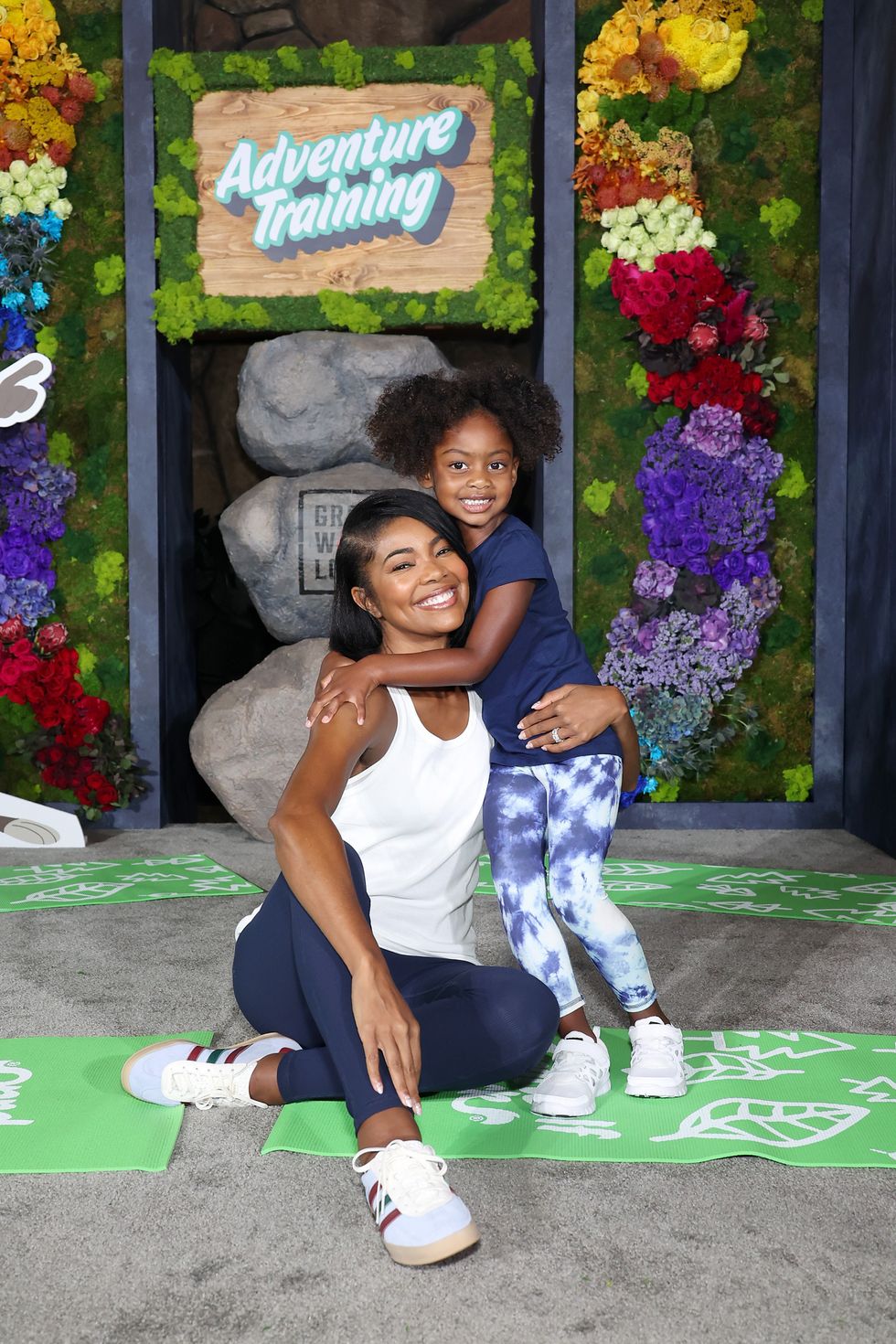 Gabrielle Union and Kaavia Union-Wade
Photo by Monica Schipper/Getty Images
"I hope that a.) you recognize that you're not alone. Seek out help and know that it's okay to be honest about what the hell is happening in your life. That's the only way that you know you can get help, and that's also the only other way that people know that you are in need if there's something going on," she says, "because we have all these big, very wild, high expectations of people, but if they don't know what they're actually dealing with, they're always going to be failing, and you will always be disappointed. So how about just tell the truth, be transparent, and let people know where you are. So they can be of service, they can be compassionate."
Gabrielle's transparency is what makes her so relatable, and has so many people root for her. Whether through her TV and film projects, her memoirs, or her social media, the actress has a knack for making you feel like she's your homegirl. Scrolling through her Instagram, you see the special moments with her family, exciting new business ventures , and jaw-dropping fashion moments. Throughout her life and career, we've seen her evolve in a multitude of ways. From producing films to starting a haircare line to marriage and motherhood , her journey is a story of courage and triumph. And right now, in this season, she's asking, "What's next?"
"This is a season of discovery and change. In a billion ways," says the NAACP Image Award winner. "The notion of like, 'Oh, so and so changed. They got brand new.' I want you to be brand new. I want me to be brand new. I want us to be always constantly growing, evolving. Having more clarity, moving with different purpose, like, and all of that is for me very, very welcomed."

"I want you to be brand new. I want me to be brand new. I want us to be always constantly growing, evolving. Having more clarity, moving with different purpose, like, and all of that is for me very, very welcomed."
She continues, "So I'm just trying to figure out what's next. You know what I mean? I'm jumping into what's next. I'm excited going into what's next and new. I'm just sort of embracing all of what life has to offer."
Look out for Gabrielle in the upcoming indie film Riff Raff , which is a crime comedy starring her and Jennifer Coolidge, and she will also produce The Idea of You , which stars Anne Hathaway.
Feature image by Mike Lawrie/Getty Images

How We Met is a series where xoNecole talks love and relationships with real-life couples. We learn how they met, how like turned into love, and how they make their love work.
Have you ever heard the saying, "You can't have it all?" Do you think there's any truth to it? The more I resonate with the thought, I realize it just depends on what one considers "all." In this "How We Met" story, I chatted with two individuals who have reached an unusual level of success but, for years, celebrated it alone. Now, they have a beautiful marriage centered around faith, family, and legacy.
But the journey to getting there required them to be uniquely intentional, submit fully to God, and practice an amount of vulnerability that I think most people would find uncomfortable – especially on the first date.
Santia Barnes, known more commonly as @Trackbaby001 on Instagram, earned the highest-paid contract ever for a woman in American football. Also, she is the first female athlete to have her own shoe company. With a combined social audience of 3 million followers, she's established herself as a mega-influencer in the health/fitness and lifestyle space. But surprisingly, in our 48-minute phone call, we only discussed this for roughly 60 seconds. Instead, I had a beautiful conversation with Santia and her husband Isaac, a successful tech entrepreneur , about their dream-like partnership.
His company was one of the fastest growing in his county for two years, and he is the only Black entrepreneur to win a federal aviation award for being a government contractor. Plus, he previously won a $13.4 billion contract with the Air Force and Space Force (cues, "he got money" in my best Quinta Brunson voice). But seriously, both of them have such an amazing story alone – yet they made it even better by finding each other. It almost sounds too good to be true, right? Well, Santia felt the same way. In fact, on their first date, they actually tried to disqualify each other. Here's how it went.
Let's start from the beginning. How did you two meet?
Isaac: Well, firstly, we connected through the divine grace of God. But we met on Bumble and talked there, and she gave me such a hard time (laughs). But we built a connection online and then took it offline to the phone and eventually in person. Since that meeting, we've been stuck like glue.
Santia: Yes, we met on Bumble. But I've gotta add to that. I was pretty much done with love, relationships, and especially online dating. But it was right around Valentine's Day, and I felt like God was telling me to try just one more time. So, I created my profile and made it very blunt; I was super clear about what I wanted. I started swiping for a few days and eventually came across his profile, and I noticed our profiles were very similar.
I felt like it was rare for a man to be that intentional. Also, I like that he was attractive and an entrepreneur. I felt like he could understand my life. It took him a couple of days to swipe back, though, and I was little in my feelings. I was literally going to delete the app when he DM'd me . So, it was really the grace of God.
Tell me about your first date. What was the chemistry like?
Isaac: She was late (laughs). But we went to Seasons 52, which made sense because I'm vegan, and she likes to eat healthy. So I made reservations, but again, she was late. Eventually, she got there, and when she did, I saw the entire room shift. It was the weirdest thing. I've never seen that in real life. It was like the whole restaurant was looking at us. So we got a table, and immediately, it felt like our energy flowed together so smoothly.
You know how first dates can be awkward? This was exactly the opposite. She grilled me, and I grilled her. We asked some of the deepest questions ever. It was like we were trying to disqualify each other. After dinner, I walked her back to her car because she was recently injured. And in that moment, God talked to me. I knew that this is what it is.
Santia: We talked for like three hours on that date. I remember in the conversation, I said, "Not to be weird, but your energy makes me feel very calm." That was a big green flag for me. I also remember him walking me back to my car and not trying anything but genuinely just caring for my leg. I was like, this is different. It was an A+ date.
"We asked some of the deepest questions ever. It was like we were trying to disqualify each other. After dinner, I walked her back to her car because she was recently injured. And in that moment, God talked to me. I knew that this is what it is."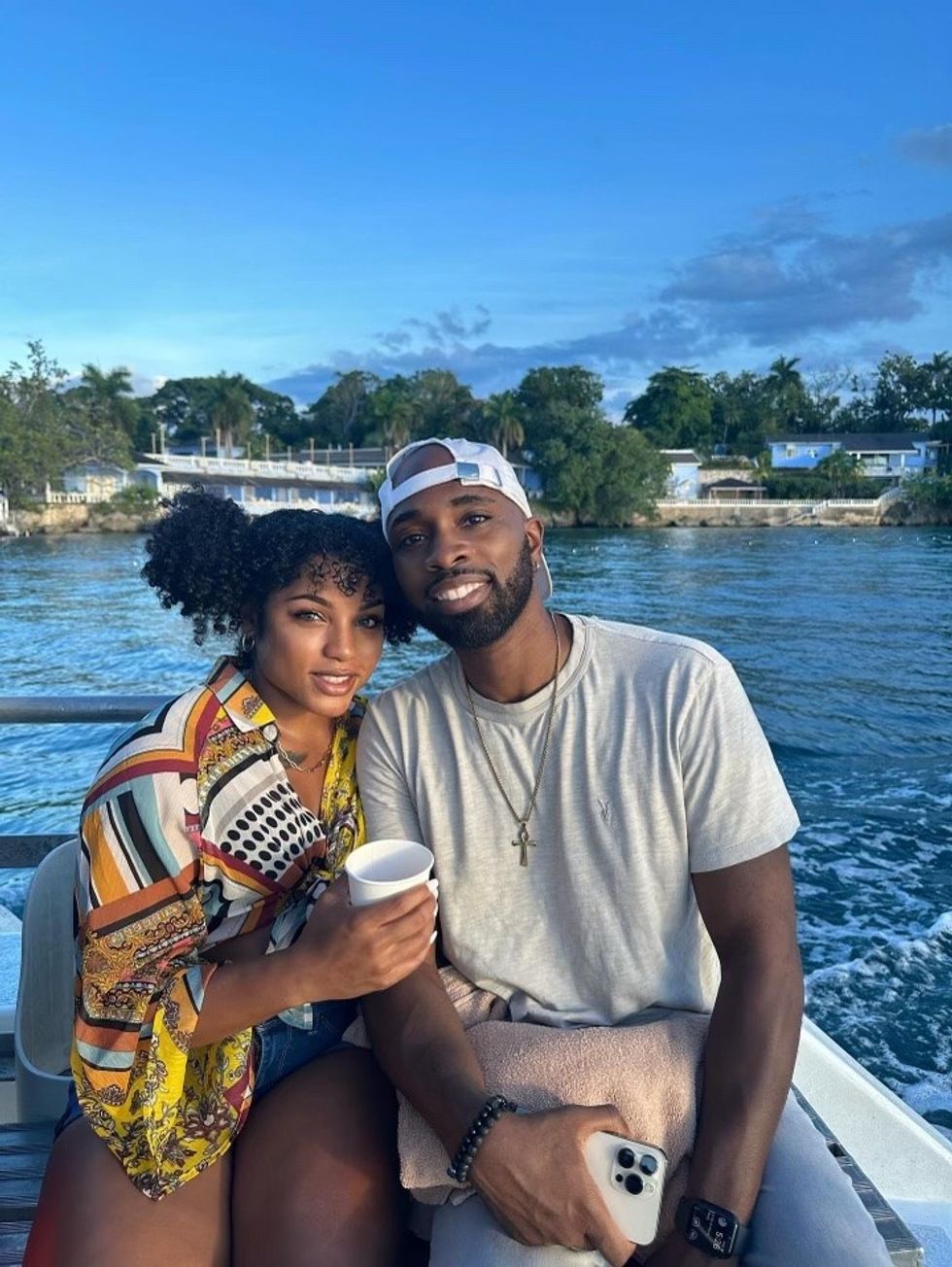 Photo courtesy of Santia and Issac Barnes
So, what are some of these intense disqualifying questions y'all asked?
Isaac: We asked everything. We talked about our thoughts on kids, marriage, church, gender roles , family, past relationships, and trauma.
Santia: Yeah, we asked everything they tell you not to. But that's how I knew he was the one; he didn't get uncomfortable.
Okay, so if you were still dating, walk me through that next step. What was that conversation like when you two decided to take it to the next level?
Isaac: I had a business trip I had to go to in Orlando, and because of my connection with the Creator I knew she needed to go on this trip with me. She was overcoming tearing her ACL and just needed a break. So we took a road trip together. We drove from Atlanta to Orlando in the car for 8 hours, and we just did the work. We got into childhood trauma and aspirations. It got deep –
Santia: Like, I cried. I discovered stuff about myself I haven't talked about with anyone else.
Isaac: In that moment, I developed a deeper sense of trust in her because of her vulnerability . And after that trip, I just knew. She still had some concerns, but I was good (laughs).
Santia: Yeah, because I felt like something had to be wrong. Like, I remember calling my mom and she tried to help me just embrace it. Eventually, I actually asked him, " What are we ?" And he literally said, "You're going to be my wife." And I still was like, are you going to ask me to be your girlfriend though, and he did – and I said yeah. (laughs). But that was only like a month in. It was very quick.
It seems like communication has been a core part of your relationship. What are some important lessons you've learned about yourselves individually through loving each other?
Isaac: That's hard to answer just for this week. A lot of our stuff is self-discovery. But I'll say, I learned how skeptical I was that this is possible. Also, I learned that all of what I went through is crafting me to be who I am today. Through this relationship, I've learned to embrace my 100% authentic self. Her love matters more to me than anything else, and that's my #1 priority.
So if she accepts me how I am, who is the world to tell me I can't be this way? She has allowed me to see myself more than any other human, and because of that, I have to shower her with as much love as possible.
Santia: I don't even know where to start. He's taught me a lot since day one. He made me more confident in who I am. As an influencer, you don't always know who is there for the right reasons. But he's made me feel 100% more confident in standing on who I am. He's also taught me so much about business. He taught me how to open up more, not feel shame in who I am, and how to set boundaries and stick to them.
And Issac has melted every fear, doubt, and insecurity I've had about relationships. I could keep going, but overall, he has a really amazing way of teaching me in a loving way. Having someone that sees and understands me – and not just the social media me – but Santia Barnes, the individual, has been beautiful, and I've never experienced it until now.
"Issac has melted every fear, doubt, and insecurity I've had about relationships. Having someone that sees and understands me – and not just the social media me – but Santia Barnes, the individual, has been beautiful, and I've never experienced it until now."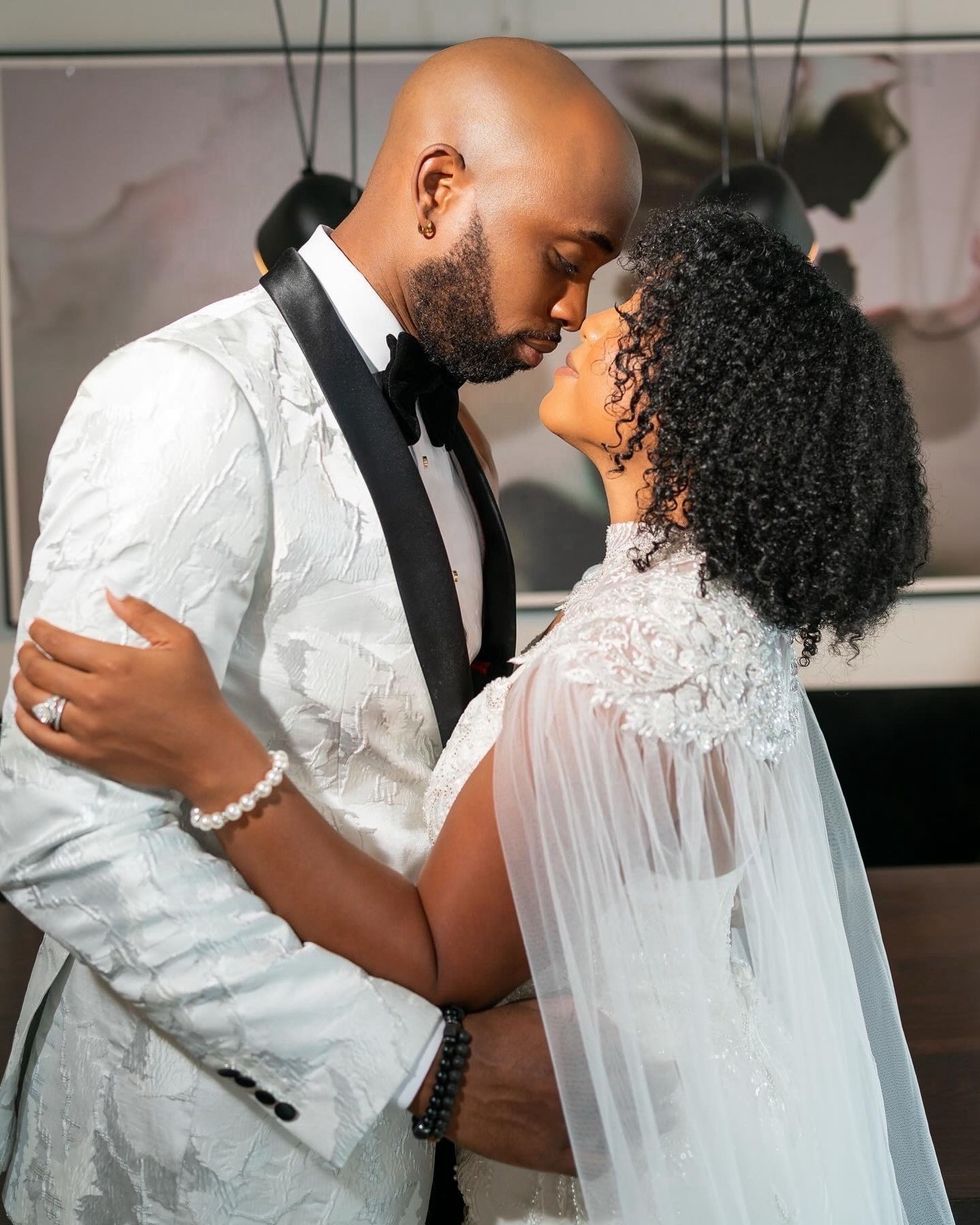 Photo courtesy of Santia and Issac Barnes
How do you guys navigate past struggles, baggage to work toward your relationships?
Issac: On our honeymoon, I vowed that I would come into this relationship with a clear understanding of what's holding me back so I can be my best self going through our marriage. For example, on our first day over there, we both wrote down all of the negative anchor thoughts we had around money and finances, and we literally went through every thought.
I found 50 financial aspirations, and every time I read something that I didn't agree with, I wrote it down. And we talked about where these negative thoughts came from, going back to childhood.
Santia: We do that all the time. If anything comes up, we talk about it, try to get to the core of it, dissect it, and we solve it.
Okay, seriously do ya'll argue at all (laughs)?
Santia: I mean, if we feel something, we say it.
Isaac : The way we got there is that we established early on that if we're going to do this we have to be on the same team. We have a championship we're trying to win, and that's a family legacy . If something is going on, I'm gonna treat it like my teammate is going through it, and we'll work through it. But it's impossible not to have any challenges.
Santia: We don't have to yell, scream, or be disrespectful though. We can talk in a calm voice and disagree. As long as we know that we're on the same team, we're good. I always know we're not purposely trying to hurt each other, and I know that he's my partner. Looking at it from that lens changes things. We've only had two real arguments . It was early on, and when we dissected those too, we realized that back then, we didn't know each other the way we do now. We weren't sure we were on the same team (laughs).
Do you guys have any rituals or daily practices that help keep your relationship strong?
Isaac: To cement our process, we listen to our spiritual practice. We practice Sabbath every Friday evening until Saturday evening. So that means no work, no outside communication, we're just in each other's skin for 24 hours and experience the world together. Then we recap our week, things we're grateful for from each other and from God, things that bother us, and then we process it right there. We do that every week.
Santia: We also go over a Bible verse and dissect it together. We have a lot of processes because when you have a plan, you can't really fail.
Isaac: And the Bible verse always relates. It's crazy. (laughs)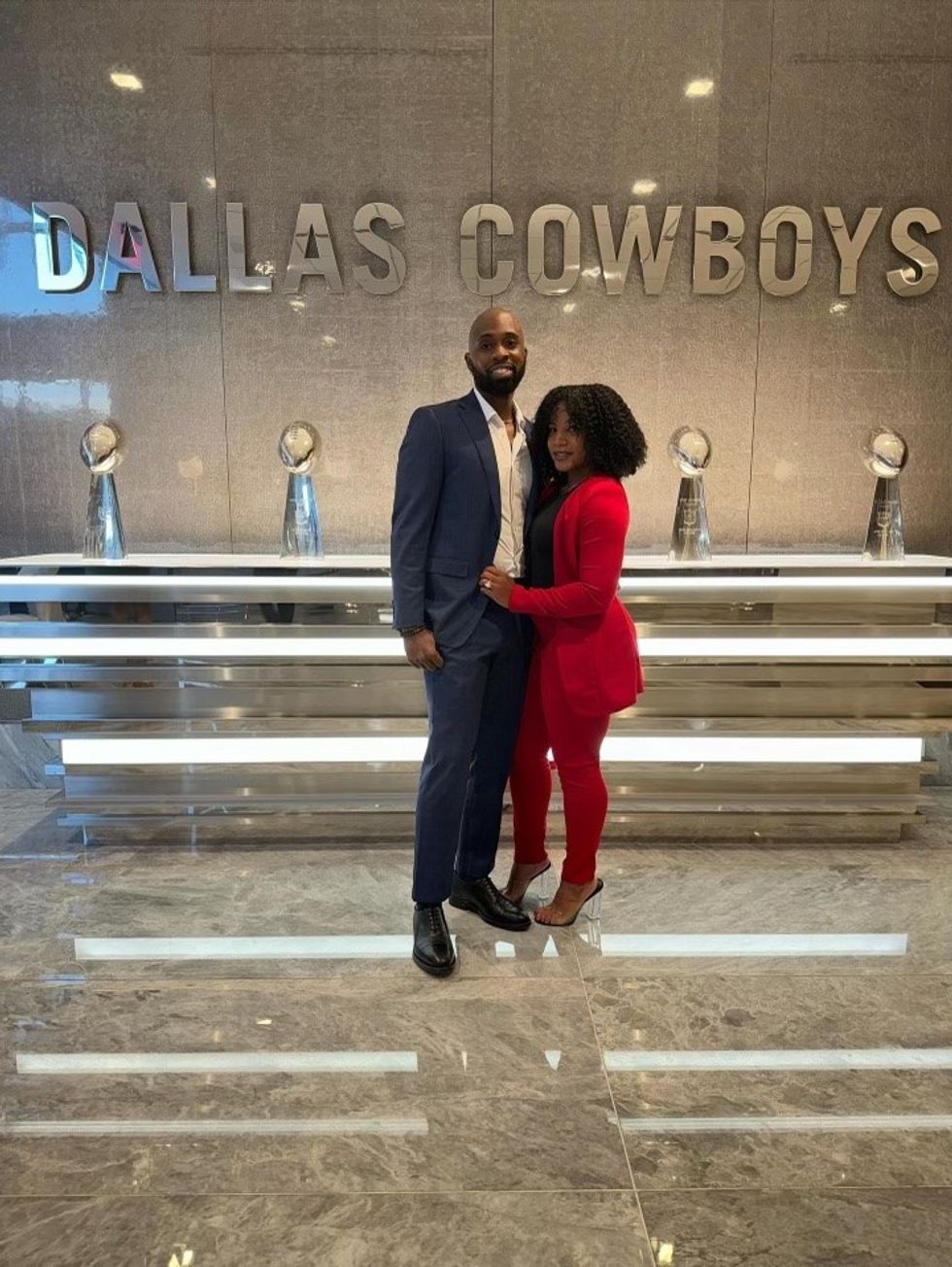 Photo courtesy of Santia and Issac Barnes
What are your love languages?
Santia: Mine is acts of service, gifts, and words of affirmation
Isaac: Mine is physical touch, acts of service, and words of affirmation.
Are there any challenges you guys had to work through?
Santia: This is my first time living with a man. So things that guys do – like not flushing the toilet, putting dishes in the sink when I'm washing the dishes, and stuff. Honestly. I was really scared about that because I love my space. But surprisingly, I adjusted very quickly. We both work from home and have our own offices, too. So it just kinda works out.
Isaac: For me, it was going from being a single man to adjusting to her needs. For example, she likes flowers. To me, that meant I occasionally bought her flowers. But to her, that means, nah, I want them multiple times a month. Date nights meant occasionally to me; she wants them weekly. It's just about making sure our needs and expectations are articulated correctly. We come from different worlds, so it's important to do that.
Finally, I'll close with how did you know it was love?
Santia: We took a trip to NOLA – another road trip. I cried again and just remembered thinking there's no one like him. I was like, God, if he's not my person, this is a cruel joke. But more blatantly, like three months into us dating, I was so conflicted because I was like, I'm falling, and I don't want to be hurt again.
I remember I had a dream where I was in this dark room and there was this figure there, and I knew it was God, and in that dream, I feel like he told me clear as day that Isaac was my person. Plus, my Mom hates everyone I've ever dated, but she was like he's gonna be my son-in-law. I had so many confirmations that I eventually just let go.
Isaac: It was multiple moments. I really got confirmation on the first date , but I became sure in one moment. I was sitting in my office, and she came in, and we were talking about her making history. So I started showing her some of my awards, too, and at that point, she still didn't know what I did. And she was like, why don't people know about this, and I showed her my Facebook page – where I had made a small post with a few likes (laughs). And she was like, do you know how many young Black children don't know this is possible? It was different.
I felt like a hypocrite because I do everything for the next generation. So, she allowed me to see myself in that totality and still hold me accountable. The only person who had done that for me was my Dad and [he] passed away a few days before my 18th birthday. So after that, that did it for me. Then we went to the DR for my brother's anniversary, and she met my family and I saw how well she blended with my family, and I just knew.
Santia and Isaac are continuing to grow their individual businesses and love journey. Through that process, they have created an intentional dating platform on Instagram called @dateintentional1 .
Featured image courtesy of Santia and Issac Barnes