---
Amandla Stenberg has come a long way since first making her mark as the beloved District 11 tribute Rue in the Hunger Games series. Amandla has gone to star in films like Everything, Everything, Darkest Minds, and the forthcoming adaptation of Angie Thomas's best-selling novel The Hate U Give (premiering October 19). Witnessing her growth as an actress and an activist has been endearing, but so has watching her walk into her truth as a woman. Constantly evolving. Always unapologetically. Sexuality and all. She made headlines earlier this year when she came out to the world as gay, after revealing years prior that she was bisexual.
The soon-to-be 20-year-old recently graced the October/November cover for Seventeen magazine and talked owning her beauty, sexuality, and the truth behind her deciding to come out twice.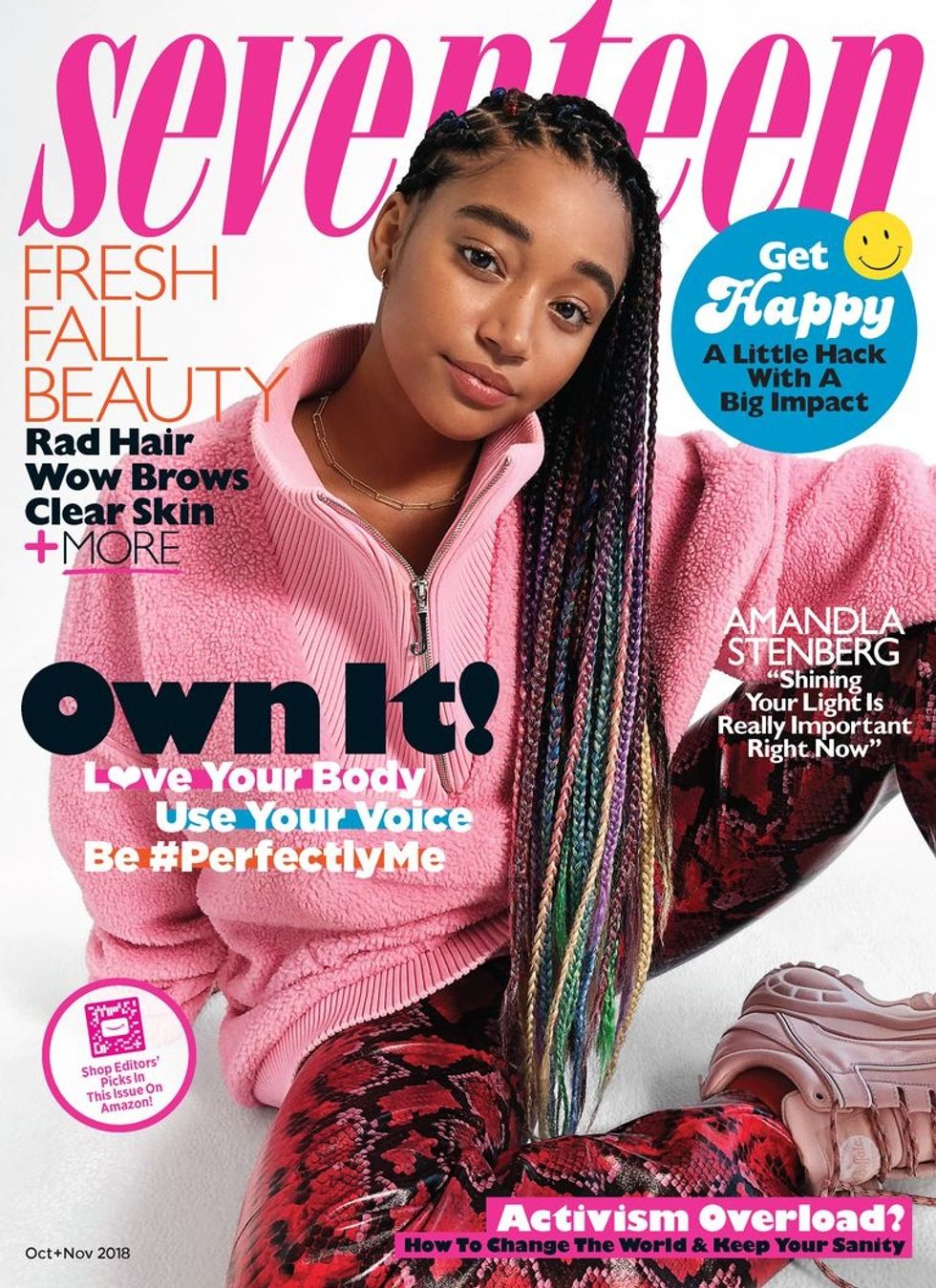 SILJA MAGG/SEVENTEEN
Back in 2016, Amandla, who was quickly becoming a symbol of young activism, came out as "a black, bisexual woman" during a Teen Vogue Snapchat conversation. Fast-forward to this year, she came out as simply and completely gay. She and her girlfriend singer King Princess made their red carpet debut at this year's VMAs. In her Seventeen cover story, she noted that gender and sexuality are fluid, noting that there are allowed to be gray areas in the attempt to make sexuality and sexual orientation a black and white conversation:
"Gender and sexuality are so fluid—it's okay to change your mind a million times and figure out what works for you. It's okay to take your time… I'd been out as bisexual, and people have known I'm queer for a long time. I saw some comments that made me chuckle, like, 'Girl, we been knew!' But I wanted to make it very clear that I have romantic love for women. I realized I had so much internalized homophobia and so much discomfort around hooking up with dudes. I always knew that when I hooked up with girls, it was the happiest I'd been in any sexual dynamic. I love that we have this umbrella term of queer, and so many things can exist underneath it, but I realized that part of my journey was hiding underneath that umbrella, because I was scared—on a personal and a public level—to confront what I was. It was easier for me to say 'I'm bi' or 'I'm pan' as I was figuring it out. But I came to a place where I felt really proud of my sexuality, and I decided I wanted to share that pride."
The beautiful thing about life is that you don't have to fit into a box if you don't want to. You are allowed to decide who you are by yourself and for yourself. And when you live your life in your truth, you live life for yourself and you move through the world in such a way that aligns with that. For Amandla, that means being open about her pride for her queerness, but also leaving tables where she is no longer being served. Body confidence is a thing and these days, Amandla refuses to let anyone make her feel bad for being herself. That extends to casting directors.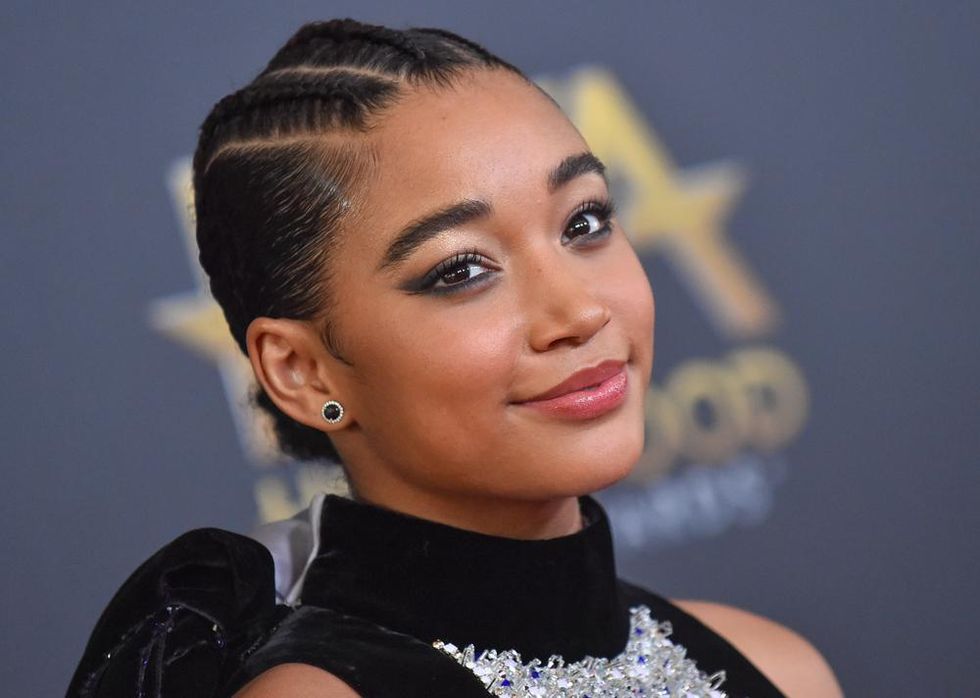 DFree / Shutterstock.com
"Being in entertainment can be hard—if you were to meet actors in real life, you'd probably be surprised at how tiny they are. I'm not a hella-skinny person—I'm petite, but I'm low-key slim-thick—and I've had people put pressure on me to lose weight or oversexualize my body because it doesn't look infantile. People often say my boobs are too big. There have been several moments when I was filming a scene, and someone came over with a small sports bra and said, 'Put this on real quick. Your boobs look too big on camera.' You're conceived of as too much if you have, like, thighs. It's ridiculous! I try to only work in spaces now that make me feel comfortable. It's challenging, but I'd rather be healthy and happy and love my body."

A large part of her embracing her curves and her lowkey slim thick status is about learning to love the skin that she is. The "woke" activist is vocal about her love for her blackness and pushing the culture forward by being a voice for our generation by way of offering support to Black Lives Matter and the like. For her, to experience true self-love and and learn to embrace her beauty and the features that embodied her black identity, it meant and still means unlearning what she had been taught:
"I've had to unlearn a lot, and I'm still unlearning things. I hated my hair growing up—I thought it was ugly. By the time I got to high school, I was using a relaxer. But when I was 16, I chopped off all the dead hair and started wearing it natural, and I realized that it was so beautiful and cool and versatile! Anti-black beauty standards are so pervasive. Fighting that requires constant unpacking and positive self-messaging, so of course I still have my moments when I feel insecure. But in those moments, I'm always [inspired] by the fact that being black is just so poppin'. The perspective, the culture, the family, the food…I love everything about being black."
Check out more snippets from the feature story here. The October/November issue debuts on newsstands on September 25.
Featured image by DFree / Shutterstock.com