Gia Casey and DJ Envy are getting real about their nearly 30-year relationship. The couple were high school sweethearts and have six kids together. Gia has mostly been in the background as her husband, whose real name is Raashaun Casey, has been in the public eye working with many artists and being a part of "the world's most dangerous morning show" Power 105.1's The Breakfast Club.
But over the last few years, they have built a brand as a couple with their podcast The Casey Crew and they share the cutest family photos with their six kids on social media. Now, they have a new book together titled Real Life, Real Love: Life Lessons on Joy, Pain & the Magic That Holds Us Together where they shared the ins and outs of their marriage. During an interview with The Shade Room, the couple got candid about a topic that many couples may experience but are too ashamed to admit, faking orgasms.
"We would be intimate and he would be putting his best foot forward like, he is in the business of satisfying just all around. He lives to make me happy, and he puts his best foot forward in that role," Gia said. "So I would see him trying and really going to work, and I'm sure many women can relate, you want to reward that man for that work and the only reward that you have to offer is an orgasm. And even if I didn't feel it, I would still be performative. So, yes I was faking it."
DJ Envy explained that he found out about her faking it during an argument, which crushed him. "It hurt me because I thought I was pleasing my wife. You hear all these stories about women talking about their girlfriend, 'Oh girl he was so short, oh girl he ain't doin' nothin',' and I feel like they laughing, and now I feel like that's what my wife is doing," he said.
Gia's revelation to her husband in the argument ultimately caused a domino effect in their relationship, which led to the Queens DJ cheating. Envy was reportedly involved in a very public cheating scandal with reality star Erica Mena.
"Me doing that was very detrimental and it put into effect the fall of a series of dominoes that hurt our relationship in the absolute worst way," Gia said. "It was actually one of the reasons why he cheated."
But Gia isn't alone in faking orgasms. According to Psychology Today, 57.1% of women fake orgasms because they want their partner to "feel successful." Thirty-seven percent said they faked it because they didn't want their partner to "feel bad."
DJ Envy & Wife Gia Casey Discuss Sex Life and Faking It In Bed!
Let's make things inbox official! Sign up for the xoNecole newsletter for daily love, wellness, career, and exclusive content delivered straight to your inbox.
Featured image via DJ Envy/Instagram
Ayesha and Stephen Curry are in it for the long haul. The couple has been married for 11 years and shares three beautiful children. However, they have known each other since they were teenagers. Being together for that long, there's no surprise that they can offer meaningful marriage advice. In the latest issue of Ayesha's magazineSweet July, the restaurateur and NBA champion shared how they continue to invest in their relationship with one deposit at a time.
"Between time, passion, love, focus, sacrifice—it's a lot of little deposits over a long period that continue to bring back a reward," Ayesha said. "I'm looking at it in terms of an actual venture investment: You're going to make a huge commitment at the beginning, and you're going to see that continue to grow over time."
Featured image by John Shearer/WireImage via Getty Images
For decades, Will and Jada Pinkett Smith were the epitomai of Black love due to what looked like a successful marriage, a beautiful family, and their constant support of one another. Social media was filled with #couplegoals memes of the actors and even J. Cole said he wanted "that Jada and that Will love" in his song "No Role Modelz."
But like most celebrity couples, they were plagued with rumors like having an open marriage. However, over the last few years, the public perception of their marriage changed. The couple individually became more vocal about their relationship thanks to Jada's popular Facebook Watch series Red Table Talk and Will's self-titled memoir and the once pedestal that fans put them on was knocked from under their feet and they began to face back-to-back criticism.
The first shocking moment was when Jada admitted she had an "entanglement" with singer August Alsina after he revealed their relationship in an interview with Angela Yee. Jada continued to face backlash for other comments she said about her and Will's relationship on her show. And then it was Will's turn. The King Richard star's memoir made several revelations about his and Jada's relationship that many fans were becoming exhausted by them and there was even a petition started to stop the couple from sharing so many intimate details about their lives.
The #couplegoals memes quickly became jokes about their relationship. However, the couple still received support from others who applauded them for their authenticity. No relationship is perfect and after 25 years of marriage, it should be no surprise that they have dealt with a lot of ups and downs.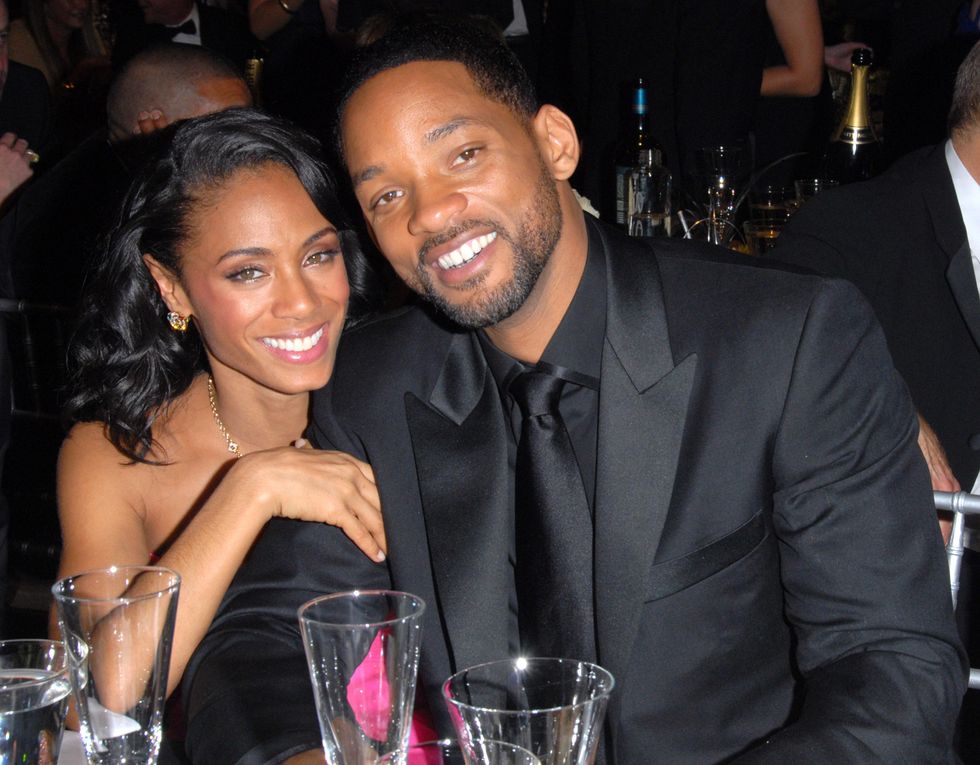 Ron Wolfson/WireImage via Getty Images
But one takeaway from their nontraditional marriage is that they each allow the other person to have the freedom to be and do what they want. They also love each other no matter what, giving a new meaning to the viral clip "I'mma stick beside him/her."
Here's everything Will and Jada said about their marriage.
In an interview with Gayle King for 'CBS This Morning,' Will dismissed the notion that there was infidelity in their marriage. 
"There's never been infidelity in our marriage. Never. Jada and I talk about everything, and we have never surprised one another with anything ever," he clarified to Gayle.
Jada dispelled rumors about having an open marriage.
"Should we be married to individuals who can not be responsible for themselves and their families within their freedom? Should we be in relationships with individuals who we can not entrust to their own values, integrity, and LOVE...for us??? Here is how I will change my statement...Will and I BOTH can do WHATEVER we want because we TRUST each other to do so. This does NOT mean we have an open relationship...this means we have a GROWN one."
The "Fresh Prince" opened up about their unconventional marriage and unconditional love for one another in an interview with GQ. 
"The pursuit of truth is the only way to be happy in this lifetime. And we sort of came to the agreement that authenticity was the release from the shackles of fame and public scrutiny."
"Jada never believed in conventional marriage. Jada had family members that had an unconventional relationship. So she grew up in a way that was very different than how I grew up. There were significant endless discussions about what is relational perfection? What is the perfect way to interact as a couple? And for the large part of our relationship, monogamy was what we chose, not thinking of monogamy as the only relational perfection."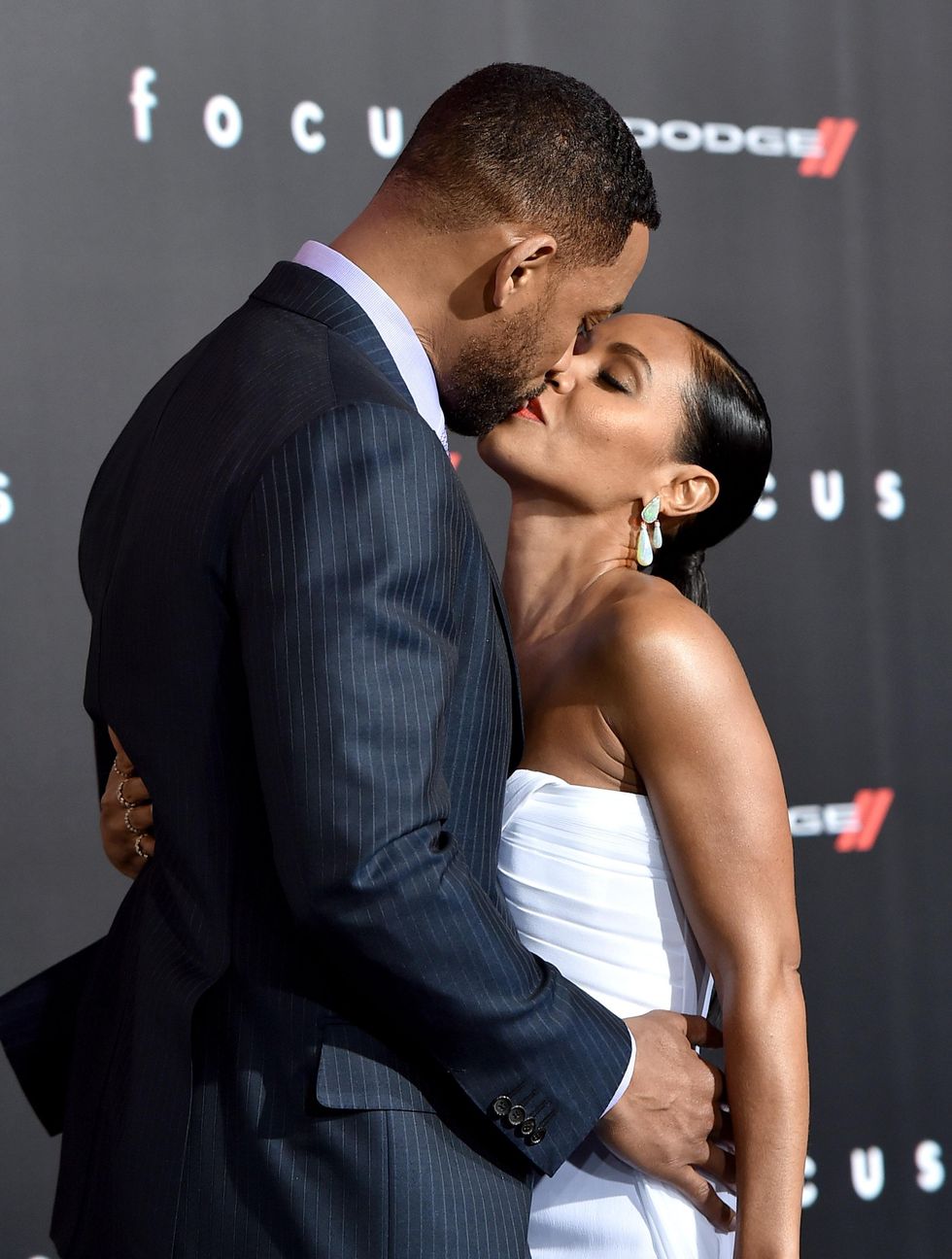 Kevin Winter/Getty Images
"We have given each other trust and freedom, with the belief that everybody has to find their own way. And marriage for us can't be a prison. And I don't suggest our road for anybody. I don't suggest this road for anybody. But the experiences that the freedoms that we've given one another and the unconditional support, to me, is the highest definition of love," he said via GQ.
Jada also spoke of not wanting a conventional marriage.
"I knew that I was not built for conventional marriage. Even the word 'wife': it's a golden cage, swallow the key. Even before I was married, I was like, 'That'll kill me.' And it damn near did!"
"Will is my life partner and I could not ask for a better one. I adore him, I never want people to think it was Will I didn't want to marry," she told the outlet. "But I can assure you that some of the most powerful women in the world feel caged and tied, because of the sacrifices they have to make to be in that position. So I wanted to talk about how we really feel about marriage." via The Guardian.
In an interview with Oprah, Will discussed the importance of him and Jada finding happiness on their own.
"People only think of things in terms of sex… But the goal [of our marriage] is not a sexual goal. It's spiritual. We are going to love each other no matter what."
"To this day, if we start talking, it's four hours. It's four hours if we exchange a sentence. It's the center of why we've been able to sustain and, you know, and why we're still together, not choking the life out of each other. It's like the ability to work through issues. I've just never met another person that I connect with in conversation more blissfully and productively than Jada."
"We never actually like officially separated. Right? What happened was that we realized that it was a fantasy illusion that we could make each other happy. And we agreed that she had to make herself happy and I had to make myself happy. And then we were gonna present ourselves back to the relationship already happy. Versus demanding the other person fill our empty cup."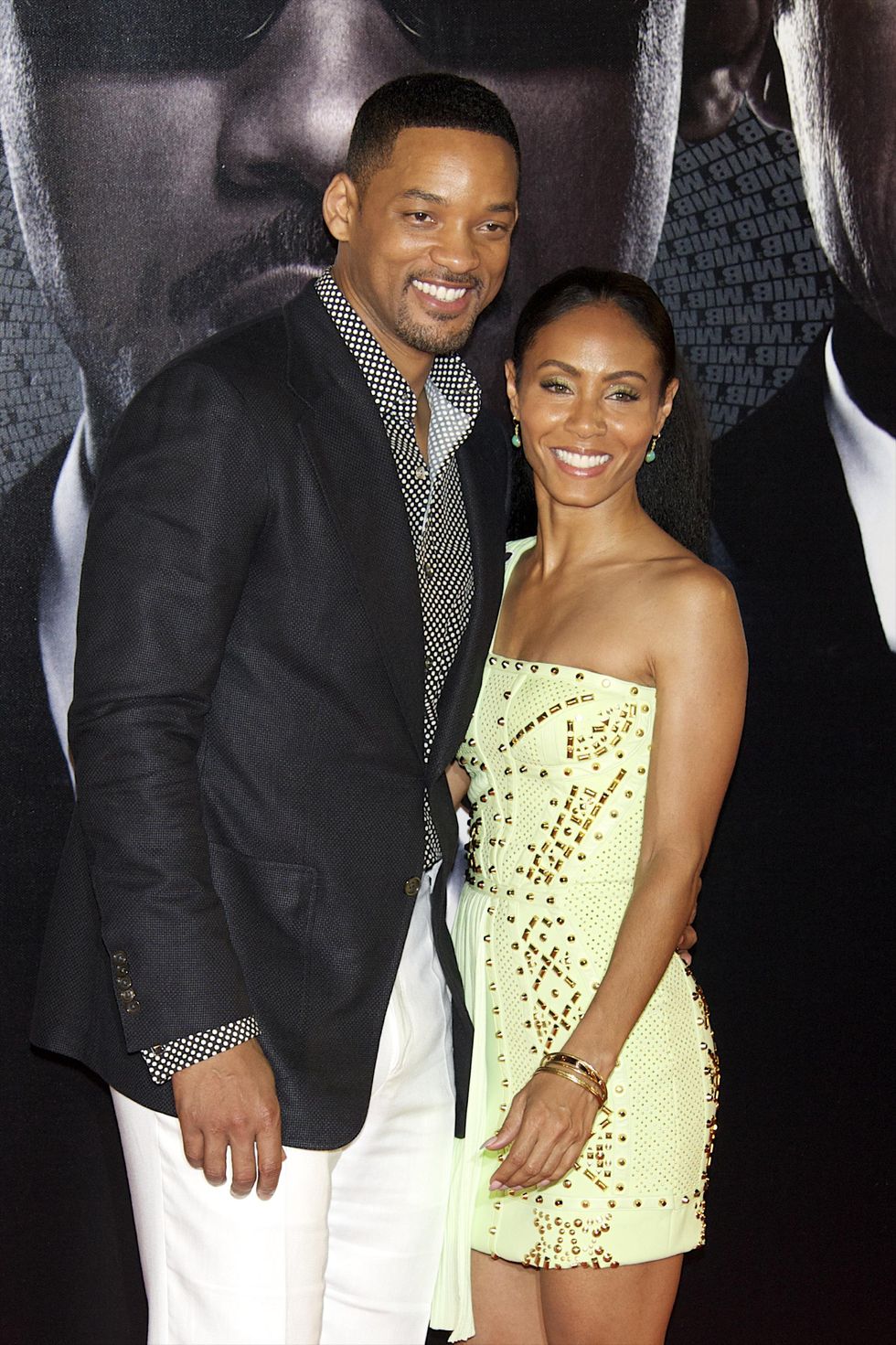 Carlos Alvarez/Getty Images
"The problem is that when you come [broken] like that, the cup actually has a hole in the bottom. So you pour all your good love in there and it goes out onto the floor… You got two broken people and that's what we're doing. We just decided that you have to figure out how to be happy, you know? And it was a little bit more contentious from my side. I was like, 'You know what, you go figure it out. You go figure out if you can be happy and just prove to me it's even possible.' I'ma do me and you do you."
"The simple idea [of loving in freedom] is, you love in freedom with everybody except your partner, right? Your kids are gonna go off to college and you're going to wait for them to come back and they might not be able to come back this Christmas, and you know, you let them go. Your friends–there's a certain fluidity in your interactions, right? It's…it's friendship versus marital prison." via The Oprah Conversation on AppleTV+.
Jada talked about needing freedom in her marriage to Will.
"I just felt like, I needed more freedom. And freedom in the sense of like … the public wants you to be a certain way, your family needs you in a certain way, your partner needs you to be something. And for me, that just was never … I'm really a free spirit at heart, I really am. And I always have been. And I just felt like my life had got constricted into this little box and it was strangling me, basically." viaEntertainment Tonight.
Jada further explained her views on open marriage and why she and I Will aren't in one.
"Open marriage? Let me first say this, there are far more important things to talk about in regards to what is happening in the world than whether I have an open marriage or not. I am addressing this issue because a very important subject has been born from discussions about my statement that may be worthy of addressing."
"The statement I made in regard to, 'Will can do whatever he wants,' has illuminated the need to discuss the relationship between trust and love and how they co-exist. Do we believe loving someone means owning them? Do we believe that ownership is the reason someone should 'behave'? Do we believe that all the expectations, conditions, and underlying threats of "you better act right or else" keep one honest and true? Do we believe that we can have meaningful relationships with people who have not defined nor live by the integrity of his or her higher self? What of unconditional love? Or does love look like, feel like, and operate as enslavement? Do we believe that the more control we put on someone the safer we are? What of TRUST and LOVE?"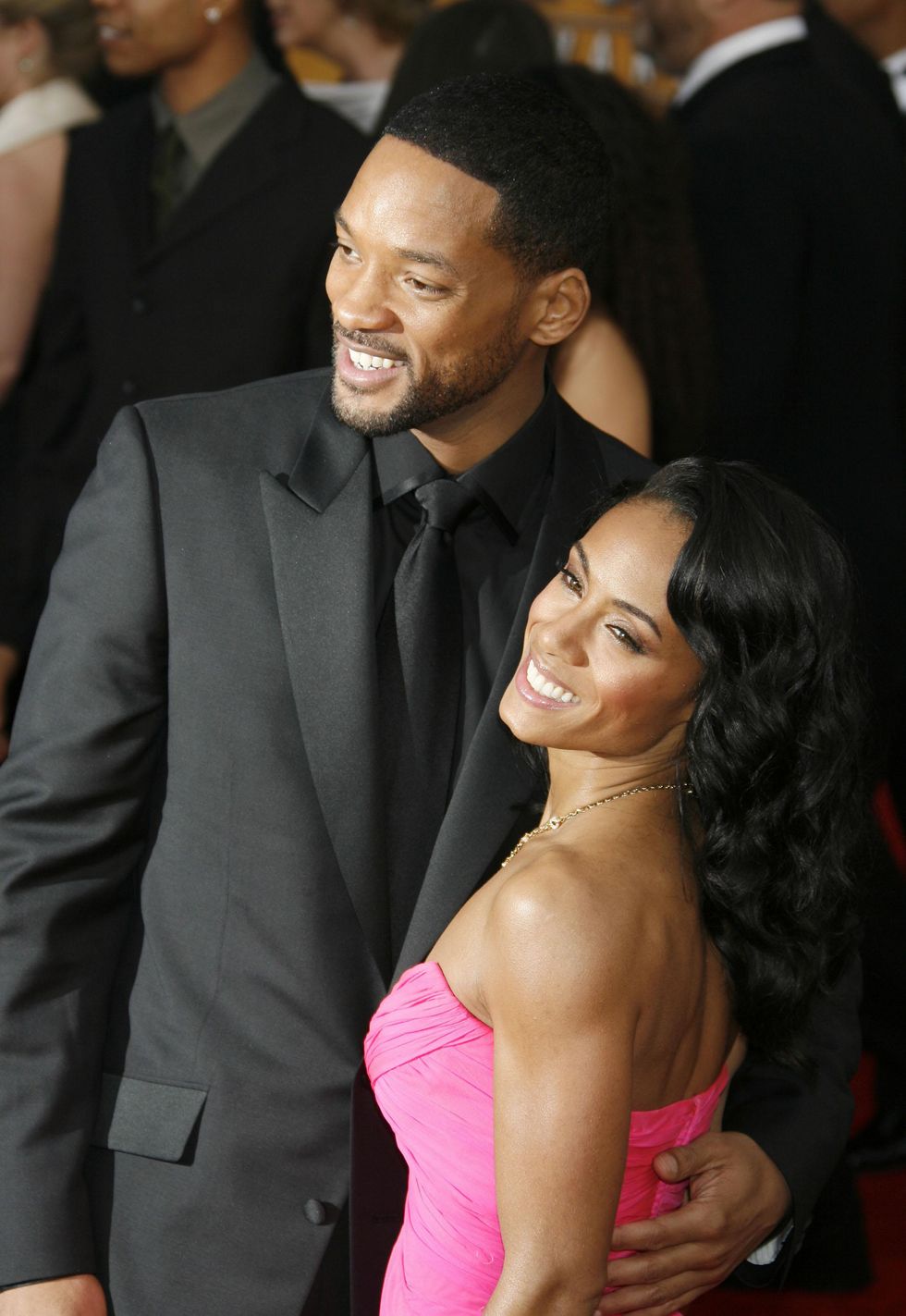 Jeffrey Mayer/WireImage via Getty Images
"Should we be married to individuals who can not be responsible for themselves and their families within their freedom? Should we be in relationships with individuals who we can not entrust to their own values, integrity, and LOVE…for us???Here is how I will change my statement…Will and I BOTH can do WHATEVER we want because we TRUST each other to do so. This does NOT mean we have an open relationship…this means we have a GROWN one." via Facebook April 2013
Will's memoir gave insight into the time they were separated.
"Our time apart had helped us both to discover the power of loving in freedom. We are simultaneously one hundred percent bound together, and one hundred percent free. We agreed that we are both imperfect people, doing our best to figure out how to be in this world joyfully."
Jada opened up about trust in their relationship.
"You gotta trust who you're with, and at the end of the day, I'm not here to be anybody's watcher. I'm not his watcher. He's a grown man. I trust that the man that Will is is a man of integrity. HE's got all the freedom in the world, and as long as Will can look at himself in the mirror and be OK, I'm good." via The Howard Stern Show.
Will explained why he and Jada don't consider themselves married anymore.
"We don't even say we're married anymore. We refer to ourselves as 'life partners,' where you get into that space where you realize you are literally with somebody for the rest of your life. There's no deal breakers. There's nothing she could do—ever—nothing that would break our relationship. She has my support till death, and it feels so good to get to that space." via Rap Radar's podcast
Jada spoke on rumors surrounding their marriage.
"I've heard all the things—their marriage is not real, he's gay, she's gay, they swing. But at the end of the day, people have to believe what they have to believe. I'll tell you what, it's too hard to be in a pretend marriage. Life's too short for that one." via Atlanta's Q100 radio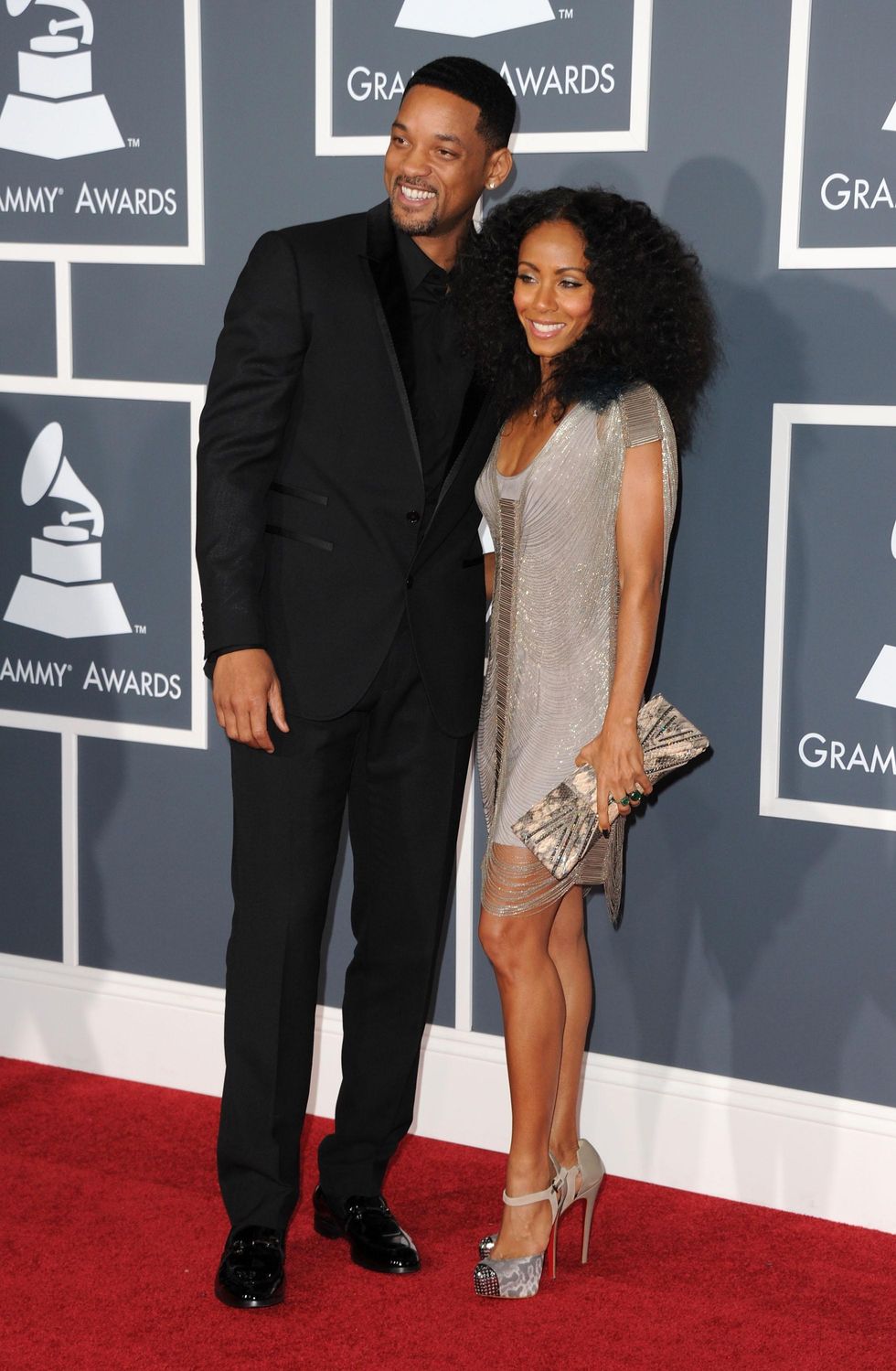 Jason Merritt/Getty Images
Will spoke on the fake concept of marriage.
"I remember the day I retired. I literally said to Jada 'That's it. I retire. I retire from trying to make you happy. I need you to go make yourself happy and just prove to me that it's even possible.'"
"We cracked the hell up. We started talking about [how] we came into this fake romantic concept that somehow when we got married that we would become one. And, what we realized is that we were two completely separate people on two completely separate individual journeys and that we were choosing to walk our separate journeys together. But her happiness was her responsibility and my happiness was my responsibility." via Instagram.
Jada believed she would never get married.
"I never thought about being married or having a family. I didn't know anything about that because I came from a single mom so I always thought I'd be a single mom and have a career. Then I found this beautiful man, Will. I got married to him and I got my bonus son Trey and then I got Jaden and I got Willow and I was able to create, for myself, something I never had—which means family." via Vh1's Dear Mama Event
Both Will and Jada explained their views on monogamy.
Will: "Our perspective is, you don't avoid what's natural and you're going to be attracted to people. And if it came down to it, then one would say to the other: 'Look, I need to have sex with somebody. Now, I'm not going to if you don't approve of it.'… In our marriage vows, we didn't say 'forsaking all others.' We said, 'you will never hear I did something afterwards.' Because if that happens the relationship is destroyed." via U.K. magazine Reveal, July 2008
Jada: "We always have people that we're attracted to that we talk about. That don't stop just because you're married. Somebody's always gonna catch your eye. That's real. Somebody's gonna always be prettier than me, and somebody's always gonna be more in awe of him than me, and he gonna be like *in Will's voice* 'yo, she really like me' (laughter), but as far as somebody being right for us… is there somebody right for a nice night? Maybe. But somebody that can sustain our life and sustain what we've built together, absolutely not!" via WJLB Morning Show, June 2010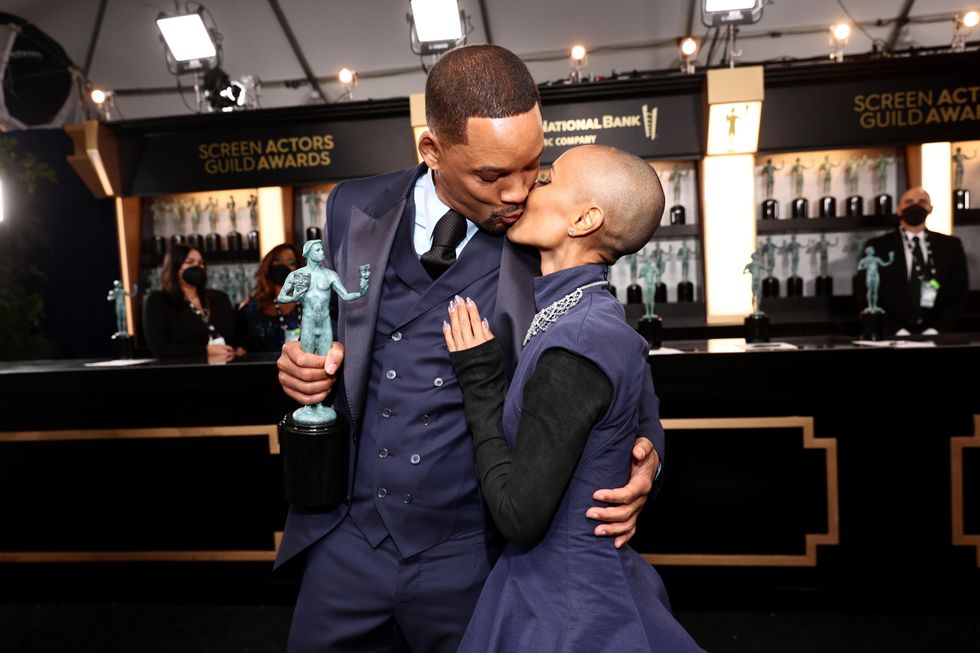 Emma McIntyre/Getty Images for WarnerMedia
Jada called Will her best friend.
"He's been by my side through some of the most difficult parts of my life. And so that's something you can never take away. A lot of other things, you never know, other things might change...but one thing is for sure: I love him deeply and he is my best friend." viaHuffPost Live
Featured image by Frazer Harrison/WireImage via Getty Images
In xoNecole's Our First Year series, we take an in-depth look at love and relationships between couples with an emphasis on what their first year of marriage was like.
I think that a lot of us believe in the notion of being in the wrong place at the wrong time. This notion allows us to be grateful for being late to appointments, having plans being canceled last minute, and even changing our minds on attending events we said we would go to. I know I am guilty of feeling so satisfied when things are changed at the last minute and it honestly makes my day better. For a then-25-year-old copywriter, Chelsea Coffey, it was actually the opposite. A last-minute change in her schedule would make her be at the right place at the right time.
Chelsea received a phone call from a coworker to cover a soccer event in Houston, Texas. She was not expecting this assignment, but she is so glad that she did. At the event, Chelsea had plans to connect with the soccer team, but had no idea that one of the soccer players would charm their way into her heart. Just in case you were wondering… yes, that MLS player was Warren Creavalle.
Warren and Chelsea dated a year and half before tying the knot. These days, the married couple has not only solidified their lives in love but also in business.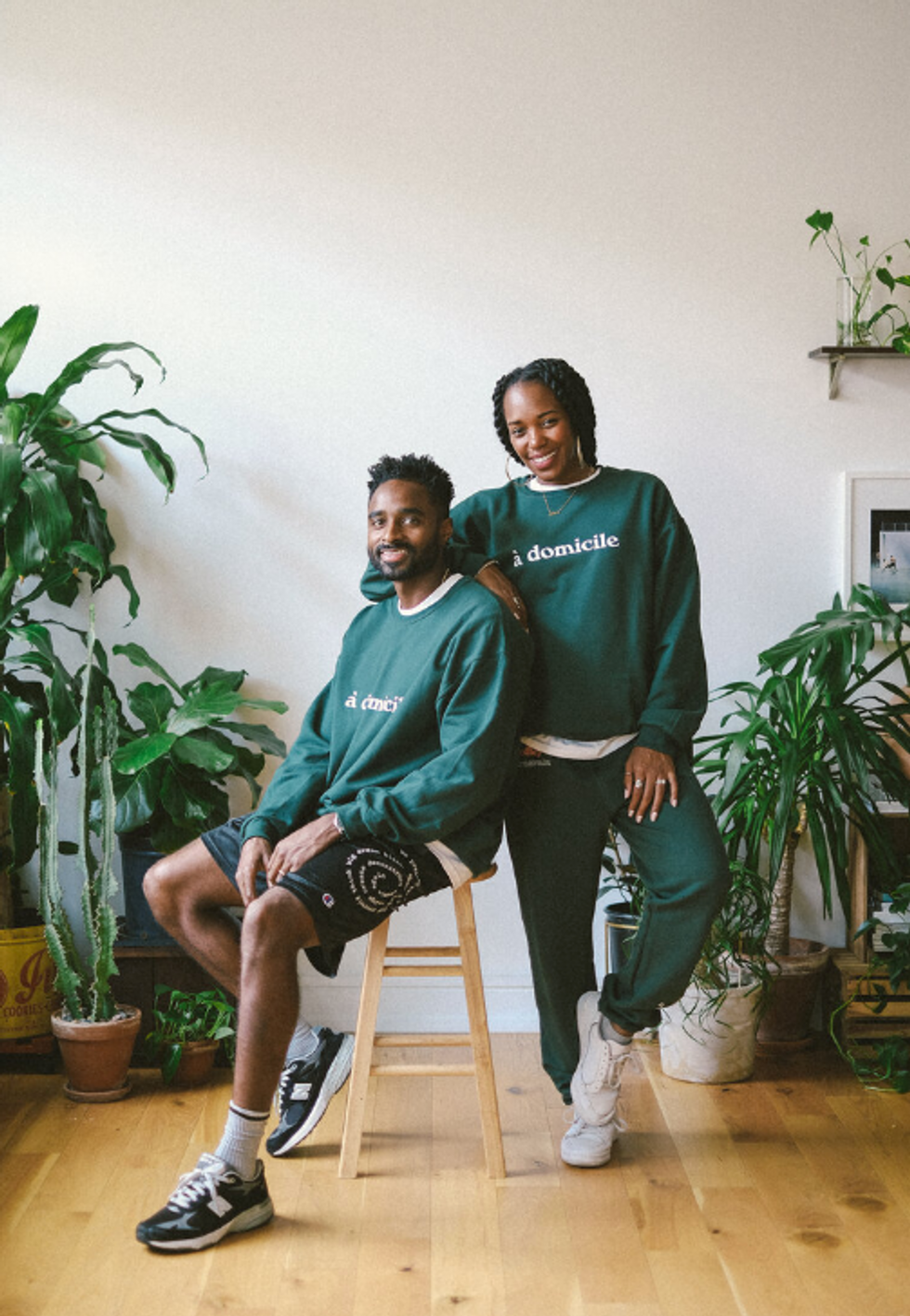 Courtesy of Chelsea and Warren
In addition to a successful Philly Urban Retreat the two are known for, Chelsea and Warren have founded a business brand called Coffey + Creavalle. Coffey + Creavalle is a one-stop-shop for all things ranging from home goods to apparel. For this couple, they want to become a resource for the community and create a legacy for their children.
Time was really on their side from the very beginning and if there is anything that I took from connecting with this couple is that: when it comes to true love, it comes right on time.
In this installment of xoNecole's "Our First Year," Chelsea and Warren share how they have kept their love alive by supporting one another, making love a daily choice, and knowing the importance of building a legacy.
How We Met
Warren: I was playing soccer for the Houston Dynamo. Chelsea was covering our team's End of Year Banquet for the magazine she worked for. So on that day, I saw her before we even spoke. I was already trying to see who this fine girl was. After the event and the after-party was going on, Chelsea saw me from across the room. With her being on the job and all, she walked over and approached my teammates and I. She starts giving her a spiel on how she could work with us to style us for a photoshoot. And we followed each other on Twitter--after she threatened me about not being a ghost follower.
Chelsea: So my coworker called me about covering the End of Years Awards Dinner for the Houston Dynamo. I thought this was perfect because I was coming from a photoshoot. So, I already had my makeup done. I wasn't very familiar with soccer-focused events, so I didn't know what to expect. But girl when I got there, I called my coworker saying we have been missing out! I continue to be professional, but after the event, I figured it would be a missed opportunity if I didn't make a connection. So I come up with my business introduction, walked up to Warren's team, and did my thing. But when I was talking to Warren, I felt like we were talking for the longest. So we ended up exchanging our social media information, and that's how we connected.
First Impressions
Chelsea: I was a little smitten out the gate, to be honest. I remember it was very dimmed lighting in the room and Warren's smile was just *ding ding* (laughs). It was really nice. Also, something to know about me. Since I am from Texas, my default is to pronounce certain names as if they were Spanish. I assumed Warren was Afro-Latino and when he was telling me his last name, I pronounced it differently. He got a little sassy with me, understandably, because I was saying his name wrong. But that was my first impression of him. As charming as he was, he was still a little sassy to me.
Warren: It was my rookie year and I was new to Houston. So when I saw her from across the room, I felt it was a turning point for me. I felt like I was glowing up and me being able to talk to women who look like her was a plus. I was convinced that Houston may be my kind of city. As Chelsea walked passed, I said out loud, "Look at my future beautiful Black queen!" Even after we were able to finally connect, I still thought Chelsea was beautiful and was looking forward to what was coming next.
Courtship
Chelsea: Warren and I actually dated twice. We hung out a few times and we'd been dating for like five minutes. This thought came into my head, 'I don't care if he gets traded, we're going.' And immediately I told myself, 'Girl, what is wrong with you?!' 'First of all, where did this thought come from, and second of all, we don't even know him for real.' But, it's true when they say when you know, you know. I saw Warren as my best friend and we always had a good time together. Even though we broke up temporarily, I told myself that I wanted to feel like that, if I ever fell in love again.
Warren: So when we reconnected, Chelsea was still in Houston and I was in Philadelphia [two teams later]. But it felt like we didn't skip a beat. I still felt like I was talking to my best friend. It was a really refreshing vibe. To be honest, I did date other people when we were both single. But Chelsea was the only woman that would make me scramble if that makes sense (laughs). That was really significant for me because I felt like I didn't have to worry if she wasn't going to be in my life anymore. That was when I knew. It was natural to take that next step with her to me.
"Chelsea was the only woman that would make me scramble if that makes sense. That was really significant for me because I felt like I didn't have to worry if she wasn't going to be in my life anymore. That was when I knew. It was natural to take that next step with her to me."
Saying "I Do"
Chelsea: We had two weddings. We got married legally in the spring and then had our marriage reception/ceremony six months later. At the main marriage ceremony, Warren wrote his own vows, and what he said was so sweet. I would say that is one of the things I will never forget. But there was this moment after the vows and all the pictures were taken. I thought that we would come back to the bridal suite for a special one-on-one moment during the wedding. Ironically, it didn't happen like that.
We got to the room and slowly, but surely, all of our bridesmaids and groomsmen were in our room. They were eating snacks and playing music. But seeing all of our close friends together made me appreciate things that were just out of our control in the best way. It was a beautiful way to celebrate our love story by being surrounded by the people we really care about. So it's a mixture of both of those for me.
Warren: I would have to say when we were saying our vows to each other was the most memorable part for me.
Biggest Fears
Chelsea: I think that one of the benefits of me being older than Warren is that I was at a stage in my life where I knew I didn't want to date just to date anymore. I was ready to be in a serious relationship and get married. I wouldn't say that I didn't have any fears, because I think that's natural when you do have them. One thing that was a sensitivity of mine is hoping that we can navigate through each other's different seasons.
I wanted us to be able to get through things together rather than individually. What helped me to be less afraid about stepping into marriage was Warren's pace. When things move too fast, I get a little nervous. And since we were at different seasons, I admired that Warren knew what he needed as far as time, to be completely ready for this. Warren has a thorough and thoughtful pace. So by the time we got closer to the wedding, we were sure about it.
Warren: I agree with Chelsea. I think the pace we chose in our relationship helped us be more confident in our decision to get married. Marriage is forever. So it's important that you are sure this is exactly what you want. So being able to take that time allowed that assurance we needed.
"When things move too fast, I get a little nervous. And since we were at different seasons, I admired that Warren knew what he needed as far as time, to be completely ready for this. Warren has a thorough and thoughtful pace. So by the time we got closer to the wedding, we were sure about it."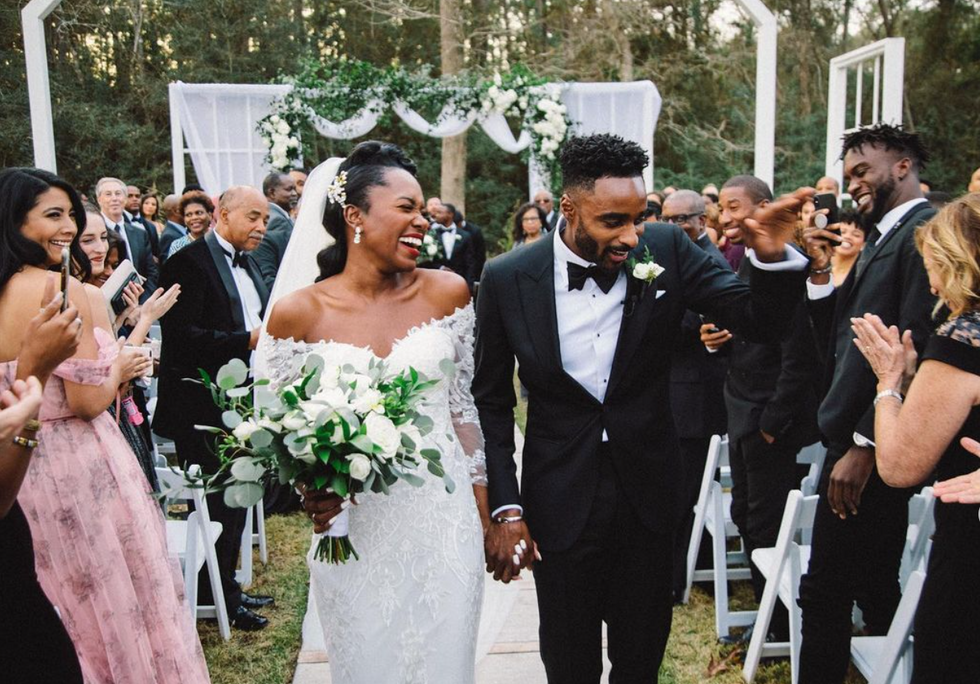 Courtesy of Chelsea and Warren
Early Challenges
Chelsea: I consider myself a proper particular kind of person. I have never lived with a guy before and so to my surprise, Warren is so particular too. He has his own ways of how he likes things done. In a way, we complemented each other, but there were times I felt we were tripping over each other and our own preferences. I will say that we are still working on this. It is all about picking your battles.
Warren: Yeah I do like things in my living space a certain way. I have had my roommates before, but I was living on my own when I was dating Chelsea. So stepping back into sharing my space with someone was an adjustment for me.
Love Lessons
Chelsea: With Warren, I really appreciate how supportive he is. There is just something to be said about someone who knows how to be present with their partner. For example, when I was writing my book, Warren sat down with me for days and went through/edited the entire book. It is really a blessing to have someone like that in your life. Someone that is just down for you for whatever. So learning how to be that way for someone is what I've learned through how Warren shows up for me.
Warren: Prior to our relationship, I had this grip on life. I had this idea about what I wanted, where I wanted to be, and how I was going to get there. So allowing someone you consider your partner to add to that, is a shift. There's a trajectory in your life that is for the better because you are letting other people in. It was something I didn't anticipate, but it has definitely been my biggest lesson.
"Prior to our relationship, I had this grip on life. I had this idea about what I wanted, where I wanted to be, and how I was going to get there. Allowing someone you consider your partner to add to that, is a shift. There's a trajectory in your life that is for the better because you are letting other people in."
Common Goals
Chelsea: I remember I was trying to make this video right after our Houston house renovation. I was trying to be cute and asked Warren what his main takeaway from the experience was. Warren says, "Go get the money." As much as we joke about that, we are grinding out here. We want our kids to live a life that reflects all the hard work we put in. We want to be a significant staple in our community in a big way.
Warren: If there is anything to add, we want to be able to open doors not just for our kids, but for other kids in our community as well. I think that it's important to lift up the next generation and be that source of knowledge or resources for them to become successful.
Best Advice
Warren: One thing I've gotten from Chelsea's father and our marriage counselor is to make a choice to love your spouse every day. The butterflies and everything is not enough to sustain the day in and day out. So you make that choice every day and sometimes multiple times a day to love that person.
Chelsea: There is the overarching theme about grace. When you are in a relationship, you have to show the other person grace. I think that sometimes when we don't give the other person grace and we lash out on them when we are upset about something, we forget about our own shortcomings. If you are able to put yourself in the other person's shoes, it sets you up for getting out of a situation better than you anticipate.
Featured image courtesy of Chelsea and Warren
Originally published on July 8, 2021
After a disagreement, have you ever apologized to your partner, only to realize that things weren't completely resolved? It's probably because you were speaking a different language – a different apology language, that is. Many of us are very familiar withThe 5 Love Languages: The Secret to Love That Lasts, written by Dr. Gary Chapman, a popular relationship staple that categorizes the various ways couples love and communicate with each other (which includes words of affirmation, physical touch, gift-giving, acts of service, and quality time).
In The Five Languages of Apology (the updated version is calledWhen Sorry Isn't Enough), written by Chapman and Jennifer Thomas, we learn that expressing concern and regret in any relationship is just as important as demonstrating love and affection.
"It's important to learn your apology language, not only for the sake of yourself and having a deeper understanding of what you need," said Kiaundra Jackson, licensed family and marriage therapist and resident therapist on OWN's new hit show, Love Goals. "But it's also imperative to learn your partner's apology language too."
Relationships are all about reciprocity and having both parties work to make sure that their relationship is in a healthy spot, Jackson said. When you learn your partner's apology language, you can cut down on any excess drama that may happen when someone feels misunderstood, unloved or neglected.
The five apology languages are expressing regret, accepting responsibility, making restitution, genuinely repenting, and requesting forgiveness. In order to explore each of these apology languages more in-depth, keep reading for the meaning and an example of what each apology language looks like.
Check them out below!
1

.

Expressing Regret Apology Language:
The key to this apology language is to address the emotional damage that someone has experienced due to wrongdoing. Expressing regret and remorse is an essential part of any apology – especially when feelings have been hurt. "It's important to apologize when things go wrong," Jackson said. "It puts you in a place where you can comprehend what your partner is saying and can help you understand how to avoid certain situations moving forward."
An example of this apology language is, "I'm sorry I hurt you."
2

.

Accepting Responsibility Apology Language:
This apology language requires an admission of responsibility from the person who committed the offense. "I think this is a fundamental way to receive an apology," Jackson said. "It's important for your partner to take responsibility because it shows a deep level of self-awareness and the work that they've done within themselves."
An example of this apology language is, "I'm sorry I yelled at you earlier. I was wrong."
3

.

Making Restitution Apology Language:
Sometimes expressing regret and taking responsibility isn't enough – in some instances, partners might prefer to receive restitution. "For someone whose apology language is making restitution, their partner would have to start with offering some sort of make-up process," Jackson said. The make-up process should directly correlate with your partner's love language – for example, if their love language is acts of service, one way that you could express love and restitution, is to do something kind or mindful for your partner.
An example of this apology language is, "What can I do to make this up to you?"
4

.

Genuinely Repenting Apology Language:
Depending on the severity of the transgression, a sincere apology requires that the person verbalizes their commitment to avoiding repeated behavior. Not only does this apology language demand a genuine "I'm sorry", but it also includes a commitment to change. "It's important to say that you're going to change your behavior in a tangible way," Jackson said. "And ultimately, you can't just say it, you have to do it."
True repentance takes an extra step towards change, and an example of this apology language is, "I know what I did was wrong, and I won't do it again."
5

.

Requesting Forgiveness Apology Language: 
Sometimes, people want to hear their partners ask for forgiveness and while this can be the most difficult element of an apology, for many people, it can also be the most significant. While the wrongdoer is responsible for apologizing, the power of forgiveness ultimately lays in the hands of the offended. Before accepting a partner's apology, however, Jackson recommends taking a moment to process all of the circumstances.
"We know that forgiveness is an internal job," she said. "When forgiveness is requested too early and the person hasn't thought about what they need to forgive the other person for and how they're going to make that amendment within themselves, it can turn out to be a less-than-ideal situation."
Now that you're fluent in all of the languages of atonement, which one best fits your style? Click here to find out!
Featured image by Shutterstock
Originally published on March 23, 2020.
The hour-long discussion also involved the cast members sharing their vulnerability with the audience such as Meagan opening up about her divorce from DeVon Franklin. The week before Christmas in 2021, Meagan and DeVon shocked everyone after news surfaced that they were divorcing after 11 years.
They also wrote loving Instagram posts to each other on their individual Instagram pages following the news of their breakup. In the post, they claimed that "there's no one at fault" for the demise of their relationship and that they are "forever connected."
But while they both seem to be taking the high road, that doesn't mean that it hurts any less. The Harlem actress opened up about relationships and how her divorce has affected her exclusively to xoNecole.
"Throughout life, I've always approached relationships as understanding that at some point, they'll get to the place that they're going to, and then they would be over," she said. "I've always had an attitude of like, 'Alright, next chapter. We'll see what's next,' and being okay with that and appreciating what you give to someone and what they give to you and sharing a moment in time and in life that you never get back regardless of how it ends."
However, she hasn't been able to have that same attitude about her divorce. "In my situation right now, it's a little bit different because I thought that that would be the last time that I would be doing that and that I would be doing this with that person forever."
She called her divorce from DeVon "the most painful thing I've ever experienced in my life" and while she's been in the process since August of 2021, she's still optimistic about what else life has to offer. "I am still optimistic. I still am hopeful for the future. I still—maybe this isn't a chapter, but I just feel that it's my next act in life and I trust God."
"Not everything makes sense to me right now, but I do trust God overall and I'm excited to see what this next act of life is going to be and what God has in store and that's all I can really do but even in doing that, I do have gratitude and so much joy in my heart for these past 11 years that DeVon and I have been together. What he's given into my life and what I was able to give to him, just everything."
She added, "Every season, every single part of it has been incredible. But I think it's important for every relationship to know that it's really about perspective and it really is how you perceive and look at things and trust in God in the process no matter what it is."
The 40-year-old beauty does acknowledge that while she is hopeful for the future, she is still "grieving" her divorce.
"Still grieving, still hurt. It's going to be a long time, but at the end of the day it has made God, even more, my lover and even more my husband, and even brought our relationship to new depths and new heights so I'm in gratitude for that."
Meagan does have a lot to look forward to in the future. Her show Harlem is a huge hit and she's also been making moves behind the camera as a director. We can't wait to see what's next for the beloved actress.
To listen to the Twitter Spaces conversation hosted by xoNecole in full, click here.
Featured image by Monica Schipper/Getty Images for Amazon Studios