Although it tends to happen less and less (finally), sometimes I will still get skeptics who will ask me, "How are you qualified to work with married couples if you've never been married before?" While I have a few answers for that, as it specifically pertains to the topic at hand, how I'll oftentimes respond is, "I know what it's like to be a child of divorce. Twice, in fact. We've got more insight than you think."
This, along with the amount of divorced people who I speak with on a pretty regular basis — y'all, if there is one thing that I'm passionate about, it's doing all that I can to help individuals to 1) choose their prospective partner wisely and 2) proactively do all that they can to avoid becoming a divorce statistic. Because no matter how common it may be these days, ask any divorced person you know and I'm pretty sure they will say that 1) if they knew then what they know now, they would've done things very differently either before or doing their union and 2) there is no easy or uncomplicated way to handle the breakdown in a marriage; that divorce is not simply a "break-up".
As the saying goes, I can show you better than I can tell you. Here are 14 people (middle names provided) who have openly and honestly shared with me why their marriage didn't last, from their perspective. They are doing so in the hopes that you will take their insights as an ounce of prevention if you are contemplating marriage and a cautionary tale if you are considering getting out without looking from a few other angles…first.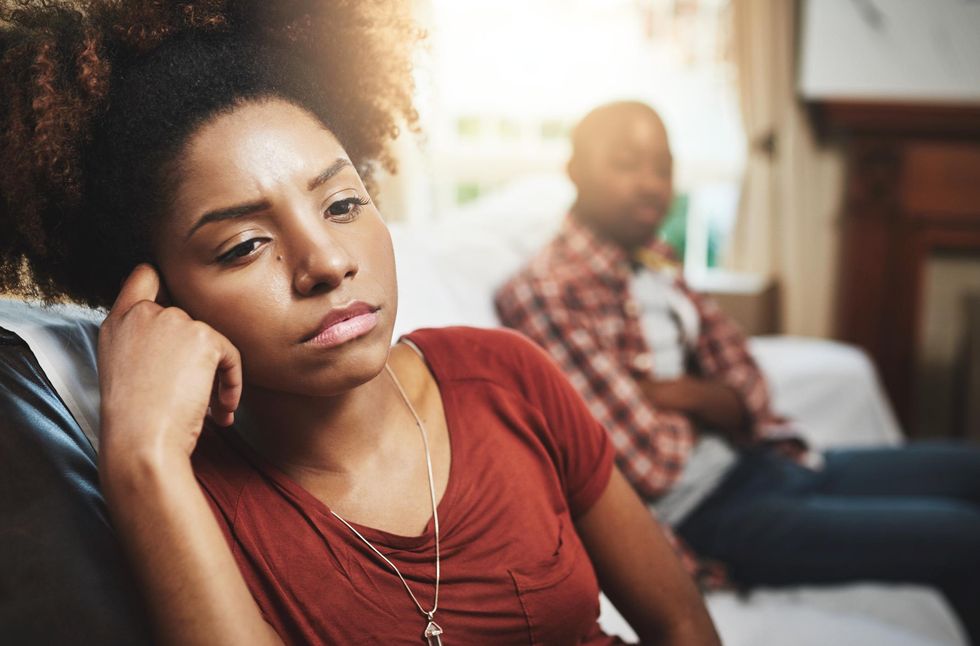 Ransom. 43. Divorced 5 Years.
"What a lot of women don't realize is a lot of us can be OK with never getting married if it was just about us. Let me explain — men are sometimes more interested in a good mom for our kids than a wife for ourselves. We don't want our children to be in a broken home and so we get married to prevent that from happening. I already had one child before marriage, so I got married to have more. I loved my ex but I didn't love being married. So, I focused more on being a great dad than the best husband. It happens more than you'd probably think. Men just don't talk about it much."
Cheryl. 29. Divorced 2 Years.
"I don't know why people think they truly know someone after six months. You don't. It's not that my ex-husband is a bad guy. He really isn't. We just didn't know each other as well as we thought we did and it was actually me who started to resent him because of it. He wanted to make it work. I just started shutting down to the point where I made it impossible for him to want to stay. Get to know someone over a year, go to counseling on the front end and don't avoid therapy when you're in trouble after marriage. Forever is too long to marry a stranger."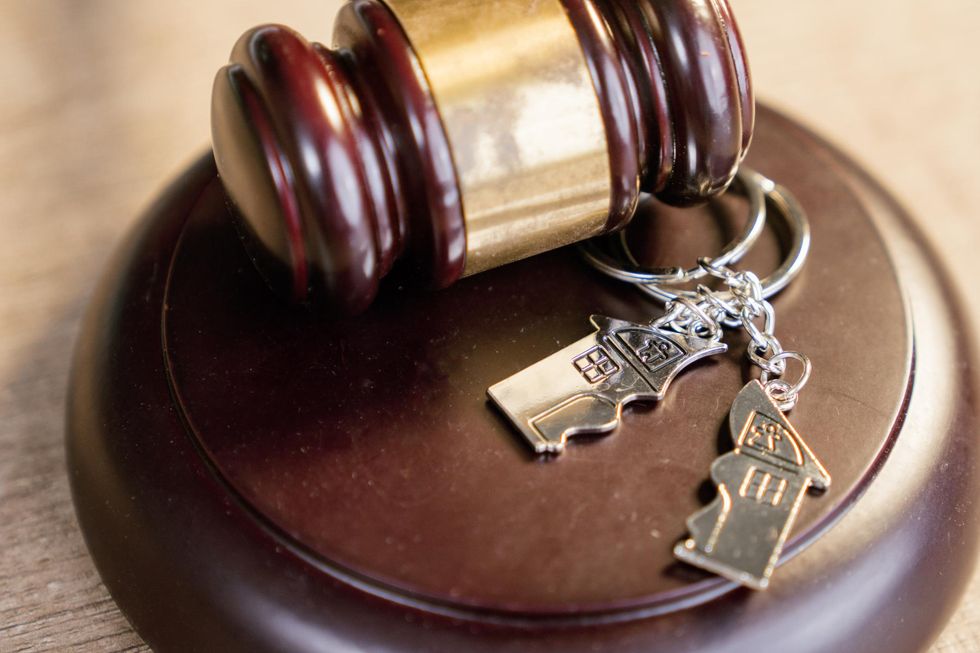 Nicholas. 35. Divorced 6 Years.
"I'll own it but I've got to say that the Church is out here wrecking all kinds of lives. I say that because it teaches that if you want to have sex, get married to 'make it right'. Don't do that.
"If sex is your main motive for marriage, life is gonna hit you really hard if you don't end up having a consistent sex life after saying 'I do'. I didn't in my marriage and although my wife and I went to premarital counseling, sex was treated like an afterthought with our pastor. We didn't realize how sexually incompatible we were and because I can have sex every day and she was good with once a month, I just couldn't stay committed to that."
"To me, it was torture; especially since, when we did have it, it was just…alright."
Krishel. 40. Divorced 7 Years.
"It's gonna sound cliché AF, but I was the person who thought I could change my ex. In our case, I'm an extrovert and he's an introvert. It doesn't seem like a big deal when you're dating because so much of what you do is with only the two of you. But you start to get sick of people who never want to go out, who avoid family functions, who don't want to do the holidays with family — ugh. I still own my part because I knew all of this, going in, and I thought my influence would change him. If you think you can totally change someone's personality, you're going to be really disappointed. Marry someone 'as is' or don't do it at all."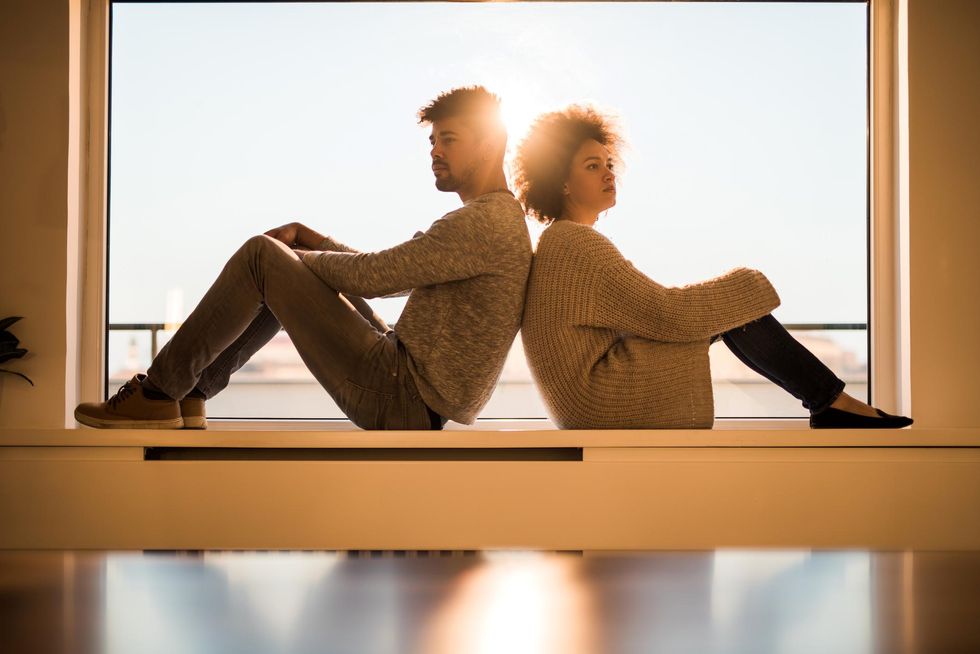 Judah. 27. Divorced 1 Year.
"Don't get married because you've given an ultimatum. It wasn't my wife that gave me one. I gave her one. I had a job opportunity in another state, I hate long-distance relationships and so I told her that we need to either get married or break-up. We had been together for a year before we had this discussion, so she conceded. But she was miserable where we were and that took a toll on the relationship. When she got a great job elsewhere, she took it and I refused to leave mine. It might sound crazy but we still date and I get that she may meet someone else someday. I just know that I'm not a good enough compromiser for marriage. Not right now, anyway."
Rochelle. 38. Divorced (the First Time) 2 Years. (The Second Time) 6 Months.
"You and I have discussed before how there is a Scripture in the Bible that says if you get divorced, you should either remain unmarried or go back to your spouse and that it should be that way until they die. Crazy how many people ignore that, right? My problem is, when I divorced my husband, I was so afraid of being alone that I went right back. The second time didn't work either because we've both got some growing, separately, that we need to do."
"Don't let fear motivate you to get married. Or, in my case, married again. It doesn't do anyone any good."
(The Scripture is I Corinthians 7:10-11, by the way.)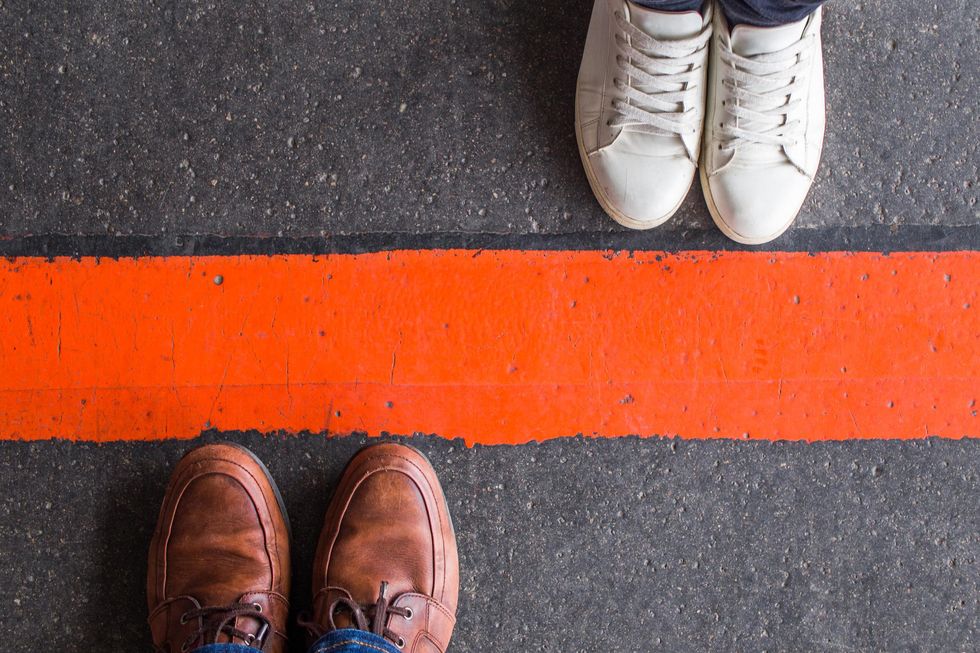 Paul. 47. Divorced 10 Years.
"I loved my wife. I've never liked her very much. We share a lot of history. We have similar values. We have kids together. But as you get older, you realize how important it is to marry someone you really like spending time around. Someone who makes you laugh a lot. Someone who really is your closest friend. I never felt that way in my marriage and it felt like a slow death because of it. And the longer I stayed, the less I liked. We both deserved better. Now, we both have it. She's happily married to someone else. I'm in a serious relationship. Believe it or not, we're better friends now than we ever were. We don't hang out all of the time, but we're really cool. There's peace."
Nyah. 28. Divorced 2 Years.
"I cheated. I'm not gonna justify it either. I married a guy who was really good to me. He just wasn't my person. Even now, I'm still in love with the guy I cheated on my husband with. Problem is, he's in a relationship. It's a mess. Marriage can be messy sometimes. If your heart is elsewhere, you'd betta wait."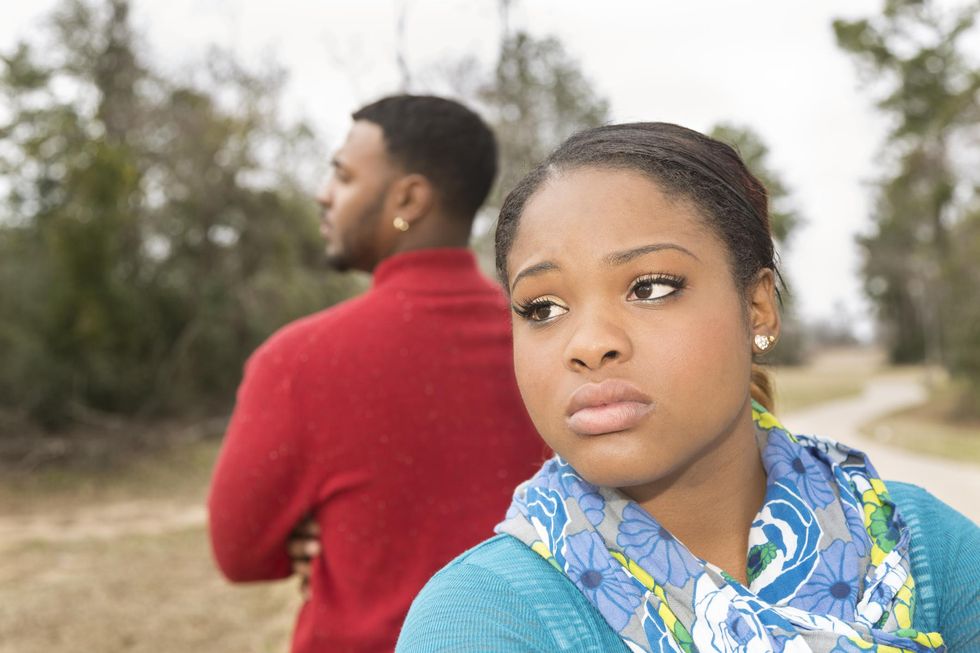 Xavier. 50. Divorced 7 Years.
"I don't know about that whole 'opposites attract' thing. Sometimes you can be too opposite. I'm a neat freak. She's absolutely not. I'm frugal. She likes to spend as much money as possible. She likes to go out a lot. I prefer staying at home."
"Sometimes, you connect with someone on a level that's like, 'If we could just stay in bed for the rest of our lives, we could be together forever'. Life doesn't work that way. If the way you do life, doesn't gel, you're in for a very rude awakening."
Elise. 34. Divorced 8 Years.
"Please don't get married assuming that something is going to go the way you want it to. My husband and I didn't know that we had fertility issues until after trying for three years to get pregnant. The money for IVF treatments, the constant scheduling of sex, the resenting each other for not being able to conceive — it all took its toll and started to consume us. Some things you don't know about until you're in them. If you are going into a marriage expecting guarantees about your expectations, stay single. Marriage is not for you."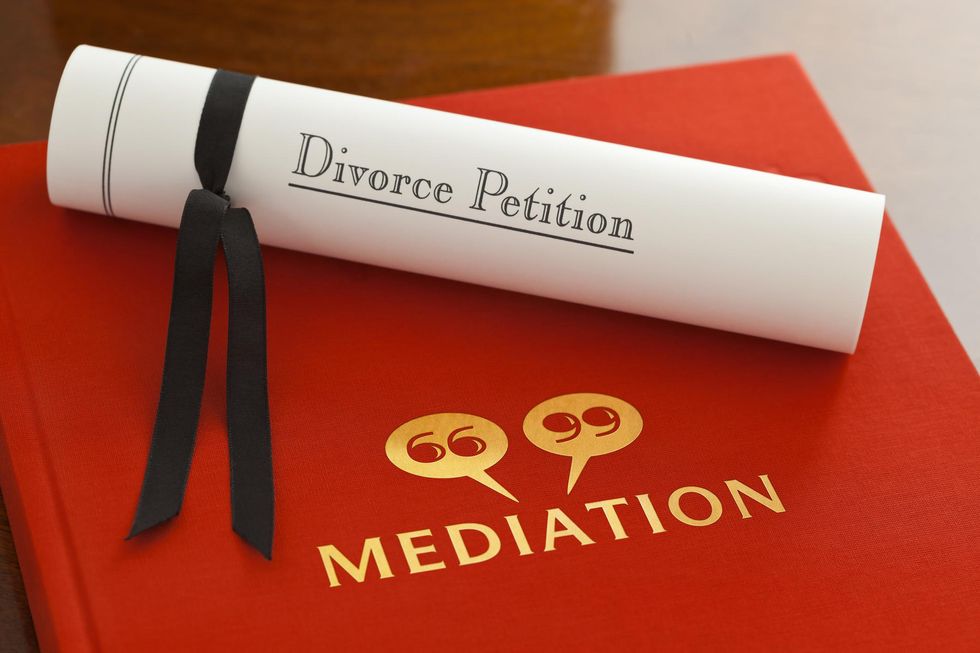 Getty ImagesGetty Images
Aaron. 29. Divorced 4 Months.
"My wife didn't like being married. Some people can date just fine. Marriage is a different kind of accountability and she's a free bird. Anything that requires her having to answer to someone else drives her crazy. I think she thought she loved me enough to look past it but one day, I woke up to a note that she wanted out. We dated for five years. She wanted a divorce after one year. It hurts and I don't think we can be friends, but you can't hold a free spirit down. Just let them go."
Hadassah. 26. Divorced 3 Years.
"You always hear that marriage ain't the movies. It ain't. In some ways, it's better but you've gotta be willing to show up every day and not be selfish."
"Too many people are too selfish to be married. They want to be loved. They want to be forgiven. They want someone to go above and beyond but they don't want to do it for someone else. Not really. I was that 'they'. I was more into what I thought my husband should do for me that I didn't really even consider giving back at the same level."
"I'm enjoying being single more because I get that I need to pour into me first. If I ever get married again, I'll be more ready because of this time that I've got now. Hell. I'm in no rush, though."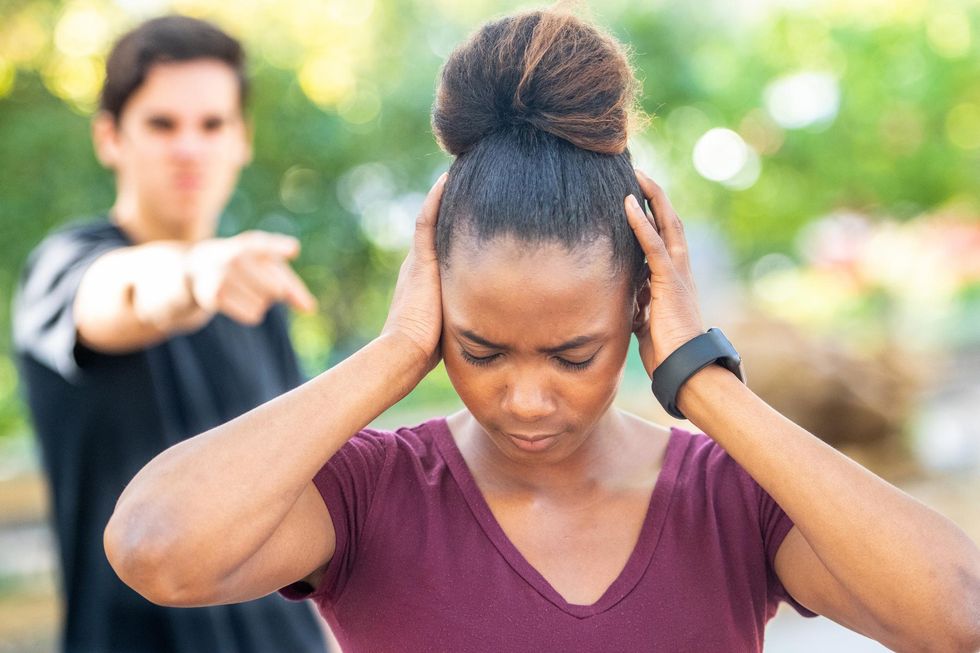 Daniel. 33. Divorced 4 Years.
"I'm a 'serial monogamist'. I used to be told that in college, but I didn't take it seriously until I started the divorce process. While I enjoy being in an exclusive relationship and other women aren't an issue for me, the demands and pressure that a lot of women put on men in marriage is suffocating. My former wife and I had a great time while we were dating. After marriage, it's like she became an entirely different person. You know what they say — pressure busts pipes. I'd just rather date knowing that I don't have to pay someone thousands of dollars if we don't work out. Marriage is a business. The stress of that reality is…a lot."
Jordan. 42. Divorced 6 Years.
"What a lot of people won't tell you is how much you can change while sharing a life with someone else who is also changing. The first five years with my ex were great. But his new job changed him, my spiritual transformations changed me and soon, we were strangers. Marriage is about two people figuring out how to love new versions of each other. If you're not flexible in this way, don't get married. This is a reality that is totally unavoidable."
-----
There you have it. 7 men and 7 women giving us a glimpse into what brought their marriage to an end. Again, I hope all of this causes singles to take a sober-minded approach to this kind of relationship and married people to figure out things that they can do to hopefully divorce-proof their union or work through the tough times if divorce is currently on the table. Because while marriage is a serious decision, divorce is too. That's why, whatever can be done to lower the divorce rate, I'm totally committed to investing in. I hope you are too.
Join our xoTribe, an exclusive community dedicated to YOU and your stories and all things xoNecole. Be a part of a growing community of women from all over the world who come together to uplift, inspire, and inform each other on all things related to the glow up.
Featured image by Getty Images
Keep reading...
Show less
How We Met is a series where xoNecole talks about love and relationships with real-life couples. We learn how they met, how like turned into love, and how they make their love work.
When it comes to sexuality, there have always been societal limitations centered on what is "acceptable." However, with more honest conversations about how fluid sexuality and sexual expression can be, now there are so many more opportunities for self-exploration and taking back ownership of our identities again. One couple that is living their truth and being sexual beings unapologetically while living and loving their lives are Jasmine Johnson and King Noire.
For some background, this husband and wife have been in a relationship for 10 years. Jasmine Johnson, aka Jet Setting Jasmine, is a psychotherapist and a Master Fetish Trainer, along with her husband, King Noire. Jasmine has over 20 years of experience in the industry. King Noire is an accomplished writer, artist, MC and global activist. As a couple in love and in business, Jasmine and King are owners of their award-winning adult entertainment company, Royal Fetish Films. Through their work, Jasmine and King have combined their talents and passions to produce erotica that stimulates audiences to explore their sexual boundaries.
In this installment of xoNecole's How We Met, Jasmine and King shares how their love continues to grow through intentionality, selflessness, and finding strength in baring it all.
How They Met
Jasmine Johnson: King and I met on a radio show. I was interviewing him on a podcast and the focus was porn and relationships. It was mainly about how people in the porn industry find relationships. We connected outside of the podcast and, when we did, we shared our personal bios to each other. We let each other know, 'This is what I've been through, this is where I'm at, and this is where I'm trying to go.'
King Noire: Yes, so we met on the podcast and I was very interested in getting to know Jasmine more. Jasmine was super straightforward and direct with her questions. I liked that. So I slid into her DMs and asked if we could work on our 'talents' together. At the time, Jasmine was teaching pole dancing and I was doing erotic touch massages. We both were very intentional about getting involved with each other.
First Impressions
King: After connecting outside of the podcast, Jasmine booked a session with me [for an erotic touch massage]. For me, that let me know that she respects what I do. When I saw her in person, I thought she looked better than her pictures. The first thing I noticed is that she has a very vibrant, illuminating smile. Jasmine's smile makes me want to smile.
Jasmine: Wow. How am I supposed to follow that? Before I met King in person, what attracted me to him was that he is a multi-dimensional man. The way that he is very in tune with who he is. I liked how he was not trying to shut off any of those dimensions. At the time, I was learning about all the dimensions of myself. So I thought, 'Well, here is a man who is educated, cares about his people, and likes to have a good time.' I also liked that he had a business pleasing women. I enjoyed my time with him, the conversation that we had, and the experience overall. He did not disappoint at all.
"What attracted me to him was that he is a multi-dimensional man. The way that he is very in tune with who he is. I liked how he was not trying to shut off any of those dimensions. I also liked that he had a business pleasing women. I enjoyed my time with him, the conversation that we had, and the experience overall. He did not disappoint at all."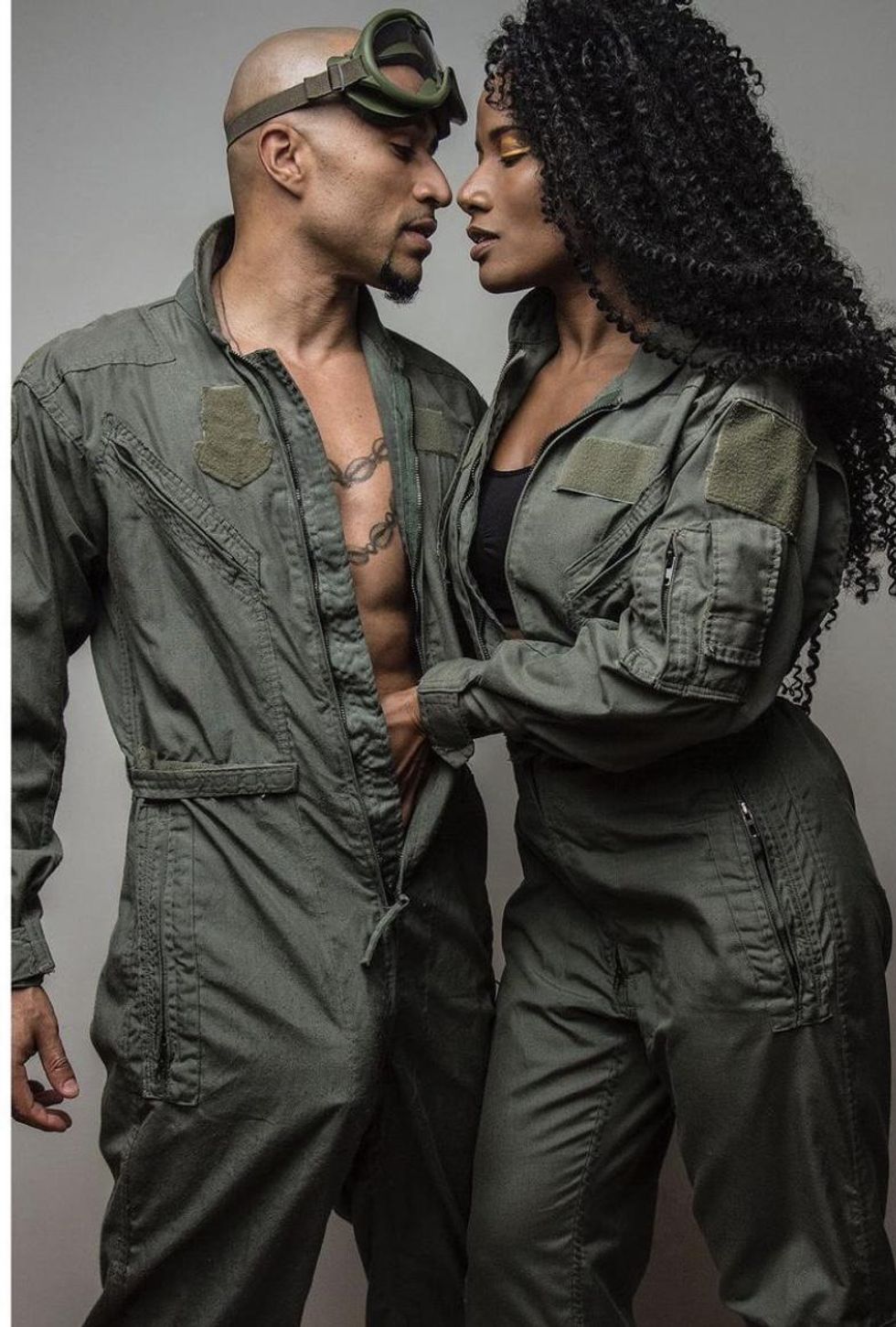 Courtesy of King Noire and Jasmine Johnson
Making It Official
Jasmine: There wasn't exactly a clear moment for me. Our relationship grew gradually and the shift had a nice slow incline. We talked about each step along the way, so it was very thoughtful. For example, one of us would say, "I'm thinking about you all day long and I wish you were here with me." Instead of saying, "I wish you here with me and I want you all to myself."
King: It has been gradually growing and I think that is the best way to put it. We continue to grow together and how we express our interests and admiration in each other.
Dismantling Myths Around Polyamory
King: The biggest myth about polyamorous relationships is that people think it is always sexual. It is so much more than that. My expression for love is just different and it is not solely about having sex with people. When it comes to Jasmine, how we connect and share with one another makes us stronger. So being honest about how we may like to do certain things differently or we have separate interests is important. With polyamory, it's recognizing that you can't be everything to anybody.
For example, Jasmine wants to go to a certain event and the event is not really my thing. If I'm there, I am not going to have as much fun as she will have. To me, I would be taking away from her enjoying it if I told her that I didn't want her going with someone else. When you truly love a person, you want them to experience all of the things that they enjoy. So I want her to enjoy herself, do her thing, and tell me how it went when she comes back home.
Jasmine: I completely agree with King about the sex part. I know a question I get asked a lot is, "Oh, do you get jealous when your husband sleeps with other people?" Truly, when I think about King and I's relationship, it is about the quality time we spend with each other. Also, when people think about polyamory, people assume that both of the individuals have to be polyamorous. There can be mixed styles of orientation in one relationship.
We both tried different relationship styles and chose what worked for us. I was oriented towards monogamy when I met King. Now I am not saying I just threw in my monogamy card, because I didn't. I just became more open to the possibility and explored what other ways of being together would look like. For years, we have been able to have a sustainable and beautiful relationship in love.
"The biggest myth about polyamorous relationships is that people think it is always sexual. It is so much more than that. My expression for love is just different and it is not solely about having sex with people. When it comes to Jasmine, how we connect and share with one another makes us stronger. With polyamory, it's recognizing that you can't be everything to anybody."
The Fears Around Different Relationship Styles
Jasmine: King was really certain about who he was and his relationship style. For me, the fear was if I reject this, then I miss the opportunity to experience life with this man. I also had a fear of "failing" at being good at being poly or exploring what our relationship could look like. I questioned if it would possibly jeopardize the bond we had. Both of these fears, either way, the outcome was not going to be him and I. So I leaned into those fears and I'm glad we figured it out.
King: I didn't have any fears from her specifically, but in general. I only had one experience before Jasmine where I felt I was able to fully be polyamorous. But it still felt limiting because I was still learning myself. I think the fear was as we got down the road, is she (Jasmine) going to change up on me? That fear of her not trusting me. This happens whether you are in a monogamous relationship or a polyamorous relationship. People were trying to tell me what my love was for my partner and I felt boxed in. But Jasmine was that person I wanted to dive into, get to know, and share all of myself with her. At the same time, I don't want to compromise who I am because of a relationship. I want to enhance myself because of the relationship.
Love Lessons
King: I don't know how cliche this will sound, but Jasmine really helped me express and find myself. With Jasmine, she is very confident in who she is and how she defines herself. She confirms that I also have the space to do that for myself. Those fears that I just spoke about were fears from past relationships and she made me realize that that is not a part of who she is. People say everyone comes with baggage and that shit is real. You realize you have to check your luggage somewhere else, because this is a new trip right here.
Jasmine: To love yourself is to take a hard look at a lot of aspects of yourself. You have to love the parts of yourself that you are not quite finished with yet. So much of King and I's relationship is helping others, but more importantly helping ourselves. A lot of the trauma work [I've done], King has been front and center.
Really doing that healing and processing it all, we really did it together and figured out how to make it pretty for y'all. How to express our sexuality to the world was really digging into the why's and meanings of who we are individually. From being in a relationship with King, I have also learned how to love myself differently. I don't have to do everything by myself anymore. When you have a partner to really appreciate the moments when life slows down, it's beautiful.
"From being in a relationship with King, I have also learned how to love myself differently. I don't have to do everything by myself anymore. When you have a partner to really appreciate the moments when life slows down, it's beautiful."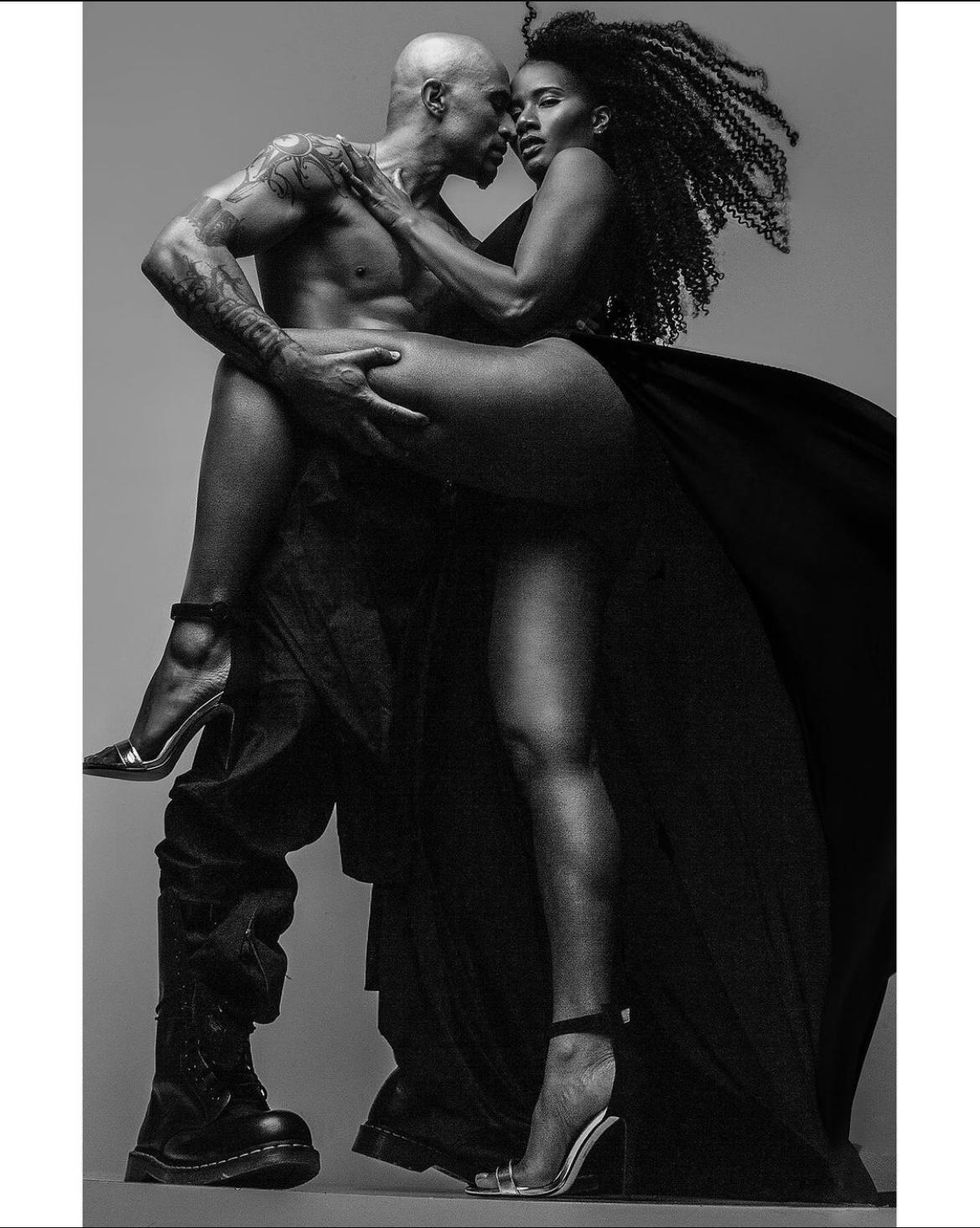 Courtesy of King Noire and Jasmine Johnson
Blended In Family, Love & Legacy
Jasmine: We have a blended family. We started co-parenting two to three years into our relationship. I think there is a huge stigma around blended families, where people think that when you have a blended family, it is going to be lacking something. I used to think this and it honestly took a while for me to believe that King could father all of my children. It wasn't necessarily about him expressing himself as a man and a father. It was really these preconceived notions and judgements of, 'No one is going to love your kids like you.'
The idea that someone in a blended family is not going to love your kids as much as if they were the biological parent is the furthest thing from the truth. My children have a full and complete family. Black families work hard and we continue to work while also through the expression of love. Black love does not have to look like that traditional Eurocentric idea. Black love can look like whatever it needs to look like for people as long as values are respected and aligned.
King: Building off of that, when you think about it, African-American family units don't just make lemonade out of lemons. We make everything with lemons]! History has shown us that the Black family has been broken up since we got here. People try to create this negative narrative around the Black family to make us feel bad. But I look at how we have created our definition of what family looks like, blood or not. We have always said it takes a village to raise a child. Family is more about who you love, how you love, and the responsibility of how you show up for your loved ones.
Common Ground
King: I think just finding more ways to love each other. What I mean by that is, how can I show you that I love you more within moments that we share? Within the Black love story, I believe we are afraid to expose the bareness of our souls. The more you expose yourself to somebody, we call it vulnerability. But I think of it as more of a strength. When you have a partner, if there is an area that you lack, your partner always has your back. They fill that space for you. So when we are able to show the totality of who we are, we are also able to fill in each other's blank spaces.
Jasmine: King has this motto for his music, which is, "Freedom, Justice, and Equality." I feel these three principles really cover every aspect of our lives. They make a really easy formula for our love. There is freedom in our love and I am not talking about sex and relationships. Freedom to respect our interests and support each other through them. The second one is Justice. There's a lot of accountability in our love. No one just gets away with anything around here. In terms of Equality, I have been able to see it as we come as equals to the table. We may not agree on everything, but we show up as humans and no one is inferior to the other.
If one wins, we all win.
For more of Jasmine and King, follow them on Instagram @jetsetjasmine and @therealkingnoire.
Featured image courtesy of Jasmine Johnson and King Noire
Keep reading...
Show less
Over the last few years, there has been a lot of speculation surrounding La La Anthony and Carmelo Anthony's marriage. Are they together? Are they separated? Are they working it out? However, all the speculation went out the window when news broke in June that La La filed for a divorce from the Los Angeles Lakers star.
Since then, the New Yorker is starting life anew with the purchase of a new home, a beautiful brownstone in Brooklyn, NY with her 14-year-old son Kiyan. Not to mention, the former TRL host is staying booked and busy with her acting gigs, including her new role on BMF. Now, La La is finally ready to open up about her divorce.
The Power star sat down with Angie Martinez on The Angie Martinez Show and spoke about her split from the Carmelo.

"To a lot of people, it feels like this single thing is new. It's been years now that we've separated and stuff. So I've dealt with the emotions behind it and I still have my moments, but for the most part, I can talk about it now and laugh about it and find the humor in it all otherwise I would be a basket case. I already went through that."
She went on to discuss the cheating allegations that the couple faced. In 2017, it was reported that Carmelo had fathered a child with a woman named Mia Angel Burks and was said to be the cause of their split.
"I was bad because it was public. I was bad because there were other people involved. I was bad because there were allegations. It got bad and I'm not the person to ever put my business on social media."
She continued:
"...you hold it in and it's like oh La is doing good, she look good on the 'Gram, it's like nah, that sh-t hit me really hard and you never know---and it came out of nowhere, it wasn't expected."
Some people even told her that she shouldn't be surprised that he cheated because he's a professional basketball player, but she the 39-year-old affirmed that she was "caught off guard" and didn't go into the marriage with those expectations.
While she's been going to therapy and letting time heal, she doesn't think she will ever get married again.
"Marriage, I don't think I can do that ever again. I mean some, like, amazing person would have to come. I don't see that happening again. But I don't know what God has in store for me."
As far as dating, The Chi actress said that she hasn't been on any dates yet, but in the meantime, she has used Instagram to find a potential bae. In case you've been living under a rock, La La's Instagram page is poppin' and she posts a lot of sexy photos showing off her beauty and body.
"I didn't think that this phase, I would be entering into being single and dating and tryna see what life is like. I didn't think that was gonna happen, but life happens and things happen and I was locked into my marriage and things happen. So, now I now gotta readjust so I can't be out here looking cuckoo crazy. I'm trying to get some DMs poppin'. I'm tryna see what's going on."
La La and Carmelo got married in 2010 and were married for 11 years before splitting in 2017.
Featured image by Marcus Ingram/Getty Images
Keep reading...
Show less
I've shared in articles before that, pretty much every man who I've been intimate with, they have left some one-liner that has remained with me, even all of these years later. And if there's one that I bring up, shoot, at least every fifth counseling session, it's something that an ex once said to me; something that I find to be truly beautiful and more accurate as time goes by — "A woman should be a man's sanctuary."
I think a part of the reason why it hits so close to home, to me, is because I work with a lot of couples where it's more like a proverb in the Bible where it says that it's better for a man to live on the roof than with a contentious woman (hey, take that up with Scripture, not me. It's referenced in Proverbs 21:9, by the way). Someone who's contentious is quarrelsome. Someone who's contentious is combative. Someone who's contentious is contrary (just to be contrary). So, basically what the Bible's saying is, when you live with someone with that kind of energy, the place to find peace would be your roof because you definitely won't get it within your home.
Hey, if that triggered you, I don't know what to tell you because all it does for me is remind me that, even as a single woman, when folks are in my presence, I should want them to feel more peace than a lack-of-peace. And that when I'm talking to my clients — husbands and wives — I need to remind them to offer that same kind of space to their spouse. And an exquisite word that sums all of this up very well — again, to me — is sanctuary.
Why "Sanctuary" Is Such a Beautiful Word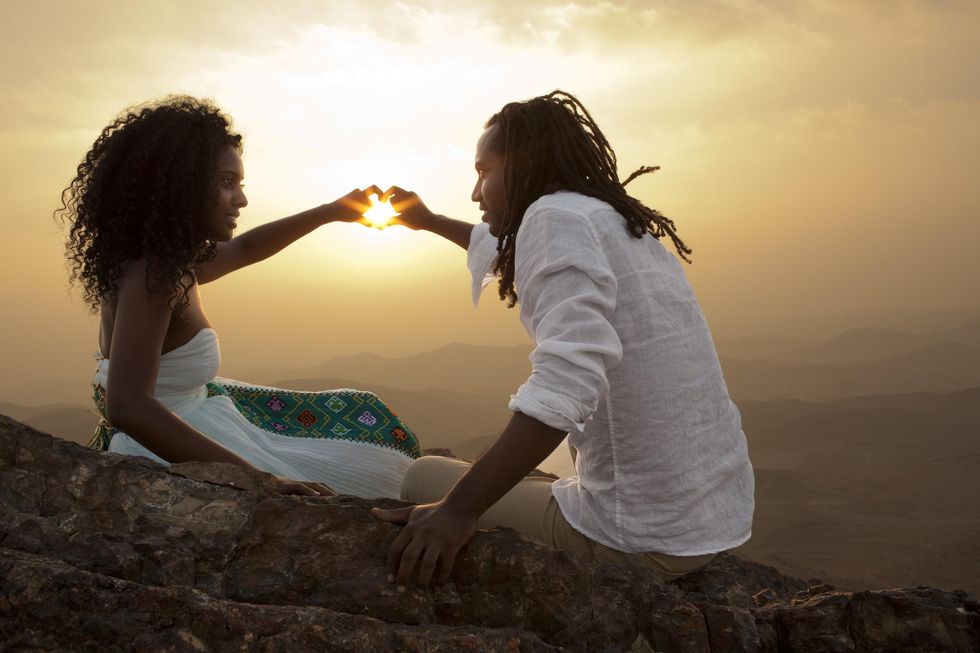 Usually, when folks think of a sanctuary, it's a church that comes to mind. I get that, being that a popular definition of the word is "a sacred or holy place". Yet if you really let that breakdown marinate, do you get how a sanctuary can also be your home and your partner (I mean, even the Bible says that our body is a temple in I Corinthians 6:19-20)? Among other things, sacred means "regarded with reverence" and "secured against violation, infringement, etc., as by reverence or sense of right". Your home should definitely be regarded with reverence (check out "7 Signs That You Truly Respect Your Spouse (& Your Marriage)") and you and your partner should both feel like neither of you would intentionally violate the other. As far as holy goes, one definition is "dedicated or devoted to the service of God" while another is "having a spiritually pure quality". Regardless of what your particular faith may be, being spiritually compatible with your spouse (check out "7 Signs You're Spiritually Compatible With Someone") while making sure that your motives, words and actions come from a pure space as much as possible is also a way to have a supremely healthy union.
Personally, I'm a big Hebrew girl, so I also know that the Hebrew word for sanctuary is "mikdash" which speaks of being set apart, in part, for rest and refuge. And y'all, I can't tell you how many spouses — I'm gonna be real, it's mostly husbands — who tell me that they dread the thought of going home because rest and refuge are the last two things that transpire within their dwelling space. And y'all, this simply should not be the case. If there is any place where a husband and wife — especially a Black husband and wife within these United States — should feel like they can put down their guard, be at ease and seek refuge, it should be within the confines of their own home.
Speaking of refuge, that's a powerful word as well. Let's look into it, just a bit deeper too.
What Does It Mean to Be a Place of Refuge?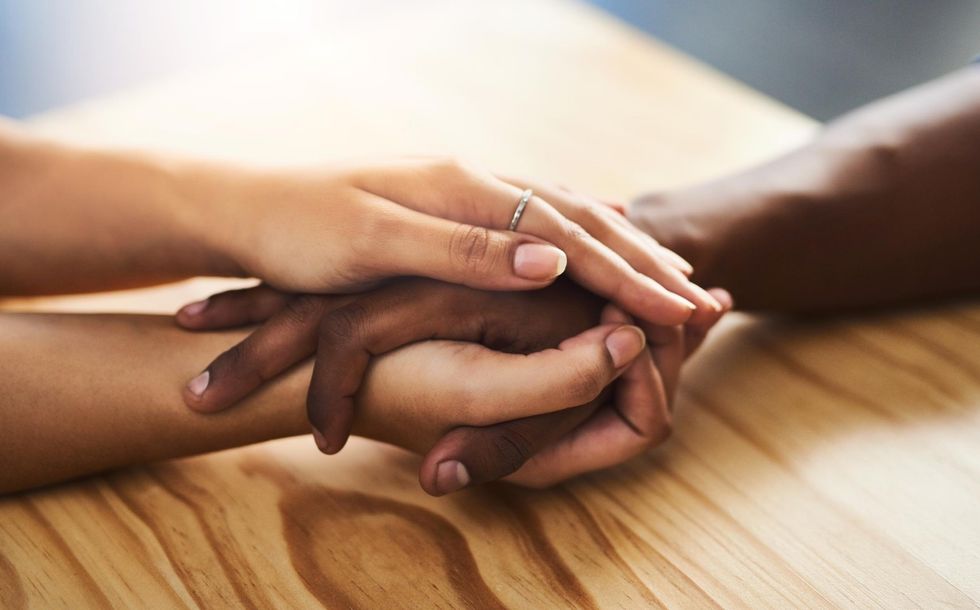 No one wants to live in a home where they feel like they are going to be bossed around (check out "Are You His Partner Or His Second Mama?"), nagged, berated, constantly criticized or anything else that cultivates more anxiety and stress than anything else. Well, when a house is a home that is a refuge, it is the opposite of all of these things. When something is a refuge, it is "shelter or protection from danger, trouble, etc." and "anything to which one has recourse for aid, relief, or escape".
When you are married, your home — and your being — should feel like you are shelter from danger and a place where your spouse can escape to, as they provide that same kind of reality for you.
Unfortunately, this isn't even close to being the reality for a lot of couples. Instead of protecting their partner from as much hurt, harm and danger as possible, they are the actual cause of a lot of it. I'd venture to say that a part of the reason why is because many of us did not grow up living in a home that felt like a place of refuge and definitely not like it was a sanctuary (lawd). And so, we've been programmed to think that love and contention, drama, peace-less-ness can — and even should — coexist when really, that isn't the case at all. Just look at the Love Chapter of the Bible. What about it sounds like combativeness, hostility or strife?
"Love never gives up. Love cares more for others than for self. Love doesn't want what it doesn't have. Love doesn't strut, doesn't have a swelled head, doesn't force itself on others, isn't always 'me first,' doesn't fly off the handle, doesn't keep score of the sins of others, doesn't revel when others grovel, takes pleasure in the flowering of truth, puts up with anything, trusts God always, always looks for the best, never looks back, but keeps going to the end. Love never dies." — I Corinthians 13:4-8(Message)
In all actuality, love reminds us to be a sanctuary space and place of refuge for our spouse. And gee, just imagine how many marriages would improve, exponentially so, if one of their biggest priorities was to make sure, that above all else, this was the case? And just how can you commit to making this all happen in your own relationship? I've got six suggestions.
6 Ways to Make Your Union a Sanctuary Space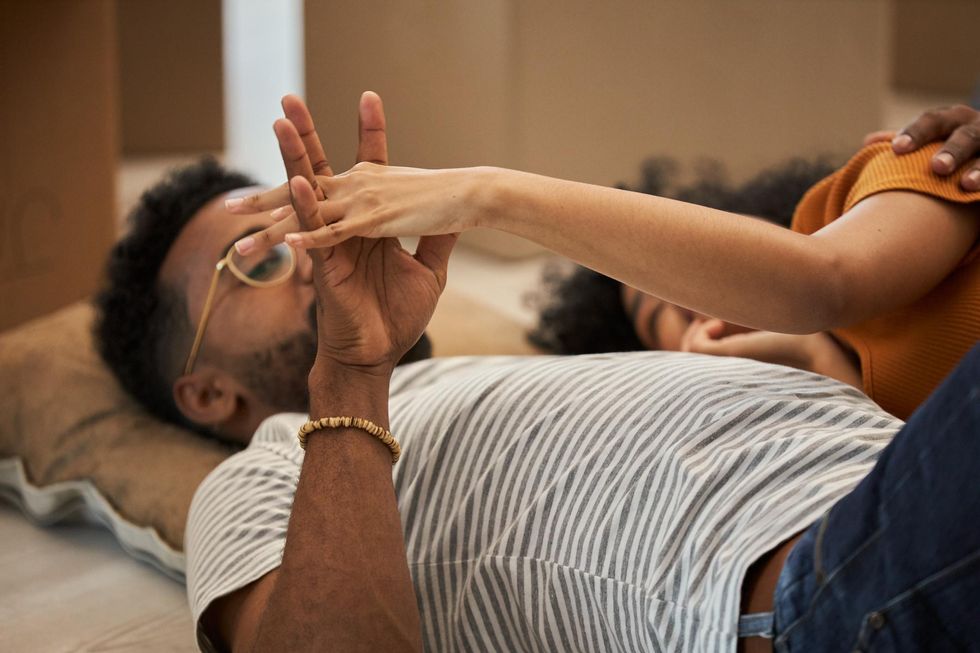 1. Create a "You're Safe Here" marriage-themed mission statement.
I'm big on mission statements. They're a concise and to-the-point way to get us to stay focused on any particular mission at hand. So, when it comes to your marriage, get together with your hubby and ask him to create a "you are totally safe here" mission statement for your union. Discuss what it means to be safe and what you both are committed to offering each other so that you both will feel that way. Then post it somewhere where you both can see it on a daily basis. I'm telling you, this simple tip does wonders.
2. Leave being hypercritical at the door.
You should hold your partner accountable as they do the same for you. There is no doubt about that. However, if you are constantly chastising and ridiculing, that is going way overboard which makes it a surefire way for your spouse to build up walls or emotionally shut down completely. You know, I really can't believe how many people will dish out being hypercritical and then cave the minute even a remote correction is sent their way. Oftentimes, that's a sign of extreme insecurity but that's a message for another time. Anyway, supporting and encouraging your partner to live a healthy and responsible life is one thing. Acting like a drill sergeant is something else. You don't want someone to be that in your life, so why would you send your husband through that type of madness? Exactly. Don't.
3. Keep some things ONLY between you and your spouse.
I'm not going to name any names because, well, I'm just not going to (LOL) but there are some celebrity wives that have me thinking, "So, are you just on a mission to humiliate your husband at every turn?" Goodness. When you signed up to have your spouse's back until death parts the two of you, there really needs to be certain things that remain solely between the two of you, no matter what. Some of his past. Some of his secrets. Some of his "tender spaces". And certain things about your marriage too (intimate details about your sex life comes to mind).
One of the best things about feeling like your marriage is a sanctuary is the fact that you know that there are things that will never go beyond your spouse's ears, no matter what, because they care about your heart, just that much. And having that kind of assurance is what causes people to open up even more which cultivates new levels of intimacy over time.
4. Know how to comfort your partner.
How many of y'all remember the Shai song "Comforter"? OK, while ole' boy was slick trying to break a couple up by saying that he would comfort the girlfriend since her boyfriend was a hot mess, my main point is the hook — "I will comfort you." Comforting someone consists of soothing, consoling and reassuring them. It's also about making them feel as physically comfortable as possible. When's the last time you did that for your husband? When's the last time he did that for you? Unfortunately, instead of a lot of people putting forth the effort to "restore to assurance or confidence" when their partner is down, self-doubting or even just had a bad day, they say and do things that make their spouse feel even worse. Being comforting is the last thing on their mind. Make sure that, as for you and your house, it is one of the first.
5. Plan "Peace Dates".
Dates shouldn't go away simply because you're married. That's because dates are all about intentionally setting aside quality time for you and your partner. That said, synonyms for peace include love, friendship and even reconciliation. So, when's the last time the two of you went on a date with this focus in mind? An indoor picnic. A weekend road trip. A sex date (check out "When's The Last Time You And Your Man Had A 'Sex Date'?"). An unplugged weekend. A night when the two of you slow drag to 90s R&B while drinking champagne and toasting each other and your relationship. Anything that will help to create harmony in your relationship will definitely fit the bill. A peace date is a great way to get back to the kind of energy and atmosphere that you truly desire within your union.
6. Strive to be a peacemaker.
I've shared before that the Hebrew word for peace is "shalom" and two definitions of it are "wholeness" and "completion". I really dig that in the marital space because being a peacemaker doesn't automatically or necessarily mean that you say nothing or that you don't even challenge your partner from time to time. What it does mean is, whatever your efforts are, it's for the sake of cultivating wholeness and completion in your relationship — and if it's not, it doesn't need to be done.
Sanctuary. What a "woosah" kind of word. Here's hoping that if you or your spouse (you might wanna ask him) wouldn't currently define your marriage and home as a sanctuary space that you'll brainstorm together on how to make that a reality. Hey, you can't control what happens outside of your relationship or household yet you are quite empowered to control what goes down within it — and being a sanctuary for one another is top-tier loving. It really and truly is.
For more love and relationships, features, dating tips and tricks, and marriage advice, check out xoNecole's Sex & Love section here.
Featured image by Getty Images
Keep reading...
Show less
In xoNecole's Our First Year series, we take an in-depth look at love and relationships between couples with an emphasis on what their first year of marriage was like.
Love is beautiful, and if you believe otherwise, then you may just haven't found the right person yet. What I mean by beautiful is that love is a journey that is comfortable and uncomfortable at the same time. I am not saying that love doesn't come with its bumpy times because that would be a lie. What I am saying is that when it comes to love, sharing those moments with someone makes the ride called life all the more worth it. Whether it's going on trips, doing adventurous activities, or even relaxing together in the park, those moments are what helps keep the love couples share alive. That is exactly how DJ QuickSilva and Ashley Silva approach their love.
They have been married for 12 years, and they still make sure they have fun and do things together like they did when they met almost 20 years ago. Quick is a DJ and radio host from east Baltimore who is best known on Washington, D.C.'s The Russ Parr Morning Show. He is also the host of The QuickSilva Show, which can be heard weekdays 3 to 7 p.m. EST on both 92.3 FM in Baltimore and 93.9 FM in DC. Outside of DJing, he's the owner of Club Downtown Bmore and has opened a DJ school called The Quick and Eazy DJ Academy, with the goal of providing a curriculum that teaches a wide range of skills necessary to be a successful DJ.
While Quick has become very successful and is still reaching new heights, he was not expecting to find that support system and his partner in "fun" in the love of his life, Ashley Silva.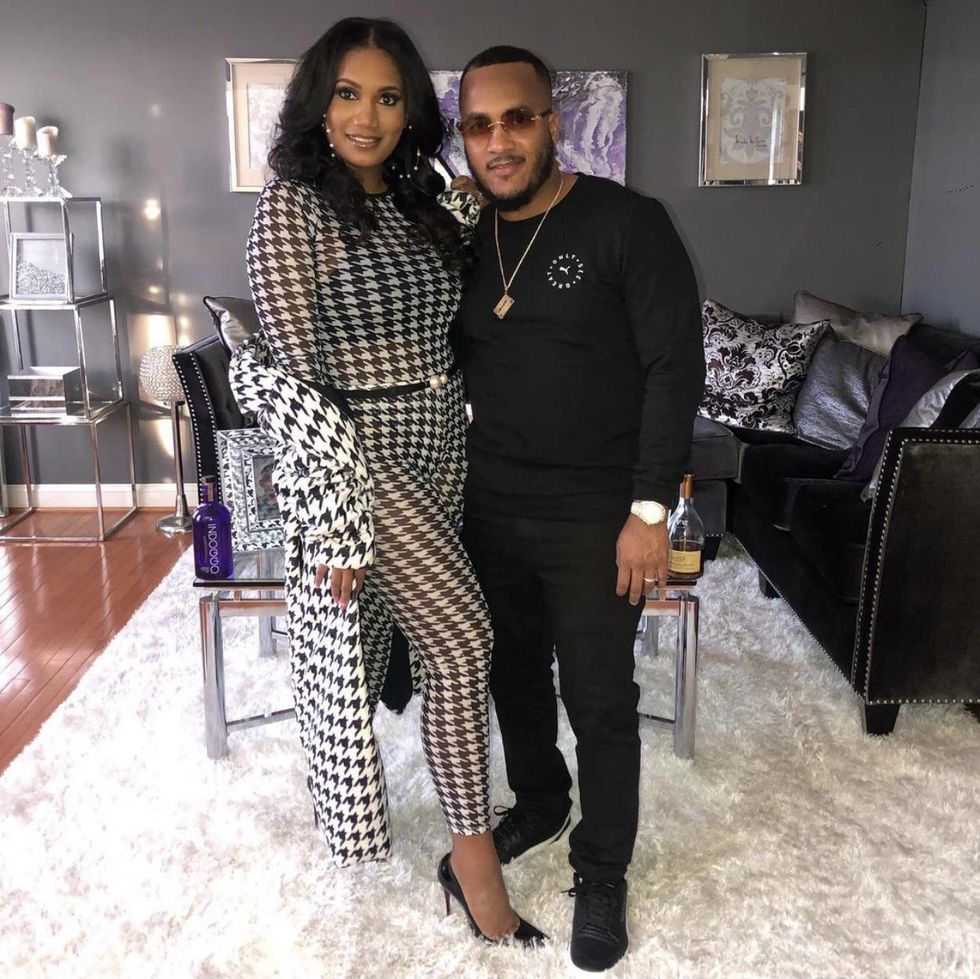 Courtesy of DJ QuickSilva
Once they got married, Quick and Ashley Silva, creator of the lifestyle brand and podcast @funtimemoms, made sure that they kept dating each other. "I think we lead by example. We really try to show our kids what a healthy marriage should look like. We hope that through our actions and how we live our lives, we inspire our children. We hope that through us, our children see that marriage can work if you allow it to work."
How We Met
Ashley: We met at a nightclub called Hammerjacks. One of my neighbors was the opening DJ and I was driving him to the club that night. I saw Quick there and I thought he was cute. The rest was history at that point.
Quick: So initially in 2002, Ashley messaged me on BlackPlanet.com. She introduced herself and was telling me about a DJ she was friends with. From there, we met in person at the nightclub a week later.
Ashley: We didn't really call ourselves being in a relationship until four years after we met. I used to call it a 'friendlationship'. But I think it started being called a situationship later on. One day, I stayed over at Quick's place and I literally just never went home.
Favorite Things
Ashley: I love how dedicated Quick is to everything he works toward. Whether it is for work or for our family, I know that it's going to get done. That really motivates me because there are times where I am not as motivated, but when I look at him, I tell myself, if he can do it, then I can do it too.
Quick: It's hard to narrow it down to one thing. She is the most thoughtful person I have ever met. When I say thoughtful, I mean she goes above and beyond. It could be friends, family, or any person that she comes across. For her, it is really about making other people feel special. She does an amazing job of that.
The Big Day
Quick: We had our wedding in Jamaica and I remember it rained a lot that day. The wedding was also two hours late from starting. But my favorite memory of that day was when I first saw her. Ashley came around the corner and then Brian McKnight's "Never Felt This Way" started playing. Everybody in the room started crying. It was an amazing and magical thing.
Ashley: I believe there's a saying, "If things go bad, the better the marriage." Literally that morning, I woke up with three mosquito bites and I'm slightly allergic. With the rain, my hair was messed up and we had to move the wedding indoors. But the reception was so much fun. It was really the best time.
The One
Ashley: I don't want to say it was love at first sight, but it kind of was. I remember telling Quick years before (when we were in our situationship) that one day he is going to want to marry me. I just loved everything about him. To me, he was the perfect guy.
Quick: There was definitely a moment for me. Back in 2002, Ashley was there for me during one of the lowest points of my life. During that time, when I lost everything, I would ask her, "Why are you still here?" Her response was that she liked being around me. I knew at that moment that she was the one, but honestly, I knew I wasn't ready.
"Back in 2002, Ashley was there for me during one of the lowest points of my life. During that time, when I lost everything, I would ask her, 'Why are you still here?' I knew at that moment that she was the one, but honestly, I knew I wasn't ready."

Biggest Fears
Quick: My biggest fear before marriage was not being able to provide for and protect my family. A lot of people get married because of love, but I wanted to make sure that I was financially and mentally ready before we took that step. What helped me overcome that fear was reminding myself that Ashley was there for me when I had nothing. Because she was there for me, it let me know that she is not with me for the money.
Ashley: I really never saw examples of long-lasting relationships growing up. Even if they were in a long-lasting marriage, the couple hated each other. That is not something that I wanted in my marriage. I wanted to have a friendship, too. For our children, I want them to see that their parents love each other and like each other. I think they are able to see that even now.
Early Challenges
Ashley: The beginning of our marriage was around the time social media became popular. With social media, people have been really mean to me. There were people who said the worst things to me, and I was genuinely shocked about where this hatred was coming from. It really bothered me and it showed me how there are so many people truly unhappy in their own lives.
Quick: We live in a time where most people are pretty unhappy. No one wants to see success in careers or love with other people because that is something that they want. If there is one small thing that someone can nitpick at, that is what they focus on. That is what gets on blogs. It just shows that positivity is not what people buy into. It is the negativity that sells.
Self-Care Within Marriage
Ashley: I am a huge advocate for mental health and wellness. Self-care is a part of my everyday routine. I like to meditate with my daughter, and I like to take hot baths. Self-care can look different in different marriages. For Quick and I, we enjoy spending time together, but we also enjoy our own 'me time.' Having your own identity within your marriage is so important. For example, it can get hard being able to spend time with your girlfriends after you get married. Three months can turn into six months and then you're wondering where the time goes. So my other form of self-care is maintaining those relationships outside of my marriage. Everyone needs that.
Quick: I work so much. I literally party for a living and I am around people 24/7. There have been days when I have worked myself into exhaustion, so when I am not working, I do not want to do anything. I enjoy watching an old movie, smoking a cigar, and just relaxing. If I could watch a movie, smoke a cigar, and get a massage every day, life would be amazing! My form of self-care is honestly doing nothing.
"Self-care can look different in different marriages. For Quick and I, we enjoy spending time together, but we also enjoy our own 'me time.' Having your own identity within your marriage is so important."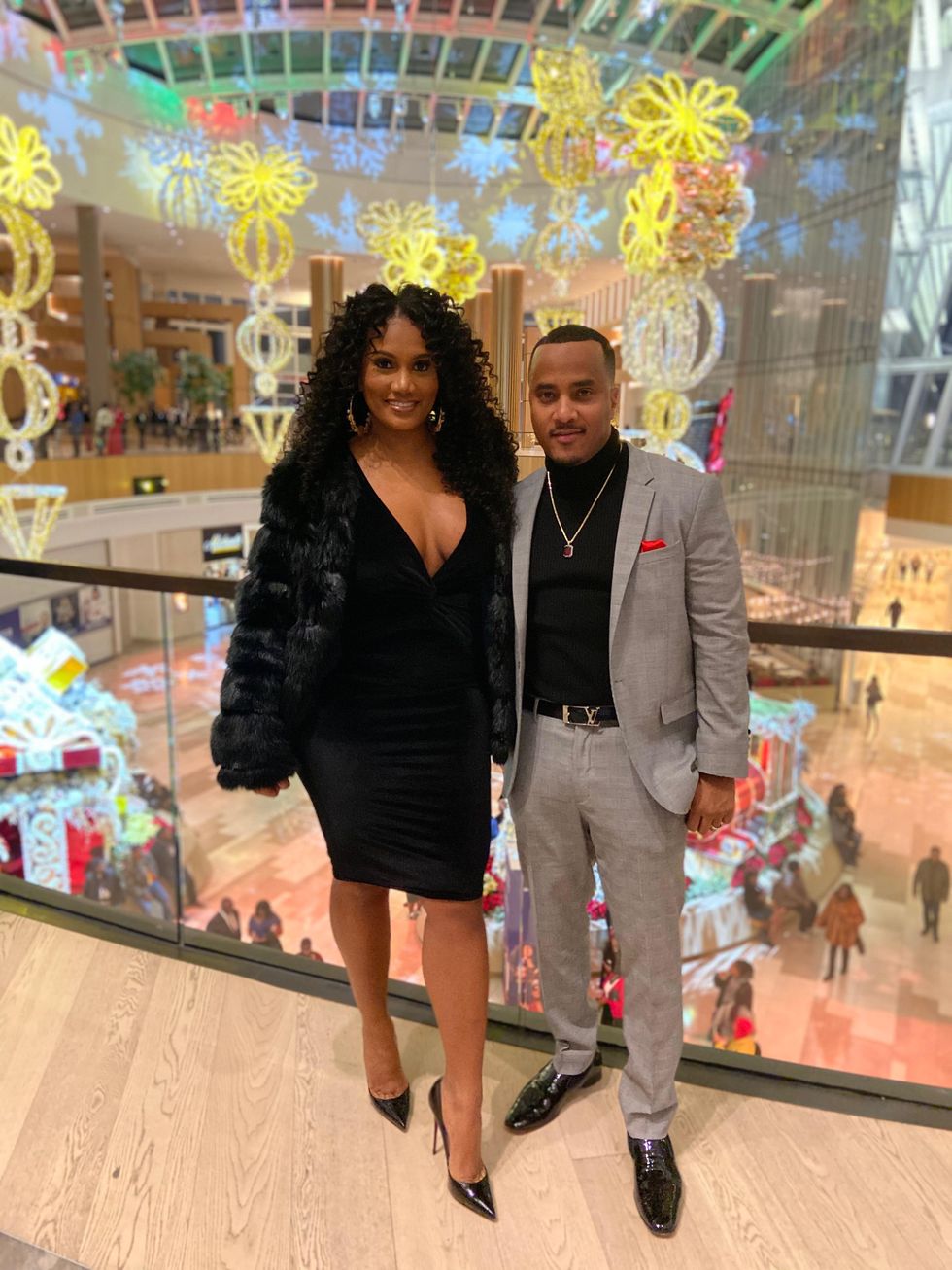 Courtesy of DJ QuickSilva
Love Lessons
Quick: One thing that Ashley mentioned in another interview really resonated with me. She said, "In marriage, you will always love each other. Will there be moments when you fall out of love? Yes. But what helps with keeping the marriage going is that we don't fall out of love at the same time." So those moments when we get on each other's nerves, it is always one of us that still cares to bring us back to love.
Ashley: A lot of people talk about communication, but for me, I think comprehension is more important than just communicating. If someone is telling you something and it is going in one ear and out the other, it doesn't mean anything. To understand where your partner is coming from is key.
Common Goals
Ashley: I think a goal for us is that in 20 more years, we still like each other. We try to do things together that we both will enjoy. Keeping the fun is a huge part in keeping the marriage alive. A big mistake that a lot of married couples do, is that they forget who they were before they got married. So it's important to do things that remind you why you got together in the first place—to be reminded, what made you fall in love.
Quick: I think it is important for people to see that just because you're married, doesn't mean you can't do the fun things you were doing before you were married. Yes, some things may slow down and change. But the Silvas like to turn up!!
"I think a goal for us is that in 20 more years, we still like each other. We try to do things together that we both will enjoy. Keeping the fun is a huge part in keeping the marriage alive."

Best Advice
Ashley: Keeping that balance of being a couple outside of being parents is essential. I remember Guiliana Rancic (works for E! News) said that her marriage comes first and her children come second. A lot of people were upset that she said that. But when I read more about what she was saying, I understood why. If I spend all my time with my children and my marriage is failing, I don't have a marriage to go back to.
Quick: Everything does not work for everybody. What works for us, may not work for the next couple. I think the main important thing in a marriage is to agree on what works for you two. It's not easy to be married to someone like me in this industry, but once you figure out what works, go with that. Nobody can teach you what works in your marriage better than you.
To learn more about DJ QuickSilva and Ashley, follow them on Instagram @djquicksilva and @ashleybrittany.
Featured image courtesy of DJ QuickSilva

Keep reading...
Show less
It's been nine months since LeToya Luckett announced her divorce from Tommicus Walker. Fans of the "Torn" singer watched her and Tommicus' marriage play out on T.I. & Tiny: Friends & Family Hustle as they tackled a lot of hardships as well as cheating allegations. While LeToya has been kind of mum following their split, the singer, who shares two children with her ex-husband, recently took to Instagram Live to talk about love and relationships.
While the 40-year-old didn't share whether or not she was speaking from experience, she did share her thoughts on why she believes some relationships fail.
"I think we're always on the quest for the things that we desire that we miss what we have. Don't take those things for granted because what will happen is you'll get a peek of what you want out of someone. They'll check maybe like 3 out of the 10 boxes that you got and then, what happens after that?
"Most of the time you rush into something and end up in a miserable situation that you're now like, 'OK, how do I get out of this?' All because you wanted a little bit of love and for somebody to be there."
The Greenleaf actress also suggested that people should stop waiting on finding "the one" before going after their dreams and the things you want in life. This time using herself as an example, she said:
"I always wanted to go to Greece and so I said, 'Oh I'm going to wait until I'm married and go to Greece. And there was a bag I always wanted, 'Oh I'm going to wait until I'm married and then maybe my husband will buy me that bag.' Now granted, I had the money to buy it myself. I used to want a Cartier Love bracelet so bad and I was like, 'Now I'm going to wait until I get married and I'm going to tell my husband I want it for my anniversary.'
"Aht, aht! No. Do those things that you always wanted to do when you want to do them and on your own time."
Speak, sis!
It looks like LeToya has learned a lot from her past relationships and is focused on getting back to her happy. She's been posting adorable family photos on Instagram as well as documenting her weight loss journey. She also announced that she landed a new role on Power Book III: Raising Kanan.
Prior to Tommicus, the former Destiny's Child member was also briefly married to author Rob Hill Sr. and dated rapper Slim Thug.
Featured image by Johnny Nunez/WireImage via Getty Images
Keep reading...
Show less