In xoNecole's Our First Year series, we take an in-depth look at love and relationships between couples with an emphasis on what their first year of marriage was like.

For Billboard-charting hip-hop artist Call Me Ace, he met his match when he met his now-wife, attorney Roza Patterson, at his college birthday party. On this particular night, in 2011, Ace and Roza shared with each other their ambitions and their dreams after college. With both of them living in two different states, they had no idea that the strength of their connection would withstand the physical distance between them.
According to Ace, what drew him to Roza was the fact that "she loves so much. She has taught me to be less self-centered." For Roza, "it's the way he celebrates other people. He is so supportive of others." This couple maintained their long-distance love until they finally walked down the aisle in 2016.
For Roza and Ace, this month marks their five-year anniversary and they have centered their marriage in being aligned spiritually and purposefully. With combining their Jamaican and Ethiopian cultures, Ace and Roza made it their mission to build together in love and serve each other to reach the ultimate #RelationshipGoals. With Ace being an artist, his recent song "Love Goals" talks about the core principles of his marriage, and how he and Roza continue to work hard and trust in God to take them to the top.
When you love someone, having faith as your foundation helps you get through the best of times and the worst of times. Ace mentions, "Instead of thinking of these instances as negative, we took these moments as opportunities to help build together in this project called marriage." Whether you are married, engaged, or in the beginning stages of dating, a partnership is about togetherness. It highlights the importance of focusing on the journey of love and trusting that your faith will guide you to the ultimate destination.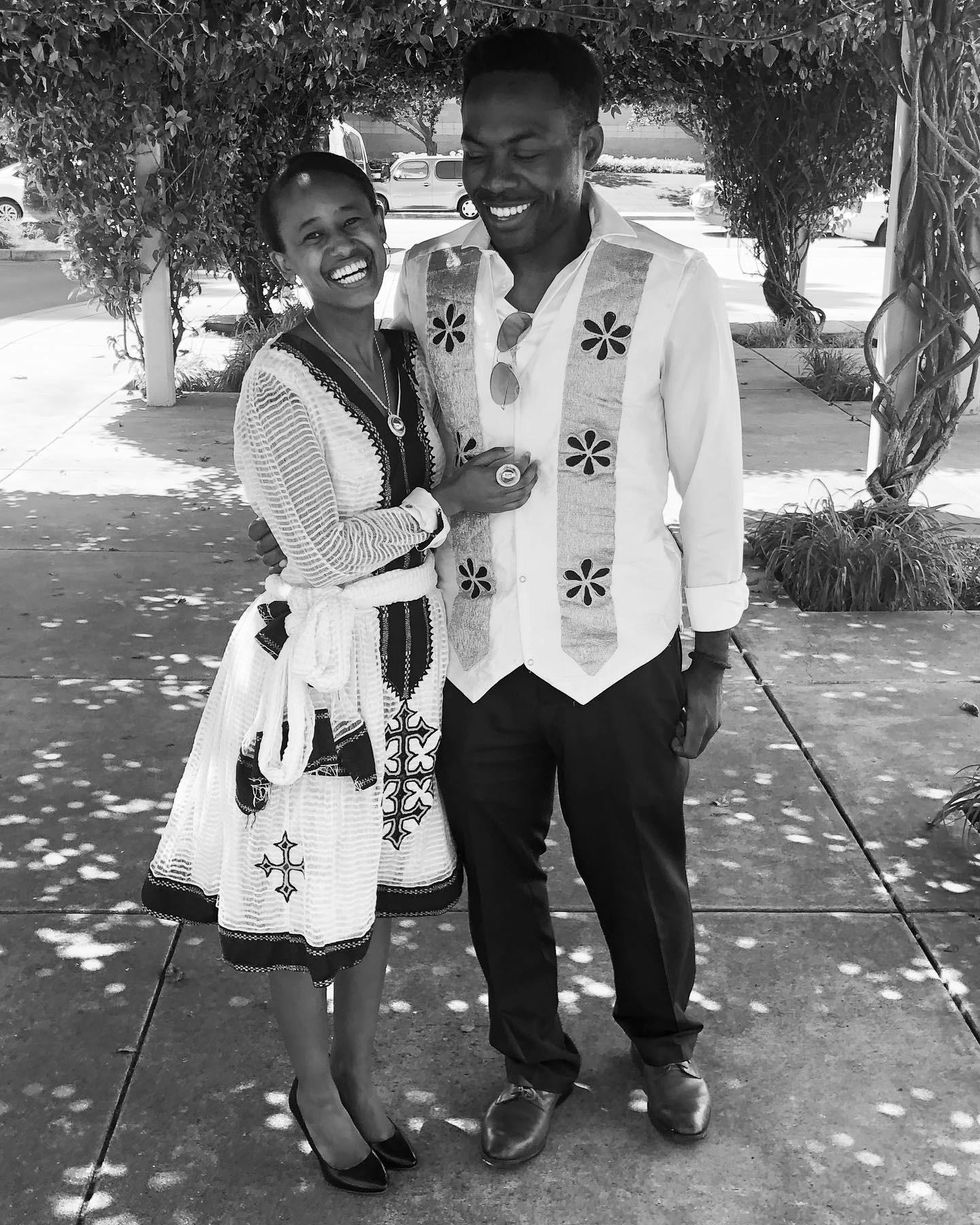 Courtesy of Ace and Roza
In this installment of xoNecole's "Our First Year", Ace and Roza share how they kept their love alive during long-distance, how they keep God as their foundation, and truly support each other's dreams in their marriage.
Here's their story:
How They Met
Ace: I recently graduated from Columbia University and was having a birthday party on campus. A mutual friend of ours attended the party and Roza came with [the mutual friend]. My first impression of Roza was I thought she was a literal angel. I never met anyone like her. I was fresh out of college and I didn't have much. So after talking to Roza for a while, I compared what she was doing with her life versus where I was in my life. I couldn't even be her friend because I figured I was going to mess up her life (laughs). My attitude was that she was doing so great for herself, so she should just leave me or she would regret it (laughs).
Roza: I really didn't know anyone at the party. So to make myself more comfortable, I figured I would talk to the birthday boy. We basically talked all night and we exchanged social media information. Ace was definitely the most interesting person I talked to that night. When I met Ace, I thought he was a good listener. At the time, I recently got out of a relationship, so I wasn't looking to hop into another one. Even though I liked talking with him, I really didn't think anything would happen between us.
The One
Roza: When I met Ace, I had made a commitment with the Lord that I would not take action into anything unless hearing from the Lord first. A lot of people say "when you know you know" and for me I patiently waited for the Lord to tell me that Ace was my person. When the moment finally happened, it was all excitement from then on out.
Ace: Roza and I were long-distance the entire time before we got married. At a point in our relationship, Roza had a choice to choose between Columbia [my alma mater] or a school in the UK. She chose the school in London. I was mad at the situation because I took it as a sign that we weren't meant to be together.
But one day, while I was praying and writing in my journal, I heard this question, "Has Roza wronged you in any way? If so, leave. But if not, you should love her through this." I took that as a sign that if this is God's will, then so be it. So after Roza's Master's program was over, I was convinced that if we can make it through an international long-distance relationship, we can make it through anything.
"A lot of people say 'when you know you know' and for me I patiently waited for the Lord to tell me that Ace was my person. When the moment finally happened, it was all excitement from then on out."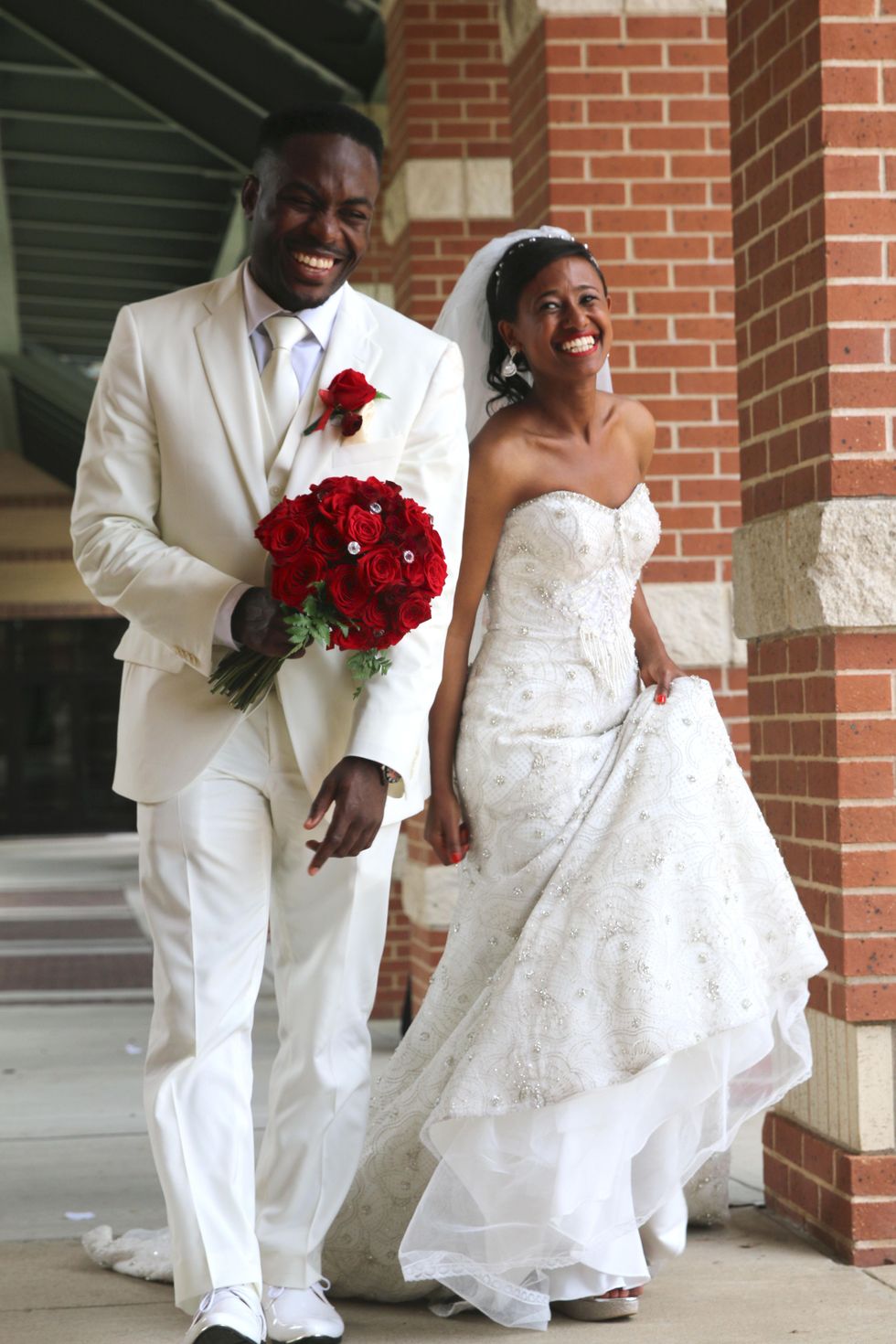 Courtesy of Ace and Roza
The Big Day
Roza: One thing I do remember on our wedding day is that Ace actually surprised me with a song. I was completely shocked (laughs). Ace and I planned our wedding to a T. But after our first dance, I see the DJ walking over with the mic. I'm telling the DJ we don't need the mic, it's fine (laughs). But little did I know, Ace started performing his song and I was blown away. Ace told me when we were planning the wedding that he didn't want me to stress and that his job was to make me happy. He definitely did that.
Ace: One thing I remember is that when the wedding was all done, we ran into another married couple. They had this huge white old-school car and Roza and I asked if we could take a picture with them and their buggy. Then, we were slick and got them to take our picture by ourselves in front of their car (laughs). It was one of the dopest pictures ever.
Early Challenges
Roza: When Ace graduated from Columbia, he started at an unpaid internship. In my head I thought, 'Who starts an unpaid internship after college, we need to be getting jobs.' (laughs). So basically, he didn't have any money. I started to wonder if he would be able to provide for me in the future. I struggled with this and even thought about giving up on our relationship. But I am glad the Lord worked with me on that. I value security and I believe everyone does. But finances is not what I wanted to base our relationship on. In the end, he is providing for me more than I can ever imagine now. So I am glad I let go of that.
Ace: So the challenges as far as culture, what we like to eat, or different sleeping patterns hit us after we got married. But for us, it wasn't really a challenge per se. It was actually pretty fun. We have never lived together before, so it was all new for us and we were able to experience everything for the first time together. Instead of thinking of these instances as negative, we took these moments as opportunities to see how we build together in this project called marriage.
Biggest Fears
Ace: My biggest fear, and I am still working through this, I just want to be a good husband. In the beginning, I feared that our relationship would crumble because of me. The way I grew up, I didn't have a lot of role models on what a healthy black relationship looked like. All of it was new for me and even my family. So there's this pressure to not mess things up. But I submit my fears to the Lord and it is an everyday choice to trust in God and lead in loving one another.
Roza: One of my biggest fears was that we had different upbringings. I am Ethopian-American and he's Jamaican. My other siblings married other Ethiopians, so I was scared about how our different cultural backgrounds would blend together. I struggled between if my family would accept him or if I should do what my siblings did, because that's easier.
But God is so gracious, because I learned that above anything, you and your partner comes first. If I would have listened to those fears, I would have lost out on this amazing man and our beautiful marriage. When you are with someone that you know you love, don't use money, looks, culture, etc. as an excuse to break that up.
"If I would have listened to those fears, I would have lost out on this amazing man and our beautiful marriage. When you are with someone that you know you love, don't use money, looks, culture, etc. as an excuse to break that up."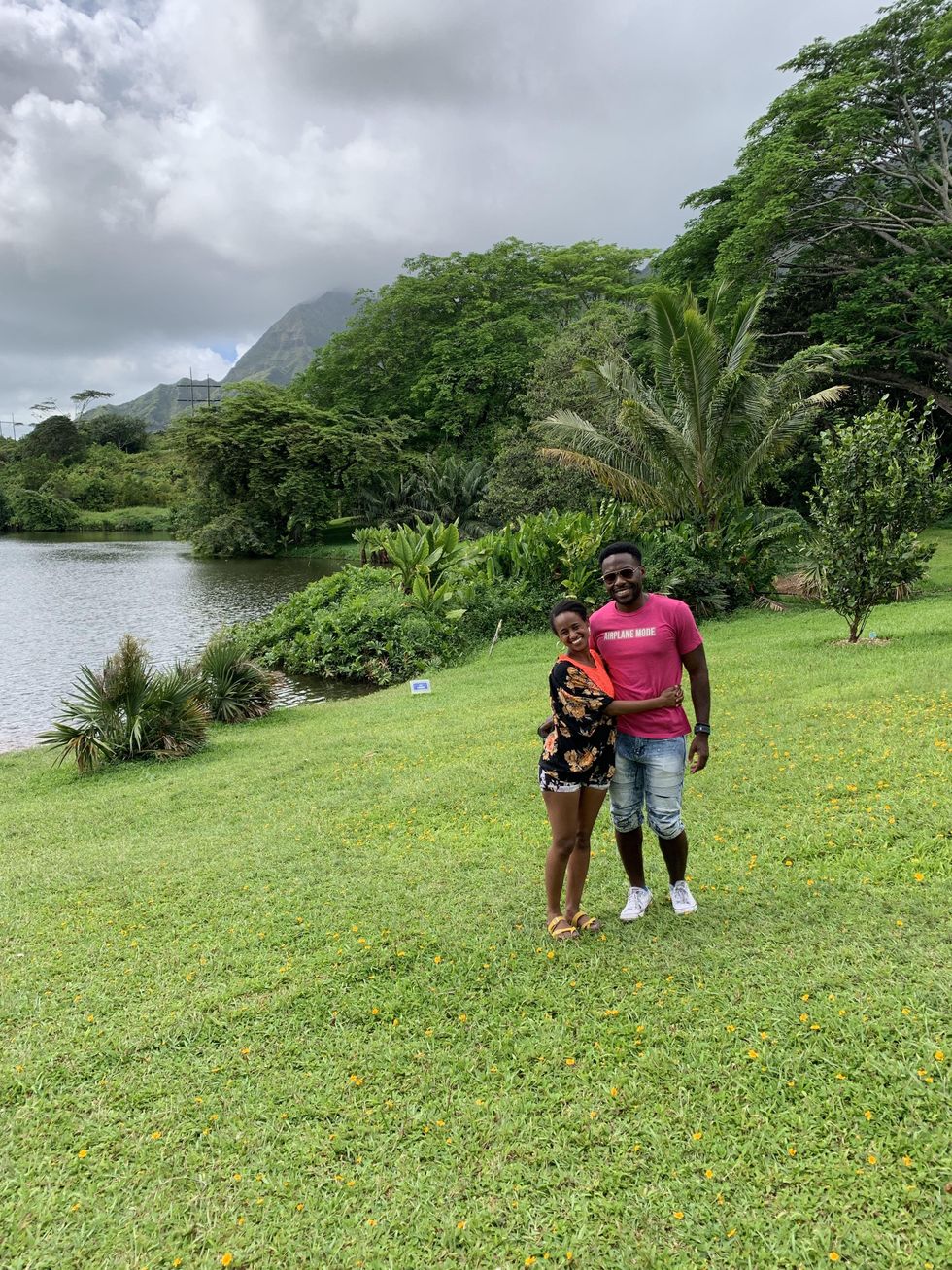 Courtesy of Ace and Roza
Love Lessons
Ace: One of the scriptures in the Bible, it says love doesn't demand its own way. I think that is so powerful because in marriage, we are both individuals with our own perspectives. So it is not about living your life your own way anymore. It is about how we mend things together into one. One of the ways we keep our marriage intact is we have these relationship summits. We are working on a better name for them (laughs).
Every quarter, we travel somewhere and take a couple of days to sit and talk. Whatever are the hot topics in our marriage during that time, we have a chance to talk them through and our goals moving forward. This is really our safe space for one another to lay everything out on the table and the other person's job is to actively listen. I am really thankful for those times.
Roza: One of the lessons I have learned is that you can not treat love as a feeling. In marriage, love is action. Love translates through service. You can give without loving, but you can't love without giving. With that said, it's important to remind yourself that there are times you will show you love your partner whether you feel like it or not. I have to show up no matter what for my teammate.
"One of the lessons I have learned is that you can not treat love as a feeling. In marriage, love is action. Love translates through service."
Best Advice
Ace: A happy wife is a happy life. Period (smiles).
Roza: The only competition in your marriage is to see who can outserve each other. Marriage should not be for tit for tat. You should be serving your partner simply because that is what you are called to do.
For more of Ace and Roza, follow them on Instagram @rozapatterson and @callmeacelegit. You can also check out Ace's most recent album, Out of Office, here.
Featured image courtesy of Ace and Roza
Keep reading...
Show less
I know, I know. When it comes to marriage, if a couple is able to say that they've been together for more than a decade and they are reasonably cool with one another, that is almost like a minor miracle. Still, as someone who is a huge fan of the union and actually know some husbands and wives who are head over heels into one another, even 20-plus years in, I think just being "alright" in a marriage is kind of a low bar. After all, life is short and also pretty precious, so if you're going to commit to being with someone for the rest of your days, shouldn't the both of you do all that you can to make sure your marriage is more than just "good"—that it is pretty darn great?
If you're reading this and you're at total peace with your marriage and the spouse that you've chosen, salute. Yet if you're wondering about what you can do to take things up a few notches, here are seven things that can help your relationship to thrive—and then some!
1. Surprise Your Partner More Often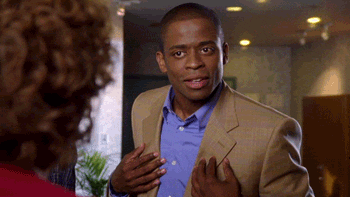 I don't care if a couple has been together for a couple of years or 30 of 'em, it's rare when either spouse doesn't appreciate a nice surprise every now and then. Tickets to a favorite event that shows up in their email inbox. A text that consists of nothing more than a hotel room number and a time to show up. Favorite flowers or meal that comes to the office, right out of the blue. A good marriage? That is one where both partners are thoughtful on each other's birthday and never forgets one another's anniversary. A great marriage consists of two people who are constantly trying to one-up their own selves when it comes to making their partner feel loved, appreciated and desired while oftentimes catching them totally off guard when it comes to their efforts. A wise person once said, "The best things happen unexpectedly." When's the last time that you surprised your partner? When's the last time that they've surprised you?
2. Regularly Pray/Meditate Together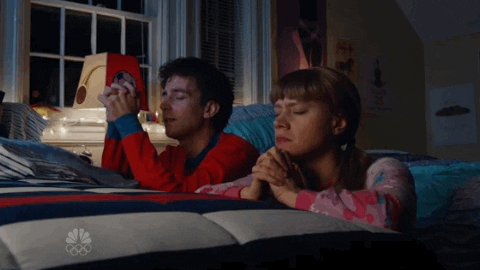 The reason why I've written articles for the site like, "7 Signs You're Spiritually Compatible With Someone" and "7 Spiritual Principles About Sex That Married Couples Should Never Forget" is because I wholeheartedly believe that our spirits are involved in marriage just as much as any other part of us. And since marriage is about joining one mind, body and spirit with another's, it's so important for husbands and wives to make the time to pray and/or meditate together (preferably both).
From a scientific standpoint alone, prayer reduces stress; gives you more of a positive outlook; strengthens your faith; softens your heart (so that it's easier to forgive); keeps you humble (more on that in just a sec), and even increases longevity. As far as meditation goes, it can help to control anxiety; reduce depression-related symptoms; make you more mindful; heighten self-awareness; lengthen your attention span, and make you a kinder individual overall. With all of the benefits that prayer and meditation provide, why wouldn't you want to have these experiences with your partner?
By the way, both of these things can directly benefit your sex life too. A couple of years ago, we published an article on the site entitled, "Ashley Graham & Her Husband Say Prayer Is The Ultimate Form Of Foreplay". That same year, I also wrote about orgasmic meditation (check out "What Exactly Is 'Orgasmic Meditation'?"). Since "saying grace" and breathing deeply can take your sex life to another level too, hey, that's just one more solid reason to pray and meditate with your partner more often, don't cha think?
3. Operate from a Place of Humility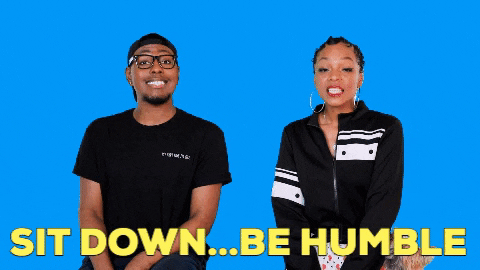 If there is one thing that I would shout from the rooftops of every single person (who desires to be married; not everyone does) is if you are too full of yourself to 1) admit when you're wrong and/or 2) be corrected by your partner and/or 3) offer up and apology that comes without any excuses and justifications, you have absolutely no business getting married. I can't tell you how many couples I've worked with who, while it is clear that they love one another, they are still 10 minutes away from hitting the wall (getting a divorce) and it's basically due to one thing—a lack of humility. A humble individual doesn't have to be right all of the time. A humble person doesn't constantly need to take the credit. A humble person tends to not get triggered or become provoked easily. A humble person can own their ish. A humble person loves to help others. A humble person strives for peace above all else. We're living in a world that seems to constantly encourage ego maniacal behavior. Still, if you want to keep your marriage thriving, strive for humility. You might be amazed by how far it gets you.
4. Love with All Five of Your Senses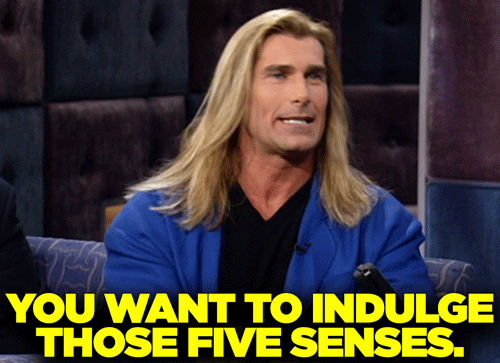 Sight. Touch. Hearing. Taste. Smell. These are our five senses. Now my question is how often do you try and love your spouse with all five of them? I'll provide some examples. Do you constantly go to bed NOT looking a hot mess (sight)? Are you intentional about showing affection like greeting them with a kiss at the door when they come home from work or hugging them from behind when they are cooking or working on a project (touch)? When's the last time you've expressed what you like, love or find sexy as hell about them (hearing)? Can you recall when you've ordered or made them their favorite meal or prepared some aphrodisiac cocktails for the two of you to enjoy together (taste)? Do you know their favorite scent? How often do you wear it (smell)?
I know that the five love languages continue to be popular when it comes to expressing love (check out "Are You Ready To Apply Your Love Language To Your Sex Life?" and "15 Date Ideas Based On Your Love Language"). Personally, I also think it's important to come up with ways to show your love to your partner via their five senses too. It's an underestimated way to make sure that they feel loved in every way. Quite literally so.
5. Present Things in Question Form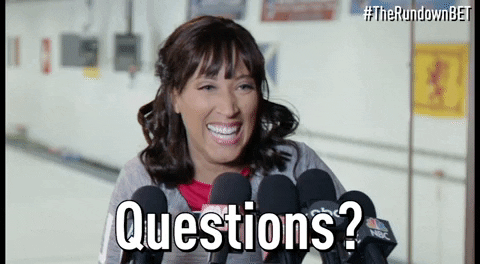 Wanna know what will put someone on the defensive? It's when you come at them with accusations or definitive conclusions instead of questions when you're trying to gain some clarity. That said, another point that I think doesn't get brought up enough in marriage is it's a constant lesson in how to communicate effectively, how to listen wholeheartedly and also, how to literally treat someone else in the way that you'd want to be treated. I don't care how long you have known someone or lived with them, because it's a part of human nature to constantly evolve, you don't know everything about them (it's pretty arrogant and presumptuous to think otherwise).
That's why, whether it's a discussion or a flat-out disagreement, you are showing that you are open to learning, to hearing their perspective and to gaining a deeper insight into who they are by coming at your spouse in question form rather than all-out statements. If you don't believe me, ask them to communicate with you in the same way and watch how much smoother the conversation goes.
6. Have "Purpose Update" Meetings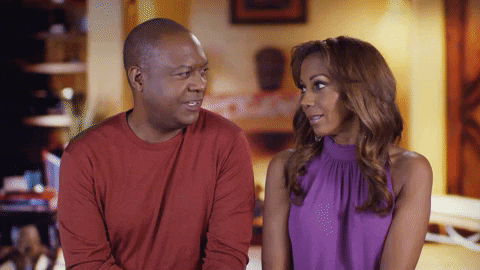 Another tip for singles who desire marriage is, please be clear about what your purpose is. Then, once you start seeing someone, make sure that they are clear about what their purpose in this life is as well. The reason why I say this is because, in order for you to be in a long-term relationship where you truly feel fulfilled, you both need to be able to respect one another's calling in life and even be able to help, if/when needed. This is one example of how two individuals are able to actually complement each other.
I actually know a couple who's been married for several years now. Unfortunately, they've really been struggling because the wife's focus has been more on the husband just doing whatever needs to be done in order to provide. Meanwhile, the husband has become resentful because, ever since he was in college, he had specific dreams. So, what happened? He loved her and put his dreams on hold. Now he's miserable and because she never considered his dreams as being important, their union is in some serious trouble.
This is why I often recommend to married couples that they hold, what I call, "purpose update meetings". Some do it once a month, some do it once a season (four times a year) and some do it biannually or annually.
The logic behind the suggestion is to sit down with your partner, so that you can share how you feel about your purpose—along with what your short-term goals are concerning them—as they do the same. Why? It's simple. It can never be underestimated, just how important purpose is because it literally means "the reason for which something exists or is done, made, used, etc.". You can be in love, have great sex and feel pretty good about your relationship. It's still headed for some really big valleys if one or both of you are not thriving in your purpose.
Mutually communicating when it comes to this is critical. It really is.
7. Let Grudges Go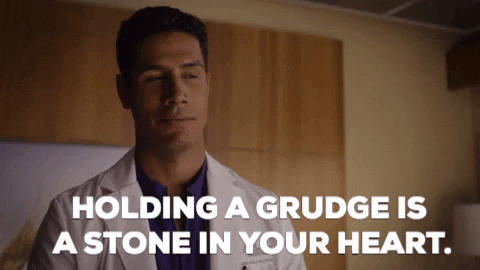 There's a married couple I know who are toxic and then some. There are about a dozen reasons why I say that; however, I'm going to close with something that can easily go on the top three—they both basically live to hold grudges. By definition, a grudge is defined as being a feeling of ill will or resentment. Personally, I define them as being manipulative power plays. Then there's what an author by the name of Criss Jami once said about them. He said, "Grudges are for those who insist that they are owed something; forgiveness, however, is for those who are substantial enough to move on."
The silent treatment. Being passive aggressive. Not letting things go until someone sees an issue the same way that you do. All of these are forms of control and no one wants to be in a controlling relationship. Needing some time and space to process things? That's human and healthy. Allowing unresolved issues to go on into infinity is really…unsound. A married couple who's intentional about resolving matters as soon as possible—even if it means seeing a therapist, counselor or coach—is a couple who doesn't take time for granted, doesn't like to be disconnected from their partner and is more about forward movement than being in a problematic hamster wheel. And a husband and wife who remain in this kind of space? Whether it's immediately or eventually, they are well on their way from going from "good" to "great" when it comes to their relationship. Salute.
Join our xoTribe, an exclusive community dedicated to YOU and your stories and all things xoNecole. Be a part of a growing community of women from all over the world who come together to uplift, inspire, and inform each other on all things related to the glow up.
Featured image by Shutterstock
Keep reading...
Show less
OK, I'm about to age myself here, but Richard and Tina Lawson are what the young folks would call, "couple goals". No seriously, no matter how long you've been married, or even if you simply aspire to be married, they are a breath of fresh air to look to for a sense of comfort. Their love story isn't perfect, or what society tries to tell us about when marriage happens, but it is perfectly for them.
You see, Tina Knowles and Richard Lawson wed on April 12, 2015. She was 61 years old, and he was 67. And it all took place on a yacht on the waters of Newport Beach, California. Yass.
This was six years ago, marking their sixth wedding anniversary this week.
And boy did they celebrate in the cutest way, I mean, like, cue the 'awwwws'! Mama Tina was up first, as she took to social media to pen a message:
"Six years ago today we got married. We celebrated with the Road Dawgs yesterday! (Right) I have known you for 39 years and you have always been an amazing, compassionate, kind, brilliant man. Full of love and Talent and optimism! I have learned a lot from you ! The most important lesson is to not take life and myself so seriously! to be free, to laugh, dance, to be silly sometimes, to be human and unapologetic. Thank you Baby for contributing to my happiness! I love you more each day Happy Anniversary !! @mrrichardlawson"
Awwwww! (See, I told you.)
But it was Richard's message to her that got my attention most.
Because if you believe in manifesting, and understand the guidance of love on a deeper level, his is what you need to see. He tells their story:
"Dear Teene B, 39 years ago my sister Gwen (RIP), your best friend, introduced us. I thought you were one of the most beautiful women I had ever met. Breathtaking.!! The thing that was so striking was that your beauty continued to be enhanced by your incredible heart, compassion, empathy, generosity, and philanthropy. You were pregnant with Beyonce at the time, and married, so my incredible attraction for you then, could only live in my fantasy."
Oop.
"As we remained friends throughout the years, I took great pleasure in observing you become the ultimate mother, especially for your own daughters, but also for the way you care for and nurture women all over the world. It took 32 years for my attraction for you to come full circle. It was well worth the wait. You're a revolutionary, visionary, incredible artist, a fashion icon, a leader, a cultural beacon, a hot sexy ratchet God warrior and only second to God, You are my wife. How highly favored Am I???"
Lawd, my chestttttt.
As we all know, Mama Tina was previously married for over 30 years, Richard for 11 years. Even though the actor was struck by her beauty, she was a married at the time, and his sister's best friend. Instead, he sat back and waited. He was patient, their love was patient.
Since marrying, the Lawsons often take to social media to show what living and loving in your best life looks like. Whether they're on vacation with a few famous friends, fighting for social justice, or simply dancing the night away to a few Isley Brothers' jams, these two are pure empty-nesting joy.
Happy anniversary, you two kids!
Are you a member of our insiders squad? Join us in the xoTribe Members Community today!

Featured image by Tina Lawson/Instagram
Keep reading...
Show less
A wedding is a day that most women dream about as little girls. Many have imagined exactly how the day will look, having picked out the venue, the man, and of course the dress. It marks a time filled with love, joy, and hope for the future that the two of you will spend the rest of your lives together. But before a wedding, it would be wise to take a moment to get clear on your reasons for saying "I do," thinking not so much about the wedding but instead, your reasons for wanting to be married.
The wedding day itself can be filled with both anxiety and excitement but this one day should not be the determining factor in your decision to make a lifelong commitment. With divorce rates as high as fifty percent in America, according to the APA, a marital union is one that should be weighed with careful consideration. A wedding ceremony is literally one day that will change the course of your life so it's important to be clear on your reasons before taking the leap to husband and wife.
Here's my top ten list of reasons NOT to take a trip down the aisle.
1. You're lonely or feel alone.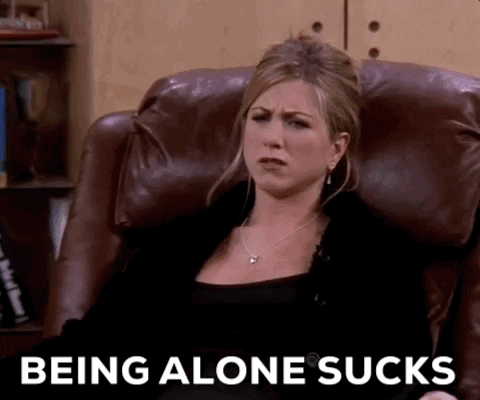 Lonely Season 4 GIF by Friends
Giphy
This is probably the dumbest--I mean, the most common reason single people desire marriage. Most women, particularly those of a certain age, have bought into the narrative of dying miserably and alone. This fear is so great, sometimes, that if a man comes along, even if he lacks qualities that we want in a life partner, we may feel a knee-jerk reaction to cling onto them, if they'll have us. The sinking fear of losing our last chance at love is so intense that it can cause us to settle for anyone that comes along just so we don't end up being alone.
2. You feel pressure from your family, friends, or society. 
Let's be honest. Women over 30 are all too aware of the ticking time bomb that is our biological clock. And if the prospect of our eggs drying up isn't enough to scare us into finding a mate, then the fear of becoming an old maid is. And you know what's worse? It be your own family! Single folks have it hard enough on the dating scene trying to explain our singlehood to other singles, let alone those closest to us. I bet I can speak for a lot of singles when I say we all had at least one reason to thank COVID in 2020: for helping us evade the inevitable inquiries about your dating life at the annual family functions.
Instead of feeling the pressure from our relationship status, it may serve us better to get clear about what it is we actually want. I, for one, have had to get clear and really ask myself, "Do I really want a relationship? Or do I feel this way because it's what's expected of me?"
3. Because you have chemistry and amazing sex.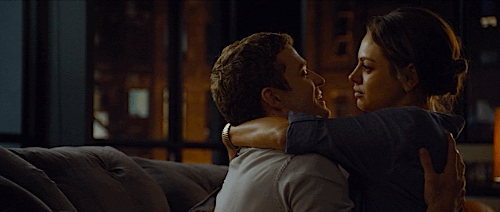 Unfortunately, it's a common mistake that many people make, confusing sexual attraction for compatibility. Child, I would be lying if I said I've never been in a relationship where the sex was so good that I considered proposing mid-act, myself. But sexual compatibility does not a marriage make. Couples who have been together for long periods of time will tell you about the challenges of a marriage that come after years of being together and that the physical nature of intimacy grows with an emotional connection rather than a physical one. I'm not saying that sex isn't important in a marriage because it is, but sex is not a foundation for a relationship.
Once sexual attraction wanes (and it will) what's left needs to be something that will carry you through to the "ever after" far beyond the "happily" part.
4. Simply because you get pregnant or have children together. 
While I'm all for saving the structure of the Black family unit, staying together for the children's sake alone is not a good reason to stay or enter into an unhealthy relationship. In fact, staying in an unhealthy relationship where couples argue can cause more harm for children than those whose parents divorce or have a healthy co-parenting relationship.
5. For unethical, monetary reasons.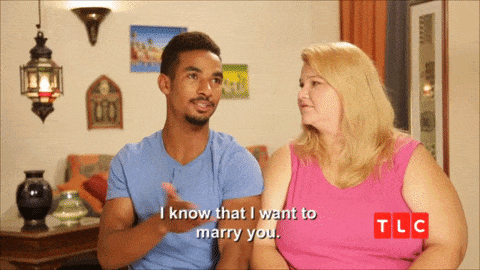 It's a known fact that marriage has financial benefits when it comes to things such as filing taxes, merging assets, and getting a green card. Wait, what? True story, right? My ex-boyfriend actually married an illegal alien in exchange for $7K so she could become a US citizen. According to him, it was more of an arrangement than a marriage, but a legally binding contract nonetheless that ended up being a legal nightmare. I guess you could say, it also ended things for us, too.
6. Because you want to be a trophy (kept woman).
If you can believe it, there are actually women who would rather marry a man who is well off and live what they consider to be the dream life of a "housewife". Don't get me wrong, there's absolutely nothing wrong with wanting to be in a domestic capacity, but I just couldn't see myself trading my independence for an allowance, no matter how hefty it may be. God forbid something happens where your Prince Charming moves on to the next silent arm candy and you find yourself in a financial bind because you were completely dependent on someone else.
7. You think being married will make you happy.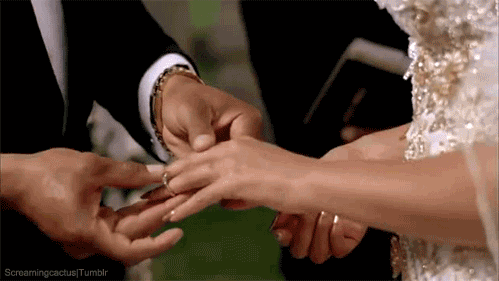 I hate to be the one to break it to you, but marriage was never intended to complete us, but rather, having a loving partner and a healthy relationship should complement our lives. It's dangerous to place your degree of happiness onto someone else. What happens when they inevitably let you down? Not only is it an unrealistic expectation, but that's a lot of pressure to put on someone's shoulders. The idea of another person making you feel happy or complete is a lie we've been told for far too long. It's better to seek someone who adds value to your life with the understanding that you are responsible for your own happiness.
"...Marriage counseling was a turning point for me, understanding that it wasn't up to my husband to make me happy, that I had to learn how to fill myself up and how to put myself higher on my priority list." — Michelle Obama, The Tonight Show with Jimmy Fallon
8. For religious reasons. 
I could probably write a whole other article on this topic, but I'll save that discussion for another day. However, the truth is, I know people whose sole motivation for being married was based on their religious beliefs, maybe even fears of living in sin. I came up during a time when cohabitation was called "shacking up" which was considered just a few steps away from being "knocked up" both of which were taboo, and still are for some folks. Bible scholars, which I am not, argue the context of the man leaving his father and mother to become "one flesh" with his wife to couples "playing house" and living in a marriage-like relationship. I'm not here to tell you what God does or doesn't approve of, but I can't say I'm in favor of religious scare-tactics to induce life-changing decisions, either.
9. You think marriage is a cure-all for your relationship.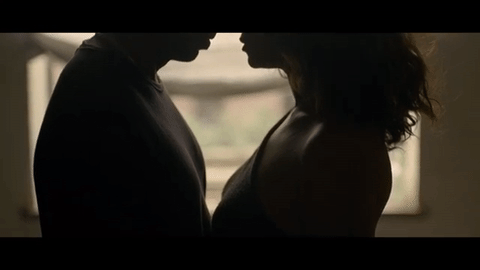 Listen, the truth is, your relationship before you get married is probably as good as it's going to get. If you think getting married is going to cause your partner to change dramatically, for example, that he'll stay home with you and the kids more, force him to settle down, or treat you any differently simply because you've managed to upgrade your title, you may be in for a rude awakening, sis. While marriage does afford some luxuries and securities that you don't get while dating, it also adds a layer of pressure for some couples. While some people see the intermeshing of lives as a benefit, some view it as a burden of having to take on someone else's problems, responsibilities, and financial woes. That saying of "when two become one" takes on a whole new meaning when referring to a spouse that owes back child support during tax time. IJS.
10. Simply because you love him.
I can just about guess what you're thinking. "But, I love him, and that's a good enough reason to marry him." And you would be absolutely wrong. Sometimes, love alone is not enough to make a lifelong commitment. Life is hard and it comes with real challenges. People die, things change and life moves forward. You need someone who shares your values and can keep you anchored when times get tough. Should you marry someone you're in love with? Absolutely. But marrying someone just because you're in love may not always be a wise choice. As sorry as I am to say this, love isn't always enough.
These are just a handful of reasons why you need to get clear on your reasons for walking down the aisle. Believe me, I understand the allure of a man getting down on one knee with a diamond to propose. Even though we have clear ideas on how our dream wedding will look, we may not have a realistic idea of what the marriage will look like.
But which is worse, canceling a wedding or going through a divorce?
Are you a member of our insiders squad? Join us in the xoTribe Members Community today!
Featured image by Shutterstock

Keep reading...
Show less
You ladies know that we love a good conversation around here, so here's one to get your day started. And it's gooood.
Actor, Dondre Whitfield and his wife, Salli Richardson, are one of those long-term Hollywood marriages that we love to celebrate. They are approaching their 20th wedding anniversary and--to be honest--we're probably more excited than they are about it. Black love is precious and significant to the culture, and they, along with many others who have survived the test of time, are a testament to getting this love thing right.
The two met in the most hilarious way, on the set of Dondre's then television show, Between Brothers. He tells the story to and audience on a live panel for the popular show, Black Love.
"My producers come to me and they say, 'hey, we're going to be casting someone opposite your character. Who do you think would be good in that role?' I always said from seeing her on screen before me met, if I ever get time with her, there's gonna be a problem. I knew it."
He then goes on to say he never thought she'd agree to playing the character, being that her career was taking off and she starred in multiple movies, most notably, A Low Down Dirty Shame. But to his surprise, the producers were able to secure her for the role. Their chemistry eventually led to them going to lunch together and the rest goes down in 'where is my Boaz' history.
"Literally, when we first got together, we spent five days straight--like, I didn't go home. I slept with my clothes on, we didn't do anything. It was the first time in my life that I didn't try anything. There was something about her that I just felt that connection. Everyday I took her to breakfast. I went to the mall so I could buy me some new clothes. I didn't go home for five says straight. That's literally how that happened. That was 22 years ago."
Y'all, I just looove stories like this!
Anywho, Salli, who is now a director and has signed a two-year deal with HBO to develop and direct projects, didn't exactly express the same sentiments. She actually feels that women don't know if their husbands are the one, until they've been married as long as they have.
"I don't know that our journey was as smooth, you know? We had our ups and downs and breakups to figure out, how we work this out, especially in Hollywood and both being in the business and different types of pressures. But listening to you, I feel like once you got married, you don't know still. You don't know what you're signing up for. And I truly believe that now, in our marriage, I don't know if I knew then, but I know now."
Her comment was piggy-backing off of Melissa Fredericks' earlier statement, where they each agreed that you never know if someone is 'the one' until you've been married for a long time. And while men are able to pinpoint the moment where they knew a woman could be their wife, women never know until much later in life. Fredricks said:
"I think the biggest thing about any relationship is that it's really a risk. People have great dating experiences, people have great engagement periods and marriages that doesn't indicate that a marriage is going to last. But now that we've been married for 15 years, I feel like I know now more today than the day I stood on my wedding day. I know today that was a good decision 15 years ago."
Whew, my wig!
It's a really interesting perspective and conversation. Watch the video below (convo starts at the 10:00 mark):
Are you a member of our insiders squad? Join us in the xoTribe Members Community today!

Featured image by Kathy Hutchins / Shutterstock.com
Keep reading...
Show less
In xoNecole's Our First Year series, we take an in-depth look at love and relationships between married couples with an emphasis on what their first year of marriage was like.
Whether it is with our friendships or our partners, God makes no mistake when placing the right people in our lives. For married couple Jamal and Lisa Ford, God was very instrumental in the way they found each other and later found love. Their love story began way, way back in the day when the two were only kids. At nine years old, a young Lisa was attending children's church like she did any other Sunday. To her surprise, there was an unfamiliar eight-year-old boy sitting in her usual seat. As kids, they would meet as strangers, unaware of the love story that would unfold between them years later as they grew into adulthood. It was the start of their forever, but neither of them knew it yet.
After meeting, Lisa and Jamal became friends and would eventually become a couple in 2014. They'd date for six years before officially tying the knot and saying "I do". For this married couple of nearly a year, it wasn't hard for them to see a future together. While Lisa and Jamal knew each other for most of their lives, they naturally had a bond with one another that grew into true love. According to Lisa, marriage is about making your own rules. So the couple makes it a priority to not only keep their marriage fun and exciting, but to also build a legacy together for their family and future generations.
In this installment of "Our First Year", xoNecole was able to sit down with Lisa and Jamal to talk more about patience with one another, facing marital fears, and trusting God as the foundation of love.
How They Met
Lisa: We actually met in children's church. We were both young, aged 8 and 9. One day I saw that he was sitting in my seat. I thought to myself, 'Who is this kid sitting in my seat?' He was visiting the church that day, so I was definitely curious to know who he was and why he chose my seat to sit in (laughs).
Jamal: She's right (laughs). It was my first day at the church and while I was sitting in her seat, I was meeting my cousin there too. My cousin just so happened to be Lisa's best friend at the time. So after church, I went to my cousin's house for dinner and they both still talked about "the boy that was in Lisa's seat" (laughs).
The One
Lisa: We started talking to each other in the summer of 2014 and dated in the fall. I remember telling my best friend, "I wonder if he's going to give me a promise ring soon." My friend thought I was crazy and joked that we only have been dating for a short while. But the reason why I mentioned the promise ring is because I knew he was the one. We started off as friends and gradually became each other's best friend. I just knew he was my person.
Jamal: I knew Lisa was the one because when we were dating I would say to myself, 'I don't see myself being with anyone else.' Thinking about that really made me want to see this through and take that next step with her.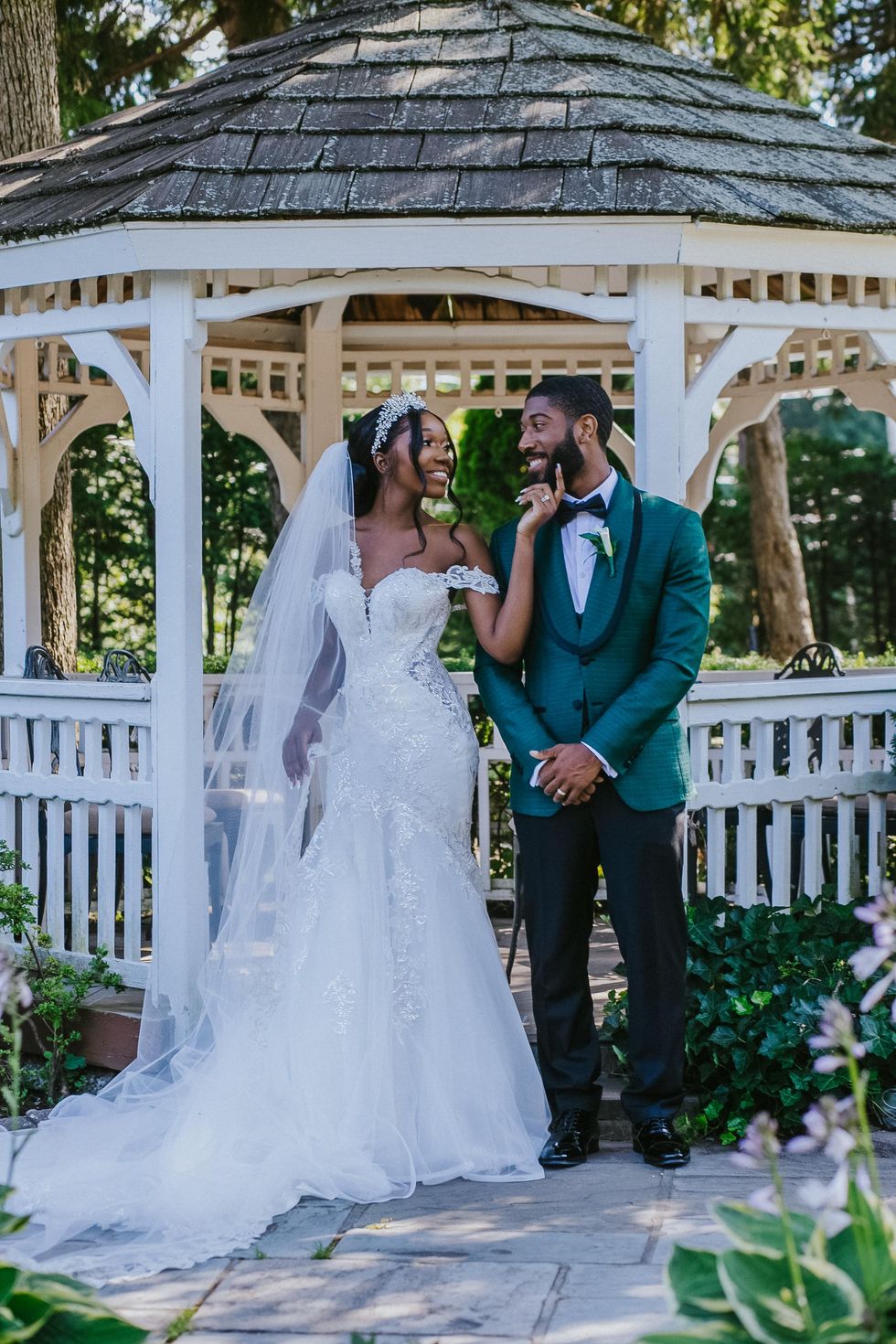 Courtesy of Lisa Ford
"I mentioned the promise ring is because I knew he was the one. We started off as friends and gradually became each other's best friend. I just knew he was my person."
Deepest Fears
Lisa: My biggest fear walking into marriage was that we would get so caught up in a routine and we would forget about the romance. Growing up, I saw a lot of married couples who didn't look happy. I knew I didn't want that to be my story. I didn't want to just settle in a marriage where things became predictable. I always wanted to have that romance aspect in marriage. What honestly helped me get over my fear before getting married was to just get married. Once we were married, we talked about how we wanted our marriage to be and defined certain things for us to do in order to keep our marriage fun.
Jamal: My biggest fear was finances.When I was trying to find a ring for her, I was in college at the time. So I thought about just being able to afford things and provide for her whenever she needed. But Lisa is very driven, so I knew that she would help if we ever had any finance troubles. I trust her and just the nature of our relationship helped me get over that fear.
Early Challenges
Lisa: For me, one of the biggest challenges was trying to balance building a marriage and building a business. I am really driven and once I say I am going to do something, I stick it out. Even if that means me working till late at night. That was hard for Jamal because by the time I'm done working, I don't want to spend any quality time [together]. I just want to go to bed.
Jamal: I know for me, I have been navigating through my mental health. I have PTSD and it can be hard sometimes for Lisa. Before we even got married, she was helping me with it. I feel so blessed to have been supported by her all this time. She has been patient. She would talk me through my different emotions and just be there for me. It's very healing knowing you have someone in your corner when you have a mental health condition. I really appreciate her.
Lessons Learned
Jamal: There is no limit to how much you can love someone. Love is selfless and, in the name of love, you are capable of doing anything for someone without expecting anything in return.
Lisa: My biggest lesson has been loving someone the way they need to be loved. If I am loving you the way I receive love, then it doesn't benefit the other person. So it's important to know how to show up for my husband in a way that he will be able to receive my love for him.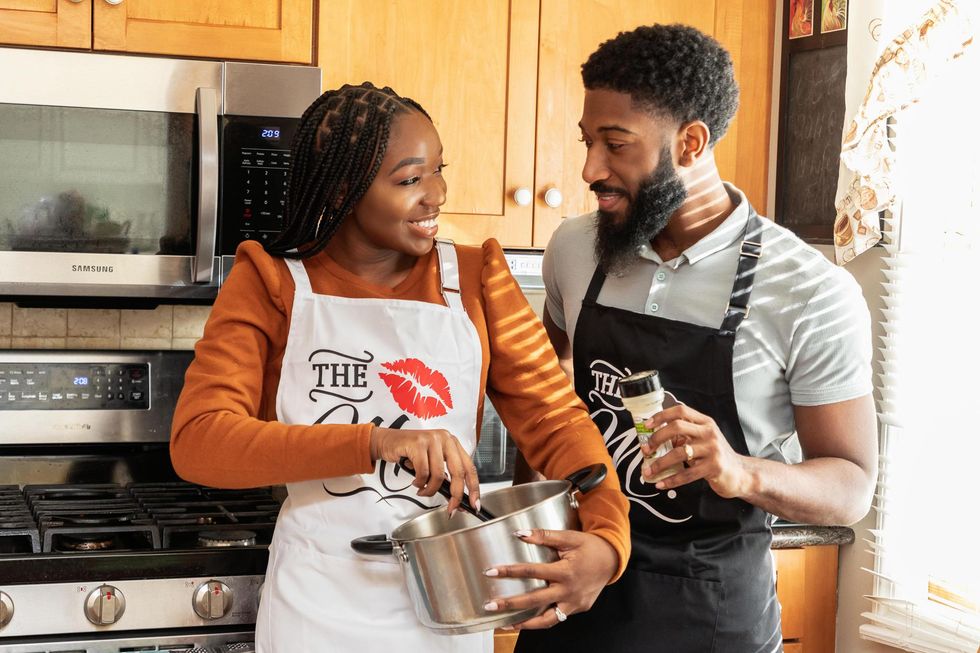 Courtesy of Lisa Ford
"There is no limit to how much you can love someone. Love is selfless and, in the name of love, you are capable of doing anything for someone without expecting anything in return."
Building Together
Lisa: This may sound materialistic, but we want to be the first millionaires of our family (laughs). We are trying to break generational curses and create that wealth. We have seen our parents work so hard and they are still working till this day. We want to be able to help our family to the point where they can enjoy life.
Jamal: We definitely want to help support our families financially, but we also want to help the less fortunate. Really make an impact in the community and bring positive change.
Featured image courtesy of Lisa and Jamal
Keep reading...
Show less